You are arrived the last part of this trip report, hope you still find this interesting, haha.
After 5 nights in Singapore, the last stop of my entire trip, it is the time to go back home
Took the MRT from Lavender Station to Airport and arrived SIN Terminal 2 in about 40 minutes
I like this kind of PIDS rather than those LCD monitor
SQ Business Class check in at aisle 4
Got my boarding pass and I was airside in no time
I would be on the Star Alliance bird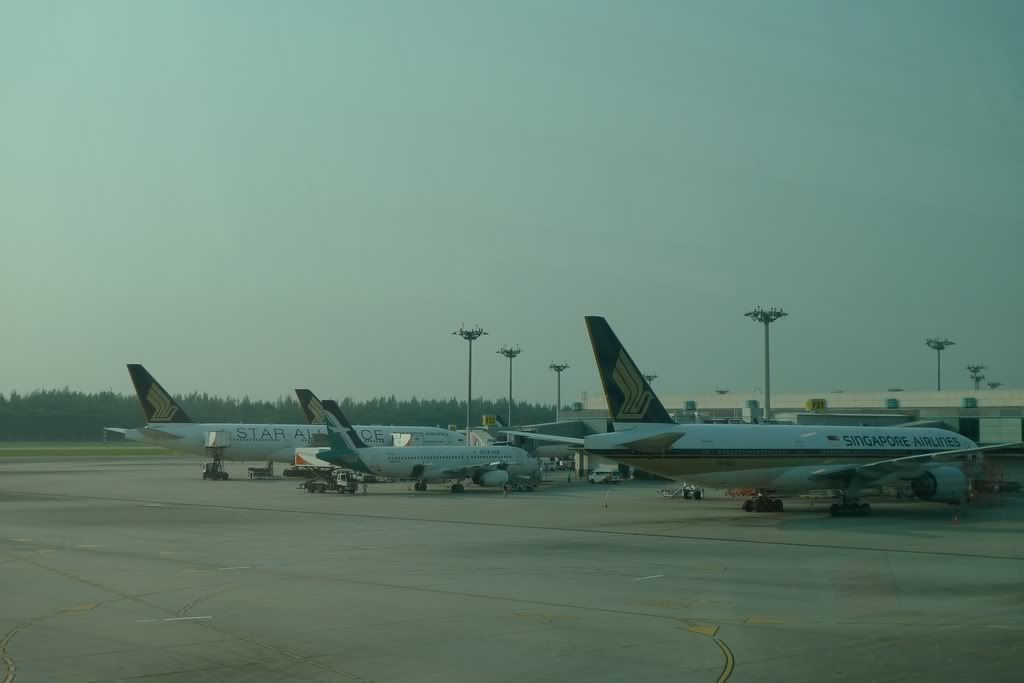 Visit the lounge for breakfast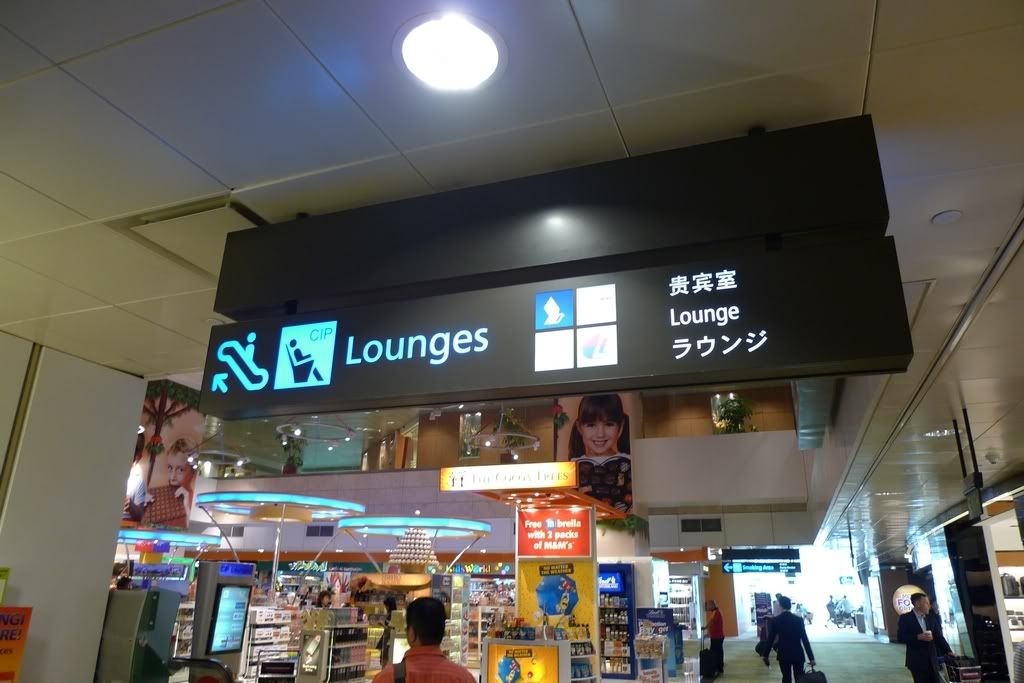 Kris Flyer Lounge
Silver Kris Lounge
Quite a lot of passengers waiting for the morning flights
I found a seat at next to the food stands, here is my view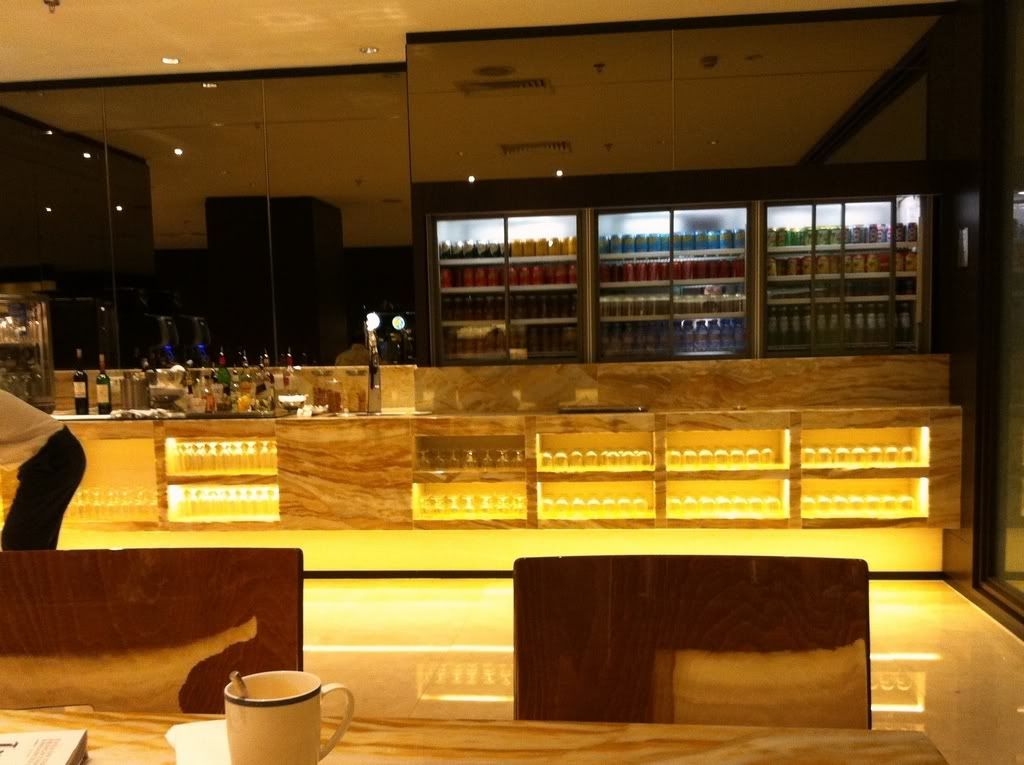 And the food
Some more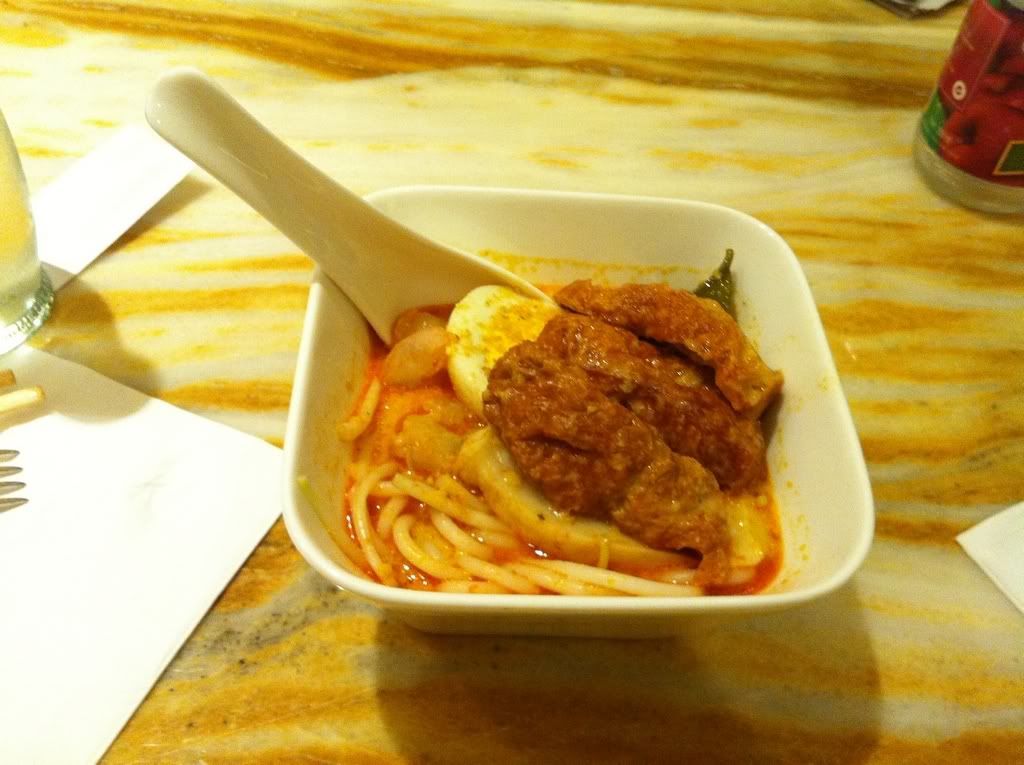 It's near time to board, let's proceed to the gate
SQ in Terminal 2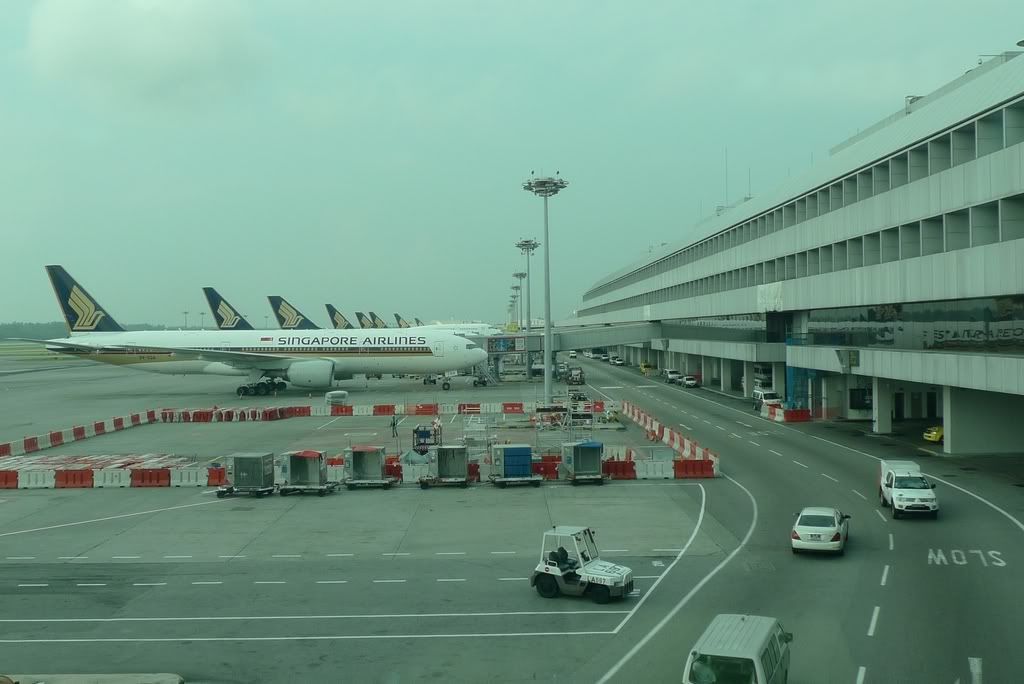 5 September 2011
Singapore (SIN) – Bangkok (BKK)
Airline: Singapore Airlines
Flight: SQ 972
Aircraft: 777-200
Registration: 9V-SRI
Seat: 16K (Business)
Gate: F33
Arriving Gate: D3
Gate F33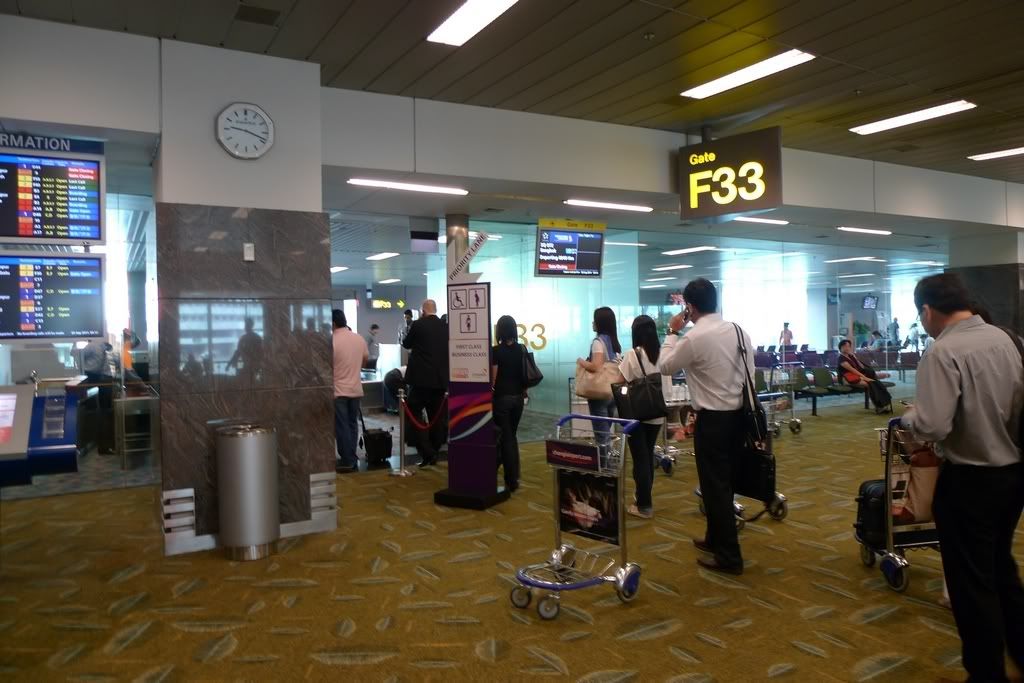 Gate Closing now, I am going to be late!
Boarding pass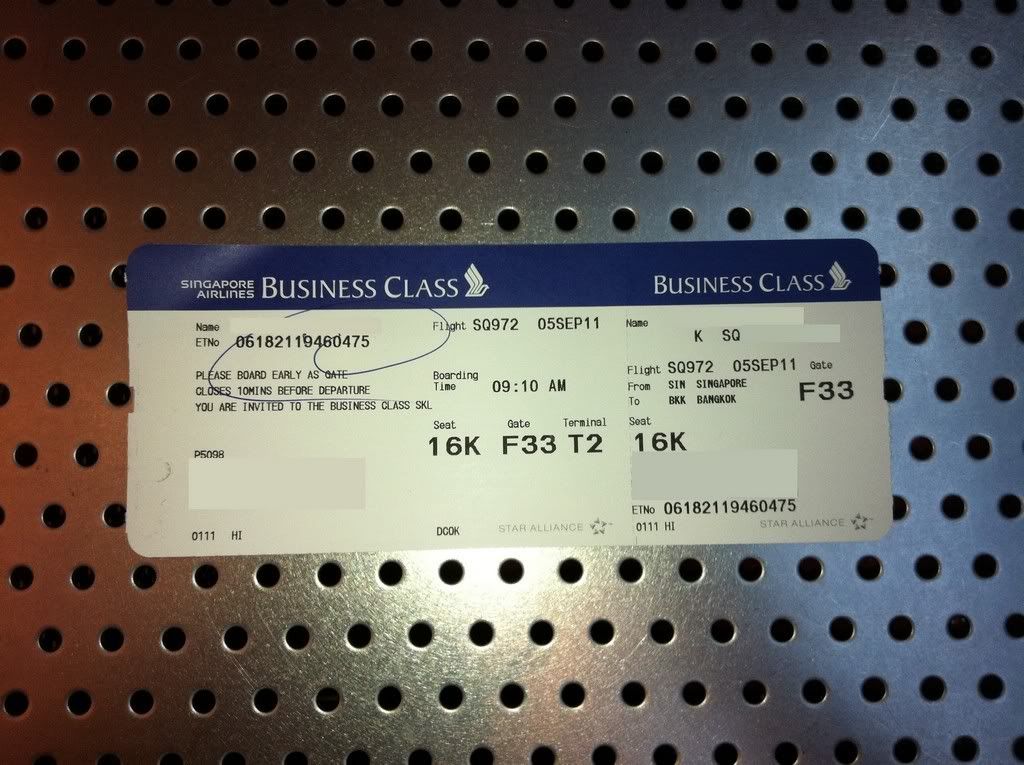 9V-SRI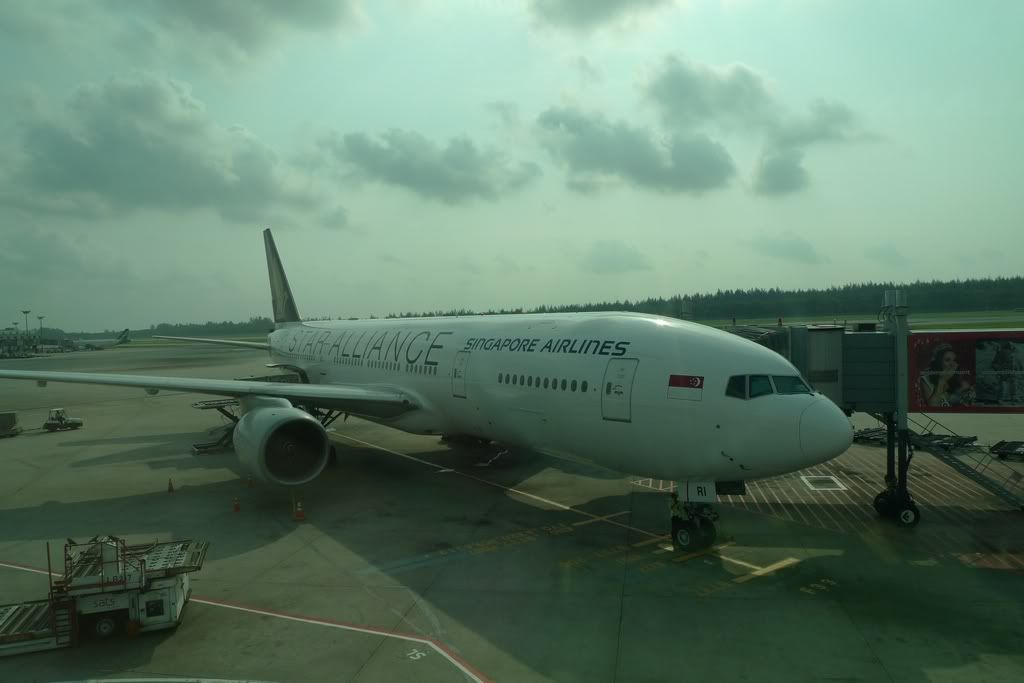 Seat 16K
Seat pitch
Pushed back on time but long queue to take off
After take off, meal service started
I have booked the cook
Slipper lobster Thermidor, buttered asparagus, and slow-roasted vine-ripened tomato, and saffron rice
Sliced fresh fruit
Pineapple coconut mousse
After the meal, a snap of the business cabin, it's totally full again!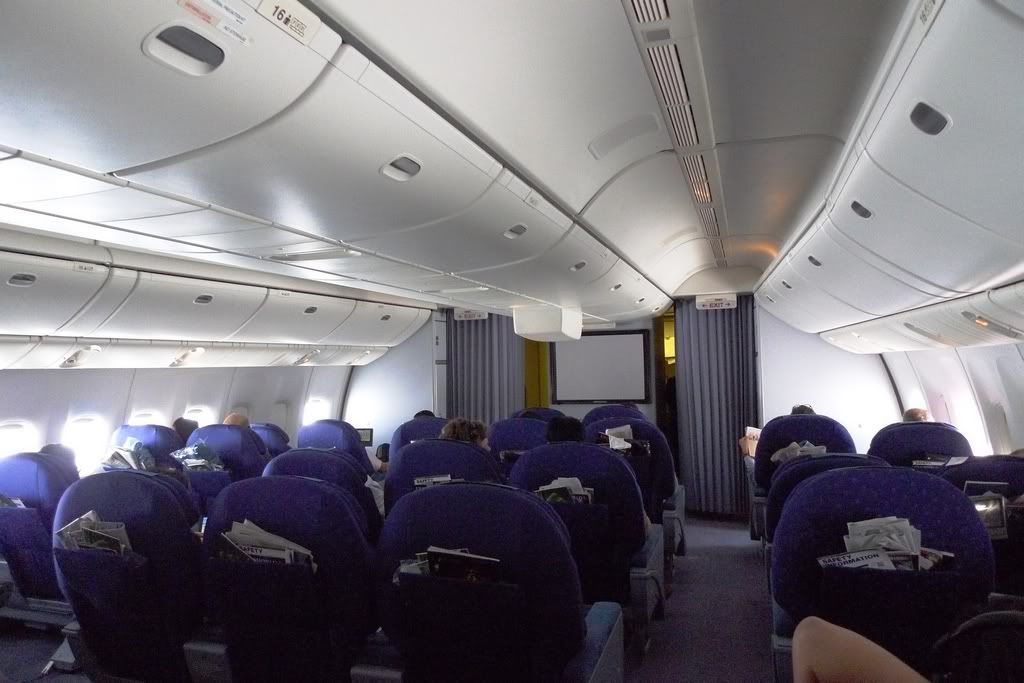 Washroom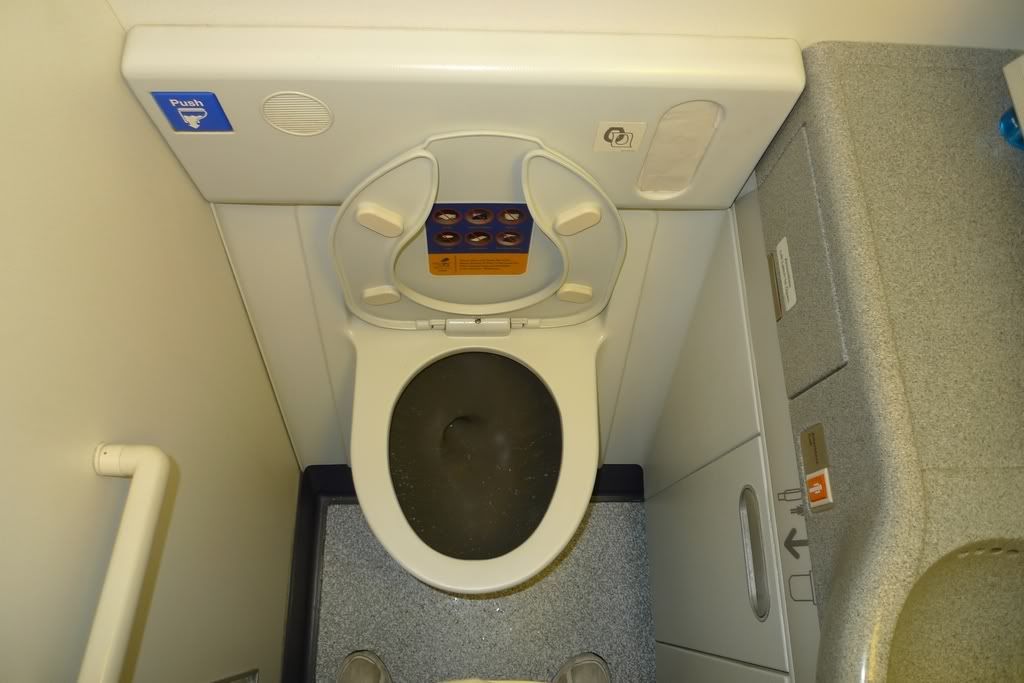 Arrived BKK in 2 hours
TG's A300-600
Docked at Gate D3 and I follow the sign to transfer counter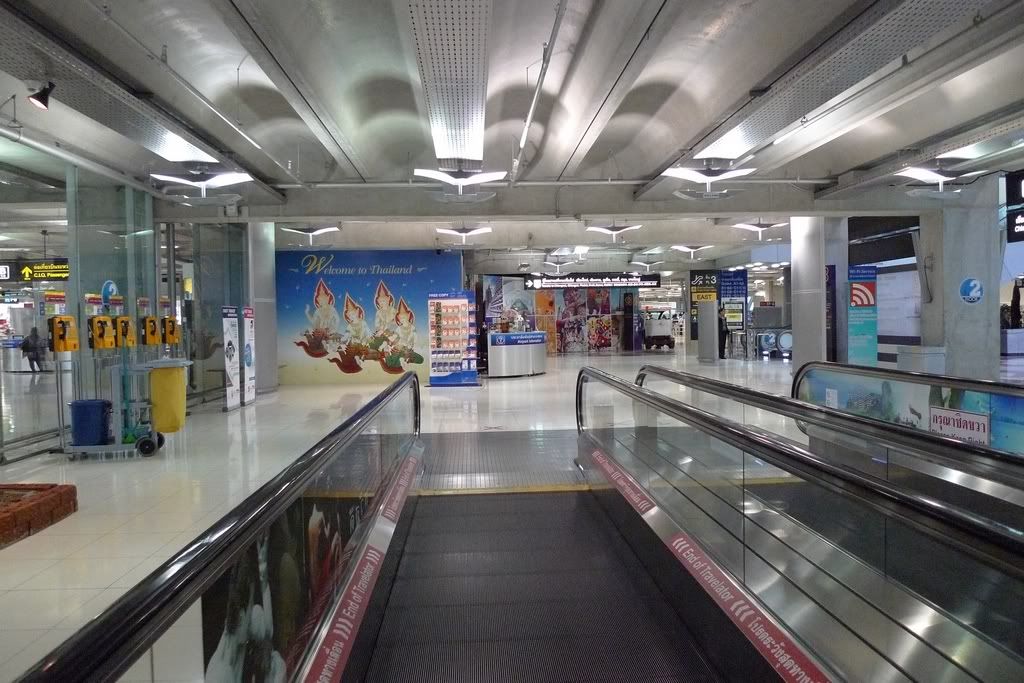 Follow this to TG transfer counter
TG Transfer Counters
Got my boarding pass and lounge invitation within few seconds, and make sure they could see my luggage number in the system
Lounge Invitation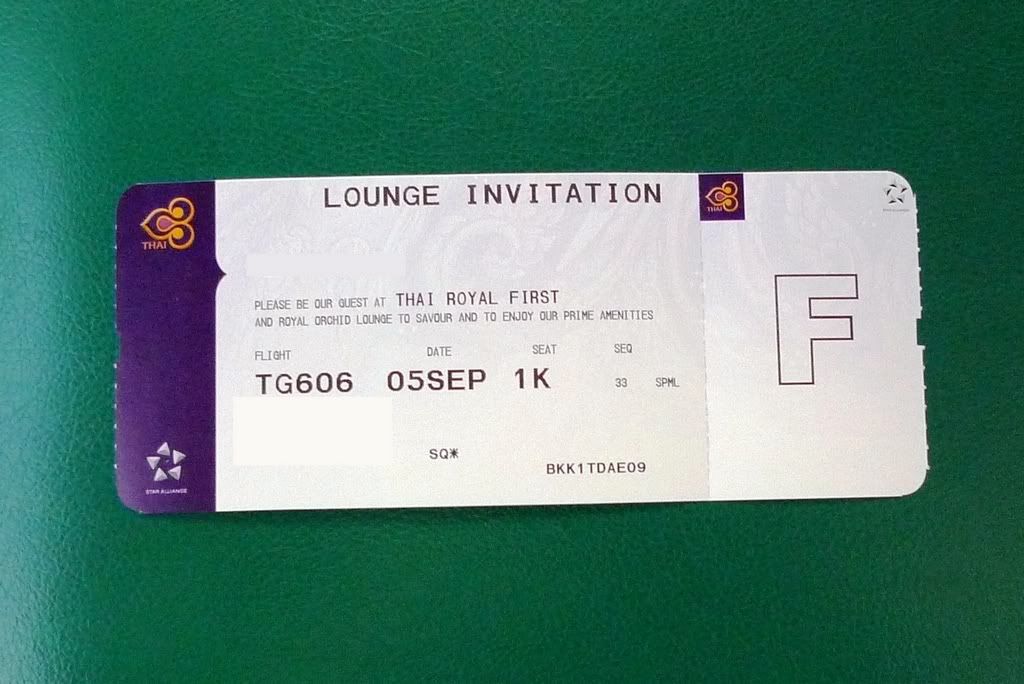 The most look forwarded TG's Royal First Lounge
The lounge agent led me to the seating area and offered me drinks, and made appointment to the massage service for me
Seating area
Private washroom, the cleaner will clean the room when you finish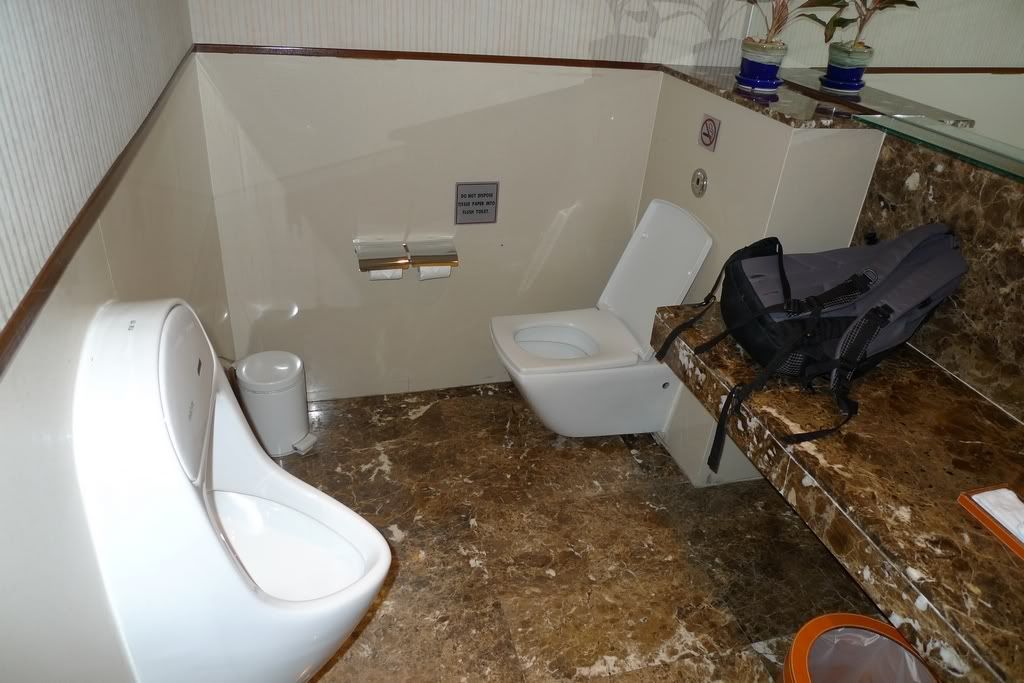 At 12:30, the agent led me to the Royal Orchid Spa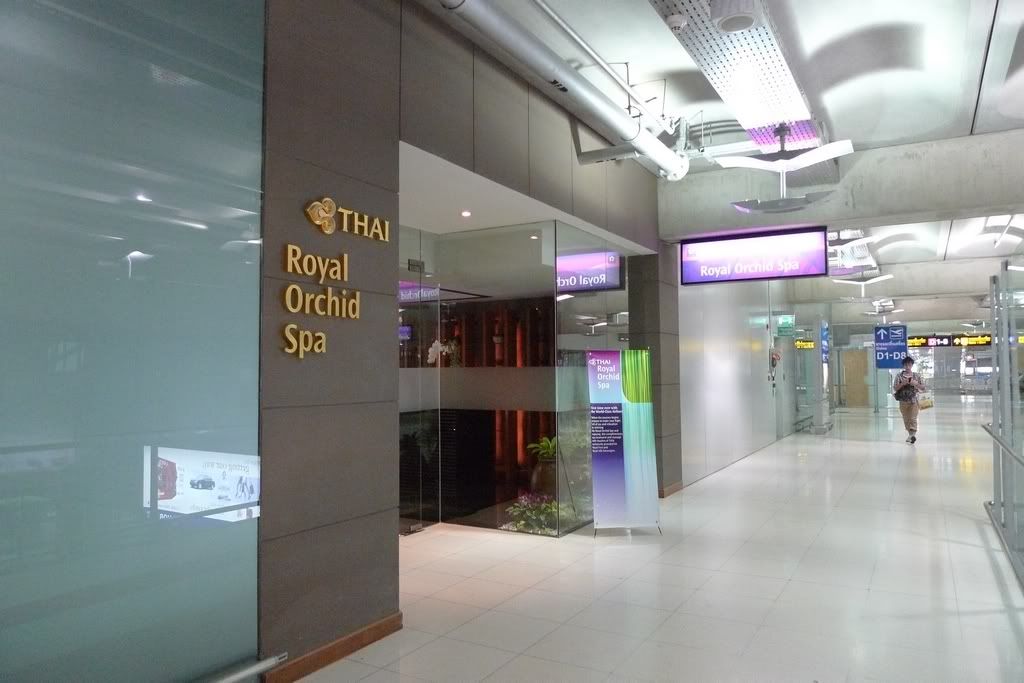 Relaxing area to wait for the massagist
Drinks and Towel were offered
It was my first time to do massage in my life, so I have booked the neck and back massage rather than the full body massage.
30 minutes passed quickly and it is the first time to stay that close with a stranger, haha. I am not used to it.
After the massage, I was in the resting room with a choice of different teas, I chose the hot ginger tea
The tea served with some dried fruit and nuts, with a feedback form
I went back to the lounge, drinks was offered again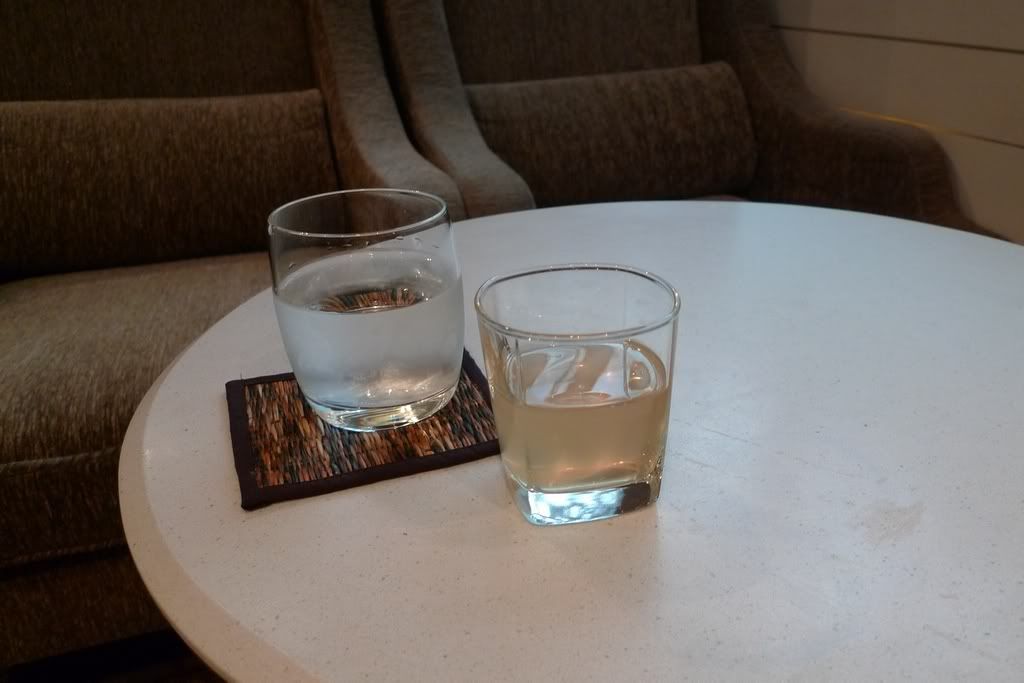 Let's find something to fill the stomach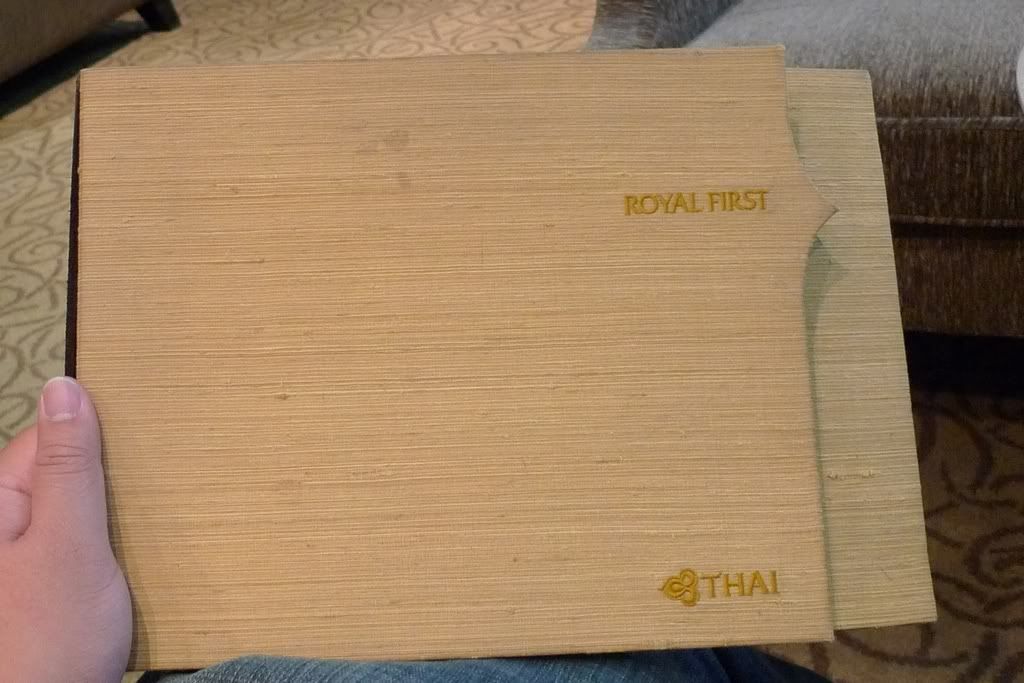 If you find reading menu is a boring thing
You can go and see the real examples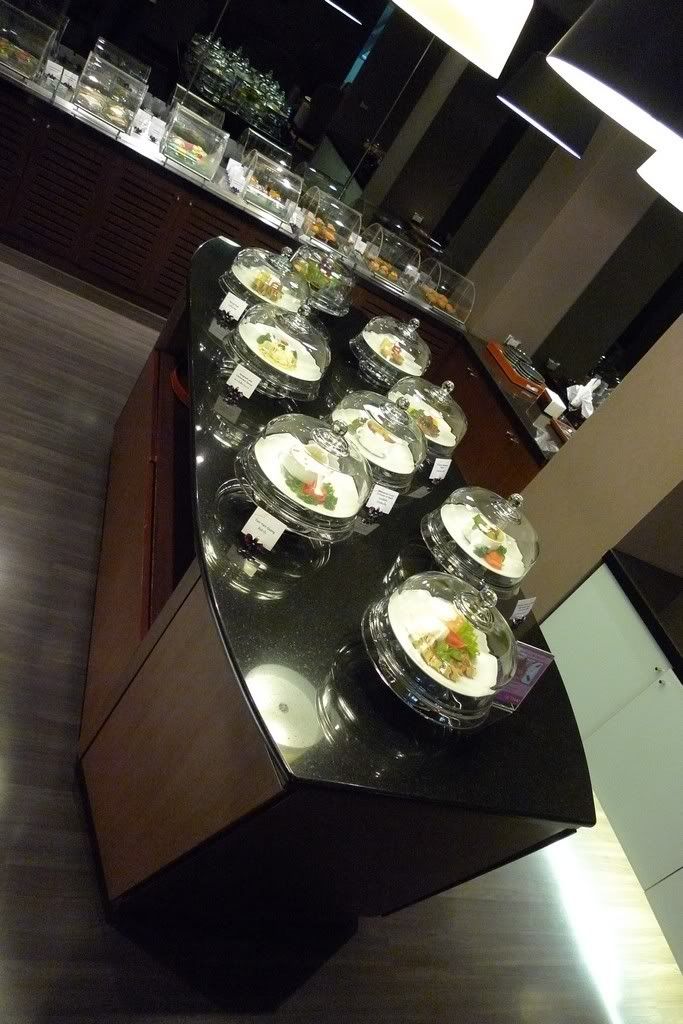 And you can choose having your food in the dining room
The private room
Or the main lounge like me
Soon after the meal in lounge, my flight was ready to board
5 September 2011
Bangkok (BKK) – Hong Kong (HKG)
Airline: Thai Airways
Flight: TG 606
Aircraft: 747-400
Registration: HS-TGJ
Seat: 1K (First)
Gate: C9
Arriving Gate: 44
Gate C9
Boarding pass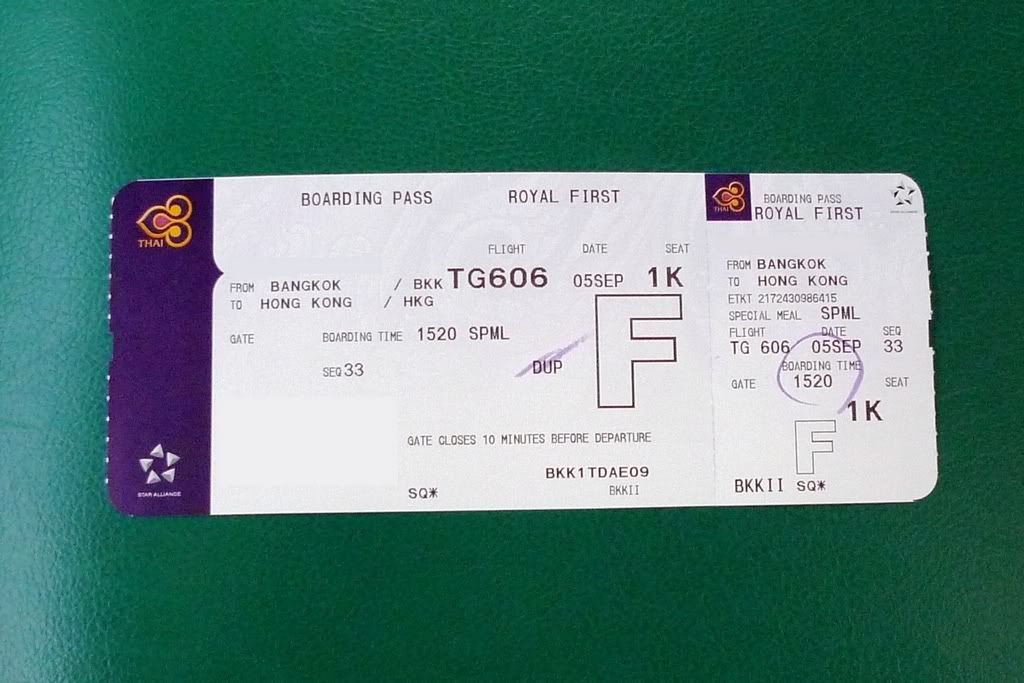 HS-TGJ
When I shown up at the gate and the agent told me the flight would be ready to board in five minutes
During boarding, I saw my target, 77W from Egypt
Turn left here please!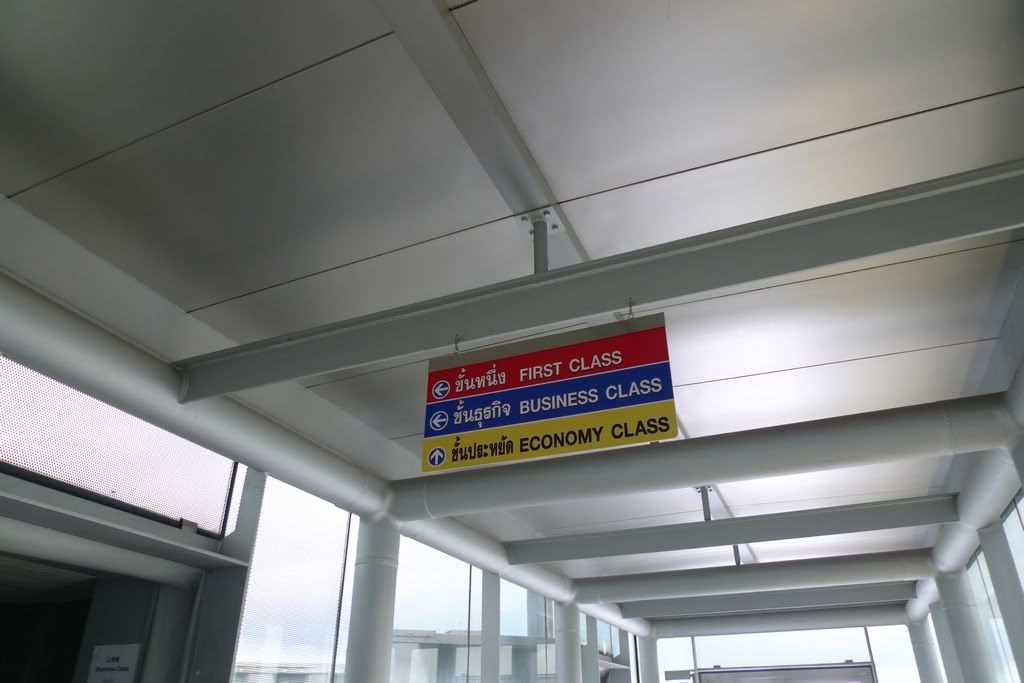 The leading steward led me to my seat 1K.
Normally I would choose the last row in the cabin, but as many said, there is special meaning at row 1 in 747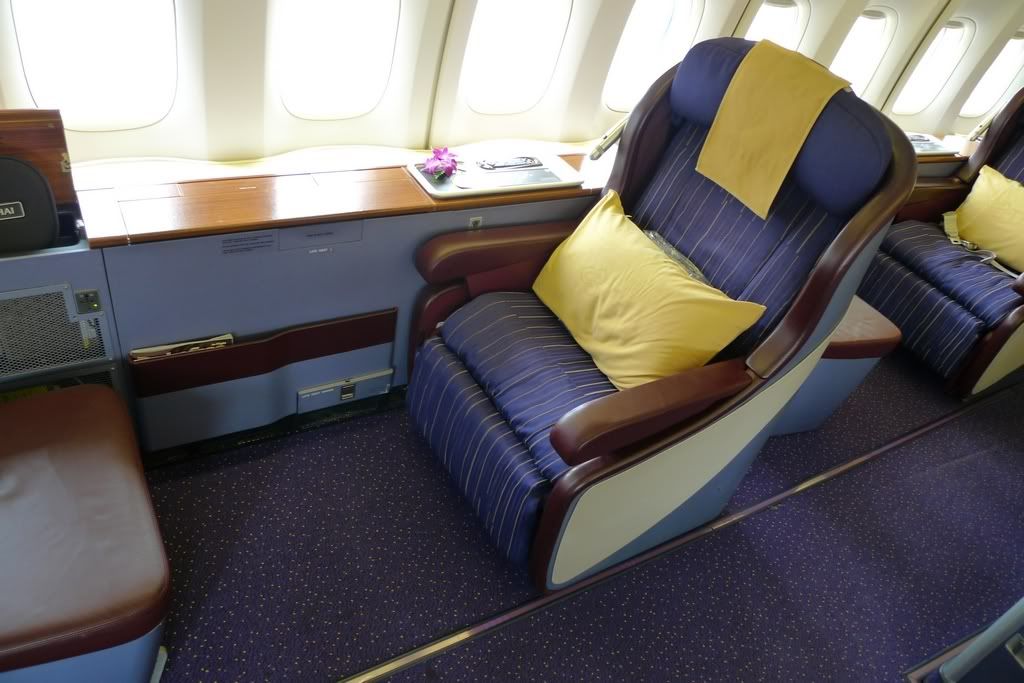 First Class Cabin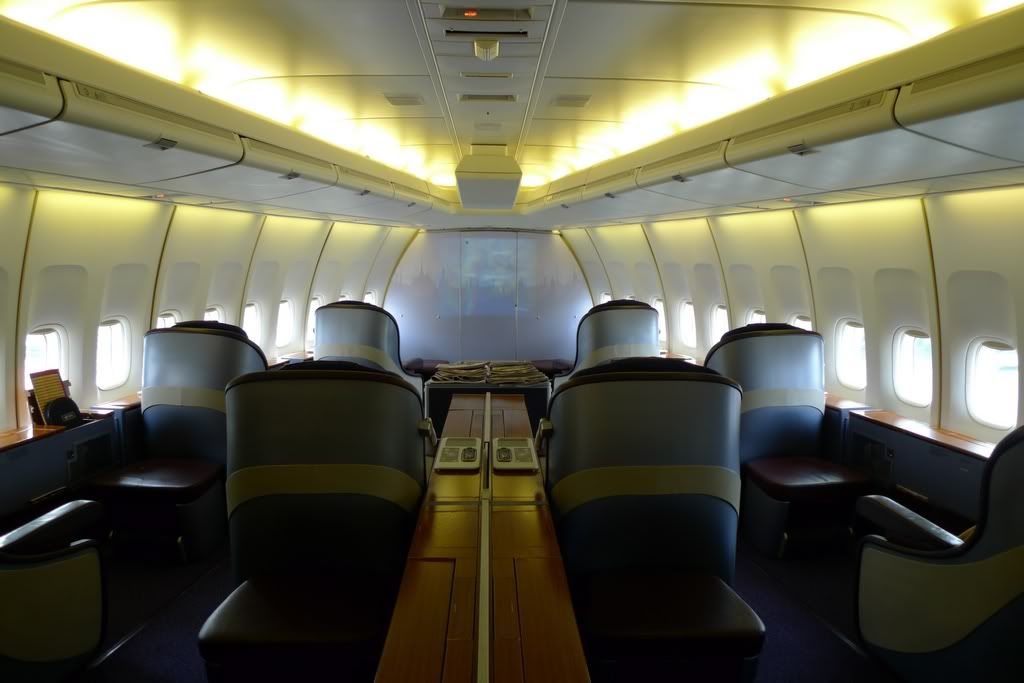 Legroom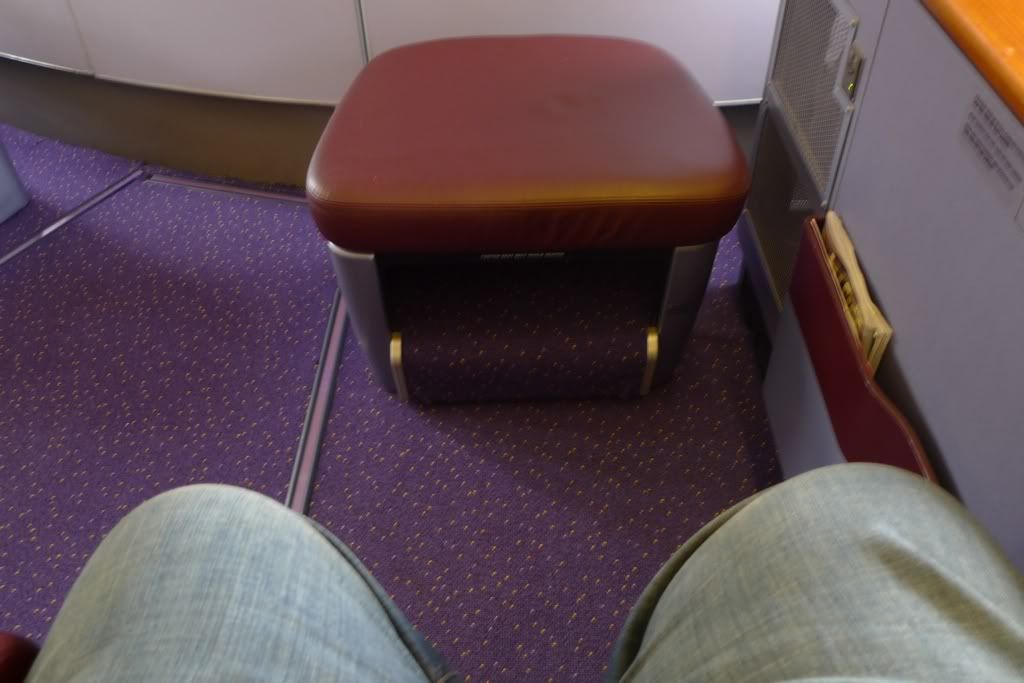 View from my seat, the only other passenger in First was in 3A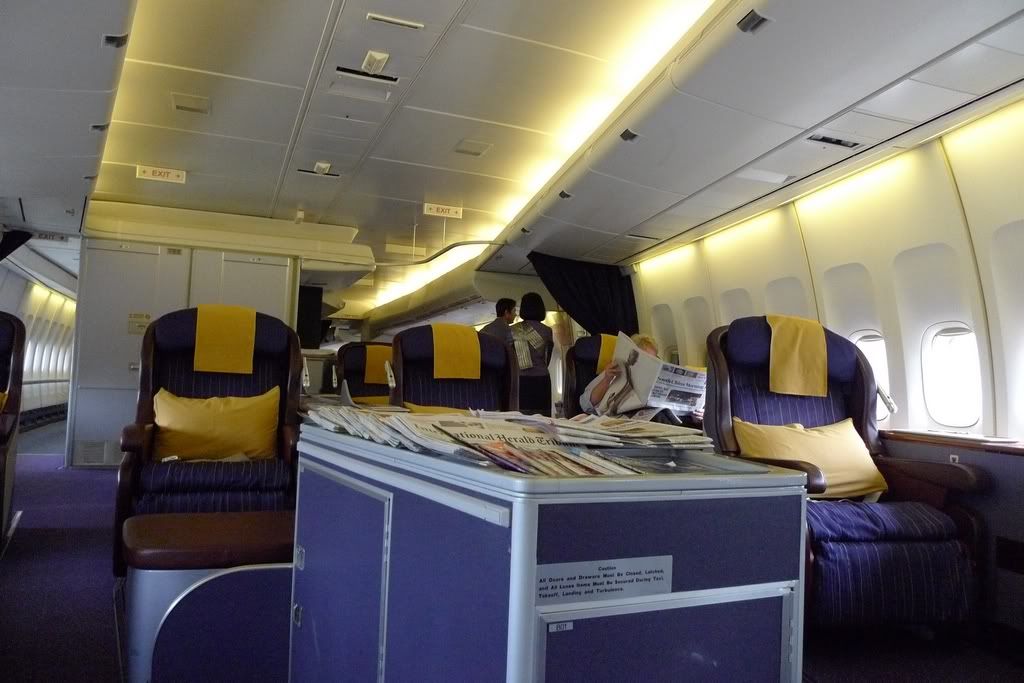 Safety Instructions Card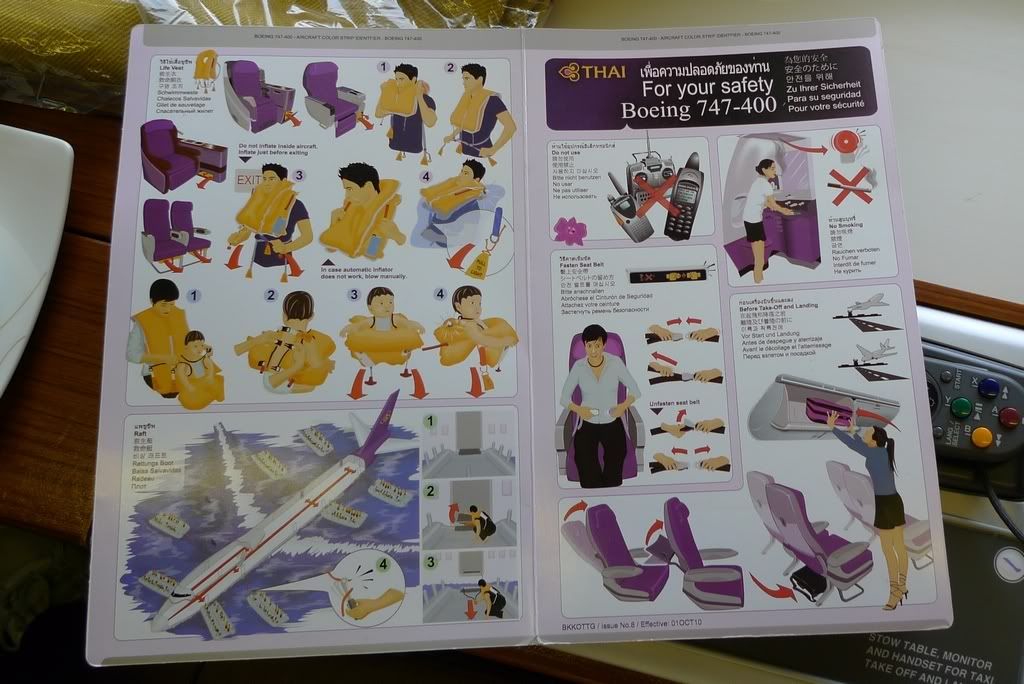 We departed on time, and the airport was quiet at the 16:00 period, so we were airborne within few minutes
The service started, FA assist me to take out the IFE unit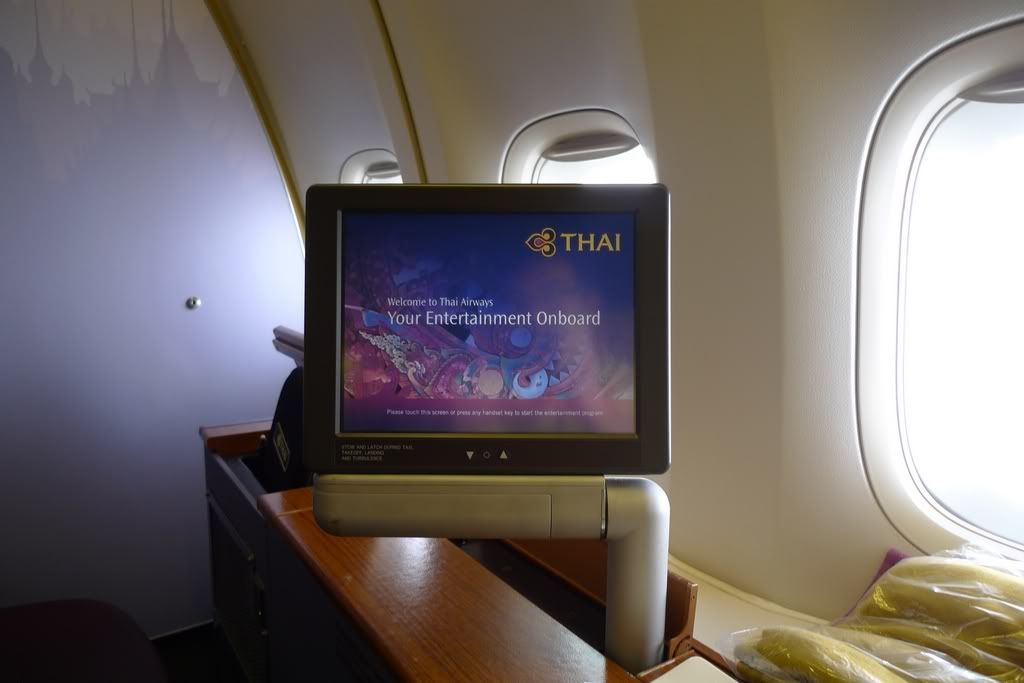 Noise Cancelling Headphone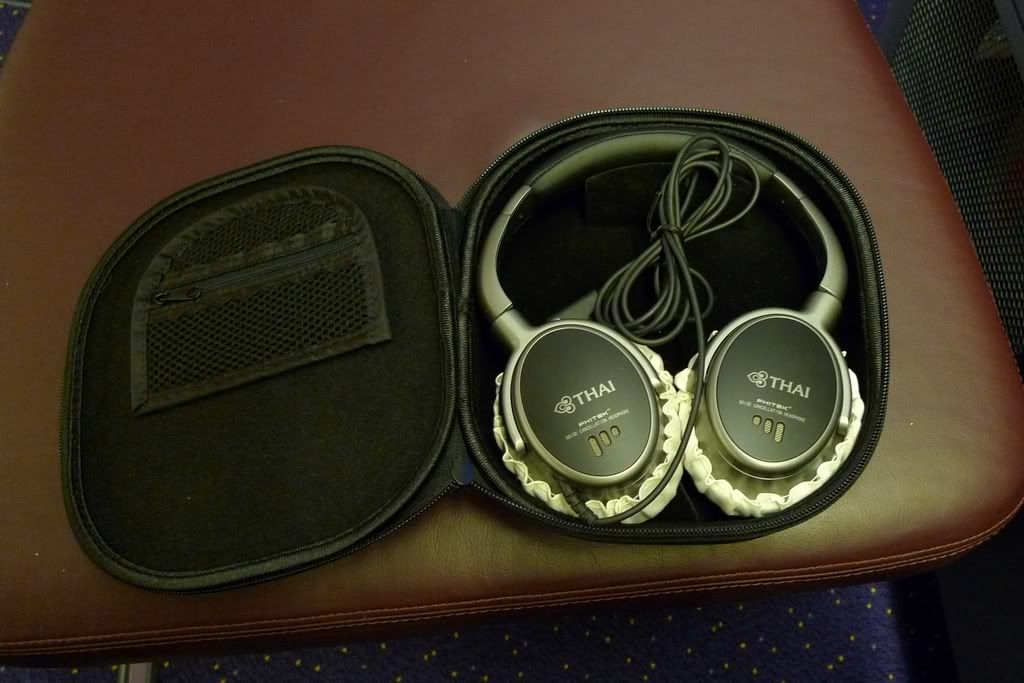 Nuts and Champagne
Canapés
Golden Crispy Cup with "Miang Lao" (Minced Pork wrapped with Pickled Cabbage)/
Sweet Crispy Rice Noodles with Tofu/Crispy Minced Siam Perch with Thai Chili Paste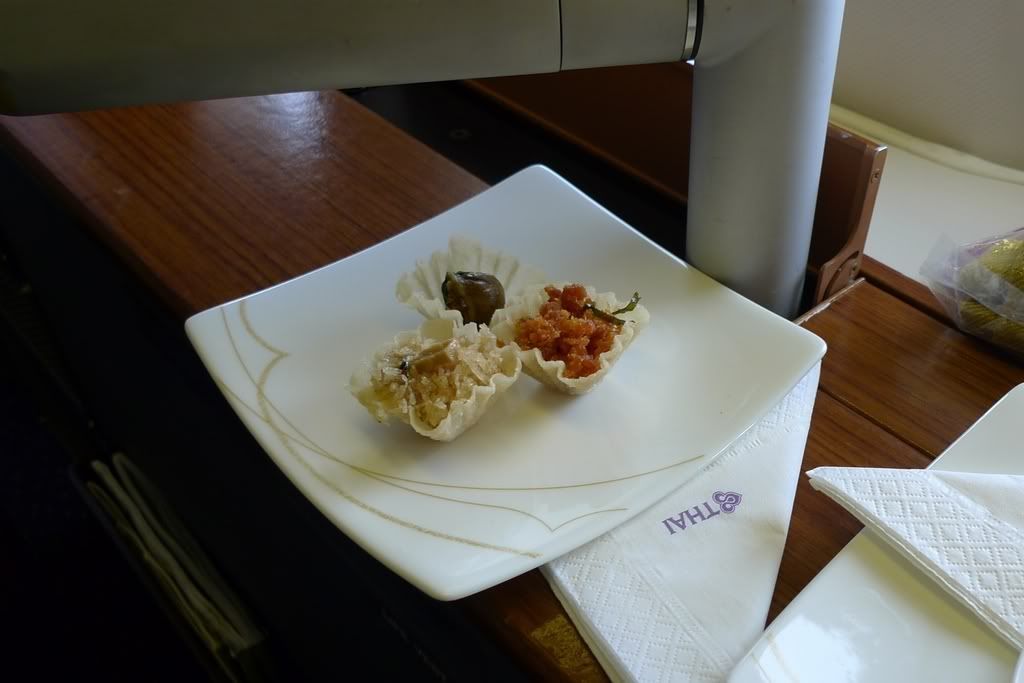 Table was set and meal started, you can see how large the table is.
Soup
Braised Eight Treasure Seafood Soup
Just a normal soup in Chinese style, not so fancy about it
TG reservation contacted me via e-mail a week before the flight about the pre-book meal, I chose the following:
Main Course
Lobster Thermidor with Duchess Potatoes
The portion was small but the taste was better than those in SQ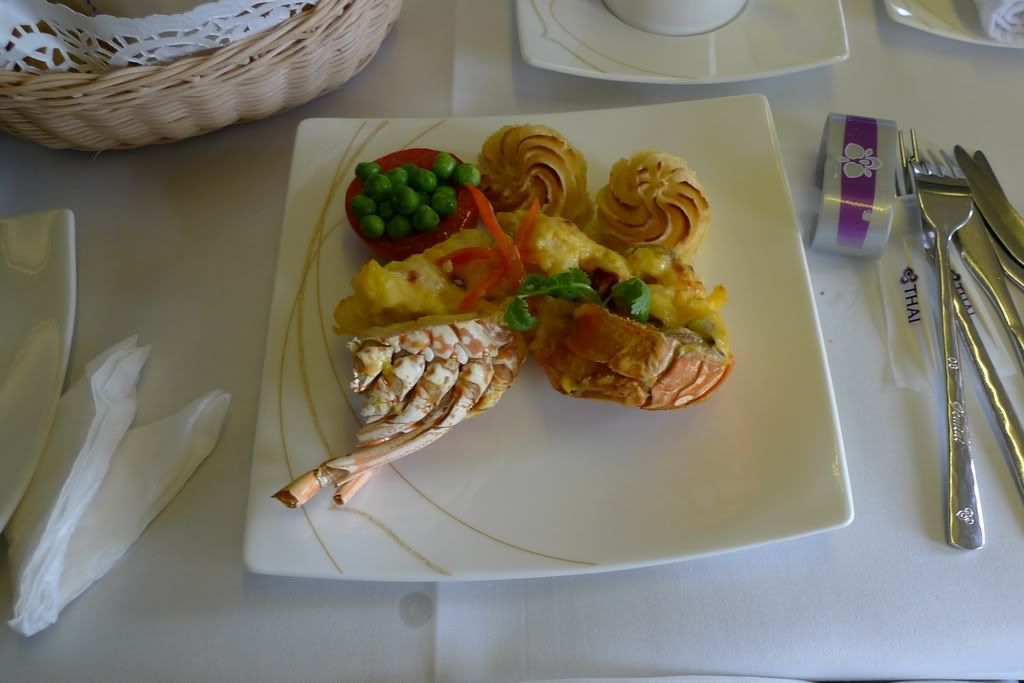 Cheese and Fresh Fruits
Dessert
Glutinous Rice with Longan in Coconut Milk
Delicious Banana Confection Topped with Coconut
Petit Fours
After the meal, walked around the cabin
Self-serviced corner, but I believe it is only for decoration since the FA can satisfy all your need
Washroom again
We started to descent to HKG, and once stepped out from the gate 44, the ground staffs were waiting for us already
Golf cart for First Class passengers directly to the immigration, nice touch of TG!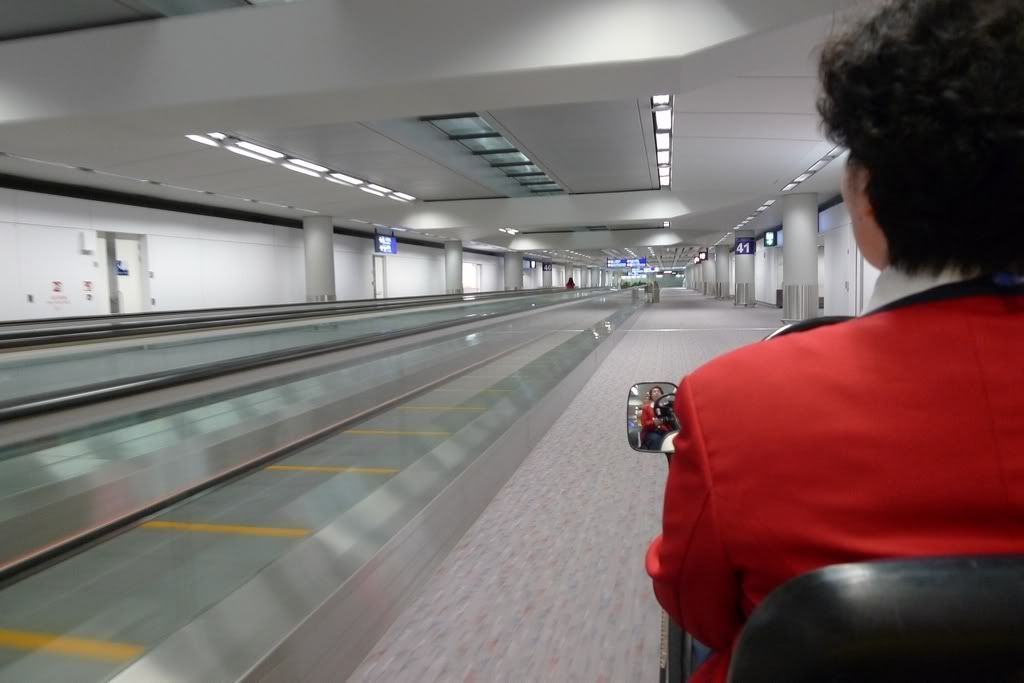 Baggage Reclaims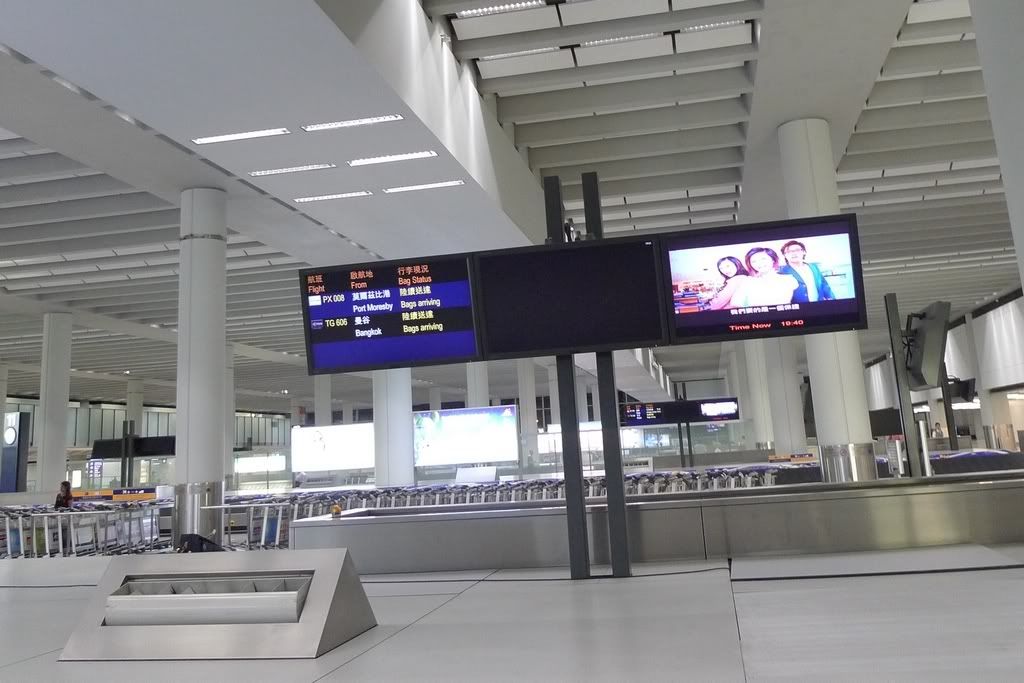 Comment:
SQ regional J, nothing special for that 2 hours flight.
TG F, brilliant experiences starting from their lounge, great services, great food and excellent spa. With only 2 passengers in First, the cabin service was very good too. While waiting for the luggage, I chatted with the other First passenger, who did the same routing as me today as SIN-SQ-BKK-TG-HKG, and he was from LAX-NRT-SIN in F two days before, we got the same conclusion, although SQ have the better equipments, but the services from TG is much more heart-touching, and the food were better too! In addition, we were impressed by the free shuttle from the gate to the immigration even in out-station, good job TG!
I can foresee my next trial on TG would be on their new A380, and I have a feeling that they will put it in BKK-HKG-BKK for initial period.
PS: Hope Bangkok would be alright by the flooding situation now.
Here is the end of this trip report, thanks very much for reading and I hope you enjoyed it. I am planning my next interesting trip now, please stay tuned!
My past TR:
Three 5-Star Airlines In 8 Days (102pics) (June 2008)
First Touch Of China Southern MD82 (31 Pics) (August 2008)
China Airlines HKG - TPE (47 Pics) (August 2008)
HKG-BKK With China Airlines In C (61 Pics) (November 2008)
HKG-BKK F On Emirates' 777-300ER (67 Pics) (May 2009)
HKG-TPE Turnaround On TG's A340-600 (33 Pics) (June 2009)
HKG,MFM,TPE,SIN,BKK In CX C And BR Y (201 Pics) (August 2009)
SQ Y HKG-SIN In 2009 w/MH And 1st A380(128 Pics) (Year 2009)
Ooop! I did it again Part 1 EVA Air MD-90 (May 2010)(50 Pics)
Ooop! I did it again Part 2 CX HKG-SIN run (May 2010)(116 Pics)
Photo Report: My Trip For BG's DC-10-30 (June 2010)(63 Pics)
First Time To Japan Part I: AI HKG-KIX In F (August 2010)
First Time To Japan Part II: JL KIX-HND In J (August 2010)
First Time To Japan Part III: OZ NRT-ICN In C (August 2010)
First Time To Japan Part IV: OZ ICN-PEK In NEW C (September 2010)
First Time To Japan Part V: IR PEK-NRT In C (September 2010)
First Time To Japan Part VI: NH FUK-ITM In C (September 2010)
First Time To Japan Part VII: AI KIX-HKG In F (September 2010)
EK A380 Inaugural Flight HKG-BKK In F (107 Pics) (October 2010)
Europe Trip 2011 Part I - HKG-BKK On TG F (June 2011)
Europe Trip 2011 Part II - BKK-SIN On SQ J (June 2011)
Europe Trip 2011 Part III - SIN-LHR On SQ F Suite (June 2011)
Europe Trip 2011 Part IV – LHR-ZRH-MLA On LX/KM J (June 2011)
Europe Trip 2011 Part V – MLA-ZRH-LCY On KM/LX J (July 2011)
Europe Trip 2011 Part VI – MAN-CDG-SXM On AF J (August 2011)
Europe Trip 2011 Part VII – SXM-AMS-LHR On KL J (August 2011)
Europe Trip 2011 Part VIII – LHR-SIN on SQ Suite (August 2011)