Part 1: London to Colombia via ARN/MUC/FRA on BA & LH
Hi!
Welcome to the first part of my trip report covering my flights to Colombia. Despite 99% of Colombia's international news coverage concerning drugs, violence and kidnappings, Colombia is somewhere I've always been curious about. I'd received a few emails from Lufthansa offering some pretty good fares down to Bogota (around GBP 450) from London. However, it wasn't until I saw FlyingFinn76's Facebook update about flying to Colombia that I started to think about actual times and dates. A quick email conversation with FlyingFinn76 and I found out that LH had misloaded the fares on flights to BOG from quite a few northern European airports. Instead of a fare of around GBP150 + tax, the fare was a grand total of GBP 0 + tax. FF76 had booked a long weekend to BOG for the end of October. After playing around with the dates, I decided on a rather long winded ARN-MUC-FRA-BOG-FRA-MUC-HEL routing, along with some connections with BA LHR-ARN/HEL-LHR. I'd be going out a few days before FF76, but we'd be flying back to HEL on the same flights. Once I'd added the BA flights, the total including tax wasn't so much cheaper than an LHR-FRA-BOG routing, but of course that would have been far less interesting. Total airfare for the international flights was GBP 340 (EUR 390/USD 530). Bargain!
I also booked a series of flights inside Colombia, but I'll cover those in the next report.
The map for today's flights:
The entire itinerary:
As all the flights were booked a long way in advance (April), I wasn't sure what I'd be doing nearer the time of departure. As it was, I wasn't working the day I was leaving. I had booked the last flight of the day out of LHR to ARN which was scheduled to arrive at 2340. I decided to go to Heathrow early to see if I could get on the earlier 1640. This flight was pretty full, and my fare non-flexible, but I thought I'd give it a go.
On the bus to Heathrow
Annoyingly, the bus I usually get ot LHR has recently dropped the extension from the Central bus station to T5, so I had to get the free Heathrow Express over to T5
I arrived at LHR nice and early at around 2pm. I was directed to the customer services desk to see about changing to the early flight. As I had guesses, I was told that there would be a large change fee of around GBP150. No thanks. I tried to reason that it would save BA money to put me on the earlier flight (as otherwise I'd spend the afternoon drinking in the lounge), but it was to no avail. Interestingly, if I had booked the lunchtime B767 flight to ARN, I would have ended up on one of the longhual 767s with PTV in economy.
Departures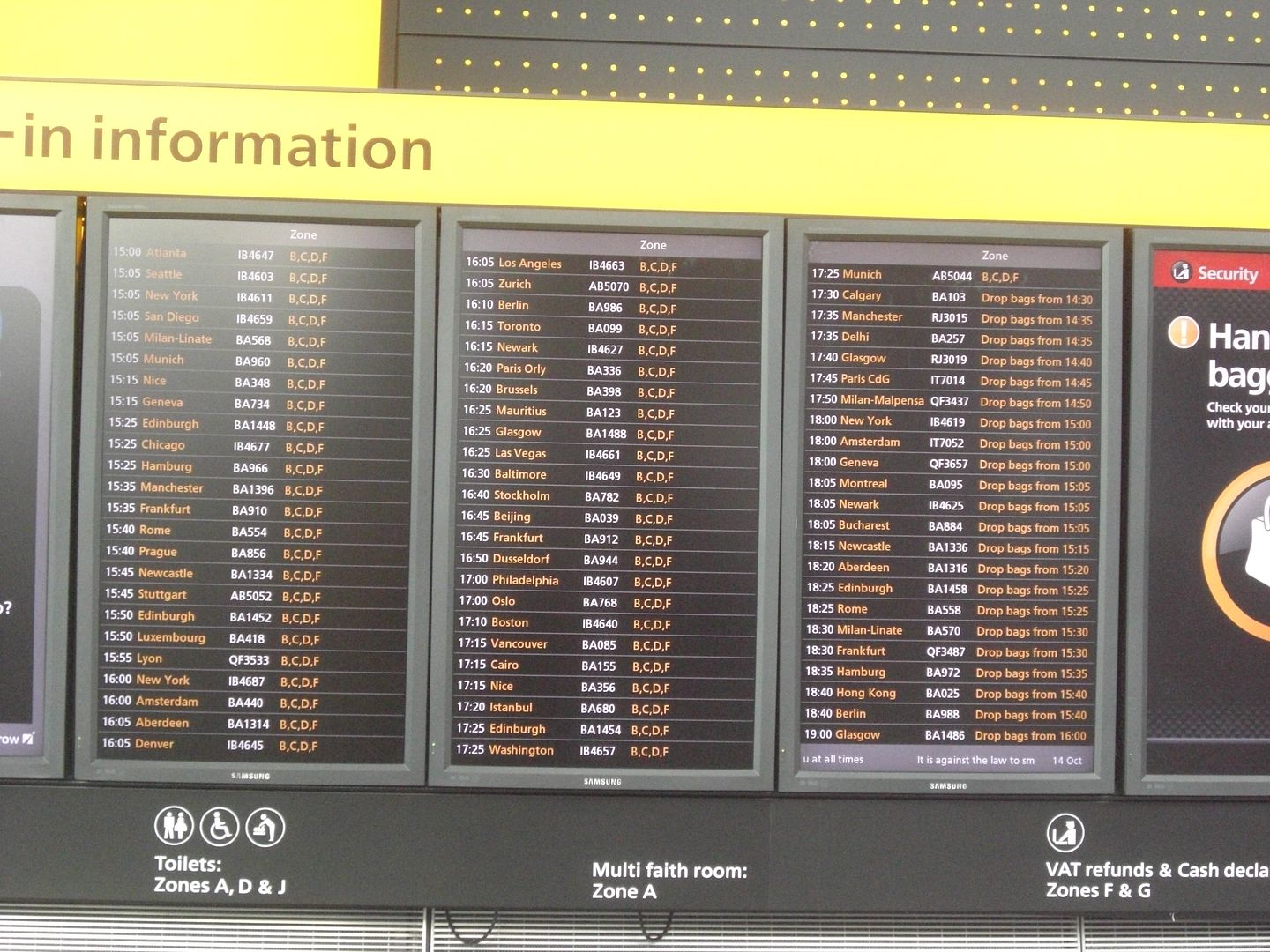 After checking in, I took a few photos from the drop off area.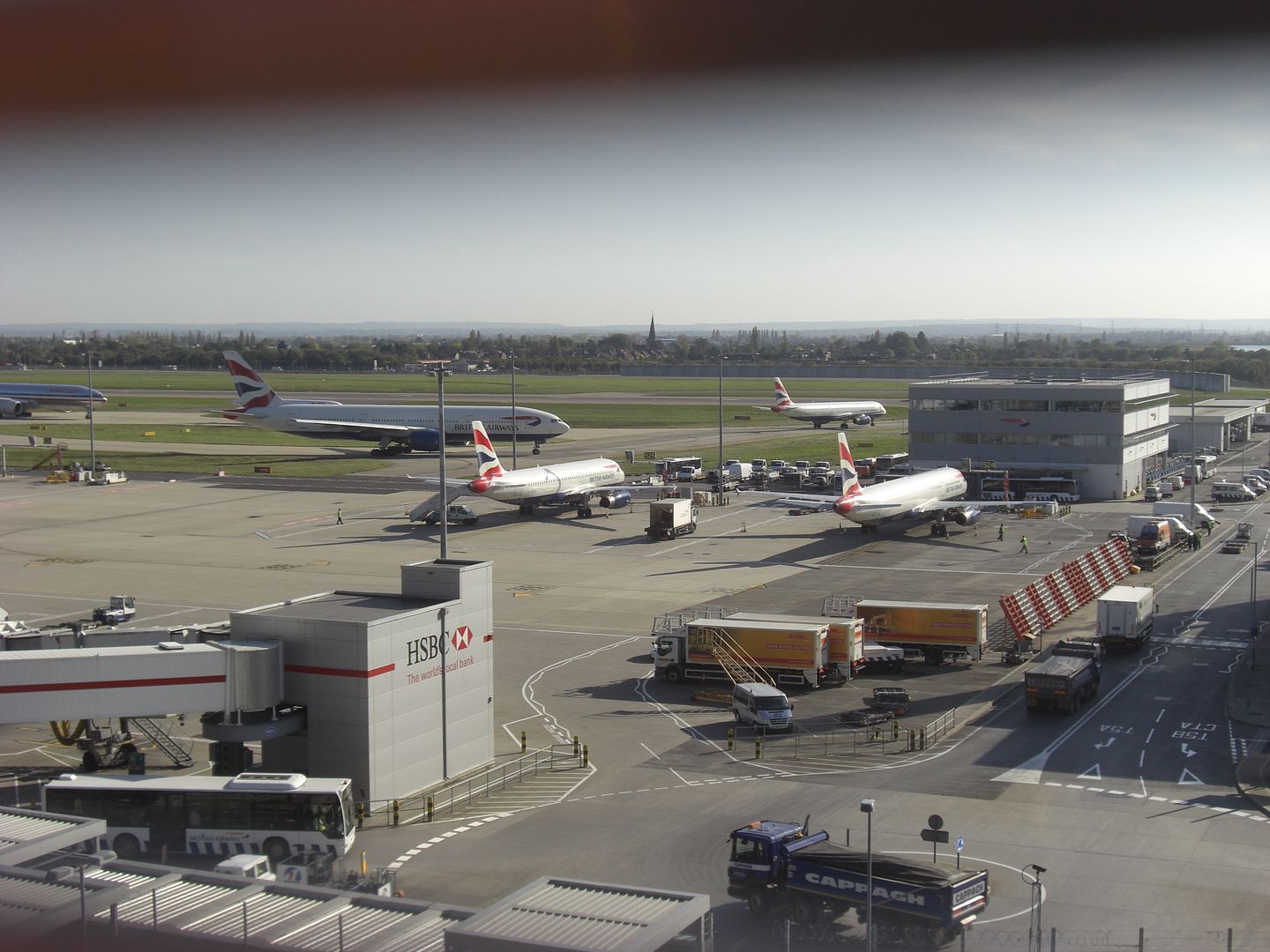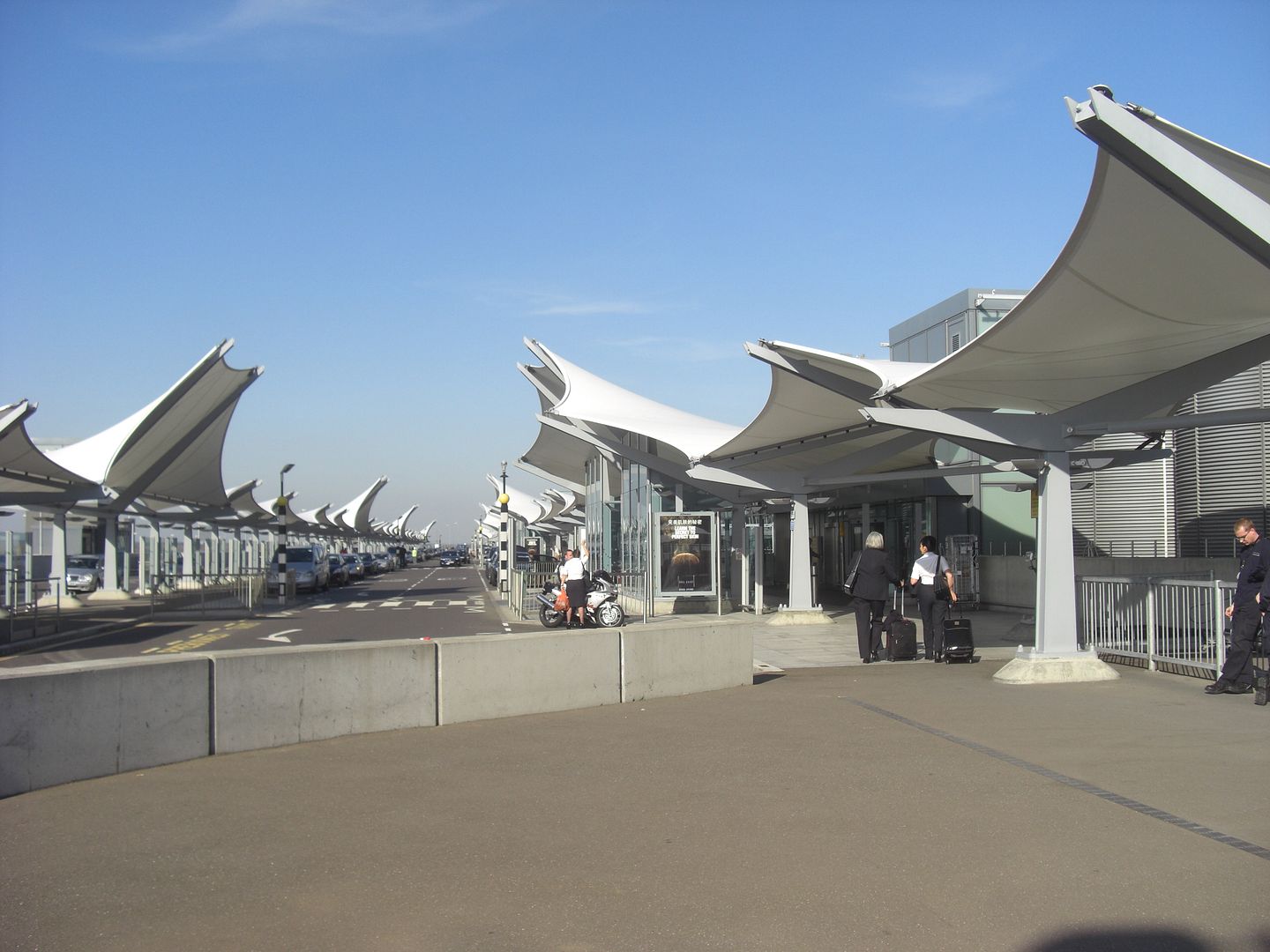 Diplomat Parking
Premium check in area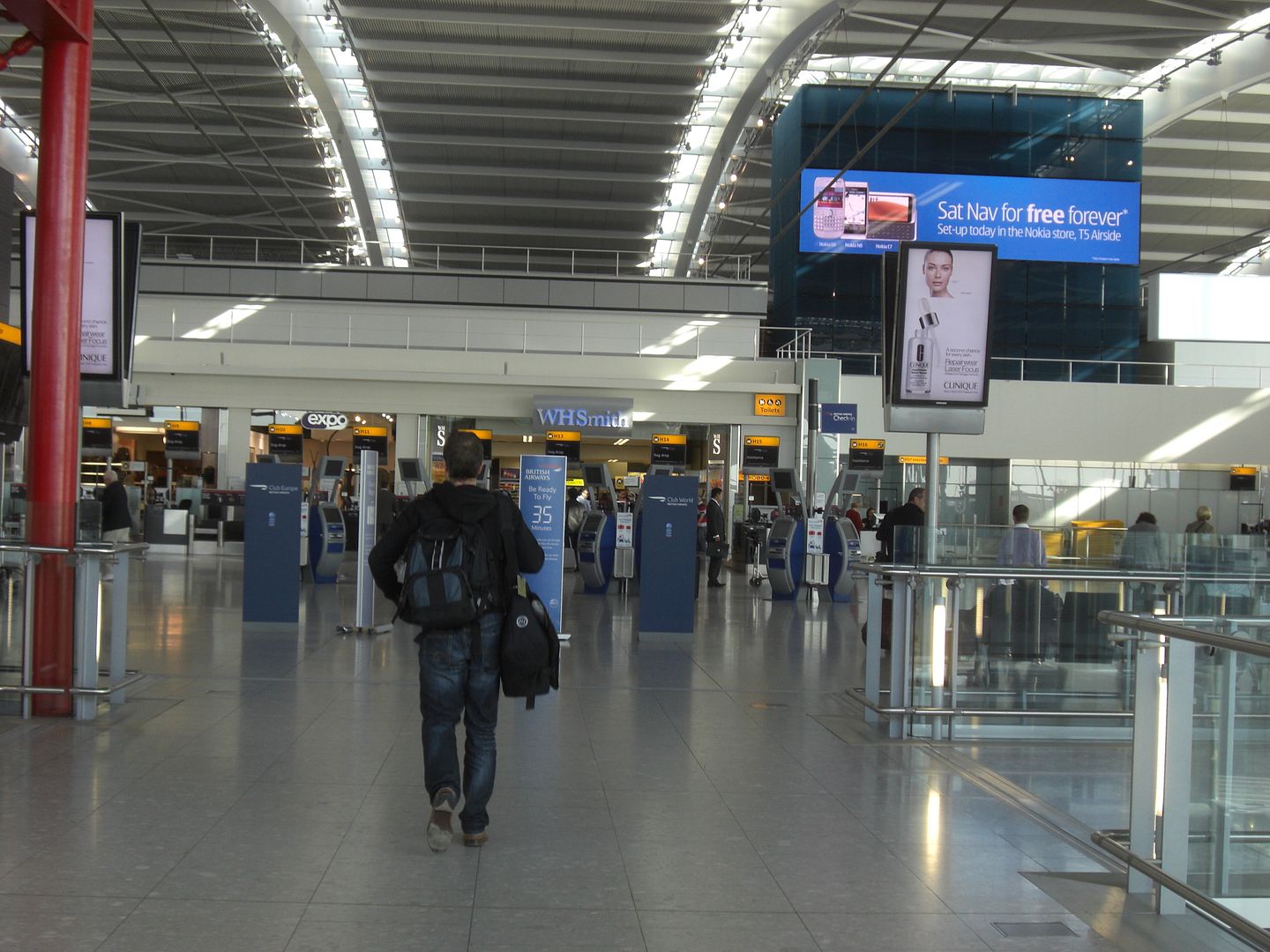 BA don't have a minimum check in time in Terminal 5 (they do in T3). Instead, there is a last time you have to have your boarding pass scanned by security (35 minutes). It's the same for everyone, and if you turn up at security at T-34 minutes, then you'll find you've already been automatically offloaded, even if you're a Gold member in First.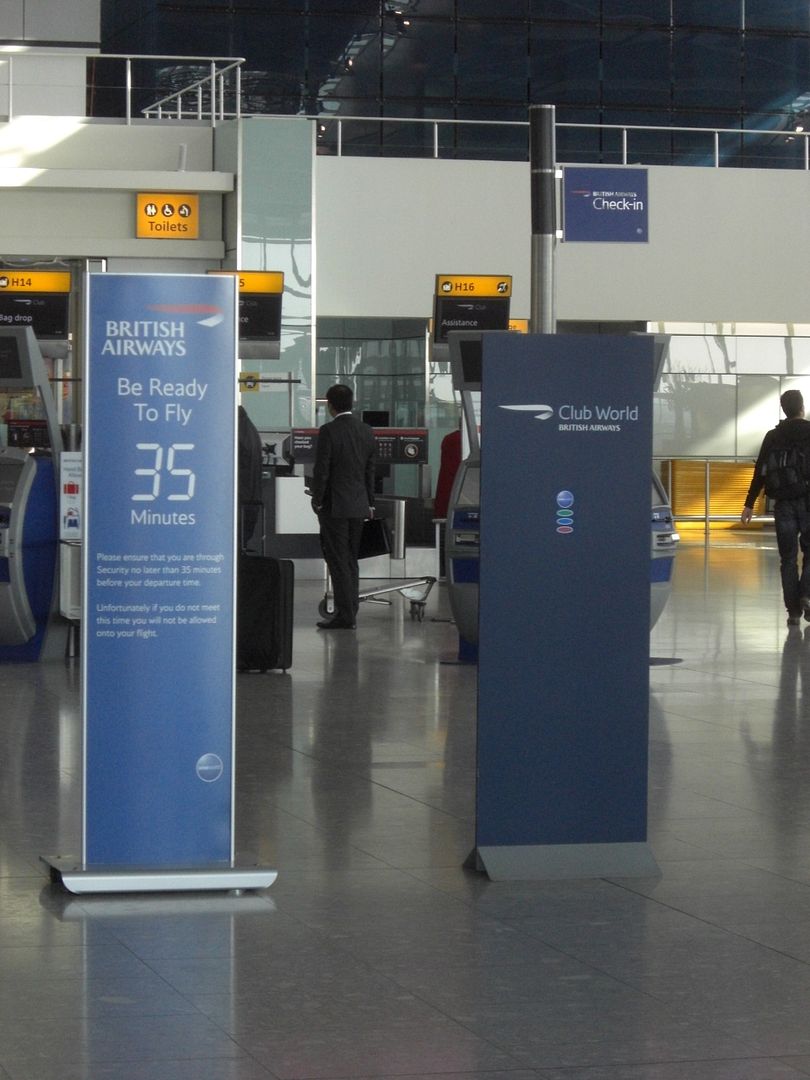 Security wasn't too busy today, and before long I was in the BA Galleries South lounge. Time for a bit of lunch. As I had six hours before my flight, I thought it a prudent idea to pace myself on both the food and the booze.
I got a couple of pots of vanilla ice-cream. The guy sitting on the table over from me asked where I got them from. Clearly, not many people know where the ice-cream freezer is.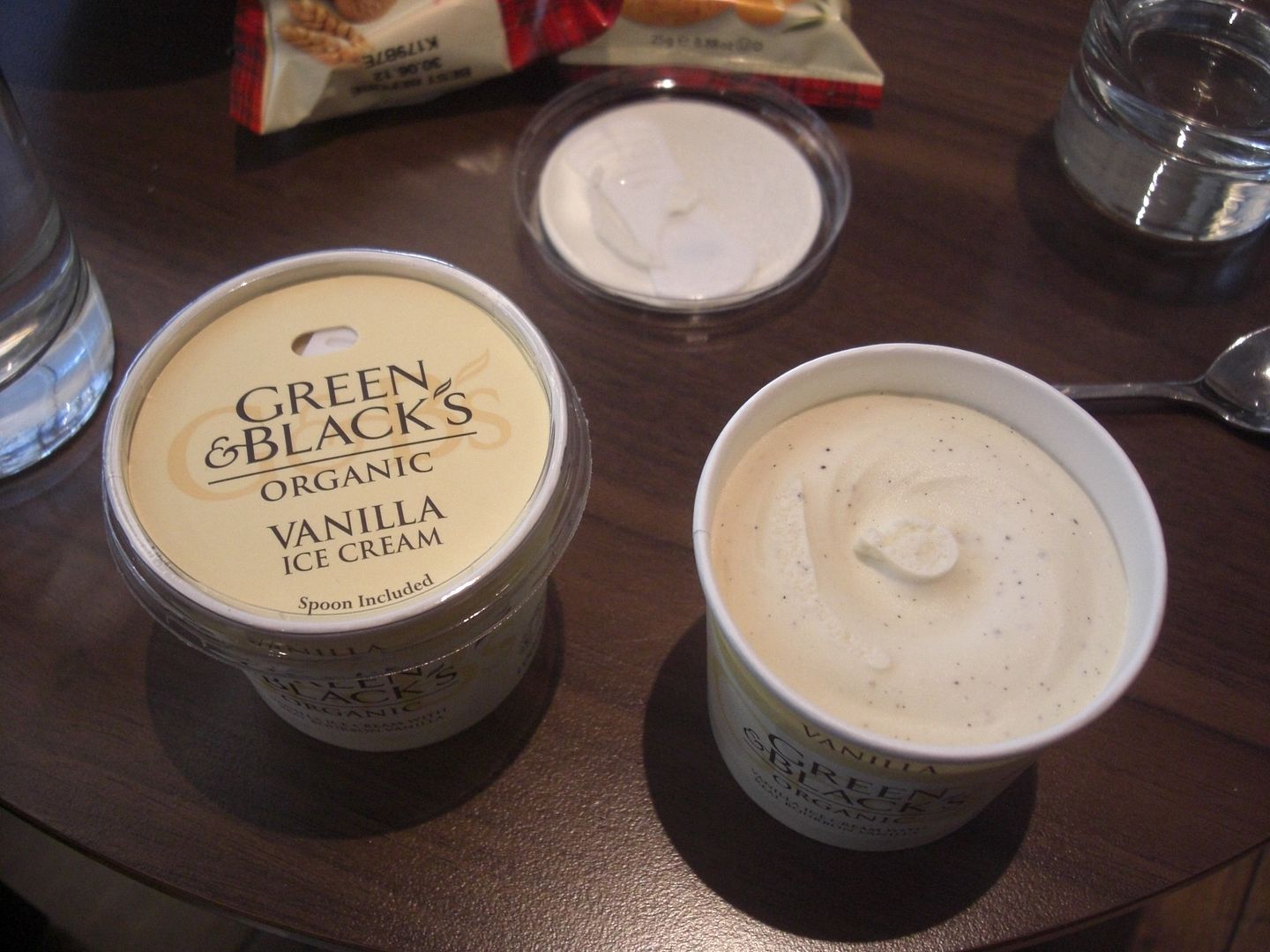 After getting some food in the South Galleries, I took the metro over to Terminal 5B. This is mainly used for long-haul flights. Passengers are told NOT to go over to 5B or 5C until their gate is announced (normally an hour or so before the flight) as there is no "proper" way to get back to T5A (where most shorthual flights leave from). However, I had done my research (on Flyertalk) and found out about a "secret" passageway back to T5A without having to go through security again
The escalator to the metro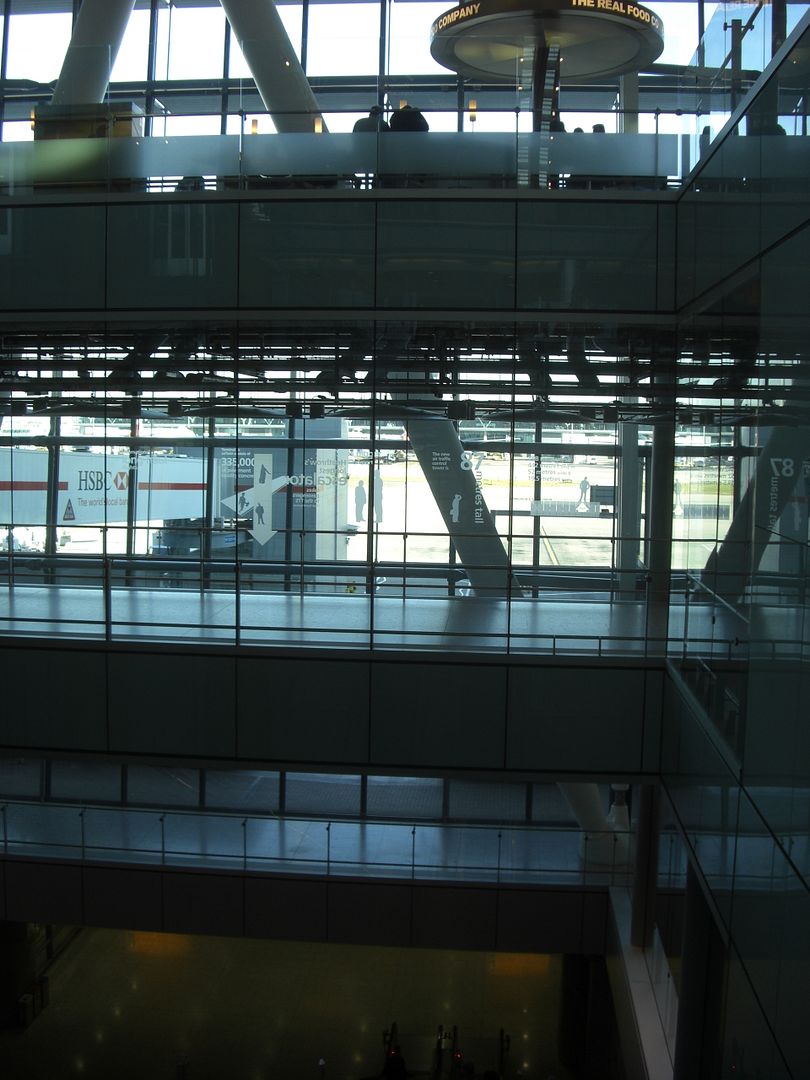 Views of T5B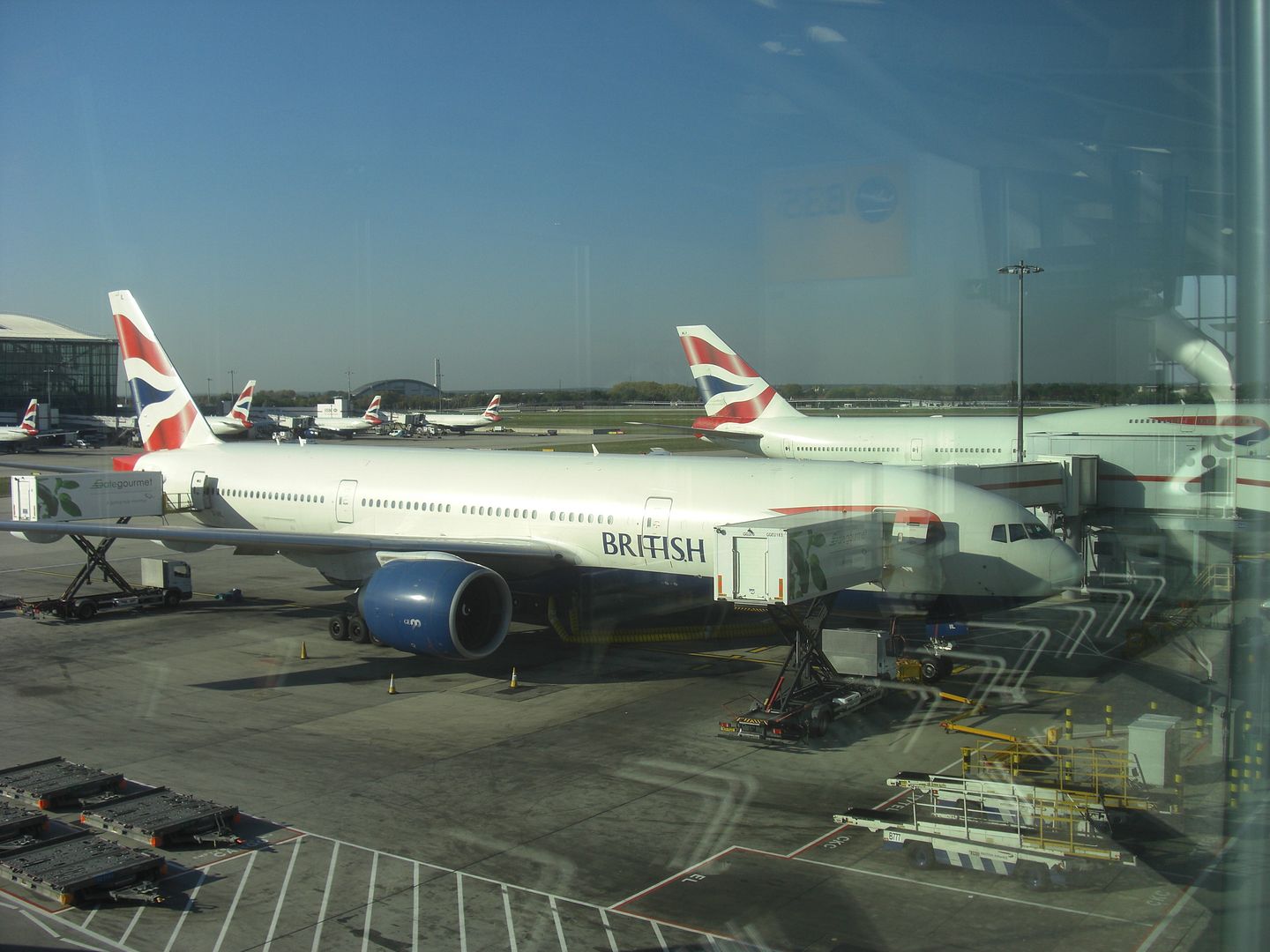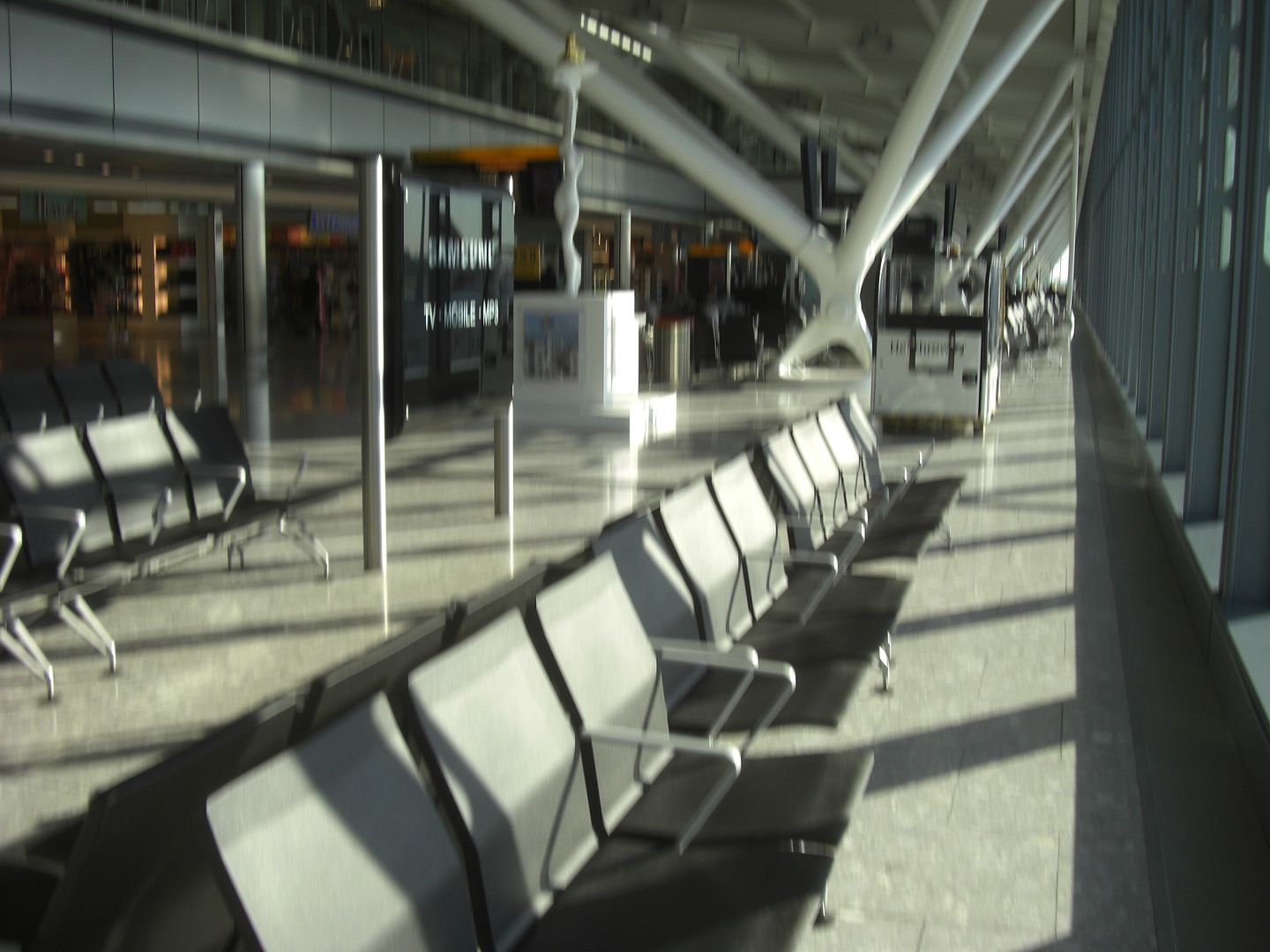 The lounge warden welcomed me into the lounge, disregarding the fact that I was very early, and in the wrong terminal. I took a seat, and a bottle of water, and logged onto the free wifi.
I caught passing waiter, and ordered a glass of champagne.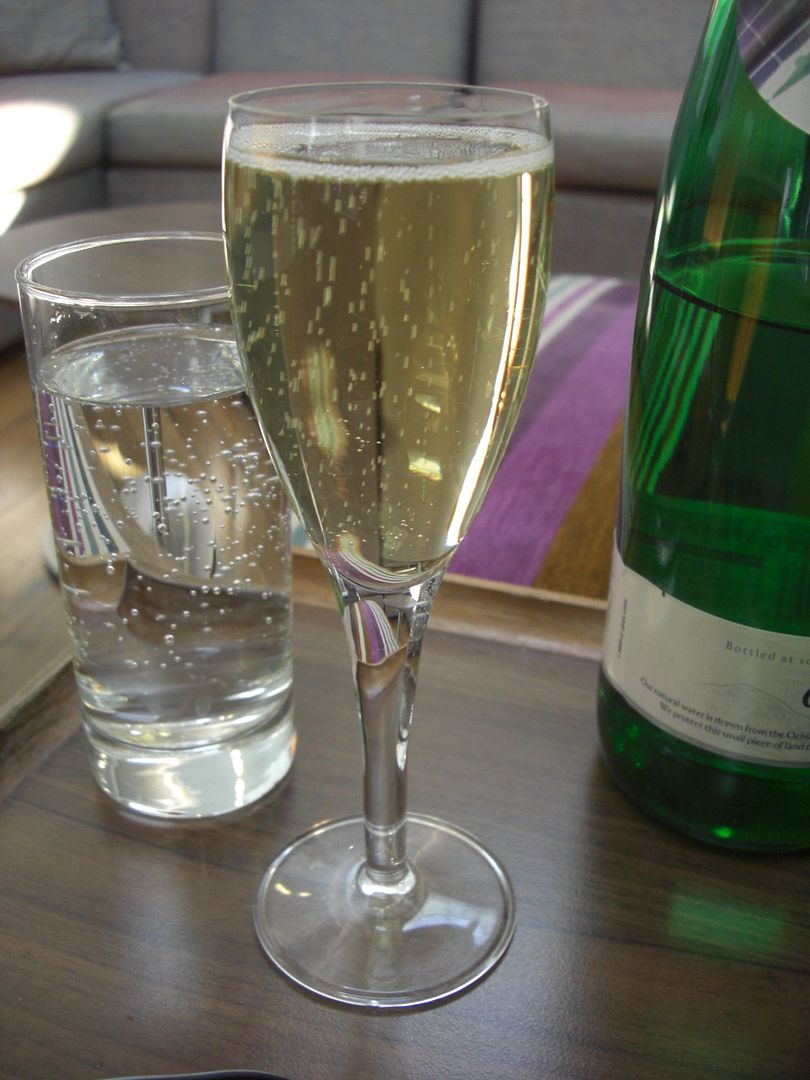 A few views of the T5B lounge. Not too busy, mainly as people spend most of their time in the T5A lounges.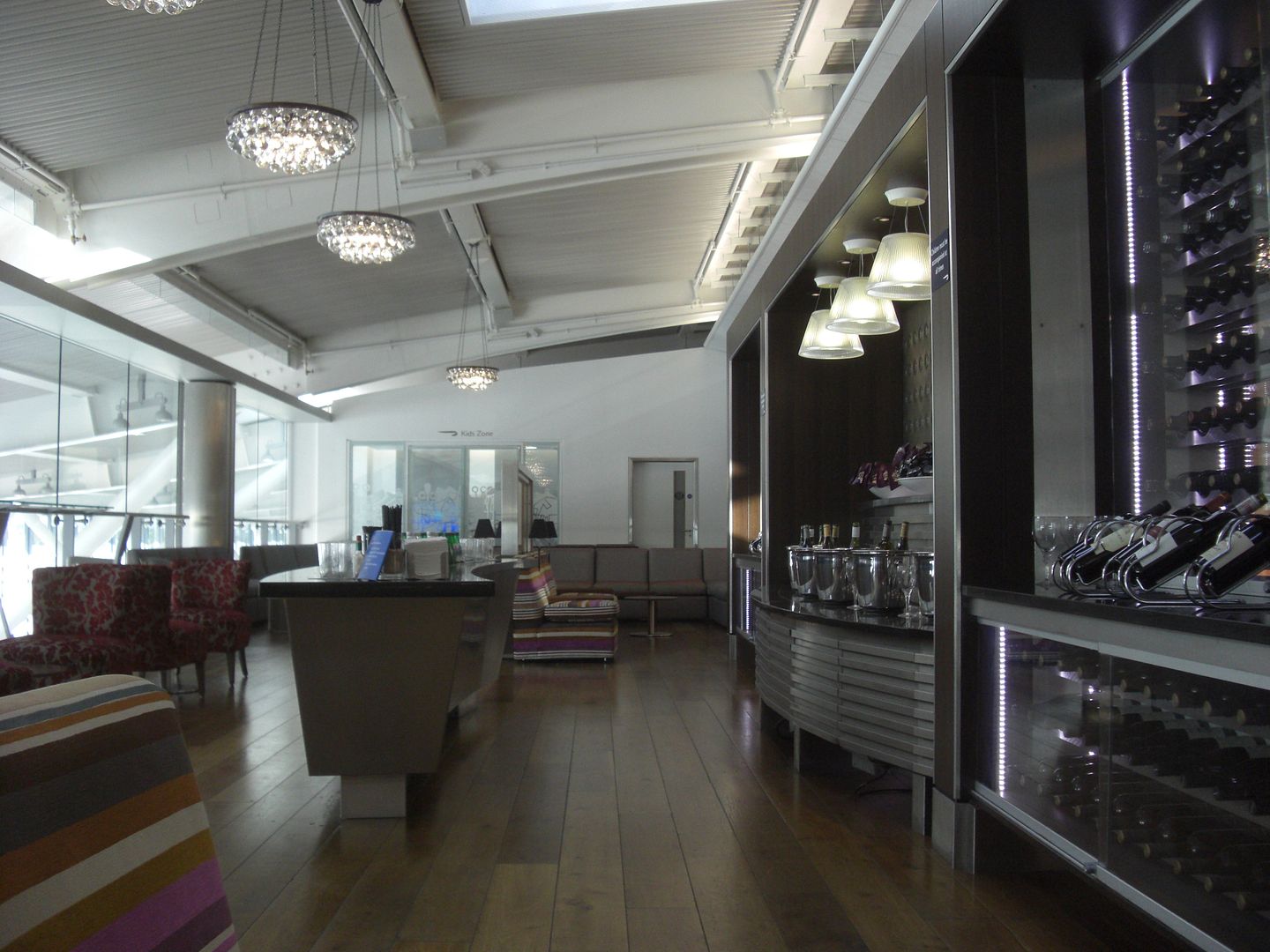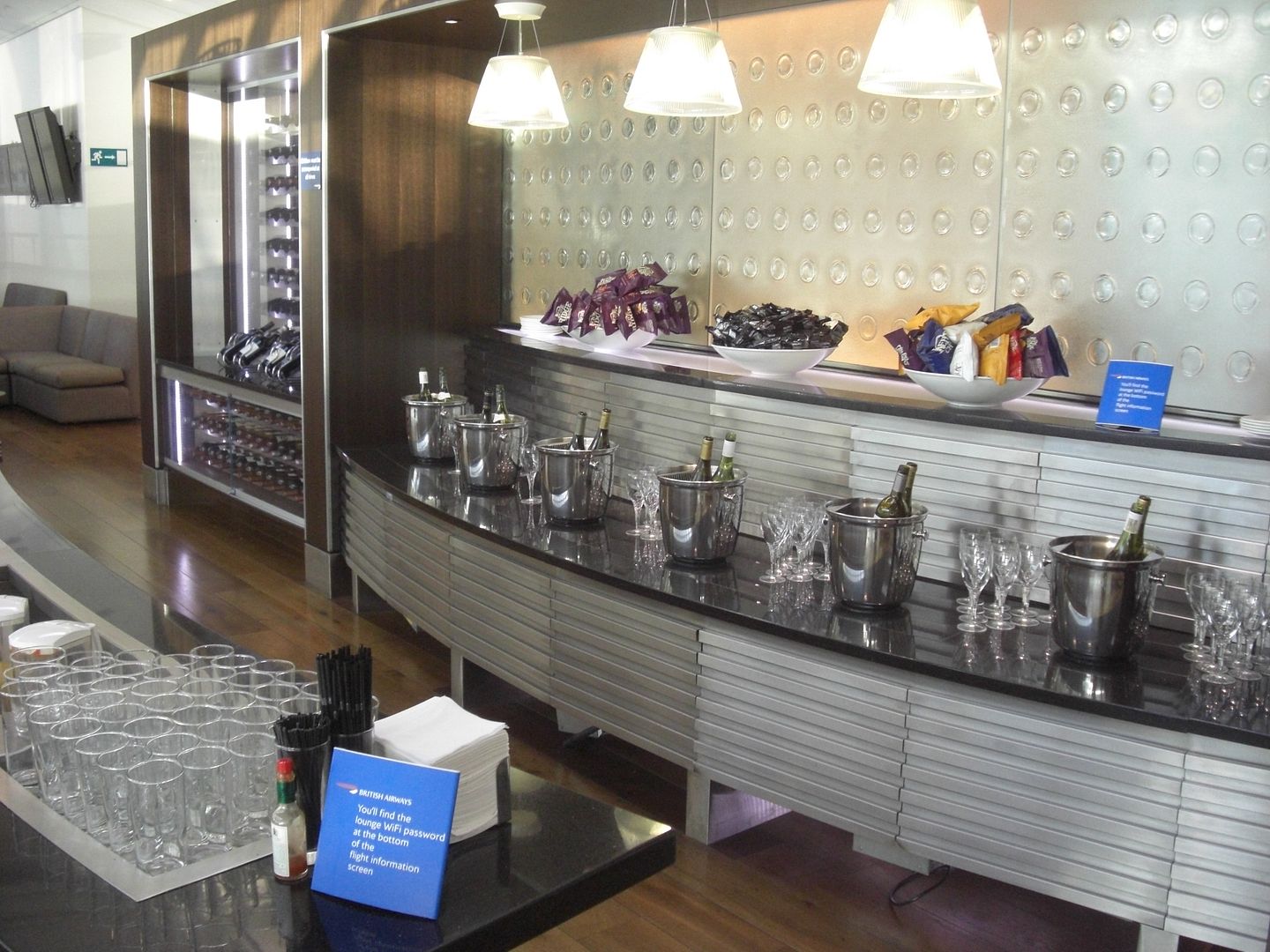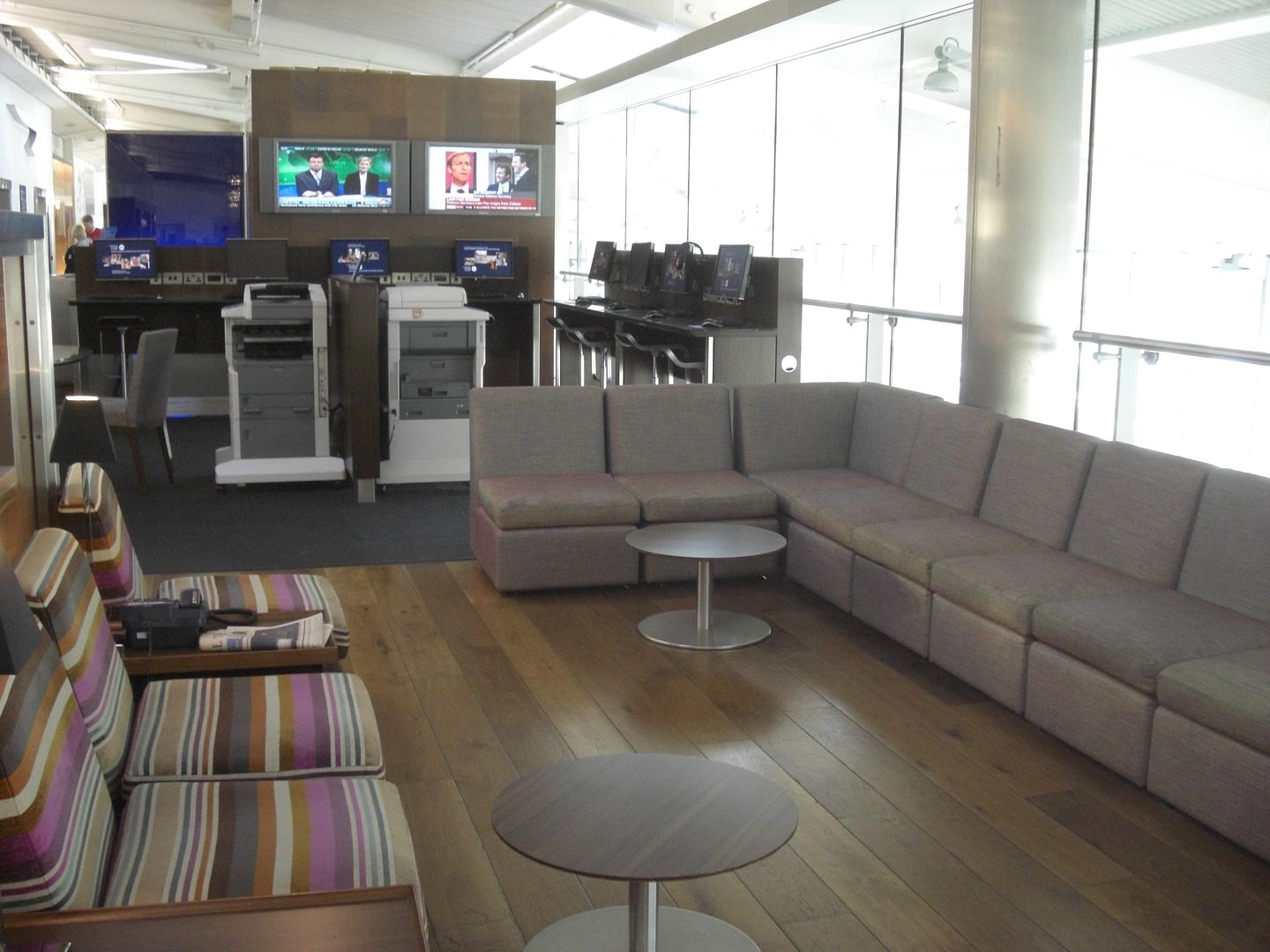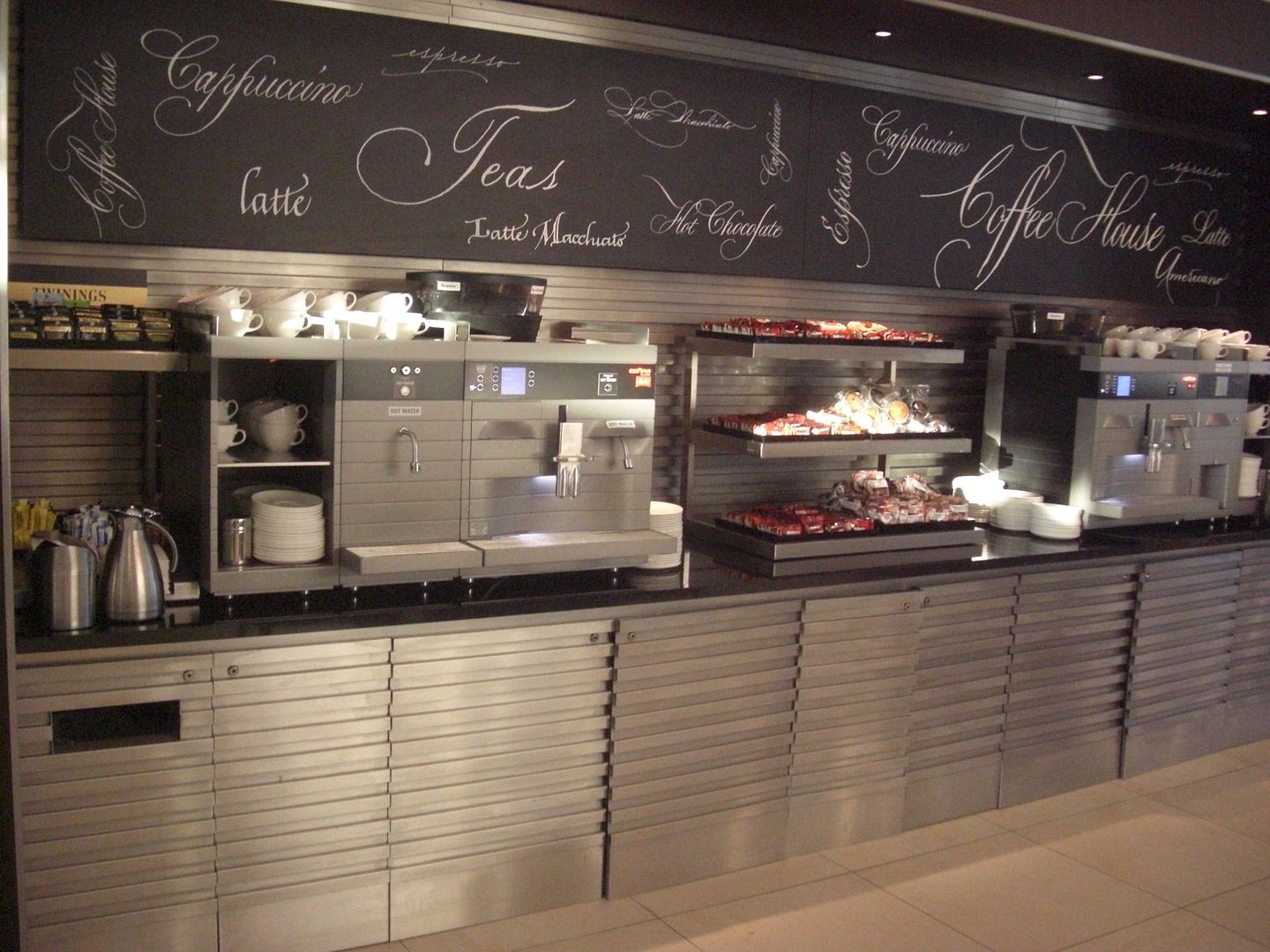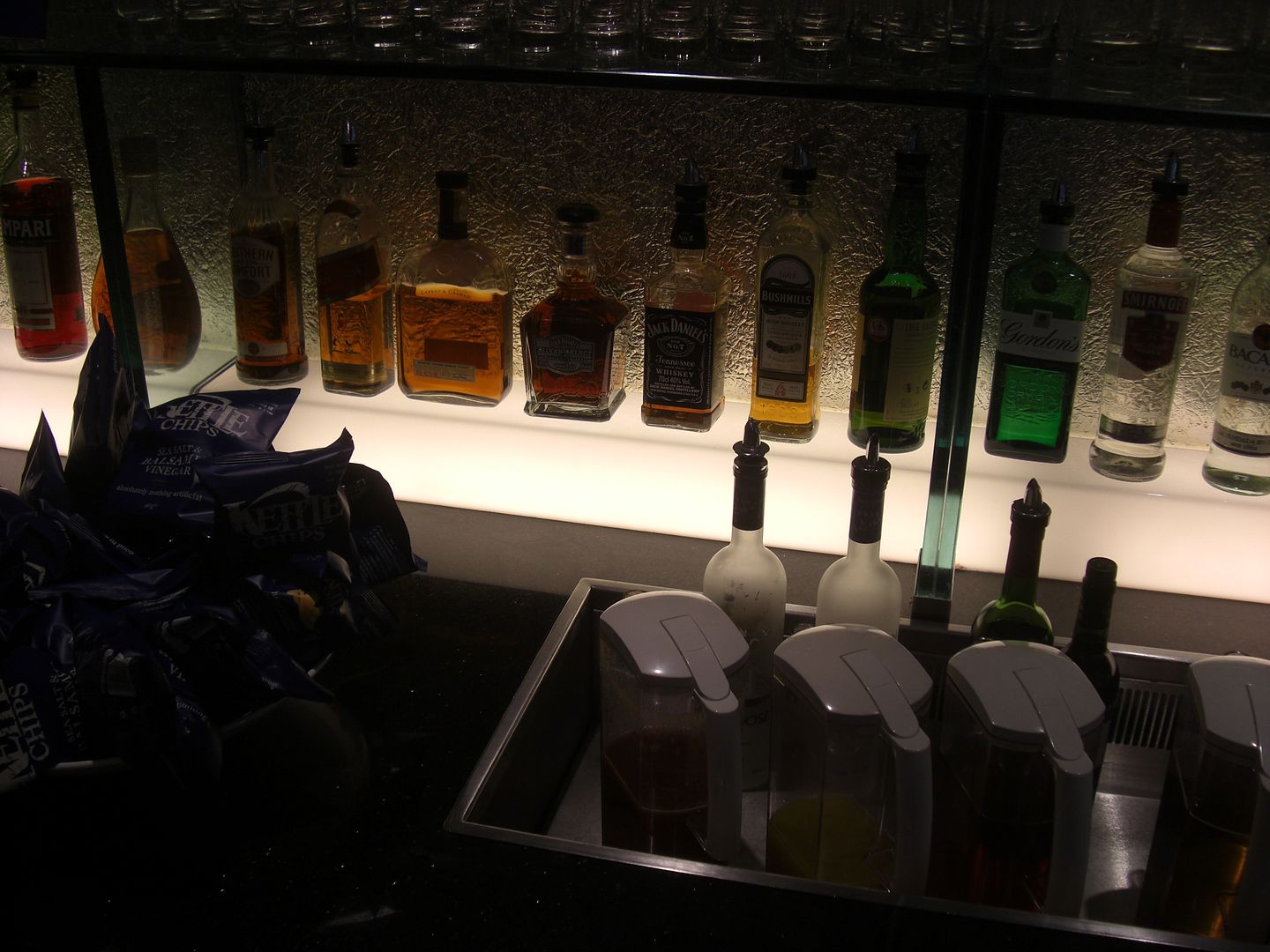 After a while on my computer finishing off a few last minute tasks (including renewing my travel insurance which expired the day before, and hadn't realised!) I decided to see what food was on offer, as well as move to a new seat.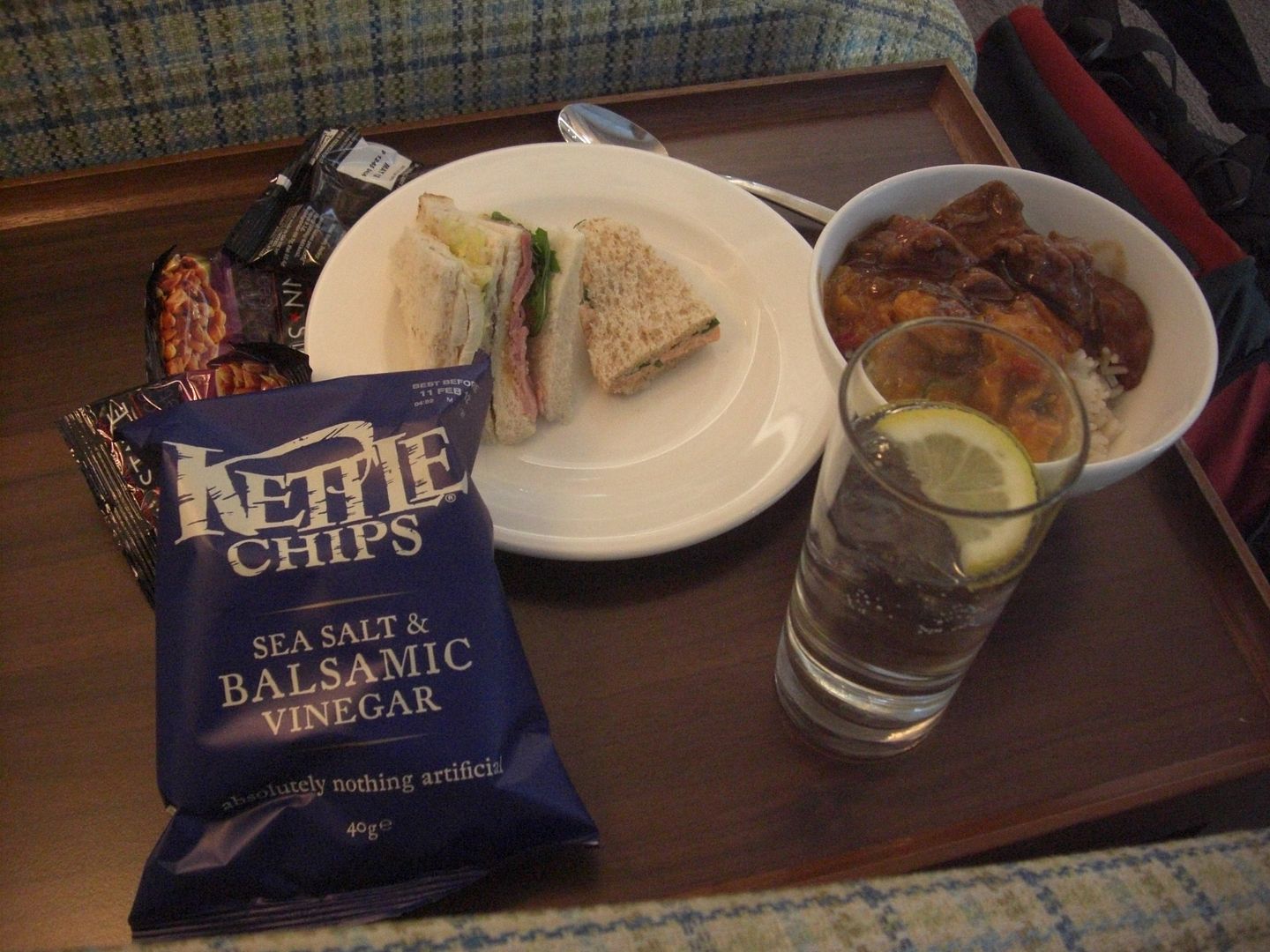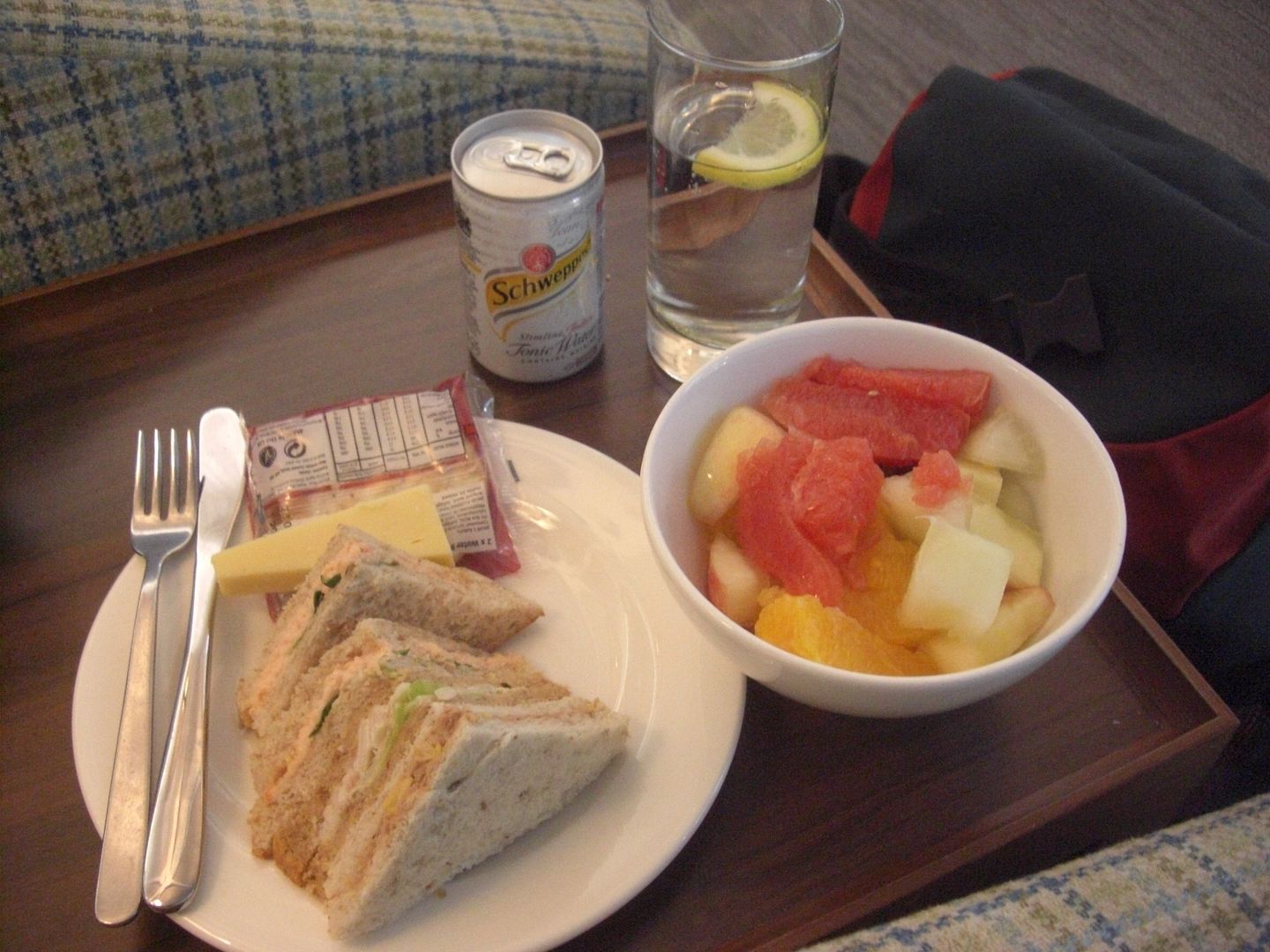 This B744 would shortly be leaving for CPT
Is this you? Boarded the YUL flight after I took the photo.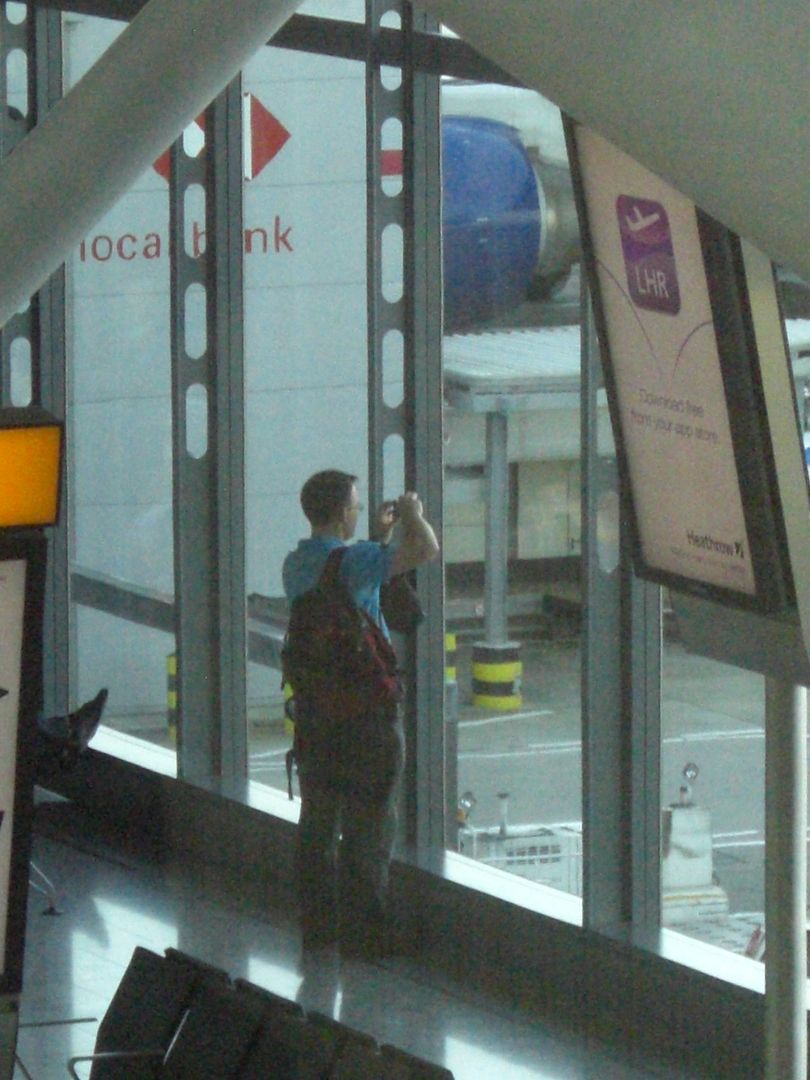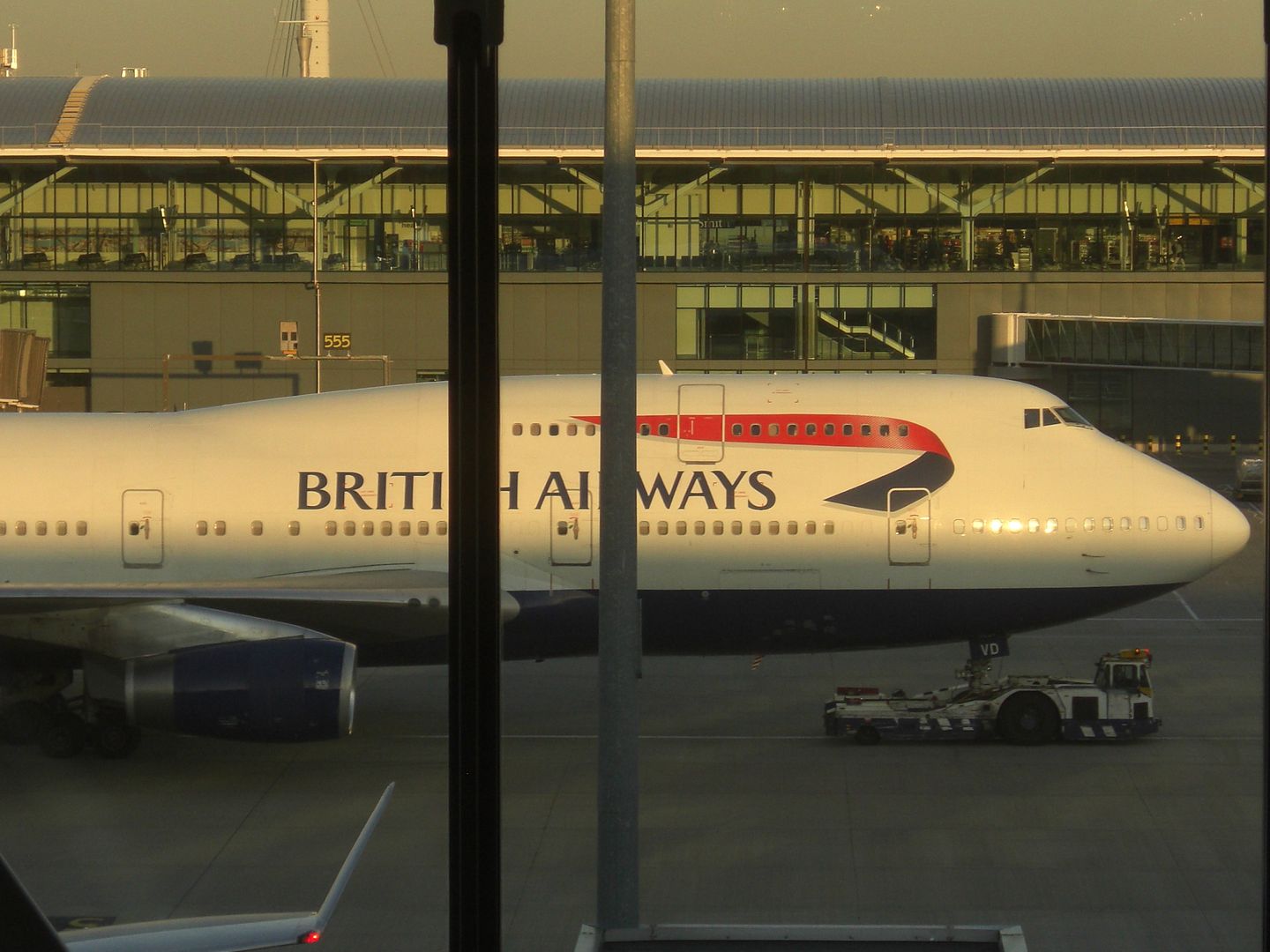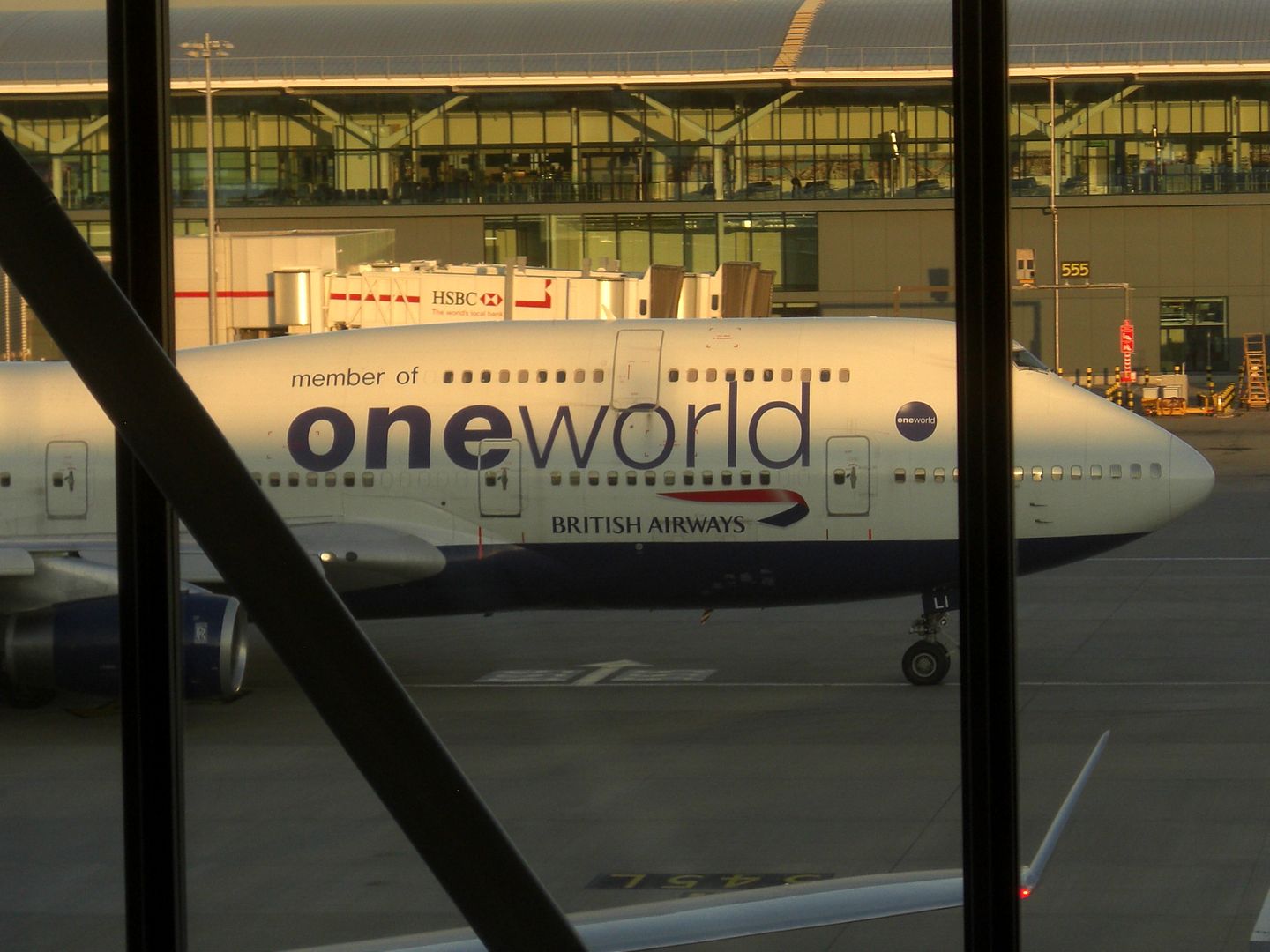 After 2 hours in the lounge, I moved again, this time to the computer area to print out a few things (I'd forgotten my guide book at home, so I printed off quite a few Google Maps!, as well as my insurance things). Nice view.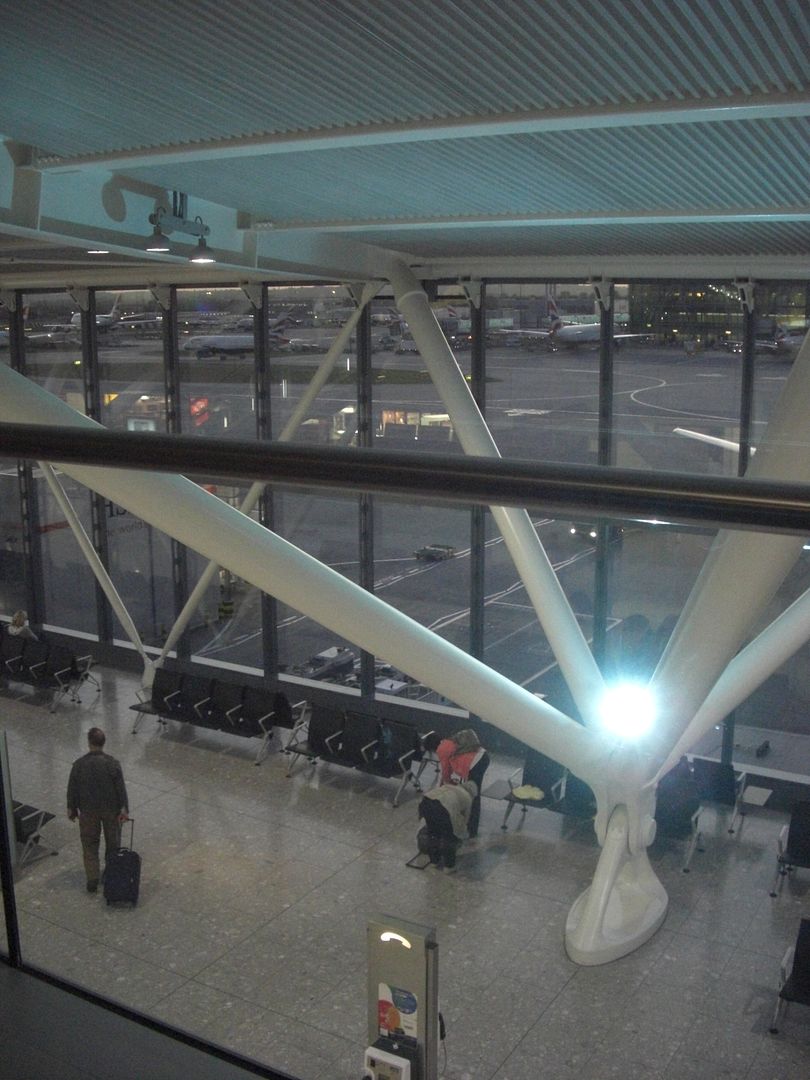 Some more snacks
CPT boarding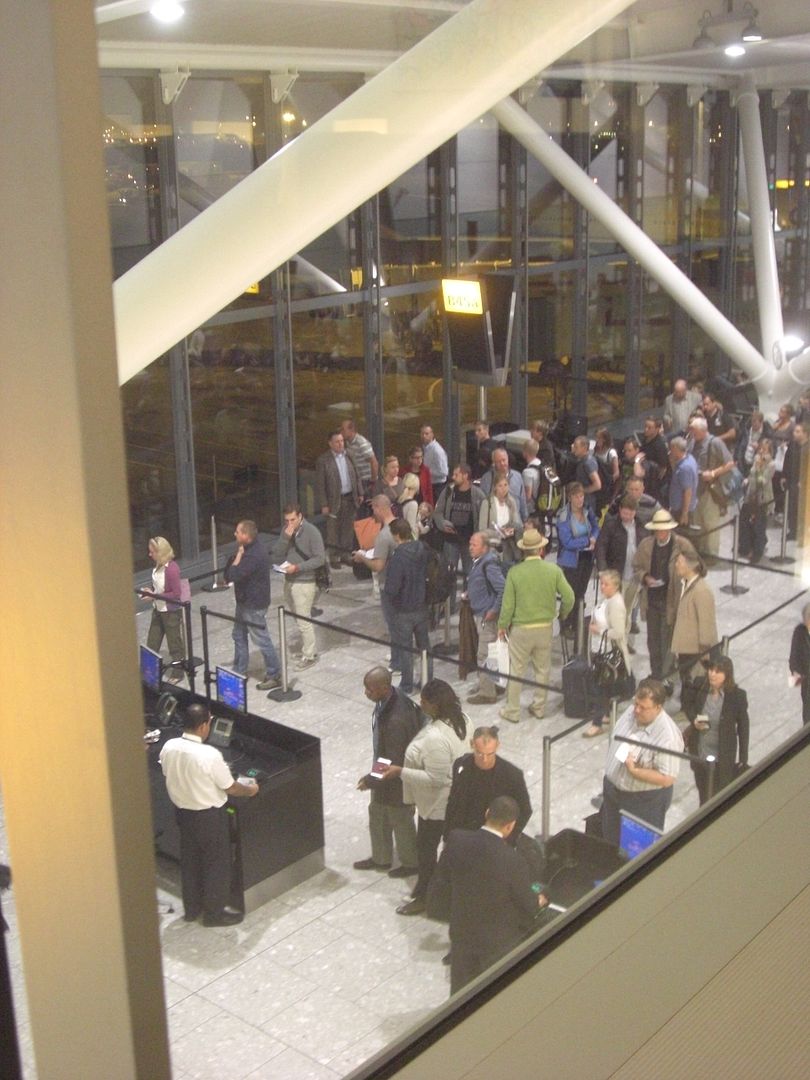 Around 50 minutes before my scheduled departure for ARN, I decided to head over to the A gates. For the record, take the lift next to the T5B Boots to level -2, then go down the stairs.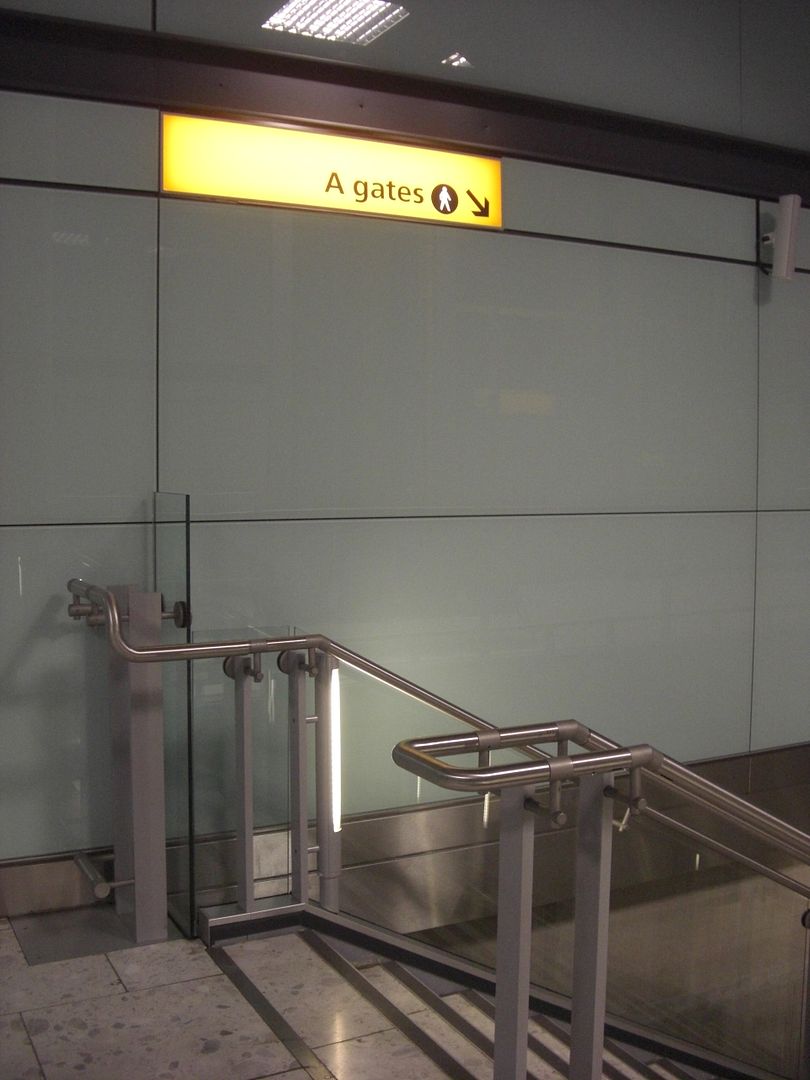 You then end up in a completely deserted area, with a tunnel going left for A, and right for C.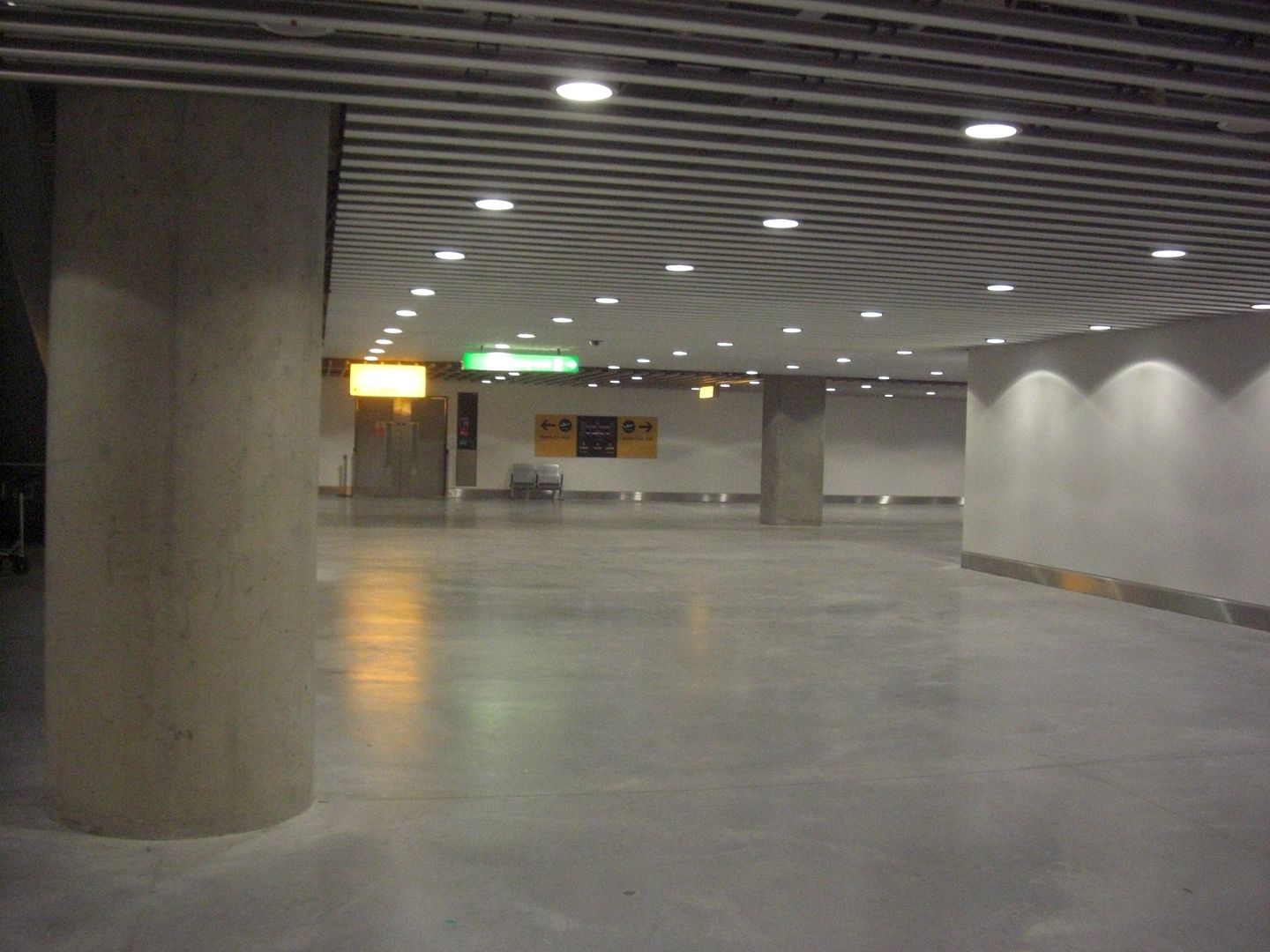 Nice mood lighting
Once back in T5A, I caught the lift back up to departures. The walk was actually much shorter and easier than I had thought, taking just 6 minutes from the T5b lounge to the Galleries South lounge. The tunnel is actually on -4, so it might be offlimits to passengers. Still the sign on the stairs DIDN'T say staff only. Maybe it's only allowed going from B to A, and not visa versa?
FIDS
T5A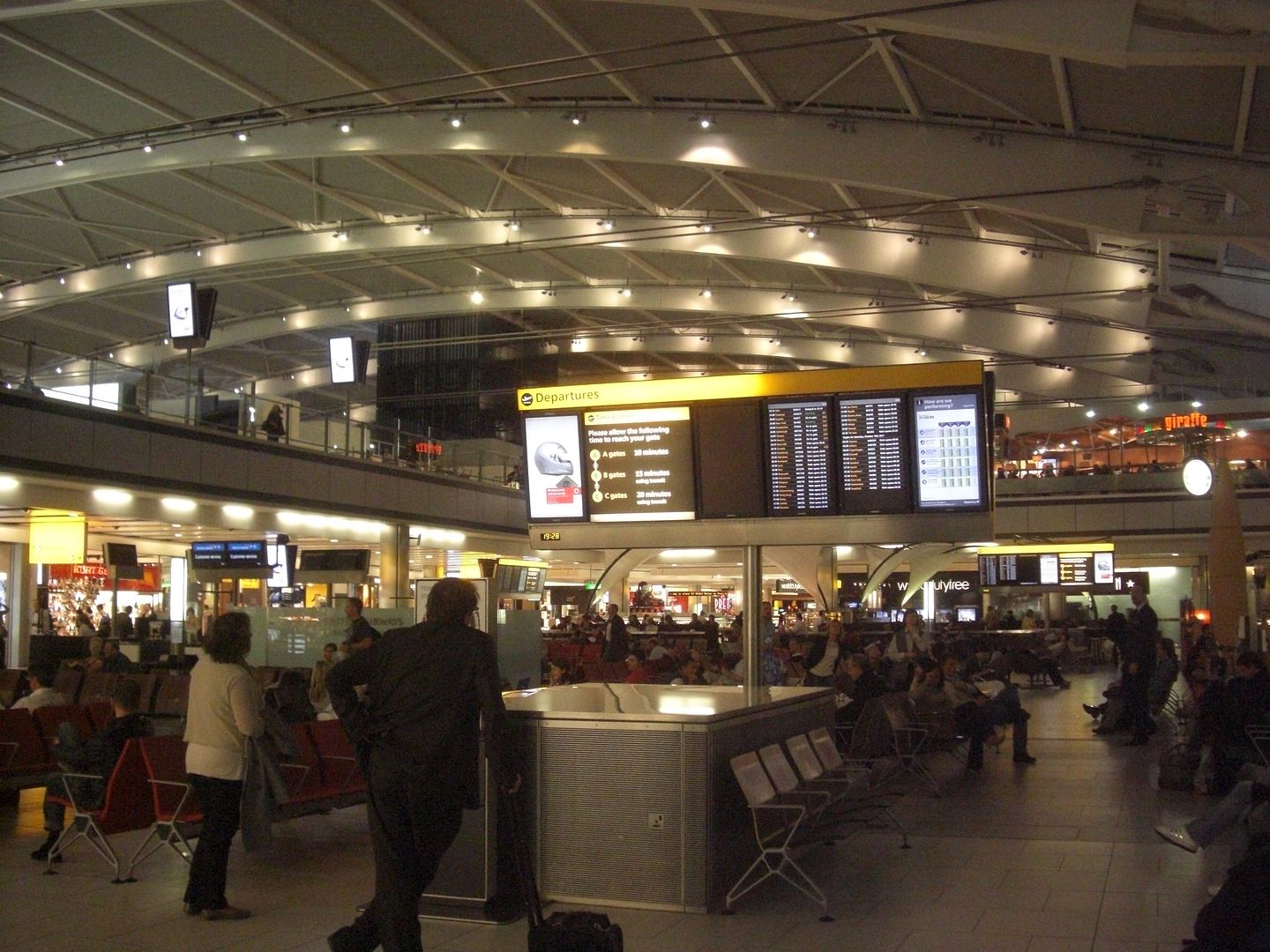 A quick check on the lounge FIDS showed a one hour delay. Not good news. I was quite tired by now, and the delay would mean an even shorter stay at the ARN Jumbo Hostel, and a consequently more grumpy day tomorrow.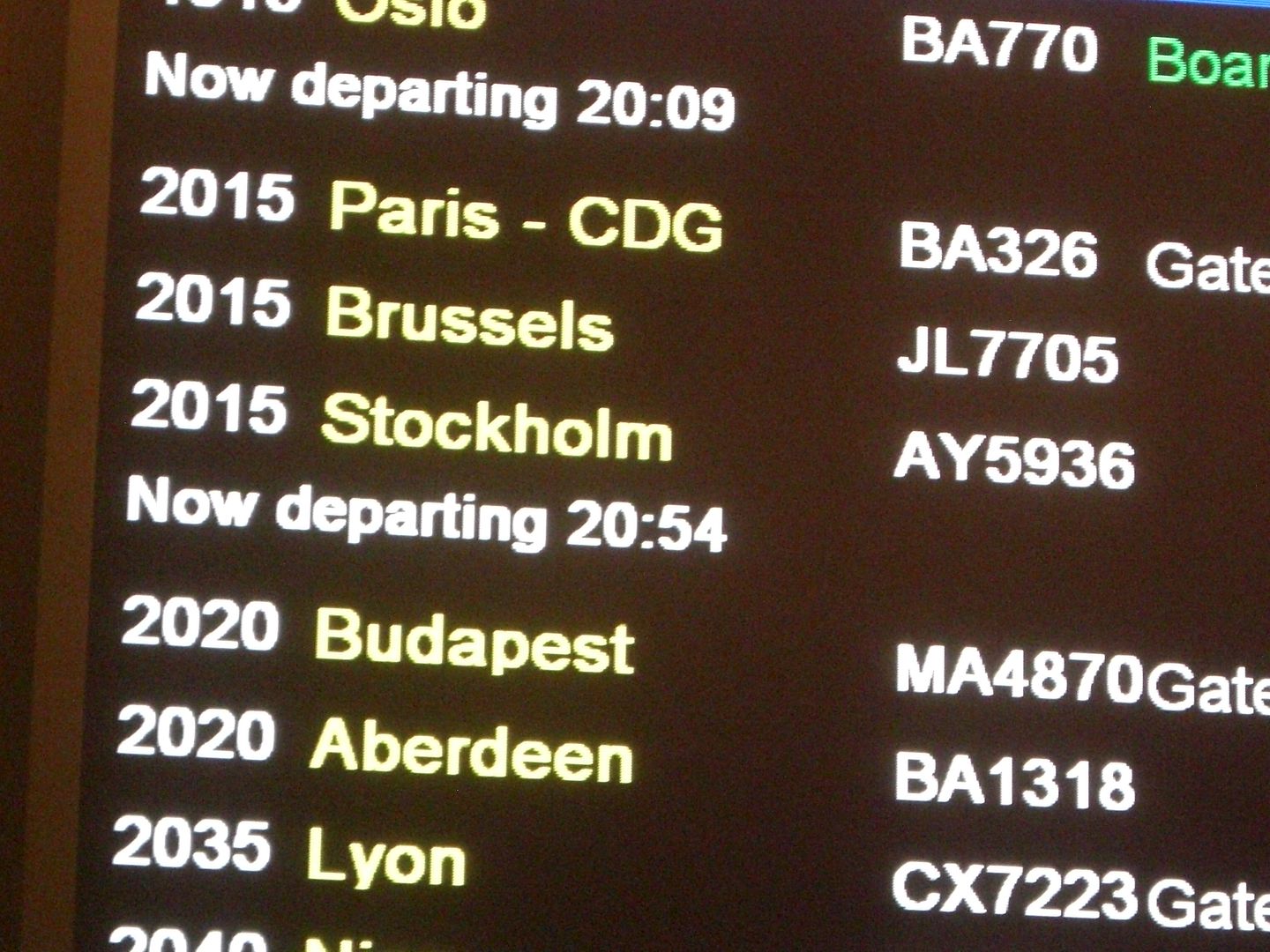 Nothing for it, but to have a bit more food!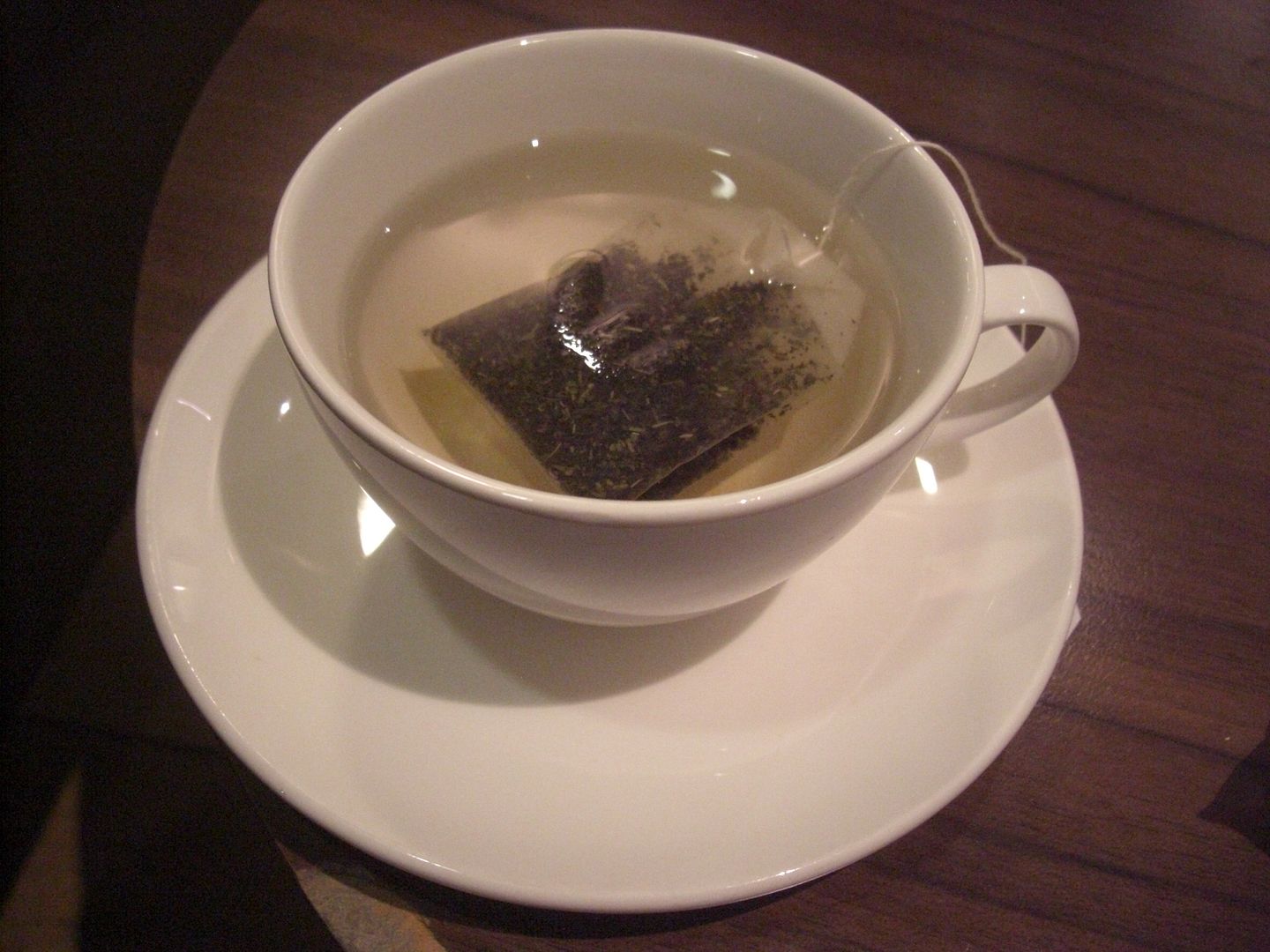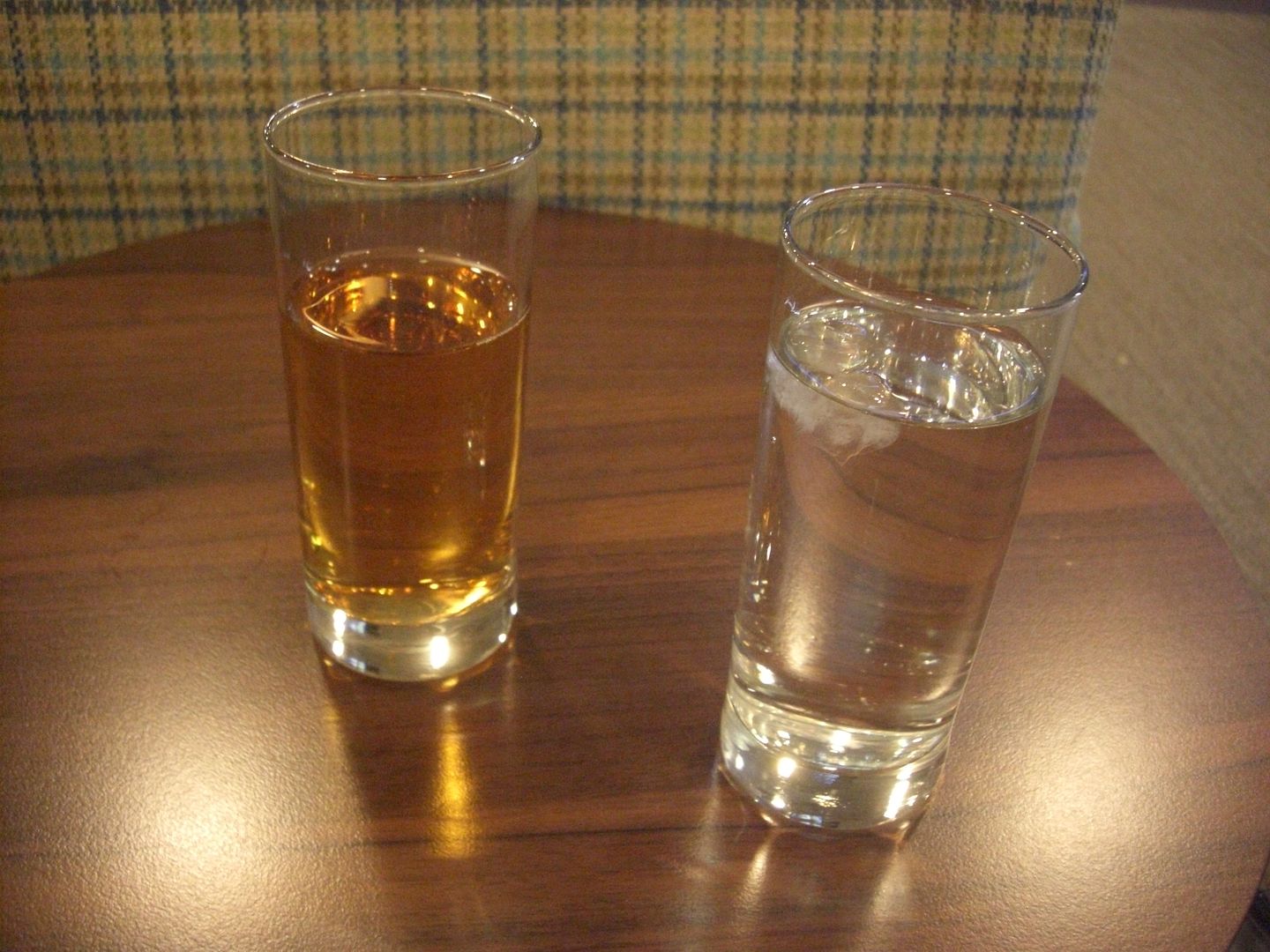 The future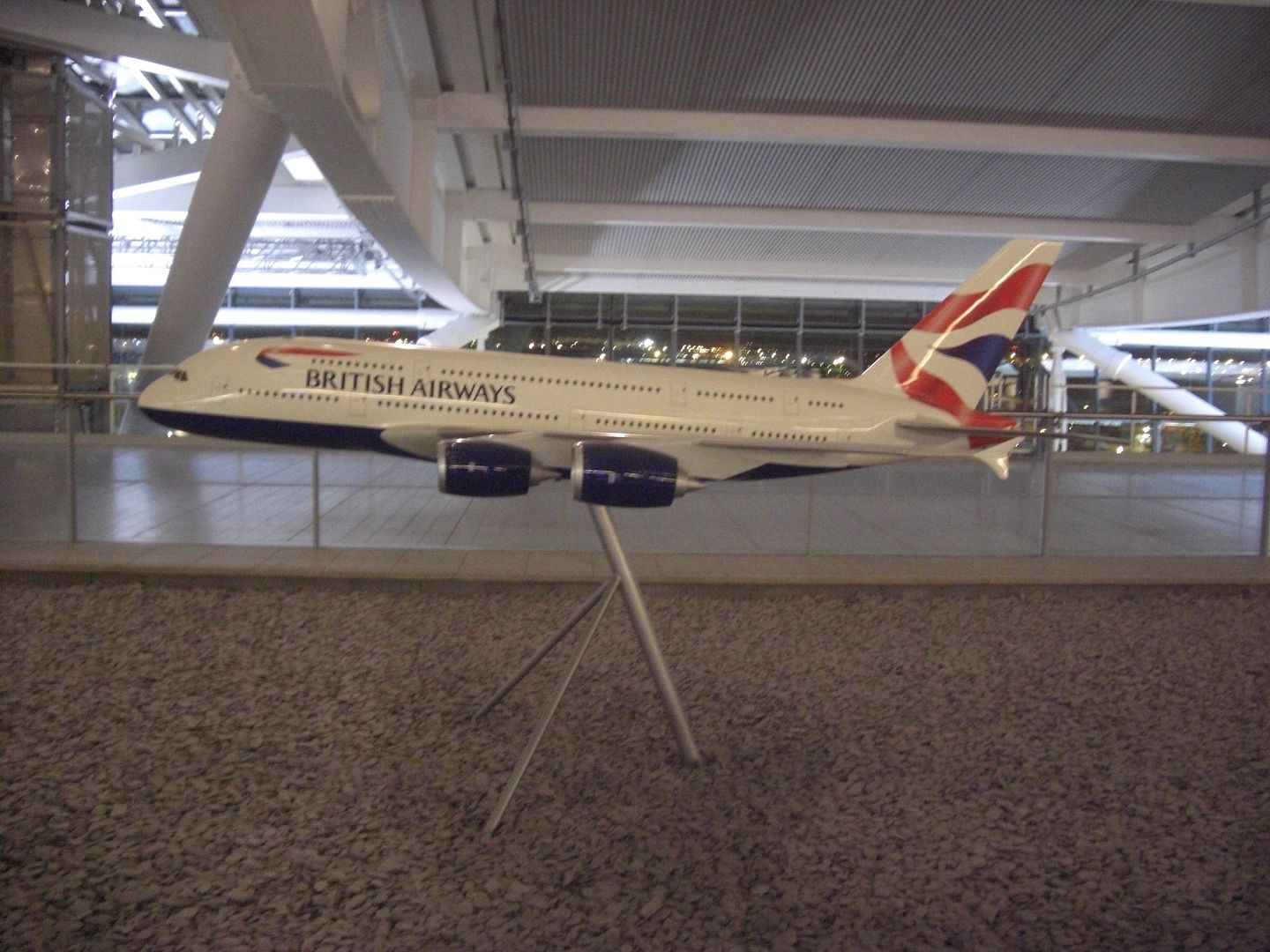 At 2030 I left the lounge, and headed down to the gate.
By the time I arrived, boarding had just started. I joined the priority queue, and was soon on board.
October 2011
London Heathrow (LHR) – Stockholm Arlanda (ARN)
British Airways BA 786
Scheduled: 2015-2340 (2h25m)
Actual: 2103-0006 (2h03m)
Airbus A320 G-EUXL
I had managed to snag the window seat behind Club Europe. This, along with the aisle seat are probably the best Y seats on the Airbus fleet as they are wider than normal, and the B seat isn't sold. The load was around 75%, with the back 3 or 4 rows completely empty. The captain apologised for the delay, saying earlier in the day there'd been a mechanical error, and they'd spent the day playing catch up.
After a very short taxi, we took off 50 minutes late.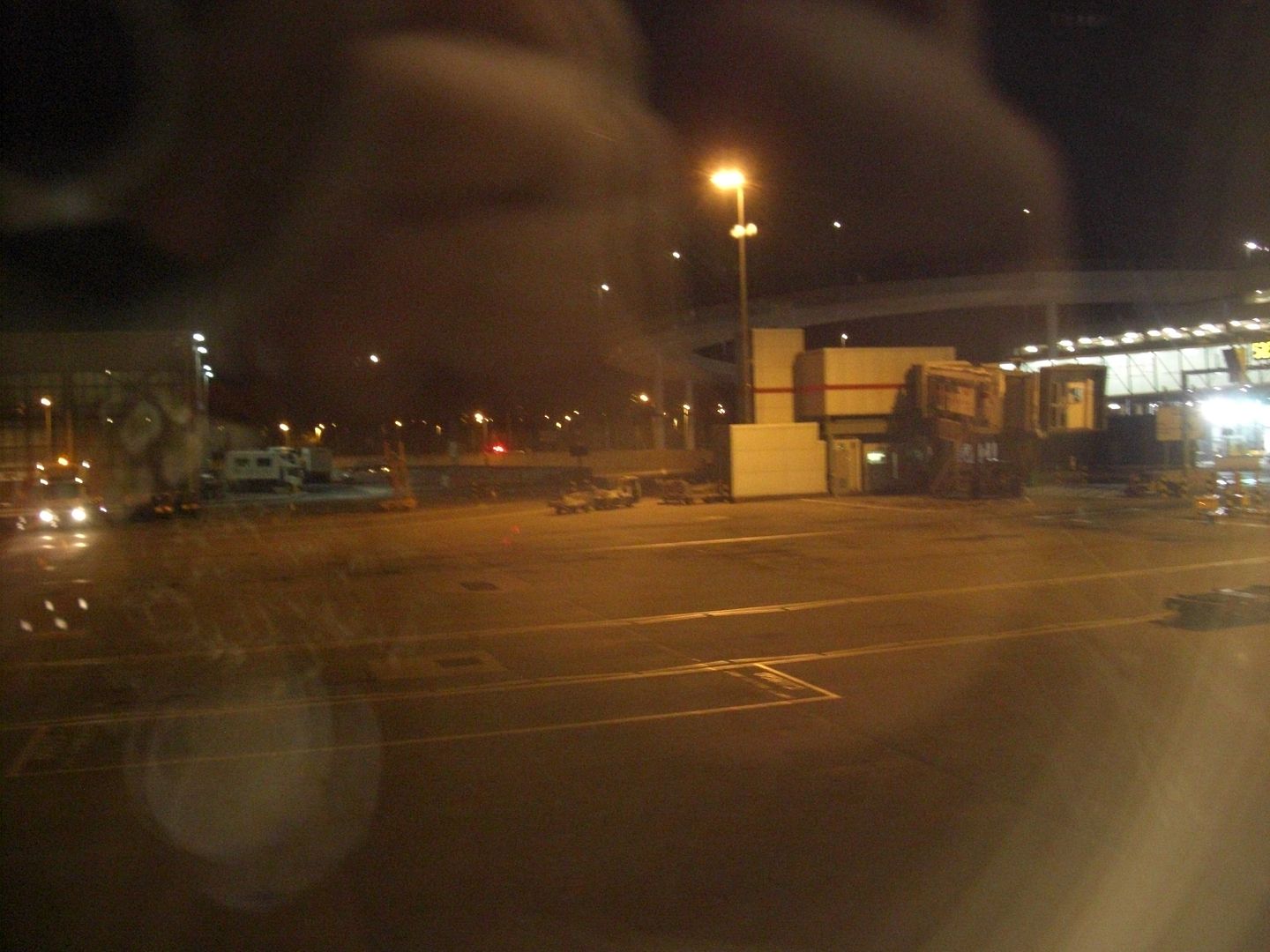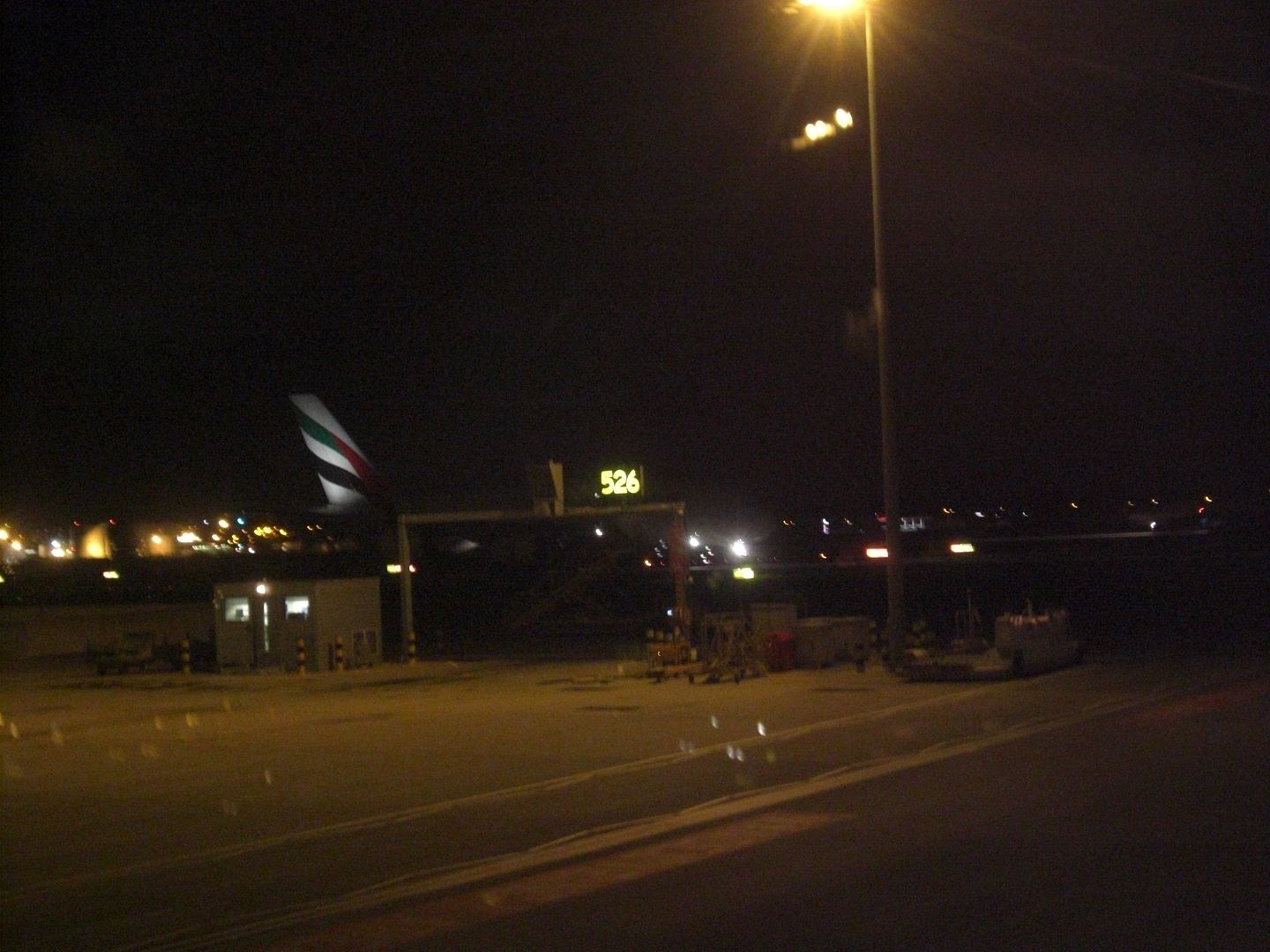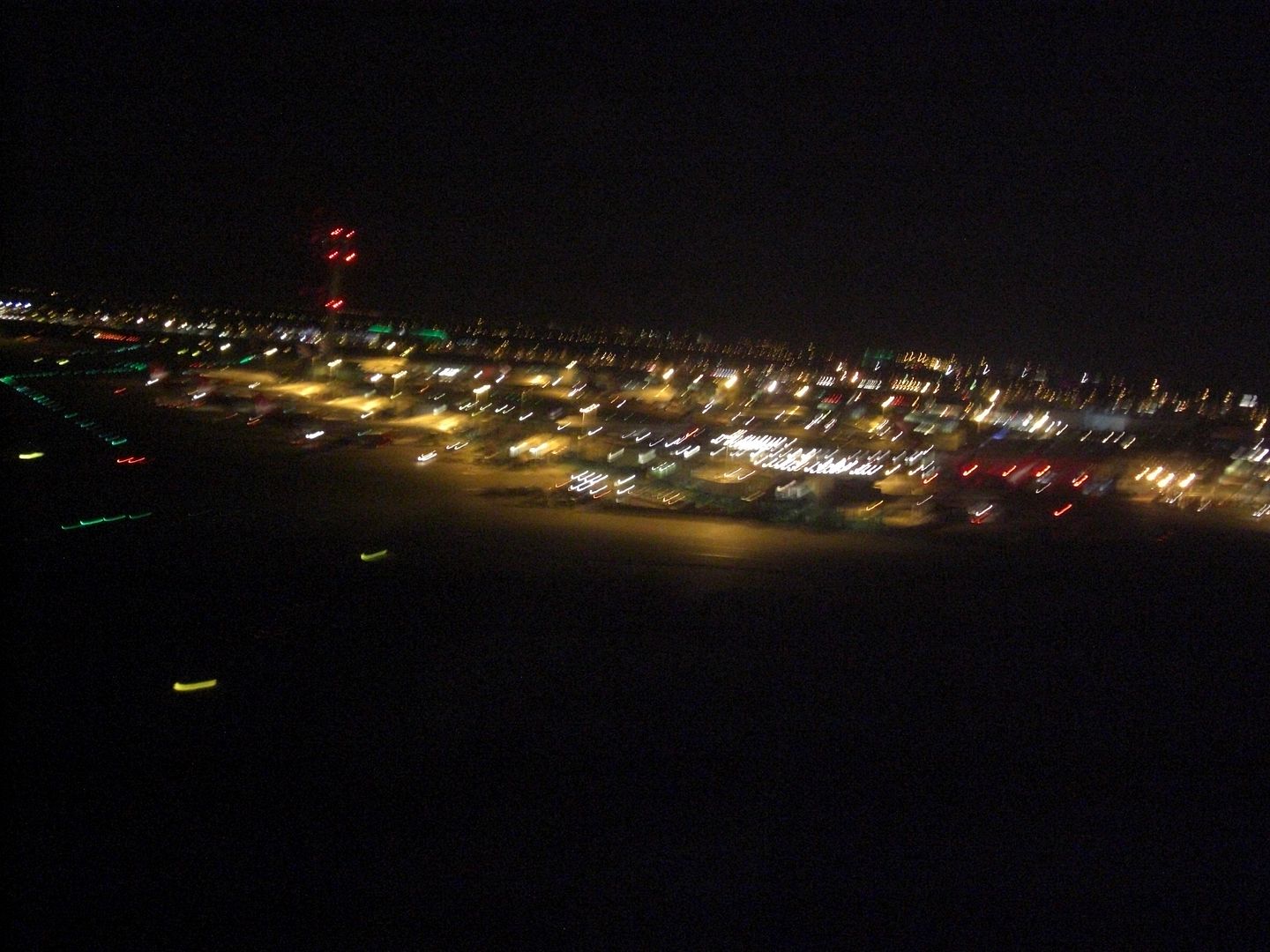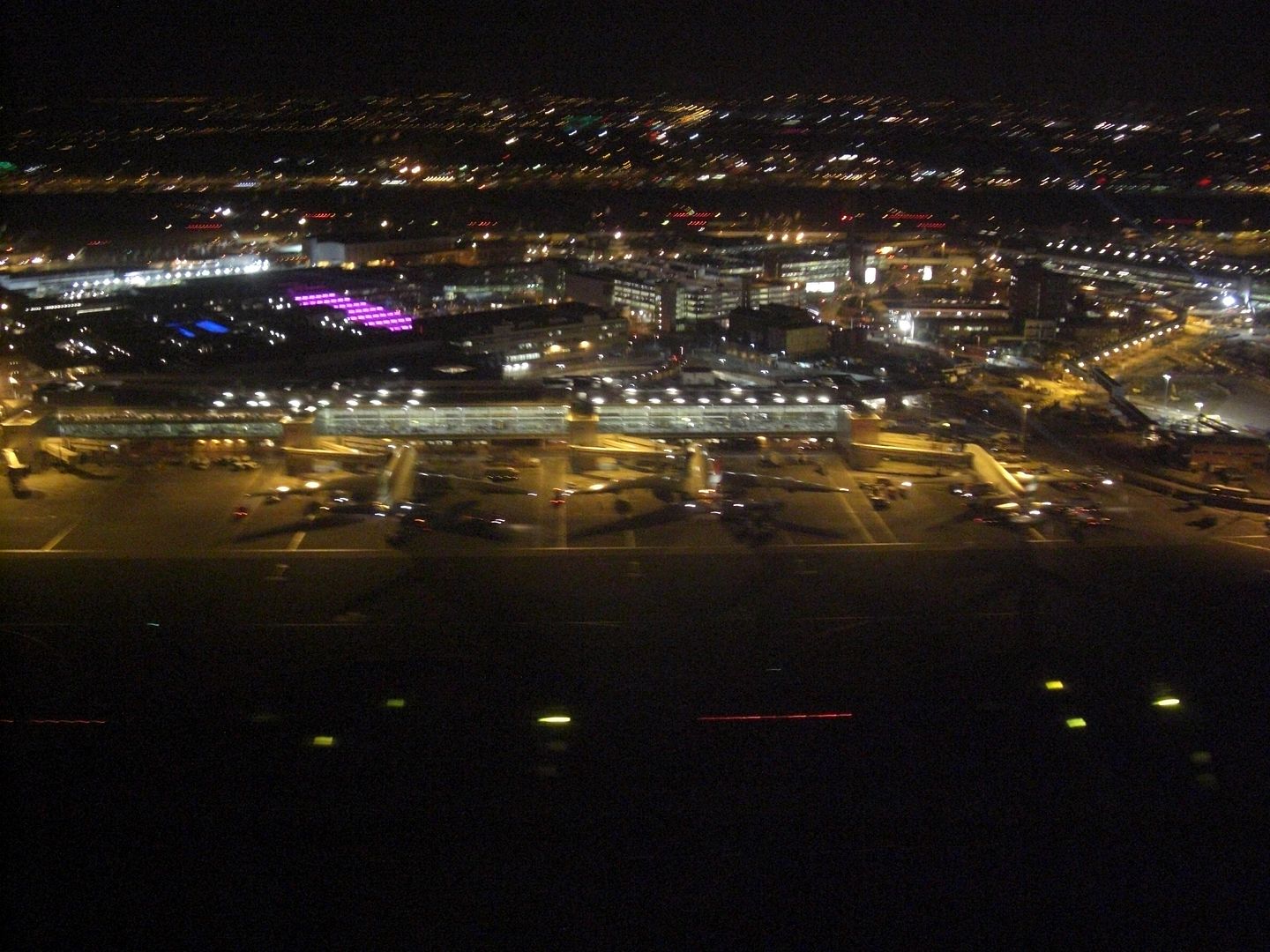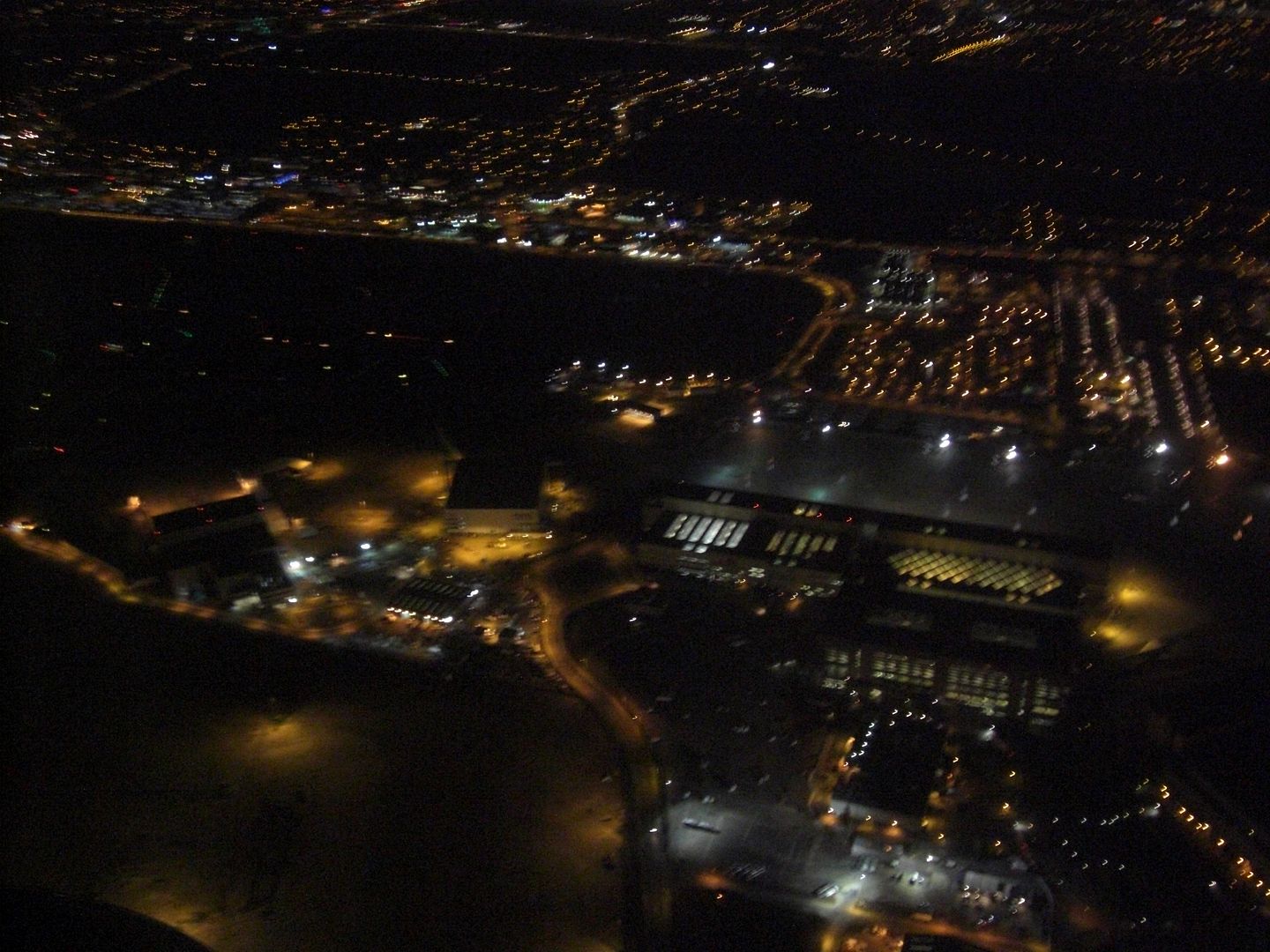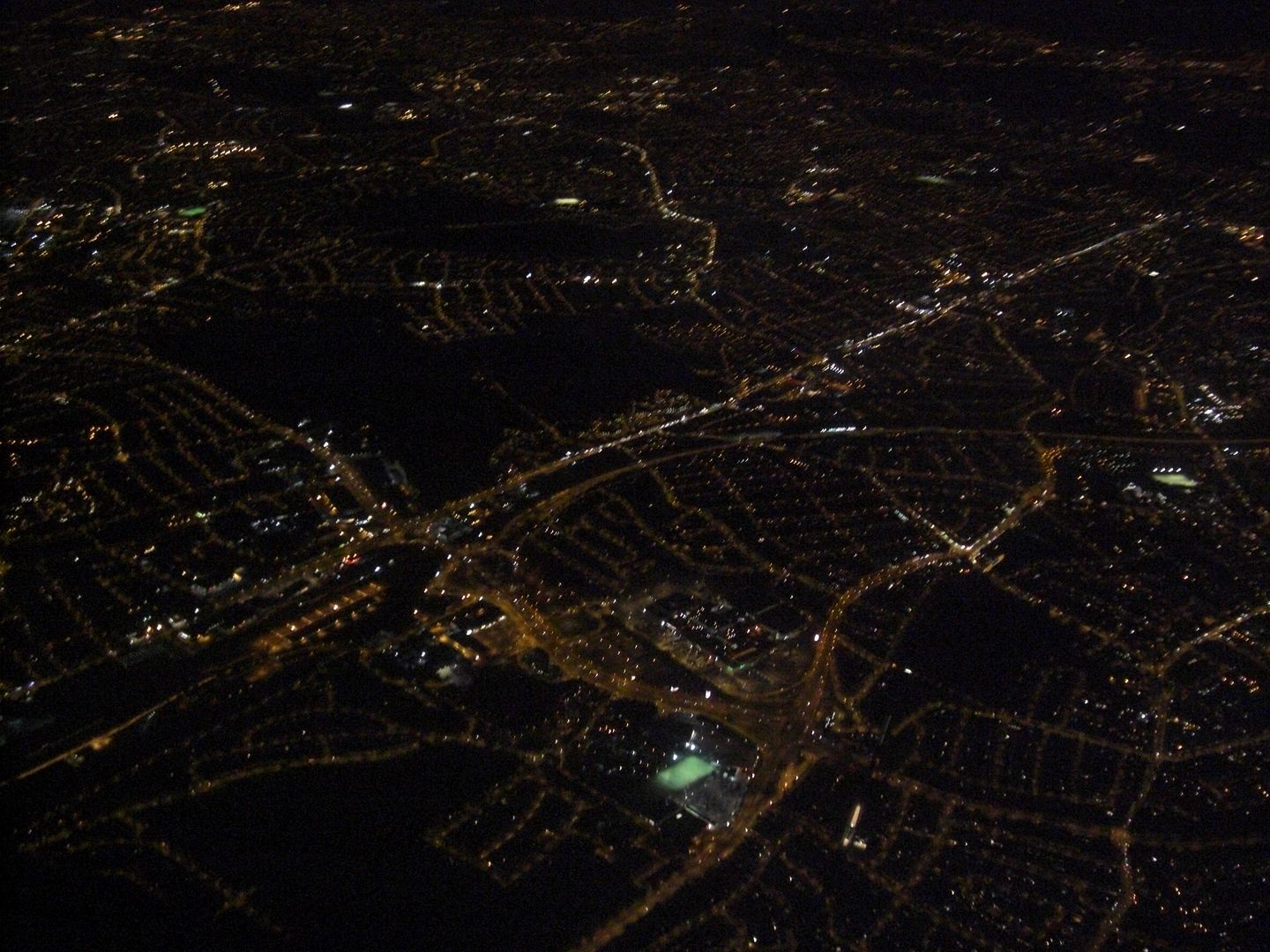 Moving map
Fifteen minutes after take off, the crew rolled the trolley to the front of Y. Tonight's catering was a ham and cheese sub roll – very tasty actually. I asked just for a couple of gins (without the tonic), explaining to the bemused cabin crew guy that I'd taken some slimline tonic from the lounge (they've stopped serving it in Y).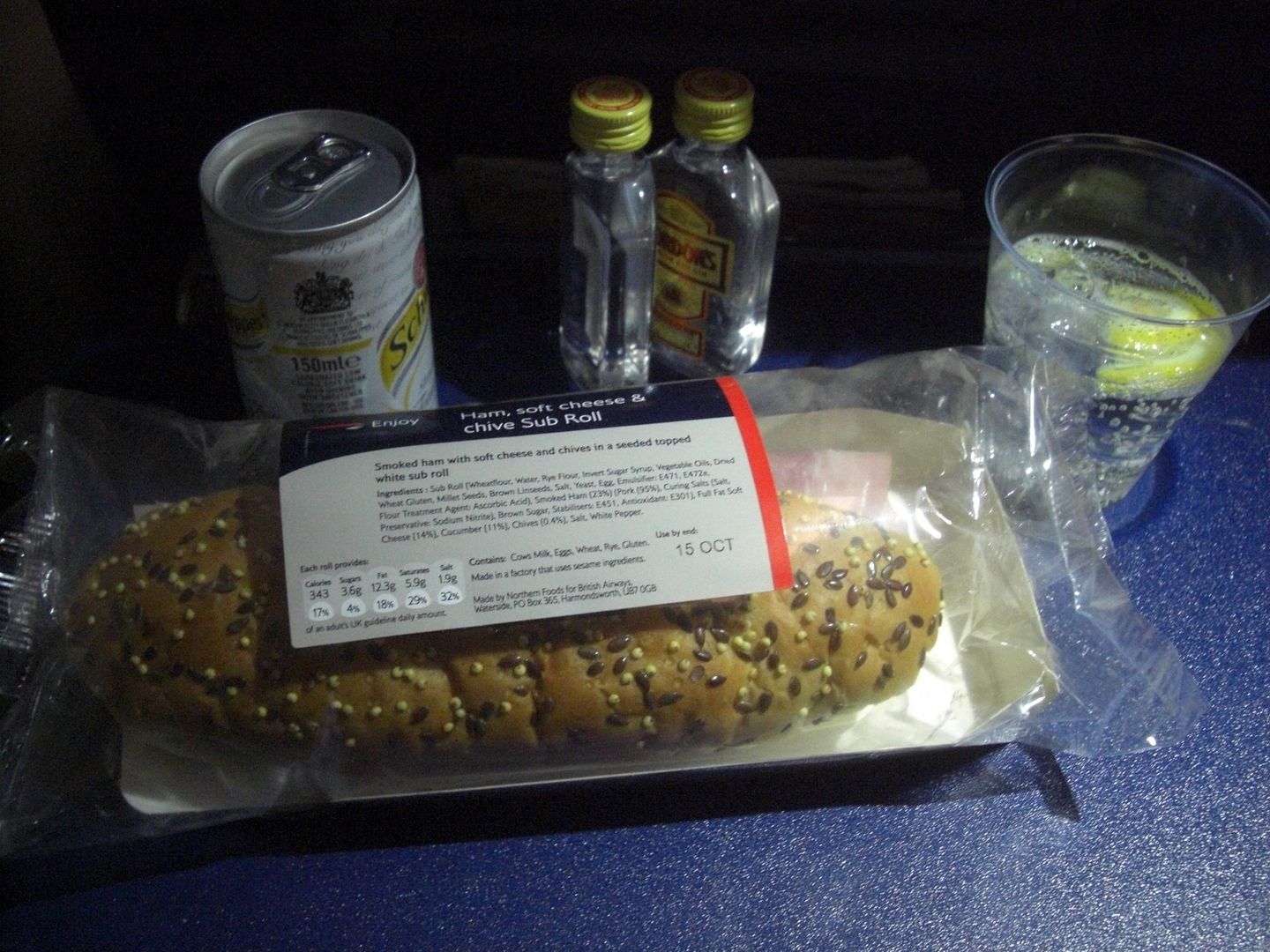 An interesting article in HighLife
Hmmm, nice advert. I think I'll go to Colombia tomorrow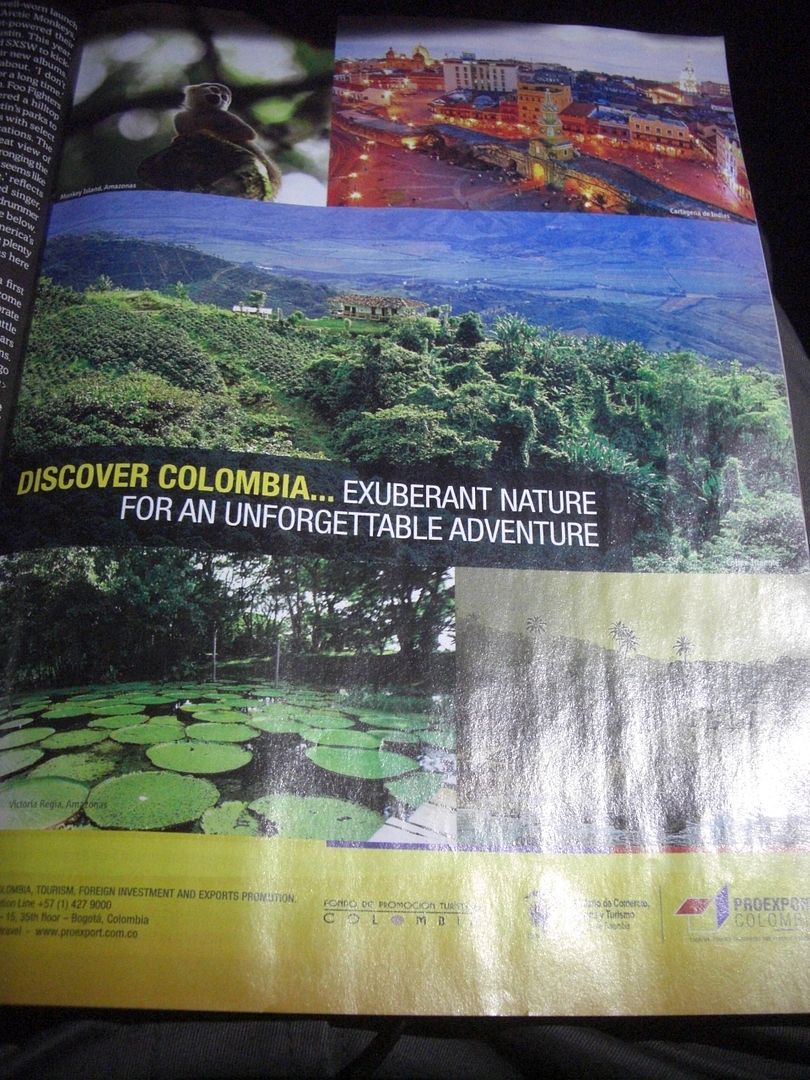 En route to Denmark. As you can see, the moving map also had an earlier return flight from AMS stuck on the screen.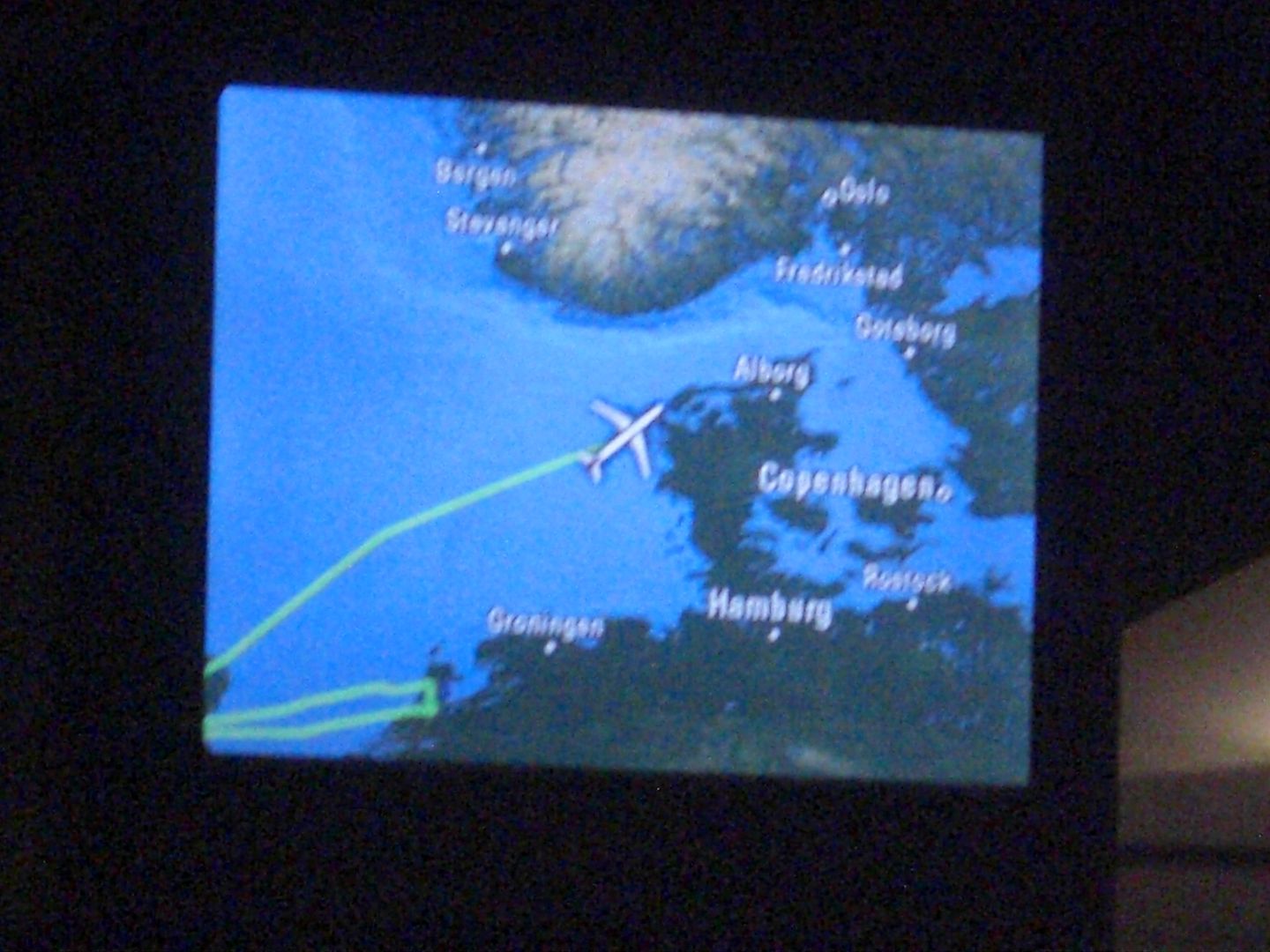 BA routemap. GVA still missing despite being served up to 16 times a day from all three of BA's London bases.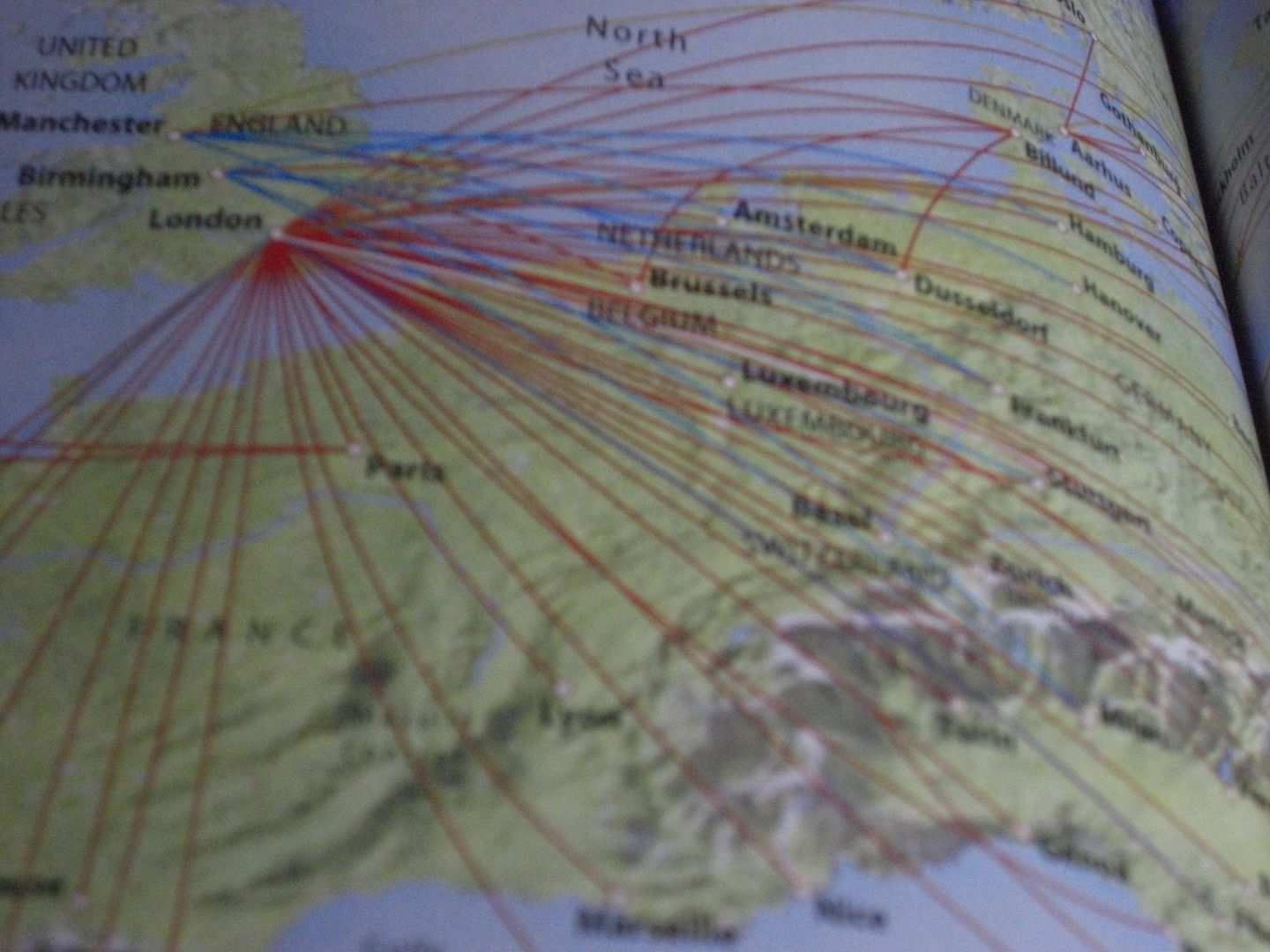 Hitting the Swedish coast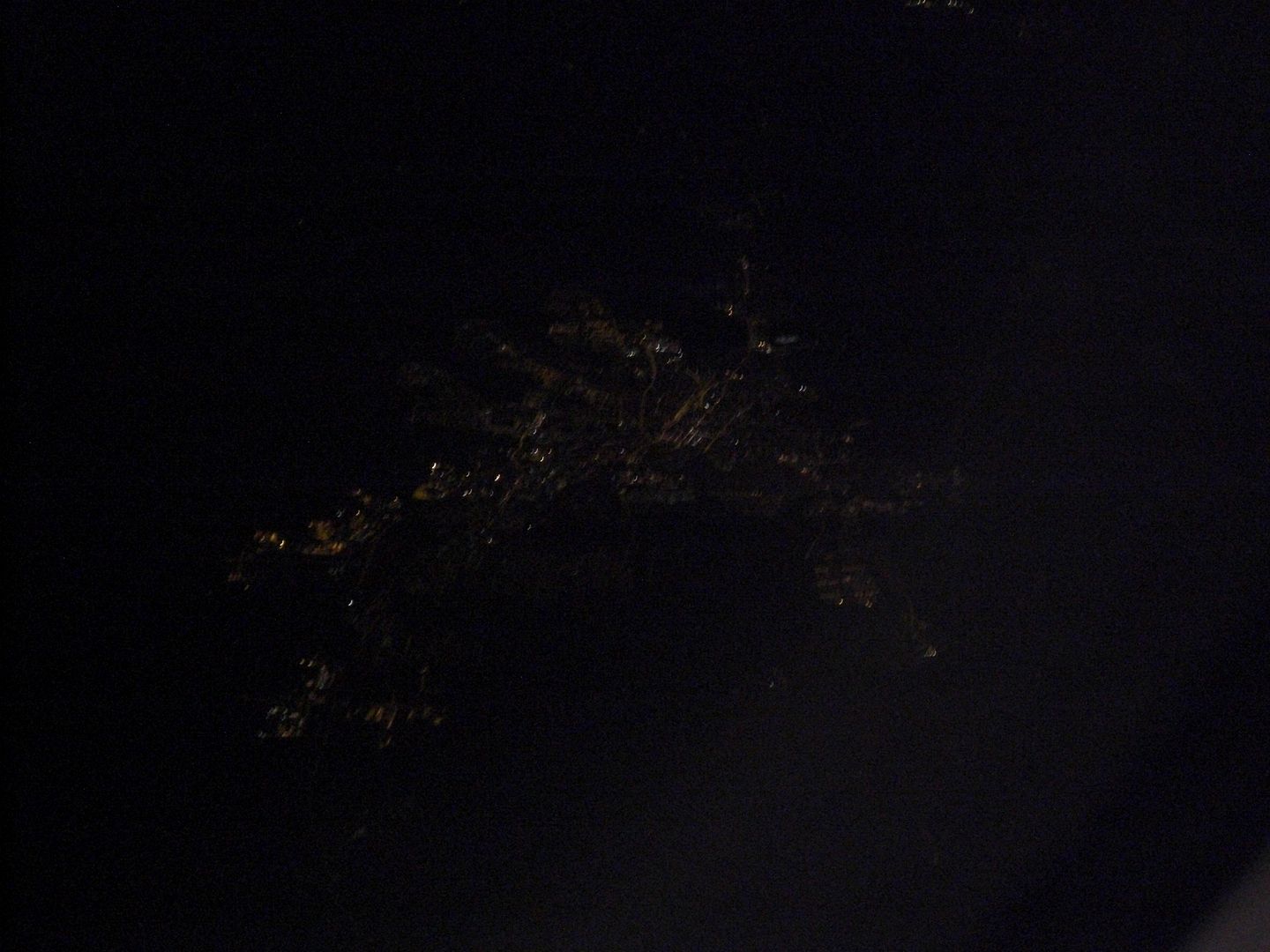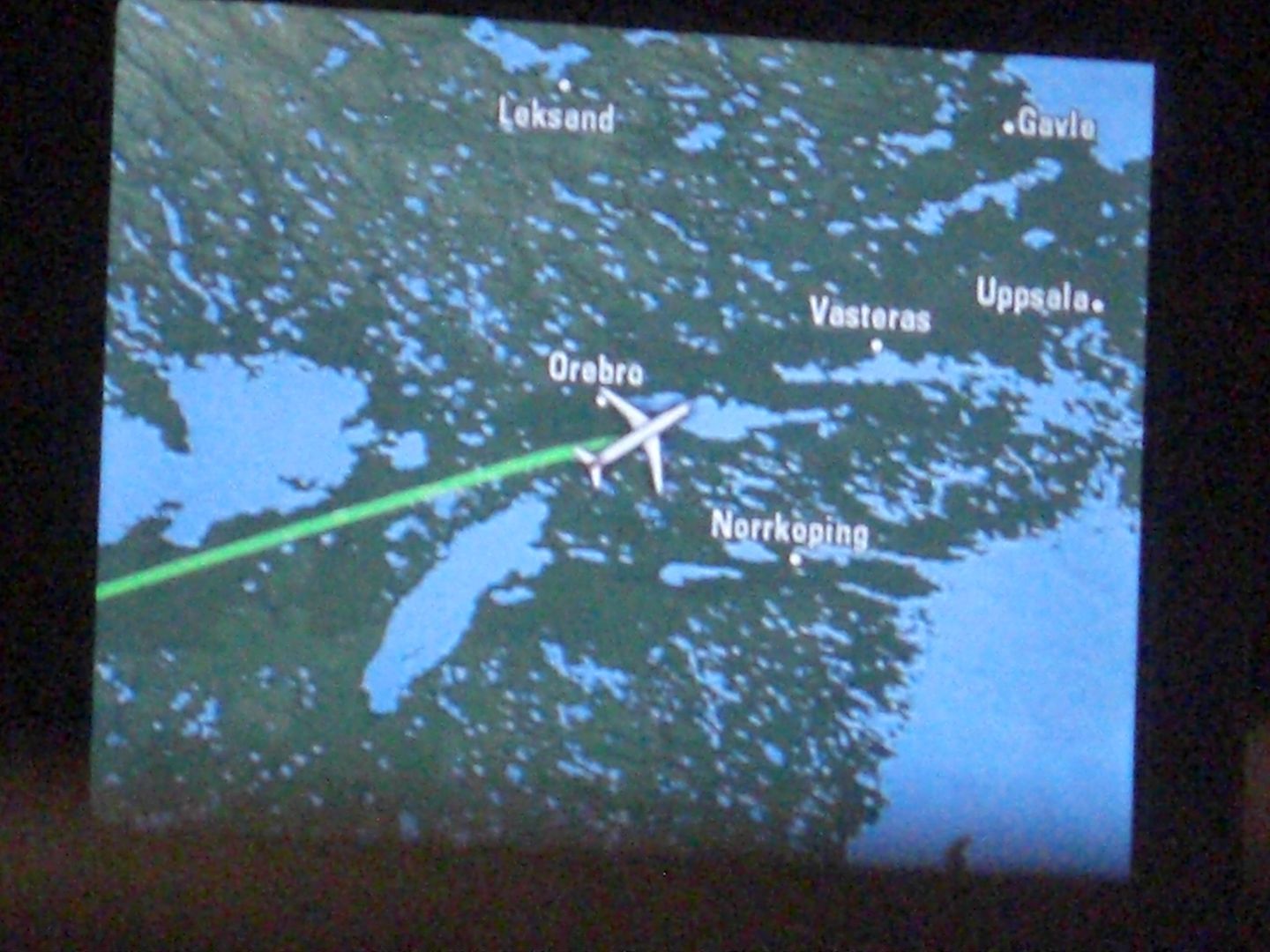 Safety Card
Luckily, we managed to make up a little bit of time, and started our approach to ARN around 2345.
Welcome to a dark and rather deserted ARN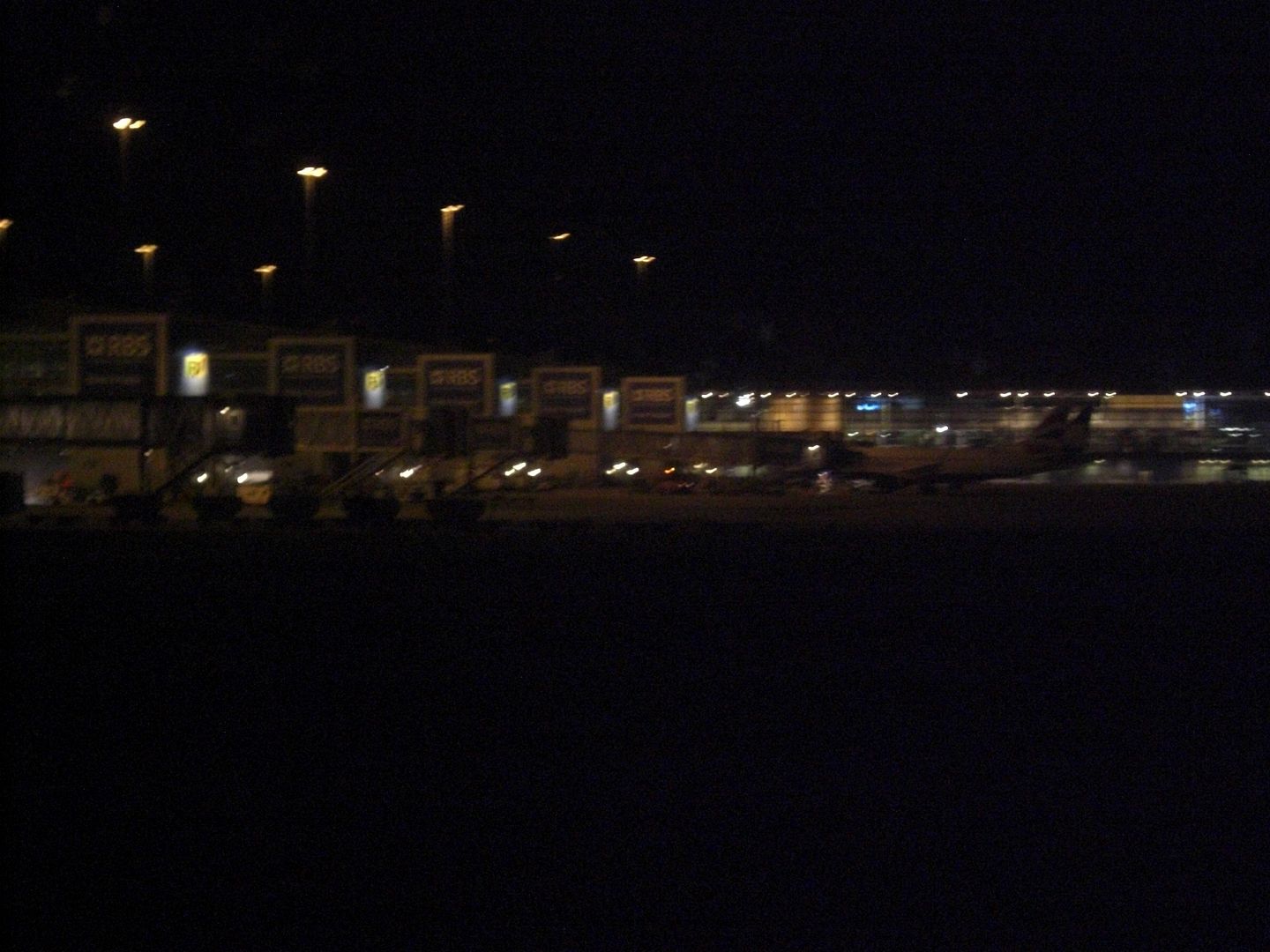 Being sat near the front, I was off the plane pretty quickly.
Due to the late arrival, quite a lot of people were embarking on a fast-walking race for immigration (at this time of day there'd only be 2 or 3 immigration officers, so long waits for those at the back).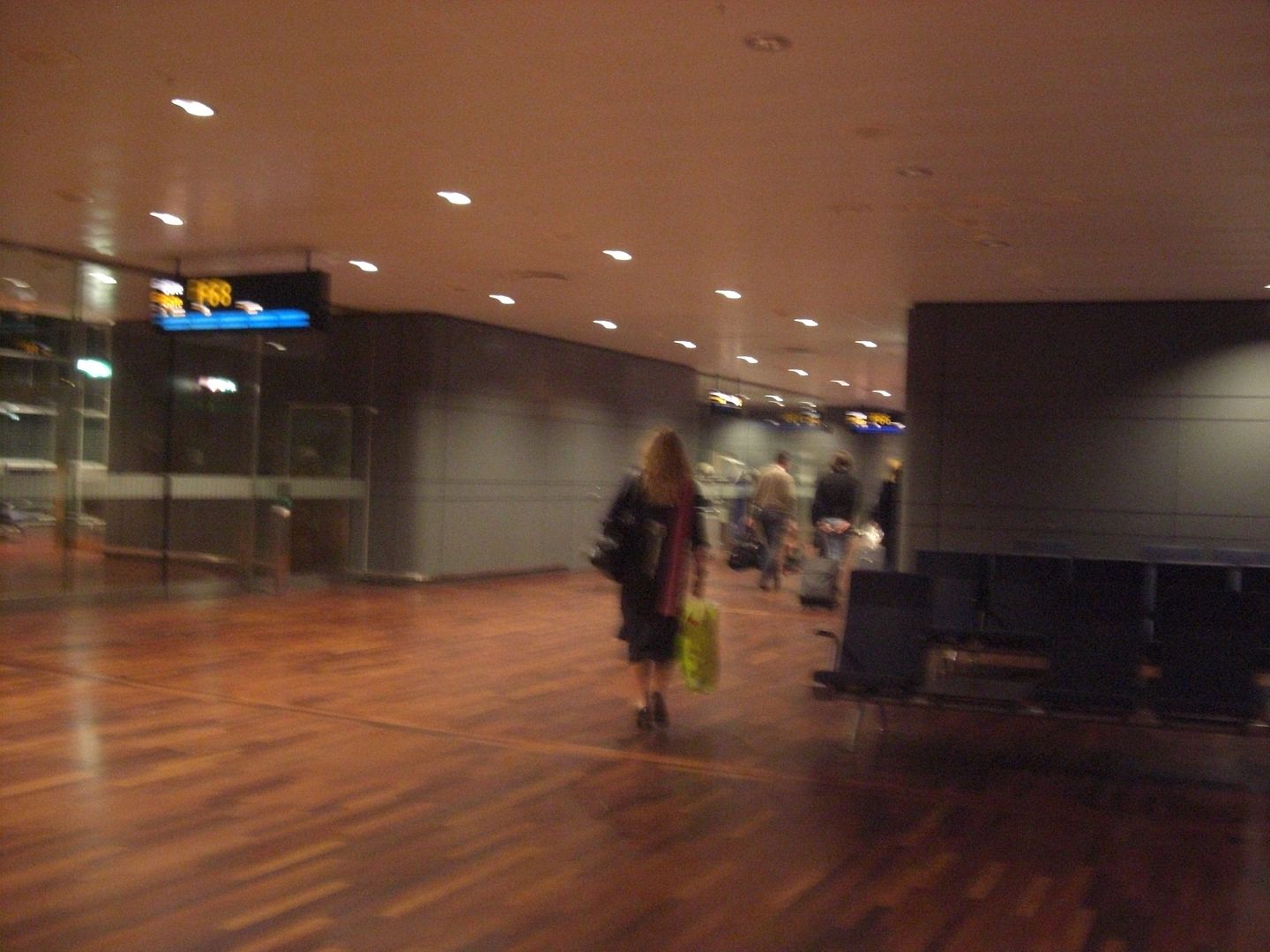 Once through immigration, there was a longish wait for the bags, but they finally arrived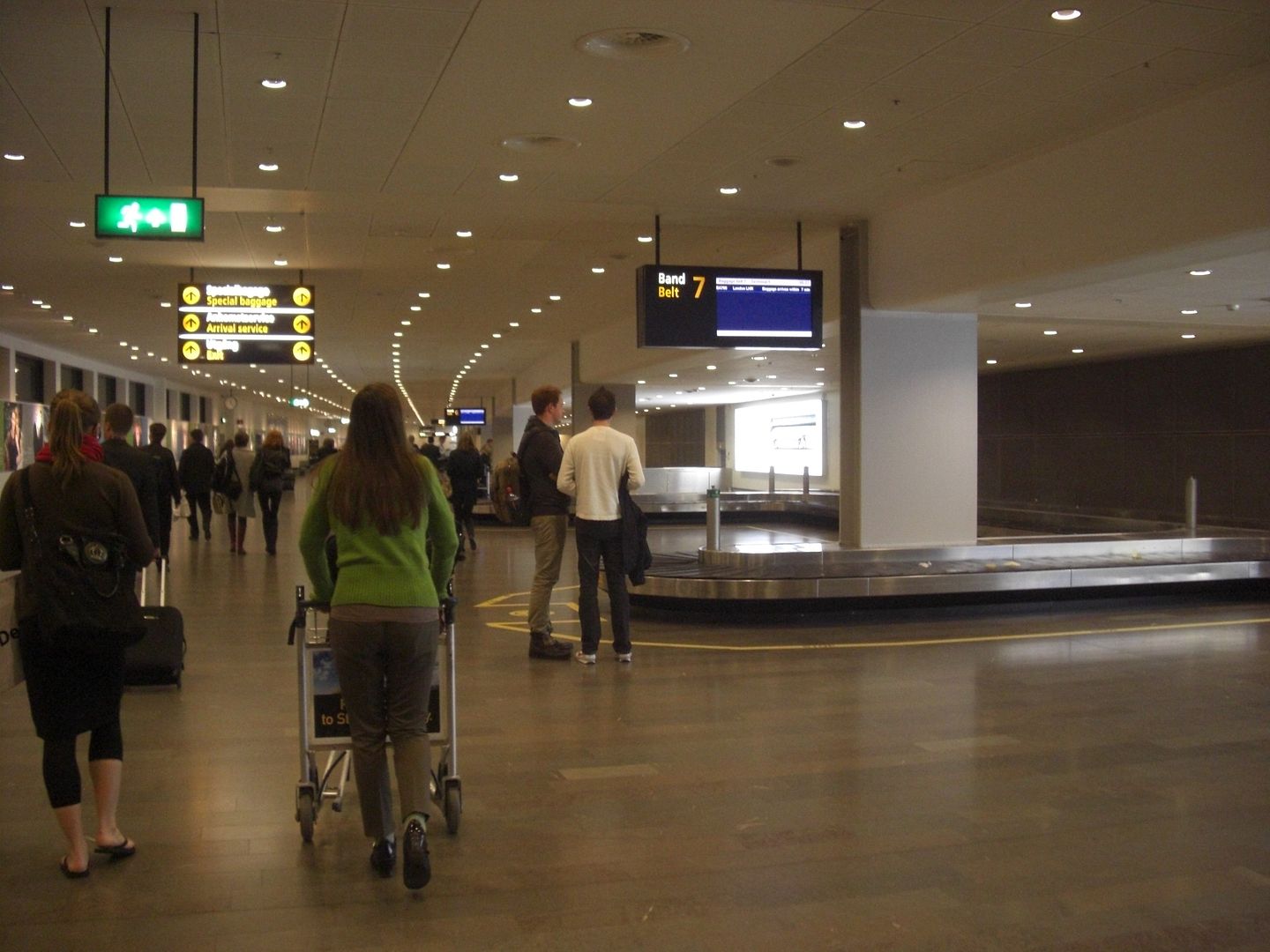 I had booked a night in a dorm in the wonderful Jumbo Stay Hostel. This B747-212B has had a long and varied history having changed hands no less than 14 times, including stints with Singapore, Pan am, Garuda, Cathay and Tower Air.
http://www.airfleets.net/ficheapp/plane-b747-21162.htm
http://www.jumbostay.com/
Approaching the aircraft was great – it's not often you can walk up to a B747 on your own, with no one else around. It's just a shame that it was dark both when I arrived and left. A word or warning if you go, DON'T take the lift unless your bags are VERY heavy. Far quicker to walk.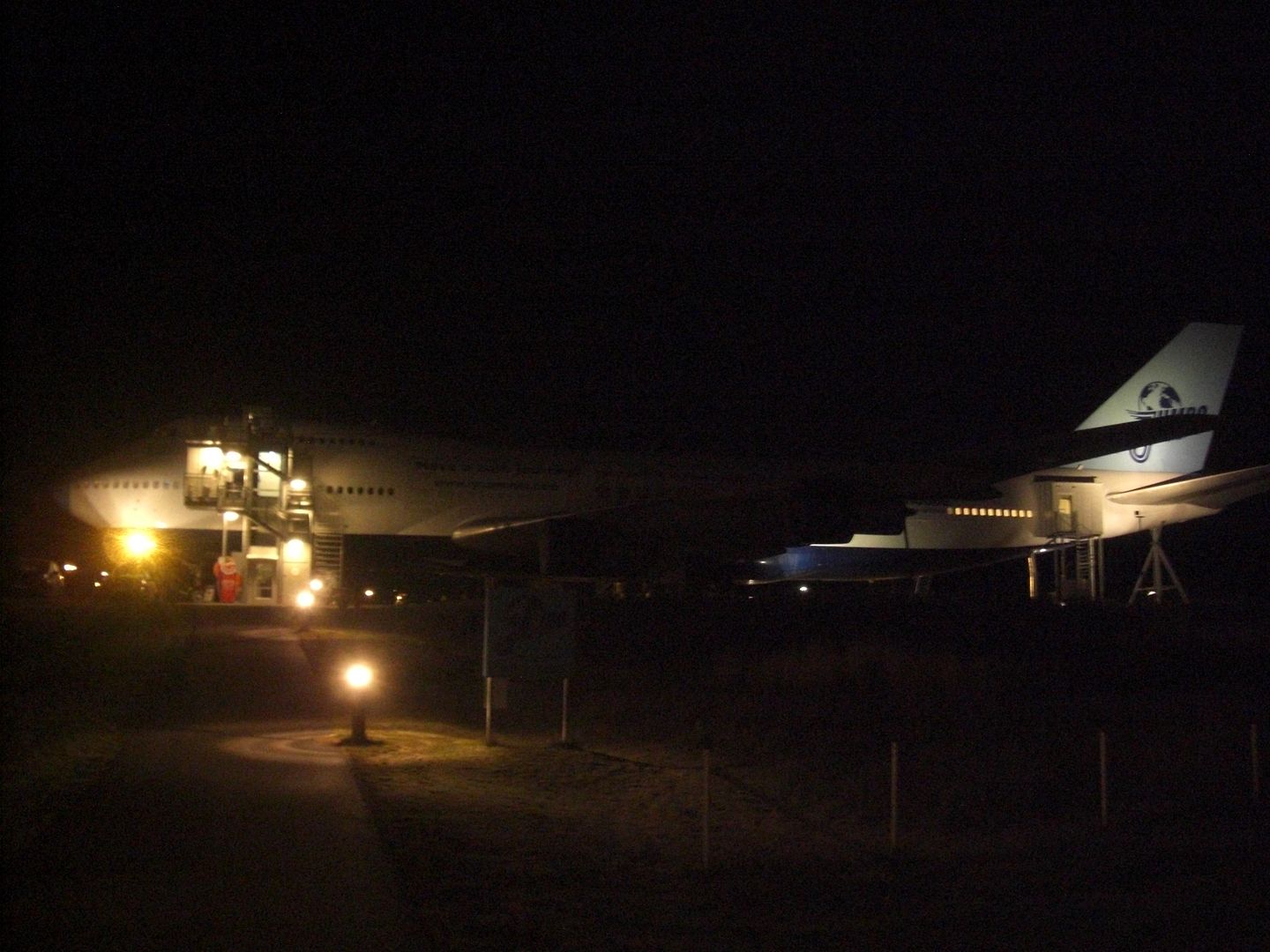 The café in the nose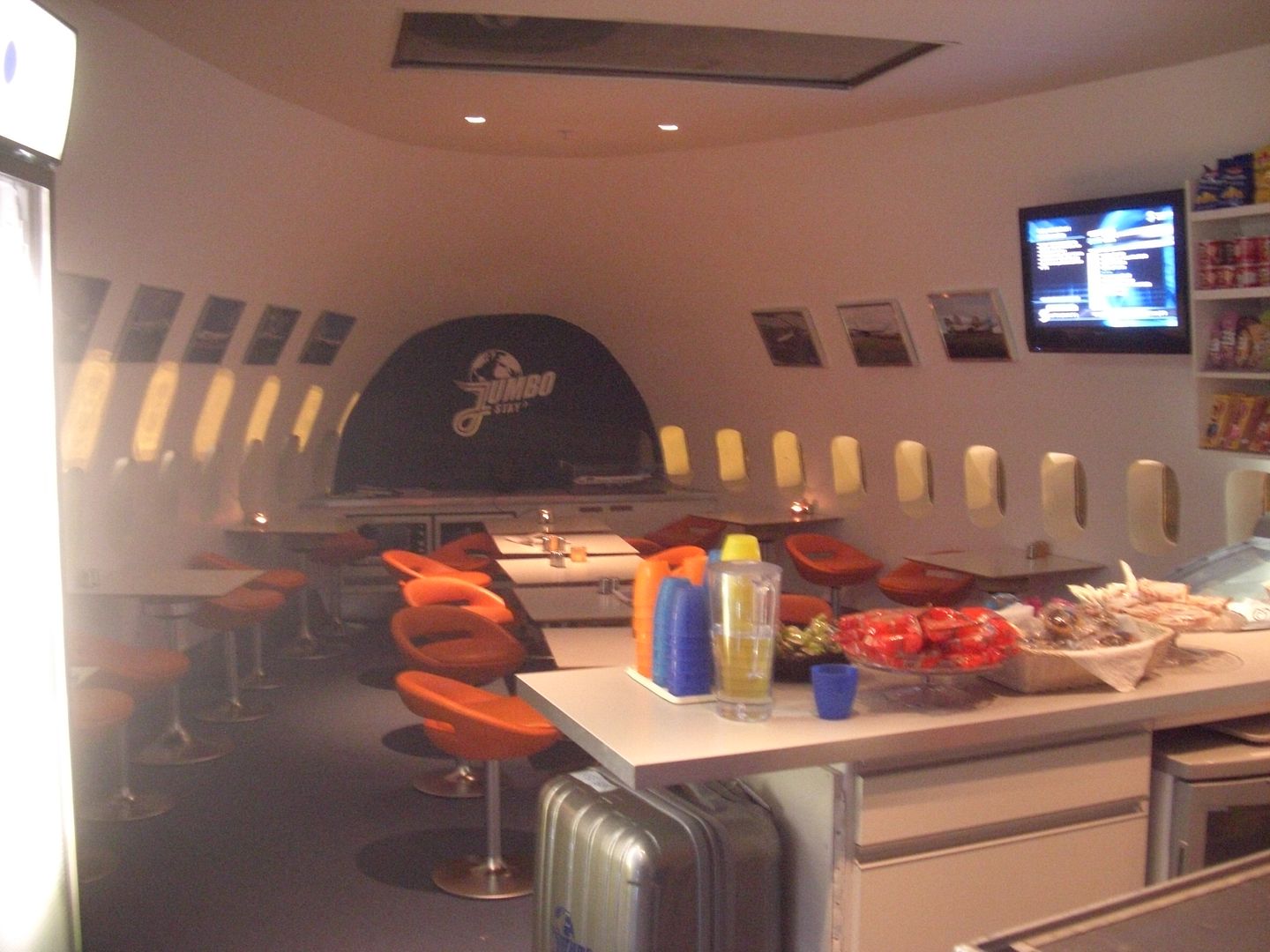 My room, which was surprisingly comfortable and well appointed. By the time I got into bed it was 1am. I was up again at 6am – way too little sleep.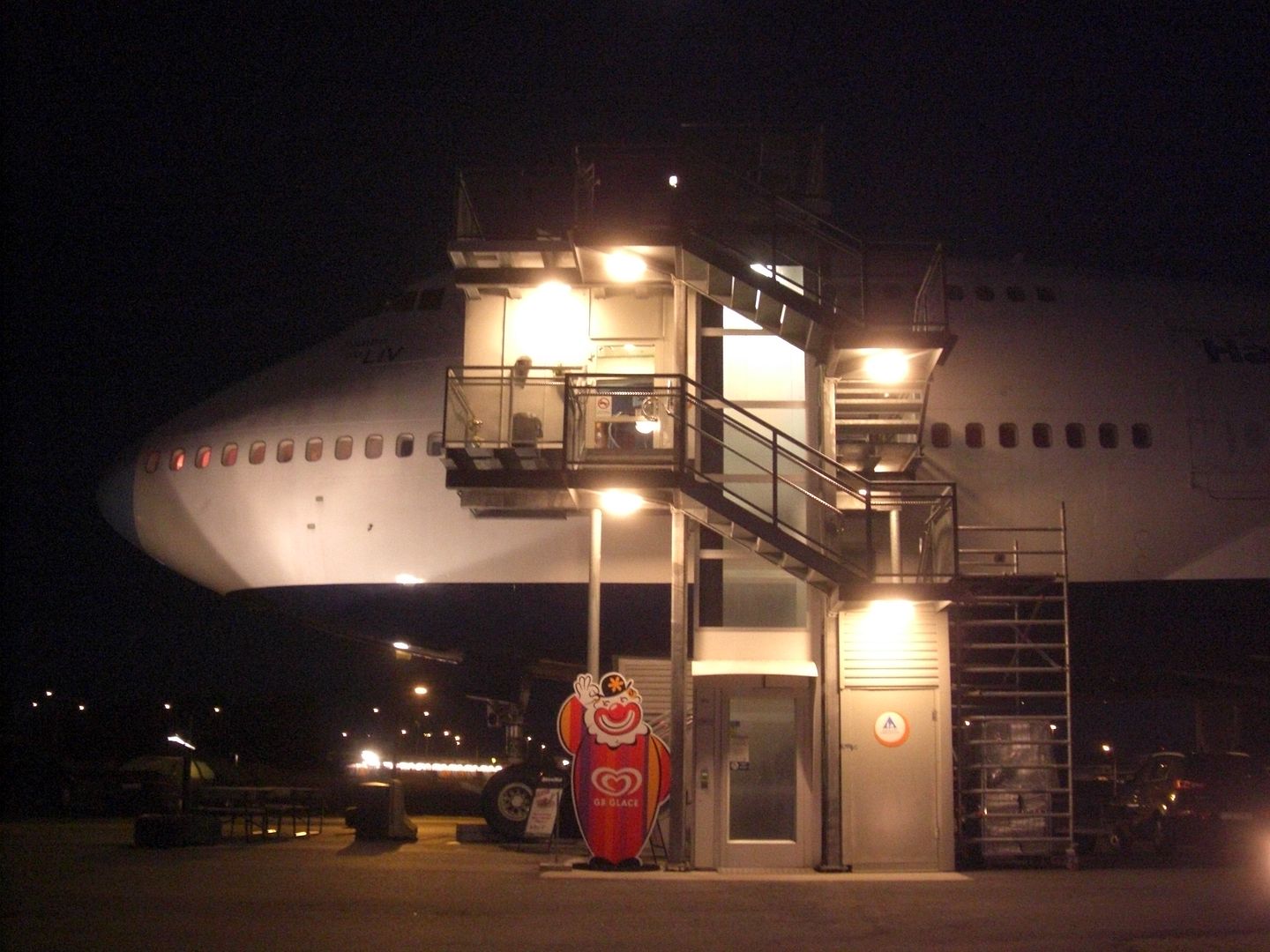 It was sad to have to leave so soon after arriving – I'll have to come back in daylight next time. It's nice to have finally joined the very exclusive "I've had a shower on a plane" club though!
The bus back to the terminal. It was FREEZING waiting for the bus. Stockholm in October is surprisingly cold.
When I tried to check in online for these flights, I was only allowed to select seats/get boarding passes for the MUC-FRA and FRA-BOG legs, not the ARN-MUC. This was rather odd, especially as the flight was LH operated, and wasn't over booked or anything. I was told that I would get a seat assignment at the gate.
When I got into the terminal I went over to a self service check in machine. I put my LH M&M card, and was able to check in and select a seat for my ARN-MUC sector. Flight didn't seem too busy, and I got a row to myself near the back. The machine, however, only printed my ARN-MUC boarding pass. I went over to drop my bag at an adjacent desk. I asked the guy if he could print out my other boarding passes, but was told that he couldn't, and I'd have to ask in MUC – not very coordinated LH!
FIDS
A nice seating area near the check in desks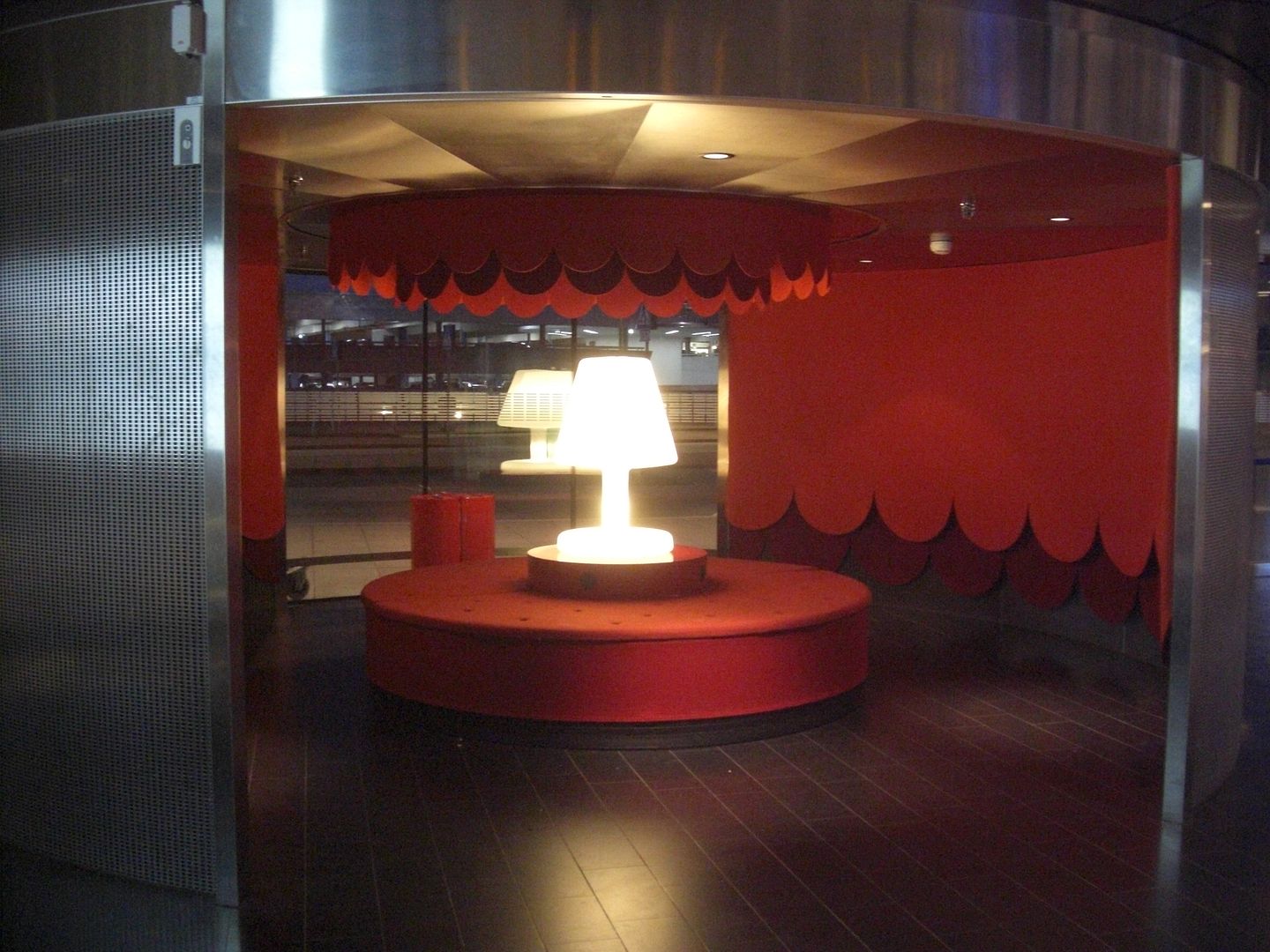 There was very little queue at security, and in just a few minutes I was airside.
My plane from last night at the back. The other BA is the LCY flight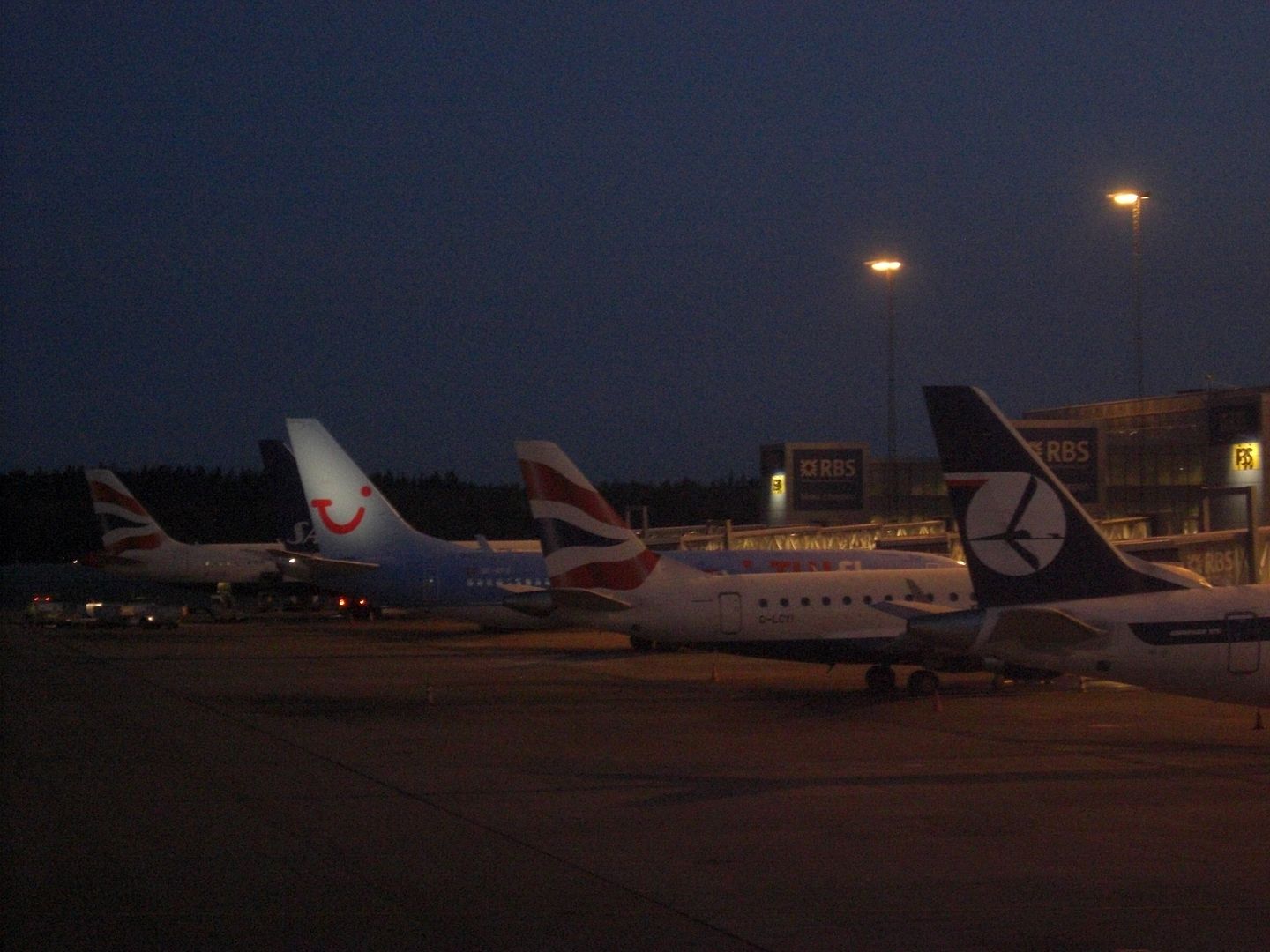 My plane for today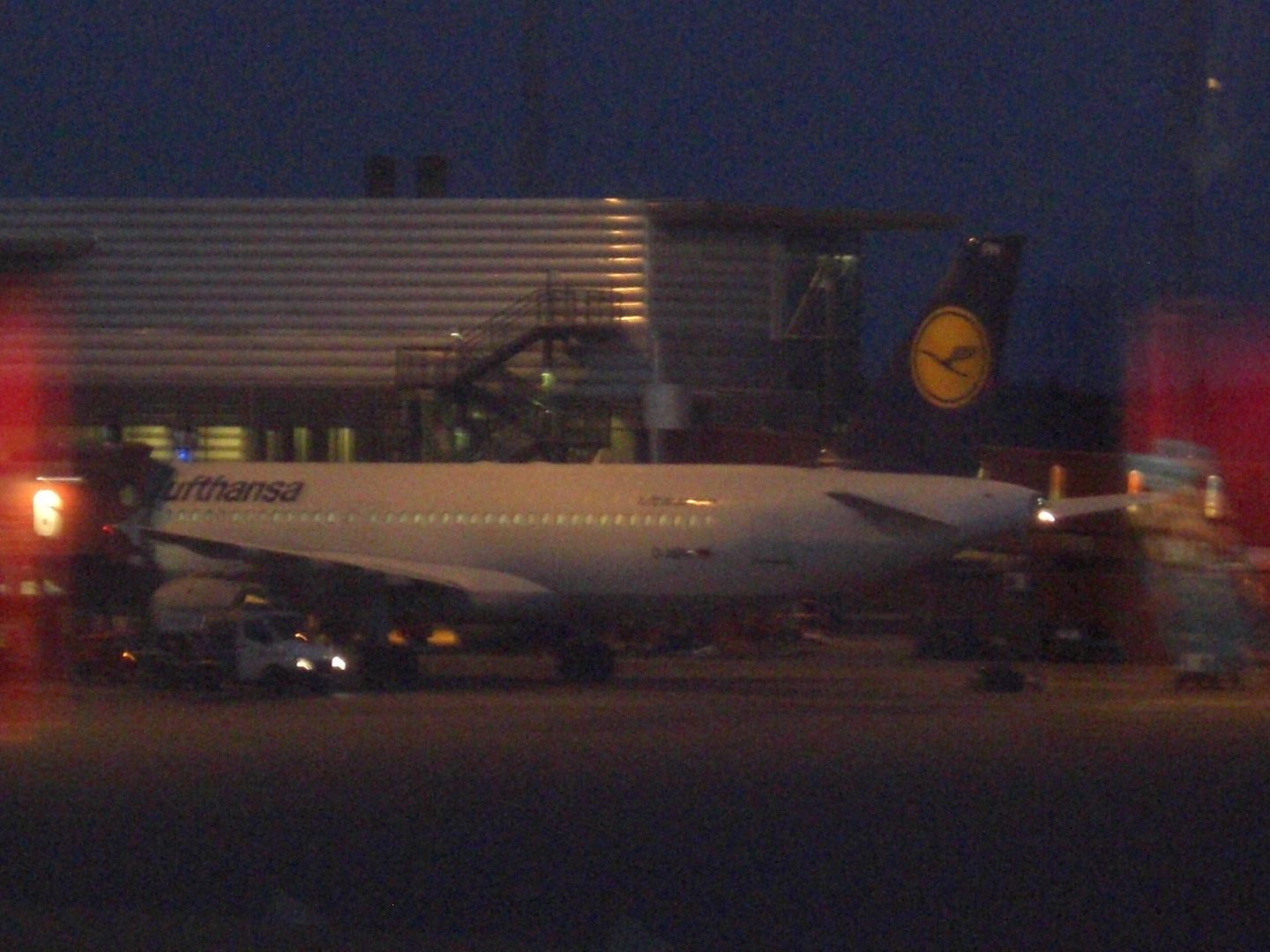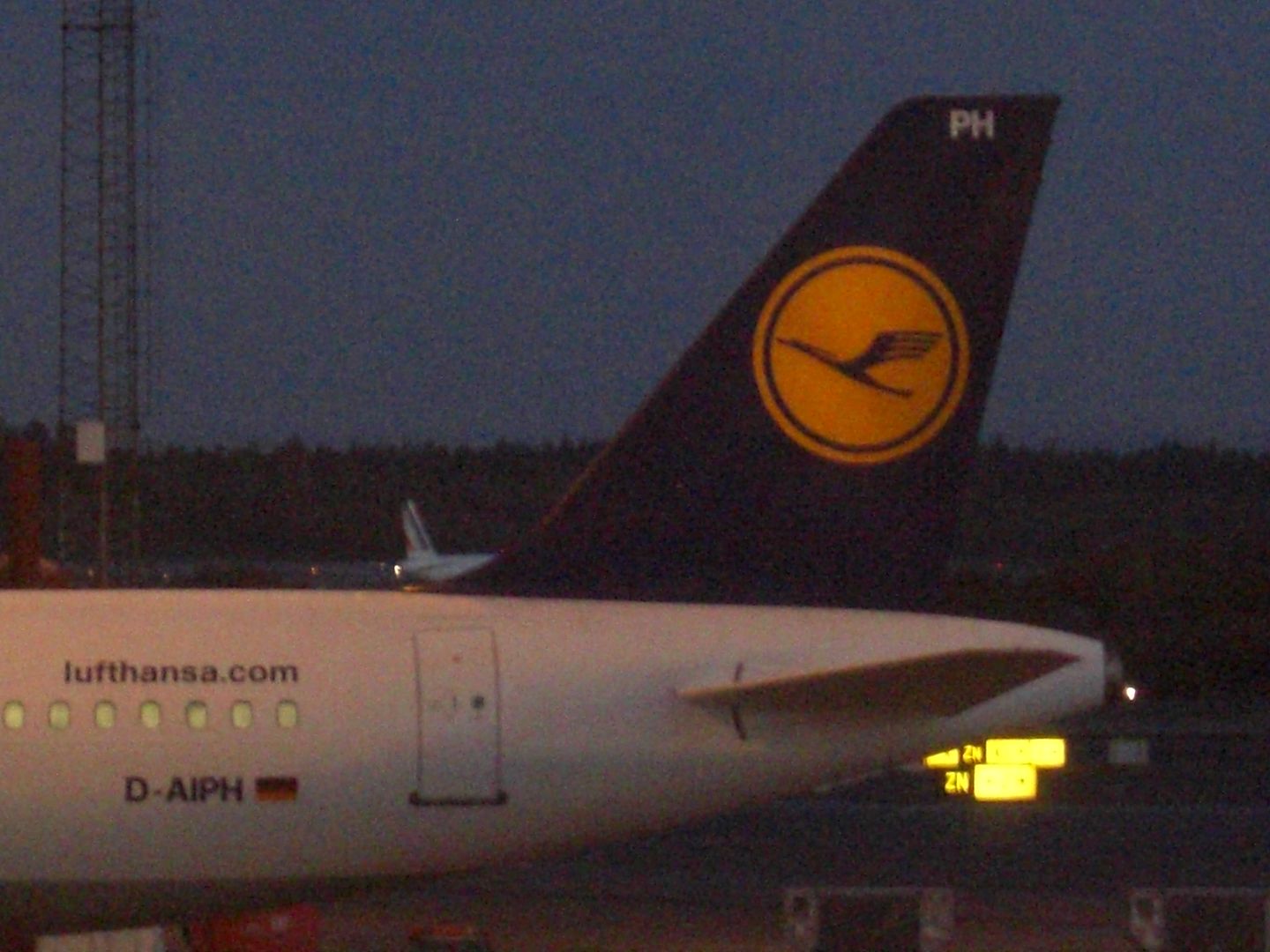 Is this only for AY pax?
Can't leave Scandinavia without visiting a Design store
More comfy seating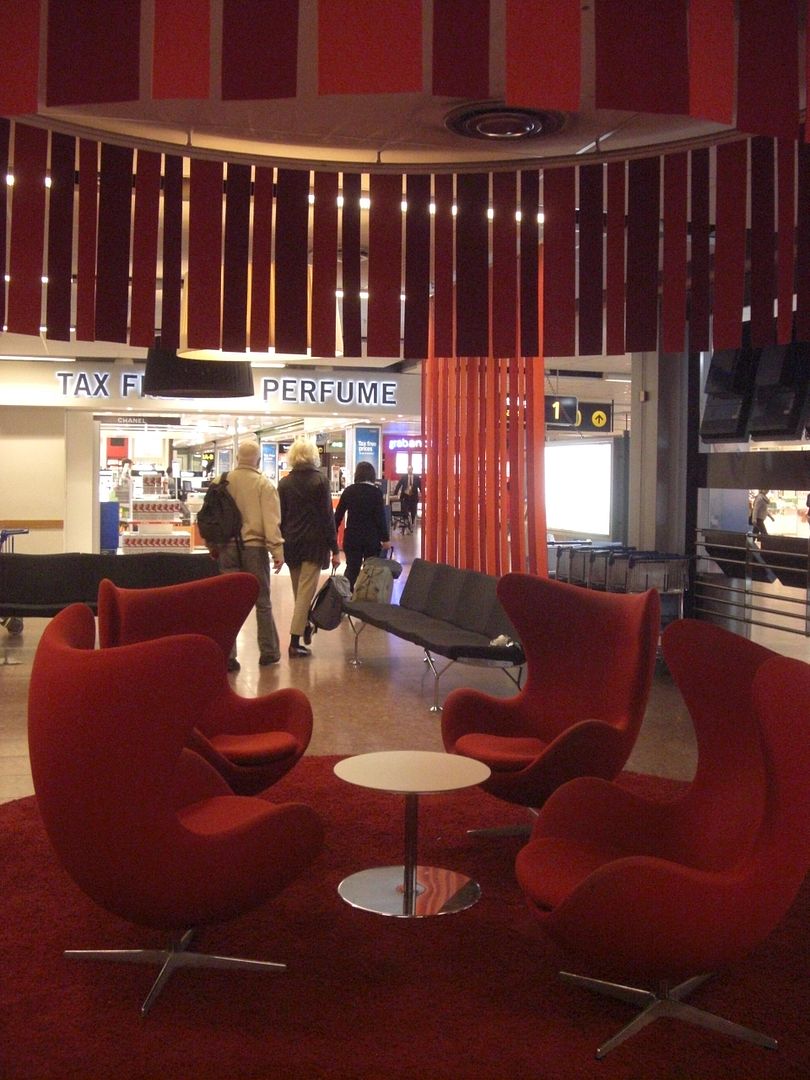 Deicing for SK flight to FAO. Like I said, it was cold!
Arriving from warmer climes
Starbucks (Sweden's' only?)
A few more of my A320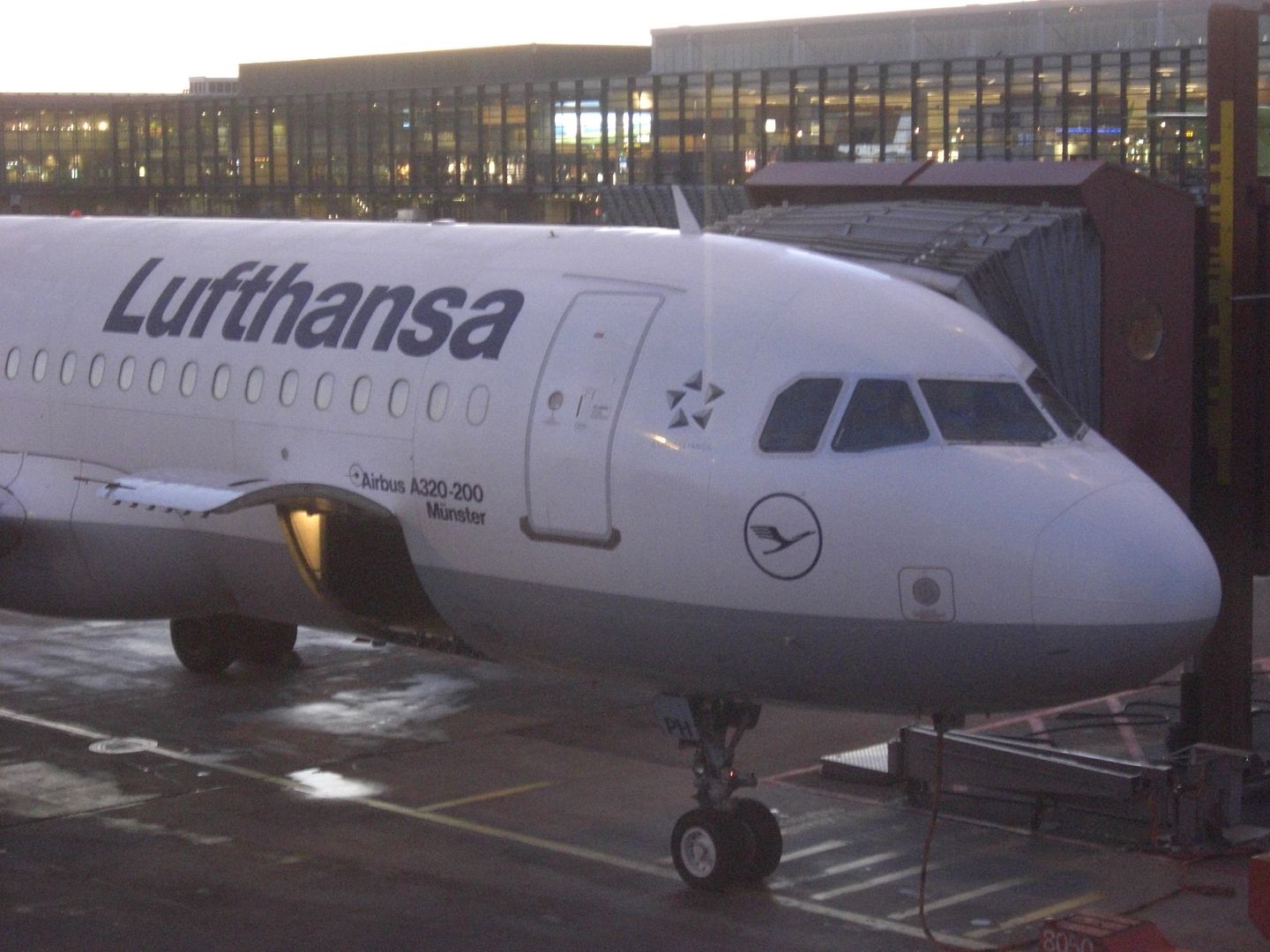 Boarding started twenty minutes before scheduled departure. There wasn't any boarding system, just a free for all.
October 2011
Stockholm Arlanda (ARN) – Munich (MUC)
Lufthansa LH 2421
Scheduled: 0745-0955 (2h10m)
Actual: 0755-0939 (1h44m)
Airbus A320 D-AIPH
As I was waiting to walk down the aisle to my seat, the very friendly purser commented to the lady behind me "oh, I love your coat". It's nice when the cabin crew interact with passengers spontaneously!
As I had hoped, the flight was pretty lightly loaded, and I got a row of three seats to myself. Unfortunately the row ahead and across was filled up with a group of Swedish guys going on a drinking holiday to Munich. They were pretty loud.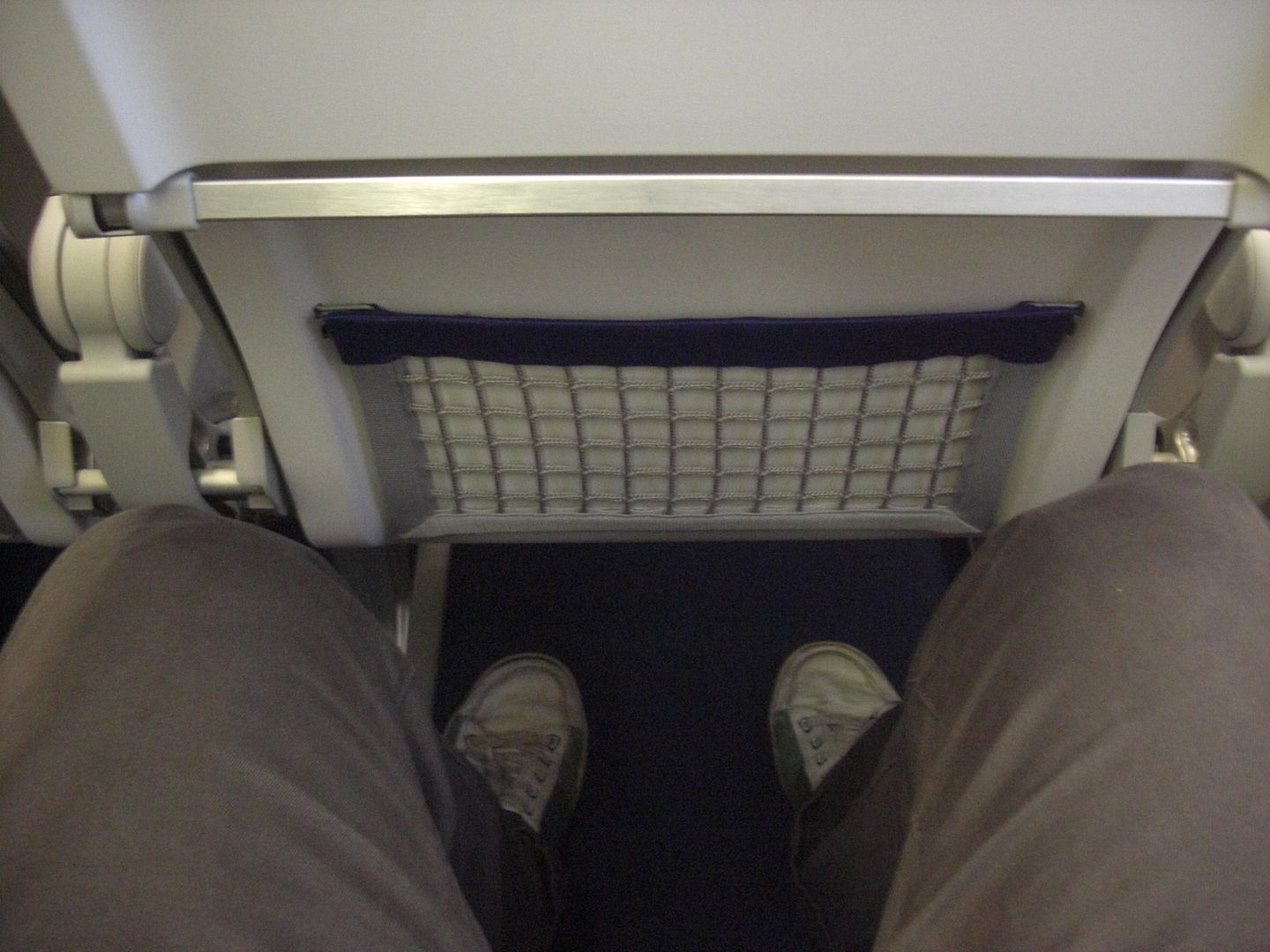 Yup, its an A320
There wasn't much to be seen out of the fogged up windows. Beautiful morning to be flying.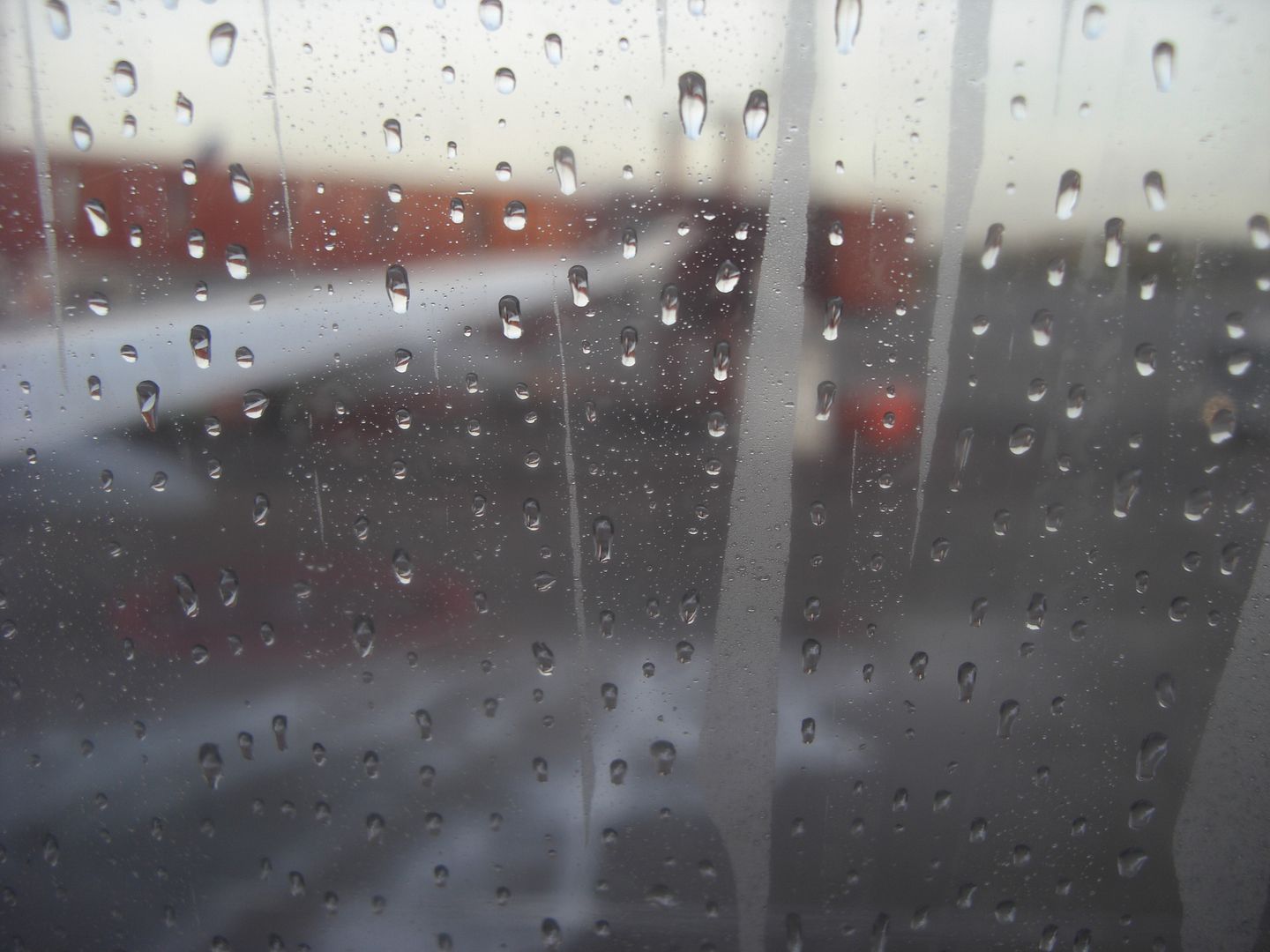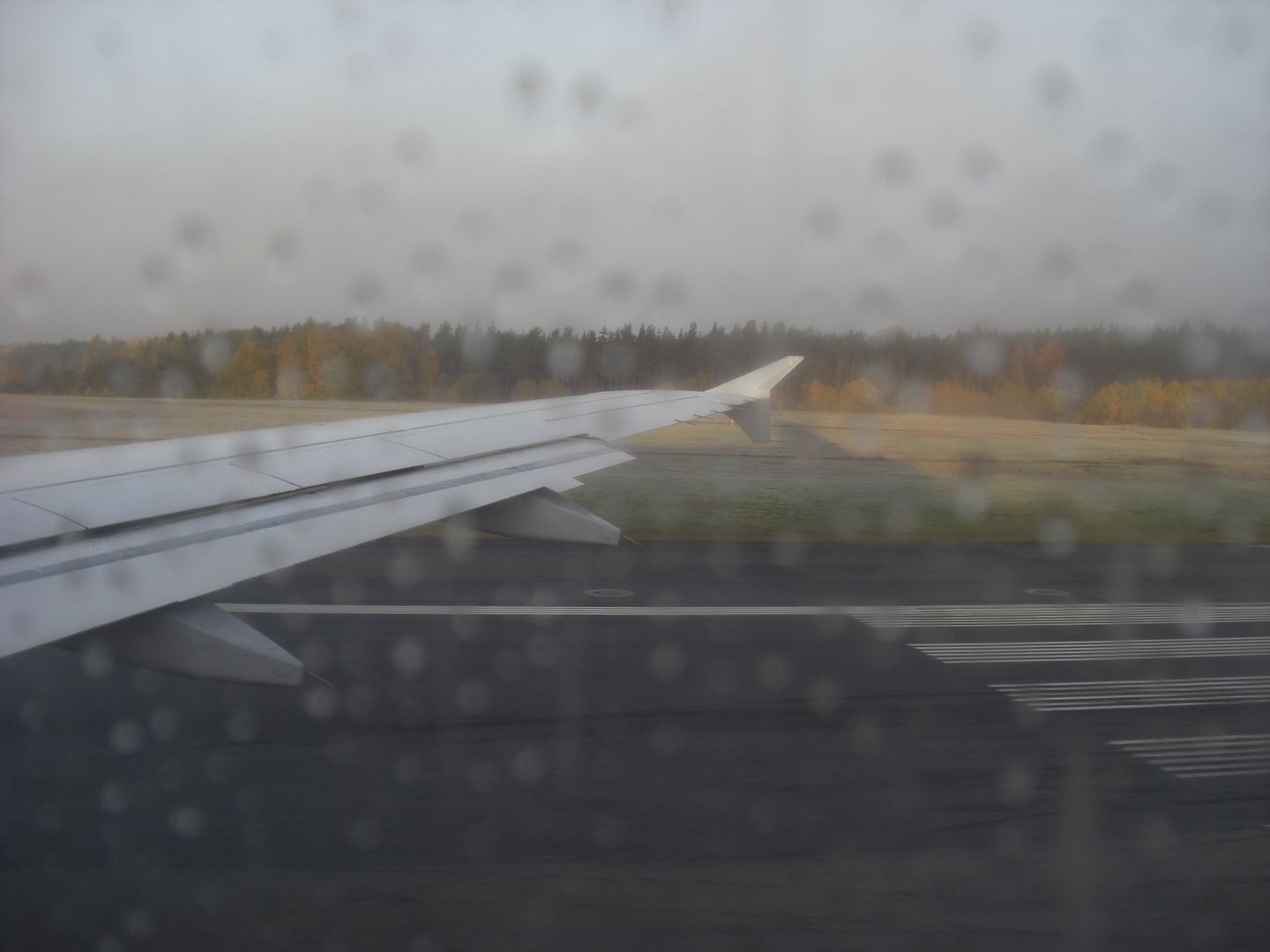 http://my.flightmemory.com/shefgab
Upcoming flights: AMS-RIX-BUD-VDA,ETH-TLV-FCO-LHR,STN-TXL-LCY,LTN-CPH-LTN,LGW-SZG,MUC-LHR