Hi Y'all
I recently fulfilled one of my dreams by flying on one of the finest aircraft to come out of european production lines - the Airbus A380 Whalejet. I'd been shopping around beforehand on LH's and AF's websites before I decided that LH's flight 400 to (and return flight 401 from -) New YORK JFK would be a good start; and I thought to myself that this one just begs for a trip report. I hope that you'll have just as much fun at reading about my flights as I had at making them.
P.S. I'll post a report of my return flight later on, with lots of videos and sounds.
October 11, 2011
Flight:LH6861/LG9301
Routing:Luxembourg-Frankfurt
date:11/10/11
Gate:A14
Scheduled departure time: 06H45AM
Flight time: 55 min
Plane: De Havilland Canada DHC-8-402Q Dash 8
Reg: LX-LGA
Seat: 9D
I got up as early as 4 O'clock AM - in the dead of night as far as I'm concerned - took a shower, brushed my teeth & got dressed before checking my E-mail account one last time. At 04h45 AM I locked my apartment door, stowed my luggage & laptop in the trunk of my car and took off towards Luxembourg Airport where I arrived a little later than 05h20 AM at a still quite deserted new terminal A.
View Large
View Medium


Photo © Alex Beltyukov - RuSpotters Team
The time it took me to leave my car at the Parking B, take my luggage out with one last check if nothing was missing and to arrive at the departures level early morning passengers had started crowding the Terminal A.
I decided to check in right away before the inevitable waiting lines would build up at the counters. Same goes for the security check; the sooner I'm through with it, the better. I can't decide which one of these 2 (check-in or security check) I hate more and while the former has become at least partly redundant (Thanks heaven for automatic/online check-in) there's no way that leads past the latter unfortunately.
I spent the following 50 minutes in the security area with trying to stay awake and since it was still pitch dark outside I decided that my camera equipment remain in it's place in the hand luggage until my arrival in Frankfurt.
A couple of boarding calls crackled through the loudspeakers (passengers to Hambourg first, followed by those for Milan) and just about when the last one of those had cleared the waiting area a boarding agent went to (wo)man gate A14's counter in order to announce that passengers for flight LH6861 to Frankfurt may now proceed to said gate & keep their boarding passes at the ready. After that it went down 2 flights of stairs, then out of the building and into the airfield apron bus. After a 10 minutes wait with running engine the doors were closed and the bus got under way at last.
I used a brief spare time to fire off a couple of SMS to my brother and to my aunt - both of which share my love in aviation, these 2 are always the first to know when I'm flying to somewhere - before switching off my cellphone.
View Large
View Medium


Photo © Varani Ennio - VRN Spotter Group
Arrived at the airplane the bus doors popped open and soon everyone was lining up at the entrance door of the Luxair Dash-8-402. I usually call them "SQUASH-8" because of their rather narrow cabin, or "Prop-rocket" - for obvious reasons.
Boarding took place fairly smoothly - at least it did until I arrived at row number 9. My boarding card clearly said seat number 9D but when I got there this youngish dude was already sitting in it. I double-checked one last time before I politely asked the guy to check his own boarding card since mine said "9D" - the very seat he was throwing his weigh around in.
The only answer I got out of the guy was a shrug and a muttering in broken german that there are 2 empty seats in row 8 and that I have to take one of those. Quite obviously a bloke who couldn't be bothered with politeness and consideration.
The last thing I wanted to do early in the morning was arguing with somebody over a seat but with that guy's attitude I decided that the wee shite would not get away with it.
I plonked myself into seat 9C, the one next to the guy, making a point of hogging the central armrest with my right elbow, letting it slip further into his space until it rested on the guy's left elbow - his left elbow was pratically resting on my lap anyway so why should I be considerate when he's not...? A message that really hit home because after a couple of minutes the guy got fed up and said: "OK, have it your way..." stood up & vacated the seat. In hindsight I don't blame the guy; he was quite obviously at the end of a very long trip or he just hadn't had a shuteye in ages...whatever it was, it made him look like something the cat dragged in...!
Now with everybody strapped in his (assigned) seat & the doors closed we were ready to go - only there was no sign of life coming from the engines. Then Captain Schroeder's voice came in on the loudspeakers anouncing that we should expect a flight time of 40 minutes but there will be a 30 minutes-delay due to heavy traffic in Frankfurt and he apologized for it. Indeed - 30 minutes went by until the engines eventually roared into life, at 7h14 AM precisely...and soon we trundled down the taxiway, heading for runway 24.
At 7h22 AM captain Schroeder applied full power and without fuss the 2 powerful PW150A - engines rocked us down runway 24 & into a steep climb over Luxembourg-city. "Prop-rocket" in all its furious glory...!
The sun had already started to raise while we were still climbing out. The sky was covered with an opaque layer of clouds as far as the eye could see but it made for a spectacular sunrise. Soon as the fasten seat belt signs went off the 2 flight attendants scrambled into action, serving tasty croissants and a choice of coffee, tea or soft drinks. One could easily see why the 2 ladies had to work fast because just as they were through with the coffee service we had already begun our descent into FRA. Soon we would be walking on german ground. NOT! Someone must've cheered too soon because we spent the following 15 minutes circling on holding pattern over FRA before we were finally let down onto runway 25L, ending a flight that had lasted 55 min instead of 40.
When we finally got out of the apron bus at terminal B people hurriedly fanned out in order to make it to their connecting flights, I for my part was in no hurry since my connecting flight was only leaving at 10h25 AM - provided there's no delay...
I was in no rush and my luggage was checked through New York JFK yet it took me an effort not to run down to gate C16, Knowing that something really BIG and really beautiful was waiting there for me...!
October 11, 2011
Flight:LH400
Routing:Frankfurt-New York JFK
Date:11/10/11
Gate:C16
Scheduled departure time: 10H25AM
Flight time: 7 h 50min
Plane: Airbus A380-841
Reg: D-AIMH 'New York'
Seat: 63A
I was picking my way through a web of meandering corridors & connecting escalators with the precision of a seeker head; I got held up by those bloody security checks not once, but twice; I had screeched to a halt a couple of times in order to check I was headed in the right direction, but I eventually made it to gate C16 in one go; an expectant look out of the window and my eyes caught sight of this Mountain of an aircraft. I was flabbergasted! I still couldn't believe that soon I was gonna fly on one of those.
This is D-AIMD "Tokyo" sitting at gate C15, about to leave for San Fancisco
This is my taxi, D-AIMH "New York". Unfortunately, the complexion of gate C16 doesn't allow for head-on shots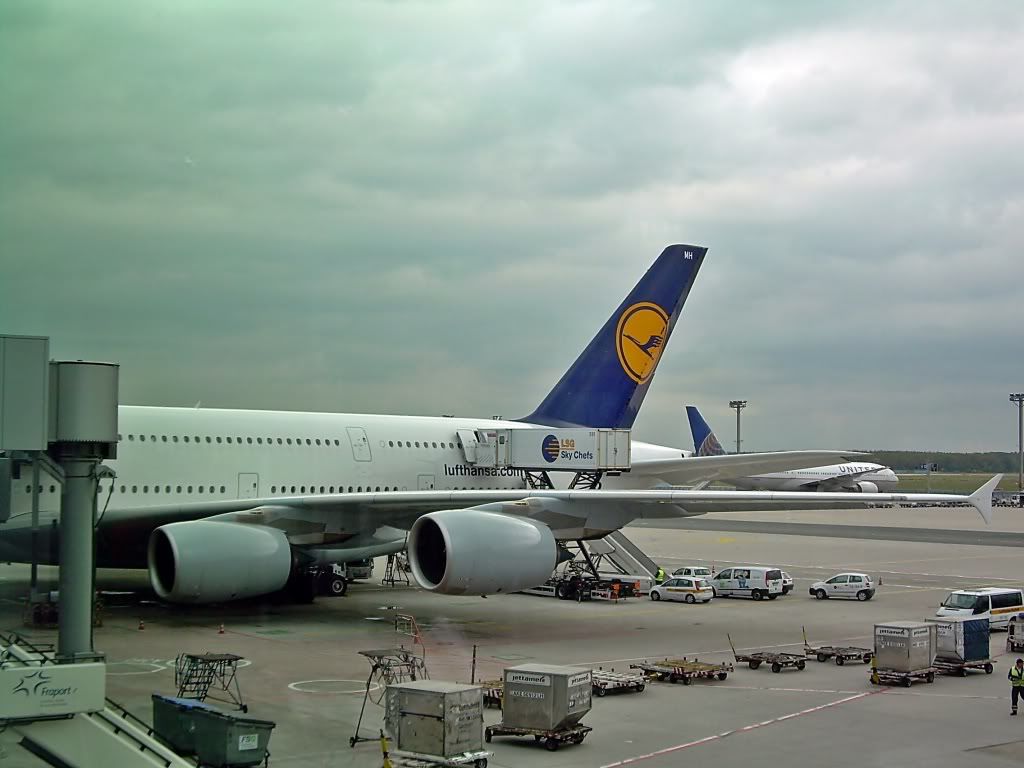 I was just as disappointed of the waiting area at gate C16 as I was impressed by the hulk & beauty of the A380 sitting behind it. The whole area had a provisory feel to it, not at all the wide open space like for example in CDG, and with that flimsy drinking niche passing for a coffee shop, the place looks like it could hardly manage one A380's full passenger load ...! Granted we aren't supposed to spend our lives in here but they could still have come up with something better IMO. I take it these gates have been "upgraded" to accomodate A380s rather than being new-built ones.
There are 3 A380-gates in this part of Terminal 2; C14,C15 and C16, other A380 - gates in Frankfurt currently include B26, B28, B46, E2, E5, E9, F231, F232, F233, F234 and V151 (source: Wolgang H.-
www.flightx.de
- Forum) I'm not sure though if they are all active A380-gates or not. I'm not sure either if the new Terminal 3 located south of the 2 main runways is - or will be A380-compatible.
Now back to the trip report - today's Flight LH400 to JFK was being carried out by D-AIMH named (quite appropriately) "New York", the 8th and currently newest A380 in the LH-fleet, delivered to the airline on July 5, 2011 and the 52th A380 built (source:
www.spotteronline.de).
According to the web site, D-AIMH was involved in an incident in Hamburg-Finkenwerder on June 17th, 2011 where it was damaged by a hydraulic lift.
Boarding process began with a mere couple of minutes' delay, starting with the F (First)- and C (Business)-class-passengers on the upper deck and once it was completed it was the lower deck's M (Economy) -passengers' turn to board the whale-jet in 2 separate groups. Interesting also to see the boarding process taking place on 2 different levels (see picture).
Show time. I was among the last group to board the aircraft.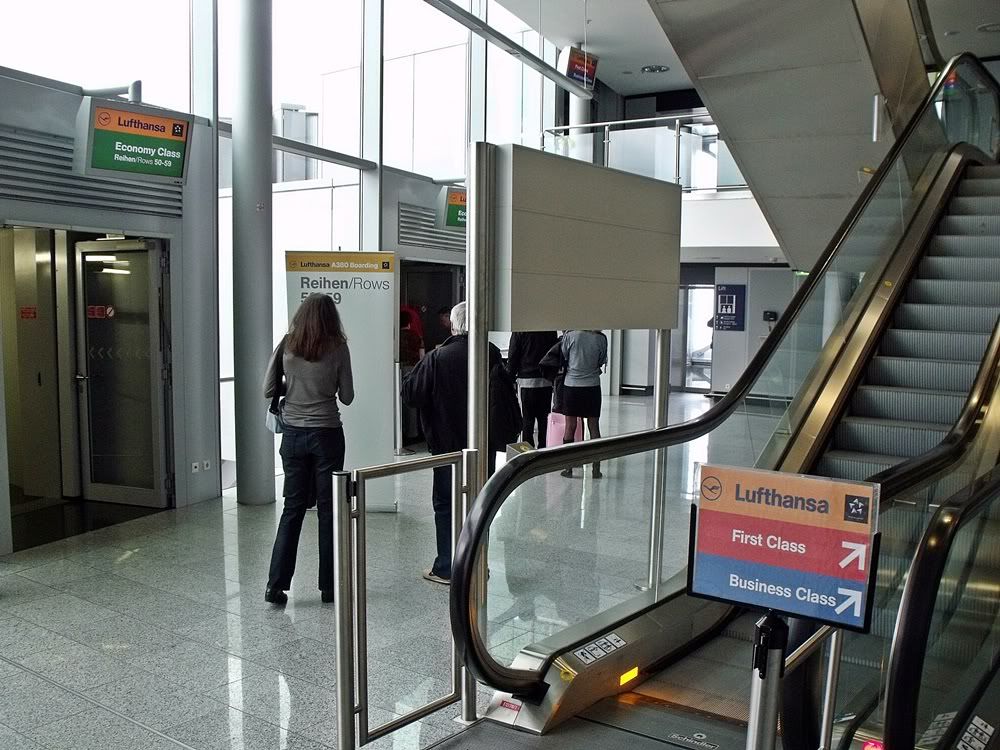 Access to the upper deck via the escalators on the right, economy (my class) on the
main deck is accessed via the 2 doors to the left.
This photo was actually taken after arrival in New York, it's just so yous get the picture (literally
)
I arrived among the last boarding group
Seat pitch in Economy on LH's flagship is 31", not bad - but nothing to write home about either.
Lufthansa A380's have 8 First-, 98 Business- and 420 Economy class seats, altogether that makes 526 seats.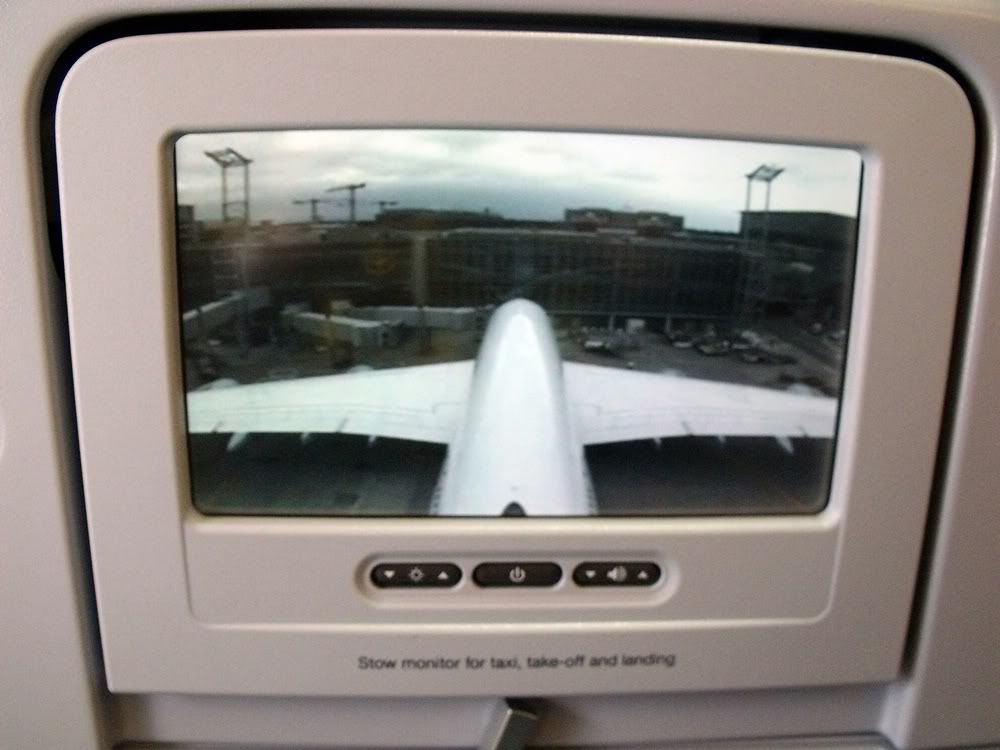 Entertainment system. The A380 has touch screens
Controls on the armrest. I only used it for the reading light
View from my window seat. D-AIMD "Tokyo" has just left the gate for its long flight to San Francisco
Now it's D-AIMC "Peking"'s turn to push back, I'm not sure but this must be the flight to Miami
As we push back one can see the upper level-jetways standing about
Finally at 10h57 AM we pushed back from the gate, soon making for the nearest runway (25R)
On our way to the active we taxi past the eastern end of the apron, filled with aircraft from Malev, Gulf Air,
Air Canada, Air France, Air Berlin and Lufthansa Regional
Closing in on runway 25R, with a Delta B763 about to take off in front of us.
While taxiing to the active, a sound that will soon be familiar to every A380-passenger rang out through the cabin, - the noise of the extending flaps, it's very pronounced, it's got it's signature sound.
With a 37 minutes delay at 11h02 AM, full thrust was applied and the 4 RR TRENT 970's scudded us down runway 25R off into a battleship-grey sky with raw power and amazingly low noise level.
On the runway, about to take off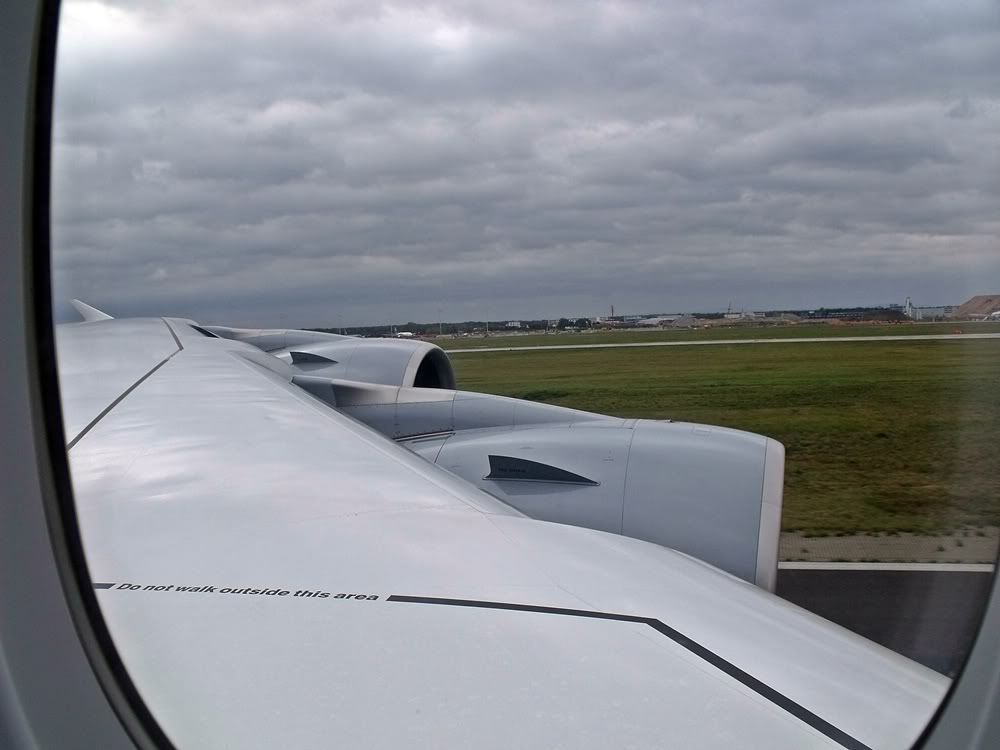 Take-off roll
Vortex on the wing' leading edge as we roar past Startbahn West (bottom right),
Bischofsheimer Wald (center right), and the town of Walldorf visible over the outer engine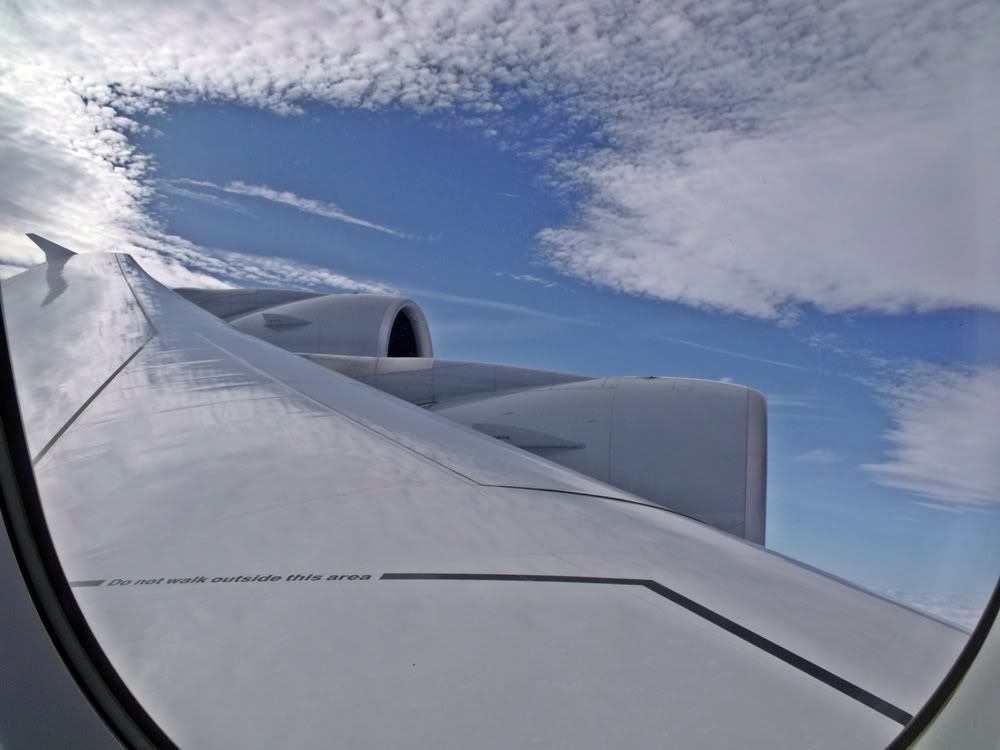 Banking to the right as the sky opens up
Now that we were airborne at last & cutting across the clouds the real fun could start, I had just figured out the entertainment system's 3 camera views, there's one looking straight down, another one looking forward and a tail-mounted one (my favorite) looking forward (see video) and of course the airshow, in this case it features a virtual A380 shown from varying angles with names of cities and towns popping up left, right and center as the whalejet progresses through the airspaces. (I took these videos on my return flight - when I had finally figured out the video function of my camera).
http://s195.photobucket.com/albums/z.../?action=view&current=DSCF1052.mp4
Little introduction course to the 3 available camera views & airshow
http://s195.photobucket.com/albums/z.../?action=view&current=DSCF1053.mp4
Airshow, external view
http://s195.photobucket.com/albums/z.../?action=view&current=DSCF1054.mp4
Airshow, flight deck simulation
One thing about the A380 that bugs me though are the windows. They consist of a large inner panel and a (much smaller) outer panel, with a space of at least 25 cm in between them. It's as though you're looking through a funnel and I don't know what's the purpose of this design. I'm not sure if the windows on the upper deck have the same layout but It's definitely not practical for taking pictures, partly because the large space between the panels, partly because the inner panel tends to leave disturbing reflections on your photos.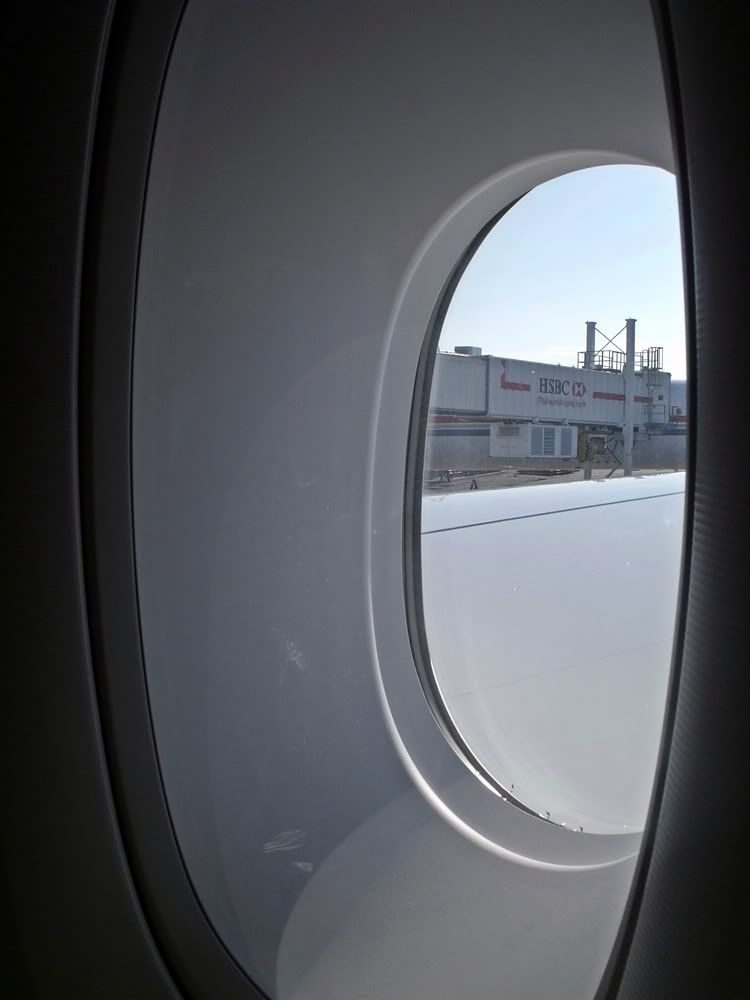 Just as we were passing over Bonn the seatbelt signs were switched off, further announcements were droning out of the loudspeakers, first by the captain himself about the calculated landing time at JFK and the weather conditions to be expected upon arrival. Then the purser came on in order to announce the forthcoming meal service and - as to give points to his own words - an appetizing smell soon wafted through the cabin but it eventually lasted an hour until my dinner was sitting on my desk - I won't go into details here - just look at the picture. Only thing I might add here is that it was delicious.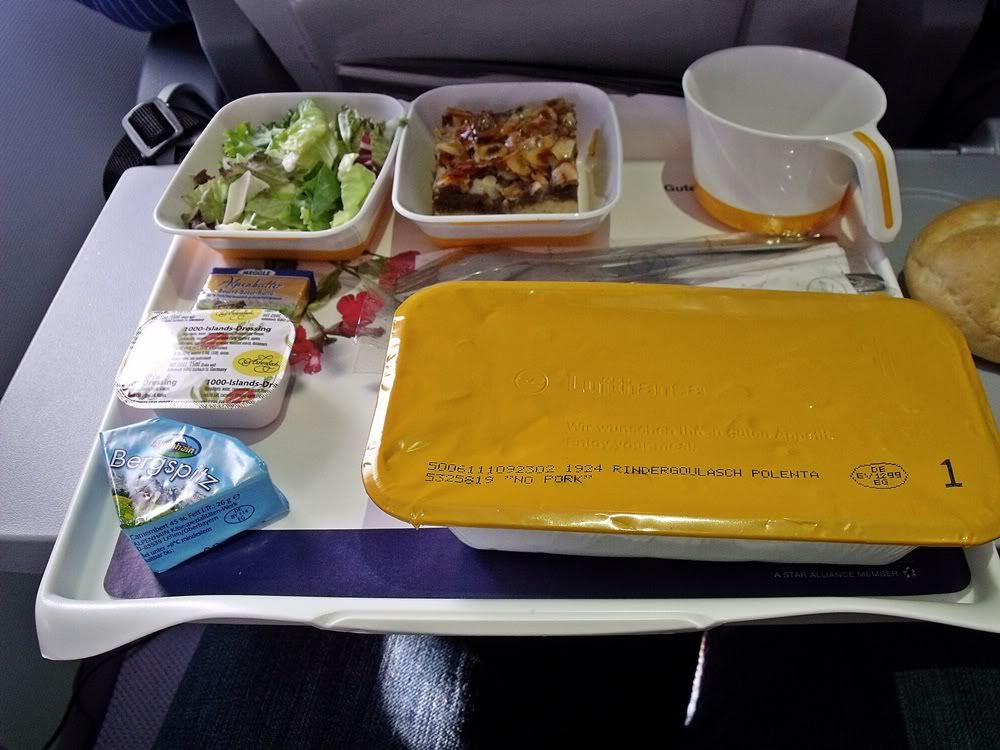 But before our palates were being treated to LSG Lufthansa Service Holding AG's admittedly delicious cuisine we were handed out hot towels, followed by appetizers consisting of Bretzel & salt crackers and non-alcoholic drinks.
Once my hunger was appeased & my dinner tray was cleared away, I had my both hands to make a spring at the entertainmant system which consisted of the usual mix of movies, soaps, kiddie programmes & audio/video music selection; after an extended 2 hours' poke about I eventually settled for the camera views and the airshow. As the seat 63B was vacant I switched that seat's screen to the camera on the vertical stabilizer while my own screen was switched to the display of the airshow.
The hours went by and about 75 min before landing a second meal service was carried out, serving a slice of Pizza as well as a choice of soft drinks & hot drinks and 40 min before landing the cabin crew made one last round in order to clear away the remains of our meal as the aircraft had already started to descend into JFK. One last rush to the lavatory, one last stretch and is was time to get back to your seat and fasten your seat belt.
As Cape Cod, Nantucket Island and Martha's Vineyard slid by underneath the whalejet's port wing my eardrums had already started to make me suffer and as we performed our final approach to runway 4R I was halfway deaf. A sudden vibration in the airframe told me that the landing gear was being deployed; at 12h47 - 7 min behind scheduled landing time) we made runway contact. Clumsily, our whalejet slowed down, vacated the runway and taxied down towards Terminal 1 located on the western side of the airport. A few meters before arrival at the gate the engines were shut down with the captain announcing us that for the remaining few meters to the gate the whalejet had to be tugged in.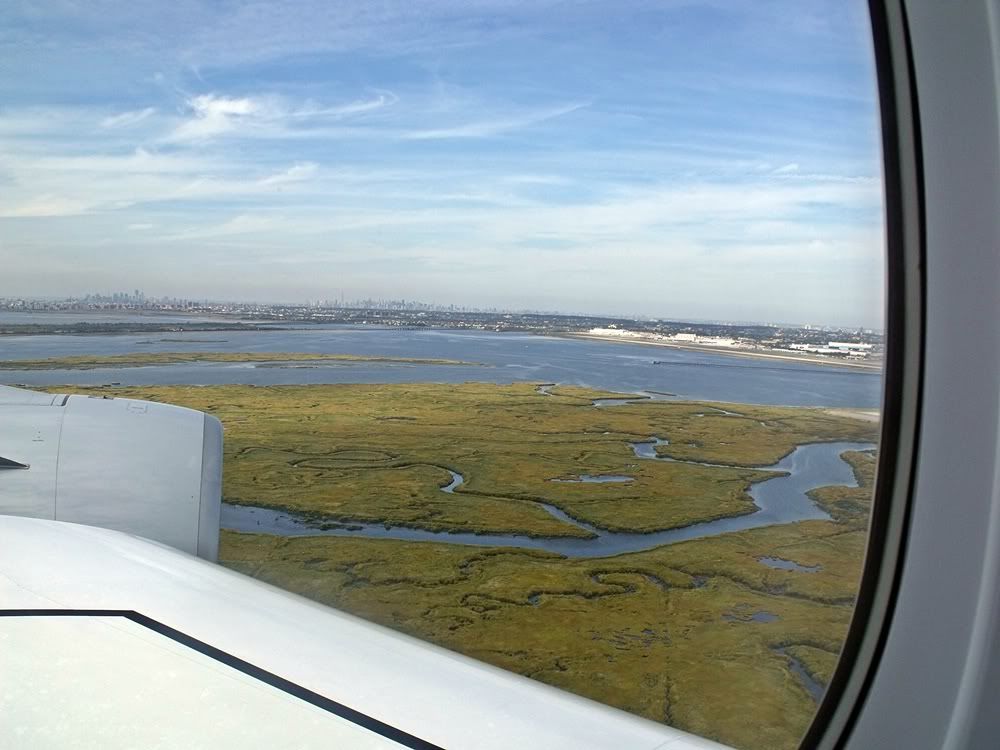 About to land, jamaica bay in the foreground and Manhattan skyscrapers visible in the distance
You can just about make out the Empire State building and ONE WTC under construction
Landing roll on runway 4r with thrust reversers deployed; JFK ATC tower and Terminal 4 in the distance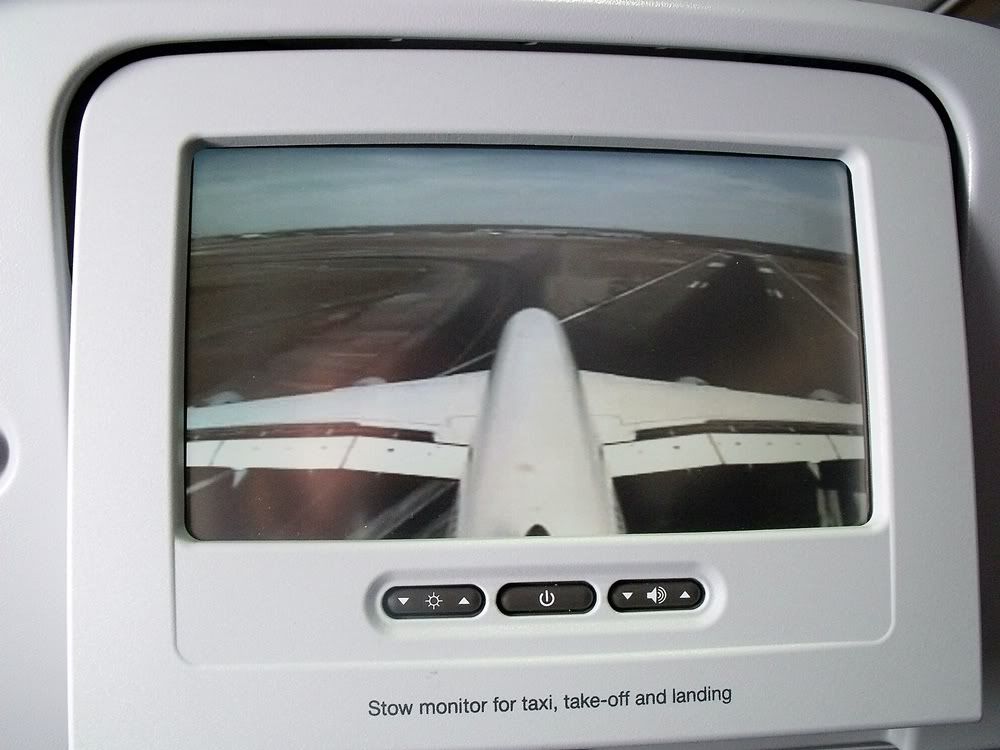 Leaving runway 4R
Traffic, an Aer Lingus A330-300
At the finish, again I am unable to make a head-on shot of the aircraft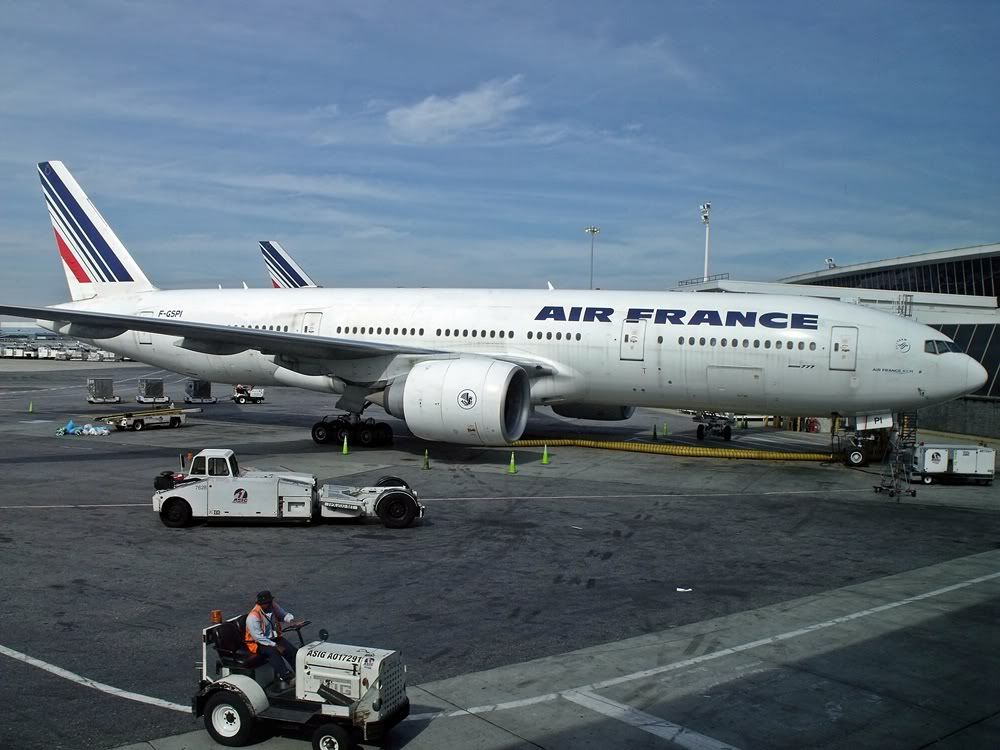 2 Air France B772ER (F-GSPI and F-GSPE) sitting at the gates 3 and 2
Cheers,
Marco