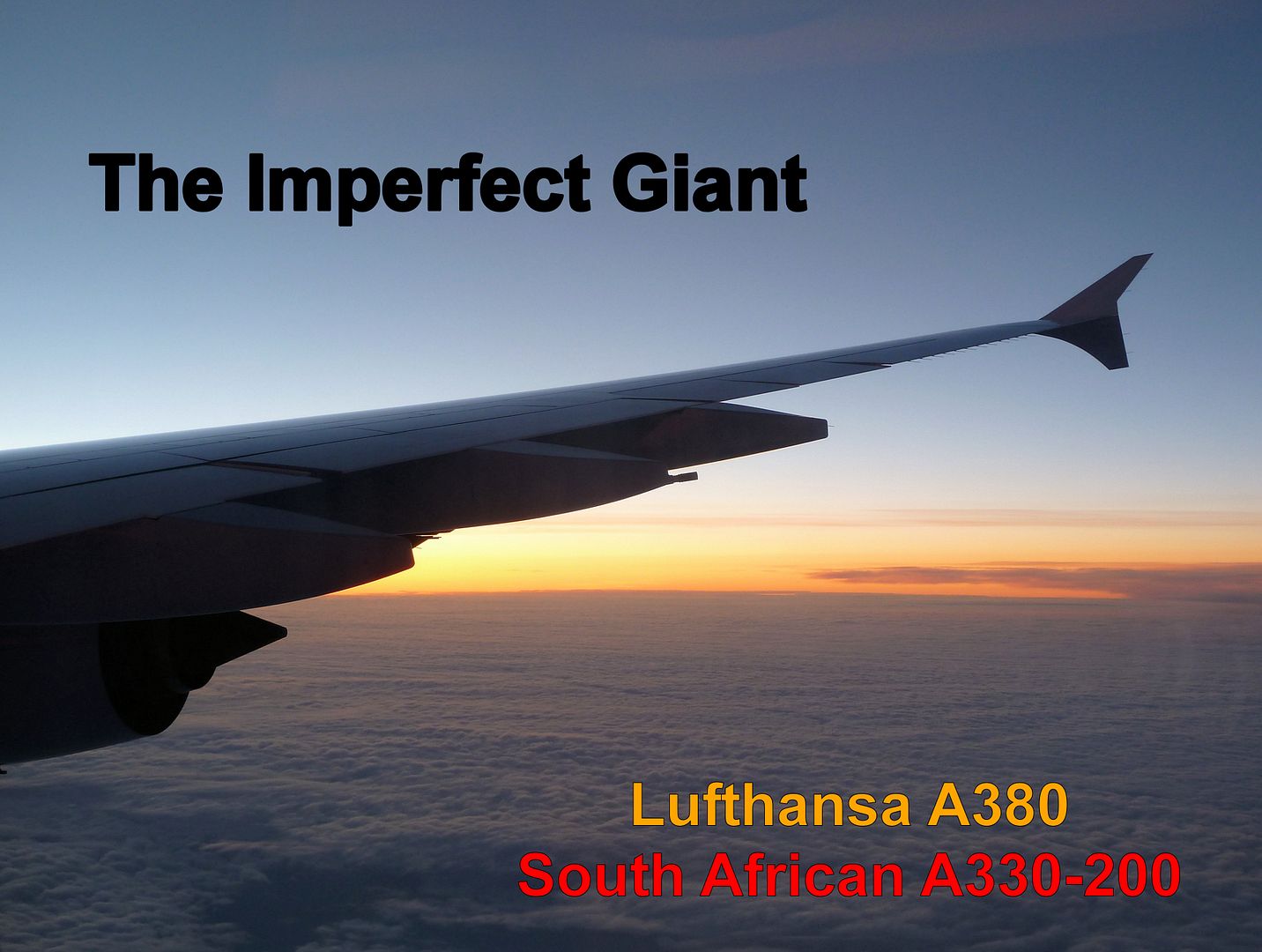 Map generated by the Great Circle Mapper - copyright © Karl L. Swartz
Background
After returning from Dubai in March, it was time to plan another trip - preferably a long-haul trip over a weekend. So I considered going to Canada, the United States or somewhere in the Gulf region again. I was planning to depart on Saturday and return on Monday or Tuesday. Additionally, I was trying to add some domestic hops to the itinerary. After checking countless flight options, I earmarked an itinerary including a flight on Austrian's Boeing 777 from New York to Vienna. That would have been a nice flight on a new carrier and a great plane, but I could neither find an overly exciting westbound transatlantic flight nor really interesting domestic flights.

Just out of curiosity, I checked flights to South Africa where I had always wanted to go. South African Airways - high on my list for a long time - had some special fares from Germany. After discovering an exciting itinerary including three interesting widebodies, I also found highly interesting domestic flight options. Now I couldn't resist any more and booked Nuremberg-Frankfurt-Johannesburg (departure on Saturday) and Cape-Town-Johannesburg-Frankfurt-Nuremberg (arrival on Tuesday) on Cheap Tickets. Operating carriers: Lufthansa (A380), Lufthansa CityLine (CRJ700 and Embraer 190) and South African Airways (A330-200 and A340-600).

Btw - I had also considered flying to/from Munich on SAA's A340-300 (in place of LH's A380), but I didn't want to end up on one of two former Iberia frames with original (out-of-date) Iberia interior. Those all-white planes, originally planned to be refurbished by mid-2011, have been used on all SAA A340-300 routes. And even though I had already flown on LH's A380, I didn't mind doing so again - actually I was even curious to find out how comfortable it would be on a 10 hour flight.

It would have been the cheapest and most convenient option to book a Johannesburg-Cape Town flight on one of various airlines, e.g. British Airways (operated by Comair), kulula.com (operated by Comair), SAA's low-cost airline Mango, 1Time or even Velvet Sky. However, I wanted to get two new airlines in addition to SAA, so it took a while to find a suitable routing. Finally, I decided to fly Johannesburg-Durban on a Comair 737-400 (operating for British Airways) and Durban-Cape Town on a Mango 737-800. That meant that I would have to leave Johannesburg again only three hours after arriving from Frankfurt, but I was ready to take the risk. In the case of a heavily delayed arrival at Johannesburg, I would still be able to book one of countless nonstop flights to Cape Town.

While the booking process on Mango's website was faultless, I faced a problem on BA's South African website. When I had to enter my name, I couldn't find "Mr" in the drop-down list. I restarted the booking process, but it didn't work either. So I simply chose "Sir" and I was finally able to finish my booking. Later, when I was checking again, "Mr" and "Mrs" suddenly showed up. I was concerned that I may face problems with "Sir" on my boarding pass, but a quick search on various forums revealed that it would be a non-issue.

Since I would spend two nights on the plane, I only needed to book a room for one night at a Cape Town airport hotel. Actually there's not much choice - the Road Lodge is the one and only hotel in close vicinity of the airport. However, it was quite cheap - and clean and safe according to Trip Advisor. Four days, three new airlines, three new airports, two four haulers and a brand new A330-200 - I was really looking forward to that short trip.
Parts I & II can be found here: Africa's Best Airline? FRA-JNB On SAA A340-600 (by PlaneHunter Sep 23 2011 in Trip Reports) BA Vs. LCC, African Way: JNB-DUR-CPT, Comair/Mango (by PlaneHunter Oct 8 2011 in Trip Reports)
Cape Town Spotting
After a relaxing night at the
Road Lodge
, I returned to the airport in the early morning. It wasn't possible yet to check in for all three legs because the FRA-NUE flight was still more than 23 hours away. I decided to return to a kiosk later, my seats on the two widebodies had been reserved after booking anyway. On the way to the observation deck, I took a picture of the airport's modern check-in hall: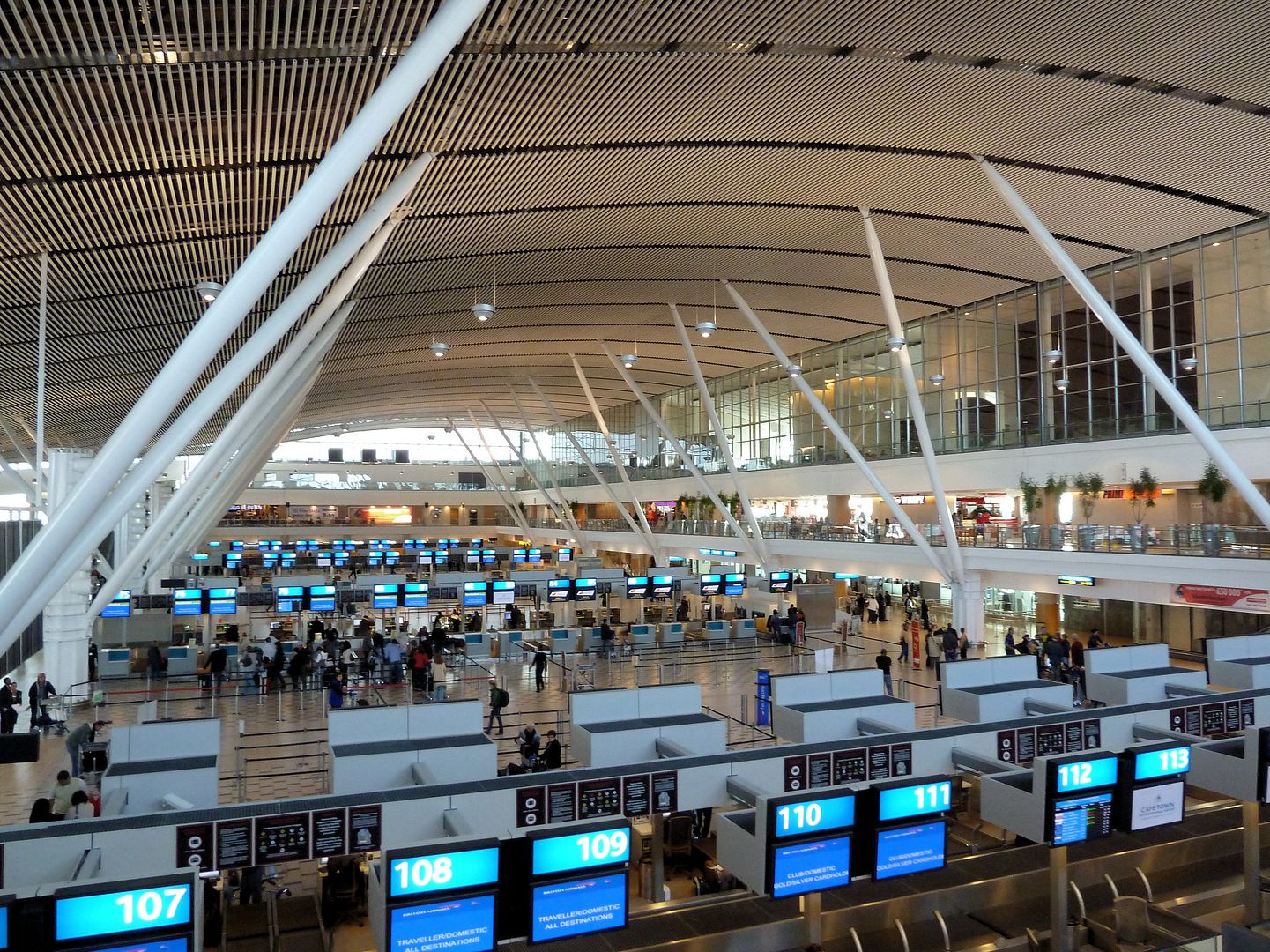 This is what you find next to the food court: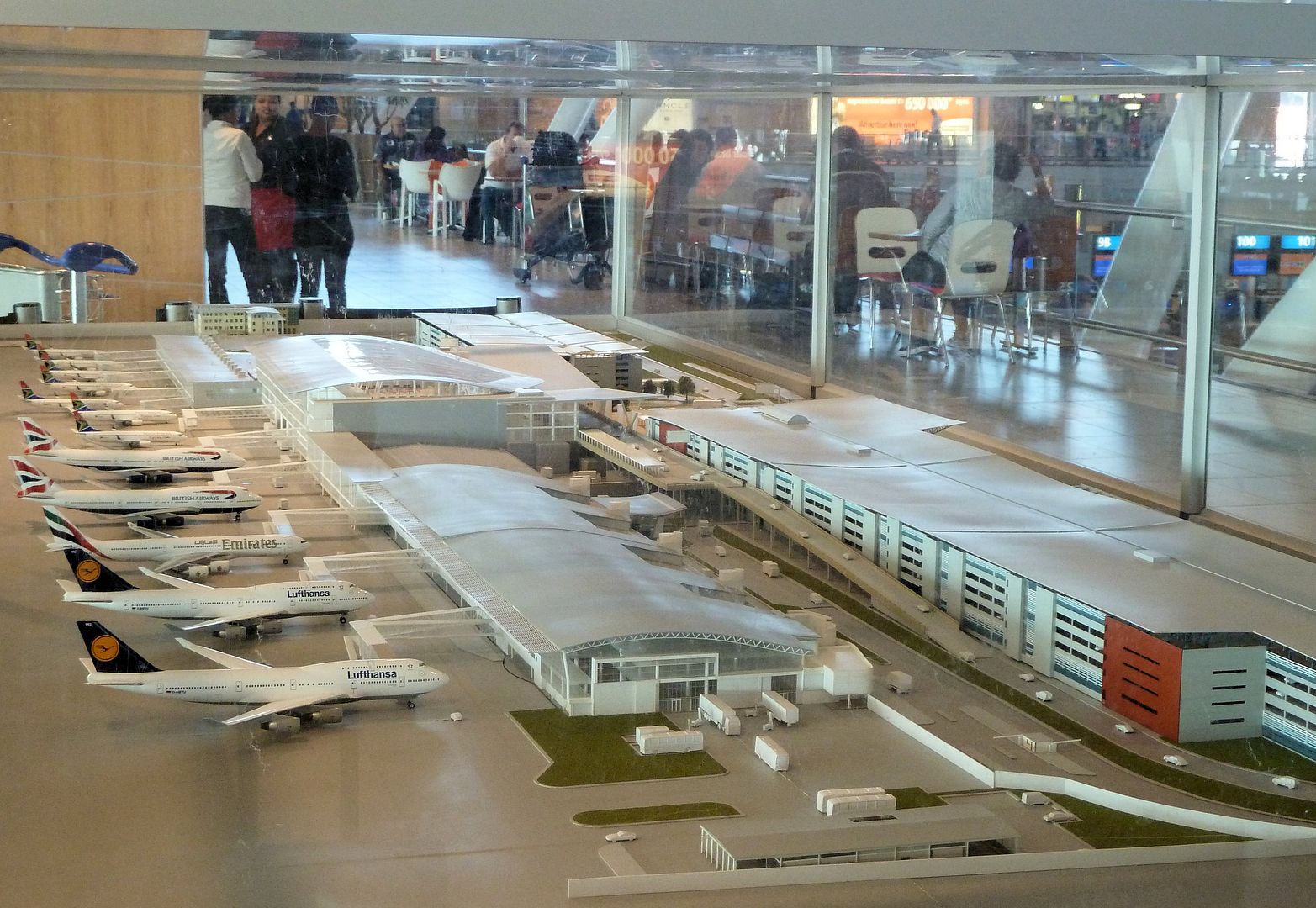 Here's a part of the observation deck which is huge if you also count in all the window seats belonging to the food court (starting to the right):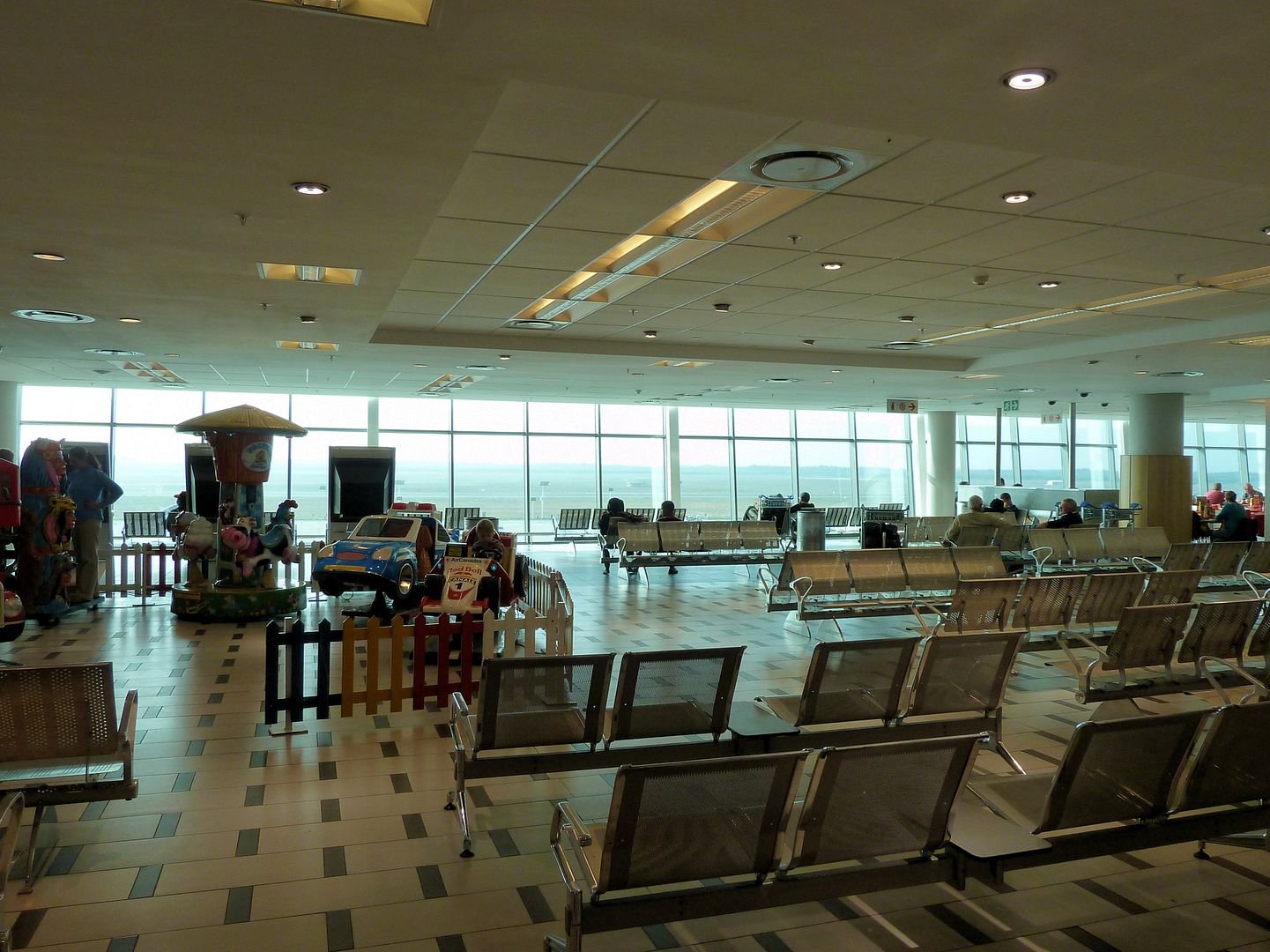 Photographers may be deterred by the toned windows, but the facility is perfect for registration spotters. You don't miss any movement up there - however, CPT is certainly not as busy as JNB.
British Airways 747-400 in Oneworld colors, SAA A340-200 and one of SAA's all-white ex-Iberia A340-300s: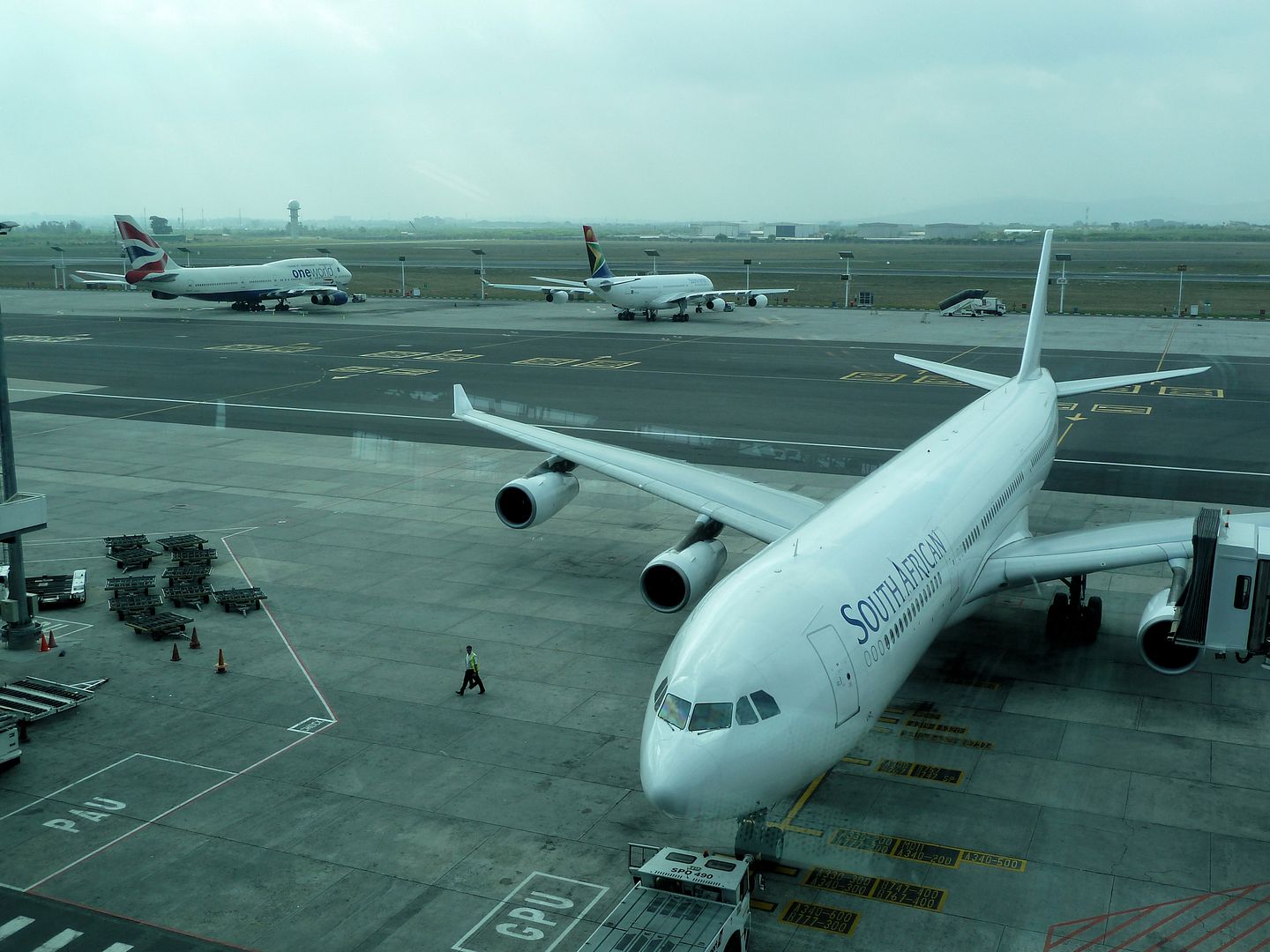 1Time MD-82 and Mango 737-800:
Turkish Airlines A330-300, Emirates A340-500 and Malaysia Airlines 747-400: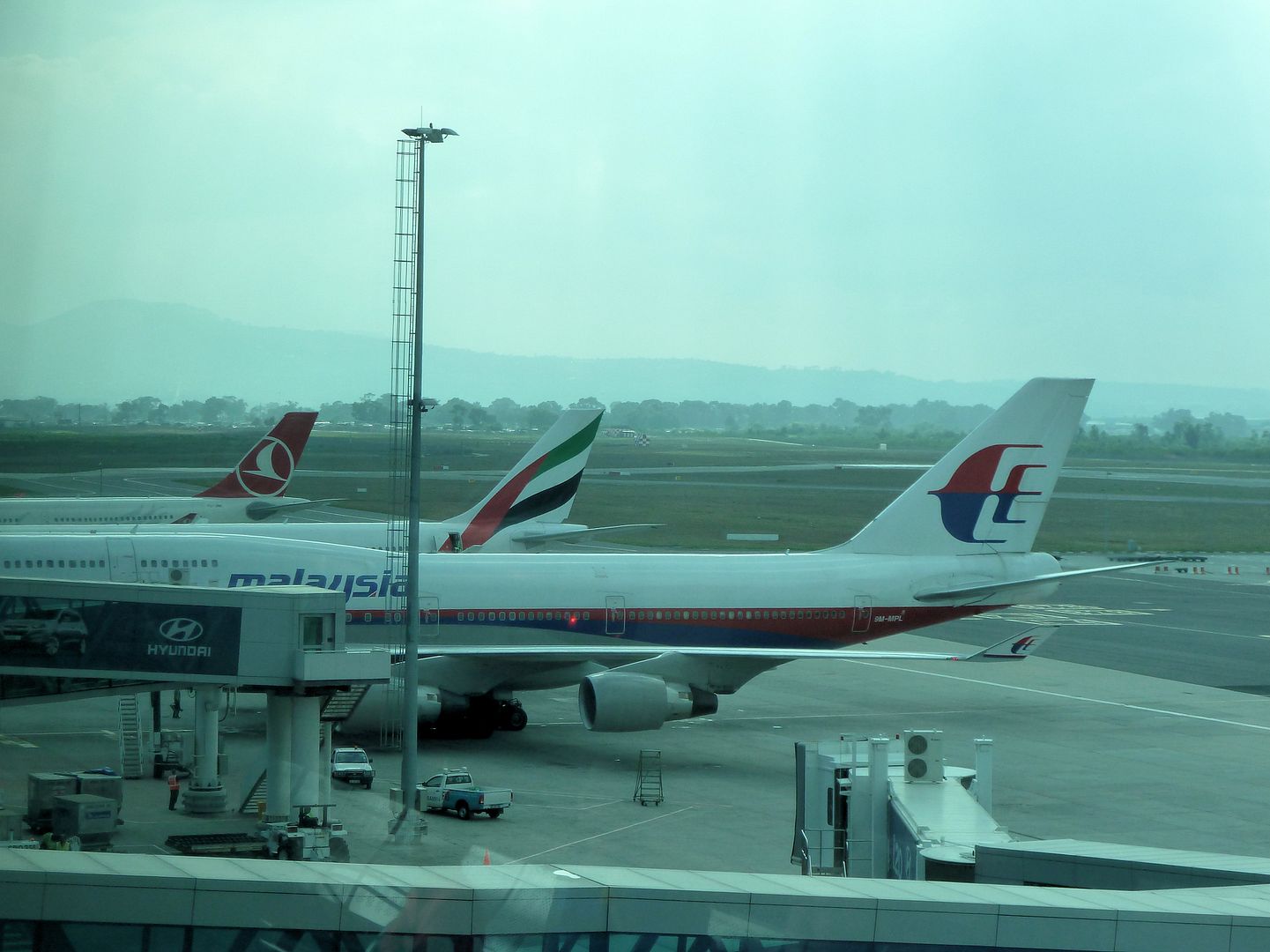 I didn't stay at the observation deck all the time, but also went to other areas of the terminal where you can see some planes from a different perspective. SAA A340-200...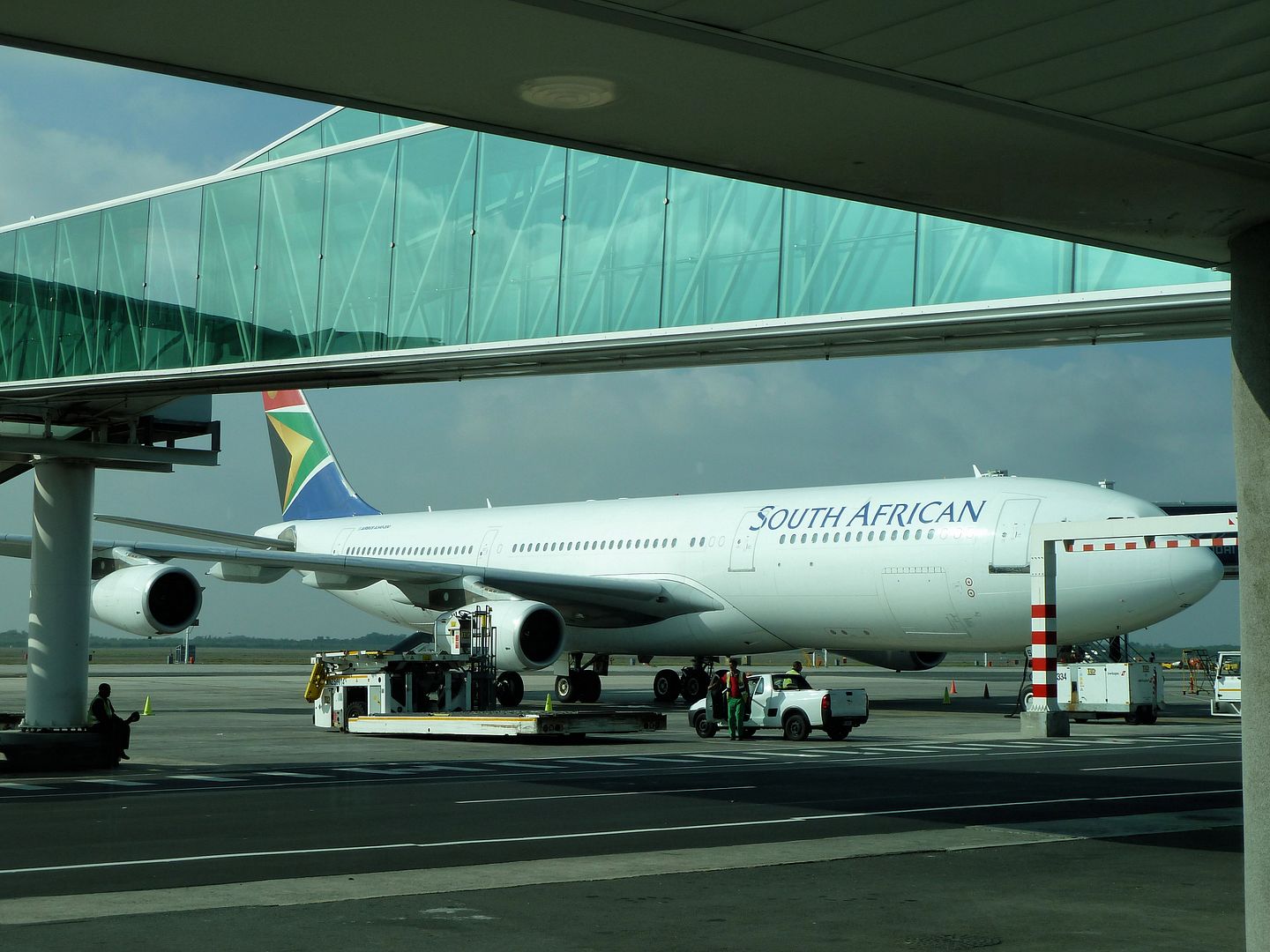 ...and Turkish Airlines A330-300:
Even though I just logged 15 new registrations at Cape Town on that day, I enjoyed the relaxing time at the observation deck.
Monday, May 2011
Cape Town (CPT) - Johannesburg (JNB)
South African Airways SA346
Scheduled times: 15:10-17:10
Actual times: 15:06-17:10
Flight duration: 01:41 (hrs)
Distance: 789 miles
Economy Class, seat 67K
Airbus A330-243
ZS-SXZ (MSN 1191), named "Charlotte Maxeke"
Delivered in 02/2011
1st flight on ZS-SXZ
14th A330-200 flight
22nd A330 flight
I passed security about 1.5 hours before departure, the check-in process at a kiosk in the course of the morning had been quick and easy. I bought some nice stuff in the airside shops and continued spotting. Finally, a South African A330-200 touched down...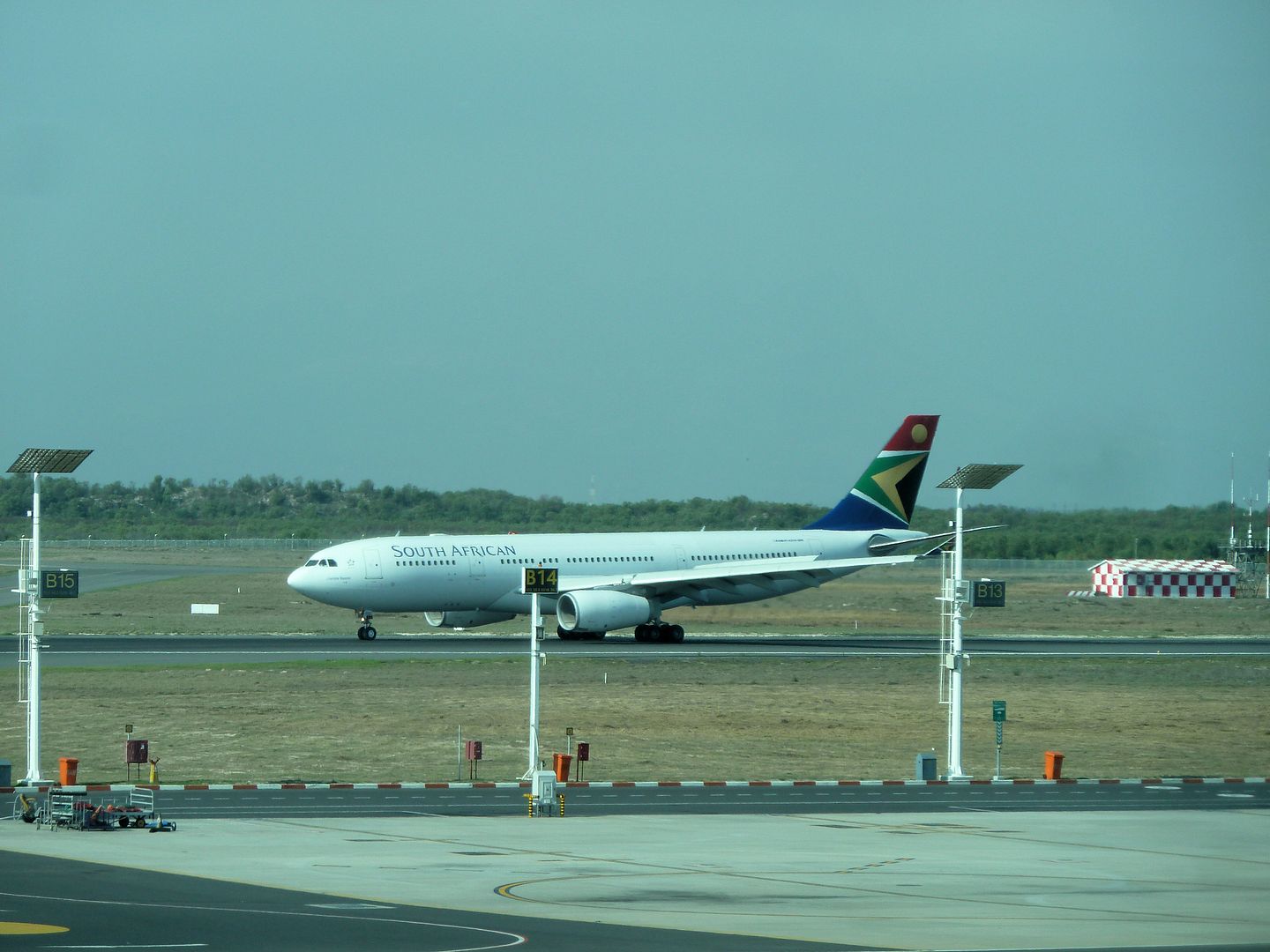 ...and it turned out to be
ZS-SXZ
, delivered in February 2011. SAA once leased several A330-200s from bmi and TAM, but this plane is the first factory fresh frame for the airline: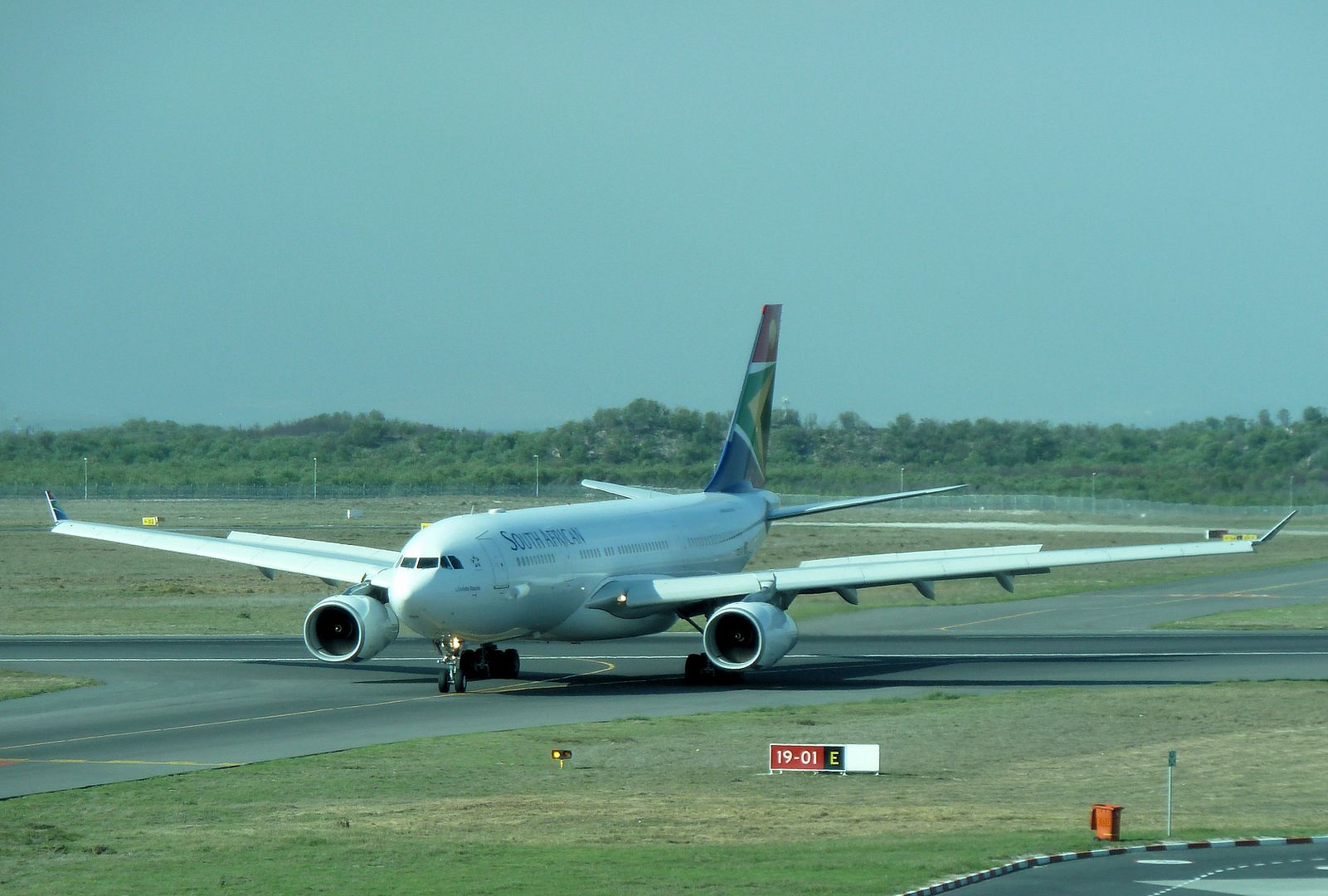 ZS-SXZ
was one of three A332s in mid-May, the fleet has meanwhile grown to five frames. Another one will be delivered in November. Consequently, the remaining A340-200s will be retired.
Note the Comair 737-300 taking off: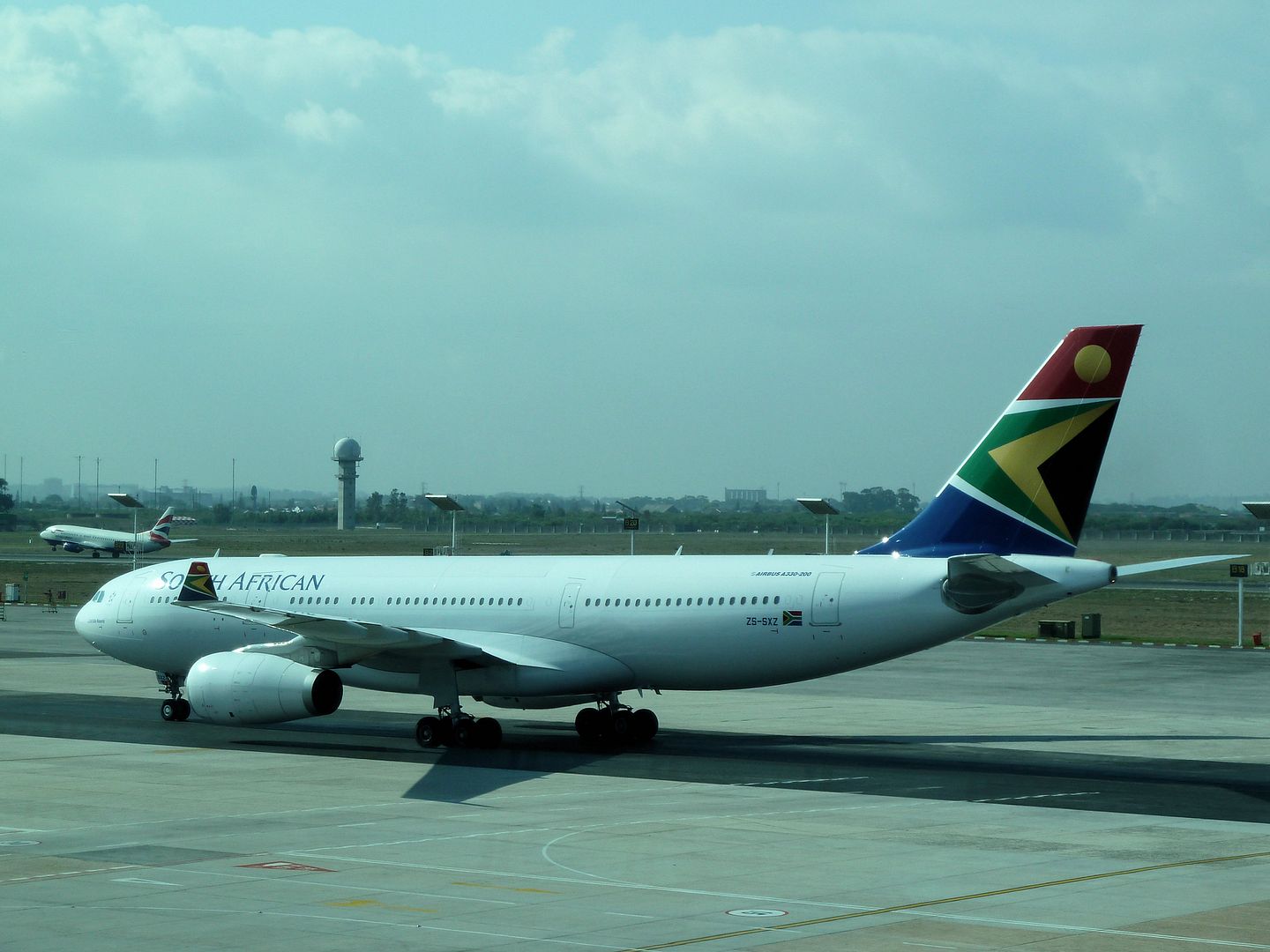 ZS-SXZ
arrived at the gate on time: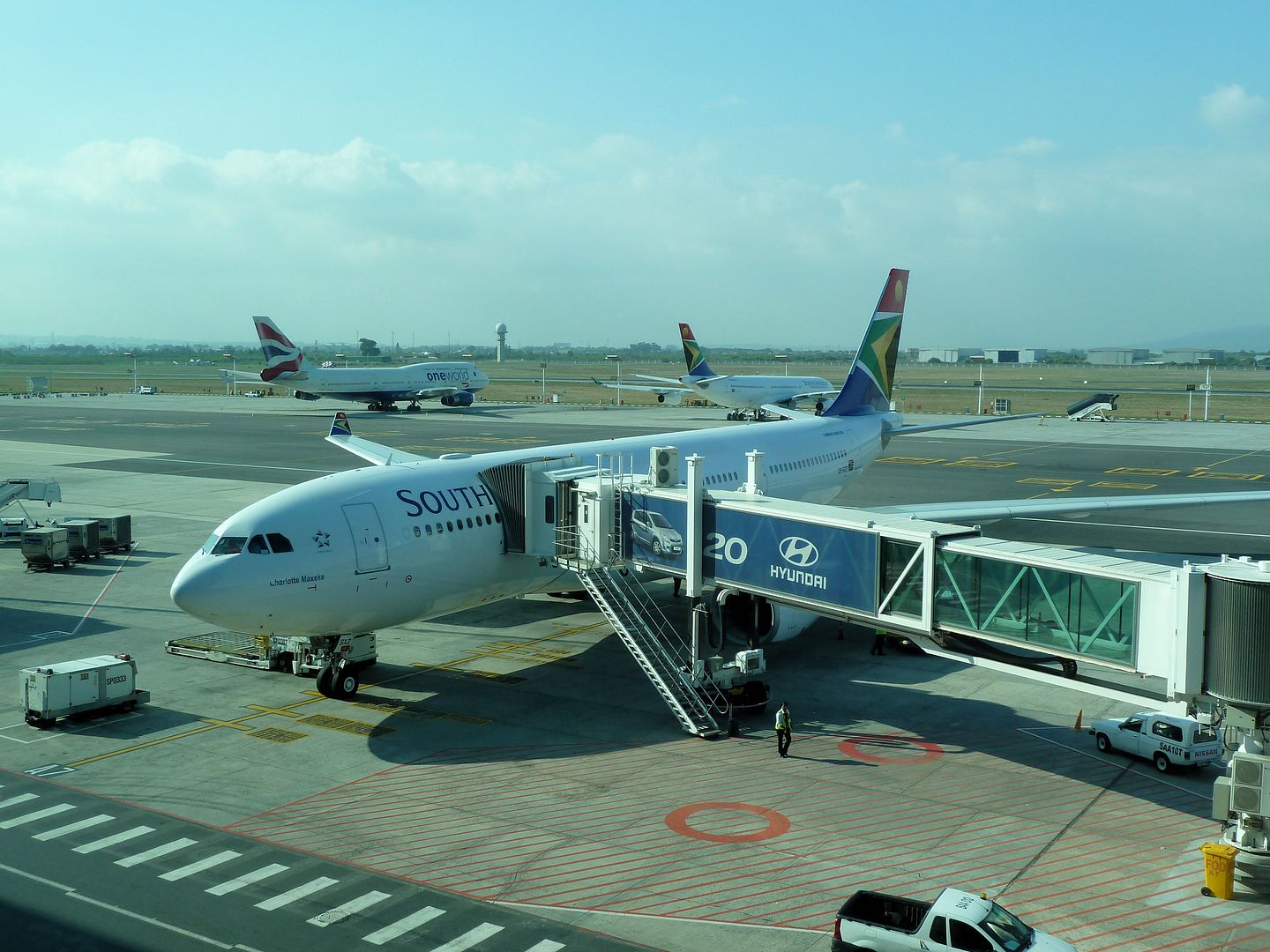 The plane was named after South African religious leader and political activist
Charlotte Maxeke
- but some parts of the letters had already come off after only three months in service:
Unfortunately,
ZS-SXZ
is the one and only plane in today's SAA fleet carrying a name.
People started lining up and I soon found myself at the front of a long queue. There were neither priority nor general boarding announcements and the (friendly) agents just started checking boarding passes.
After a friendly welcome on board, I found myself in a very attractive Economy Class cabin. The colors were nice, definitely better than the dark tones on the A340-600. The slimline seats were a bit hard...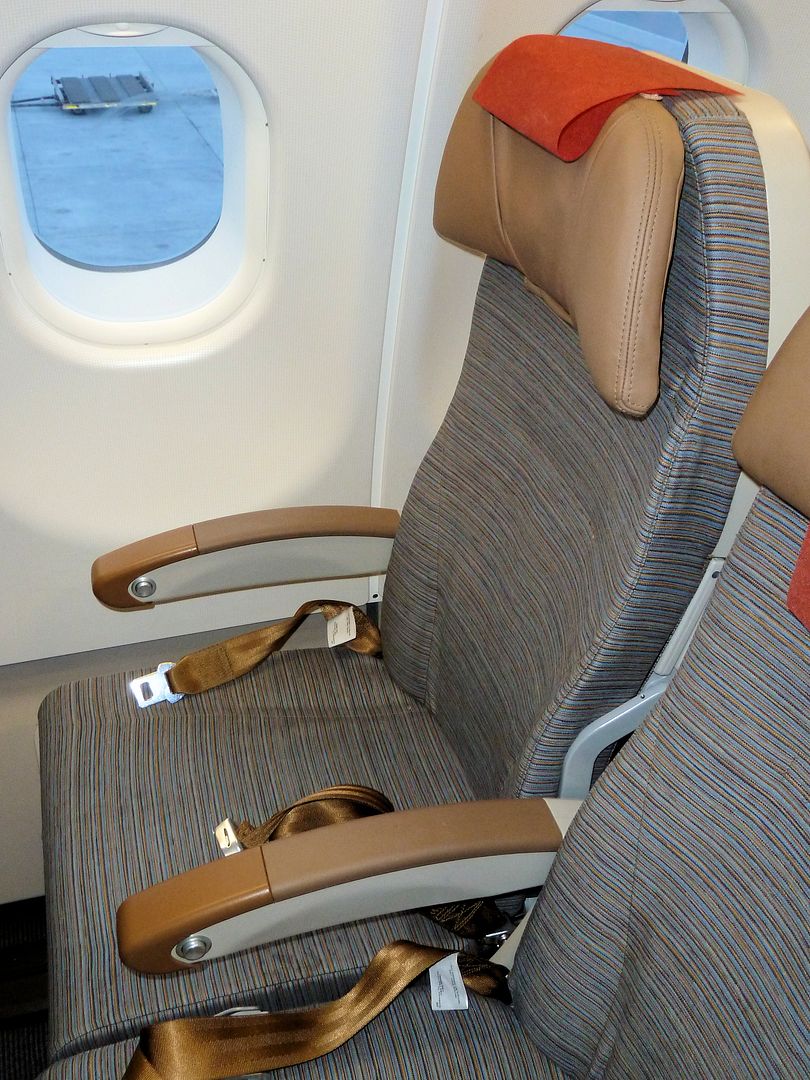 ...and legroom (31 to 32 inches according to SAA) was not as generous as on the A340-600 (33.5 inches), but still sufficient. The small IFE boxes don't take away much space: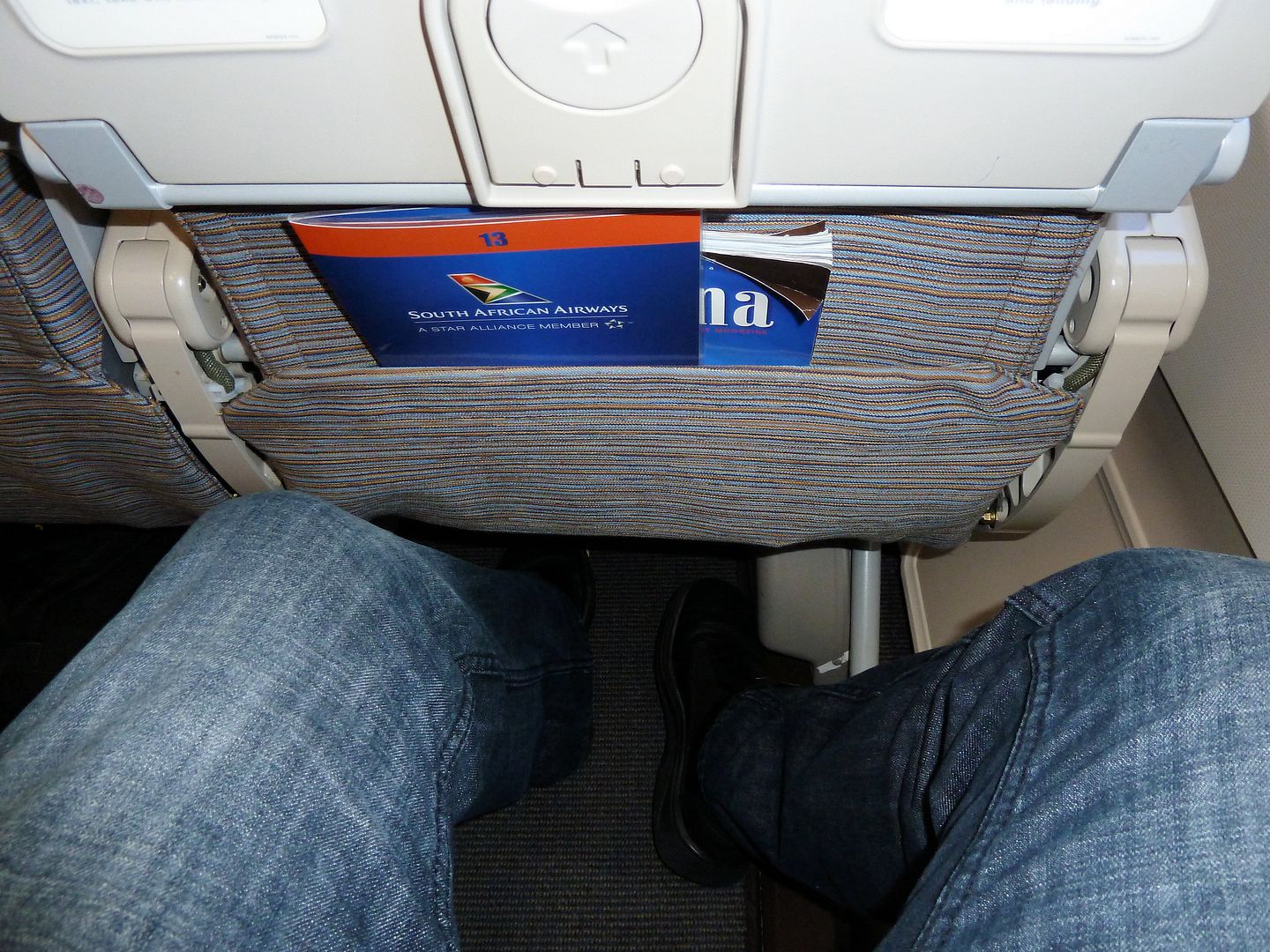 Passengers can enjoy large touchscreen monitors, handsets are stored in the seatbacks: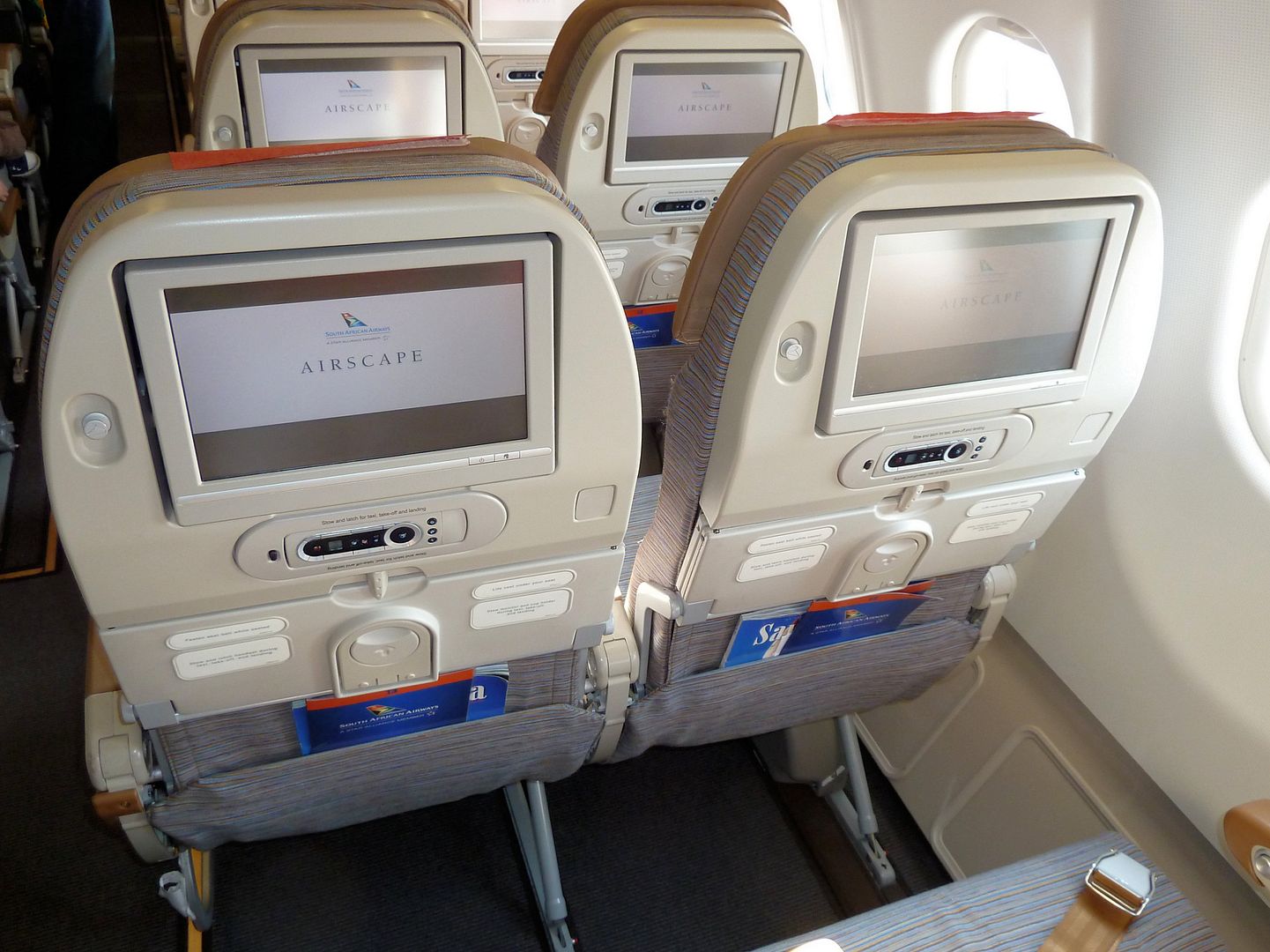 The flight was quite full (load factor in the 80-90 percent range), the aisle seat next to me was taken by a lady in 40s who later turned out to be German. After boarding had been completed, a flying time of 1 hour and 45 minutes was announced by the captain.
ZS-SXZ
left the gate four minutes ahead of schedule and soon started taxiing to runway 01. Nice reflection once again: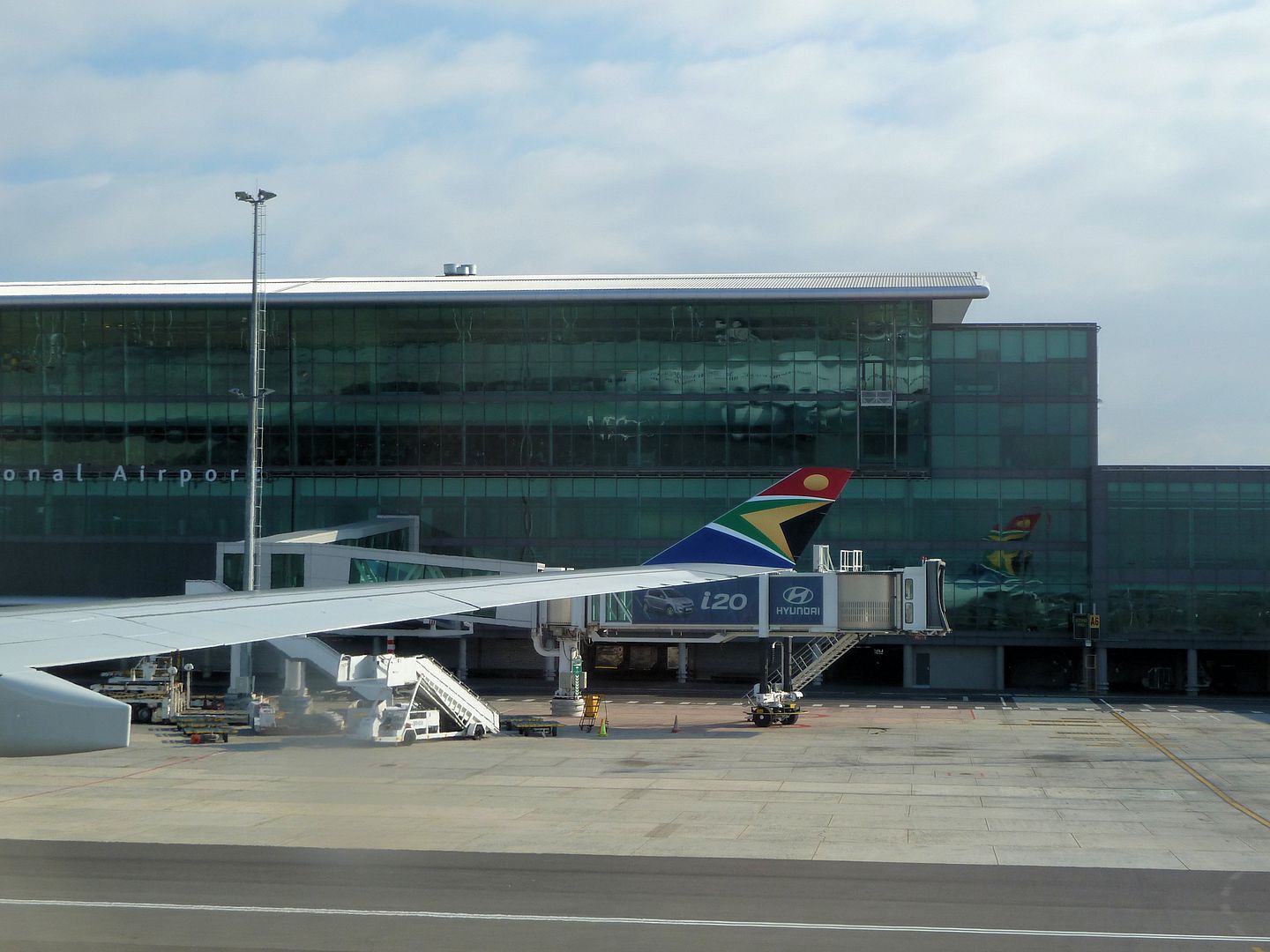 Unidentified ex-African International DC-8 freighter without engines - probably ZS-OZV of Stars Away Aviation:
South African Express CRJ200 on short finals: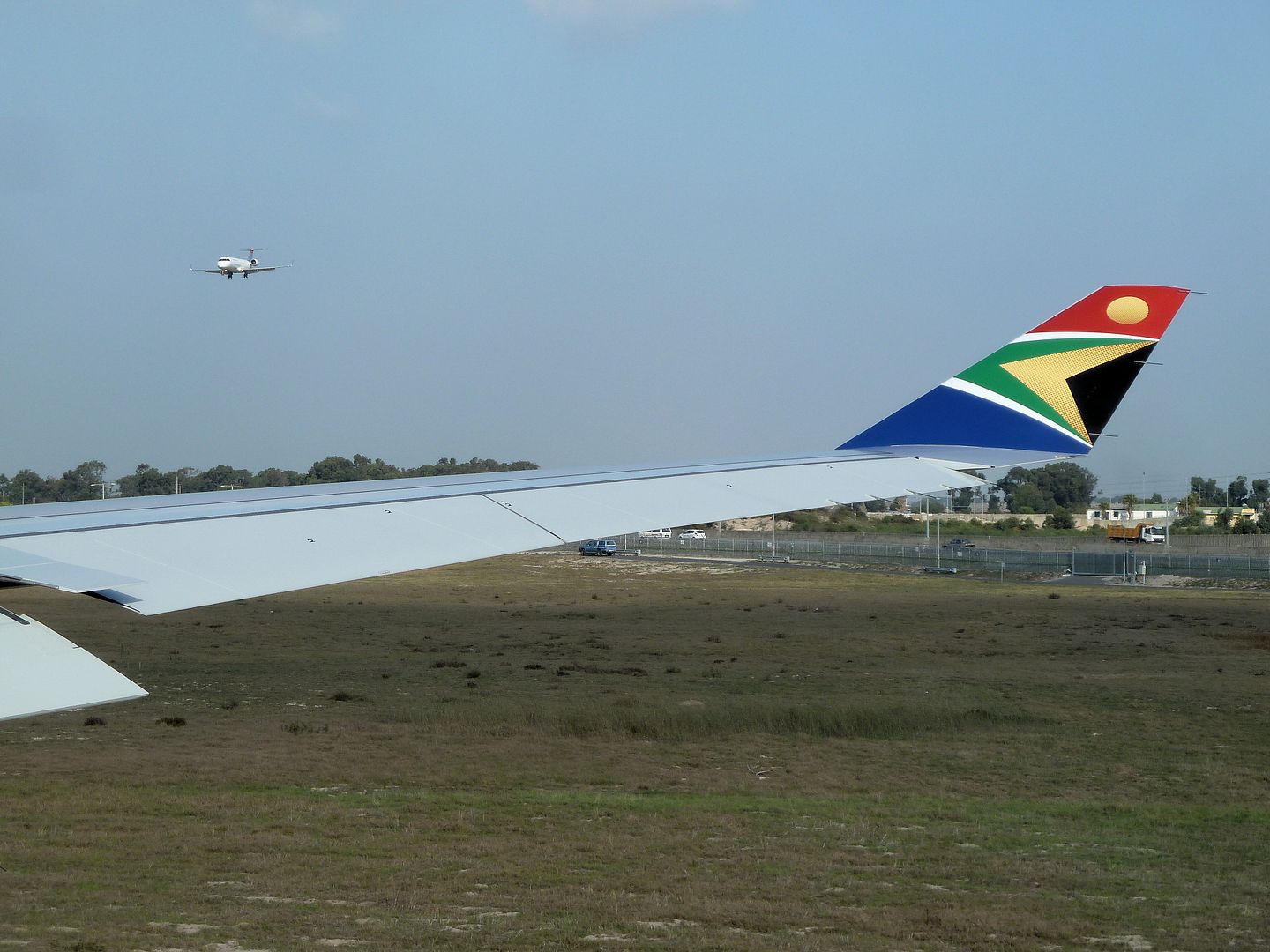 I had been hoping for a powerful takeoff, but the flight crew chose a so-called "flex takeoff"...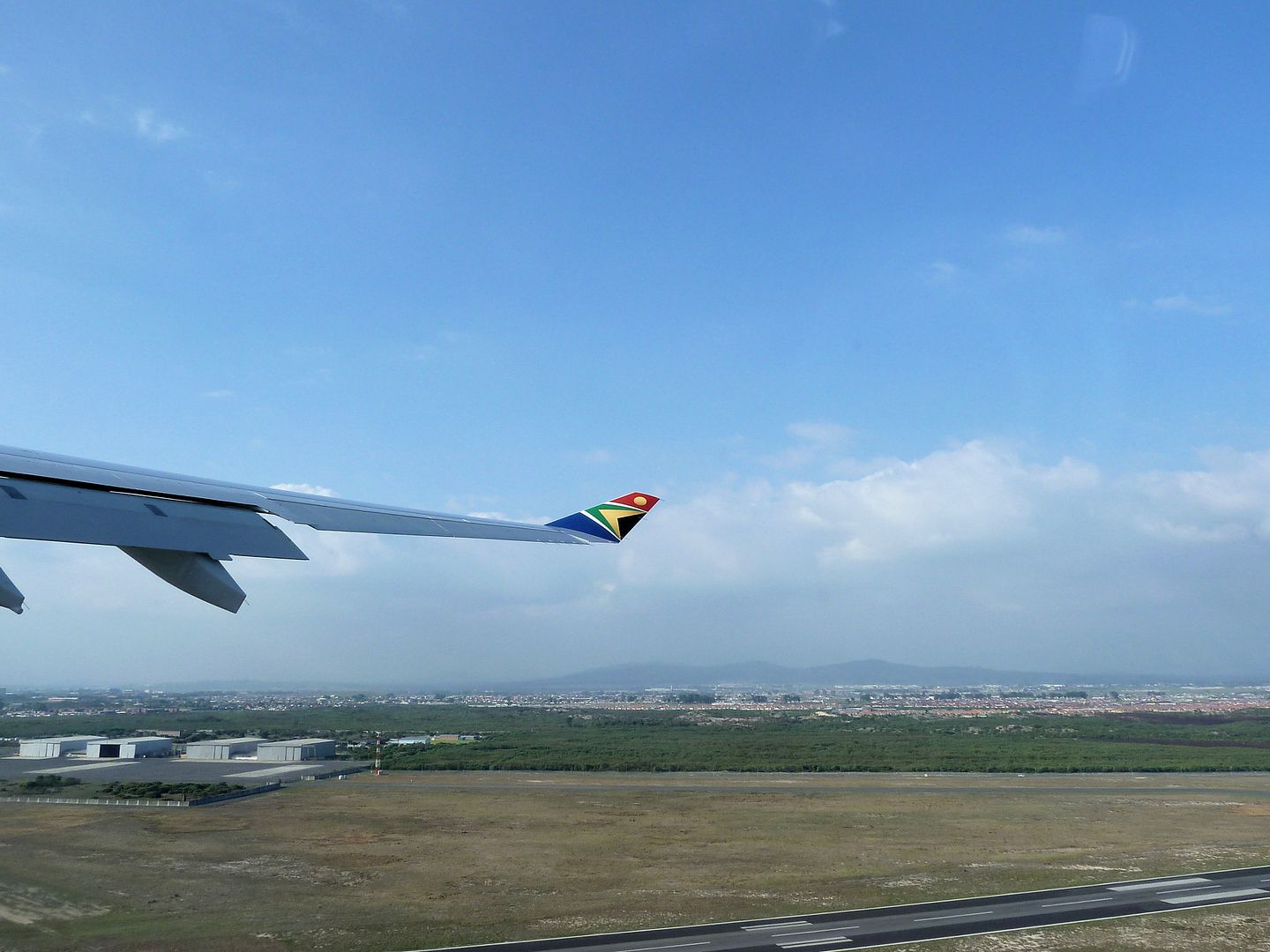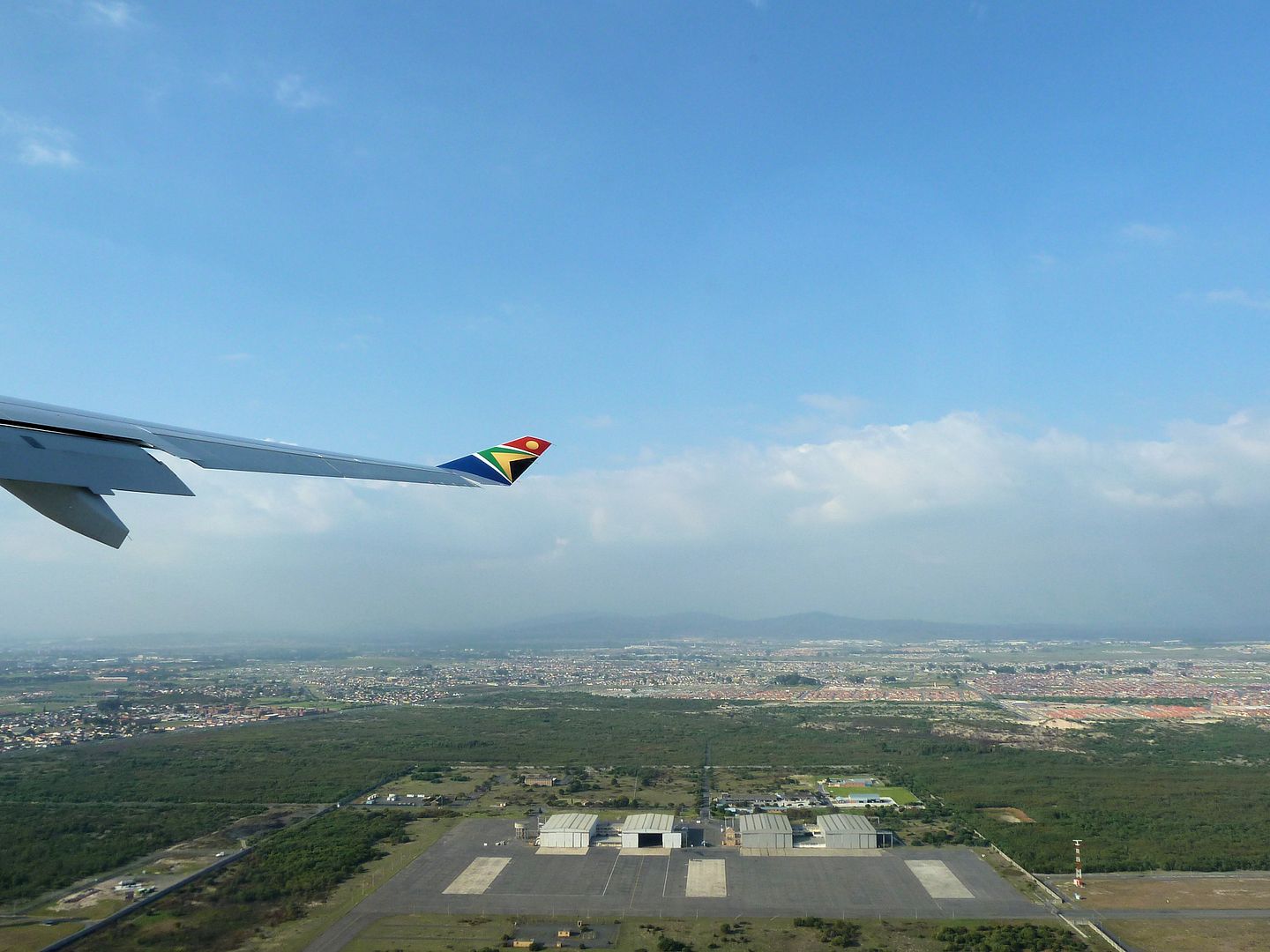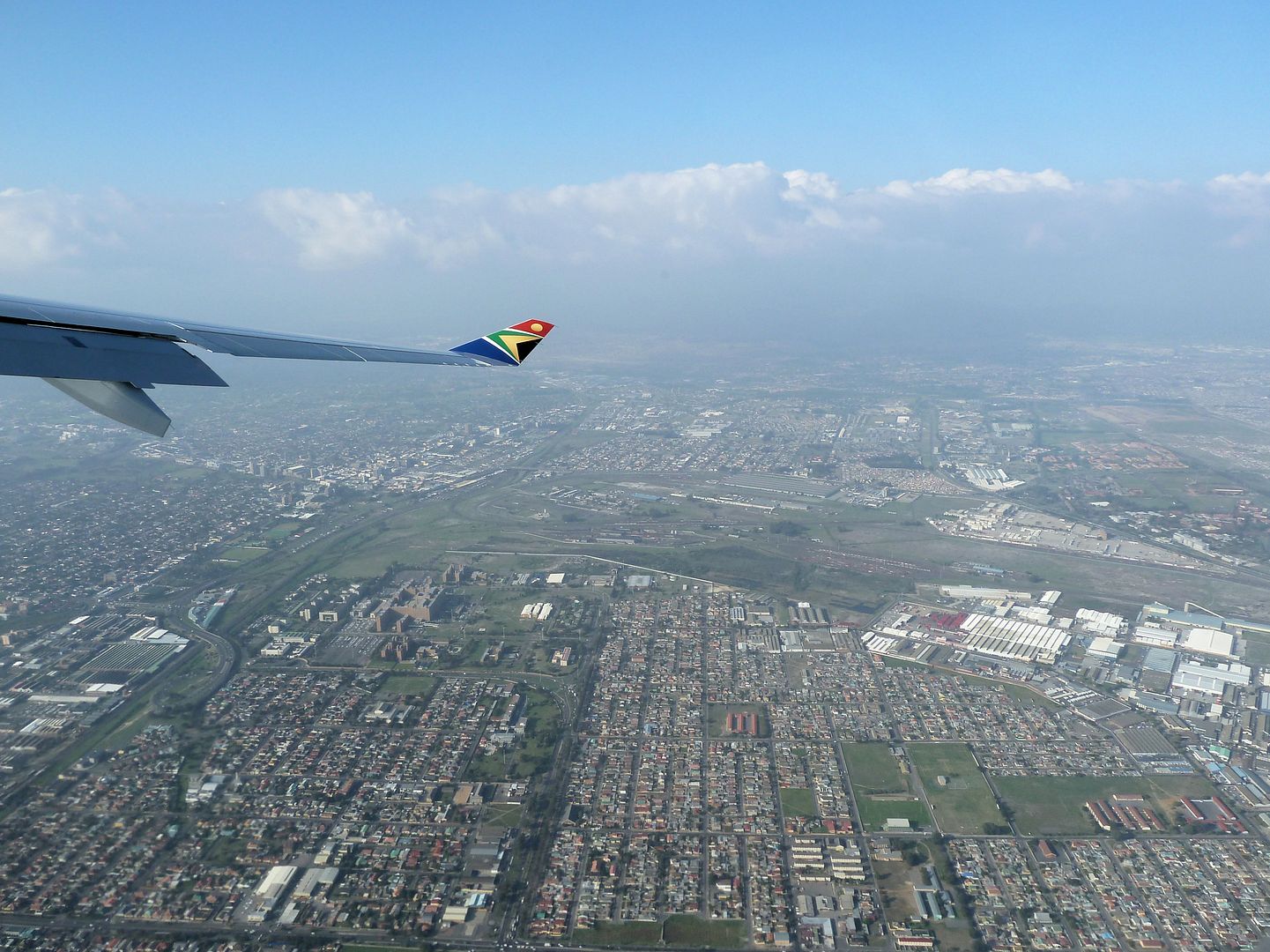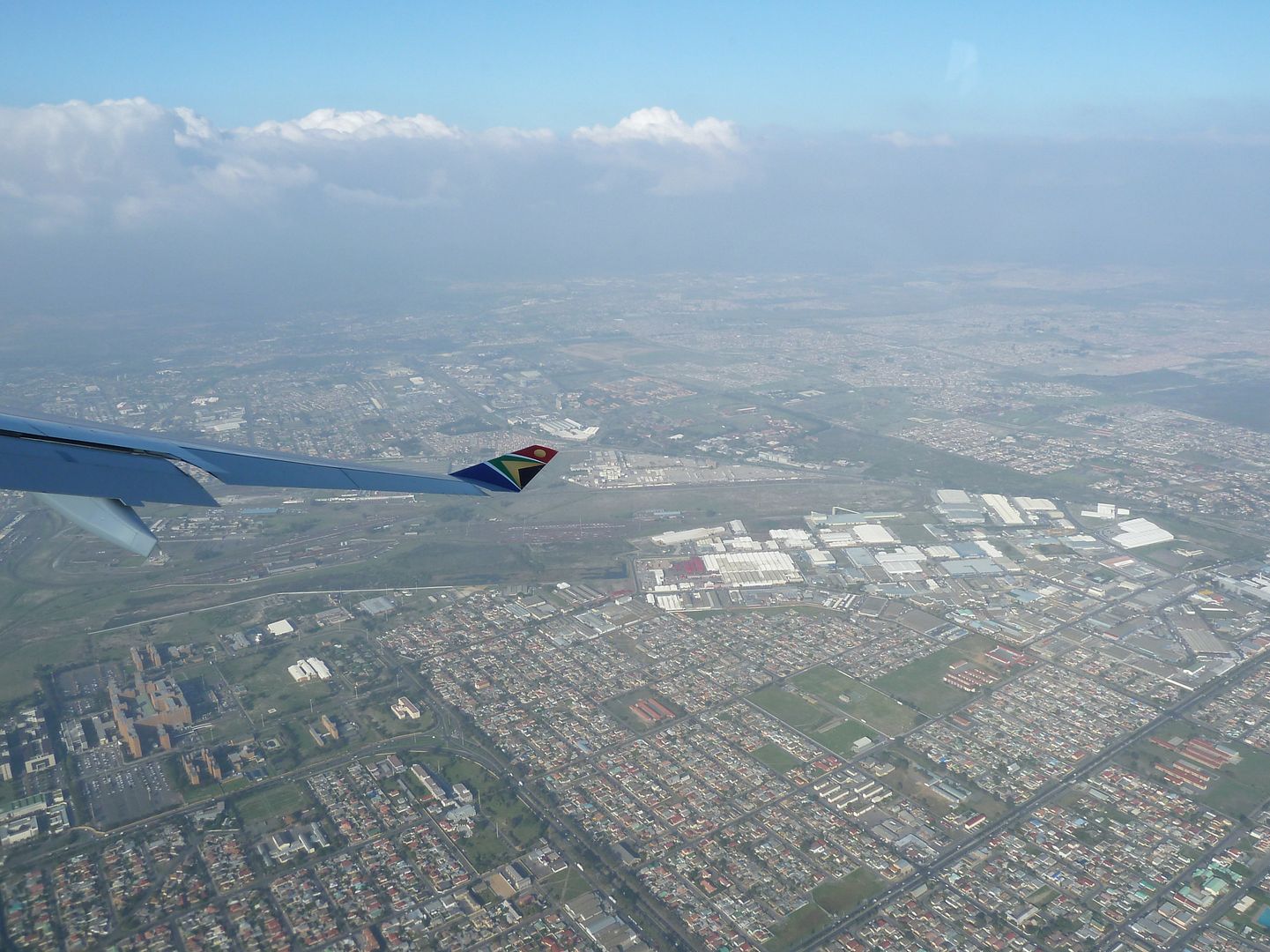 I couldn't get enough of these pretty winglets: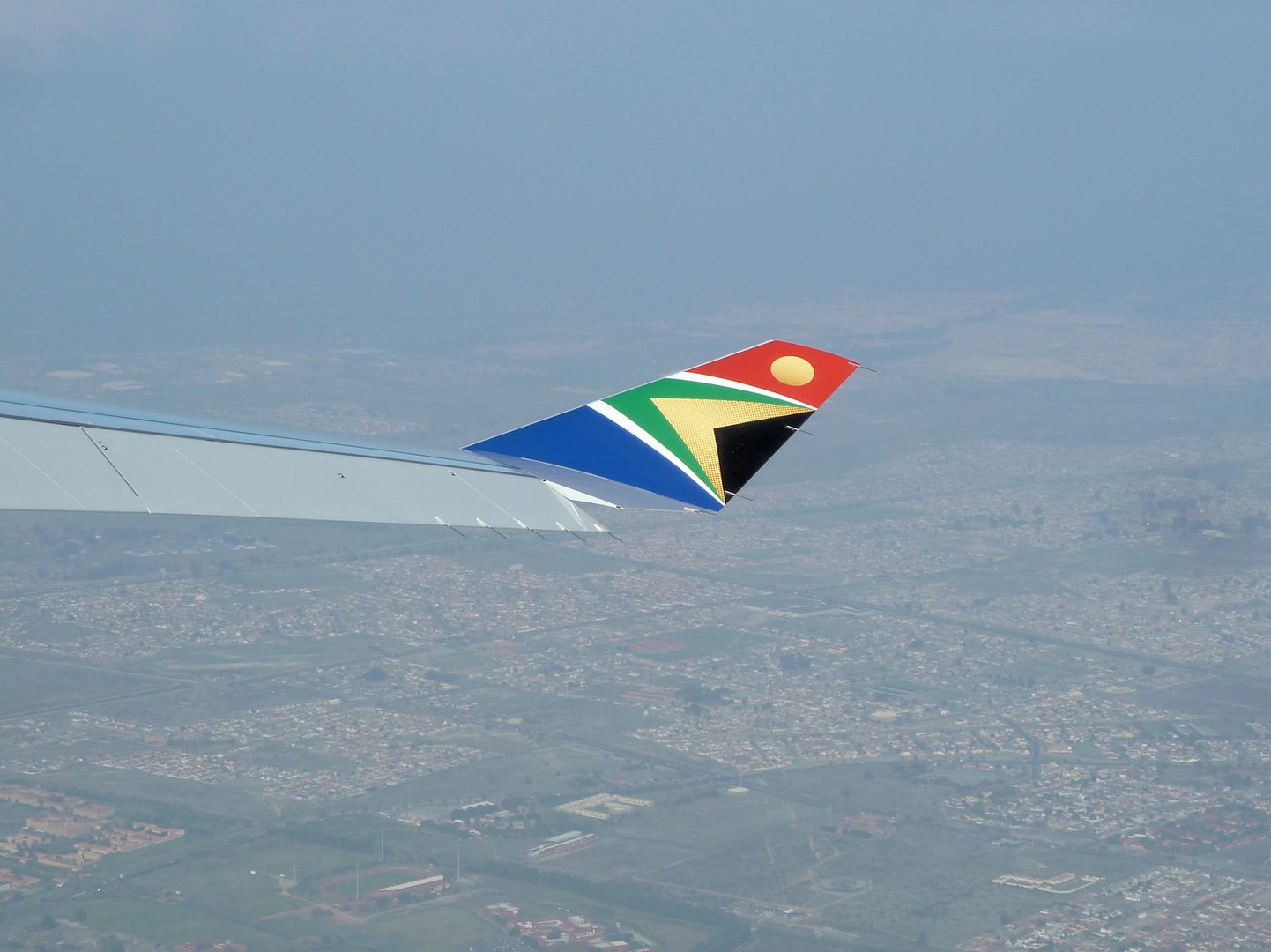 Goodbye, CPT!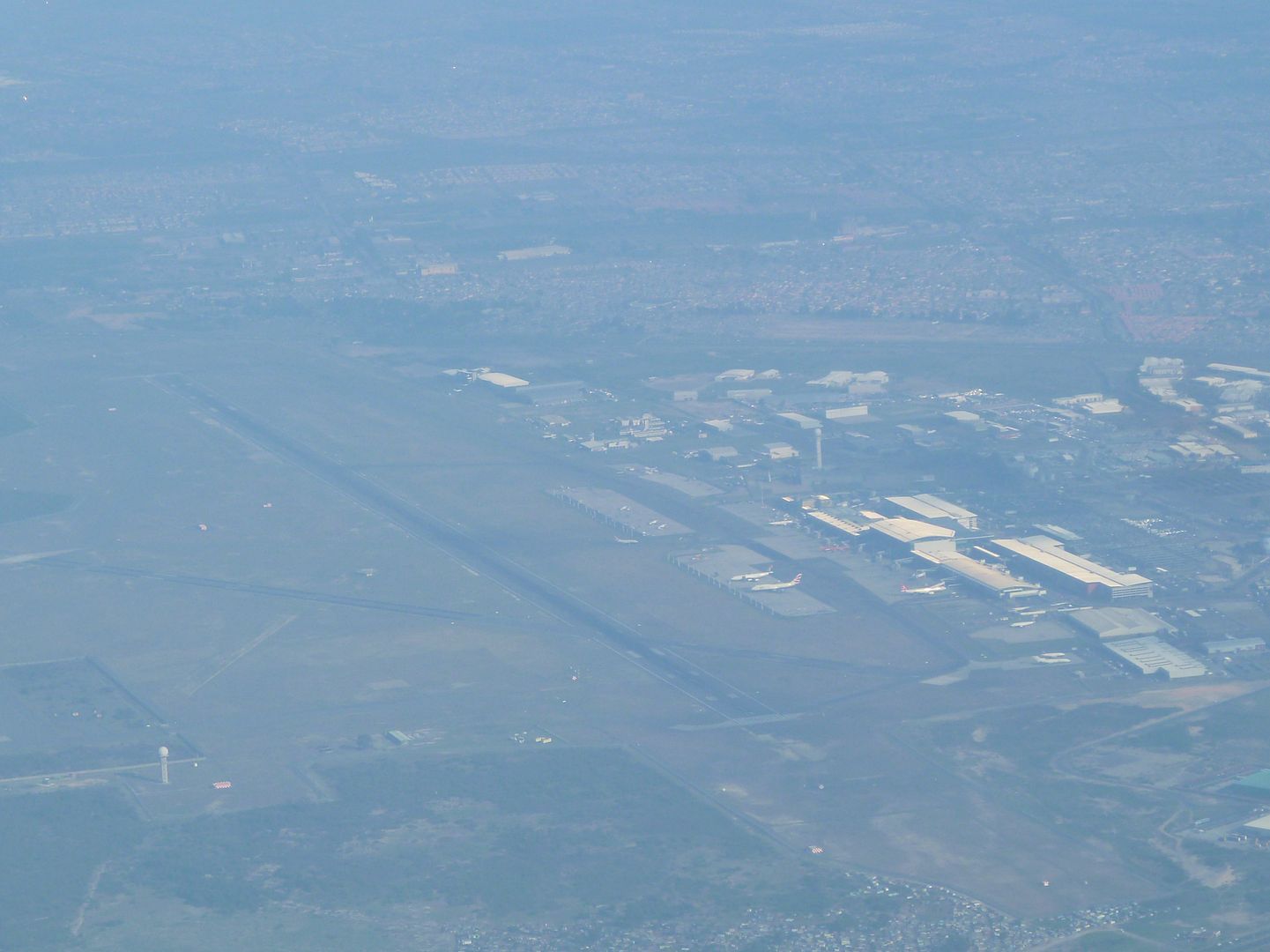 Flight attendants started serving drinks only 15 minutes after takeoff. What did I order? Schweppes Ginger Ale, of course: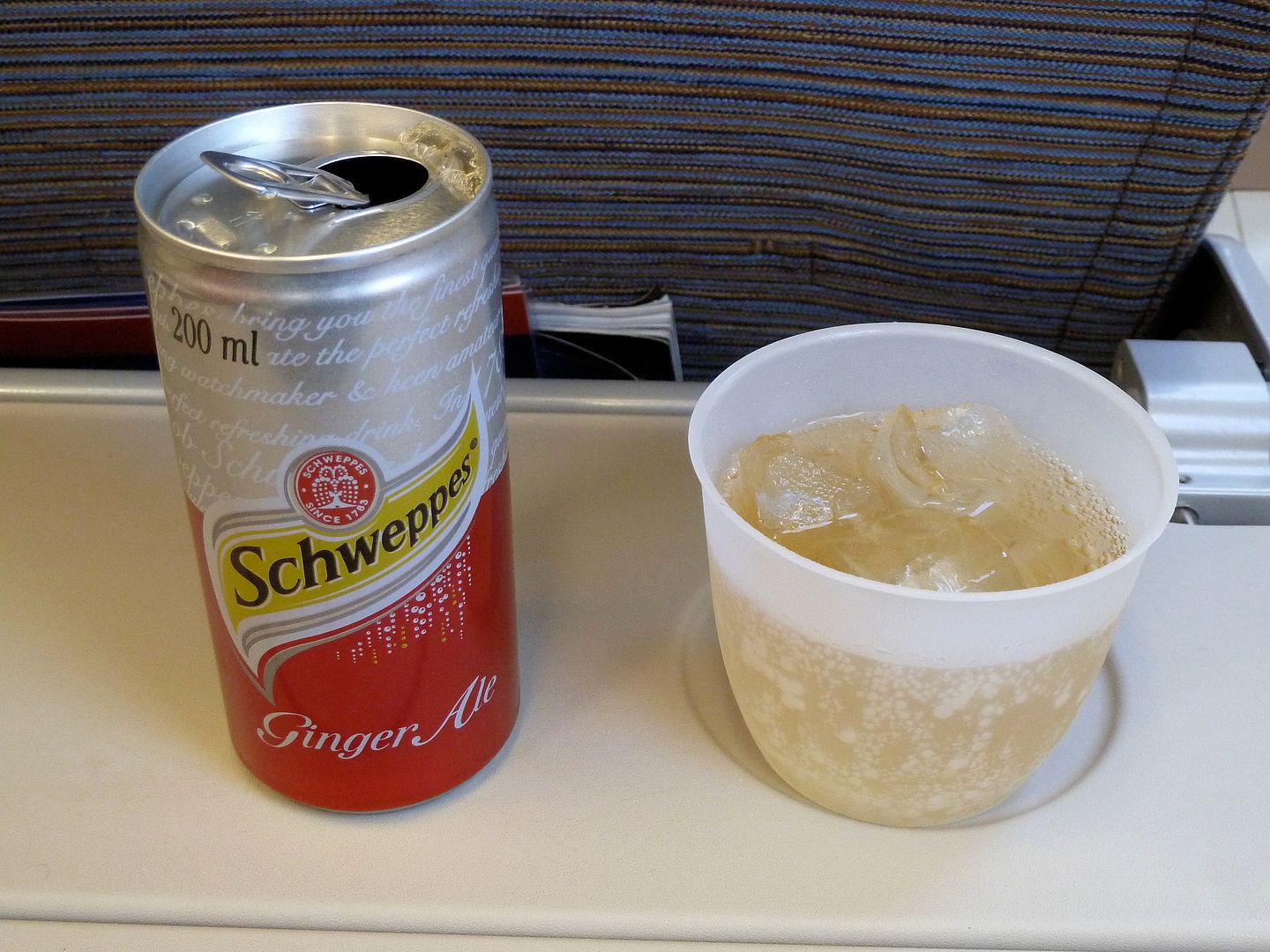 I was confident that the
Airscape
IFE system had meanwhile been activated - but all I would get to see for the rest of the flight was this: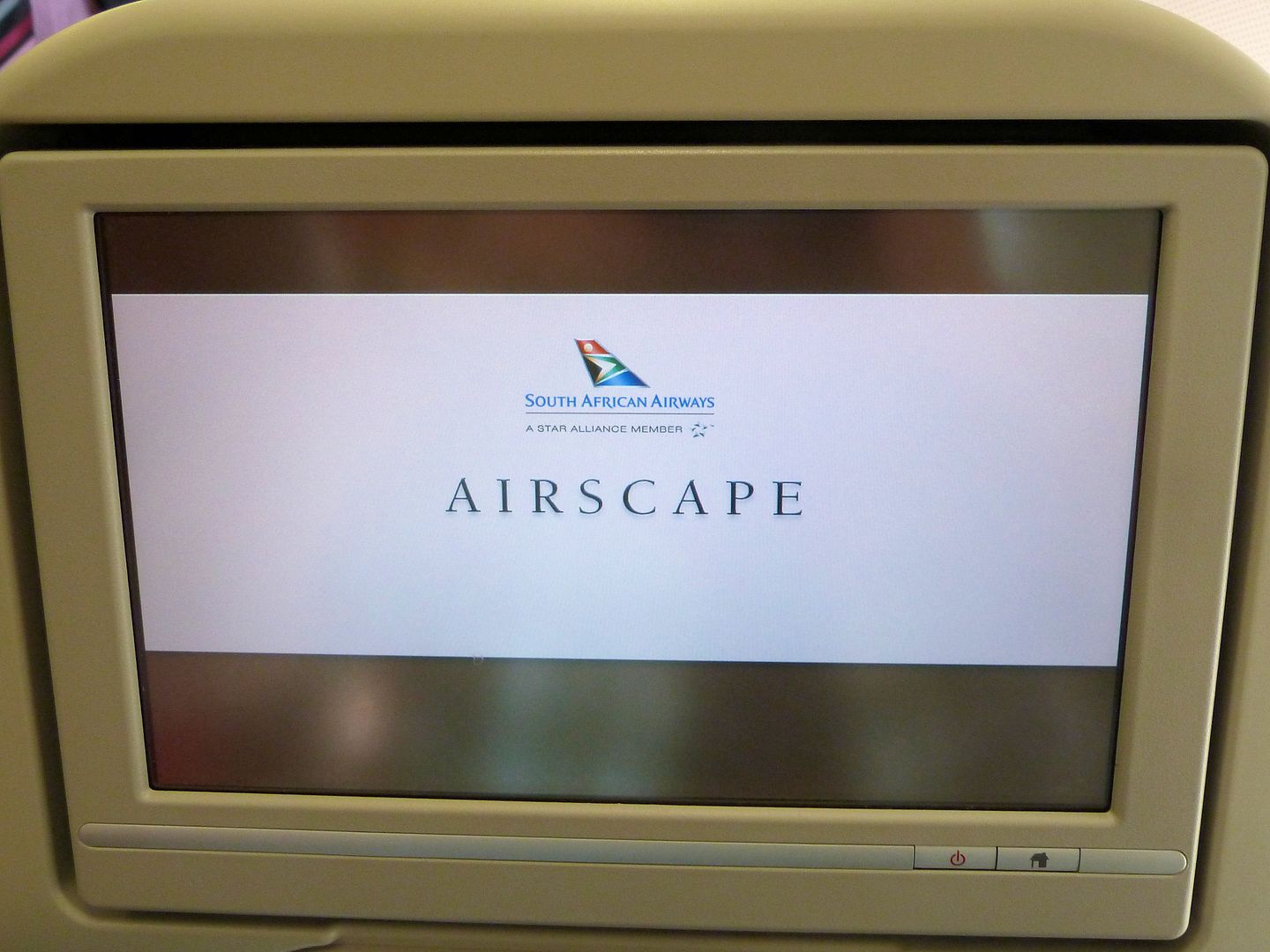 No doubt, I was really disappointed - I would have loved to explore the latest version of SAA's audio/video on-demand system. Unfortunately, SAA hasn't listed the IFE features of the A332s on its website yet, so I cannot say anything about the available options.
At least the country's scenery proved to be very entertaining once again:
Snack boxes were distributed after the drink run: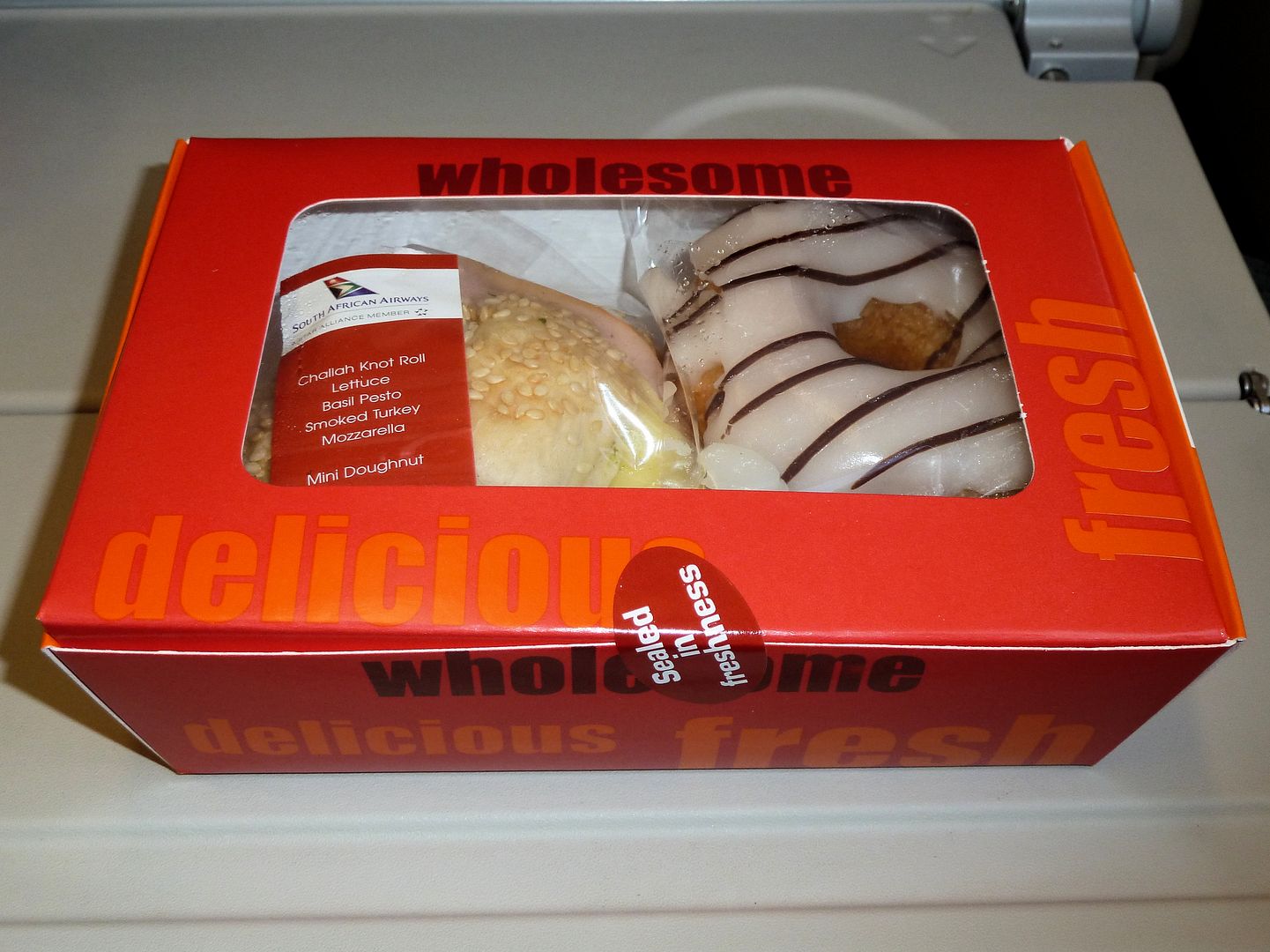 The challah knot roll - with lettuce, basil pesto, smoked turkey and mozzarella - tasted very good and the mini doughnut wasn't bad either:
The scenery really kept me entertained:
Another drink run followed after the snack service and I ordered another ginger ale - I knew I wouldn't get that on Lufthansa later in the day. Cabin view: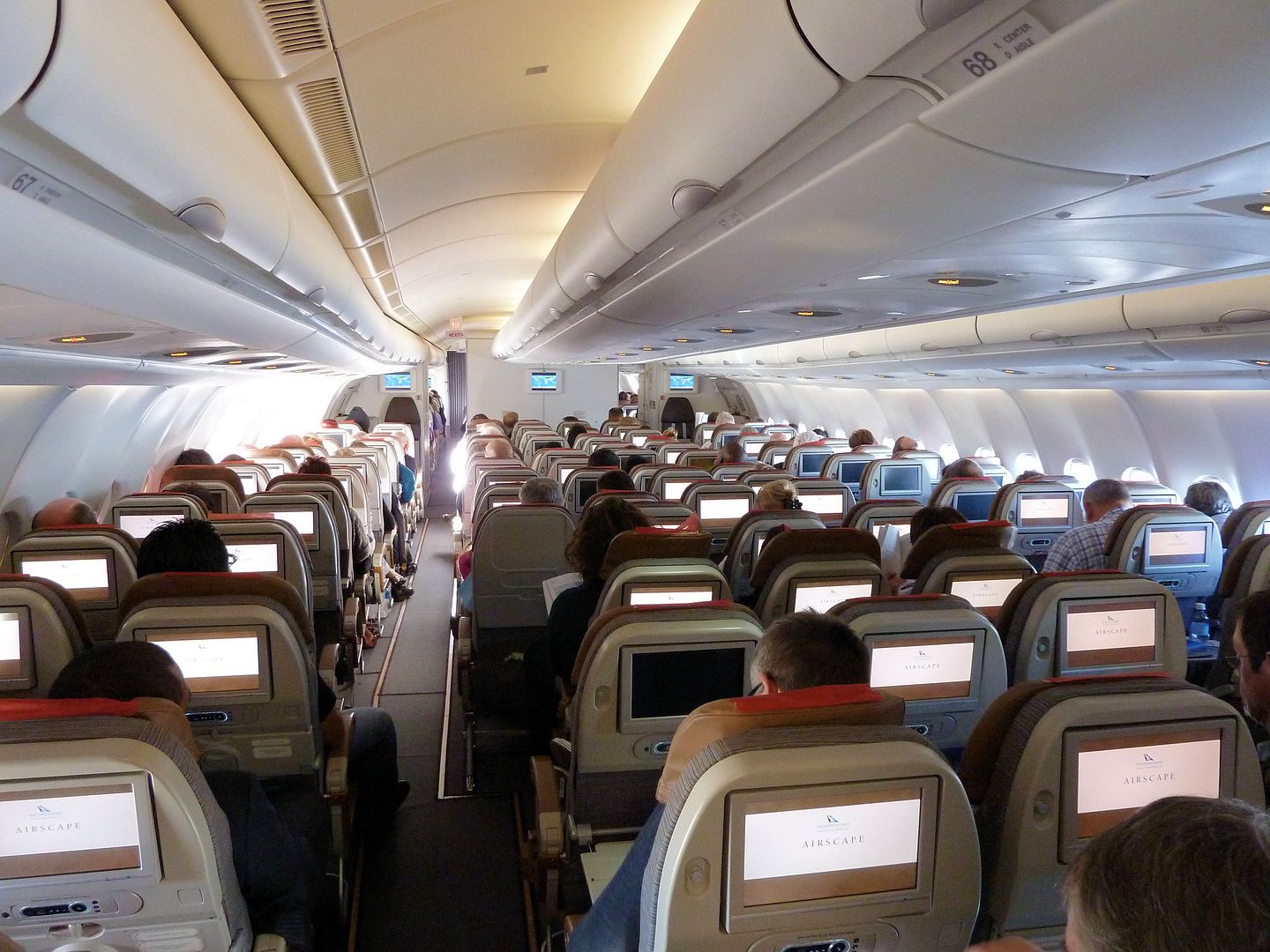 Descent commenced 1 hour and 15 minutes after takeoff and it became quite bumpy on the way through thick clouds: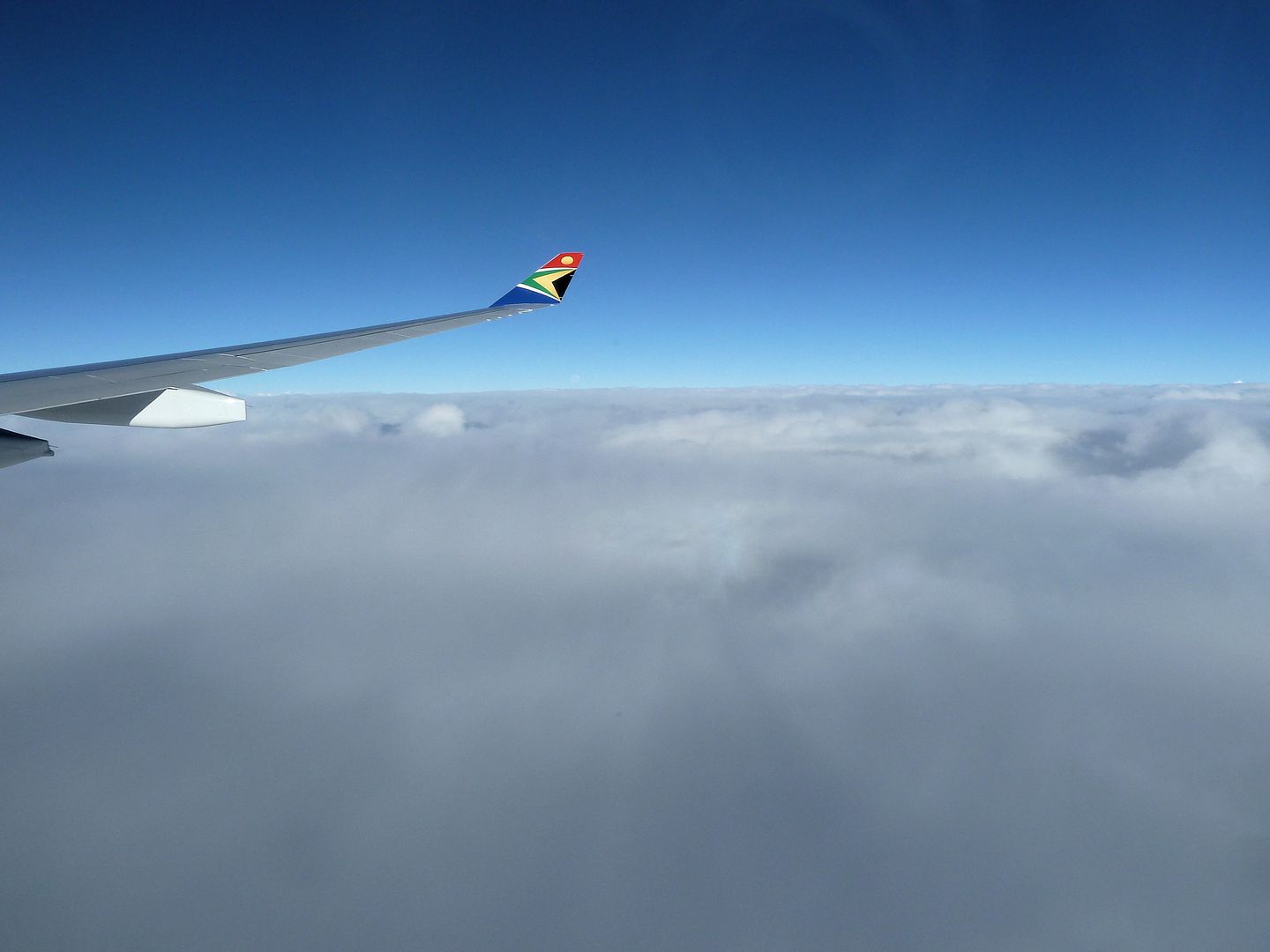 There were some really nasty dark clouds out there: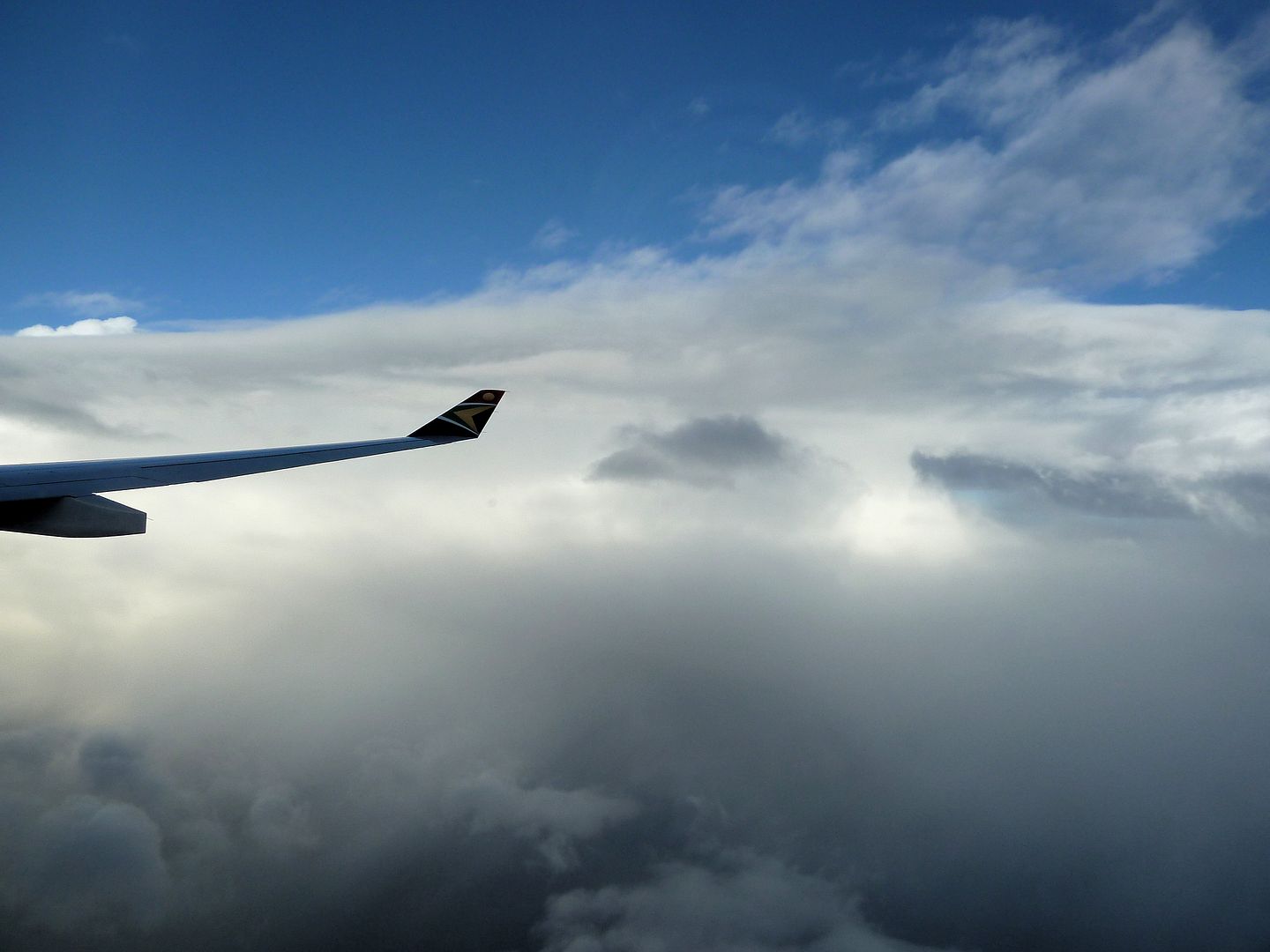 Back in calmer skies again:
Countless houses: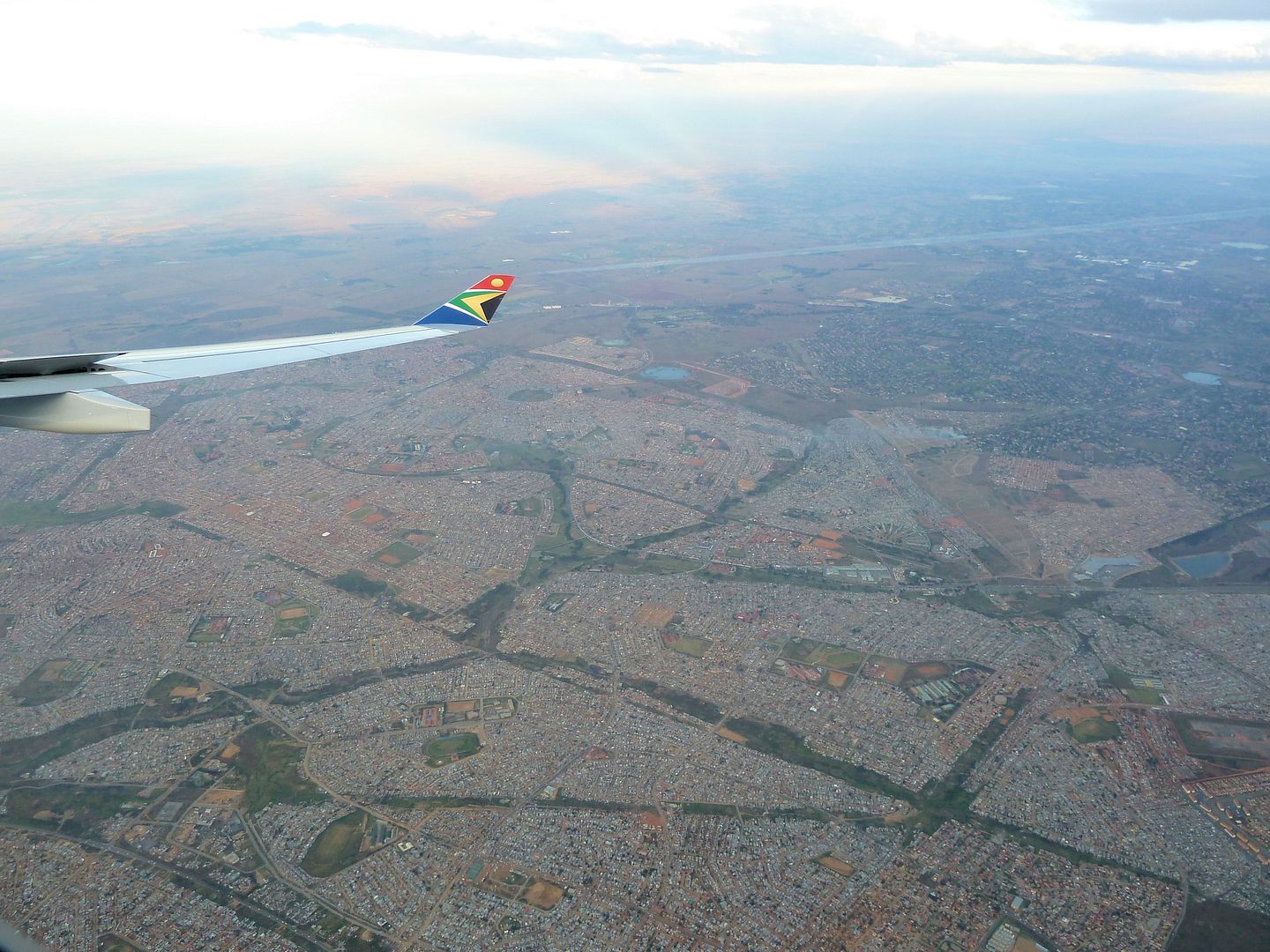 Another view of the storm clouds near JNB: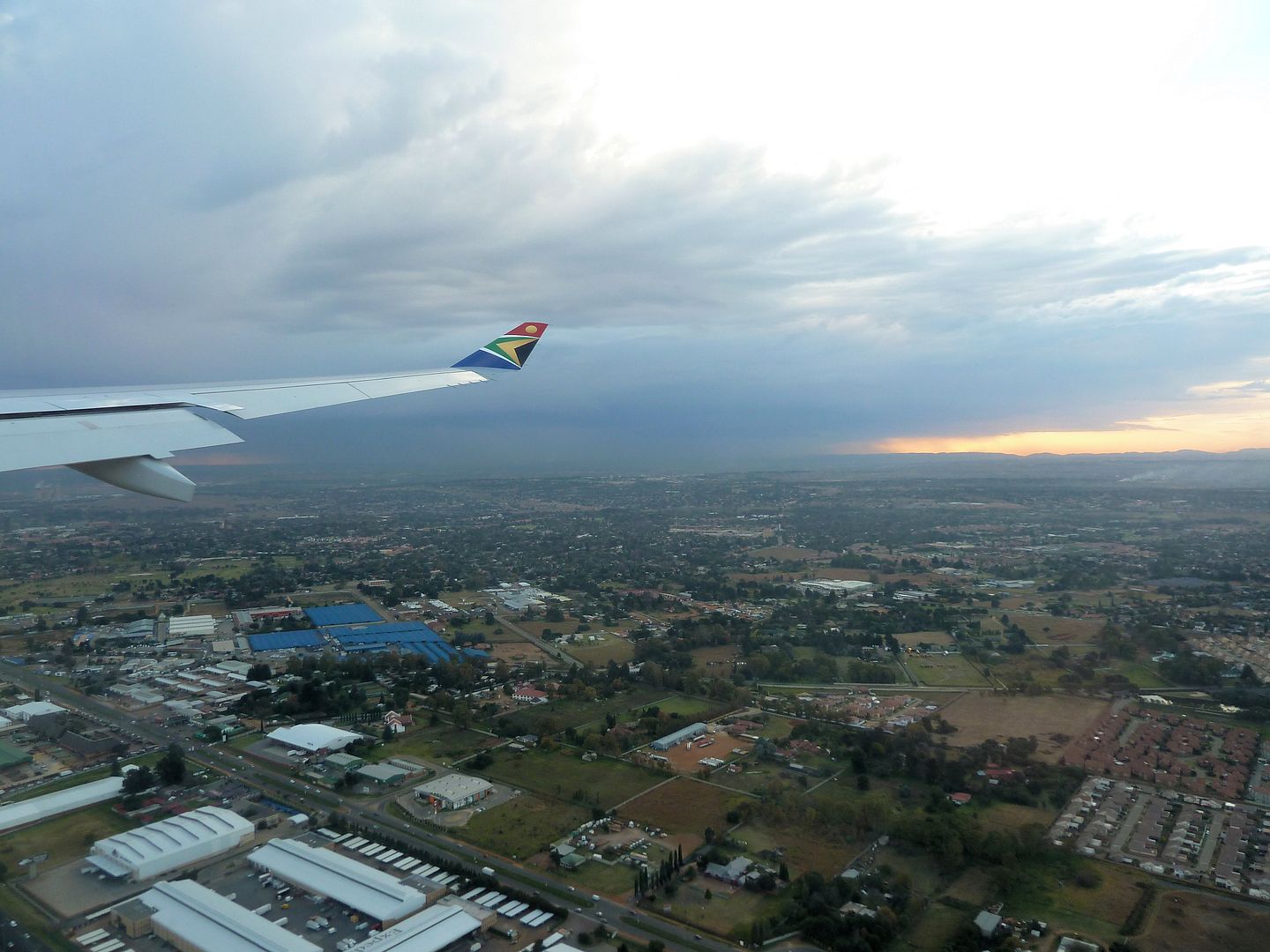 Can you see the two giants in the distance?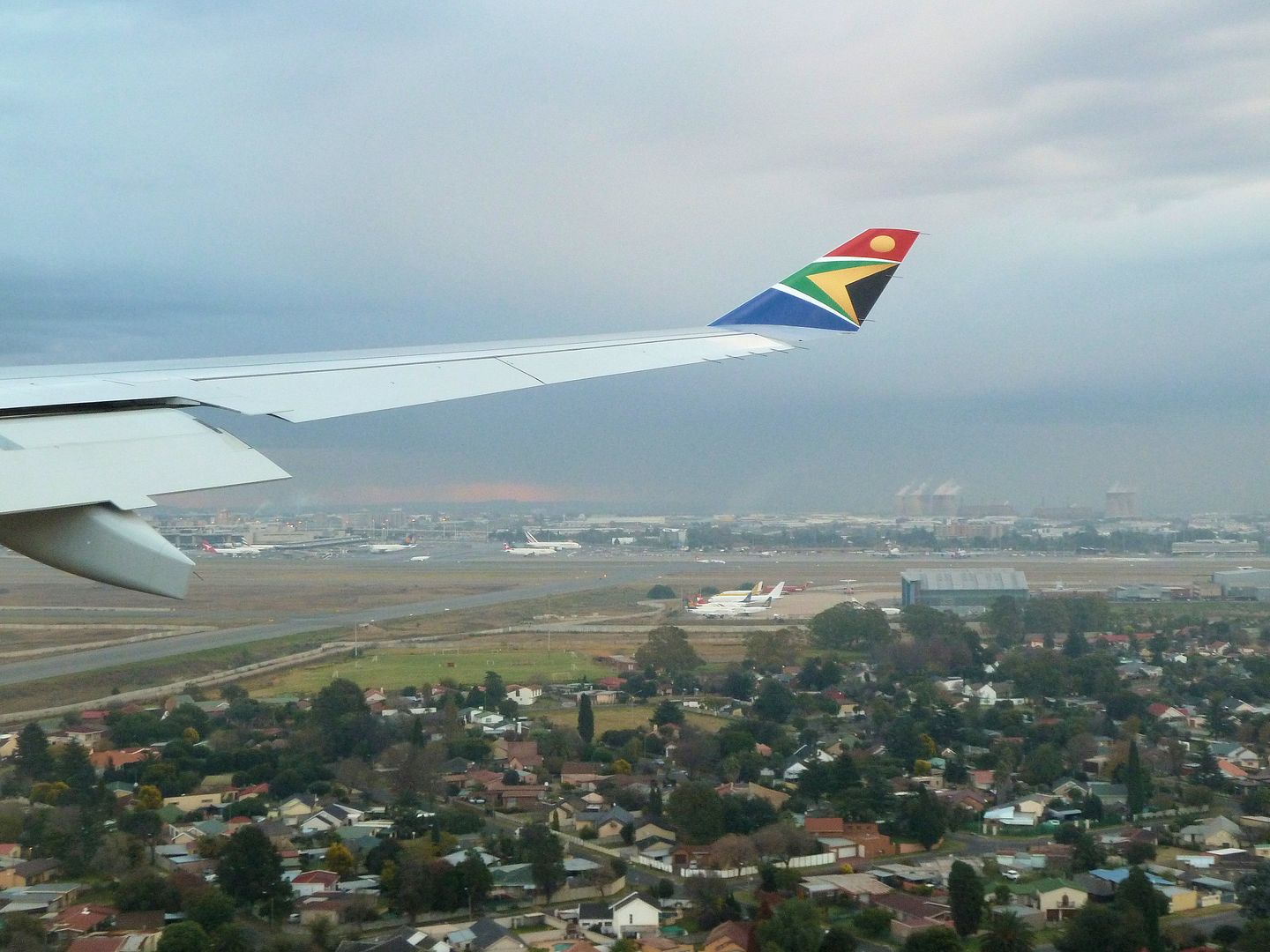 We touched down after a flying time of 1 hour and 41 minutes...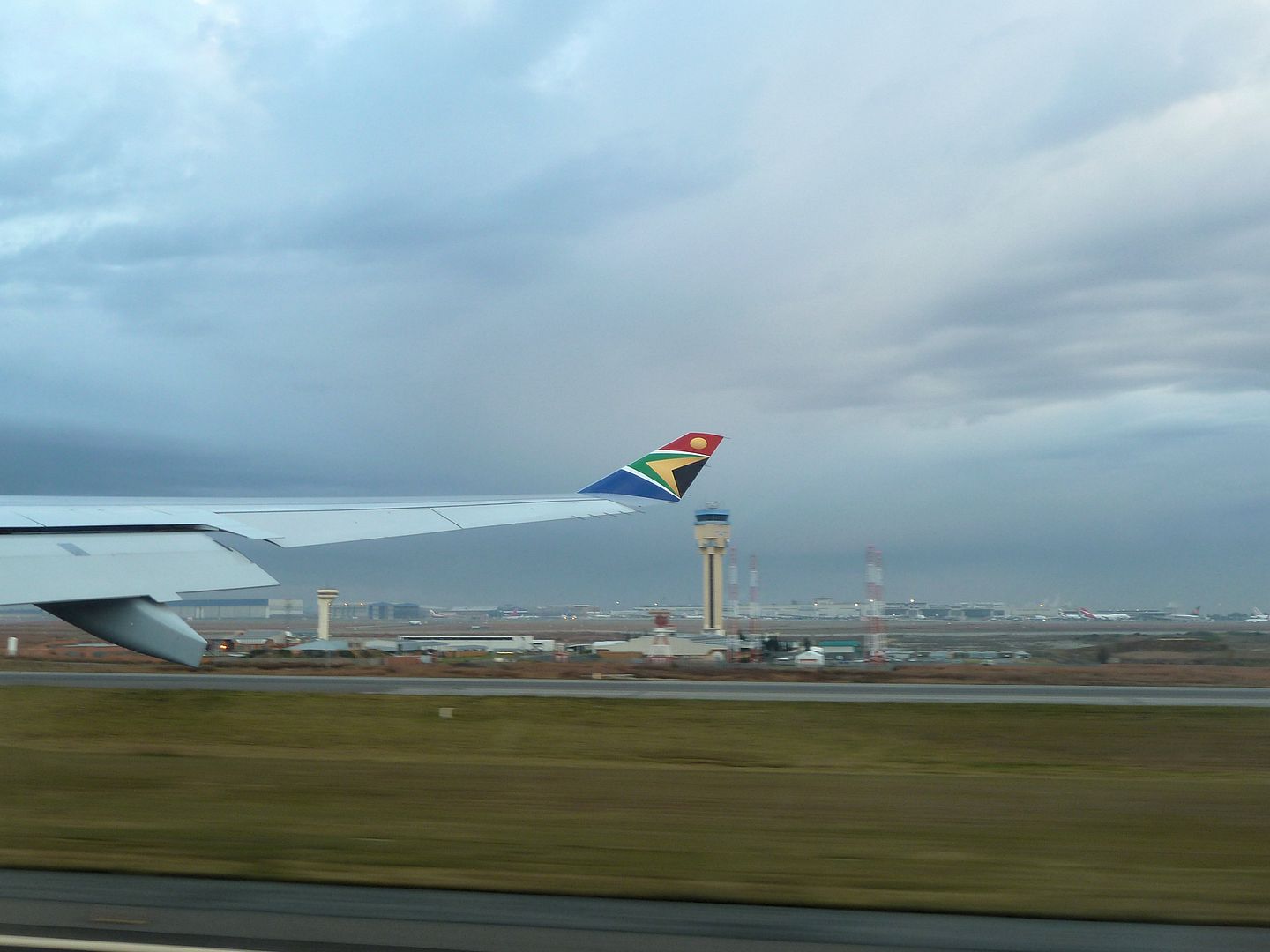 ...and taxied to a remote parking position by the International Terminal - of course I was glad about the special neighbor to the right.
D-AIMF
"Zürich"
, Lufthansa's sixth A380, would bring me back to Germany: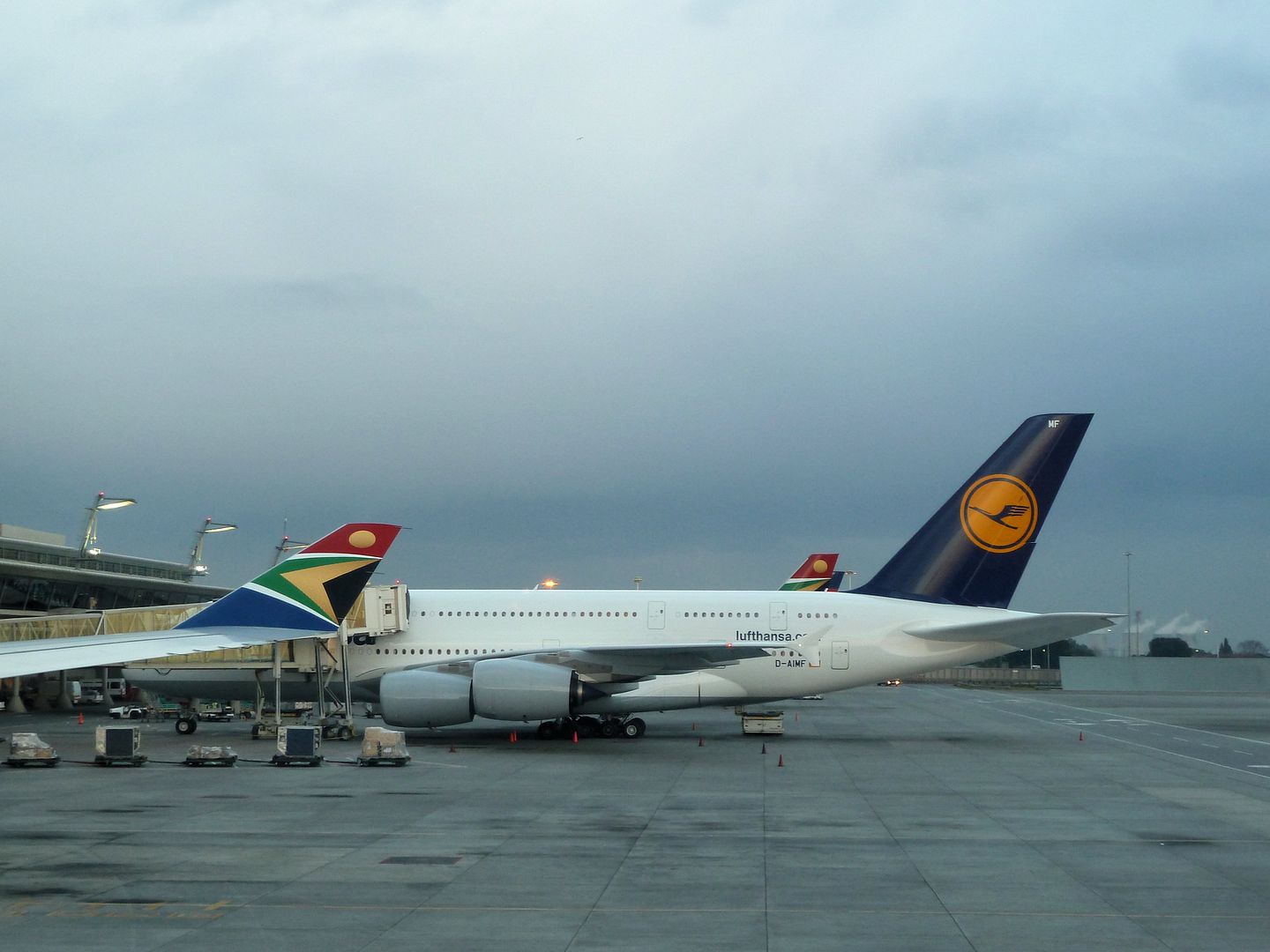 Air France had sent
F-HPJA
to Johannesburg - I flew CDG-LHR on that plane last year: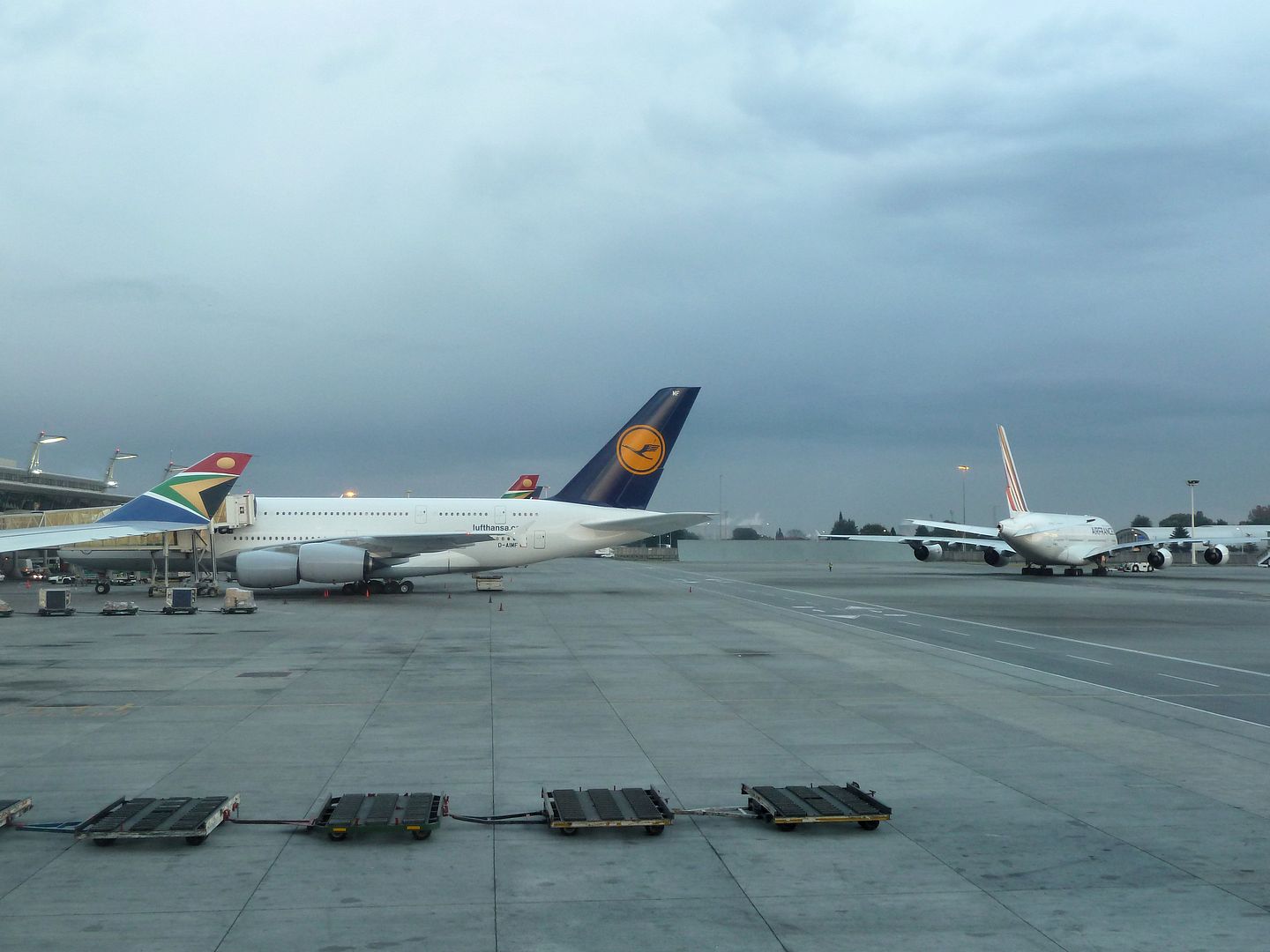 My seat neighbor had already asked me some minutes earlier
"whether that's the A380"
next to us. She told me that she was also heading to Frankfurt on Lufthansa and asked me how the A380 would be like. She appeared a bit concerned when she heard that our plane had been delivered only six weeks ago - of course I ensured that it would be very nice and perfectly safe to fly on such a new plane.
During our conversation, she also told me that she had moved from Germany to Cape Town many years ago - and I told her a bit about my hobby. Of course she couldn't believe that I had arrived from Frankfurt on the day before and since even been on three domestic flights...
During disembarking, I took some pictures in Business Class. SAA's A330-200s are equipped with 36 lie-flat J Class seats (24-inch width, 74-inch pitch):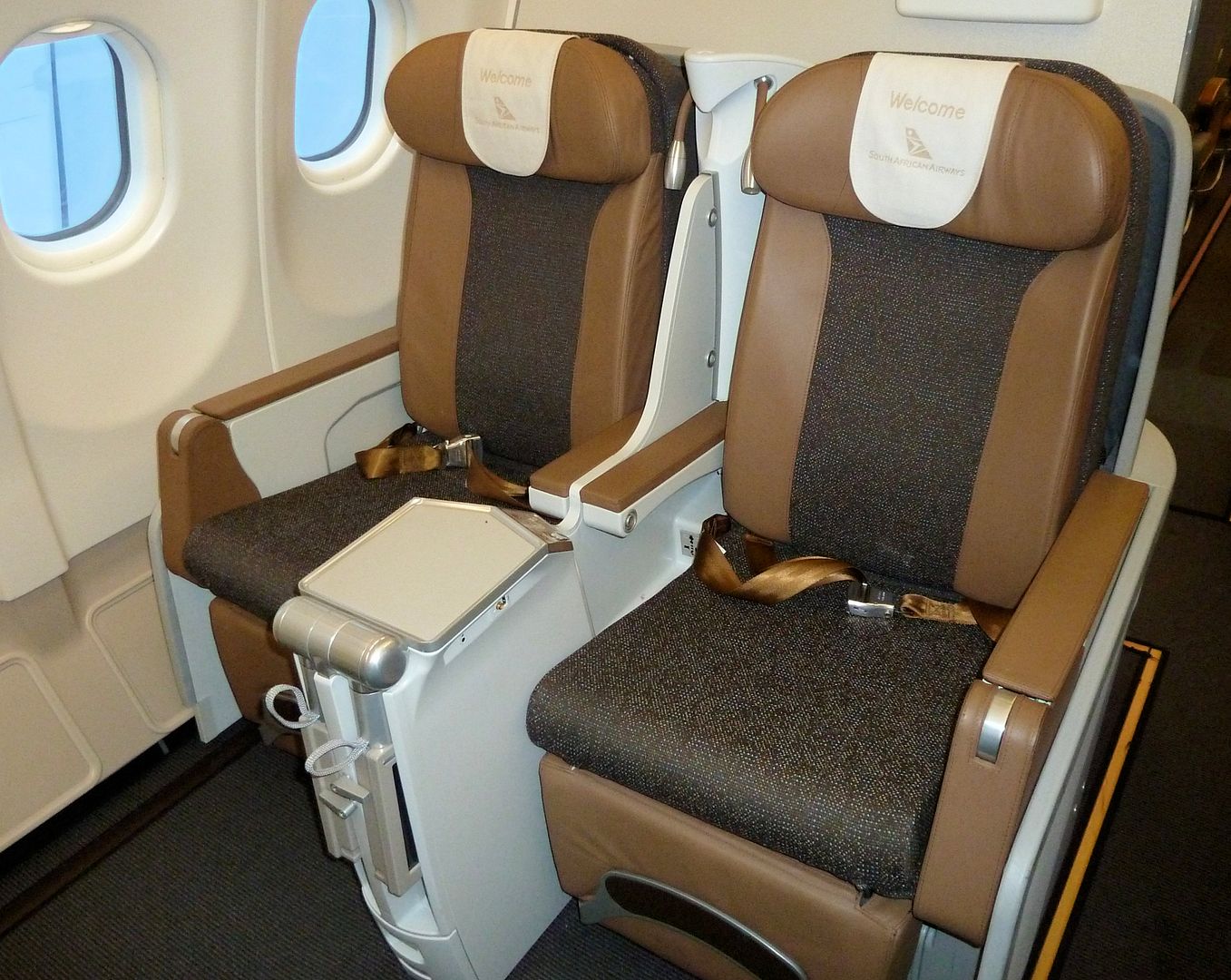 Unfortunately, the video screens haven't been installed in the seatbacks, so you cannot watch anything during taxi, takeoff and landing:
One last shot of
ZS-SXZ
: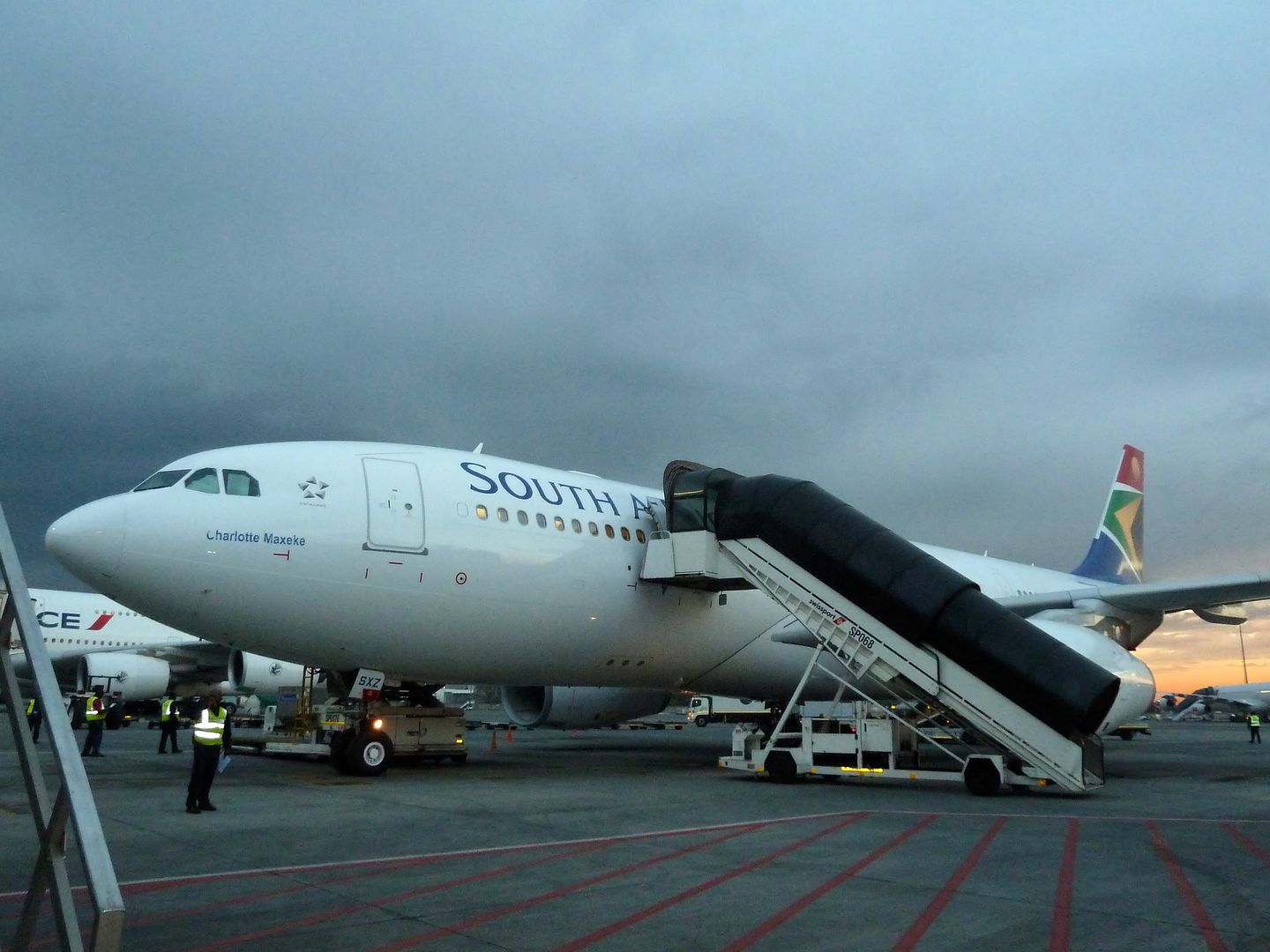 I was expecting just a short bus ride, but we were brought to the domestic terminal on the other side. Some passengers also booked on the Lufthansa flight started complaining about that. Well, I wasn't amused either, but we had arrived on a domestic flight after all. At least I could log some more registrations during the ride.
When I entered the domestic terminal, I tried to find an airside connection to the International Terminal, but it was soon clear that I would have to walk out into the public area. My seat neighbor showed up again and asked me for the way. She also didn't know whether her luggage would be checked through automatically. I directed her to a SAA transfer desk and waited for her so that she would quickly find the right way. She was very glad about that and we kept talking all the time while heading to the International Terminal. More than 30 minutes after leaving the A330, I finally arrived in the gate area - boarding hadn't commenced yet, but there wasn't much time left. That transfer process should really be improved.
Monday, May 2011
Johannesburg (JNB) - Frankfurt (FRA)
Lufthansa LH573
Scheduled times: 18:45-05:20
Actual times: 18:48-05:58
Flight duration: 10:45 (hrs)
Distance: 5687 miles
Economy Class, seat 91K
Airbus A380-841
D-AIMF (MSN 066), named "Zürich"
First flew in 10/2010, delivered in 03/2011
1st flight on D-AIMF
5th A380 flight
The Economy Class gate area was totally crowded, I didn't see an empty seat and it wasn't easy to reach the window front. Taking pictures through glass from a brightly illuminated terminal at night is almost impossible – therefore the quality of the next two images is below average.
D-AIMF
was delivered in March 2011: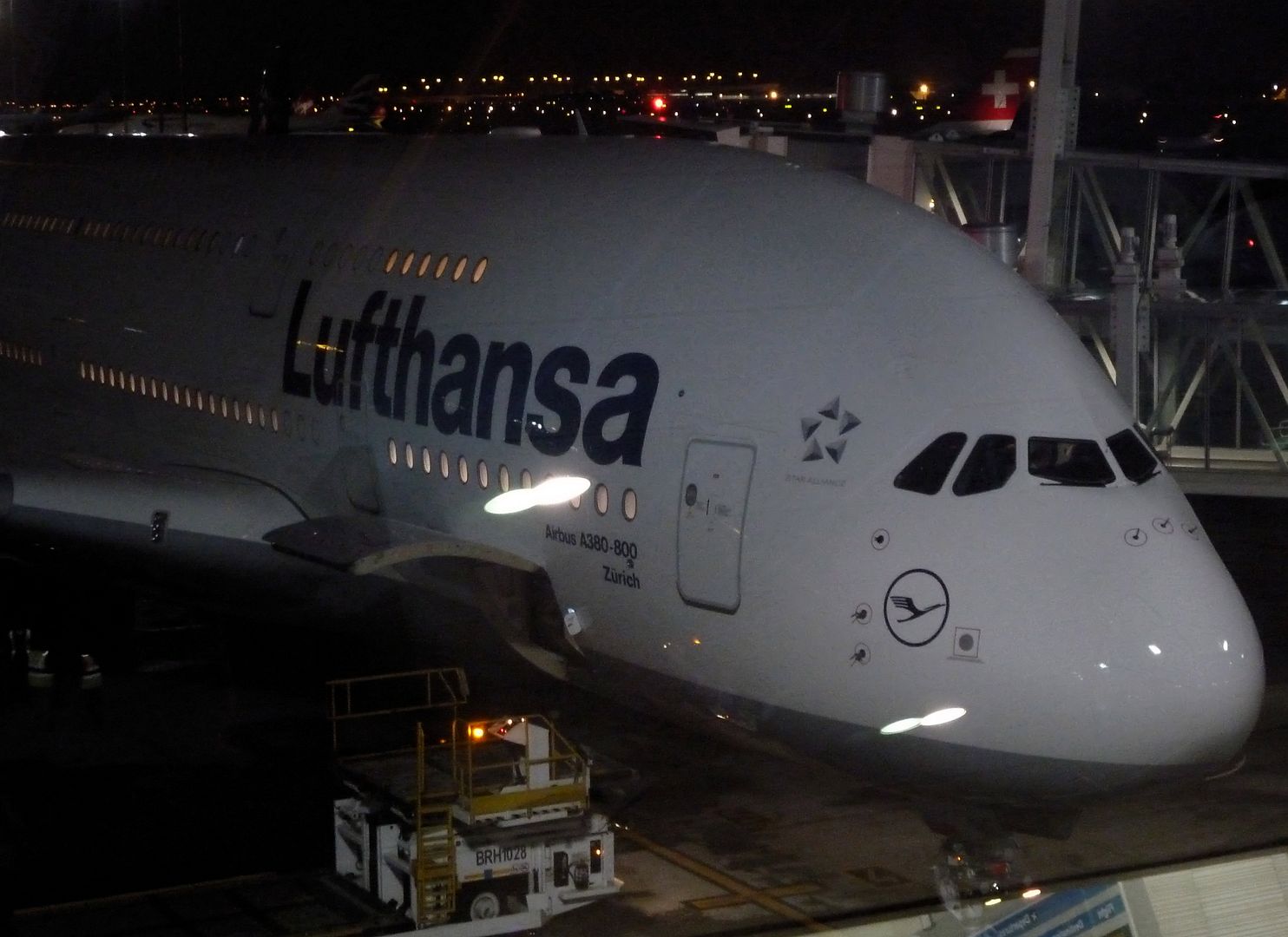 Massive body, massive engines, massive tail:
My first flight on a Lufthansa A380 had been on
D-AIMB
"München"
last year. It was a fantastic sightseeing flight, but certainly too short for an extended practical test. Here's the link:
Totally Thrilling: Scenic Flight On Lufthansa A380
(by
PlaneHunter
Aug 5 2010 in Trip Reports)
I also hadn't been on a long night flight on the A380 yet, LHR-DXB on Emirates had been the longest so far with a flying time of 6 hours and 16 minutes. So I was really looking forward to this flight to Frankfurt.
Economy Class passengers had been grouped in three zones and I belonged to the first one. I quickly lined up so that I would be among the first passengers to enter the main deck. Various German newspapers were available in the jetbridge and I gladly grabbed one. Friendly flight attendants welcomed me at the door and I made my way to row 91. When I arrived there, I found a woman in the 60s in my window seat, her husband was sitting in the middle. I kindly told them that 91K was my seat and it seemed they weren't happy to hear that - but I was not willing to give up my pre-reserved window seat. Anyway, the couple turned out to be quite nice later in the flight.
By the way - fellow trip reporter
gabrielchew
would end up in exactly the same seat only a few weeks later: He had 91K on
D-AIMF
on a flight from Beijing to Frankfurt in June - what a coincidence!
You can find his report
here
.
Well, back to the interior. The seats are 17 inches wide, exactly like the ones on the A340-600s - but the A330s, the A340-300s and the 747-400s are equipped with 17.5-inch wide seats. The new seat type itself is limited to the A380s and the Privatair 737-800s - it felt a bit hard at first, but it didn't bother me any more later in the flight: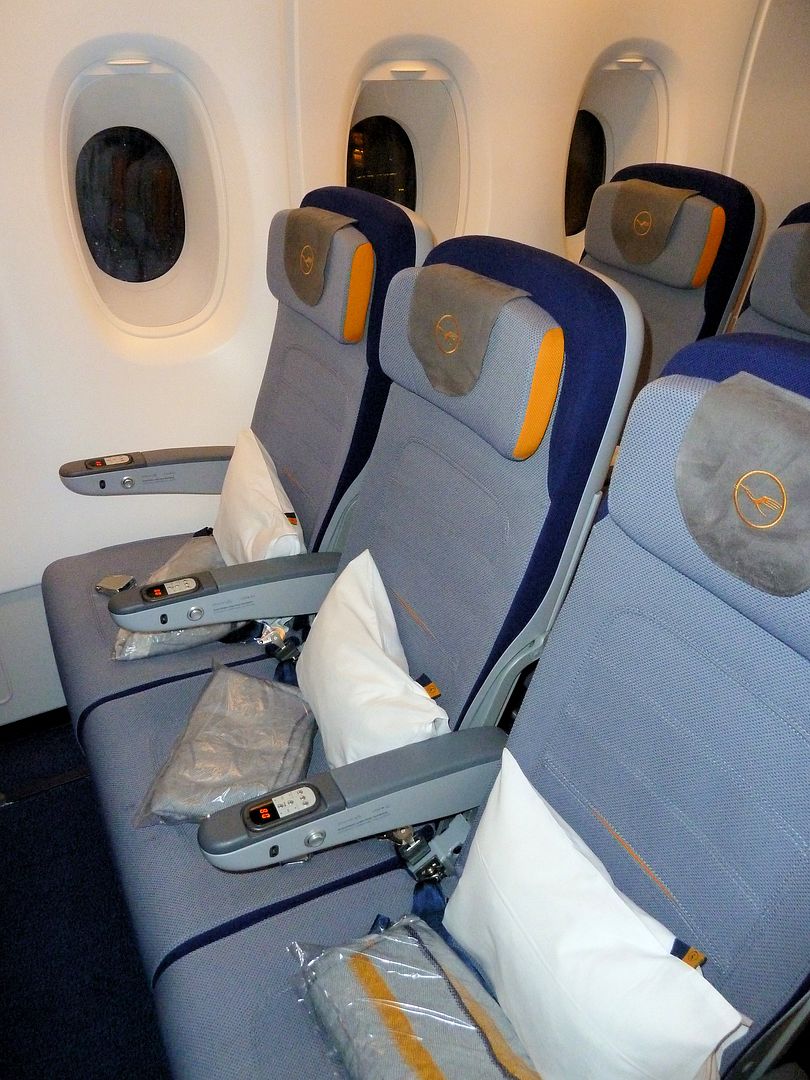 Lufthansa offers a pitch of 31 inches on the A380, the A340-600 and the 747-400 - in contrast to 31-32 inches on the A330 and 32 inches on the A340-300: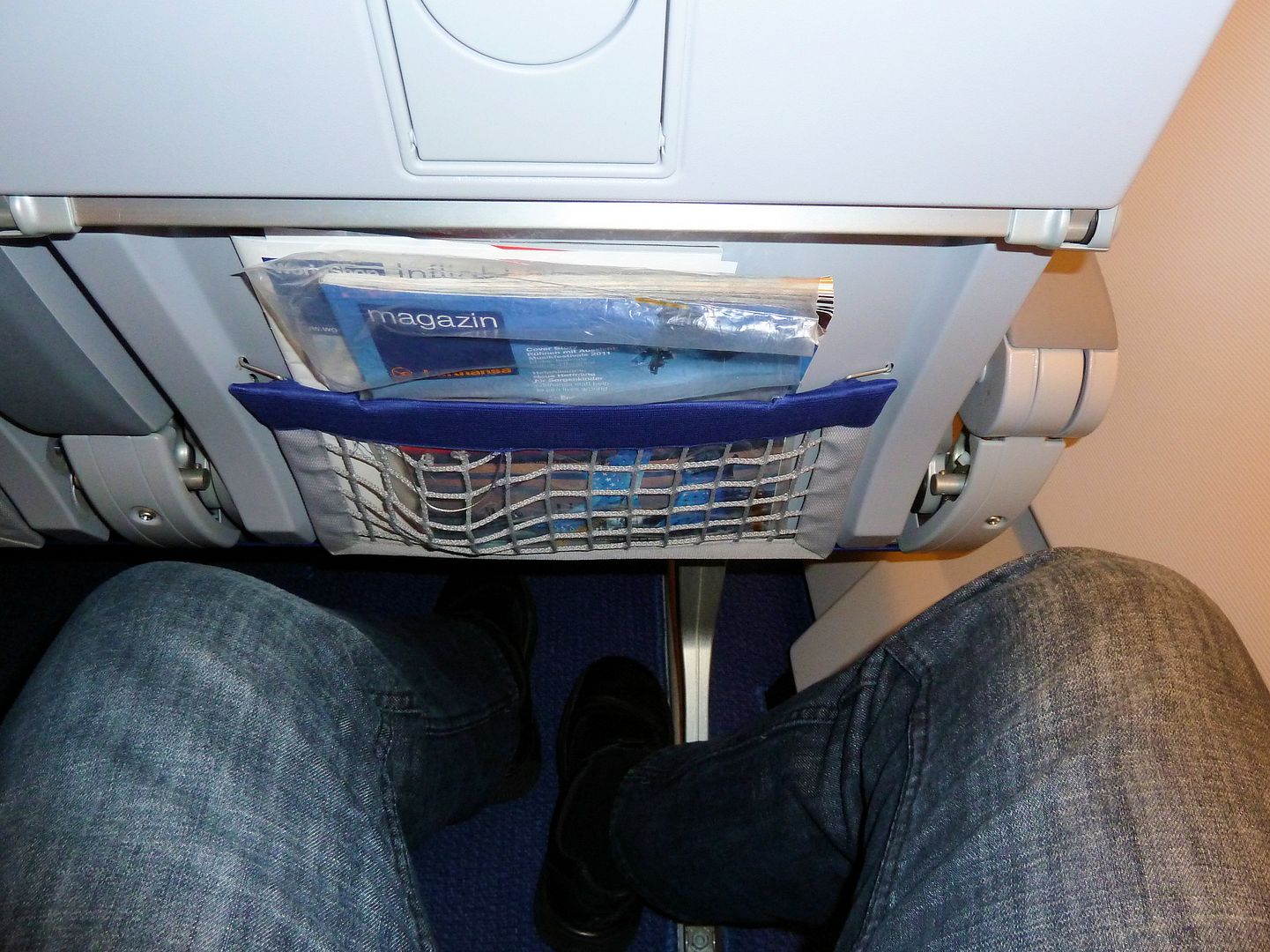 When I flew on Lufthansa's A340-600 last year, I noticed that the seat back extends far down which makes it more difficult than usual to stretch out. Unfortunately, even though the seat design is different on the A380, I noticed the same problem again. A 31-inch pitch can be acceptable - but not in Lufthansa's case: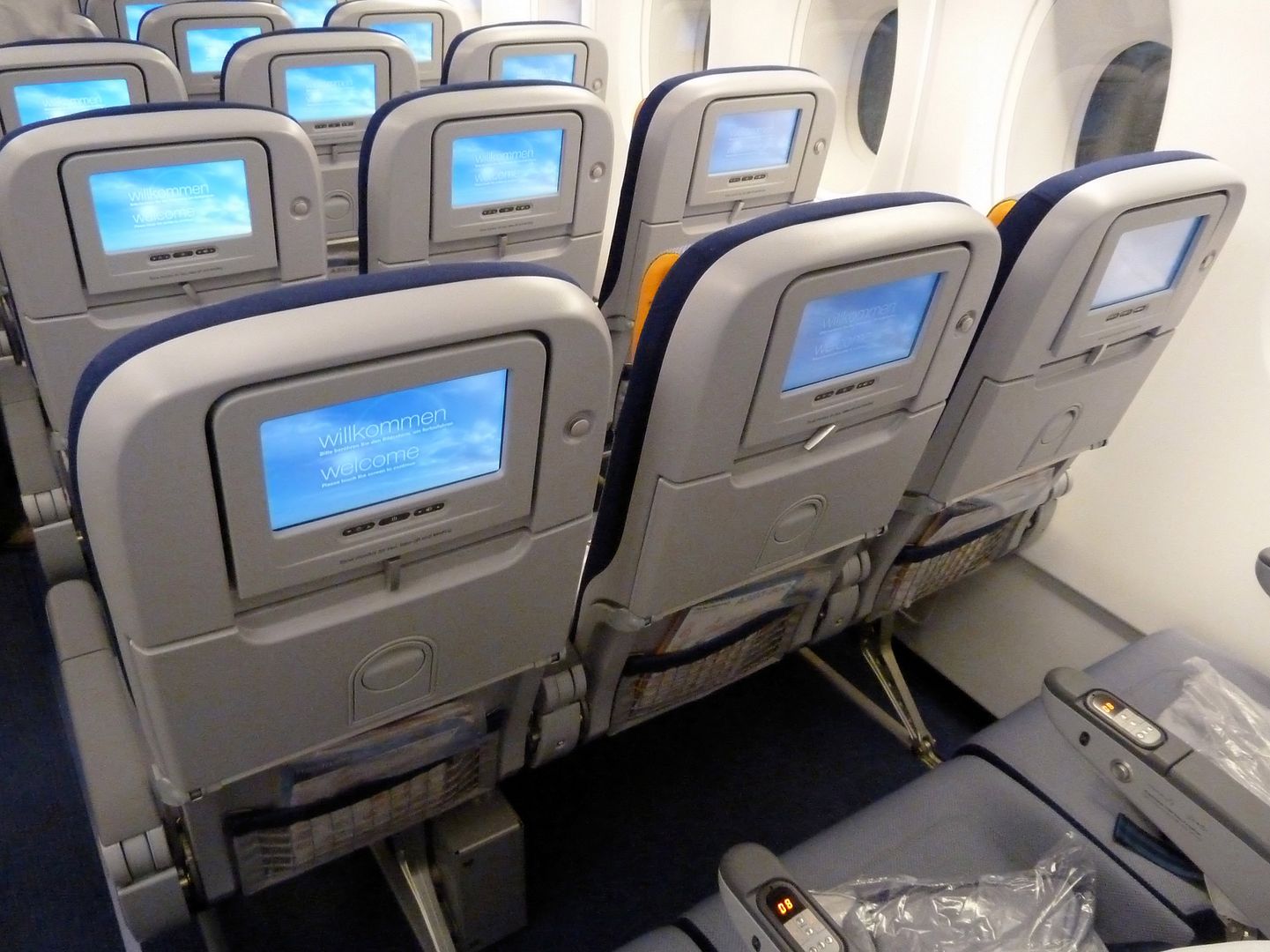 Last but not least, Lufthansa still uses relatively large IFE boxes as visible on the picture above. The airline could really learn a lesson from Emirates and other carriers.
If you want to find some sleep on a plane, it can help to lean against the wall or the window - but that is totally impossible on the A380. The distance between seats and wall/window is too large - the A380 does offer more space in that area, but it's totally useless: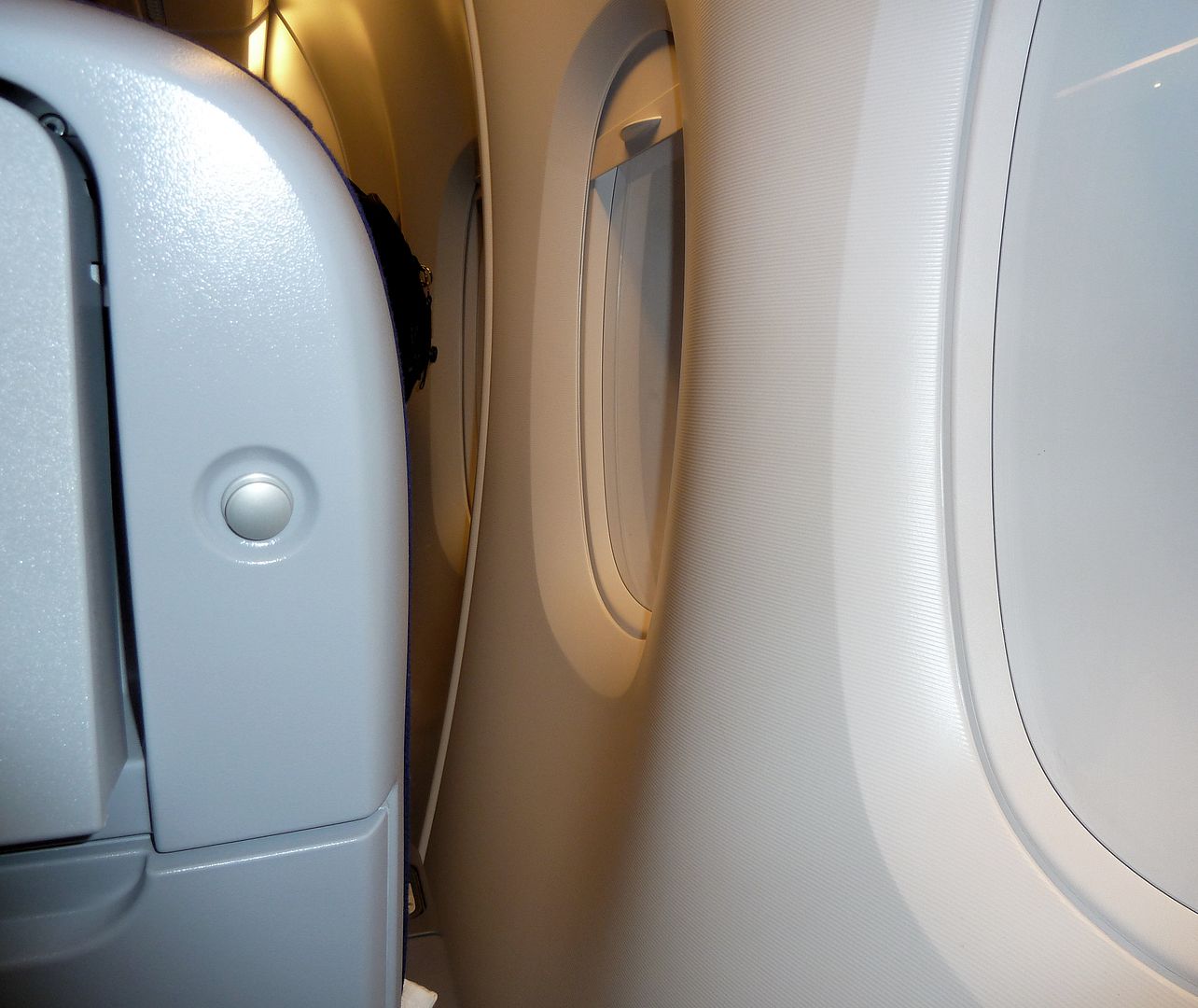 A negative LH-specific issue is the lack of a removable handset - the control unit is fixed in the right armrest: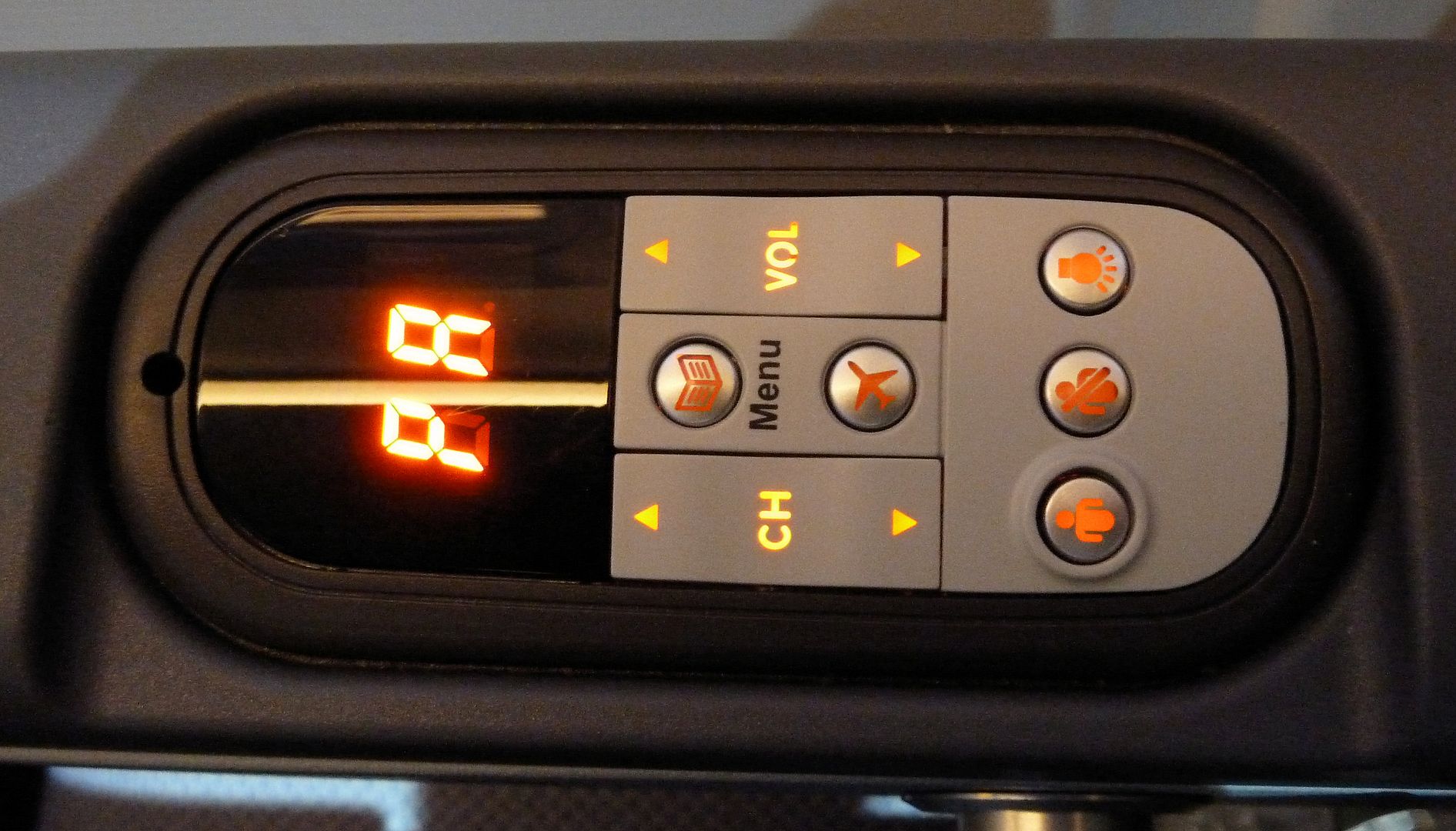 The result was that I unintentionally pressed different buttons with my elbow several times during the flight - e.g. I switched on my reading light when I tried to get some sleep and pressed the call button. What a design flaw!
Interestingly, my own screen as well as my neighbor's screen automatically turned black several times during the flight and we had to switch them on again. I'm not sure whether it was a bug or also caused by unintended actions.
Inflight shopping magazine and regular inflight magazine - the latter one contains an IFE guide: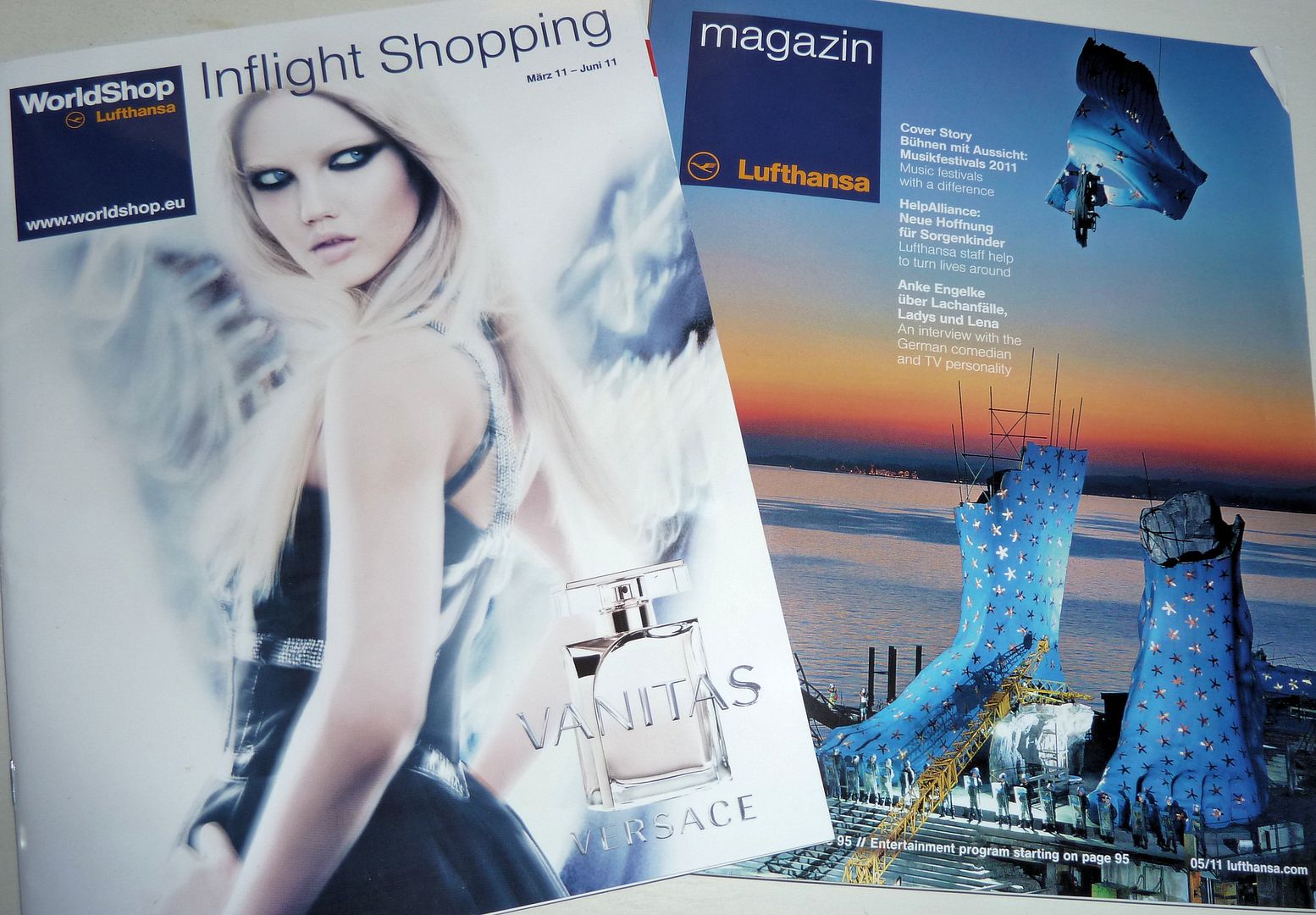 Cheap-looking headphones:
Welcome screen:
Language selection:
Lufthansa Media World
main menu: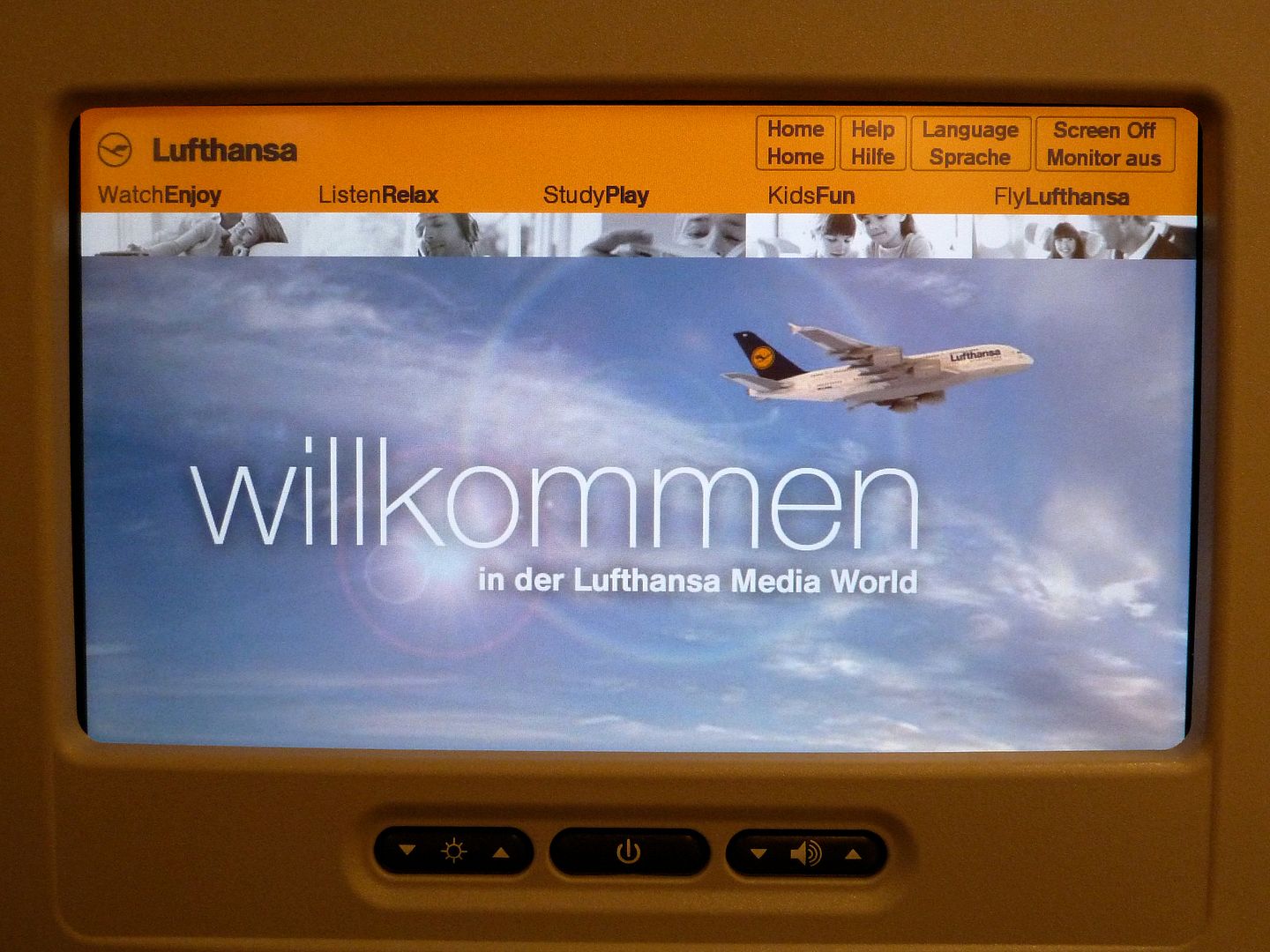 The audio/video on-demand system offers a selection of 20 movies in up to eight languages, 35 TV programs, international news, 30 international radio channels, 115 music CDs and audio books, 9 games, language classes and service information about the flight and Lufthansa. 50 movies and almost twice as much CDs are available in First and Business Class.
Touchscreen responsiveness was good, but sometimes a handset would have been more useful. If you want to play a game, you need to use a console which is - according to a message on the screen -
"available on many flights"
. I didn't ask a flight attendant about that, though. I'm really wondering why Lufthansa didn't choose an IFE system with handset control like most long-haul carriers.
At least Lufthansa offers most enjoyable camera views (unlike Korean Air and Singapore Airlines):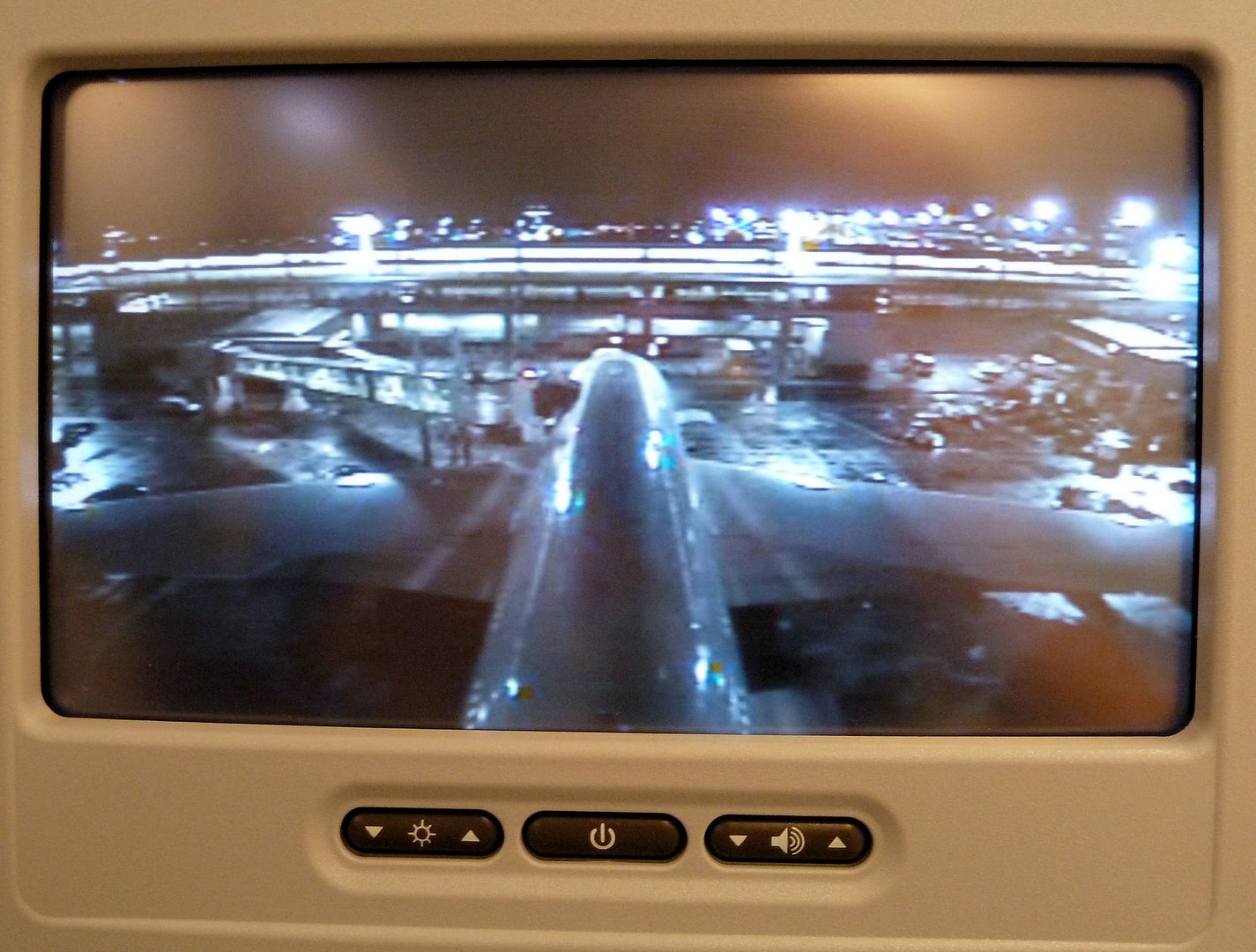 During the boarding process, I noticed several people with excited expressions on their faces – I guess they were looking forward to their first A380 flight. When boarding was completed, I didn't see a single empty seat in the whole section.
The captain made a welcome speech, but he spoke haltingly in low voice - that immediately reminded me of a Bavarian radio comedy feature which can be translated with
"Captain Mumble"
. I had always found that feature quite stupid, but now I had to realize that this guy does really exist!
Anyway, he announced a flying time of 10 hours and 30 minutes.
Safety video: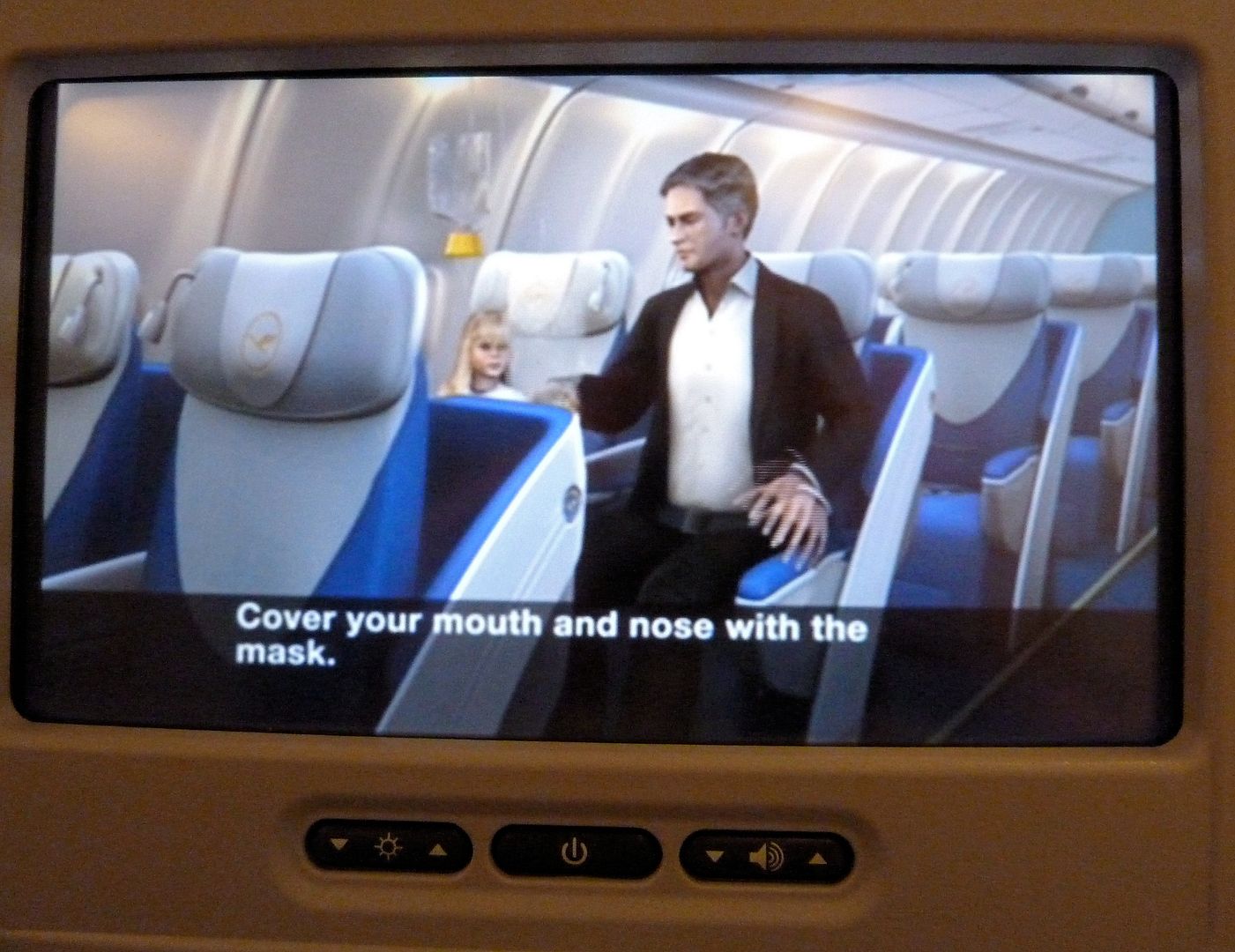 The giant was pushed back three minutes behind schedule - I was really enjoying these moments, it's always a pleasure when the A380 starts moving.
D-AIMF
ready to taxi: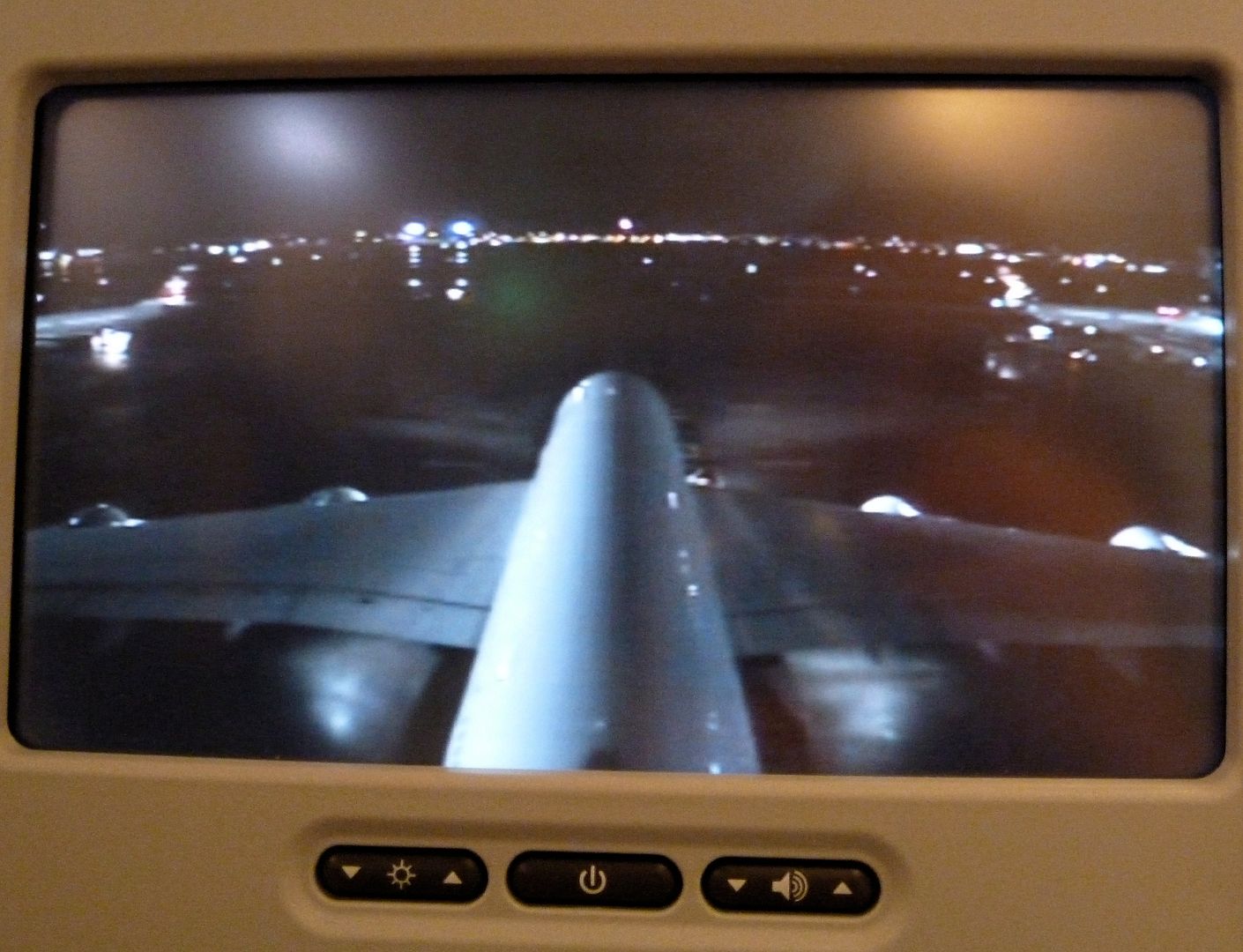 Lufthansa's
NiceView
airshow offers interesting views: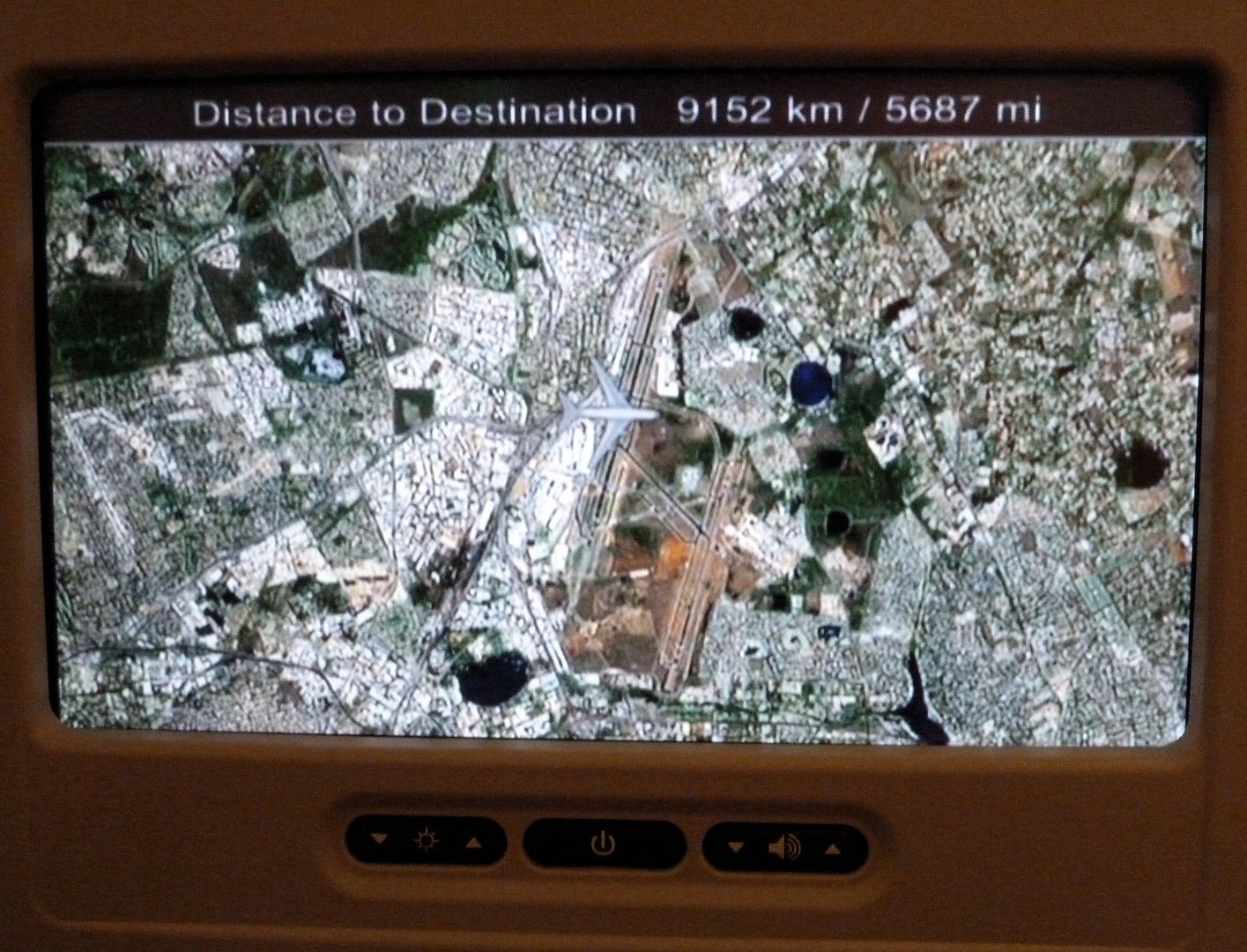 D-AIMF
turned in 18 minutes after leaving the gate...
"Lufthansa 573 Super"
clear for takeoff: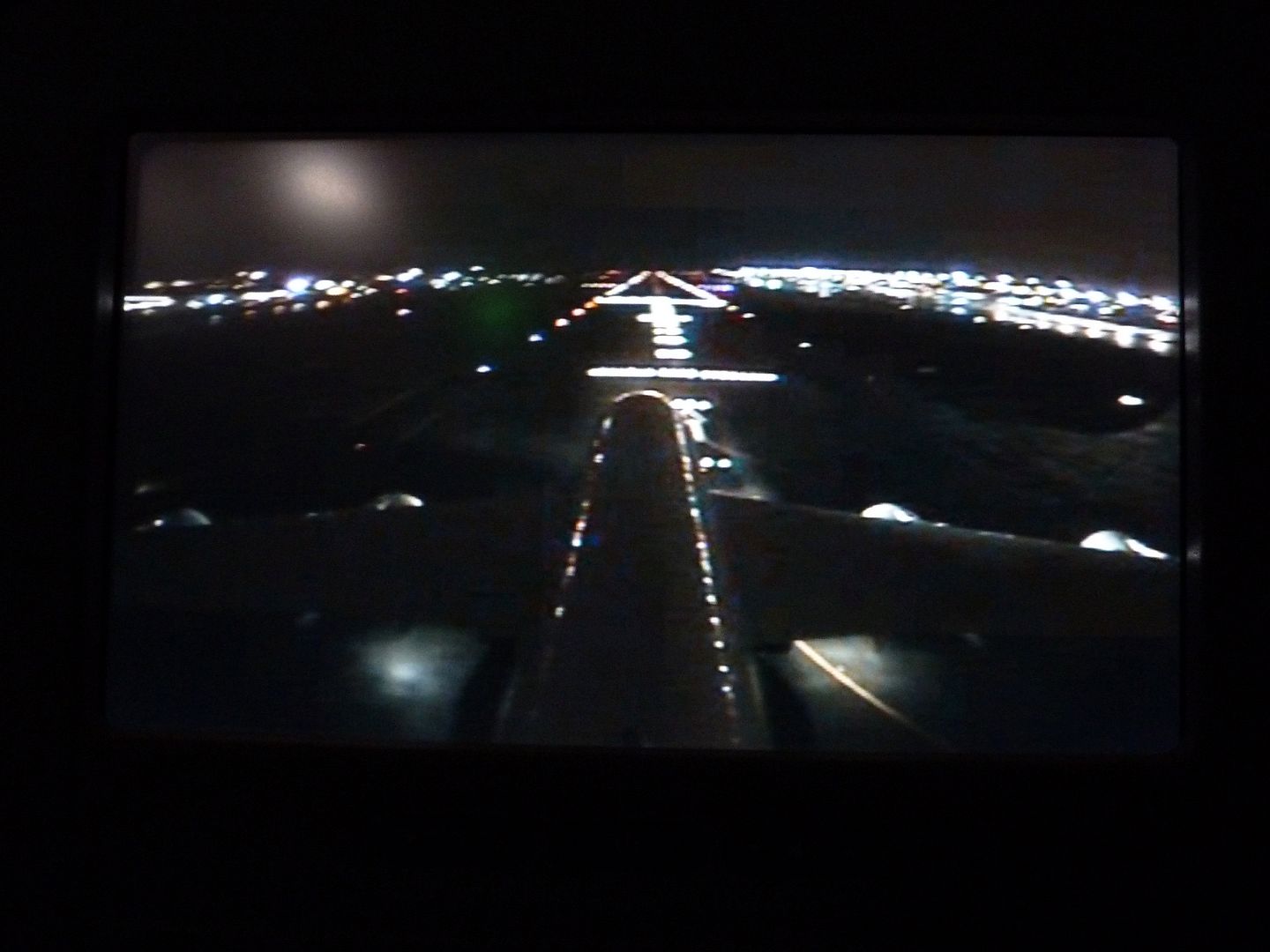 After a full stop, the four Trent 970s quietly accelerated the giant which lifted off gently after a smooth takeoff roll. Climbout over countless lights: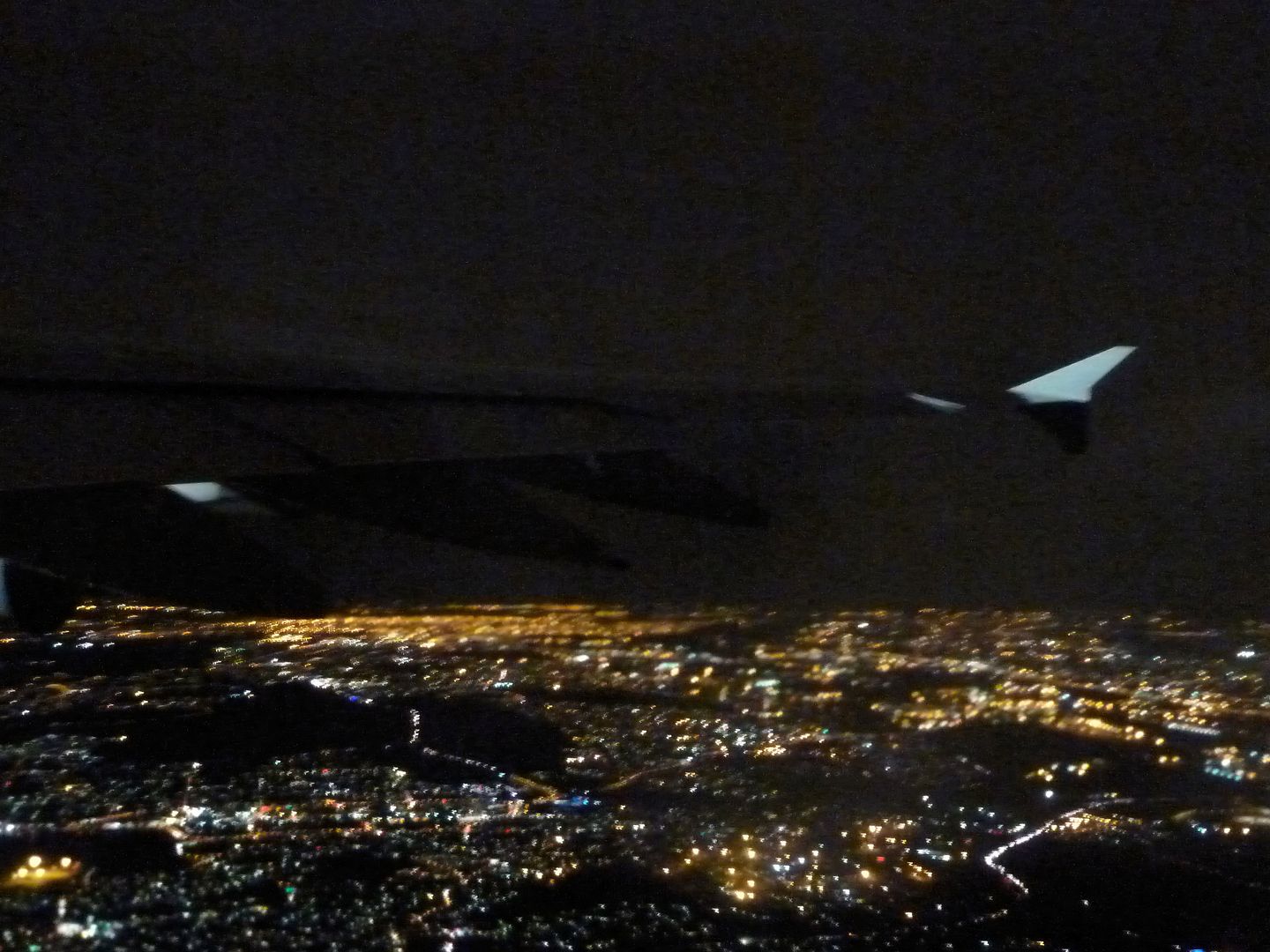 NiceView
screenshots 15 minutes after takeoff: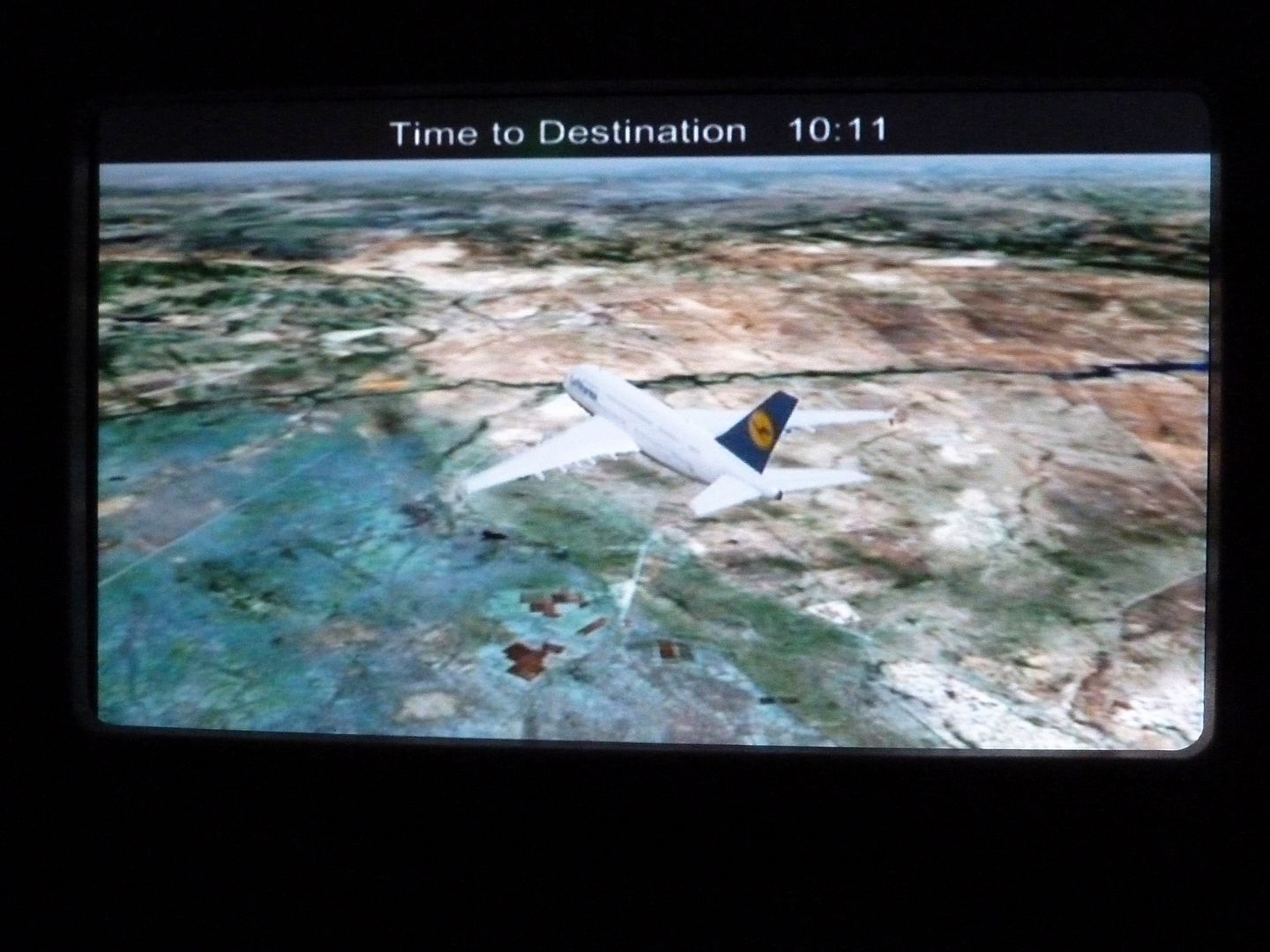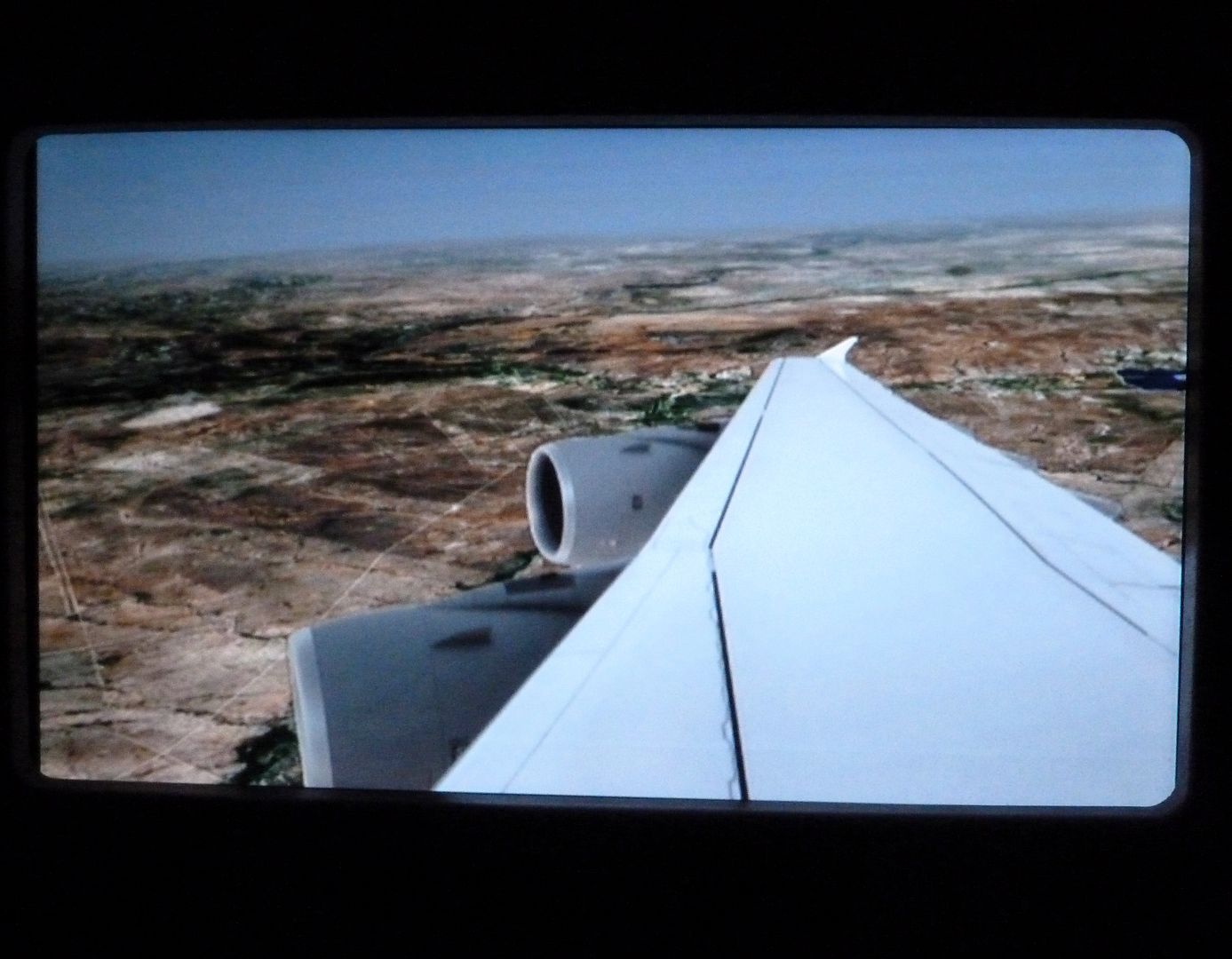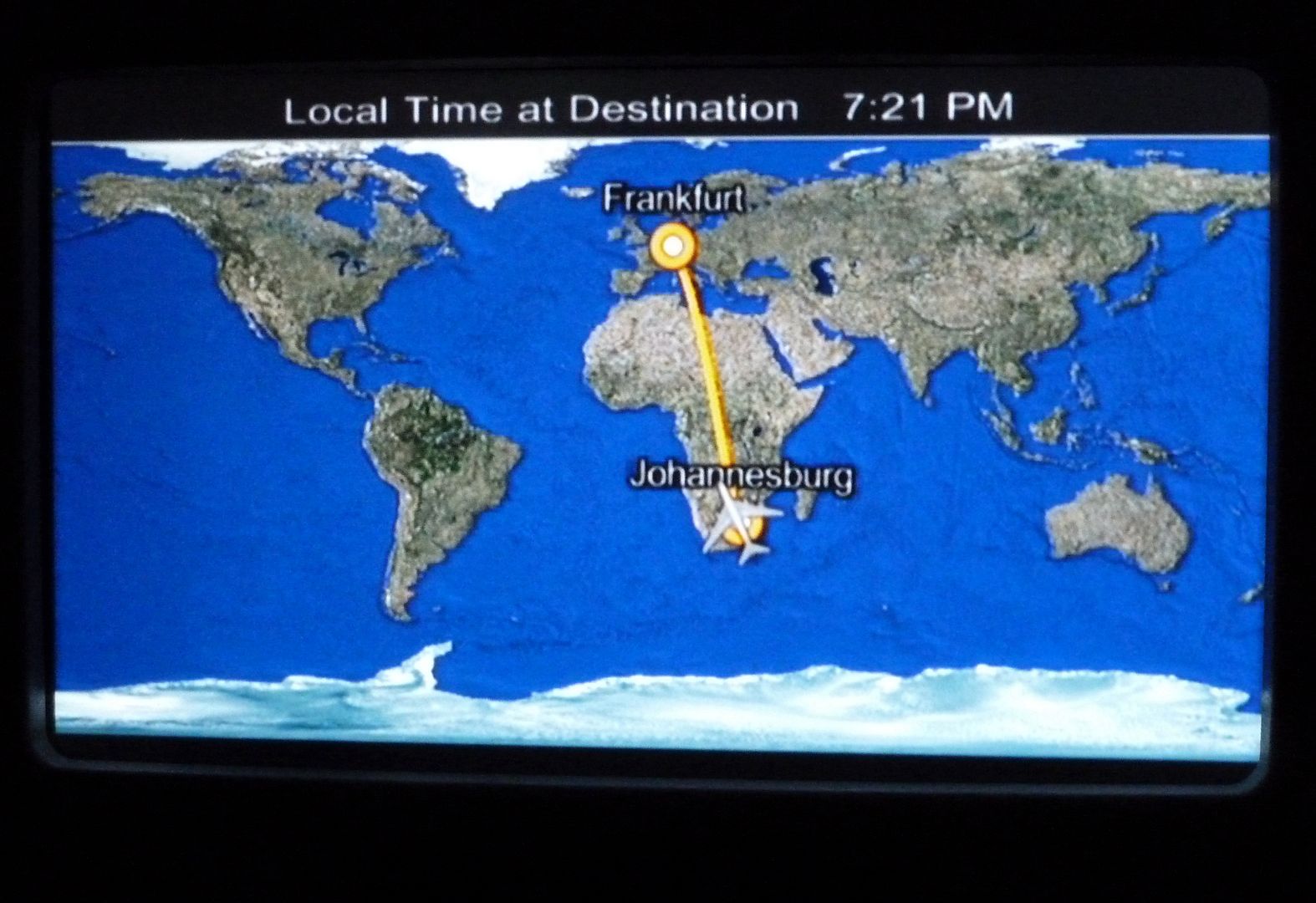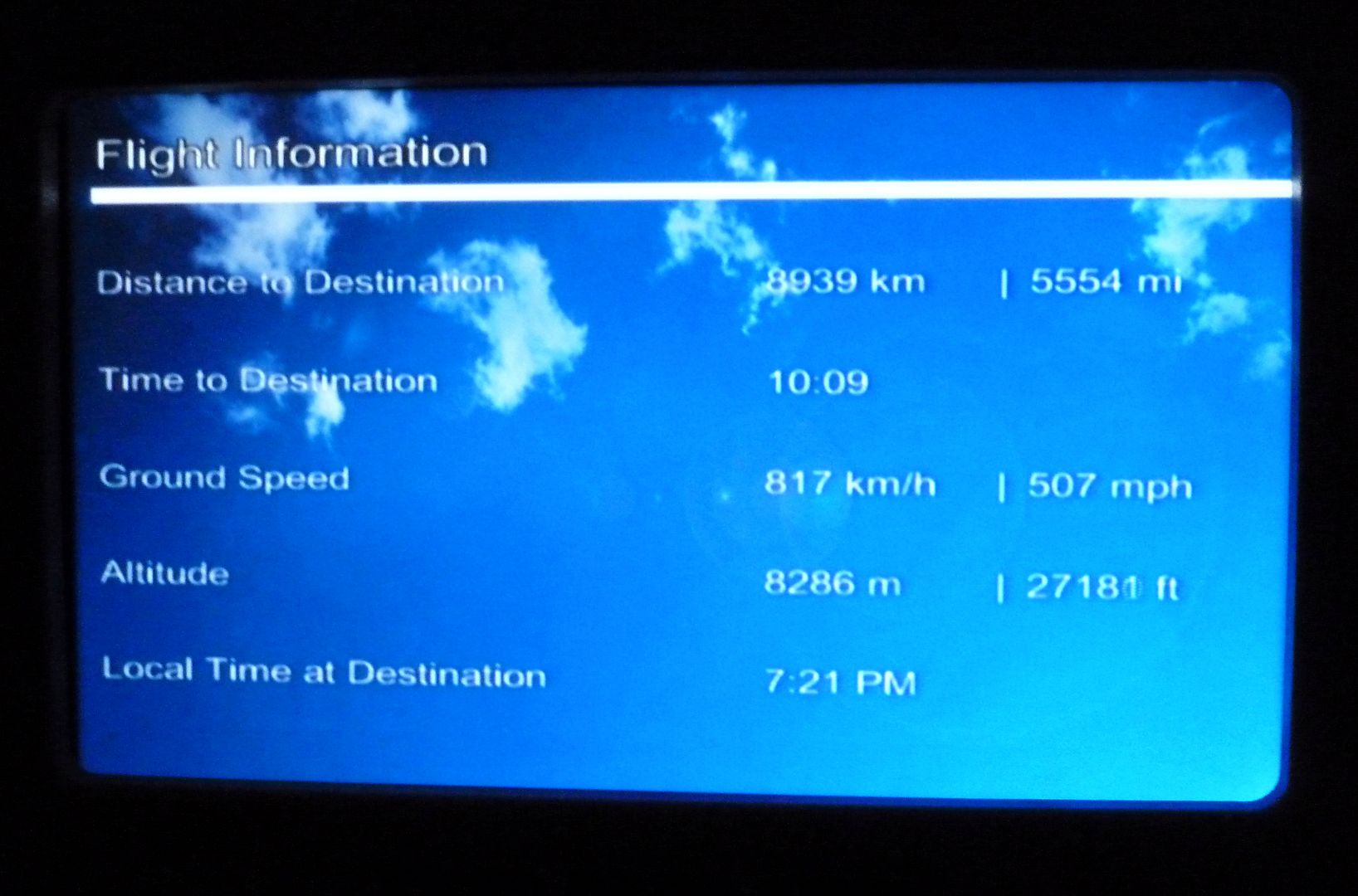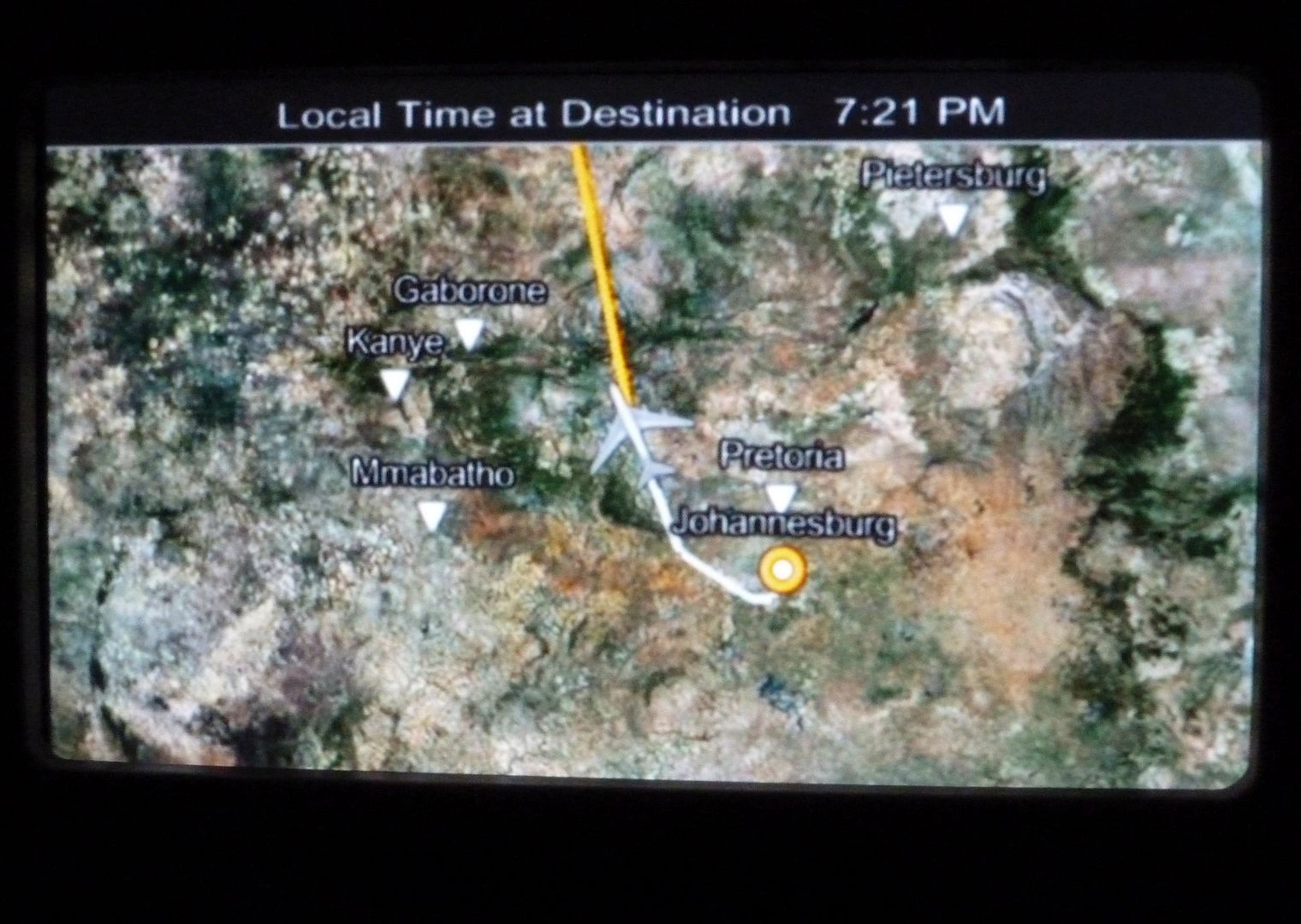 Hot towels were distributed which was really nice - but when a flight attendant returned to collect them, she didn't pay attention to me and I had to keep that wet towel. So I pressed the call button, but nothing happened. Ten minutes later, two flight attendants showed up with a trolley and offered snacks and drinks. One of them, a jovial and blunt blonde female in the 30s, told me to turn off the call button light without asking why I had pressed the call button. Then I showed her the wet towel and pointed out that her colleague had forgotten to collect it.
"Alright, pass it to me!"
, she replied. Well, her pally manner was not exactly to my liking.
You don't get ginger ale on Lufthansa, so I ordered tonic water: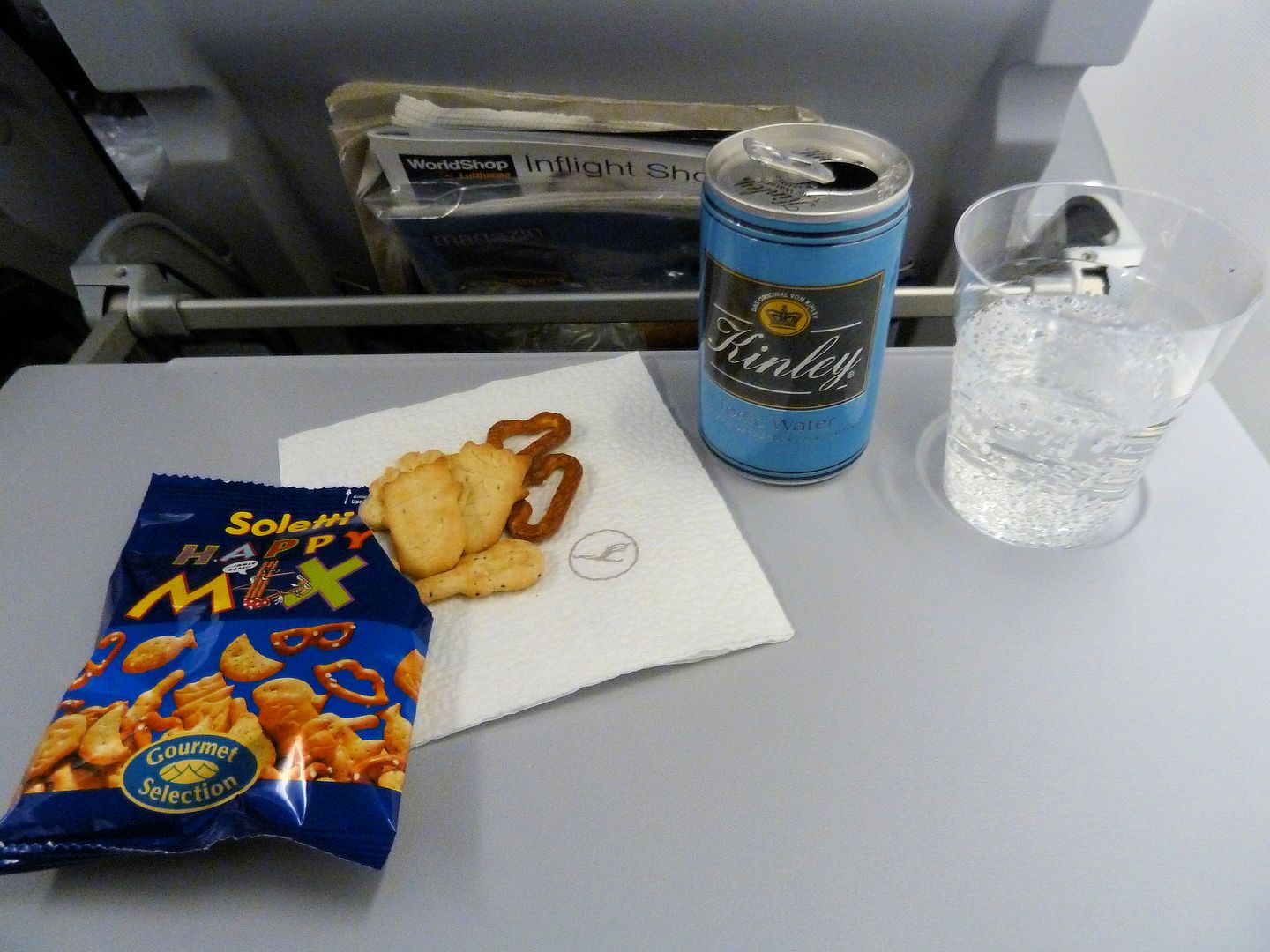 Dinner was served 25 minutes later and I chose beef over pasta and ordered half a glass of white wine. However, when I lifted the foil, I couldn't find any meat. This time the other flight attendant hadn't paid attention and handed out pasta:
Anyway, the meal didn't look bad and I decided not to complain. The tomato and cheese sauce actually tasted quite good and the noodles were al dente. My neighbor's beef looked very dry, so I was really glad about the flight attendant's mistake. The rest of the meal - shrimp salad and vanilla apricot cake - tasted okay, but not overwhelming.
After dinner, it was time for a walk. There are 70 seats in the last main deck section:
Later at night, after most lights had been turned off, I walked all the way to the nose section. I didn't see a single empty seat, all Y Class sections were packed with people, many of them were sleeping. One the way back, the rows seemed to continue forever in the darkness. I couldn't help but think:
"What a cattle carrier!"
Stairway to heaven? Not quite, but definitely to a better place: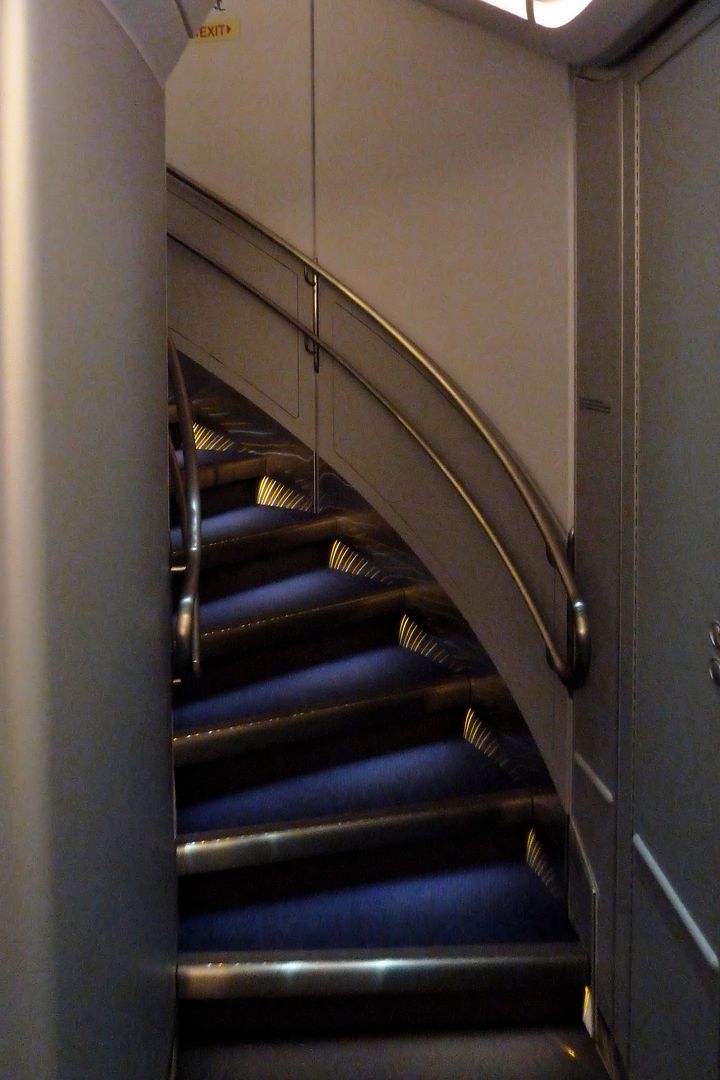 There are 11 lavatories on the main deck, four of them are located at the back: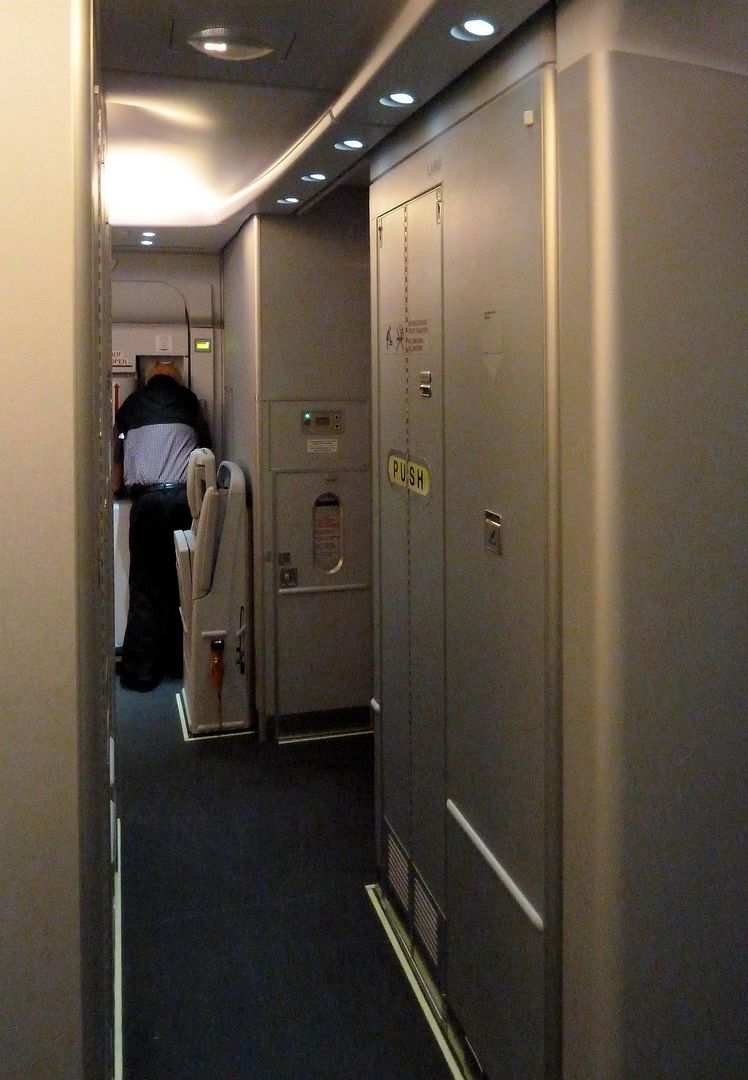 I continued using the IFE system and listening to music for a while after cabin lights had been dimmed, but finally I tried to get some sleep. This turned out to be more difficult than expected. I wasn't able to lean against the wall and what I found most disturbing was the (dimmed!) galley light: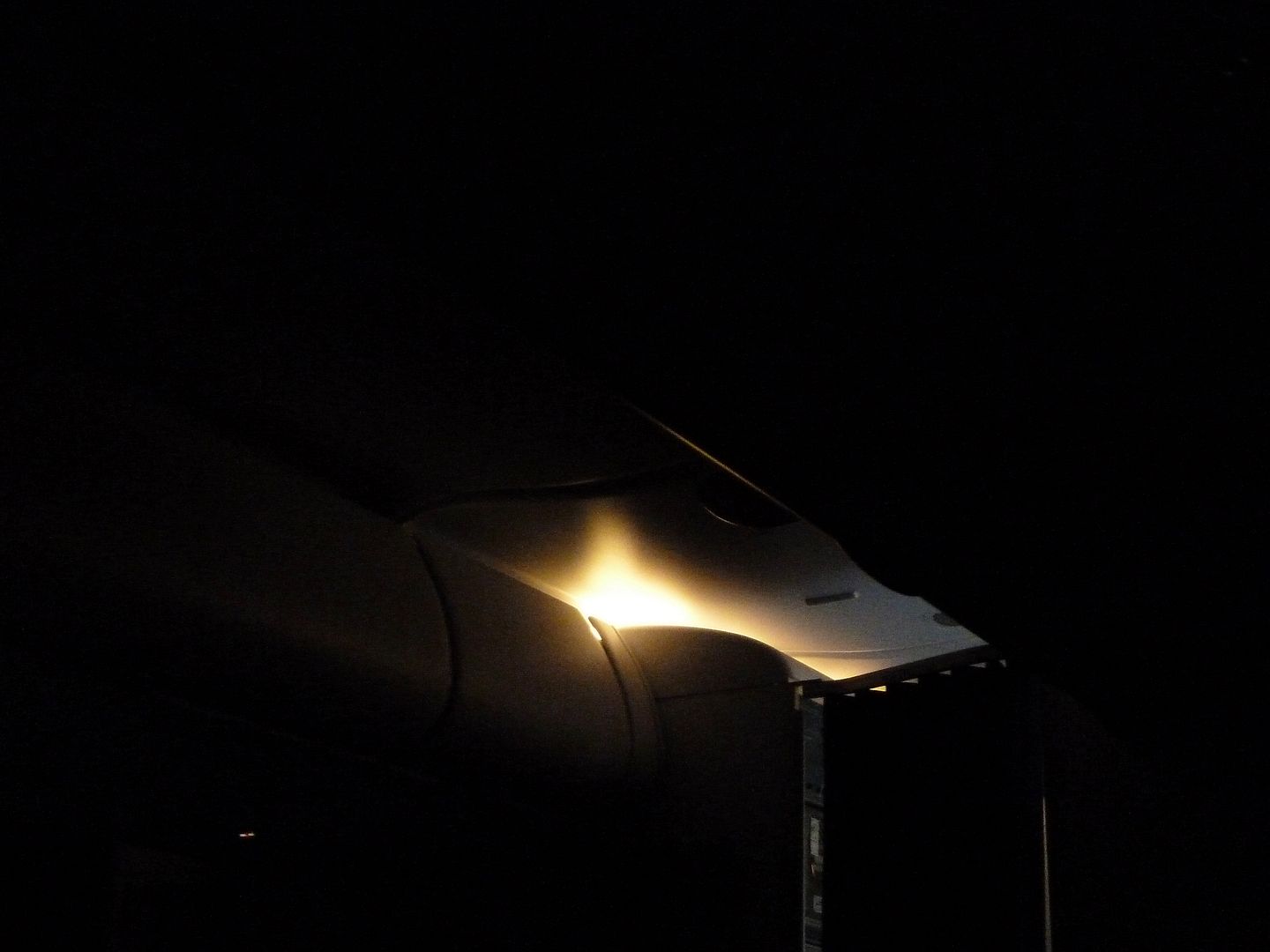 Unfortunately, Lufthansa doesn't offer amenity kits in Economy Class, so I couldn't use eyeshades. Anyway, I still tried my best to find some sleep, but then I unintentionally pressed the reading light button on the misplaced control unit which didn't help either.
Anyway, I still managed to find some sleep, but not as much as on the FRA-JNB flight on SAA. When I felt fully awake again, I had a look at
NiceView
. How about some cockpit views?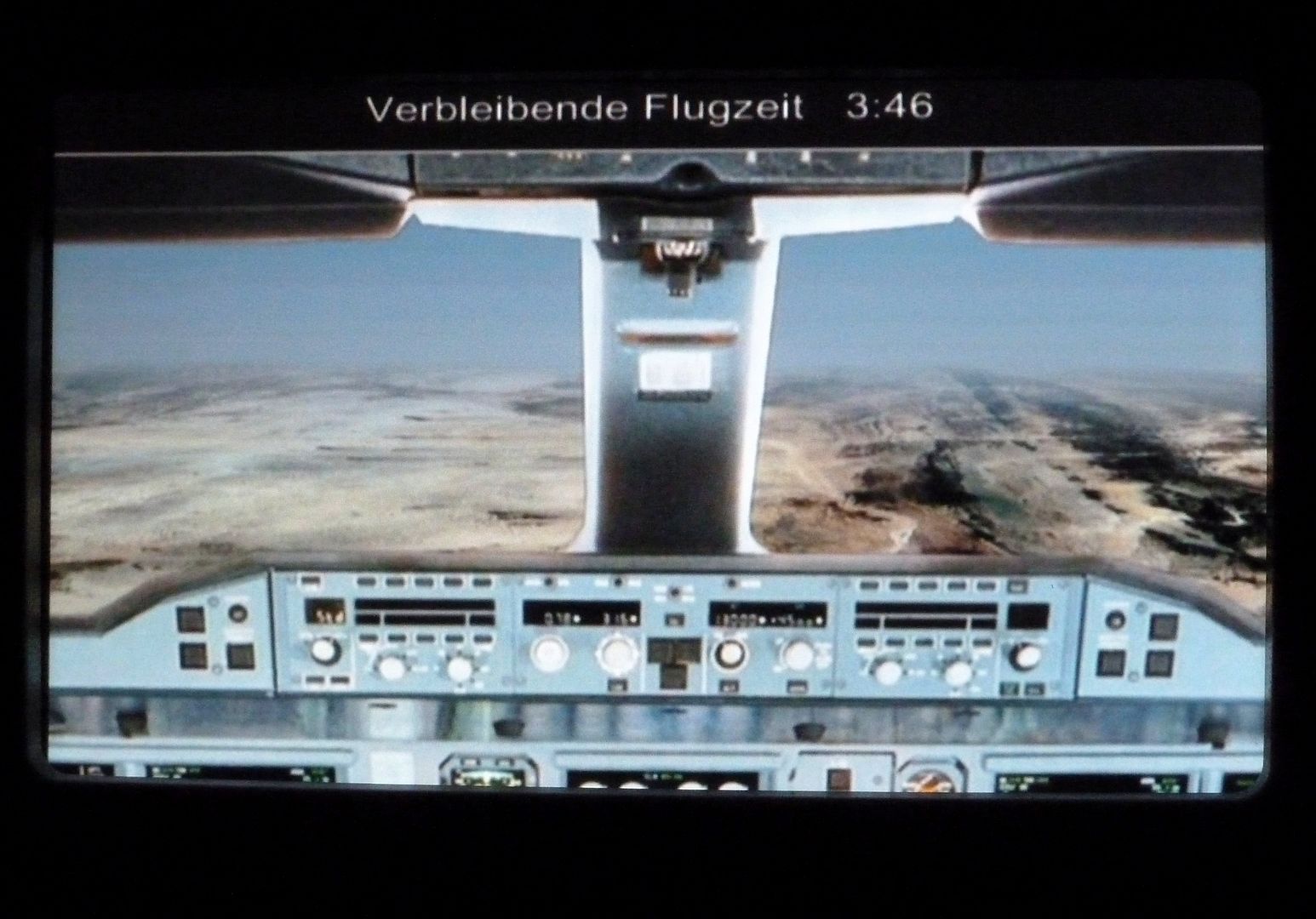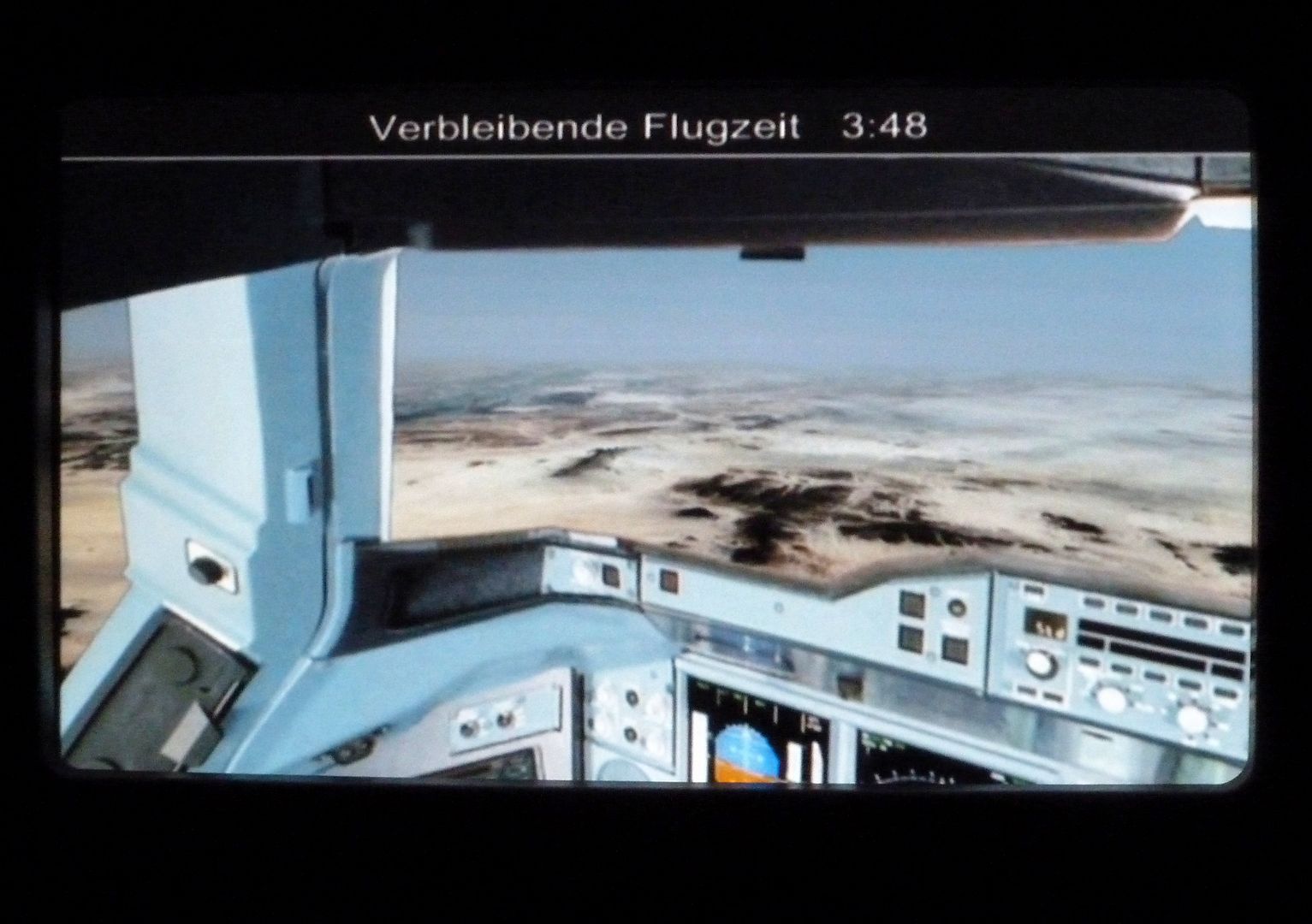 Completely different view: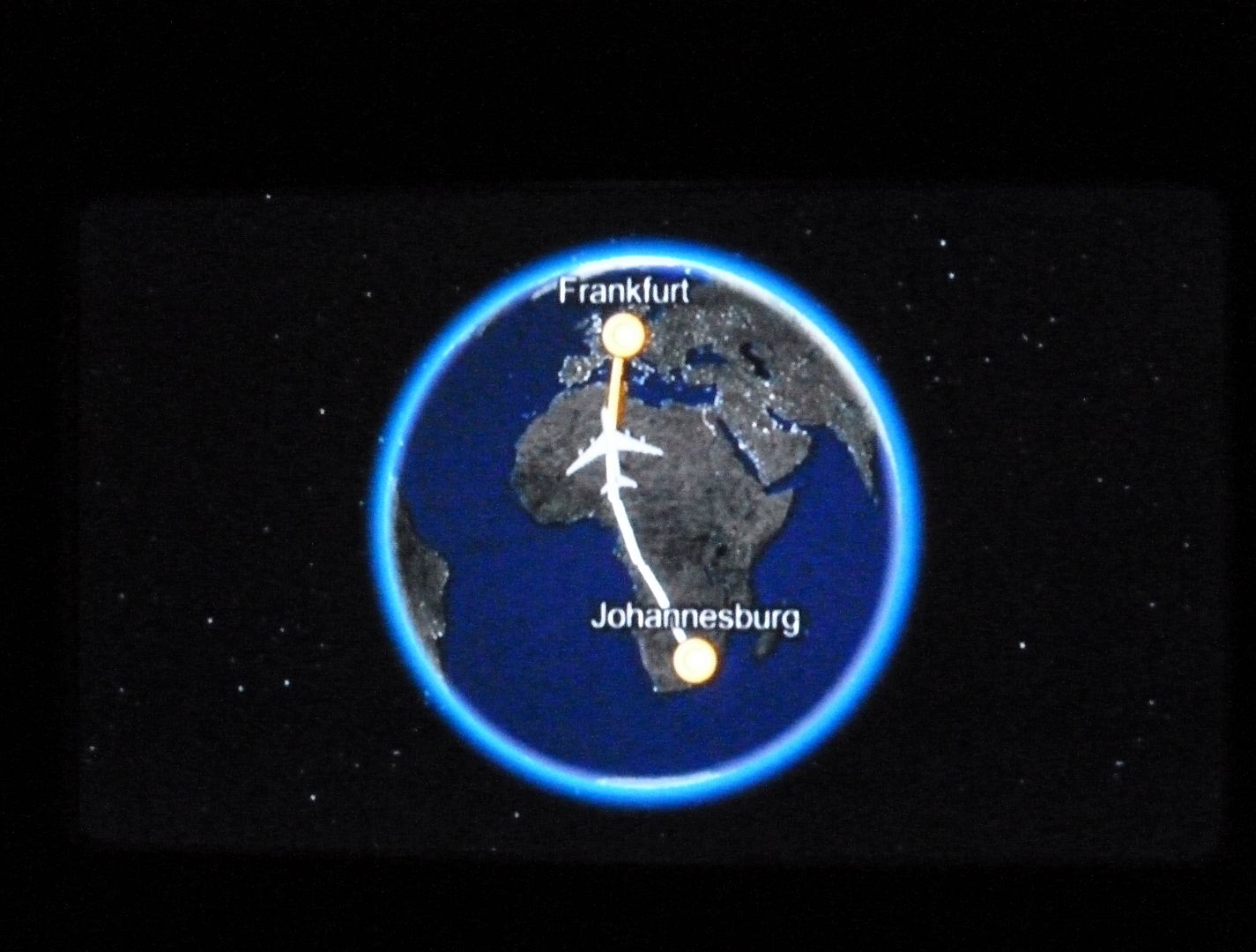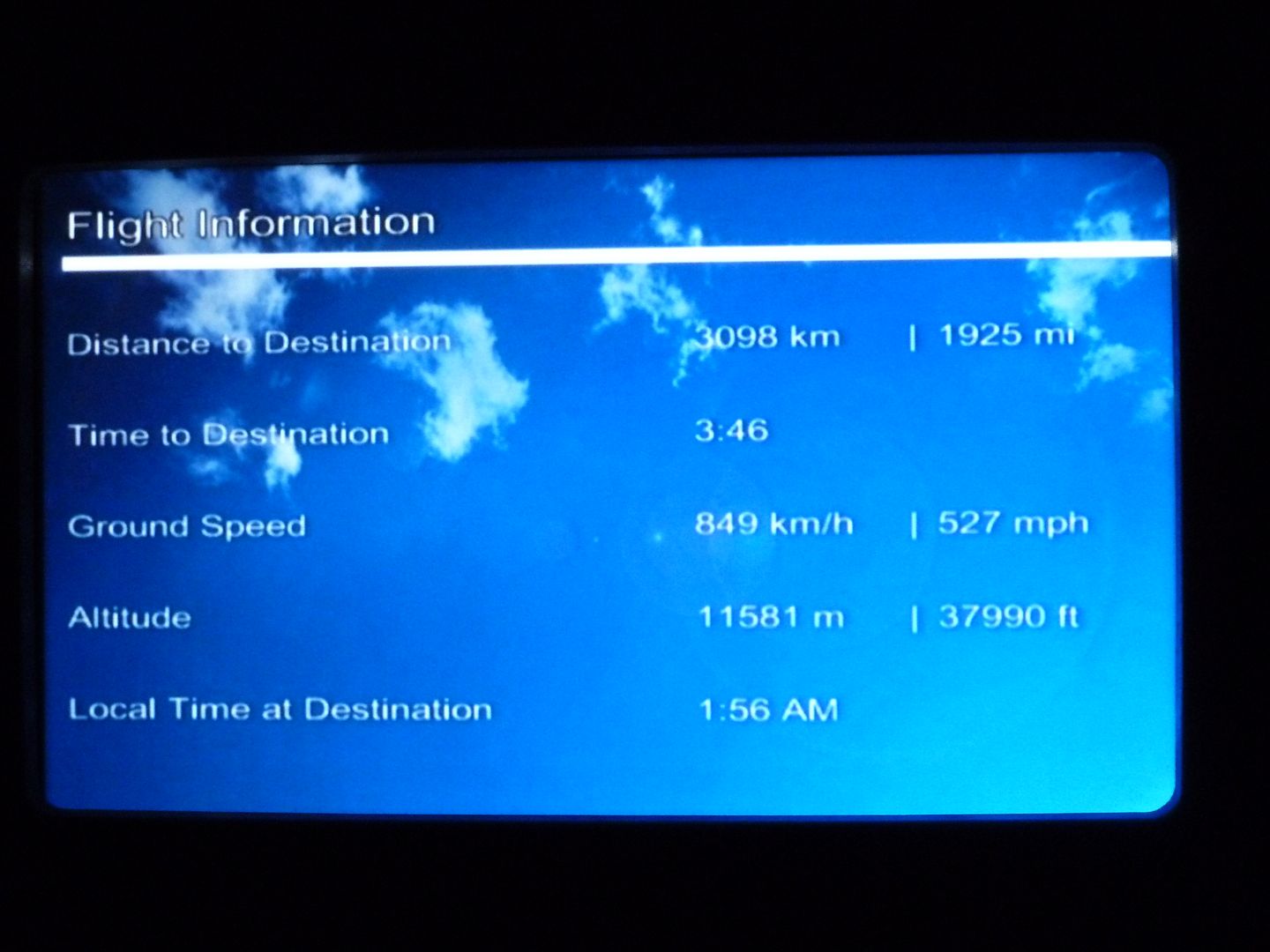 Mountainous terrain almost two hours later: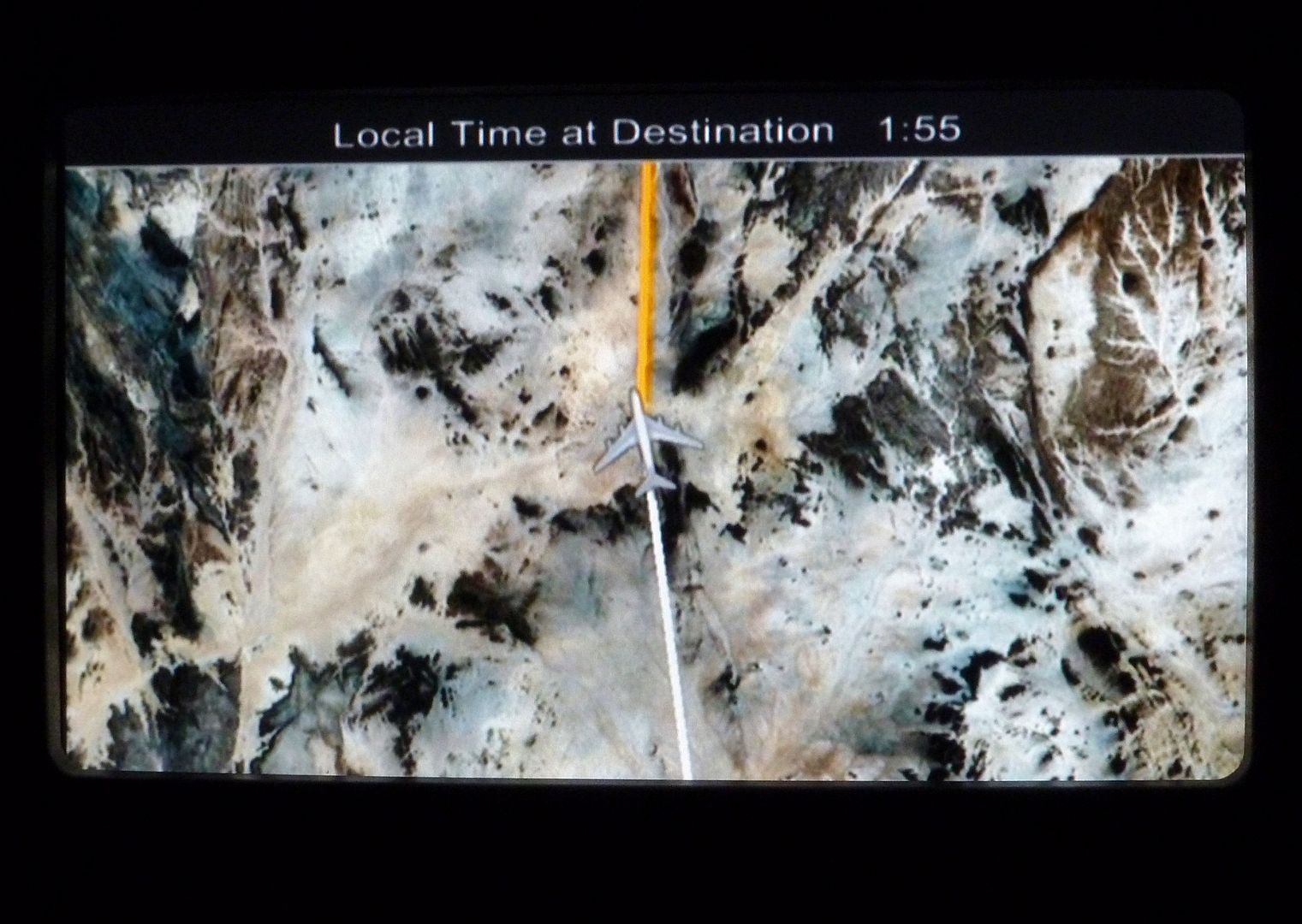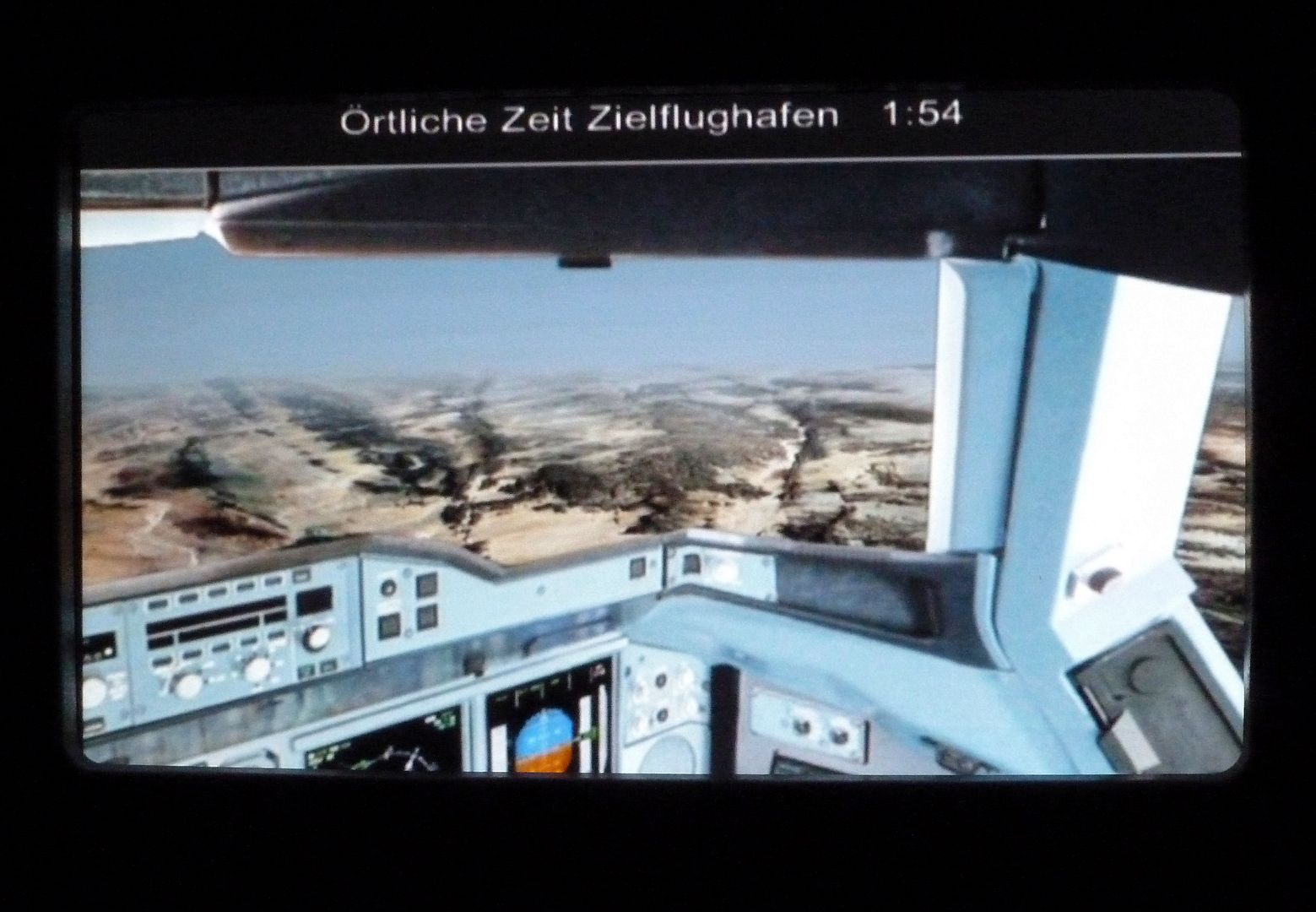 Goodbye, African continent!
Breakfast was served more than 1.5 hours before landing, I ordered scrambled eggs: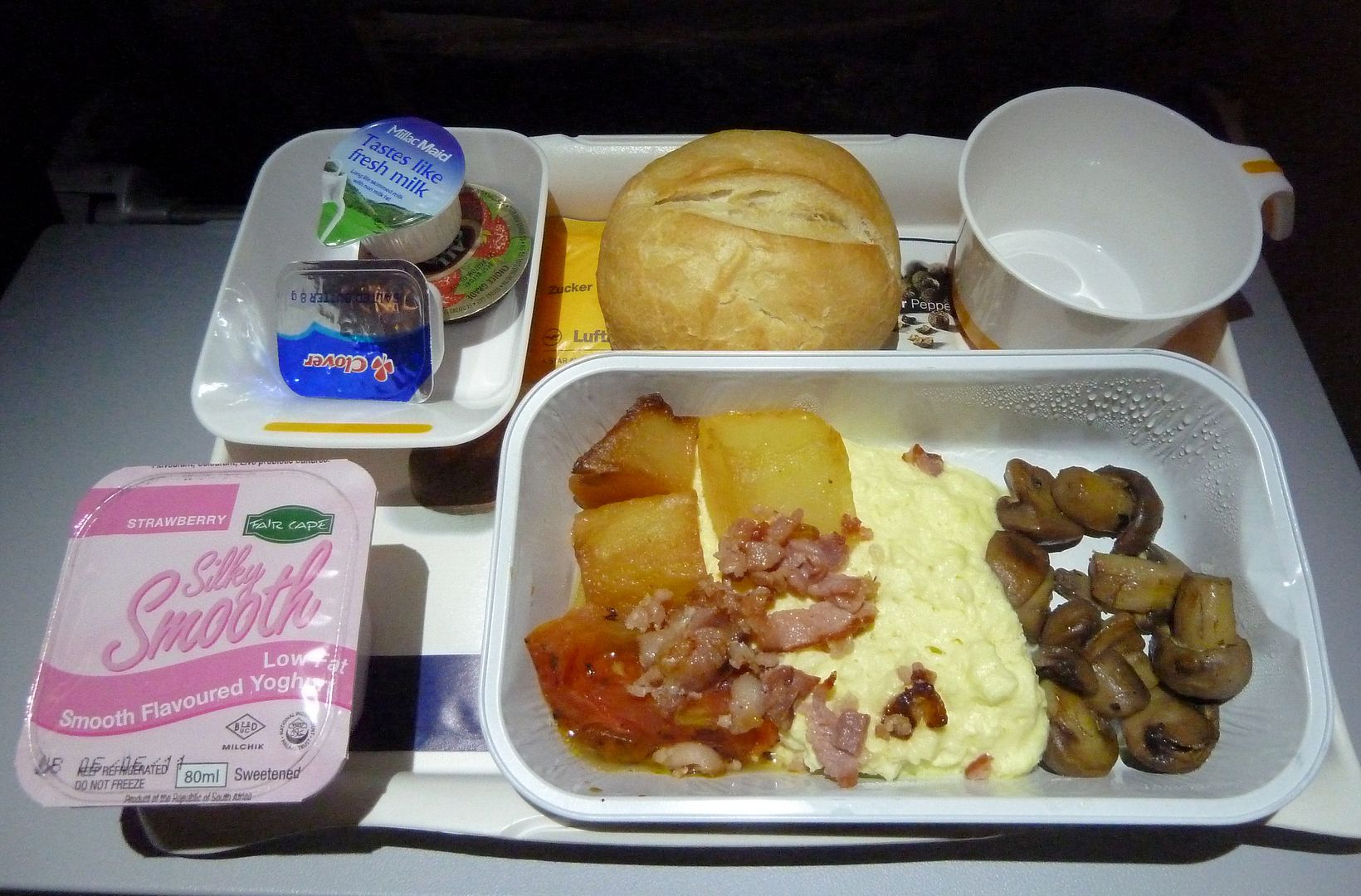 Everything tasted more or less okay except for the fatty pieces of bacon. I had just finished my breakfast when
"Captain Mumble"
announced turbulence.
"I have ordered the cabin crew to stop breakfast service"
, he slowly said in an inimitable way. Breakfast service in Y Class had been finished anyway, so I guess he referred to Business and First Class.
Sunrise was once again a highlight of the flight: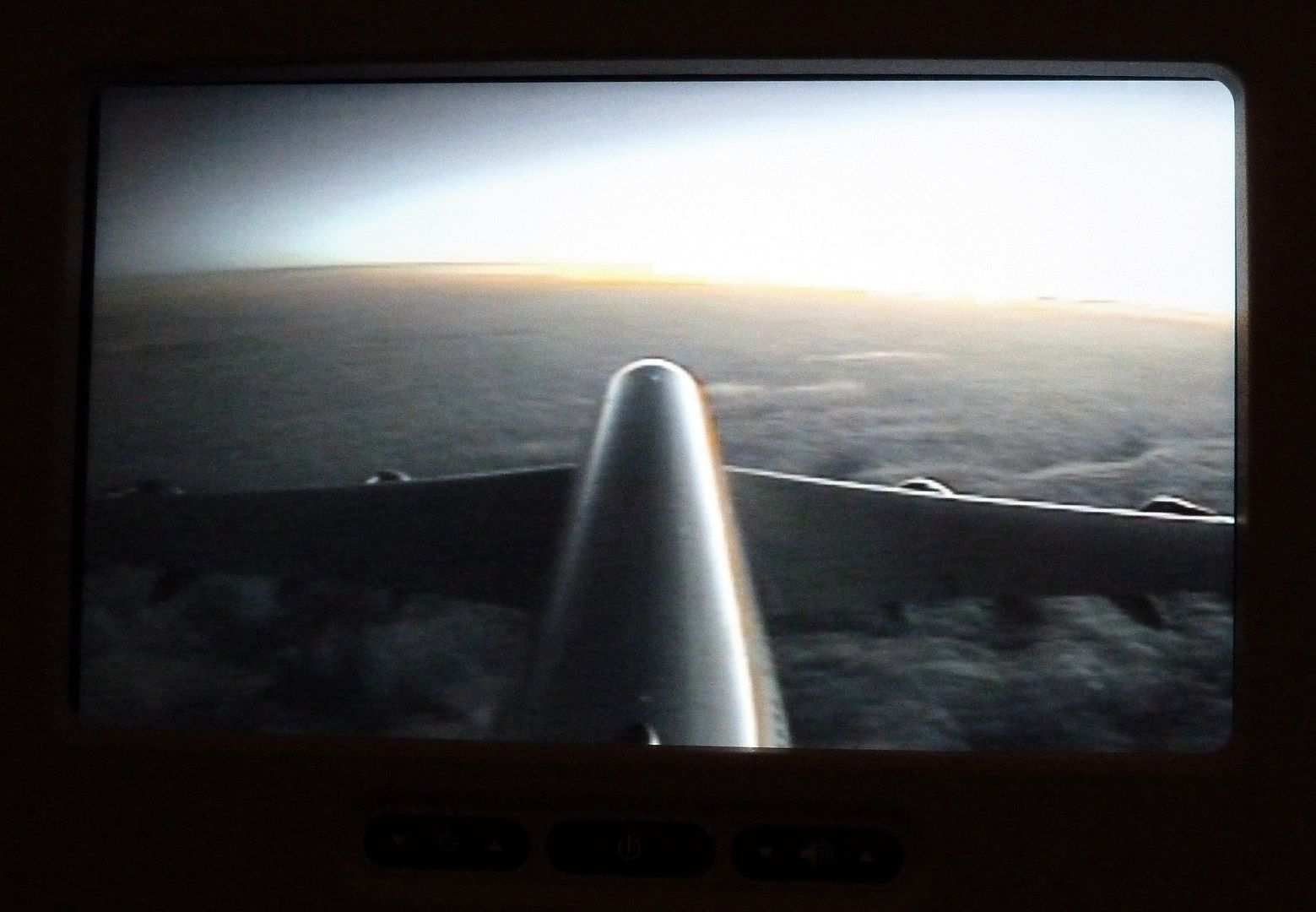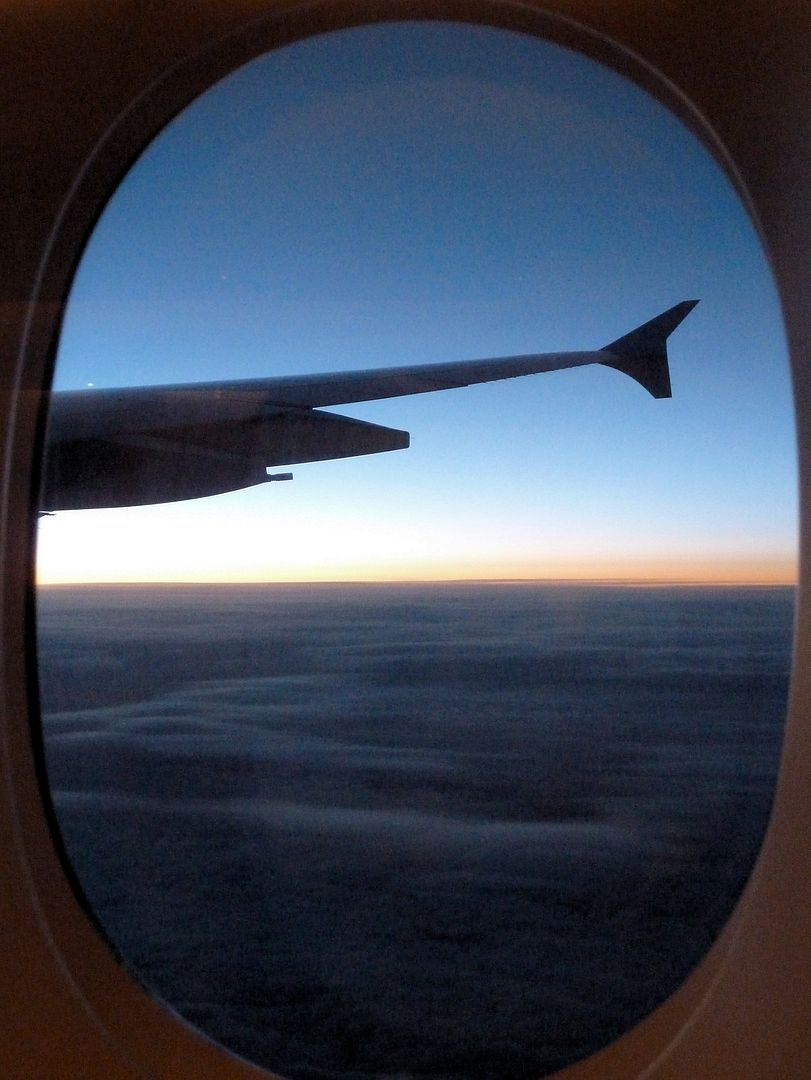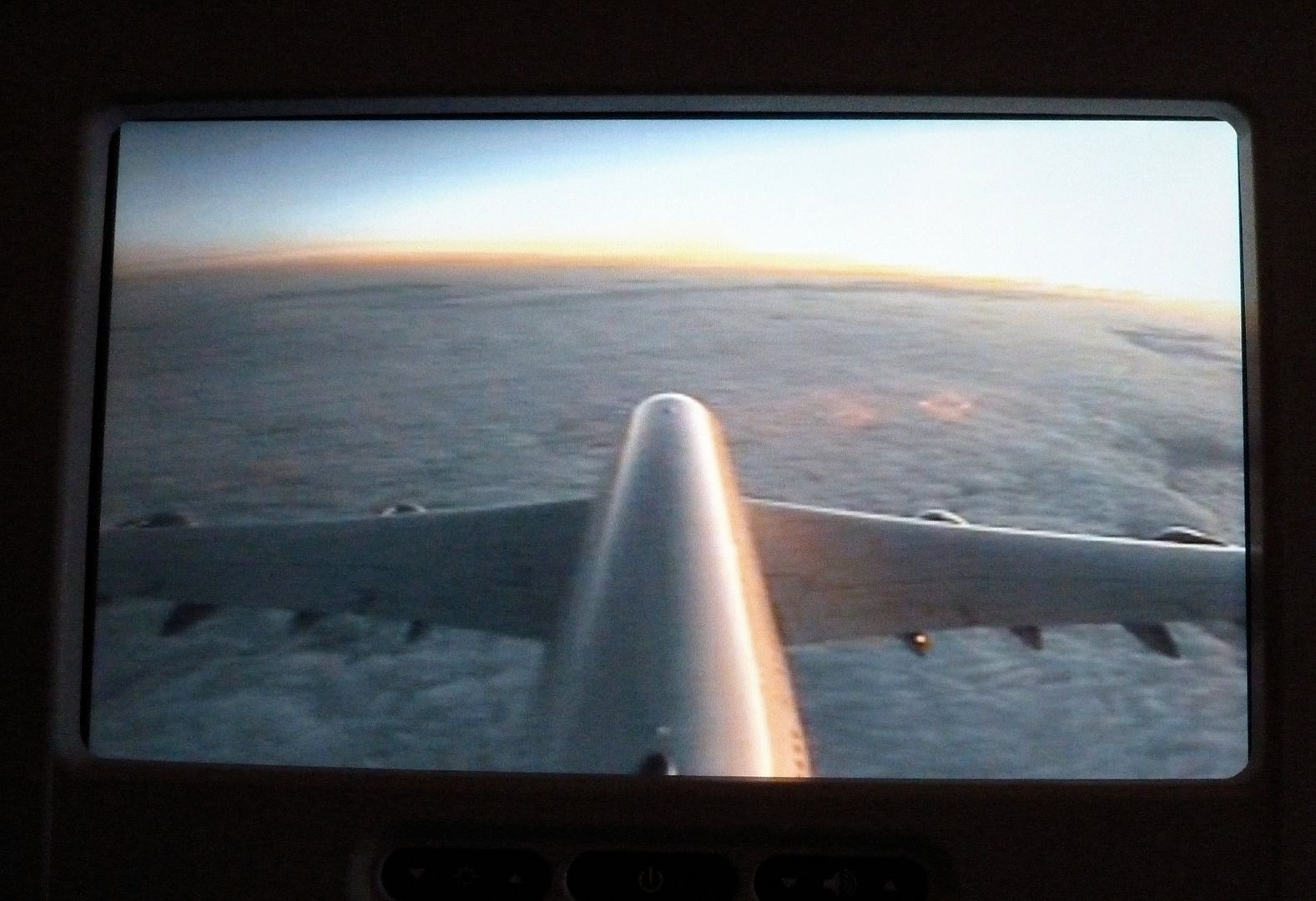 Simply beautiful: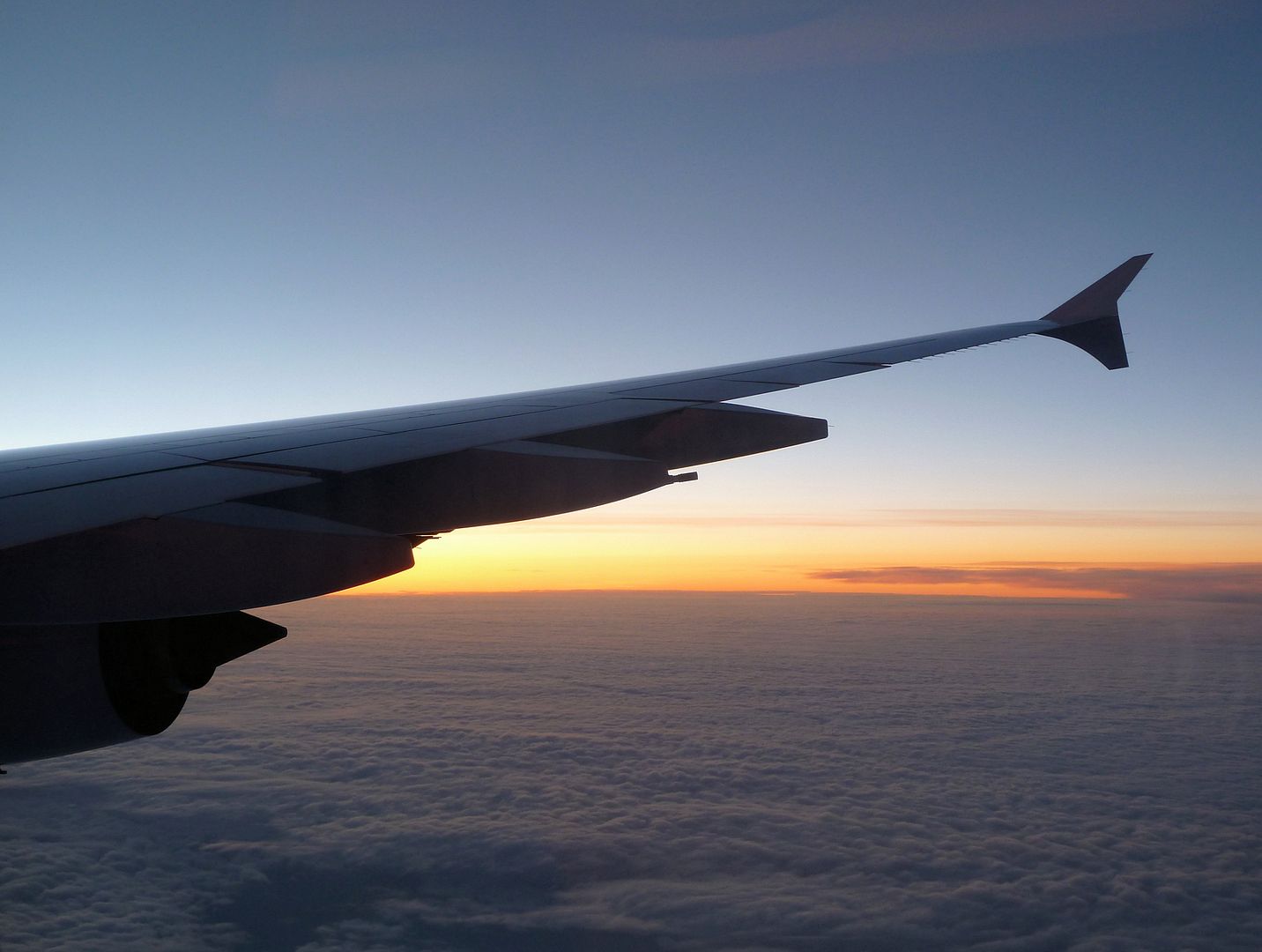 "I wish you a good morning!"
, a friendly and clear - and Austrian-sounding - woman's voice suddenly said over the loudspeaker. She introduced herself as the co-pilot and gave some information concerning our arrival.
"Captain Mumble"
could learn a lesson from her!
Down into the clouds: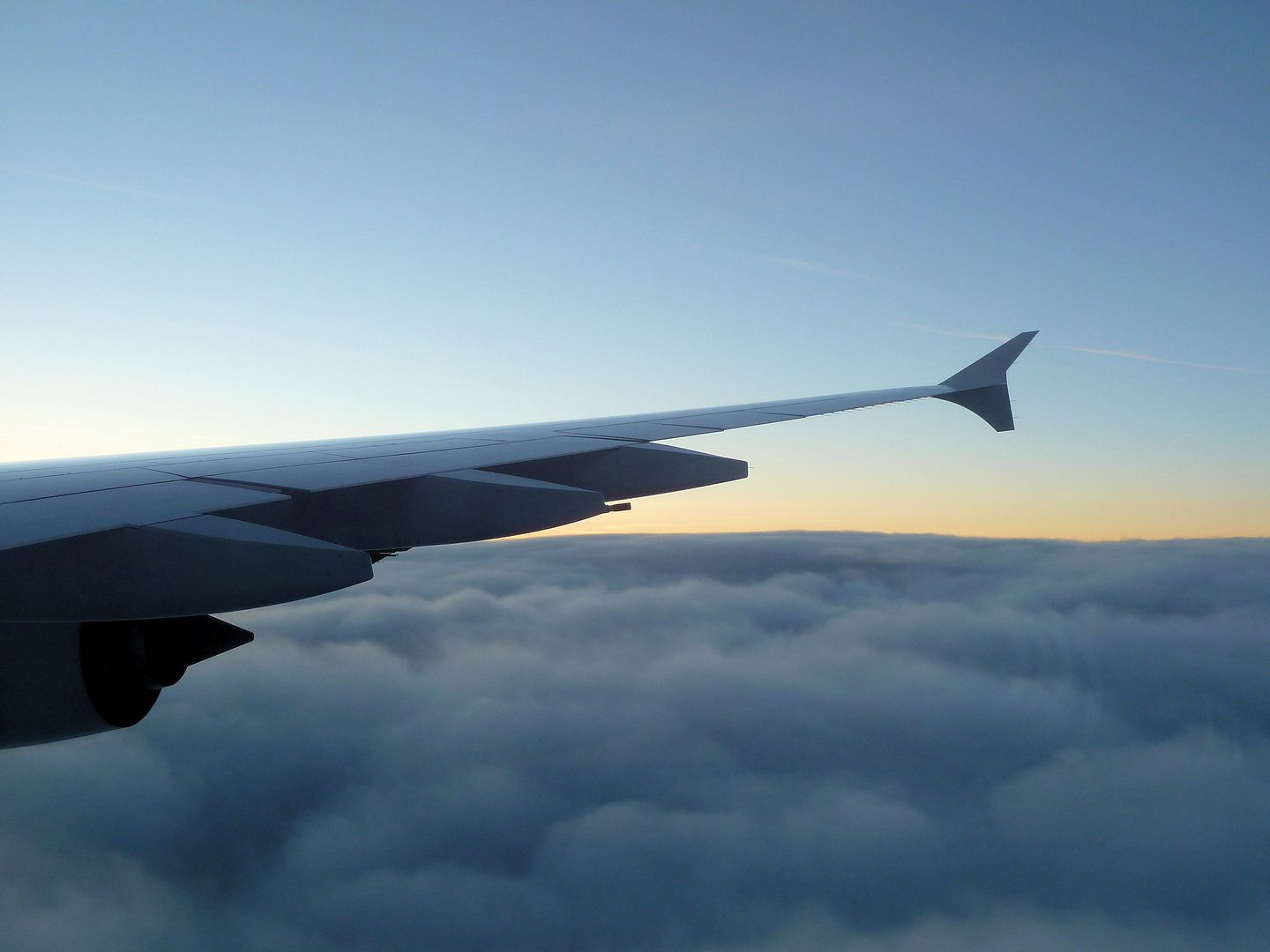 Very nice light effect: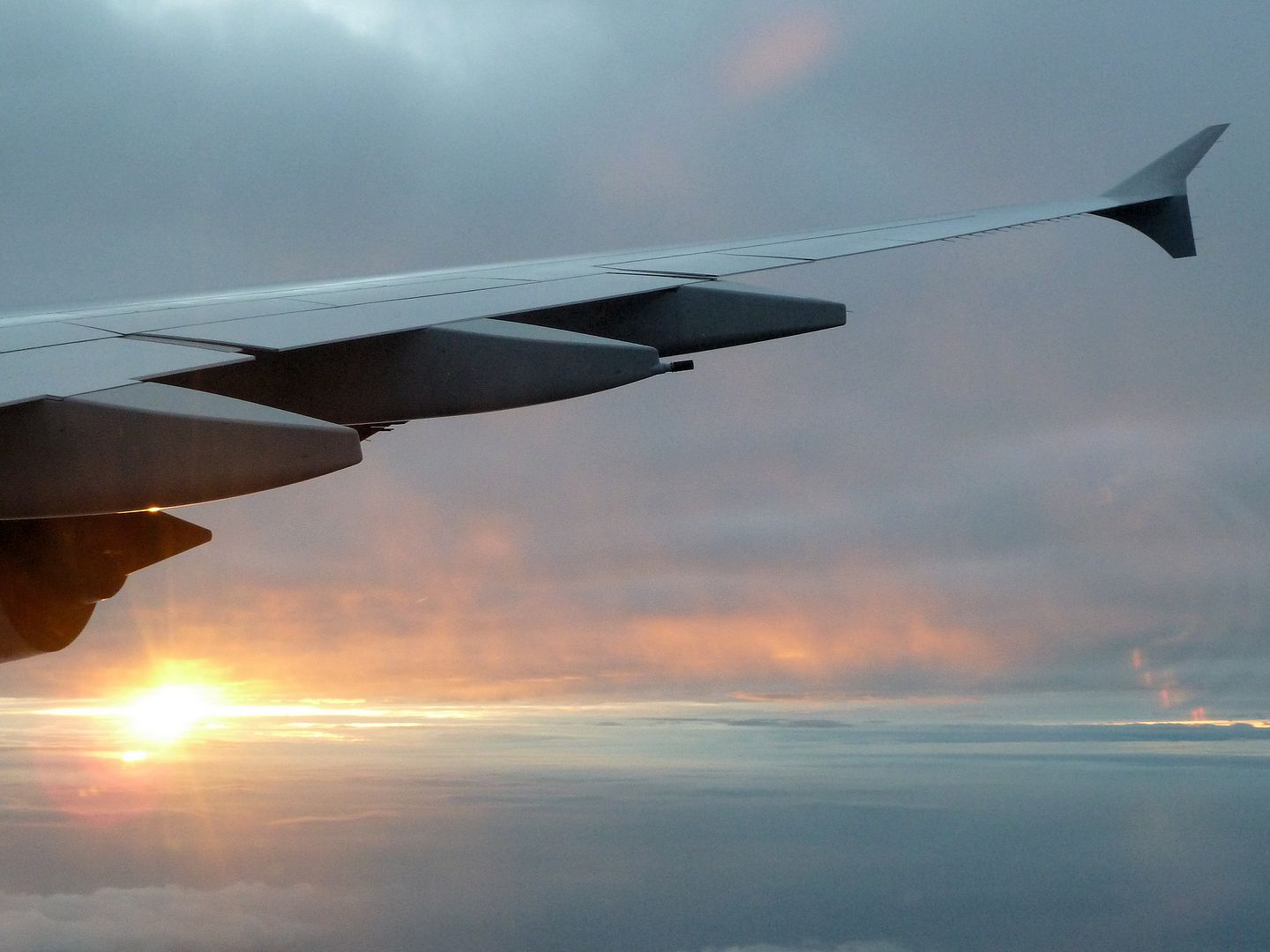 During descent, I talked to my seat neighbors for a while who turned out to be from Salzburg. They had booked an attractive Lufthansa special and were quite impressed by their first A380 flights. Interestingly, they had flown FRA-JNB on
D-AIMB
, so I told them about my sightseeing flight on exactly that bird and the thrilling flyby and go-around at Salzburg. I also explained my hobby which they found really interesting. The man turned out to be an experienced traveller and I was quite impressed when he mentioned a few exotic carriers which he had flown on. When he heard that I publish reports about my trips, he wrote down the a.net web address and promised to have a look. It was too bad that we hadn't started talking earlier.
Meanwhile,
"Captain Mumble"
had shortly promoted the external cameras and explained where to find that IFE feature.
I had certainly switched to the tail camera view some time ago:
The weather wasn't nice at Frankfurt: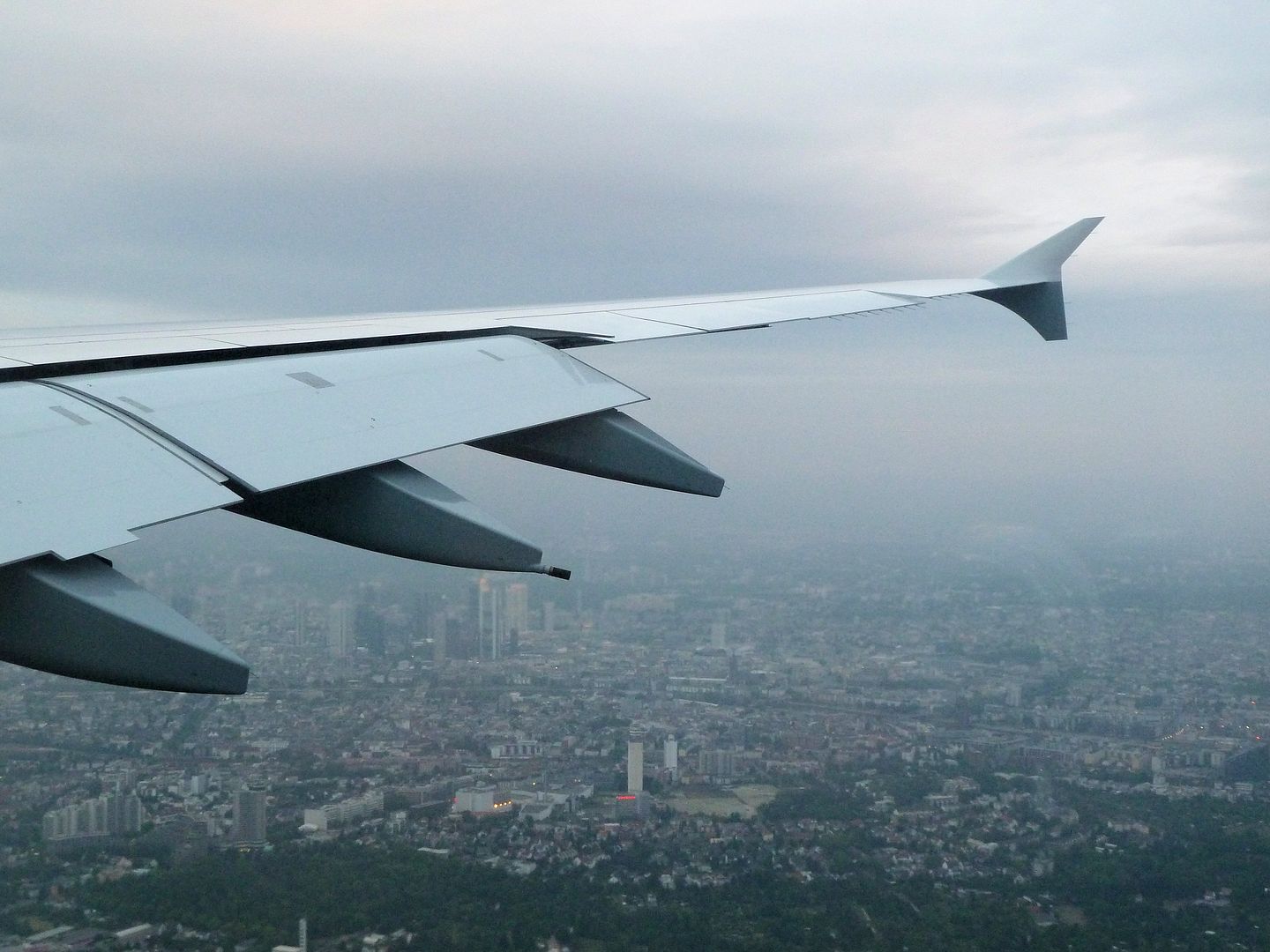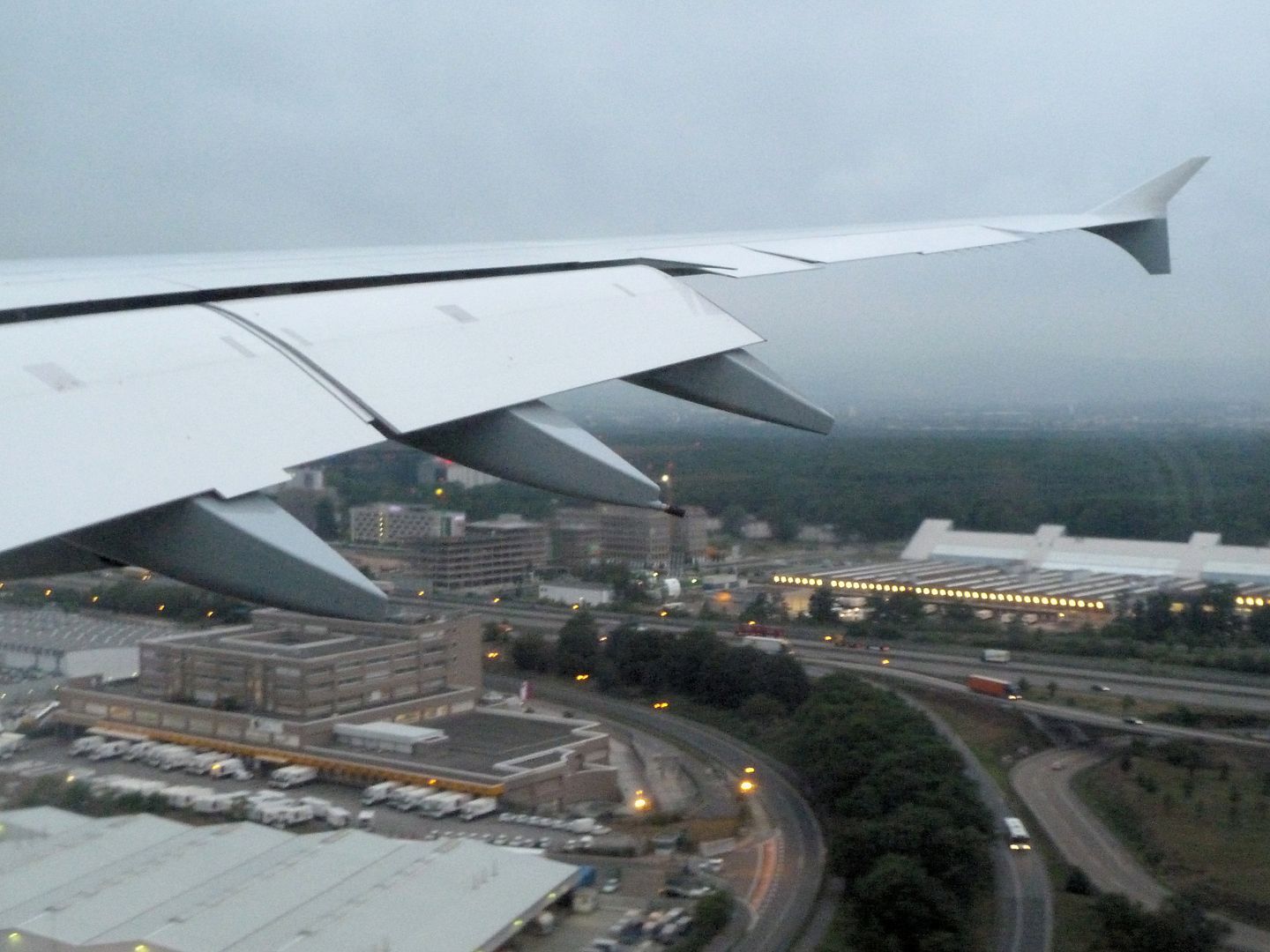 On short finals for runway 25R which has meanwhile become 25C: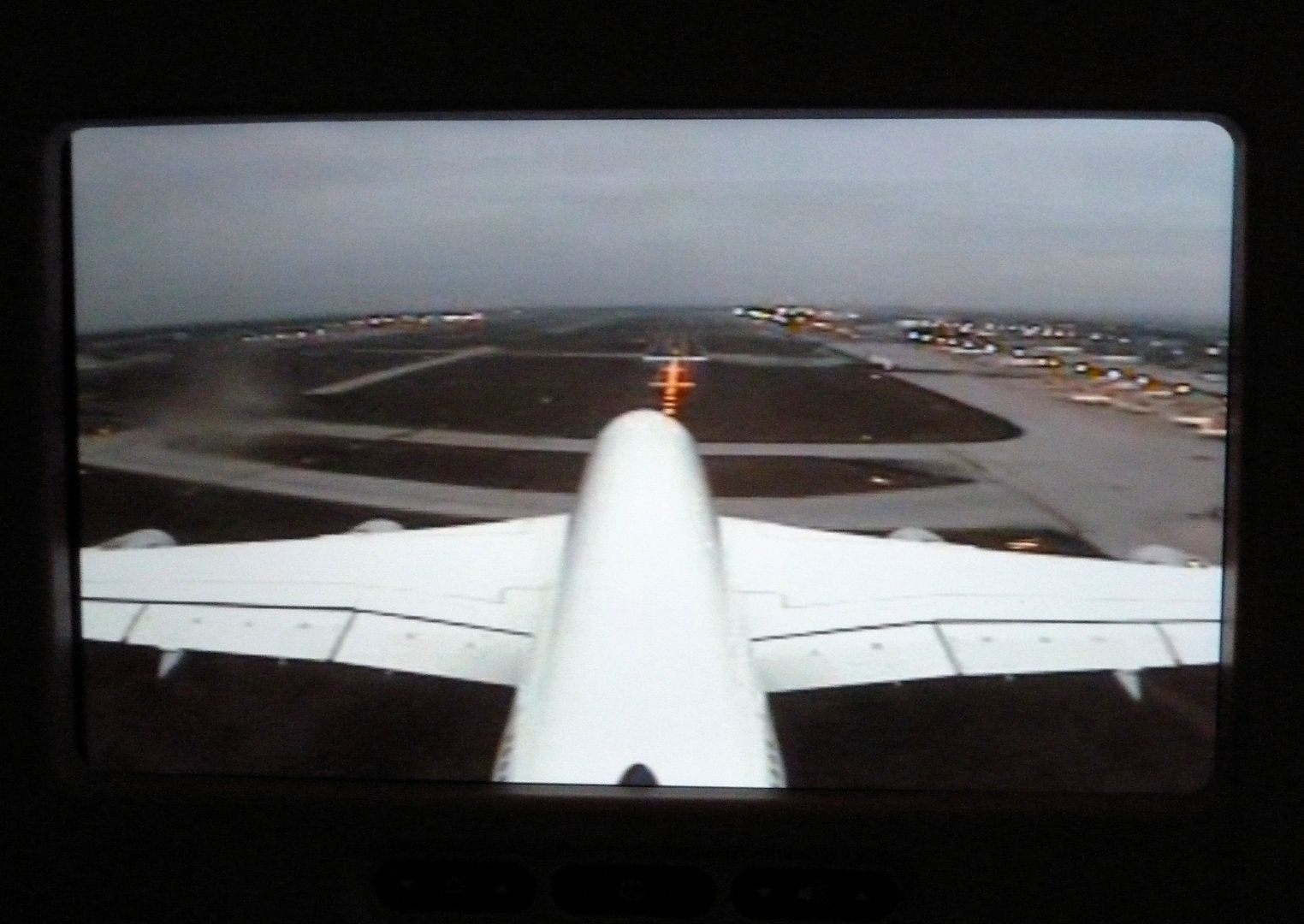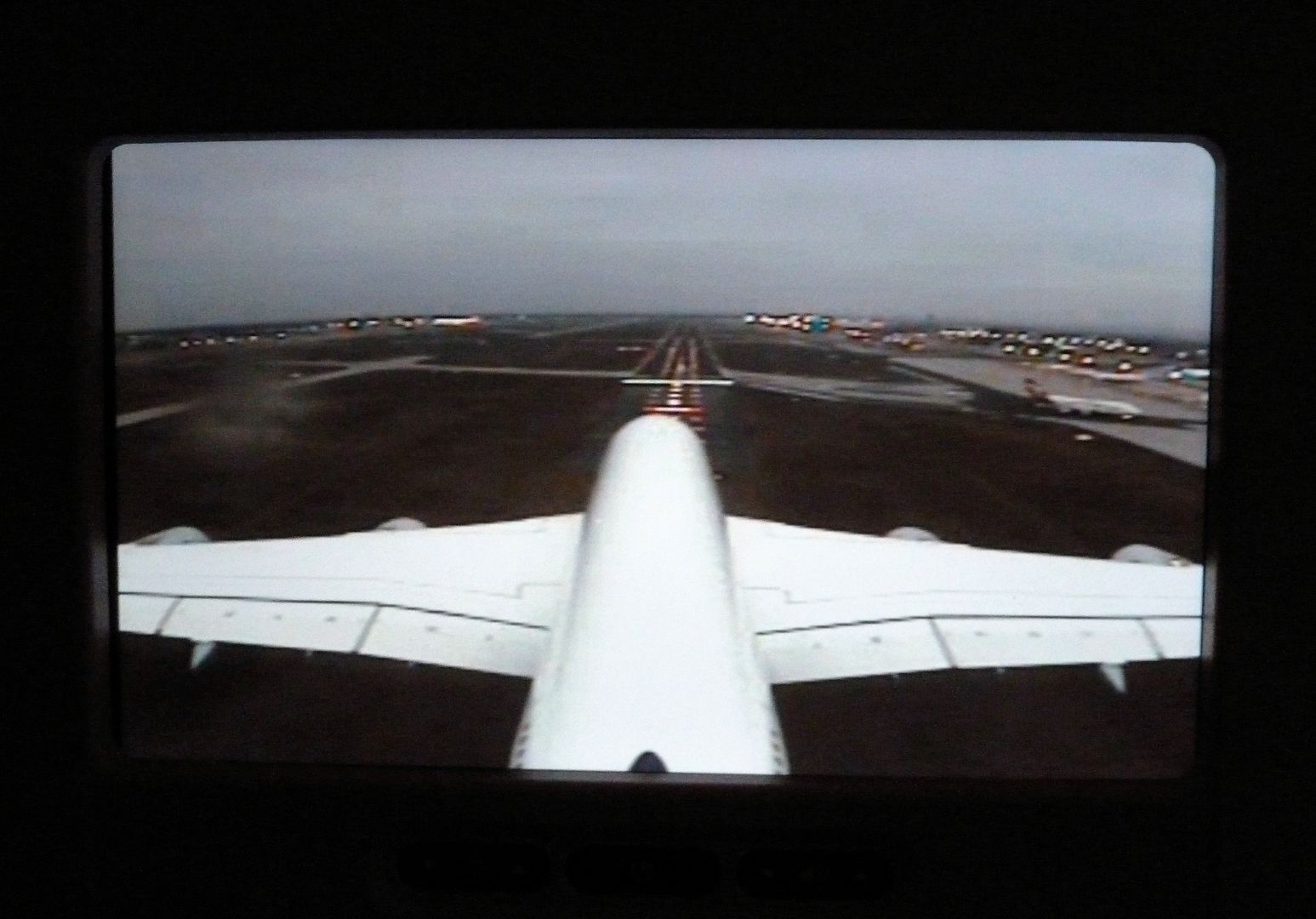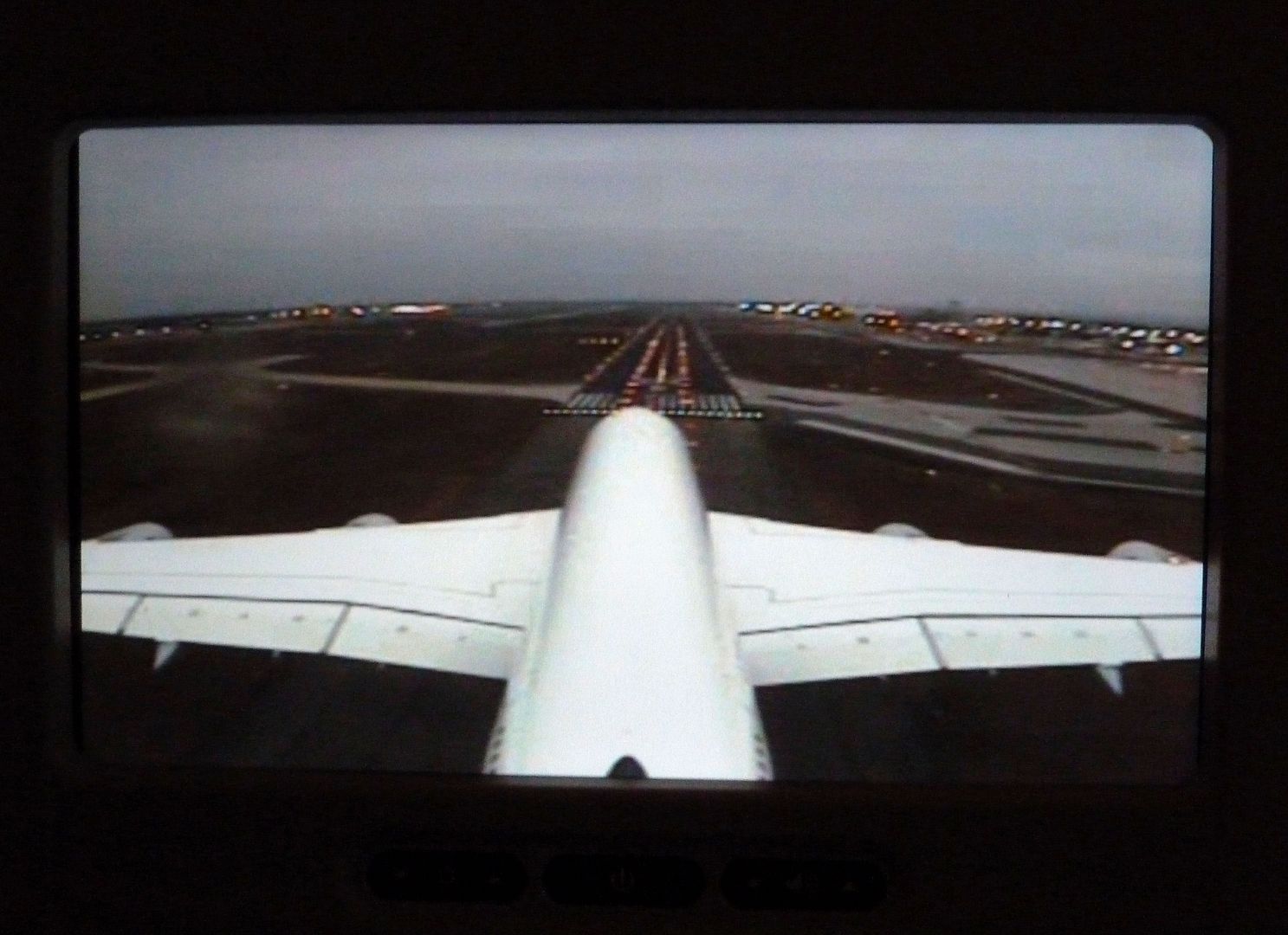 Only moments from touchdown: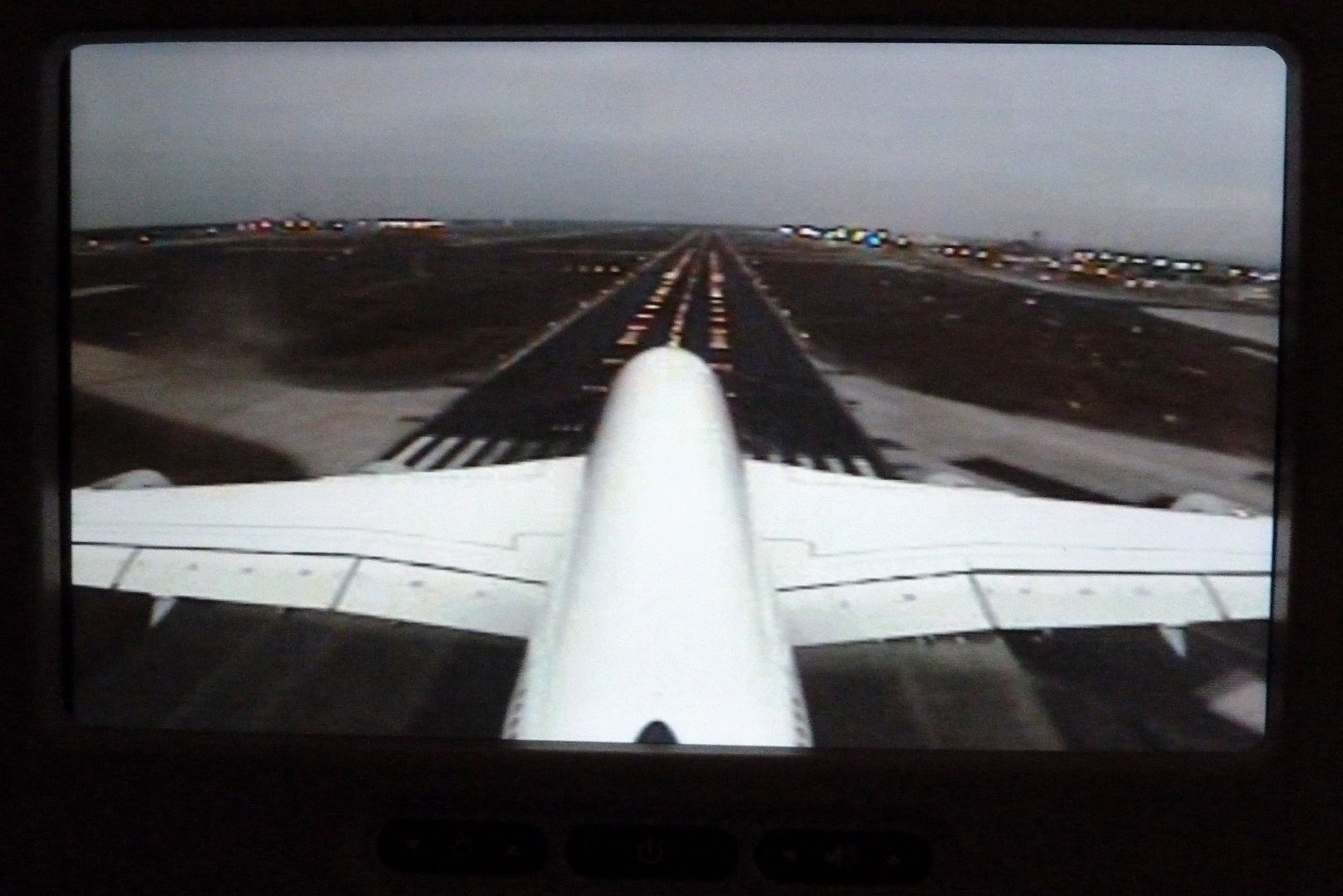 D-AIMF
touched the ground after a flying time of 10 hours and 45 minutes. Brakes were hit hard and my important little notebook - which I had placed under a thigh - was catapulted forward onto the floor so that I couldn't see it any more. However, I quickly found it again after we had arrived at the gate.
We came to a stop at our Terminal 1C gate 38 minutes behind schedule - a reason for that hadn't been given at any time. However, there were more than 2.5 hours until my departure to Nuremberg, so there was no need to hurry. Parked next to us were Lufthansa A340-600 D-AIHB and China Eastern A330-200 B-6121: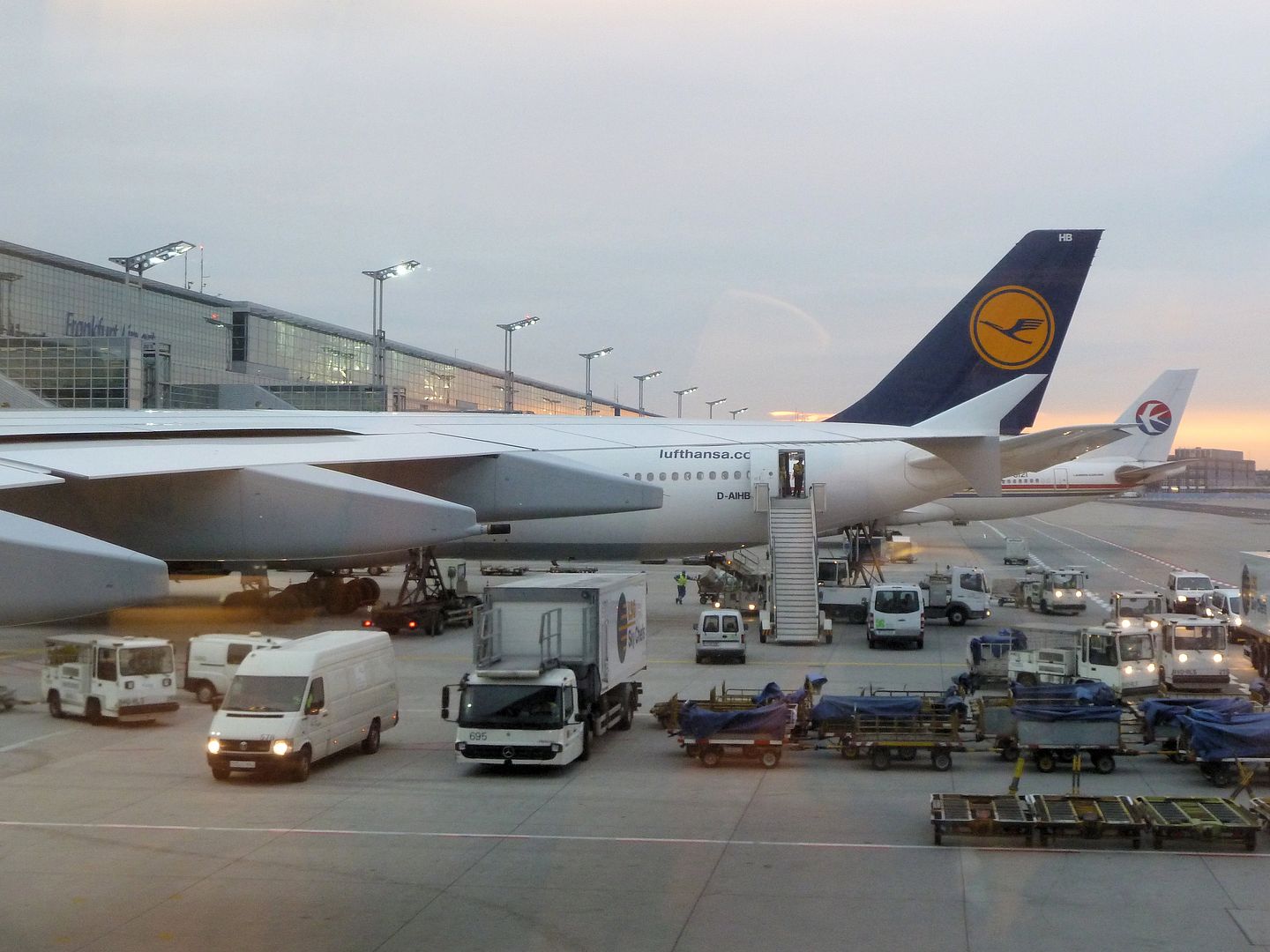 Several people took pictures of the plane after disembarking – I did the same, but due to reflection it was impossible to get a clean shot:
After walking all the way to Terminal 1A, I used the remaining time for spotting. A bus finally brought me to my NUE-bound Lufthansa CityLine E-Jet and I was surprised that the scheduled Embraer 190 had been replaced by a larger Embraer 195. This was odd because the longer models are based at Munich and usually don't fly to Frankfurt. I pointed that out a flight attendant and she also expressed her surprise about that issue.
D-AEBG
, delivered in March 2011, was still nameless - but only three days after my flight it would be named
"Marktl"
, after the birthplace of Pope Benedict XVI. The last flight of the trip was eventless, but what I found remarkable was the low load factor in the 30-40 percent range.
Conclusion
Larger plane = more space, more comfort. That's what we permanently get to hear about the A380. But I have always said that the plane is overrated. Yes, its quieter than others, but that's not necessarily an advantage. Economy Class passengers usually don't find amenities which are exclusive to the A380. In Lufthansa's case, you get as much seat width and pitch as on other types in the long-haul fleet - or even less. The 3-4-3 seating and the huge gap between window seats and wall don't make things better. No doubt, the IFE on the A380 is superior to the versions on other types (e.g. camera views), but the misplaced control unit may cause trouble. Last but not least, the galley light can be truly disturbing on night flights - mood lighting or amenity kits with eyeshades would make a difference. Lufthansa's giant is an imperfect one - if I weren't an enthusiast, I'd prefer the carrier's A330 and A340 over the A380.
The Lufthansa crew members were friendly and provided a good service, but they also showed a few weaknesses. And even though the meals were decent in terms of quantity and quality, they weren't overwhelming. My FRA-JNB flight on South African Airways' A340-600 was clearly better in terms of seating comfort, catering, cabin crews and service.
South African Airways also impressed me on the domestic hop from Cape Town to Johannesburg. Crews were friendly, made two drink runs and served tasty snacks. SAA chose a very nice interior for the A330s, definitely an improvement over the A340 interior. Even though seat pitch was reduced, I wouldn't hesitate to try the carrier's A332 on a long-haul flight.
As for the trip in general: Over the course of four days I flew on three new and attractive carriers and three extraordinary widebodies, passed through three new airports in an amazing country and logged a total of 121 new registrations - yes, this short long-haul trip was definitely worth it.
Best Regards,
PlaneHunter
P.S.: Just in case you missed them - my previous trip reports:
BA Vs. LCC, African Way: JNB-DUR-CPT, Comair/Mango
Africa's Best Airline? FRA-JNB On SAA A340-600
Fuel Dump & Return To CDG: Enroute To LAX On 9/11
Greek Quality: Aegean, Olympic & Istanbul Spotting
Exploring A Virgin: VS A343/A346 & Dubai Delights
Superb Stübli & Crew: LAS-LAX-ZRH-MUC, LX J Class
Grand Canyon & More: Scenic Flight On Dornier 228
San Francisco Sunshine...and A Frontier Fiasco
Fully Flat Bed to SFO: SWISS' New Business Class
Mountains, Meals & More: SunExpress Vs. Pegasus
Crossing Two Oceans: AKL-SFO-MUC, NZ 777 & LH A346
Bad Weather & Other Bad Luck: Touring New Zealand
Trans-Tasman Treat: Aerolineas Argentinas A340-200
Detours To Sydney: Wildlife, Tiger, REX & QFLink
Thai Fails To Impress: MUC-BKK-BNE On 744 & 777
Painful Delay & My 100th Airline: AF A380, VO F100
Fifth Freedom Tidbit: Kuwait Airways A300-600
Ship Vs. Plane: Porto Santo Line & Sata Air Açores
Awesome Approach, Splendid Scenery: LIS, FNC & TAP
Guernsey, Ash Cloud Alarm & Mostly Empty SQ 77Ws
Totally Thrilling: Scenic Flight On Lufthansa A380
Cirrus D38, Adria CRJ & Captain Niki Lauda On Duty
Monarch Hot Meal, E195 & More: PMI-ALC-MAN-MUC
Premium Meal & Palma Spotting: MUC-PMI, DE 757-300
The Dead Slow Transfer: PEK-MUC On Air China A332
Cancellation Brings Joy: HKG-PEK on Dragonair A330
A380 Cacophony, 777 Star Livery: DXB-SIN-HKG on SQ
The Next 5* Carrier? MUC-MCT-DXB, Oman Air A330
Turkey For 1.5 Hrs: Daytrip To AYT On Sky Airlines
CO Scores Again: ATL-IAH-EWR-FRA On ERJ, 752 & 764
Riding The Ultra Long-Haul Twin: Delta 777-200LR
Pacific Coast Jaunt: 3 Carriers, E120, E140 & Fog
The Ultimate 737: LHR-IAH-PDX On CO 777 & 739ER
Bye Bye, Hell! TRD-OSL-TXL-NUE - DY/AB/HE DH4
My Trip To Hell: NUE-CPH-OSL-TRD On Cimber & SAS
SFO-YUL-FRA: Map- & Sleepless On Air Canada's 77W
Sin City Gloss & Virgin America's Chic First Class
Seat Dilemma & Canyon Glamour: FRA To LAX, AC 763
On Par With Air France? DTW-AMS-MUC, KLM A330
Goodbye, Red Tails! DC-9-40/50 & Chicago Tour
Champagne & World Of Coke: Air France A340 To ATL
"Mission A380": Disappointing Legs On BA/BD/EI
Delights Of Doha, 773 & 77W: DOH-DXB-LHR On EK
A380 Really a Step Forward? LHR-DXB-DOH On EK
Quality & Style: HKG-LHR On Air New Zealand 744
Taiwan Trio: TransAsia, UNI Air And The Taipei 101
"The Wings Of Taiwan": EVA Air A332, 744 Combi
SHA-SZX, Shanghai 757: Delayed By The Military
PEK-SHA, China Eastern A330 & Shanghai At Night
Striking Newcomer: Berlin-Beijing On Hainan A330
Short & Splendid: MXP-MUC On Air Dolomiti's 146
3 Hours On Blue1: HEL-MXP On The MD-90
Winglets On A Classic: MUC-RIX-HEL On Air Baltic
BCN-MAD-ZRH-MUC: UX Shuttle Meets Swiss Quality
MUC-MAD-BCN: Star MD-87 & The Pain Of Vueling
Low Fares, Lovely Island: AK & Best Of Langkawi
4 Stars Or 5 Stars? FRA-KUL-FRA, Malaysia 777s
First And Last Time? JFK-FCO-MUC, Alitalia 777
JFK For 1 Day: Transatlantic Hop On CSA's A310
Sardinian Sun, Shiny New 73Gs & Cramped Mad Dog
Top And Flop: KIX-HEL-MUC, Finnair A320 & MD-11
The 524-Seat Twin-jet: HND-ITM On ANA 777-300
Kobe For 1 Hour: 767-Quickie On ANA & Skymark
Rocketing To Tokyo: FUK-HND On JAL (ex-JAS) 777
Oddities & Okinawa: JTA 734 & JAL 744D(Domestic)
MUC To Nagoya: Finnair E170 & (Old) "New" A340
Mad Dog, A320 Tech Delay & Best Of Lanzarote
Canaries Prop-Hopping: Islas Airways & Naysa
Canaries And Confusion: LH CRJ900 & Spanair A321
Hubbing For 162 Miles: HOQ-FRA-STR Ret On IQ/EW/LH
BOS-JFK-AMS-MUC: SSSS-Check And KLM 777
ATL-PIT-JFK-BOS: FL B717, JetBlue E190 And Delays
MUC-AMS-MEM-ATL On NWA A332 And 40-year-old DC-9
FRA-BKK-FRA Via CMB: SriLankan A332 & A343
BNE-SIN-DXB-MUC On Emirates B772ER & B773
2 Hours In Paradise: Hamilton Island (JQ/DJ)
BNE-SYD-BNE: Domestic Run On QF's Oldest B747-400
Testing Qantas: SYD-MEL-SYD-BNE (B738, B763, A332)
Going Down Under: MUC-DXB-SYD On EK A332 & A345
Surprised By NIKI's Newest A320 & Screw-up By AB
Leisure Vs. Full Service: Condor & SN Brussels
"betterFly" On LH: Business Class For 99 Euro
Weekend Transatlantic Trip (2): US A321 & B762
Transatlantic For A Weekend (1): MUC-DCA On US
[Edited 2011-10-21 11:33:30]