Hi All,
this report covers my return trip from NY on October 14/15; for the outbound flight see my trip report
My First A380-flight, FRA-JFK With LH
(by
AmericanB763ER
Oct 19 2011 in Trip Reports)
October 14, 2011
Flight:LH401
Routing: KJFK-EDDF
Gate:G5
Scheduled departure time: 03H40PM
Flight time: 6h38 min
Plane: Airbus A380-841
Reg: D-AIMG 'Wien'
Seat: 73K
The subway E-train to Jamaica center was going full throttle down the tracks, with the aircondition running at full pelt. It was bloody freezing in there!
I had taken the subway at Columbus Circle/59th street but due to transformation works I had to change trains at 7th avenue in order to catch the E-line to Queens/JFK.
Arrived at Suthpin Bd./Archer Avenue/JFK I stepped off & took the elevator to the Airtrain terminal. But in order to get there I had to buy a 5 Dollar Metro card since I had no access with my single-ride card even if it was still way within it's 2h-validity period.
It had rained or drizzled in New York pratically nonstop since the day after my arrival but today the sky was even lower and it looked like something out of Blade Runner out there.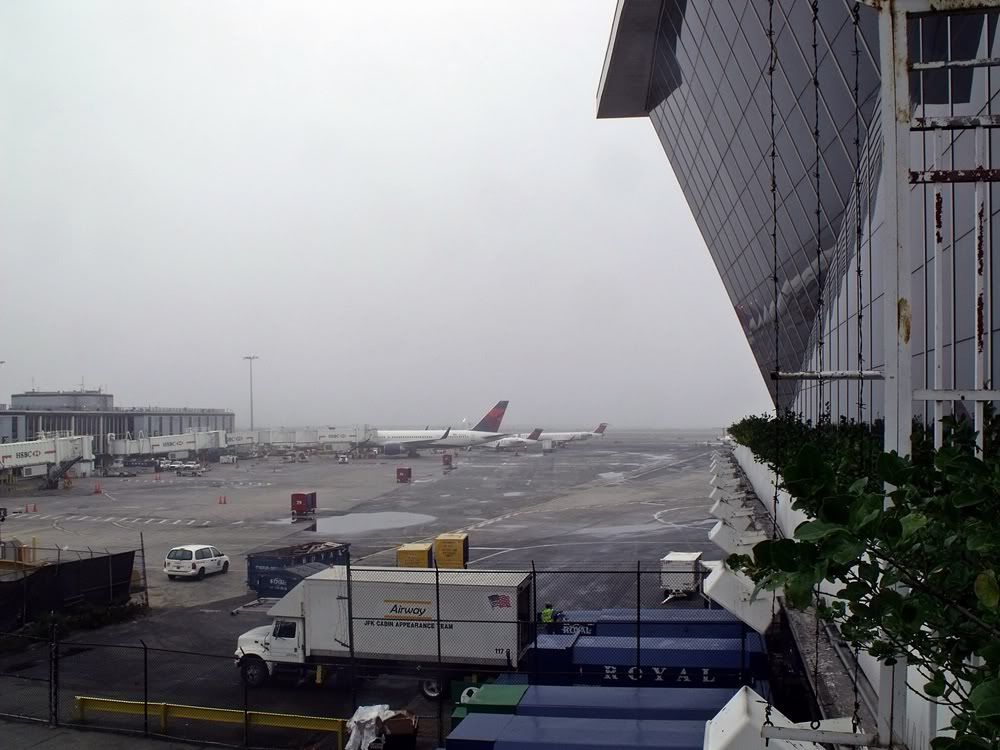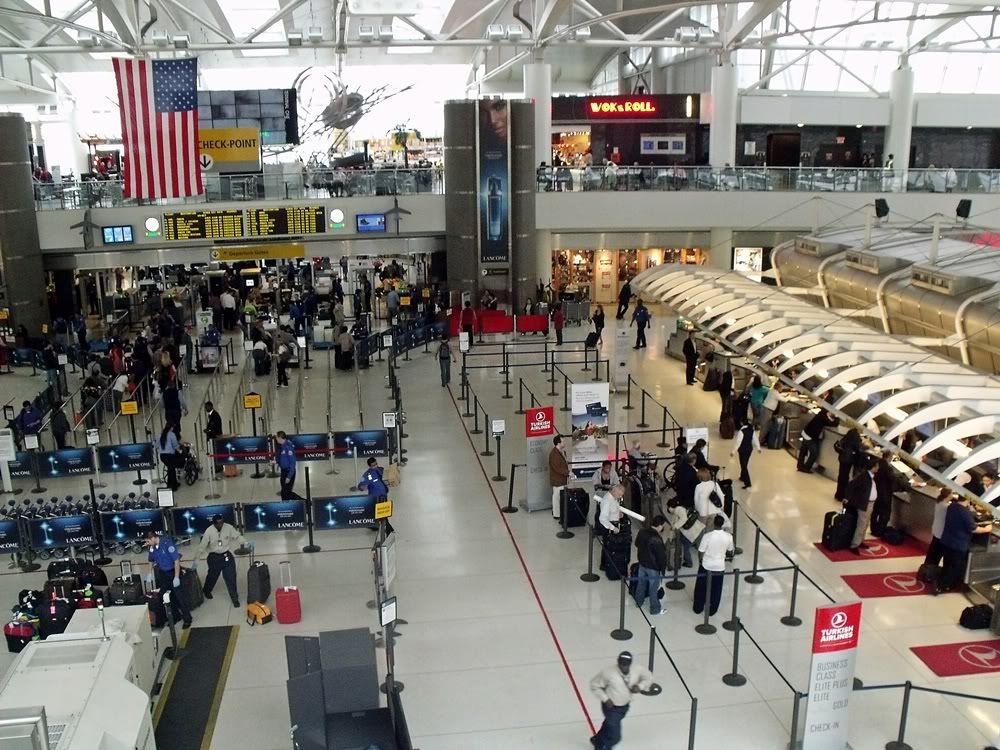 I arrived at Terminal 1 at 25 minutes past 12 where I took the escalator down to the departure level & made a beeline for the Lufthansa check-in area at the southern tip of the terminal. To my relief I had just picked a favorable moment to arrive, the waiting lines at the counters weren't too long.
Lufthansa Check-in at Terminal 1.
As I wasn't hungry I decided to elude the restaurants alley at the mezzanine level & instead I decided to tackle the dreaded and unescapable security check to the gates right away. Passport control came first; at the verge of the TSA Checkpoint, executed by a bloke in a beige suit who gave my passport and my boarding card a thorough check-over before gesturing me to join the queue at the checkpoint.
The seven screening lanes were quite packed but the agents at the X-ray Machines, Metal Detectors and Body Scanners weren't just born yesterday, the whole process was completed in less than 15 minutes and I cleared the checkpoint with a sigh of relief.
Terminal 1 gates.
I bought a copy of Time Magazine at the Hudson News before paying the Duty Free shop a visit where I bought myself a flacon of CHHC eau-de-toilette pour homme, carefully wrapped in a plastig bag & stapeled shut by the friendly lady at the register, accompanied by an indication that the plastic bag should remain closed until I had cleared the security area at my destination airport.
I went for a stroll around the gates in order to check the airplanes present even if I already knew what was to be expected (AF 772/77W's, AZ 772's, JAL 77W's...etc. and of course the star of the show, the A380). My camera has definitely a mind of its own; soon as it spots an airplane it snaps into hyperactive mode, clicking away for all it's worth. And I can't help it. There were currently 2 A380's sitting at the gates; one from Lufthansa (my flight to Frankfurt) at gate number G5 and, right next to it, at gate G7, one from Korean Air (flight KAL005 to Seoul/Incheon). An Austrian 777-200ER from Vienna had just reached gate G10, its red beacon lights were still flashing, sending off little red lightnings into the damp and gloomy afternoon.
After I'd bought myself a paper cup of coffee and a bottle of mineral water, there was nothing more to do for me than to sit down on one of those comfortable chairs next to the gate and read my copy of Times Magazine. My shoulders were starting to hurt anyway from carrying around my laptop and my rucksack.
I had flown on Air France F-GSQK in 2006 CDG-JFK and back - both flights in the same seat (38A).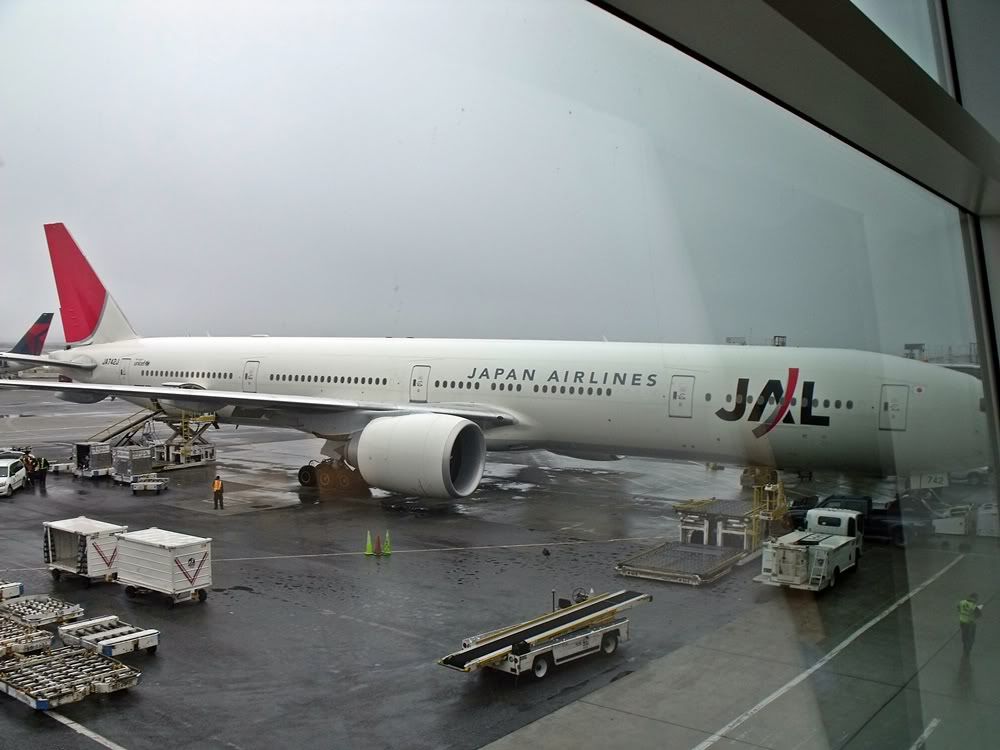 JAL B77W at gate number 6 (flight JAL005 to Tokyo Narita).
Nothing but Heavies at terminal 1.
AUA B772 arriving at gate 10.
D-AIMG "Wien" - LH401 to FRA (my flight).
Korean Air A380 at gate 7 (flight KAL082 to Seoul Incheon) I didn't get the registration of this one. Maybe our
Korean friends here could help identify the reg. KAL has currently 4 A380's if I'm not mistaken.
From the newest LH A380 (D-AIMH) on the outbound flight it went to the currently second-newest one (D-AIMG "Wien")
for my flight back to FRA today. D-AIMG was delivered to LH on May 7, 2011, being the 51st A380 built.
As the minute hand moved towards 2h50 PM the sky had started to clear for the sun to put in a farewell appearance.
Bloody typical! Chucking it down on me all the time and when I leave a place it starts to brighten up...!
Boarding hadn't been announced yet but people had already started to shuffle towards the counter at the exit of gate G5. At 3 O'clock sharp the gate opened and the boarding call for the First- and Business-class passengers of flight LH401 resounded through the waiting area, followed by a similiar invitation to the Economy class passengers later on.
Boarding in full swing. Again, I came in with the last group.
Stairway to heaven kinda like.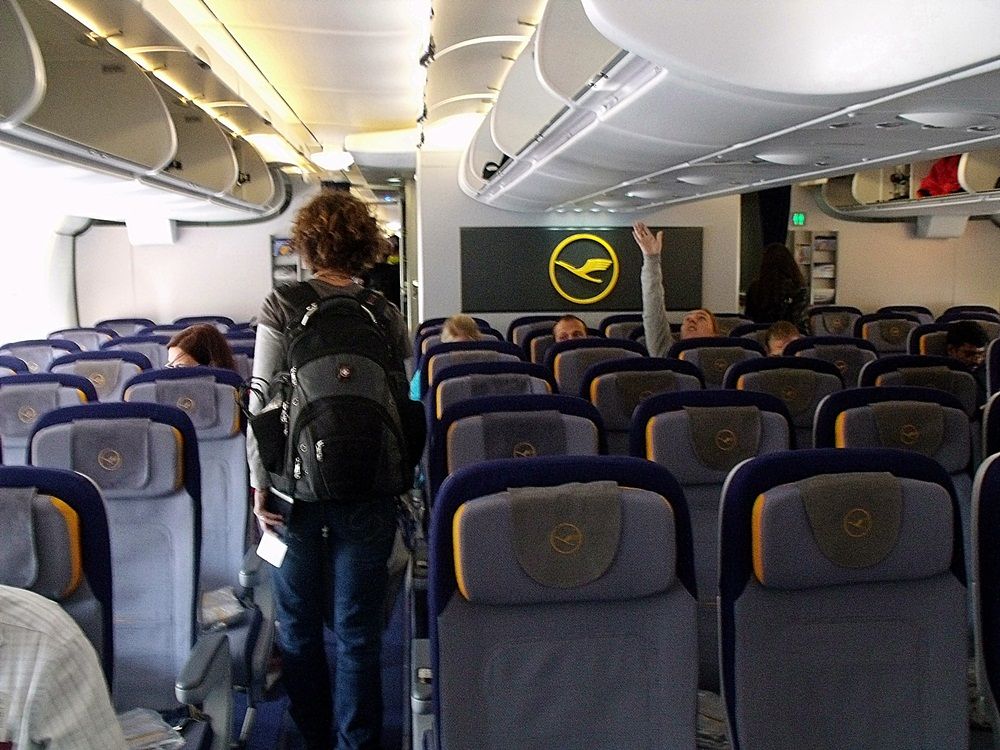 This time I sat on the starboard side (73K) - ten rows further back then on the outbound flight.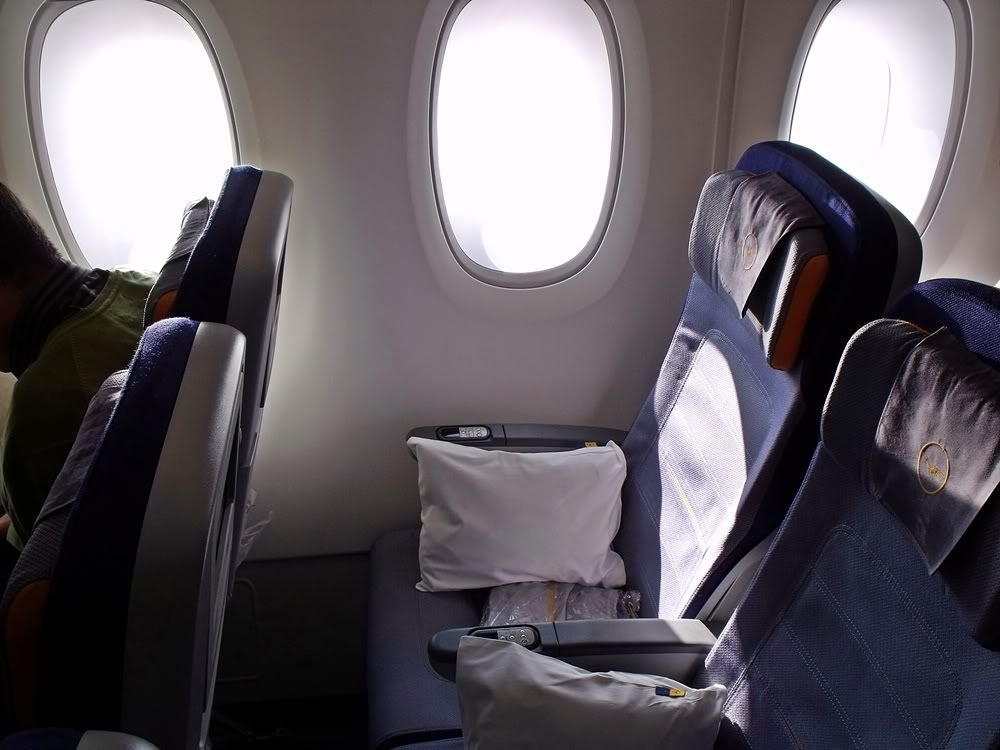 My window seat (73K).
Since I was fairly well acquainted with the entertainment system I was more than happy to help
the middle-aged couple sitting next to me getting the hang of it.
Captain Frank Wagner came in on the loudspeakers with the usual announcments about expected arrival time and weather conditions in Frankfurt.
We had to expect a delay at any rate and arrival time in Frankfurt was to be 15 minutes behind schedule.
Push-back was at 3h45 PM. Safety demonstration was under way as we sauntered towards the threshold of runway 22R.
Late-afternoon-rush was helpful in making taxiing to runway 22R a lengthy and irritatingly slow endeavor, to the point that over an hour went by between leaving the gate and the actual take-off which was initiated at 4h50 PM.
Incoming Traffic as we wait for taxi clearance. I thought AA had disposed of all its B762's...?
An Air France A380 coming in, followed by an Etihad A340-600 as we taxi to runway 22R.
Afternoon rush-hour. each one of those white globs on the upper center half of the screen is an aircraft waiting for take-off clearance.
On the theshold of runawy 22R.
http://s195.photobucket.com/albums/z.../?action=view&current=DSCF3072.mp4
Video: Take-off from runway 22R (You get a faint idea of how silent the A380 is). Sound of gear & flaps retracting.
I was tryna keep my voice low for the video but the nice lady sitting in 73J kept chatting to me -
I was helping her & her husband in 73H with the entertainment system.
http://s195.photobucket.com/albums/z.../?action=view&current=DSCF3077.mp4
Video: Light turbulence rocks the plane while it crosses a layer of clouds.
http://s195.photobucket.com/albums/z.../?action=view&current=DSCF3073.mp4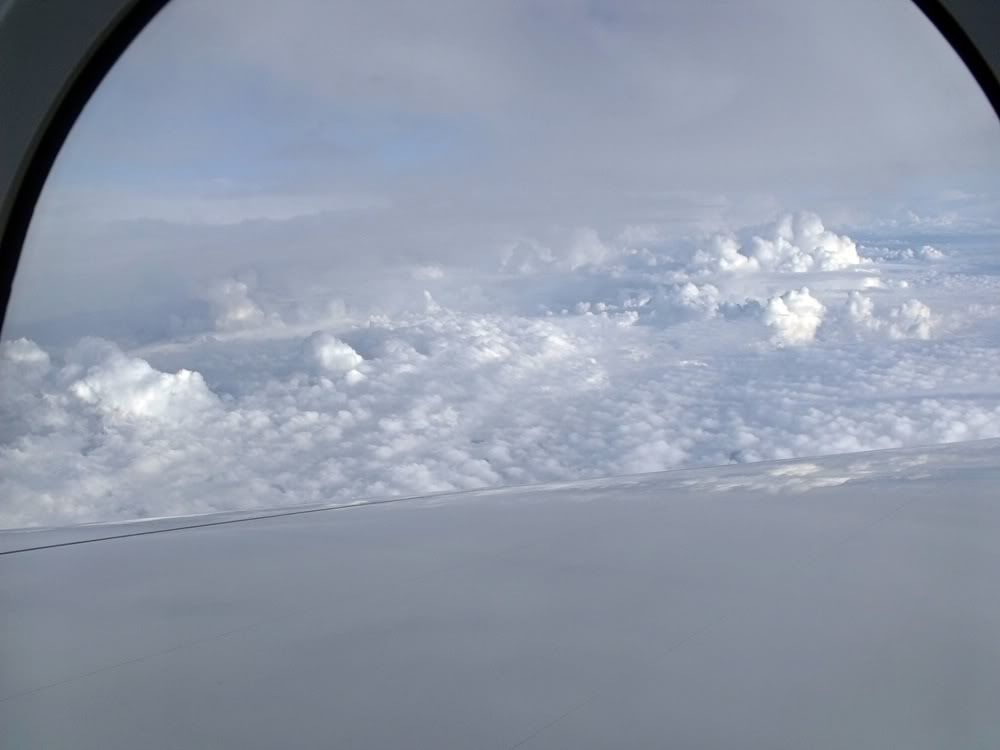 I couldn't resist taking another couple of videos of the entertainment system:
http://s195.photobucket.com/albums/z.../?action=view&current=DSCF3080.mp4
http://s195.photobucket.com/albums/z.../?action=view&current=DSCF3075.mp4
http://s195.photobucket.com/albums/z.../?action=view&current=DSCF3094.mp4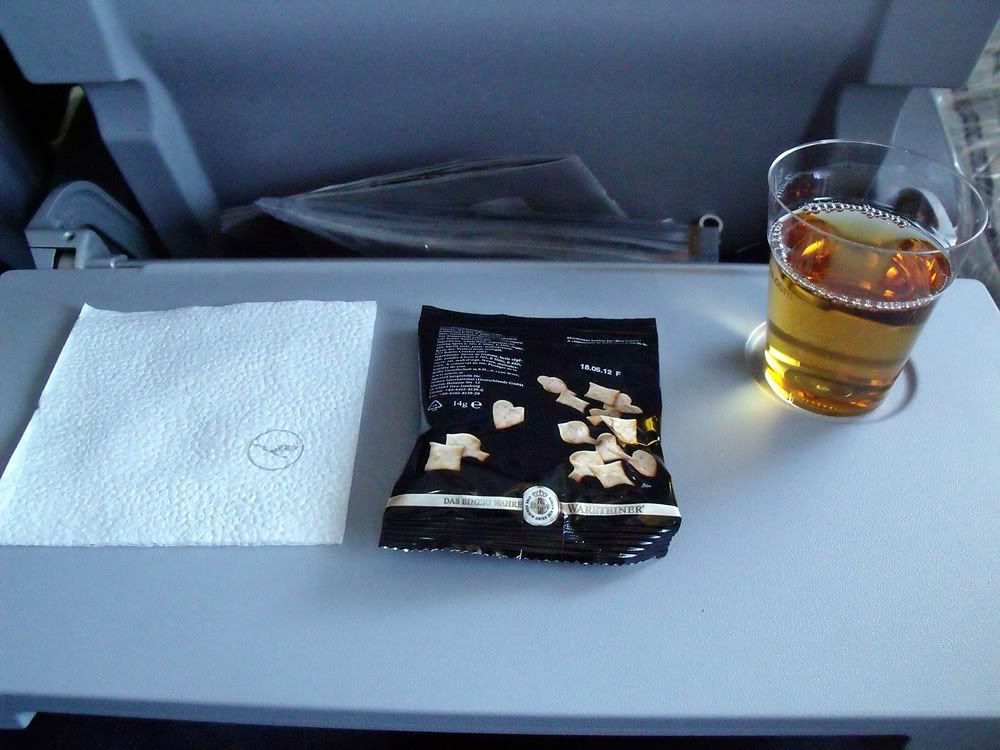 Appetizers being served, consisting of salt crackers and a choice of soft drinks.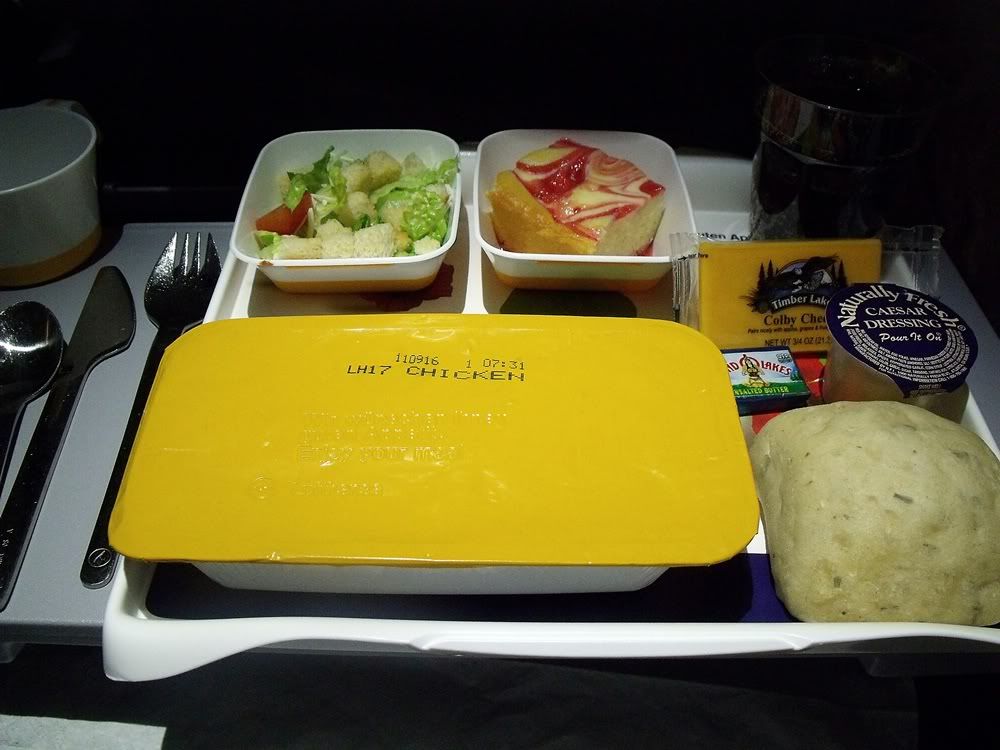 Main course. As I'm having a long history of (food-related) mishaps I didn't open the container (chicken with rice -
again it was delicious) until my camera was securely stowed away. I hope you don't mind.
I had an accident with the salad dressing right after taking this shot so I'm not talking drivel here
Cabin crew clearing up the remains of the meal service. Darkness had fallen by this time.
After meal service, the lights were dimmed and soon the cabin was shrouded in darkness.
At 03h45AM Frankfurt time the lights were switched back on and shortly thereafter a breakfast was served.
At 04h59 AM - between S'Hertogenbosch and Eindhoven we started to descend.
http://s195.photobucket.com/albums/z.../?action=view&current=DSCF3096.mp4
video of final approach in the wee small morning hours. Sound of flaps & landing gear deploying.
http://s195.photobucket.com/albums/z.../?action=view&current=DSCF3097.mp4
Video of landing on runway 7L at 05H28 AM.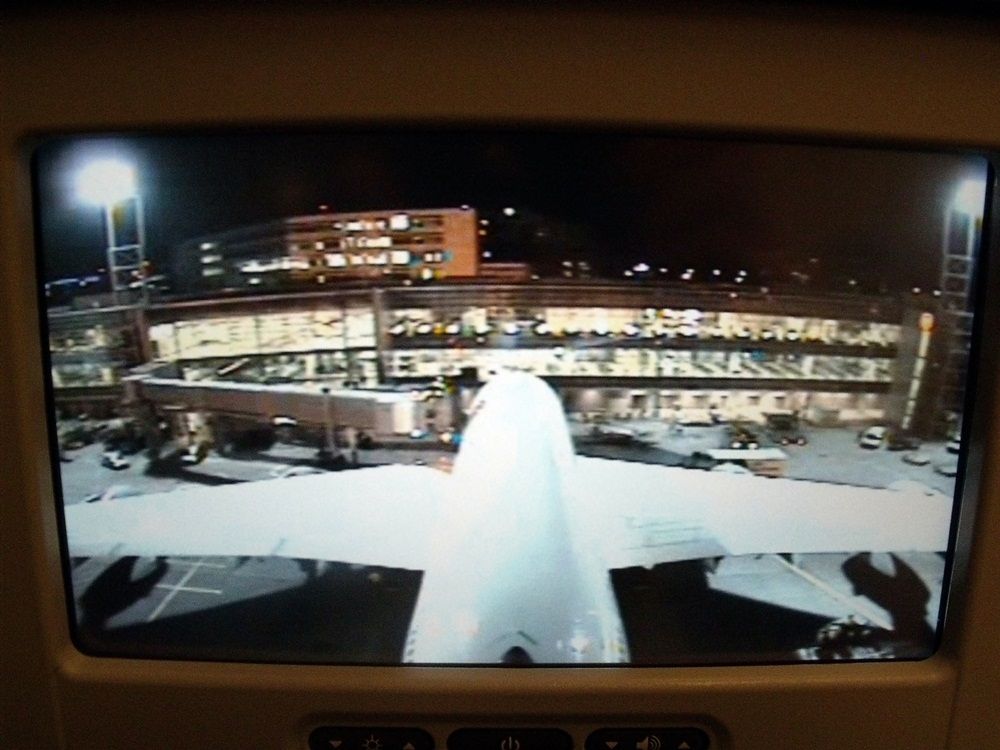 Arrival at gate c15 and engine shutdown.
October 15, 2011
Flight: LH6862
Routing:EDDF-ELLX
Gate:B4
Scheduled departure time: 09H20AM
Plane: De Havilland Canada DHC-8-402Q Dash 8
Reg: LX-LGC
Flight time: 35 min
Seat: 8A
I was seriously tired now - I even considered calling the special assistance to cover the long distance to Pier B but thought better of it.
Leave the things to the people who really need them. It's not like I was in a hurry anyway.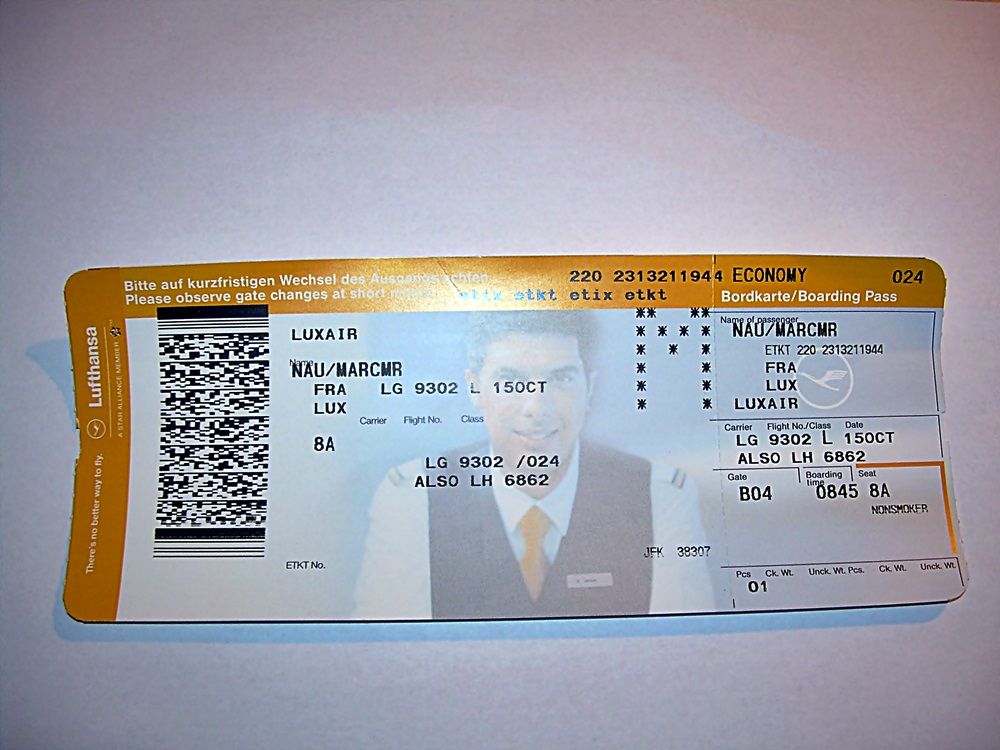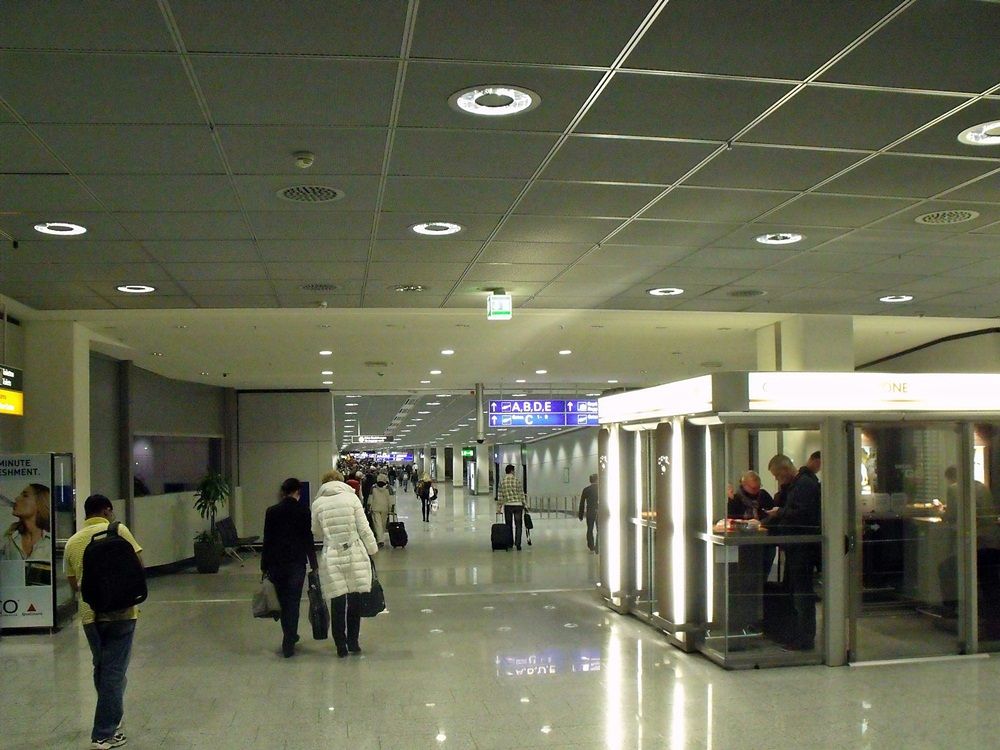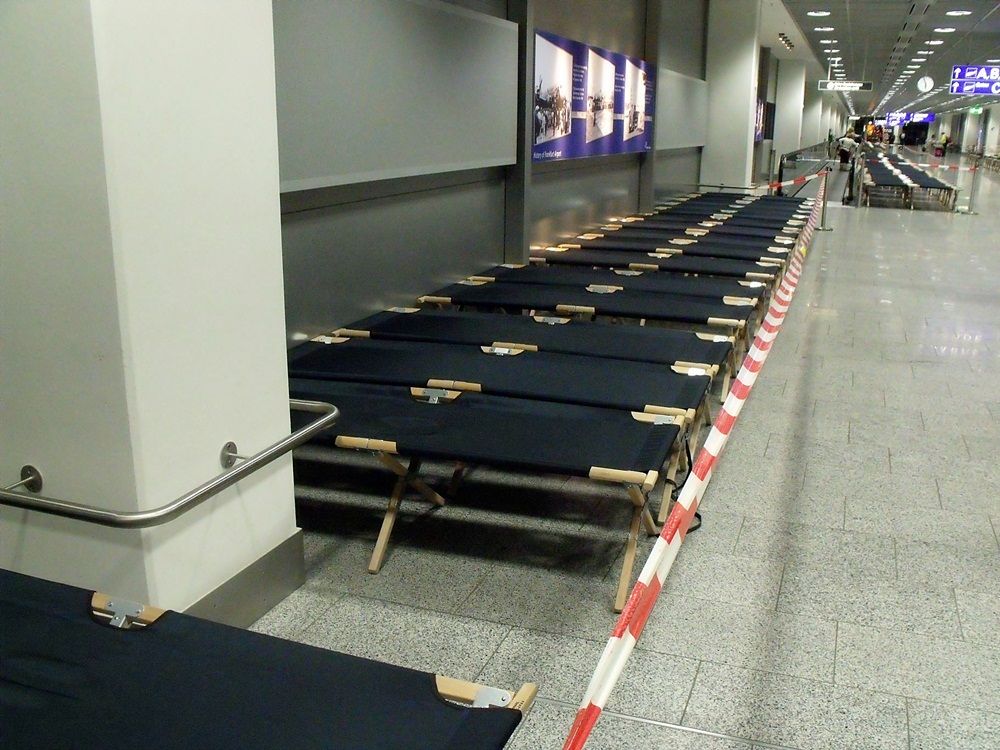 I was quite surprised to find these folding cots in the corridor of concourse C. Are they just being stored
here or is something unusual expected to happen...?
My passport was checked as I passed from concourse C to -B followed by a security check at Pier B.
Arrived at gate B4 at last.
My hunger was still there after arrival so I stopped here (next to gate B4) in order to get me something to eat.
From here you have a nice view of the gates at concourse C but it was still dark so taking pictures would
result in having reflections only.
The sun is starting to raise. From level 3 you have a wonderful view on the apron between concourses C (left)
and -B (right).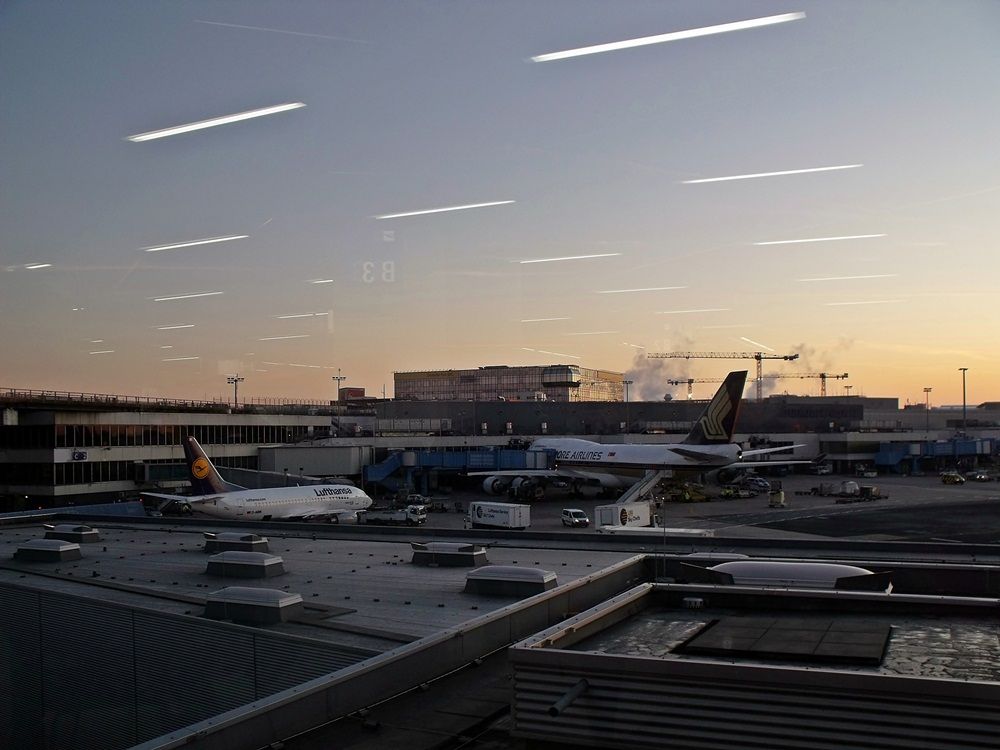 LH 733 at gate C1/c2 and a SIA B744 at gate C4.
Boarding call for the passengers of flight LG 9302/LH6862 to Luxembourg. Boarding occurred via apron bus.
As we were bussed to the airplane I had the opportunity to take this beautiful shot of D-AIMG (2nd from the right).
Luxair DHC-8-402Q Dash 8 LX-LGC in the cold morning air.
Legroom isn't too bad. I don't have exact figures though. It's more the sidewalls that are confining on
the window seats.
http://s195.photobucket.com/albums/z.../?action=view&current=DSCF3118.mp4
Video of push-back and engine start.
http://s195.photobucket.com/albums/z.../?action=view&current=DSCF3122.mp4
Video of take-off from runway 18. Not the best quality though as I had the sun shining right in my face .
Nuclear power plant in Cattenom, France - near the border to Luxembourg.
http://s195.photobucket.com/albums/z.../?action=view&current=DSCF3126.mp4
Video of approach and landing on runway 06. We were flying over my house in Bascharage and my working place.Flight time was 35 min.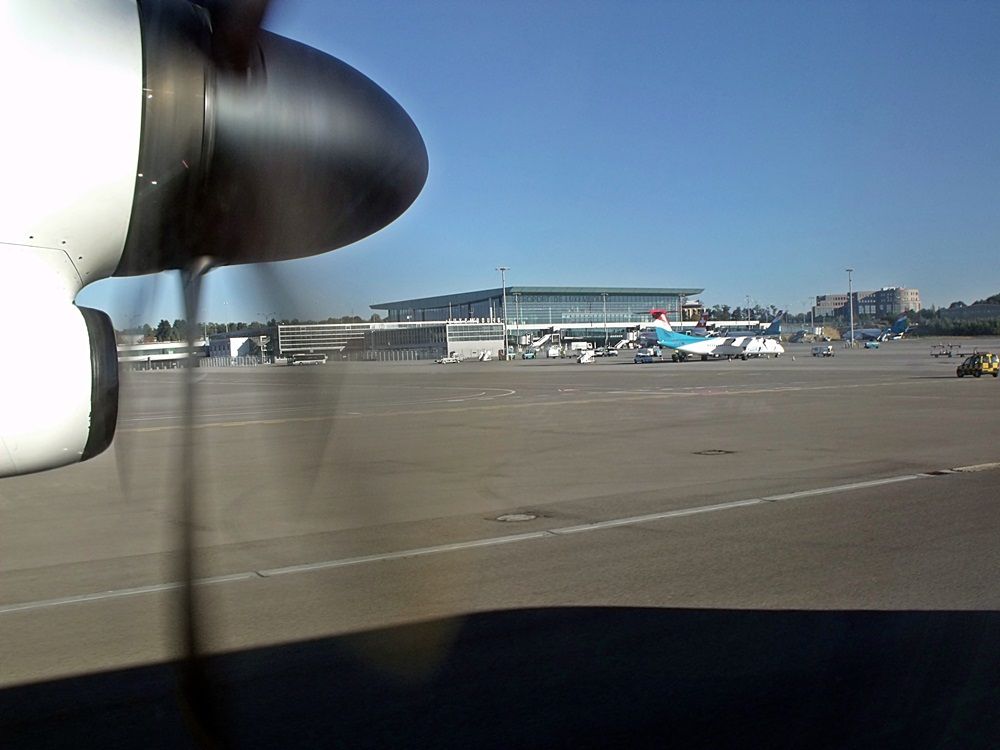 Arrived in Luxembourg. Under the spinner you can see the old terminal. It has been fenced off with barbed wire and
will be demolished soon.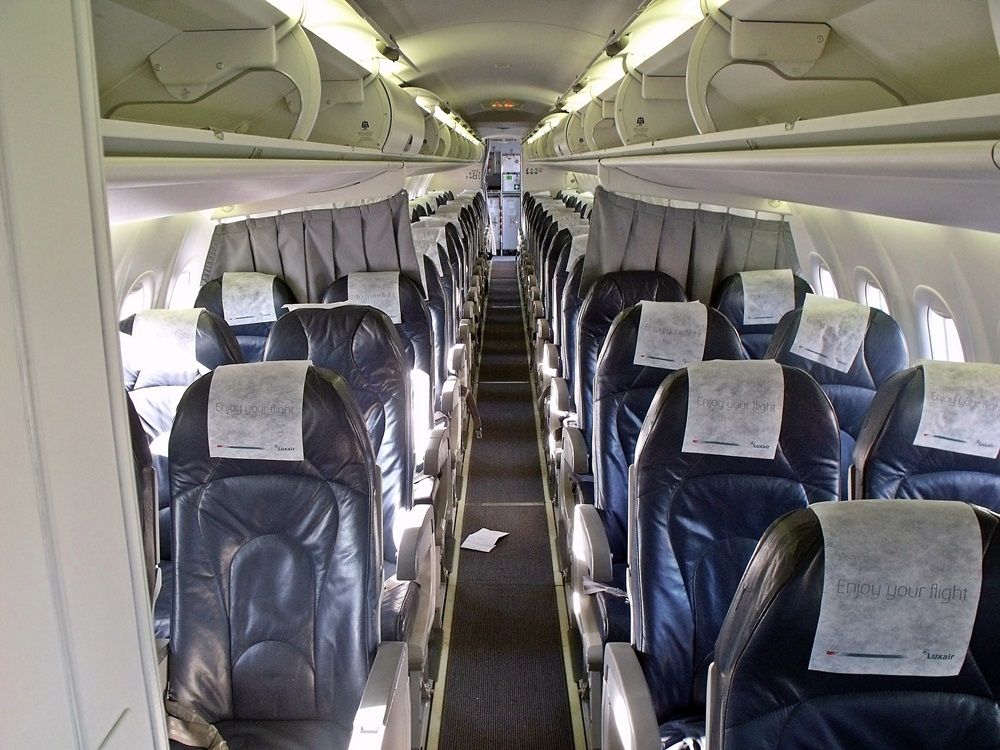 I was the very last one to leave the airplane so I could take this cabin picture.
The flights were almost too uneventful, well, save for my mishap with the salad dressing, but it would be a miracle if that one DIDN'T happen
Happy flying,
Marco