Feedback always appreciated.
I > Background:
Those who know me can attest, I usually combine work engagements with some vacation time. Since been involved in a rather "interesting" project in Sydney, I decided to take a long weekend to visit some friends in Fiji. The beaches there are not my type, so I spent most of the time with the expats in Suva. BTW, scaremongers in Australia and New Zealand should be ashamed - Fiji is probably one of the most stable places I have been to - and if an "unfree military junta" looks like this, give it to me anytime.
Now, going back from Fiji to Venezuela is no mean task, and involves several DAYS of flying. The lack of a Day 5 flight from NAN to LAX meant that most of the routings the agent offered were rather insane - for example, the fastest way quoted was a NAN-ICN-MAD-CCS all on SkyTeam. Since I am not a huge fan of Air Europa, and find SkyPesos rather useless, I refrained from the insane JCL fares being quoted. In the end, after countless research, I was able to self create an itinerary that involved using FJ's 738 1-stop (Apia, Samoa) service to HNL and then onwards on American via LAX and MIA. The only painful thing - from Fiji to Venezuela, ALL on narrow-bodies.
Interestingly, while there has been some Air Pacific reviews, especially on the trans-Pacific flagship LAX-NAN, this would be the first coverage of their other U.S. operation into Hawaii. Now, this might also be the first review of their 73H JCL.
II > Pre-Flight:
a) Before Airport:
Established in 1951 as Fiji Airways, Air Pacific has a network spanning the Pacific Rim, Asia, and the United States. Historically profitable, the airline began slipping into losses around 2004, as political tension, low-cost airlines on Australia-USA, and a decline in traditional inbound tourism markets such as Japan hit their bottom line. Now under smart management, Air Pacific aims to turn that around and has embarked on a strong turnaround strategy.
Air Pacific has a smart website and a smooth booking engine at
www.airpacific.com,
and I was able to not only browse, but also actually buy my ticket. I could not chose my seat - but that was fine by me. Later on, I could view my itinerary as well. The entire site worked very well and put to shame some of the sites of larger more touted carriers out there.
b) At Airport:
My friend drove me to Nadi around the King's Road and I arrived in Nadi around 1:15 minutes before the flight. Naturally, I was the last to check-in. The agent at the Business Class counter was busy checking in a non-rev traveler and I found that to be in poor taste. Anyways, she was surprised at me checking in so late and having no luggage, and urged me to run to the gate. Overall, a tad dramatic, but down without much rudeness. Anyway, for her sanity, I appeared to "run", and went through a painless immigration and security to the rather modest "BULA" lounge. Interestingly, the lounge had improved and offered far more amenities than during my last visit in 2007.
After a quick snack and downloading of emails, I headed to the boarding area. Now here, they had a "tent" setup to comply with additional screening requirements of U.S. bound flights - it was slightly tacky, but necessary to fly to the U.S. Boarding was in final moments and I was soon cleared to board.
I was greeted by a senior purser on board and got an offer to have my jacket hung. J load in this small cabin was 80% and Y load was around 75%.
Airport - External:
(Nadi Airport)
Check-in:
Airport - Internal:
*
(FIDS: Amazing how at 2000, it is over!)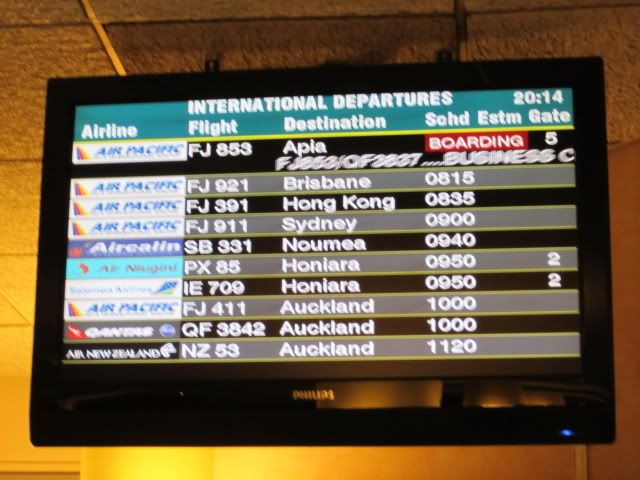 *
(Post Security @ NAN)
*
Scenes of the tarmac:
NONE
Lounge: Air Pacific's only lounge
*
*
(Offerings have improved for the past years)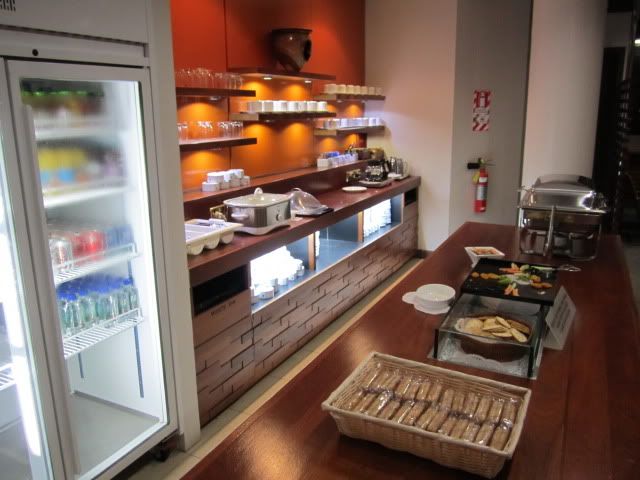 *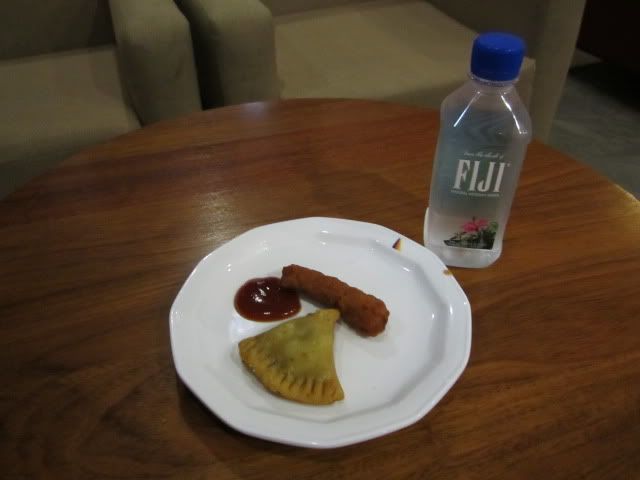 Boarding:
(Gate Area)
NONE
(Boarding)
NONE
III> In-Flight:
a) Service Schedule + Impressions:
On the ground, pre-departure drinks (OJ/Champagne/Water), newspapers, menus, amenity kits. Upon take-off, hot towel, meal service. Same routine at APW, except post take-off, snack offered. Breakfast service prior to arrival at HNL.
The halt at Apia was for around 45 minutes and saw half the JCL and YCL cabin empty out with an equal amount being replaced. We were not allowed to leave the aircraft and the airport was rather uninviting anyways. One thing that is interesting is because Apia lies across the date line, the flight departs Friday evening Nadi time, arrives Thursday late evening Apia time, and then finally gets into Hawaii on Friday morning. Time travel back and forth indeed.
b) Aircraft + Seats:
To me, Air Pacific's colors look better on the 73H than on the 744 - but I recognize I am a minority here. While the cabin did feel a tad old, it was nothing like my experience on BW. The cloth interior had held its own with time and actually felt attractive in blue and red. There was a slight "old-school" feel to it. The seat itself was something I had encountered several times - though both legroom and recline felt below industry averages. I never have quite understood how the awkward footrest enhances the experience ...
Bathroom was well maintained and featured very basic amenities. I could not complain really as the provided amenity kit was very generous.
Aircraft:
(FJ 73H)
Views from Aircraft:
(PX)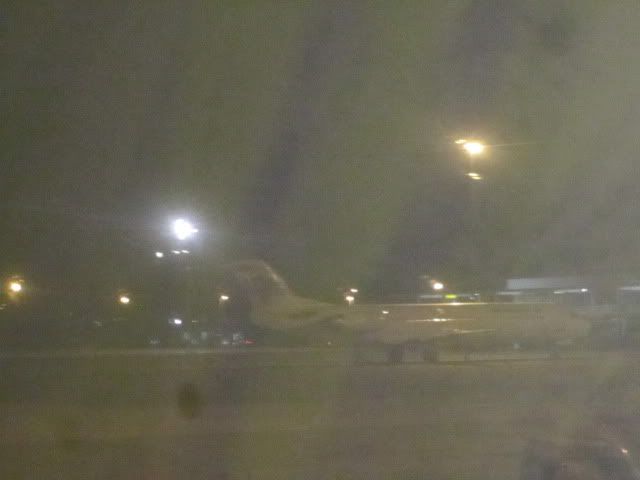 (FJ 744)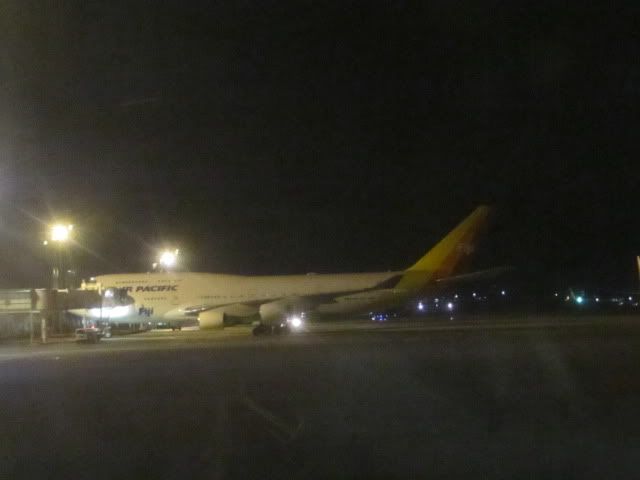 General Seat Views + Seat Legroom
(Seat)
*
(Front of seat)
NONE
*
(Seat controls: can someone tell me whose seats are these? Same controls seen in many places)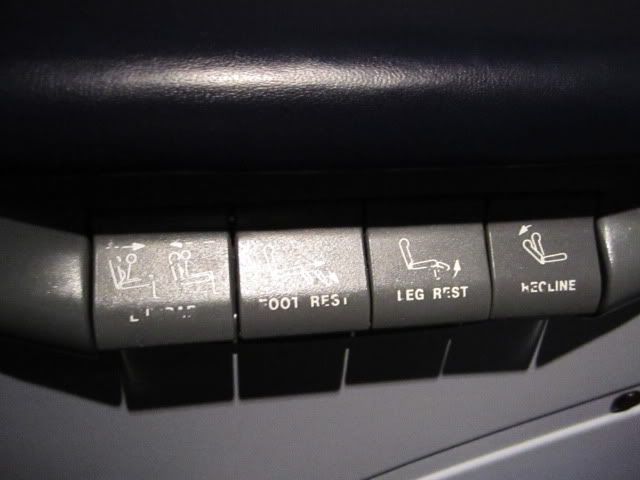 *
(Legroom: average)
Seat Recline + Angle View:
*
Cabin: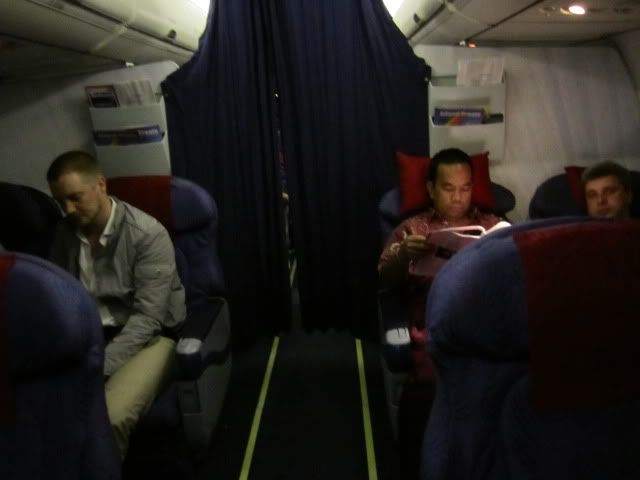 *
(Small FCL)
(Blanket ++)
NONE
(Bathroom)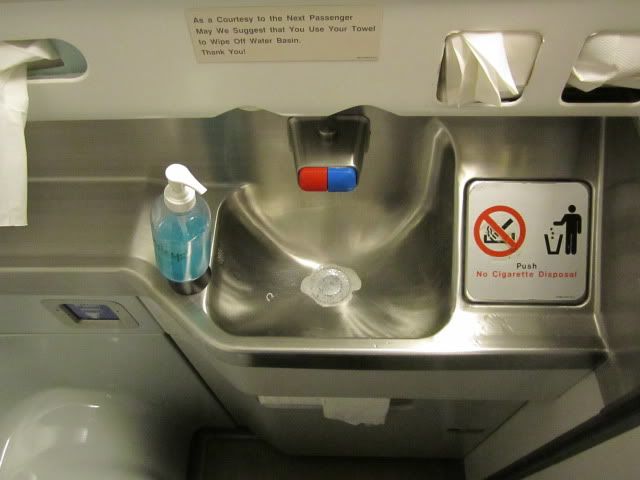 (Amenities)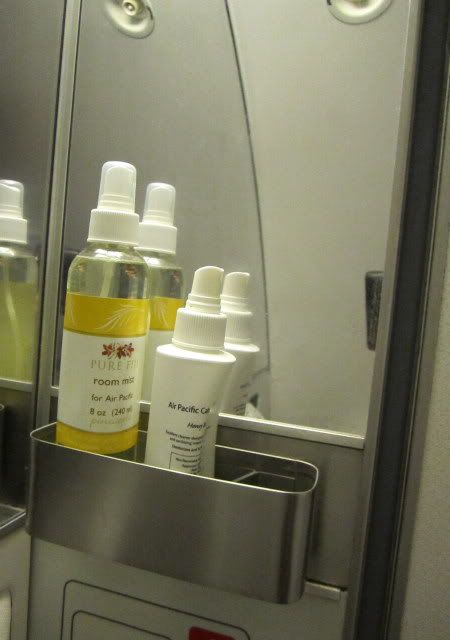 c) Meal + Beverage:
30 minutes into the NAN-APW sector, the meal service commenced. It consisted of a choice of 3 rather modest entrées - cheese plate, fruit platter, or a sandwich. Since I was hungry, I choise the sandwich which read far more interesting than the actual offering. The bread was OK, but the tandoori chicken was dry, and overall left much to be desired. The lime passionfruit tart was also synthetic, but I did enjoy making a Mimosa with the sparkling wine present onboard.
After taking off from APW, there was a drink run where I helped myself to some more Mimosa (the crew was excited to learn a new drink) and nuts.
Prior to landing, breakfast service commenced with some fresh fruit. The fruit was actually in good quantity and far higher than what is seen on airlines these days. Following the fruits, we were offered a fresh croissant and a nice warm cup of tea. Finally, my very unhealthy breakfast of cheese omelet and sausage arrived which was actually very good - though presentation could have been improved. Overall, breakfast was a step up from the dismal dinner. While I recognize this is common on many flights during this hour, and that it was advertized as a light meal, I am sure there are many who do not go to the airport for a 8-9pm departure having a full course meal!
(Menu)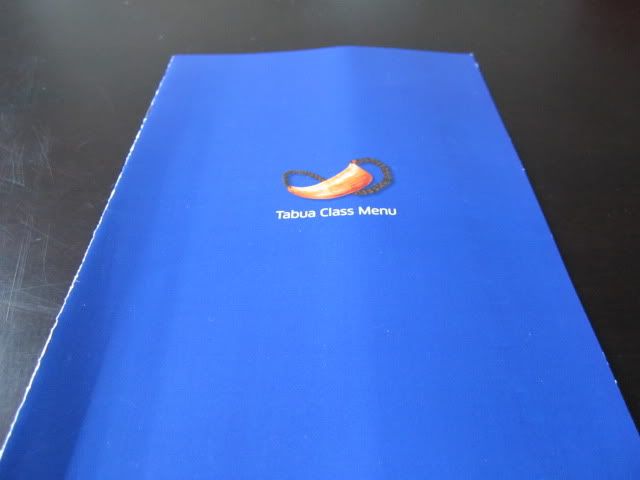 *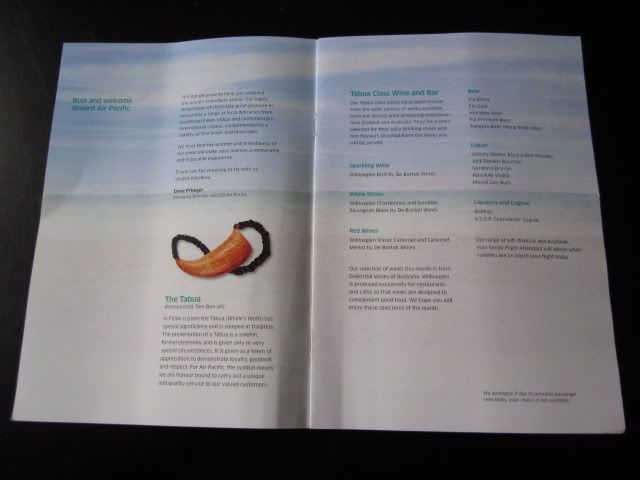 *
*
(Take off drink - Mimosa & Fiji Water - nice local touch)
*
(Another one - note the coasters - I think FJ has some of the best coasters!)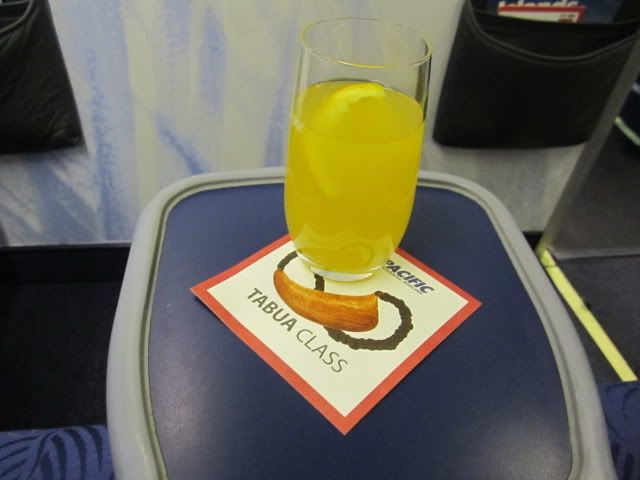 *
(Dinner)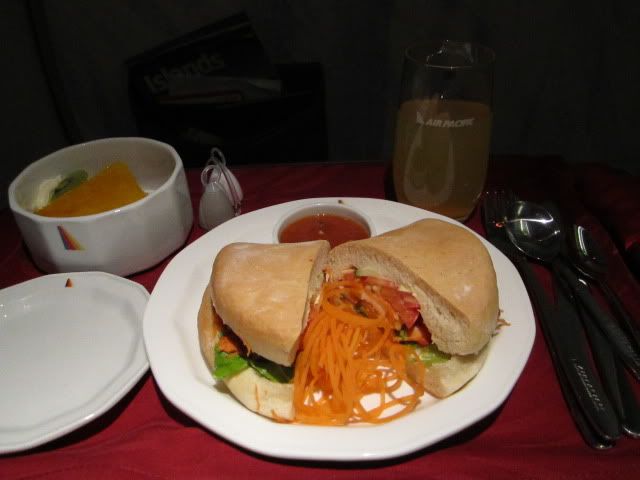 *
(Nuts and drink post take off at APW)
*
(Breakfast)
*
*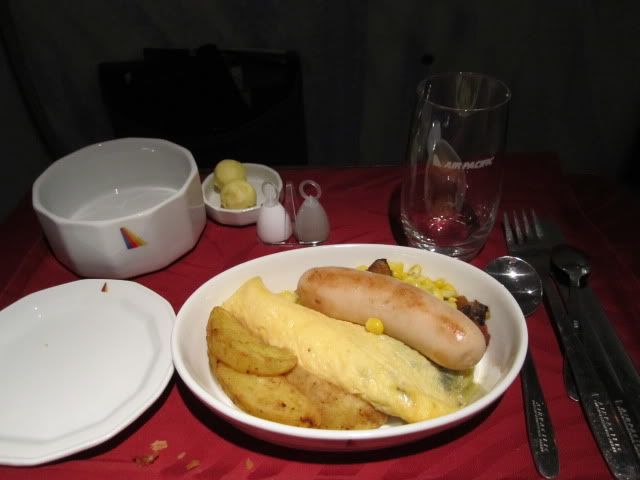 *
(Both dinner and breakfast service was from the trolley - personally, I found it a bit excessive for only 2 rows of seats)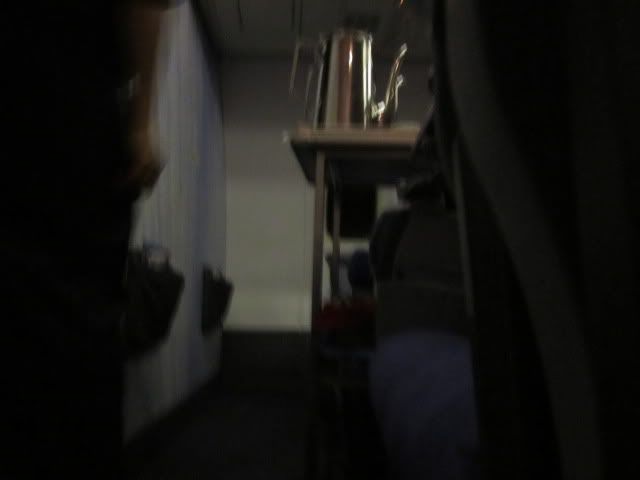 d) Inflight Entertainment:
IFE options were lacking and included 3-4 channels playing unmemorable movies through the first generation individual monitor. We were given cheap headsets which left much to be desired. The saving grace was a rather impressive in-flight magazine that show cased all the wonders of the islands of Fiji.
(IFE Unit and Headset)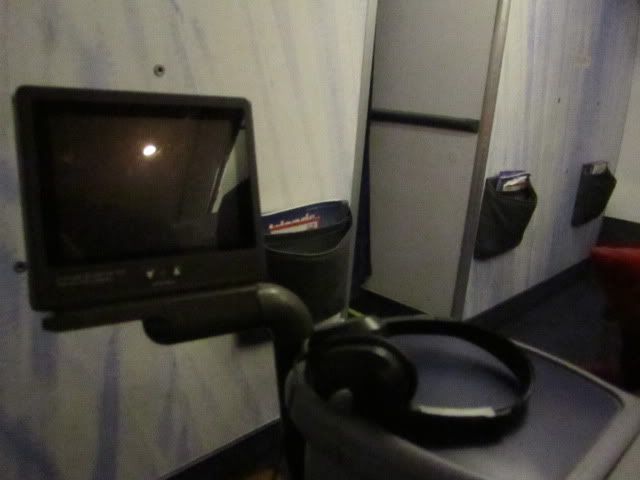 (Very retro)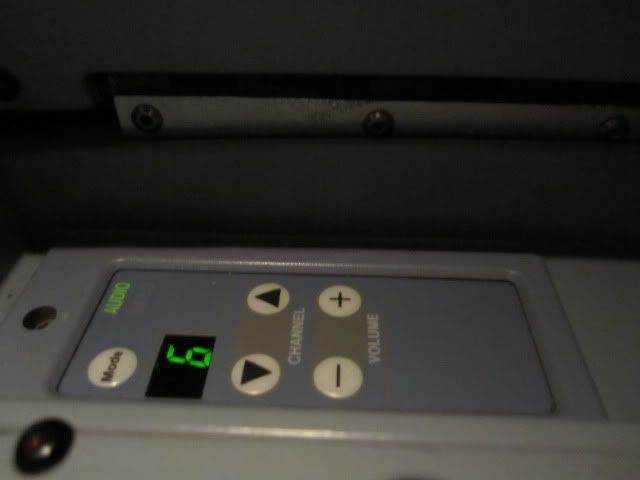 ("In-flight magazines", Boarding Passes, etc.)
e) Crew:
Business Class was taken care of by one single purser. She was not overtly friendly, but had the charm to hold her own. Her greeting at the door was genuine and she was very quick at responding to call requests. Being a red-eye flight, I don't think I was able to form a solid opinion about FJ crew - more so, because I was limited to one crew member.
IV> Post-Flight:
Landing in HNL was smooth, and being one of the first flights meant that I had cleared immigration and customs in a flat 15 minutes.
(@ HNL)
*
V> Impressions + Scores:
Air Pacific tries to hold its own in a very difficult competitive situation. As an anchor carrier to Fiji's tourism industry, it obviously plays an important role and I wish it well. I think there are definitely things that it does OK - good website, good ground support at NAN, decent 738 JCL product, good crew. It could work overall on improving its catering and IFE. However, all of this begins with the question on what FJ wants to be. As an average carrier, it does well. I would rank its service to be on par with other such airlines as Air Seychelles and Air Mauritius and higher than what I experienced on Air Tahiti Nui (despite TN having lie-flat seats). It will not win any global accolades and I don't think it aspires to.
A rather good and modest flight - no thumps going either way. If offered choices, I would not mind looking at other airlines - but also keep Air Pacific firmly on my mind.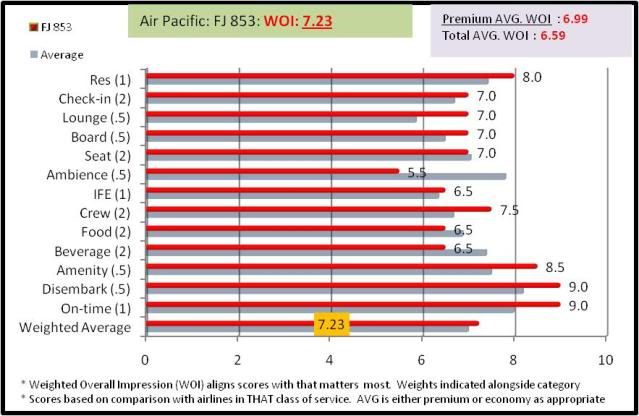 VI> Other Trip Reports:
PREMIUM:
9.27: JET AIRWAYS **FIRST** (110): LHR-BOM: 10/2010
9.27: THAI AIRWAYS **FIRST** (108): BKK-LHR: 07/2010
8.66:
Brussels Airlines (93): FIH-BRU: 01/2010
8.64:
Turkish Airlines (59): JFK-IST: 11/2008
8.63:
Jet Airways (88): JFK-BRU: 10/2009
8.61:
Air Canada (49): YYZ-SCL: 06/2008
8.54:
Turkish Airlines (77): GRU-DKR-IST: 04/2009
8.36:
Kingfisher (98): BOM-HKG: 01/2010
8.30:
Jet Airways (74): KWI-BOM: 04/2009
8.23:
United Airlines (72): SFO-SYD: 03/2009
8.11:
Aeroflot (33): MOW-DEL: 09/2007
8.05:
Air India (80): CCU-JFK: 06/2009
8.04:
Korean Air (40): NRT-ICN: 10/2007
8.02:
Delta Airlines (24): JFK-CDG: 08/2007
7.82: UNITED AIRLINES **FIRST** (110): SFO-ICN: 10/2010
7.82:
Singapore Airlines (06): EWR-SIN: 09/2006
7.66:
Sri Lankan (104): DEL-CMB: 07/2010
7.64:
Royal Jordanian (91): AMM-YUL: 12/2009
7.61:
China Southern (103): LOS-DXB: 04/2010
7.57:
Pakistan Airlines (102): ORD-BCN: 06/2010
7.46:
LAN (55): YYZ-JFK: 09/2008
7.38: AMERICAN AIRLINES **FIRST** (112): LHR-JFK: 10/2010
7.38: CATHAY PACIFIC **FIRST** (109): HKG-LHR: 10/2010
7.25:
Iran Air (88): BOM-IKA: 12/2009
7.23: Air Pacific (120): 01/2011
7.23:
Virgin Atlantic (81): BOS-LHR: 07/2009
7.14:
Swiss (52): SCL-GRU: 06/2008
7.11:
Aer Lingus (105): MAD-IAD: 05/2010
7.11:
Austrian (79): VIE-JFK: 06/2009
7.07:
Privatair (84): BOM-FRA: 08/2009
7.02:
Qatar (68): DOH-JFK: 01/2009
6.96:
Etihad (61): JFK-AUH: 12/2008
6.93:
Delta Airlines (18): SEA-JFK: 11/2006
6.84:
ConViasa (65): CCS-DAM: 01/2009
6.82:
Air Burkina (106): BKO-OUA: 06/2010
6.81:
Air Canada (17): ICN-YYZ: 10/2006
6.75:
Afriqiyah + Libyan (113): CAI-TIP: 11/2010
6.70:
KLM (32): EBB-AMS: 08/2007
6.52:
Emirates (99): LHR-DXB: 02/2010
6.39:
South African (97): EZE-JNB: 01/2010
6.36:
Privatair (60): MUC-BOS: 12/2008
6.29:
TAM Brasil (96): POA-EZE: 02/2010
6.25:
Korean Air (45): NAN-ICN: 10/2007
6.21:
Iberia (87): BOS-MAD: 10/2009
6.11:
A SKY (107): OUA-COO: 06/2010
6.11:
TAP Portugal (53): GRU-OPO: 06/2008
6.00:
Gulf Air (75): BOM-BAH: 04/2009
5.88:
African Express (89): DXB-NBO: 11/2009
5.75:
Singapore Airlines (16): CCU-SIN: 10/2006
5.64:
SATA Azores (101): BOS-PDL: 04/2010
5.64:
NorthWest (46): ICN-NRT-SEA: 10/2007
5.54:
Ethiopian Airlines (95): ADD-BOM: 01/2010
5.46:
Icelandair (83): KEF-BOS: 08/2009
5.39:
LOT (54): WAW-JFK: 06/2008
5.21:
Egypt Air (73): CAI-IST: 02/2009
5.11:
Tunisair (115): TUN-ORY: 12/2010
5.07:
TACA (66): JFK-SAP: 01/2009
4.89:
TAAG Angola (117): TMS-LAD: 12/2010
4.42:
Air France: CDG-JNB (25): 08/2007
ECONOMY: Long + Medium:
9.26:
Air India (48): JFK-DEL: 02/2008
7.38:
Avianca (01): BOG-LIM: 07/2006
7.07:
Sri Lankan (62): KWI-CMB: 12/2008
7.00:
LAN (94): IPC-SCL: 01/2010
6.81:
STP Airways/Euro Atlantic (116): LIS-TMS: 12/2010
6.41:
Avianca (78): JFK-BOG: 05/2009
6.41:
American Airlines (58): LHR-BOS: 11/2008
6.39:
Condor (85): SEZ-FRA: 09/2009
6.26:
Jet Blue (21): CUN-JFK: 02/2007
6.11:
Caribbean Airlines (119): POS-FLL: 01/2011
6.06:
Air Canada (04): YYZ-YVR: 09/2006
5.89:
USA 3000 (19): PUJ-BDL: 01/2007
5.85:
Spanair (69): MAD-LPA: 02/2009
5.79:
Air New Zealand (42): RAR-NAN: 10/2007
5.52:
Aerolineas (86): USH-AEP: 10/2009
5.46:
TAP Air Portugal (23): OSL-LIS: 05/2007
5.19:
Air Europa (70): LPA-MAD: 02/2009
5.16:
Iberia (71): MAD-BOS: 02/2009
5.11:
Air China (82): FRA-PEK: 08/2009
ECONOMY: Short
8.56:
Paramount Airways (38): BLR-MAA: 09/2007
8.56:
Kingfisher (64): HYD-CCU: 12/2008
8.24:
Kingfisher (14): IXA-GAU: 10/2006
7.87:
Indian (34): BOM-MAA: 09/2007
7.72:
Alliance Air (13): CCU-IXA: 10/2006
7.57:
Indian Airlines (10): DEL-CCU: 09/2006
7.23:
West Jet (03): YYC-YVR: 09/2006
7.15:
JetLite (37): BOM-GOI: 09/2007
6.98:
Air Koryo (100): PEK-FNJ: 04/2010
6.70:
Spice Jet (09): CCU-DEL: 09/2006
6.63:
Air Fiji (44): NAN-SUV: 10/2007
6.63:
Jazeera (67): DAM-KWI: 01/2009
6.58:
Air Tran (02): EWR-MDW: 08/2006
6.48:
Air India Express (63): CMB-MAA: 12/2008
6.44:
CO Micronesia (39): ROR-YAP: 10/2007
6.41:
Pacific Sun (43): NAN-SUV: 10/2007
6.37:
Skybus (47): SWF-CMH: 02/2008
6.33:
Kenya Airways (29): NBO-BJM: 08/2007
6.33:
Sky Europe (56): LTN-BTS: 10/2008
6.31:
Indigo (15): GAU-CCU: 10/2006
6.31:
easyJet (57): BUD-LTN: 11/2008
6.22:
Air Link Swazi (28): MTS-JNB: 08/2007
6.22:
Air India (36): HYD-BOM: 09/2007
6.13:
Adam Air (07): SIN-CGK: 09/2006
6.13:
Air Rarotonga (41): RAR-AIT: 10/2007
6.04:
Suriname Airways (118): PBM-POS: 01/2011
6.00:
Transairways (27): INH-MPM: 08/2007
5.95:
Air Canada (05): ALB-YYZ: 09/2006
5.85:
SAS Norge (22): OSL-AES: 05/2007
5.81:
LAM Mozambique (26): JNB-MPM: 08/2007
5.69:
Air Deccan (12): IXZ-CCU: 10/2006
5.67:
Rwanda Air Exp (30): KGL-NBO: 08/2007
5.52:
Sevenair (114): TOE-TUN: 11/2010
5.37:
Felix Airways (92): SCT-SAH: 12/2009
5.11:
Aero Republica (76): BOG-CCS: 04/2009
5.07:
Go Air (35): MAA-HYD: 09/2007
5.00:
Sky Airline (51): IQQ-SCL: 06/2008
4.96:
Valuair (08): CGK-SIN: 09/2006
4.78:
Air Comet Chile (50): SCL-IQQ: 06/2008
4.74:
Fly 540 (31): MYD-LAU: 08/2007
4.33:
Viva Aerobus (20): ELP-MTY: 02/2007
4.11:
Air Sahara (11): CCU-BOM: 09/2006
(Note on Codes: Y – Economy, J – Business, F – First :: I/D – International/Domestic :: SR/MR/LR – Short/Medium/Long Haul)
(Note on Date: Dates are modified to be +/- 3 days from actual flight date to not reveal actual flight pattern)
VII> Other Pictures:
(Neat amenity kit)
*
*
(Old FJ timetable that I found in my library)