Introduction
The regional airline NextJet of Sweden, despite having a very peculiar name considering that it has never operated any jet aircraft, has a very interesting fleet. The most boring plane from my point of view in that fleet is the Saab 340, but things get more interesting from there - they are the sole remaining passenger operator for the BAe ATP turboprop and also operate the Beech 1900D - a very rare type in Europe, although a somewhat more common in the US.
I did the ATP last year:
ATP Across The Arctic: HEL-ARN-KRF-GEV/LLA-ARN-HEL
(by
FlyingFinn76
Nov 18 2010 in Trip Reports) and the Beech has been on my TOFLY list for quite some time now. This autumn I finally decided to do it and set to work trying to patch together a workable itinerary for a daytrip.
Schedulewise and pricewise the ARN-HFS-TYF (or Stockholm Arlanda to Torsby via Hagfors - no, you are not expected to know these codes nor these places!) route seemed like a good one - it offered two flights for the price of one with the tag on, 22 mile short hop between HFS and TYF. Plus Torsby is quite close to Karlstad, so this increased the possibilities of adding that airport to my log as well. After some searching it became apparent that the schedules and prices matched the best if I did it the other way around, so I started by booking the late afternoon TYF-HFS-ARN flight for under 70 EUR.
I checked the train timetables between Karlstad and Torsby and was satisfied to notice that I could indeed fly to KSD and take the train from there. So I booked Norwegian's morning flight to ARN (my preferred SAS one was a bit on the pricey side for this date) for 30 EUR and the morning Skyways flight to KSD for 55 EUR.
The only thing remaining was to get back from ARN - the NextJet flight was arriving at 18.00 so I had plenty of flights to choose from, but in the end ended up with the midnight SK flight as that was available for only 41 EUR and well... let's just say frequent flyer programs really do work!
I was facing a five hour layover but well, with lounge access and everything that shouldn't really be a problem I guess...
The route ended looking like this: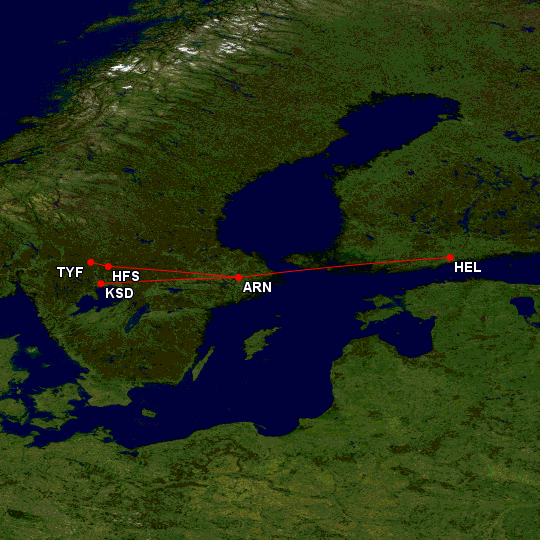 Finally I booked the train between Karlstad and Torsby for 13 EUR. Too bad I did this before contacting my friend and Karlstad local a.netter Robert/parton87 to see if we could have short meet at Karlstad - not only did he have that day off he said that he could've driven me all the way to Torsby and the local airport - oh well, live and learn!
So let's go to Sweden, shall we?
Tuesday 18.10.2011
I did what I usually do with Norwegian and went to the airport the previous night to check myself in using the self service kiosk (c'mon, please give us a proper OLCI!) and of course picked a seat on row 1 for ultimate legroom. So the next morning I try to minimize my time at the airport and manage quite nicely - arriving at T2 at T-55 minutes, quickly through security, stop at a shop to buy a gift for Robert, grab a coffee and sit down next to my gate sipping it: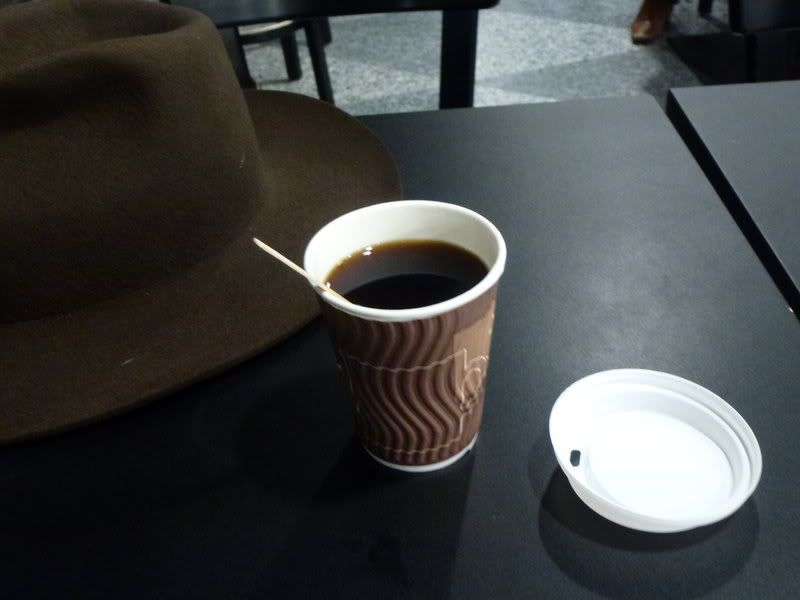 Nice Marimekko design: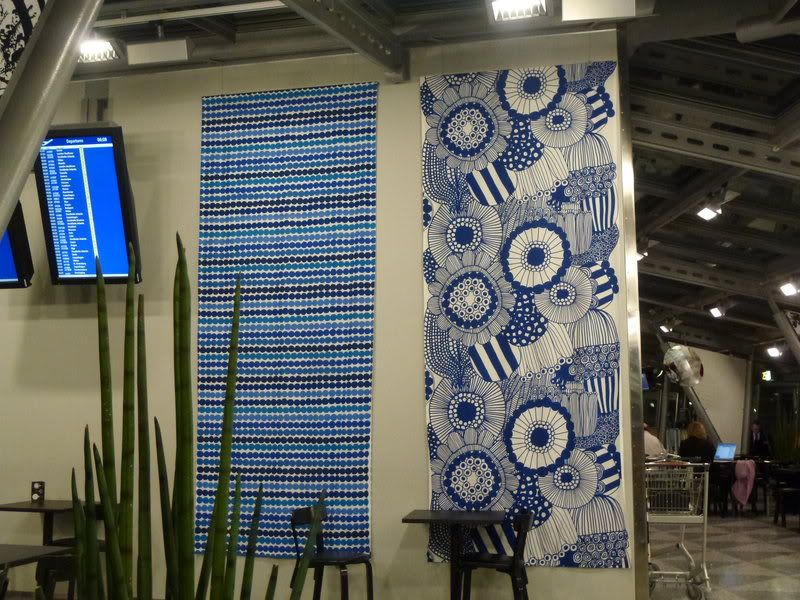 The plane of course is already parked there, having spent the night here - it's LN-DYM, an example I've logged once before, on HEL-FCO in July: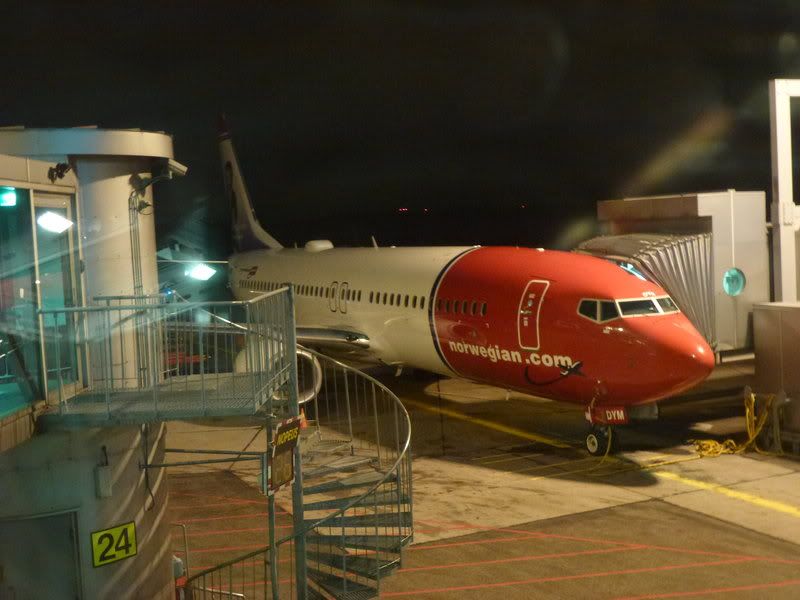 I watch with great interest a young businessman type (at least he is wearing an impeccable business suit) on my flight settling down to one of the nearby tables with a large glass of red wine, downing that with one very impressive gulp and leaving on his merry way - must be either a very nervous flier or maybe he just has a nasty hangover to nurse before his business meeting...
Over at the next table two middle aged women are well into their second pints of the day, despite it being just past six in the morning (as a side note the two women also came back on my midnight flight and appeared to be surprisingly sober...)... ahh, this is so Finnish!
Boarding is called around 6.25, I overhear the gate agent mentioning over the radio that they only have 22 hold bags for this leg - business traveler galore! With me being me I'm the very first passenger to walk down the jetway.
HEL - ARN
DY4280
B737-800 LN-DYM
Seat 1A
6.49 - 6.38
Onboard I'm very surprised to see a Swedish crew - somehow I assumed that after the Helsinki base was established Norwegian would've surely switched this morning flight over to a based crew - it is not exactly cheap to have a full aircrew spending the night here...
Row 1 indeed has excellent legroom: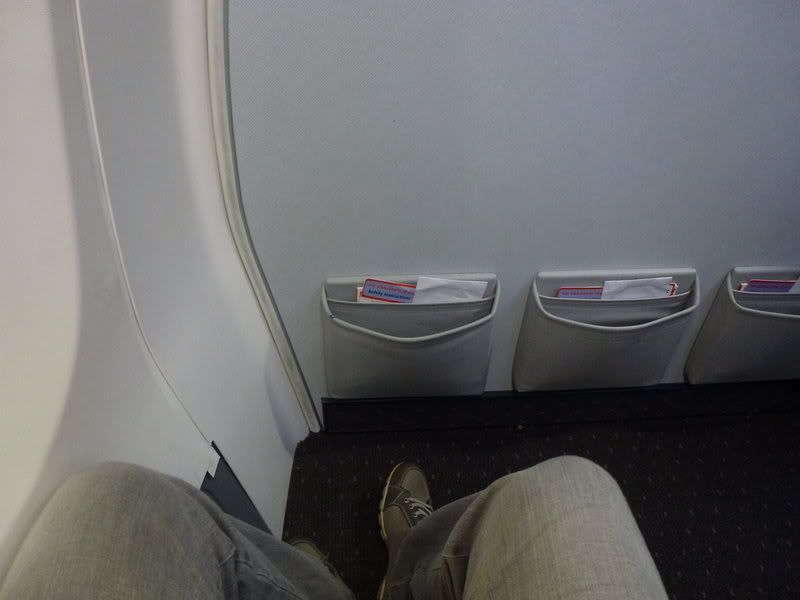 Quite a few suits are indeed onboard - this departure is definitely popular with the business day tripper crowd (and some members of the trip reporter crowd as well...) in today's cost conscious corporate world... Load is some 80%, quite impressive actually for such an early flight. Still three for me, I guess nobody wants to pay extra for these seats on short hops as this and don't bother picking them from the kiosk either. Good for me.
While waiting for boarding to finish the cockpit door is open and it is somewhat unnerving to be hearing the "Pull up, pull up!" warning many times from there - is the crew playing a simulation or what is going on?
Finally boarding is finished, the crew proudly annonces that "Internet ombord" will be available on this flight (not sure what the point as there's maybe a 15 minute window to actually use it...) and the flight time as 50 minutes.
Push back is even one minute early, with take off from 22R five minutes later.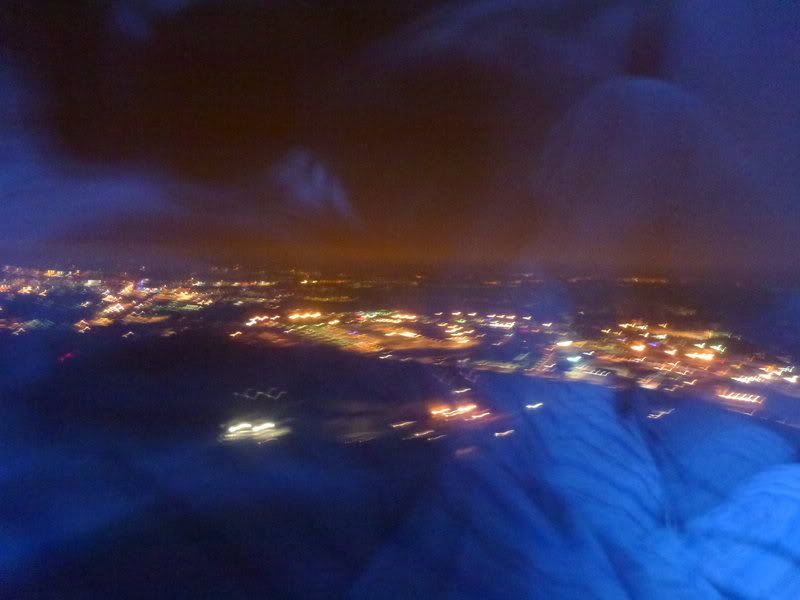 Being rather tired I decide to use this flight for getting some shuteye, and thanks to the space around me manage to rather well, I only wake up well into our final approach into Arlanda's runway 19R where we land after around 45 minutes of flight time.
Still dark at Arlanda as well: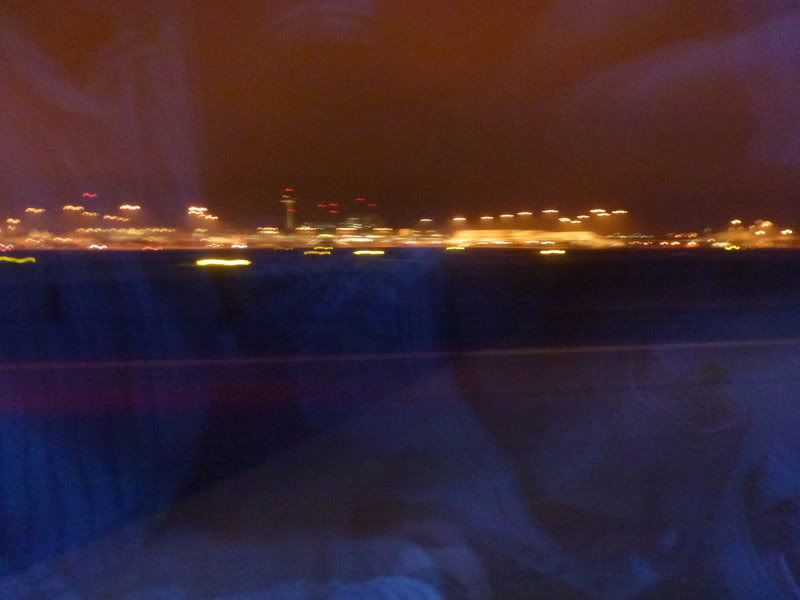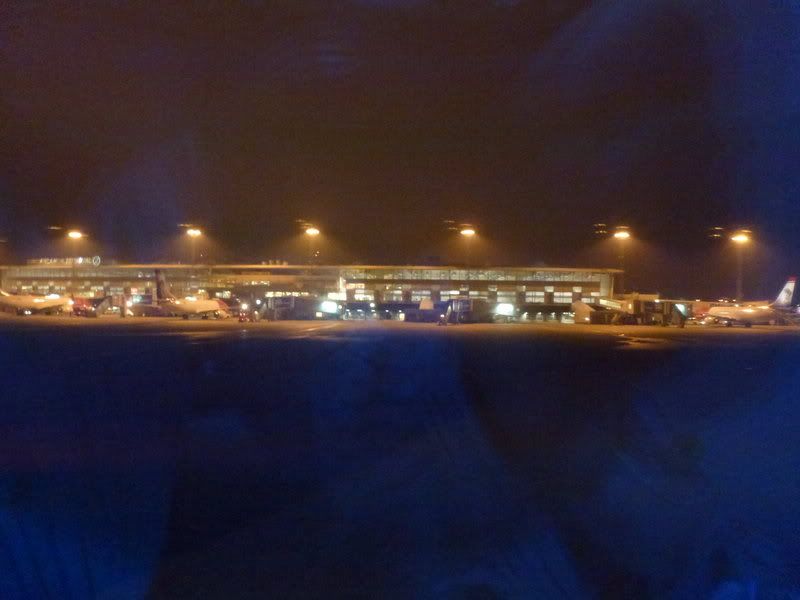 Stockholm Arlanda Airport, take 1
Deboarding from the first row is of course very quick, although T2 is rather packed with passengers on early morning DY flights (mainly to OSL, it seems!). Once out in the public it is only a very short walk to T3, the commuter terminal where Skyways operates from - this is part of their new ad campaign: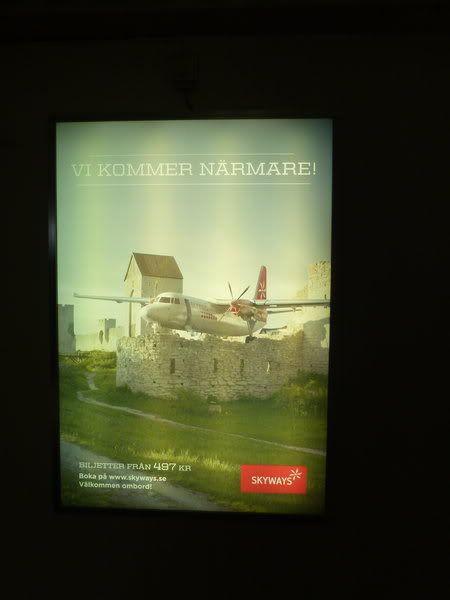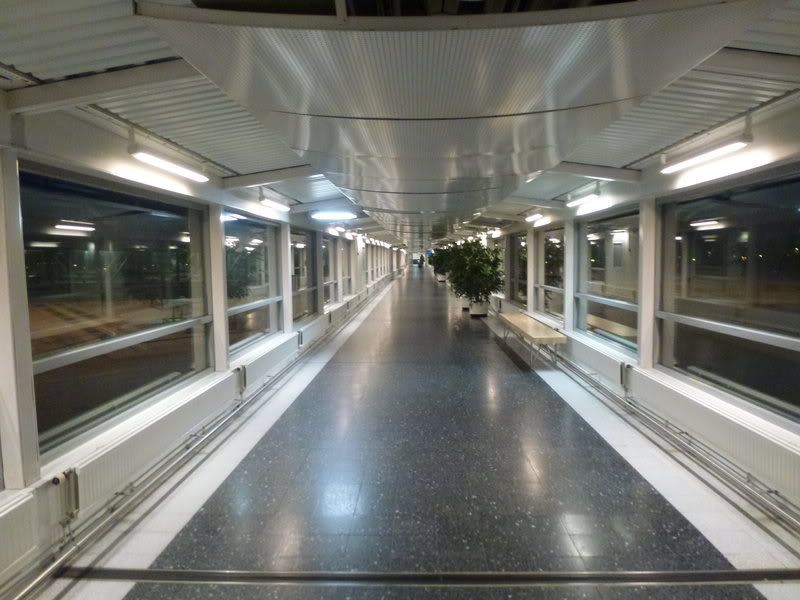 There's no OLCI for Skyways, but as the manual check in process takes the whole of thirty seconds and seating is free there's hardly a need for one either!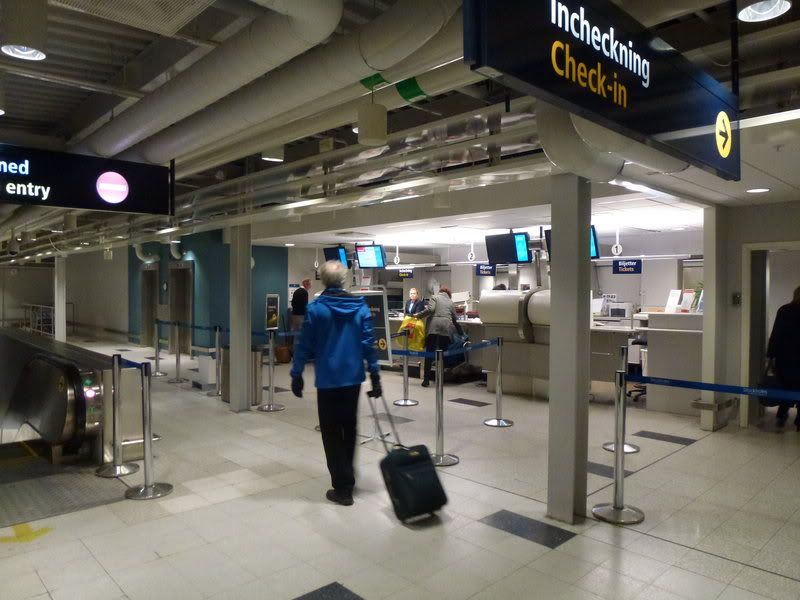 Another Skyways ad where they've already incorporated the routes NextJet is giving up: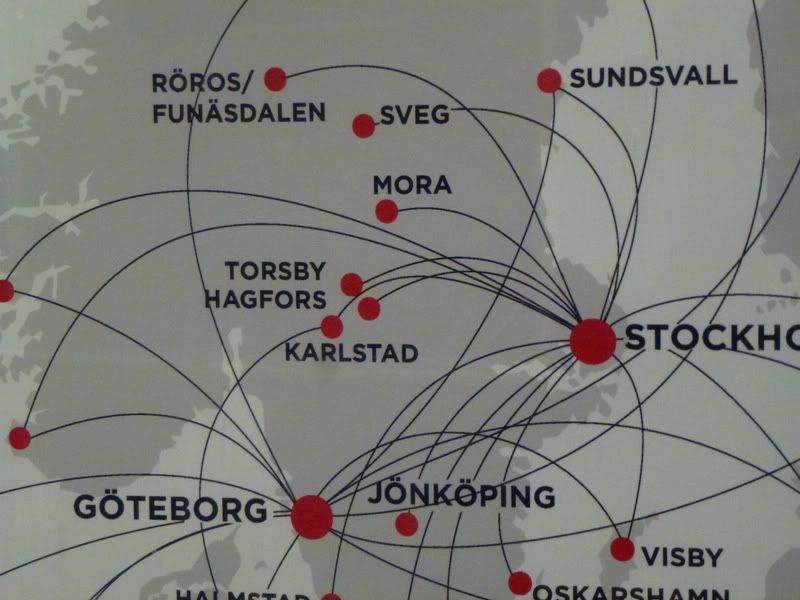 The commuter terminal is not a terribly interesting place - the only nice feature is the large circular window at the end which is good for plane spotting as a lot of planes taxi past it on their way to or from runway 01L/19R.
Hey, that'll be my plane - it will fly to TYF and then spend the whole day there before operating the flight on the opposite direction (hopefully with me onboard!):
I spot a computer showing all flights out of this terminal together with their registrations and see something unnerving: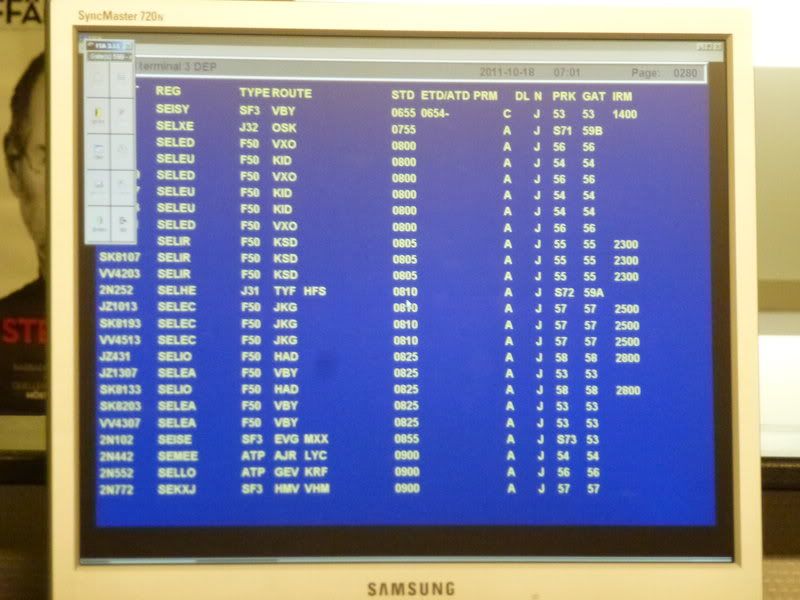 Yes, it is showing the outbound flight to HFS/TYF being operated by a Jetstream, SE-LHE! I had heard rumors that NextJet had stopped operating the Beech a little bit prematurely - bugger! Also notice the Mora/Sveg flight being operated by a SF3!
As 2N does not have any Jetstreams I'm assuming it must be operated by Direktflyg. Well, I still have hope, I refuse to believe this until I will board the plane at Torsby!
It's quite funny watching the JZ operation here - one minute the apron is completely empty (apart from a 2N Saab 340 operating for Air Åland) and then within five minutes four or five JZ Fokkers arrive bringing commuters to the capital from various towns around Sweden, including my inbound flight from KSD. The inbound load looks quite good. I also spot the registration of my ride: SE-LIR, a new one for me.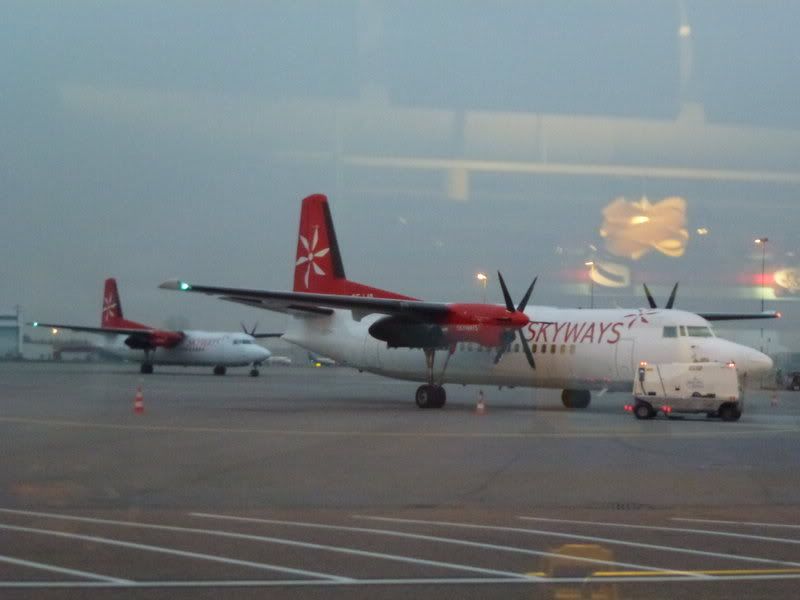 Is this Turkish humor: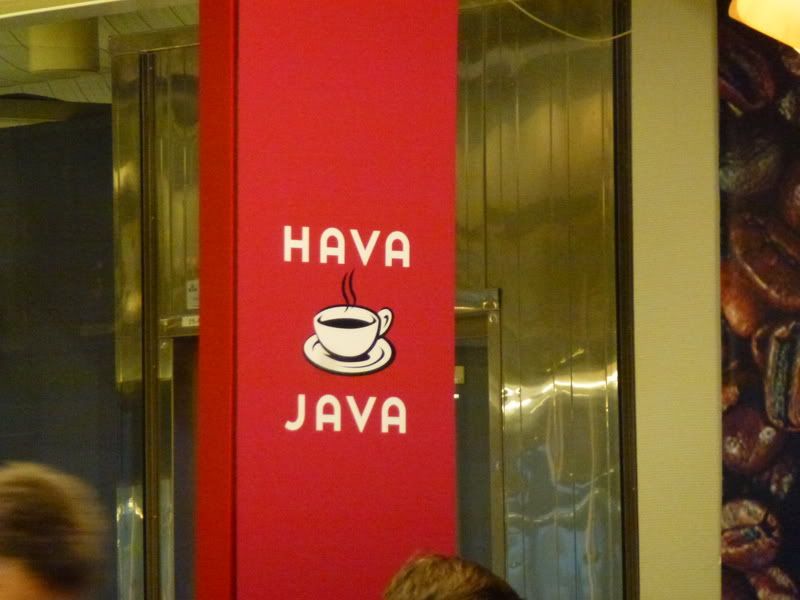 The boarding process is a bit weird - apparently "Go to gate" means "Show your boarding pass to the agent and get ushered to a holding pen", "Boarding" means that the gate agents make a call for any missing passengers over PA and at "Final Call" the door to the apron is opened and we are directed to the plane.
ARN - KSD
JZ203
F50 SE-LIR
Seat 11D
8.00 - 8.48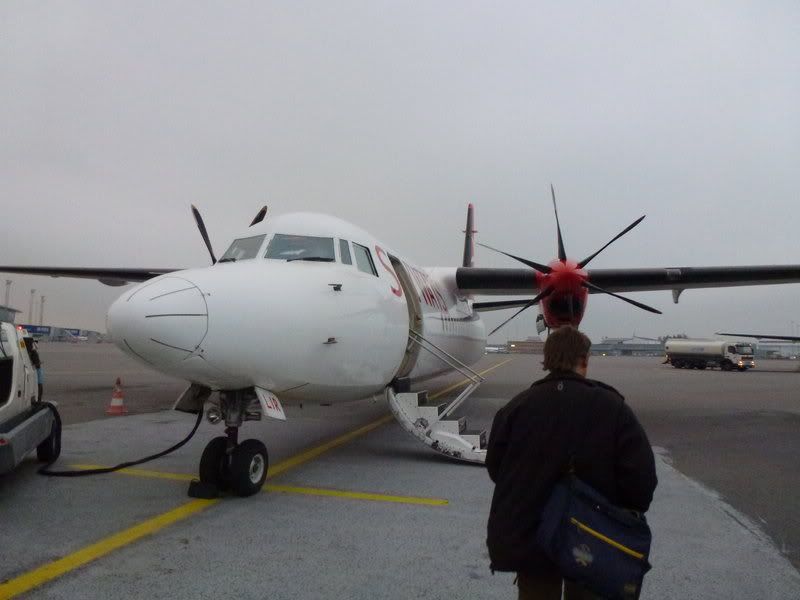 A very friendly middle aged FA looks genuinely happy to see passengers boarding her plane and offers a very hearty welcome to every single one of us - nice!
Hmm, I seem to recall the legroom being somewhat tighter than this - maybe it varies between the birds or is tighter in the back cabin: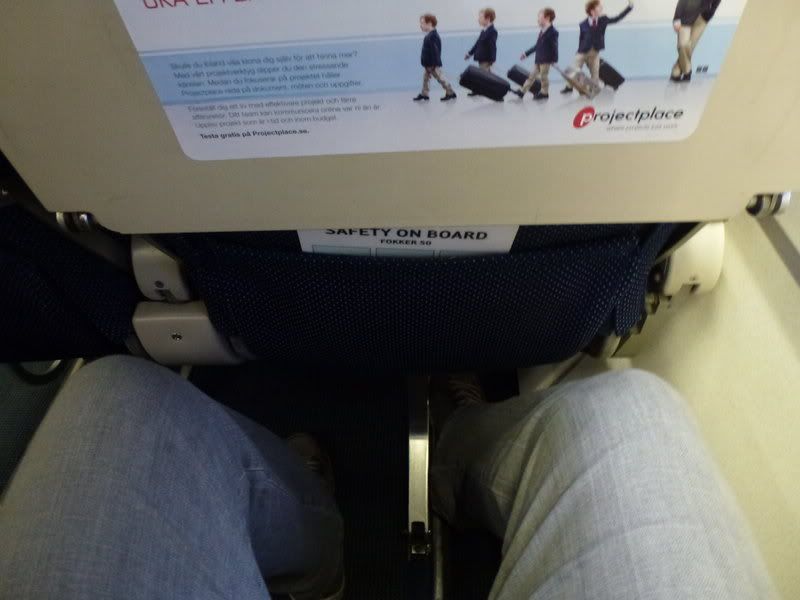 An ad for the merger of City Airlines and Skyways: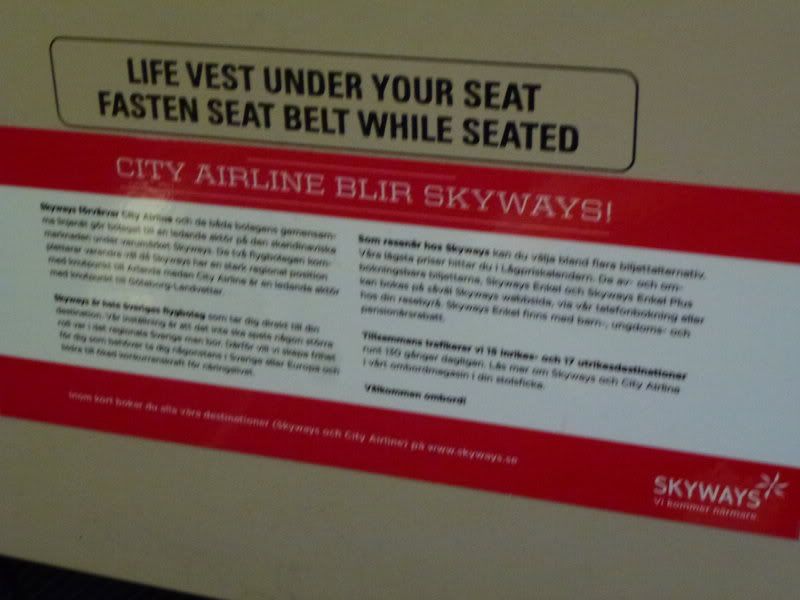 The cabin - this one doesn't smell so bad as the airBaltic ones: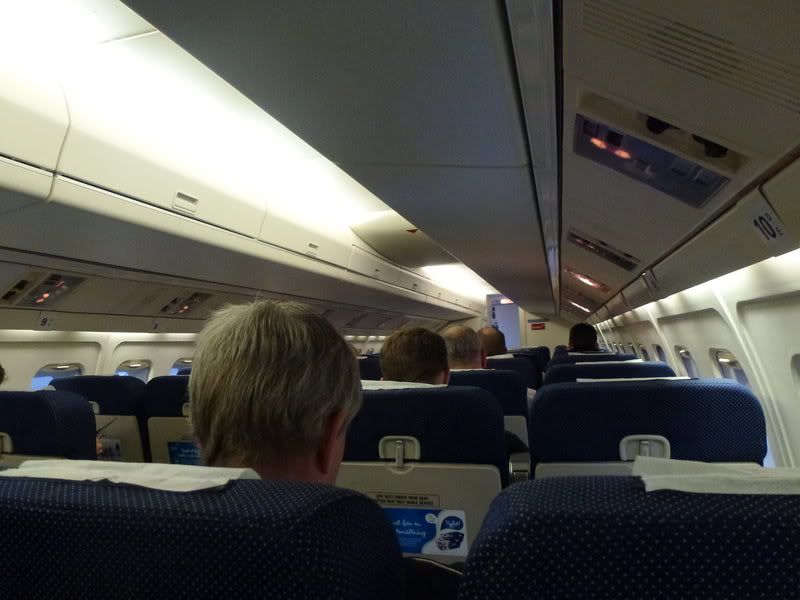 While waiting in the holding pen I counted the load as 15 passengers, but a latecomer brings the total to 16. The flight time is announced as 50 minutes. Departure is a nice 5 minutes early.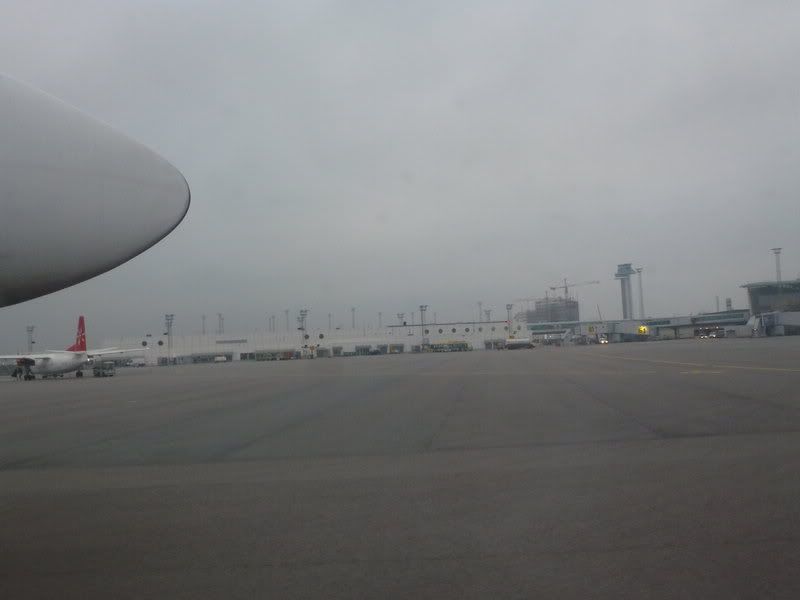 This is the circular spotting window at the end of T3: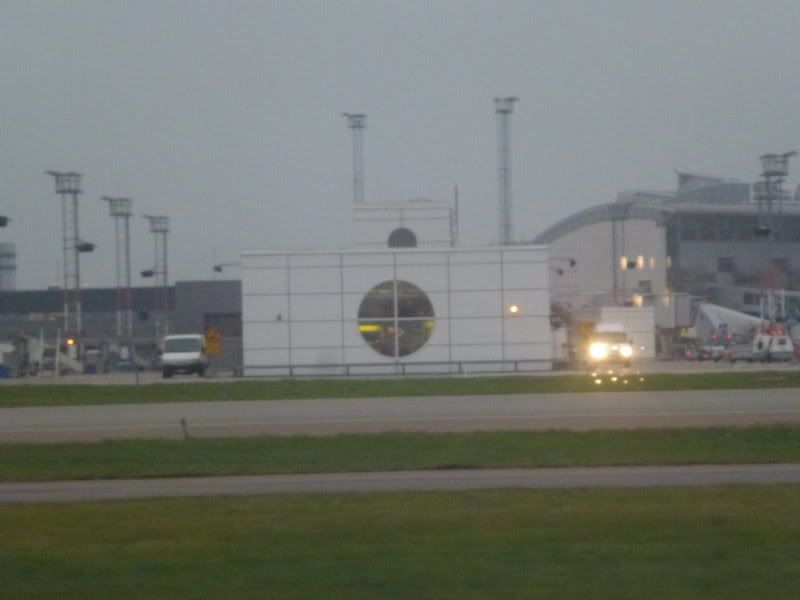 Domestic T4:
It feels like Thai is always here when I pass through: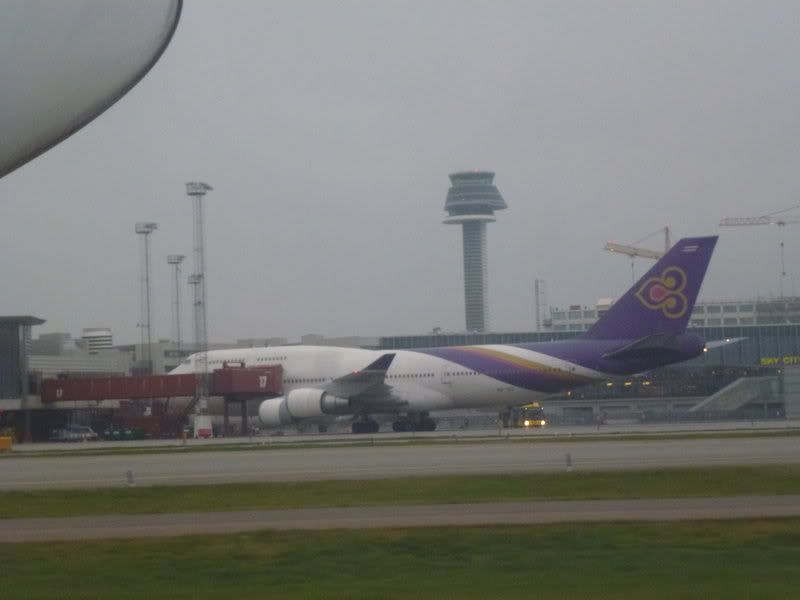 Take off from 19R is right at our SDT: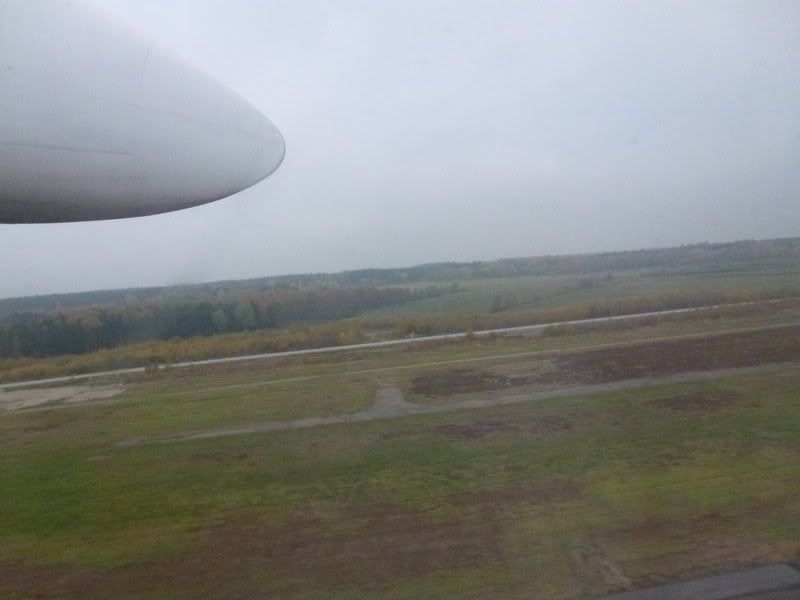 This is the view for most of the flight - not very good weather in Sweden today: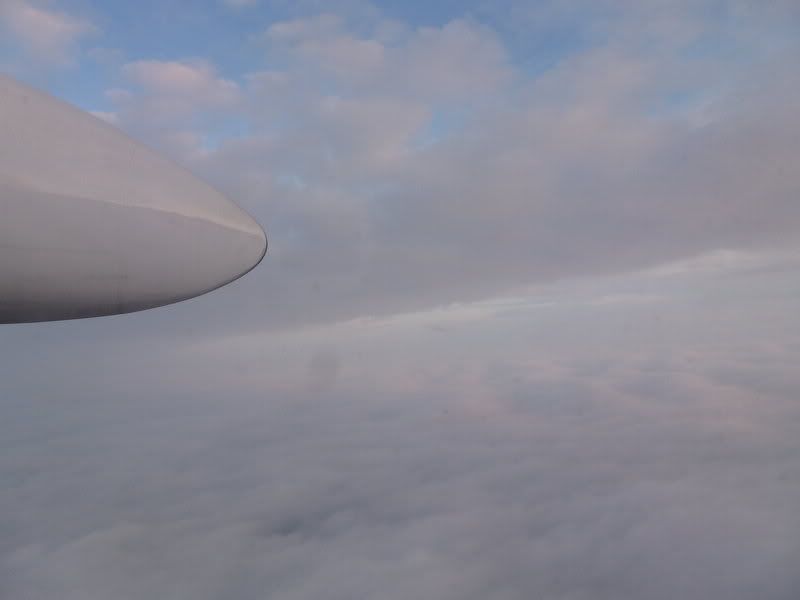 Service is a very nice breakfast - a tub of Finnish (yay!) yogurt, a choice between a salami or cheese sandwich and coffee or tea: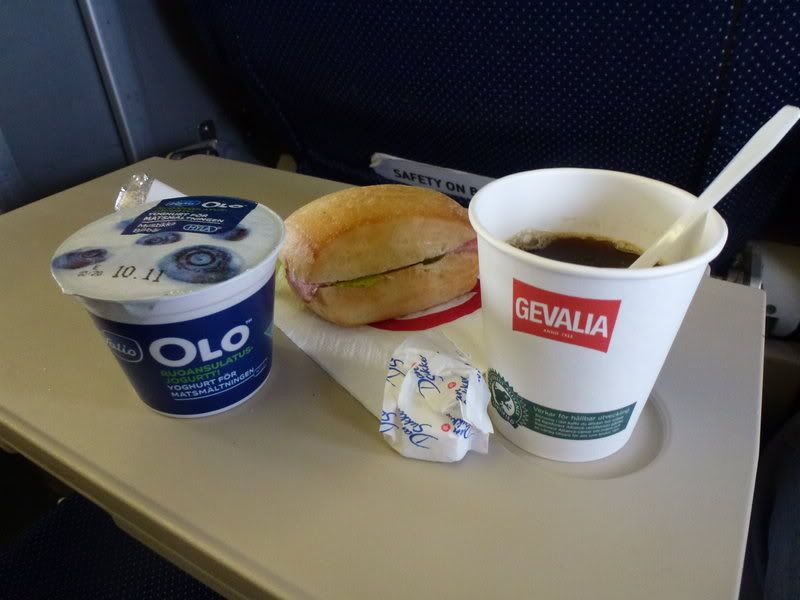 When I speak English to the FA she looks a bit worried and asks if I understood the safety demo which was only done in Swedish and "Have you flown a Fokker 50 before?" - I assure her that I have flown a bit and can actually understand Swedish well enough. I just don't have the heart to tell her that this is my 72nd flight with the Fokker
.
Quite soon the captain announces ten minutes to landing and mentions that Karlstad is experiencing "en liten frisk vind" which could cause some turbulence.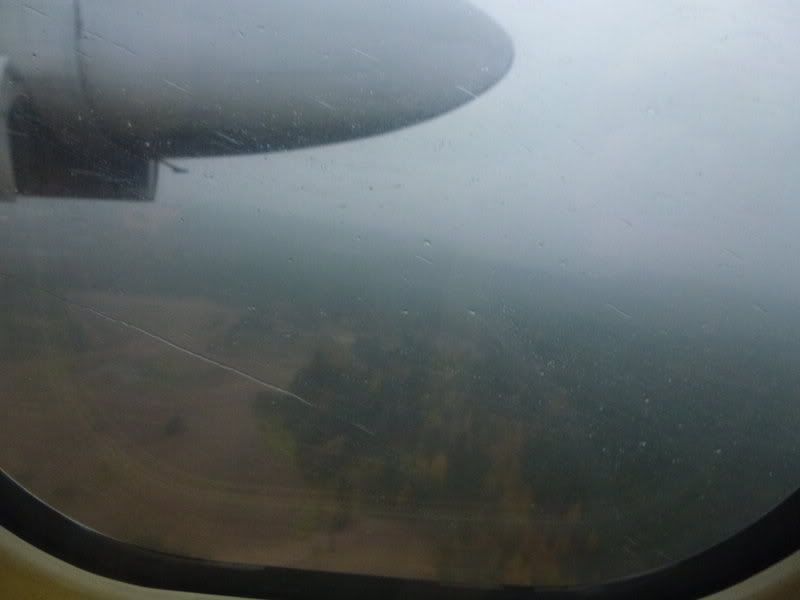 Well, this is quite an understatement as this approach is one of the most violent ones I've ever experienced - the little plane is swaying sideways like Shakira's hips and does the occasional bounce up and down like Shakira's … well, I think you get the idea. A couple of times I'm certain that we will be doing a go around as it looks like there's no way to hold the plane steady long enough to touch down, but the pilot does what they get paid handsomely to do and slams us down right on the piano keys of runway 23 less than 45 minutes after we left Arlanda. Not the most elegant of landings, but hey, any landing where you walk away is a happy one!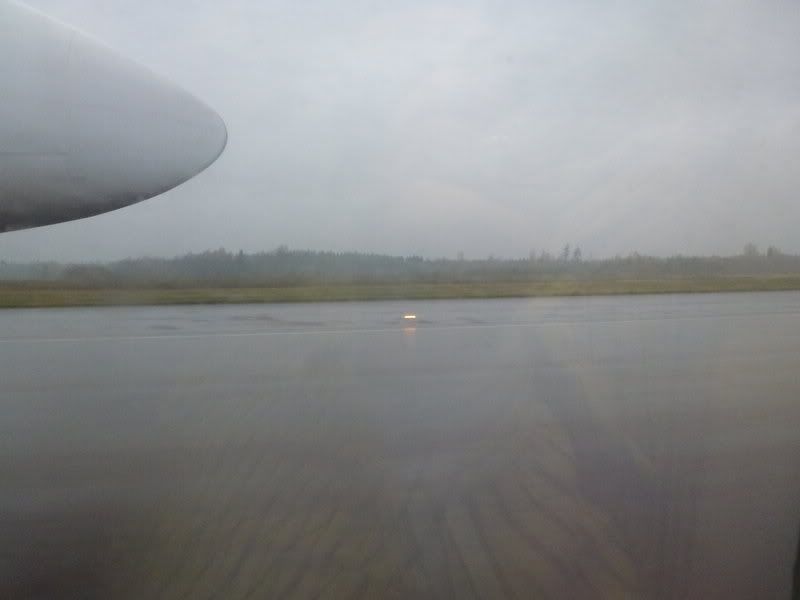 The weather certainly looks ugly: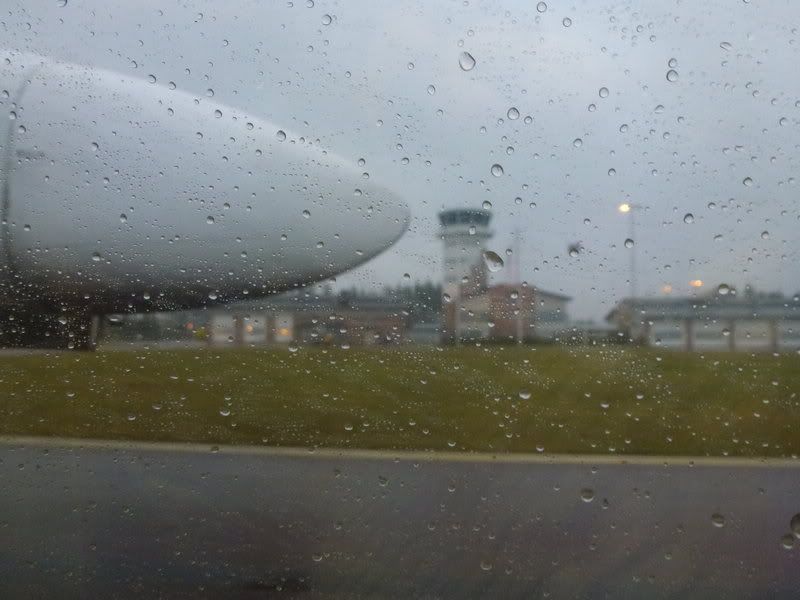 Karlstad
It is raining cats and dogs - most passengers opt to dash quickly to arrivals but I take my time and shoot a few photos: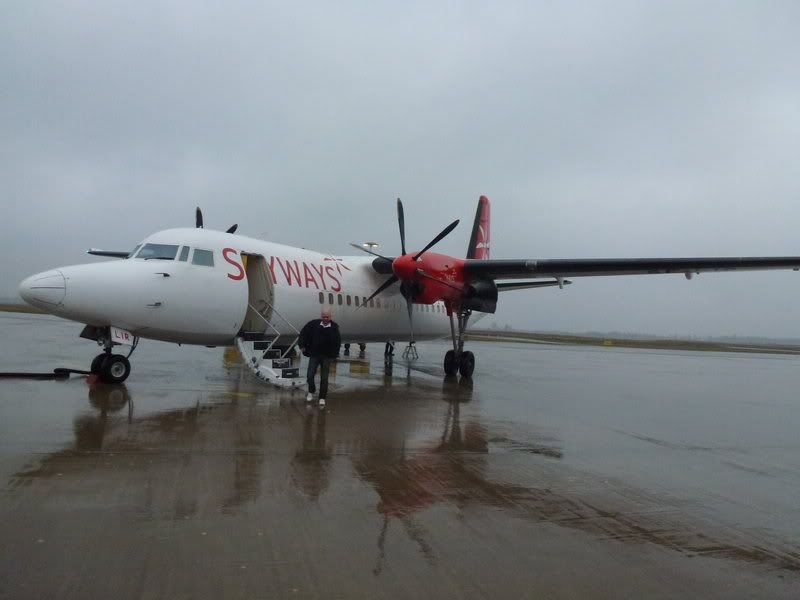 Quite ironic - must be designed by the same PR agency that came up with the name "Greenland" for that old lump of ice and rock: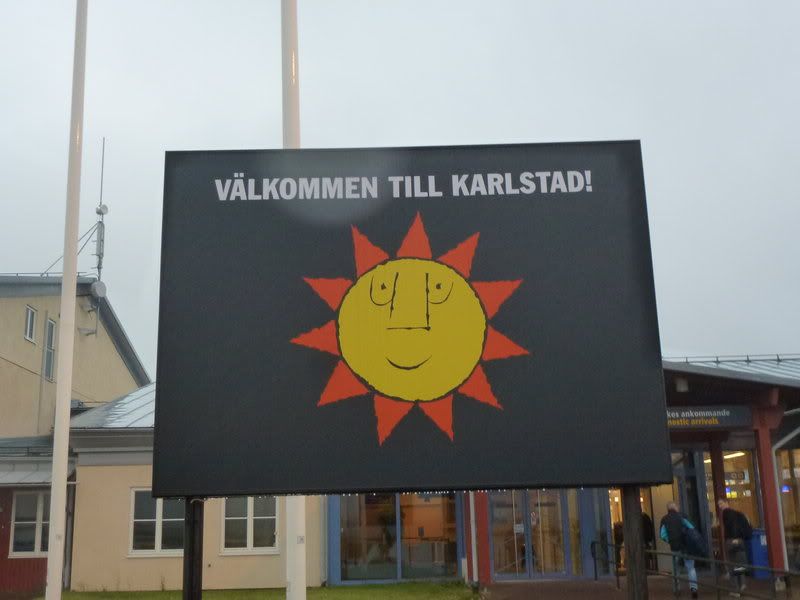 Another example of crap branding: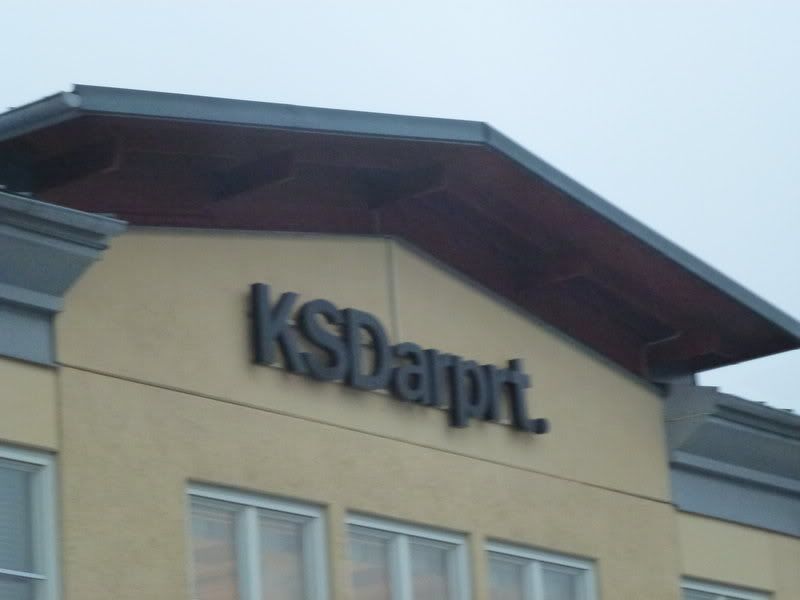 Inside Robert is waiting for me so we exchange greetings and head outside to his Volvo for the ride into town. Ryanair is big here as well: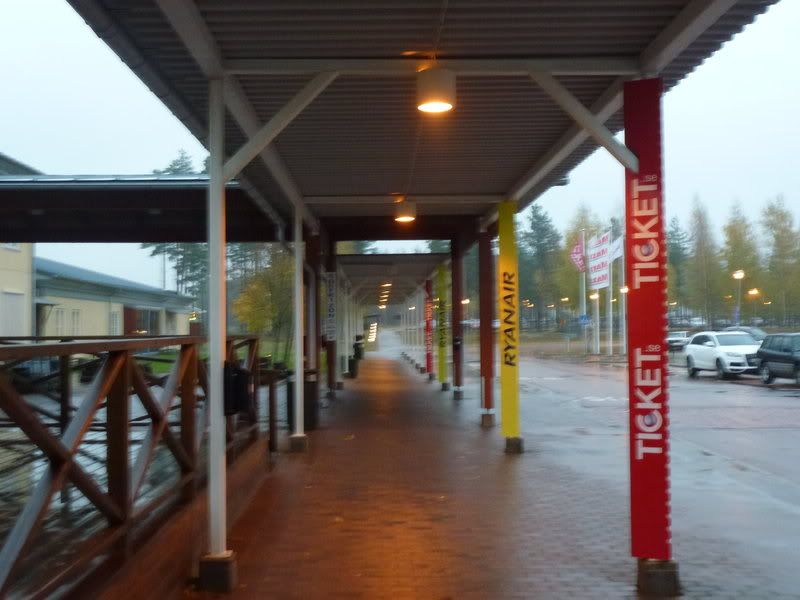 You just gotta love these regional airports in Sweden - this one looks more like an old school building than an airport terminal: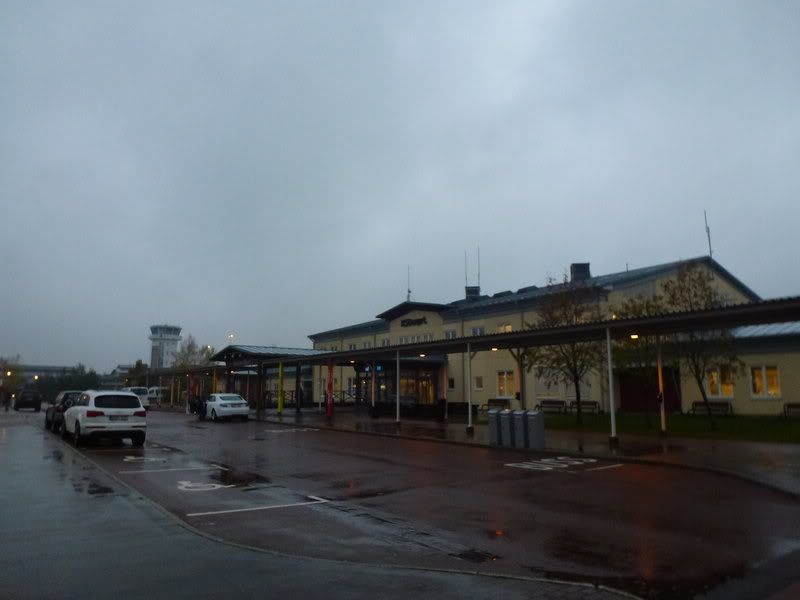 A few hours of sightseeing, talking, rain and a lunch follows. Some shots from Karlstad: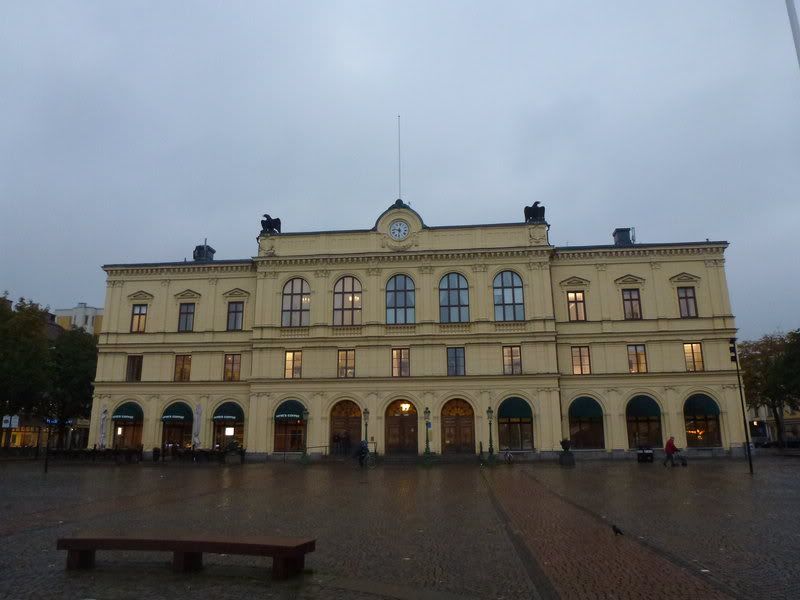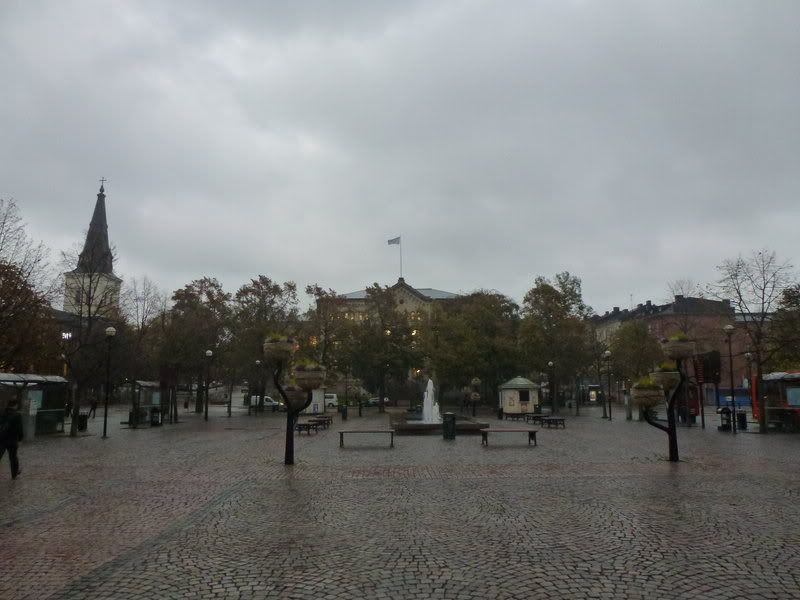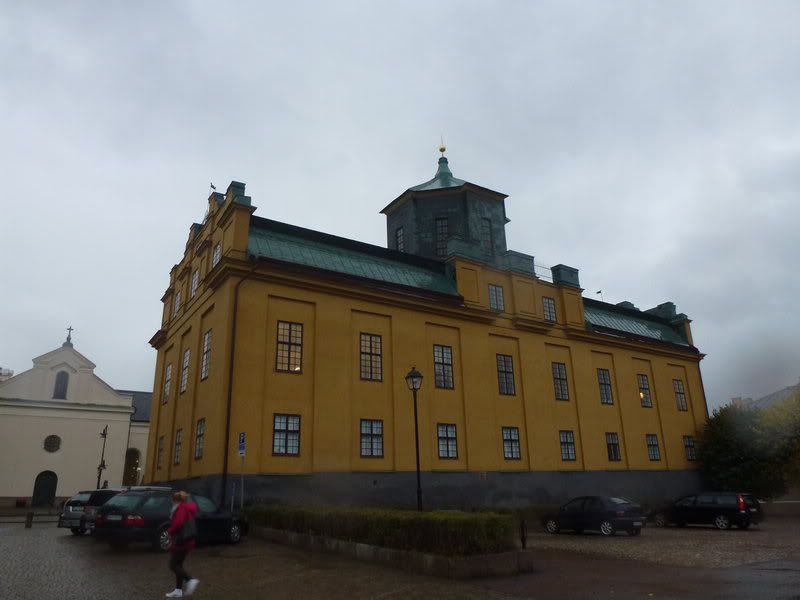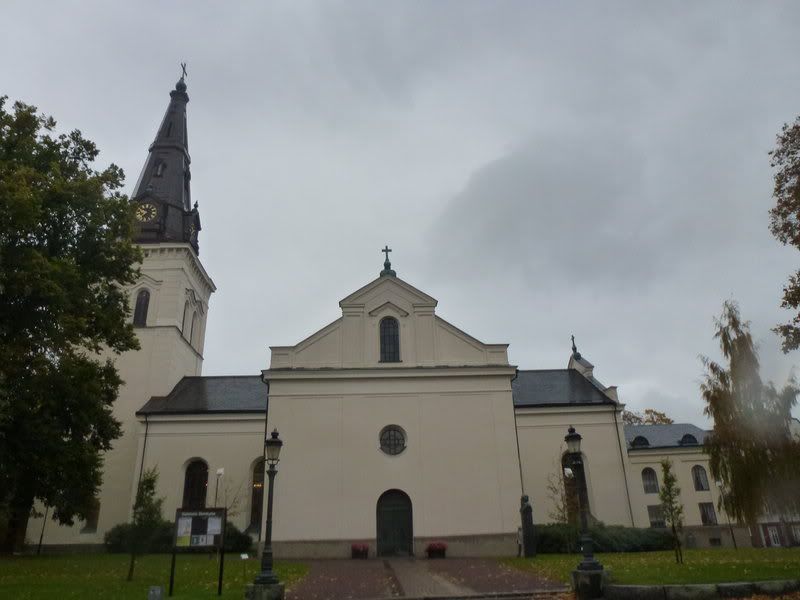 The Klarälven, "Clear River" - the longest river in the whole of Nordics: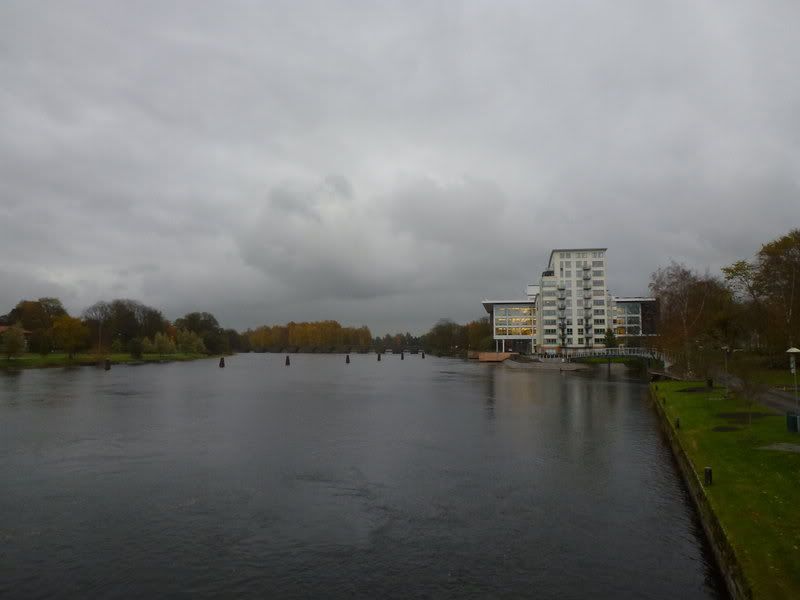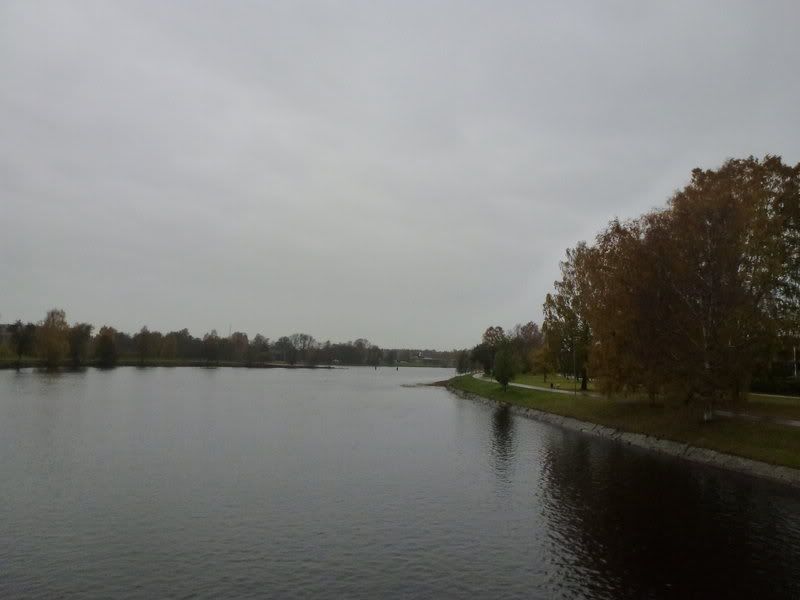 Apparently a very popular nightclub: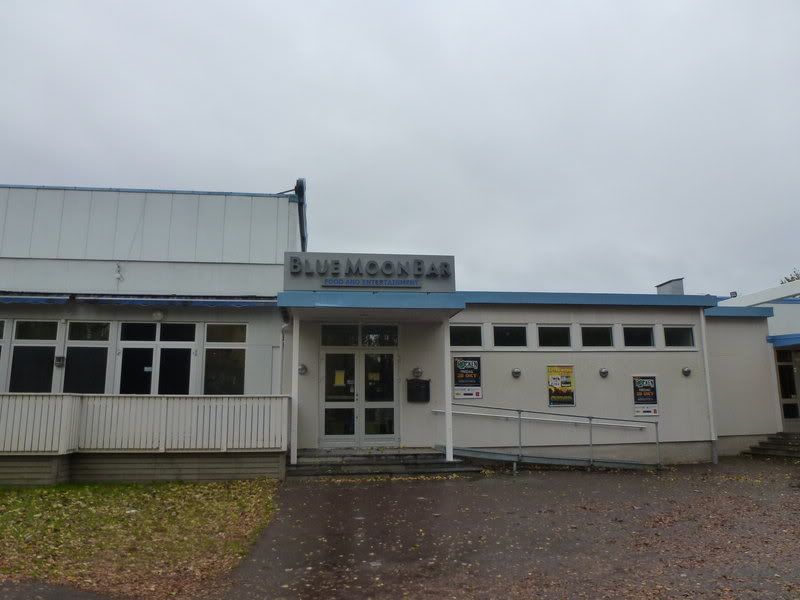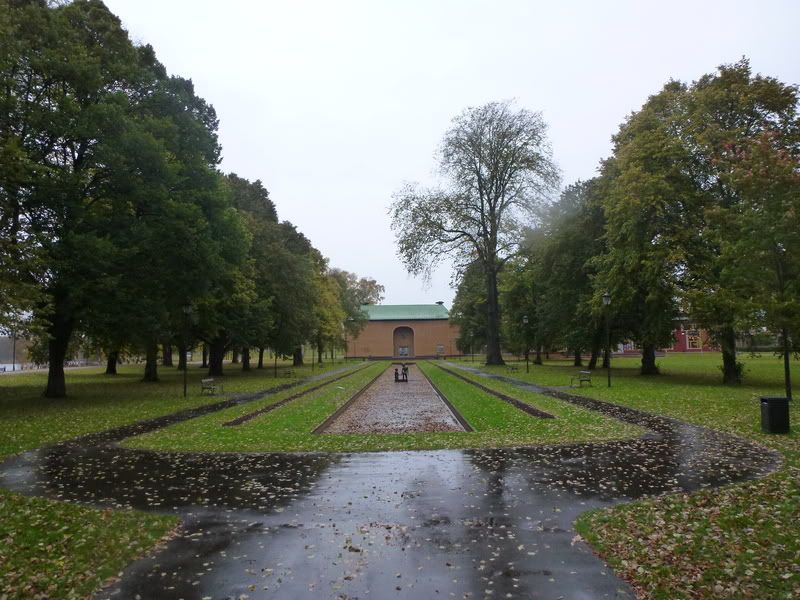 Sola, not today, though: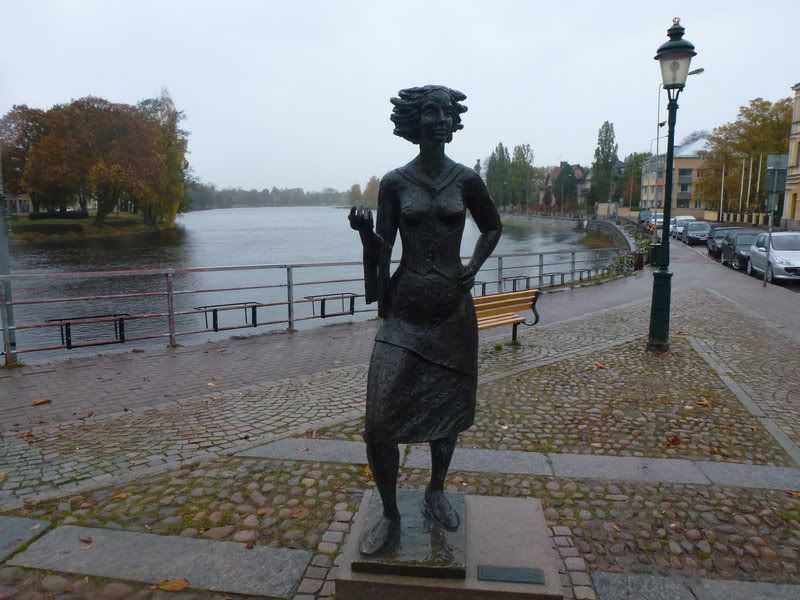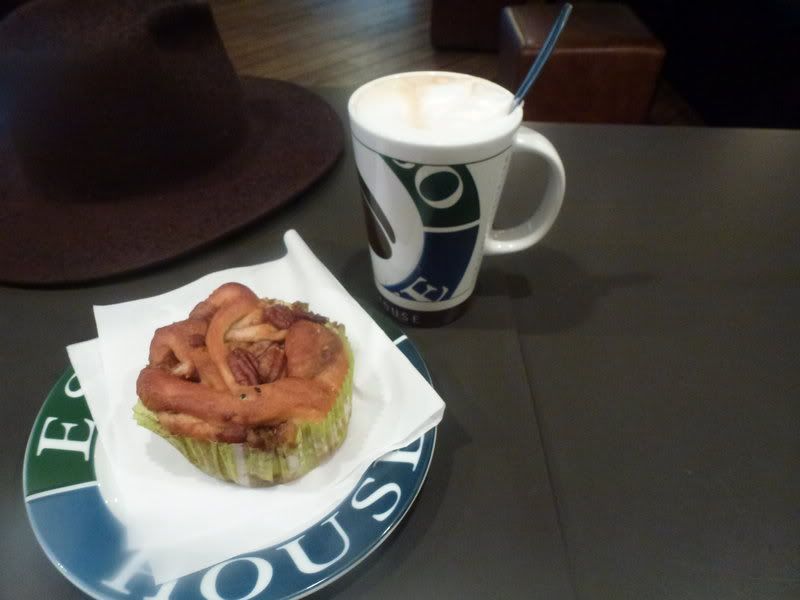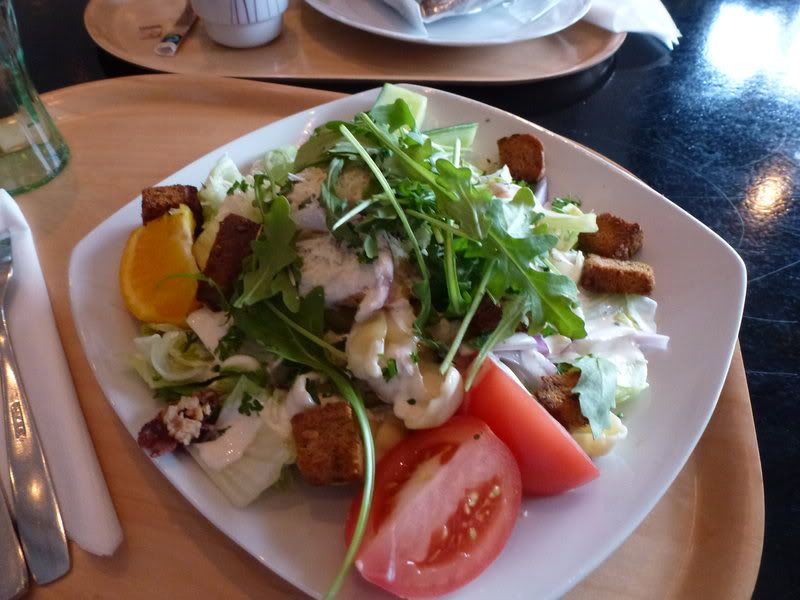 Time flies when you're having fun and soon it is time to head to the station for my train: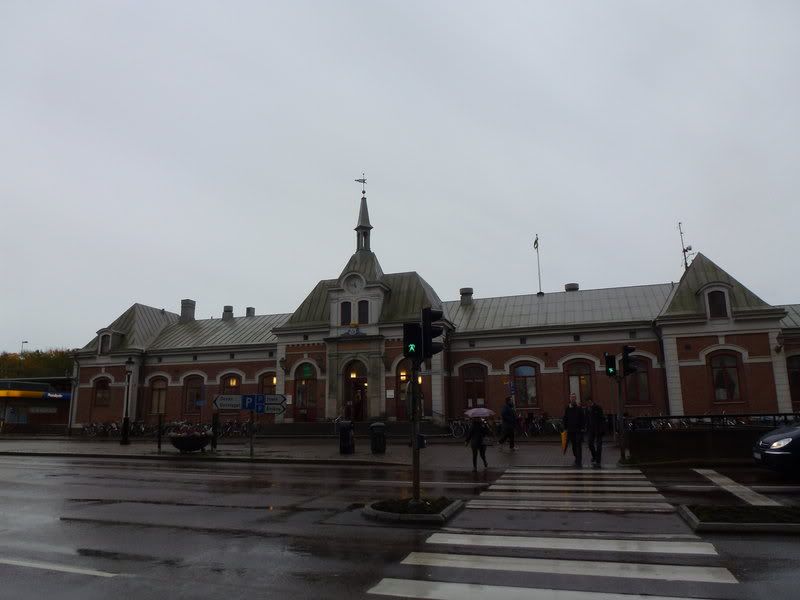 I bid Robert farewell - we'll meet again sooner than later judging from some of the flight planning we did during this visit
.
A rather nice commuter train shows up for the hour and half's ride up to Torsby - there's even a free wifi connection which works surprisingly okay, well done Tågkompaniet!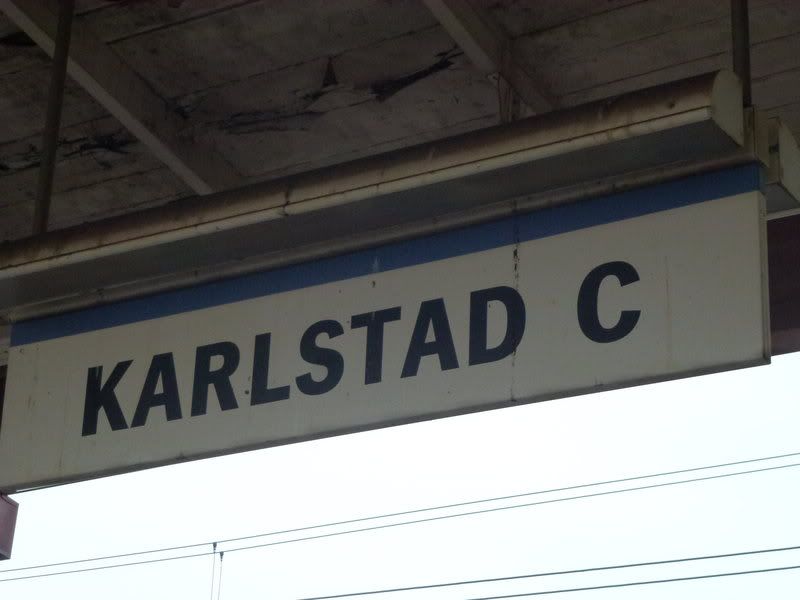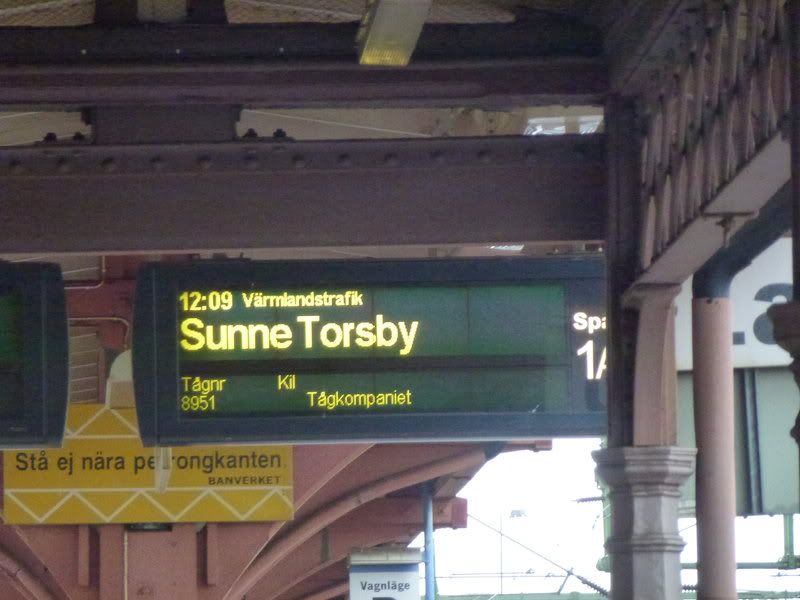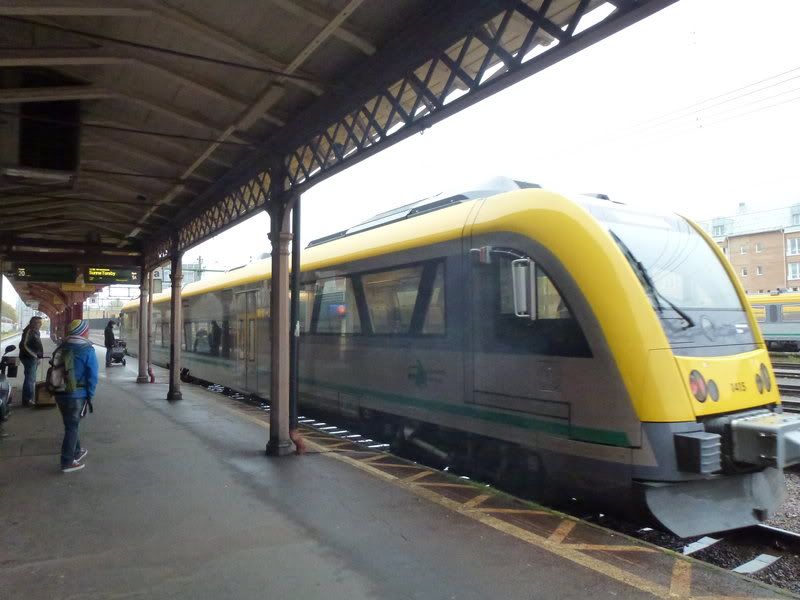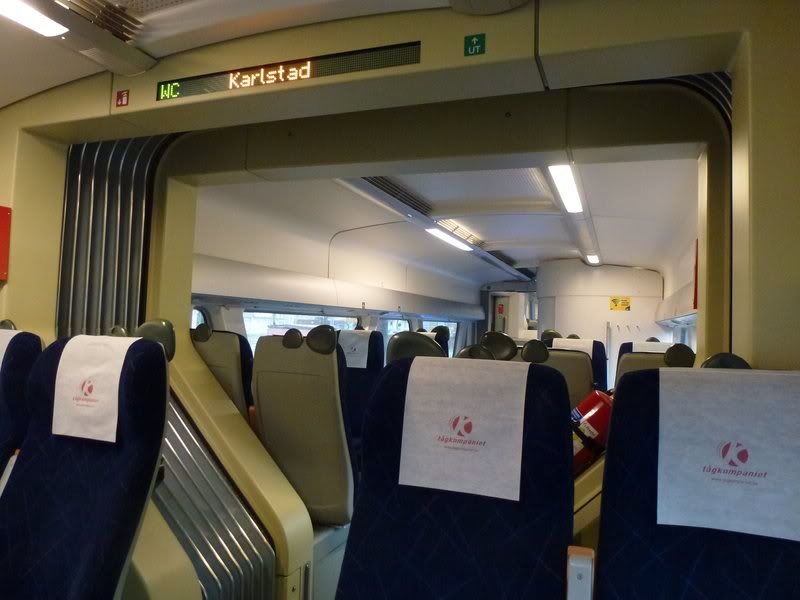 I really like these old fashioned stations: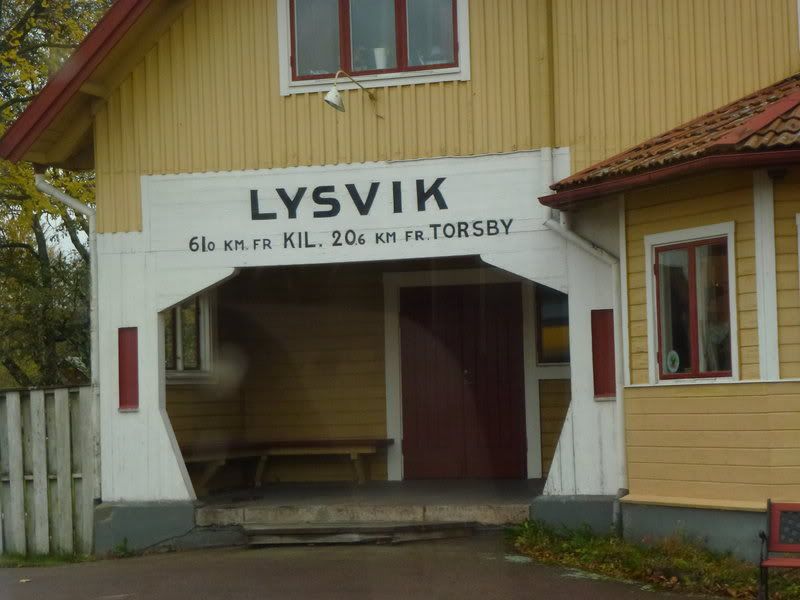 Torsby
Torsby is the end of the track, so luckily no chance of missing the stop here: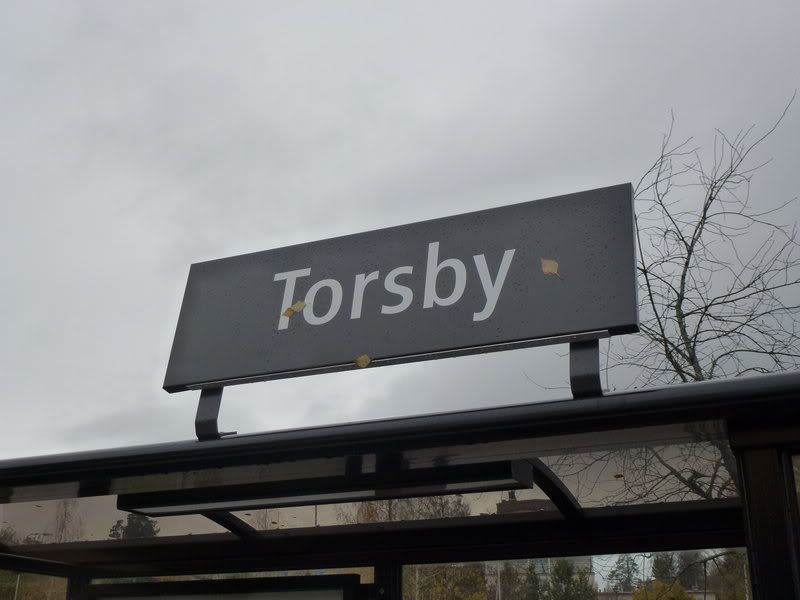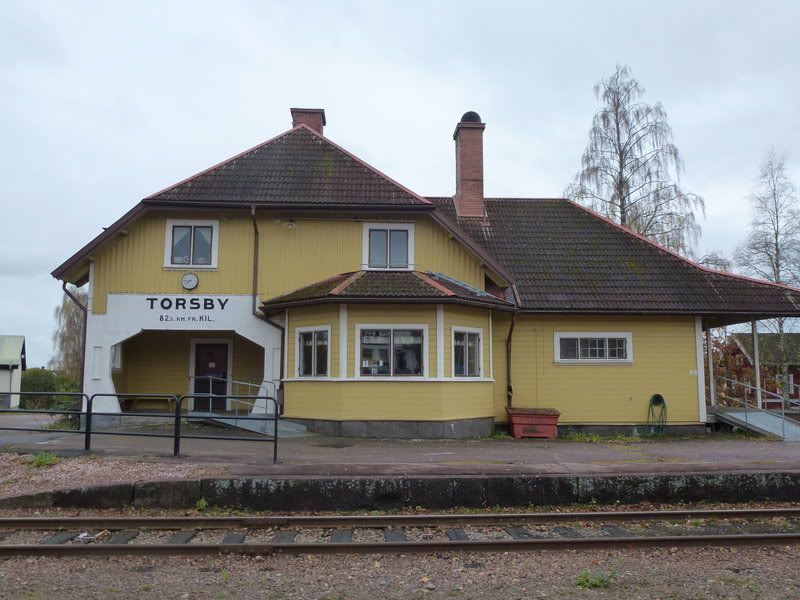 There's of course no public transportation to the airport (actually the train tracks pass quite close to it), and since it is not raining here and with ample time before my flight I decide to walk the three kilometers to the airport. Besides, Torsby doesn't appear to be a terribly interesting small town so I might just hang out at the airport instead.
Not sure what Ararat and Pizza have in common: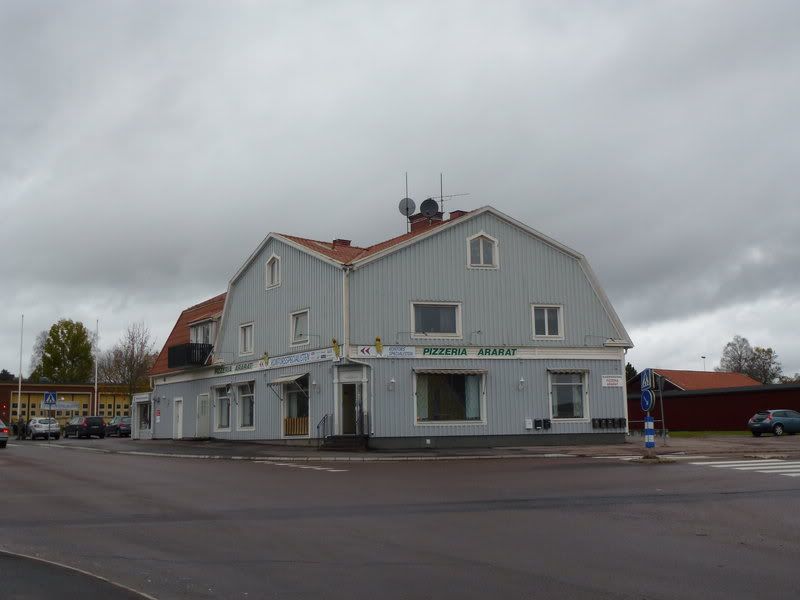 Town centre:
Quite an impressive church for such a small town: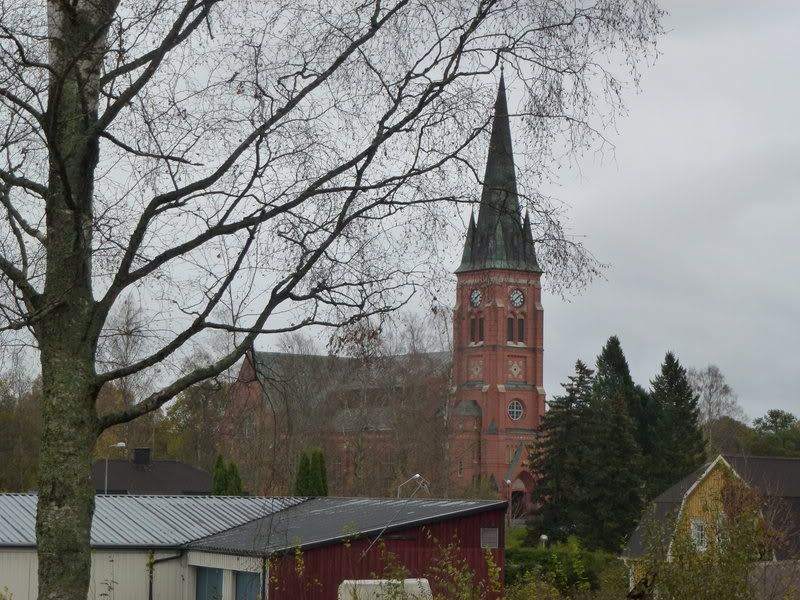 The way to the airport goes through some very Swedish (i.e. pretty) areas: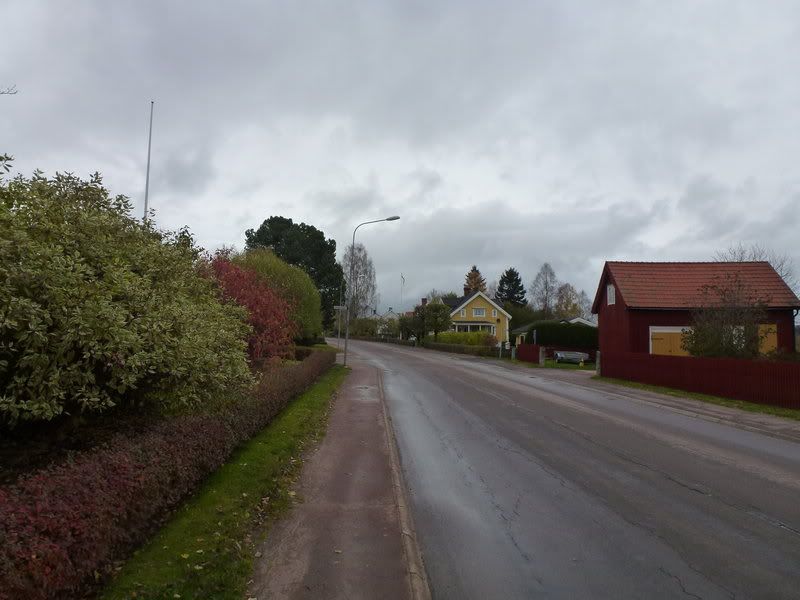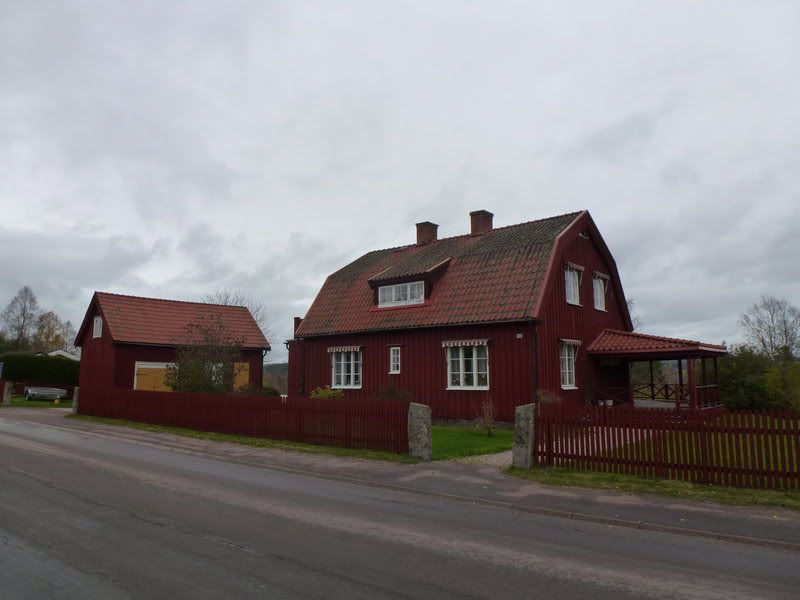 As well as some not so pretty ones: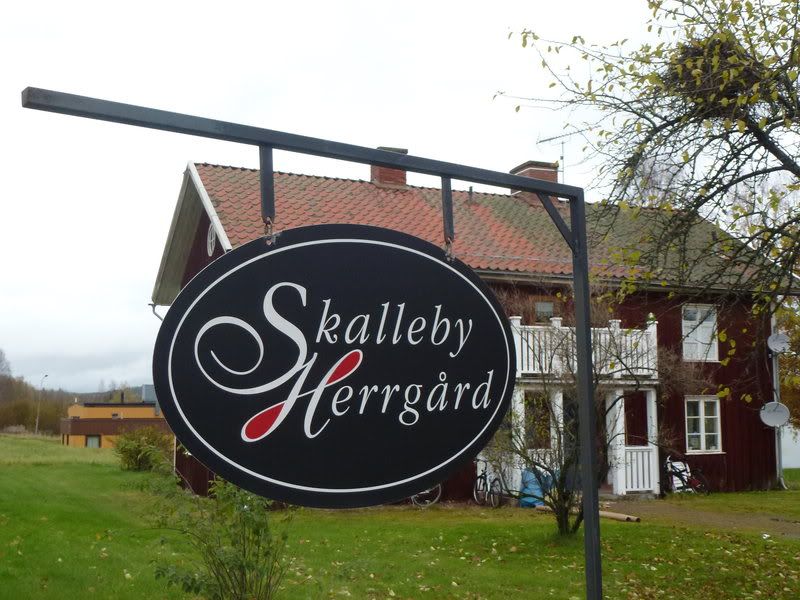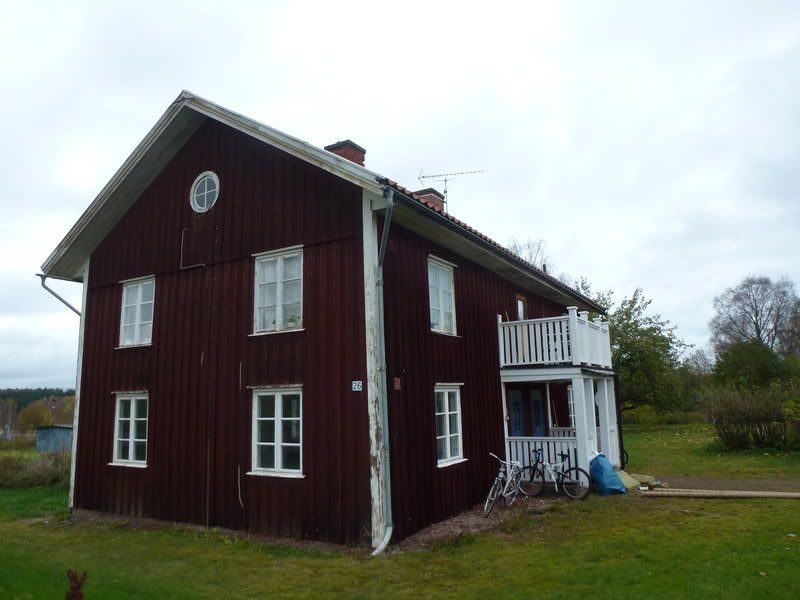 Looks like I'm on the right track: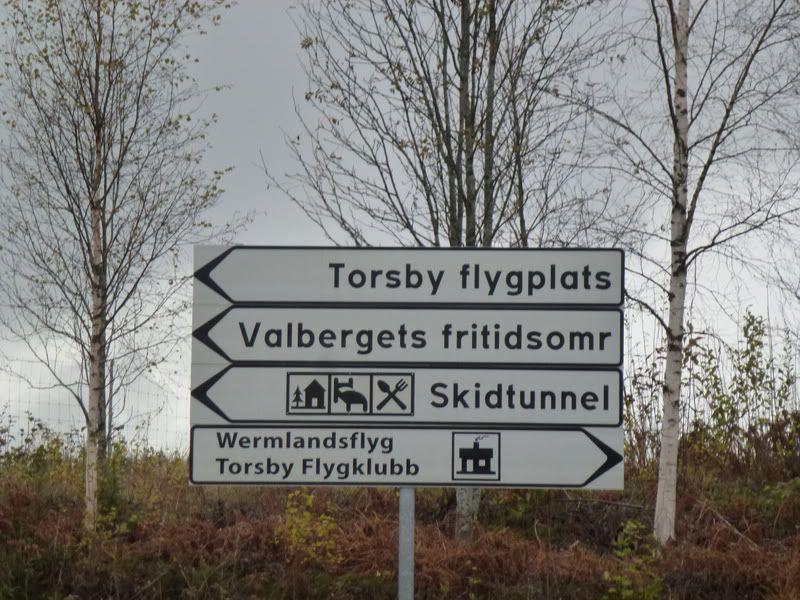 Seriously doubt that: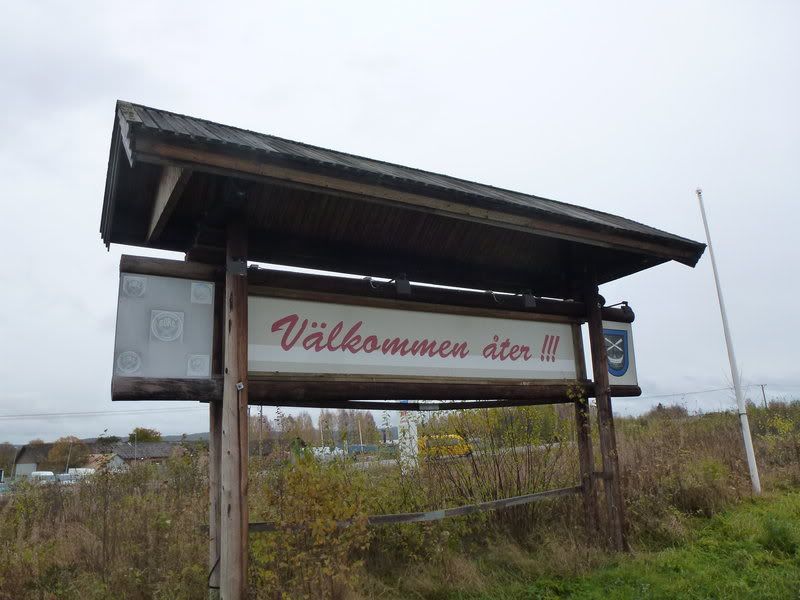 Ski tunnel, pretty much the only attraction in town: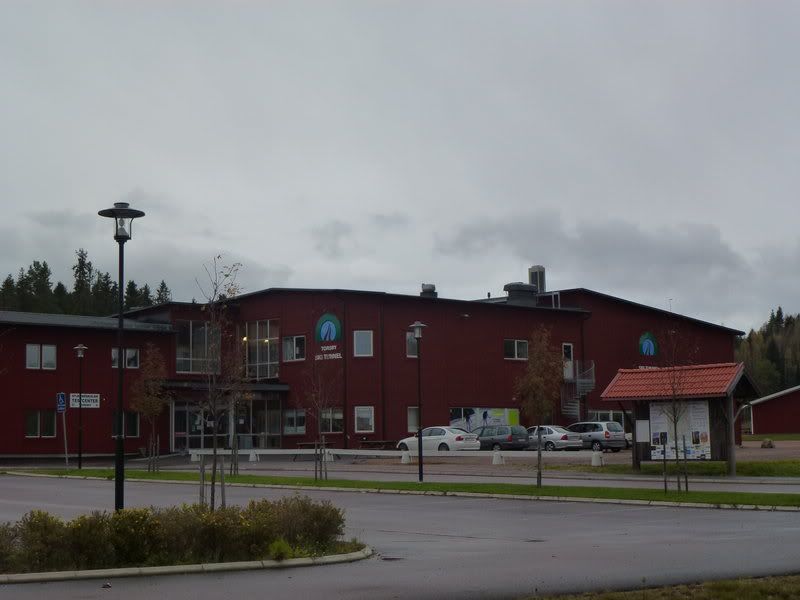 The tiny airport terminal is right next to the ski tunnel: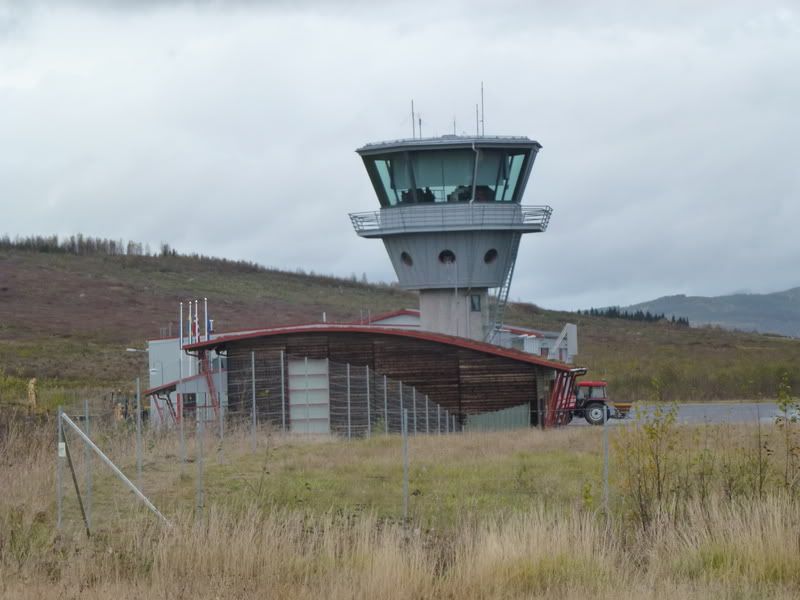 Oh dear, what is that plane parked on the apron:
Yes, indeed it is the Jetstream SE-LHE "Lahore" (my term, not officially). Bugger that, no Beech for me today, and probably not in the foreseeable future considering the type's rarity in Europe. I curse myself for putting this trip back for so long, after all it's not like it's far from home or anything...
Well, at least it is a new registration for my log and I did guess the operator right.
Torsby Airport or "The Most Comfortable Airport Experience Ever"
Buggered I make my way into the small and cute terminal: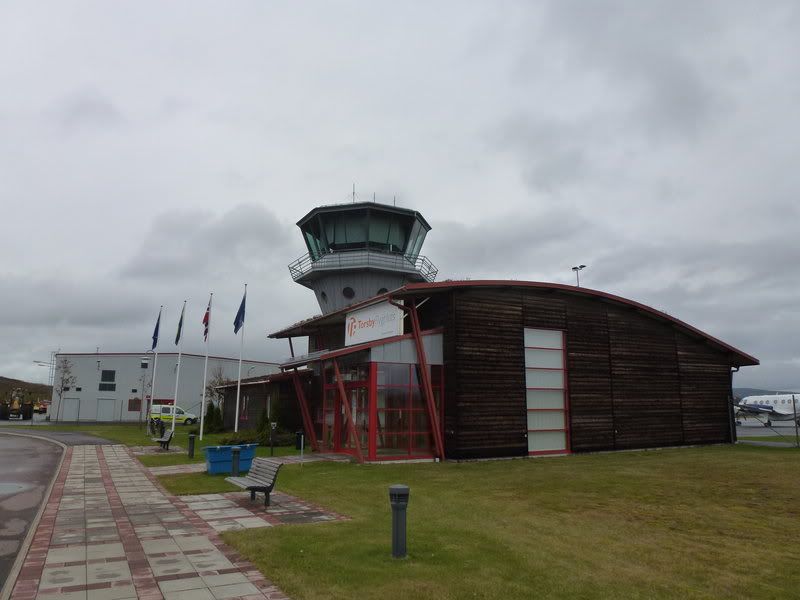 Well, there's absolutely nobody in the building:
"Free for travelers" - nice: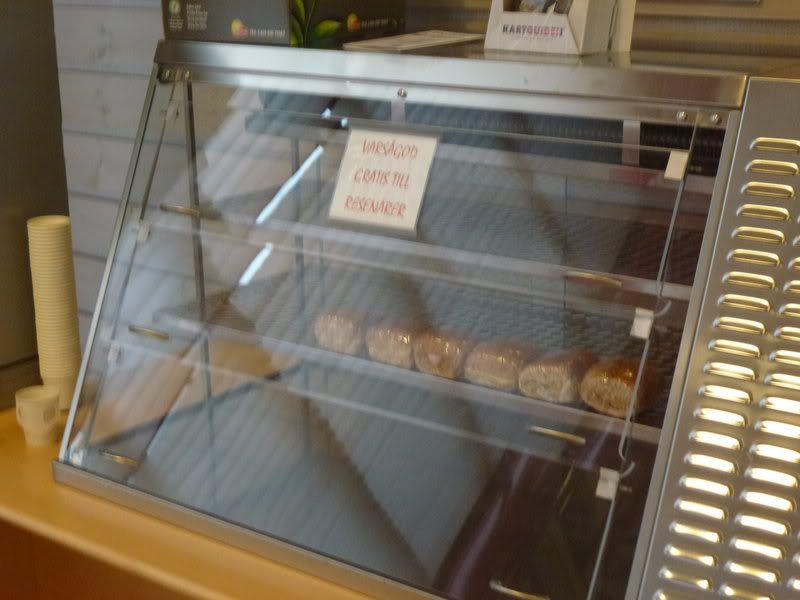 Likewise: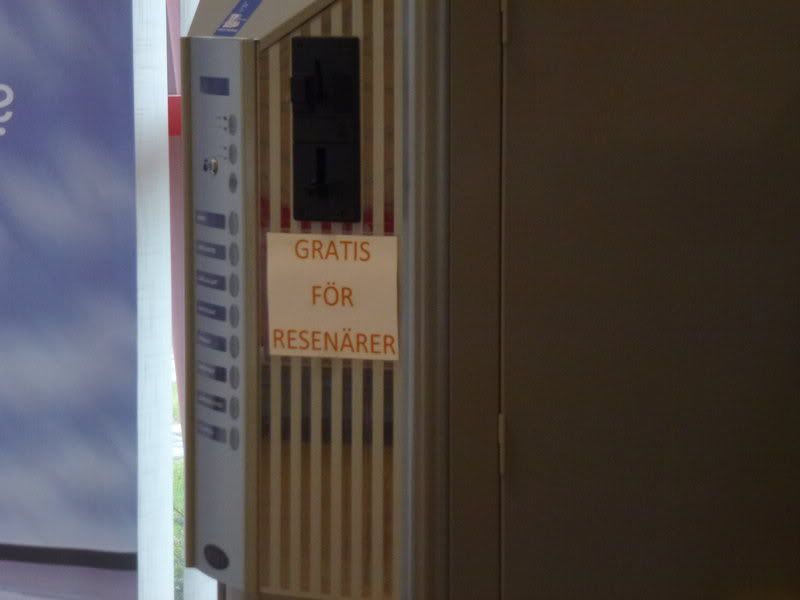 Aerial shot of the airport: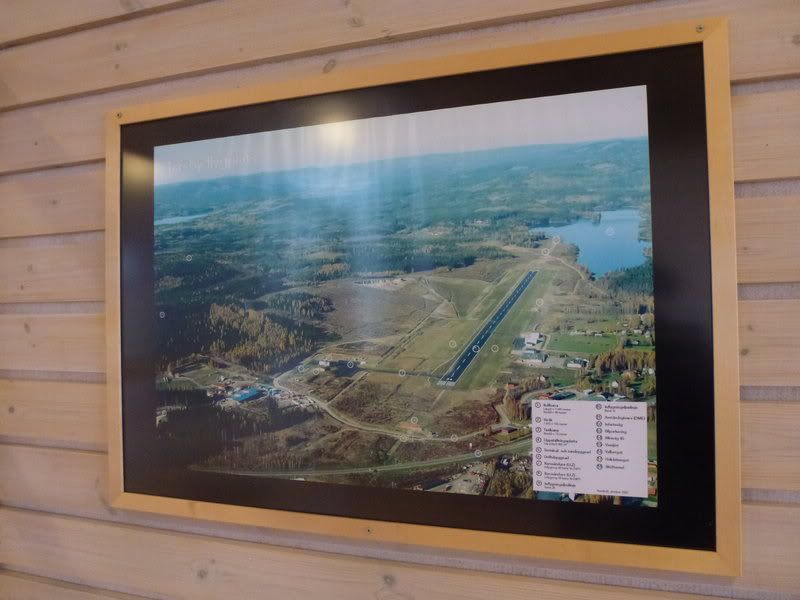 Not exactly busy: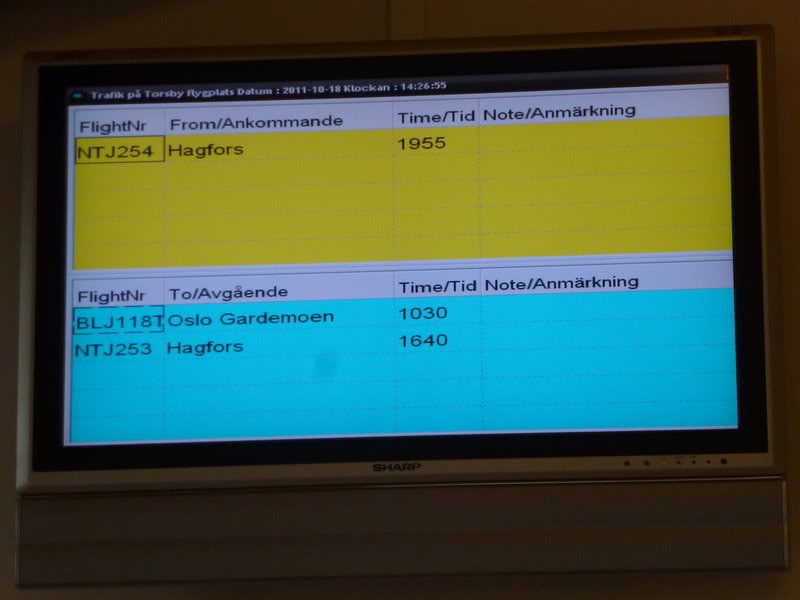 The check in desk:
The "gate":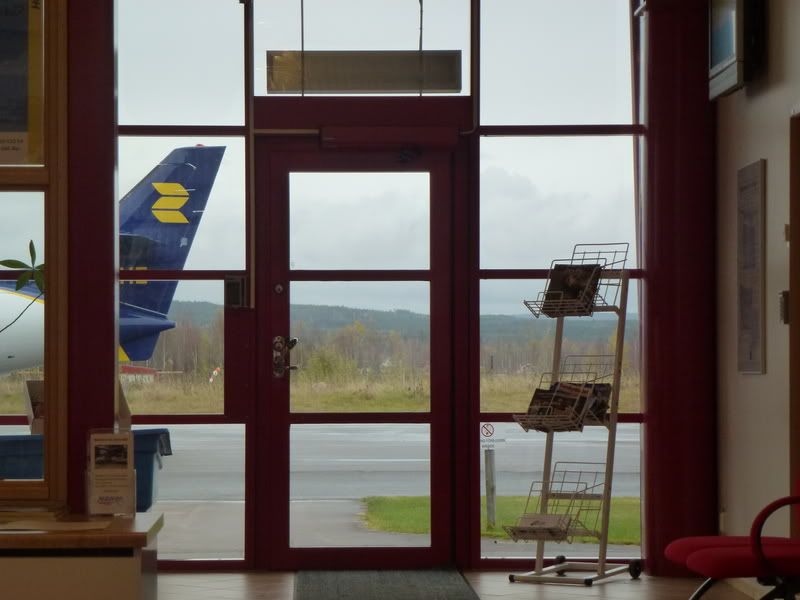 I see no metal detector around so assume it is in the back room behind the check in desk and will be opened when the plane is boarding.
Well, seriously I can't be pissed off for too long when this airport is so cute and nice. There's a comfy couch to lie on, a large TV showing some mindless reality TV, free wifi, food and coffee so just perfect for relaxing!
I am here very early so it is quite interesting to observe how the airport comes to life:
- At T-70 minutes a man shows up, says "Hej" to me and proceeds to the sandwich cabinet, putting a brown paper bag there and leaves.
- T-60: Another man comes from somewhere in the back room, says "Hej" and seems to be happy to discover the brown paper bag. He proceeds to restock the sandwiches in the cabinet (since they were originally six sandwiches I assumed that maybe there was one for each passenger, now I'm happy to have another one as there are plenty).
- T-45: One guy shows up, says "Hej" to me and grabs a cup of coffee and a sandwich.
- T-40: The pilot and first officer show up, say "Hej" to me.
- T-30: Two other passengers show up, say "Hej" to me and sit on the chairs opposite me and proceed to discuss some business matters.
- T-25: While I'm in the loo the check in agent has shown up. When I come out he asks me to check in. Check in consists of me showing my ID and getting my name ticked off a list - no boarding pass is produced. The pilots are chatting with the agent at the same time.
- T-20: The pilot and FO punch the secret code into the keypad next to the "gate" (well, door), proceed to their plane and perform the usual departure preparations.
- T-15: The check in agent opens the door to the tarmac and says "Vällkomma onbord".
That's it - apparently Sweden is like Australia and New Zealand and doesn't necessarily require security checks on small turboprop aircraft. Any connection at Arlanda will involve a security rescreening anyway, so fine with me.
There are actually only three passengers - the other guy from the business duo was apparently just seeing his partner off and is not actually traveling.
TYF - HFS
2N253 Operated by Direktflyg
Jetstream 31 SE-LHE
Seat 5A
16.33 - 16.44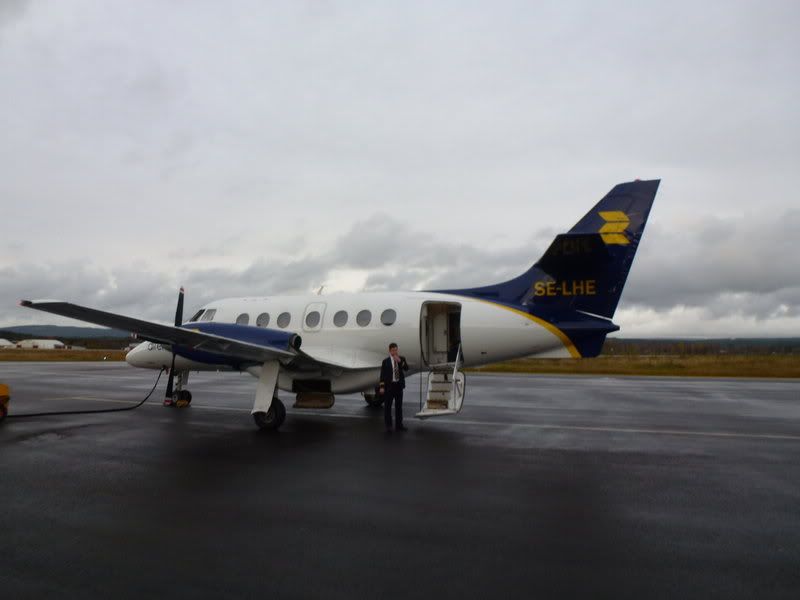 The FO overseeing the boarding asks me to sit in the back. I grab the single seat on row five. After boarding is completed (seriously how long does it take to get three pax onboard?) the FO hands out earplugs, I decline and say "I want the full experience" causing him to laugh. He also suggests that I should move one row further to the exit row (so much for a seat in the back) for some extra legroom, but I say I'm fine with my seat.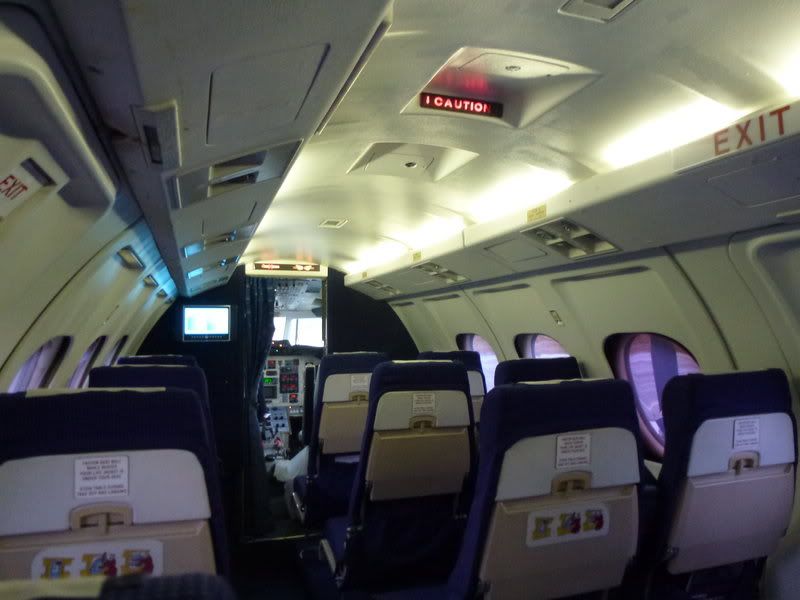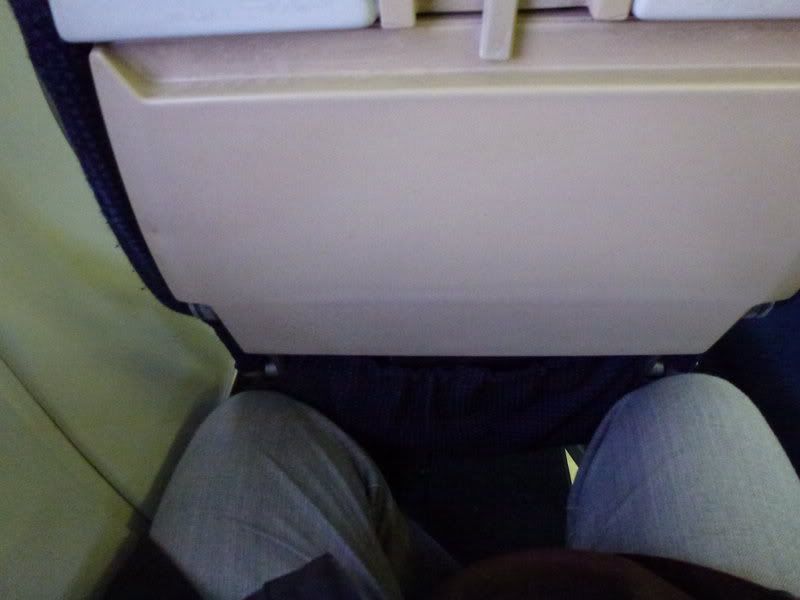 Safety demo is played from DVD with the screen attached to the bulkhead wall: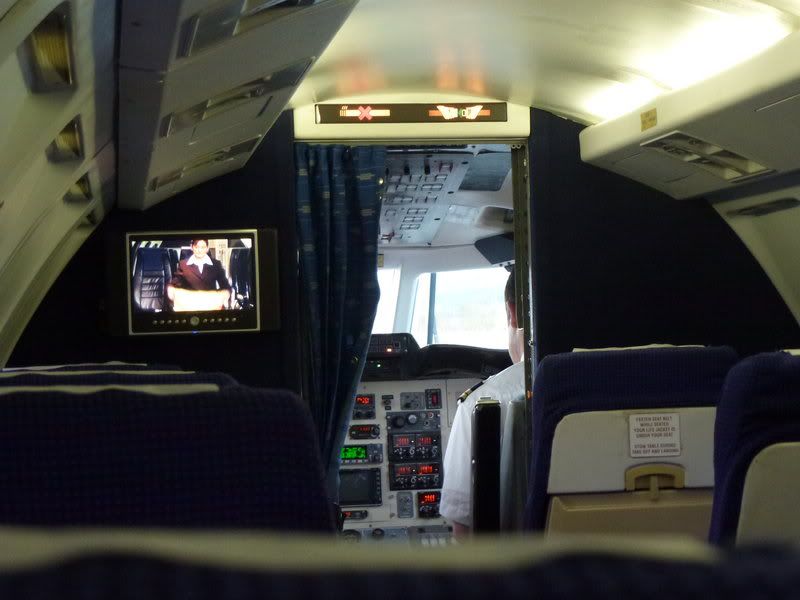 The check in agent aka. "Jack of all trades" - it looks like he is the only employee at this airport: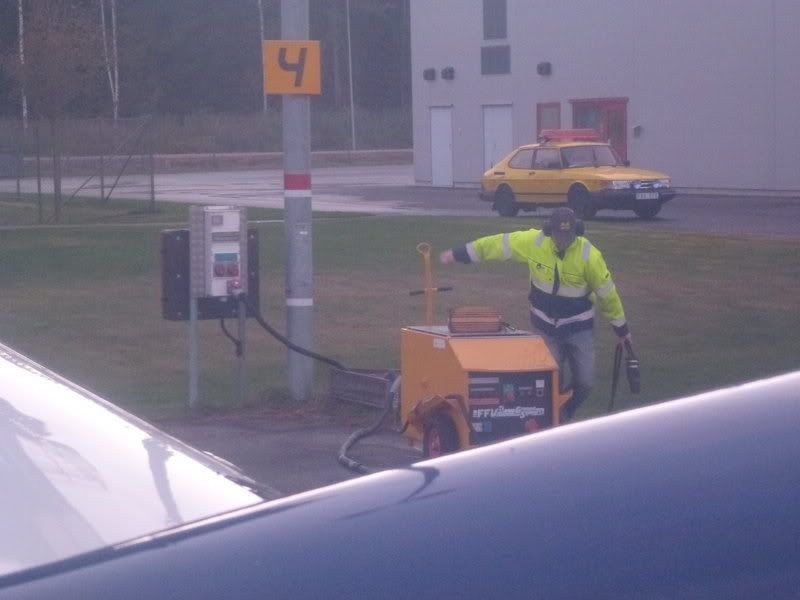 So very Swedish: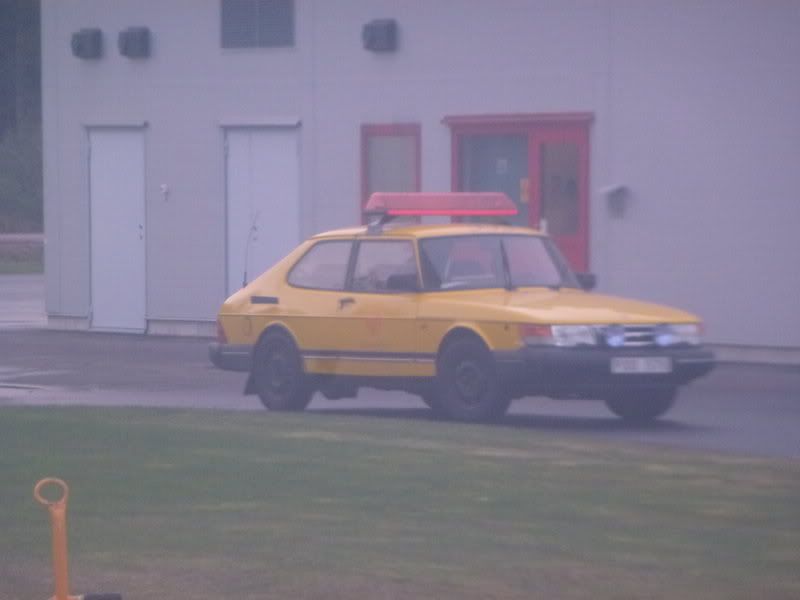 The captain announces our flight time to Hagfors as 10 minutes with a further 45 minutes for the leg to ARN.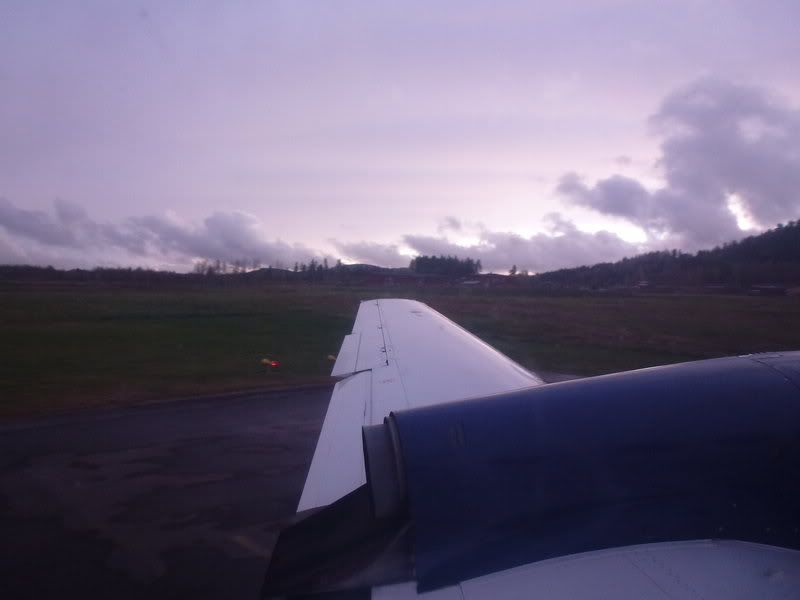 Not much wind today: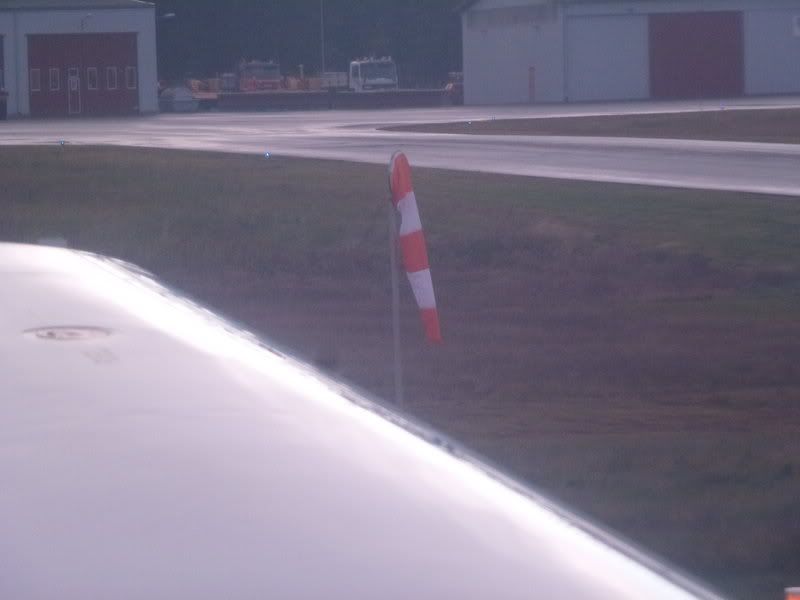 Departure is seven minutes early, with take off from 34 towards the north two minutes later: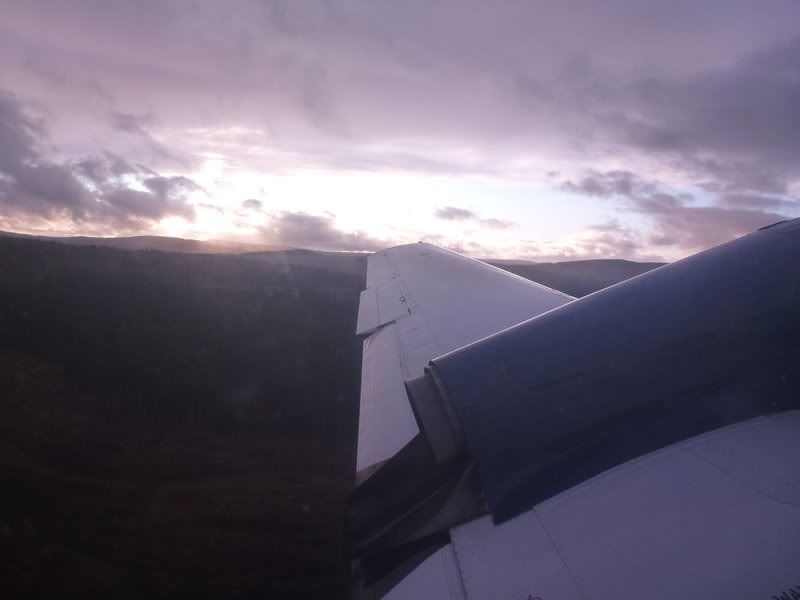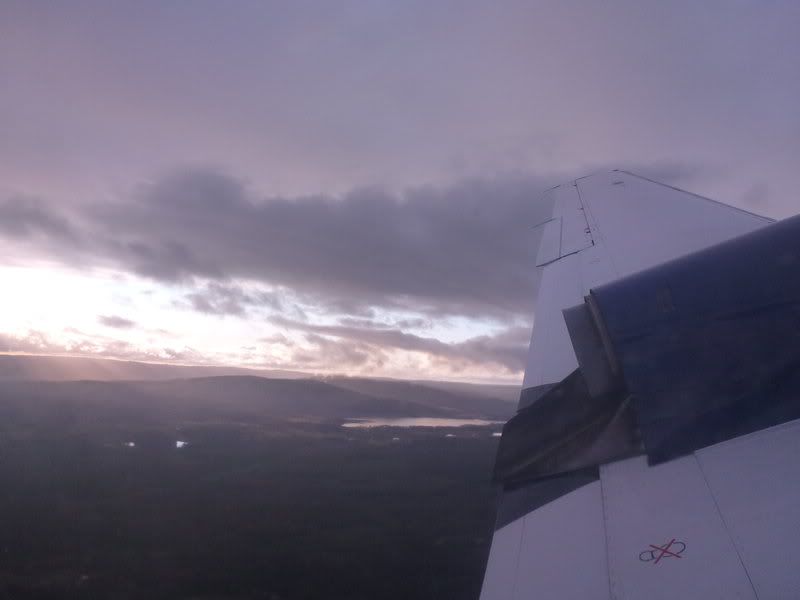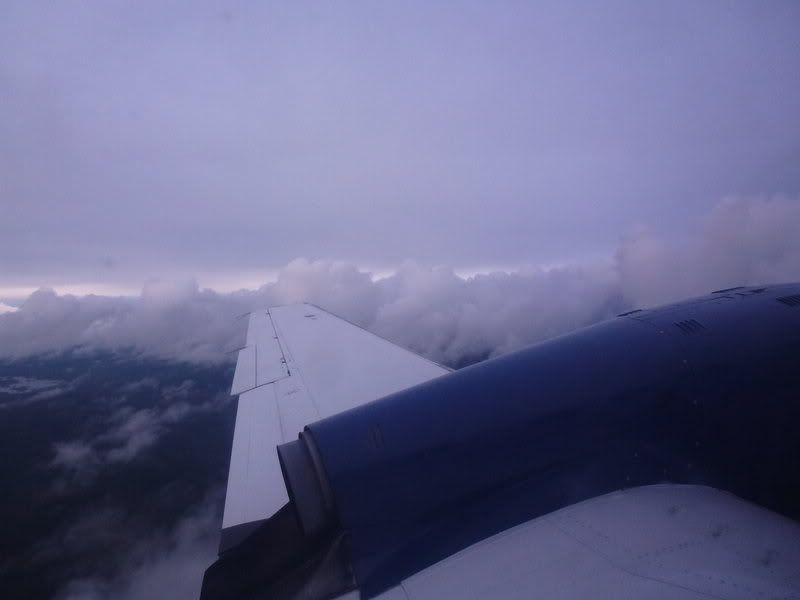 This is a very fun flight, my shortest one to date at 22 great circle miles (a full two miles shorter than my previous one, JER-GCI!). Basically we make one right hand turn which points us directly towards HFS airport, cruise above the low cloudbase for two minutes and commence descent, landing on Hagfors' runway 18 exactly nine minutes after take off. Well done!
Top