P E R S O N A L - I N T R O
This is my fifth trip report and normally I don't do trip reports for domestic U.S. flights as they are generally pretty unremarkable. However it has been a little while since I did one AND this was not a typical trip. I flew the first leg on a CRJ-200, one of the smallest planes in the Delta fleet, but the second leg was on a 777-200LR, one of the largest planes in the Delta fleet!
The reason for the trip was to visit a good friend who had cancer at a young age. It was caught quite late, but fortunately surgery and chemo went well. Each year her family throws a survivor party for her which I always attended. This year her party was over the long Columbus Day weekend.
B O O K I N G
Given the party's date was set well beforehand, I was able to setup some fare alerts on-line and got a notification when the fare had gone quite low. I had been watching it long enough to know that each Monday morning Airtran would set a price and by Tuesday morning Delta would match.
One week when the sale price was especially good I searched for flights and had resigned myself to a CRJ-900 from ROC to ATL as a non-stop flight. However out of curiosity I started to see if there were any interesting combinations involving a long layover in DTW, as that is my favorite U.S. airport. I then stumbled upon a 777-200LR flight from DTW to ATL!
At the time Delta was flying their 777s out of ATL, LAX, and DTW but rotating them through ATL for service and maintenance. This would be one of those flights. Being a 777-200LR it has lie flat BusinessElite seats. On these domestic flights they treat it as a normal first class service and the seats are made available for FREE Medallion Elite upgrades.
Being Platinum I knew my chances of clearing the ugprade would be pretty good so I went ahead and booked the ticket. Of course all my friends and relatives thought I was nuts for taking a connecting flight when the direct flight was available and a few dollars cheaper. But you can't turn down the 777-200LR BusinessElite seat, even if it is a 2 hour flight!
Sure enough at 6 days before my flight the upgrade cleared! However it is a good indication of just how many Diamonds and Platinums there are is that when I went to pick a seat on Delta.com, ALL the window seats in BusinessEllite were already taken!
P R E - F L I G H T
The day before the flight was very hectic for me and I ended staying awake the entire night finishing up errands. I left for the drive to ROC later than I would have liked. If you've read my previous trip reports you know that there is a certain type of chocolate I like to bring to give the FA's on long flights. Unfortunately the morning of my trip I didn't want to risk missing my flight so I didn't have time to buy them!
As I drove to Rochester I was amazed at the time I was making and ended having time to stop to get chocolates at a truck stop off of I-90 so I wasn't completely empty handed! Of course if I had known what I would find in ROC I could have done plenty of shopping before leaving for the airport!
I arrived in Rochester in good time and proceeded to the Red Economy Lot. The attendant told me to go to aisle "I" and as soon as I was parked a Rochester Rocket shuttle was waiting for me! That is what I love about the airports in Upstate, NY! Economy parking is only $5.75/day with free and frequent shuttles. Also the "Economy" lot at ROC is closer to the terminal than most airport's normal lots!
I was the only passenger and the driver confirmed that by 9 am ROC gets pretty quiet and that it is really 5 am to 8 am that the airport is crowded with all the morning departures. I tipped the driver and asked him to wait before pulling away so I could get a photo which he was kind enough to do!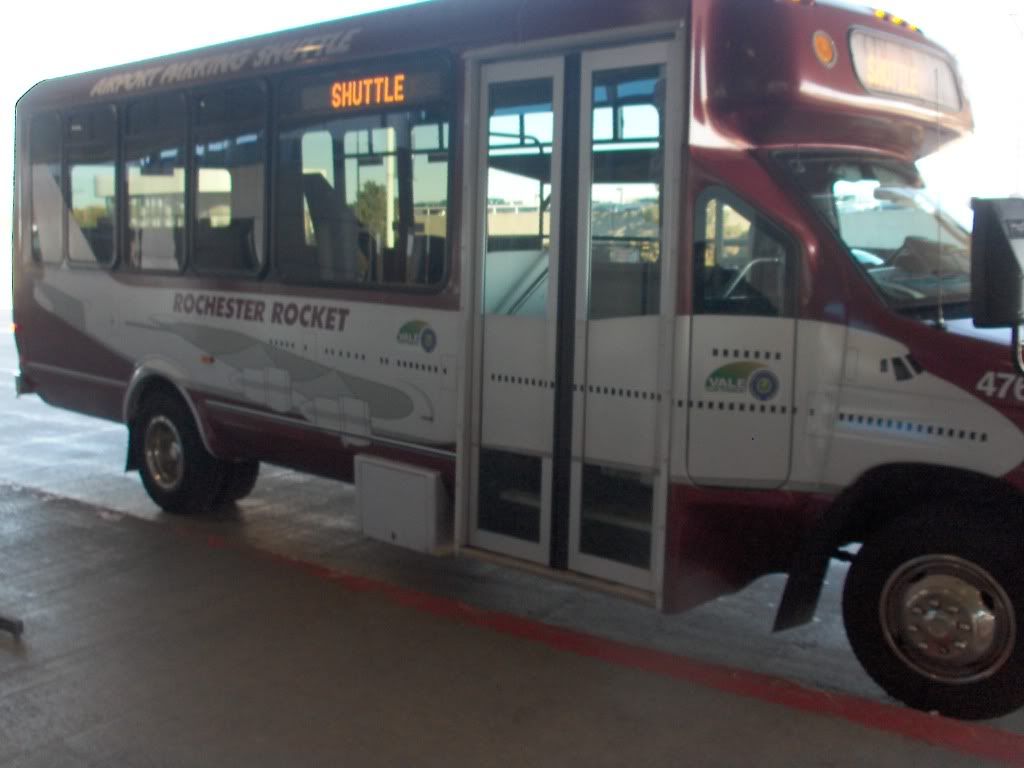 One of many "Rochester Rocket" Shuttle buses that go between the terminal and the parking lots. Unlike PIT's shuttle buses, none of these have ever tried to run me over!
As I approached the the Delta check-in area I had decided to insist on going to a counter if there was the customary long line to use a kiosk. Normally the agents will not help you at the counter until you've used the kiosk and had a problem. Much to my surprise the entire check-in area was completely empty so I was able to stroll up and immediate use a kiosk. I had forgotten just how SLOW the Delta kiosks are. I could almost hear the sound of the dialup modem ringing HQ in Atlanta and connecting to the 1960's era mainframe to retrieve my reservation! When it finally came up I was informed that my flight was delayed!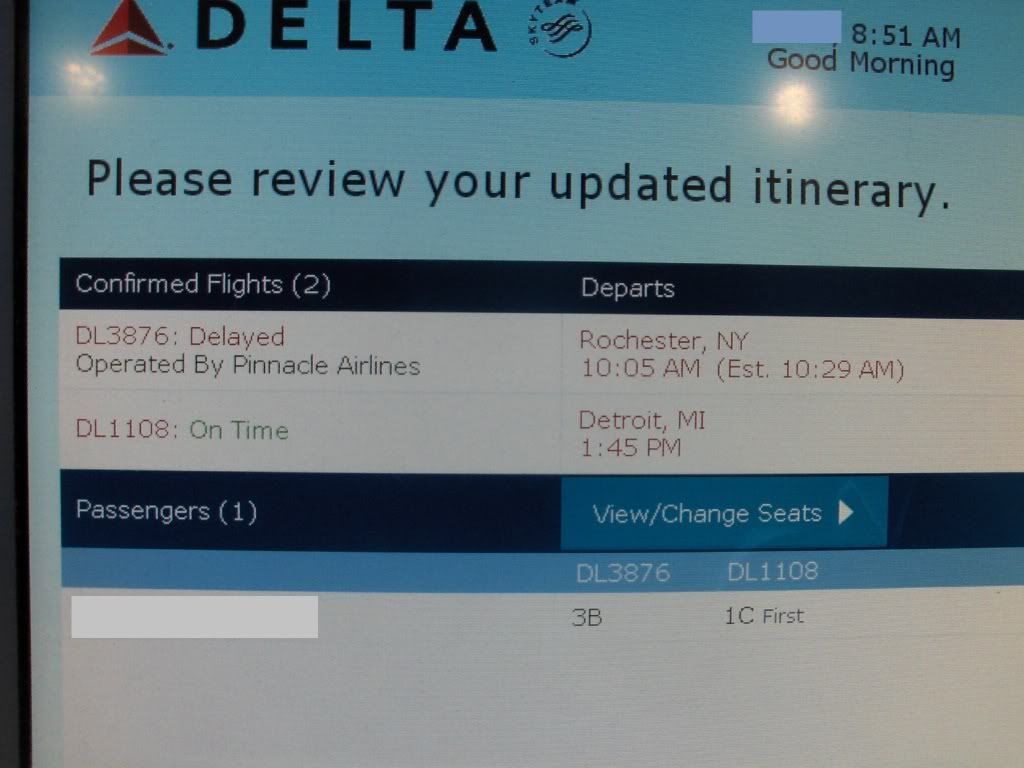 The Delta Kiosk telling me that I could have gone shopping for chocolates at home before coming to ROC!
I silently laughed to myself that the one time I really rushed because I was worried about being late...the flight ended up being late anyways! I then looked at the seat map and it confirmed that the flight was pretty full and that there would be someone sitting next to me on the small CRJ-200!
With the delayed flight I had time to take few pictures of the landside area of ROC which is quite nice and offers a nice view of the airport!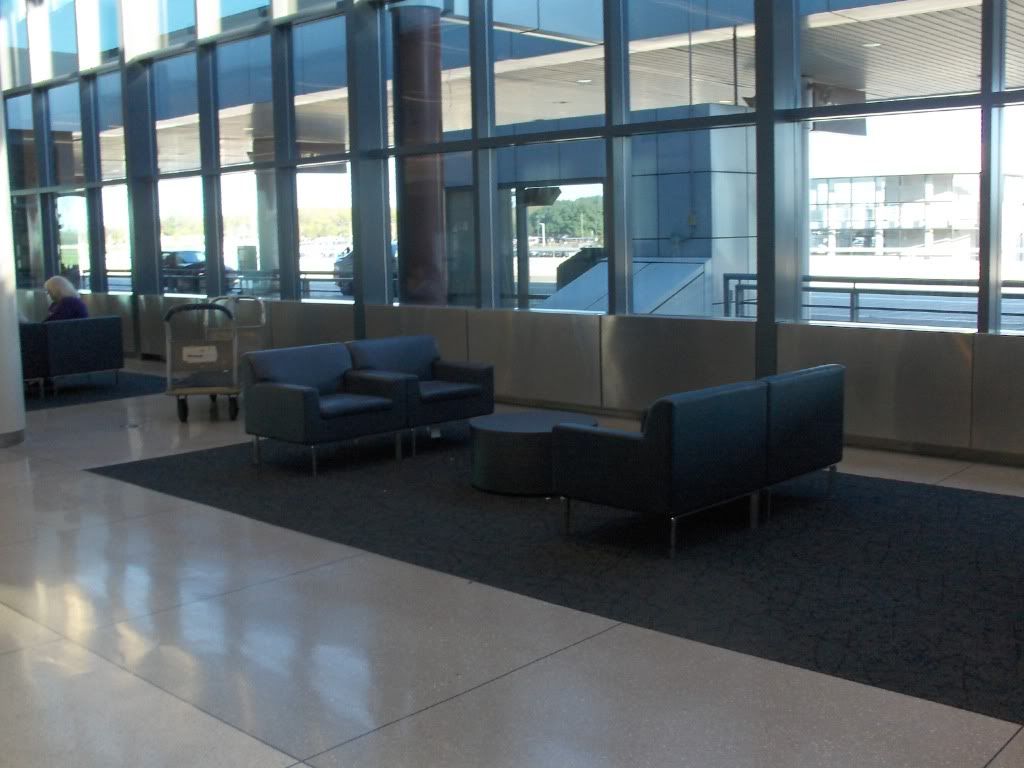 A nice sitting area airside at ROC, across from the USAirways counters.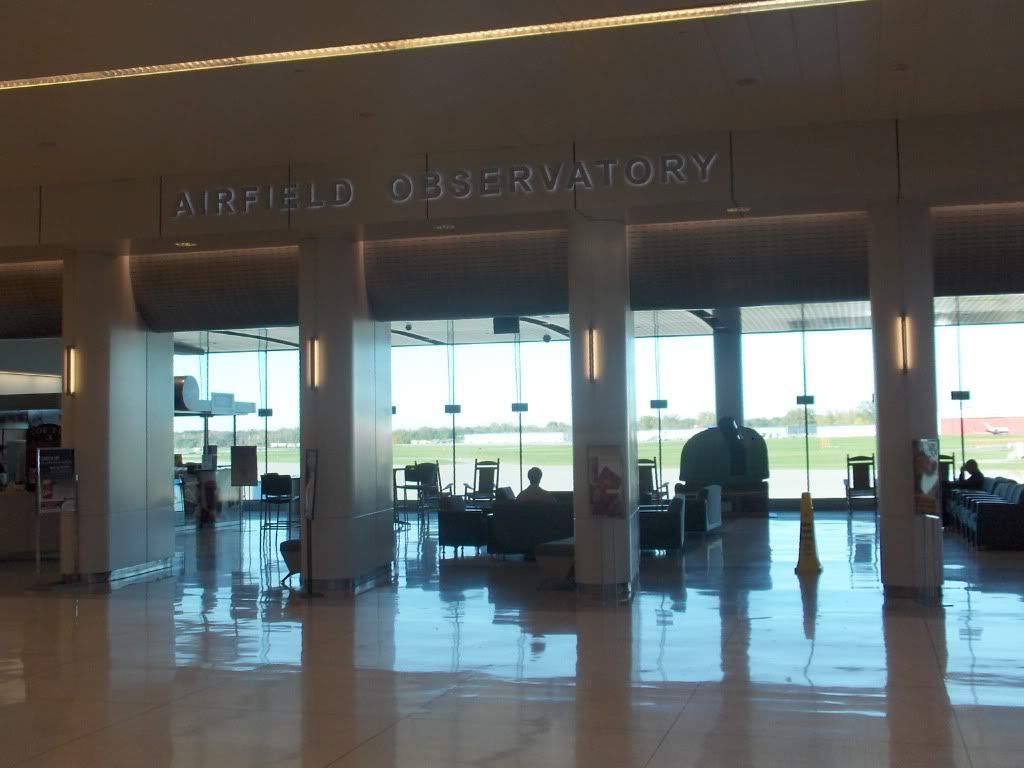 Airfield Observatory at the far end of the check-in area.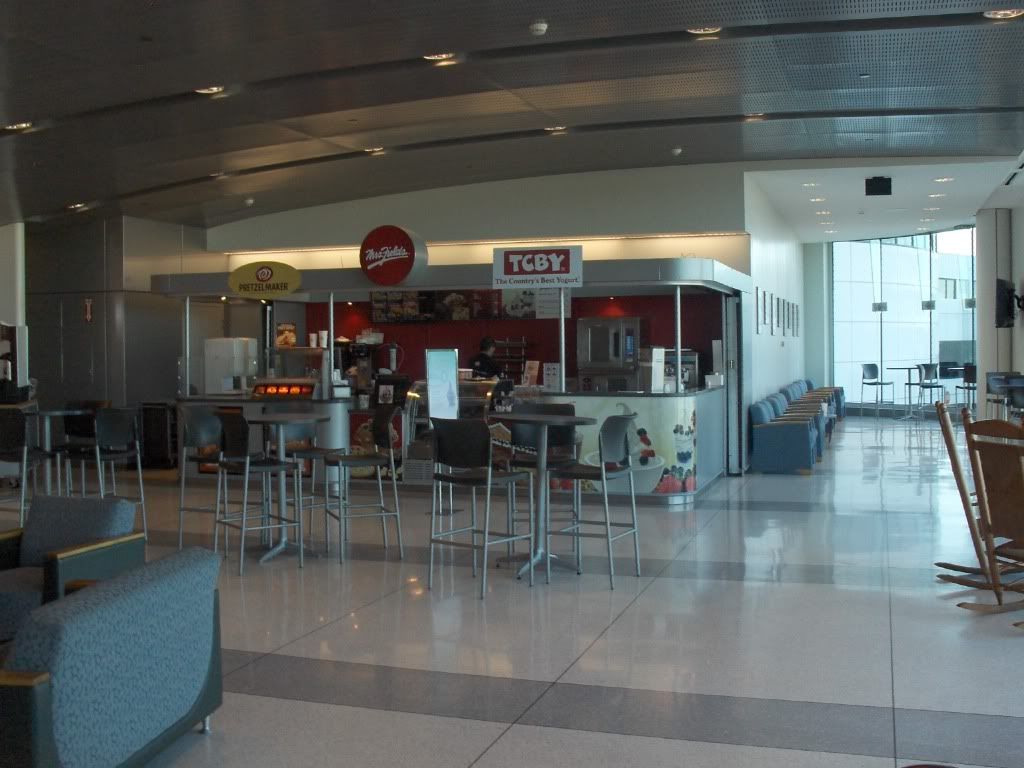 Snack bar in the Observatory.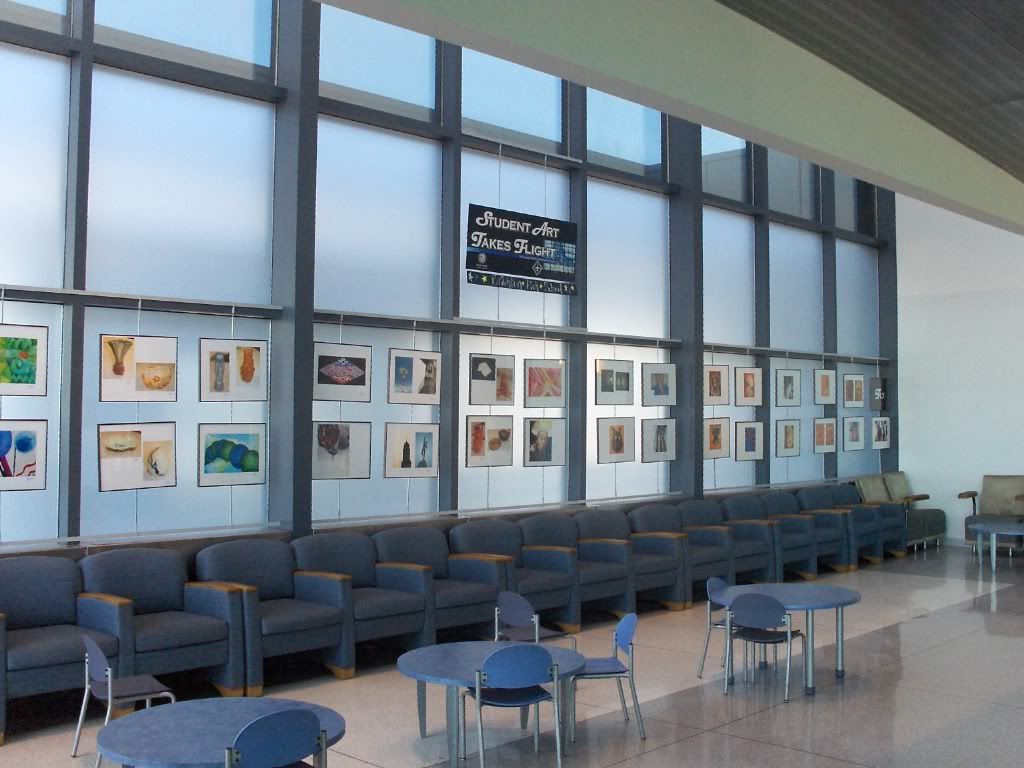 Artwork in the Observatory.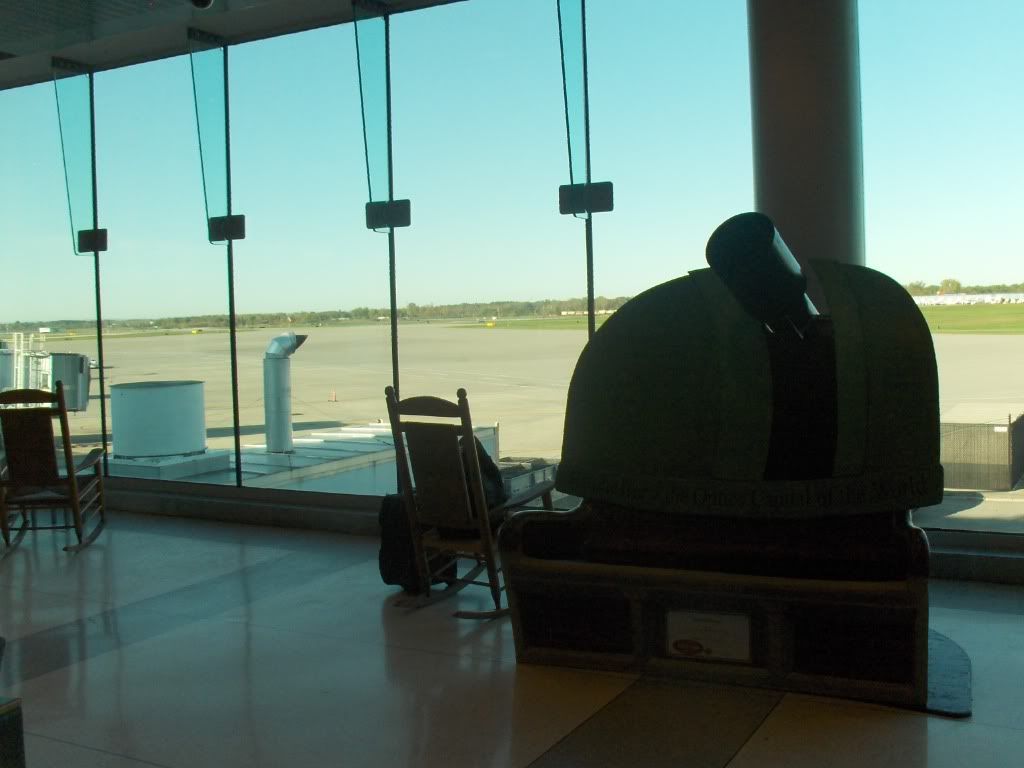 Airfield view!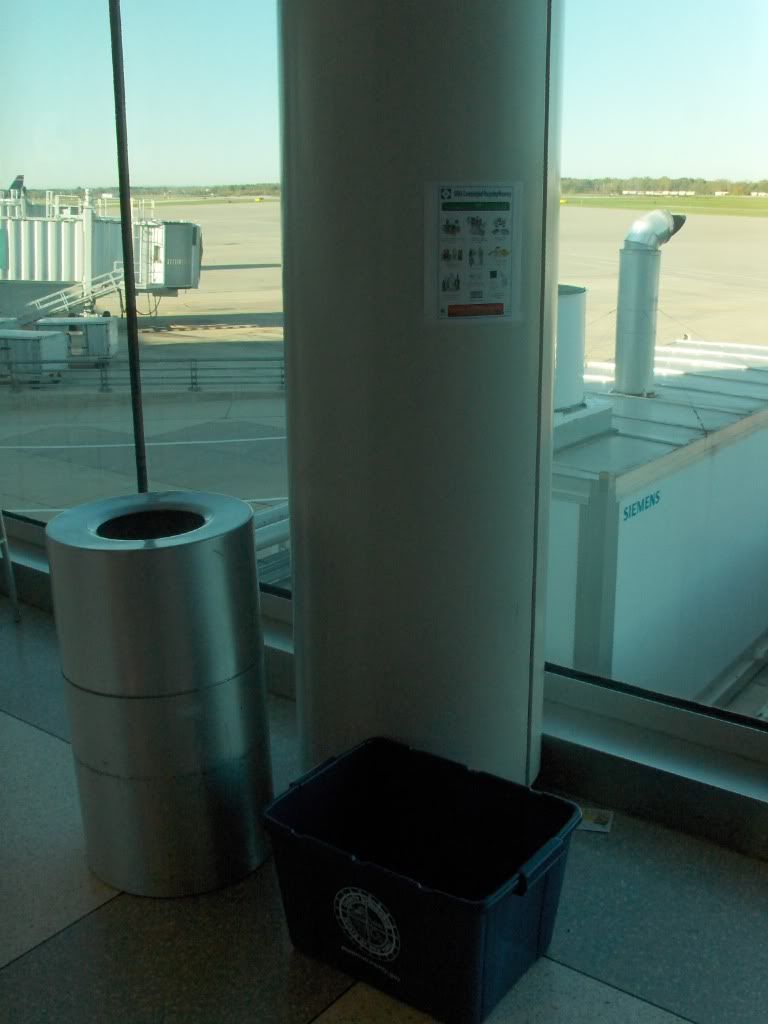 Garbage and Recycling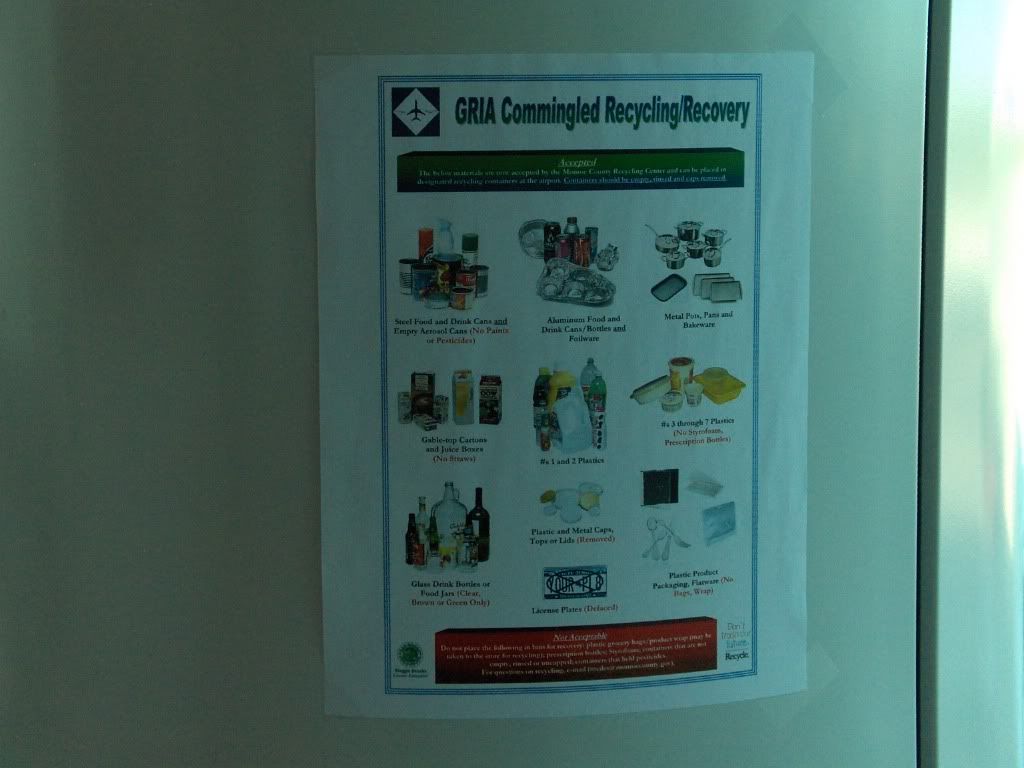 Commingled, or Single Stream, recycling is becoming the norm in Upstate, NY. Now even the minimal amount of separating is no longer required.
Flag with a Rochester Rocket and a horse, yes a horse, painted with the Stars and Stripes!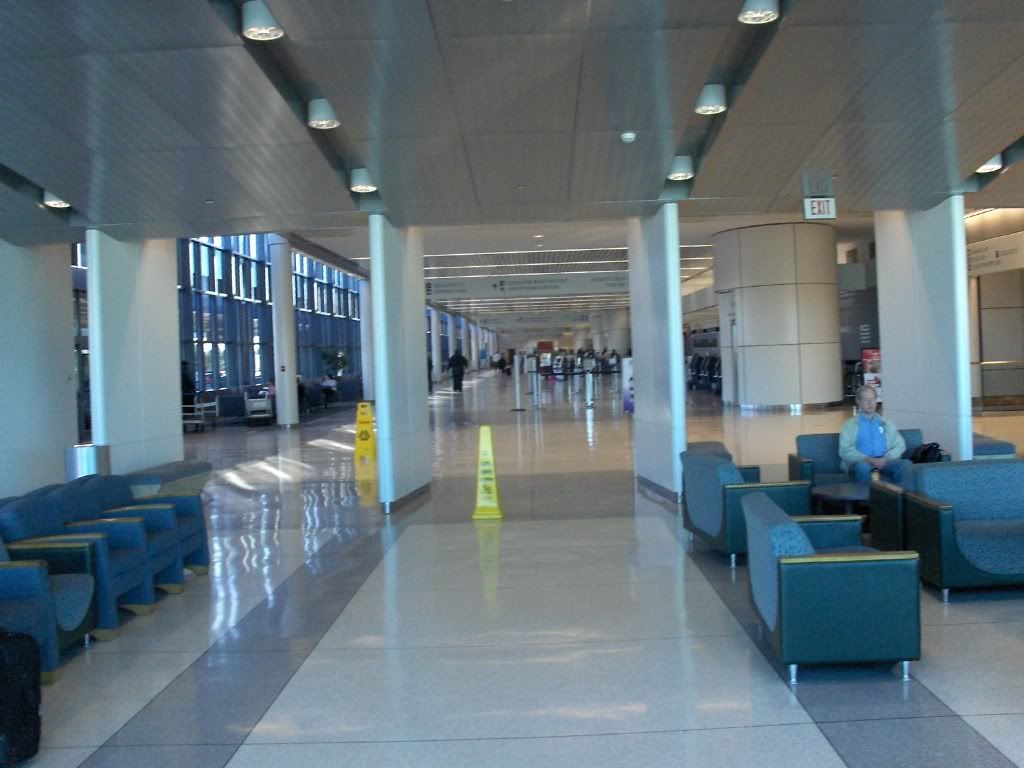 View from the Airfield Observatory looking back at the check-in area
Before heading through security I figured I'd check with the ticket counter as to my flight's status. I was greeted by a small middle aged Asian woman. She checked her computer and said that the flight was delayed but should be leaving by 10:30 am. I then asked about the seat and she said to check with her at the gate as she would be the gate agent for the flight and that she would see what she could do. This gave me some hope so I headed through security which was a breeze as ROC was quite empty! It even looked like the nude-o-scope was turned off and we would all just be going through one of two metal detectors. Funny how NOT getting your genitals fondled makes for a pleasant traveling experience!
On the other side of security I took some pictures of the central area between concourse A and B and then headed toward the rotunda that leads to Concourse B.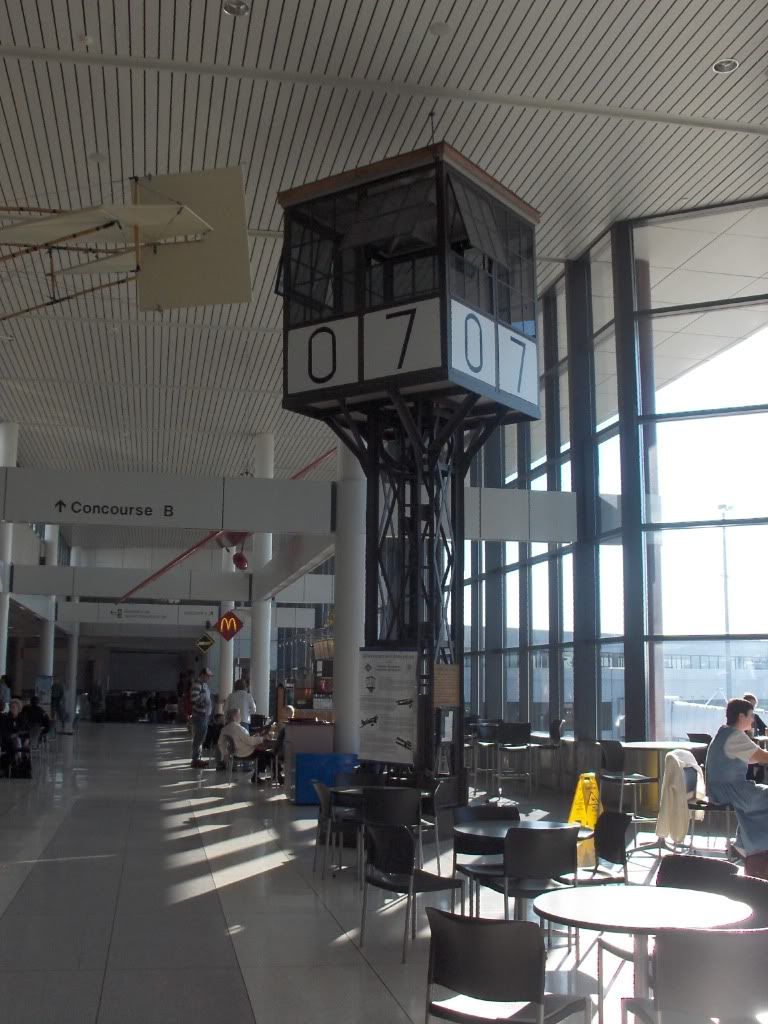 ROC control tower, circa 1937!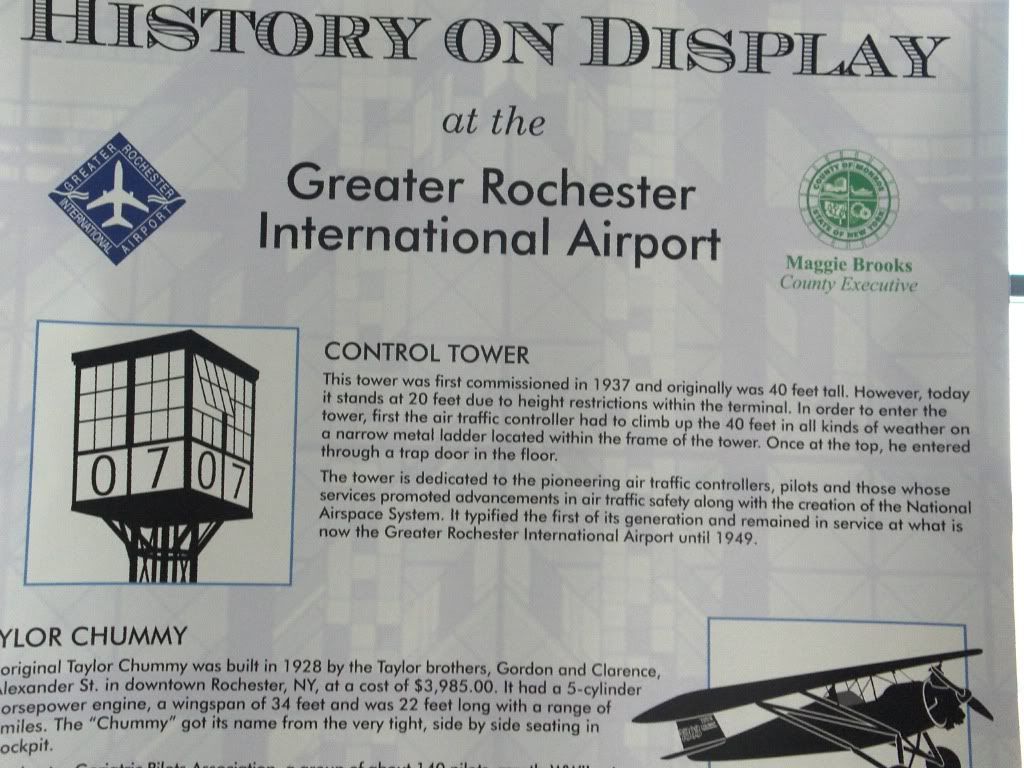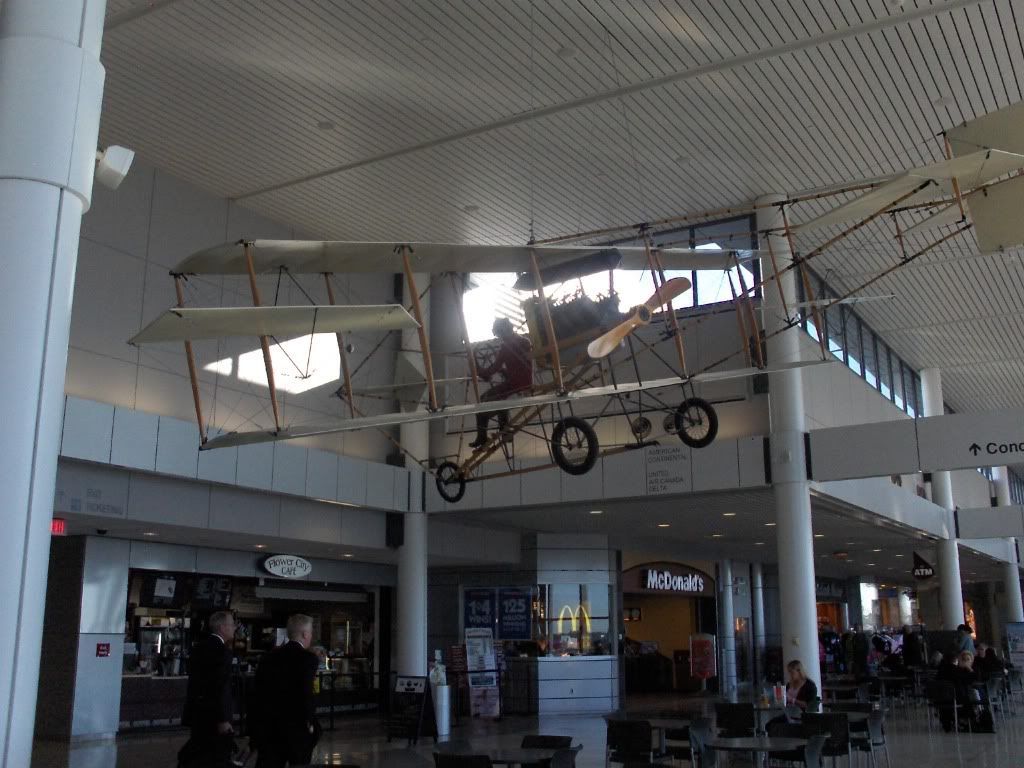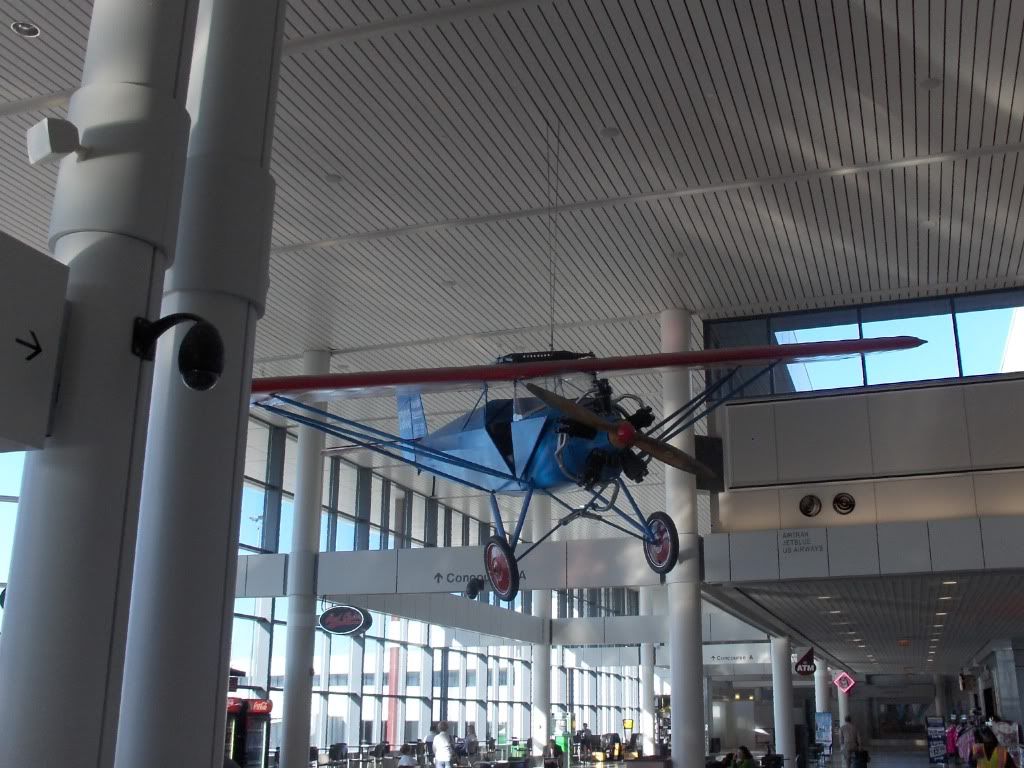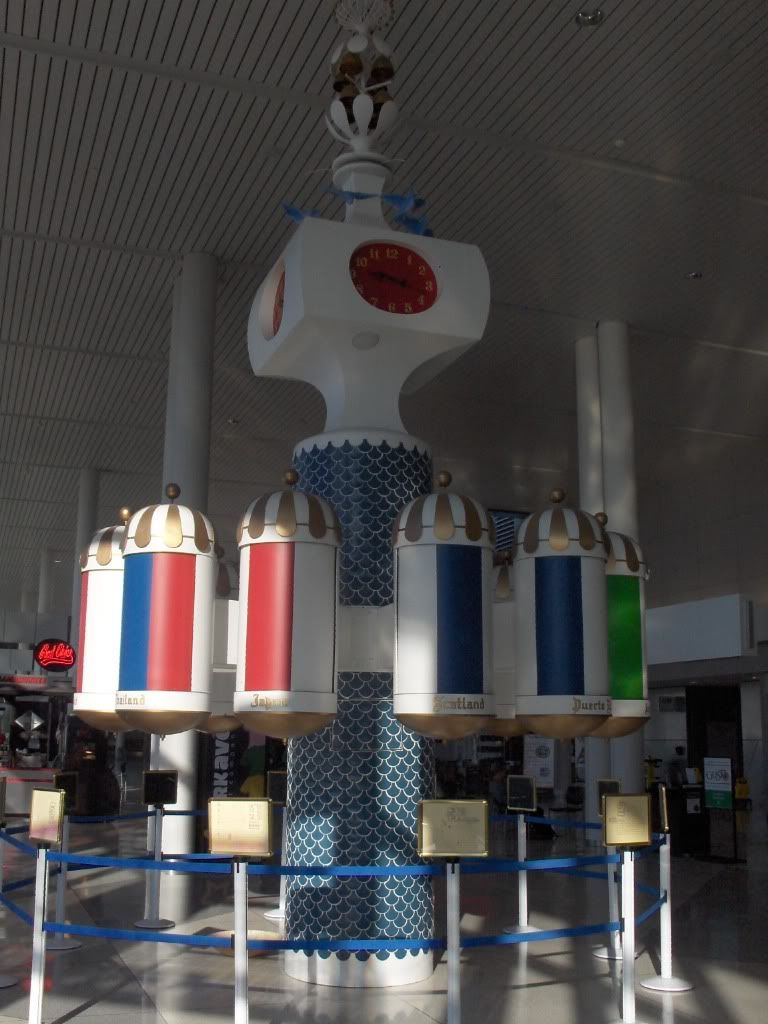 This is some sort of clock thing that actually spins and opens at the right times.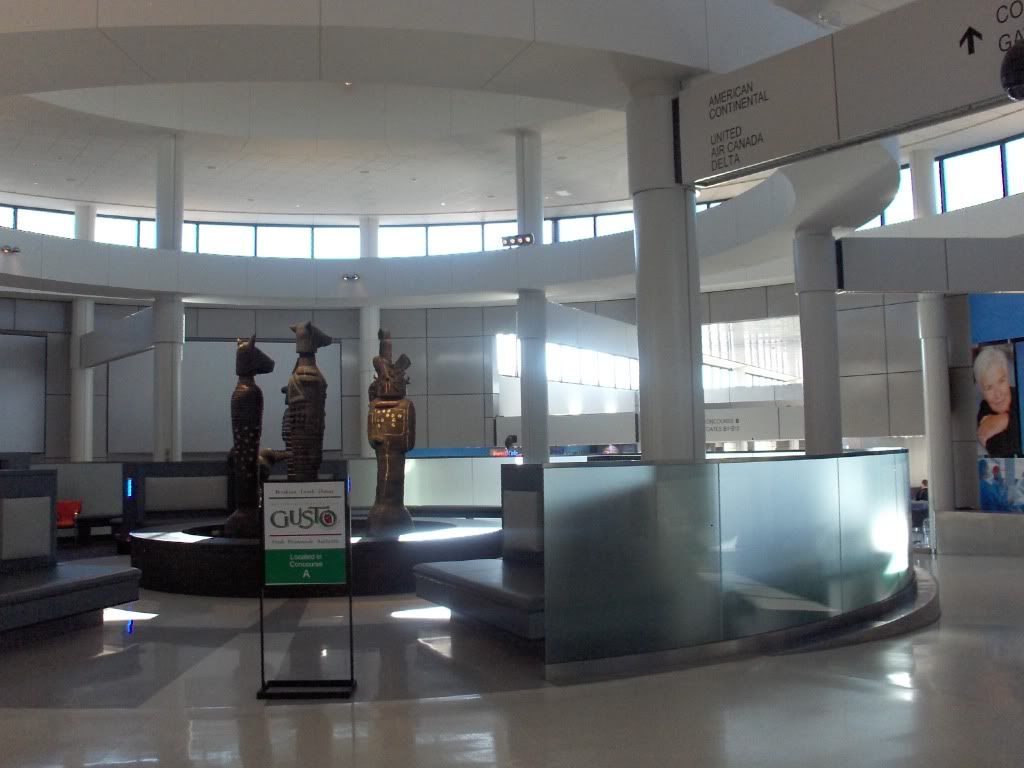 Rotounda leading to Concourse B.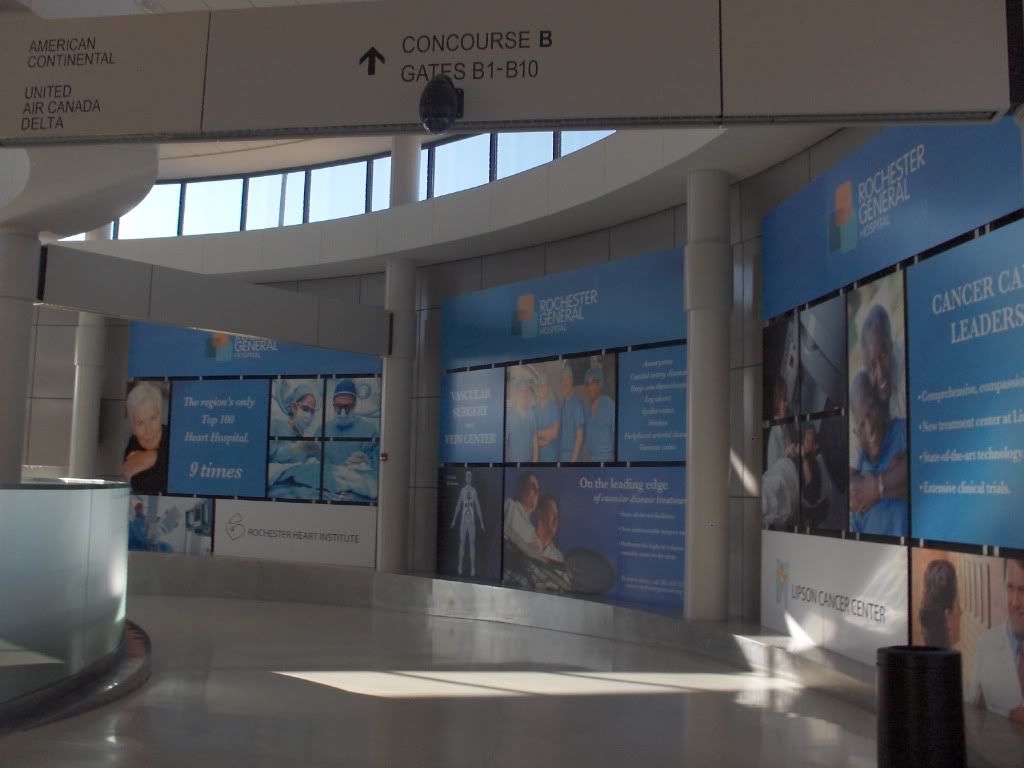 Medical related displays and information.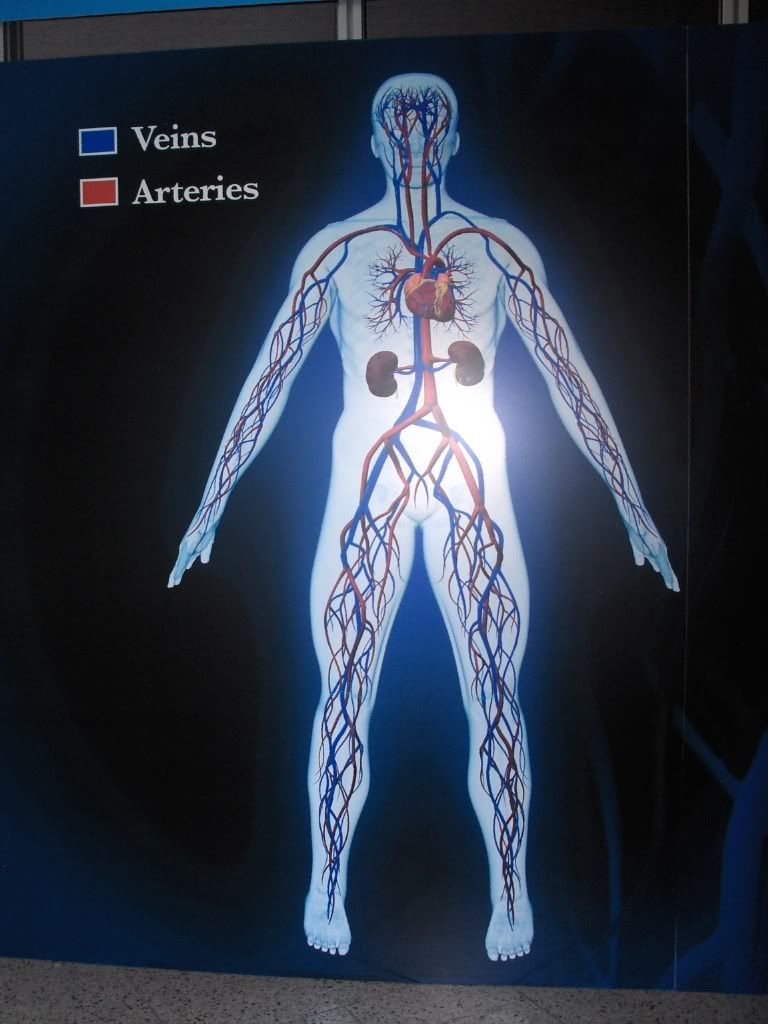 I just thought this was cool!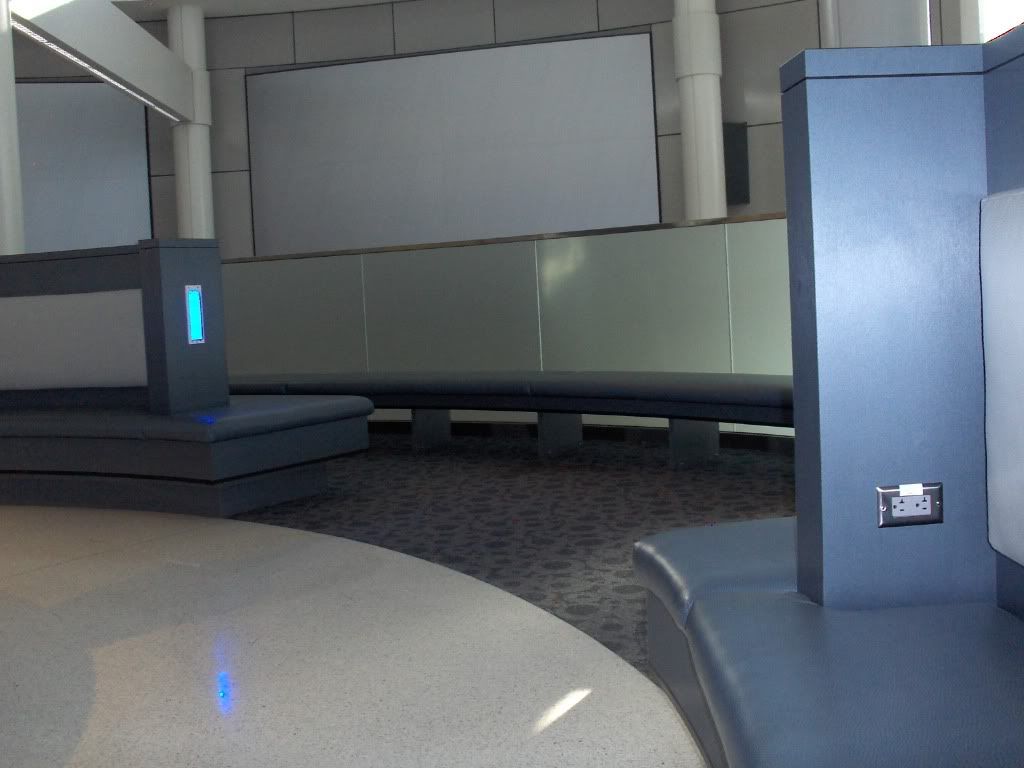 This is lots of comfortable seating underneath the rotunda itself!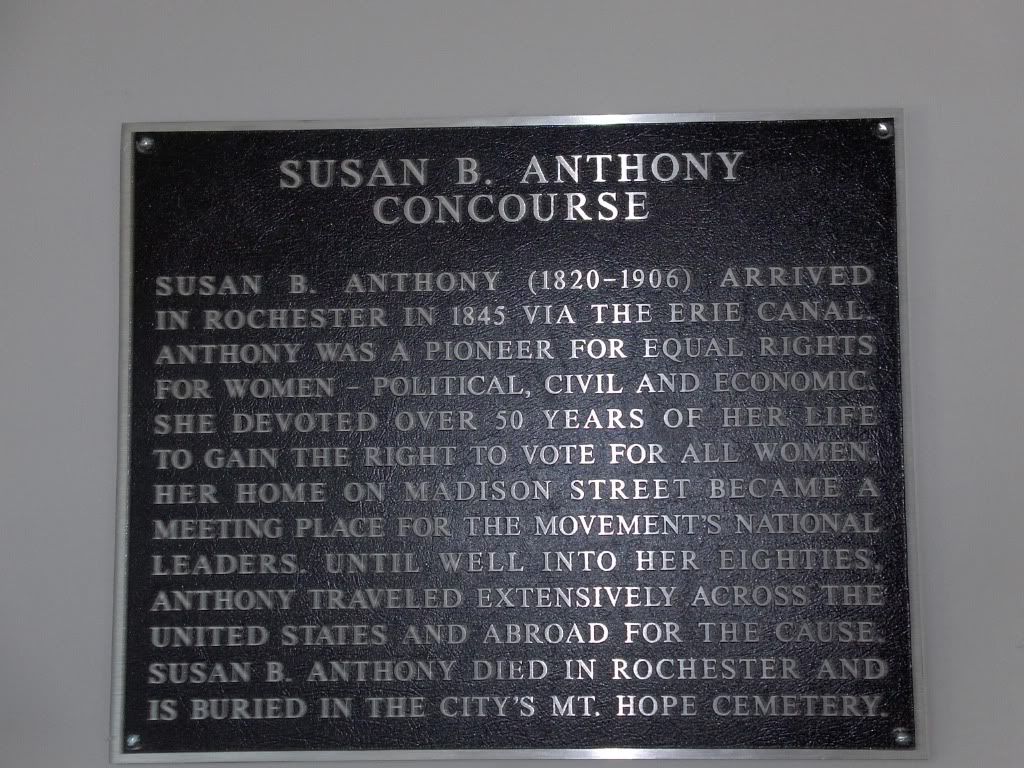 Apparently Concourse B at ROC has a name!
As there was still time I had a chance to take a few pictures and stroll around the concourse and use the restroom.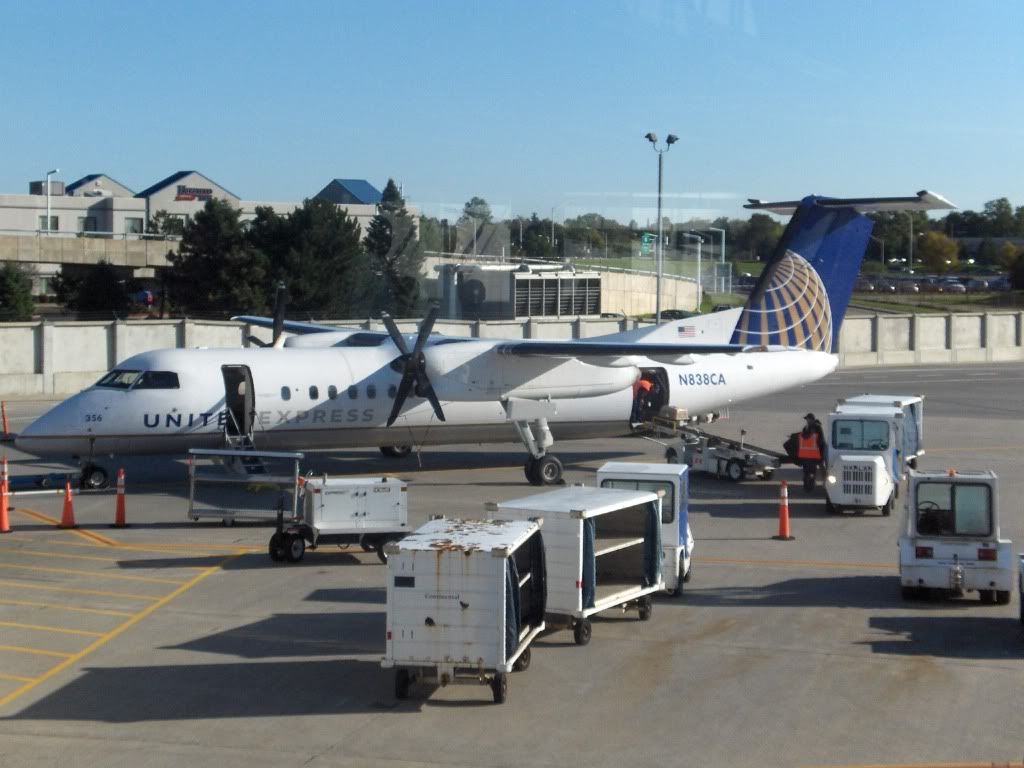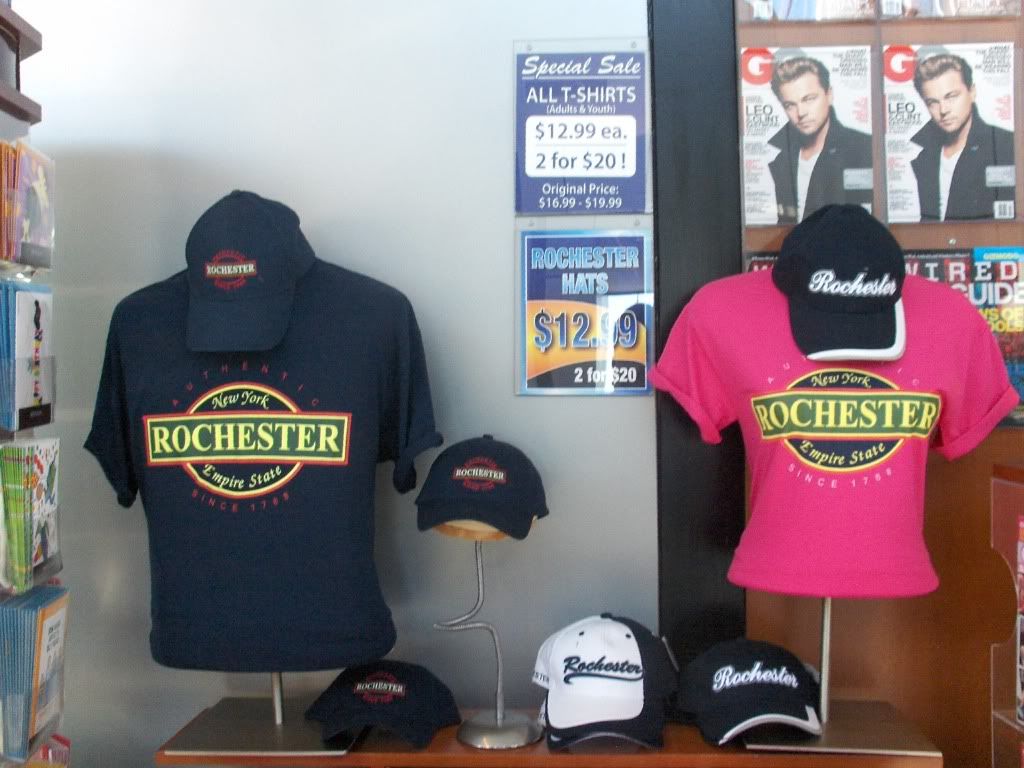 On several of the podiums I noticed these cards. It wouldn't be the last time I would see a QR code at an airport during this trip!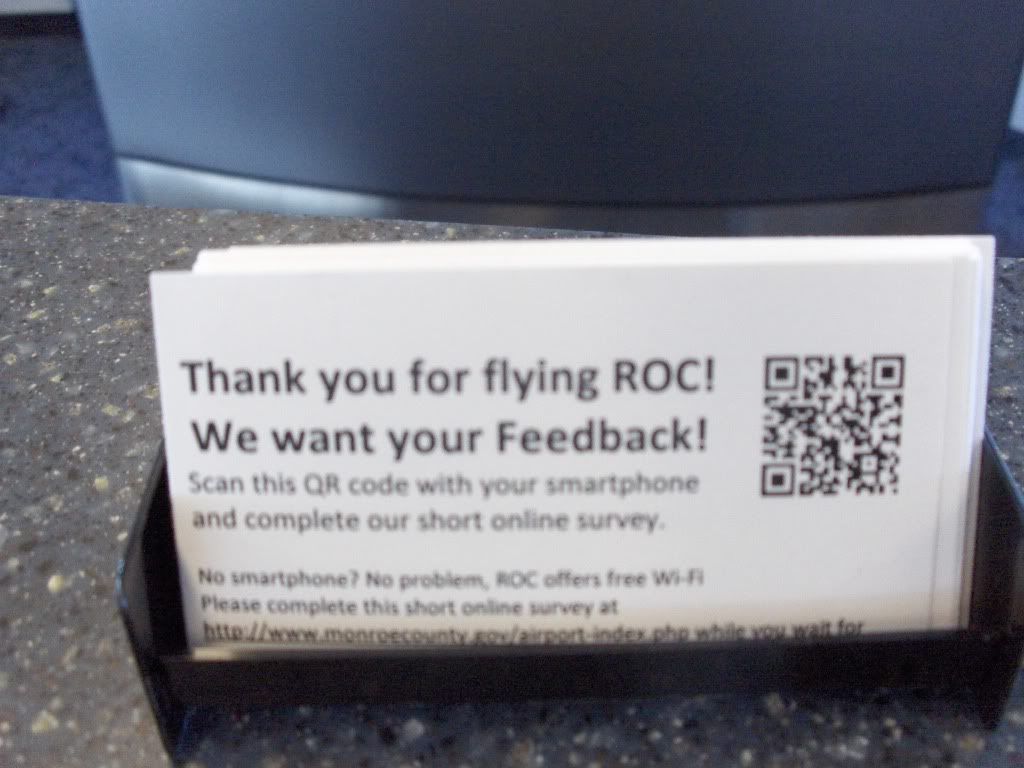 Good airports are the ones that continually get input from their customers!
I also noticed that outside EACH window was a metal nozzle. Does anyone know what these are? I would have guessed fire sprinklers but they are outside! Maybe window washers?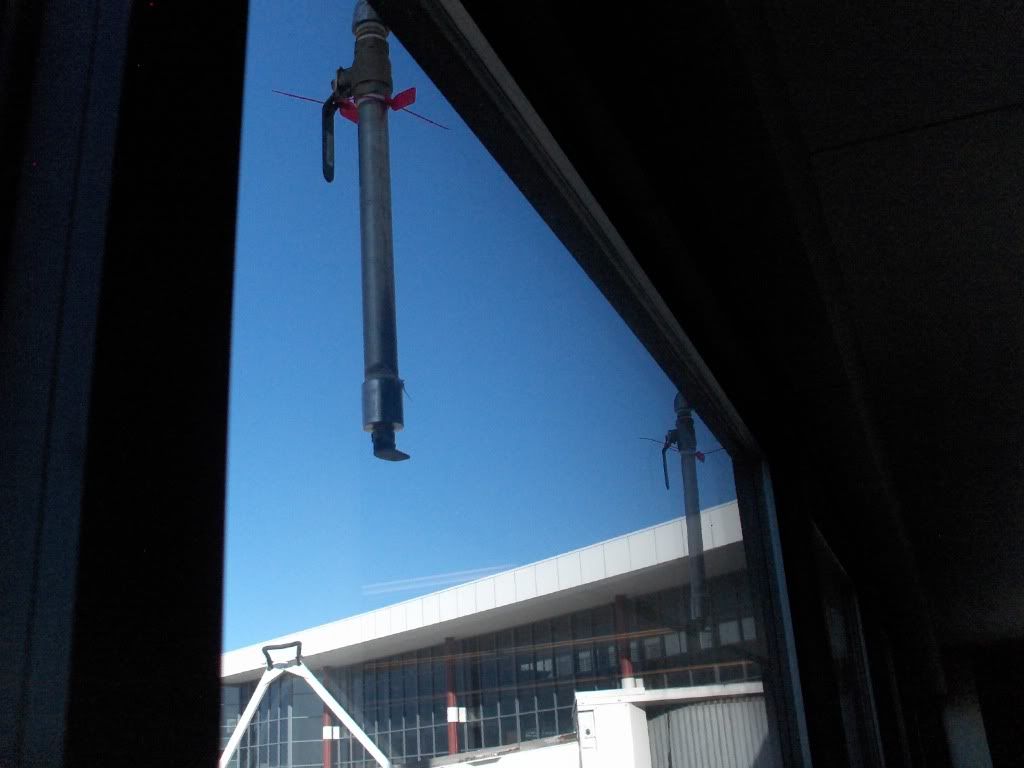 What are these for?
Here are some pictures I took at ROC on my return, which was late at night so the airport was all but deserted, making photography much easier. First up is the children's play area.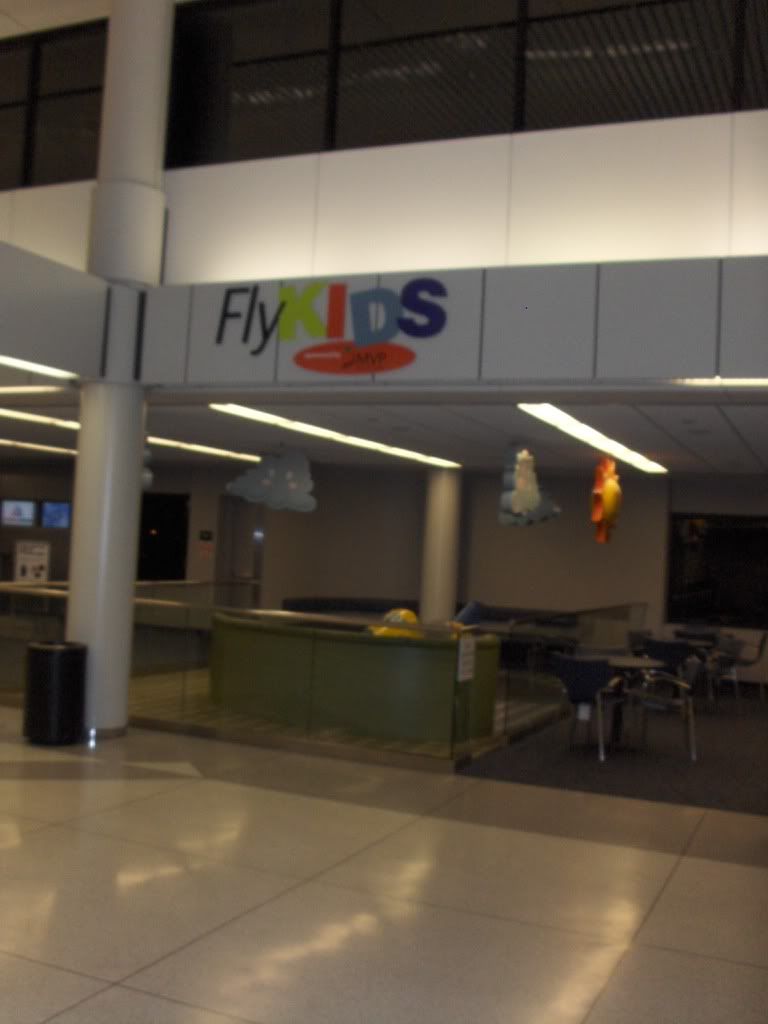 Late at night, so no children allowing me to take pictures without being accused of being a perv!
Next up are some ROC bathroom pictures. One of the nicer airport bathrooms I've seen. Always get a kick out of seeing the flight departure screen in the bathroom!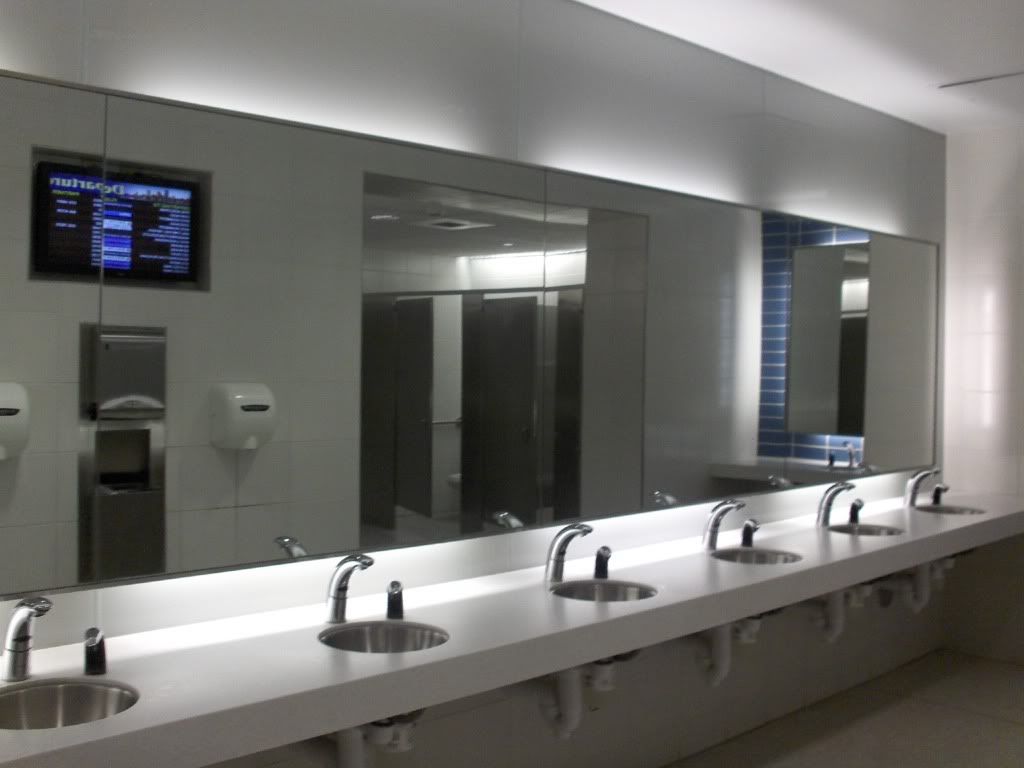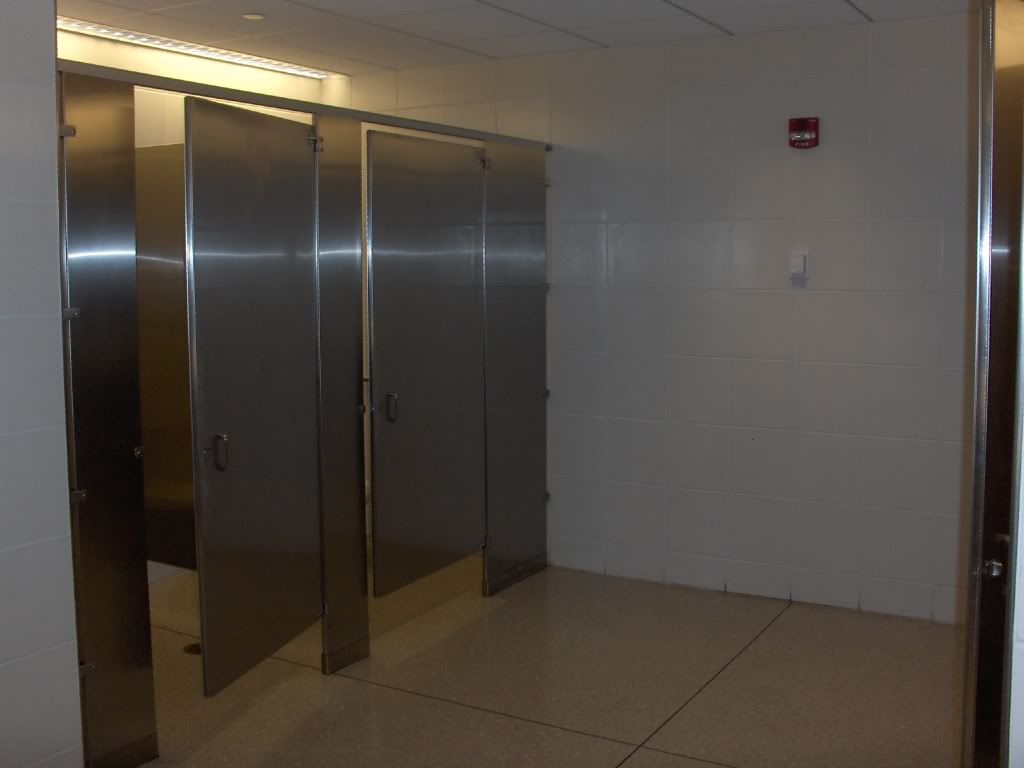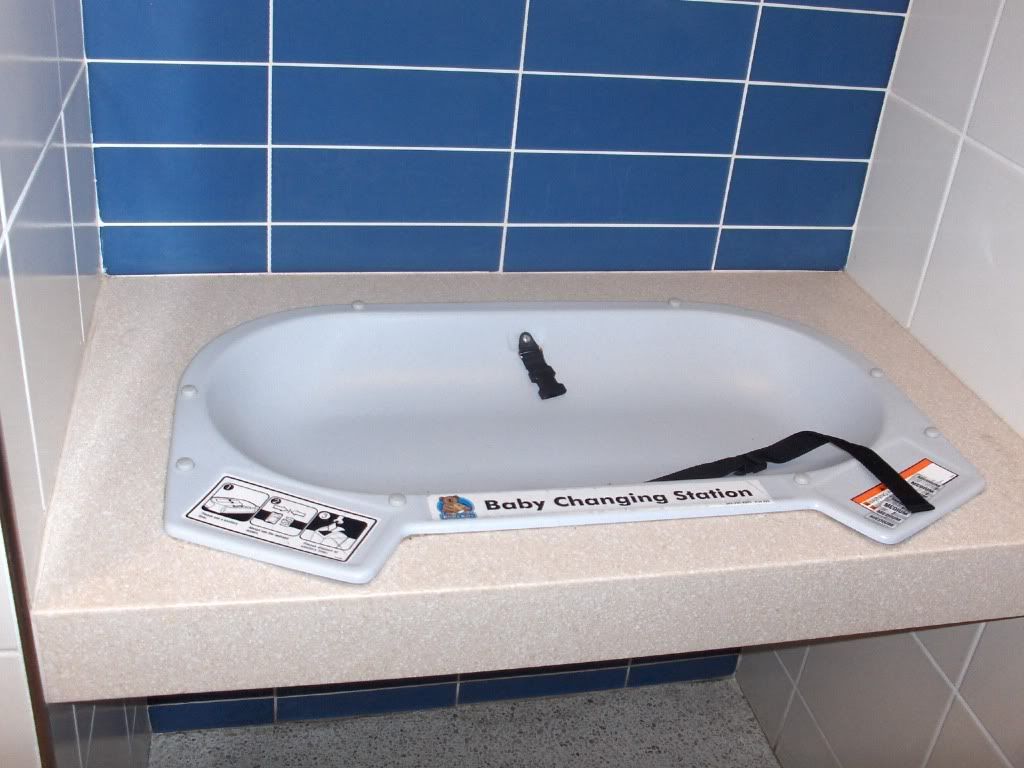 It is the 21st Century, men can change diapers too!
The agent from before appeared at the podium so I went up and smiled and asked about the seating situation. She took my boarding pass worked her magic and then smiled and handed it back to me...
Agent: You are all set.
Me: All set?
Agent: Yes, you have the same seat but nobody next to you.
Me: Really?! Wow, thanks!
Agent: We try to do what we can for our elite members.
Me: Thank you! I really appreciate it! Those seats are so small...and...well....I'm not!
Agent: *smile*
Soon afterwards I saw the incoming flight from DTW landing in the distance and watched it taxi to the gate. It definitely seemed to be in a hurry so I recorded a video showing how in under 2 minutes it pulls up, the jetbridge extends and people start disembarking! Again another advantage of the smaller airports in Upstate, NY!
http://www.youtube.com/watch?v=aYhUjkSc814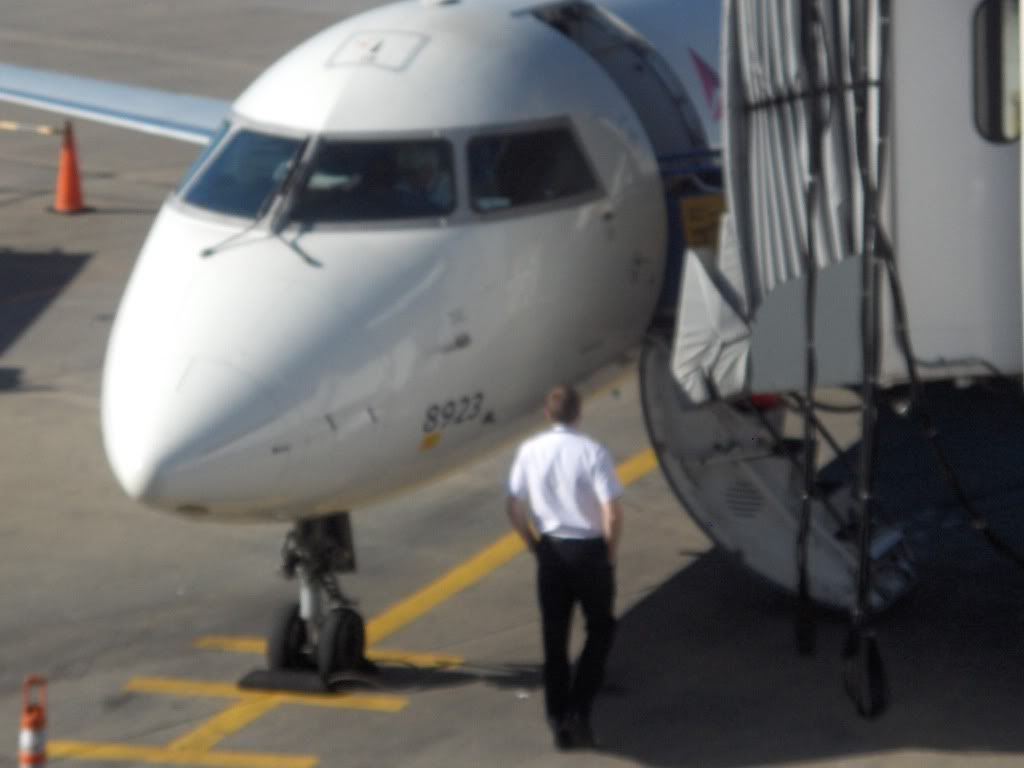 FO doing an inspection.
Not long after, boarding started with a call for those needing extra time but there were no children, elderly, or wheel chair bound passengers on the flight. When Elite boarding was called I seemed to be the only one making an effort to head to the door. I again thanked the agent and asked for her name so I could sent a note to Delta.
I left my pink tagged roll-aboard at the appropriate location and was the first to board.

Delta Air Lines 3876*
*Operated by Pinnacle Airlines
ROC to DTW
CRJ-200
Departure 10:30 am
Arrival 11:42 am

The FA was an older woman who, while not rude, was not friendly and seemed to be going through the motions of, what for her, was just another flight from DTW to another small regional airport.
True to the gate agent's word, the seat next to me was empty which allowed me the chance to take some photos of the CRJ interior! It has always amazed me that one of the smallest planes in the Delta fleet has the LONGEST SEATBELTS IN THE WORLD. Do other airlines CRJ-200's have such long seatbelts?!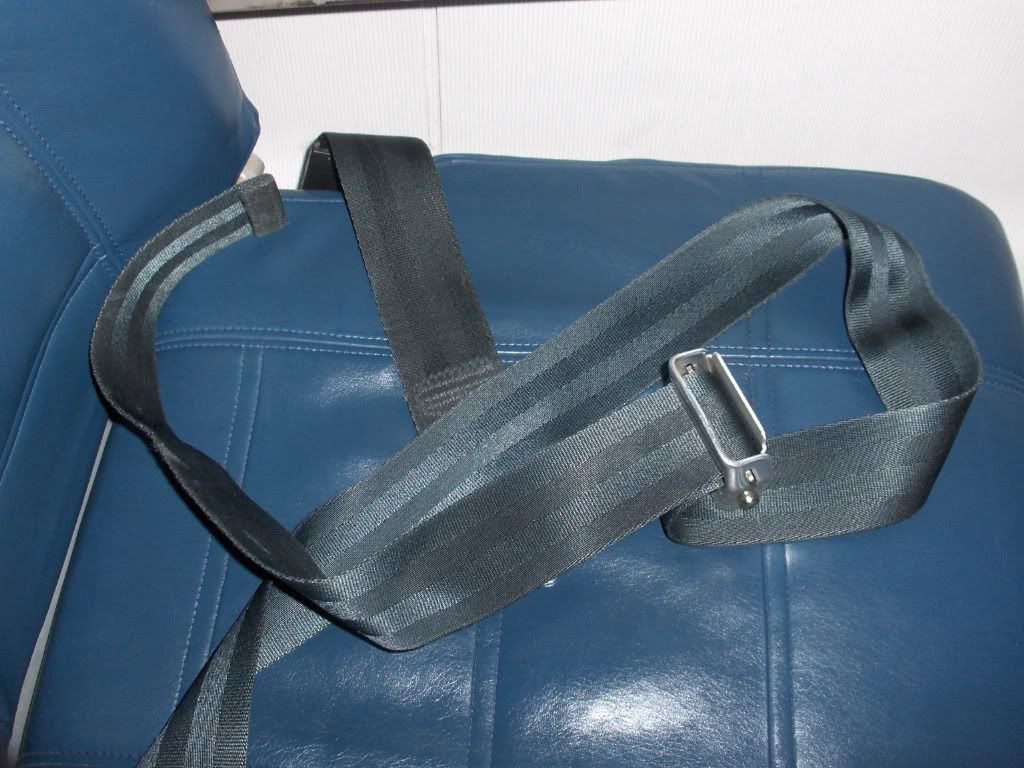 Why does a tiny plane have such looooong seatbelts?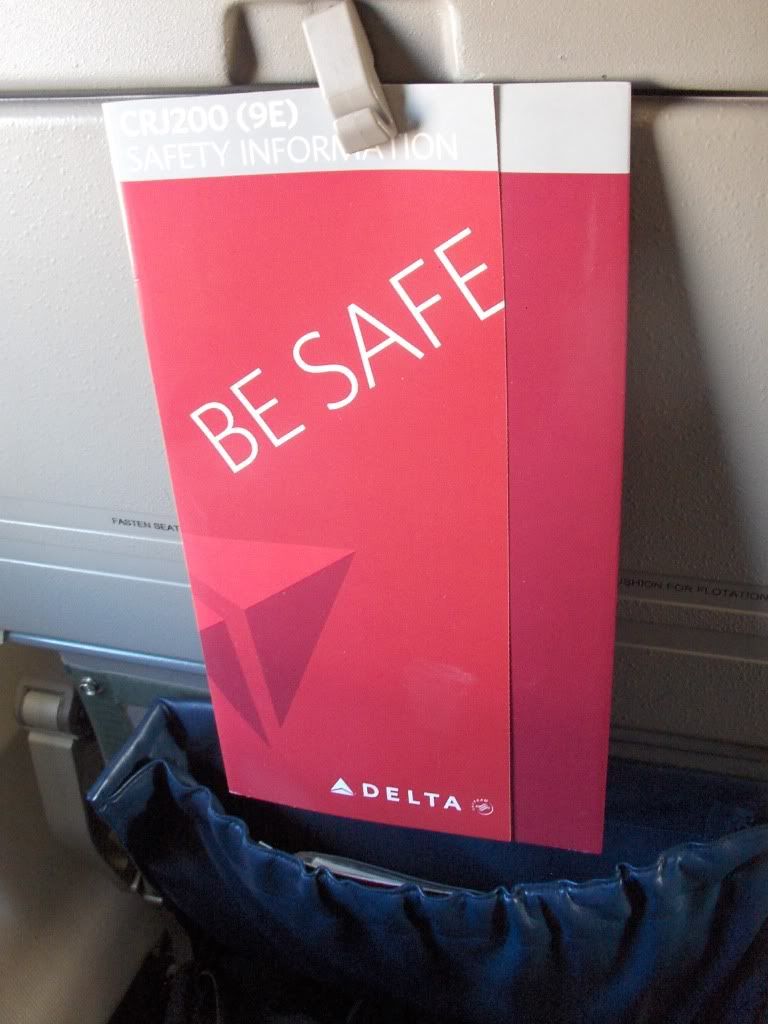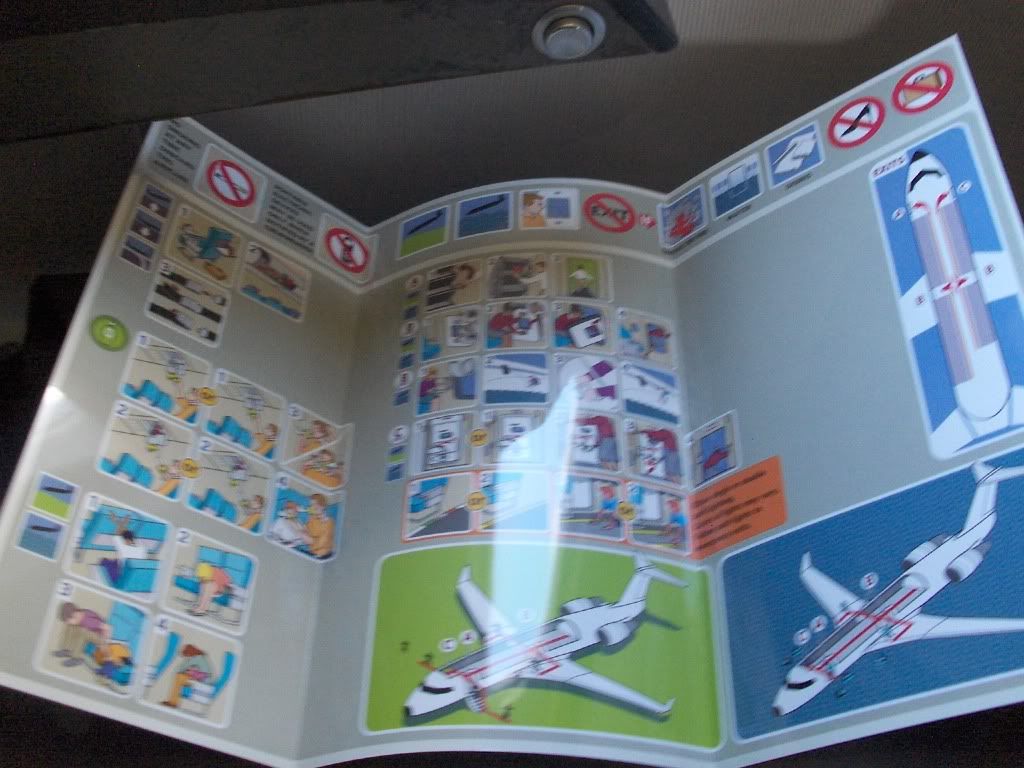 It seems like so many of my trips have started from ROC/SYR/BUF/ELM/BGM/ITH with these short CRJ-200 hops to either DTW or JFK that they have blurred together.
The announcement from the Captain, the apology for being late, the fast taxi, and fast take-off seemed just like all the other trips.
As soon as we leveled off the FA announced that she would be doing a quick snack service with water as there was no time to do a full beverage service. With these short hops to DTW you never know what you'll get. I've experience everything from a full service to absolutely nothing. Depends on the FA, the load factor, and sometimes the weather. Inconsistency is the only constant when it comes to Delta regional flights!
Soon enough I got my water and my Biscoff. I LOVE Biscoff (please see the end for an important note about Biscoff!)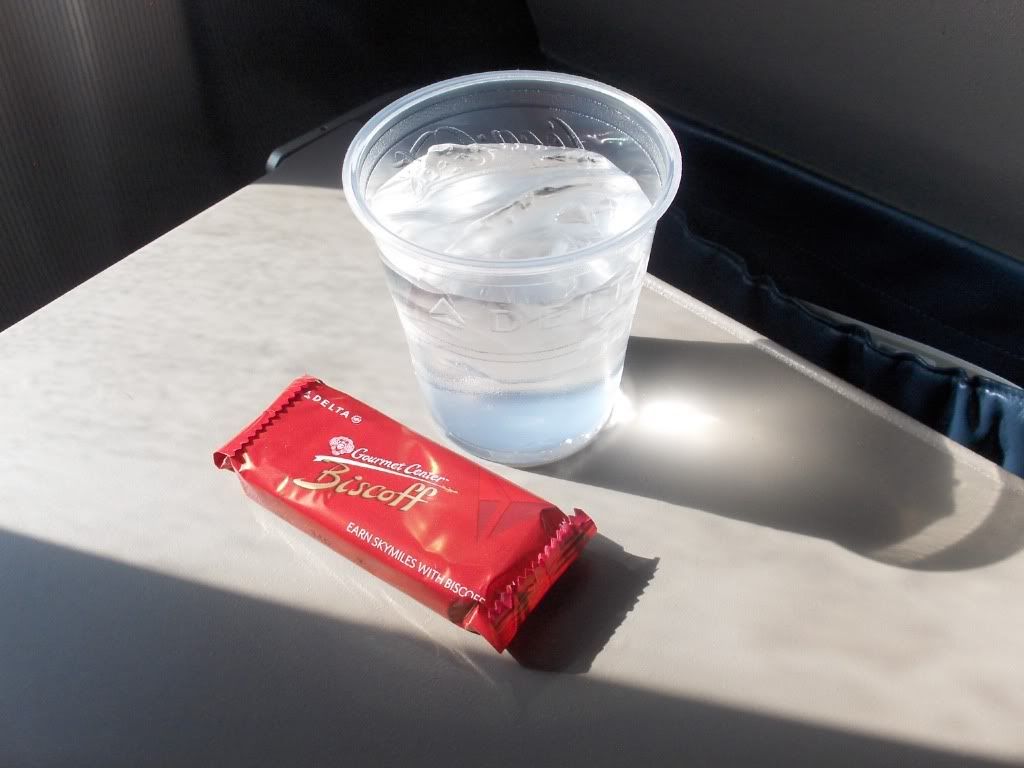 Water and Biscoff! (Please see the Epilogue at the end of this trip report!)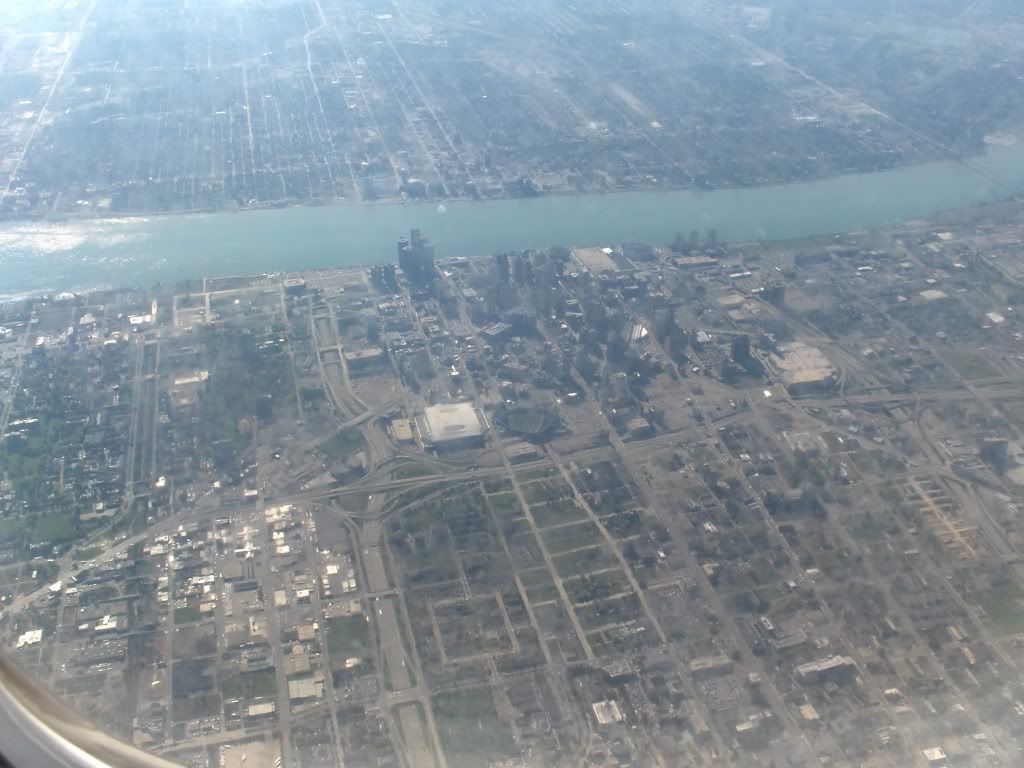 Downtown Detroit.
The landing was smooth but taxing at DTW seems to take forever, as did getting the jetbridge connected, such a far cry from ROC!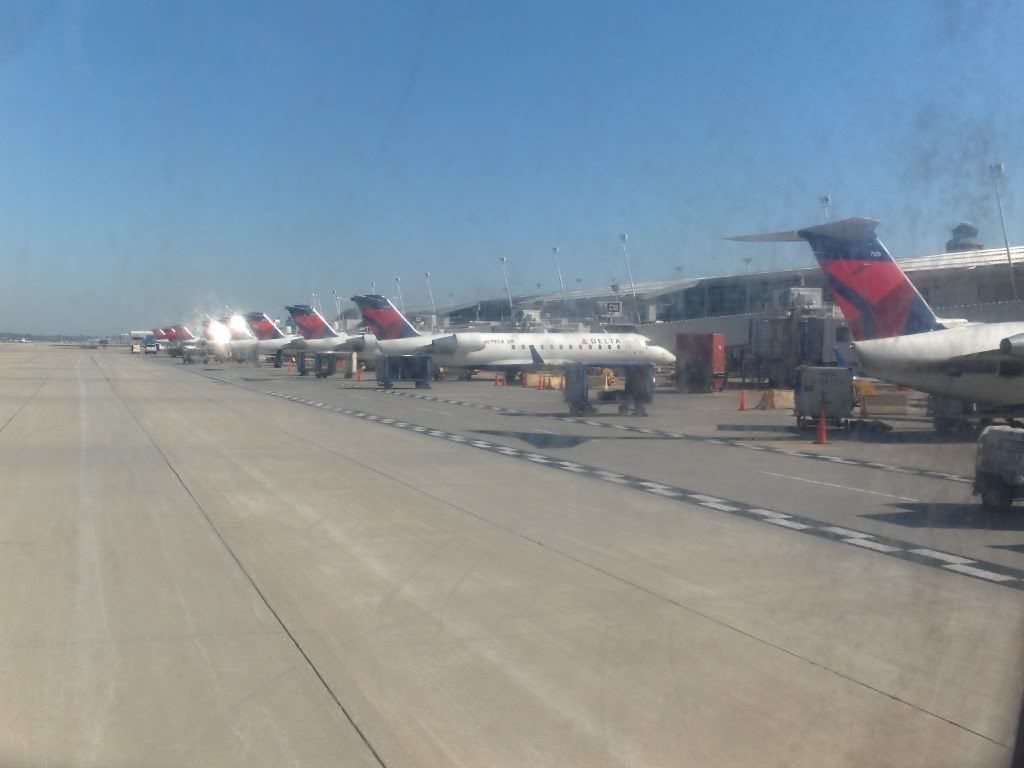 CRJ land at DTW!
We arrived at a Concourse C gate, which is typical for Delta regional jets at DTW. I headed to the B/C Delta SkyClub to check email and get a quick snack. The clubs at DTW are still the traditional style. Alas it is only a matter of time until they get the "Jetsons" themed blue and white remodel that Delta has inflicted on the other clubs.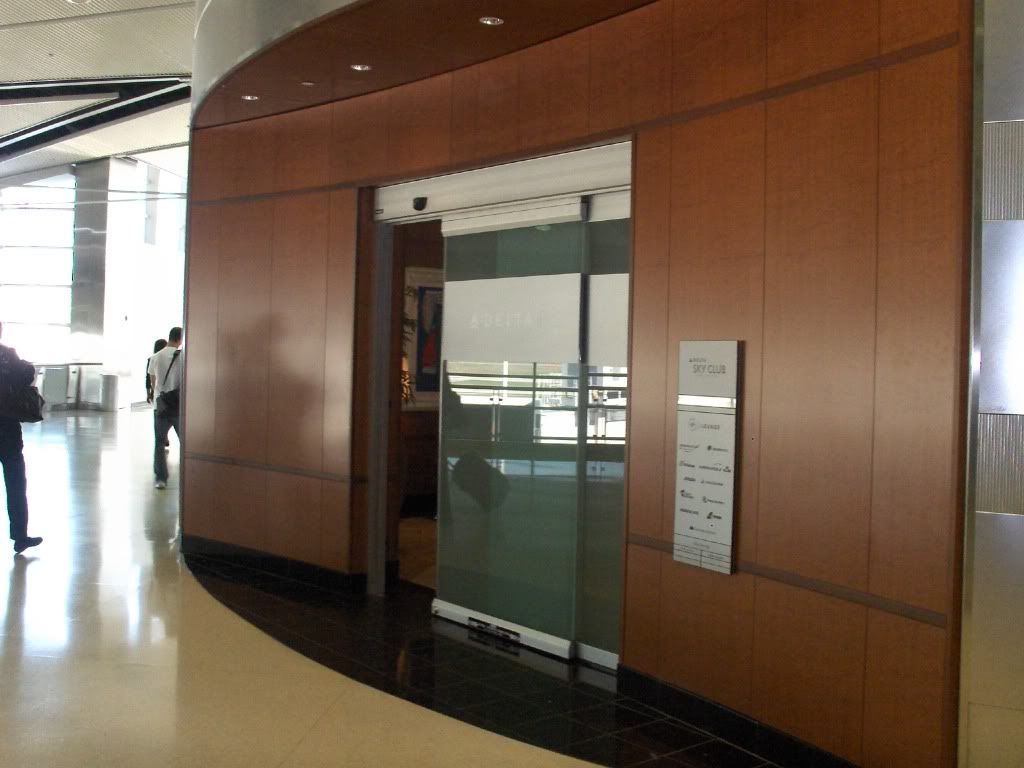 Entrance to the Skyclub at the center of the B/C concourse.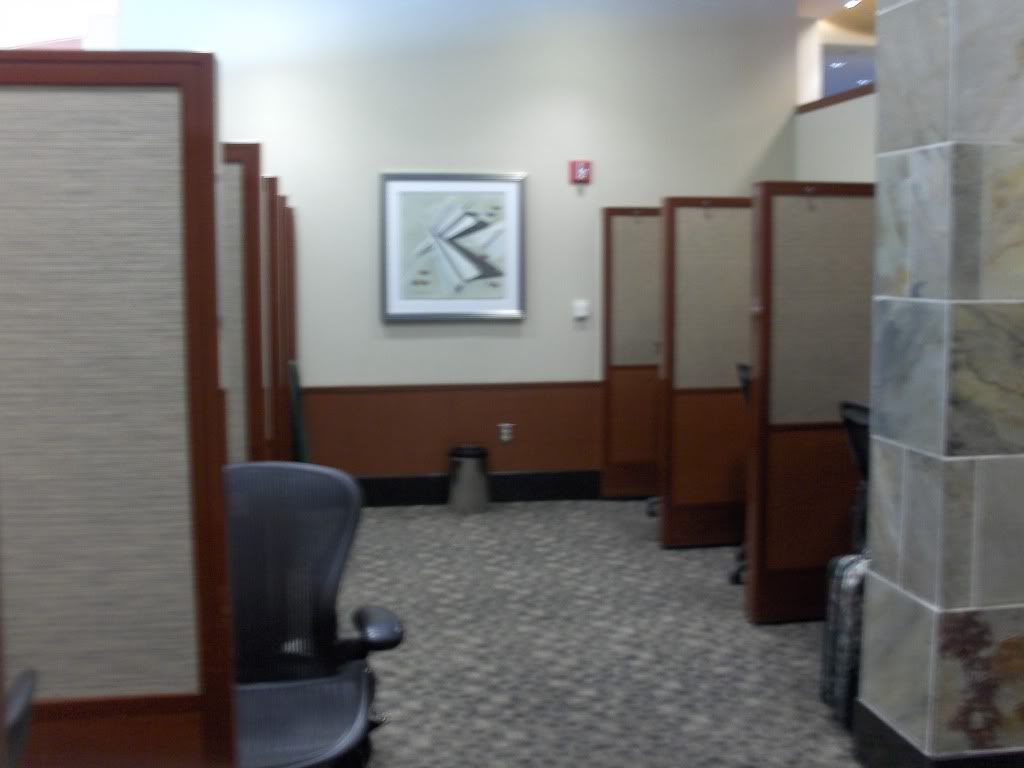 Dignified, quiet, and private work area in the lounge. I'm afraid this will disappear when Delta gives the DTW lounges the "Jetsons" white and blue remodel!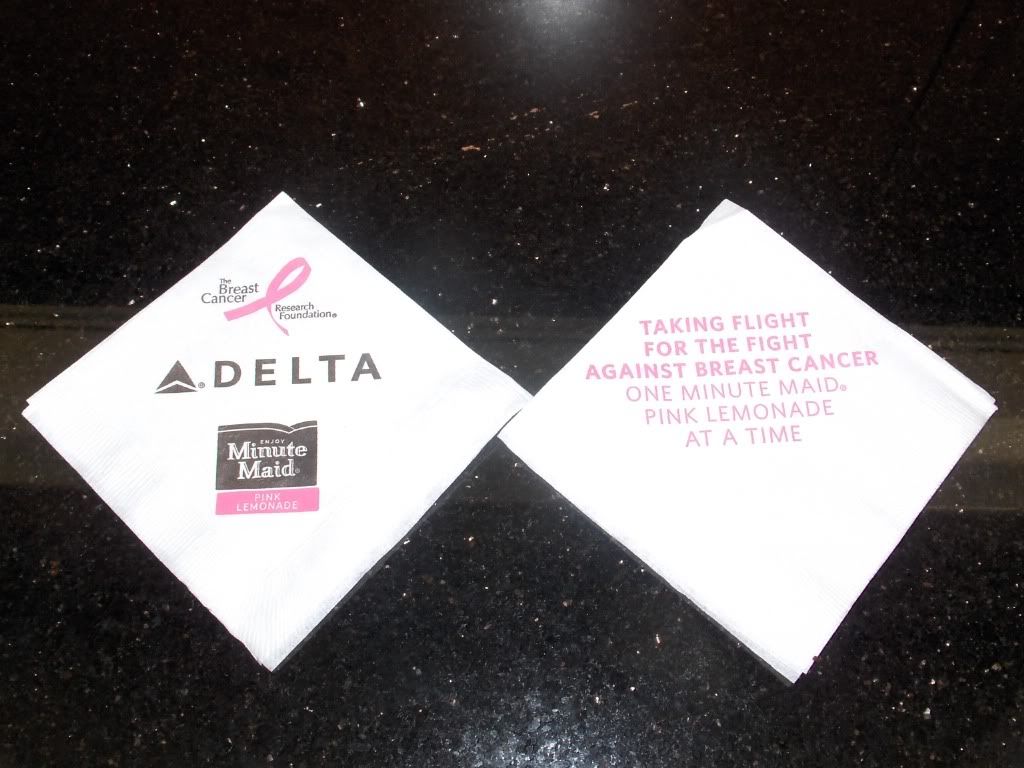 October is breast cancer awareness month and Delta gets behind the effort in a big way.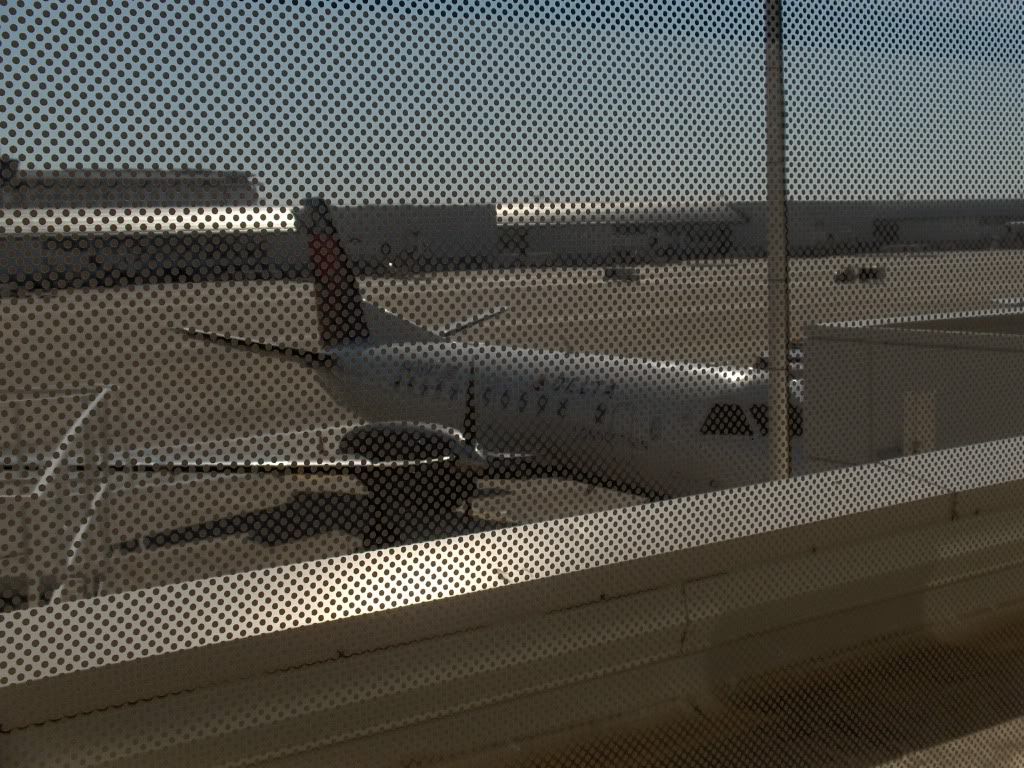 A Saab, one of the few planes in the Delta fleet smaller than the CRJ-200! Alas I could not escape the curse of the window dots at DTW!
Having "refueled" I headed down the escaltors to the tunnel. Unfortunately someone had stopped the light and sound show!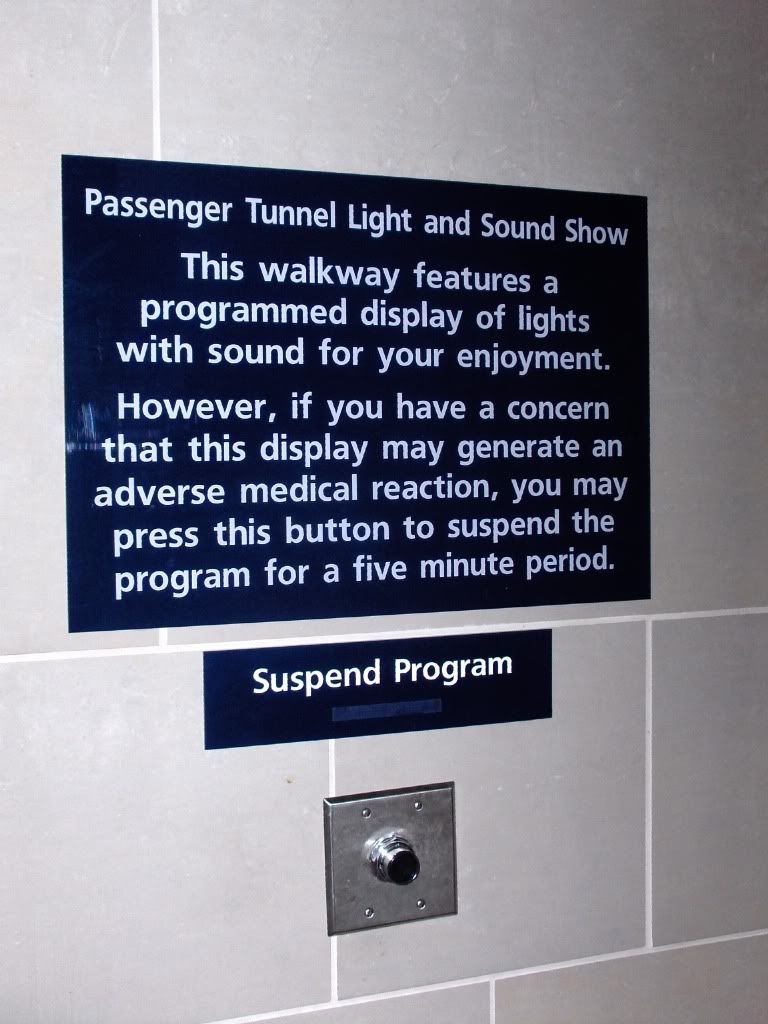 Dang! Someone pushed the button!
Getting to the other side I had a little time to search for my stone which I visit every time I go through DTW! Much like the napkins in the lounge, the terminal too had gotten the pink ribbon treatment!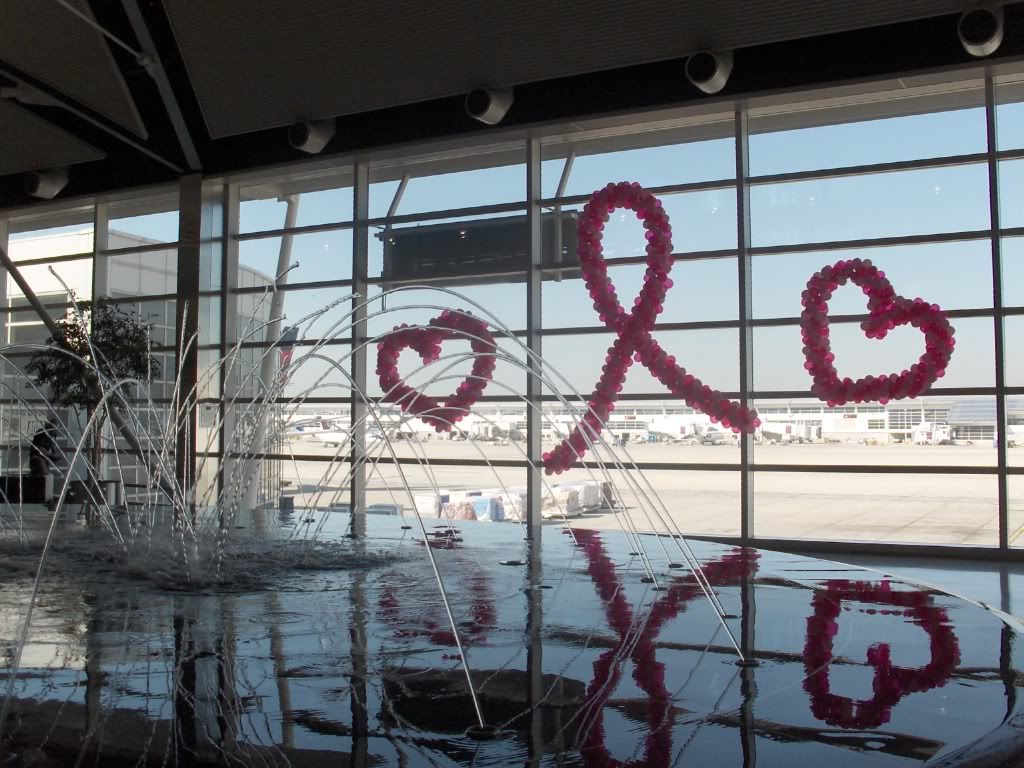 More PINK!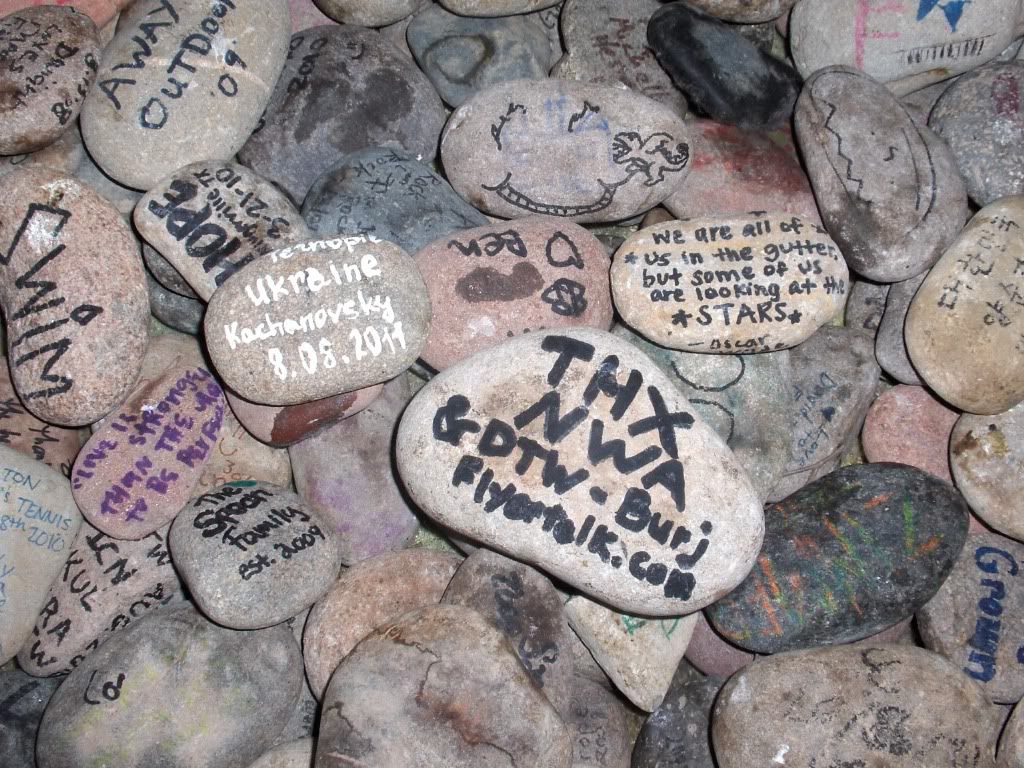 YAY! I found my stone at DTW!
One short tram ride later and I was face to face with the 777 beauty that I had come out of my way for. I had enough time to snap a few photos before they announced first class board!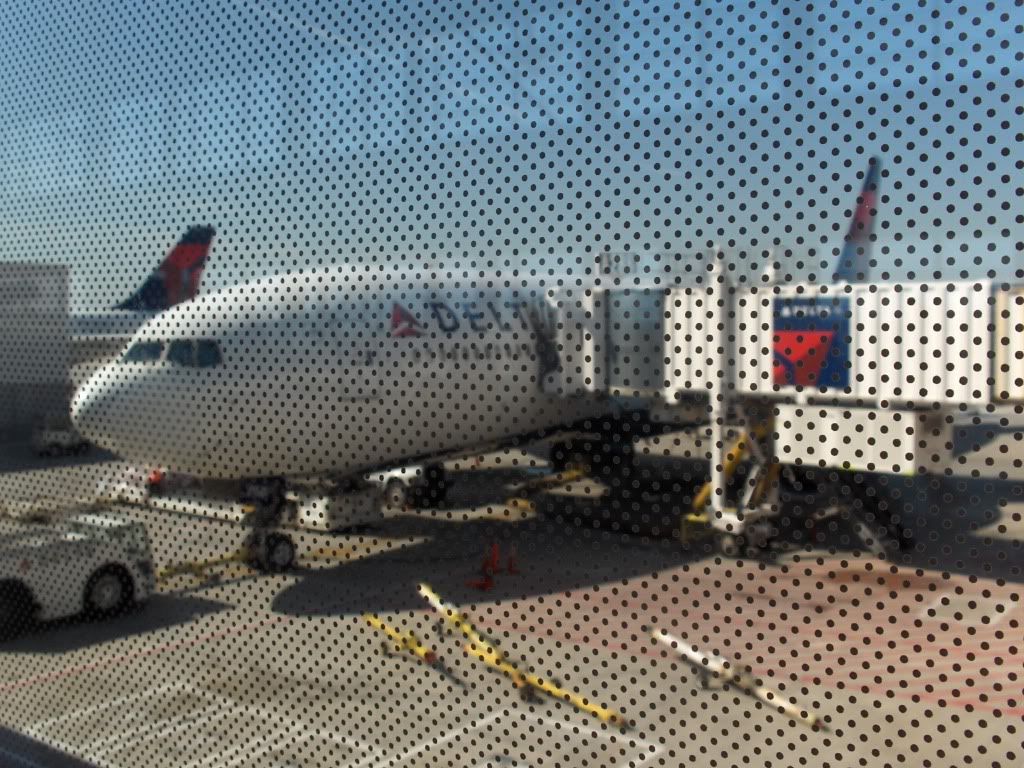 My 777-200LR awaits!

Delta Air Lines 1108
DTW to ATL
Boeing 777-200LR
Departure 1:45 pm
Arrival 3:45 pm

Boarding was through L2 but as I approached the door an FA was keeping people from boarding as catering was loading through R2 and blocking the galley at L2/R2 and also taking supplies up to the forward galley.
After a few minutes we were allowed to step on board and I made a bee-line to my seat at 1-C. I had previously experienced this type of seat on an Air Canada 767 and it was just as nice as I had remembered!
Unfortunately since Delta treated the cabin as domestic first class in terms of free upgrades, that also meant no big pillow or nice duvet or nice headset. Each seat was issued the domestic standard red Delta blanket, 5 cent ear buds and comically small pillow given how big the "bed" was when the seat is fully flat!
After putting my roll aboard away I took the chocolates to the forward galley. I didn't stay to chat as they were busy preparing the galley. The few who were up there were thankful for the sugar as they all had different flights they were working out of ATL, some of them longer than others.
I was happy to go back and play with my seat! After I finally settled in I was offered a pre-flight beverage which I declined as I was quite happy after my lounge visit.
View from 1C.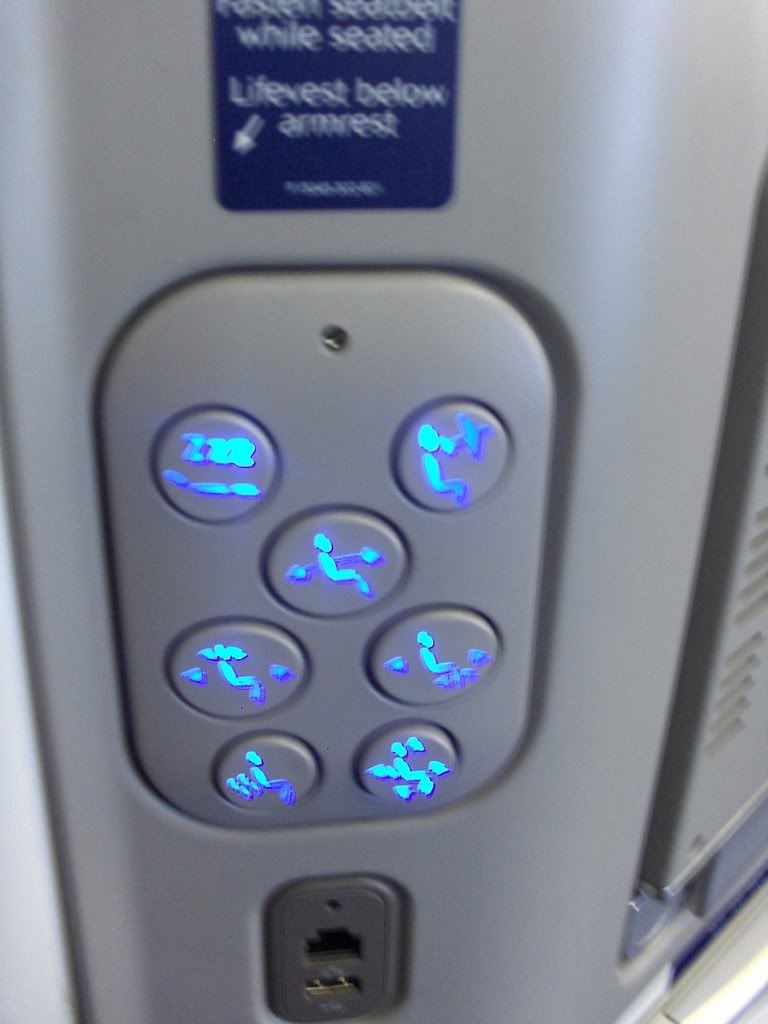 Seat Controls.
One quirk of the 777 BusinessElite layout is the view you have of the other passengers because of the herringbone design. A middle aged well dressed woman was seated in 1-D and felt at home enough to take off her high heals and put her feet up. I took a discrete photo. Fortunately during the flight she used her red blanket to cover them up!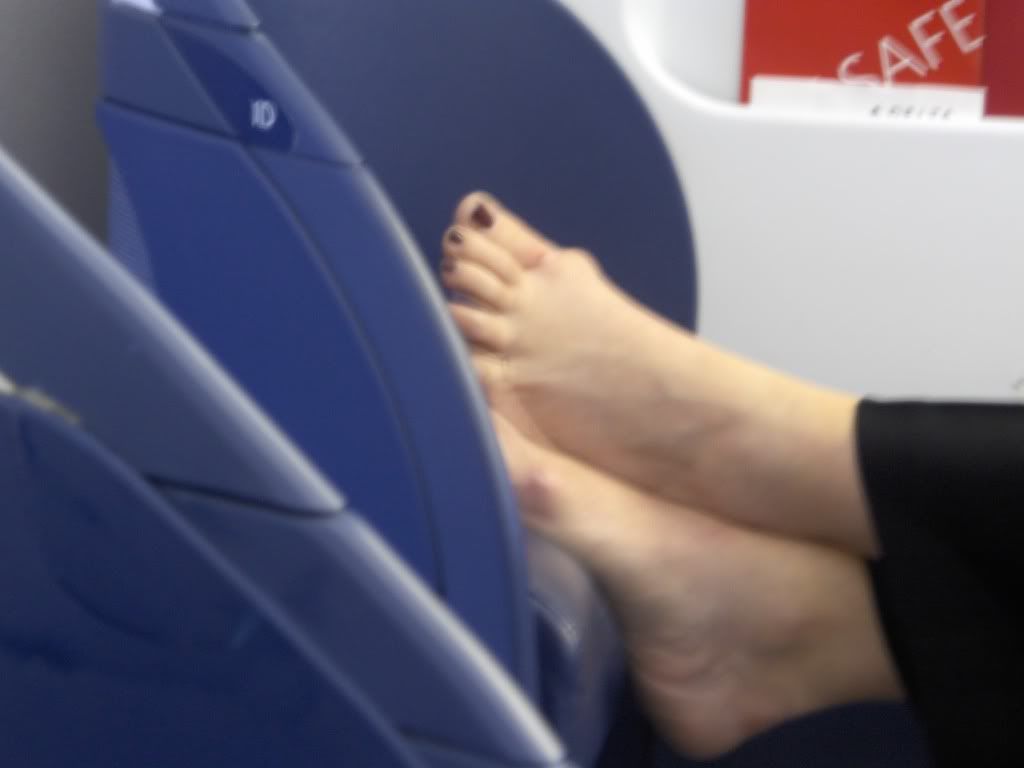 At one point do you give up wearing high heals?
We left on time and the tv monitors had to be stowed. That meant that while Y was watching the Delta safety video, everyone in BusinessElite could only hear it and instead got to watch the FA's go through the motion.
Alas no finger wave during the "Smoking is NOT allowed" part!
I did notice in the safety card that the cartoon woman in one panel seemed to have a hand growing out of her head. A simple misprint but funny none the less!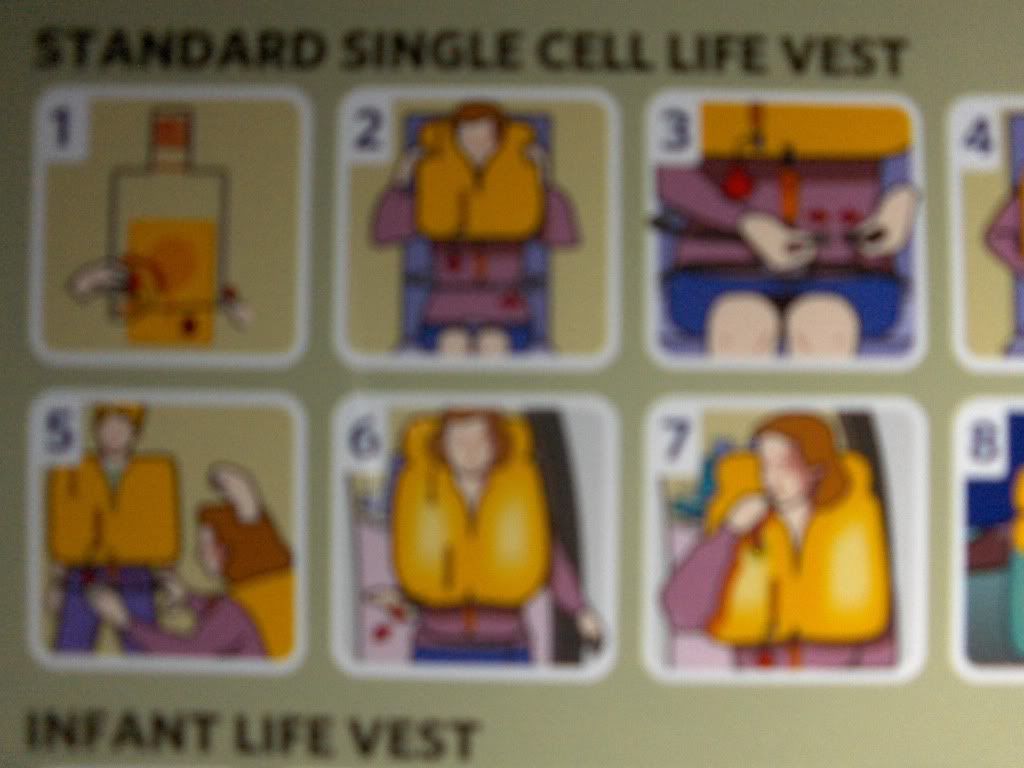 Apparently to put a life vest on a child it helps to have a hand going out of your head!
While we were taxing the lead FA gave the normal speech including that GOGO wifi would be available once we passed 10,000 feet. "HUH?" I thought as I looked around to see if anyone else was surprised that an international wide body had been equipped for a service that is only available in the U.S.!
Nobody seemed to care.
The take off was a powerful leap into the sky that you would expect from a 777-200LR that probably had only a fraction of the fuel that it normally does!
Soon after the lead FA came on again and stumbled through an apology for lack of wifi,
As soon as we leveled out drink orders were taken and I warned the FA that I had a strange request. Her smile seemed to tighten and the invisible thought bubble over her head seemed to read "Oh lordy...what now?!"
I then asked for what I personally call a "Halal Bloody Mary"...which is really just a virgin Bloody Mary. Specifically I said "I'd like a Bloody Mary but tonic water instead of the vodka, so no alcohol."
Her smiled seemed to relax a little as I suspect she was expecting something stranger or harder to make!
Within a moment the drink arrived in the new Delta glass. It supposedly holds more liquid but is lighter than the previous versions. I then added the celery I had liberated from the lounge in DTW and said cheers to Ronerone and my friends on A.net before taking the first sip.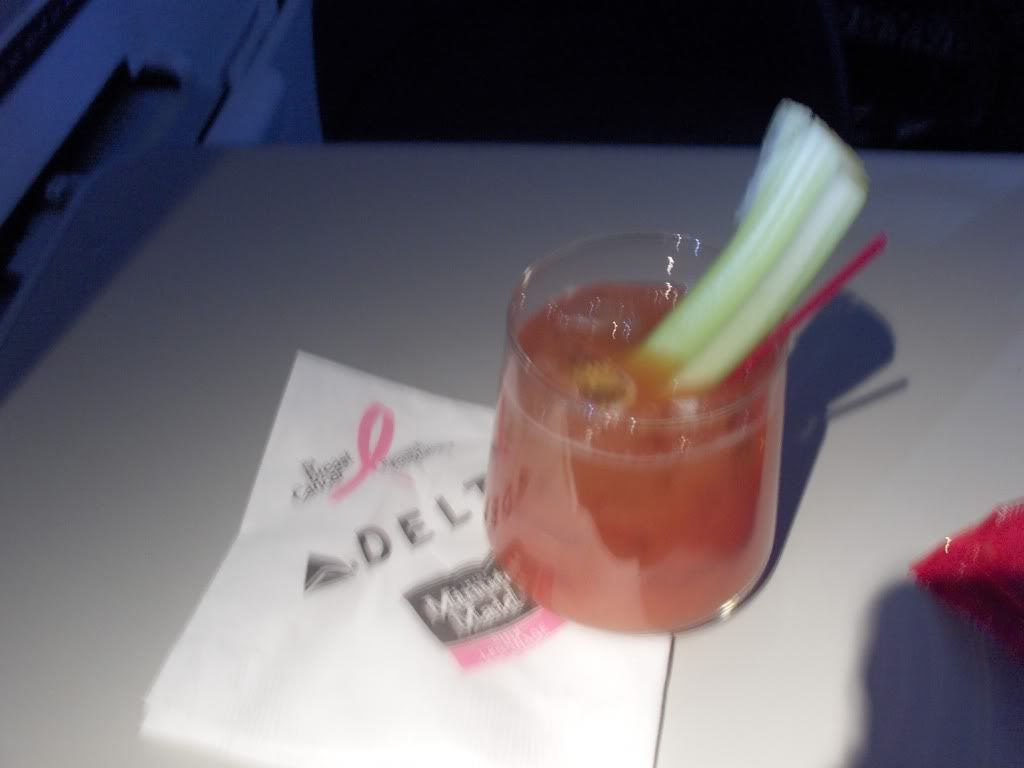 Dedicate to Ronerone and all my A.net friends! (Yes, it is as odd tasting as you think!)
The snack basket was next and I helped myself to some M&M's and another package of Biscoff! I LOVE Biscoff, again stay tune till the end of the trip report!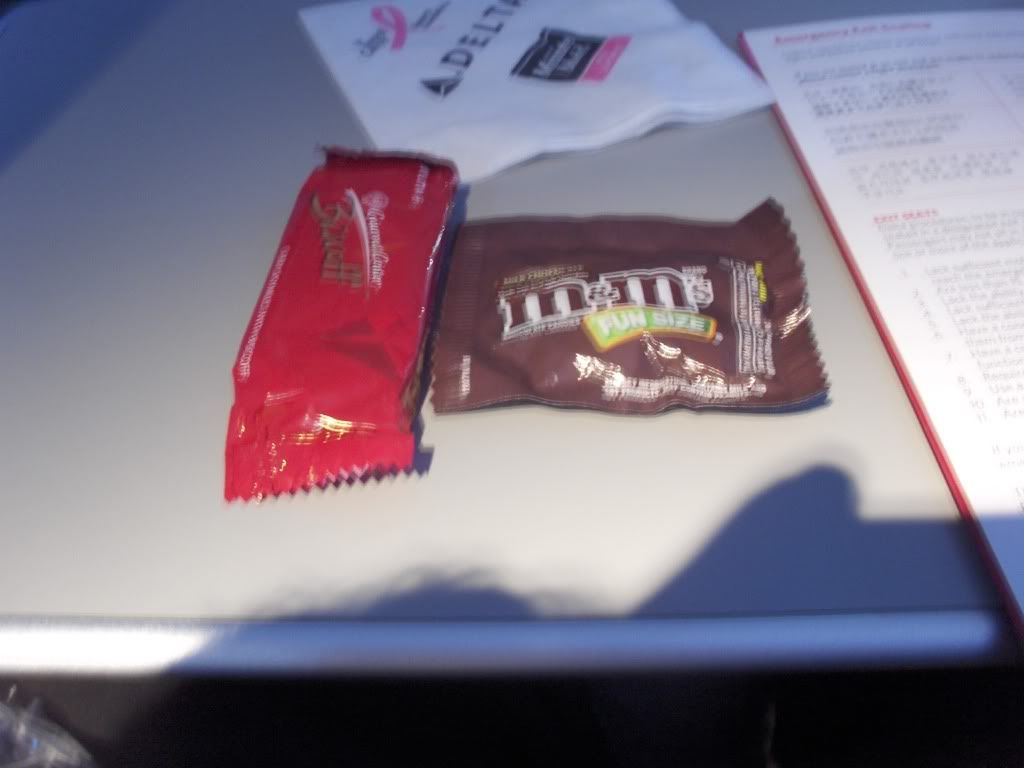 YAY! More BISCOFF! (Please see Epilogue!)
Of course I had taken out the TV screen at this point and while going through the menus something struck me... The screens were actually pretty small! I had read on a.net other people complaining about the size of the screens. They are o.k., but definitely do seem small given their distance when seated. The moving map was available and I took a photo to show the odd route were taking between DTW and ATL.
Can anyone explain why this route for a simple DTW to ATL flight?
After my drink and snack I got up and visited the lav to take a picture of the floor which still has the wood laminate which looks suspiciously like the new first class food trays. Being a short flight their would be no meals so I didn't have a tray to compare it directly with. Before entering I knocked gently on the door and whispered "Ariel? Ariel?" I was worried that Suryo's invisible friend was hiding in the lav... Apparently Ariel likes 777's!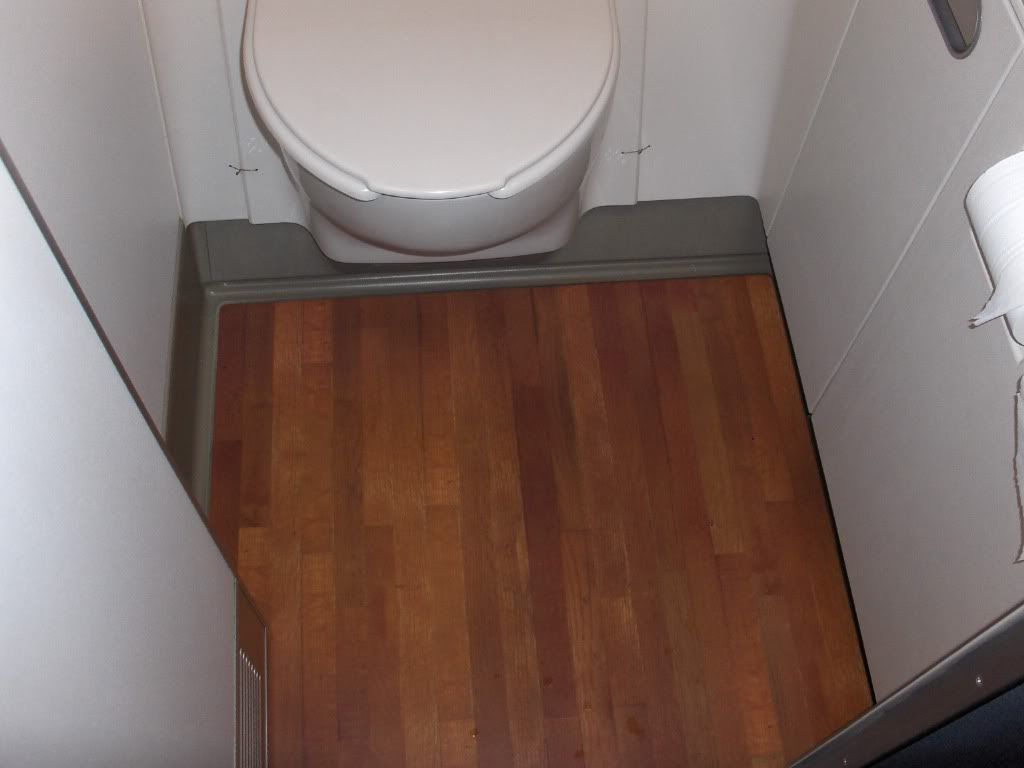 Pretty classy looking, so much so that the copied it for the first class food tray!
I did chat with a few of the FA's and they confirmed that with these rare domestic wide body flights they bring together an assortment of crew who work the flight, and then split up and work different flights out of Atlanta.
Upon returning to my seat I noticed that most of the cabin had gone ahead and fully reclined their seats to the flat bed configuration and started napping, despite the normal domestic blanket and mini pillow. It reminded me of day care for little kids where everyone gets a snack and then takes a nap in the afternoon!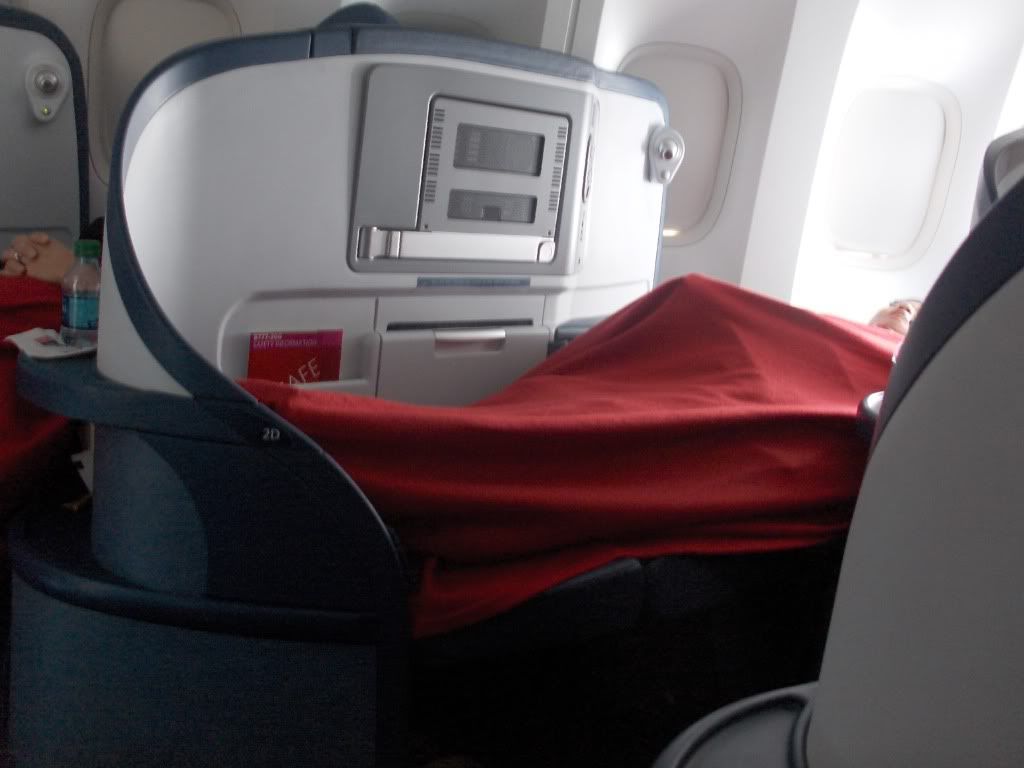 Nappy time for 1-D and 2-D and soon for me too!
I really enjoyed the flat surface. Lying on my back and with my eyes open it did feel just a tad bit coffin like. As soon as I closed my eyes I was able to start to fall asleep...it felt great...like gently descending through the clouds towards the Earth.... Oh wait...we WERE descending! Sure enough the announcement came on letting everyone know that it was time to get ready to land!
The landing went smoothly and we had a relatively quick taxi to our gate. The jetbridge was connected to L2 which gave me an opportunity to drop by the cockpit for a quick chat with the pilots. We briefly discussed several issues including pilot pay. I teased that if money was an issue that plenty of carriers overseas were hiring! The copilot turned serious and said that it had taken MANY years of seniority at Delta to get to sit in the right seat of a 777 but he knew American pilots working for Emirates with a quarter of his experience who were in the left seat of A380s.
Soon enough I thanked them for their time and headed into Concourse E at ATL. I stopped by one of the SkyClubs in Concourse E and got to see another Delta 777. I noticed the "Hometown Airline" slogan on the catering truck. It is almost like another airline was going to start serving ATL in a big way and Delta wanted to remind everyone of who they should stay loyal to! (Yes I'm looking at you WN!)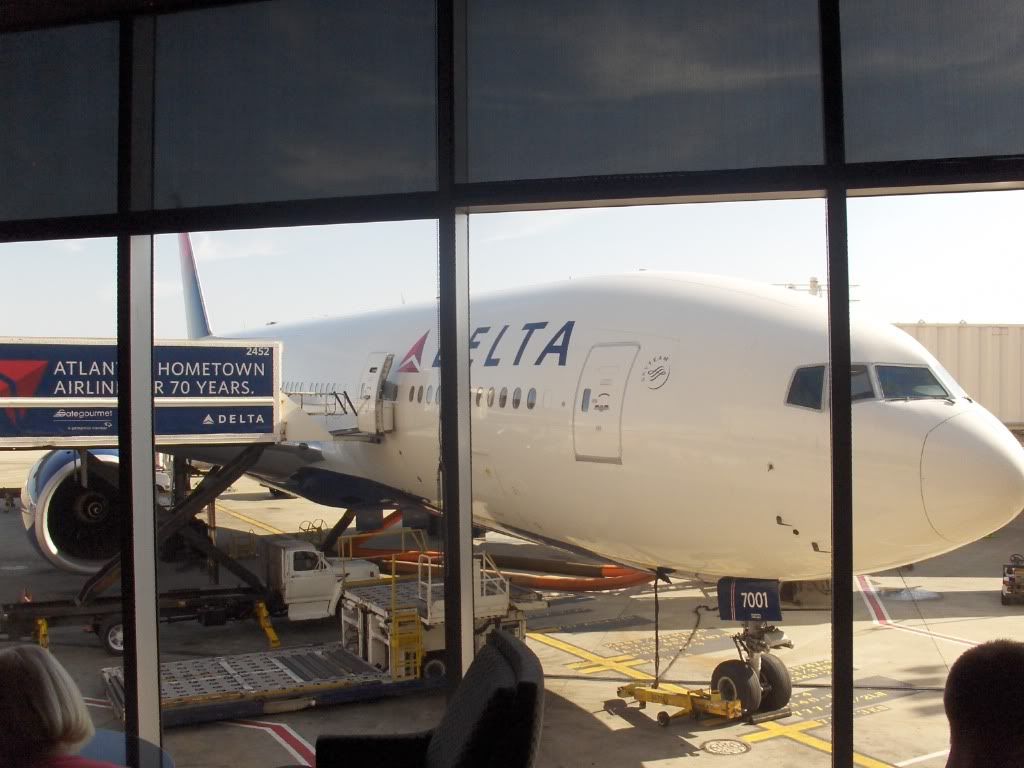 Another Delta 777, this time no window dots!
Later in ATL I noticed signs like these, again with the QR codes!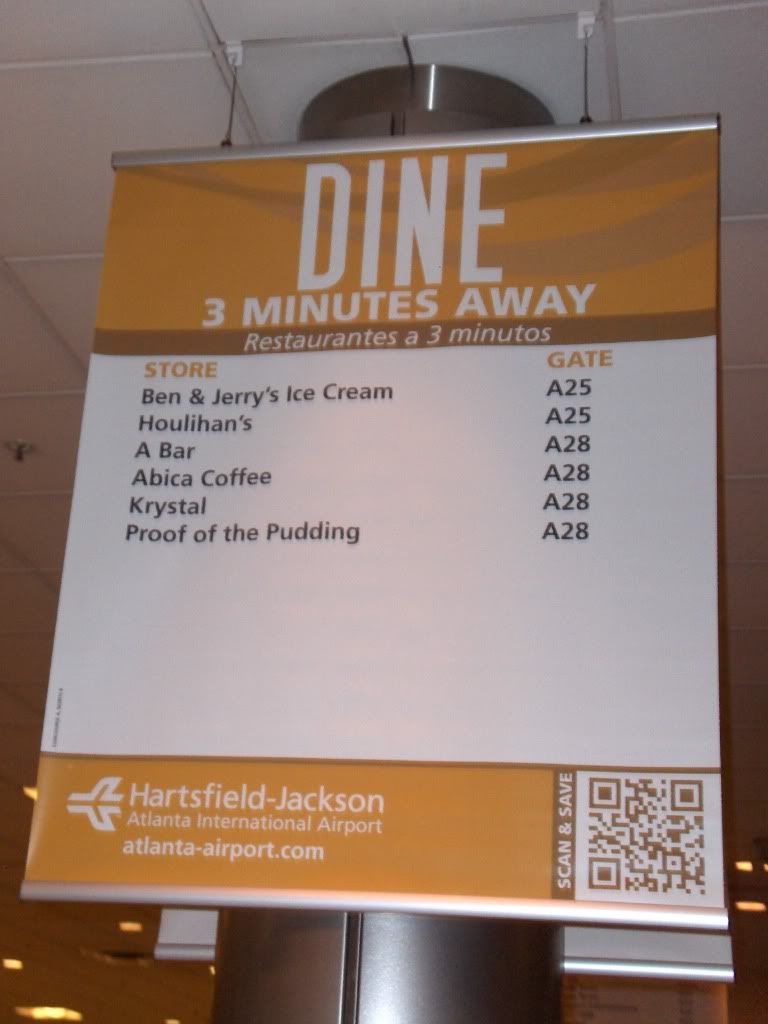 Another example of a QR code in an airport!
C O N C L U S I O N S
It was really great to try out the Delta's 777 BusinessElite product. Otherwise service and product is what I expect from Delta, casual and relaxed without being sloppy or unprofessional. The big surprise was the excellent customer service I received in ROC!
I sent the following message to Delta through the "Contact Us" link on delta.com

The gate agent for my flight did an excellent job. She was a
small Asian woman, I believe her name was "*****" She was friendly and
efficient. I had asked her specifically about seating as the CRJ-200 is
a very cramped cabin. She was able to arrange for me to have the seat
next to me open. I GREATLY appreciated the effort. It is this type of
service that makes me feel that Delta values me as a Platinum Elite
flyer. I know the gate agents at the smaller airports like ROC are often
not Delta employees but work for DAL or Regional Elite or another
regional carrier. However PLEASE make sure that the gate agent who
worked this flight gets a positive note or something put in her file! I
wish more Delta gate agents who so attentive and helpful!

Two days later I received the following reply:

Dear Mr. Burj,

RE: Case Number **********

Thank you for sharing your comments regarding the exceptional service
received from our agent while traveling with us. On behalf of Delta Air
Lines, I sincerely welcome your thoughtful remarks.

We appreciate your kind comments regarding the service received from Ms.
******, one of our team members who was working at the boarding gate. We
believe our employees are our most important assets, and I am happy to
learn that our agent exceeded your expectations.

Please know I will be sharing your comments with our Airport Customer
Service leadership team so appropriate recognition is extended, on your
behalf.

Mr. Burj, I want to thank you, again, for complimenting our agent.
As a valued Platinum Medallion member, we appreciate your interest in
our company and look towards your future travel with us.

Sincerely,

*********
Coordinator, Corporate Customer Care
Delta Air Lines

E P I L O G U E
Soon after getting back from Atlanta I found out that Delta was hosting a Biscoff Bake-off contest on Facebook. My Mom always enjoys Biscoff when she travels with me AND is an excellent cook, so....I suggested she enter. She agreed if I entered also!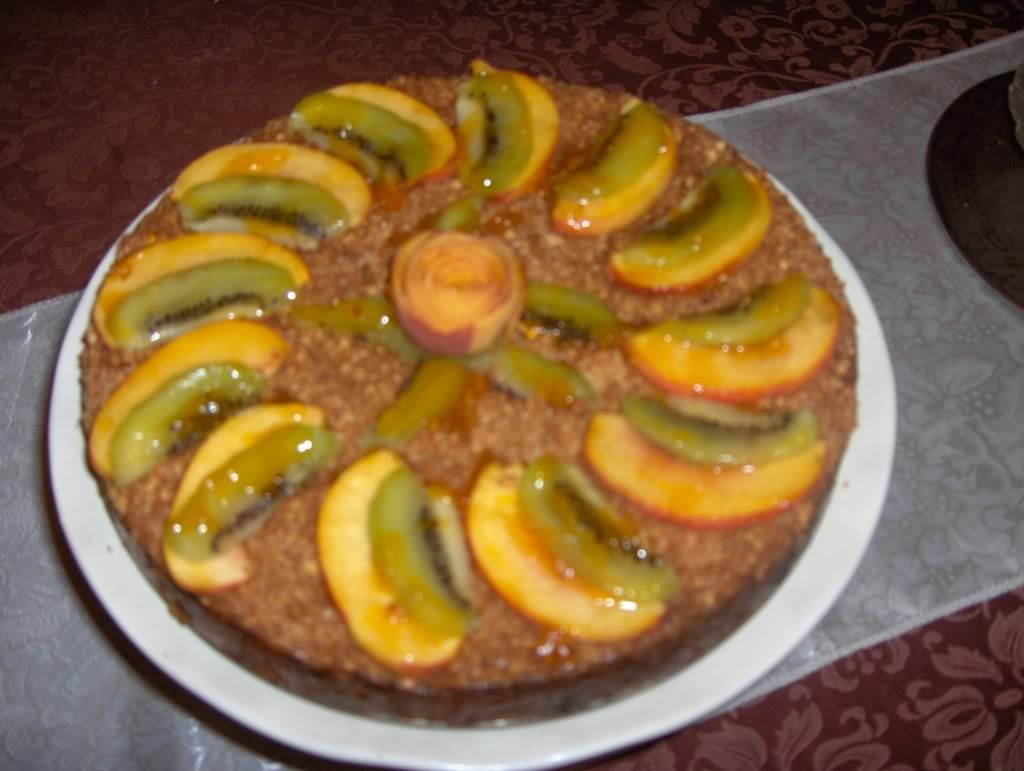 Mom's "Hello Biscoff! Pineapple Cheese Tart.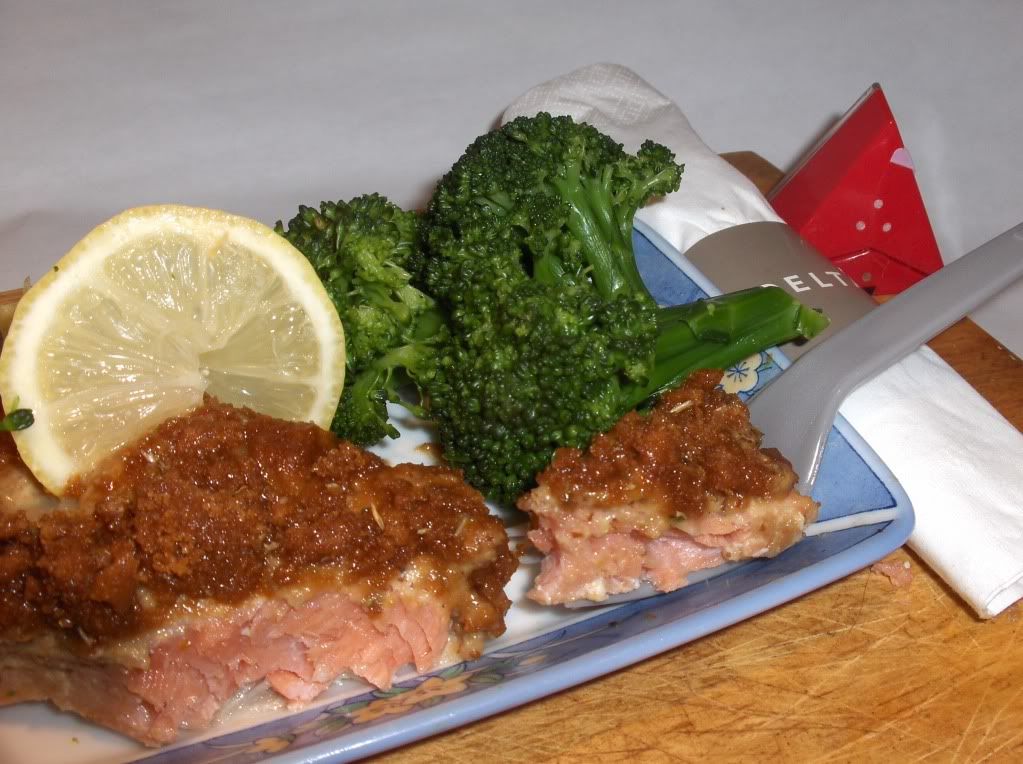 My "EZ Biscoff Encrusted Salmon.
We need your help! There are about 50 entries, BUT the judges will only consider the top 10 in votes. We need your votes to be in the top 10! Here are the links to our entries:
http://apps.facebook.com/biscoffcont...s/157238/voteable_entries/34332418
http://apps.facebook.com/biscoffcont...s/157238/voteable_entries/34343346
You can vote for as many recipes as you want per day, but you can only vote for each recipe once per day through October 31st! If you've enjoyed my trip report and you have a facebook account PLEASE consider voting for both our entries! It would be mean a lot to my Mom and every vote really makes a difference! If you do vote please leave a comment on my recipe!
I promise that if either of us get selected to be semi-finalist to travel to Napa Valley to cook our creations for final judging...I will do a trip report and dedicate it to all the a.net people who voted for us!