Introduction
Mistake fares - something which the airlines hate for obvious reasons, the consumers love for obvious reasons and various consumer rights protection agencies try very hard to make the airlines to honor for obvious reasons. Love 'em or hate 'em (I love) - they happen from time to time. So when Lufthansa posted their infamous one for travel between Scandinavia & Finland and Venezuela/Colombia I didn't really think at all - just booked something cheap for a time period that I could probably use some vacation days for.
As mentioned the choice of destinations was basically Bogota in Colombia, Caracas in Venezuela or some of the lesser cities in these countries (for a bit more money). Now being on the right end of the political spectrum Venezuela and Mr. Chavez's clown socialism didn't really appeal to me (and besides they probably would've turned me right back at the border anyway) so it had to be Colombia instead!
With the mistake fare straightforward connections via FRA to BOG would've only been 250 EUR for a roundtrip, but since the fare rules allowed it, I added two additional stops (and flights of course as well) which brought the whole LH itinerary to HEL-ARN-FRA-BOG-FRA-MUC-HEL, with the HEL-ARN segment being of course operated by SK under a LH codeshare. This itinerary cost a hair under 300 EUR. A nice bonus was that the long haul segments would be operated with the A340-600, my first flights with the type!
Now one of the interesting things of traveling to a new country (and continent!) is the possibility to try out some local carriers, so I did some searching on domestic flights in Colombia. Luckily the country has a very developed air transport network (well, considering the terrain and the lack of decent land transport routes it is not really a surprise!) with quite a lot of competition around keeping fares affordable. I quickly settled for Medellin, Colombia's second city and decided to spend a night there. There are at least three carriers competing on the BOG-MDE route and out of these I picked up Avianca and Aires.
Avianca had a nice mid-morning flight with their new ex-Mexicana A318s - a rare type which I've only flown once before (with Tarom) so that was a good choice (that particular flight was still operated by a F100 when I looked the first time, but they have now retired that type, a shame!). Booking at the Avianca website the fare was around 60 EUR, but a few days later they contacted me saying that my reservation was cancelled as my credit card had been refused (I guess that doesn't match my usual spending pattern...). Oh well, I could book the same flight via Expedia so it was not a big deal, although I ended up paying 10 EUR more for it...
Aires on the other hand worked fine booking via their website. The mid-afternoon flight the next day cost around 55 EUR, not too shabby.
Here's the route: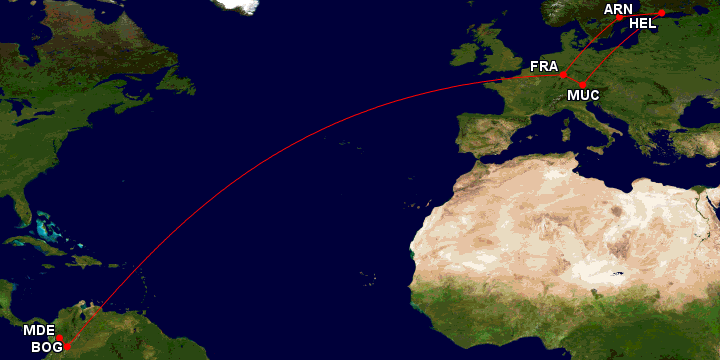 Finally I advised fellow global traveler and a.netter gabrielchew on this fare and a bit later he came back with the delightful news that he had taken advantage of it as well, although opting out to fly a bit earlier than me but joining me there in Colombia and flying on the same flights back (including coming to HEL with me).
Thursday 20.10.2011
This trip doesn't get into a good start - first of all I manage only to get boarding passes for the HEL-ARN and FRA-BOG flights with a combination of OLCI and self service kiosk while passing through the airport the previous day. Since SAS and Lufthansa handle each other's check in in Scandinavia and Germany (but not Finland anymore!) and their system's aren't compatible this is always such a hassle when having mixed itineraries on both carriers. Secondly while sitting in the bus to the airport I notice that my camera doesn't want to play ball with the memory card any more - bugger!
So at the airport once through the fast track security I head directly to the electronics shop, luckily right opposite the SAS lounge. The guy tries the same things as I did but concludes that nope, doesn't look good. So no other choice than to purchase some new memory cards, luckily they are running a special offer that's not too much of a rip off and I walk over to the lounge holding a shiny new double pack of cards in my hand.
Not too many people any more in the lounge - the normal morning rush hour has already passed: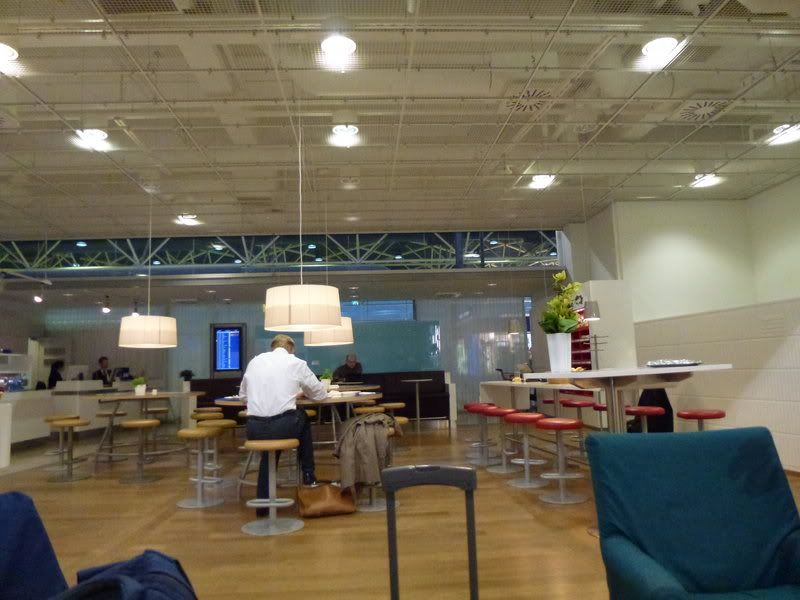 Some yummy pancakes and maple syrup: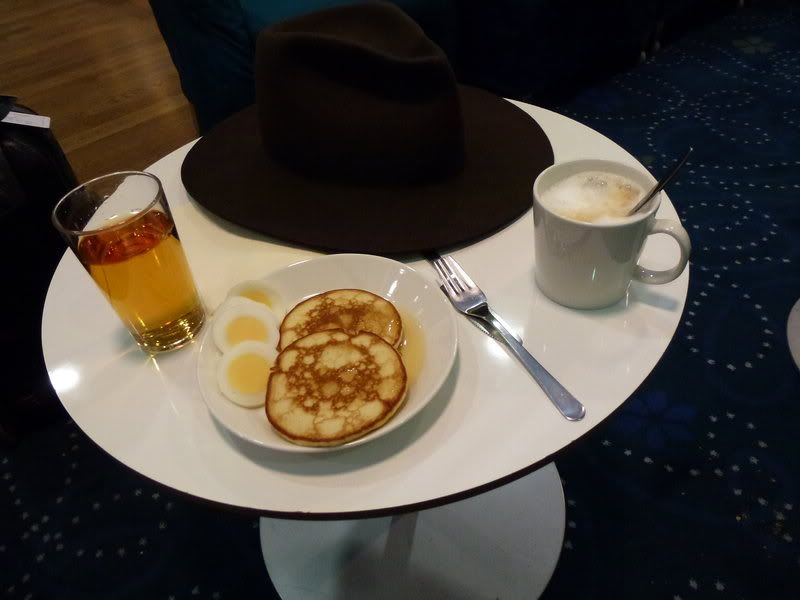 I fix up the camera with a new card and am happy to see it working fine (well I guess the photos above already confirmed that!).
Finavia has updated the FIDS - now they show approximate walking (well, judging from the figures more like crawling - handy for those late night flights) times to the gates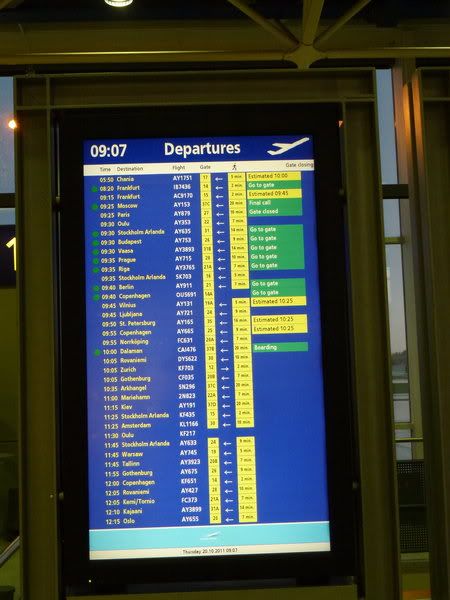 I head to the gate a bit early to see the expected MD-82:
My 2nd flight on "Ingjald Viking", who despite being over 25 years old doesn't look too shabby at all - that's SAS for you: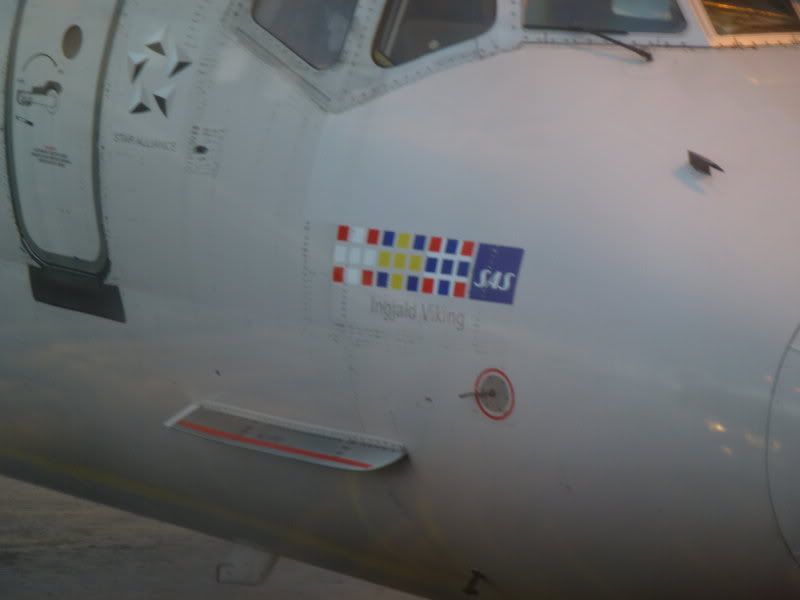 Boarding is called around fifteen minutes before departure, once again with me being among the first ones to board.
HEL - ARN
SK703
MD-82 LN-ROT "Ingjald Viking"
Seat 10F
9.29 - 9.20
Stepping onboard I say "Good morning!" to the waiting purser who responds "Huomenta!" so I just have to add "God morgon!" as well - it never harms to be extra polite!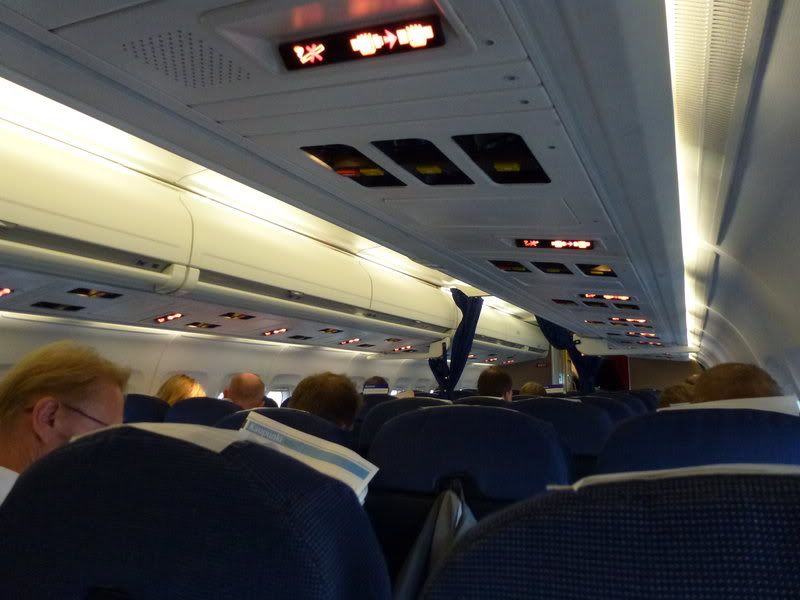 Four rows of business class on this flight with three passengers, and a further five rows of economy extra with five passengers. I'm seated on the first row of economy, with the economy cabin appearing to be competely full.
AY cattle truck next to us: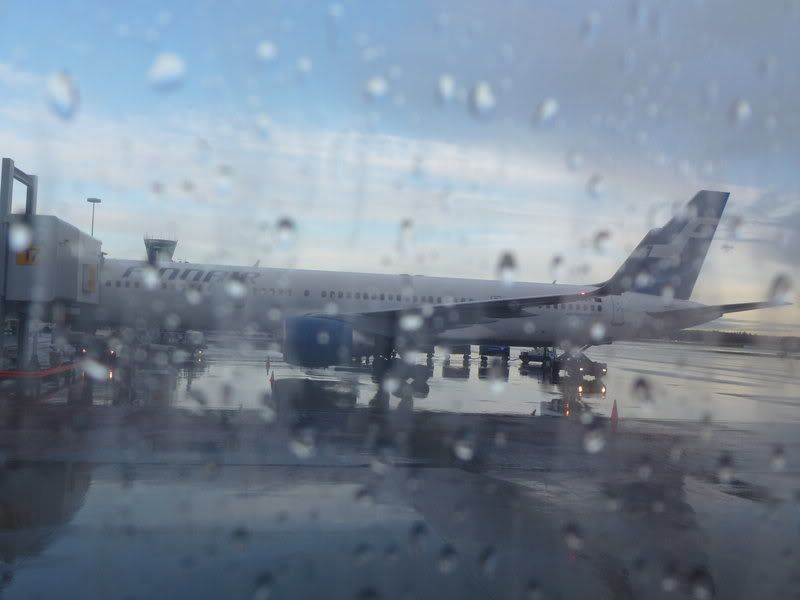 Boarding is very orderly and quick, and push back is a minute early for this 50 minute hop to ARN.
Take off is from 22R a bit later.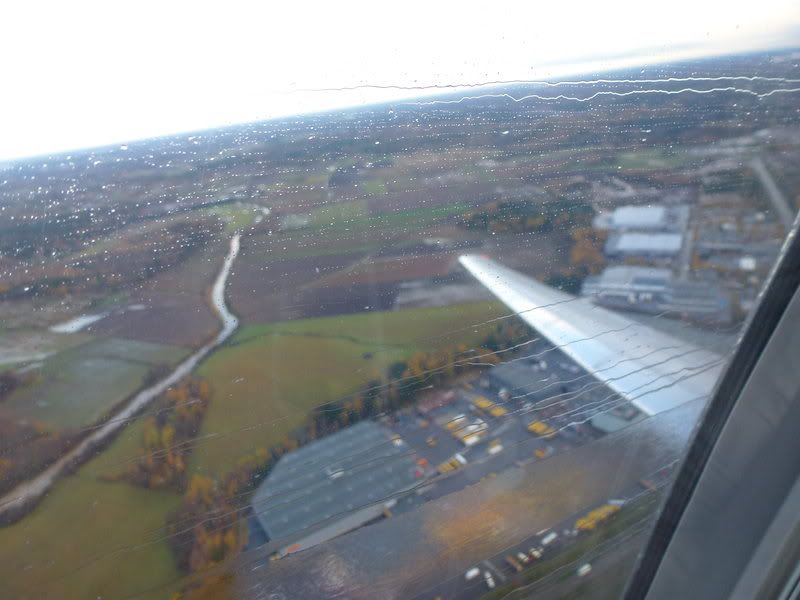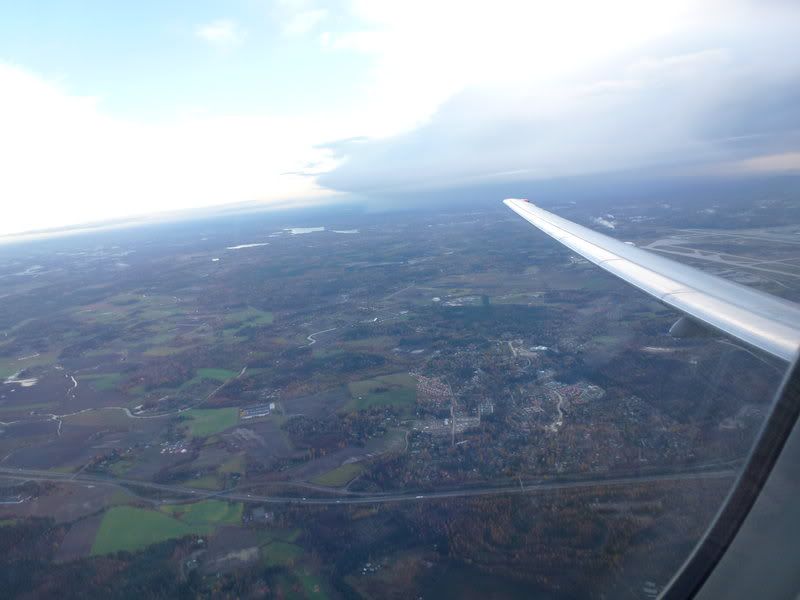 I like the way some wisps of mist are still remaining on the ground: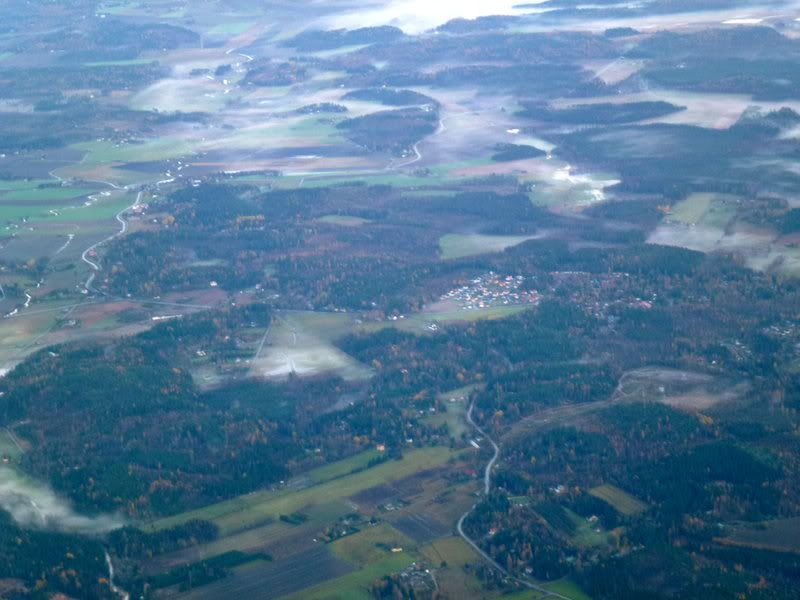 The Åland islands, too bad the capital of Mariehamn (and well, the only town there actually) is covered by those clouds on the left: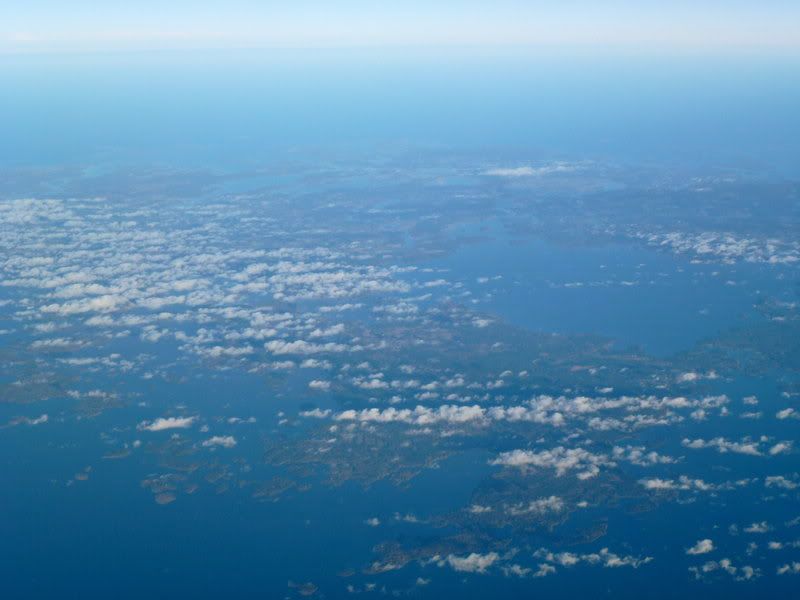 A ferry leaving Mariehamn for Sweden: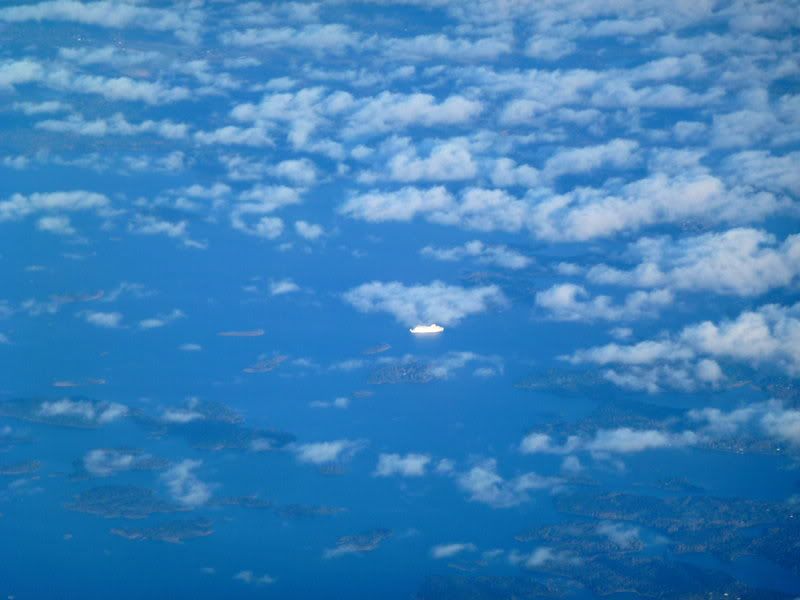 Not many people are interested in the BOB service, including me.
Descending towards Arlanda, notice our shadow surrounded by a halo on the cloud: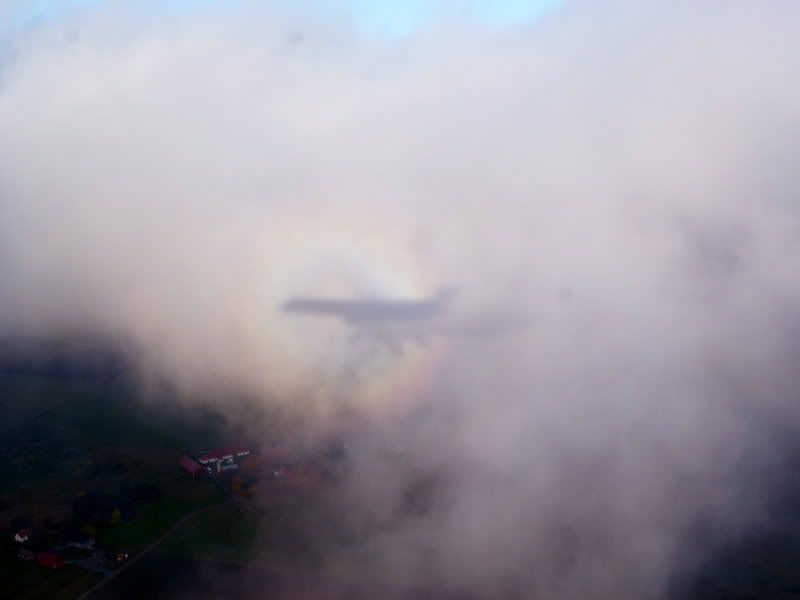 Landing is on runway 26 after a quick 40 minutes of flight.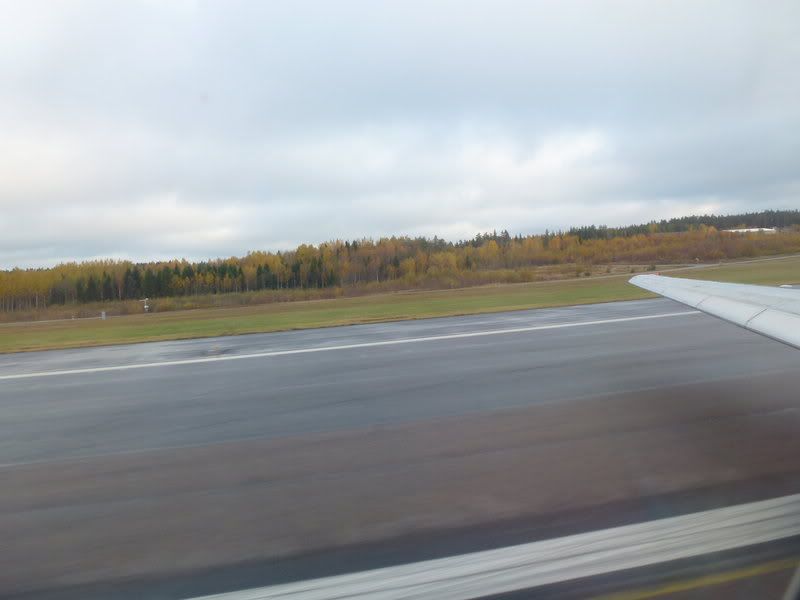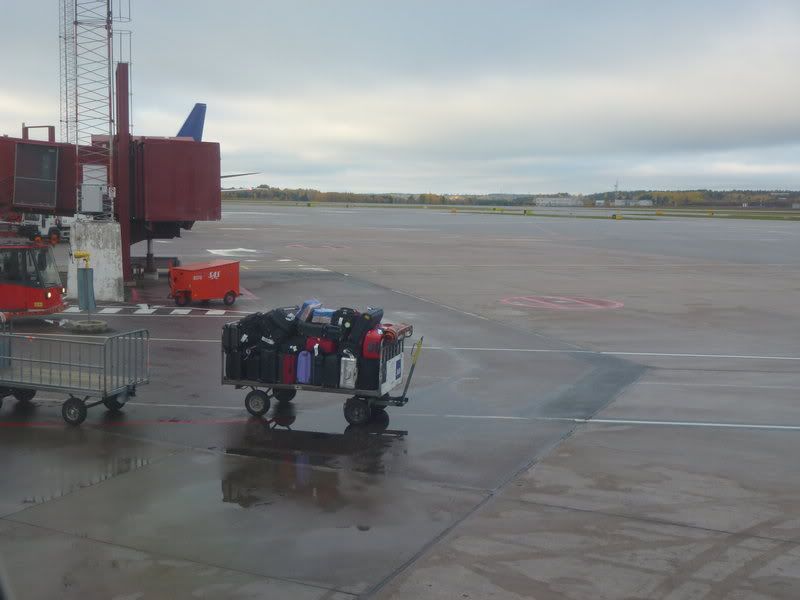 Stockholm Arlanda Airport
After getting out of the plane I make my way towards the SAS transfer desk, where a very friendly girl soon prints me a boarding pass and says that she cannot do it for the FRA-BOG leg. I tell her that I already have one for that so everything is fine. I get a sequence number of 123 and see from the seatmap on her computer that the last row is completely empty - so make a mental note to ask for a seat there at the gate.
Then I go upstairs to the Scandinavian lounge. The lady at the reception is wearing a yellow badge saying "SAS Rock'n'Roll" so after registering myself I ask "So your name is Rock'n'Roll?" - "Yes, that's my name!". Gotta love these laid back people here!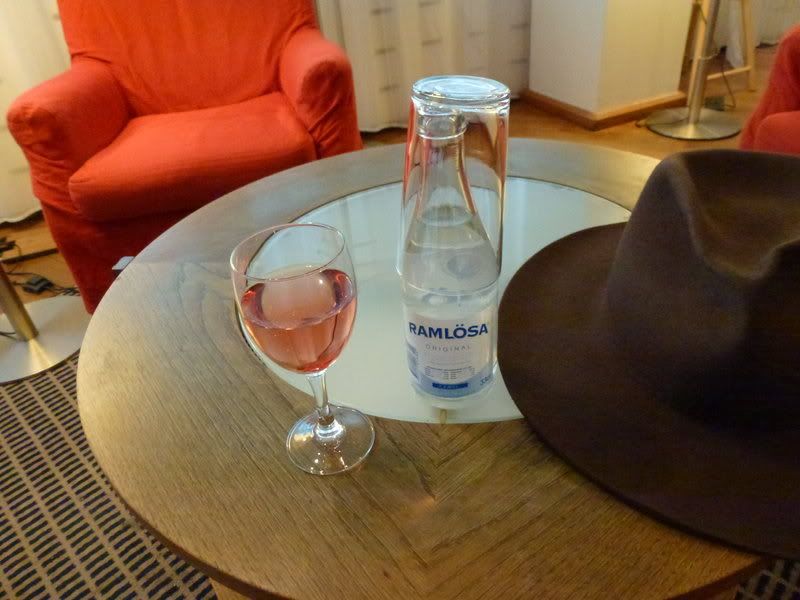 Just a half an hour to spend here, enough for some wifi and drinks before heading to the gate. Strangely the boarding time has already passed but nothing's happening - I saw the tail of the plane from the lounge so the inbound is already here.
Over at the gate I ask from one of the gate agents if row 30 is still empty and after learning that it indeed is get my seat changed to 30F.
The letters on the tail confirm this bird as D-AIQE, a new one for me.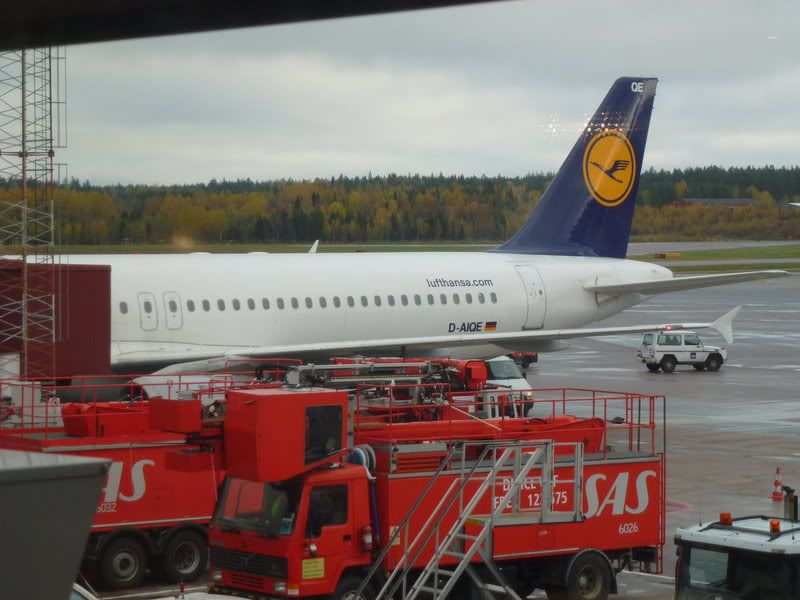 Boarding is soon called, I'm the second passenger to board after an old man in a wheelchair on his way all the way to SFO.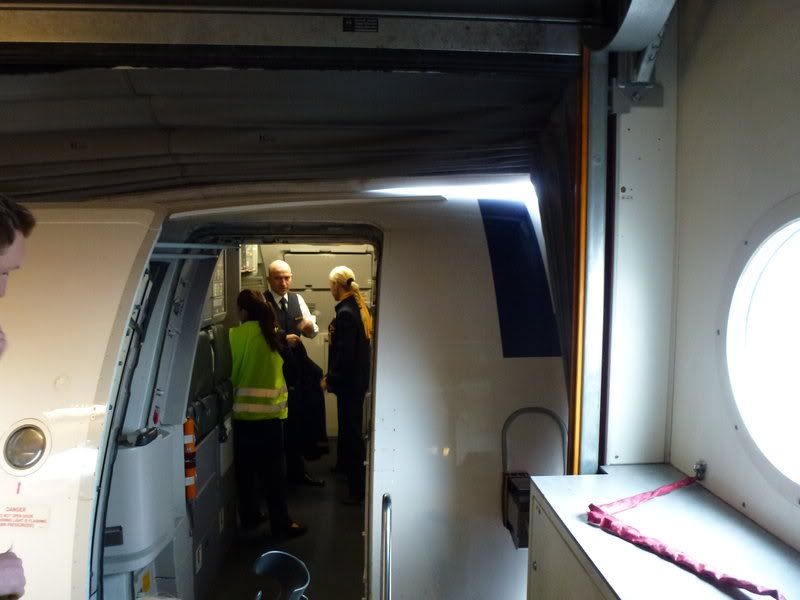 ARN - FRA
LH802
A320 D-AIQE "Gera"
Seat 30F
11.10 - 12.58
The new seats on this bird, meaning a good legroom and hiding the fact that this bird is around 15 years old: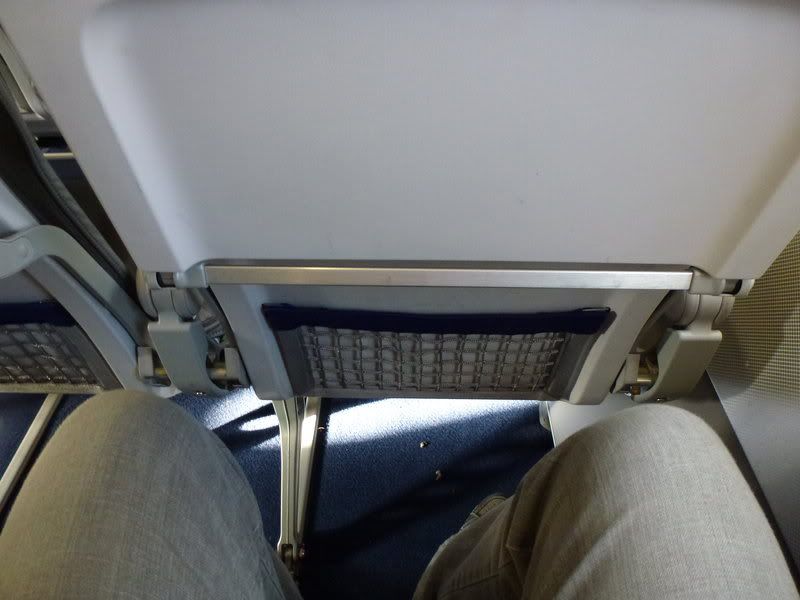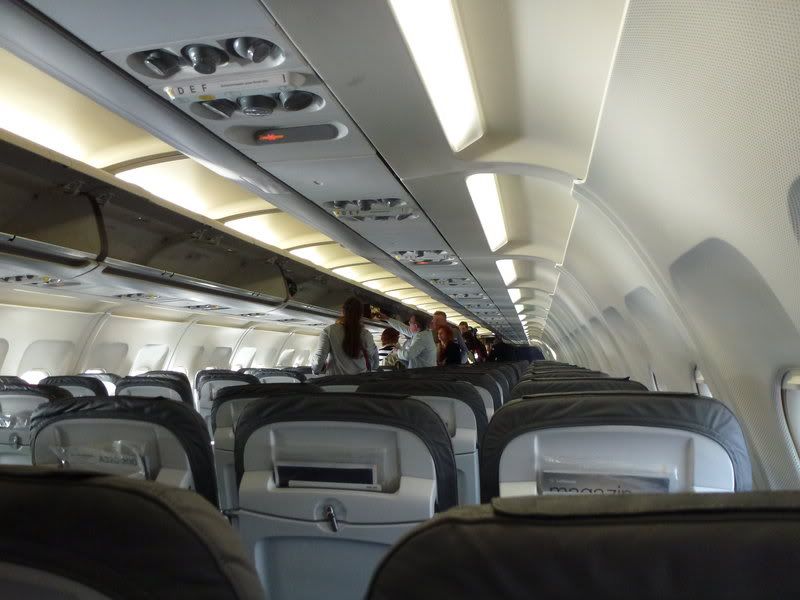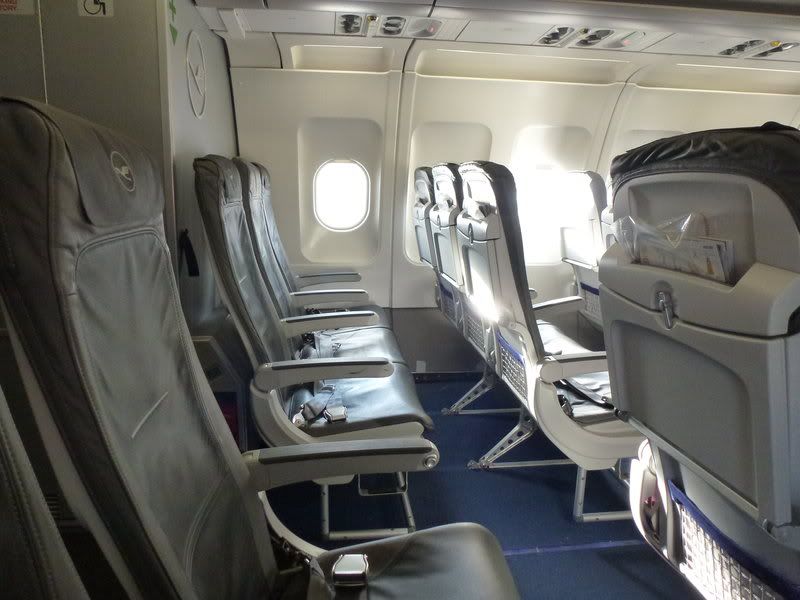 As expected the last row stays just for me, albeit after boarding is completed for a quite good load factor of around 80% an FA tells a couple of large Swedish guys on the penultimate row that they are free to move to 30ABC for some more comfort which they promptly do.
Ahh, the elusive E175 (and some menacing clouds) next to us: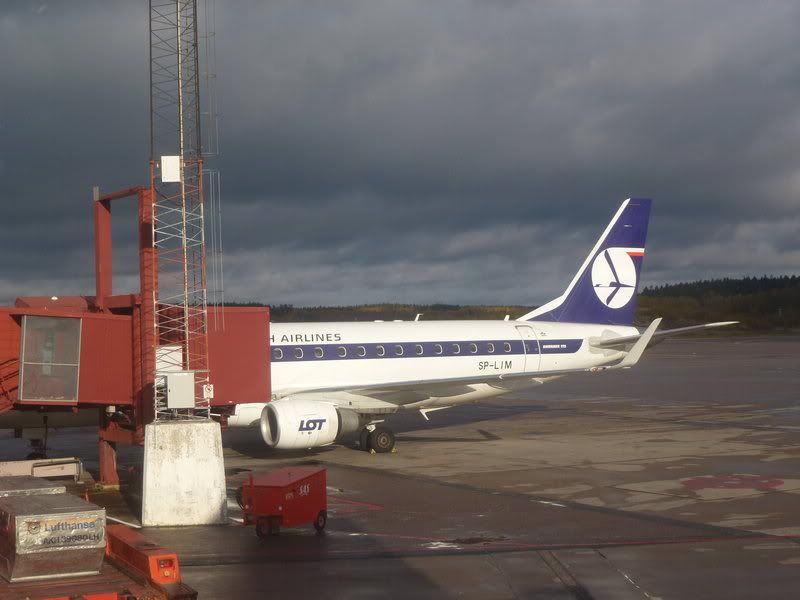 Then nothing happens for a while, until around a quarter after our SDT the captain comes on, welcomes everyone onboard and tells the bad news - apparently Frankfurt has some really low clouds and bad weather today which has caused a reduction in the traffic flow and the subsequent ATC restrictions. For us that means that we have a take off slot around fifty five minutes from now, at 11.38! He concludes with "We know about your connecting flights, and maybe with the restrictions those flights are delayed as well!"
The crew performs a drinks run on the ground - a nice idea: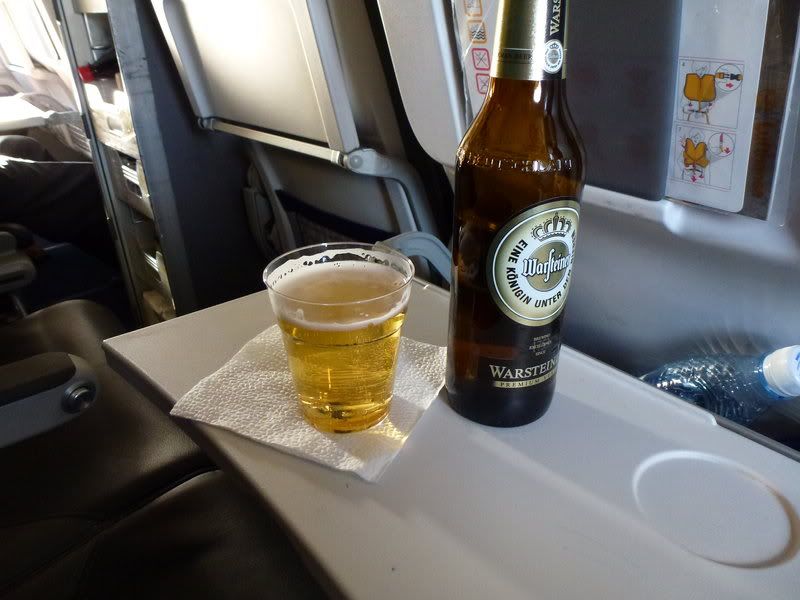 An appropriate photo on the inflight mag from the cockpit of LH542 FRA-BOG, the flight I'll be taking in a few hours: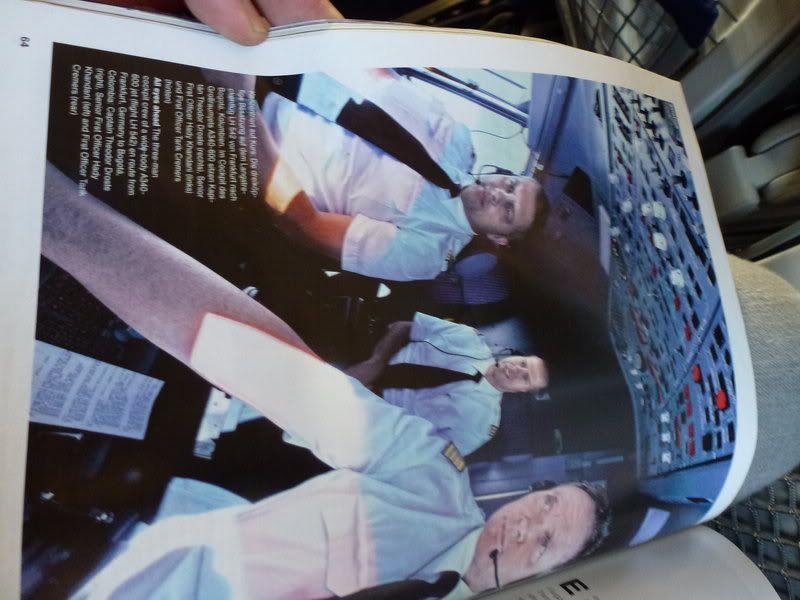 Only 20 minutes later the captain is back with the good news that there has been an improvement in the situation and we have a new take off slot at 11.18, or around fifteen minutes from now. The drink service is stopped - I'm not sure if everybody got their drink or not, trash is hastily collected, the engines started and push back initiated 40 minutes late.
My inbound plane being serviced for her next leg: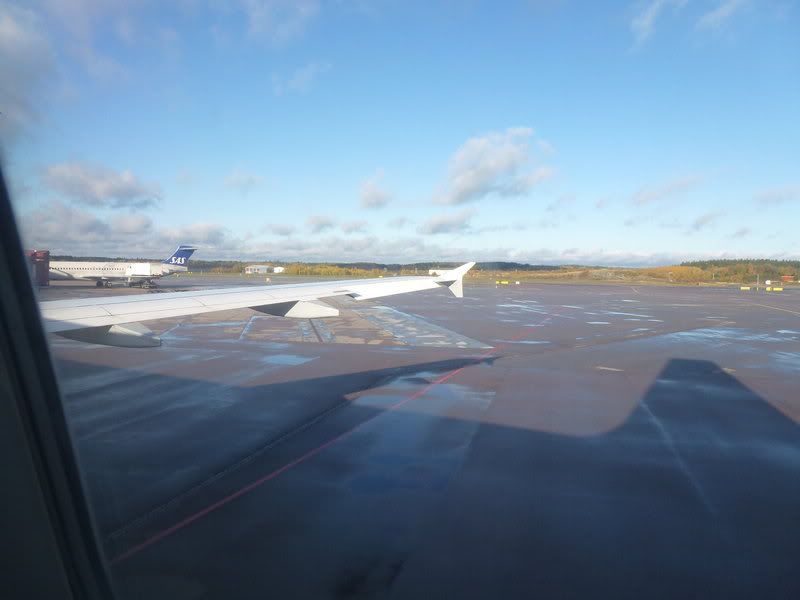 Sistership coming in from Munich: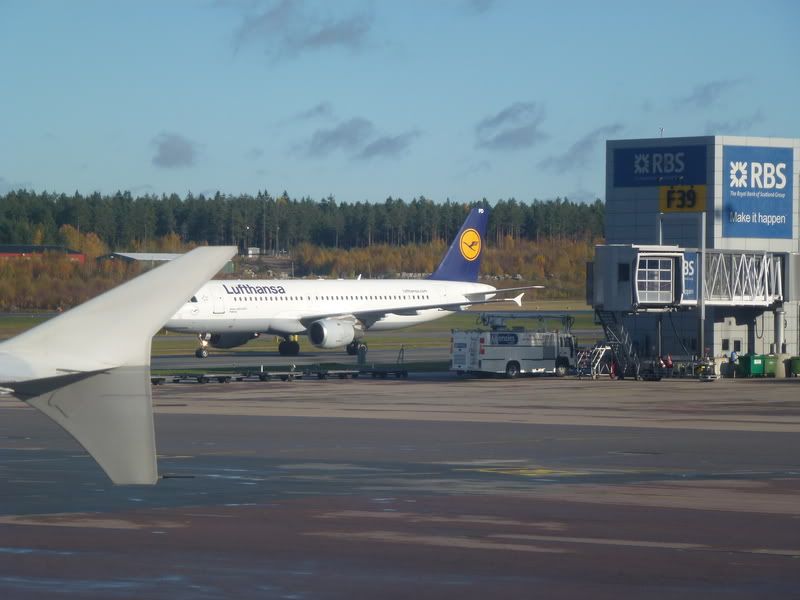 Cute, a football field near the fire training plane: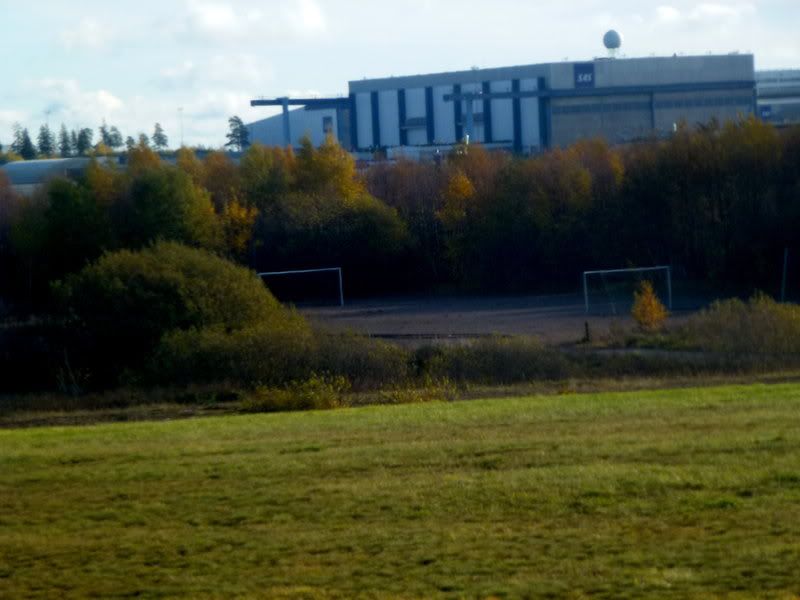 Must have a 717 in a report - arriving from HEL: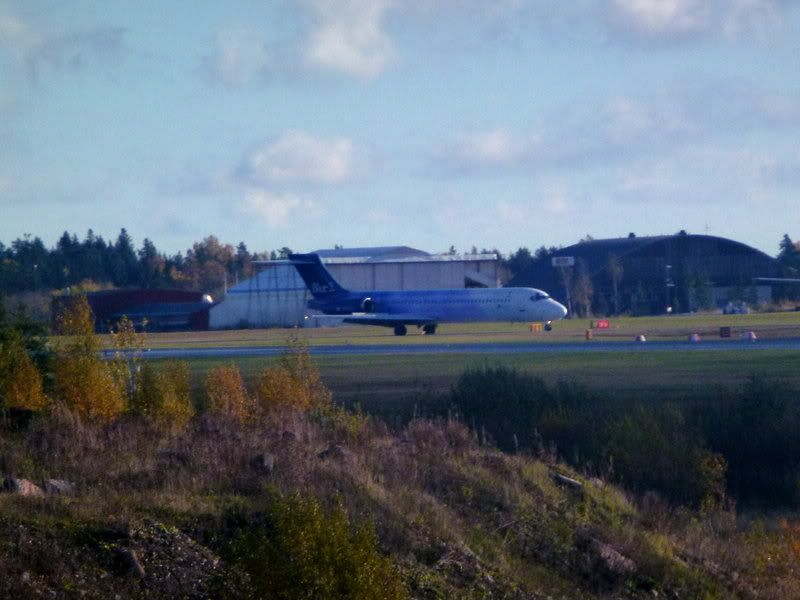 Eight minutes later, exactly at our new slot time we take off from 19R: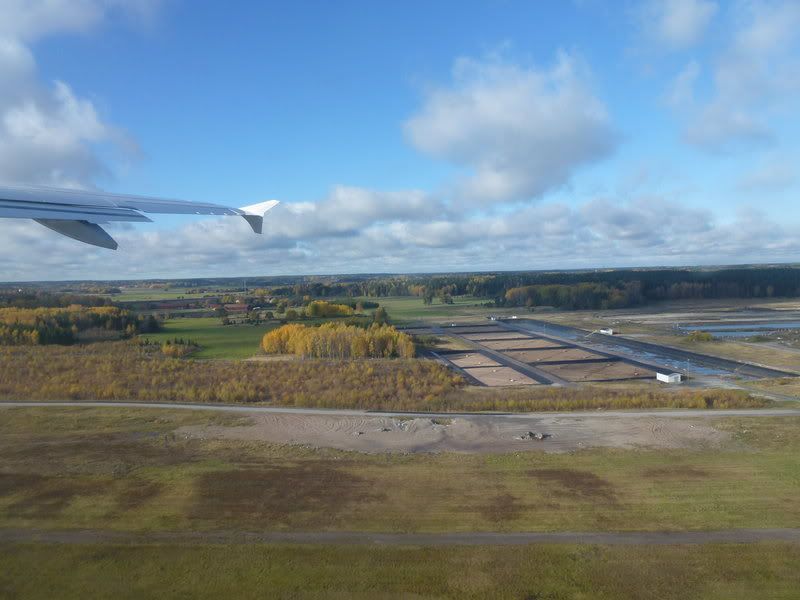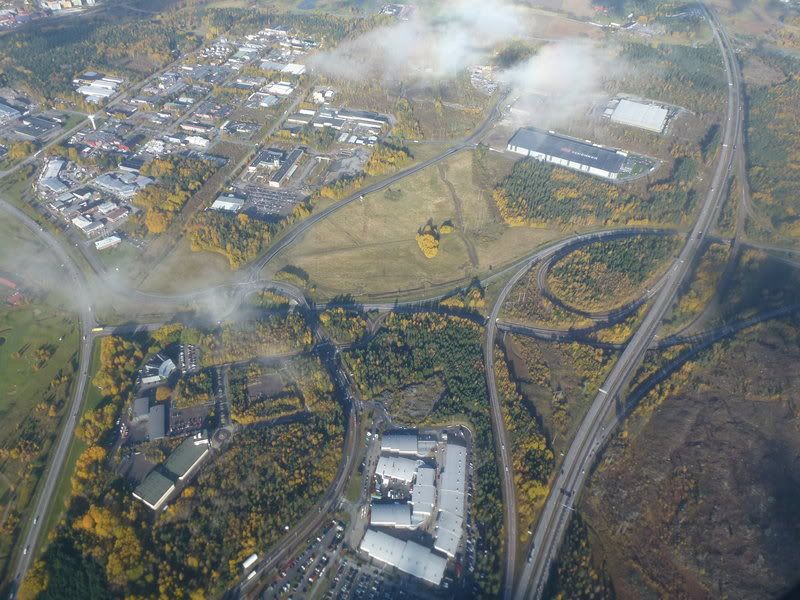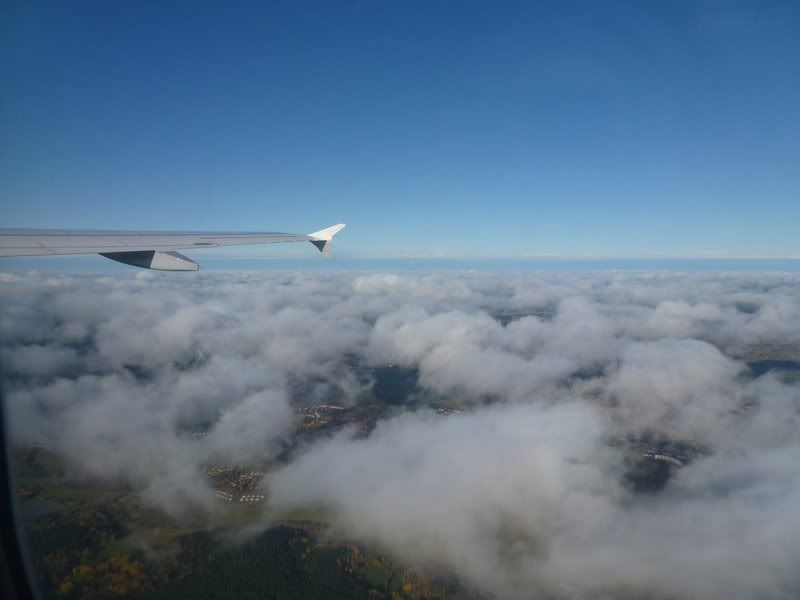 A grand looking mansion: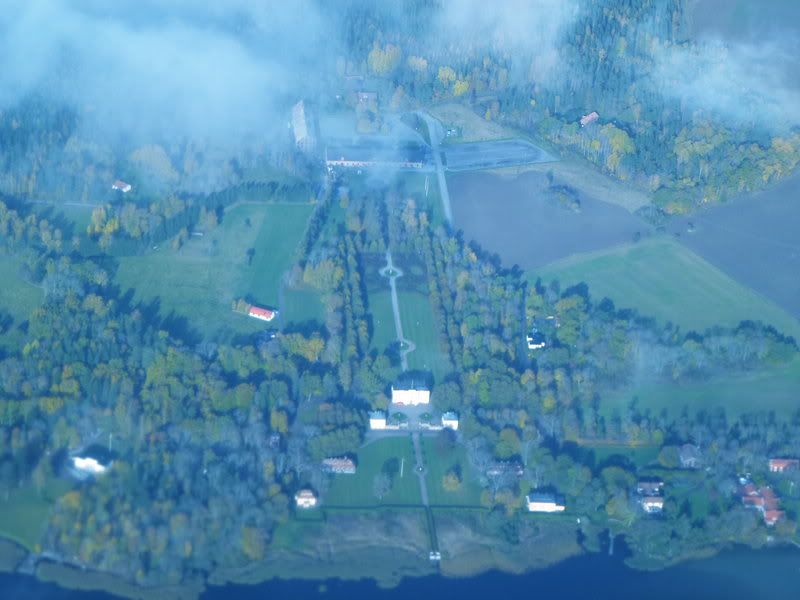 I believe this is the bustling metropolis of Vesterås, Jonas can you confirm: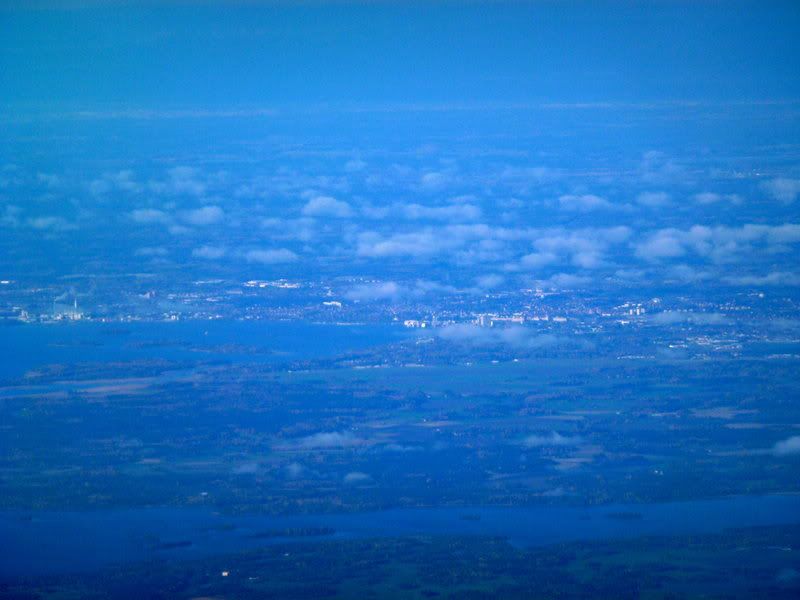 This must be "spot the mistakes in the LH inflight mag" week: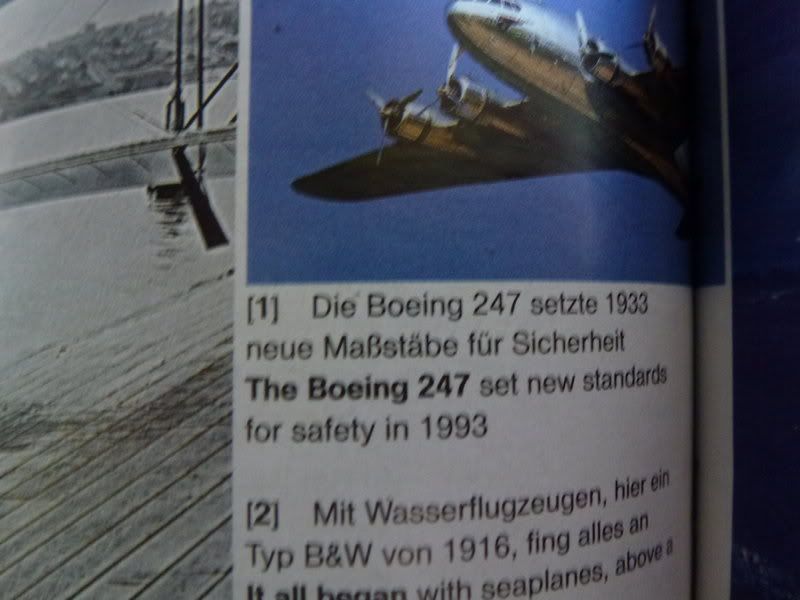 Linköping with its two airports clearly visible - I'll be passing through the other one in December: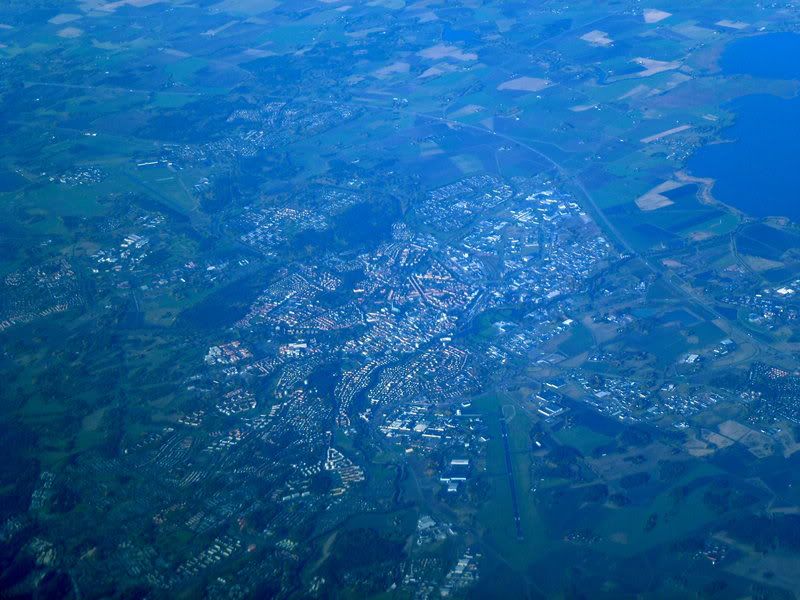 Service soon commences and this time I'm getting a small dejavu from Phil's BMI reports as we are handed out Monty's hot wraps: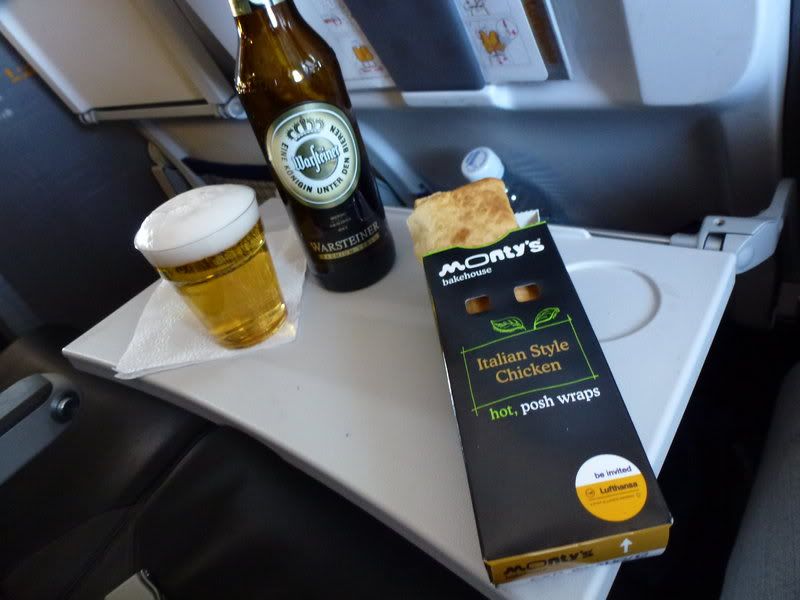 Very good actually, far better than your usual sandwich although that expiration date sure is far off - I bet it is laden with preservatives: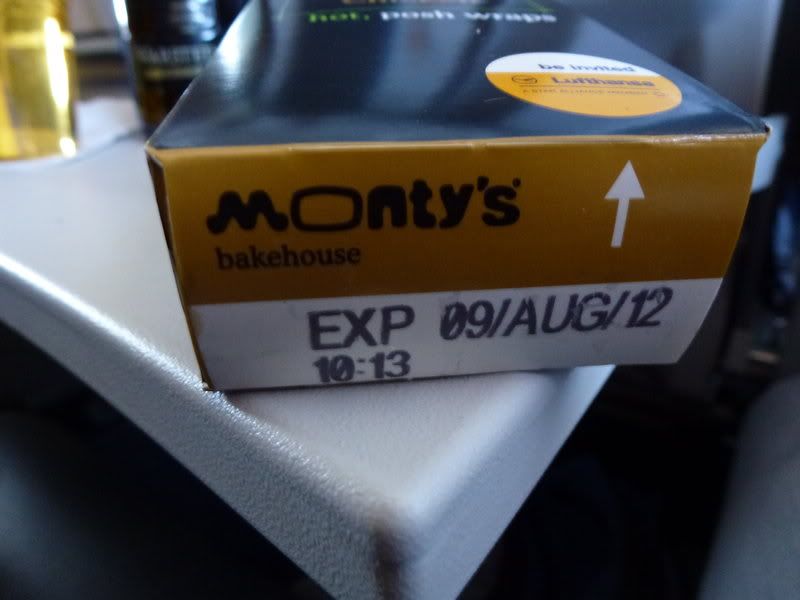 I first thought this was the Öresund bridge but it turned out that we were quite a bit further in our route than I thought - this is the Great Belt Bridge in Denmark:
1h10mins into the flight while overflying HAJ the captain announces our descent to FRA. Indeed the clouds seem to be hanging out very low: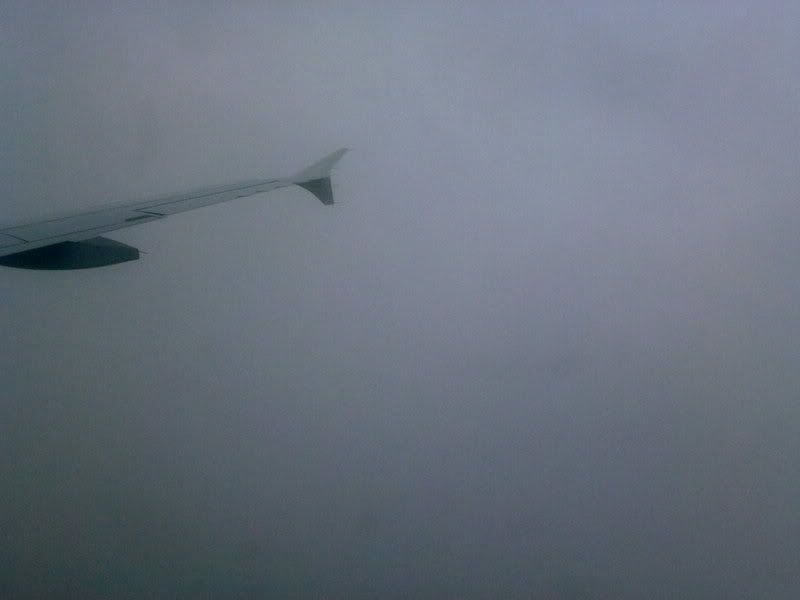 Even the Bankfurt skyscrapers are hard to see: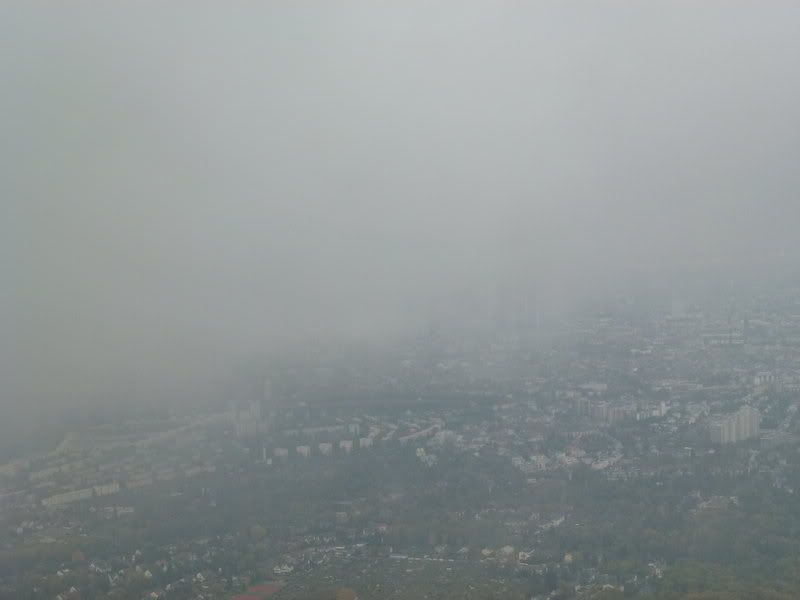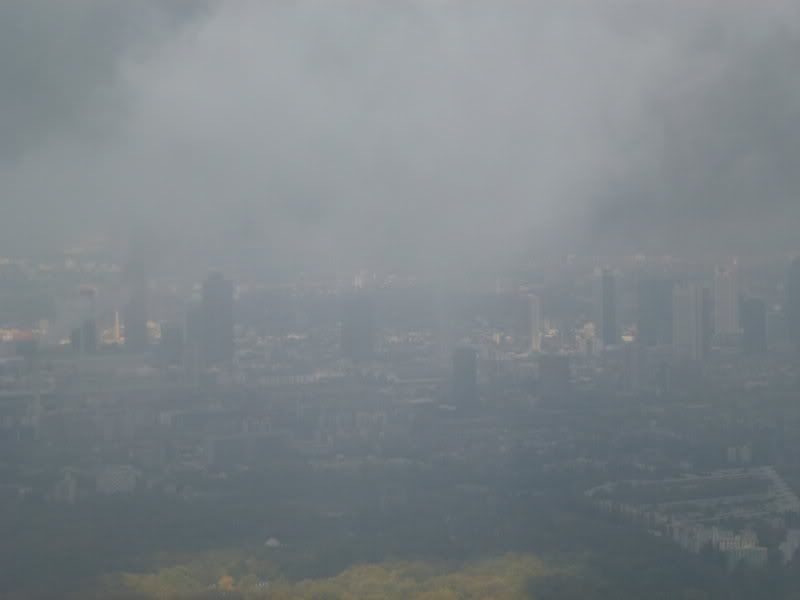 We land on runway 25C after a flight time of 1h40mins.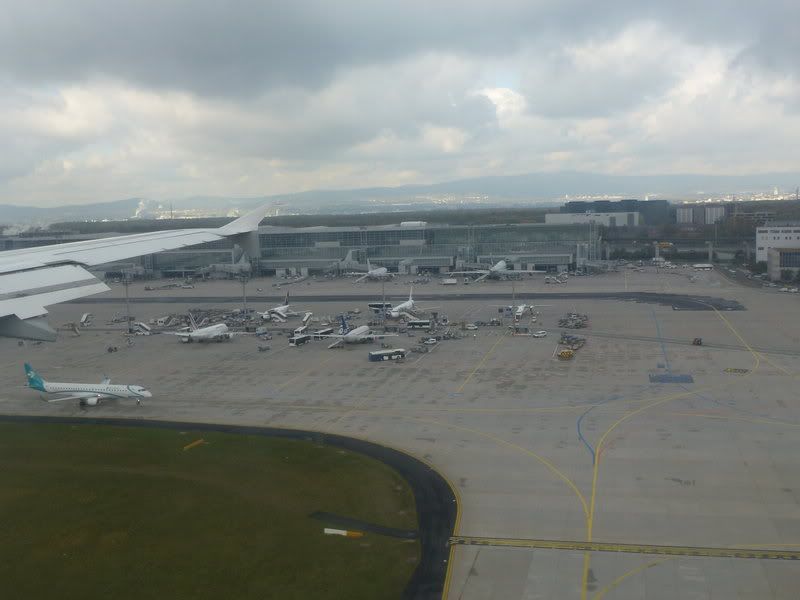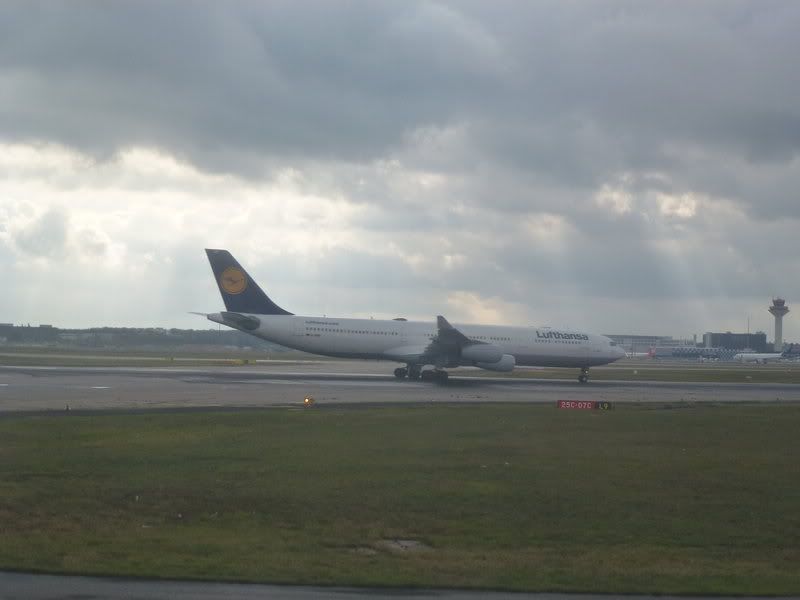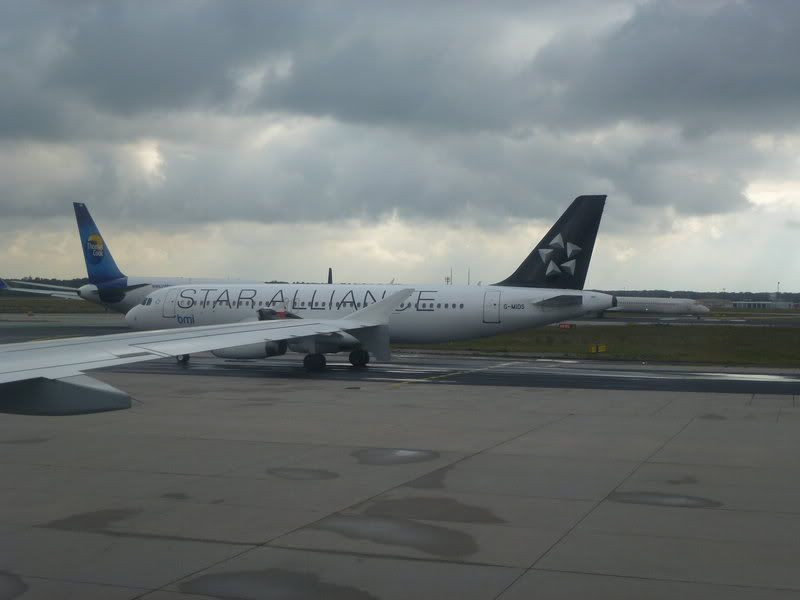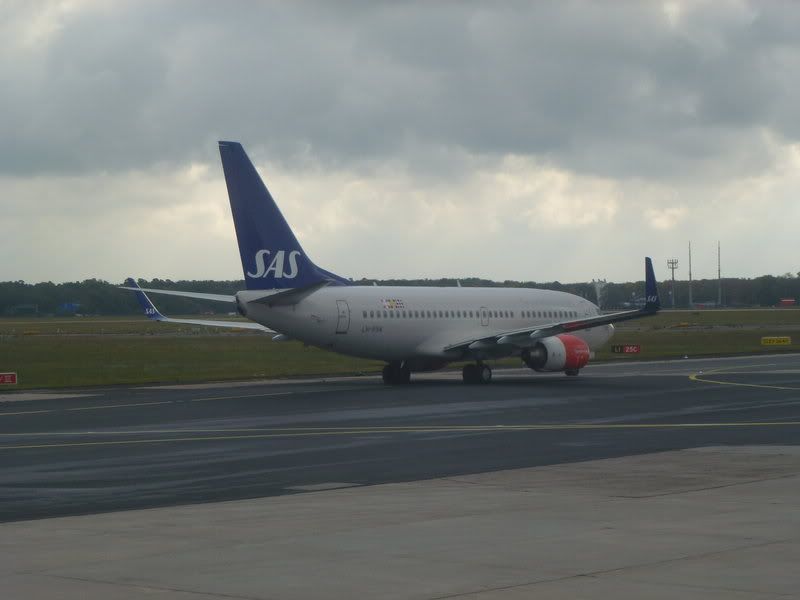 Great livery on this Air Transat bird: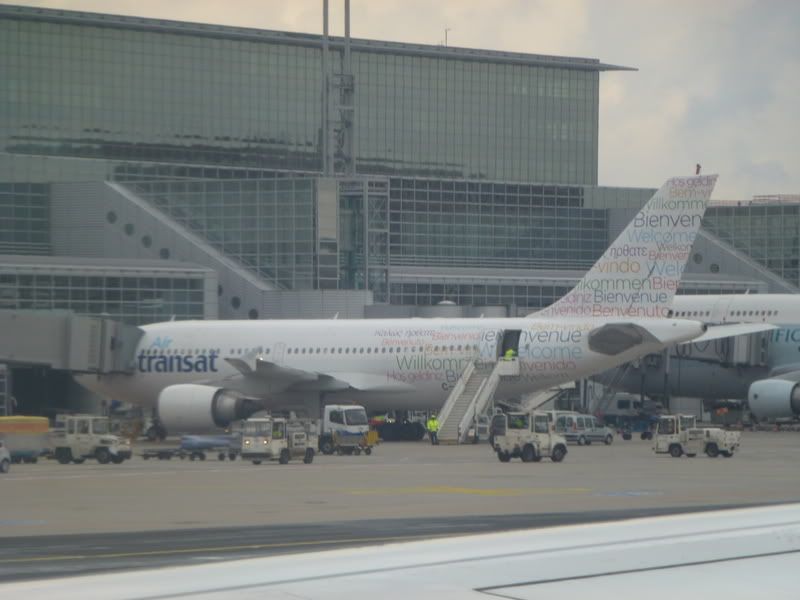 Wouldn't be FRA without the obligatory LH A388 surrounded by other widebodies: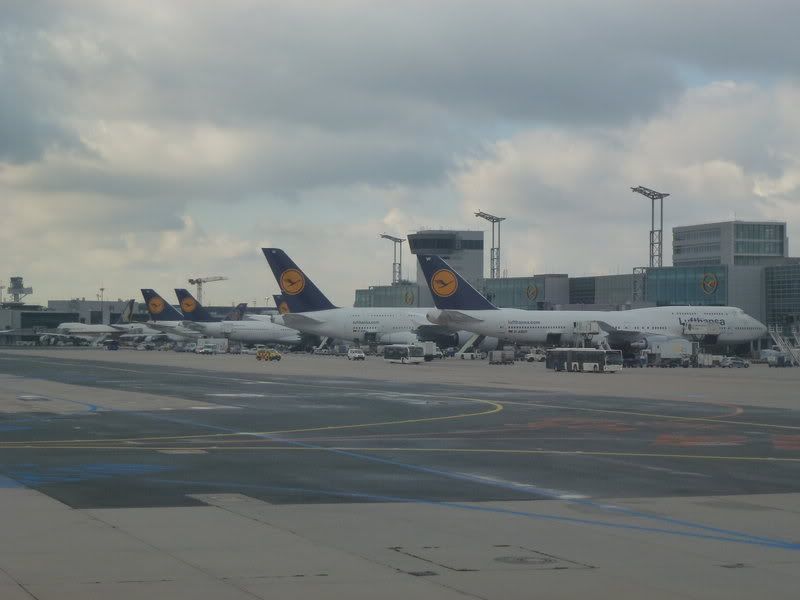 This time we end up with an apron stand in front of T2, pretty good actually since my flight will go out of B and if we had a jetway we would be somewhere in A, whereas the Schengen bus arrivals go to B - handy for me!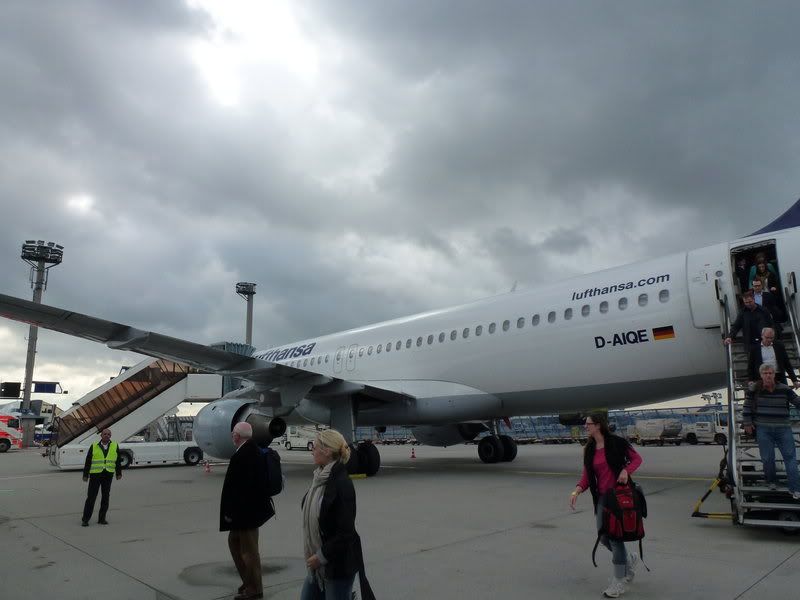 Some people with tight connections got this special treatment: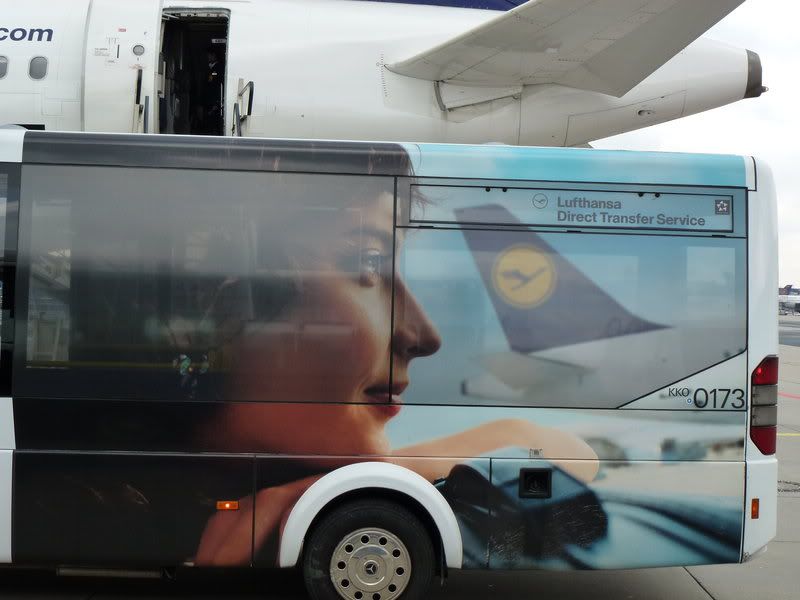 Frankfurt Airport
Once out of the bus I make a beeline for the passport control. Only a couple of people there so through in a jiffy, the very bored officer gives one quick stare at my passport and sends me on my merry way.
The BOG flight is not posting any delay and being late I decide to skip the planned visit to the new Senator lounge near the C gates as it is just too far away and instead shoot a photo of my ride to come at the gate - such a beauty: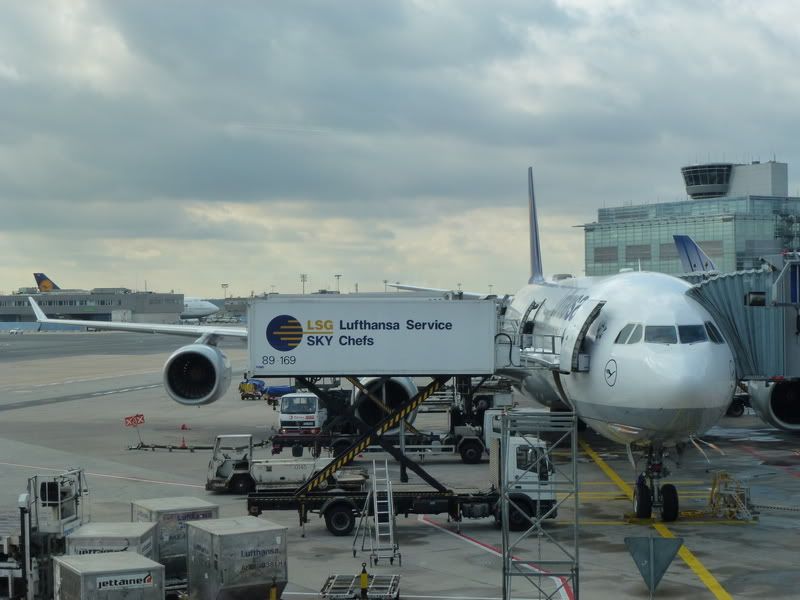 Luckily the LH business lounge is right over the gate, so at least I have time to head there: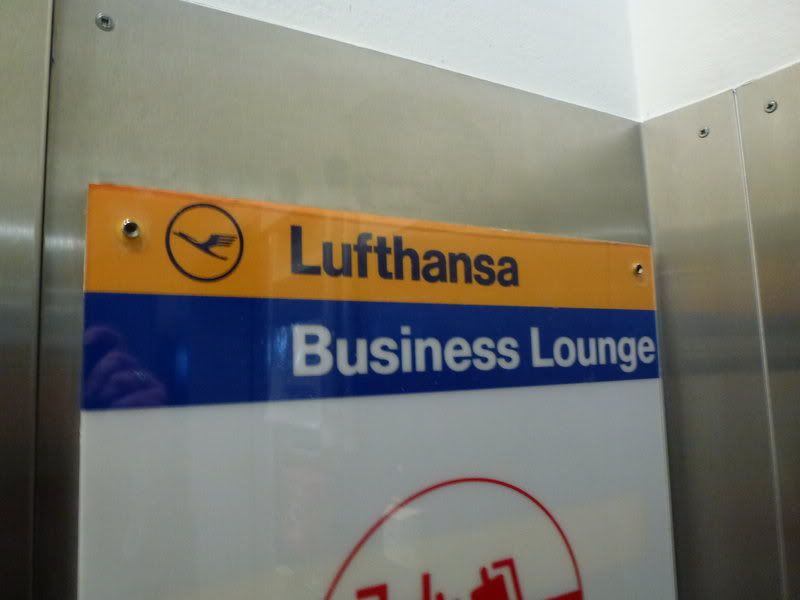 Not too packed as usually: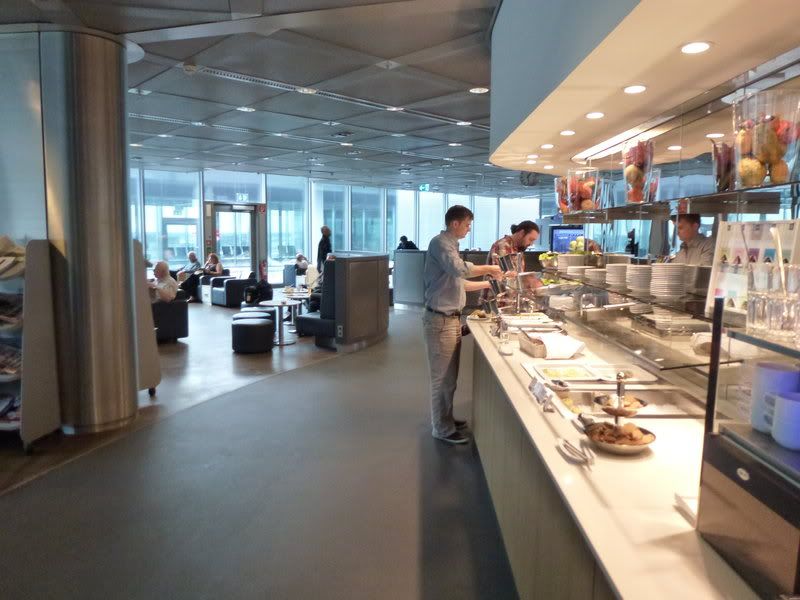 Some nice minestrone soup hits the spot nicely, especially when garnished with generous amounts of Tabasco (wish they had the Chipotle one!):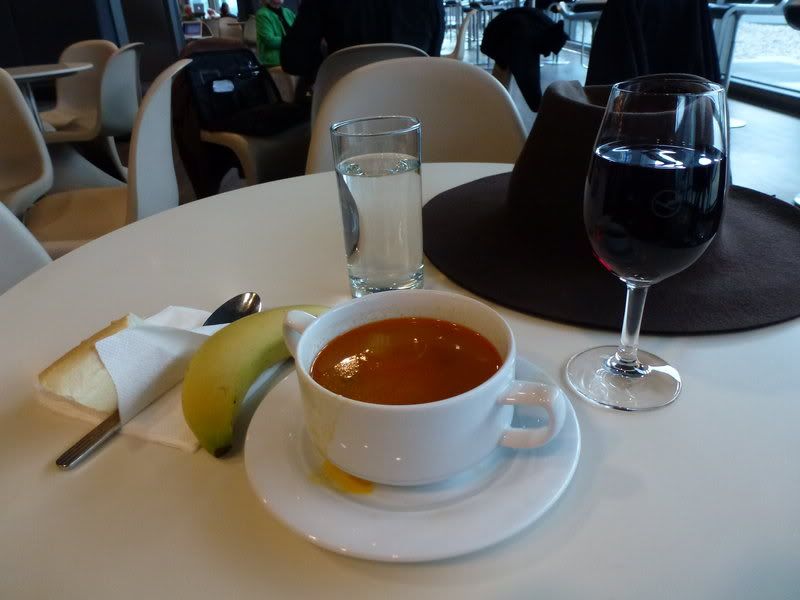 Soon enough the flight is boarding and I head back downstairs to queue at the self boarding gate - the regular one has a far longer queue: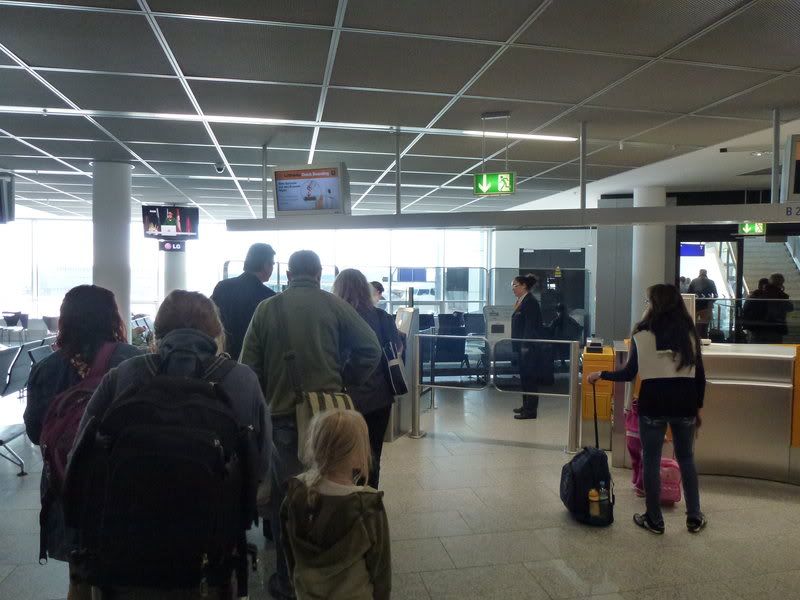 Oh, so "Wiesbaden" aka. D-AIHH it is. The same bird that took Gabriel to Colombia five days earlier - of course a new registration to me: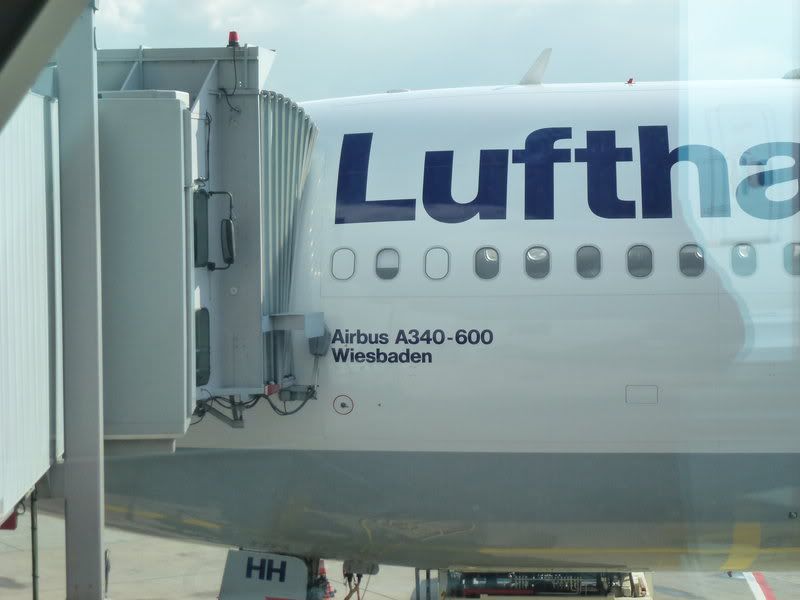 In the jetway I first see some Finns and a Swedish family who were on the ARN flight as well - wonder if they are taking advantage of the cheap fare as well.
FRA - BOG
LH542
A340-600 D-AIHH "Wiesbaden"
Seat 58A
14.40 - 18.17
A friendly crew welcomes me on board on door 2L.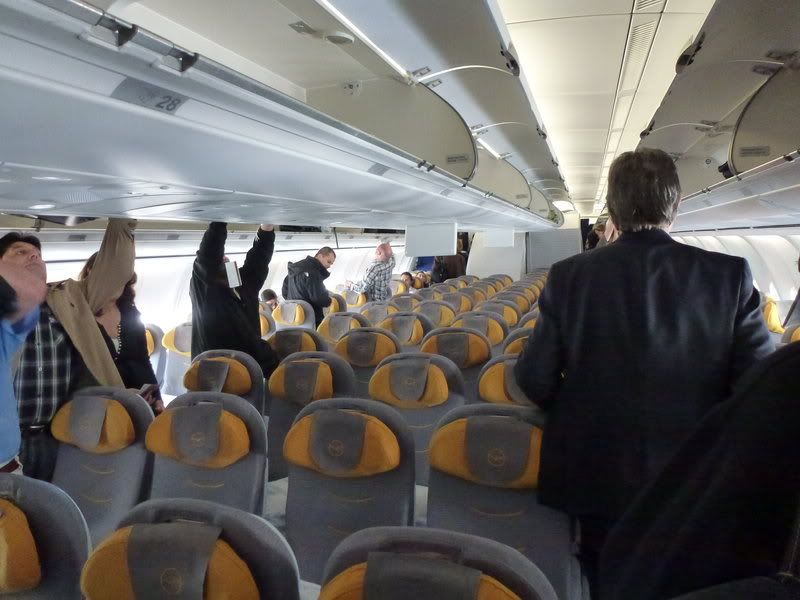 I had reserved a seat on the last row when booking and even the prior day when doing OLCI it was still showing an empty seat next to me. Well, I'm a bit disappointed to see a girl sitting on the aisle seat when I reach it, but well, what can you do. She turned out to be quite nice actually, a Southafrican who frequently travels to South America for work and we chat on and off during the flight.
There actually is an empty seat on the last row, but it is the middle seat on the middle block of three. That's pretty much the only empty one I see, but there might be some others further up
View from my seat: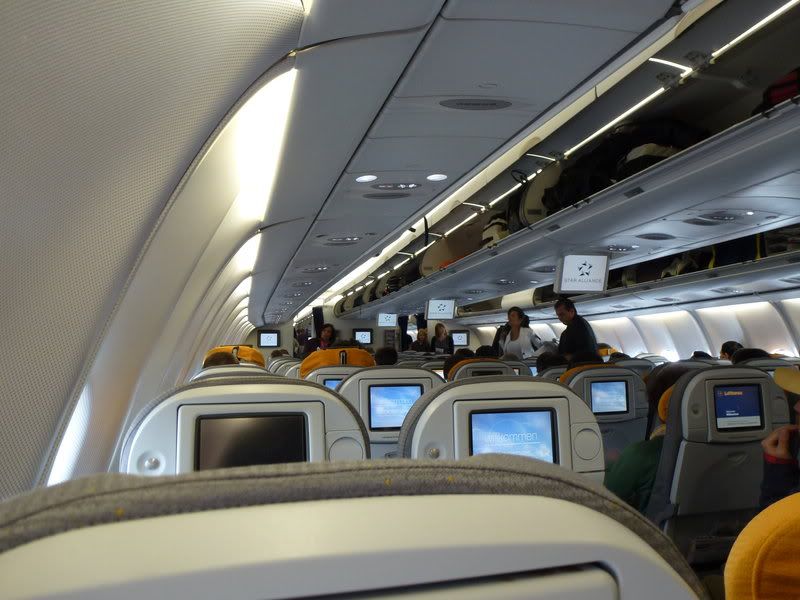 The legroom is tolerable: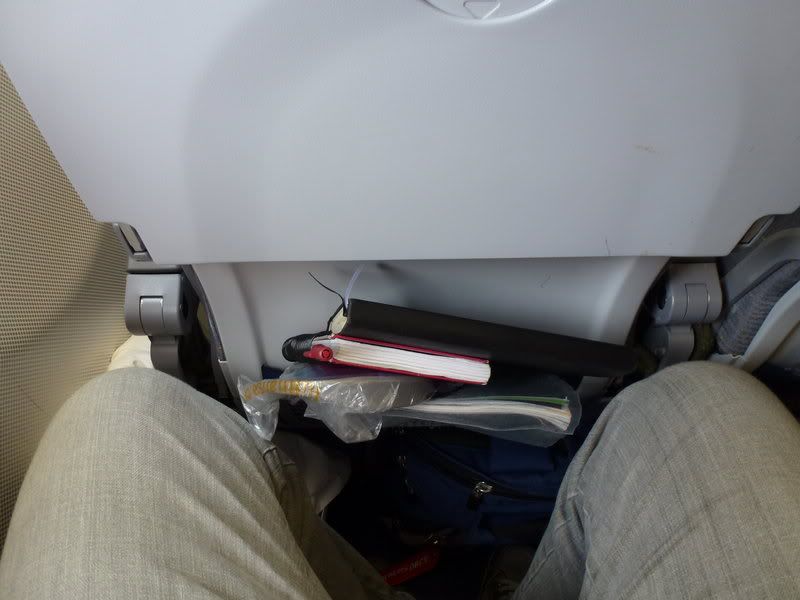 How many Jumbos can you count in this picture: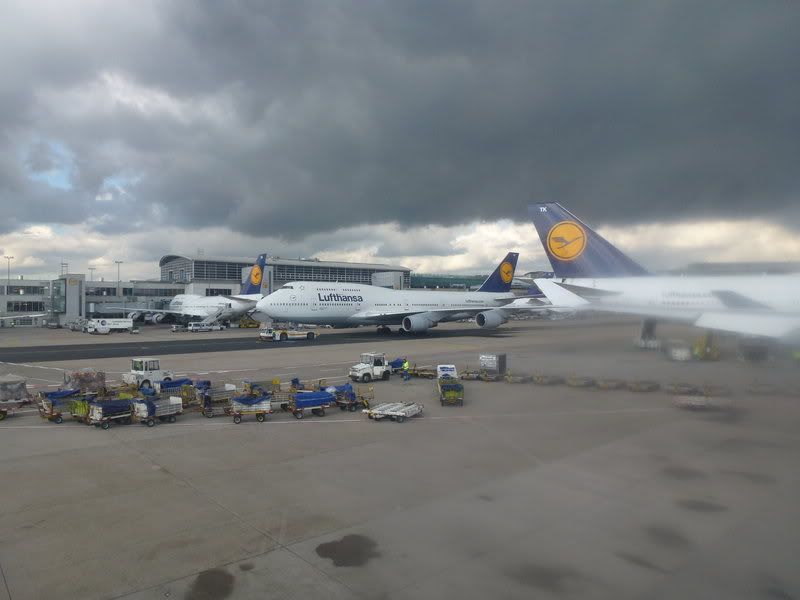 The pair of seats ahead of me plus some others nearby turn out to be occupied by more Finns - later on I chat some with them and of course they are here just because of that special fare... I bet there's been quite a surge of travel between the Nordics and Colombia this fall!
The friendly captain makes a welcome speech, expecting us to be early into Bogota thanks to some nice favorable tailwinds. The flight time is expected to be around 10h15mins.
The purser is quite amazing, he makes all of his announcements in impeccable (well as far as I can understand certain languages) German, Spanish, French and English. There are quite a few Latino-looking crewmembers onboard as well, very much appreciated by the many Spanish speaking passengers, I'm sure.
Push back is ten minutes behind schedule. I don't really like the PrivatAir colors: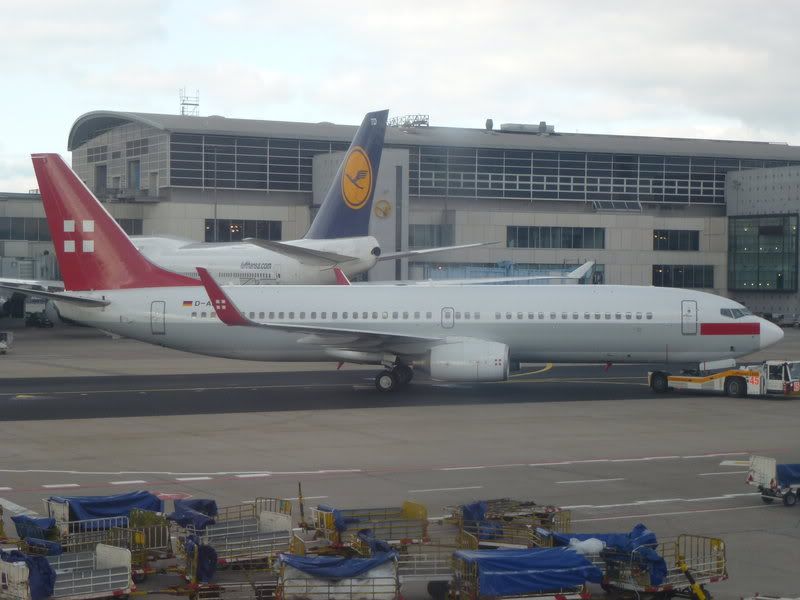 Well, this if FRA so a bit of a queue for take off, but good for watching planes. Here's one for Nils: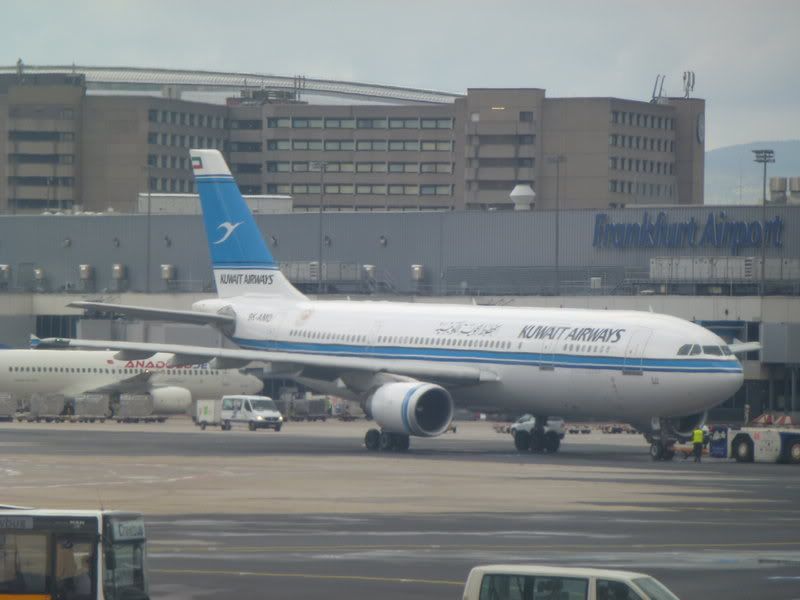 Good to see Baltic in town: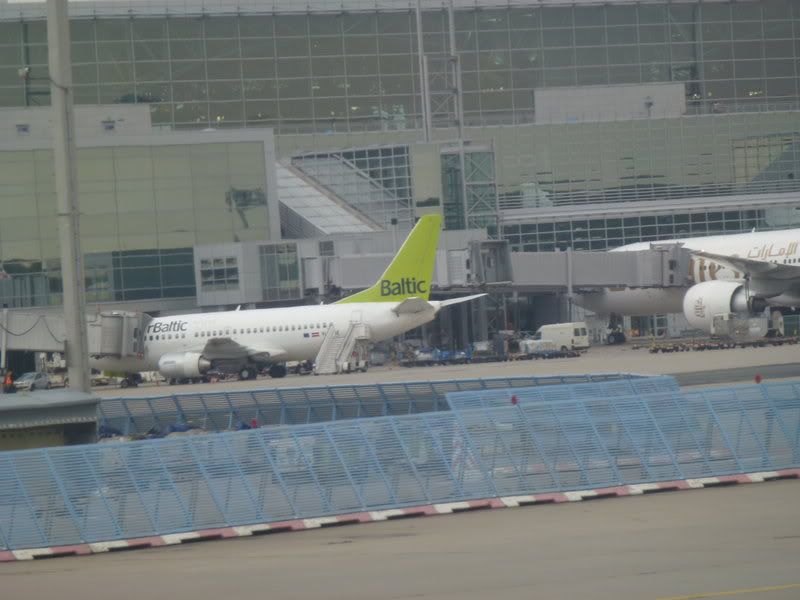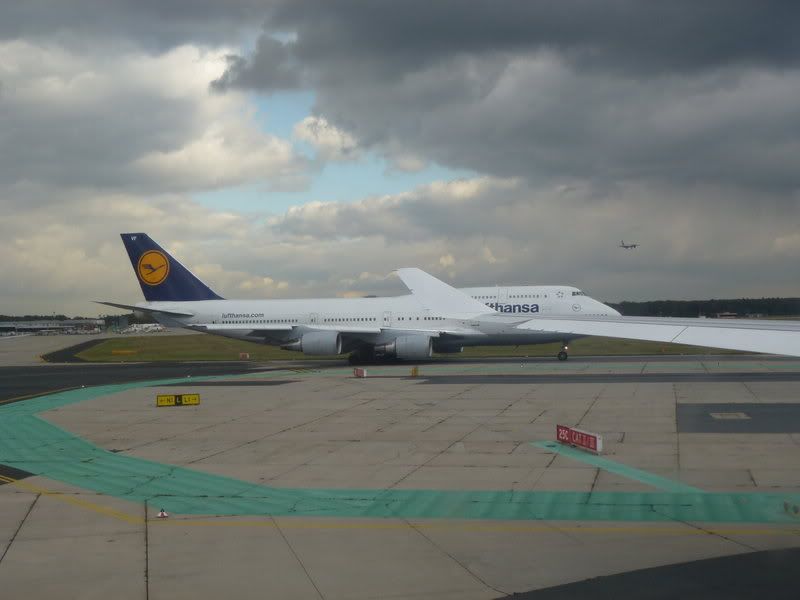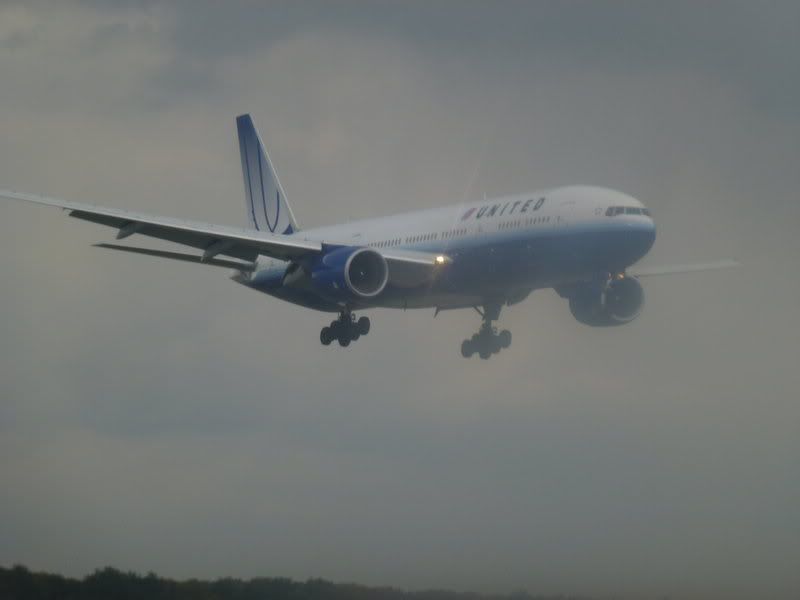 The Sibir green livery is so refreshing: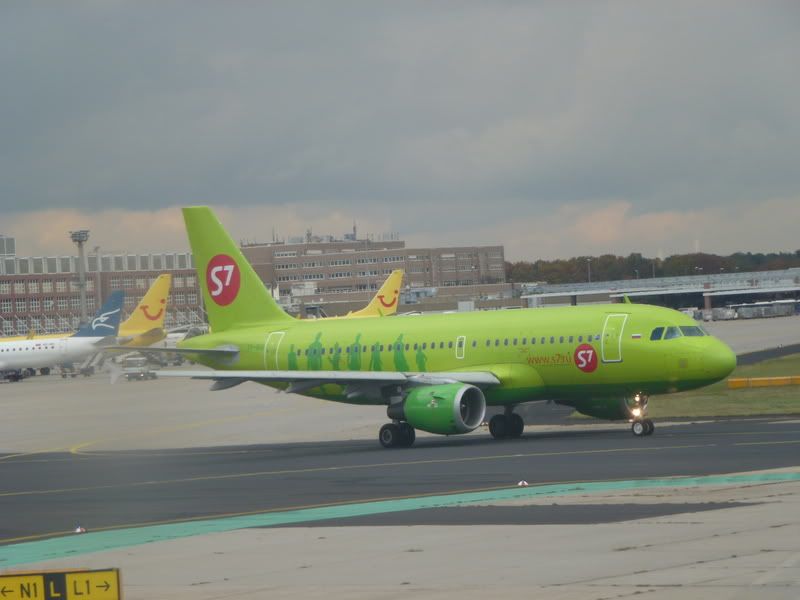 Take off is from the same runway I landed on a bit earlier: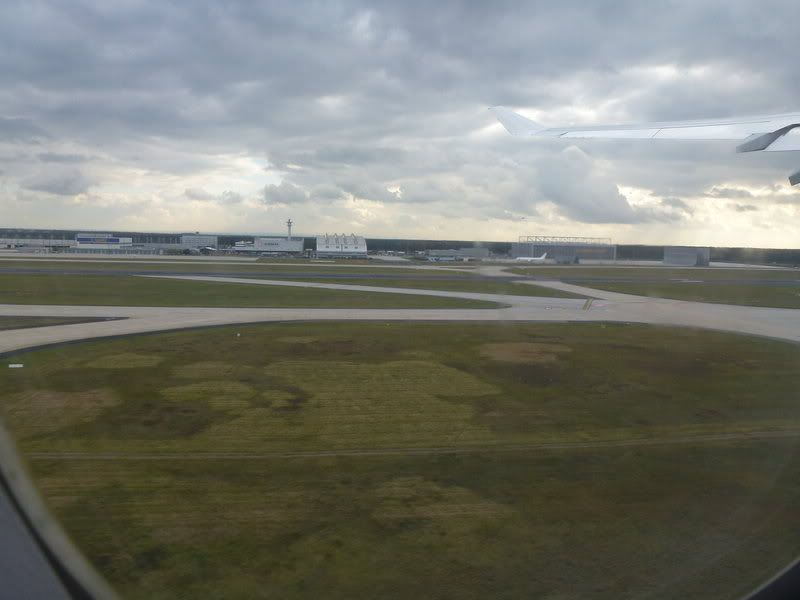 Runway 18: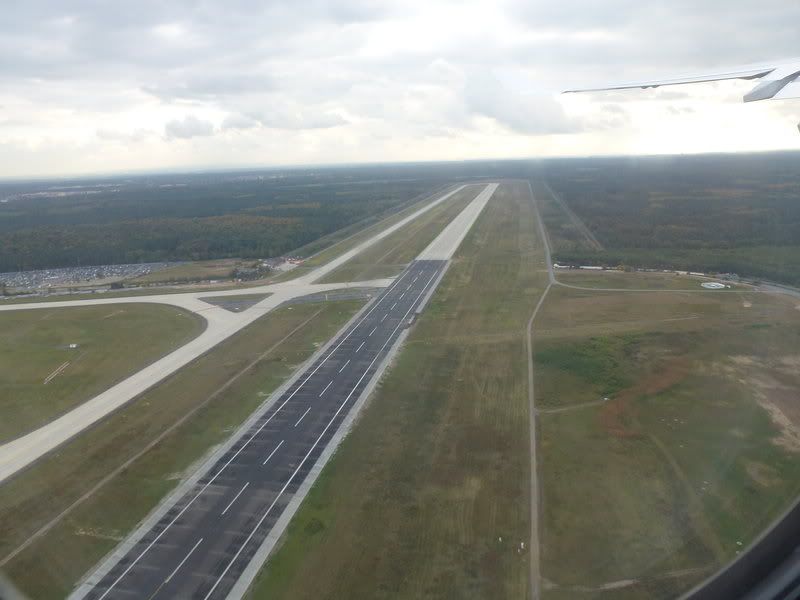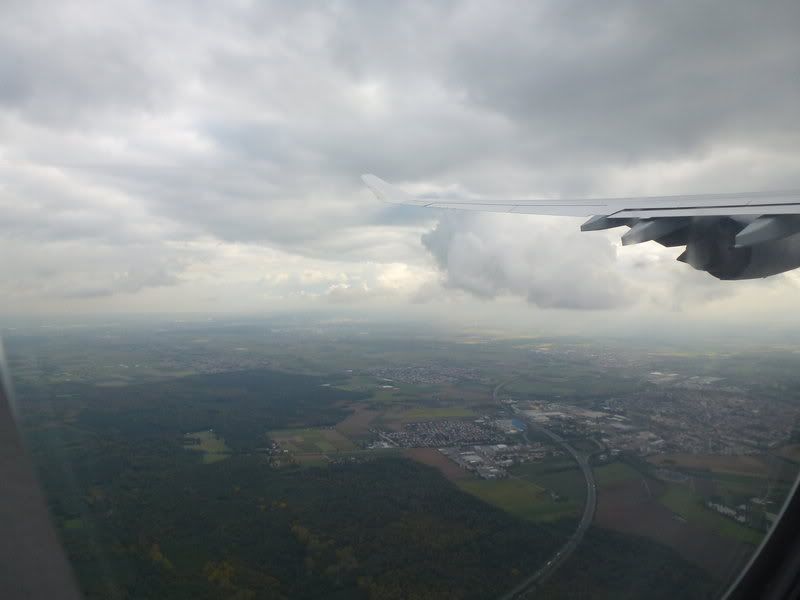 The Rhine: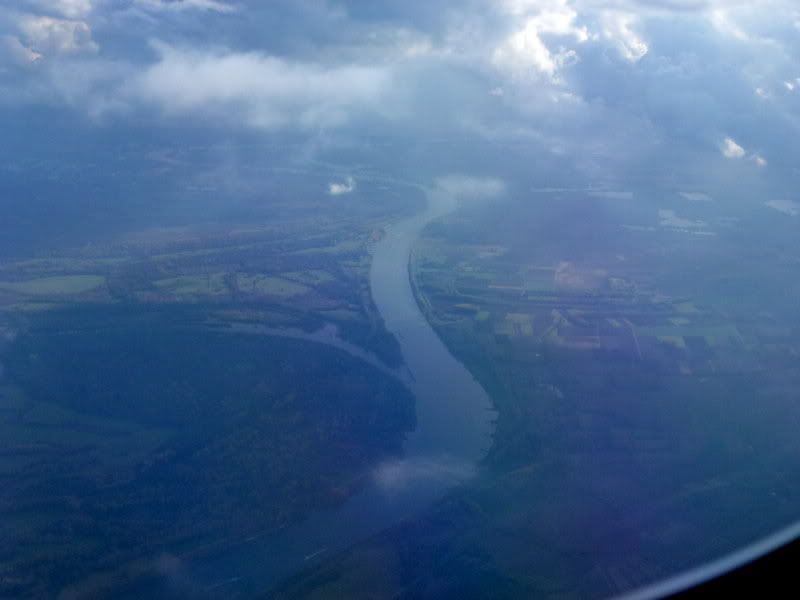 Heading towards France: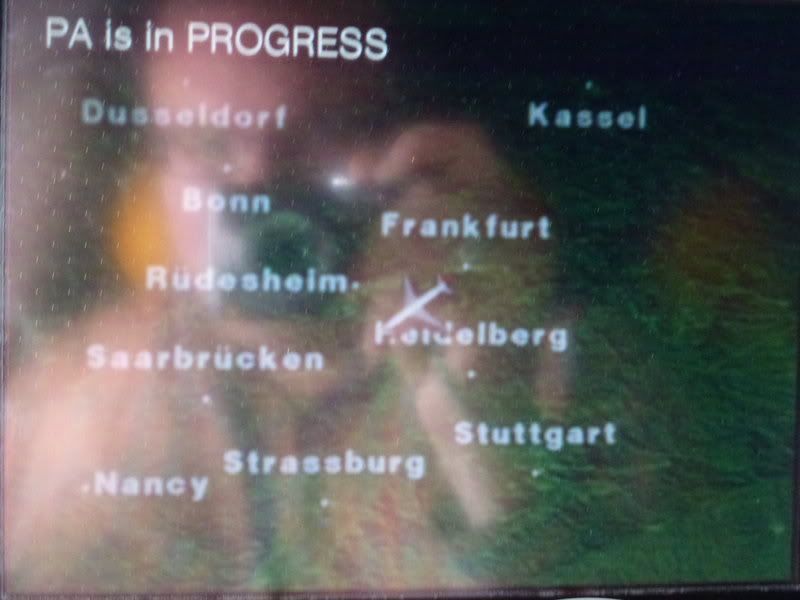 Apart from checking the movies on offer and listening to the music a bit I actually kept the IFE on airshow all throughout the flight. Who needs more entertainment than that?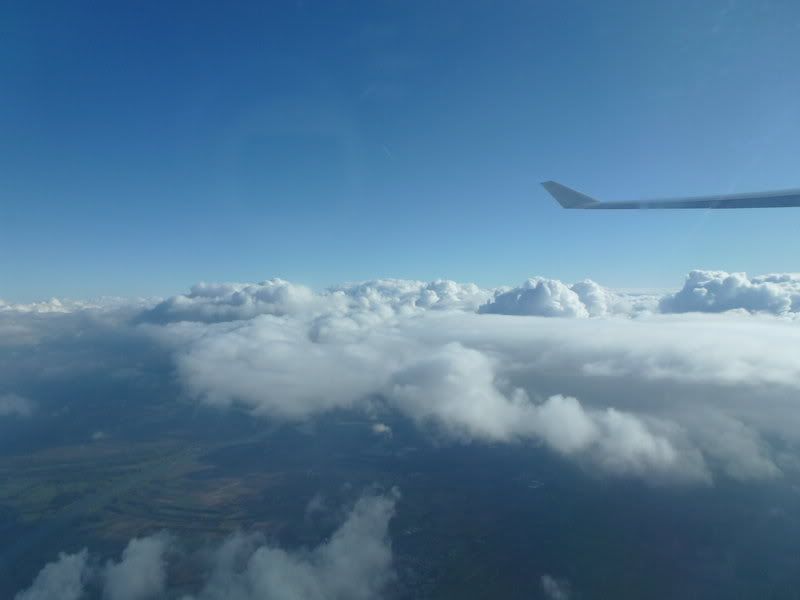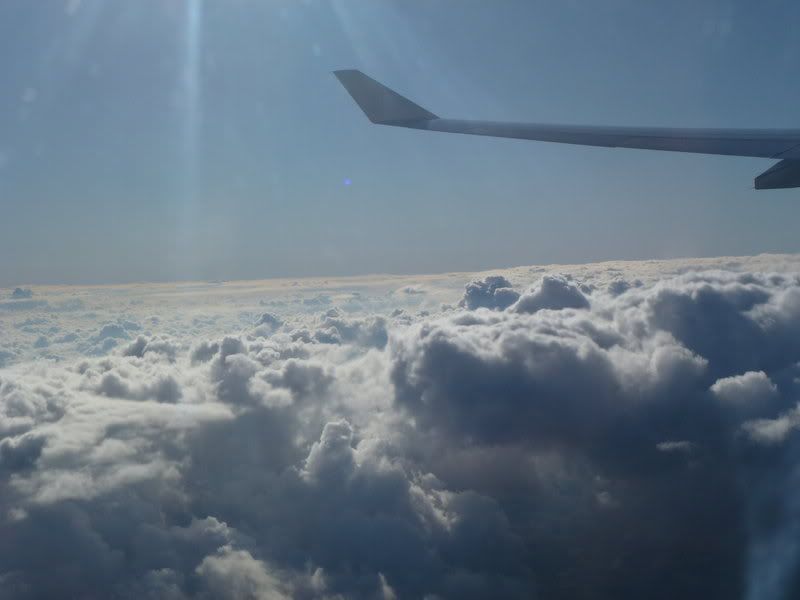 It's a long way to Tipperary: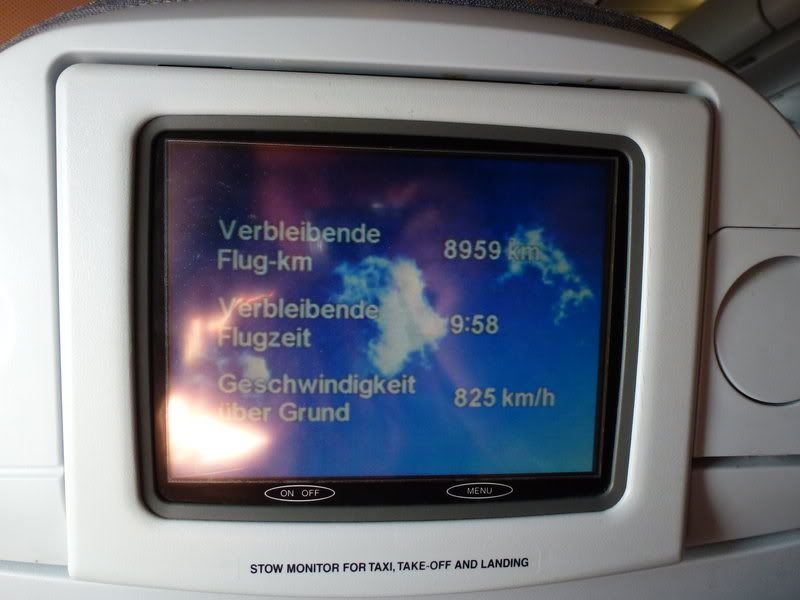 Service soon starts with drinks and some snacks - yeah, I just had to have a G&T:
CDG:
Some traffic: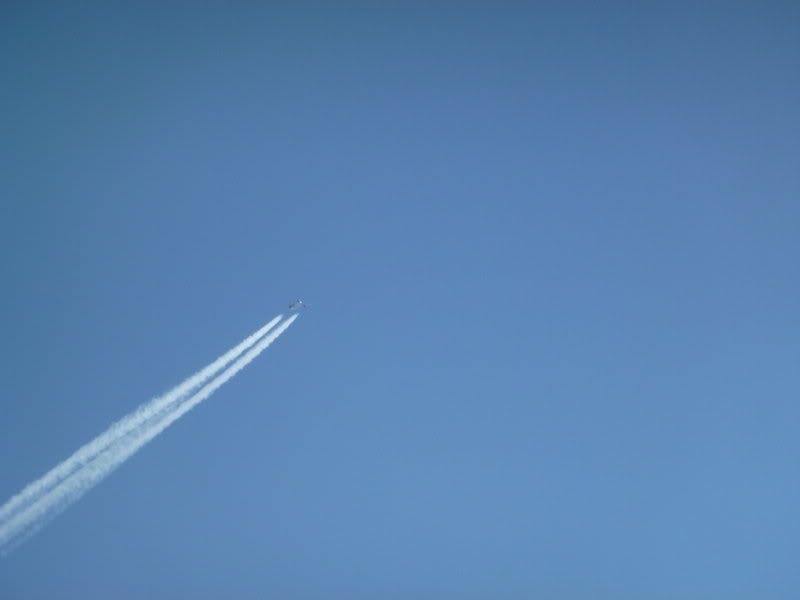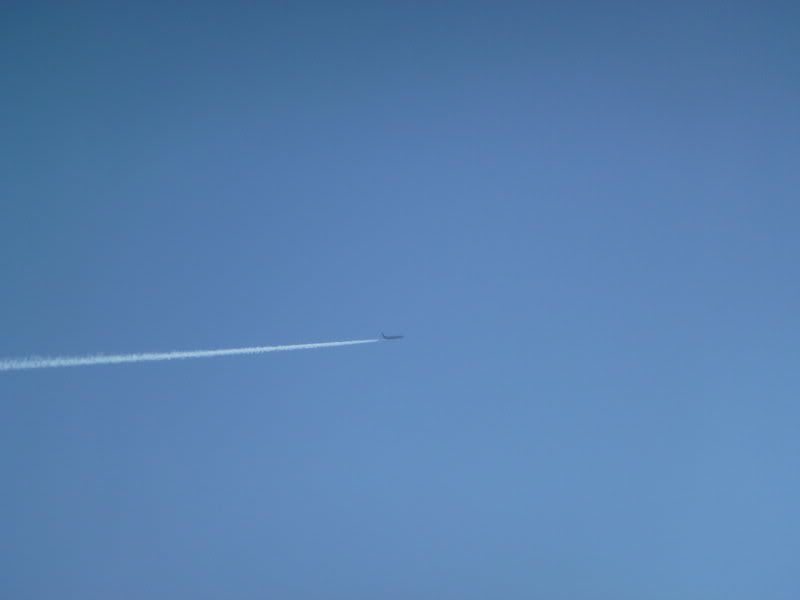 Leaving Europe behind near Nantes: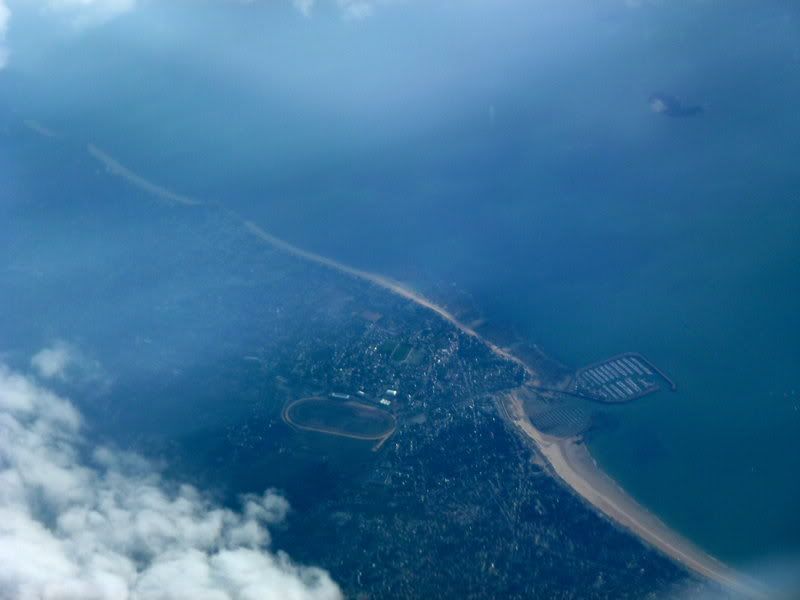 Sun glimmering off the Bay of Biscay: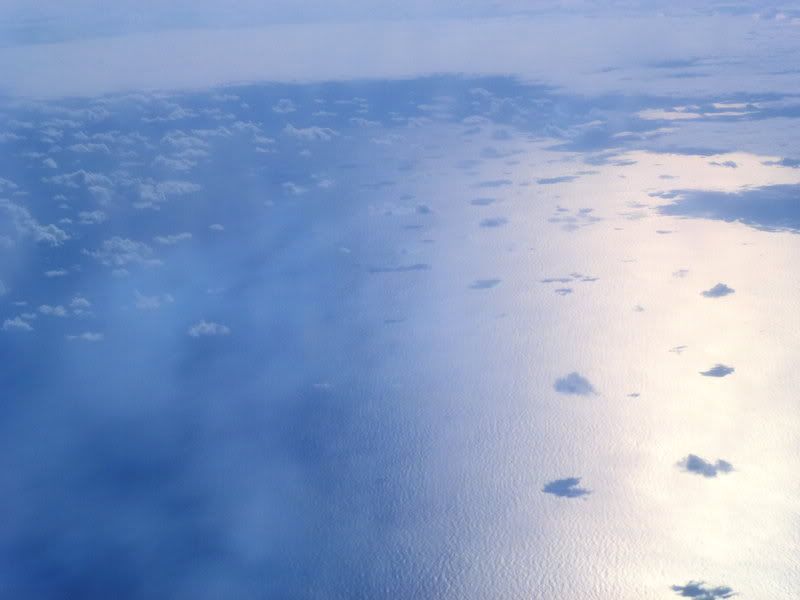 Soon the first meal service commences. I'm not given any choice so I guess they ran out of the alternative by the time they got to the last row: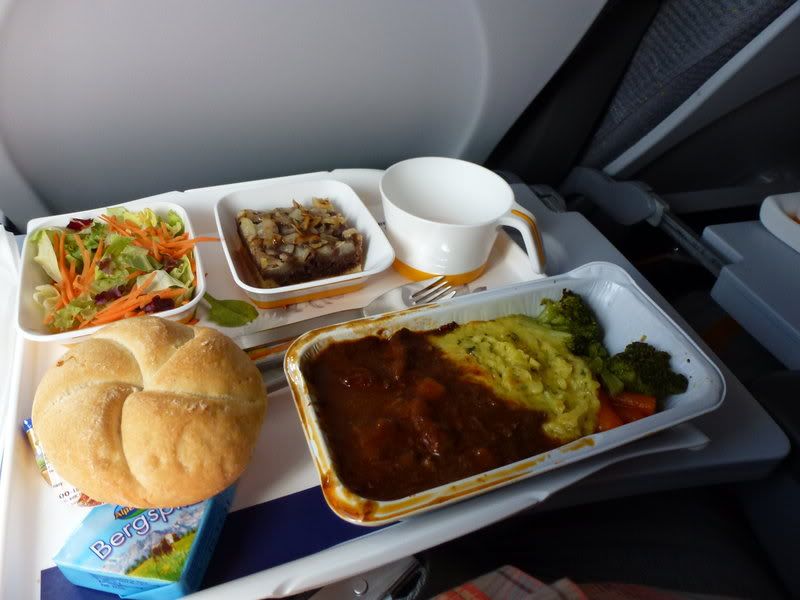 It's beef goulash with polenta and some vegetables, a starter salad, some bread and cheese and a a piece of almond/nut cake for dessert. Very very tasty, well done LH!
Well, the second to seventh hours of this flight are quite boring as basically there's nothing to see but the Atlantic out of the window. Luckily I've got plenty of reading material and some movies and music on my Ipod to keep me busy. Time for a toilet visit - downstairs of course (there were quite a lot of confused pax heading towards the back galley searching for toilets):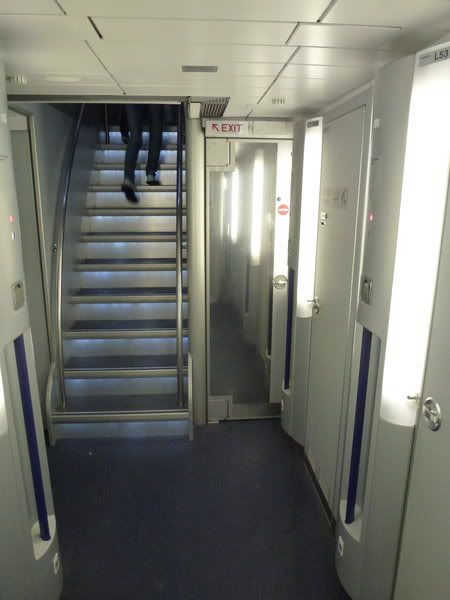 A small self service bar downstairs next to the toilets - no booze here:
A lot of people congregate in the mid galley on top of the stairs from the toilet - I guess that would be technically illegal on flights to the US but here nobody cares. I also notice a large bunch of Romanian middle aged men standing there and taking advantage of the considerably better stocked self service cart there - not exactly the kind of group I'd assumed to be traveling to Colombia in the first place... Well, if you can't beat 'em, join 'em - so I grab a glass of wine from the cart when heading back to my seat.
Top