Part 2: Colombia with Avianca (AV). BOG-MDE-CTG
Hi!
Welcome to the second part of my trip report covering my first two flights inside Colombia. I hope you liked the first part, which can be found
here
.
Not long after I booked my international flights, I started looking at interesting places to fly to whilst in Colombia. There was a company called Easy Fly operating a fleet of Jetstream 31 that I fancied a ride on, as well as one of Copa's Embraers. Oh, and of course, at least one flight on Avianca, ideally on the rather rare A318. However, it wasn't until I was in Mexico last month that I actually hammered down some dates. I didn't find the flight prices terribly good value. I had to discount Easy Fly quite early on as they had very high fares on very random routes. Copa too had high fares, normally a good 50% more than Avianca. Aires, Colombia's no-frills airlines, have pretty much identical fares to Avianca, just without the frills.
I decided that I wanted to visit Cartagena, Santa Marta (both on the northern Caribbean coast), as well as Medellin, sort of in the middle. In the end I decided on a routing using just Avianca. It was a shame to just use AV, but then again, I did get a pretty good price on a five leg routing:
I had also found an even more interesting routing, which included a flight on Satena's (the Government/Military owned airline) D328 between Bucaramanga and Medellin on an AV codeshare, which priced out even cheaper. However, the AV website wouldn't let me book it, despite numerous attempts. A call to the AV call centre only created more questions rather than answers. Why have a codeshare if no one can book it?
Ideal itinerary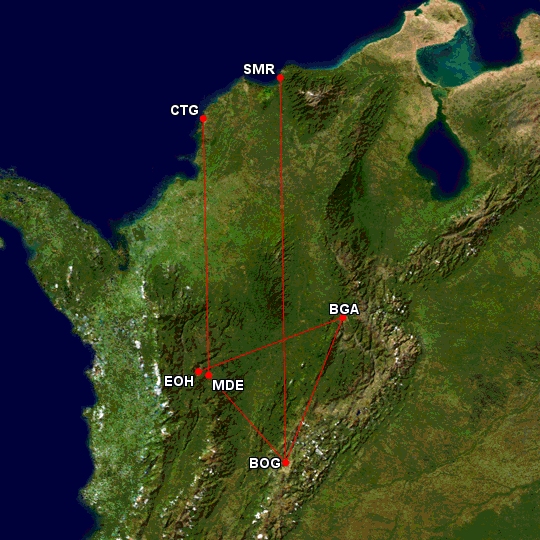 The entire itinerary
After arriving in Bogota, I caught a taxi to my hotel. I had sort of planned to go out that night, but in the end decided to stay in as I wasn't feeling great (and was dog tired). I just took a short stroll around the block, hoping I wouldn't be knifed in the process.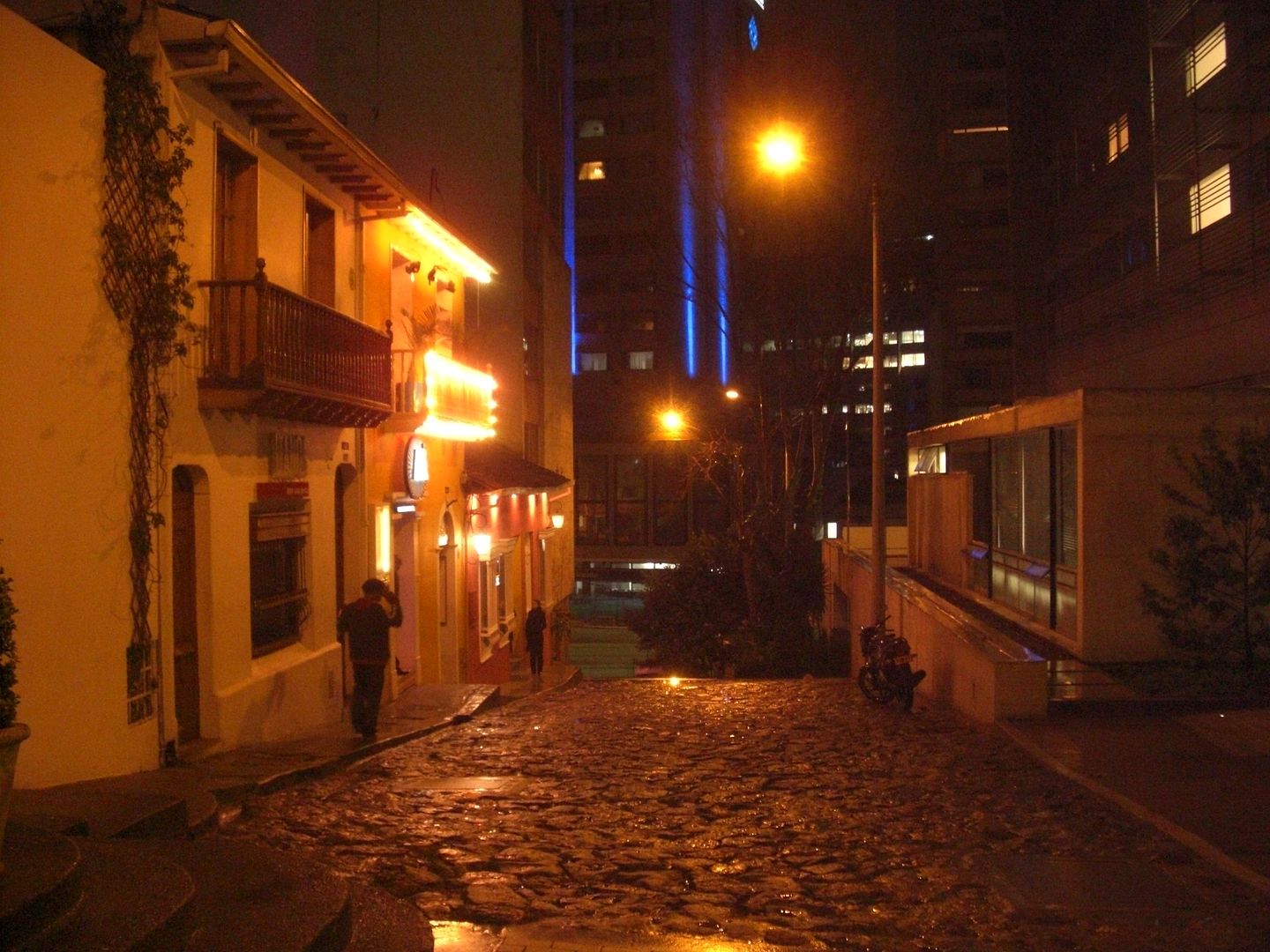 The next morning dawned bright and sunny, not something I was expecting for the rainy season. Before booking I had investigated the weather. October has Colombia's heaviest rain. Still the air fare was a bargain, and the weather can't be that bad, can it? Anyway, turns out my first morning in Bogota was warm and sunny. I had chosen the Ibis completely at randomly location-wise. It turned out to be a good choice, as the National Museum was literally a stone's throw from the door, and also free on Sundays.
View from my hotel window of the Torre Colpatria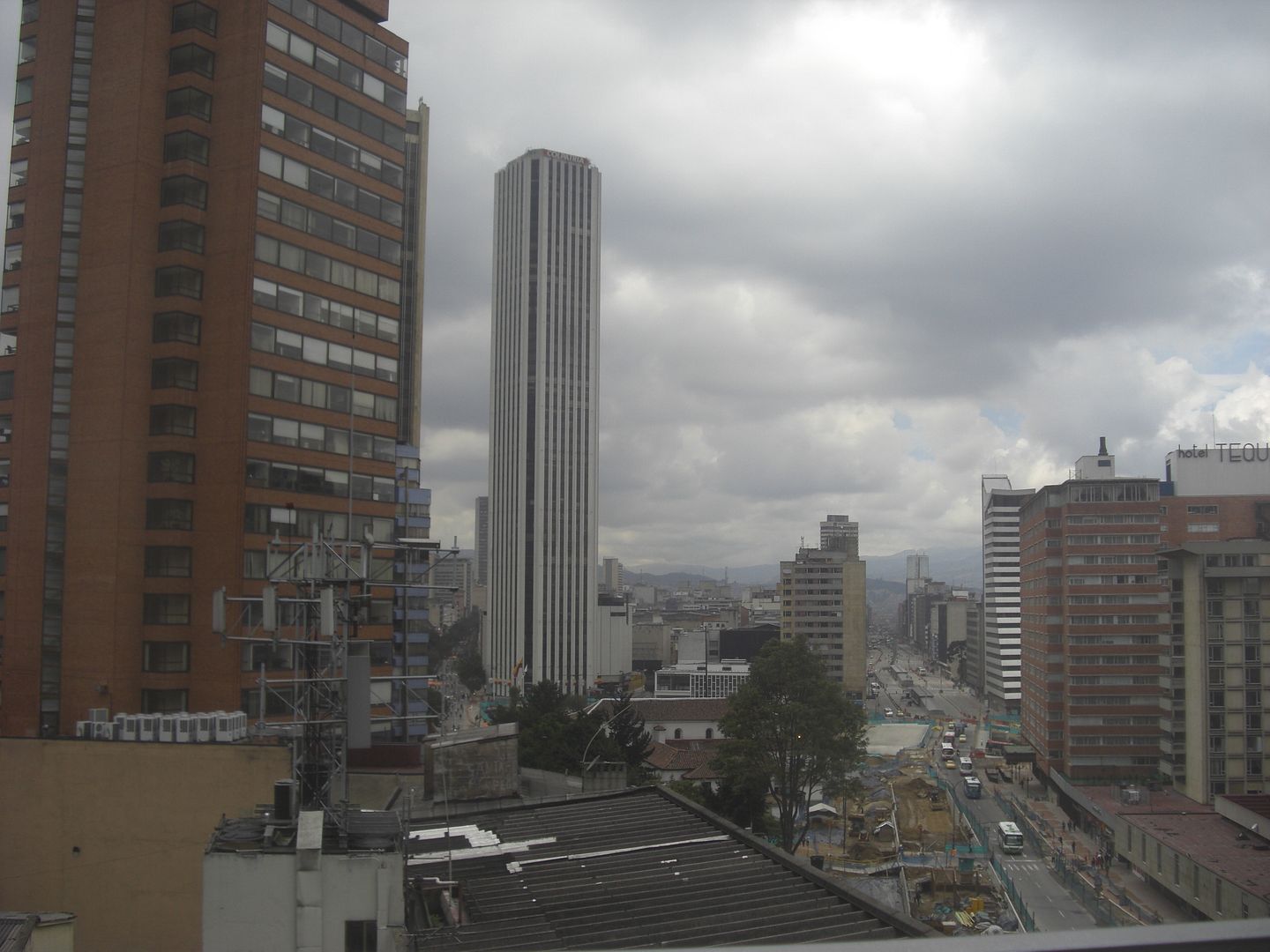 From the museum, it was a short walk to the bullring. Unfortunately, there was no way in.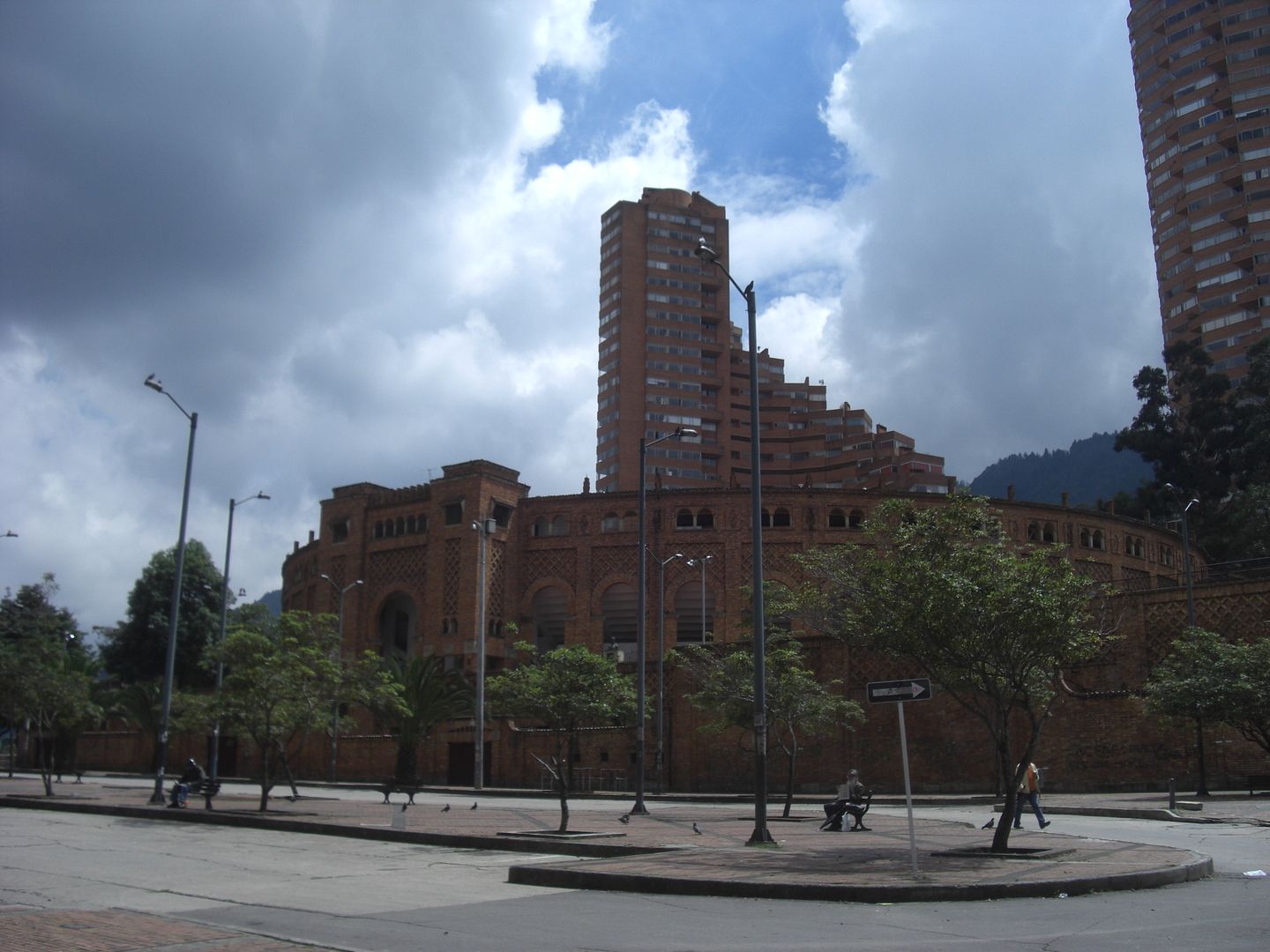 Next stop this morning was the Torre Colpatria, Colombia's highest building. Not knowing the city's geography terribly well, I wasn't able to identify much. Still the views were nice, and I could just about make out the airport in the distance. Compared to last month's trip up the Torre Latino Americana in Mexico City, Bogota is tiny in comparison.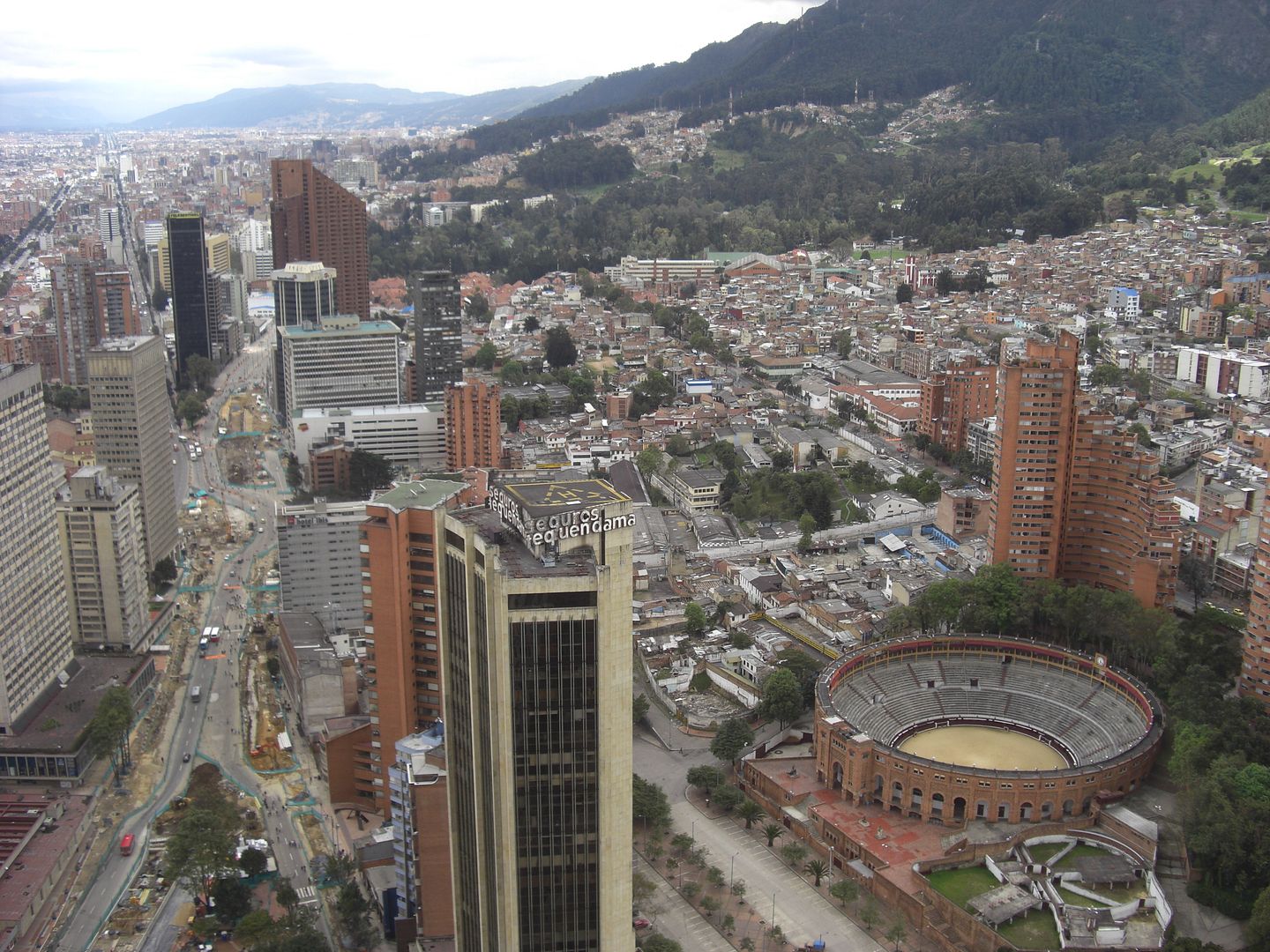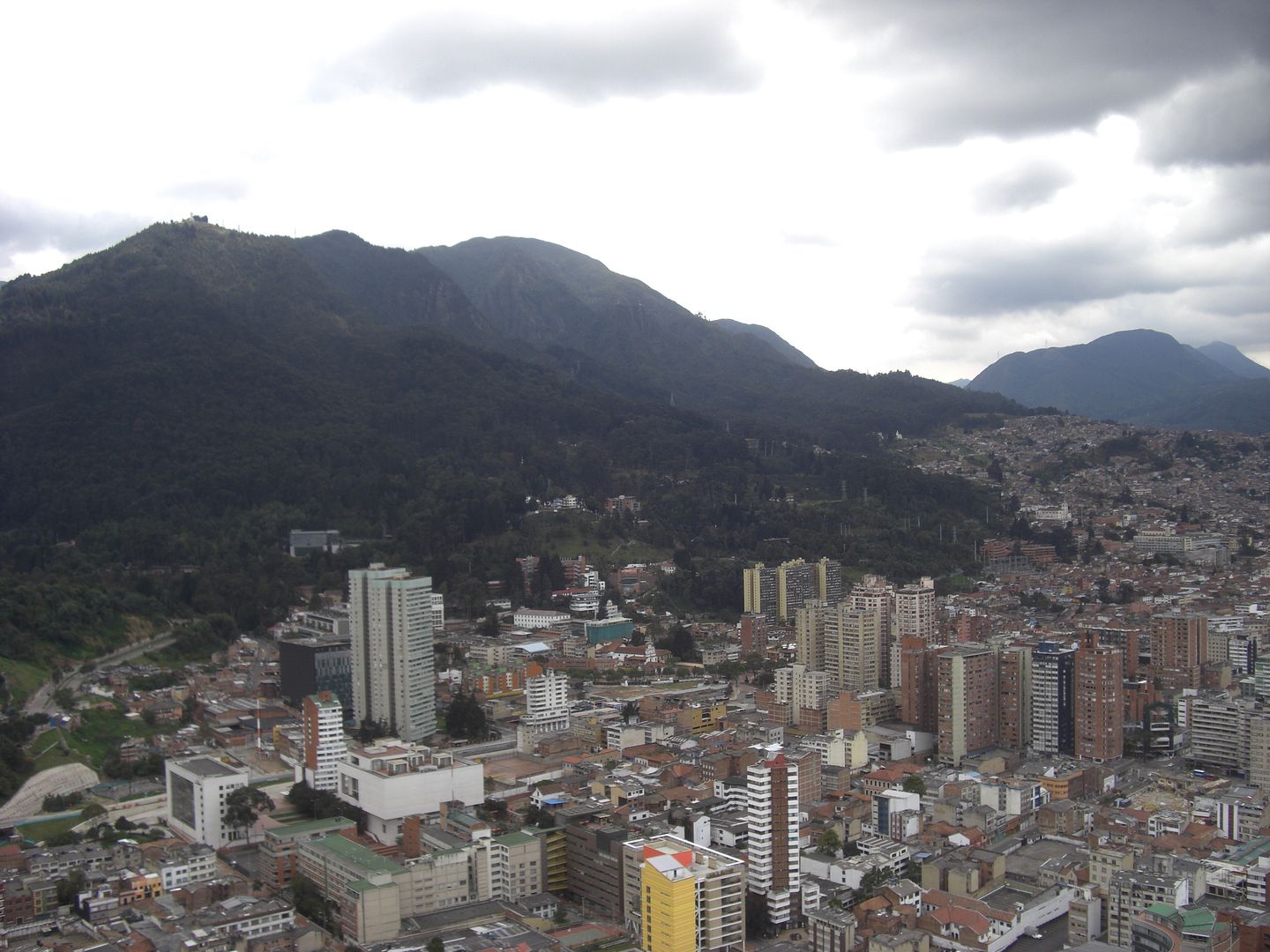 After a quick sandwich for lunch, I headed back to the hotel, checked out, and got a cab to the airport. Avianca uses the Puente Aero Terminal in Bogota. This is to all intents and purposes a concrete block, with pre-fab gates attached. Not a very prepossessing place!
I had managed to check in online, and so headed to the bag drop desk, which had quite a bit queue (although not as big as for the normal desks). After around fifteen minutes I reached the front, where my bag was tagged, and I was given real boarding passes.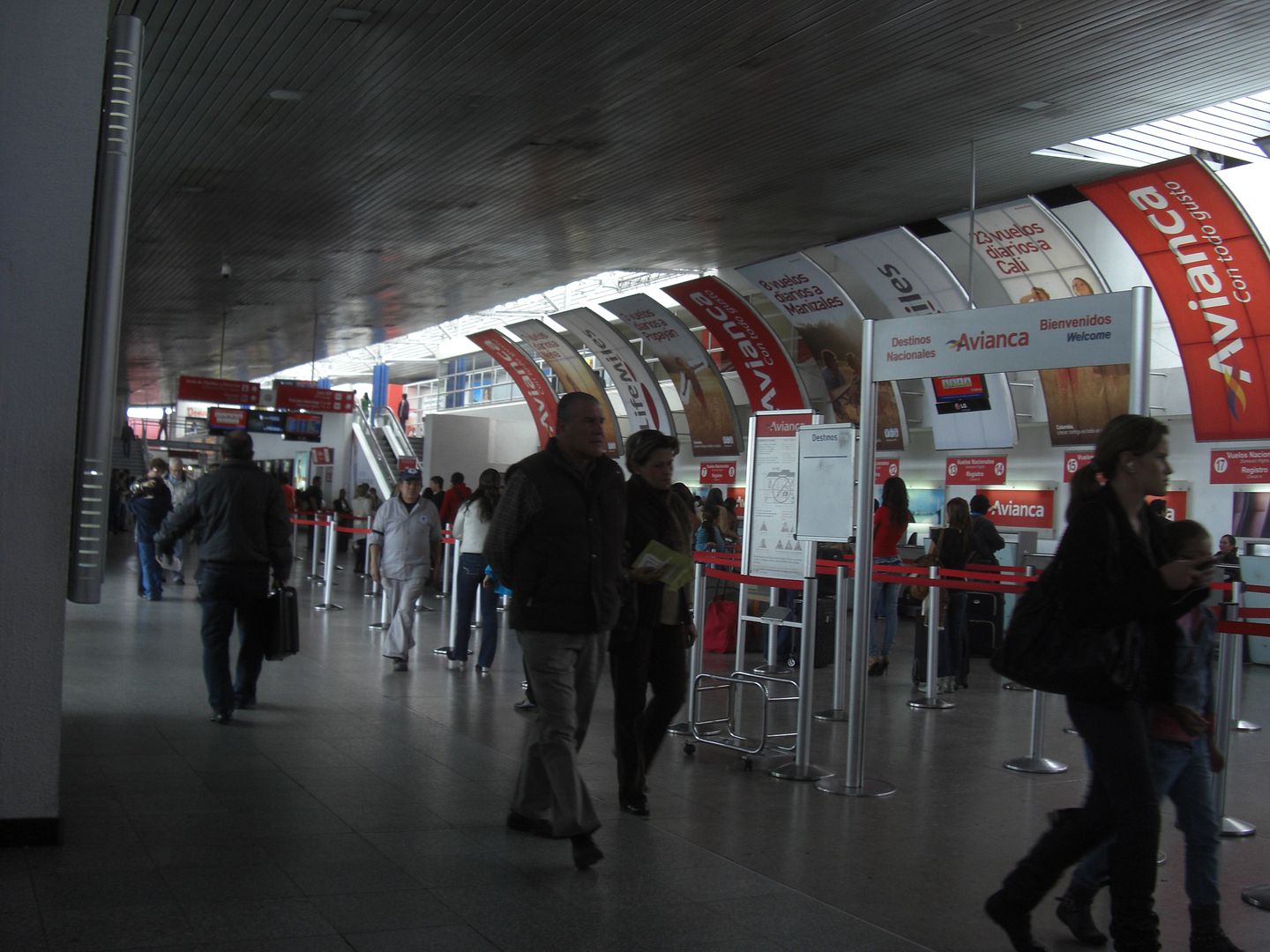 I went straight through security (very quick) to the departures lounge expecting to browse some shops or something. Unfortunately, airside shopping consists of some vending machines, and that's it. Not very interesting!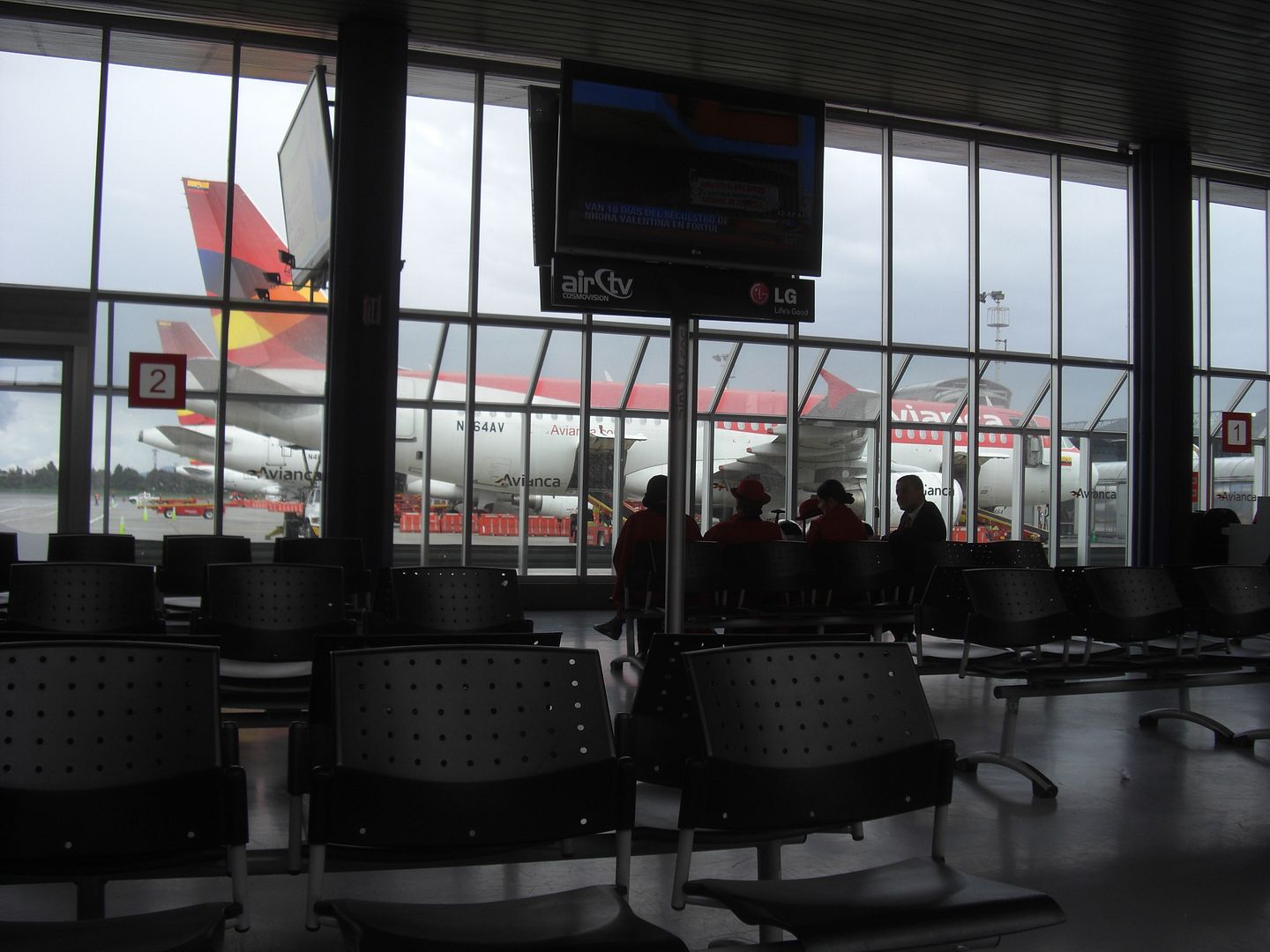 Walking to the plane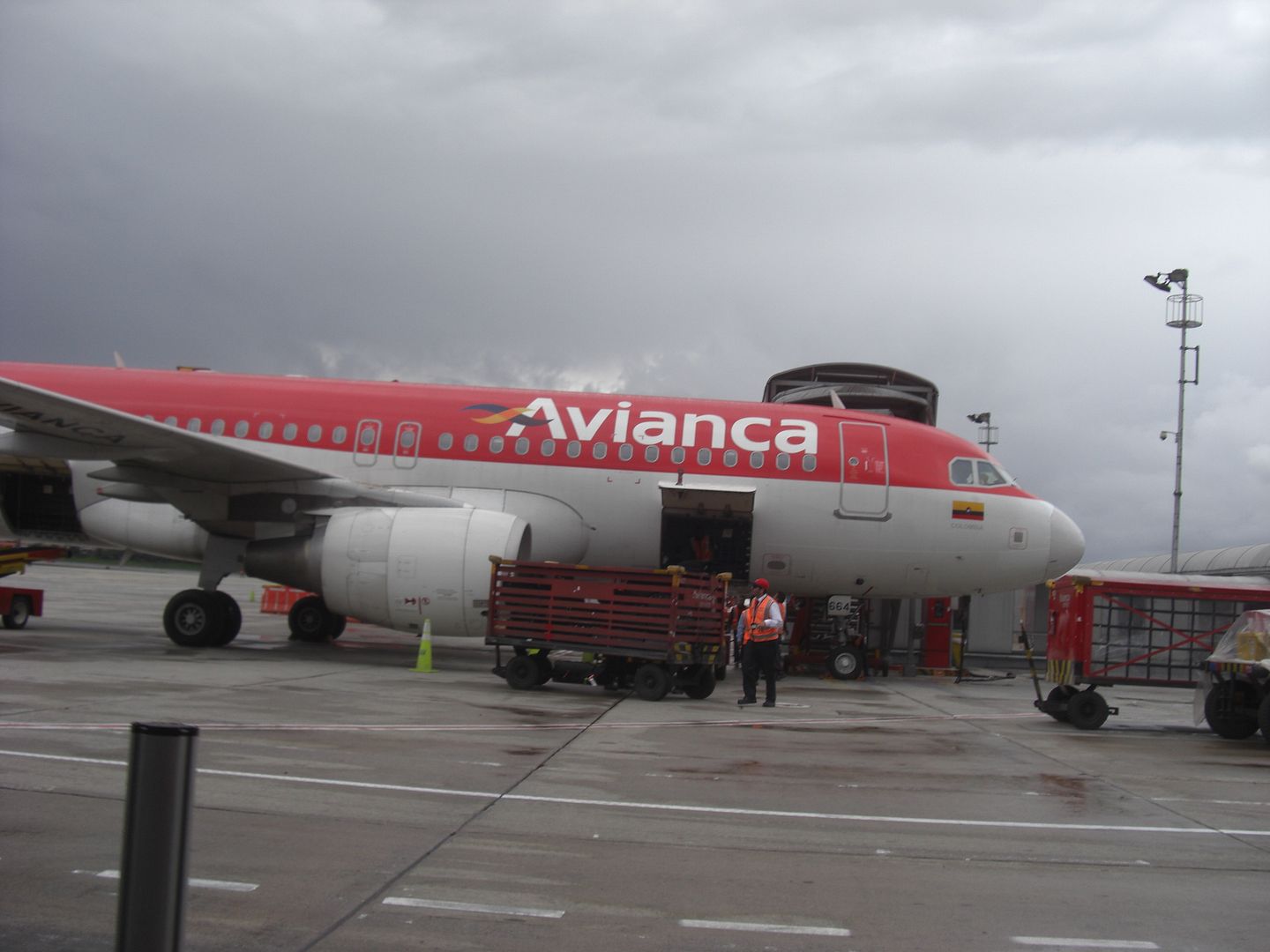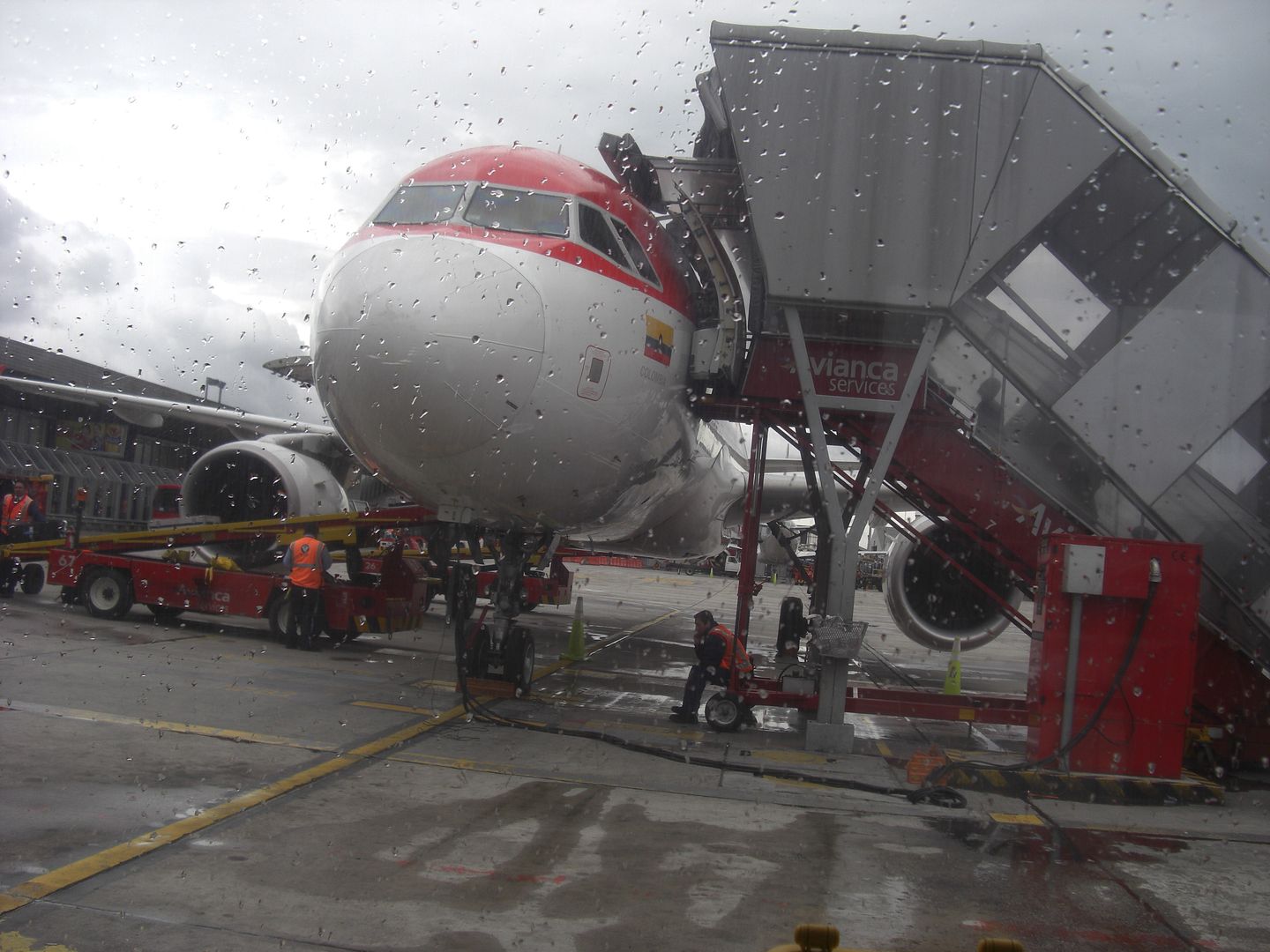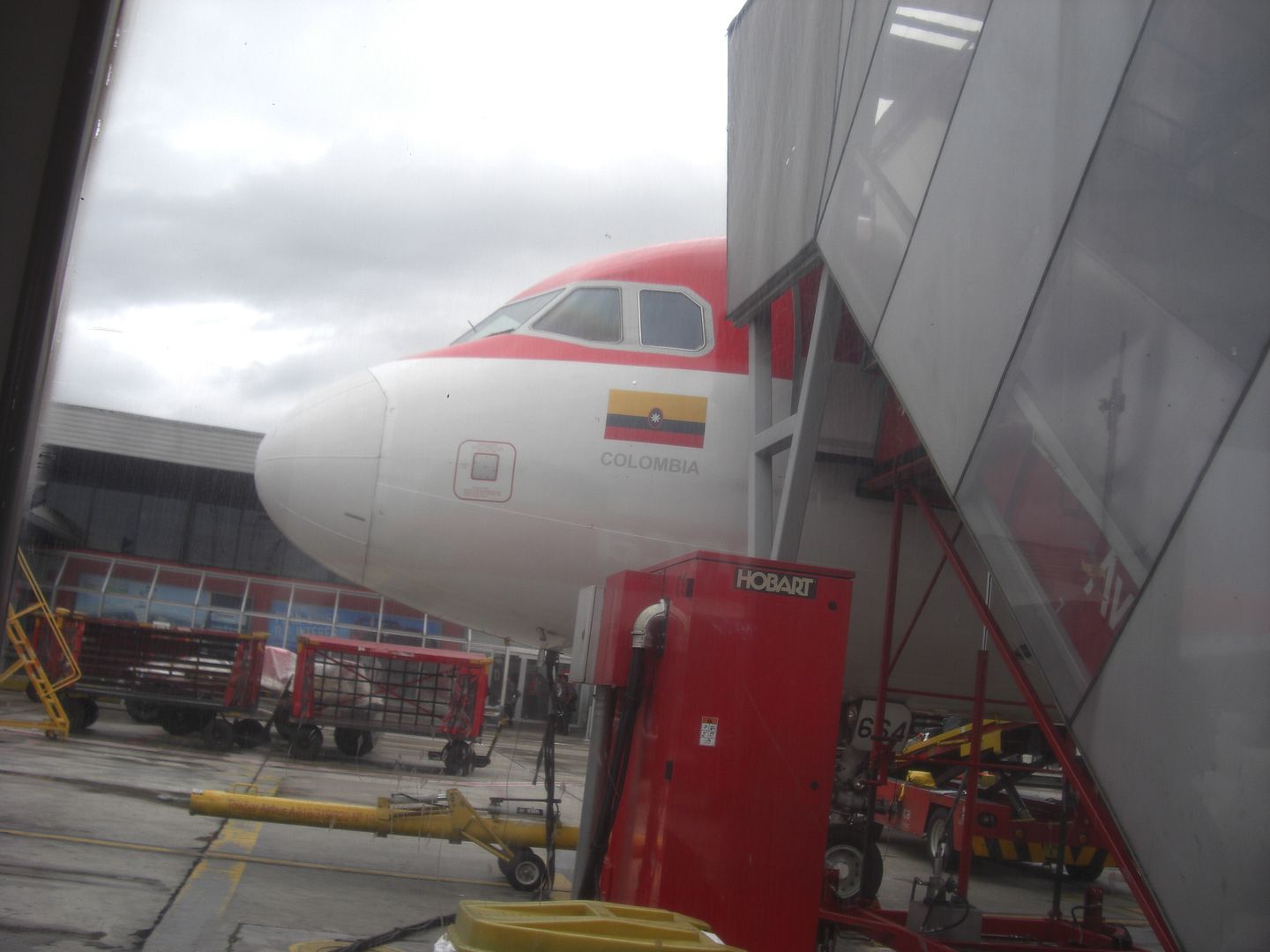 I was quite cautious at first taking photos, but by the end of my week I realised that people don't care about photographers (unlike in Mexico).
October 2011
Bogota (BOG) – Medellin (MDE)
Avianca AV 9316
Scheduled: 1400-1457 (0h57m)
Actual: 1416-1443 (0h27m)
Airbus A320 N664AV
This flight was fully booked. There was a young family taking up two seats in the row in front, with the dad and toddler sitting in the middle seat next to me. Whilst the toddler wasn't very noisy, he did manage to kick me a few times, as well as pour juice on me. Karma I'm sure!
I was pretty impressed with Aviancas A320s. Decent legroom, and great AVOD! I didn't really like their moving map, but it was better than nothing.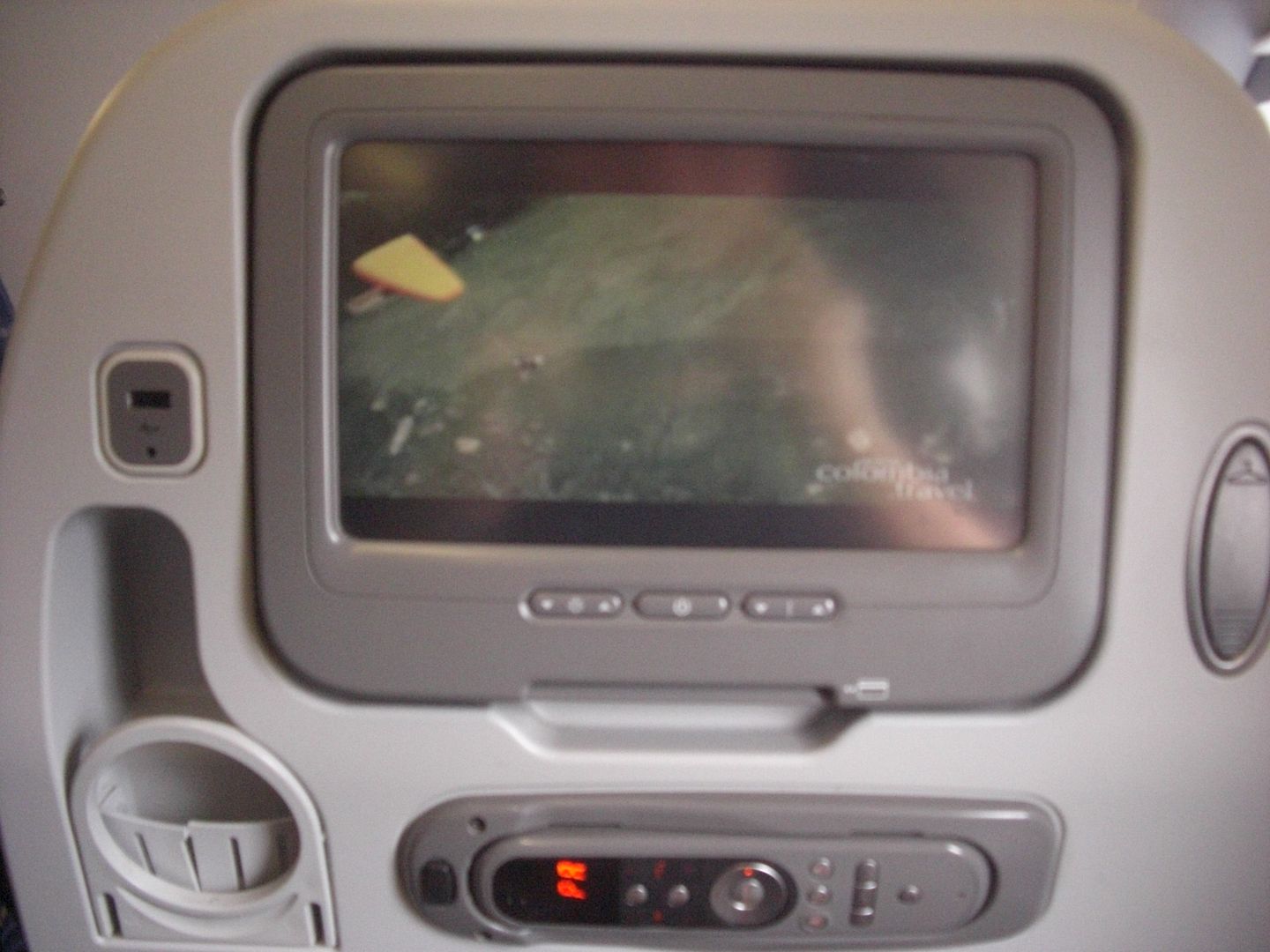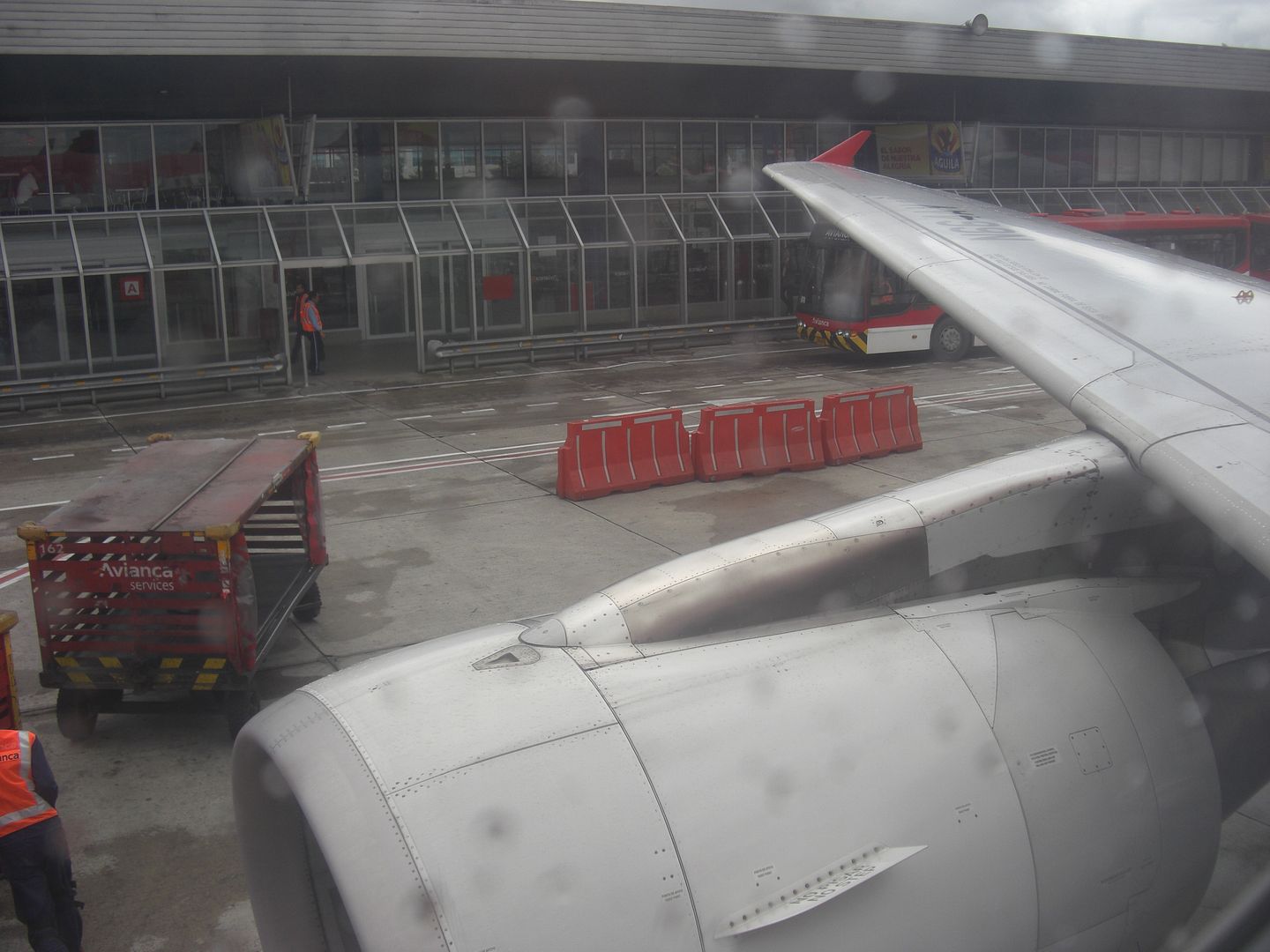 We pushed back a little late.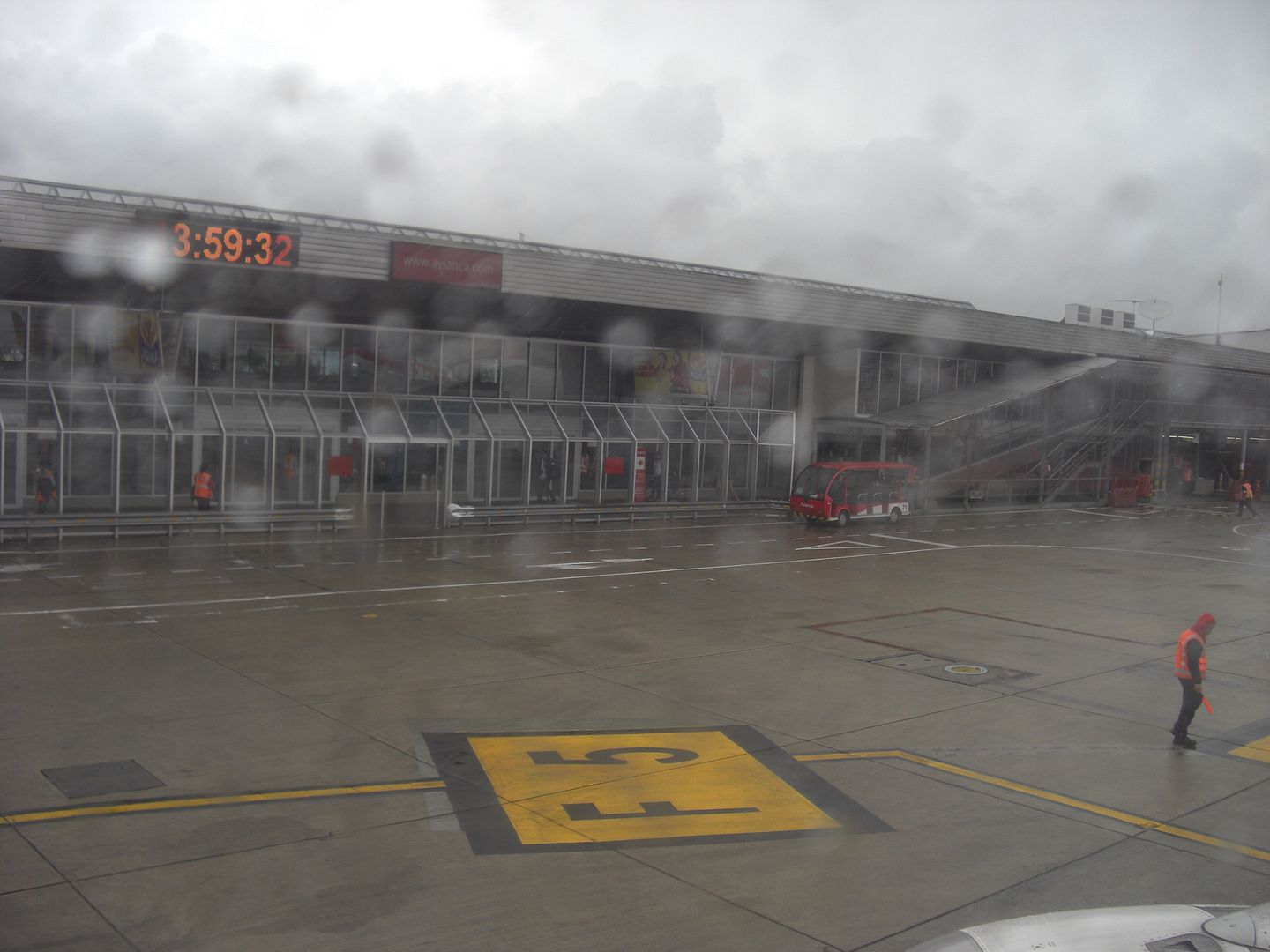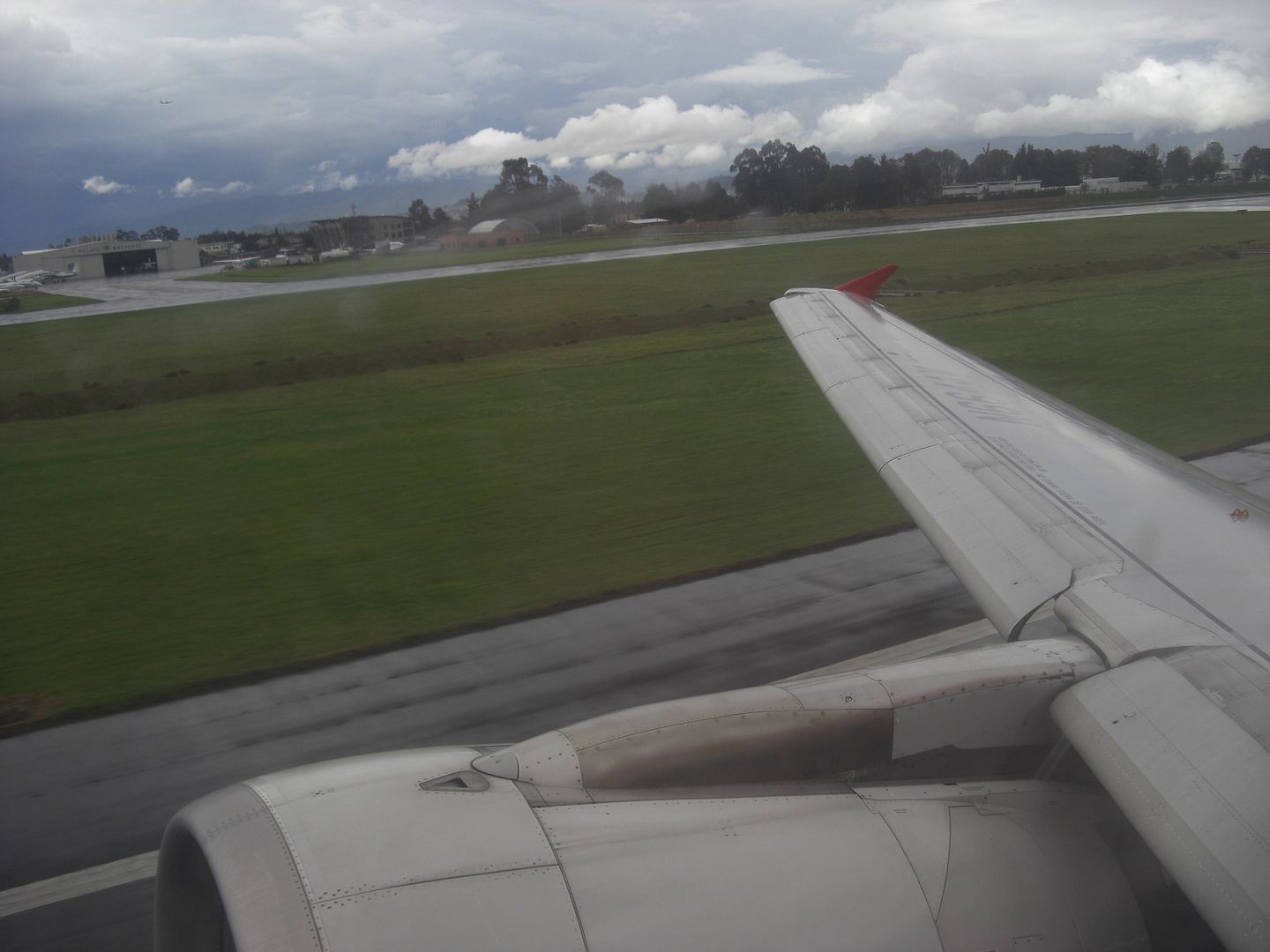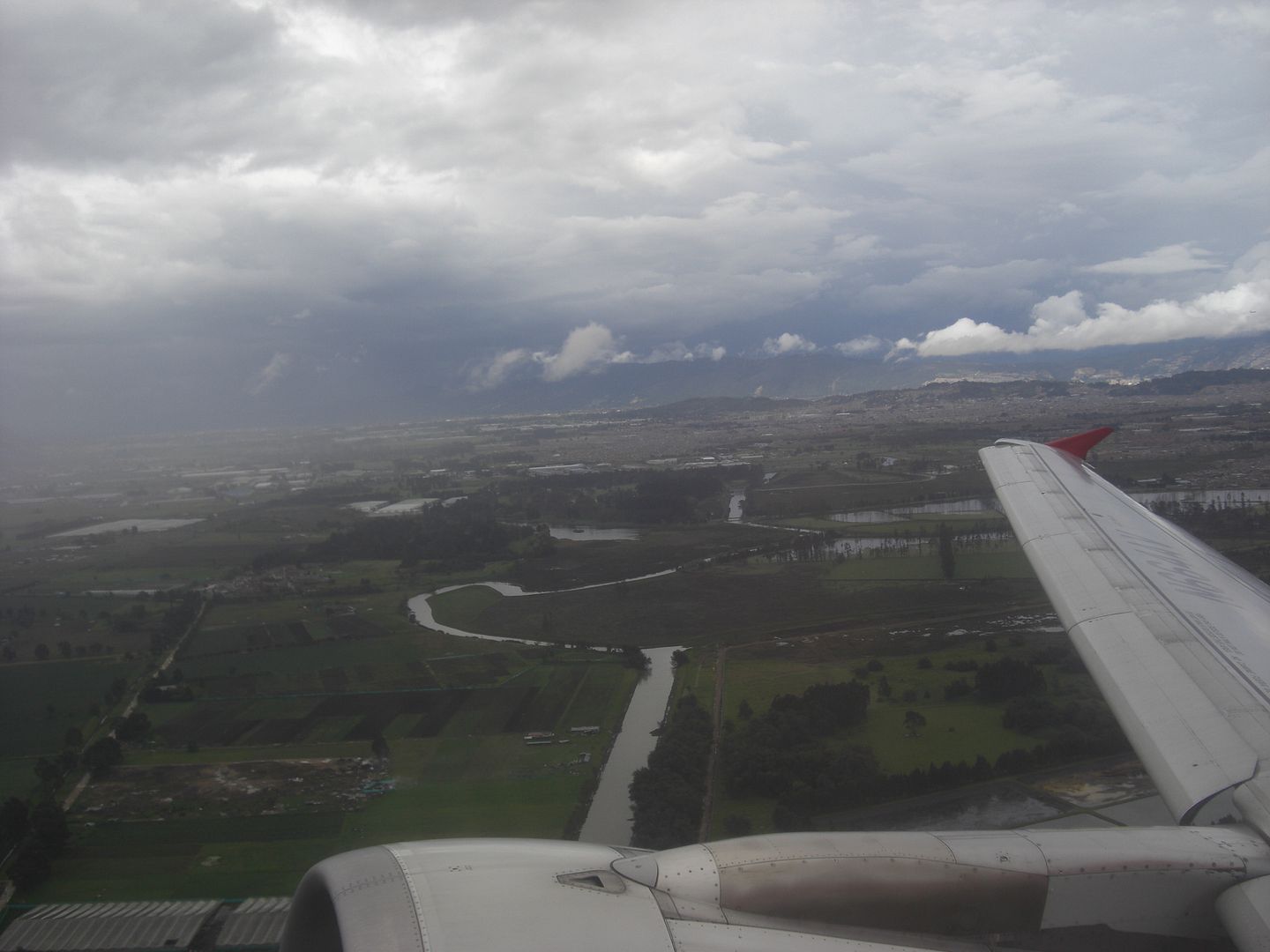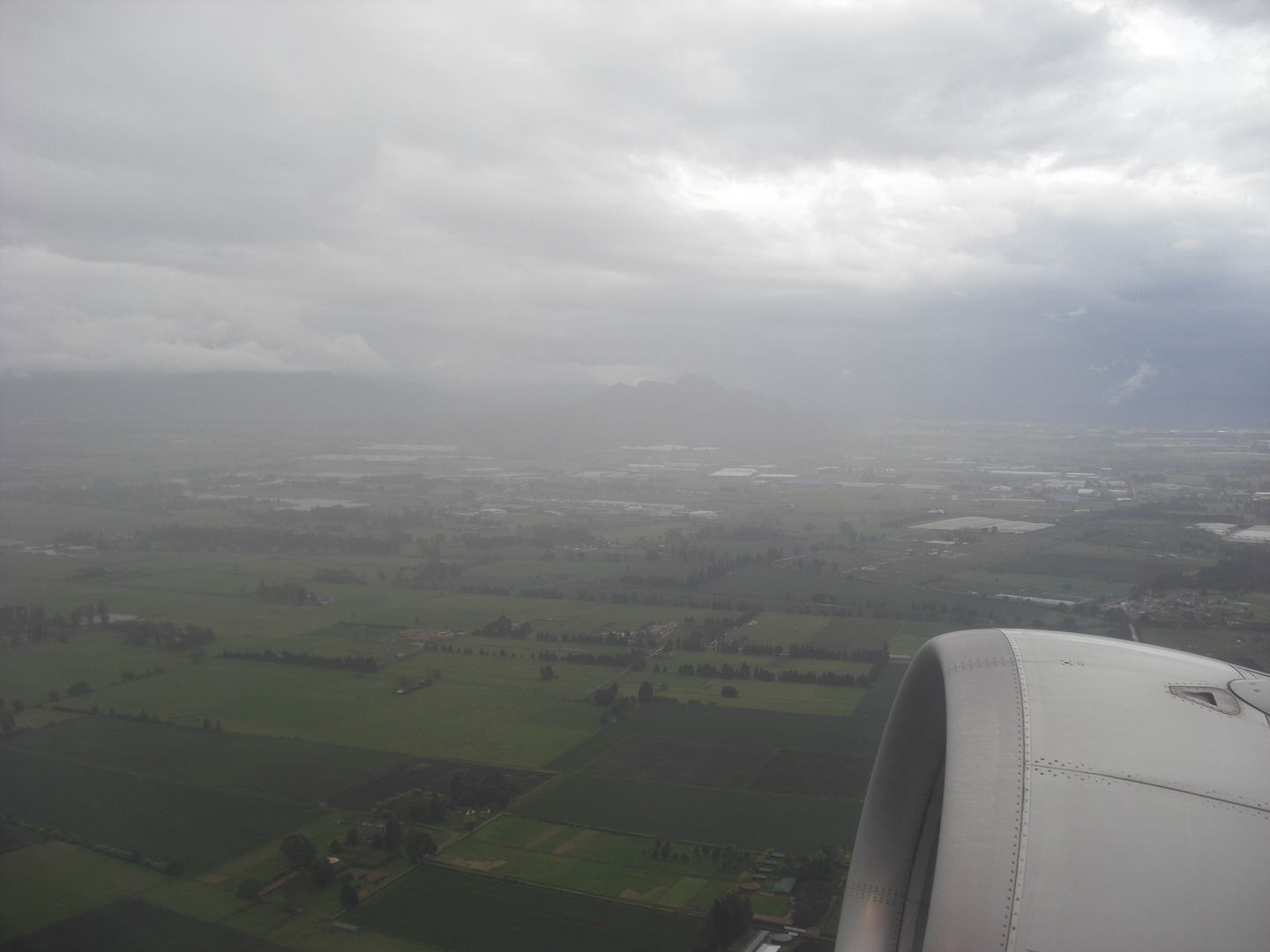 Some info shown on the screens after takeoff. Quite god to see that they popaint out the location of the toilets onboard. LH could have done that on their A346 to avoid confusion of the underground toilets.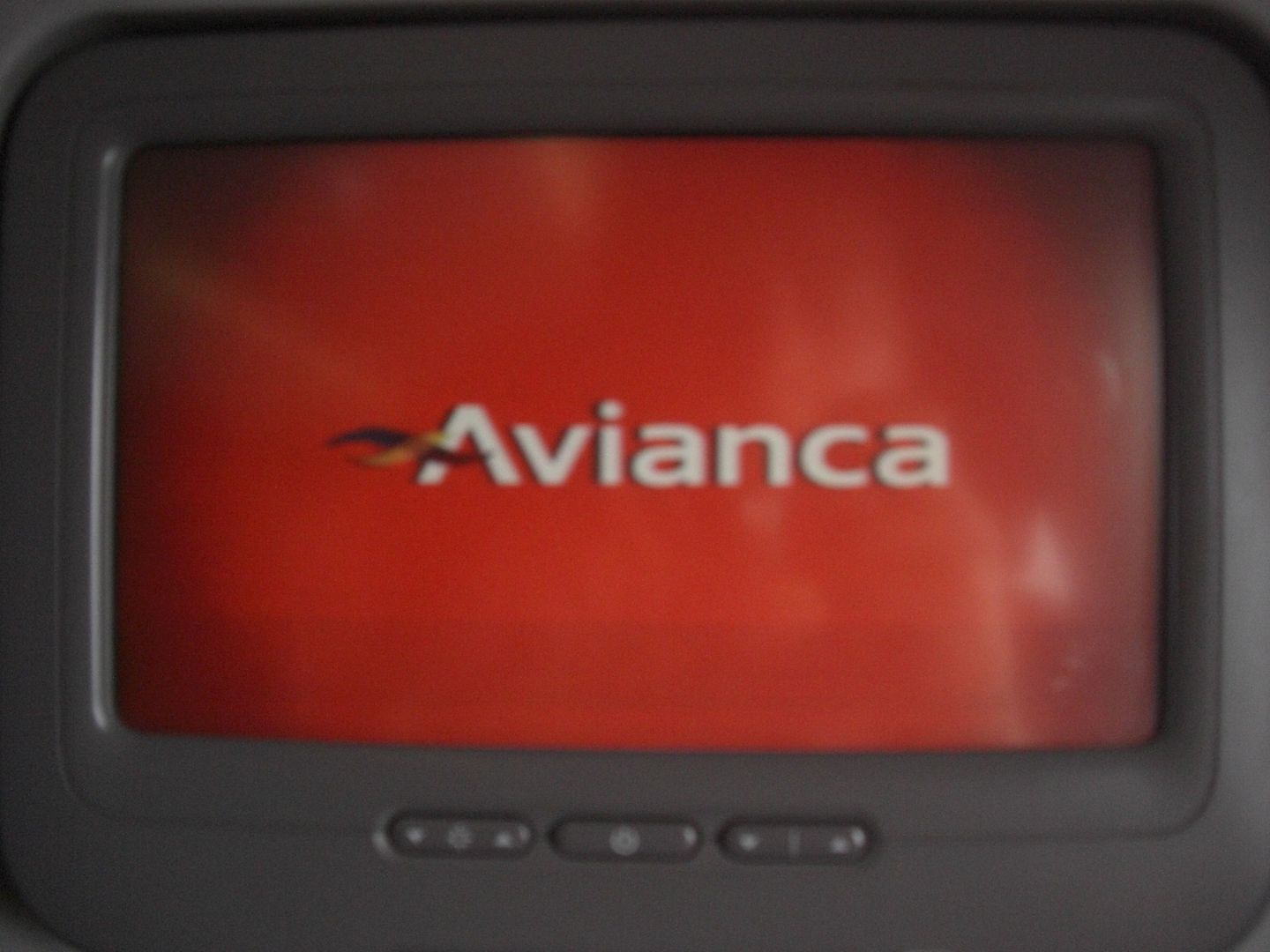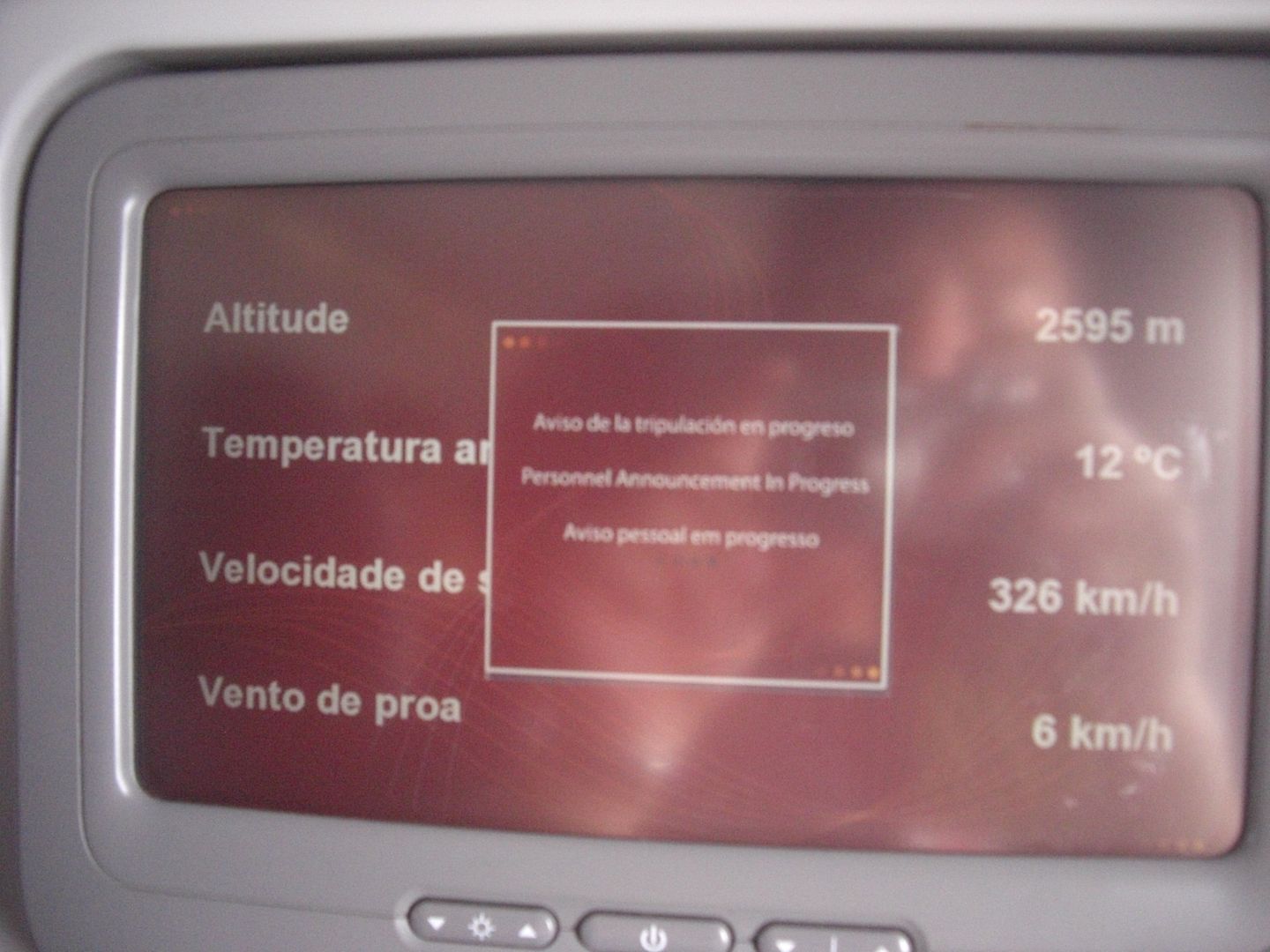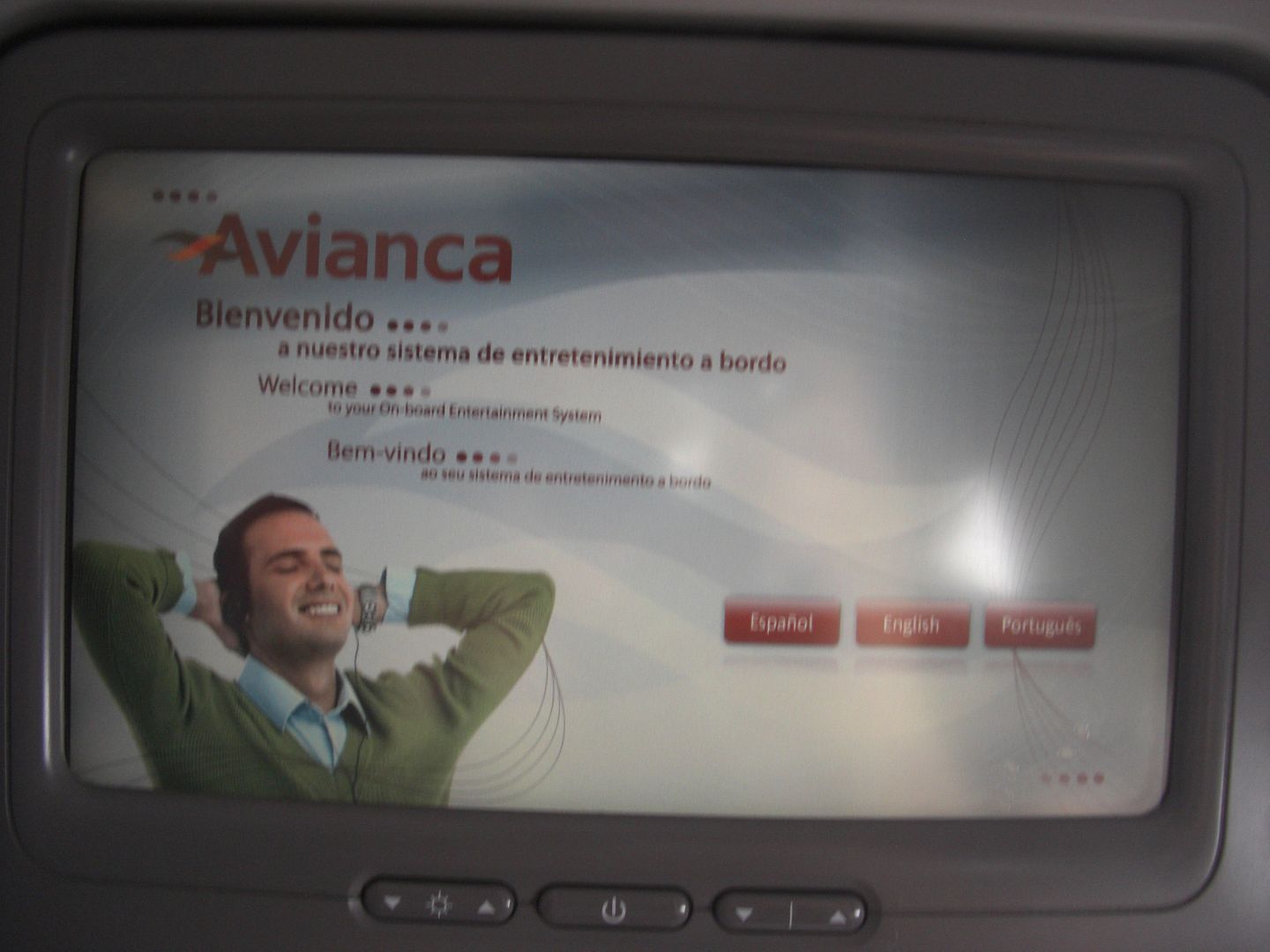 I must say, Colombia is simply stunning from the air. I'm glad I managed to do a bit of flying in daylight, as the LH flights were in darkness.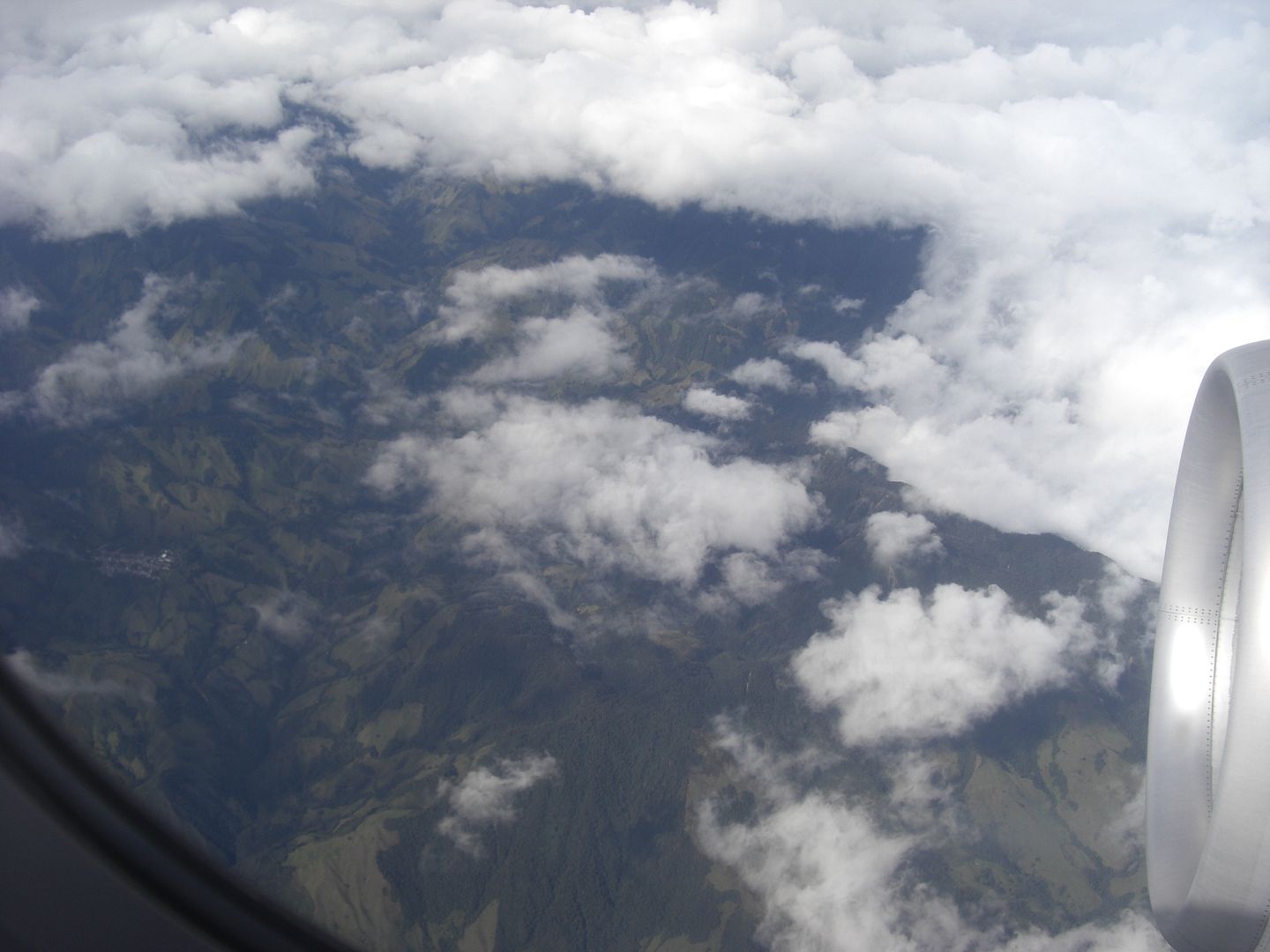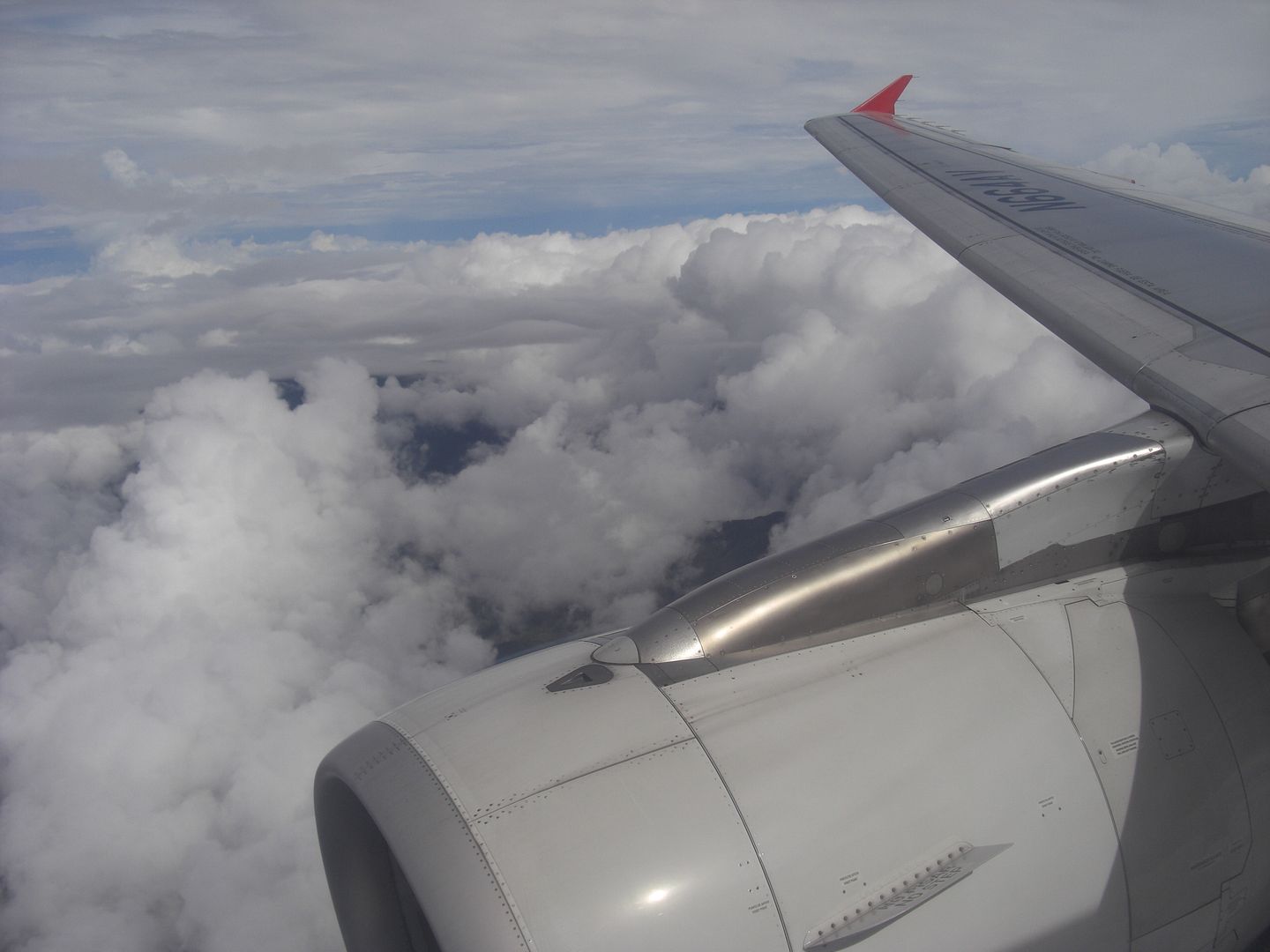 Service, as befits a very short domestic flight, was a choice of water, coffee or juice. Unfortunately no G&Ts!
Moving Map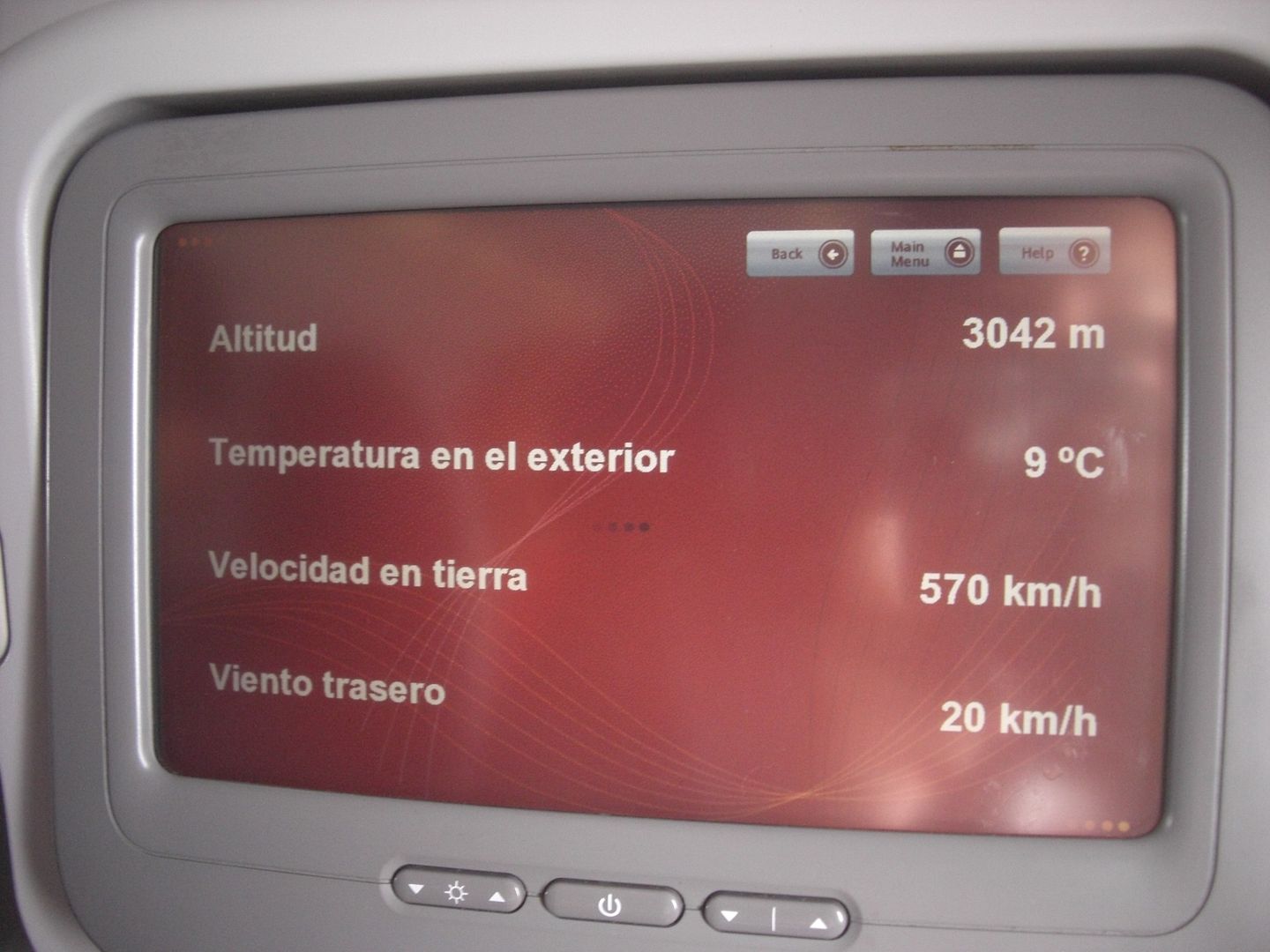 Thanks to some schedule padding, we landed early into Medellin.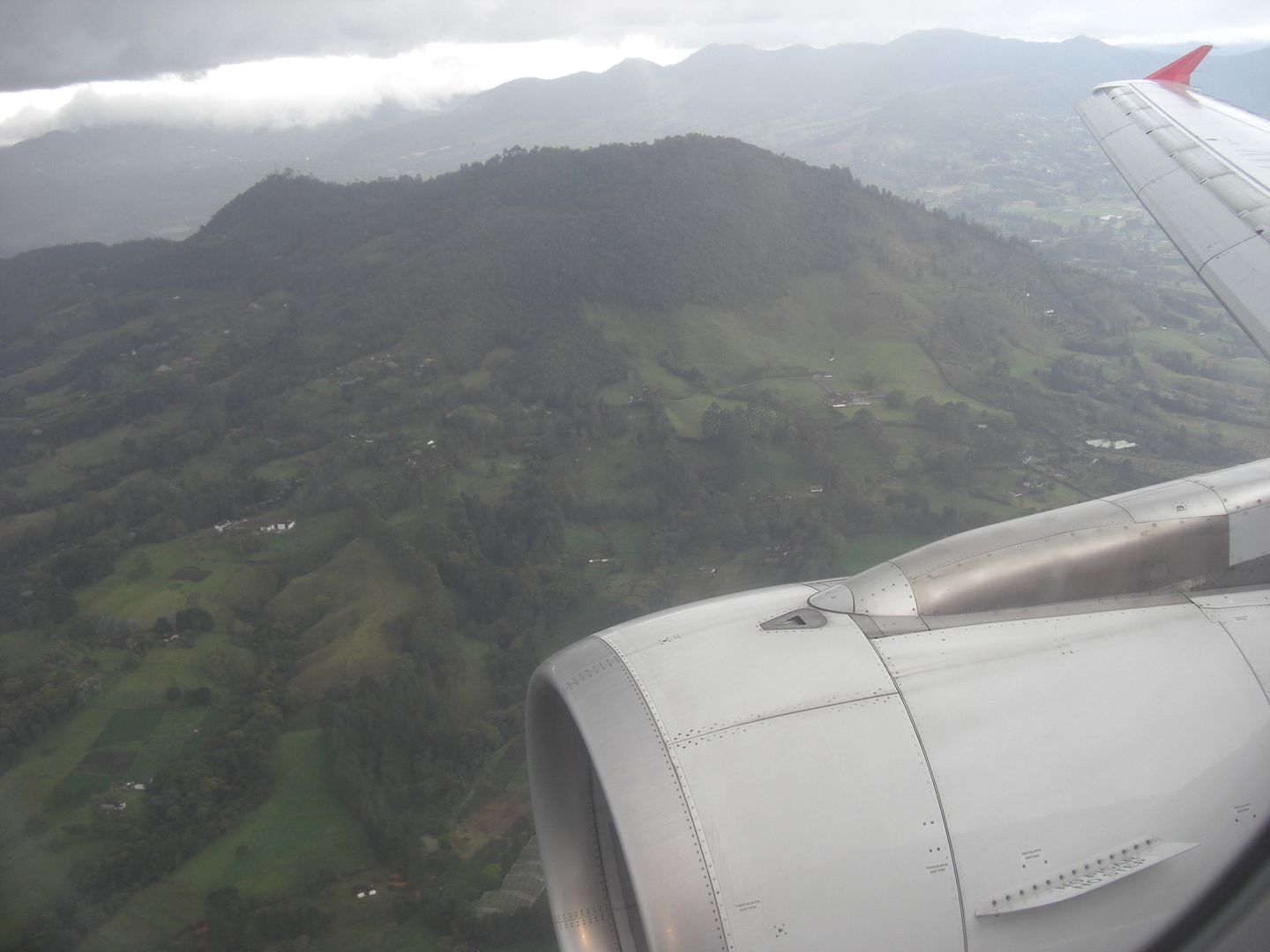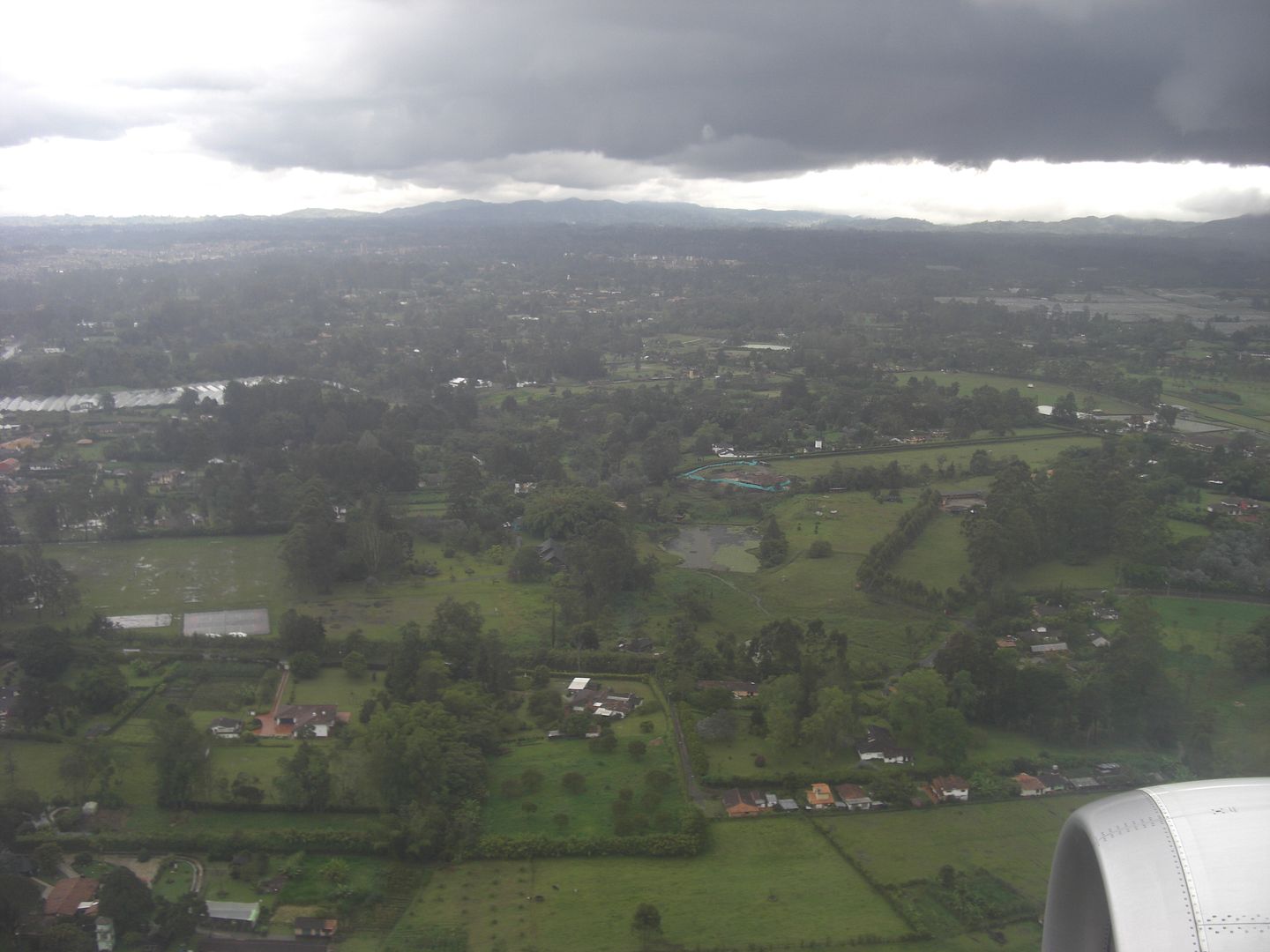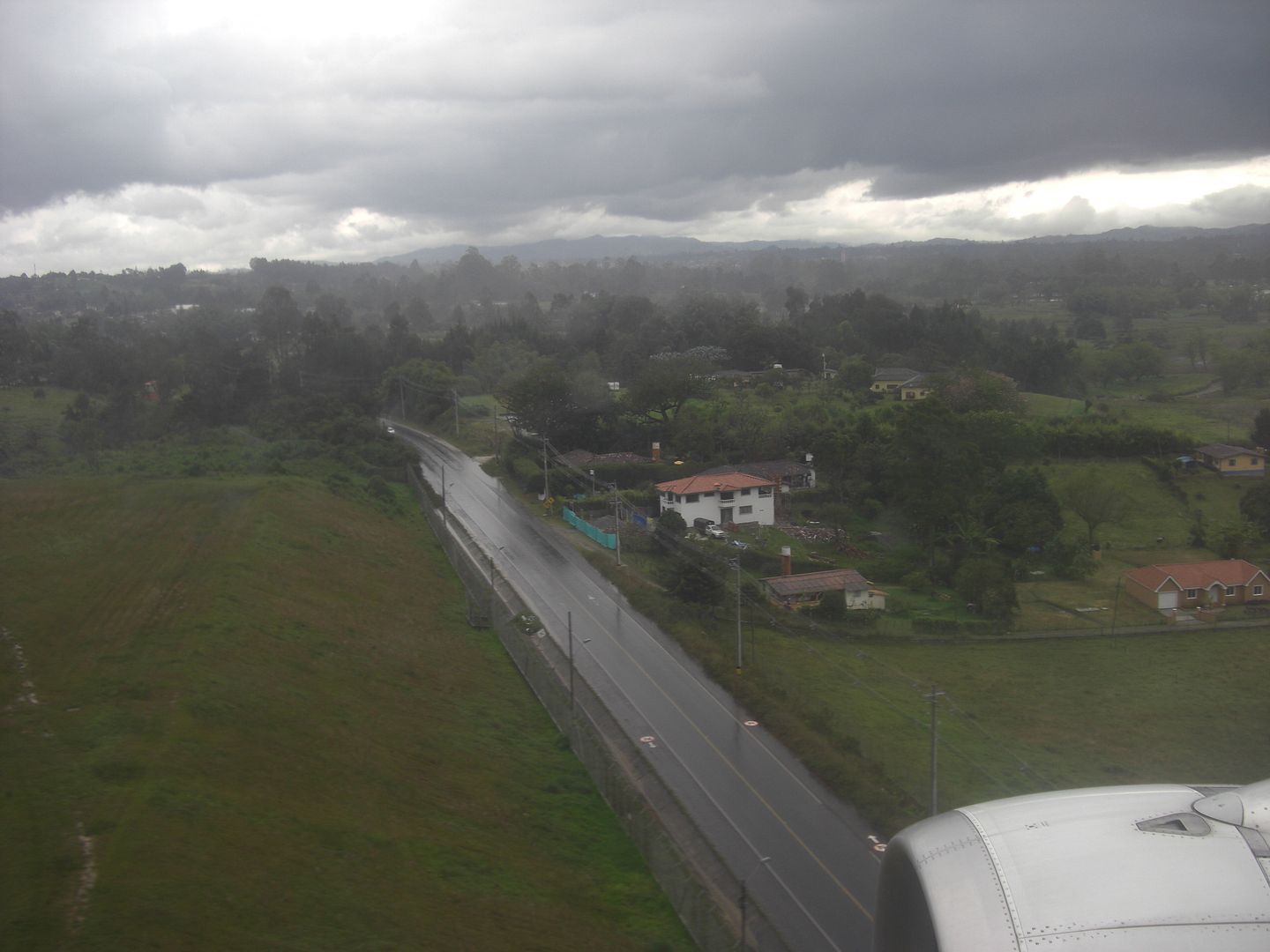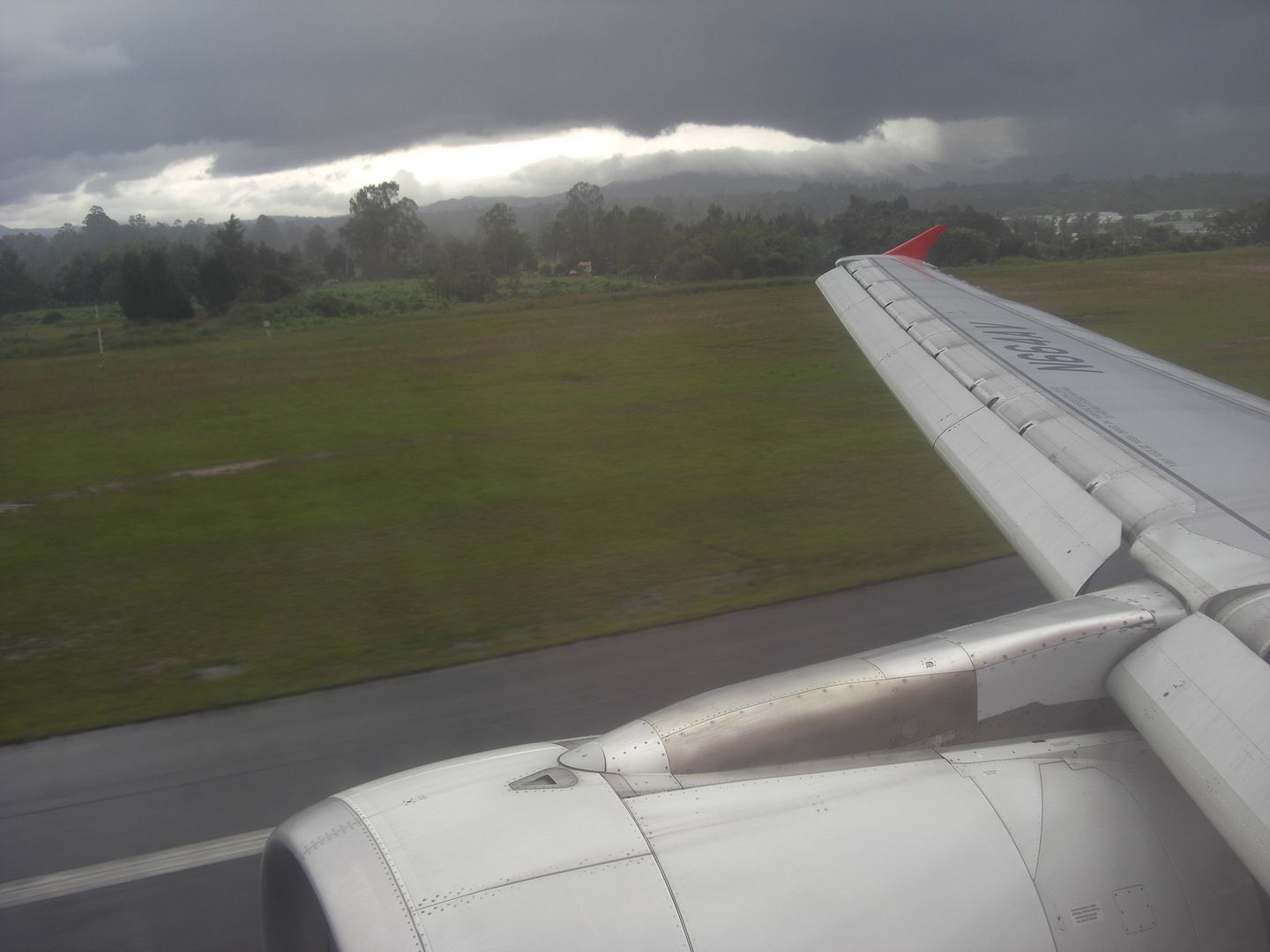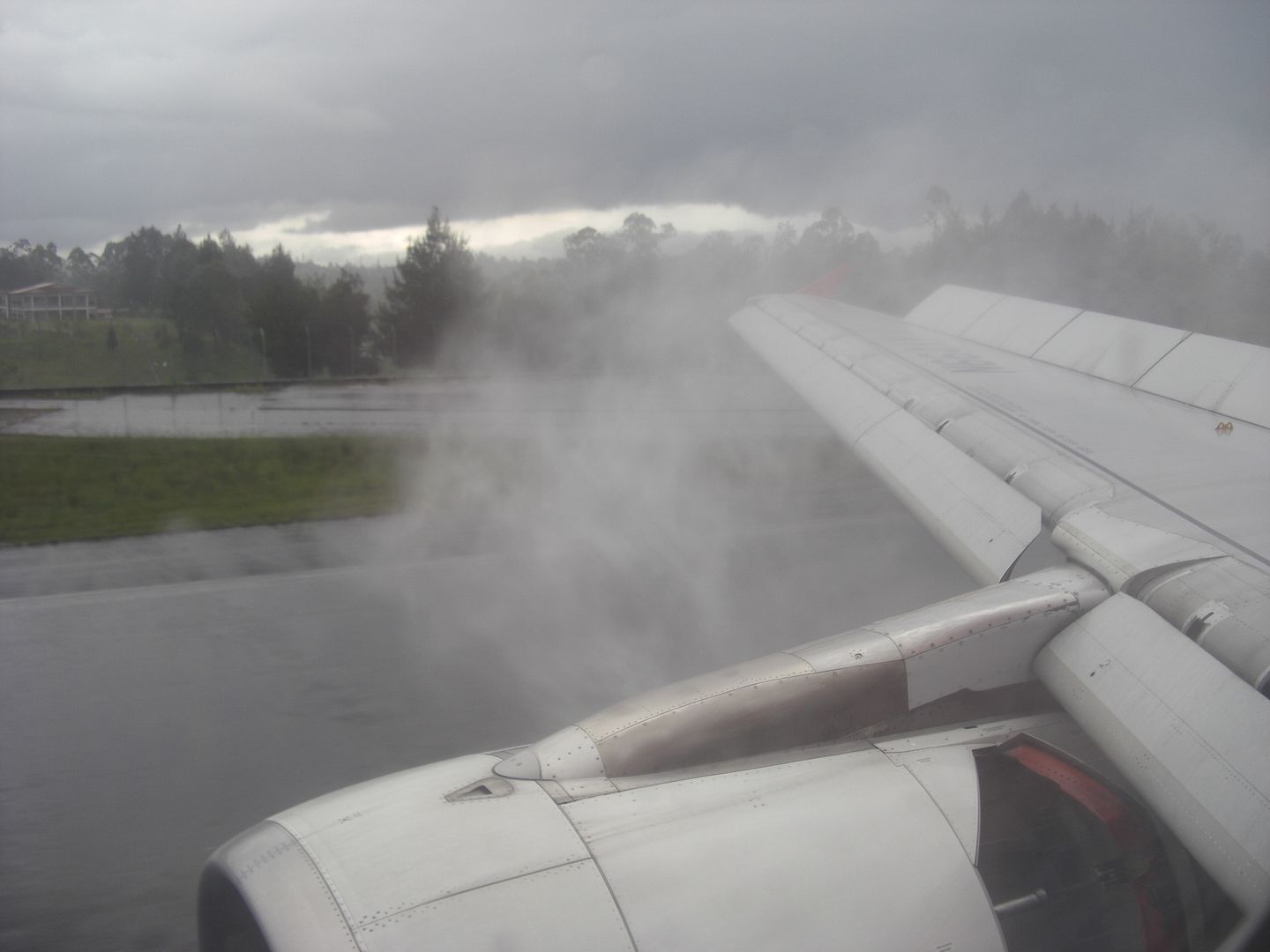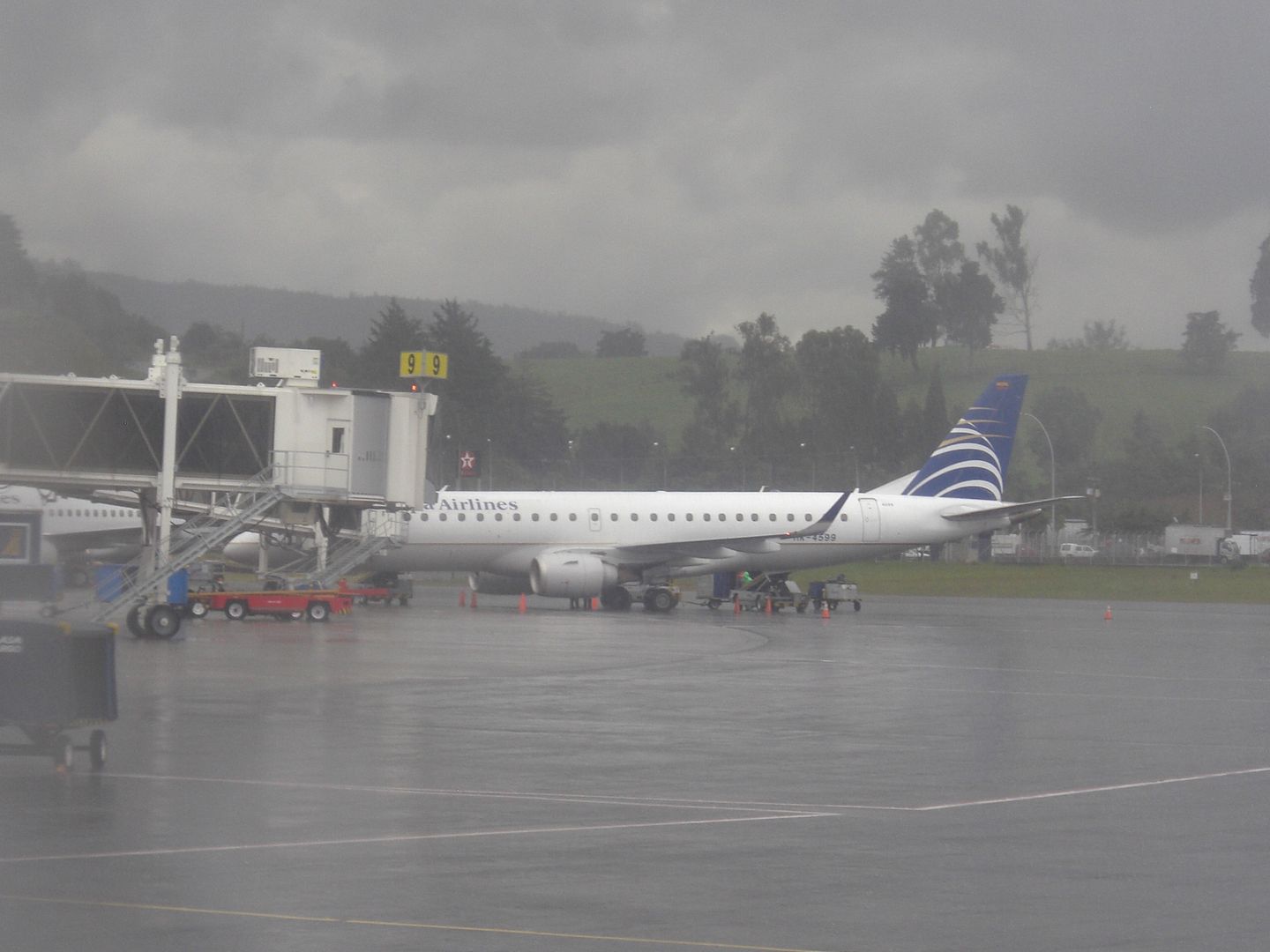 MDE, in comparison to BOG, is a lovely little terminal. Unfortunately, there is a no direct airside connections possible so I had to go through the arrivals hall, then back up to departures for my flight to Cartagena. En route to security, I picked up a bottle of water.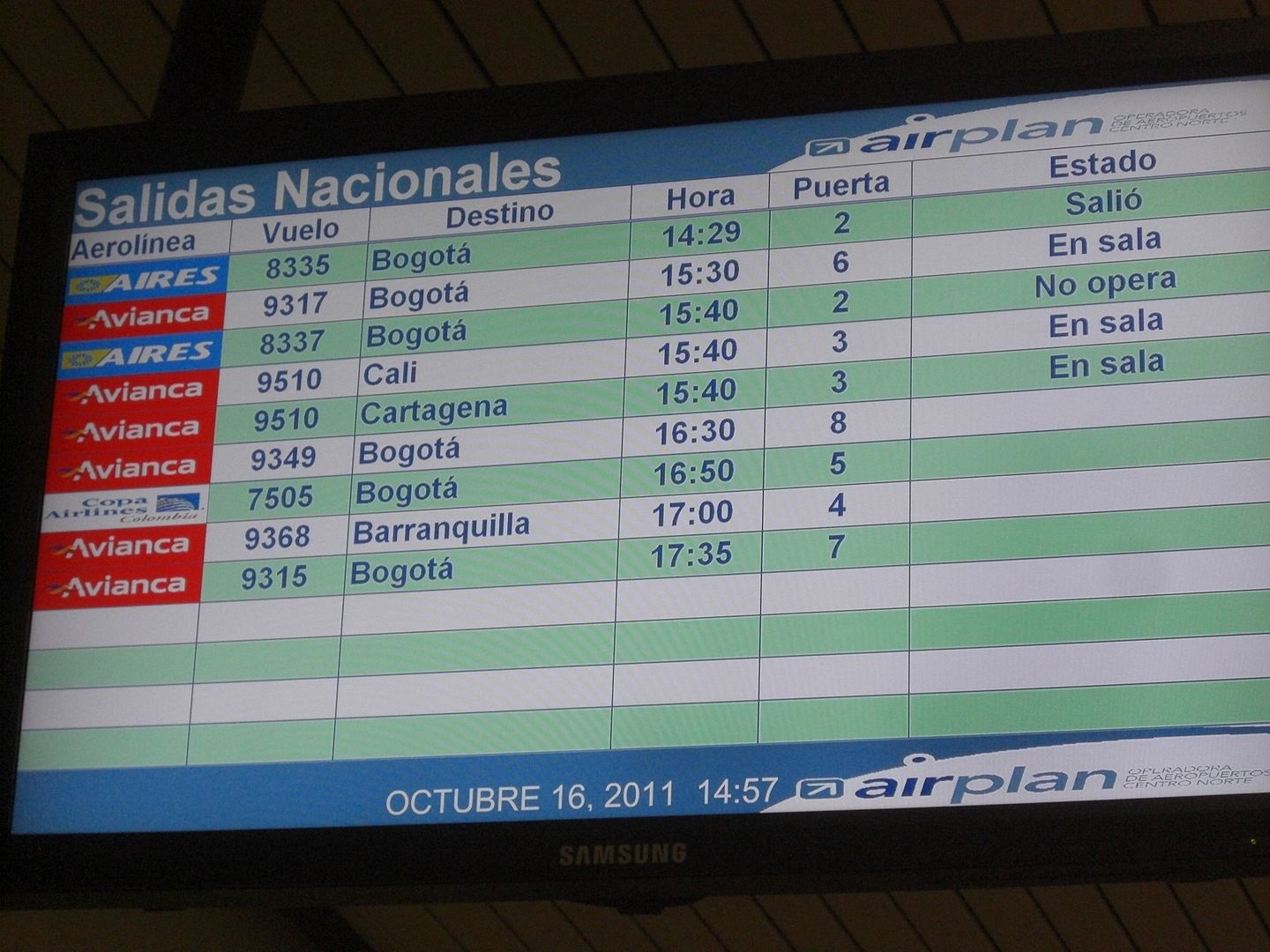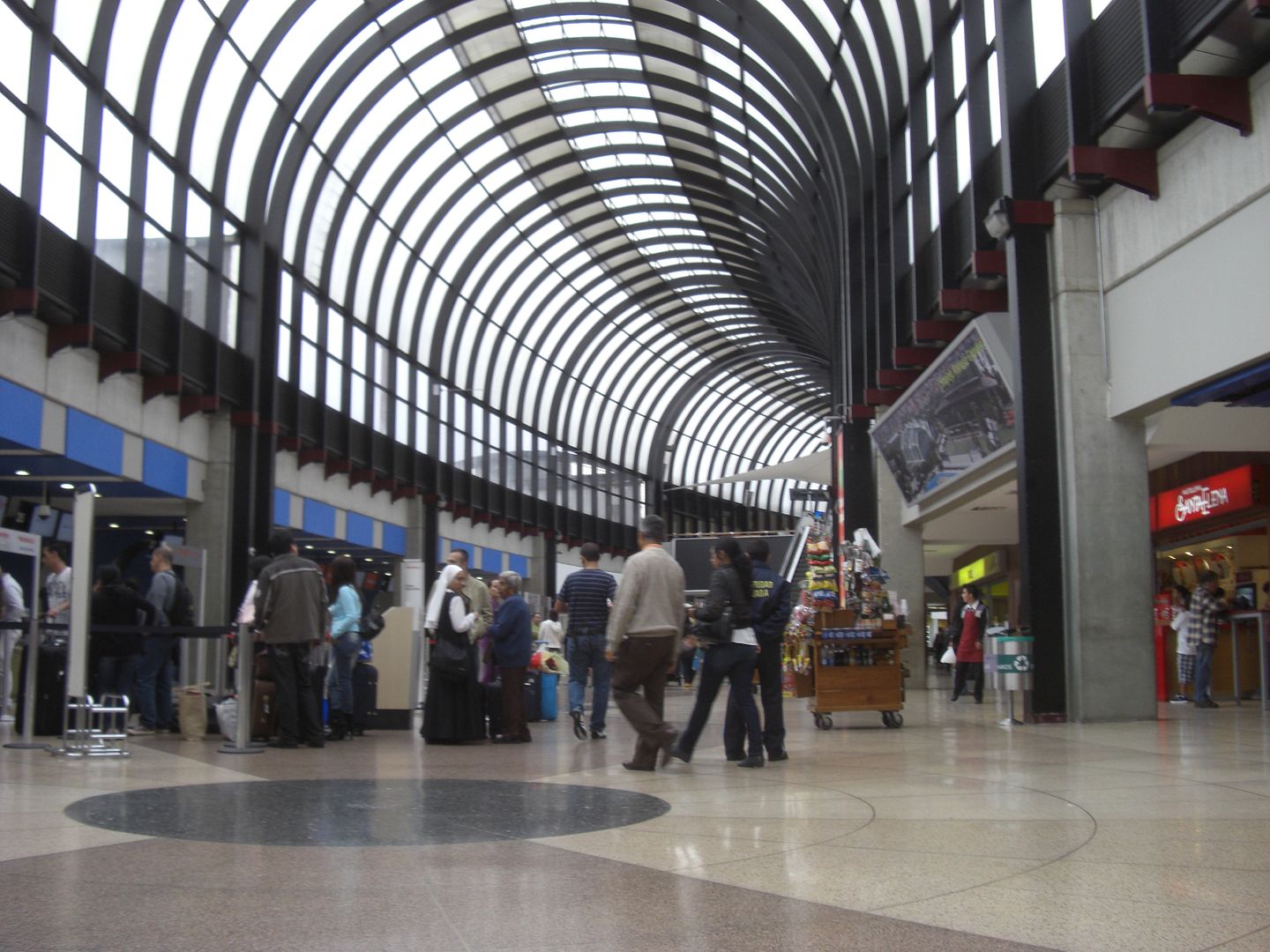 It was at security that I discovered that Colombia doesn't have the ridiculous liquids rule (even for international flights). The plane that just took me from BOG
My onward flight to CTG
Airside, I found a café and had a (rather disgusting) cheese and omelette croissant.
The terminal. Much nicer than BOG, but there were lots of TVs around showing ridiculous penguin cartoons with the volume on full
The main reason for booking a flight via MDE for my flight up to Cartagena was to guarantee a flight on the rather rare A318, which is pretty much assured on this route as they are all MDE based.
October 2011
Medellin (MDE) – Cartagena (CTG)
Avianca AV 9510
Scheduled: 1540-1650 (1h10m)
Actual: 1548-1636 (0h48m)
Airbus A318 N594EL
This aircraft spent most of her life with Mexicana, before spending Winter 2010 off, then joining Avianca in April this year.
Boarding
As this was a particularly short aircraft, it thought it best to book a seat near the back so I could fully appreciate the full length on the aircraft! The middle seat was empty, with a teenage girl on the aisle.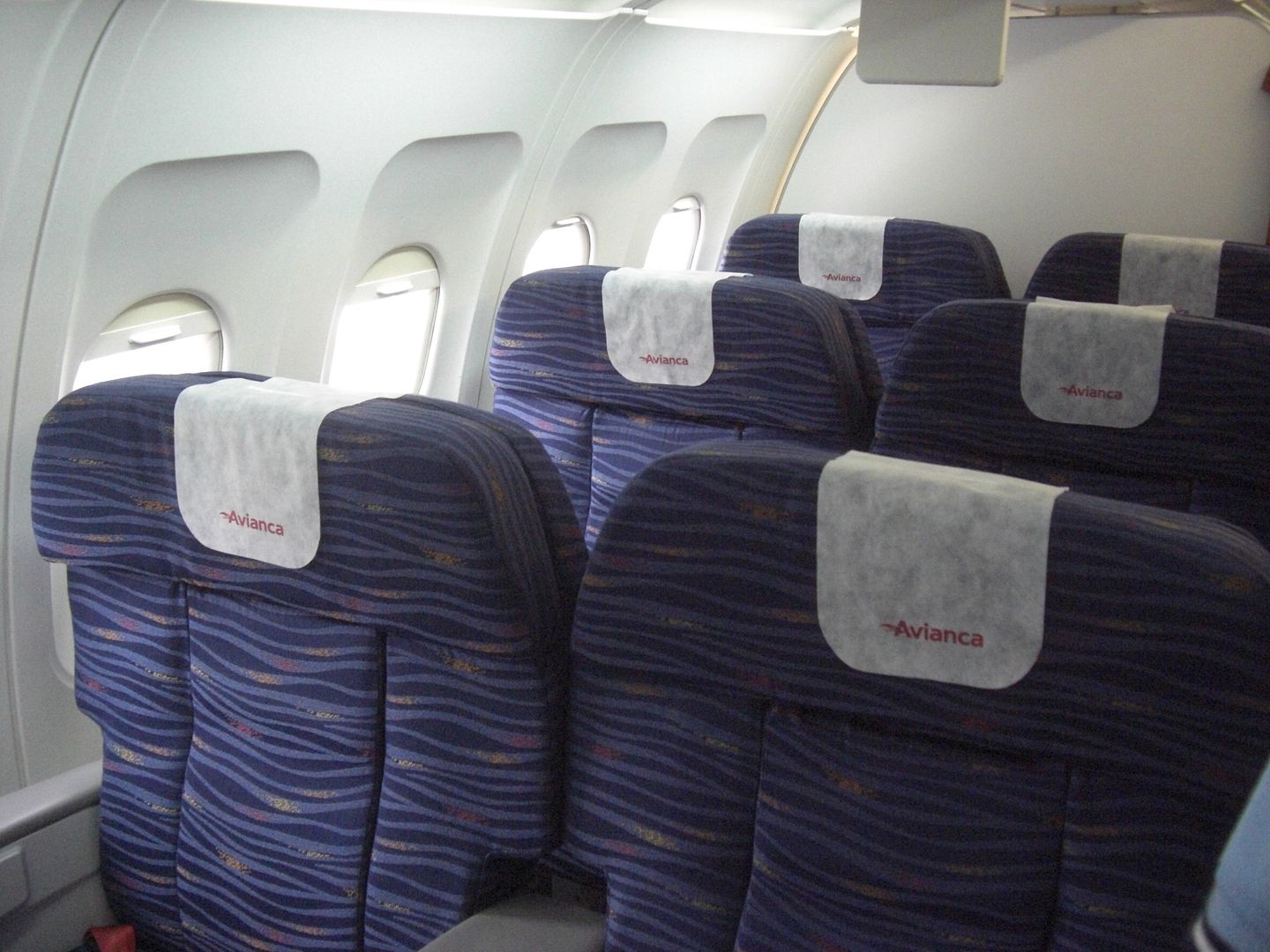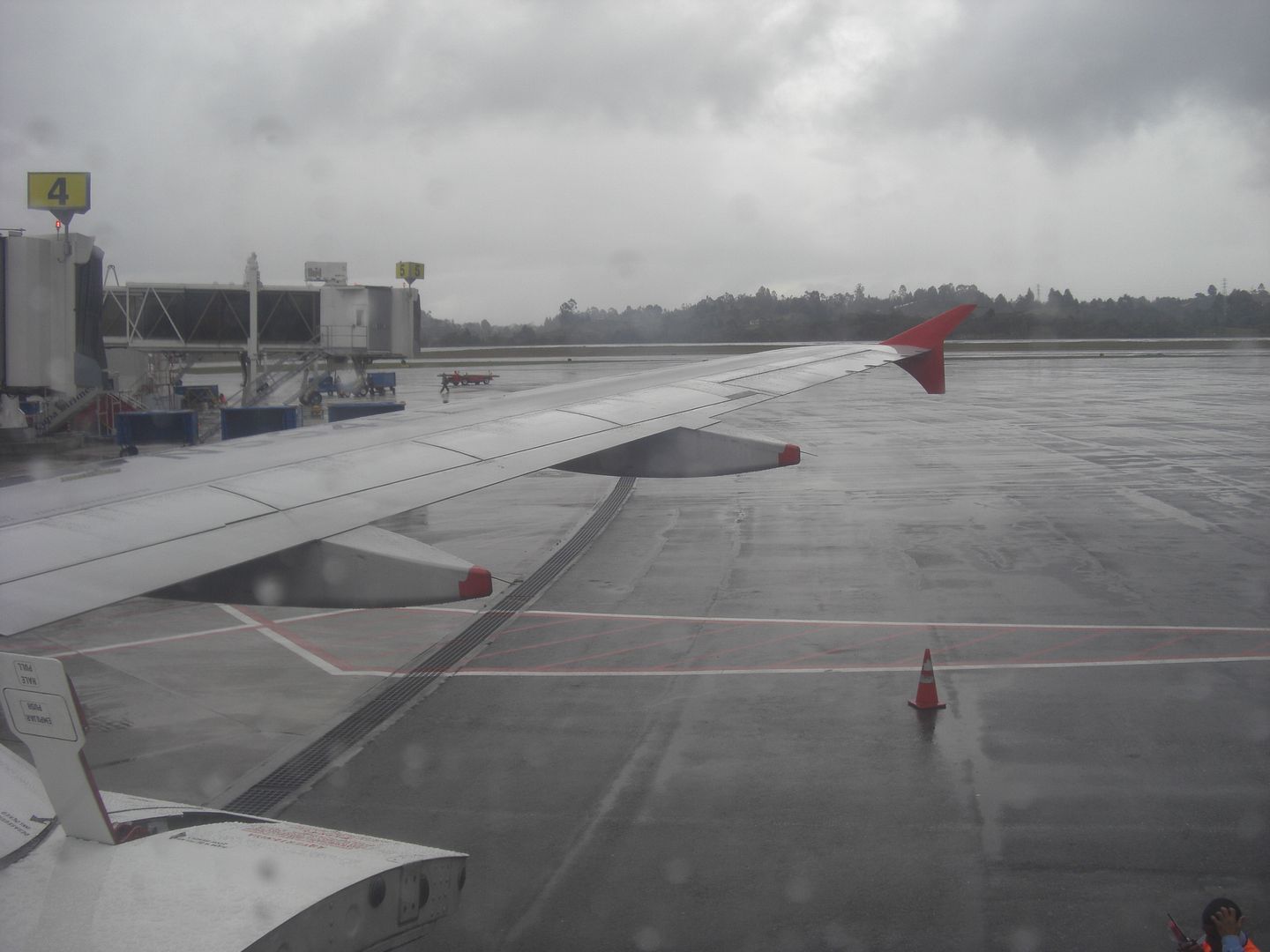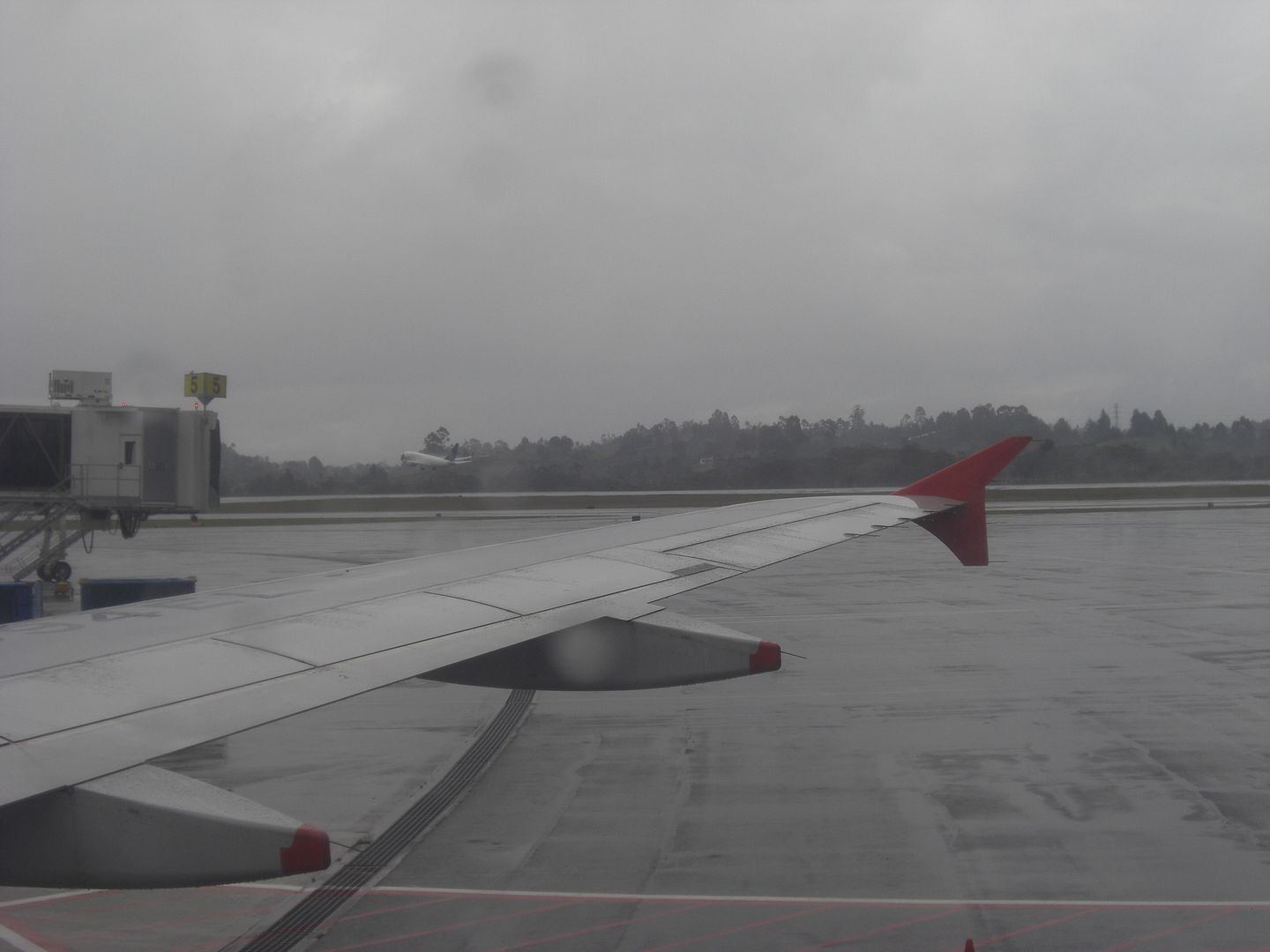 Reasonable legroom
It was nice to be able to tick off the final member of the A320 family, some 14 years after my first ride on an A320 (a -100 from BIO to LHR).
Initial impressions were of … a short A319 (not very surprising!). The A318s are the only aircraft in the AV without personal TVs. There were ceiling mounted screens though, which played Friends (in English), although no headphones were given out.
Taxi
An AV A330 from Madrid landed just before we departed. This flight was over an hour early!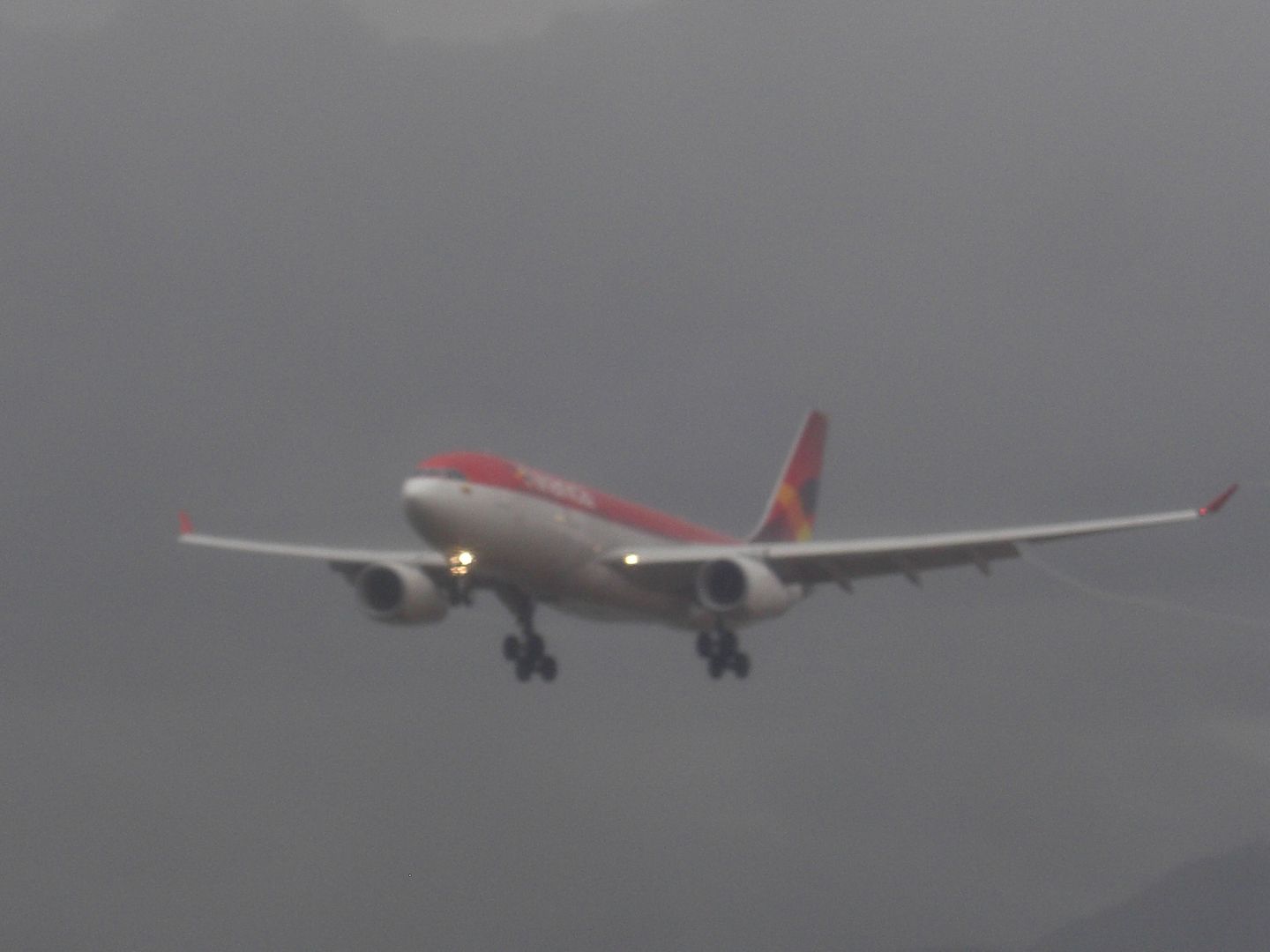 More great views enroute to CTG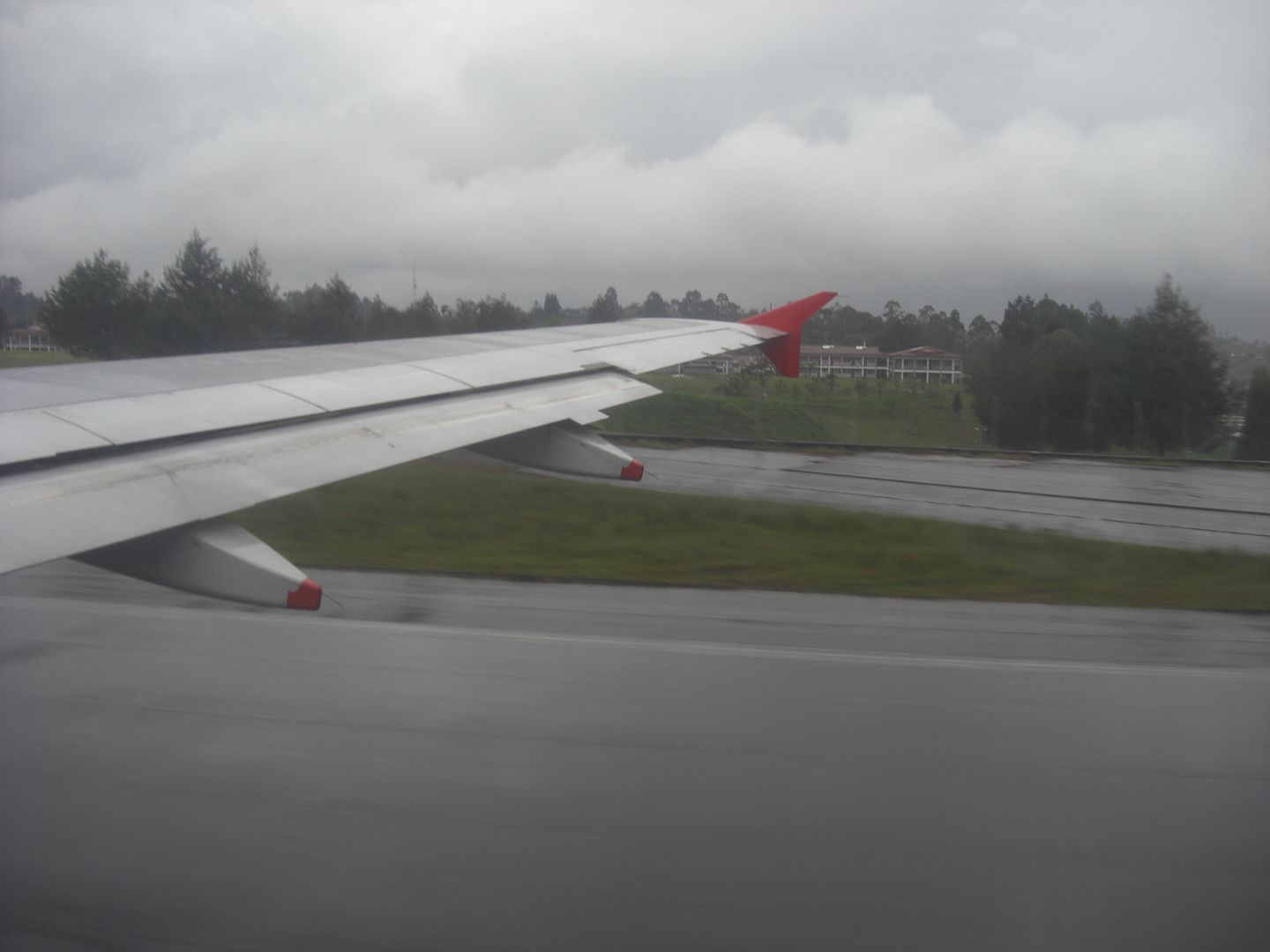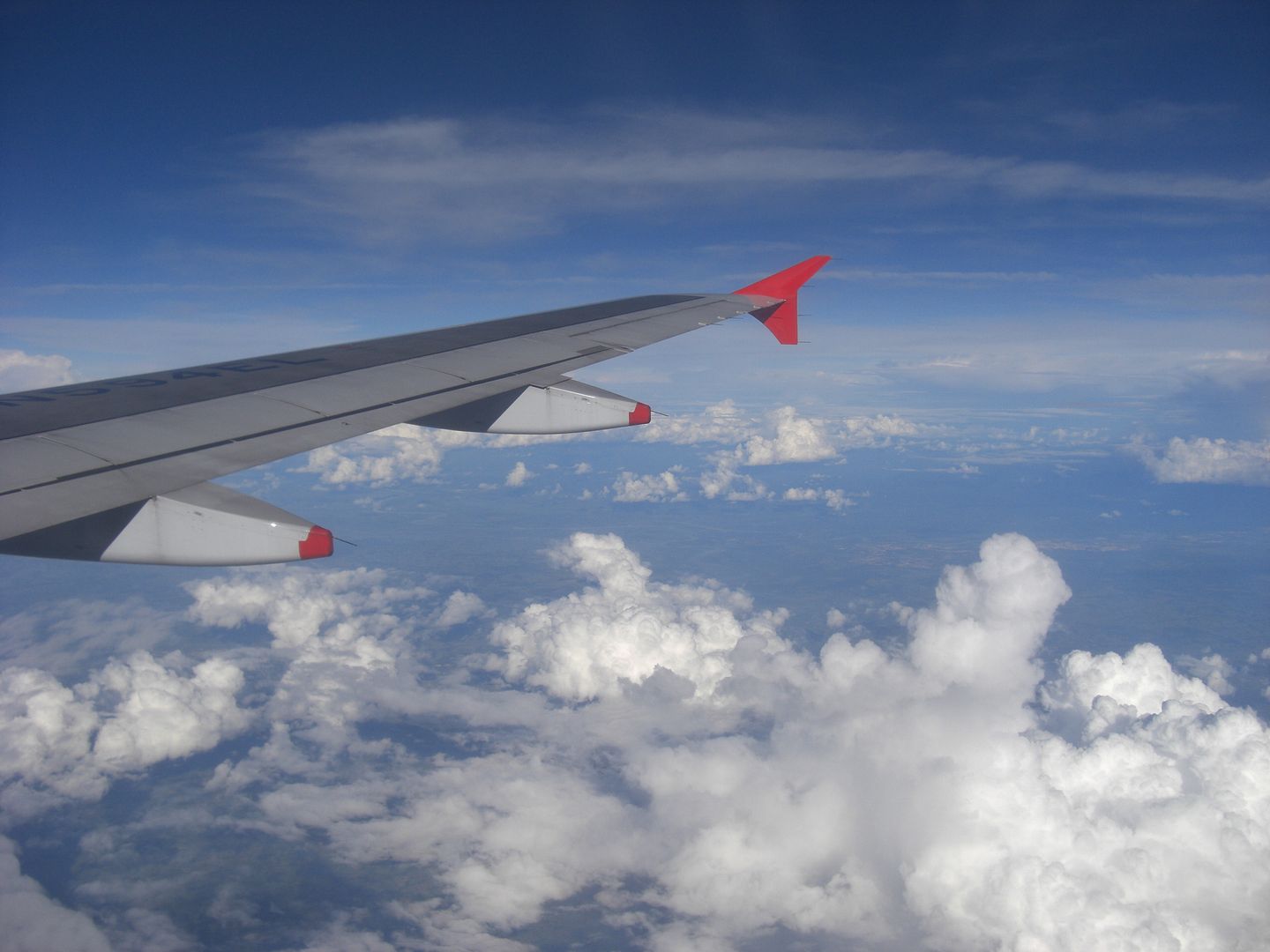 Friends being shown – you need your own headphones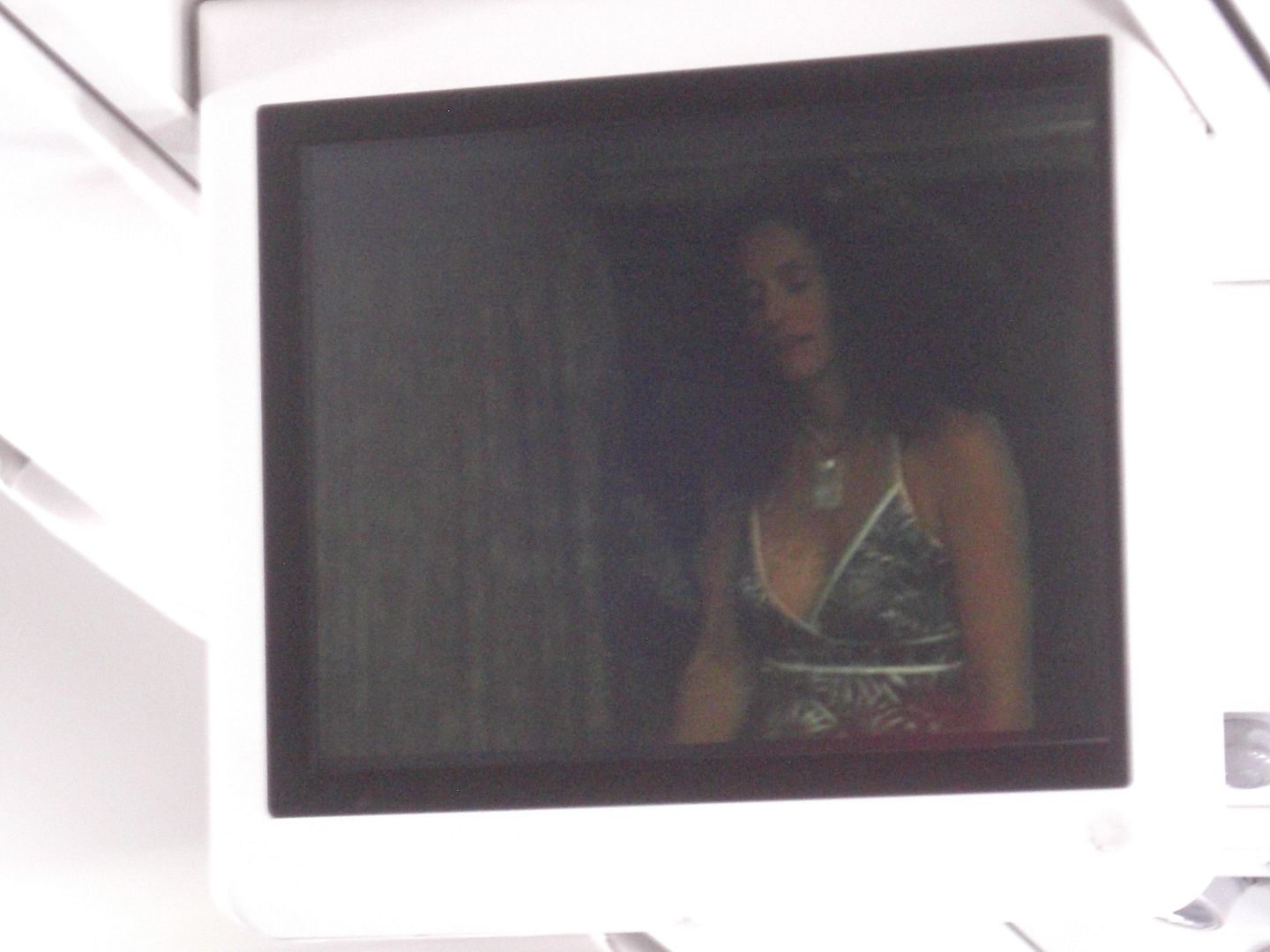 The Avianca magazine was actually pretty good. Lots of interesting articles, and airplane info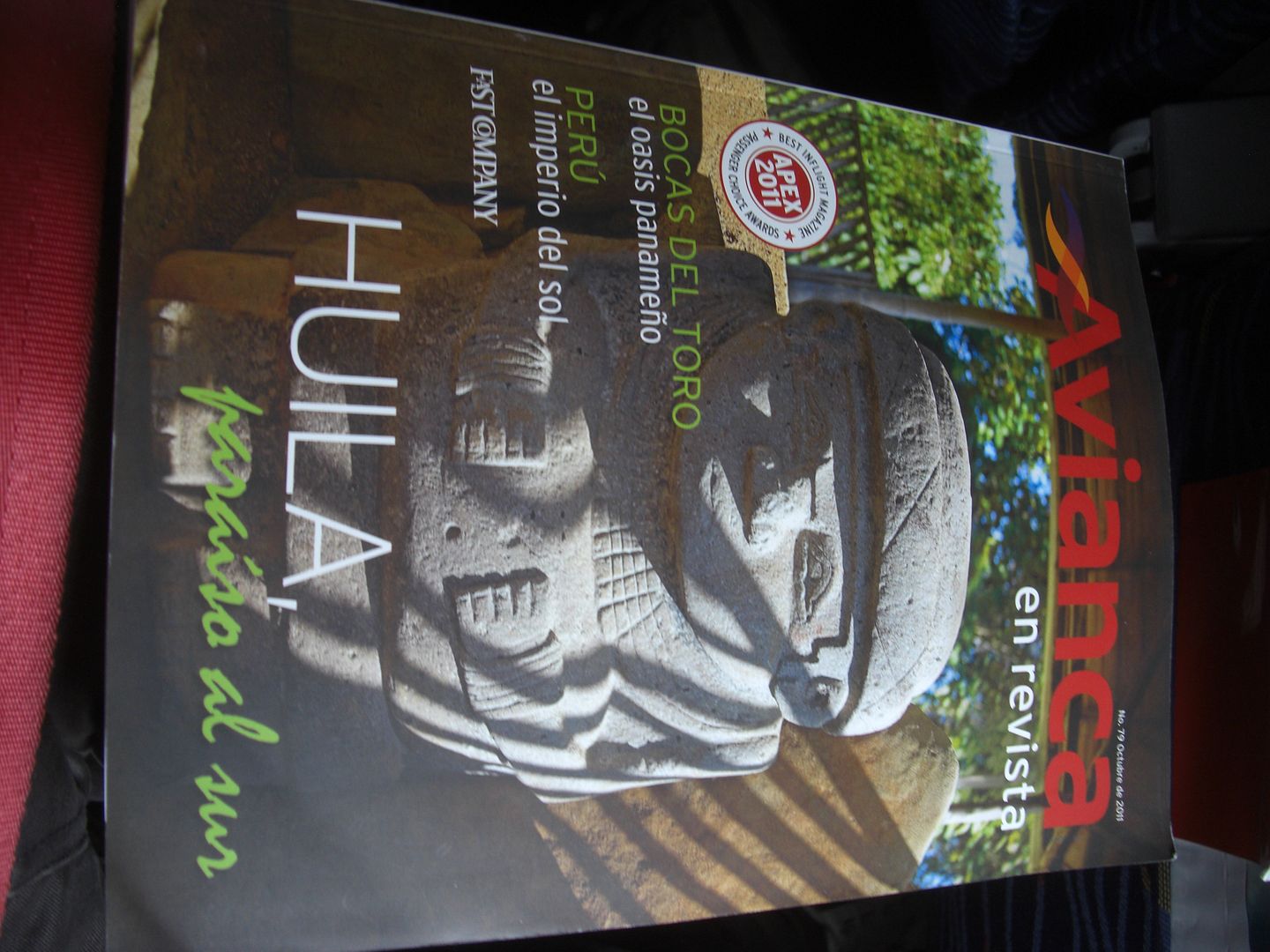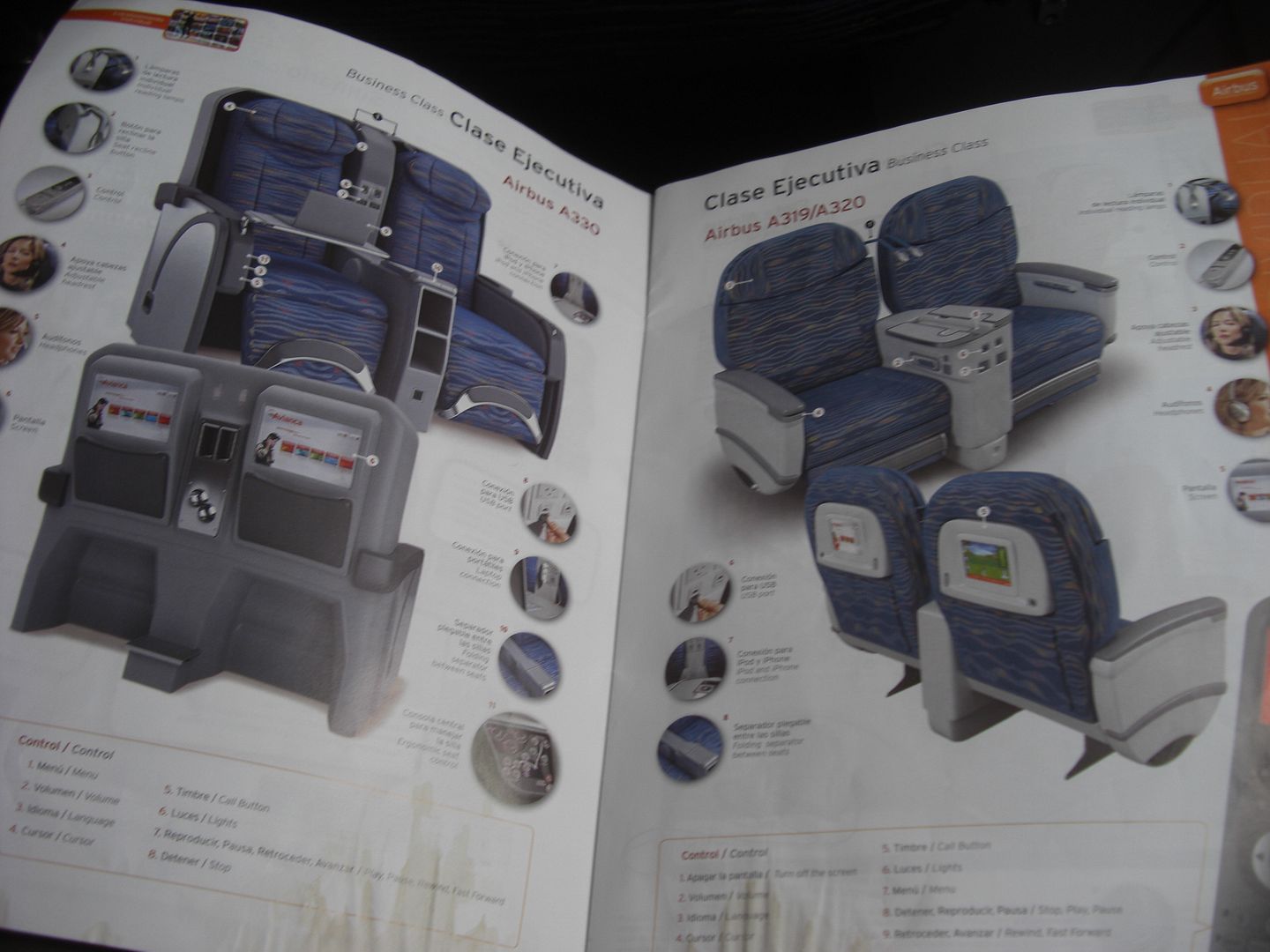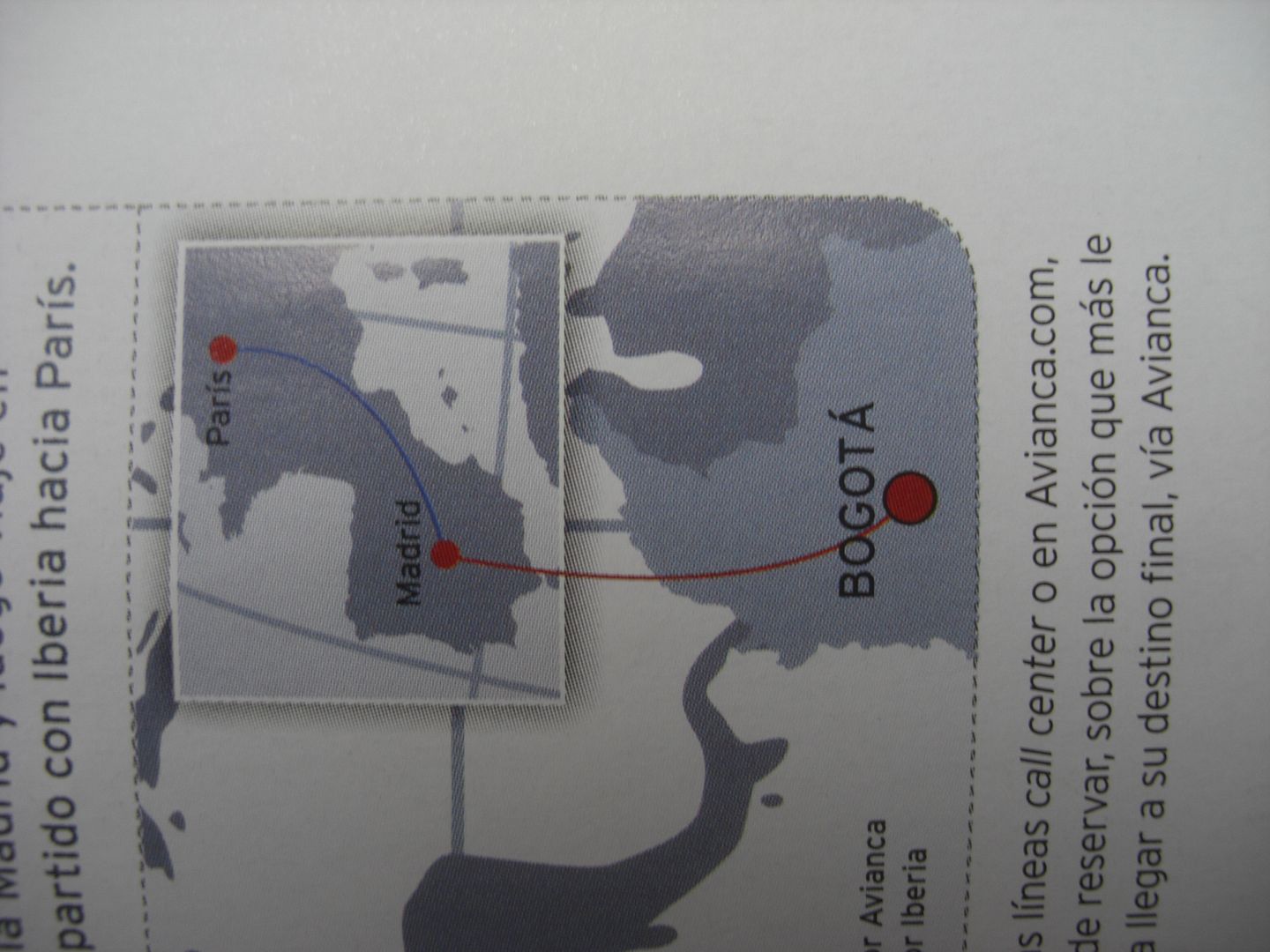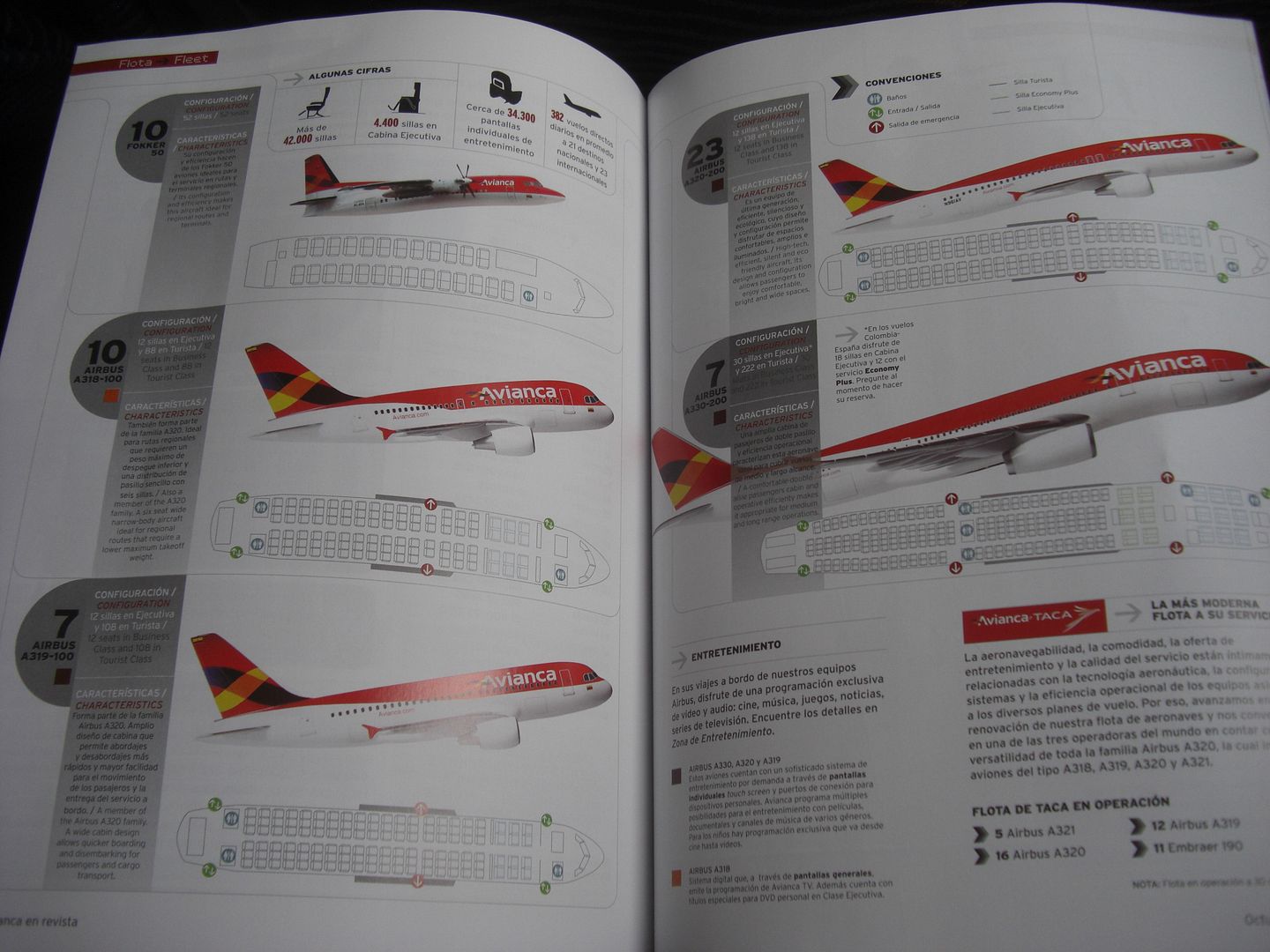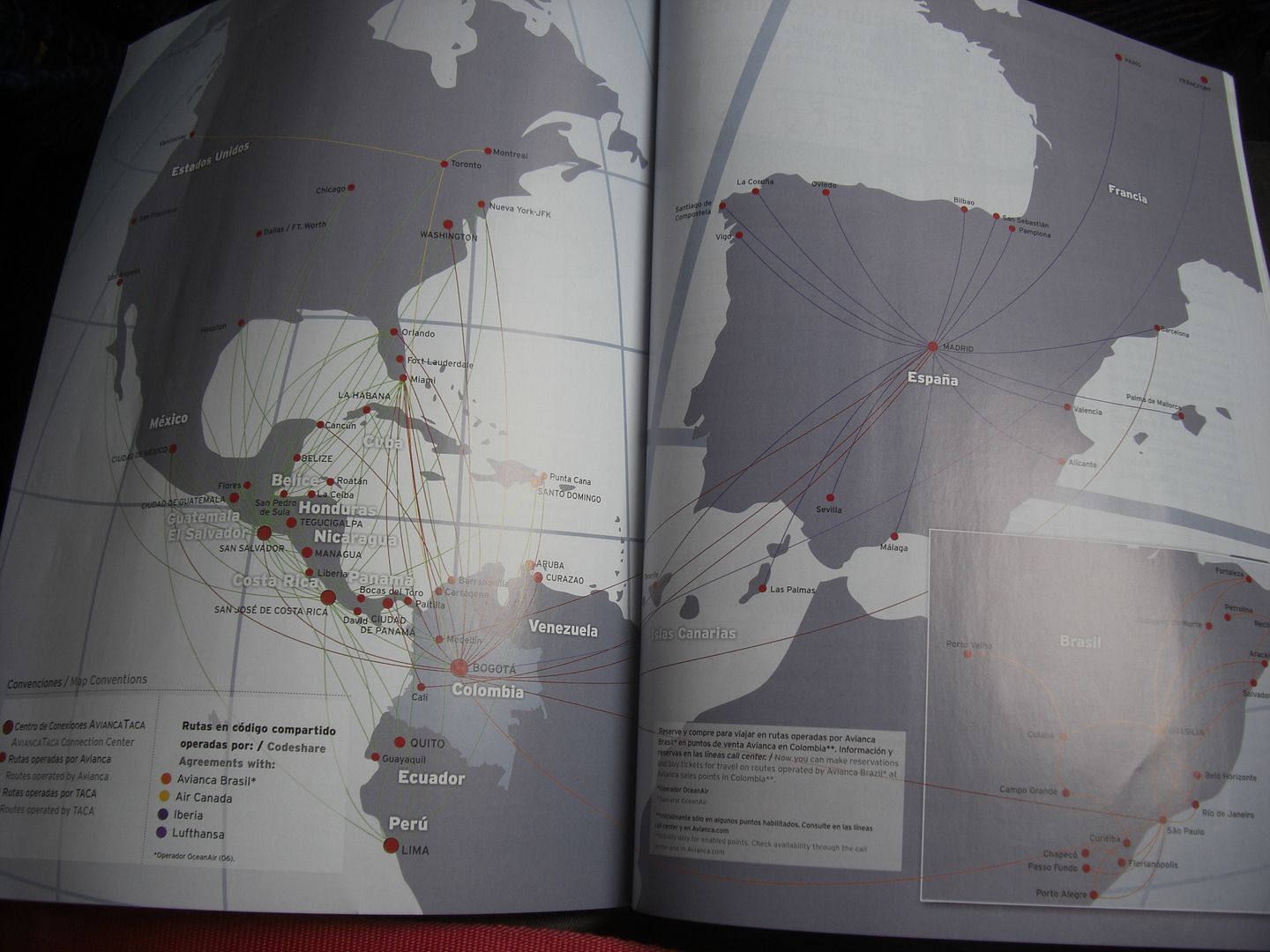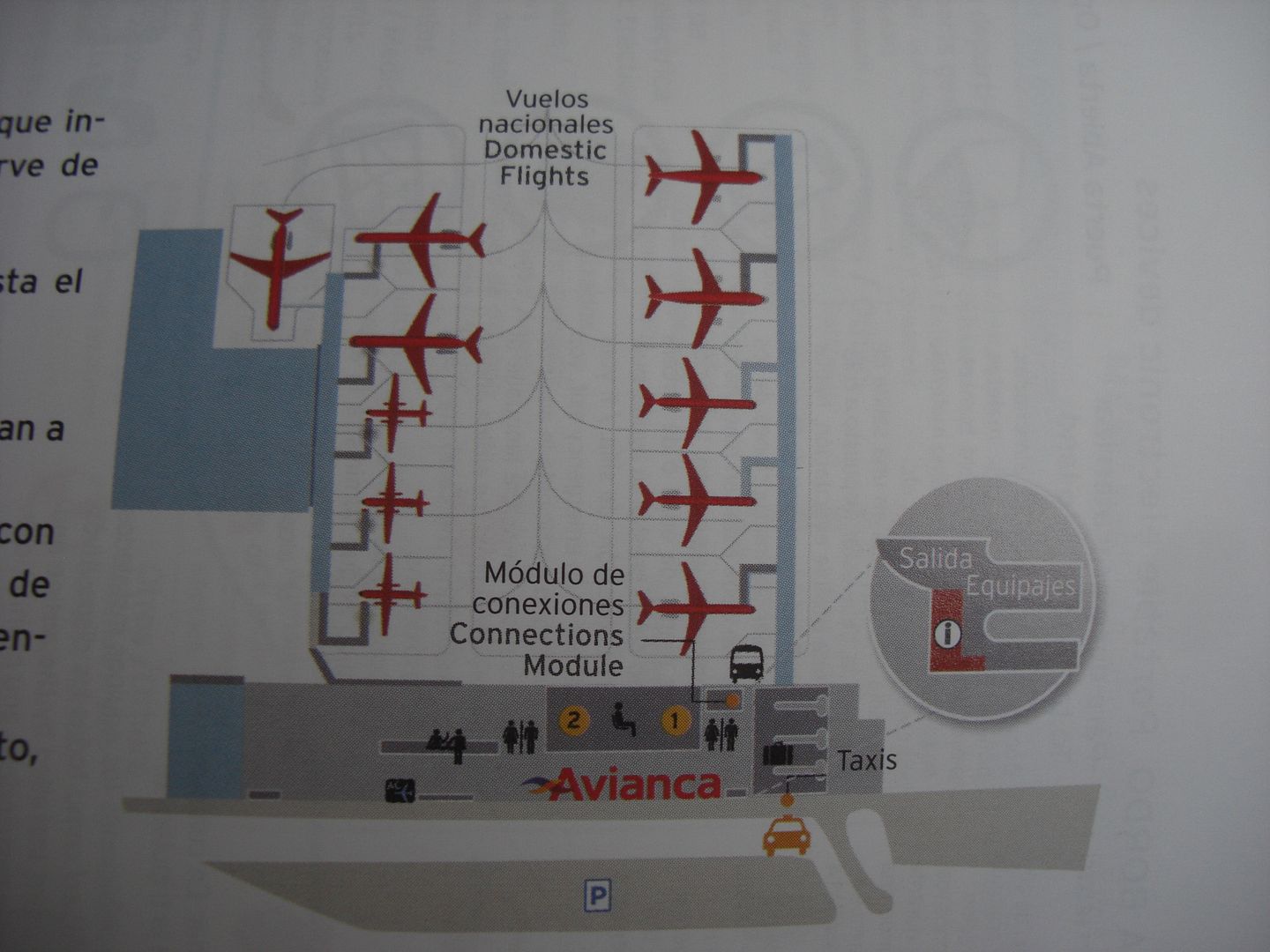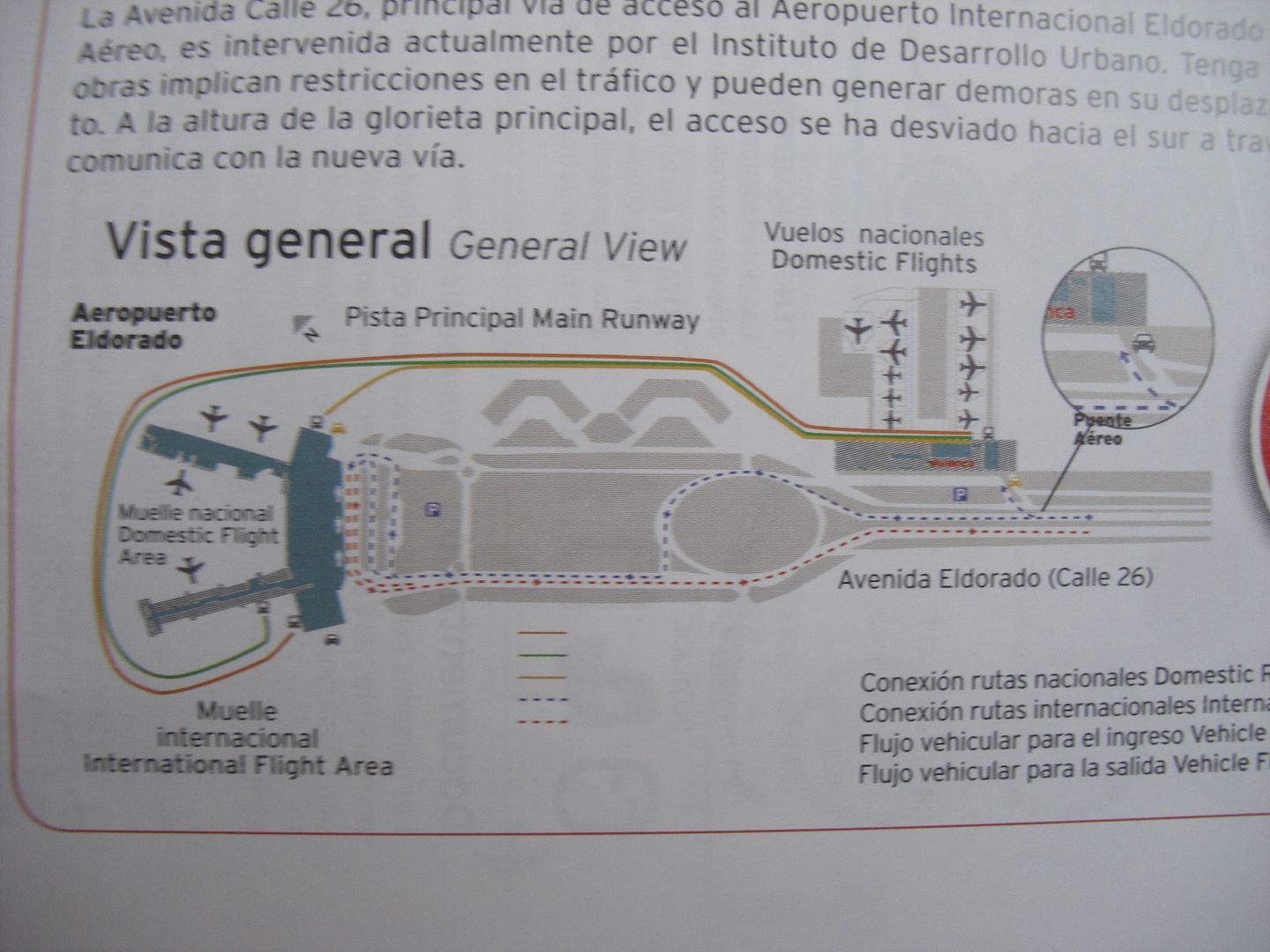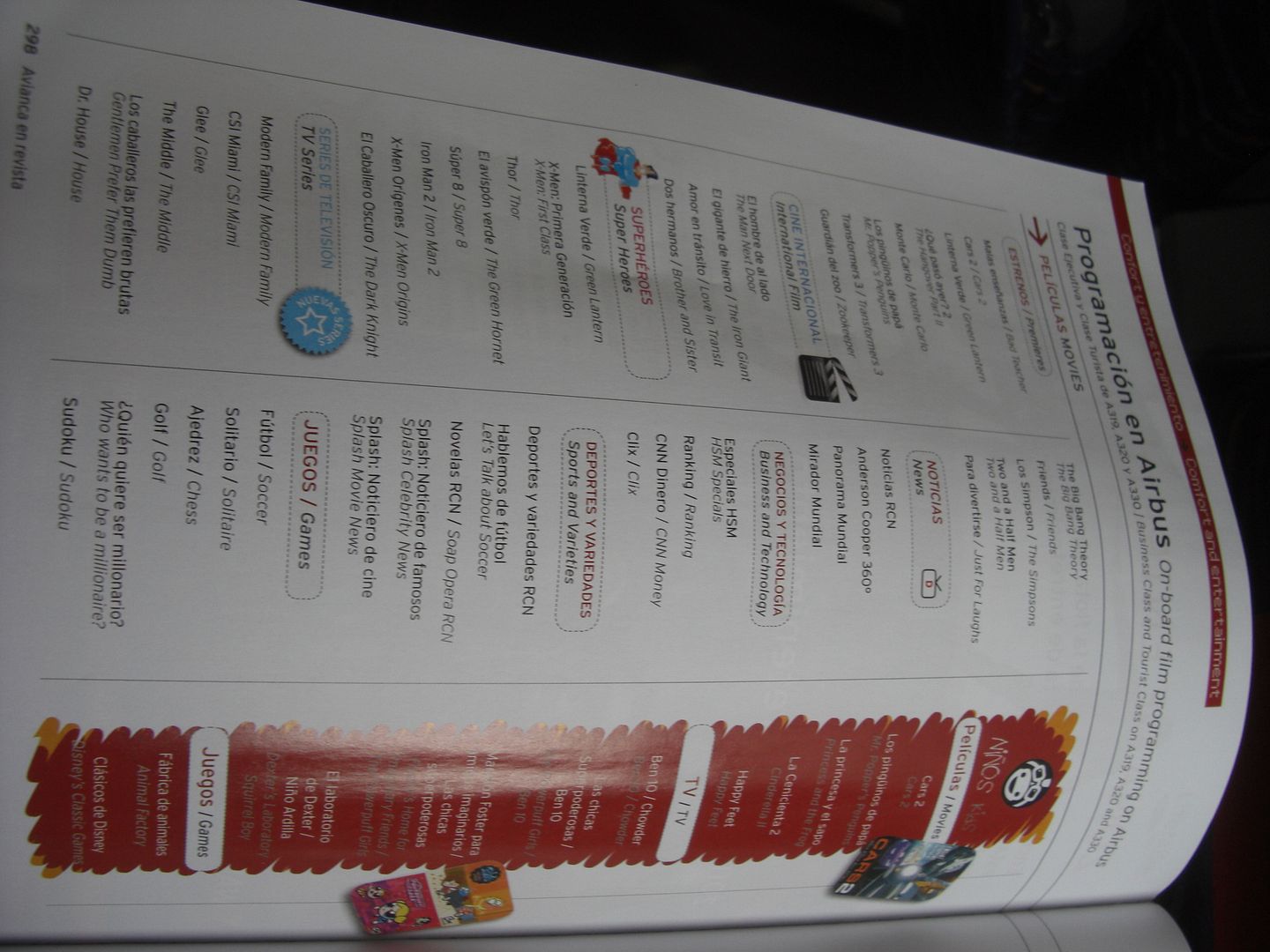 This time I got a juice and water
Cruise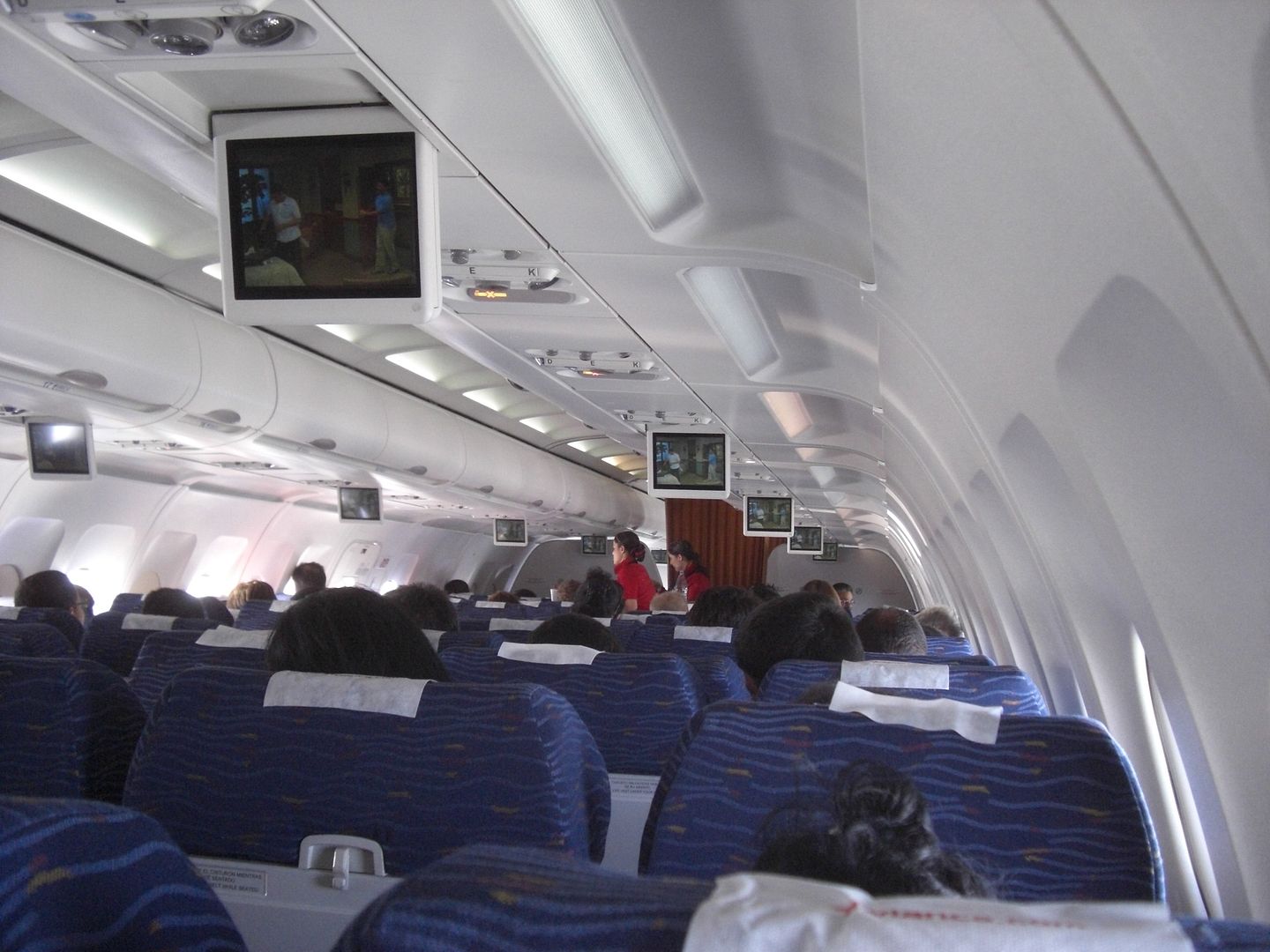 The approach to CTG was very scenic, following the coastline.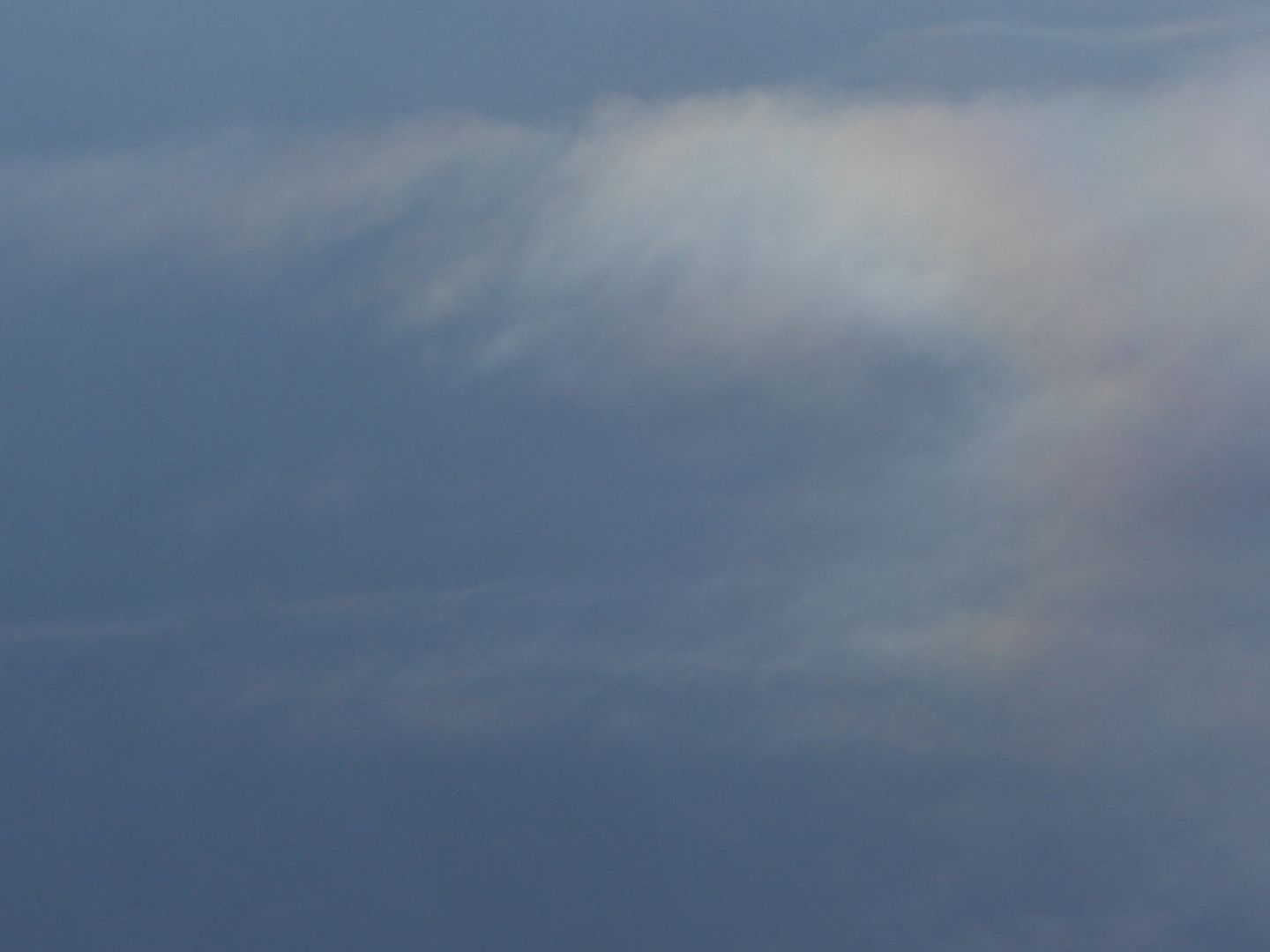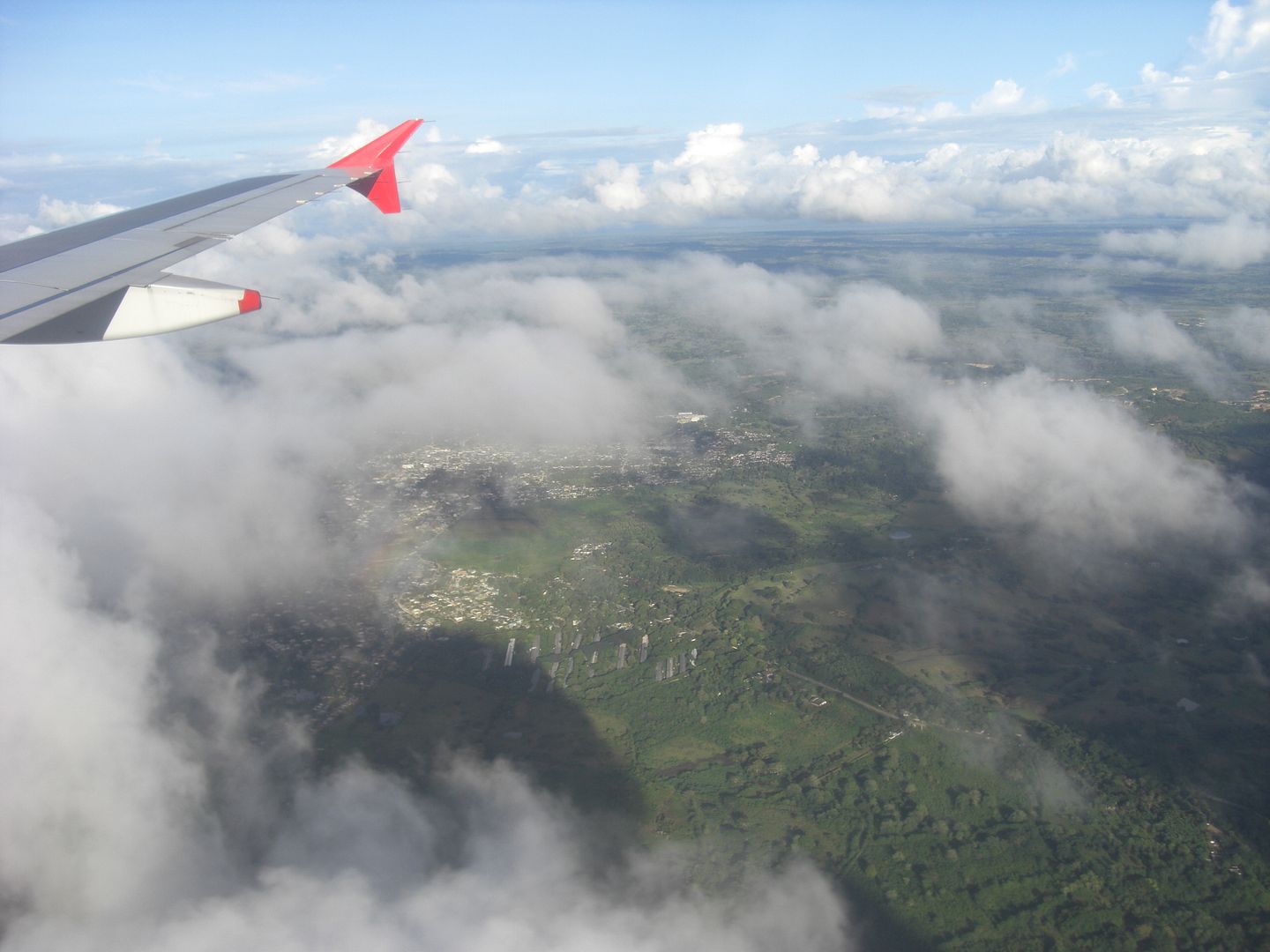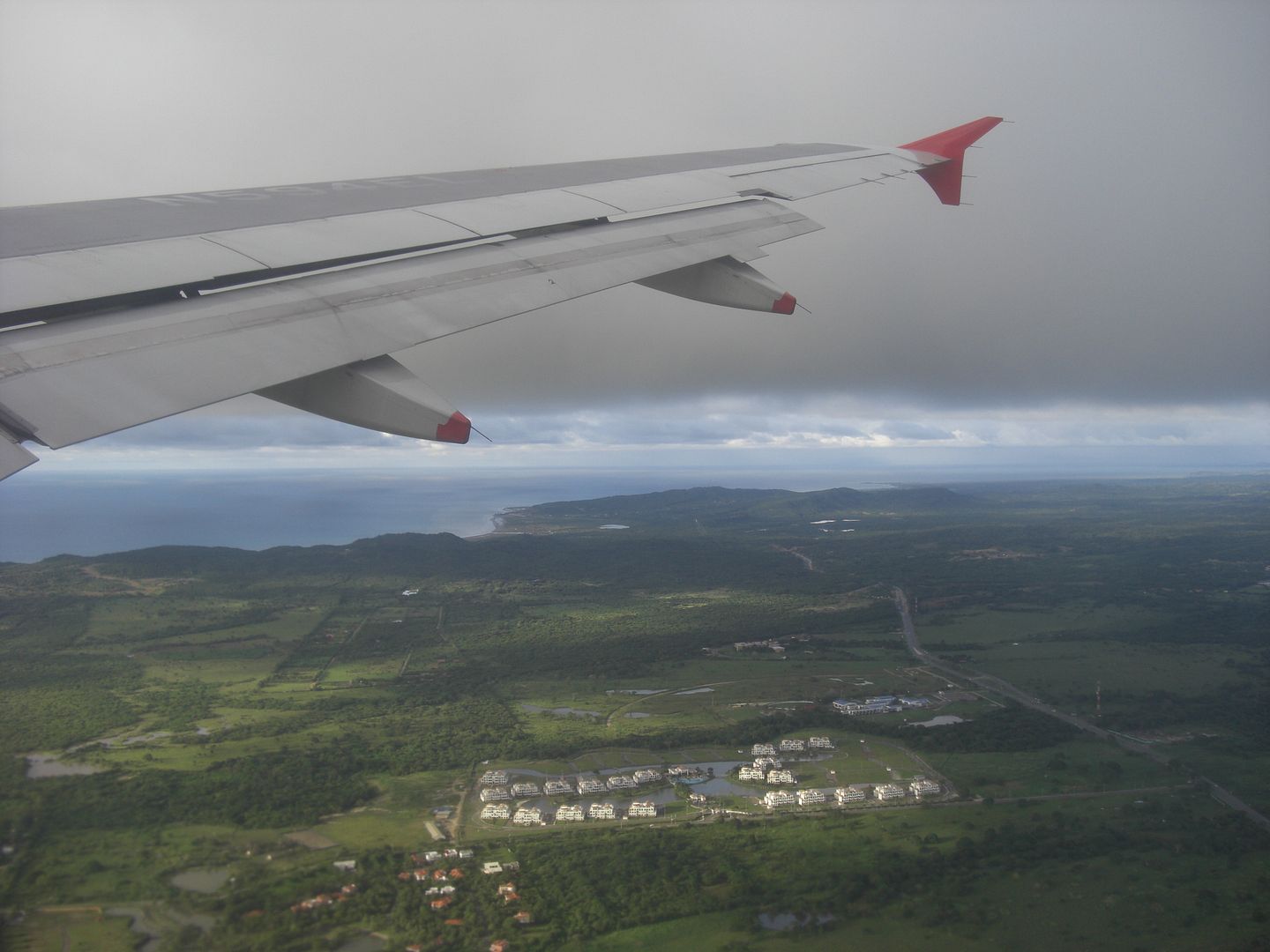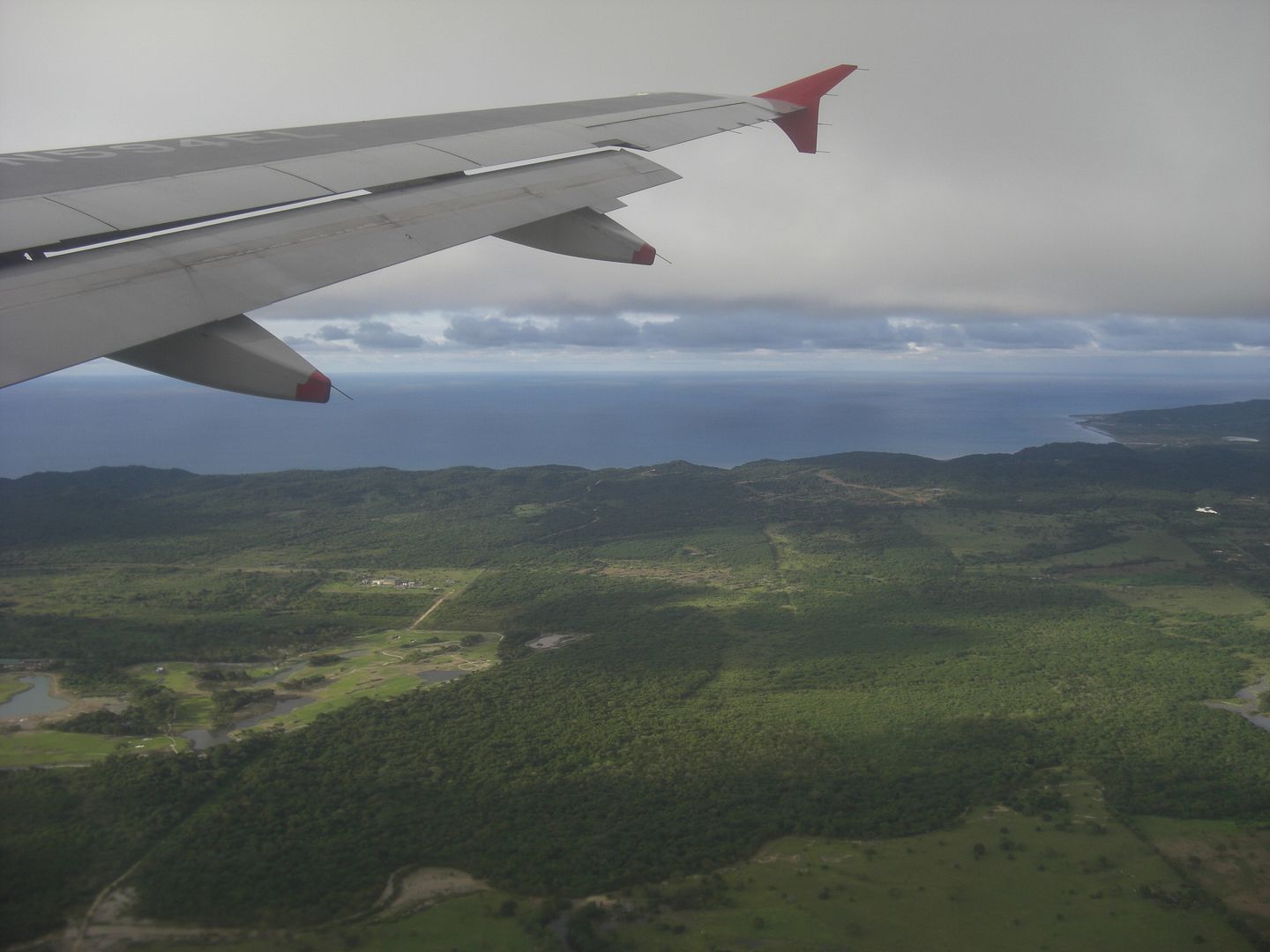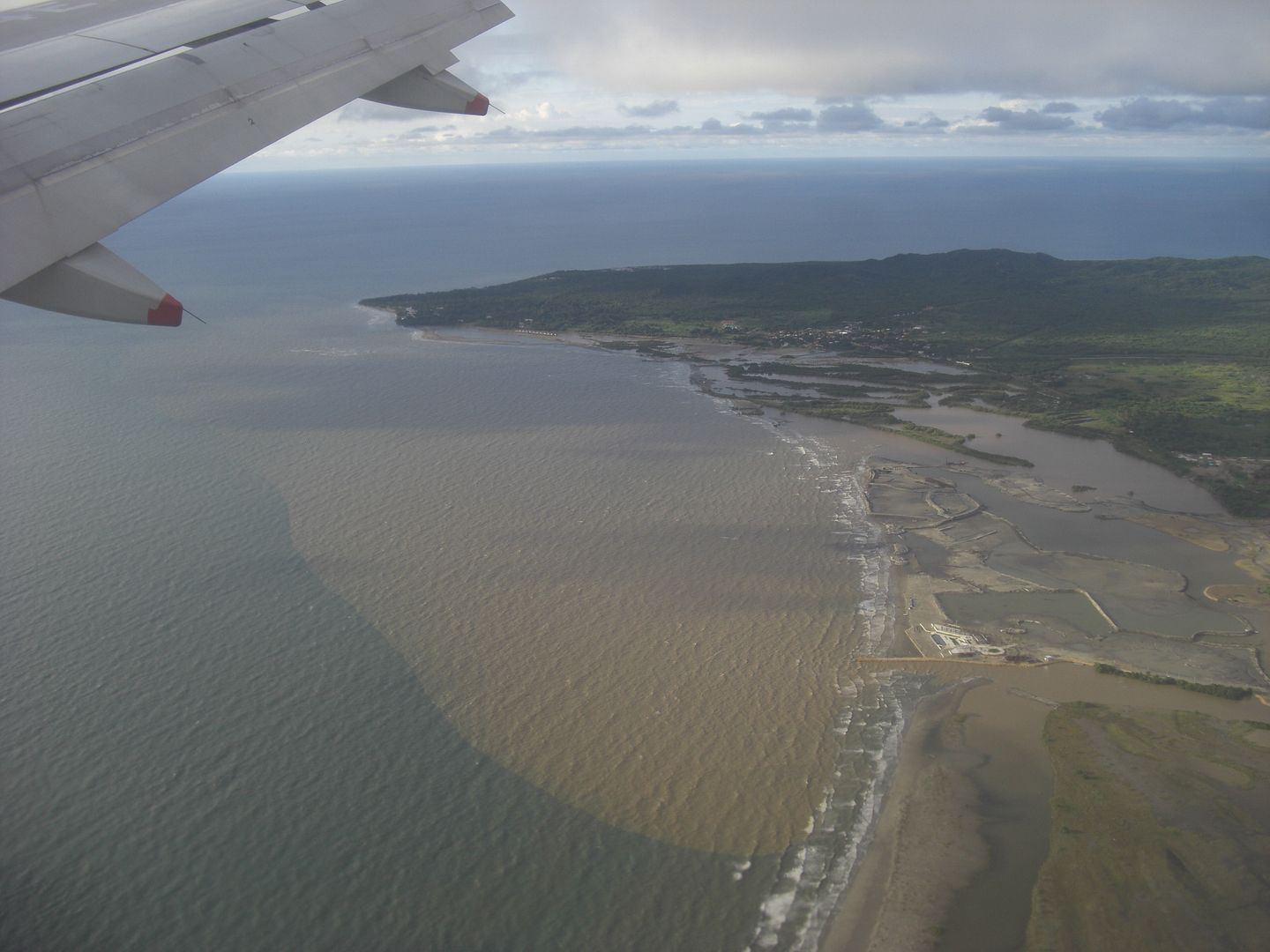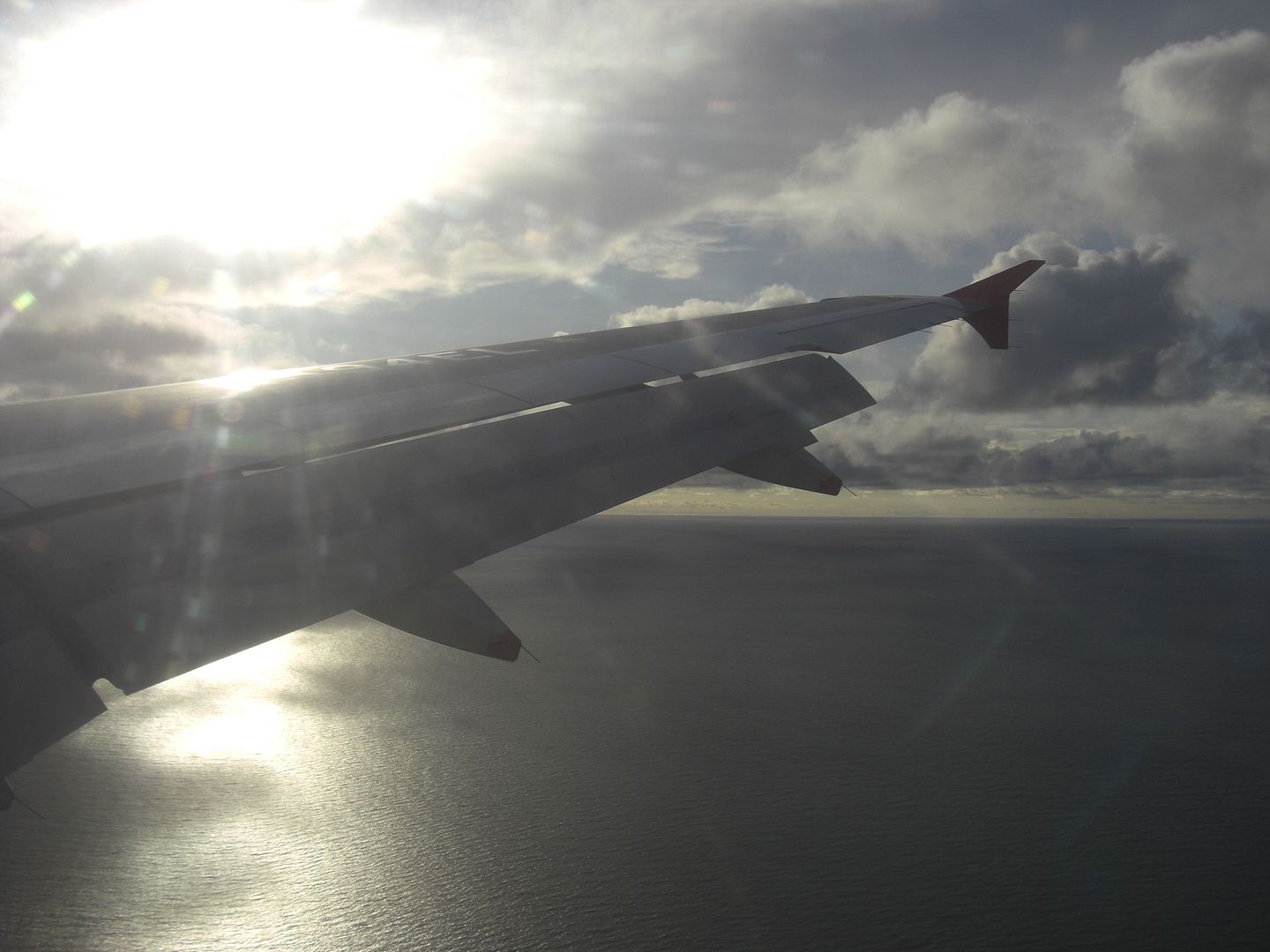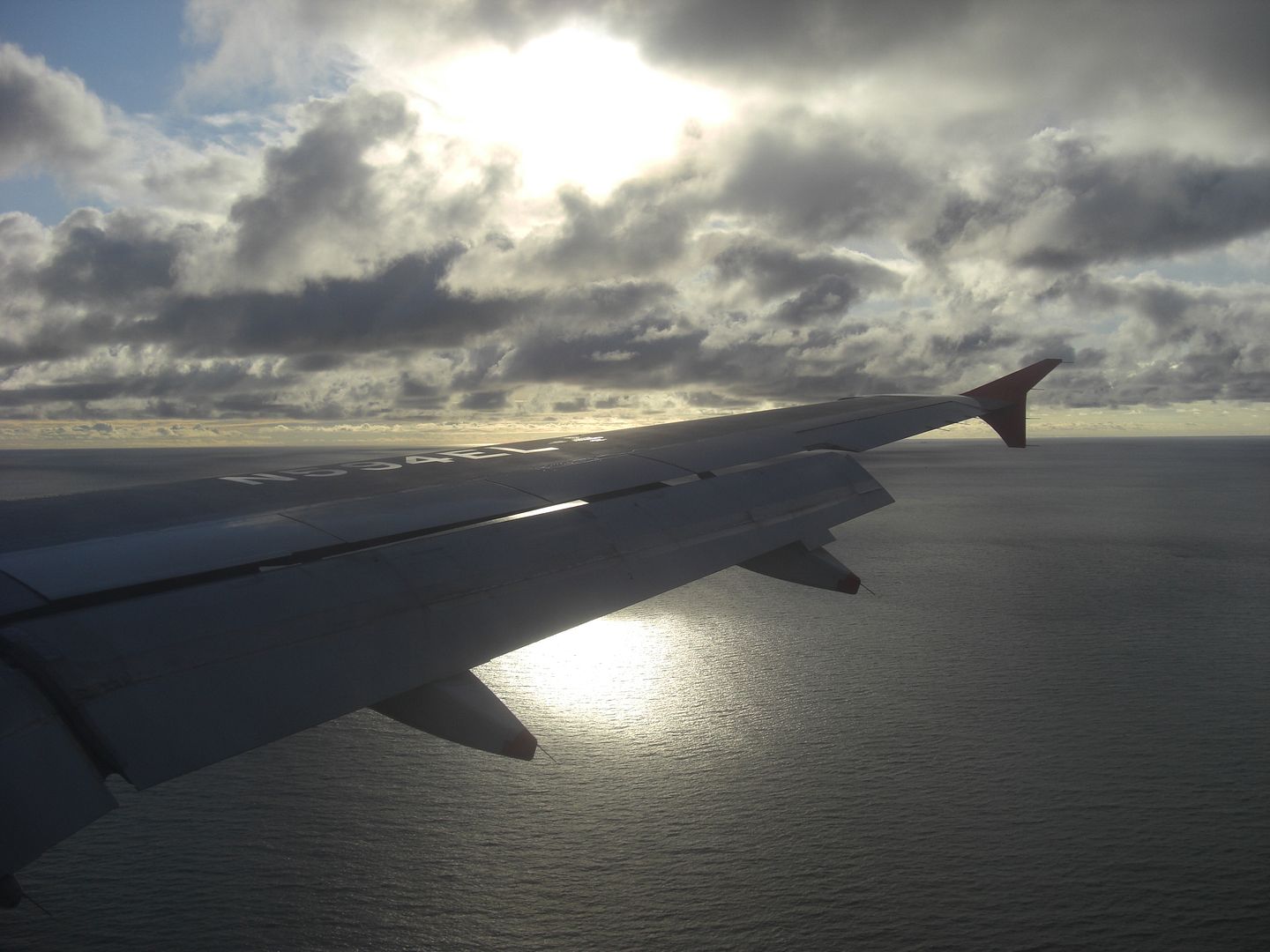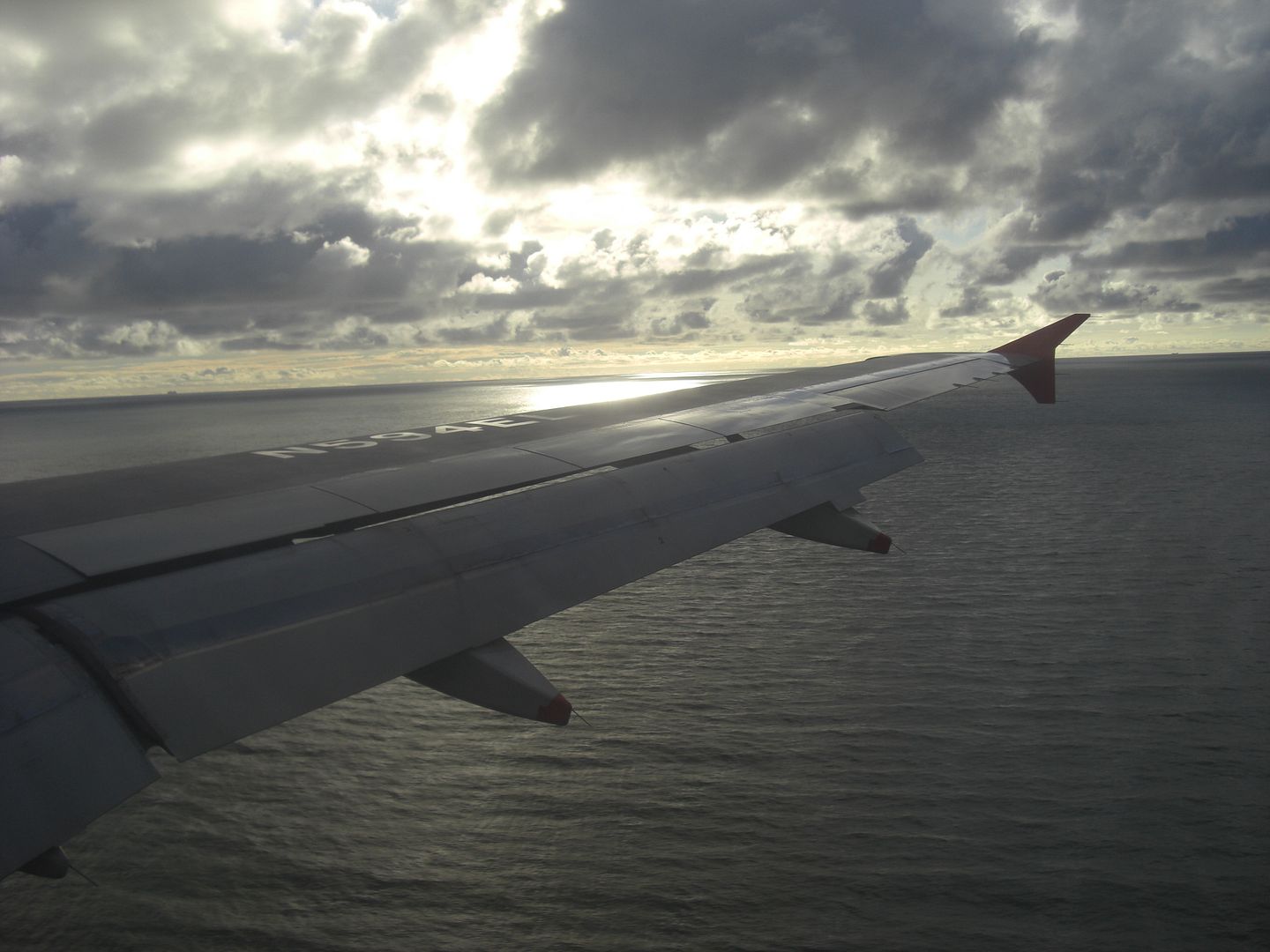 http://my.flightmemory.com/shefgab
Upcoming flights: AMS-RIX-BUD-VDA,ETH-TLV-FCO-LHR,STN-TXL-LCY,LTN-CPH-LTN,LGW-SZG,MUC-LHR