Introduction
This is the third part in my trip report about Colombia covering the return trip to Finland with Lufthansa plus some impressions of Bogota.
For the real introduction and the events leading to this please see the previous parts here:
El Cheapo Longhaul: HEL-ARN-FRA-BOG
(by
FlyingFinn76
Oct 27 2011 in Trip Reports) and
Mullets, Mountains And Medellin: BOG-MDE-BOG
(by
FlyingFinn76
Oct 29 2011 in Trip Reports)
Sunday 23.10.2011
Since the LH flight wouldn't leave until the evening we had almost a full day for sightseeing. The morning started with a
Transmilenio
ride to La Candelabra - the colonial quarter of Bogota. This is a bus stop - the Transmilenio is a cross between a metro and a bus with dirt cheap tickets and rather bumpy rides - the roads here aren't in the best of conditions: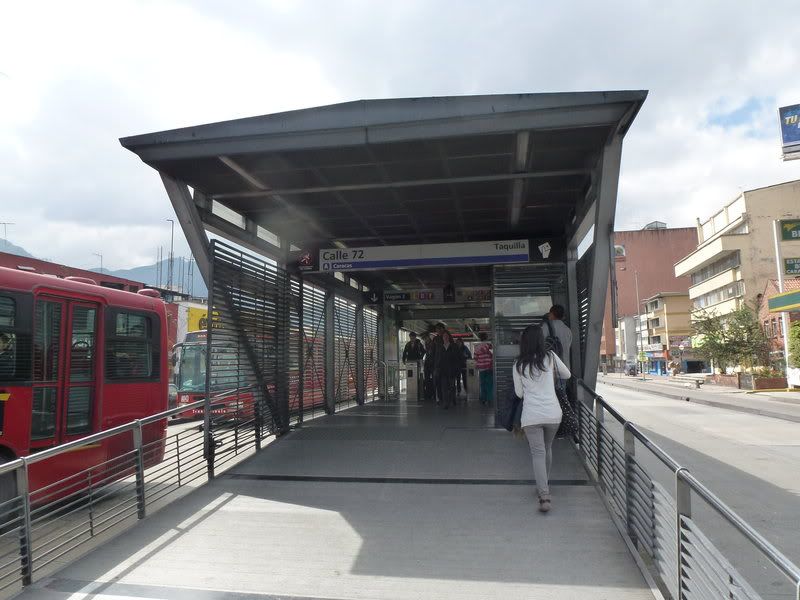 Plaza de Bolivar, this is Capitolio Nacional housing the congress: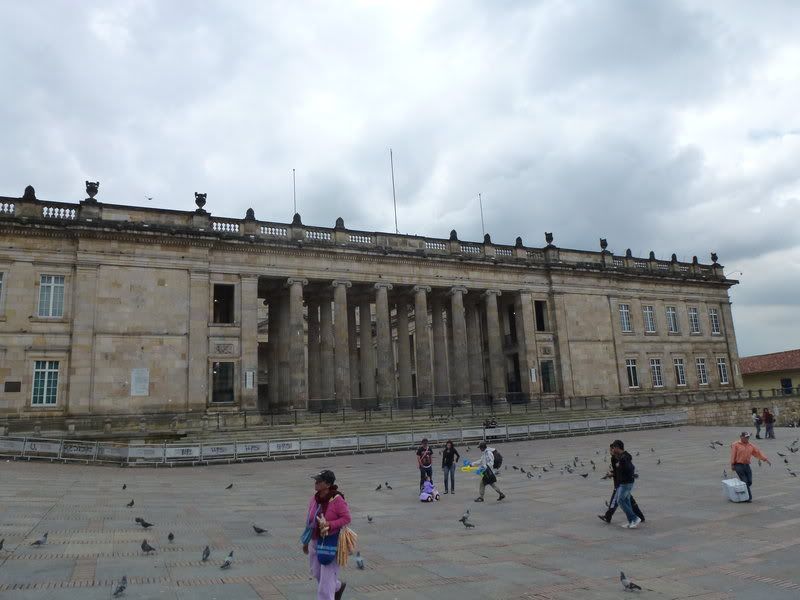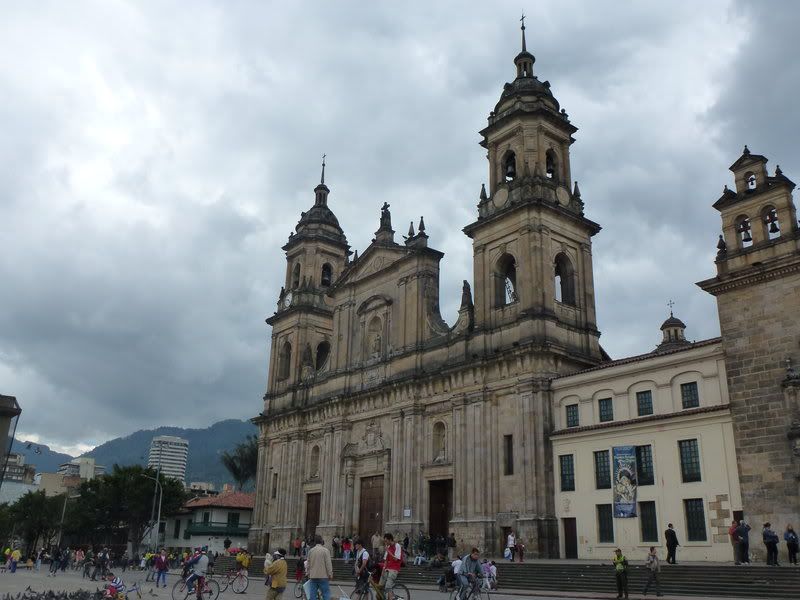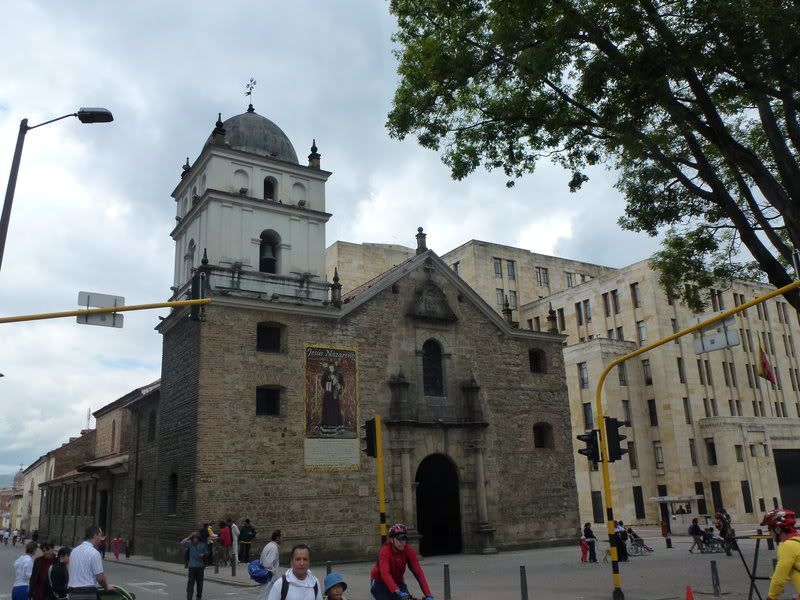 They have this really great idea of blocking many streets for car traffic on Sundays and reserving them for bikes and pedestrians: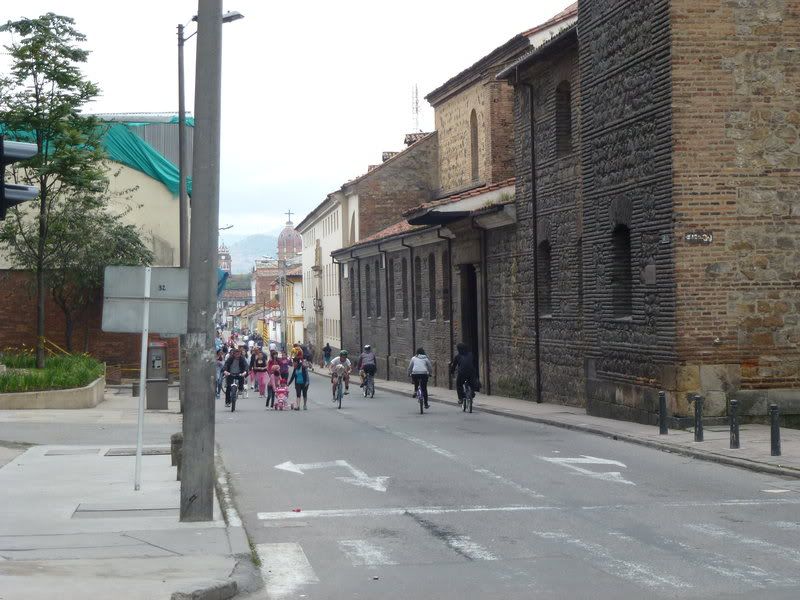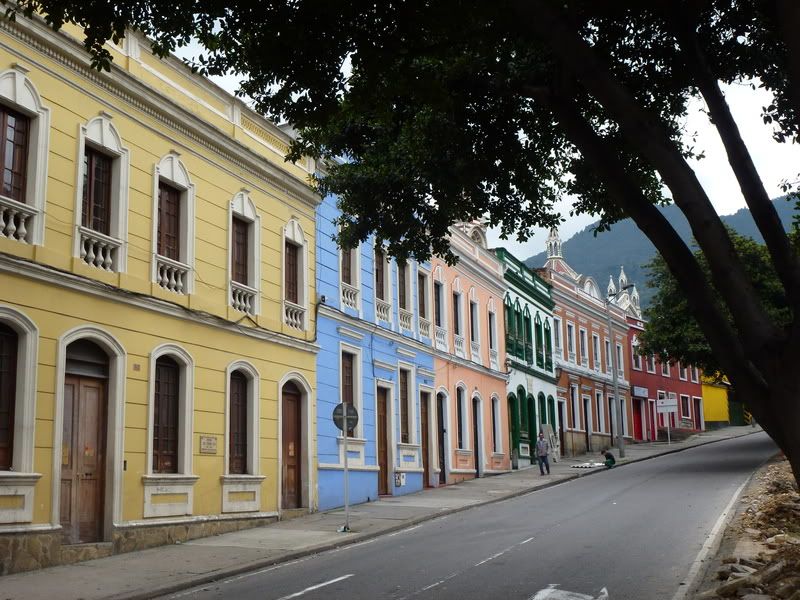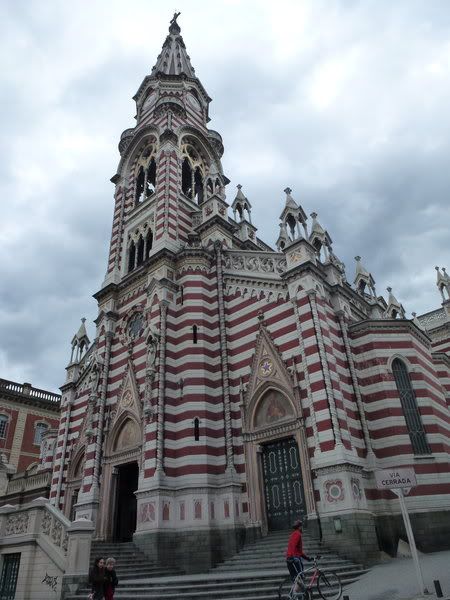 I can just about understand the grid-based address system but why do certain (but not all, not by a long shot) streets also have names: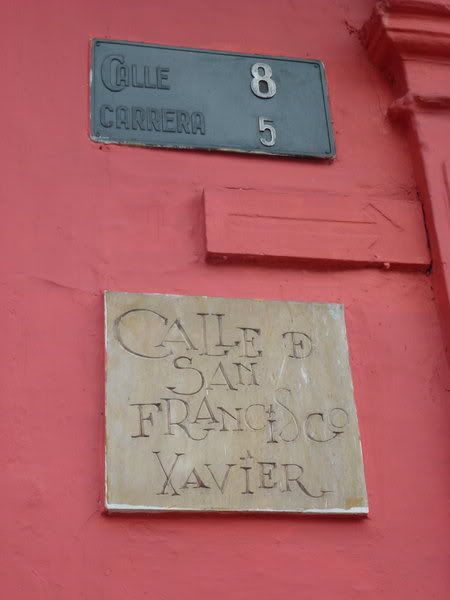 My third ugly library building within a week (the other ones were in Karlstad, Sweden and Oulu, Finland):
Salsa practice: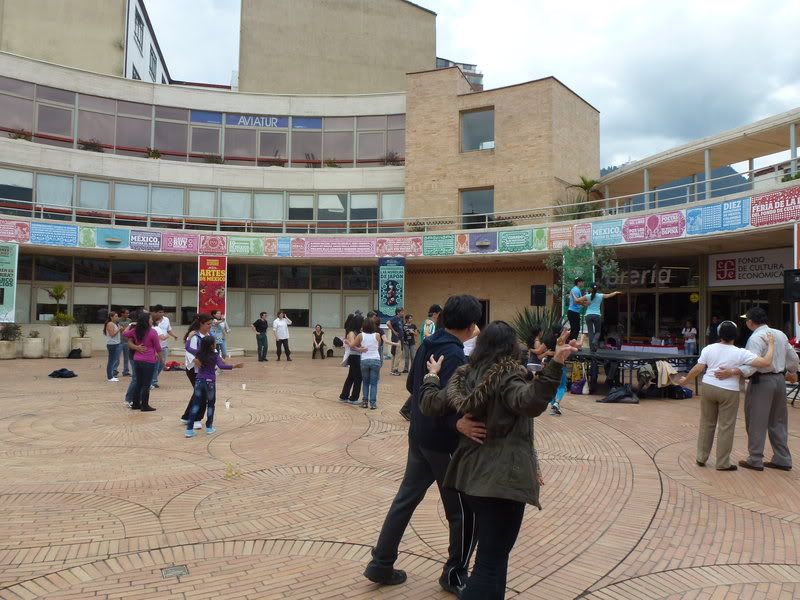 Cable car up to the Monserrate mountain - rather steep:
Sardines in a can: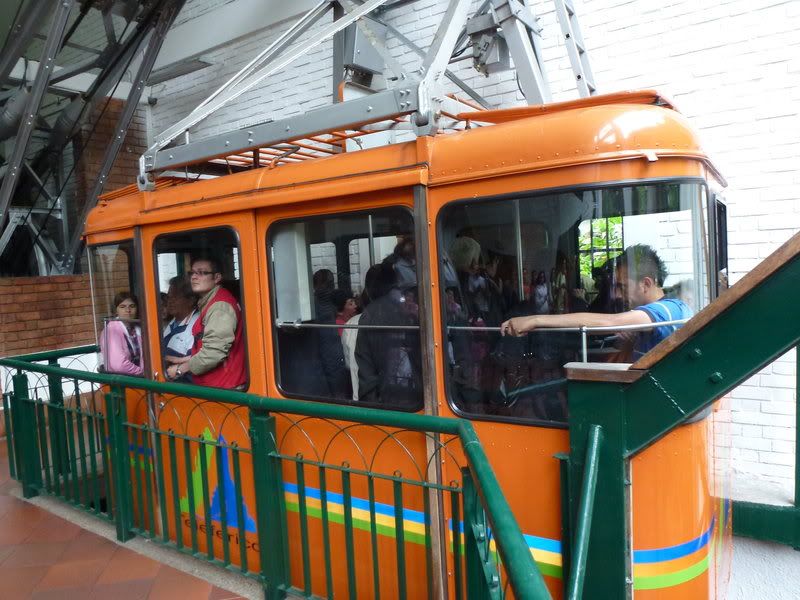 Oh, it's Swiss - then there's nothing to be afraid of: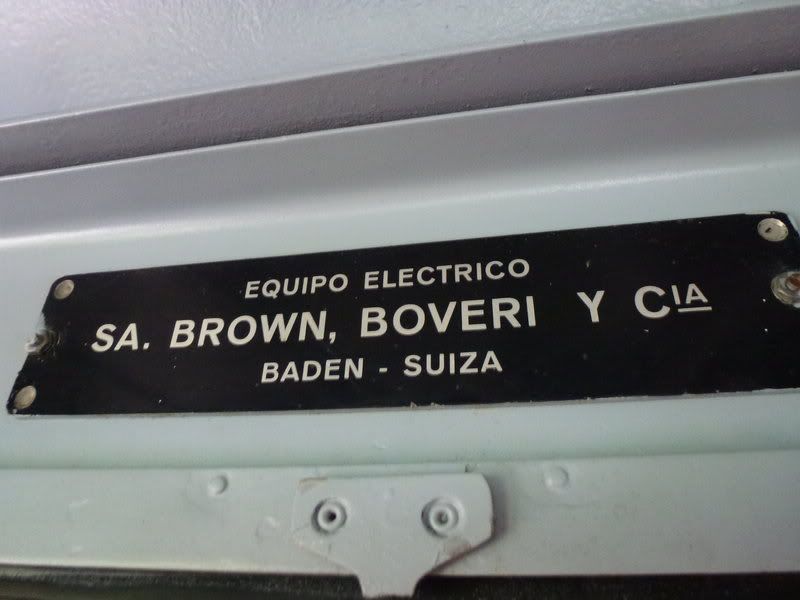 Ascending: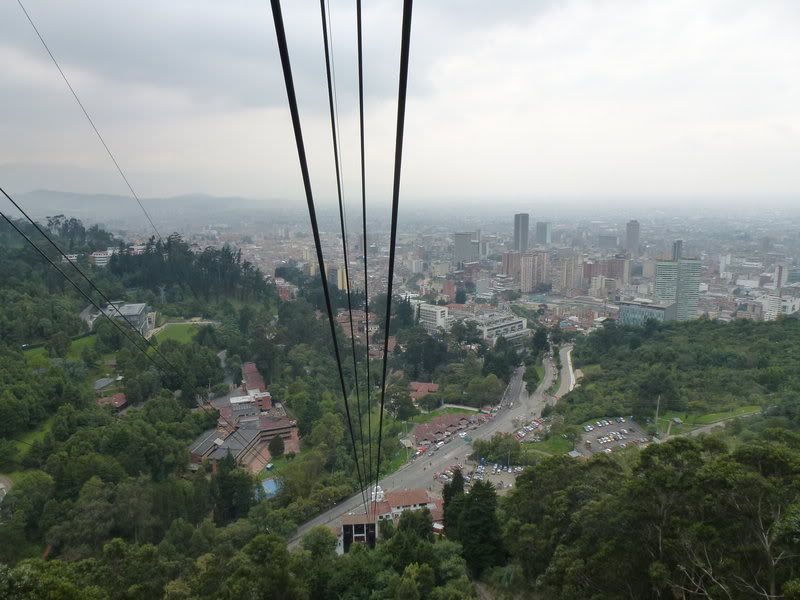 There's also a funicular: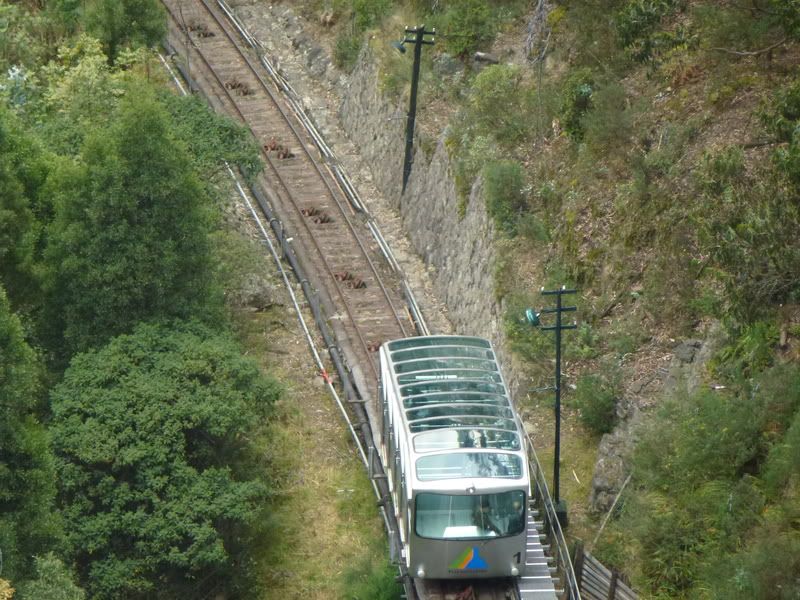 View from the top: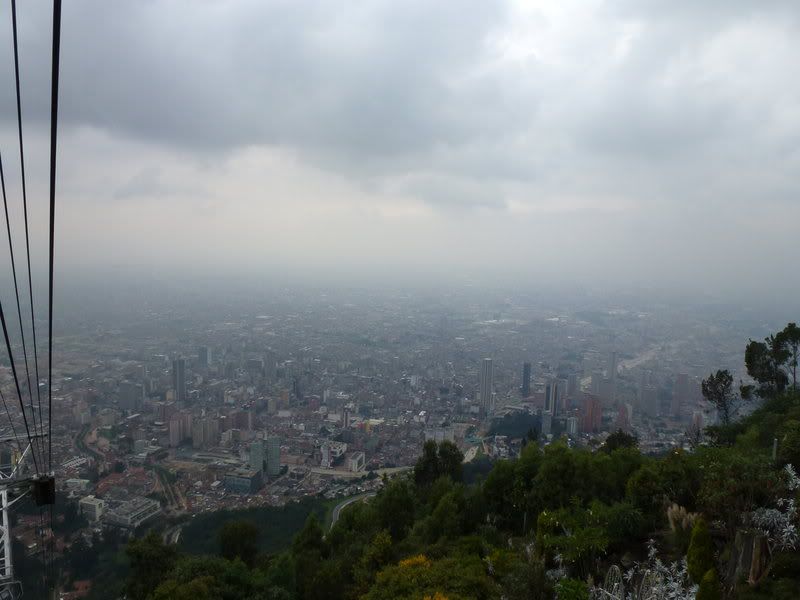 Church on top, what else: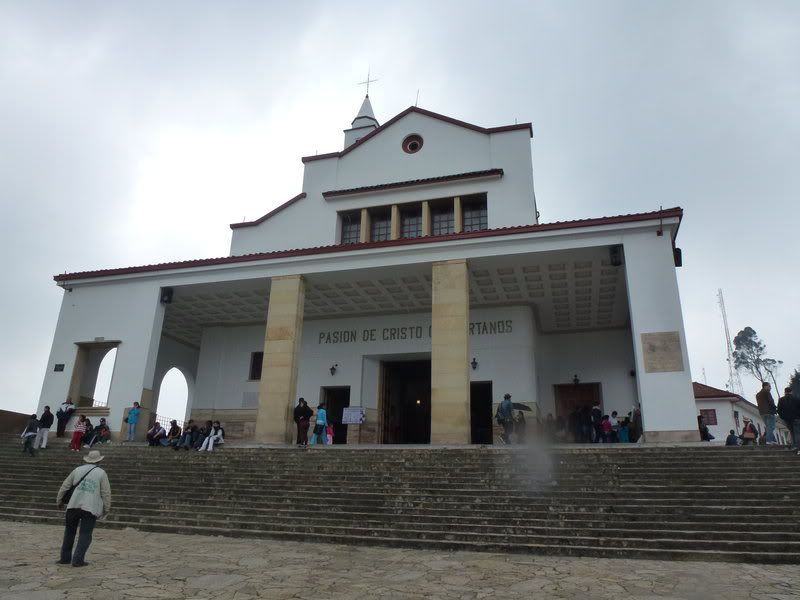 The weather turned nasty during the lunch we had up there. This is the view when appetizers were served: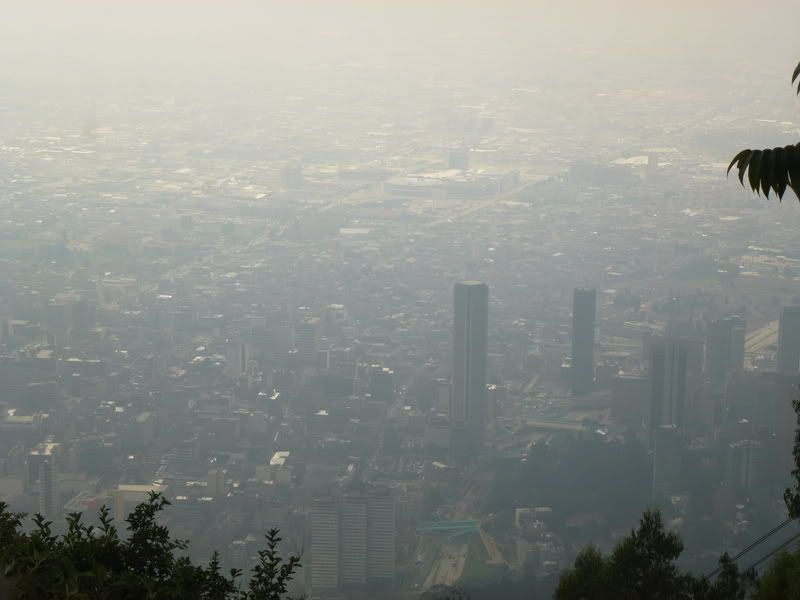 By the time we got into the main course the city had disappeared and there was thunder and lightning nearby: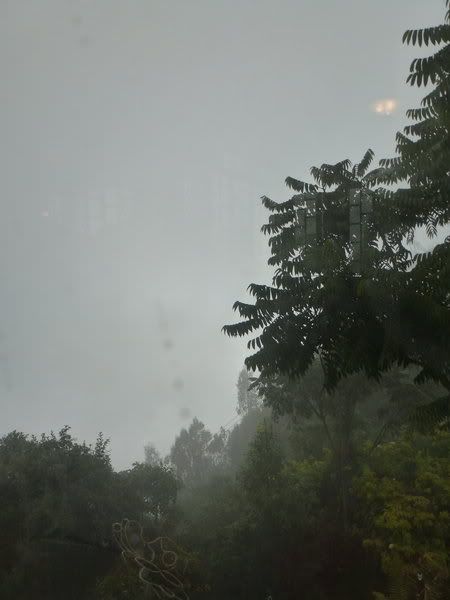 Misty view to a nearby peak: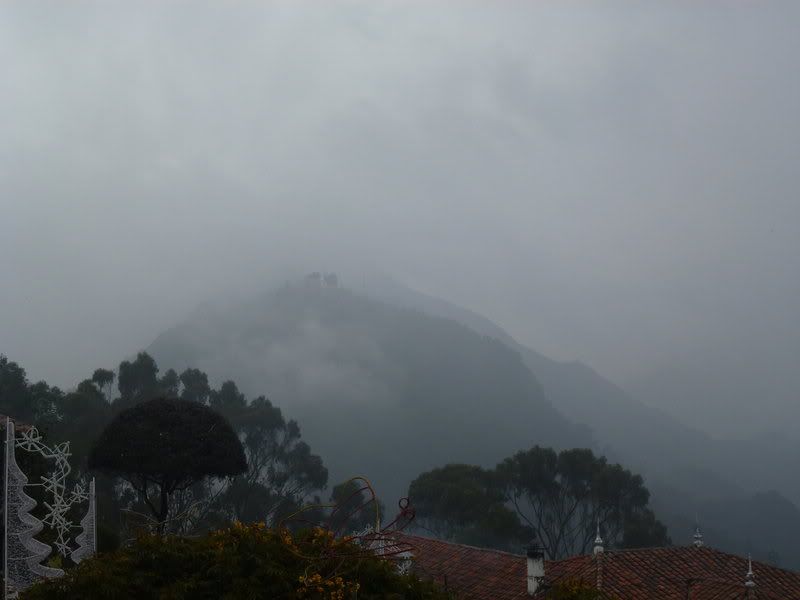 Colombian food is very good: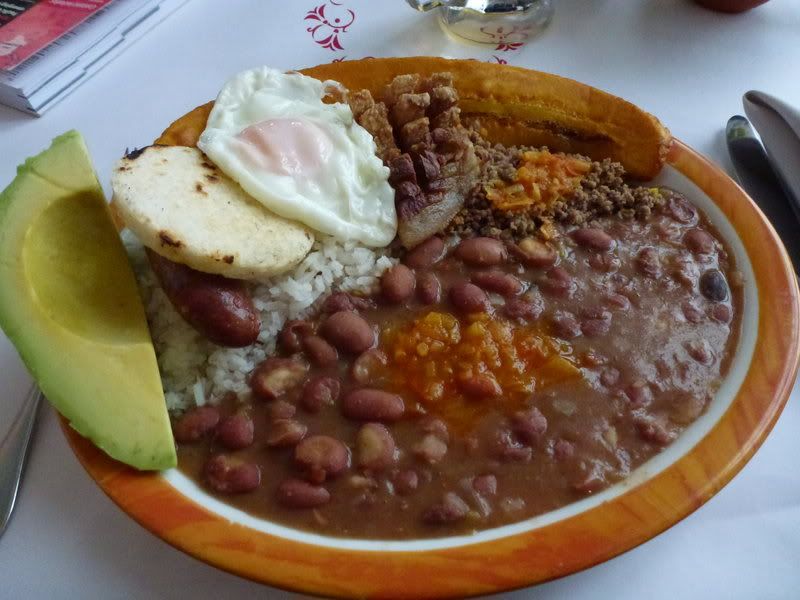 As is of course the coffee - Juan Valdez is their version of Starbucks: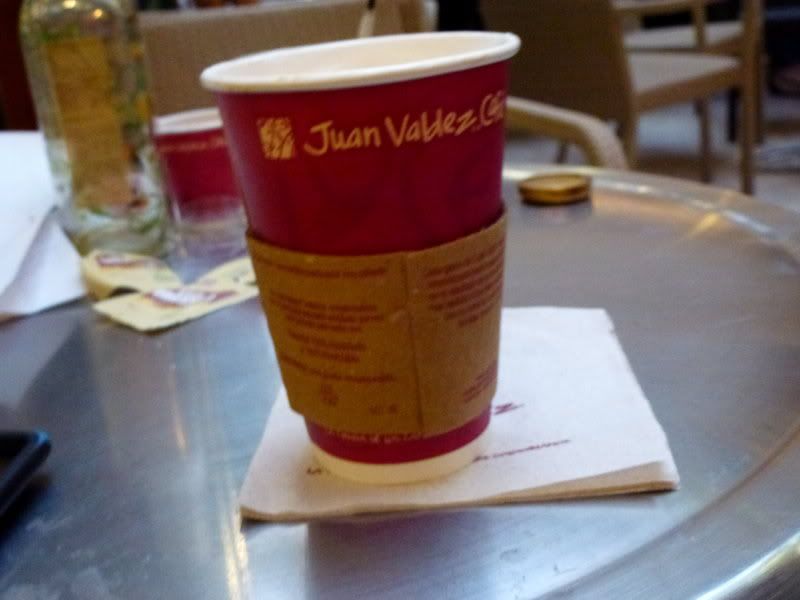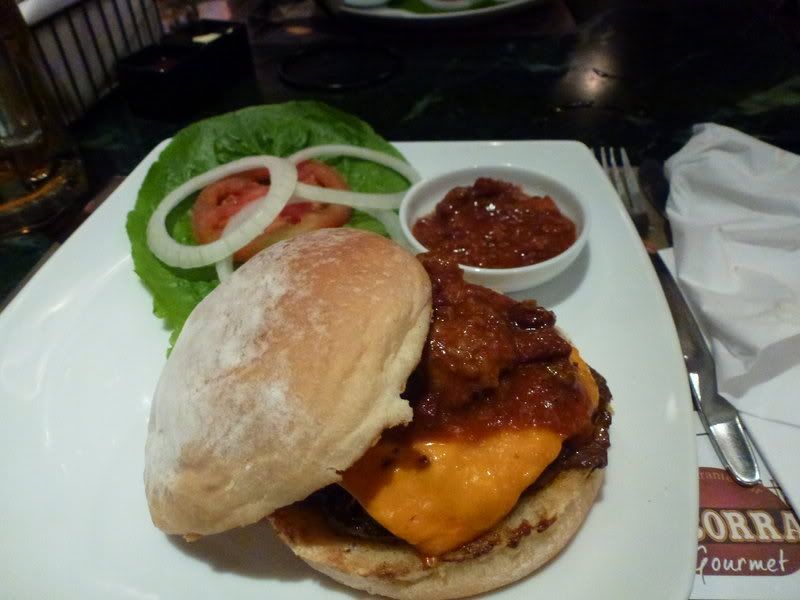 Bogota's Zona Rosa at night: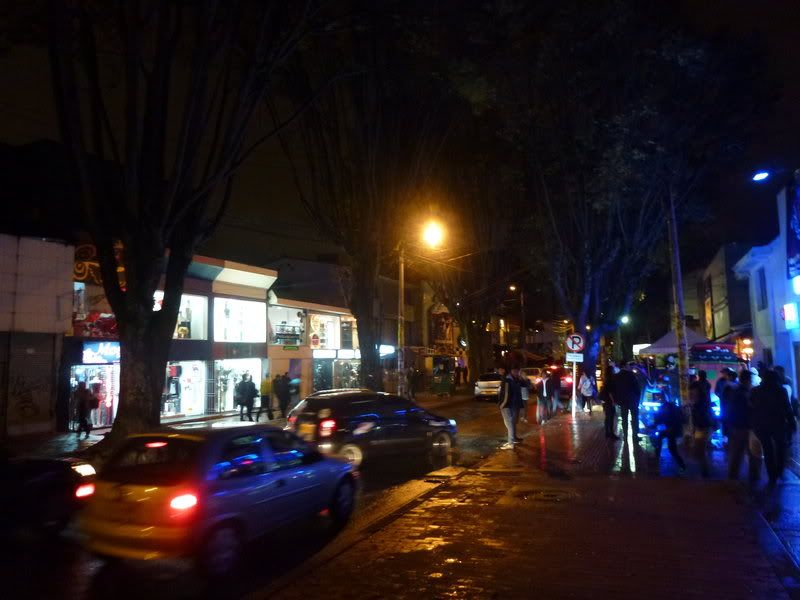 It's Colombia - so you are expecting Shakira aren't you? I'll finish with a picture of her... pants: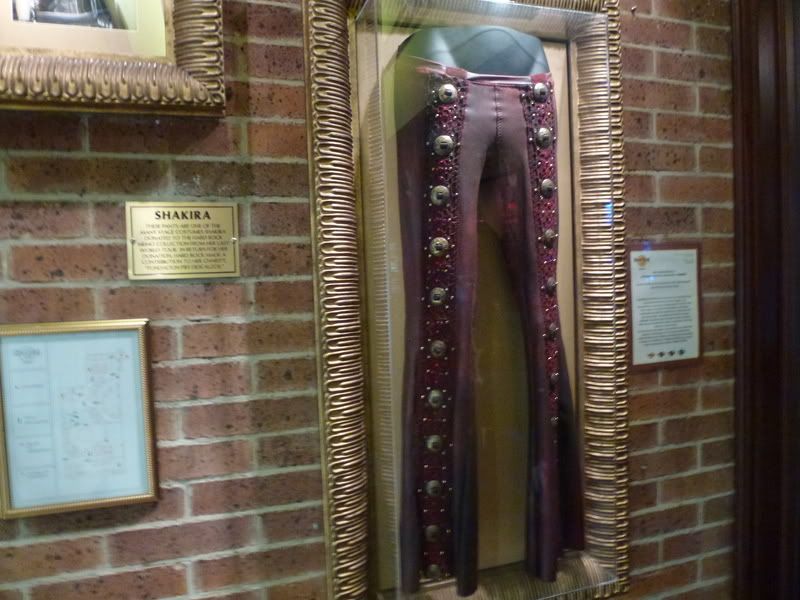 We stayed at the Hotel Fenix Real - not in the best of areas but a very comfortable hotel where half of staff (the girl) were excellent and half not so (the guy). Good value for money - 44 EUR for the night with wifi and breakfast. Gab's rate was even less. My room (Suryo, this room is featured on the hotel website!):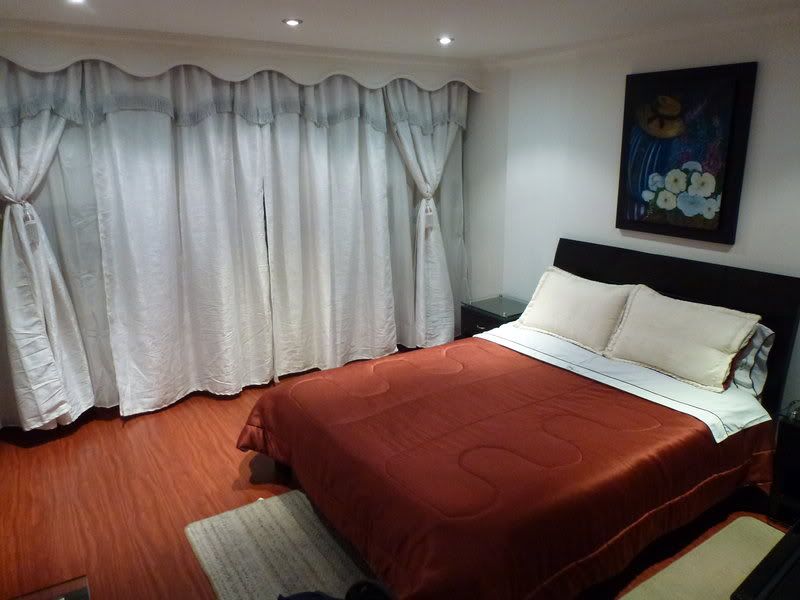 View out of my room window - Sunday morning was sunny and nice but things went rapidly downhill from there: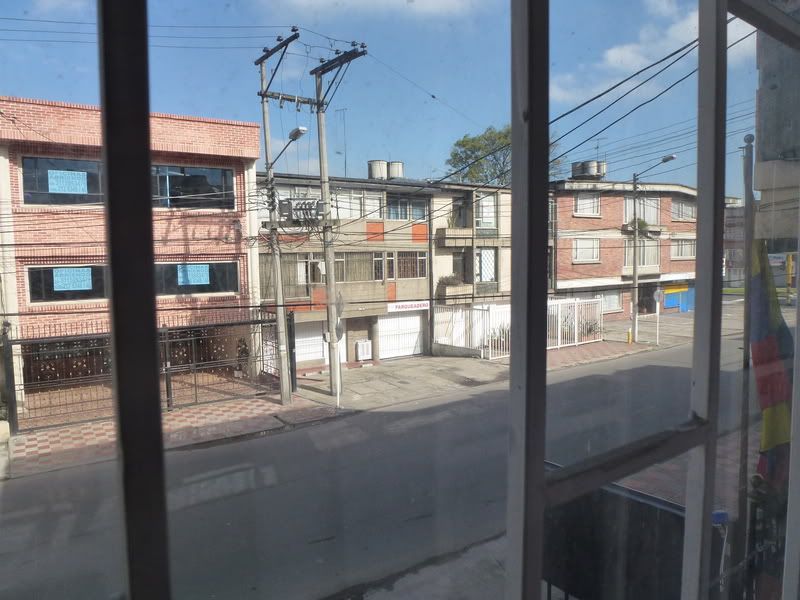 The neighborhood around the hotel: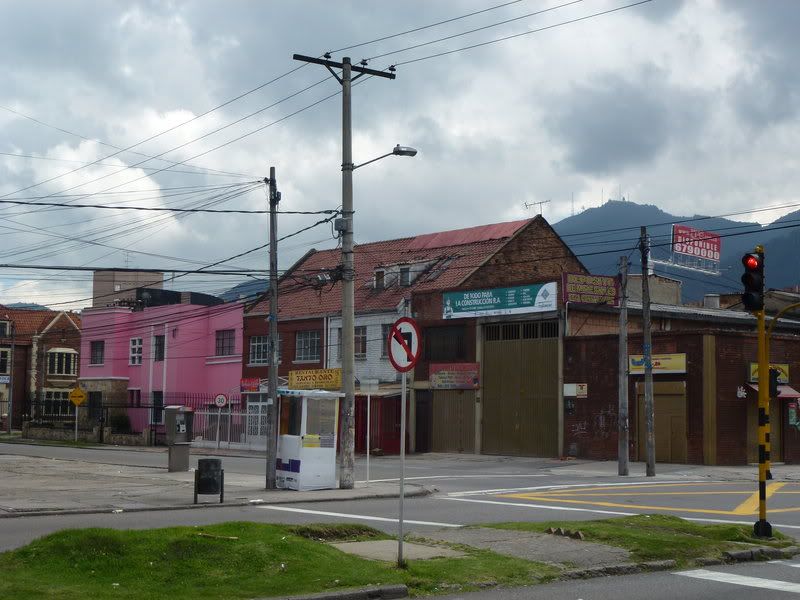 After a day of sightseeing we grab a taxi to the airport more than three hours before departure. The LH counters are already open and there are lots of them - four or five at least. Gab goes off in an effort to find a ticket office to inquire about a paid upgrade - I try to go to check in but am stopped by a friendly girl who asks me how long I have been in Colombia and then directs me to an office to get a departure tax excemption stamp in my passport - apparently short enough stays qualify for this - quite nice as the departure tax is tens of dollars. Having done that I'm allowed to proceed and go to the First/Star Gold desk, where another very nice girl confirms that I'm going to Helsinki, takes my rollaboard (it is perfectly fine as a carryon, but I decided to save myself some hassle and check it in), tags it with red Priority tags and hands me three boarding passes with the seats I picked from OLCI. Very friendly and efficient, just the way I want it to be!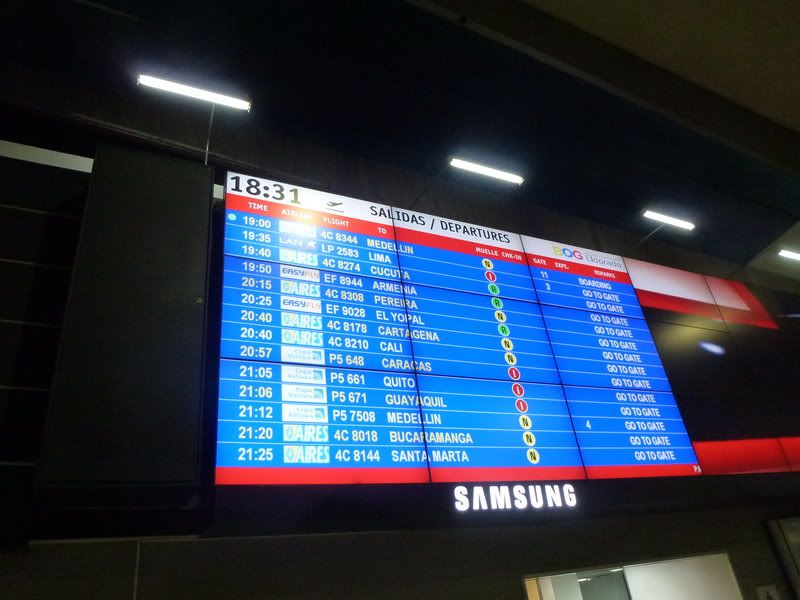 International check in hall: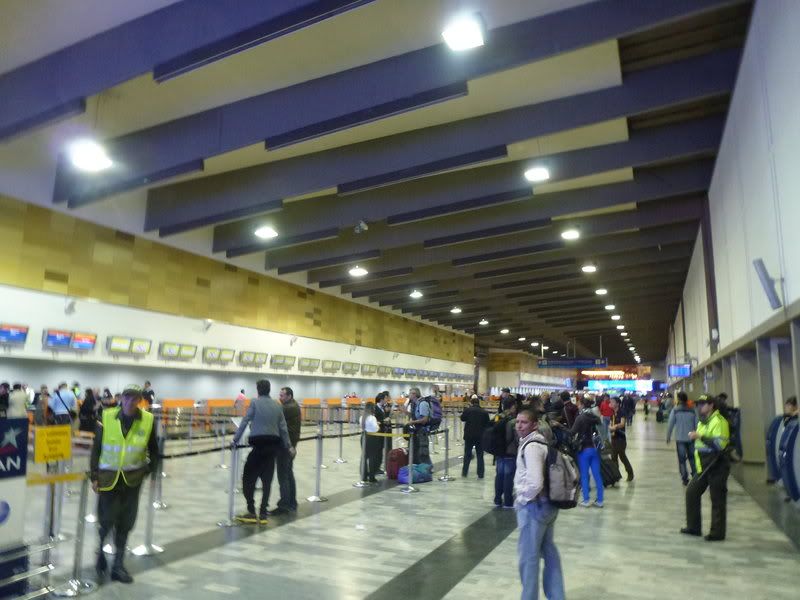 Gab comes back having not found a ticket office anywhere and proceeds to check in, where he is duly informed that our fare class is far too low (if only they knew...) for any paid upgrade, so roughing it in economy it will be! Next we head upstairs to a rather nice and modern looking shopping area (see, when there's money to be made off the pax they are willing to spend money on nice facilities!), decide that there's not much there and head through passport and security control to airside - another shopping mall but much direr and nastier than the one before security. I guess they don't need to put money on presentation and attracting customers as they are already captive!
More Aires over at the domestic pier: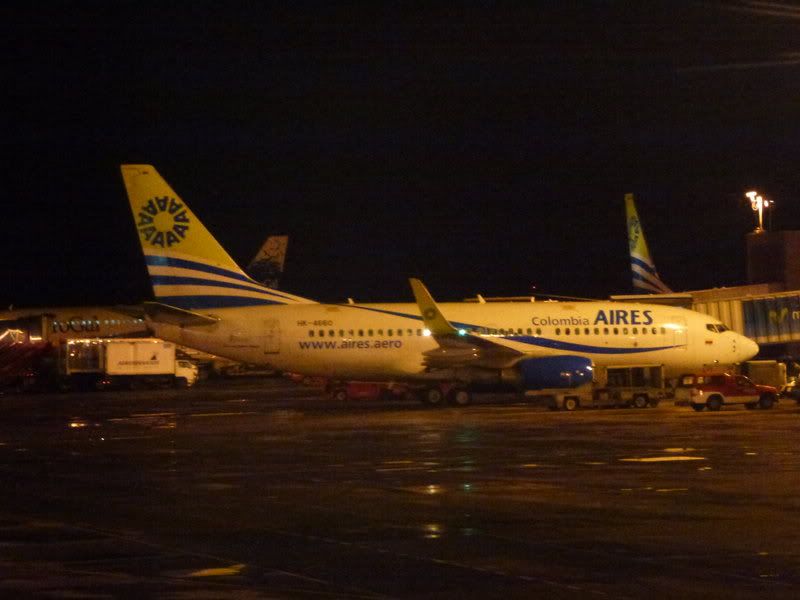 A quick bout of shopping at the duty free store where they inform us that no, they don't have those clear plastic bag for packaging booze so I kiss (mentally) those $8 bottles of Rum good bye as there's no way to get them through security at FRA.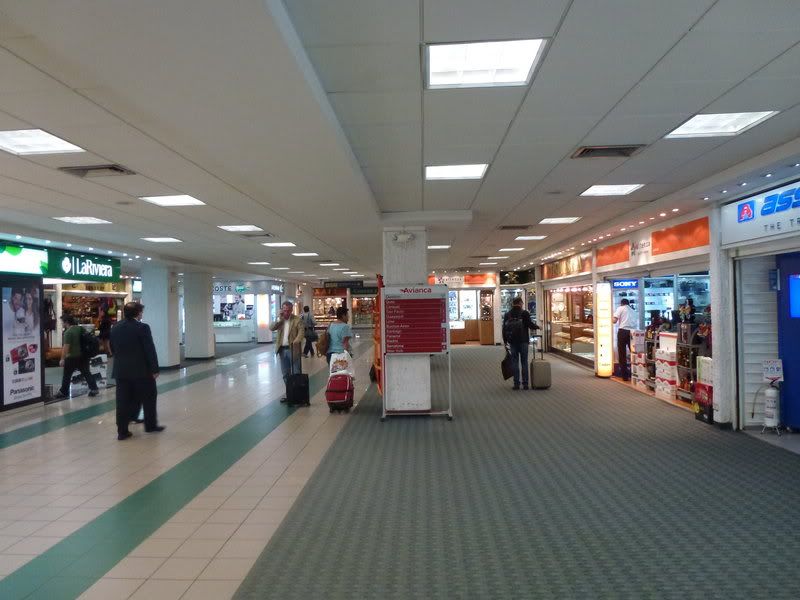 The low ceiling gives a claustrophobic feeling to the international pier - not helped by it being quite packed: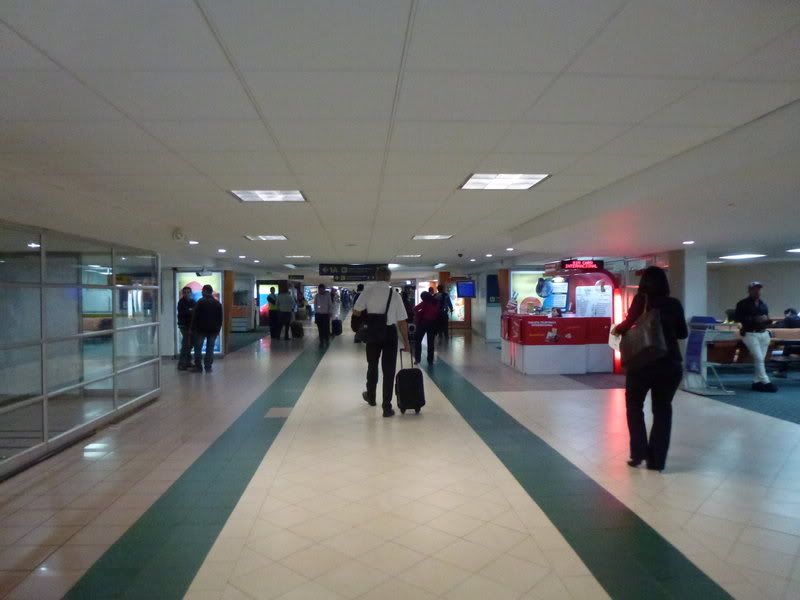 I told you they are big at Colombian airports: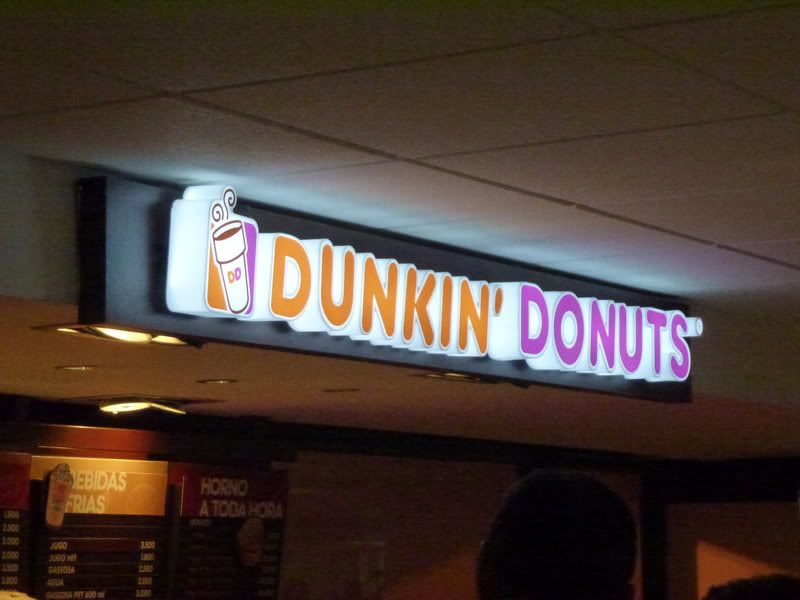 Next we head off in search for the lounge - there should be a Diners Club -accessible lounge somewhere here, but the directions at the website were a bit vague. Finally after searching around we ask at the Avianca Lounge and lo and behold - it actually turns out to be the one! I try to pay the guest fee for Gab (which has to be paid with DC) but their credit card terminal refuses to work, so in the end he gets in for free.
Well, not sure if that was a blessing or a curse as the lounge is horribly packed. Otherwise it would be an ok facility with some tasty small sandwiches prepared by a catering crew and decent drink offerings and some stylish furniture, but it is just so packed. It is already almost standing room only, luckily we get a pair of seats as one of the Finns, J. on the outbound flight who I know is flying back on the same flight sees me and invites us to his table for some chat and war stories about Colombia, what else.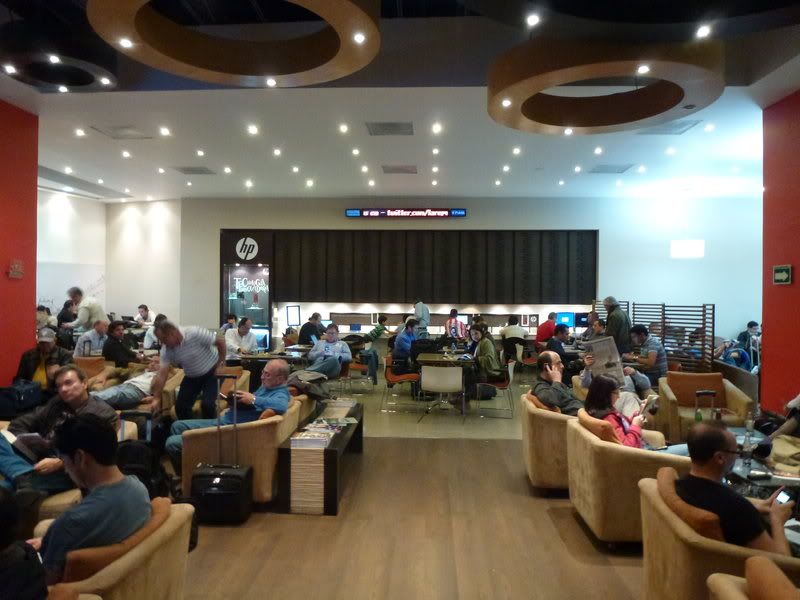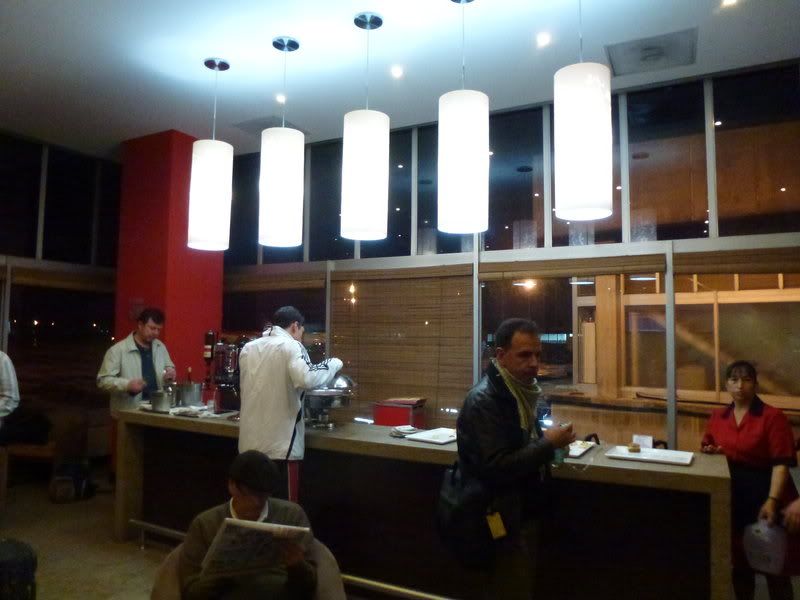 More people keep pouring in and people are standing everywhere and even sitting on the floor - not very premium loungish! I hope the new terminal will feature a much larger lounge for AV!
View from the lounge window: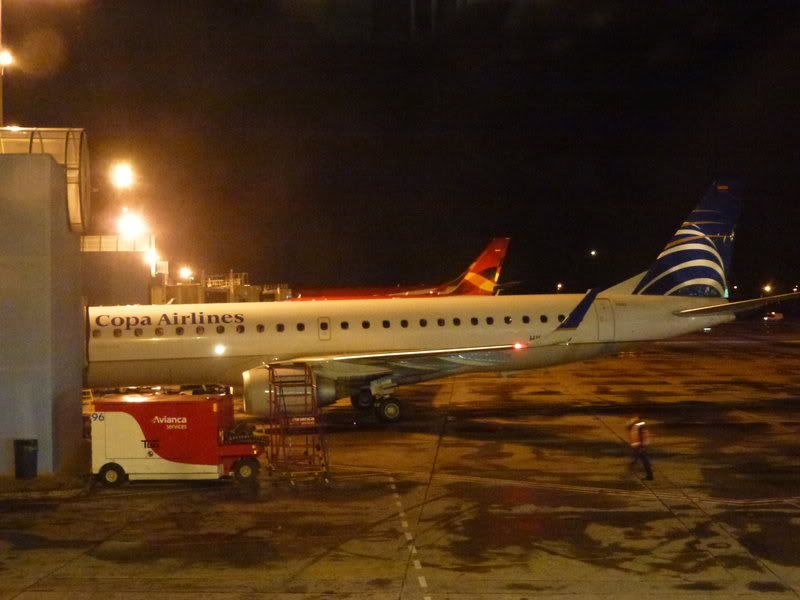 In the lounge I also finally manage to break my passport - the photo page comes off. It's been on the verge for a long time (ever since it went through the washing machine....) but now it finally happened. Oh well, lucky me that it wasn't until now as I can always enter Europe with my ID card just fine!
J. has a Priority Pass so he leaves to check out the Admirals Club - I think it tells a lot about a lounge when people prefer even an AC to it! Gab decides to go exploring as well and we agree to meet at the gate. I rough it out a little bit longer, but more and more people keep coming in and finally I decide to bail out as well.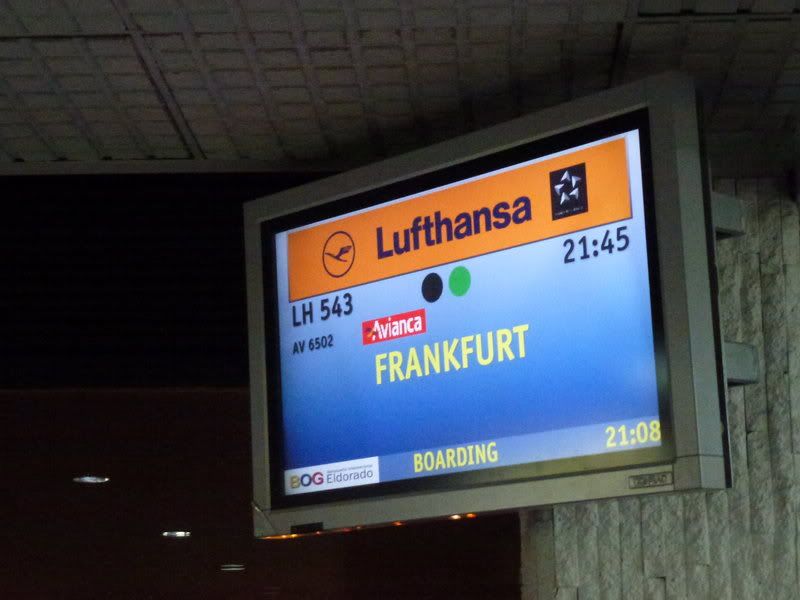 My timing was good as the are already taking people in to the gate area - there's no plane to be seen so it looks like it'll be a bus boarding. They check passports again when entering the gate, my broken one doesn't even cause an eyebrow to be lifted. There's another X-ray for luggage, not sure what they are looking for as some people get their bags searched and some, including me are just told to bugger off.
Boarding is soon called, they make a call about First, Business and status pax to board first but nobody seems to care, not the passengers and certainly not the gate staff! The stampede moves through a door to a walkway down to a lower level where there are lots of luggage - I guess checked luggage that looked suspicious at X-ray is here and people are asked to open them for the officials. Luckily mine nor Gab's is nowhere to be seen.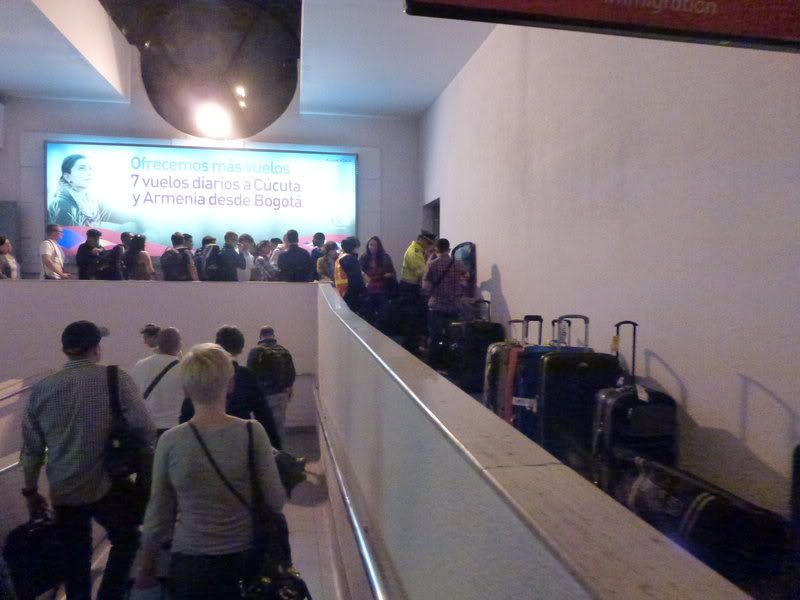 Last view of Colombian beer: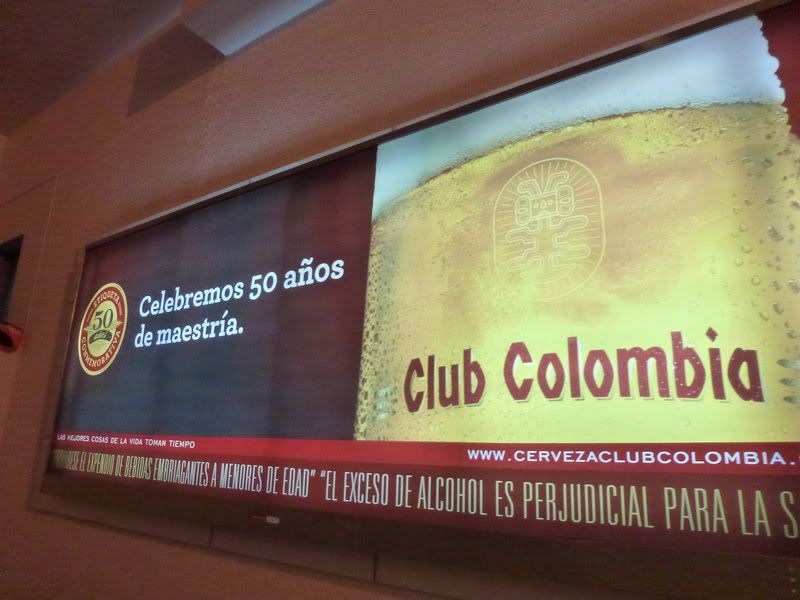 Wow, I've never been this close to a JetBlue bird: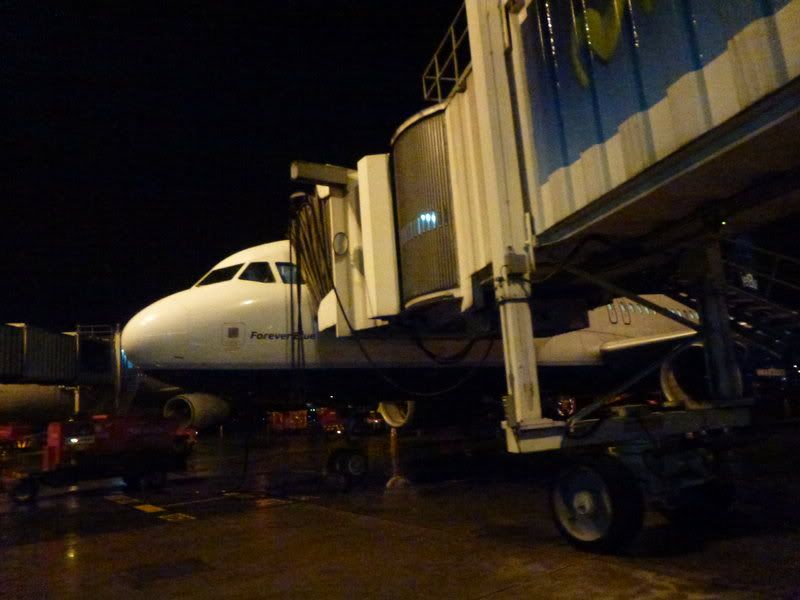 Looks like bus boardings aren't that commonplace here as the whole process is a bit disorganized, but finally the packed bus leaves and after a short ride stops in front of our chariot of the skies.
D-AIHT, the expected A346 and a different one from the outbound.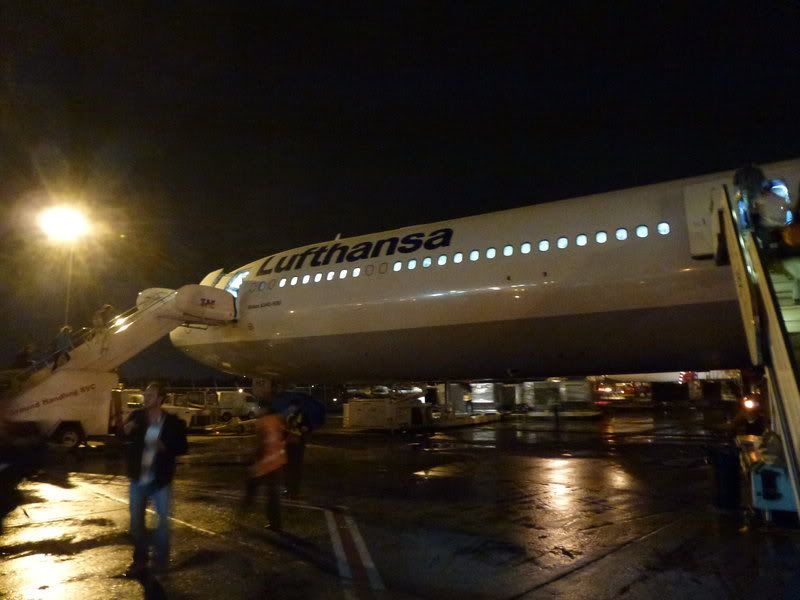 These engines are a far cry from the hairdryers installed on the -200 and -300 series: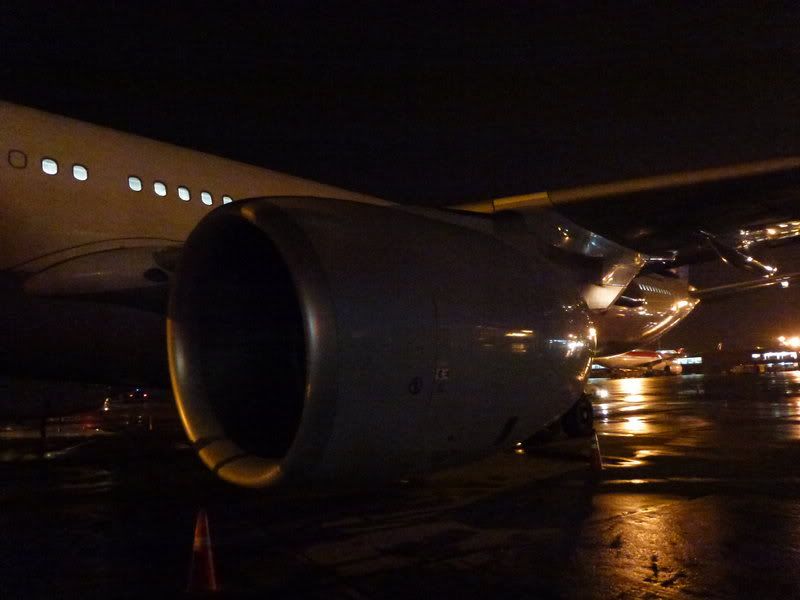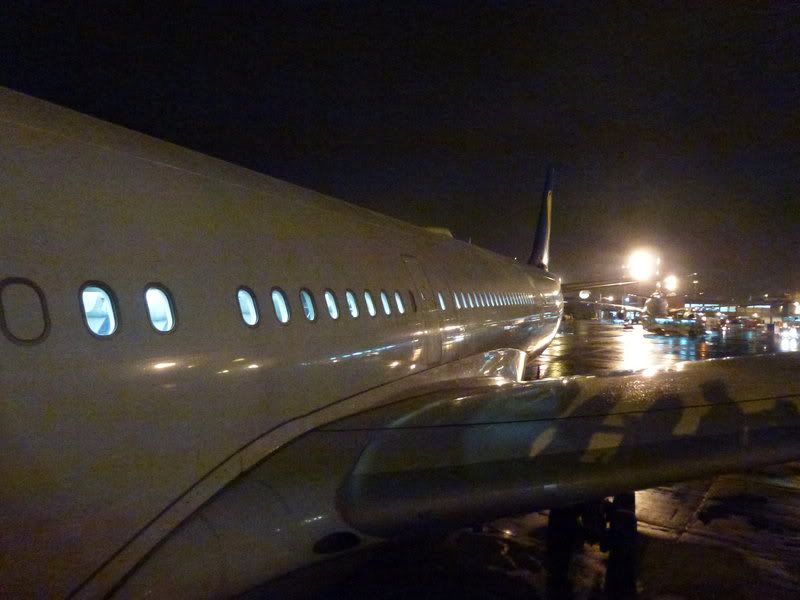 It looks like this bird has not been christened yet - she has no name.
BOG - FRA
LH543
A340-600 D-AIHT
Seat 26E
21.46 - 14.24 (+1)
I picked seat 28A from OLCI as it was showing the whole row as empty still that morning. Well, by the time I get there there's already a Colombian guy sitting on the aisle seat - so much for an empty seat next to me! When he gets up he actually asks if I mind switching places with his girlfriend - who just happens to be in the middle bulkhead seat 26E. Now I think I might've had a few Aguilas too many in the lounge or maybe I was feeling particularly chivalrous (or had an exceptional skill for clairvoyance!) but for some reason I agreed to do this. Yeah, I absolutely hate middle seats, but then again it is a night flight with no view for most of it, I was planning on sleeping as much as possible and the bulkhead row has great legroom so maybe it wasn't such a bad deal after all. The bulkhead middle block has only three seats versus the normal four so that's a nice bonus as well.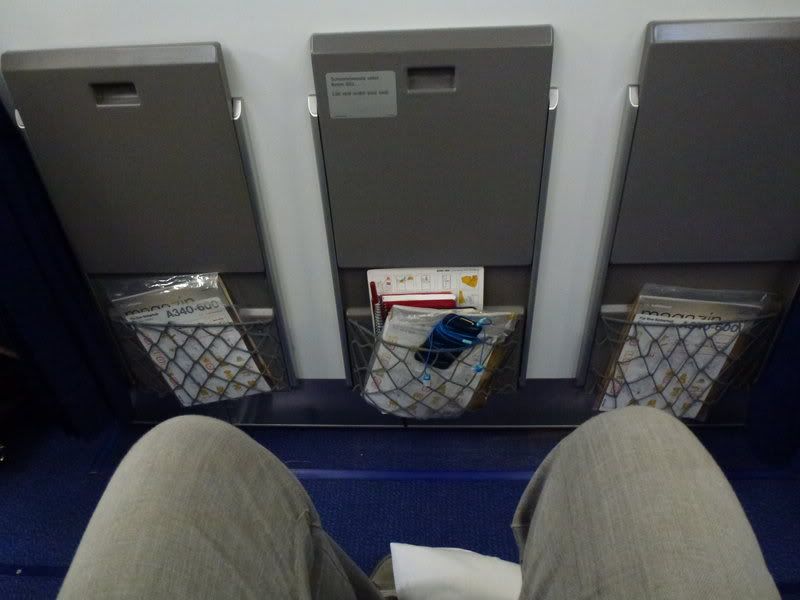 Notice the LH postcards around the screen in front of us (only used for the safety demo) - a bunch of those ended up in my bag: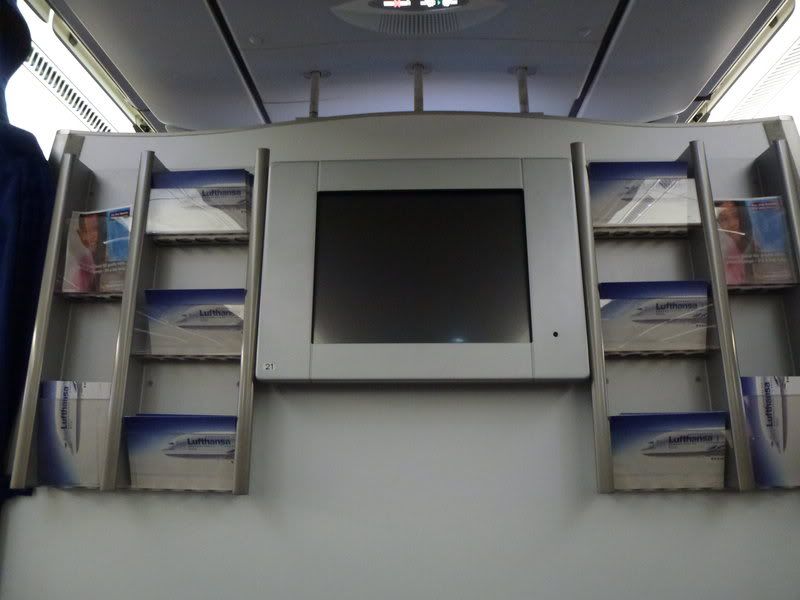 The flight is not completely full, there are some empty seats here and there - but I do get a seatmate on the both sides - a Chinese girl and a Colombian guy who turns out to be on his way to Walldorf (so it's not too hard to guess who he works for!). Both rather pleasant types as they prefer to sleep at the same time as me, so that's a bonus!
This bird has the T-Mobile hotspot logo, but according to Gab there was no signal so I guess the system was not turned on: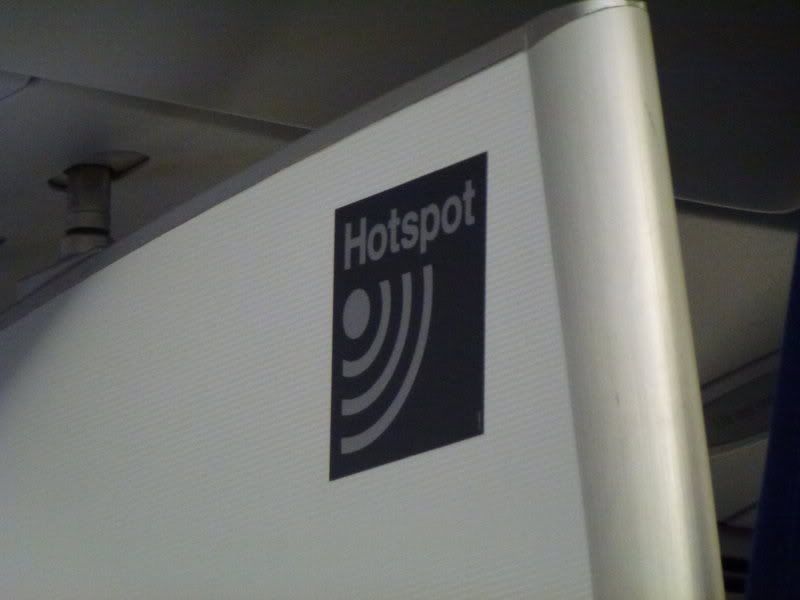 The crew is not as multilingual as on the flight out, I think announcements are mostly done only in English and im Deutsch, although there are some FAs who speaks Spanish onboard.
Push back is pretty much on time but it feels like they are pushing us back to Avenue Jimenez or thereabouts as the tug just keeps going for a good ten minutes - weird! Finally the engines are started with a very satisfying roar, we commence a slow taxi to runway 13L and finally take off. I expected a very long take off run due to our weight and the high altitude, but as it hasn't been a very warm day it is quite a normal one.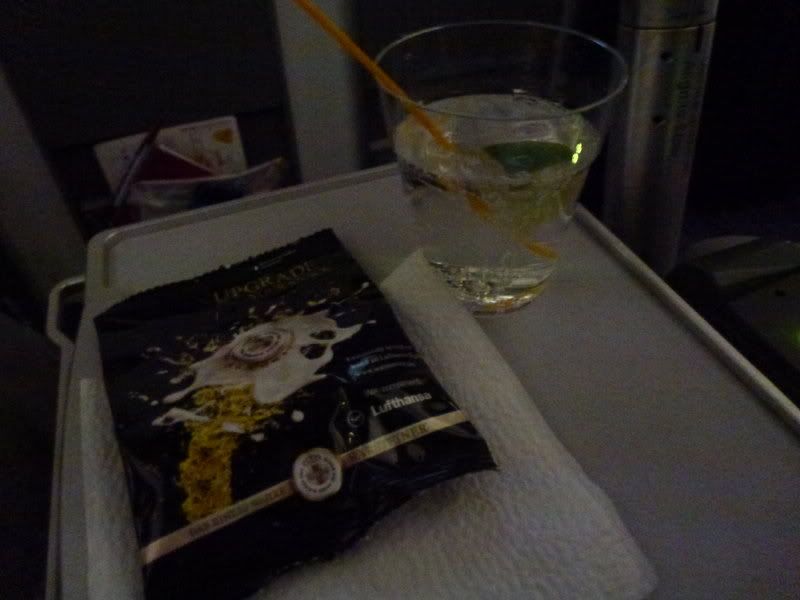 As is customary, service starts with a round of drinks. This time the pour on the Gin is much less generous than on the outbound flight. After the drinks round I actually fall to a light sleep, and am woken up by the meal service - a good one and half hours after take off, too late if you ask me!
The choices are pasta or beef - I decide to try the beef which turns out to be a disappointment (OK, Gabriel claimed that he liked it so maybe it is just me):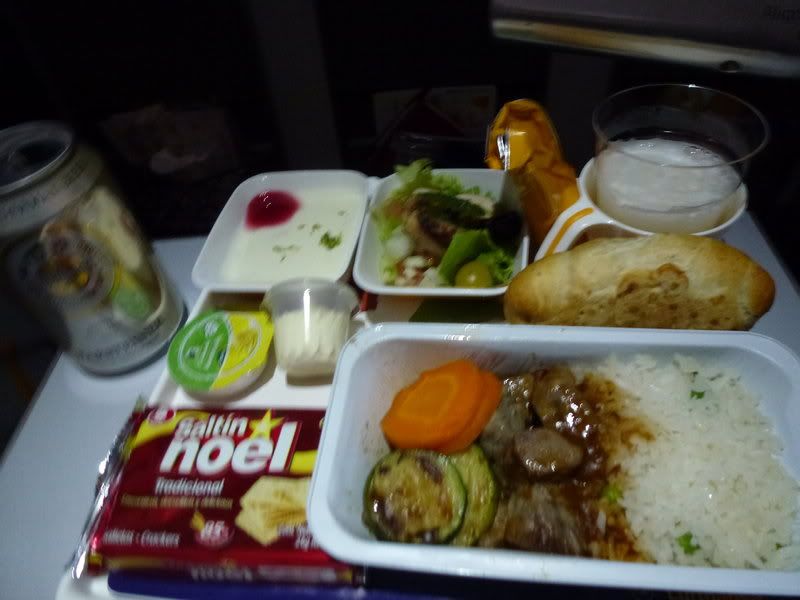 The beef pieces are not very good, some cheap cuts, very chewy and not tender at all and the sauce tastes quite weird. The vegetables and starter salad are okay, but the best part is the dessert - some sort of lemony curd thing which is very sweet and nice (then again Gabriel thought it was the worst part of the meal...).
The PTV on these bulkhead screens folds away from under the seat - mine seemed to have a loose wire somewhere as the screen kept having annoying interference: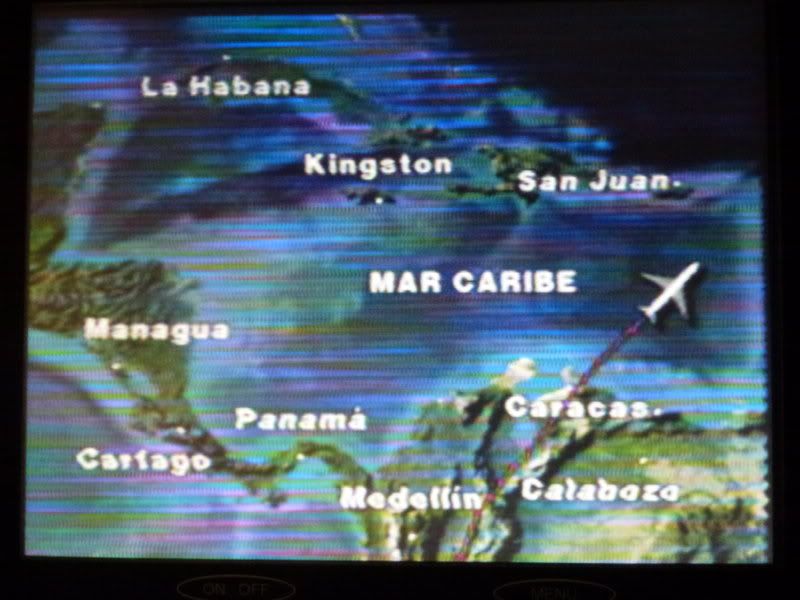 After eating around half of the portion it is sleeping time again - and I manage to do quite well. I keep waking up every now and then needing to adjust my position, but apart from that I get over five hours of sleep before waking up for a toilet and water run. While waiting for a vacant toilet I notice that they actually have ashtrays down there: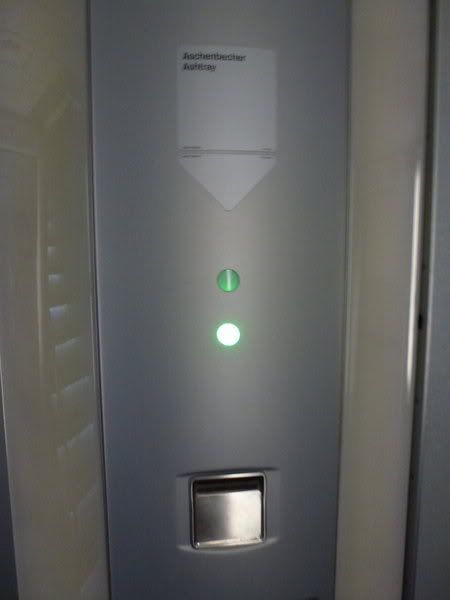 I ask a passing FA about it and she explains that even though smoking onboard has been forbidden for quite a few years now it is still better to have ashtrays than have pax sneaking for a cigarette downstairs dumping them into the bin... I guess that makes sense.
Most of the pax are still asleep. The glow of the PTVs giving the cabin an eerie feeling: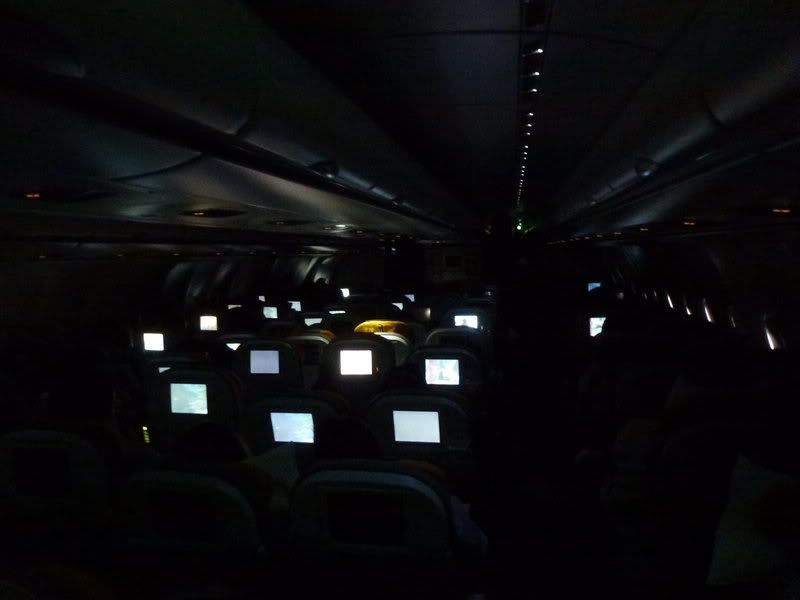 My seatmate is up and working: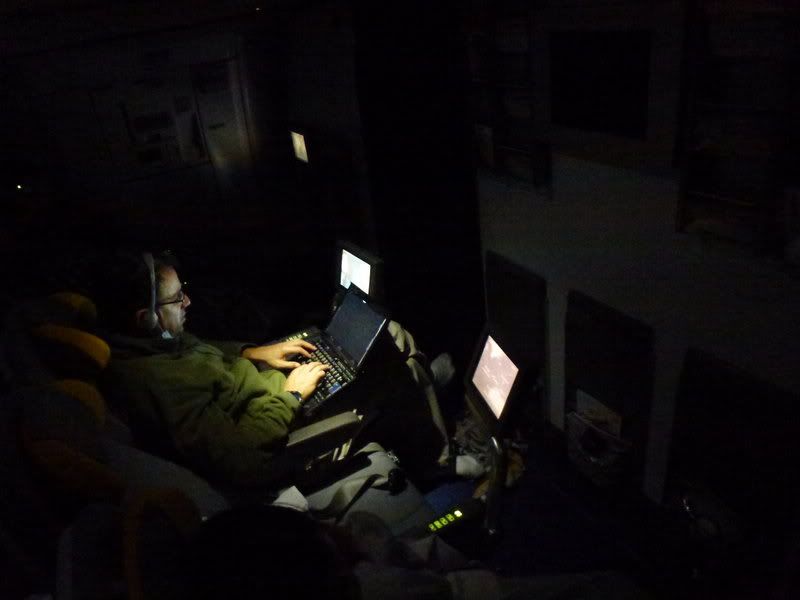 Coming back I doze some more, while watching the coast of Europe coming closer on the Airshow. Some one and half hours out of Frankfurt while nearing the French coast over the Bay of Biscay the lights are finally turned on and a hot breakfast is served:
It is a quiche with spinach and some tomato salsa, a tub of yogurt, some bread and a rock hard muffin which I gladly skip. Some coffee starts the gradual waking up process. I liked the quiche, quite nice and the spinach was nicely done as well - this time Gabriel didn't like it at all so looks like our tastes are quite different... Hello, Europe: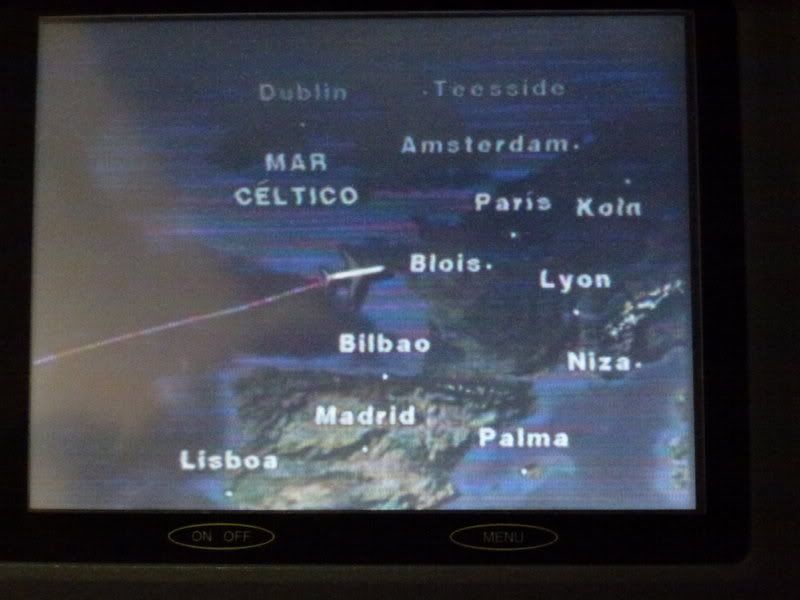 Soon descent into Frankfurt is announced. I'm a bit buggered that I'm going to miss what looks like a very nice and sunny day outside which should guarantee good views. Well, while looking around I actually spot a vacant window seat with somebody else sitting on the aisle one. I decide to bite the bullet and head there, asking the very nice Italian man if I could sit there for the landing - he agrees and I'm happy as a bee! Hello, sunshine: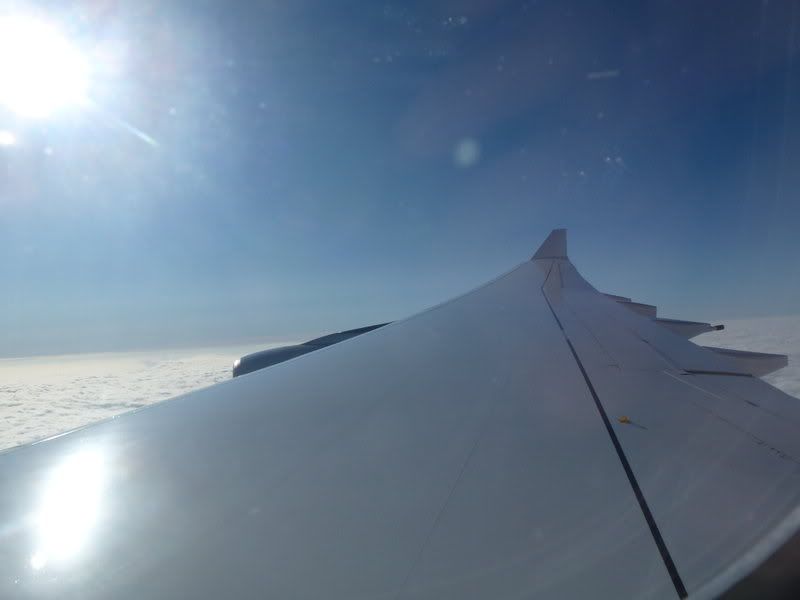 Turning for FRA: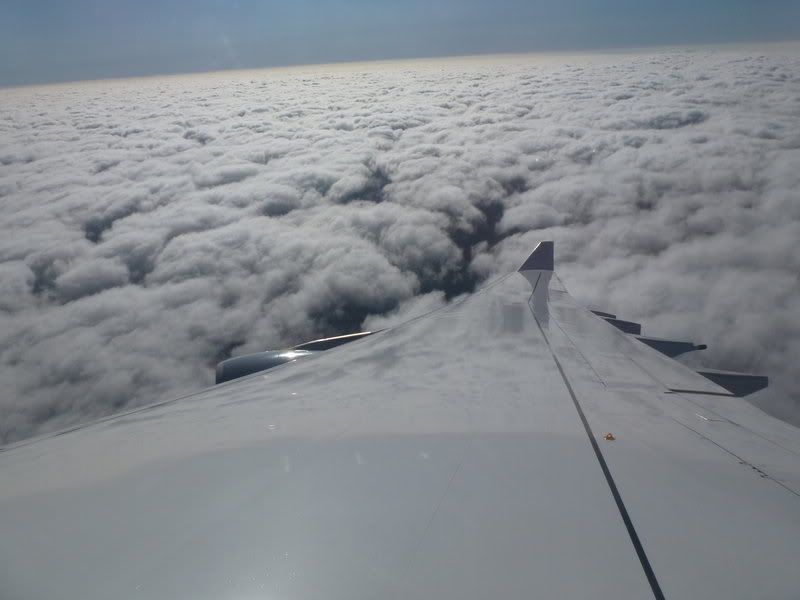 Heading into the clouds: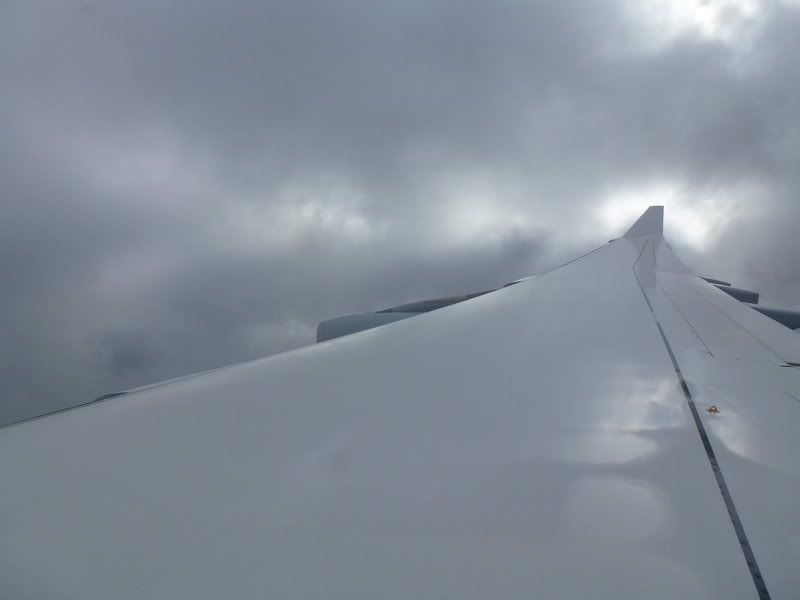 That's one massive wing:
Once well into our approach I spot a LH A321 on our right hand side: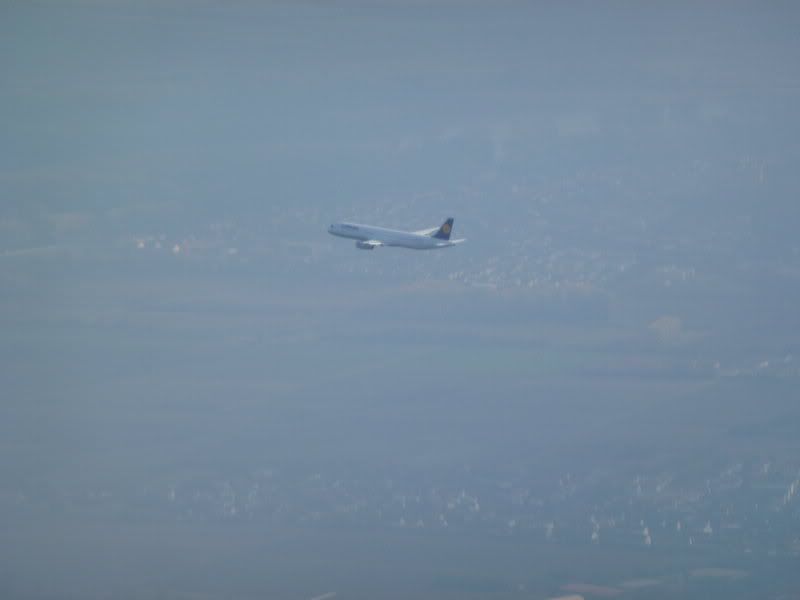 It is flying a parallel approach which has me confused - I thought the runways at FRA were too close to allow parallel operations: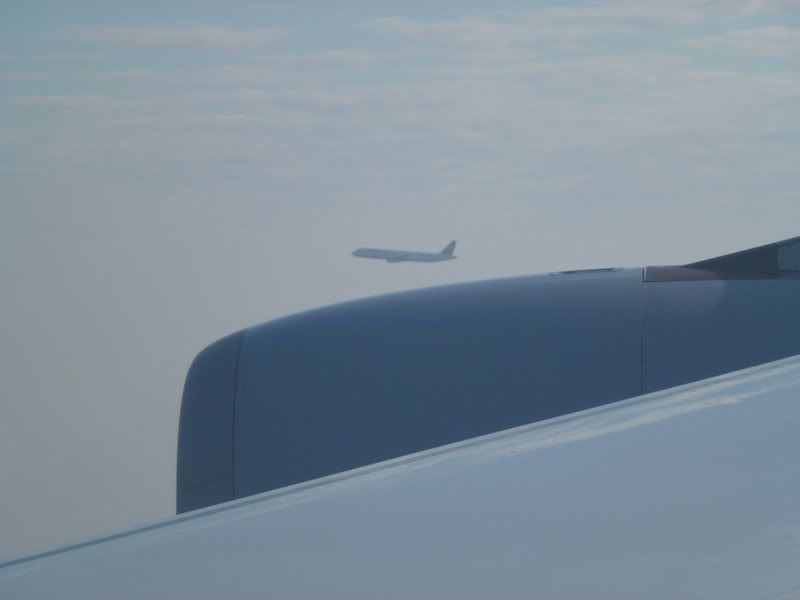 Gears down, so indeed we are landing at the same time: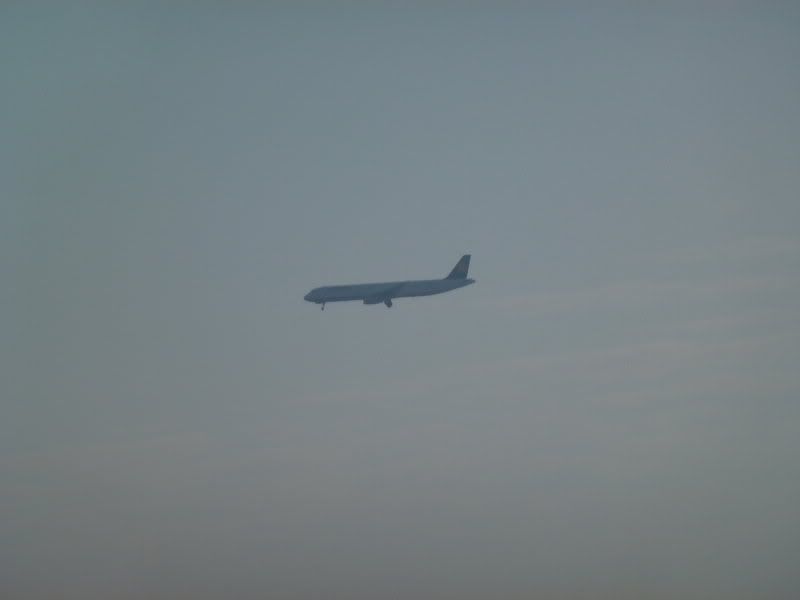 Hmm, maybe they need to deice this bird
after
landing: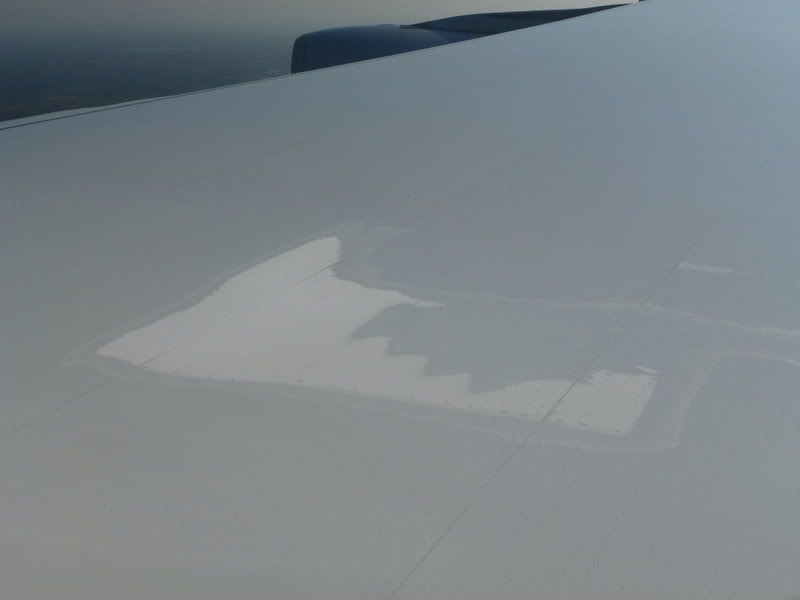 It isn't until I see this view: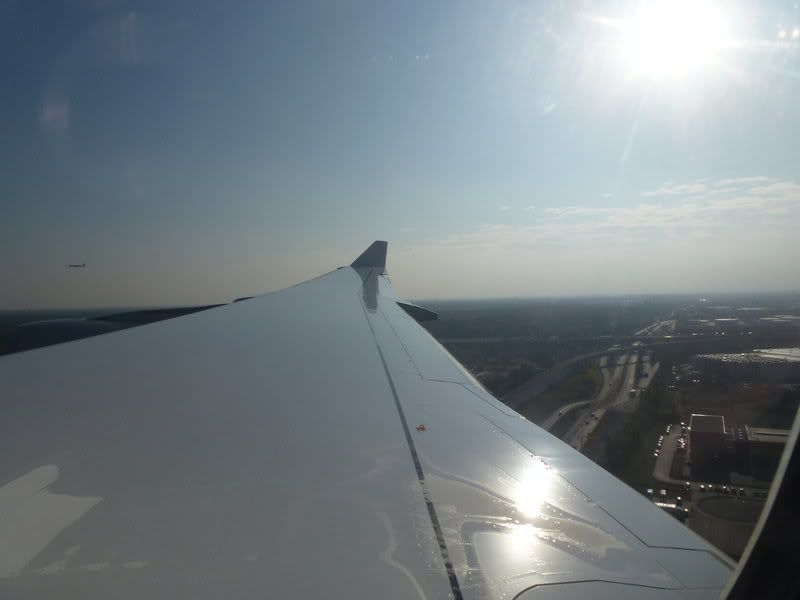 …that I realize that we are landing on the new runway - 07L, which was just opened. Wow, didn't really expect this at all - a VERY nice end to this sleepy longhaul flight.
See the A321 - the other runways are a bit far off: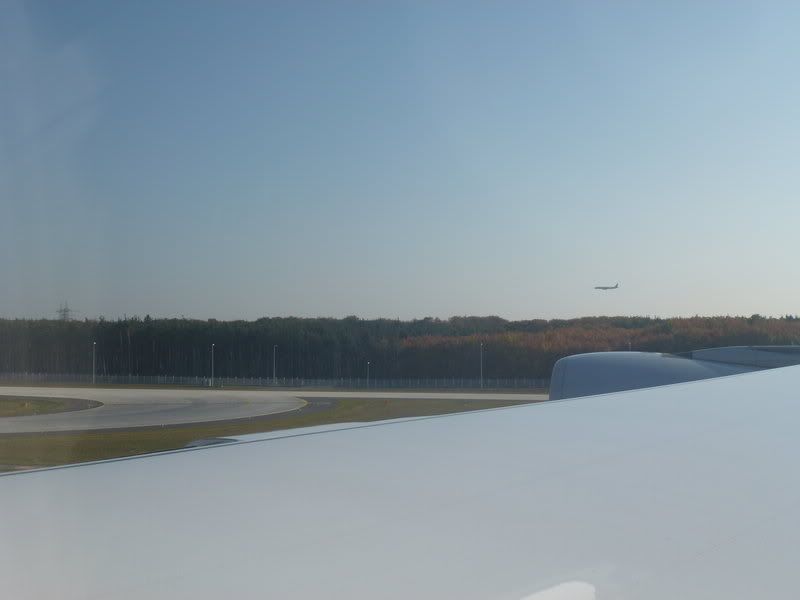 Landing on the new runway is quite smooth after a flight time of 10h15mins: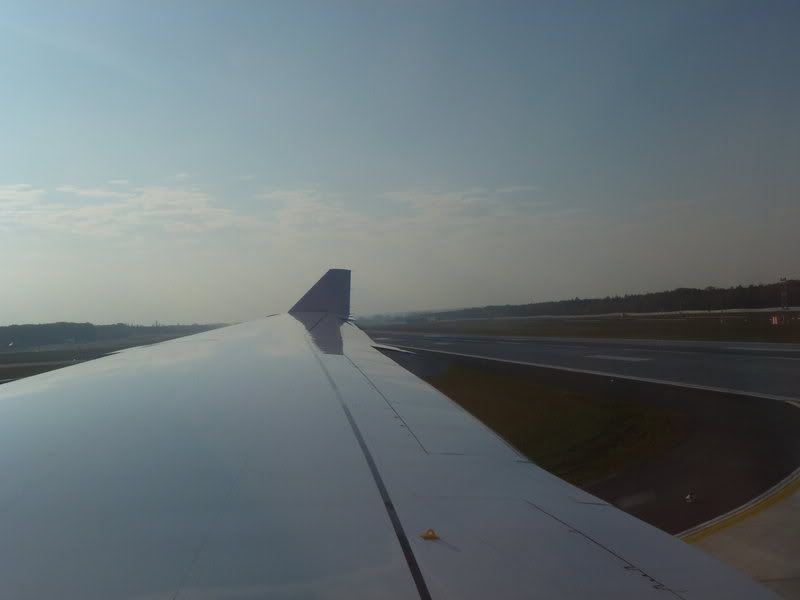 Our braking is very gentle, much gentler than when landing at BOG.
MD-11 looking good: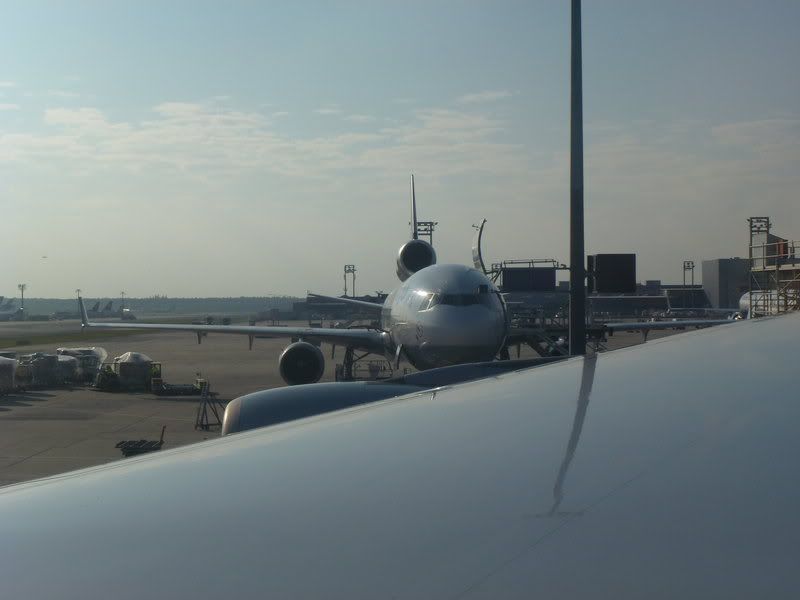 Nice reflection of us: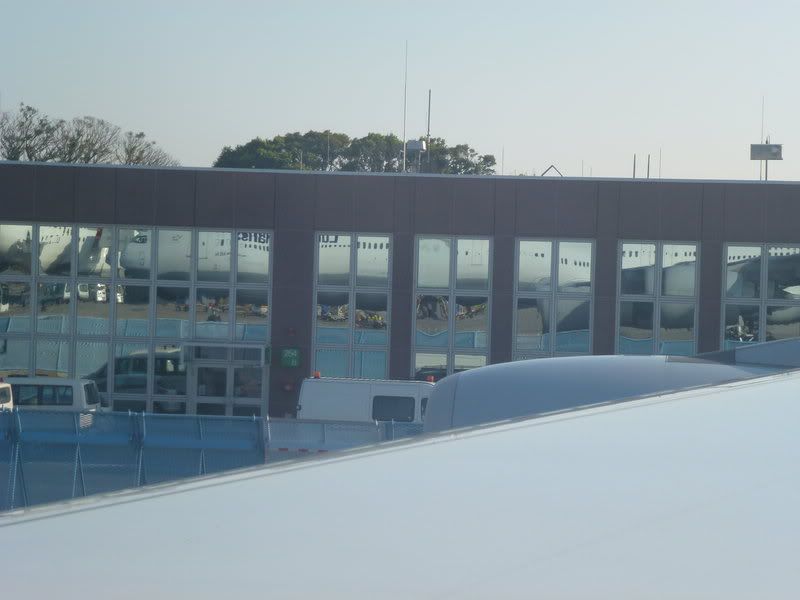 Yes, no name on this bird: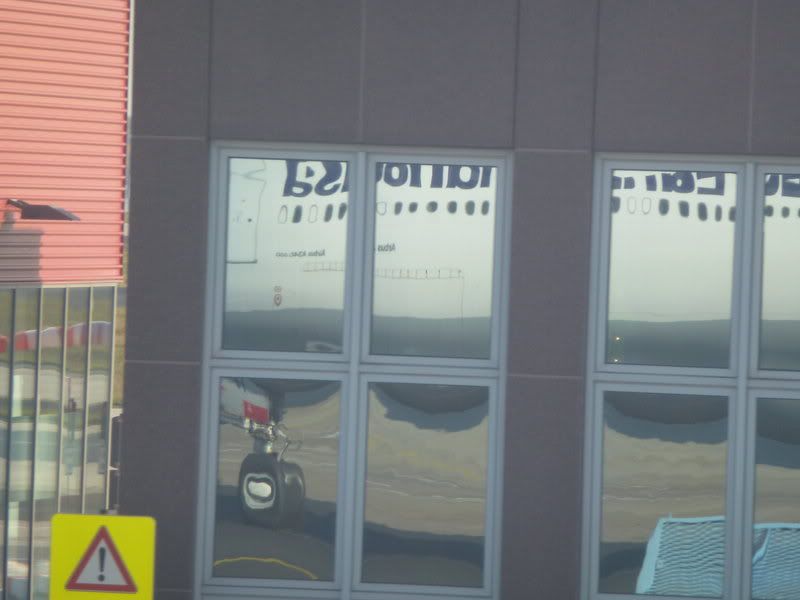 Nice lineup of colorful tails, although I'm not sure what Jet2 is doing here: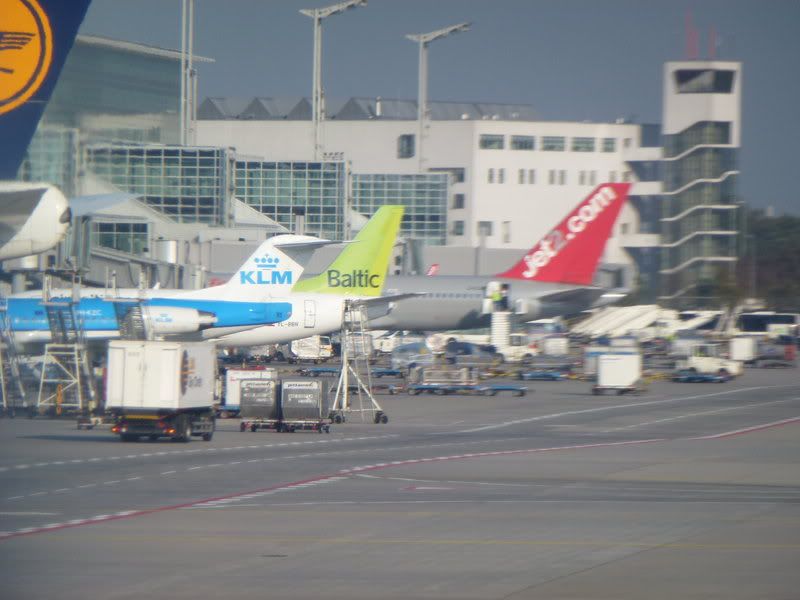 Frankfurt being Frankfurt it takes a while before we dock to a jetway at the C gates area, right next to D-ABHH, the bird that took both me and Gab to BOG: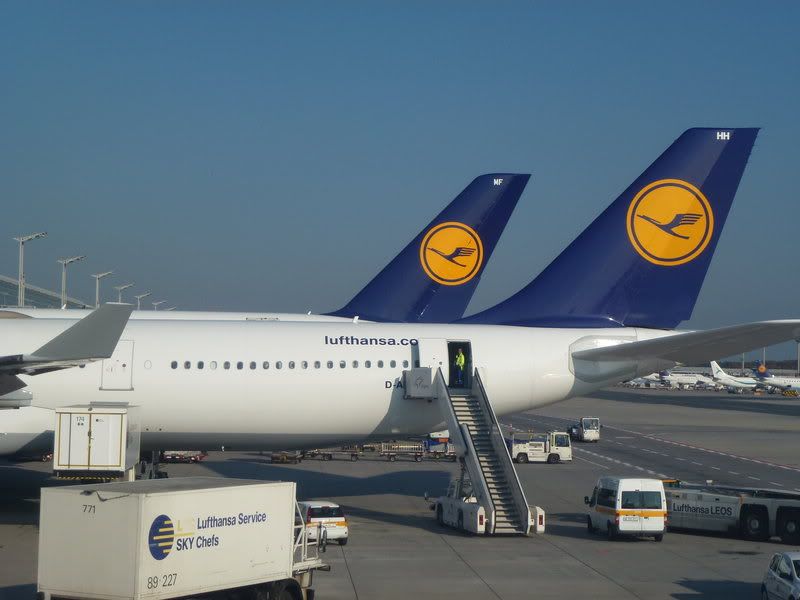 Looks like -HH has a bump on her head - so it too was equipped with the satellite Internet connection, not that they made any announcements about it on the outbound flight: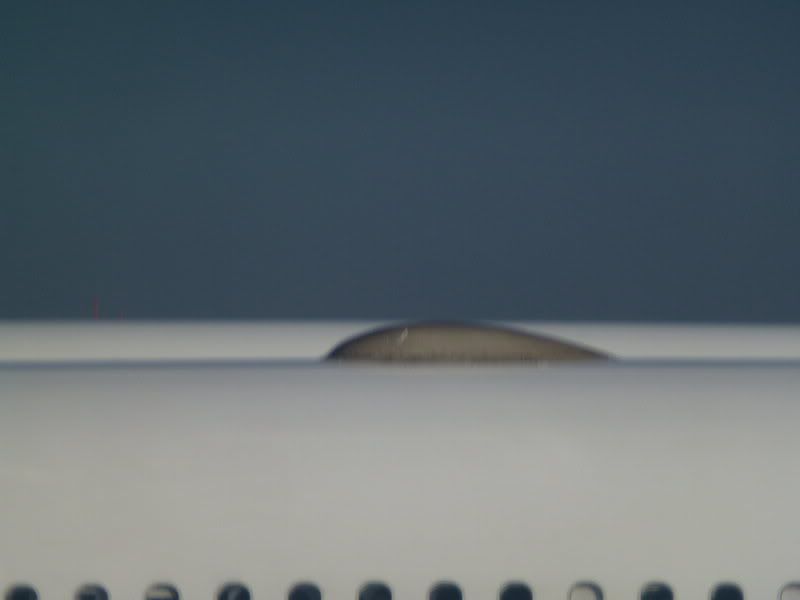 I
grazie mille
the Italian man continuing to his home in Milan furiously for giving me the possibility to watch this amazing approach and my first landing on the new runway, and then make my way to my original seat to pick up my trash. Being in the first row of economy I'm one of the first economy passengers to get off the plane. The Colombian guy and his girlfriend I traded places with thank me again for my kindness, well I we both won this time!
Monday 24.10.2011
Frankfurt Airport
View from the jetway of my ride: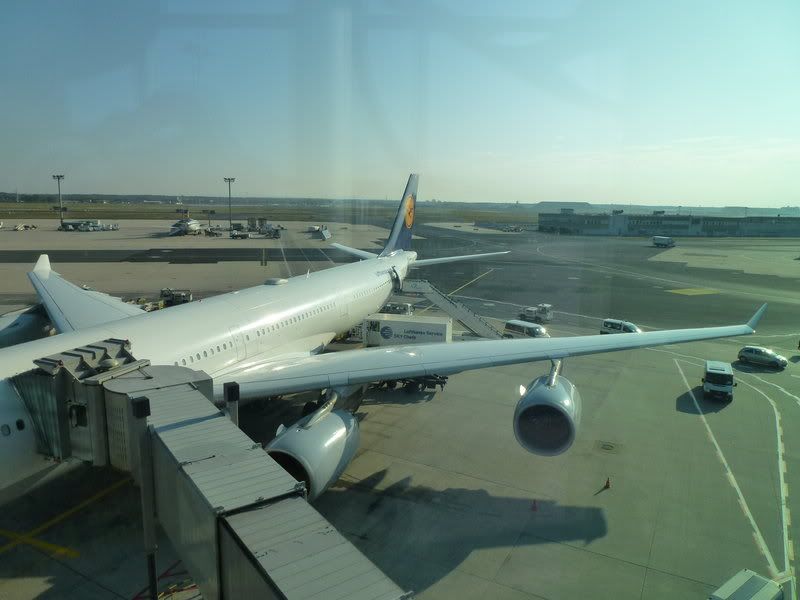 I wait quite some time for Gab and J to finally emerge. While entering the terminal the Bundespolizei is checking people's passports which creates a minor chokepoint - some young Estonian guys also on their way to HEL (who no doubt were lured by the cheap fare as well!) get some grilling, but as usual my Finnish ID card and harmless looks result in me being waved past.
Frankfurt being Frankfurt it is a rather long walk to get to the A pier where our flight to MUC is leaving, luckily from the mid-A gates so very convenient for the LH lounge complex at A. The normal domestic German area at the low numbered A gates is quite a way from the lounge...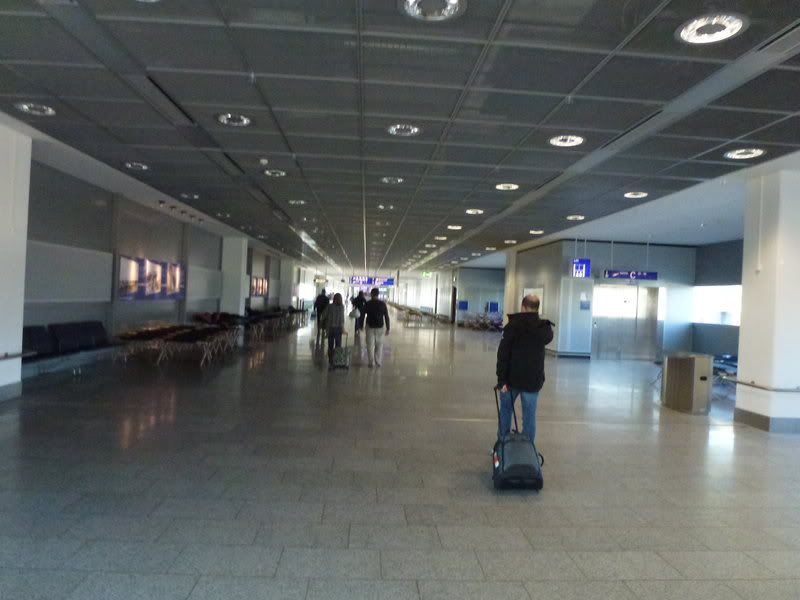 A lot of cots had been set up on the corridor between B and C - wonder if some major delays were occurring somewhere: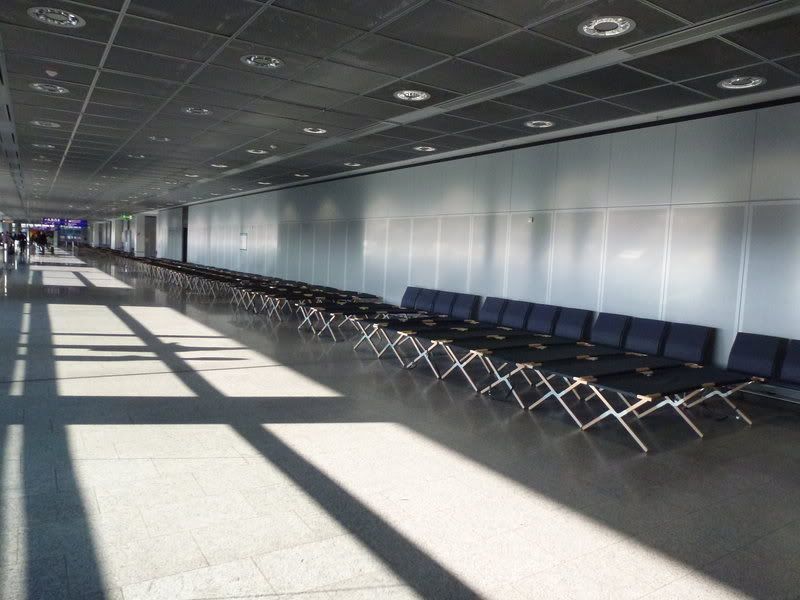 Somewhere along the way J leaves us and heads landside explaining that there's a Priority Pass lounge there for him (he of course is going direct to HEL, not as hardcore as us!).
The officer at immigration comments on my ID card that he almost never sees any Finns with those, just plenty of folks with passports - I tell him that I try very hard to be different to the majority of my kinfolks which causes him to laugh and send me off.
Well, Frankfurt being Frankfurt I'm surprised that we get dumped into the landside area of Terminal 1 at the base of the A and B piers. Frankfurt being Frankfurt we fight masses of people and find a "secret" security checkpoint which leads directly to the low A gates area. Germany being Germany the security check is quite throughout (read: helluva slow) and Gab gets some extra harassment over something in his hand luggage. Having done that we head towards the lounge, stopping to check the reg of our ride-to-be along the way:
Oh, looks like a 15 minute delay - not too bad.
I guest Gab in to the Senator side of the LH lounge - the place is quite full (but nothing like the AV lounge the previous evening!):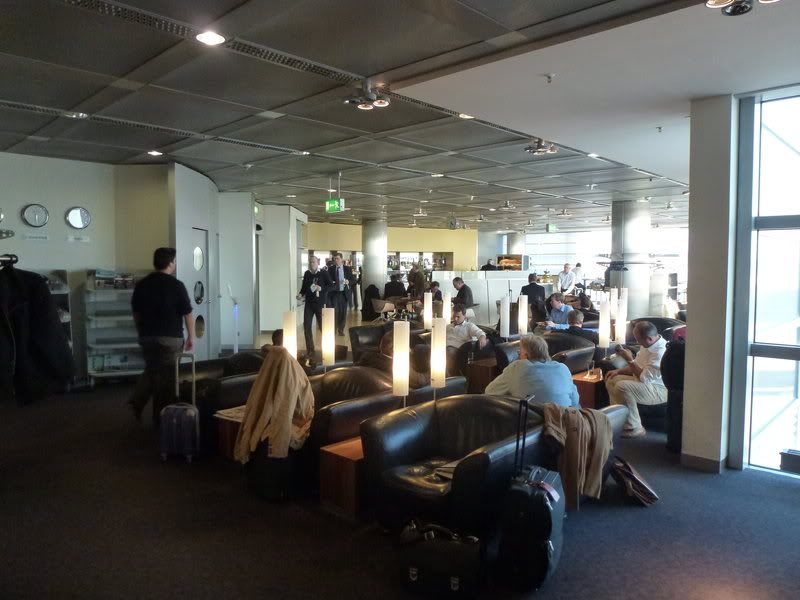 Good selection of booze - even Jonas would be happy here: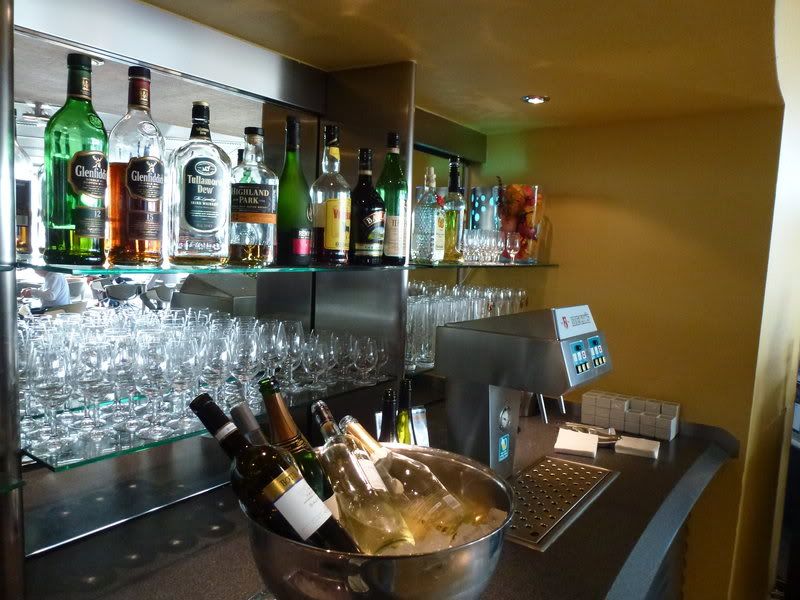 The amazing beer machine:
Some excellent German food with German beer: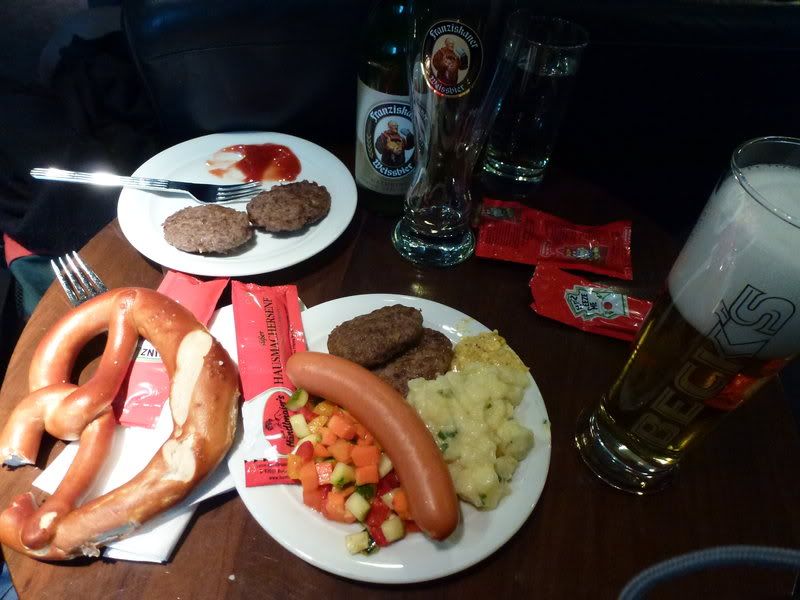 This lounge has excellent views - most of traffic at FRA passes by: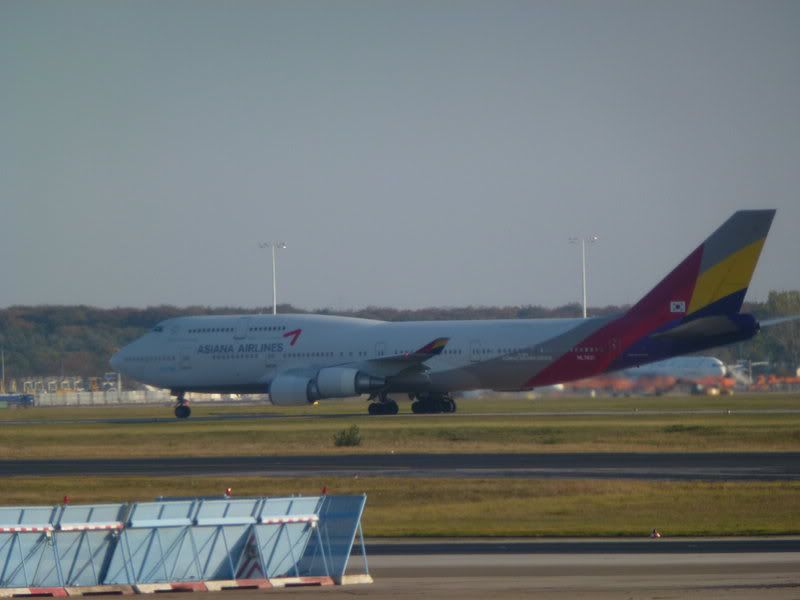 Turkish in *A colors: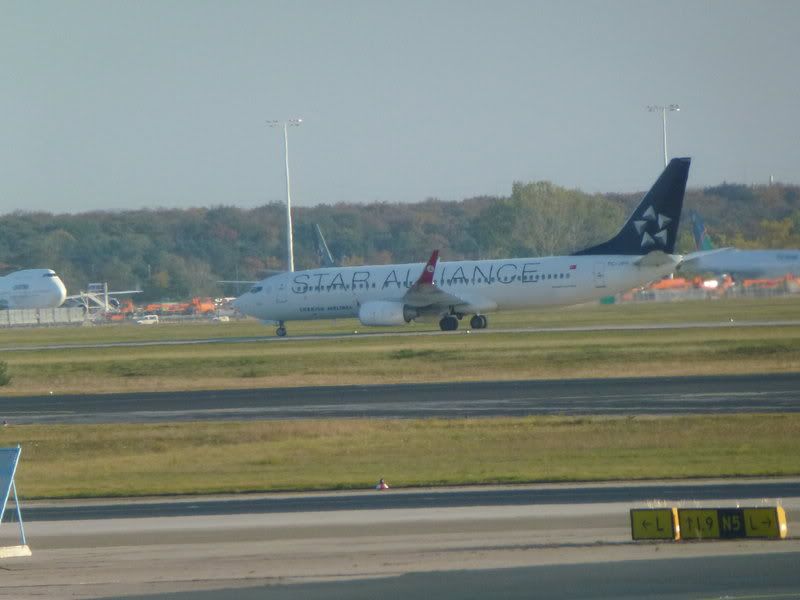 Gabriel is a bit neurotic about heading to the gate in time - I keep telling him this isn't Istanbul where he missed his TK flight but finally give in. There has been a gate change - the new gate is even closer to the lounge.
Looks like it still is D-AISF just as the computer showed - a new reg for my log: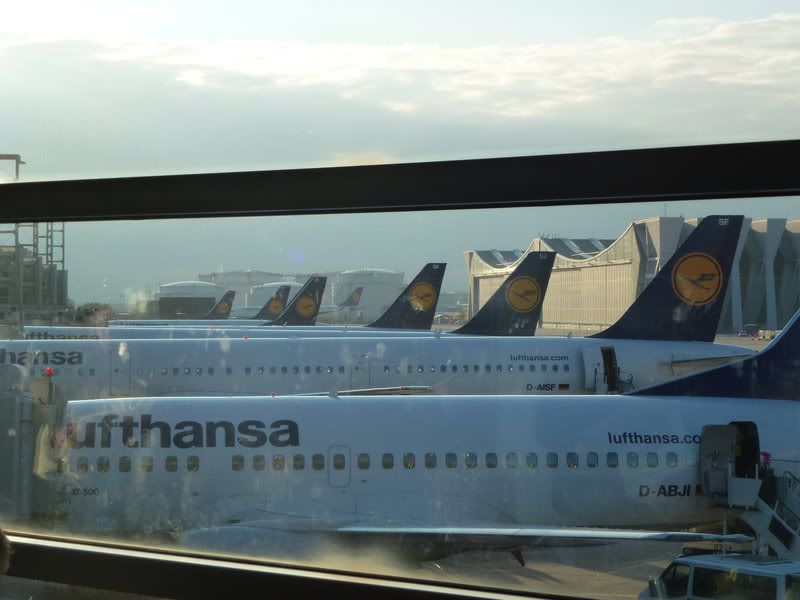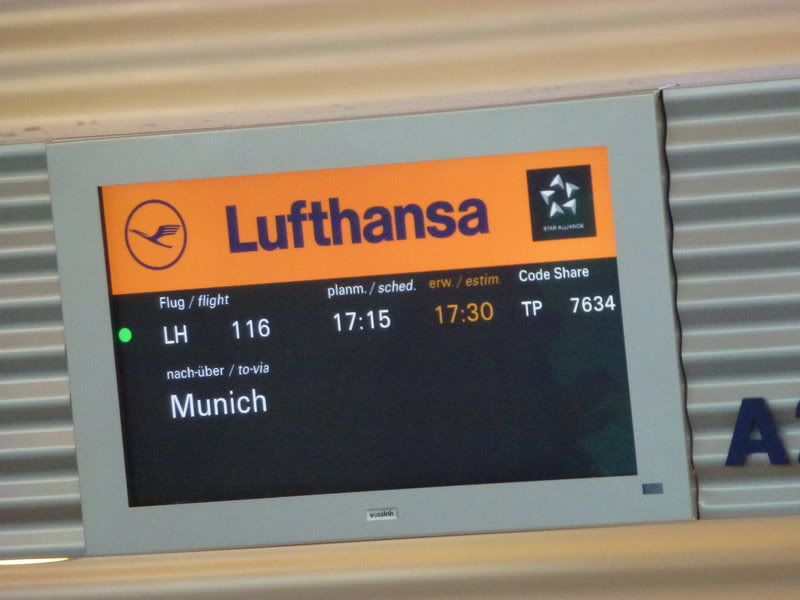 There are masses of people at the gate - but boarding hasn't yet started. Well, this part of the A pier is always good for plane watching: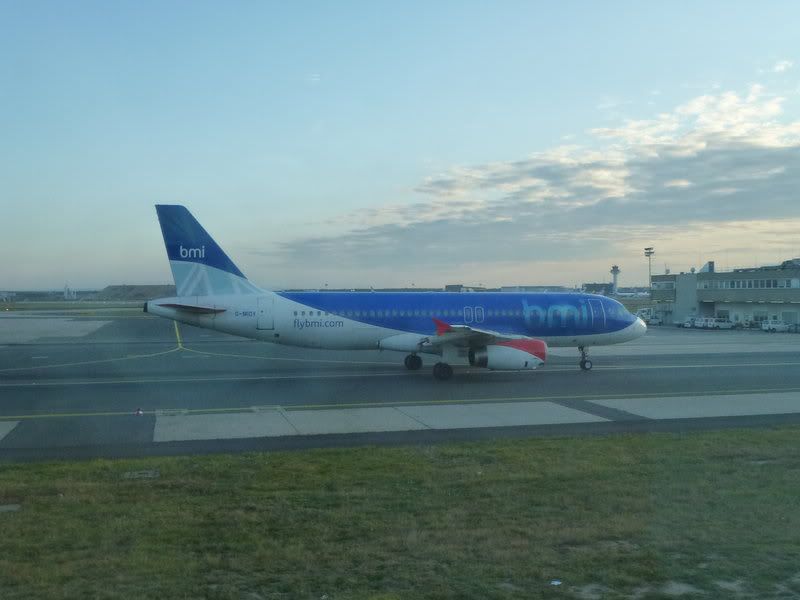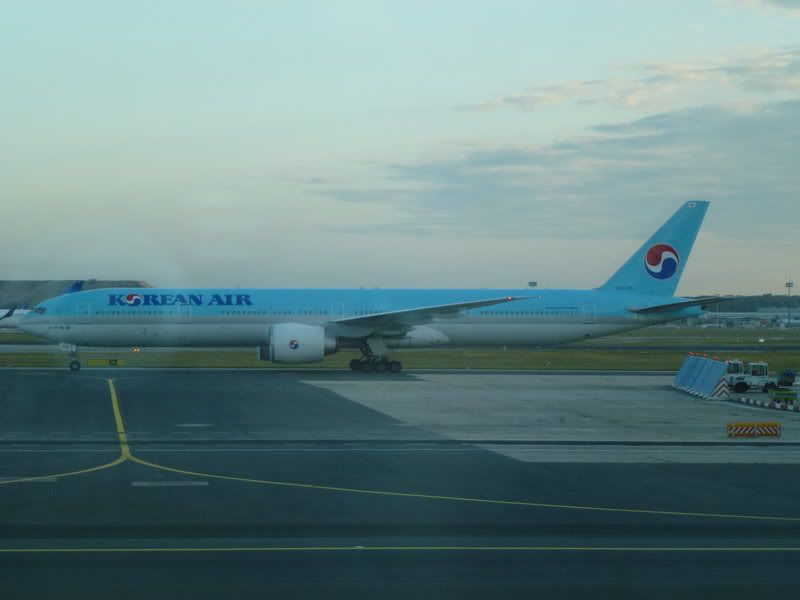 Top