I can't get no Jetisfaction: LH LGW-FRA inaugural
Hello!
Welcome to my newest Trip Report covering my latest trip to Germany.
Back in early July, I got an email from Lufthansa announcing a couple of new routes from Frankfurt: Aberdeen (ABZ) and London Gatwick (LGW), both starting at GBP 49 one way at the end of October. Hmmm, looked interesting, especially as I'd never been on an inaugural flight. ABZ isn't terribly handy, so I looked at the LGW flight. For some reason, the morning (and first ever) LGW-FRA flight was on sale on Expedia for GBP 42. Without much further ado, I booked it. I wasn't sure what I was going to do about the return, but the flight was a couple of months away, so I quickly forgot about it.
A month and a half later I noticed a
thread
about a new route launch by Munster based airline
Jetisfaction
. On the day after my LGW-FRA flight, Jetisfaction would be launching a FMO-SEN route. SEN, as I'm sure you all know, is the code for London's 'new' 6th (or 7th if you include "London" Oxford airport) airport, Southend. Now, Southend currently serves a total of 1 scheduled destination, Waterford in Southeast Ireland with Aer Arann, so this would be the second regularly scheduled flight. easyJet are launching a hub here too in April 2012, so it would be nice to have a look around before it turns orange. Southend, if you look for it on a map, isn't really very close to London, so calling it London is a bit of a stretch. Jetisfaction's other routes are rather limited, consisting of some triangular routes from Munster/Osnabruck (FMO) to Poznan and Zurich, served by the not very Jet-like Saab 340. For a total of EUR 54 I was able to book a seat on the inaugural FMO-SEN flight.
The plan was good: two inaugurals in two days, two new routes, a new German airport and a new London airport (as a London based a.netter, that doesn't happen very often!). To link my arrival in FRA, with my next day departure from FMO, I bought a very nicely priced Rail n Fly ticket from LH. For just EUR 25 you can get unlimited rail travel in Germany (including the ICE trains!) for 24 hours. Pretty good value, especially as a normal one way ticket to Munster was costing around EUR 50. It was easy to book over the phone, even after my original ticket had been issued, and was given a new PNR just for my train ticket.
I was pretty happy with everything until just 10 days before my FMO-SEN flight, I got an email from Jetisfaction saying:
Dear Passenger,
Due to unforeseen operational circumstances, we have to postpone our first flight from Munster/Osnabruck to London-Southend for a minimum of two months.
We offer the following options:
- You will receive full refund of your ticket, therefore we require your full account details and amount.
- You keep your purchased ticket, rebook to another date and will receive another two FREE flights with our company.
We apologize the delay of our start and hope, that you understand and look forward to our first flight soon.
Oh dear, not impressed. Luckily, I hadn't yet booked my (non-refundable) hotel in Munster, or my train ticket from Southend back home. I was very tempted by the second options, but decided to go with the first after a general a.net consensus reasoned that the airport was probably not long for this world. I'm still awaiting my refund.
Now I was stuck with a one way ticket to somewhere I hadn't planned on going, and a train ticket to nowhere. Options were both endless (I could go ANYWHERE in Germany with my train ticket), and limited (I had no intention of spending hundreds of Euros on a last minute flight home). As coincidences go, the day I was looking at flying back on also happened to be my final day as a BA Silver member (before being sent back to Blue), so it was a good opportunity to get on a BA flight home. Unfortunately cash fares were really quite high, so I decided to spend some miles (just 4500 + tax). There was good availability for miles seats from most places, so it was just down to picking a city. After a bit of umming and ahhing over schedules and a boring choice of A319/320/321, I went with an evening A319 flight back from Hamburg. With that settled, I booked a hotel – I was all set to go!
Oh no, wait, one more thing! A week before my LGW-FRA flight, I sent LH customer services an email asking a) if there was a lounge, and b) what terminal the flight would be departing from. A quick response said that there was no lounge for LH Silver (unlike at LHR), and "With regards to the terminal, please contact our reservations department when your flight is close to departure date for more information." Um, this was a few days before the flight – surely you know what terminal you're flying from? My original flight confirmation said North Terminal, but Wikipedia said South. LH IT clearly weren't up with all the details, as there was no mention of LGW on the LH website. Oh well, I'll just gamble on South (turns out it was South).
My route map, including the non-flight FMO-SEN: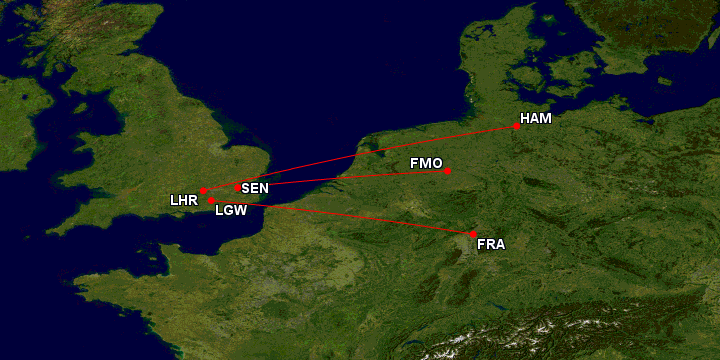 With a relatively early start from LGW, I decided to go down the night before and stay with a friend in nearby Redhill. He was also kind enough to give me a lift down to the airport the next morning, despite being early on a Sunday – thanks! The lift was all the more welcome as the trains weren't running, so there were replacement buses instead.
Outside the South Terminal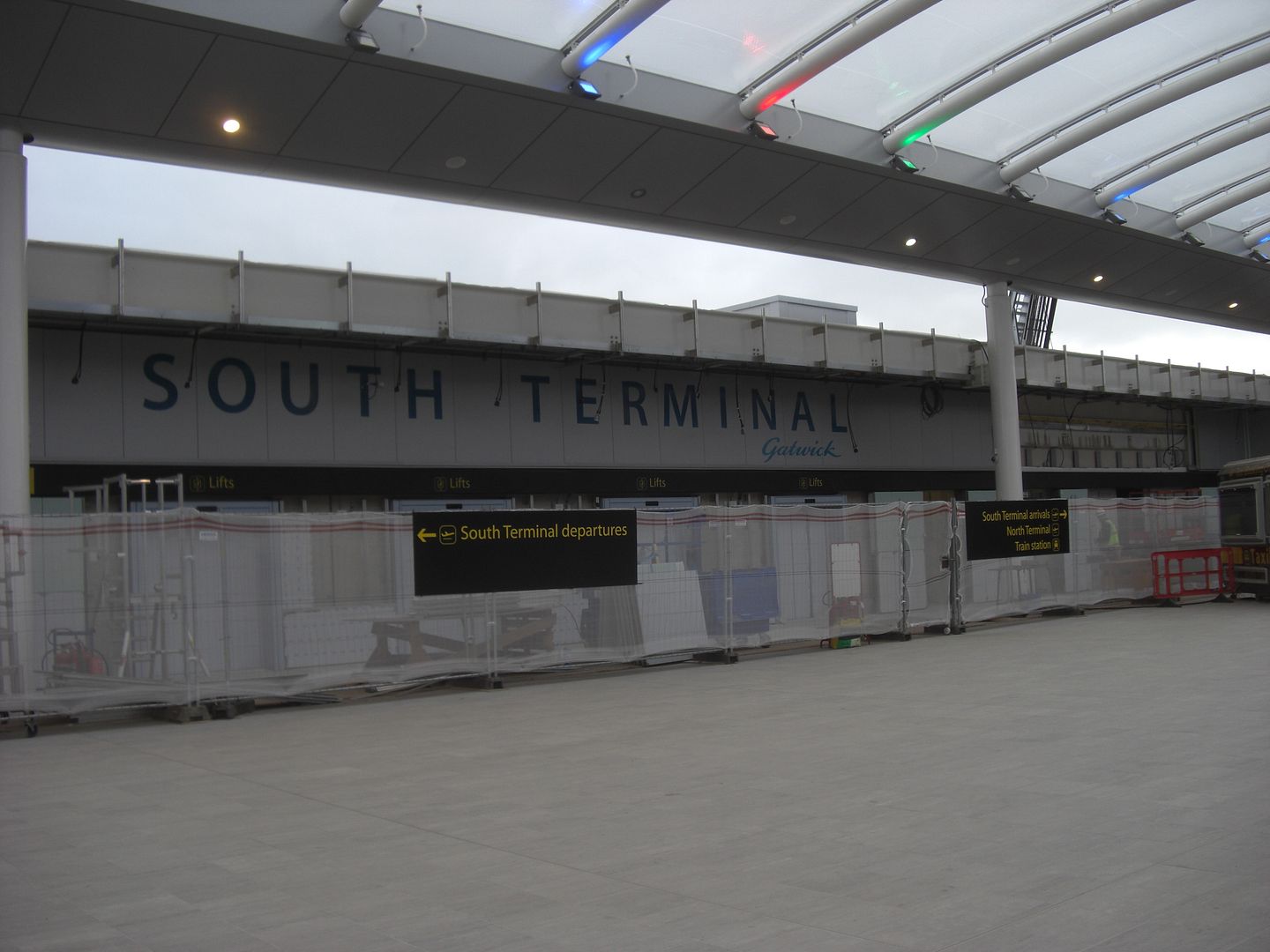 The LH desks were directly in front of the entrance as I walked in. There was one C and one Y desk, just one person queuing at each. The business desk became free first, and I was called over. There was one contract check in lady, a contract overseer, and a head office LH person at each of the desks. I asked to change the seat I got at online check in (for some reason, the first 6 or 7 rows were blocked), and if I could have a priority tag. The seat request was fine (I was given the second row), but the priority tag was referred first to the LH lady, then the overseer, before getting a "no". Ok, how about a lounge? First to the LH lady, then the overseer…. "no". Ok, fair enough, just testing the service! You would have through that the check in staff had received some basic training about such matters; clearly not. For the record, they use the No. 1 Gatwick Lounge (which wasn't on the website when I flew) for Biz and *Gold pax.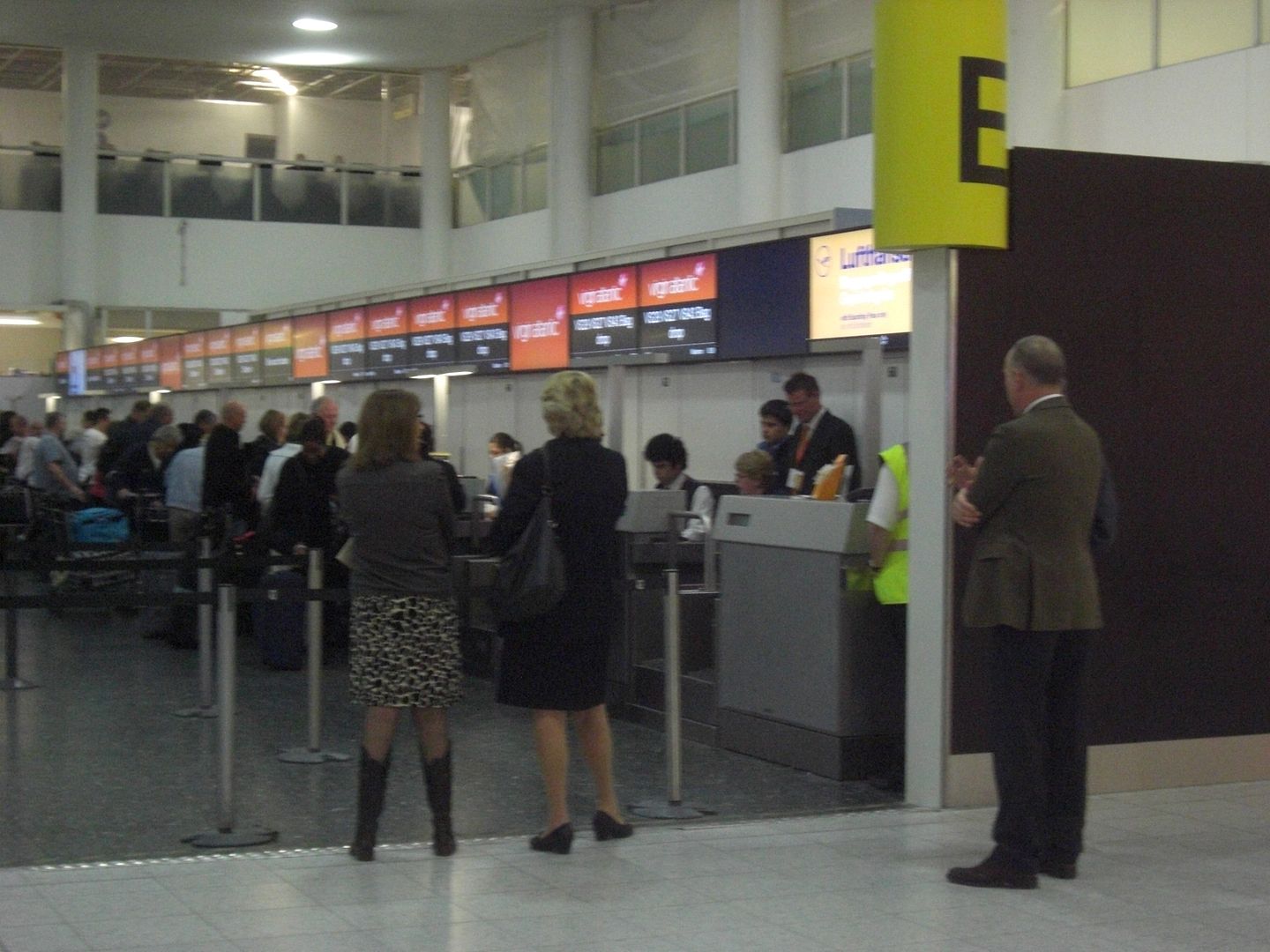 With my bag tagged, and the boarding pass issues, I followed the signs to security, passing this poster on the way.
My last time I flew through the South terminal en route to the
USA
, security took an age. Thankfully today there were plenty of security points open. On the far right there were even some empty lanes (a lot of people clearly couldn't be bothered with the extra walk) and I was through in a couple of minutes.
FIDS – some interesting destinations from LGW. And LH haven't uploaded a logo yet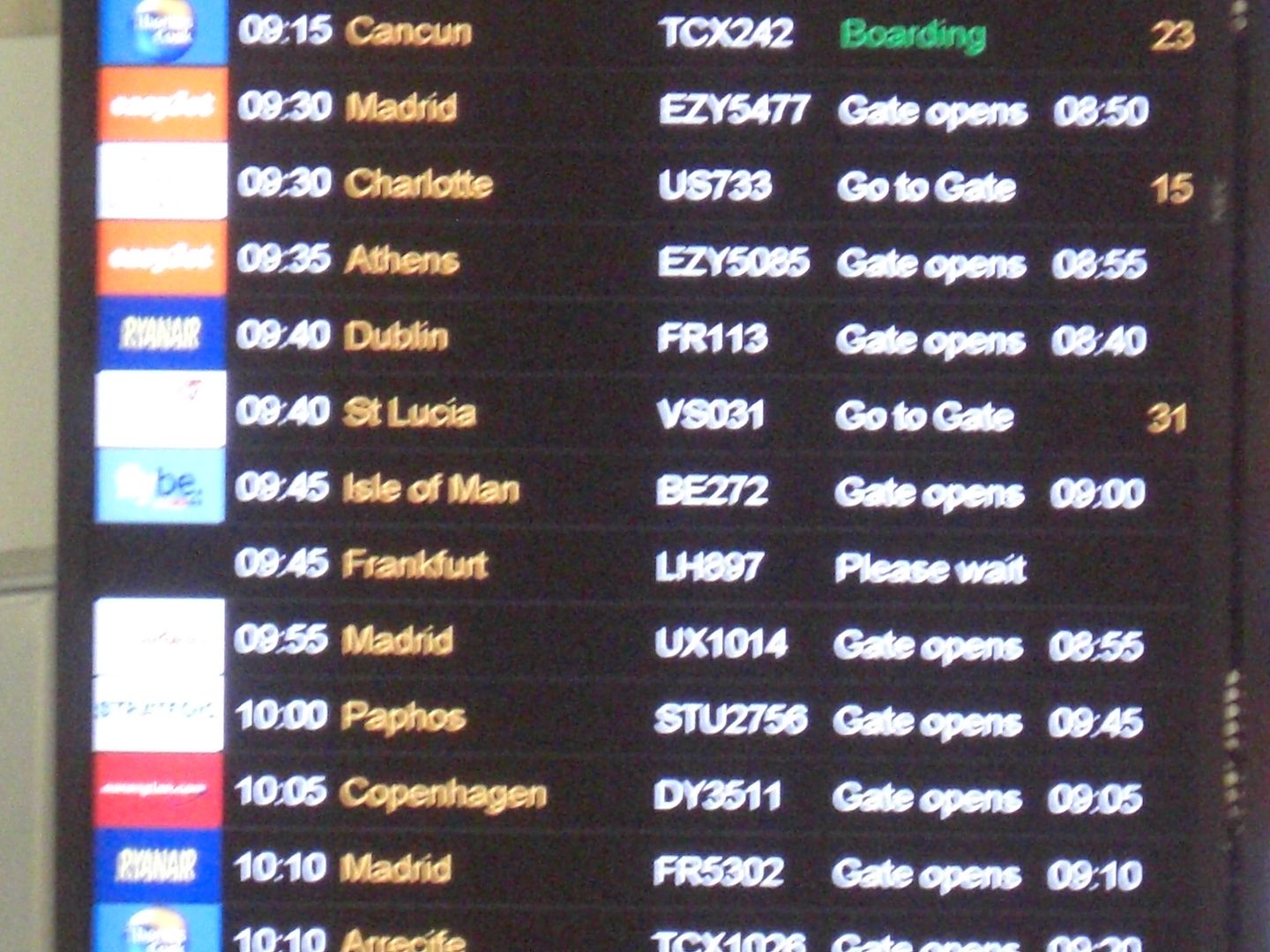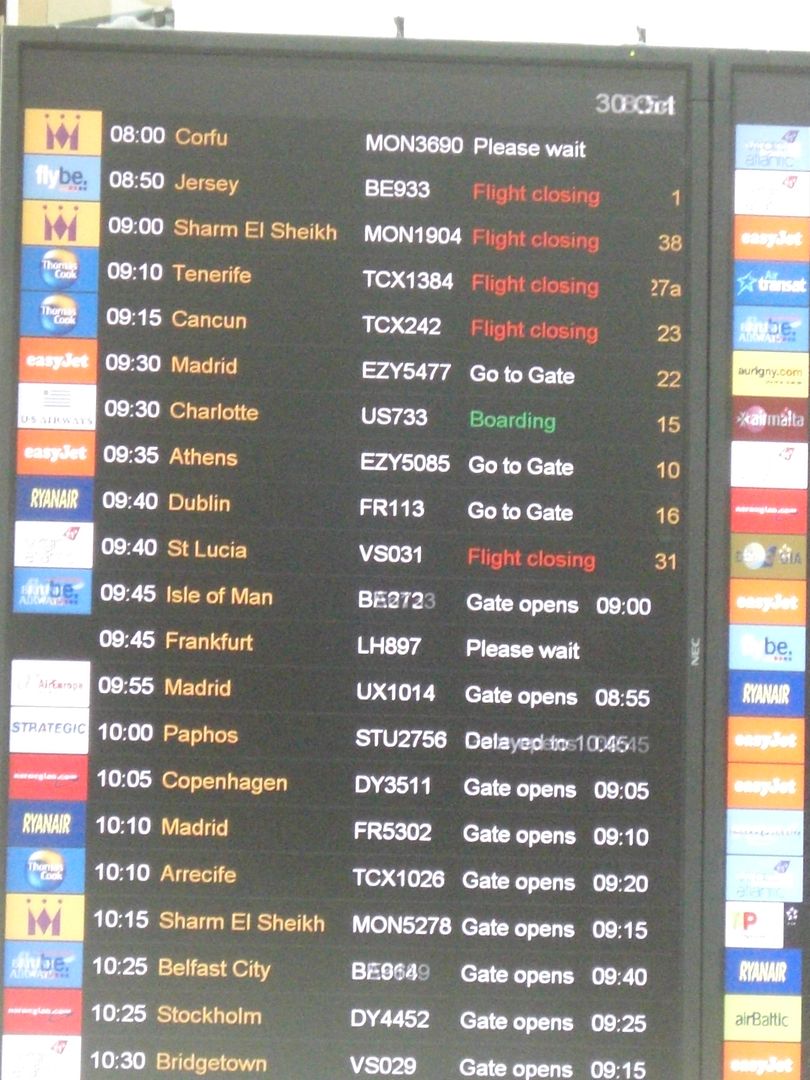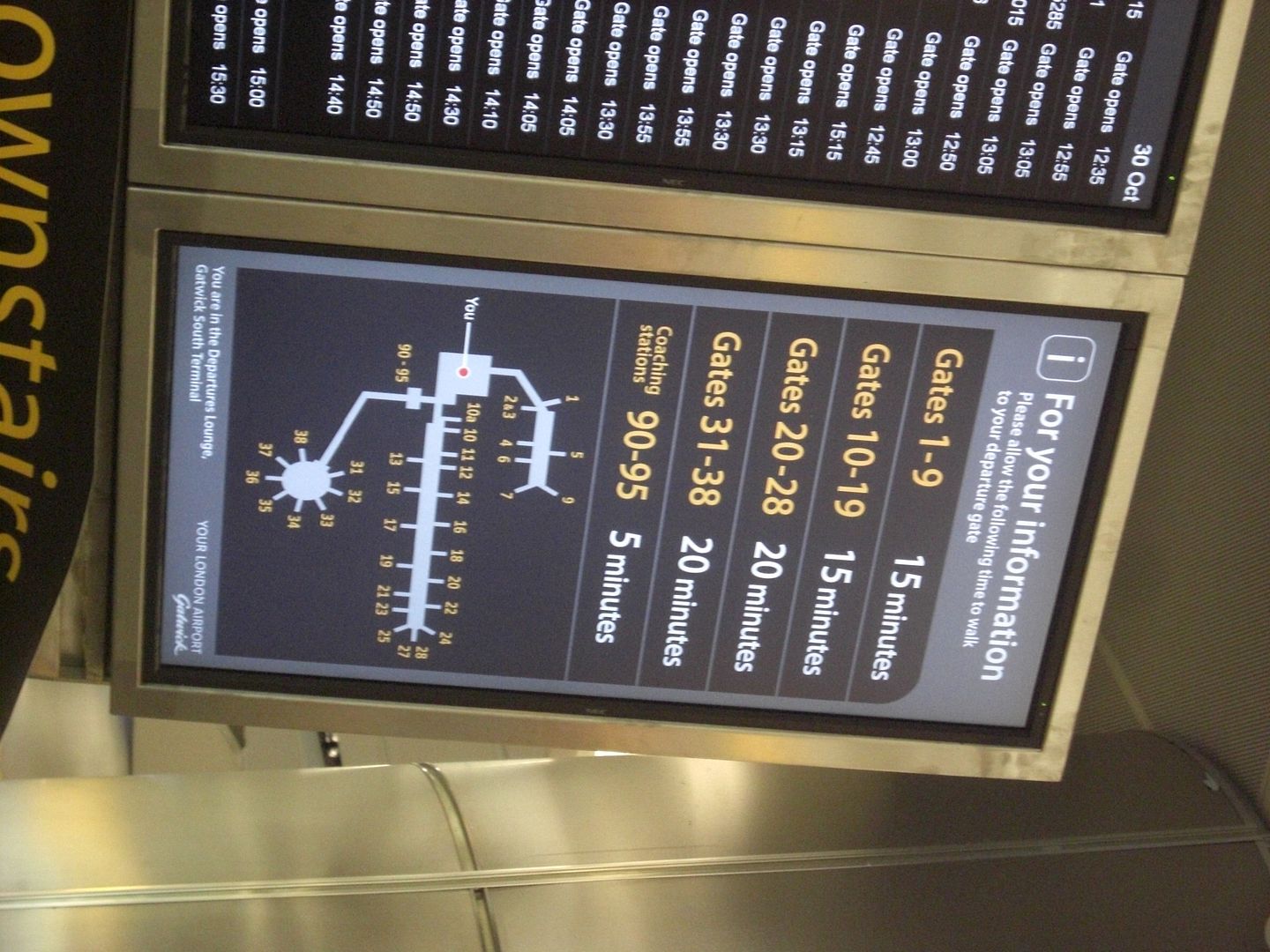 I had a quick look around the duty free shop, which despite still being October, had all the Christmas decorations up, before buying a sandwich from WHSmiths.
45 minutes before our scheduled departure, the gate flashed up on the FIDS, so I walked down to gate 12. Up to this point there has been no mention of the inaugural. I was hoping the gate would be a bit different.
I was probably the 6th or 7th person to be scanned into the departure lounge. There seemed to be some teething issues with scanning the boarding passes. No mention of the inaugural. No cake, no balloons.
Views from the gtae lounges in LGW aren't great unless you happen to be next to some of the view slit-like windows.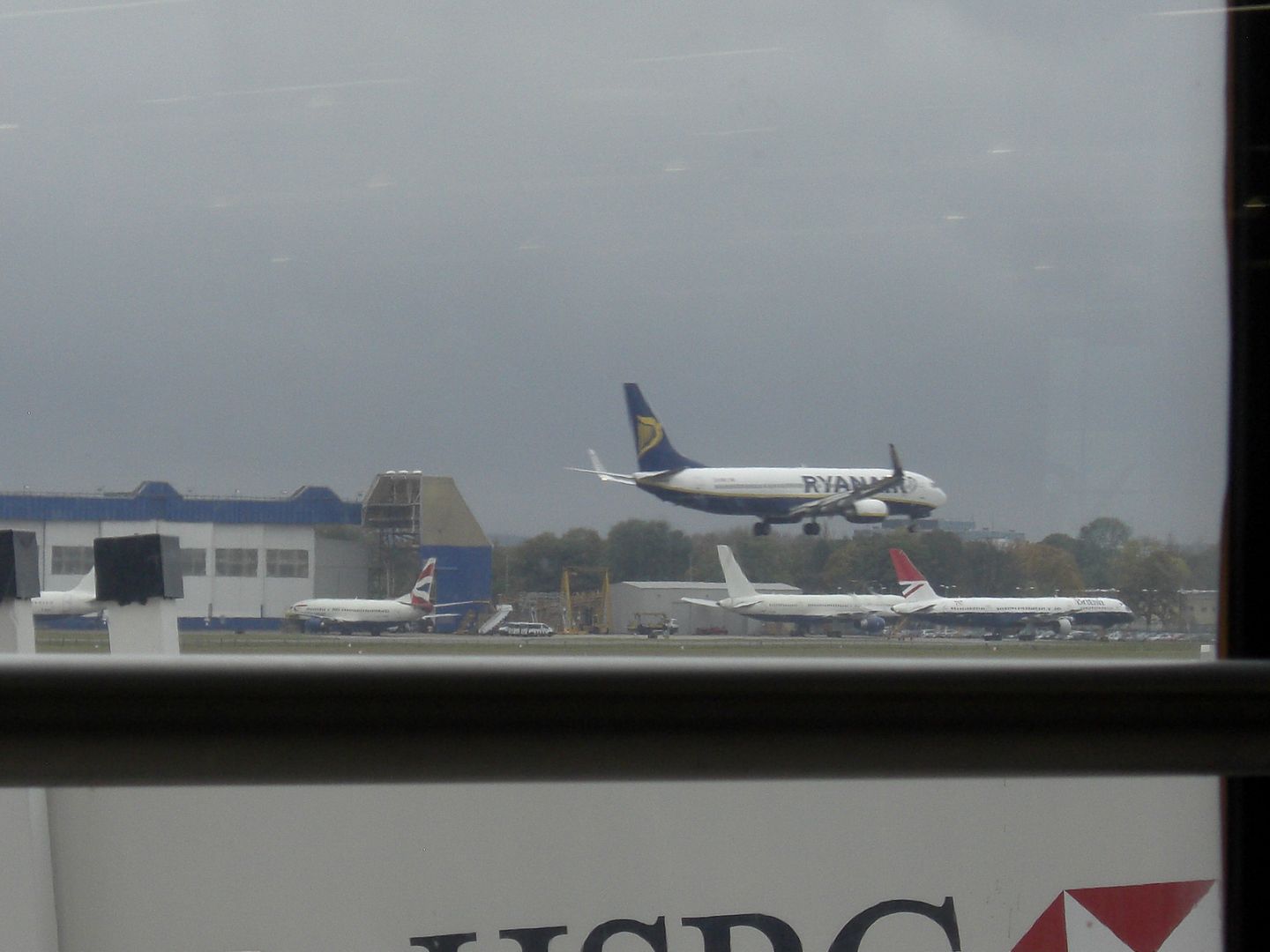 At 0915 I caught my first sight of a Lufthansa aircraft at Gatwick. The plane had been up gauged from a B735 to a B733 (bigger capacity) with the new seats. The LH staff from checkin, plus a few others, were hanging around the lounge, looking out the windows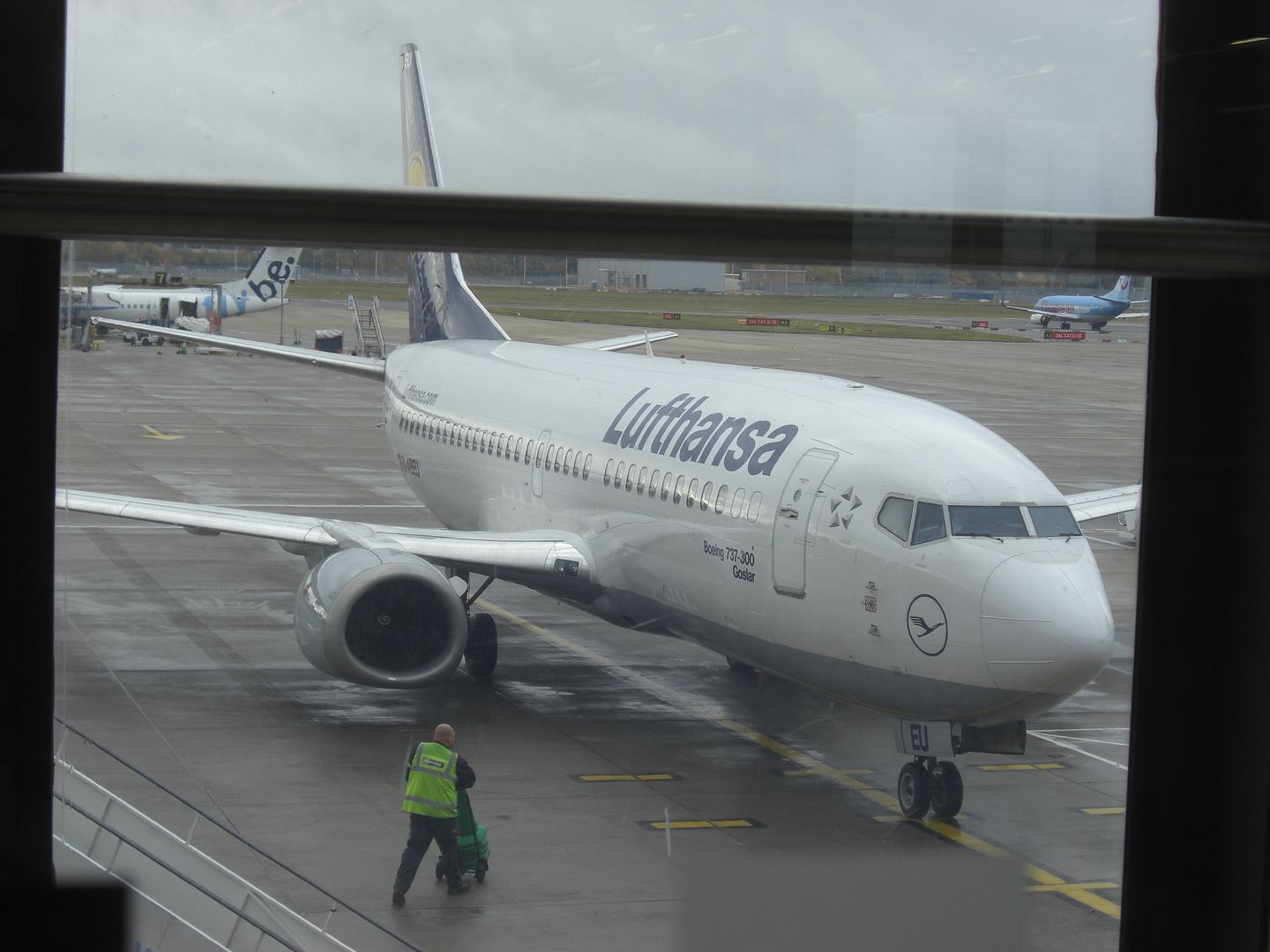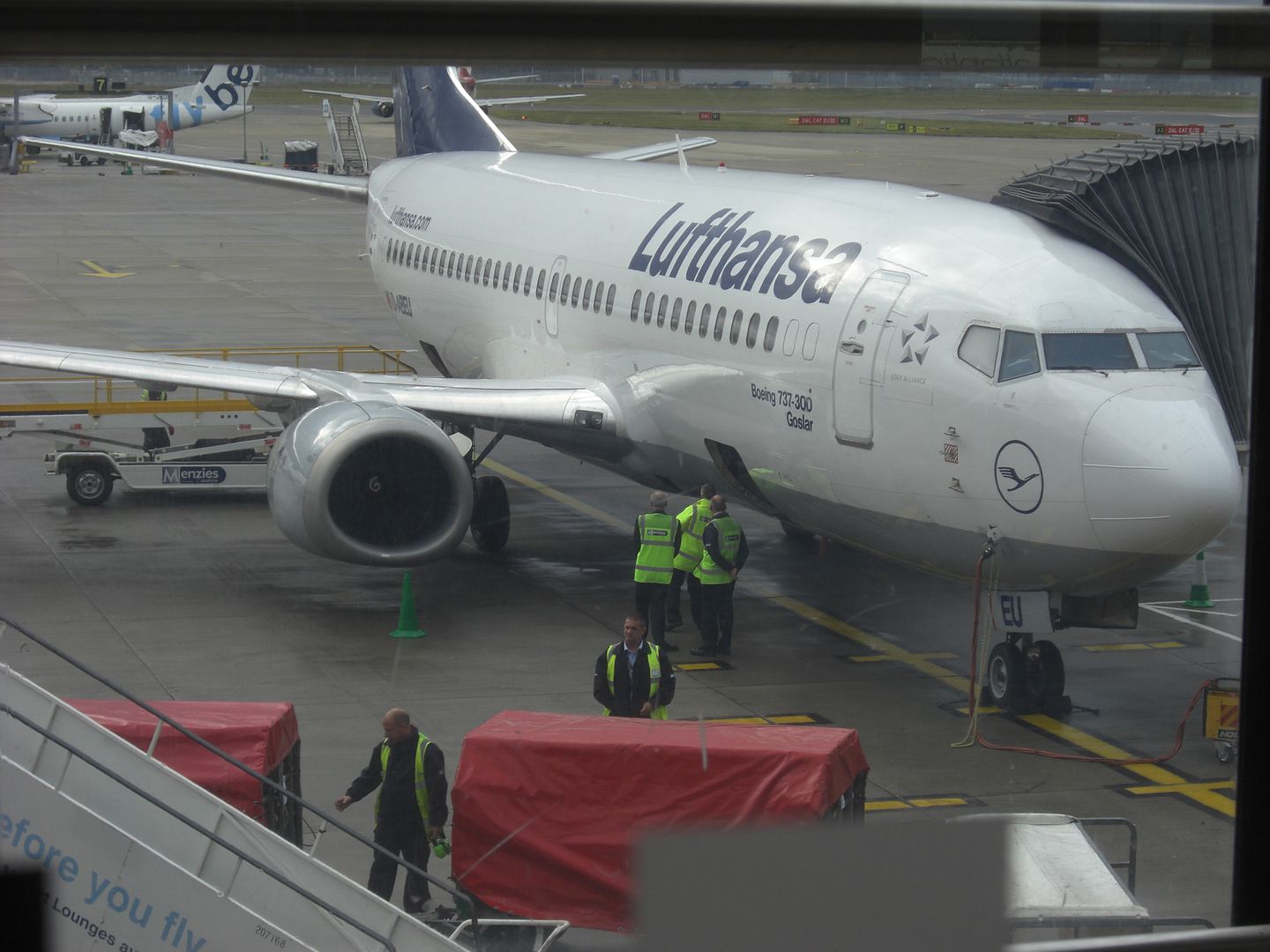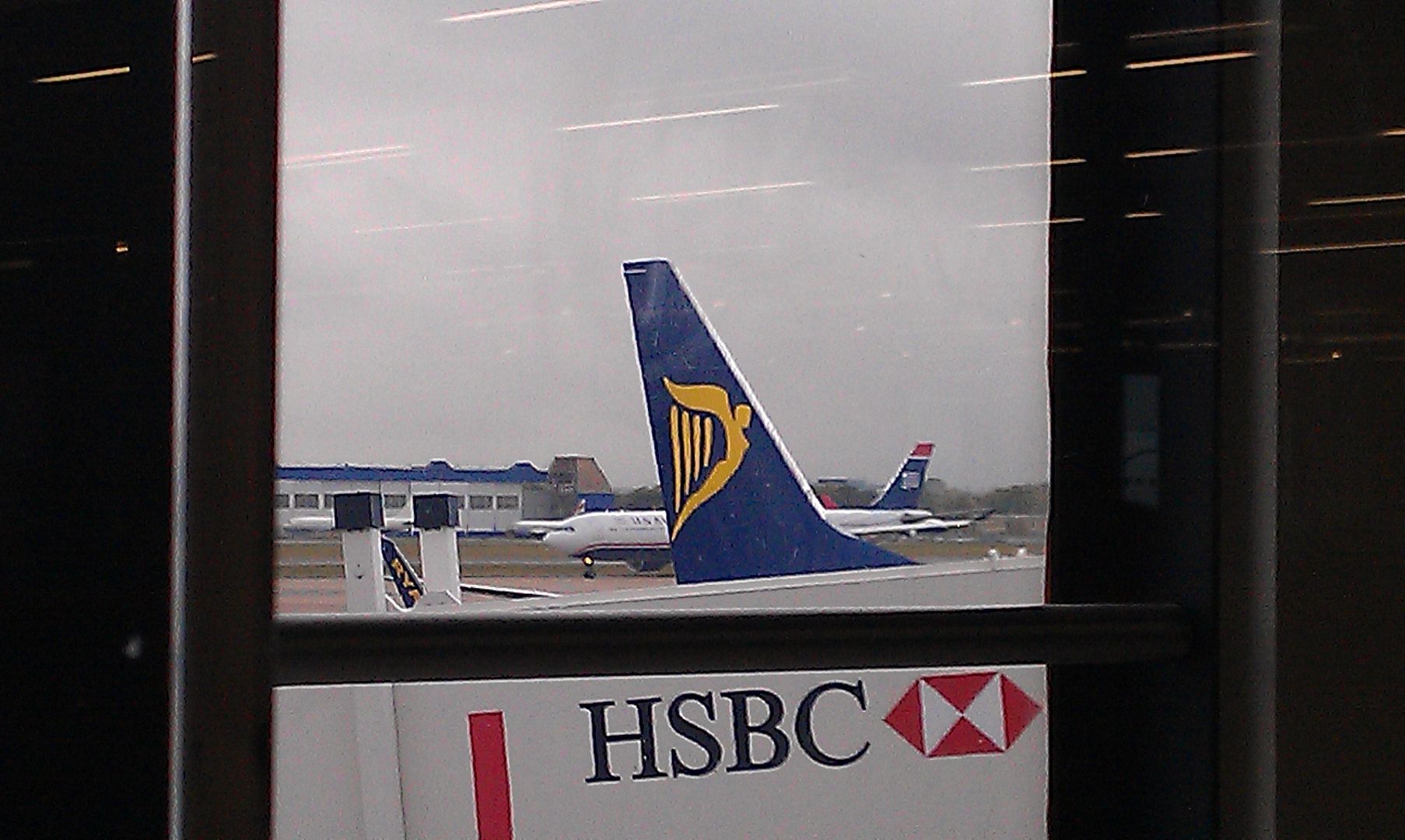 The lounge gradually filled up with around 70 people – not a full flight, but not bad for a first. I saw the inbound passengers disembarking. The female adult passengers all seemed to have been given a trademark Lufthansa rose. Men and children, nothing. Rather sexist/ageist isn't it Lufthansa? Not impressed. A rather nervous sounding ground crew woman made a preboarding announcement, rapidly followed by a general boarding announcement.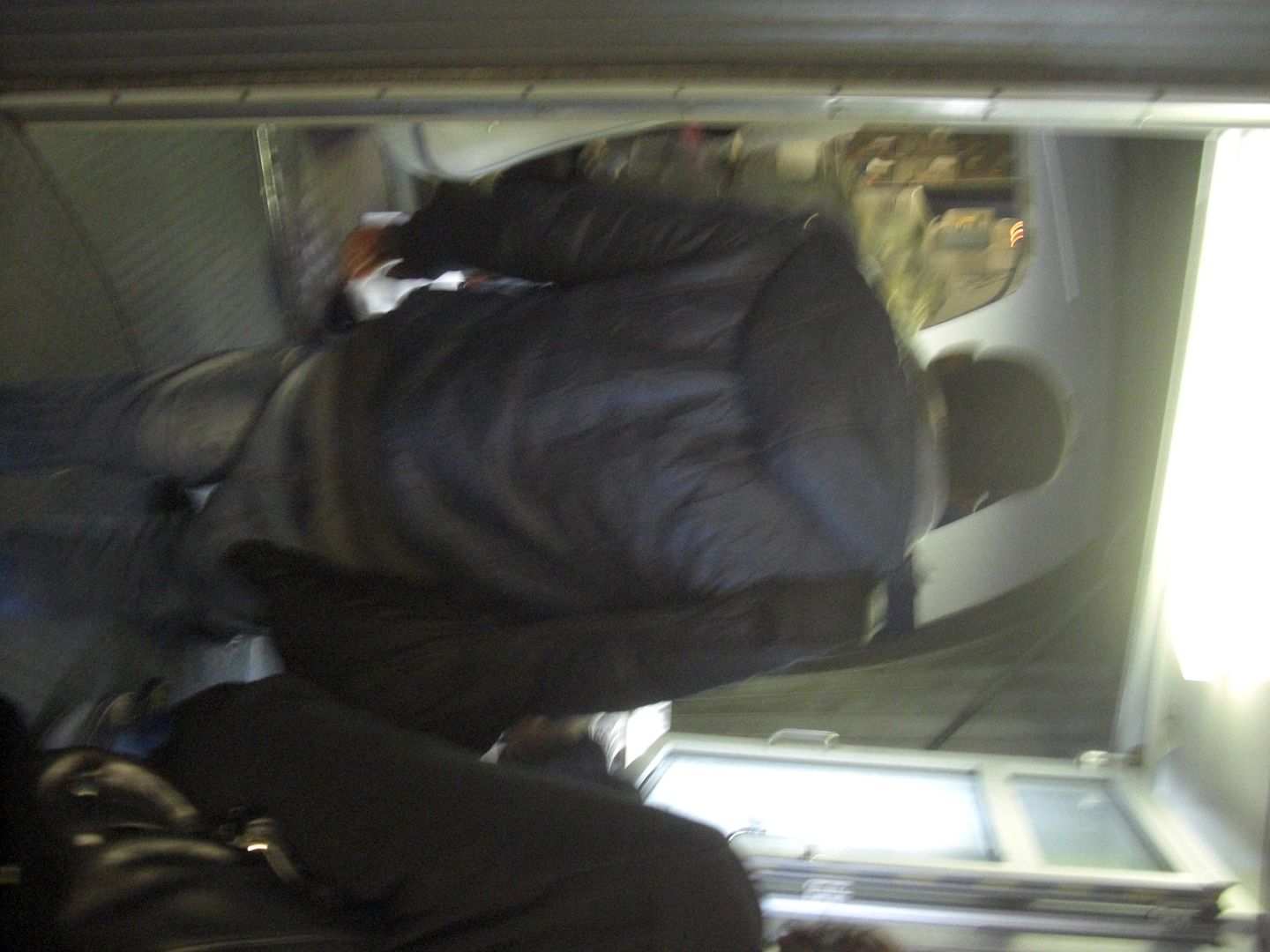 October 2011
London Gatwick (LGW) – Frankfurt (FRA)
Lufthansa LH 543
Scheduled: 0950-1225 (1h35m)
Actual: 1009-1215 (1h06m)
Boeing 737-300 D-ABEU 'Goslar' Delivered in 1995, 2nd youngest 737 in LH's fleet
I was greeted by a friendly elder cabin crew lady, and made my way past the empty 3 row business class to my seat. I was happy to see that there was no one else allocated to my row, nor in the row ahead. As I already mentioned, this plane had the NEK cabin/seats – lots of legroom.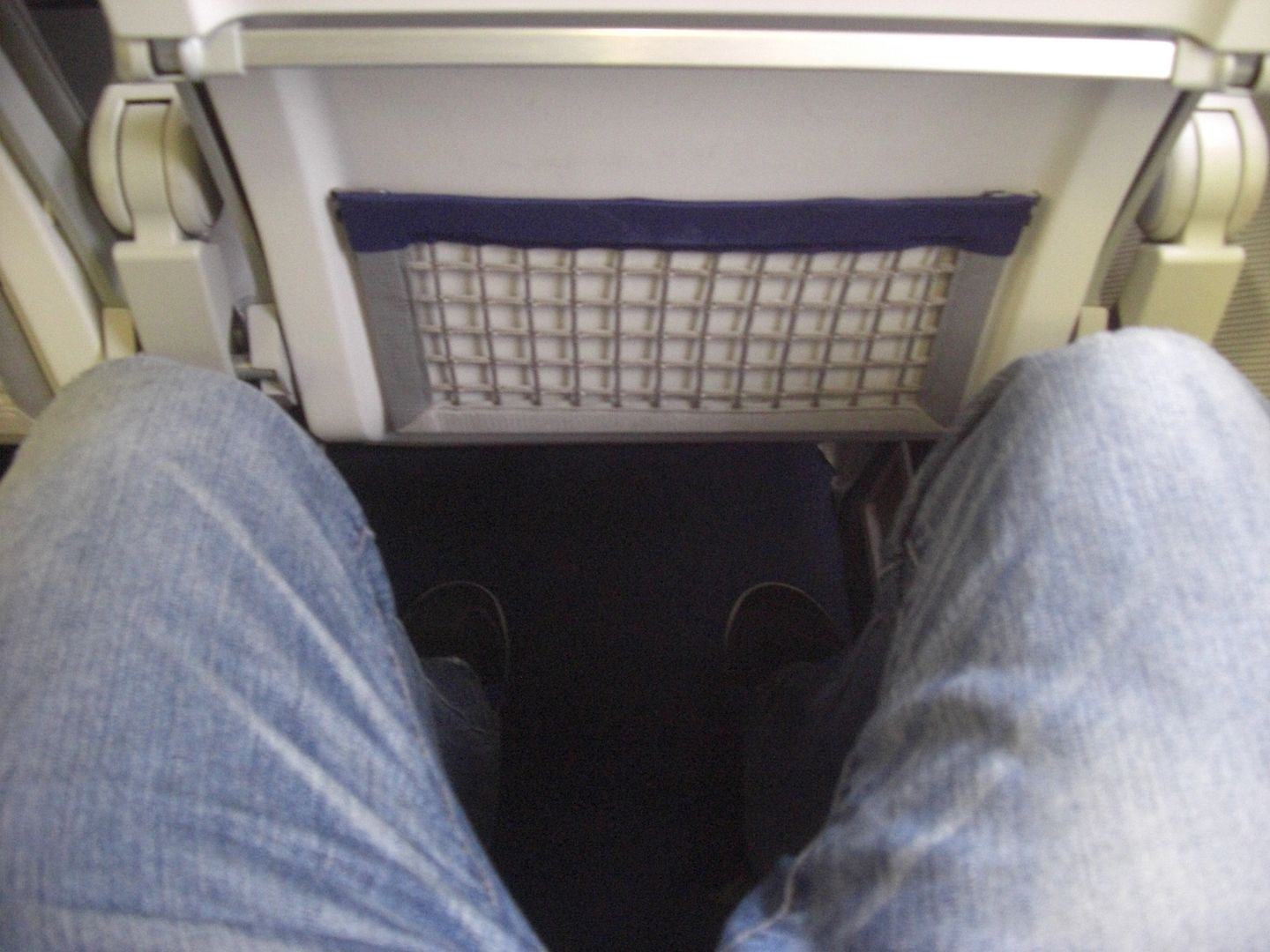 View from the window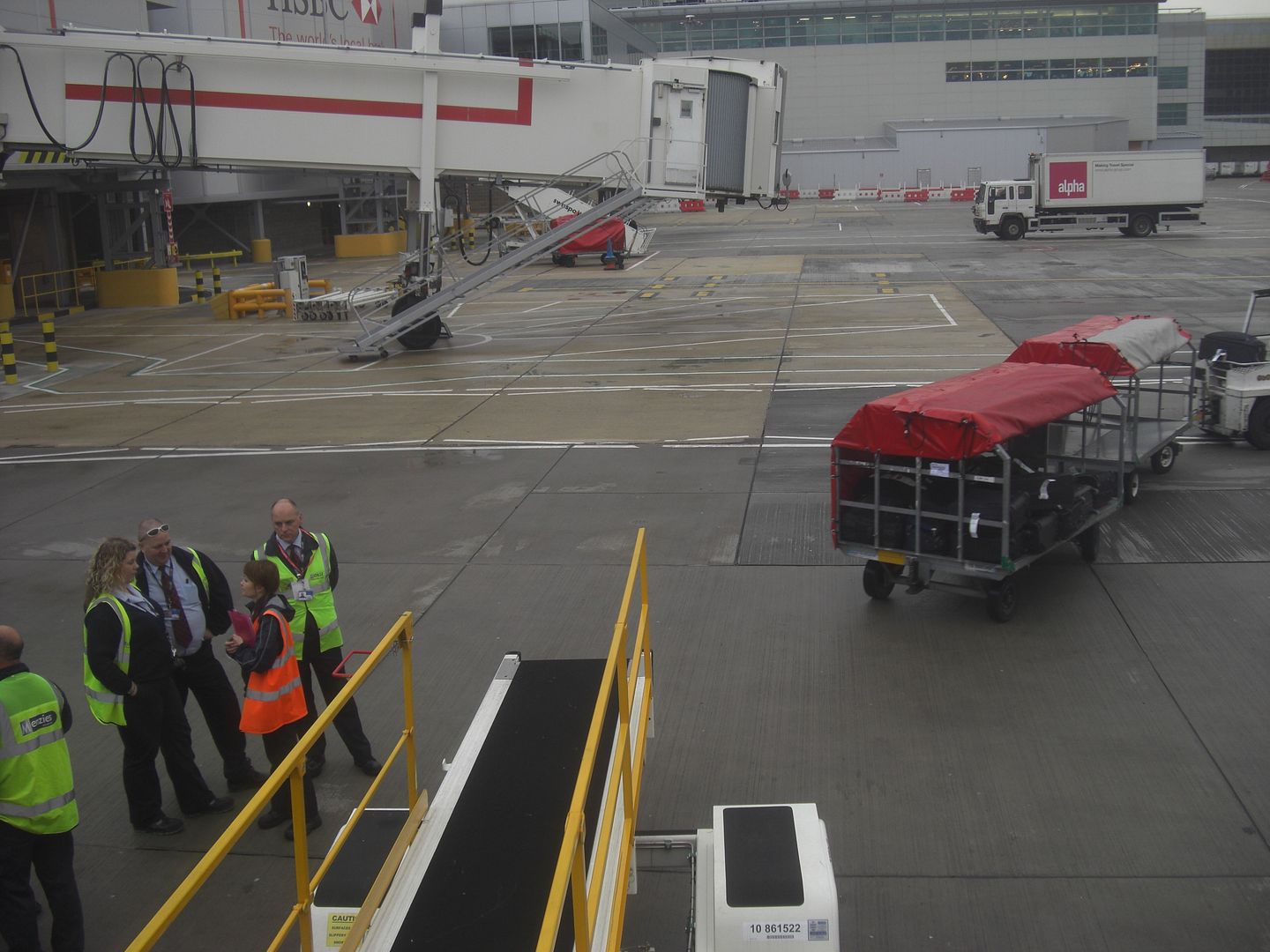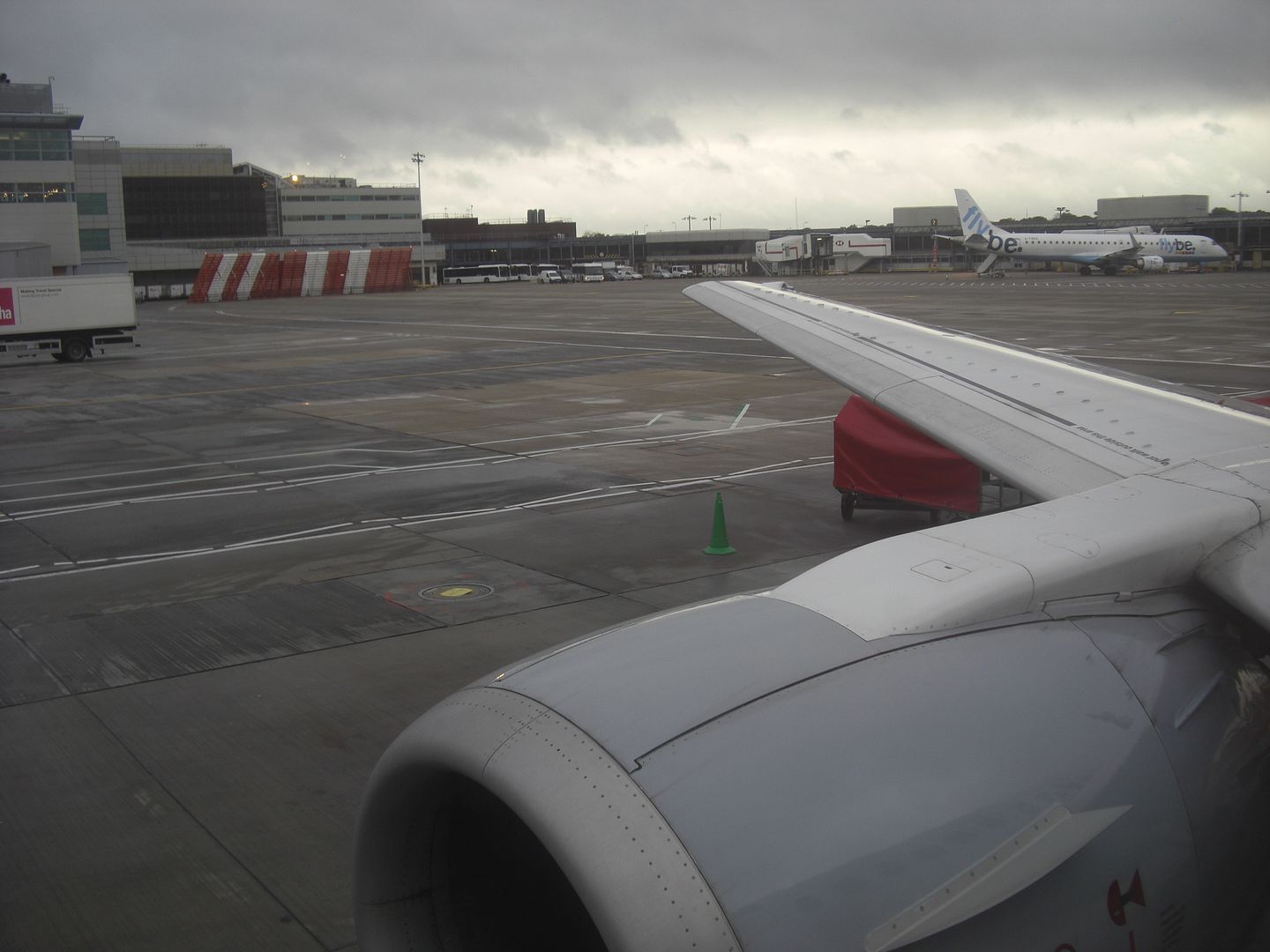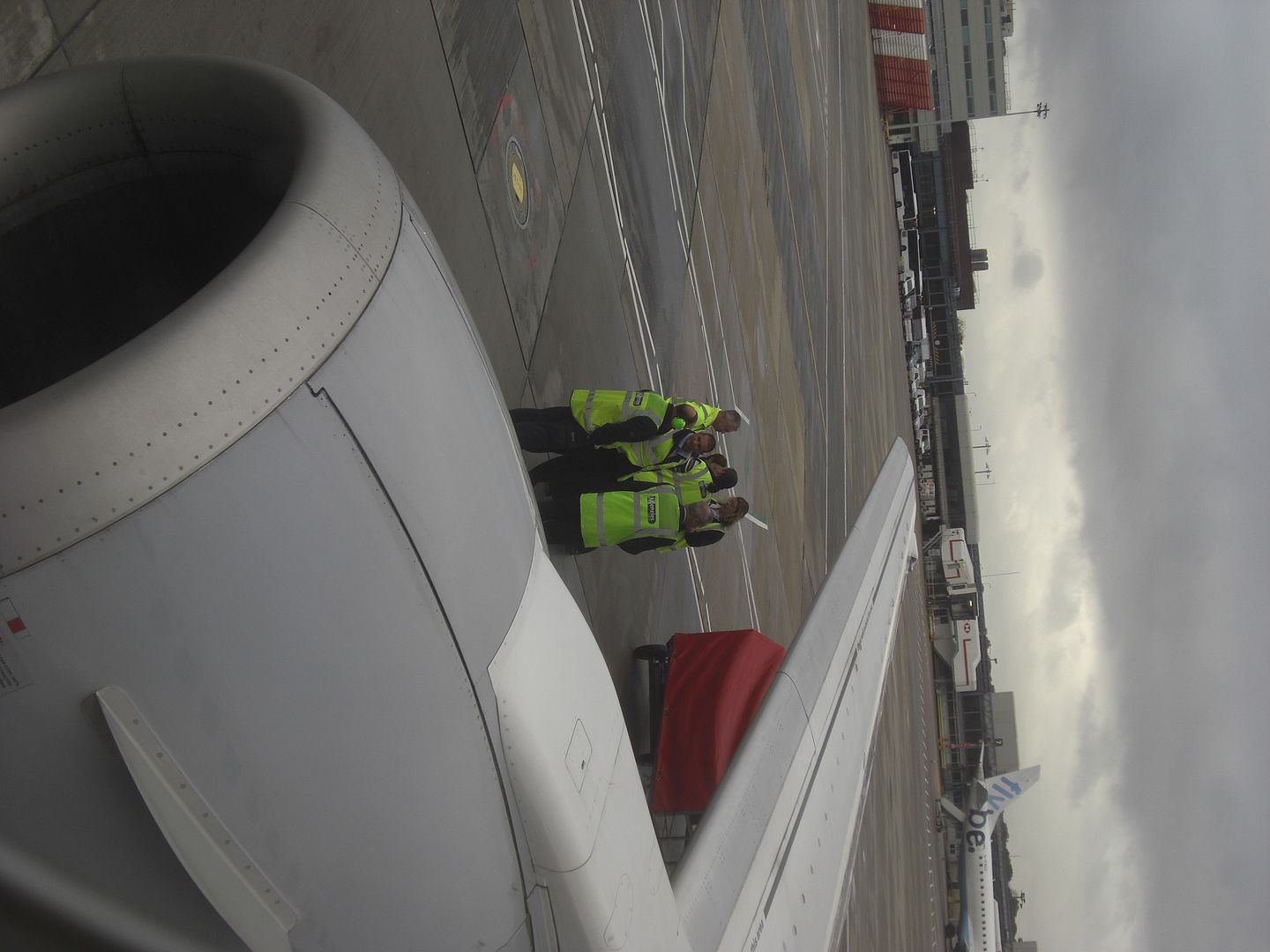 There was a bit of a delay once the safety briefing was finished before we finally pushed back about ten minutes late. There was a brief welcome from the captain and crew, although neither mentioned anything special about the flight.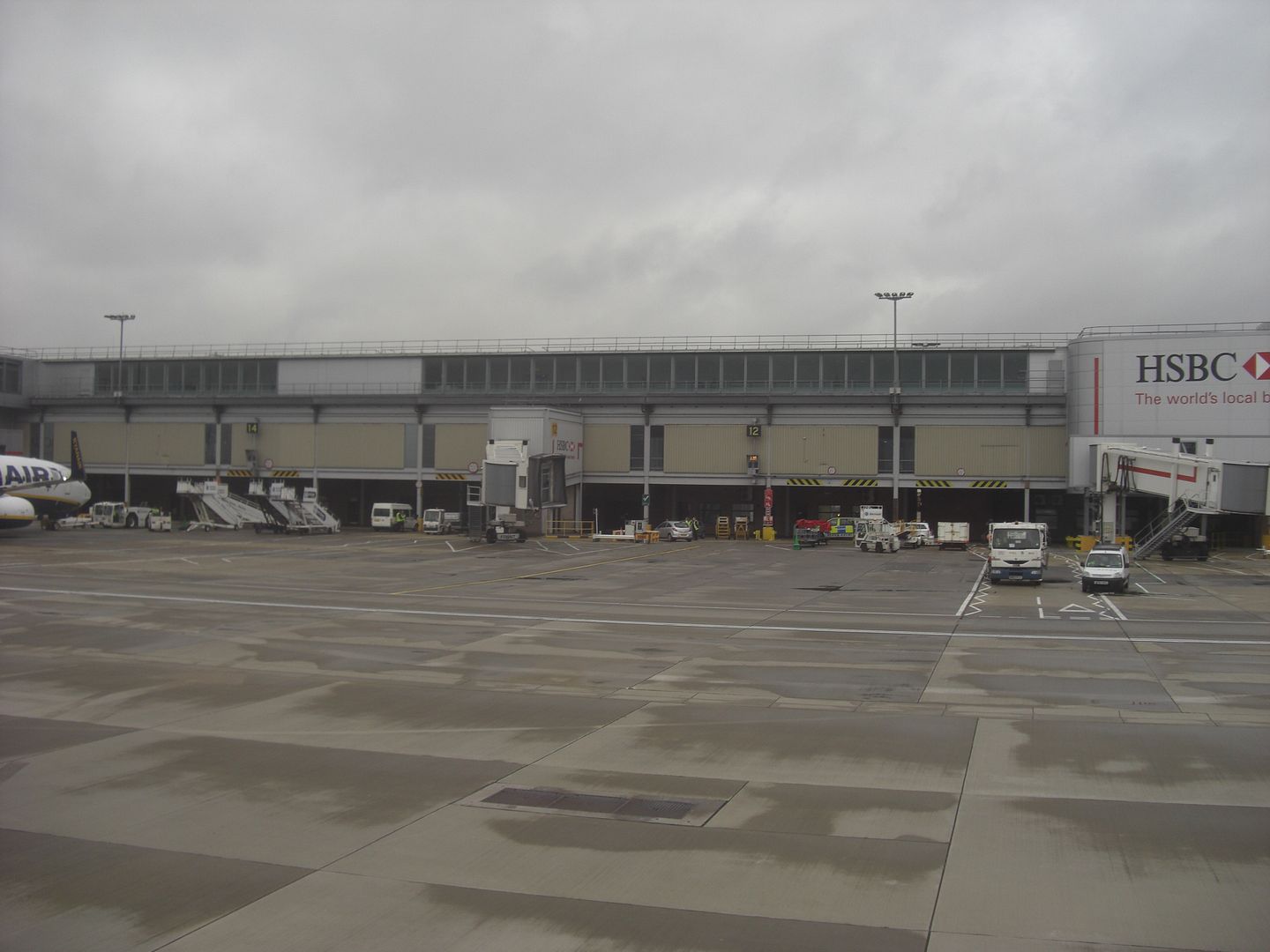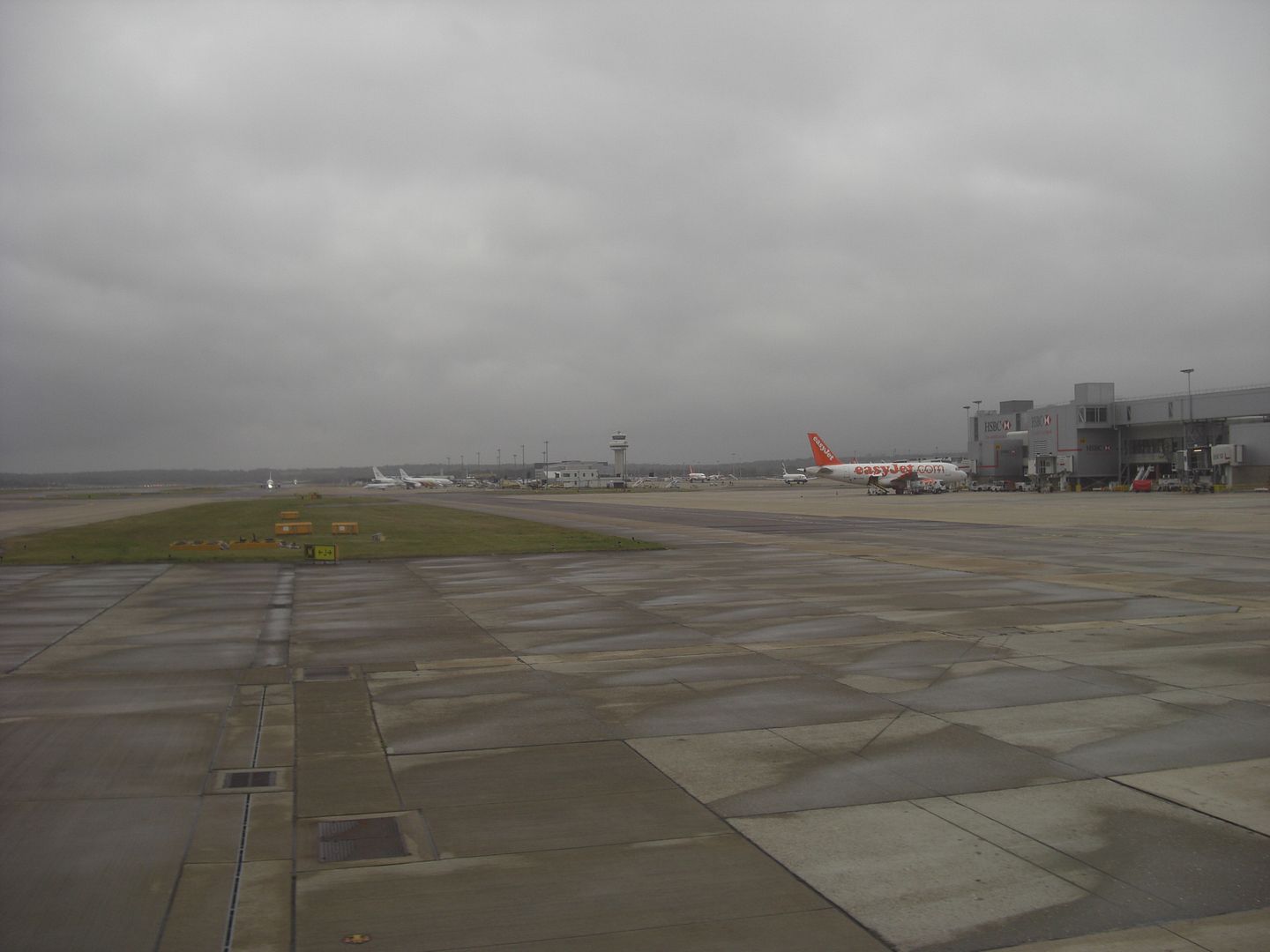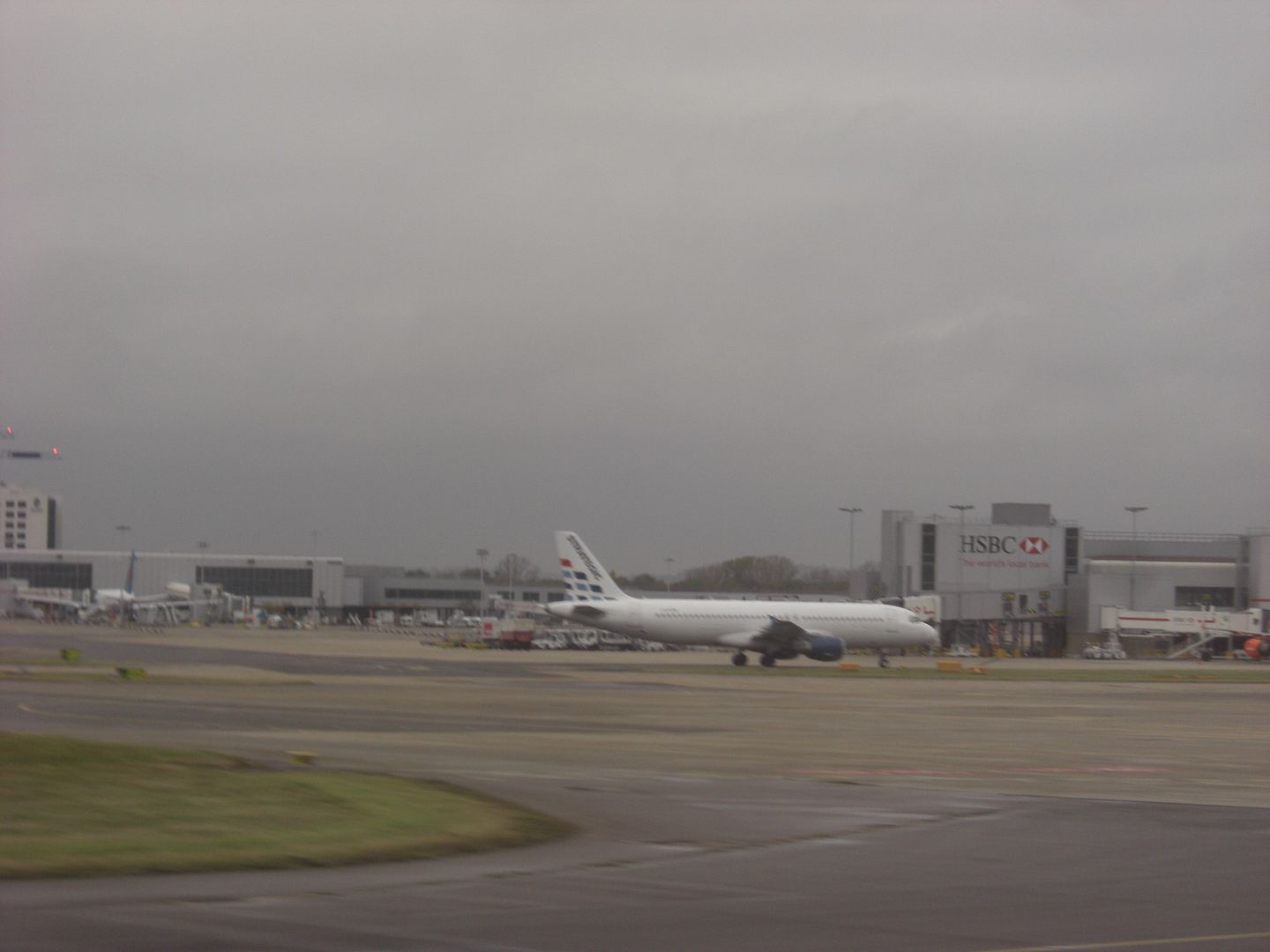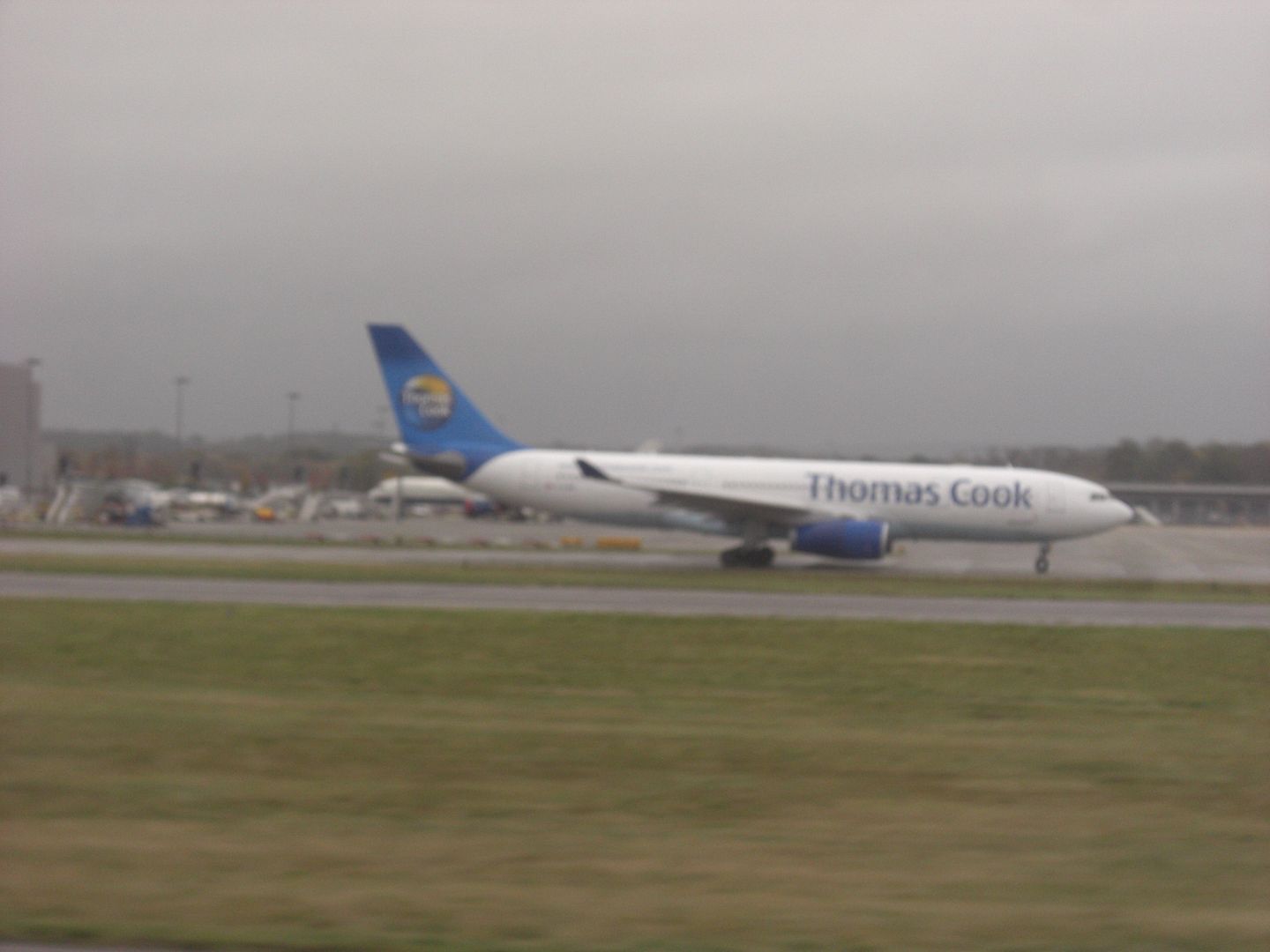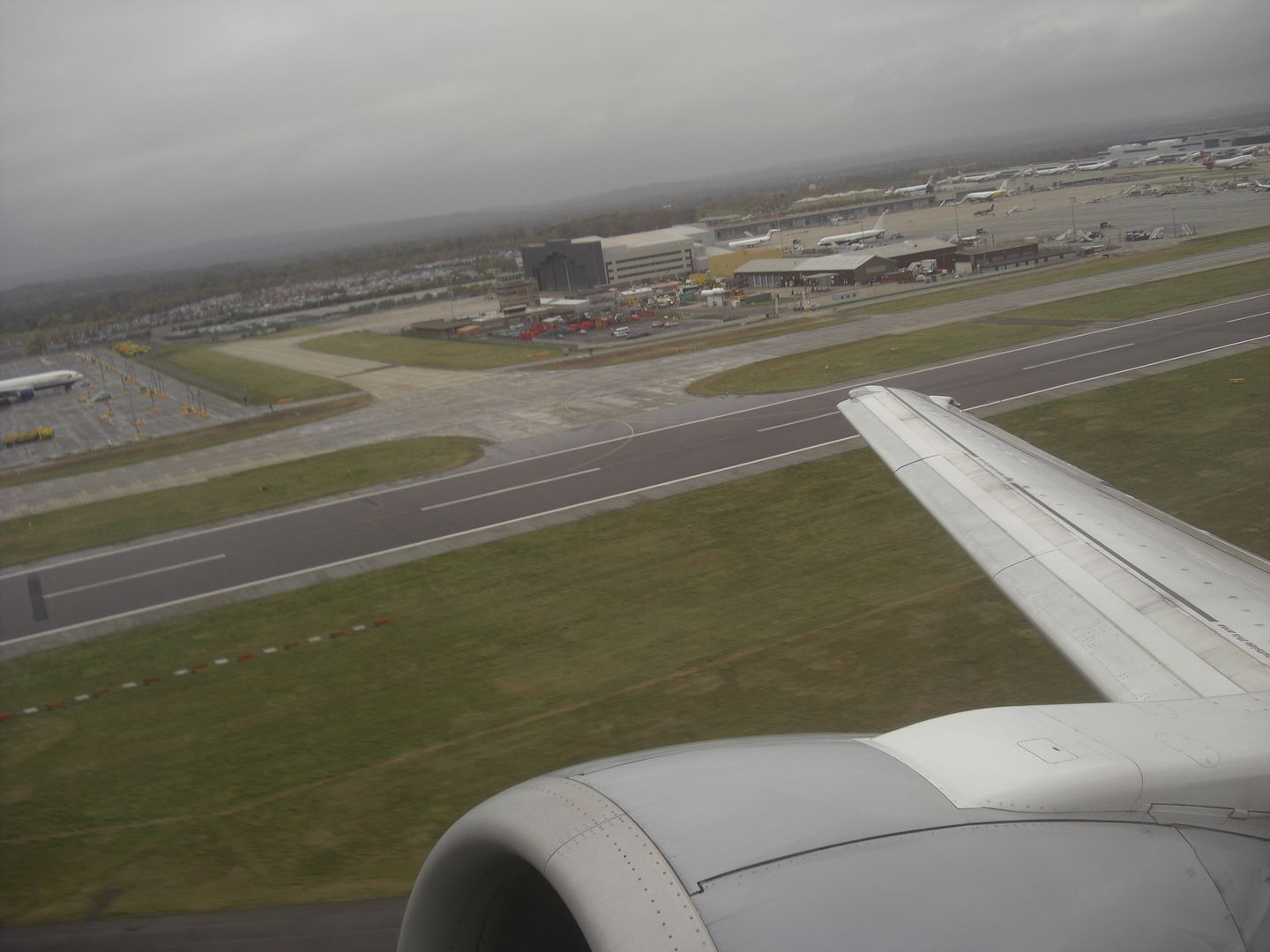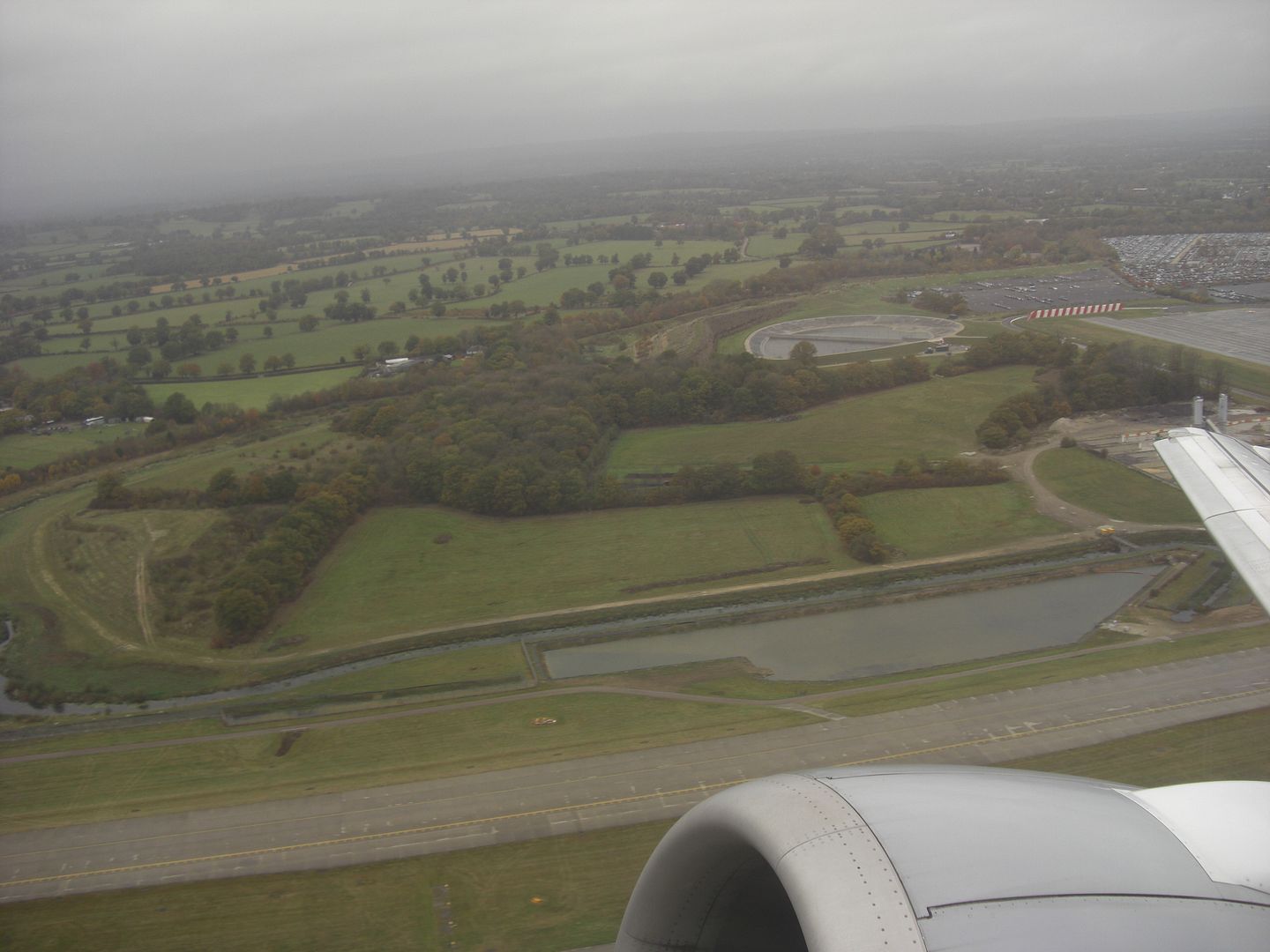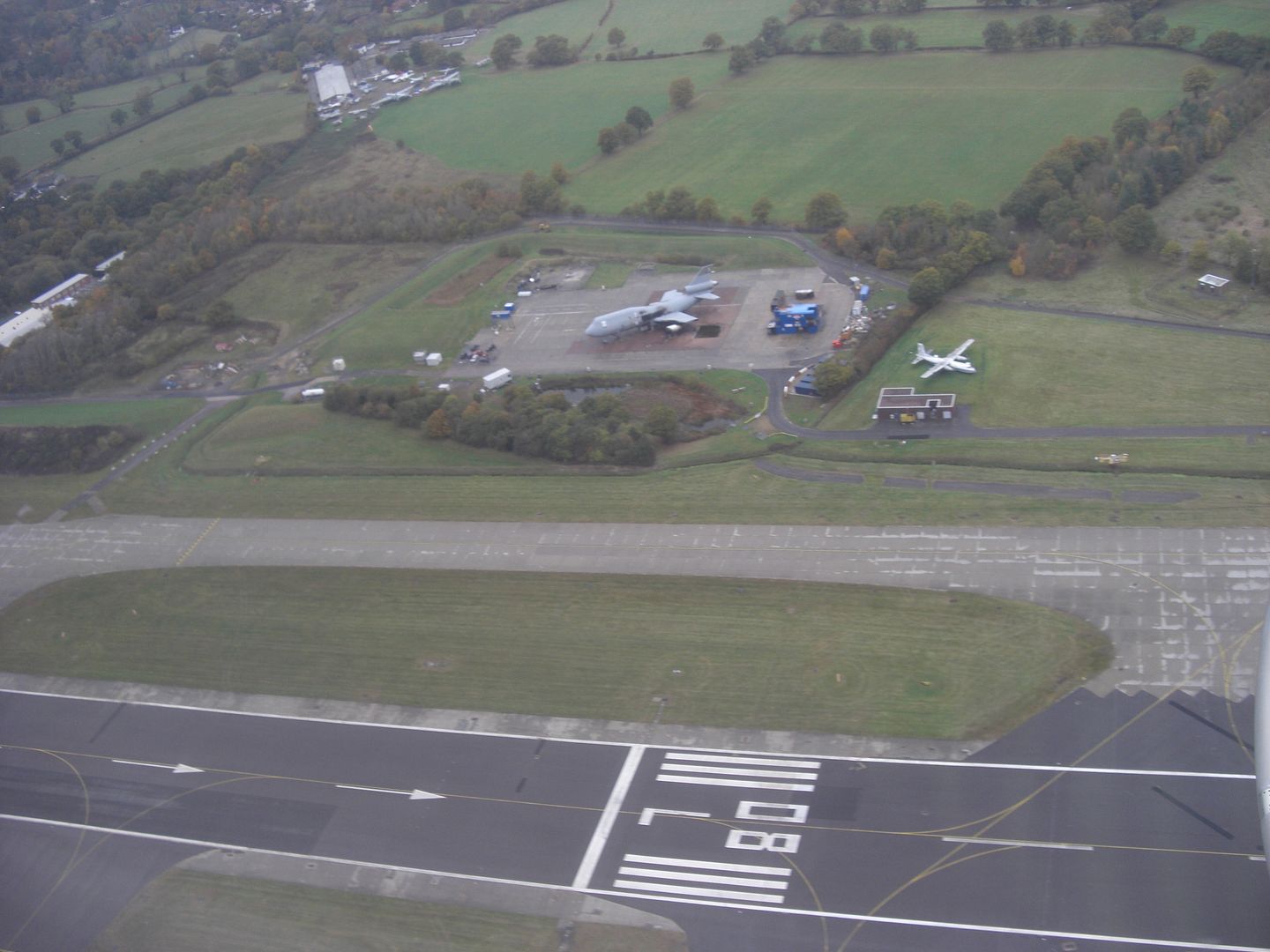 After flying through a bit of cloud, we were finally in the sun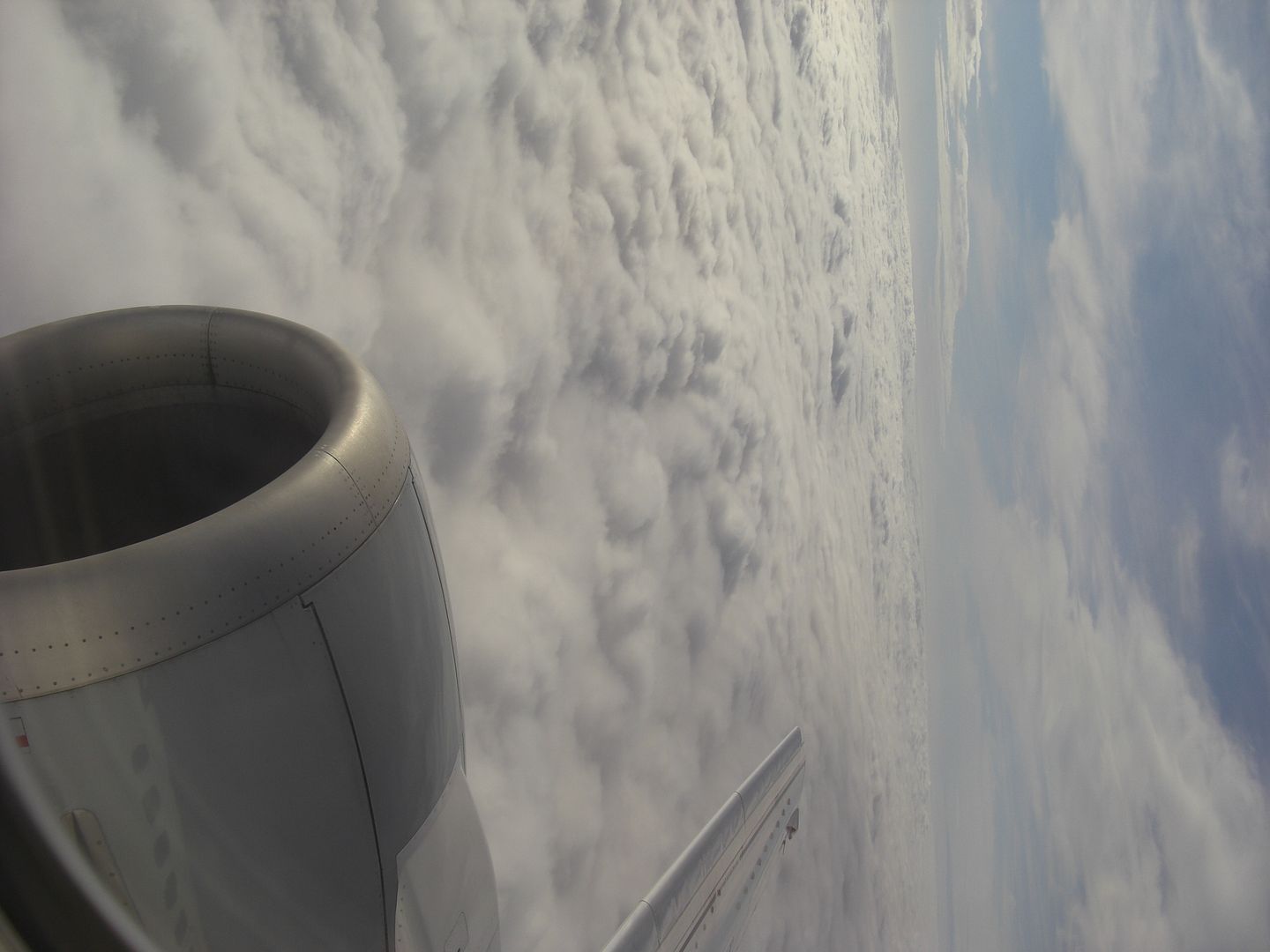 Less than ten minutes after takeoff, the trolley rolled to my row. I wasn't sure what to expect to be served. From personal experience, and reading other recent reports, LH seems to vary their shorthual offerings widely from route to route. Sometimes it's a hot roll, sometimes a cold one, sometimes a hot wrap, or just a chocolate bar. Today, however, it was a bowl of cereal with a drinking yoghurt. Very tasty actually, and a pretty good choice.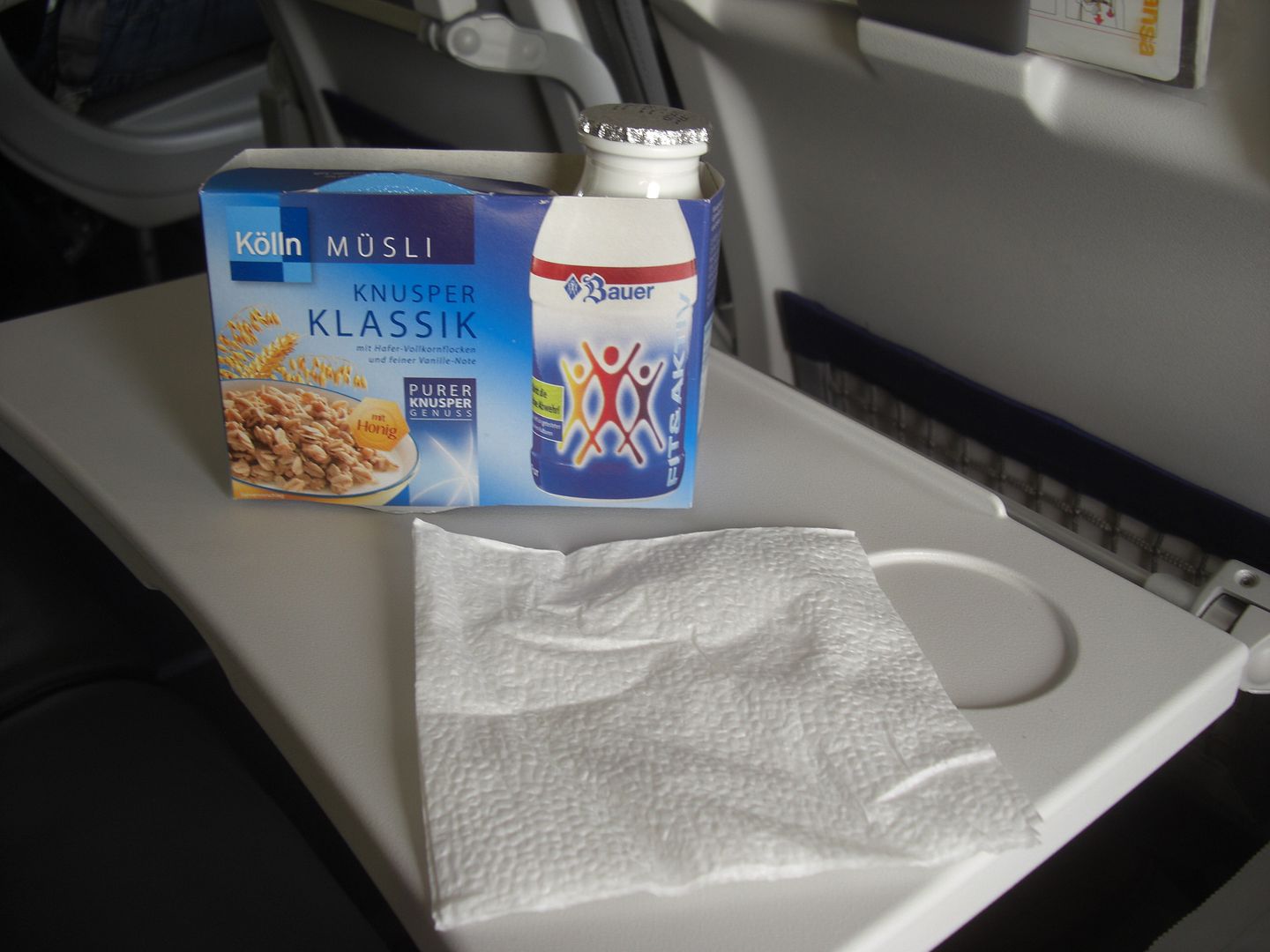 No beer this morning, but a cup of tea and OJ will do nicely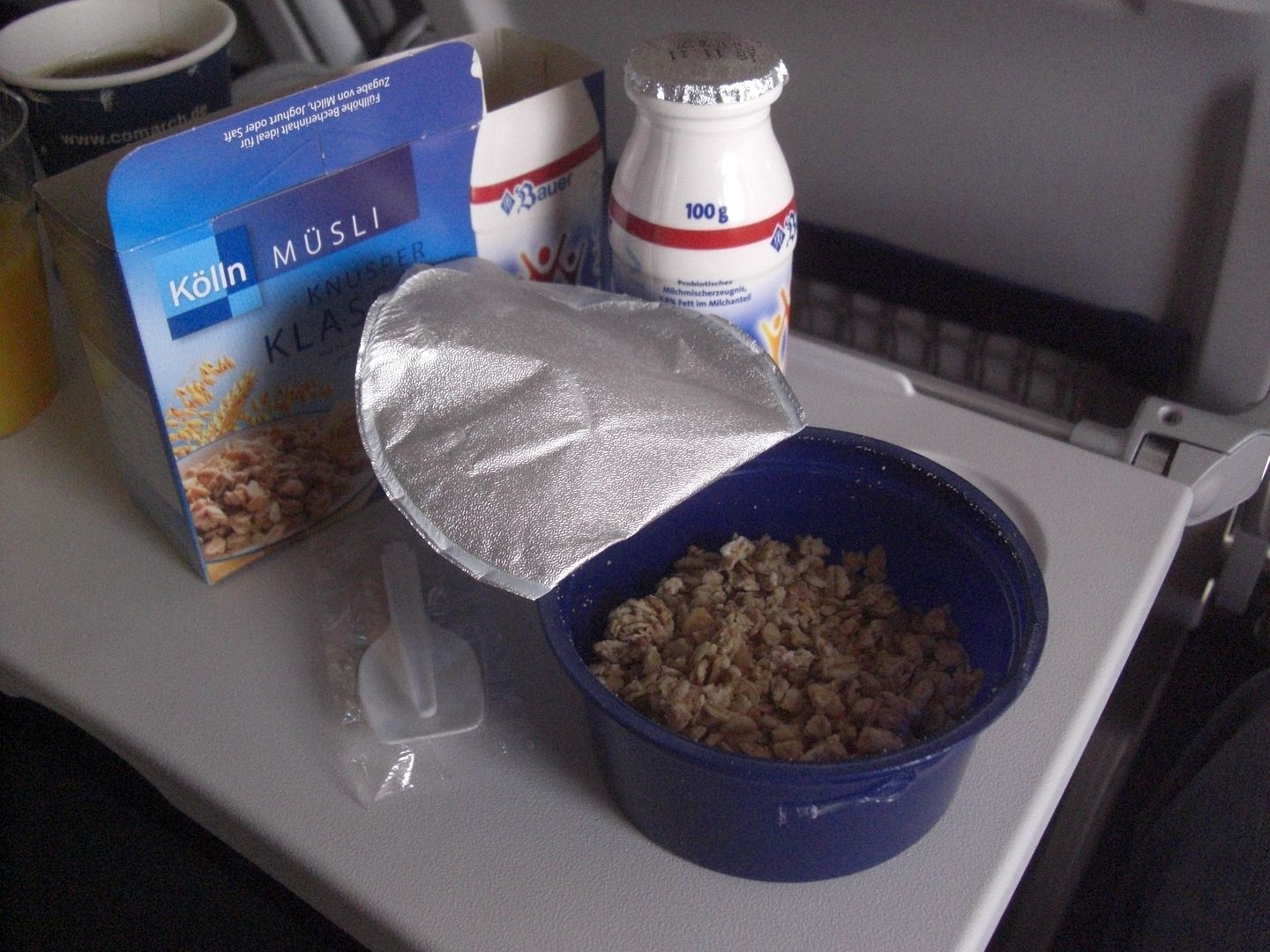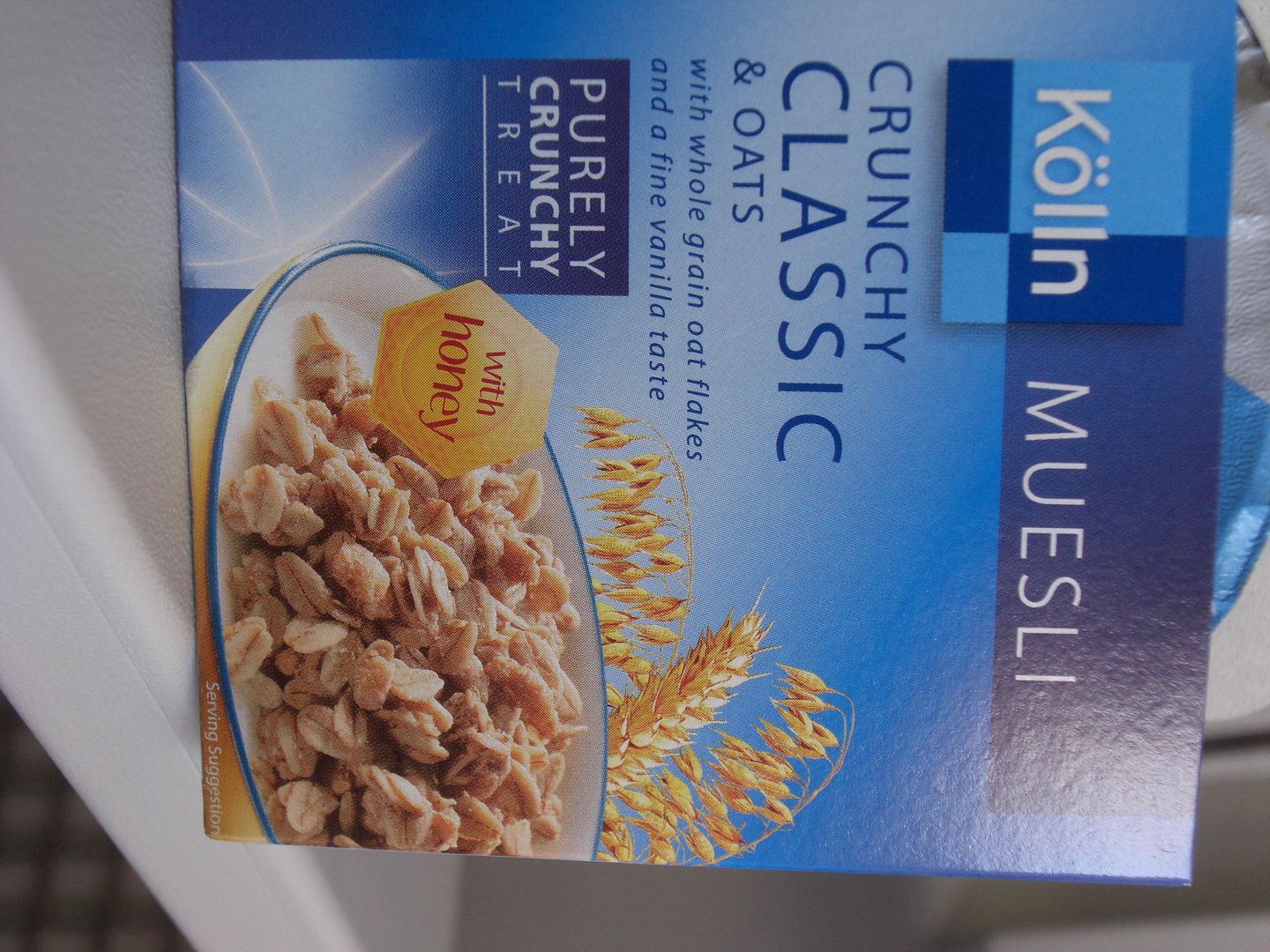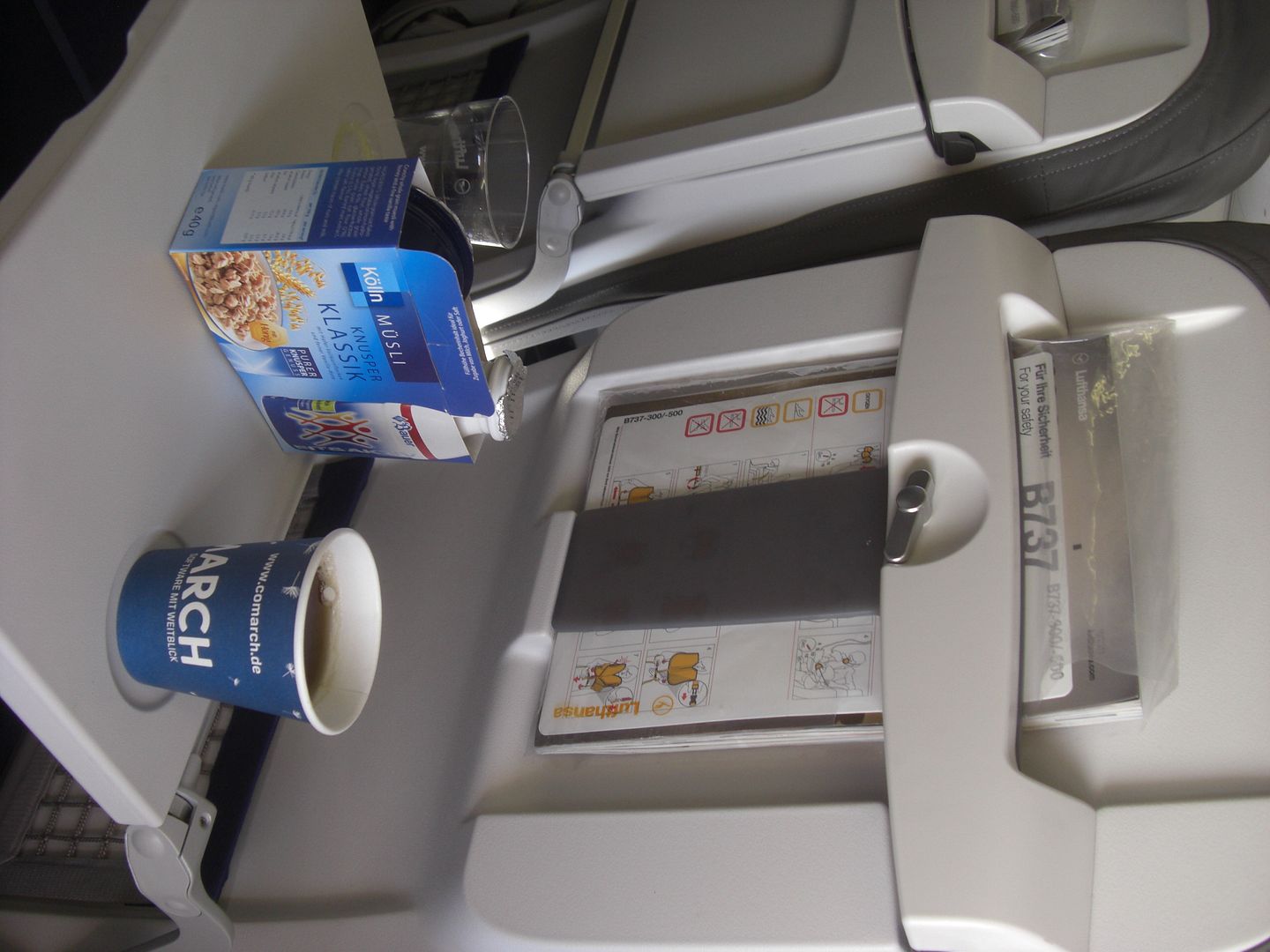 After breakfast, I had a look through the magazine to find out where the train station was in FRA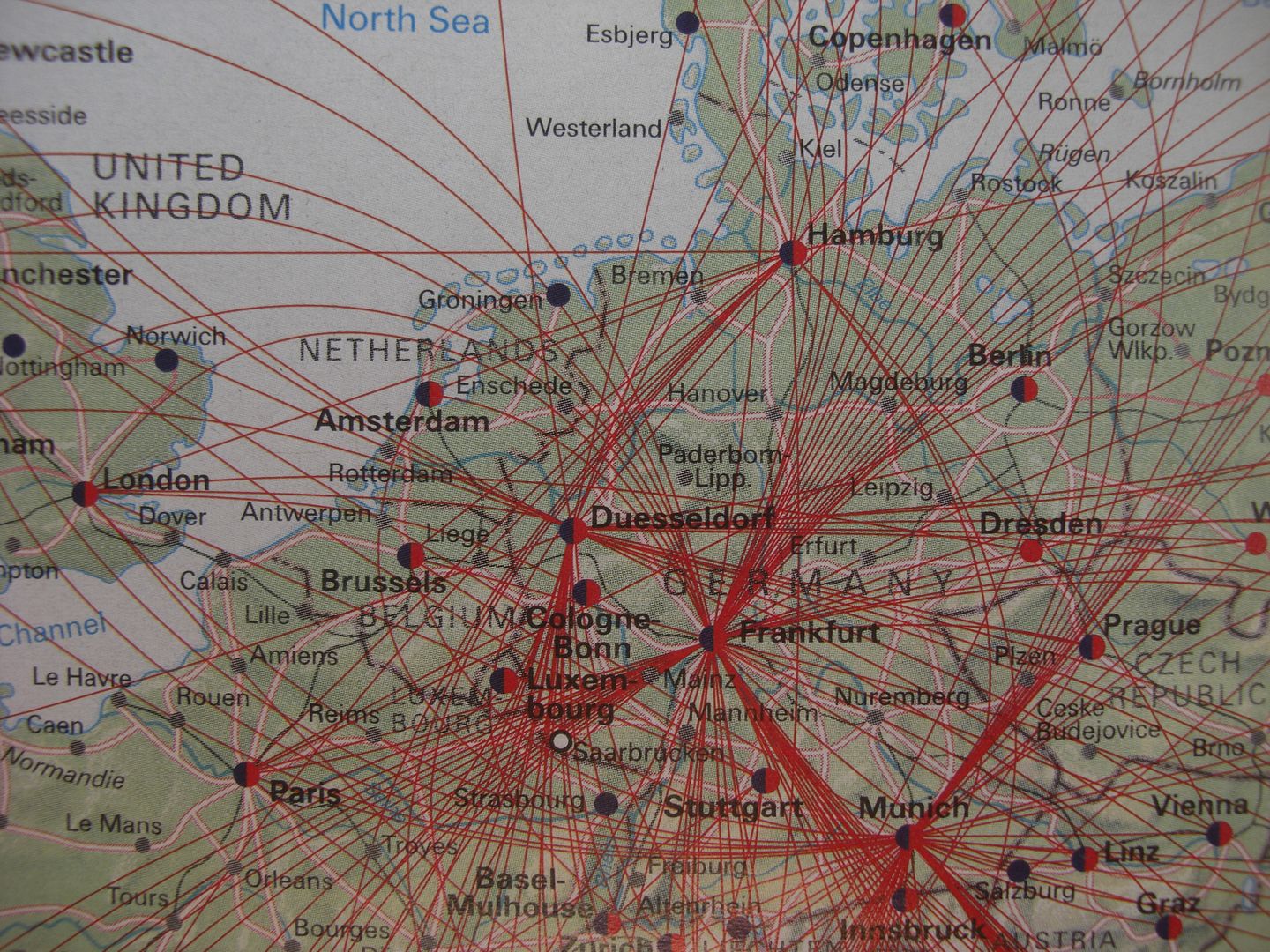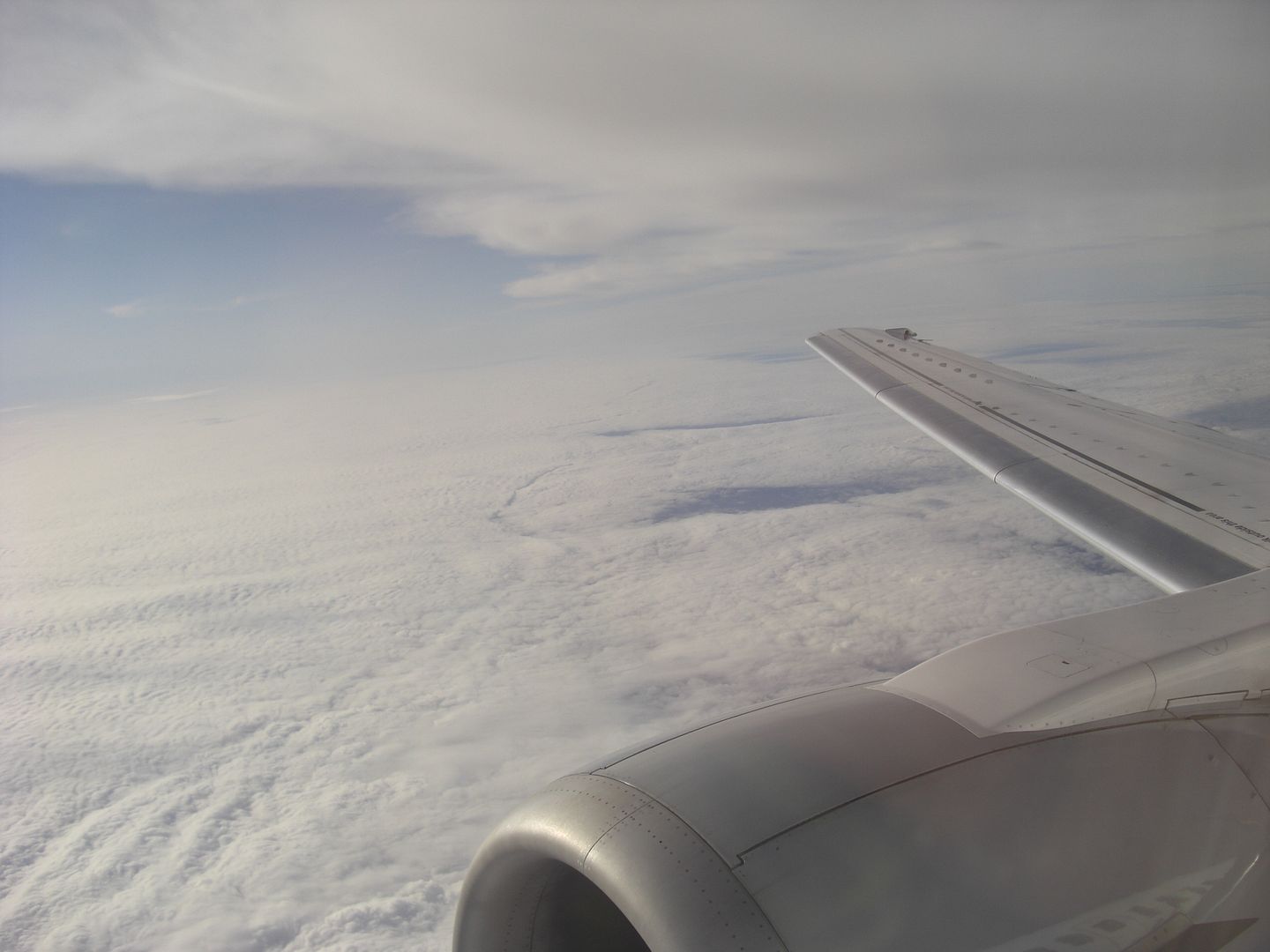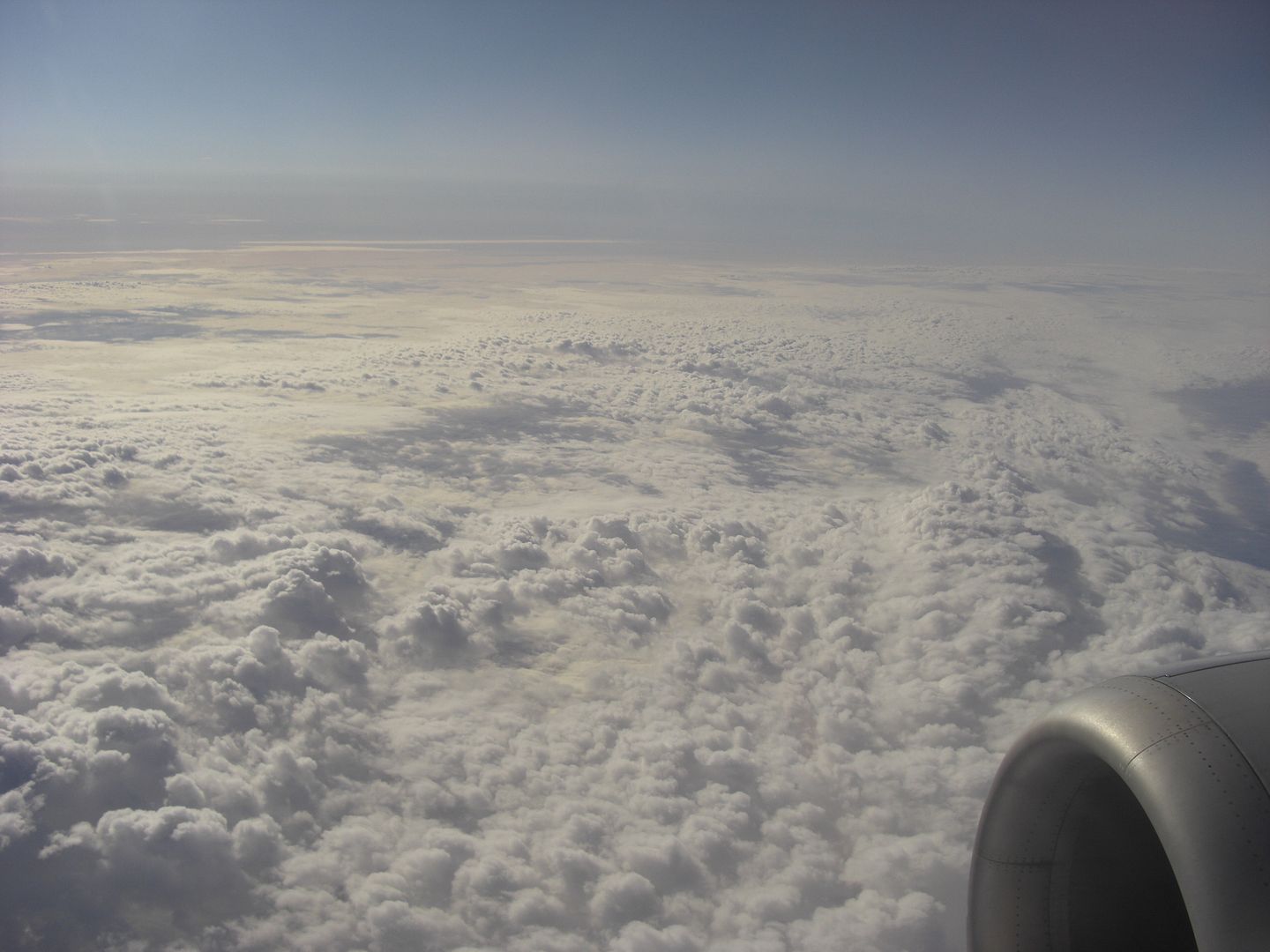 Taking the opportunity of not having seat mates to disturb, I took a walk to the back of the cabin. The three cabin crew were seconded in business class (curtains drawn), so the back galley was empty. It was interesting to see that the 'back wall' galley had been replaced with two toilets in a 'v' shape. Makes sense to remove the bigger galley on short hops.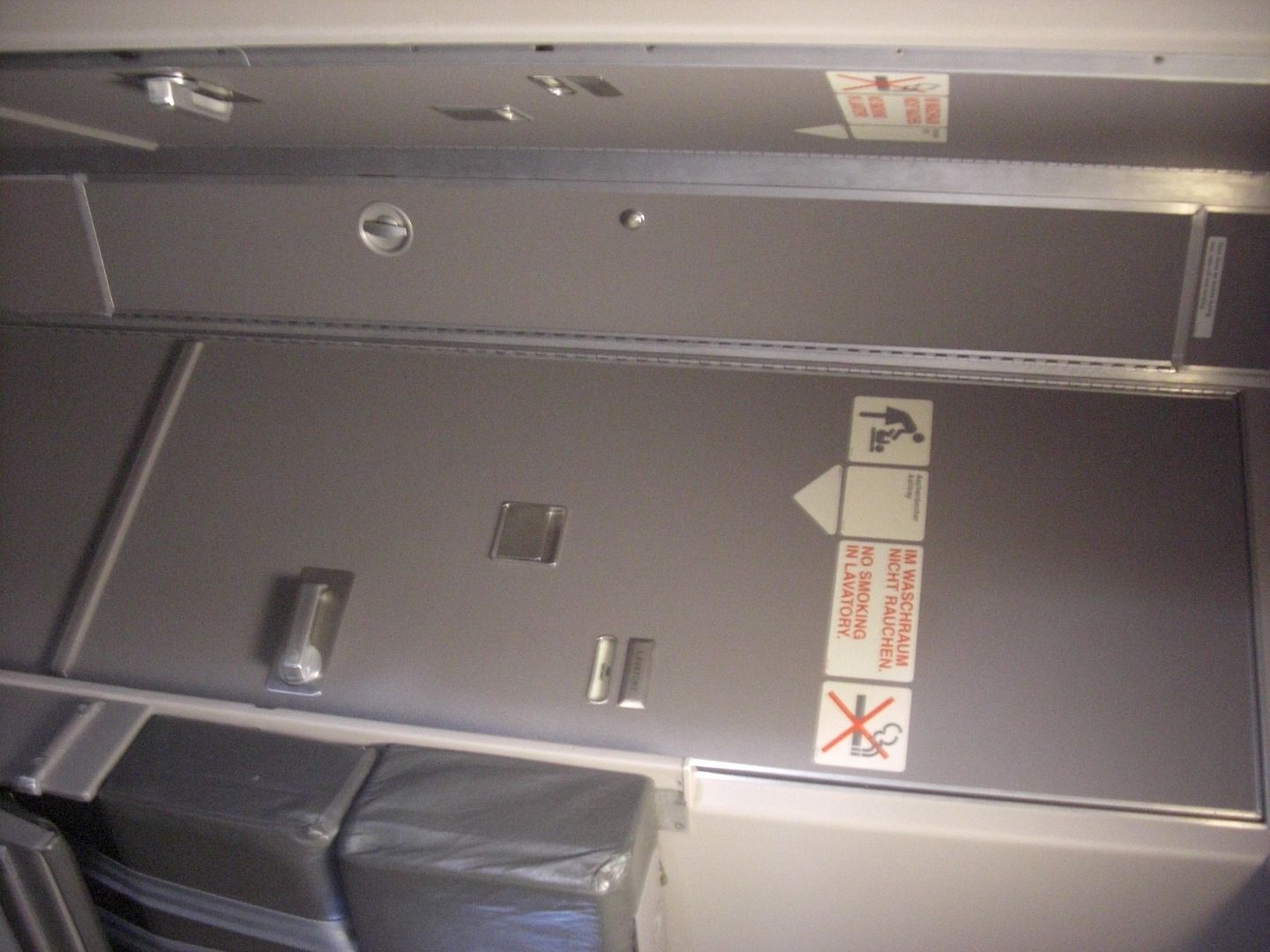 New style numbering
Safety
Once breakfast had been cleared away, there wasn't much left to do but listen to some music, and watch the clouds go by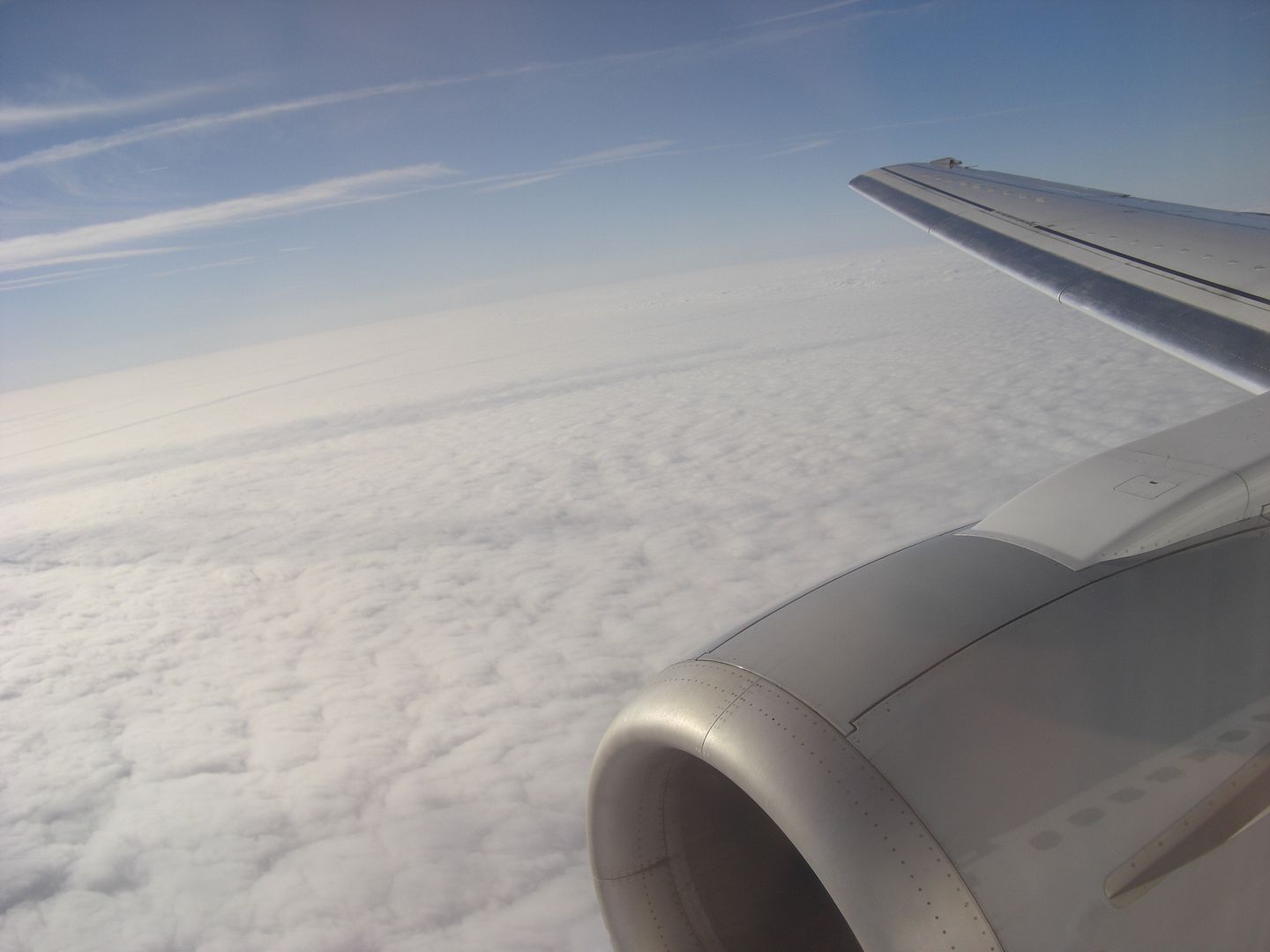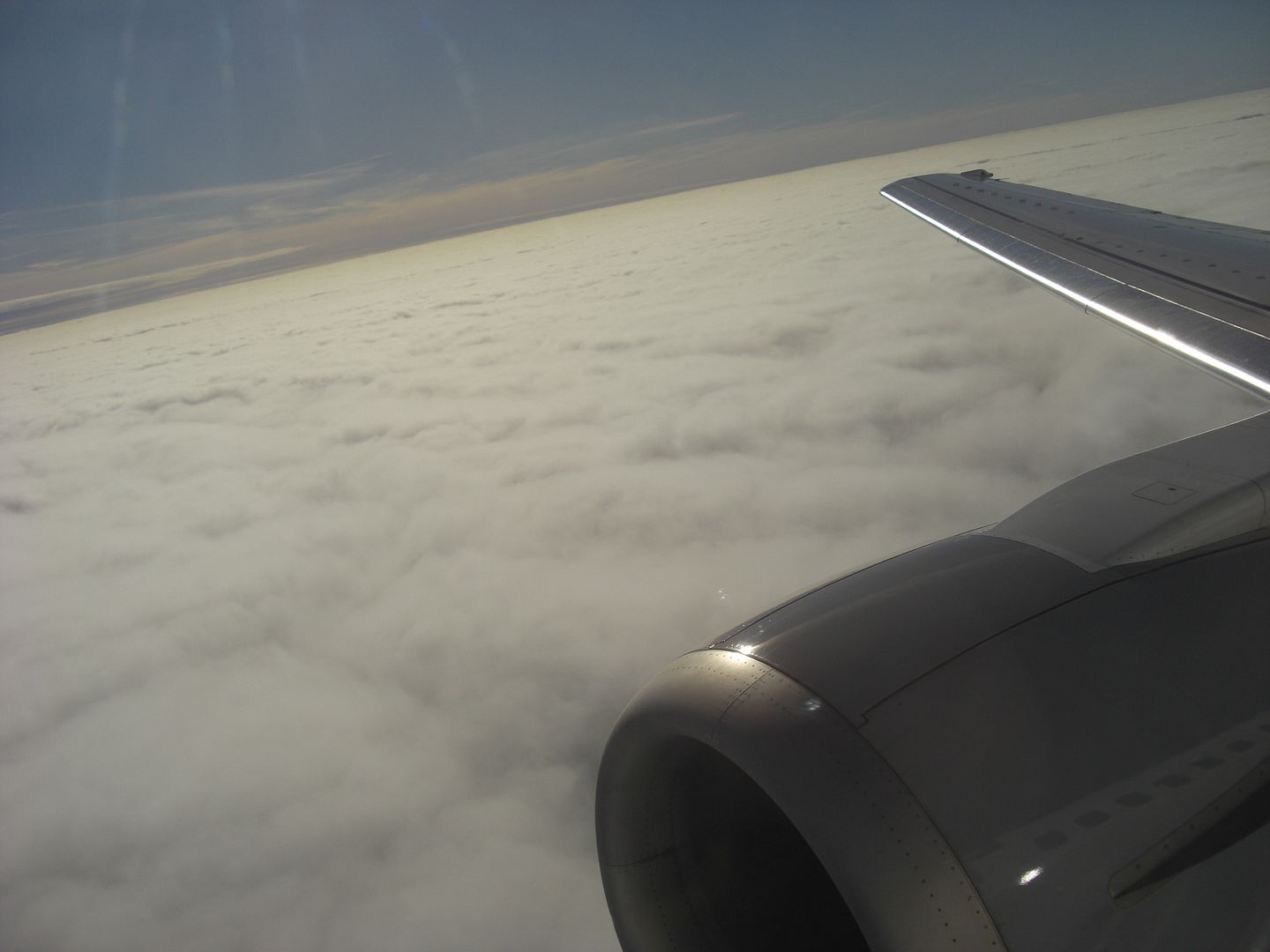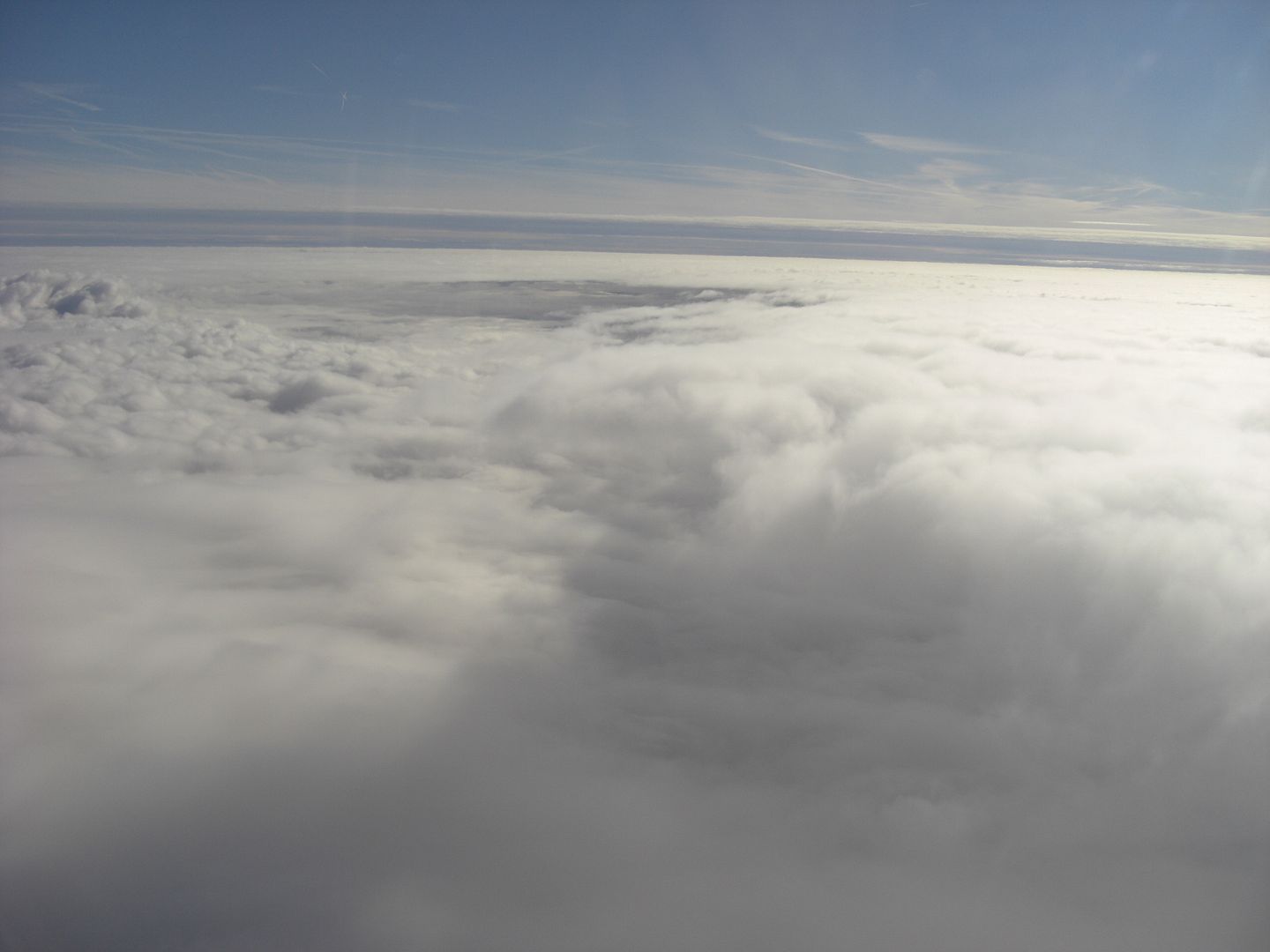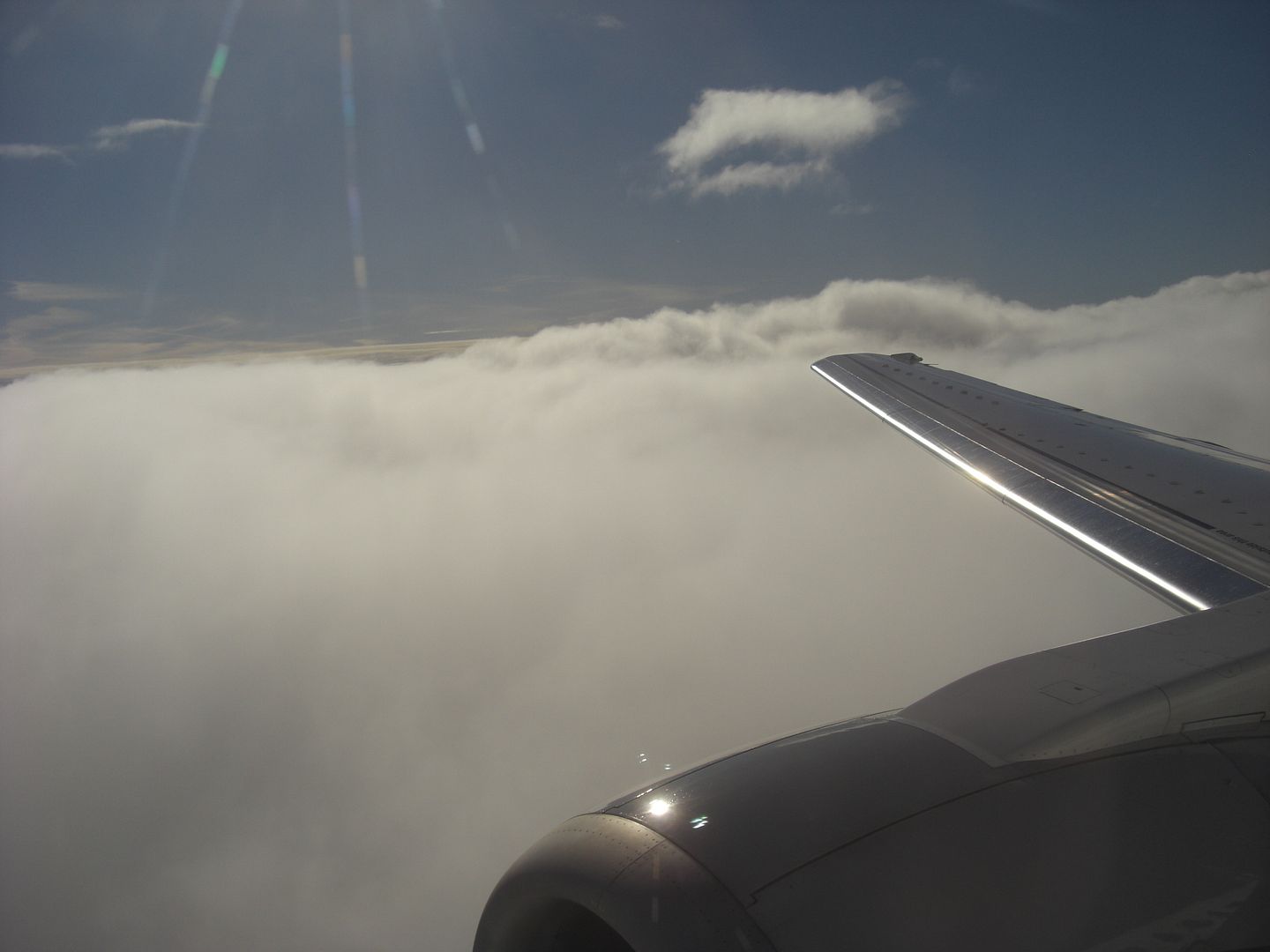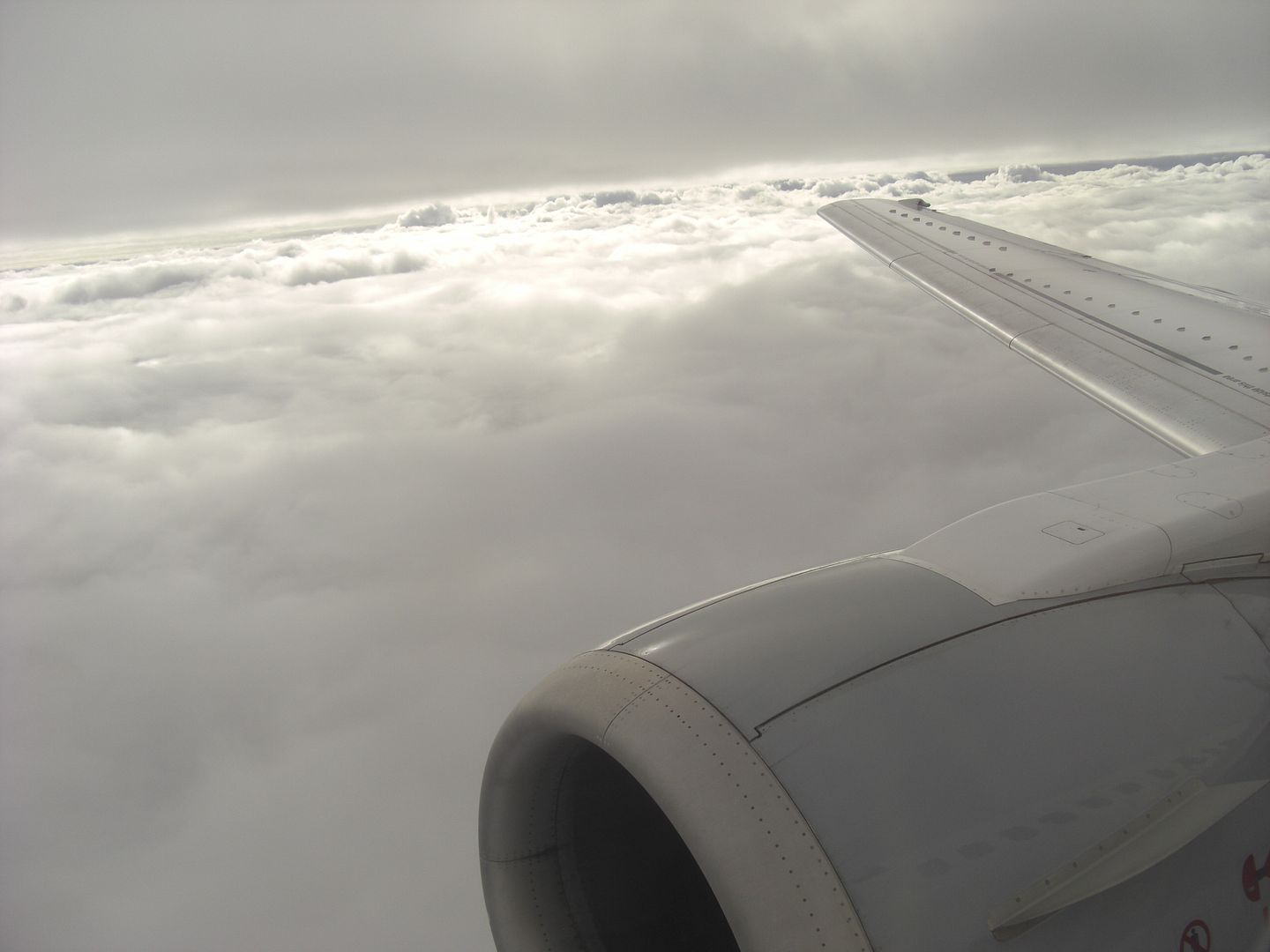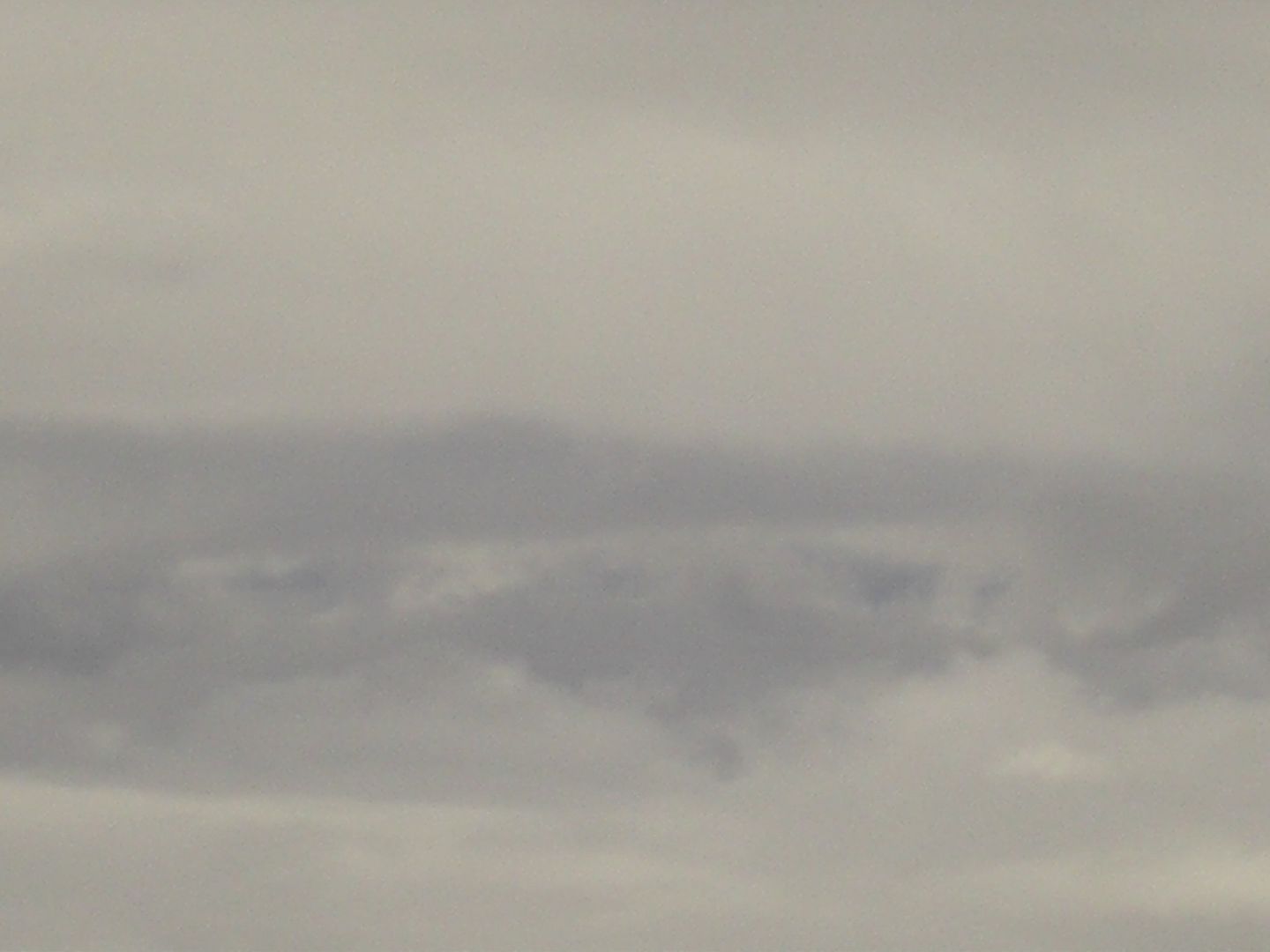 Weather was rather foggy today around Frankfurt, with the skyscapers hard to make out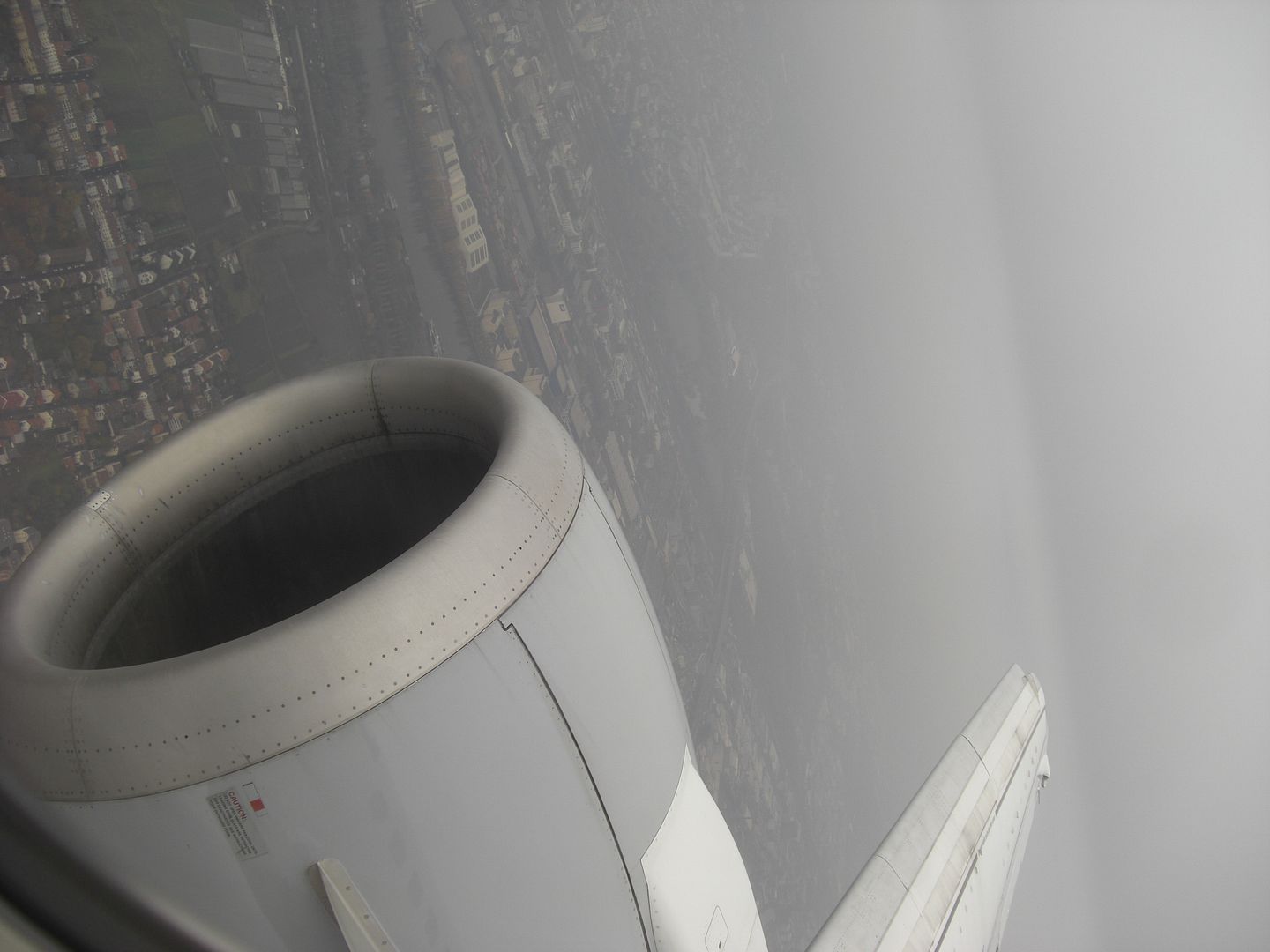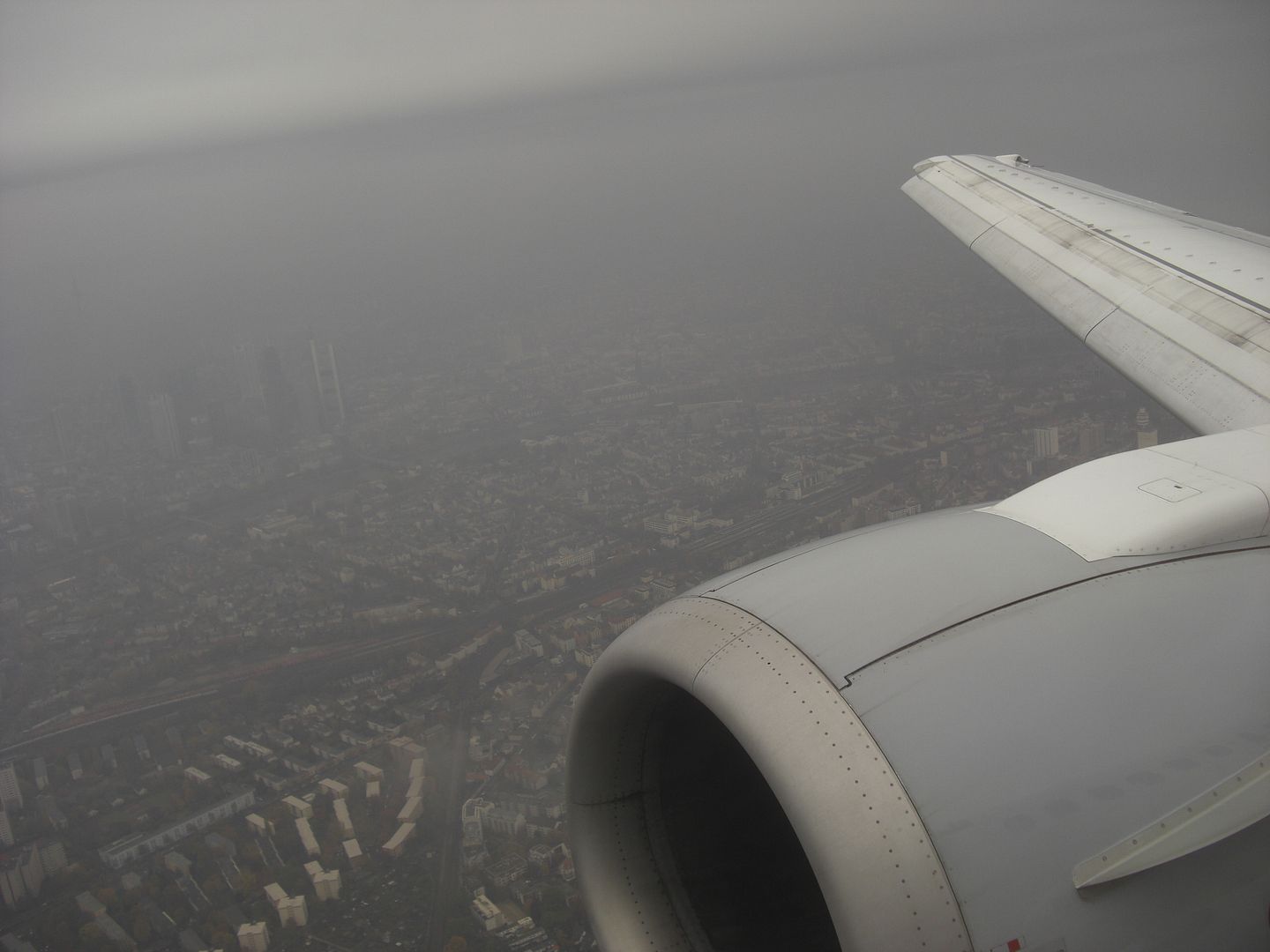 Nice autumnal colours in the forests of FRA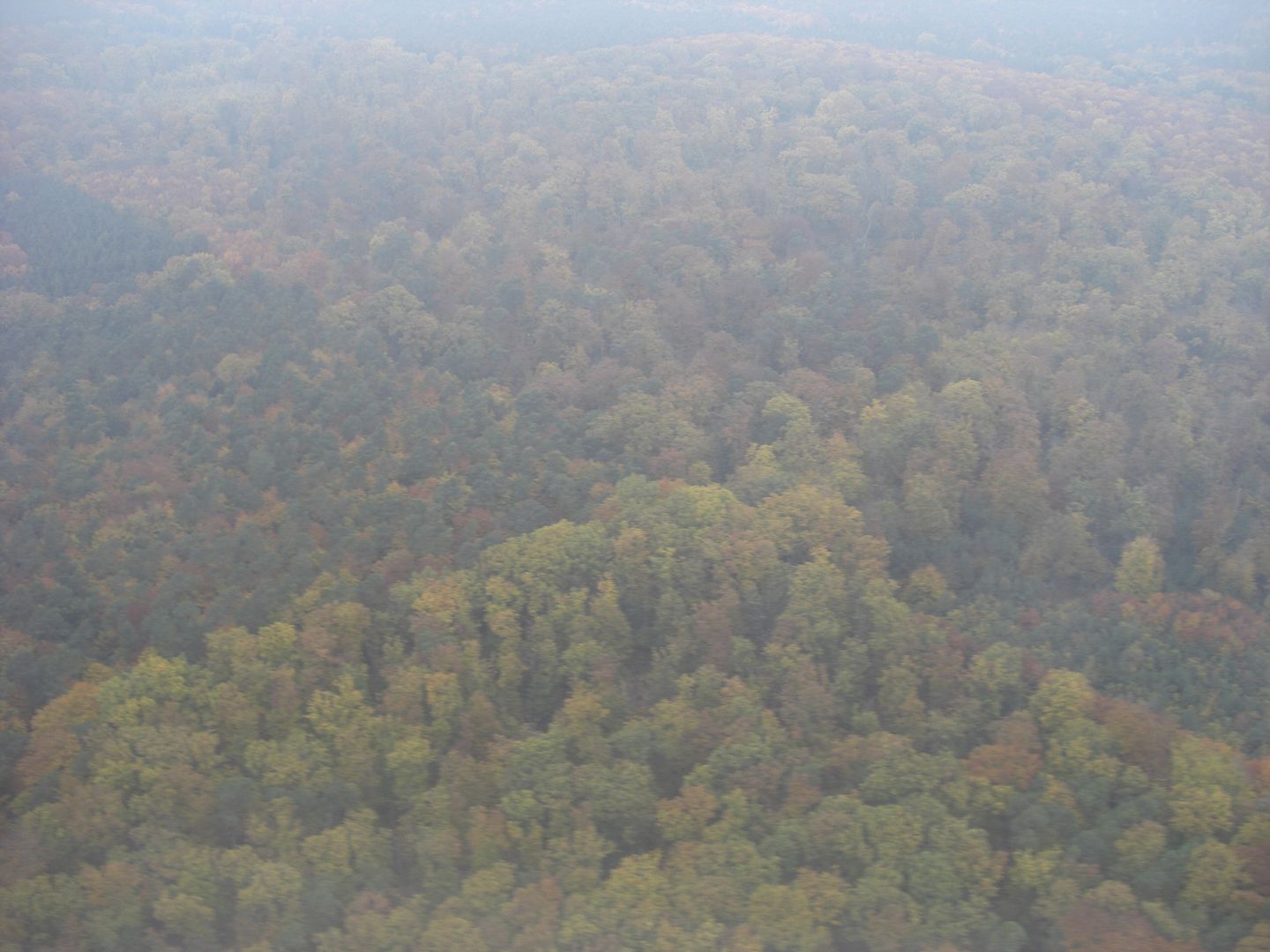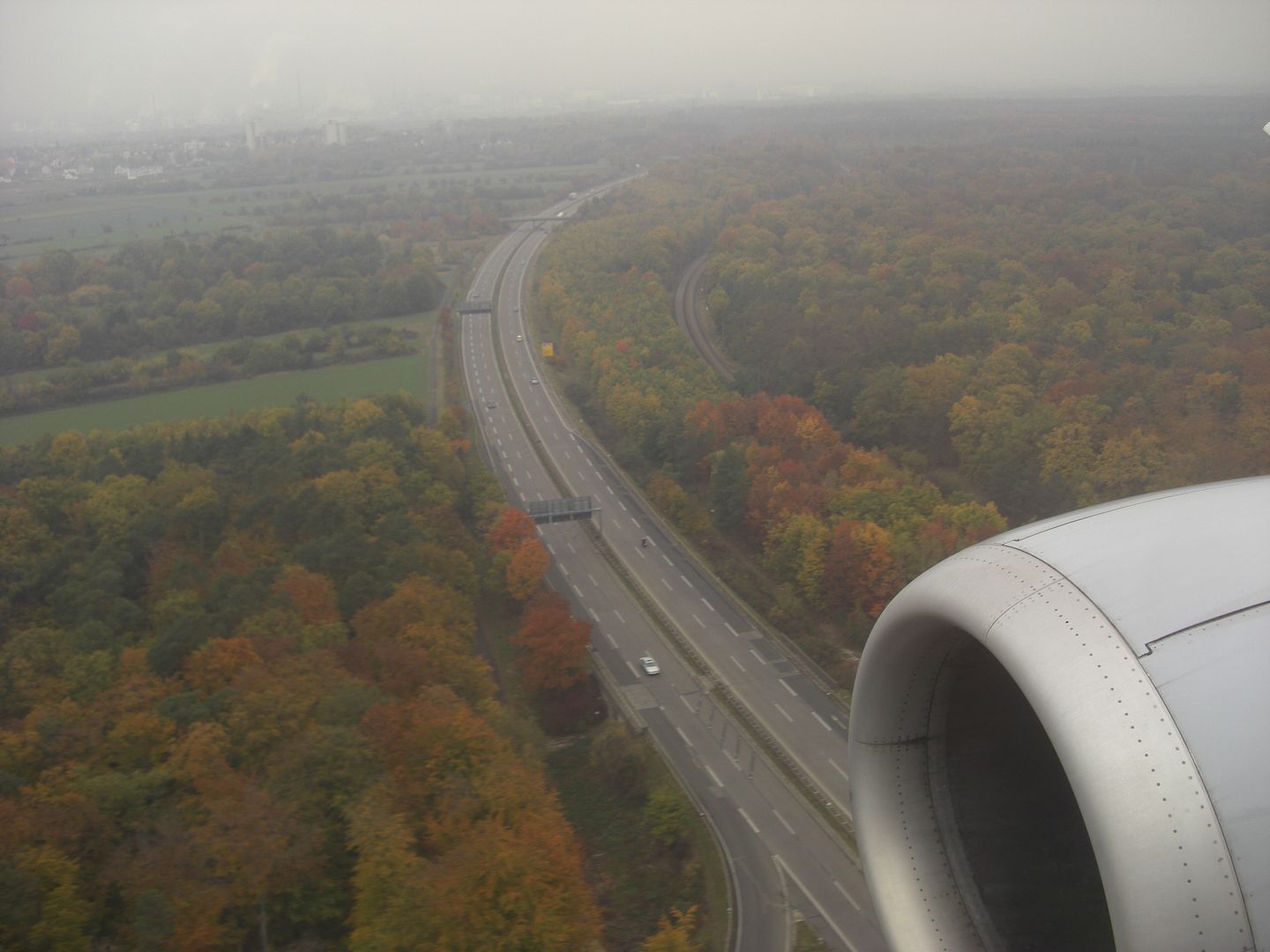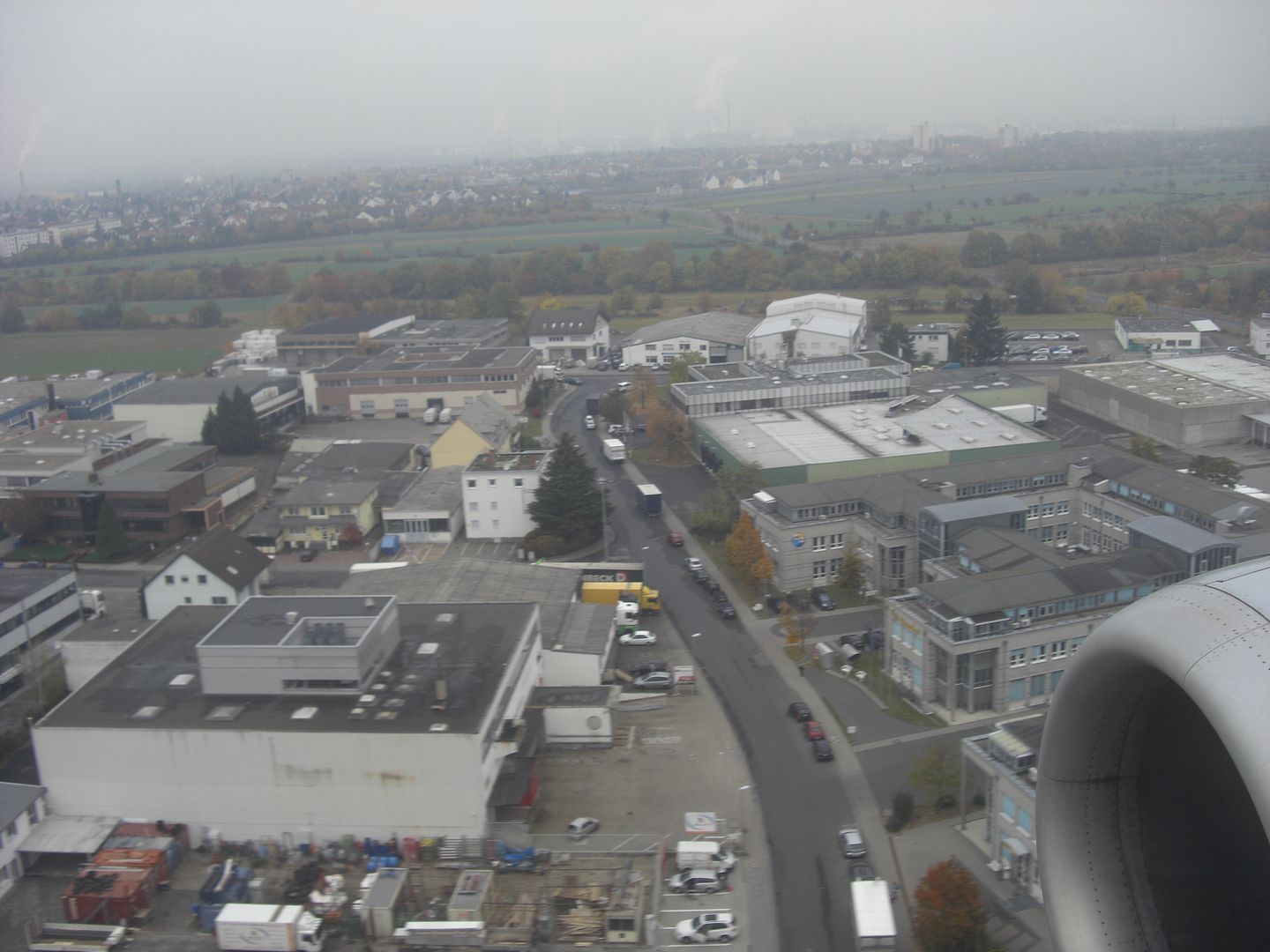 We touched down ten minutes early at the near end of the new (and furthest) runway, meaing a long back track to the terminal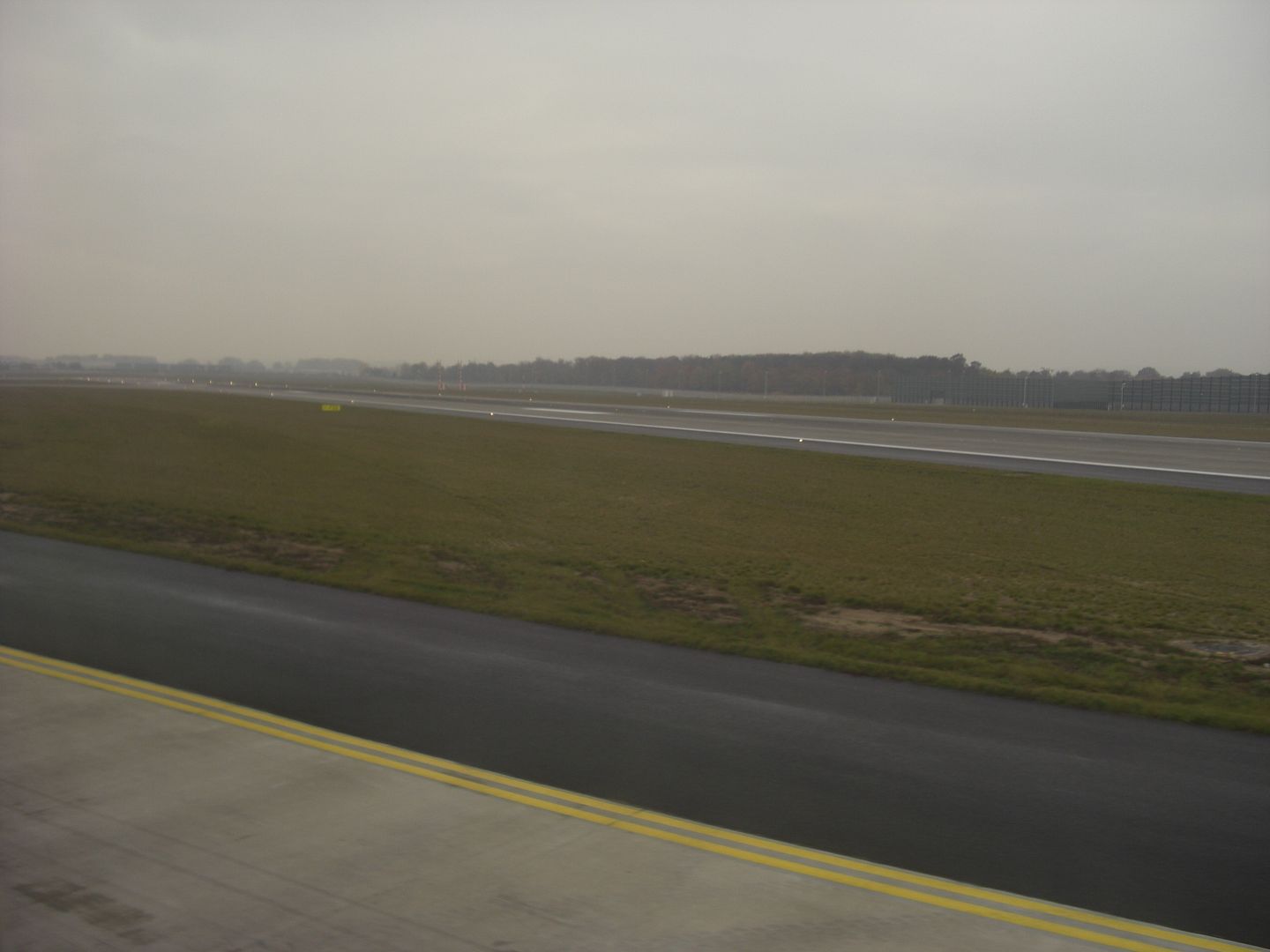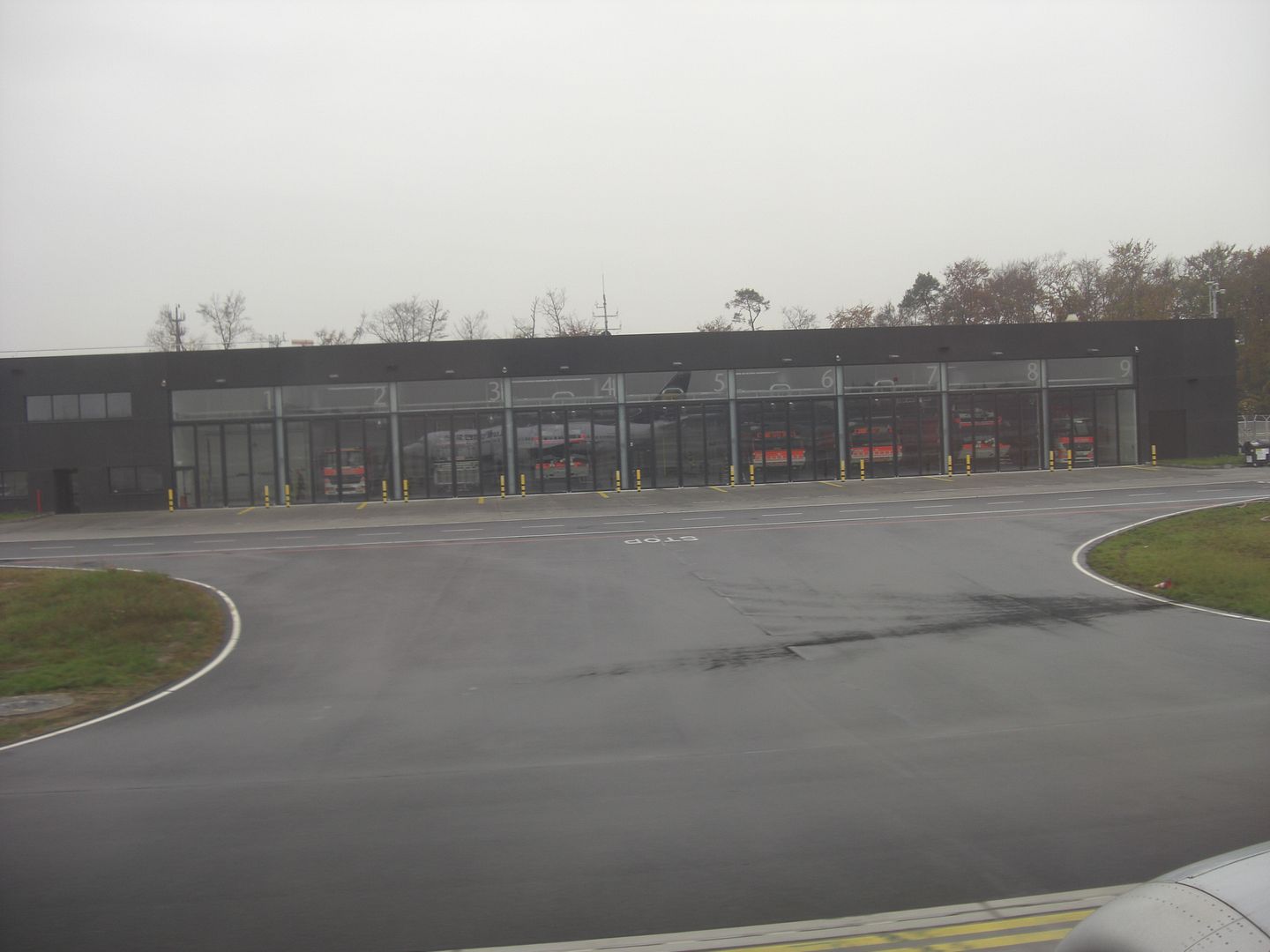 Strange looking plane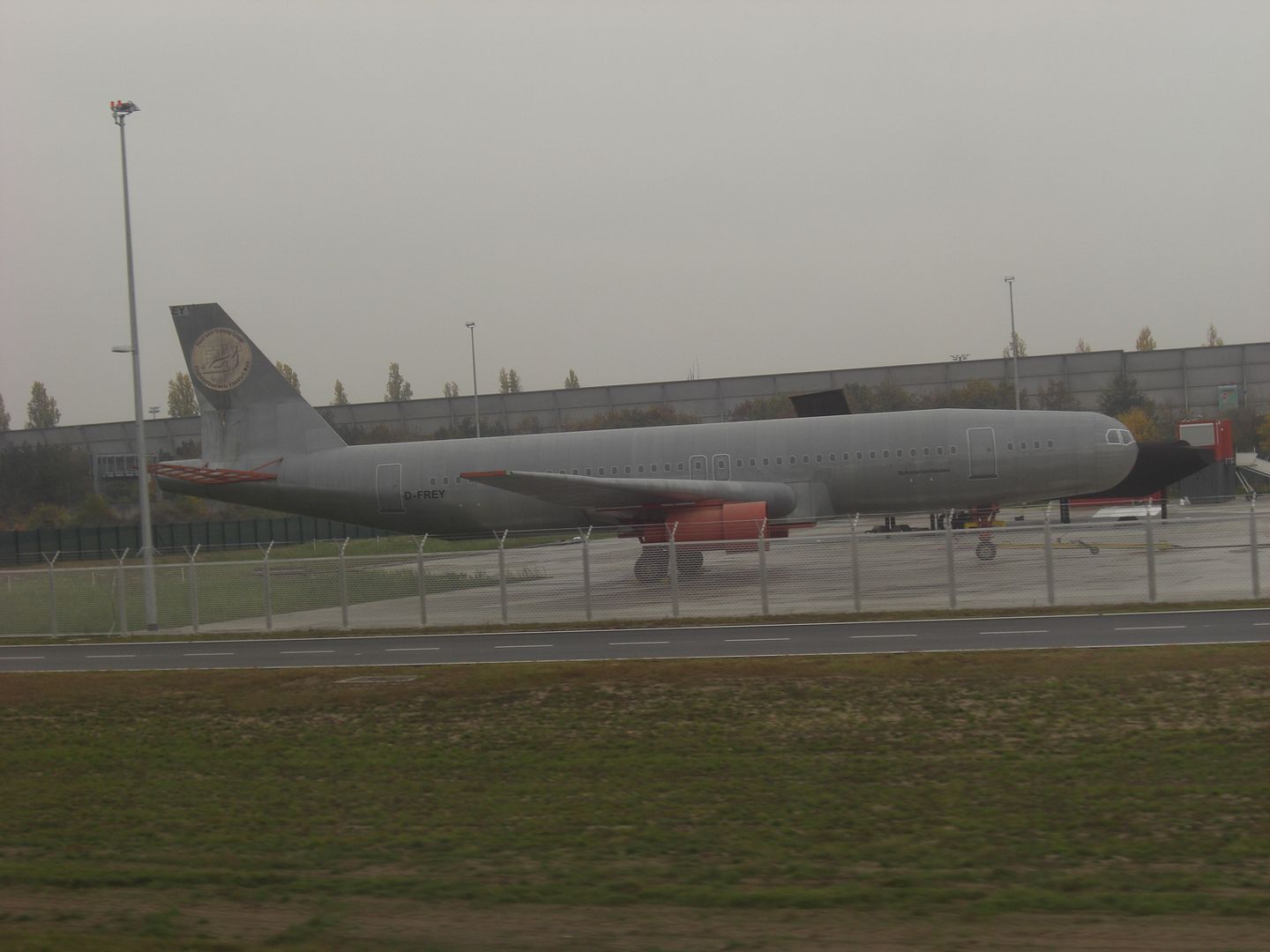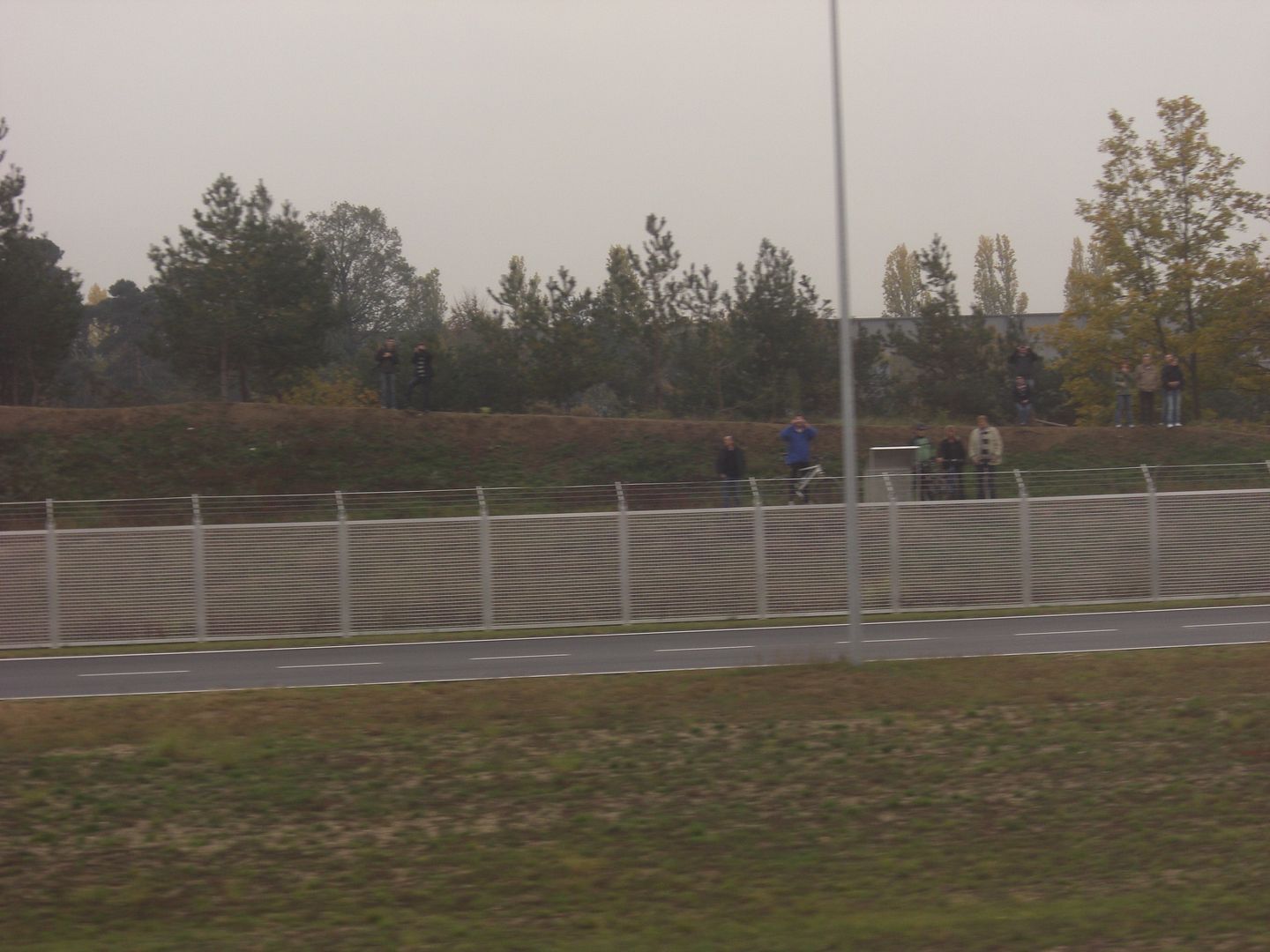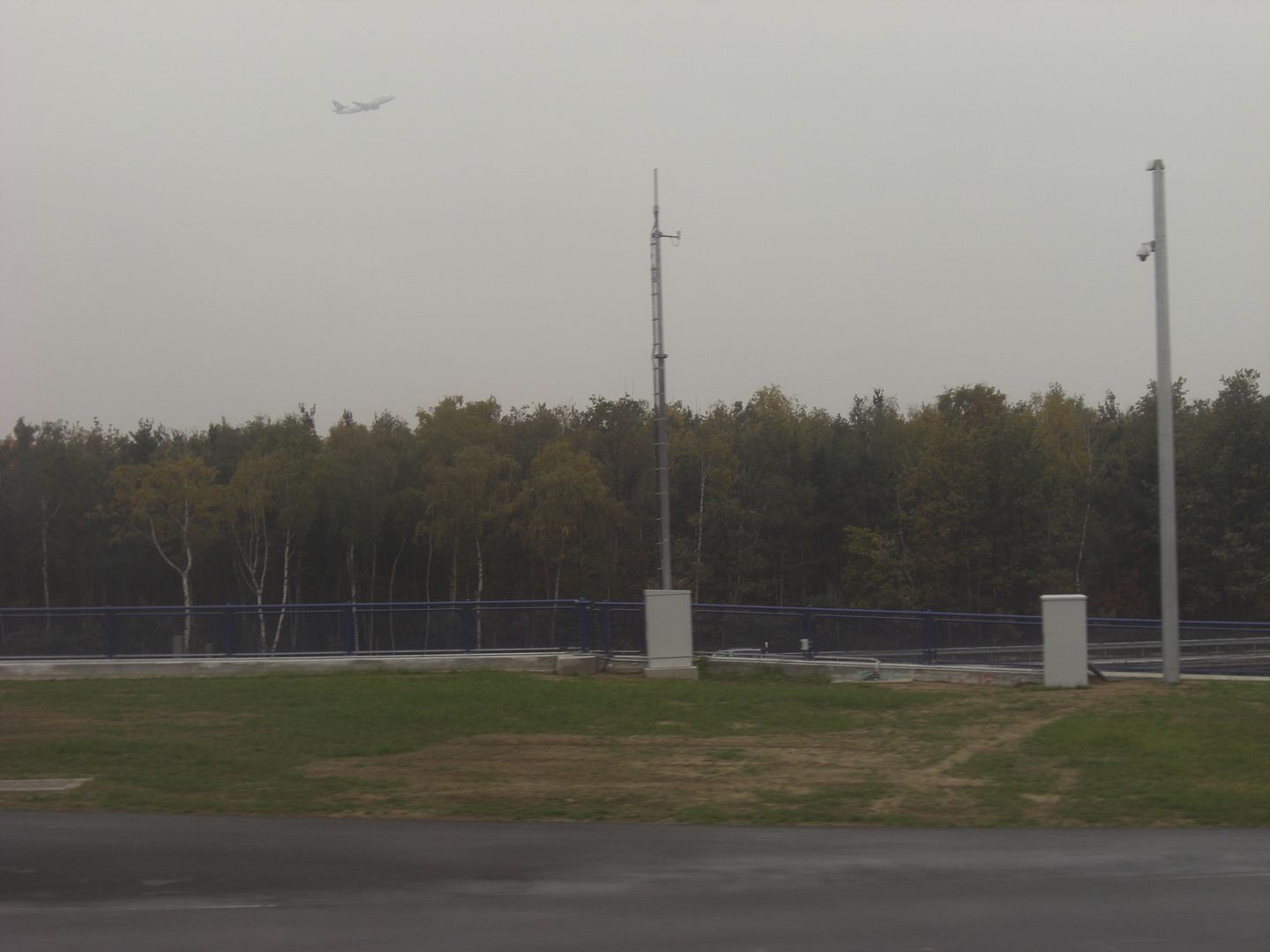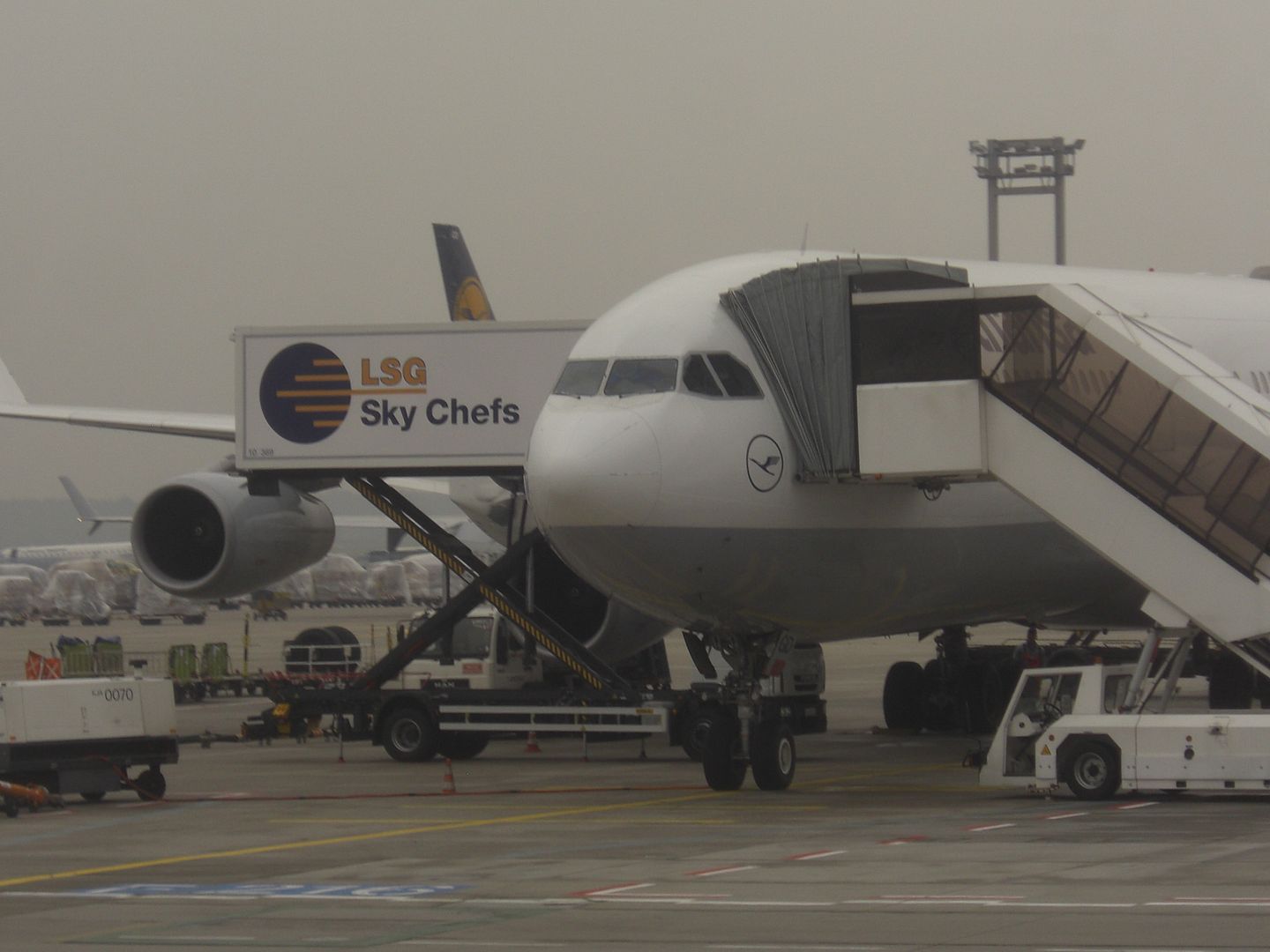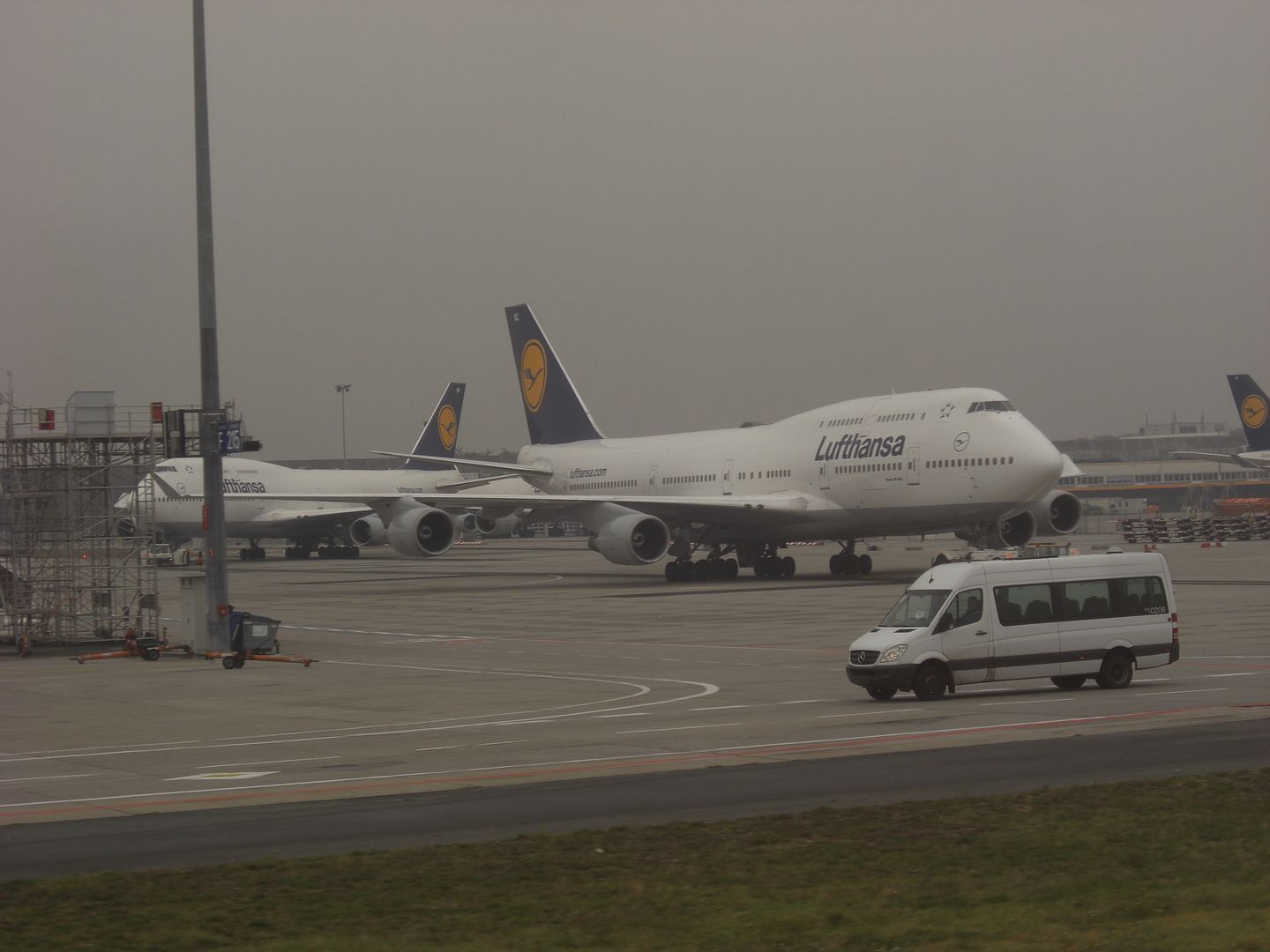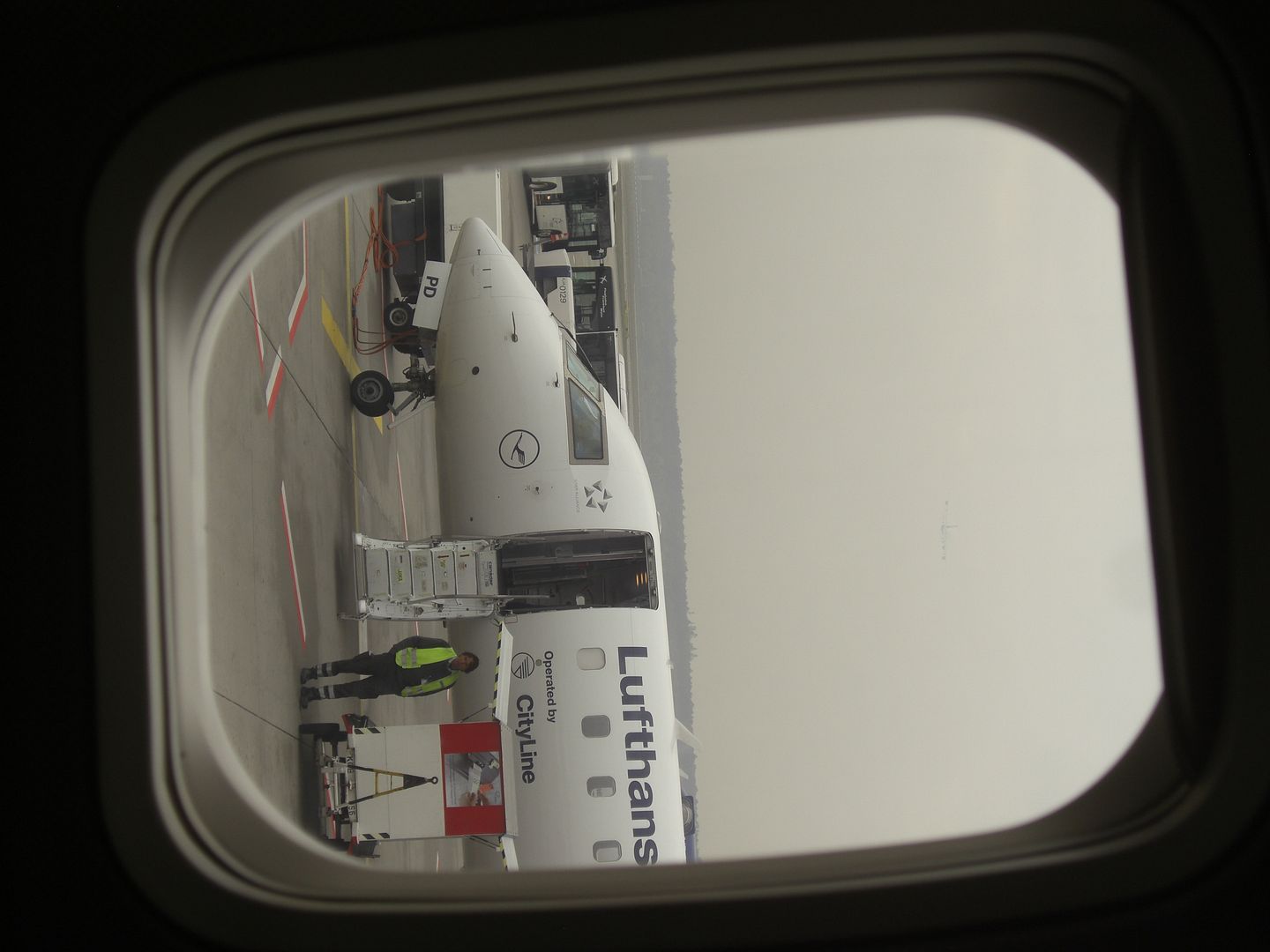 We were allocated a remote gate, so disembarked via the front stairs, and onto a bus. This was the last chance for any mention of the inaugural, and nothing.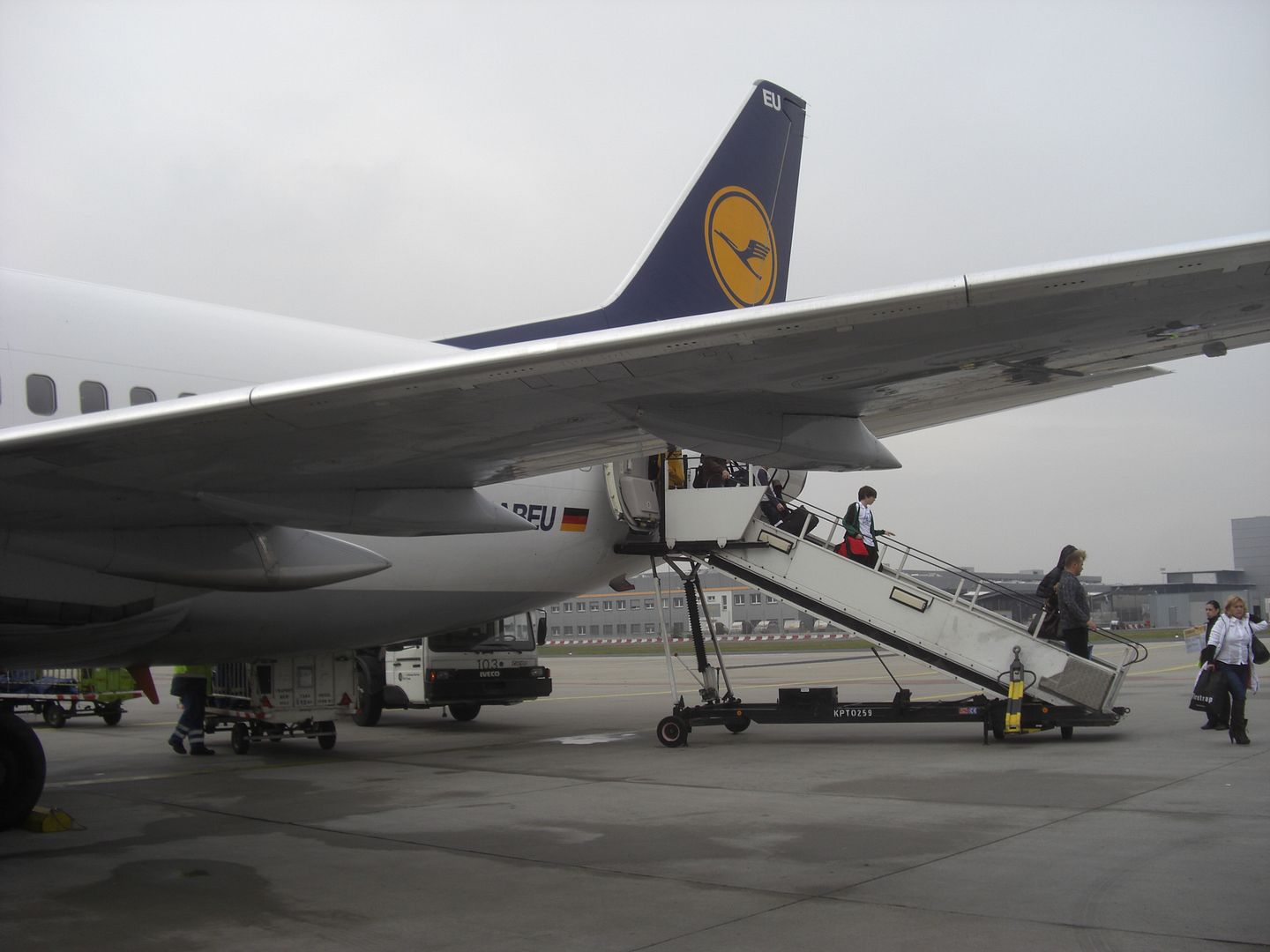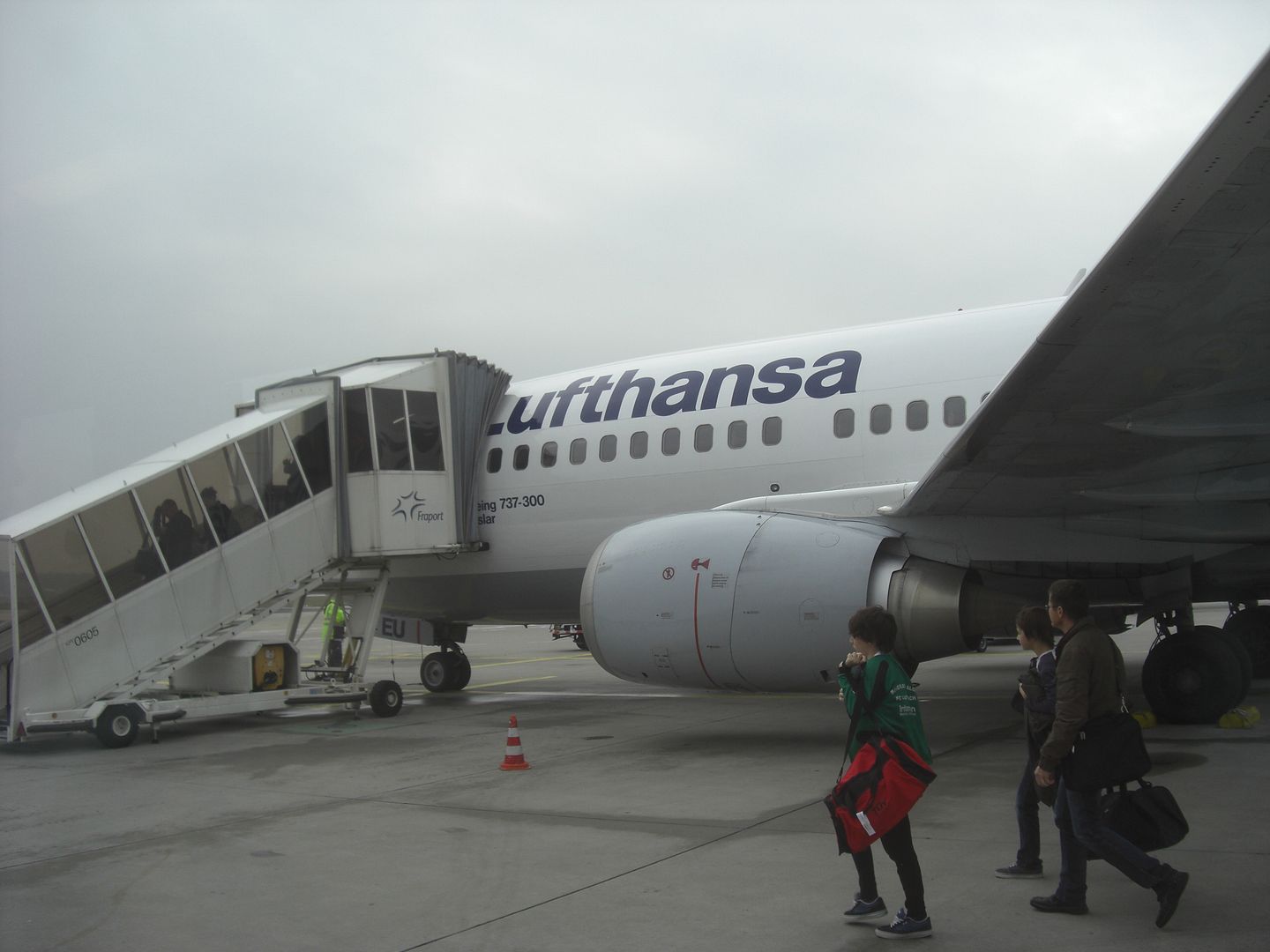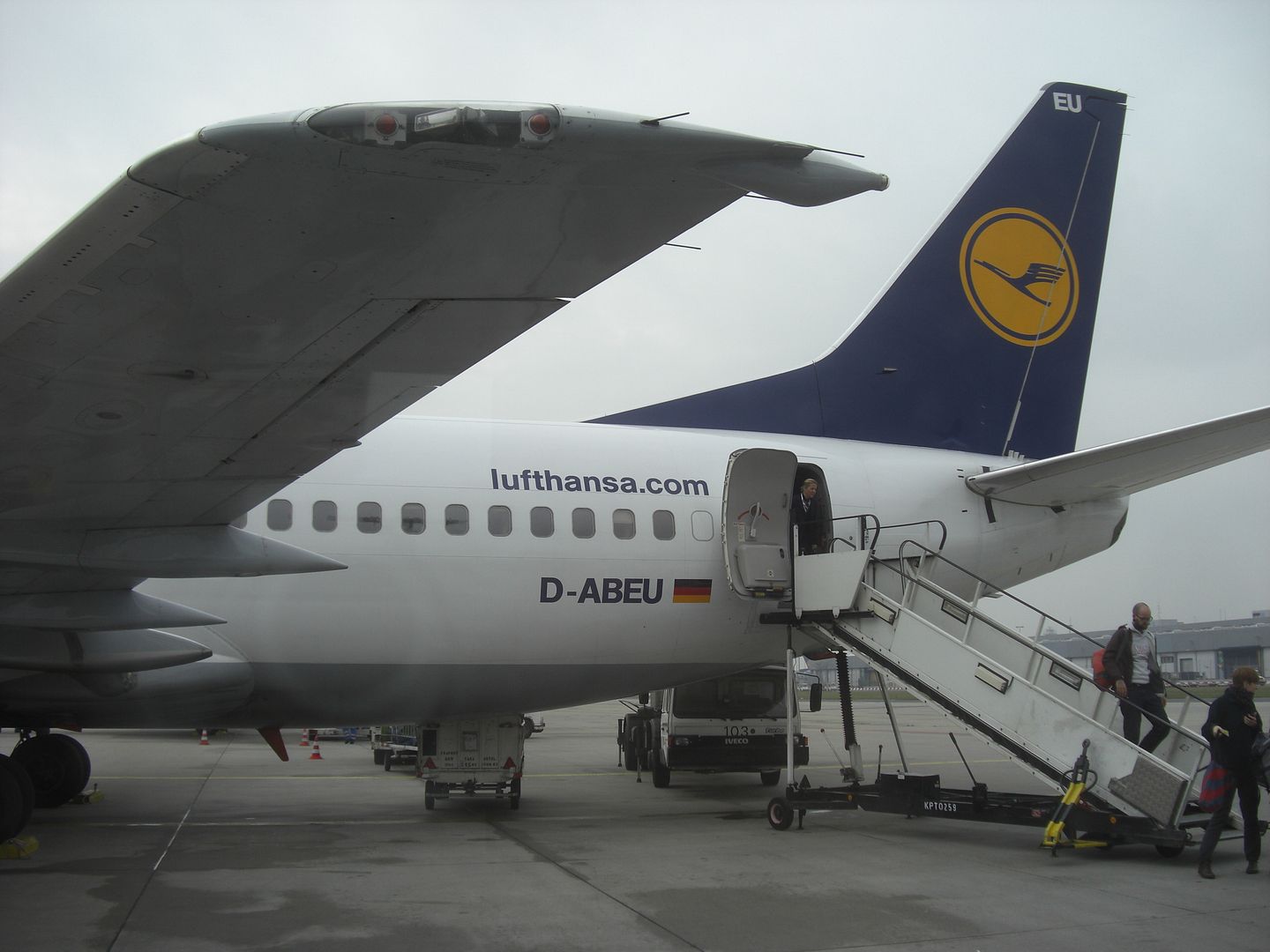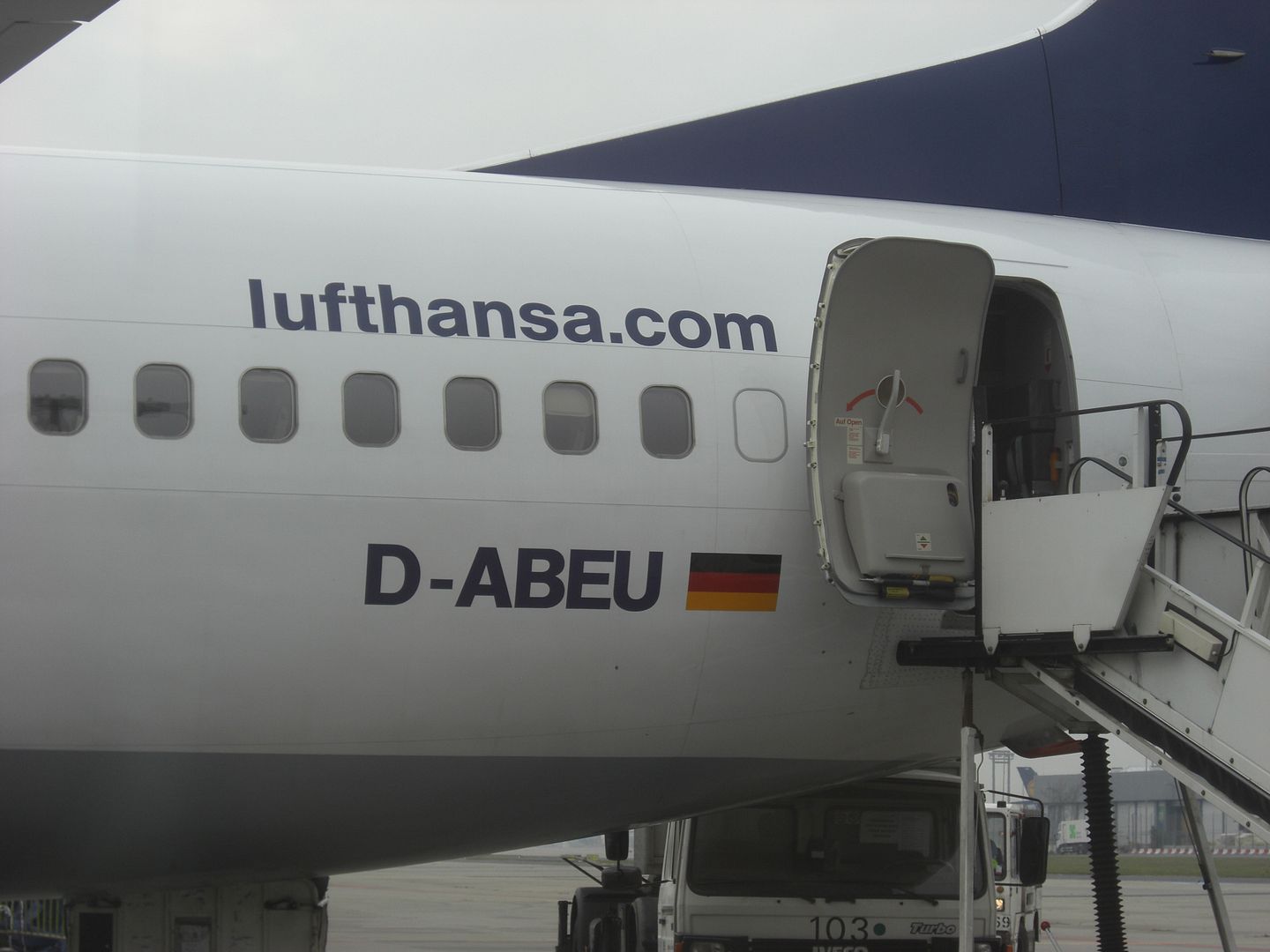 One of the few remaining SQ B747s, freshly arrived from JFK enroute for SIN
A Rossiya 737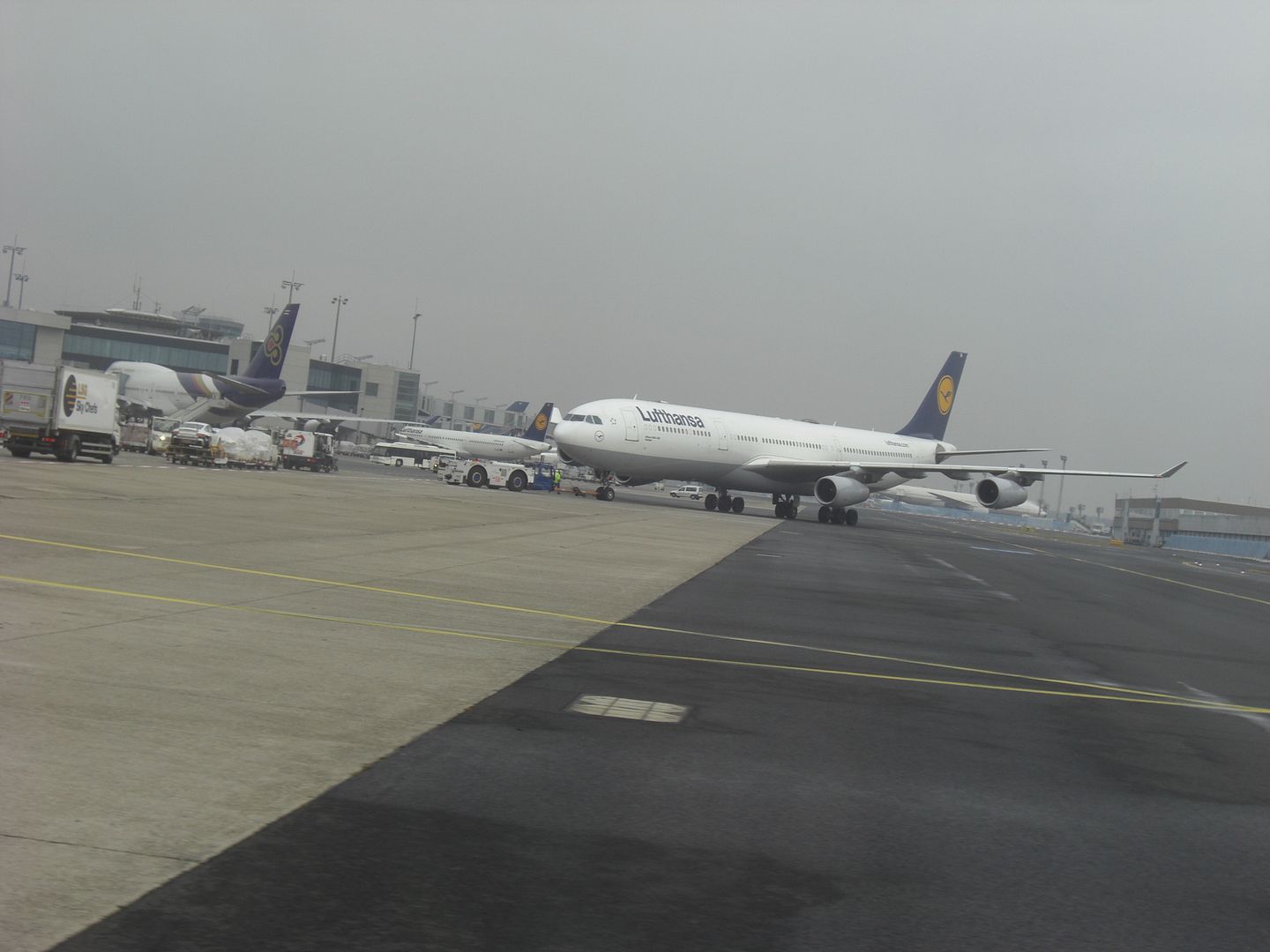 After passport control, I was off to find the baggage belt. FRA was designed so that you have to go airside, then downstairs into a passenger only area to pick up your bags. Weird.
Am I in China? nice for the 交通银行 to welcome me to Germany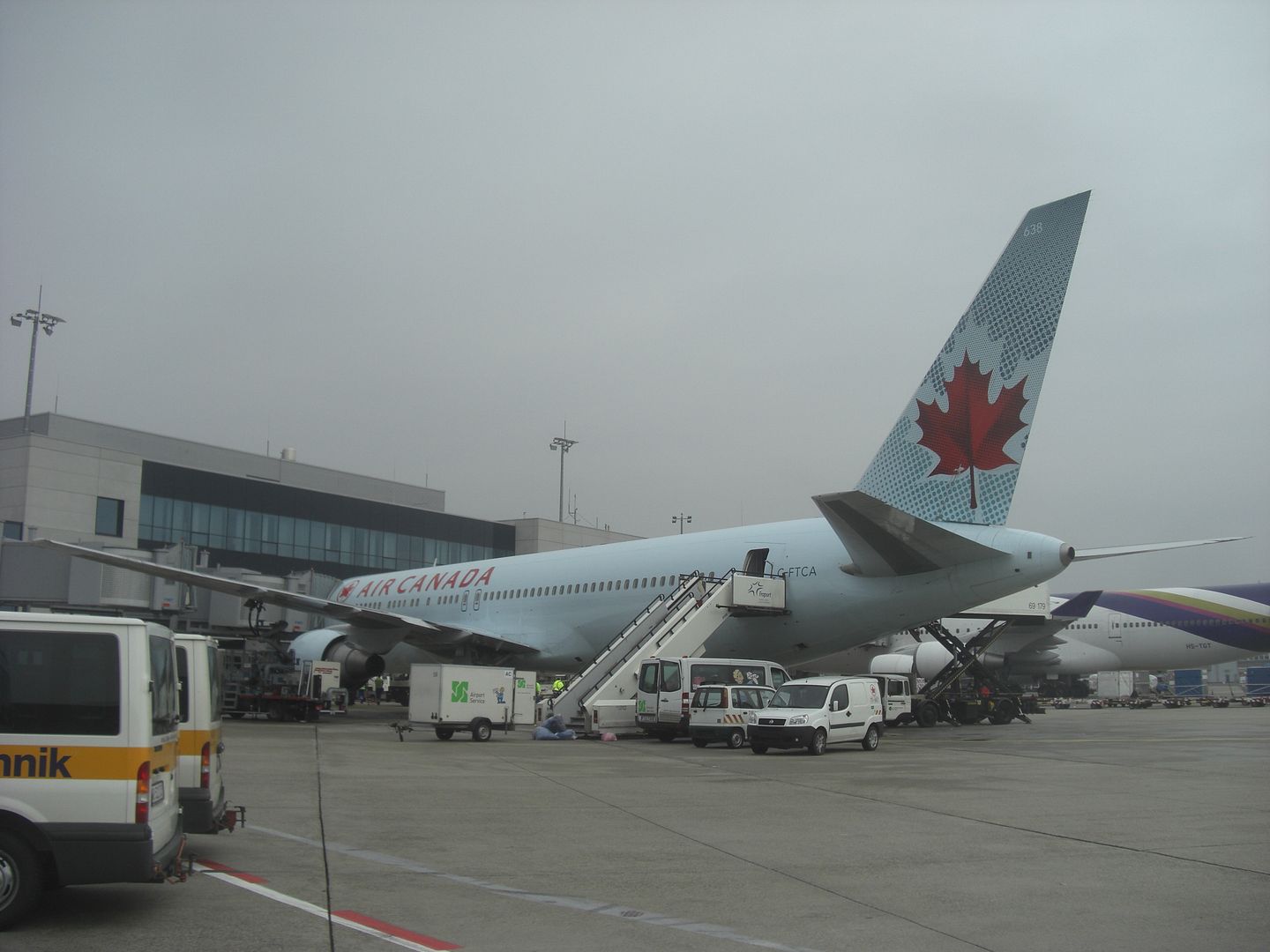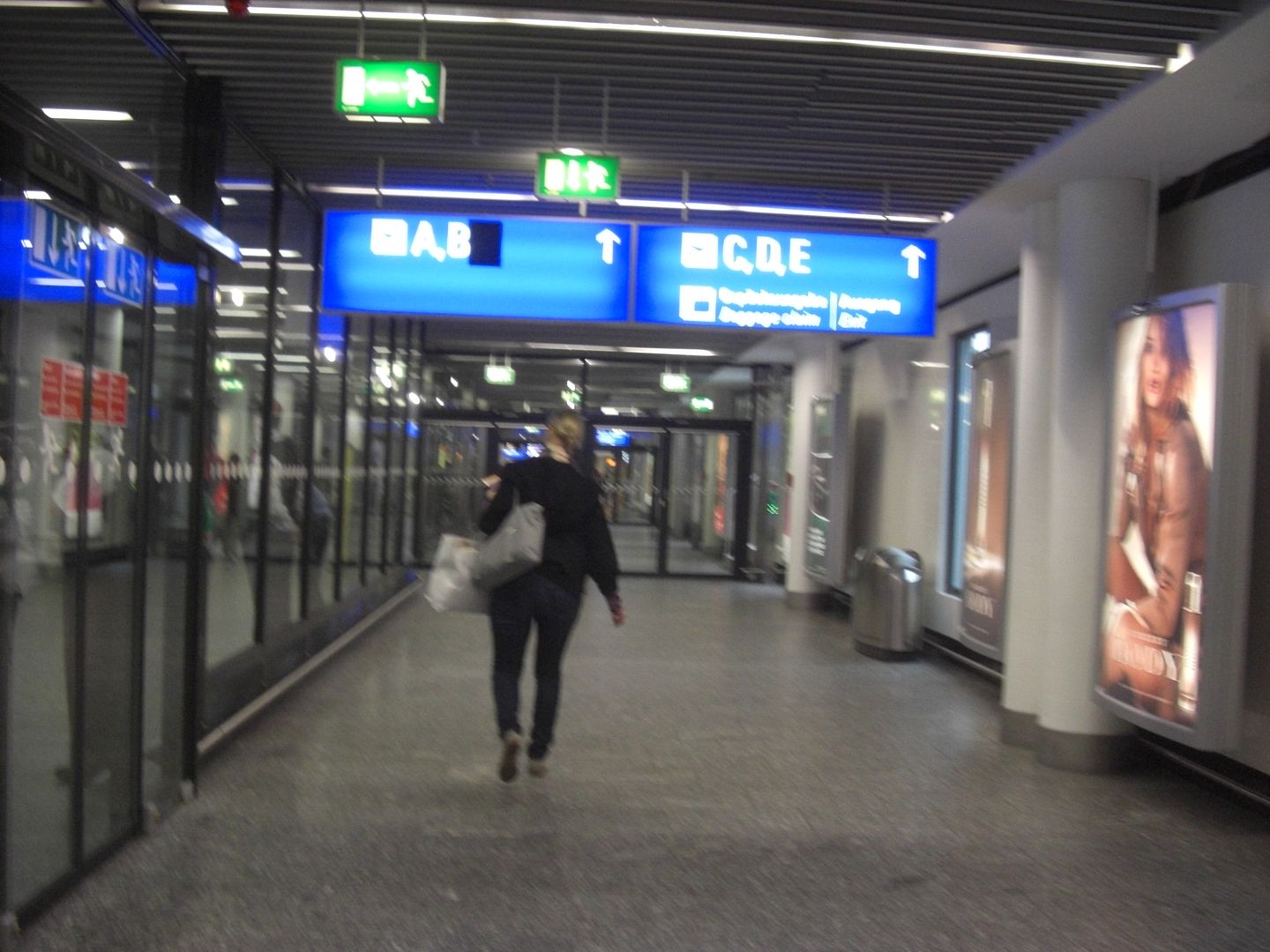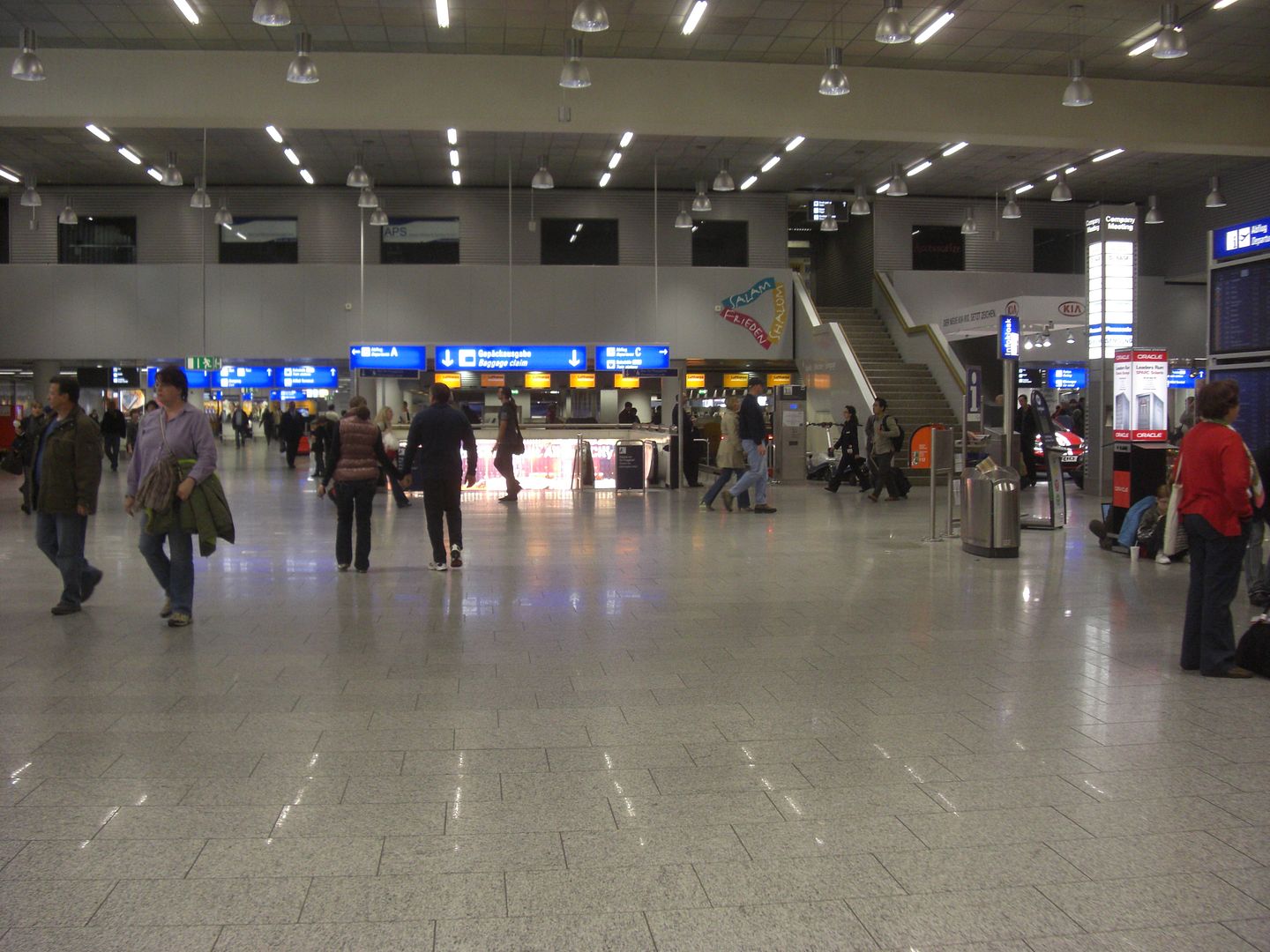 The first time LGW has shown up with a LH number in FRA
Once I'd collected my bag, I found my way to the basement railway station. I went into the Deutsche Bahn office where a very rude man 'assisted' me in printing out my ticket. I tried to get a seat reservation for a train to Hamburg, but was told that it was too late to do so.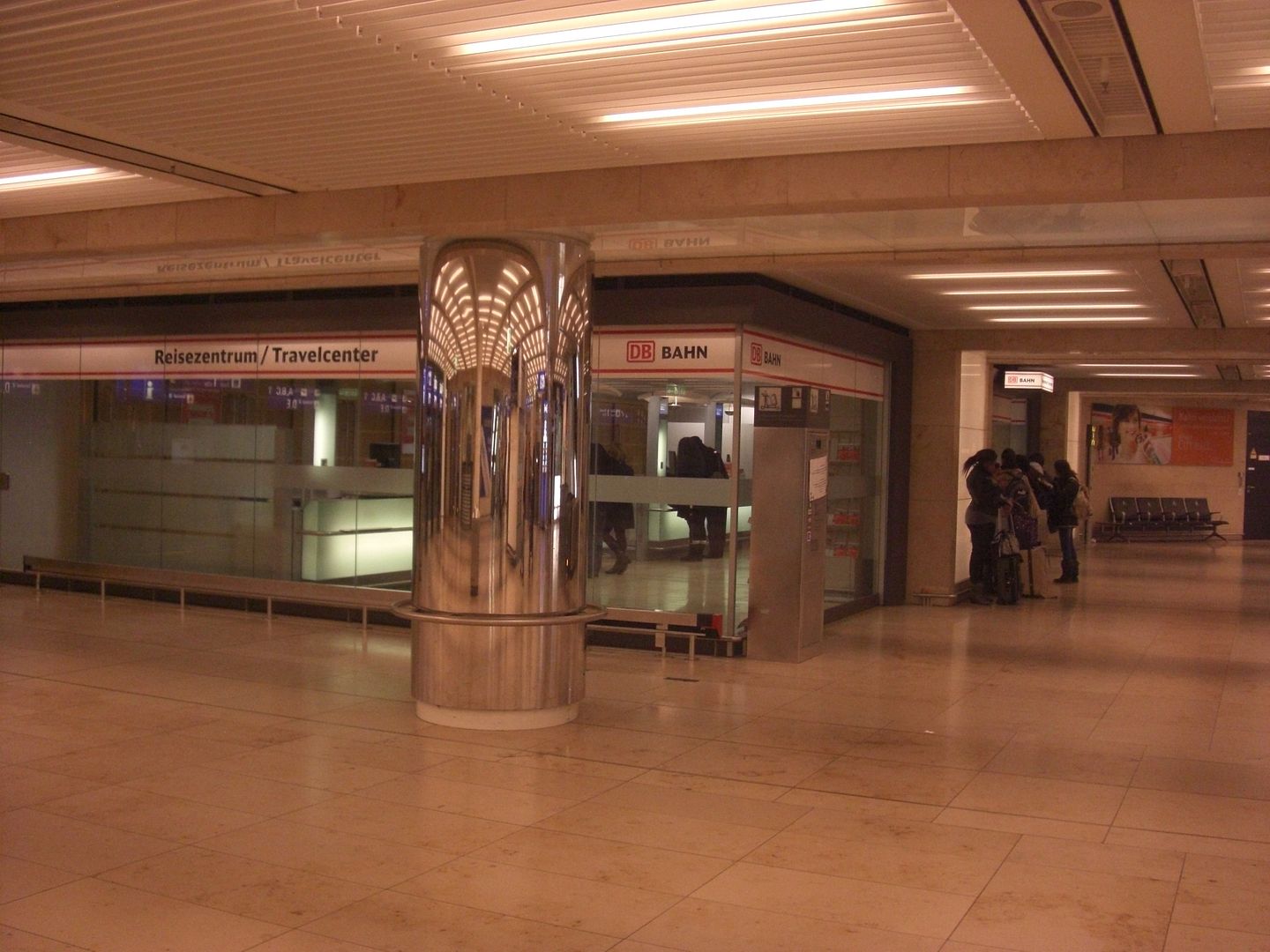 My train ticket
Heading to Frankfurt Main station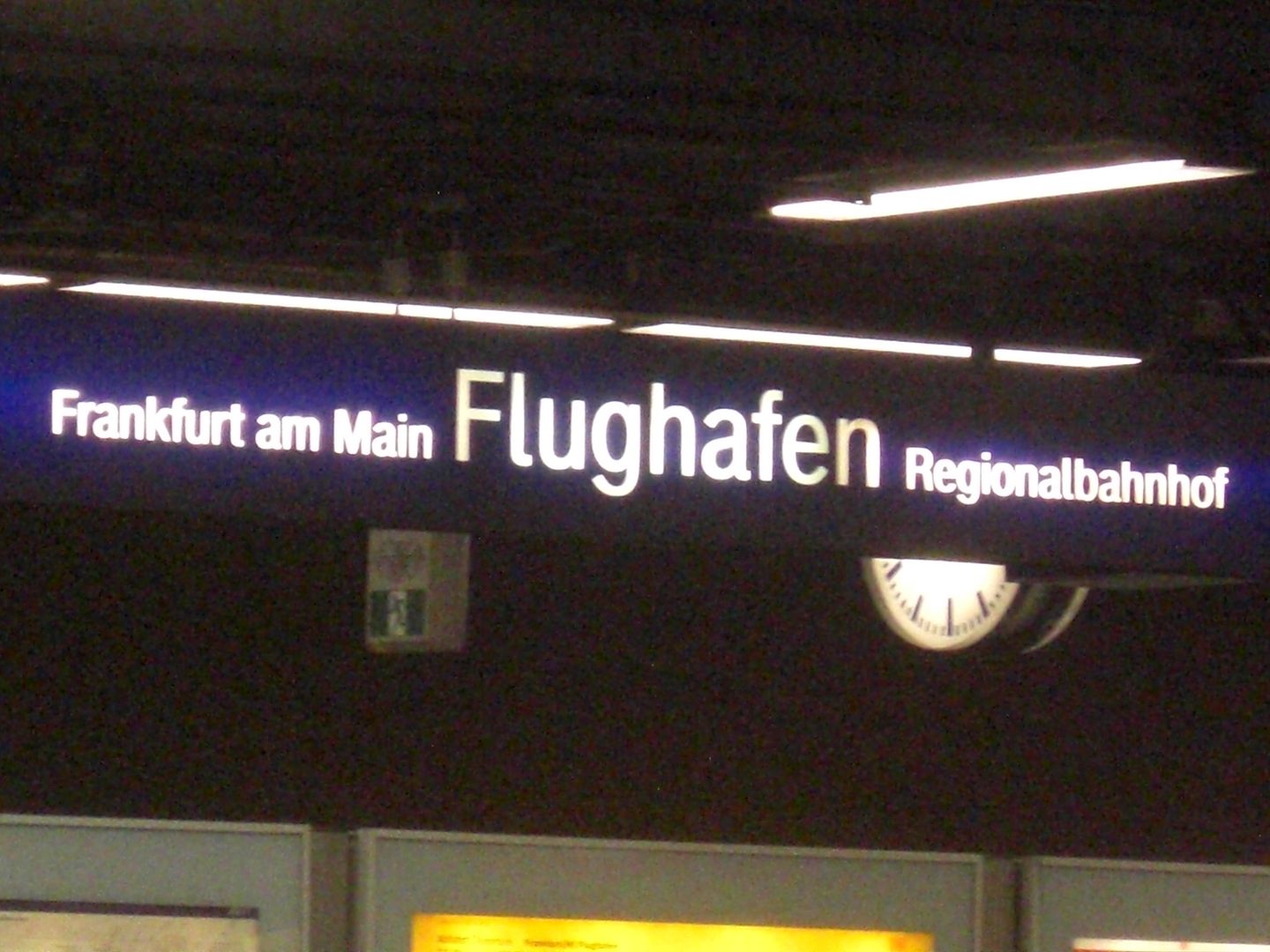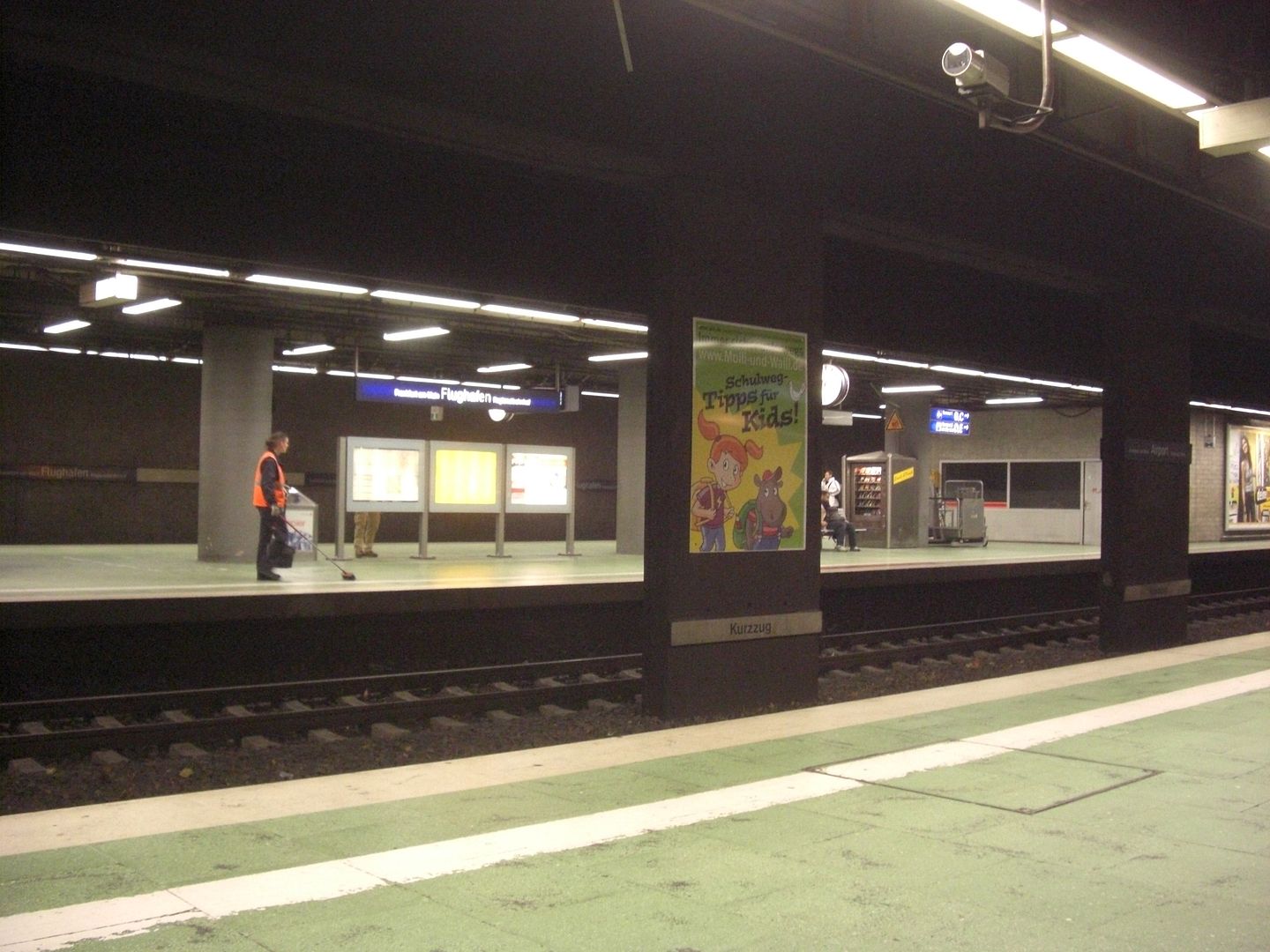 Mine is the Kiel train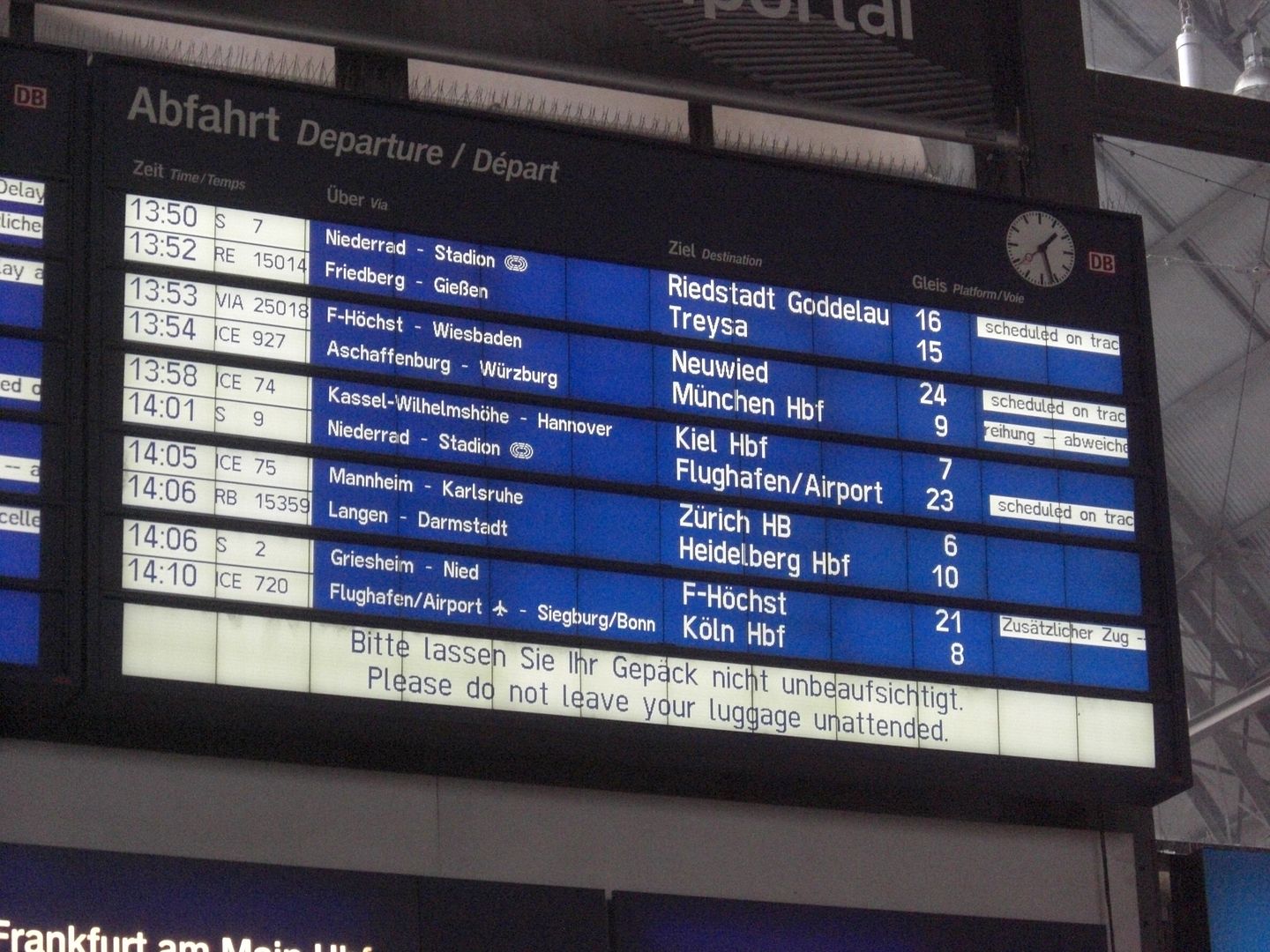 Before I boarded the train, I went outside for a short walk