Welcome to this trip report that will cover my flights from Ljubljana to Singapore with the main focus on Lufthansa's firs A380 flight from Frankfurt to Singapore in business class.
It is not often that I depart from LJU in the afternoon and go on a long-haul overnight flight from Europe, so this trip had a special feeling from the start. Plus the DST ended the night before, so I had plenty of time to get a good night sleep and prepare form y trip in the morning. My flight to FRA would leave LJU at 16:30, so I spend the day finishing packing, reading the morning newspaper that featured an interesting article about Singapore (how appropriately) and doing some last minute errands.
Since I've done a detailed report on LJU-FRA JP business class already, I will not go into too much detail about the first flight. S5-AAF, a normal CRJ2 ride on this short flight. The one interesting thing on the first leg was this Iran Air flight, making a fuel stop at Ljubljana on its way from Germany to Iran.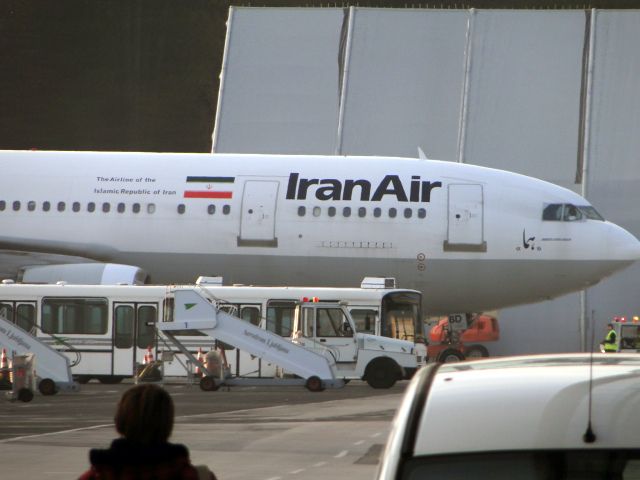 Once at FRA we had to pick up our boarding passes for the FRA-SIN leg, as they were not able to check us in all the way to SIN at LJU. After that it was time to head to the C gates, quite a long way from the main area. I was selected for additional security screenings and my camera was tested for explosives.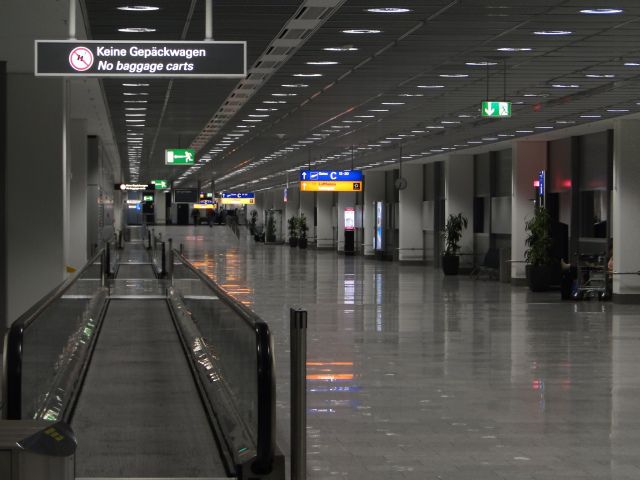 A lot of sings for different gates/lounges. Gate C16 for our flight today.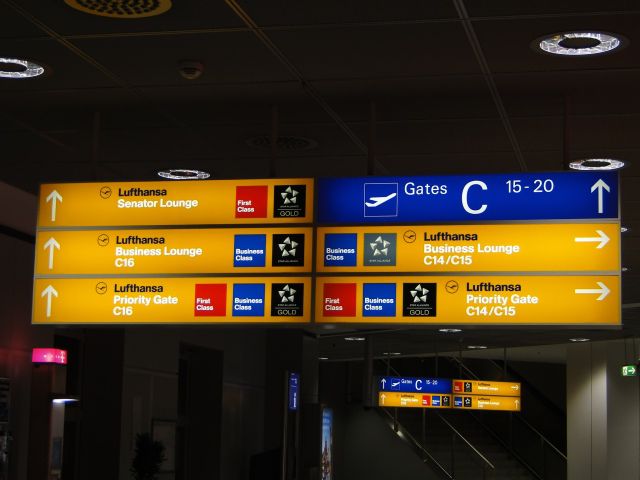 On the ground floor is the waiting area for economy class passengers.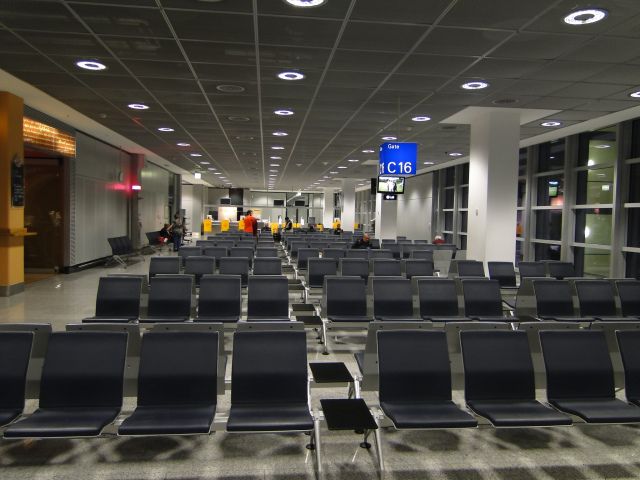 LH A340-600 at the next gate.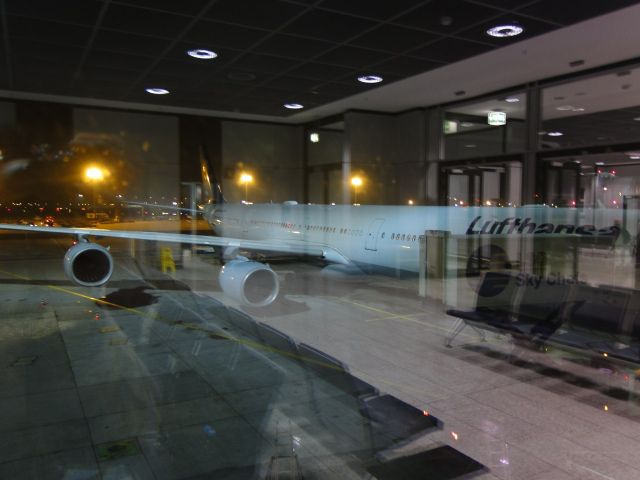 Entrance to the business class lounge, which also serves as priority gate area for passengers flying in first or business class and passengers with status.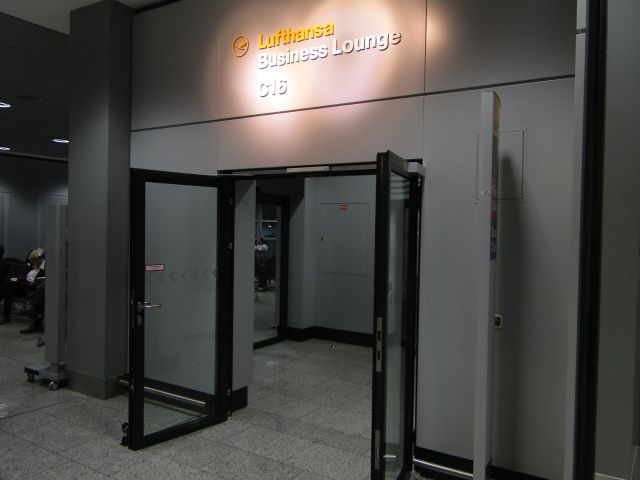 Up the stairs to the business lounge.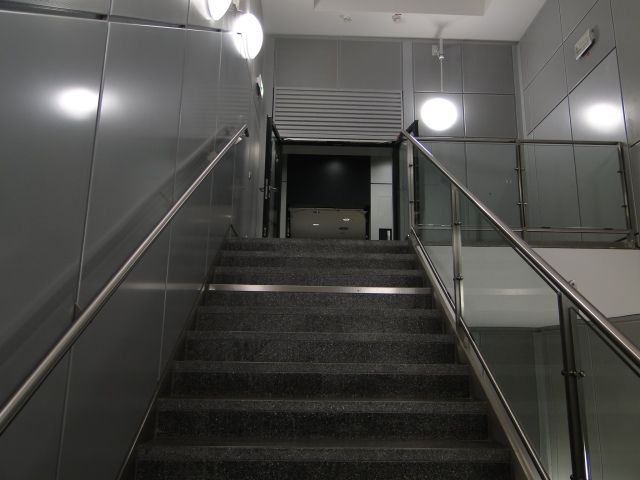 It's not the biggest of lounges, but since every A380 gate has its own lounge it is big enough.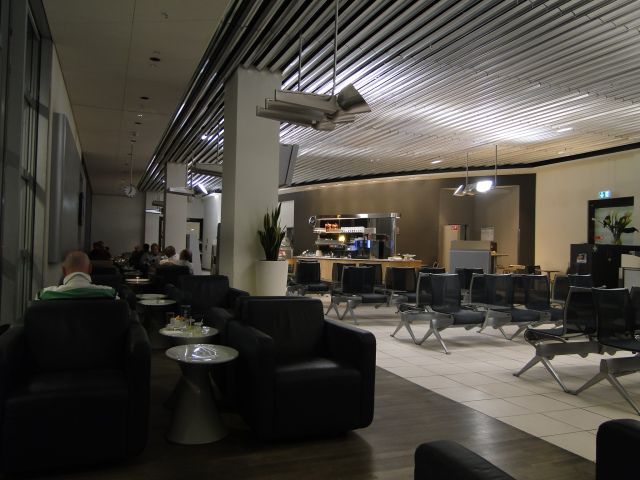 Boarding is done directly from here, this is a nice concept, you don't need to leave the lounge and head to the gate.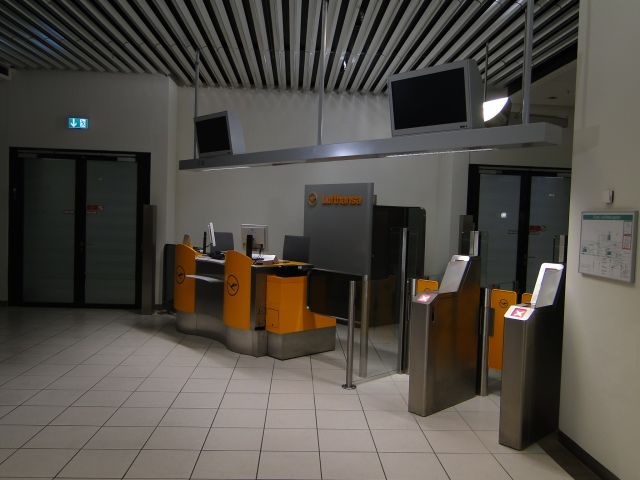 Looking toward the boarding gate from the end of the lounge.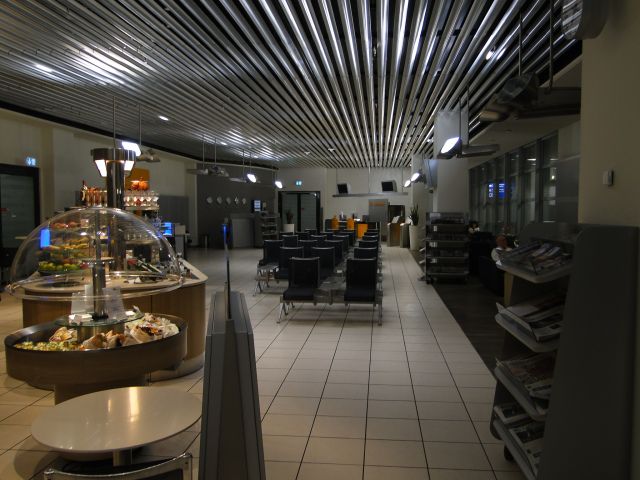 Drinks.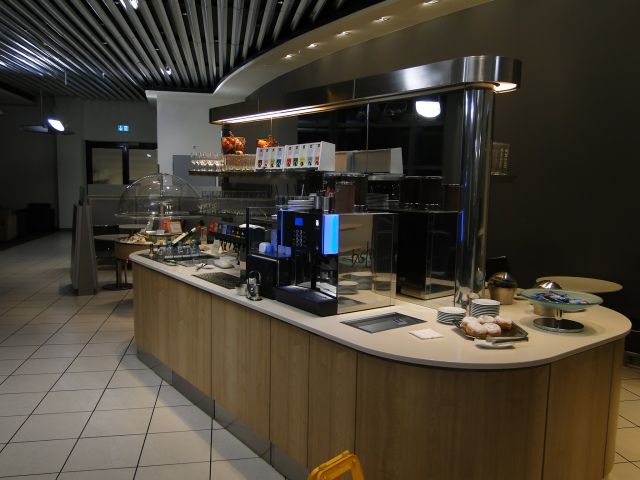 There were a few sandwiches available. I tried the 'Hot and Sweet chicken sandwich' and it was very good.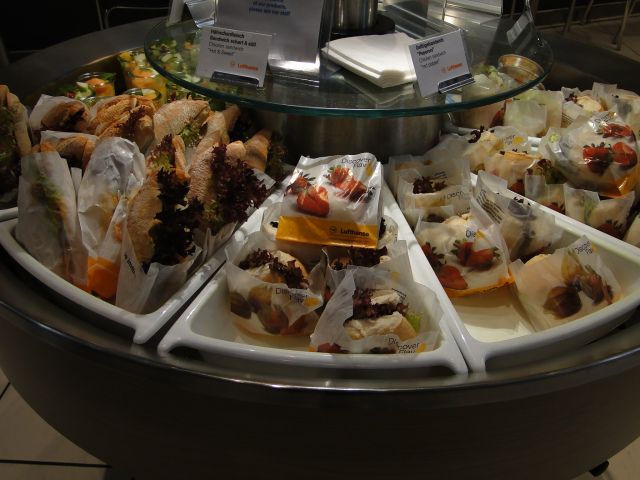 Apart from the sandwiches, some other food was also available.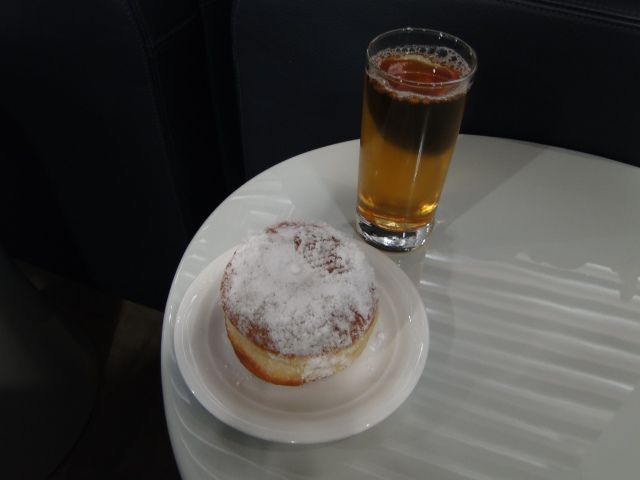 Newspapers and world time clocks.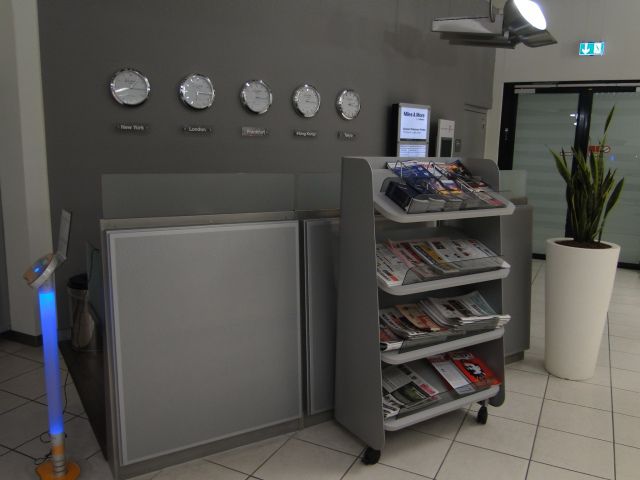 While reading my book I noticed a big aircraft appearing at our gate. I went down to check it out.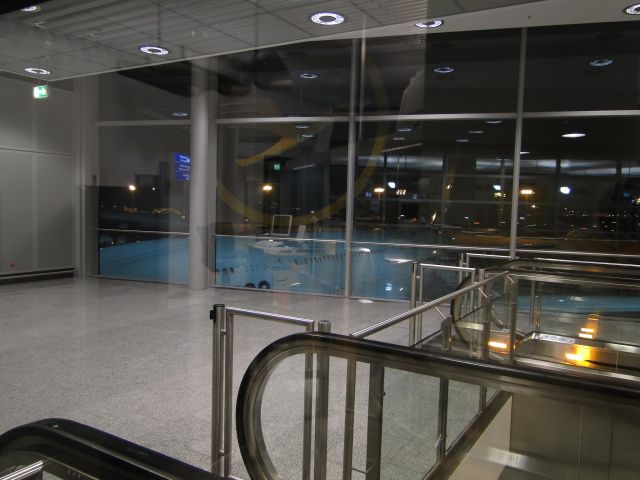 LH A346 was replaced with an A343 for the flight to Luanda.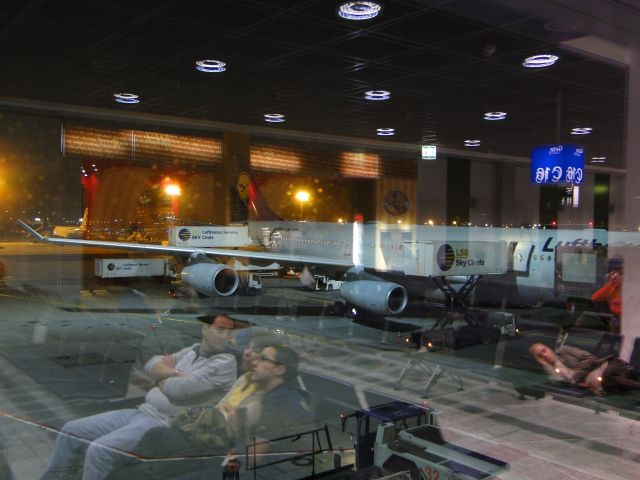 Here it is! The Whale Jet! The King! Lady Bee! Whatever you prefer… It looks a bit ugly, but is very impressive.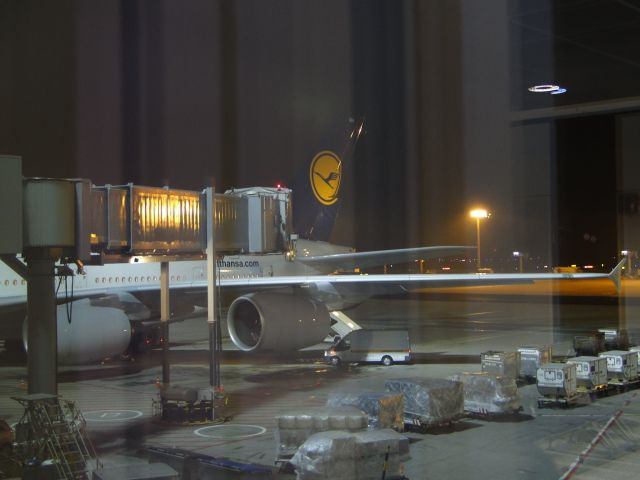 D-AIMH, 'New York', the newest Lufthansa A380 will be operating this flight!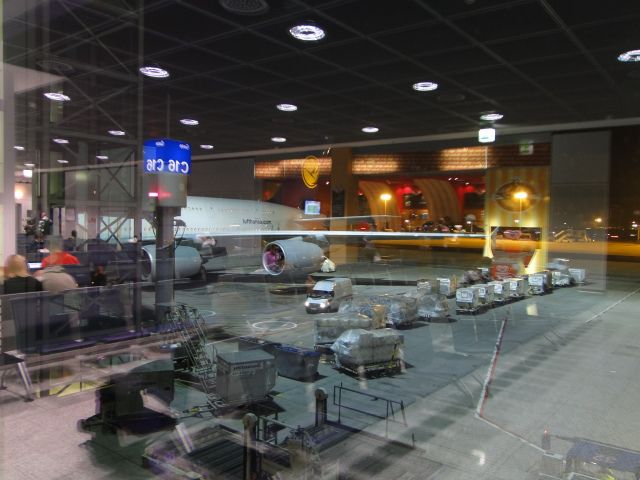 Up in the lounge there was an announcement by the ground staff. The flight was overbooked and they were searching for two volunteers to fly in economy class instead of business class for a compensation of 1500 Euros. From my seat near the gate I see quite a few people coming up and discussing the offer.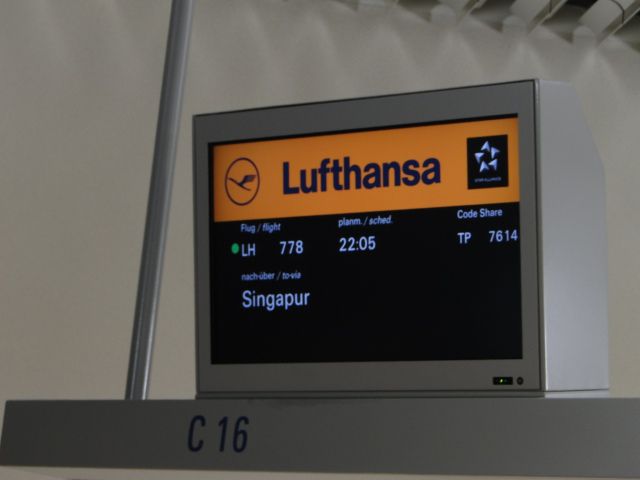 LH778 FRA-SIN 22:05-16:55+1 A388 D-AIMH 'New York'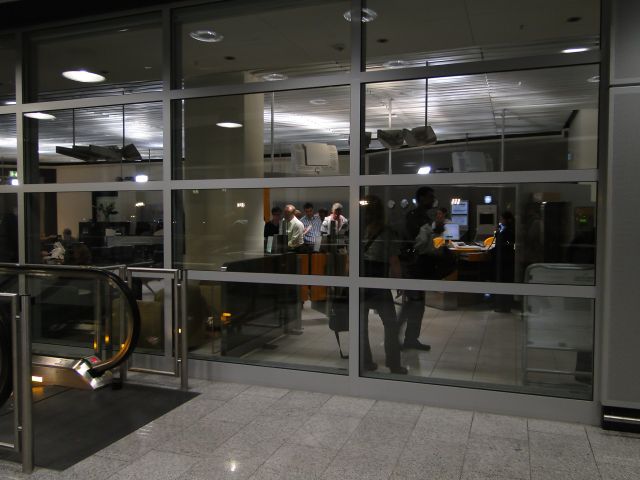 Boarding is done via the automatic boarding gates, so you scan your own boarding pass and walk through the moving gates.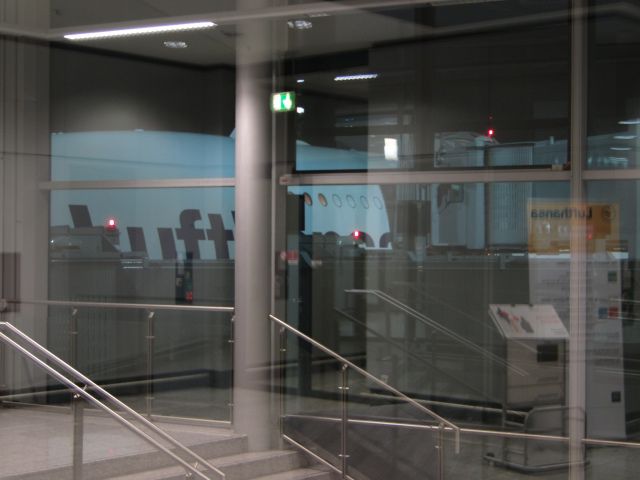 You have to take the escalator one floor down to reach the boarding gate for first and business class passengers. I love flying long haul. Any flight is ok, but there is nothing like going into an airplane and knowing that when you come out, you will be in another country on another continent with completely different climate, culture,…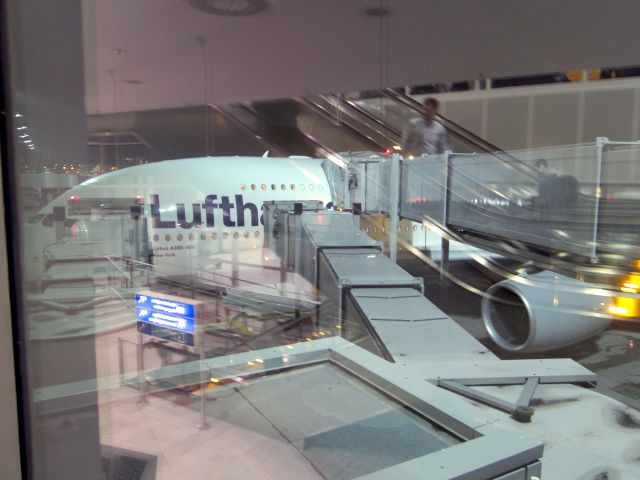 This will be my 3rd A380 flight. I did the AF CDG-LHR roundtrip as an appetizer, but this time I was up for the full meal with my first A380 long haul flight.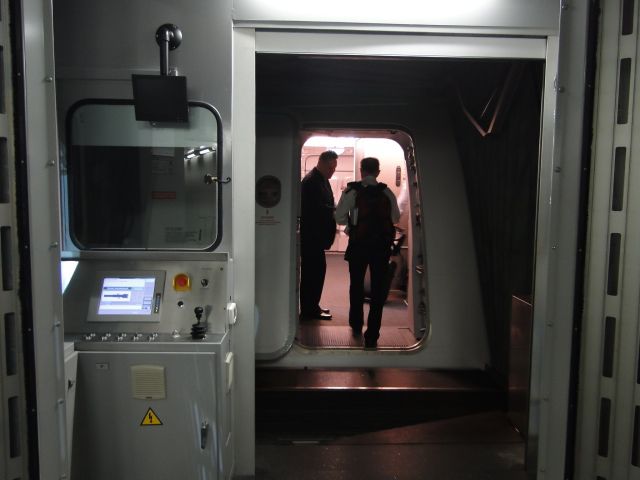 One last look from the outside before boarding 'New York' for the long flight to Singapore.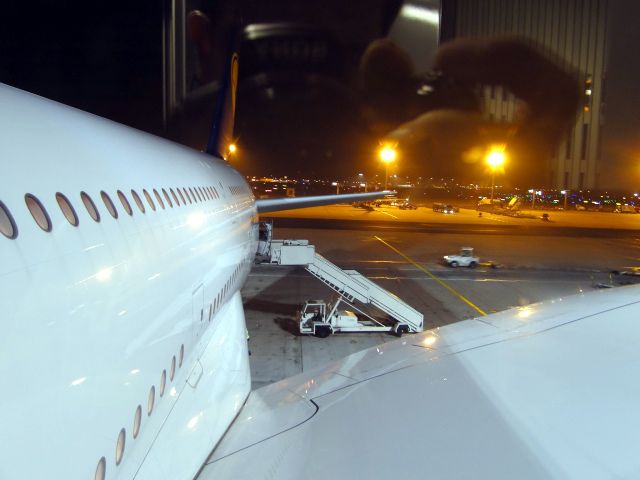 I was welcomed on board with a smile and directed across to the other aisle.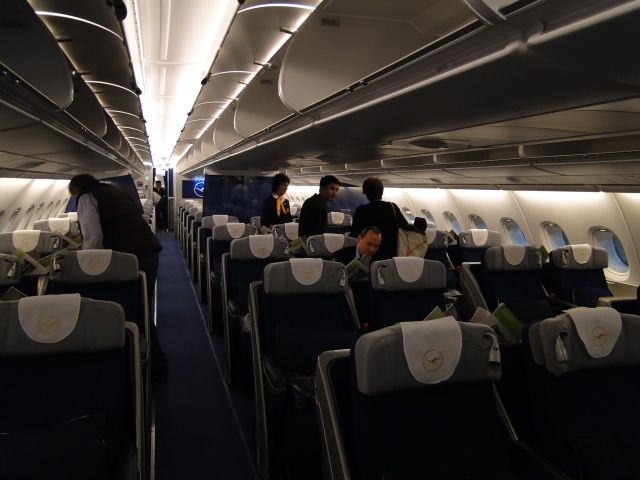 There are two cabins on LH A380 in business – the first one is larger with 10 rows of seats.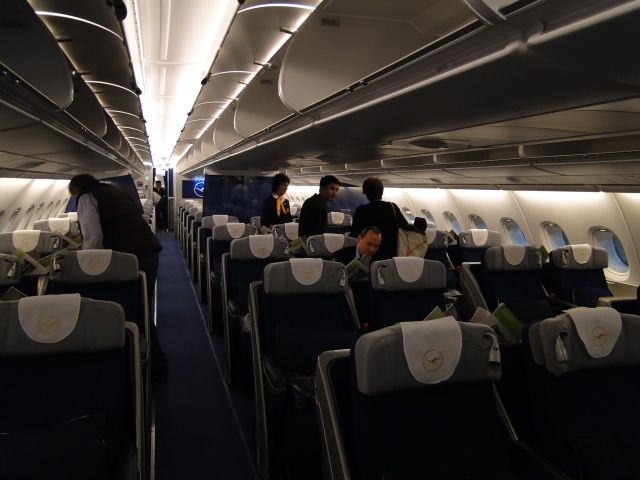 The other part of the larger cabin, after that comes the galley and then another seven rows of business class seats.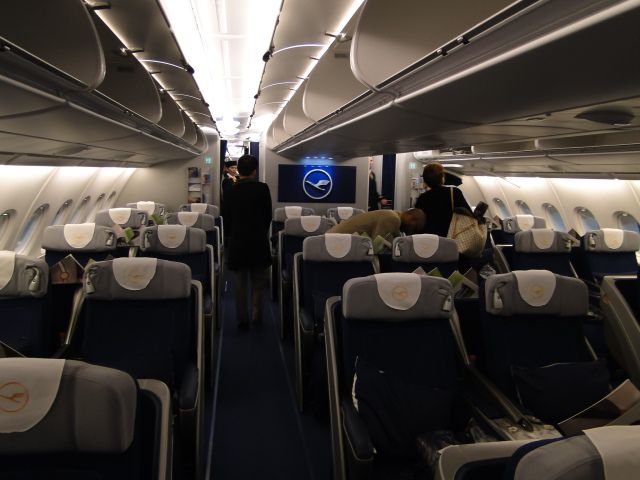 My seat in the second cabin, 24K, one row behind the galley and one row in front of the emergency exit. This is a very good seat, the cabin is smaller and you have toilets in front and in the back.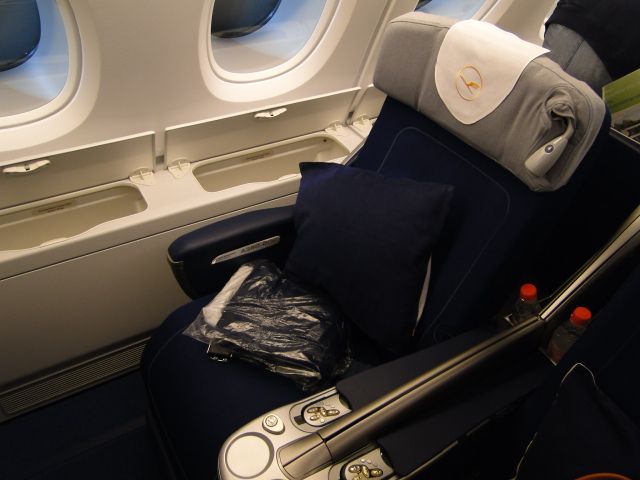 Amenity kit and a bottle of water were placed in the compartment on the left side of the seat.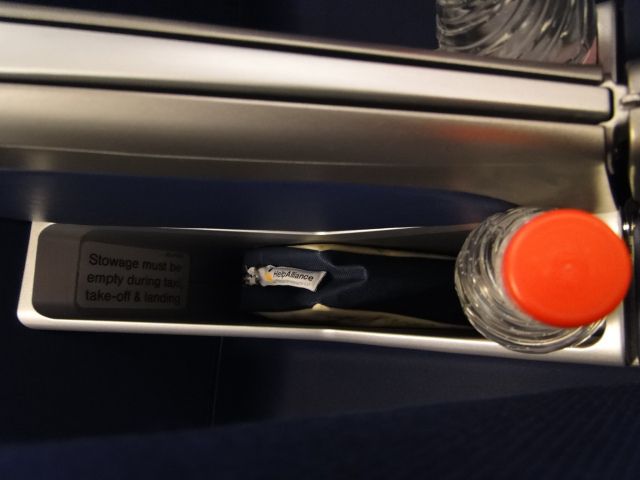 The seat is the same as on all other LH long haul aircraft, the one difference I noticed is that there is no smaller compartment next to the IFE screen, where you are able to put some small things. But there are two large compartments next to the window seats perfect to put in all kinds of stuff.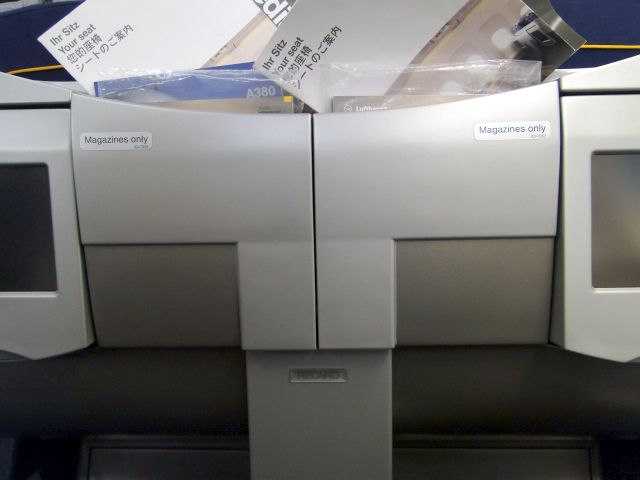 Looking back in this small cabin with the emergency exit on the other side.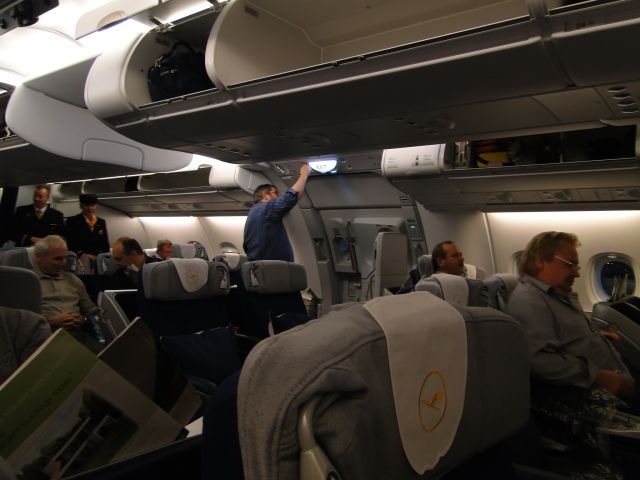 Interestingly arranged seat pocket contents.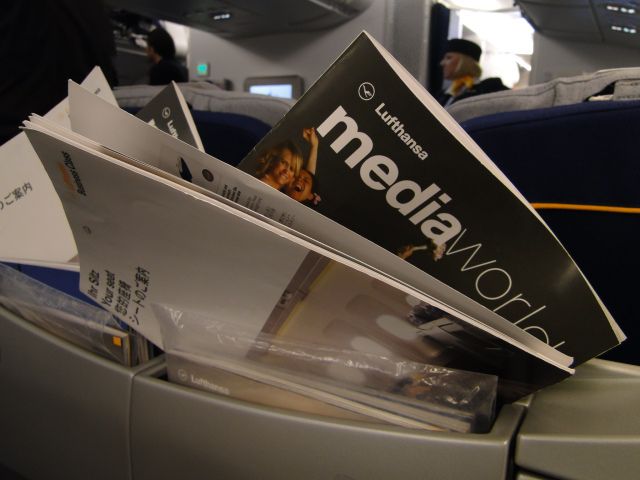 The outside window on the A380 is a similar size to all other aircraft, but the inner one on LH is a lot larger and gives you a very spacious feeling.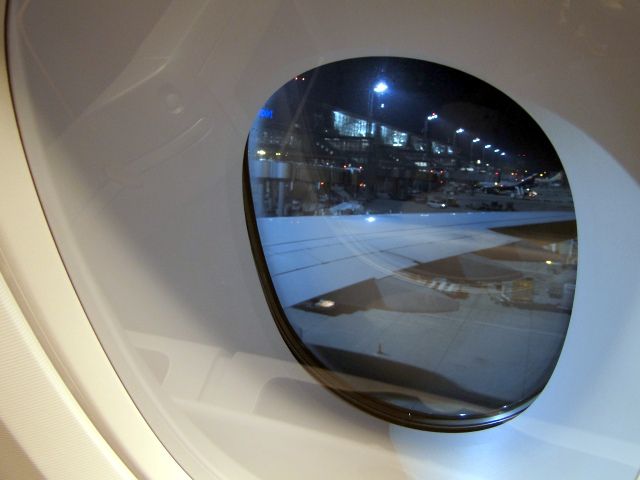 The aircraft was less than four months old, delivered to LH in July and it looked great. There was an announcement being made, but I could barely hear it. I thought there was a problem with the speakers, but I quickly realized that it was only played downstairs and they were paging a pax to report to the cabin crew.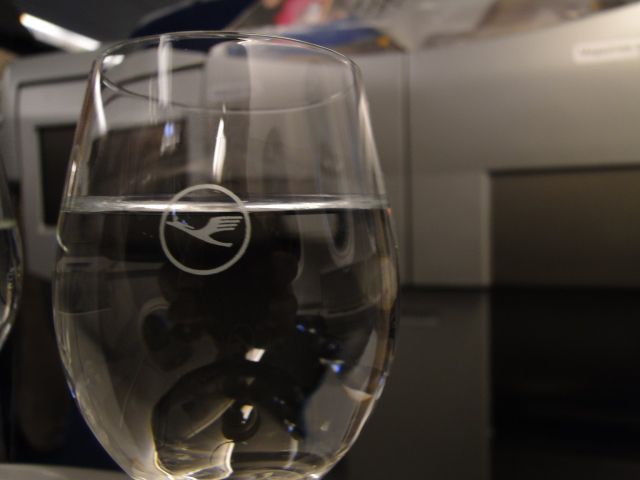 Of course one of the best features on the A380 is the tail camera. I was able to watch planes landing on the new 25R runway behind the terminal building.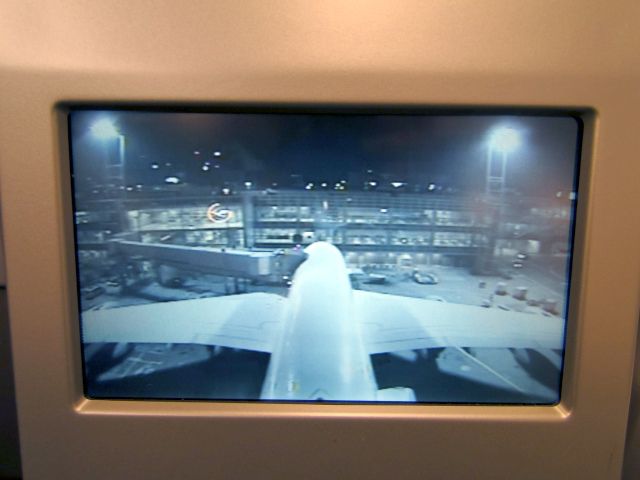 You can also choose a forward view from the front…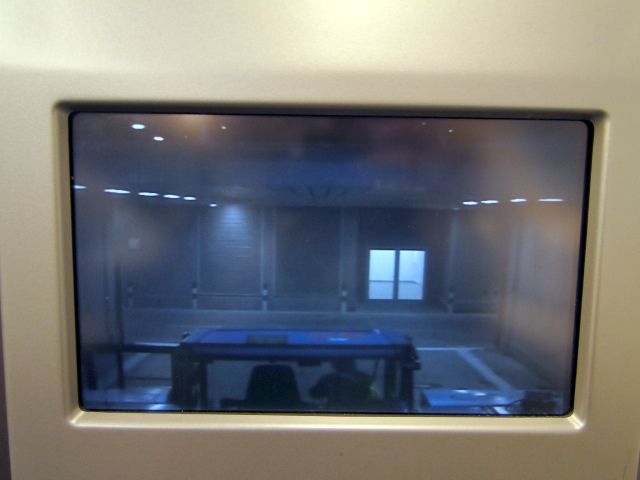 … or a view at the ground, more useful when you are not on the ground.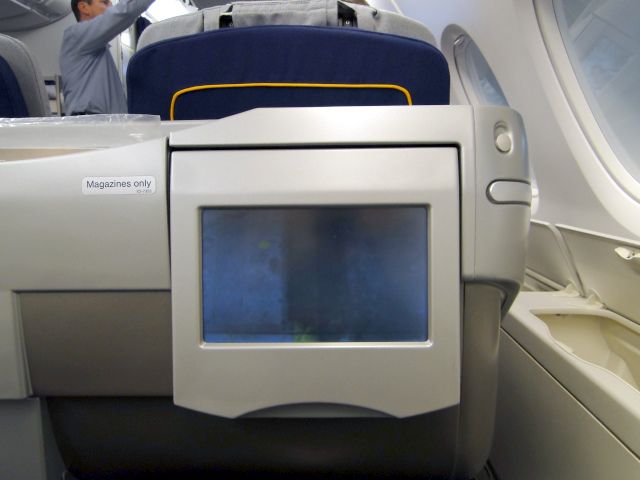 The captain came on the speaker and welcomed us on this 'First flight with the A380 to Singapore'. That was probably the only announcement about this being an inaugural flight. He announced a flying time of 11 hours and 15 minutes, a weight of 528 tons and a takeoff speed of 308 km/h if I remember correctly. After takeoff we would set course for Poland.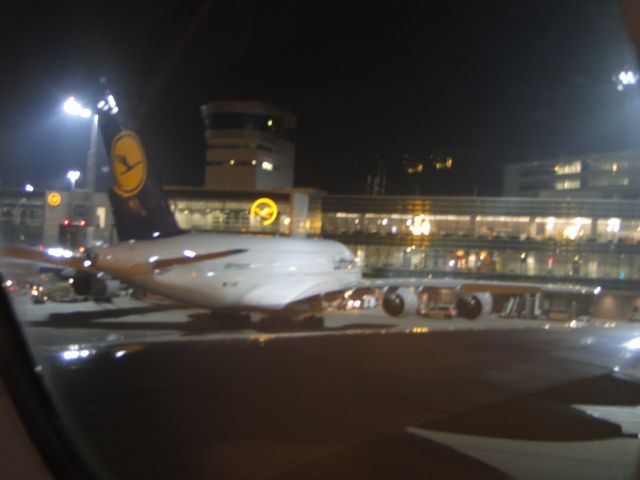 Brigitte and Jan were our pursers today, and the made another announcement welcoming us on this A380 named 'New York'. The safety video was then played.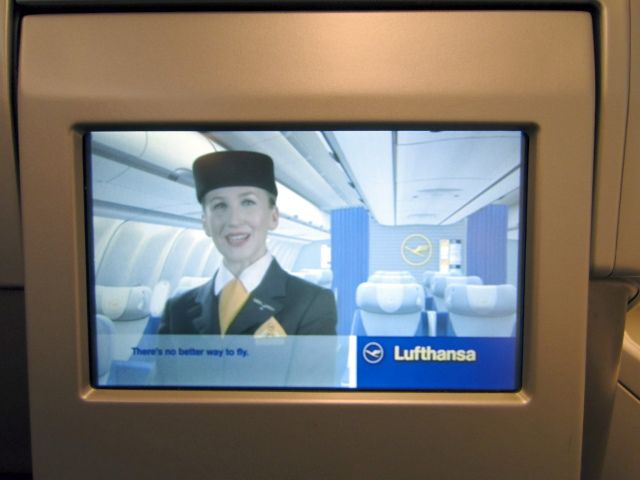 We slowly taxied to runway 18, where we had to wait for a company B747 to start its takeoff roll.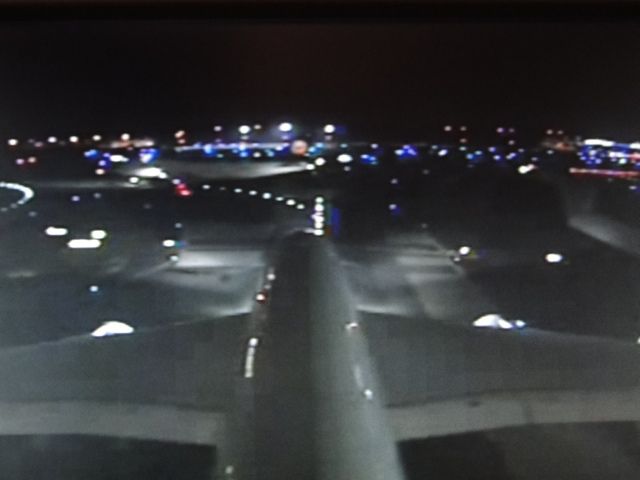 Right after that it was our turn and the giant Airbus made a very quiet takeoff into the night.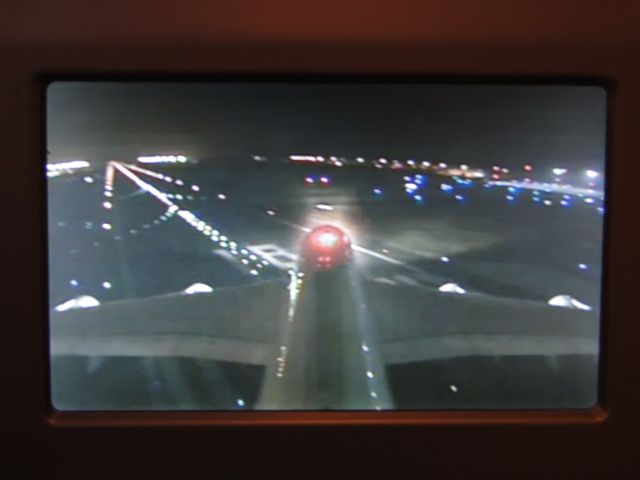 We're on our way! Next stop: Singapore!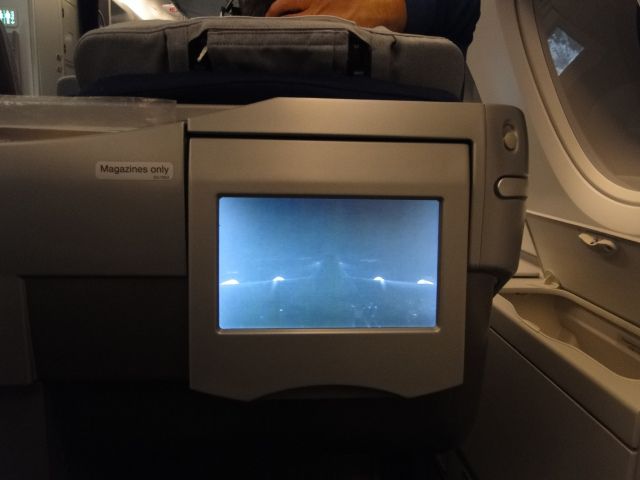 Still more than 10.000 kilometers to go.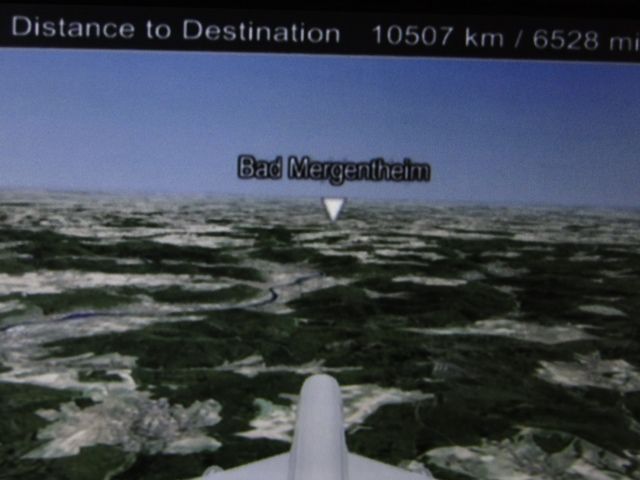 Fresh and modern looking cabin during our climb.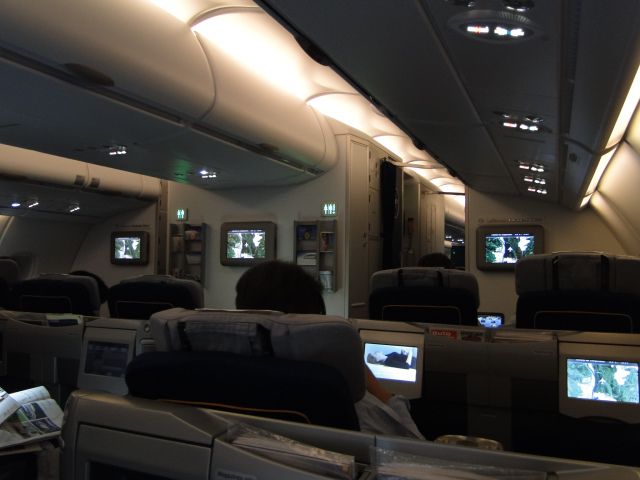 Contents of the seat pocket. These side bins are great for storing stuff and for putting things on top of them.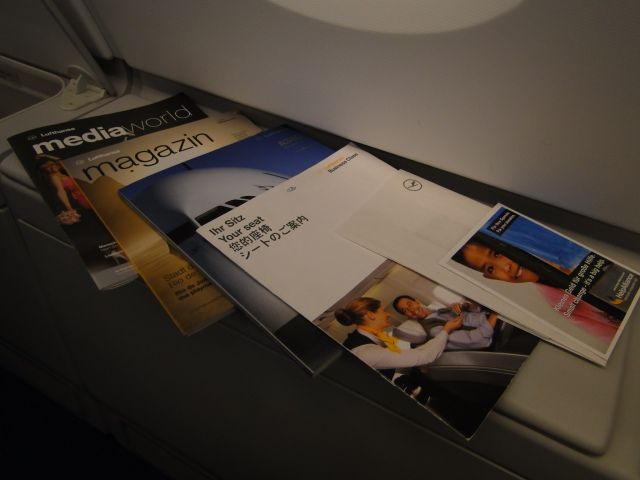 LH A380 features NiceView Airshow with many different animations and displays.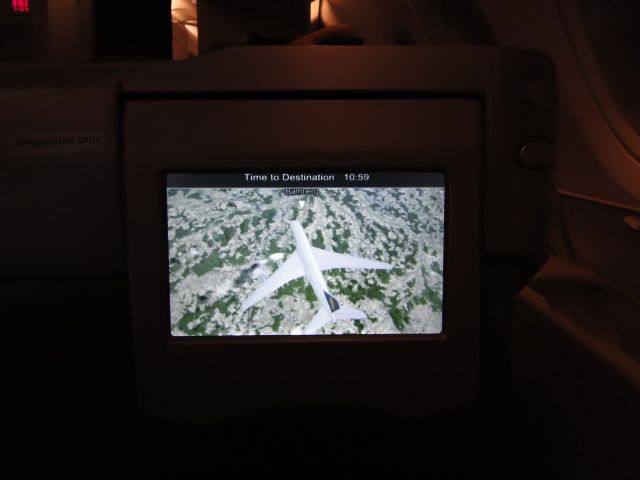 Dinner service started soon after takeoff, menus were given out first.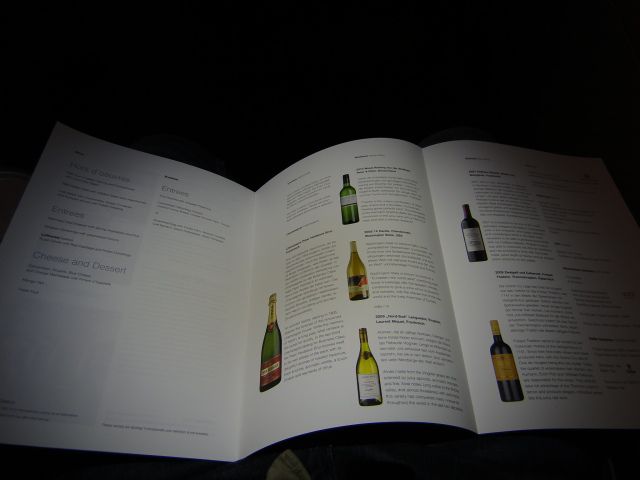 Today's main courses, I went with the LufthasaClassics.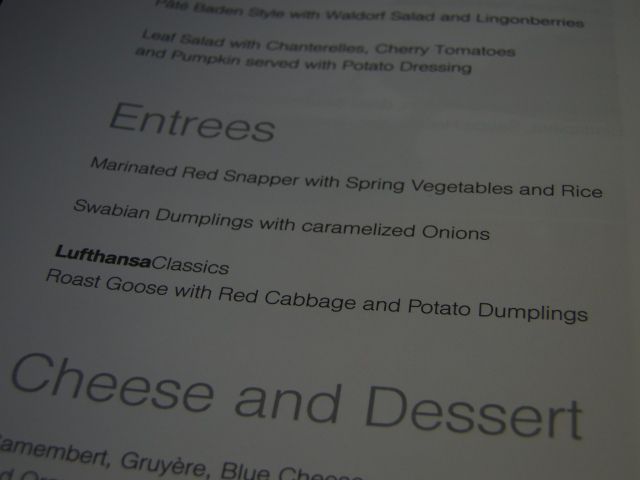 Hot towel service.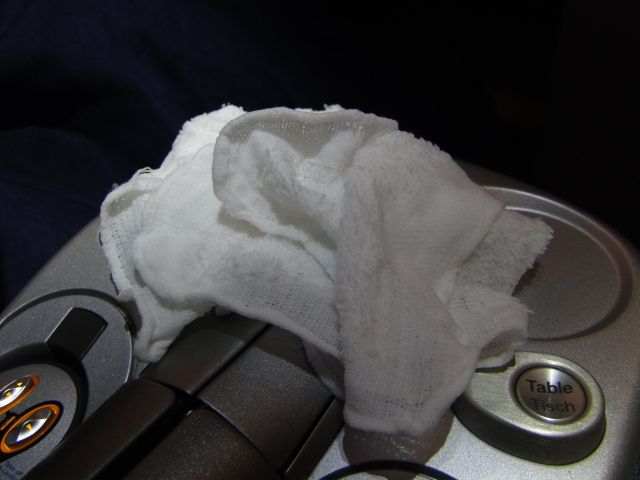 The seat controller is a bit different than on other LH aircraft. Still easy to use.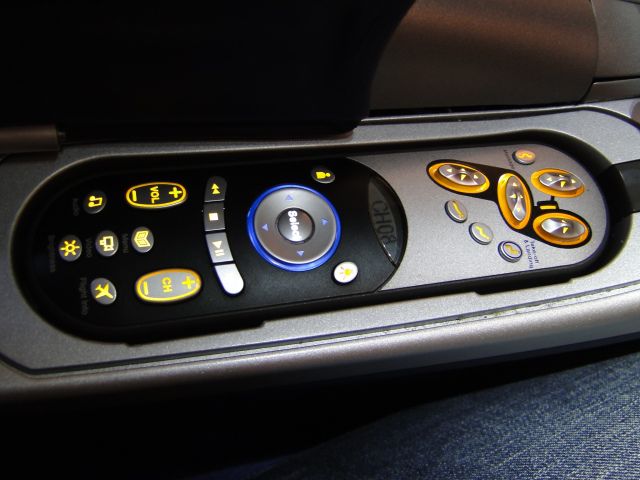 Two bags of mandels on this flight, nice. I actually just remembered I still have one pack left in my bag and went to eat it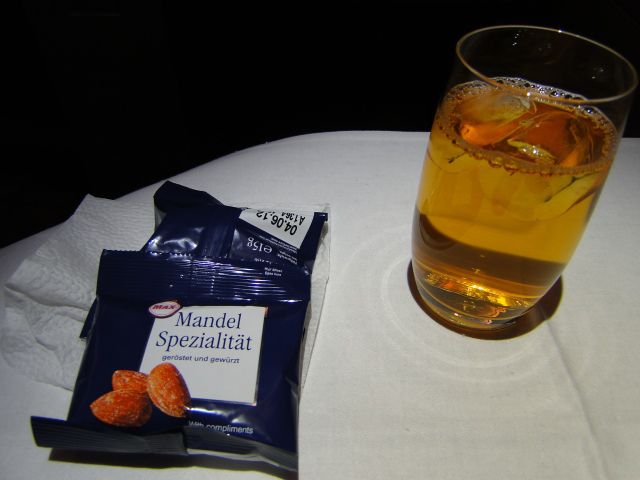 Cockpit view while waiting for my starter.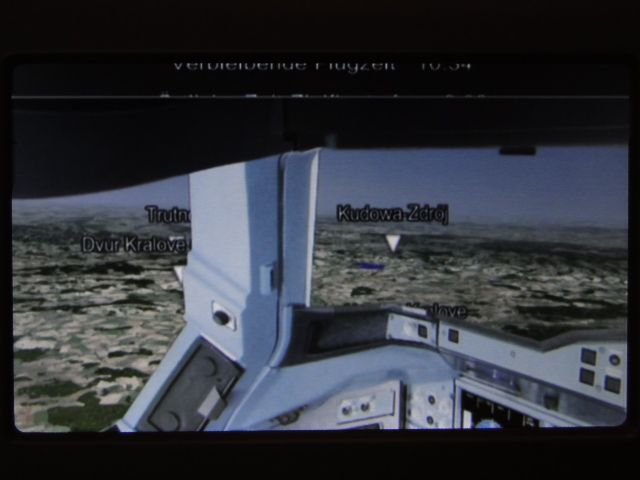 Leaf salad with chanterelles, cherry tomatoes and pumpkin served with potato dressing.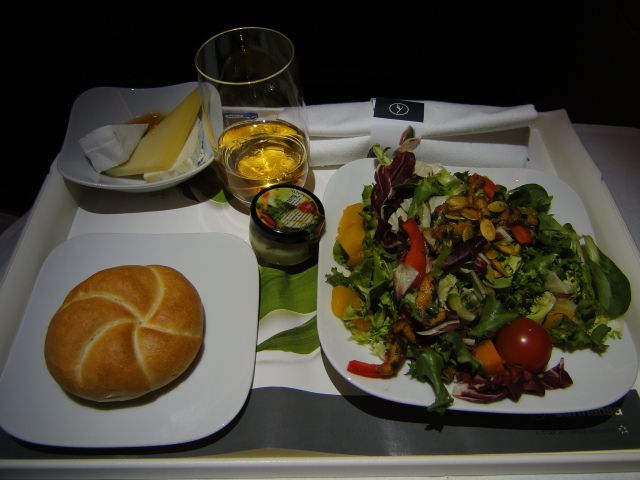 In detail.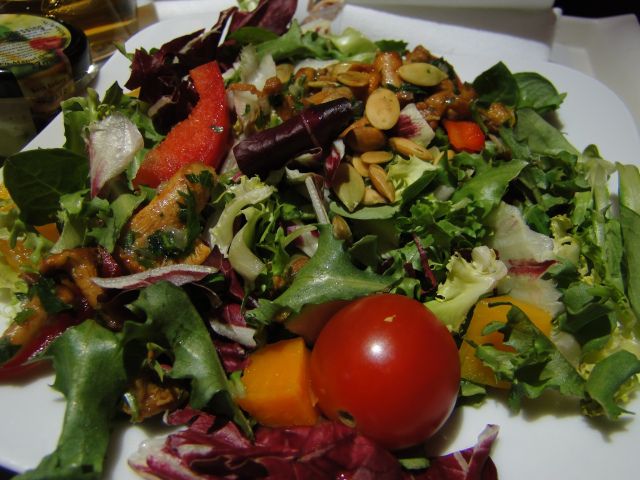 Main course – Roasted Goose with Red Cabbage and Potato Dumplings. I think I had the same meal a few years ago on MUC-JFK.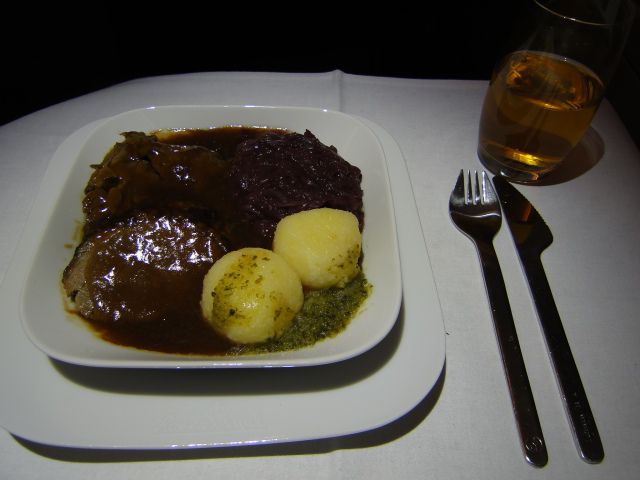 IFE has some interesting movies, I did not watch any on this flight, the NiceView Airshow was just fine for me.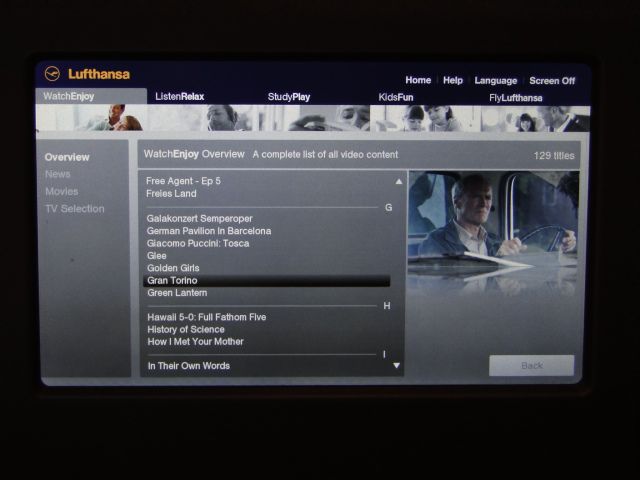 After dinner I went to the toilet and put my seat in the flat position, read a few pages of my book. I got a bit sleepy so I put my earphones in and…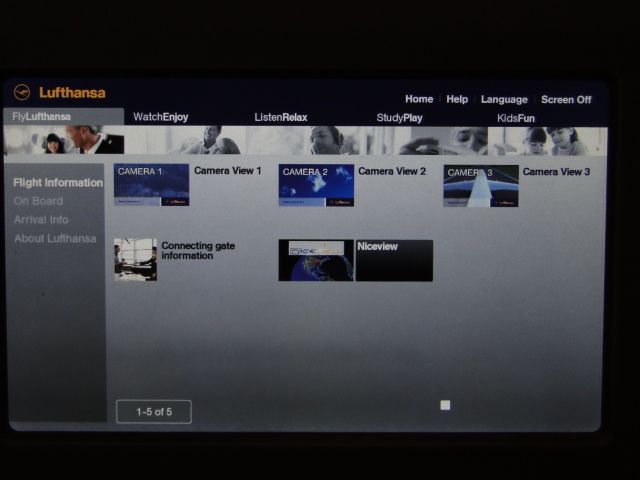 … woke up 7 hours later!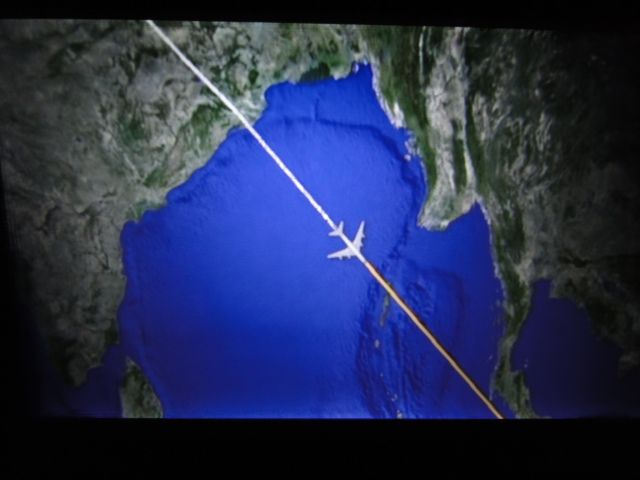 We were already over the Bay of Bengal.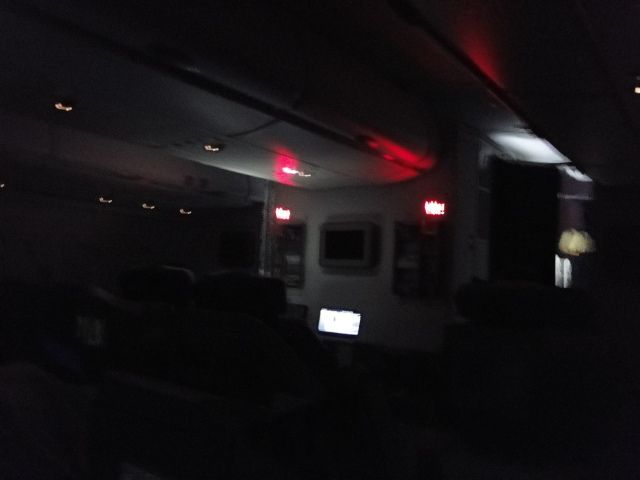 The cabin was still dark but the light around the window indicated that it was already a new day outside.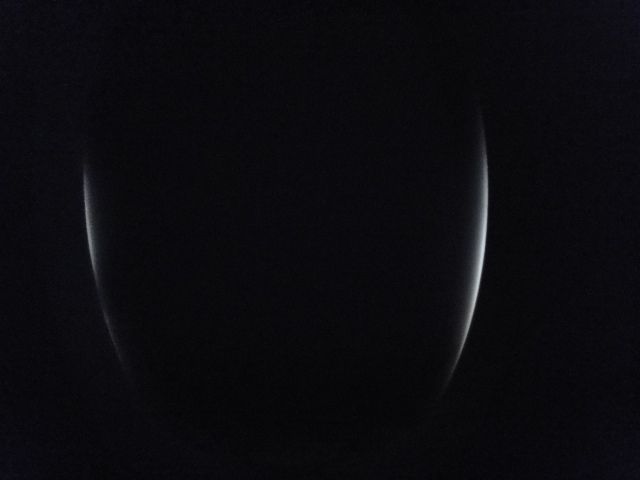 Tail camera proved that. This was one of my best sleeps onboard any aircraft.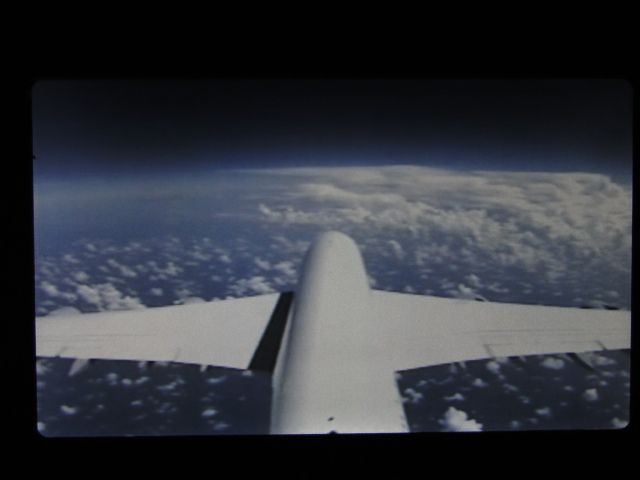 I got up with about 2 hours and 30 minutes left to Singapore. We have already come a long way.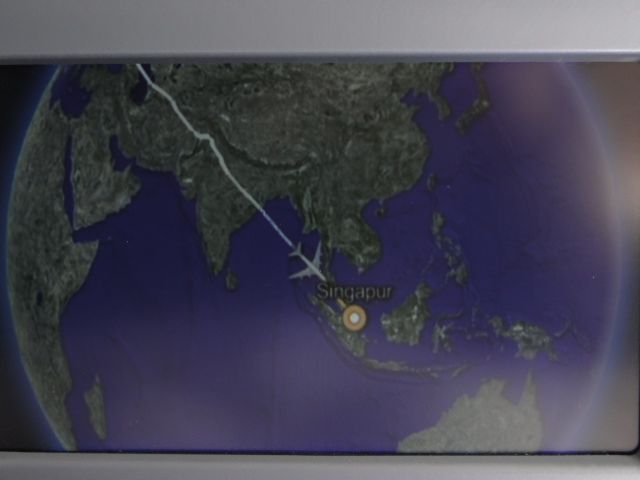 Time was literally just flying by. This flight was great.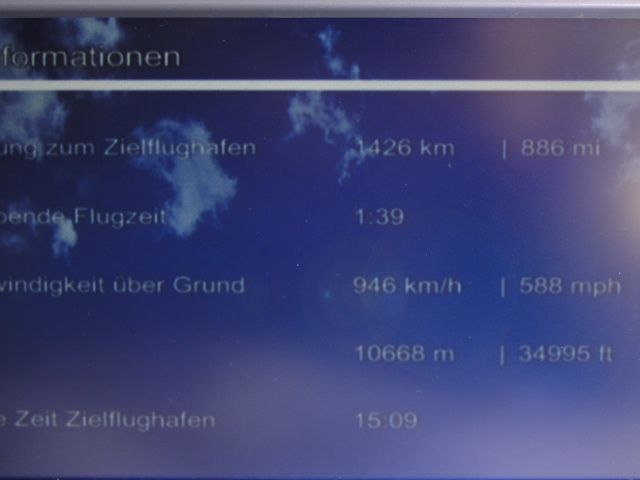 Lights were turned on about an hour and a half before landing.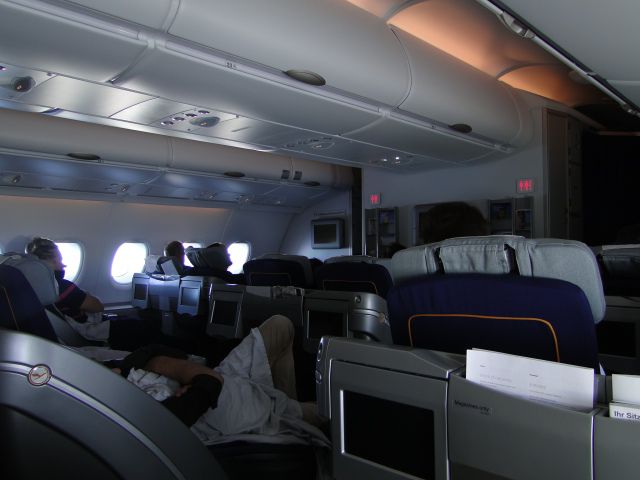 Safety card is folded in the pocket on the right side of the window seat.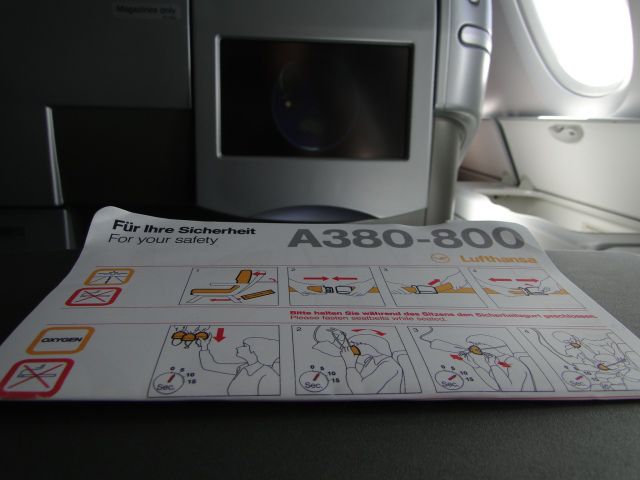 The other side.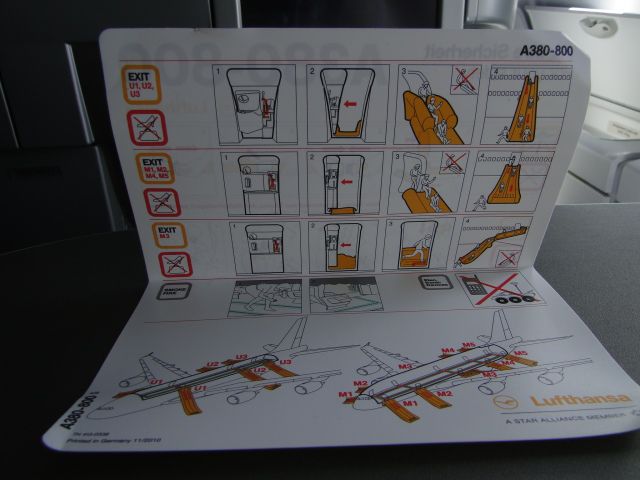 Breakfast service offered either a cold or hot option.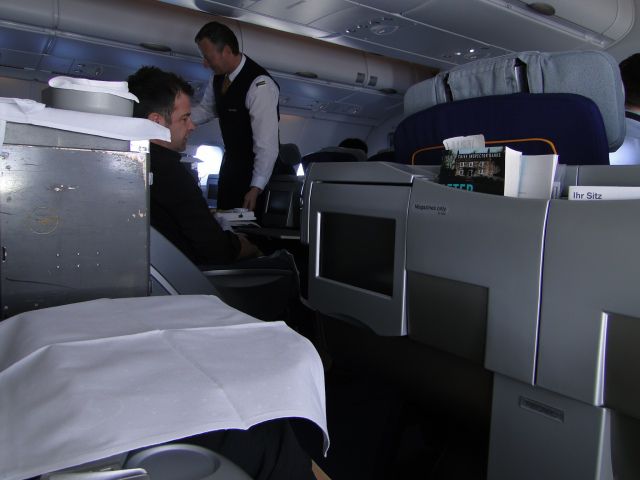 Cold – Cambert, Rahmberg Cheese, smoked Turkey Breast, Juniper flavored Ham, Tomato.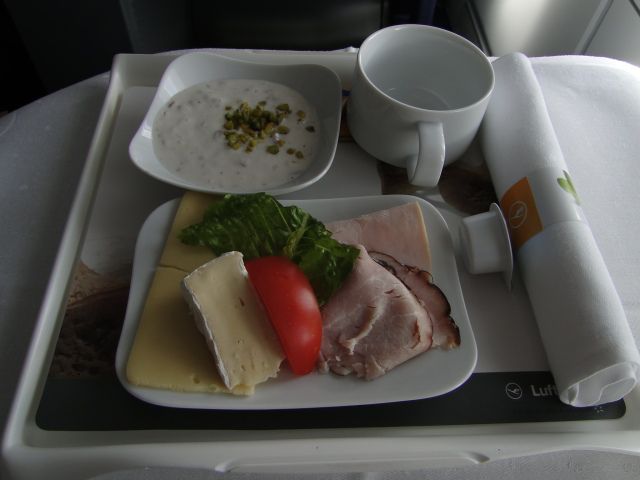 Hot – Scrambled Egg with Turkey Ham, Seasame Cookies, Leaf Spinach, Sauce Hollandaise, diced Tomatoes. Both meals came with Fruit Granola with chopped Pistachios.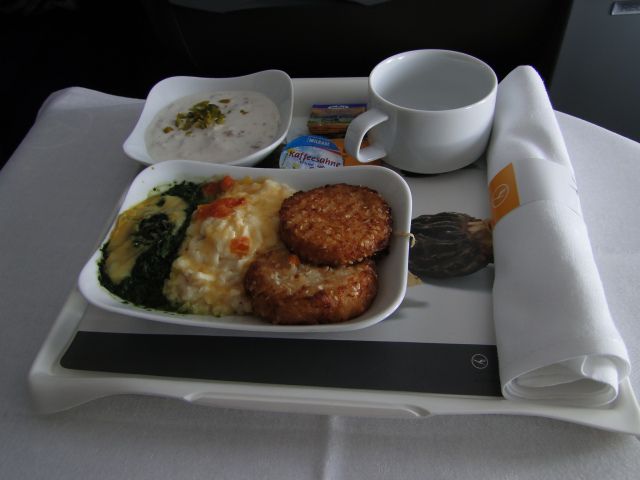 LH postcards.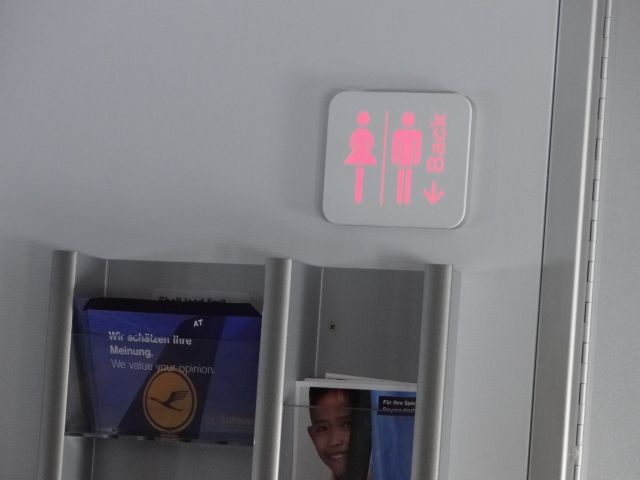 After breakfast the cloud show started, I was glued to the window until landing.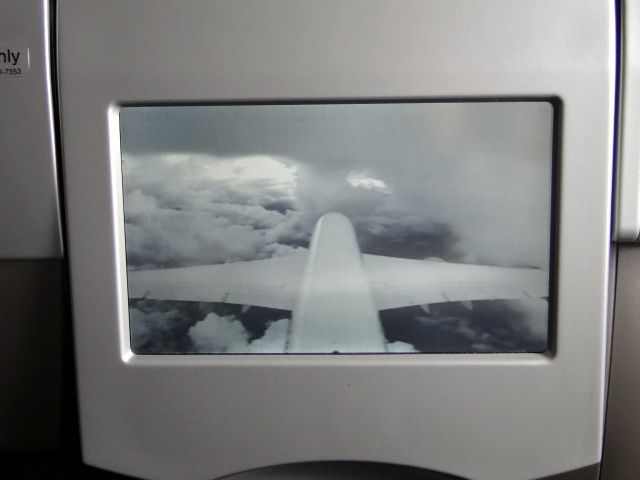 The views were fantastic.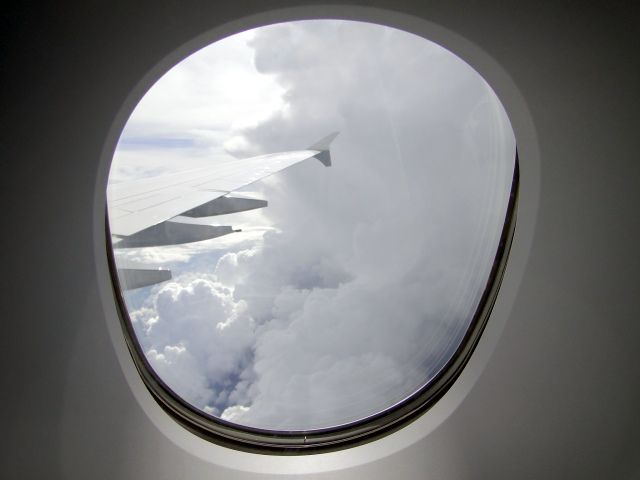 There were quite a lot of thunderstorms around this area.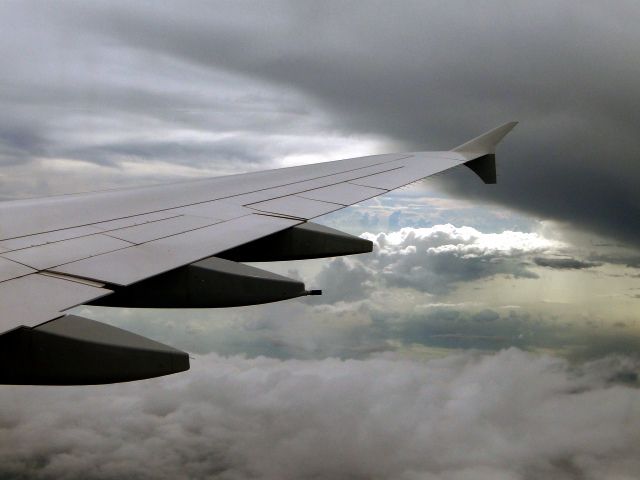 Captain made an announcement that as he was afraid, we are going to be put into a holding pattern due to air traffic congestions around SIN.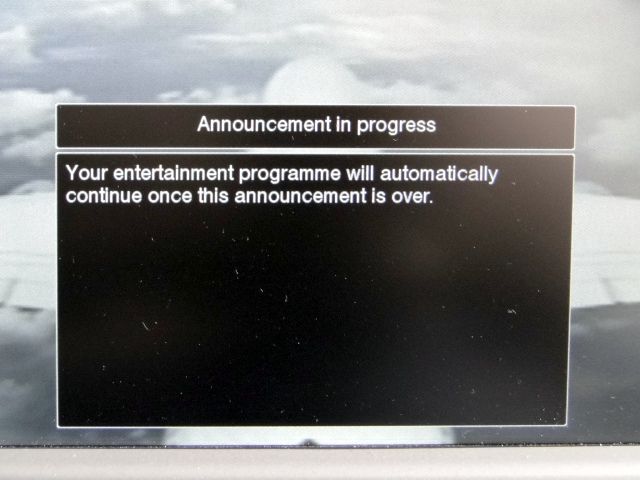 More time to enjoy the view.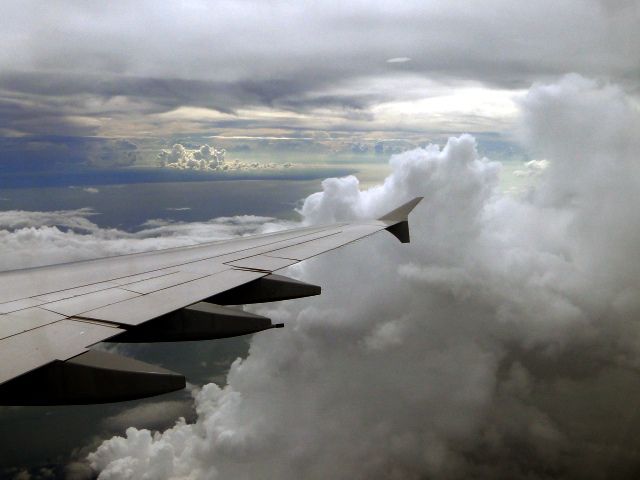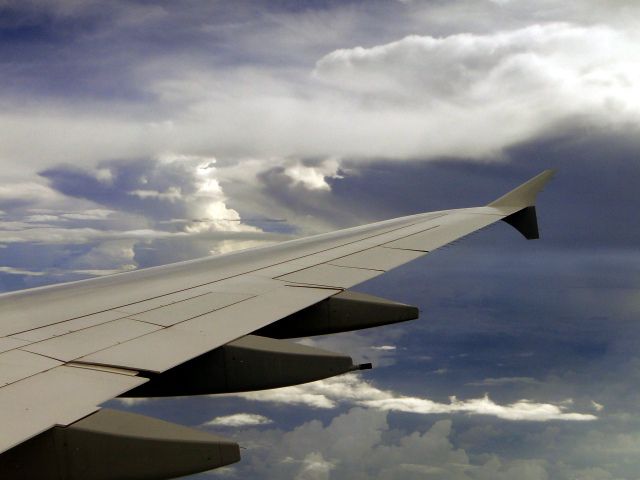 A380 is a very quiet aircraft. So quiet, that the noises inside the cabin become a bigger problem than the sound of the engines. You could hear every pax move their seat and snoring pax can become even more annoying.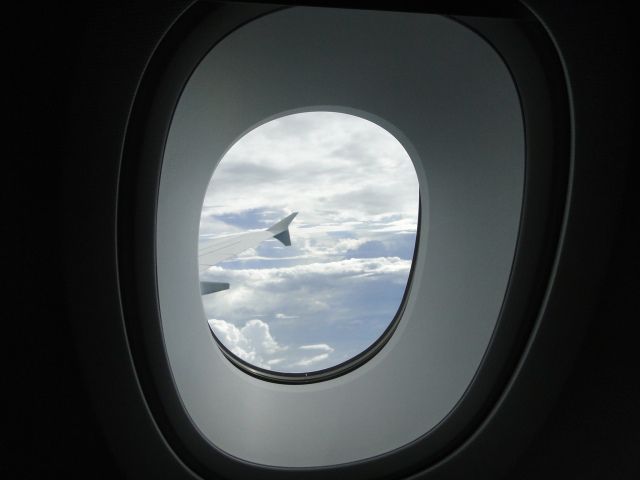 Spectacular!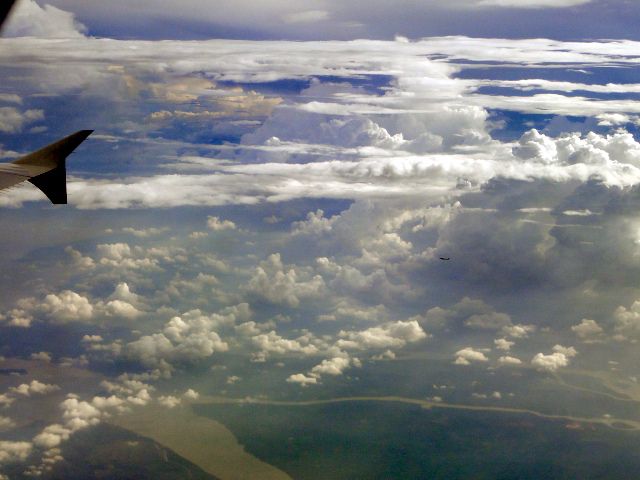 Finnair holding below us.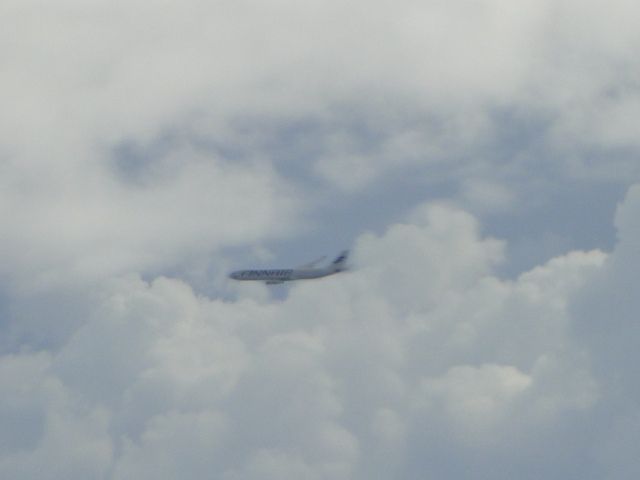 After some circling we were cleared for our approach into SIN.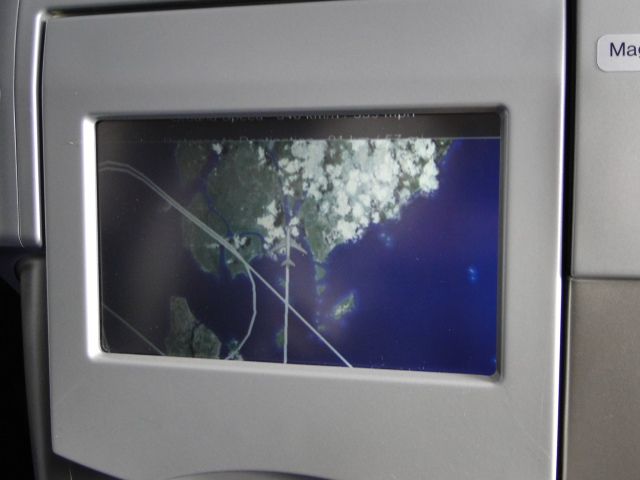 Land below.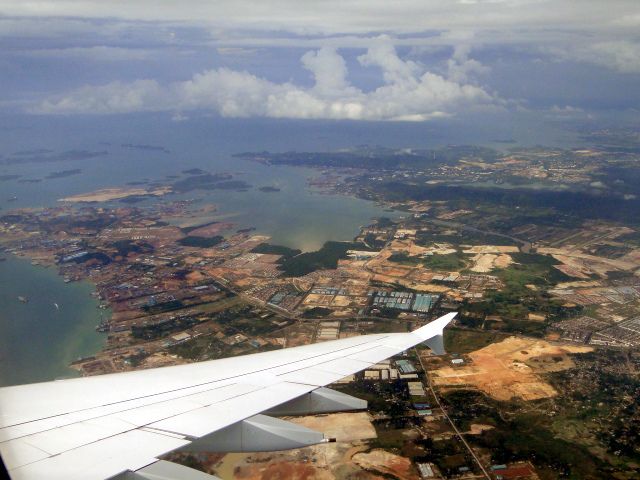 Lining up with the runway.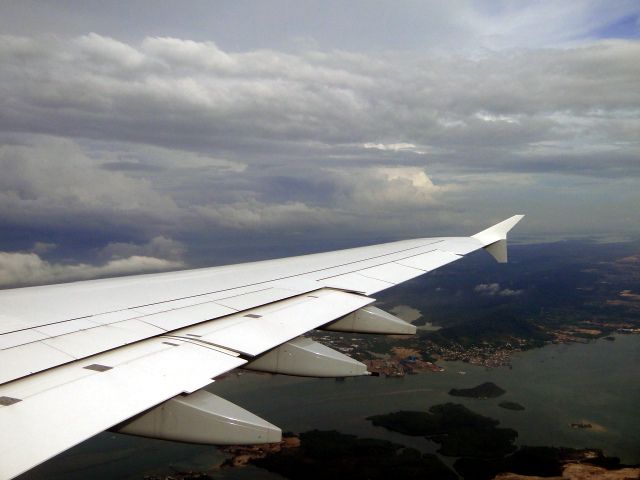 Some rain in Singapore.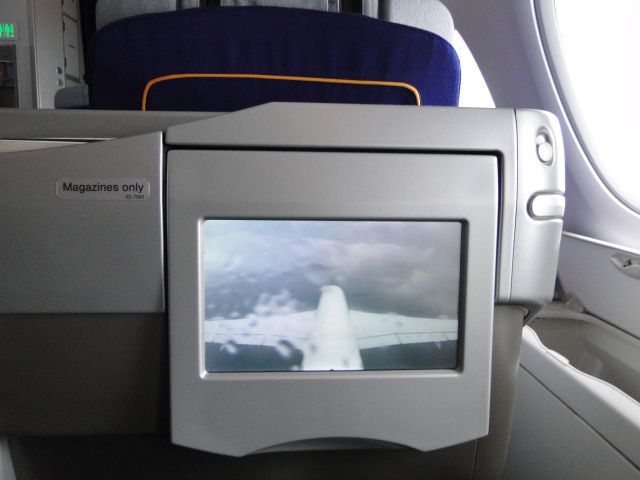 Getting closer and closer…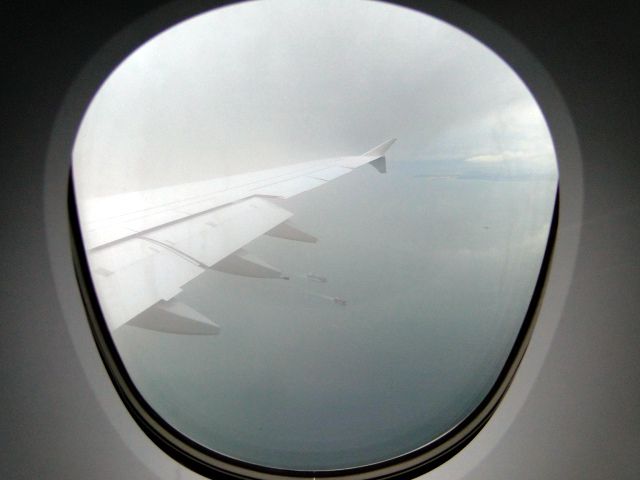 We could enjoy the sight of dozens of ships making their way to the port of Singapore.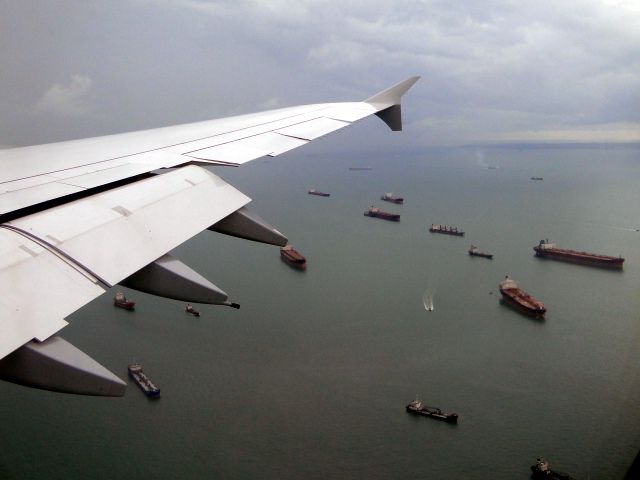 Over the ground now.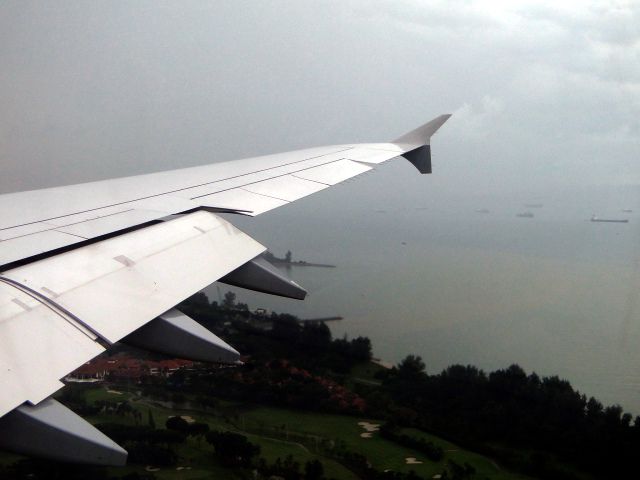 It's just amazing and fascinating how we are now just like that at the other side of the world.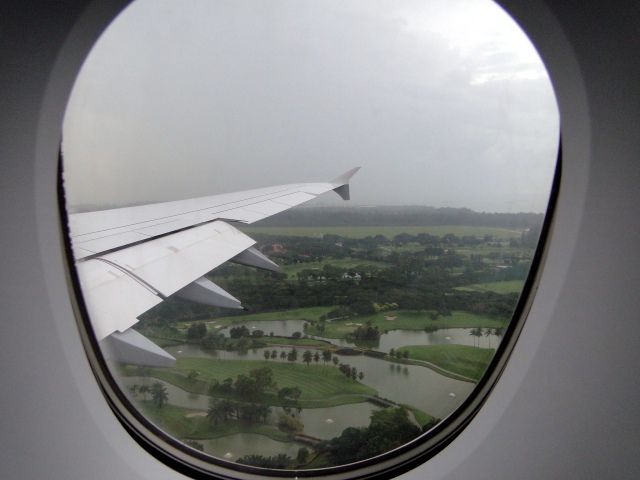 Runway in sight.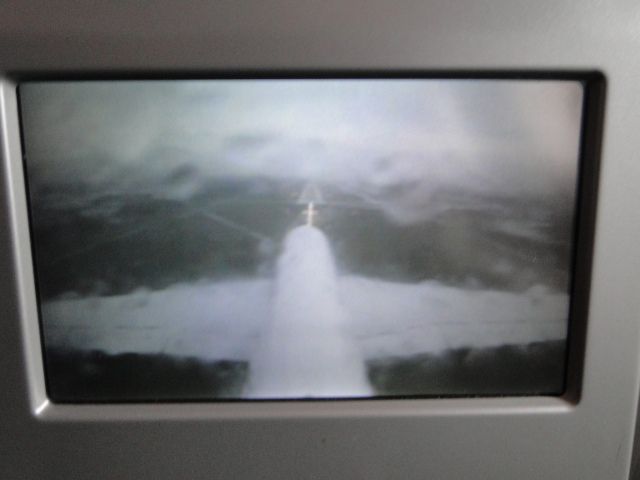 Landing at Singapore Changi airport.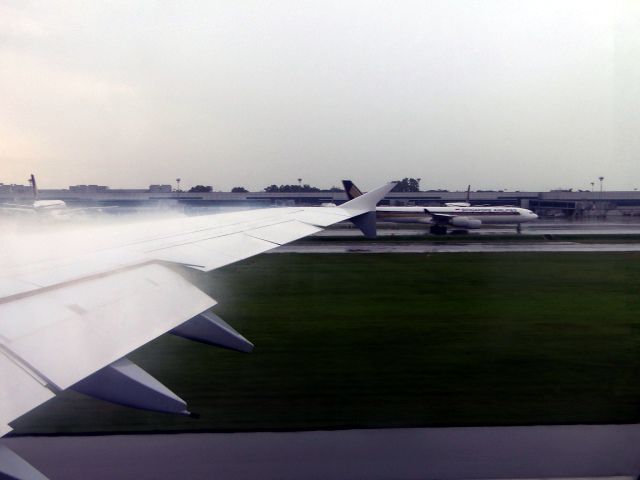 When we left Germany Qantas fleet was still grounded. Looks like they have resumed operation in the meantime.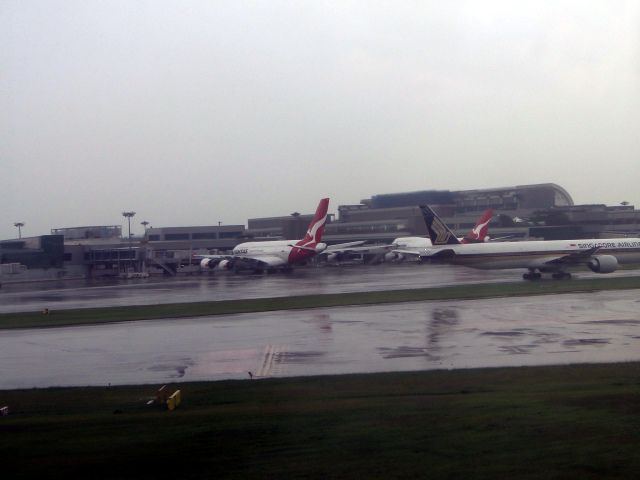 You're welcome, Lufthansa.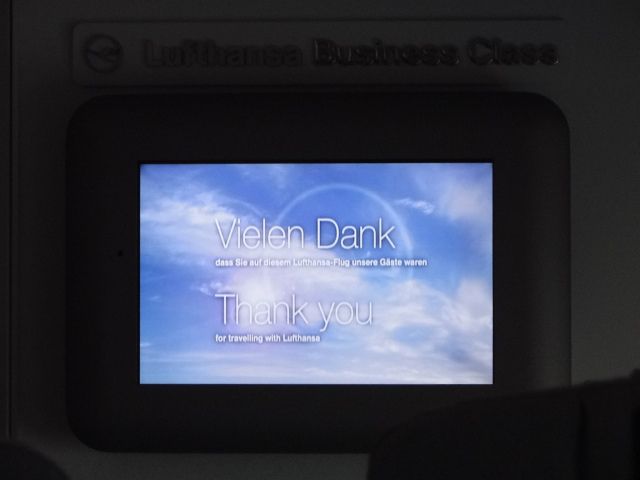 Not the best of weather to take some nice first pictures of Singapore.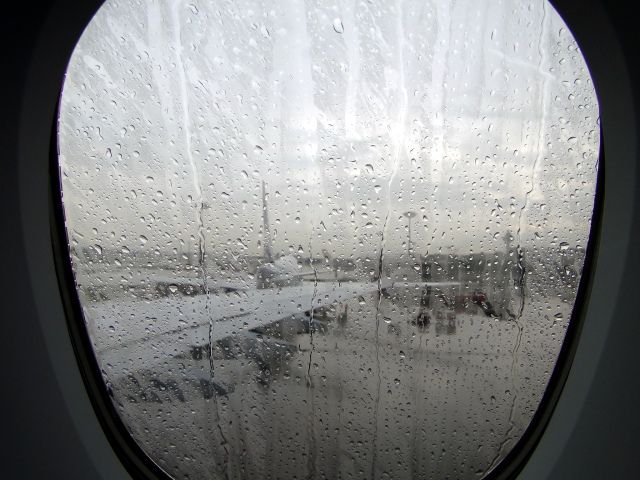 Quite a long taxi to our gate E5.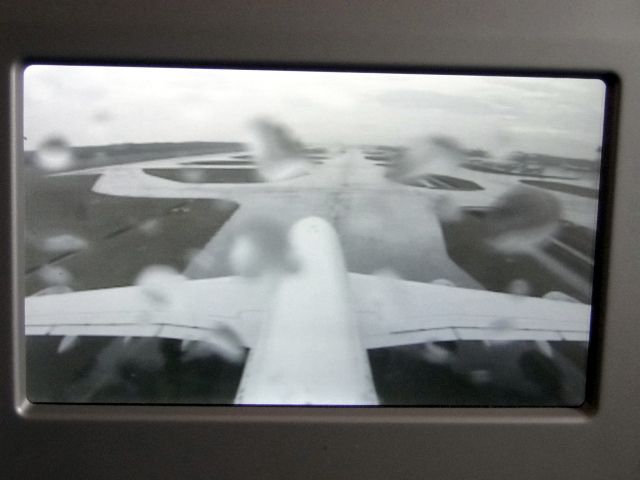 Nice!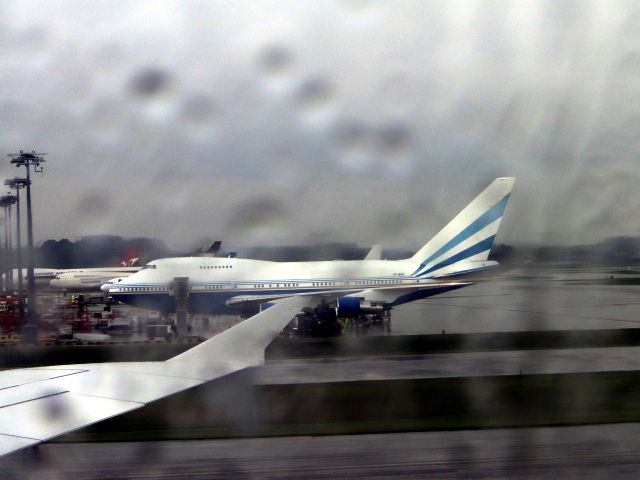 Pictures and video taken of our arrival.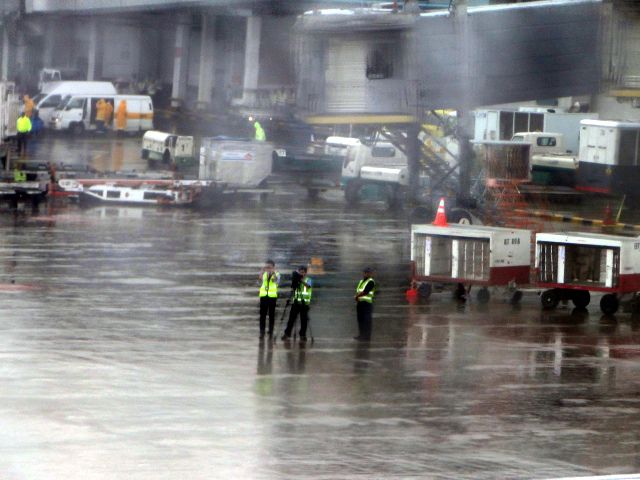 We parked next to LH A343 from MUC, going to CGK next.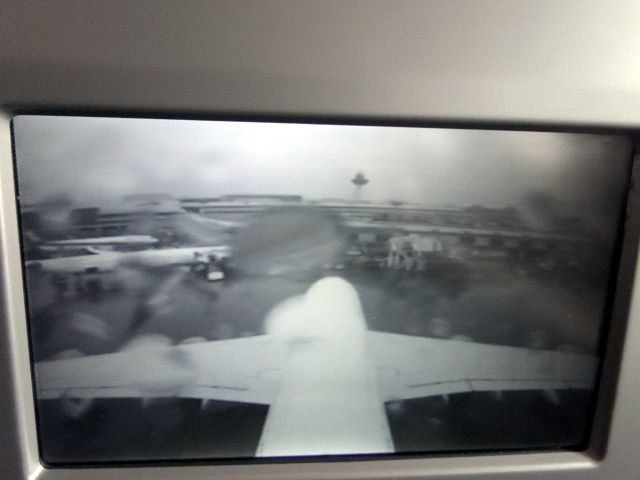 It was a bit sad leaving this amazing aircraft, this was probably my best flight so far, even better than LX first, that YUL-ZRH flight was just too short to fully enjoy it.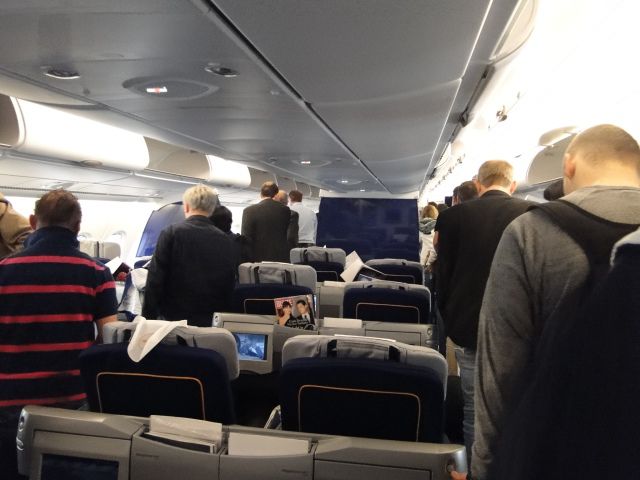 I stopped to take this picture of the A343, a ground agent noticed me taking the picture and when I came by, she bowed and said 'Welcome to Singapore!'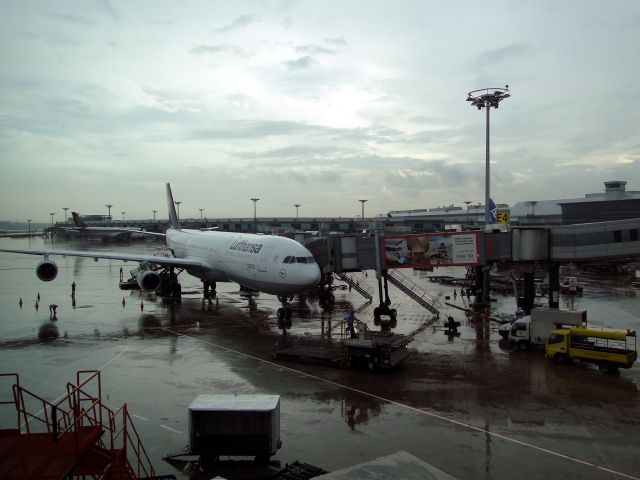 Looks like there were some celebrations held for the return flight, I guess I should have picked that one.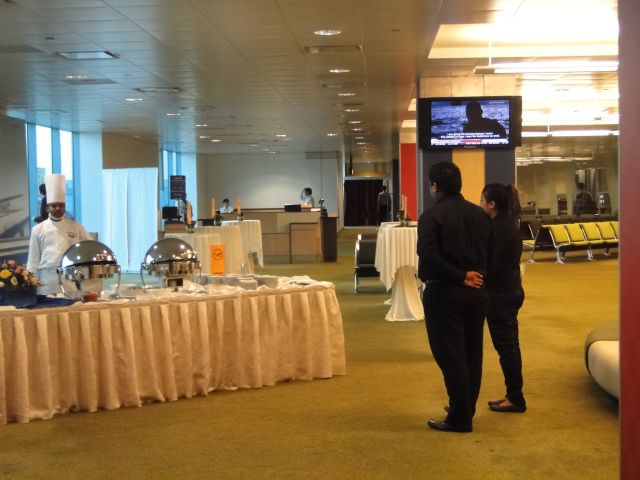 Every passenger disembarking was given a LH rose. Nice gesture for the first flight.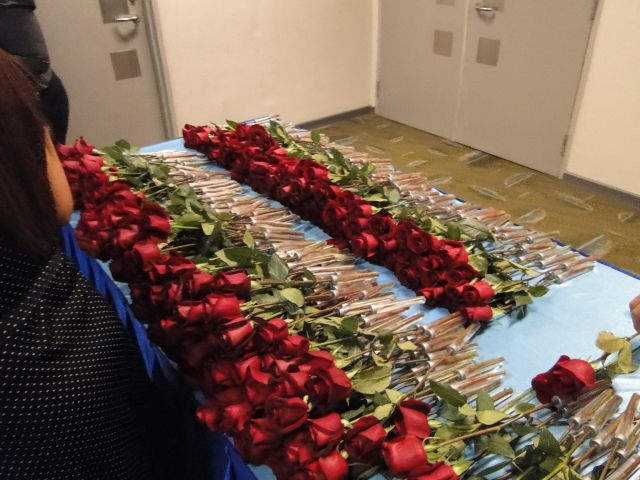 Useful information.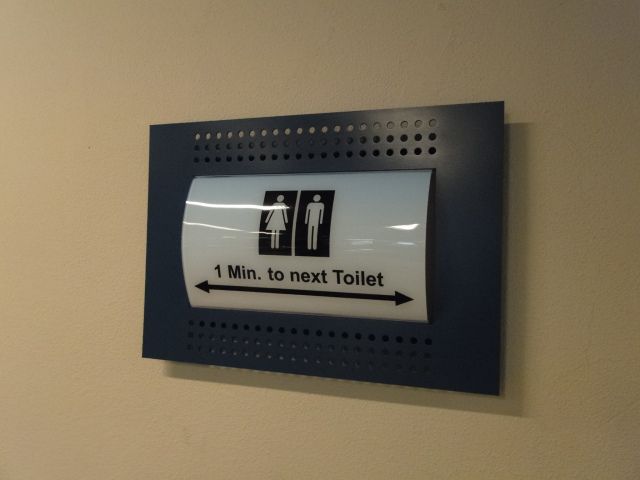 You only get one chance for a first impression and so far everything was perfect. From the friendly greeting, the rose, fast and easy immigration, nice looking terminal, Singapore impressed us from the start.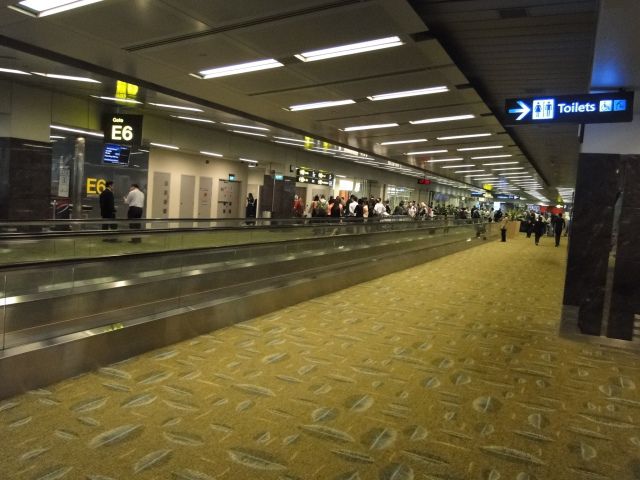 And during the next week Singapore continued to impress. It is an amazing, clean and beautiful city.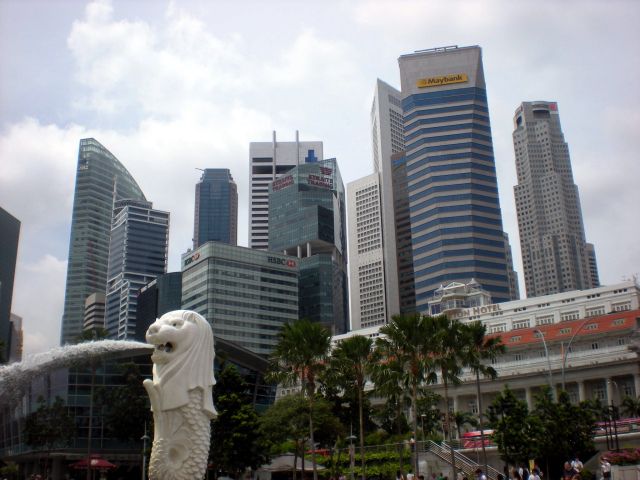 Little India.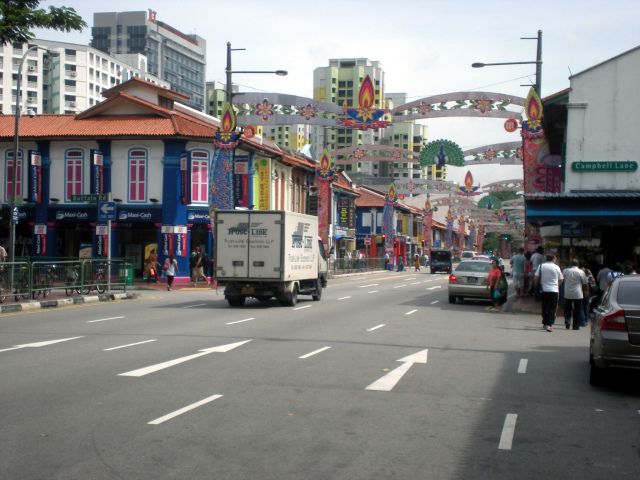 'International flags' as our local guide referred to the laundry. You can see from where the people are by their clothes.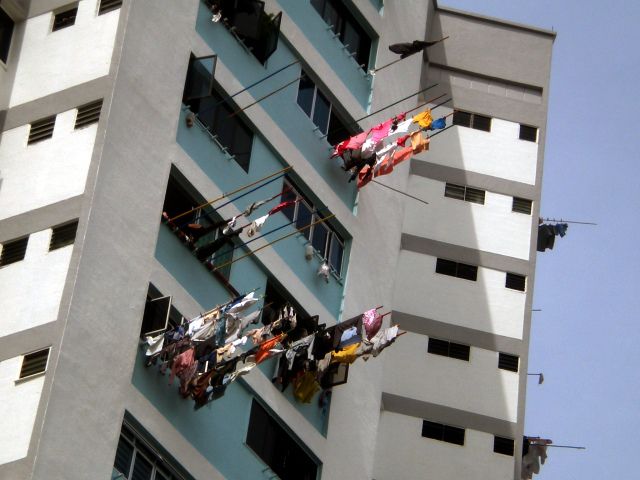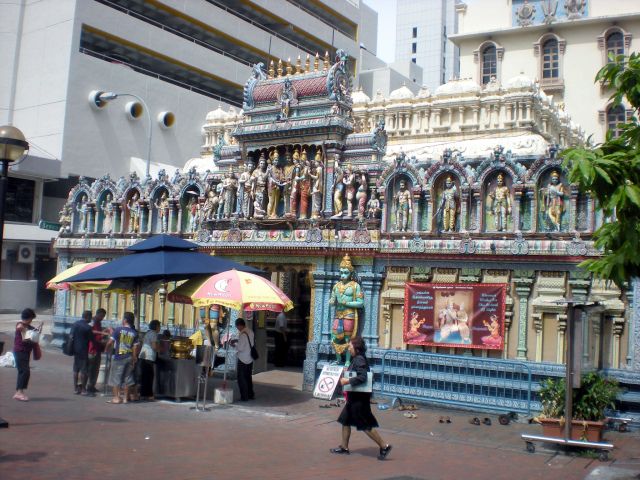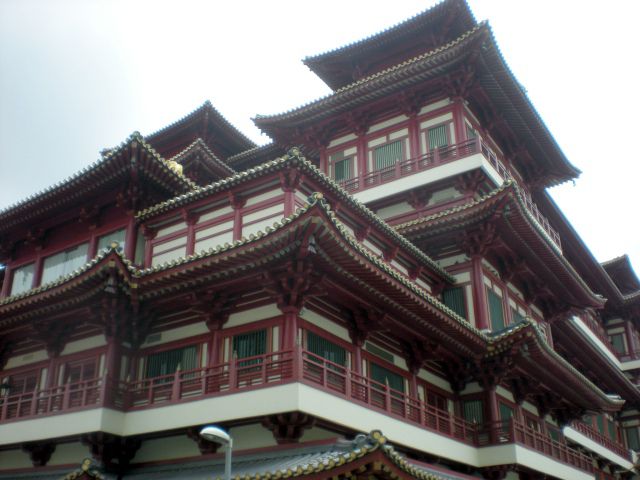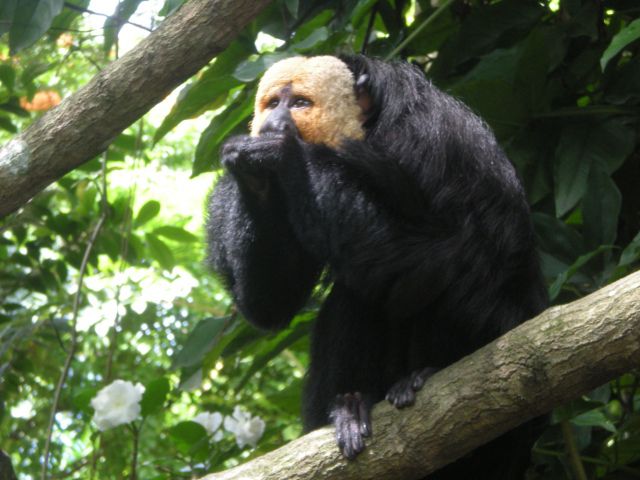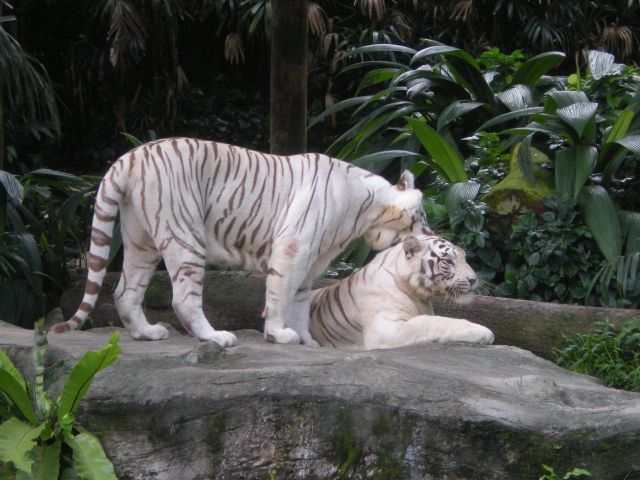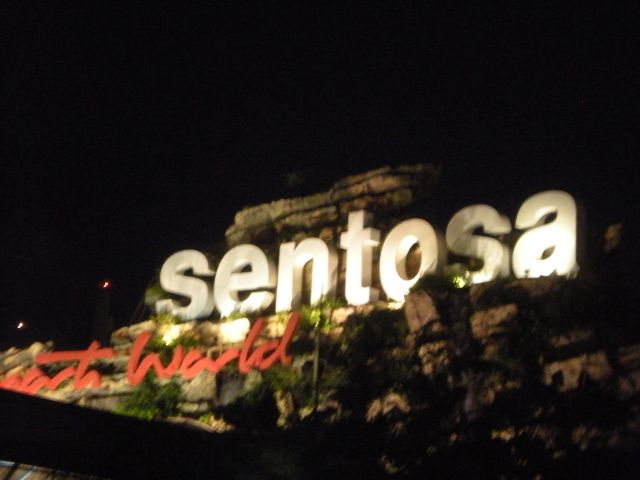 'Southernmost point of continental Asia'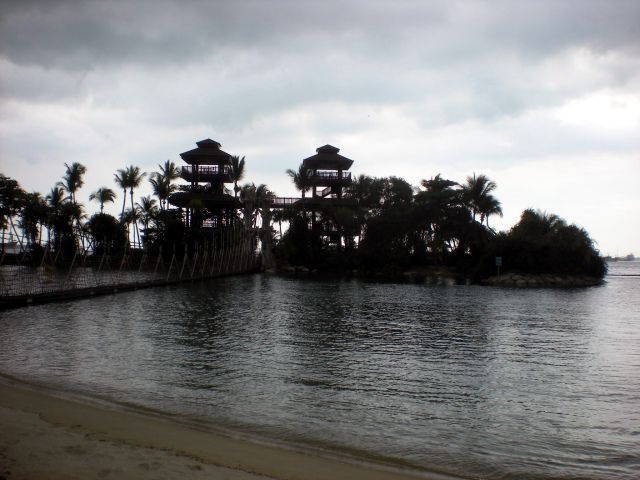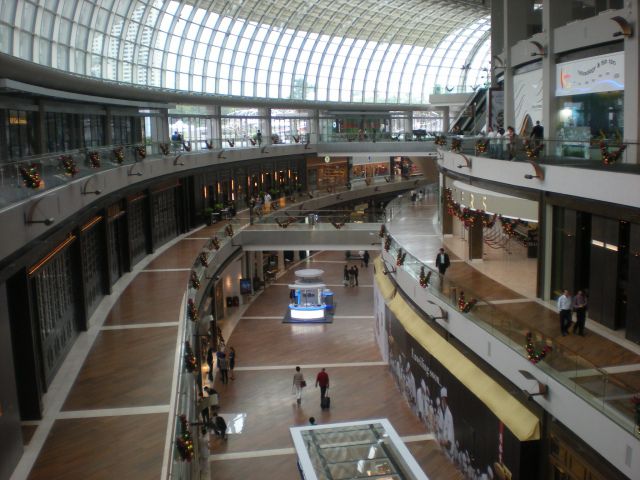 There was a Titanic exhibit and it was done in a very nice and interesting way. But taking pictures was not allowed.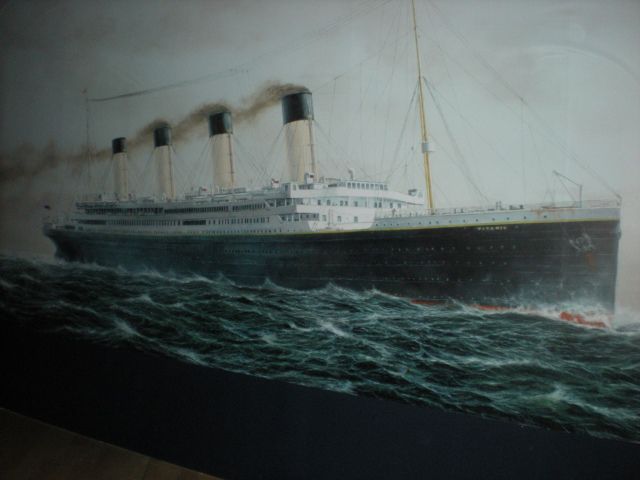 View from the Skypark on top of the Marina Bay Sands.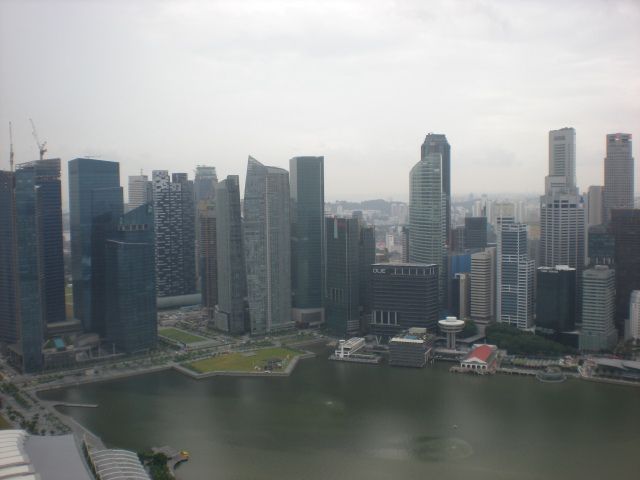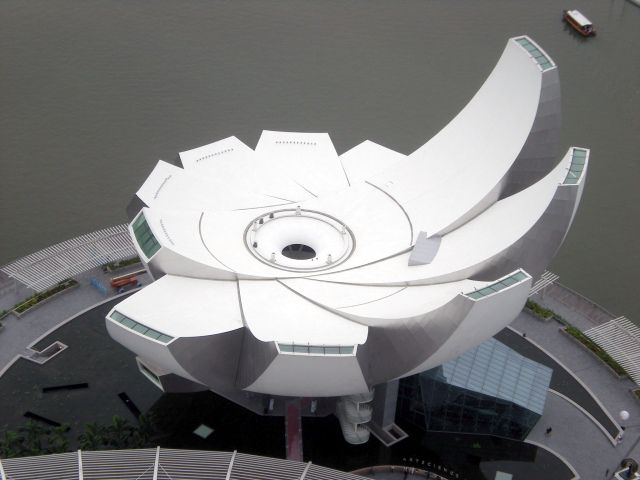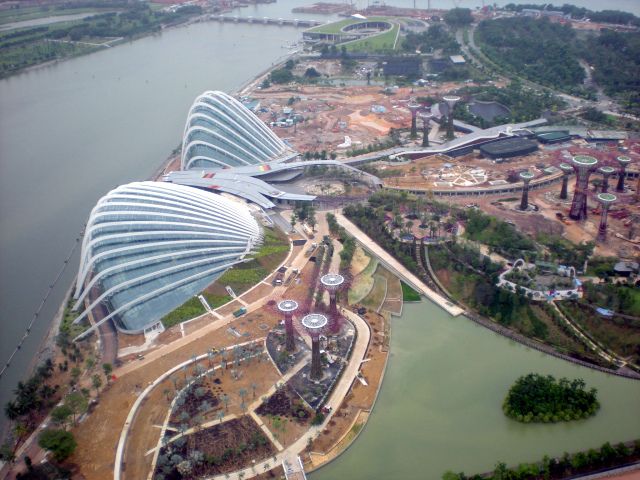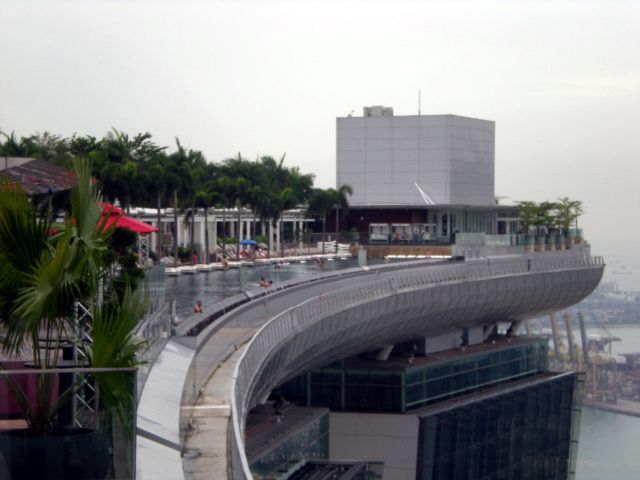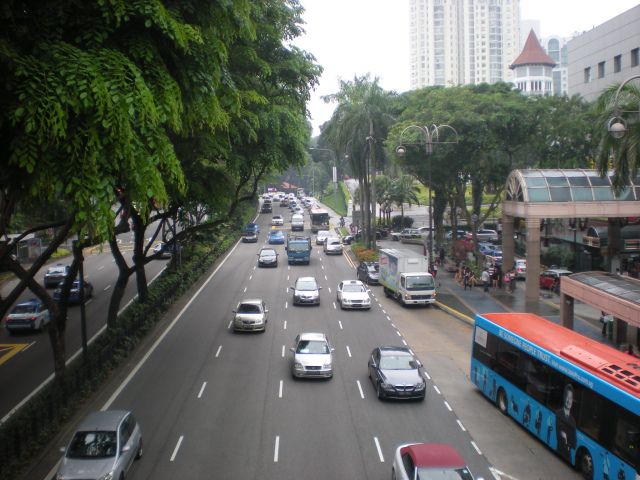 Southwest airlines fish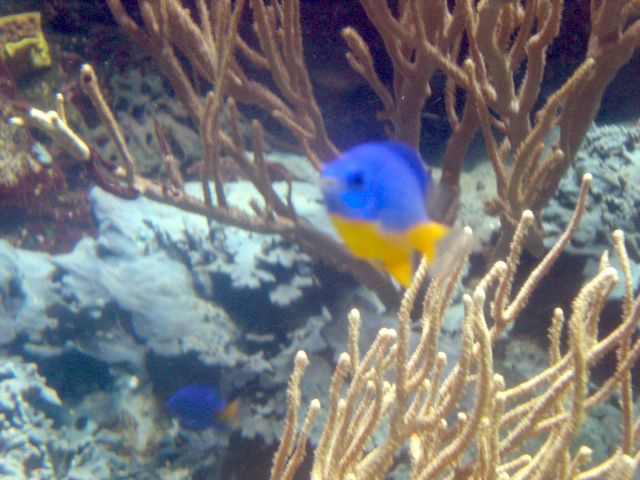 I really enjoyed my time in Singapore. The only thing I would change would be the weather. Hot, humid and wet so not what I prefer, but it was nice to escape to someplace warm before the European winter takes over.
This was my 12th flight with Lufthansa and so far they have proven to be a very consistent carrier – all of my flights with them were very good and I would be glad to fly LH again.
Best regards,
Blaž
My previous reports:
Chasing The B736, MD82 And A321 Around Scandinavia
(by
SloAir
Sep 29 2011 in Trip Reports)
Adria Retro And Austrian B738 To And From Istanbul
(by
SloAir
Aug 31 2011 in Trip Reports)
To The A.net Meeting At Frankfurt With Adria CRJ2
(by
SloAir
Jul 11 2011 in Trip Reports)
LX Upgrade! Montreal-Zurich In First On The A333
(by
SloAir
May 4 2011 in Trip Reports)
Swiss A330-300 Zurich-Montreal In Business
(by
SloAir
May 1 2011 in Trip Reports)
Singapore B777-300ER Munich-Manchester And JP,U2
(by
SloAir
Apr 6 2011 in Trip Reports)
One Of The Last CO Trip Reports? IAH-LAS B753
(by
SloAir
Feb 14 2011 in Trip Reports)
My LX A333 C Flight Cancelled LJU-ZRH-JFK-ZRH-LJU
(by
SloAir
Dec 27 2010 in Trip Reports)
CO B767-400 BusinessFirst From Houston To Paris
(by
SloAir
Nov 24 2010 in Trip Reports)
Houston, We Have A Problem! 12 Hour Delay On CO 5
(by
SloAir
Nov 14 2010 in Trip Reports)
Adria Airways New Airbus 319 (LJU-MUC-BCN-LJU)
(by
SloAir
Aug 30 2010 in Trip Reports)
LJU-CDG-LHR-CDG-FRA-LJU On JP, AF(A380) And LH
(by
SloAir
Jul 5 2010 in Trip Reports)