Introduction
Finncomm Airlines has built a quite impressive regional operation in Finland during the last years. It was actually established by some private investors hailing from the Texas of Finland, the region of Bothnia - who also just happened to make their first millions by establishing Air Botnia which was later sold on to SAS and turned into today's Blue1. Initially FC had no AOC, so all of their flying operations were outsourced to Golden Air of Sweden, operating mainly Saab 340s and the occasional -2000 example for them on domestic routes ex-HEL.
Once they finally got their own AOC from the Finnish Aviation Authority they next needed some planes of their own. Luckily for them their timing was just right - back then in the early 2000s everybody was buying regional jets left and right and turboprops were deemed very obsolete and not preferred by the passengers. However FC made a leap of faith and placed a large order for around ten brand new ATR -500 series planes. Apparently they got a really sweet deal (just like Ryanair did with Boeing for their 737-800s) due to the market not wanting any turboprops at the time. Blue1 even ran an advertising campaign in Finland clearly targeted against FC as their main point was that their domestic flights would always be operated by "comfortable jet planes".
Well, fast forward a couple of years and the price of oil started to skyrocket - all of the sudden the regional jets weren't exactly economical any more (and not very comfortable either, IMHO, although this has nothing to do with the price of oil of course!). I bet the FC executives laughed all the way to the bank - suddenly they had a fleet of new, very comfortable and extremely fuel efficient planes bought at rock bottom prices! For some years their magic seemed to work - they were happily expanding in the Finnish market, taking over many of the loss making Finnair routes as the domestic routes where AY is profitable can be counted with the fingers of one hand - thanks to their heavily unionized (read: helluva expensive) workforce and too large jet planes. Those were good times for me as I flew a lot of FC back then, including my quest to log all the airports and domestic routes in Finland - FC sold tickets for these flights very cheaply on their own website and deals were easy to come across. I actually stopped taking the boat to Tallinn as I could always find a 29 EUR ticket there which earned miles, qualified as a status segment for AY and was just so much more convenient for somebody like me who lives right next to the airport!
Anyway if it is too good to to be true it probably won't last - and this was the case here as well. Already back in 2009 FC realized that even they couldn't really operate some of the AY routes without loosing money (HEL-TLL being a notorious example), so they got back on the negotiation table with Finnair. The result of this raffle was that these routes were changed to be operated purely at AY's financial risk - i.e. the FC flight number was removed and FC stopped selling their own tickets for the flights - in order to get a ticket one had to book through AY for much higher prices. As part of the same deal AY also leased a couple of their E170s to FC who would operate them on their behalf (and at a significantly lower cost base of course!) on some of the thinner routes like HEL-RIX and HEL-OTP. This of course caused a lot of objections among the AY pilots and partly contributed to the famous AY pilot strike of late 2009, but eventually things were resolved.
Well, of course this still wasn't enough, so a year later AY and FC were negotiating again, with FC claiming that AY was paying them too little. Things actually got such bad that FC stopped operating a few domestic routes and published plans and full schedules for their own flights to attack the AY bread and butter routes between HEL and OUL/RVN (which, funnily enough are now seeing heavy competition from DY). This raffle lasted for some weeks until another agreement was reached - AY bought a few of the FC's ATRs and a share in the company and agreed to buy out the original entrepreneurs at some point who basically wanted an exit from their venture.
This laid the foundation for the deal announced in the summer of 2011: Finnair and FlyBE, the British regional airline which has it's roots on Jersey European Airlines, announced that they are establishing their own joint operation in Finland, labeled as FlyBe Nordic. This operation would be built on top of Finncomm, which would be acquired by the new company, jointly owned by AY and BE. It would fly with FC's ATR planes and use the "FlyBE franchising model" (whatever that might be?) as a basis for their operations, flying domestic and international services within the Nordic and Baltic region.
This sounded like a lot of PR bull to me, but then again I guess that's to be expected. Anyway within a few weeks of the initial announcement they did announce a number of new routes within the region, including a few new international services ex-HEL (UME, TAY and TRD), a new domestic service between HEL and MHQ, plus a hub operation in TLL with some planes being based there, flying to BMA, TKU, TMP, VAA and OUL, in addition to continuing to operate the whole current FC network. Later JYV was added to the destination list after AY announced that they will drop their flights there at the end of the summer season (FC withdrew already some years ago).
The new company would start operations at the end of October with the old FC flight numbers being switched over to the BE flight numbers (and the new flights of course using one right from the beginning). This was too important an event to pass up so I decided to do the inaugural flight to UME on that day - it had a convenient schedule leaving at noon and cost a meagre 39 EUR (paying with a Visa Electron there are no credit card charges which are still rather low at 4 EUR per booking).
Some cheap SAS segments from one of their nowadays quite frequent fare sales provided me transport home via ARN, with UME-ARN available for under 40 EUR and the midnight ARN-HEL for around 50. Luckily there was enough time to spend a few hours in the city of Umeå as well, since despite spending a night in the city on two occasions last year I've never really given it a good look as being the vagrant I am I was always in a hurry to move on...
The triangle route: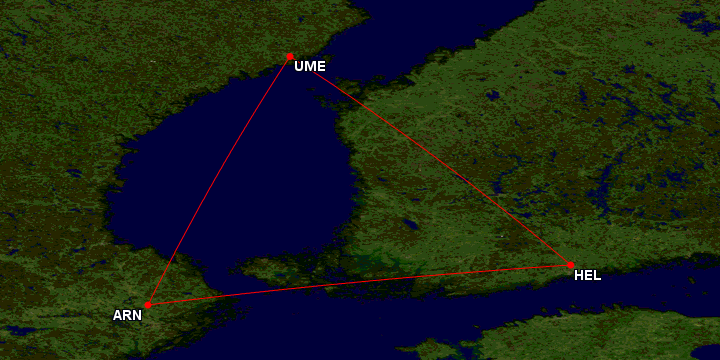 The more the merrier - so luckily I was able to persuade a couple of other local a.netters, AYA333 and makeree to join me on this trip, although the cheap fares were gone on my UME-ARN flight by the time they booked so they would be flying down to ARN on an earlier one, with makeree opting to take the earlier DY flight back to HEL but AYA333 rejoining with me for the midnight flight.
Sunday 30.10.2011
It being the day after the switch to daylight saving time plus a nice noon departure there was no rush or early wakeups - just a relaxed Sunday morning. Closer to noon I hop on to the oh so familiar bus in front of my place and soon am at HEL T2. I tried OLCI a couple of times on both the FlyBE and Finnair website (you used the latter to check in for Finncomm flights and it actually shows my flight) but to no avail. Just for the heck of it I also try the self service kiosks which still have the FC check in application available - again in in vain so looks like I'll have to do it the old fashioned way. There are some balloons in front of the two check in desks - sadly this would turn out to be the only celebration at HEL regarding this flight: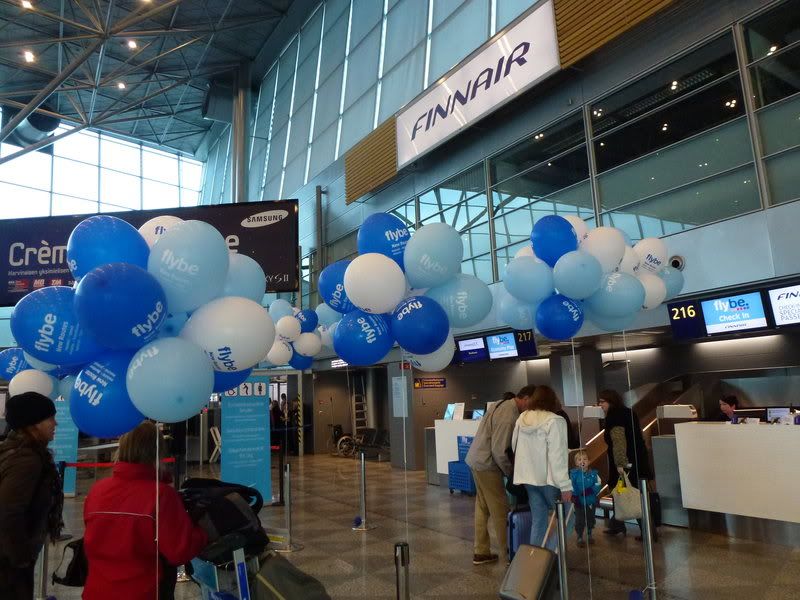 One for normal pax, one for economy plus or whatever they call their more expensive tickets: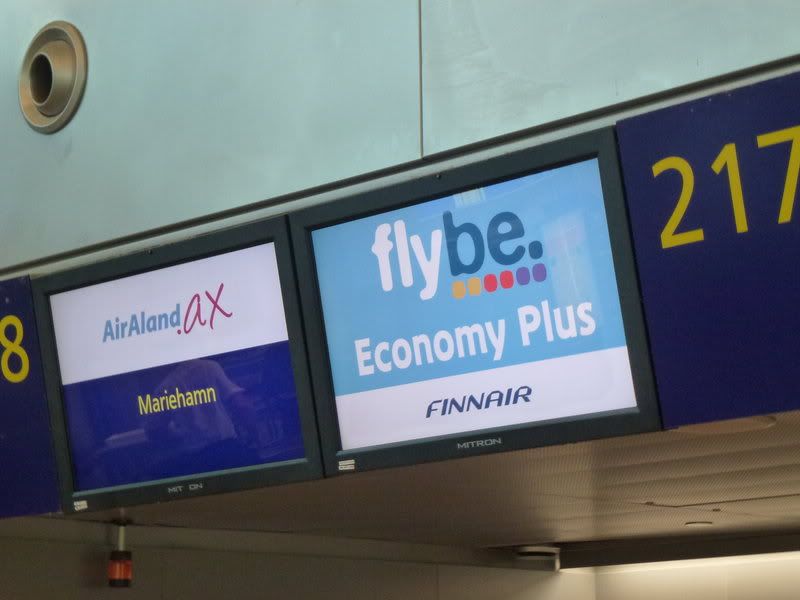 Check in process is a little bit annoying as being a stereotypical Finn and following all the regulations and rules down to the point I stop to wait in front of the regular desk, where there are three generations of women trying to check in. The youngest one of them is sitting in a pram, with the assorted massive amount of baby stuff and judging from the heated conversation they are having with the agent the fact that they have to pay some serious money to check these in is quite a surprise for them!
Now I fully expect the guy at the other premium desk to wave me over after he finishes with his current passengers, but before he has a chance to do so some older ladies who definitely aren't traveling on expensive tickets quite rudely move there, bypassing our queue. I know they aren't doing it on purpose - just being clueless about the arrangements buy annoying nonetheless. Of course being a Finn I swallow my annoyance and just stare at their backs with a slightly agitated expression...
Soon enough the guy is done with them and indeed waves me over. I ask about any celebrations but to his knowledge there are none - quite a bummer really but well, that's what I've come to expect from inaugurals in Finland. A little glamour and celebration surely wouldn't hurt anybody, though!
I also ask about the lack of OLCI and self service and he informs me that they should be working sometime in December. Getting a window seat is easy - just ask for it - no need to pay the stupid seat reservation fee!
Boarding pass is still on AY stock, just like with FC: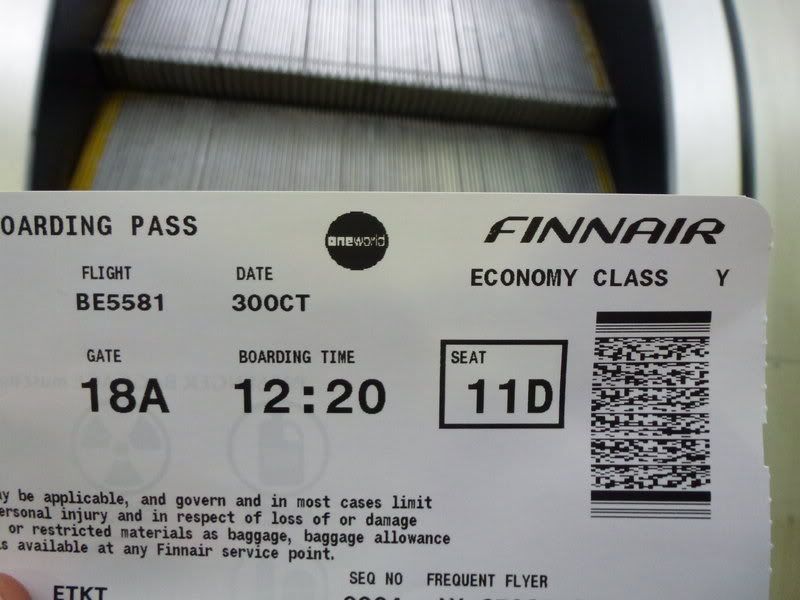 Christmas is coming:
Thanks to Austrian's whirlwind decision to stop flying into HEL at a very short notice I have another upcoming itinerary that needs some TLC and rebooking action (managed to do already one over the phone) so I head towards T1 and the ticket office there.
Heading there I spot a new juice bar I haven't seen before:
At T1 I bump into who else than AYA333 who is confusing the heck out of the poor SAS check in agents by trying to request boarding passes for UME-ARN-HEL later today, unfortunately unsuccessfully I might add. He heads to T2 for his check in and I queue up at the ticket office, chatting with two Austrian gentlemen (how appropriate!) who are less than amused to have to pony up a fee for checking in their guns (they have been on a hunting trip to Finland) - "But in Auztria zecking in ze guns iz free!" they try to object... Yeah, also gas is much cheaper in Austria, my friends!
Soon I get a very friendly agent to fix up my itinerary and rebook it just the way I wanted (yay!) and decide to clear security at T1 and then head back to T2 airside.
Lufty at T1: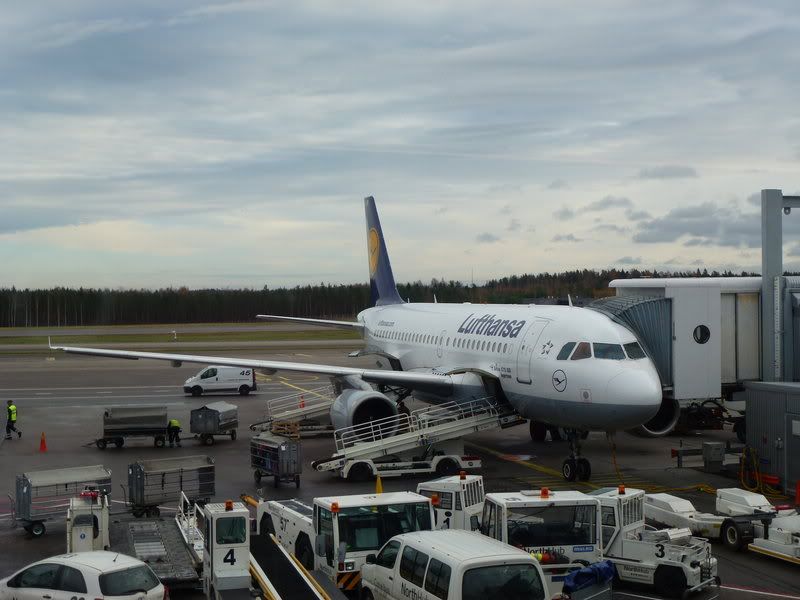 Too bad I just missed the TRD departure as that is the first departure out of the new BE routes launched today and I see a delegation of some suited men (including a representative from Finavia I've seen many times before but whose name escapes me) and some very British-looking women just leaving the gate area, so I guess there was at least some sort of token celebration there.
I pass the gate on my way: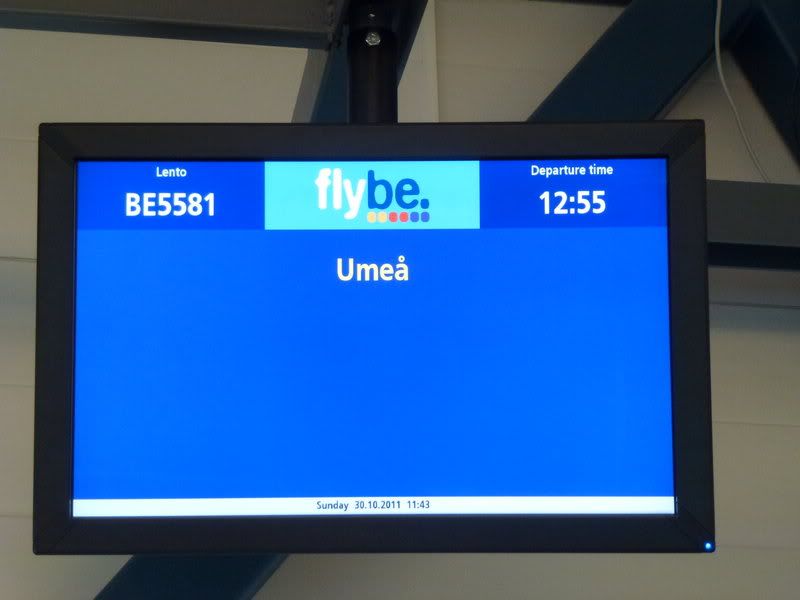 And this is apparently the TRD flight heading out: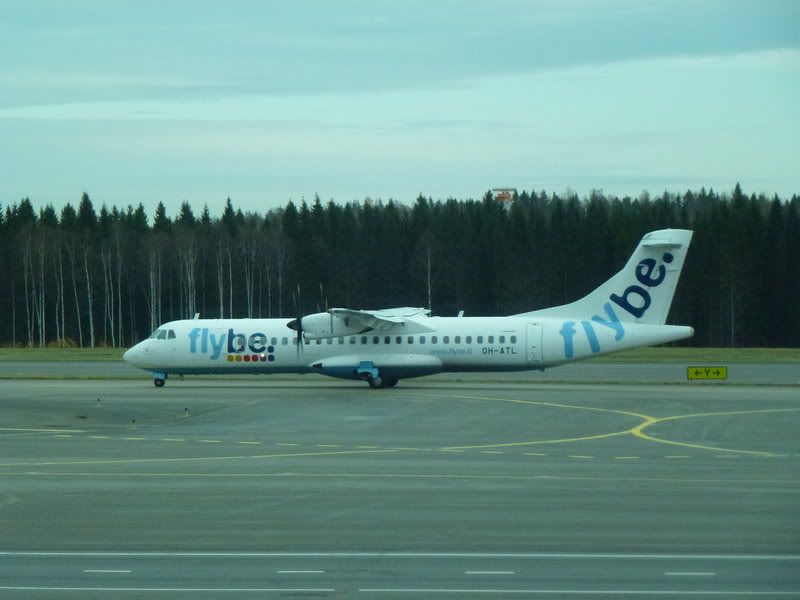 At T2 I bump into AYA333, loosing him again a few minutes later. Oh well, what's there to do but to have a cool one: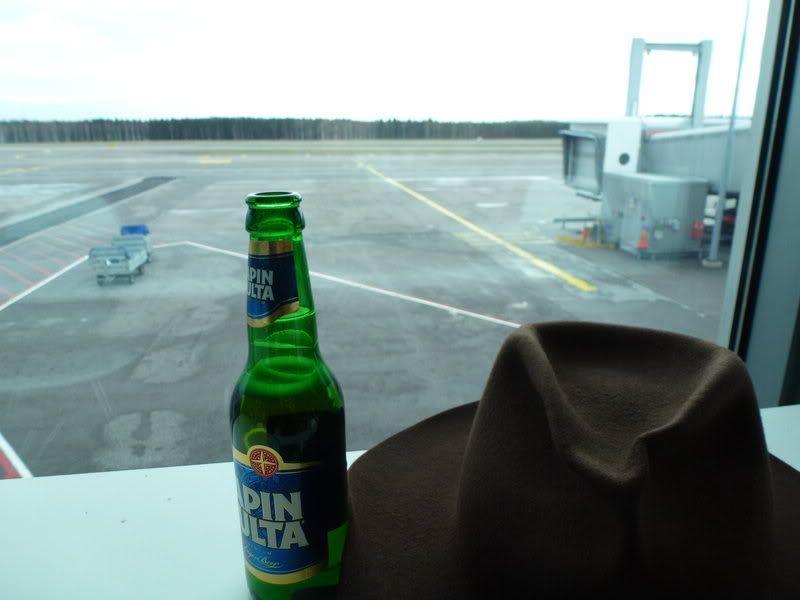 Makeree soon joins me for a beer and soon we head to the gate which is right next door, where AYA333 is hiding from us.
Yes, if it isn't already obvious there are NO celebrations whatsoever at the gate either. The same agent from check in soon arrives and we trundle downstairs to a bus, where I count a total of eight passengers. Not a terribly good load for this service.
I was hoping that one of the -72s already painted in the FlyBe.fi/.ee livery would be operating our flight (or the all white -ATN which is the newest example in the fleet, only a month or so old...) but unfortunately it looks like the low passenger load has caused them to dispatch a -42 variant instead. Well, I've flown with all of them before, so no new regs here. OH-ATB has the honor of operating this inaugural flight today - a well known registration for Markus who escaped the darker side of Finland with it! Well known for me as well - seventh flight on this particular bird... A special photo for Markus: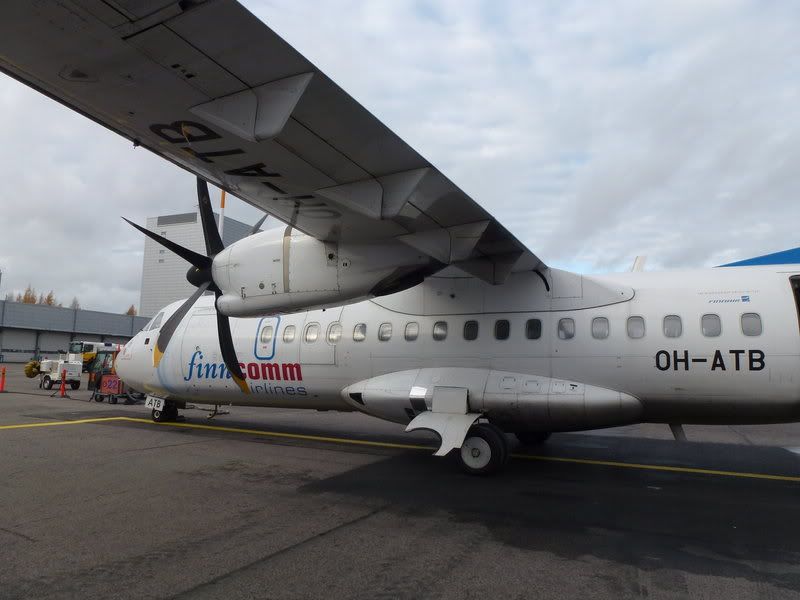 Later I learned that apparently all the three other inaugurals of the day (TRD, MHQ and TAY) had been operated with the repainted birds, bugger.
HEL - UME
BE5581
ATR42-500 OH-ATB
Seat 11D
12.49 - 12.56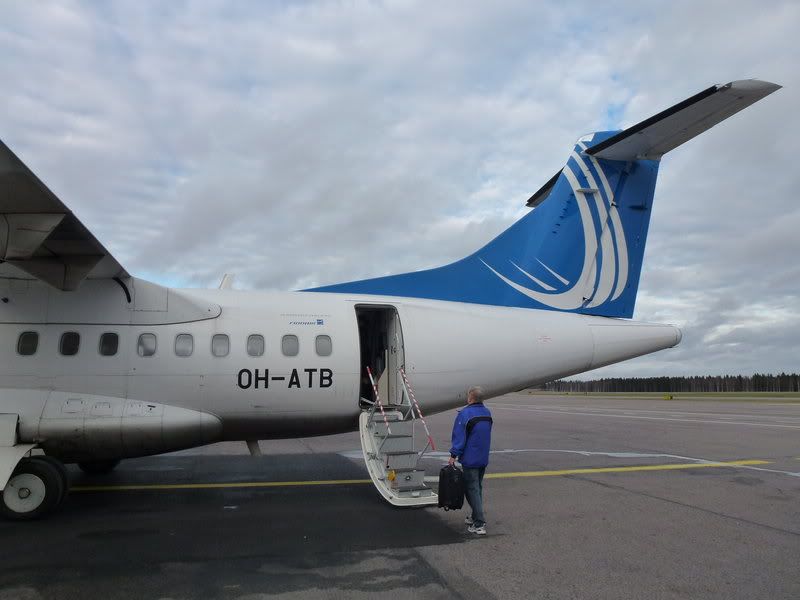 A friendly young girl greets us on the back door - just like the majority of the FC crews used to be. Oh and she is still wearing the FC uniform (I later asked her whether they have plans to introduce the porn red uniforms that the British BE operation has but she said that she has no idea - we agreed that it probably would be a bit too in-your-face for the subtued Nordic people, though).
Everything about the interior is screaming Finncomm: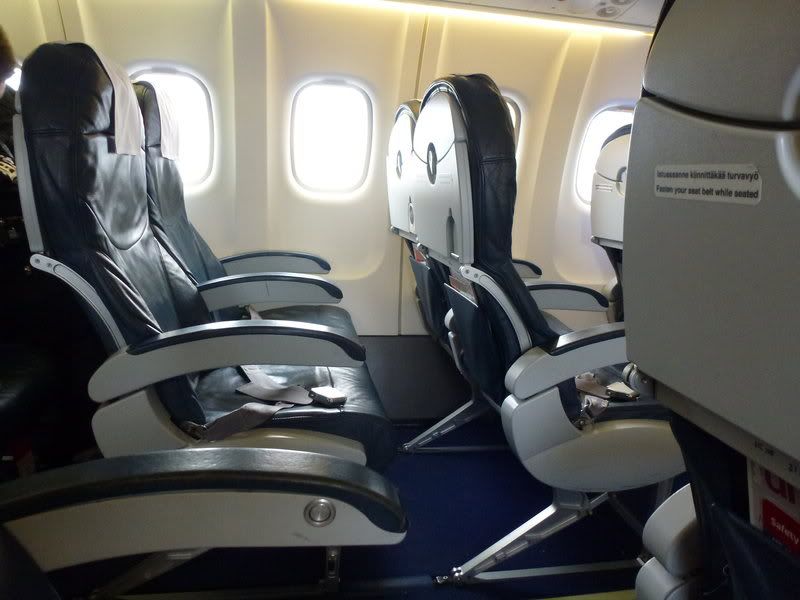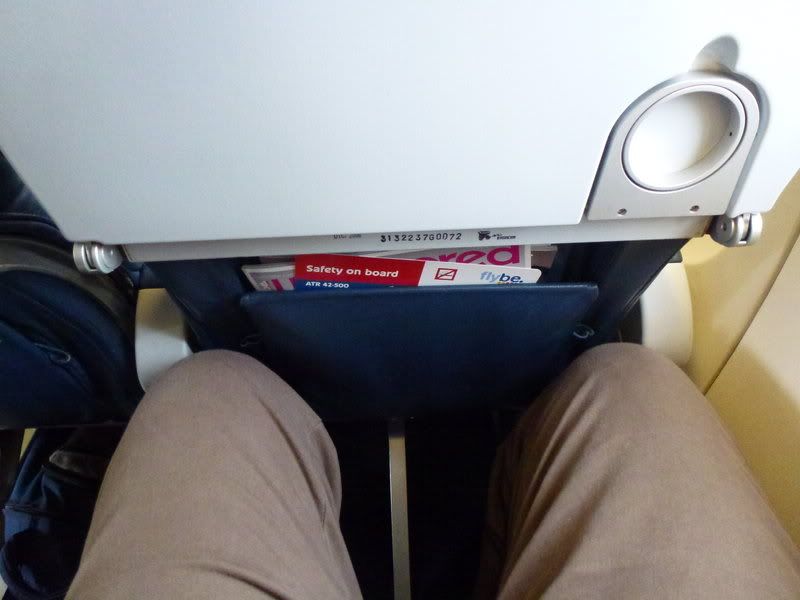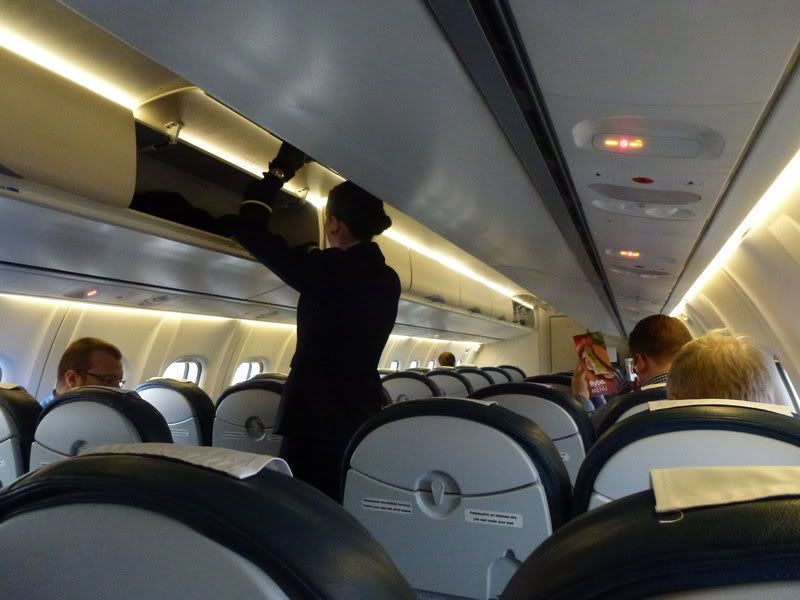 Well apart from the material in the seat pocket - nice that they have a Finnish version of their mag: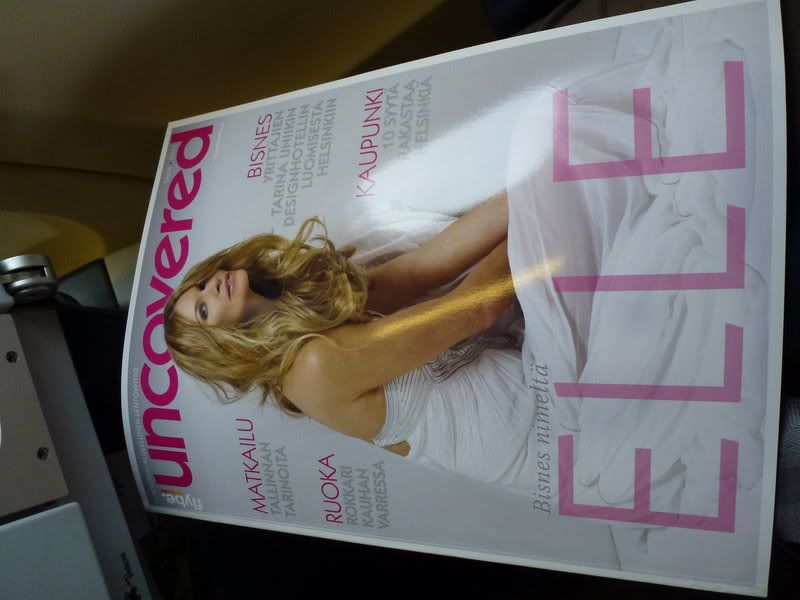 Safety cards have already been updated: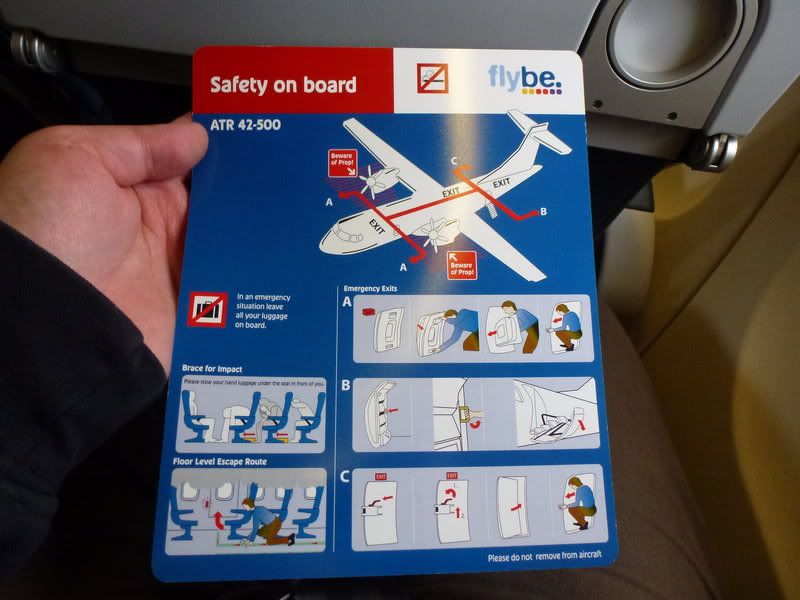 BOB menu: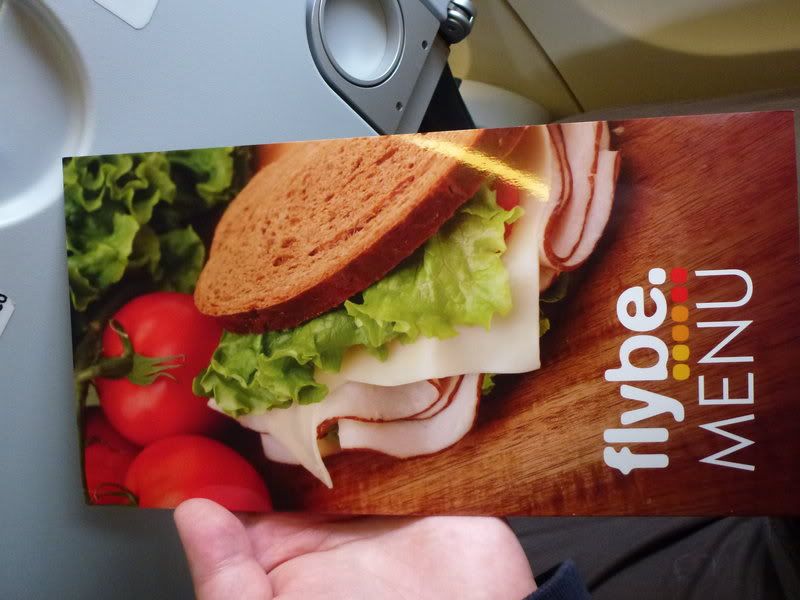 So very cool that they have salmiakki: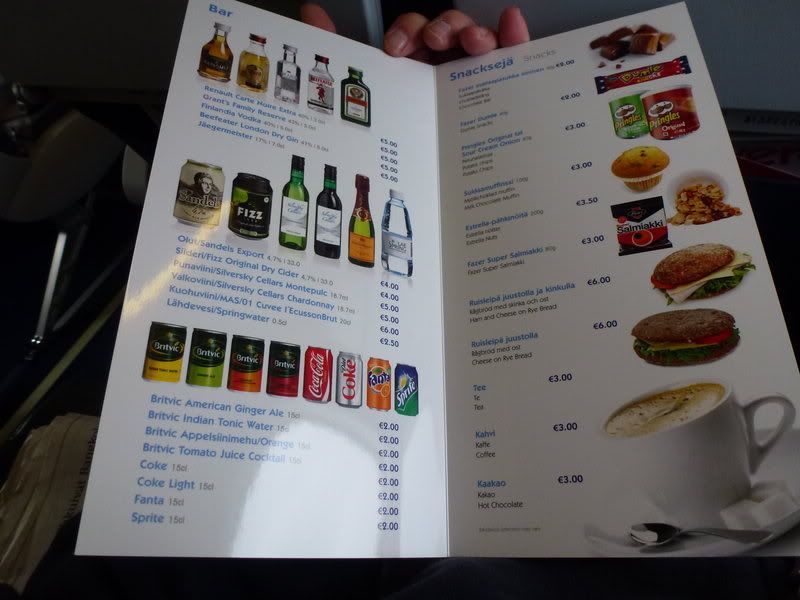 No mention whatsoever is made about the inaugural status of this flight - it is just announced as a flight to Umeå with an expected flight time of 1h5mins.
Push back (under our engine power as usual, cool as usual) is five minutes ahead of schedule. Sorry for the blurry pics - the windows were filthy as usual: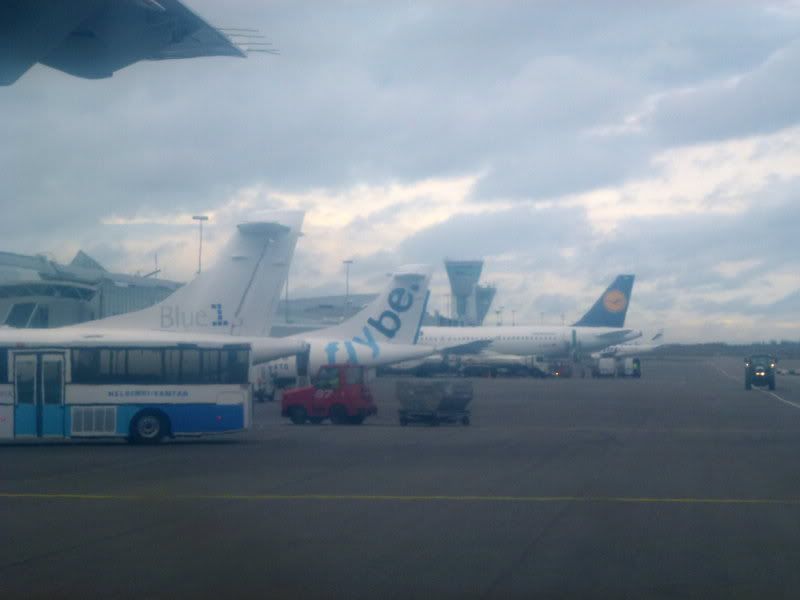 Must have a 717 in a report: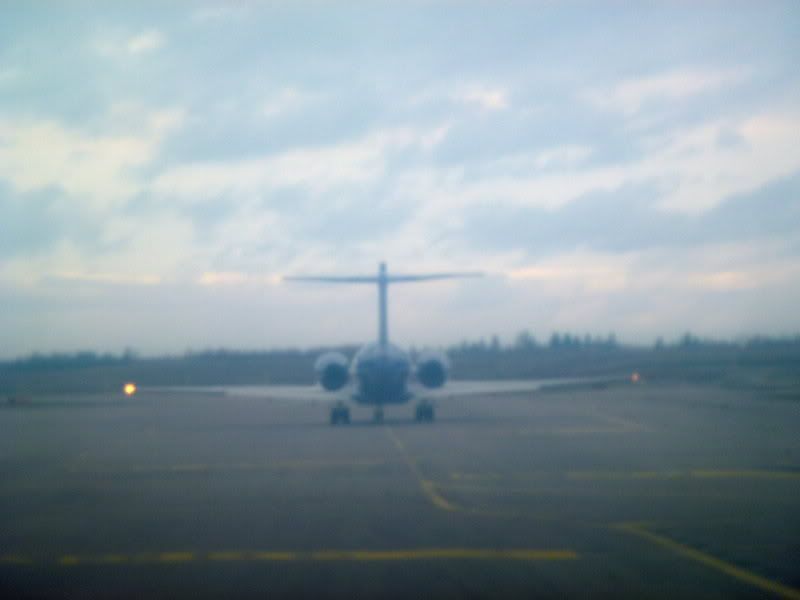 Take off is from 22R at our SDT.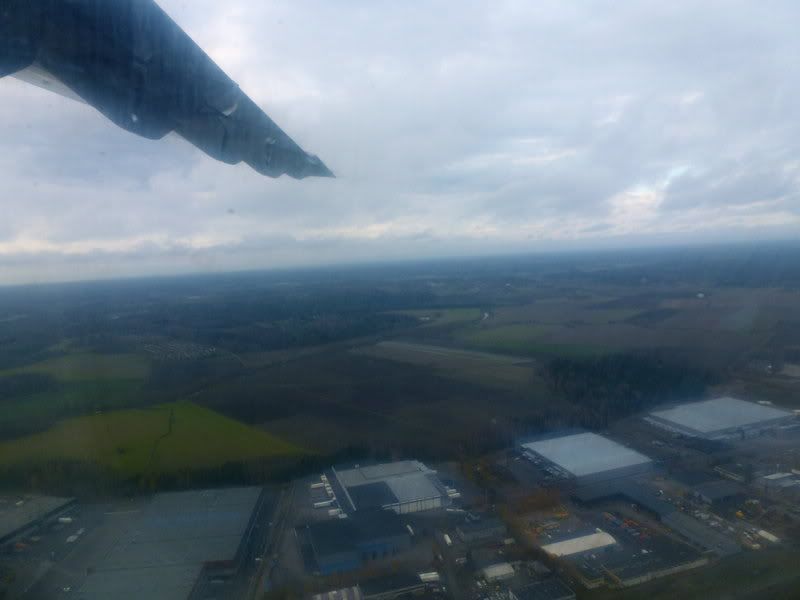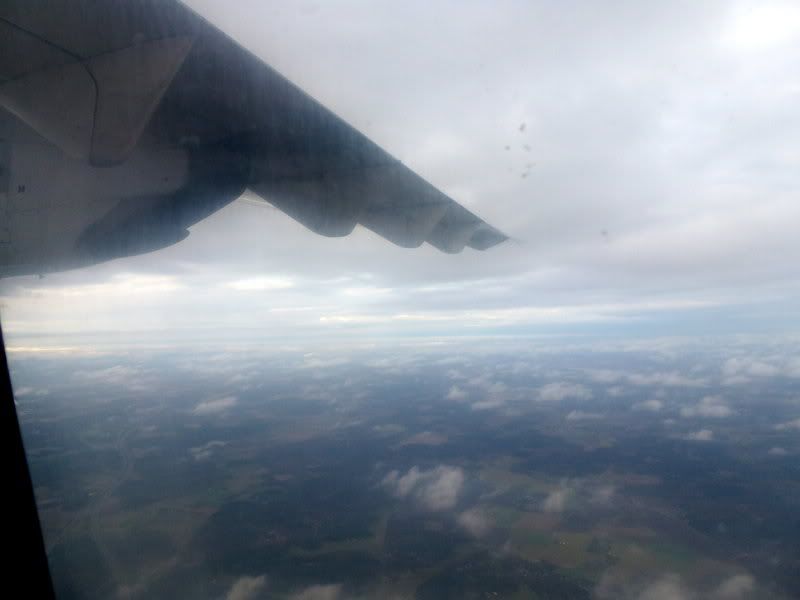 After the seat belt sign is switched off the FA makes an announcement stating that "Our catering concept has changed to a buy on board product due to the new FlyBE Nordic concept" or something like that.
I decide to conduct the award winning FlyingFinn's BOB Beer Test (TM) - FFBOBBT(TM) for short: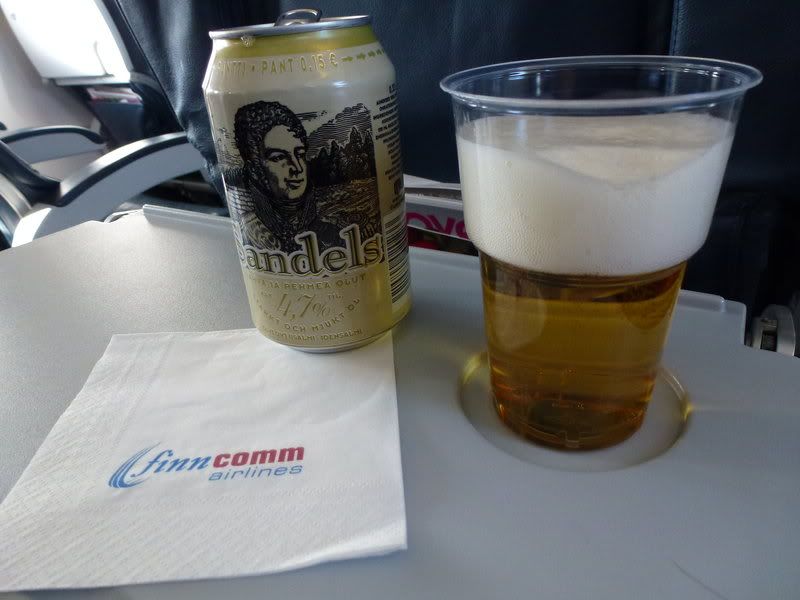 Quality: 5/5 - cold enough and one of my favorite brands as well.
Value for money: 3/5 - 4 EUR for a half a liter can.
Over VAA the captain is on the horn announcing our imminent descent for UME where it is apparently only one degree with a "weather front near the area causing some turbulence and rain". Not sure about a weather front - but at least the sky is red: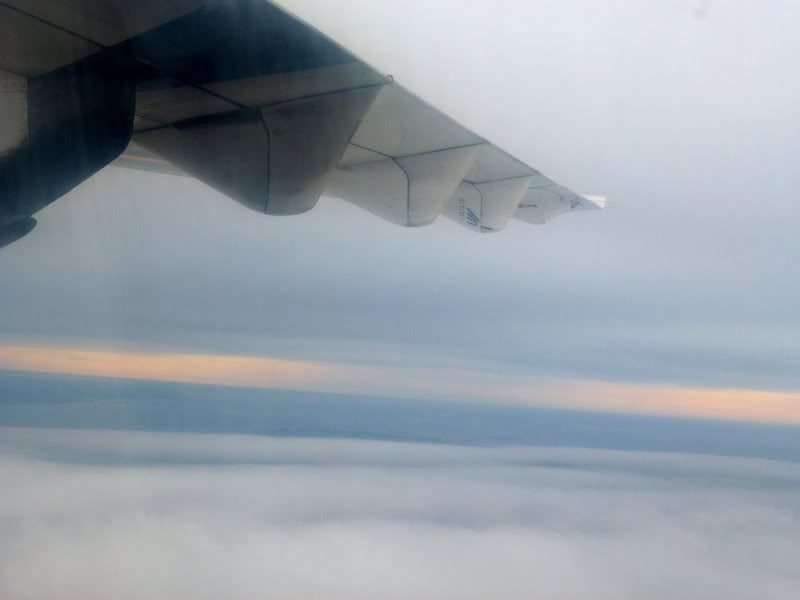 Hello Sweden: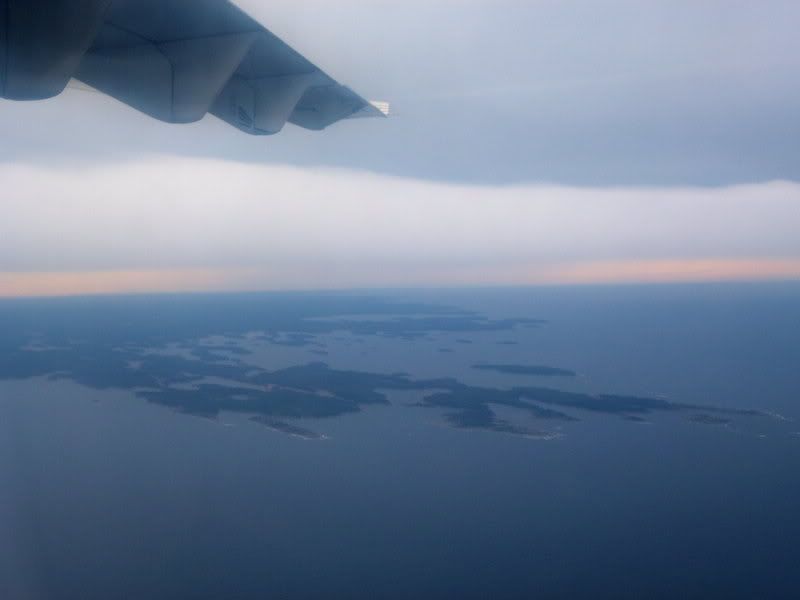 This Swedish guy seemed to be delighted to see his
folkhemmet
: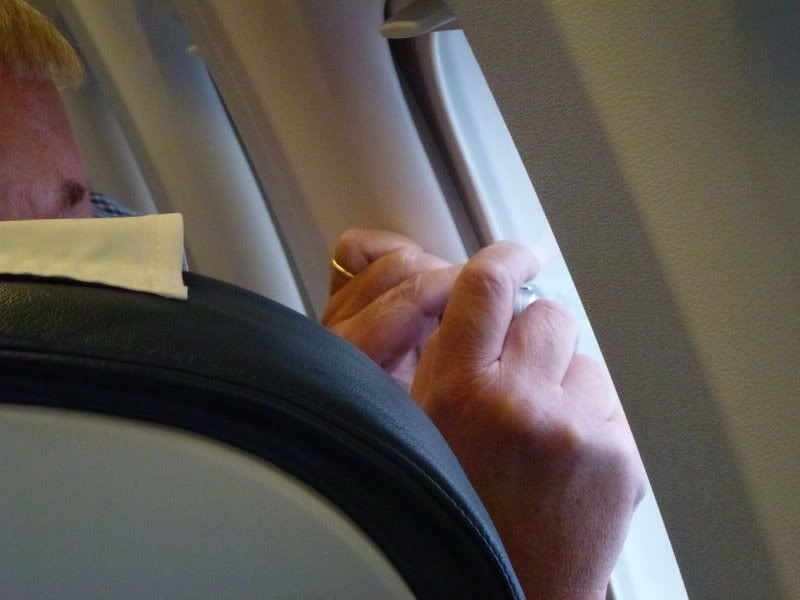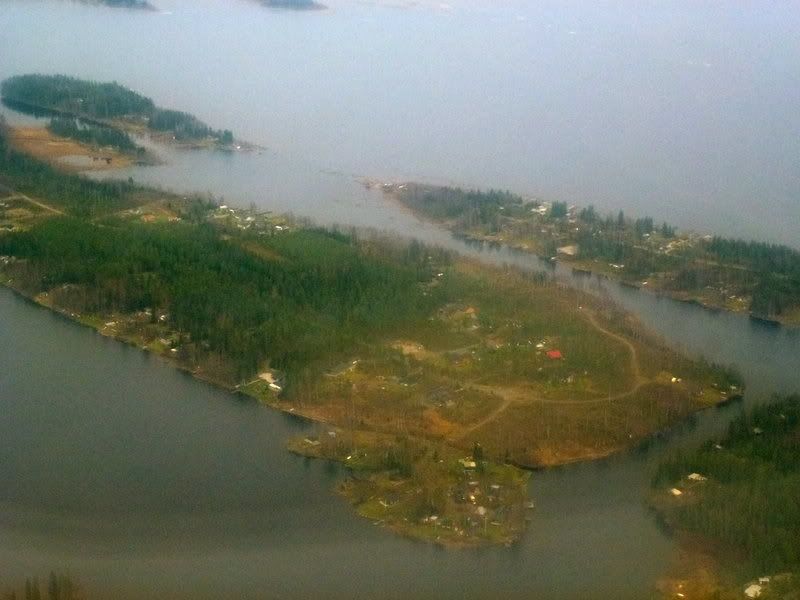 The Ume älv river, giving Umeå its name:
Hmm - is that a sauna on a ferry: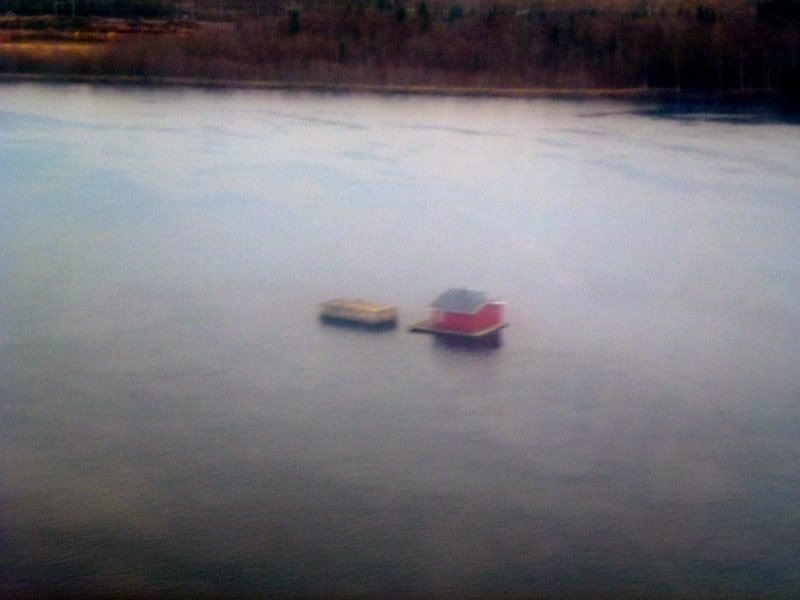 Landing is on runway 32 after a flight time of 1h1mins.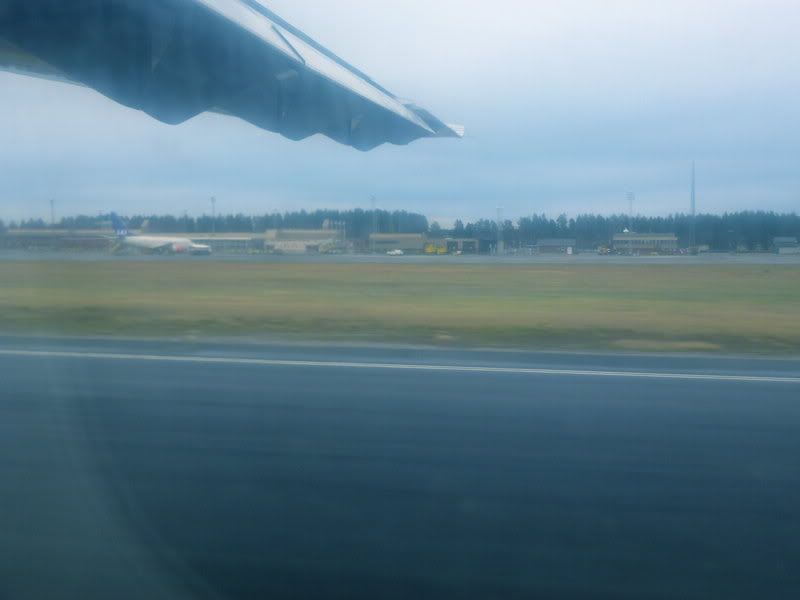 Umeå
Outside I see the ramp agents unrolling a red carpet. Or should I say THE red carpet as this is already my second time walking down it - the first was of course the BT inaugural flight from VAA a year and a half ago.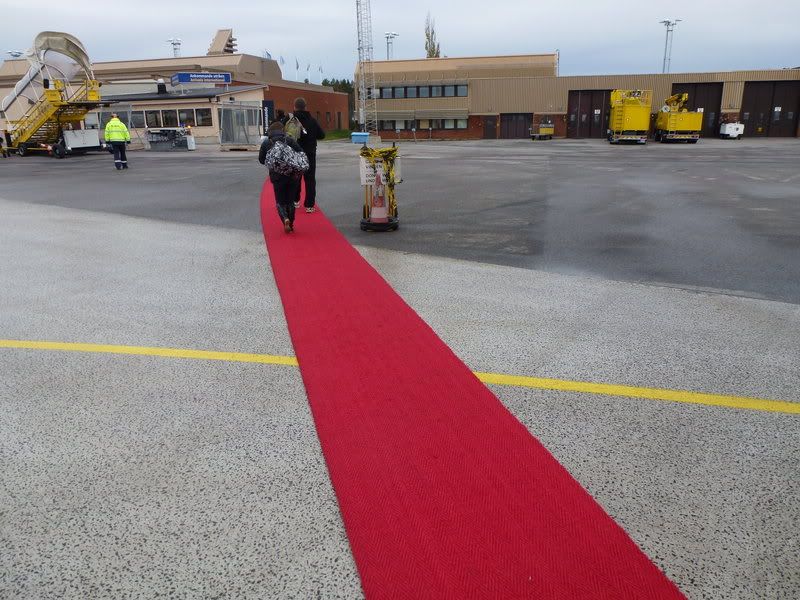 Bye: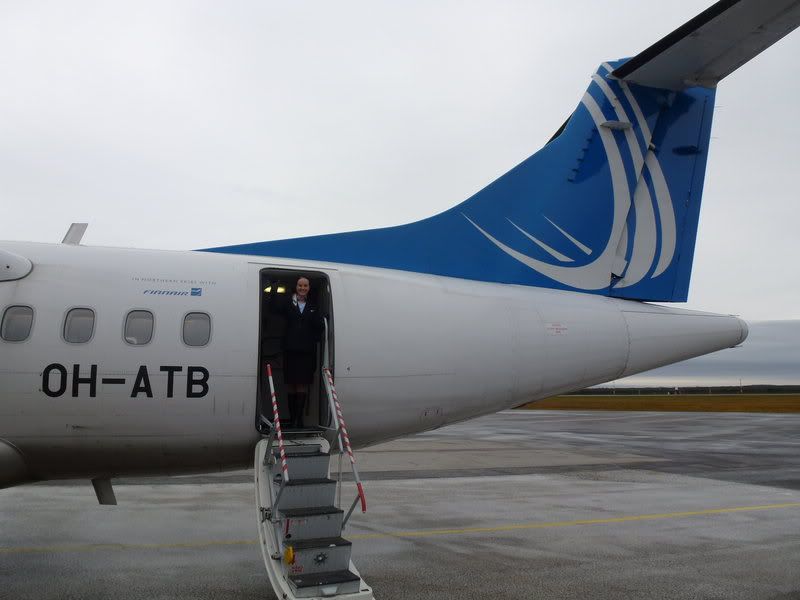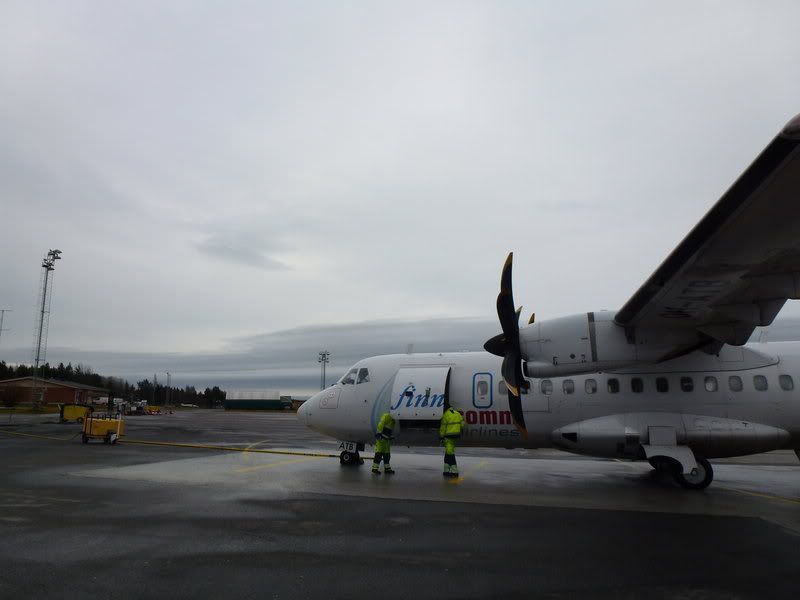 No other celebrations at arrivals either - when doing the BT flight there were some Swedish cider on offer, but not this time.
A short wait for the bus during which AYA333 checks in and promptly looses his window seat in favor of a middle seat as an SAS agent tries to get too clever with his two reservations... Me and makeree are all set with OLCI so no problems for us. Want to get married at UME (previously I've seen this at LLA - seems to be a Swedavia thing):
Then it is time to take a bus town for a short (for them) or a longer (for me) look around.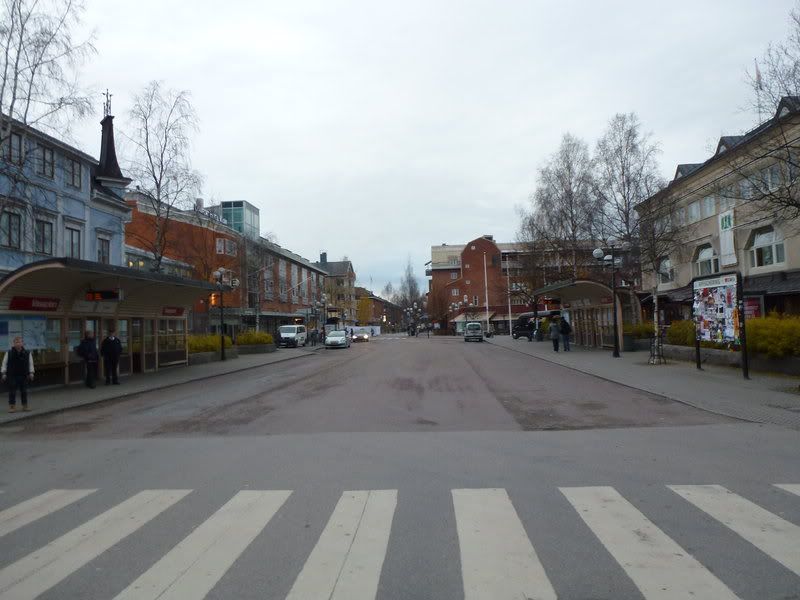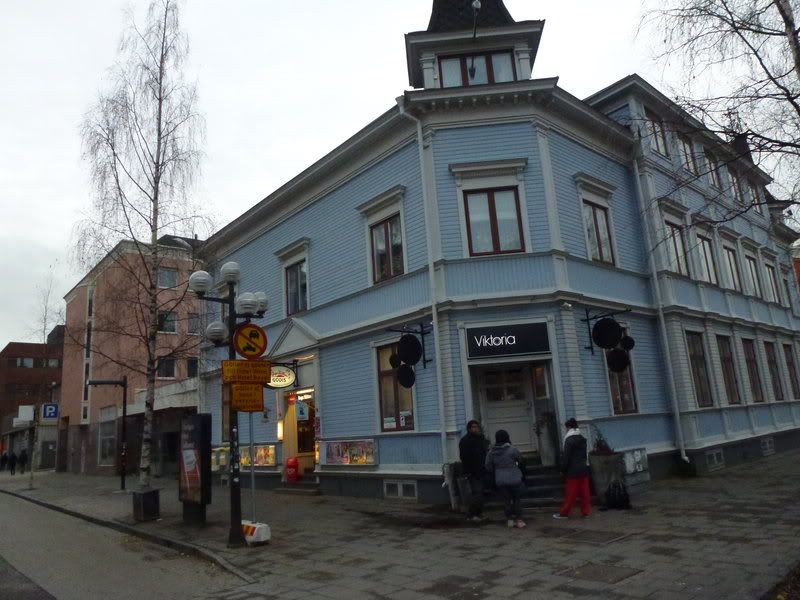 Yes, that is snow! Although I have no idea where it came from, it wasn't *that* cold: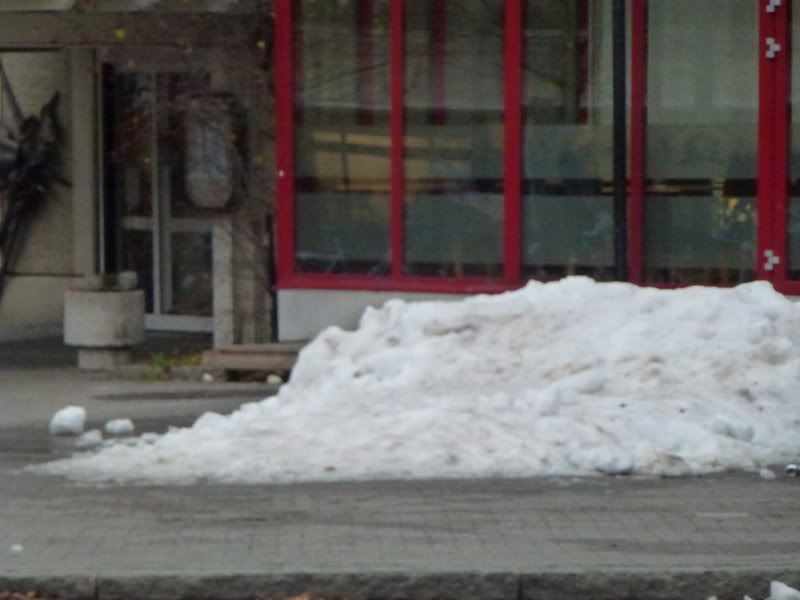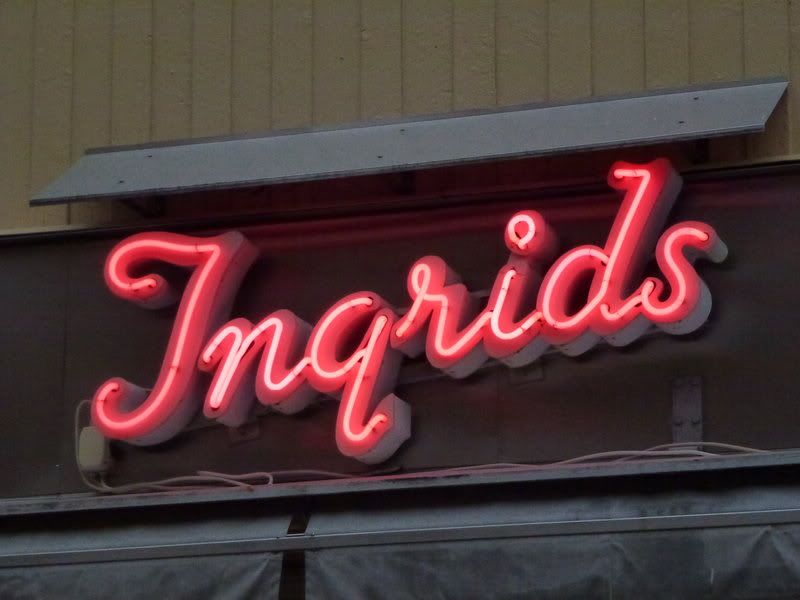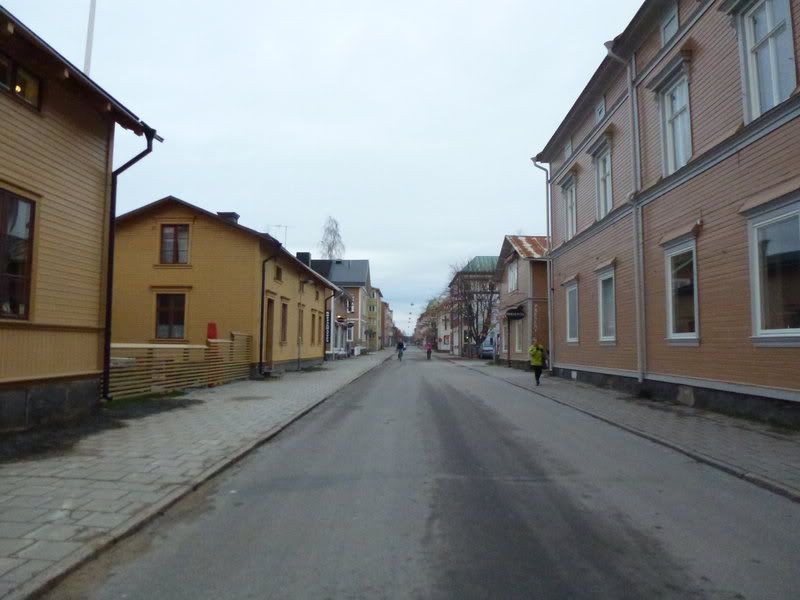 Bridge(s) over troubled water: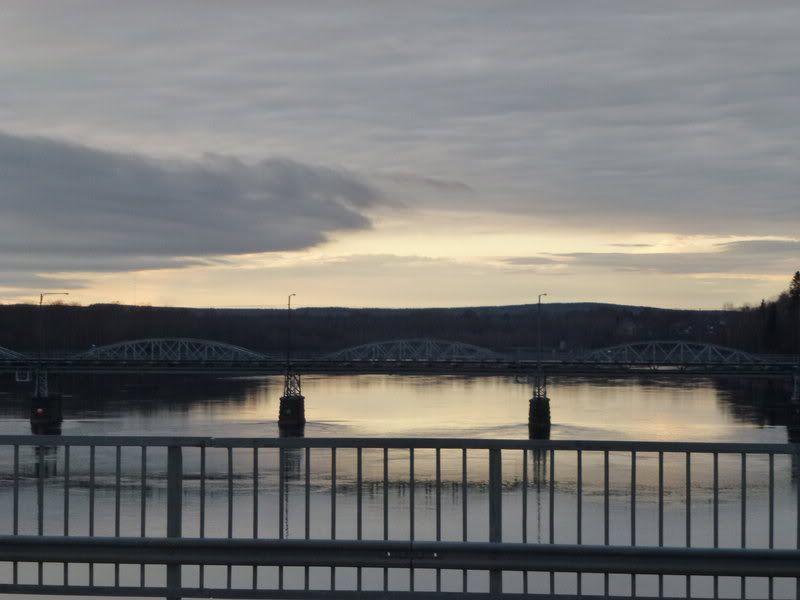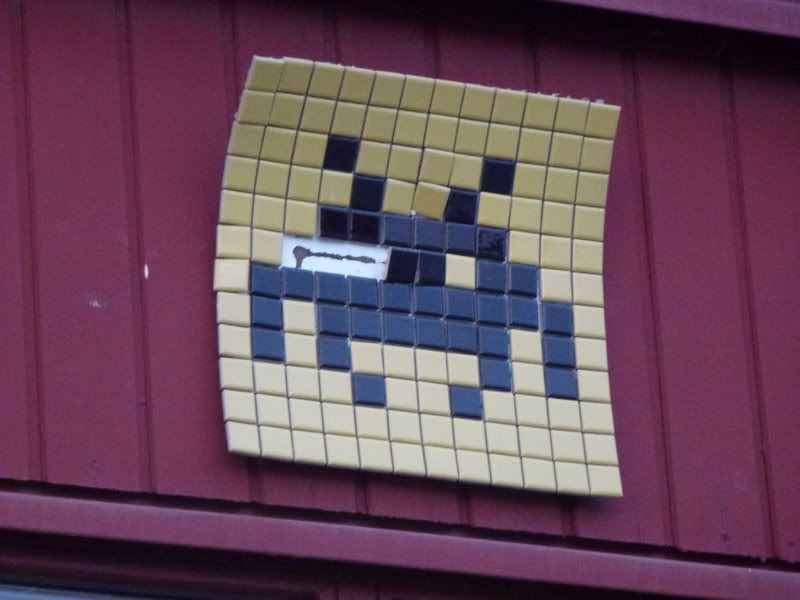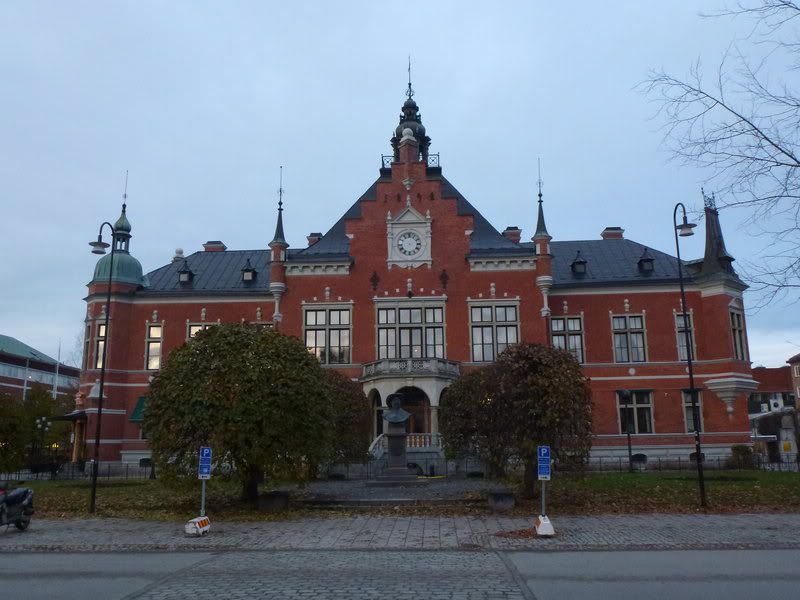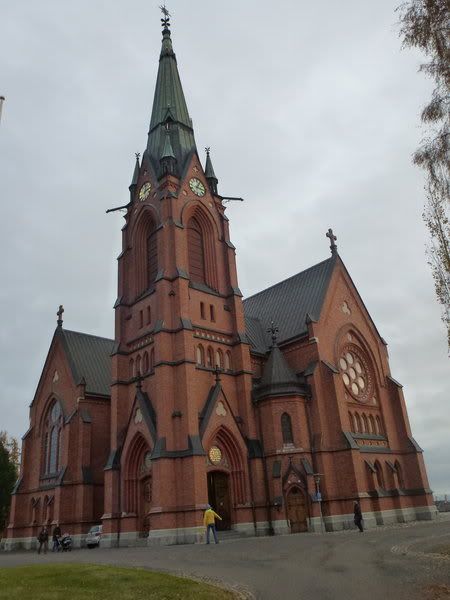 A nice looking park - in the summertime: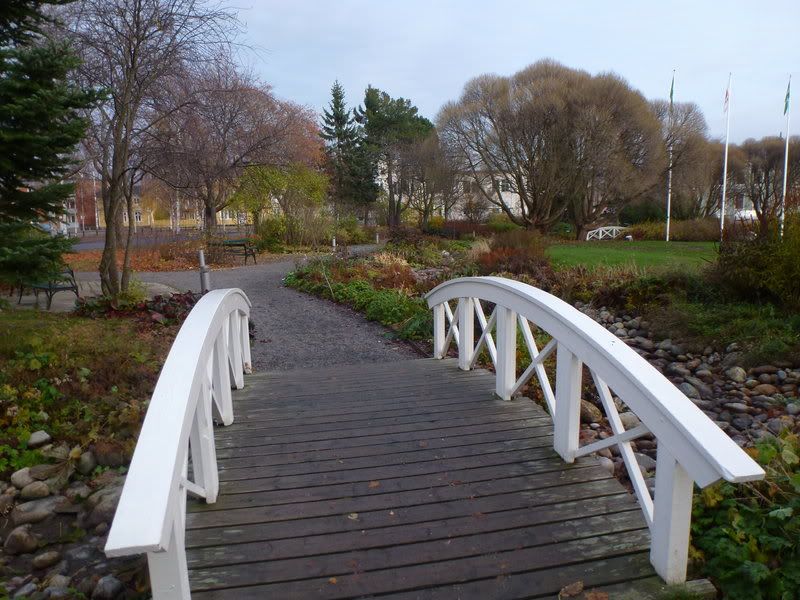 Not too warm: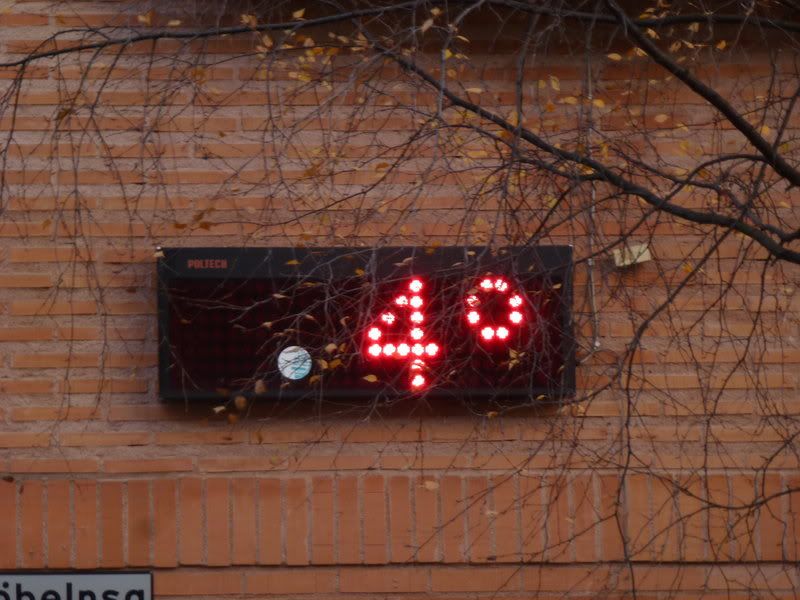 The old prison, now housing a hotel/hostel where I stayed when doing the inaugural BT flight: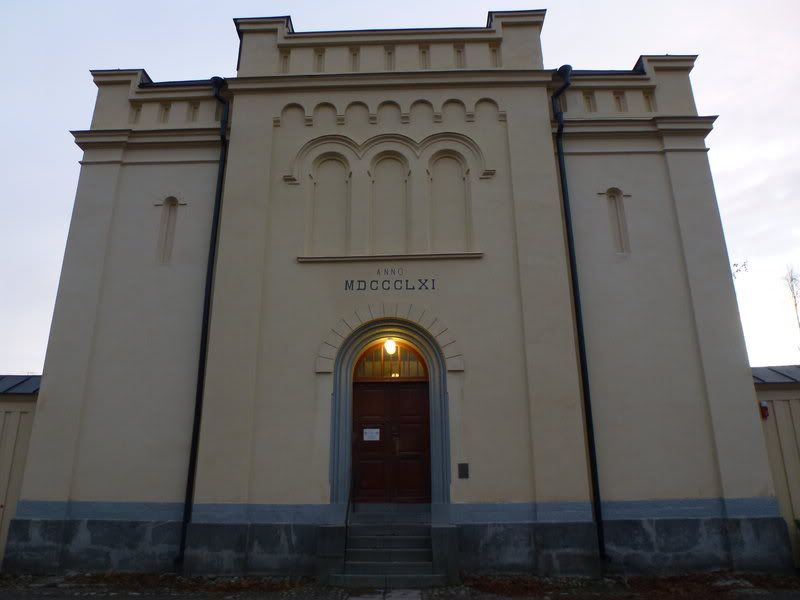 The train station: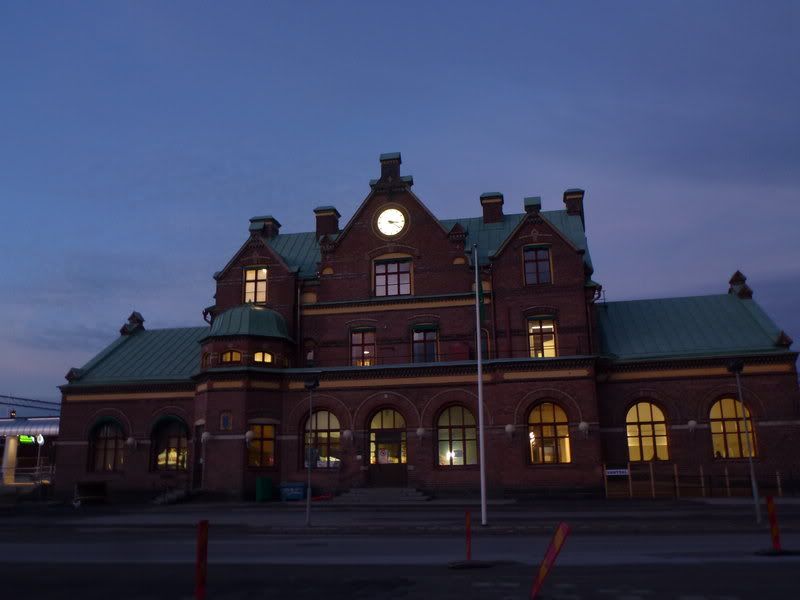 Believe or not, this is actually the Opera House although it looks like a cheap supermarket: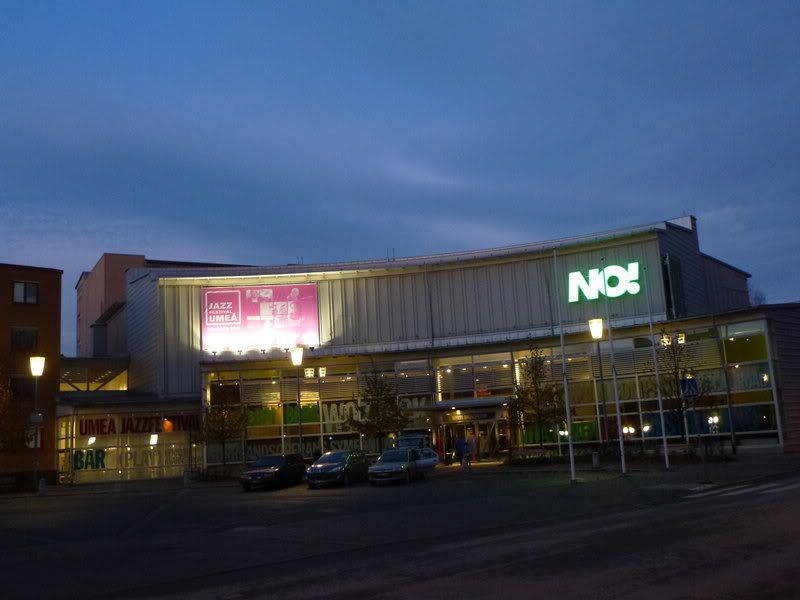 Journey Home
The return segments aren't really worth reporting about, two 736s, LN-RRD "Embla Viking" (a new one for me) and LN-RPA "Arnljot Viking" (my 4th flight with this one). Both flights completely packed - I actually ended up with the world's most useless op up to Economy Extra on the midnight flight to HEL as I had a very comfortable exit row window seat but got bumped to 3F in that totally packed flight. Lost most of my legroom plus the food was quite horrible. Not a single empty seat on that flight, to my surprise there were four SAS cabin crew members deadheading in full duty uniforms to HEL in Business class (is SAS turning into KLM??) and one revenue passenger got assigned the jumpseat - major fail as off duty crew should definitely be assigned there over a normal pax! Or put me there, I don't mind!
Some pictures from the homeward bound journey. UME at night: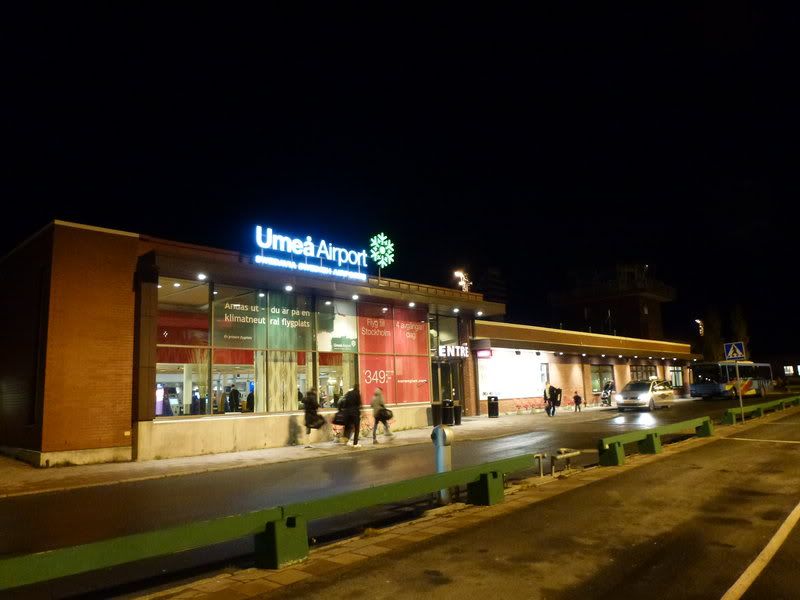 I like the snowflake logo (even though I didn't like Snowflake the Airline):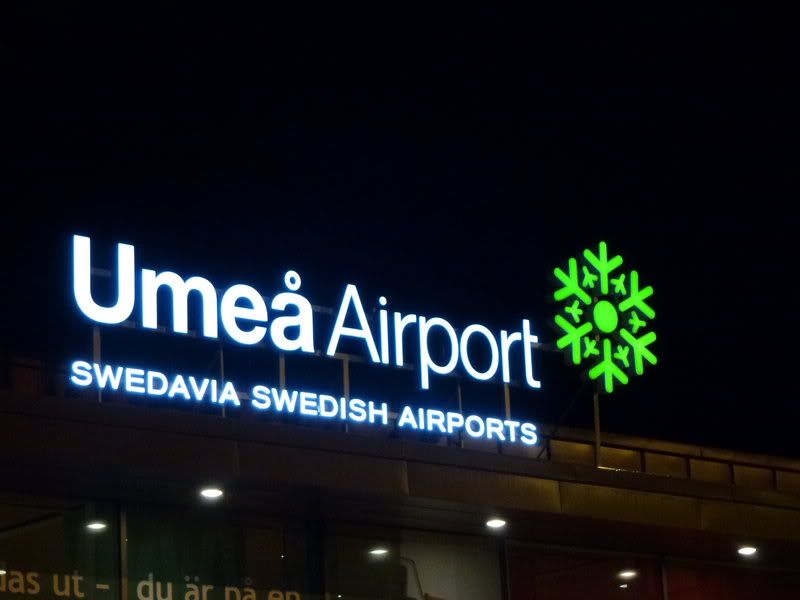 At the gate area there were some traces of at least some promo material for the new route: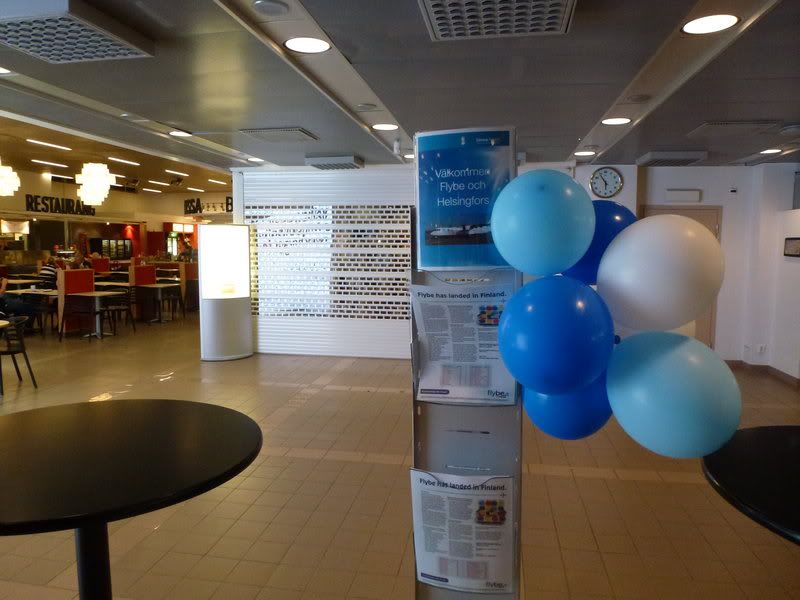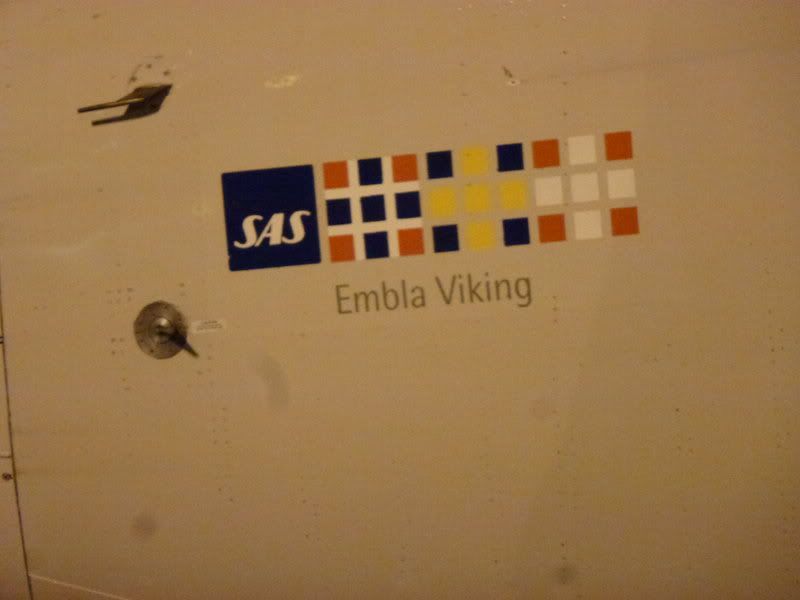 LN-RPA: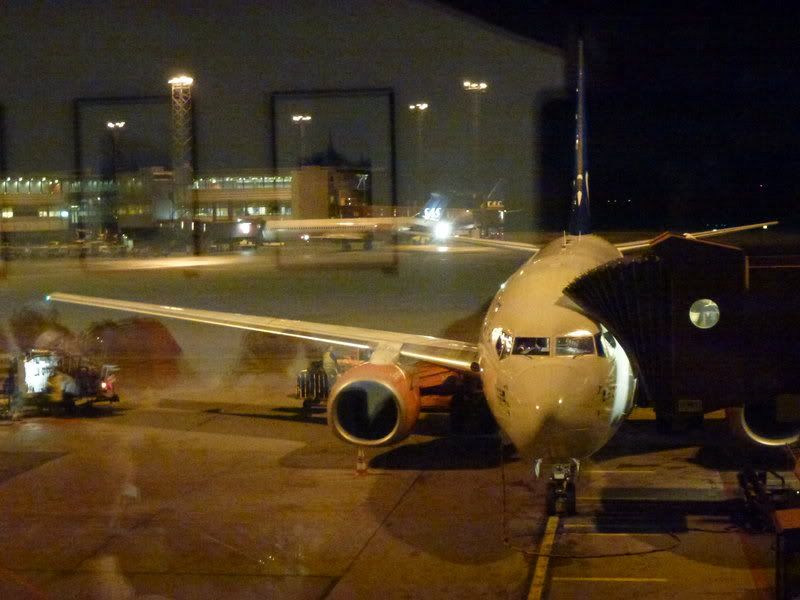 "Many cakes look good on the surface" like the old Finnish proverb goes: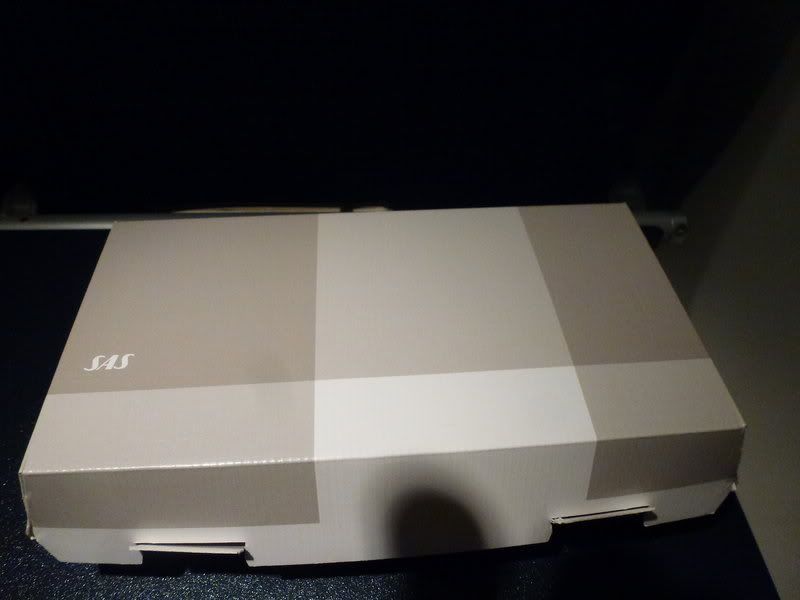 But inside - major fail: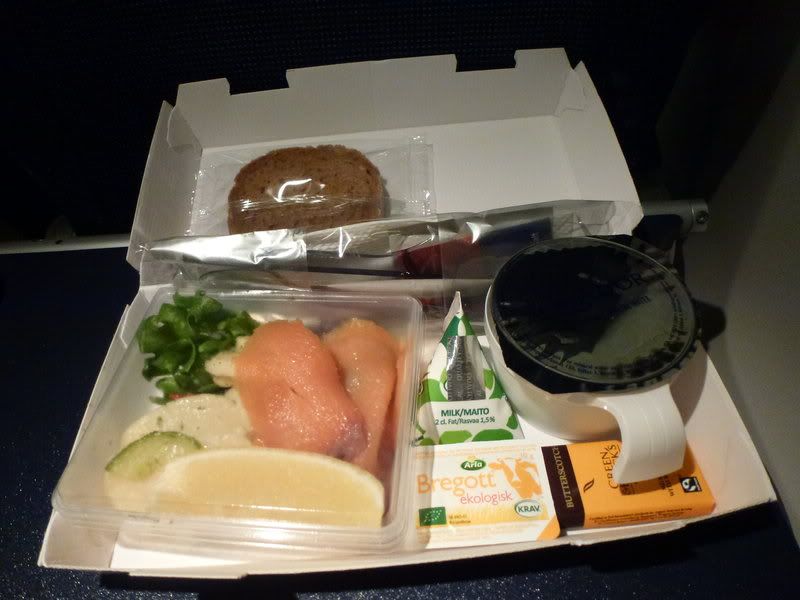 Horrible, horrible raw lax (which I absolutely hate!) and a couple of soggy potatoes, cup of water and a very dry rye bread piece. At least the dark chocolate was good.
The only perk I got out of my upgrade: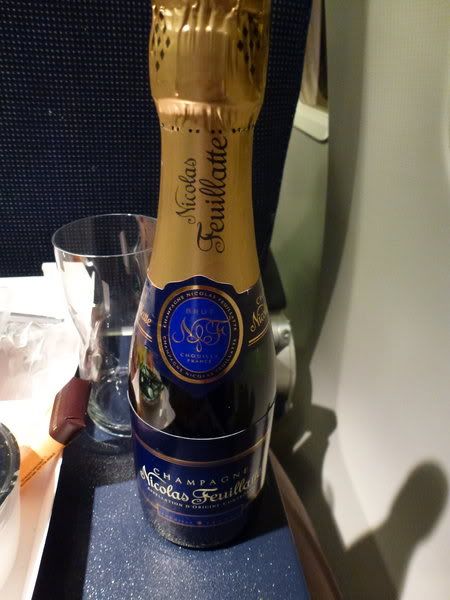 Conclusions
Well, as far as inaugural flights go this one was a big letdown. I mean how hard is it to have a little bit of celebration - give the pax some choccies or an inaugural flight diploma or something - it doesn't cost much but generates a lot of goodwill (and not to mention interesting TR material!
). Judging from the inaugural celebration pics and the cake of the week vote at anna.aero I definitely should've picked the TRD flight as they got the works - a very nice cake at TRD and the traditional water cannon salute on arrival! Boo, Finavia!
As for FlyBE Nordic - good luck! The Nordic regional market is a very challenging one - I certainly hope they will be around even though I'd liked to keep my beloved FC around, but nice to see them continuing in the FC style with the planes and especially the friendly crews. Let's hope we'll see (and log) many more interesting routes in the years to come!
Oh and like I told makeree I can't understand why BE chose to serve UME direct from HEL - HEL-VAA-UME would've been much more logical especially now that BT has dropped the VAA-UME leg from their flights. I don't think the passenger loads are enough to support the route as direct with the current four weekly frequencies. Trust me on this - within a year we will see this route being dropped or replaced with a one stop service via VAA (or some other west coast airport like POR/KOK/SJY). I think we will also see a flight to LLA at some point - hopefully as a one stopper as well.
A few days later it is time to fly the second inaugural flight of the week - this time by Norwegian. Let's see if their celebrations are anything better! Also featured are a visit to a very nice, old city in Sweden and another ride back on the Midnight 737. The route is of course a simple TKU-ARN-HEL.