Introduction
Hunting for rarish plane types can be hard business. Some weeks ago I failed in my quest for logging the Beech 1900D (
To Beech Or Not To BE? HEL-ARN-KSD/TYF-HFS-ARN
(by
FlyingFinn76
Oct 25 2011 in Trip Reports) ) but had such fun trying to do it that I can't really be disappointed. Another type missing from me was the stretched version of once ubiquitous Boeing 757, the -300 subtype. This model wasn't exactly a huge commercial success with only 55 examples rolled off the assembly line at Everett. Luckily there are at least two operators in Europe still using it (no, one of them is not Blue1 whose motto for a long time has been "A plane you don't want - we'll take it as long as it is not manufactured any more!"): Lufthansa's leisure carrier Condor and Icelandair. FI only has a single example, whereas DE has a much larger fleet of 13 birds, so the best chance for scoring one would be to go with Condor.
With this in mind one day I noticed Condor having another one of their fare sales and found a flight from FRA to PMI (where else, after all you have more Germans visiting in Mallorca than the Oktoberfest every year!) at end of season in November for a nice price of 49 EUR (plus another 3 EUR credit card booking fee on top of that). The flight time was quite nasty as it was leaving at 4.50 on a Sunday morning, but then again the early arrival at PMI maximized my possibilities for getting back the same day, so I figured out this was a good chance to catch the 753 and booked the flight.
To get to FRA I booked airBaltic, who else - I'd been wanting to try their FRA service for quite some time now and this was the perfect opportunity, and cheap one as well at 59 EUR. It would be arriving in the early afternoon so I had a lot of time to visit nearby Mainz during my layover, somewhere where I've really wanted to go for quite many years now.
There were not that many good options ex-PMI, even the "Ballermann Shuttle" flights with AB to various places in Germany were rather expensive (bugger, as they operate A330s on some of the services!). However I noticed a cheap Vueling flight to BCN for only 19.99 EUR and decided to book that as there would be far better options onward from Barcelona. I've flown Vueling before and found the legroom and seat comfort frankly quite horrible, so that short hop is pretty much the only flight I can tolerate in their standard seats...
Ex-BCN there indeed were tons and tons of flight options, but while searching something really caught my eye: a Spanair flight to TXL operated with the lovely MD-87 was on sale just for 45 EUR. I booked that, mainly because of the MD-87 - their Airbuses are not very comfortable, but the good old Mad Dog should be fine. Well, of course some months later there was an equipment change and I found the flight to be scheduled as an A320 instead... damn! Optiontown was offering an upgrade to Premium class for around 50 EUR, but as the reviews of Spanair's Premium weren't very impressive either I decided to save my money for something better.
Finally I had planned to take the late night AB service to HEL from TXL, but it was a bit on the pricey side so I decided to wait until the next AB 49.99 EUR sale to see if I could get it for that price. Well, as usually happens by the time the next sale came around the price had already went quite high and even the sale price was quite high - clearly I would need to find something else as I just couldn't justify paying over 150 EUR for that flight!
Oh - how I missed the Midnight Fokker! When it was running it would've been a no-brainer to book the late night BT flight to TXL and connect up to HEL with the midnight flight, but now the schedules required an overnight stay at RIX and I didn't want to do that.
So I played around with various booking engines (well, matrix.itasoftware.com mainly) and noticed that LH is actually quite lax in their routing and especially open jaw rules. Sure, they are horribly expensive as one ways, but doing an open jaw even to a completely different country is quite price effective, so I came up with the nicely convoluted itinerary of TXL-FRA-CPH-HEL, plus a return HEL-CPH segment for December (which I will of course use to book another nice trip around) for 240 EUR, much better per-segment value than the AB one plus a visit to the LH Senator lounge at Tegel.
So here's the full itinerary, quite a crazy weekend especially since I decided to go cheap and not book a hotel at FRA:
Some minor (five to ten minutes one way or another, no biggie) schedule adjustments occurred with the Vueling and airBaltic flights, but nothing major luckily.
Saturday 5.11.2011
This day didn't get off to a very good start as I had a very bad night - kept waking up every half an hour or so and actually got up at one point, totally confused and certain that my alarm had gone off (it was around 1.30 AM at that point...) so by the time the alarm DOES indeed go off I'm not feeling very good at all. I think I should avoid spicy food in the evening if I have an early wake up call...
Well, what can you do but to try to gather yourself, shower, eat something and head outside to the bus stop. This is Finland in November, 7 AM - no wonder we are such a depressed nation: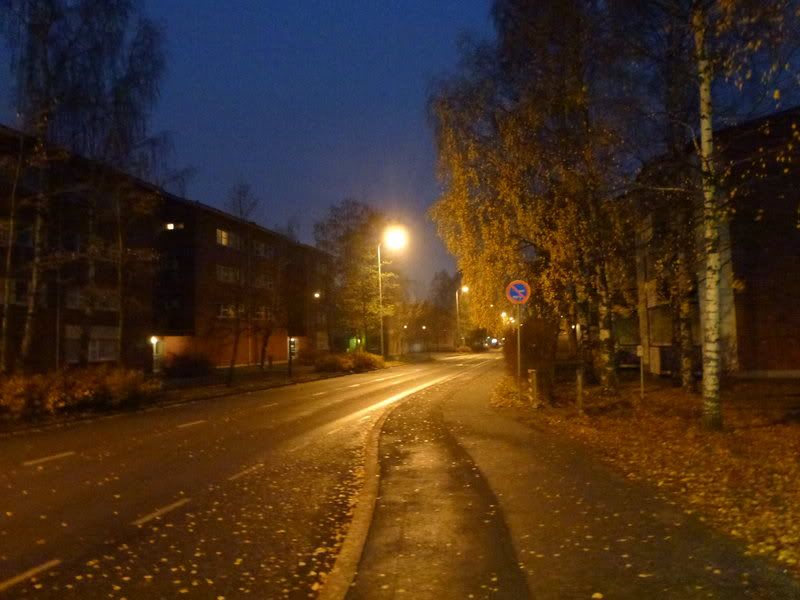 Soon enough the bus arrives and to my surprise I spot fellow a.netter makeree there. Well it's more like he spots me and waves - I'm far too deep in zombieland to pay any attention. It is actually not a complete surprise as we are on the same flight down to RIX but I thought we'd hook up at the airport but apparently the train and bus schedules had him doing a detour via my neighbourhood... Well, all the better.
We are at HEL T1 around 7.30 and head upstairs through the quiet security check, both of us of course having done OLCI before. I'm quite surprised to see BT using a gate with a jetway for this flight this time - most of the time this overnighting 737 is parked somewhere in the apron requiring a nasty bus ride.
Since being downgraded from Executive to VIP just five days previously I no longer have any lounge access at HEL when flying with BT in economy, so we decide to head to the coffee bar for some desperately needed caffeine - too bad the coffee turns out to be quite horrible (at least the mug is nice):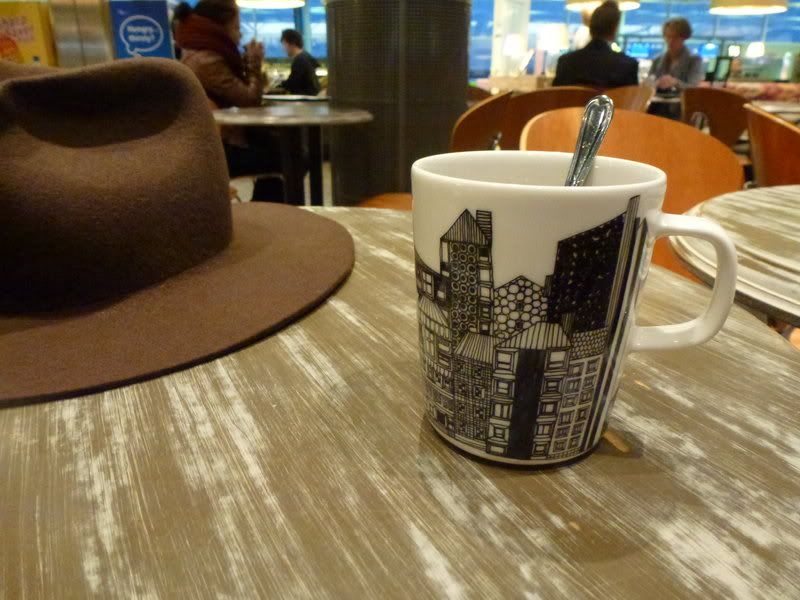 Boarding is called around half an hour before departure, quite a queue at the gate but smooth sailing - when passing the agent I comment on the use of the jetway but must've still been half asleep as I have no recollection of her answer...
Today's ride is YL-BBS (ahh, brings back nice memories from the times before this Internet thingy...), the expected 737-300 model and a very new one at that, having first flown only in 1999! Actually BT operates the three last ever produced -300 examples (YL-BBJ, BBX and BBY). Third flight for me with this particular plane.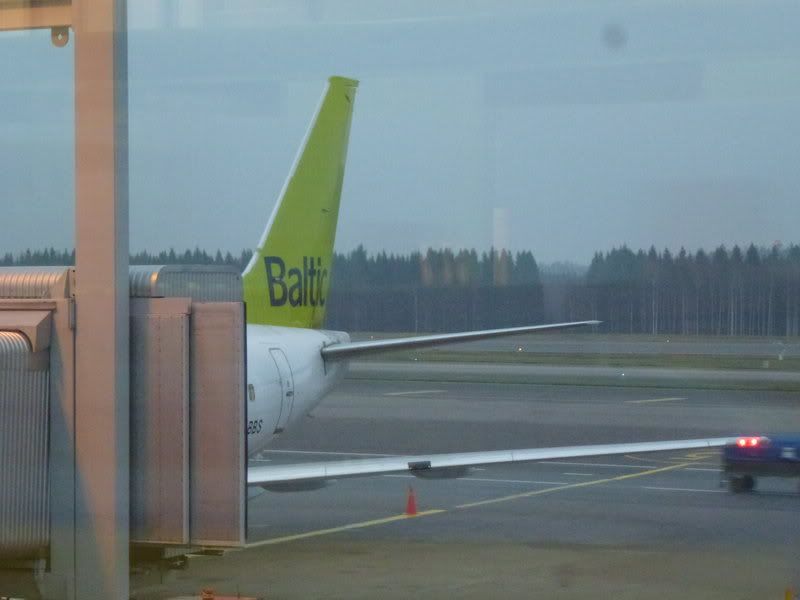 HEL - RIX
BT302
B737-300 YL-BBS
Seat 4A
8.34 - 9.21
I'm in the first row of economy just behind the curtain. Economy is around half full with no one in business class. Boarding doesn't take long, but then we just wait for a while until the gate agent comes onboard, hands in the manifest to the crew and says (quite loudly since I can easily overhear her) "There's still one passenger missing, he is right now at check in and will come straight here.".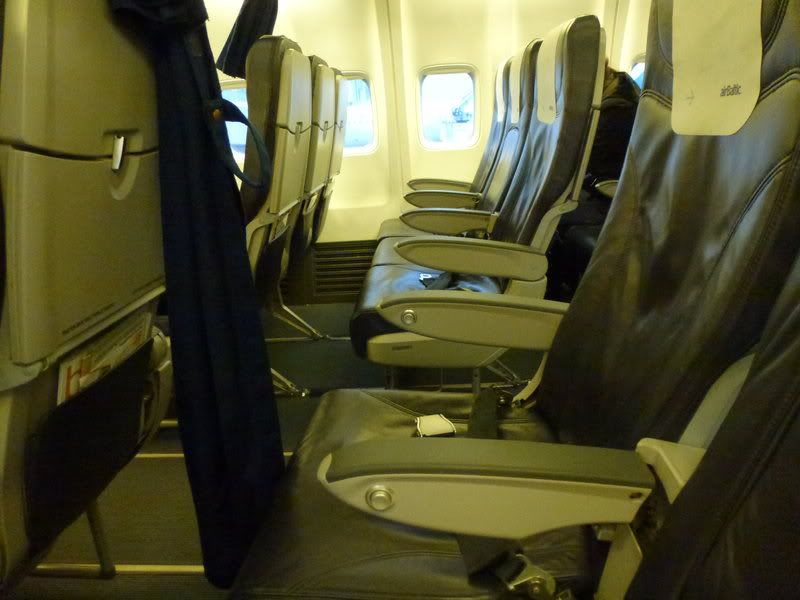 Some ten minutes later one passenger actually comes and boards - he turns out to be a BT employee as the flight crew seem to know him and he is carrying a BT ID card around his neck.
In the seat pocket they have a promo for BOB sushi - this is one of the things I like about BT, they are constantly innovating (well, some people might say ripping off other people's ideas...) and trying out new things - some of them work, some of them don't but you can't put a man (or a company) down for trying, can you? Anyway I make a mental note to try this out on the next flight if they have any:
Right after that the doors are closed and we are pushed back, even a minute ahead a schedule.
Must have a 717 in a report - well two of 'em actually: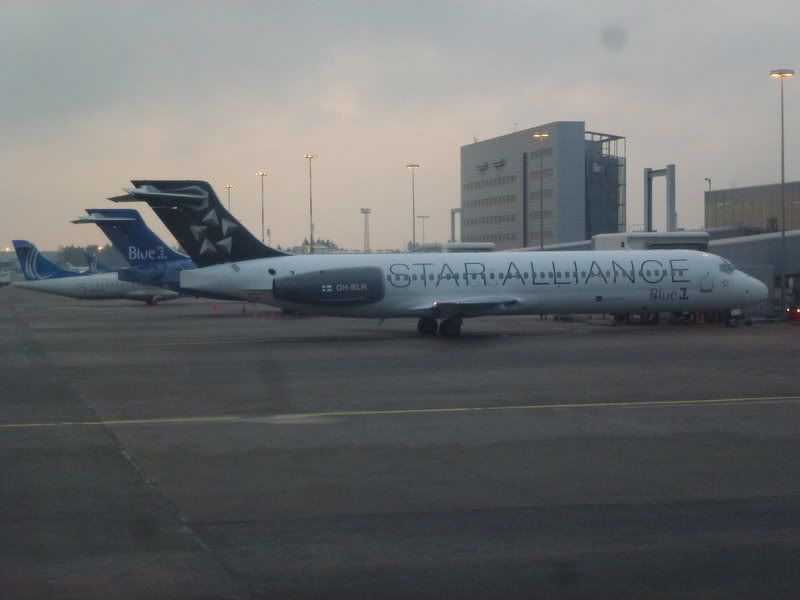 When the engines are started there's a very nice vortex effect visible as the engines keep sucking the misty air in - it looked far nicer live with that... air thing... wiggling like a stoned snake in a Goa snake charmer show than in these pictures: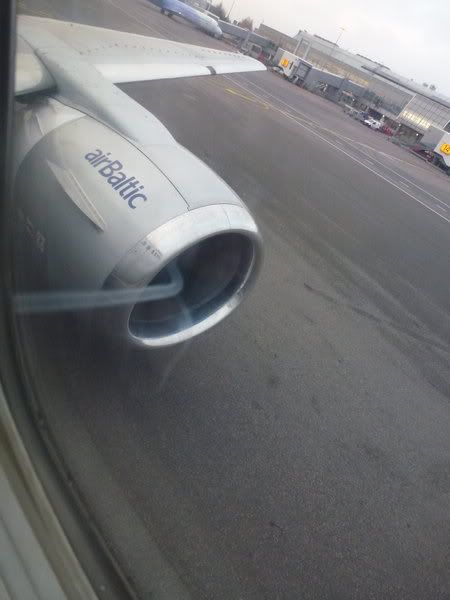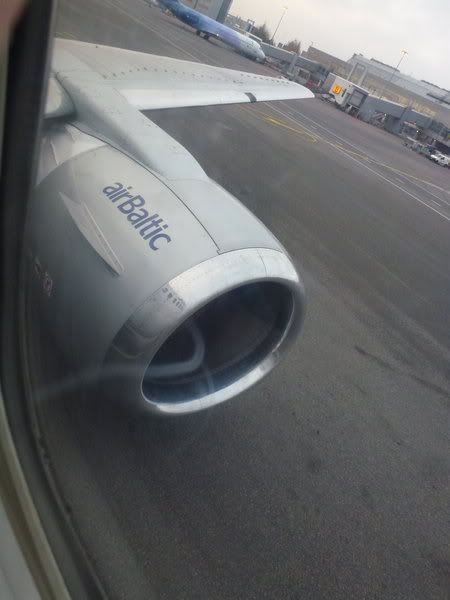 OF looking good this morning: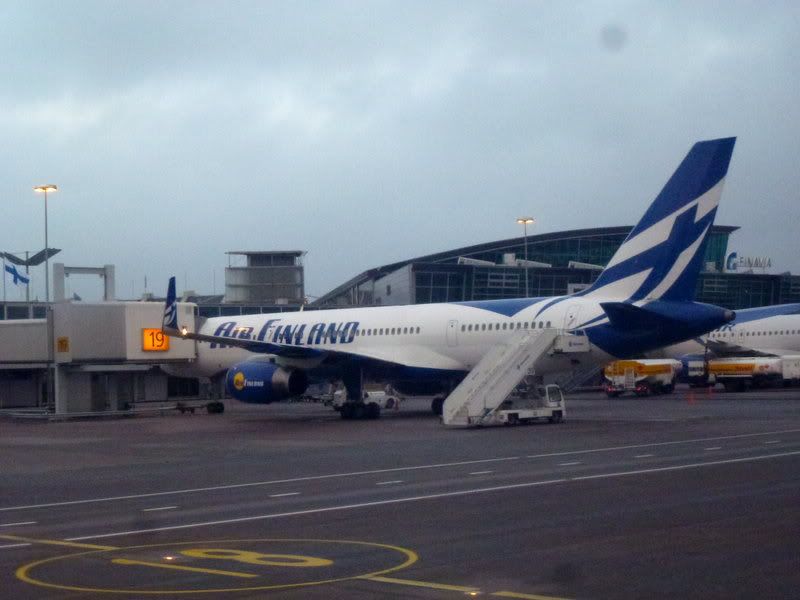 This one landed on 15 and is taxiing to its gate, I'm pretty sure it is the JFK arrival:
A cattle truck off to undoubtedly somewhere much warmer and nicer: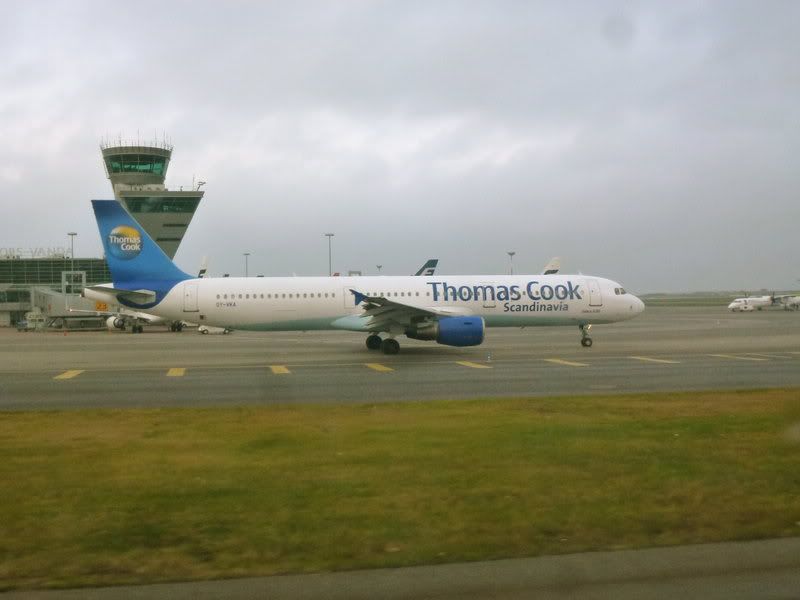 The second overnighting BT bird - this one will operate the next departure to RIX an hour and change later: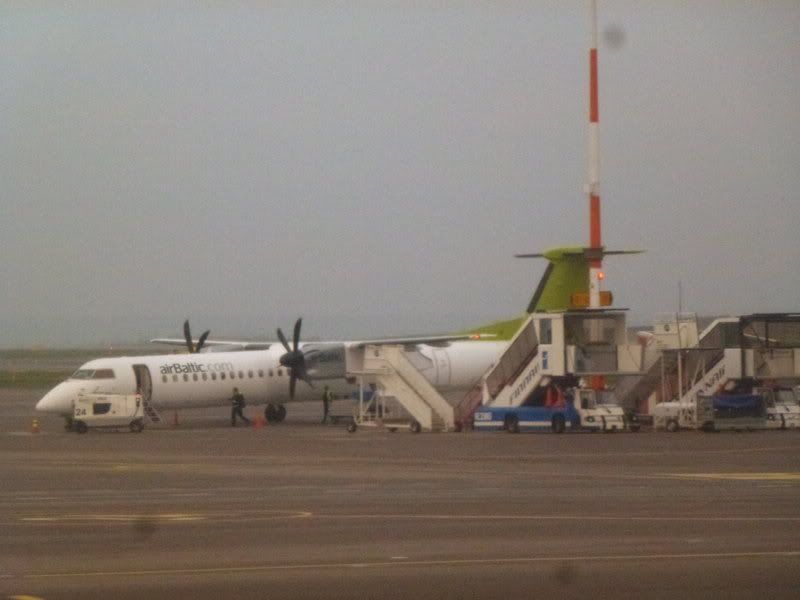 Take off is from 22R - the weather is quite drab: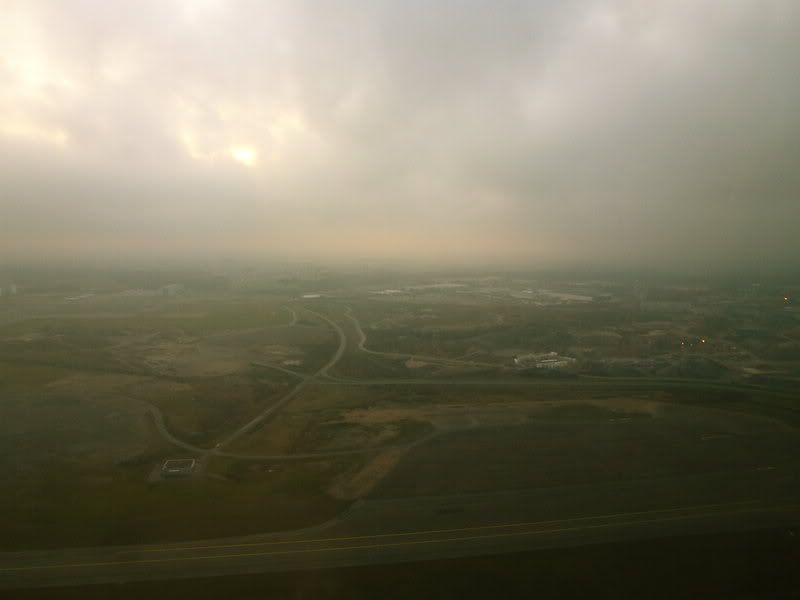 ...but once through the thin cloud layer we are treated to an amazing light show, courtesy of the rising sun: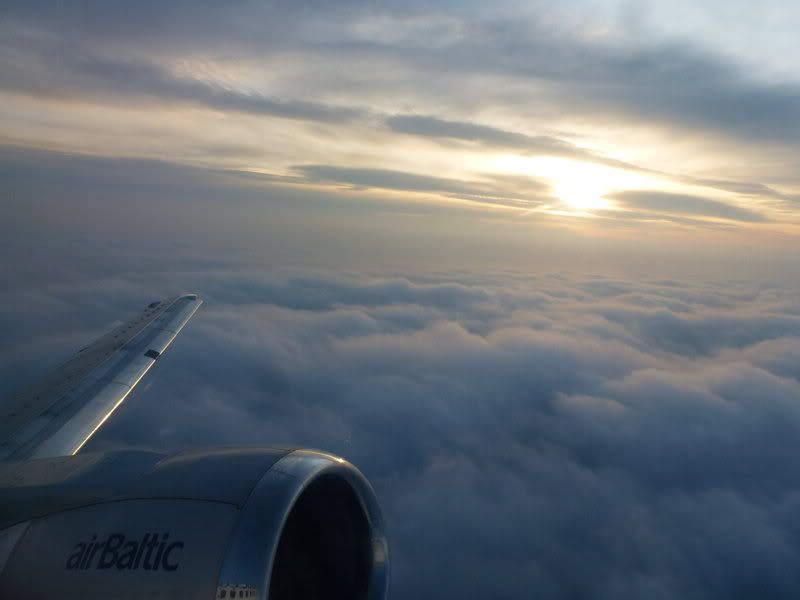 I forgot to buy a bottle of water so I grab one from the BOB cart - this one dedicated to gabrielchew: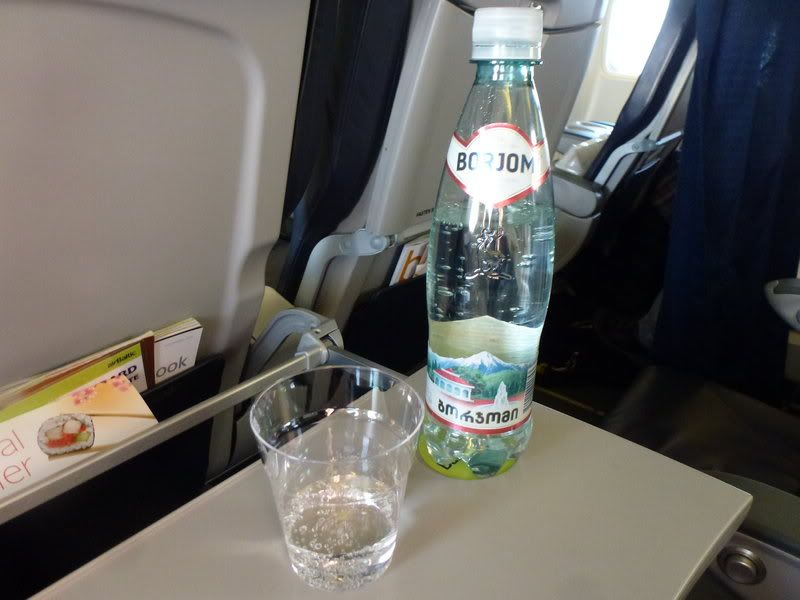 I doze some but am unable to get any real shuteye so I resort to reading my newspaper instead and in no time at all we are into our finals over the Gulf of Riga - first some more nice sunny views:
...but after descending through a rather thick cloud layer the Riga weather shows us that it indeed is November here - these are the first views of the ground just a few seconds before a hard landing on runway 18:
Passing some Dashes: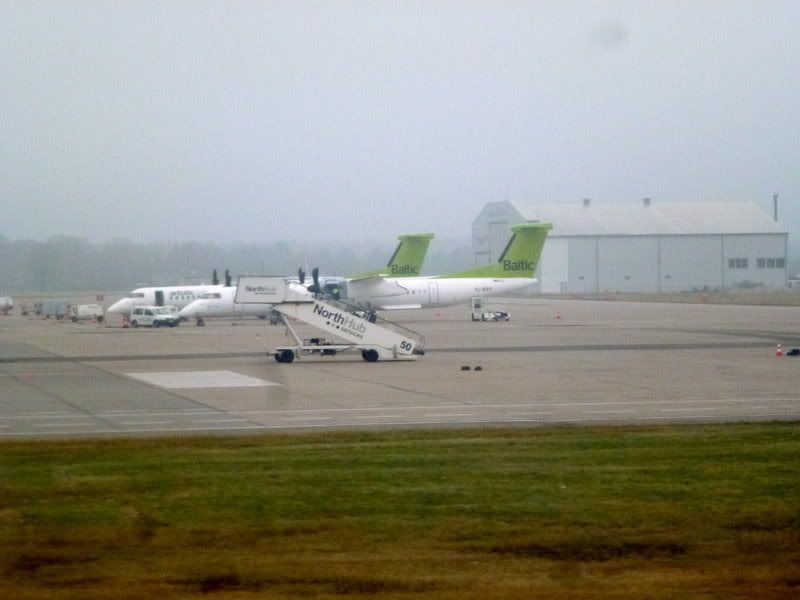 We get a jetway gate, always nice.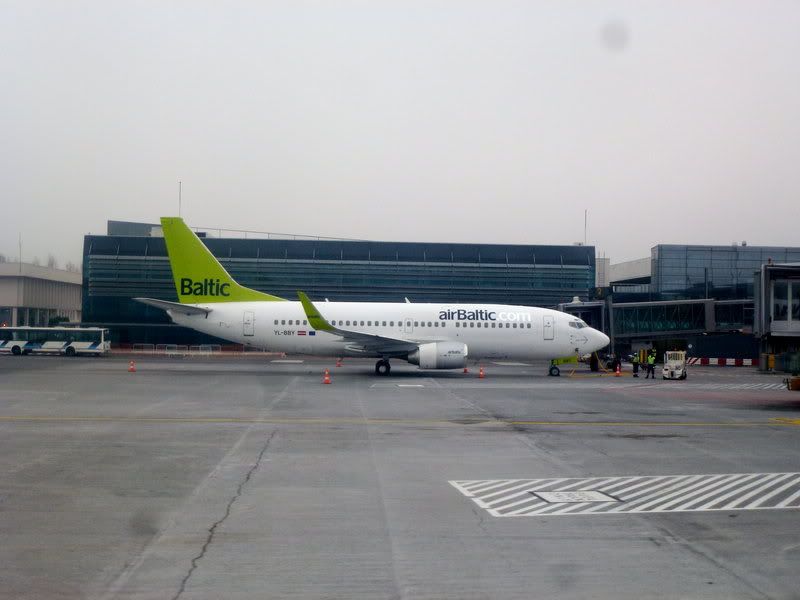 Riga Airport
Guess which airline this queue belongs to (hint: it's not airBaltic):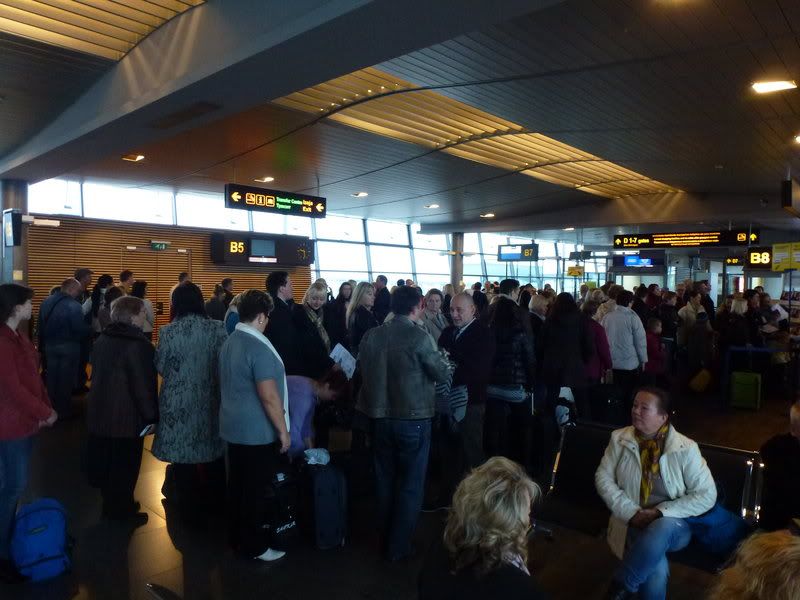 Makeree is on his way to LGW and has managed to upgrade his flight to business class (congrats!) so we both have lounge access (again, due to being a lowly VIP nowadays I can't bring any guests to the lounge) and head to the airBaltic lounge for some nibbles, drinks, wifi and chat.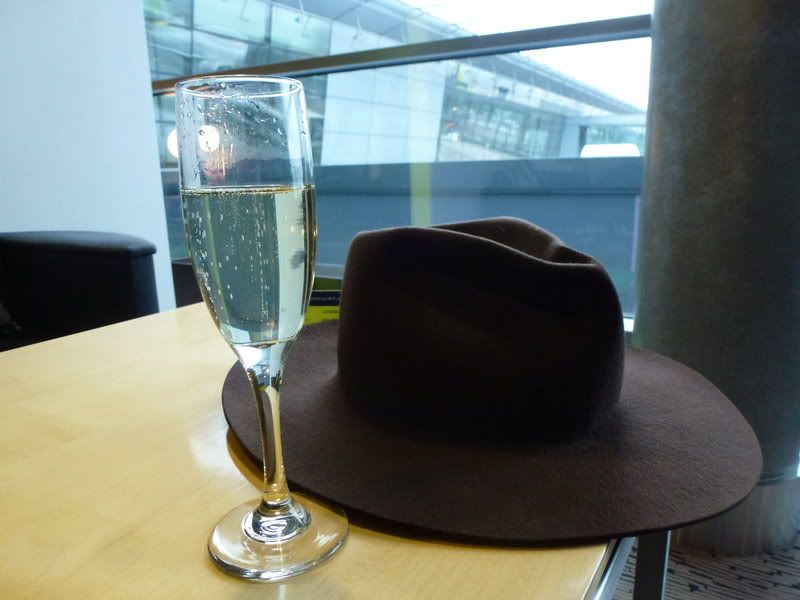 The couple of hours layover goes by rather fast and soon enough the lounge agent comes to tell makere that his flight is now boarding, so we say our goodbyes (based on the current schedules our next joint flights are in January...) and he heads out. Some ten minutes later it is time for my flight and I head down to the A gates area (which of course means a bus boarding). I'm quite surprised to find the gate area absolutely packed - somehow I assumed this flight would be quite empty: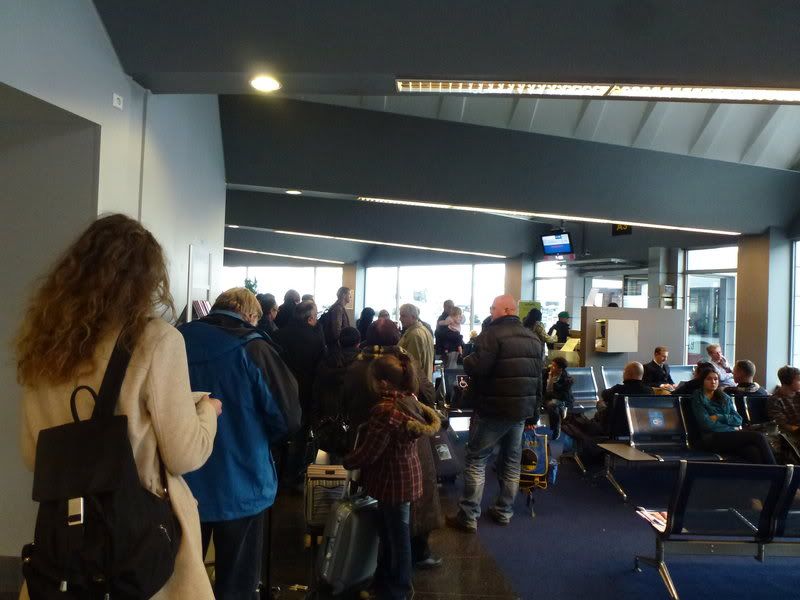 Some joking with the agent after I am the very first person to miss the first packed bus ("Can't I walk there?" - "No, it is too far to walk. But I'll call you a taxi!" - referring to the second bus). We drive towards a row of Dashes parked in the northern apron - and where do we stop? In front of YL-BAE of course - their oldest example and thus the one I've had the chance to log the most times - this will already be my sixth flight with her!
RIX - FRA
BT241
Dash 8 Q 400 YL-BAE
Seat 24D
11.32 - 12.57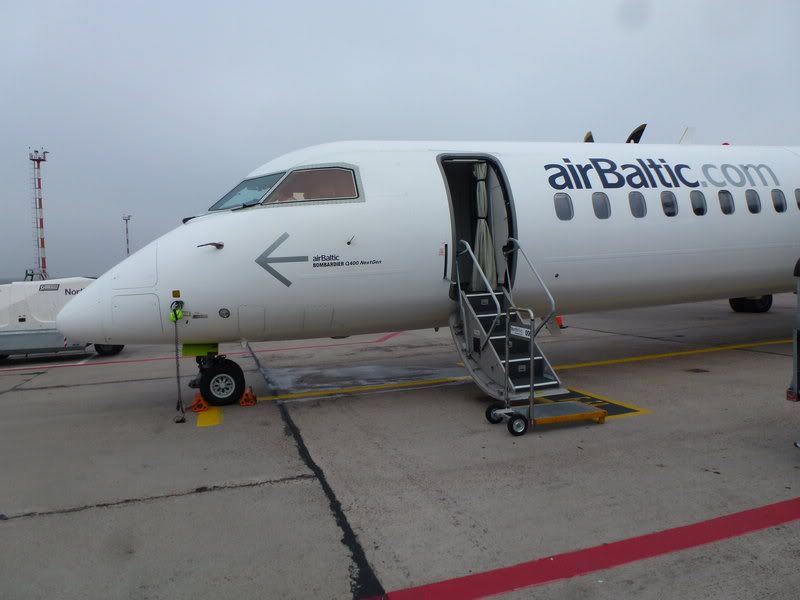 Inside it is quite packed already and I find a Latvian guy sitting in my seat - as expected he is the aisle guy who thought he got lucky. Sorry, but I reserved this seat already way back when I booked this flight (another perk of status - normal pax need to pay 3 EUR for that), so it's mine!
Neighbours: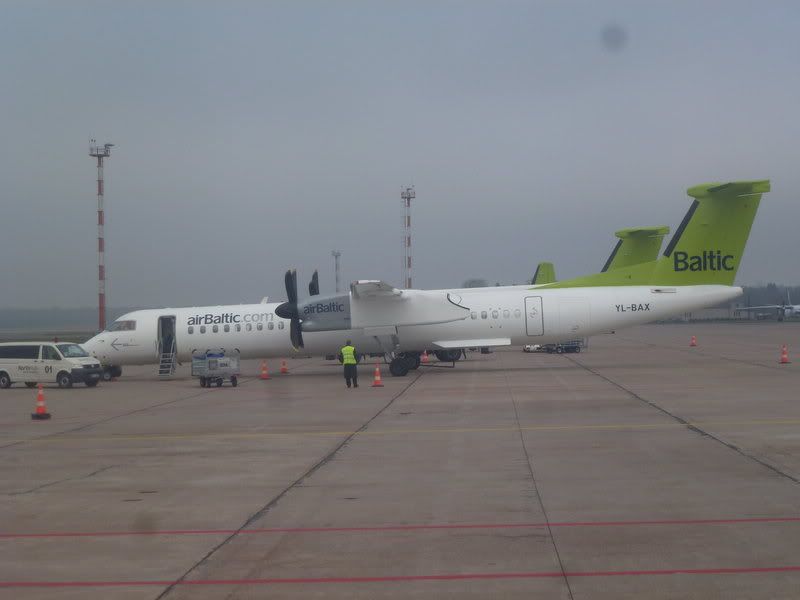 Well, it isn't the most comfortable of seats with a seat mate and a rather full cabin - I see no empty blocks of two anywhere in economy, just some empty seats here and there. Economy load is somewhere around 90%, three rows of business class have a couple of passengers. Quite a lot of Russians onboard, coming in from Kaliningrad judging from their boarding passes (results of the KD Avia bankrupcy?). Also some other connecting pax from the BT destinations in the east like TBS etc.
The British captain announces a flight time of 2h20mins and push back is pretty much on time.
I so wish this ex-Aeroflot TU-134 would join the aviation "museum" next door soon - it's now been parked here for well over a year and I don't think anybody has done anything with it: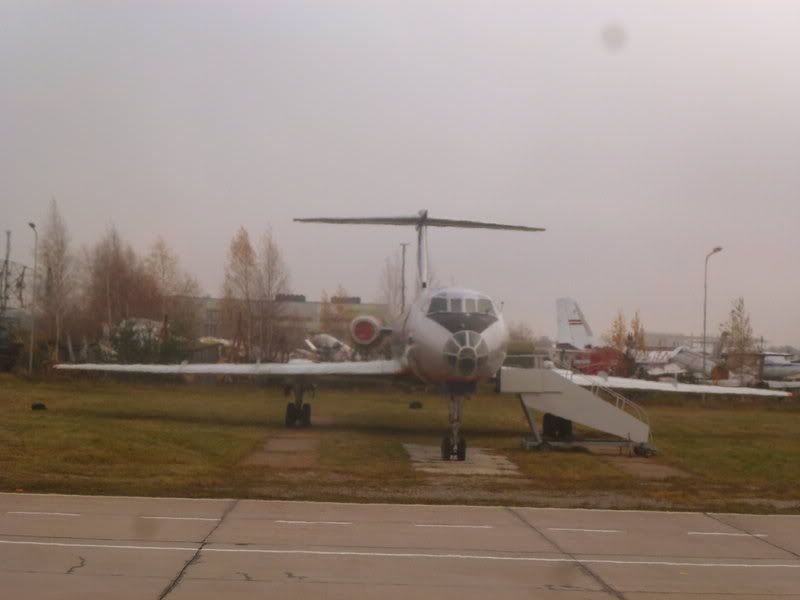 We tail makeree's 737 to runway 18 and take off right after it, disappearing soon into the murk: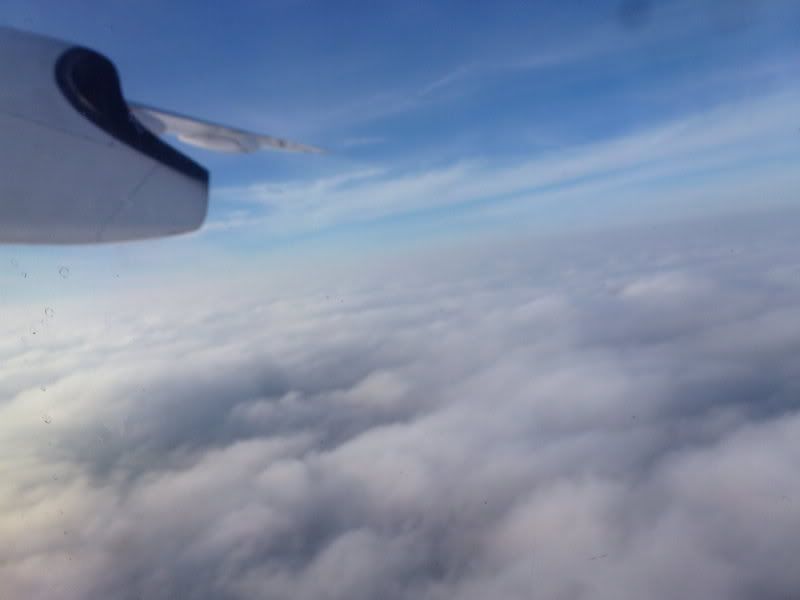 Over Lithuania the weather clears up, affording some nice views - this is Telšiai on the shores of the Lake Mastis: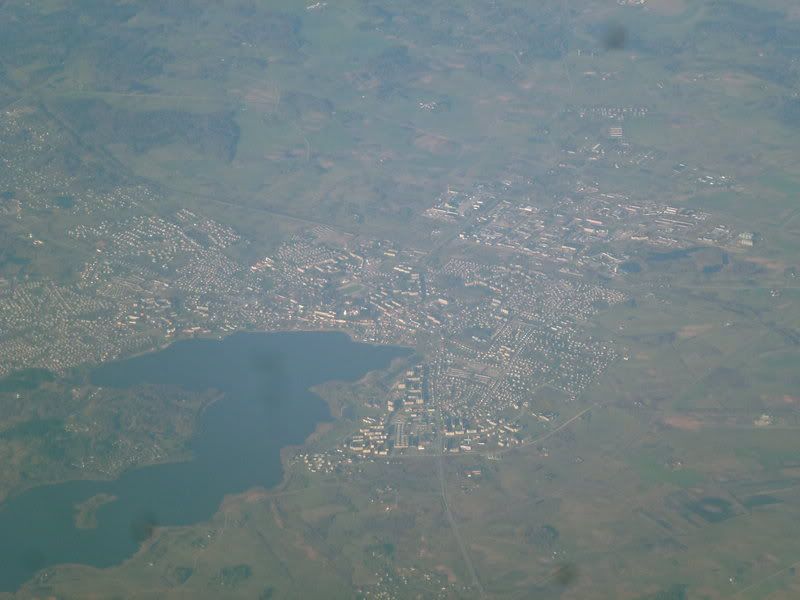 Klaipeda - the biggest port in the Baltics: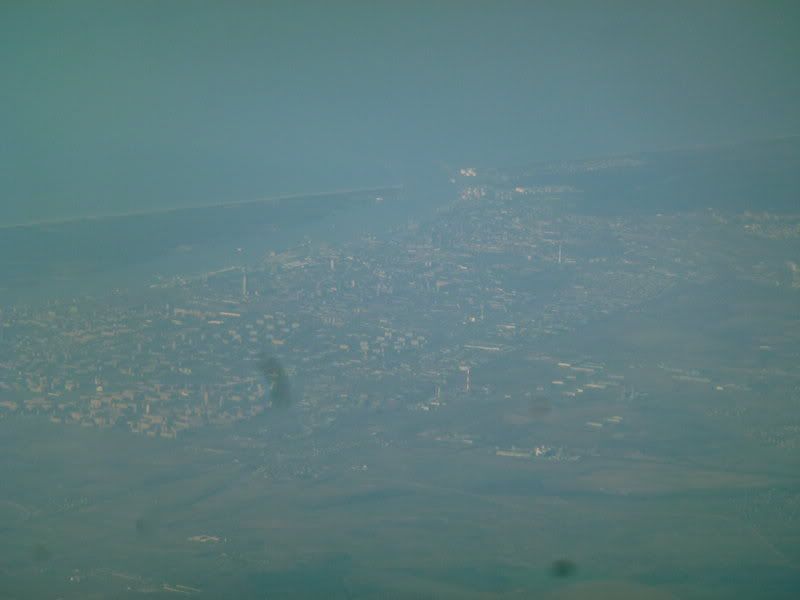 Directly over Šilutė: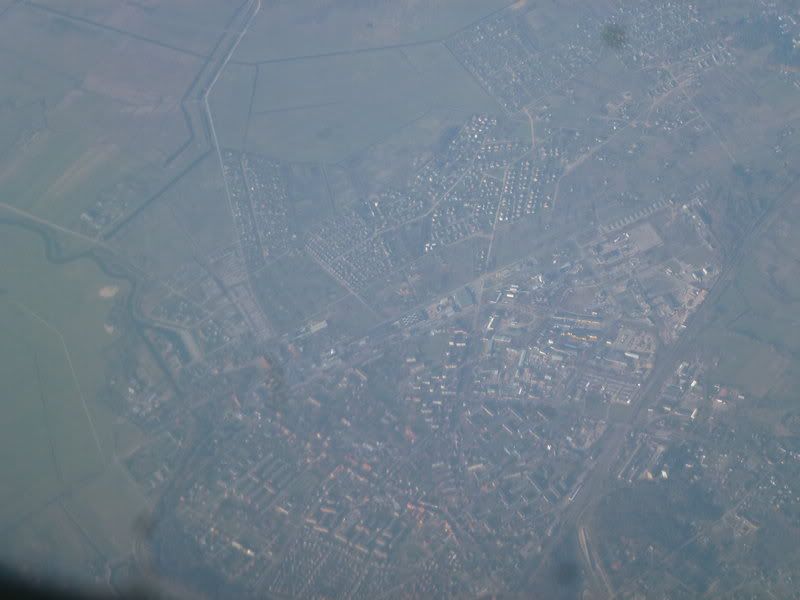 Part of the extensive delta of the Nemam river: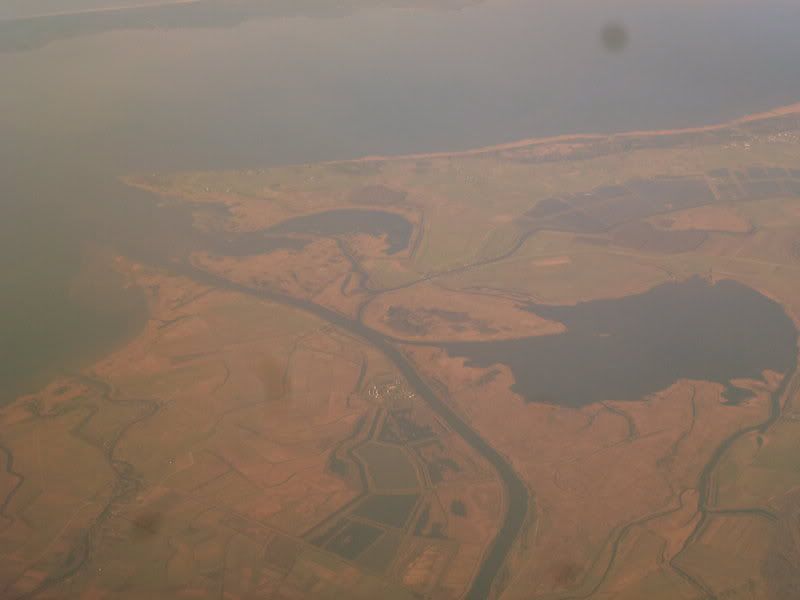 At this point I am starting to have a serious feeling of deja vu - see I just read Markus' latest report in the lounge where he was flying YL-BAE (check) to TXL, sitting in 24D (check) in a packed plane (check), had a talkative British captain (check) and some amazing views of the Curonian spit (check, see the next photos):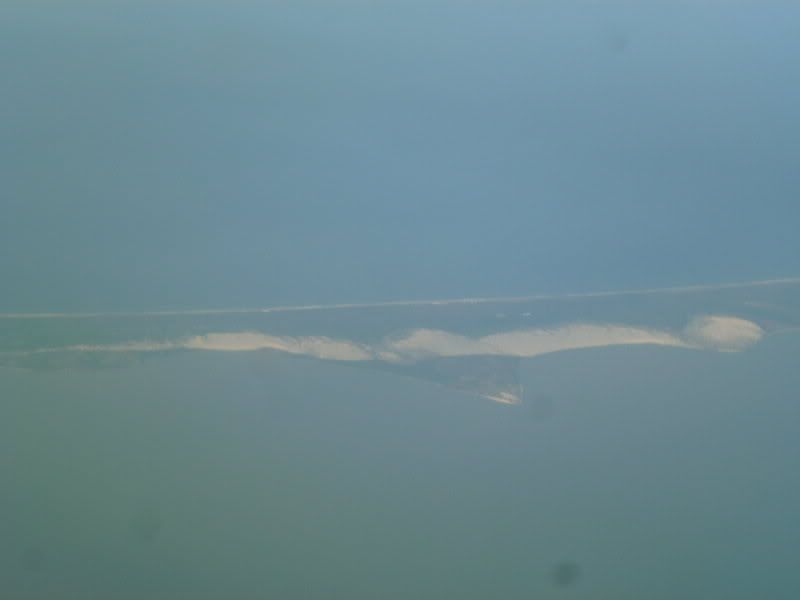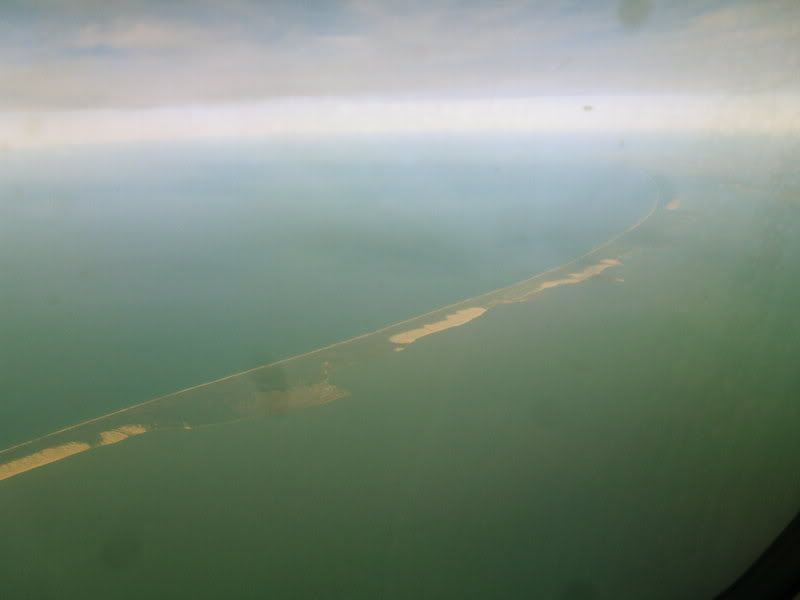 Once the BOB service gets underway I do what I already decided on the previous flight and order the sushi box plus a nicely chilled can of Aldaris: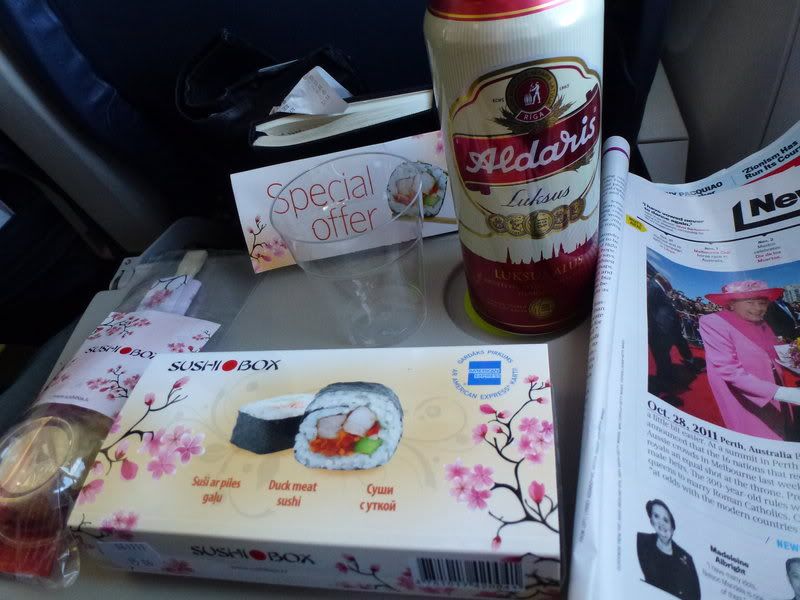 Inside - in addition to this there were two sachets of very nice and potent wasabi, a larger sachet of soy sauce with a small cup to pour it in and a pair of chopsticks: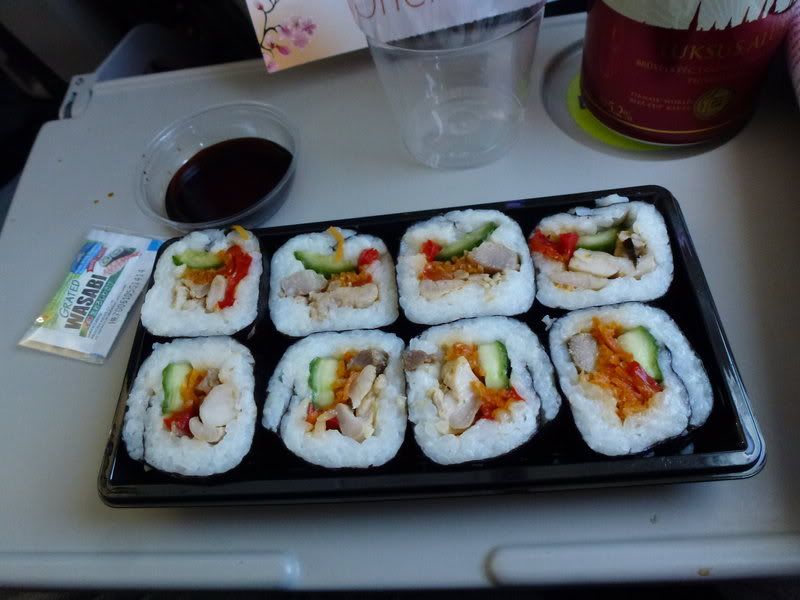 I hate raw fish so am normally not a big sushi eater - but luckily this dish is made out of duck and chicken (and seriously speaking - I would be more than a little suspicious at eating raw fish in a dish like this which is actually stored in warm and not refrigerated - instant food poisoning anyone?).
Anyway this meal was a good one - it scored well on all fronts: taste was ok, it was quite substantial, excellent value for money (even though they charged me the list price of 6 EUR instead of the offer price 5.50 EUR - I was too lazy to kick up a fuss, BT needs that money more than I do!) and for an airline meal another important point: it took quite a while to finish, making the flight to appear much faster (never underestimate this point - that's one of the main purposes of an inflight meal!).
Munching on sushi I watch as we momentarily cross over the front and penetrate into the Russian enclave of Kaliningrad. This is Baltiysk (or Pillau im Deutsch) - the westernmost town in today's Russia - the citadel and its moat are clearly visible: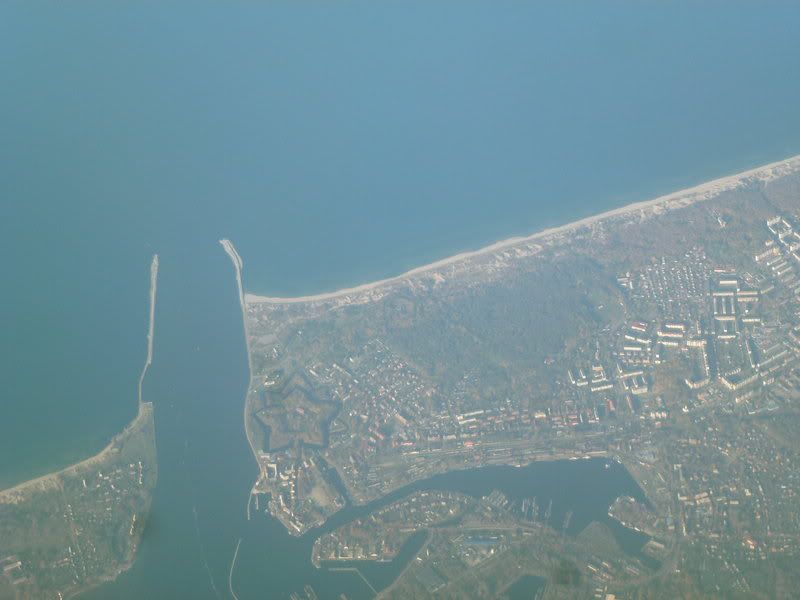 My anxiety is soon released as we leave Russian airspace, cross the Gulf of Gdansk and make landfall to Poland near Gdansk - sorry for the hazy photo:
Hey, it's SXF - not, it's BER: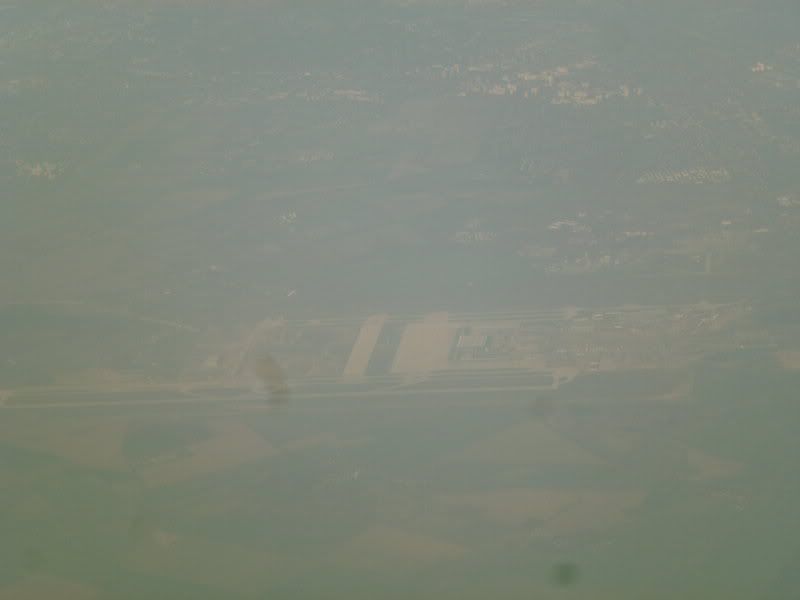 Cabin view en route: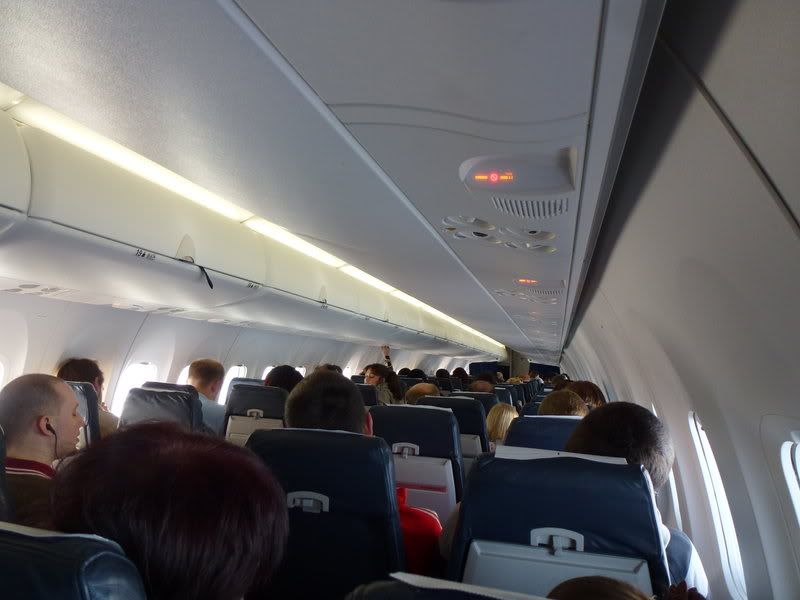 Over Germany the weather clears further and the last 45 minutes of this flight offer very pretty views: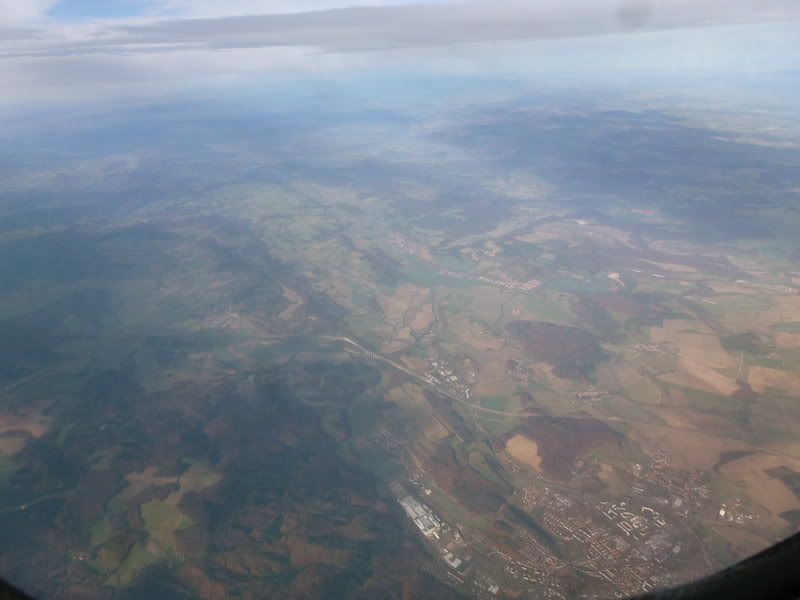 Well, some not so pretty as well: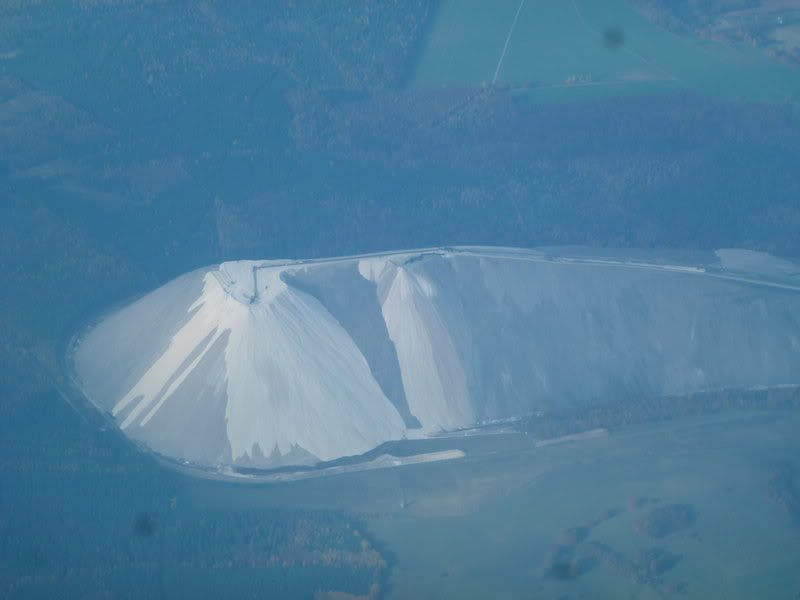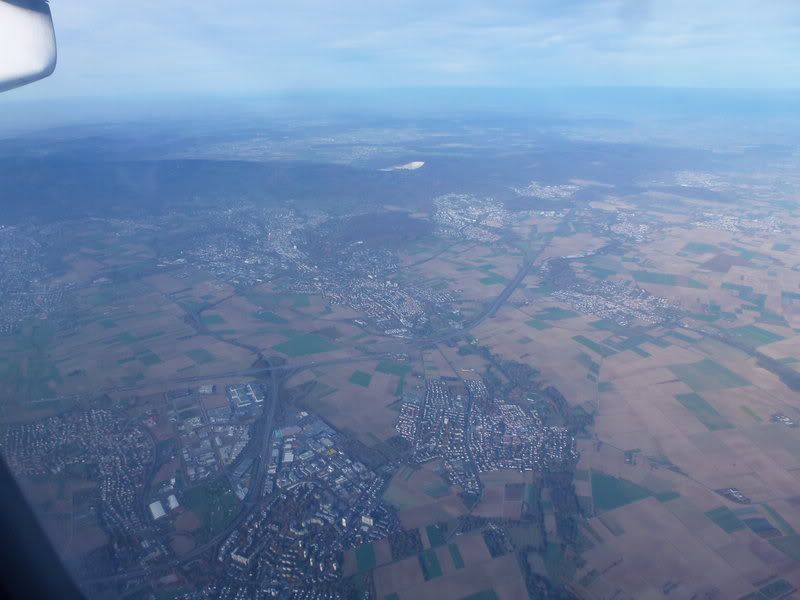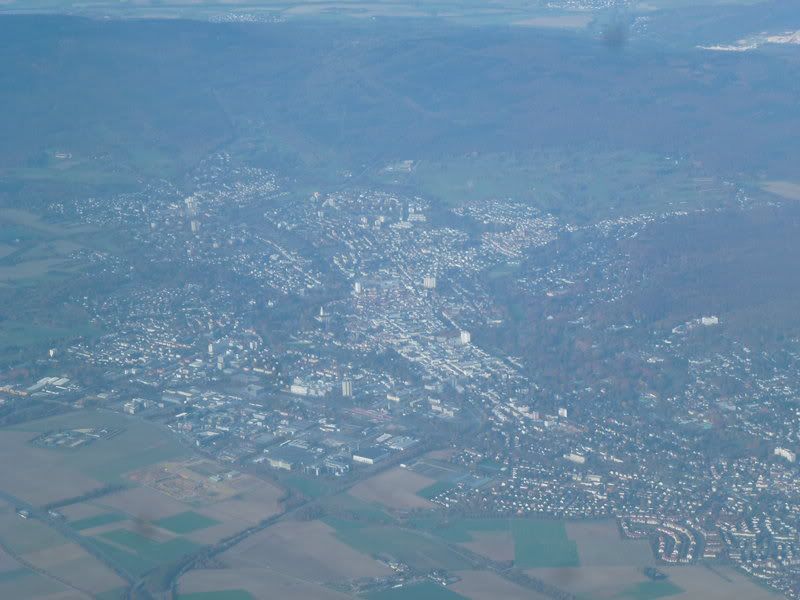 Looks like a quarry to me:
Nice autumn colors: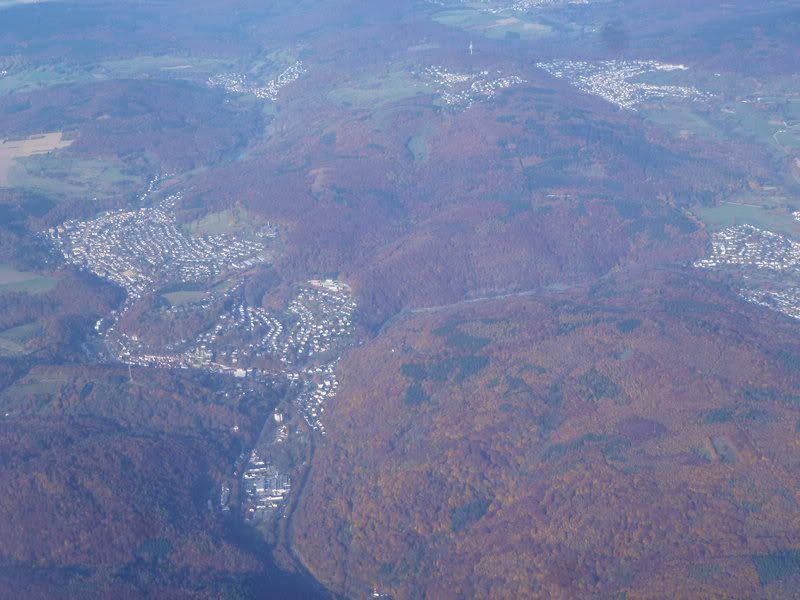 For me our approach appears to be quite weird as we pass FRA from the north, then fly over the city towards the southwest before turning around and lining up with the 07s.
Frankfurt - too bad the skyscrapers (and FRA beyond them) were on the other side of the plane - I bet the views were awesome: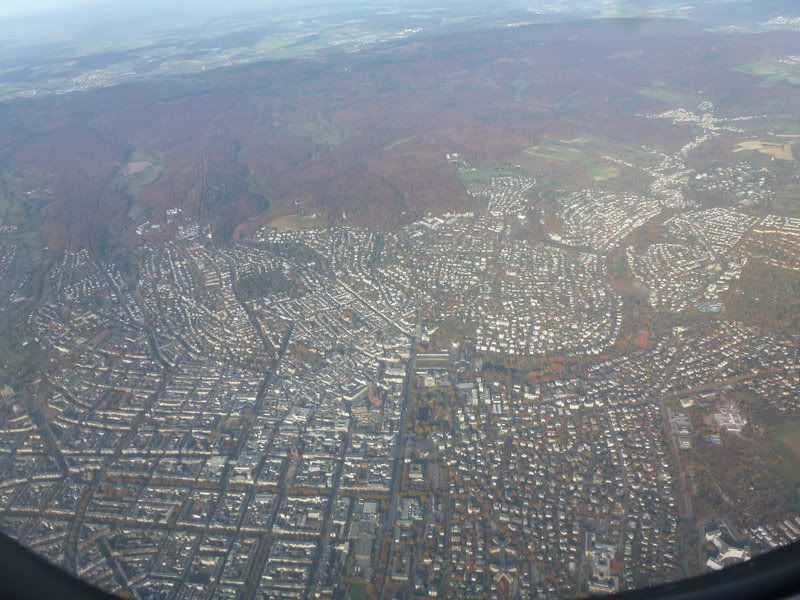 The Taunus mountains looking very atmospheric: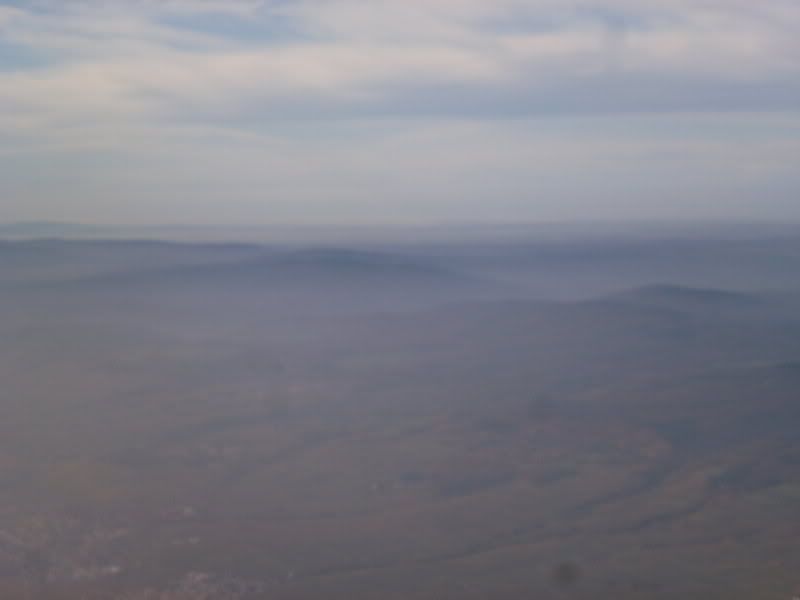 Hello Rhine, see you in a bit: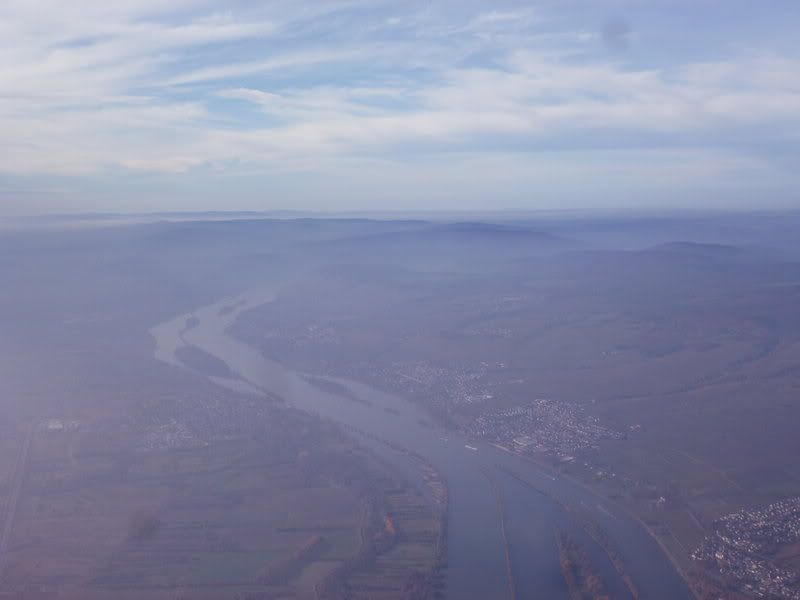 The huge Opel factory at Rüsselsheim, just a stone's throw from the airport: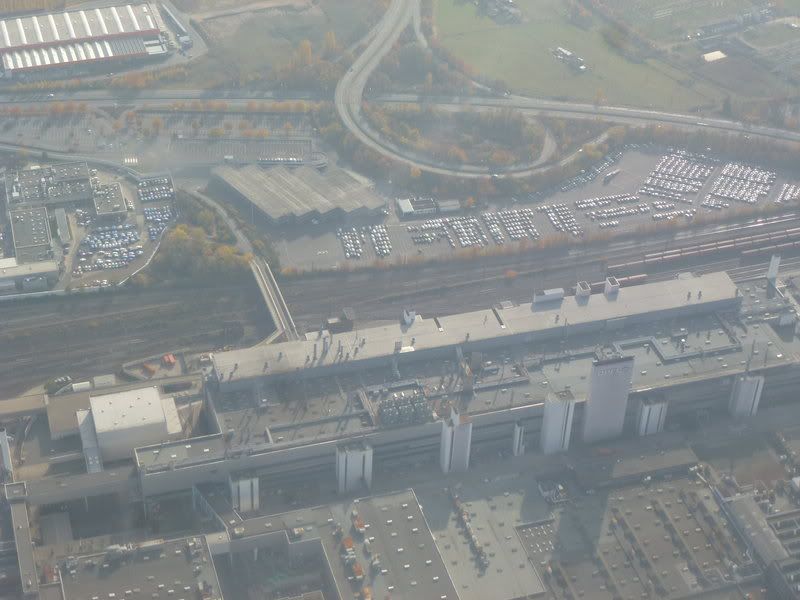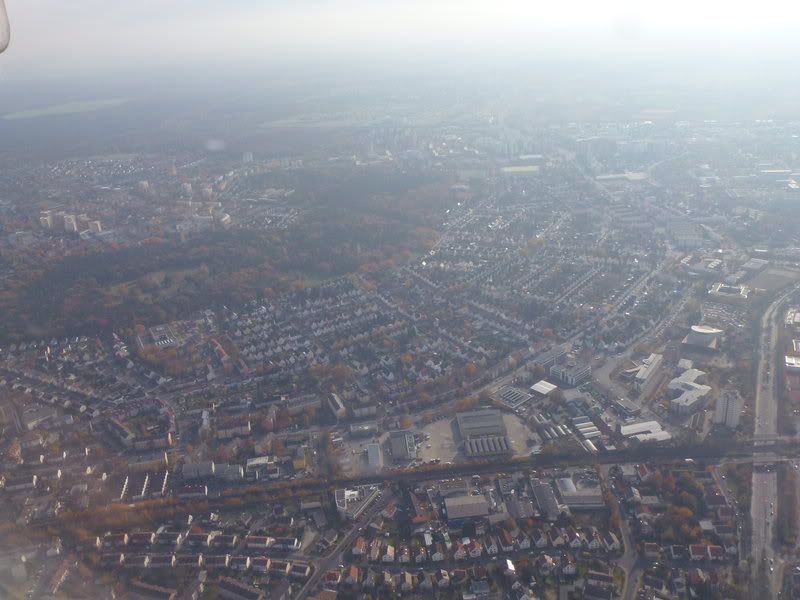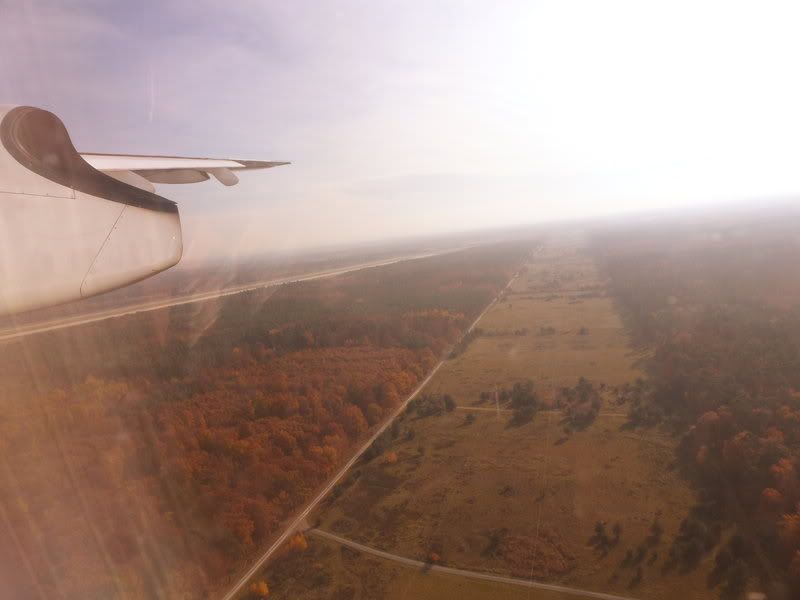 Landing is on 07R after around 2h15mins of flight time - certainly quite a long time in a packed Dash.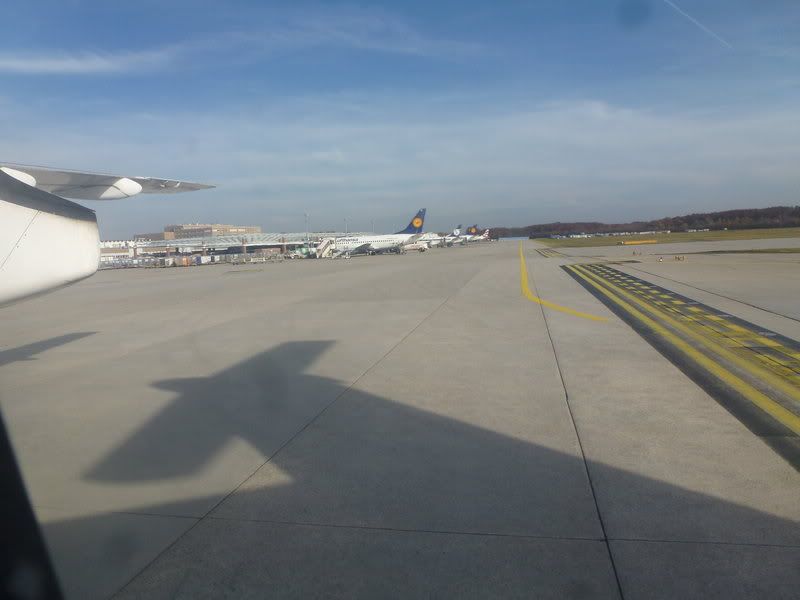 Never seen Corendon at FRA before: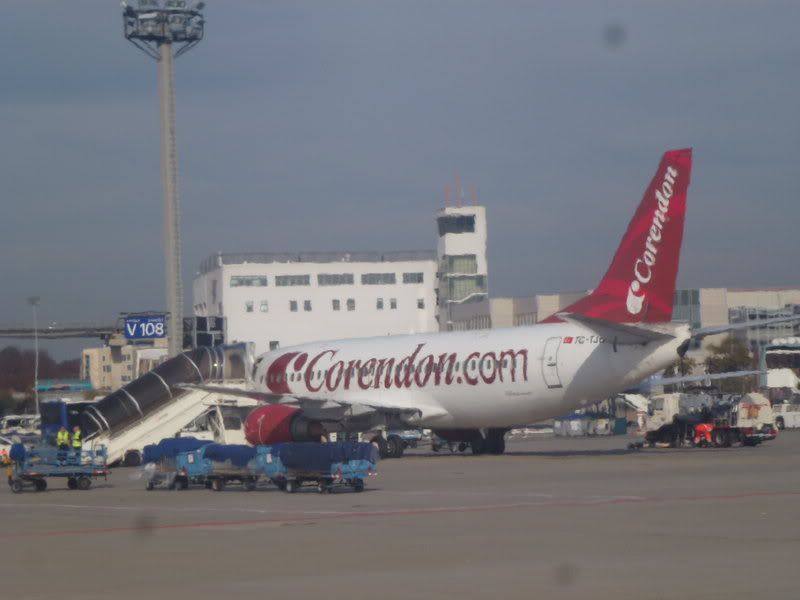 The quintessential FRA shot - a LH widebody lifting away: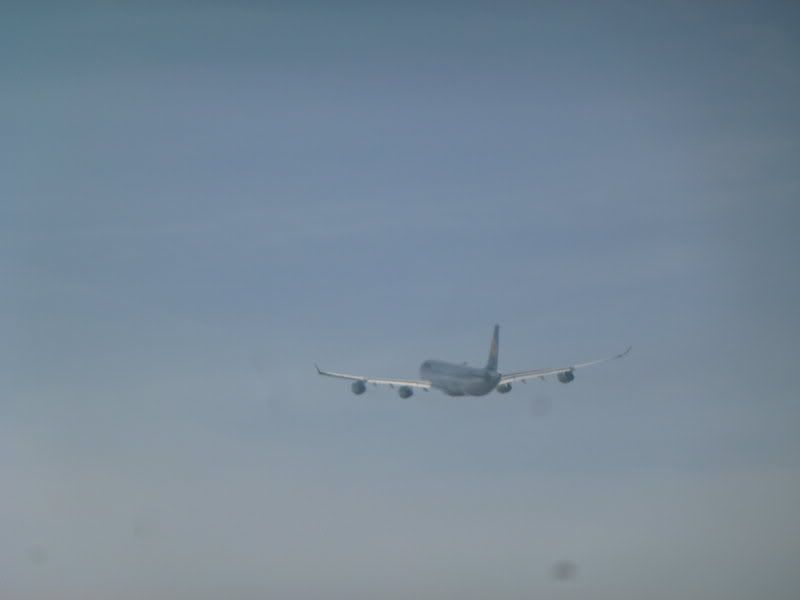 As expected we get an apron parking position in front of T2 and a bus ride into the terminal.
Frankfurt Airport, take 1
From T2 I take the automated train thingy to T1 - FRA is definitely the place for nice reflections: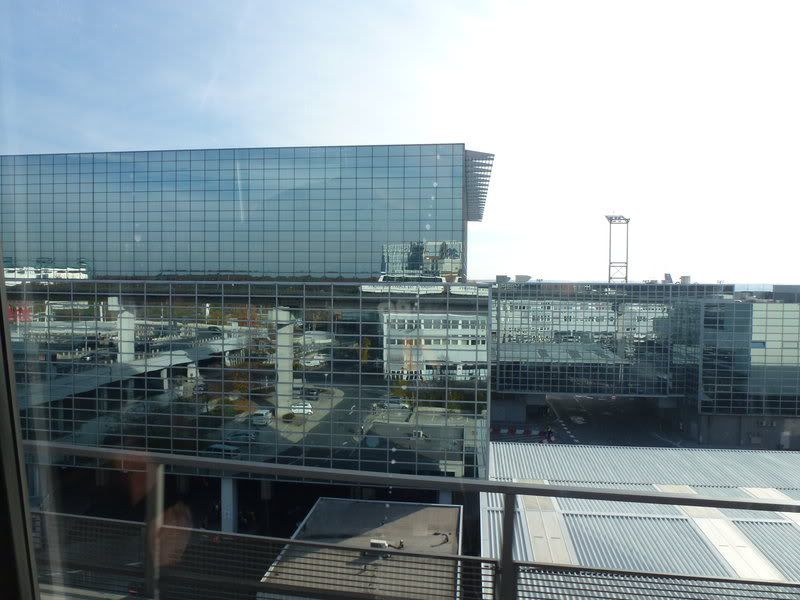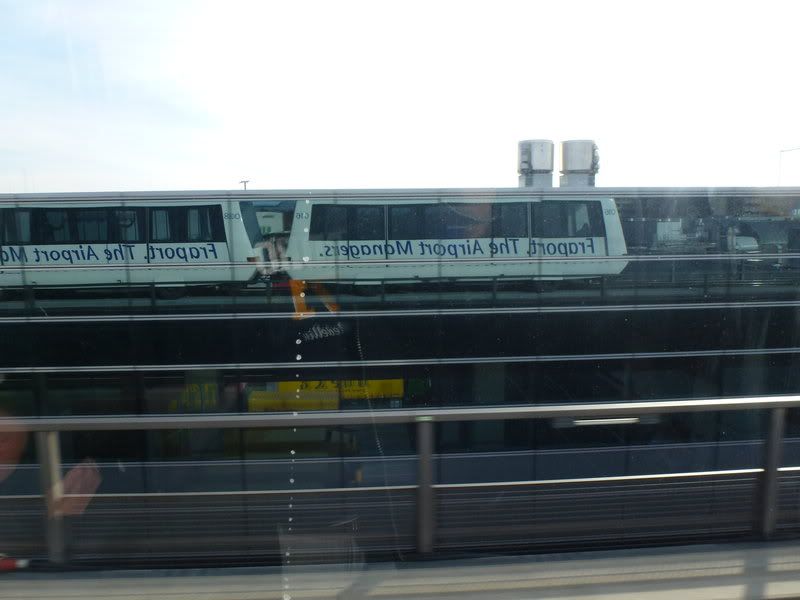 Not that interesting planes this time, but this departing 747 still looks so nice: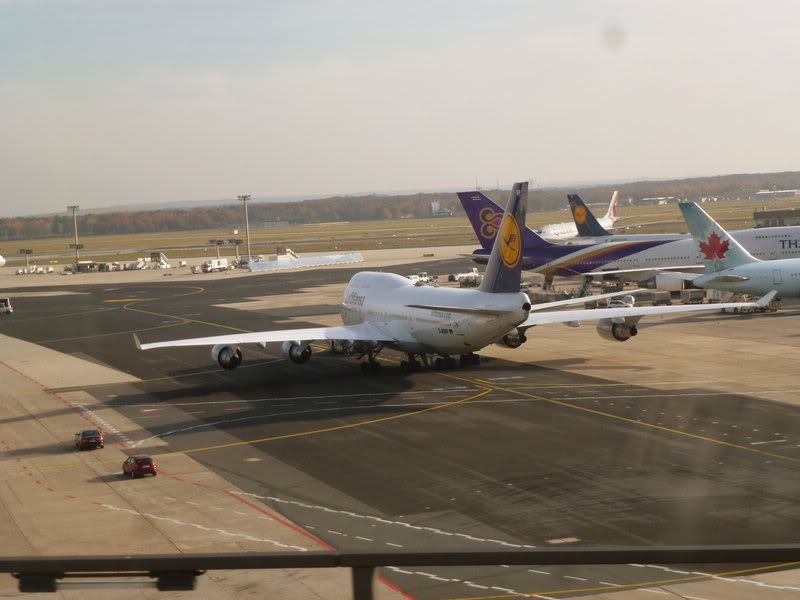 From T1 Regionalbahnhof I take the S8 train to Mainz. Passing the Opel factory at Rüsselsheim again - it even has its own train stop: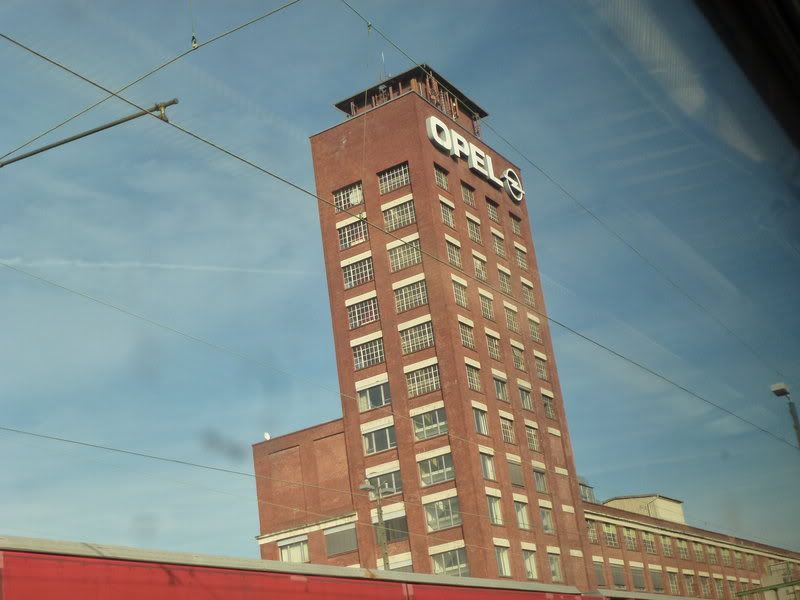 Mainz
I spend a very nice Saturday afternoon and evening in Mainz - the weather is just perfect - a sunny, clear and warmish autumn day with lots of people around.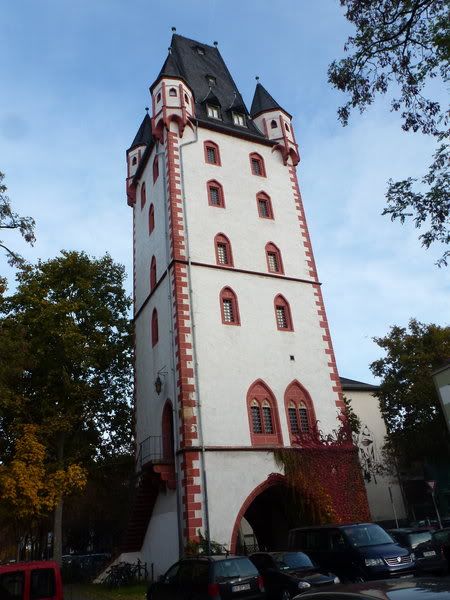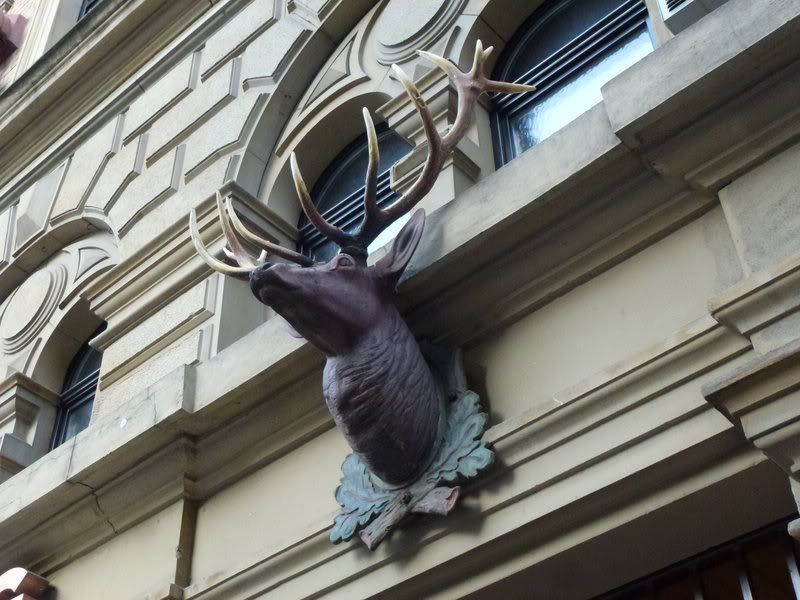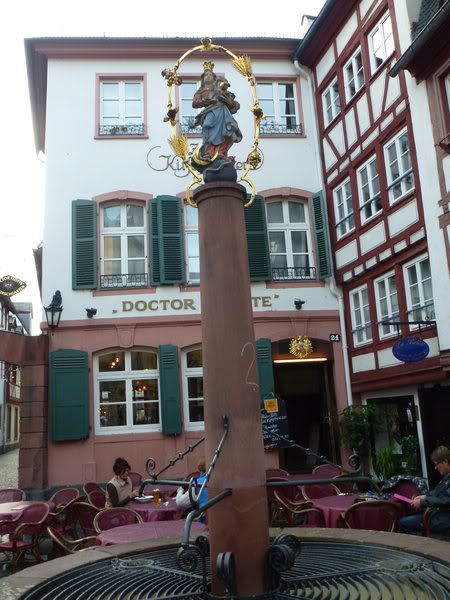 Hmm, isn't there a Finnish member here with this name: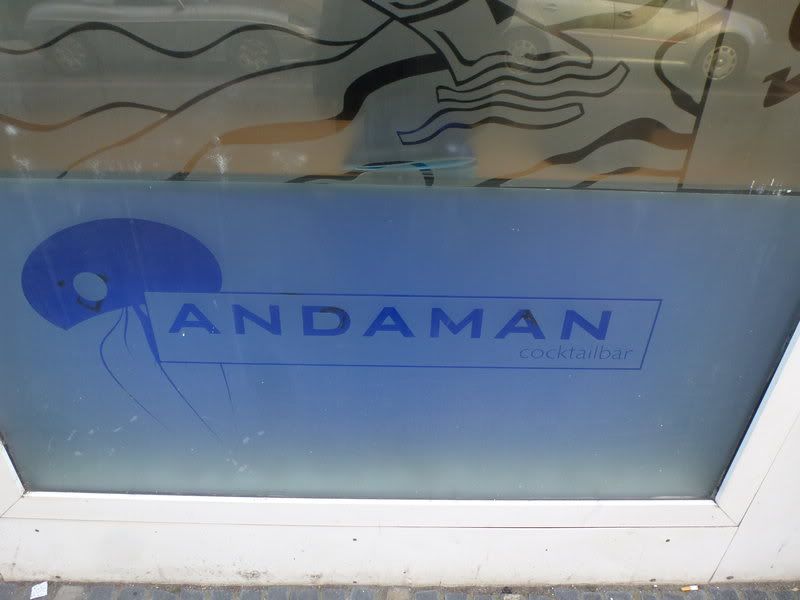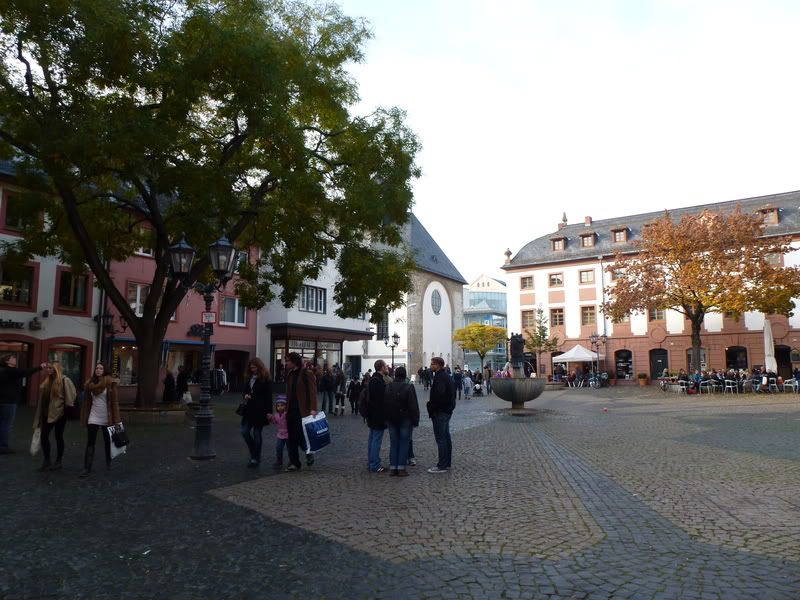 Mainz just happens to be Gutenberg's (not Steve, the one of the moving type fame) hometown: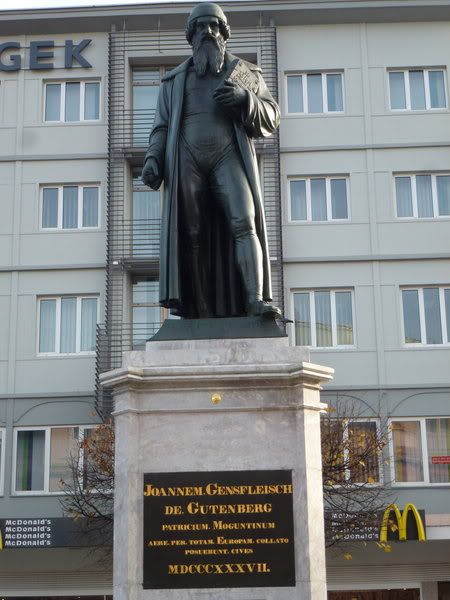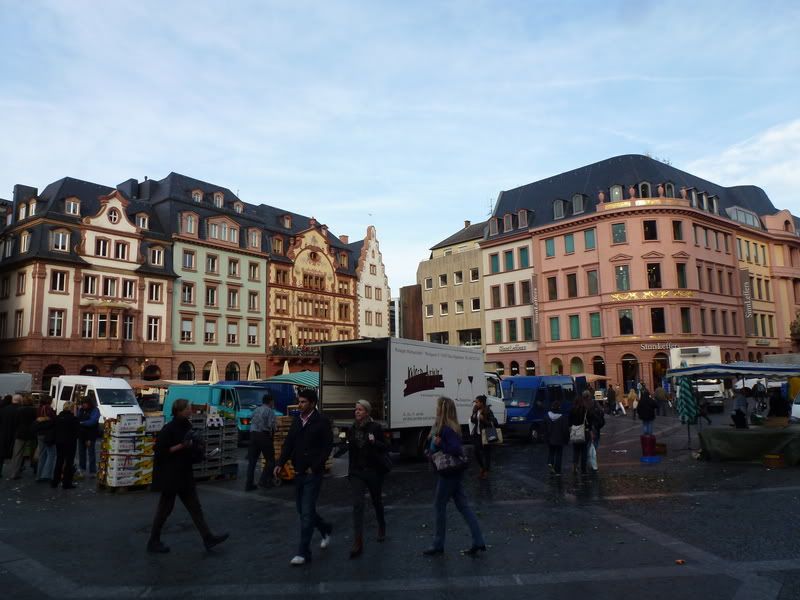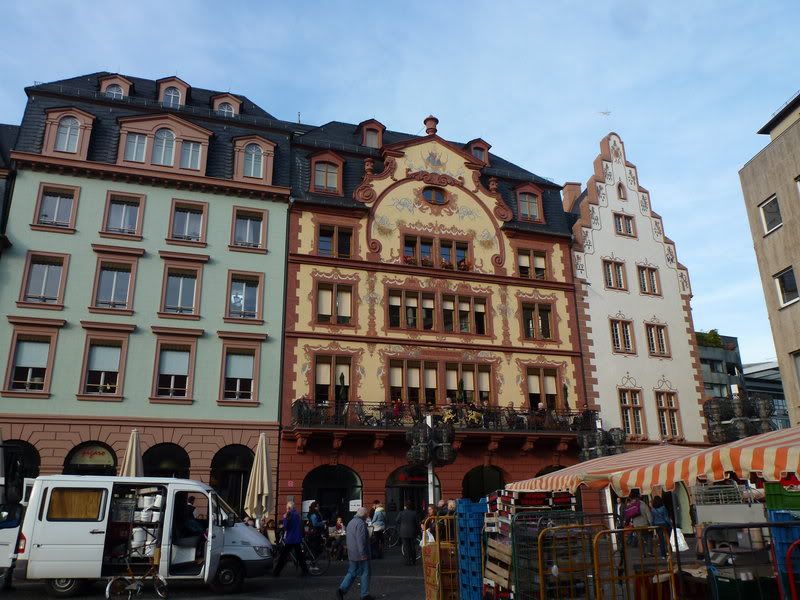 Well, a well, but a very nice one at that: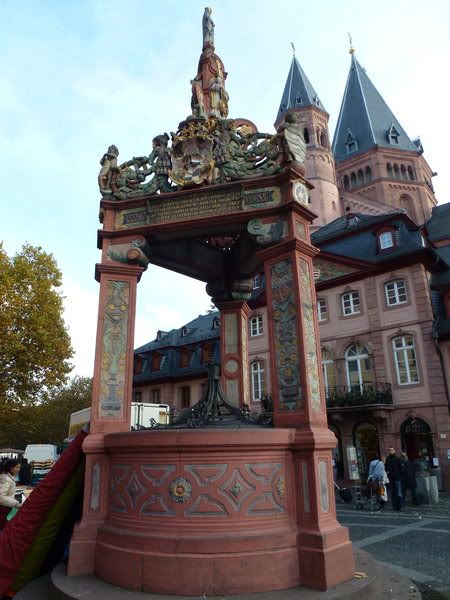 They had some sort of wine happening going on right next to the cathedral: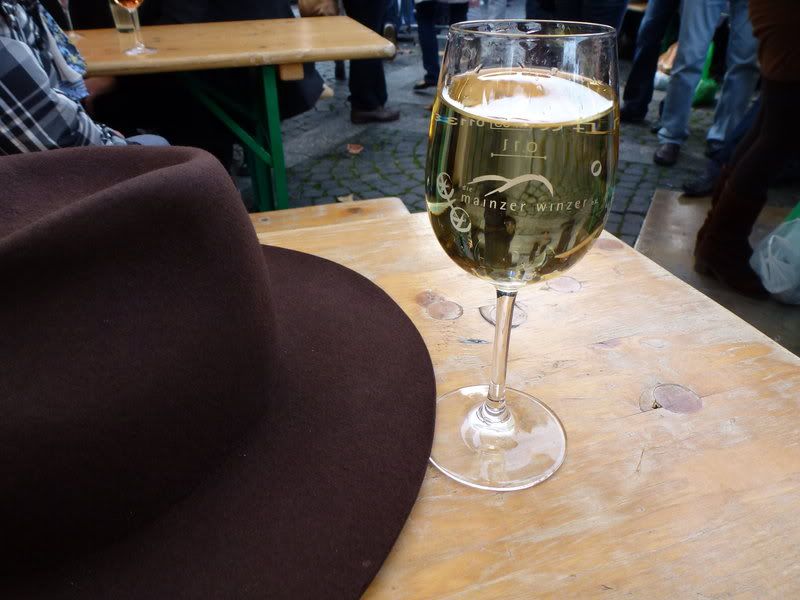 These prices are cheap as chips - at least to someone so used to Finland (and having this kind of happening here would just not be possible as certain drinking laws would make it just too damn complicated to get a license):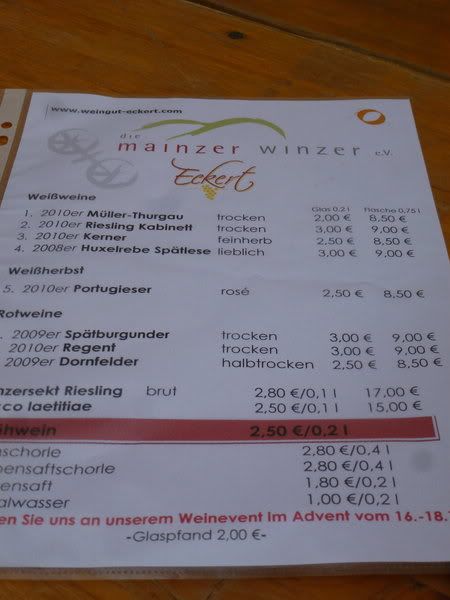 The Rheinufer - a very nice promenade along the Rhine: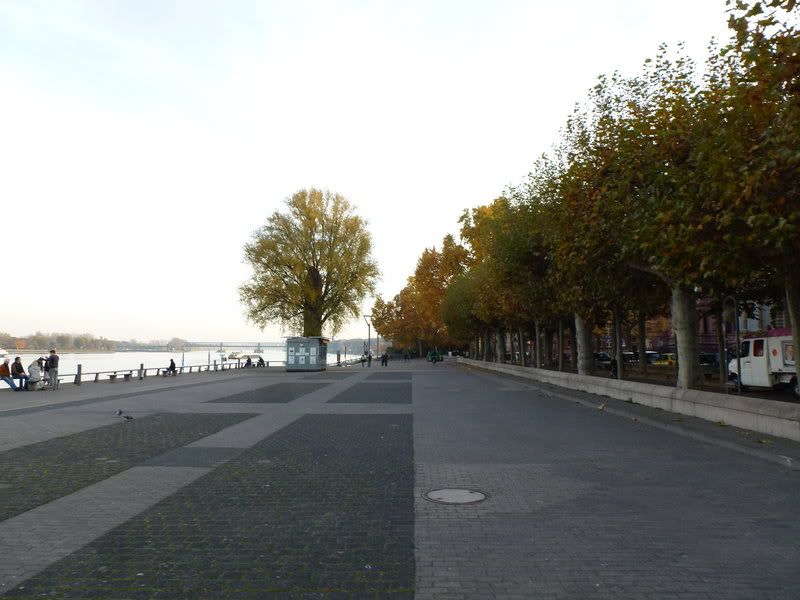 I sit here for a long while, just chilling and watching the busy traffic on the river: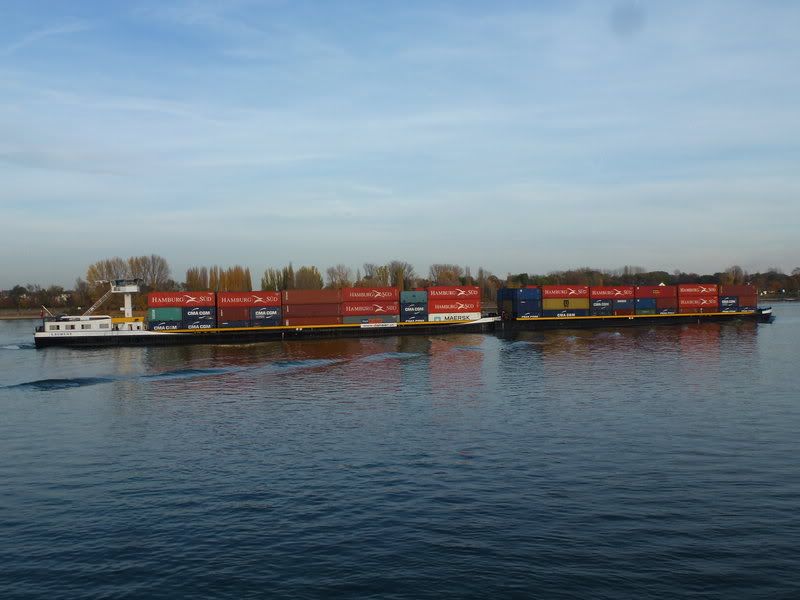 And the equally busy traffic into FRA's 07s: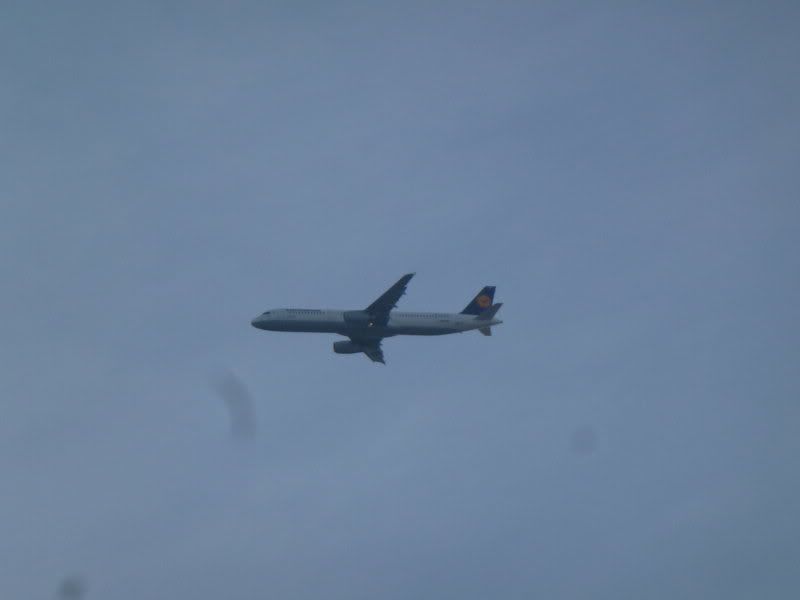 I don't think this one is going to FRA, though:
Top