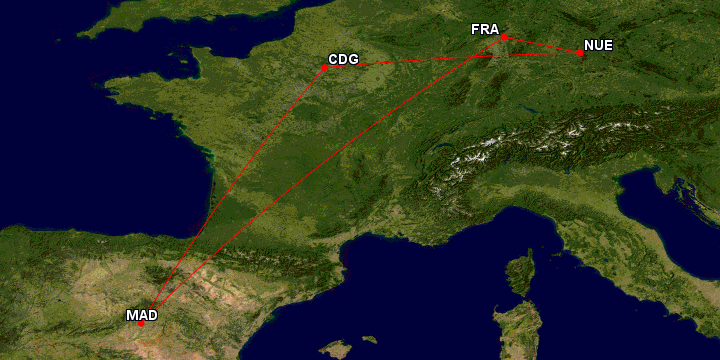 Map generated by the Great Circle Mapper - copyright © Karl L. Swartz
Intro
Back in July, I had the pleasure to meet almost 20 A.netters at Frankfurt Airport. All those who had been planning to write a report have already done so - except for me. Since reports about ordinary short hops on Lufthansa, easyJet and Air France can be found quite often on the forum, I decided to focus on the LAN Airlines A340-300 flight from Frankfurt to Madrid. If you want to see pictures from the outstanding meeting itself as well as many spotting pictures and if want to read about other participants' journeys, have a look at these nice reports:
To The A.net Meeting At Frankfurt With Adria CRJ2
(by
SloAir
Jul 11 2011 in Trip Reports)
Lufthansa – The Upgrade, Some Lounges & A.net Meet
(by
airbuseric
Jul 11 2011 in Trip Reports)
The Meet At FRA + Number 200: HEL-DUS/HHN-STN-VST
(by
FlyingFinn76
Jul 12 2011 in Trip Reports)
To The FRA A.net Meet From Madrid: Ryanair And LAN
(by
IberiaA319
Jul 15 2011 in Trip Reports)
A340 Switzerland-Germany To Meet Trip Reporters
(by
LXM83
Jul 15 2011 in Trip Reports)
To The A.Net Meeting And Back On EW/LH/LO
(by
SPLTA
Jul 19 2011 in Trip Reports)
A.net Meeting In FRA? Thank You Lufthansa!
(by
akhmad
Jul 21 2011 in Trip Reports)
Background
It was in late April when users LH4532 and Luxair747SP first suggested to organize a meeting at FRA in July. As soon as it had been certain that I would be able to join the meeting, I started searching for interesting flight options. I had been wanting to fly between Frankfurt and Madrid on LAN's A340-300 for several years and now I finally saw a good opportunity to do so. A FRA-MAD one-way flight was more expensive than a roundtrip, but I didn't have a choice due to time restrictions. Lufthansa flights from Nuremberg or Munich to Frankfurt were available at relatively low fares, but it was impossible to find a reasonably priced connection between Madrid and Munich or Nuremberg. After searching for a long time, I decided to combine NUE-FRA (Lufthansa A320) and FRA-MAD (LAN) with a Madrid-Paris flight on easyJet (A319) and a Paris-Nuremberg flight on Regional (Embraer 170). Air France wanted more than 500 Euro for the CDG-NUE flight, but I booked it for 10,000 Flying Blue miles plus tax. Some weeks later, we decided to invite many more users and I posted a thread about the meeting on the forum. It was clear soon that it would become a big meeting.
NUE-FRA and A.net Meeting
Lufthansa's A320-200
D-AIZG
operated my flight LH147 from Nuremberg to Frankfurt on 9th July. Originally, I had wanted to join the meeting in the morning, but fares had suddenly jumped up, so I had booked the lunchtime flight. Apart from a slightly bumpy approach and the fact that the plane was equipped with the nice new NEK interior, the 34 minute flight was uneventful.
Can you see any A.netters? Probably a pink shirt or a hat?
They are there somewhere: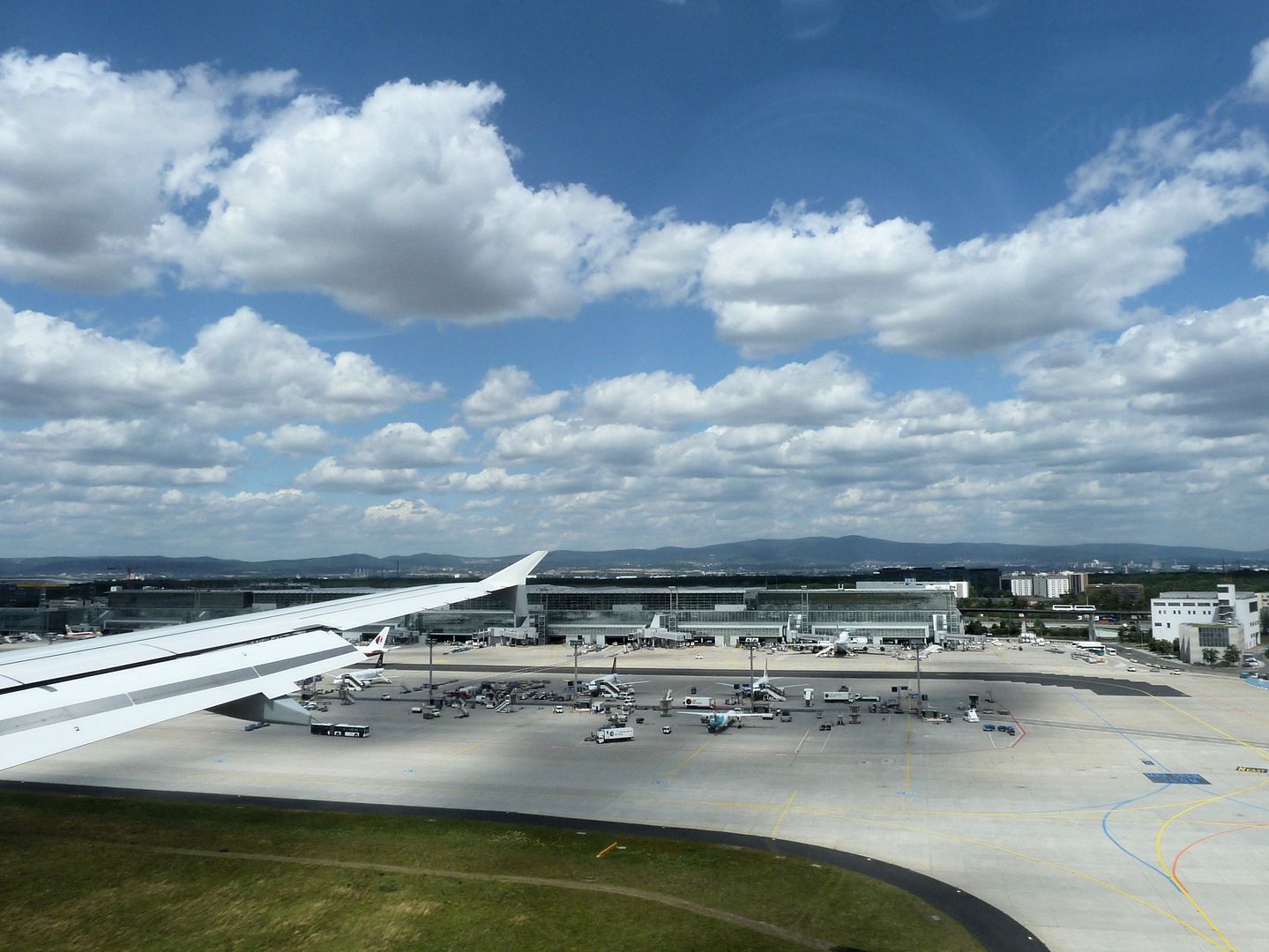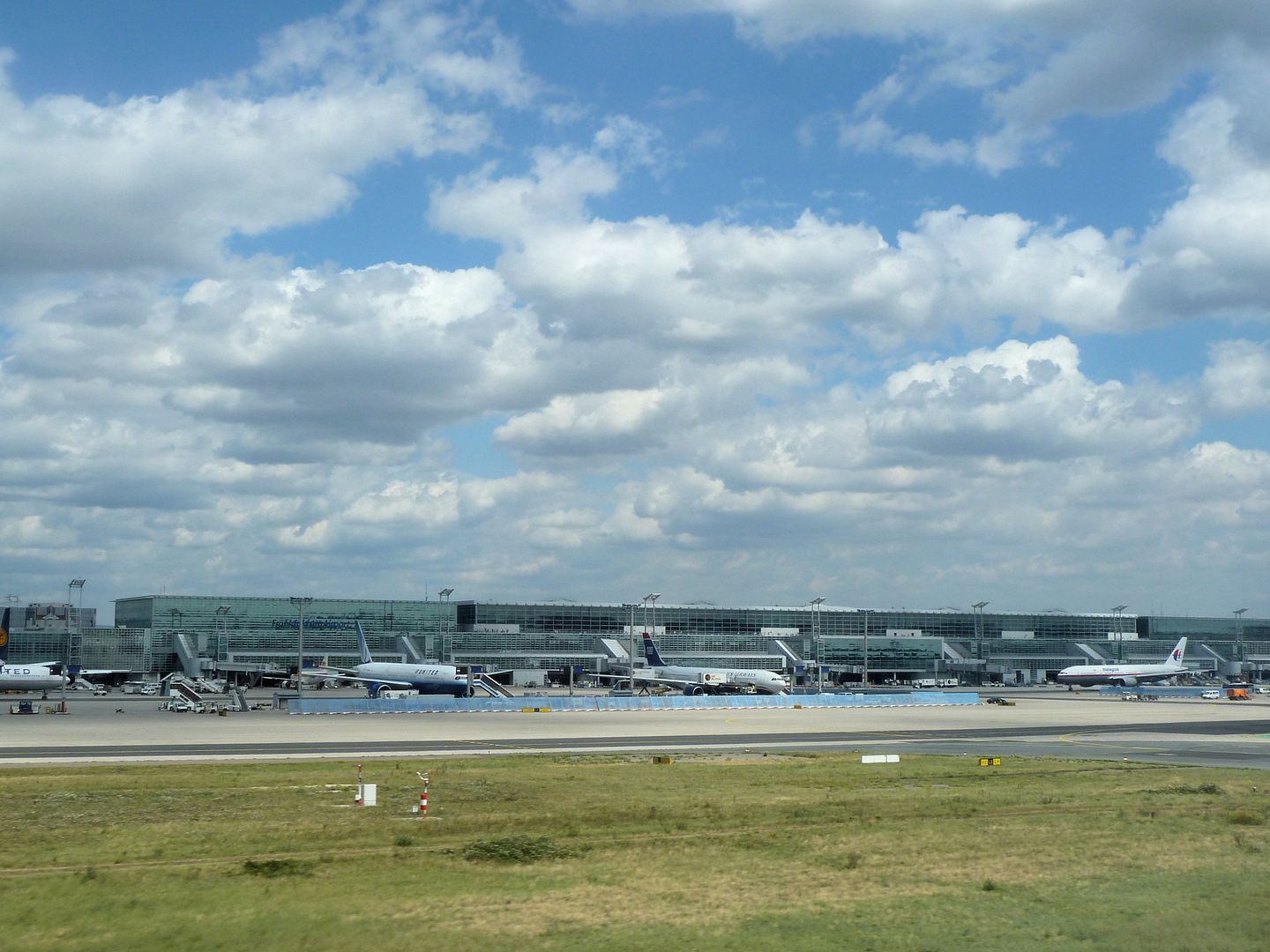 User
SPLTA
had contacted me some time in advance and pointed out that he would arrive almost at the same time on a Lufthansa flight from Dusseldorf. He had asked me to wait for him before heading to the meeting point at Terminal 2 and I had certainly agreed. However, when my plane arrived at the gate,
SPLTA
sent me a message and informed me that his plane was still on the ground at DUS and about to depart soon. I told him that I would wait nevertheless - actually I could use the remaining time to have lunch. Then I informed
LH4532
about our delayed arrival and I found out that
Luxair747SP
and his brother had to leave early. So we agreed to meet for a short chat in the Terminal 1B arrivals hall.
SPLTA
finally showed up and we took the Skytrain to Terminal 2. Then we had the pleasure to shake hands with
Akhmad
,
Airbuseric
,
CaptainRed
,
Contact Air
,
CrimsonNL
,
Eco
,
FLIEGER67
,
FlyingFinn76
,
IberiaA319
,
LH4532
,
Luftfahrer
,
LXM83
,
Makeree
,
MD11Bob
,
MSS658
and
SloAir
who were all hanging around at a restaurant after having lunch. It was definitely a great experience to meet all these people for the first time. Some time later we went to the observation deck -
FLIEGER67
had even negotiated a group discount. The next few hours passed quickly - there was so much to talk about. Unfortunately, time wasn't enough to talk to each participant comprehensively. In the late afternoon it was time to say goodbye and the participants left in all directions.
Saturday, 9th July 2011
Frankfurt (FRA) - Madrid (MAD)
LAN Airlines LA705
Scheduled times: 19:40-22:25
Actual times: 19:50-22:39
Flight duration: 02:28 (hrs)
Distance: 882 miles
Economy Class, seat 38A
Airbus A340-313X
CC-CQC (MSN 363)
Delivered in 10/2000
1st flight on CC-CQC
10th A340-300 flight
15th A340 flight
119th airline
IberiaA319
and I had already checked in online, so we could go straight to security. We didn't have to wait very long until it was our turn. A friendly screener asked me whether I had a laptop in my bag and other stuff in my pockets. I denied and told him that I had already placed my liquids in a box and removed all items from my pockets.
"Ah, you know what's going on"
, he said and jokingly added:
"If it doesn't beep we'll know that you really are an experienced traveller."
Well, it didn't beep - other than at Nuremberg, btw. The screener and I were satisfied and we said goodbye. I haven't passed through T2 at Frankfurt very often - but once again I had met cool staff at security there.
Numerous people were already waiting in the gate area. As we had already found out on a flight operations screen earlier, LAN had sent
CC-CQC
to Frankfurt today:
The plane made its first flight in September 2000 and was delivered to LAN five weeks later: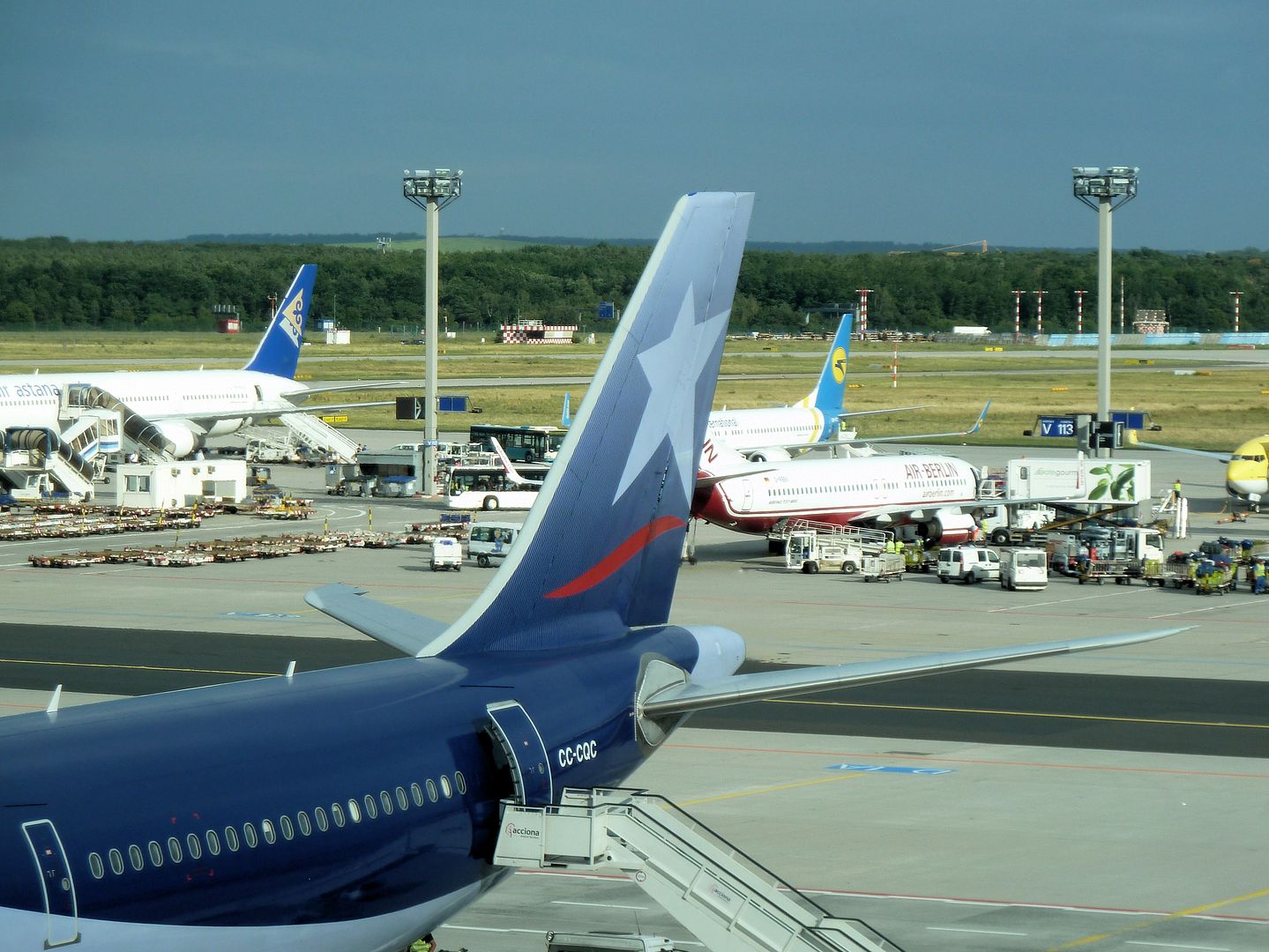 I was really relieved about seeing the plane being prepared for the flight as planned - volcanic actions had again and again disrupted air traffic in Chile in the weeks prior to my travel date and I had been hoping all the time that my flight wouldn't be affected.
Numerous magazines were available in the gate area, but I would have preferred certain newspapers. Friendly flight attendants welcomed us on board and we soon realized that the cabin would be packed:
LAN chose different pleasant seat colors - this is
IberiaA319's
seat (37A)...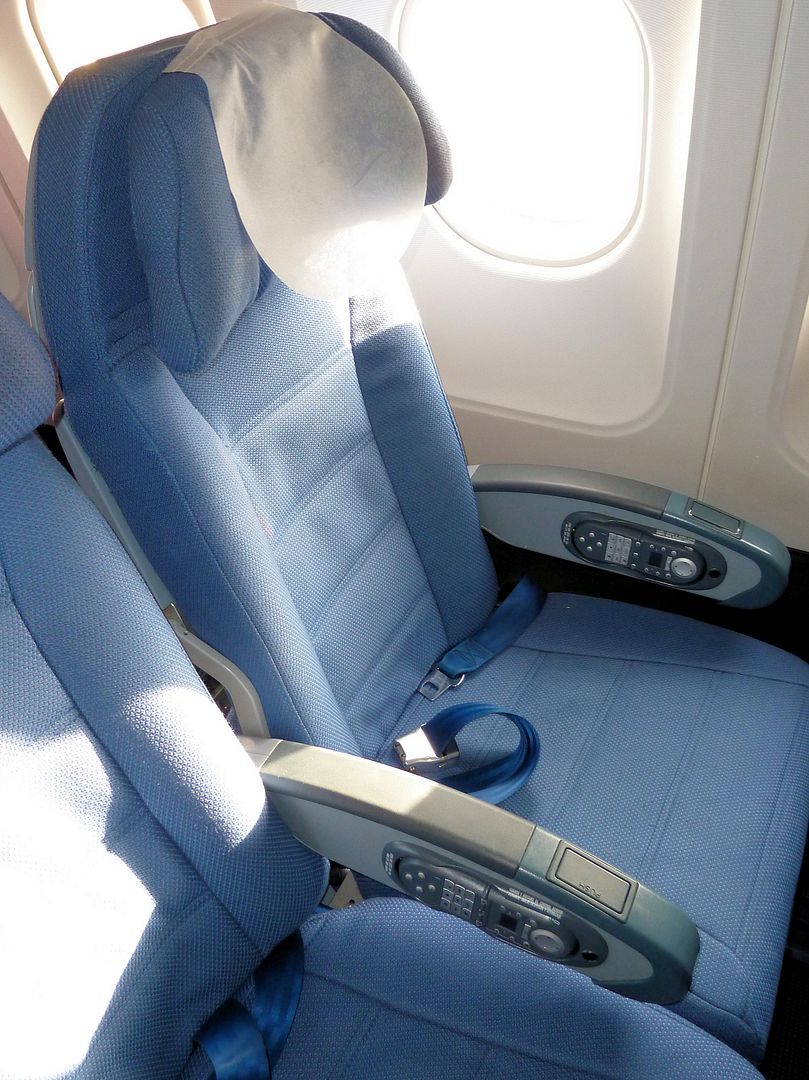 ...and here's mine (38A):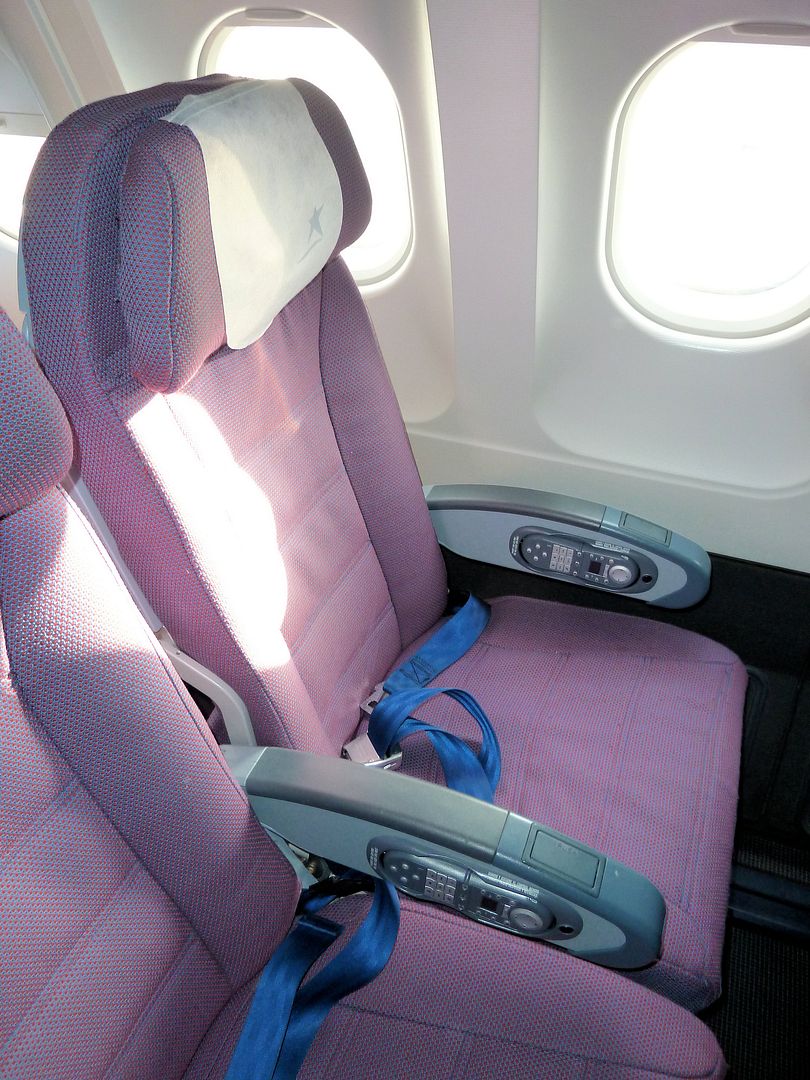 The 18 inch wide seats are comfortable and the 32 inch pitch is sufficient even for longer flights. Small IFE boxes don't take away much space:
Some nice places were shown on the 8.9-inch high-definition screens during boarding: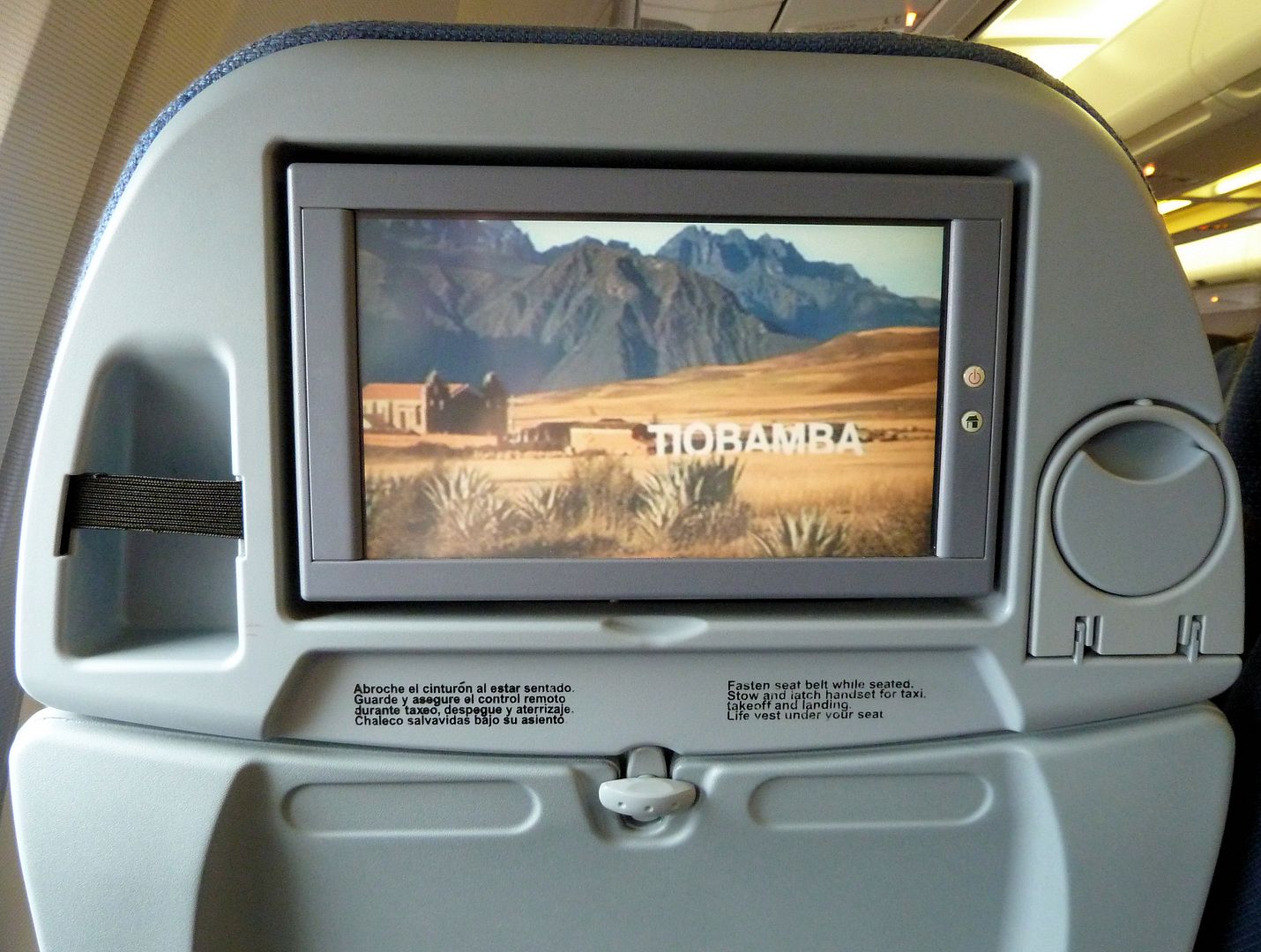 While cup holders are installed next to the screens, the handsets are stored in the armrests: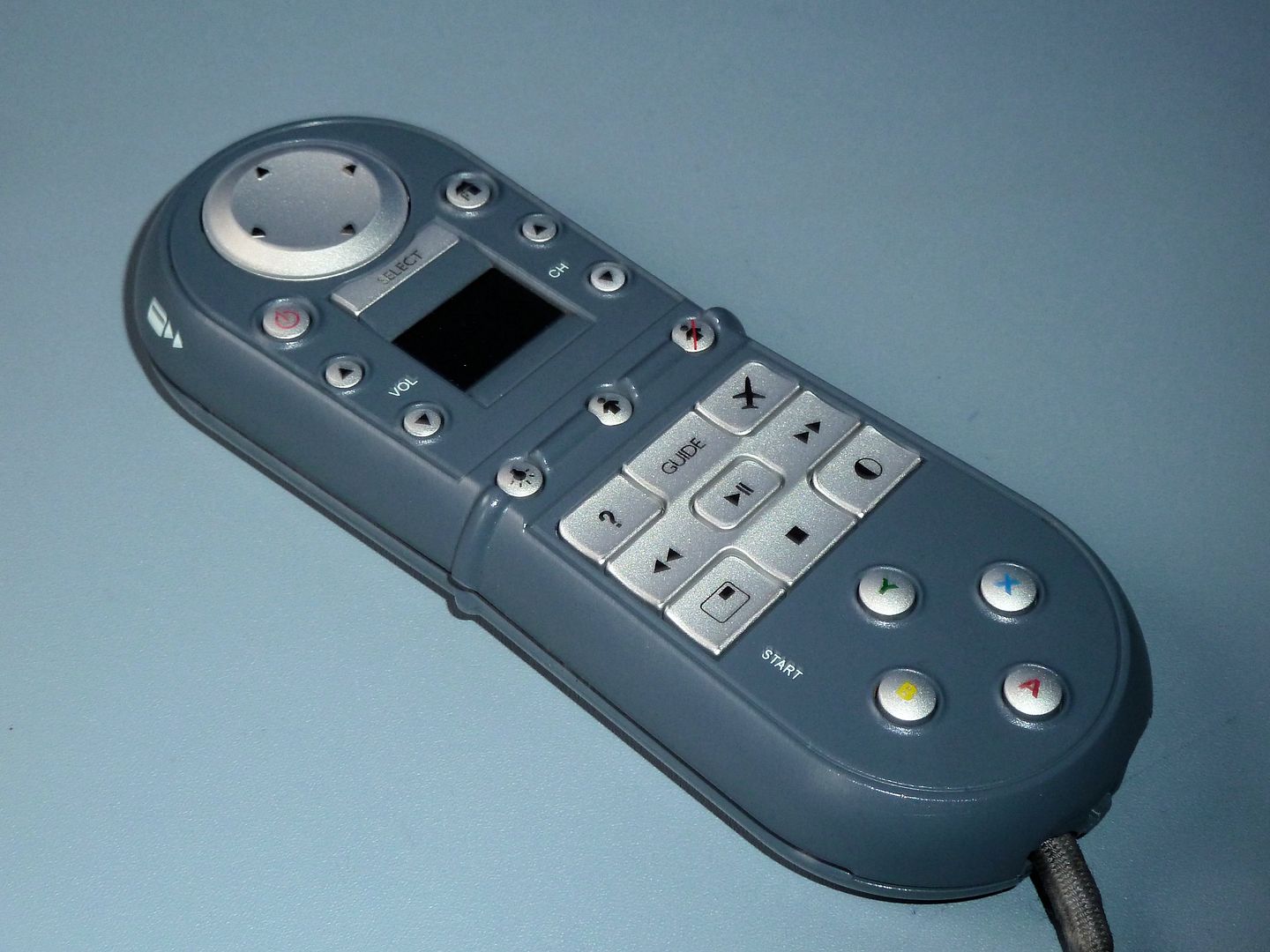 Headphones: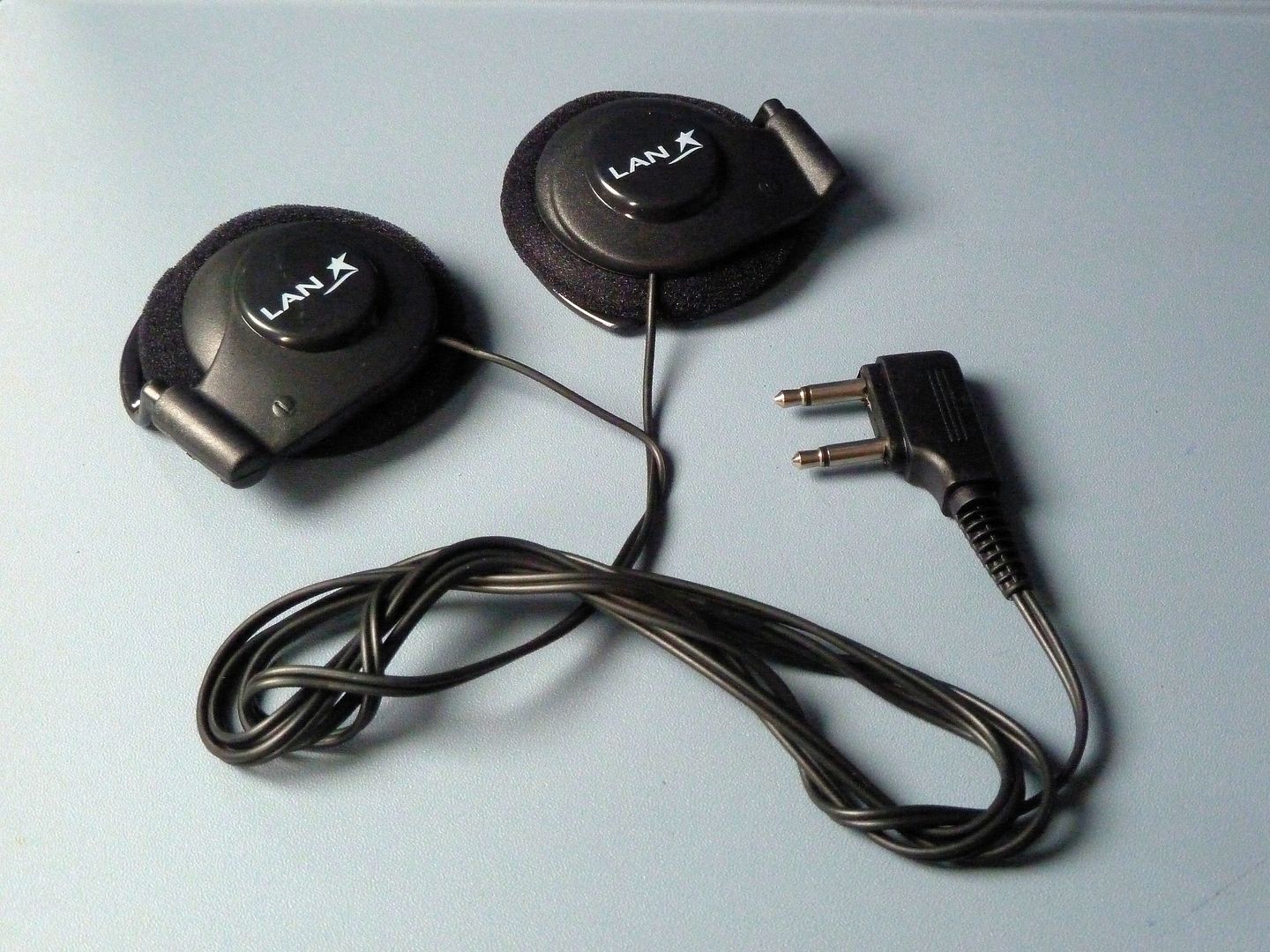 In-flight magazine...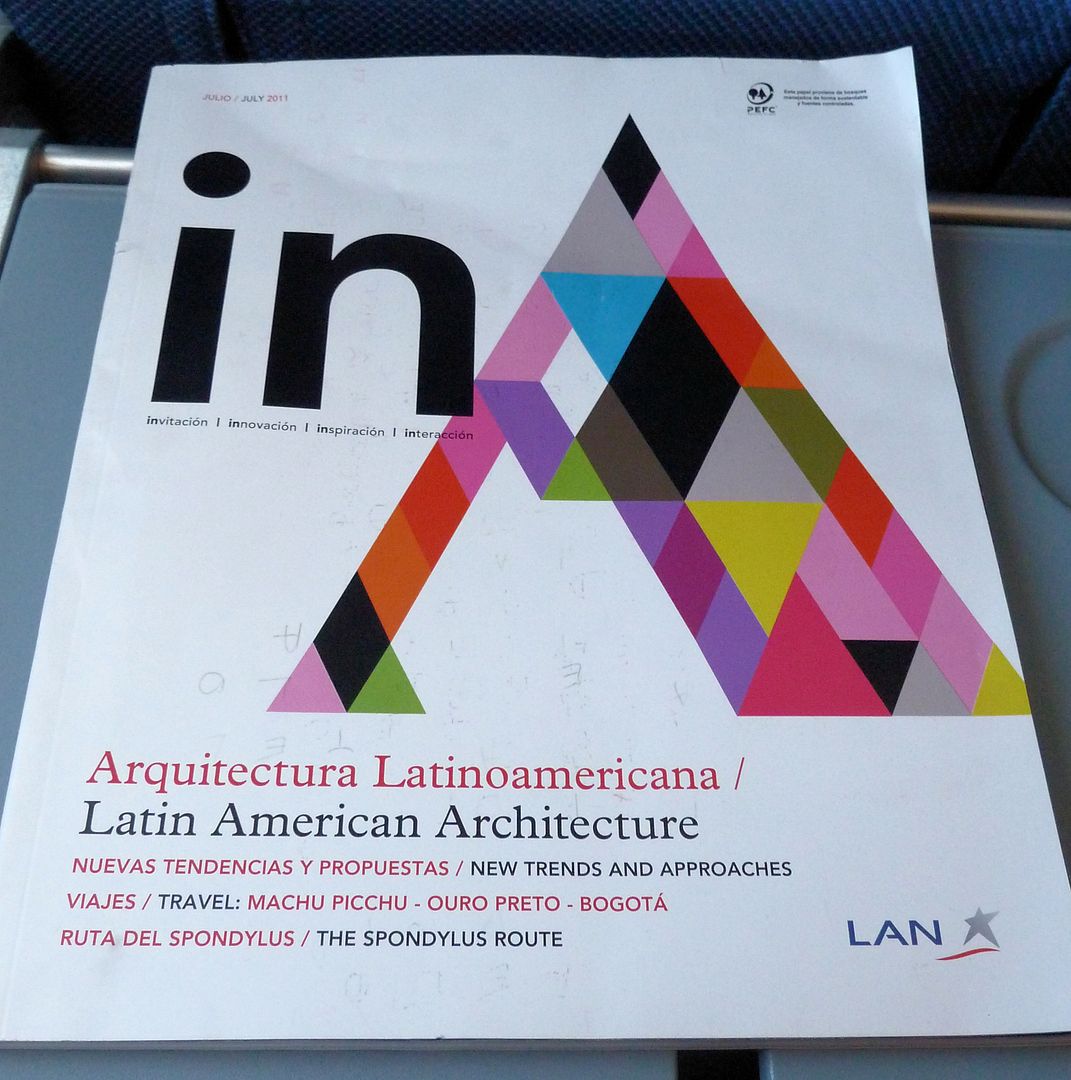 ...with fleet information:
After boarding had been completed, I didn't see any empty seats. While
IberiaA319
had the pleasure to be seated next to a young and talkative Chilean lady, my seat neighbor turned out to be a German in the 30s who was apparently wondering why I kept taking pictures of everything.
The recorded German announcements sounded quite impersonal, but that's a minor issue. According to an English announcement, we would be in the air for 2 hours and 8 minutes.
Parked next to us was JAL 777-300ER JA736J - those planes must look horrible in "new" colors:
We left the gate 10 minutes late and soon started taxiing to runway 18.
Airbuseric
who was waiting for his Lufthansa flight to Amsterdam took a nice picture of our plane: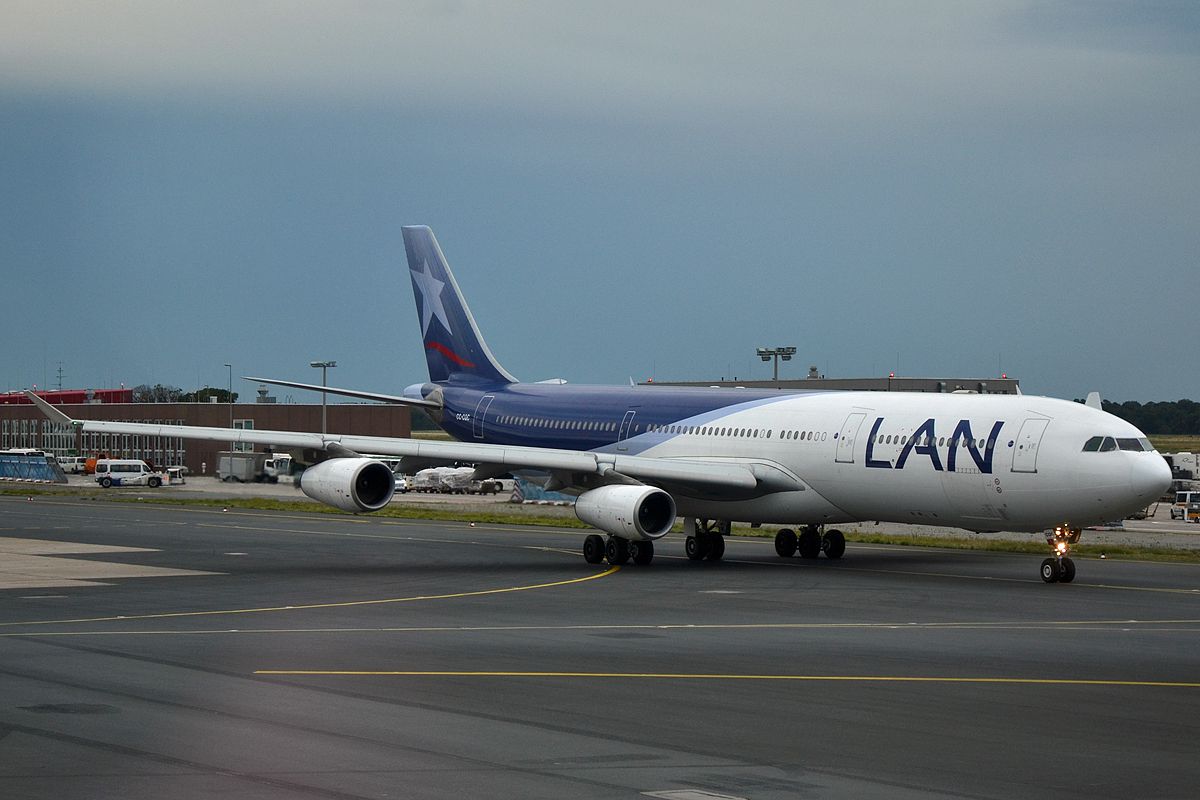 Picture by Airbuseric
Almost there: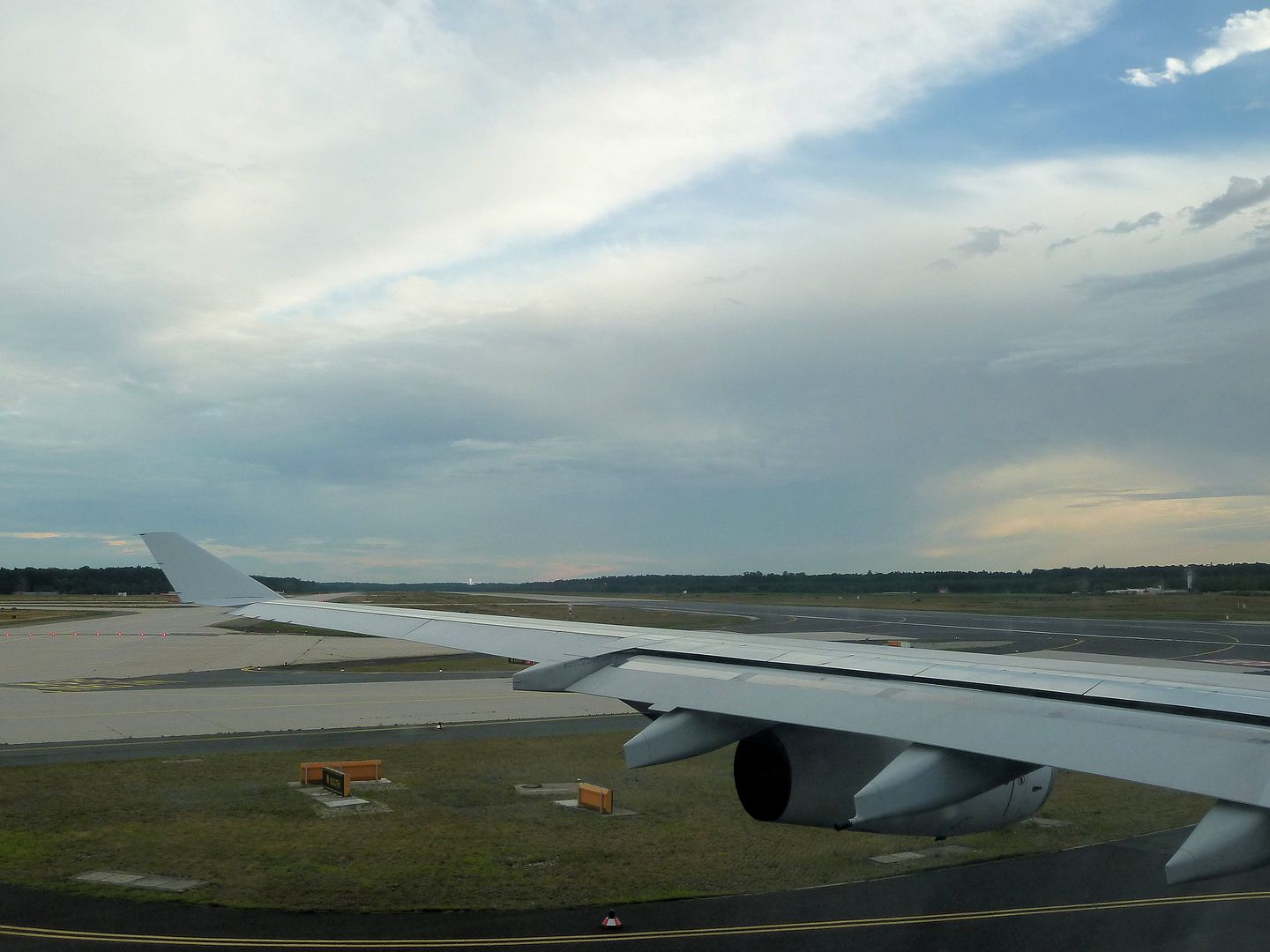 Southern Air 777F also taxiing to runway 18: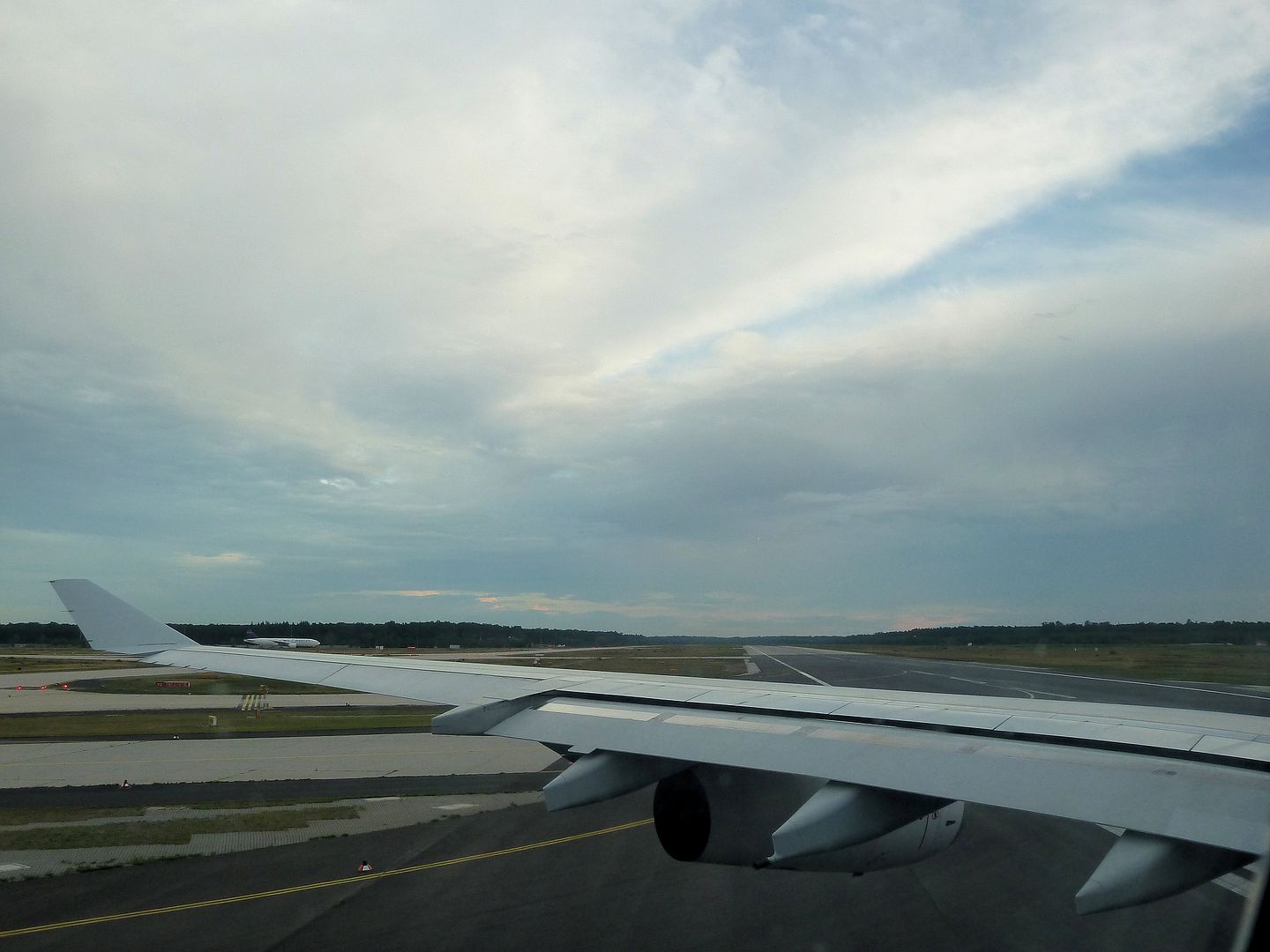 CC-CQC
turned in, started its takeoff roll - and lifted off relatively quickly.
IberiaA319
noticed that, too.
Climbout into dark skies: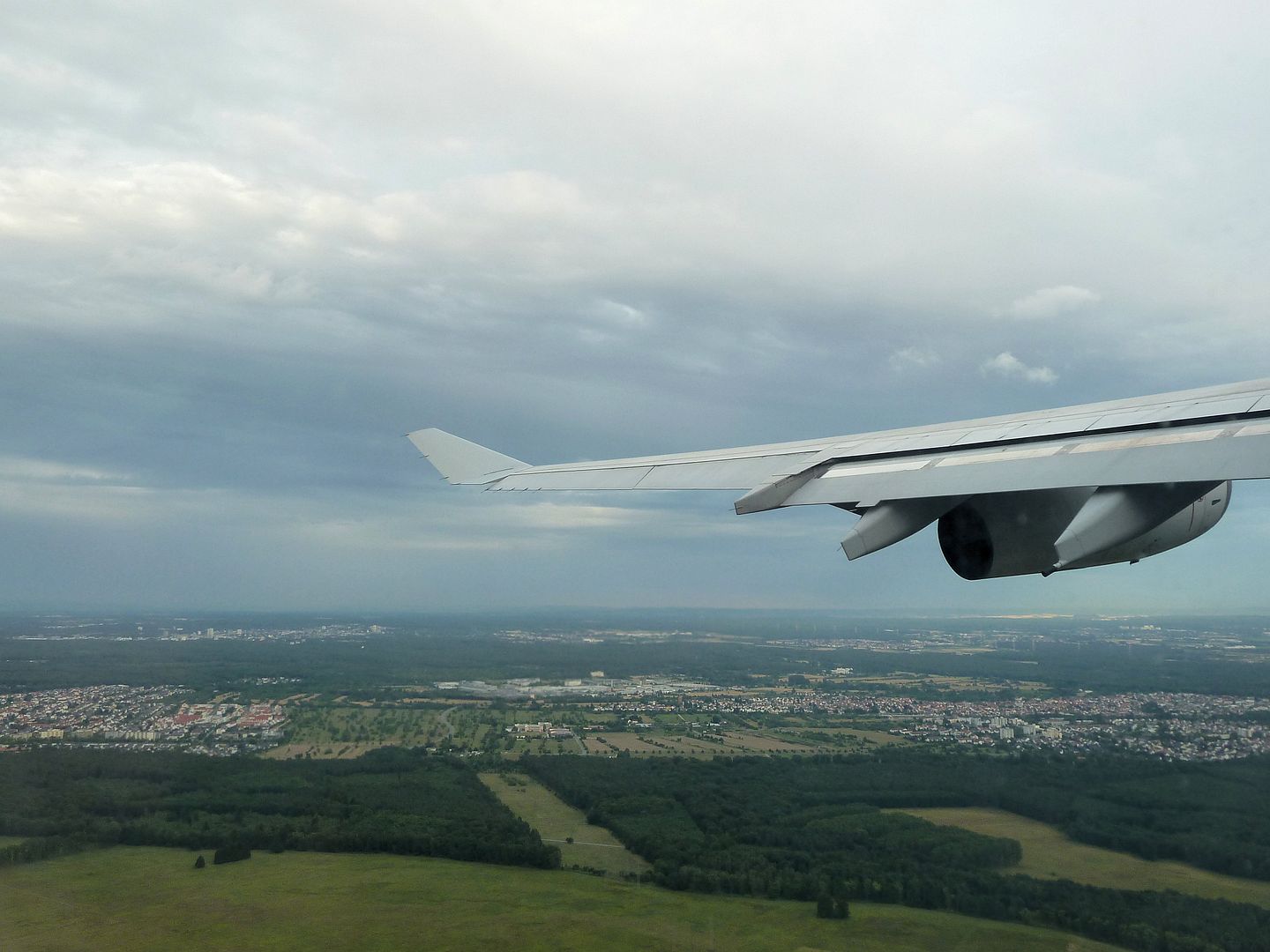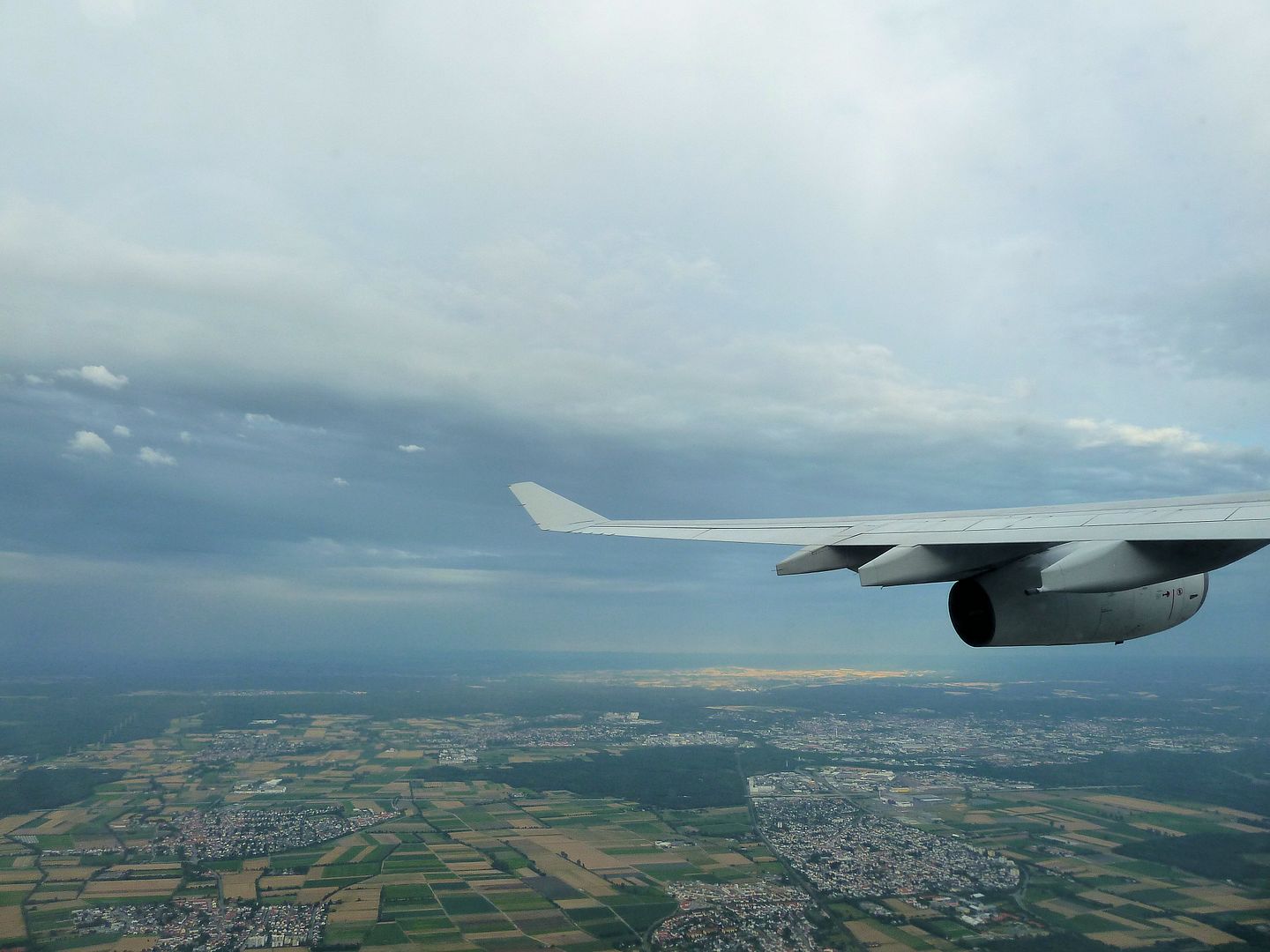 Of course I followed our departure route on the screen: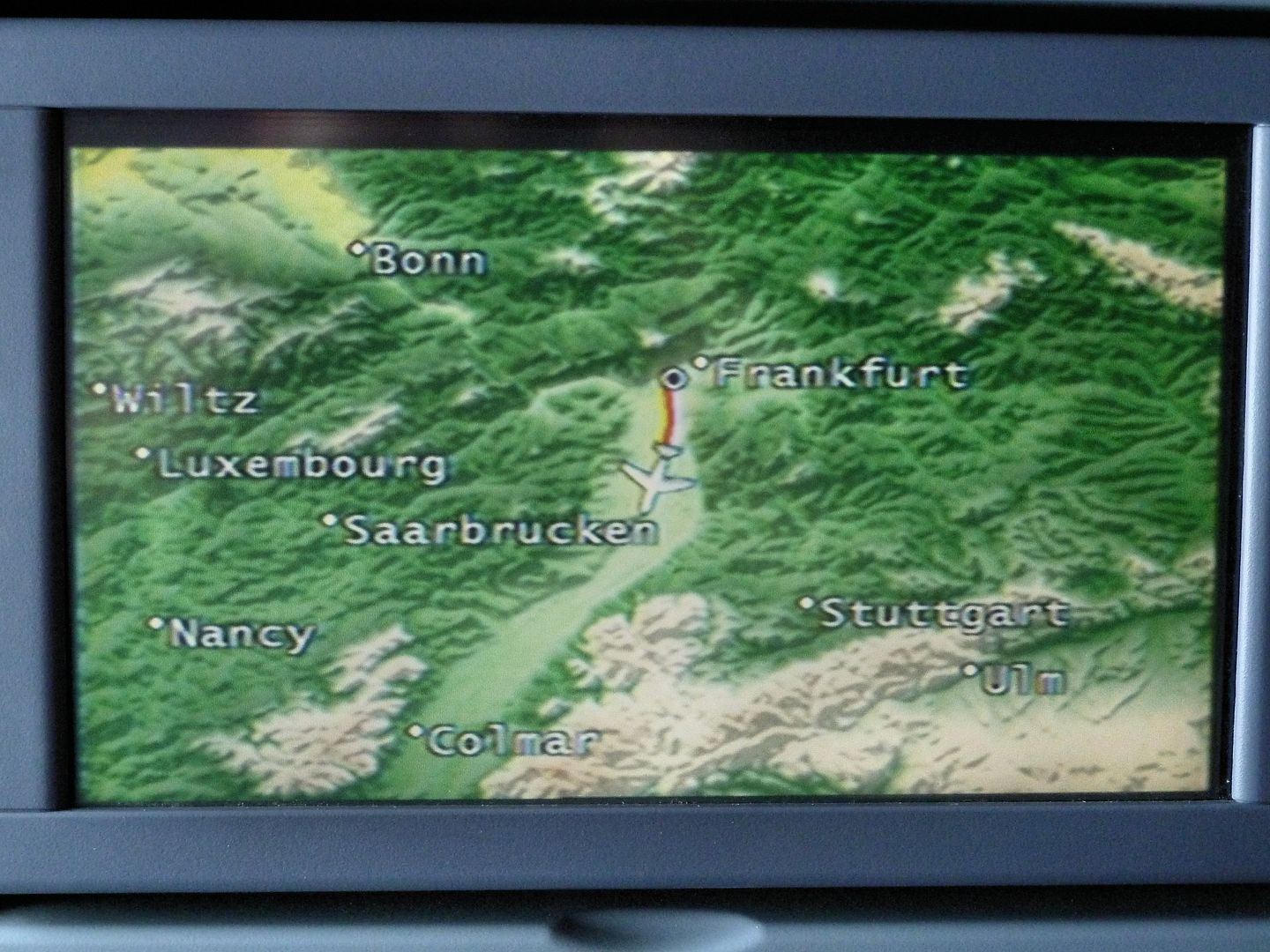 Then I had a closer look at the IFE options. LAN's audio/video-on demand system offers a choice of almost 50 movies, roughly 90 TV features, hundreds of CDs and 20 games - definitely enough for long flights. Main menu: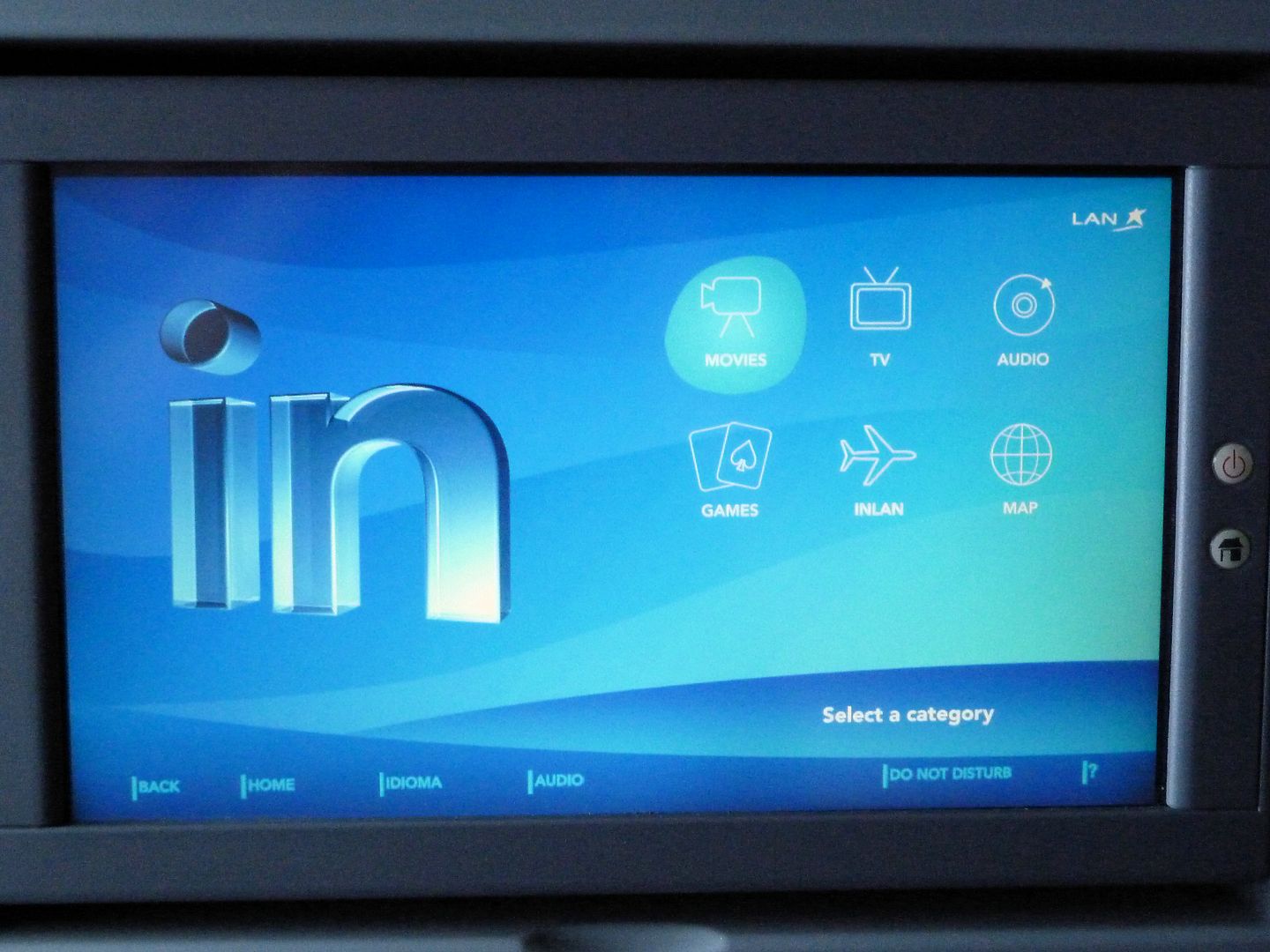 However, as usual, I watched the airshow most of the time: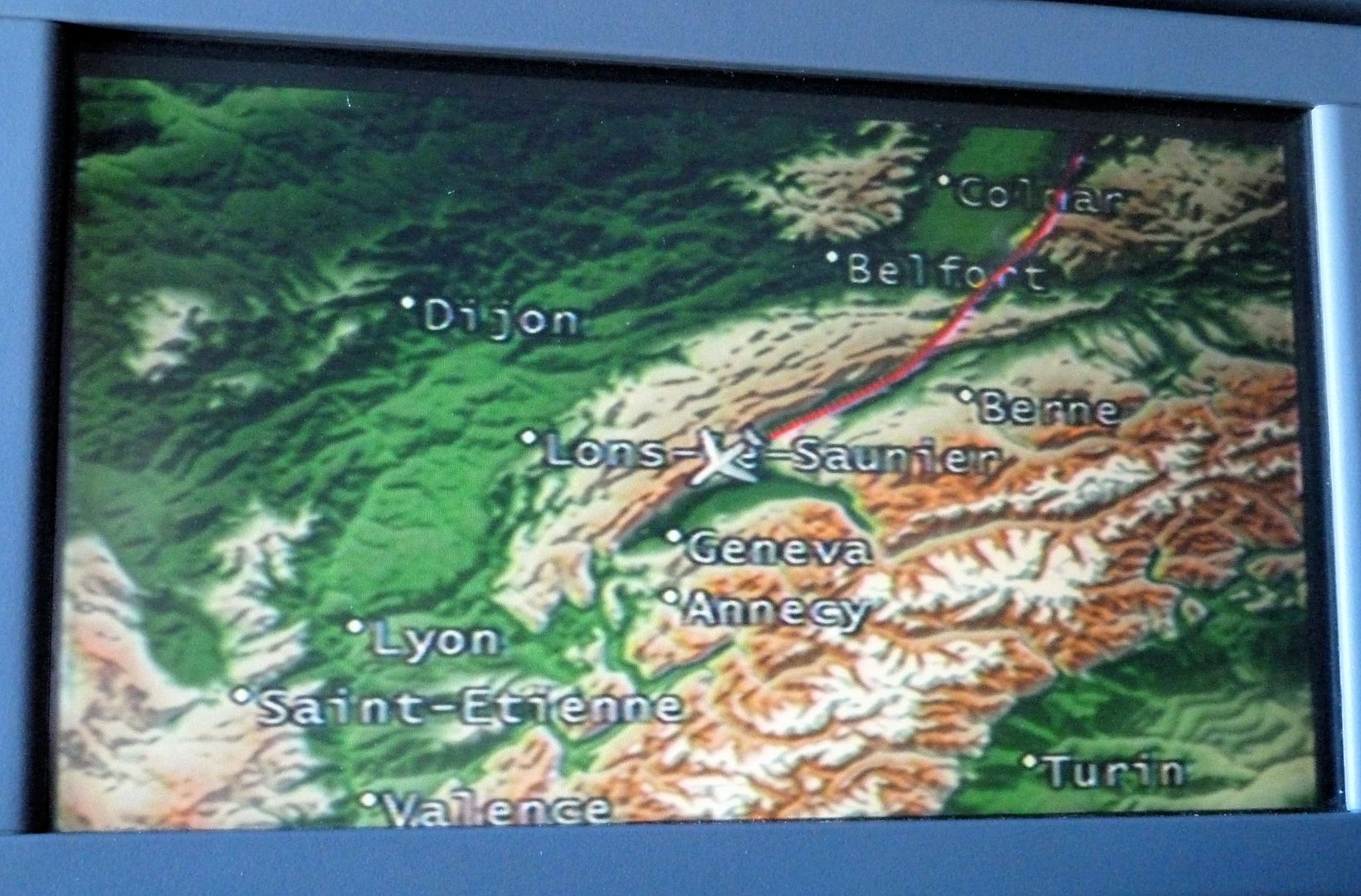 Thick clouds over the French-Swiss border region: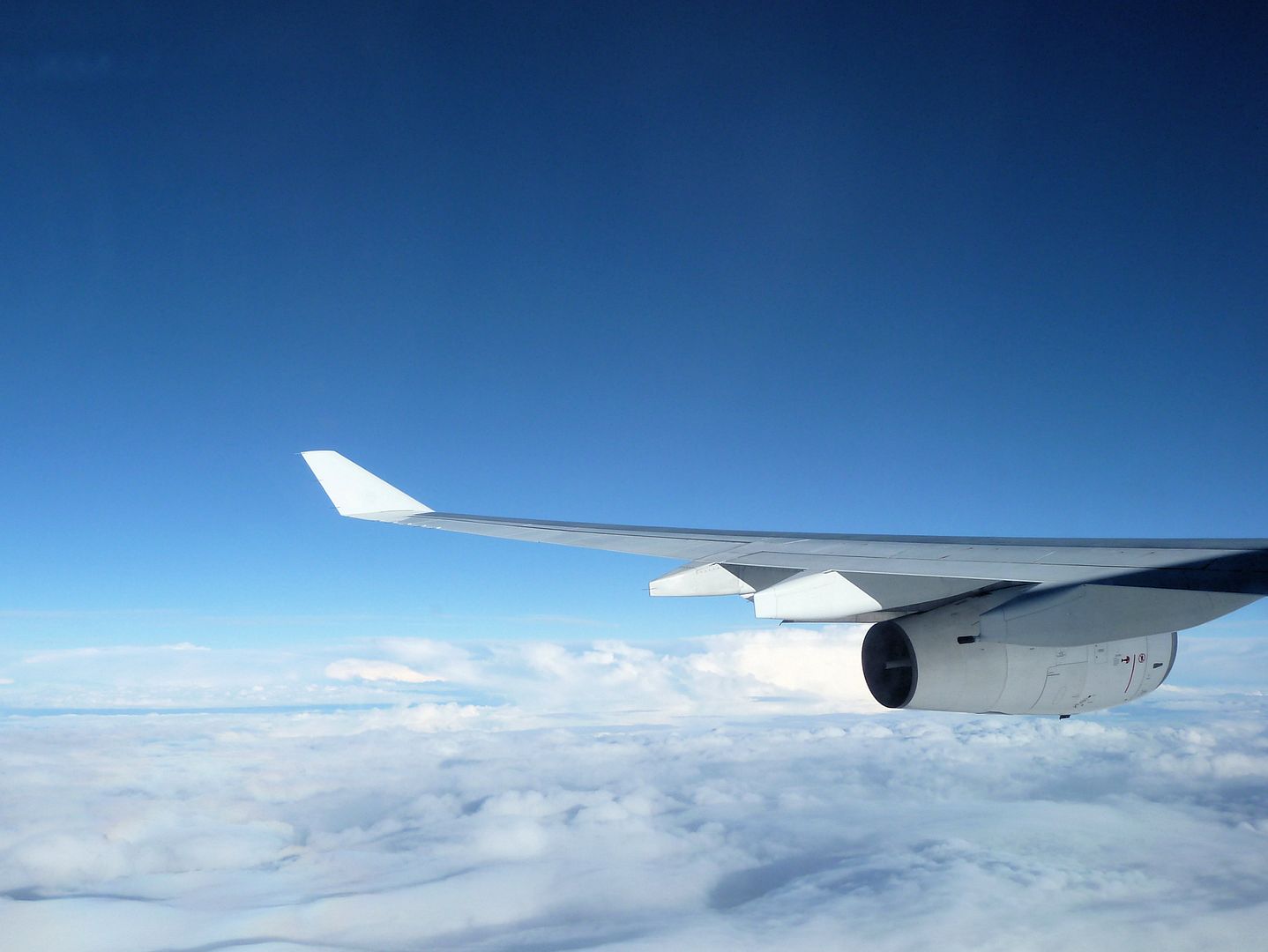 Pretty snack boxes were handed out 40 minutes after takeoff...
...containing simple ham and cheese sandwiches and a chocolate bar. The sandwiches were quite good, they tasted better than they looked: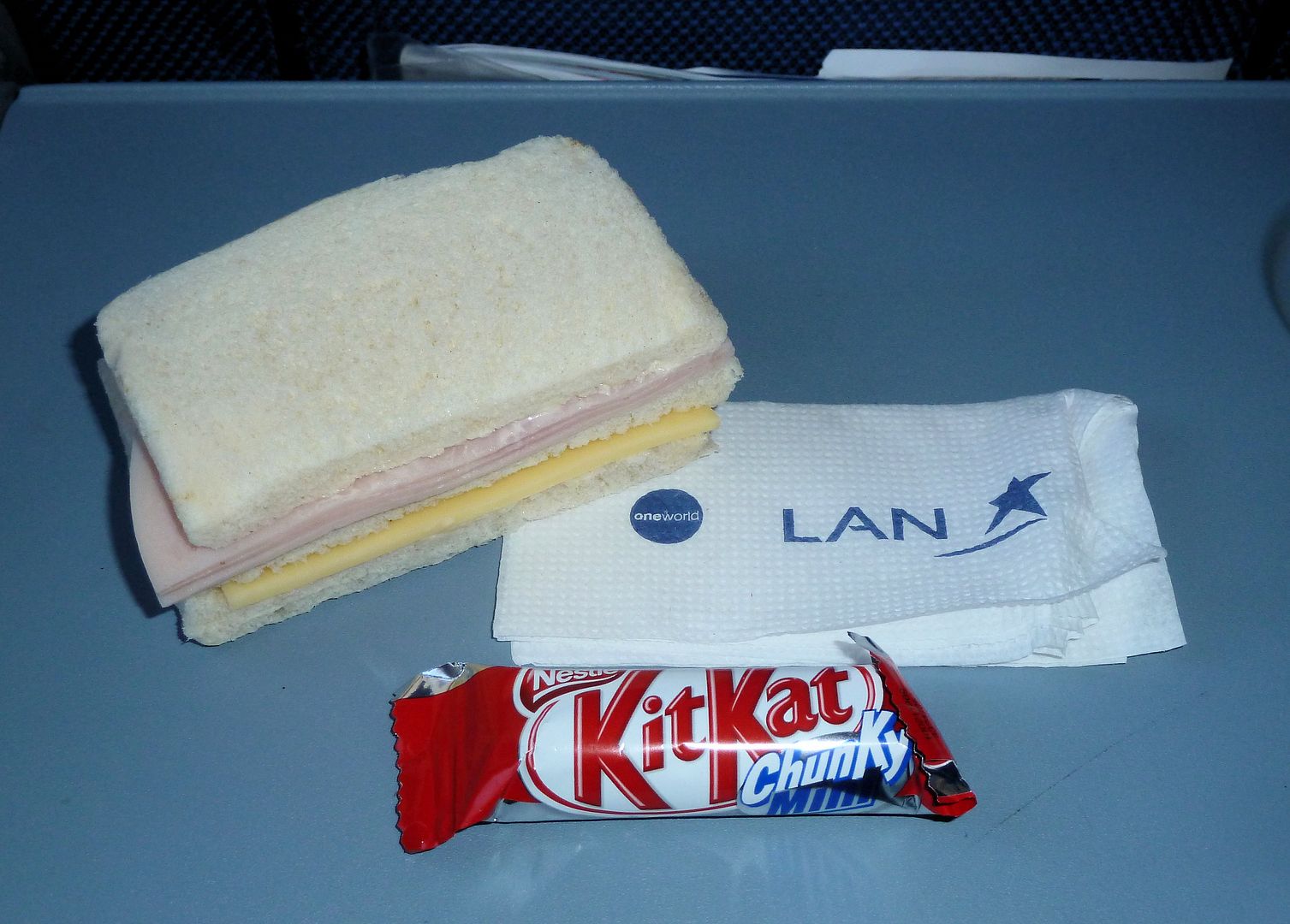 I skipped the
"PlaneHunter Ginger Ale Test"
this time and ordered a Chilean beer - which was chilled and quite tasty: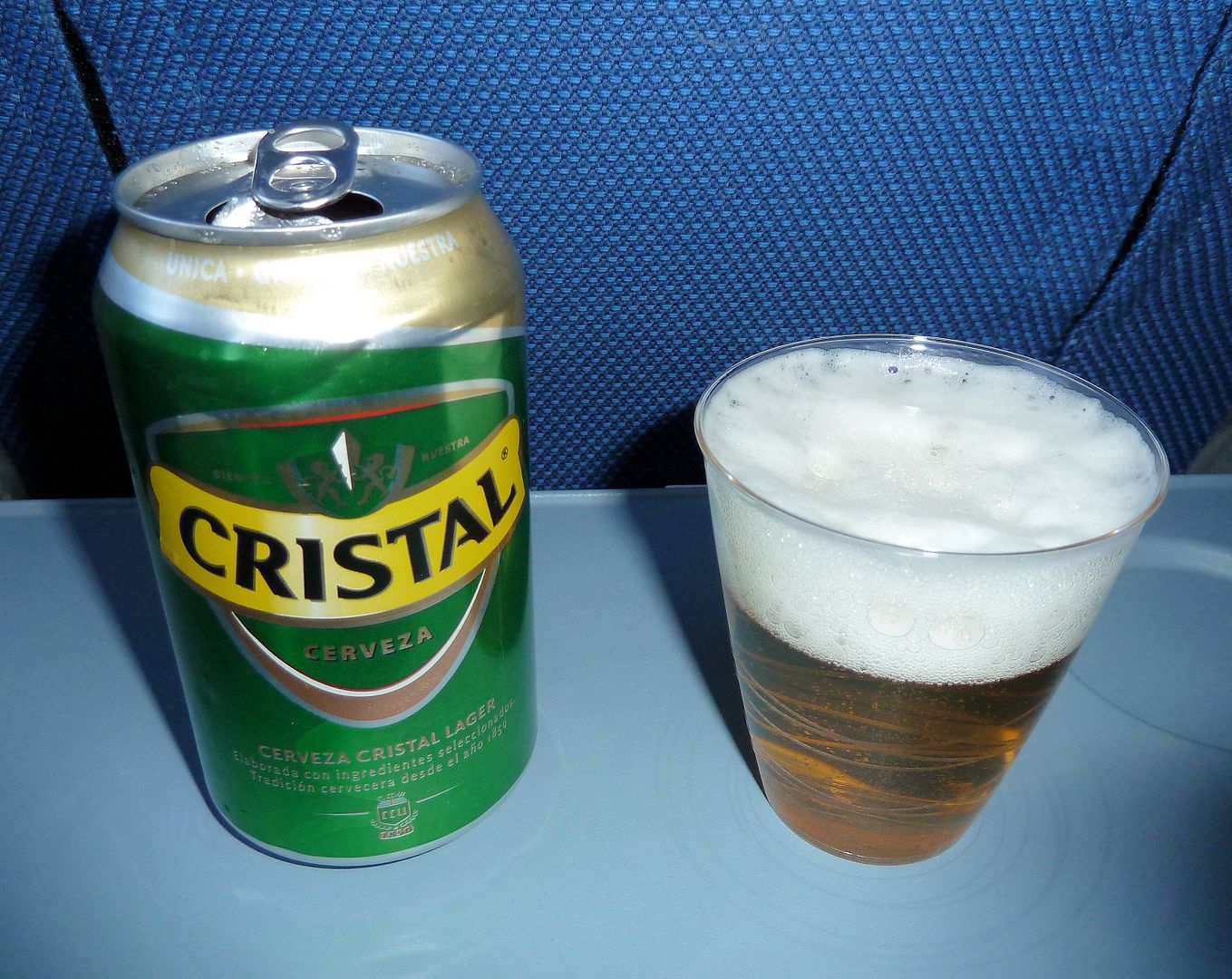 Less than an hour to go: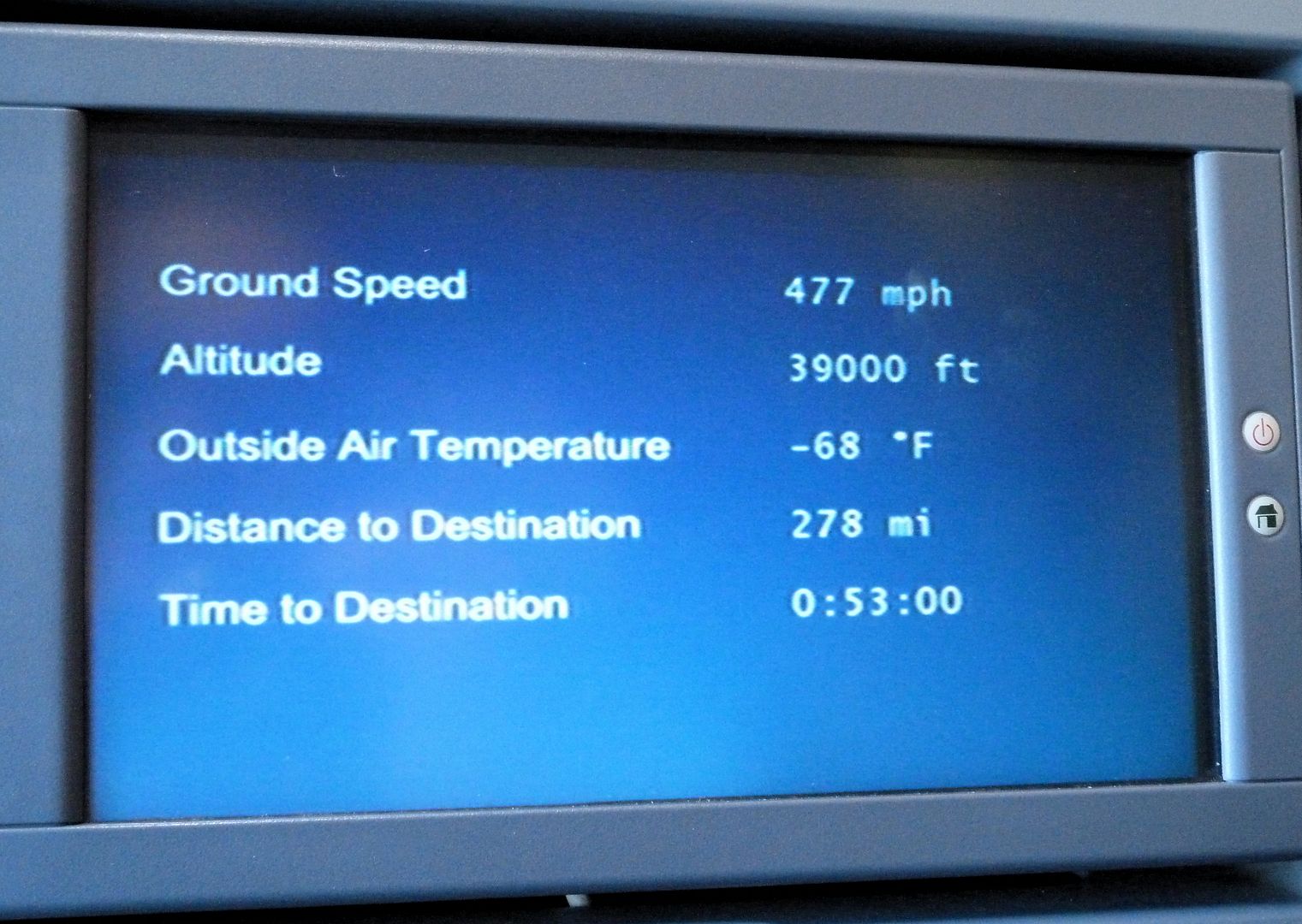 I would have preferred to stay a bit longer on that nice plane - however, I wouldn't have wanted to fly all the way down to Santiago. At least not on that day.
Thick clouds prevented any views of the Pyrenees: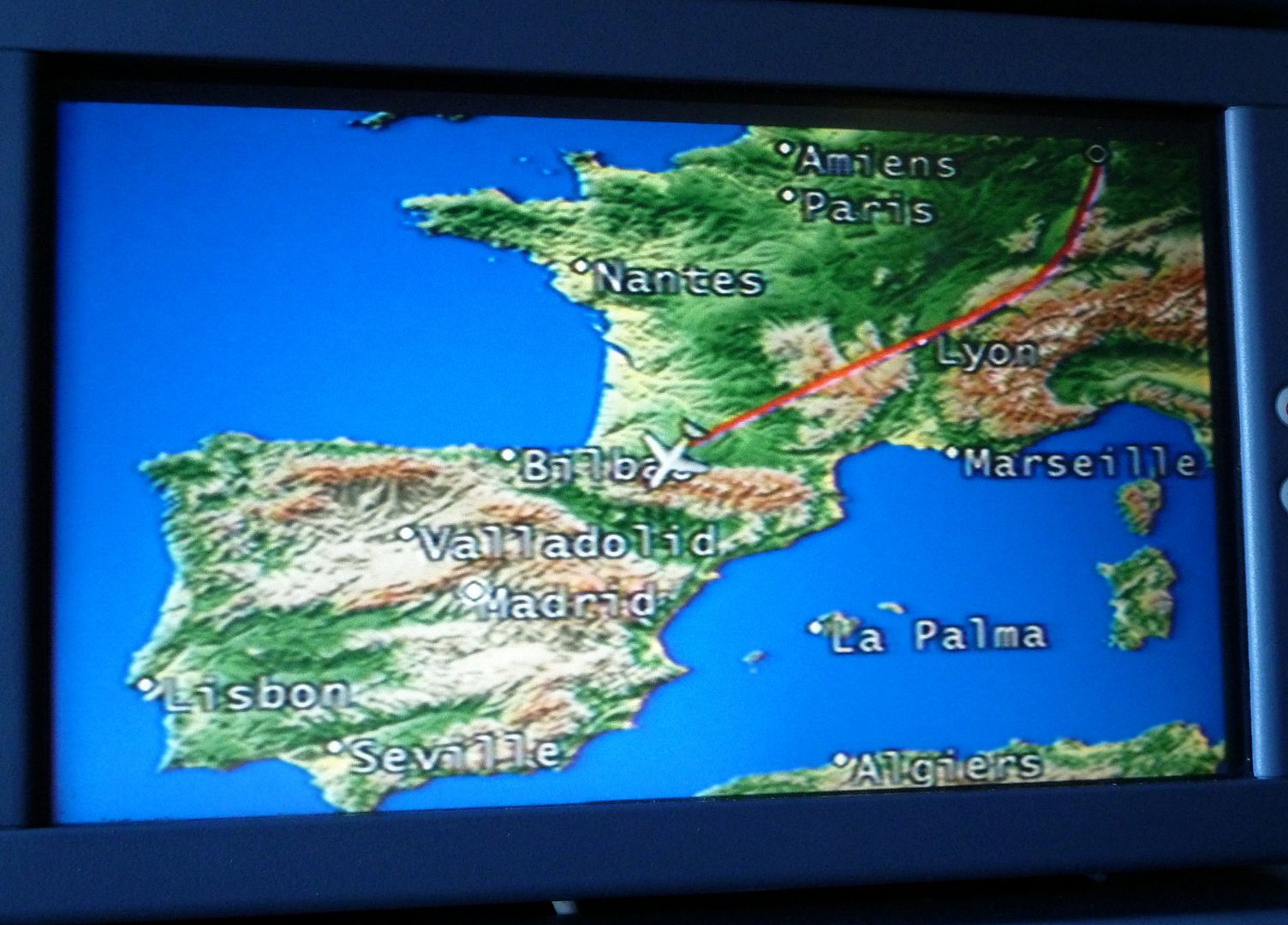 How about mood lighting, LAN?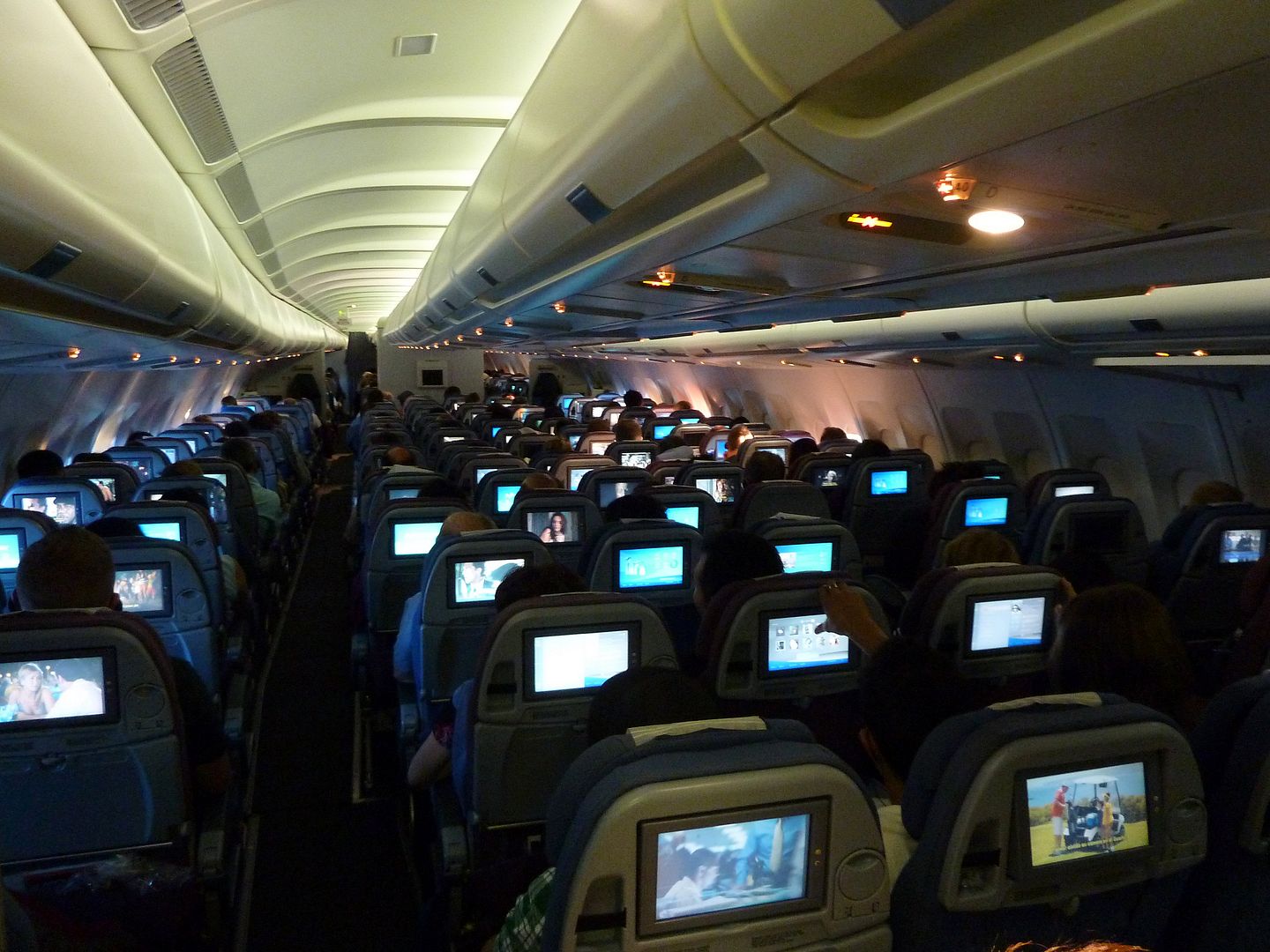 After returning to my seat, I enjoyed a beautiful sunset...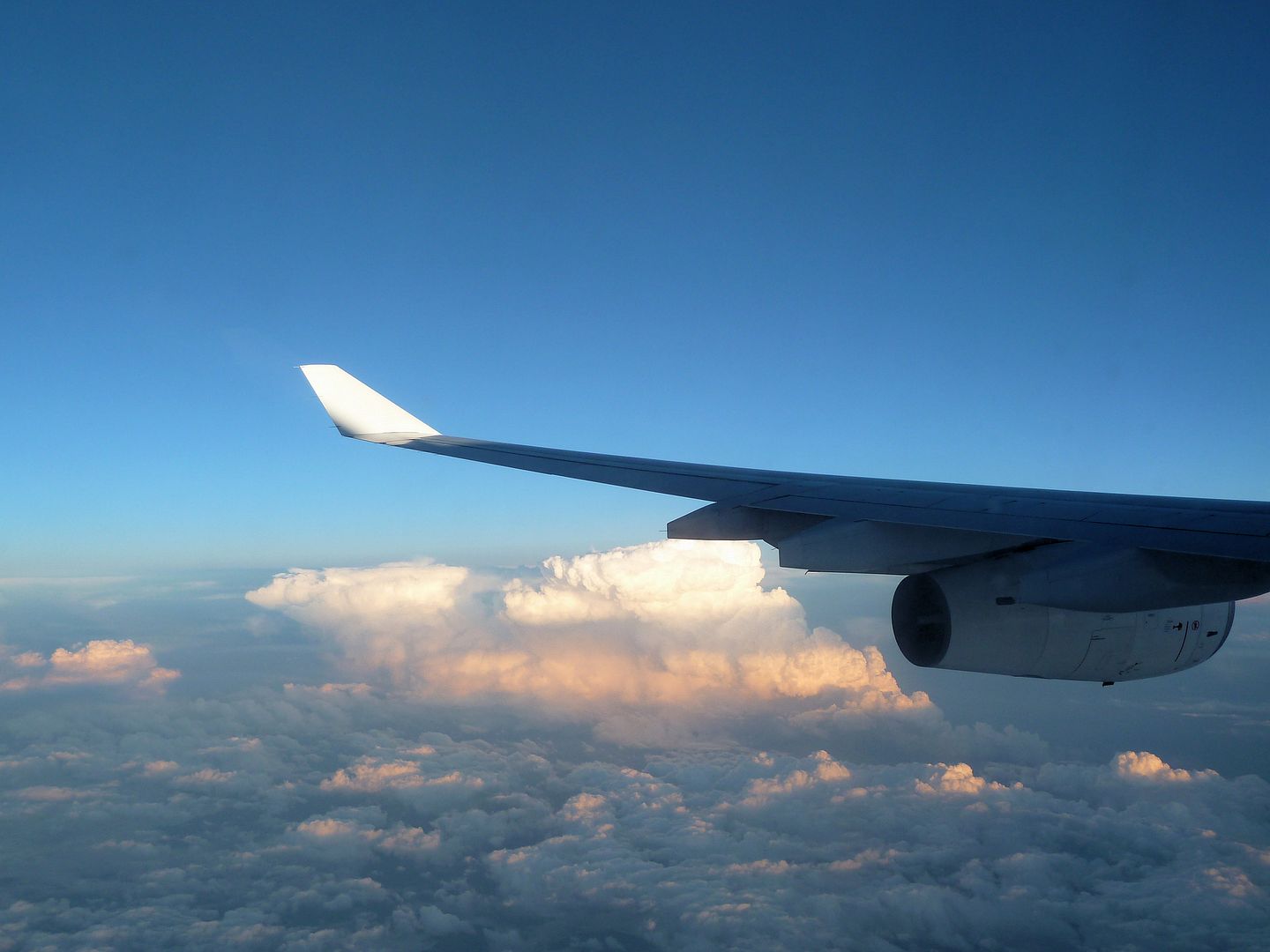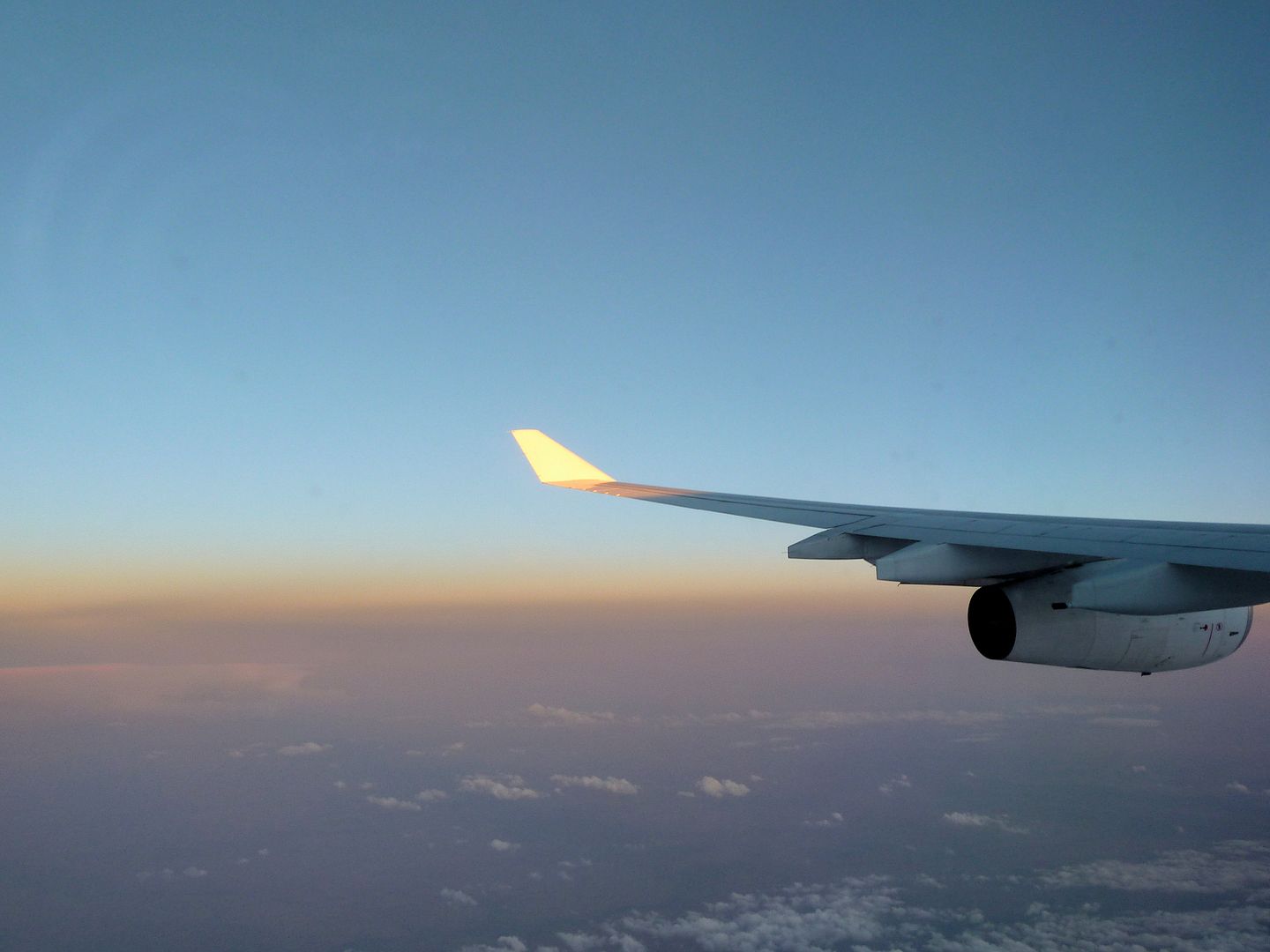 ...colors and light effects were amazing: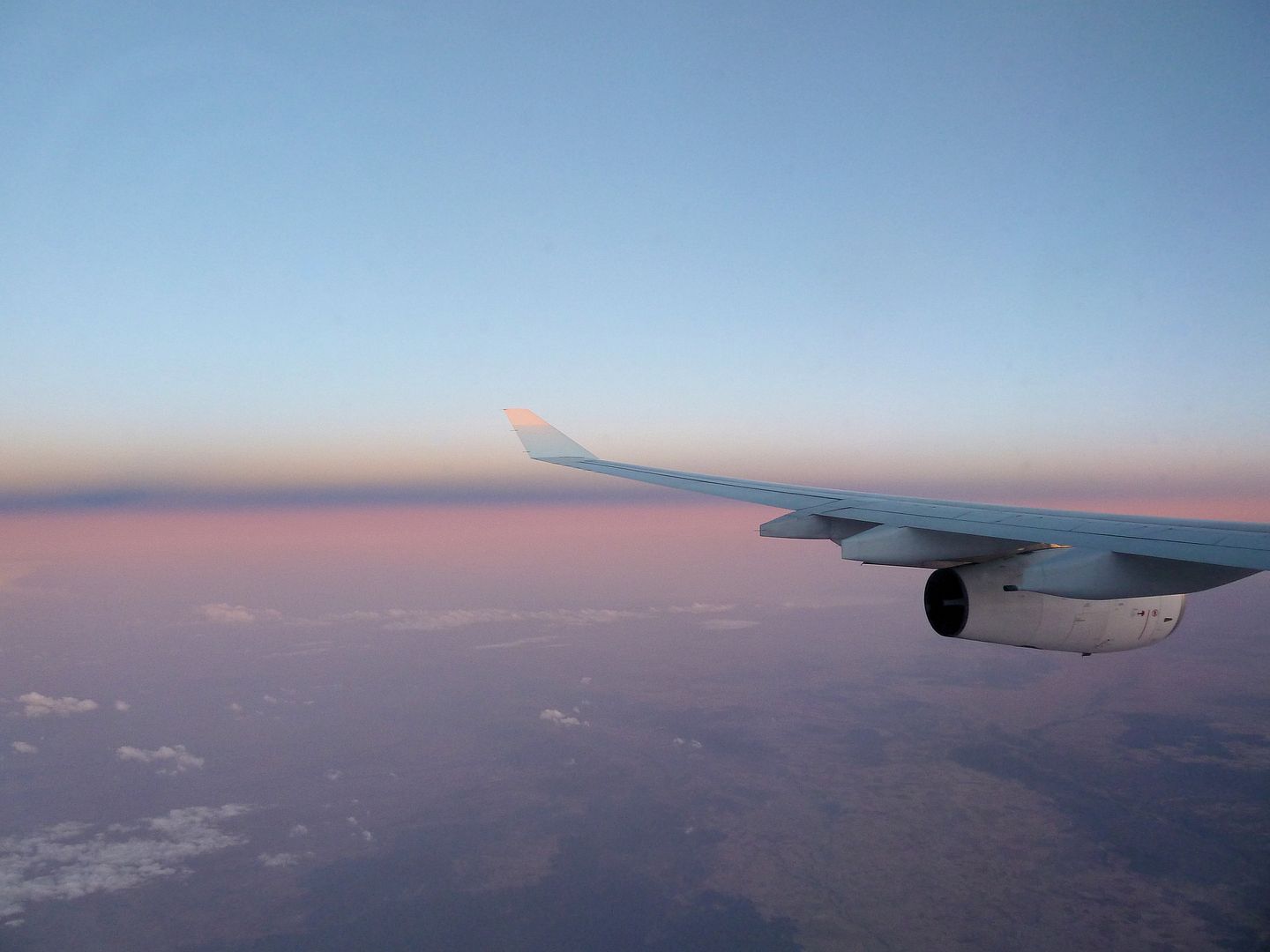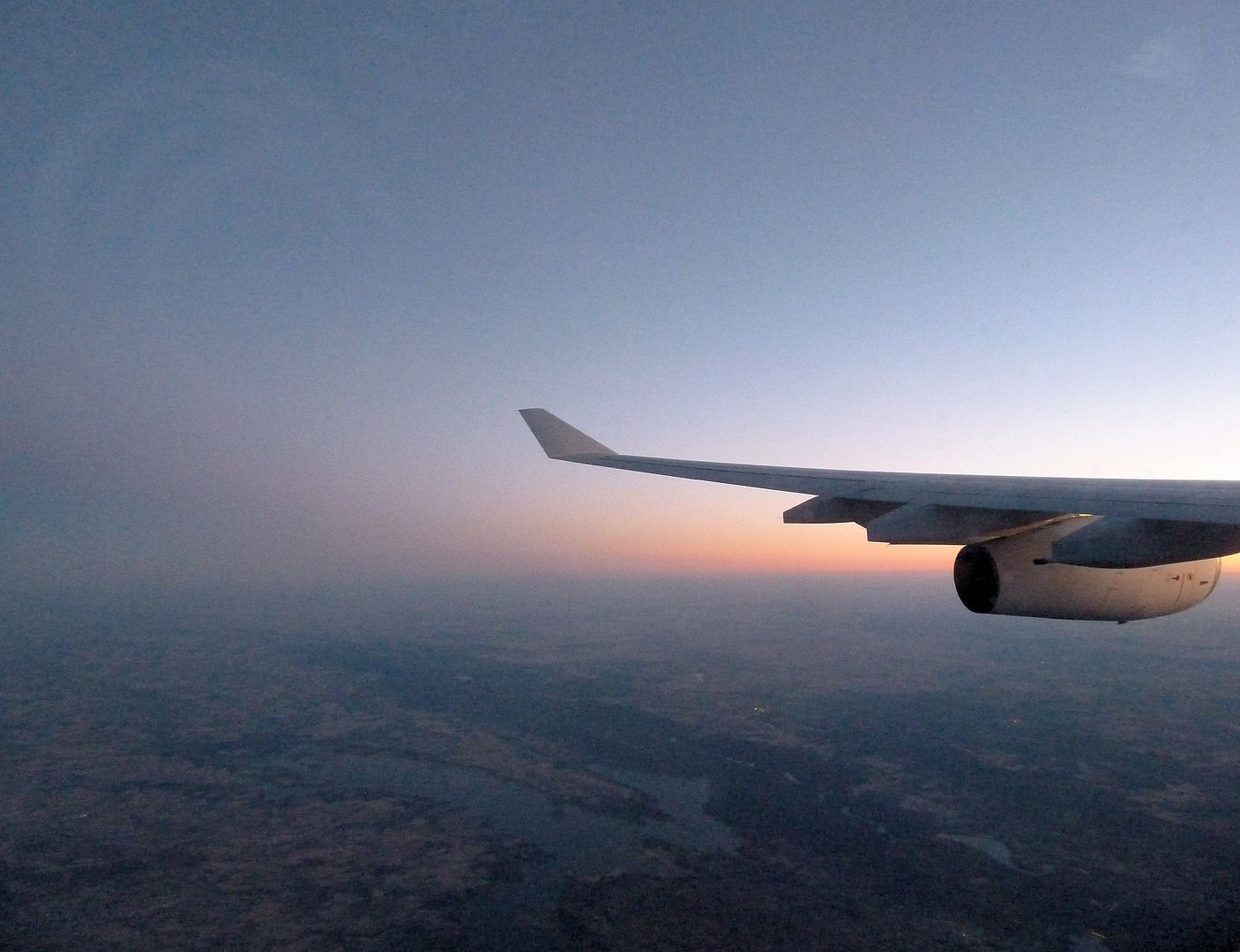 Due to traffic congestion, we had to spend more than 10 minutes in a holding pattern and finally touched down after a flying time of 2 hours and 28 minutes. We came to stop at our Terminal 4 gate 14 minutes late, next to LAN 767-300ER CC-CXK: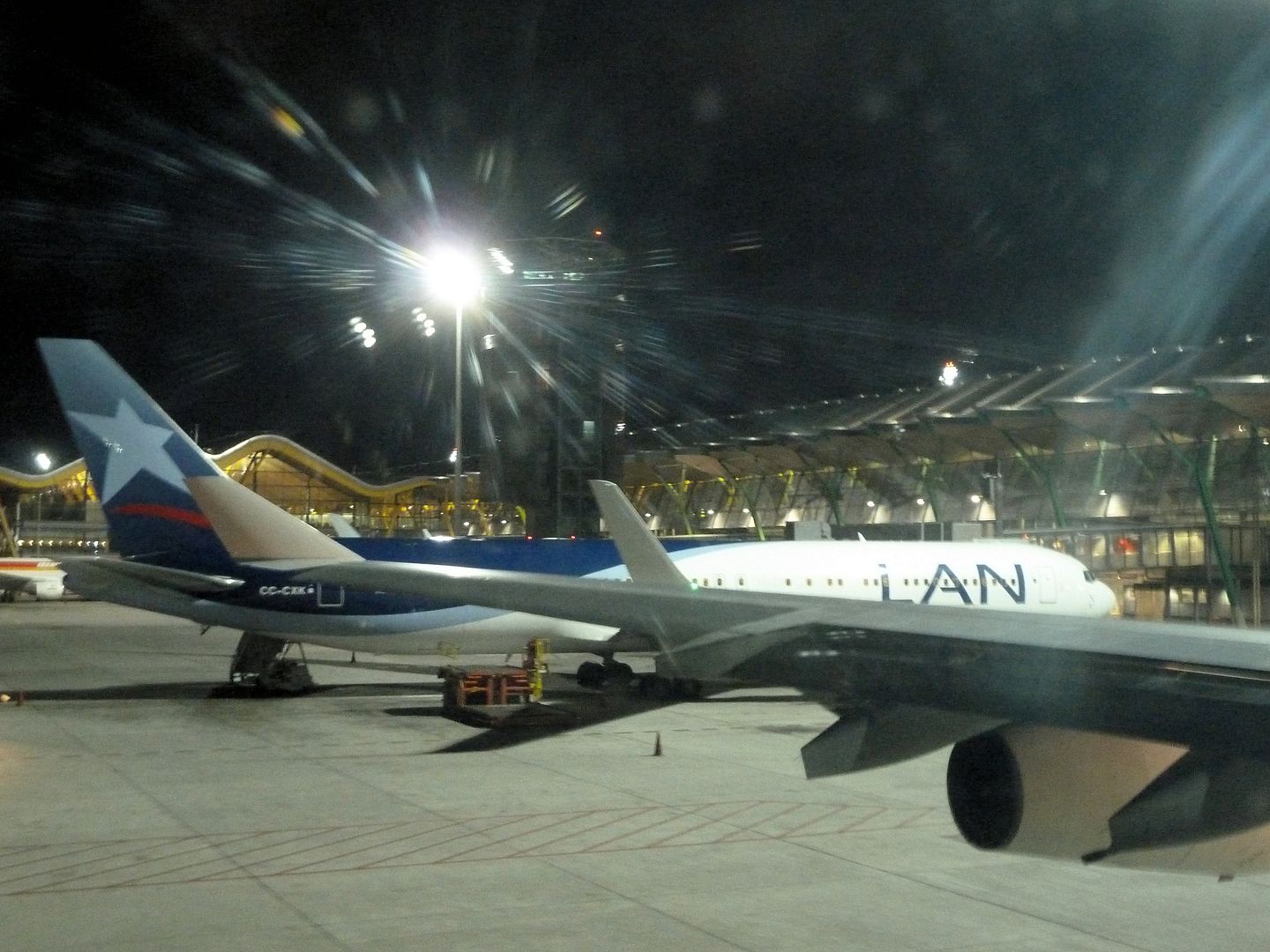 It was my pleasure, LAN:
Unfortunately, due to the location of our gate, we had to pass passport control - and there weren't many officers left at that time. So we were stuck in a long queue for about 20 minutes. On the way to the exit,
IberiaA319
called my hotel, the
Hostal T4
in Paracuellos del Jarama, and ordered the shuttle. When we walked outside, the bus was already waiting which was very nice. Then it was time to say goodbye - it had been a pleasure to travel to Madrid with
IberiaA319
! The hotel itself was fine - the room was clean and the staff members were nice, but the location is bad for all those who don't just need a room in between two flights.
On the next morning I flew MAD-CDG on easyJet A319
G-EZAU
and CDG-NUE on Regional Embraer 170
F-HBXJ
(my 120th carrier, btw). I had a few hours in between these flights, but all those with tight connections may face big trouble when they have to pass through Terminal 2G where many regional flights arrive and depart from. That building is located about 2.5 kilometers (1.6 miles) away from the terminals 2A-2F and a bus ride is required in any case.
Conclusion
I really enjoyed flying LAN's A340 between Frankfurt and Madrid - and I could easily imagine choosing that airline for a long-haul trip to South America. Comfortable seats, sufficient legroom, great IFE, nice flight attendants - what more can you ask for?
Meeting all these A.netters at Frankfurt was a great pleasure and I would like to see each participant again soon. Unfortunately, it's very unlikely that I will be able to take part in the next meeting at Stockholm on 14th and 15th January. However, I'll try my best to join the meeting at the opening of Berlin's new airport on 3rd June.
Best Regards,
PlaneHunter
P.S.: Just in case you missed them - my previous trip reports:
Imperfect Giant: CPT-JNB-FRA On SA A332 & LH A380
BA Vs. LCC, African Way: JNB-DUR-CPT, Comair/Mango
Africa's Best Airline? FRA-JNB On SAA A340-600
Fuel Dump & Return To CDG: Enroute To LAX On 9/11
Greek Quality: Aegean, Olympic & Istanbul Spotting
Exploring A Virgin: VS A343/A346 & Dubai Delights
Superb Stübli & Crew: LAS-LAX-ZRH-MUC, LX J Class
Grand Canyon & More: Scenic Flight On Dornier 228
San Francisco Sunshine...and A Frontier Fiasco
Fully Flat Bed to SFO: SWISS' New Business Class
Mountains, Meals & More: SunExpress Vs. Pegasus
Crossing Two Oceans: AKL-SFO-MUC, NZ 777 & LH A346
Bad Weather & Other Bad Luck: Touring New Zealand
Trans-Tasman Treat: Aerolineas Argentinas A340-200
Detours To Sydney: Wildlife, Tiger, REX & QFLink
Thai Fails To Impress: MUC-BKK-BNE On 744 & 777
Painful Delay & My 100th Airline: AF A380, VO F100
Fifth Freedom Tidbit: Kuwait Airways A300-600
Ship Vs. Plane: Porto Santo Line & Sata Air Açores
Awesome Approach, Splendid Scenery: LIS, FNC & TAP
Guernsey, Ash Cloud Alarm & Mostly Empty SQ 77Ws
Totally Thrilling: Scenic Flight On Lufthansa A380
Cirrus D38, Adria CRJ & Captain Niki Lauda On Duty
Monarch Hot Meal, E195 & More: PMI-ALC-MAN-MUC
Premium Meal & Palma Spotting: MUC-PMI, DE 757-300
The Dead Slow Transfer: PEK-MUC On Air China A332
Cancellation Brings Joy: HKG-PEK on Dragonair A330
A380 Cacophony, 777 Star Livery: DXB-SIN-HKG on SQ
The Next 5* Carrier? MUC-MCT-DXB, Oman Air A330
Turkey For 1.5 Hrs: Daytrip To AYT On Sky Airlines
CO Scores Again: ATL-IAH-EWR-FRA On ERJ, 752 & 764
Riding The Ultra Long-Haul Twin: Delta 777-200LR
Pacific Coast Jaunt: 3 Carriers, E120, E140 & Fog
The Ultimate 737: LHR-IAH-PDX On CO 777 & 739ER
Bye Bye, Hell! TRD-OSL-TXL-NUE - DY/AB/HE DH4
My Trip To Hell: NUE-CPH-OSL-TRD On Cimber & SAS
SFO-YUL-FRA: Map- & Sleepless On Air Canada's 77W
Sin City Gloss & Virgin America's Chic First Class
Seat Dilemma & Canyon Glamour: FRA To LAX, AC 763
On Par With Air France? DTW-AMS-MUC, KLM A330
Goodbye, Red Tails! DC-9-40/50 & Chicago Tour
Champagne & World Of Coke: Air France A340 To ATL
"Mission A380": Disappointing Legs On BA/BD/EI
Delights Of Doha, 773 & 77W: DOH-DXB-LHR On EK
A380 Really a Step Forward? LHR-DXB-DOH On EK
Quality & Style: HKG-LHR On Air New Zealand 744
Taiwan Trio: TransAsia, UNI Air And The Taipei 101
"The Wings Of Taiwan": EVA Air A332, 744 Combi
SHA-SZX, Shanghai 757: Delayed By The Military
PEK-SHA, China Eastern A330 & Shanghai At Night
Striking Newcomer: Berlin-Beijing On Hainan A330
Short & Splendid: MXP-MUC On Air Dolomiti's 146
3 Hours On Blue1: HEL-MXP On The MD-90
Winglets On A Classic: MUC-RIX-HEL On Air Baltic
BCN-MAD-ZRH-MUC: UX Shuttle Meets Swiss Quality
MUC-MAD-BCN: Star MD-87 & The Pain Of Vueling
Low Fares, Lovely Island: AK & Best Of Langkawi
4 Stars Or 5 Stars? FRA-KUL-FRA, Malaysia 777s
First And Last Time? JFK-FCO-MUC, Alitalia 777
JFK For 1 Day: Transatlantic Hop On CSA's A310
Sardinian Sun, Shiny New 73Gs & Cramped Mad Dog
Top And Flop: KIX-HEL-MUC, Finnair A320 & MD-11
The 524-Seat Twin-jet: HND-ITM On ANA 777-300
Kobe For 1 Hour: 767-Quickie On ANA & Skymark
Rocketing To Tokyo: FUK-HND On JAL (ex-JAS) 777
Oddities & Okinawa: JTA 734 & JAL 744D(Domestic)
MUC To Nagoya: Finnair E170 & (Old) "New" A340
Mad Dog, A320 Tech Delay & Best Of Lanzarote
Canaries Prop-Hopping: Islas Airways & Naysa
Canaries And Confusion: LH CRJ900 & Spanair A321
Hubbing For 162 Miles: HOQ-FRA-STR Ret On IQ/EW/LH
BOS-JFK-AMS-MUC: SSSS-Check And KLM 777
ATL-PIT-JFK-BOS: FL B717, JetBlue E190 And Delays
MUC-AMS-MEM-ATL On NWA A332 And 40-year-old DC-9
FRA-BKK-FRA Via CMB: SriLankan A332 & A343
BNE-SIN-DXB-MUC On Emirates B772ER & B773
2 Hours In Paradise: Hamilton Island (JQ/DJ)
BNE-SYD-BNE: Domestic Run On QF's Oldest B747-400
Testing Qantas: SYD-MEL-SYD-BNE (B738, B763, A332)
Going Down Under: MUC-DXB-SYD On EK A332 & A345
Surprised By NIKI's Newest A320 & Screw-up By AB
Leisure Vs. Full Service: Condor & SN Brussels
"betterFly" On LH: Business Class For 99 Euro
Weekend Transatlantic Trip (2): US A321 & B762
Transatlantic For A Weekend (1): MUC-DCA On US
[Edited 2011-11-15 03:25:37]