Feedback always appreciated.

I > Background:
Flying a tri-jet has become a luxury as airlines around the world retire the last of the D10, M11, L10, and 727's. For those of us who find the aircraft graceful, the few opportunities are always to be seized and enjoyed. Keeping this in mind, I decided to use a business development opportunity in Malaysia to hop over to Bangladesh and try Biman's venerable D10.
Now, as some can attest, flying a BG D10 is no easy task - between all the IROP's and gauge changes, it is always a matter of luck. Moreover, buying a BG ticket itself is quite the task - especially when the various GDS show different availability and flight operation day/time. How this airline is managed remains beyond me!
Anyways, I managed to find an Indian website which would issue Biman ticket's but only international (www.cleartrip.com - btw, I completely recommend them for any random ticketing - they are really good) and decided that given my short free time and day of week constraint (Friday only), I'd fly Biman's short DAC-CGP hop that continues on to AUH. This total domestic ticket meant I'd have someone at a BG office ticket it! I would then fly the "other" United back. The flight times made for an interesting quick turn trip, and all I needed was Biman to be on time ...
While this *might* be the first review of BG's DAC-CGP operation, there has been some great reviews of BG's D10 operations on A.Net such as:
+ Sutrakhk:
Photo Report: My Trip For BG's DC-10-30 (63 Pics)
(by
sutrakhk
Jul 23 2010 in Trip Reports)
+ Loran:
DC-10-30 Biman - Bangladesh Airlines: BG78 DAC-HKG
(by
Loran
Dec 25 2009 in Trip Reports)
+ Airpearl:
Trijets Rule OK: Biman Bangladesh DC10-30
(by
Airpearl
Jun 25 2008 in Trip Reports)
II > Pre-Flight:
a) Before Airport:
Biman Bangladesh Airlines is the flag carrier airline of Bangladesh. Created in February 1972, Biman enjoyed an internal monopoly in the Bangladesh aviation industry until 1996. In the decades following its founding, the airline expanded its fleet and destinations, but it was adversely affected by corruption and mishaps. At its peak, Biman operated flights to 29 international destinations as far away as New York City to the west and Tokyo to the east. The airline has suffered heavy financial losses, and has a reputation for poor service because of regular flight cancellations and delays caused by its ageing fleet.
Well, the good news is that Biman has a website. At
http://biman-airlines.com/*,
you can take a trip down memory lane and witness how airline websites used to be. Leave alone buying an online ticket, tracking flight schedules, or even buying them through a GDS/OTA became a challenge. I had to contact a colleague in Delhi to go to the BG office and have him buy me tickets. Of course, forget about pre-assigned seats and itinerary views, etc. But then again, the purpose of flying Biman was not to live in 2011, but to re-visit 1975.
*: Since my flight this seem to have changed as I just went and saw a rather smart website. Someone has to see if the tickets can actually be bought.
b) At Airport:
Dhaka's Shah Jalal airport (formerly known as Zia International) has two "terminals". There is the relatively modern recently refurbished terminal 1 where all international flights leave from. And then, there is terminal 2 - where domestic flights within Bangladesh depart from. It is as "old school South Asia" as it can get with the outside, and I got plenty of stares as my taxi pulled to the entrance.
Biman has these very retro counters, and a nice lady quickly checked me in and informed me to proceed to the gate immediately. Apparently, once again, I was the last to check-in. She gave me a seat in the front row - making me realize that BG must have gotten rid of the J-class cabin on these birds.
Security check was clear, and throughout the terminal I kept on getting these "what is the white man doing here" looks. It is actually quite interesting as I have stopped getting them in most Indian cities - guess with so many foreigners living there, it was inevitable. Another thing I find so cool is the genuine Bangladeshi hospitality. People are genuinely nice - they remind me a bit of the people in Calcutta. I am an outsider, but got a sense of a tragedy that the British had to divide these people. So completely unnecessary.
By the time I got to the gate, boarding had been in full swing, and I just joined the line that eventually took me to a bus. I found it rather pointless as the plane was docked at a gate - but guess passengers board through it if flying internationally (post immigration) to cities? What do our Dhaka experts think?
Anyways, the drive to the plane was awesome as I was able to truly appreciate the beauty of the D10. They sure don't make aircraft like it these days. Personally, the old Biman livery looked great and I developed this tremendous smile.
Climbing back through stairs, I entered the D10 with its magnificent folding door. The two pursers did not smile much and just pointed me to my seat. Load was around 80% in an interesting configuration - the front of the plane which housed the erstwhile JCL had all "important looking people", BG employees, and the token white guy. In the second cabin were the laborers headed to Abu-Dhabi and presumably other points in the Gulf region. Interesting form of "segregation" I thought ...
Airport - External:
(Dhaka Airport)
(Terminal 2 - not where domestic flights depart from)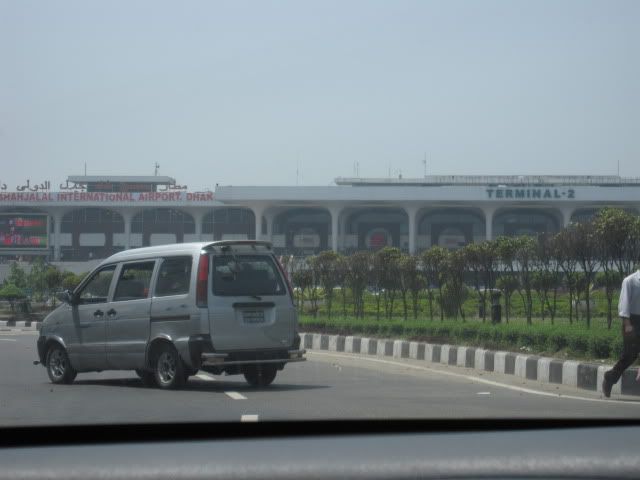 *
*
(The much more old school domestic terminal)
Check-in:
Airport - Internal: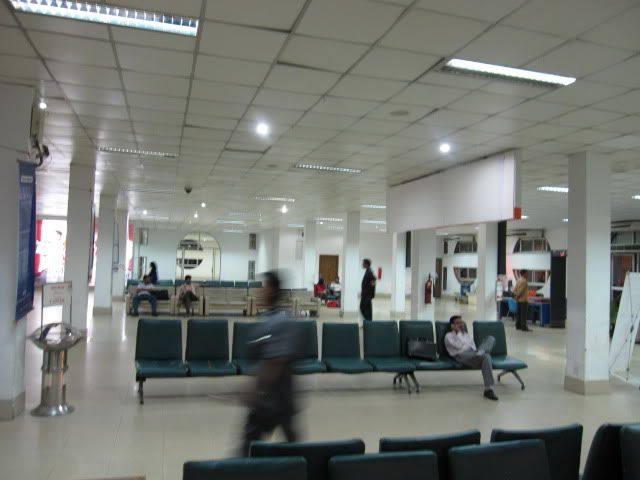 *
(FIDS)
What's that?
(Post Security @ DAC)
NONE
*
Scenes of the tarmac:
NONE
Lounge
NONE
Boarding:
(Gate Area)
NONE
(Boarding: One goes through these stairs to a bus taking them to the plane where they go back up)
III> In-Flight:
a) Service Schedule + Impressions:
While on the ground, I was surprised to receive pre-departure drink of water, juice, and a candy. Nothing offered during the flight.
b) Aircraft + Seats:
The sole reason of taking this flight was to experience Biman and her D10 once last time. It completely "hit the spot". The aircraft remains majestic and the sound of the engine was intoxicating. Stepping into the cabin immediately transports one thirty years back. Biman still has the very colorful 1970's inside that reminds me of the U.S. airline from that era (can anyone remember who it was?). I also thought it looked a bit like Swiss' SFO 340.
The seat controls and surroundings were a riot - the dingy lighting contributed to that entire sense that I was in 1974. As with any aircraft during this time, the seats continued to be extremely comfortable with generous recline and decent pitch. The other interesting thing was that the fake JCL cabin where I was seated had 2-4-2 layout, while the rest of the plane had a 2-5-2 layout. Can someone please confirm whether these were the original ones and if it changed, when?
Finally, as to be expected, the bathrooms continued the generally dingy trend.
Aircraft:
(The gorgeous DC-10 still looks splendid, and I am a fan of BG's old logo - classy )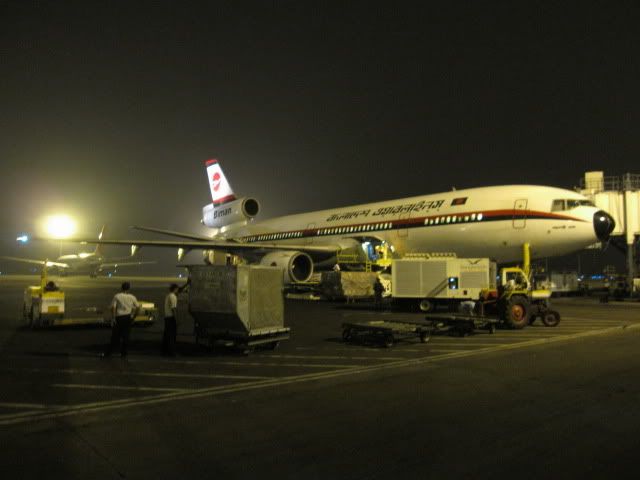 Views from Aircraft:
(JL? What is it doing in DAC?)
General Seat Views + Seat Legroom
(Seat)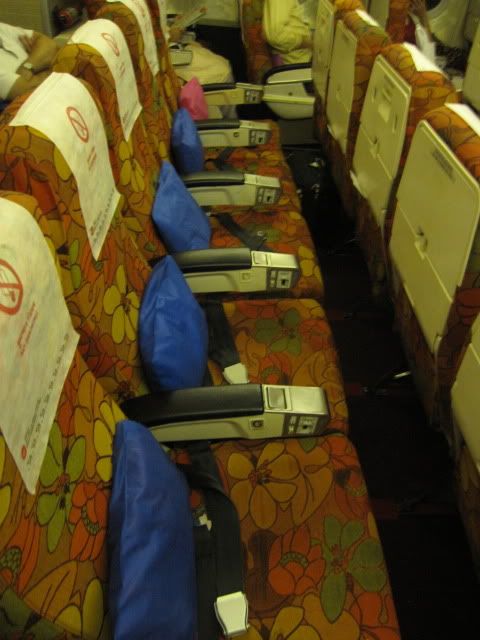 *
(Front of seat)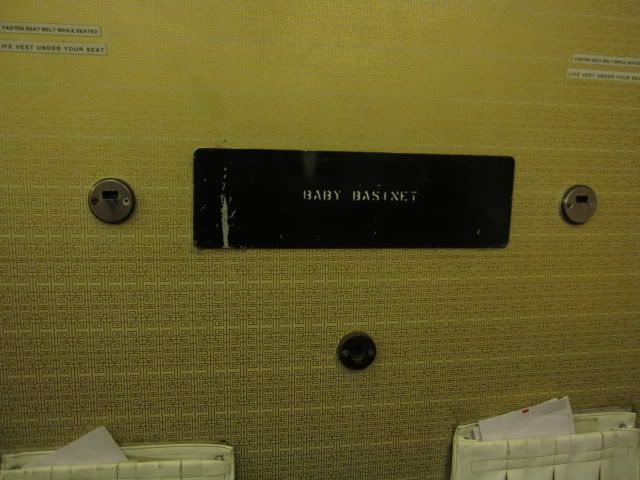 *
(Seat controls: love these old dials)
*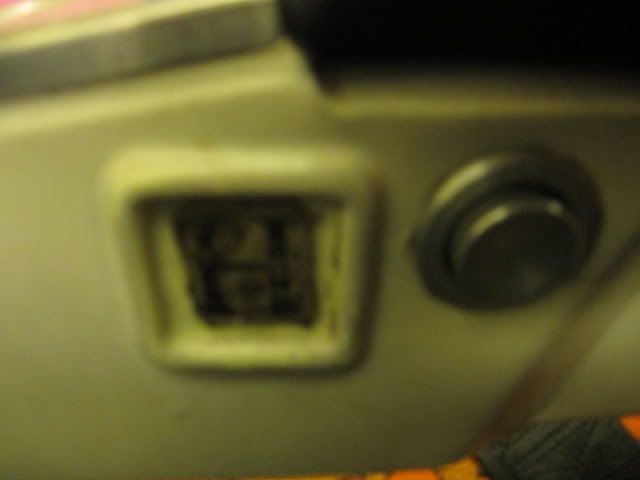 *
(Legroom: above average)
Seat Recline + Angle View:
(Extremely generous recline)
*
*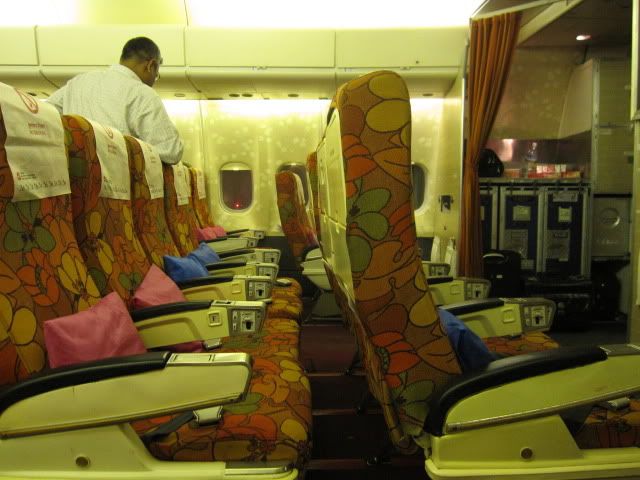 Cabin:
(The front part)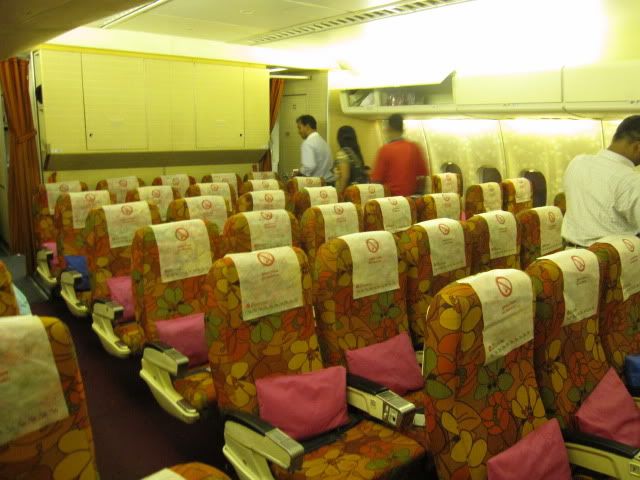 *
(The back part)
*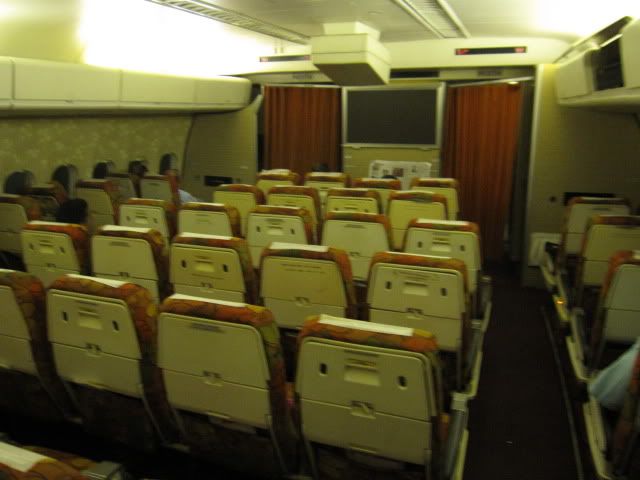 (Blanket ++: Remarkably clean)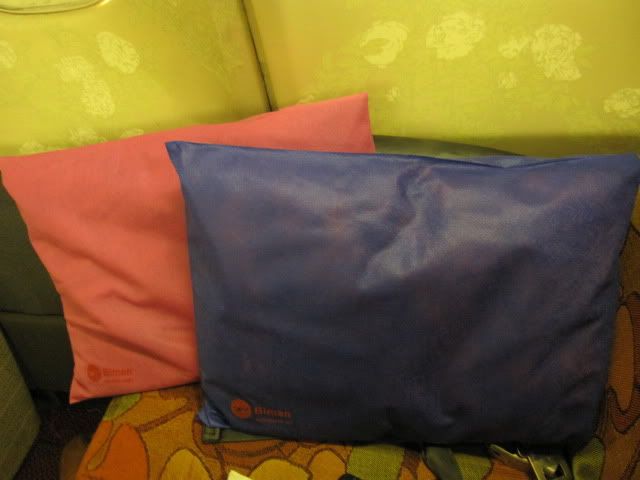 (Bathroom)
*
*
(Amenities)
NONE
*
(Panel)
*
*
(I miss these window work - Air India has them as well!)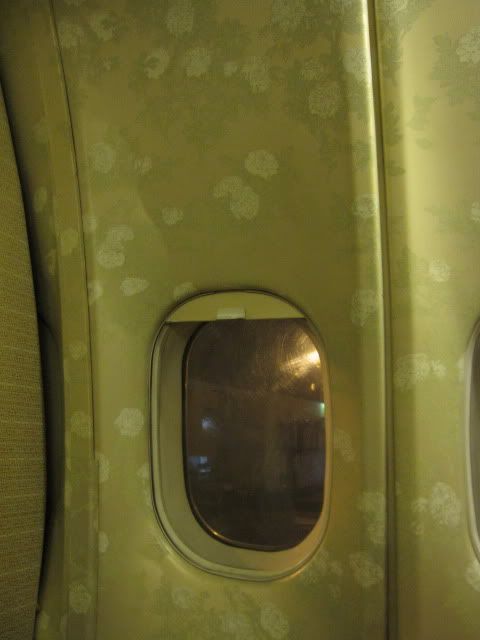 c) Meal + Beverage:
After the pre-take off combination of water, juice, and candy, I actually hoped/thought we would get a small meal on the flight. Sadly, this was not to be - and the entire flight had the crew give us nothing, or do any water run. To be fair, a flight of 142 miles, I was not utterly disappointed.
(Take off drinks and candy)
*
d) Inflight Entertainment:
While Biman's aircraft came equipped with awesome 1970's IFE complete with the
cool dial", this must be saved for the CGP-AUH segment as I got to see nothing of that. I was hoping for an in-flight magazine, but was disappointed to find there were none. I do wonder if Biman has any of these magazines, or, were they saved for the "flagship" flights.
(IFE Screen)
("In-flight magazines", Boarding Passes, etc.: @ CGP, the boarding passes were in handwritten stock - I "stole" a few ... and will now make my own boarding passes)
e) Crew:
The very maternal Biman ladies were nowhere to be seen after the first greeting and distribution of juices. I got a sense that they don't particularly like these Gulf flights - what was interesting was that they were extremely nice to the "important" looking people who also populated the fellow pseudo- JCL cabin. I did not recognize them, but got an impression that they were Biman bigwigs, or other important people.
IV> Post-Flight:
Landing in CGP was smooth, and having no luggage meant I was landside in 5 minutes.
(@ CGP)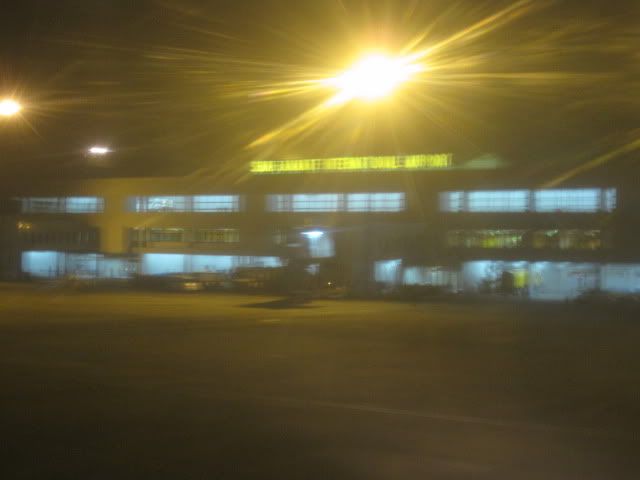 V> Impressions + Scores:
Biman is one of those "basket-case" airlines which have provided ample entertainment to A.Net readers and airline observers over the years. Their unending aircraft delivery and restructuring saga is legendary. This trip was not about all that - it was to sample the DC-10 one final time. It did not let me down. It is a majestic bird and I had an awesome time.
As a service provider, Biman leaves much to be desired. It is decades behind its peers in anything remotely interesting - no IFE, no magazines, no F&B service (this I can overlook), no online booking engine, etc. are completely sad in 2010-11. While other state owned airlines can be this poor, at least their crew is usually very good. Take Iran Air as an example. Biman does not even have that - and it is sad really as Bangladeshis are VERY kind and hospitable people.
While a DAC-CGP segment does not give enough time to judge, if I had the choice, and was interested in flying for other purposes, I'd look elsewhere. A thumps down for BG - an airline I would not go out looking to fly.
VI> Other Trip Reports:
PREMIUM:
9.27: JET AIRWAYS **FIRST** (110): LHR-BOM: 10/2010
9.27: THAI AIRWAYS **FIRST** (108): BKK-LHR: 07/2010
8.66:
Brussels Airlines (93): FIH-BRU: 01/2010
8.64:
Turkish Airlines (59): JFK-IST: 11/2008
8.63:
Jet Airways (88): JFK-BRU: 10/2009
8.61:
Air Canada (49): YYZ-SCL: 06/2008
8.54:
Turkish Airlines (77): GRU-DKR-IST: 04/2009
8.36:
Kingfisher (98): BOM-HKG: 01/2010
8.30:
Jet Airways (74): KWI-BOM: 04/2009
8.23:
United Airlines (72): SFO-SYD: 03/2009
8.11:
Aeroflot (33): MOW-DEL: 09/2007
8.05:
Air India (80): CCU-JFK: 06/2009
8.04:
Korean Air (40): NRT-ICN: 10/2007
8.02:
Delta Airlines (24): JFK-CDG: 08/2007
7.82: UNITED AIRLINES **FIRST** (110): SFO-ICN: 10/2010
7.82:
Singapore Airlines (06): EWR-SIN: 09/2006
7.66:
Sri Lankan (104): DEL-CMB: 07/2010
7.64:
Royal Jordanian (91): AMM-YUL: 12/2009
7.61:
China Southern (103): LOS-DXB: 04/2010
7.57:
Pakistan Airlines (102): ORD-BCN: 06/2010
7.46:
LAN (55): YYZ-JFK: 09/2008
7.38: AMERICAN AIRLINES **FIRST** (112): LHR-JFK: 10/2010
7.38: CATHAY PACIFIC **FIRST** (109): HKG-LHR: 10/2010
7.25:
Iran Air (88): BOM-IKA: 12/2009
7.23:
Air Pacific (120): NAN-APW-HNL: 01/2011
7.23:
Virgin Atlantic (81): BOS-LHR: 07/2009
7.14:
Swiss (52): SCL-GRU: 06/2008
7.11:
Aer Lingus (105): MAD-IAD: 05/2010
7.11:
Austrian (79): VIE-JFK: 06/2009
7.07:
Privatair (84): BOM-FRA: 08/2009
7.02:
Qatar (68): DOH-JFK: 01/2009
6.96:
Etihad (61): JFK-AUH: 12/2008
6.93:
Delta Airlines (18): SEA-JFK: 11/2006
6.84:
ConViasa (65): CCS-DAM: 01/2009
6.82:
Air Burkina (106): BKO-OUA: 06/2010
6.81:
Air Canada (17): ICN-YYZ: 10/2006
6.75:
Afriqiyah + Libyan (113): CAI-TIP: 11/2010
6.70:
KLM (32): EBB-AMS: 08/2007
6.52:
Emirates (99): LHR-DXB: 02/2010
6.39:
South African (97): EZE-JNB: 01/2010
6.36:
Privatair (60): MUC-BOS: 12/2008
6.29:
TAM Brasil (96): POA-EZE: 02/2010
6.25:
Korean Air (45): NAN-ICN: 10/2007
6.21:
Iberia (87): BOS-MAD: 10/2009
6.11:
A SKY (107): OUA-COO: 06/2010
6.11:
TAP Portugal (53): GRU-OPO: 06/2008
6.00:
Gulf Air (75): BOM-BAH: 04/2009
5.88:
African Express (89): DXB-NBO: 11/2009
5.75:
Singapore Airlines (16): CCU-SIN: 10/2006
5.64:
SATA Azores (101): BOS-PDL: 04/2010
5.64:
NorthWest (46): ICN-NRT-SEA: 10/2007
5.54:
Ethiopian Airlines (95): ADD-BOM: 01/2010
5.46:
Icelandair (83): KEF-BOS: 08/2009
5.39:
LOT (54): WAW-JFK: 06/2008
5.21:
Egypt Air (73): CAI-IST: 02/2009
5.11:
Tunisair (115): TUN-ORY: 12/2010
5.07:
TACA (66): JFK-SAP: 01/2009
4.89:
TAAG Angola (117): TMS-LAD: 12/2010
4.42:
Air France: CDG-JNB (25): 08/2007
ECONOMY: Long + Medium:
9.26:
Air India (48): JFK-DEL: 02/2008
7.38:
Avianca (01): BOG-LIM: 07/2006
7.07:
Sri Lankan (62): KWI-CMB: 12/2008
7.00:
LAN (94): IPC-SCL: 01/2010
6.81:
STP Airways/Euro Atlantic (116): LIS-TMS: 12/2010
6.41:
Avianca (78): JFK-BOG: 05/2009
6.41:
American Airlines (58): LHR-BOS: 11/2008
6.39:
Condor (85): SEZ-FRA: 09/2009
6.26:
Jet Blue (21): CUN-JFK: 02/2007
6.11:
Caribbean Airlines (119): POS-FLL: 01/2011
6.06:
Air Canada (04): YYZ-YVR: 09/2006
5.89:
USA 3000 (19): PUJ-BDL: 01/2007
5.85:
Spanair (69): MAD-LPA: 02/2009
5.79:
Air New Zealand (42): RAR-NAN: 10/2007
5.52:
Aerolineas (86): USH-AEP: 10/2009
5.46:
TAP Air Portugal (23): OSL-LIS: 05/2007
5.19:
Air Europa (70): LPA-MAD: 02/2009
5.16:
Iberia (71): MAD-BOS: 02/2009
5.11:
Air China (82): FRA-PEK: 08/2009
ECONOMY: Short
8.56:
Paramount Airways (38): BLR-MAA: 09/2007
8.56:
Kingfisher (64): HYD-CCU: 12/2008
8.24:
Kingfisher (14): IXA-GAU: 10/2006
7.87:
Indian (34): BOM-MAA: 09/2007
7.72:
Alliance Air (13): CCU-IXA: 10/2006
7.57:
Indian Airlines (10): DEL-CCU: 09/2006
7.23:
West Jet (03): YYC-YVR: 09/2006
7.15:
JetLite (37): BOM-GOI: 09/2007
6.98:
Air Koryo (100): PEK-FNJ: 04/2010
6.70:
Spice Jet (09): CCU-DEL: 09/2006
6.63:
Air Fiji (44): NAN-SUV: 10/2007
6.63:
Jazeera (67): DAM-KWI: 01/2009
6.58:
Air Tran (02): EWR-MDW: 08/2006
6.48:
Air India Express (63): CMB-MAA: 12/2008
6.44:
CO Micronesia (39): ROR-YAP: 10/2007
6.41:
Pacific Sun (43): NAN-SUV: 10/2007
6.37:
Skybus (47): SWF-CMH: 02/2008
6.33:
Kenya Airways (29): NBO-BJM: 08/2007
6.33:
Sky Europe (56): LTN-BTS: 10/2008
6.31:
Indigo (15): GAU-CCU: 10/2006
6.31:
easyJet (57): BUD-LTN: 11/2008
6.22:
Air Link Swazi (28): MTS-JNB: 08/2007
6.22:
Air India (36): HYD-BOM: 09/2007
6.13:
Adam Air (07): SIN-CGK: 09/2006
6.13:
Air Rarotonga (41): RAR-AIT: 10/2007
6.04:
Suriname Airways (118): PBM-POS: 01/2011
6.00:
Transairways (27): INH-MPM: 08/2007
5.95:
Air Canada (05): ALB-YYZ: 09/2006
5.85:
SAS Norge (22): OSL-AES: 05/2007
5.81:
LAM Mozambique (26): JNB-MPM: 08/2007
5.69:
Air Deccan (12): IXZ-CCU: 10/2006
5.67:
Rwanda Air Exp (30): KGL-NBO: 08/2007
5.52:
Sevenair (114): TOE-TUN: 11/2010
5.37:
Felix Airways (92): SCT-SAH: 12/2009
5.11:
Aero Republica (76): BOG-CCS: 04/2009
5.07:
Go Air (35): MAA-HYD: 09/2007
5.04: BIMAN (121): 01/2011
5.00:
Sky Airline (51): IQQ-SCL: 06/2008
4.96:
Valuair (08): CGK-SIN: 09/2006
4.78:
Air Comet Chile (50): SCL-IQQ: 06/2008
4.74:
Fly 540 (31): MYD-LAU: 08/2007
4.33:
Viva Aerobus (20): ELP-MTY: 02/2007
4.11:
Air Sahara (11): CCU-BOM: 09/2006
(Note on Codes: Y – Economy, J – Business, F – First :: I/D – International/Domestic :: SR/MR/LR – Short/Medium/Long Haul)
(Note on Date: Dates are modified to be +/- 3 days from actual flight date to not reveal actual flight pattern)
VII> Other Pictures:
(Pictures taken at DAC)
(8U Bird - wonder what it was doing here - this is after DAC was stopped - and I flew this very aircraft on CAI-TIP - life is strange indeed)
*
(An odd bird)
*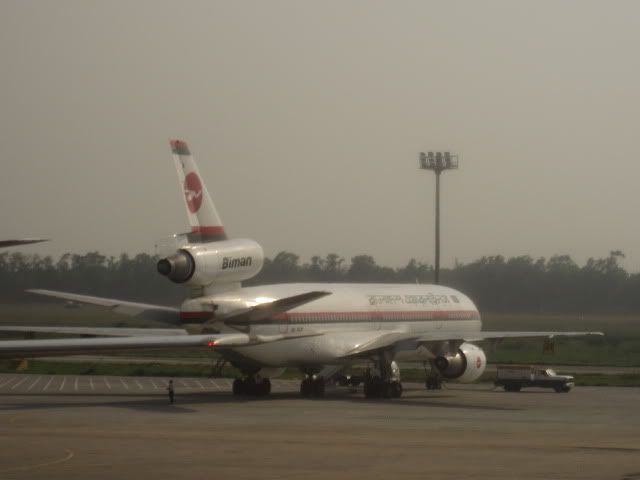 *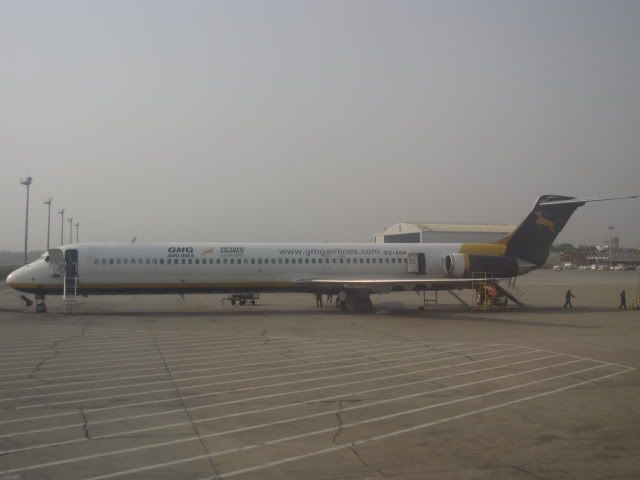 *
(What's this? PlaneHunter?)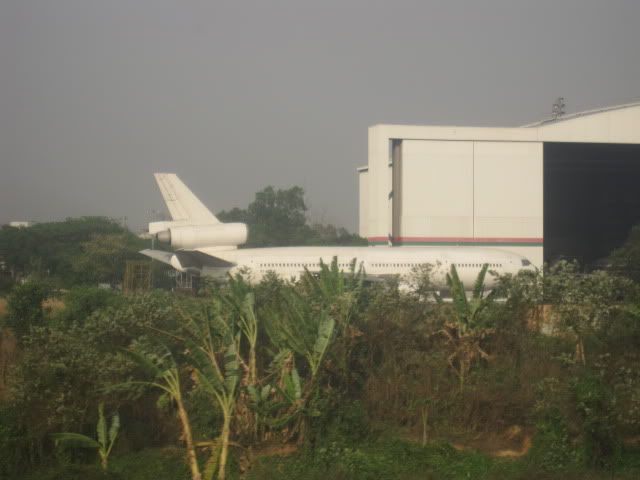 *
*
*
*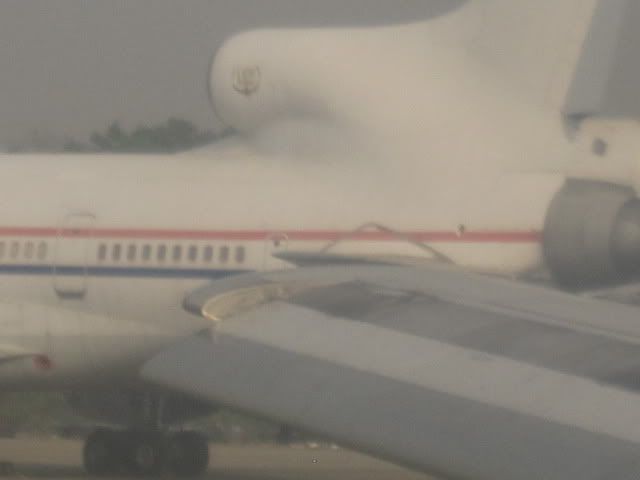 *
(Goodbye Dhaka!: Aami aabar firbo ...)
[Edited 2011-11-19 17:24:32]