Ever since I was a kid, (not that long ago, I suppose!) I have had a fascination for Russian aircraft. Specifically the Tupolev Tu-154 (hence my username). The HF antenna on top of the tail was always a point I especially loved about Soviet era aircraft, like a dagger following behind most of the aircraft. This was true for most Tupolevs and Illyushins that I was aware of at the time. I have extremely fond memories of being on a farm on the approach to LGW's 08 and watching 3 Tu154's land in one day. As I grew up not only did I simply want to see these aircraft, I wanted to photograph them. Then that eventually turned into me wanting to travel aboard them. For years that's been high up on my bucket list, but various factors stopped me. I only really started doing day trips on aircraft for fun at around 15, and that was too young to go away to a totally different country for several days on my own. Cost was also a factor, I was only working part time between school and college and my measly £150 a month pay packet wouldn't get me very far. Finally several years later I get myself a career in flying, some disposable income and the final push to give me the motivation to do this; an article in airliner world mentioning how Russian classics could be a thing of the past as soon as January 2012.
I found out that Rossiya were using An148's to LGW from LED, and was instantly attracted to the idea. However getting into Russia would prove far more time consuming and costly as I had first thought (rather naively). I scrapped that idea and, just at the right time, a good friend told me he'd had to cancel a trip to Russia in September, but was still interested in going before the end of the year. Two days later I had my first flights booked. And so a trip was born!
Several different plans went through the pipeline but unfortunately schedules change, airlines go bust, and "unforeseeable circumstances" arise. It seems pretty much every Tu-154 is either now stored or damn near impossible to fly on. KMV sadly ceased operating, as did countless other 154 operators. Literally two months of booking flights, cancelling flights, tweaking times and dates, itineraries etc later, we had a fairly solid plan. The day before we were due to go. A considerable cost had already built up from having to cancel flights that were originally meant to be soviet aircraft, but had been changed to western equipment. A long story short, we finally got an itinerary that would work perfectly if everything went to plan. It is as follows;
Day 1: LHR-LED BA A320
Day 2: LED-GOJ UT T134
Day 3: GOJ-LED UT T134
Day 4: LED-CEE-LED D2 Y40
Day 5: LED-DME UN 735, DME-KRR-DME 6R T154, DME-LHR BA 763
This would leave me with 5 new airports, 4 new airlines, and 4 new aircraft, 3 of which are Russian built. Excellent!
In this report I'll cover the LED (St Petersburg) - CEE (Cherepovets) flight with Servestal, on a Yak 40. I'll do another report as soon as I can on the DME-KRR-DME flight on an Alrosa Tupolev 154.
How did I find this flight, do you ask? Well, I've seen trip reports on this airline and route before. It was certainly very easy to do, with two daily flights between St Petersburg and Cherepovets, on a Yak 40, and with online booking easily doable, at the absolute bargain price of £70 return. So, without further ado, here's the stuff you want to read about.
---------------------------------------------------------------------------------------------------------------------------------------------------
At around 0800L, myself and my good friend and fellow airliners.net photographer, D Chapman, arrived at St Petersburg's Pulkovo 1. We'd already been through this terminal twice, and I can honestly say it is one of the worst terminals I have had the misfortune of using. Apparently built in the 1950's, it's clear to see that it may have been perfectly adequate back then but 61 years of changes in the aviation industry have certainly taken its toll. No clear sineage, hidden staircases, hidden check in areas, woefully confusing security. Absolutely none of it has any logic. For example, security to go airside. If you want a basket to put your shoes/ bags in, you have to push in front of everybody queueing to walk through the metal detector to get one, then walk back against people entering the security area to sort yourself out, then once through you're fighting your way through more people. Then if they want to search your bag they don't make it clear, so they end up running after you shouting as you're walking out. It took us a good 15 minutes to figure out how to exit the terminal in the first place after getting something to eat. All doors are locked except one downstairs next to arrivals. Unfortunately this terminal and airport was our base for four days. I'd also like to point out that it's probably us being stupid westerners, and we did eventually get the hang of it.
Anyway, check in for our flight was in some obscure corner of the terminal we never realised existed. (Think IKEA. You take a simple short cut but you end up in a completely different decade, you walk back through the same short cut but end up in a totally different place to what was there 30 seconds before)We had to wait for the desk to open, and in this time we mused about which aircraft might operate our flight. My fingers were crossed for the blue coloured ex Yamal example, RA-88188. Once open, check in was extremely efficient, with the desk only being opened around an hour (?) before the flight, and the whole process taking mere seconds. I was given seat 5A, and we were then directed through security (the door to which had just been locked, so we had to go through some magical portal to end up where we wanted to be) which ended up fairly simple compared to the example given above. Seeking comfort, I bought a chocolate muffin and cup of tea from a nearby Costa (Damn, the Russians know how to make tea!) which definitely made me feel human again at what was actually a reasonable time of the morning. (The sun doesn't rise in St Pete until 10am). Whilst tucking into my heavenly tea and muffin our bird for the day taxied past the window, and much to my enjoyment, turned out to be ex Yamal example, RA-88188. It was fantastic seeing our aircraft screech past at night, all lights going, in the floodlights.
View Large
View Medium


Photo © Aleksey Lisitsyn
Date: 15 November 2011
Airline: Servestal Air company
Aircraft: Yakovlev Yak 40
Registration: RA-88188
Flight number: D220
Route: St Petersburg Pulkovo 1 (LED) – Cherepovets (CEE)
Scheduled time of departure: 0930
Actual time of departure: 0930
Scheduled time of arrival: 1040
Actual time of arrival: 1040 (How's THAT for on time performance?!)
Shortly thereafter boarding was called and we were among the first to get on the bus to the remote stand where we had disembarked our Tu134 the day before. We were driven around the airfield where we quietly anticipated seeing our aircraft up close and personal. After what seemed like half an hour we pulled up next to her, looking fantastic (although dark). We were soon released to board through the rear stairs leading into the cabin, directly below the number 2 engine.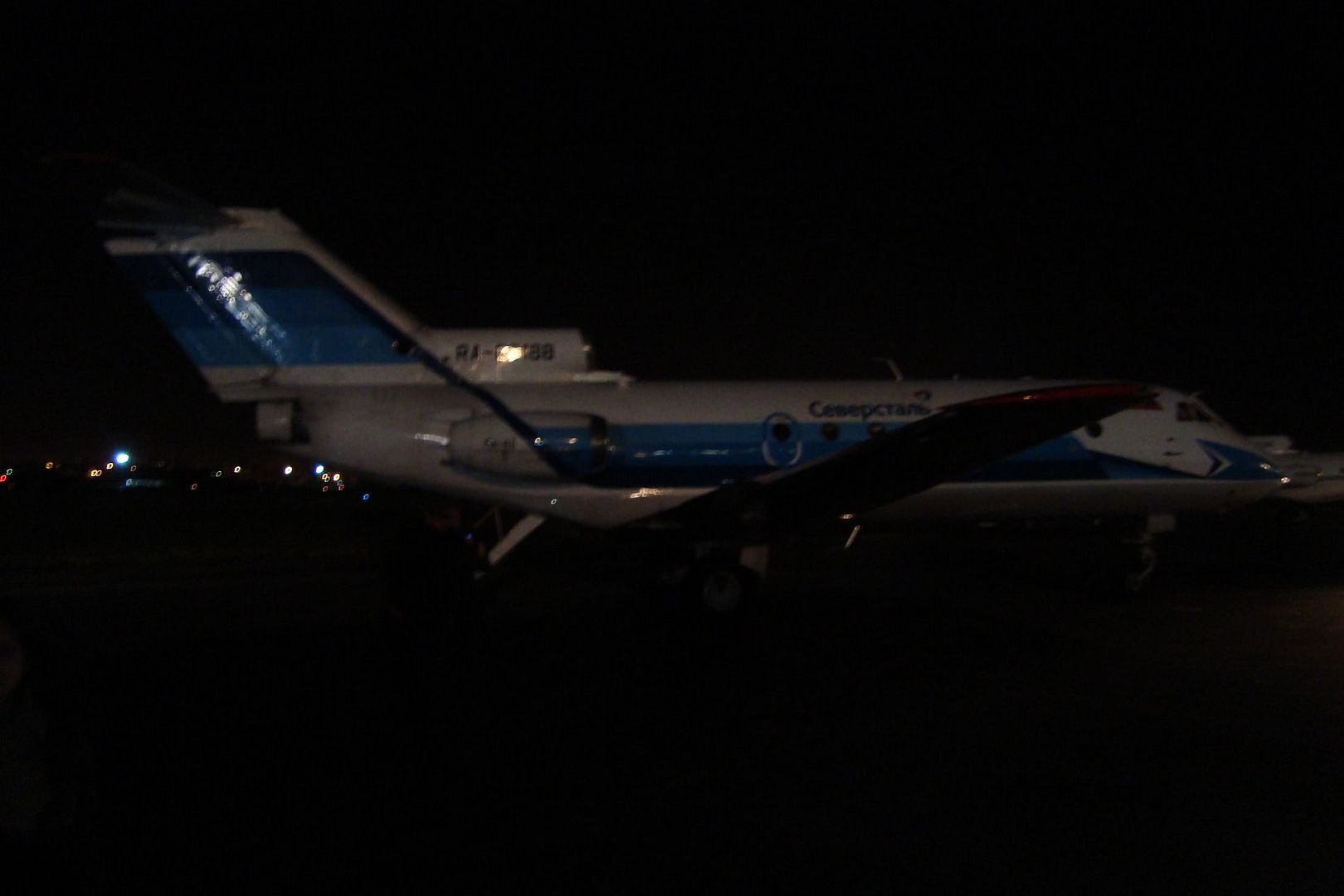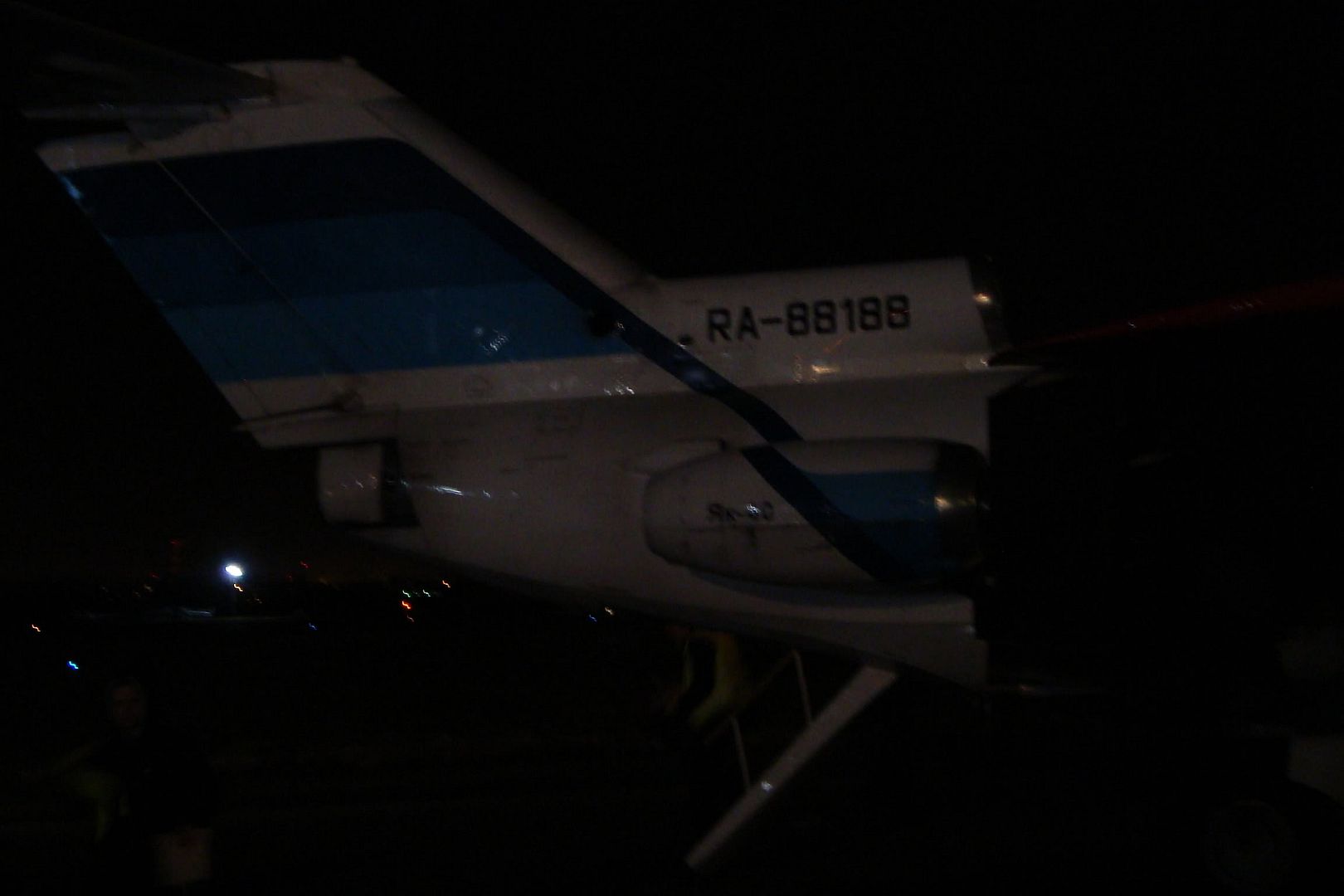 This aircraft was way smaller than I had imagined, you could reach up and touch the number 2 engine exhaust (and I am by no means tall). I resisted the temptation to do so for fear of being told off by the ground crew and made my way into the bowels of the Yak 40. I noted the polished wooden handrail on the air stairs and after much ducking, was greeted by the single cabin crew on today's flight.
It was highly amusing seeing big, burly Russian blokes in large puffer jackets wedged into their seats on board this tiny aircraft, which was full of character. I made myself comfortable and took in my surroundings. The cabin was quite dim as a result of the lights and dark seats, carpet and bulkhead. The window is probably the cleanest I've ever had on board an aircraft.
A few minutes later the steps were retracted with an audible whine and then a loud crack as the back door was fully closed and latched. The FA then made her way, with difficulty, to the flight deck to give the flight crew the final figures and the go ahead for departure. Due to the size of the aircraft she had to walk sideways to avoid kicking people in the shins! Once back in her galley an announcement was made in Russian only (as a result I have no idea what she said). The three engines were started and we made our way to St Petersburg's southerly runway where we were given pineapple flavoured boiled sweets/candies and took an intersection departure (cutting off a quarter of the runway) bang on time at 0930.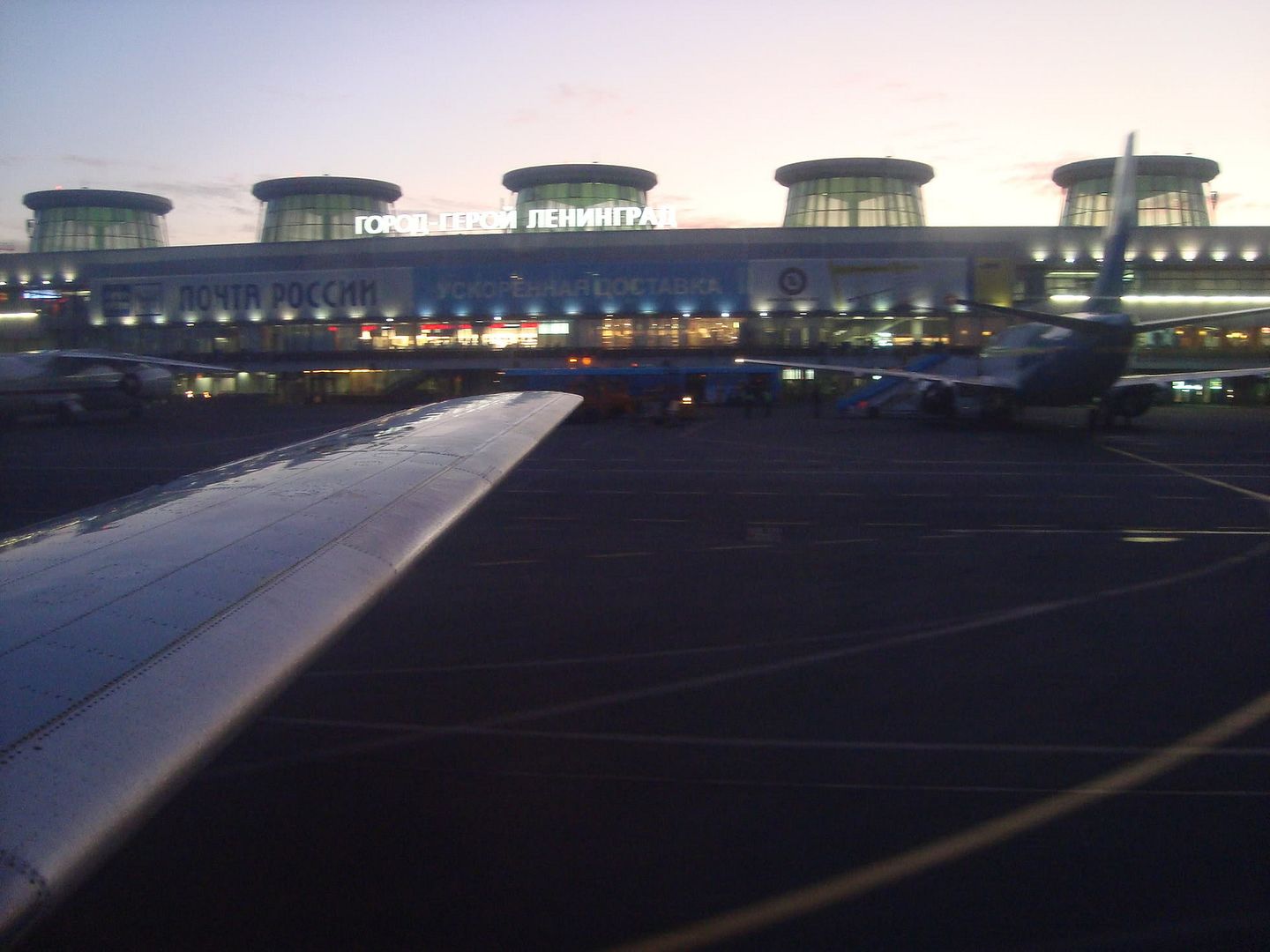 http://youtu.be/IESZxXk6yyk
(Takeoff video)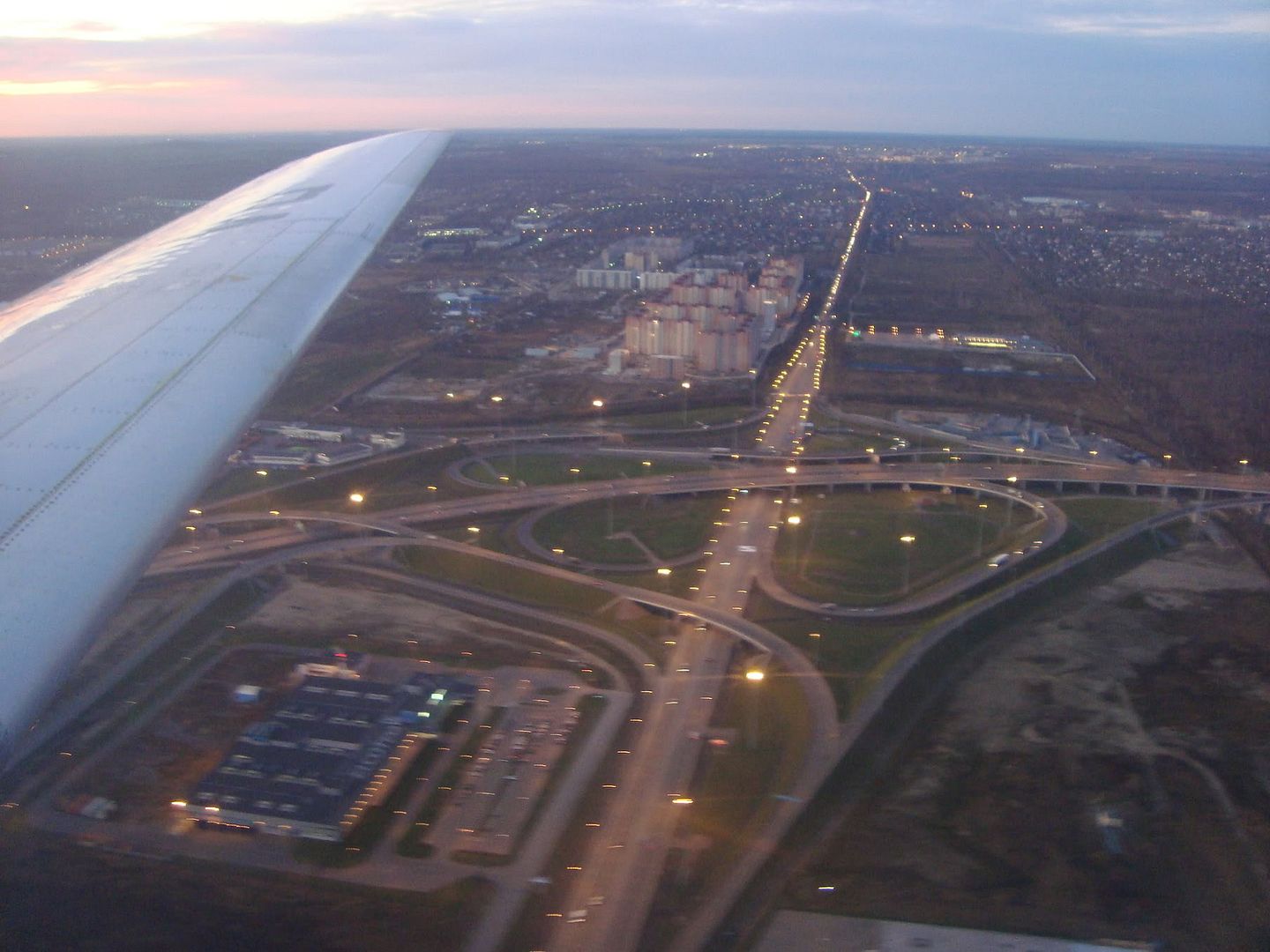 I was amazed at how flat and slow the climb out was. With long, un swept wings I never expected the Yak 40 to be much of a sports car of the sky. It was good fun though, and you could tell it was mostly hands on flying, no autopilot on this climb out today! A long sweeping turn to the left was taken to fly us parallel to the runway from which we had just departed. A fantastic view of the city and airport was for all to see as well as Pushkin air force base with several Il18's and fast jets parked up/stored.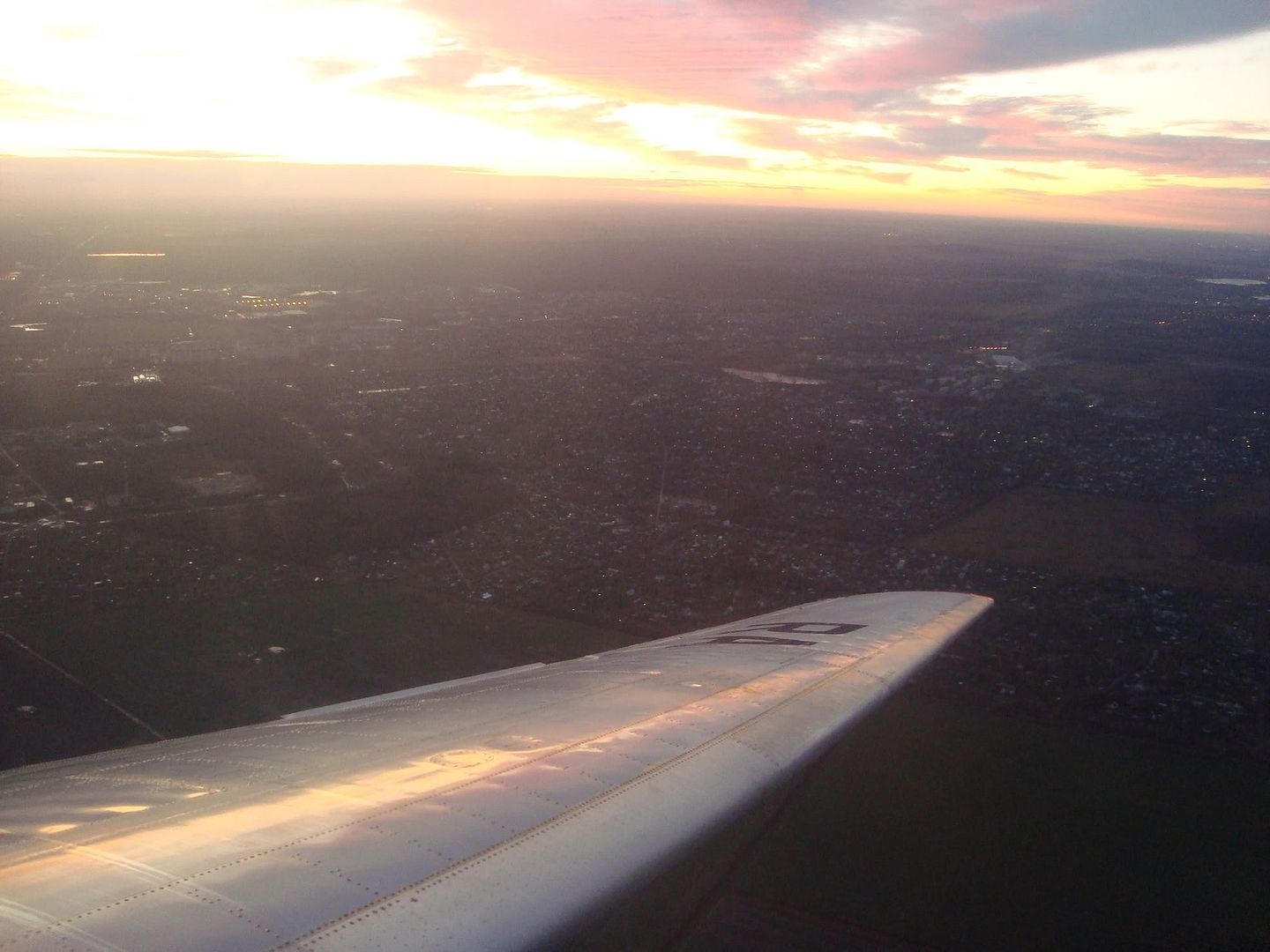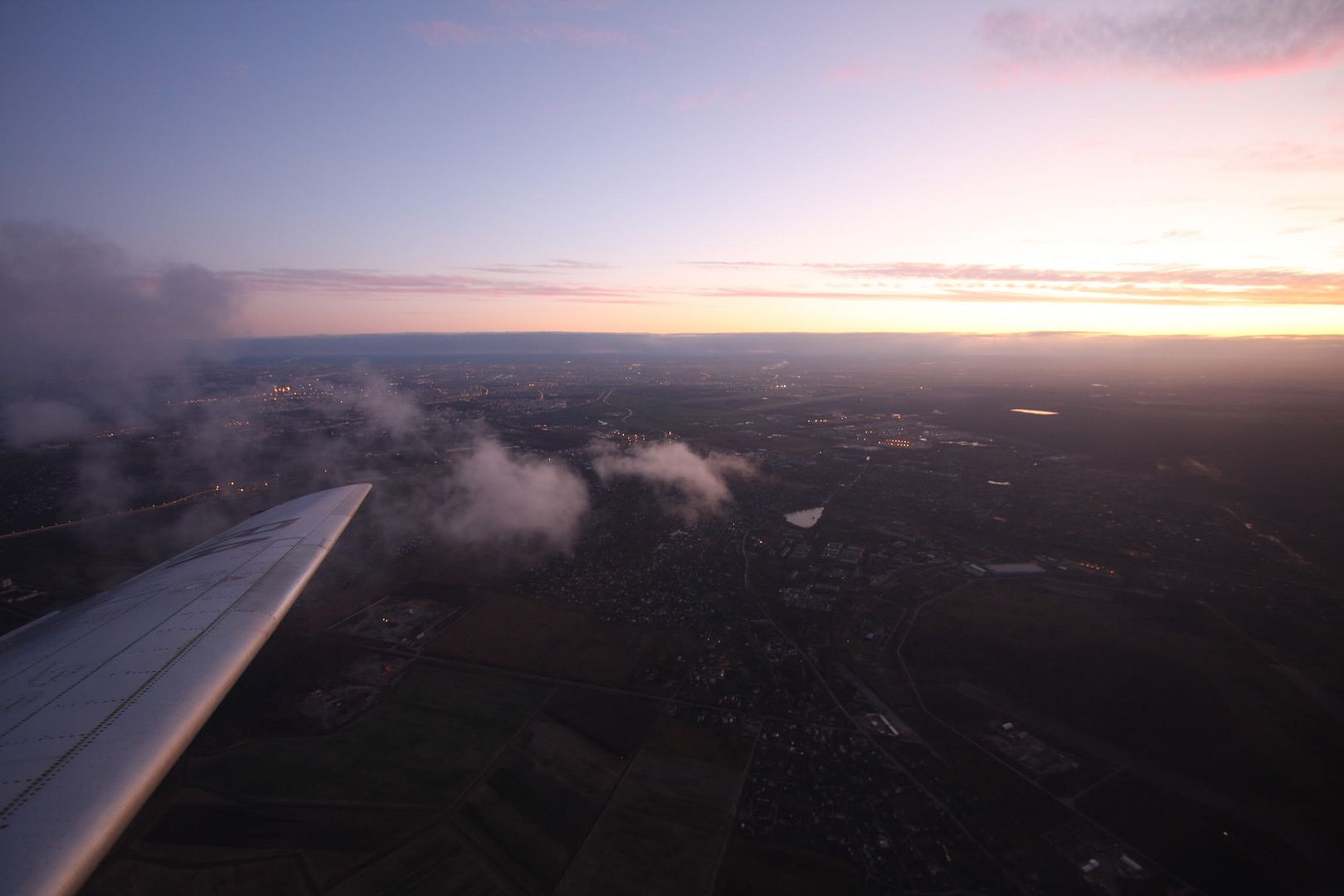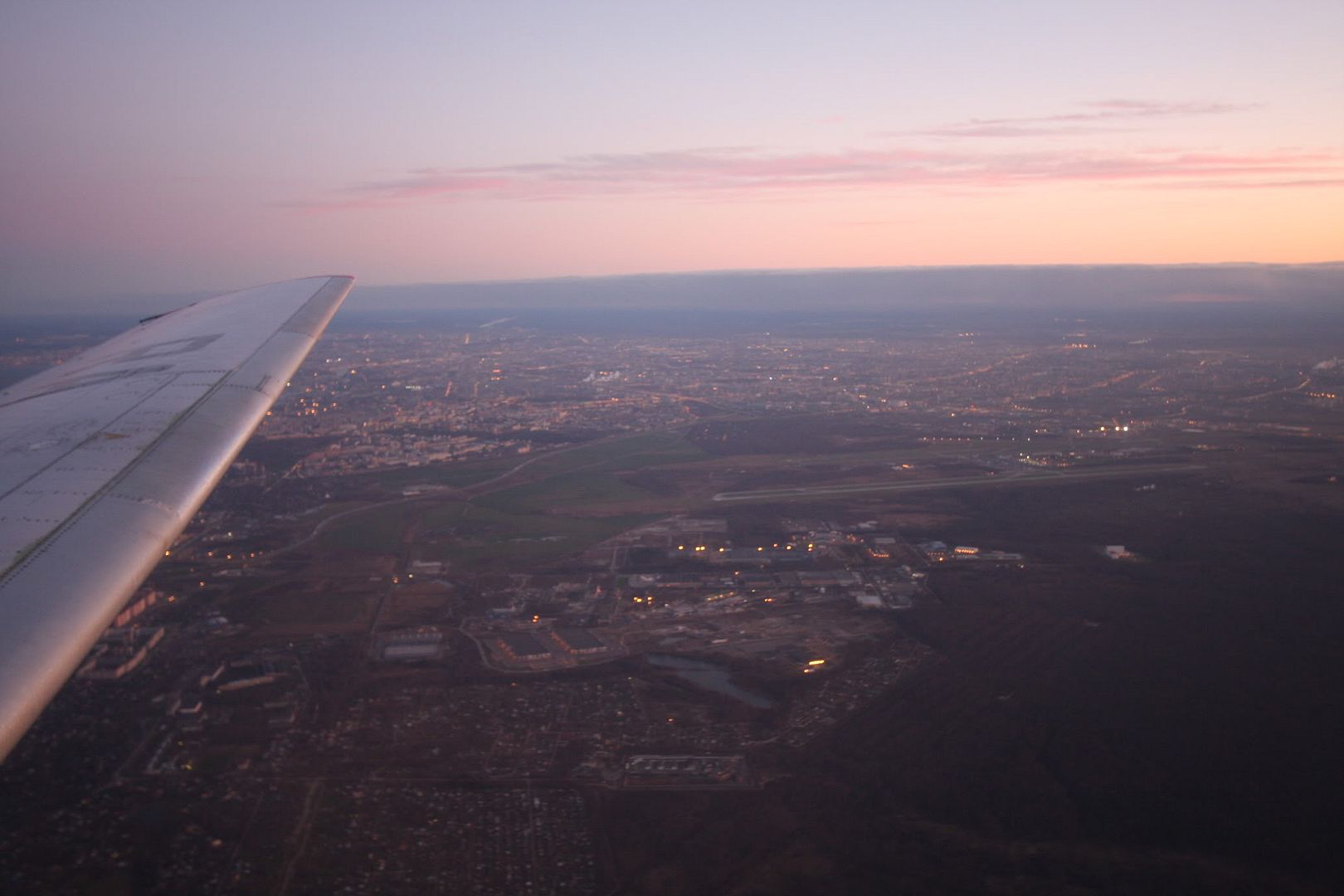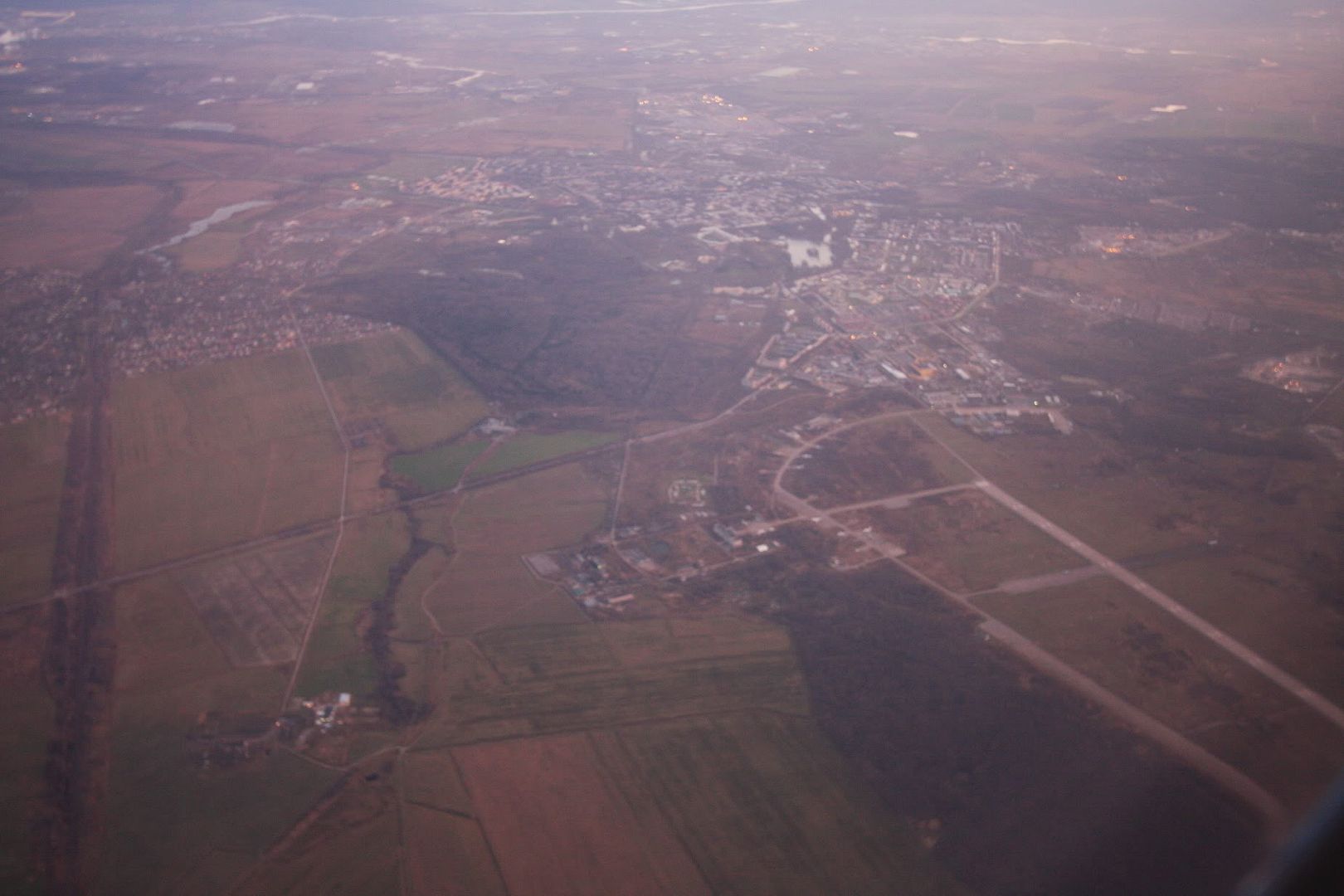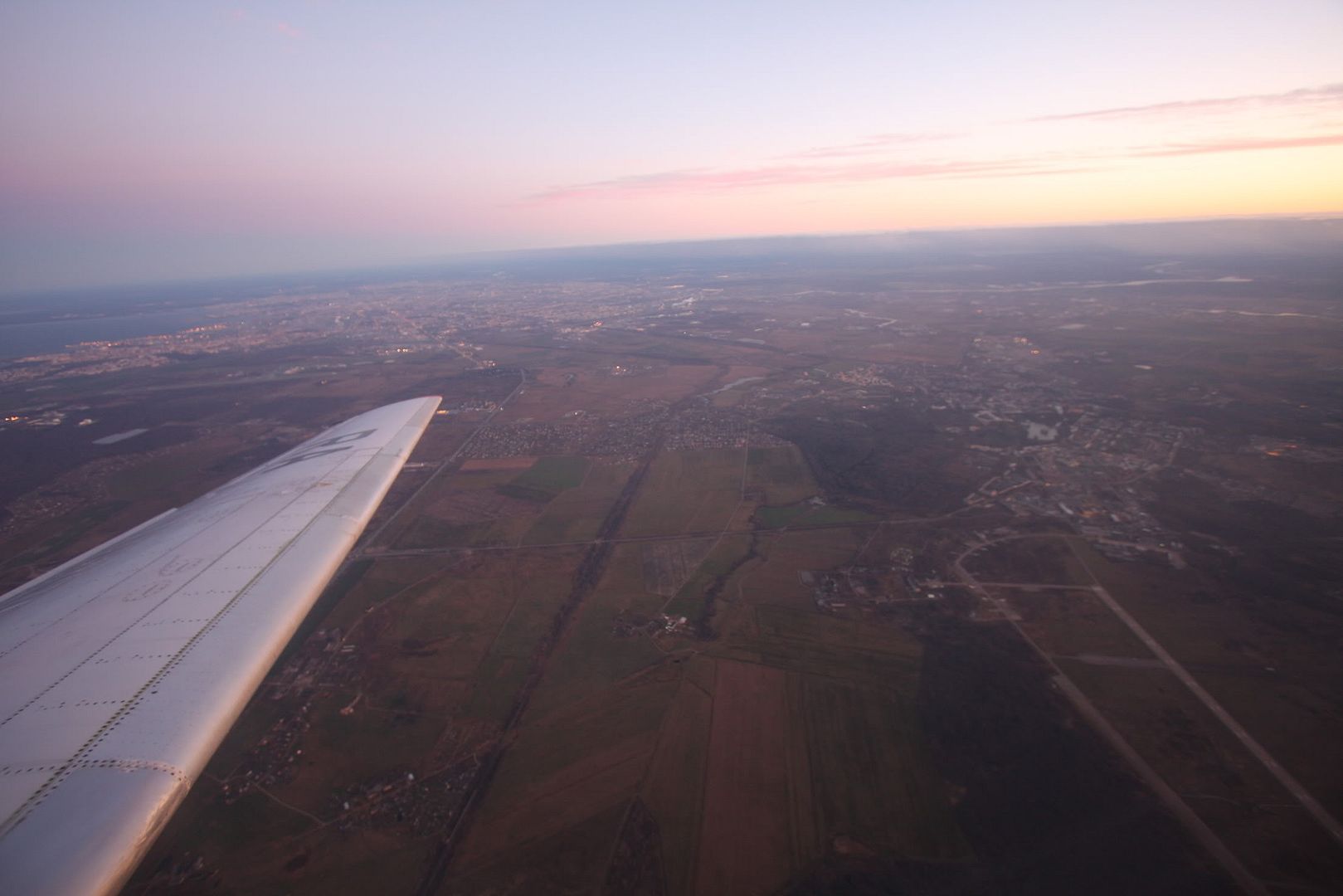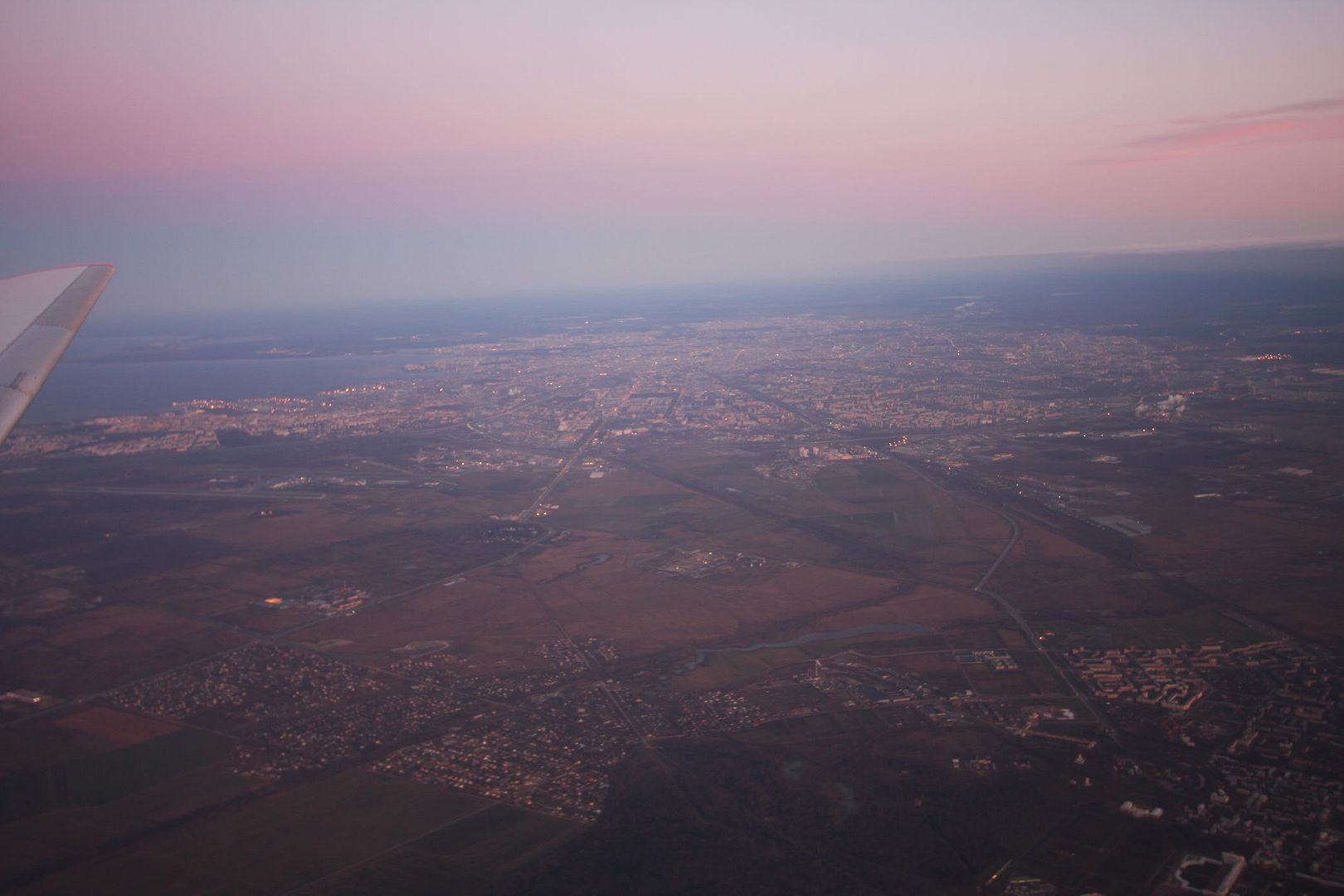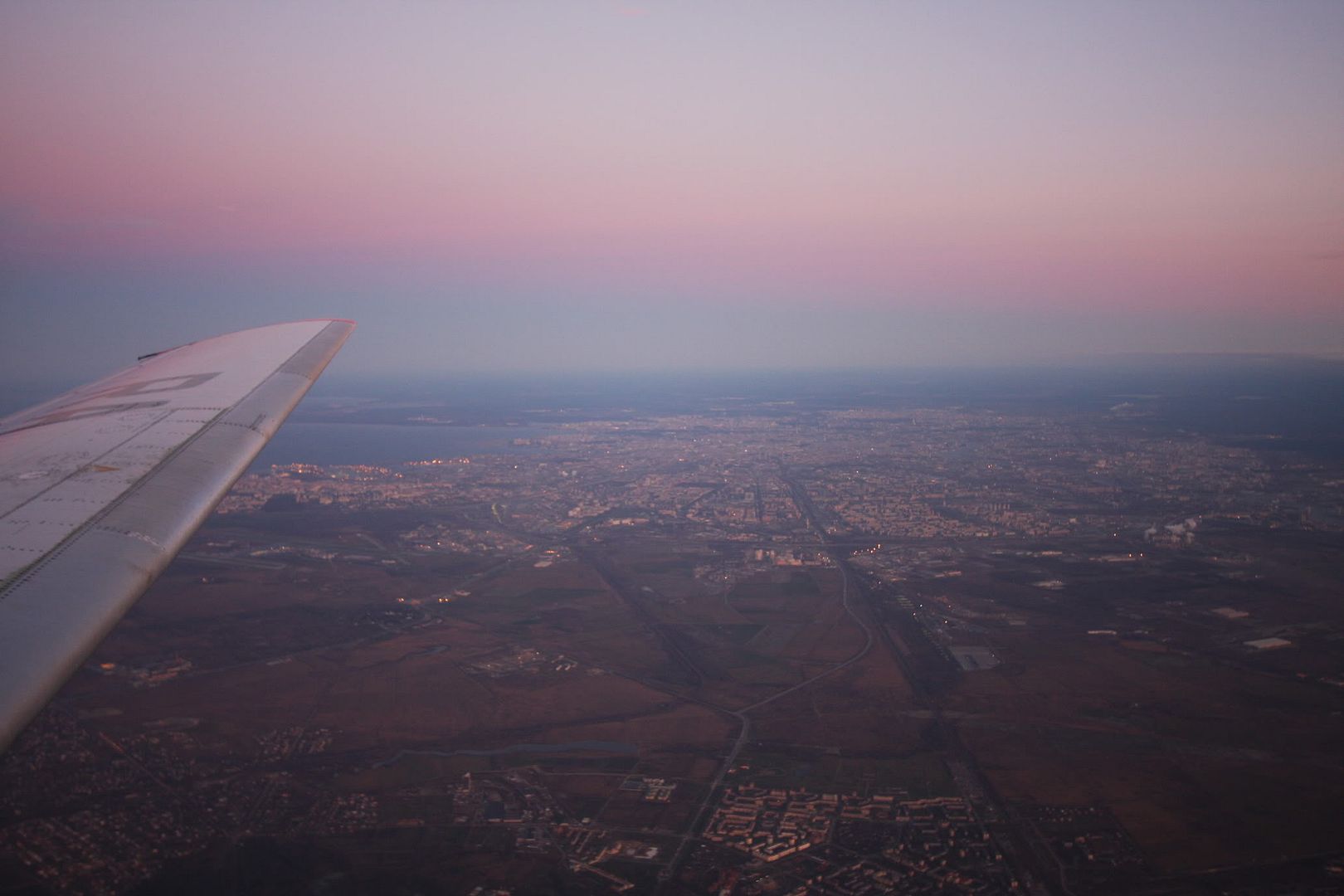 Slowly (very slowly) the city disappeared behind us as we gradually gained altitude flying east towards Cherepovets. I spent the majority of the flight watching the scenery get more and more snowy and just watched the world pass beneath the Yak 40's (scruffy) wing.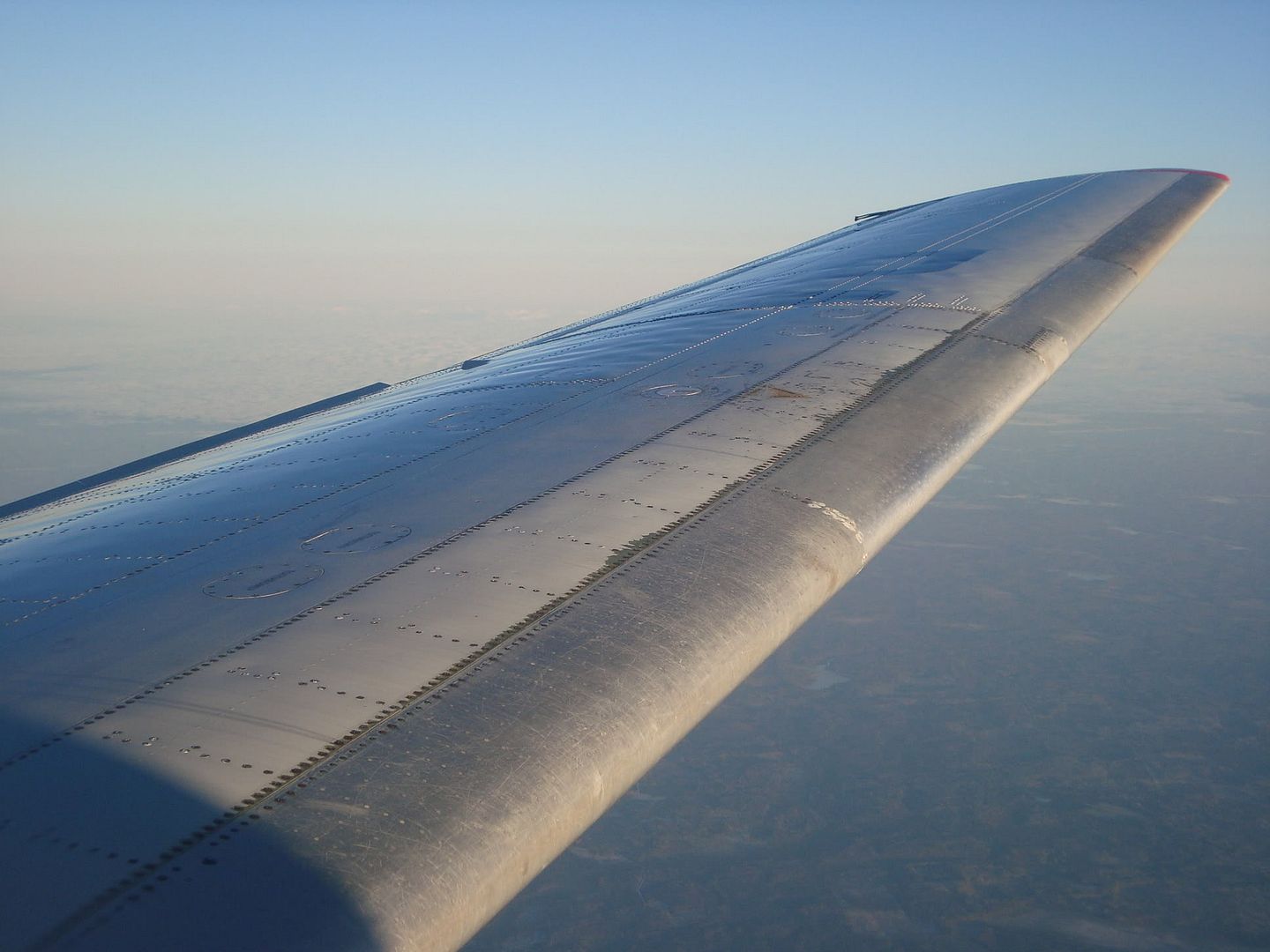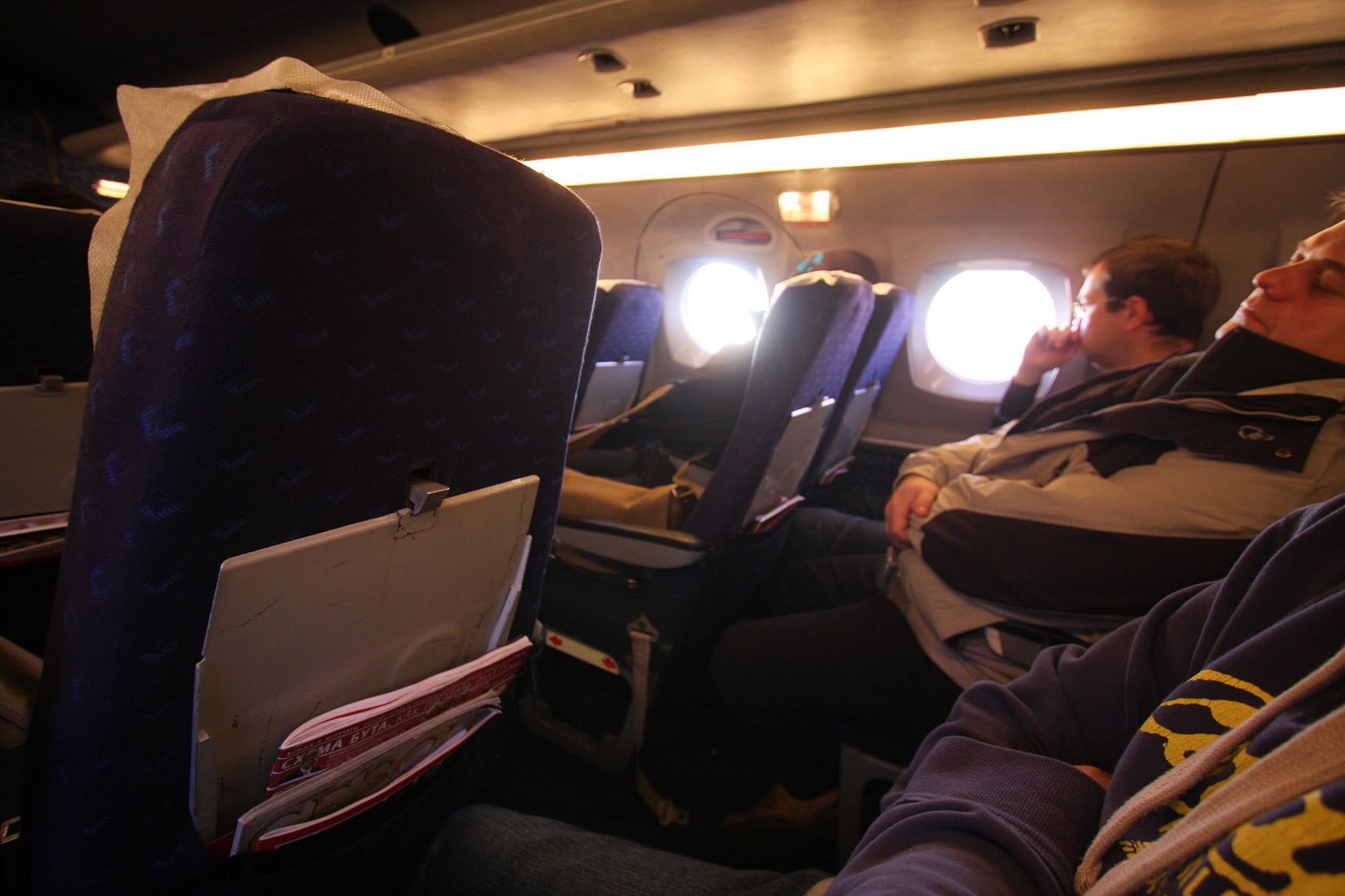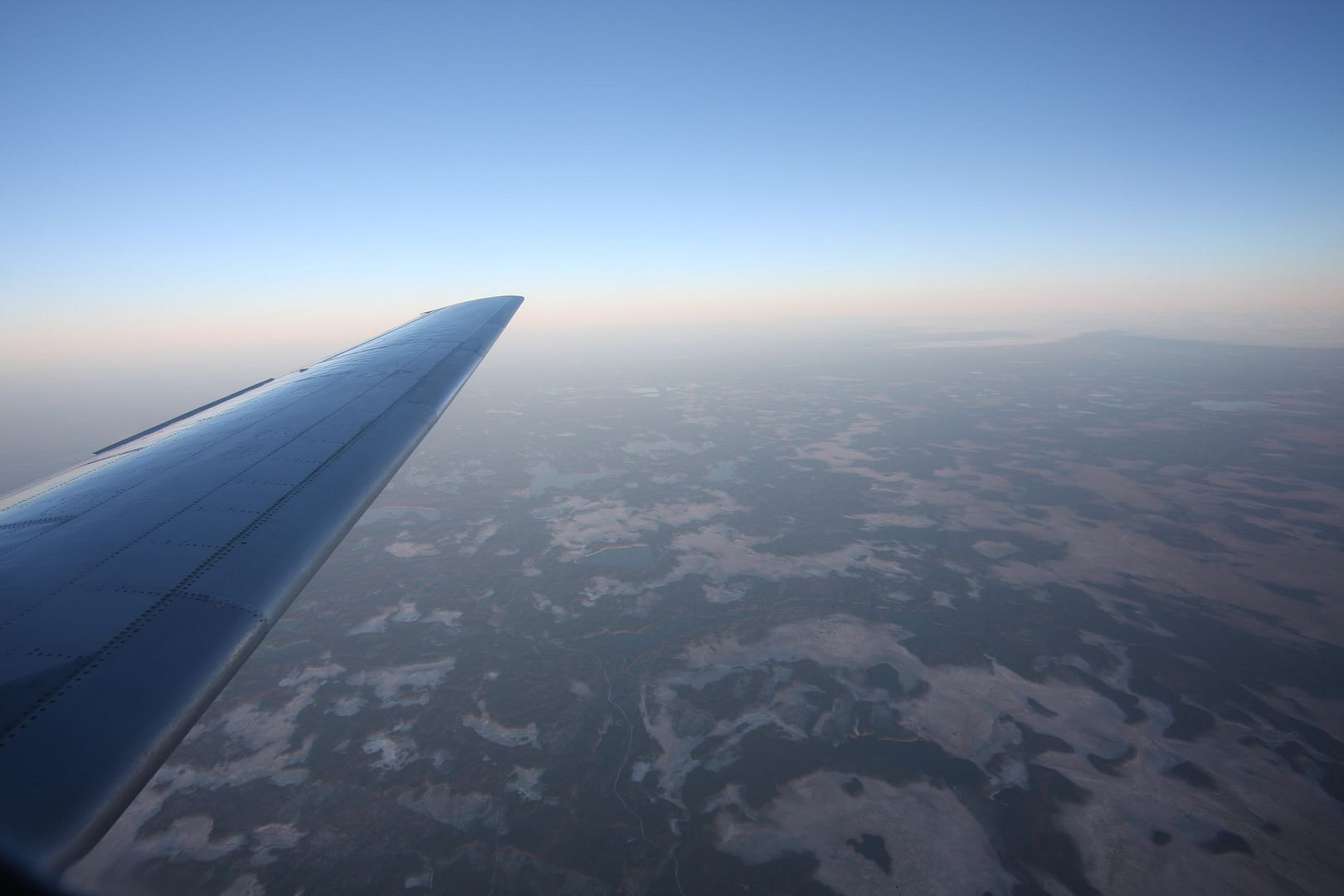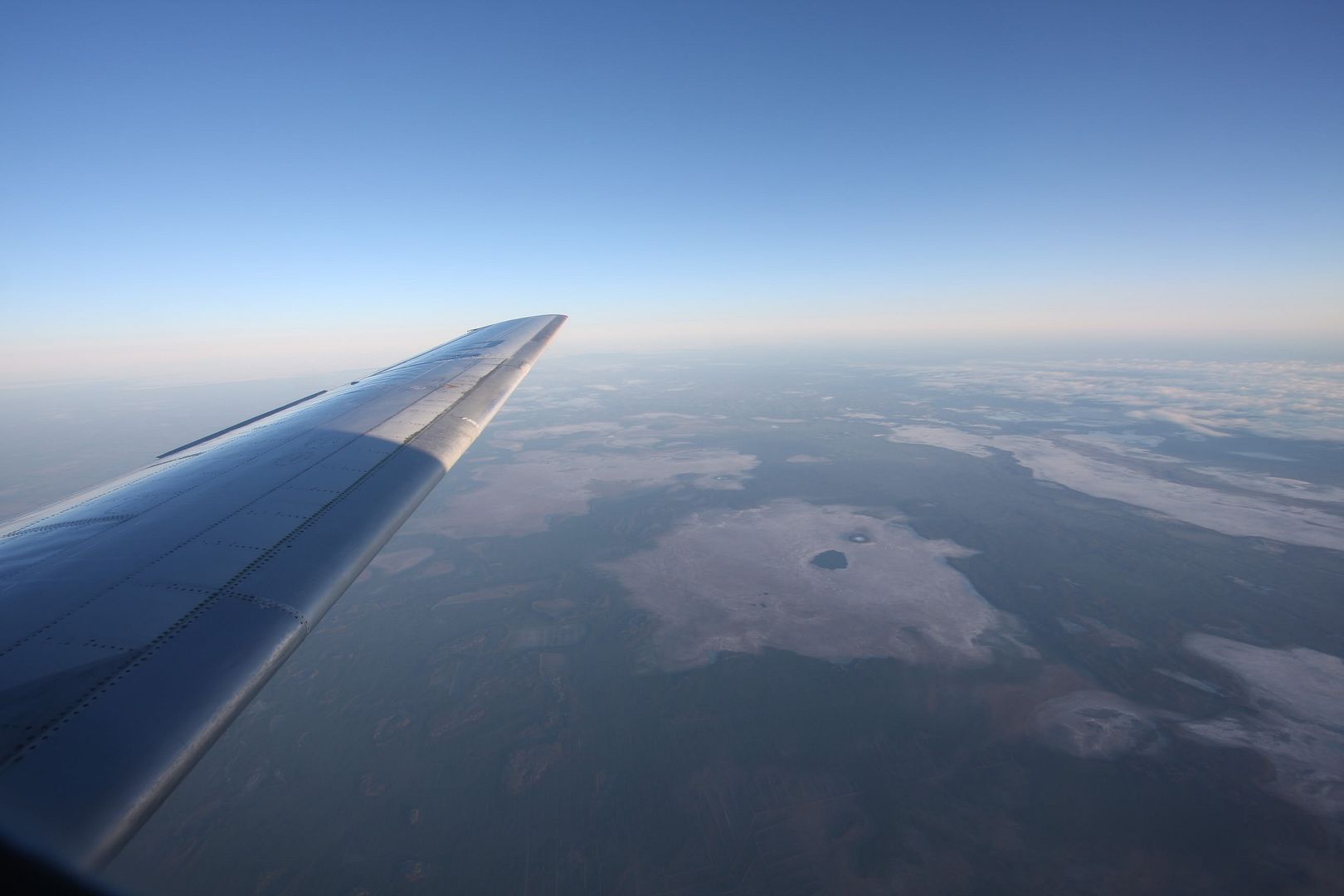 Service on board consisted of a drinks run which included Coke, apple juice (the most artificial I have ever tasted), tomato juice or water. No trolleys here, just the FA walking with a tray of pre-poured glasses of drink! Soon afterwards she came back with either peanuts, or Tuc biscuits. The FA was middle aged and quite smiley in contrast to the UT air crew the previous day. After 45 minutes or so of cruising, descent began and the FA handed out more pineapple flavoured sweets (as seemed to be the norm on every single flight within Russia).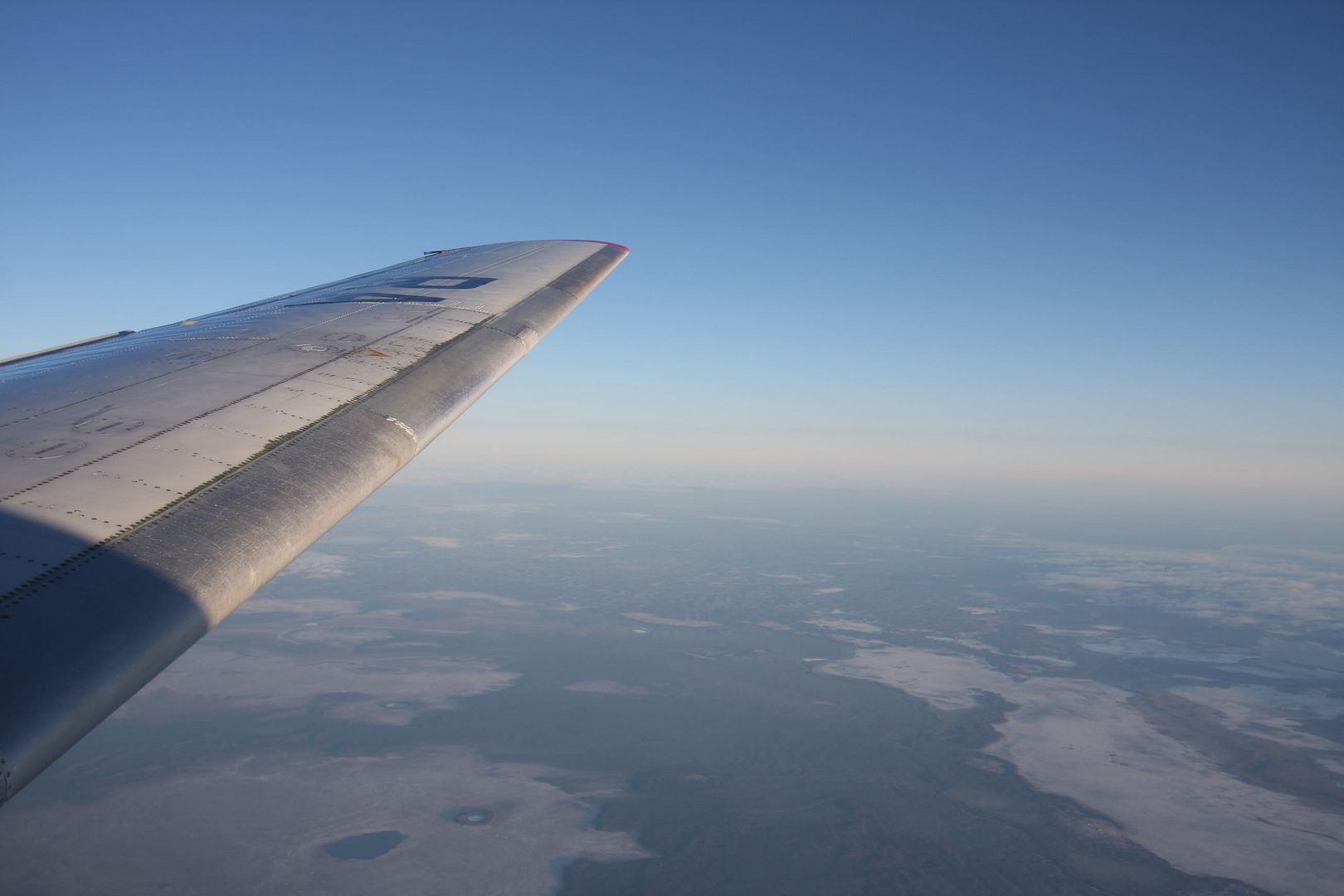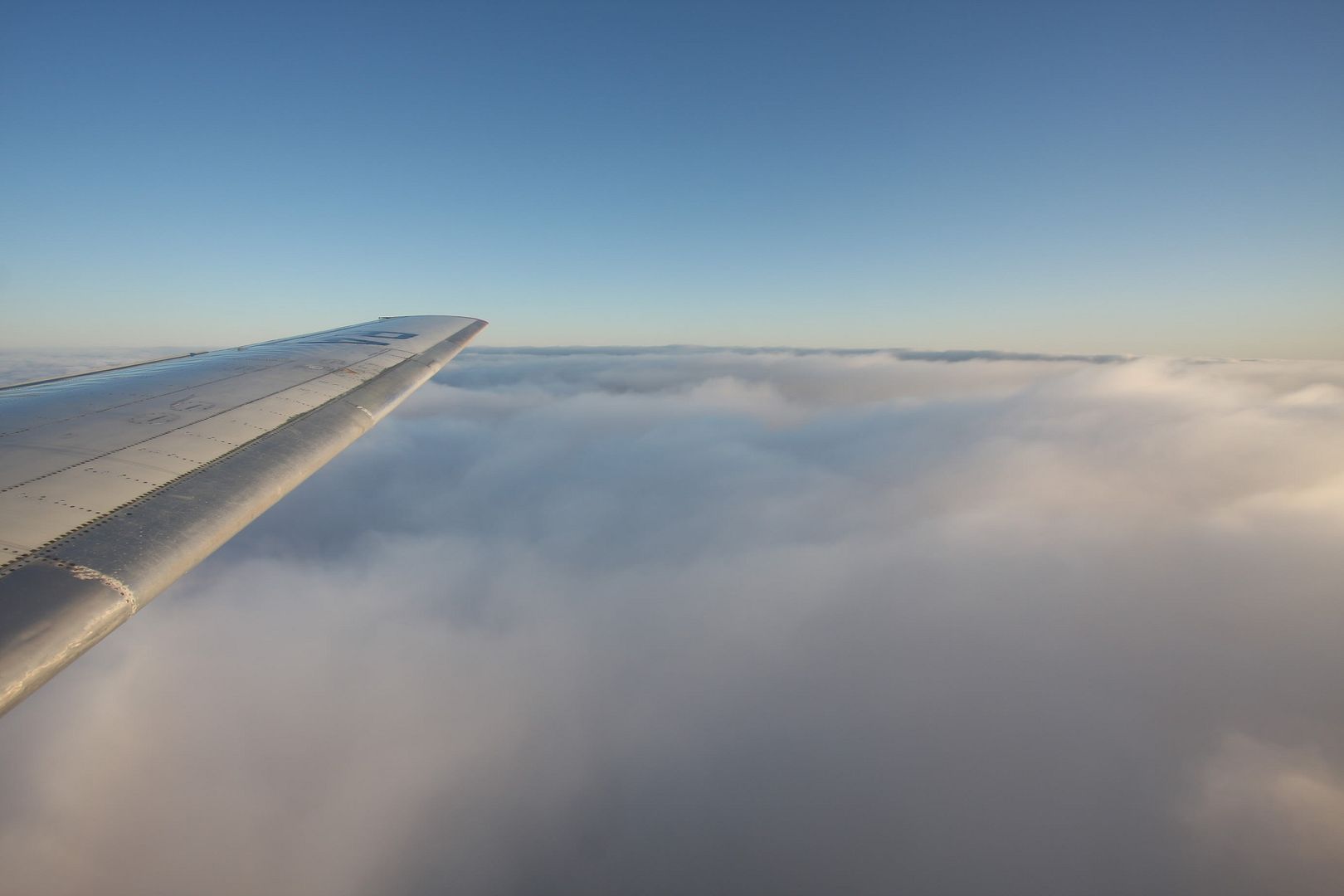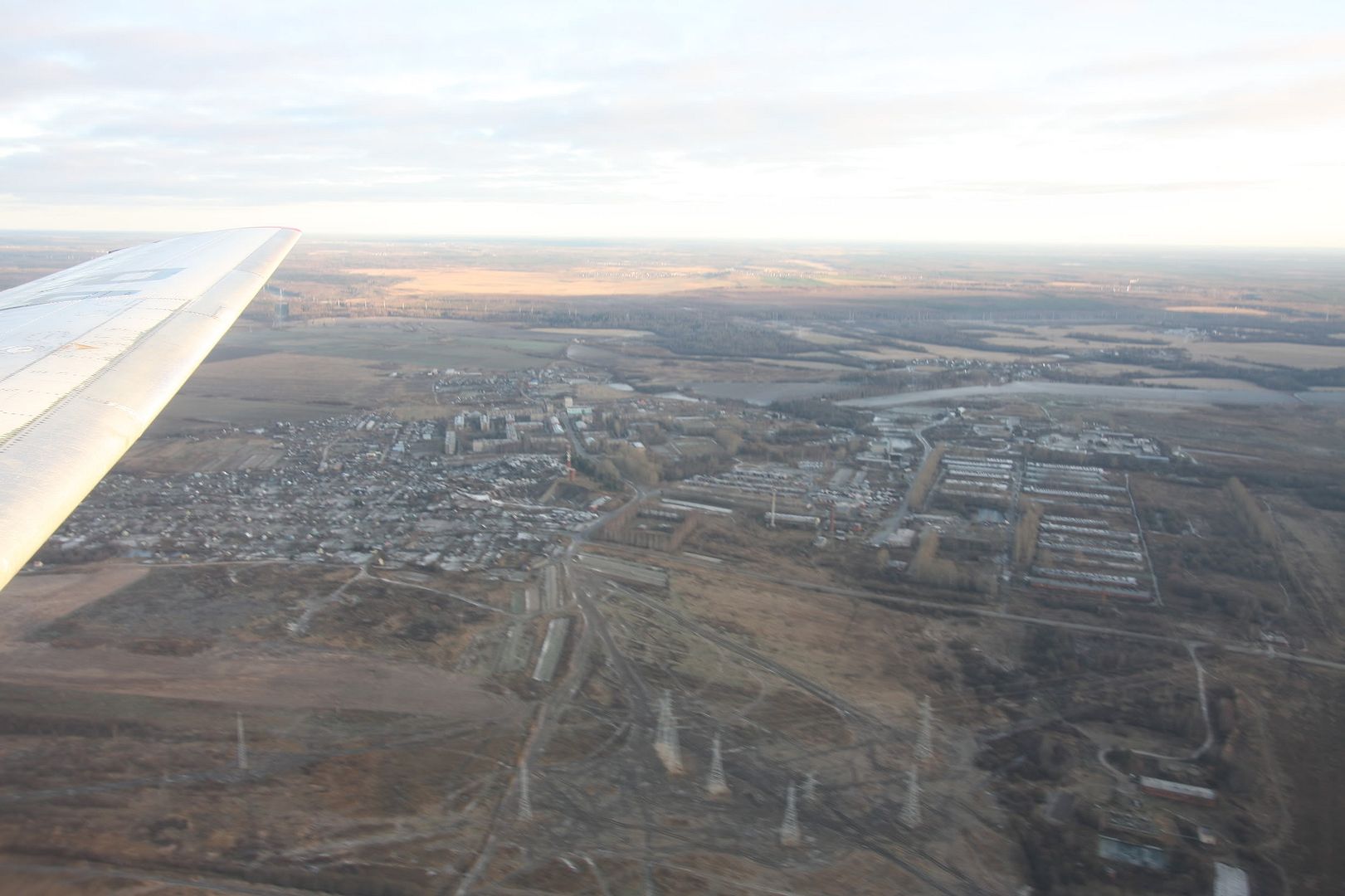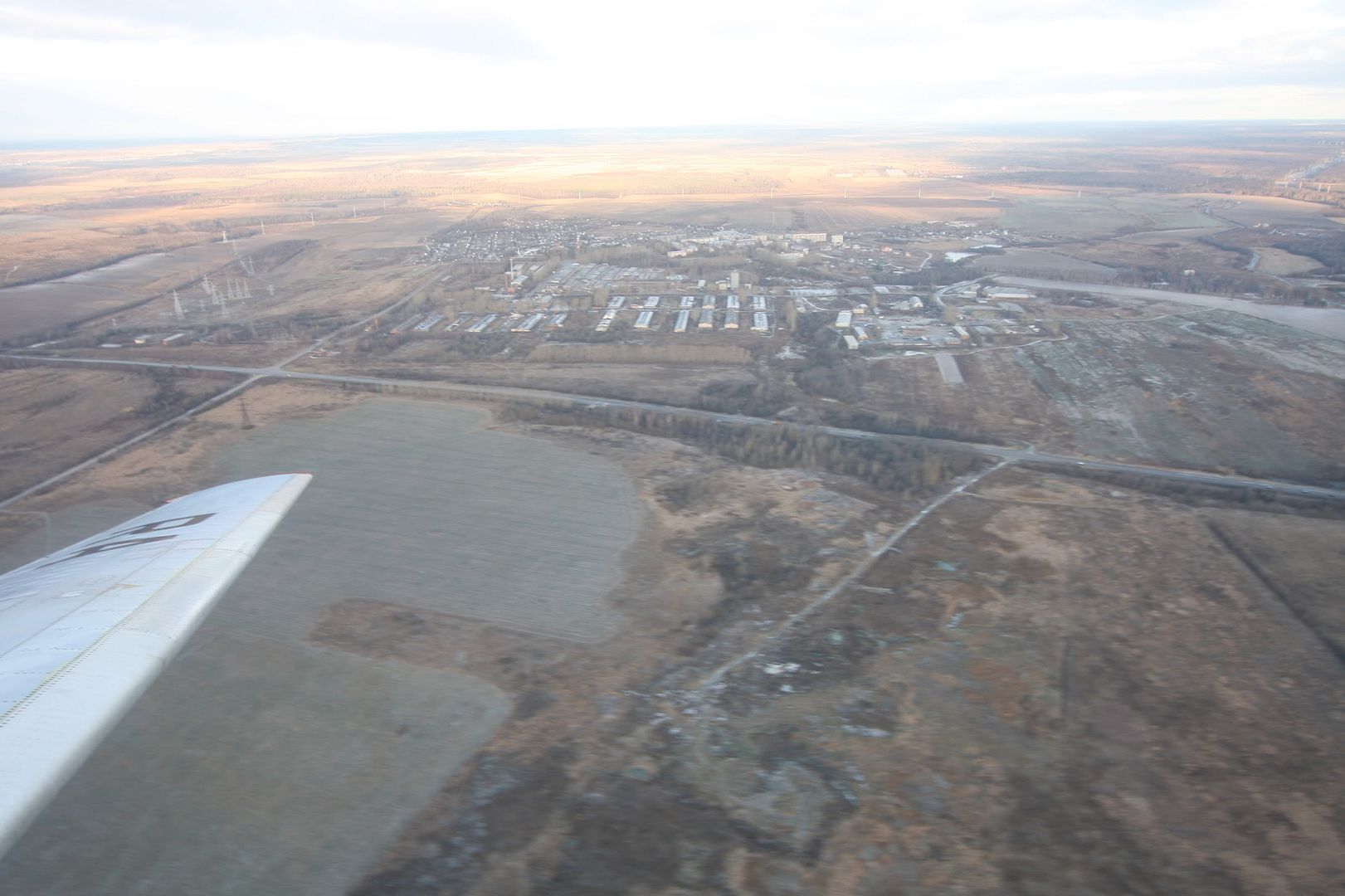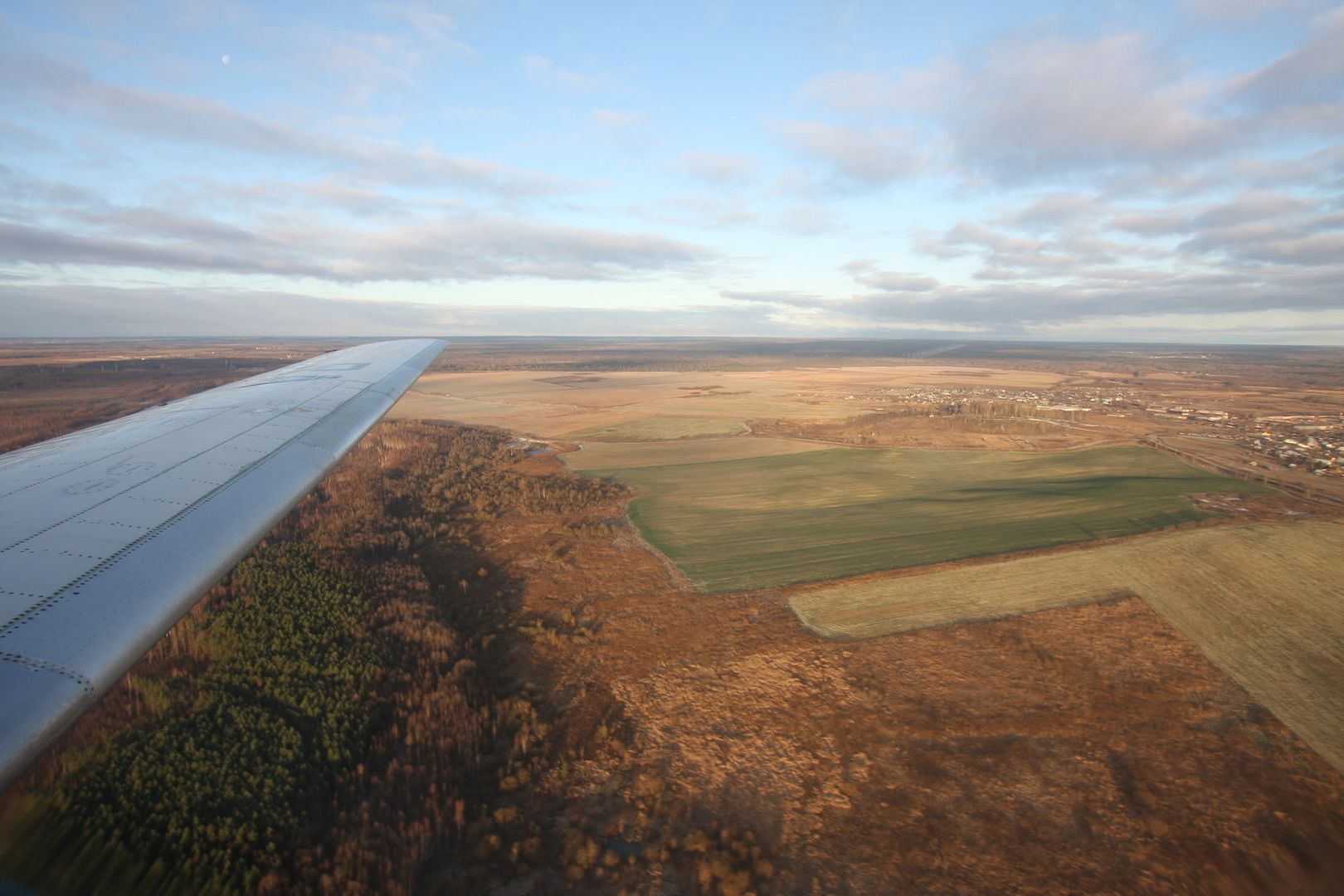 After some excellent low flying at high speed over the countryside the flaps and gear were dropped and we slowed down onto final approach to CEE's northerly facing runway. We were chasing our shadow all the way in and within seconds of passing the threshold reverse thrust was kicked in on the number 2 engine before we'd even touched down! What a beautiful day here in north-western Russia.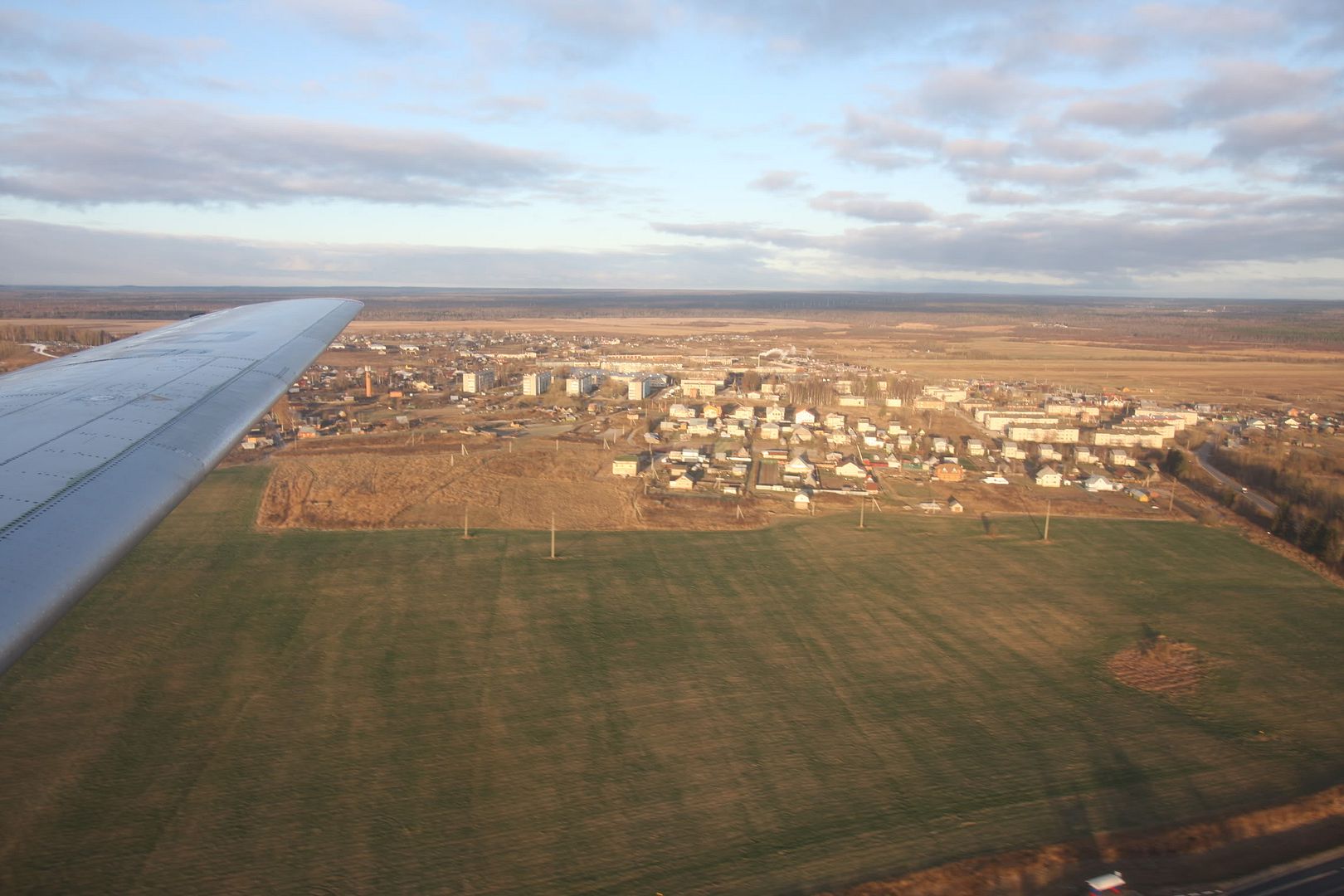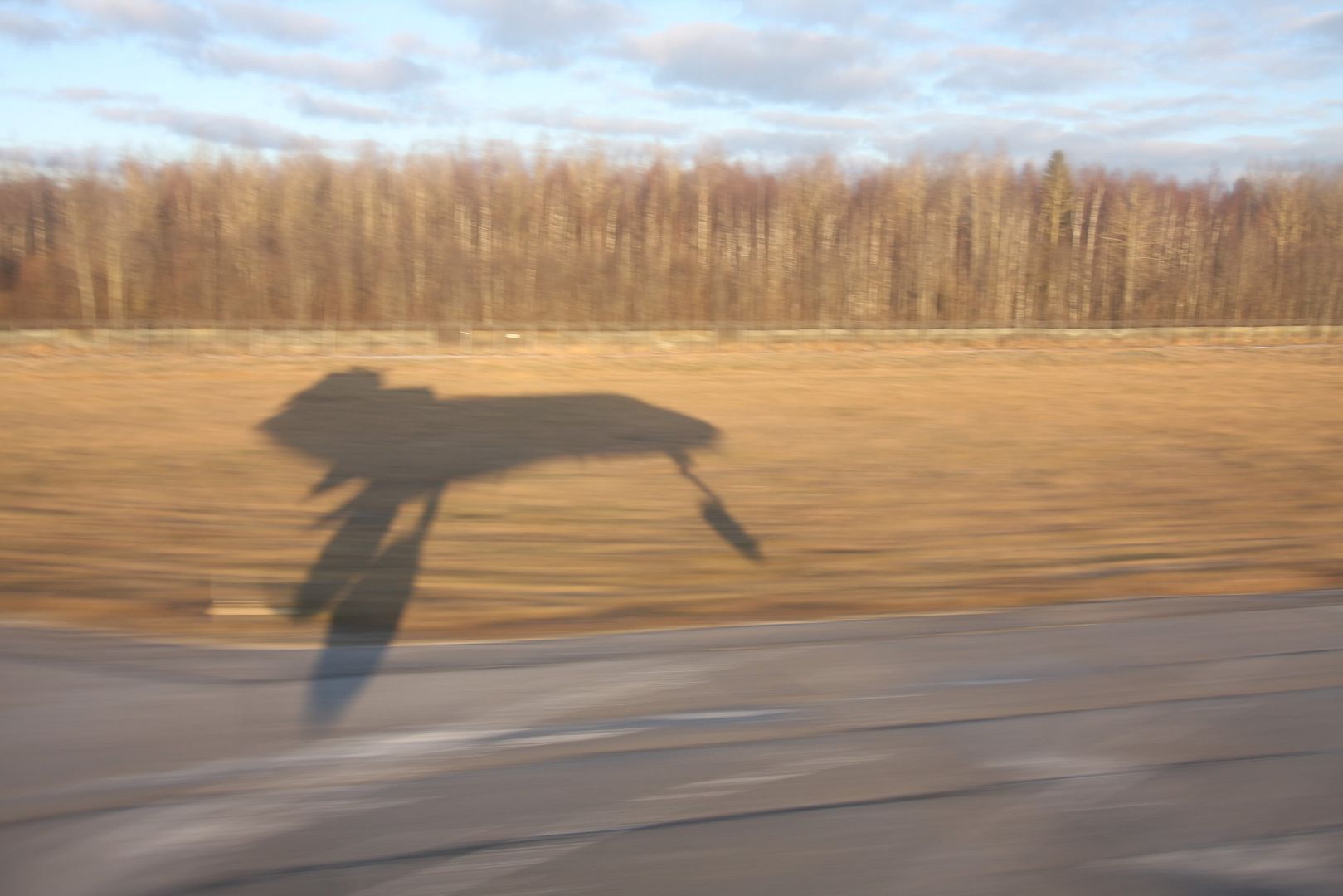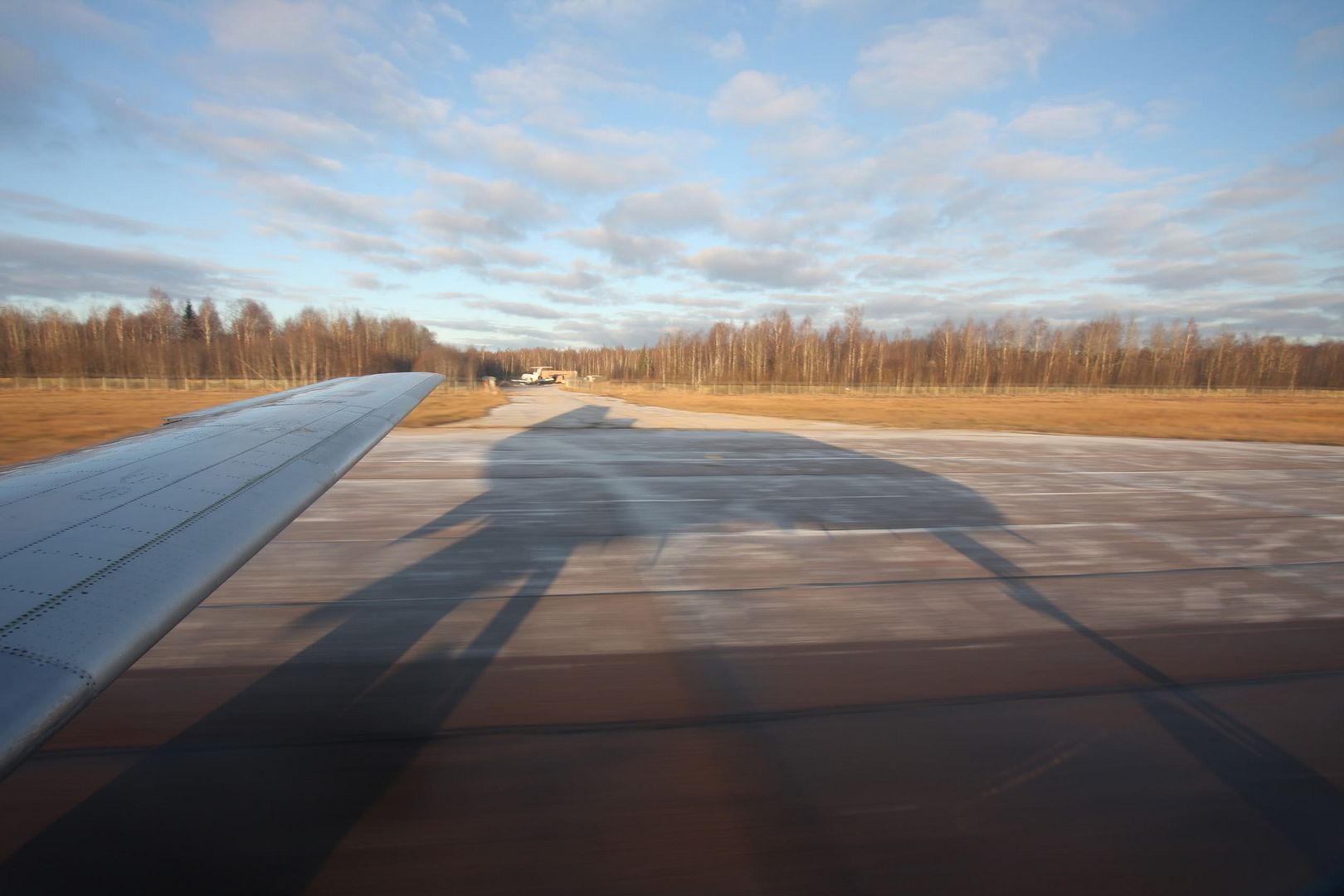 We soon vacated the runway and passed two other Servestal Yak 40's parked up, and one of their "new" CRJ's parked in a hangar before passing the modern terminal and parking alongside two or 3 other Yak 40's.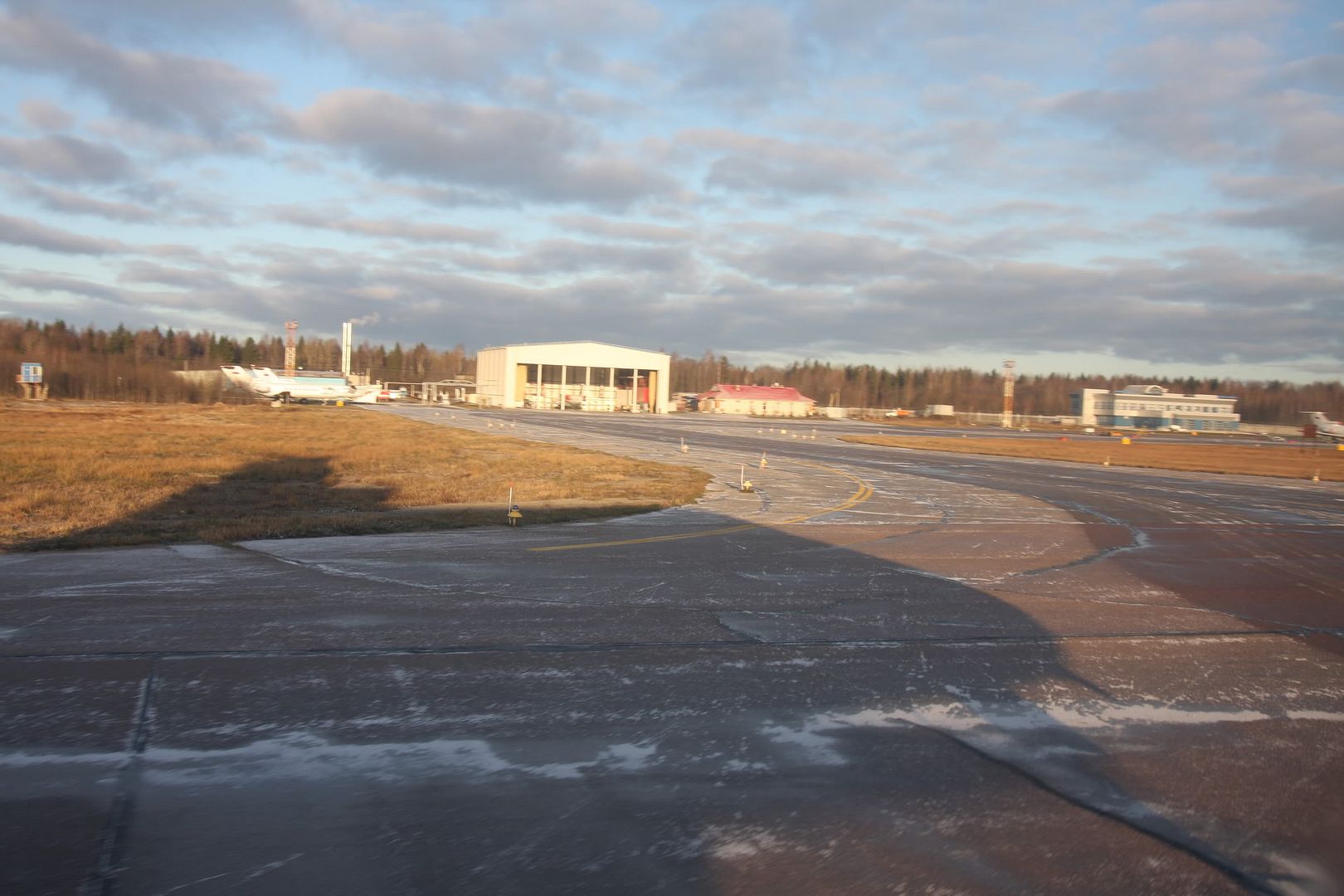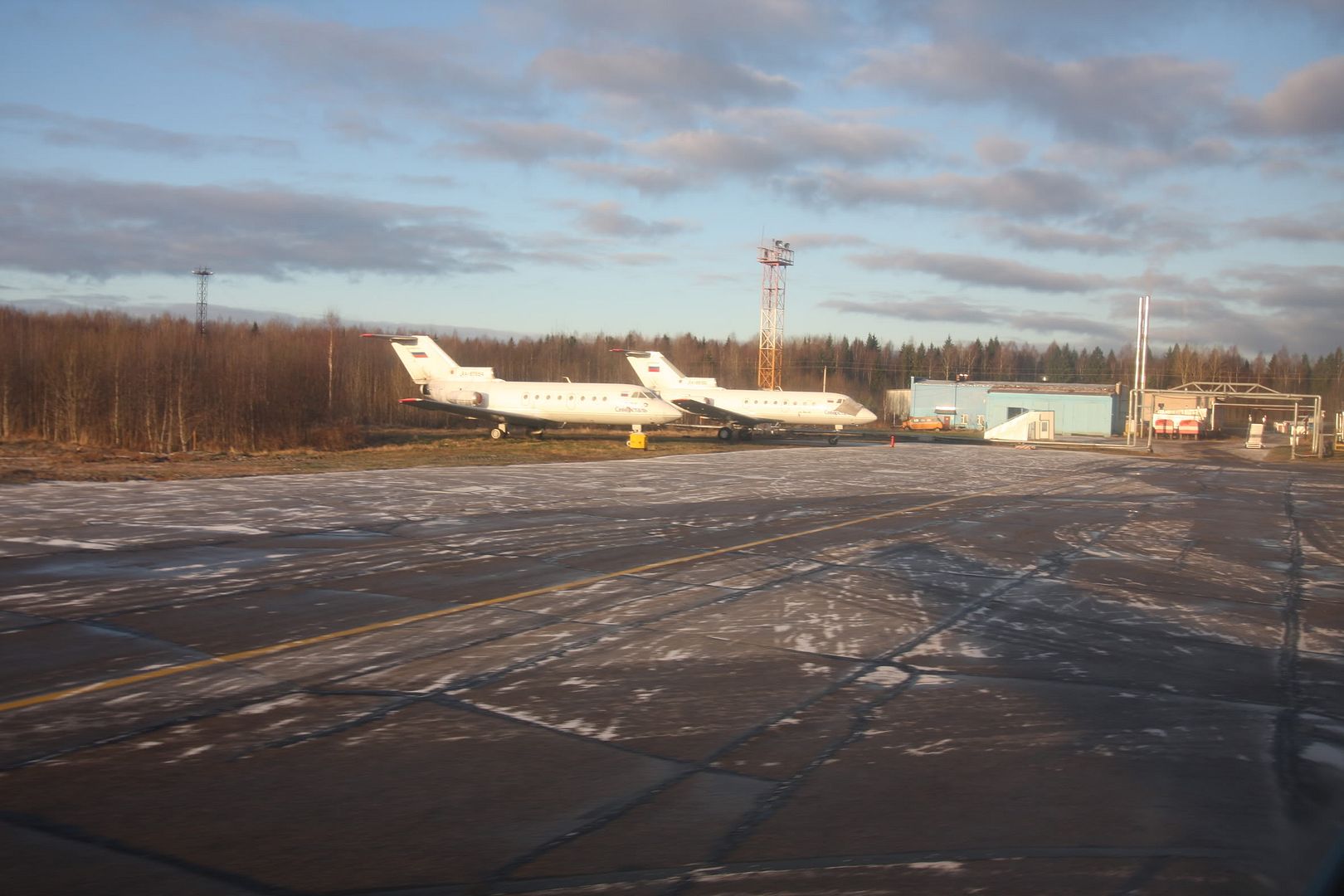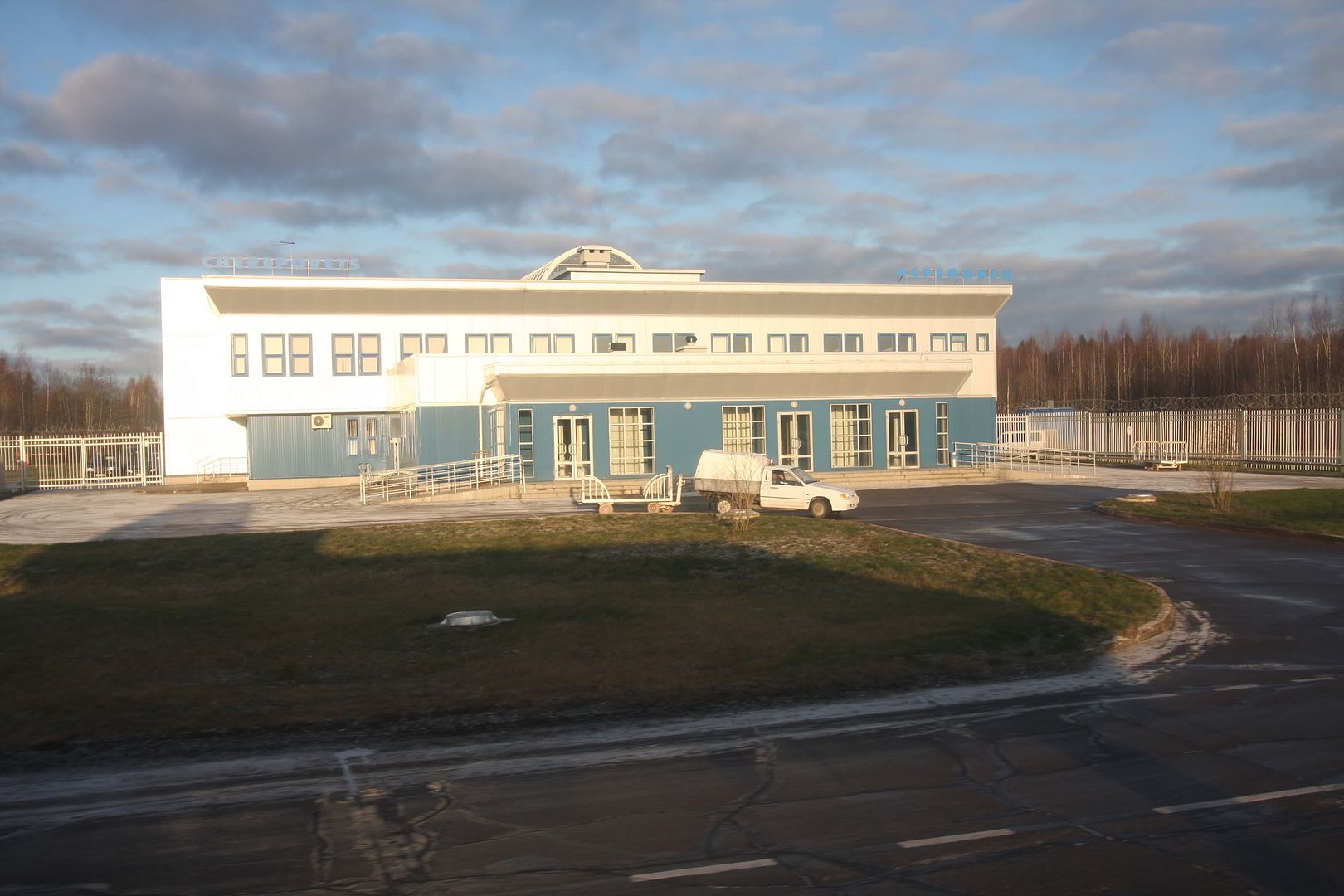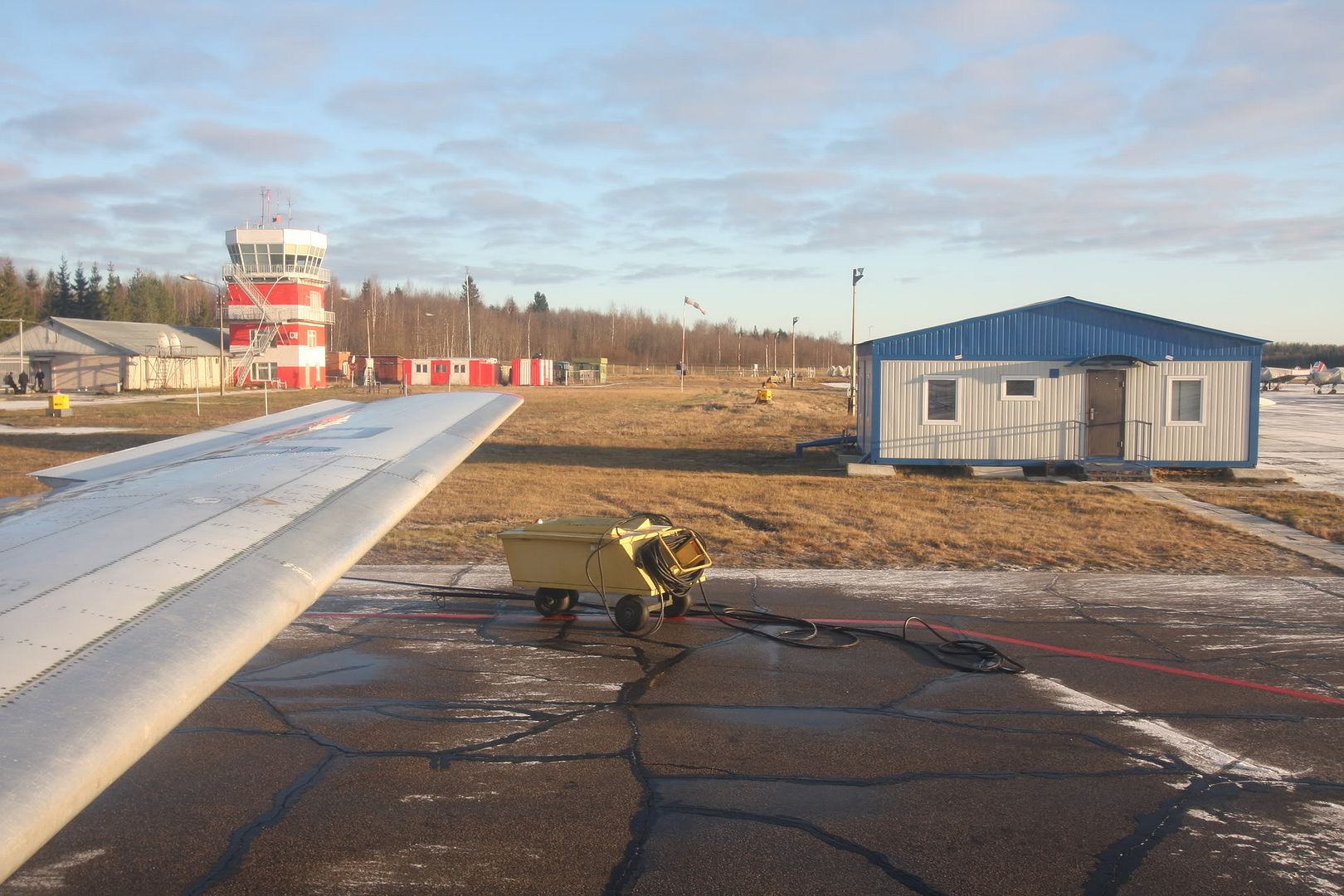 The engines were shut down with a whine and all was quiet before the back door was re opened with another clunk and people started to disembark. The captain appeared from behind the flimsy door to the flight deck and I quickly took the chance to ask to see the flight deck, after which he let me. I was very grateful and made my way to the front and poked my head round the door, where the first officer was still busy negotiating out the window with ground staff. In my haste I got some pretty poor shots and made my escape, conscious of outstaying my welcome.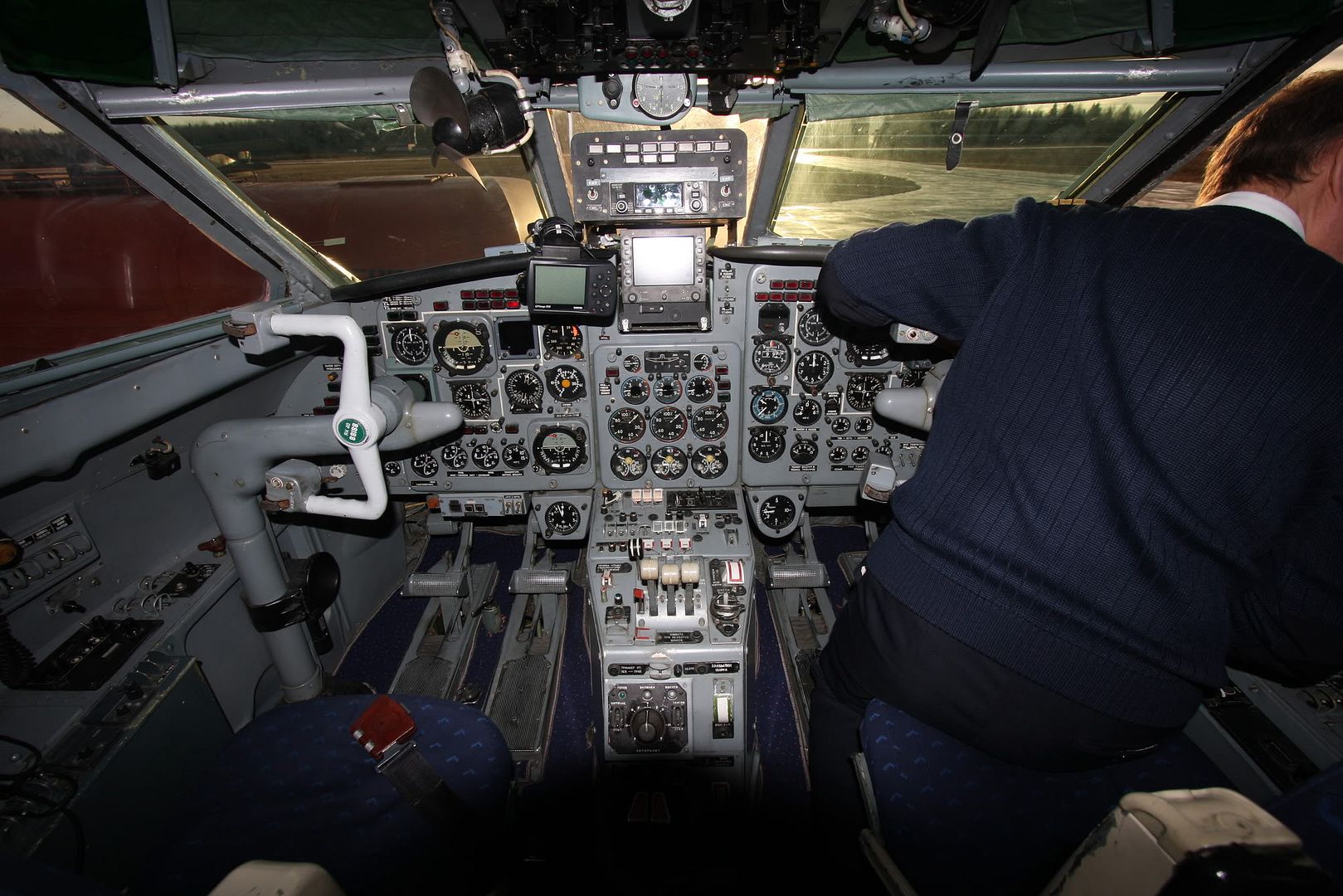 Dave went in a couple of seconds later and got some far better shots than I (damn!). We thanked the FA and disembarked out into the fresh air and sunshine which was greatly received. Trudging through the thin layer of snow on the apron the captain shouted something at us (we assume a goodbye) and waved, and we entered the warm terminal building.
Having seen the previous report I knew what to expect, however Dave and I had no idea what we were really going to do until our departing flight 8 hours later. The arrivals board showed our flight and 20 minutes later, the Moscow flight (which we watched land, a CRJ). The departures board showed our flight 8 hours later and the Moscow flight 10 minutes before. So, 4 movements in a day, 2 of which were ours. This didn't look promising.
We walked around the perimeter to get a shot or two of our aircraft and see if we could get one of the arriving CRJ, however the light conditions were far from favourable.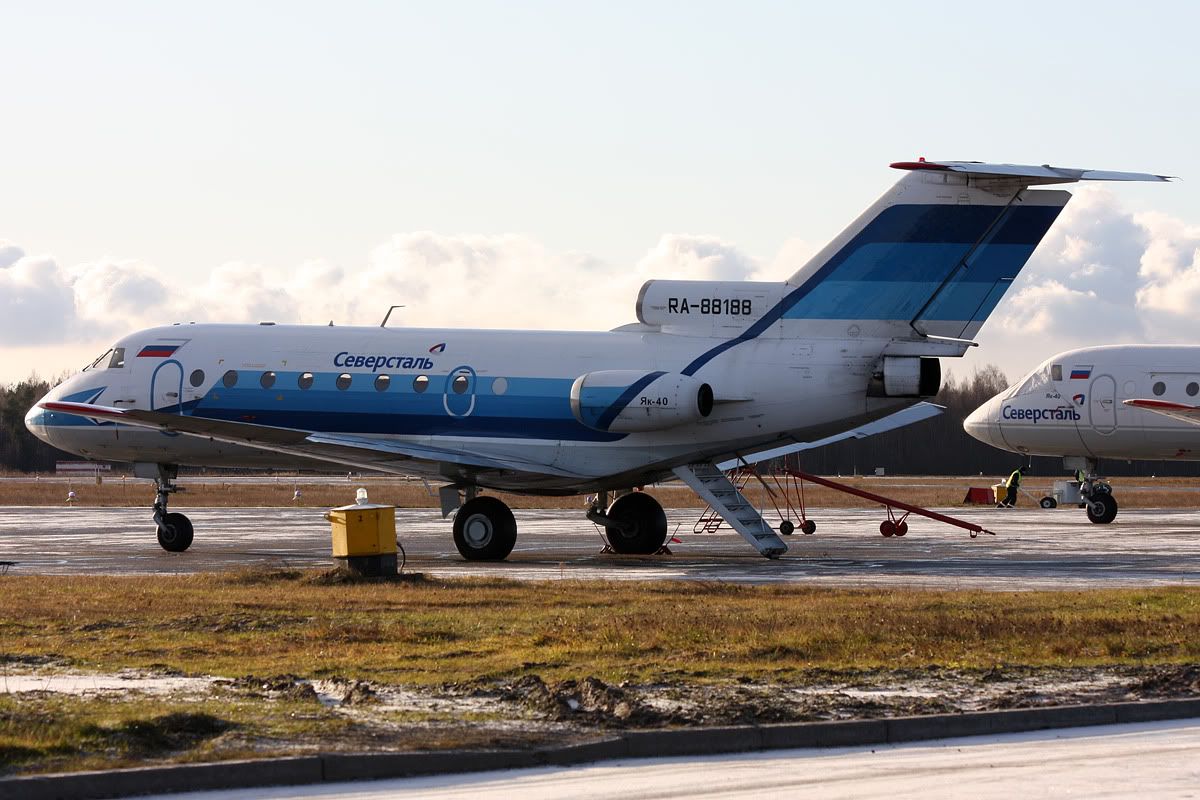 Our ride 20 minutes after we disembarked
We had a tea or two in the terminal pondering what to do before finally managing to organise a taxi to take us to the city for the day, which was an eye-opening experience and why I love travelling! Taxi ride was a good half an hour and we paid 500 Rubles (£10/12 Euros/$16) which was pretty reasonable. It was -4 outside so it was safe to say we froze our nuts off walking round the city.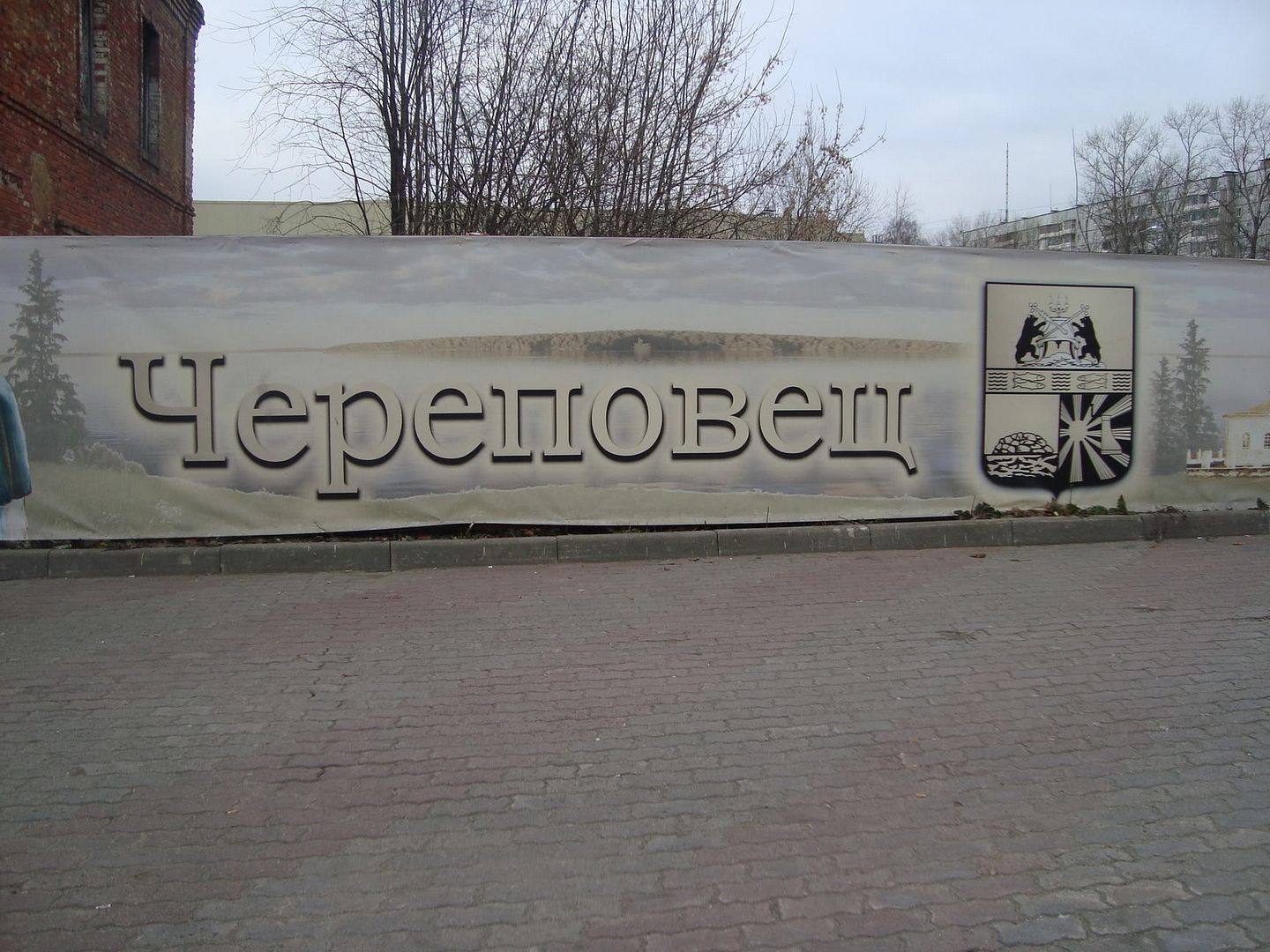 The crest of the city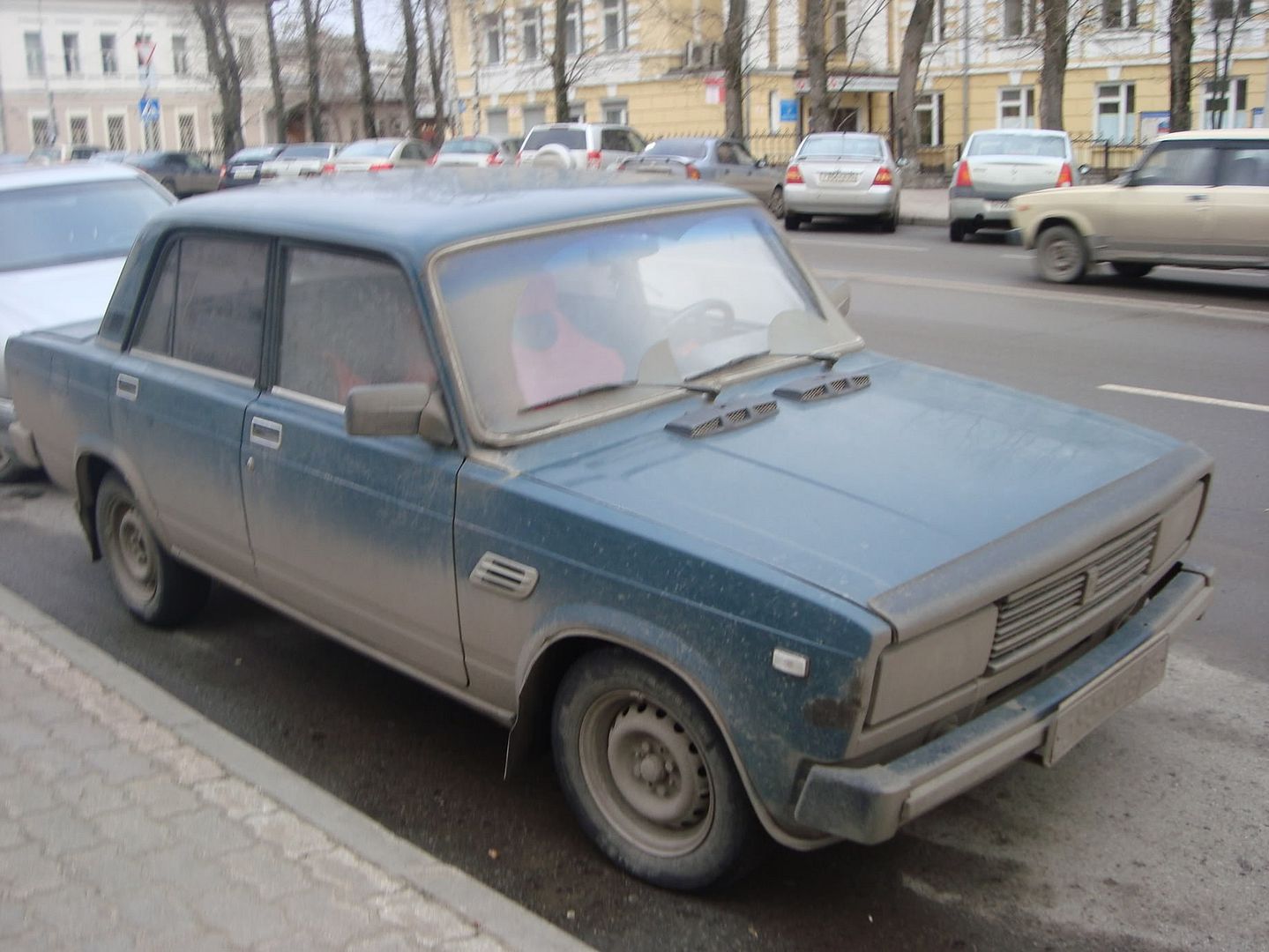 Typical Ladas everywhere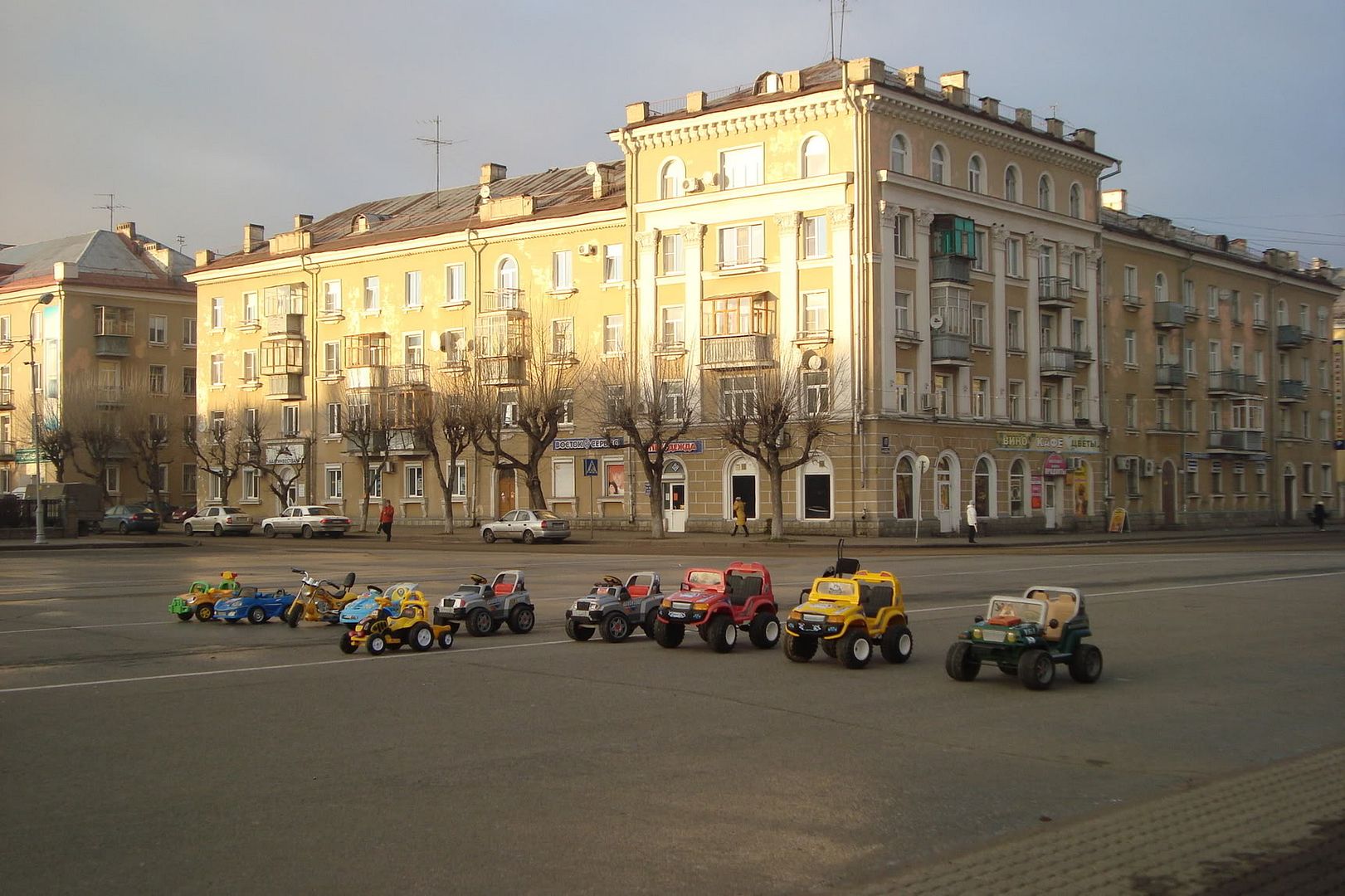 Wacky races!
Russian red neck wedding?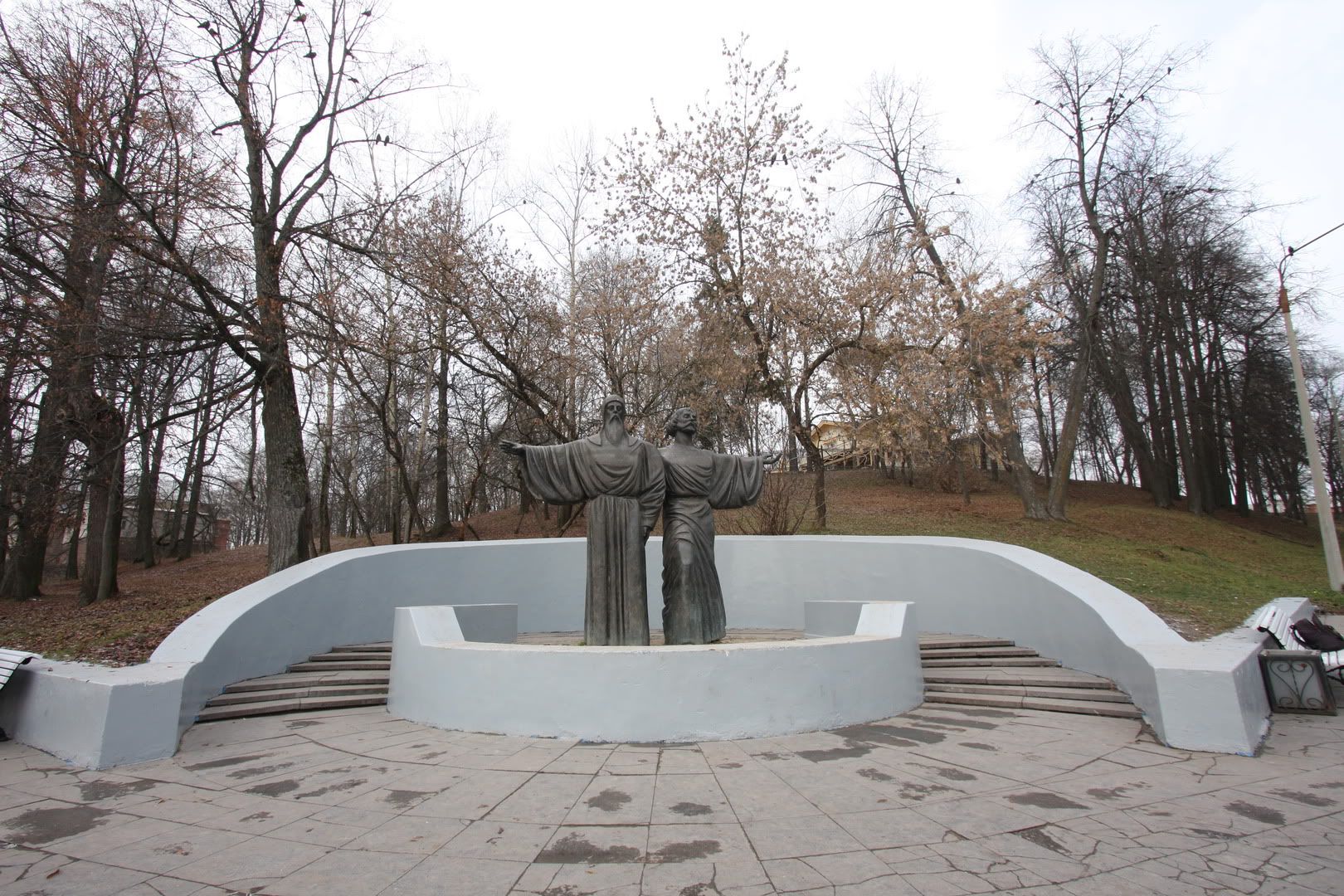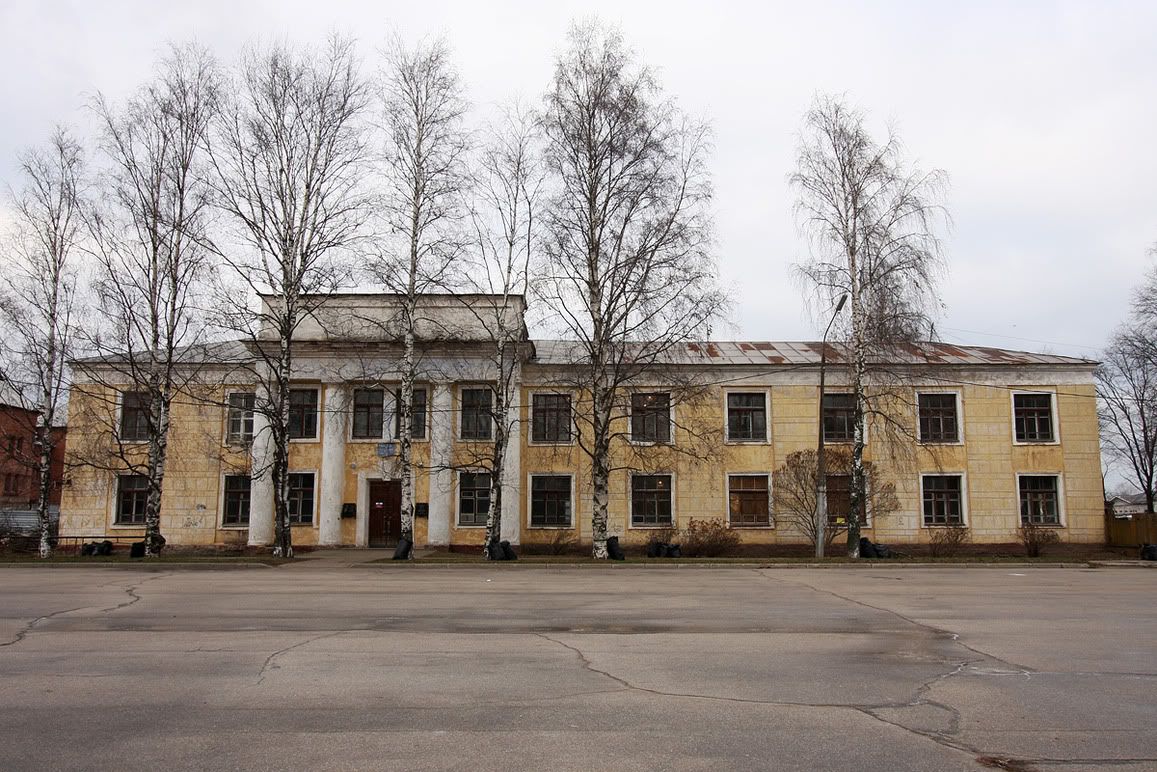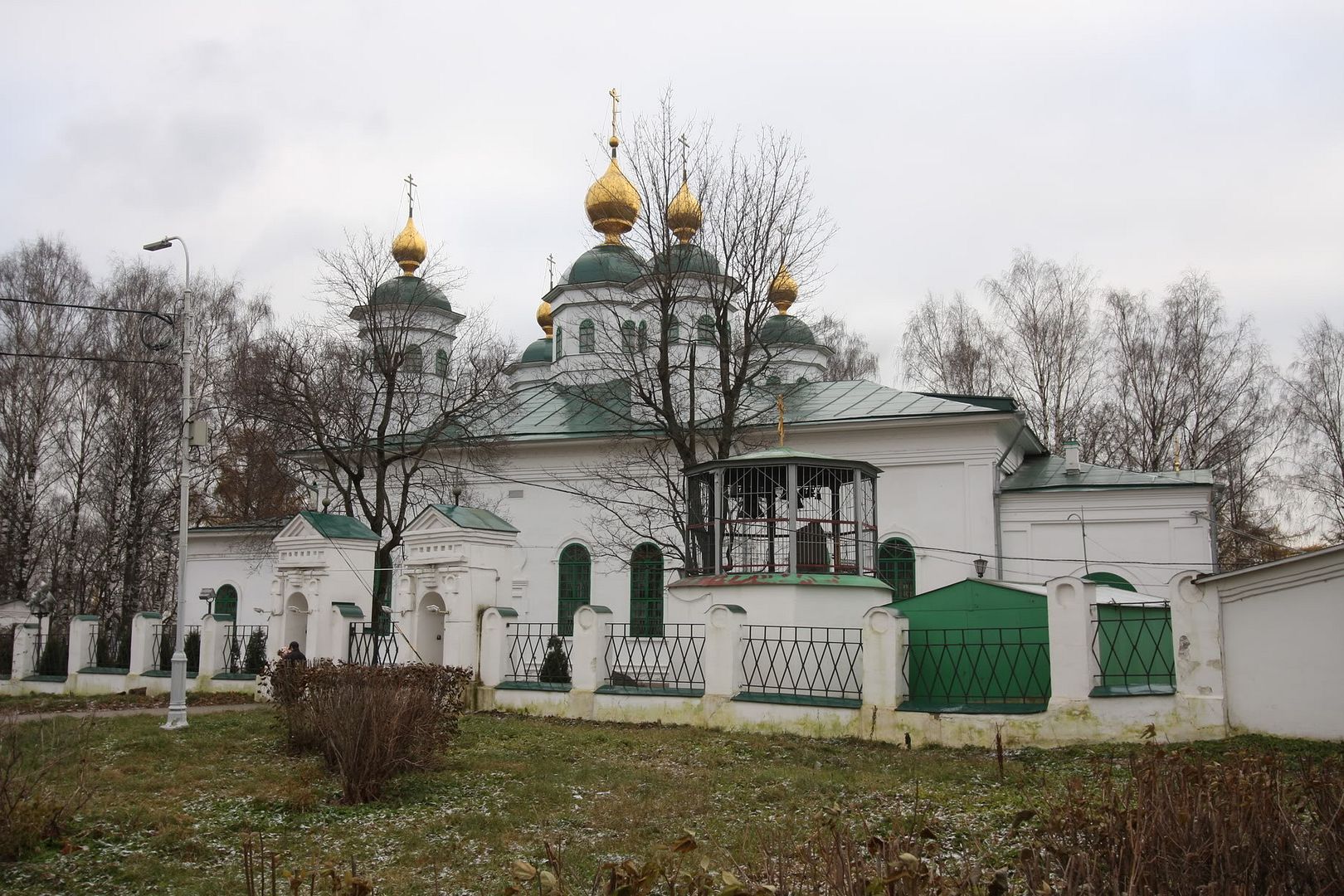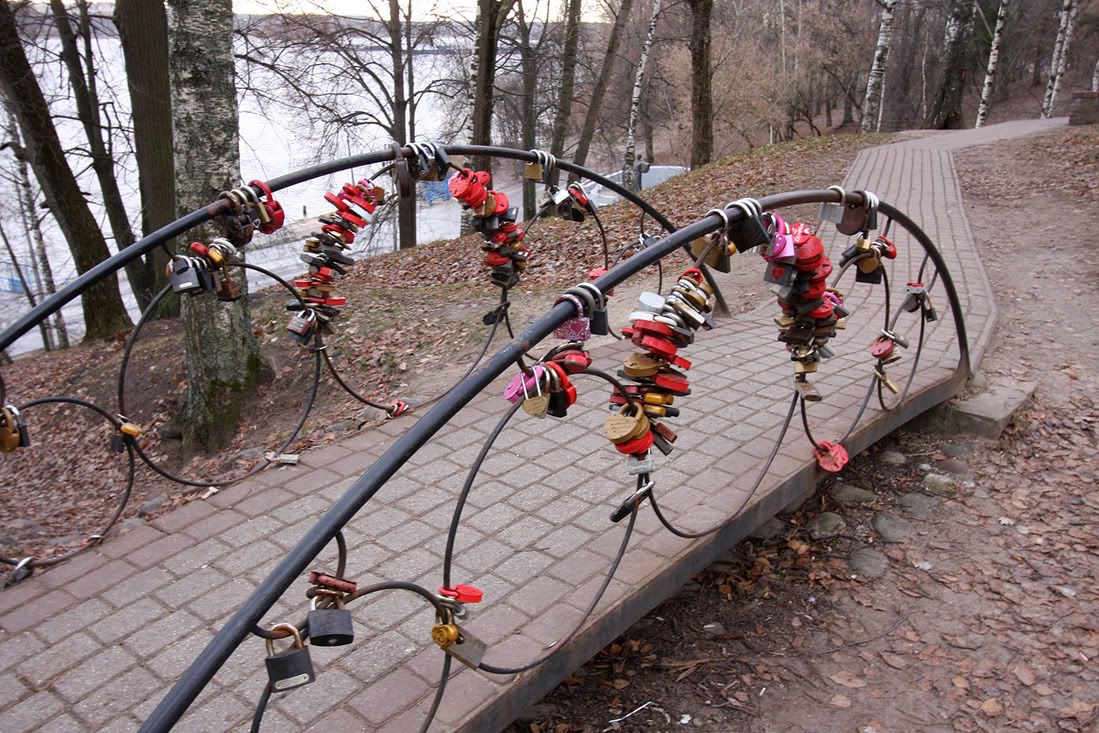 Bridge covered in padlocks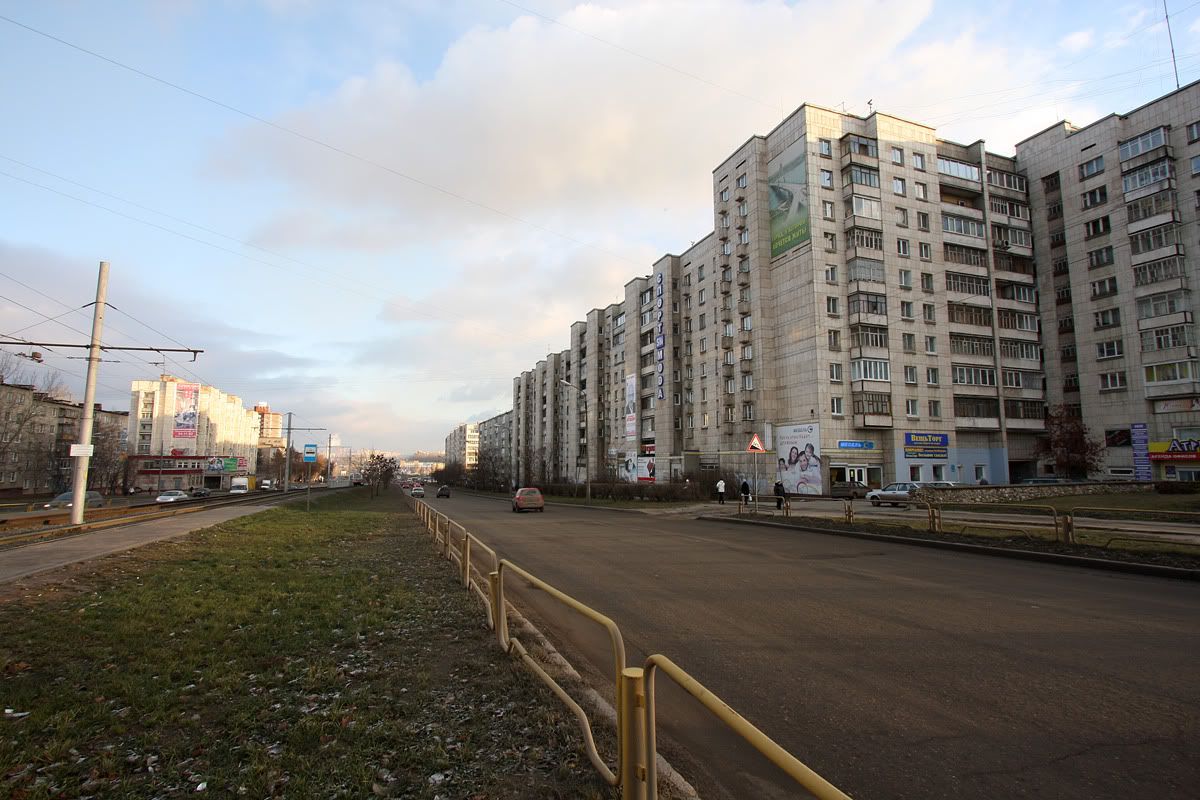 What stereotypical Russia looks like
Once we'd had enough of the elements we made our way back to the airport in a pretty beaten up old Volga, with such temporary repairs as a screwdriver wedged in the window to stop it rattling and a couple of coins in the air vents to keep them in place. Fair enough!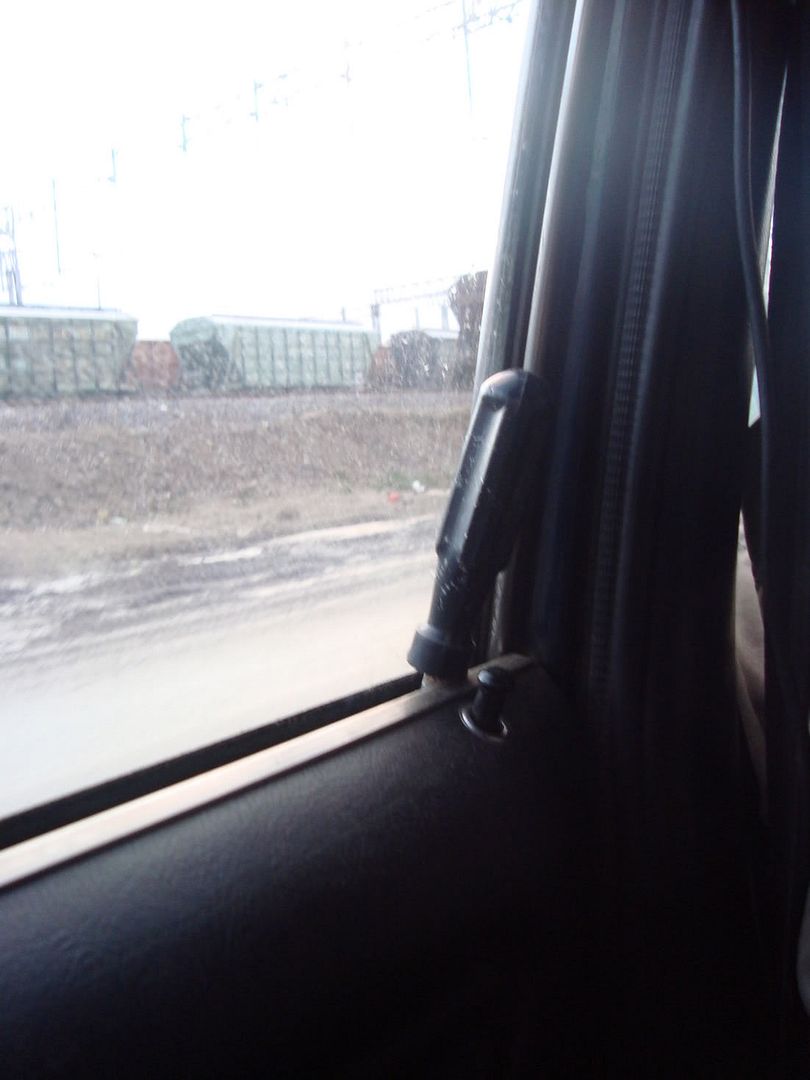 I won't do a report on the return trip but here's a couple of photos worth sharing;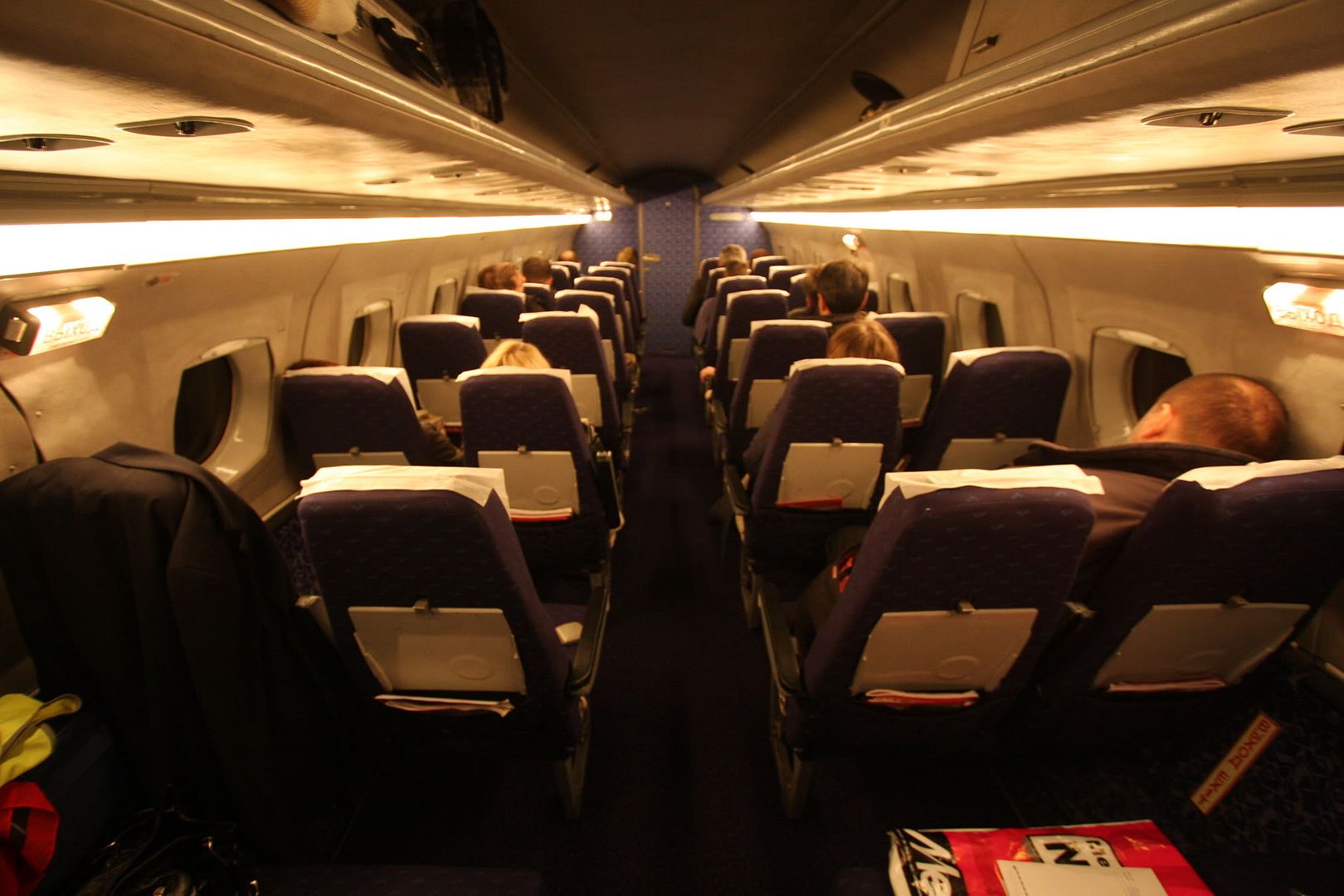 Cabin view in flight
I was very interested to see the same FA on the return flight , that's one hell of a long day, well over 16 hours with 4 flights? Not sure how the duty time laws differ between the EU and Russia but that's a pretty nasty shift!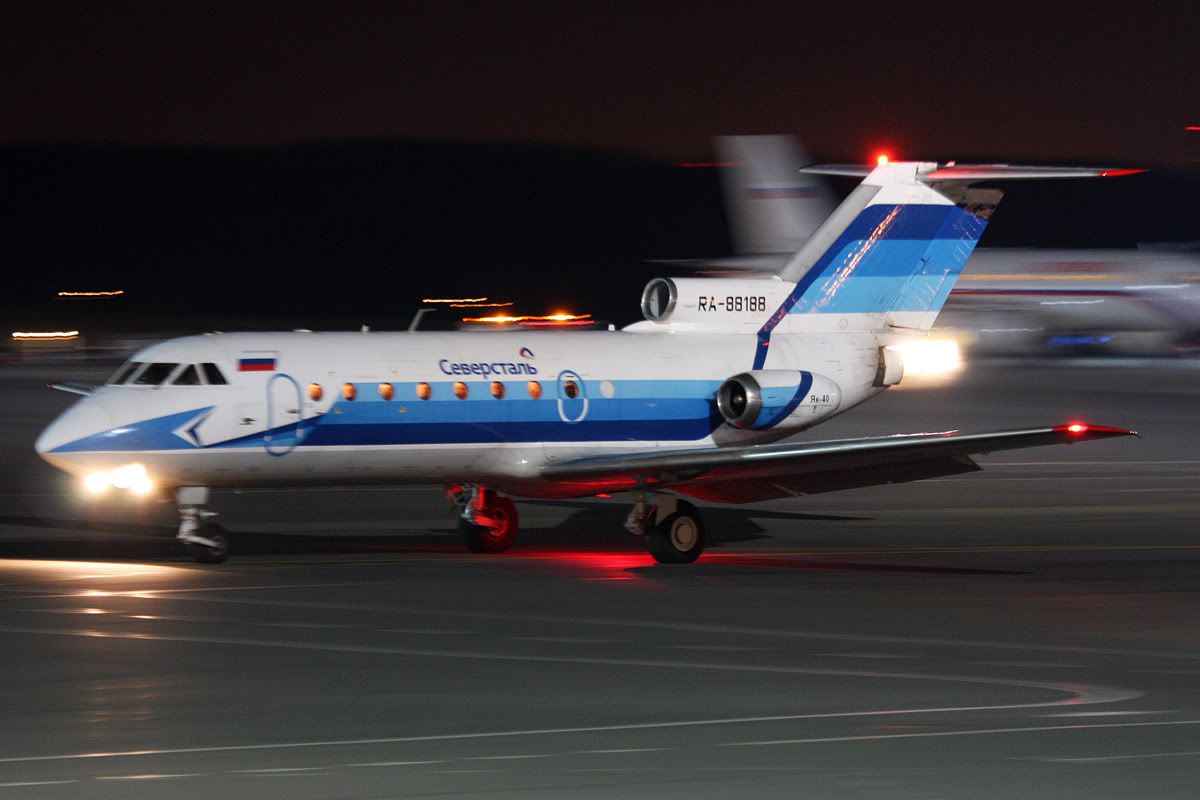 Our bird heading back to CEE, with afterburner
Well what an absolute bargain of a day, £70 for this experience on a pretty unique aircraft, I can't fault it! It was comfortable (for someone of my size), fairly quiet in the cruise, easy to book and convenient times for a day trip. I highly recommend before Servestal's entire fleet is replaced with CRJ's (they already have 2 that they use to Moscow).
Thanks for reading and stay tuned for the Tu154 trip report when I get round to it!