Introduction
Blue1 never fails to surprise me. In addition to appearing to have no solid overall strategy at all, starting and ending routes at random and playing shenanigans with their fare structures they seem to have really messed up their fleet strategy as well. So if one sees a non common visitor at HEL nowadays, a safe bet is always to assume that it is operating for KF. DAT (Danish Air Transport) has been flying for KF on and off for years with their colorful planes - the ATR 72 on ARN-TMP/TKU (I flew the TKU route some years ago) and their MD-87 subbing for various flights ex-HEL. That MD-87 sure has been on my TOFLY list ever since I saw it first time at HEL. The problem was that these substitutions were basically made at an ad hoc, last minute basis and they did not appear on the schedules at all, so planning to catch one was basically impossible and no matter how much I've liked to I just don't have the time and money to book tons of random KF flights, hoping for the best.
Well, a couple of weeks ago things changed as suddenly the schedules were showing "Operated by DAT" for some KF rotations, mainly to CPH and OSL. That was a cue for me to finally do it and patch together an itinerary to try this colorful old lady. Of course booking at a short notice fares were far more than I was willing to pay, so after matching an opening in my calendar and the flight schedules I burned some EuroBonus points for a one way award flight HEL-CPH on the 16.00 flight on a Tuesday afternoon. 7200 points and 13,50 EUR for airport fees - you just can't help but love EB as it does not try to cheat you and charge fuel surcharges as "taxes"!
To get back I booked the DY evening flight (DY has recently gone double daily on the HEL-CPH route on most weekdays, with a perfect schedule for day trips: early morning departure ex-HEL, late night arrival back). Cost was very reasonable 43 EUR (as a comparison KF wanted around 250 EUR for a one way ticket at the same short notice...).
This is the third report in this series, for the earlier ones see these:
-
Atlantic Blue: HEL-OSL
(by
FlyingFinn76
Mar 25 2011 in Trip Reports)
-
Augsburg Blue: HEL-RVN
(by
FlyingFinn76
May 2 2011 in Trip Reports)
Tuesday 22.11.2011
So it is another day where I sneak out of the office earlier than the norm, catch the airport bus from the nearby stop and actually arrive to the airport in very good time, around 1h15mins ahead of the flight - the improvements they have made to one of the main trunk roads in the area and one of the most congested ones in the country have indeed paid off! Anyway I head through the fast track lane, check out the gate and then hit the lounge.
14A is a bus gate - actually I'm happy to see it this time as it means more photo opportunities of that colorful Danish bird:
The lounge is packed, luckily I manage to find a spare workdesk where I can try to finish some unfinished work and of course nibble at the offerings. I really like these sausages they have been offering pretty much every afternoon I've been here for the last couple of weeks: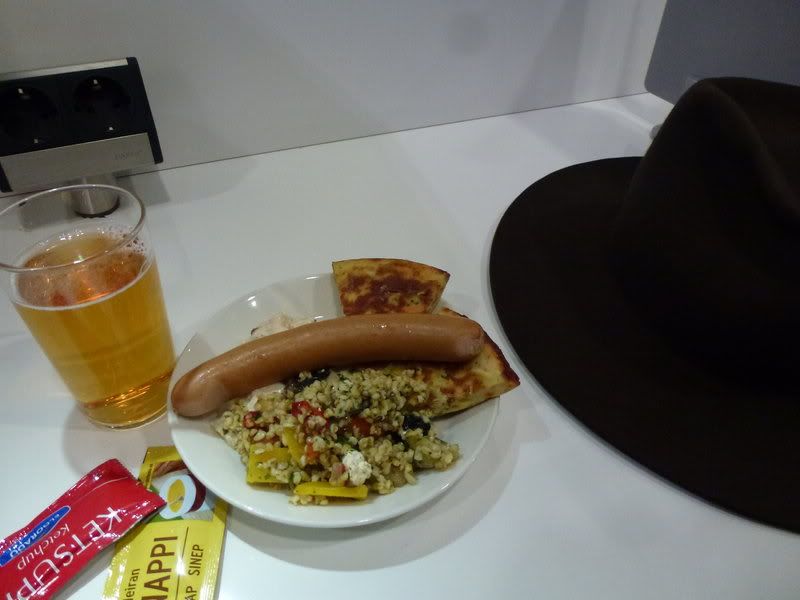 Around 25 minutes before the SDT I take a glance at the FIDS and am a bit surprised to see "Final Call" already there. So I quickly gather my trash, say to the lounge agent (who said to me "Oh, you are on your way again!" when entering the lounge): "I'll be back tomorrow morning!" and head to the gate.
Most of the passengers are already gone, I assume they are waiting in the bus. The gate agent, a youngish girl with the most outrageous oversized glasses gives me the eye for a long time and finally asks "Aren't you the one from that TV show?" - well, I have to admit that indeed it is me
.
Looks like the first bus is already gone and we actually have to wait in the stairway for the second one - this hasn't happened to me before here!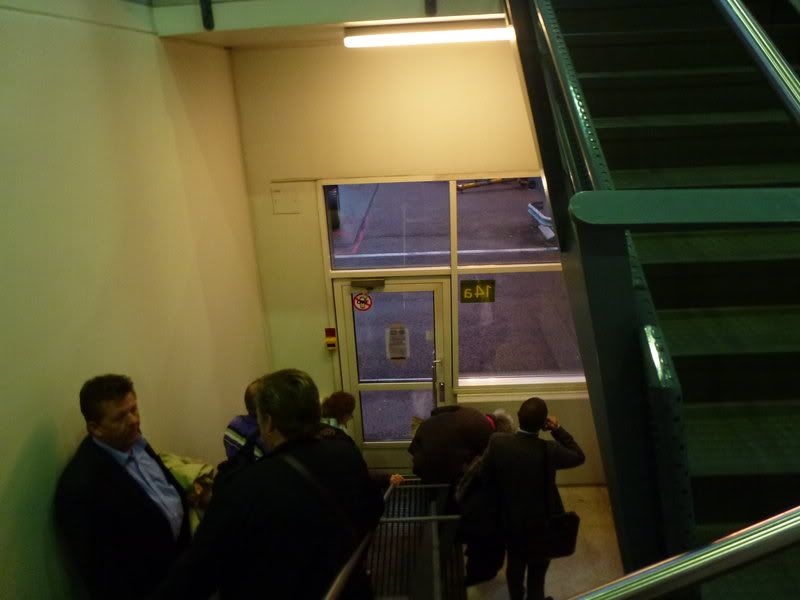 Soon enough the second bus shows up, we wait a while for the last ones and ride towards our plane. Sorry for this bad shot, but here's Flybe Nordic's newest plane, OH-ATO delivered just a few days before and still butt naked: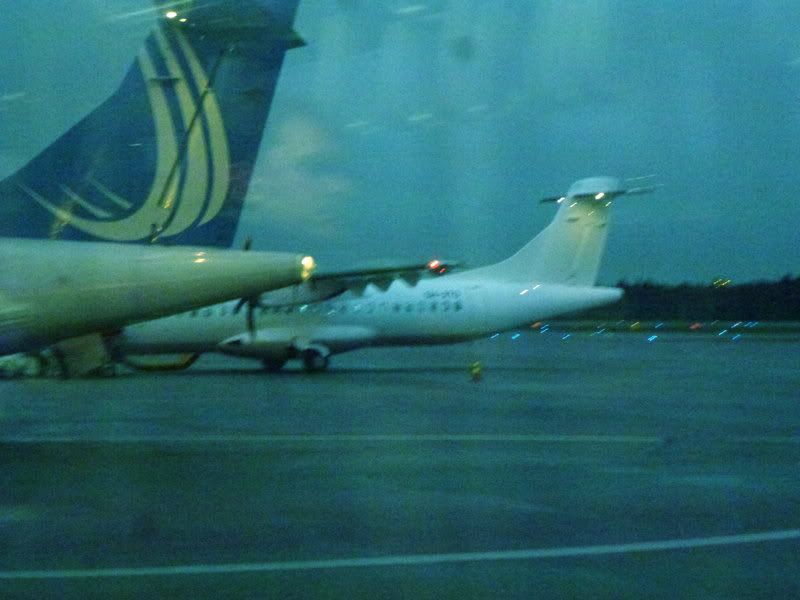 Ahh, here we go: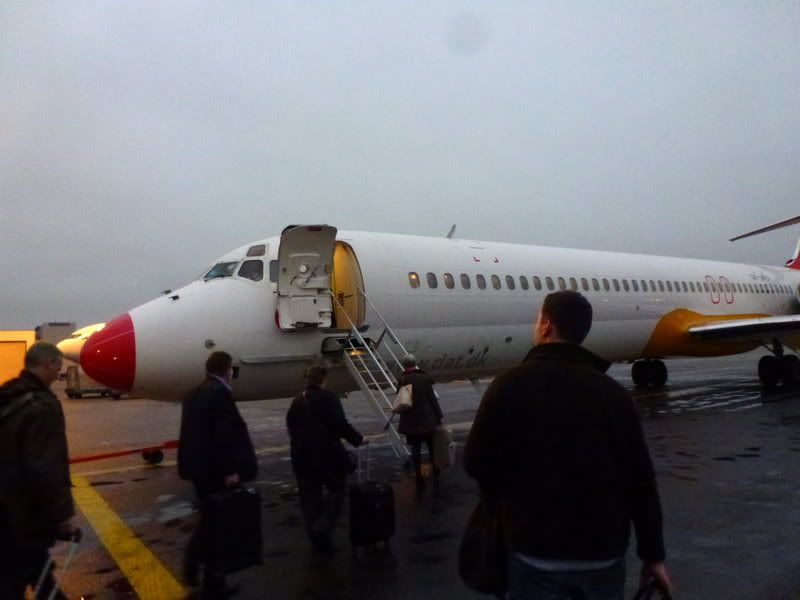 My my, isn't that a nice livery:
I selected row 24 from the OLCI as I wanted the real Mad Dog experience, meaning a seat near the engine. Since that is near the back and the back ramp is actually open I decide to try my luck. I half expect the ramp agent overseeing the boarding to yell at me, but nothing happens:
Bugger, the inner door is closed: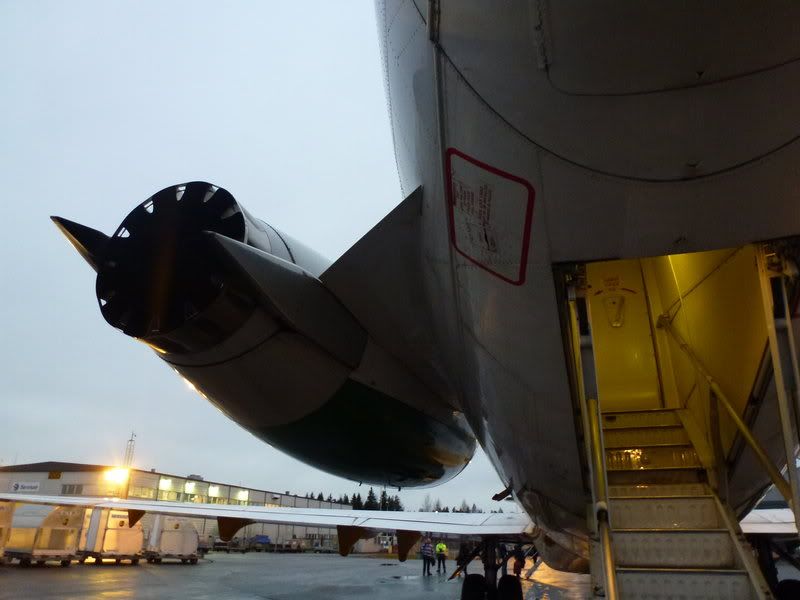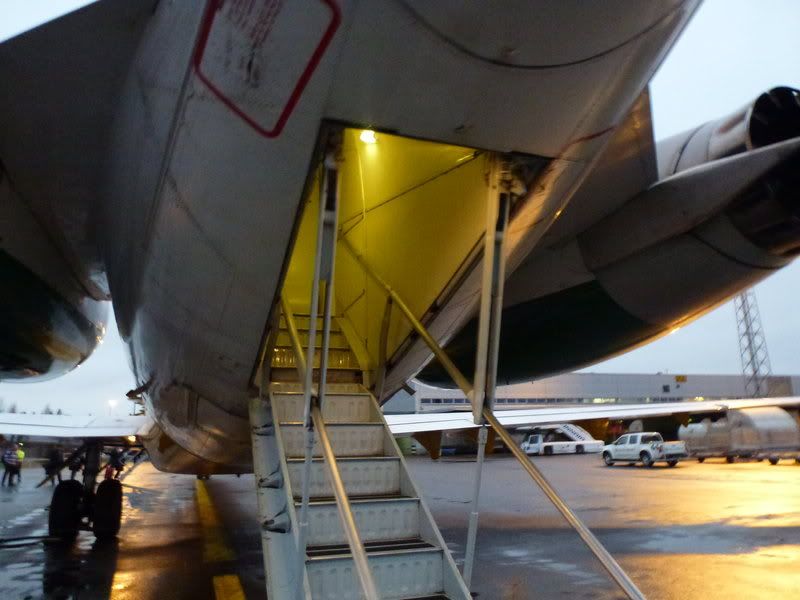 For a while I contemplate about just climbing up and then casually knocking on the door and saying "Boo!" to whoever would open the door but somehow that doesn't sound like the brightest idea after all.
Instead I head back to the front door, tail between my legs. I say to the ramp agent that I just wanted to board that way, he seems to understand my weird passion.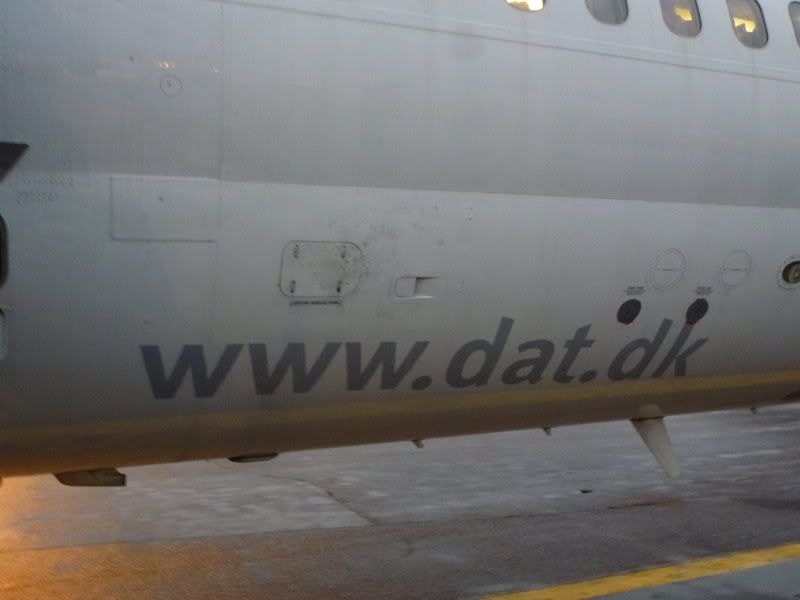 These "things" underneath the wing look like drops of water or your uvula: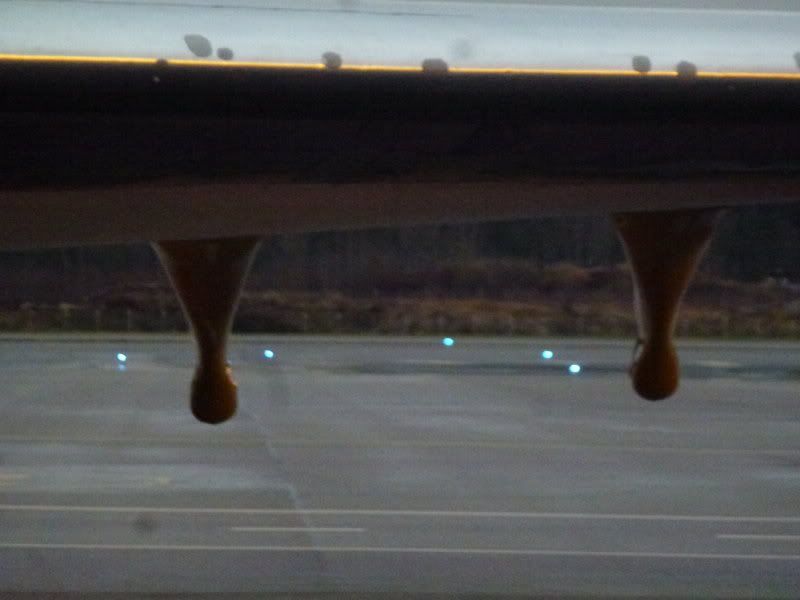 HEL - CPH
KF643
MD-87 OY-JRU
Seat 24F
16.00 - 16.26
This time I'm the very last one to board. A rather senior, grandmother-style Danish (as is the whole crew) purser is waiting on the door. I say to her "I tried to board through the back door but it was closed!" - she says to me in that "Grandmother to grandson authoritative voice": "But you are not allowed to go running around like that!", "Well, I just did!" - her expression is quite worth seeing actually
.
The whole cabin has that musky, well used, old plane smell. Not bad like the typical "Fokker smell" on the airBaltic Fokkers, but just of something that's been used for far too long.
The seats are definitely interesting: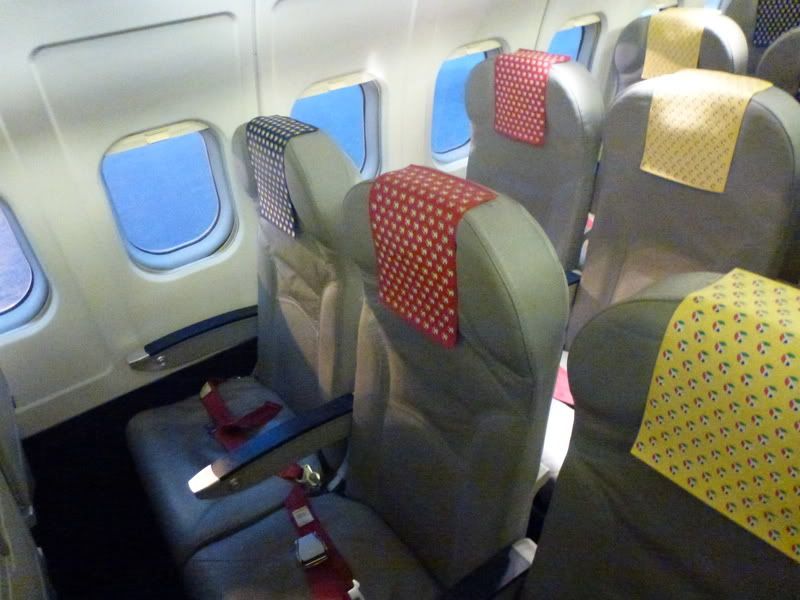 Nice use of the DAT logo: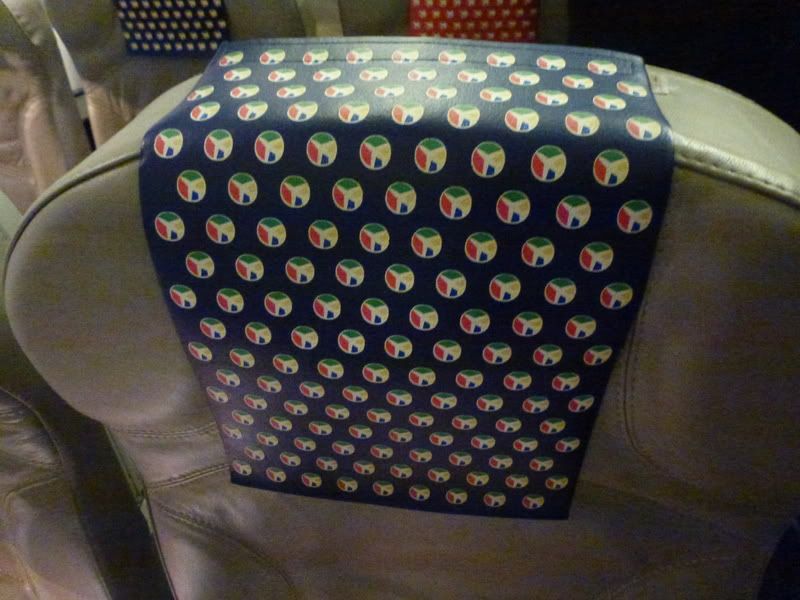 Getting to my seat is a frustrating affair as the load in economy is good, around 90% and all the overhead bins are already very full so people have trouble finding places for their stuff. There are ten rows of Premium class which is around half full.
That red seat belt is a nice touch - probably the same one that Air Berlin uses: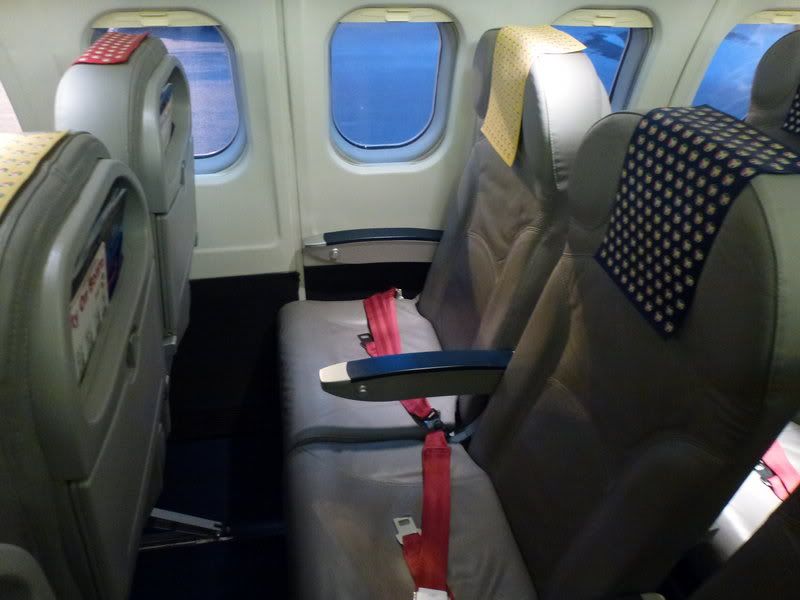 Finally I get to my seat, and notice quite an abysmal legroom: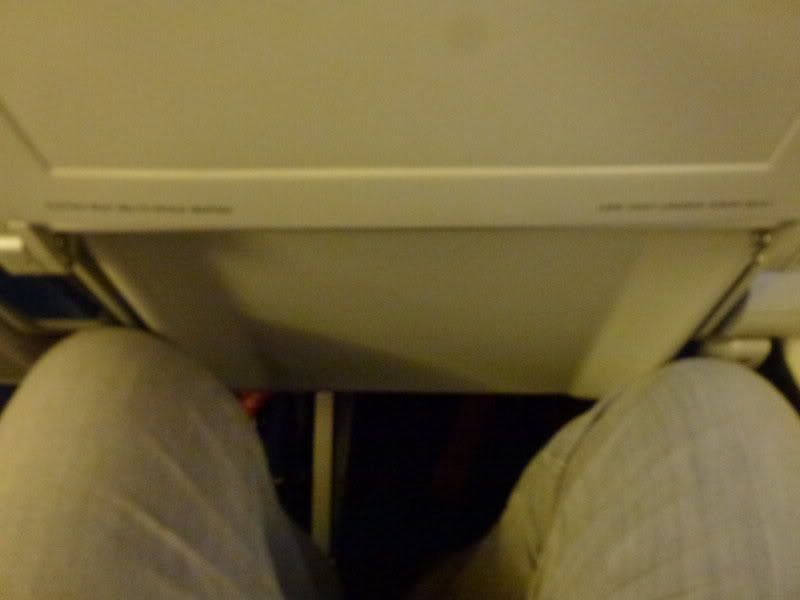 Seriously, this is even worse than JK and VY which I sampled two weeks ago. There's basically no way for me to sit in a position where my knees wouldn't touch the seat in front of me. At least the middle seat stays free, so that is a slight solace. The guy on the aisle seat has similar thoughts - he is around the same height (181 cm) as me, and doesn't look too comfortable either!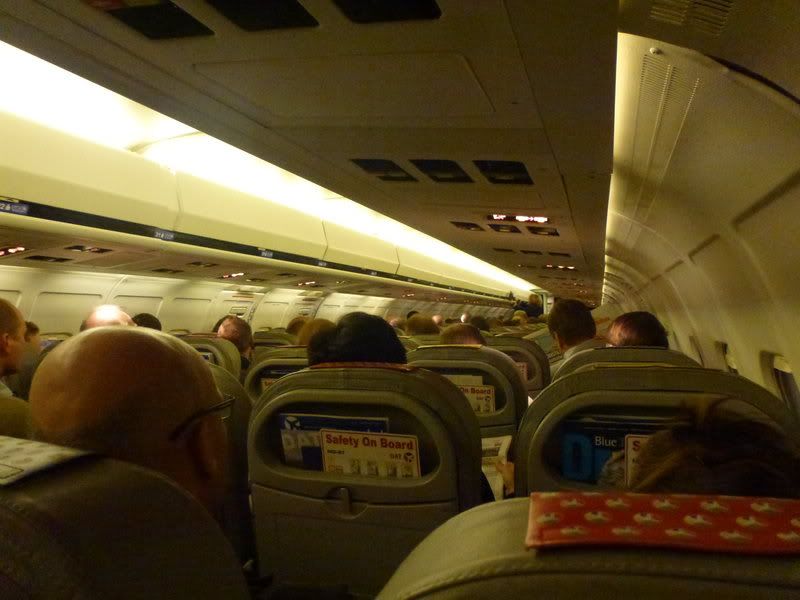 Third of an safety card for Markus: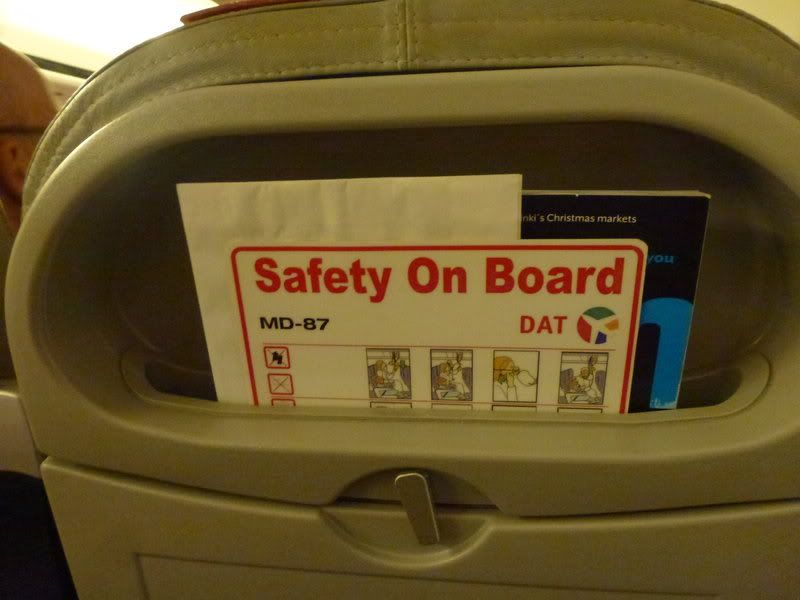 DAT's own inflight magazine in addition to KF's Dream is in the seat pocket: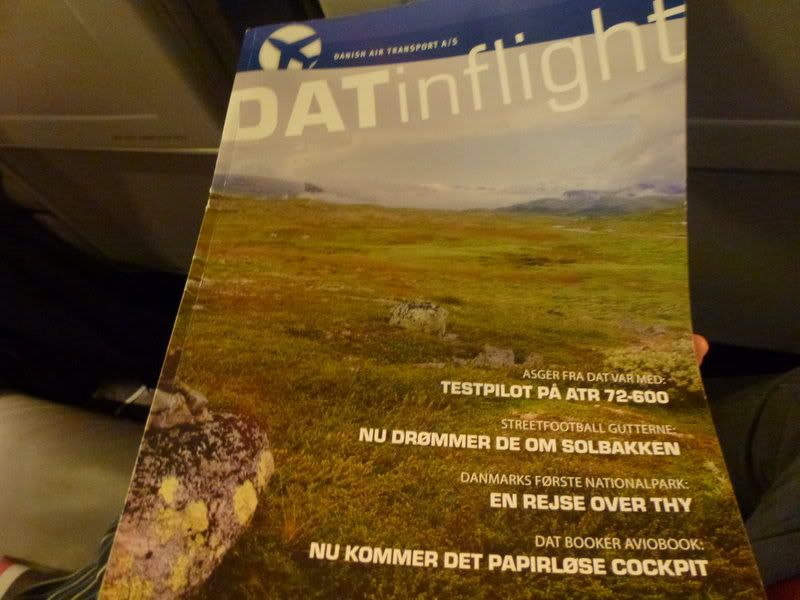 Yep, not exactly the latest generation of controls: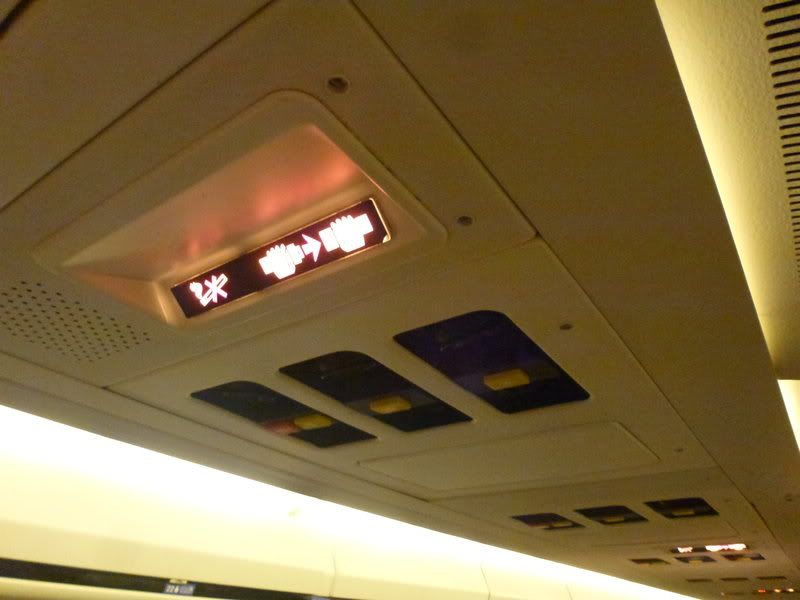 While still settling down the captain welcomes everybody on board "This Blue1 and Star Alliance flight to Copenhagen", I don't think he mentions DAT at all. 1h25mins to go today, with some strong winds at the CPH end to be expected.
Now this is the classic MD-87 view: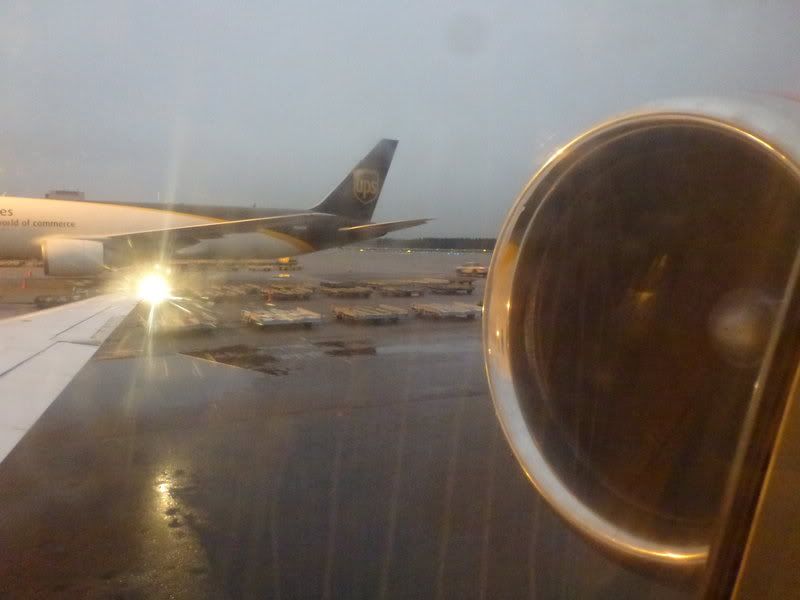 Engine startup is VERY noisy.
Departure is bang on time, with take off from 22R eleven minutes later. At take off the noise gets far worse, but then again I chose this seat just for this purpose.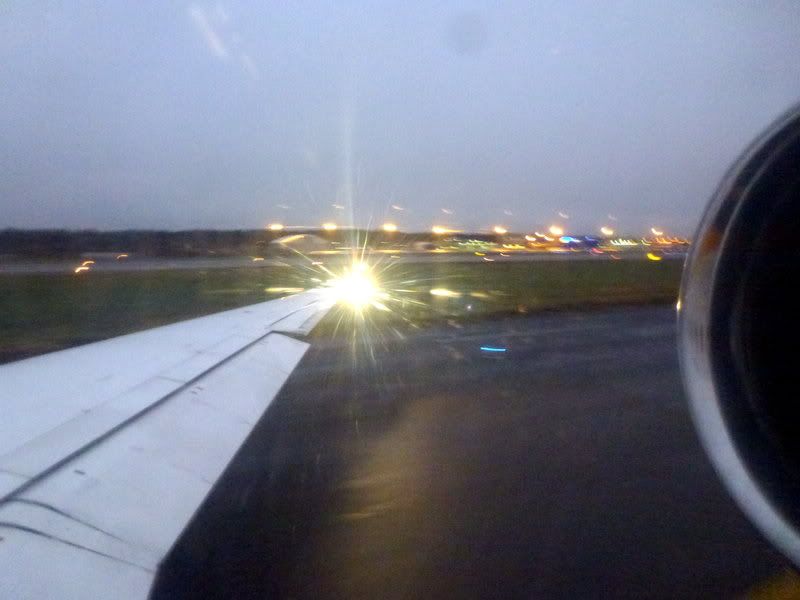 Take off is as powerful as one can expect from these good old tail-engined ladies - a very steep angle of ascent and feeling of power. Reminds me of the good old Finnair DC9-50s I used to fly a lot some ten years ago!
That light sure is a bright one: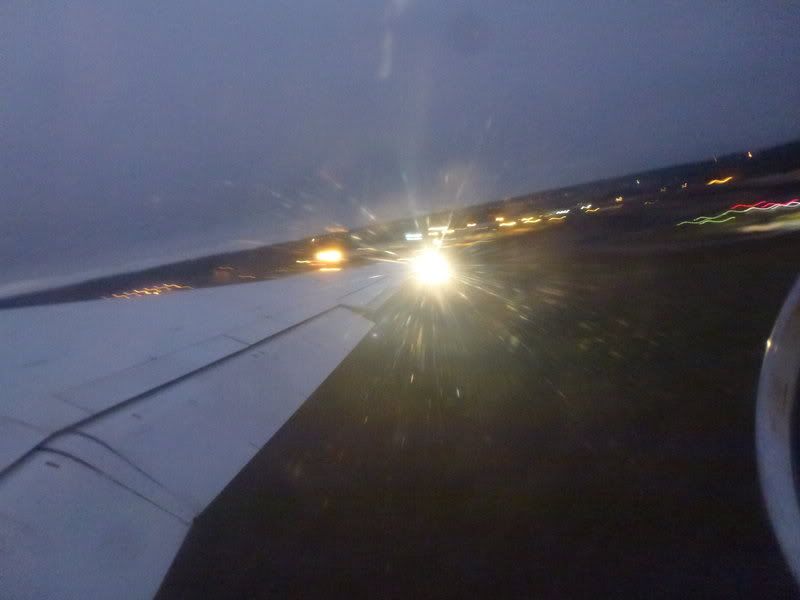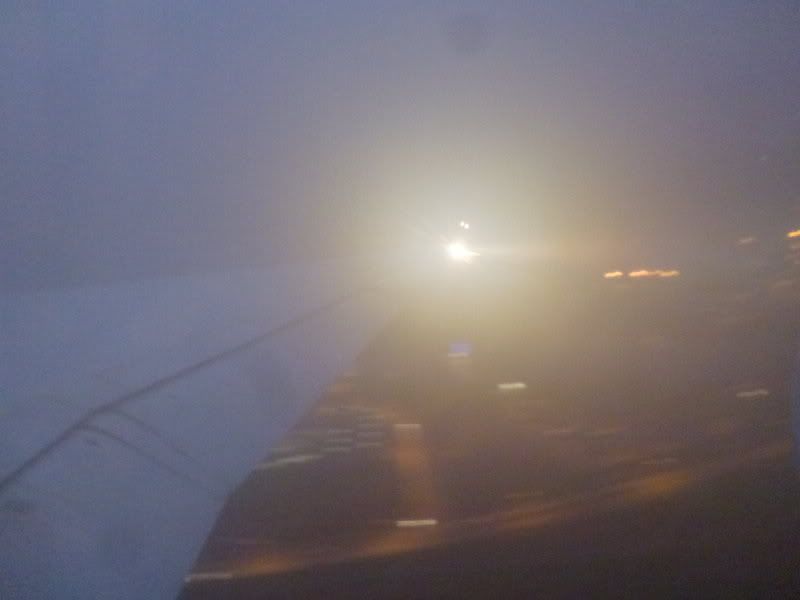 Some thick clouds - no view of the wing at all and that tiny spot is the same bright light at the end of the wing: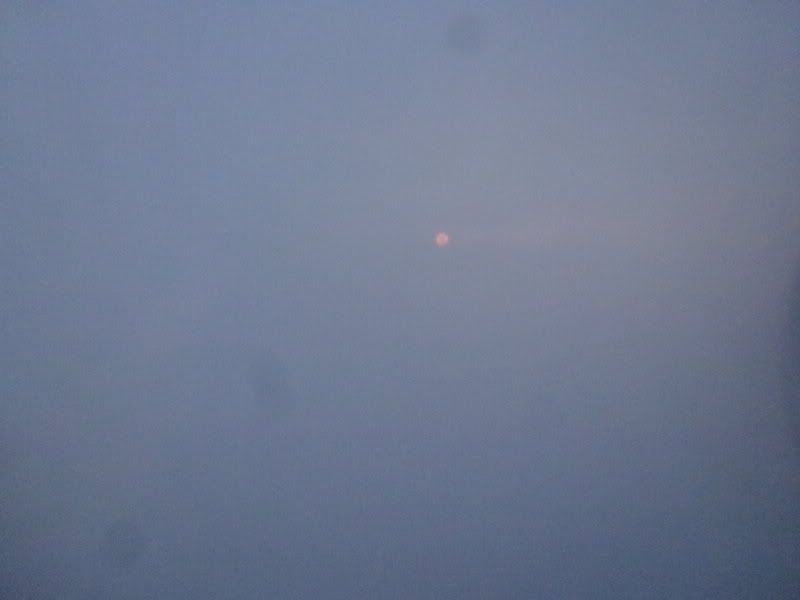 After getting airborne I realize something weird - the overhead vent is blasting air right into my
neck
. And yes, looks like these vents indeed are very much disaligned from the seats, I guess as part of their refurbishing project DAT added a few additional rows which caused this effect. These are our row's controls - the bald head belongs to my seat mate on the aisle seat:
The beautiful Mad Dog wing: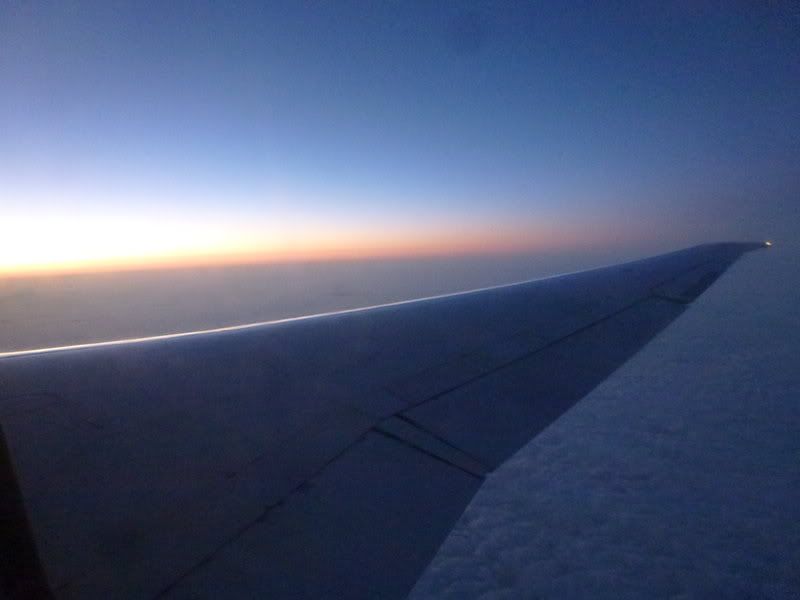 The good part about these flights is that the foreign crews have not been trained to use the POS terminals and thus there's no BOB. So in addition to the coffee I also ask and get a free red wine: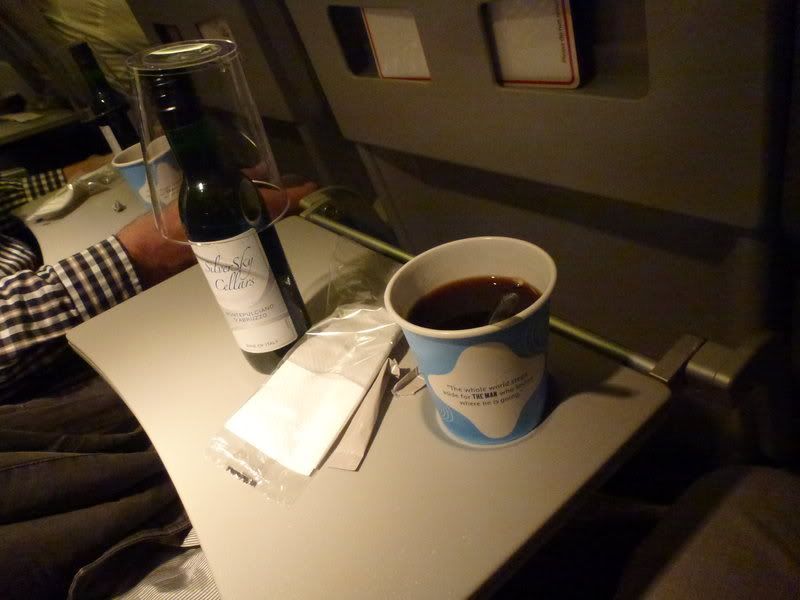 Last time on that RC flight to OSL they were also handing out sandwiches, but those seem to have been (cost) cut. Well, no biggie for me as I ate in the lounge anyway.
The guy on the aisle seat asks me if I'm an engineer as I took so many pictures of the plane and all the fixtures. Well, a software engineer is still an engineer so I admit that yes, I'm one and try to explain what is special about this plane - but as usual this is not really understood by the other party...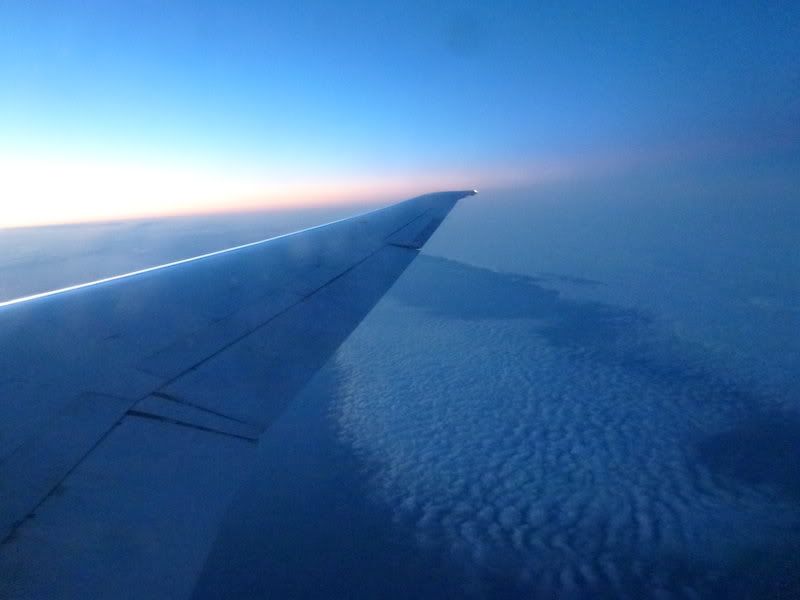 Some reading later we are already on descent for Kastrup over Skåne: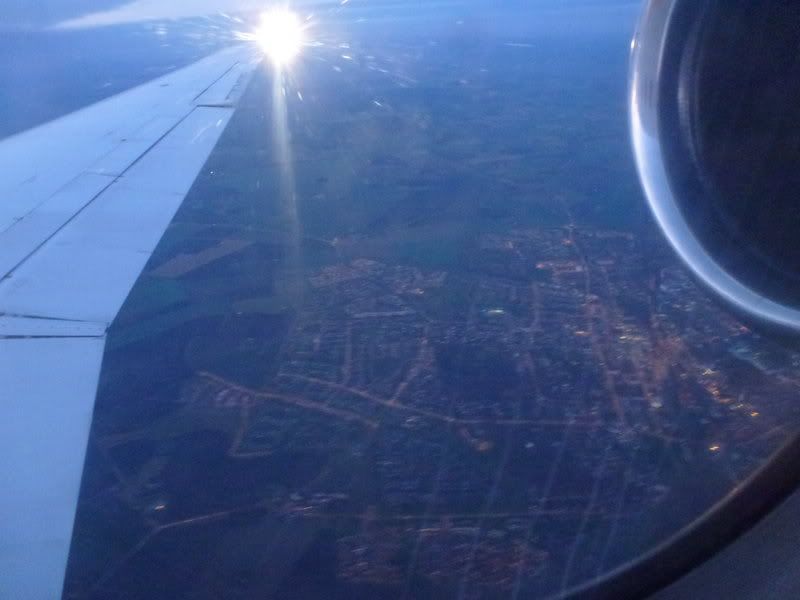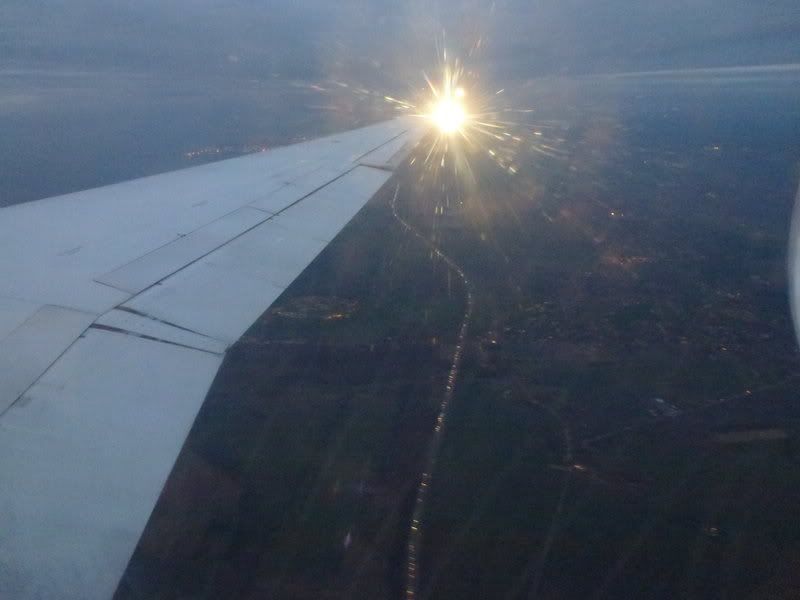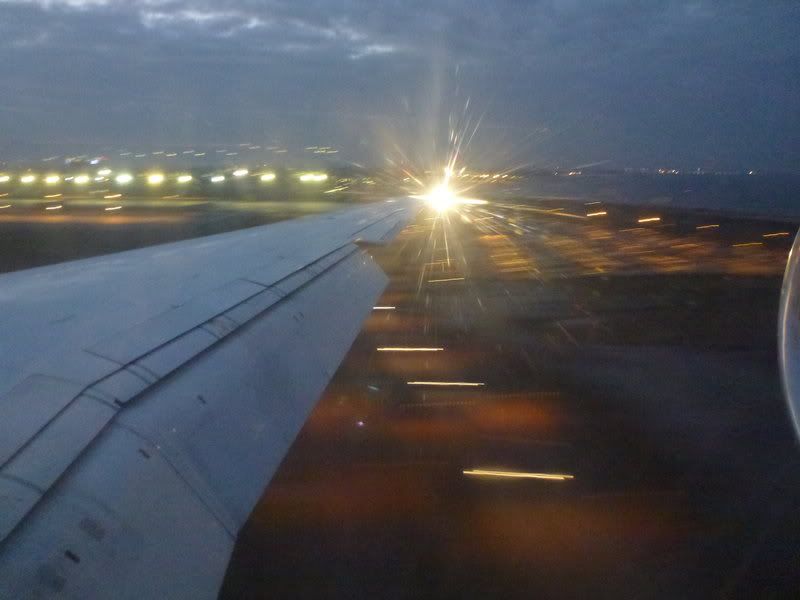 Landing is on 22L after a flight time of 1h15mins.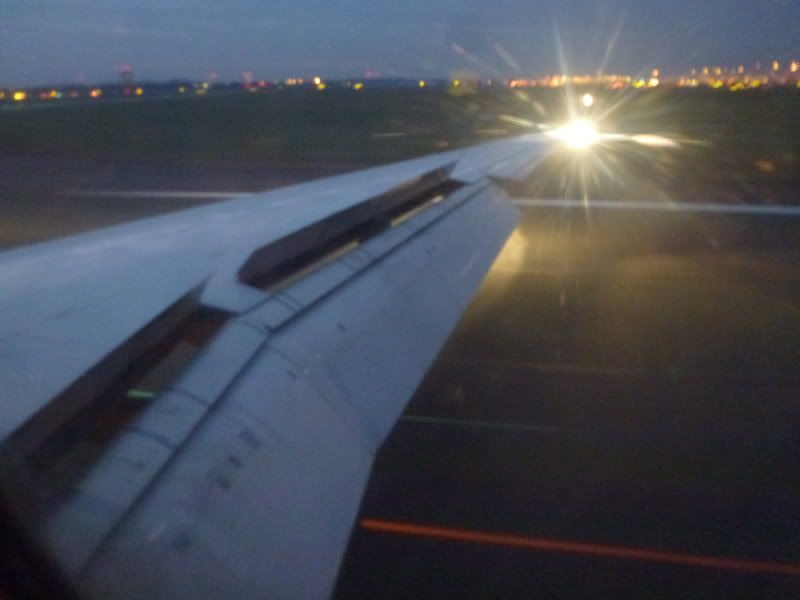 Looks like the funky Christmas tree is back, sorry for the blurry pictures: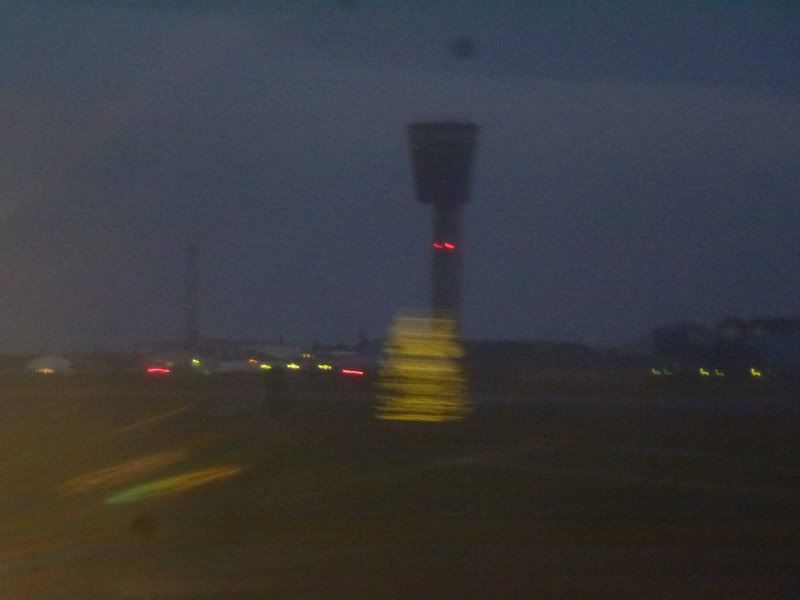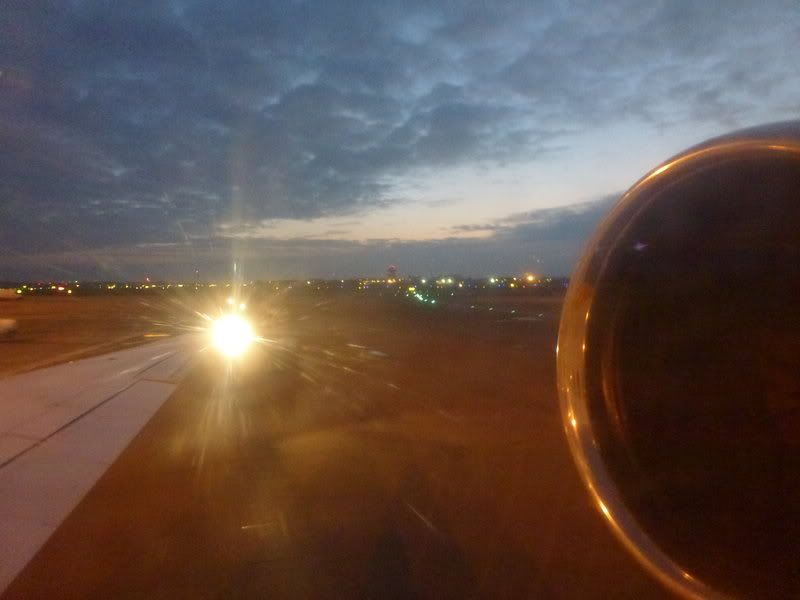 A bit later we dock to gate B6, the same gate through which I left Kastrup the last time less than 48 hours earlier.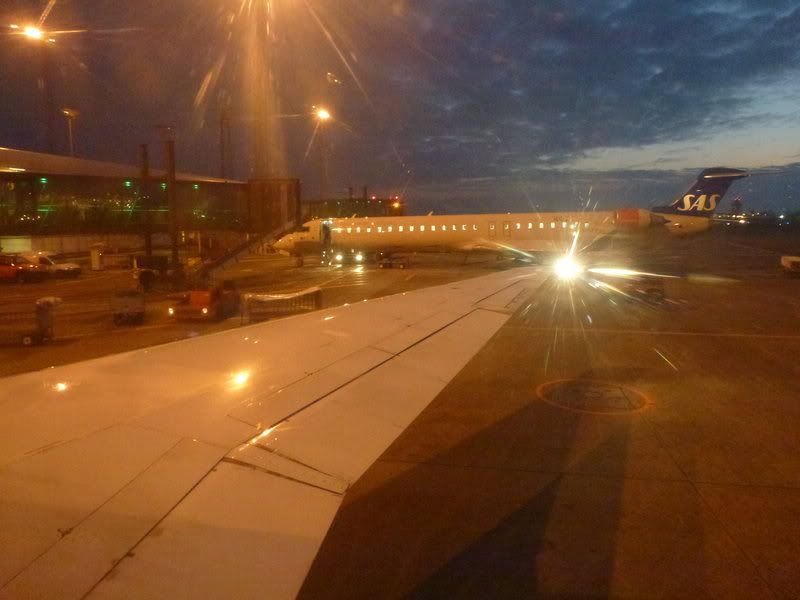 I wait until everyone else has deboarded and shoot a few photos: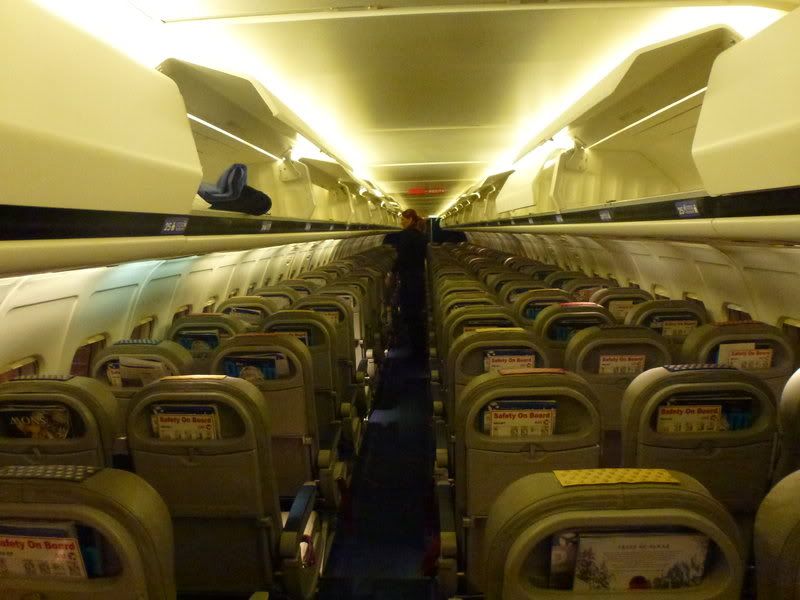 I say to one of the FAs that it is a very special plane and I'm here just to fly with it. She is very surprised by this and asks "But you didn't know it was going to be this plane?"
- "I did, of course."
- "But how?"
- "From the schedule."
- "Really??"
Looks like she is used to the usual ad hoc working mode
.
Copenhagen Kastrup Airport
A couple of photos from the terminal: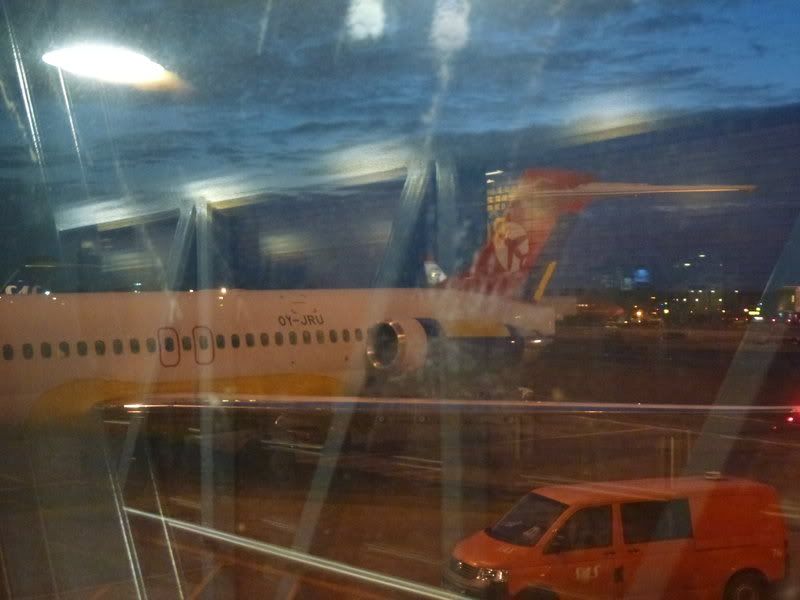 DAT the Red Nosed Mad Dog: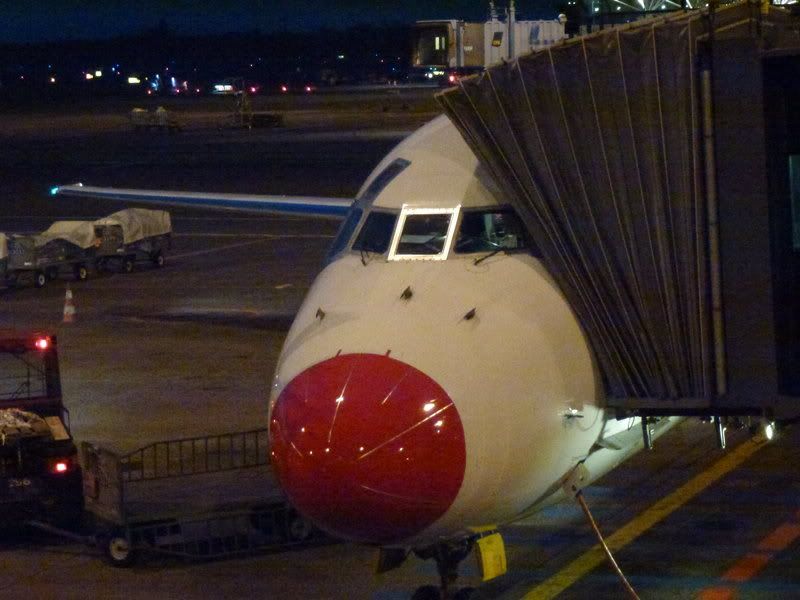 Next I head to the transfer center, get checked in for my Norwegian flight home four hours later, ask for and receive a window seat on row one just fine (so once again no point in paying for it!) and head to the Servisair lounge to do a few hours of work followed by a few hours of other online stuff intermixed with enough G&Ts to keep me performing.
After that I flew home with LN-NOB, my second time with that bird.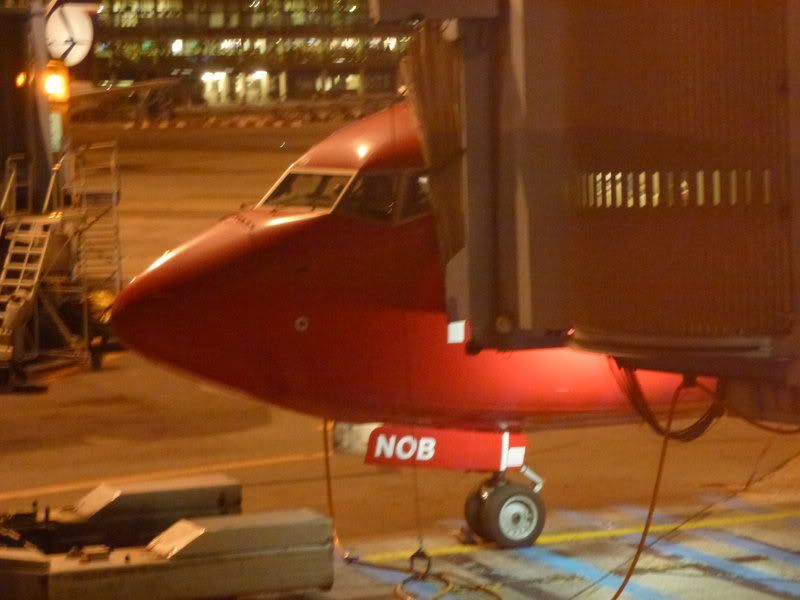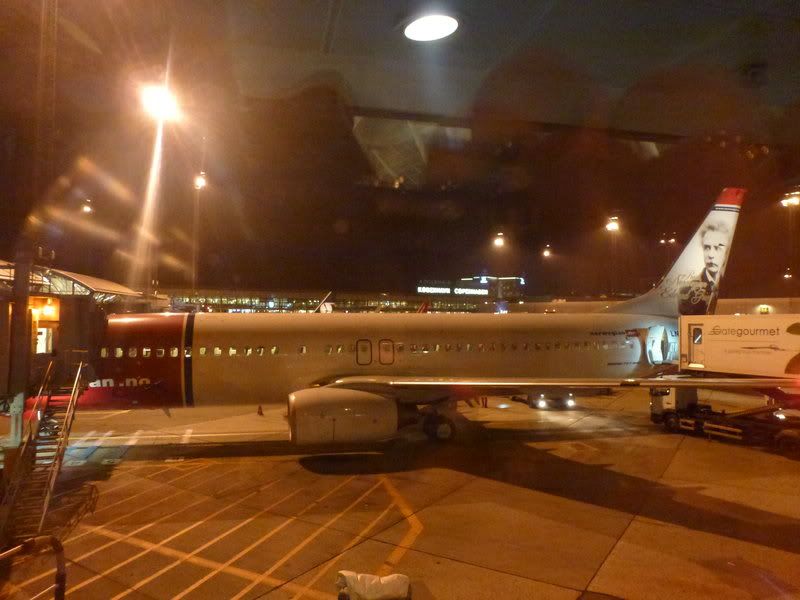 A standard DY flight, on time departure and early arrival, friendly Danish crew and one tired Finn who basically slept through the whole thing. At home shortly before 23.30 which is a bit worrying considering that I have a 6.50 flight the next morning, but what can you do when you have adopted this gypsy lifestyle...
Conclusions
Well, what can I say. That DAT plane was certainly a very interesting blast from the past with a lovely old fashioned plane, but those new seats they have installed are pure torture. That short hop to CPH was just about the longest I could manage - I saw this bird operating the KF routes to DBV/SPU some summers ago, so that kind of distances must be pure hell for the passengers.
As mentioned a far too short night at home and then back to the airport for an early morning flight for some zigzagging around Sweden and Estonia: HEL-ARN/BMA-TLL-ARN-GOT-HEL. Happy contrails!