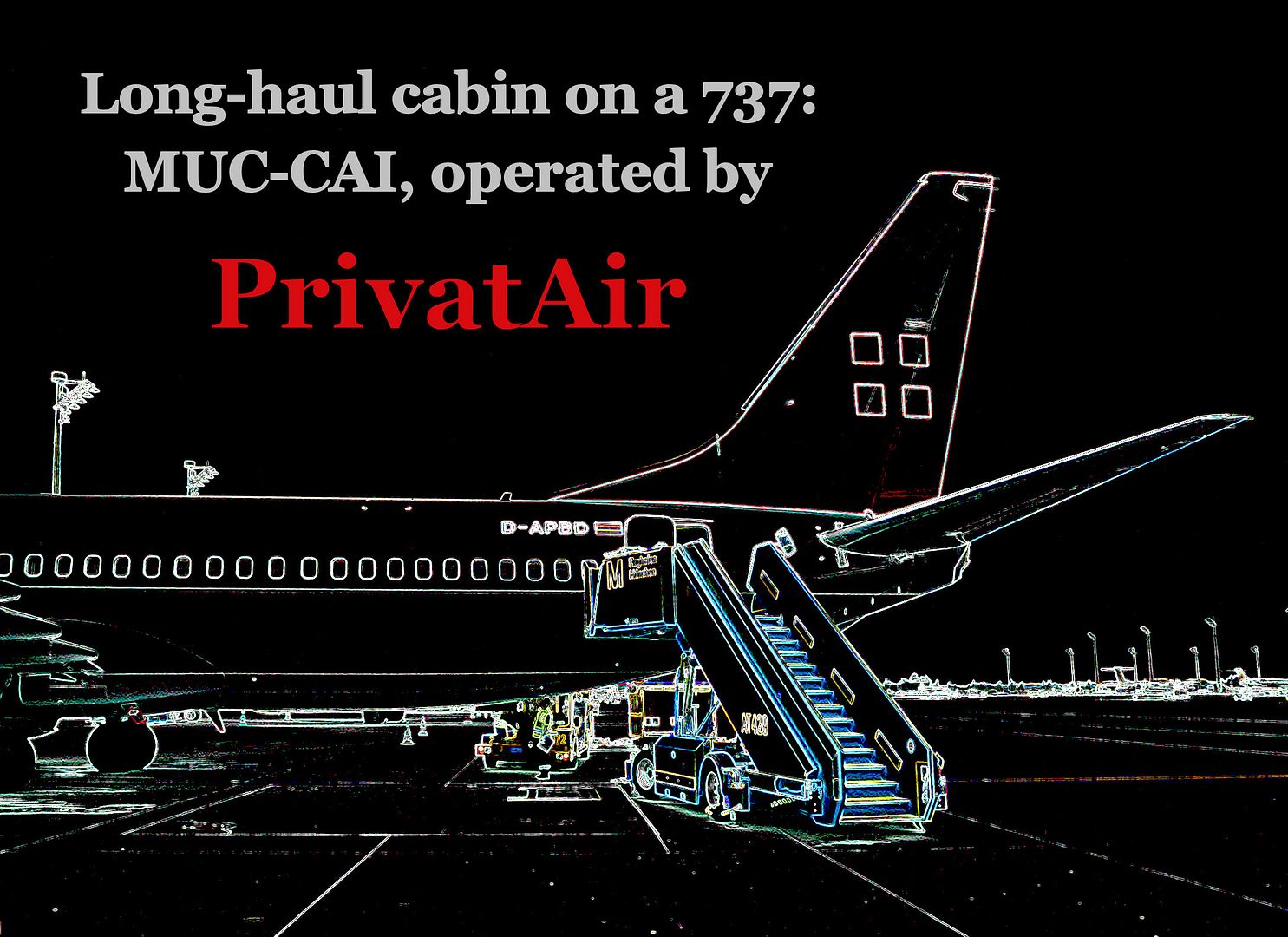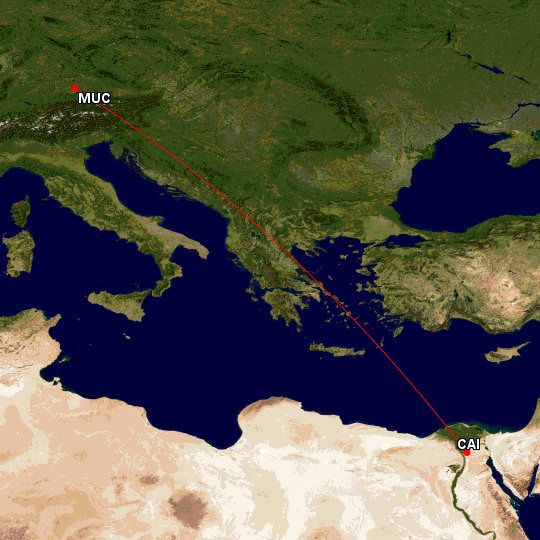 Map generated by the Great Circle Mapper - copyright © Karl L. Swartz
Background
July and August are always busy months for me at work, so I decided to book a special weekend trip as a compensation. Even though I had to restrict the trip to Saturday and Sunday, I didn't want to stay in Europe. And I wanted to get at least one widebody and/or one new airline. I focused on the Gulf region, but interesting options were limited. Etihad Airways caught my attention after a while which was offering cheap flights to a number of destinations (e.g. Doha and Bahrain). I already flew on Etihad's A330-200 some years ago, but in mid-August the magnificent A340-600 showed up on the Abu Dhabi-Munich route which was very tempting.

I was about to book a trip to Bahrain (A320, A332 twice, A346), but then I suddenly discovered something else. After rather casually entering "CAI" into the booking search engine, I found a Lufthansa combo on Expedia which not only included a PrivatAir 737-800 (Munich-Cairo), but also an EgyptAir A330-200 (Cairo-Frankfurt). Two new airlines - including a very special one - and a widebody - good flying times and a long layover at FRA = simply perfect! The combo was a bit more expensive than the Etihad option, but I didn't mind at all and quickly booked it. After receiving the booking confirmation, I immediately reserved my desired seats on Lufthansa's website.

But what would a PlaneHunter trip be without domestic flights? Due to the relatively early arrival at Cairo (13:00), I could easily make a domestic round trip before spending the night at a hotel near Cairo Airport. Of course I wanted to include a flight on EgyptAir Express so that I would get another new airline. After searching for a while, it was clear that Luxor would be the most appropriate destination for that mission. I decided to fly CAI-LXR on an EgyptAir A320 and LXR-CAI on EgyptAir Express (Embraer 170). Fares were reasonable - and since Business Class was only slightly more expensive, I secured a seat up front on the A320. By doing so, I would also be able to visit a lounge at Cairo's new Terminal 3.

Unfortunately, EgyptAir didn't accept my MasterCard for any reason when I tried to book the domestic flights on its website. The payment process finally worked fine with my VISA card. Then another problem occurred: Even though there was an option to pre-reserve seats online, it didn't work. It was simply not possible to save my choice of seats. So I wrote a short e-mail to EgyptAir with desired seat numbers. Surprisingly, I quickly received a nice reply with a confirmation of my seat requests.


Finally, I reserved a room at the Novotel Cairo Airport. Due to my long layover at FRA on the return journey (more than five hours), user LH4532 and I took the chance to arrange a meeting at Terminal 2. No doubt, this weekend looked very promising.
Saturday, August 2011
Munich (MUC) - Cairo (CAI)
Lufthansa LH586, operated by PrivatAir (PTG)
Scheduled times: 09:15-13:00
Actual times: 09:26-13:12
Flight duration: 03:16 (hrs)
Distance: 1630 miles
Economy Class, seat 20F
Boeing 737-8BK
D-APBD (s/n 1667)
First delivered to Sun Country Airlines as N808SY in 03/2005
1st flight on D-APBD
23rd 737-800 flight
33rd 737NG flight
59th 737 flight
121st airline
Former appearances as N808SY and PH-HSU:
I had already checked in online on Friday afternoon, so I could go straight to security as soon as I arrived at Terminal 2 on Saturday morning. Even though Lufthansa doesn't allow to check in earlier than 23 hours before departure, I had also received the boarding pass for the Cairo-Frankfurt flight on EgyptAir on Sunday - more than 40 hours before departure!
There were numerous names on the standby list, so it was clear that the flight would be full. Boarding commenced on time without any announcements and a bus brought us to the aircraft. However, doors didn't open until a wheelchair passenger had boarded. As expected, the plane was Boeing 737-8BK
D-APBD
, first delivered to Sun Country Airlines in March 2005 and transferred to PrivatAir's German subsidiary PrivatAir GmbH in August 2009: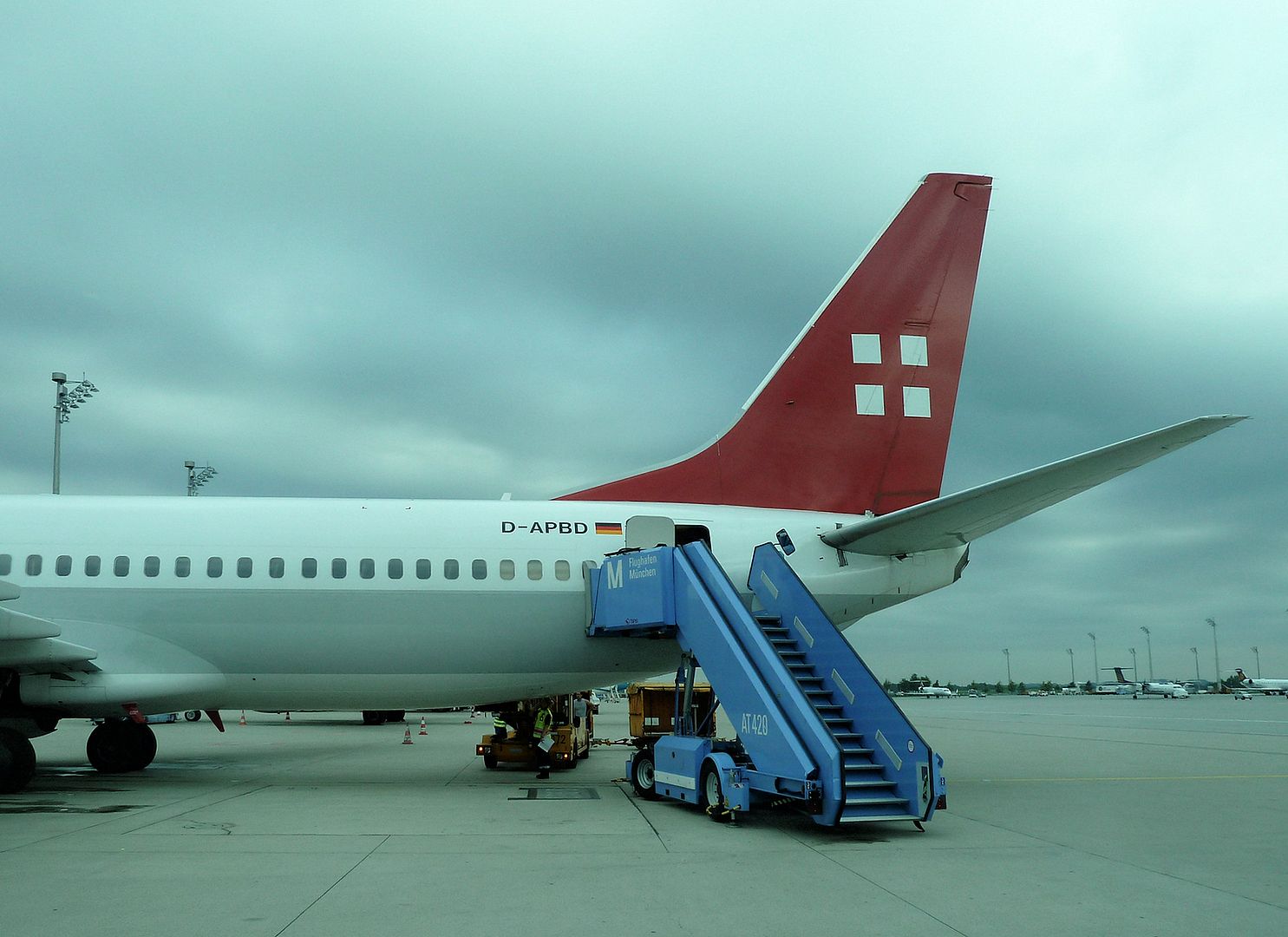 D-APBD
was the one and only PrivatAir 737-800 based at MUC for the 2011 summer schedule, operating flights to Cairo, Riyadh and Tashkent. By the end of October, the plane joined its two Frankfurt-based sister ships D-APBB and D-APBC. The trio currently serves Accra, Dammam, Libreville, Point Noire and Pune on behalf of Lufthansa. The term
"Operated on behalf of Lufthansa"
can be found next to the main door: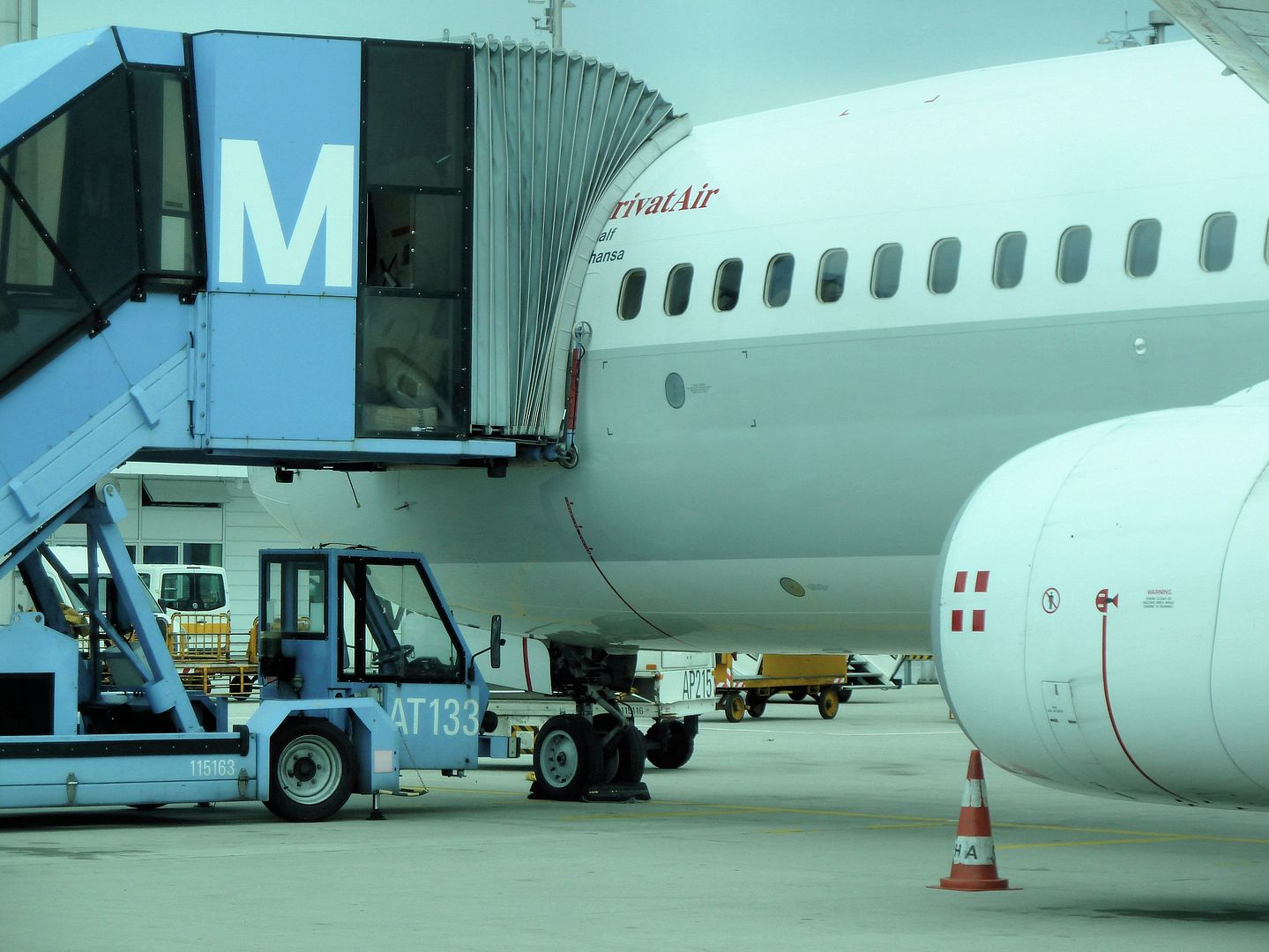 The winglet looks huge from that angle: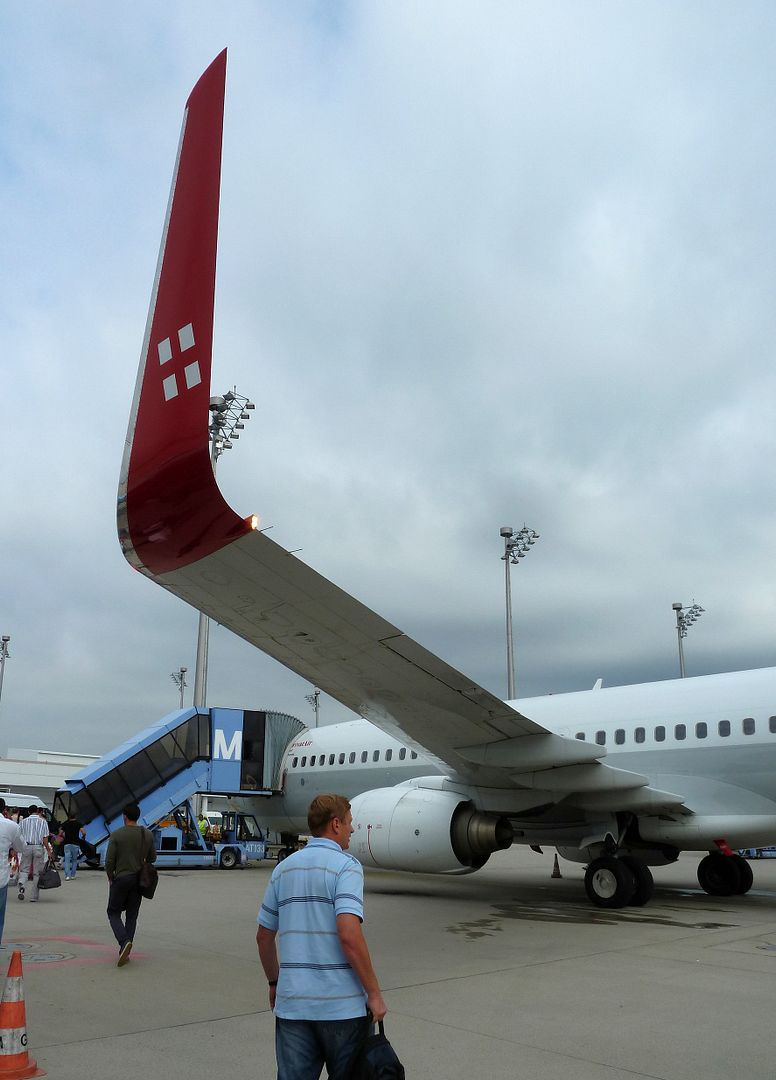 Even though Lufthansa and PrivatAir designate the three German-registered planes as "Business Jets", they are still more or less regular 737-800s which lack certain features of the real BBJ2s. However, due to the lower number of seats, two overwing emergency exits were deactivated (one on each side), as you can see here:
When I stepped on board, I noticed two female flight attendants in dark blue PrivatAir uniforms. One of them was preparing something for the flight, while her younger colleague could have welcomed the customers. Yes, could have - but she did not consider it necessary to greet or smile. Not a good first impression!
The three PrivatAir 737-800s are equipped with 32 Lufthansa Business Class seats and 60 Lufthansa Economy Class seats...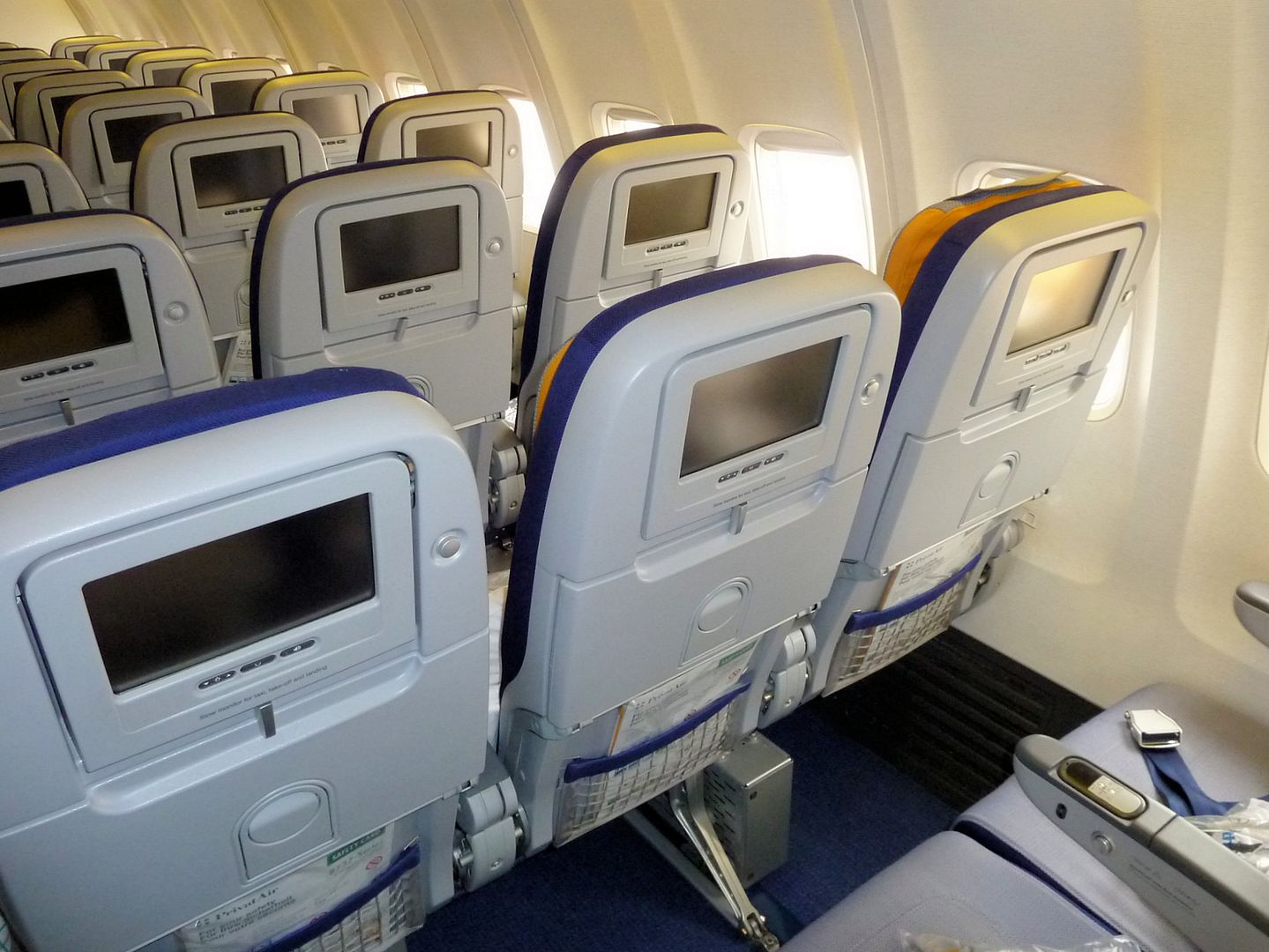 ....and the latter ones are the latest models also used on the A380:
Lufthansa offers a 31-inch seat pitch on the A380 which is not overly generous - and there seemed to be even less legroom on this 737: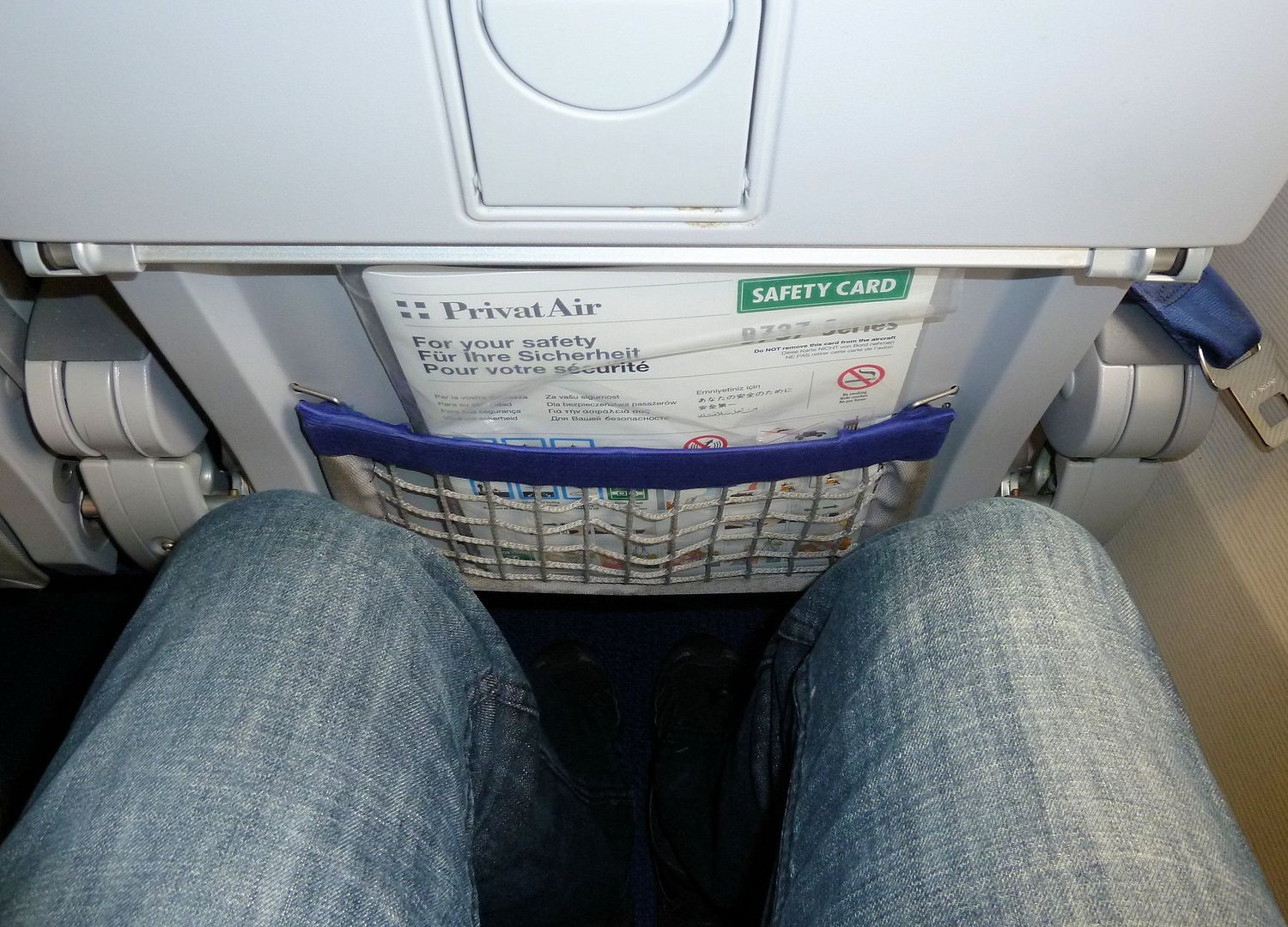 That was still acceptable for the next 3.5 hours, but these planes also operate flights which last more than twice as long. Of course there's also less elbow space on the 737.
Not surprisingly, the IFE the control unit is fixed in the right armrest. Except for the call and light buttons, the element is identical with the one on the A380:
If you want to compare the interiors, have a look at my Lufthansa A380 reports:
Imperfect Giant: CPT-JNB-FRA On SA A332 & LH A380
(by
PlaneHunter
Oct 21 2011 in Trip Reports)
Totally Thrilling: Scenic Flight On Lufthansa A380
(by
PlaneHunter
Aug 5 2010 in Trip Reports)
It took a while until all passengers' belongings were stored safely because the overhead bins had been stuffed quickly. As expected, not a single seat had remained empty in Economy Class. The cabin was in good shape in general, but I discovered some dirt spots here and there: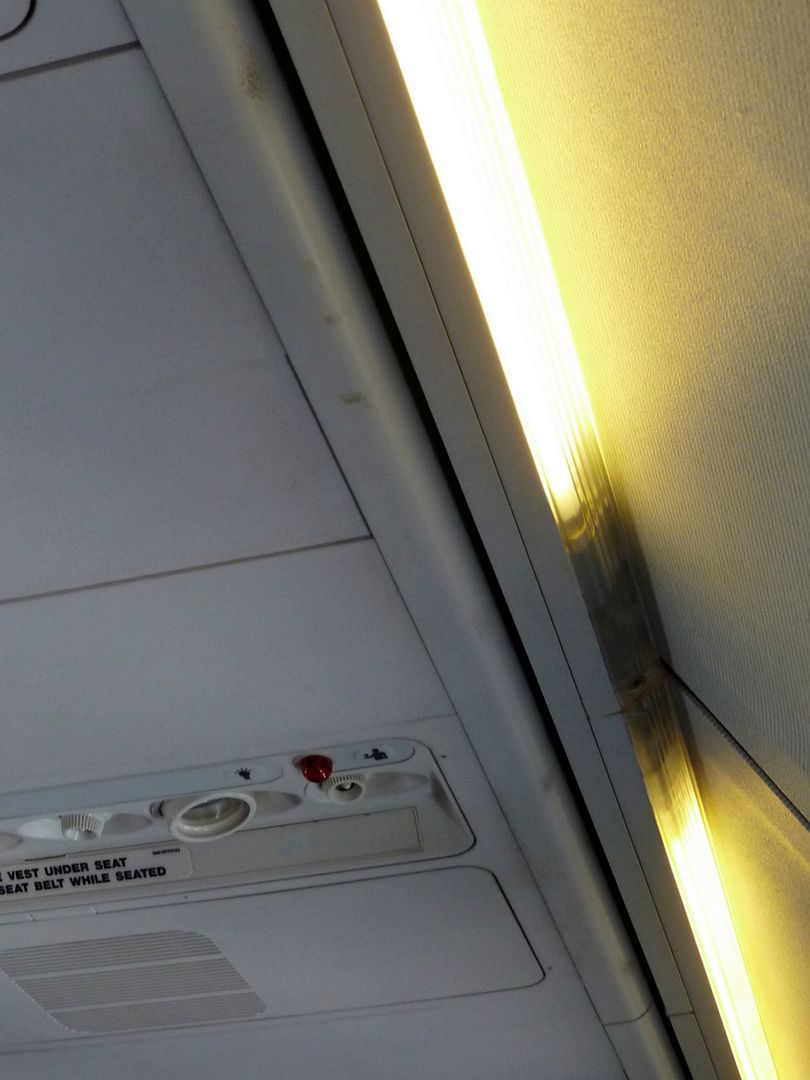 Headphones: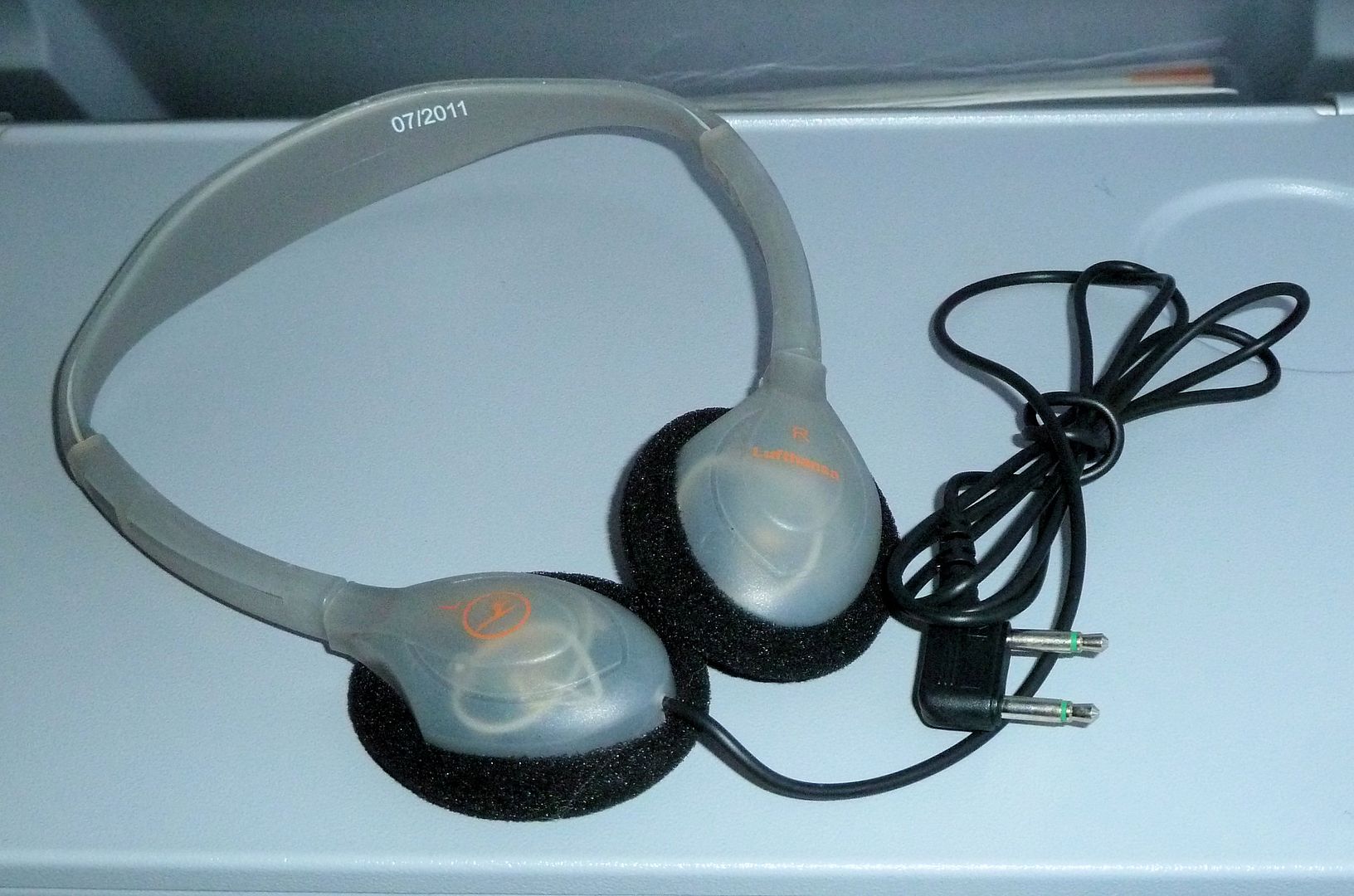 Safety card and Lufthansa's excellent inflight magazine (including IFE guide):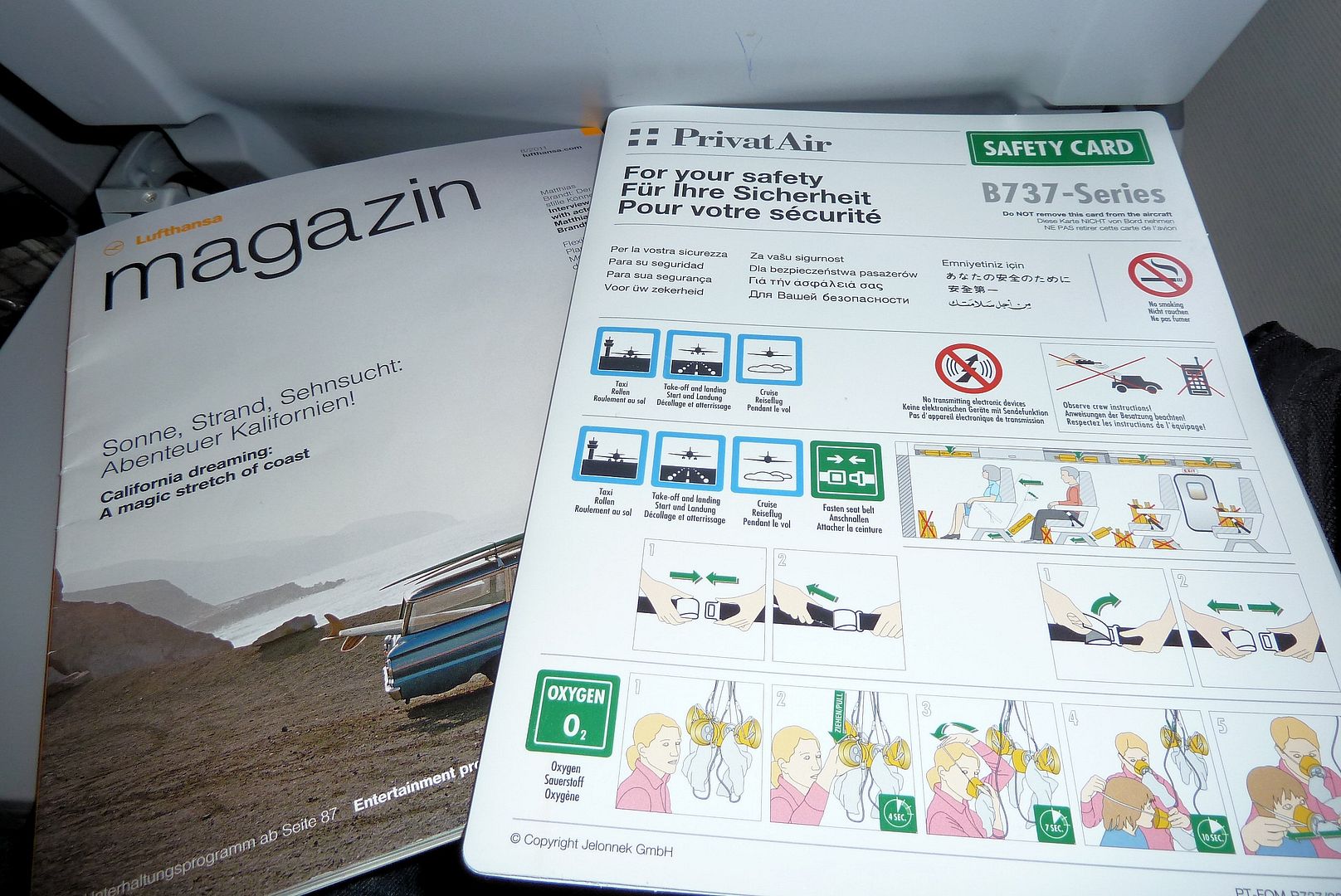 Parked next to us was D-AILA, Lufthansa's first A319:
The captain announced a flying time of 3 hours and 35 minutes in German and 3 hours and 25 minutes in English - probably the first officer corrected him in between?
The most interesting remark remained the same:
"We expect strong winds at landing."
Some moments later, the "inflight director" (purser) introduced herself and gave some more details about the flight.
D-APBD
was pushed back 11 minutes behind schedule and soon started taxiing to runway 08R: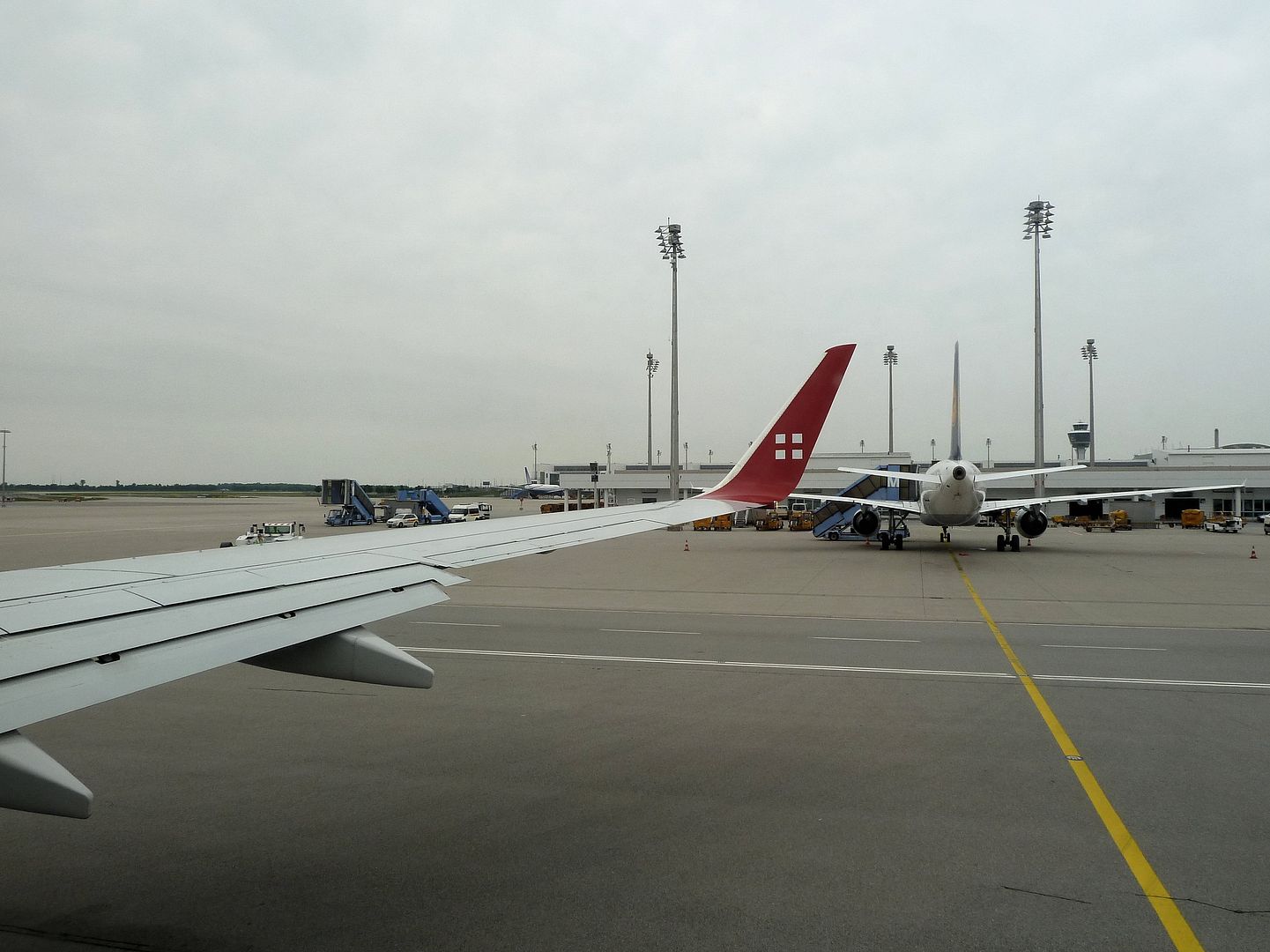 PrivatAir safety video: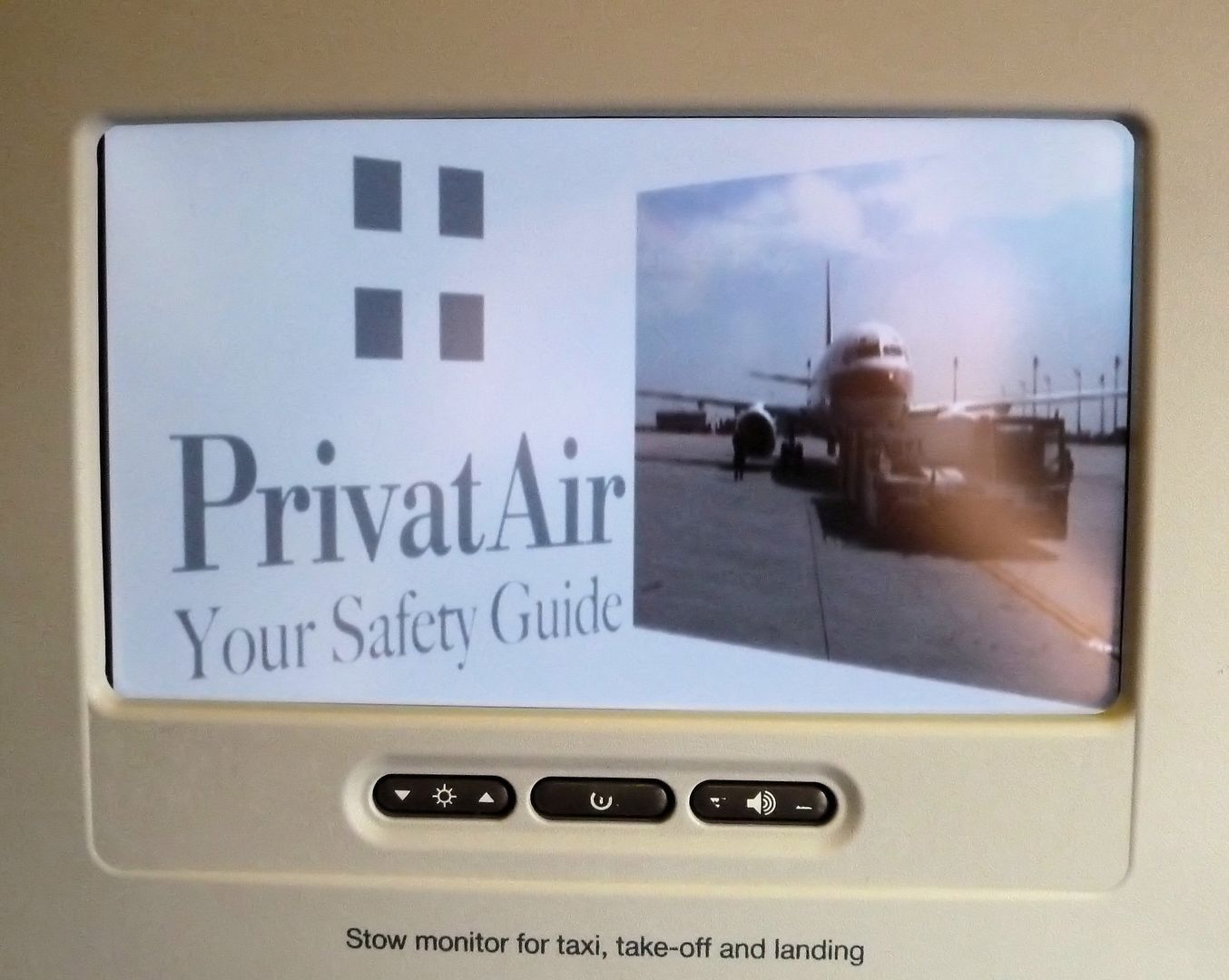 Good old United colors, I will miss them: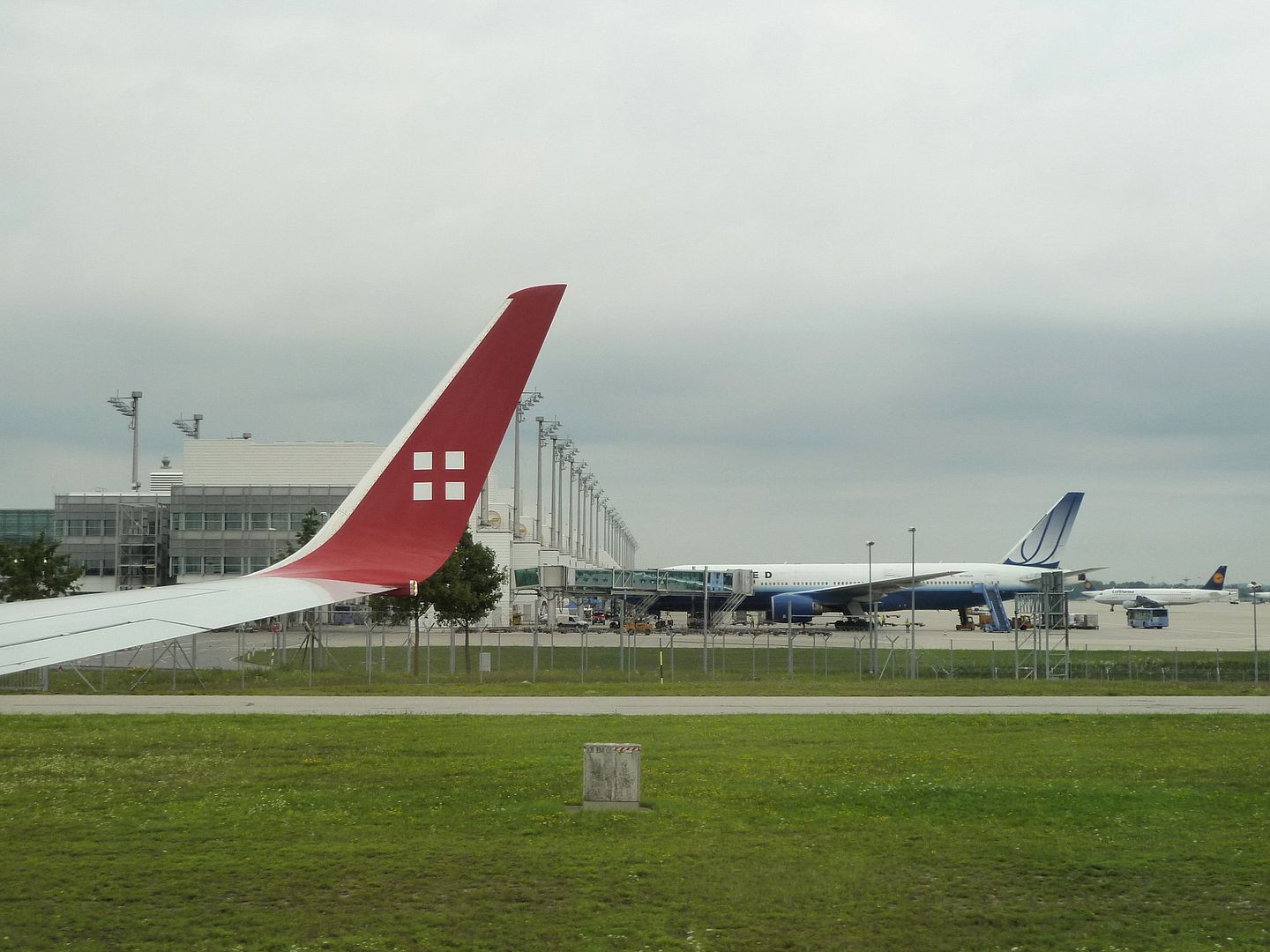 Very rare type at the cargo ramp - one of only three active Il-96-400Ts, all of them operated by Polet: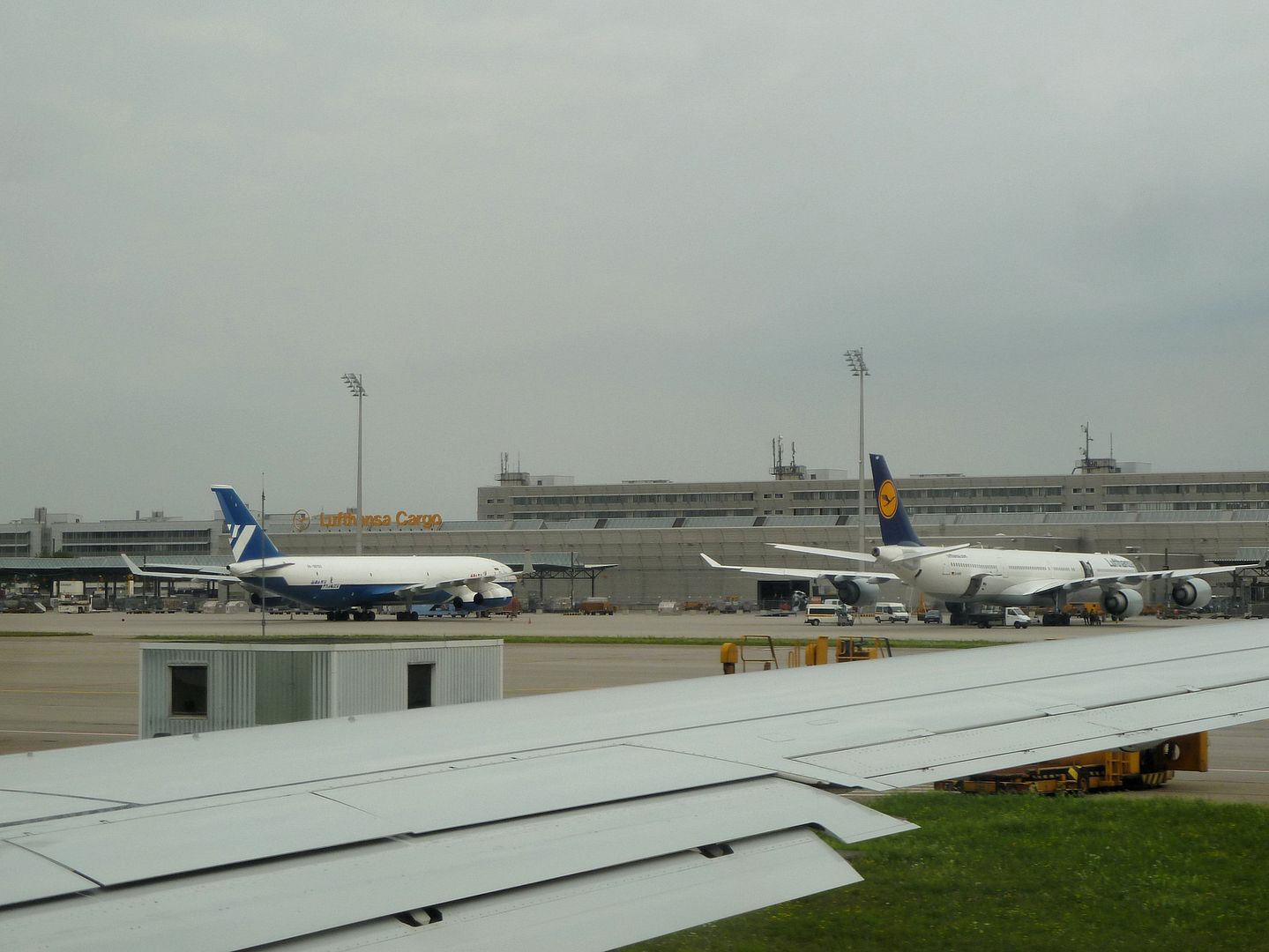 Two very interesting visitors - Royal Thai Air Force 737-400s, registered 99-999 (left) and HS-CMV (11-111):
The presence of both aircraft in August may be related to a very delicate issue: In mid-July, judicial authorities in Munich impounded HS-CMV (allegedly) belonging to Thai Crown Prince Maha Vajiralongkorn. Administrators seized the plane subject to a 20 year old debt of the Thai government to a now-defunct German construction company that had risen to some 30 million euros. The authorities, administering the company's interests in bankruptcy, called this measure a "last resort", while the Thai government, which had never responded to any demands, called the move "highly inappropriate." Two weeks later, the prince's office announced that he would pay the deposit amounting to 20 million euros himself. One day later, the Thai foreign minister confirmed that the government would pay.
Croatia Airlines Dash 8 on short finals: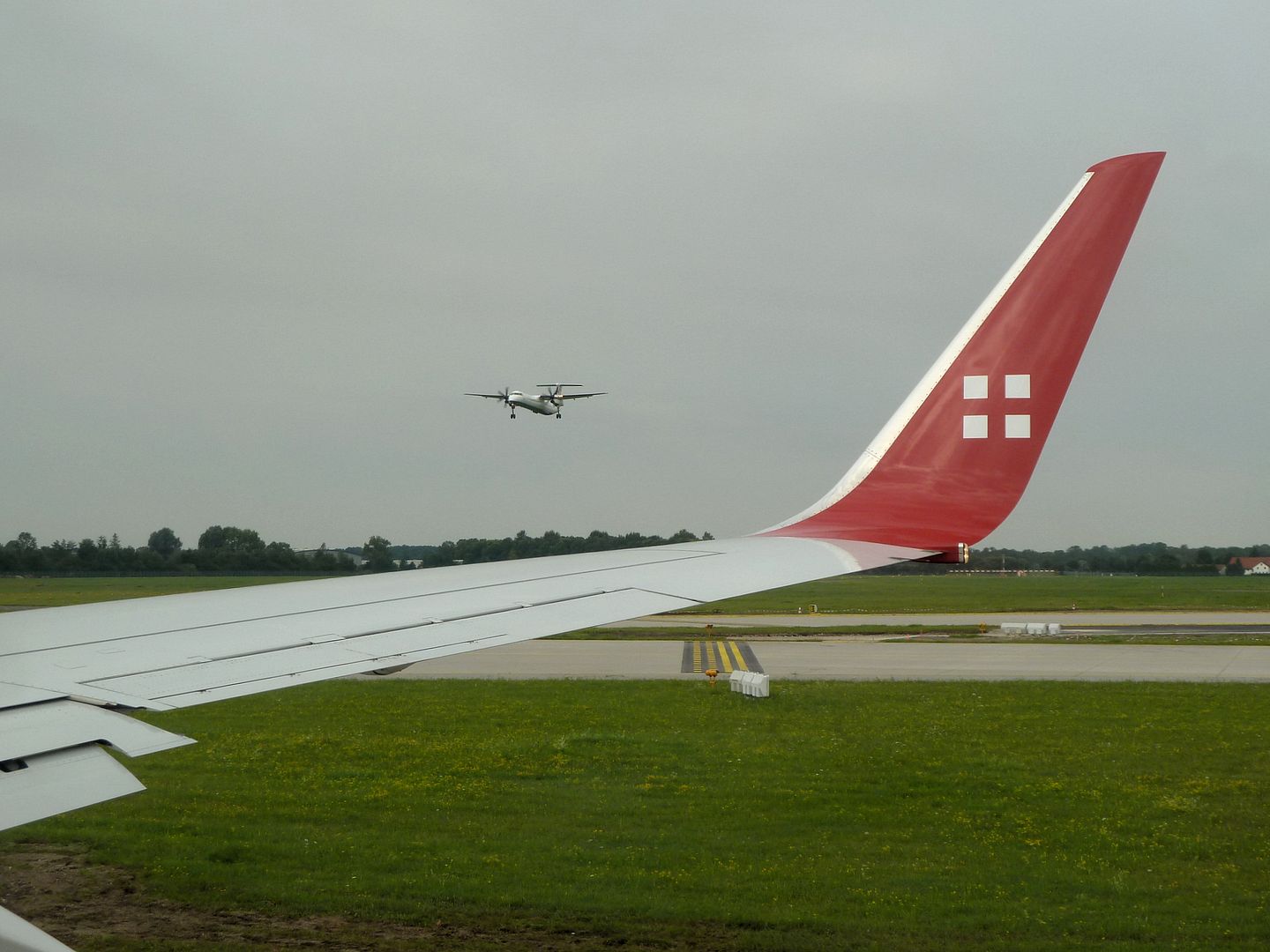 D-APBD
lifted off after a powerful and long takeoff roll...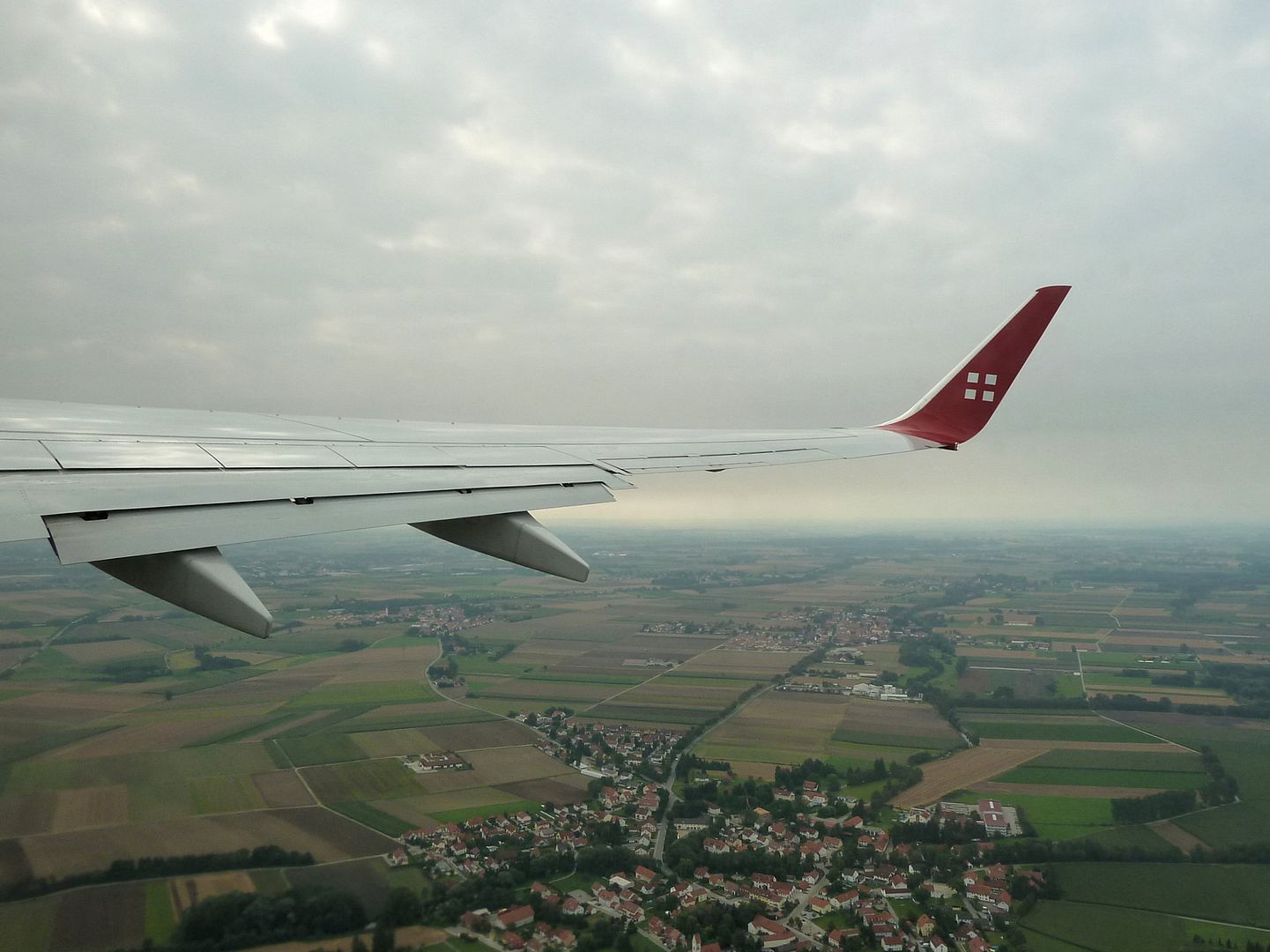 ...and turned south over
Erding Air Base
:
Three minutes later we were flying under blue skies: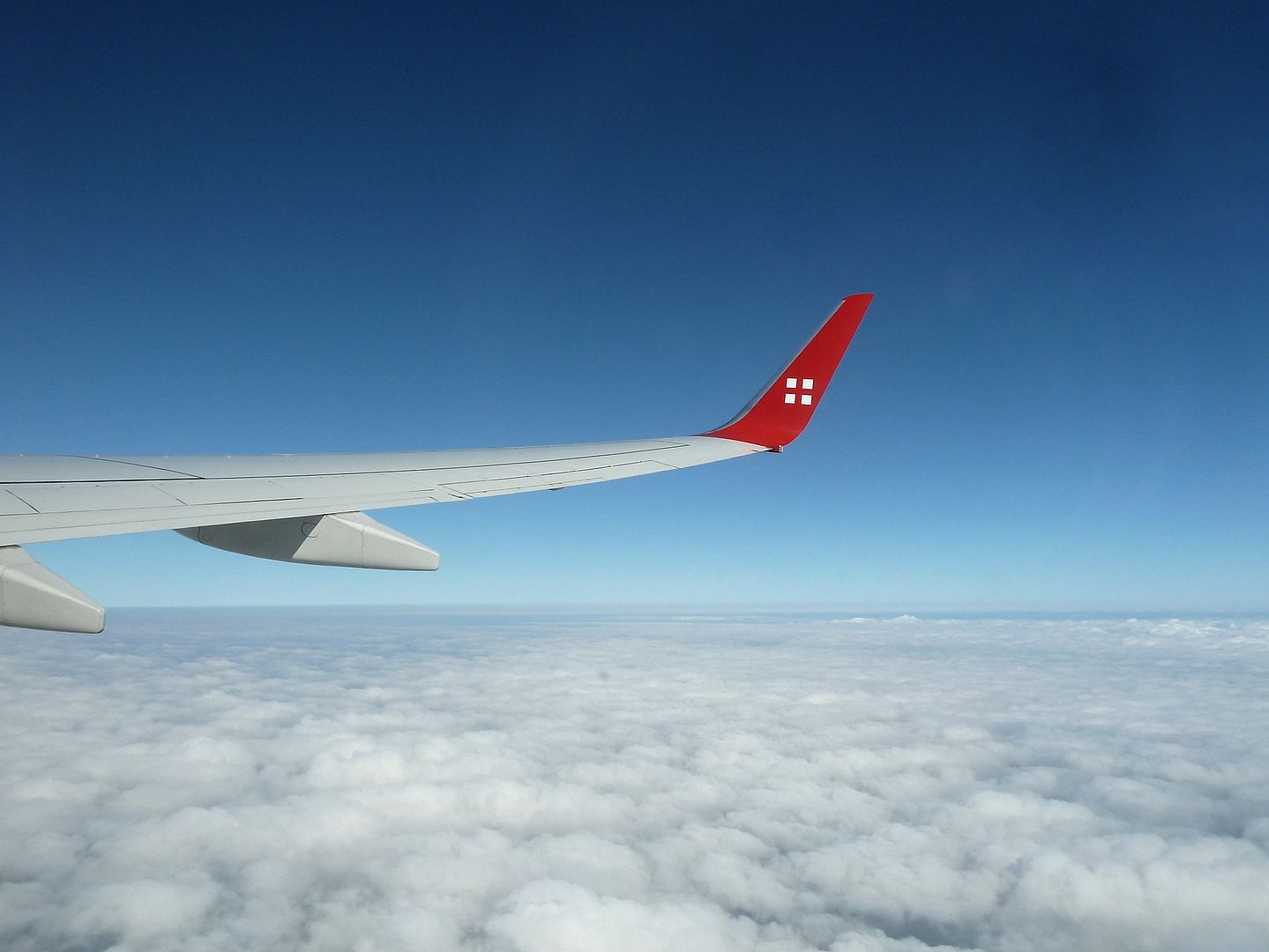 Now it was time to explore the IFE system which is almost exactly the same as the one on the A380.
Lufthansa Media World
main menu: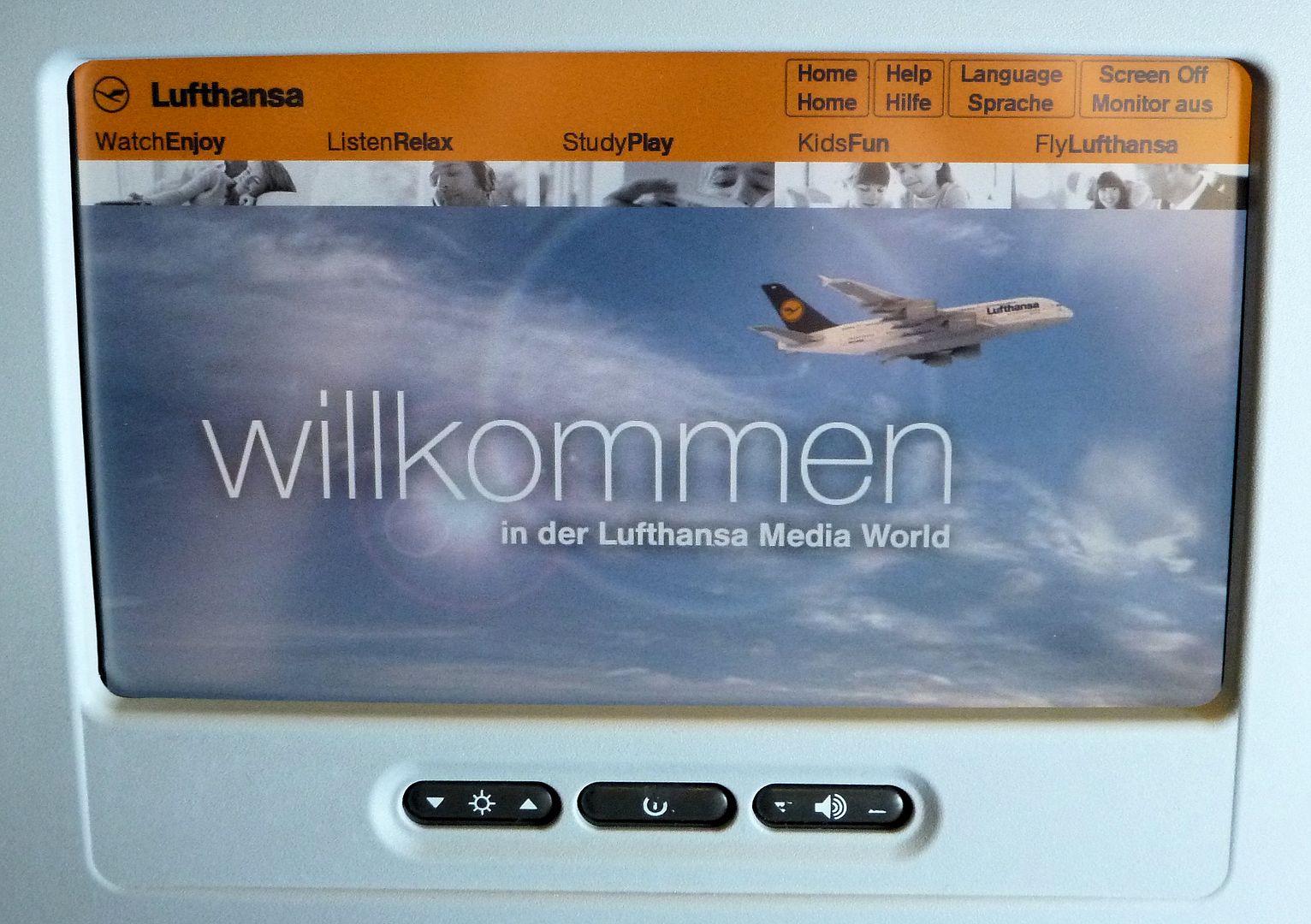 I didn't count every single feature, but it seemed that the number of options was almost identical with the number on the A380. On the latter you can choose between 20 movies, 35 TV programs, international news, 30 international radio channels, 115 music CDs and audio books, 9 games, language classes and service information about the flight and Lufthansa. 50 additional movies and almost twice as much CDs are available exclusively for Business and First Class passengers on the A380 - I don't know if that's also the case on the 737-800.
While camera views are certainly not available on the 737, you can enjoy the
NiceView
airshow: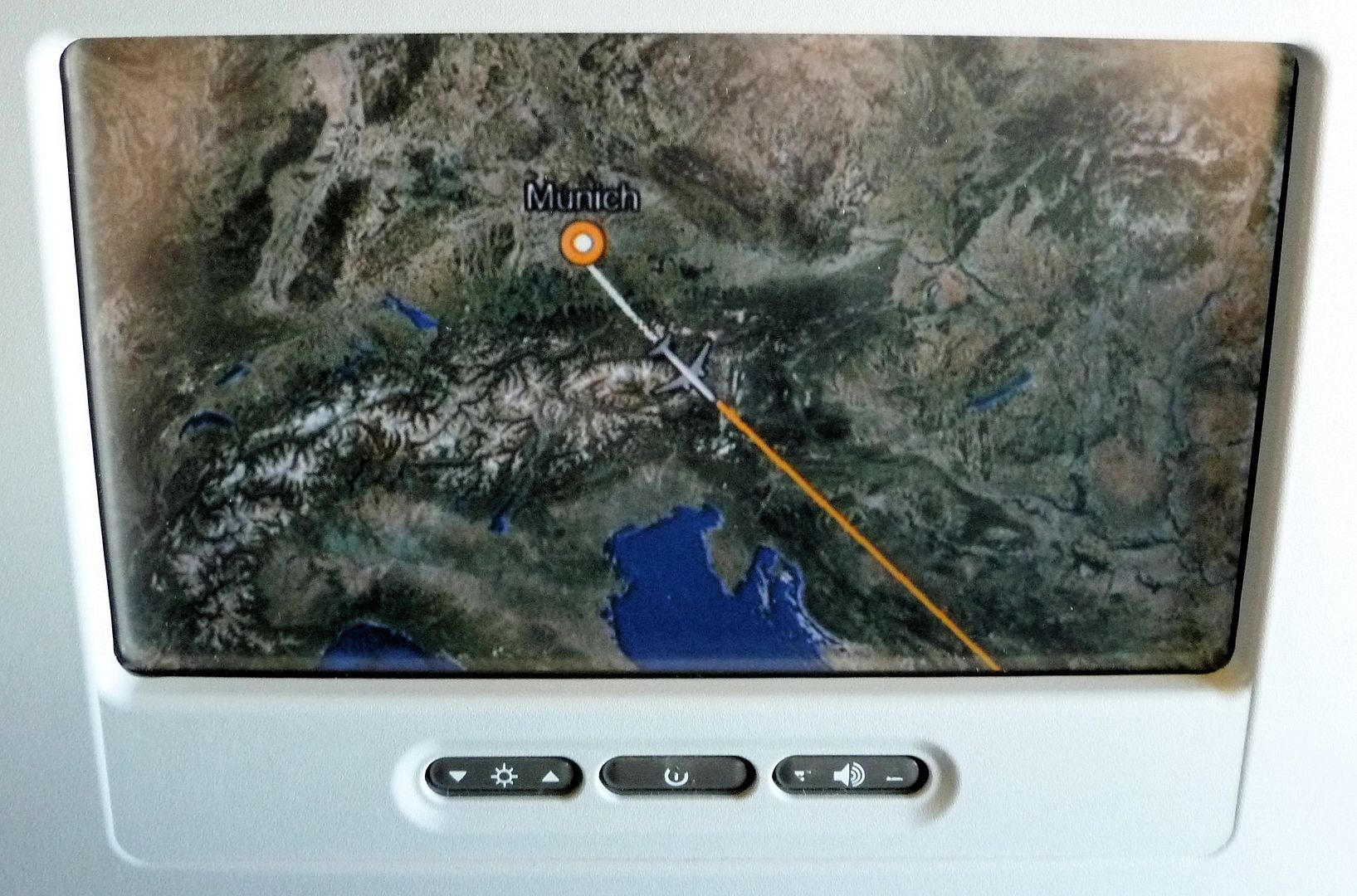 Real view...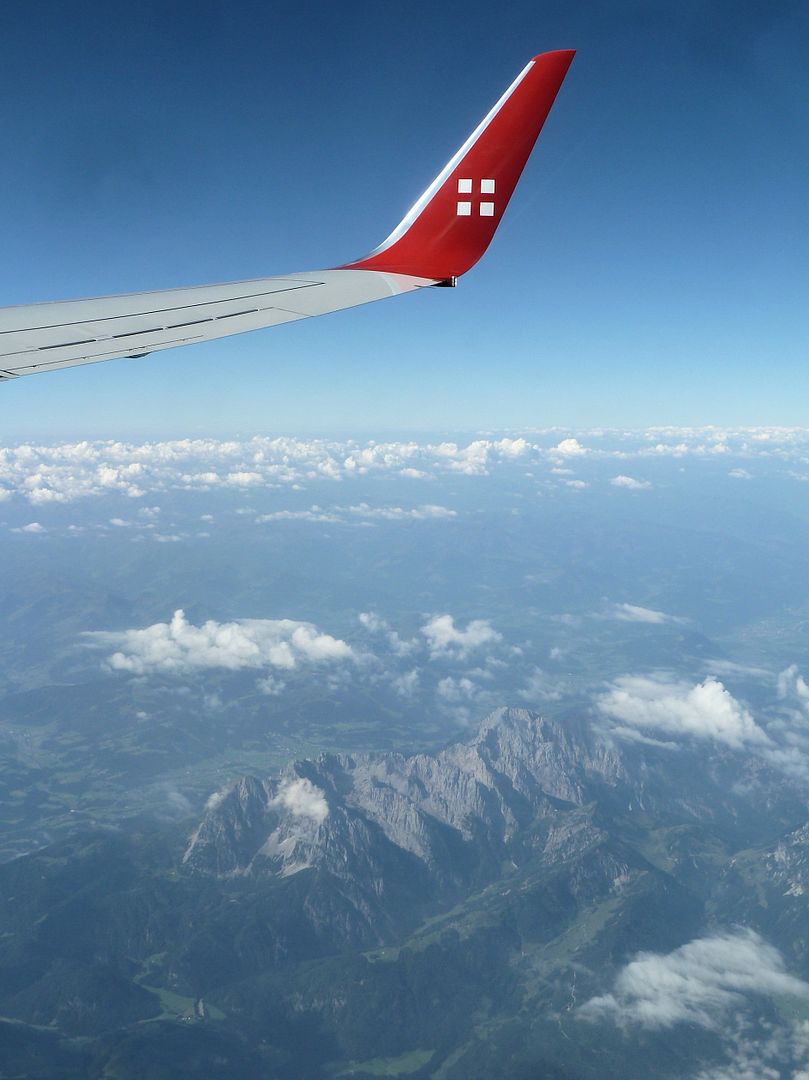 ...and
NiceView
: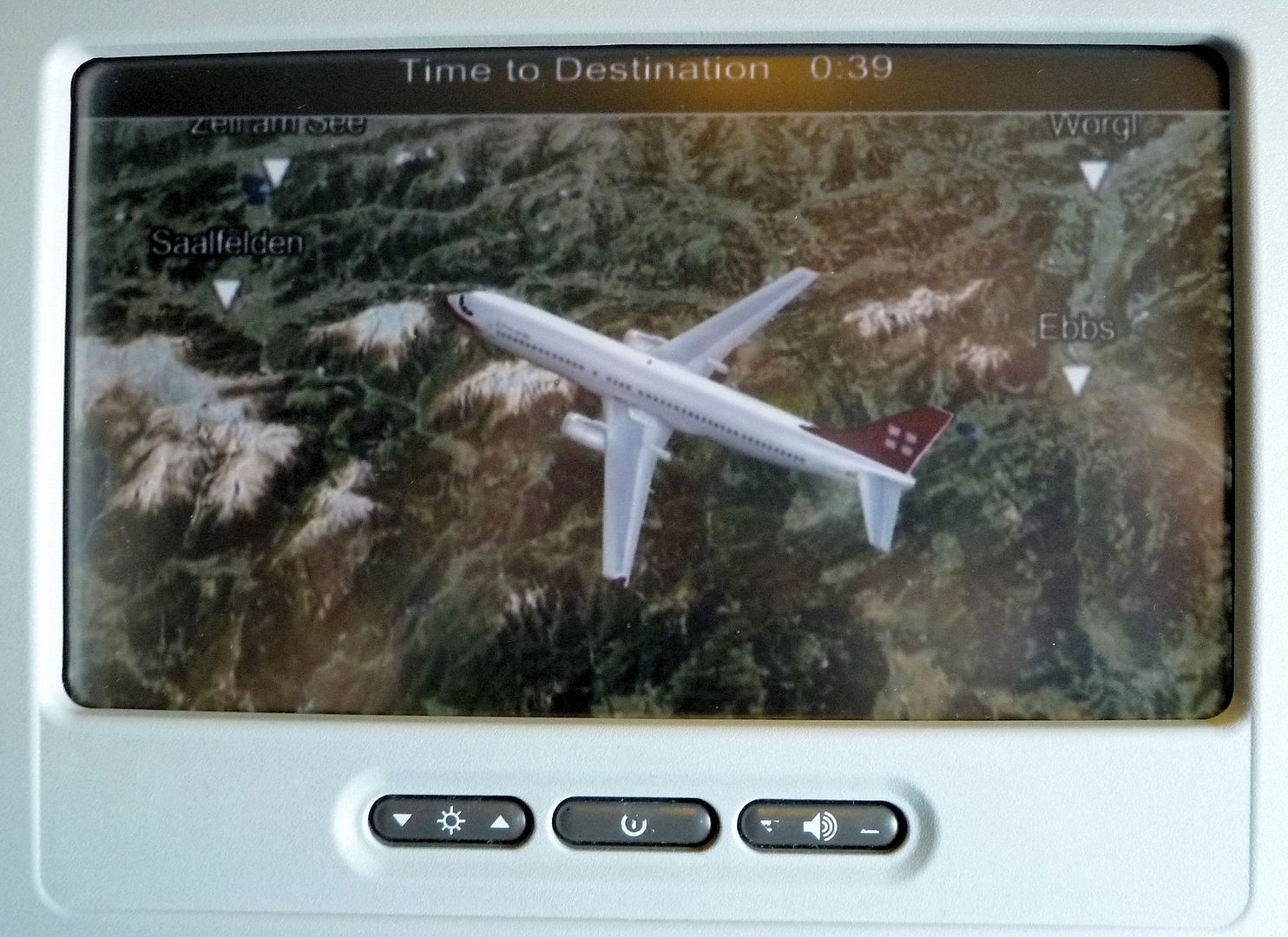 Something's seriously wrong here considering that we had left the ground only 18 minutes before...the 737-800 is not as fast as Concorde, is it?
Additionally, there was another mistake which I didn't notice immediately - the airshow was constantly displaying a wrong destination time. Egypt hadn't switched to summer time this year, so the displayed time difference didn't exist. An airline should really pay attention to such changes in countries which it serves.
It's always a pleasure to cross the Alps: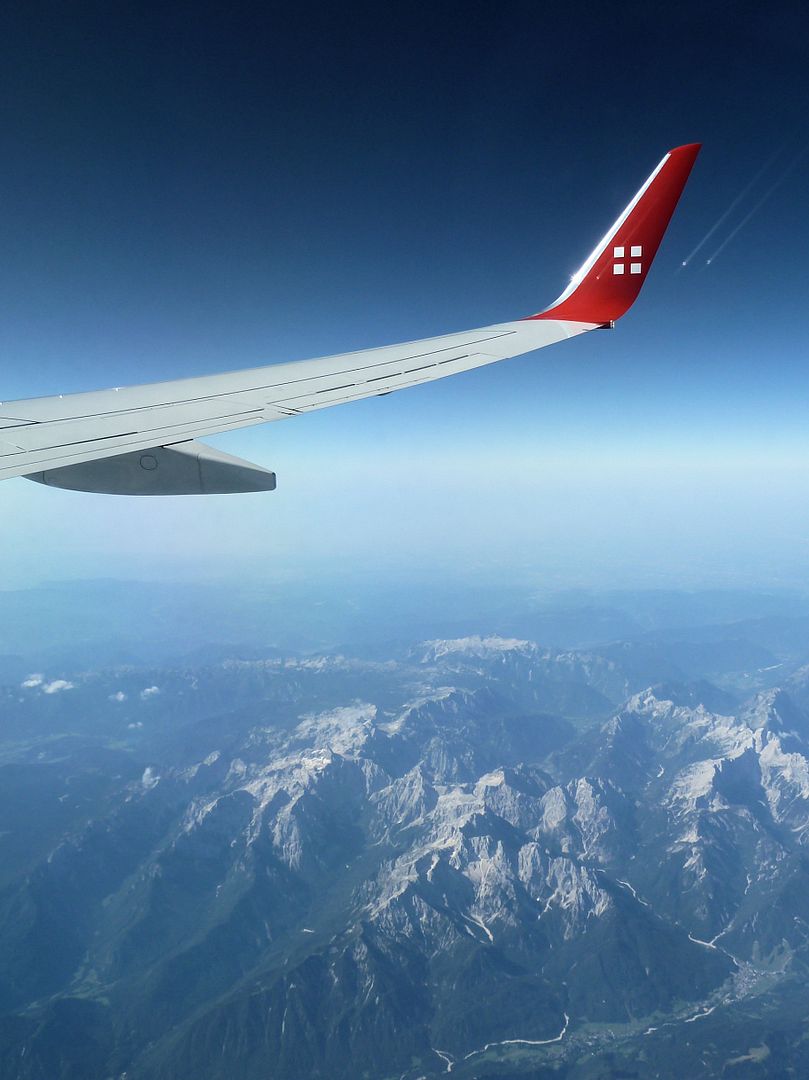 NiceView
again: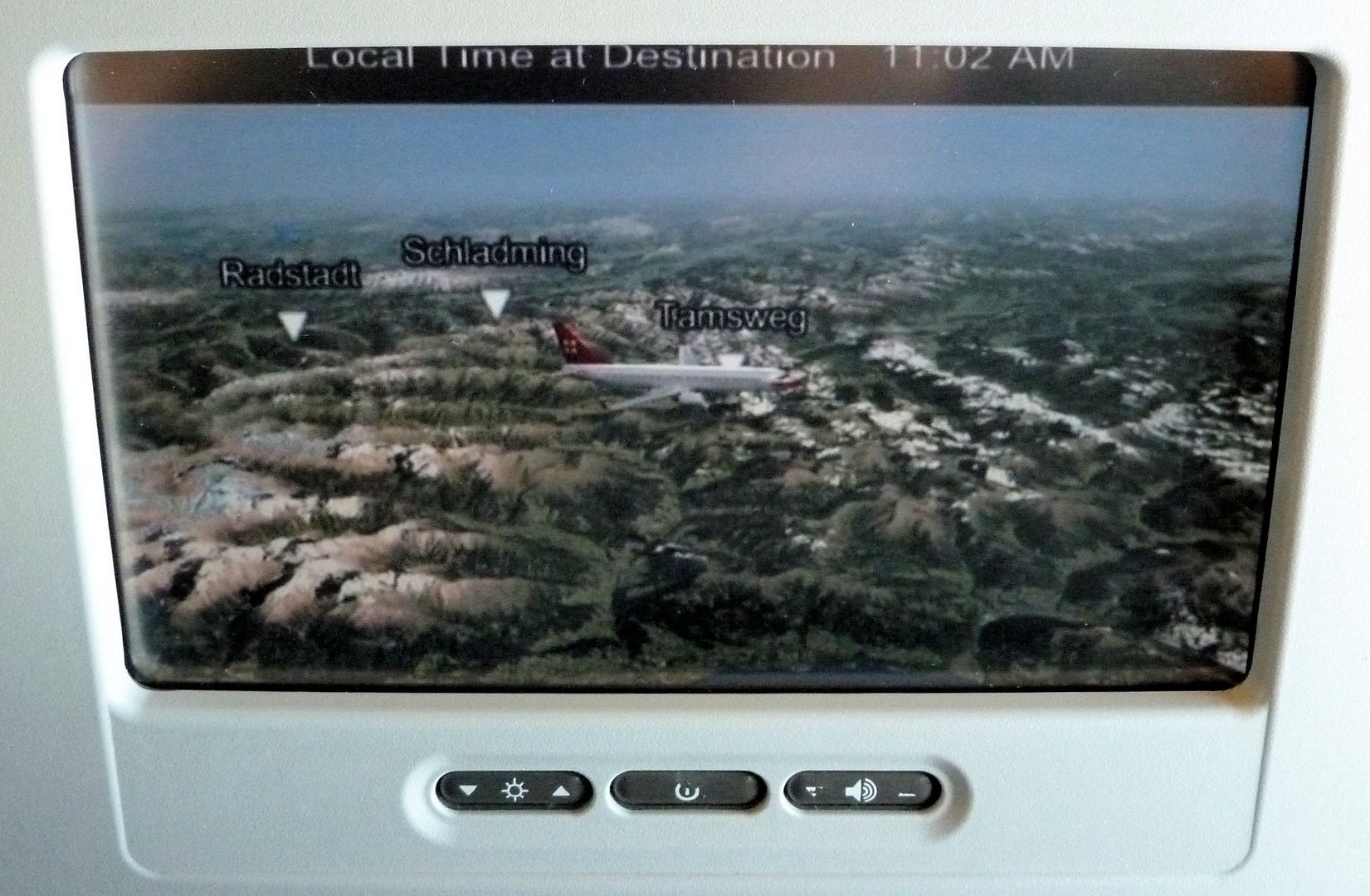 About 30 minutes after takeoff the inflight director announced that an aperitif would be offered soon, followed by lunch as well as coffee and tea service. Then one of the two flight attendants passed through the cabin with immigration cards - which she was carrying together with yellow Lufthansa pens on a small tray. When she handed out an immigration card to me, I also asked for a pen like some other passengers had done:
Some minutes later hot towels were distributed. One flight attendant turned out to be very friendly - the other one (who hadn't greeted) remained reserved throughout the whole flight. Finally, about 40 minutes after takeoff, drinks and small pretzels were offered. I was quite thirsty and drank almost the whole cup of orange juice before taking a picture:
Meanwhile we were cruising over Bosnia-Herzegovina. This is the
Jablaničko Lake
, a large artificially formed lake on the
Neretva
river:
Not even 20 minutes later we had reached Albania: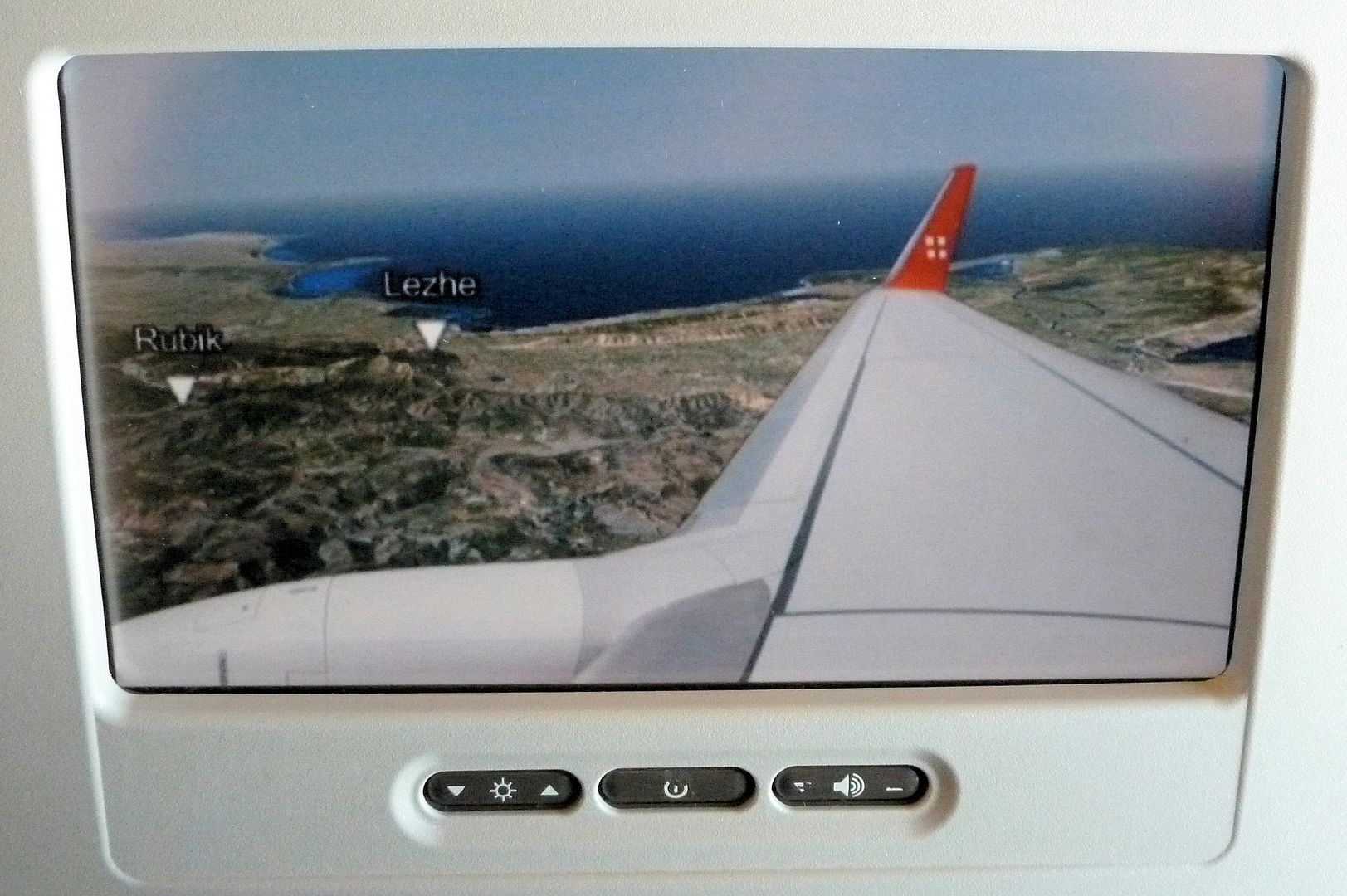 Another 20 minutes later we crossed the Greek coastline near Katerini (Central Macedonia):
Better late than never: The flight attendants finally arrived with the lunch trolley and offered a choice of beef and lamb curry. I ordered the latter and got a nice tray: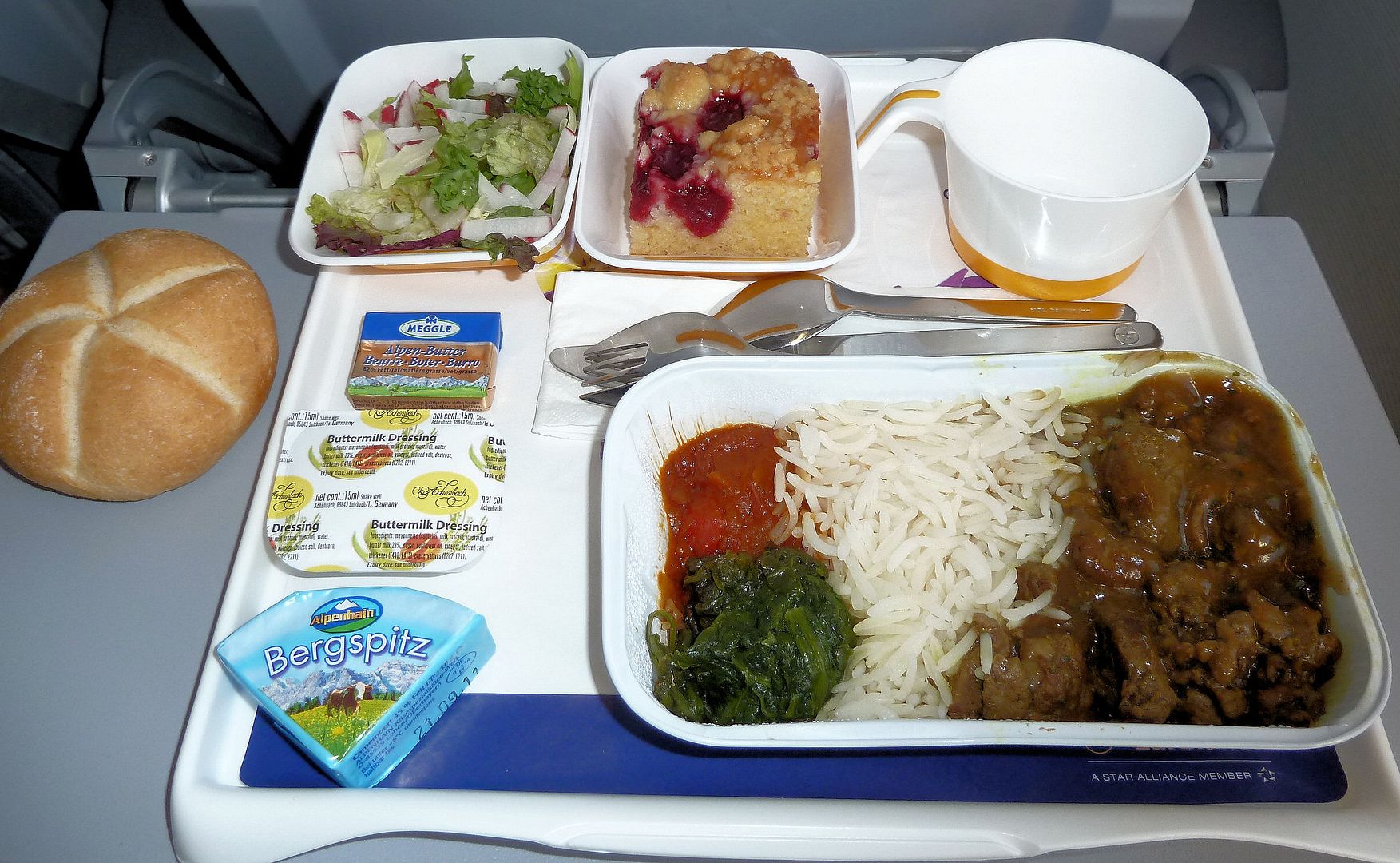 I love curry dishes of all kinds, but this main course could not impress me. Rice, spinach and meat were alright (except for some fatty pieces), but the sauce was not good - and not spicy at all. The salad and the piece of cake tasted okay, no more, no less. The meal was filling, but it wasn't a culinary highlight.
Numerous islands showed up in the Aegean Sea, including this one: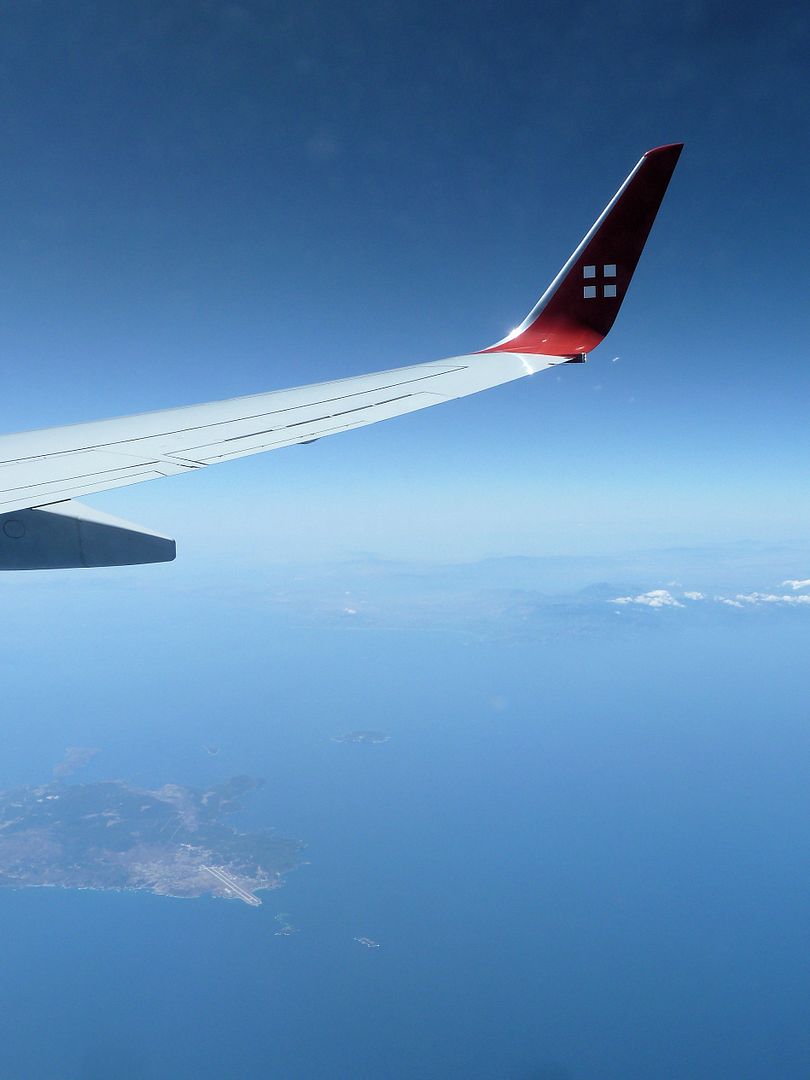 Skyros
is the largest and southernmost island of the
Sporades
. Due to its strategic location in the middle of the Aegean, the Hellenic Air Force has a major base there:
While checking some IFE options, I discovered very interesting pages which I hadn't seen on Lufthansa before: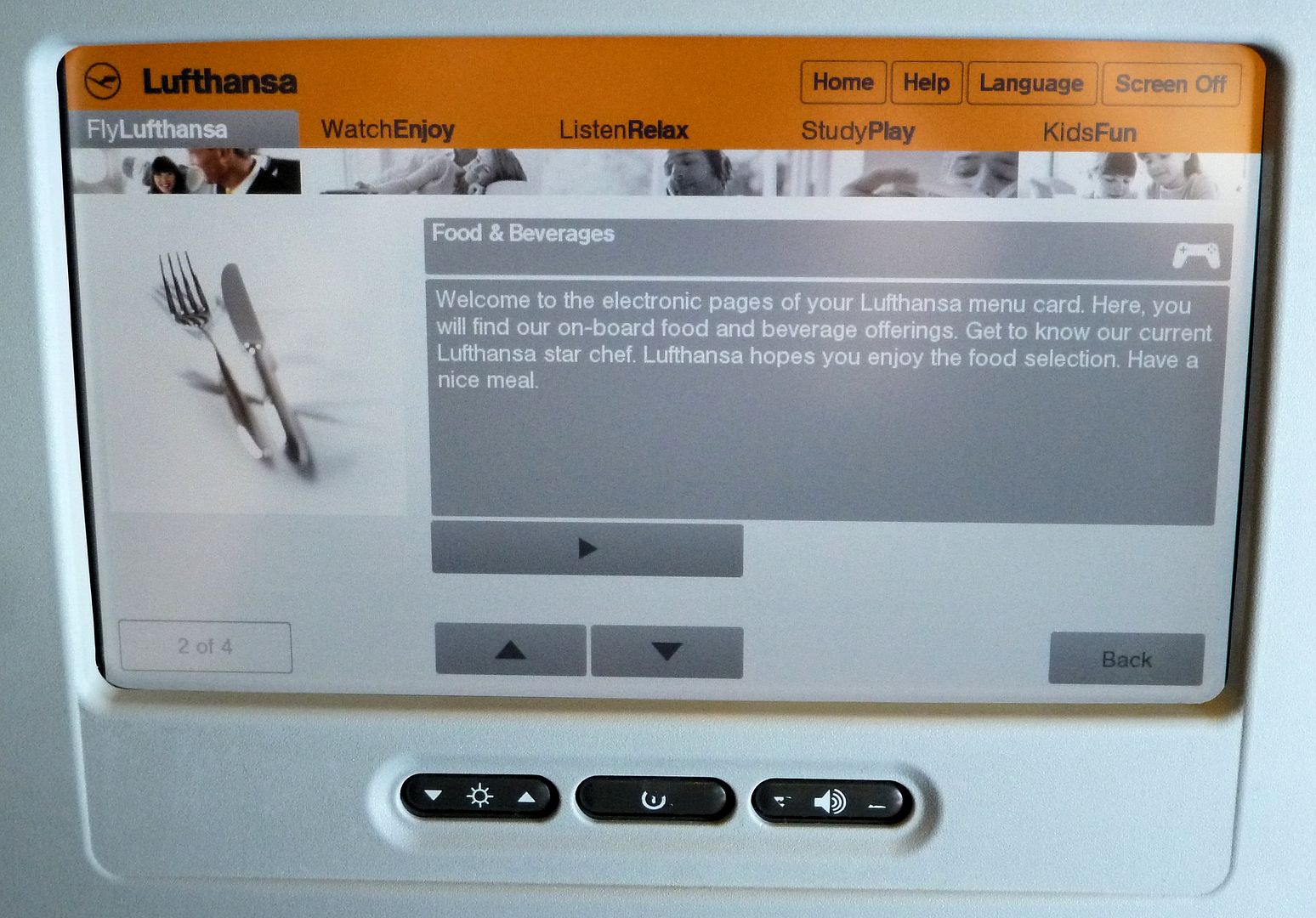 This is an electronic menu card!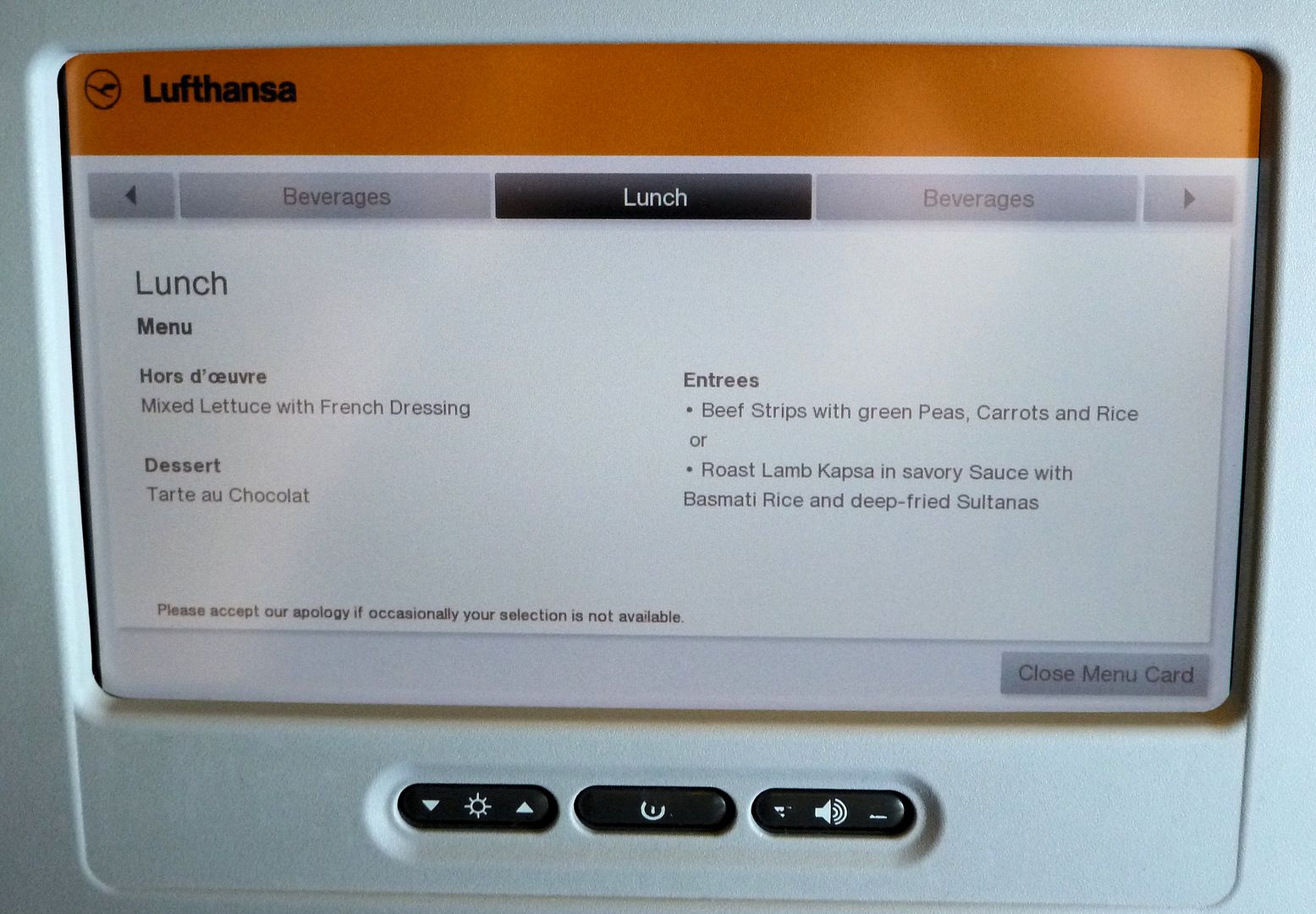 Even though the listed options weren't entirely correct (e.g. different dessert) in this case, it's nice to see such a feature on Lufthansa which doesn't distribute menu cards on most flights. I'm wondering if it's also actively used on the A380 and other types (with different IFE systems).
No doubt, I could get used to such a 737 interior:
Various care products and a yellow rose - that's what you find in an Economy Class lavatory on PrivatAir: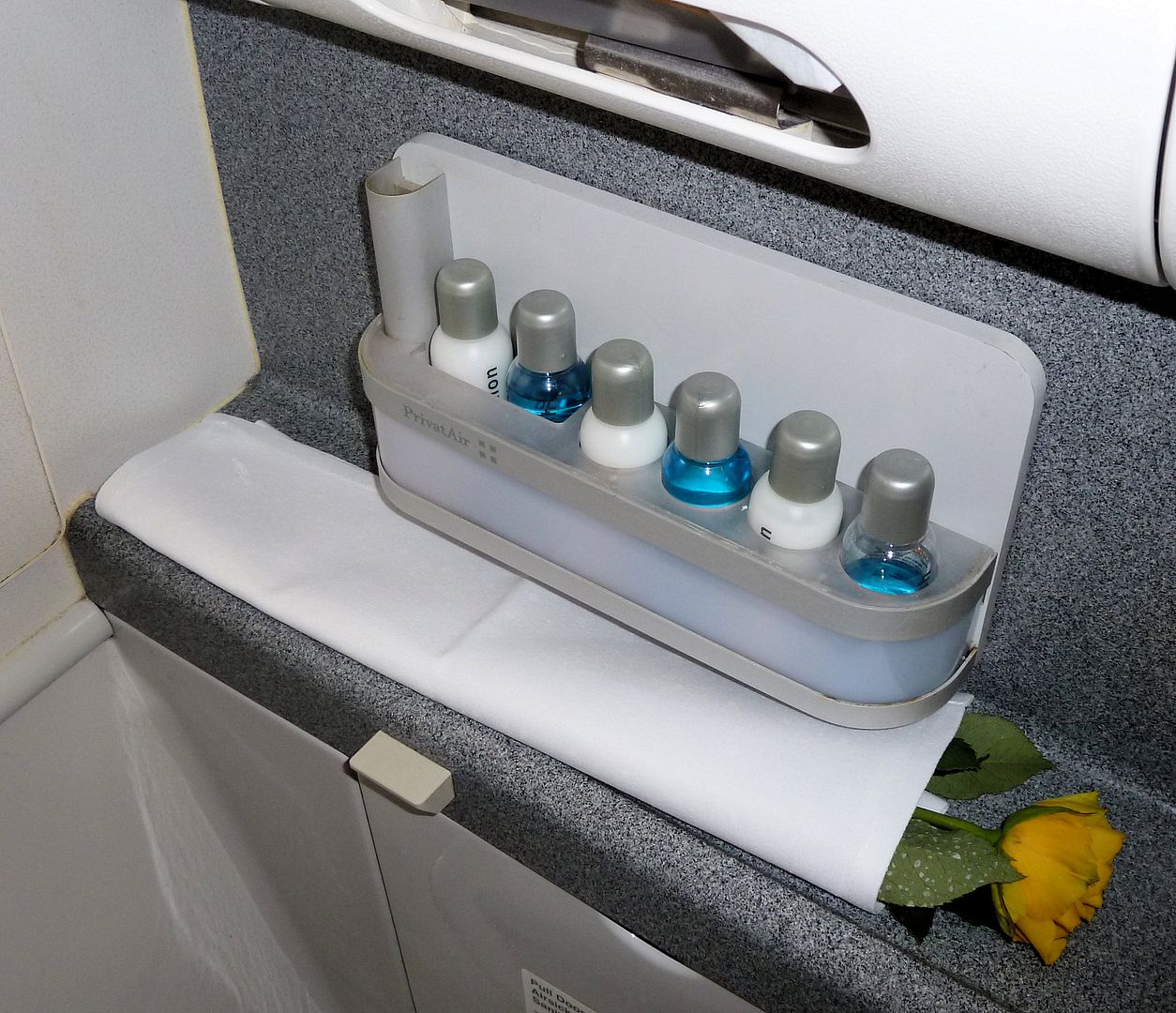 Descent commenced near the Egyptian coastline: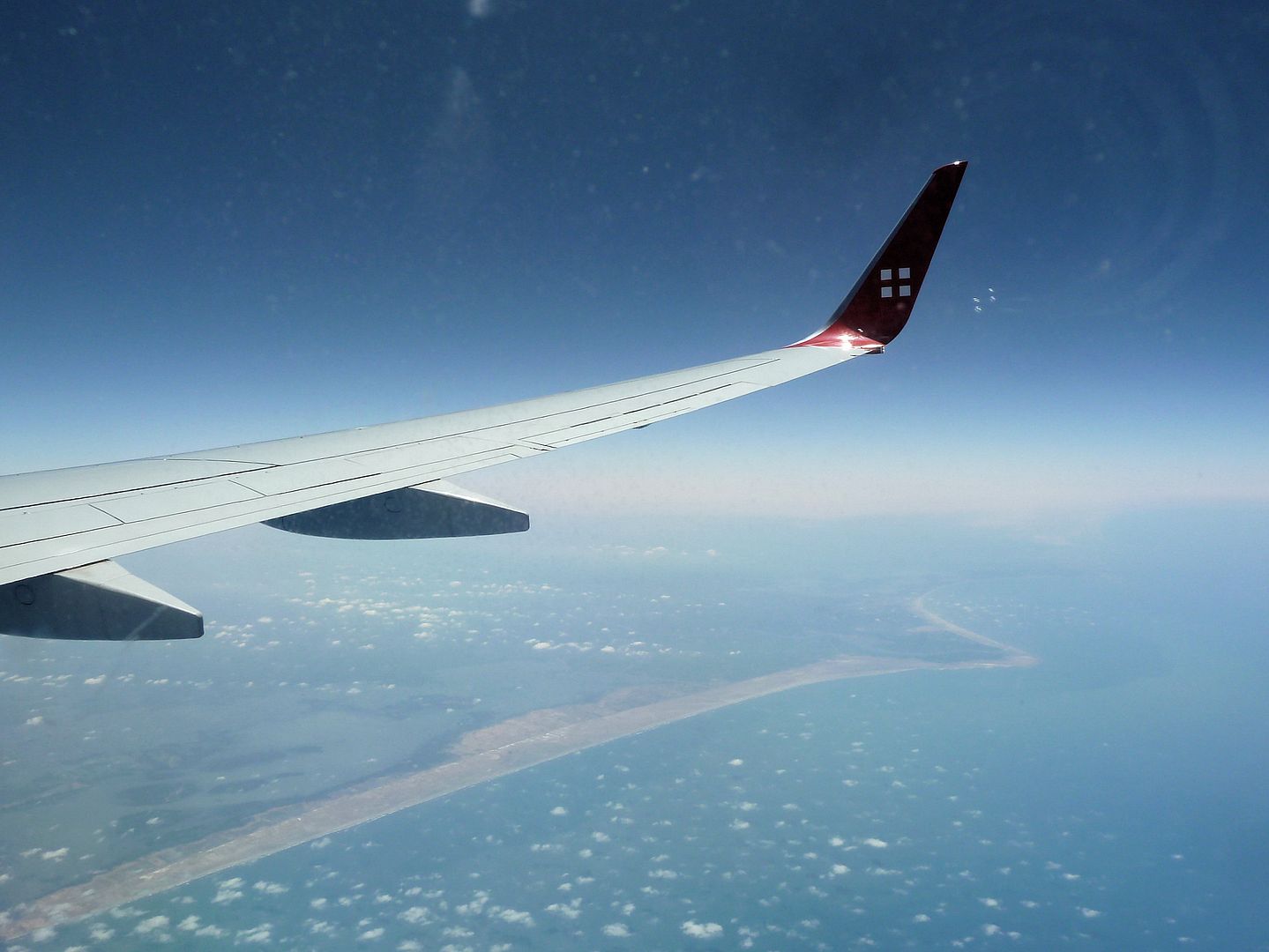 The captain made an announcement at that point of time, but it was impossible to understand him for acoustic reasons.
It was very hazy down there:
Can you see the
Great Pyramids
on the Giza Plateau?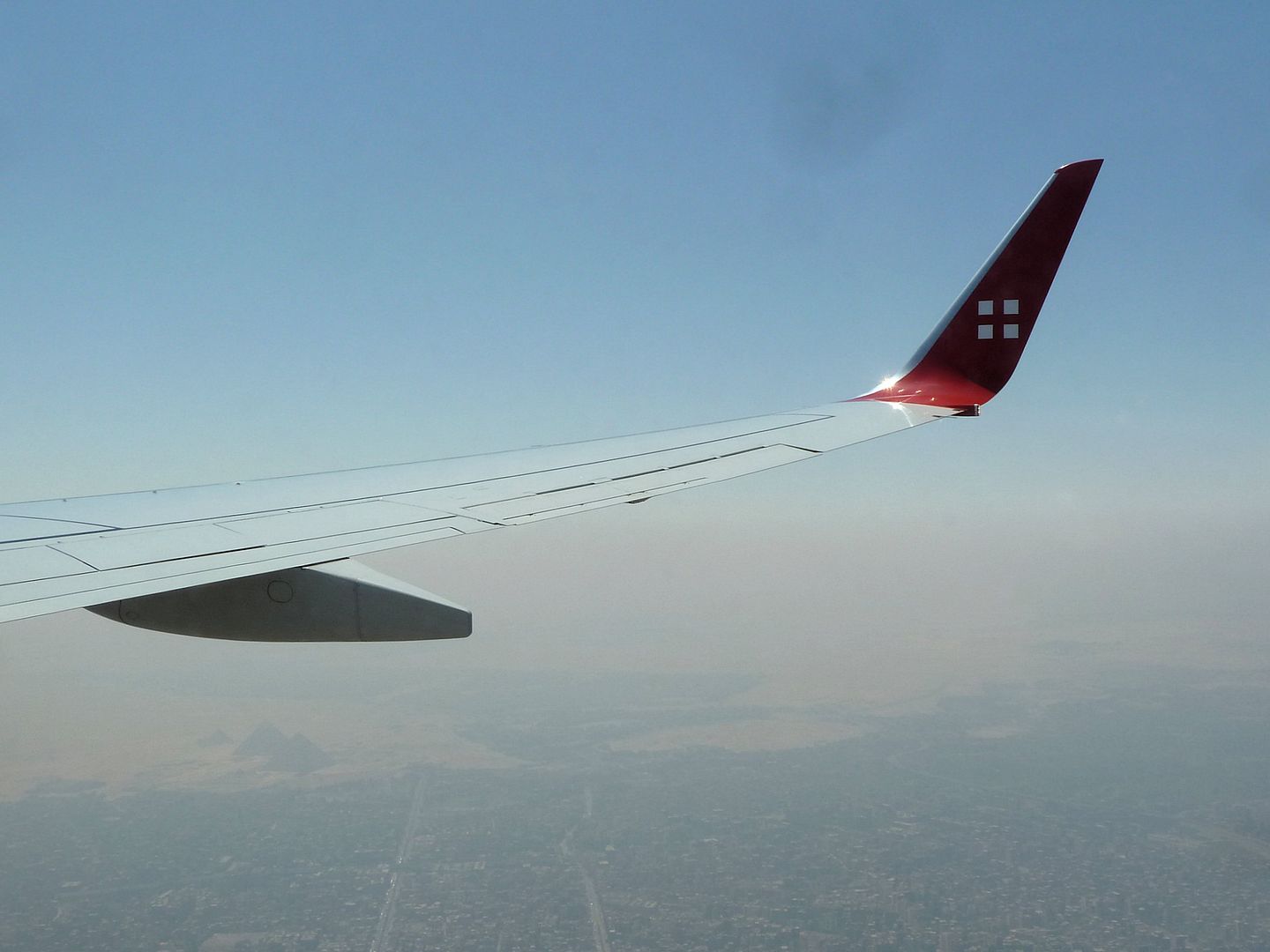 Densely populated outskirts: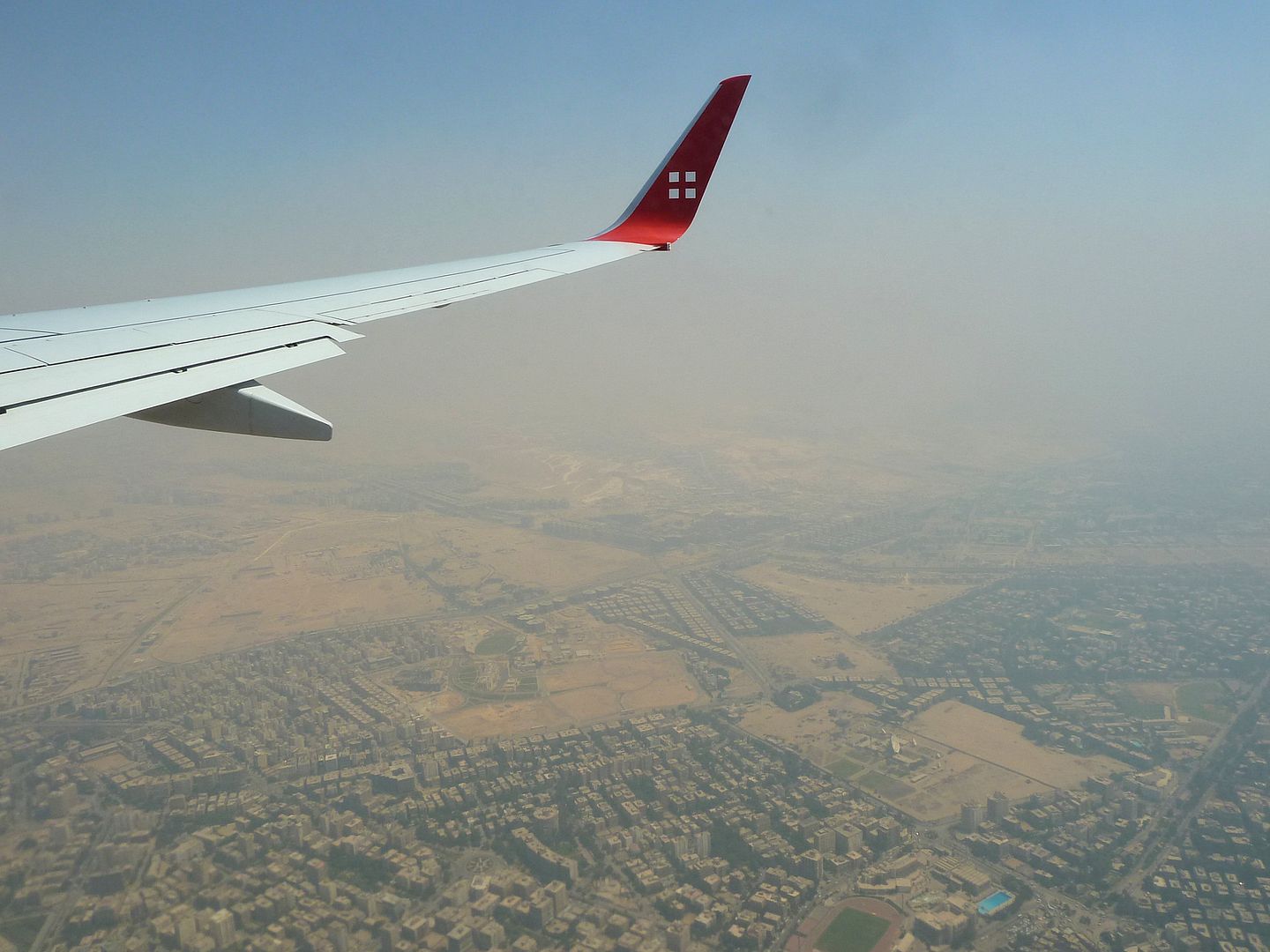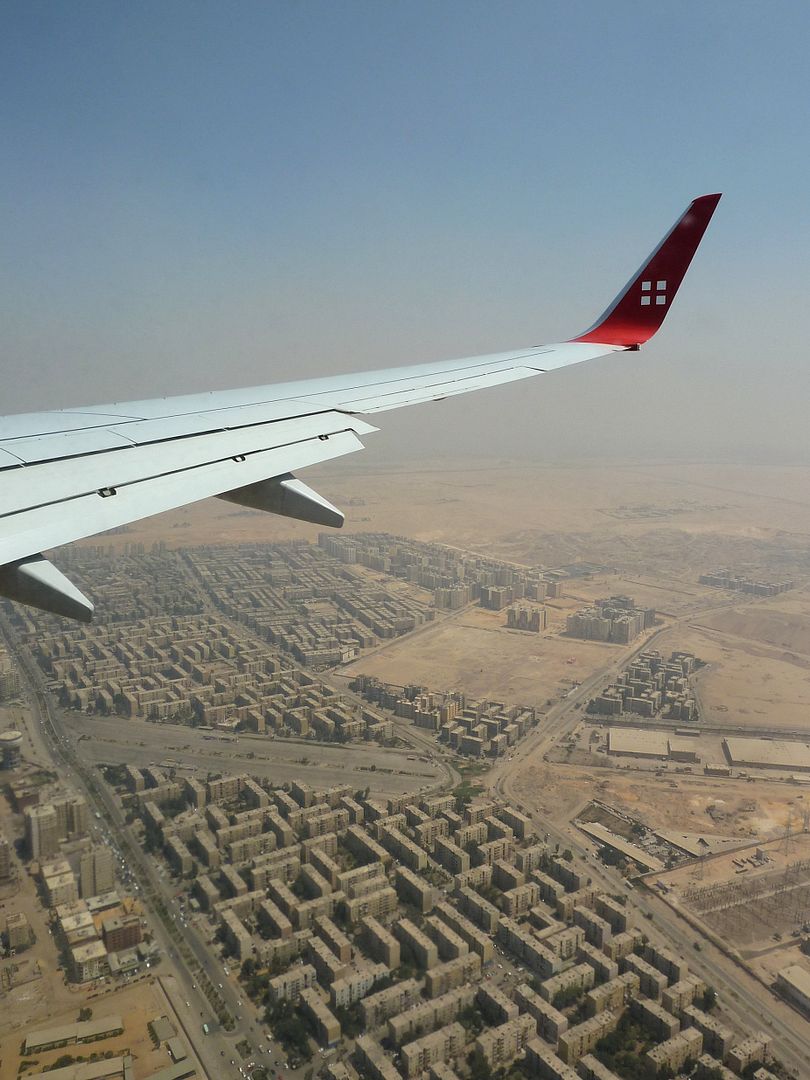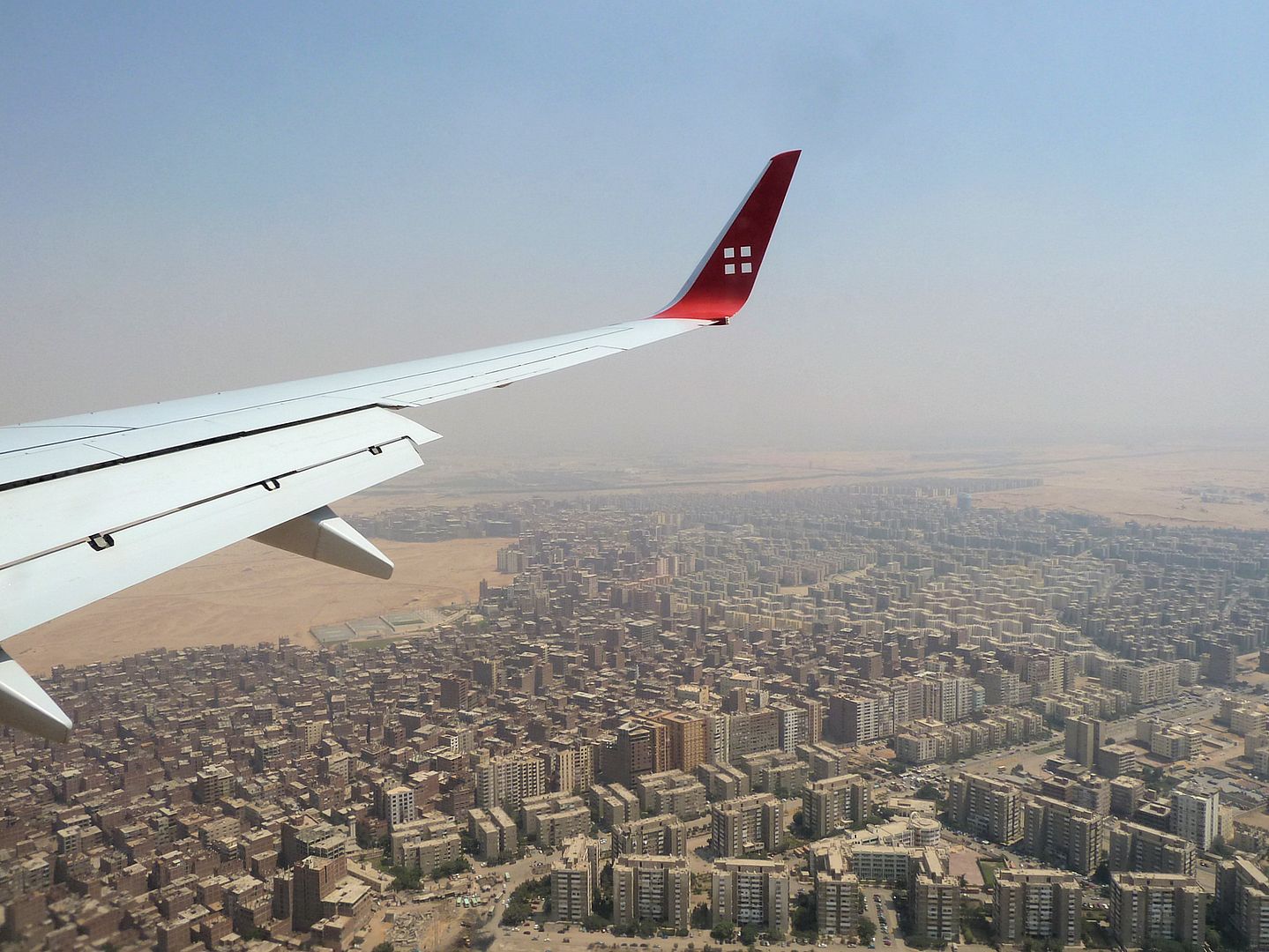 Interesting complex - does anyone know more about that? I could only find a street name.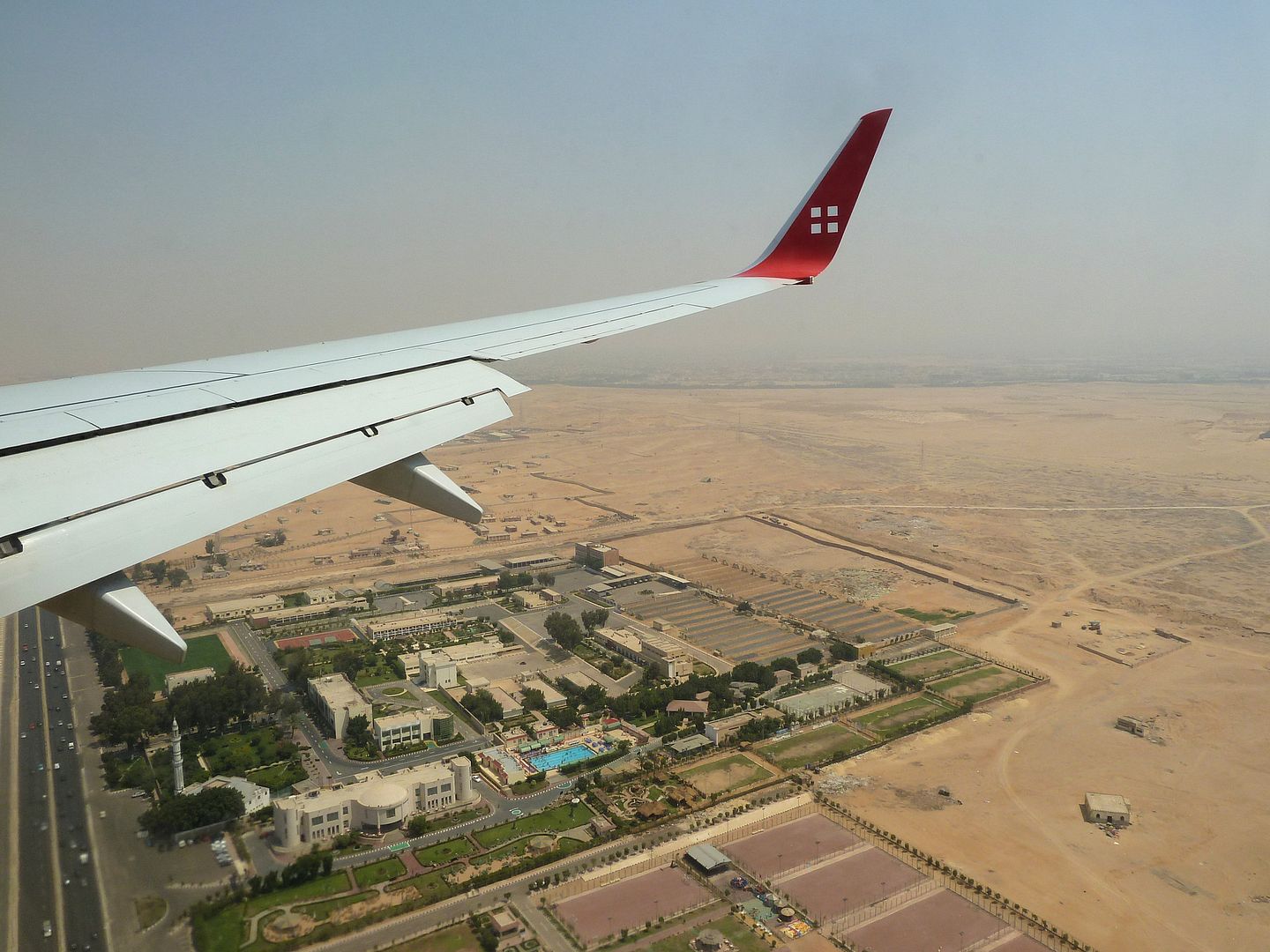 We touched down on runway 05R after a flying time of 3 hours and 16 minutes...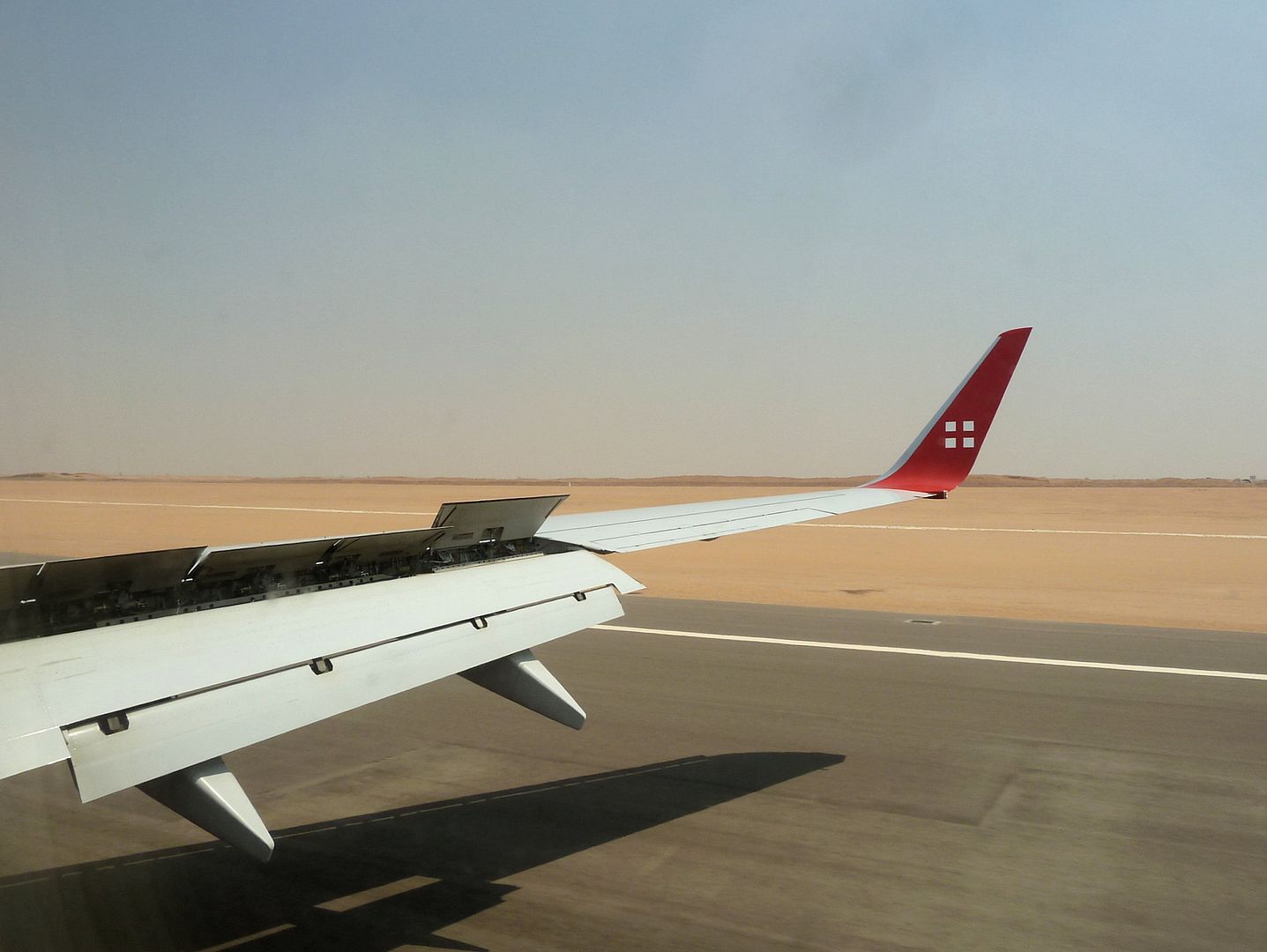 ...however, according to
NiceView
, we had come down off the track in the middle of nowhere:
It took a while to reach Terminal 3, but there was a lot to see on the way. This is former Pharaoh Airlines 737-222 SU-PMA rotting in the sand since 2002: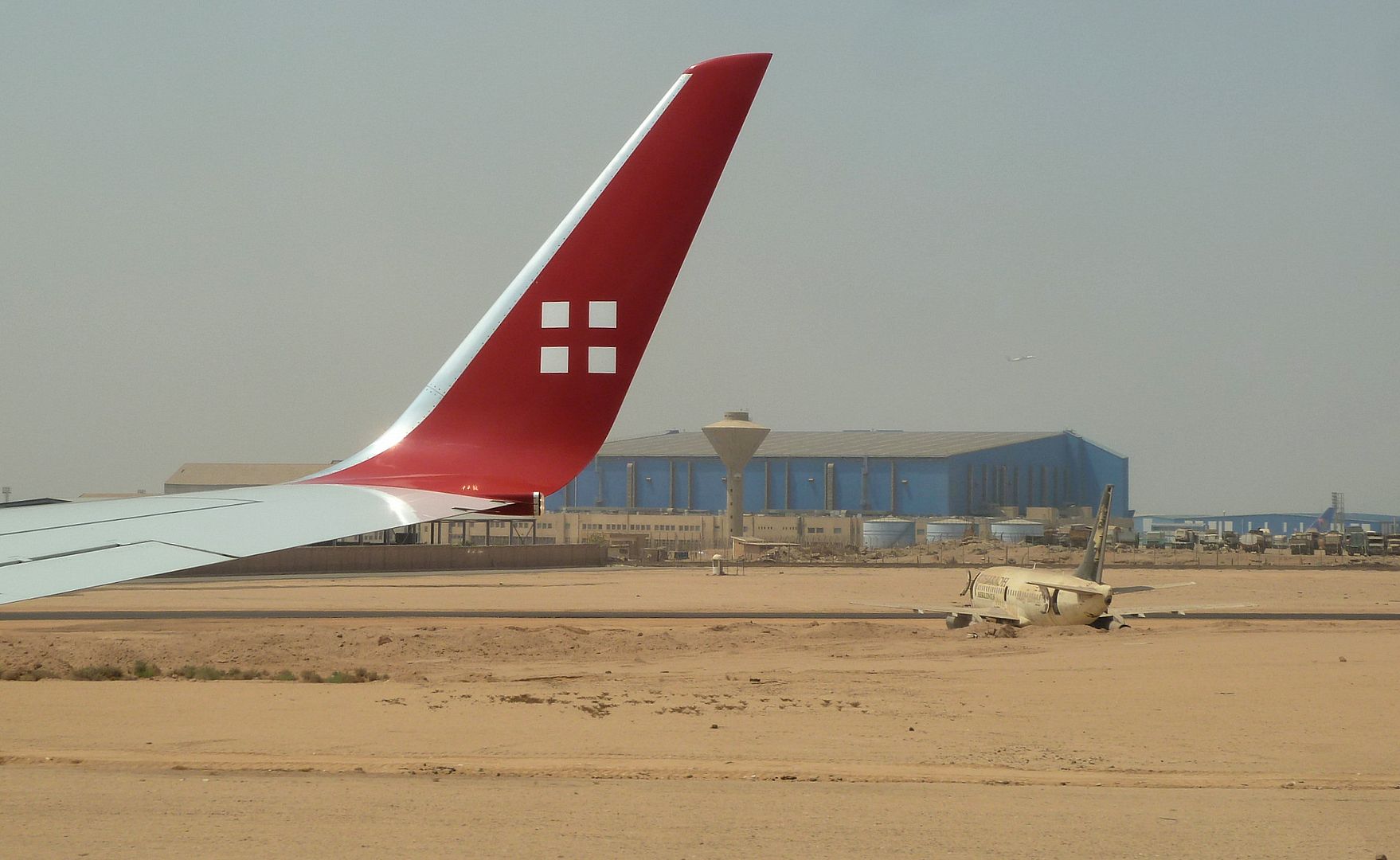 The plane started its career with United Airlines as N9026U in September 1968 and later flew for Euralair, Air Charter, Air Martinique and Air Liberté as F-GCLL. Here are some pictures from better days:
This is former Alim-Air Lines Il-62M SU-ZDA - impounded in 1997:
The plane was first delivered to Interflug as DDR-SEP in October 1984 and later transferred to Luftwaffe (11+22) and Uzbekistan Airways (UK-86934). Some old pictures from the database:
These A300 freighters are still active...
...in contrast to former Midwest Airlines A310-304 SU-MWA which made its last flight sometime between mid-2004 and mid-2006: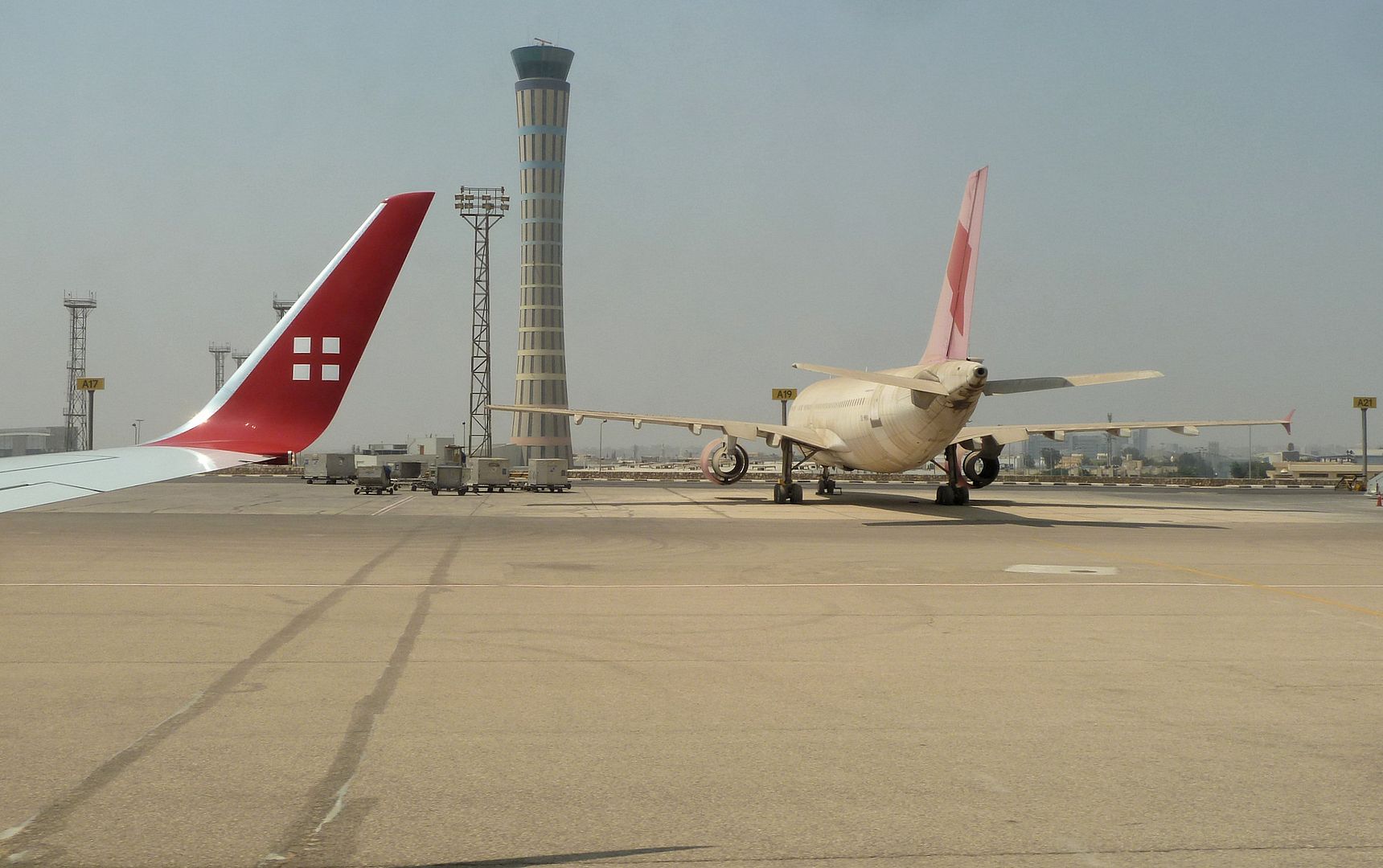 Airbus delivered the plane to Air Afrique as TU-TAE in September 1992 where it remained active until mid-1998. Almost a year later, Midwest Airlines started operations with that bird. Pictures from better times:
No worries, EgyptAir 737-566 SU-GBJ is still active: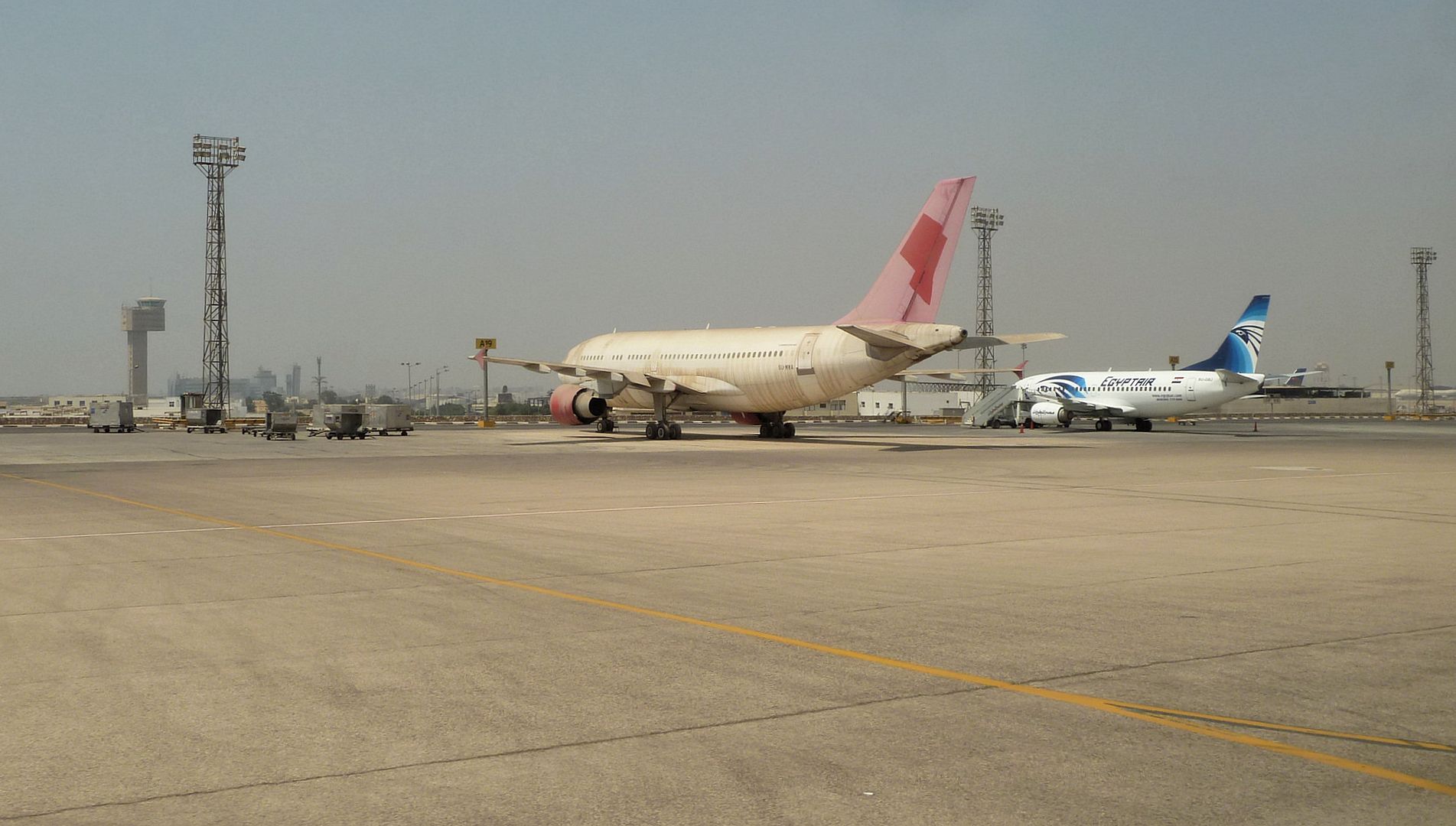 We finally arrived at our Terminal 3 gate 12 minutes behind schedule. That jetbridge over there is really long, isn't it?
After most passengers had left the plane, I wanted to take a picture of the rear galley and storage area, but the two flight attendants were standing in the way. So I asked the friendly one if I could do so. She was surprised that I was so much interested in that area and I quickly explained why I take pictures of aircraft cabins. Meanwhile a ground stuff member had already entered the galley - and the flight attendant even told him to leave again so that I could take the picture. Nice!
Here it is - PrivatAir installed additional closets for its long-haul operations: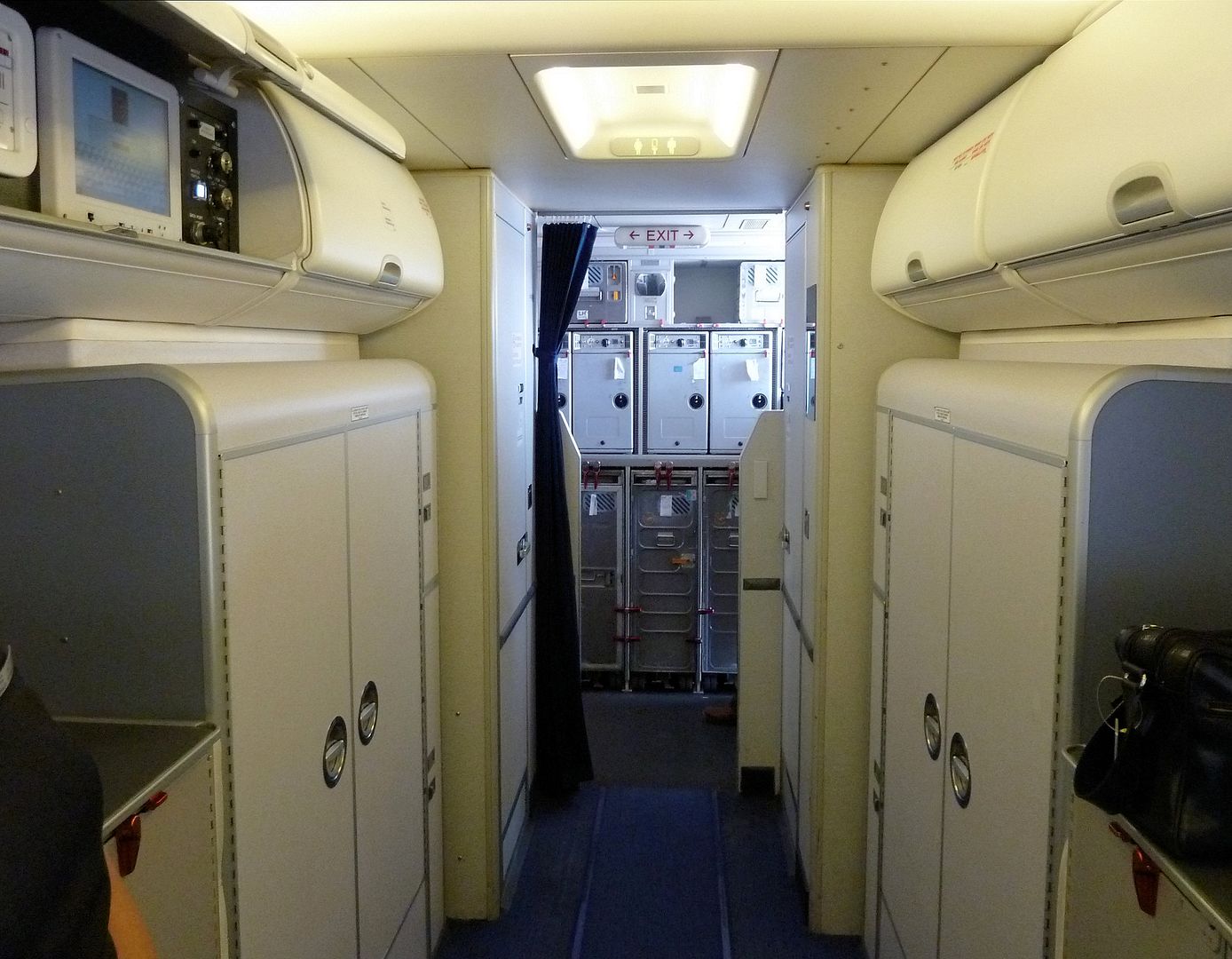 Lufthansa's standard long-haul Business Class seats can be found in the forward section: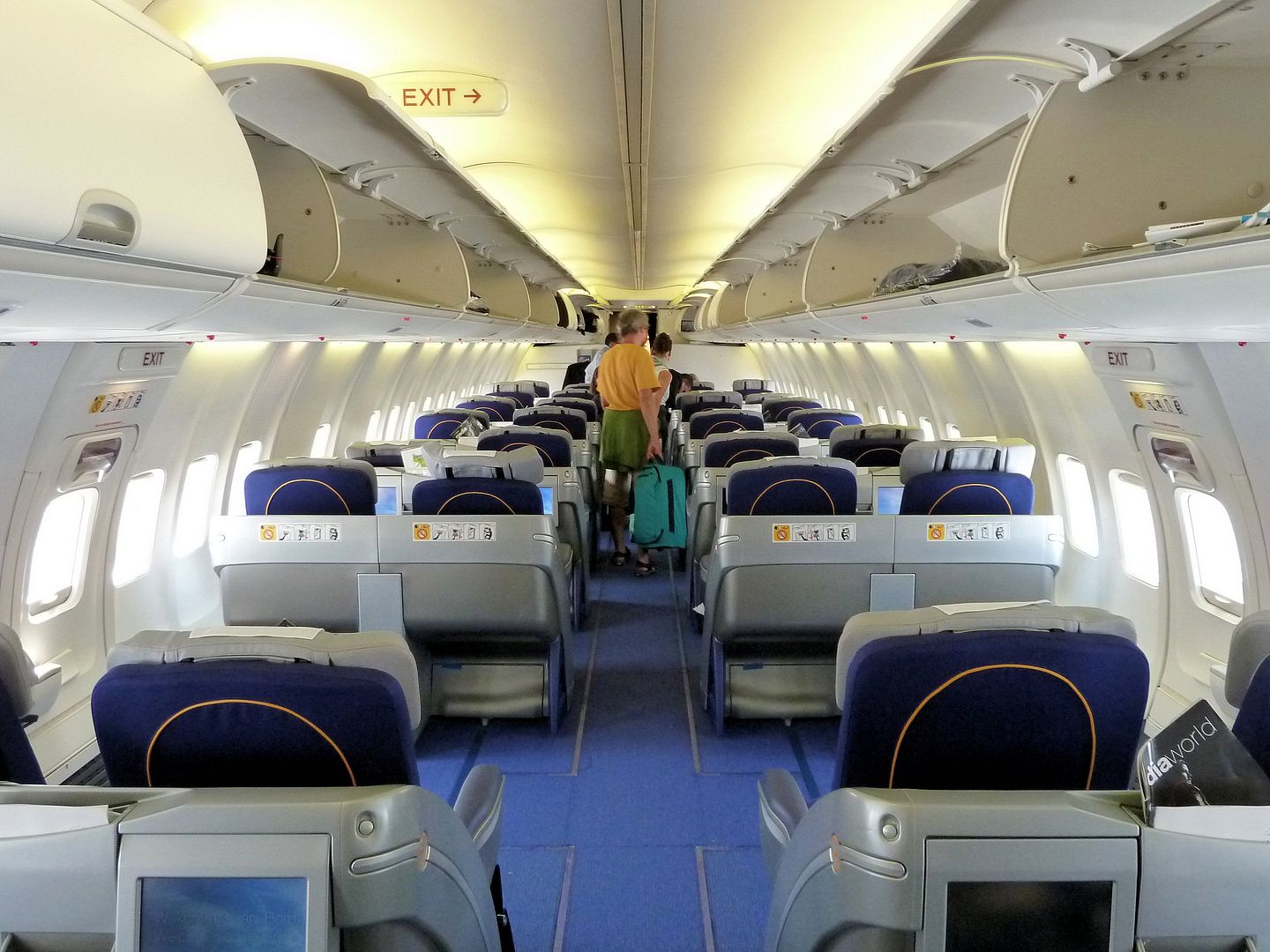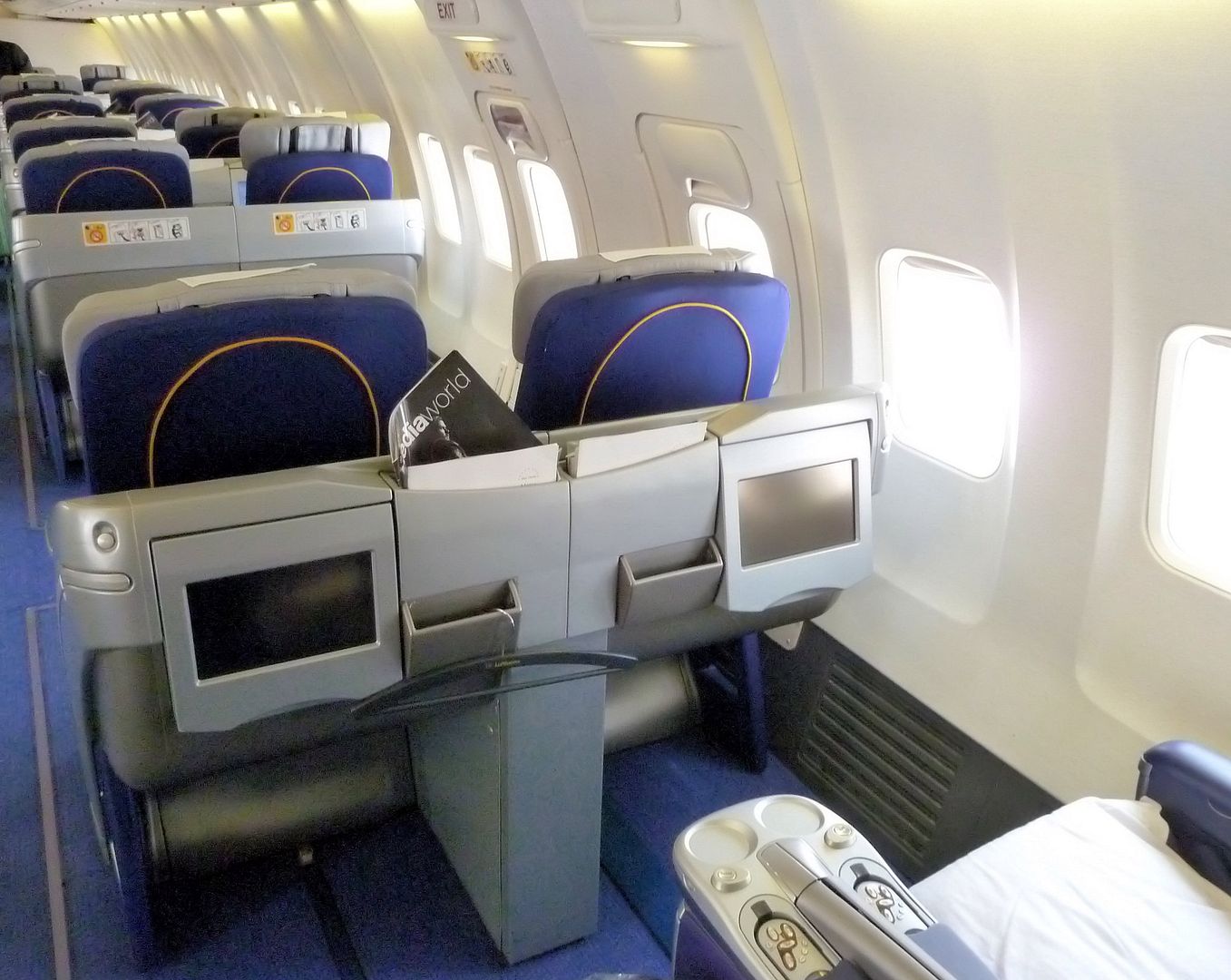 After leaving the aircraft, I went to an EgyptAir transfer desk to check the status of my domestic flights, bought an entry visa ($15) and finally passed immigration.
Story to be continued...
Conclusion
It was certainly a special experience to fly on one of PrivatAir's "exotic" 737-800s. These planes are equipped with a real two-class long-haul cabin and the inflight entertainment is even superior to the one on most Lufthansa widebodies. However, even though the latest Lufthansa Economy Class seats have been installed, you find less legroom and less elbow space than on any Lufthansa widebody.
While certain minor amenities are exclusive to PrivatAir, the service provided by the company's crew was not better than on regular Lufthansa flights. One flight attendant wasn't friendly and customer orientated at all - I hadn't noticed such an attitude on any Lufthansa flight in the recent past. Lufthansa's catering was not bad, but not overly good either this time.
Anyway, I'm very glad that I took the chance to fly PrivatAir to Cairo. If you want to try one of its 737-800s on Lufthansa routes in these days, you need to fly to Accra, Dammam, Libreville/Point Noire or Pune which aren't really suitable destinations for a relaxed enthusiast trip.
Best Regards,
PlaneHunter
P.S.: Just in case you missed them - my previous trip reports:
1 Day, 2 Highlights: Big A.net Meeting & LAN A340
Imperfect Giant: CPT-JNB-FRA On SA A332 & LH A380
BA Vs. LCC, African Way: JNB-DUR-CPT, Comair/Mango
Africa's Best Airline? FRA-JNB On SAA A340-600
Fuel Dump & Return To CDG: Enroute To LAX On 9/11
Greek Quality: Aegean, Olympic & Istanbul Spotting
Exploring A Virgin: VS A343/A346 & Dubai Delights
Superb Stübli & Crew: LAS-LAX-ZRH-MUC, LX J Class
Grand Canyon & More: Scenic Flight On Dornier 228
San Francisco Sunshine...and A Frontier Fiasco
Fully Flat Bed to SFO: SWISS' New Business Class
Mountains, Meals & More: SunExpress Vs. Pegasus
Crossing Two Oceans: AKL-SFO-MUC, NZ 777 & LH A346
Bad Weather & Other Bad Luck: Touring New Zealand
Trans-Tasman Treat: Aerolineas Argentinas A340-200
Detours To Sydney: Wildlife, Tiger, REX & QFLink
Thai Fails To Impress: MUC-BKK-BNE On 744 & 777
Painful Delay & My 100th Airline: AF A380, VO F100
Fifth Freedom Tidbit: Kuwait Airways A300-600
Ship Vs. Plane: Porto Santo Line & Sata Air Açores
Awesome Approach, Splendid Scenery: LIS, FNC & TAP
Guernsey, Ash Cloud Alarm & Mostly Empty SQ 77Ws
Totally Thrilling: Scenic Flight On Lufthansa A380
Cirrus D38, Adria CRJ & Captain Niki Lauda On Duty
Monarch Hot Meal, E195 & More: PMI-ALC-MAN-MUC
Premium Meal & Palma Spotting: MUC-PMI, DE 757-300
The Dead Slow Transfer: PEK-MUC On Air China A332
Cancellation Brings Joy: HKG-PEK on Dragonair A330
A380 Cacophony, 777 Star Livery: DXB-SIN-HKG on SQ
The Next 5* Carrier? MUC-MCT-DXB, Oman Air A330
Turkey For 1.5 Hrs: Daytrip To AYT On Sky Airlines
CO Scores Again: ATL-IAH-EWR-FRA On ERJ, 752 & 764
Riding The Ultra Long-Haul Twin: Delta 777-200LR
Pacific Coast Jaunt: 3 Carriers, E120, E140 & Fog
The Ultimate 737: LHR-IAH-PDX On CO 777 & 739ER
Bye Bye, Hell! TRD-OSL-TXL-NUE - DY/AB/HE DH4
My Trip To Hell: NUE-CPH-OSL-TRD On Cimber & SAS
SFO-YUL-FRA: Map- & Sleepless On Air Canada's 77W
Sin City Gloss & Virgin America's Chic First Class
Seat Dilemma & Canyon Glamour: FRA To LAX, AC 763
On Par With Air France? DTW-AMS-MUC, KLM A330
Goodbye, Red Tails! DC-9-40/50 & Chicago Tour
Champagne & World Of Coke: Air France A340 To ATL
"Mission A380": Disappointing Legs On BA/BD/EI
Delights Of Doha, 773 & 77W: DOH-DXB-LHR On EK
A380 Really a Step Forward? LHR-DXB-DOH On EK
Quality & Style: HKG-LHR On Air New Zealand 744
Taiwan Trio: TransAsia, UNI Air And The Taipei 101
"The Wings Of Taiwan": EVA Air A332, 744 Combi
SHA-SZX, Shanghai 757: Delayed By The Military
PEK-SHA, China Eastern A330 & Shanghai At Night
Striking Newcomer: Berlin-Beijing On Hainan A330
Short & Splendid: MXP-MUC On Air Dolomiti's 146
3 Hours On Blue1: HEL-MXP On The MD-90
Winglets On A Classic: MUC-RIX-HEL On Air Baltic
BCN-MAD-ZRH-MUC: UX Shuttle Meets Swiss Quality
MUC-MAD-BCN: Star MD-87 & The Pain Of Vueling
Low Fares, Lovely Island: AK & Best Of Langkawi
4 Stars Or 5 Stars? FRA-KUL-FRA, Malaysia 777s
First And Last Time? JFK-FCO-MUC, Alitalia 777
JFK For 1 Day: Transatlantic Hop On CSA's A310
Sardinian Sun, Shiny New 73Gs & Cramped Mad Dog
Top And Flop: KIX-HEL-MUC, Finnair A320 & MD-11
The 524-Seat Twin-jet: HND-ITM On ANA 777-300
Kobe For 1 Hour: 767-Quickie On ANA & Skymark
Rocketing To Tokyo: FUK-HND On JAL (ex-JAS) 777
Oddities & Okinawa: JTA 734 & JAL 744D(Domestic)
MUC To Nagoya: Finnair E170 & (Old) "New" A340
Mad Dog, A320 Tech Delay & Best Of Lanzarote
Canaries Prop-Hopping: Islas Airways & Naysa
Canaries And Confusion: LH CRJ900 & Spanair A321
Hubbing For 162 Miles: HOQ-FRA-STR Ret On IQ/EW/LH
BOS-JFK-AMS-MUC: SSSS-Check And KLM 777
ATL-PIT-JFK-BOS: FL B717, JetBlue E190 And Delays
MUC-AMS-MEM-ATL On NWA A332 And 40-year-old DC-9
FRA-BKK-FRA Via CMB: SriLankan A332 & A343
BNE-SIN-DXB-MUC On Emirates B772ER & B773
2 Hours In Paradise: Hamilton Island (JQ/DJ)
BNE-SYD-BNE: Domestic Run On QF's Oldest B747-400
Testing Qantas: SYD-MEL-SYD-BNE (B738, B763, A332)
Going Down Under: MUC-DXB-SYD On EK A332 & A345
Surprised By NIKI's Newest A320 & Screw-up By AB
Leisure Vs. Full Service: Condor & SN Brussels
"betterFly" On LH: Business Class For 99 Euro
Weekend Transatlantic Trip (2): US A321 & B762
Transatlantic For A Weekend (1): MUC-DCA On US
[Edited 2011-11-29 12:05:22]