Introduction
This trip started innocently as the return segment of an ARN-HEL-ARN ticket on SAS I had bought to take me home from an earlier trip. Booking it as a return brought the per segment price down a bit plus allowed me better flight times on the outbound (with the cheapest one way fares one always seems to end up on the nasty midnight flight!). So I was left with a ticket on the first SK flight of the day at 6.50 on a random Wednesday in November.
Figuring out my options I finally decided to try out the new FlyBe Nordic Bromma - Tallinn service which was booked 49 EUR. Another thing weighting heavily on the scales was the fact that Diners Club recently added Malmö Aviation's Yellow Room, the only lounge at BMA to its list of accessible lounges and I really wanted to try out that one as well.
From TLL I could've just taken either the ferry or the standard BT connections via RIX home, but I have done those far too many times so where's the fun in that? After a bit more of shopping around I found that I had enough time to connect to City Airline's TLL-GOT flight. I had wanted to fly that flight ever since I saw their ERJ-145 taking off right over my (then) company's offices at TLL (an amazing sight!) many years ago. I had flown CF once before, but didn't really mind another chance to do so and booked a ticket. The flight was a bit cheaper if booked under the SAS codeshare so I did so for around 75 EUR (which in retrospective turned out to be a very good decision, stay with me here).
Finally to close the gaps I booked SK to ARN and KF home. As a nice bonus the Blue1 flight would be operated by one of the Golden Air ATRs - meaning this would be a new carrier for me on this route - I have done it with SAS, Blue1 (and Air Botnia), Finnair, Norwegian and FlyME before. Oh and the first time doing it in an ATR, although not in a turboprop as KF used to operate the Saab 2000 on the midnight flight back in the days...
Here's the intended route:
Yes, I wrote "intended", implying that something would be up. My luck with flight cancellations has lately been rather bad and of course I got an email advising me that City Airline would be canceling the whole route a couple of weeks before my flight. Yippee. So luckily I was booked under the SAS codeshare (and on SAS ticket stock of course) so I decided to skip Expedia (where I booked the ticket from) as completely useless and called the Eurobonus Gold reservation hotline (a special 24h service with really nice Danish agents as opposed to the incompetent outsourced staff you get on the regular lines which even cost money to call!) and a very friendly agent offered me a rerouting via ARN as an alternative. Oh well, that didn't sound terribly exciting, but what can you do - at least I would be getting two flights instead of one and another ride with the Estonian Air CRJ-900 so I accepted.
So here's what my itinerary had been transformed into: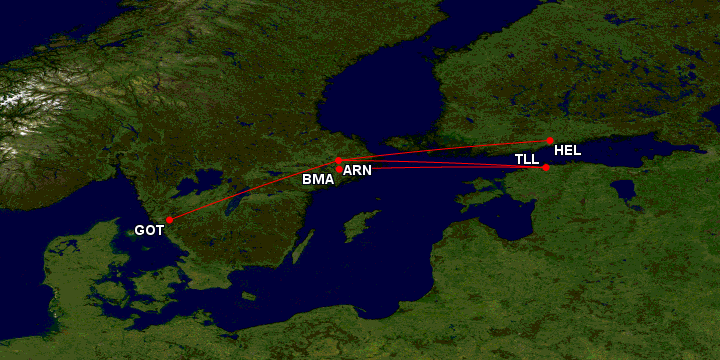 This is a bit different report as most of these flights are pretty standard stuff so I'll focus on less text and more pictures for the mundane flights and add details where details are due.
Wednesday 23.11.2011
After a short night (my previous night was spent doing this
Danish Blue: HEL-CPH With A DAT MD-87
(by
FlyingFinn76
Nov 27 2011 in Trip Reports) ), half asleep I'm back at HEL T1. Interesting stuff confiscated at the security check - these are cans of Lidl -brand pea soup (!) and not exactly liquid if you ask me: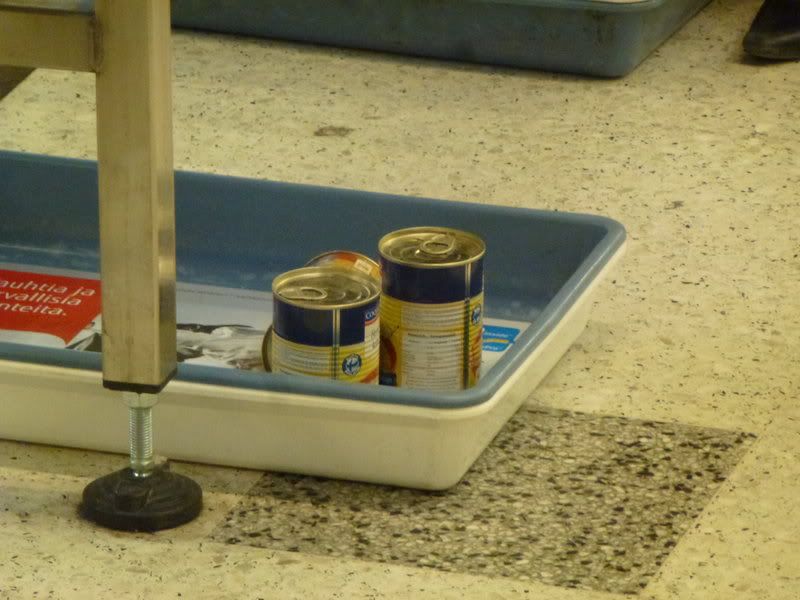 Some breakfast at the lounge: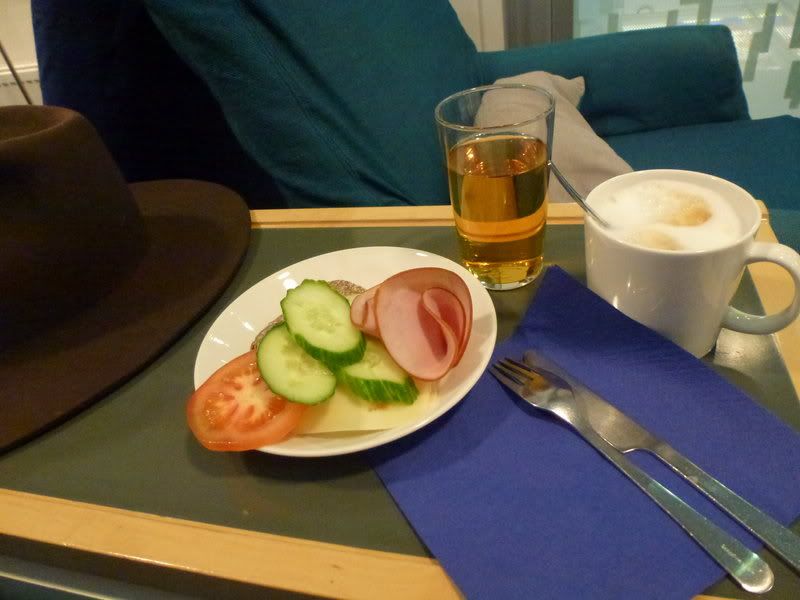 Not too busy: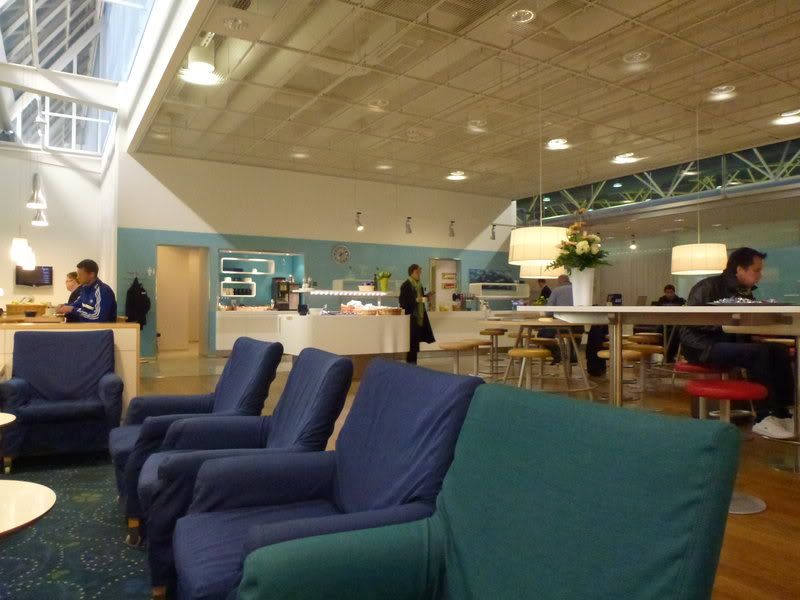 That doesn't look like the scheduled 737-600: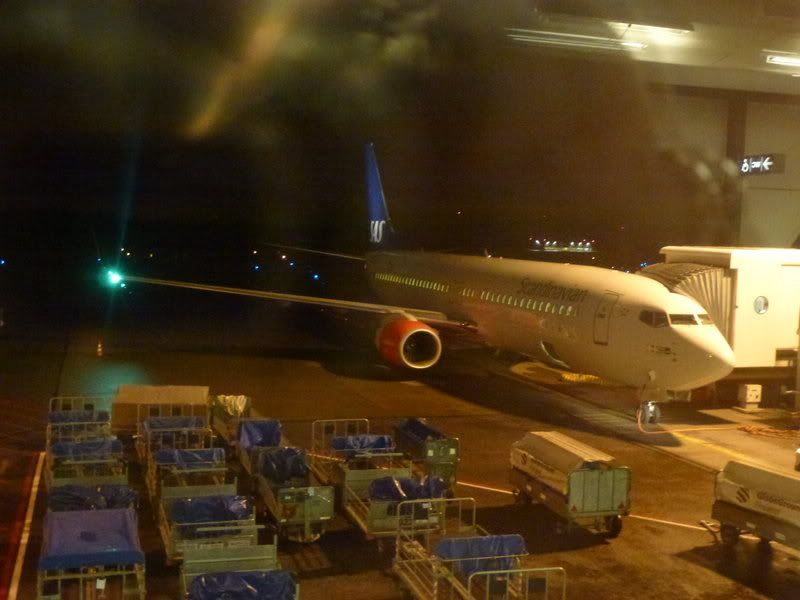 Indeed there had been a schedule change to an 737-800 with winglets - nice as I've only flown two flights with the SAS examples before and Frida Viking would be a new addition my log as well.
HEL - ARN
SK709
B737-800 LN-RRJ "Frida Viking"
Seat 10F
6.41 - 6.30
I had selected 10F the exit row as my seat from OLCI - well the seat assignment was retained but of course I am nowhere near the exit row on this flight and legroom is horrible:
Rather uncomfortable as the cabin is very hot and the air con isn't really working. Plus I have two seatmates.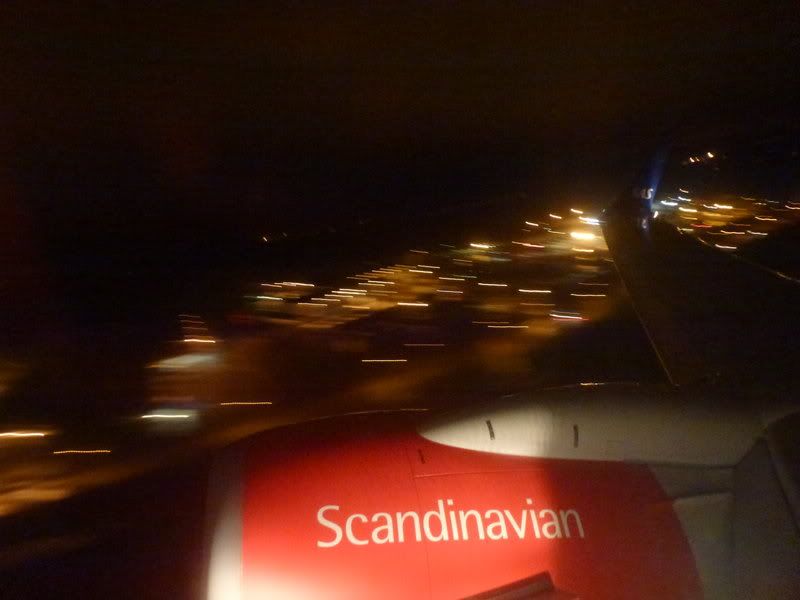 Oh well, push back nine minutes early (that's my SAS - the world's most punctual airline!), take off from 22R, deep sleep until landing on runway 26 less than 40 minutes later and a jetway next to this abomination: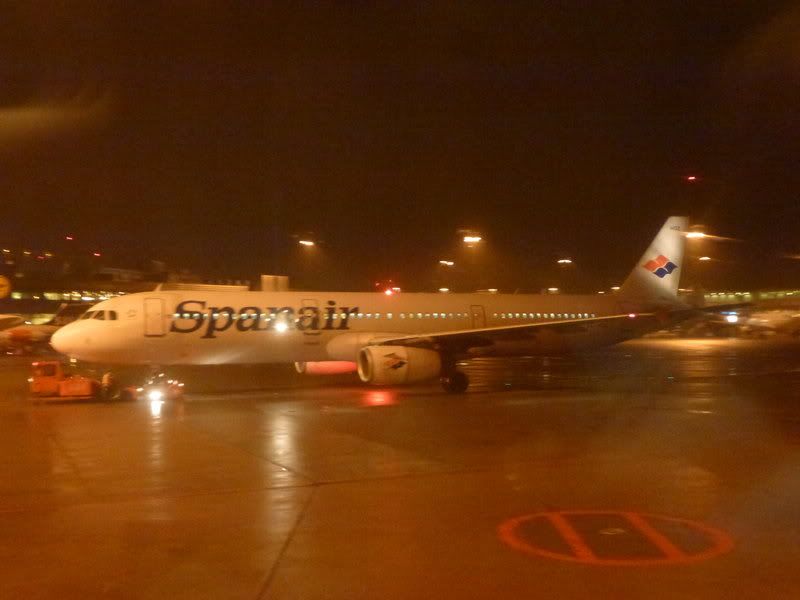 Stockholm Arlanda Airport, take 1
Christmas mood: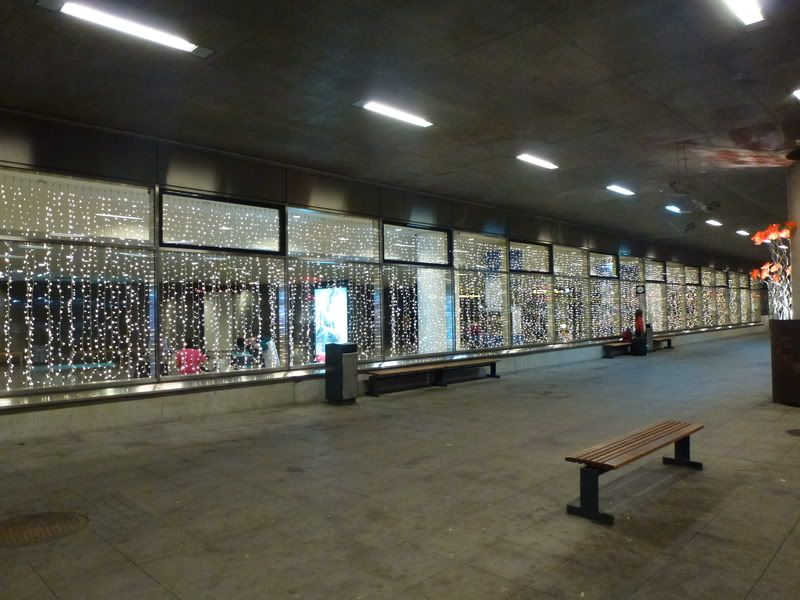 Still half asleep I stumble through the airport, down to baggage claim and outdoors to catch the next Flygbussen to the city.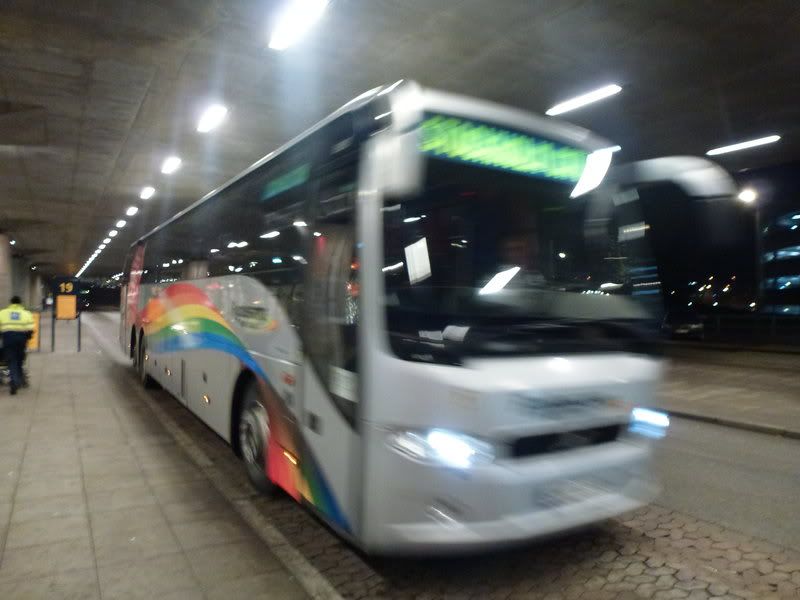 The 45 minute drive is again spent sleeping.
At CityTerminalen I'm delighted to see the next bus to Bromma leaving just across the street so I catch that. By this time it looks like I've had enough sleep for now as I stay awake and read my morning paper.
Stockholm Bromma Airport
FlyBe advert on the back of another bus: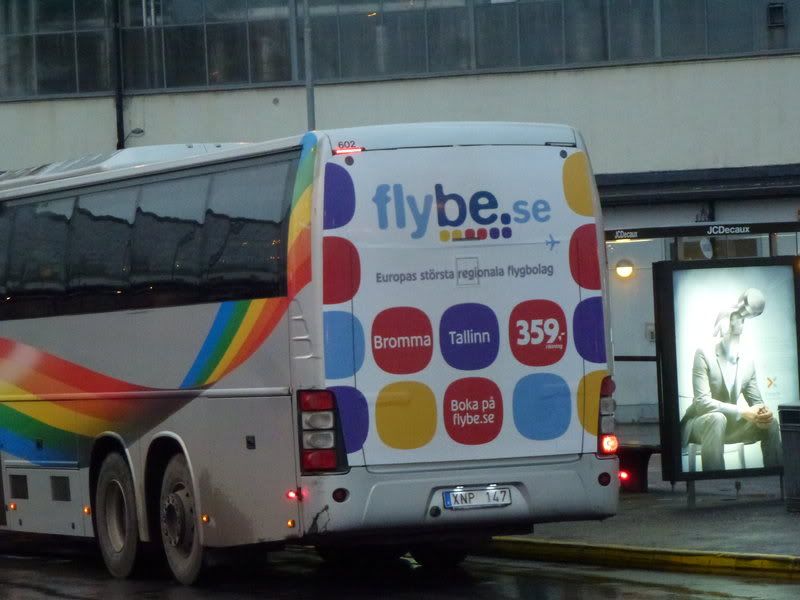 This would be a good hotel for spotters - direct apron views: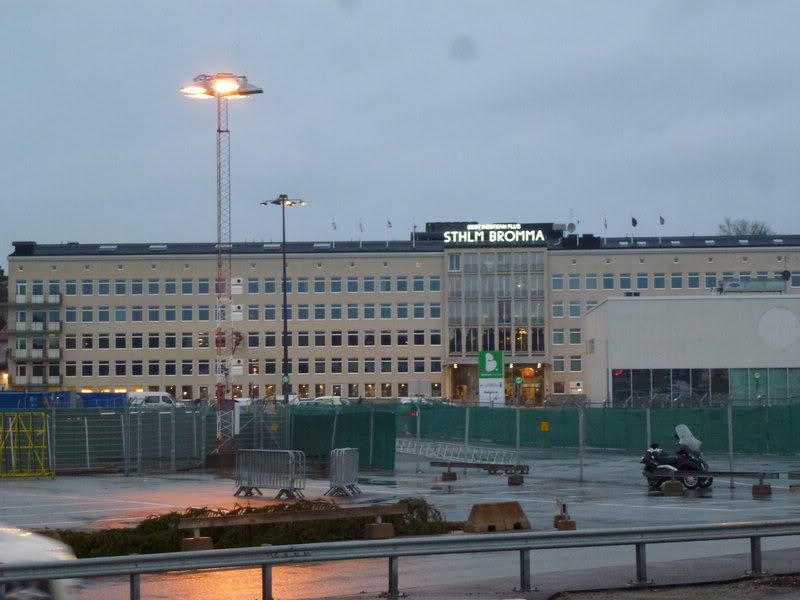 Inside check in (still no OLCI for FlyBe Nordic) at the Finnair desk is quick.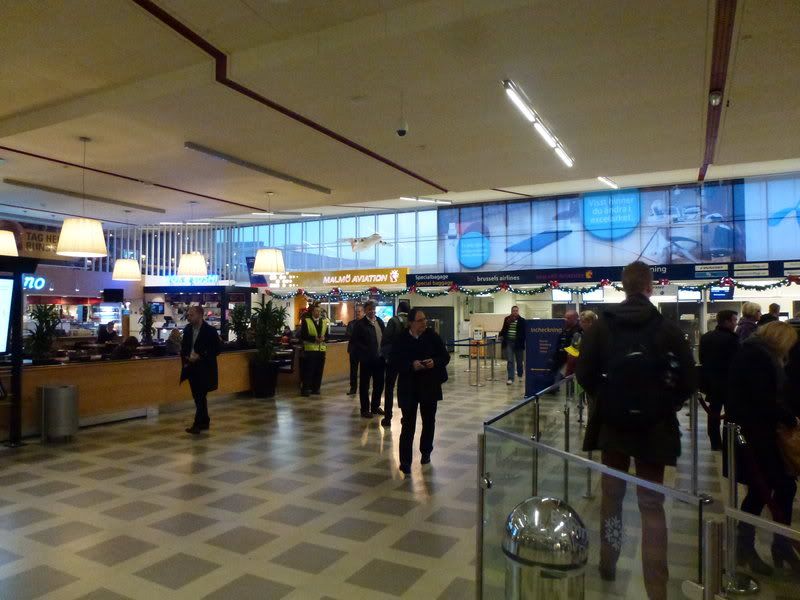 I think that Golden Air flight to Åmal... sorry Trollhättan had no passengers as there is no check in desk assigned to it and I saw nobody boarding the plane (it was going from the gate next to ours) - the Saab effect going strong here: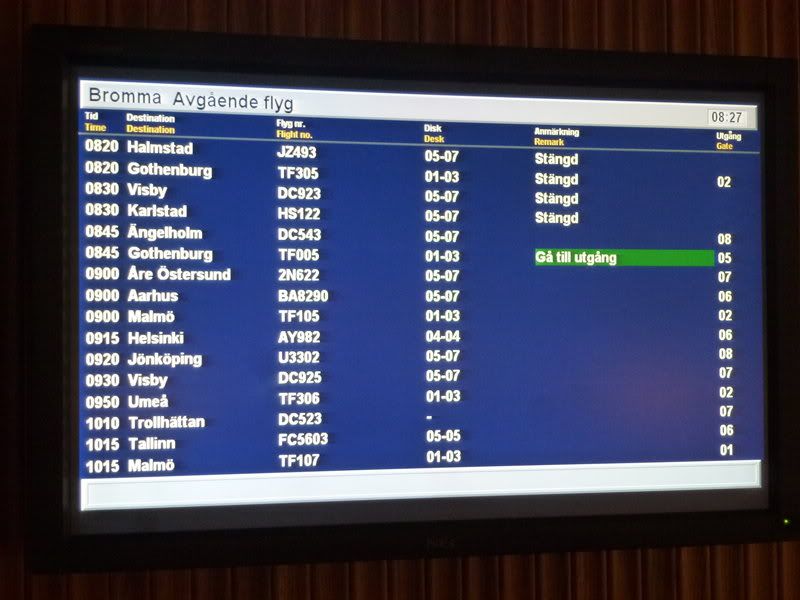 Next stop is of course the Yellow Room upstairs: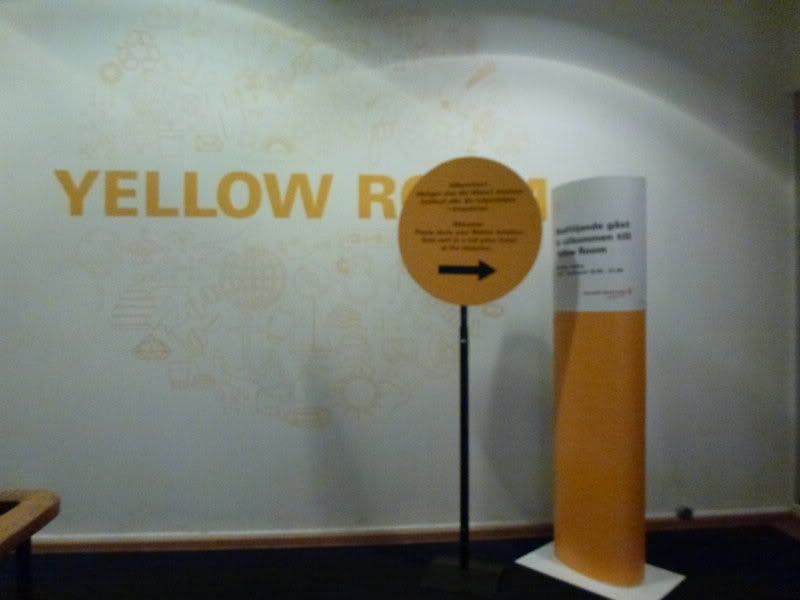 Wow, this place looks very nice and stylish: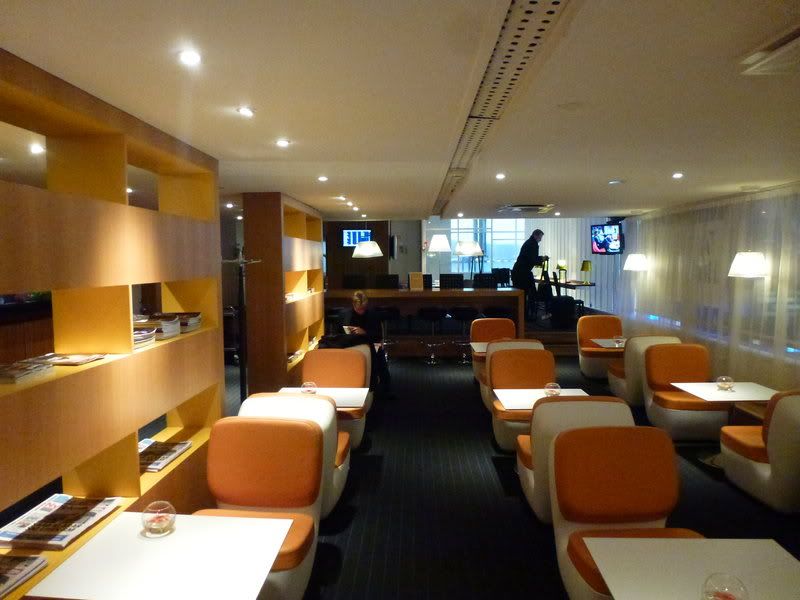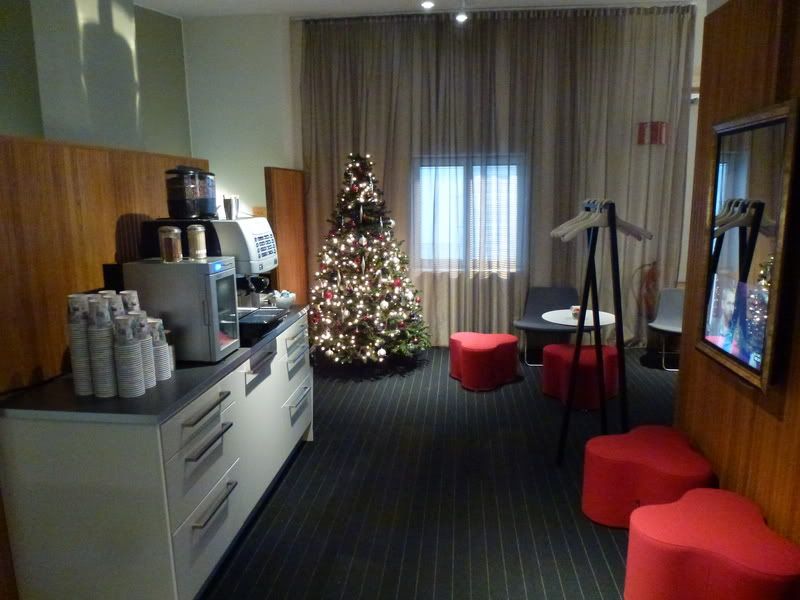 There's a nice relaxation area with apron views and easy chairs where I decide to spend the next few hours, doing some work courtesy of the free wifi: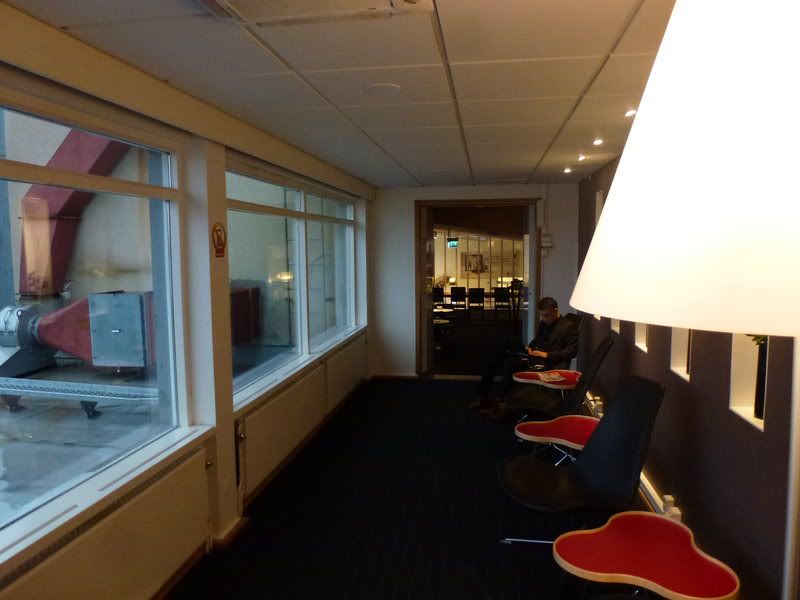 Let's check out the kitchen: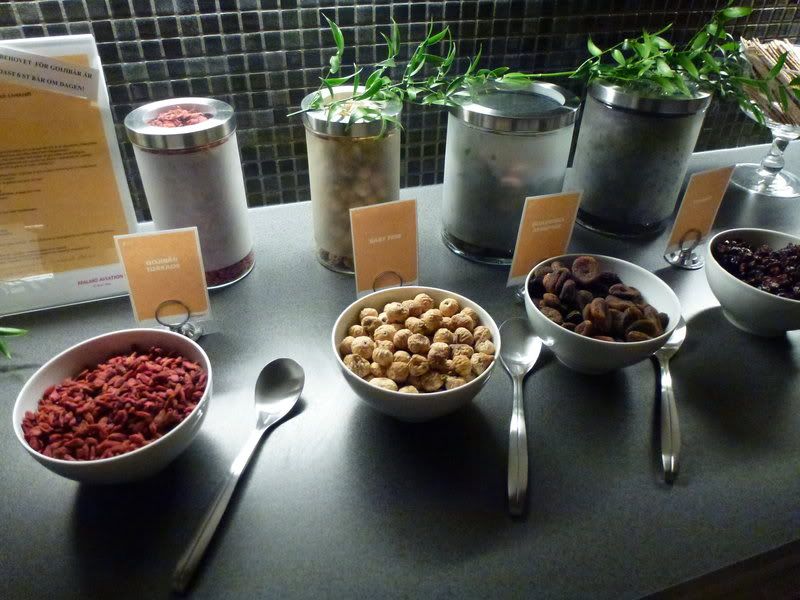 They really try to promote these "superfoods":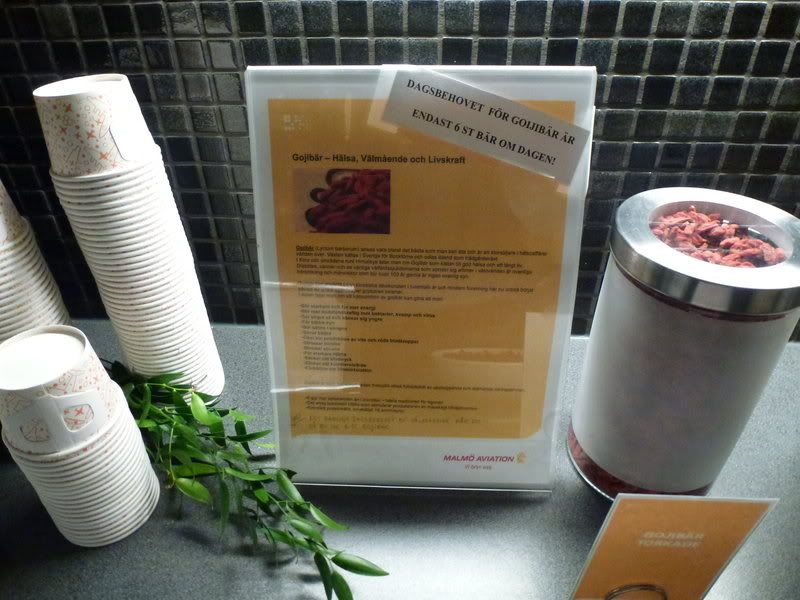 Drink offerings are limited to coffee and juice: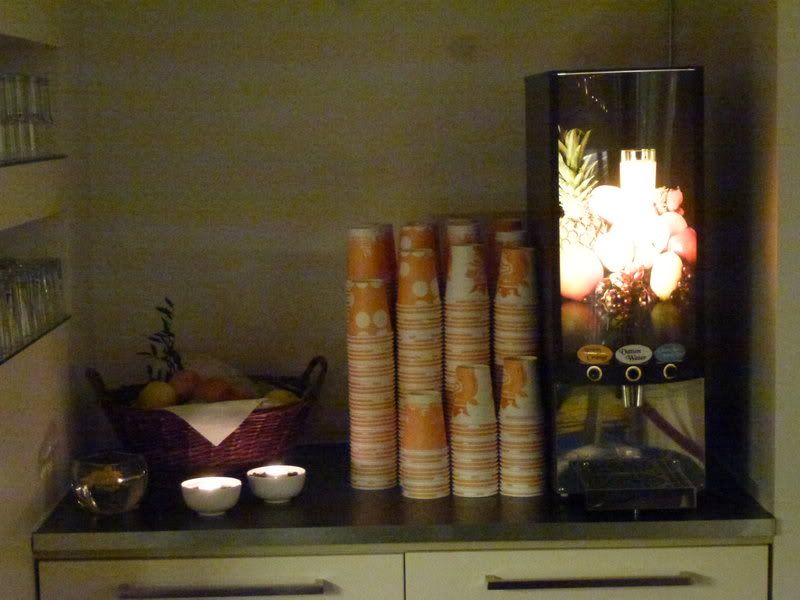 Superfood or not, these goji berries are not to my liking: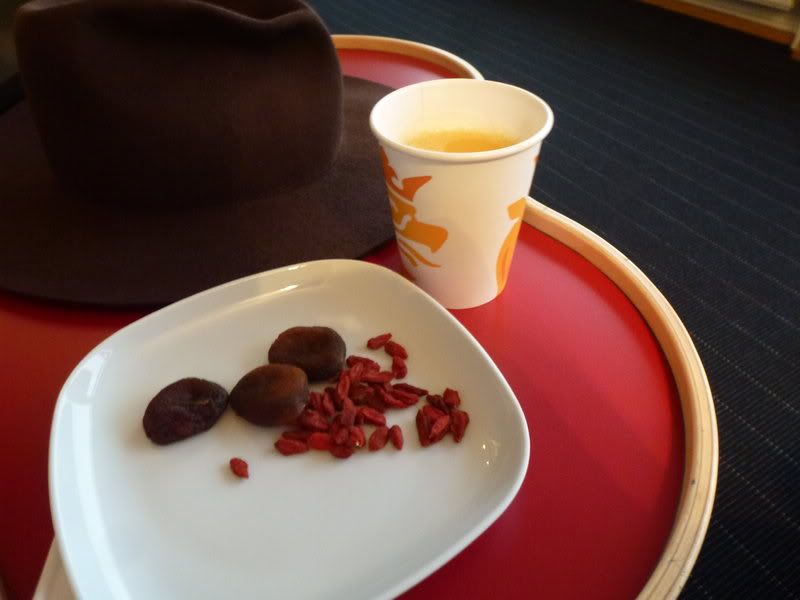 Aalto tables - Finnish design: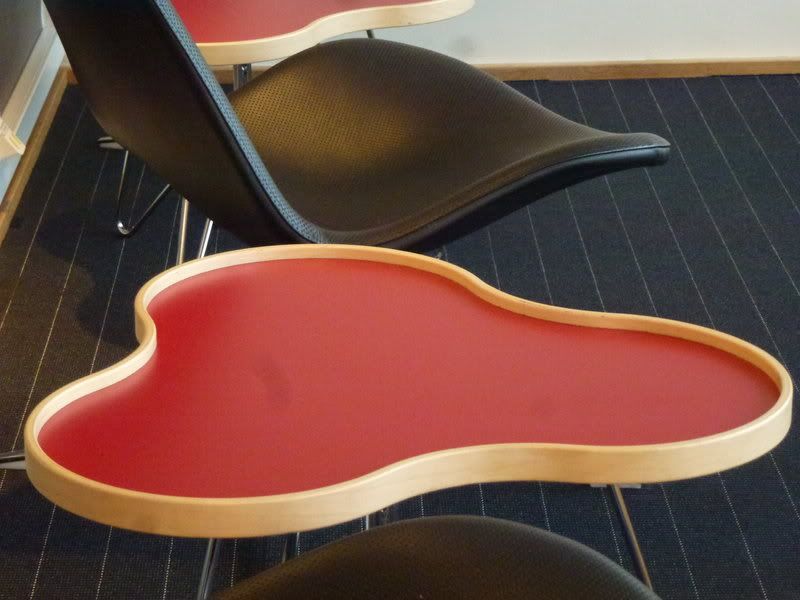 Bromma has always used these weird credit card sized boarding passes - must be Malmö Aviation's (who use them at all of their airports) influence:
This place is good for spotting as all the traffic on runway 12 can be seen from here: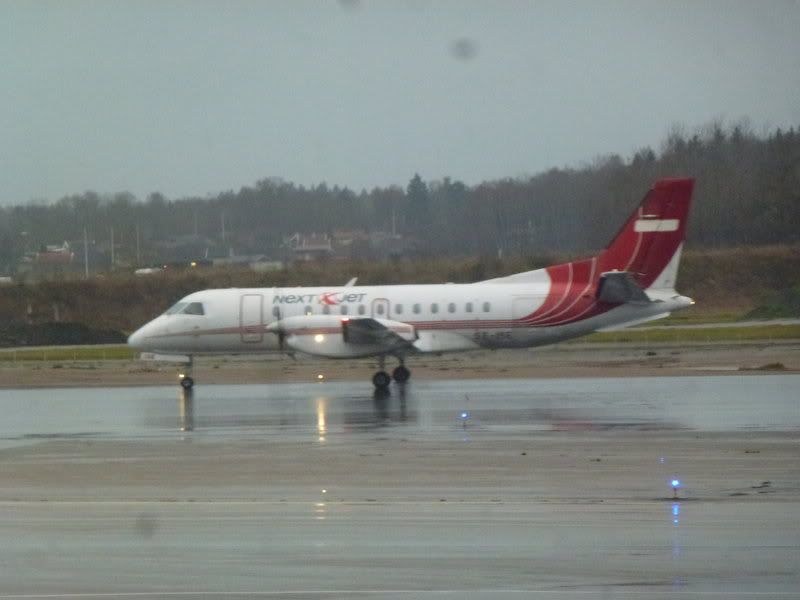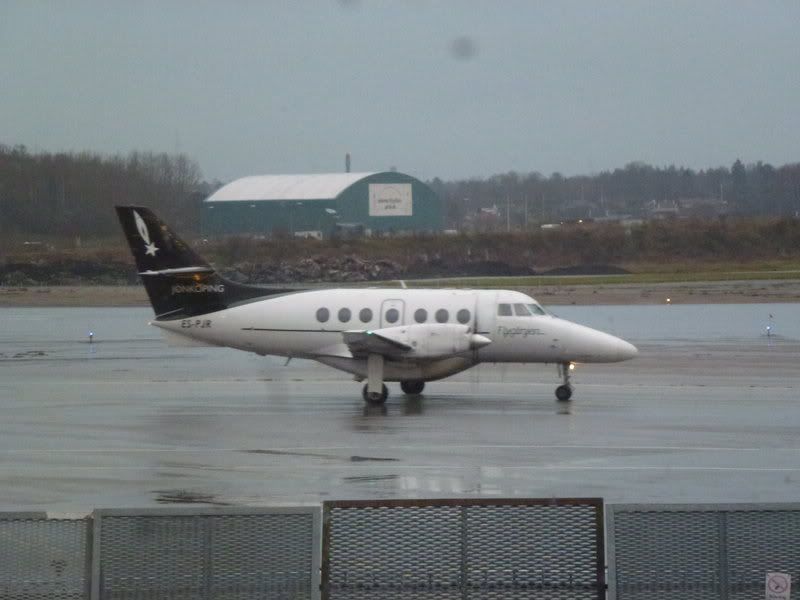 The biggest operator at BMA - too bad about the 3-3 seating though:
After a while of working, watching planes and drinking coffee it is time to head airside. I see the inbound plane (in full FC livery!) landing by the time I get to the departure hall: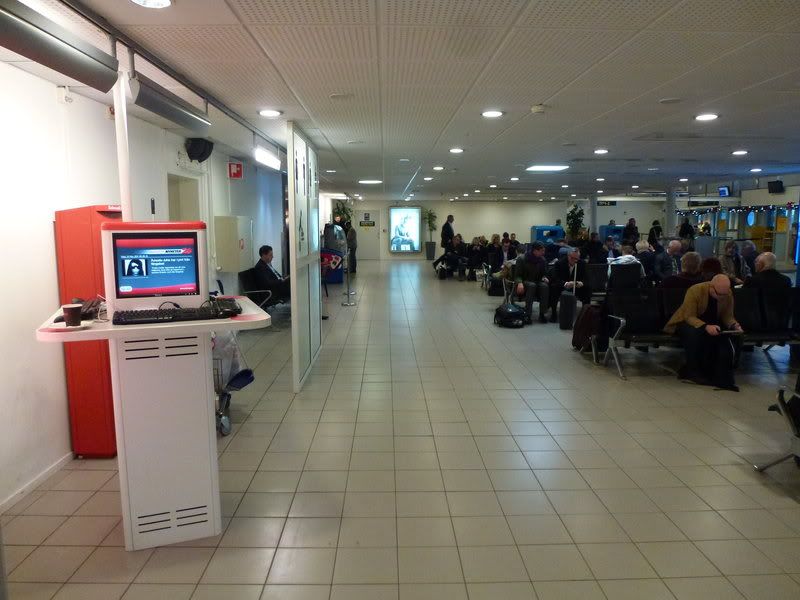 I shoot a photo of the plane landing, but it came out so bad it's not worth posting. But at least I could read the reg of the photo: -ATF which is a bugger, this is the second oldest ATR-72 in the FC (now BE) fleet and an old friend of mine - I've flown with her already eleven times! Oh and yeah, that registration does bring a grin to my face as well, as it must do to many Americans!
Right after the plane landed they put out the parking stand on the diplay (not sure why they are still showing the FC flight number, though):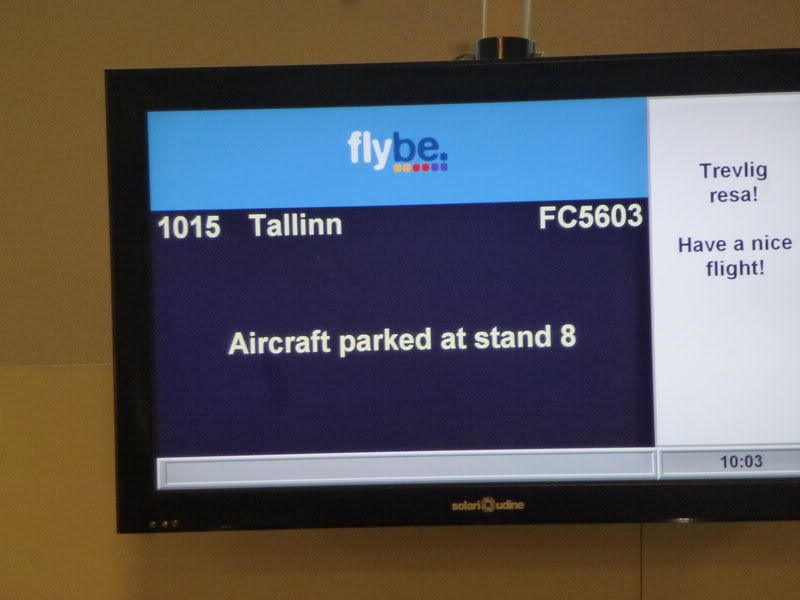 Boarding is called some ten minutes after the plane landed. Luckily these guides are there to direct you to your allocated spot: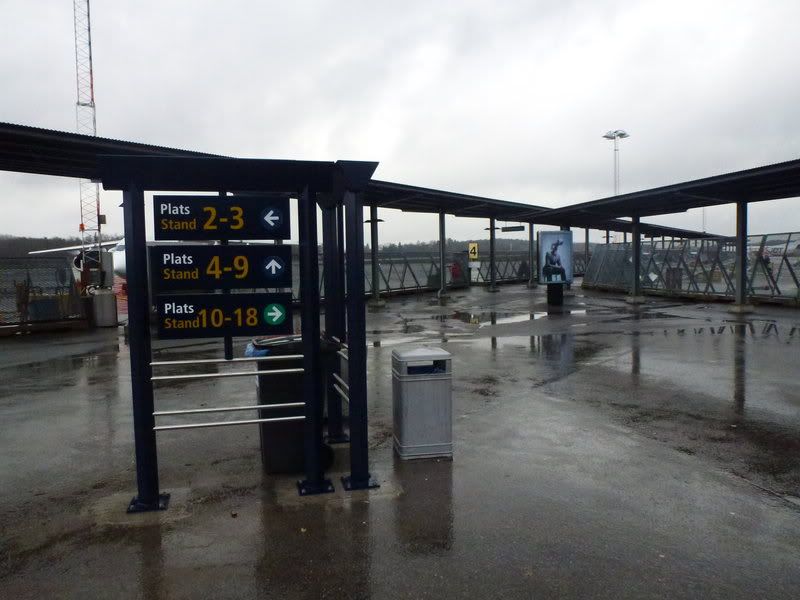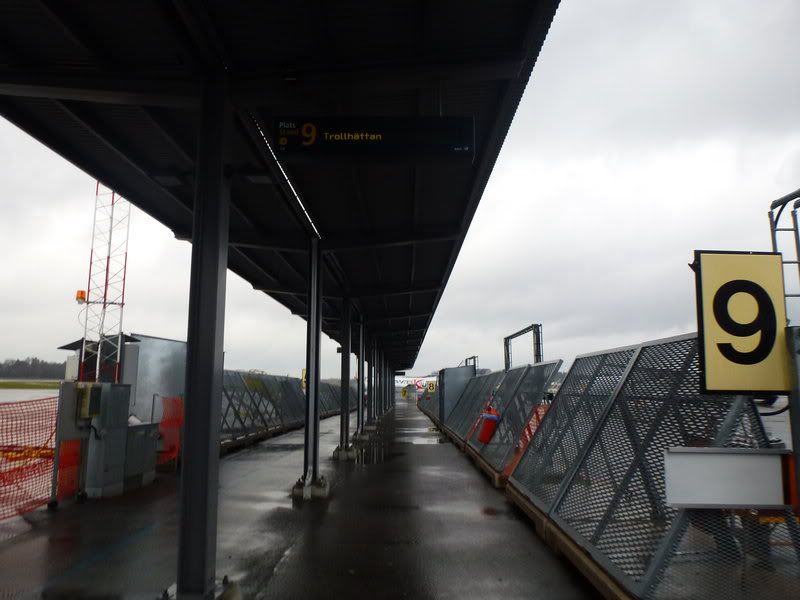 BMA - TLL
BE5603
ATR72-500 OH-ATF
Seat 12A
10.13 - 12.12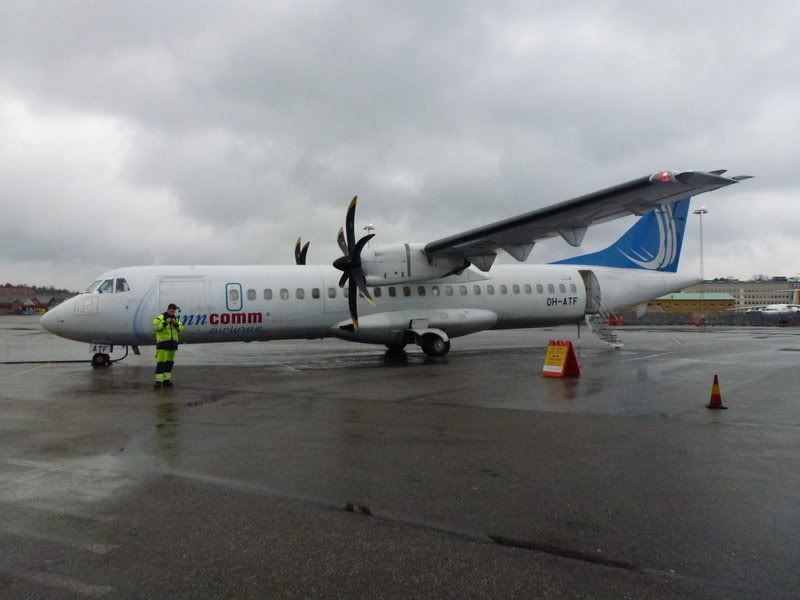 I'm not sure how BE has staffed these flights, but the friendly FA waiting for me at the door looks more Finnish than Estonian to me so I greet her in Finnish. After she answers in the same language I say "I wasn't sure whether it is Estonian or Finnish spoken onboard" but she assures me that the whole crew is "of course" Finnish today.
The good old Finncomm cabin - comes with excellent legroom on these older -72s (the newer ones have an additional row thus somewhat smaller legroom):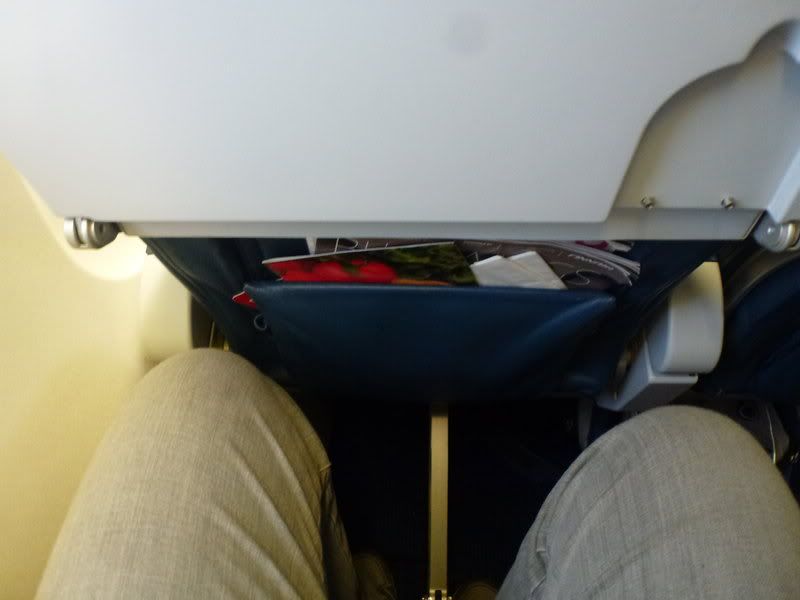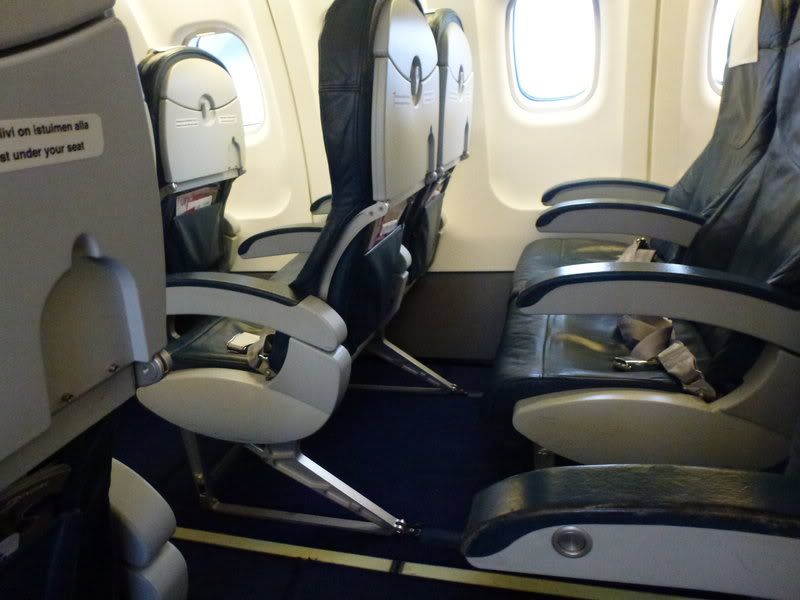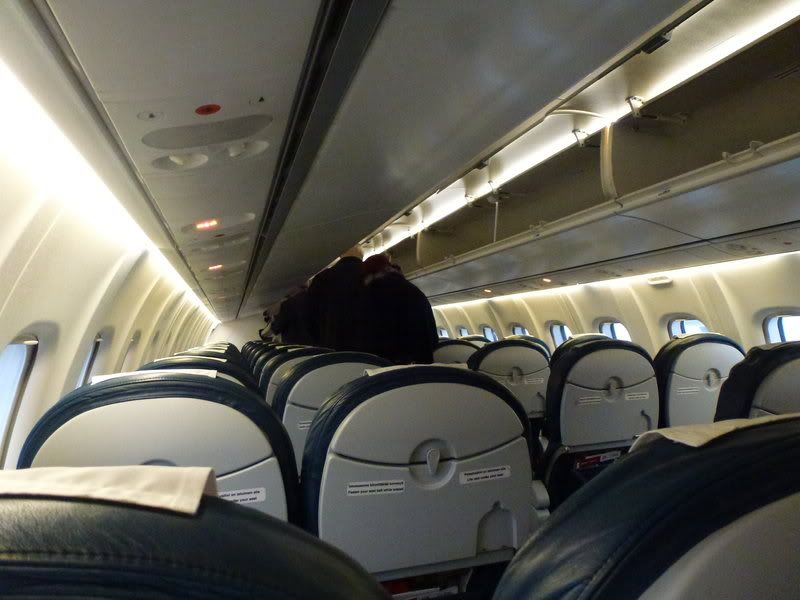 I count the load as 14 passengers, not exactly stellar considering this plane has 68 seats. All announcements are done in English and Finnish, with Estonian played off a tape. The flight time today will be 55 minutes.
Departure is two minutes early, but we have to hold short of runway 12 for a while before a Golden Air Saab 340 lands and we are free to go.
Here's a run up area to spool engines up before entering the active - must come handy for those SN Avros: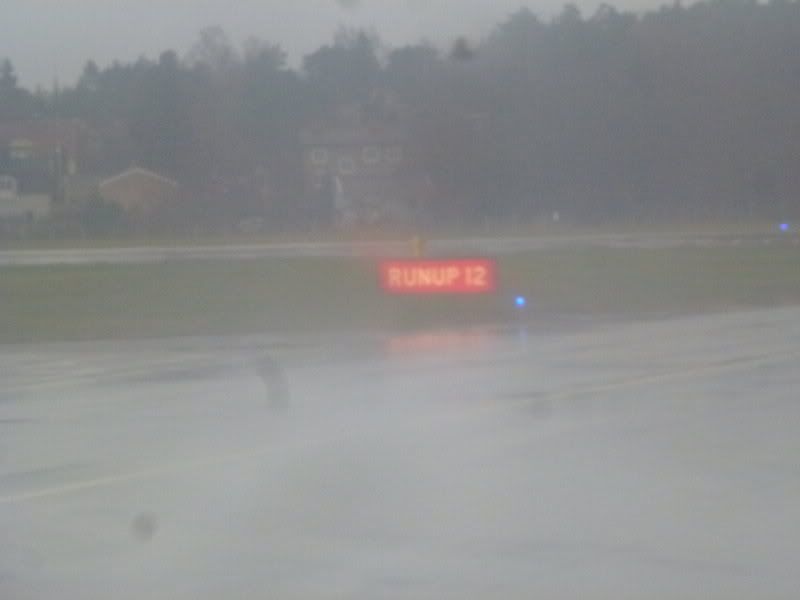 Another TF taking off before us: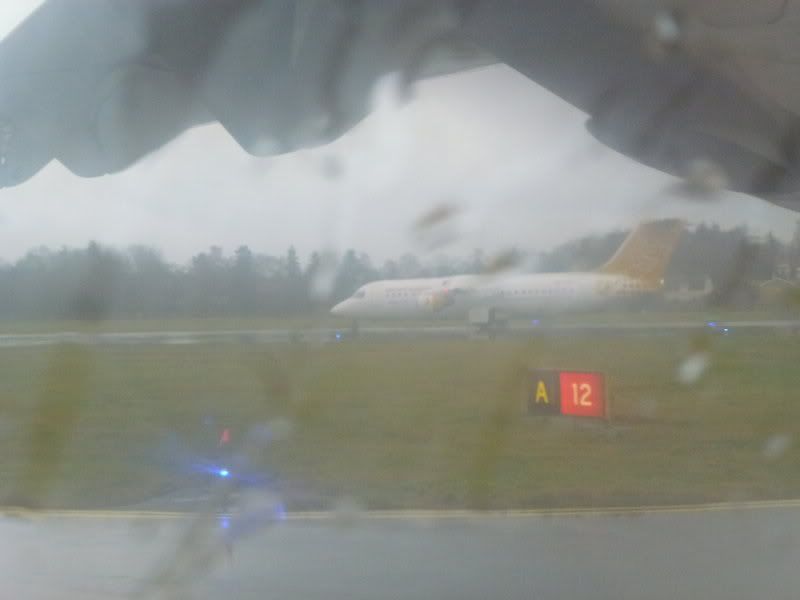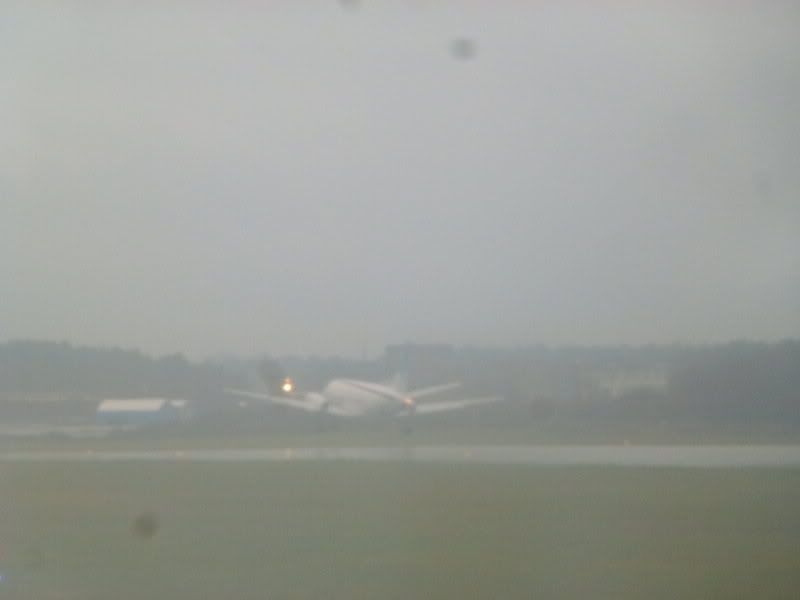 Take off is certainly very impressive - the low load and short runway plus the amazing take off performance of these nifty turboprops have us literally leaping into the air after using maybe a third of the runway: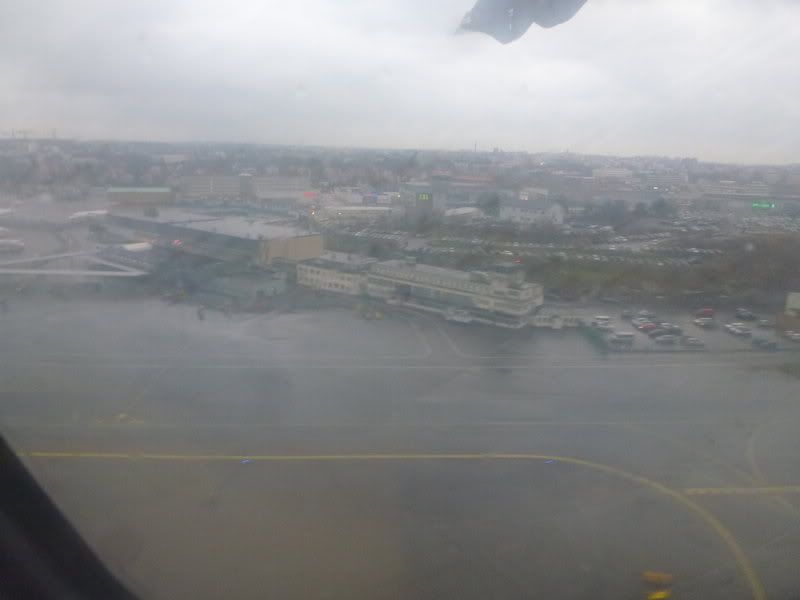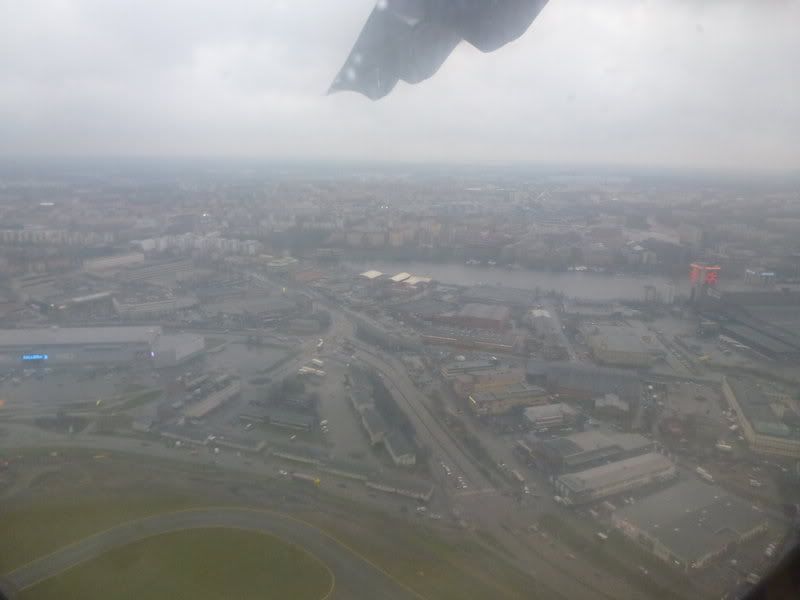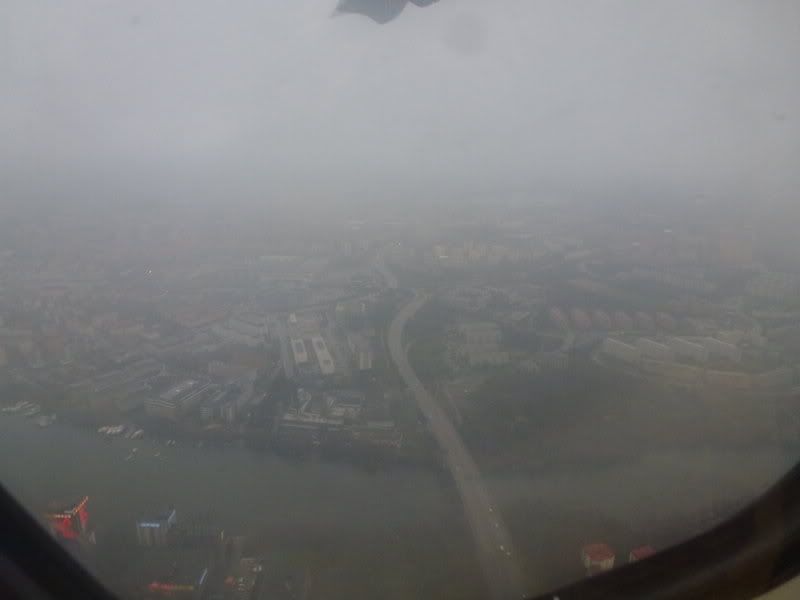 Shame about the bad weather - there aren't too many seconds to admire the views.
These pax apparently have "Economy Plus" tickets as they all are served free drinks and sandwiches: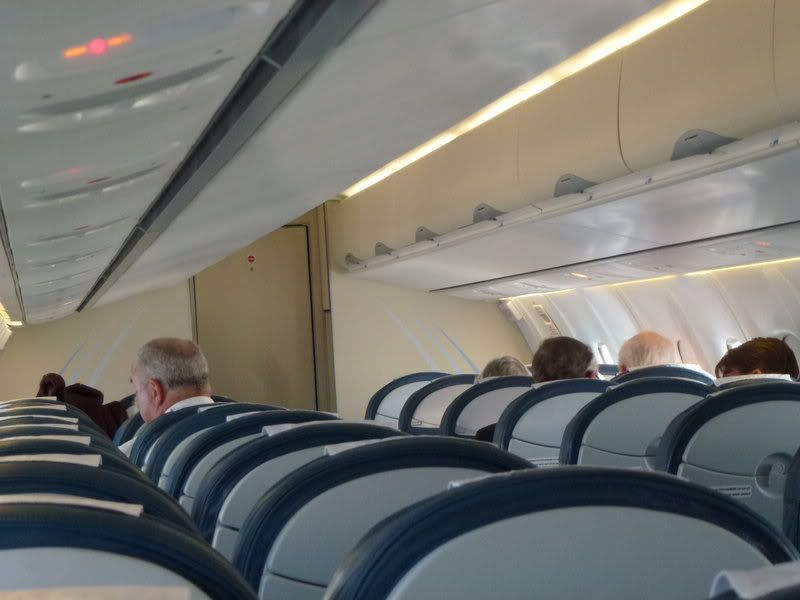 Cloudy all the way.
The Estonian weather isn't much better, so views of Tallinn are not very extensive, despite me sitting on the right side for our runway 08 approach.
A temple of consumerism (and to all you Brits: this mall houses the only Marks and Sparks in Estonia):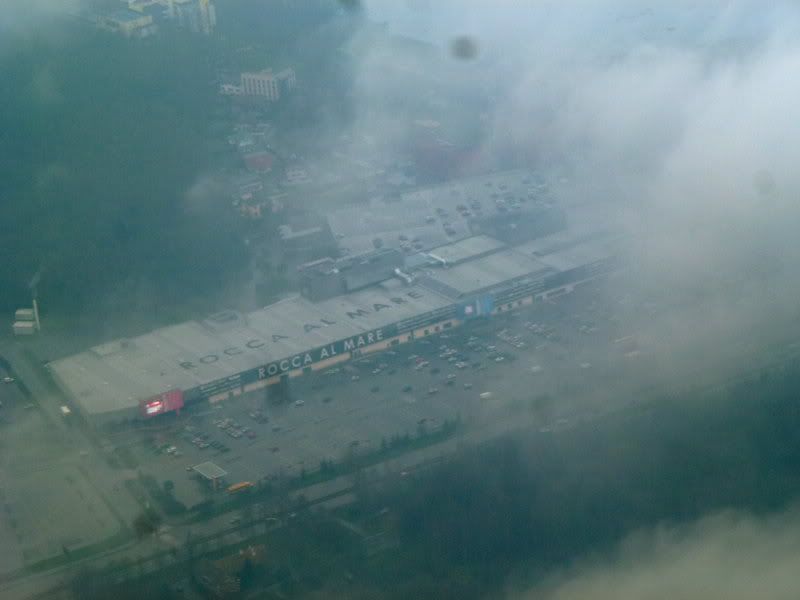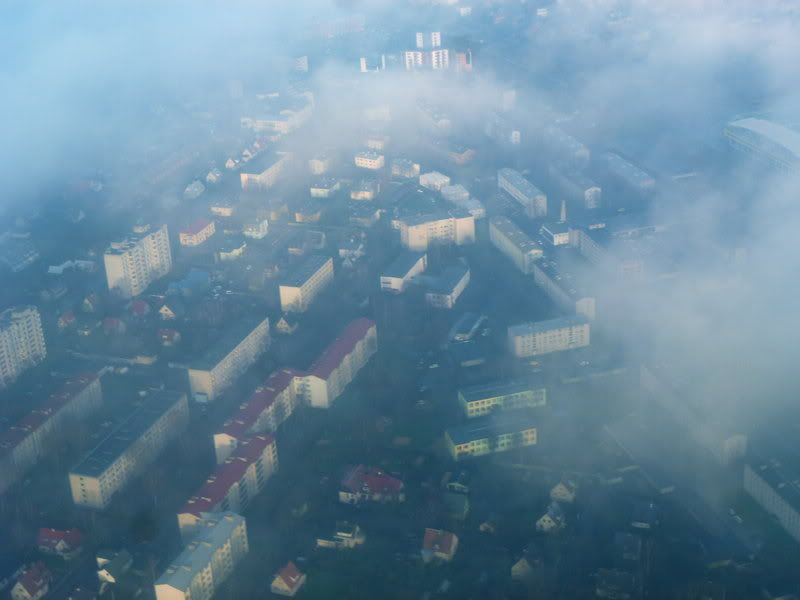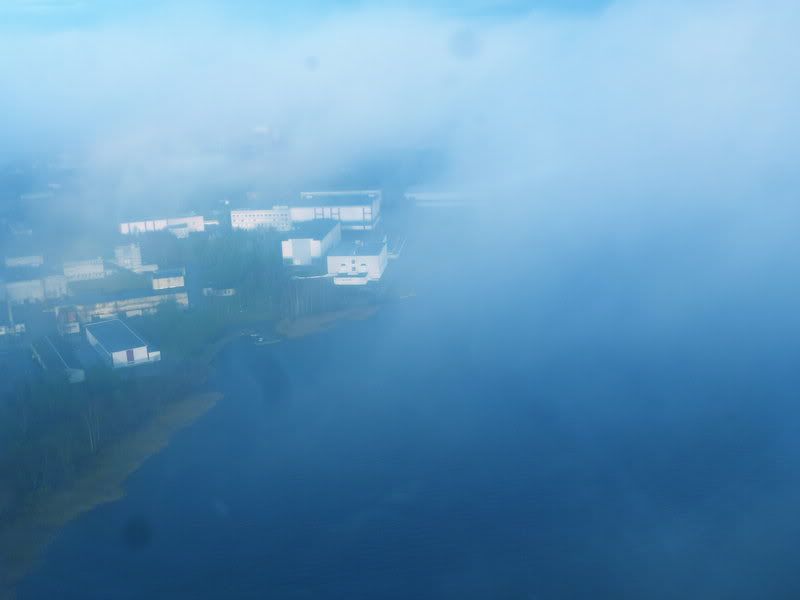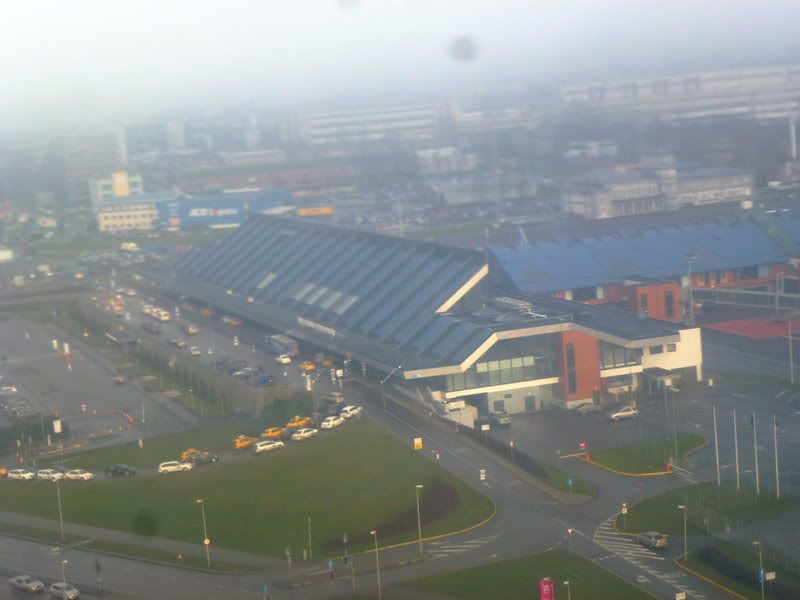 Notice the other FC/BE ATR there: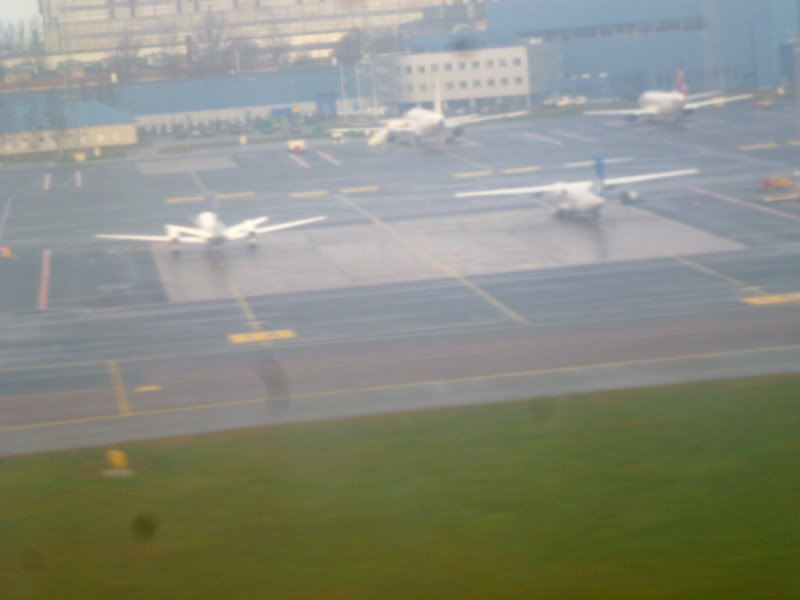 Landing is quite hard, followed by heavy braking.
Tallinn Lennart Meri Airport
Our neighbor, hoping this will not be my ride to ARN as I flew with her back in July: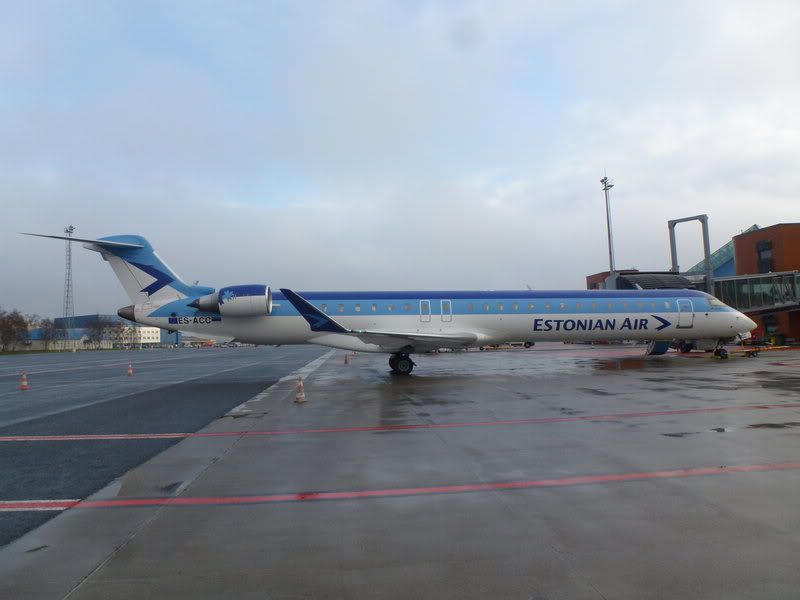 Bye: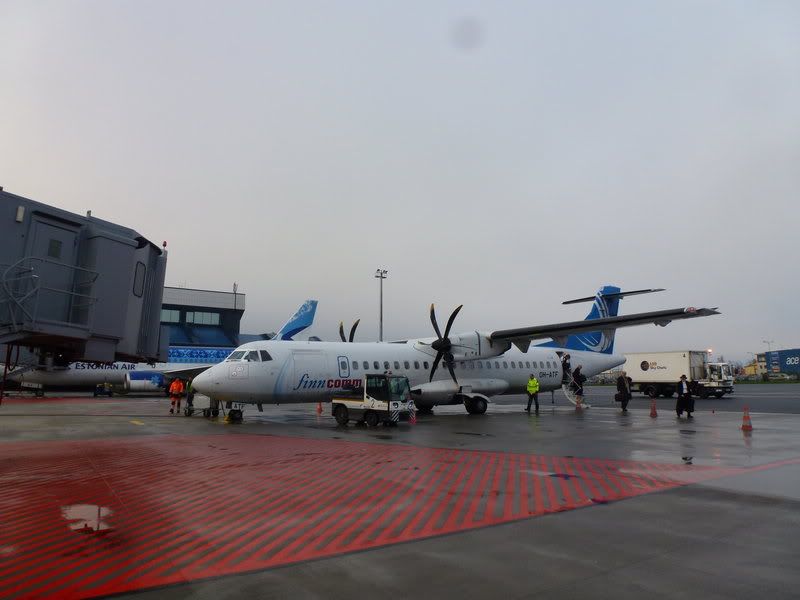 This livery is so nice that it is worth shooting through these limited view windows too: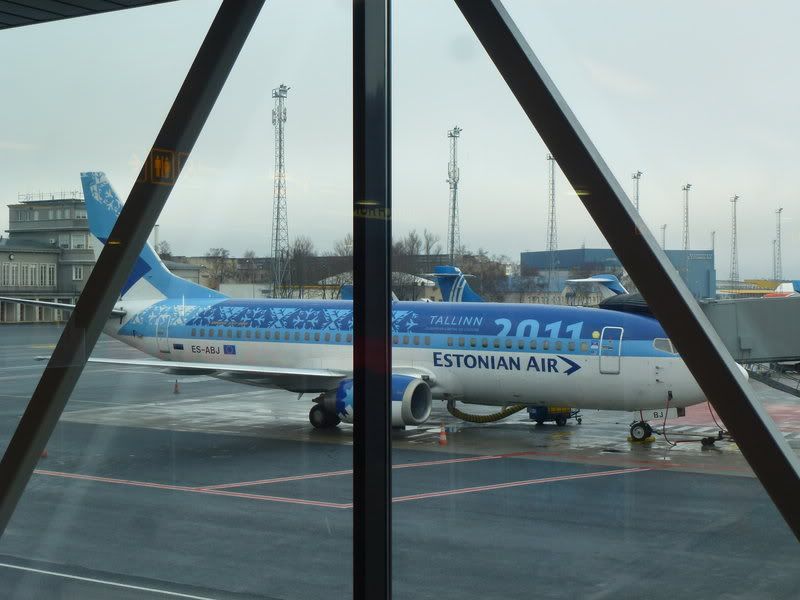 Once inside the airport I decide to hit the cafe for some lunch, not much food in the lounge: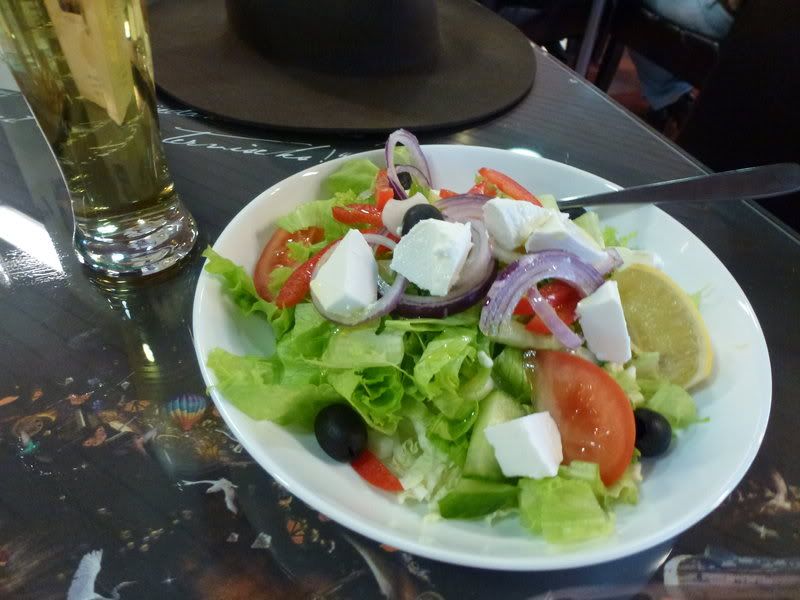 A perfume vending machine: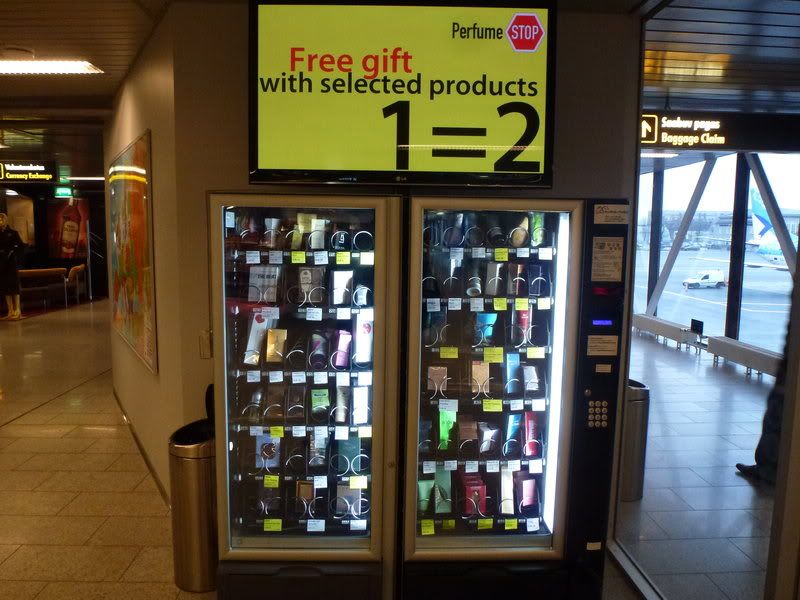 After lunch I stock up on delicious Estonian chocolate and spot this beauty out of the window: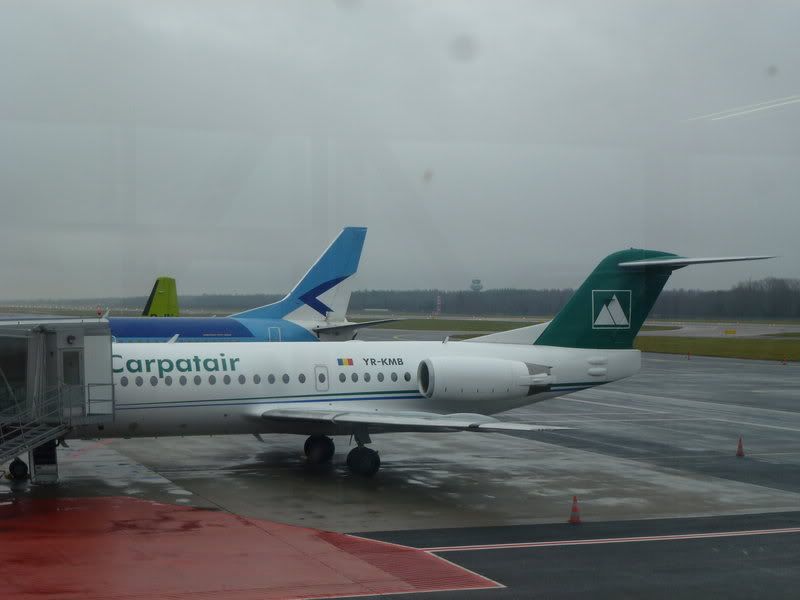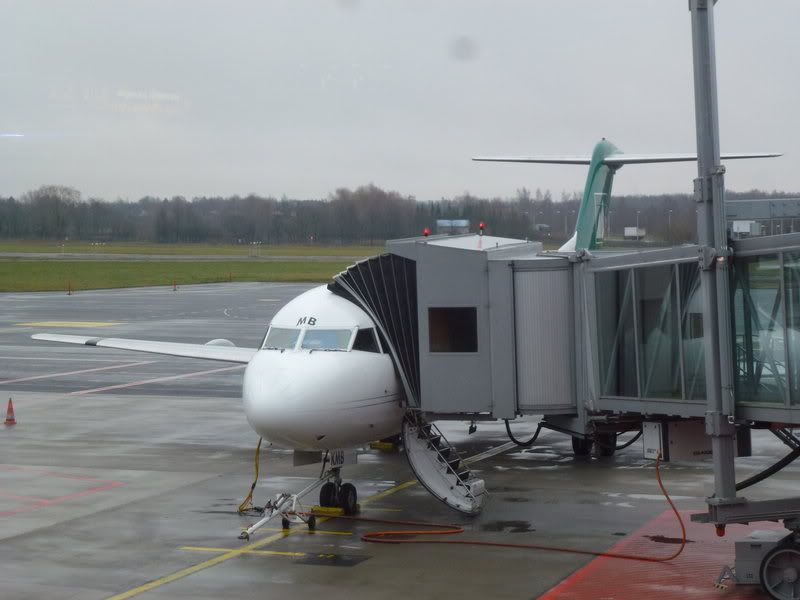 My first thought is that it must be operating for airBaltic (yeah, summer 2010 is still fresh on my mind!) but I go to check out the gate and it is showing an OV flight to ARN (unfortunately the 19.00 flight, not my 13.50 one!). This sounds interesting so I go over to the next gate which is just closing an OV flight to CPH and ask the gate agents. It turns out that Carpatair is indeed operating some flights for OV on that bird until the end of the year. Wow, this sounds very interesting to me so I say "Really? Now that sounds like I really need to book a flight on that." The agents are a bit surprised by this and ask me why and I explain that I like to fly with different airlines and planes and that I was supposed to fly the City Airline ERJ-145 today. They seem to find the whole concept of someone doing things like this just for fun and out of interest in aviation very odd, but wish me a nice flight anyway and welcome me back at Estonian Air anytime. Nice.
Makeree's favorite airport watering hole: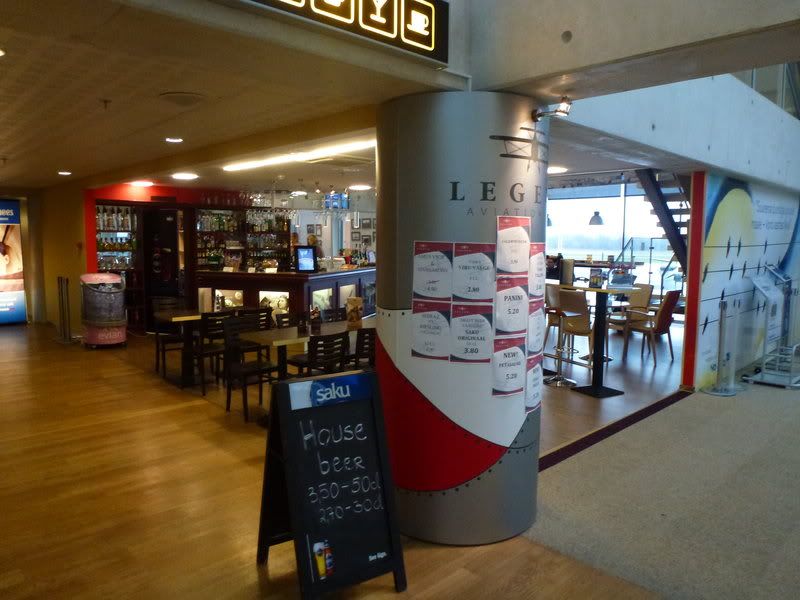 A quick stop at the lounge: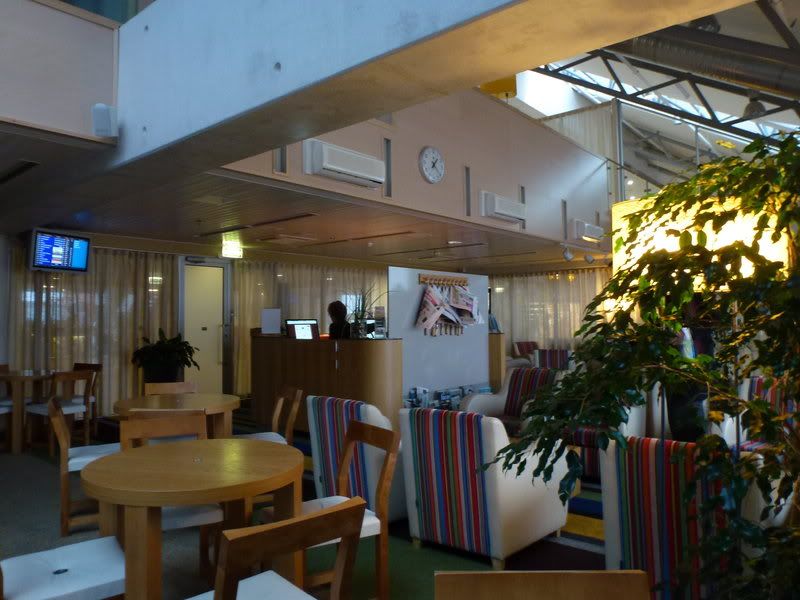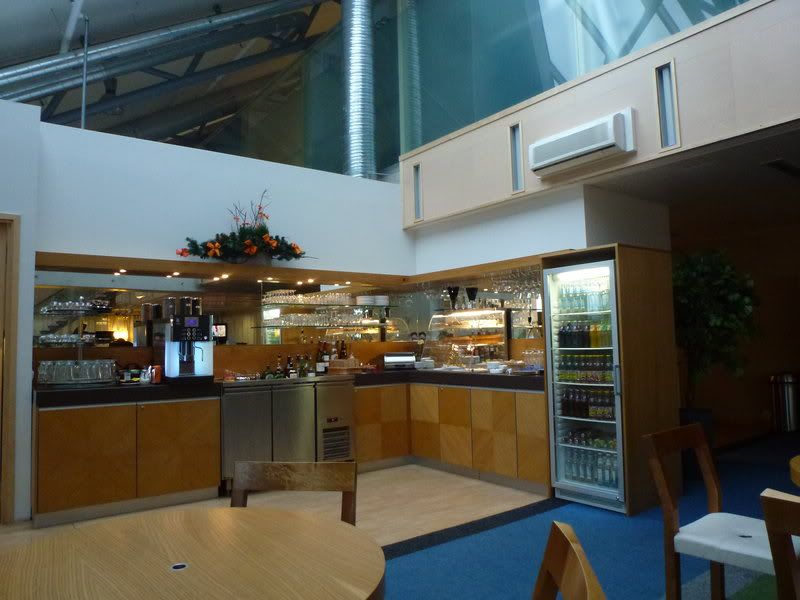 Luckily I get a different gate than the one where ES-ACC was parked, and see -ACB parked there. Score: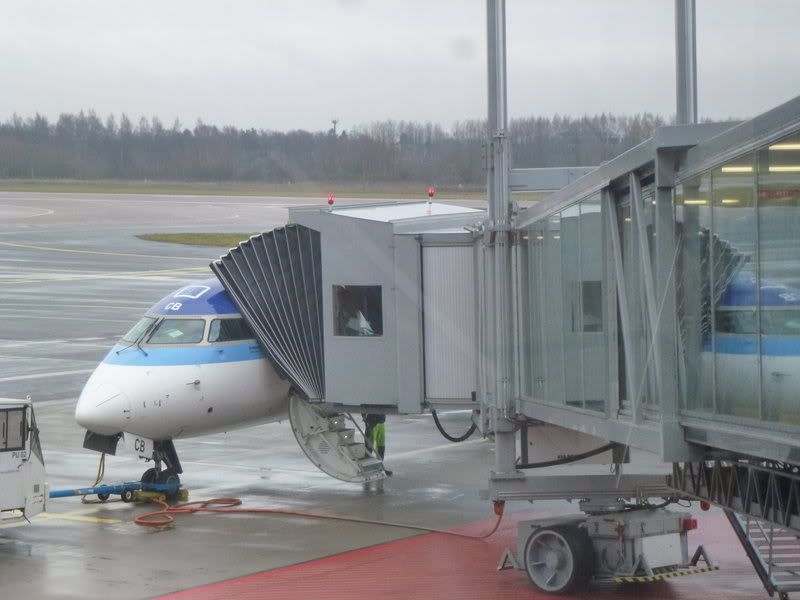 Last time they didn't use a jetway to board the CRJ-900 but this time they do: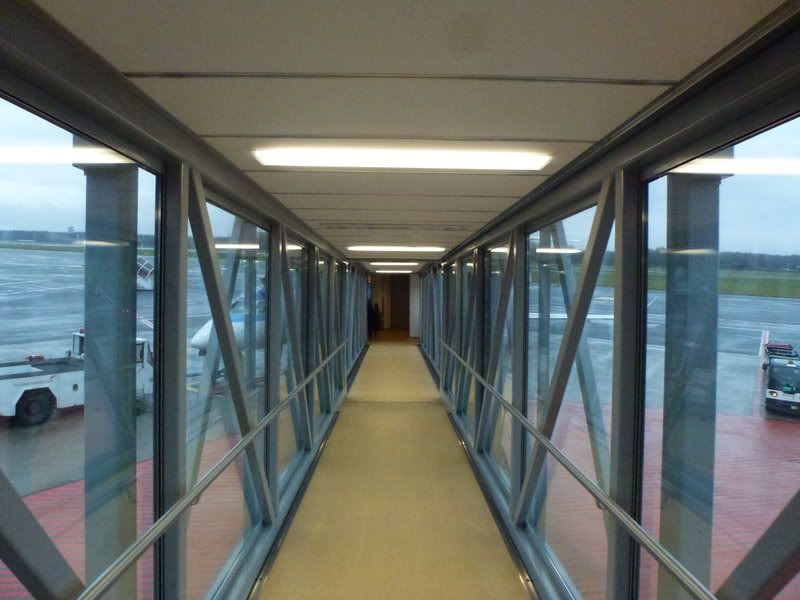 Helped by this "gangplank":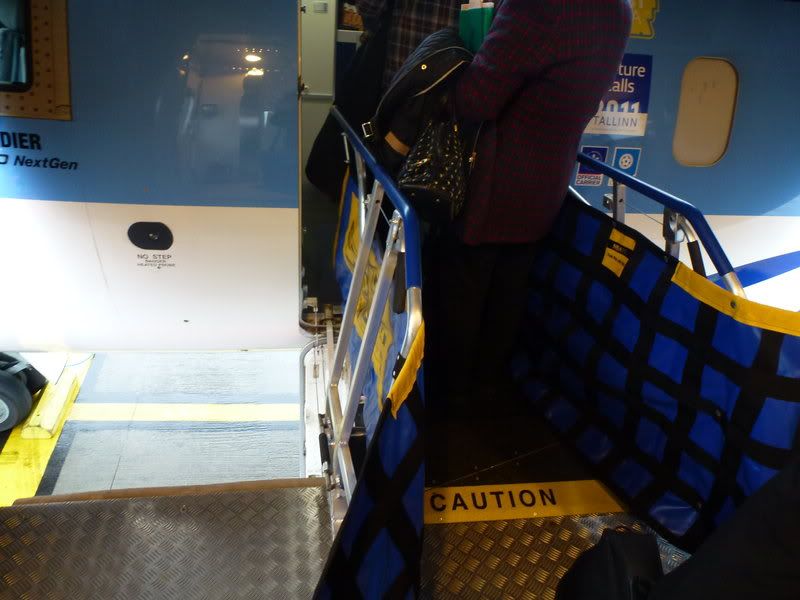 TLL - ARN
OV123
CRJ-900 ES-ACB
Seat 6F
13.41 - 13.32
Estonian chocolates are handed at the door by a friendly middle aged female FA. Estonian newspapers are also available: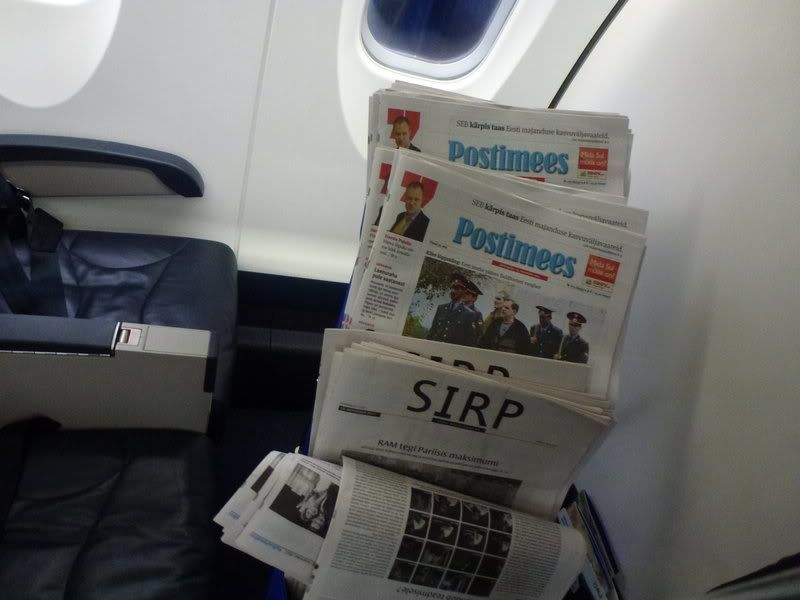 These bulkhead seats do not look terribly roomy: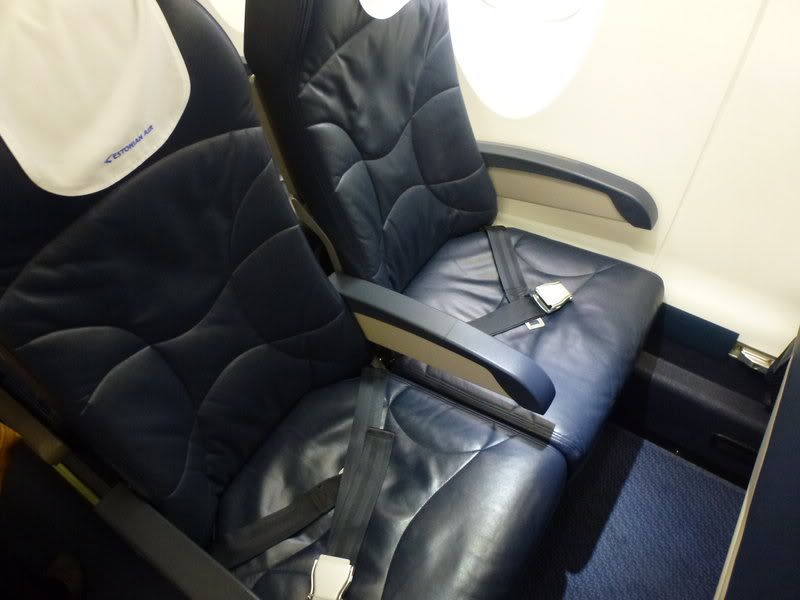 6F is the second row of economy today. Their Economy Extra or Premium or what the hell they call that curtained off section in the front of the plane is empty.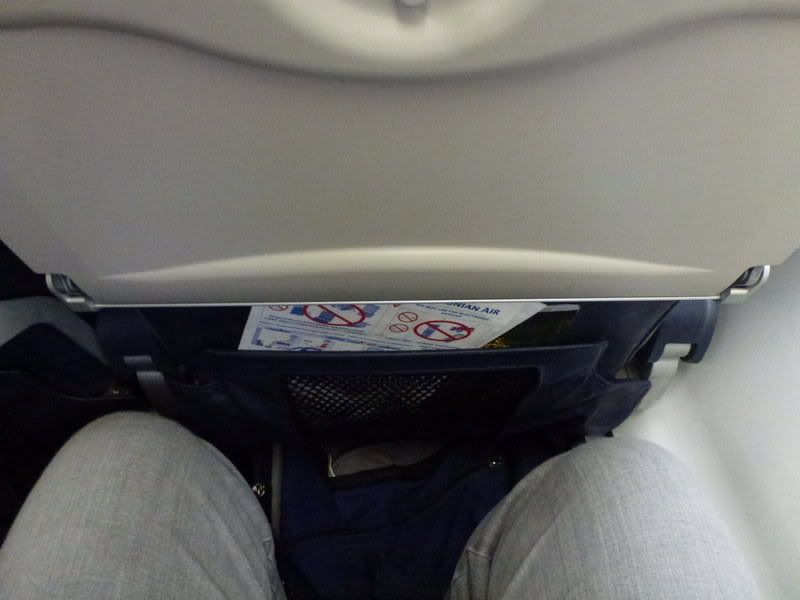 Back of the bus is pretty much full, including the seat next to me.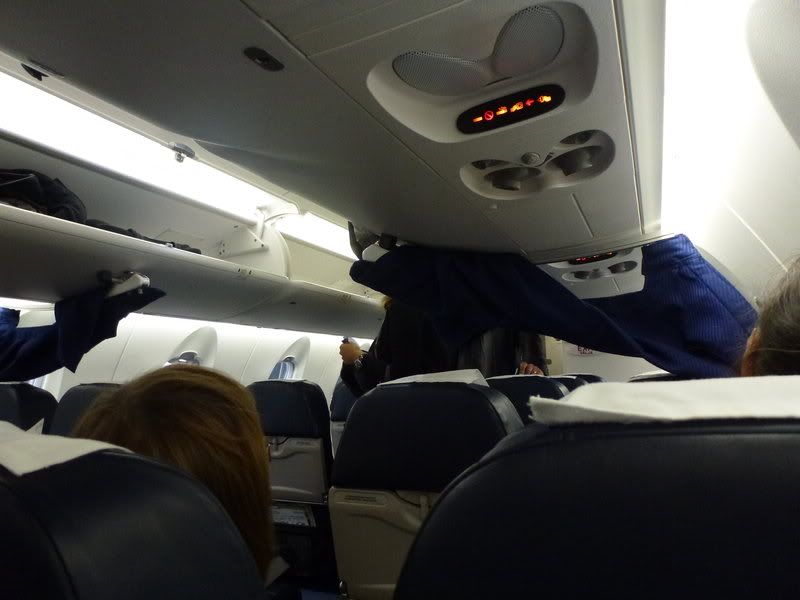 The chocolate: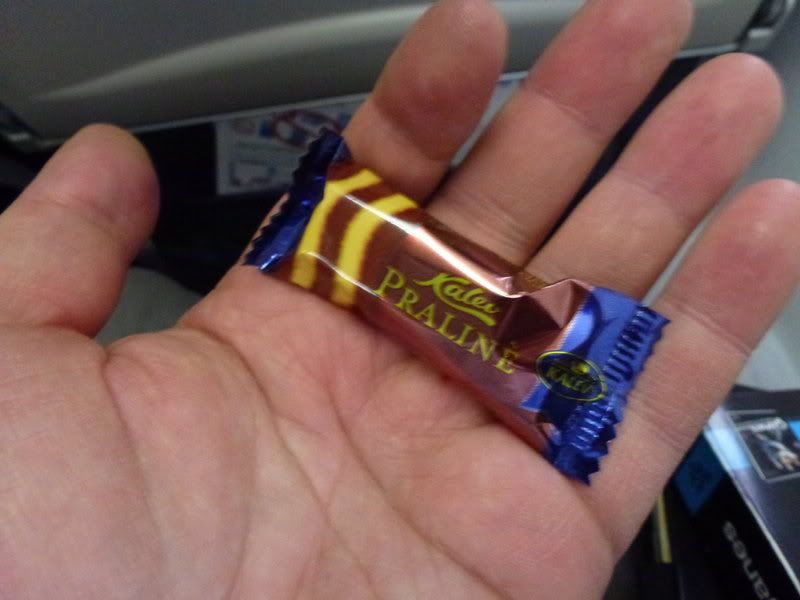 The captain makes a quick welcome speech in Estonian and English, I even manage to understand the Estonian version: "Quick 50 minutes to ARN, cloudy and plus seven degrees there".
Interesting Saab 2000 next to us - must be some sort of Saab Aviation promo plane: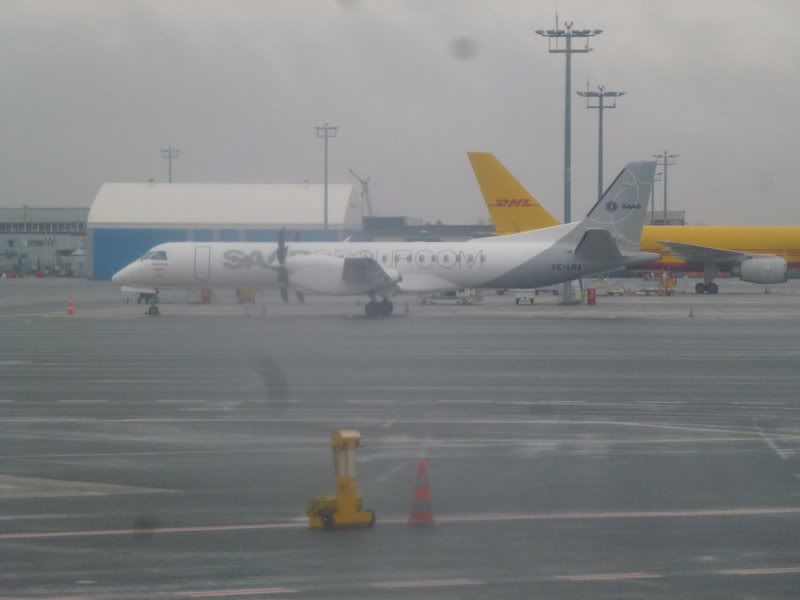 Push back is nine minutes early (this is my third flight of the day and the third that leaves early!), with take off from 08 three minutes later.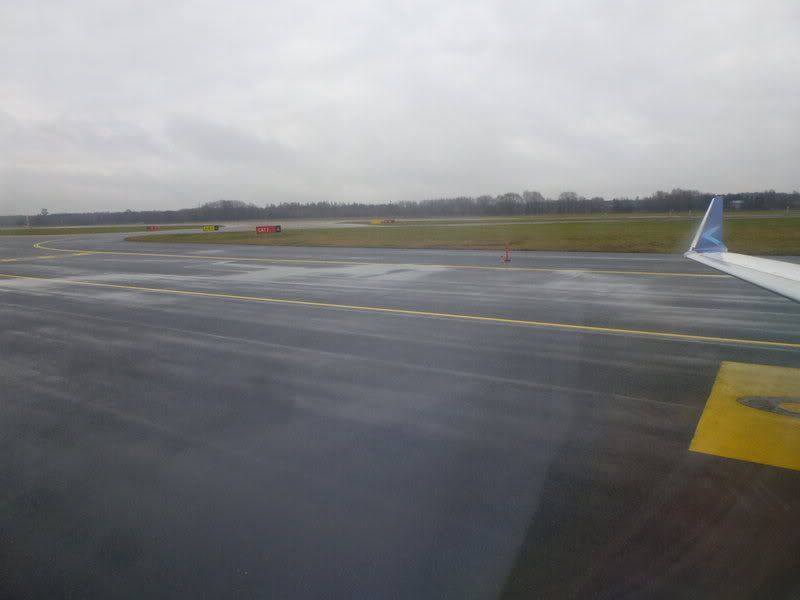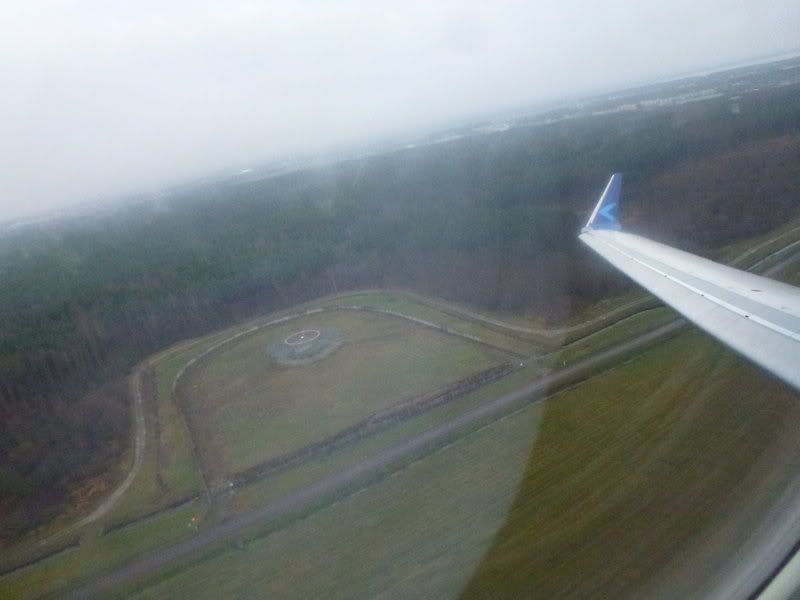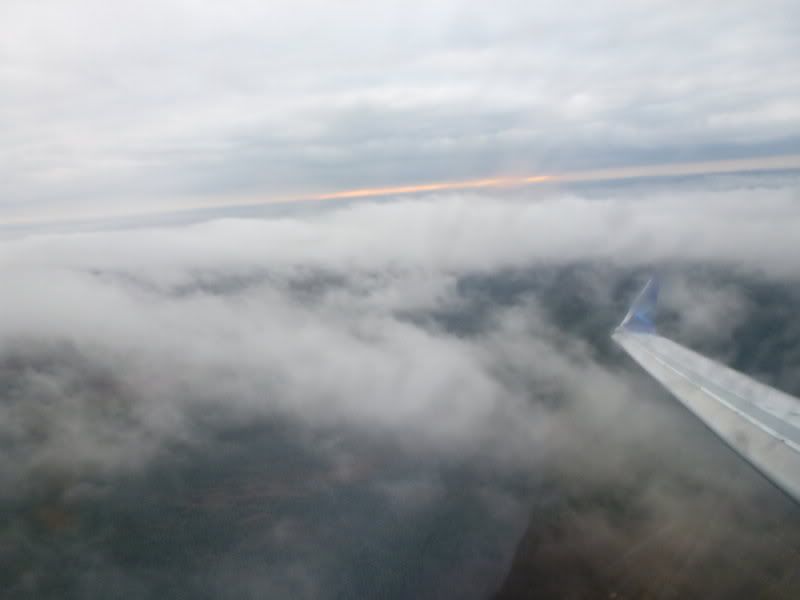 No views on this flight apart from the clouds.
That's one good looking winglet: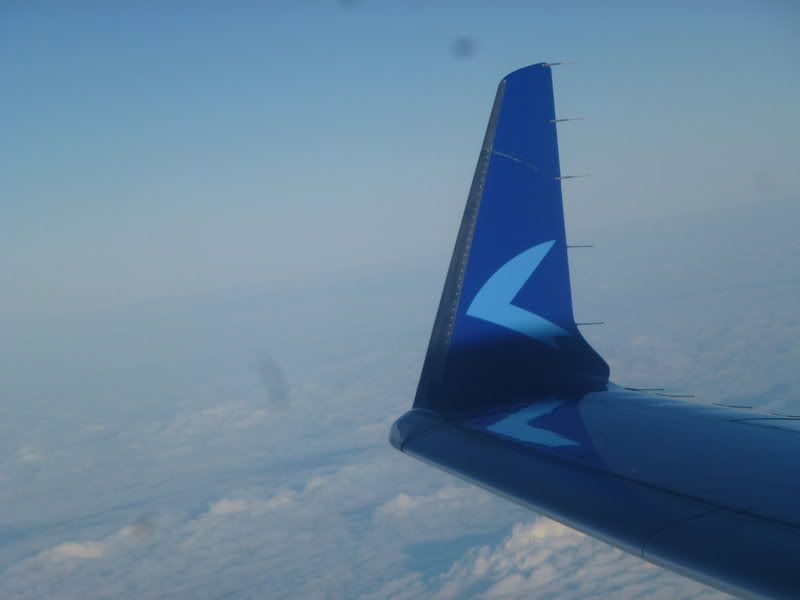 Instead of having the free coffee I decide to do FFBOBBT(TM):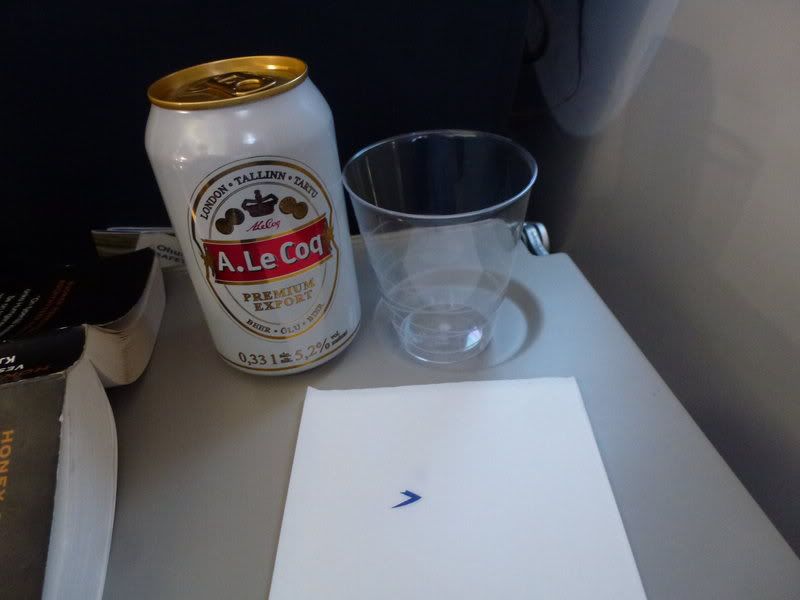 Notice the stylish minimalist napkin.
Taste: 3/5 - A Le Coq is my least favorite brand of the Estonian beers, I would've preferred some nice Saku.
Value for money: 5/5 - 3 EUR for a 0.3 liter can.
In no time at all our descent is announced and we spend the next 20 minutes pretty much surrounded by clouds all around.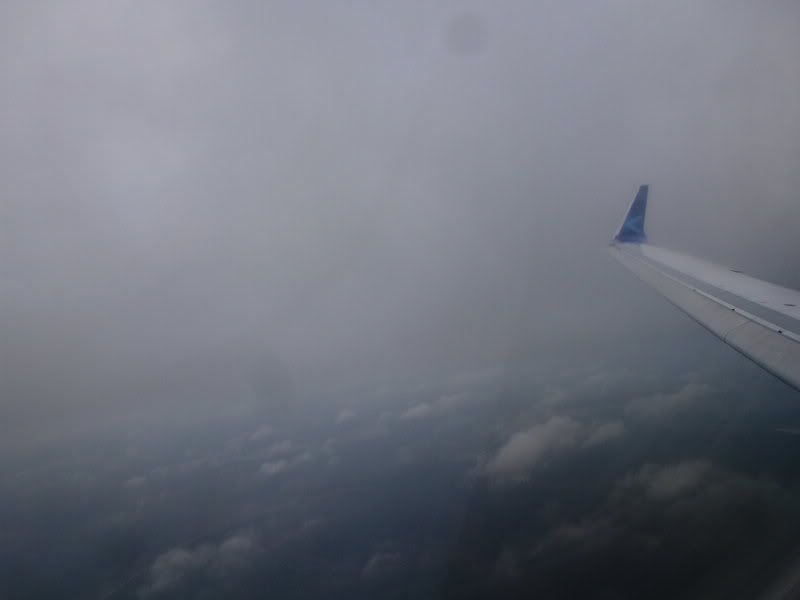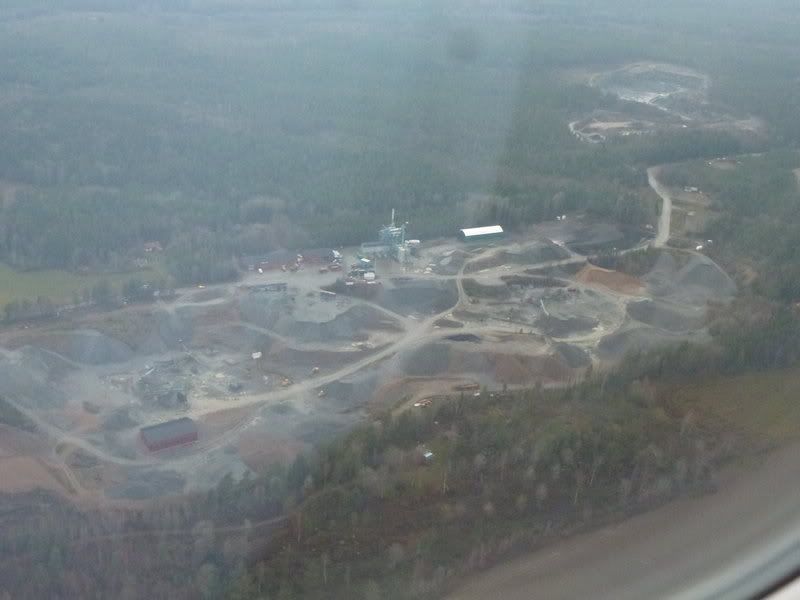 Hey, we are landing on 19L - not that common: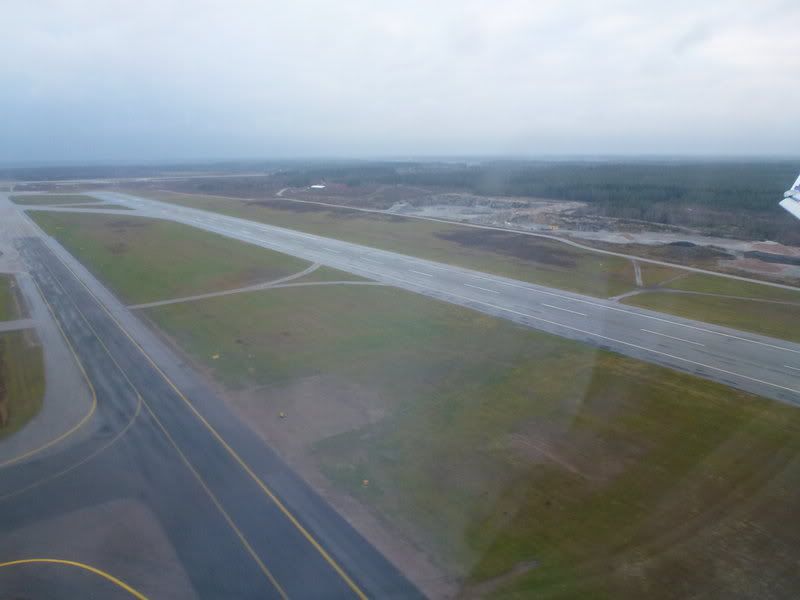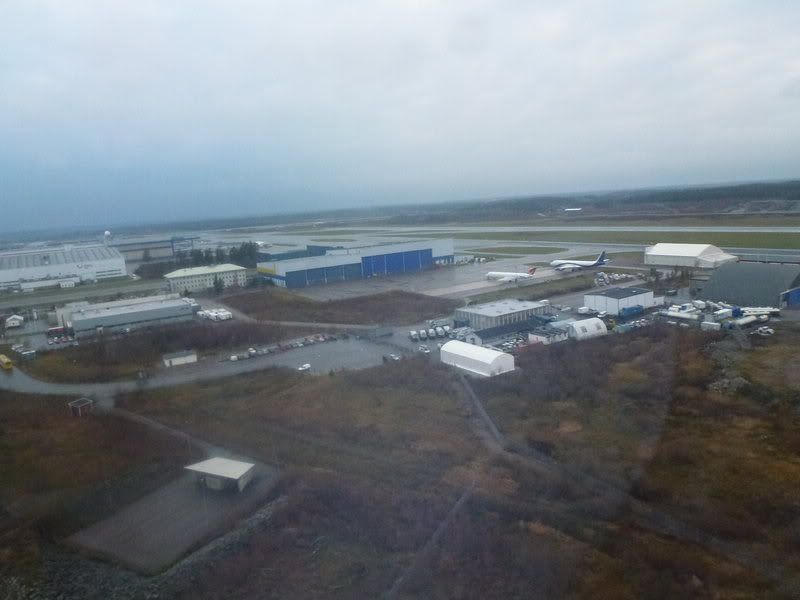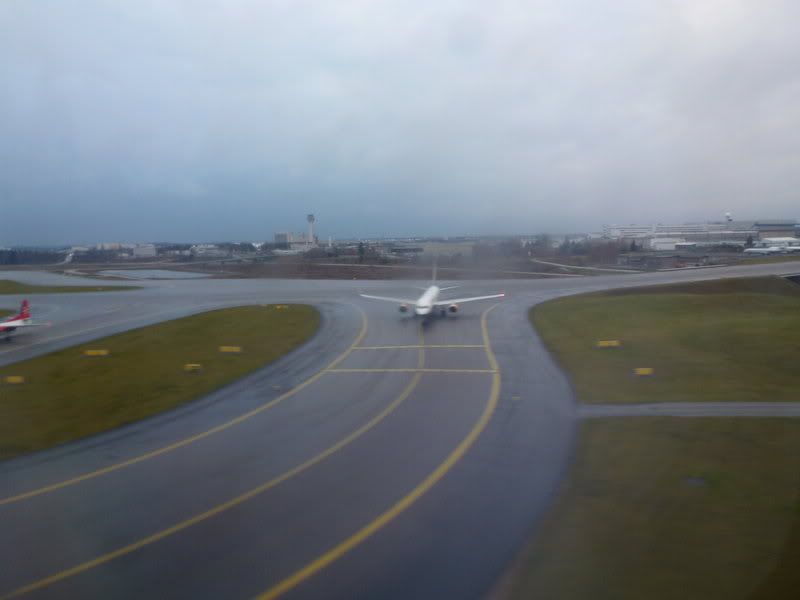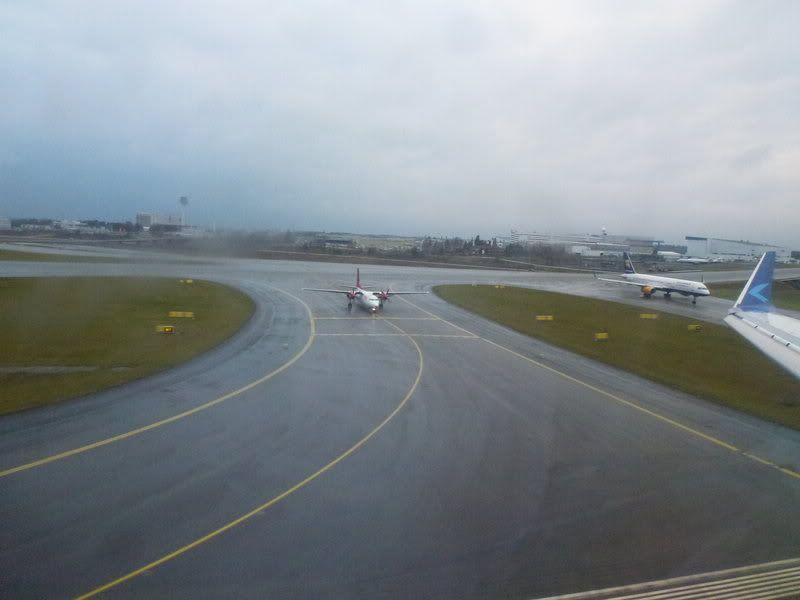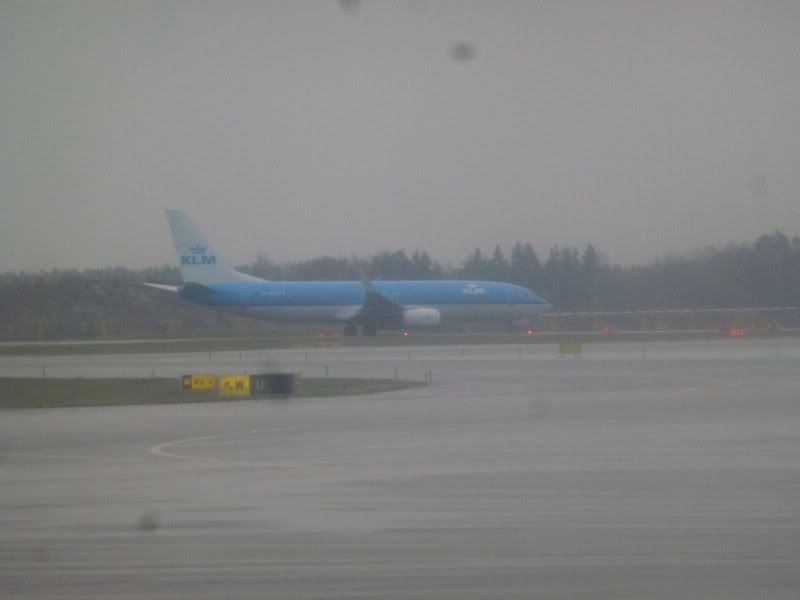 The bad thing about this runway is the long taxi time to the terminals. Terminal 2 with Niki:
My favorite plane watching spot at the end of T3: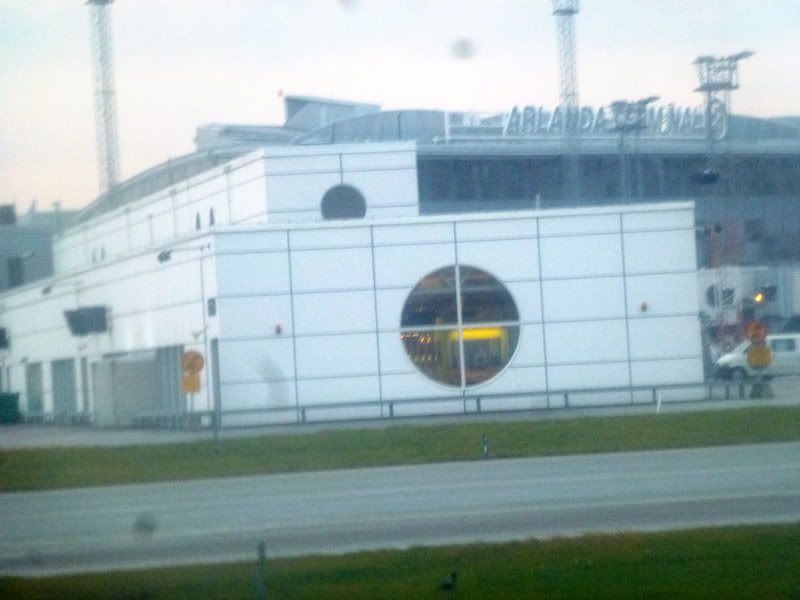 T4, could you please drop me off there - no? Well, bugger: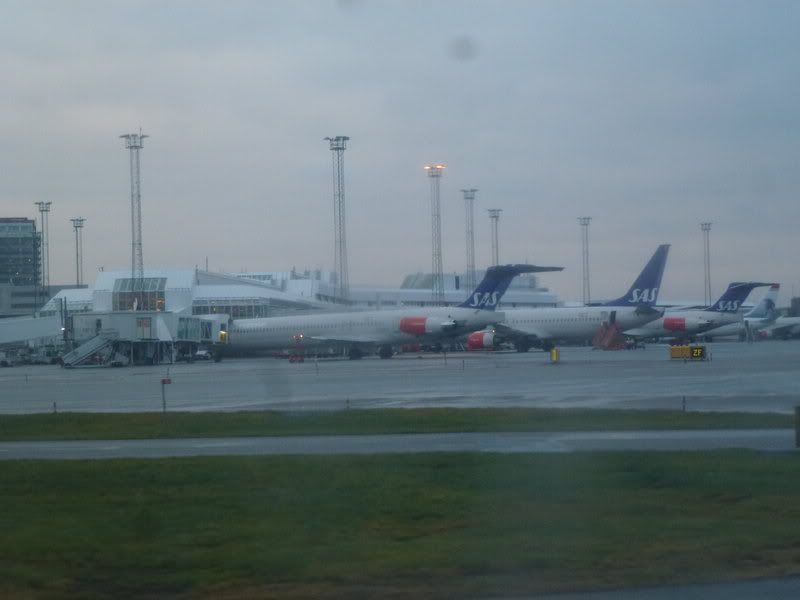 Stockholm Arlanda Airport, take 2
Jonas' favorite airline next to us: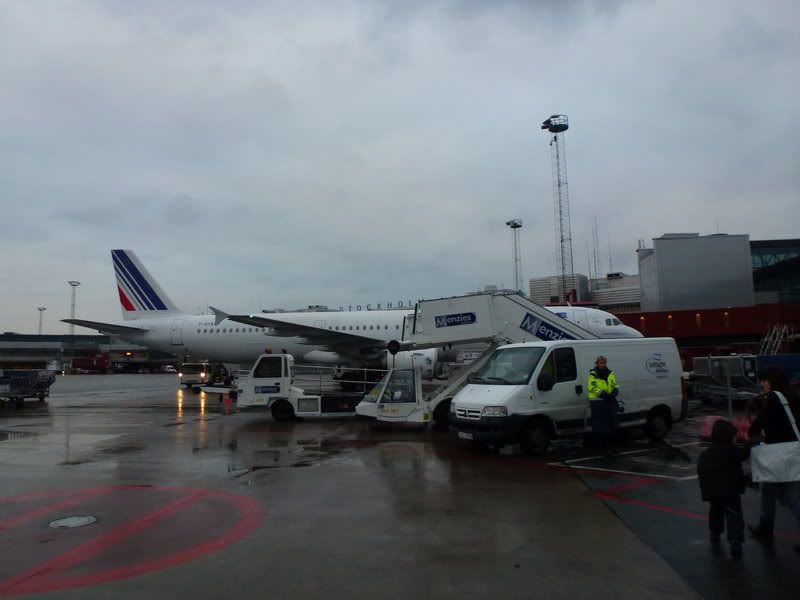 Bye: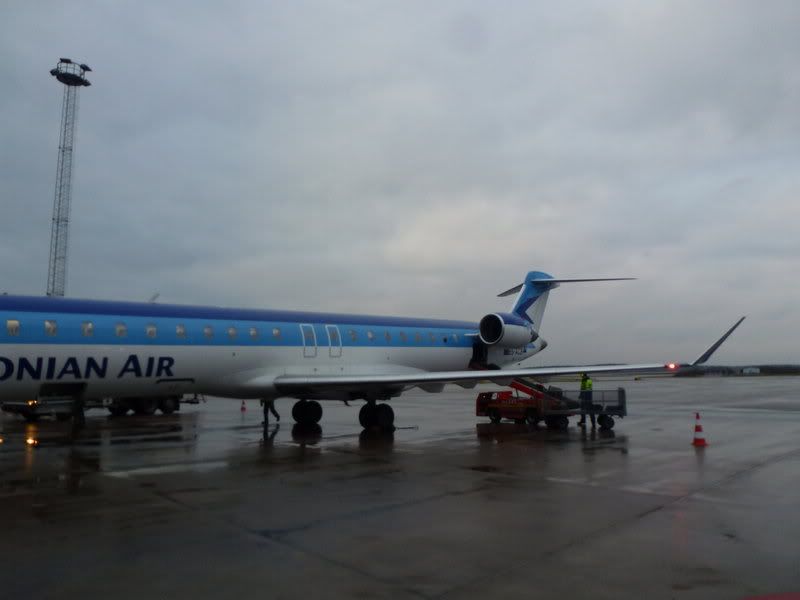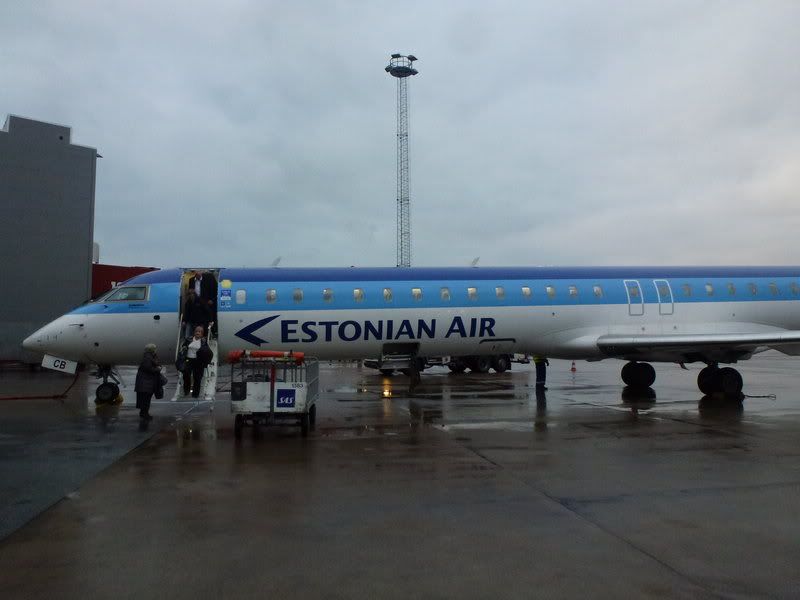 I originally had only 50 minutes to connect but since we landed almost 20 minutes early I have some more leeway to make my way to the domestic T4. Too bad the introduction of "Arlanda Norra" has changed the layout of the arrivals facilities so that one needs to do a ridiculous detour in order to get out and then walk bac