Hello dear readers, this is the final installment in my travels for Q1 2011.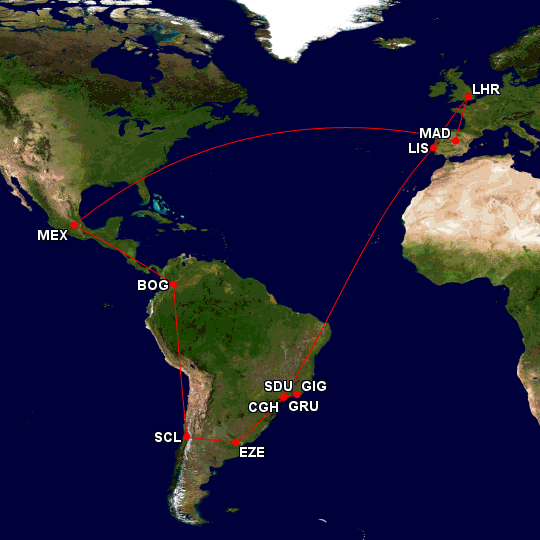 Apologies for the late posting of this, time or lack of and seeming lack of inspiration are to blame, need to get back on the horse and sort the trip posting out, quite a few sitting written and more looming in Q1 2012.
This is part 5 and the return home from Brazil to my home just outside London, TAP being the carrier on the two sectors.
Air Portugal was founded on March 14th 1945, some 66 years later they have a fleet of 55 aircraft serving 75 cities. The longhaul fleet consists of Airbus A340-300's and A330-200's which operate to North and South America, Brazil being a particularly important destination due to the strong cultural links, some 70 flights a week to 9 different gateways, amazing for such a small country.
I have flown Air Portugal a few times before, 313, 320 & 319, but those flights were a good few years ago. I've heard little good about TAP recently so was not really looking forward to flying them, particularly longhaul, however this was a reward ticket and on this particular date there was no choice, either TAP or no travel, TAP it was then.
TAP operate 2 daily flights to GRU from LIS, the first with an A330 and the latter, my flight, with an A340.
After arriving from CGH on the airport transfer bus, a recommended service, very reliable.
A few pictures en-route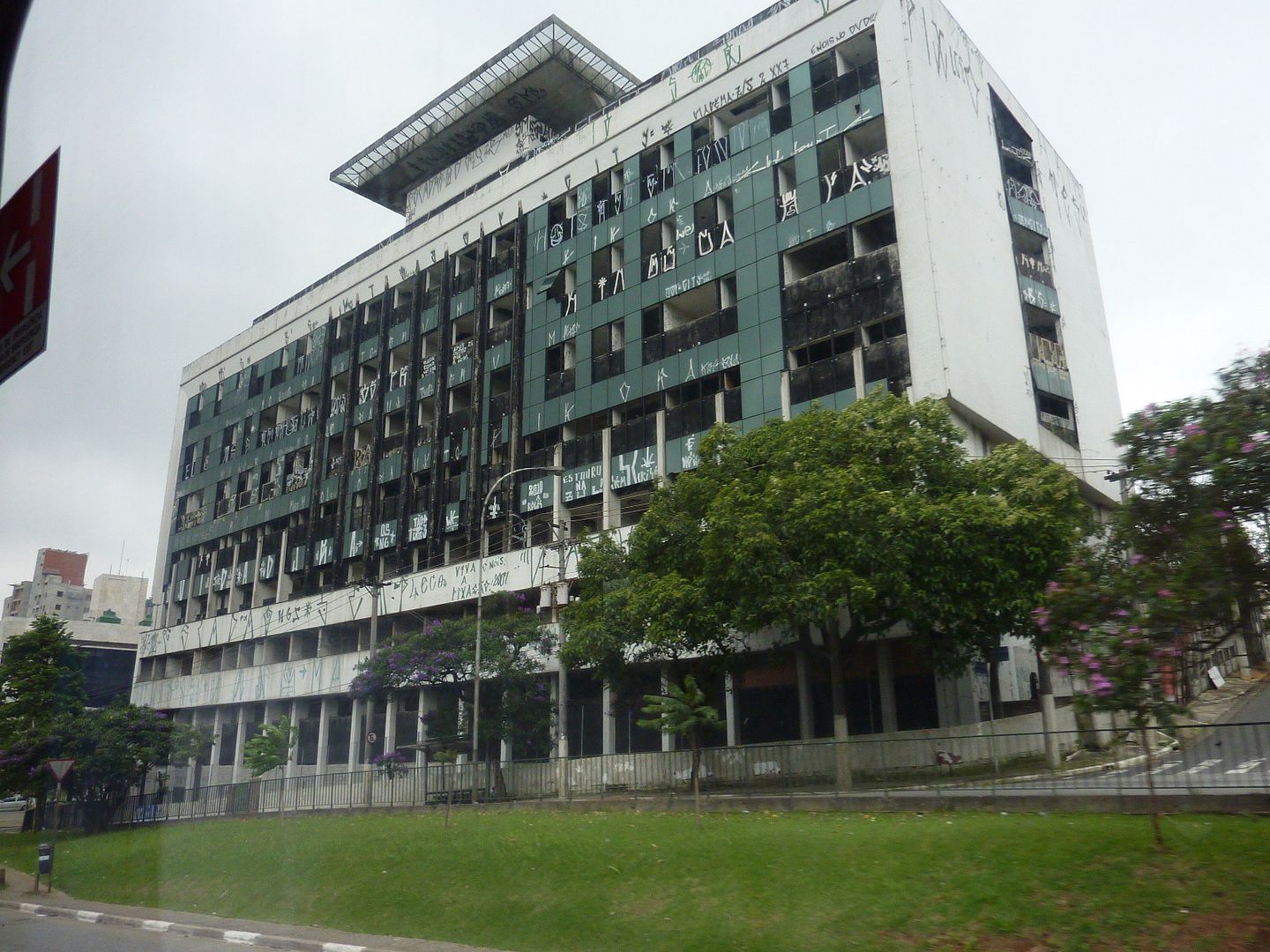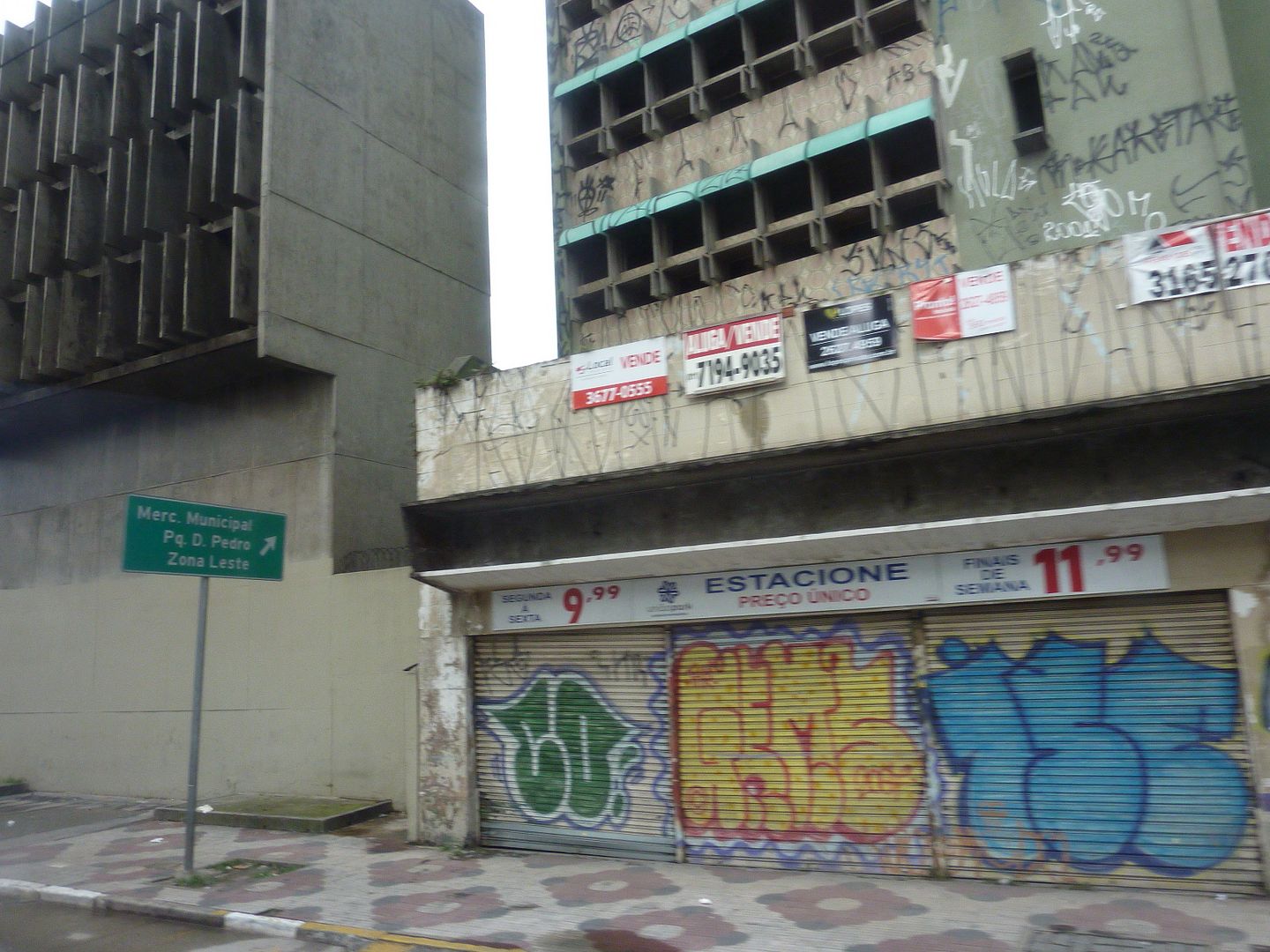 Upon arrival in one of the 'viewing' areas I noted an A340 was operating the earlier flight and an A330 later landed, seems a switch today so no A340 for me today, shame, only have 3 A340-300 flights under my belt.
06-03-2011
TP194
GRU-LIS
A330-203 CS-TON Built 2009
Seat 2F Business Class
1st Flight on this aircraft, 13th A330 flight (6th -200)
Sch Dep 22:55 Sch Arr 11:55
Act Dep 23:18 Act Arr 11:22
Given the late departure time and so many other flights ahead of it , I was not sure what time check-in would open for this flight, however it was almost dark and the spotting day was pretty much over for now, plus I was getting hungry, so I thought I'd take a look and see if anything was happening at the TAP check-in area, if I could find it….
Seems my luck was in, check-in appears to have just opened when I found the TAP area, this is located down the far end of hall A, it was 18:50.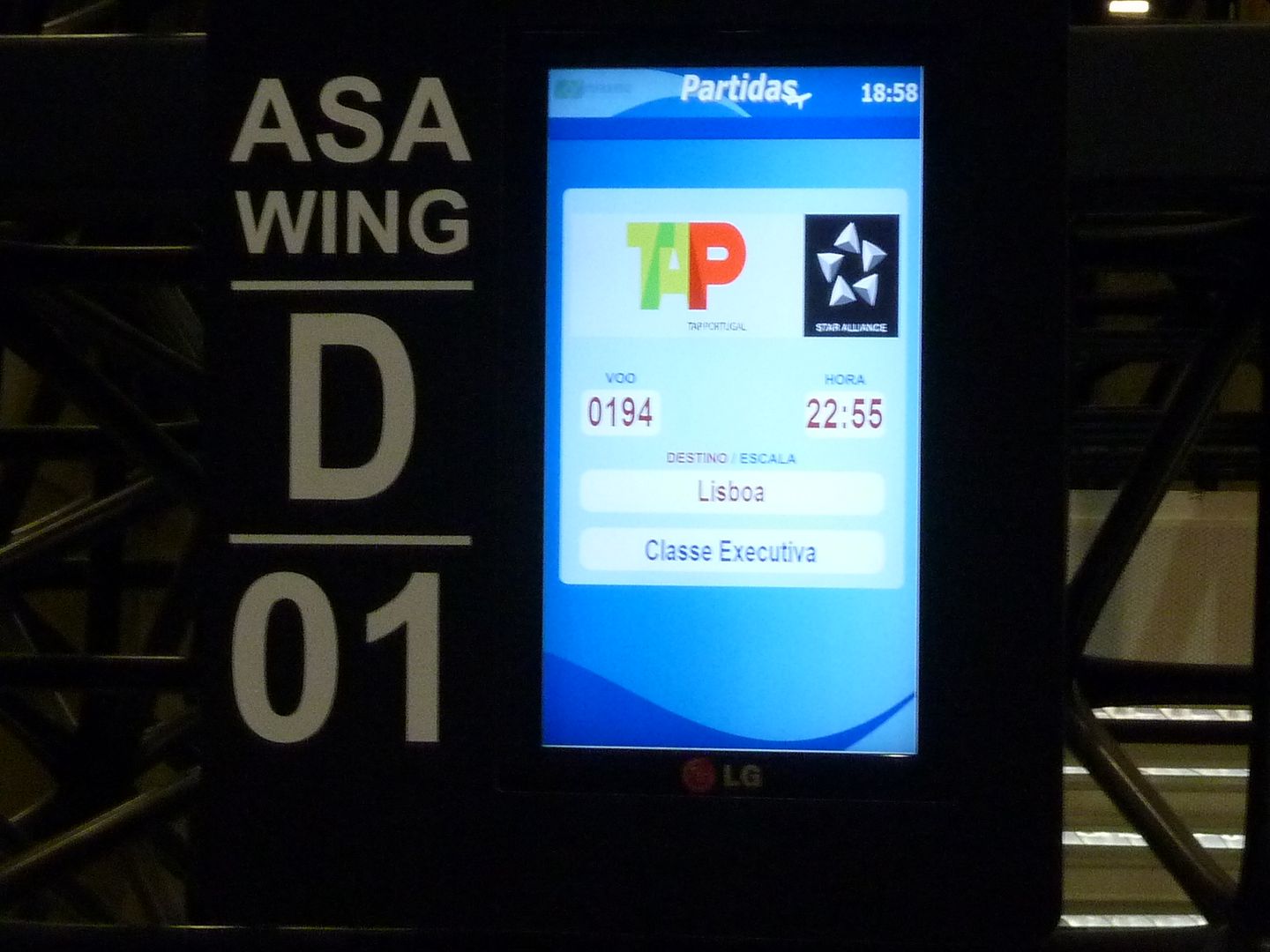 The Business Class check-in was being handled by 3 agents, they seemed pretty slow, by the time it was my turn I had been in line for a good 25 minutes, hardly impressive!
Now not wanting to sound snotty, but I do feel there is a sort of minimum standard for dress code in long haul business class, I suspect I am one of a few thinking that, but I have to say pretty much all of the people ahead of me were the scruffiest looking people you have ever seen together in one place, not a good feeling, at least for me. When I fly long haul business I wear my smart jeans, only worn for special occasions, such as flying, a smart but casual shirt or polo and shoes, either brown or black, all in all I'd be accepted in all places bar a black tie event. The motley bunch in front of me could have stepped off a cargo vessel for all I knew, no offence meant to those on cargo vessels, you do a fine job.
My check-in was much quicker, just having hand luggage helps the process. During my wait I had noted some of the agents weight customers hand luggage, I had visions of that happening to me and being told to check one in, I was prepared to fight that one if need be, however the bags were not requested to be weighted, just for a sticker to be placed on each.
Originally I had 2A selected for this flight, I hate not having a window, however it was mostly a night flight and the seat pitch was not so great, I figured it would be best to be in a centre section, the layout is 2-2-2, and thus I'd not have to disturb a neighbour when getting out of the seat, I always assume the worst then you won't be dissapointed. This is the first time I've given up a window seat, I'd given it lots of consideration, still not keen on the idea but it's for the best. Seat change was no problem, so new seat assigned was 2F, I kept the window for the LIS-LHR section as it would be daylight.
By the time I got checked in the queue's had gone
Another terminal view
Boarding passes were issued as were directions to the lounge, TAP use the Smiles lounge, I assume the former Varig facility? I expected the lounge to be lacking in food options so I headed off for some real food, grilled chicken and salad, yes being good, not had a burger or chips whilst I was away!
Meal over I made a quick check of the viewing area to see if anything had appeared before proceeding through security and passport control. I have to say the process was quick and efficient, I must have been through in under 5 minutes
A quick walk through what must be the worst organised duty free I have ever been in, the walkways are so narrow and some idiot put the 4 tills in a square block in the middle of it, stupid design, anyway, made my purchases, fridge magnets, and left for the lounge.
The VIP lounges are situated on the second floor, access is via stairs or an escalator.
The Smiles lounge is found at the top of the escalators, it is used by a variety of airlines.
The lounge warden checked my boarding pass, I enquired about intent access and he provided a card with a voucher number.
Inside the lounge there a no view of any sort, bar a locked door overlooking the AA Admirals Lounge across the hallway, not the most exciting place to spend a significant amount of time.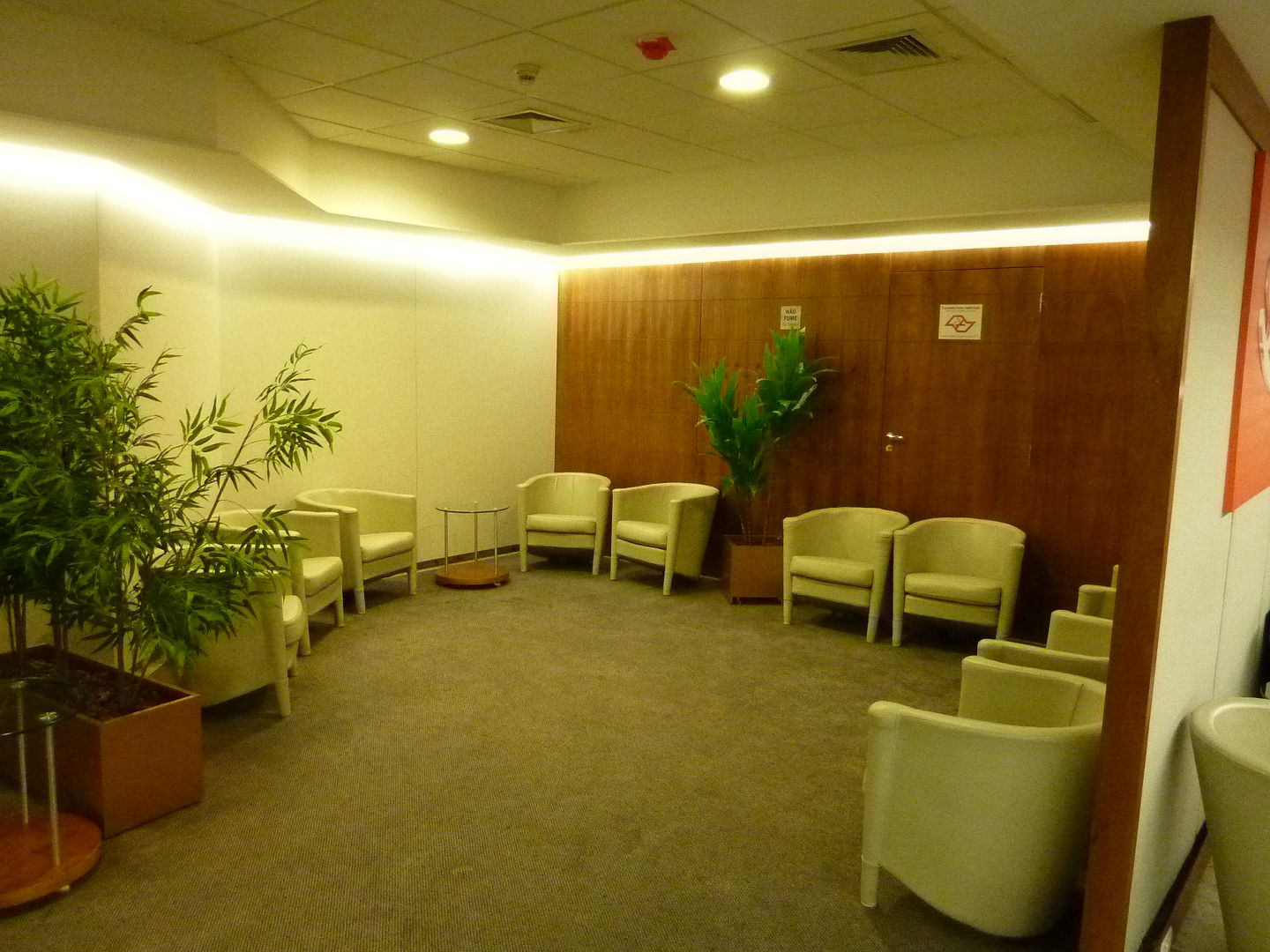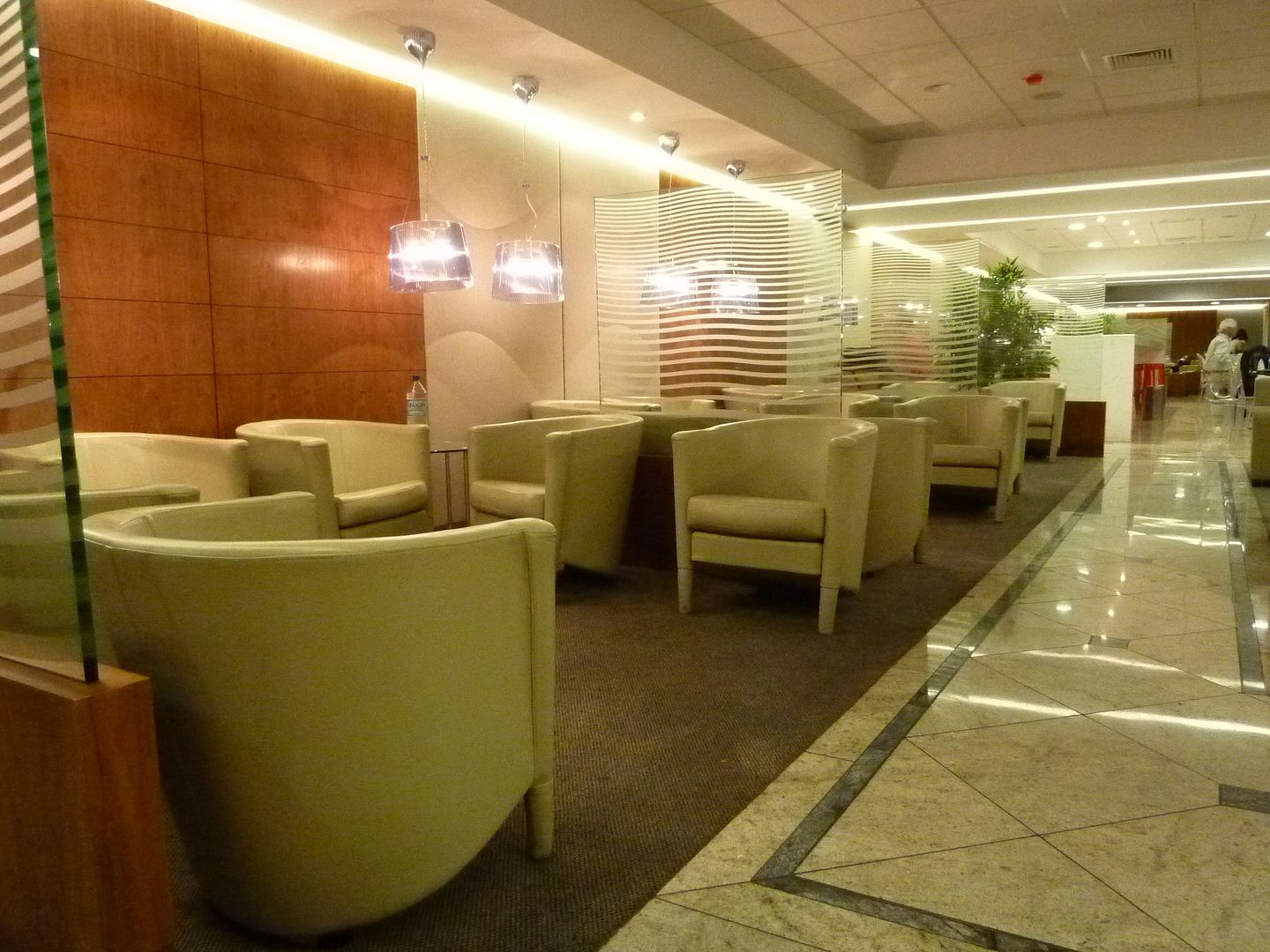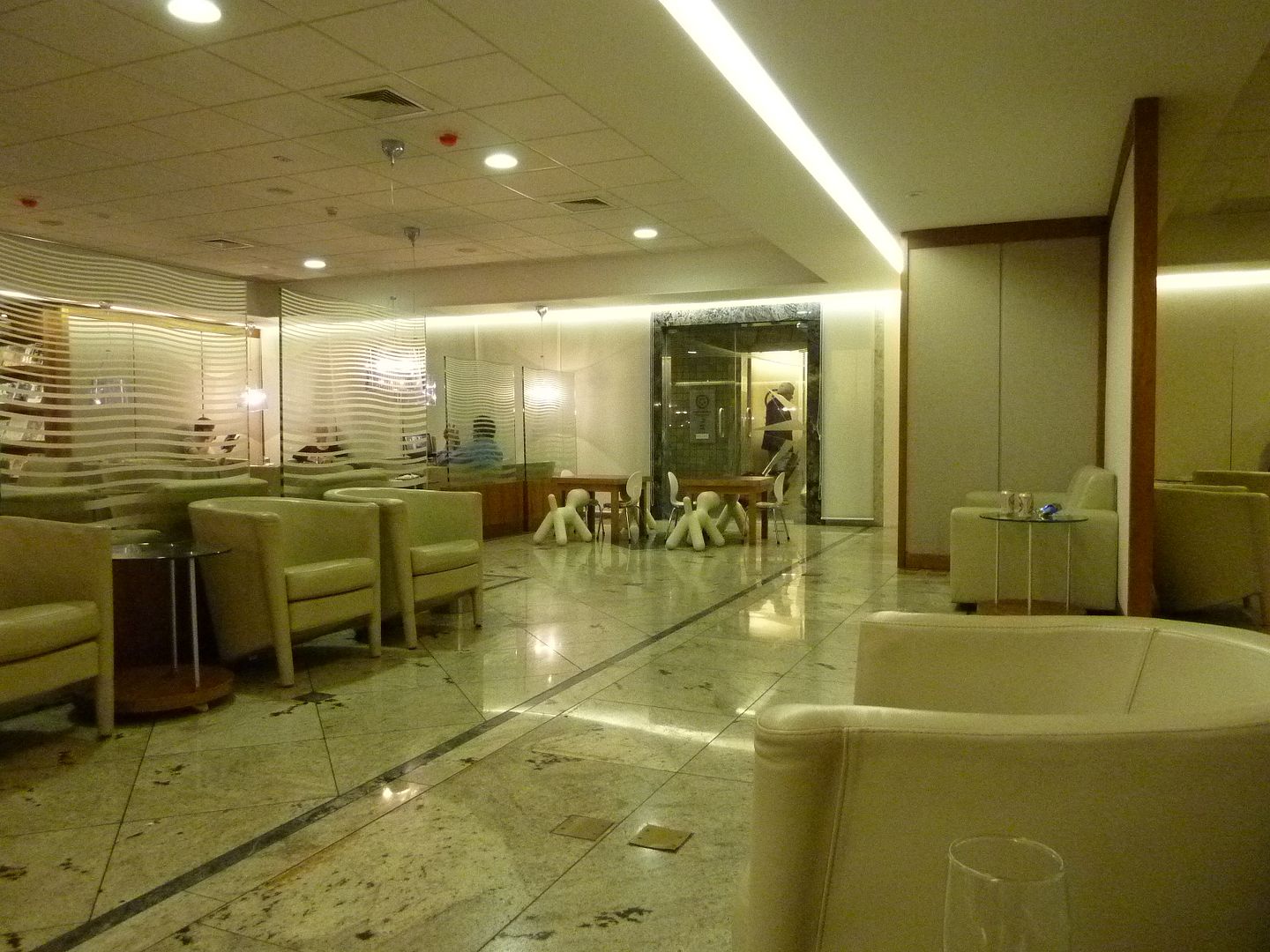 As expected F&B offerings were on the poor side, food limited to small rolls, some warmed pasty and cheese ball things, some sort of soup, salad and what I assume was a chocolate pot. Drinks were limited, only one beer choice, Skol, and a very limited choice of wine or hard liquor. All in all as I expect, disappointing.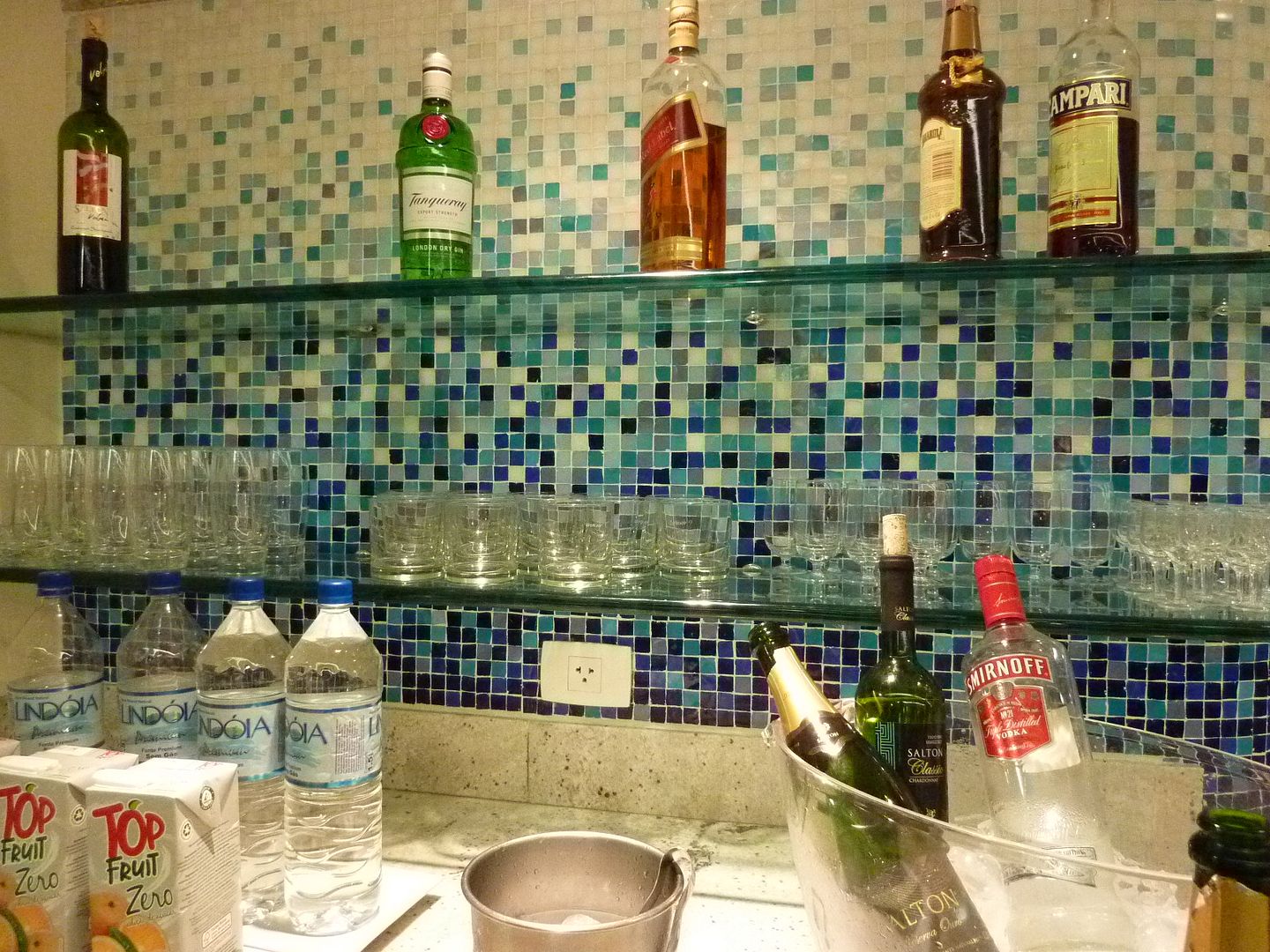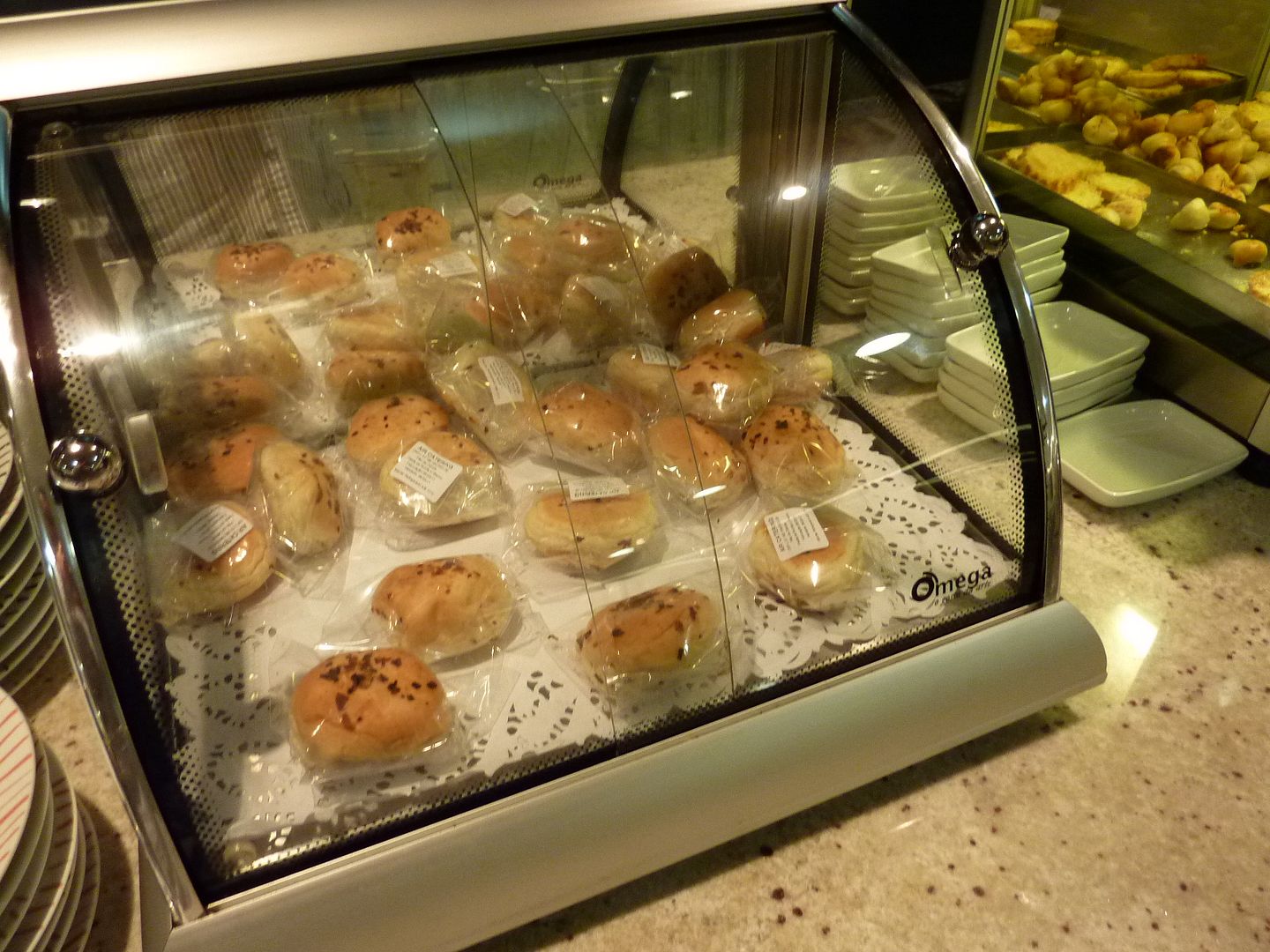 I had a coupe of snacks and glass of passable Cava
before hunting down power outlets, bar the 'computer' area as I call it
power outlets are in short supply in the lounge, noted all the good spots with power close by had been snagged already, I had to share a table with a chap as the seat next to him had the last outlet I could find, place was not even half full either.
Blast from the past
The internet access is not that straight forward, in fact it is stupid, you have to register yourself on the Vex network before you can access is, seriously, how difficult can you make it!?
All in all this lounge is just a place to pass time before your flight, unlike other lounges I could mention, it's not a place you are supposed to enjoy or feel relaxed in, ok, I suppose you can feel relaxed but I like decent views from lounges to relax, no views makes me feel penned in, this place is just a space away from the general mass of people all waiting to get in that metal tube and hurtle through the sky.
I passed the time with a few drinks, a quick view of stuff on the net before carrying on with reports for A.NET.
By 20:00 the lounge had emptied considerably and none of the people looked like the ones in the check-in queue earlier, perhaps the majority of the other lounge guests were on the FRA flight?
Boarding was called around 22:20, a short walk down to gate 24 where our aircraft would board from.
Upon arrival it was not immediately clear where Business Class passengers were supposed to board, there were lots of people here, looks like a good load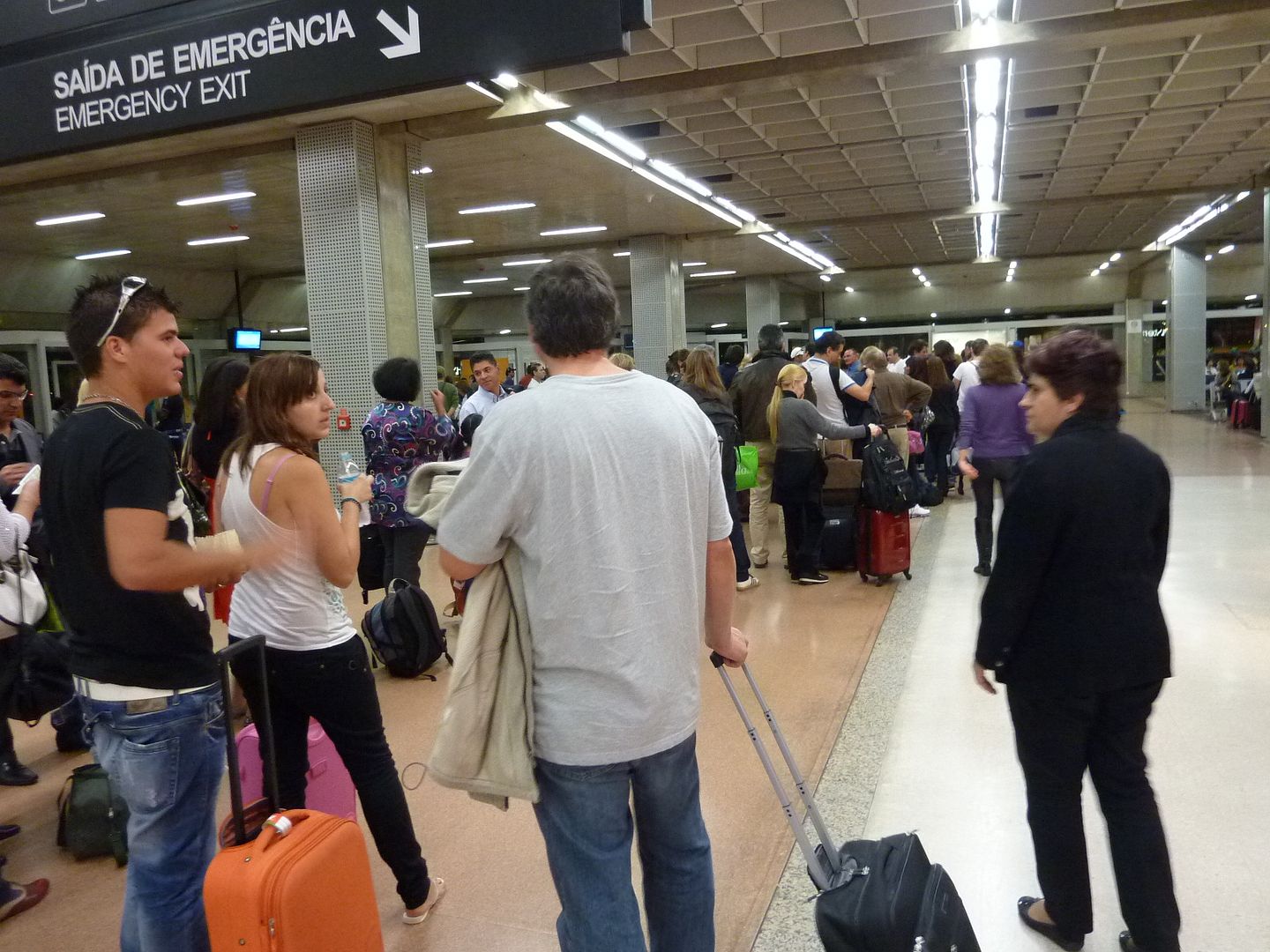 a quick troll of the area seemed to indicate heading to the front on the right might do the trick, a good choice, some of the scruffy people I had seen earlier in check-in where here.
Boarding had pretty much started as I arrived.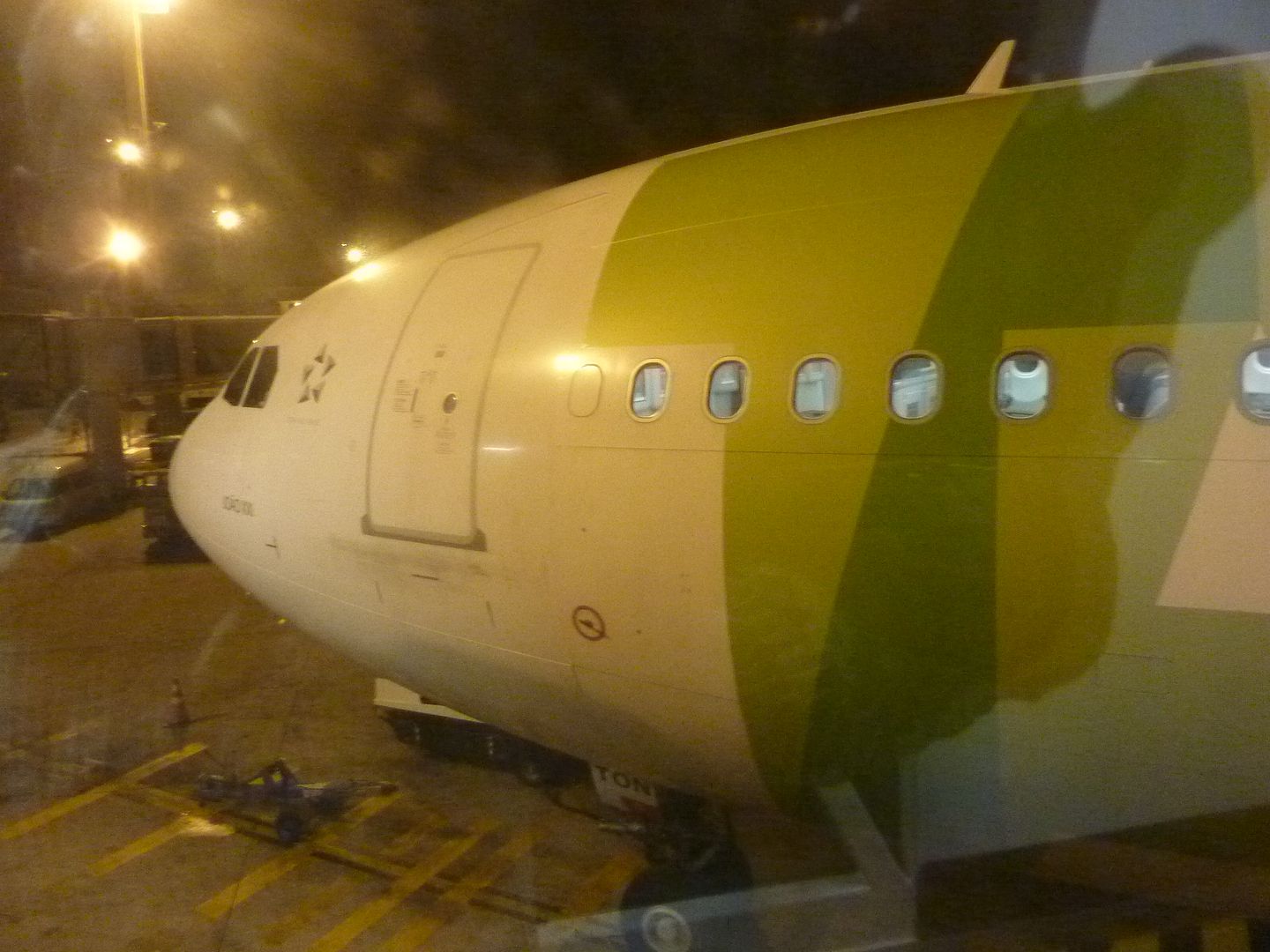 Greeted at the front door, L2, and directed across the galley and left to access my seat.
Once seated view across to the left front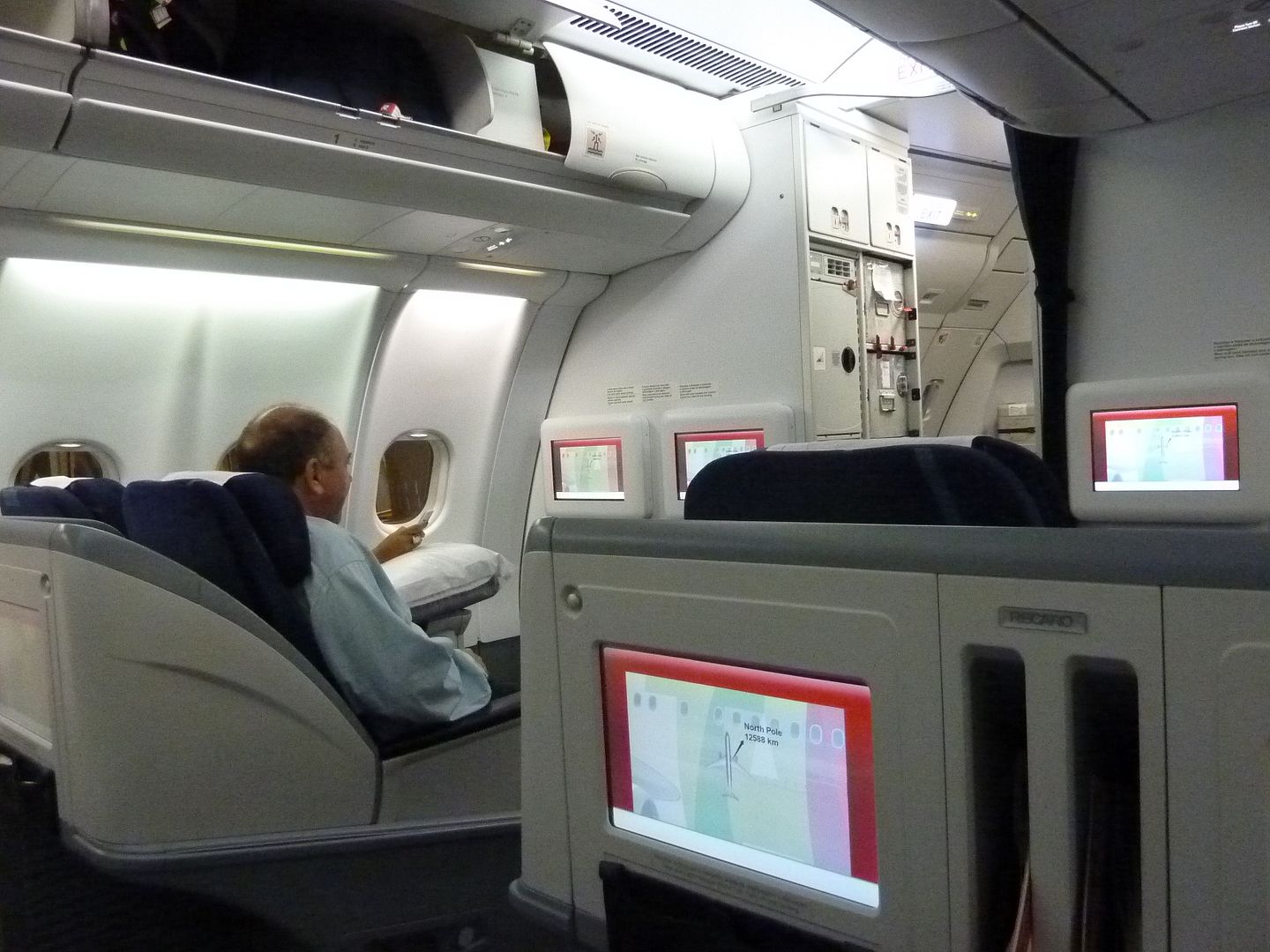 Seat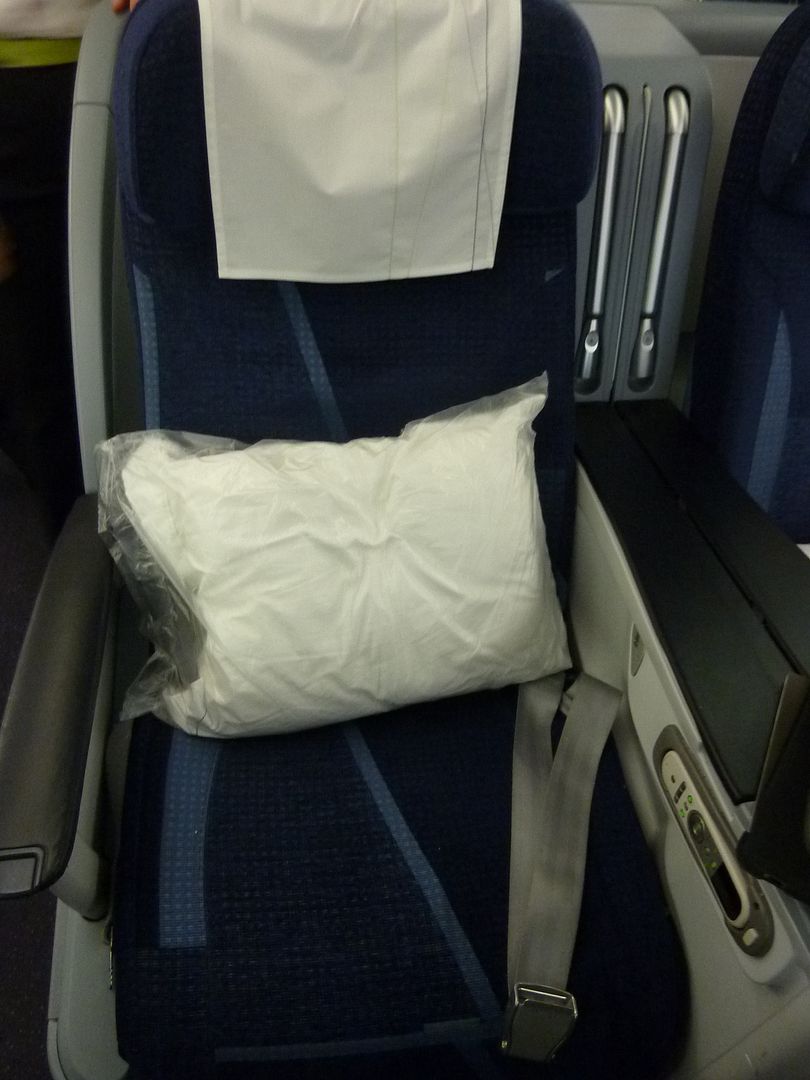 Legroom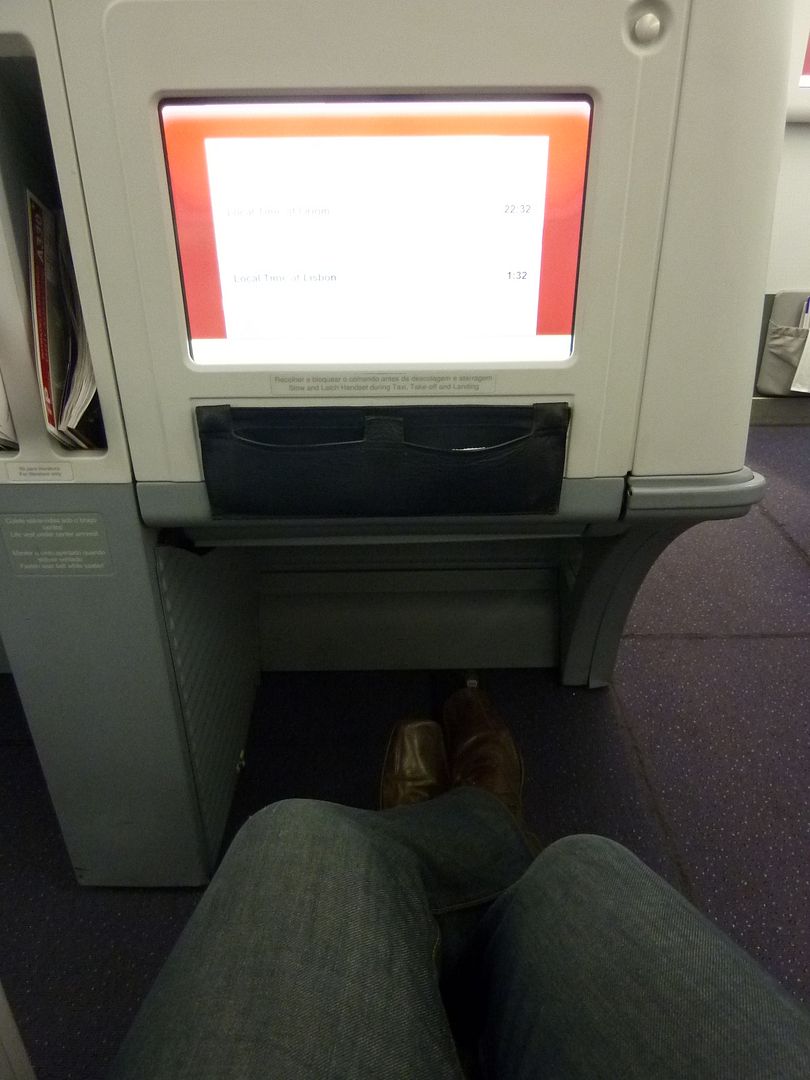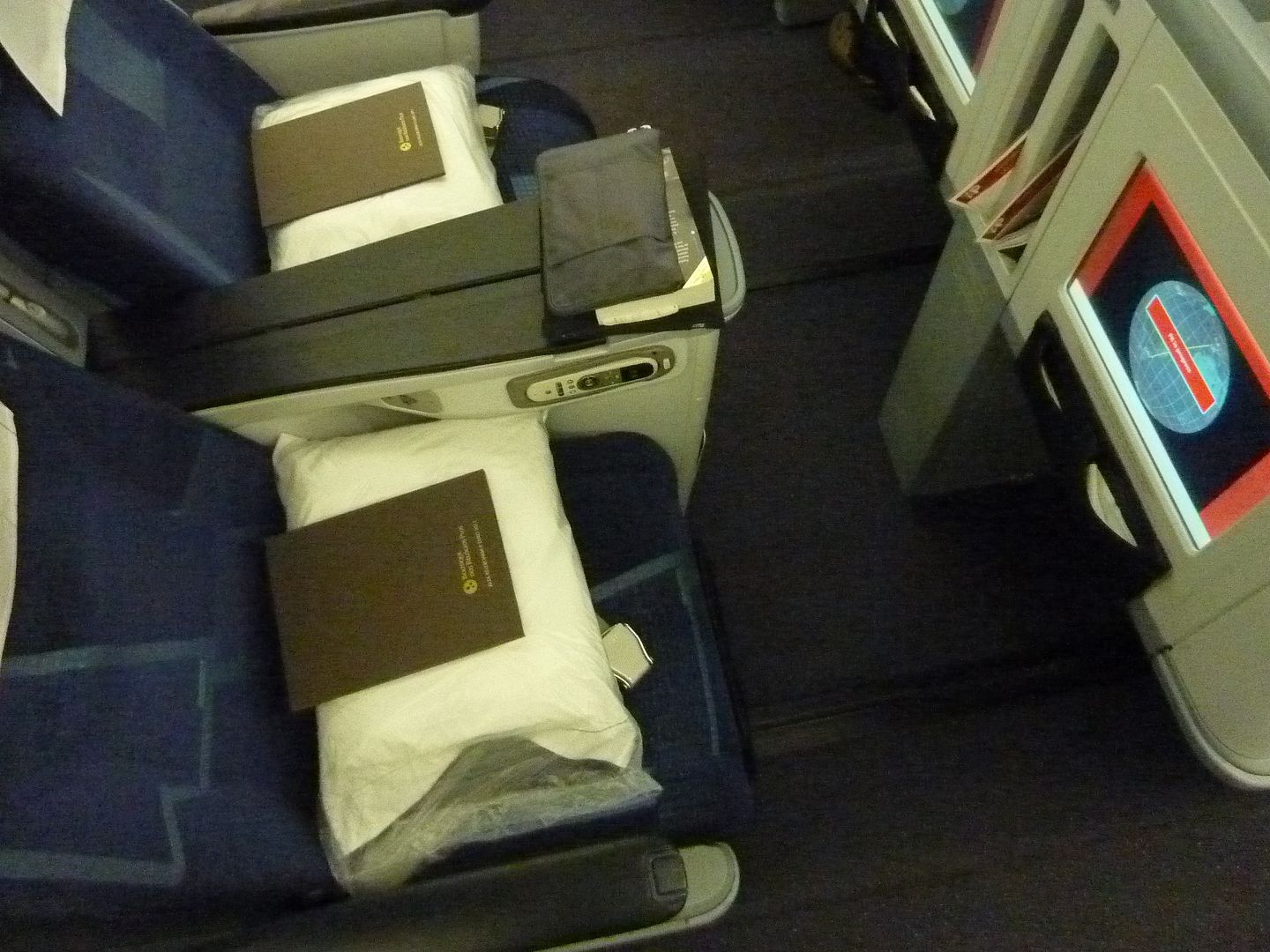 Good sized PTV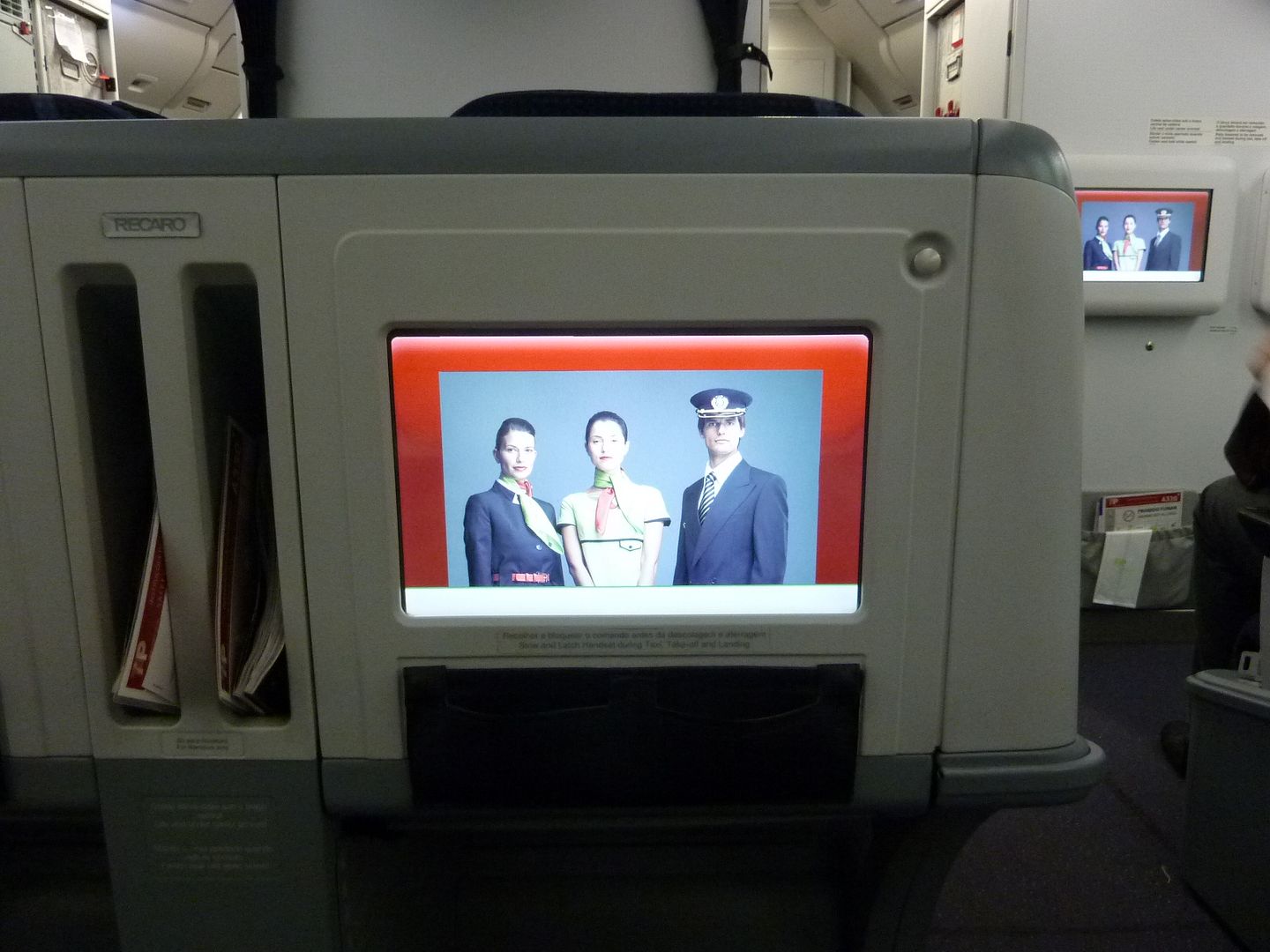 Looking back
Looking left
Upon arrival each seat had a blanket and pillow along with a Boutique duty free catalogue
The blanket was more of a fleece type material, it did the job but I prefer the quilted type blankets that BA and others provide.
Drinks were soon offered, water, OJ and I suspect it was Cava, and a poor one at that, the lounge Cava had actually been better, of note, one of the FA's must have been 80 if a day!
Boarding music was interesting, it included the Bee Gee's and Dexies Midnight Runners, how odd can it get?!
The boarding door, L2 closed at 22:55, bang on departure time. Looking around the cabin, none of the people I discussed earlier were in the cabin, I suspect they were TAP FF elite who were travelling down back but taking advantage of their status for check-in.
Looking around the cabin there were 7 open J seats out of 24, the seat next to me was open, looking across the cabin, my original seat of 2A was now occupied but the aisle seat open, I wonder if that would have been the case if I had taken the seat, I'll never know so I'll stop worrying about it.
Safety video
How far to LIS?
Push back occurred at 22:56, with taxi it the active, as we turned towards the active I could see a TAM 77W start it's roll for departure, our turn came next, wheels up at 23:18.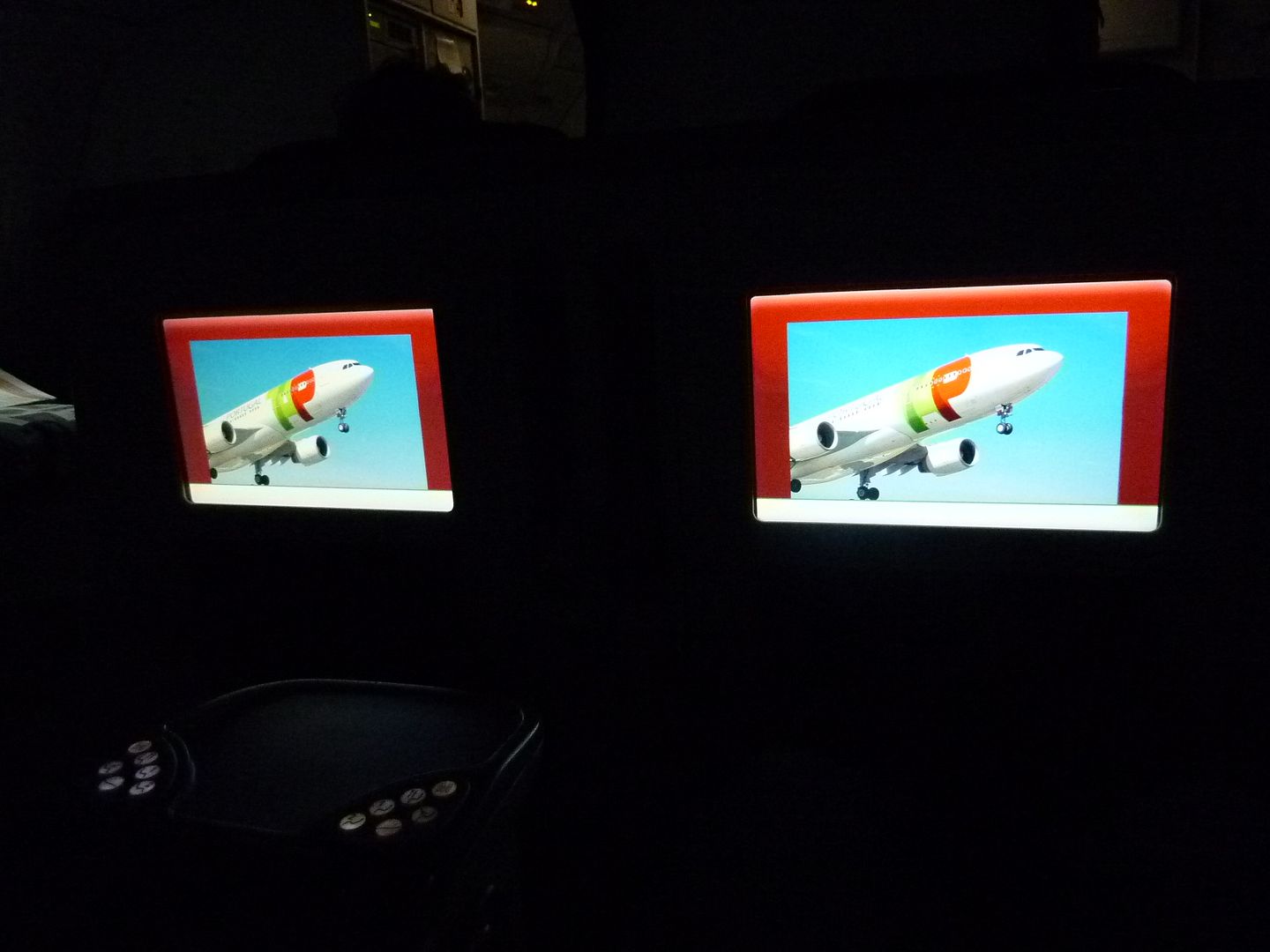 Breaking out the IFE I got the map up so I knew where we were and the time difference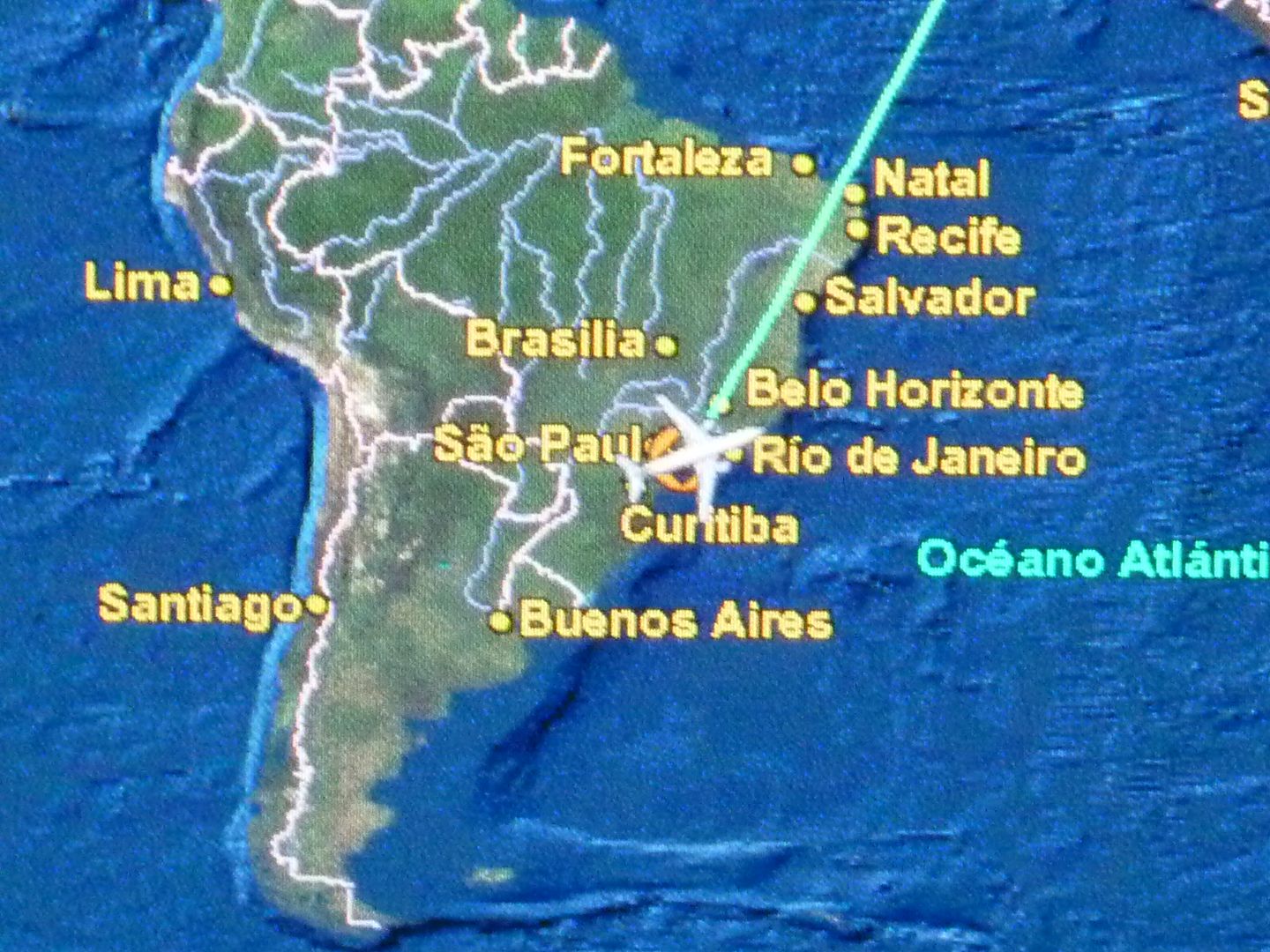 I dropped off after departure, only awaking as the cabin service started, whilst I had been asleep head phones and amenity kits had been distributed, I found mine on the seat next to me.
The kit contains the usual eyeshade, socks, tooth brush and toothpaste, some lotion, a tiny pen and a shoe horn, that's the second one on this trip………
Funky socks
Tables were being laid, linens, butter, napkins and drinkers offered. I took red wine and sparking water, your choice of bread was also offered.
Shortly after your choice of soup or salad was offered, I chose the salad, rather than being pre-packed, the toppings are added to the salad base, these from the tray, though I did not get to choose what I was given, never mind, the salad was nice and fresh, quite enjoyable.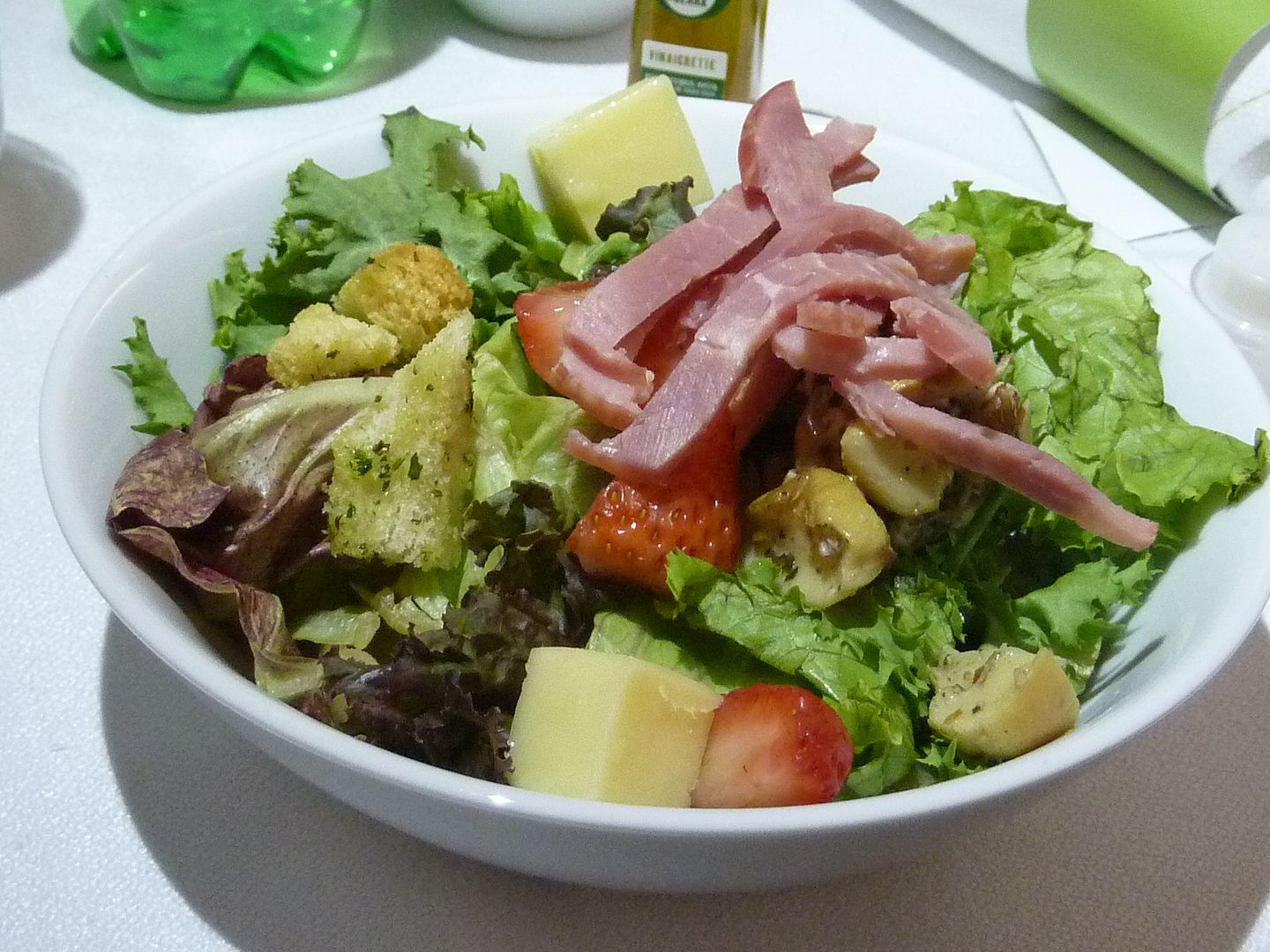 Starter over main course was delivered, I had chosen the veal in spinach ravioli, not a normal choice for me but the other options did not appeal, very nice it was too, additional breads were also offered from the tray as the crew passed through the cabin.
Visually not great but tasted pretty good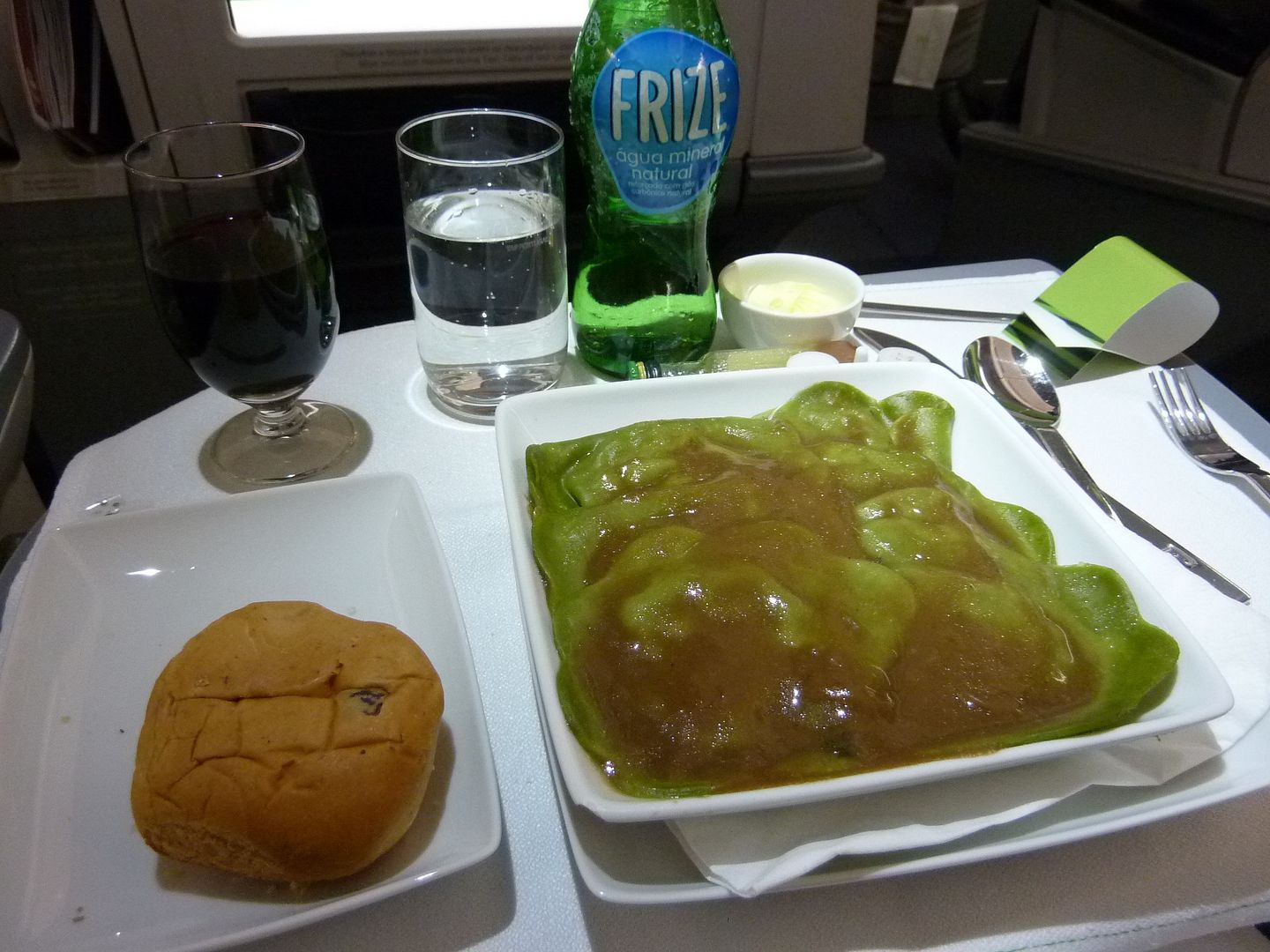 Mains cleared a choice of desert or cheese was offered, I took the cheese, it started to get a bit bumpy at this point, the seat belt signs remained on, as had since departure.
I took a top up of red wine with the cheese and when the digestives cart came around a Johnny Walker was an excellent night cap.
Espresso was also offered, not something you often get at 36,000ft to I took one, this being deliver by what I assume to be at the lead CSD, he had spent all of the flight so far in the forward galley.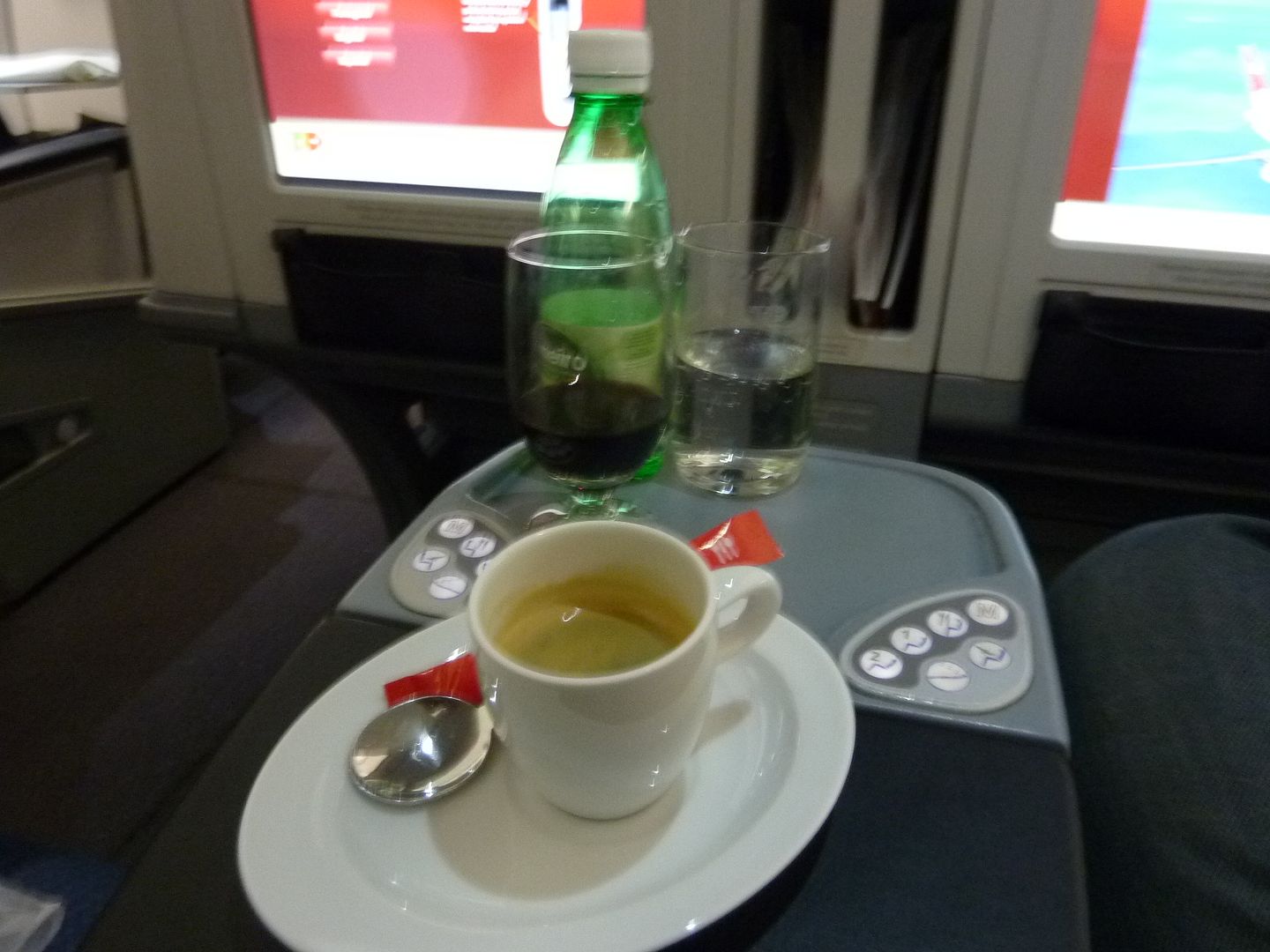 All in all it had been a pretty decent meal, the salad starter was nice and the main a good portion.
With trays clear away and water bottles distributed I dropped off for some much needed sleep, these spotting jollies are actually hard work in terms of maximizing and making best use of the time you have.
I woke up with, according to the map, 2 hours 45 minutes to go, popped to the smallest room in the plane and went back to sleep.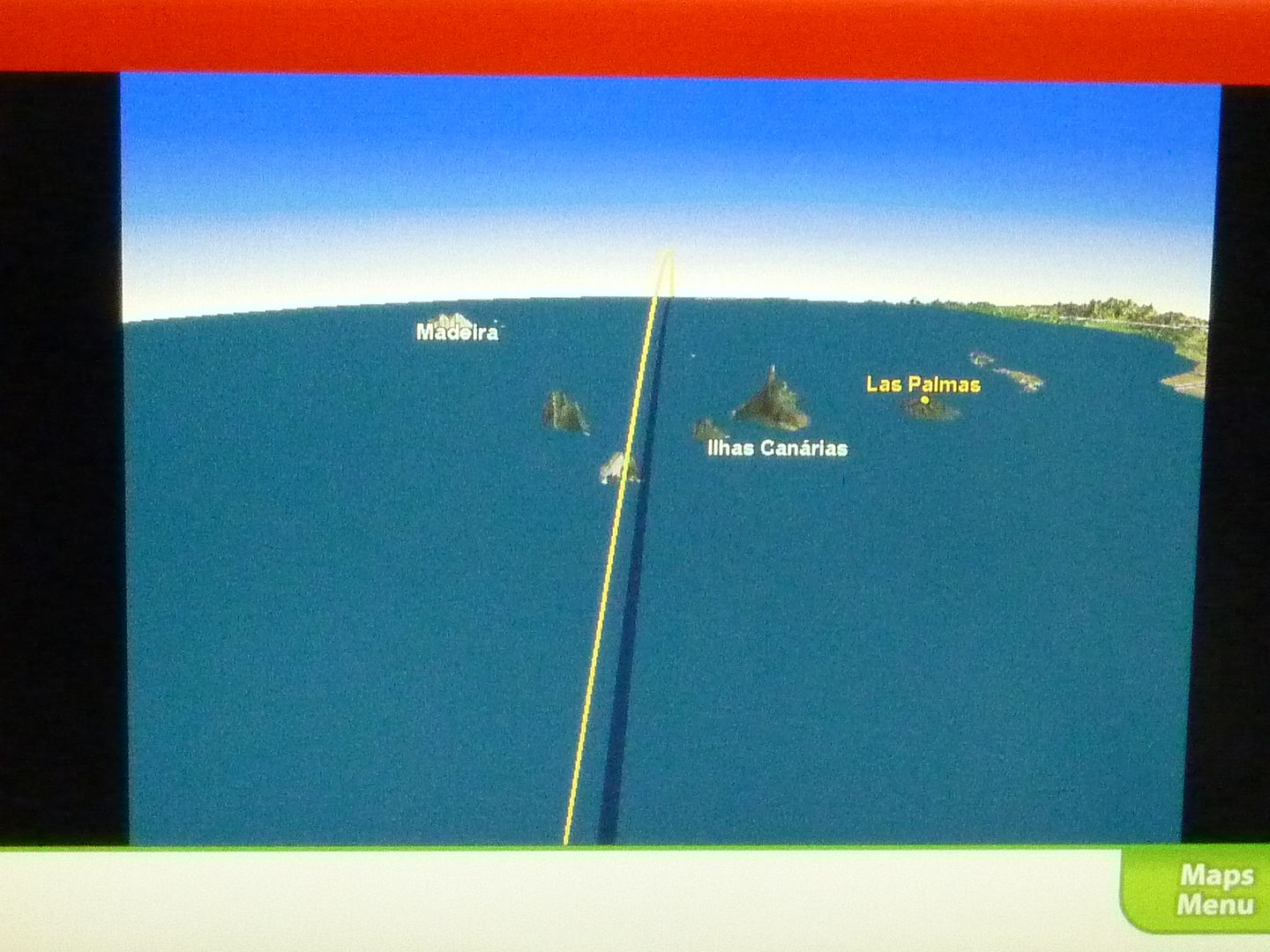 Flower in the smallest room
Amenities
When returning to my seat I had noted mine was the only IFE monitor on in the cabin, because of the size they are quite bright in a dark cabin, my trusty ANA eyeshades had been keeping the light out. I got these eyeshades a couple of years back on a SIN-NRT sector, I have to say they are excellent, and the reason is they have 2 bands to hold it in place rather than just the single band most J class eyeshades I have come across seems to have, as a result I find they stay in the right place and keep the light out better than other eyeshades.
Of note, I notice the TAP eyeshades also have 2 bands though I'm not keen on the feel of the material, I'll try them out at some stage and see how I feel about them.
The sounds of activity in the cabin arouse me, indeed, we were about 2 hours out of LIS now and breakfast was about to be served.
Re the seat and it's bed function, it's angled rather than a flat bed, now normally I'm not keen on these, my last experience with them was on Qatar and I had trouble sleeping, however these seats were much more comfortable and I'd happily be seated/sleeping here on another longhaul flight.
Linens laid it was time for breakfast. As per the menu pineapple slices, mozzarella balls with Parma ham, this came with tomato and some salad, a hint of rocket in the salad which was great on the taste buds, also a yoghurt and your choice from the bread basket, along with juice and tea/coffee. I took coffee then a few moments later the lead CSD chap came out and offered me an espresso, nobody else was offered one, quite odd!
All in all breakfast was just the right thing, though the small coffee cups means frequent top up's are required, I know this is the continental style but they are just too small for the first coffee of the day.
Breakfast tray cleared I took another coffee before freshening up in the smallest room in the plane.
Cabin during daylight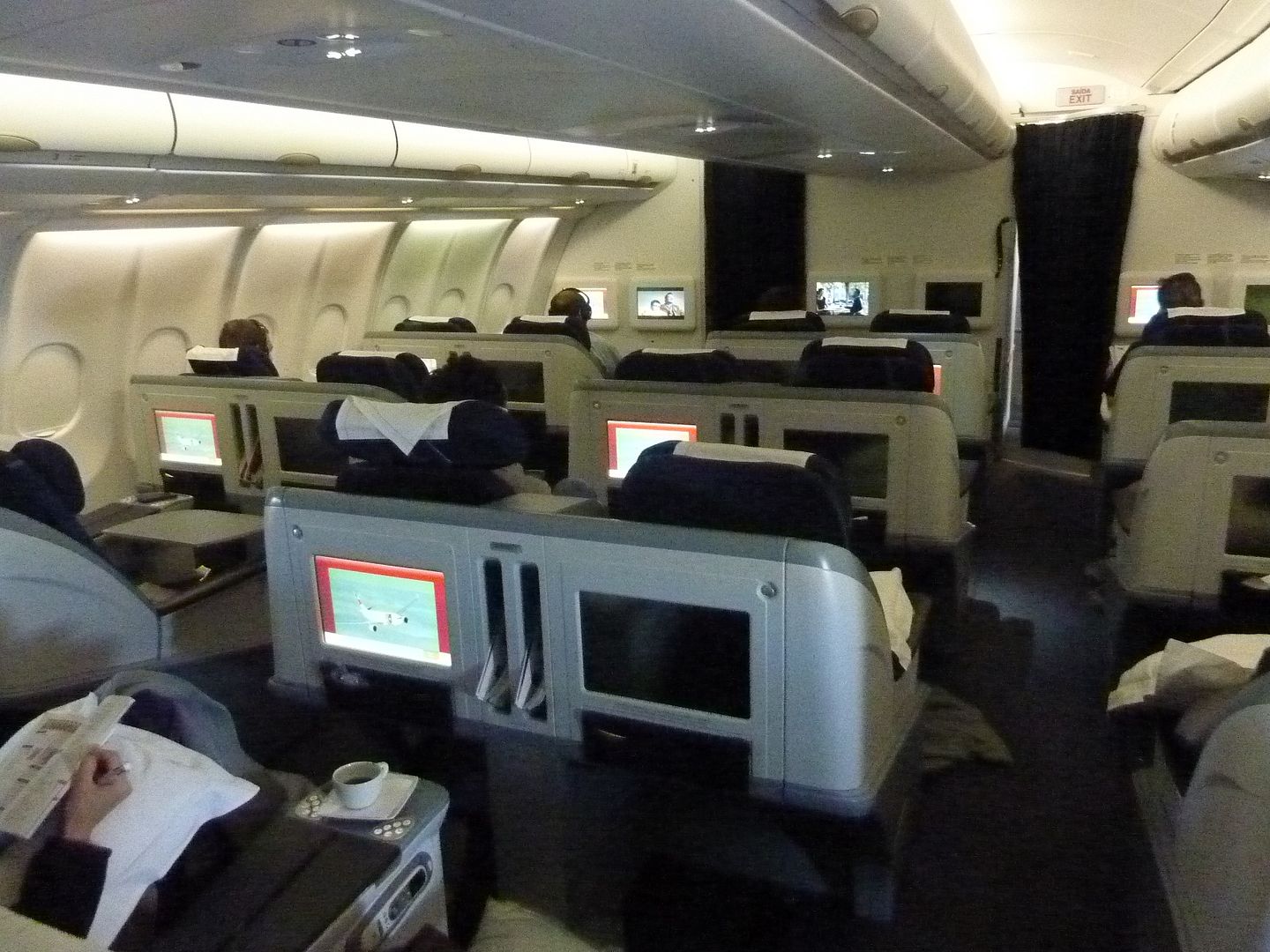 Back in my seat writhing this we are according to the map 1:03 hours out of LIS now. Looking around everybody else has finished breakfast, IMO they could start it a little later and still have the cabin cleared before landing.
Found this charging point, I needed it!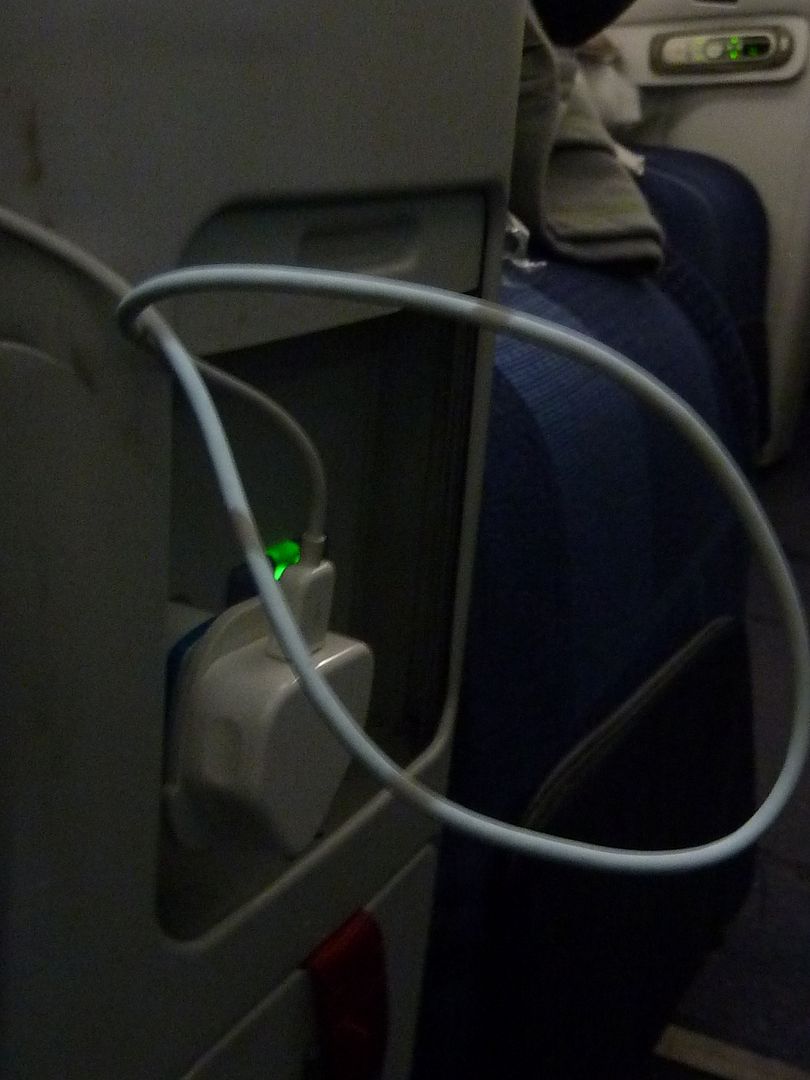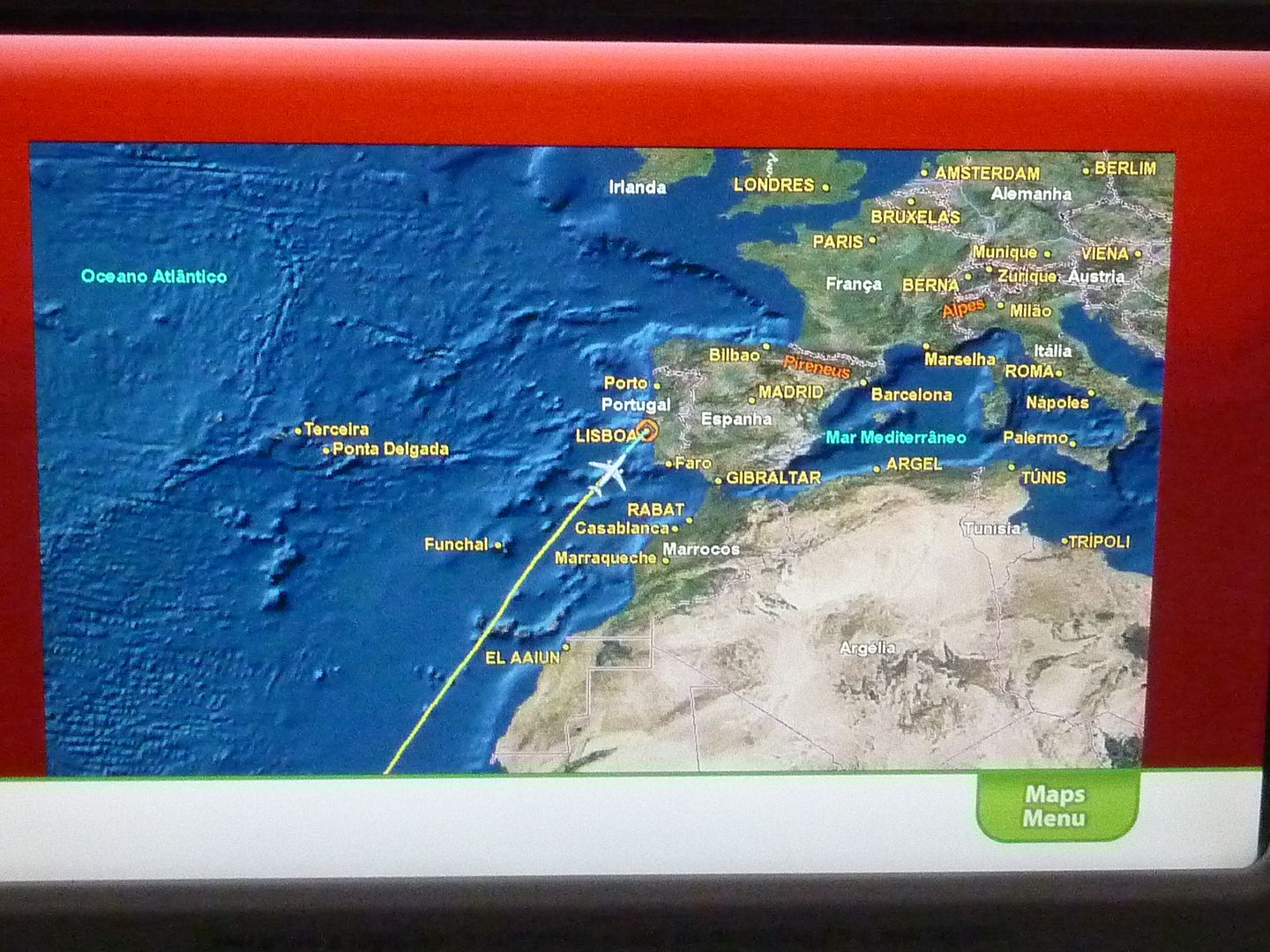 About 45 minutes out of LIS the copilot came said good morning etc and advised we would be landing around 11:25 and descent would begin in a little over 5 minutes, this was done in Portugese and English.
True to his word a little over 5 minutes later be started to descent, it got a bit bumpy at one stage but from memory this is usual on Lisbon approaches, at least it seems to be the case on the occasions I have flown it.
The map will have to do with no window
Connecting flight info
How far?
Wheels touched down @ 11:22, so a good 30 minutes ahead of schedule, not that it makes much difference to me with a connection a few hours away.
A short taxi back and we parked at what I assume are the long haul gates, a new addition since I last flew out of Lisbon.
1 A & B
Crew thanked etc and off the plane.
Out of all the carriers flown on this trip, I was expecting the least from TAP, however this flight was a pleasant surprise, I was actually quite impressed with the crews, the food and even the seat comfort, yes you could have more legroom and a flat bed, however this did the job just fine.
A final shot of the bird.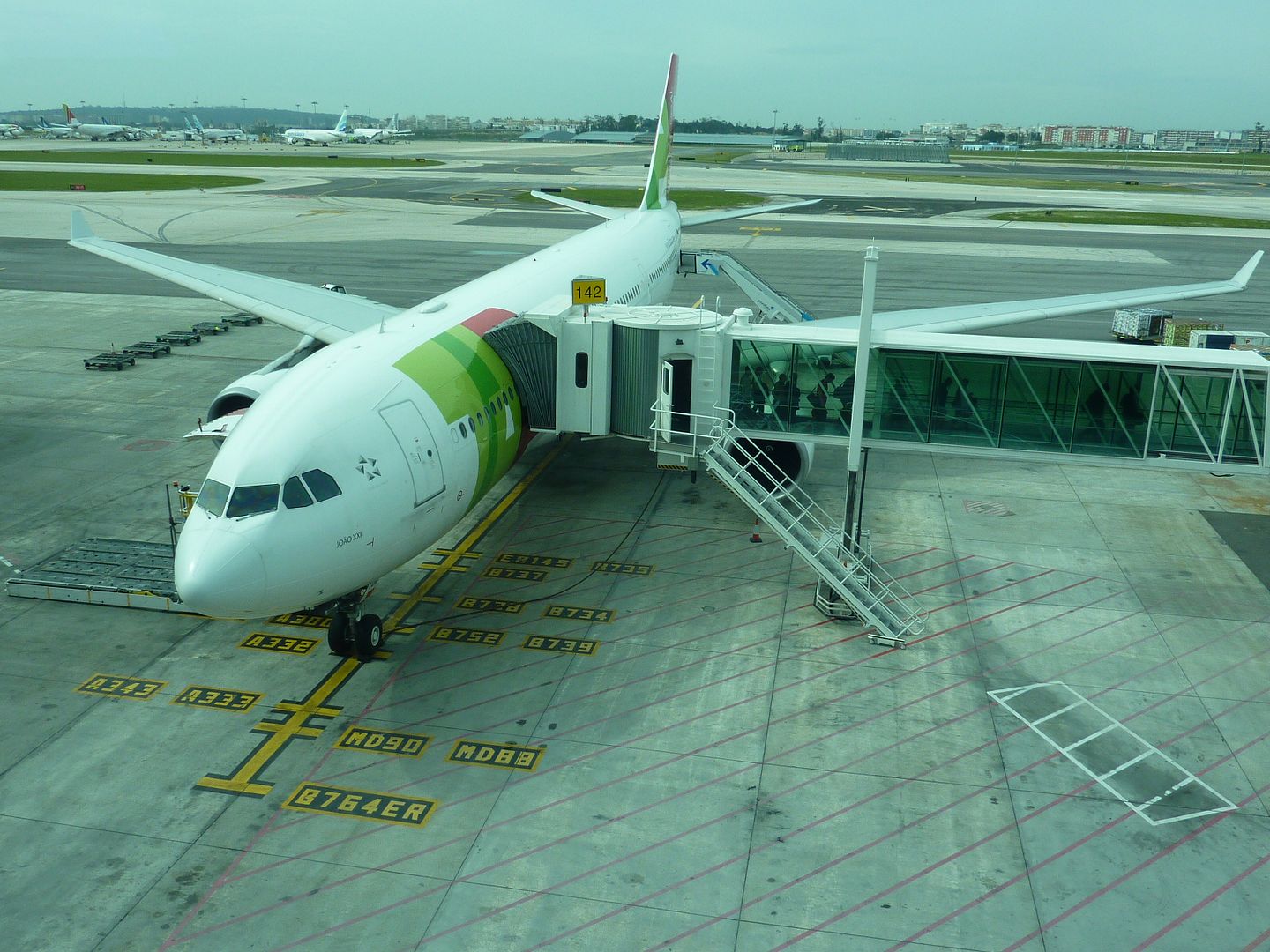 I have to say it's quite a hike from these gates to immigration, I'd hate to be in a hurry for a connection. In addition, once past immigration the queues for clearing security are huge, it took me all told 25 minutes to get through. The set up is woefully inadequate.
Having travelled through Mexico, Columbia, Chile and Brazil, it's amazing how much better their set up seems to be, perhaps I just got lucky, but I never once took the iPad out of the bag, and never one had a problem, queues were minimal to non existent. In LIS however they saw the iPad on the scanner and made it and the bag it was in go back through the scanner, welcome to Europe!