An ad for the DC-8 in
Life
magazine (April 1, 1957):
What will it be like to fly in a jet?

Your first jet flight will add a most meaningful dimension to your life—a new measurement of time and space.

You settle in your deep, soft seat in the graceful plane with the swept-back wings.

A short, swift run—and you are airborne. The nose points up eagerly and the earth drops away below you.

You climb steadily, serenely, quietly. The muted sound of the jets falls quickly behind, for in the DC-8 you move almost as fast as the speed of sound itself.

The splendor of the stratosphere

Up you go—up, up beyond the limits of today's planes. Up seven miles from the earth, and now almost eight.

You level off in the stratosphere. And even though the DC-8 puts half a mile behind you with every breath you draw, you feel no sensation of speed or flight.

Just outside your window the temperature in the thin air is 60 degrees below zero. But the air in the cabin has the soft touch of a June day, fresh and sweet and comfortable.

The view of the earth moving lazily and distantly below is exhilarating, with glimpses of fields and towns and mountains in miniature, or silver stretches of the seas.

Up this high, too high for the longest fingers of weather to touch you, you sense a tranquility, a detached peacefulness, a freedom of spirit. You share a feeling of majesty with the sun and moon, often seen hanging in the sky together.

During the day, the sky is an ocean of shining blue. In the evening, the blue deepens into dark velvet. The moon sends forth its milky light. The stars loom larger and brighter, and you are enthralled by the ghostly radiance of the night sky.

Witness to a miracle

Now, almost unnoticeably, you are descending from your secret corner of the sky—down to earth again.

On the ground, you realize how far you've come in how short a time. Realize, too, that you have witnessed—and even played a part in—one of the miracles of our age…the miracle of commercial jet flight through the stratosphere to distant places; so swift, so convenient, so beautiful and rewarding as to leave all other ways of travel in its wake forevermore.
…
When I first read those words in an exhibit at the SFO Museum a few months ago, I knew I had found the perfect way to communicate how I felt about air travel. You put all of that together and you can't help but see just how right it is. Or you could disregard all of that and jump out of the plane...
Welcome, fellow A.netters, to my latest trip report! I've been on 18 flights since we last met, including one new airport, two new airlines, and three new airplane types. If you'll just die unless your curiosity is satisfied, let me know; I'll give you a summary of those events. In the meantime, this report will cover the four days I spent in Seattle—and a party celebrating the exploits of a fellow we've come to know as D.B. Cooper. If you haven't heard of him, here's the quick version:
A man calling himself "Dan Cooper" bought a ticket for Northwest Orient Flight 305 (Portland to Seattle) on November 24, 1971. During the flight, he handed a flight attendant a note saying that he had a bomb. He told her his demands, which she relayed to the flight crew. Upon landing in Seattle, Cooper was given a bag with $200,000 inside and 4 parachutes. The passengers and two flight attendants were allowed to deplane. He instructed the pilots to fly the Boeing 727-100 to Mexico City at 10,000 feet and 100 knots, with the flaps and landing gear down for the whole flight. The co-pilot told him that the plane didn't have the range under those circumstances, so they agreed to refuel in Reno, Nevada. Somewhere near the Washington/Oregon border, Cooper took the money and a parachute, opened the rear airstairs, and jumped out of the plane. He hasn't been heard from since. In the hoopla surrounding this brazen skyway robbery, the media erroneously referred to him as "D.B. Cooper", but the name stuck. The biggest clue as to Cooper's fate was found in 1980: three bundles of $20 bills whose serial numbers matched those of the original ransom money.
When you read into it, you'll see that there are many reasons to believe that he did not survive the escape. Of course, it's also possible that he
did
survive. (I give it about a 34% chance that he did. Stranger things have happened, you know…) Each year in Ariel, WA, people gather for a party to celebrate the possibility of the latter. It is that party that is my main objective for my trip to the Pacific Northwest!
After seeing a documentary about the Cooper incident, I thought it would be really neat to go to that party. Given that it would also be the 40th anniversary, I started seriously toying with the idea. I obviously looked at staying in Portland first (it's a lot closer), but Seattle presented itself as the more attractive option. Also, (with no offense to Portland) I had briefly been in both cities last fall, and I enjoyed Seattle a lot more than Portland. I put some ducks in a row and the details were soon nailed down…
If you've read the SFO leg of my first TR, then you'd know that I became very curious about Virgin America while I was there. They happen to serve DFW, roughly a 3.5 hour drive from my house (according to Google). VX also serves SEA, so I booked DFW-SFO-SEA. (It was almost three months before the fact at the time; it was oddly satisfying to look at the seat map and see my little white square as the only occupied seat.) We fast forward to the Friday after Thanksgiving, where the action begins:
(Some of the nearly 670 pictures have been omitted for your convenience. If you wish to see them all, feel free to follow the link: Slideshow for The Pacific Northwest, D.B. Cooper, and Me)
The drive was probably the one part of the trip I had the least desire for; it required that I wake up at a draconian hour and drive my half-asleep carcass to Dallas. I would much rather have taken a plane, but I decided that this would be a place where I saved a few bucks. Long story short, it went as planned and I got to DFW with plenty of time to spare. I arrived at the gate where "real steel" (formerly "midnight ride") was waiting for me.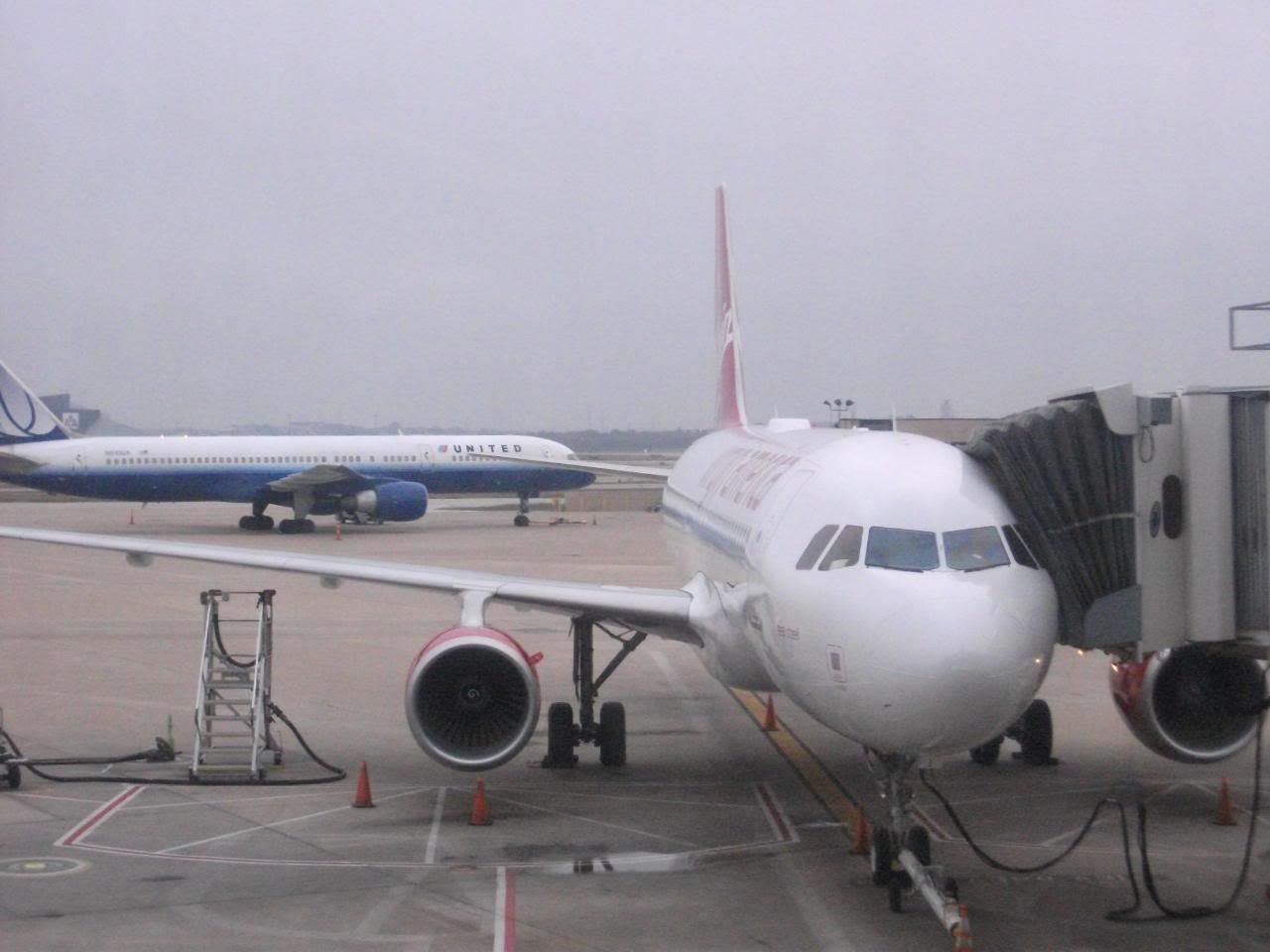 Virgin America 1853 DFW-SFO
Scheduled: 09:05-11:10
Actual: 09:01-10:31
Airbus A320-214 (N629VA)
It was now time for me to put Virgin America on trial. I booked Main Cabin Select, so there would be plenty of chances to put them through the wringer. I will now present some pictorial evidence:
Simple boarding passes
Legroom…pretty nice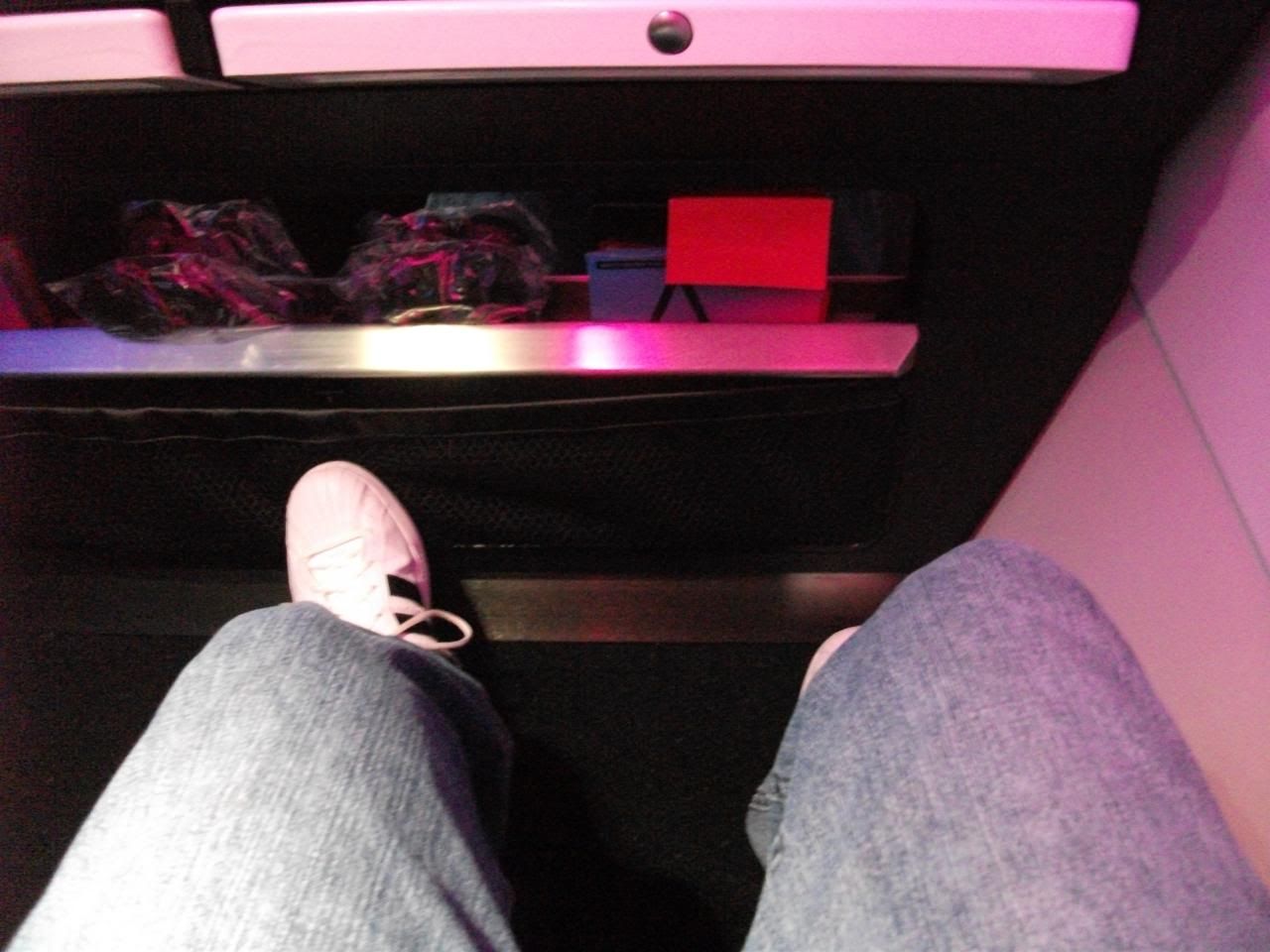 Looking back
Looking forward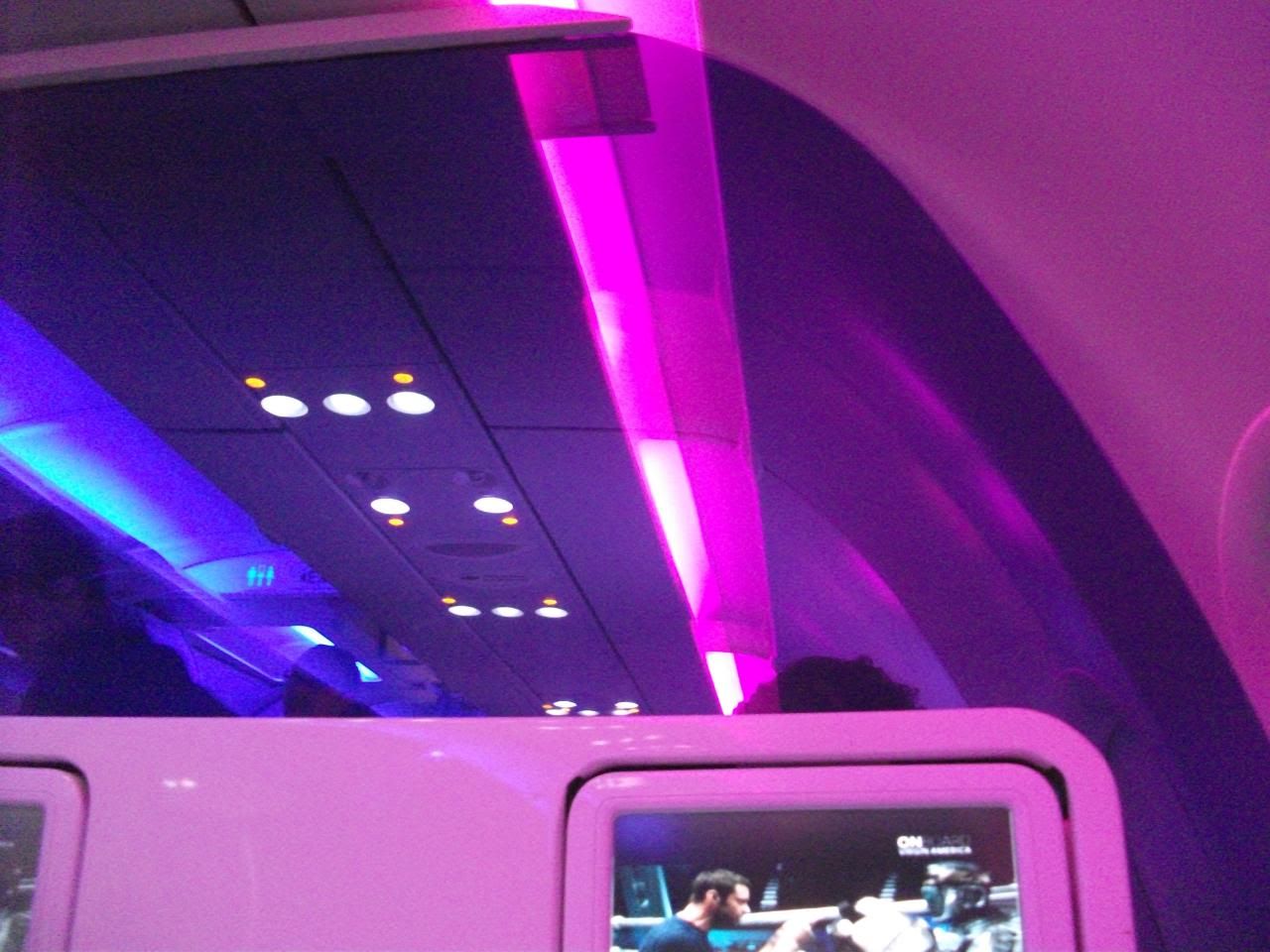 I refrained from takeoff pictures as I imagined a flight attendant might see me through the transparent bulkhead. (Following the rules when someone might be watching you? What a shock…
) Thus, we're already in the sky by the time the next photo comes along.
Flag on the wingtip fence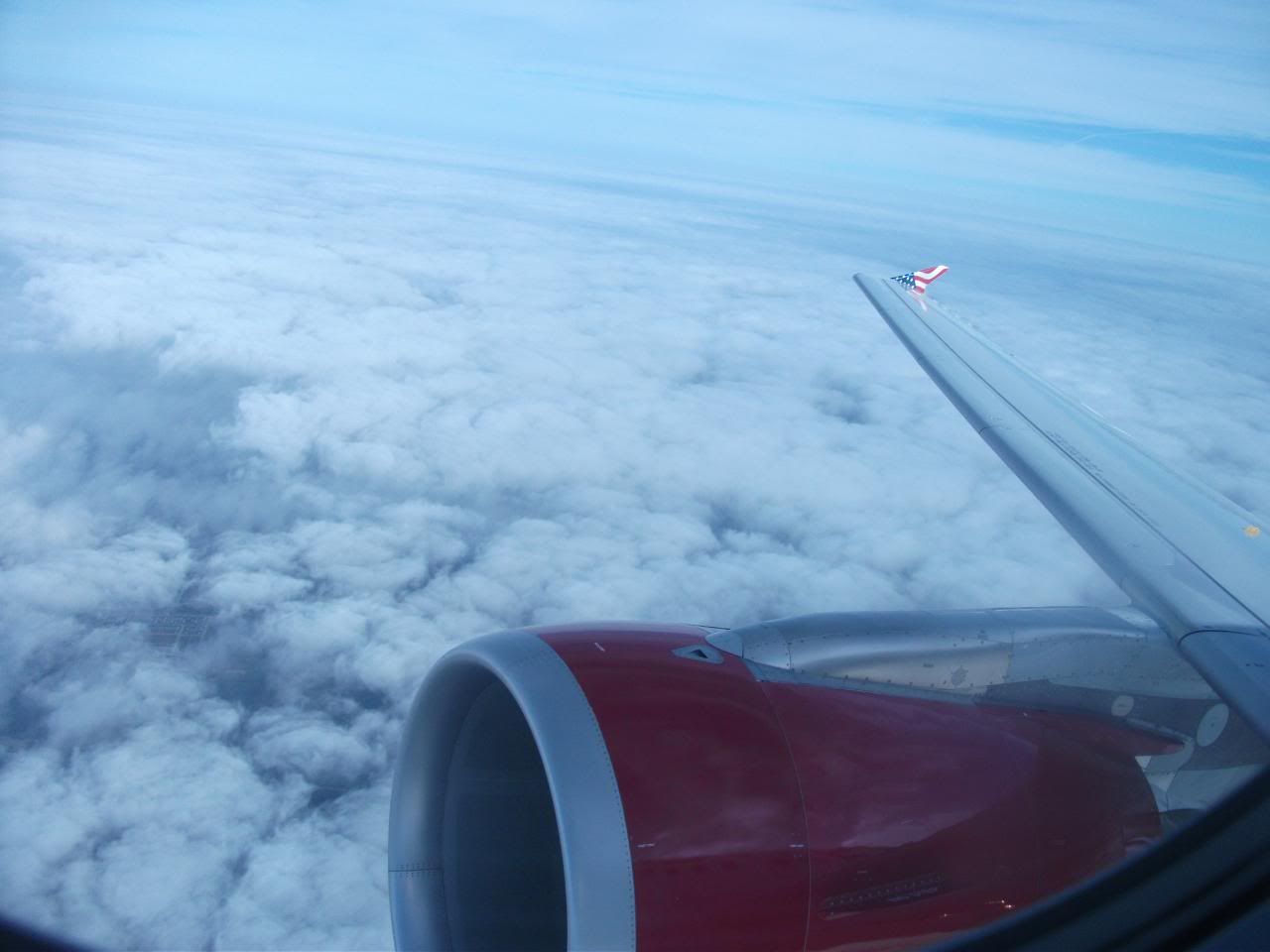 Hello, Red (pink headset = effective anti-theft system)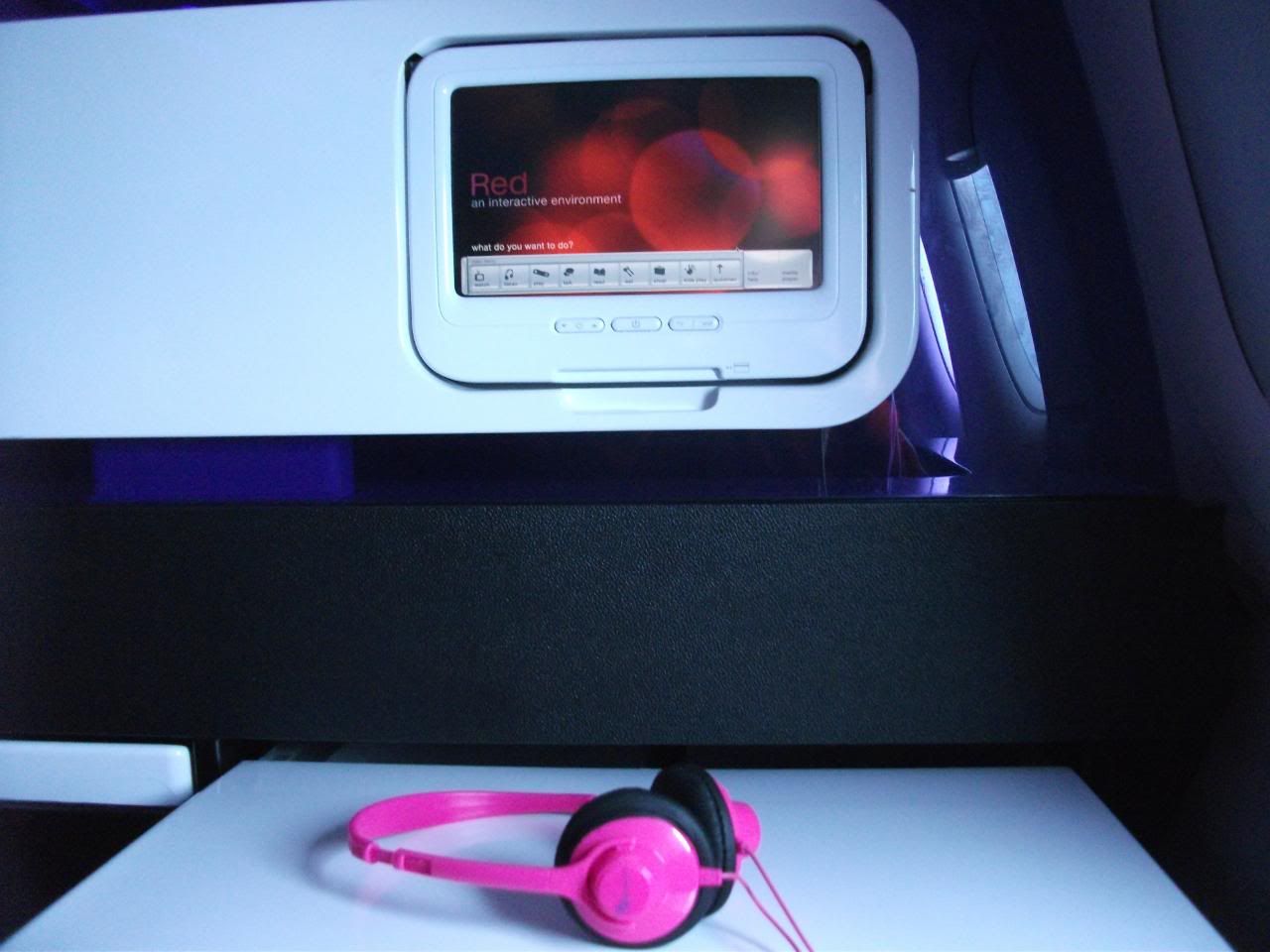 Among the movie selections:
POTC: On Stranger Tides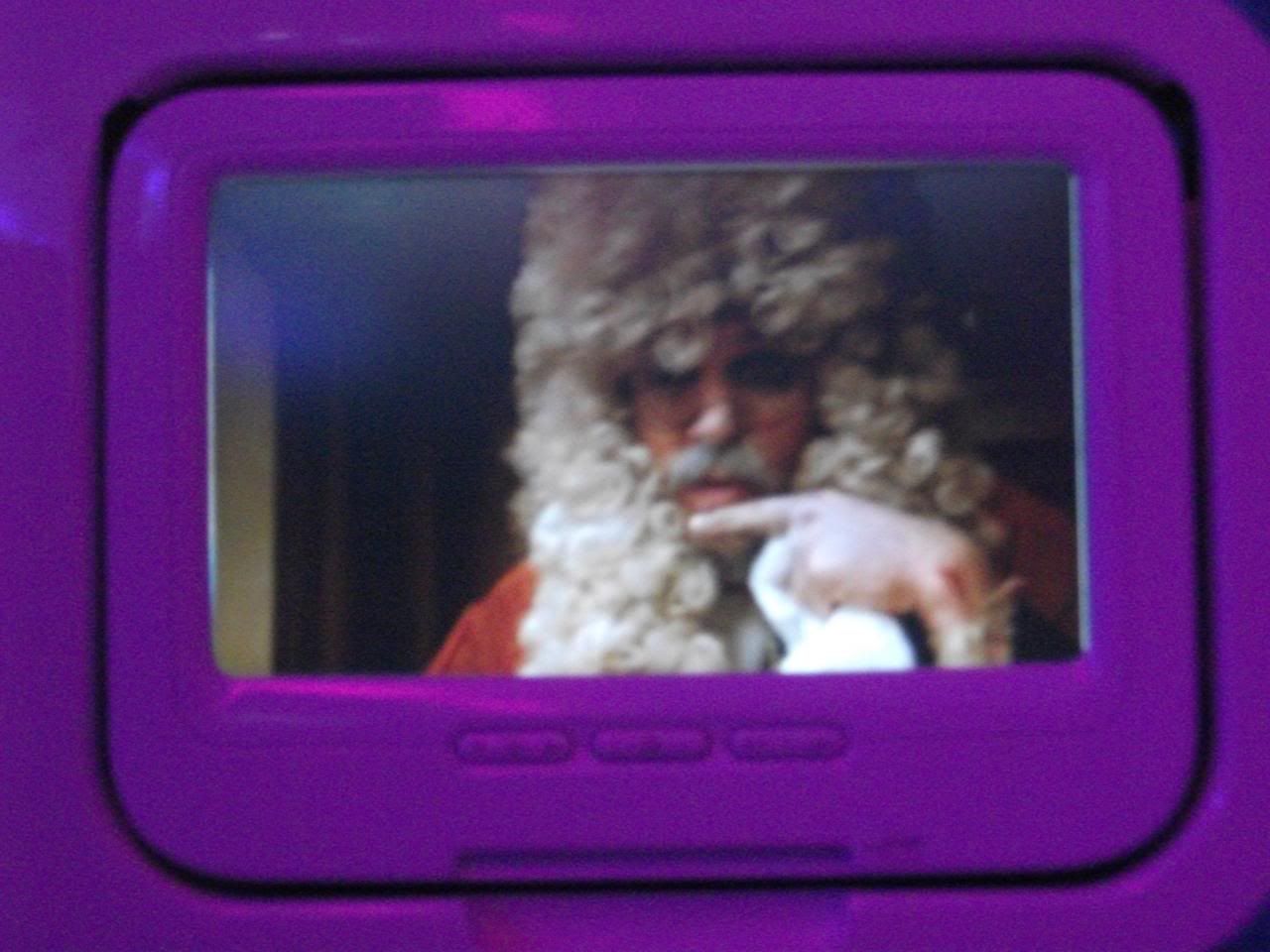 Food and drink. The Holiday Turkey Sandwich was quite tasty. (Virgin's description: Make it a moveable Thanksgiving feast with roasted turkey, cornbread stuffing, creamy brie, provolone, cranberries, and crisp lettuce piled high on thickly sliced wheatberry bread. Served with a TCHO chocolate for dessert.) And if I'm watching Captain Jack Sparrow, I have to have rum!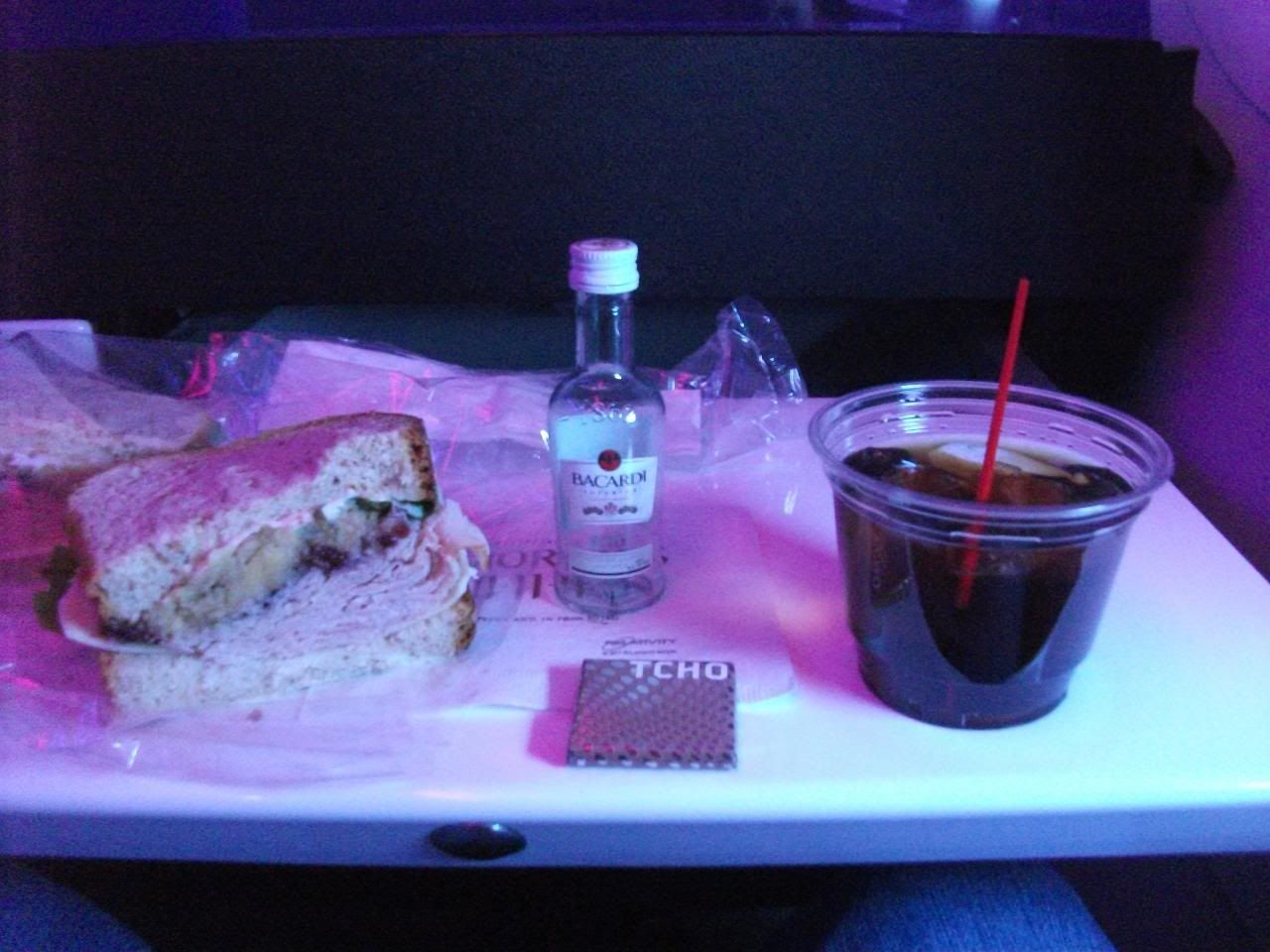 There was one drawback to the club atmosphere, however. All of the window shades were shut before we boarded and the cabin remained dark for the entire flight. Good for viewing Red, but bad for viewing the sky and ground. As a result, I restrained myself to only periodic glances through the window. It was rather cloudy for most of the way, so I didn't have to open it much. But I was still somewhat antsy when I felt that my shade was down for too long…
We were somewhere over Utah before I saw the ground again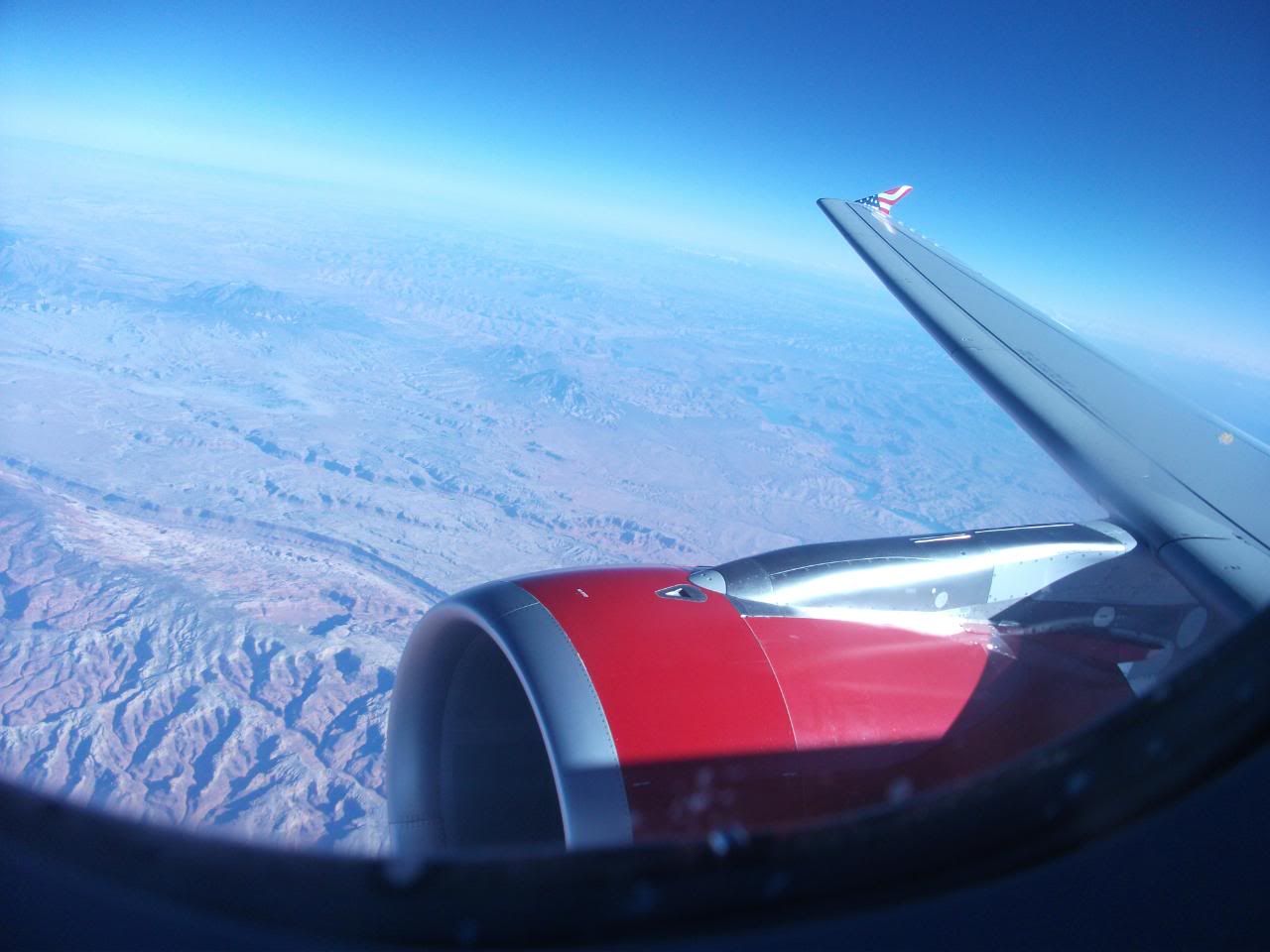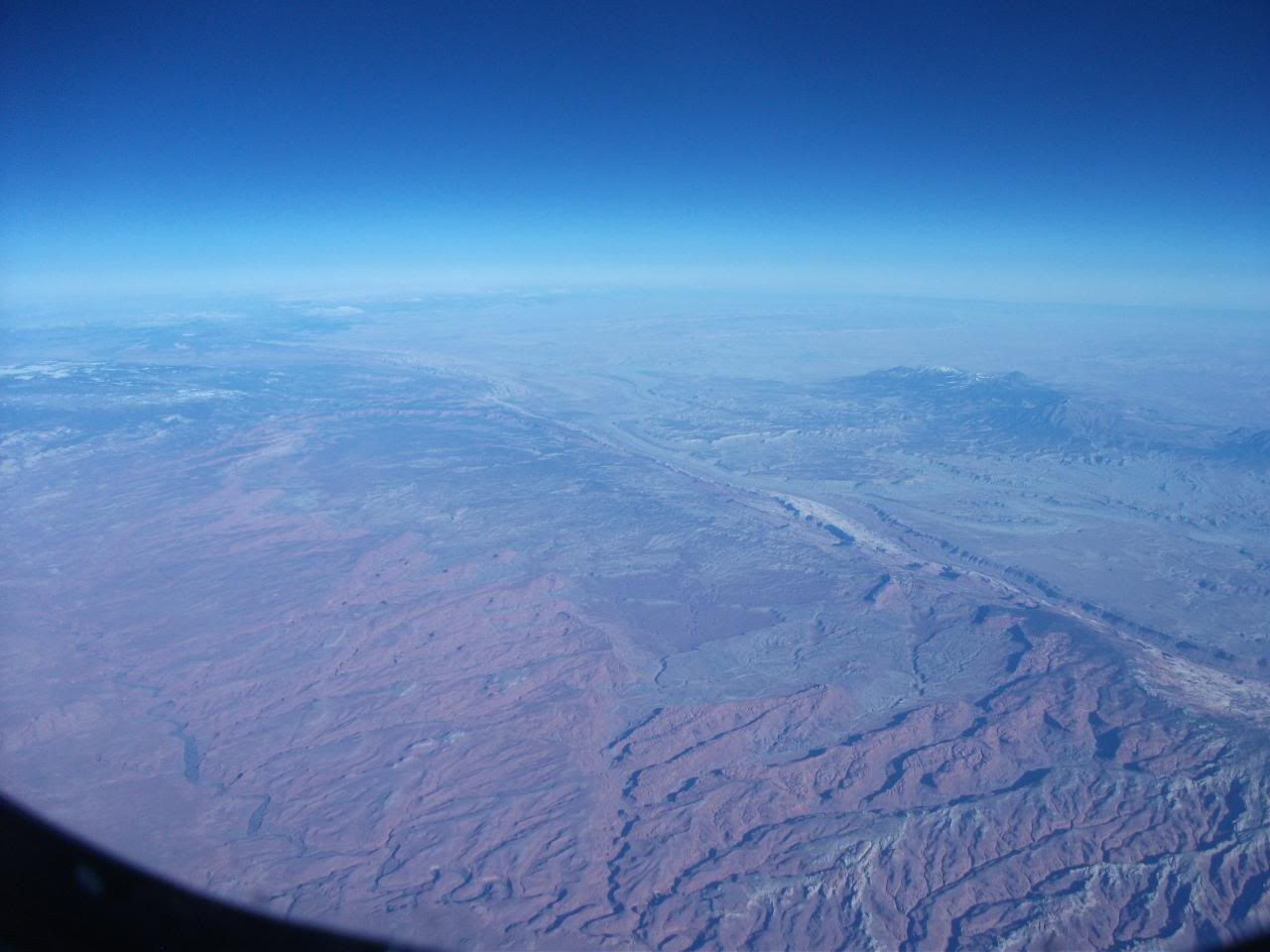 Mono Lake (California)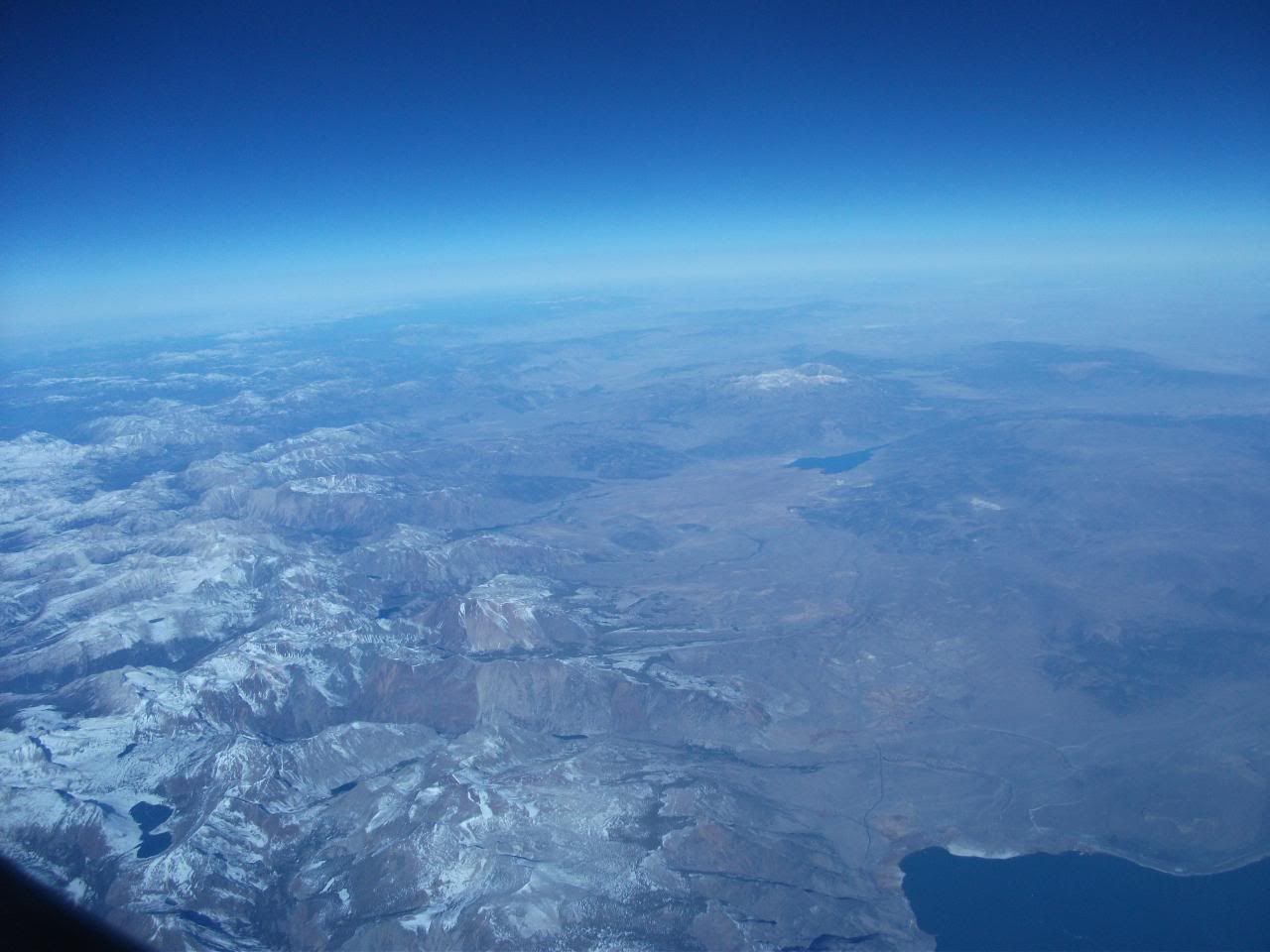 Oakdale, CA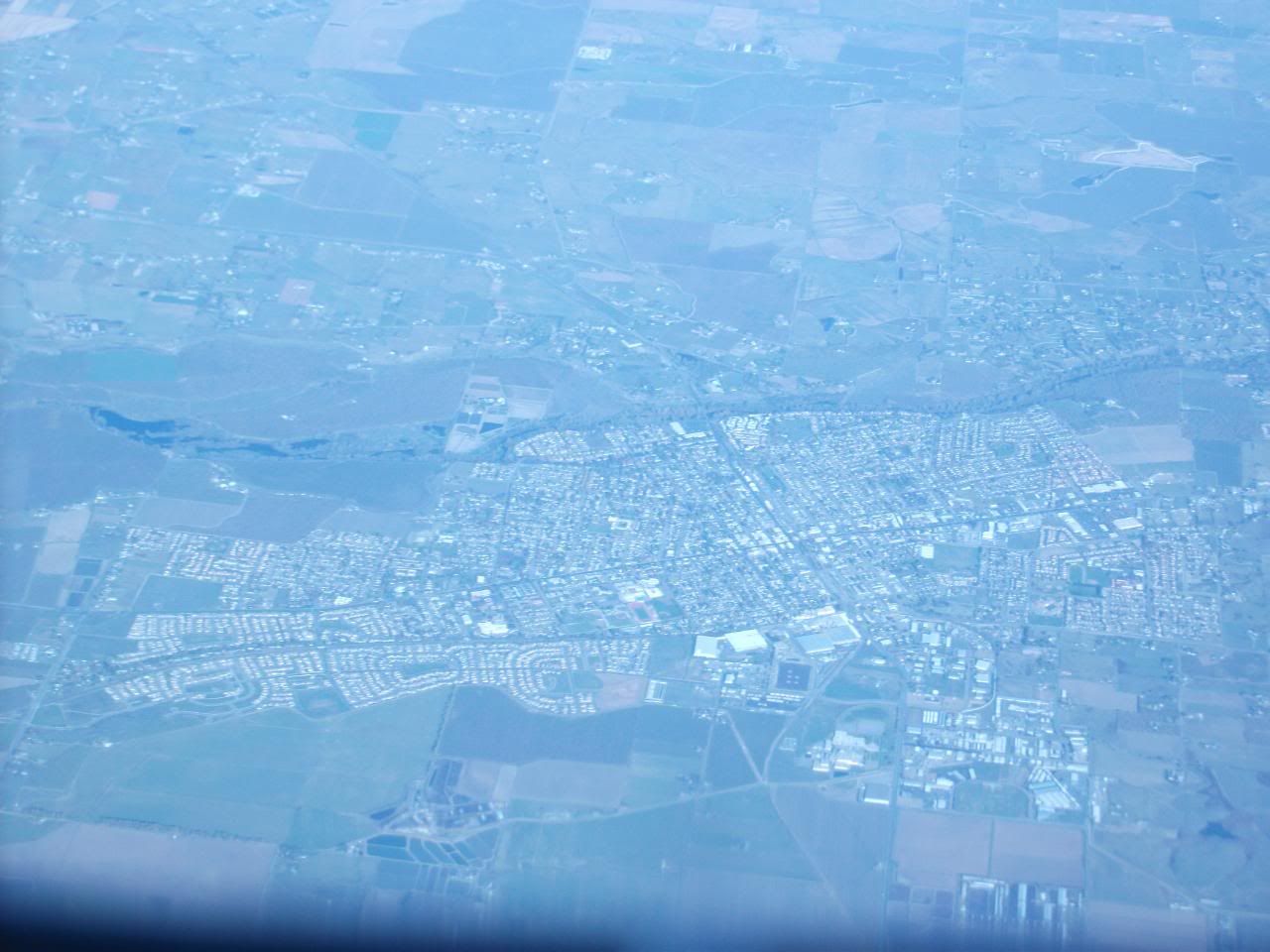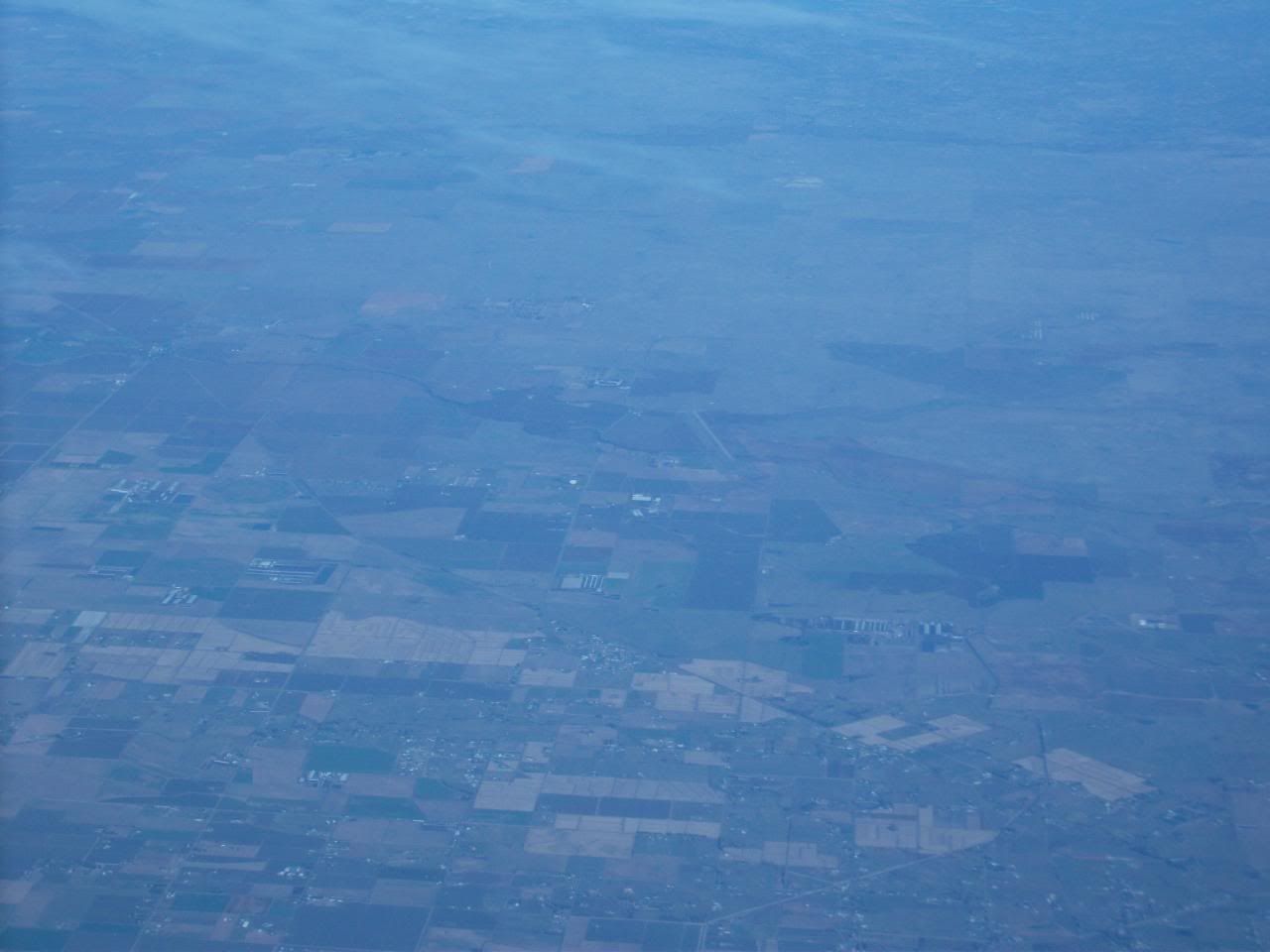 Cities, from bottom to top: Salida, Ripon, Manteca; also, the Stockton Metropolitan Airport (SCK / KSCK) is at the lower edge of the cloud cover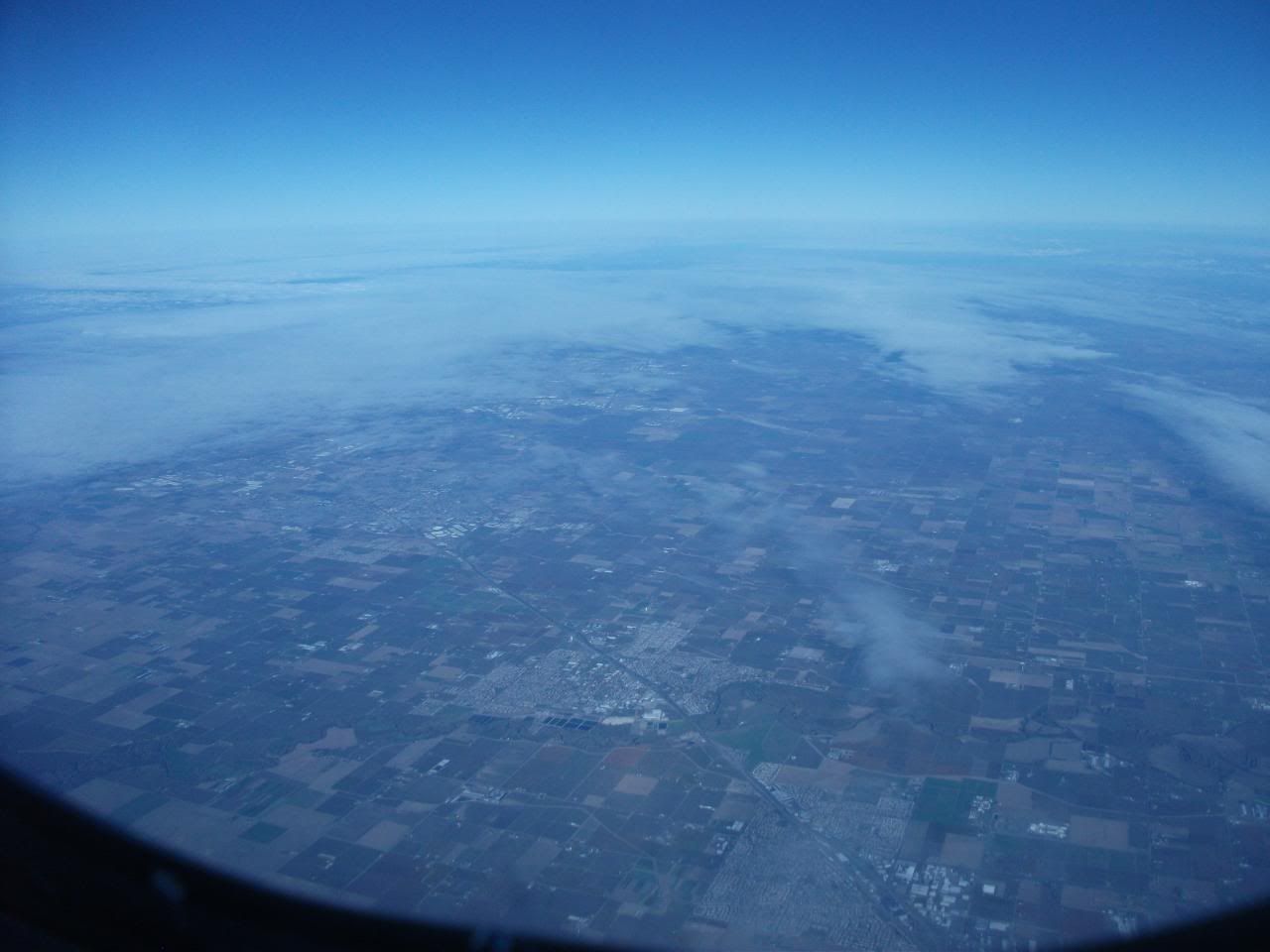 The map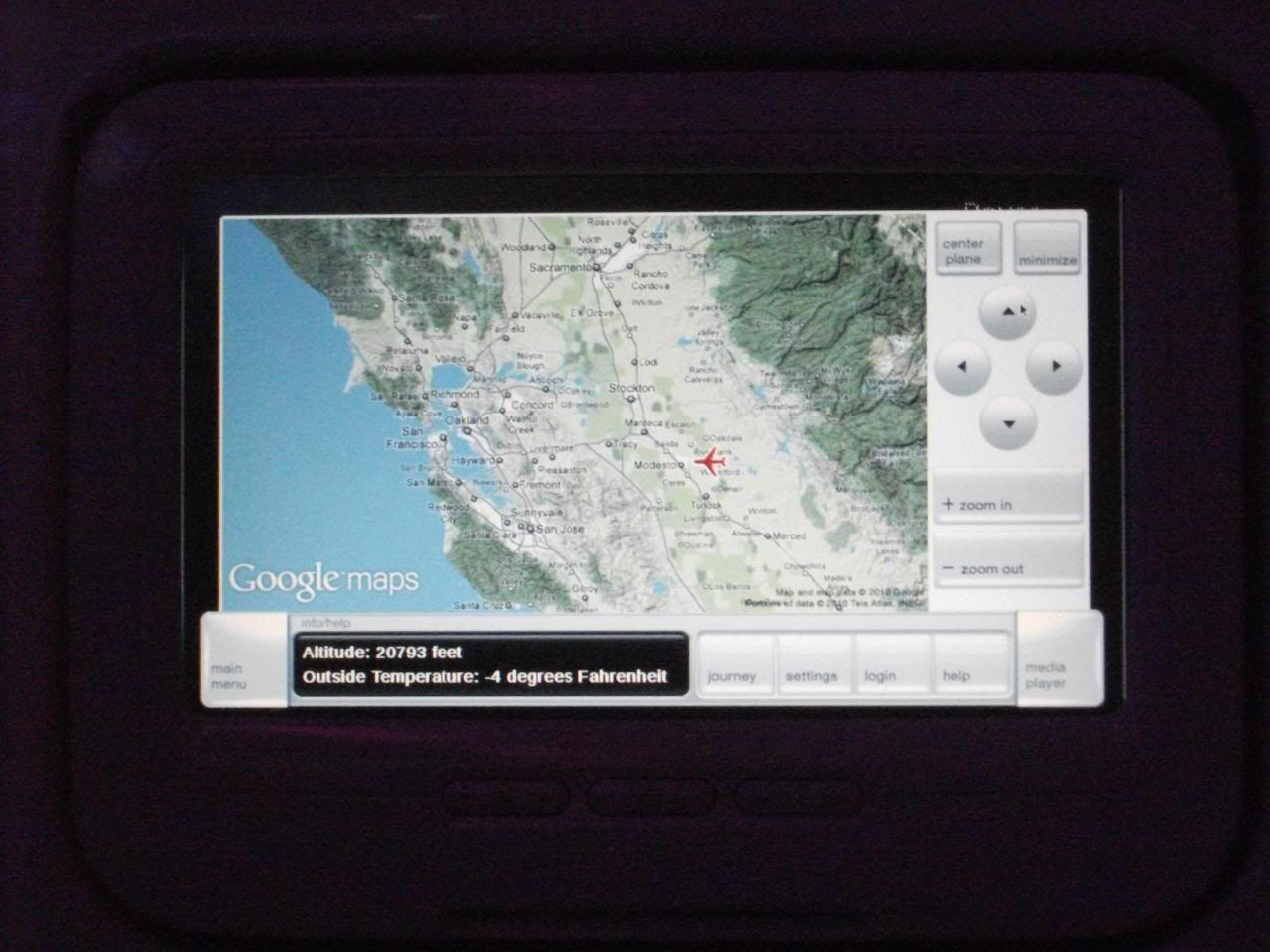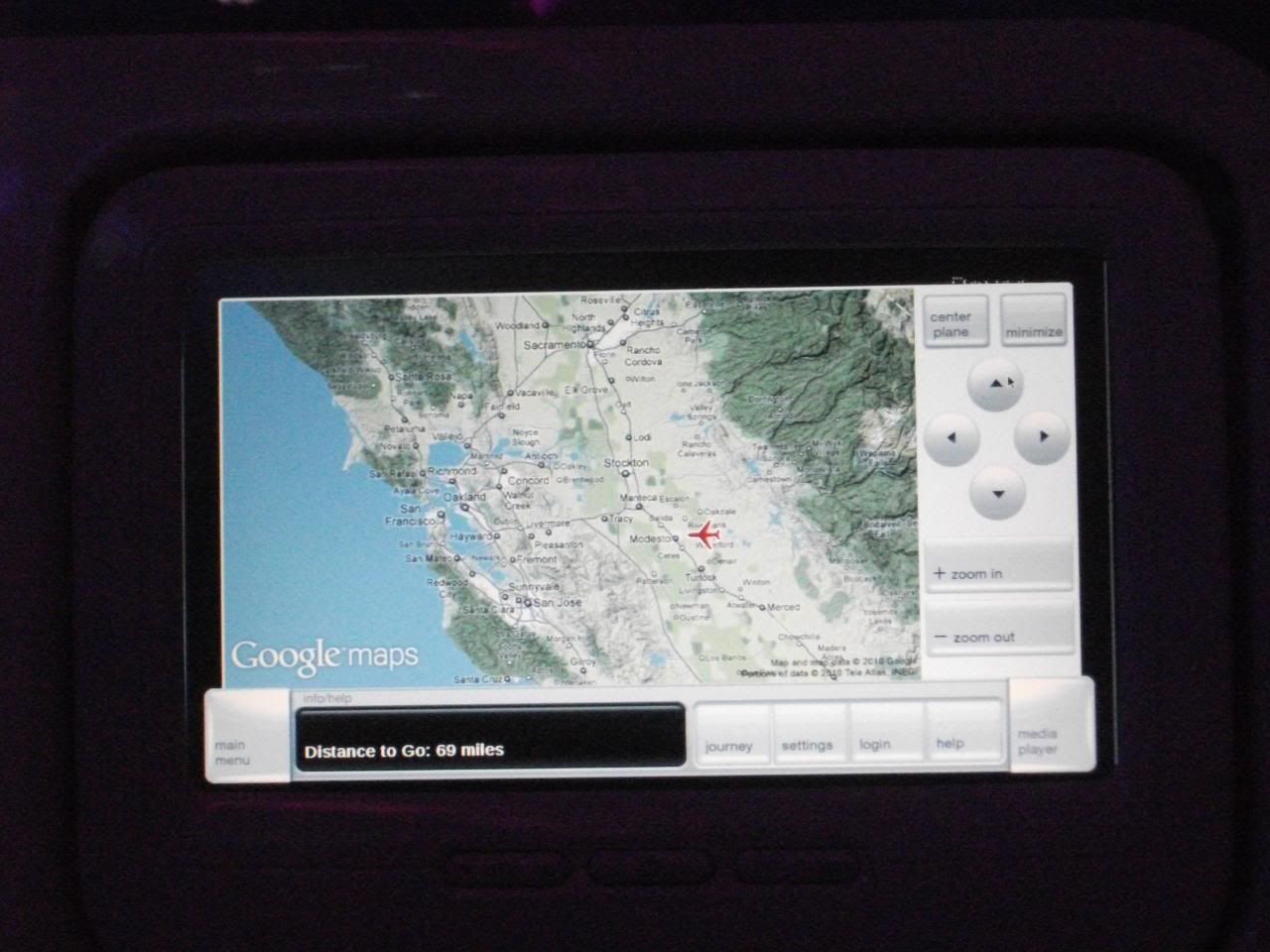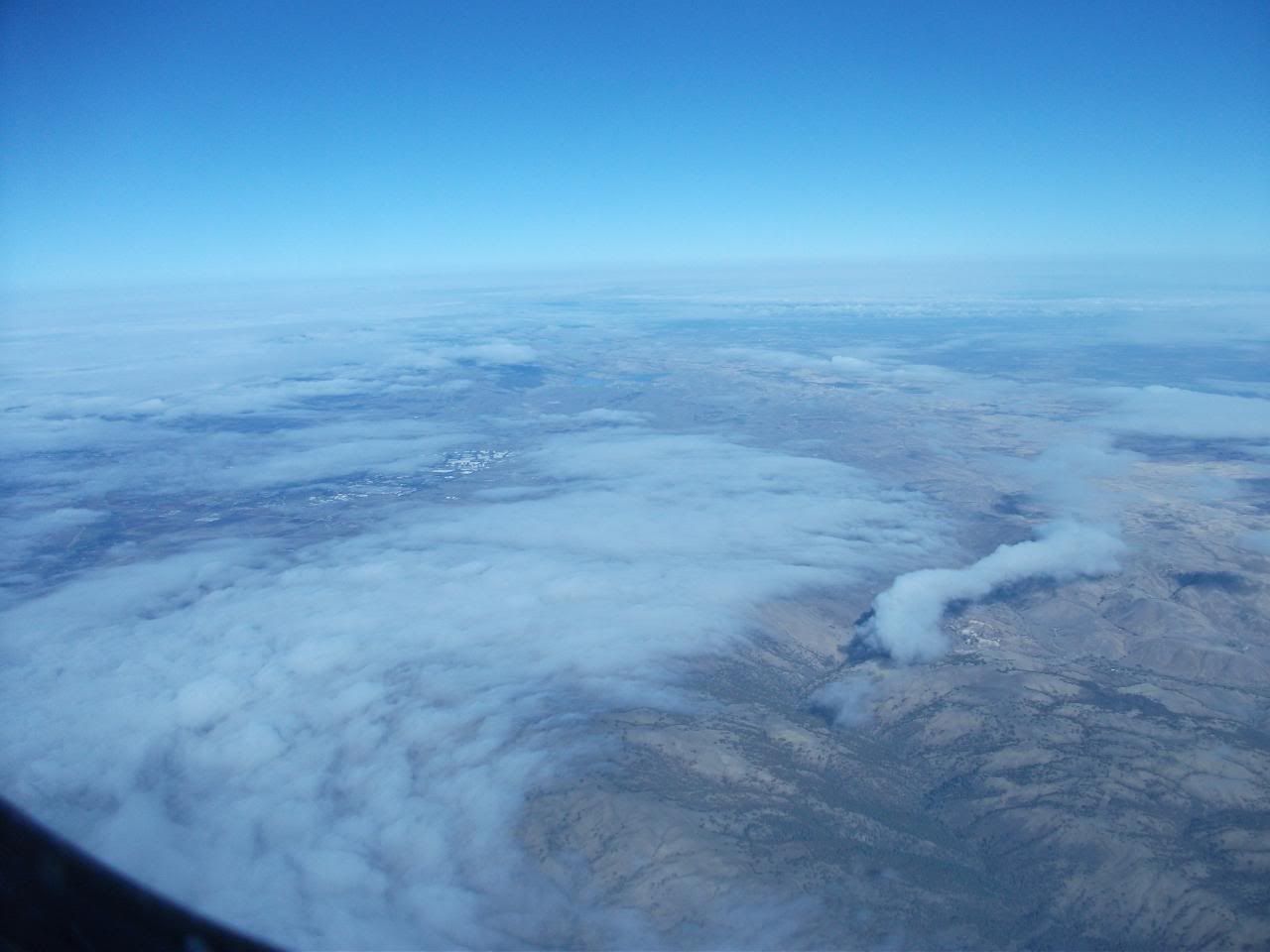 Antennae poking through the clouds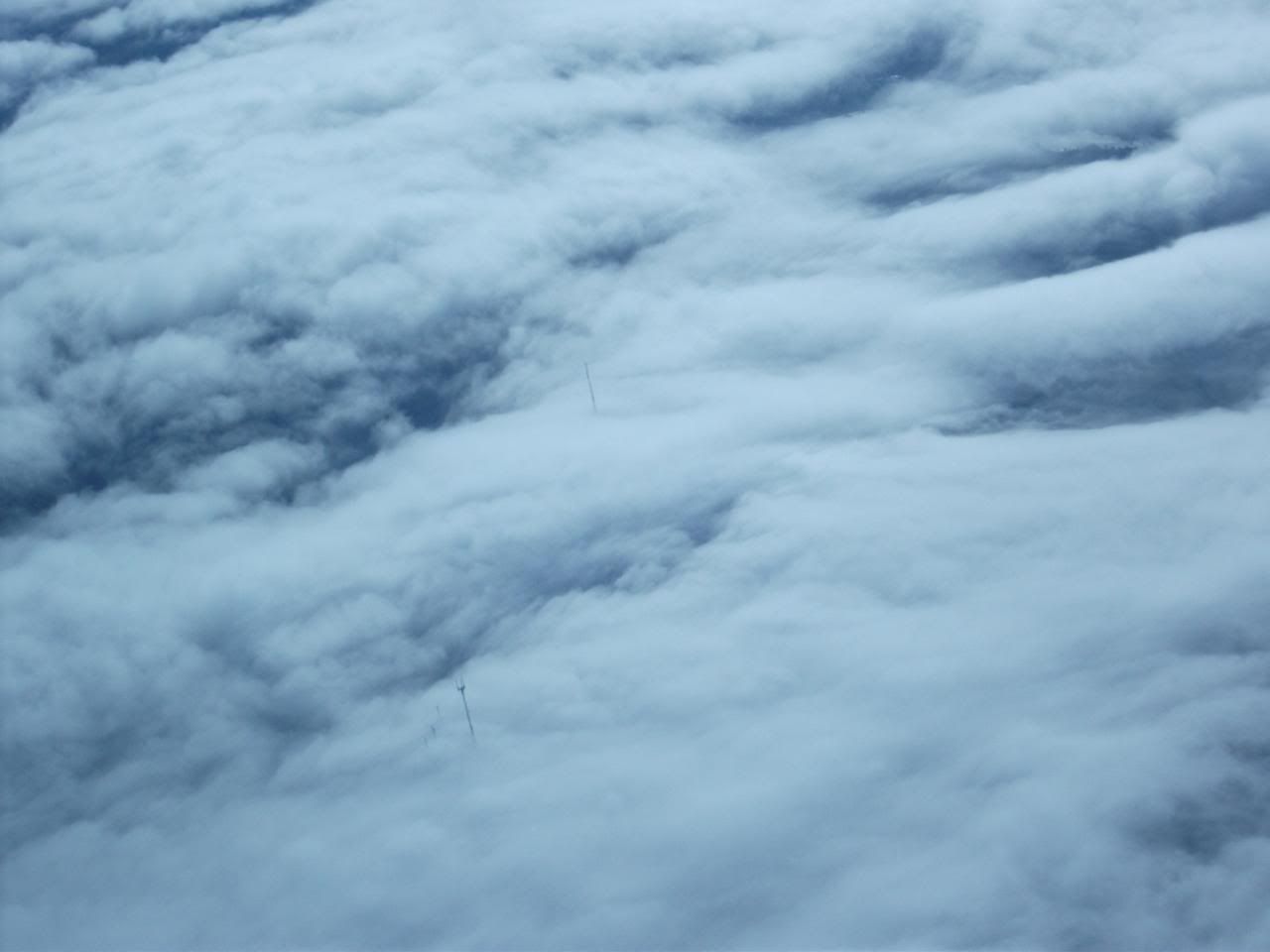 Just about to land…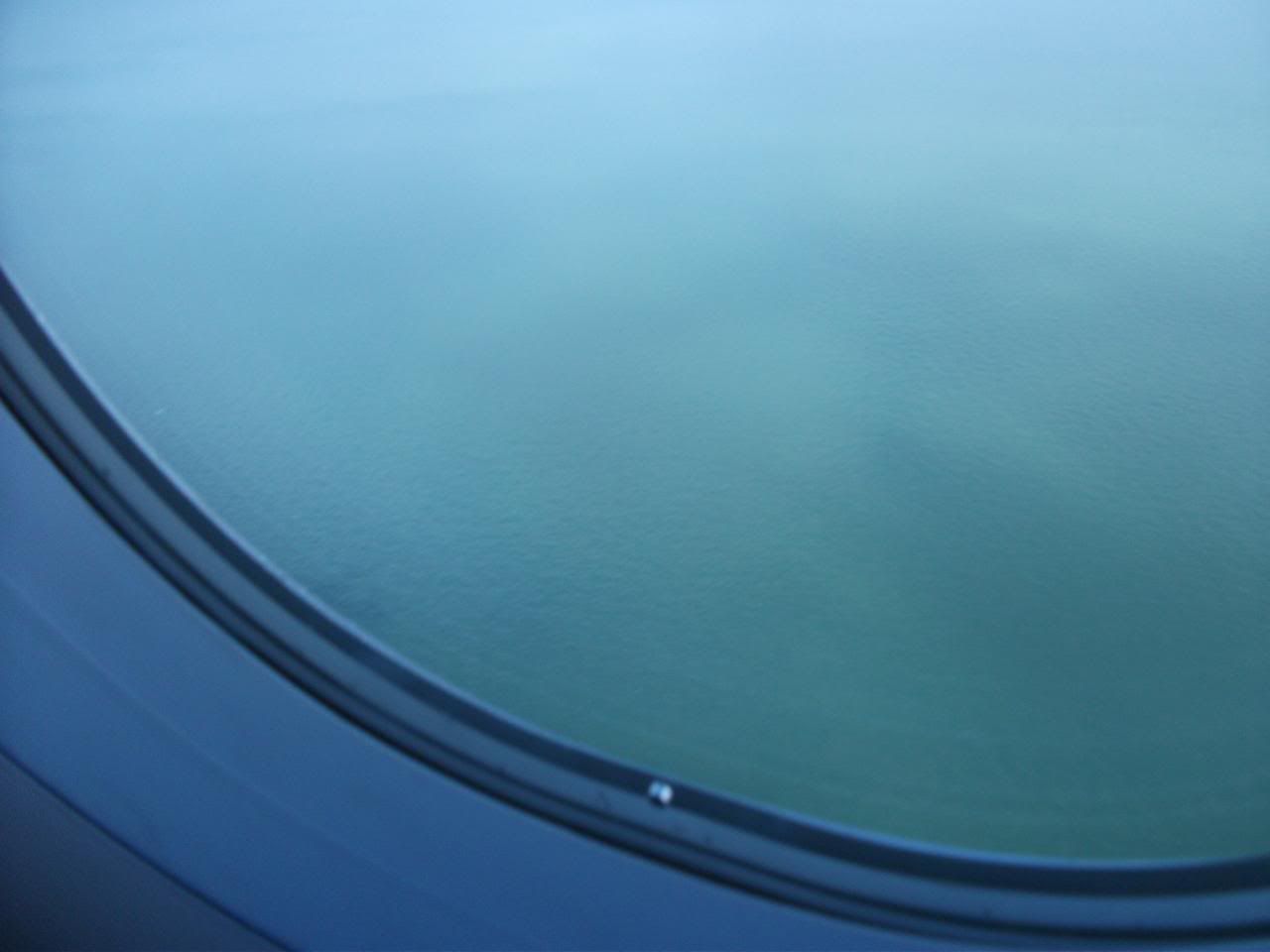 And there it is
N633VA, "the tim clark express"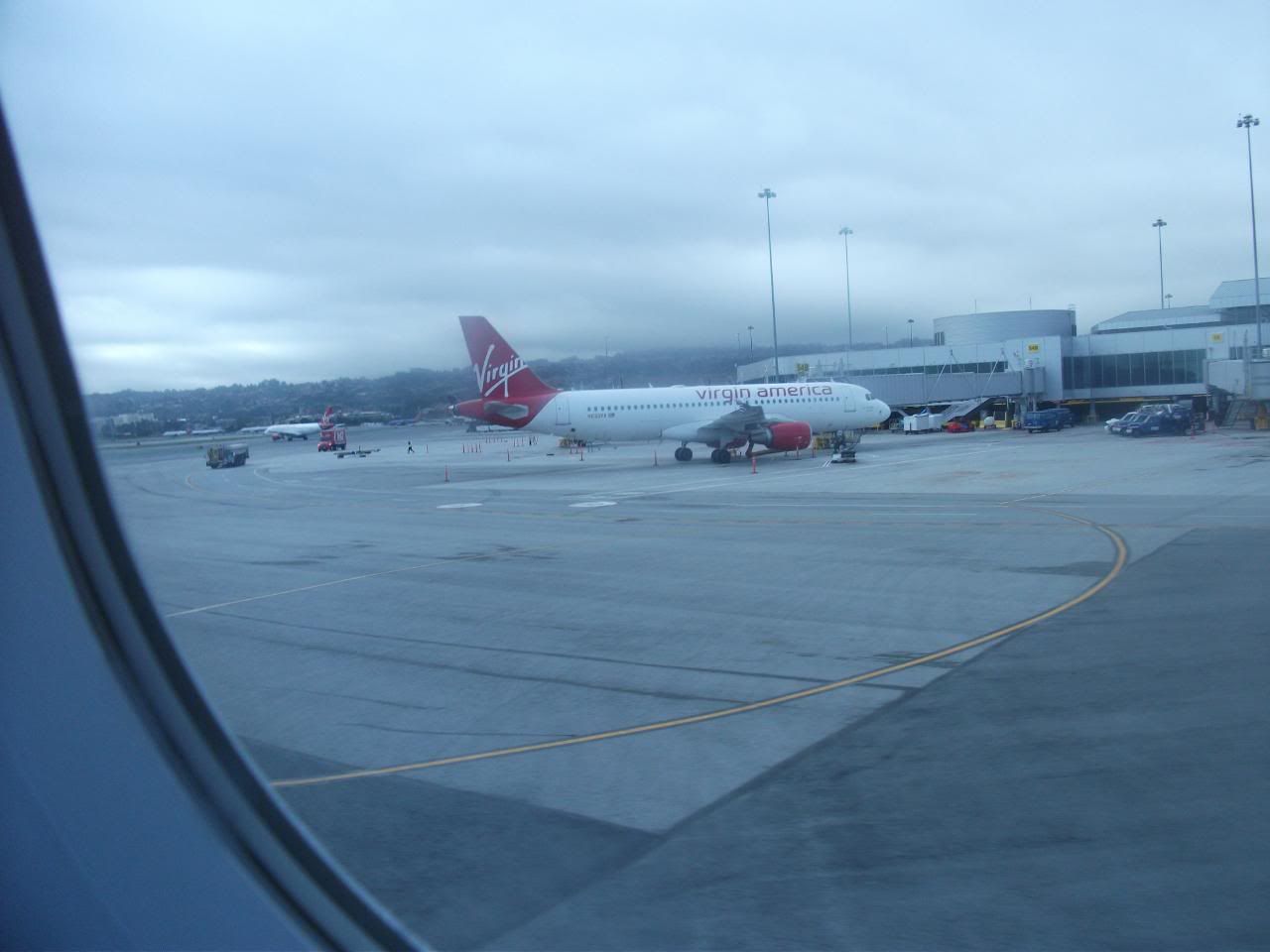 There's always a Frontier animal somewhere…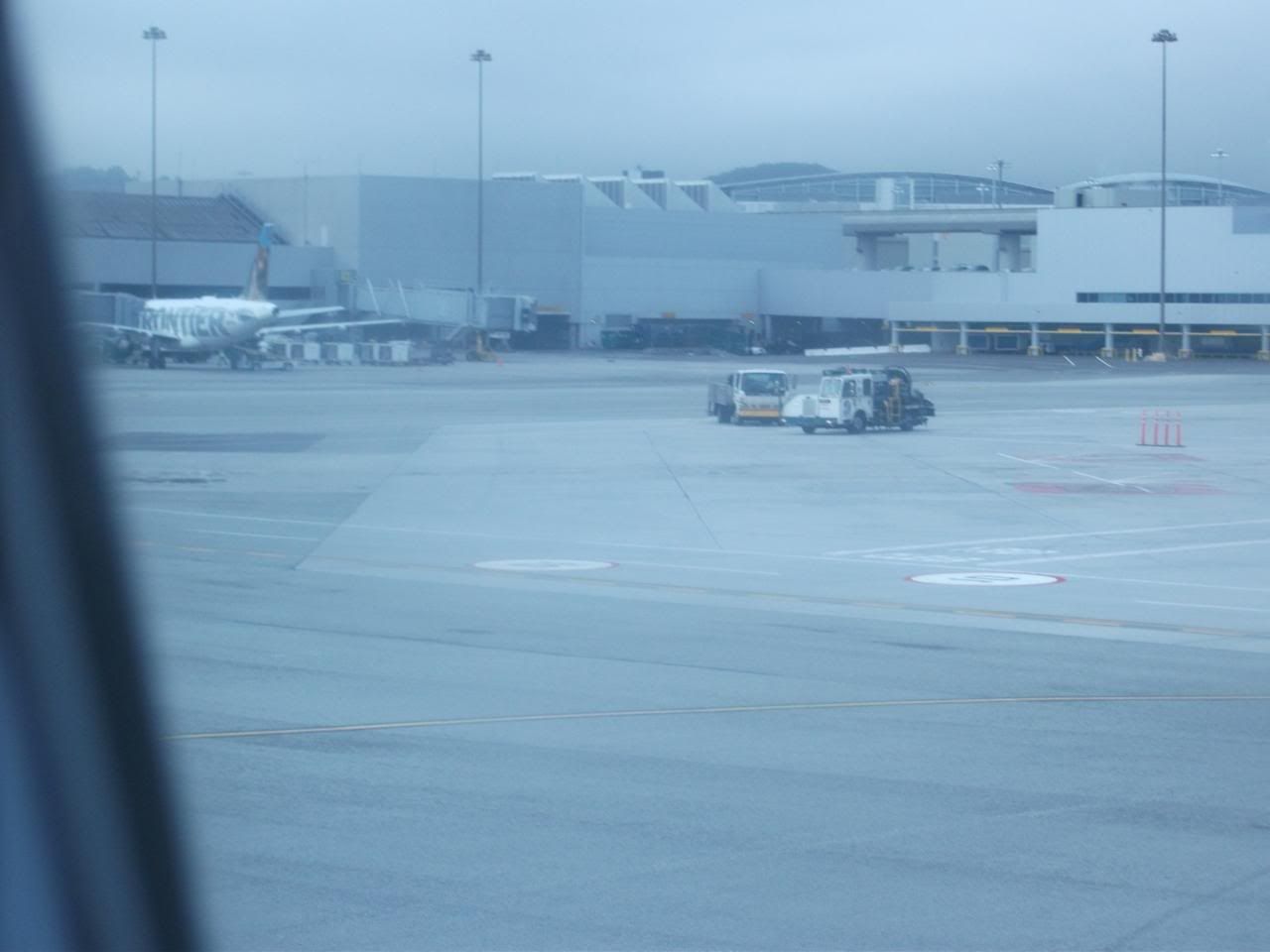 A final, incredibly obstructed view of my plane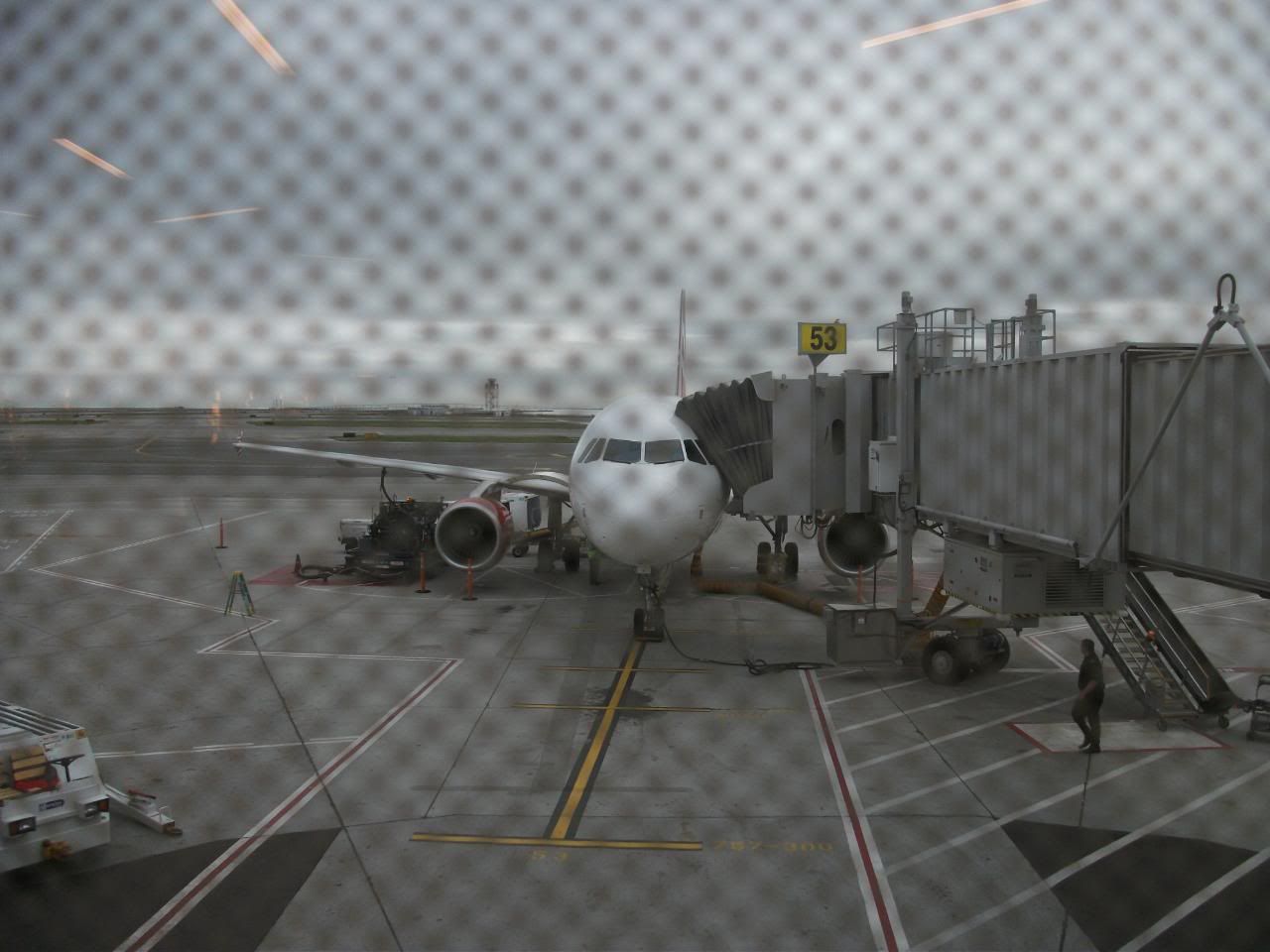 Virgin's first crack at me went swimmingly, but they still had one more chance if they wanted to screw things up. Before they could do that, though, I had about three hours to burn. First, I explored Terminal 2 for the first time: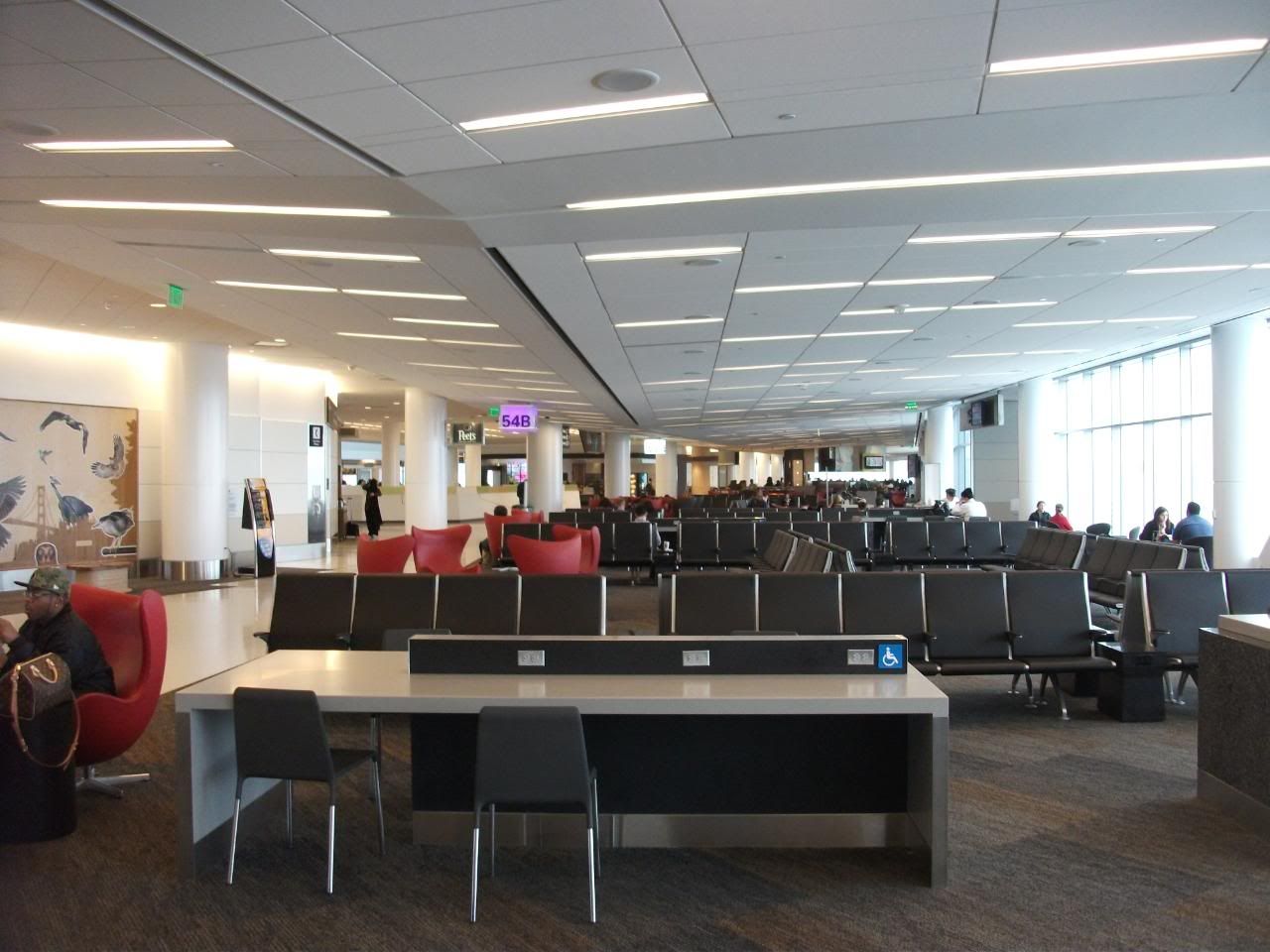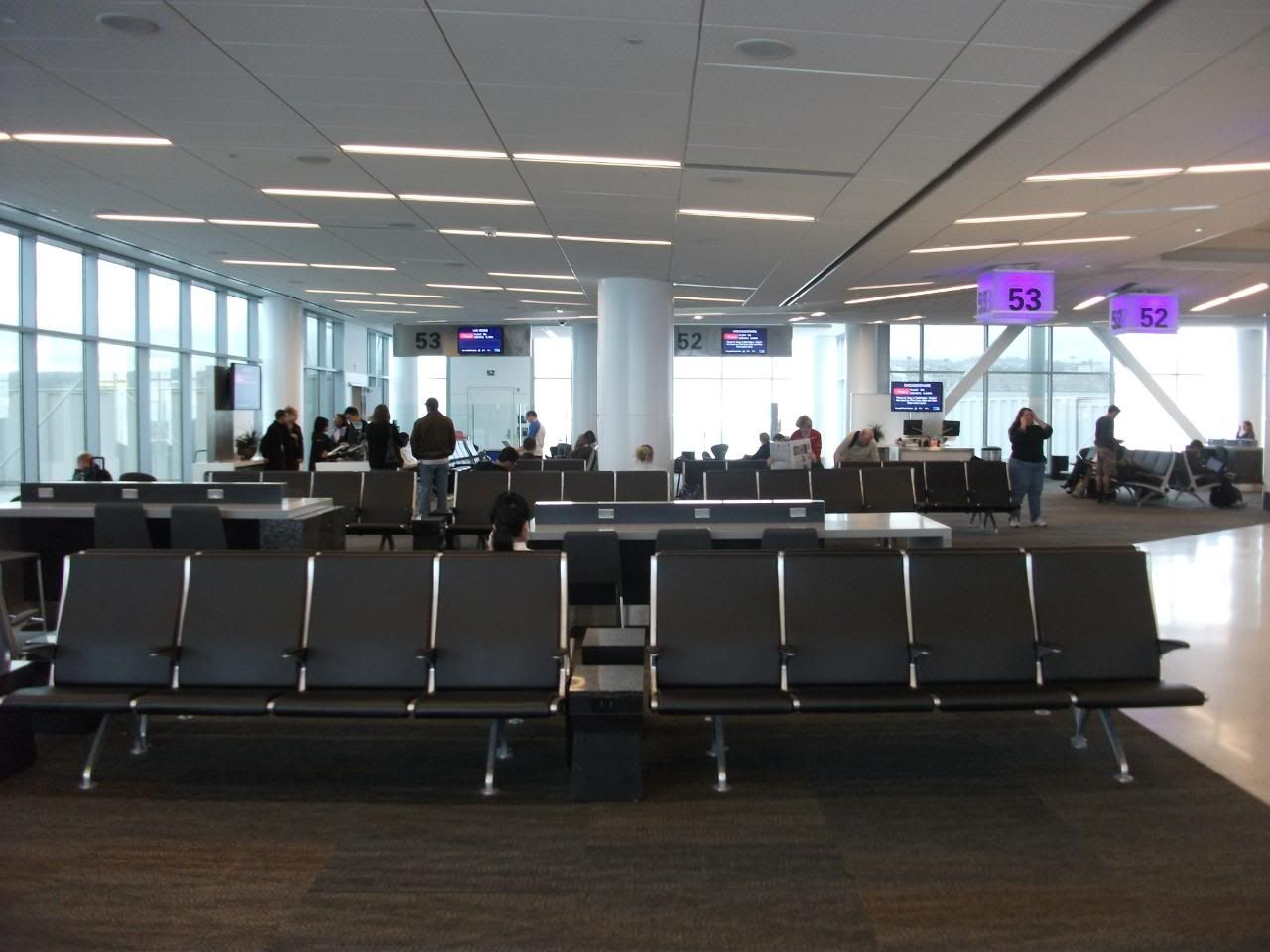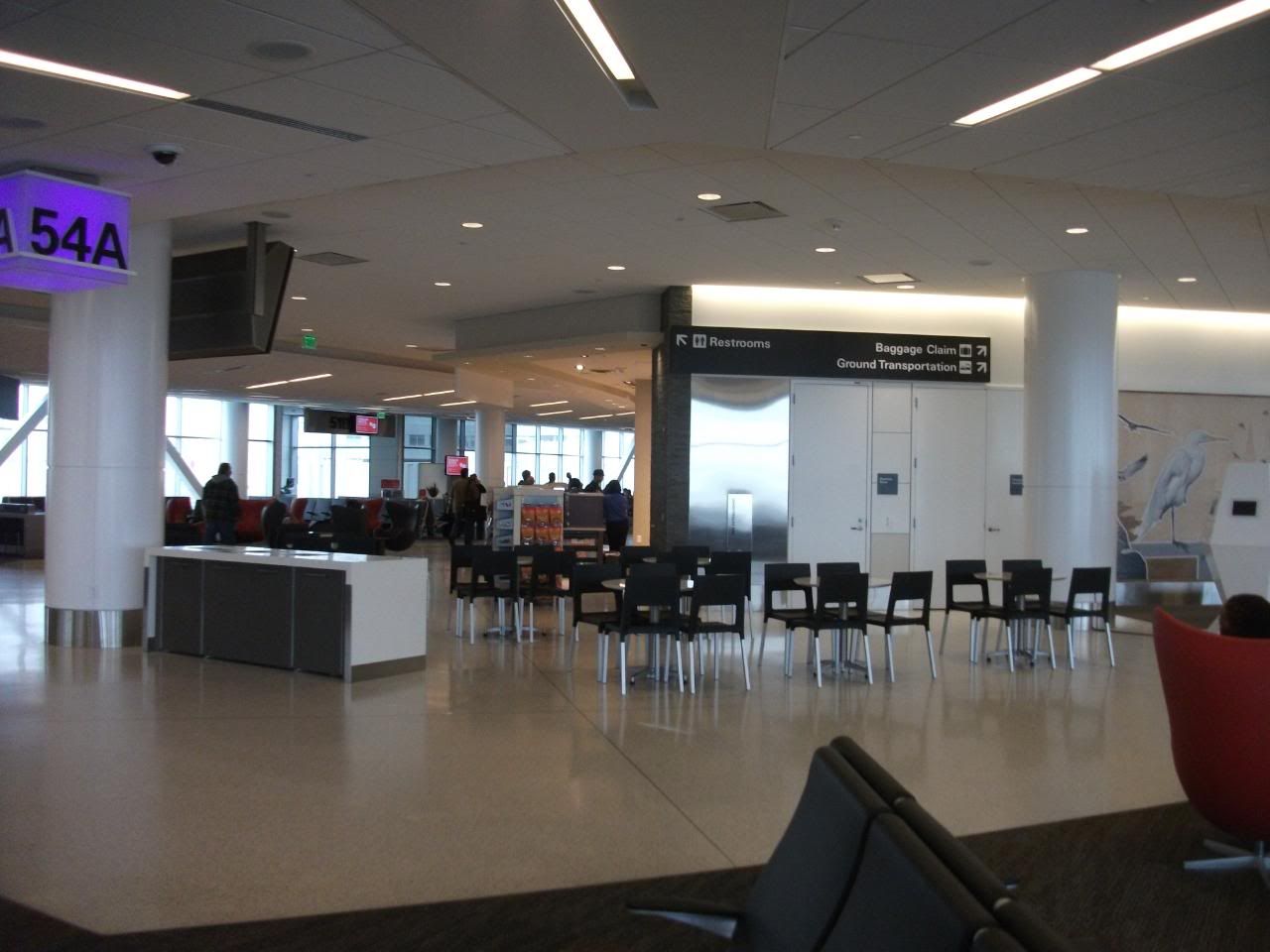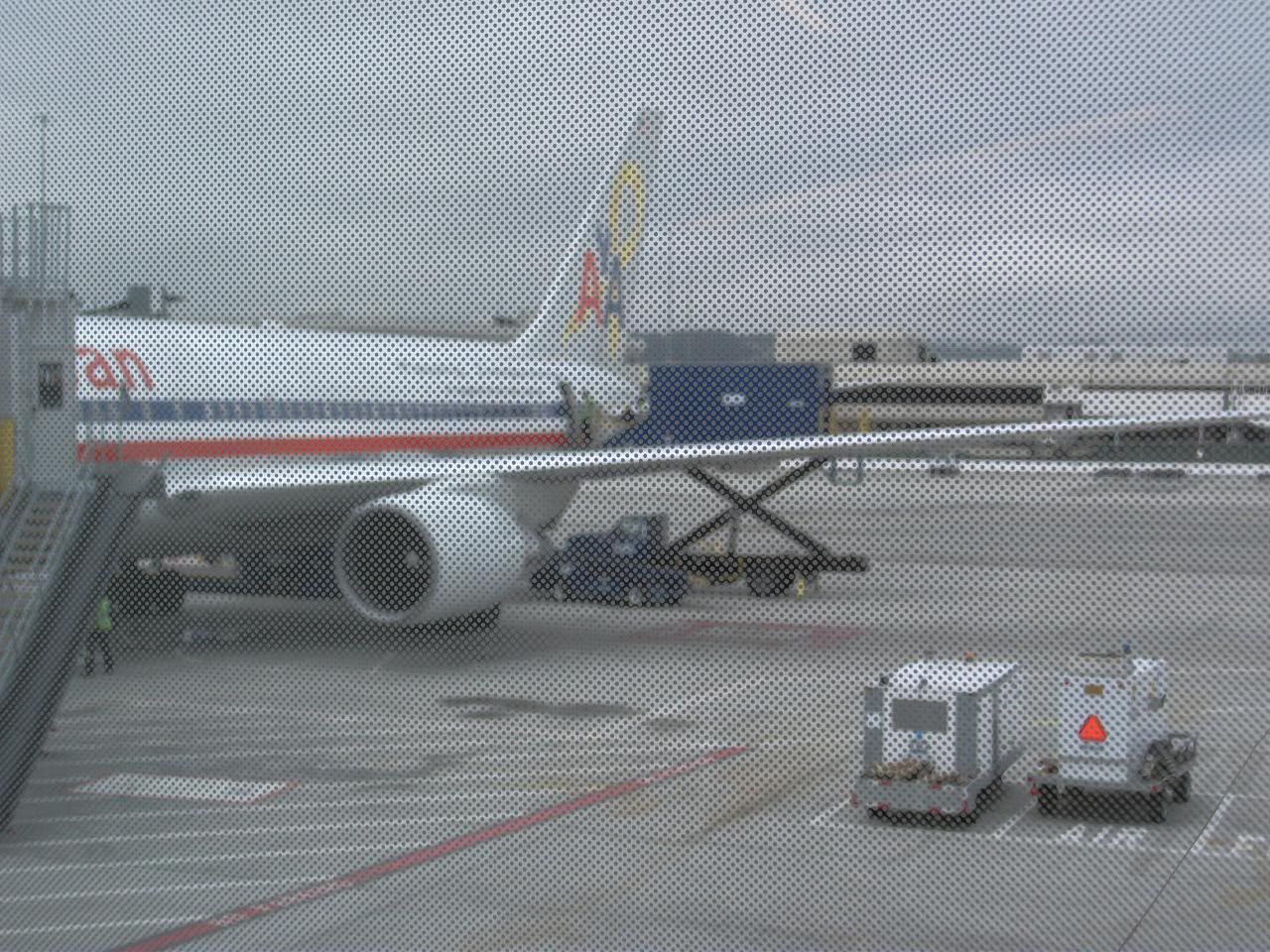 Ya know, I was expecting Terminal 2 to be less sterile than this. It certainly looks like it's fresh, but if it looked more like the T2 ticket counters, then they'd be getting somewhere.
Nice bathroom, though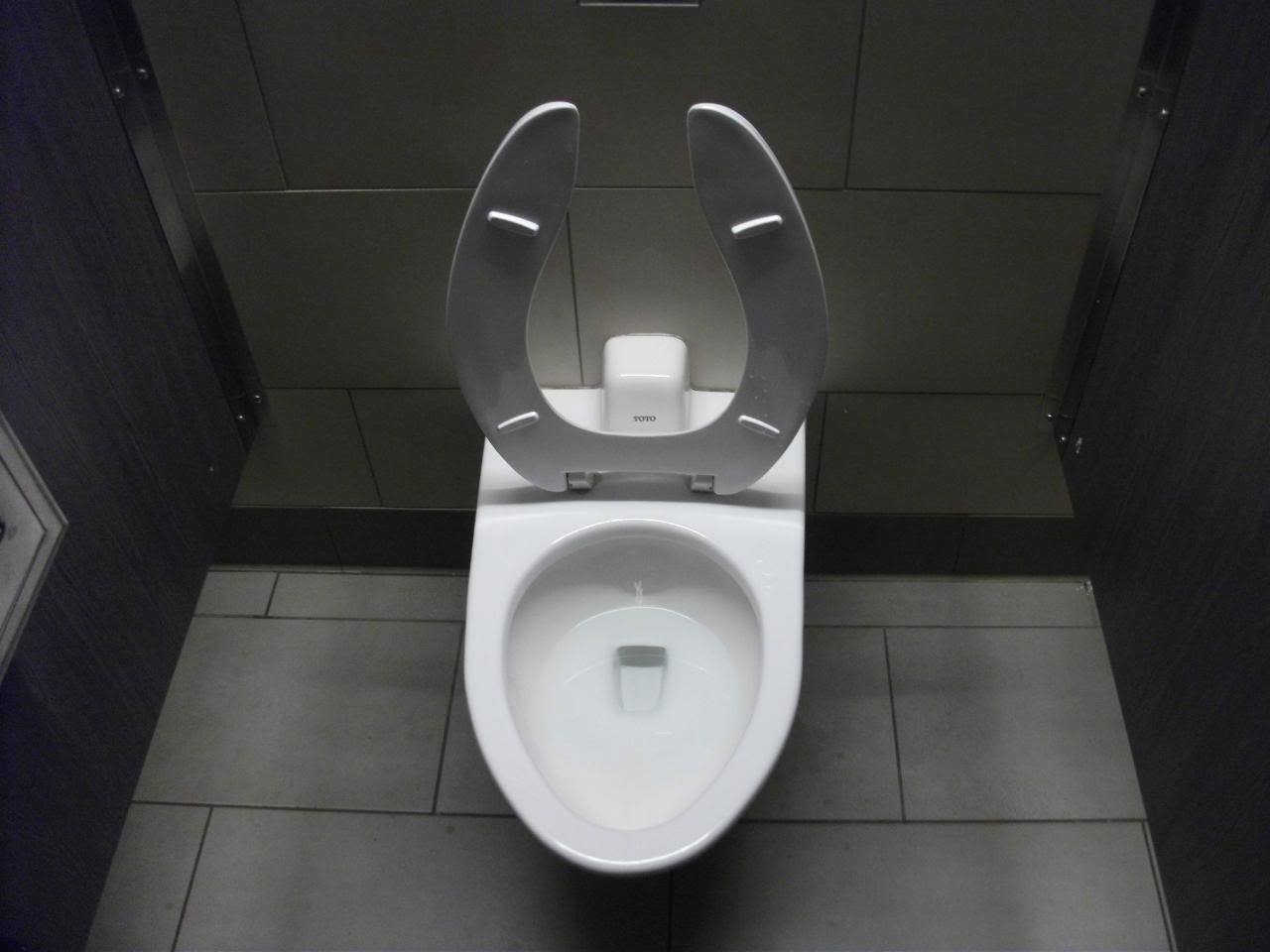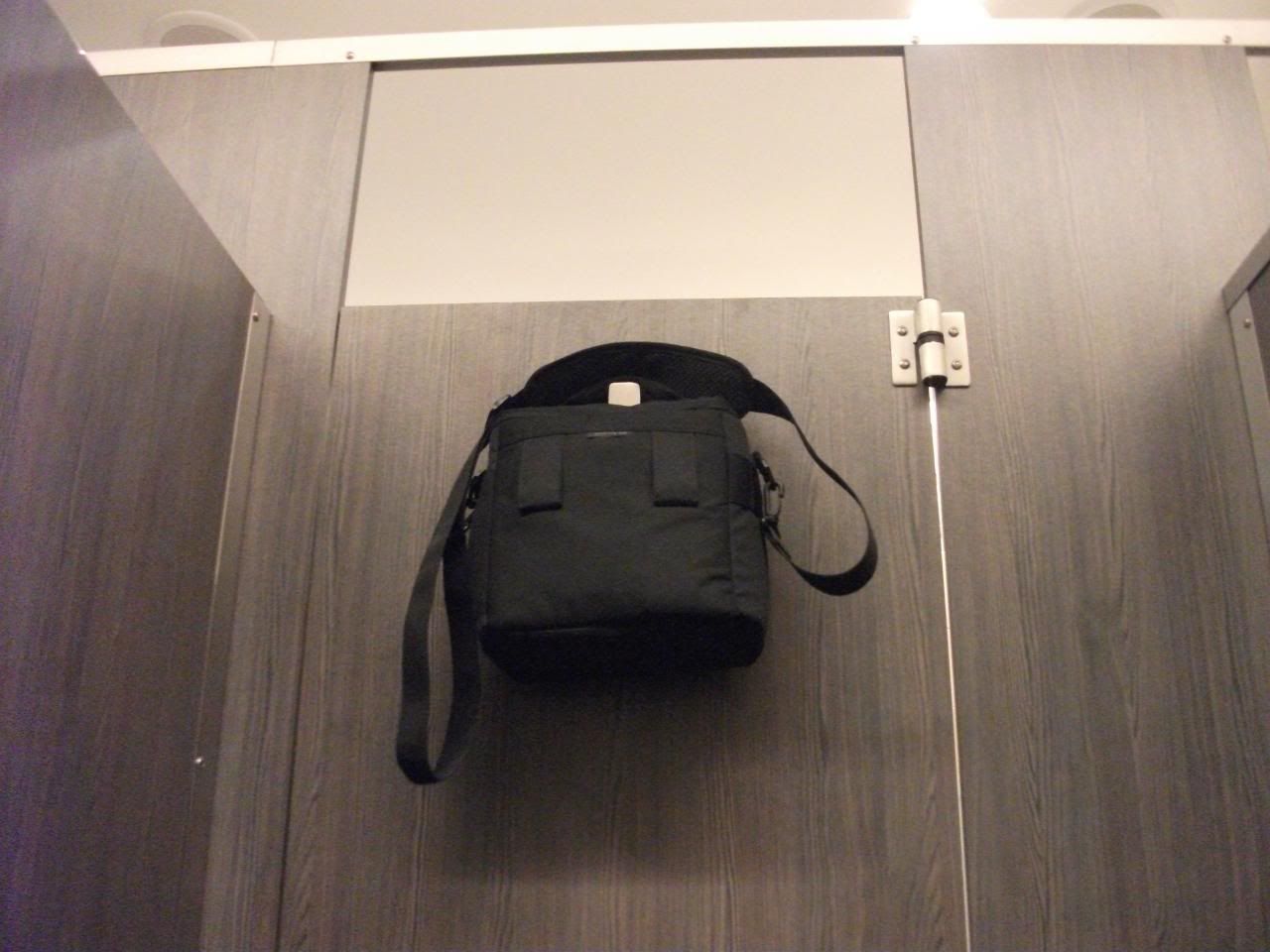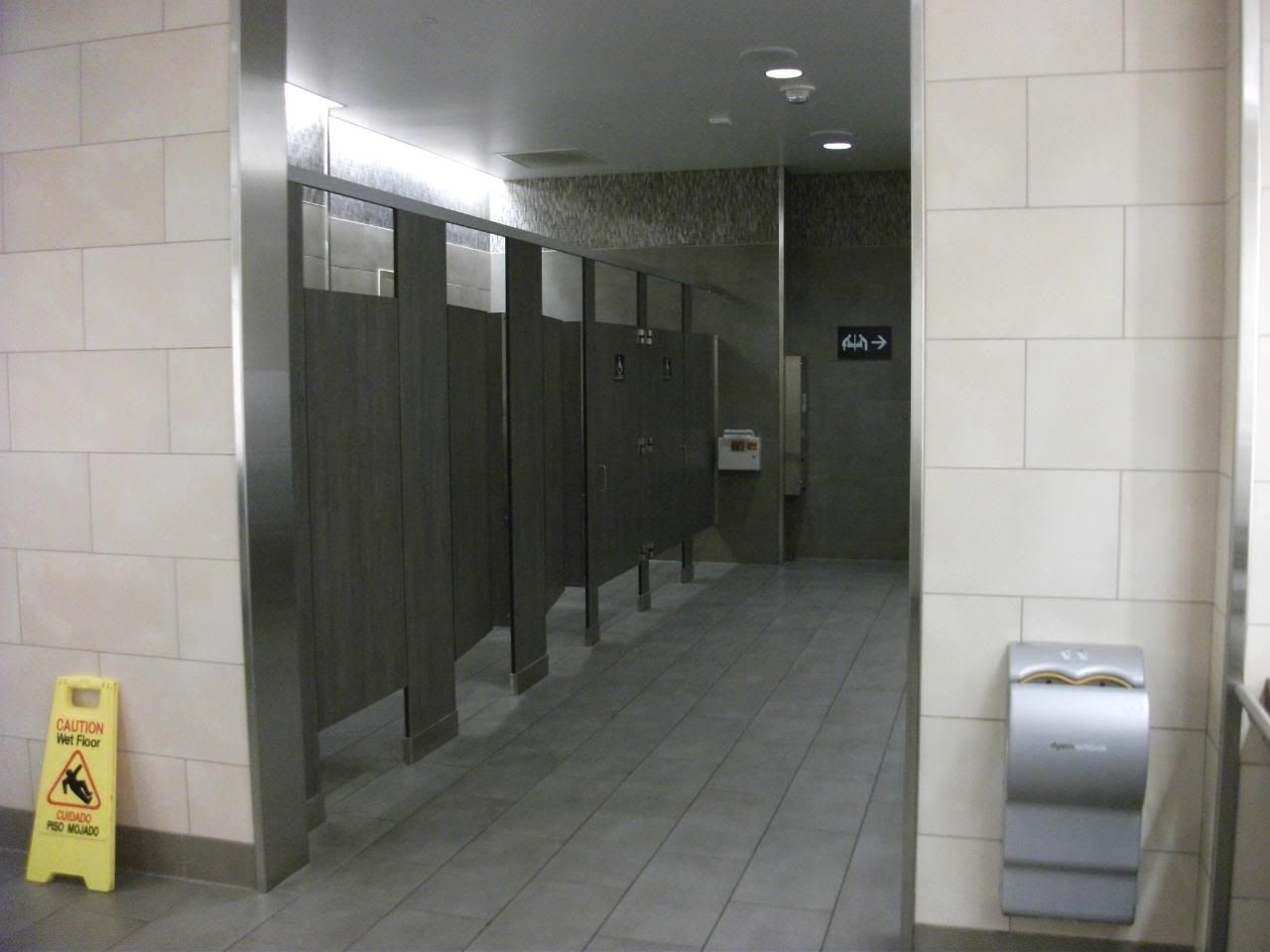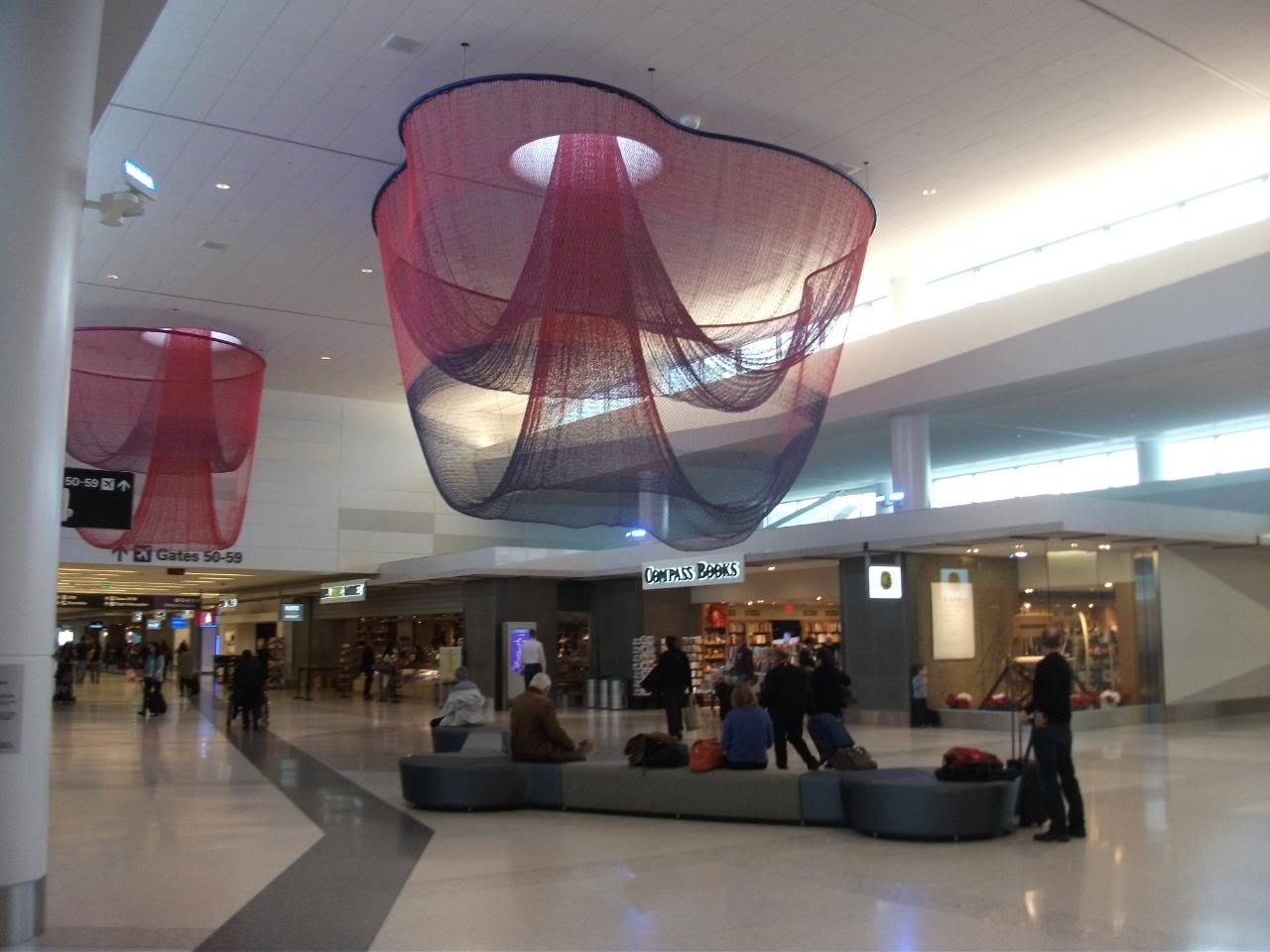 With the museum closed and nothing else at the airport really piquing my curiosity, I still needed to deal with the boatload of time that I had. BART to the rescue!
I'm a bit of a sucker for buildings that scream "Yeah, we've got the money and the power. What of it?" Hence a trip to the Civic Center was in order. (Speaking of which, the large presence of homeless persons there put a nice coating of irony on the situation.)
Looking down Fulton Street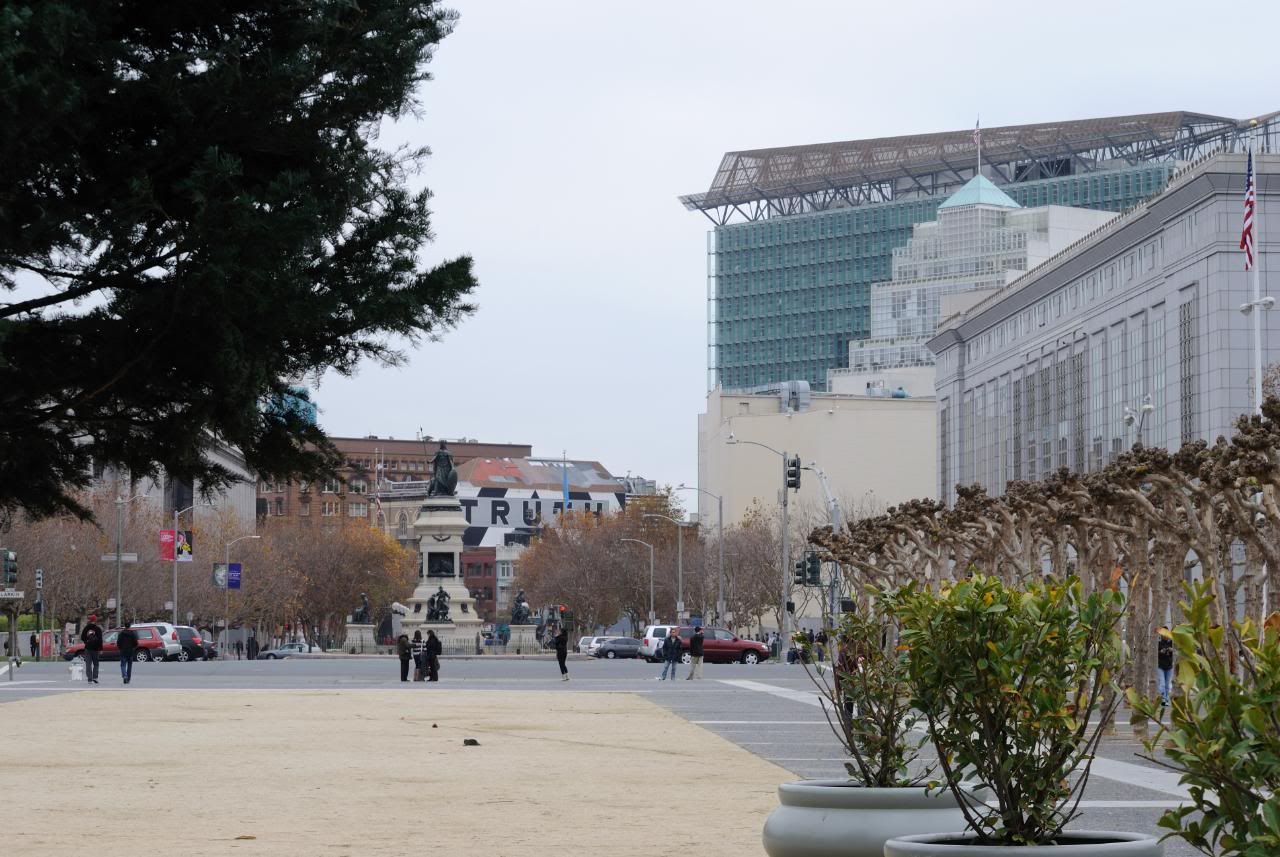 City Hall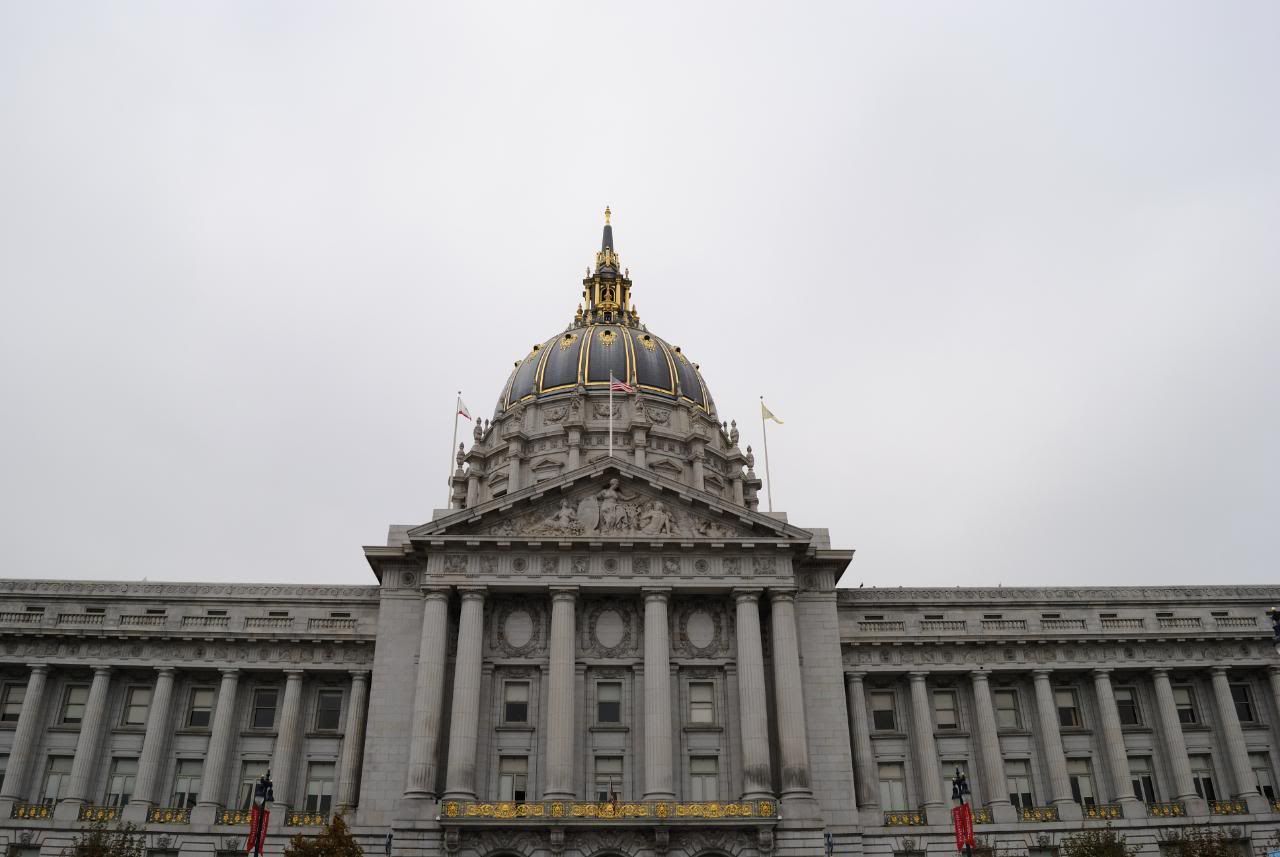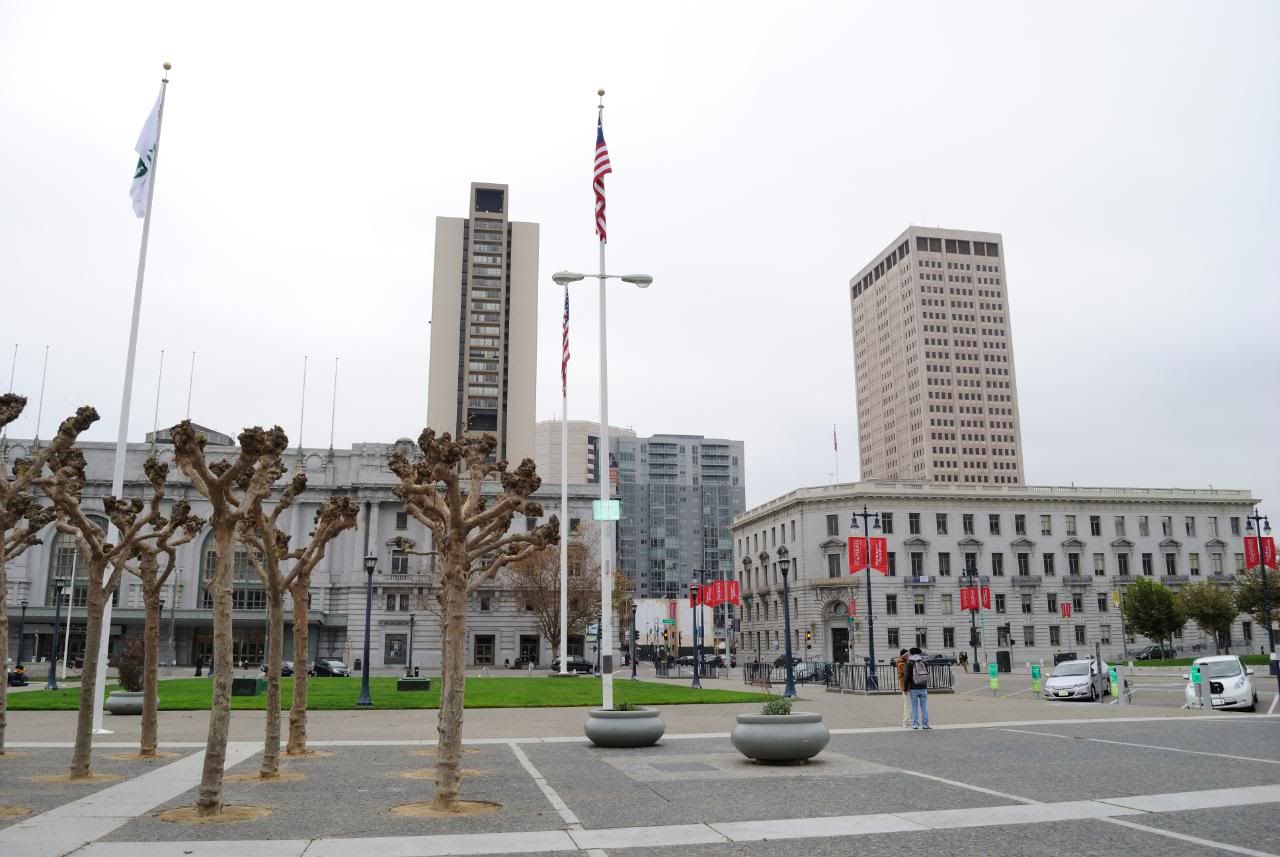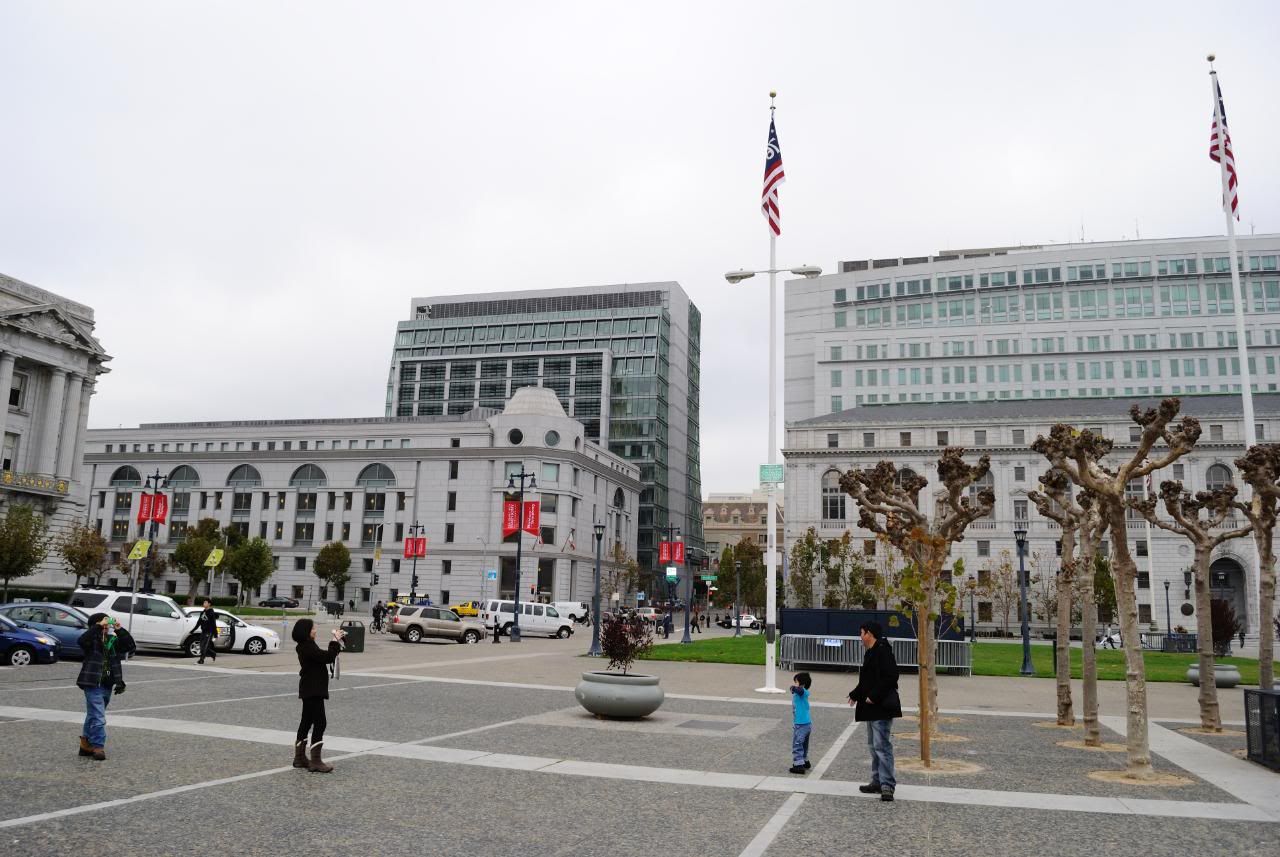 Christmas tree…I mean, Holiday Tree. I really hope I don't get sued for that…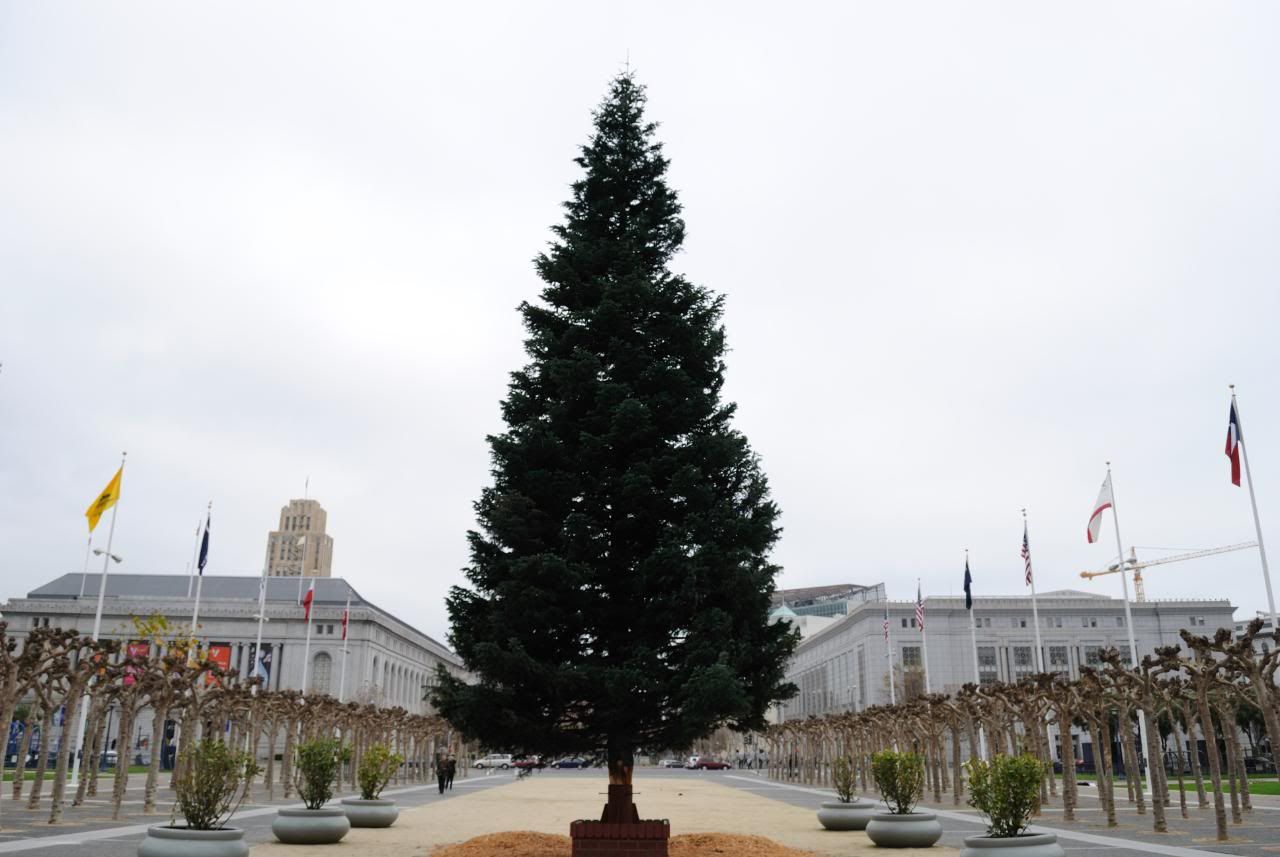 SF Public Library
Asian Art Museum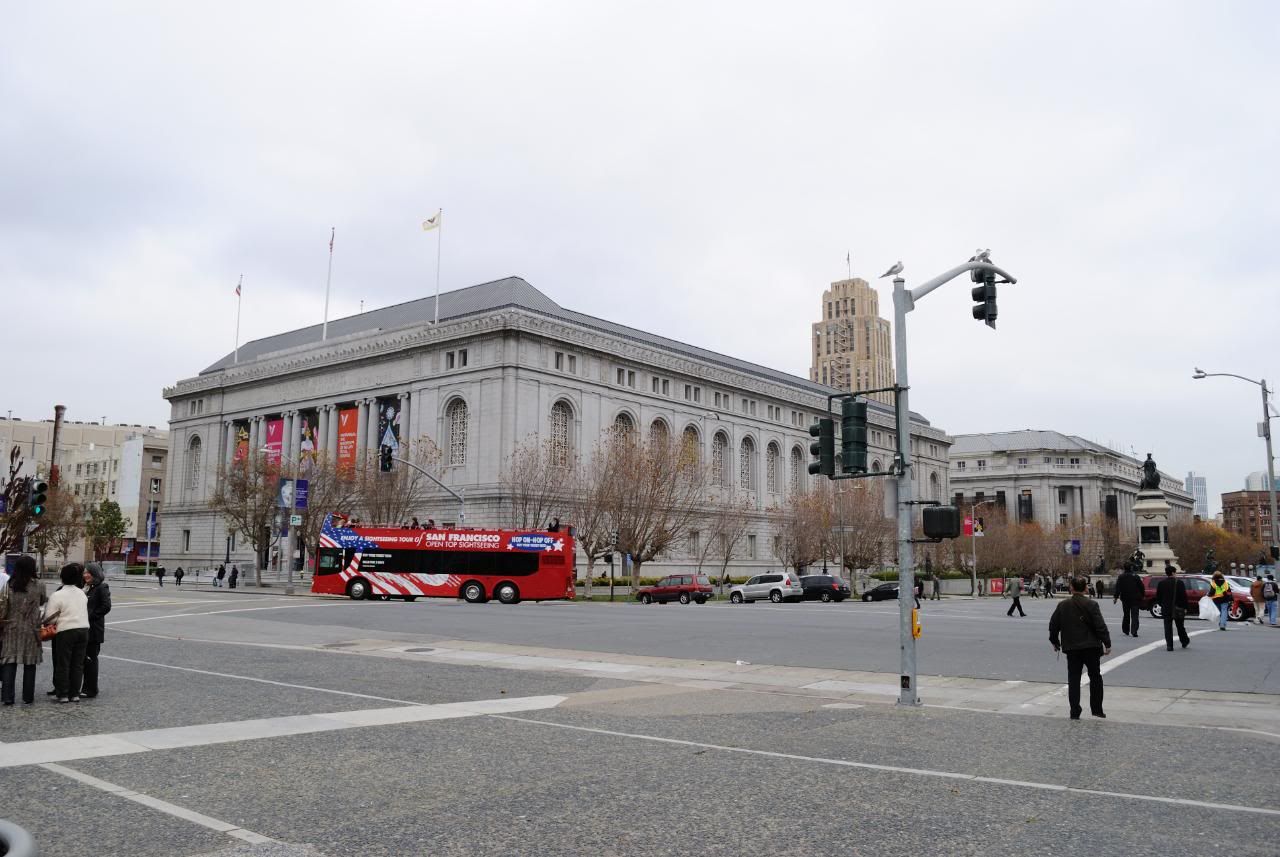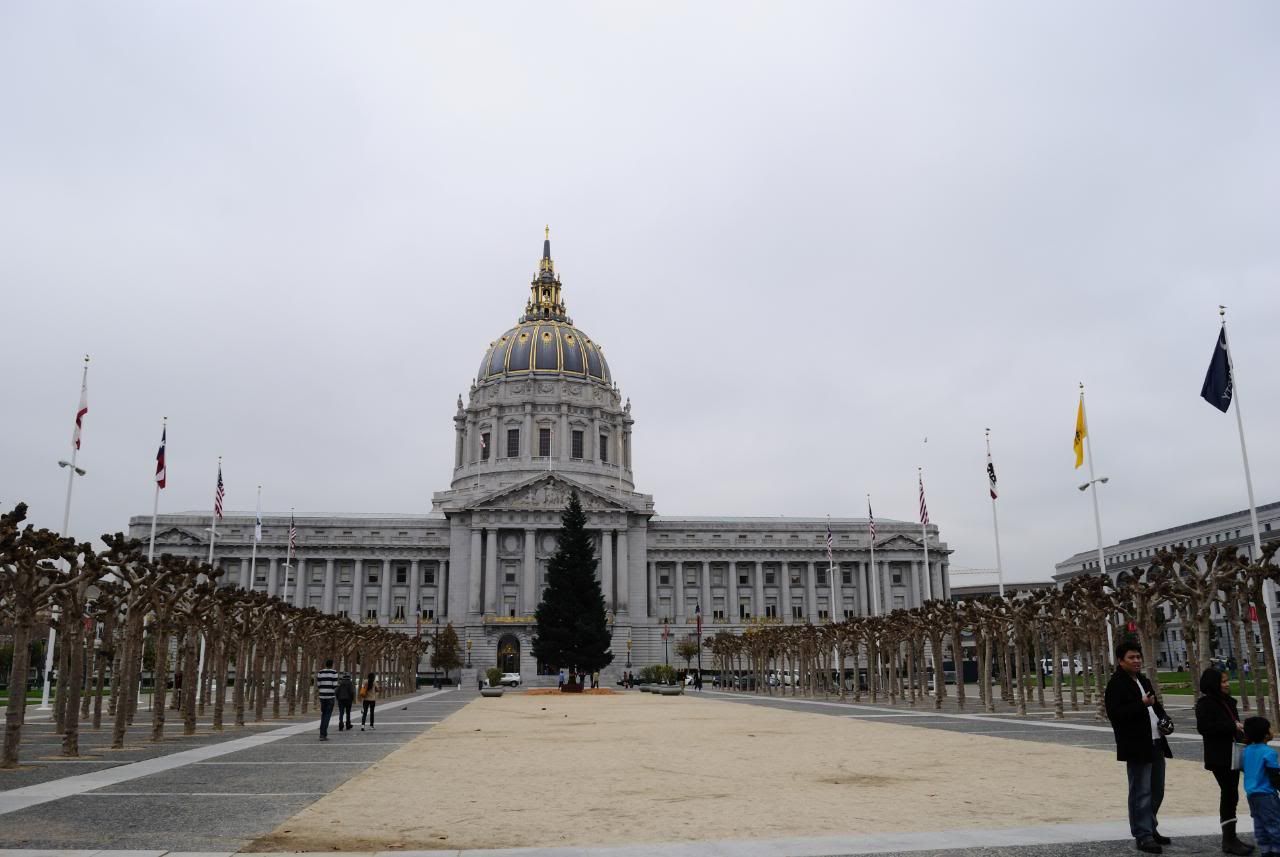 Pioneer Monument
Statue of Simón Bolívar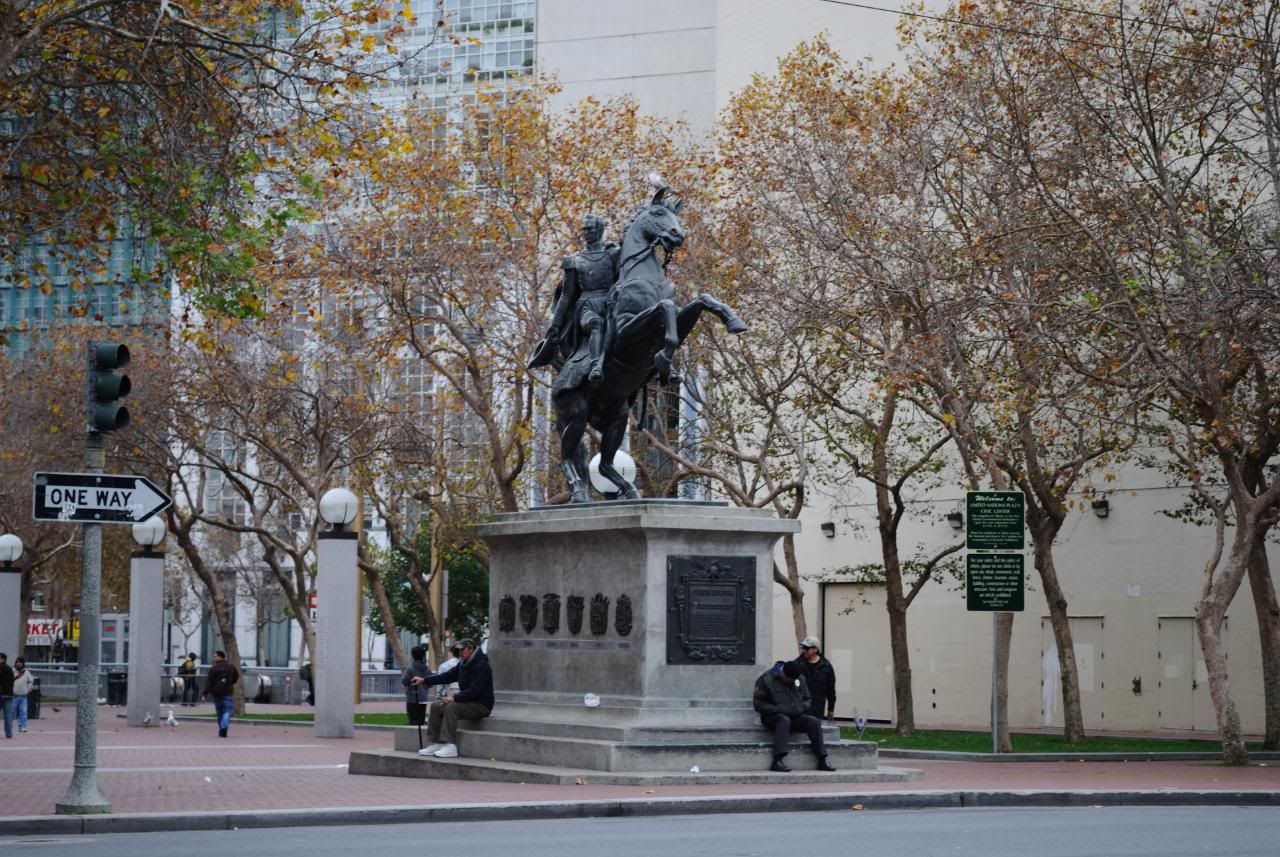 Going down the United Nations Plaza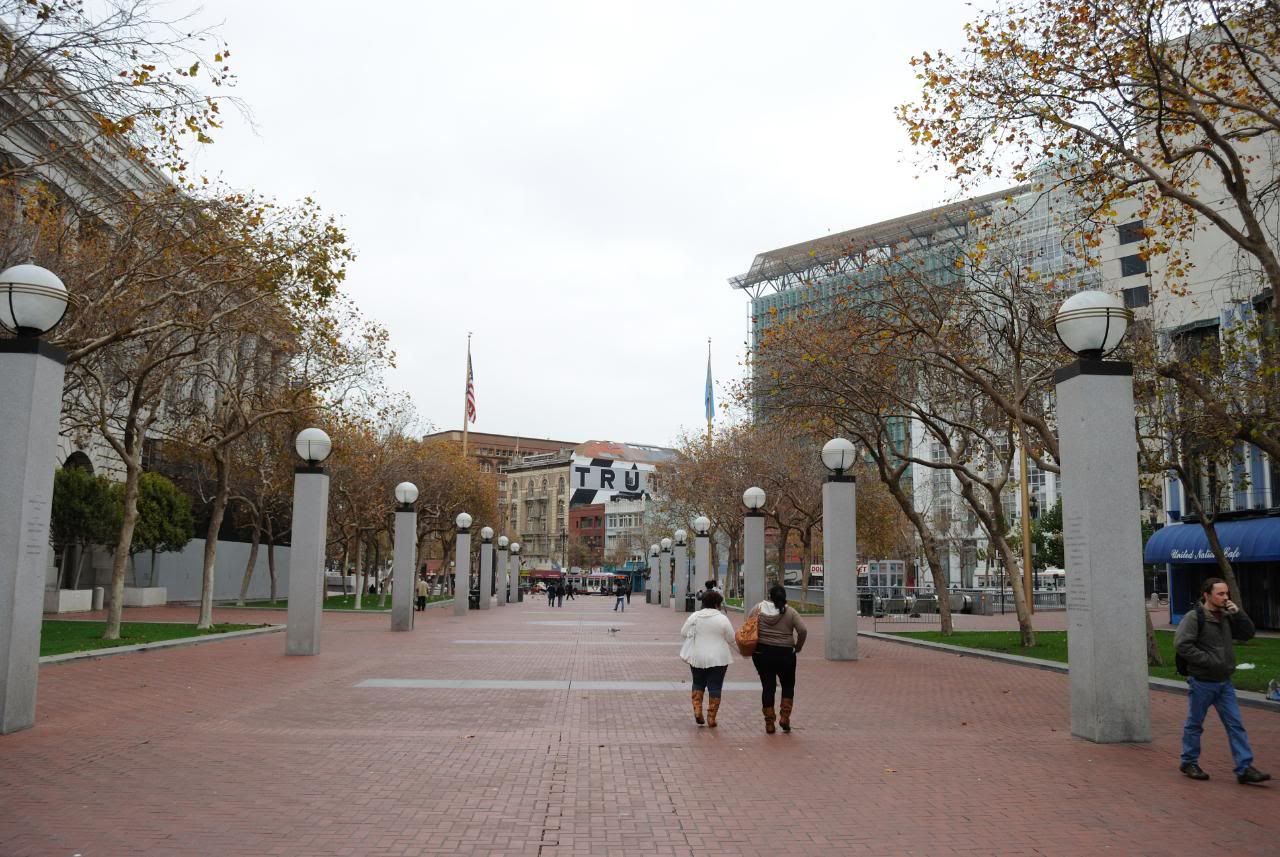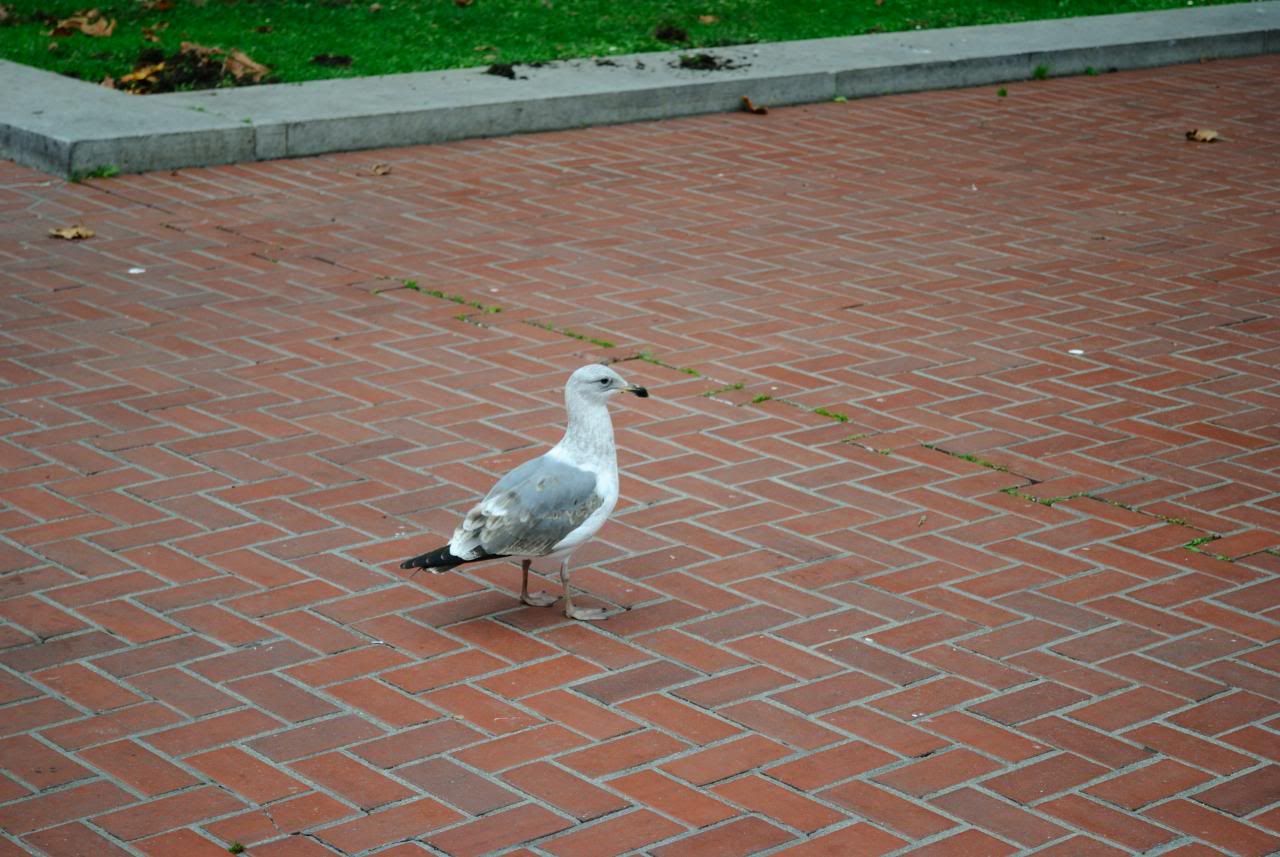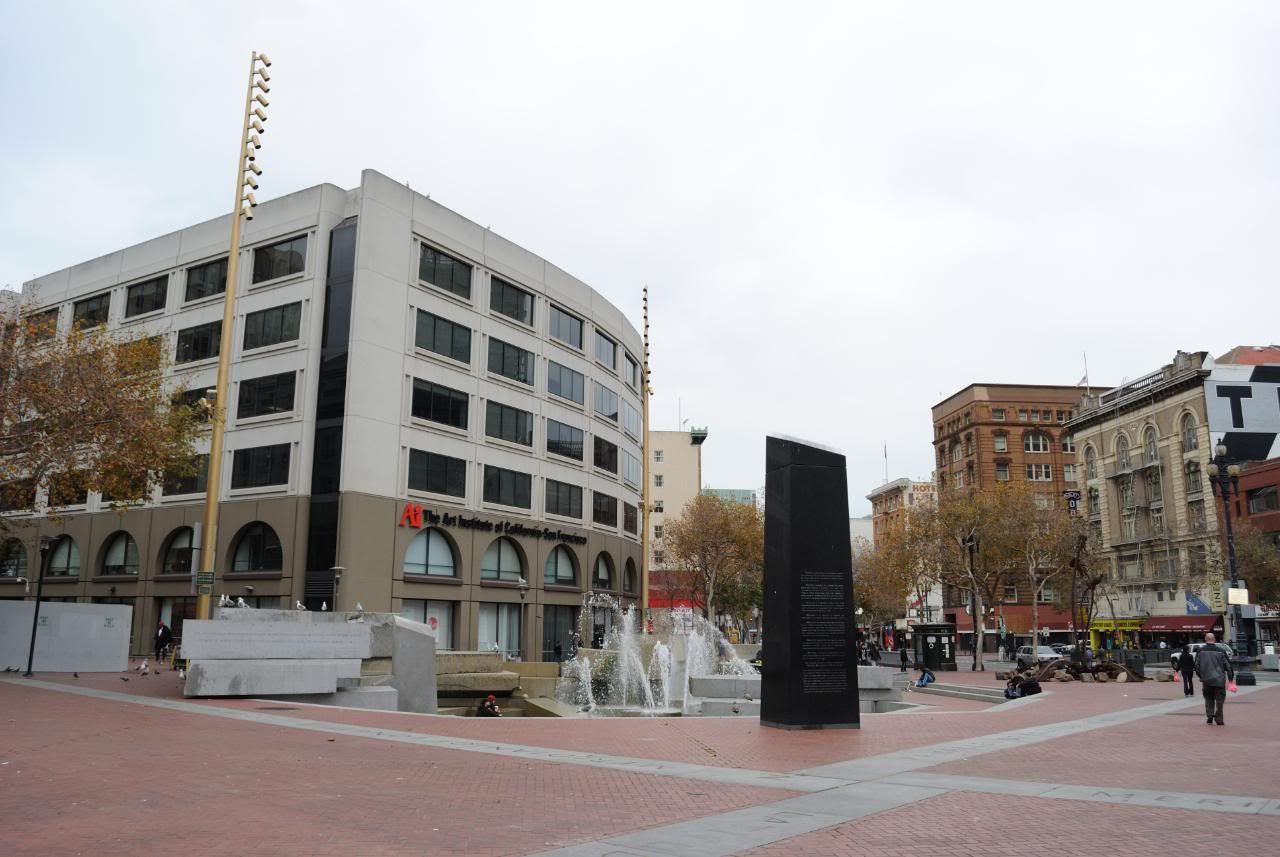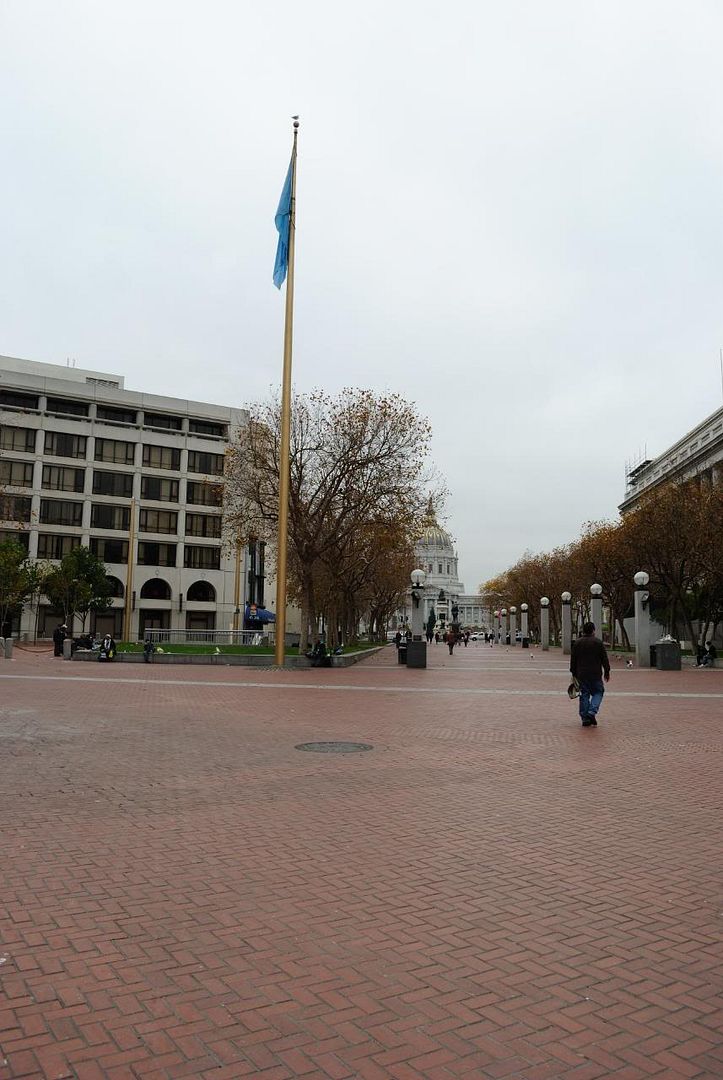 Houses smushed into tiny spaces…not my idea of fun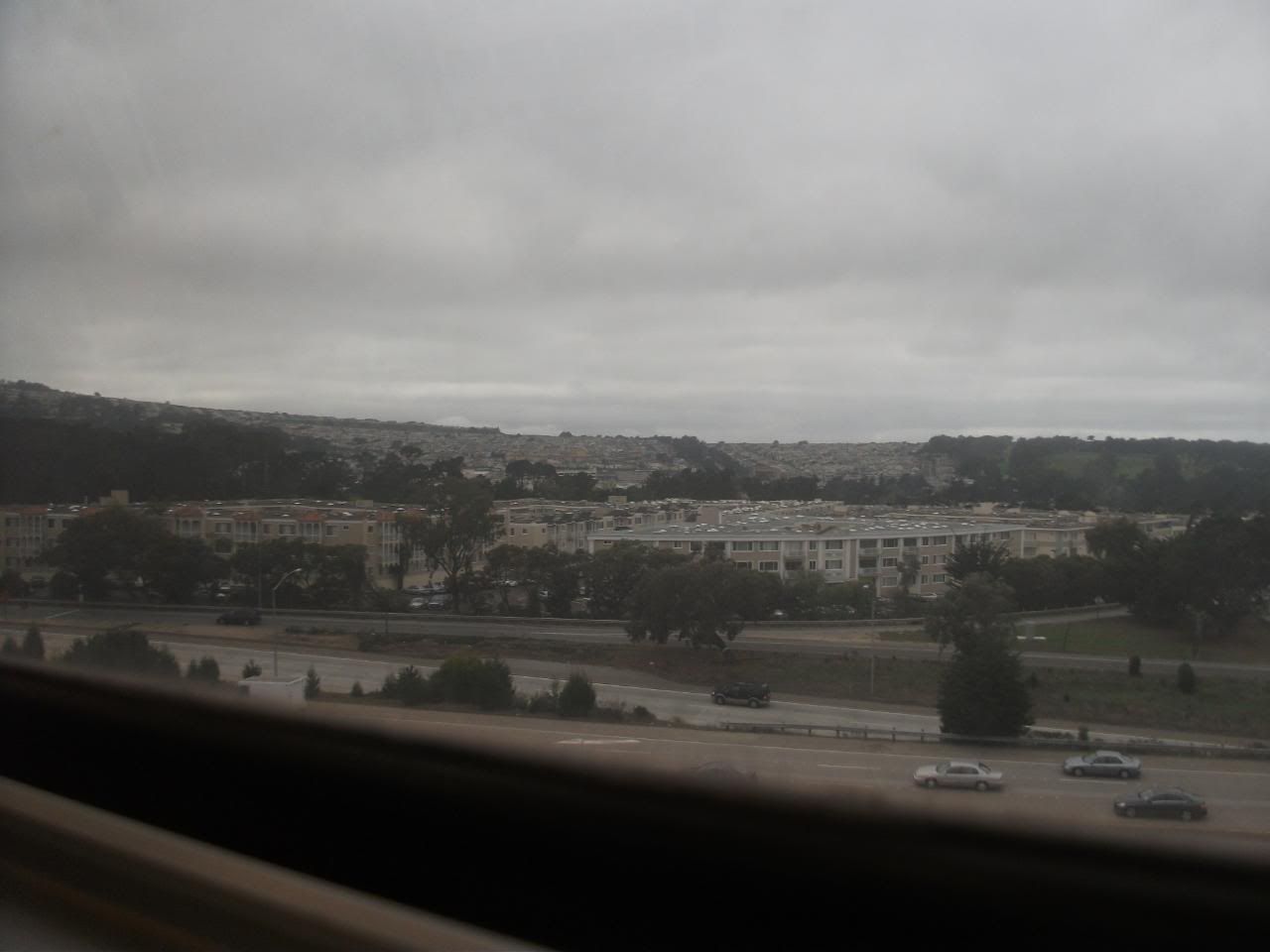 Your typical BART train car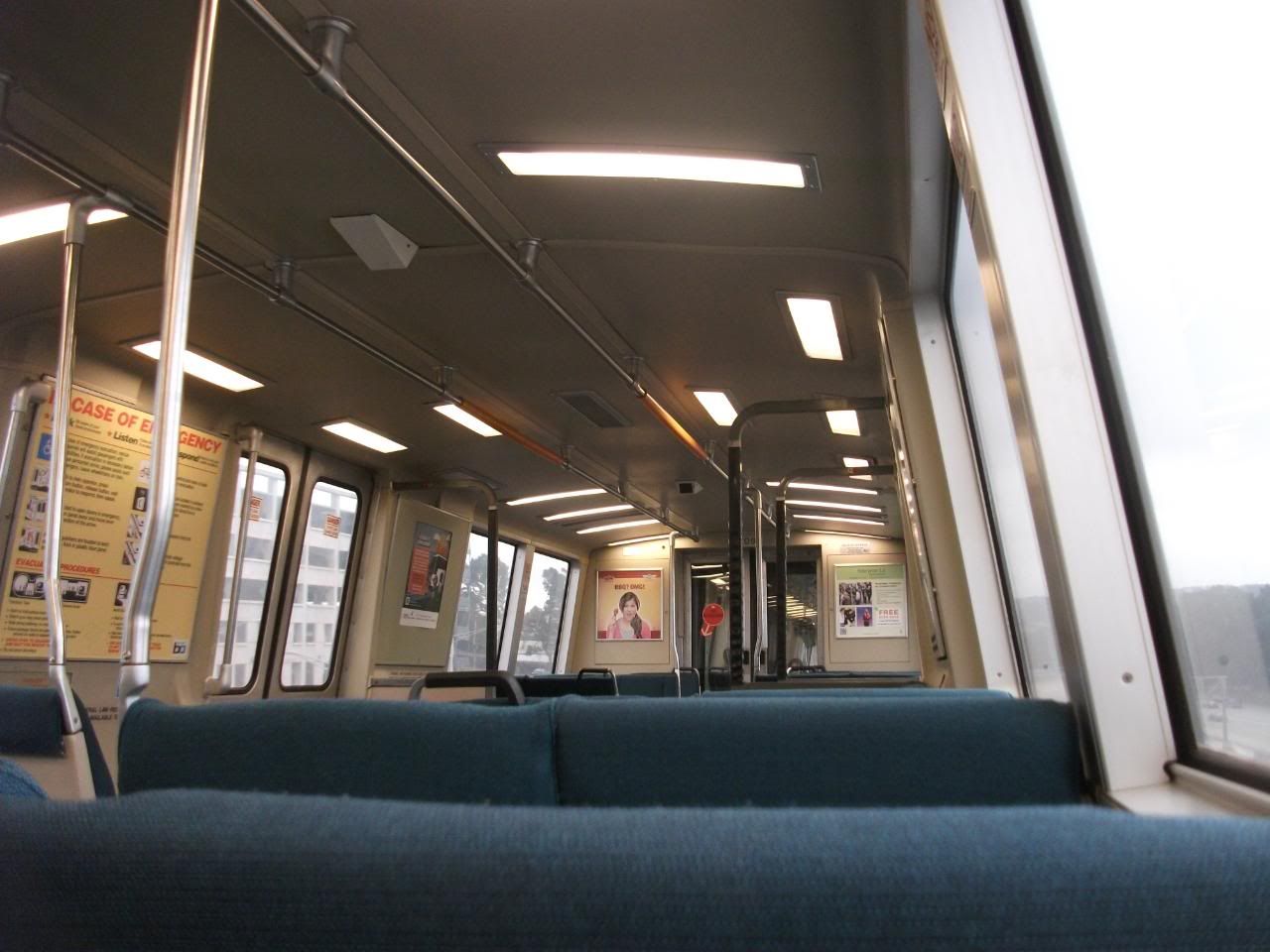 There was almost a nasty surprise as I tried to clear security for my next flight. My kiosk-printed boarding pass from DFW caused some befuddlement at the SFO checkpoint. They apparently hadn't seen that kind before, but a careful check ensured that all of the required information was present, and on I went. There was further befuddlement at the gate, where the gate agent also expressed her surprise at this different boarding pass. Leave it to Texas to try to screw things up…
At any rate, the bird to Seattle would be revealed to be "jefferson airplane".
Virgin America 744 SFO-SEA
Scheduled: 14:45-16:50
Actual: 14:42-16:37
Airbus A320-214 (N625VA)
I'll spare the inside photos for this flight because it was much the same as the previous flight. The one big difference was that most of the window shades were up to begin with, so mine and most everybody else's stayed open the whole way.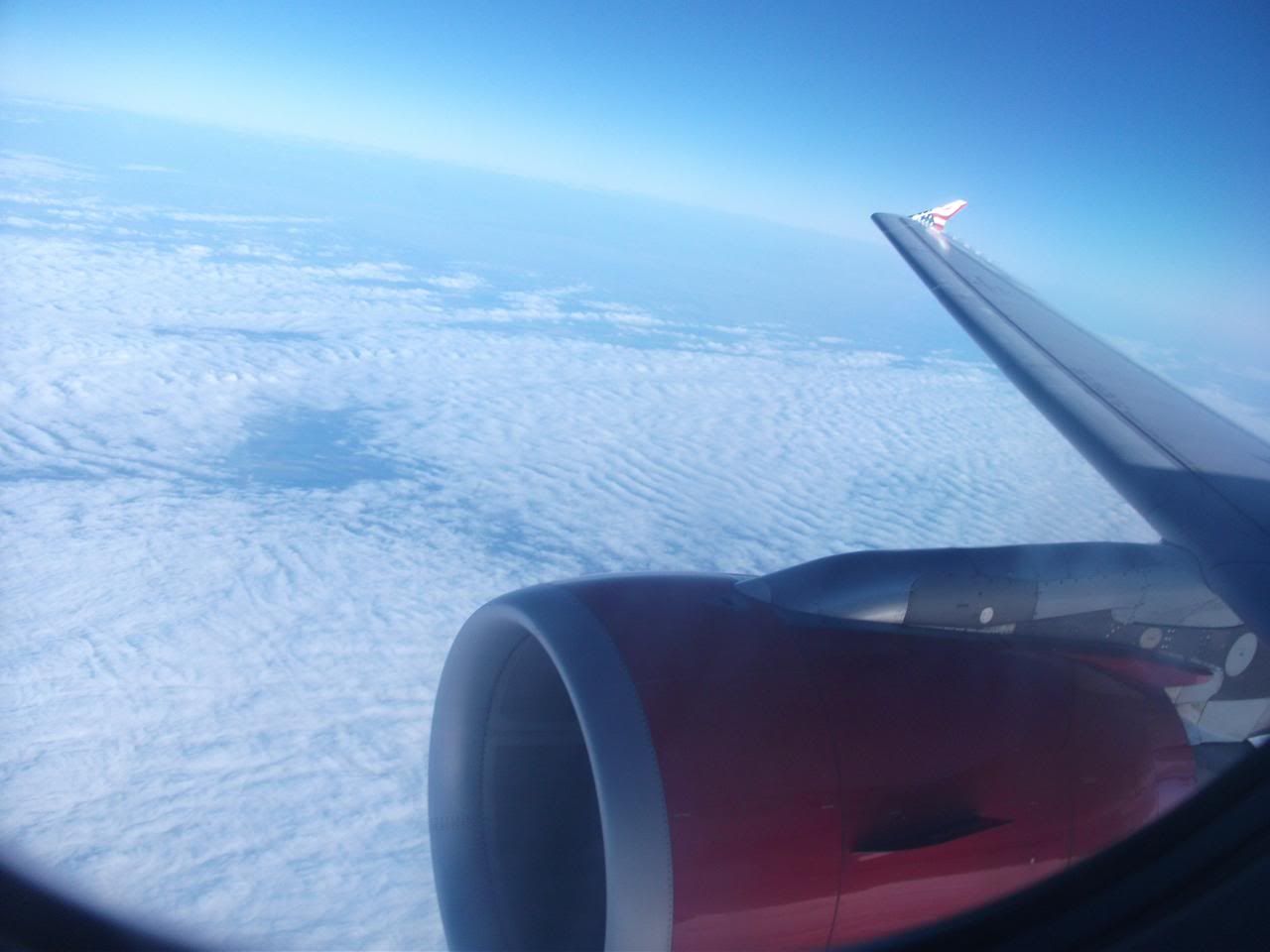 Upper Klamath Lake (Trivia: it's the largest freshwater lake in Oregon)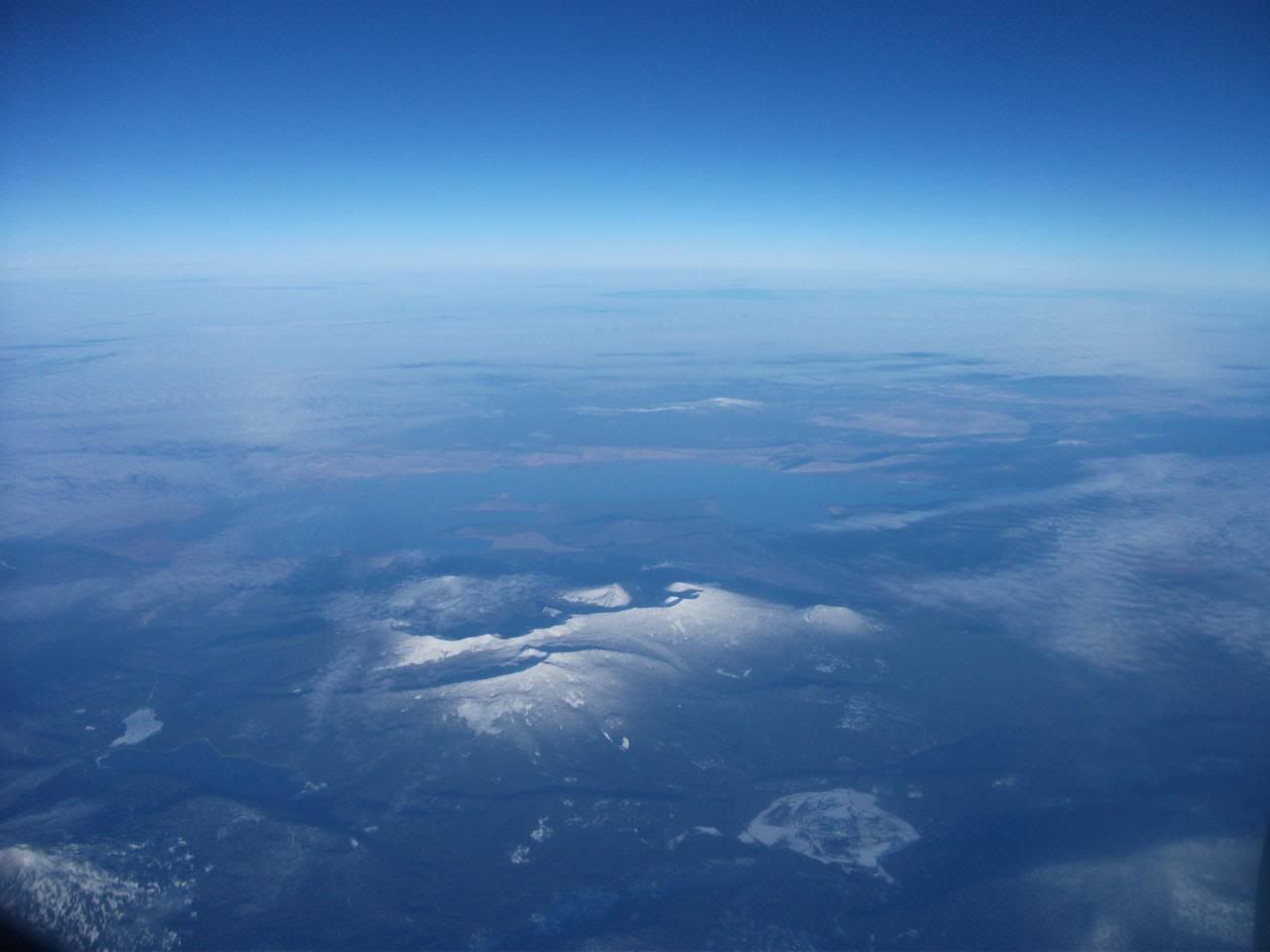 Crater Lake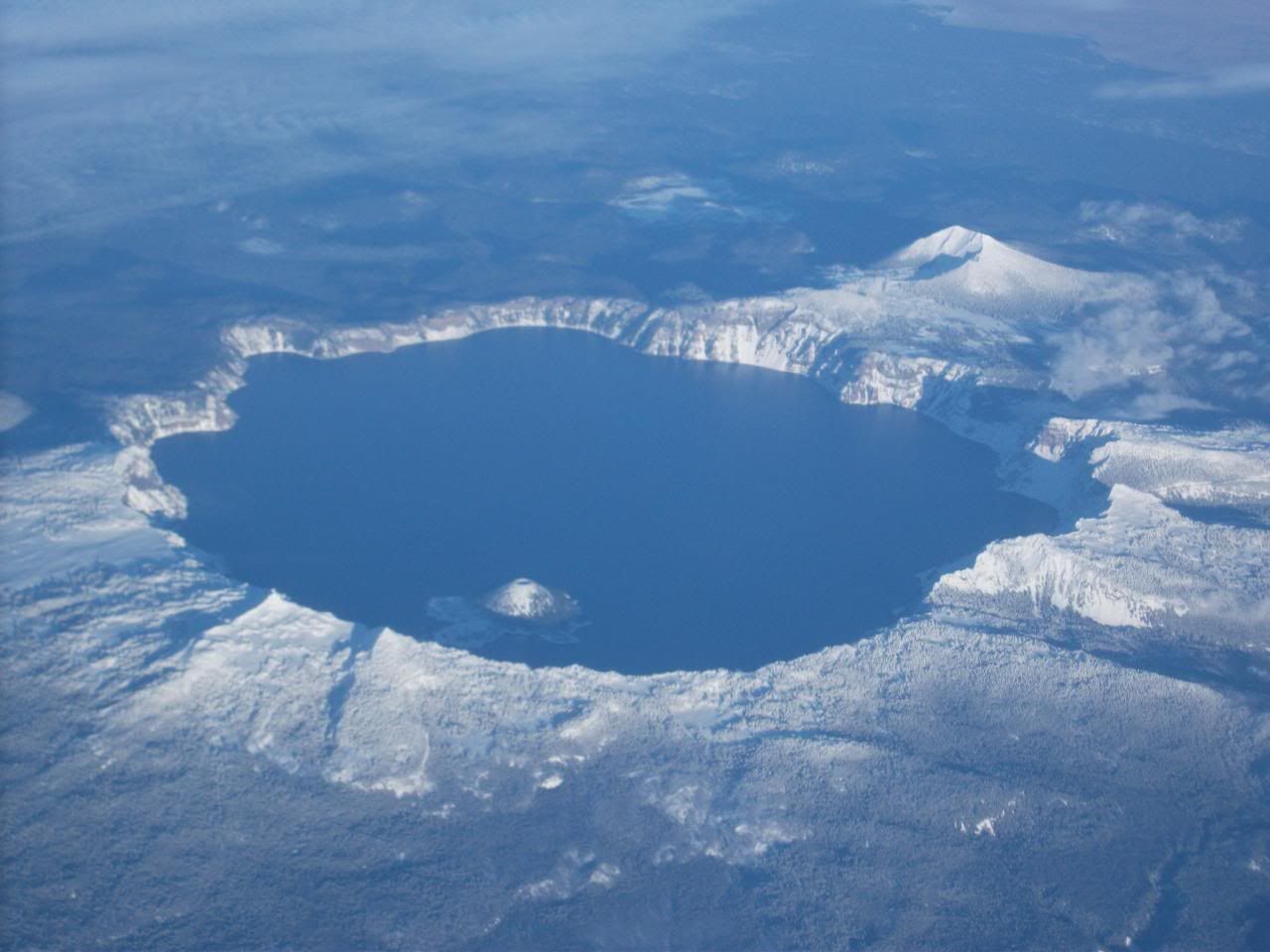 I know you can't make anything out, but it's Lake Merwin, and I'd be in that general area soon enough…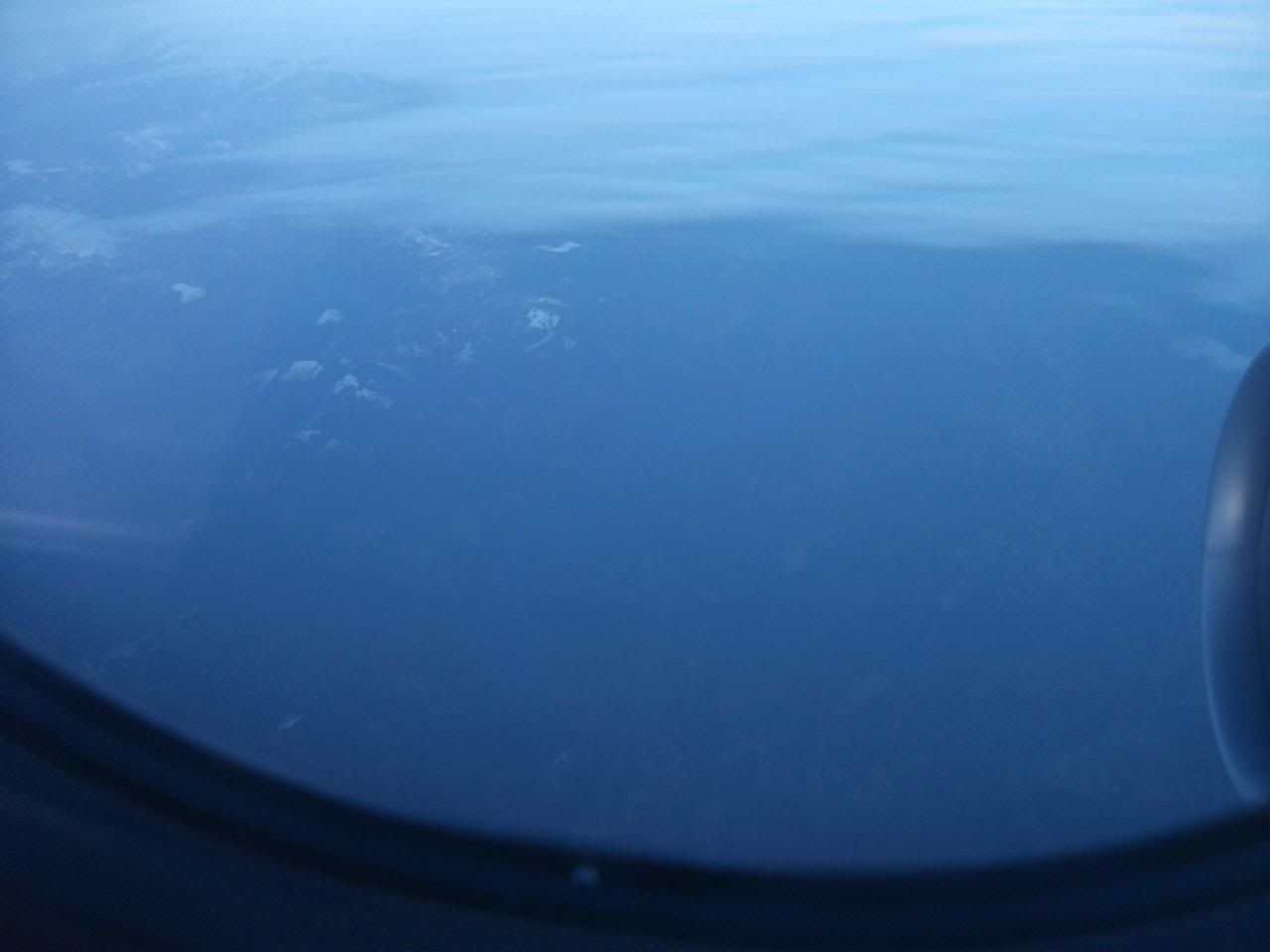 A big mountain; I'll give you a few seconds to guess which one
Lakes, left to right: Steilacoom, Gravelly, and American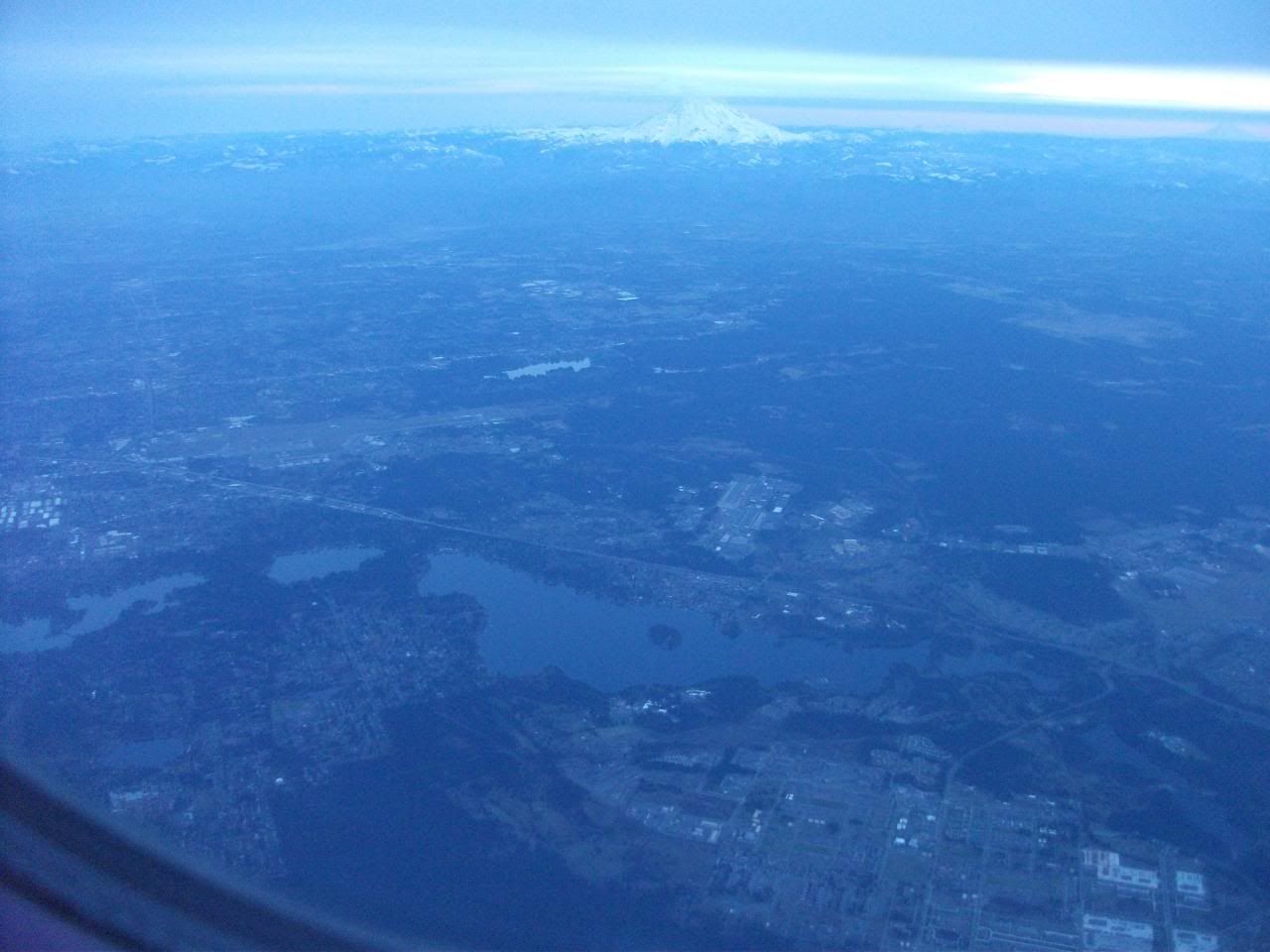 Joint Base Lewis-McChord (TCM / KTCM)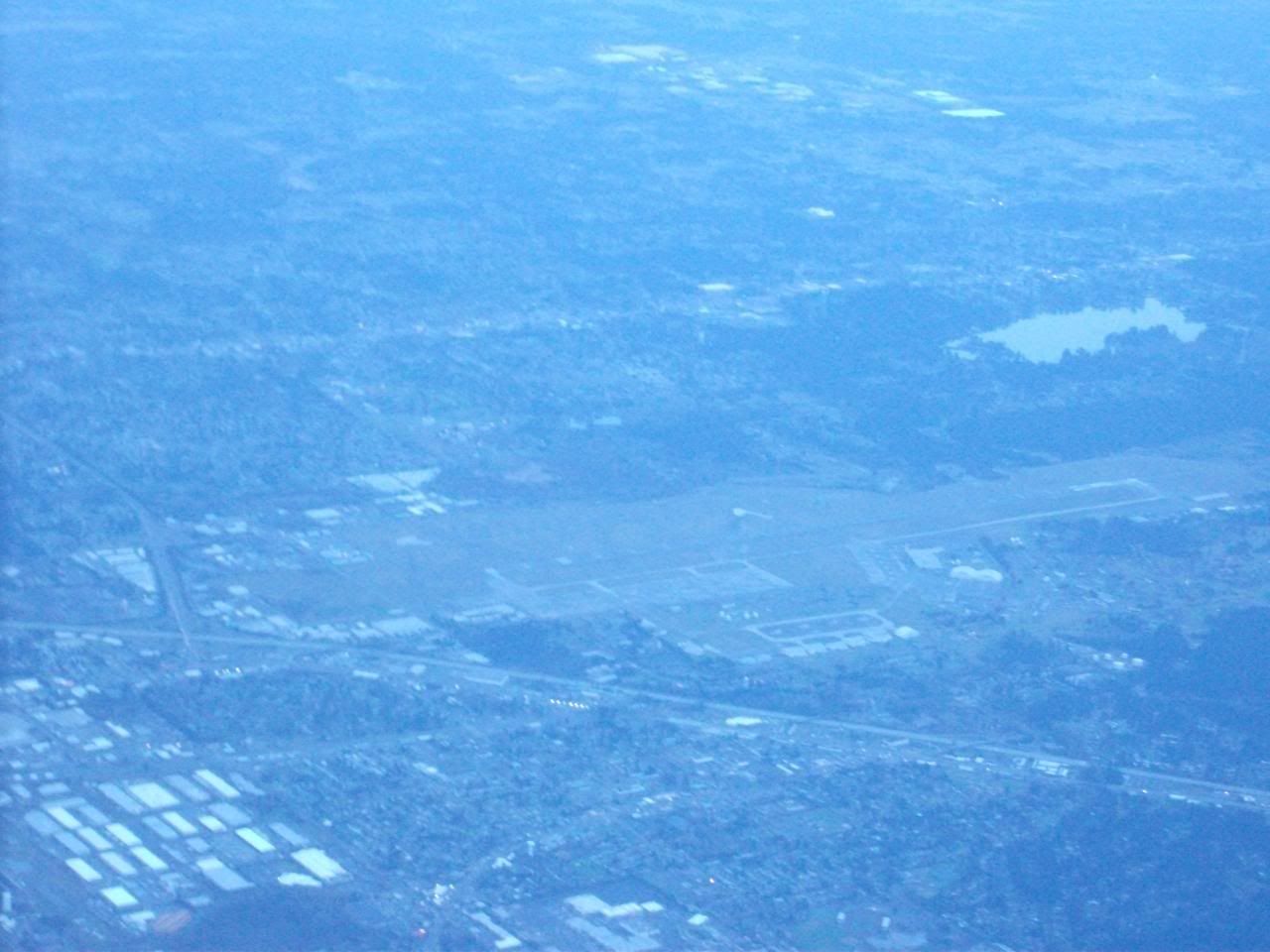 Port of Tacoma and Commencement Bay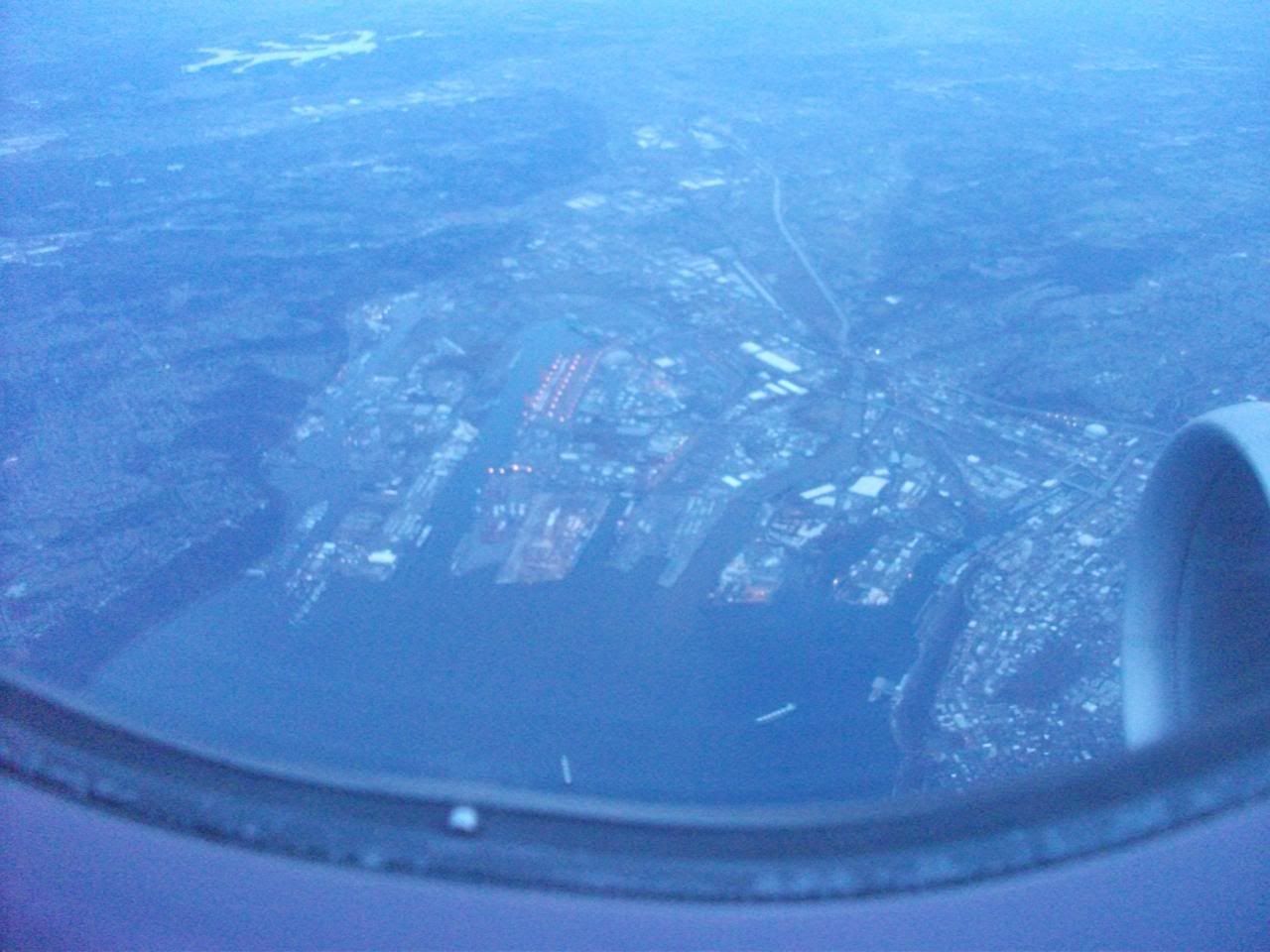 Mount Rainier—it'll cause a lot of havoc if it blows its top; for now, it's sitting pretty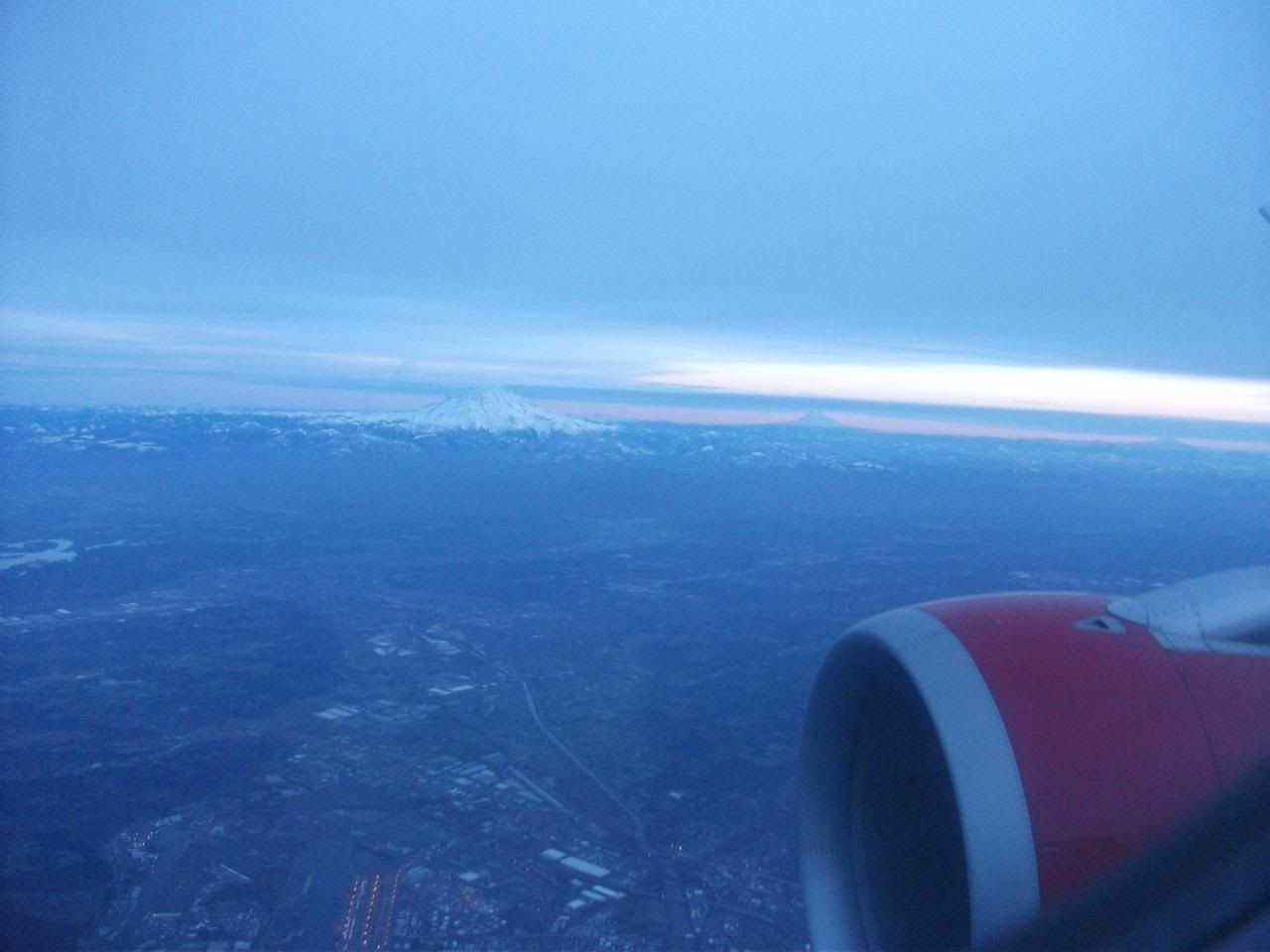 Seattle-Tacoma International Airport (SEA / KSEA)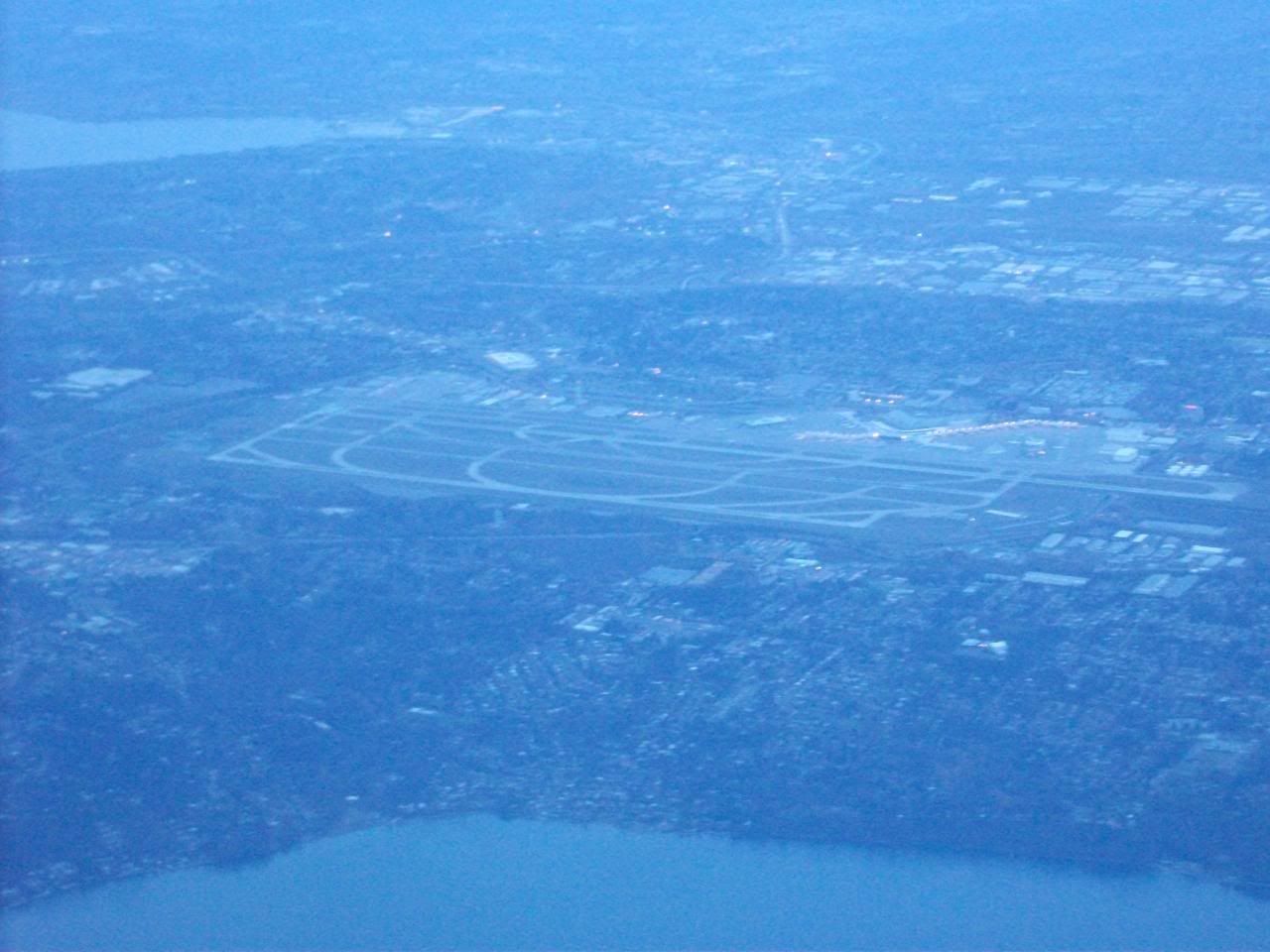 Downtown and water, top to bottom: Lake Sammamish, Lake Washington, Puget Sound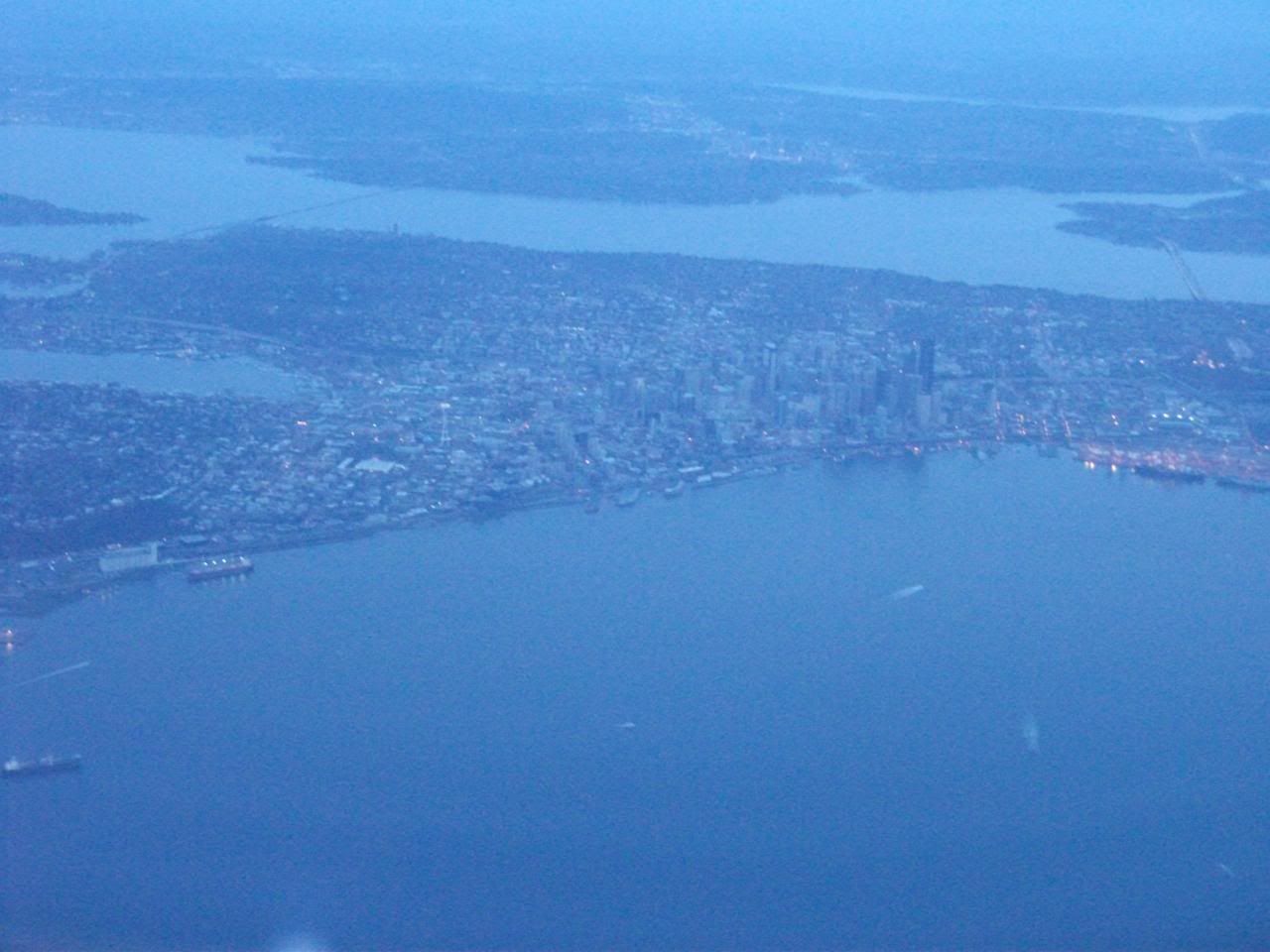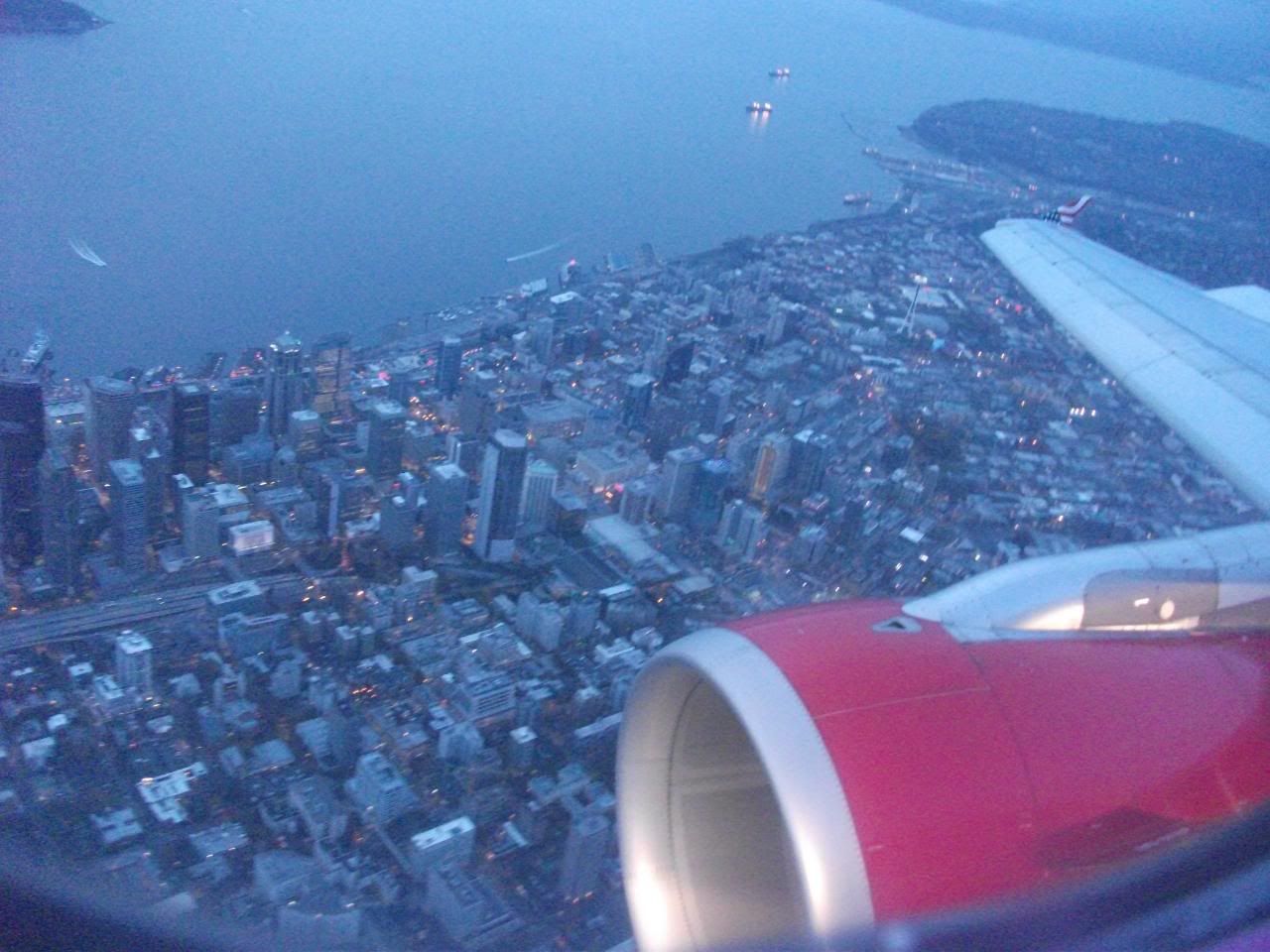 Safeco Field and Port of Seattle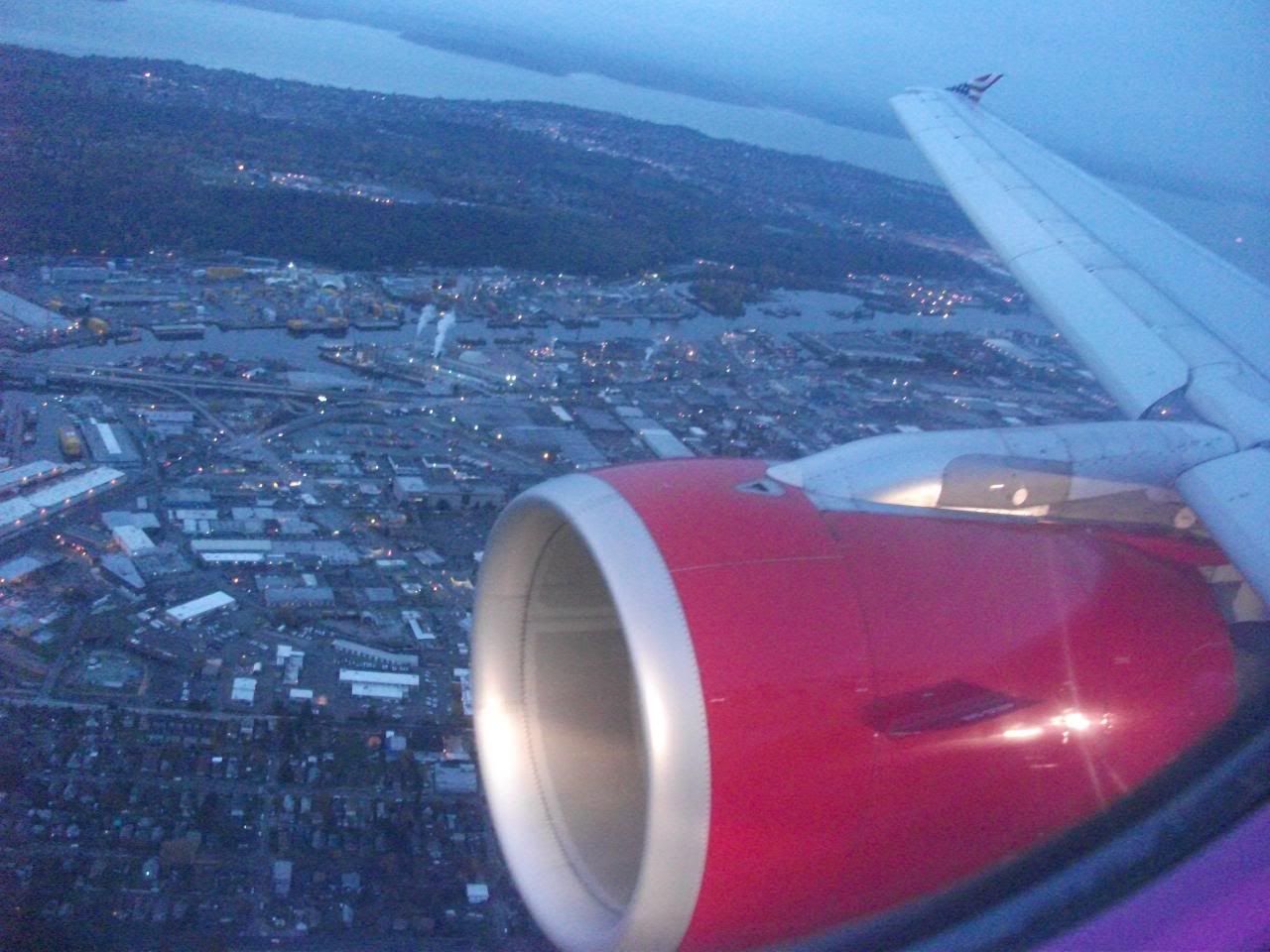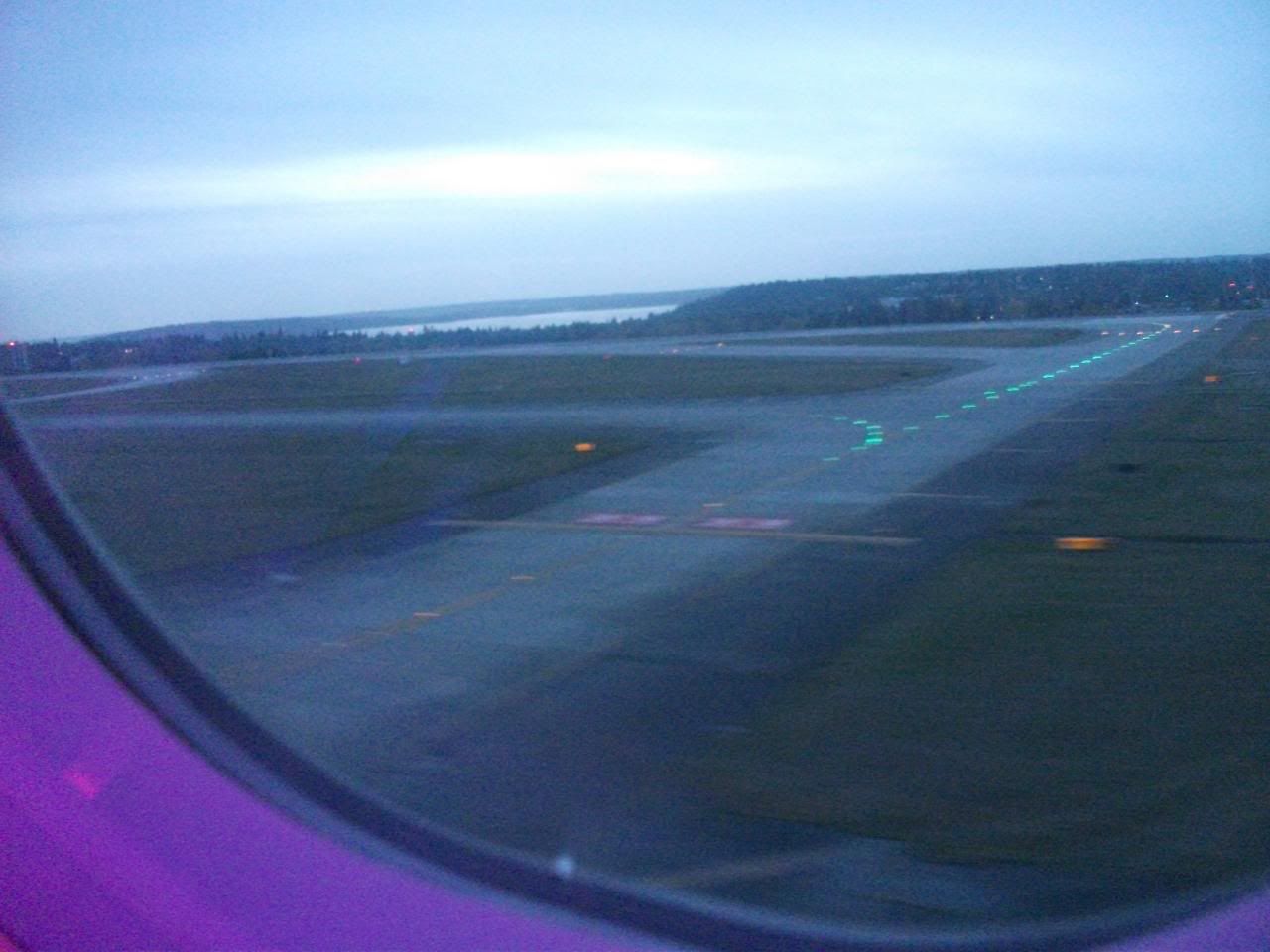 Yet another happy landing
Delta and British widebodies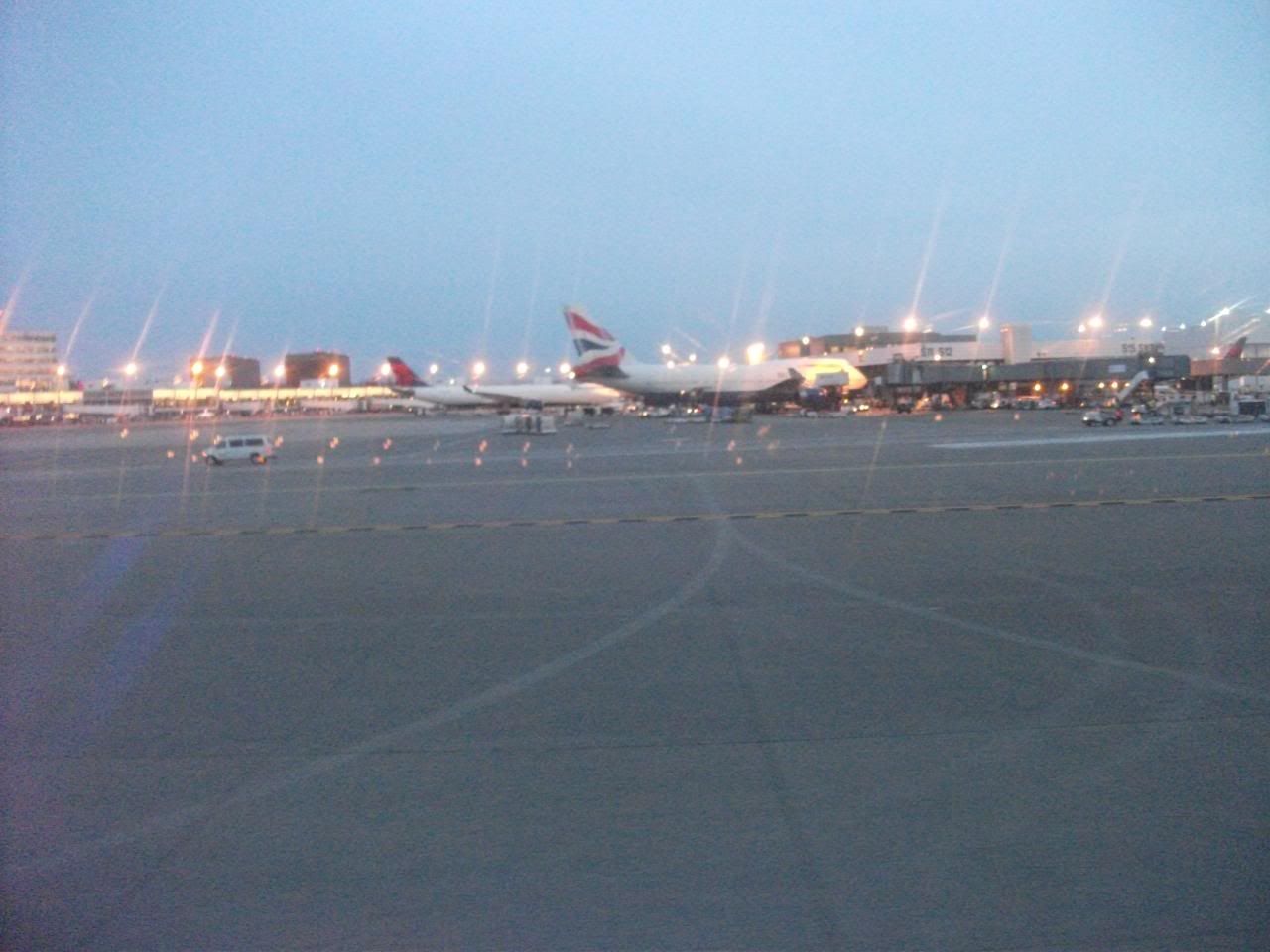 jefferson airplane taking a brief rest at the gate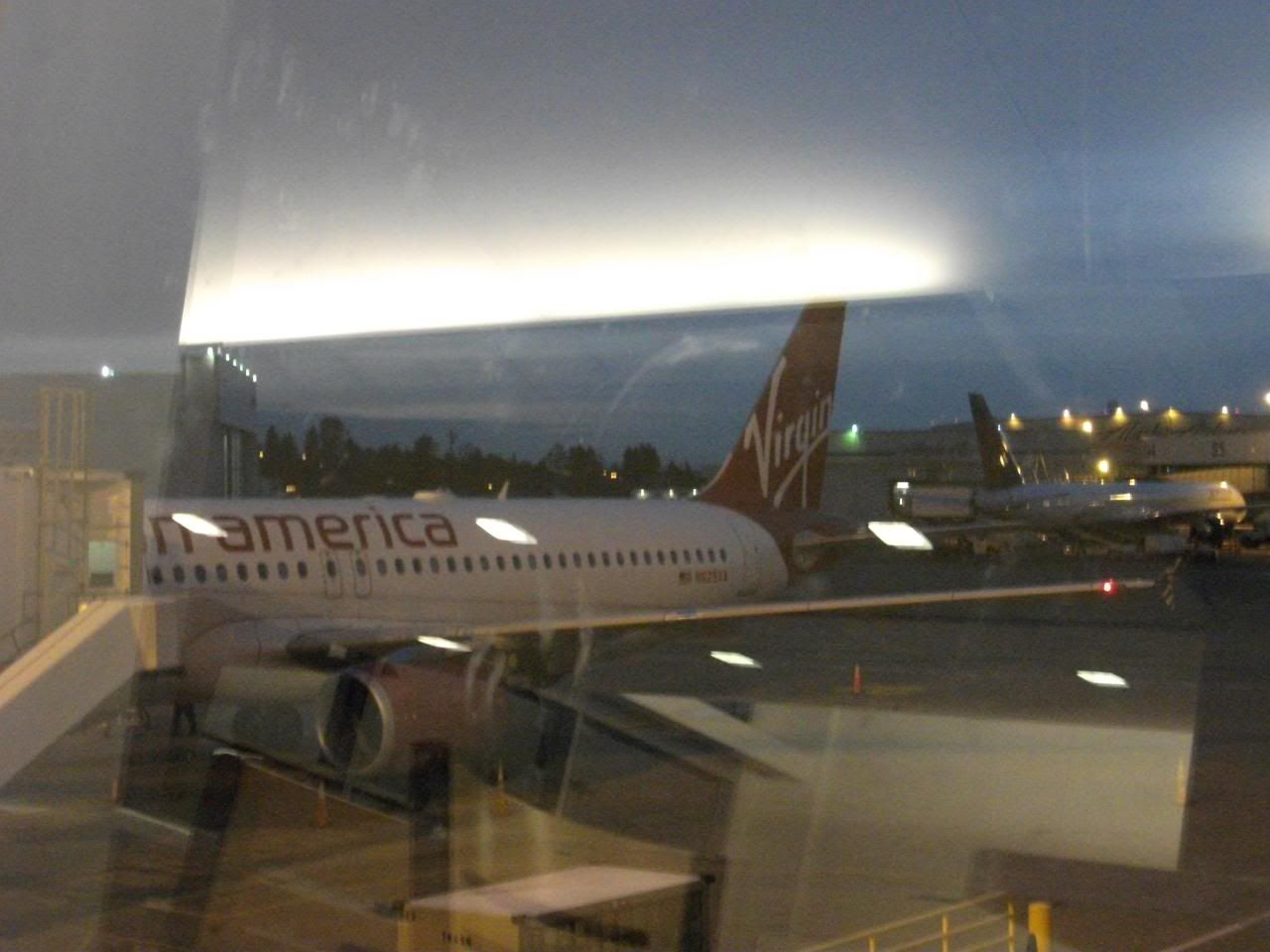 Virgin America ended up leaving a good impression upon me. Sure, they may be experiencing some growing pains financially, but you can't say that they don't look good doing it. The flight attendants were friendly, even if it was purely on-demand service. They got my bag to Seattle in one piece. They kept me entertained in spite of the closed windows.
I can't really think of anything bad to say about them yet. I would certainly consider flying them again if the opportunity came along.
Moving on, here's what I saw as I made my way to baggage claim:
Christmas display. Oops, I'm sorry…I meant "Holiday" display.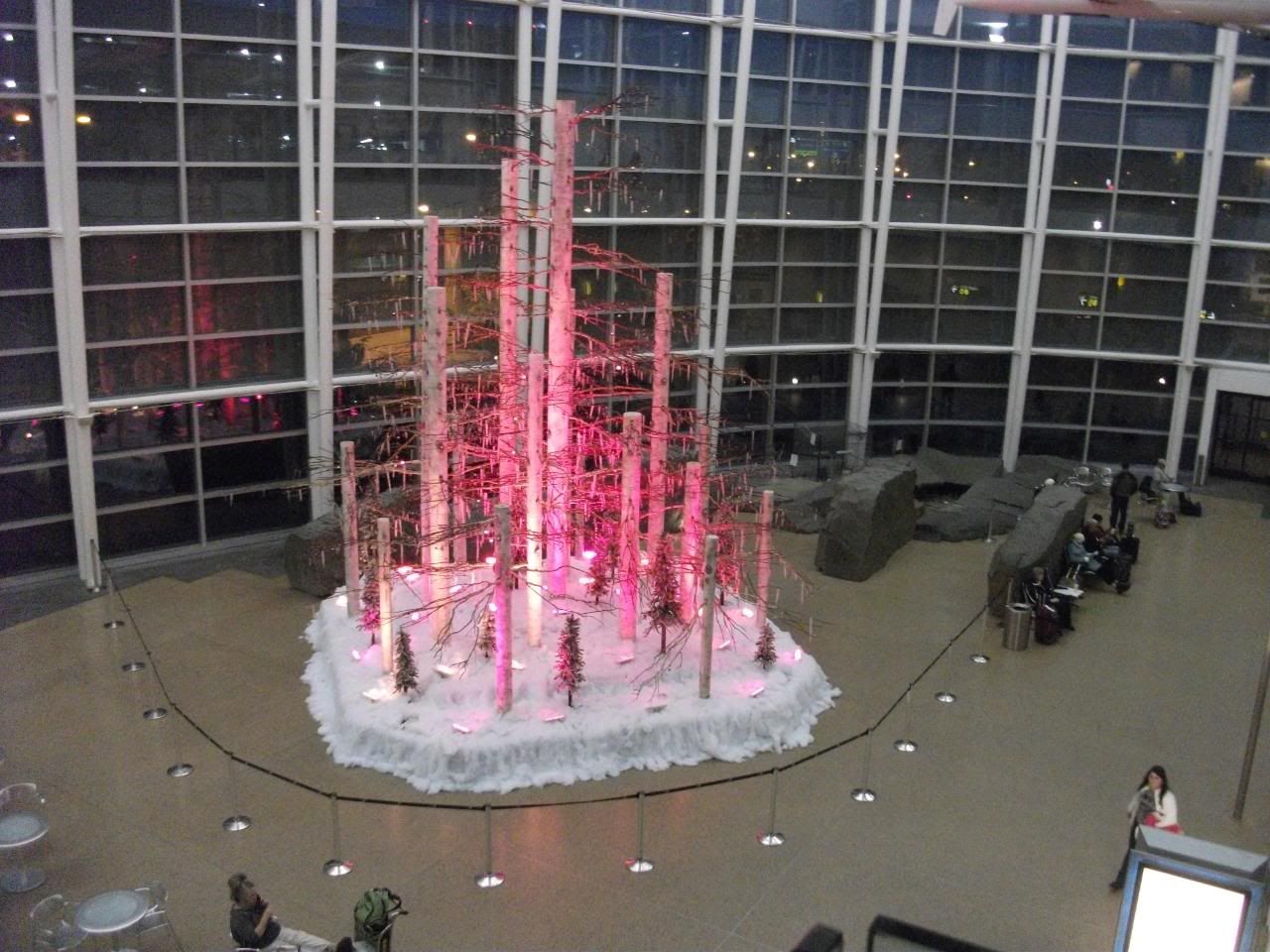 Hanging planes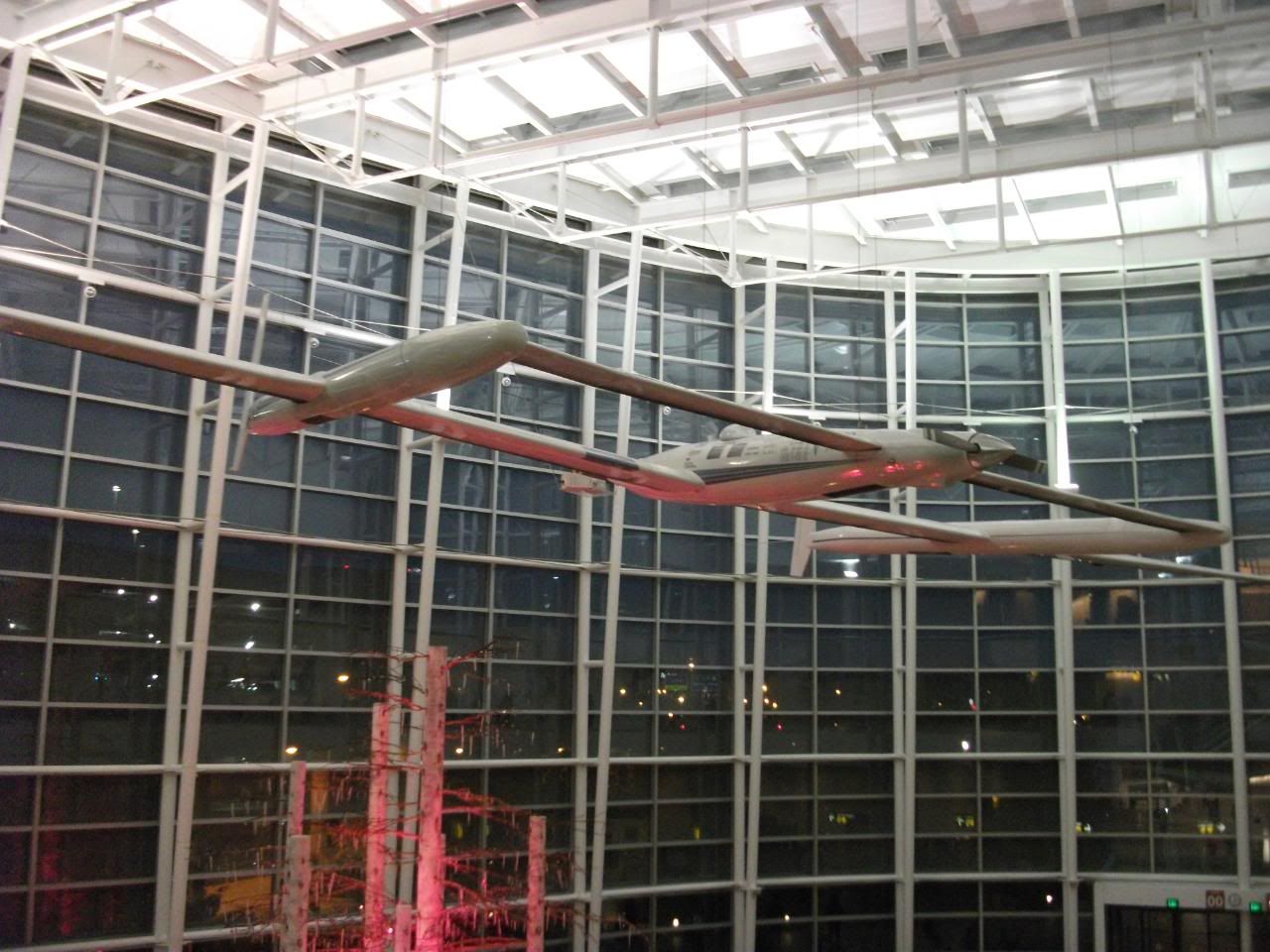 The next stop was to the rental car counter to collect my ride, then a drive to the hotel. As you can imagine, there were more than a few people in the downtown area at the time, resulting in the aggravation you get when you have to fight through a horde of people to achieve an objective, especially the Black Friday crowds. With that said, I made it to the parking garage without incident.
I took a few minutes to compose myself in my hotel room before venturing out into the rat race once again. I stayed at the Grand Hyatt in a room on the 26th floor: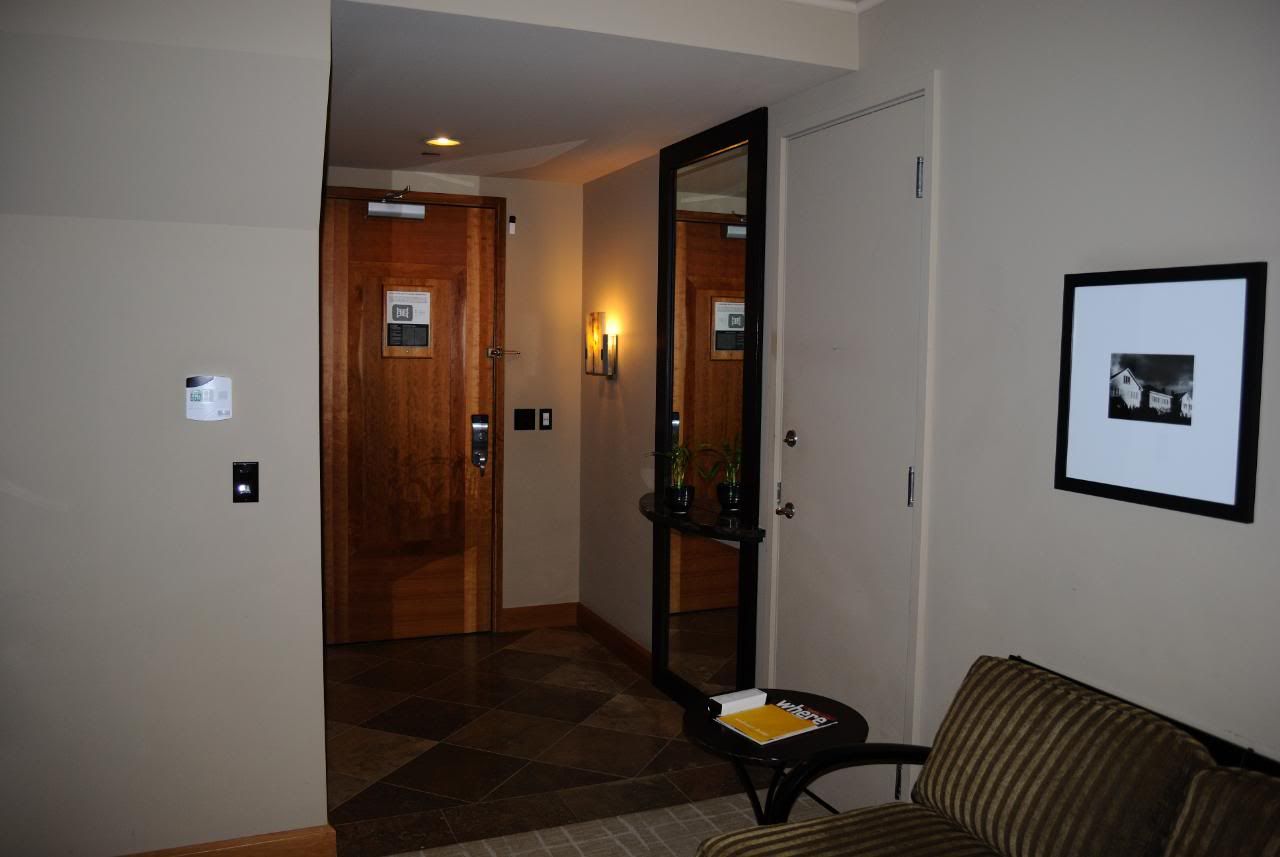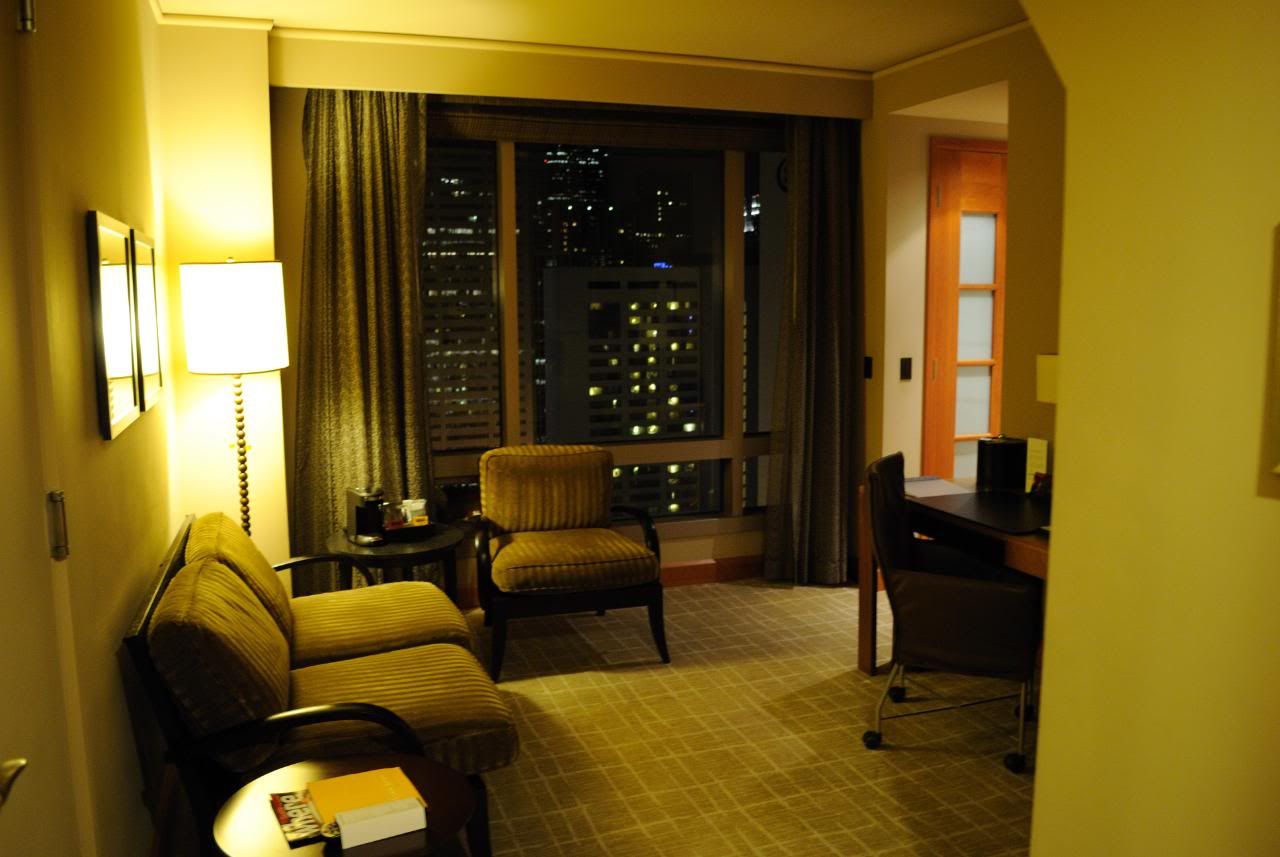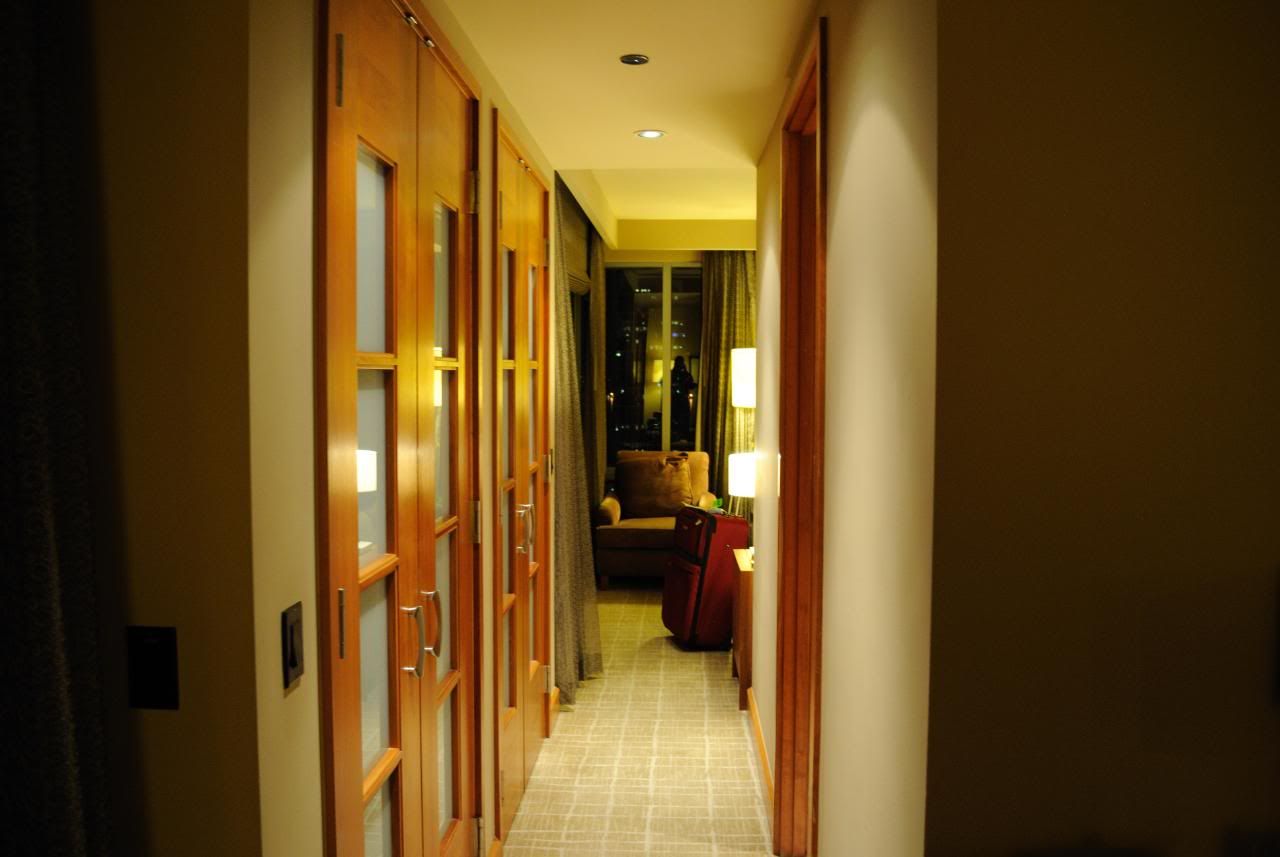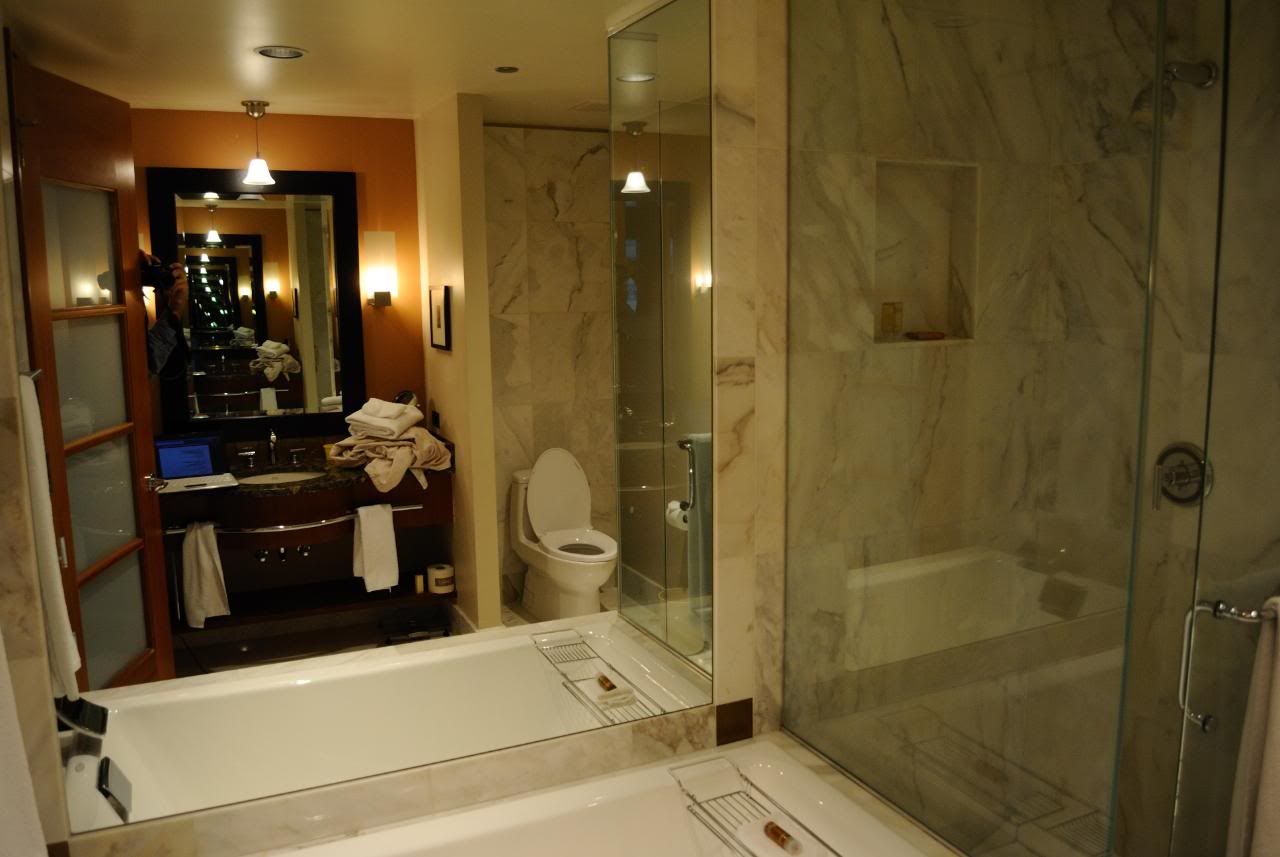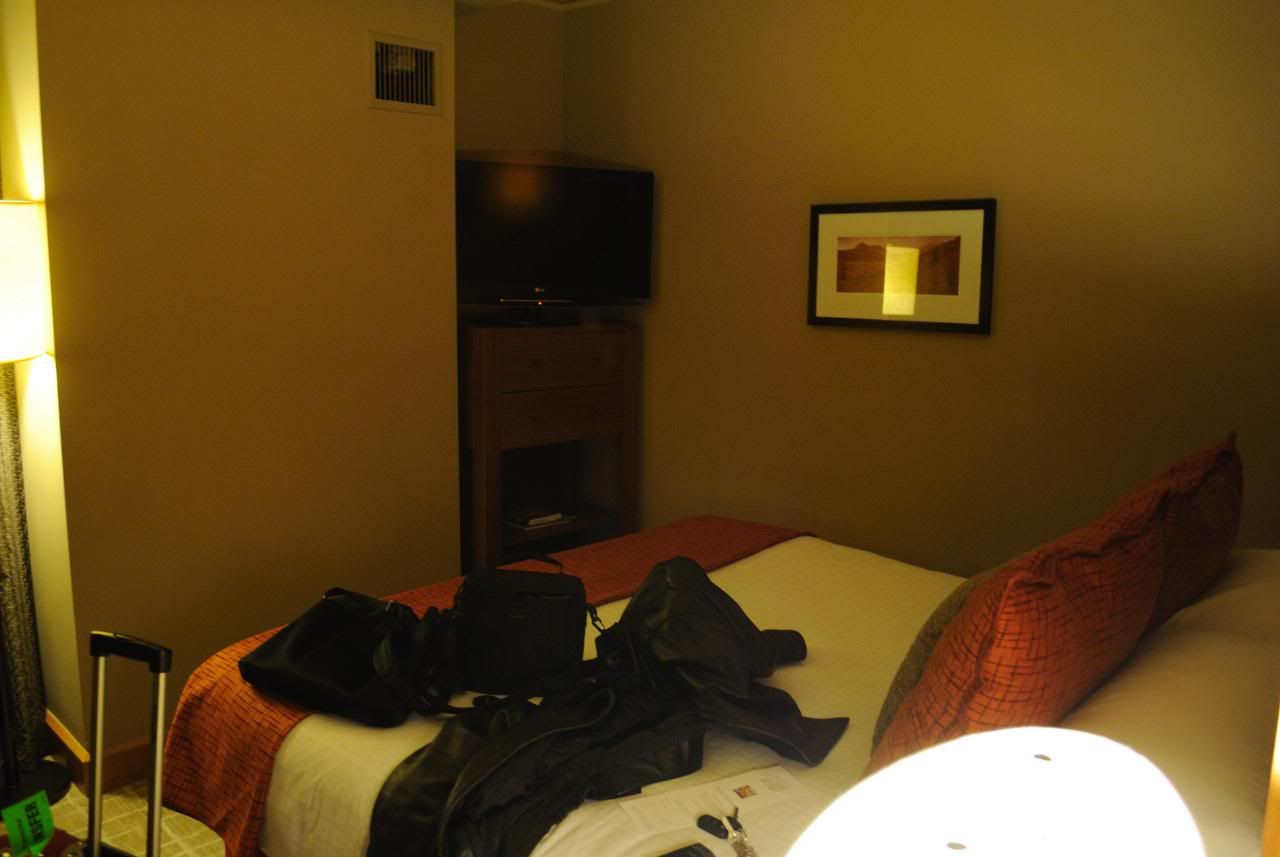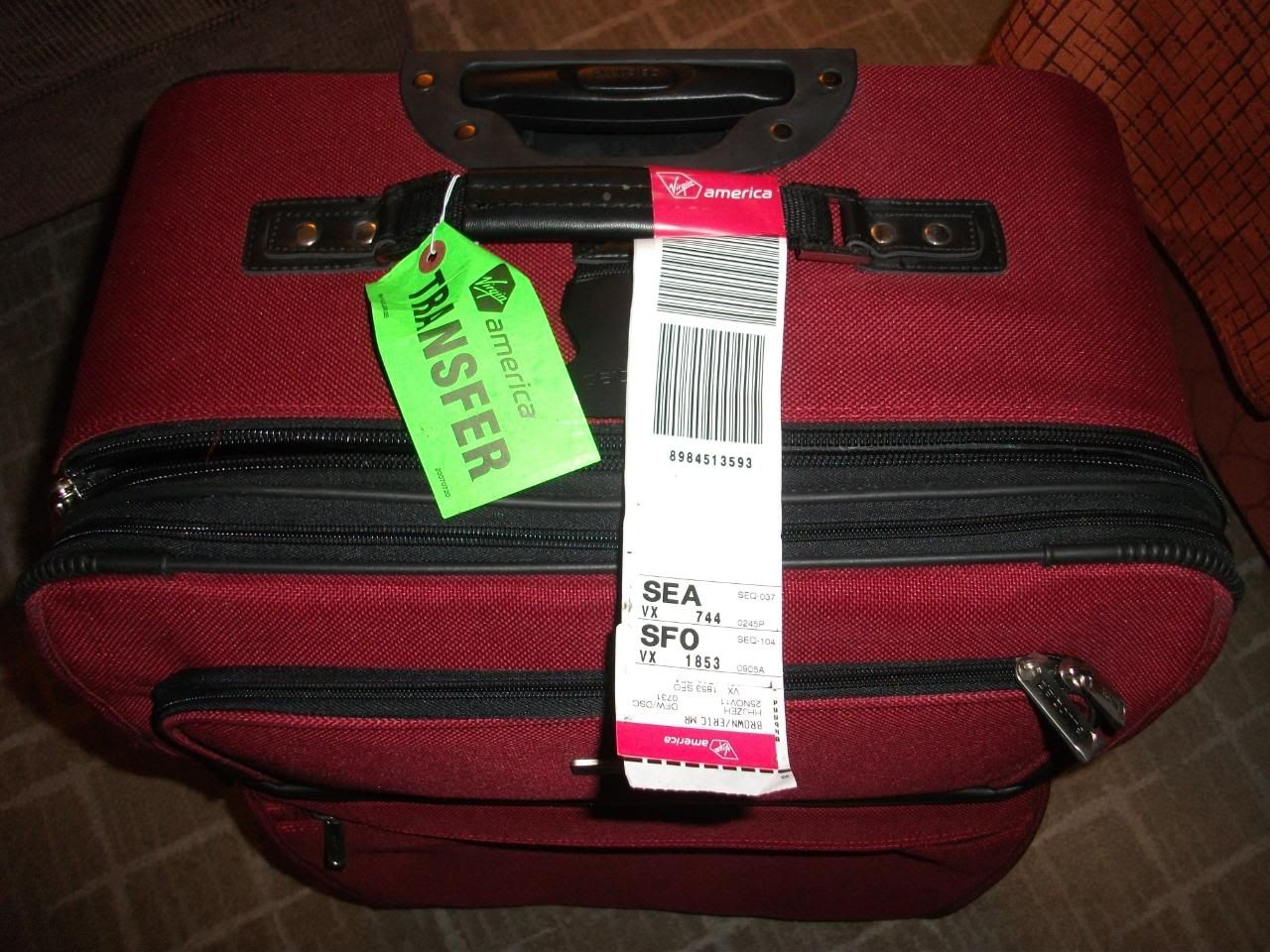 My view for the next few days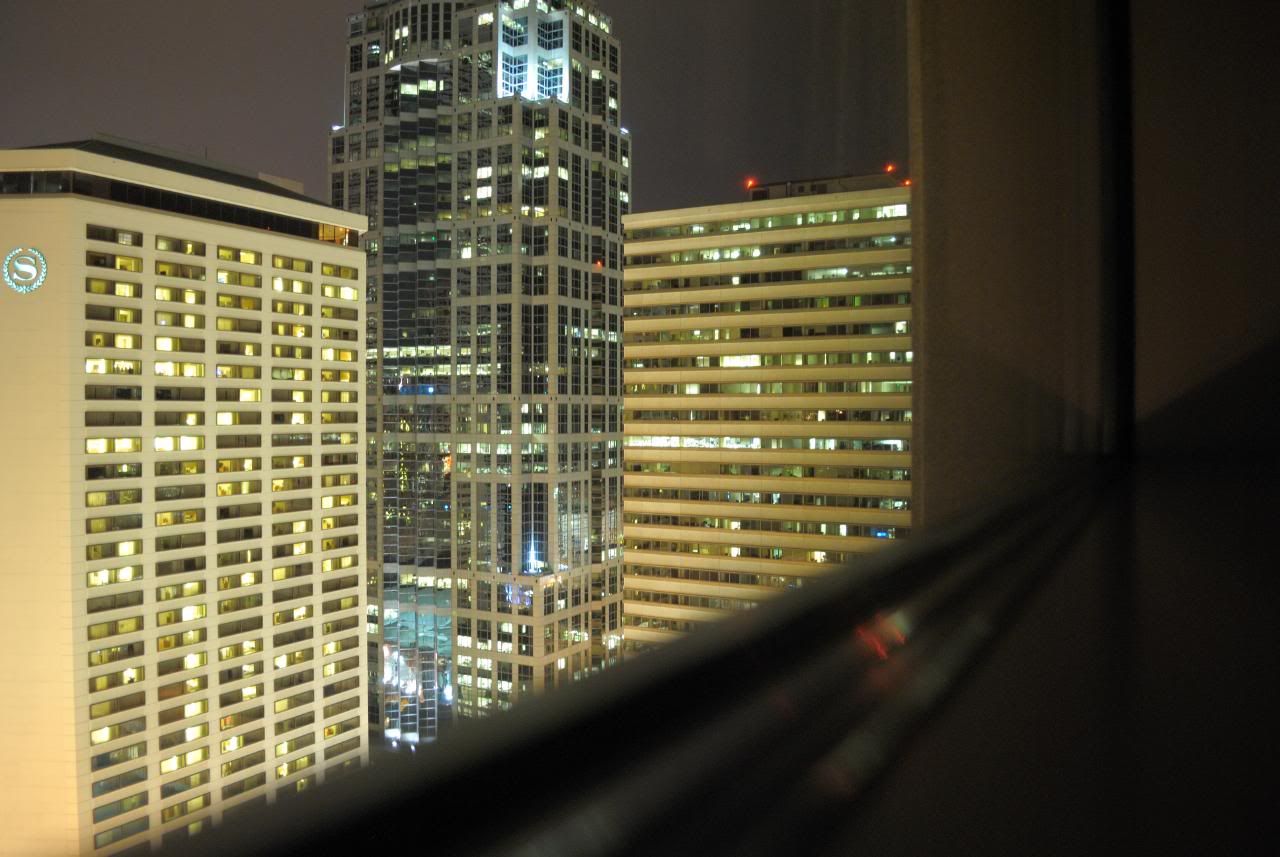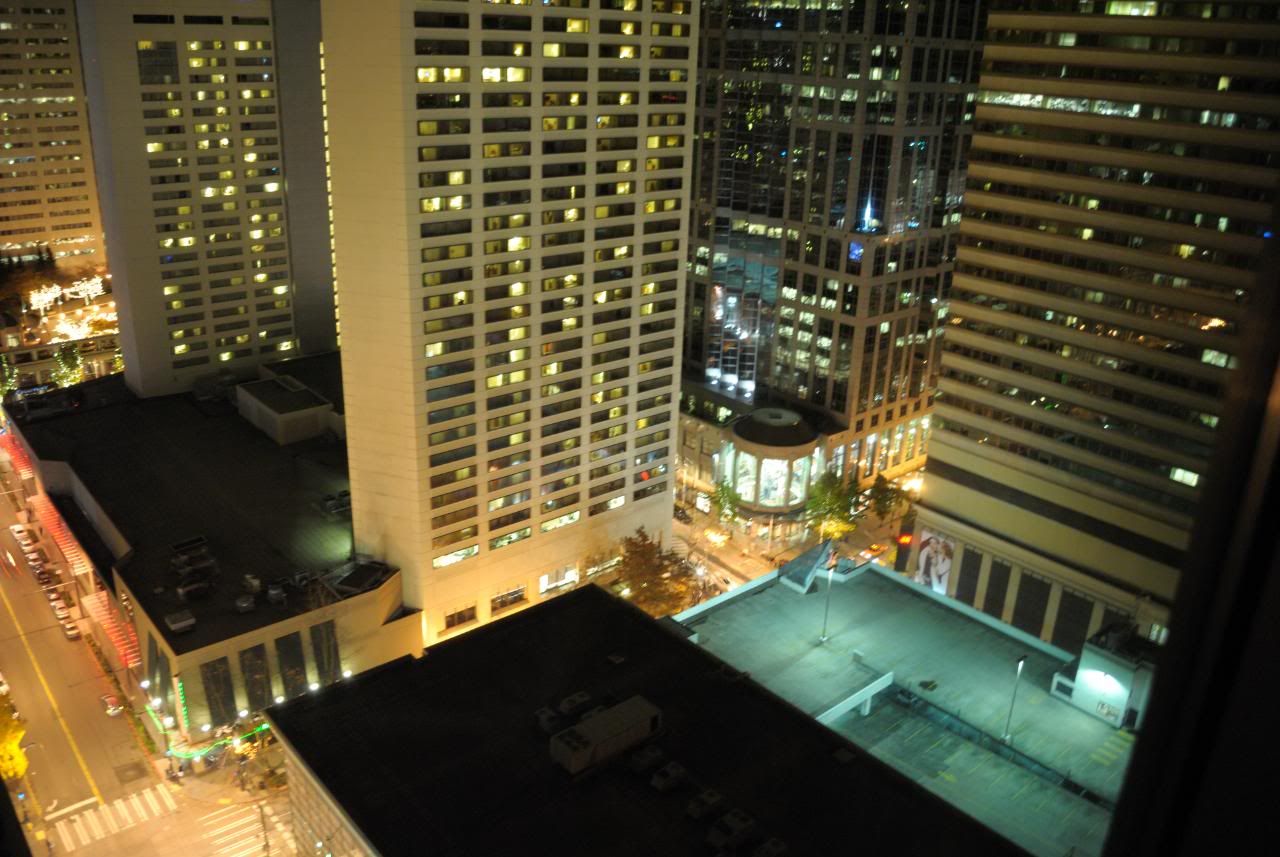 Near to far: Roosevelt Hotel, Nordstrom headquarters and flagship store, Macy's, etc.
One of my attractions to the downtown areas was that so much of everything was so easy to get to. One of these places was the Dahlia Lounge, a restaurant a few blocks away from the hotel. Along the way:
You see that group of people at the intersection? They're Occupy Seattle protesters. There were a fair number of police officers looking on, but it was all peaceful as far as I could see. Nevertheless, I didn't hang around there too long.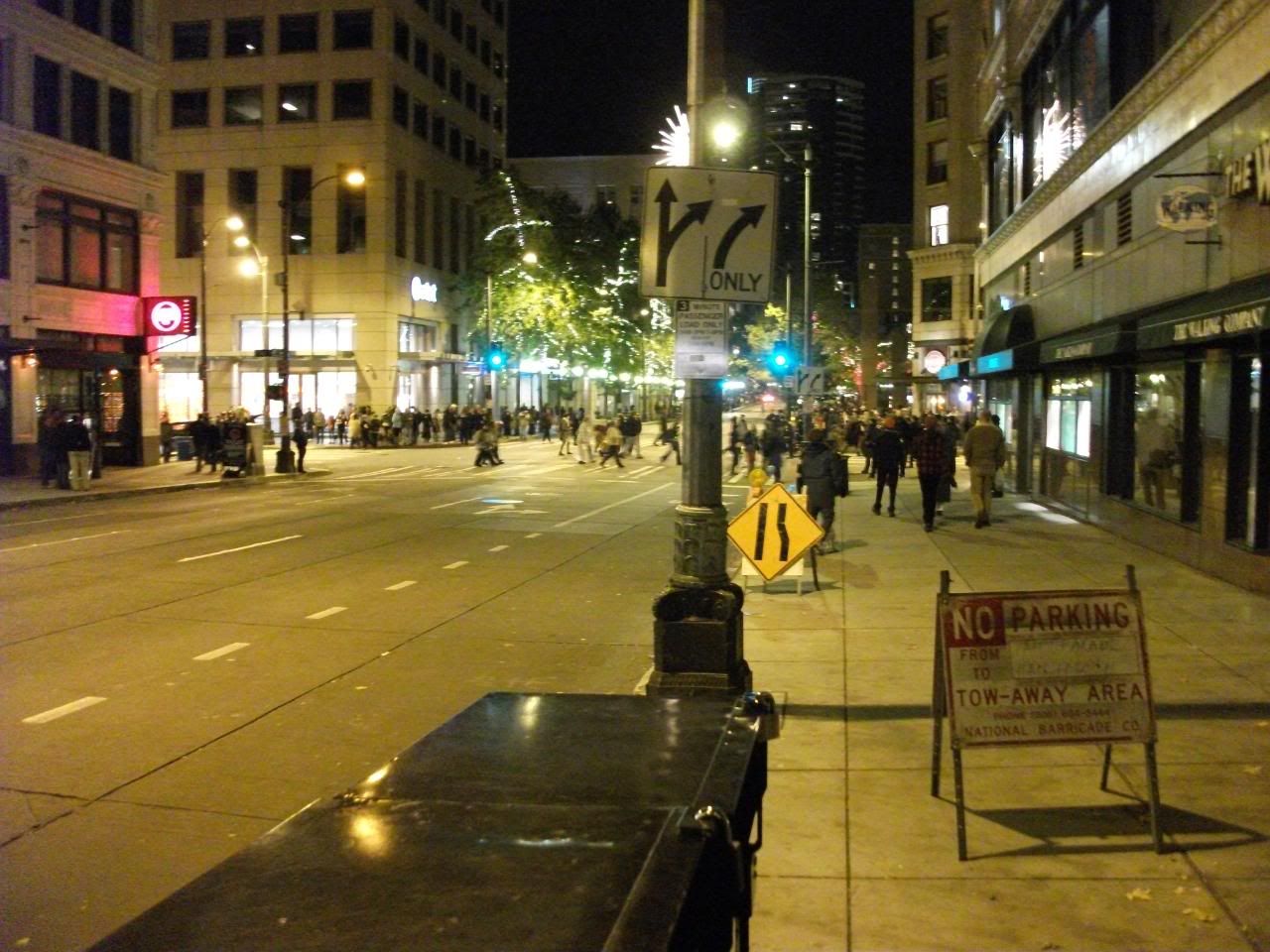 The restaurant was dimly lit and quite busy. Getting unobtrusive pictures was a challenge, but here's what I came up with:
Under the table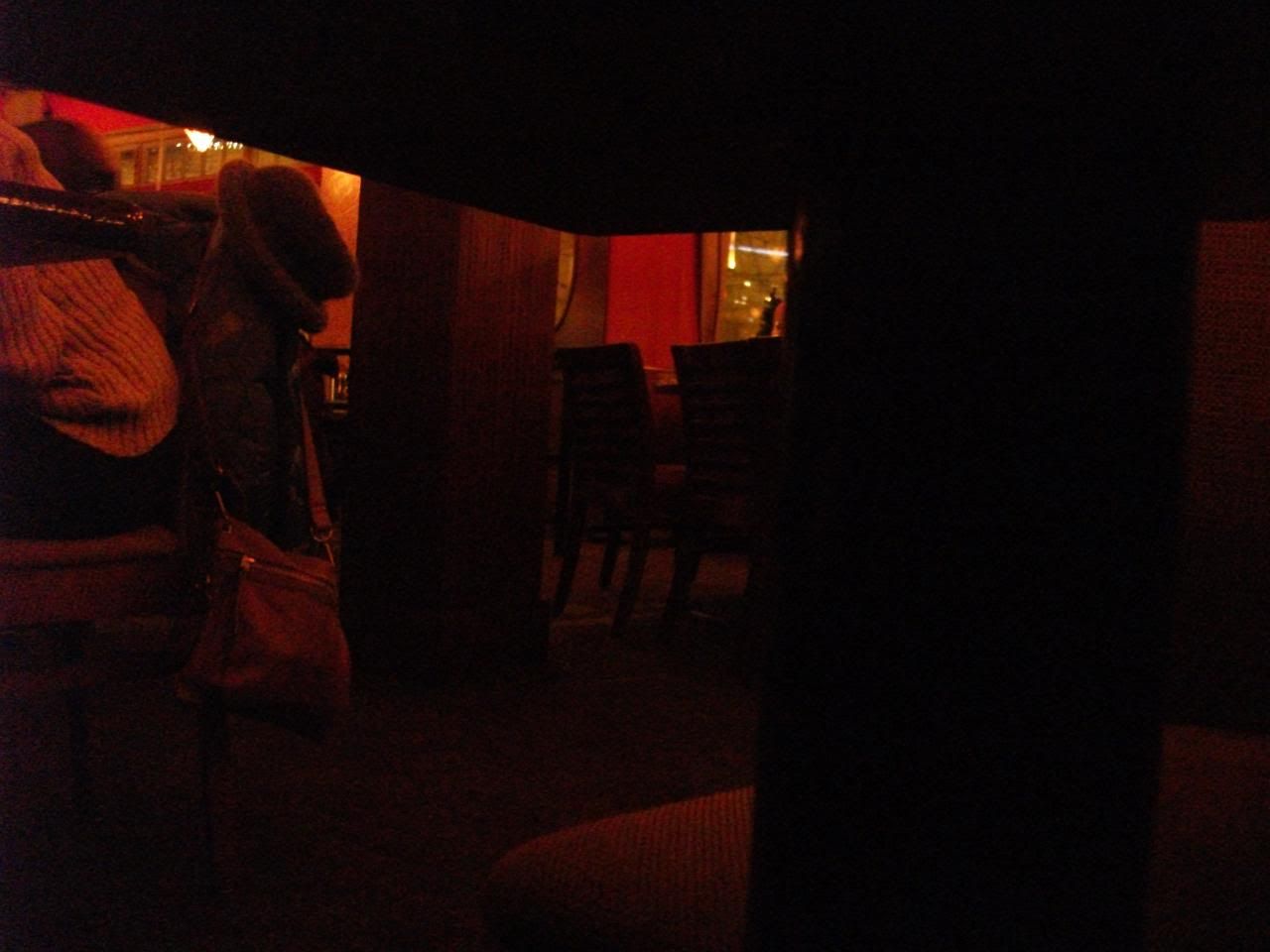 Blurry shot of my Dahlia Manhattan
The Tuscan Grilled Bread Salad. (with pesto, olives, mozzarella, spicy coppacola) Pretty darn good.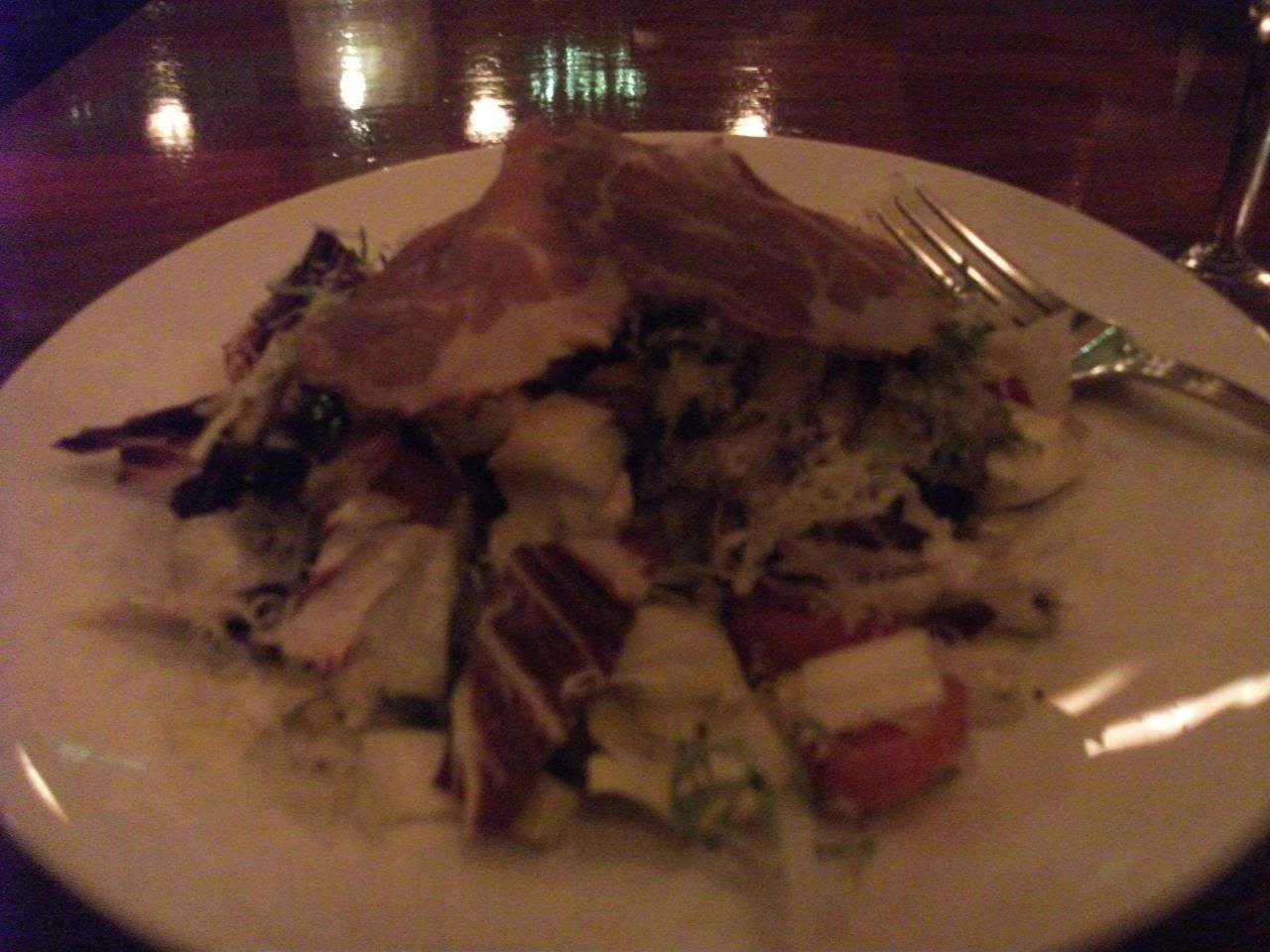 Finally, a decent interior shot!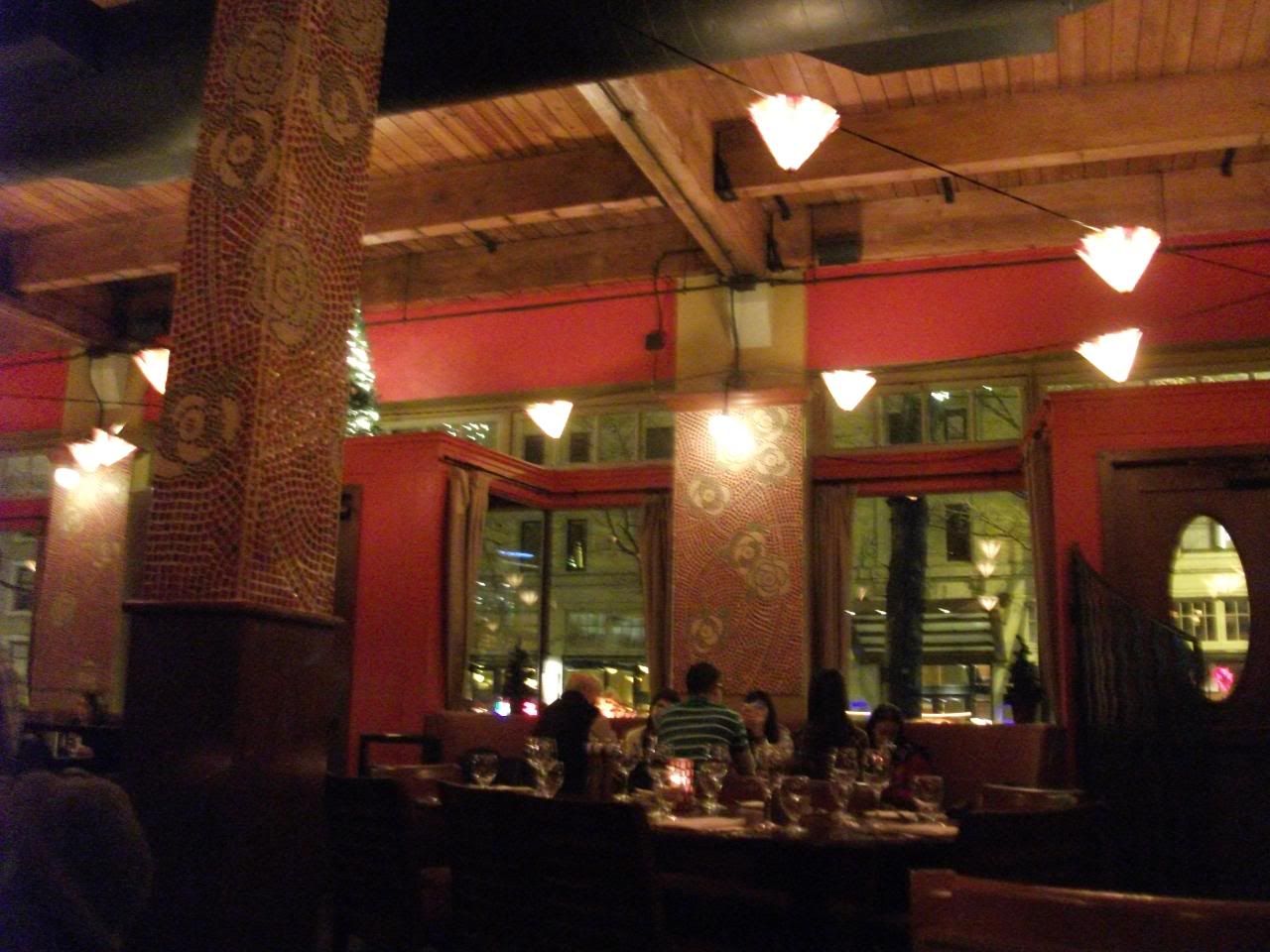 Sign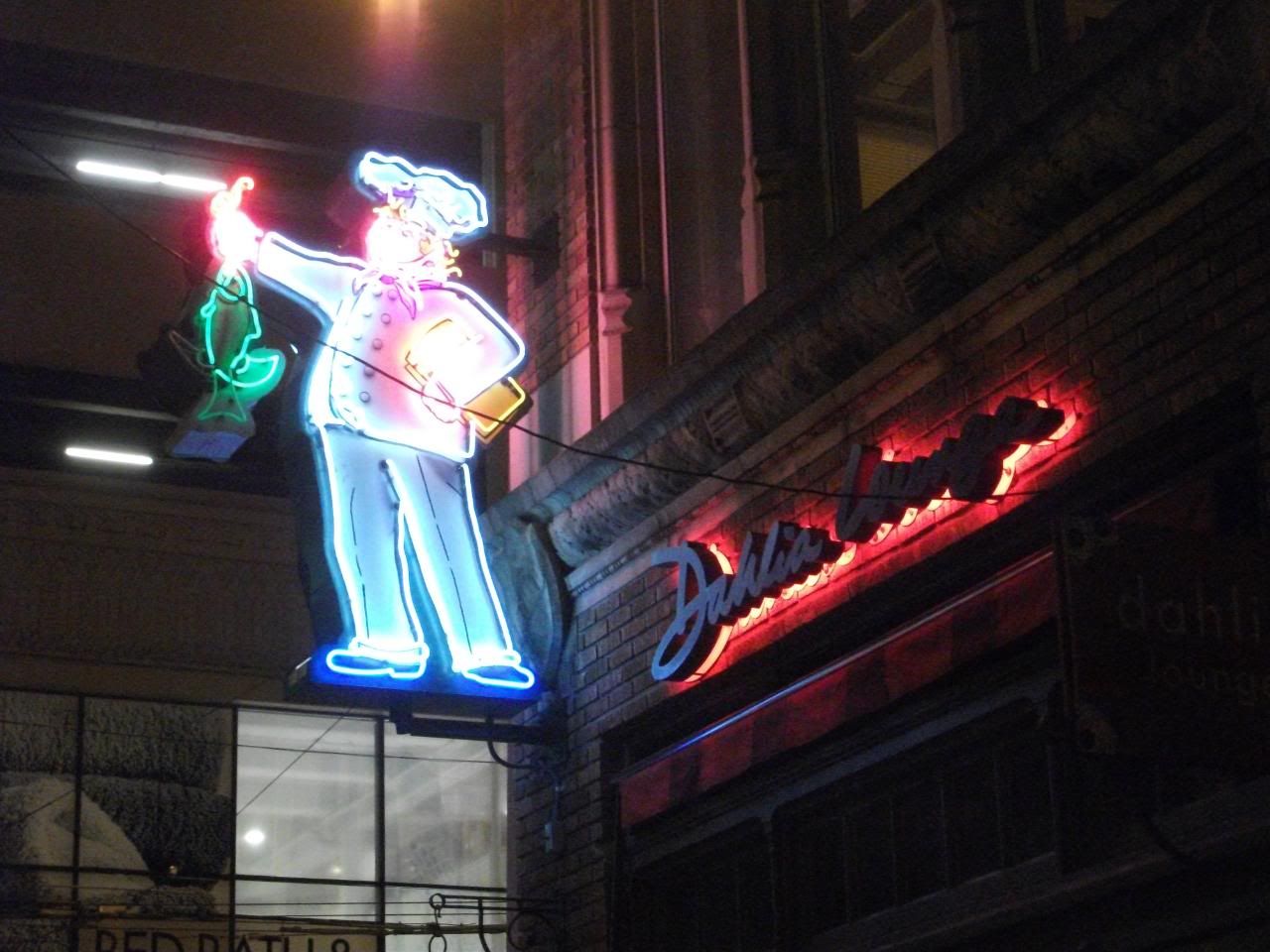 I decided to take advantage of the fact that it wasn't raining—a fact that weather forecasts were eager to change—to see what night photography I could pull off. It's a combination of shots from my point-and-shoot and my "real" camera. But before I could do that, I had to go back to my room and retrieve the memory card I accidentally left behind.
The Grand Hyatt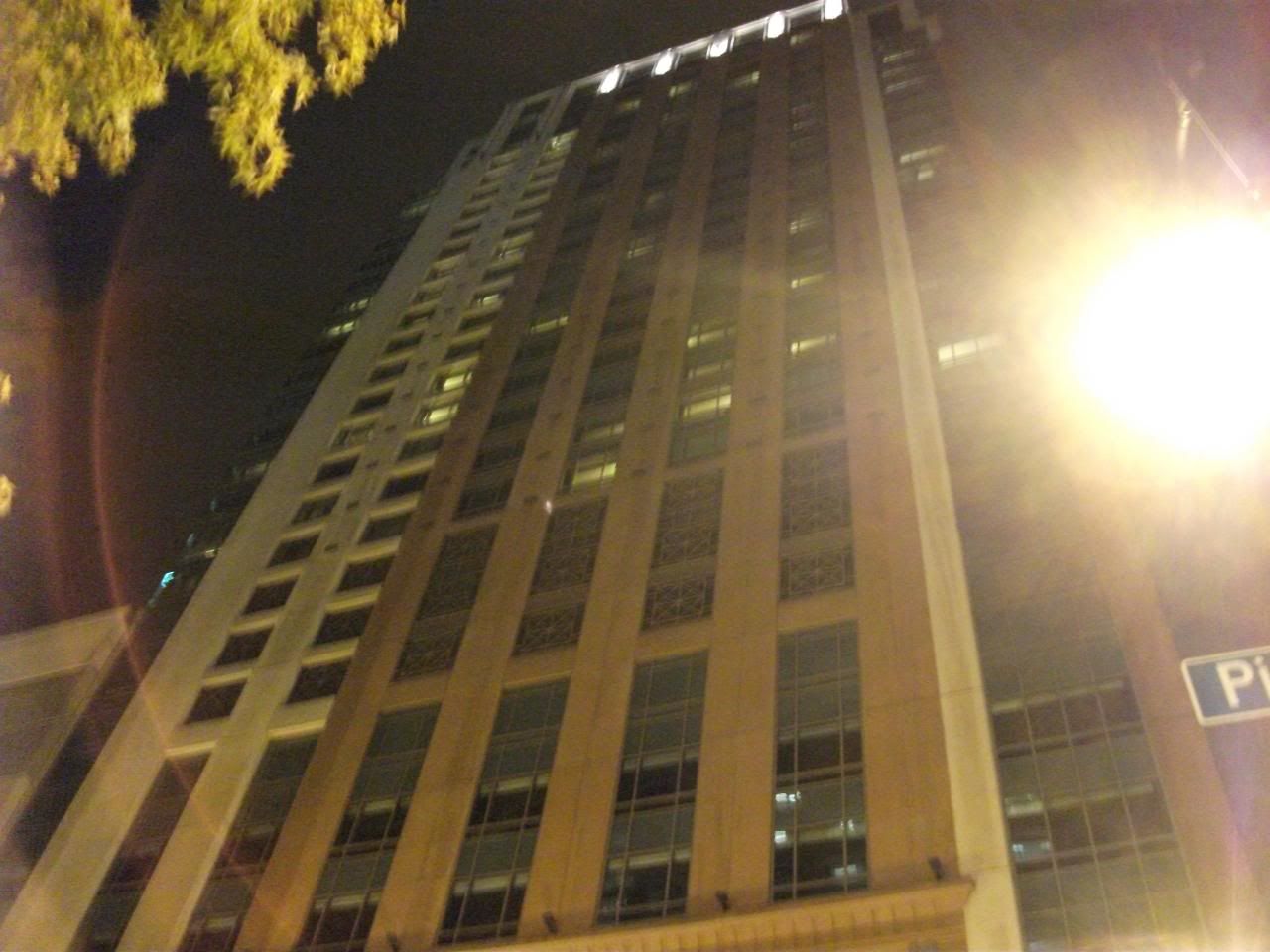 26th floor elevator lobby
Perhaps they could get Boeing to sponsor the hotel and call it the Hotel 737 MAX?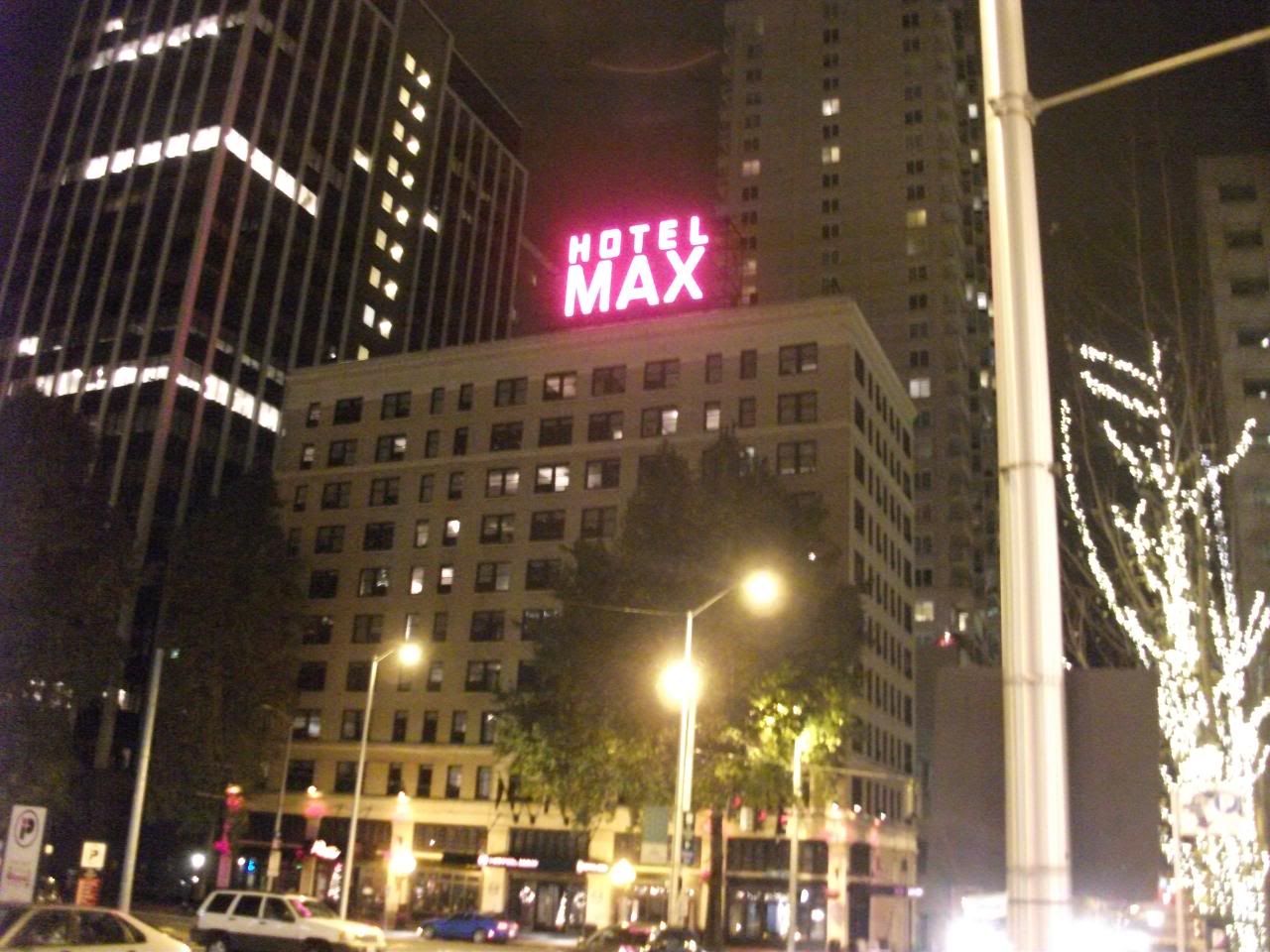 Space Needle down the way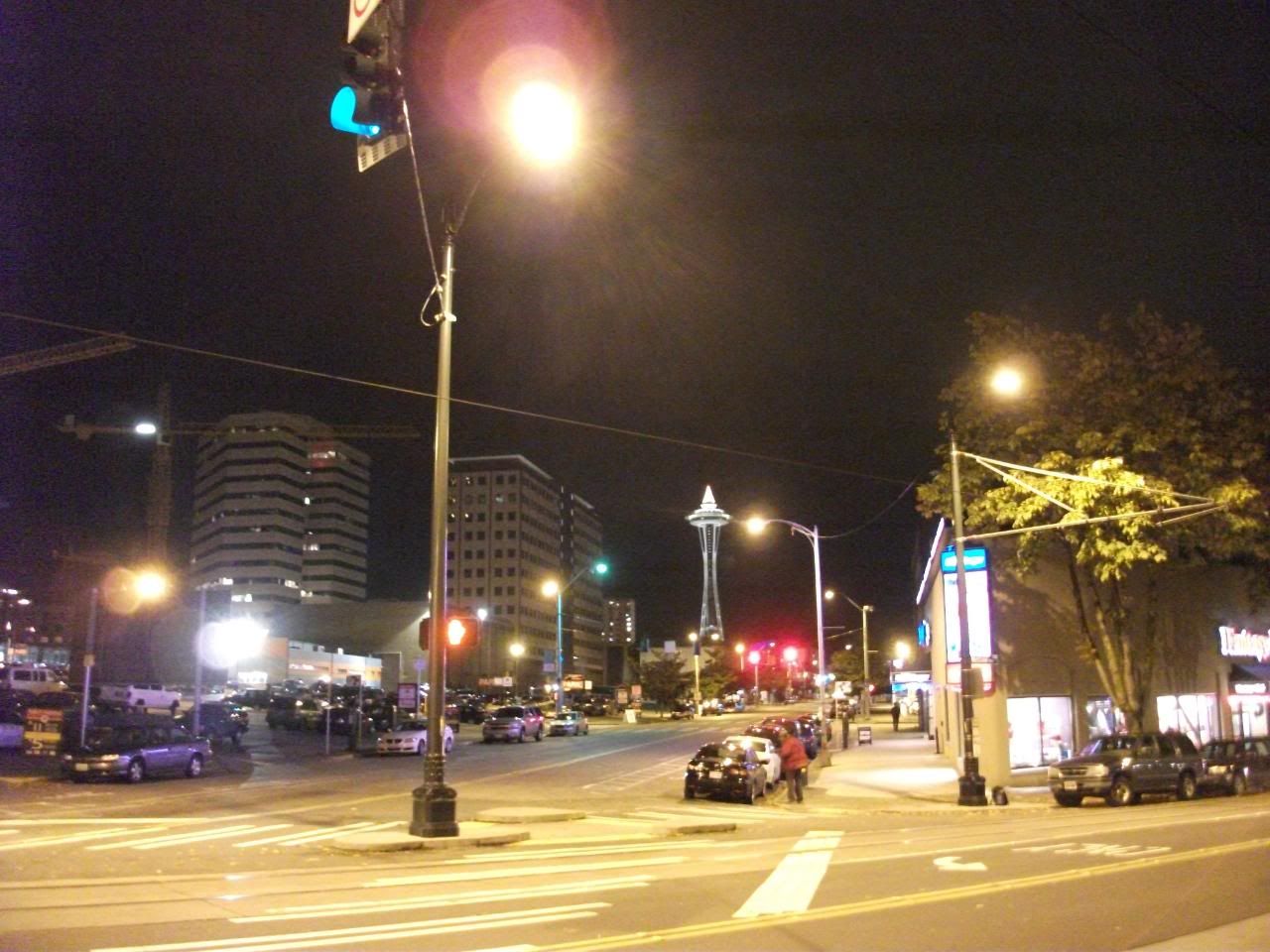 Buildings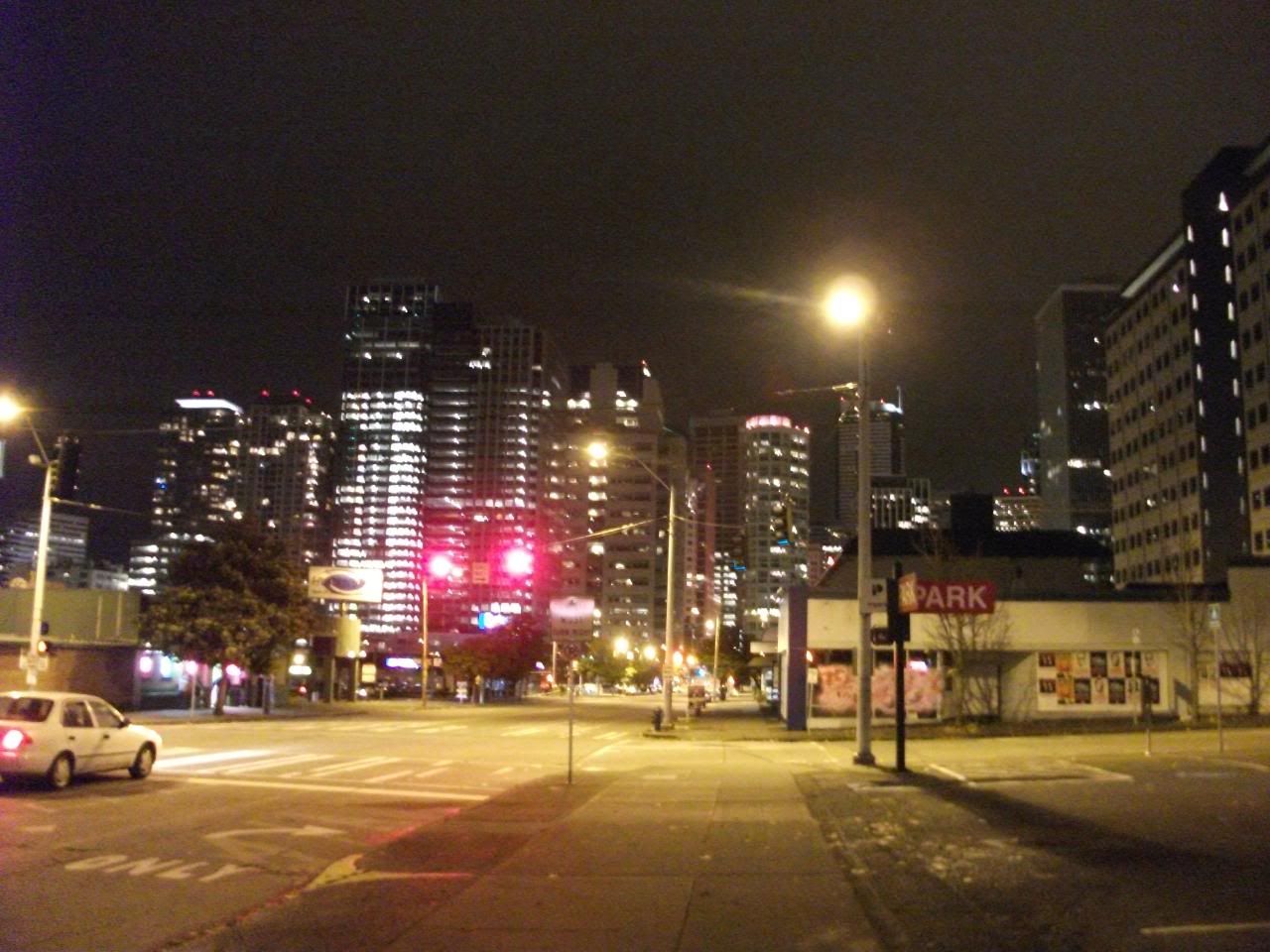 Space Needle a little closer
A display of some sort in front of the Needle, but I'm afraid that I'll call it the wrong thing…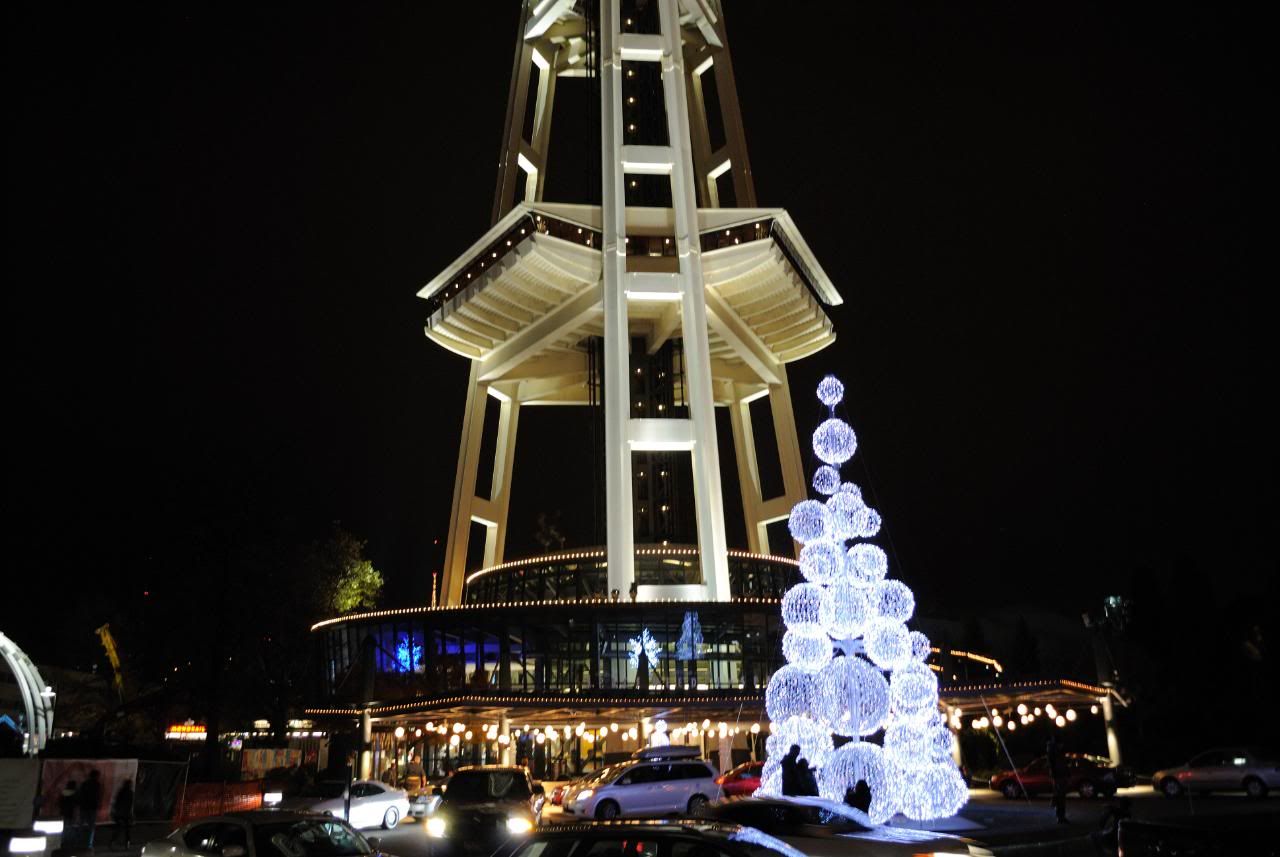 Seattle Monorail (I got out my wallet to pay the conductor, but he let me ride for free. Thanks, conductor!)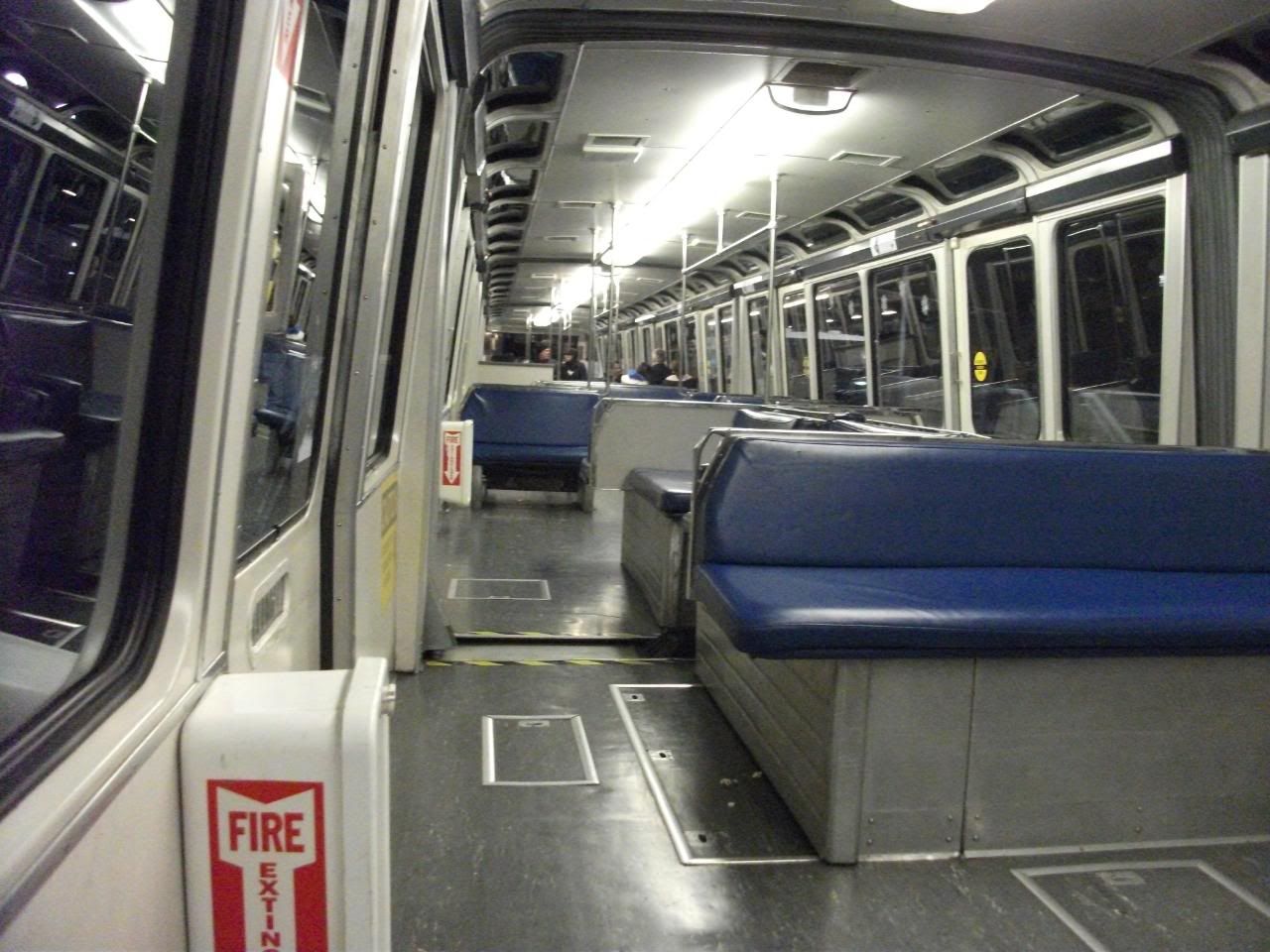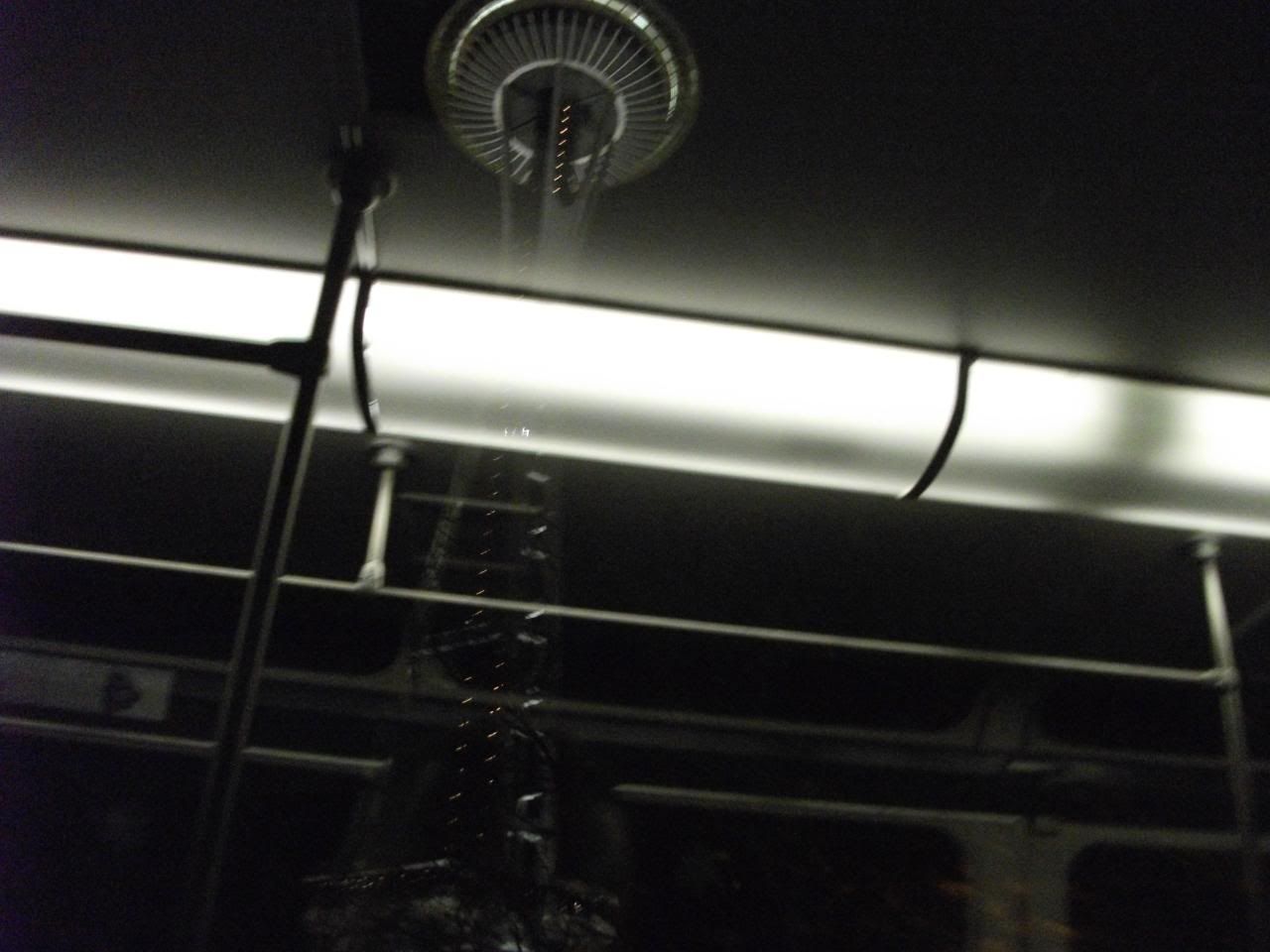 Thank you, Starbucks…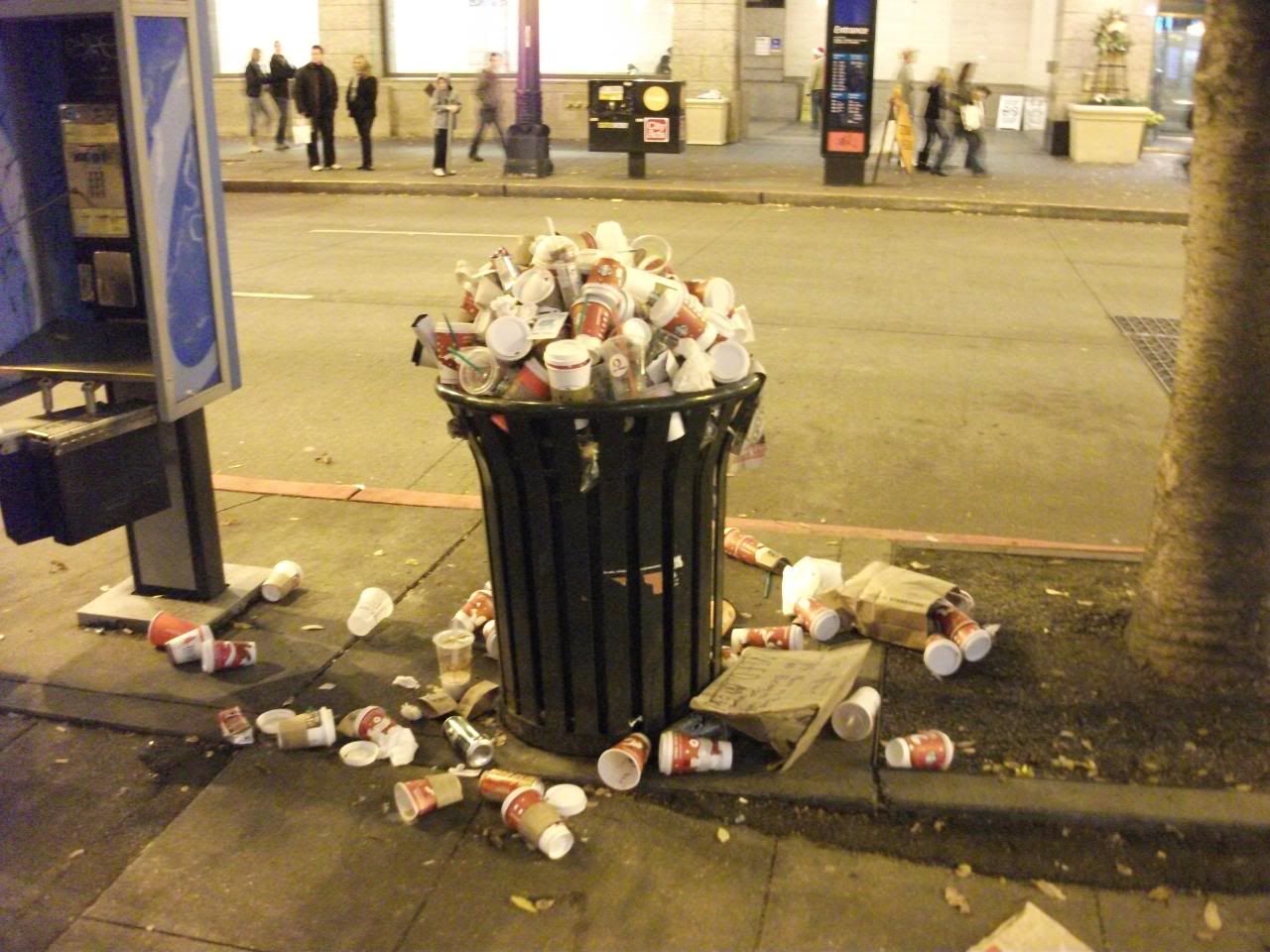 Continued below…