Background
It has been over three years since my last trip report but that doesn't mean I haven't been flying. In fact a few months ago I accepted a job in Ohio and for a few months I commuted every week from my home in Kansas City, Missouri to Dayton, Ohio—giving me more than enough flying to earn Platinum status on Delta Airlines for 2012. I've also been able to do some non-commuting travel over the last few months… including a recent trip to Phoenix to attend a conference.
I received a pamphlet on the conference last summer. The conference was to be held at the Arizona Biltmore Hotel. I studied design in college and am a HUGE Frank Lloyd Wright fan and have toured many of his homes. I knew that he was one architects who designed the Biltmore Hotel back in the 1920's so that was a bonus for making the trip… plus in the next city, Frank Lloyd Wright established a home, studio, and architecture school in the 1930's and lived there in the winter until his death in 1959 (Taliesin West). This home/studio is also open to the public. SIGN ME UP!!!
Booking the Flight
People may think I am crazy, but I enjoy the process of booking flights. For me it is like the anticipation of Christmas or a birthday. I love exploring all the options and finding the best itinerary. I needed to travel over the weekend to arrive in time for the conference, so I wanted to make sure I maximized my flying experience—maximize miles, select an aircraft with the most amenities and best chance for a complimentary upgrade, and make sure there was a meal served. Here's the itinerary I settled on:
10/29/2011
Dayton -> Detroit -> Phoenix
DEPART – DAYTON 1:32 PM Delta #4155 (Delta Connection – CRJ)
ARRIVE – DETROIT 2:44 PM
DEPART – DETROIT 3:55 PM Delta #2021 (Delta Mainline – 757-200)
ARRRIVE – PHOENIX 5:23 PM
11/02/2011
Phoenix -> Detroit -> Dayton
DEPART – PHOENIX 11:45 AM Delta #2122 (Delta Mainline – 737-800)
ARRIVE – DETROIT 6:32 PM
DEPART – DETROIT 7:51 PM Delta #2937 (Delta Connection – CRJ)
ARRIVE – DAYTON 8:57 PM
I selected the flights with the 757-200 and 737-800 because of the abundance of seats for upgrades, plus the flights offered personal entertainment on demand—and meals in First Class!
Outbound Flight
Saturday 10/29 was a perfect day to fly. The weather was warm and the forecast was clear across the United States. I arrived at the airport about an hour early because I have found that the security lines in Dayton can be hit or miss.
Dayton is the home of Orville and Wilbur Wright. The first airplane was invented here (and transported to North Carolina where the first flight took place) and Dayton celebrates this heritage as seen in these images at the airport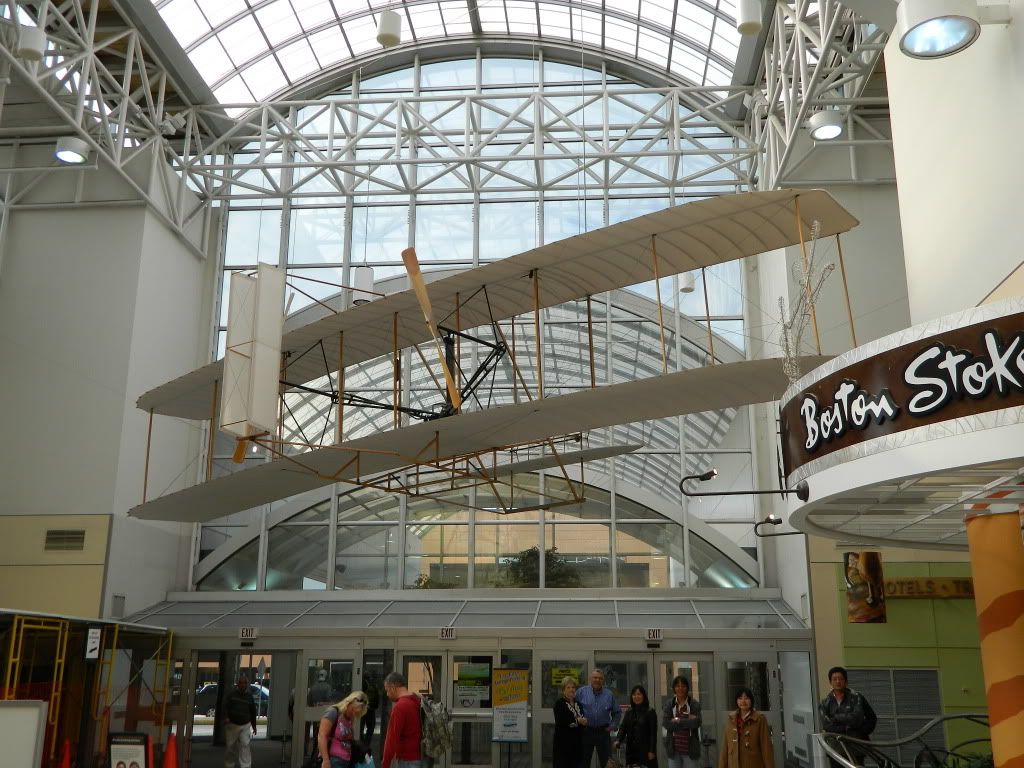 Dayton airport main building looks as if it was built in the 1960s and retrofitted in later years to accommodate jet bridges. There are two terminals located at opposite ends of the main building where the gates are located. The result is a long walk from security to the gates. Airlines servicing Dayton include the majors: Delta, United (and Continental), American, US Airways—plus others including Frontier and Air Tran. These airlines service their hubs, although Air Tran has some direct flights to Florida locations.
New tower:
Old airport: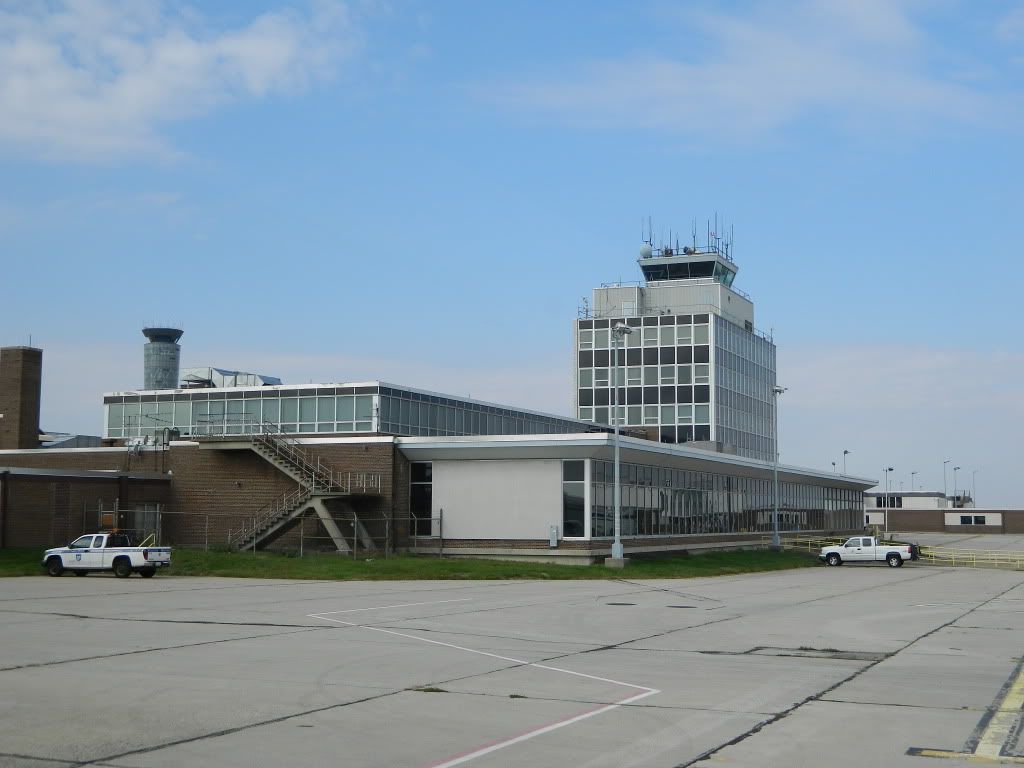 Not the list of exotic destinations like other airports...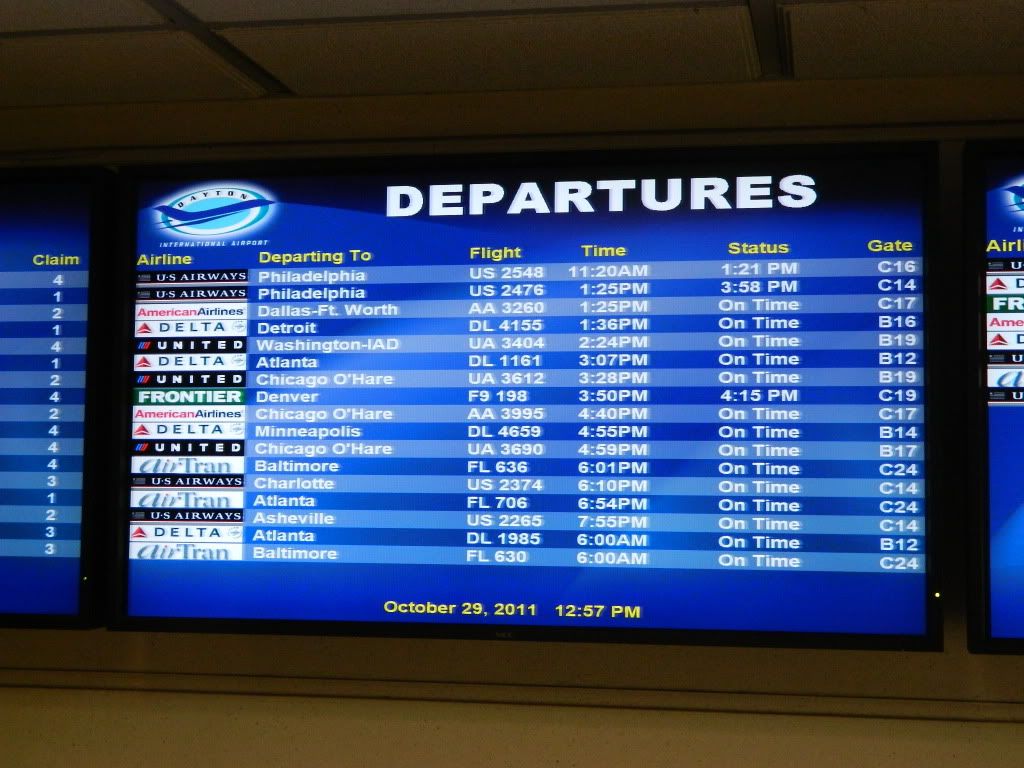 Although spread out, Dayton Airport is very manageable. One feature they have is the Business Lounge (which is closed on the weekend). It is like an airline club, but there is no membership required. They have complementary coffee and tea—and Wi-Fi. It is a nice option to just sitting at the gate.
The Dayton Airport Lounge:
Boarding Gate:
CRJ Waiting:
The flight to Detroit was on a commuter flight and was booked to near capacity. There was only one vacant seat—unfortunately that seat was not next to me. It is a quick flight and the flight attendant usually announces that "because of the short duration of the flight, there wouldn't be an in-flight beverage service." No problem, I slept most of the way.
The obligatory knee picture:
I arrived in Detroit on time and had sufficient time to make it from the commuter terminal to the main terminal where my connecting flight was about to board.
Connecting tunnel from the commuter terminal to the main terminal: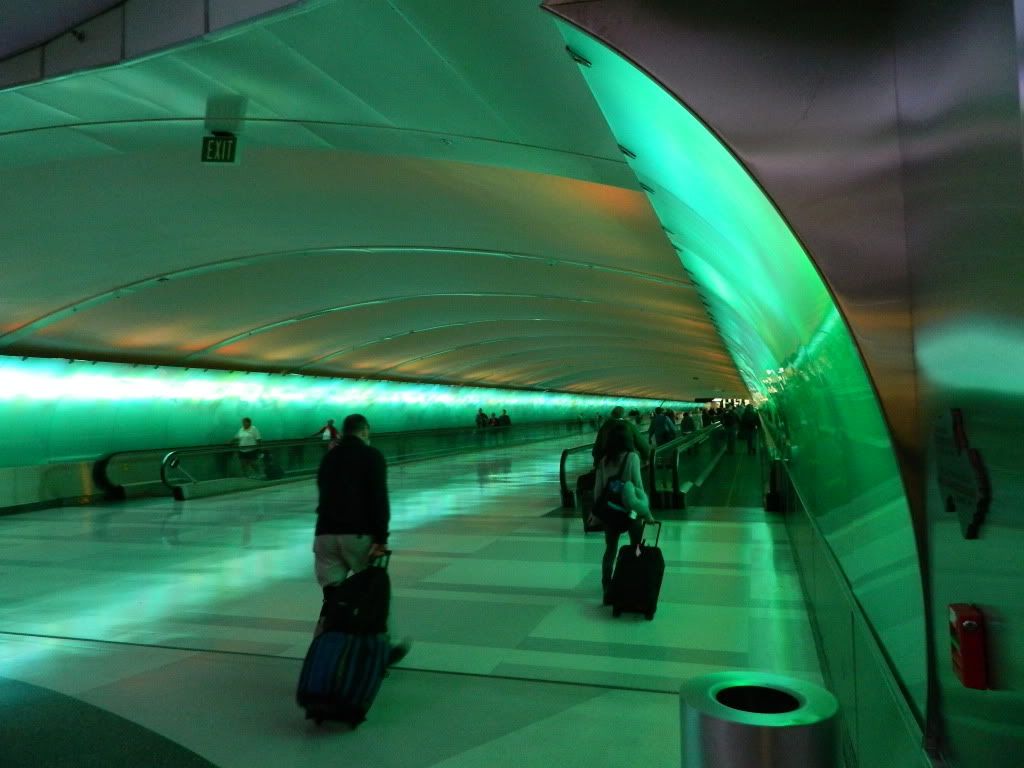 View as I emerged from the connecting tunnel: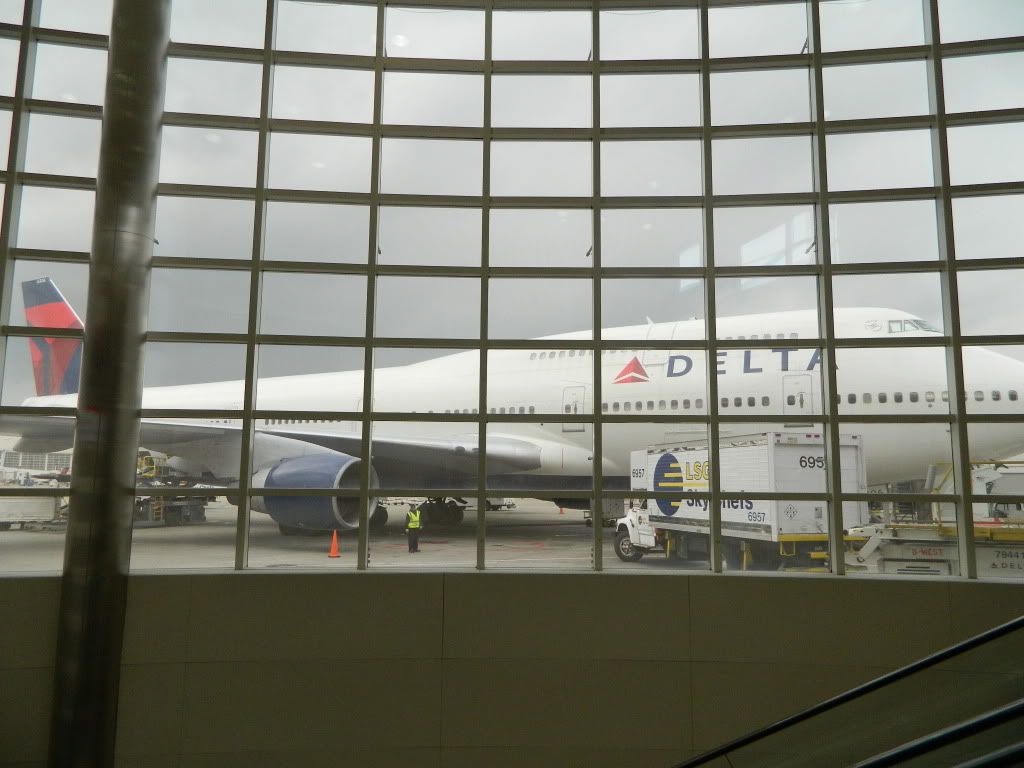 Main terminal and picture of the commuter train that runs the length of the terminal:
When I arrived I found there was a little confusion at the gate. Apparently there was an aircraft change—still a Boeing 757, but it was an older model with a different configuration. (The tail number was N533US and went into service on September 20, 1988). Because of the different configuration, some of the passengers were reassigned to new seats.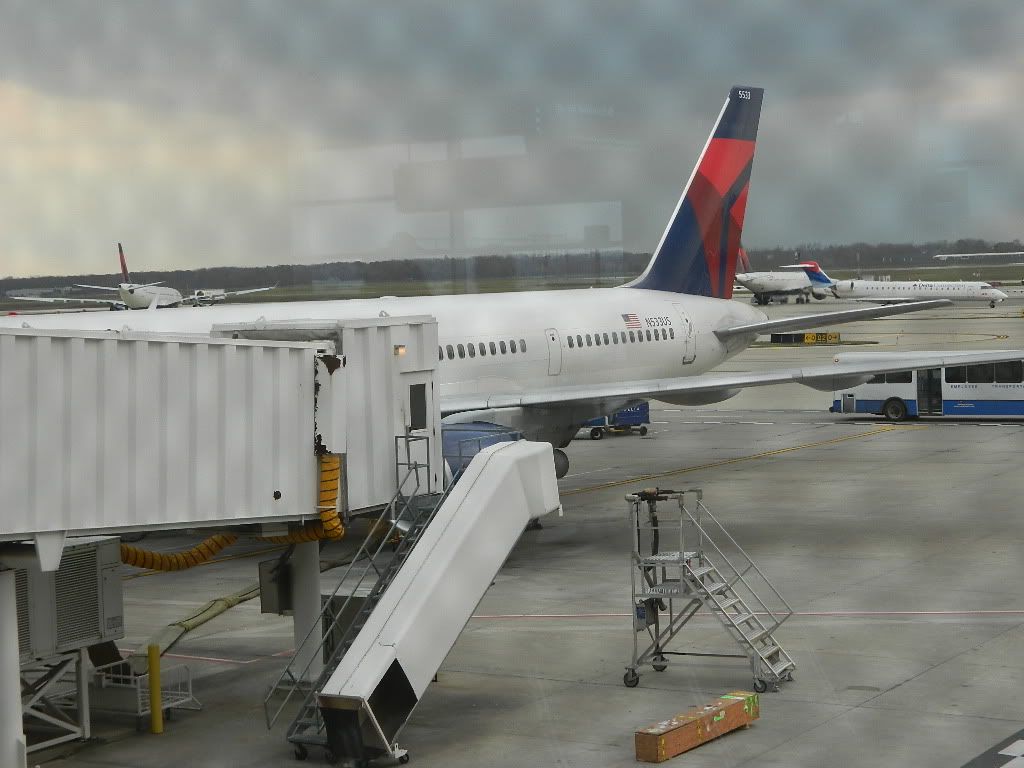 I was given a complementary upgrade for this flight and was able to board first. I found my seat and settled in. The seat had the usual bottle of water, blanket, and pillow waiting. I sat down and looked around and noticed there were no video screens. There was space where there should have been a screen, but it had all been removed. When I booked the flight I had noted that it had individual IFE screens and power at the seats…none of which were on this flight. I asked the flight attendant and she mentioned that the aircraft we were supposed to be on was struck by lightning and this was a replacement aircraft. There was no IFE on this flight at all!
I waited for the flight to board and for the pre-flight beverage service… and waited… and waited. I was disappointed that there was no pre-flight service. We taxied and took off on time and I waited…and waited… and waited until finally a flight attendant approached me to ask if I wanted something to drink. From the time I had boarded to the first time a flight attendant approached me to offer me a beverage was on hour and fifteen minutes. Not what you would expect for first class. (Welcome to the new Delta!)
The flight attendant took my drink order and offered a choice of entrees for lunch: chicken salad or a Philly cheese steak. I took the cheese steak. The overall quality of the food was good. The cheese steak wasn't what you would expect at Gino's in South Philadelphia… but still was good.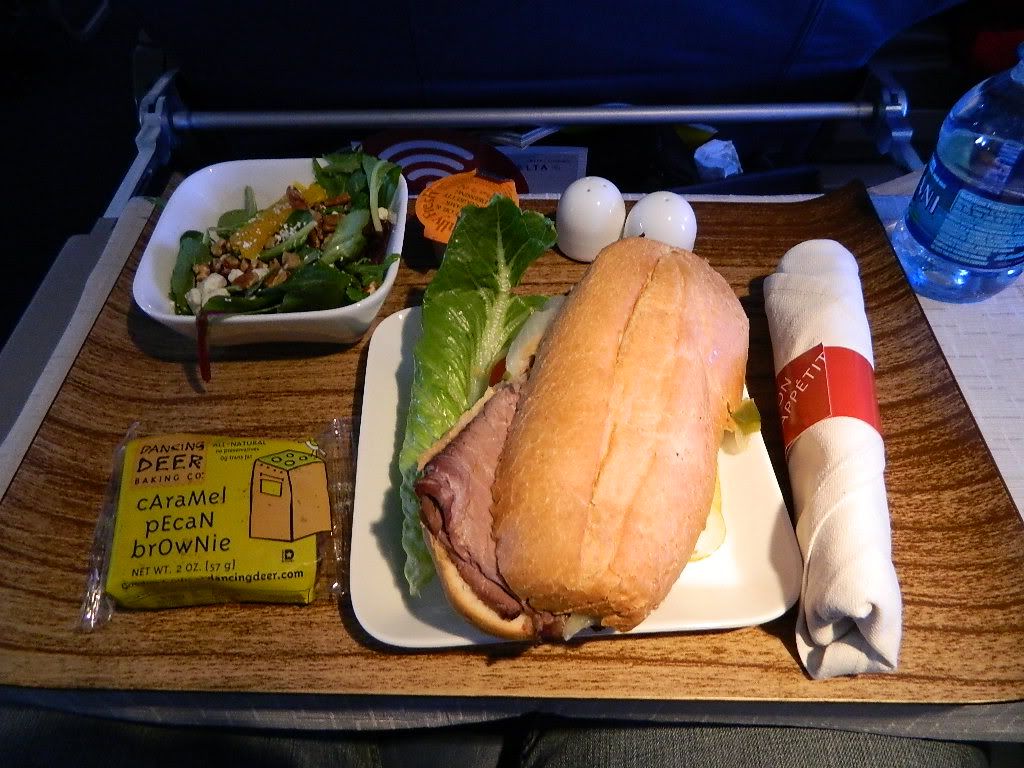 Fortunately I had brought my iPad so after lunch I settled in and watched some TV shows I had downloaded. It would have been a long flight without it!
We arrived in Phoenix a few minutes early. I made my way to the car rental facility and found that I had been upgraded to a black Chevy Camero!
Arizona Biltmore Hotel
I arrived at the Arizona Biltmore hotel just as it was getting dark. You could still see some of the details that make this hotel an architectural landmark. The hotel was built in the late 1920s by the Wrigley family (of Wrigley gum) and was intended to be a desert playground for the rich and famous. At the time there was nothing surrounding the hotel but desert. Here are some shots I took over the next few days. Frank Lloyd Wright's influence can clearly be seen in the design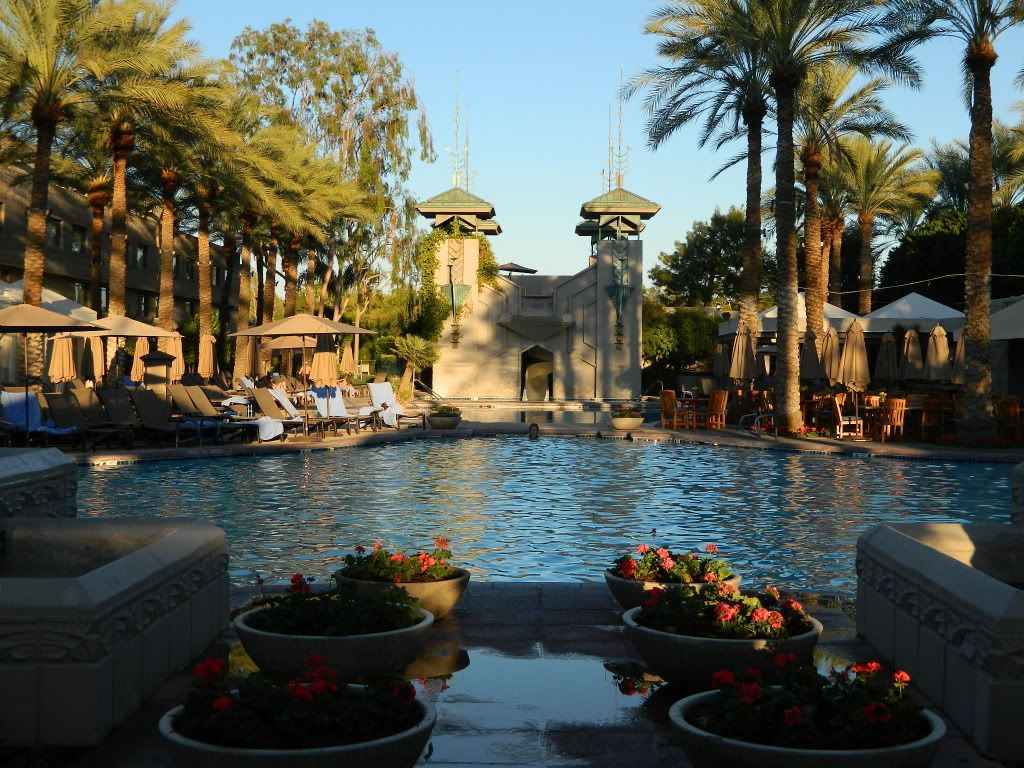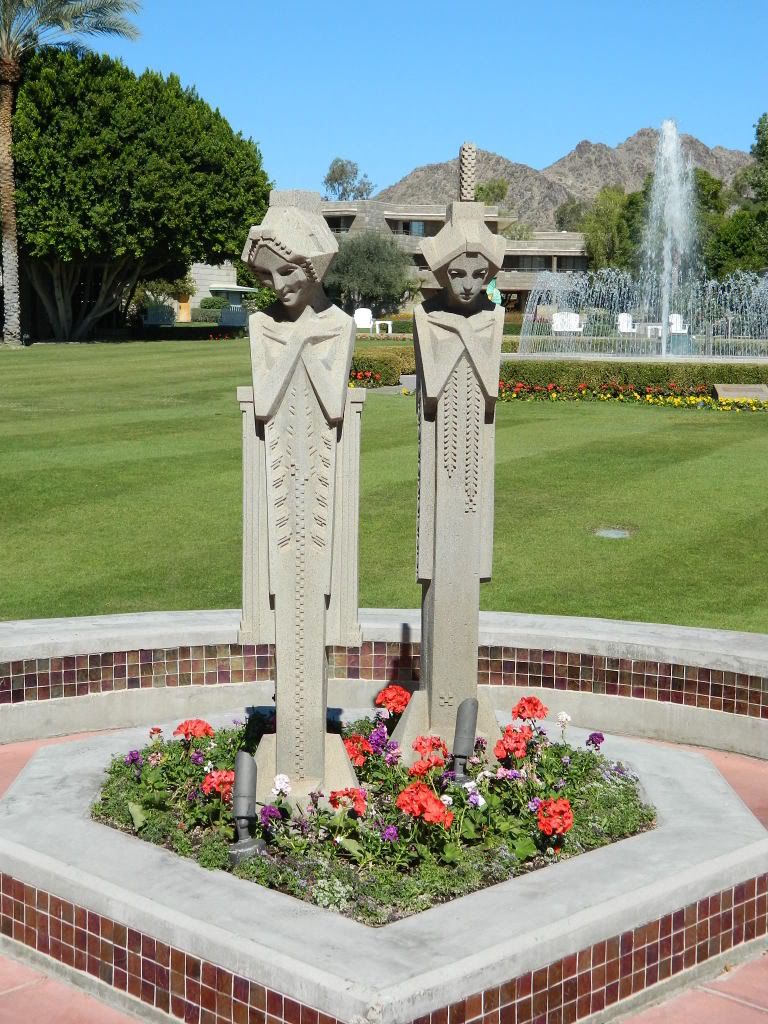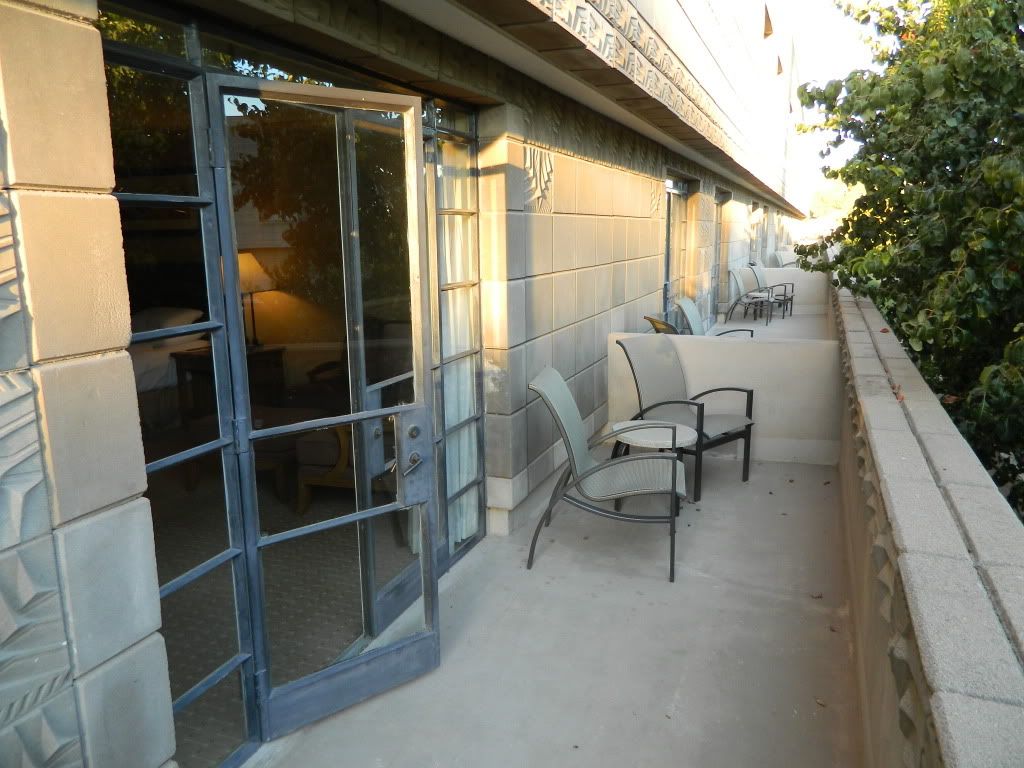 Taliesin West
As mentioned, Frank Lloyd Wright's winter home and studio were a few miles away. I had some time and so decided to take a tour of the complex. Some interesting facts about Taliesin West: The land was purchased in the 1930s for about $3.50 an acre (today it is worth about $350,000 per acre.) I have toured many of Frank Lloyd Wright's buildings and homes and am always struck with his brilliance and creativity. I always walk away inspired. The trip to Taliesin West was no exception.
His Office: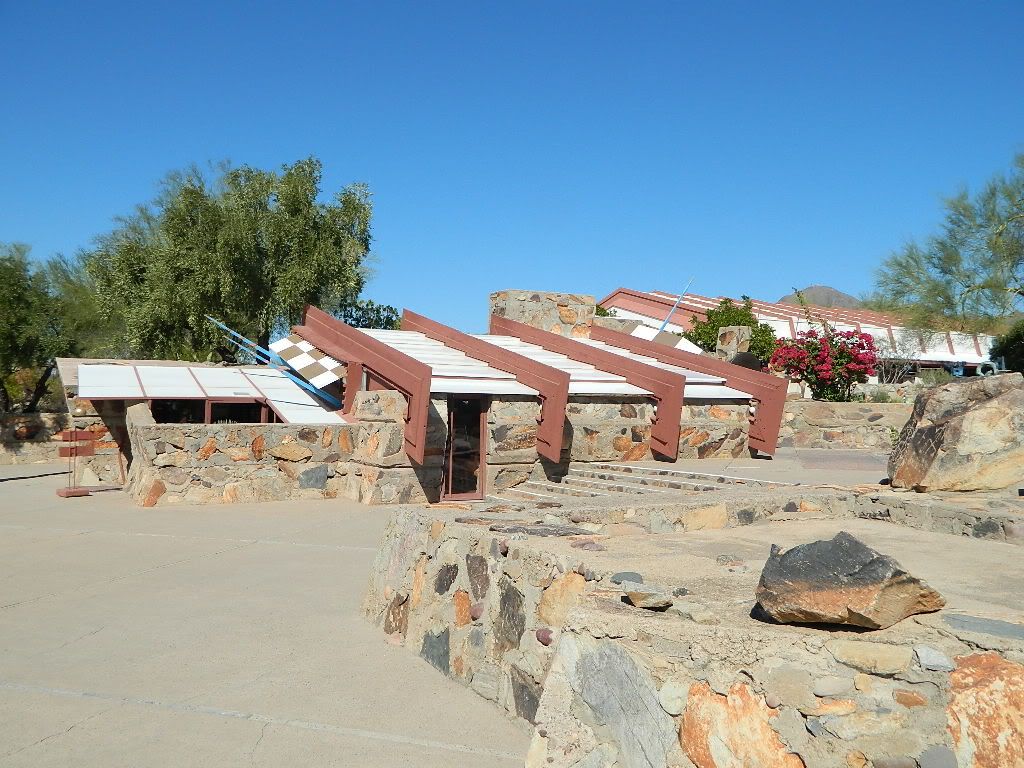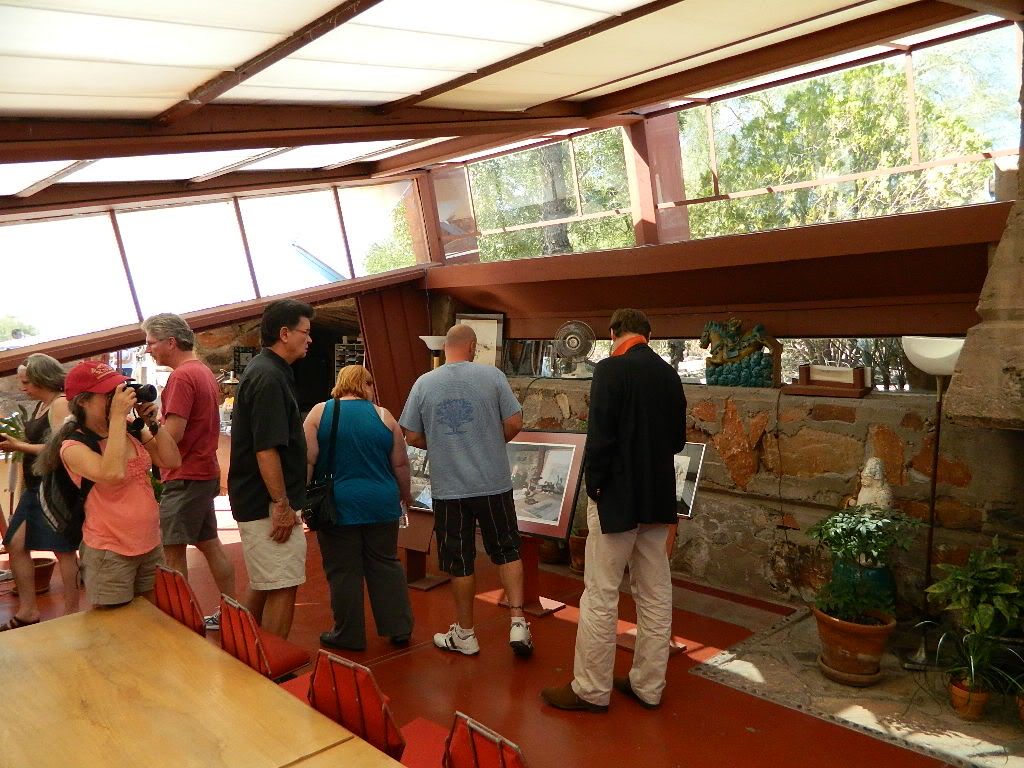 Studio and Home: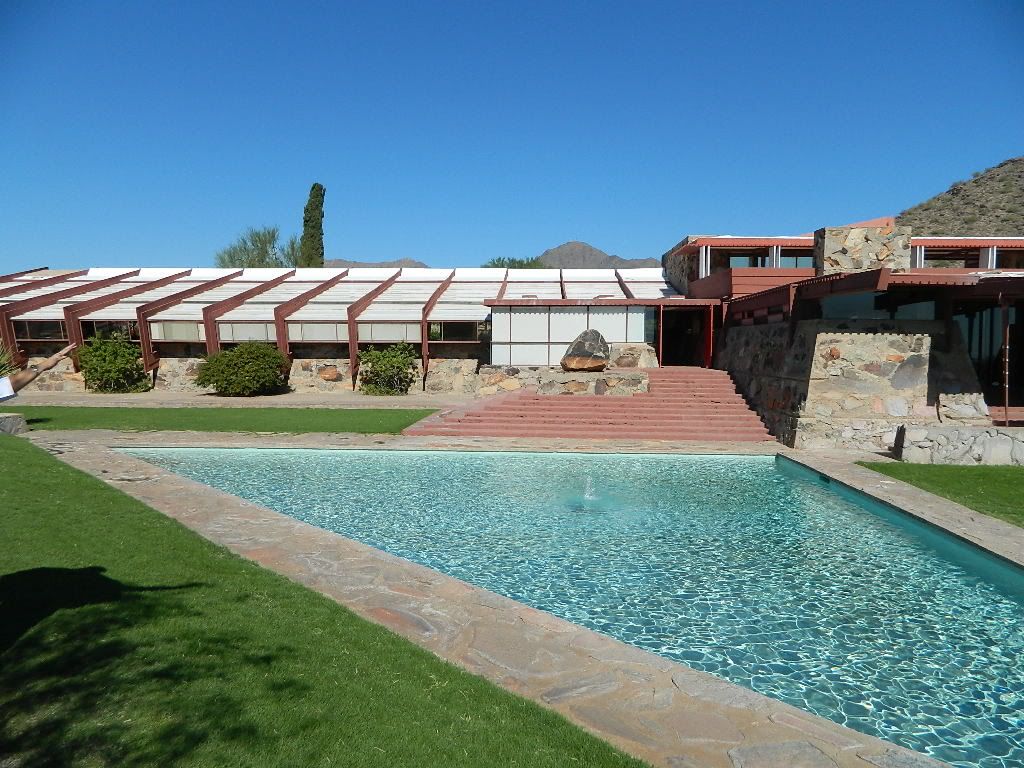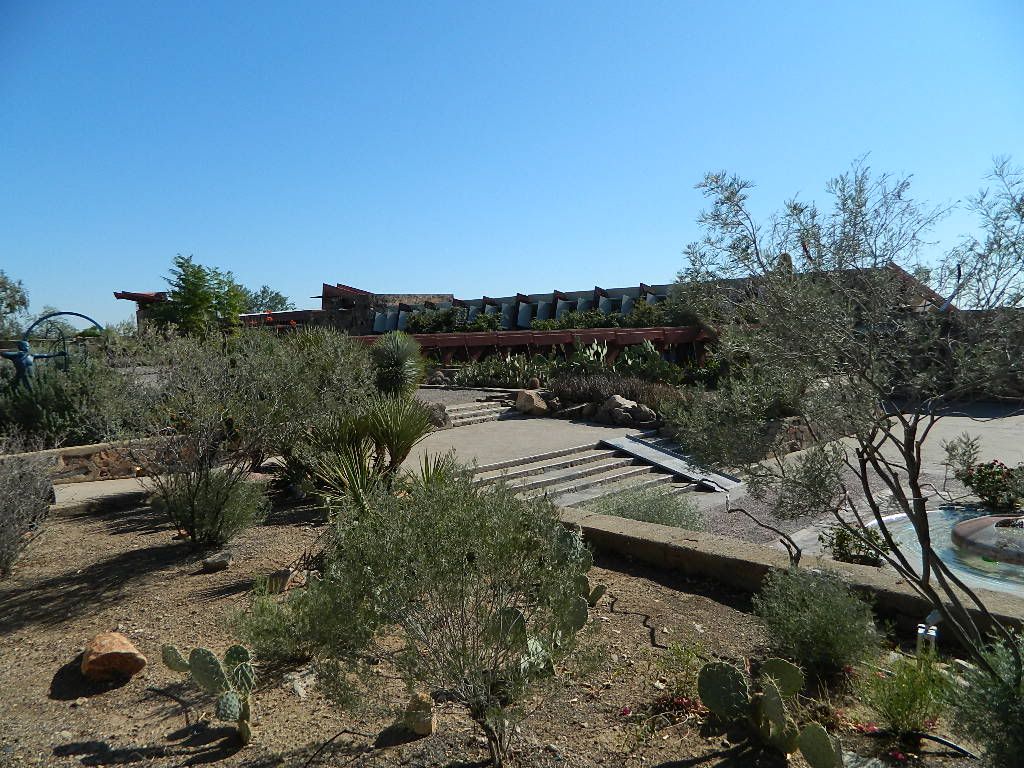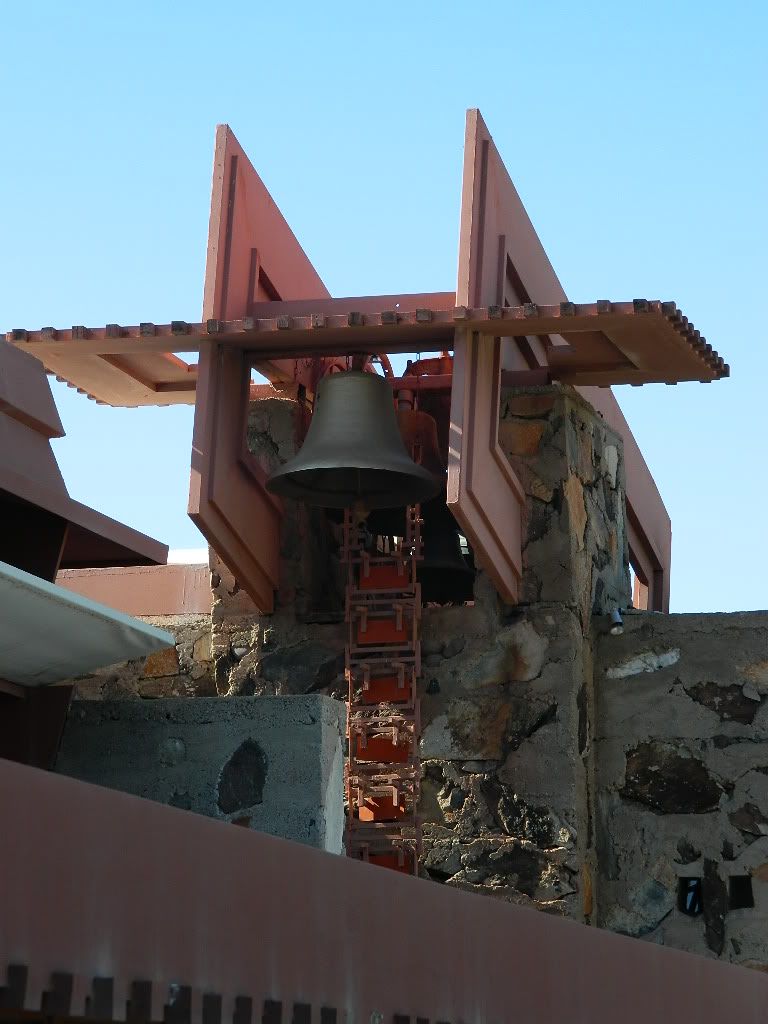 Performing Studios: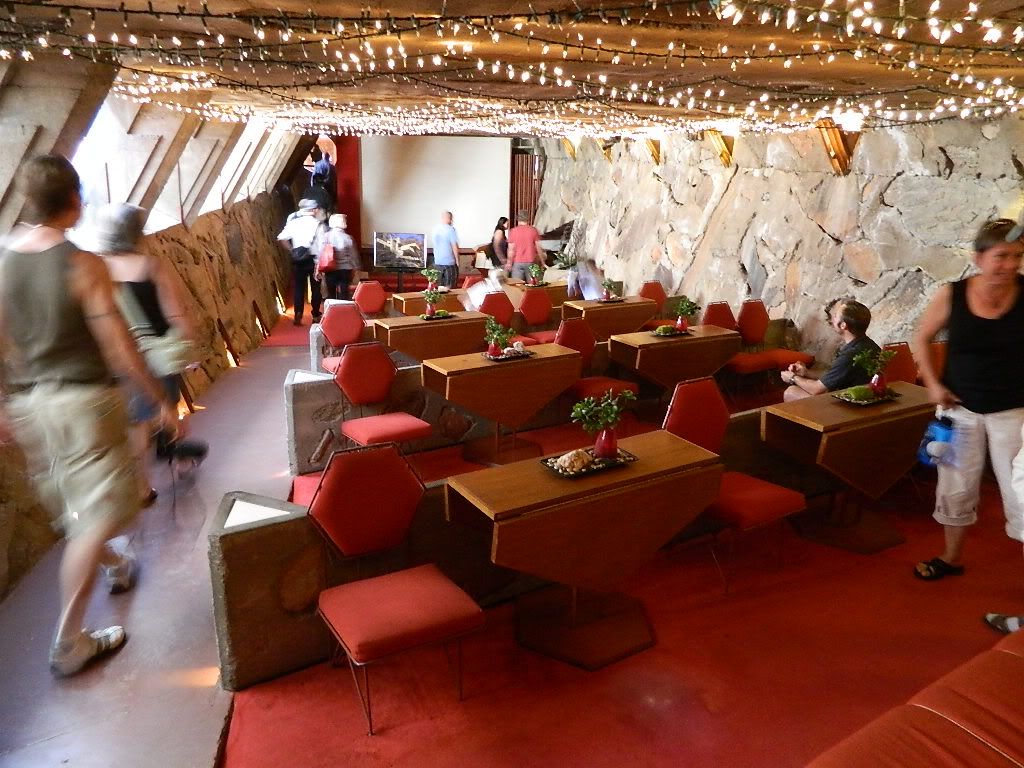 I was not able to take pictures inside his residence, but interior pictures can been at the following website:
http://www.greatbuildings.com/buildings/Taliesin_West.html
Return Flight
My return flight was scheduled to depart at 11:45 AM. One of the problems with flying from the West coast to the East coast is that with the time changes and connections you day is spent traveling. I thought about standing by for an earlier flight leaving around 6:00 AM. When my alarm clock went off at 4:00, I turned it off and went back to sleep. The 11:45 AM flight was fine with me—besides I was already upgraded!
I dropped off the rental car and rode the bus to terminal for my flight. The flight was scheduled to depart on time. There was a calm at the gate which was noticeably different from the outbound flight. The flight was about 80% full which I am sure also made a difference.
View of the US Airways terminal: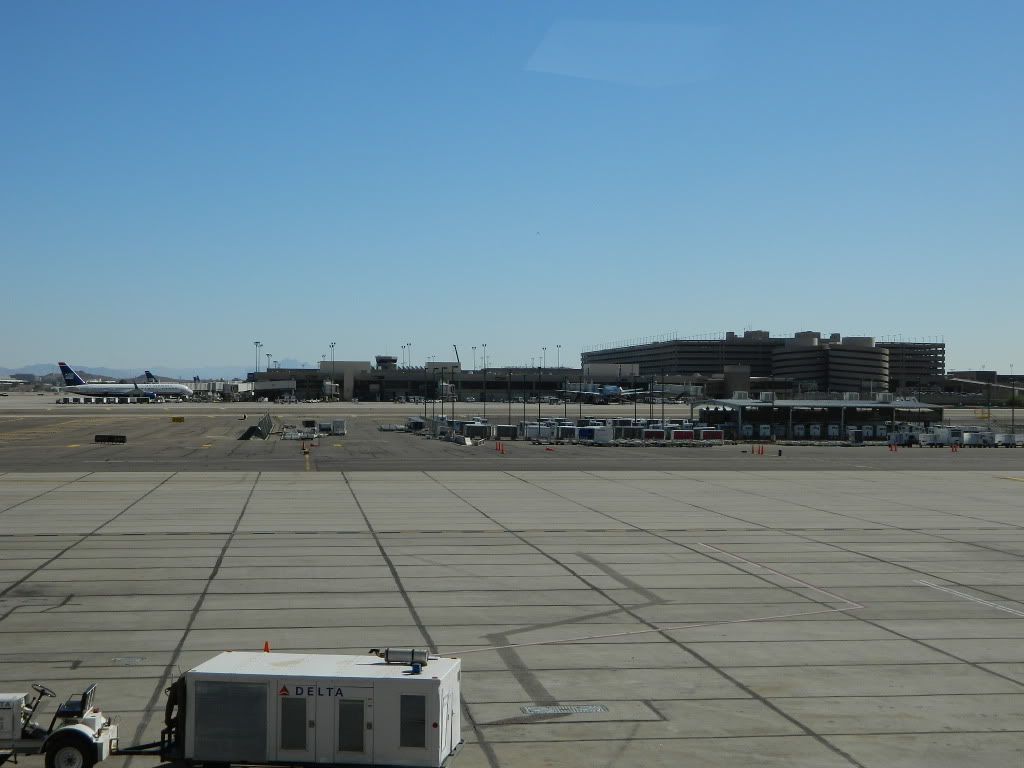 Departing gate:
Waiting 737:
Boarding commenced and proceeded without any issues. Once again I found my seat and settled in. I sat back waited… and waited… and waited for the pre flight beverage service. There was none.
There were some preflight announcements: "The was no water in the first class lavatory"… What? Apparently the drain was not working and so wet wipes were substituted. At least they didn't delay or cancel the flight because of this! One more announcement…"Because of strong tail winds, our flight was scheduled to be about three hours and five minutes"—versus the over four hours posted!
View of Phoenix: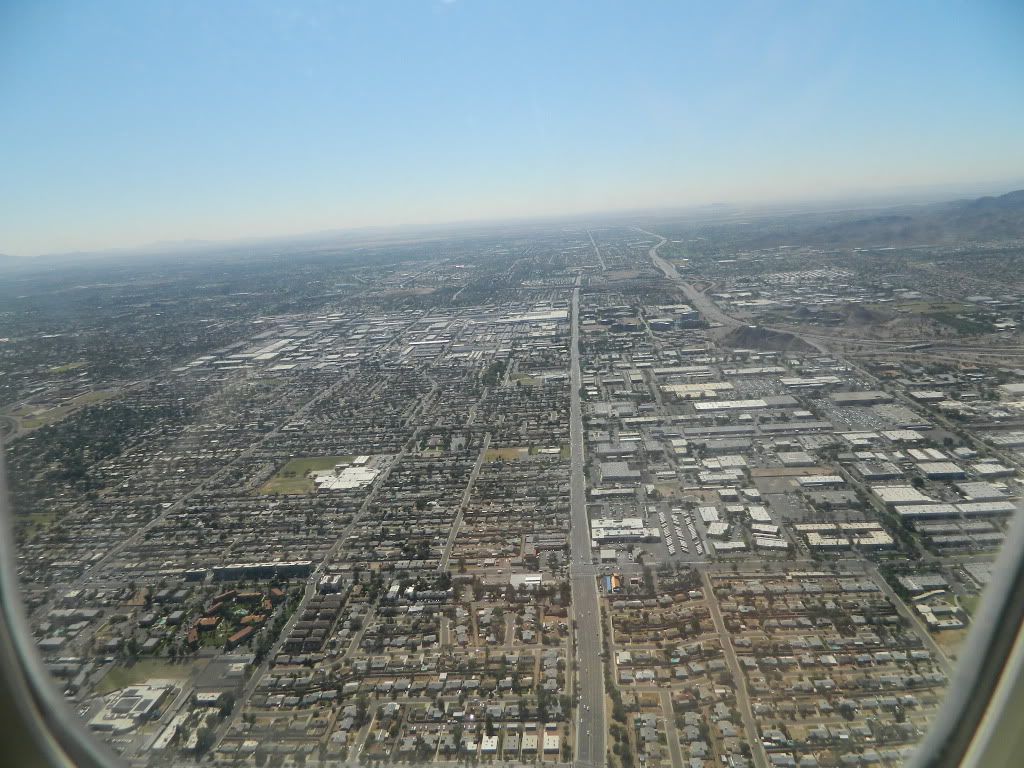 After we were air born the flight attendant finally began the beverage and lunch service. Today we had the choice of chicken salad and a hamburger. A hamburger?!!!! I didn't think a hamburger could be done in flight… so I had to try it. Apparently this was a popular item because they ran out before everyone had a chance to select their entrée. After a hot towel service, The hamburger arrived and to my surprise actually tasted good. There was too much bread for my liking, but surprisingly tasted good.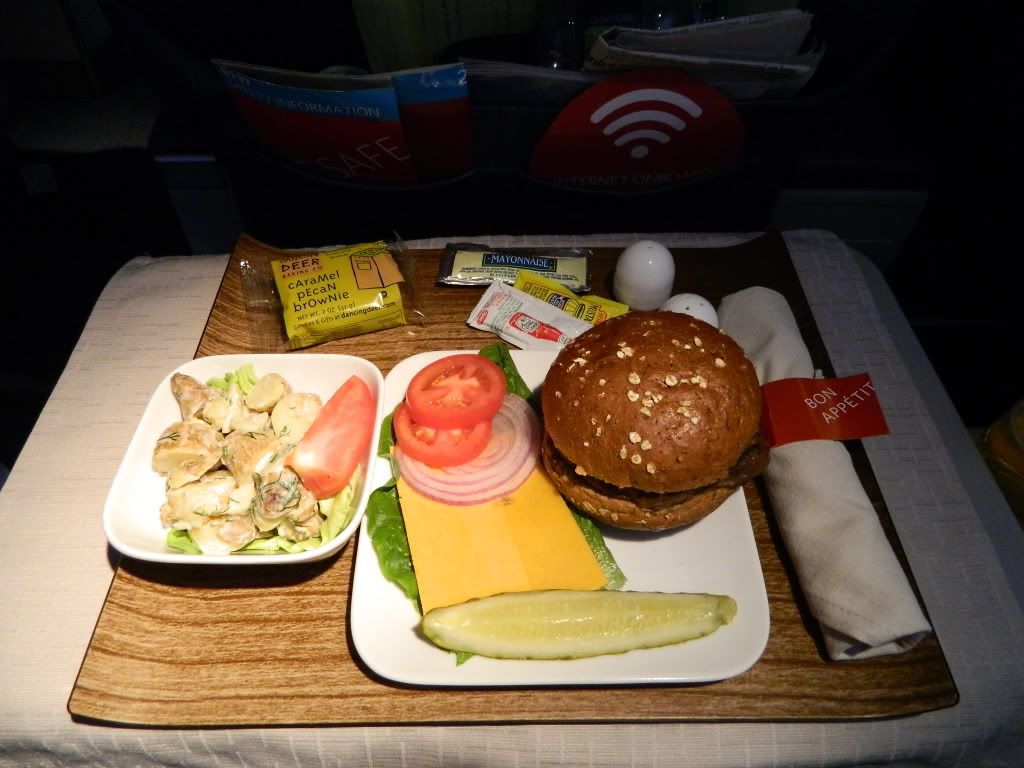 There was no aircraft change on this flight and there was a personal IFE screen at my seat. After lunch, I sat back and watched some live TV shows and a movie.
No water in the lavatory: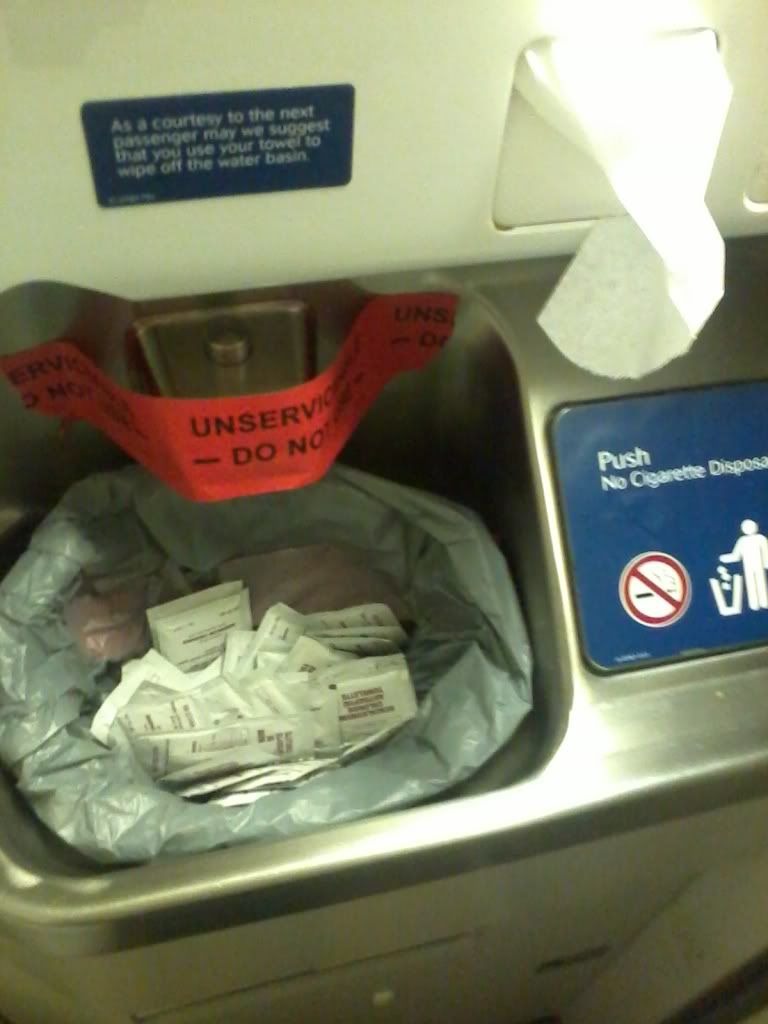 Pilot taking a break: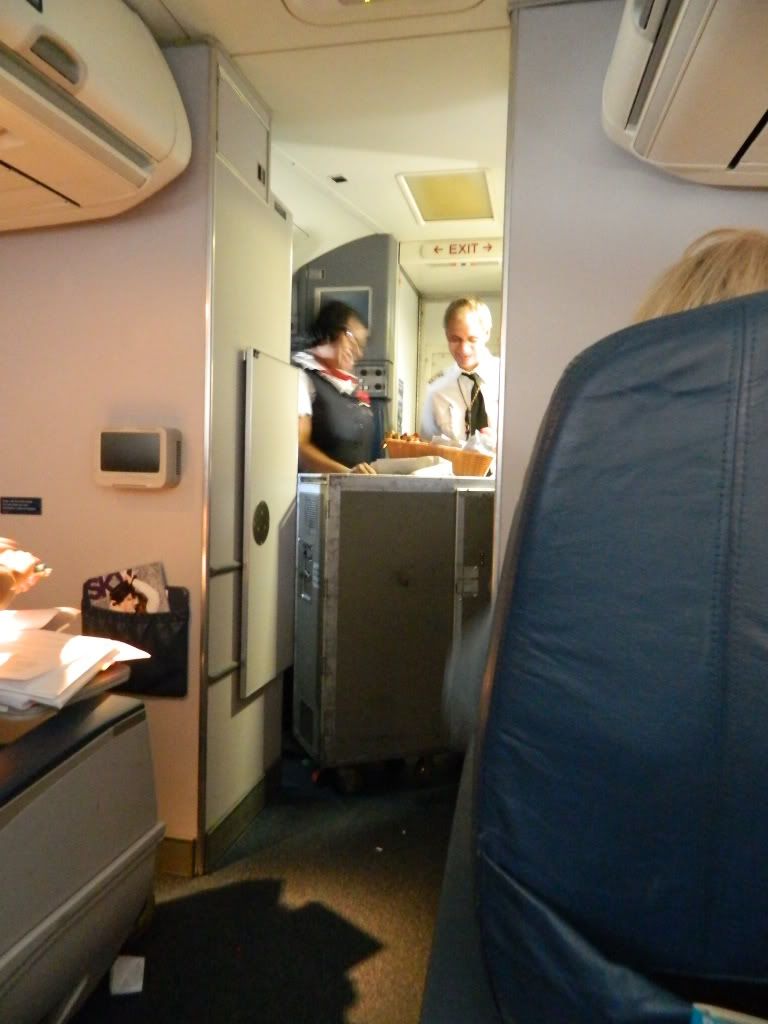 Today's flight path: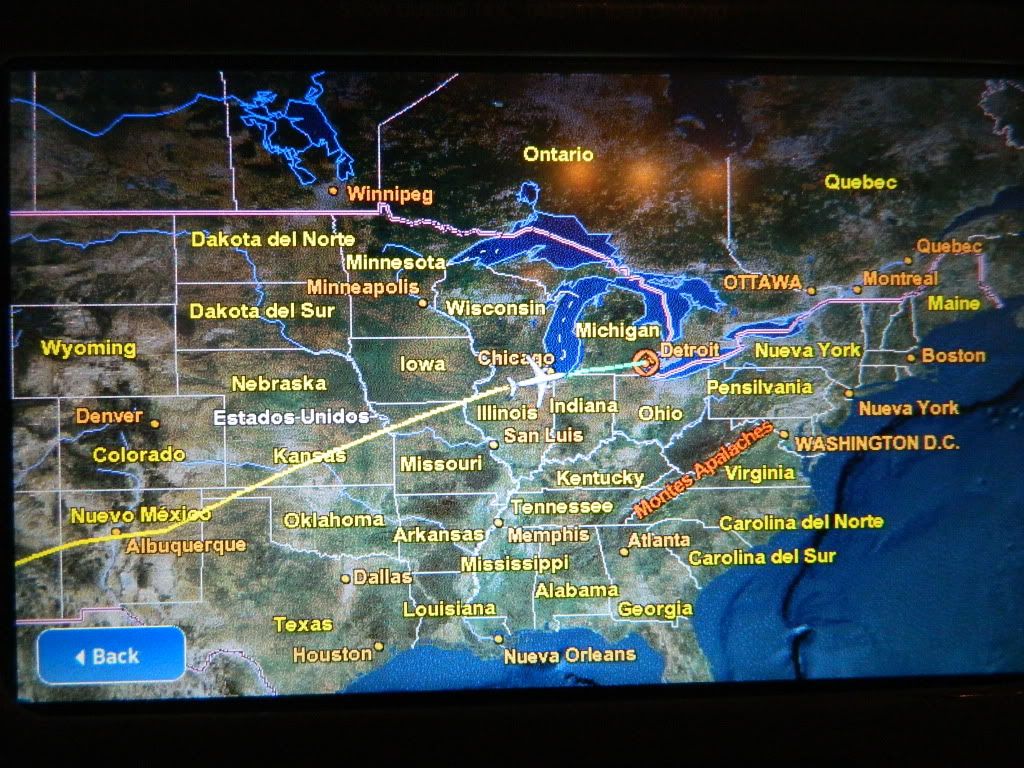 The flight continued without incident. We flew at 31,000 feet because of turbulence and arrived in Detroit somewhat early. I had time to grab some dinner at a restaurant at the airport and make my way to my connecting gate in the commuter terminal where I found that my flight was going to depart about 45 minutes late.
Waiting for the connecting flight (with everyone else):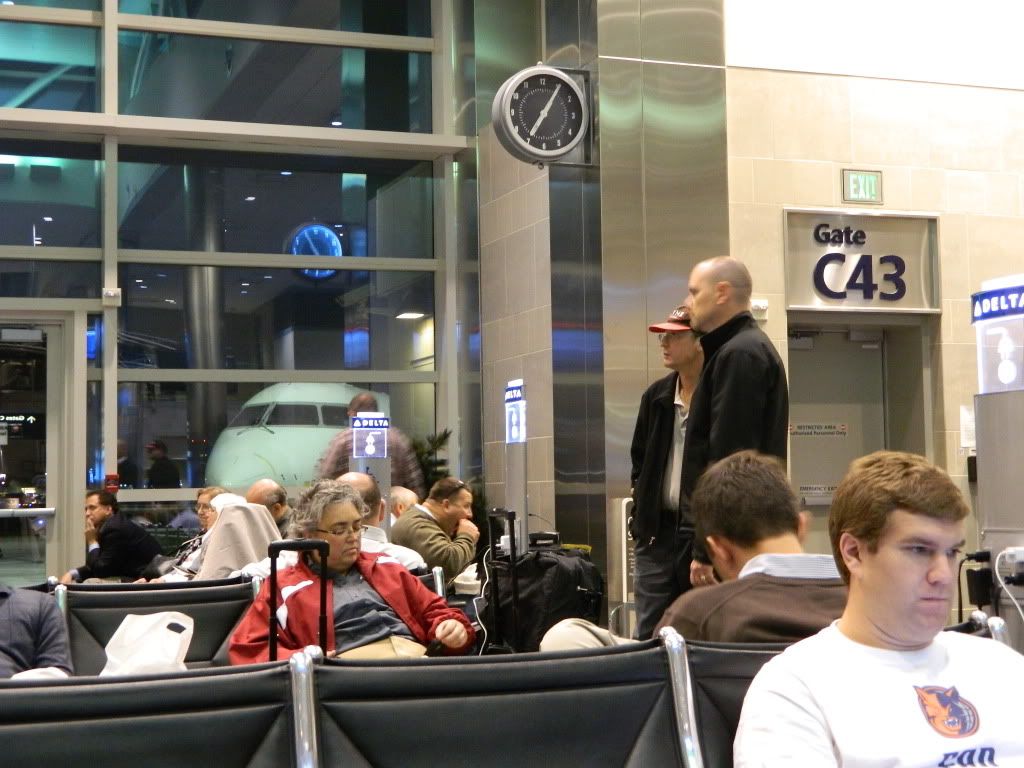 We finally boarded the flight and I settled in expecting another beverage-free commuter flight. To my surprise, the flight attendant came through the cabin as we were waiting to depart and took drink orders for when we were in flight. After taking the orders, she was busy in the galley as we were taxiing, getting cups ready for the beverage service during our short flight to Dayton. I was impressed!
As soon as we were in the air, the flight attendant was busy serving drinks and handing out peanuts. She worked very hard to make sure the passengers were happy. I contrasted this experience with my three other flights on this itinerary where the flight attendants seemed to have something else to do besides serving the customer… even in first class. When I received my Delta Platinum credentials, I was also given certificates to give to Delta employees who go the extra mile. I had one left and gladly gave it to this flight attendant who was working hard to make sure the passengers felt at home.
Final Words
I hope you enjoyed this report. I always try to look for things that are out of the ordinary that can make a trip extraordinary. On a ten point scale, I would rate this trip as follows:
- Aircraft Condition: 4/10 (no outbound IFE and no water in the first class restroom)
- Food: 8/10 (For presentation and acceptable taste)
- Preflight Service: 2/10 (It would have been "0" except for the DTW-DAY flight attendant which I would give an 12 out of 10)
- In Flight Entertainment (when it was working): 9/10
- In Flight Service: 7/10
Thanks!