Introduction
Sometimes I hate to be right, sometimes I love it. This time I felt a bit warm and fuzzy inside having been right in predicting that Norwegian would indeed open some winter routes to the holiday resorts of Lapland in the winter of 2011-12, a prediction I made back on the first day of operations at the HEL base in March 2011. Just as I expected they announced a new HEL-KTT route - after all this is an insanely popular route during the winter with Finnair operating some 7-8 daily A320/321 rotations during the peak weekends (and often deploying widebodies on the route) and KF of course providing plenty of their own flights.
A little more surprising was that they also announced a couple of weekly HEL-IVL flights. Ivalo does serve a couple of ski resorts nearby, but these are more of skiing, less of partying type of places unlike Levi (which KTT serves) which sometimes appears to exist solely for
après-ski
instead of the real thing. Blue1 tried to serve IVL for a couple of winters, but didn't really succeed with it and has stopped their flights. It'll be interesting to see how DY will do on the route and whether it will return the next winter. It is not actually that far to Finnmark, the extreme northern part of Norway from IVL (at least in the local distances where driving 200 kilometers to go shopping is not considered a big deal) and Norwegians (the people) do use the airport to travel abroad (via HEL of course) so maybe Norwegian (the airline) is targeting their countrymen as well.
So yeah, me being me I of course wanted to do the inaugural flight on this route. There were no other viable flight options so I ended up booking a same plane return for 36 EUR each way and got ready to fight with the check in folks at IVL who probably will not have heard anything about Norwegian's "Direct to Gate" concept
. Oh well, it is a small airport and I can always play dumb if needed (some people claim I'm not playing, but I swear I am...).
Here's the map - IVL just happens to be the northernmost airport in Finland and HEL-IVL is also the longest domestic route operated in the country (distancewise, durationwise HEL-ENF on Finnco.. sorry, FlyBe Nordic is longer as it is operated by turboprops):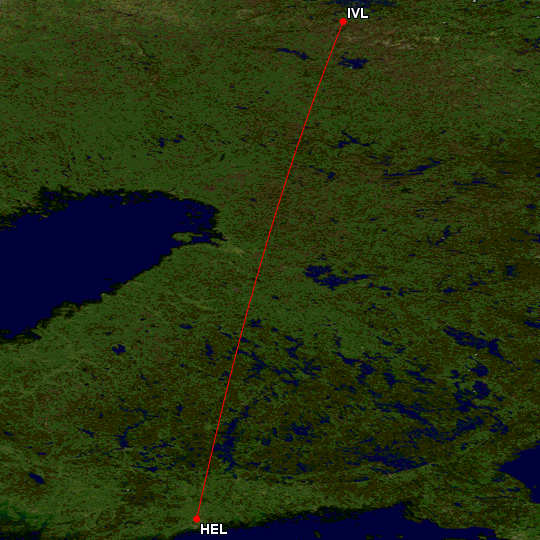 HEL-IVL is actually a bit longer then HEL-CPH for example.
Thursday 1.12.2011
Not an insanely early departure this morning which of course is nice. So I head to the airport on the 8.15 bus, which is of course packed with commuters and school kids and thus dog slow as it stops on pretty much every stop (no, it's definitely not a dedicated express airport service) and it takes almost half an hour to reach T2. The worst of the morning rush has passed so security is quite easy - the woman there seems to think my my usual jokes about any liquids in my hand baggage ("Nope, I drank it all last night!") are hilarious or maybe she is just bored.
Today's gate is 23 again - this seems to be the dedicated Norwegian inaugural gate as this is the very same gate where I arrived onboard the inaugural flight from OSL back in April 2010 during the first day of DY's operations at HEL and where the HEL base's inaugural flight to RVN departed back in March (with me onboard of course!). There's a gate agent already there so I ask where's the cake or any other celebrations. The guy is a bit weird, refuses to make any eye contact (this always makes me think the other party has something to hide) but says that he has seen none - apparently the flight's captain himself had asked the same question!
Here's the lady doing the honors today - these would be my first and second flights with LN-NOI: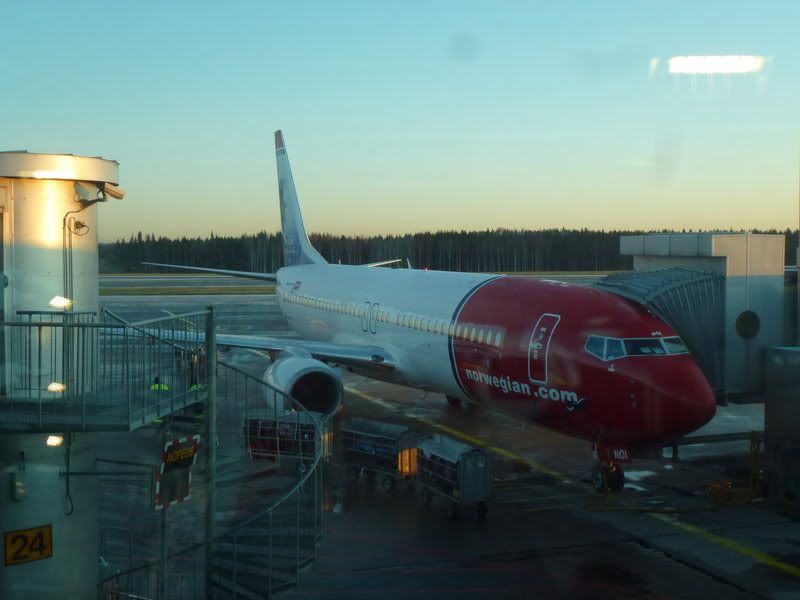 Oh well, with no free cake or coffee around I pony up some money and buy some: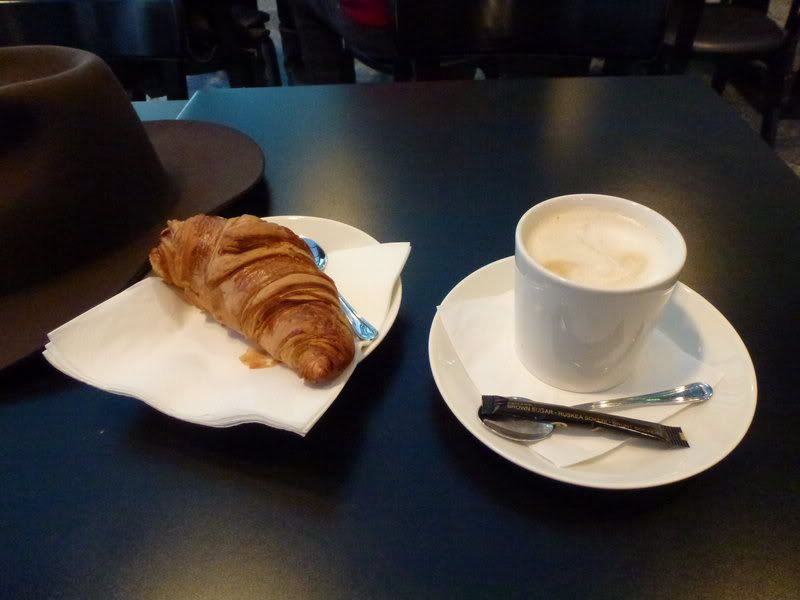 I manage to squeeze in half an hour of work on the laptop before boarding is called - and no, there are no celebrations nor even a mention about the inaugural status of this flight.
HEL - IVL
DY5632
B737-800 LN-NOI
Seat 1F
9.46 - 11.20
Entering the plane I ask the same thing from the Estonian purser - the guy looks at me confused until I mention that it indeed is the first flight on this route and laughs at my suggestion that there should be some free champers...
I did self service kiosk check in last night as usual and as usual grabbed a seat in row one for some good legroom: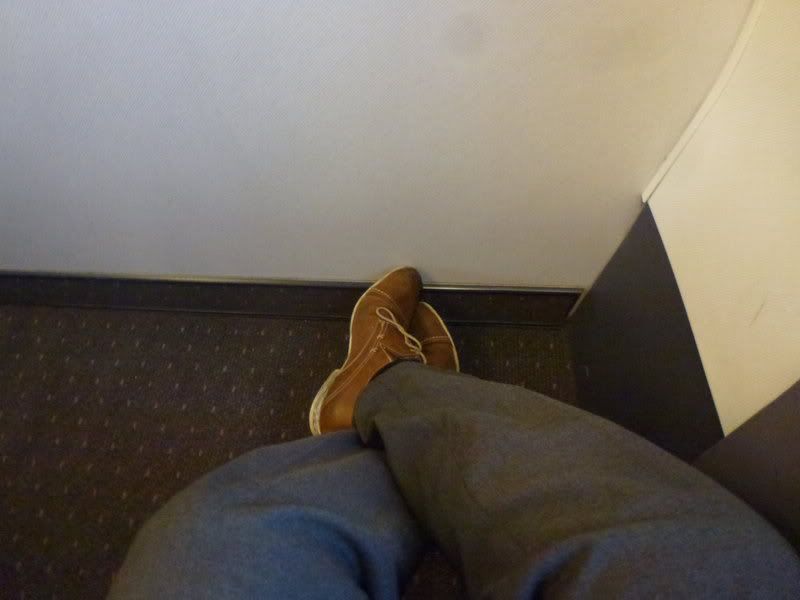 Boarding is rather slow, but eventually the plane fills up. Load is very good, over 90% but of course all the seats in row 1 stay empty, good for me!
At least the Swedish captain seems to be on a celebratory mood - first his inquiry about the cake and now he welcomes everybody aboard this "
Premiere
flight to Ivalo". The whole cabin crew is Estonian - made very evident by the way one of the girls announces our flight time to Ivalo as "An hour and half an hour" - yes it sounds just as weird in Finnish as it would in English!
Push back is on time.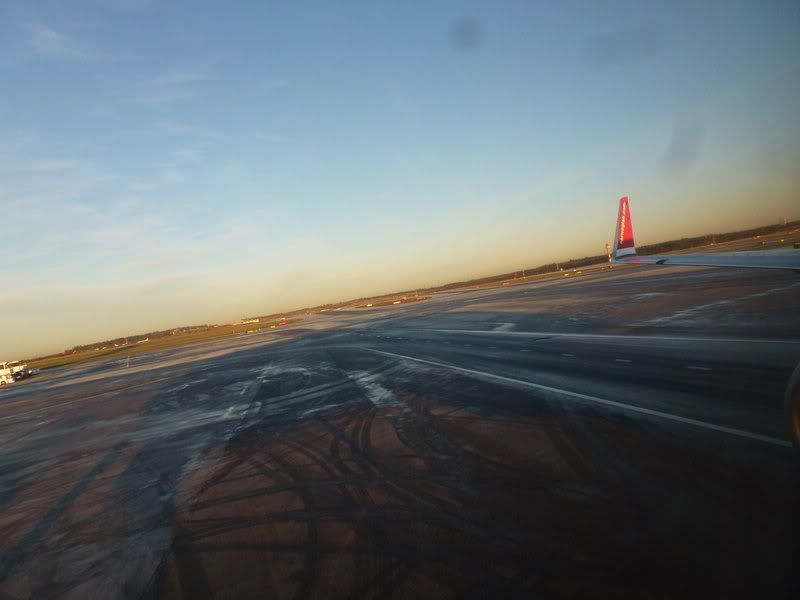 Finncomm used to be the second biggest operator at HEL, so I guess FlyBE Nordic now holds this honor - at least these two landing and one departing ATR on runway 15 indicate so: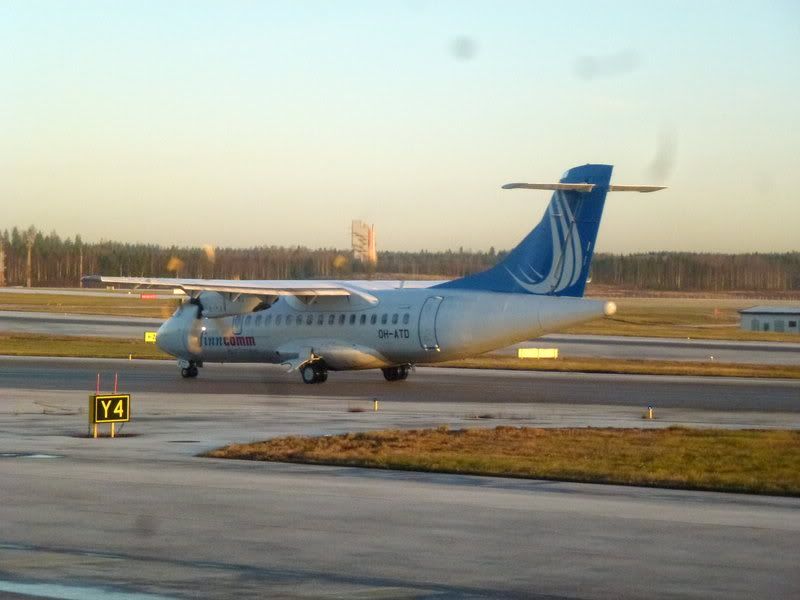 Our take off is from 22R - jets are very rarely allowed on 15 and only if the weather conditions are exceptional as it is the runway with most populated areas under the departure paths.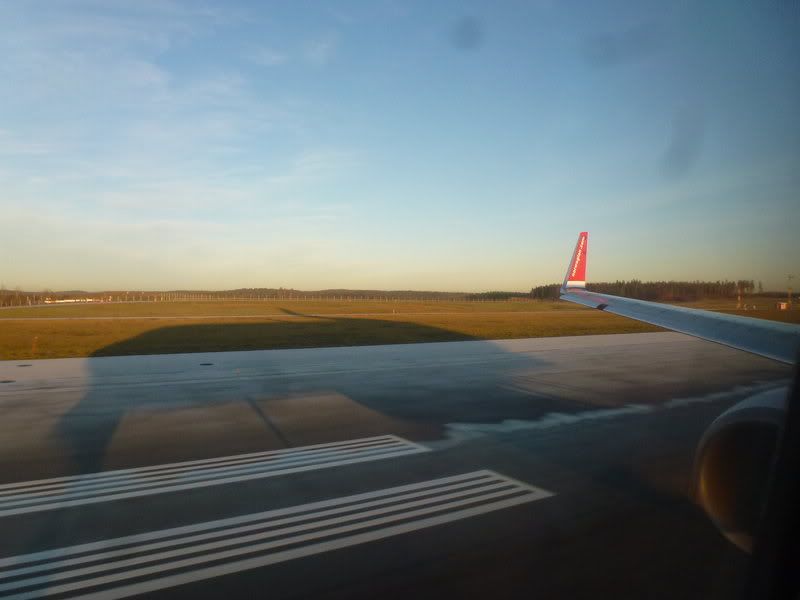 Bye HEL, see you in three hours or so: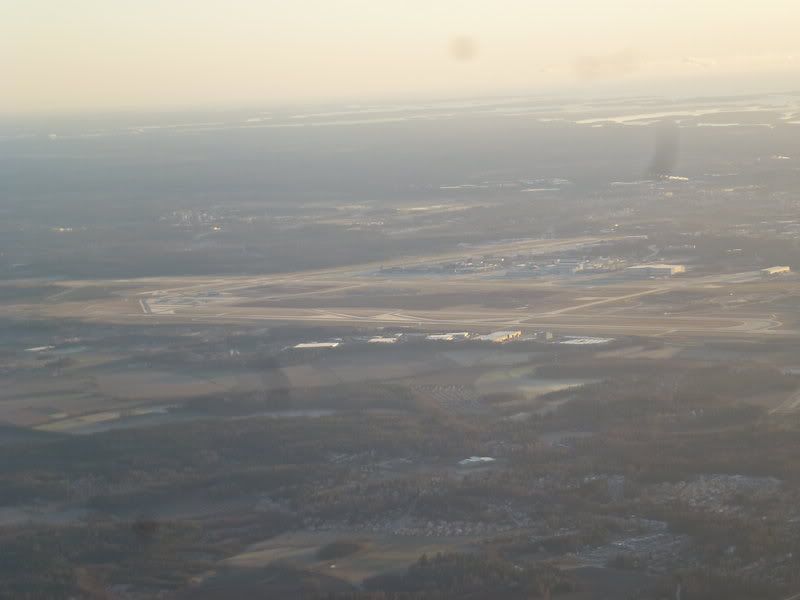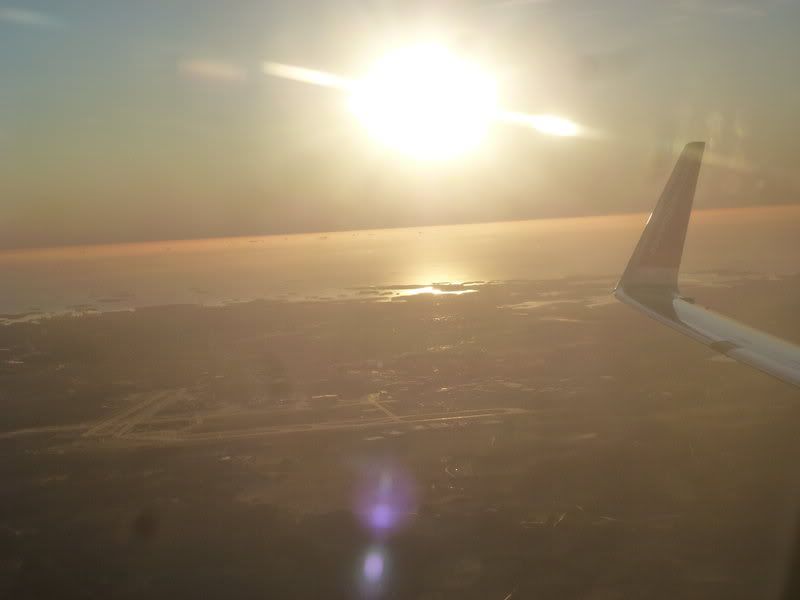 The city of Lahti - I think they could've been a little more innovative when coming up with that name - the word "lahti" means a bay and this city of 100 000 people is located at a bay of the Vesijärvi lake (which is another very uninnovative name as it literally means "Water Lake"):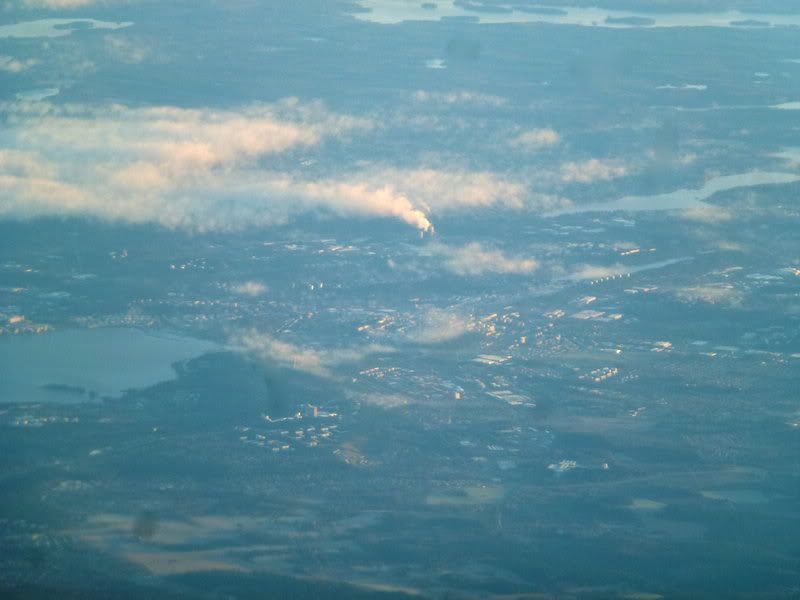 Most of Finland is today covered in clouds: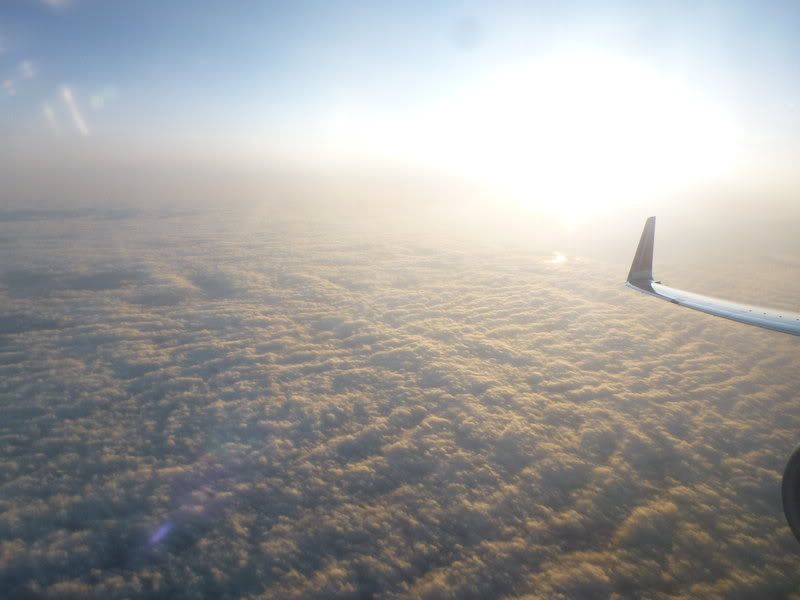 The crew announce that due to a technical problem no credit cards can be used for the BOB service, only cash is accepted. I decide to skip, I don't really fancy anything right now - just some reading and relaxing. They also announce that "You may only consume alcoholic beverages purchased from our service trolleys." - that is a new one for me but I don't really blame them - I bet they attract a lot of BYO instead of BOB folks...
While passing OUL the captain makes a small announcement - our route is basically HEL-OUL-RVN-IVL, the temperature at IVL is around zero degrees and we might be a few minutes late as we are fighting some strong headwinds.
Eventually our descent begins, taking us into a thick cloud layer: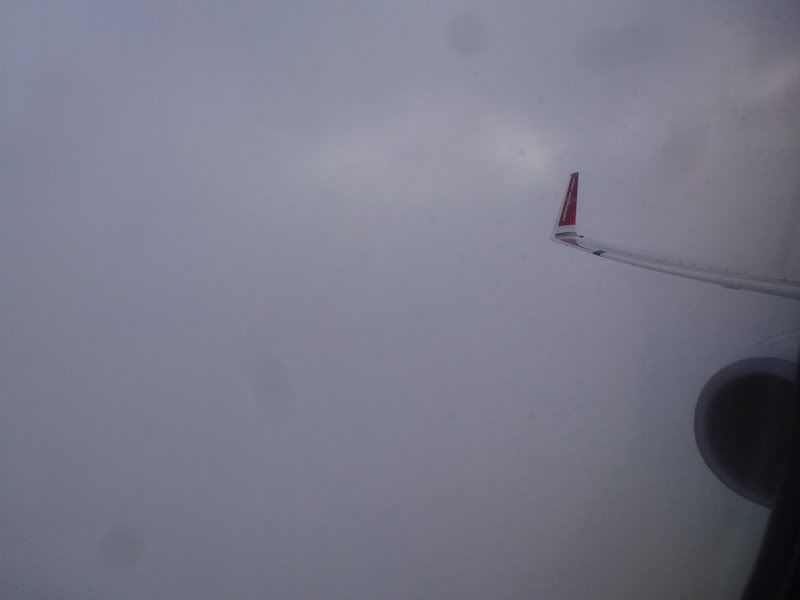 Once we break the clouds rather low, the stereotypical Lappi landscape greets us: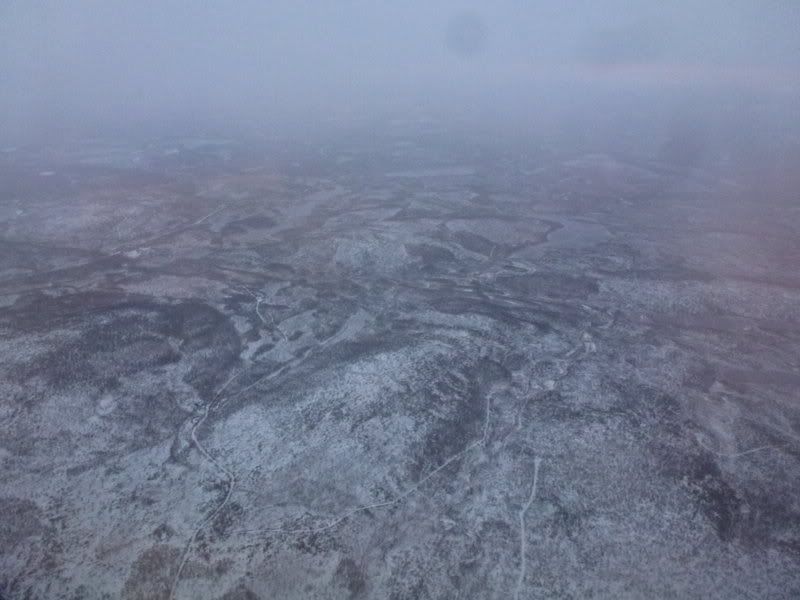 The red glow comes from the low lying sun in the south - note that it is just past eleven in the morning and this is pretty much the lightest time of the day: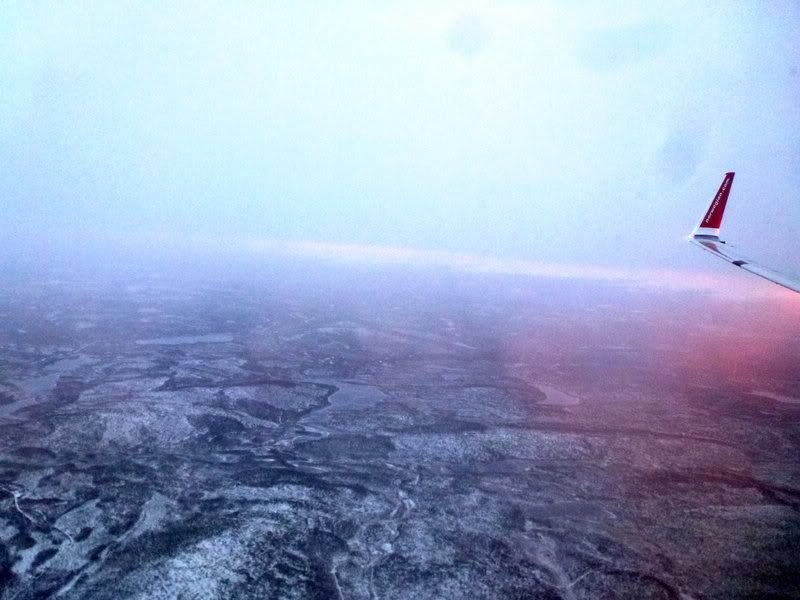 Frozen lake: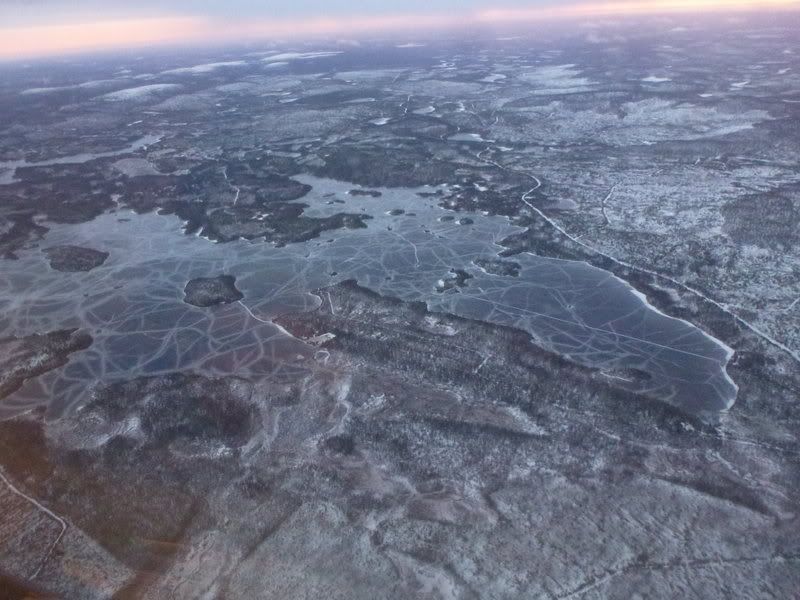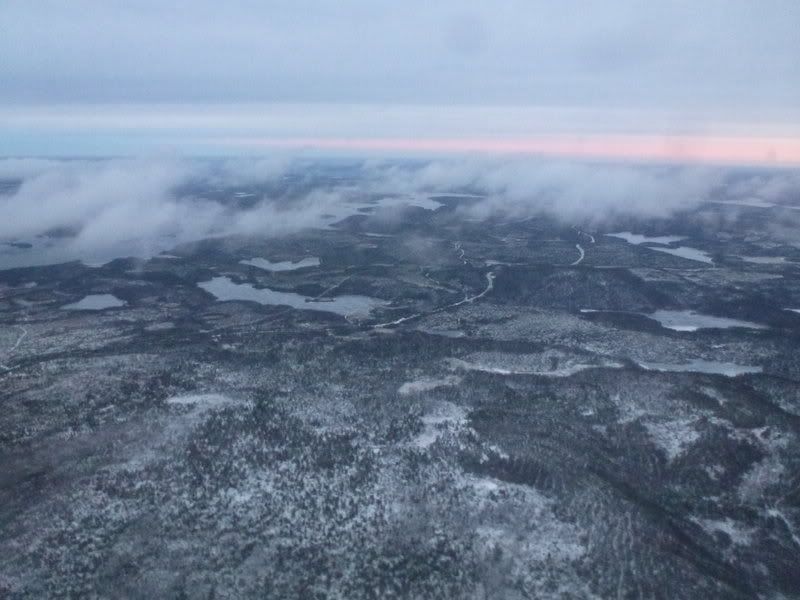 The cabin crew is as amazed as the passengers by the views - taking photos with their mobile phones: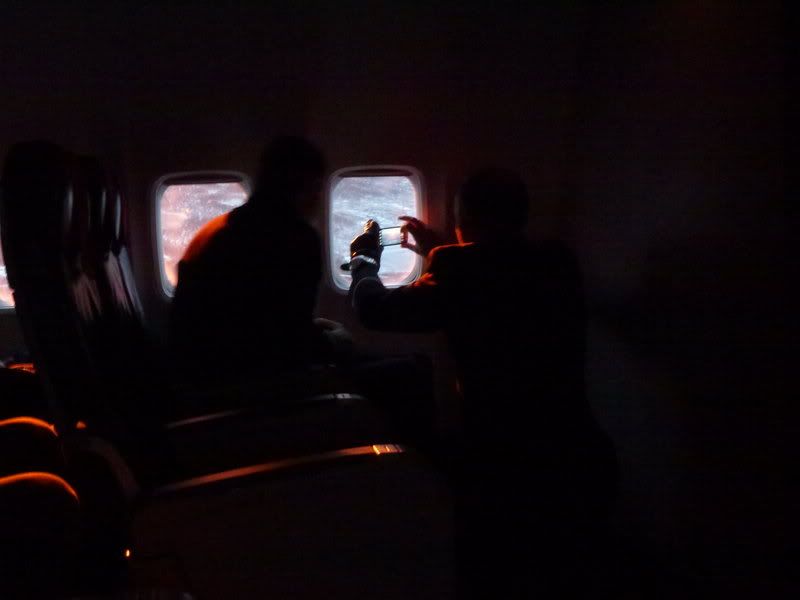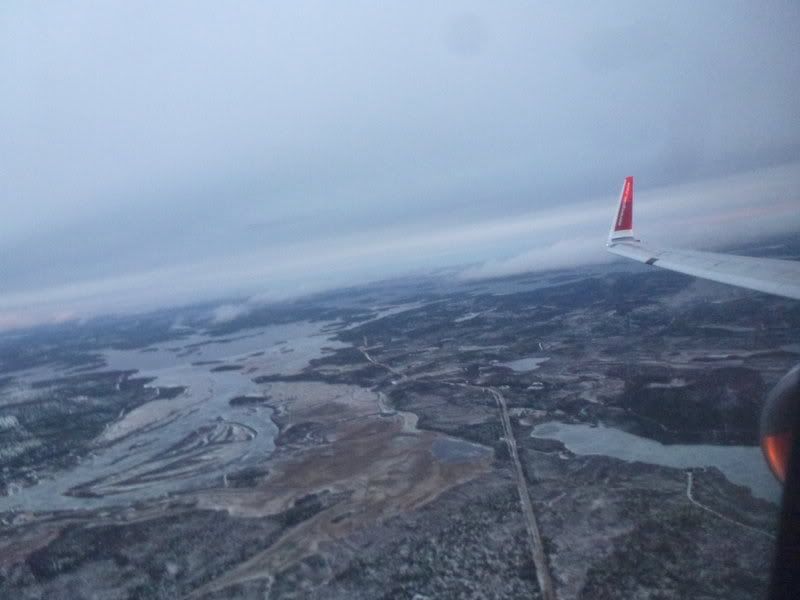 The Ivalojoki river: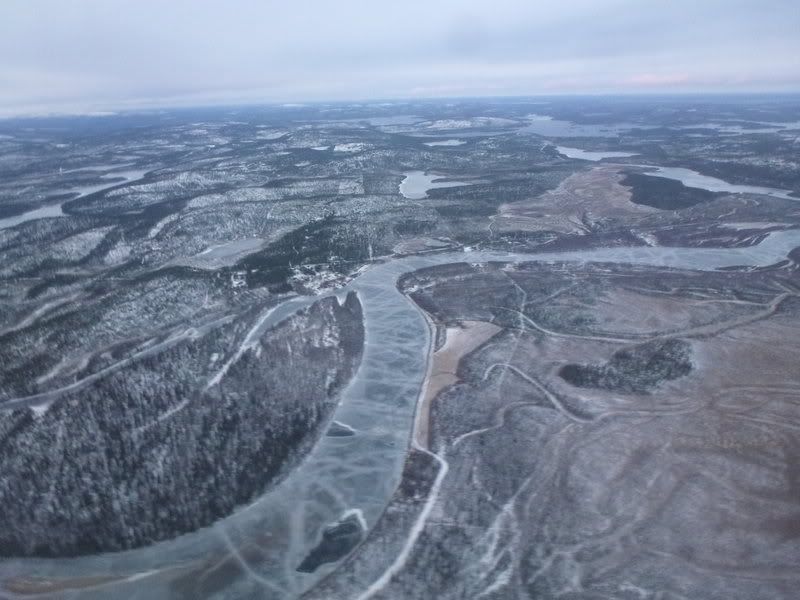 The town of Ivalo soon comes into view - calling it a "city" would be the overstatement of the year: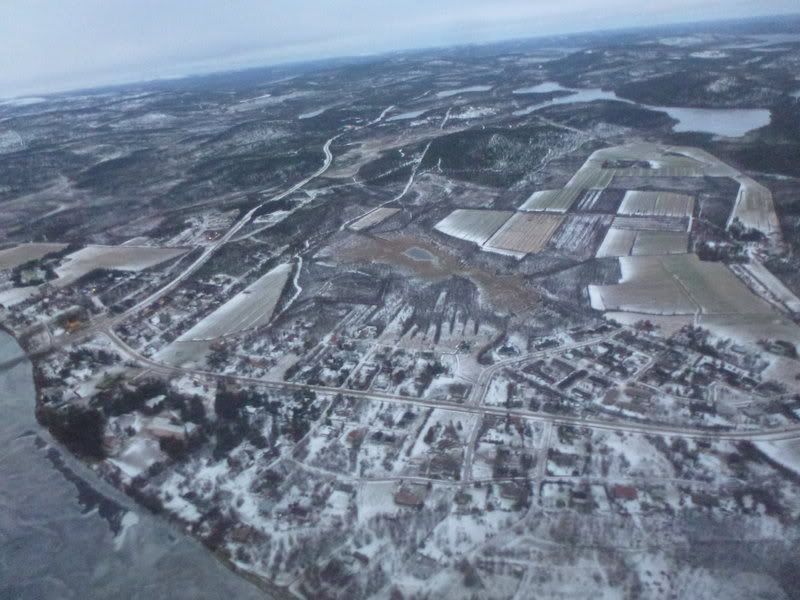 The local church - quite an interesting building architecturally: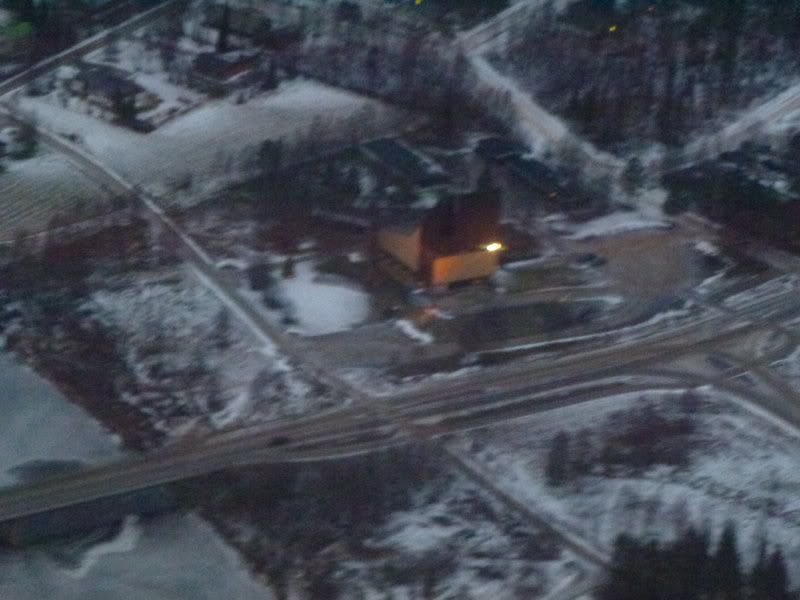 Approach into 22 takes one right over the town center: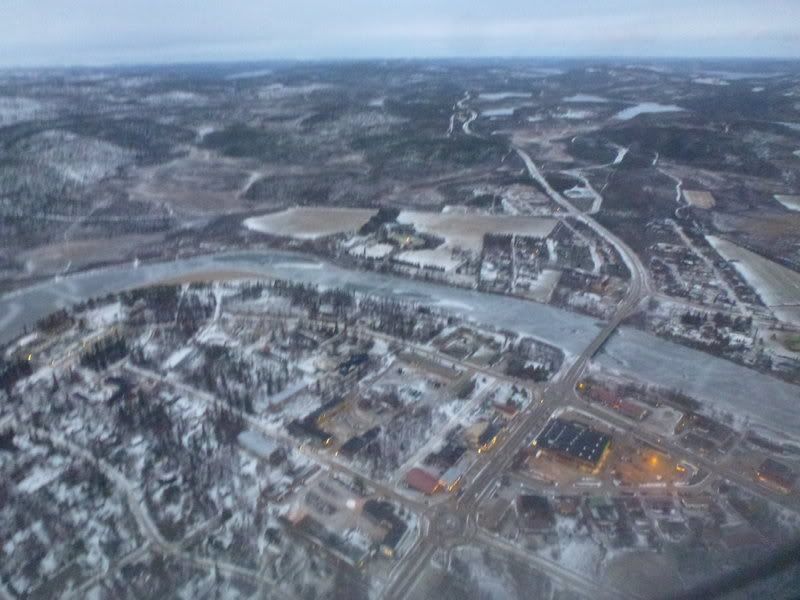 Is this what was always called the "Horseshoe Bend" in my comic books as a kid: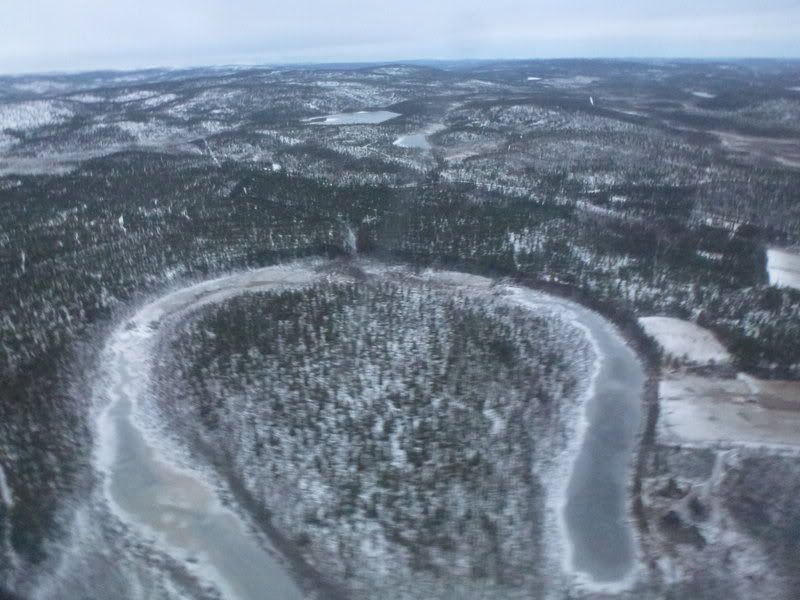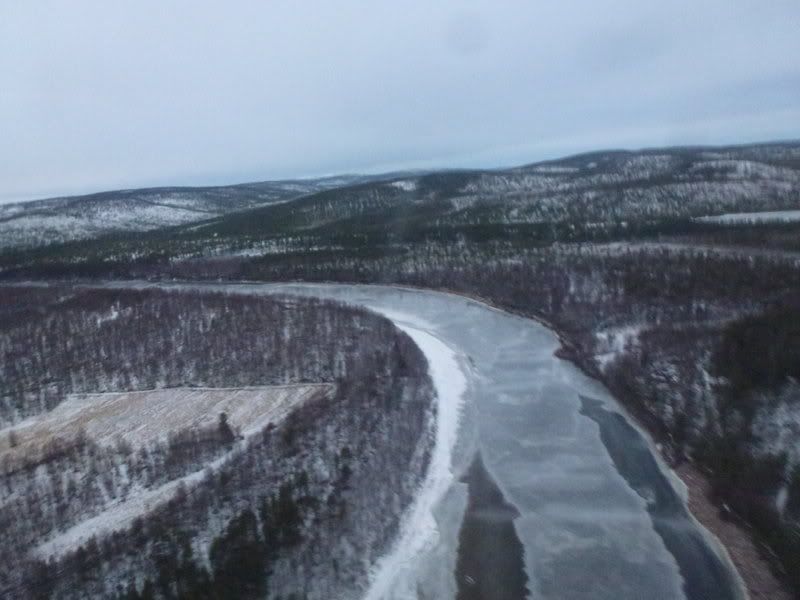 Landing is on 22 - total flight time just under one and half hours.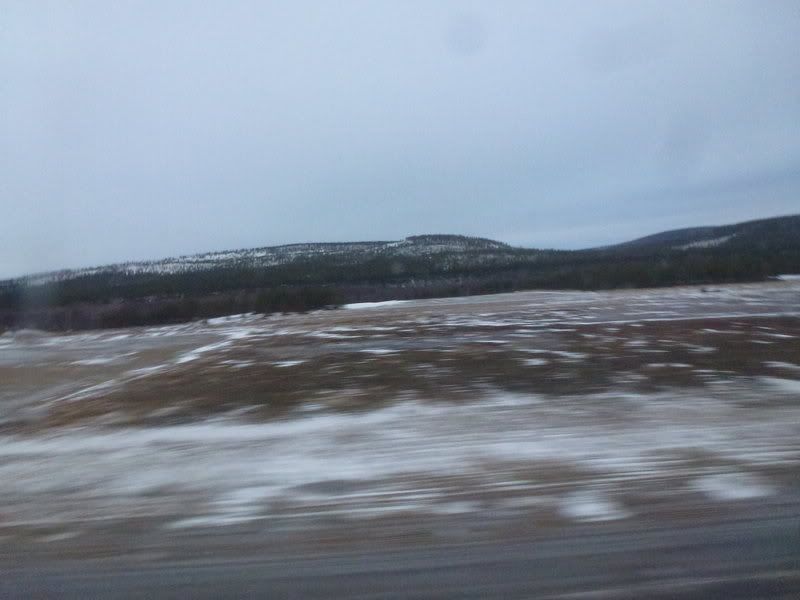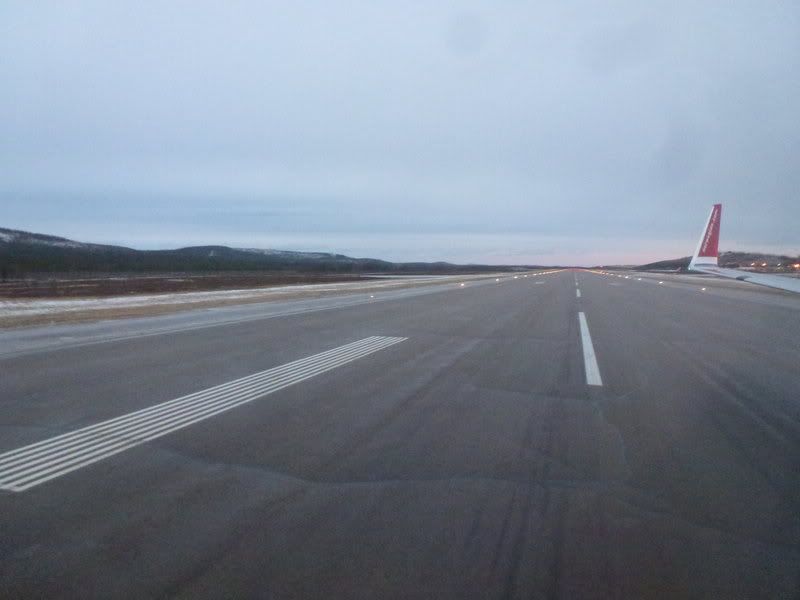 I'm really surprised to see Ezy on the apron - bringing in a load of British charter tourists of course: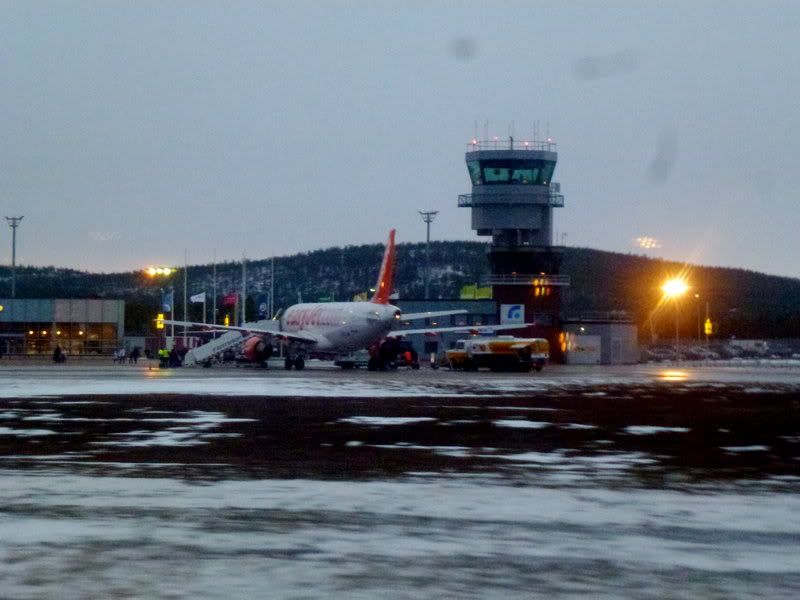 We stop in front of the terminal building where there seems to be some sort of welcoming committee for us. We are not allowed to deboard right away - instead after the doors are opened some a delegation of a few men comes up. Since I'm there on the first row I hear the leading man introducing himself as some marketing executive of "Norwegian Sweden" (which sounds a bit weird
). The other guy is apparently the token Finavia representative. They have a short chat with the crew and the cockpit folks and soon withdraw to the side and allow us to disembark.
Ivalo Airport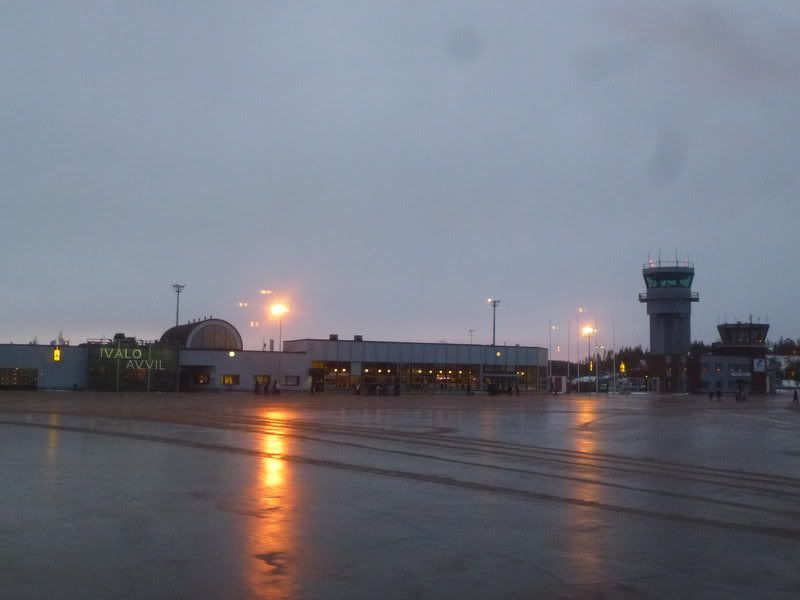 "Avvil" is the Saami name for Ivalo - the sign for the airport when turning off the main road actually reads "girdingieddi" which is the Saami word for "airport":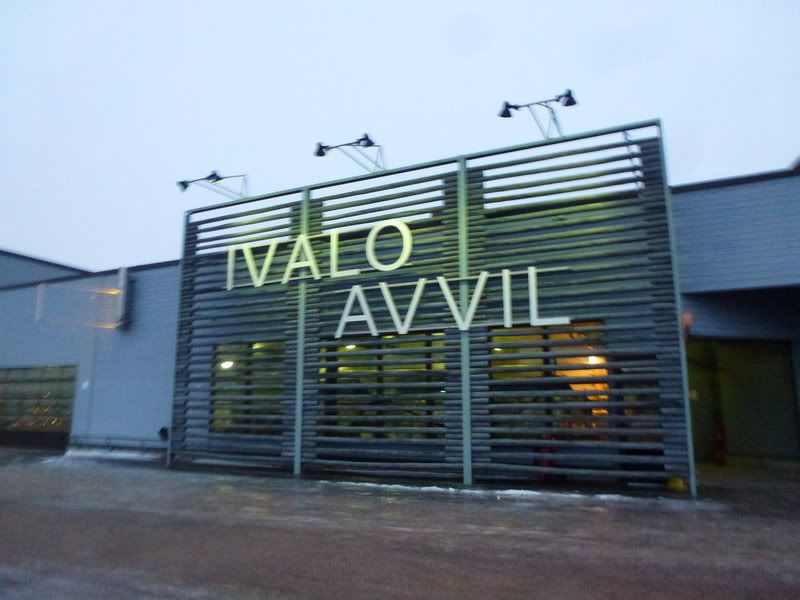 Is that Santa there - sorry for the bad quality: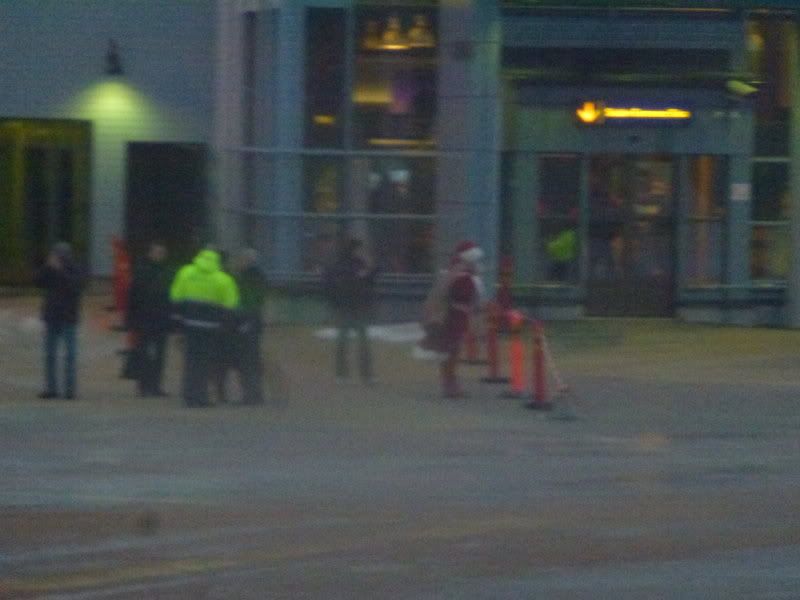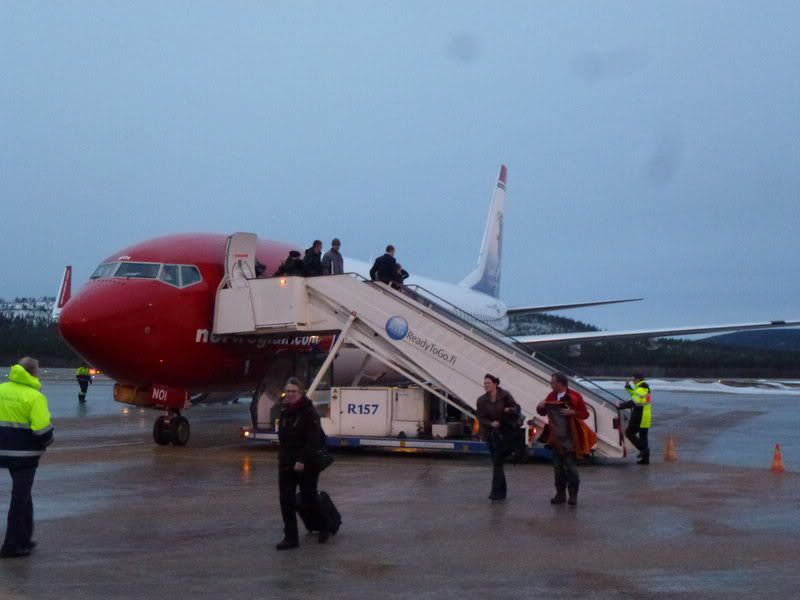 I'm of course the first one to walk down the stairs - down there Santa is waiting for me. I say "Hello" but he doesn't say anything, not even a "Ho Ho". Sorry, couldn't get a picture as it was very windy and I was holding to my hat with both hands!
A bit further away in front of the terminal there's a TV crew - the camera seems to shoot right at me (again!) but I'm not sure which TV network they are actually filming for, might even be from the Norwegian TV for all I know! Anyway one Finnish man yells at me "Hey, you were the first passenger, congratulations!" - "Yes, I try hard to be. Thanks, now I will fly back with the same plane." - He is not sure whether that is a joke or not and just smiles confusedly.
The baggage reclaim room - the whole airport is built in a nice "log cabin" style: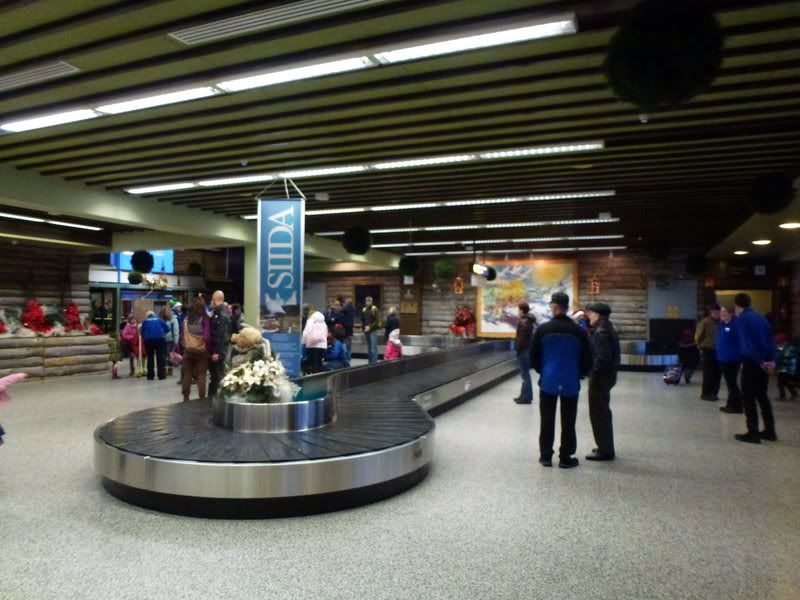 The check in desk is already closed which I assumed so I head through security (who of course as usual in Finland have no problems with just my booking confirmation printout - well based on Norwegian's "Direct to Gate" concept it is enough to get you into the plane!) and am soon through - having the obligatory jokes with the nice security folks here.
Airside the theme continues: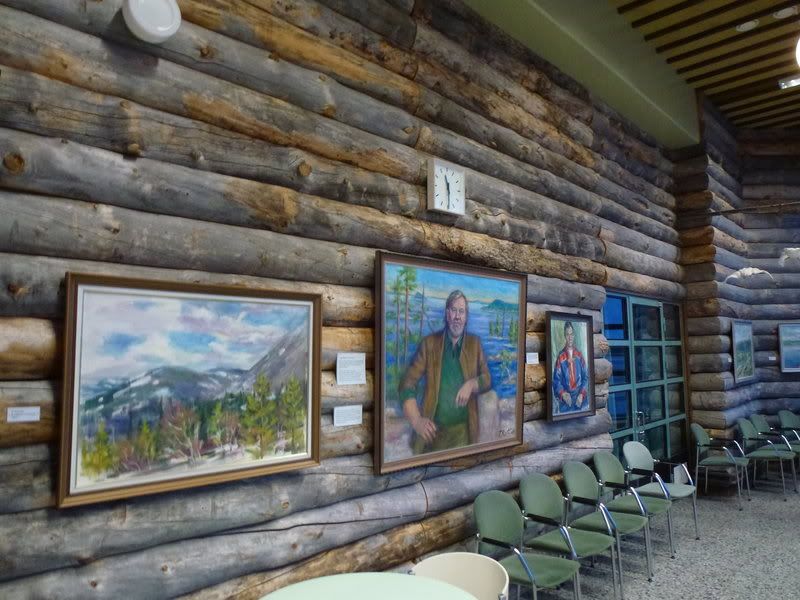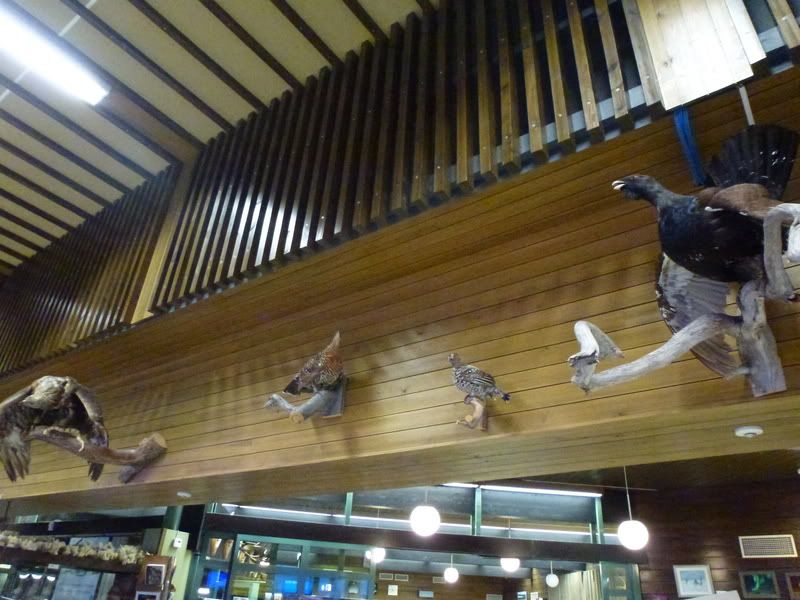 Lappi souvenirs anyone: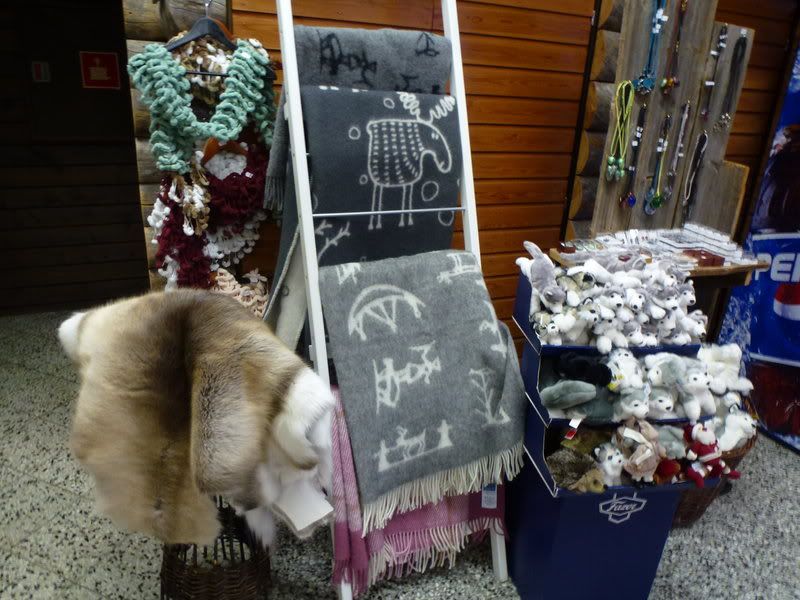 Reindeer as it is meant to be enjoyed - on my plate: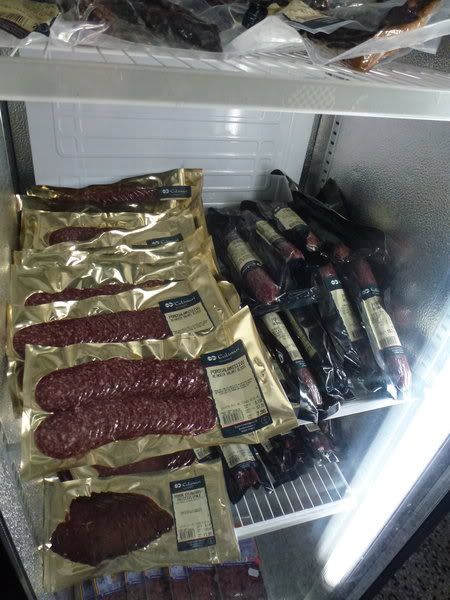 Once a gate agent shows up I ask for a boarding pass - he says that he can't print me one but he'll check me in with the computer anyway. He is unable to change the seat assignment (true Norwegian style) but I have 5F preassigned. I ask whether row 1 is showing any free seats - he patiently repeats that he cannot change assignments and I have seat 5F. I try to be patient: "Yes, I know, but if there are any free seats there I can just hang around, board as last and then grab a seat. I don't think there will be more passengers checking in after me." - he finally understands that I know what I'm talking about and confirms that yes, the whole row one is empty. I ask about any celebrations and he points at the plane (where the TV crew is now on top of the airstairs) and says "There's the celebration!".
Not much to say about the flight home - the Estonian guys were a bit surprised to see me again settling down on the same seat ("It was far too cold here!" was my line this time) but soon got over it. The flight was half an hour late - the captain explained that the official reception ceremony took quite a bit longer than anticipated:
A couple of pics - the load on the return sector was lighter at around 60%. And there were quite a few Norwegians (the nationality... I now this joke gets old fast) onboard just as I expected.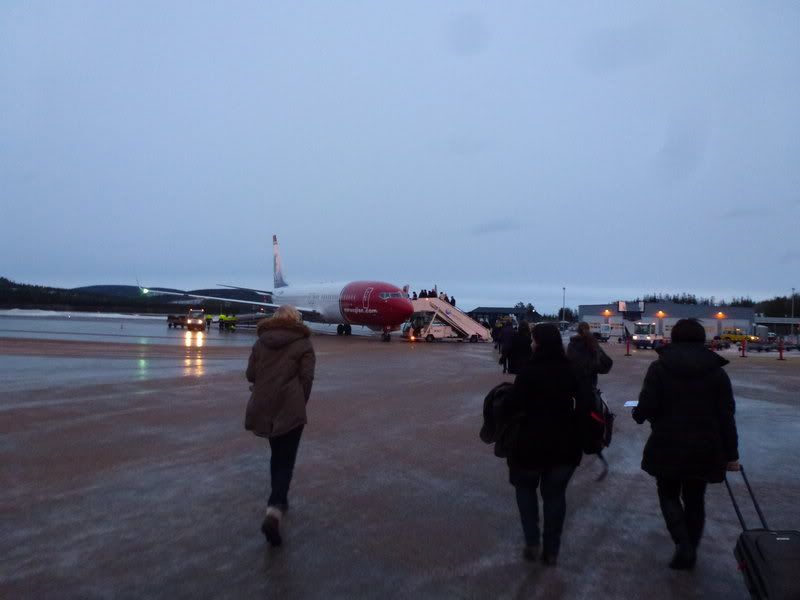 I was very surprised to see Ezy leaving without any pax - must be the first flight of the season then: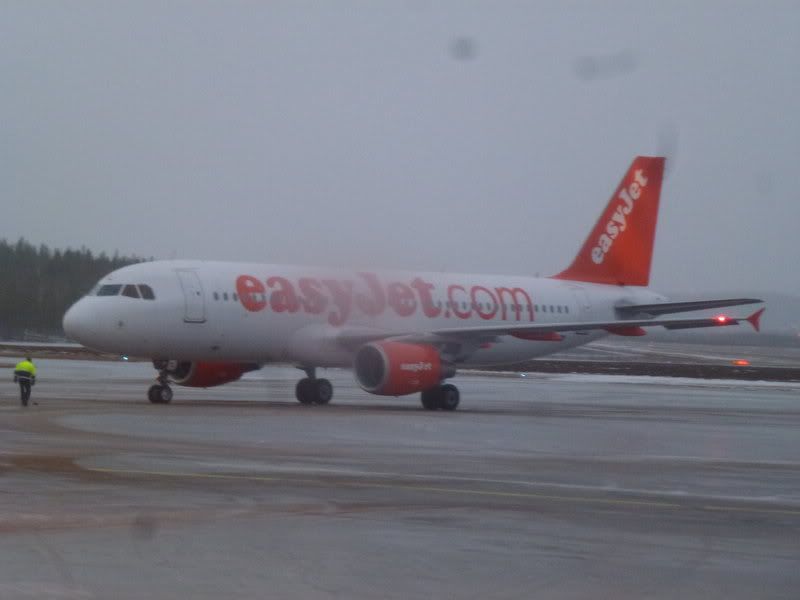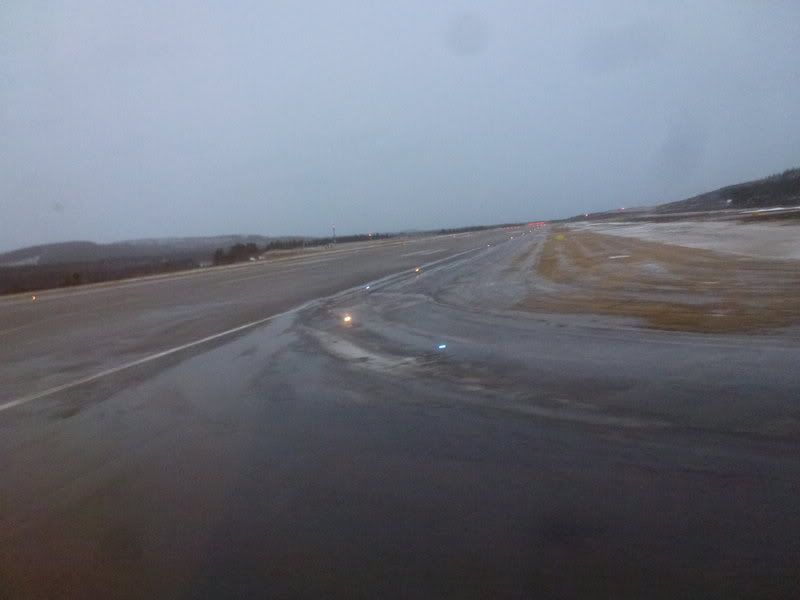 A float plane - very handy for getting around the wilderness in the summertime: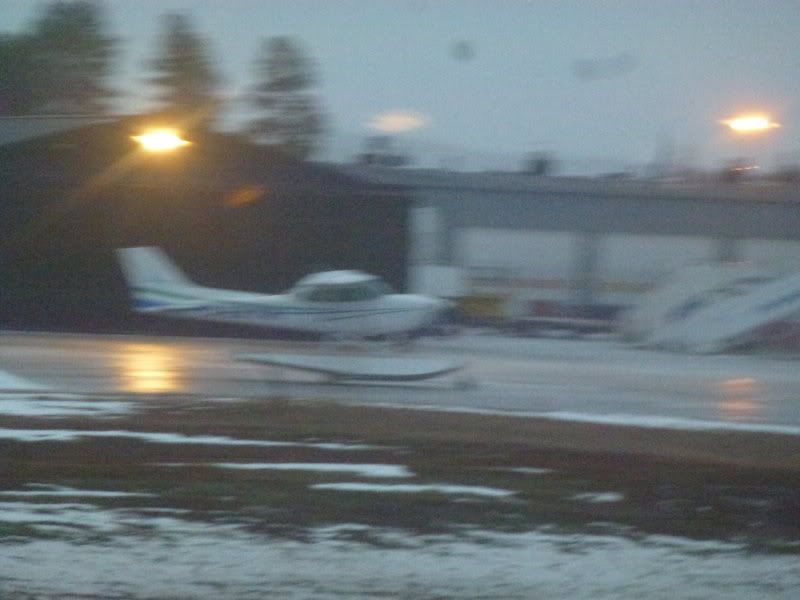 Which runway is it again: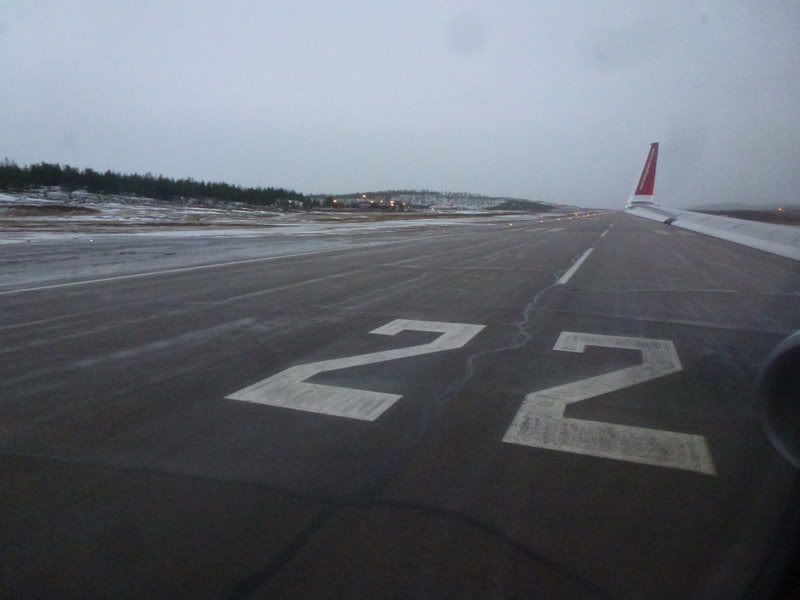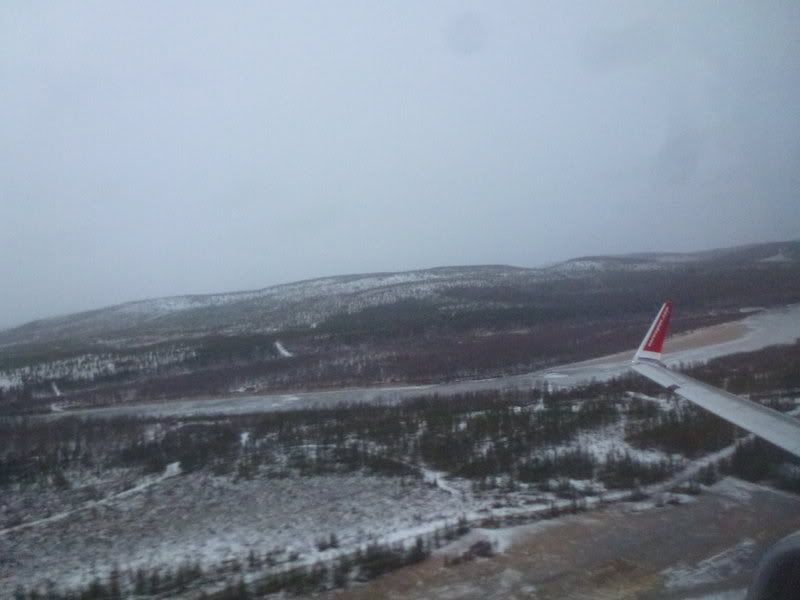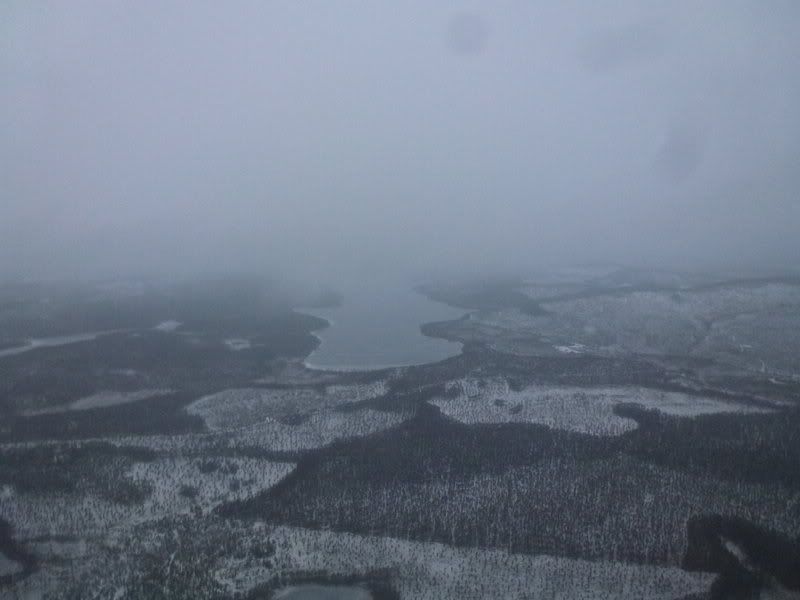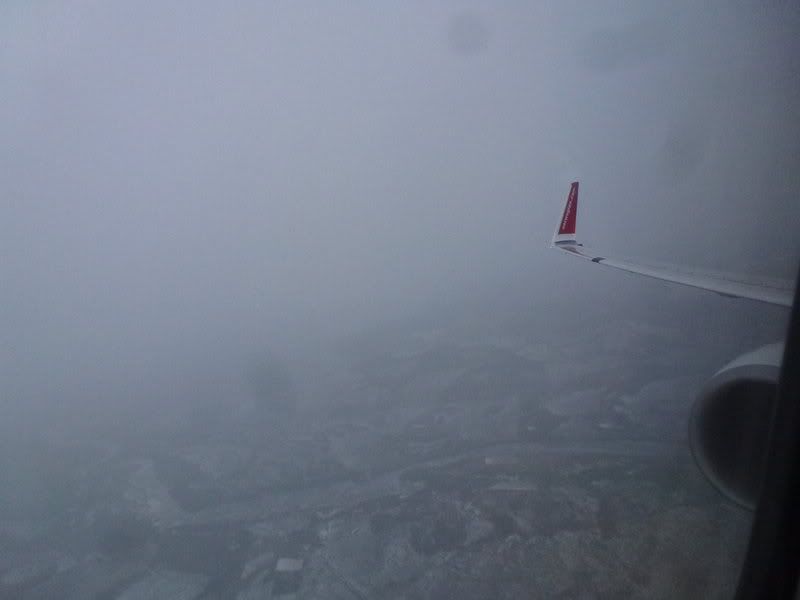 As it was past lunchtime I decided to try their sandwiches - the cheese & ham one was okay. Interestingly the menu listed the prices as 7 + 3 EUR for the water, but they only charged me 8 EUR: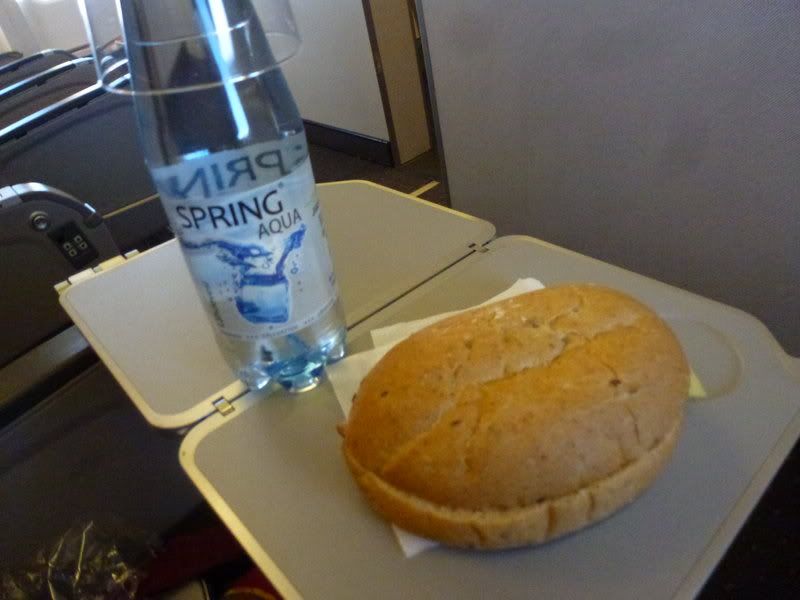 The whole country was covered in clouds this time: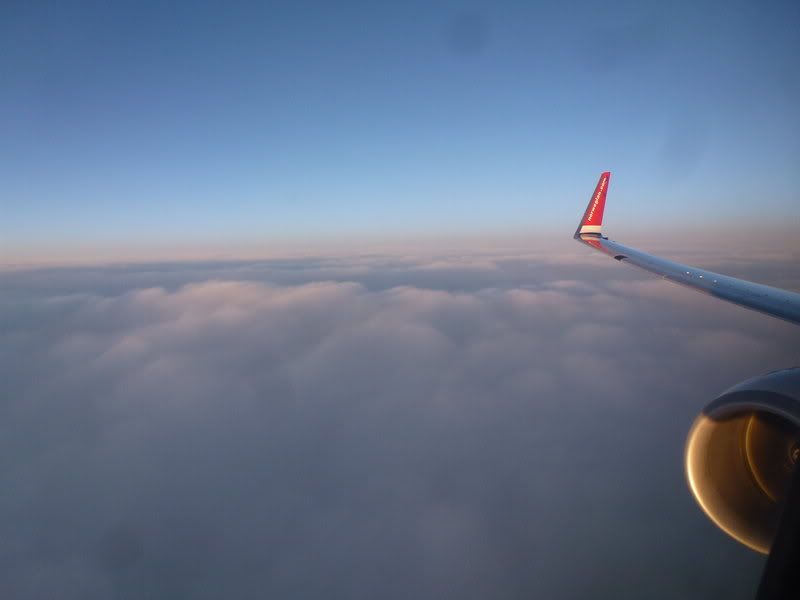 Conclusions
I think we have already come to expect this from Norwegian - no celebrations on inaugural flights for new routes whatsoever. So once again there were none - for the flying public at least. The TV and other media representatives seemed to be enjoying their little happening over at the plane at IVL - but nothing for us.
Otherwise a couple of standard flights with Norwegian - very good comfort thanks to having the whole bulkhead row for me and excellent fares (I think the absolute cheapest r/t one can get on Finnair for this route is now 129 EUR) and okay performance in all fronts. People here in the North sure could use some healthy competition when it comes to their travel options so I certainly hope DY will stay on this route. For the KTT route I already saw insanely high fares so I'm pretty sure they will make a killing there, despite the heavy competition from both AY and KF.
Having now seen some snow it is a good time to escape for a few days to the mild winter of the extreme south of Europe to visit the only EU member state which I haven't yet visited and to suffer the reportedly very bad legroom of their national carrier as well. The flights are HEL-FRA-MLA-VIE-MUC-HEL. Happy contrails!