I had to go to Sao Paulo and Dallas for work, so chose SQ for SIN-GRU and IAH-SIN, AA GRU-DFW and CO DFW-IAH.
7 Dec
SQ68, SIN-BCN-GRU
Departure at 23:40 local
Arrived in SIN T3, and it was really busy at 10.30pm. What was meant to a flight mostly for SIA's longhaul flights, it now has airlines like Garuda Indonesia, China Eastern, Sri Lankan Airlines and Vietnam Airlines, and Saudi Arabian. There was a Haj flight leaving at the same time as mine, so there were throngs of pilgrims and their families near security clearance to immigration. So much for premium longhaul terminal.
Anyway, no denying that SIN T3 is one of the most beautiful airport terminals in the world. I did not visit the lounge since I've been there many times and the SQ lounges in their home base must be the worst of any major airline's home base lounge. There is usually a mediocre selection of hot food, buffet style much akin to a cafeteria. No open bar for business class. No menu on demand even for the First Class lounge.
I had a walk around the terminal which was bustling with people at that time of the night.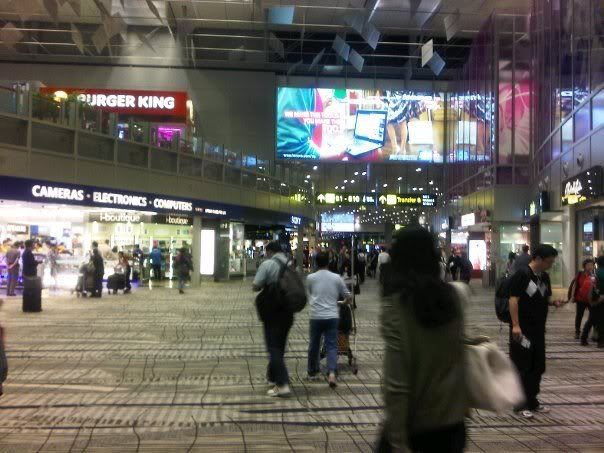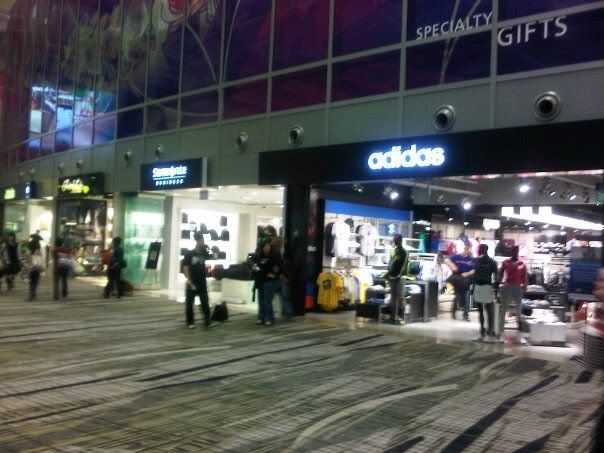 Boarded the plane from Gate B2 20 minutes before departure. My seat was in the front section of Business Class on the 77W which is almost like First Class - there are only 2 rows and 8 seats in this section, much like First Class which has 2 rows of 8 seats as well.
Once I seated myself, a stewardess greeted me "Good evening Mr Docpepz, welcome aboard, could I please offer you a selection of newspapers? "
She then proceeded to offer me some magazines, followed by a welcome drink. Hot towels were given out soon after.
Captain came on to say that the flight time to Barcelona this evening would be 13h30min, which was unusually long.
We pushed back on time at 2340, and before long we took off in the northeasterly direction towards Malaysia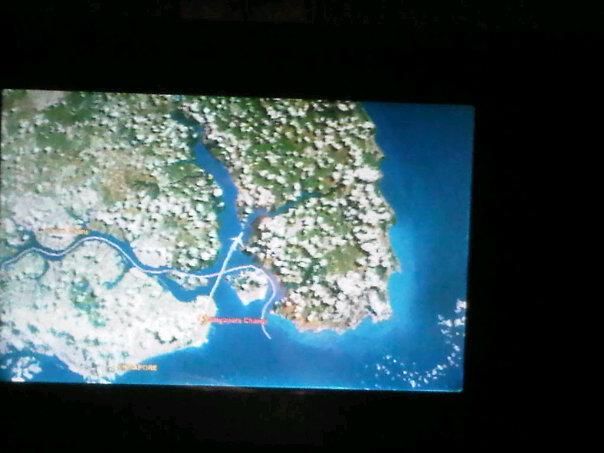 The supper menu for this evening wasn't very comprehensive. There was the choice of a starter, 3 mains, followed by cheese and fruits. No dessert was offered. SIA has not offered a proper dessert for all supper flights in premium cabins for many years now, with the excuse that most pax prefer to sleep. Well I think if people pay JCL or PCL, they should offer pax the choice whether or not they wish to have dessert, and not make the choice for them.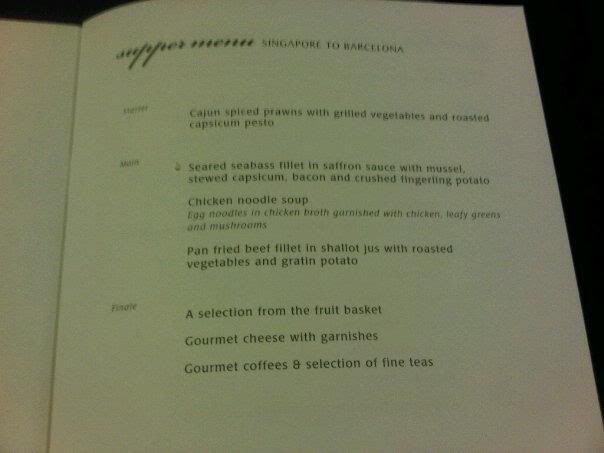 Starter: Cajun Spiced Prawns. It was excellent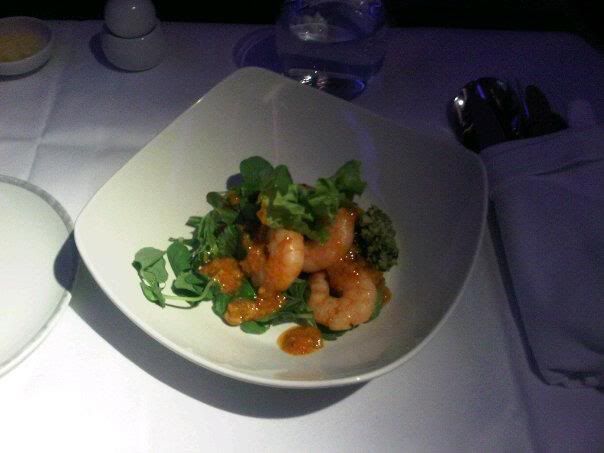 Main: Seabass with Mussels. It was top restaurant quality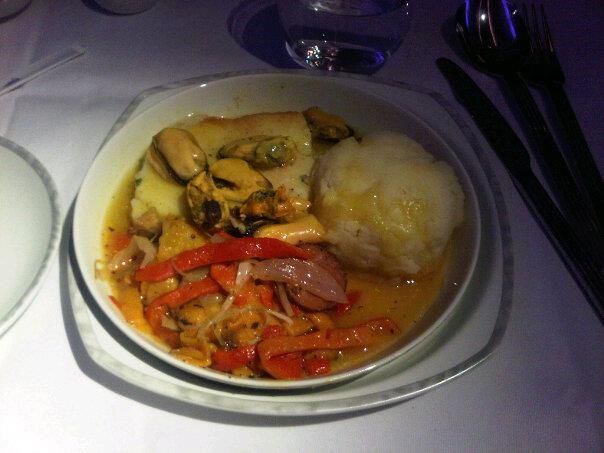 After this main, which was really filling and had a very generous serving of seabass and mussels, I was actually quite stuffed and skipped cheese, fruits and everything else after. Maybe SQ is right and nobody wants to stuff themselves at what was already 1am.
Meal service was quick and finished about 1.5 hours into the flight, just after we passed Penang, Malaysia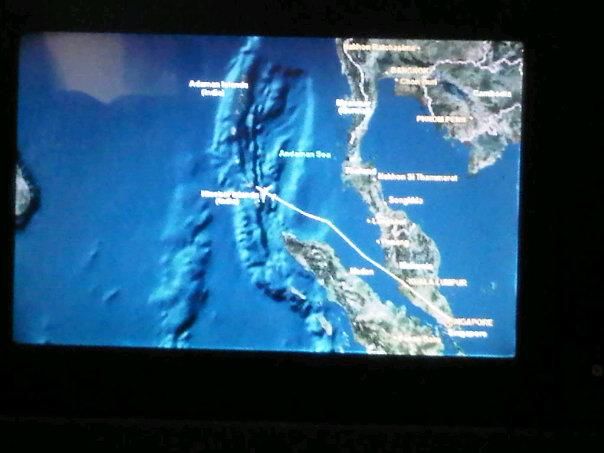 I fell asleep and woke up about 7 hours later over Iran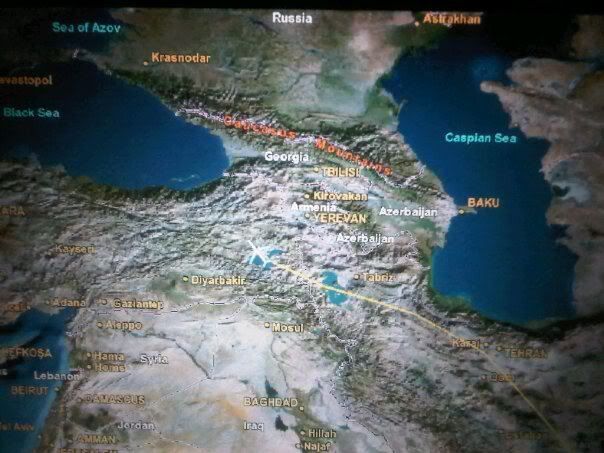 But hey, there was still over 5 hours left of the flight, and I decided to watch some of the DVDs I brought along with me. Time seems to past faster when you watch episode after episode of a drama or comedy series.
2 hours before landing in Barcelona, breakfast was served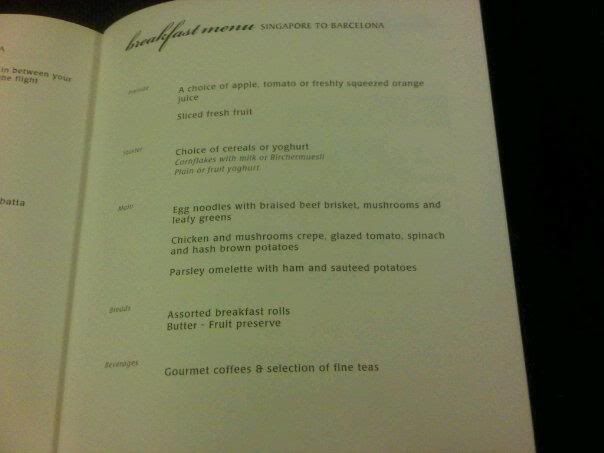 Fruit starter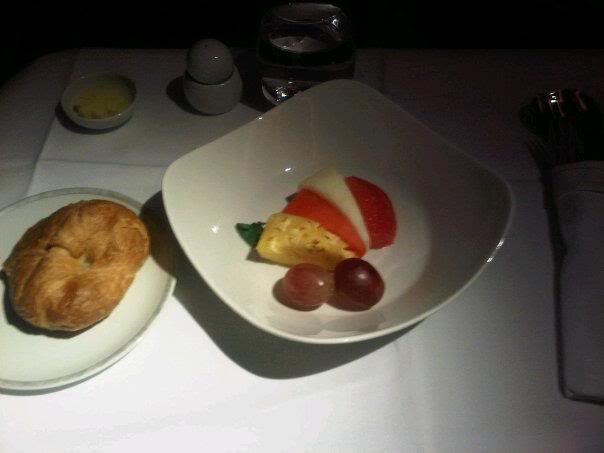 Muesli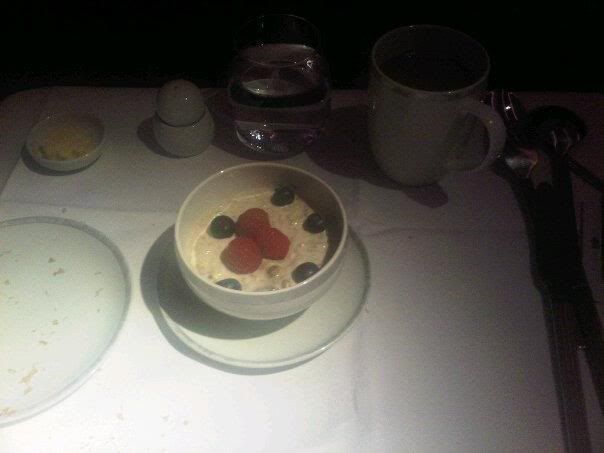 Main course of noodles with beef brisket and leafy greens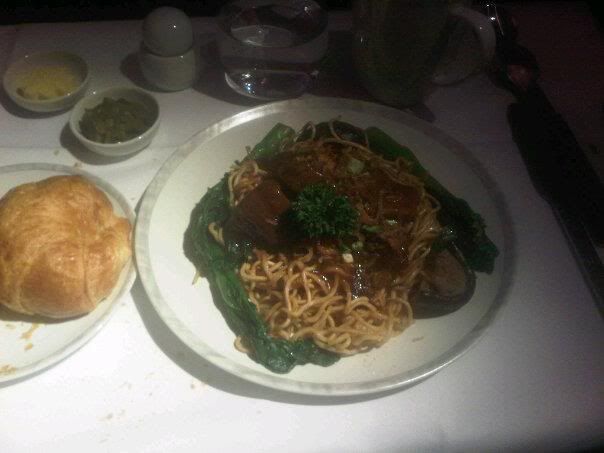 The service on this flight was excellent. The crew were attentive, personable and charming. The stewardess serving my area was especially flirty as well. When offering me croissants, she gave me 2 without me asking and I said "oh i really only need one". She responded "Mr Docpepz, surely you won't reject anything I offer you?" Haha. Charming indeed!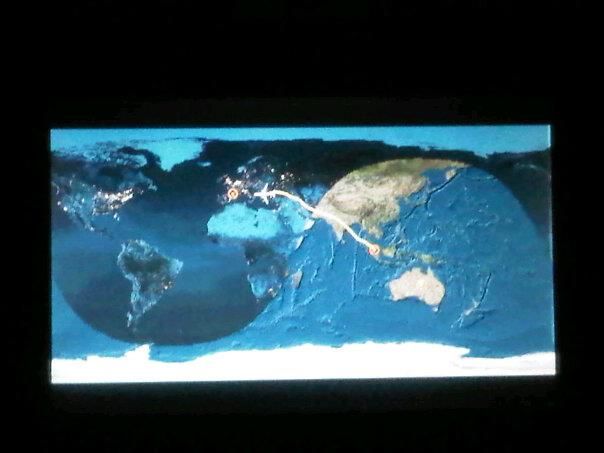 Nearly there!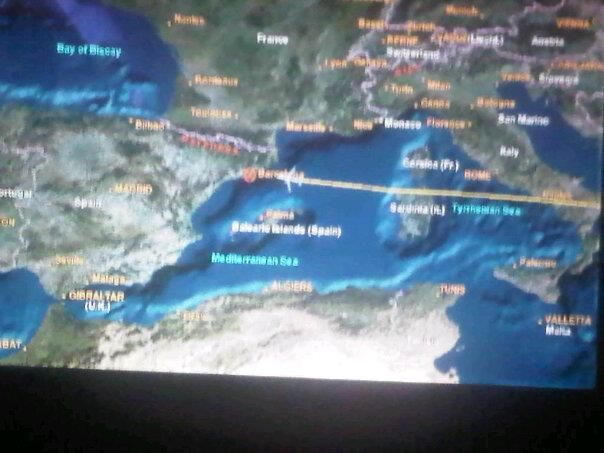 We landed in Barcelona 13 hours 30 minutes after takeoff from SIN, at 0630 local time. It was pitch dark, and it was pitch dark throughout the entire flight as it would be at this time of the year.
After a short taxi, we disembarked at the terminal, and I had to take a rather long walk through many corners to get to security clearance. There was an employee from Servisair (I think?) holding up a placard for SIA pax transitting through to GRU. From her list, I saw that only 33 pax were continuing the journey on to GRU.
As I was in transit from a non Schengen country to another non Schengen country, we could not access the main shopping area of the terminal which was a pity. However, the sole lounge at the non Schengen area of the terminal gave us an excellent view of the shopping area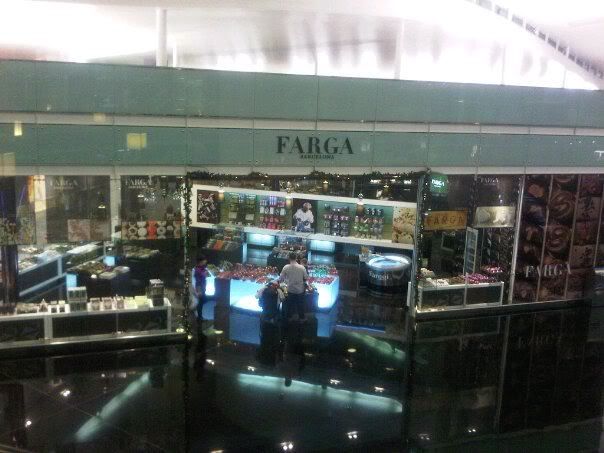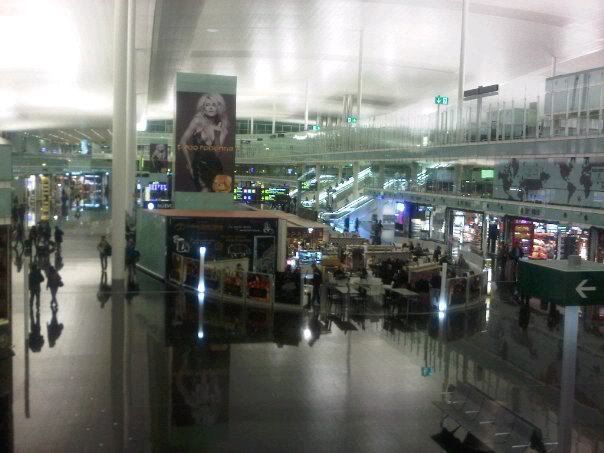 The lounge itself was dismal. Showers cost EUR10. Wireless internet was not free. So I wondered what the point of this lounge was if you couldn't surf the net or have a shower for free.
Interior of the lounge was fine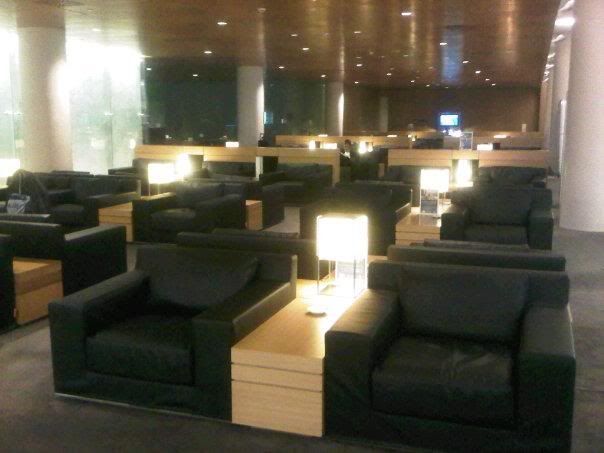 About 90 mins later, it was time to reboard the aircraft again. The load was 5/8 in F, 25/42 in J and Y was 80%. Since 90% of the pax were new pax who boarded in Barcelona, they were all Spanish and Brazilians. Announcements on the flight were only in English, but it seems most pax could get by with basic English and some pointing/gesturing.
Menus were in English and Spanish, but nothing was in Portugeuse.
Our plane in BCN: 9V-SWE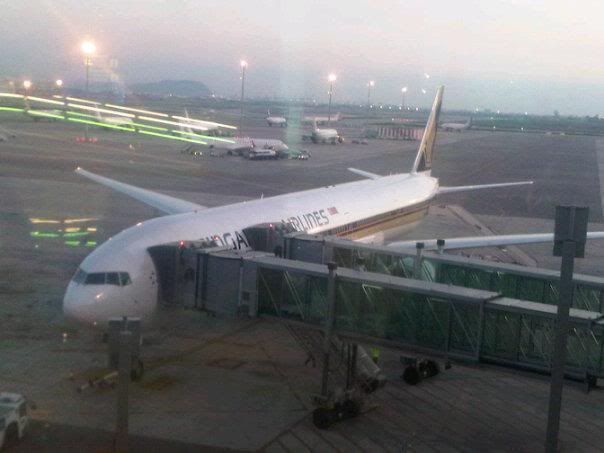 We pushed back on time at 8.20am for the 10h35min flight to Sao Paulo
Some shots from our taxi in BCN: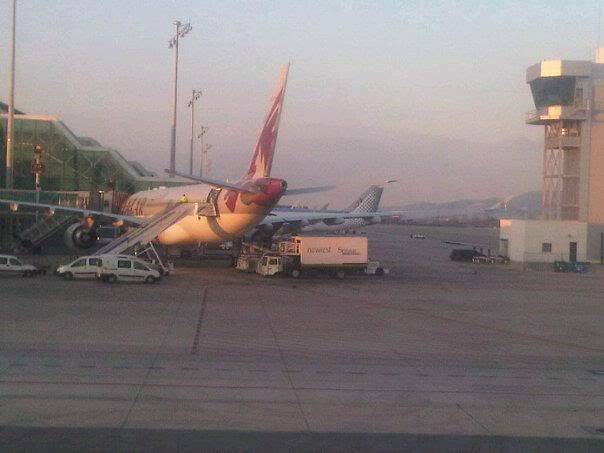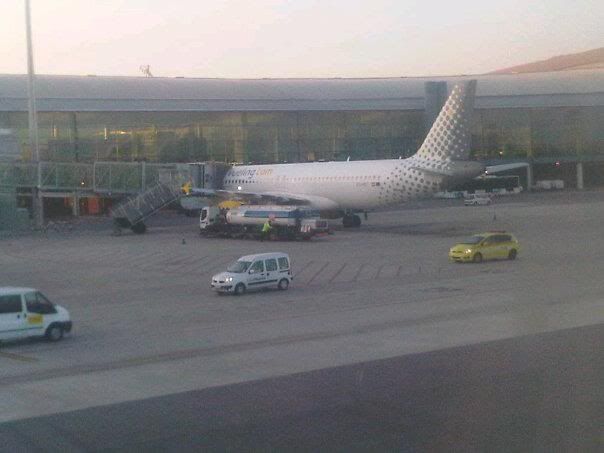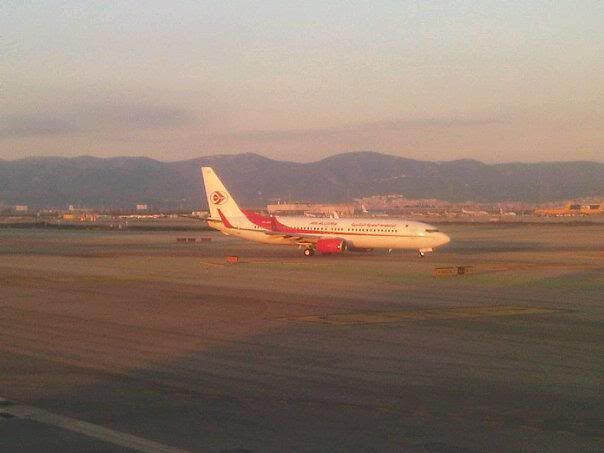 Takeoff: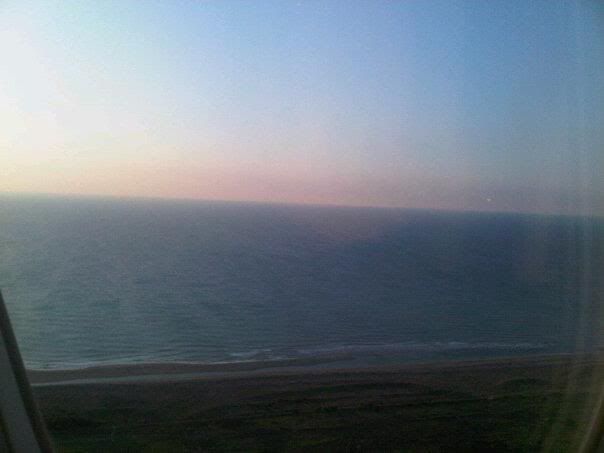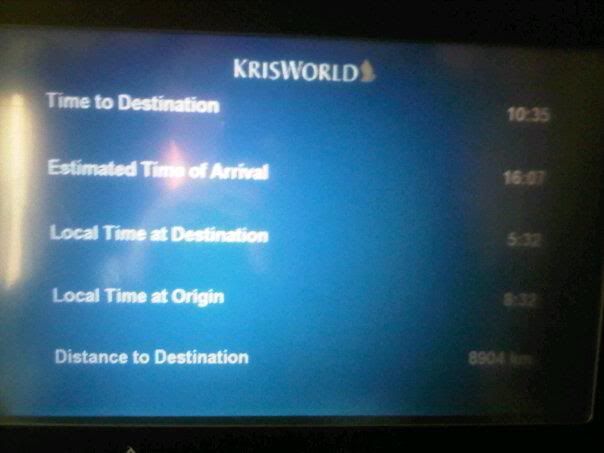 East Coast of Spain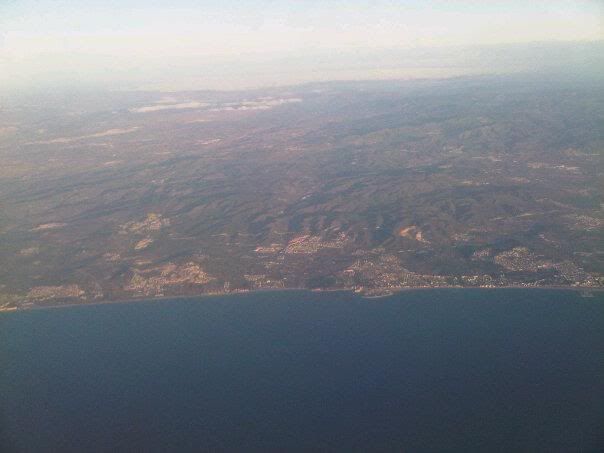 The first meal of this flight was "Brunch". The only difference between "Brunch" and "Breakfast" on SQ JCL is Brunch has dessert and Breakfast doesn't. I'm not fond of airline breakfasts and it was a pity two of four meals were going to be breakfast meals on this flight.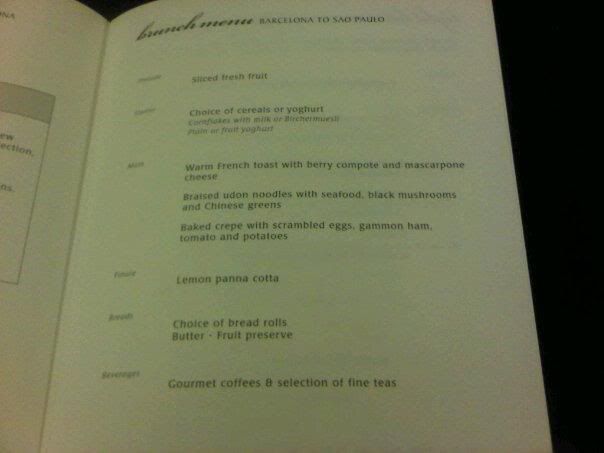 Fruit Appetiser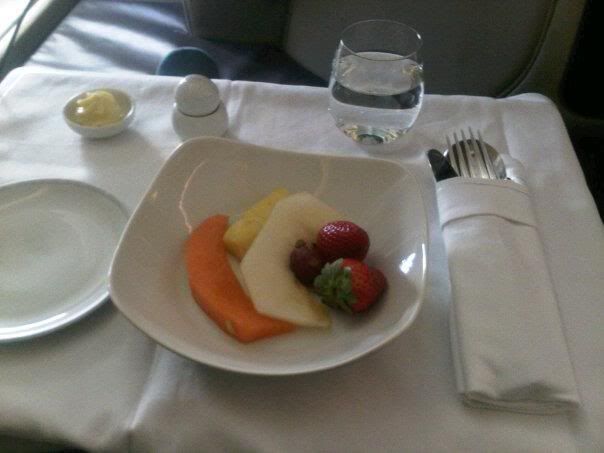 Muesli: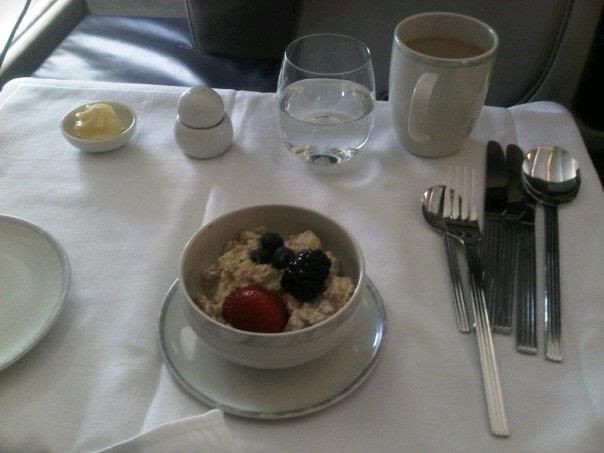 Udon noodles with prawns, scallops and fish slices - Very nice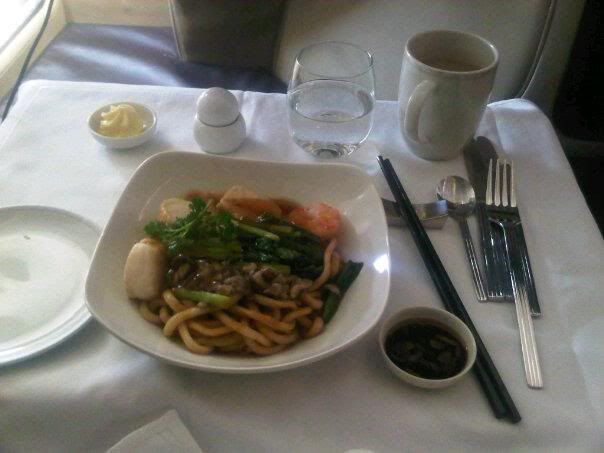 Lemon Panna Cotta - Tasted interesting, not quite what I expected it to be. It was hard while Panna Cotta should be soft, almost jelly like no?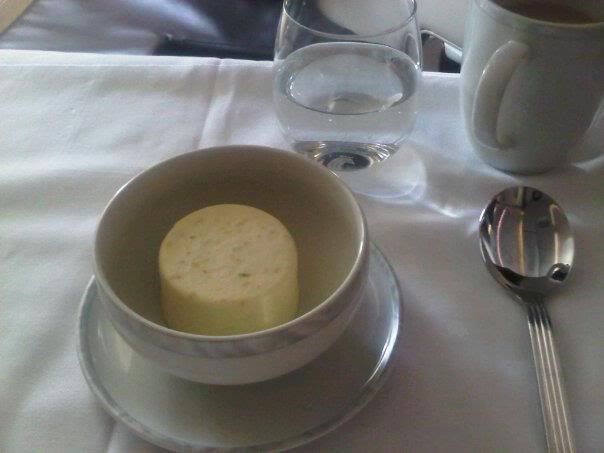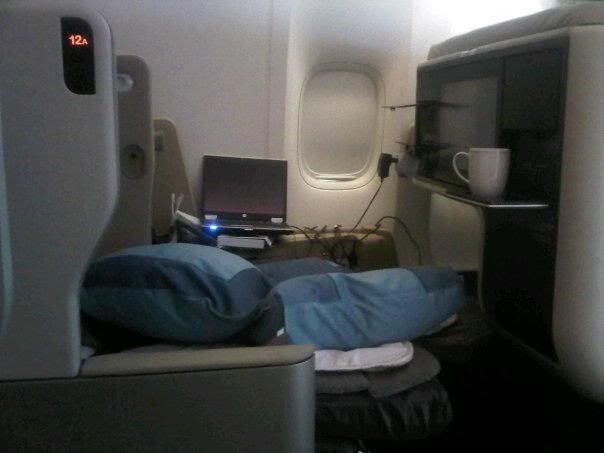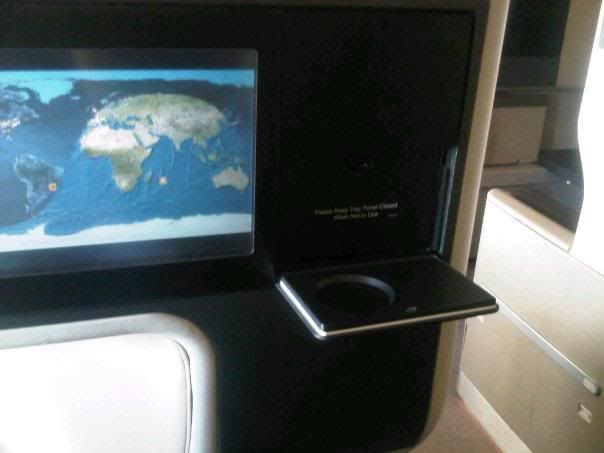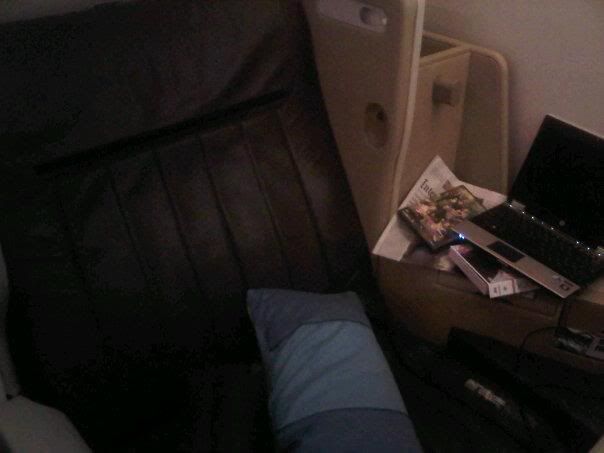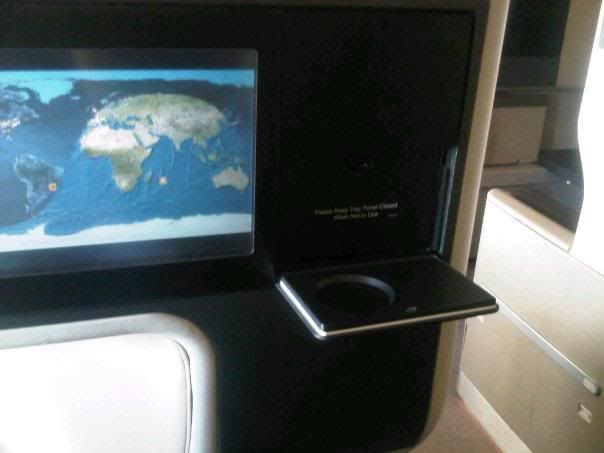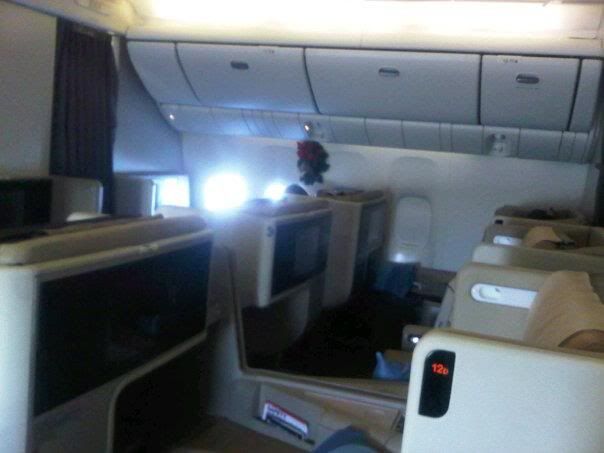 Off the West Coast of Africa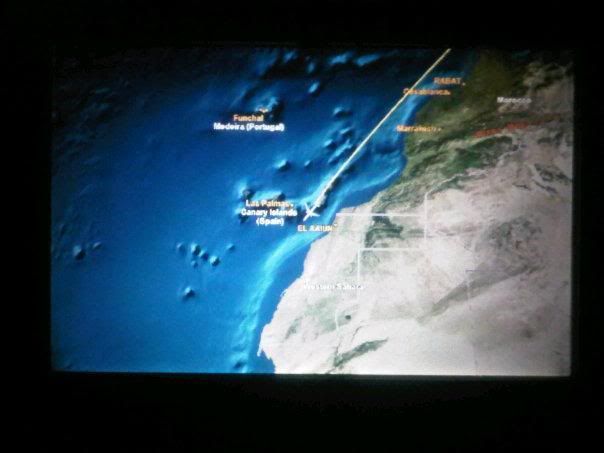 2.5 hours before landing, lunch was served. This was a full lunch service by SQ's standards and included satay to start with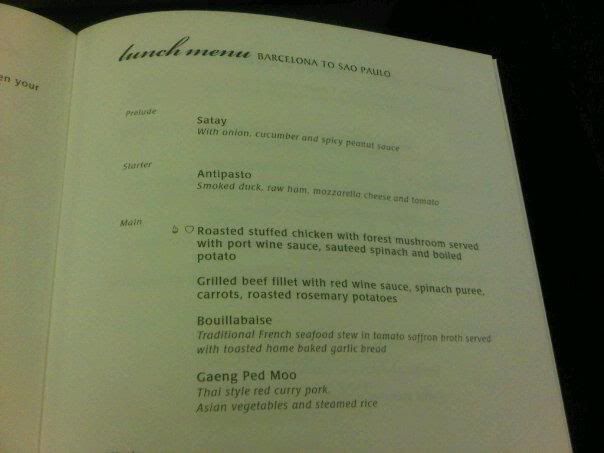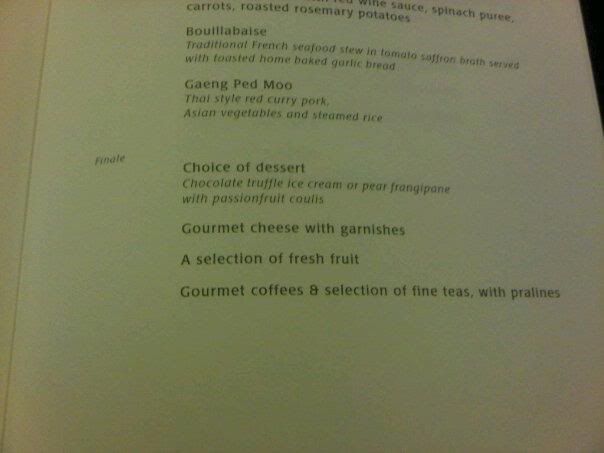 Satay: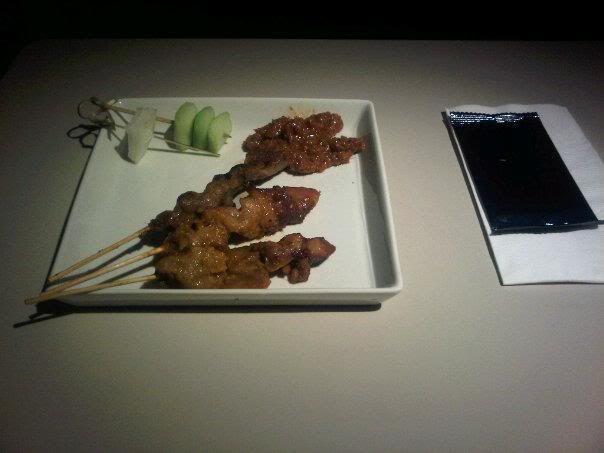 Starter: antipasto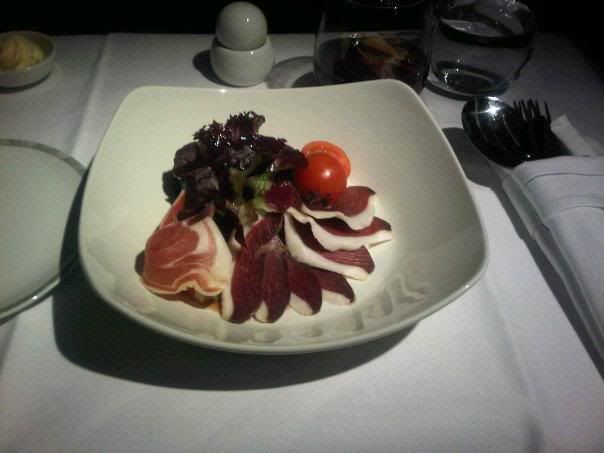 Main: Thai red curry with rice and tofu. The portions of meat were very generous. It wasn't too bad actually, considering it was made in Barcelona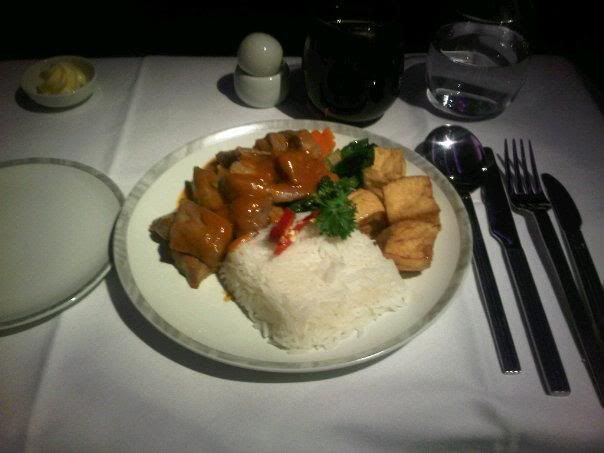 Dessert: Chocolate Truffle Ice Cream - Very rich and excellent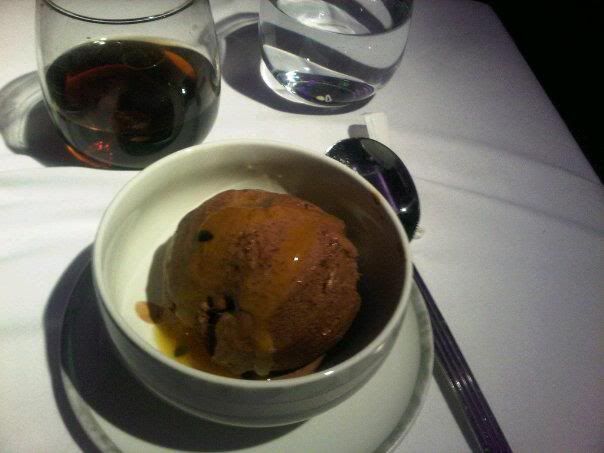 To end: Cappucinno. I was too full for cheese, fruit and pralines.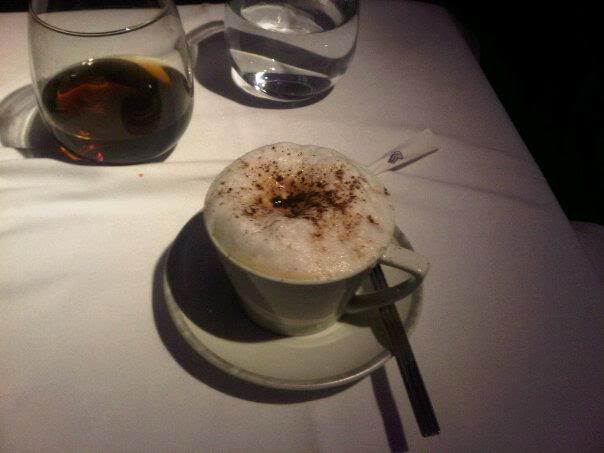 We had to circle for about 45 minutes before landing due to storms over GRU. We made 2 aborted landings and visibility was just horrendous.
15min before landing in GRU: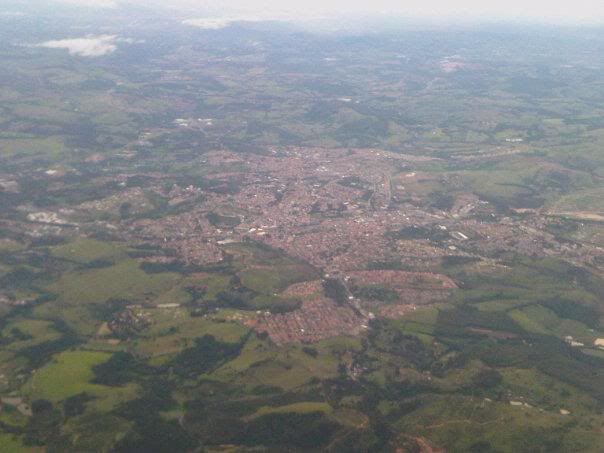 Nearly there....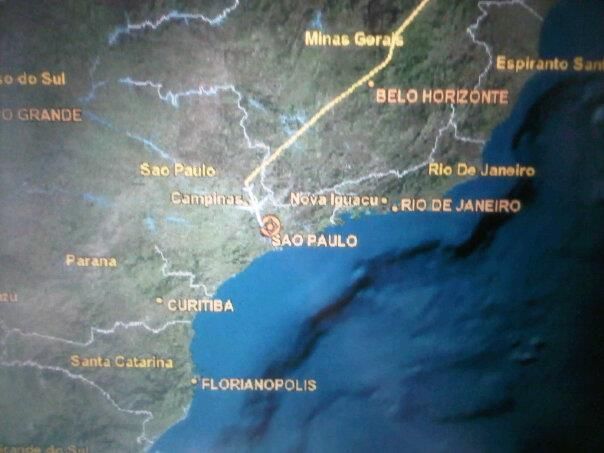 Just before landing: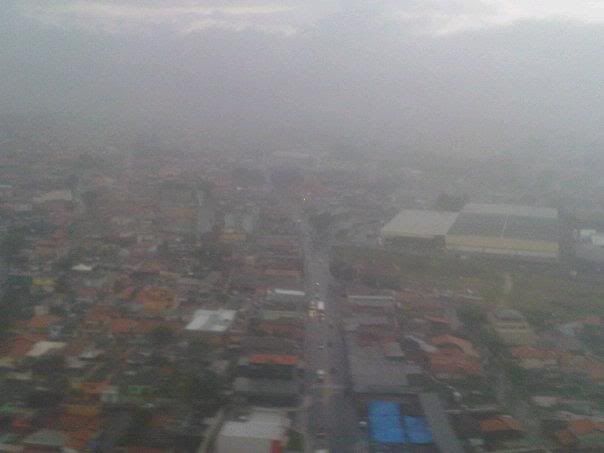 Taxiing in GRU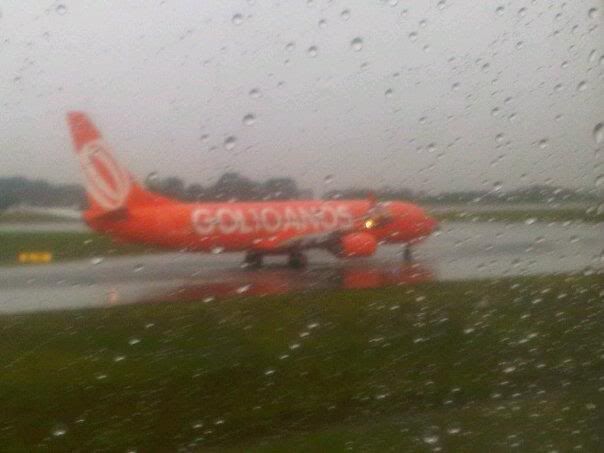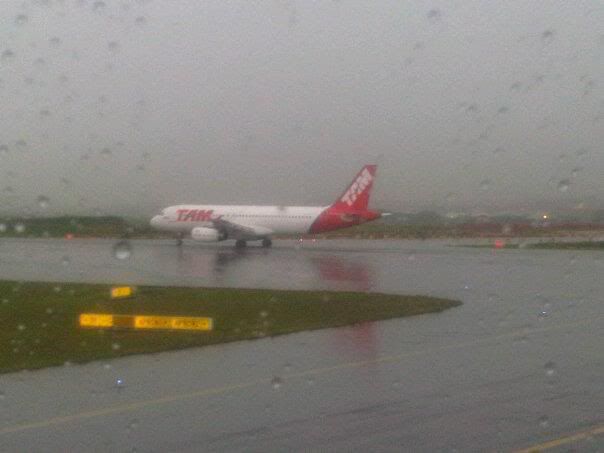 Parked in GRU next to an Alitalia 767!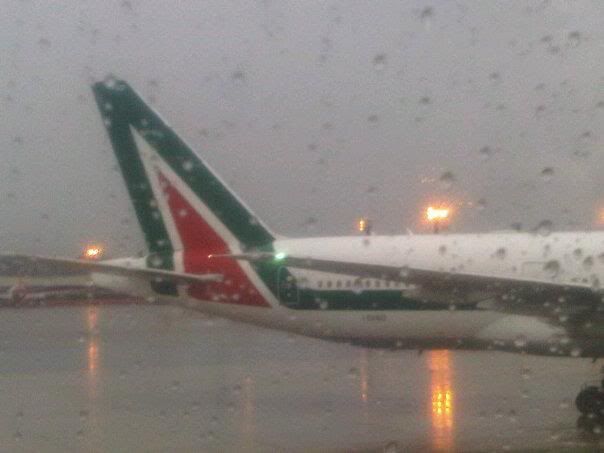 Disembarked at 5pm after 27h30min of travelling. Walked towards immigration and was surprised to find no one there. I've experienced horrible queues at GRU before, but perhaps 5pm isn't a peak arrival time?
So there ends my trip report. Good on SQ for making BCN-GRU work - Anecdotally this flight operates full most of the time, despite the fact that SIA's branding is probably weak to non existent in both Spain and Brazil, and no Spanish or Portugeuse speaking crew are on board, and looking at the low number of pax actually starting in SIN and ending in GRU, they depend very heavily on fifth freedom traffic here.