Hello readers, time for another trip and the accompanying report.
Back sometime in the early summer, Iberia announced that they were returning to Manchester after a long hiatus. They would be operating an afternoon service from Madrid non-stop to Manchester, followed by an evening return to Madrid using their regional partner Air Nostrum. This got my attention, a new route and a new airline, it had to be done. Even more interesting was the equipment to be used. They were going to be sending the new CRJ-1000 to fly this route. A no brainer now, time to find a suitable weekend to get this into the plans.
The route actually started on the 30th October, but I could not get that date to work out with my plans. I looked a bit further out and went for a Sunday-Monday combination in early December.
Booking was done via Expedia and priced at £70 per segment. I actually wanted to fly home a different route, but one way tickets were pricing at £680.... I could have nested a ticket I suppose but I wasn't too bothered.
I noticed in the booking the return flight was on a CR9. Well, thats ok, just don't go changing the outbound on me.
So here is the very simple routing.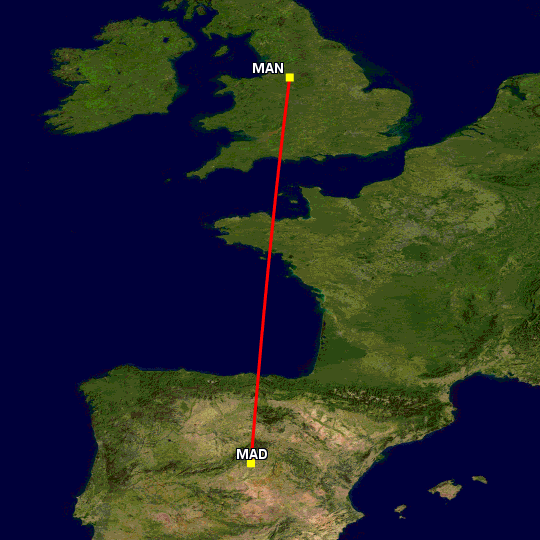 I needed a place to stay on the Sunday night. My only factor was that the hotel must provide a free airport shuttle. Luckily, there seem to be a few properties offering this in Madrid. I had already stayed in the TRYP Alameda earlier in the year and it was ok, but I fancied something different if I could find it. I found a new place on the list by the name Tach By Clementhoteles. Looks to have good reviews and the courtesy airport shuttle is mentioned. Booked without hesitation for £41.
Sunday 4th December.
It had felt a little strange to be hanging round the house on the Saturday, the day when my weekend trips usually start. Even more so on the Sunday as I didn't need to get to the airport until 4pm, the time I'm normally arriving back at Manchester after a weekend of criss-crossing Europe. I just used the time to relax a little watching some films and so on.
I took the train to the airport as usual. Much busier on a Sunday though. I guess a lot of people were heading to Manchester to get some christmas shopping done?
I arrived at the airport just before 4pm and walked over to Terminal 3 for my flight. On-line check in had been done the night before but I wanted a real boarding pass as this was a new airline for my log. 2 check in desks were open and both had no waiting time. I was sorted out in minutes. Security was also a breeze and I was airside with a bit too much time in hand.
The gate areas were as quiet as I have ever seen them.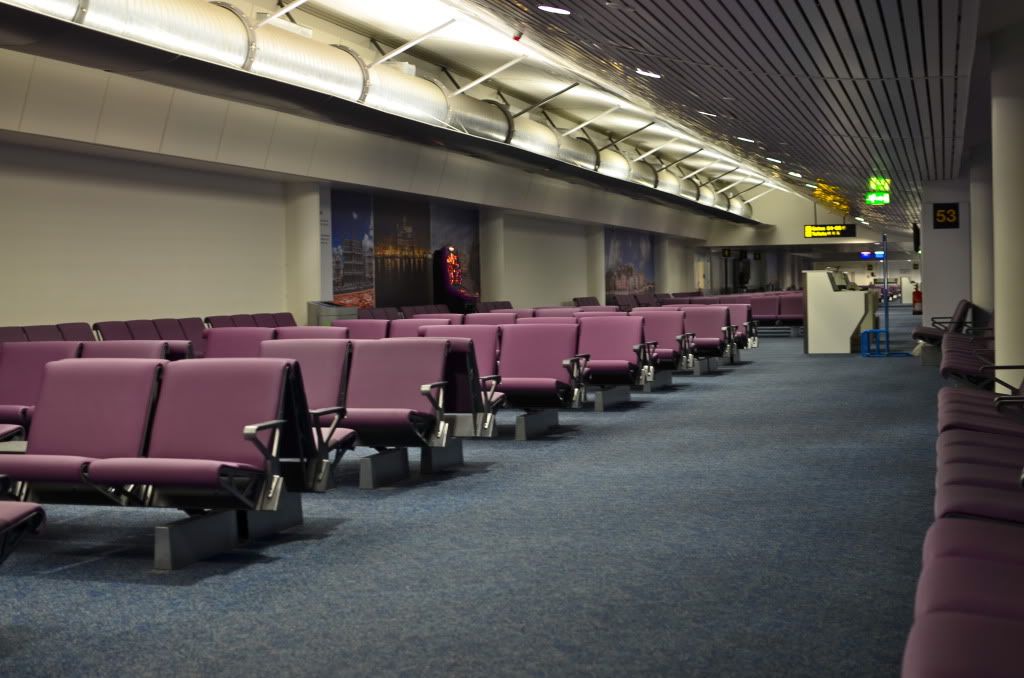 flyBE jungle jet sitting in the rain as an FR 738 departs in the background.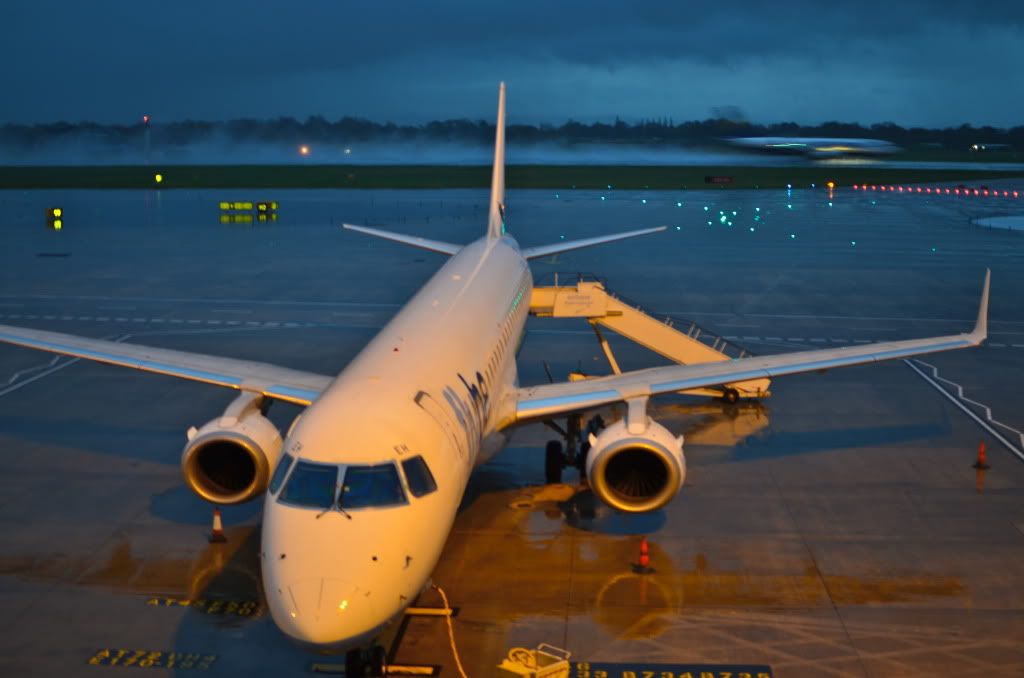 Nothing much to do but sit around and wait until the gate is announced. Time passed pretty quickly really.
The FIDS eventually updated and gate 50 was the place to be for the Madrid flight. It looked as though, in line with the terminal, this was going to be a very quiet flight.
Here she is on stand (sorry about the pole in the foreground). EC-LJT delivered on the 14th Jan 2011.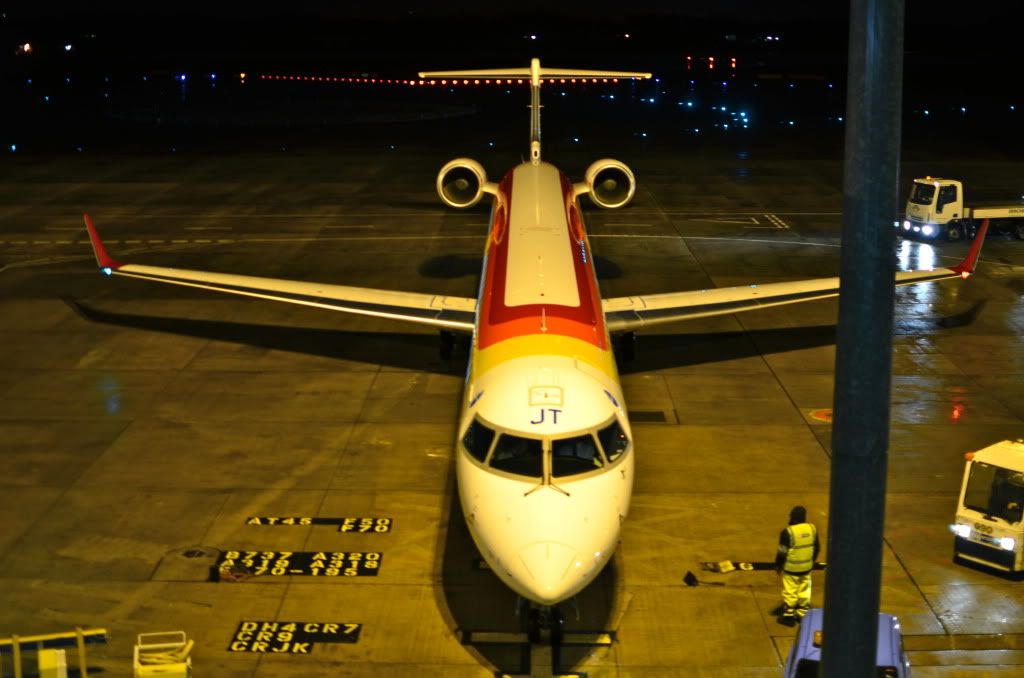 Boarding is called just about on time. I count 20 passengers. The guy announcing the boarding doesn't even bother to use the speakers as there are so few of us. He just says "ok, we are ready to board the Madrid flight".
Time for some pictures from the tarmac during boarding.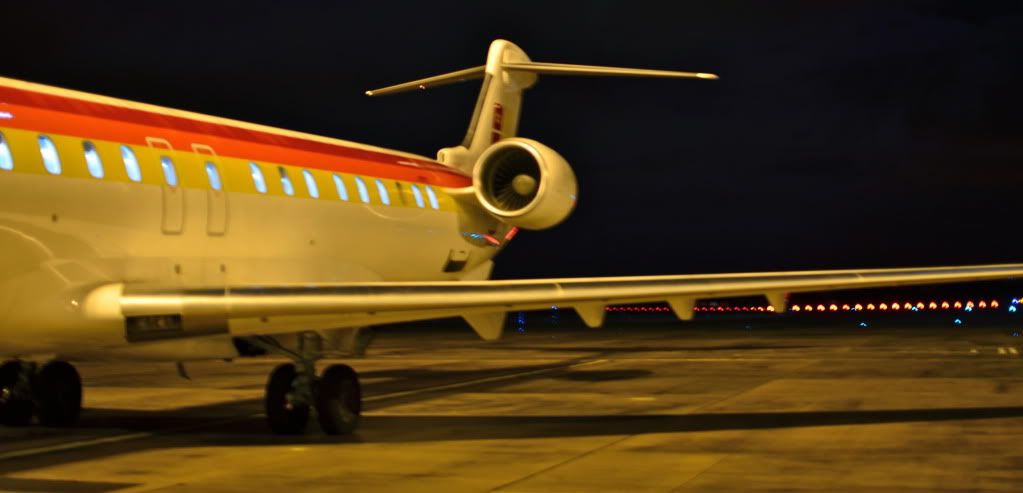 I am welcomed aboard and make my way ALL the way down to 24F. A guy of a similar age to me looks and says " this is a small plane isn't it". I retort " well, it's long but thin so it depends how the women like it? I hear conflicting views" He seems to like the humour.
We push back on time and make our way out to 23R for a underwhelming takeoff. Quite a low cloud base tonight so we are into the soup fairly quickly but out into clear skies equally as fast.
I noticed during the climb that my seat kept reclining of its own accord, so once the seat belt signs were off I moved back a row, giving me chance to chat a bit more to the guy I joked with before as he had mentioned during the taxi he was heading out to São Paulo for 7 weeks. Seemed like a pretty cool guy and we spend most of the flight chatting away about various things.
View looking forward on this long bird.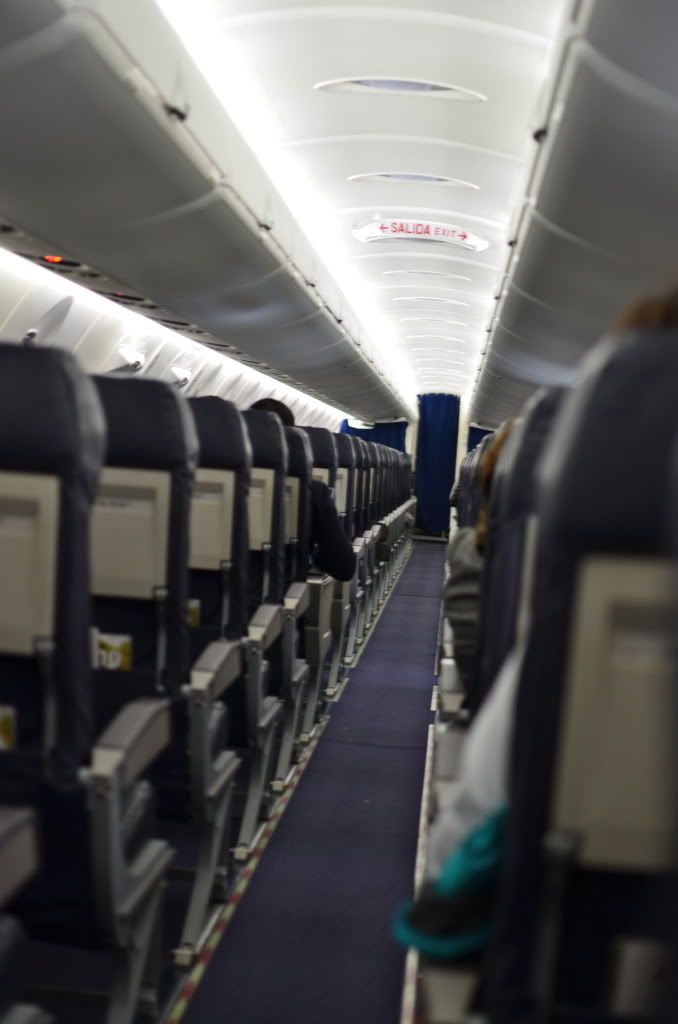 Due to the very light load, the snack service was completed in no time. Here is the full service, including an extra sandwich which was offered. Quality was so-so. Not as good as others I have tasted but better than nothing. The beer was quite strong.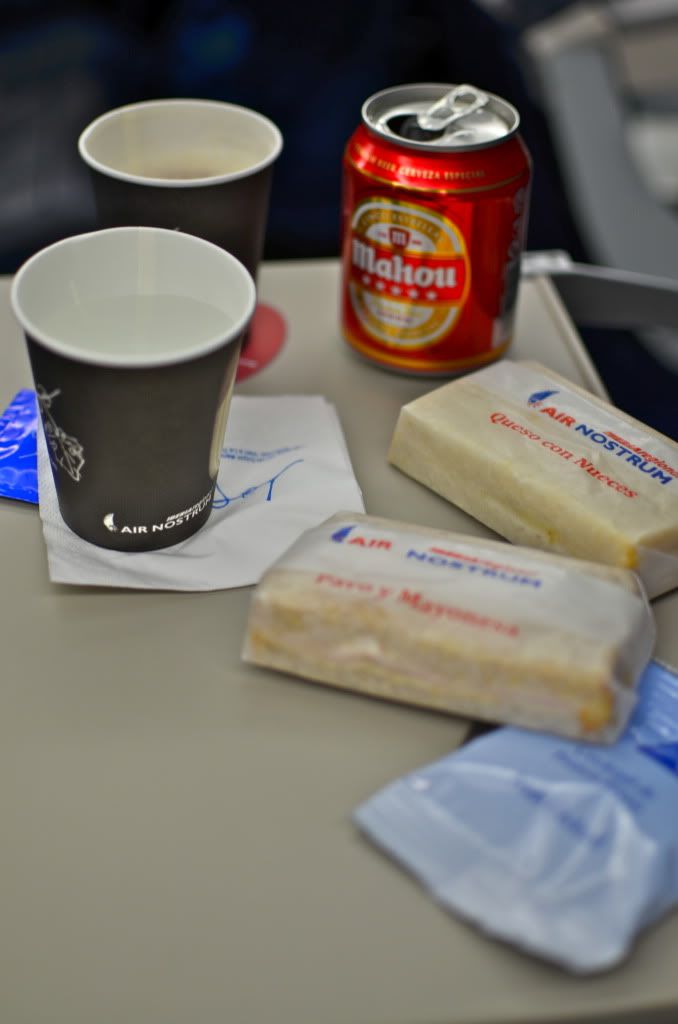 After the rubbish was collected, the lights were dimmed and what follows next is something very unusual to my knowledge. The 2 female crew walk down the plane and come and sit on row 26, right behind me and the other guy. They chat amongst themselves in Spanish for a while then start talking to us about this and that. One gets up and brings us more beer on her return. I'm thinking this is a touch funny. A bit too relaxed, but I kinda like the laid back, friendly style they display. Are they hitting on us even? It's all a bit confusing!!!
I take a picture of the safety card while I decide.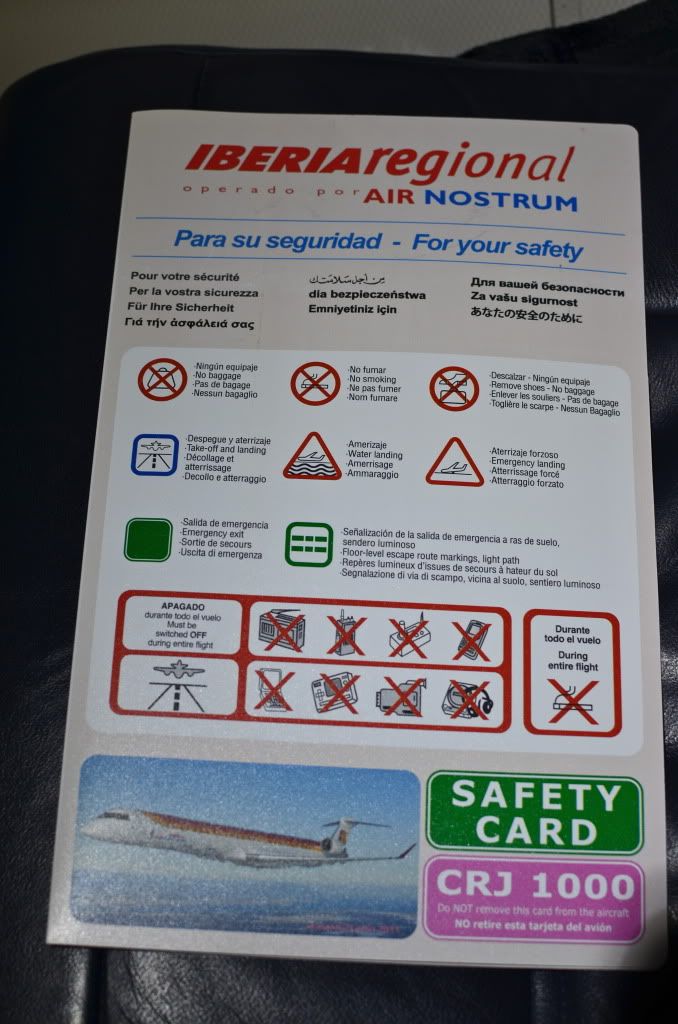 The service panel.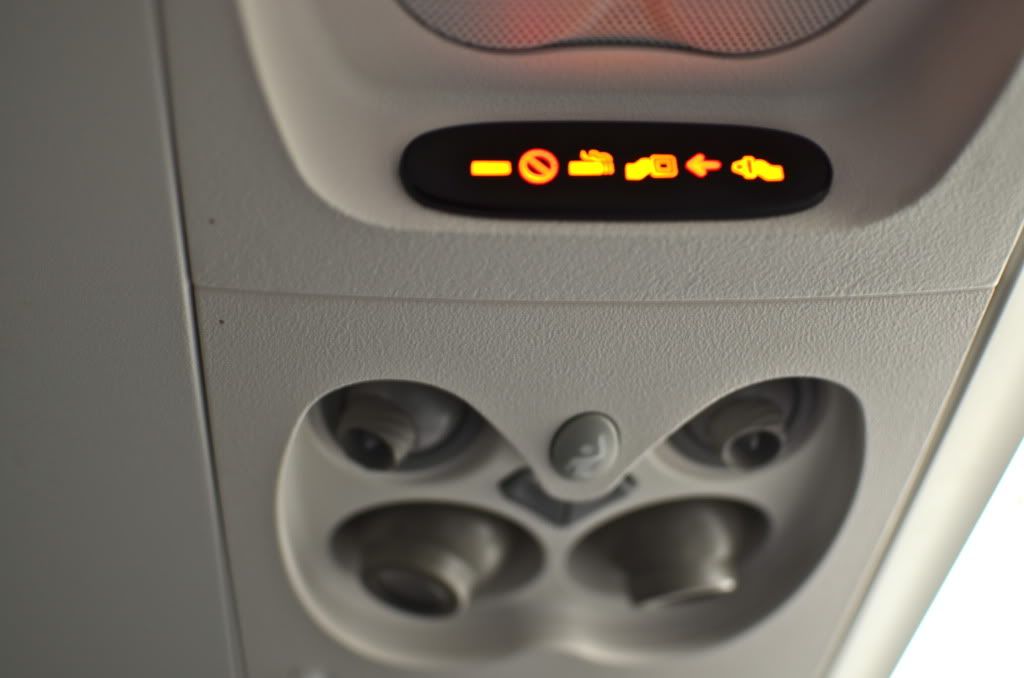 Well, I just go along with the flow and it seems quite normal to them. (nothing happens by the way).
With all this talking amongst ourselves we are already well into the approach when the 2 FA's get up and go about the duties. Damn, I took this plane just for the experience of flying this type and didn't really take it in with all the distractions. Better get taking some pictures also.
View from my seat with a badly miss-aligned window in relation to the seat itself
Seat style with the lights of Madrid visible out of the window.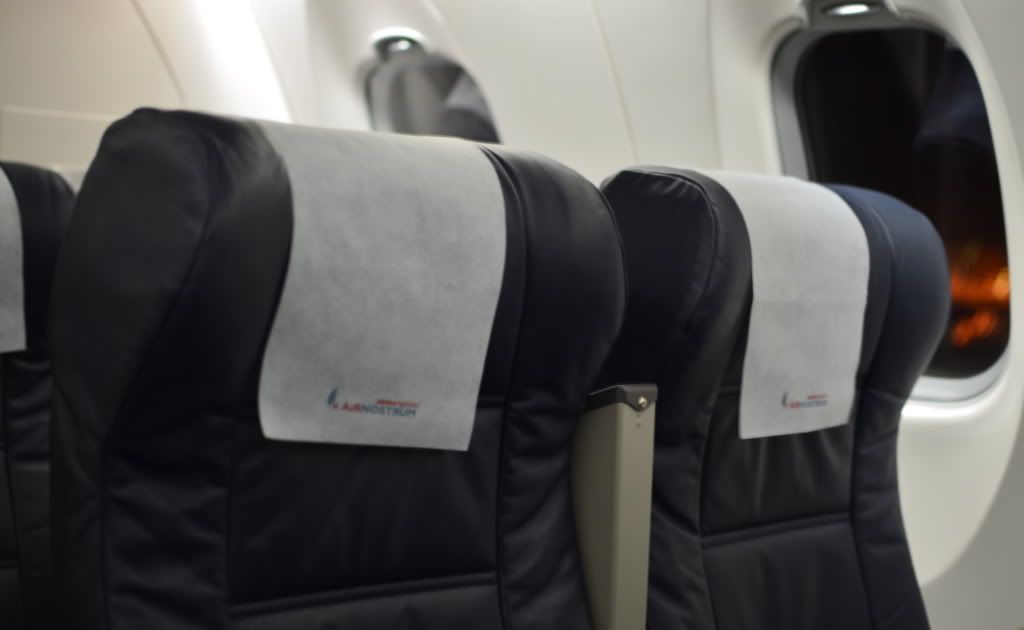 It is a really clear night in this part of the world. Some amazing views as we approach. Unfortunately, all my picture taking efforts are in vein, all I get is light reflections in the window.
We make a smooth touchdown, head over to T4S and exit the plane via the steps and a short bus ride to the main building.
I bid farewell to the guy heading off to South America and make my way out to find the hotel shuttle bus. I got lucky as it was just waiting in a line of traffic, so I jump on and I'm at the hotel in under 10 minutes.
Its around 21:30 when I check in and I'm ready for some food. I decide to dump my stuff in the room, take some photos for the report and then head into the restaurant.
The room...
Sleeping.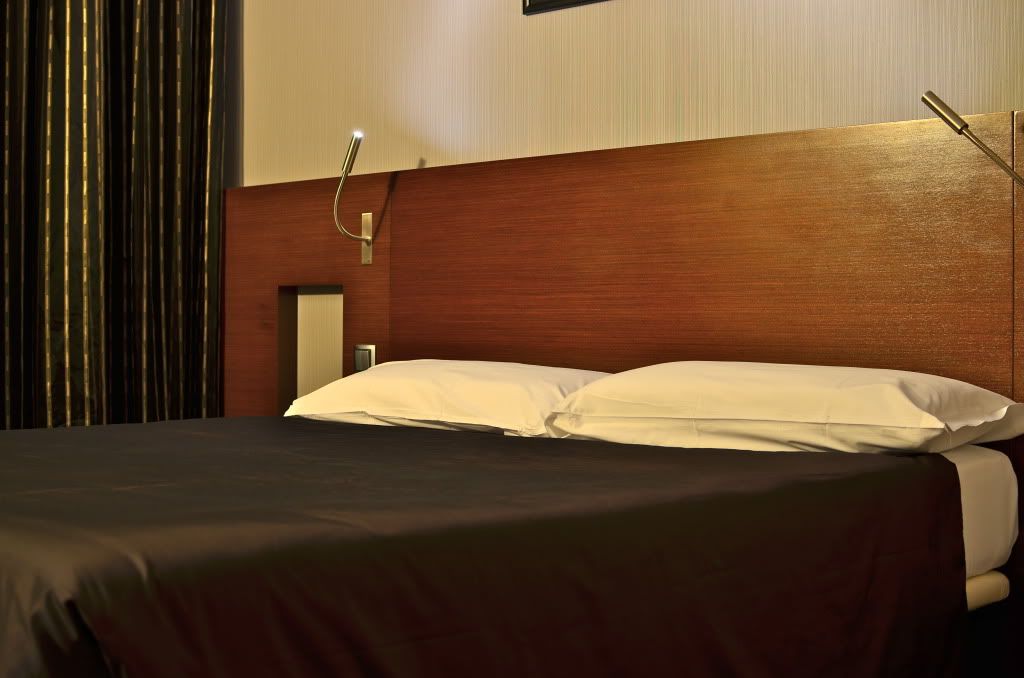 Bathroom.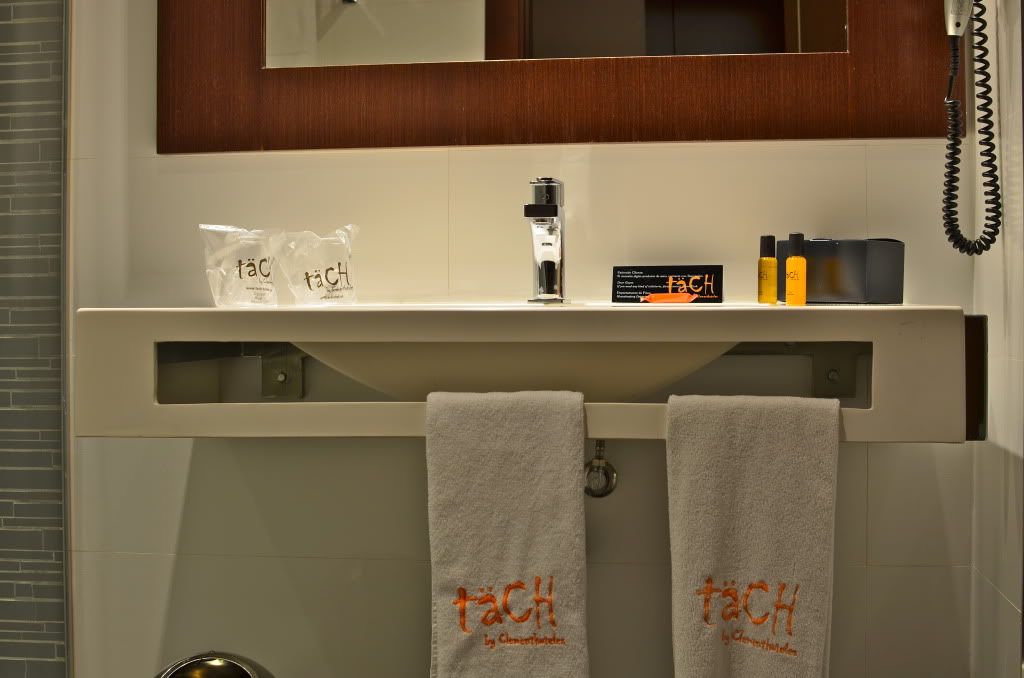 Shower Cubicle.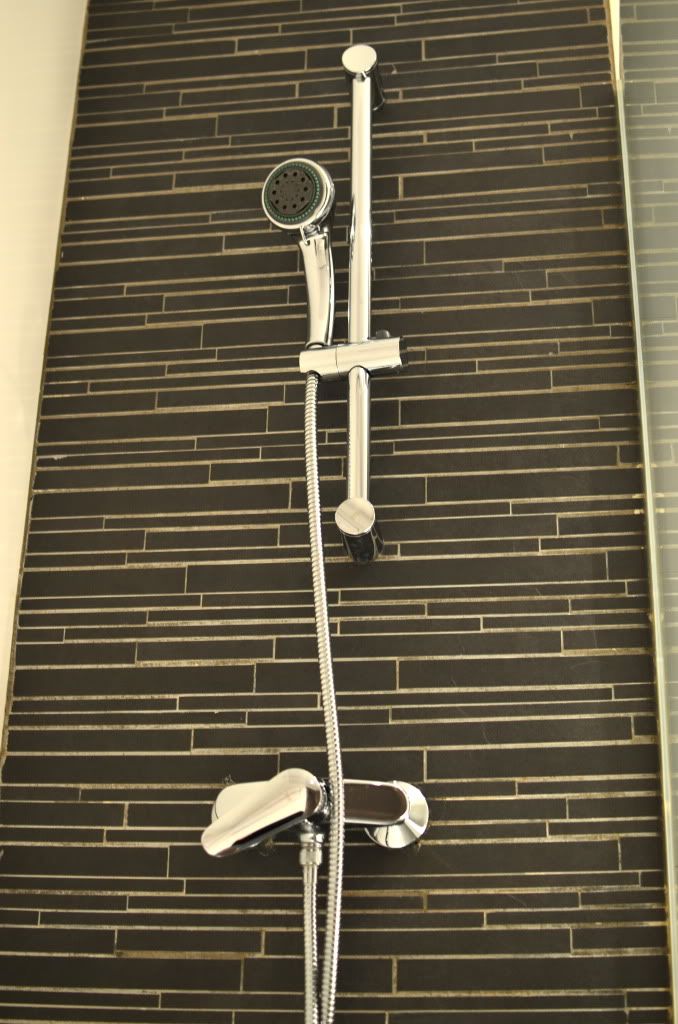 TV and work desk.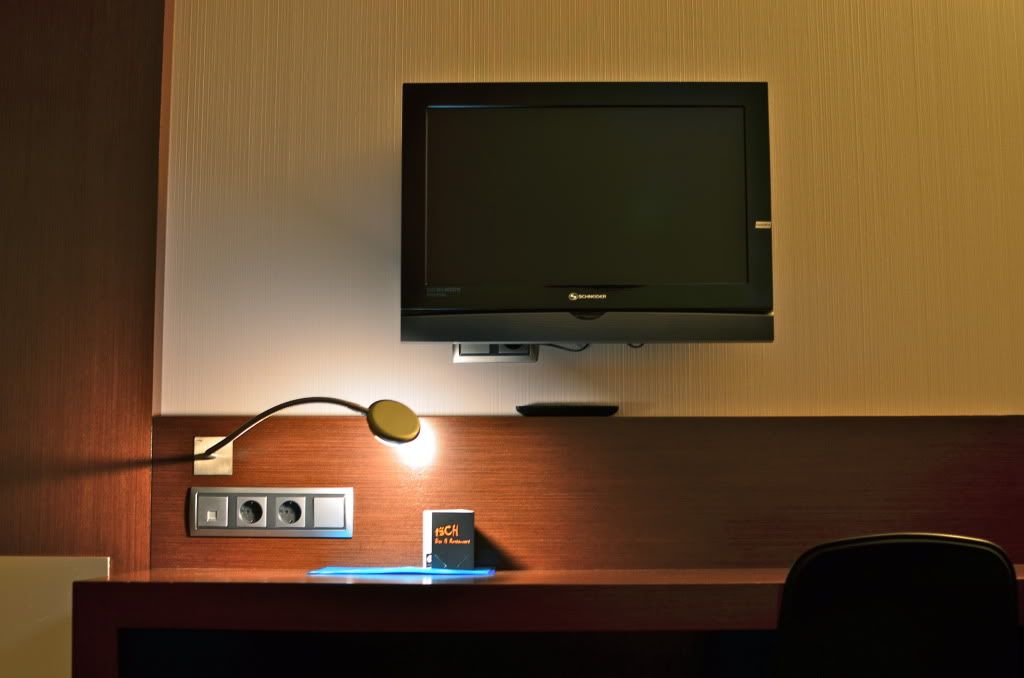 With that job done, it's time for food and drinks.
Restaurant looks nice, I love the modern design.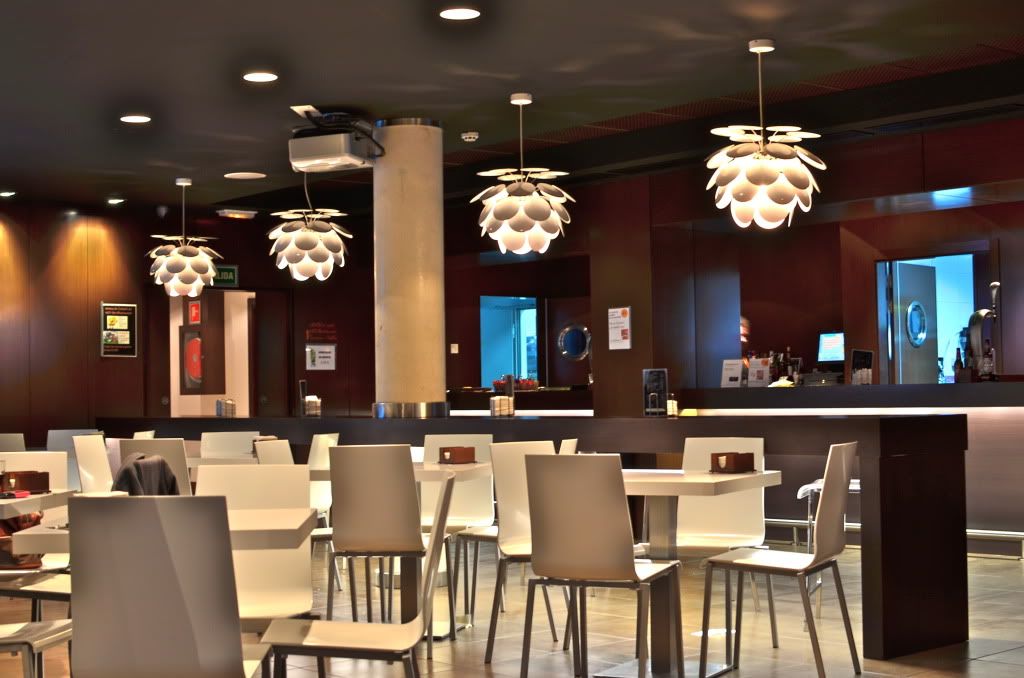 Petteri (rightfully) says I'm something of a burger addict. Well, I have a reputation to keep. Unfortunately this ranks as one of the worst I have ever eaten. I should have known it would be bad when it arrived less than 5 minutes after I placed the order. It was more like something from a road side trailer cafe.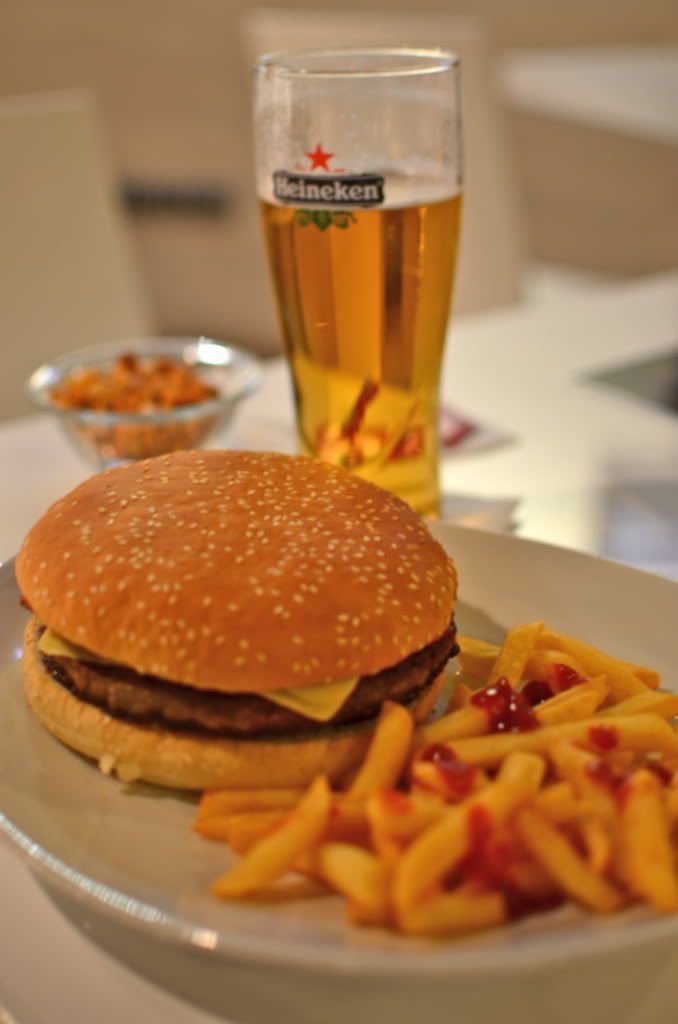 The chocolate brownie was very nice though.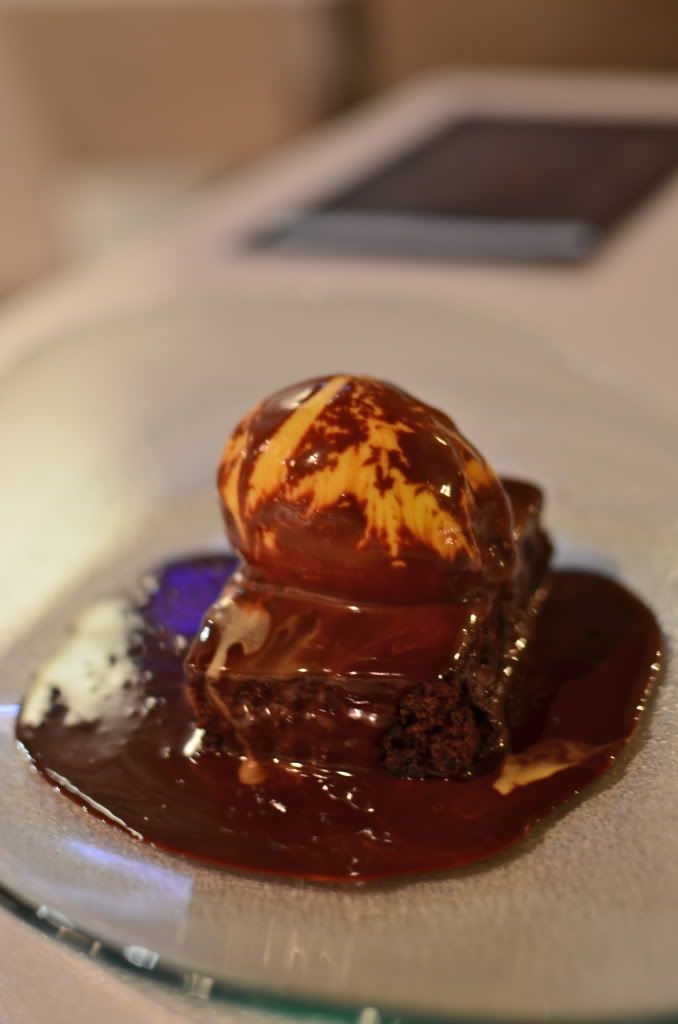 Monday 5th December
I had a few beers and started to feel a bit tired. Nothing exciting was going on in the bar so I just went up to bed. All I can say is I slept like a log. I wanted to go and see something of the city in the morning, but in the end I slept right through until 10:30 without waking once. I decided to scrap that idea and just got up in my own time and got ready to check out at noon.
Amenity kit in the hotel.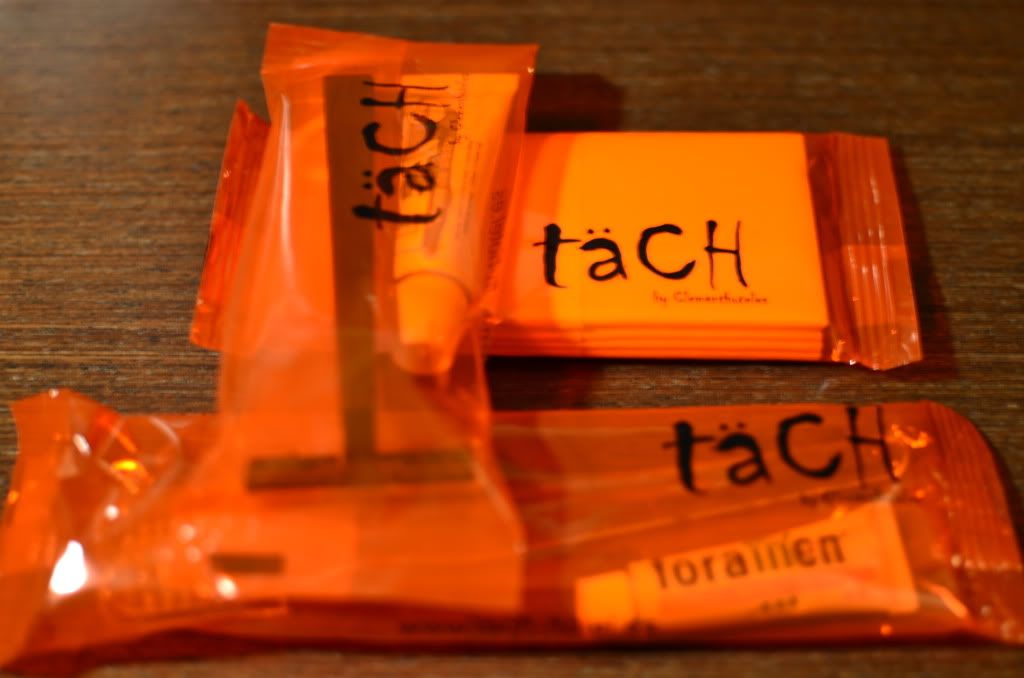 Hotel exterior, what a lovely clear morning.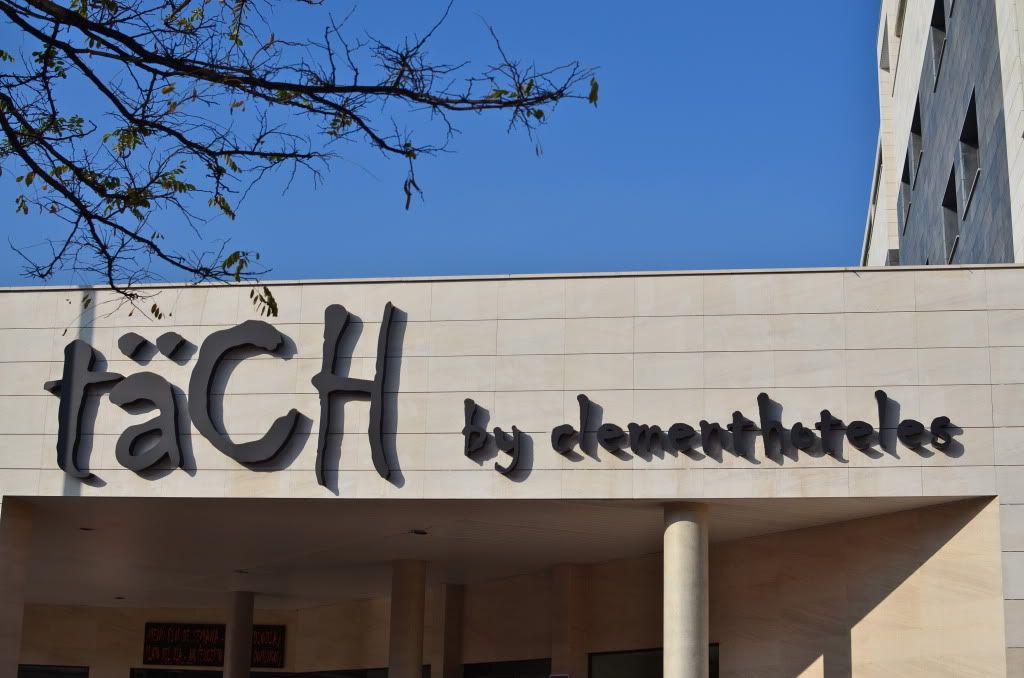 I jumped on the 12:05 airport bus and went for a look around MAD T4.
Security was a bit of a shambles to say the least. Nothing too lengthy, just chaotic. Then it was the LONG trek back to T4S. A train ride followed by a LONG walk...
I was happy to see this architecture at last. I have always thought it looked really good in the photos and it's the same deal in the flesh.
Some long haul IB action.
I really, really need to start eating better when I'm on the road.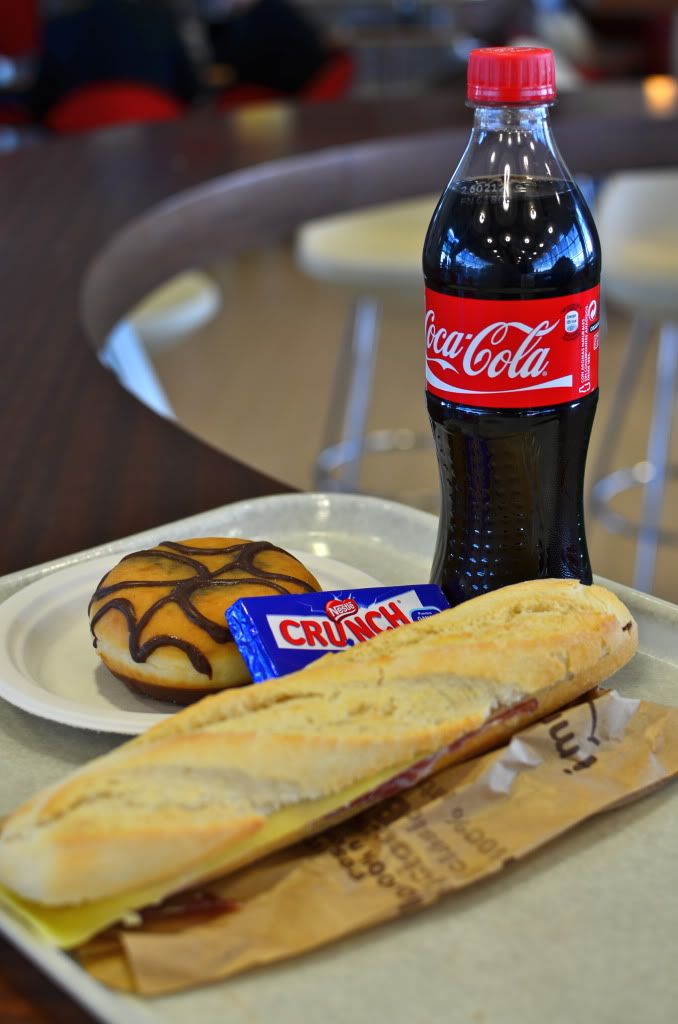 Caught this bad boy lining up for departure. Super Torisimo on lease from VA.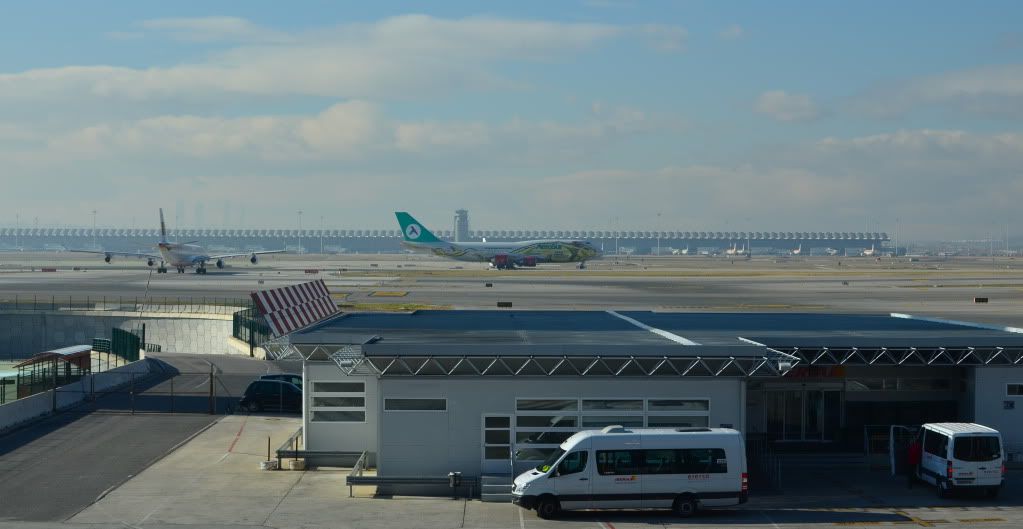 What about this A340? When boarding was called a huge cheer filled the terminal. I'm guessing it was delayed? No destination info at the gate and nothing on the FIDS.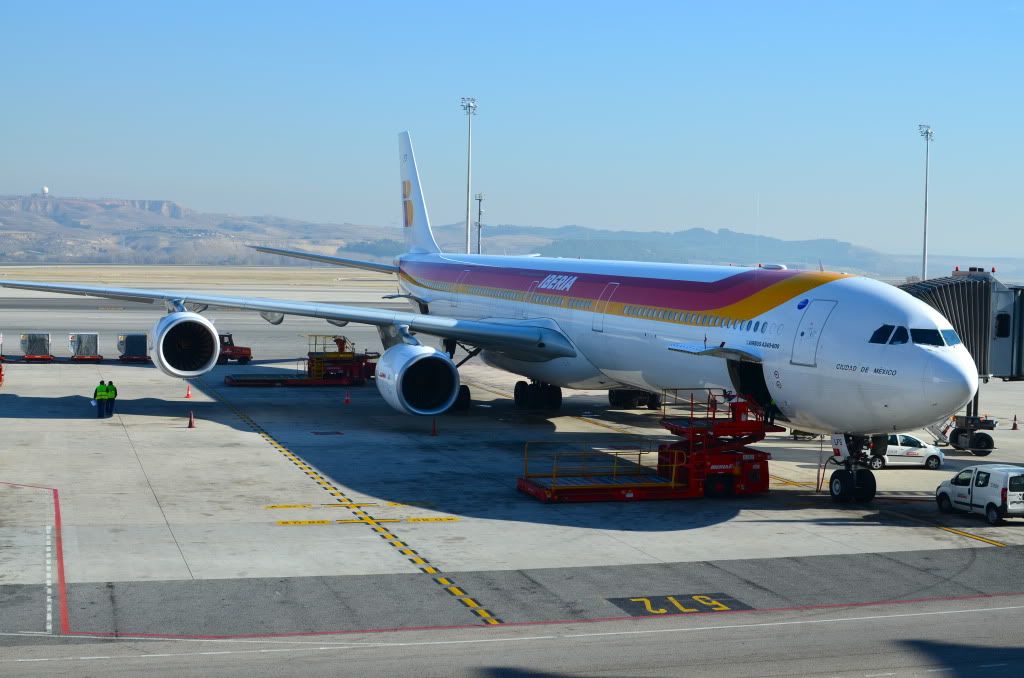 Talking of the FIDS.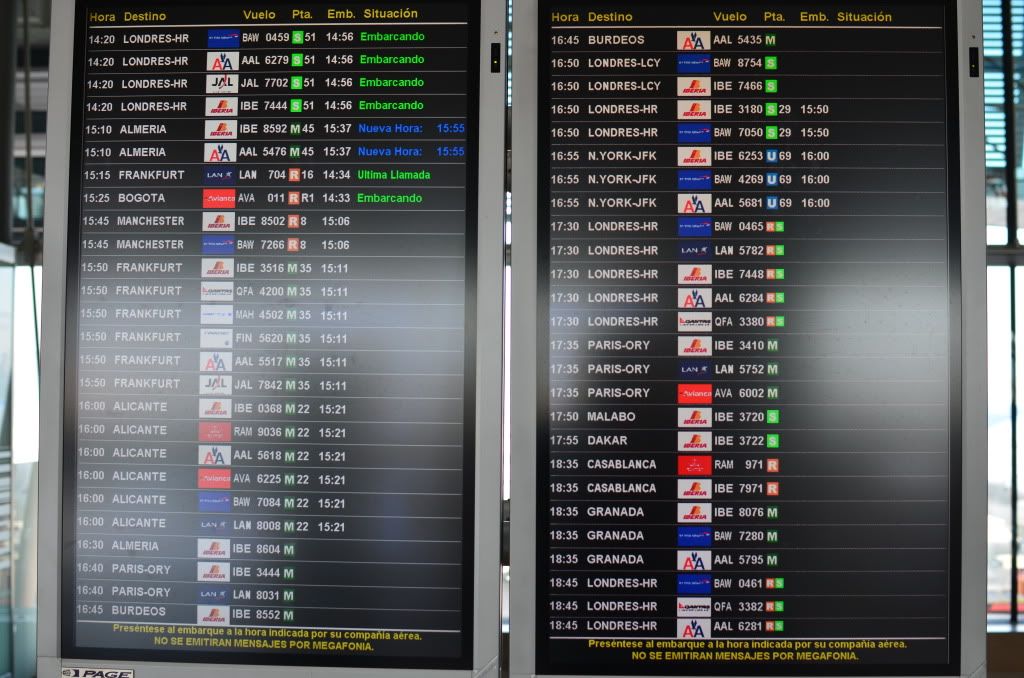 It seemed like no time at all until the flight back up to Manchester was ready for boarding. Time passes fast when you are enjoying yourself.
I was wondering about the load on this flight? Well, its a CR9 and I count about 50 passengers. An improvement over yesterday.
Time to hit the tarmac again. EC-JYA is the assigned ship and she is just over 5 years in the skies.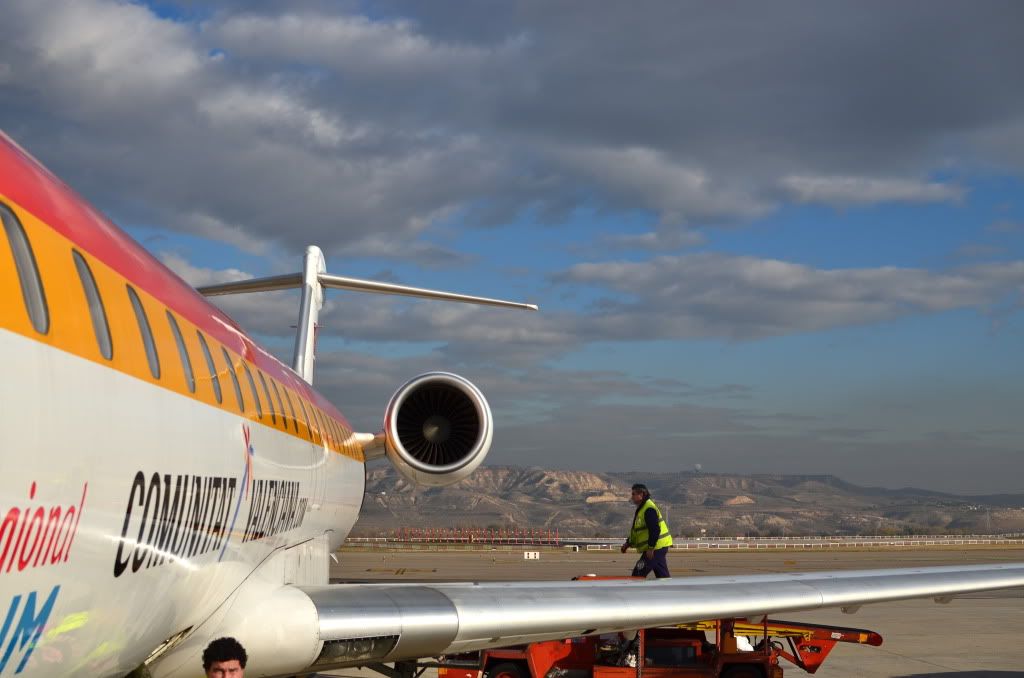 Straight down the line.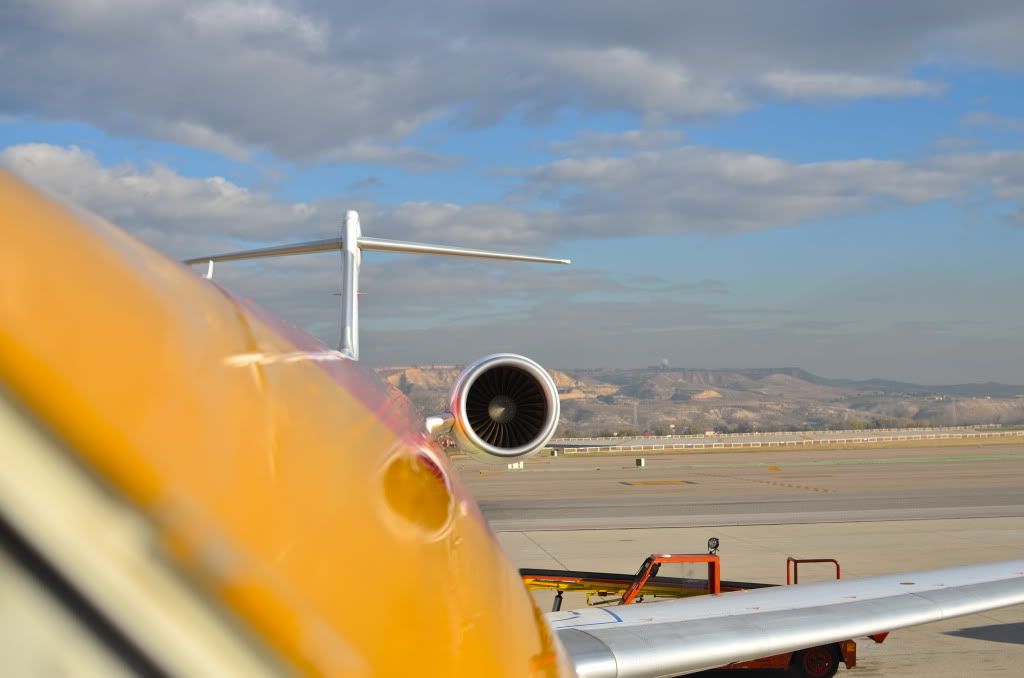 Leg room o.k, seat condition and cleanliness very poor.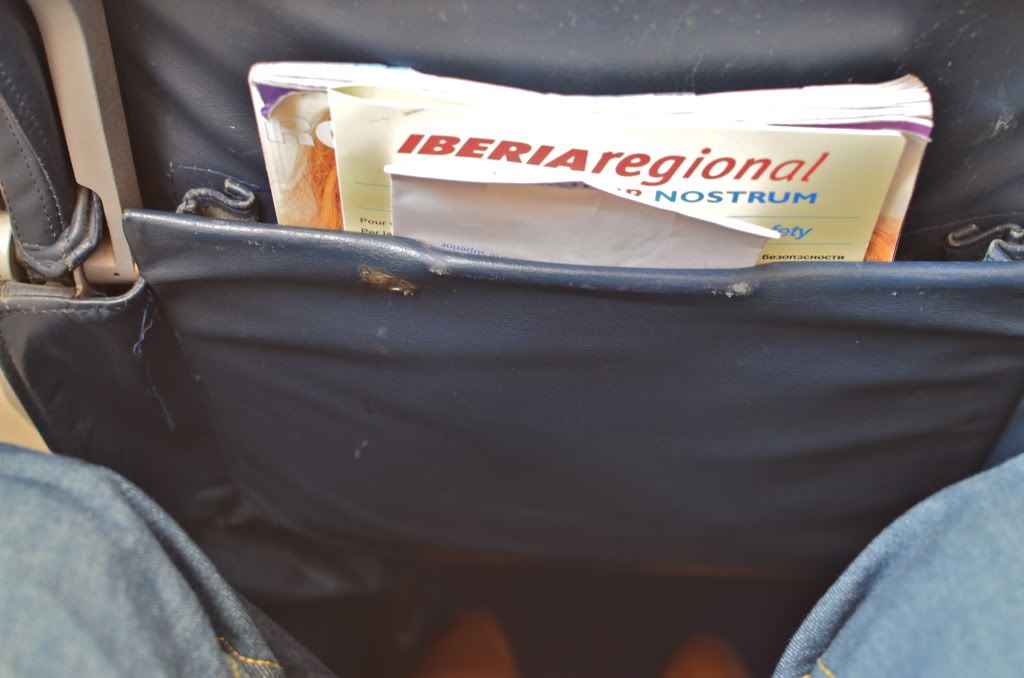 Miss- aligned window again.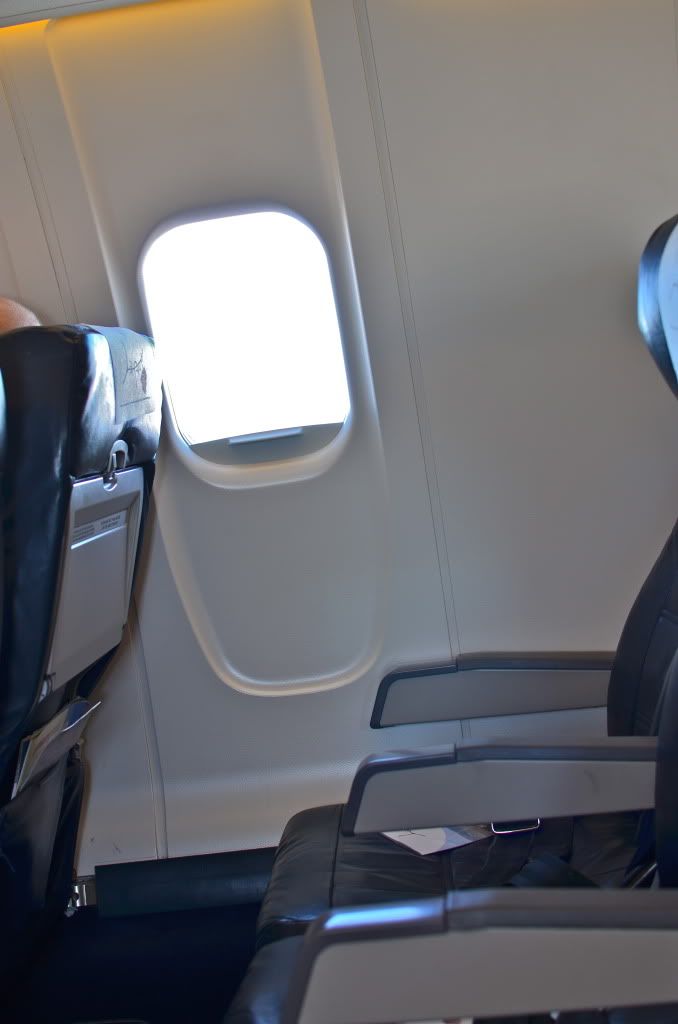 Departure is 5 minutes after the booked time and we climb out into the Spanish skies.
Service panel.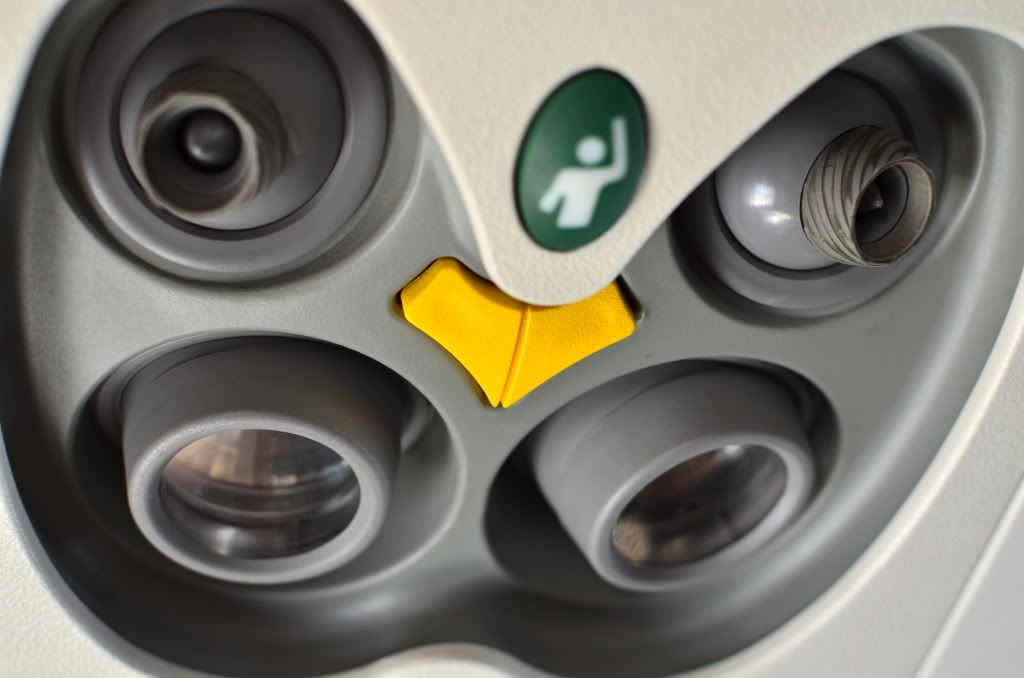 Safety card, Markus style.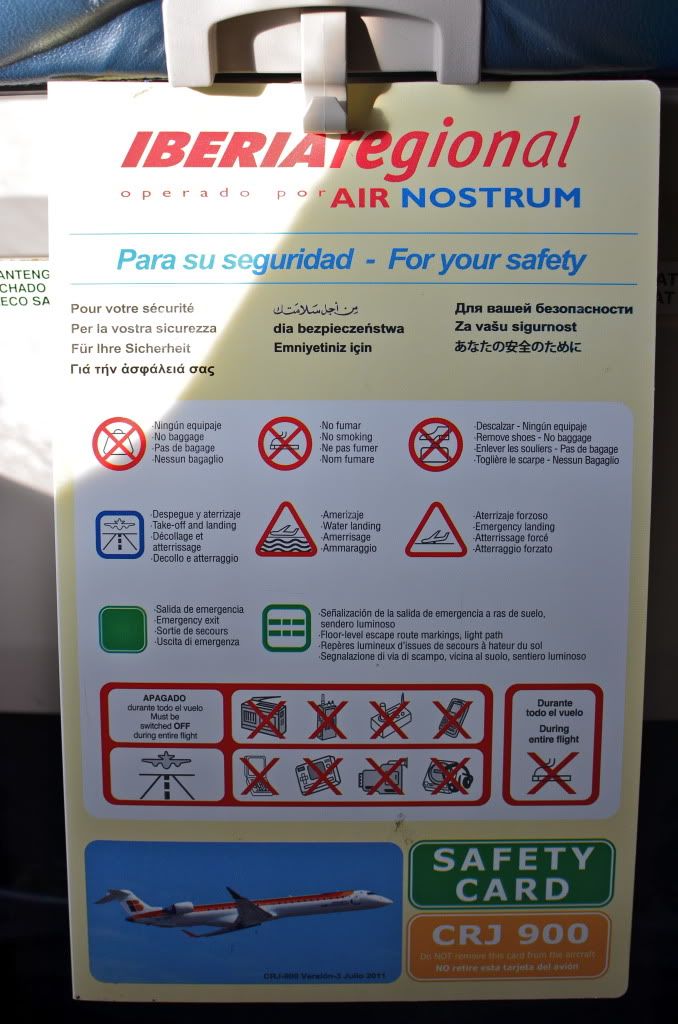 The crew are a little less eager to get going on this flight. Probably about 45 minutes until I get my snack, the same as yesterday, minus the extra sandwich.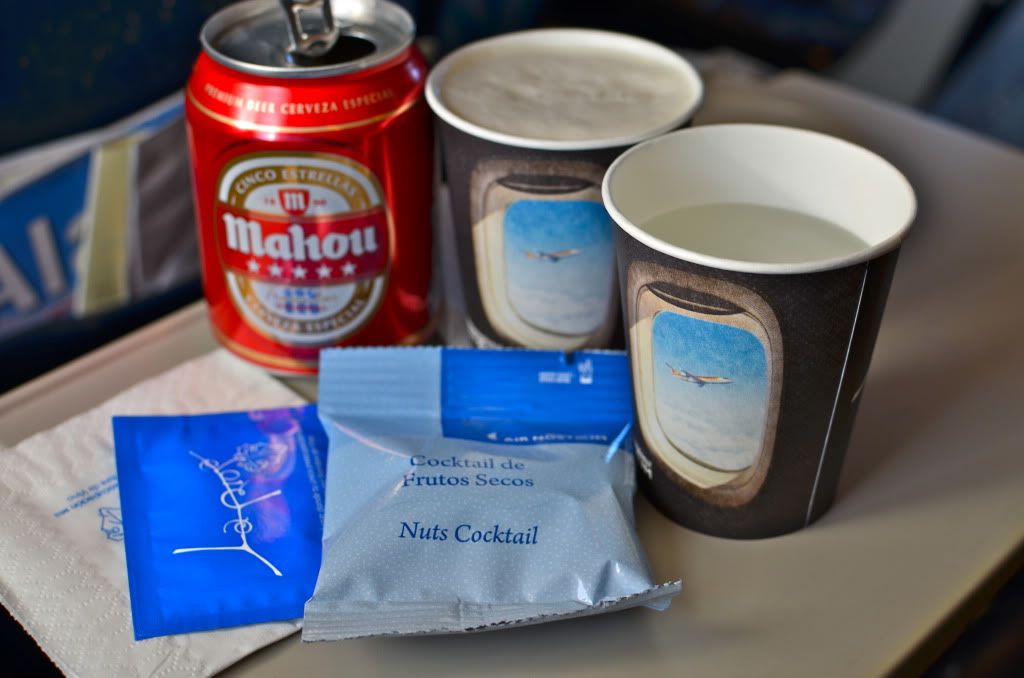 Cabin view in flight.
I was looking to get some sunset shots on this flight. It was disappointing however to find the window in such a poor state. Can't really help the moisture, but the clear plastic panel inside was covered in some kind of glue residue. This is what I was up against!!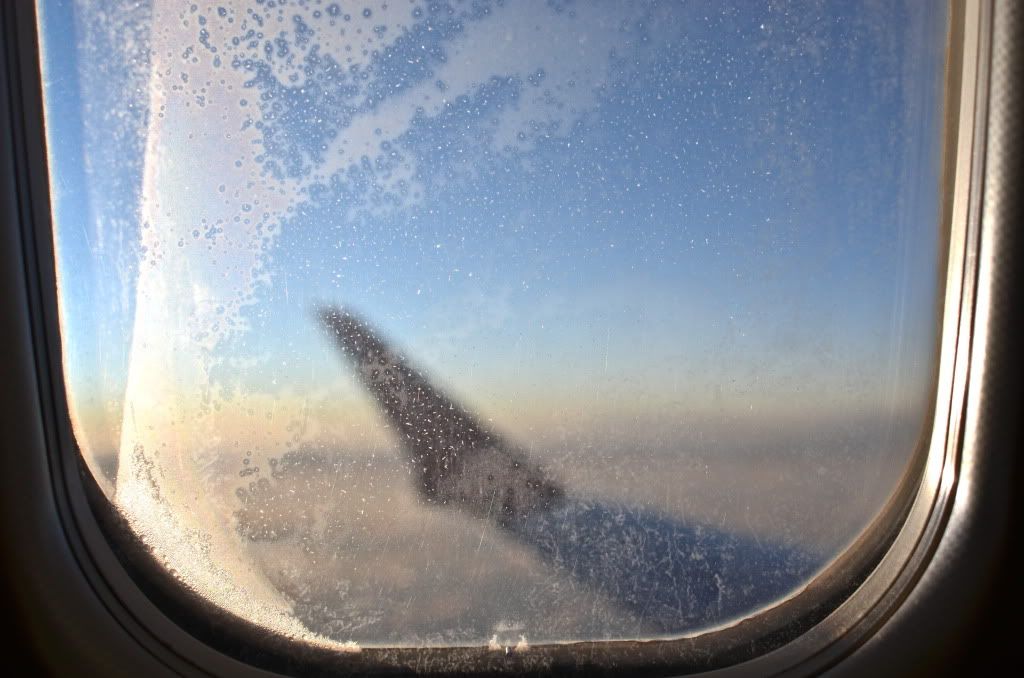 Wing view.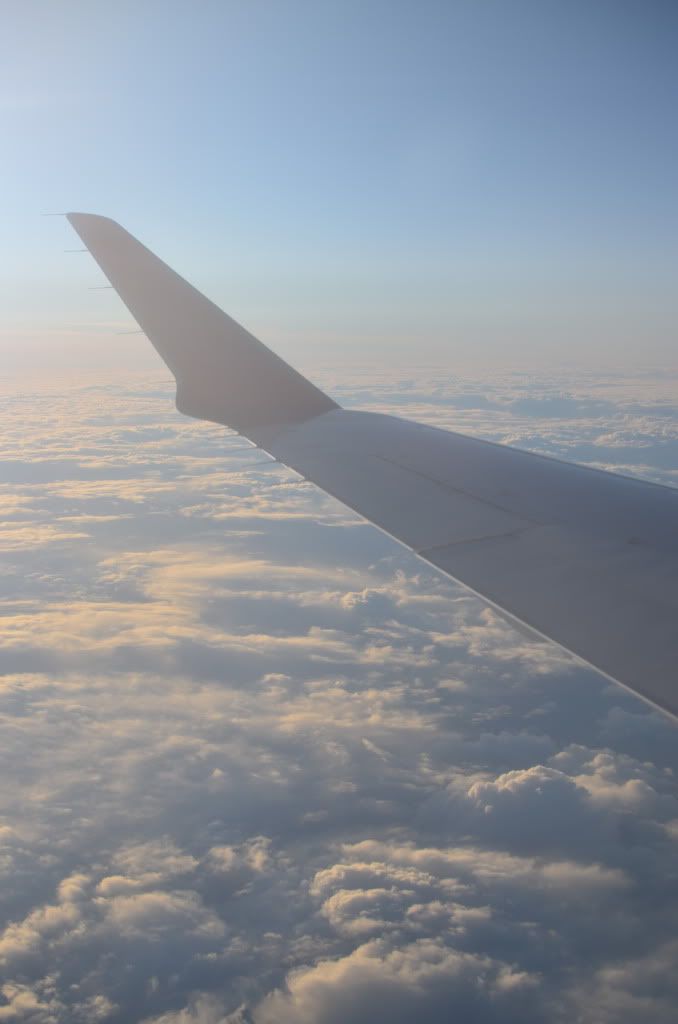 Something of an uneventful flight really. I put some music on and just sat back and relaxed.
Trying for some sundown shots.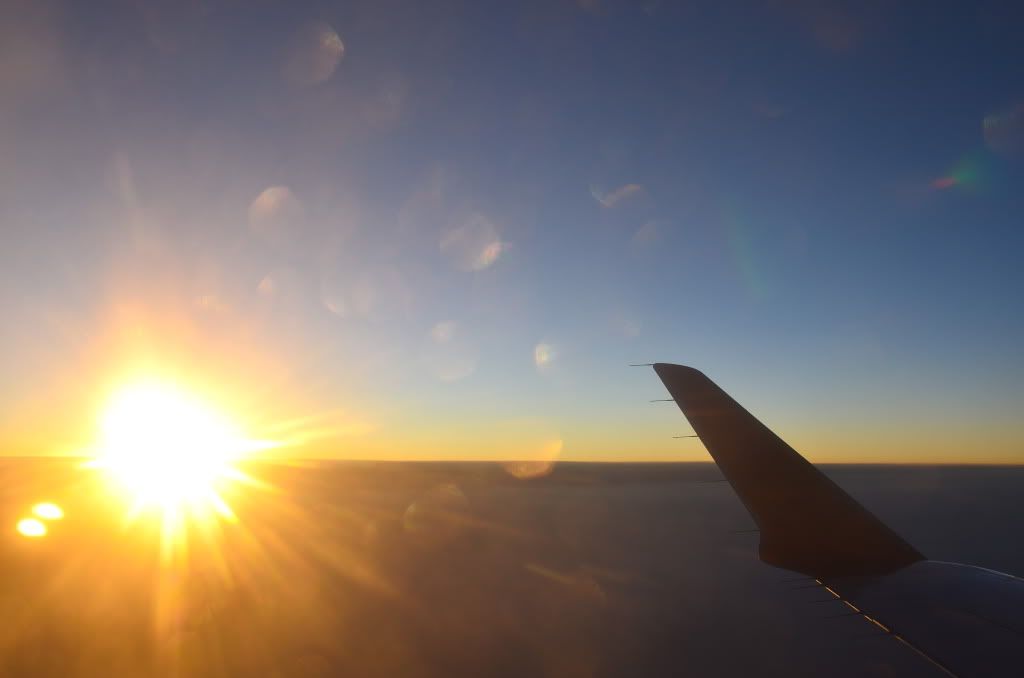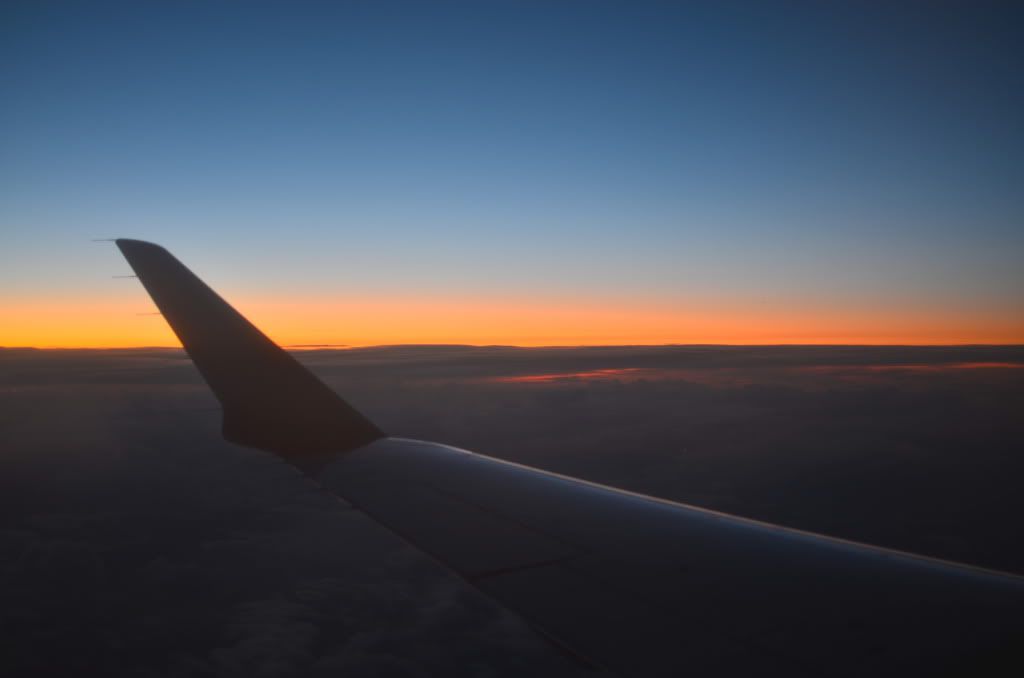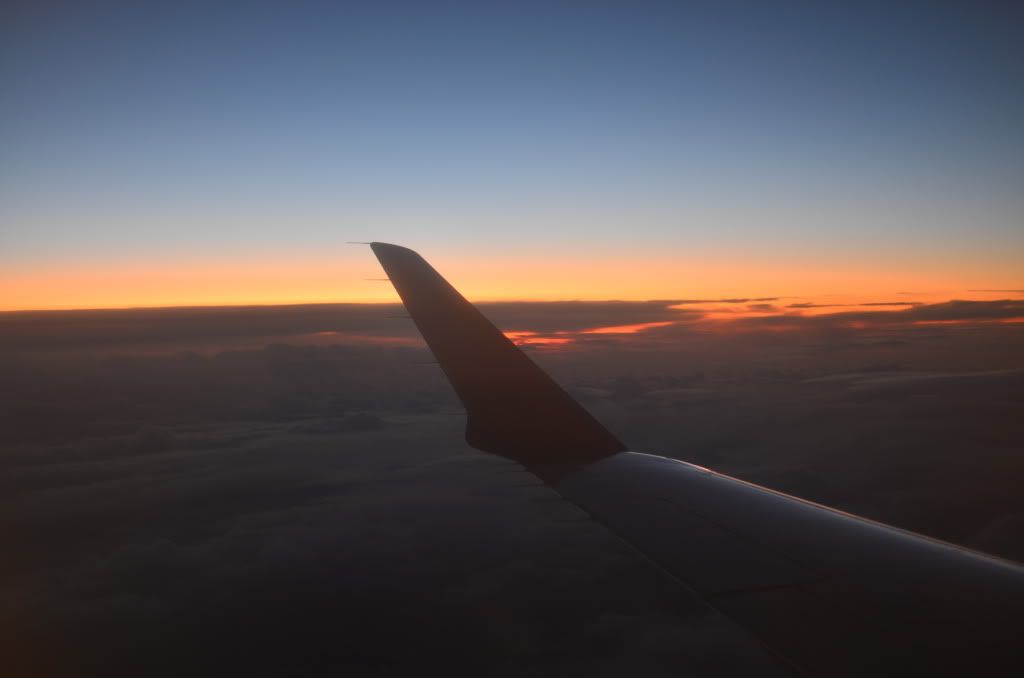 The weather on the approach was a little rough. Wet and windy has been the only way for the last week or so. We touch down on 23R and roll out smoothly at first but then the pilot flying really stands on the brakes sending some stuff flying about. As we turn off I notice 5-6 emergency vehicles. I wondered if something was wrong with us? We actually come to a stop and so do the vehicles, but we start to taxi again and they don't follow us. I keep a watch on them and they race off after a landing aircraft. It turns out a BE Dash-8 had been struck by lightning during climb out. They came back in for an inspection and thats the reason for the "blue lights".
Conclusion.
I found Air Nostrum to be pretty average. In fact, on a scale of Euro airlines I would put them smack bang in the middle of the average section. They did nothing to disappoint me, but nothing to really impress me either.
It was nice to get the CRK into the log, but from a passenger perspective, it's nothing different to a CR9 (no bad thing I guess).
The hotel, save for the food, was very good for the money. I would stay again, but eat out next time.
Thanks for reading.
Cheers, Lee.