Introduction
The Finnish independence day is celebrated on the 6th of December and it is naturally a national holiday. This year that date falls to a Tuesday, so it creates the perfect opportunity for a long weekend off. With this in mind I decided to go somewhere during that time. Somehow the Med area was etched into my mind - the weather in early December here is not exactly very pleasant, unlike most of the Mediterranean. Of course me being the flying kind of Finn it also had to provide some interesting things aviationwise.
I quickly narrowed the options down to either Turkey (cheap fares and lots of interesting domestic carriers there). Cyprus (flying with Cyprus Airways) or Malta (with a flight on Air Malta). After playing around with various booking engines and checking out the fares and schedules I settled on Malta, mainly for price reasons (and the fact that most of the flights would be with *A). I found an excellent fare on LH and OS for only around 180 EUR via Frankfurt on the outbound and VIE on the inbound. The good part was that MLA-VIE would be an OS codeshare on Air Malta metal. The bad part was that this flight left already just after six on the Monday morning, cutting my long weekend a bit short. The beautiful part was the fact that I still had the Independence free for another trip!
The simplish route I thought I would fly: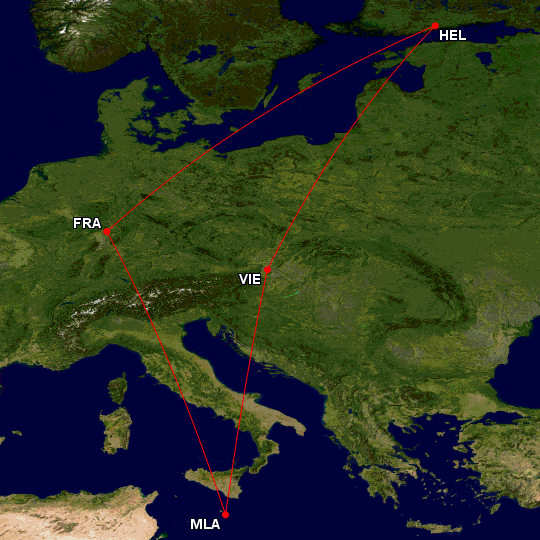 Now those who have been following my recent reports know that OS recently dropped their route to HEL, so that brought some problems for my itinerary. I wanted to keep the KM sector so I didn't want to call the Expedia call centre or Lufthansa (whose ticket stock it was) as I'm pretty sure they'd just routed me directly back on LH via FRA. So while passing through the HEL airport on another trip I reserved some extra time and went to the *A ticket desk at T1 in an effort to sweet talk the girls there into a better itinerary for my purposes. Well, turns out they had received instructions that all the pax on the canceled OS flights should be rebooked on LH or LX metal (they obviously want to keep the business in the family!). So I explained my desire to keep the Air Malta segment and luckily the friendly lady had no objections to that and just added VIE-MUC-HEL on LH to get me home. After looking at my itinerary for that Monday (leaving MLA at 6.10 in the morning, getting to HEL around 12 hours later) she said: "But you will spend your whole day at airports and planes!" - well, obviously she didn't know me and my habits... I just said that it won't be a problem, after all I've got lounge access and stuff to ease the "pain".
The rebooking went fine, but unfortunately they are not able to issue tickets anymore here, just rebook passengers (weird, I know), so the woman instructed me to call the Austrian call centre to have them do it and gave me the number. I asked that shouldn't it be Lufthansa instead as the fare was published and the ticket issued by LH, but she insisted it should be OS as they are the ones who canceled the flight. So I call, and as I expected they tell me that they won't have anything to do with this matter as it is a LH ticket and I should call them. So I do, still being a little bit uneasy about some overzealous agent there starting to wonder about the unncecessary detour in my itinerary but luckily nothing like that happens and the whole reissuing is very smoothly taken care of (that's German efficiency for you!), so I'm good to go!
Here's the new route, that pattern looks like a lightning bolt to me: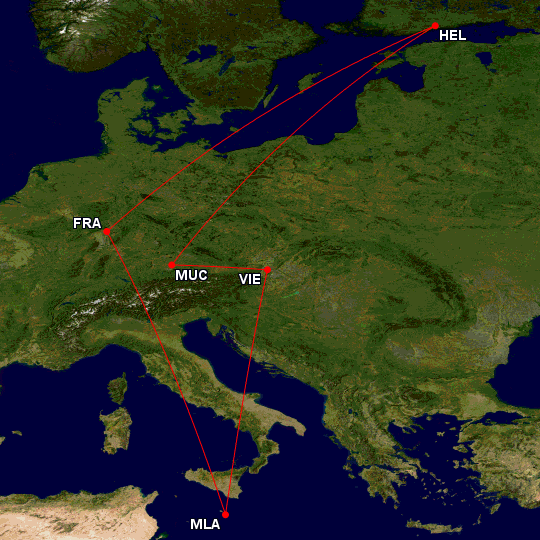 .
Saturday 3.12.2011
Another early Saturday wakeup call for me, getting to HEL T1 at six. Quite a few people around the check in hall as usual, but luckily not at security yet so it's a smooth progress to get through and head right into the lounge for a coffee - there's some breakfast out but I am not really up to it yet: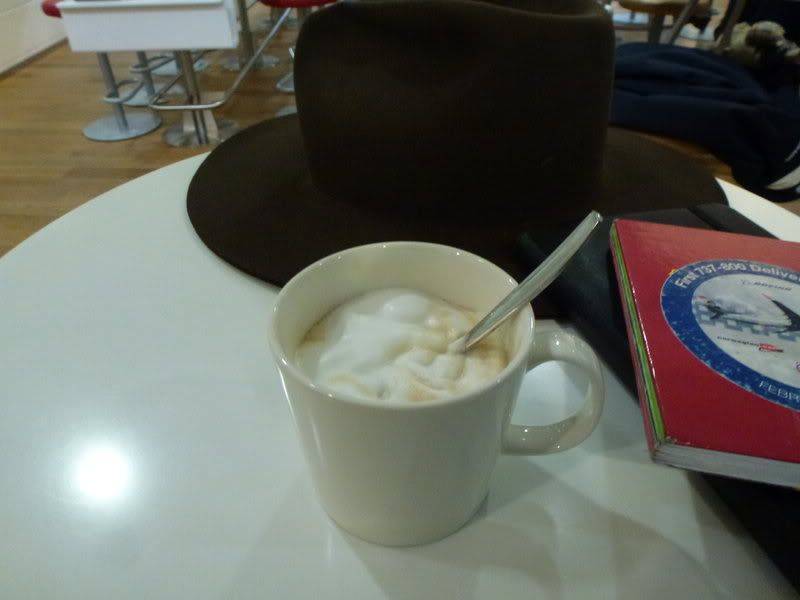 Hey, a new coffee machine here: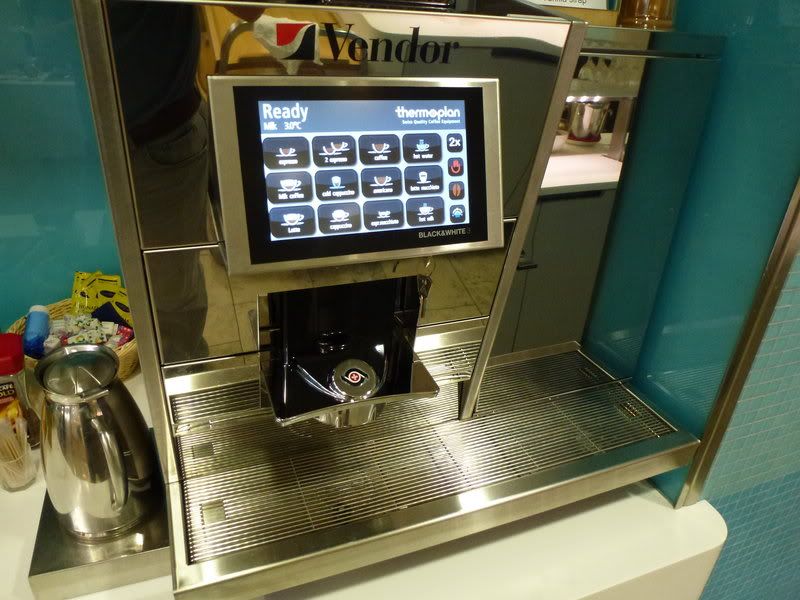 Swiss quality (I'm sure Jonas will be able to tell me the exact make and model plus average price tag):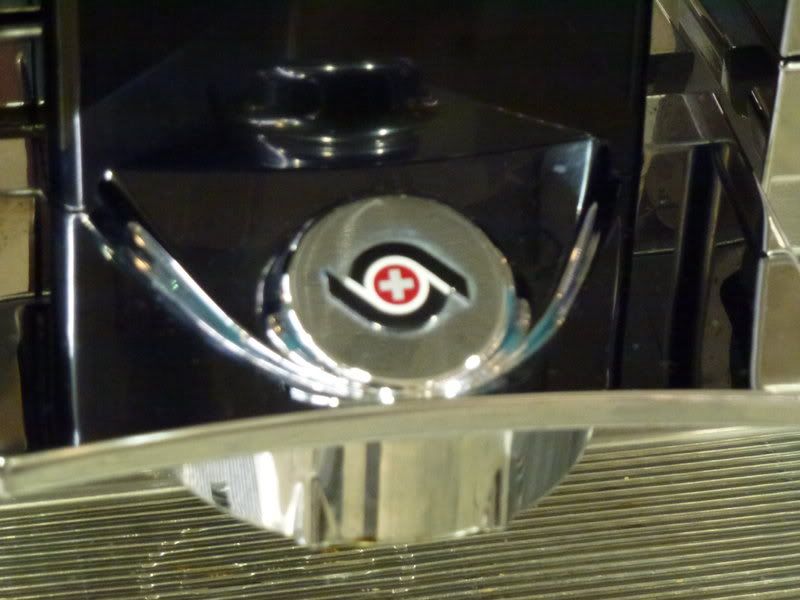 Gate is 18 this time, a bit further away. When leaving the lounge I say "See you on Tuesday if you are on the morning shift!" to the guy on duty - he confirms that he'll be here then as well.
At the gate the expected A320 is parked, today's ride is the "Timejet" D-AIQA (In Finnish "aika" means "time" and K and Q are pronounced the same). This is an old friend of mine - flown with her two times previously, both between HEL and FRA.
HEL - FRA
LH855
A320 D-AIQA "Mainz"
Seat 5A
6.33 - 8.07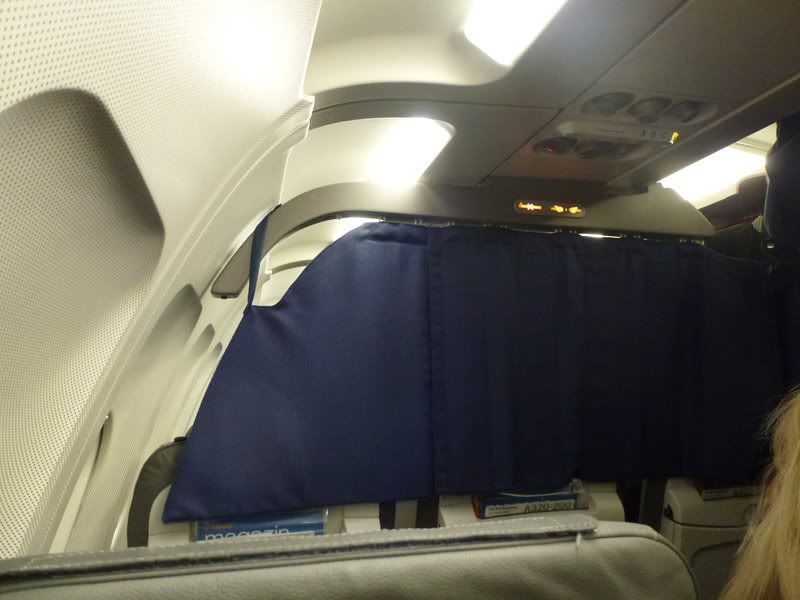 A full ride this morning as usual, I don't think there are any empty seats in economy. The three rows of business seem to be mostly full as well.
The captain announces we need to be deiced - my first time at HEL this year. Flight time to FRA this morning 2h15mins, with push back being pretty much on time.
On the way to the deicing place we taxi past an Air Berlin A321, never seen one of these babies at HEL before.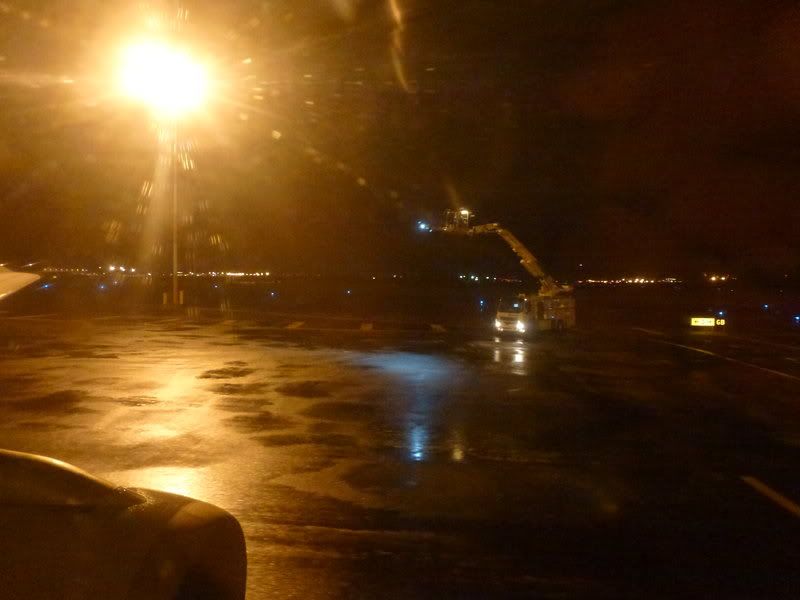 Take that, you pesky ice: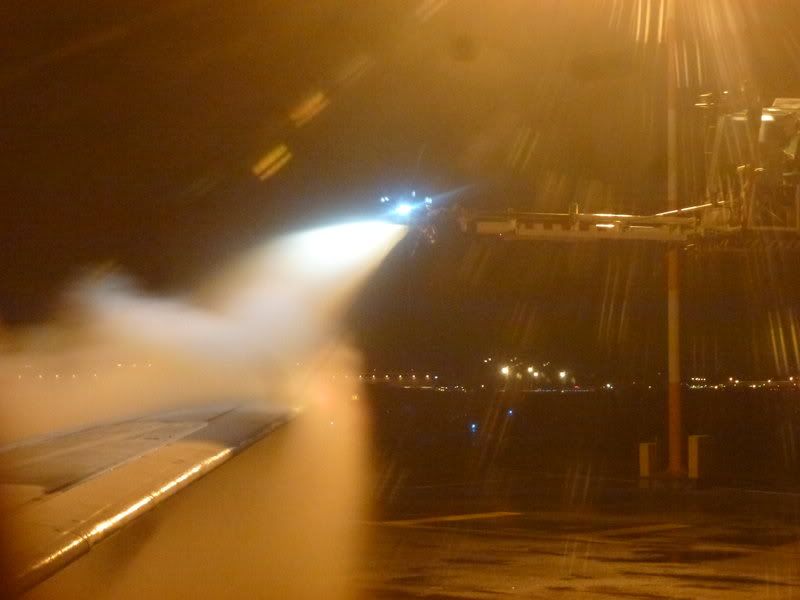 Take off is from 22R. As the temperature is below zero (hence the deicing) the skies are clear giving me a nice view of the Capital Region lit up: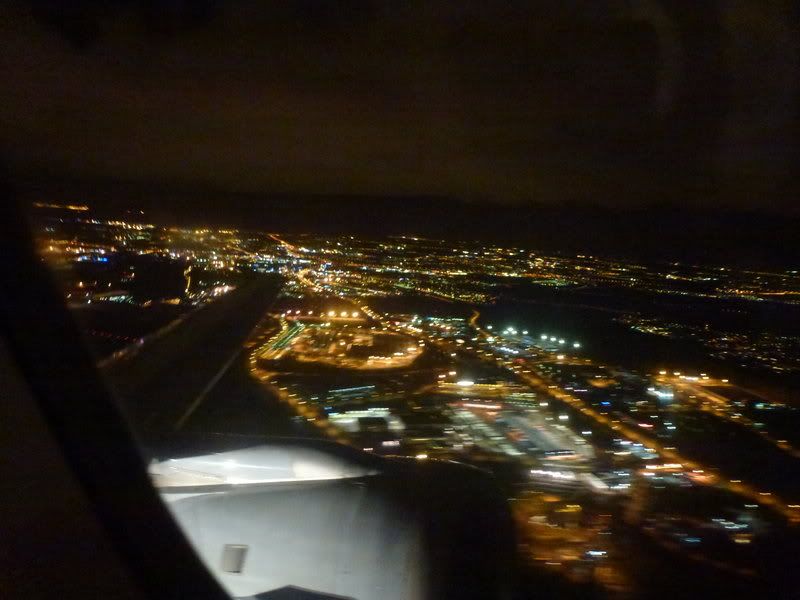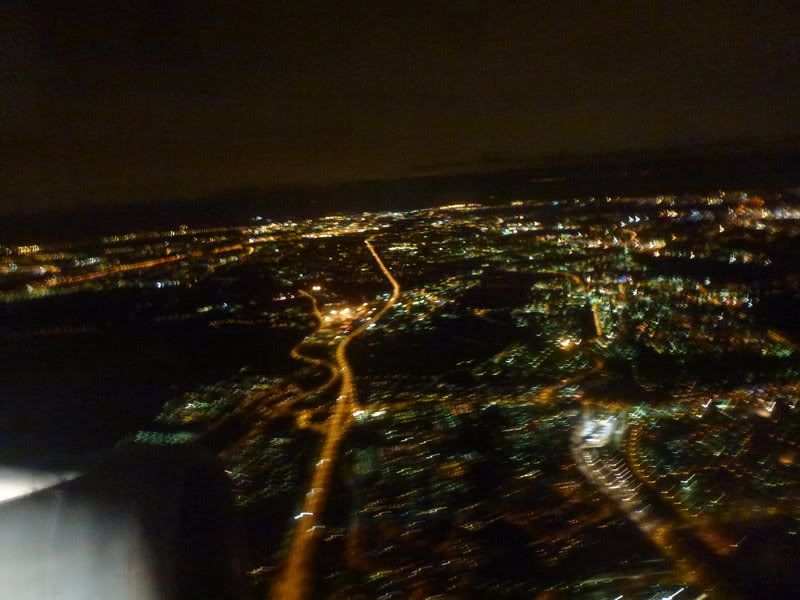 The service is again a hot sandwich on Finnish potato bread - this time it is cheese and ham with some barbecue sauce (sorry, by this time I was getting ready for a brekkie so I couldn't help but take a bite before the photo):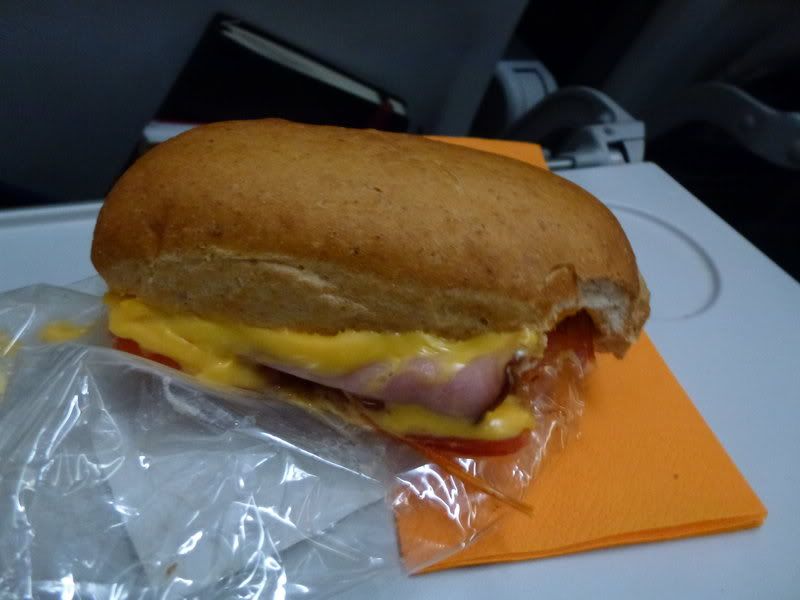 Quite tasty actually, works fine for me.
I try to sleep for a while but it doesn't really work out so I just admire the nice dawn out of the window (picked an A seat just for that purpose) and read the morning paper: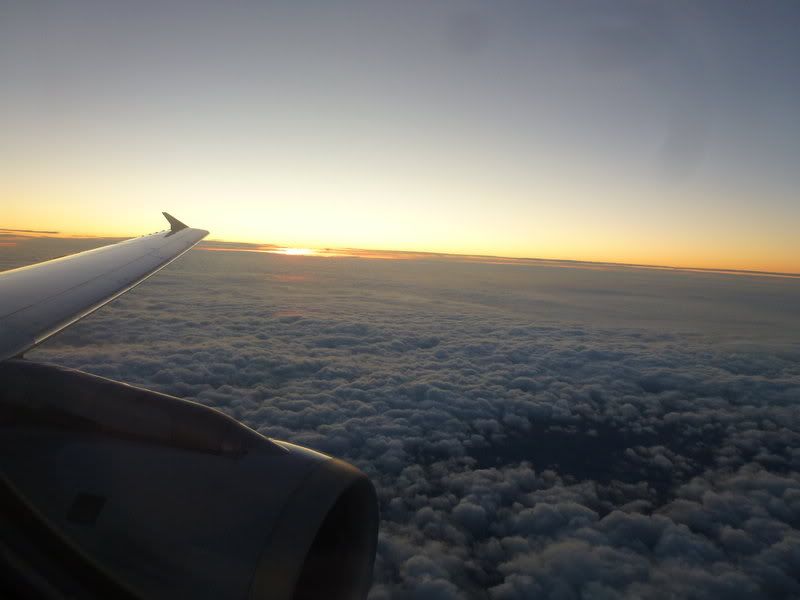 Our captain keeps referring to our destination as "Frankfurt Rhein-Main airport" which sounds funny especially as his Rs are thicker than the Sea Captain's from The Simpsons!
Once I see this plane doing a parallel approach: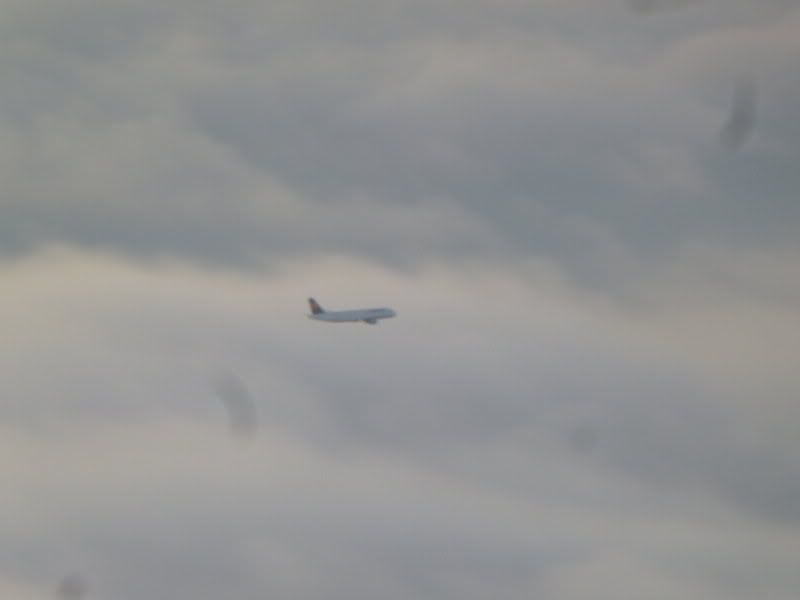 ...I'm pretty sure we are landing on the new runway 25R again - a bugger as it means a rather long taxi time of course.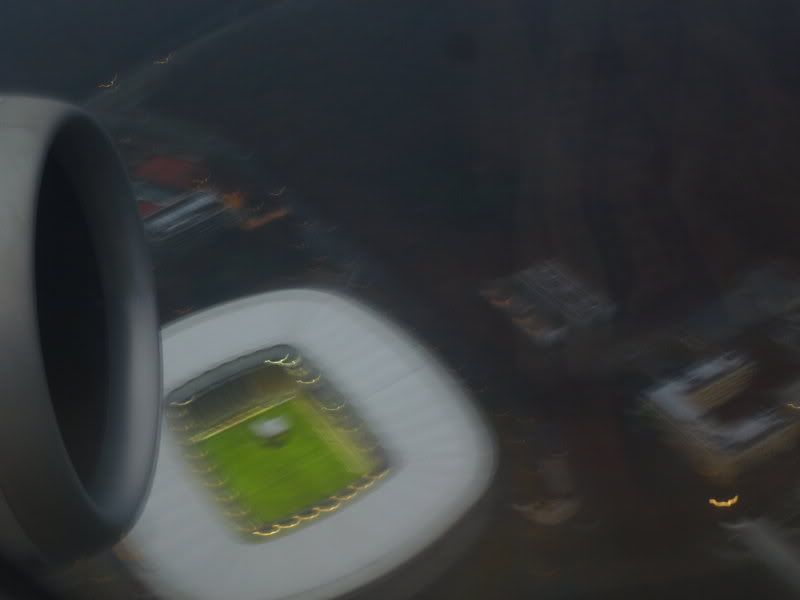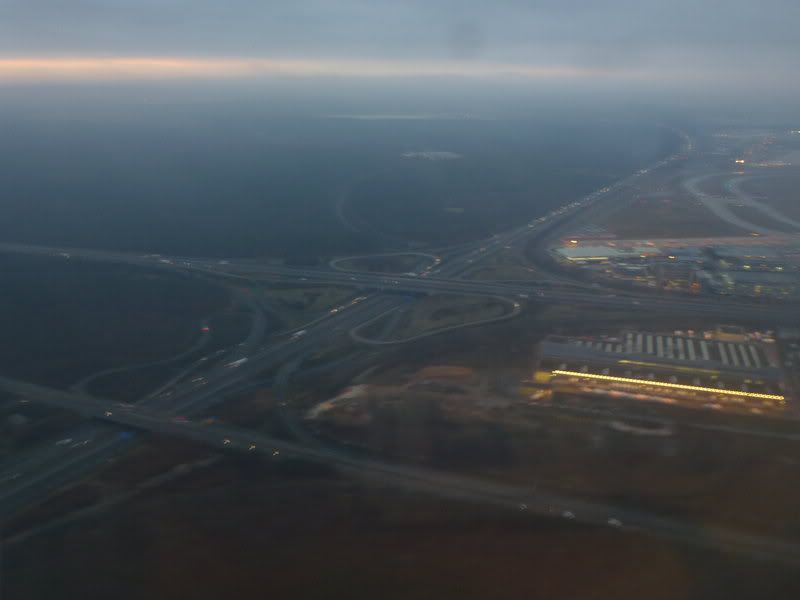 Gliding past the terminal buildings on short finals: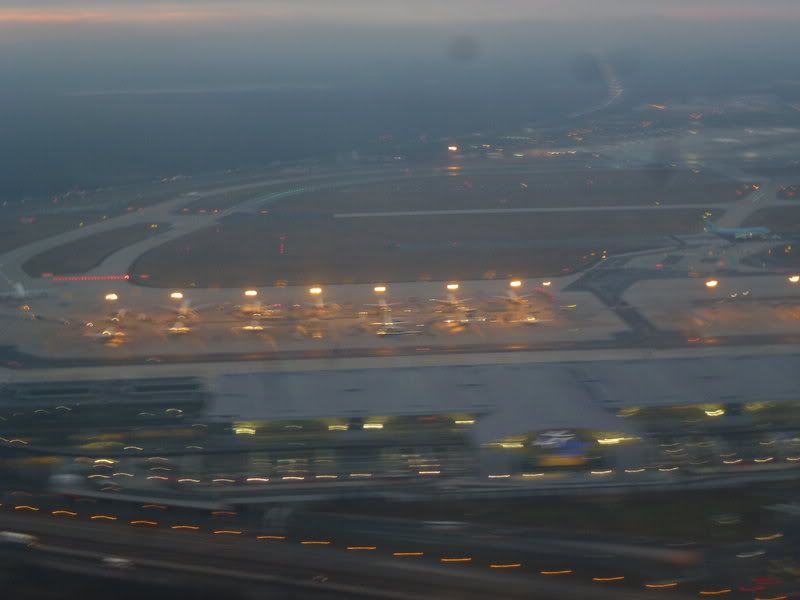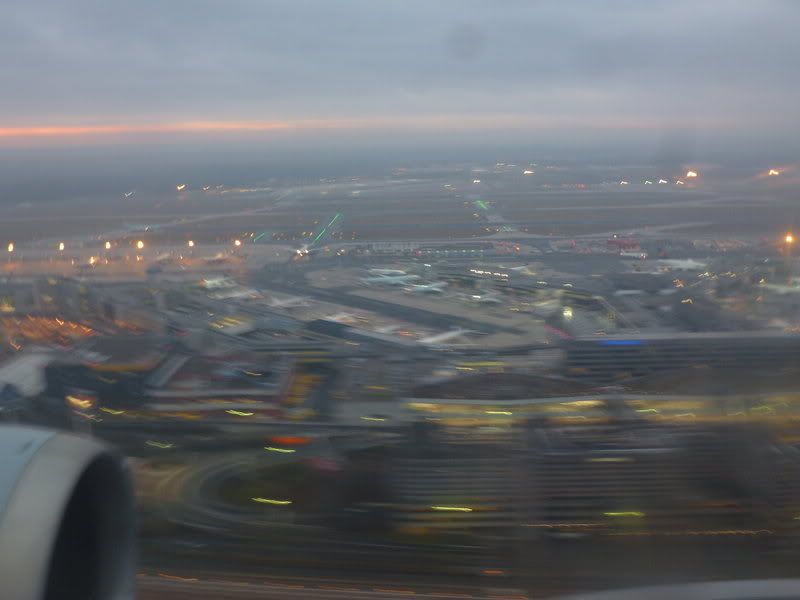 Total flight time was around 2h10mins.
There's quite a large bunch of Polish men aboard, right after we turn off the runway half of them stand up and start reaching for the overheads - a few stern "ZIT DOWN!!" commands from the FAs who sound like they used to be DDR border guards are needed before they understand that yes, maybe they should sit down a few more minutes.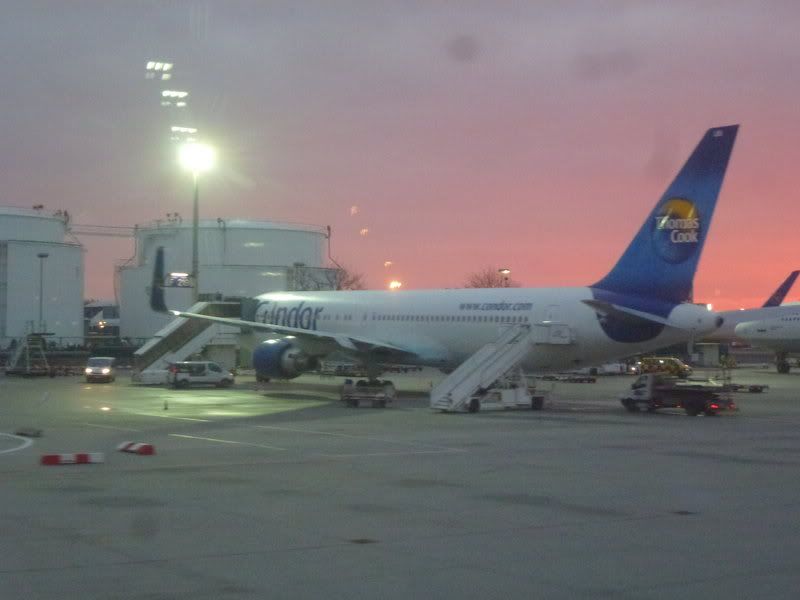 In the case of 25R that is of course more like ten minutes than a few, but eventually we end up in an apron parking position next to a Condor 753: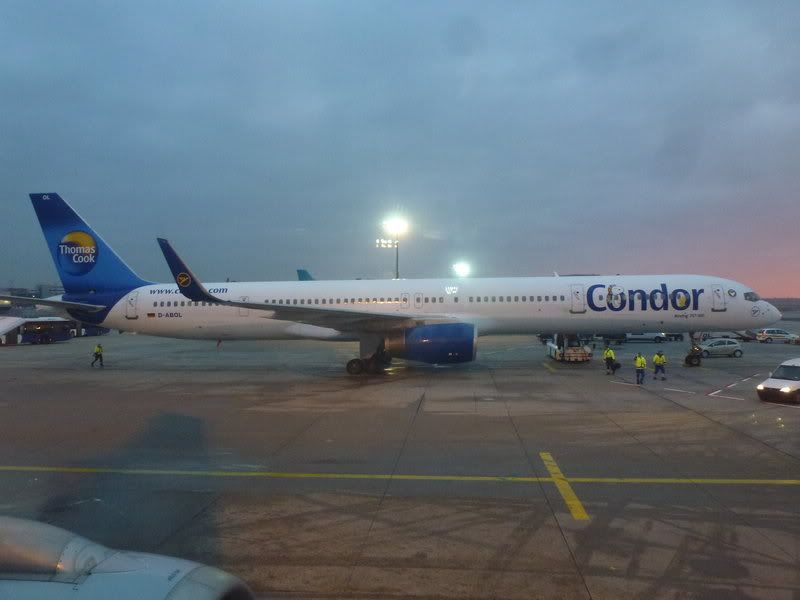 A new day dawning: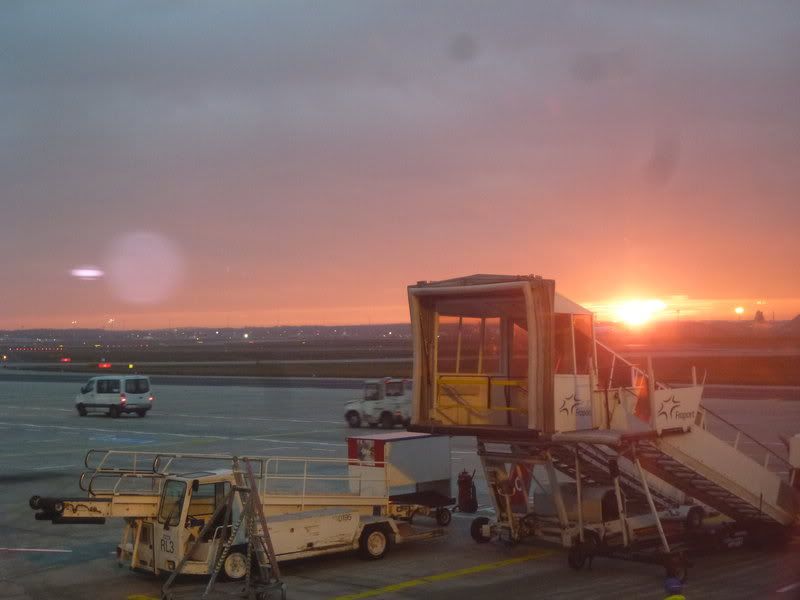 Bye,
Mainz
: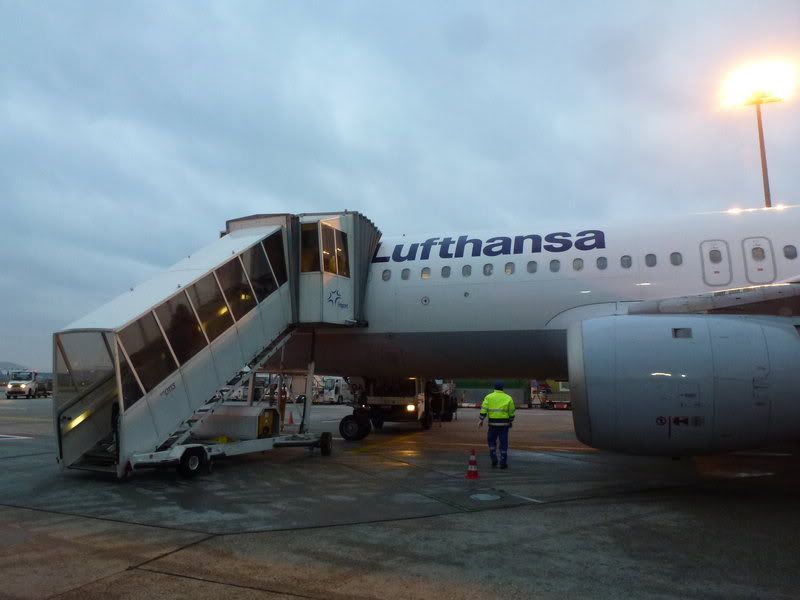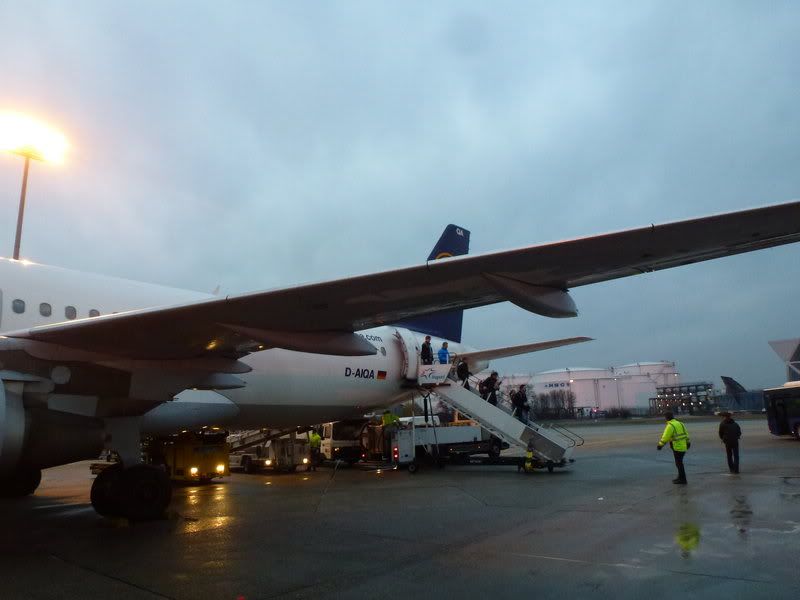 I'm not particularly happy about the packed bus ride - AFAIK all the bus arrivals at FRA T1 are always to the B concourse and my ride to MLA will almost definitely leave from A.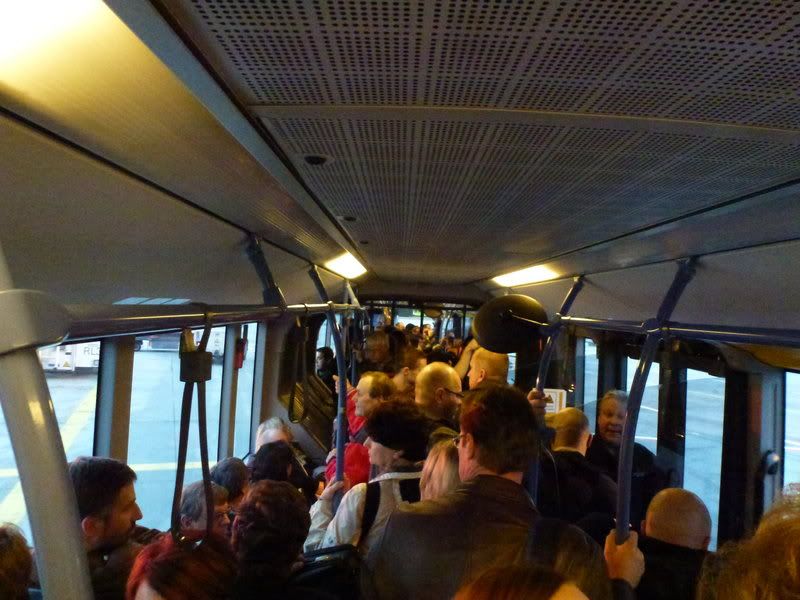 This if course happens, so eventually we get off the bus at "Schengen arrivals B Ost" (no, it's not cheese!) and yes, the monitors display A36 as the next gate so I head for the lengthy walk there through the B → A tunnel.
Checking out the flight details - D-AISV is be a new plane for me and expected to depart on time: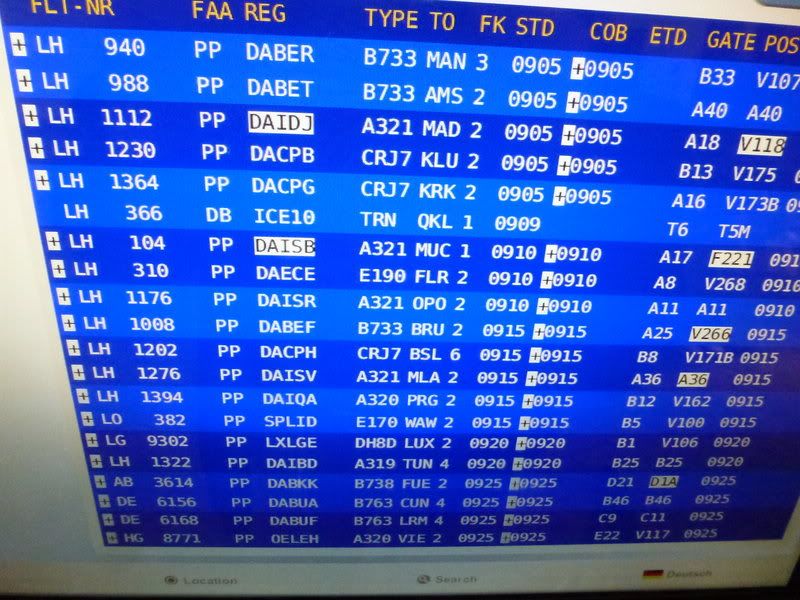 A quick stop at the Senator lounge halfway down the A pier - the place is packed and I get the last free table. These smoothies are quite good: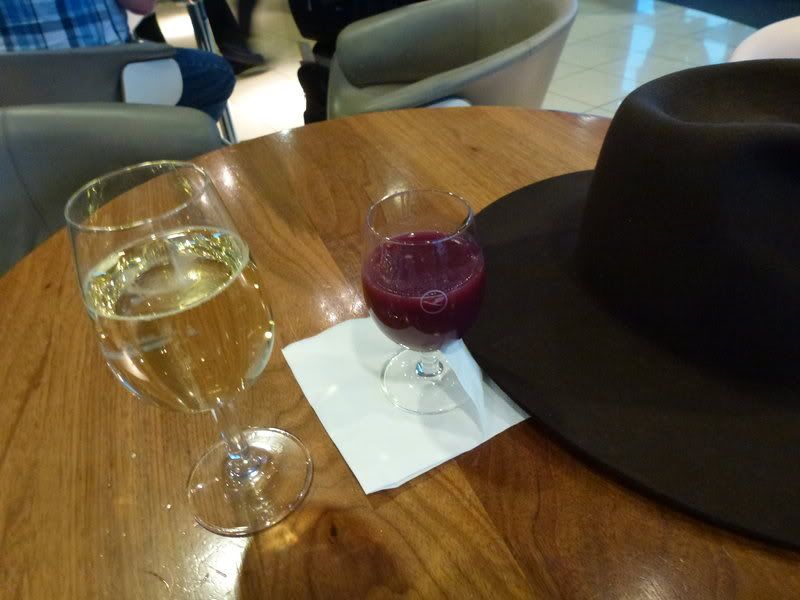 Standing room only:
The lounge warden compliments me on my hat - at least that's what I assume she says as I only understand the hat part (and her smile and hand pointing at it).
New signage pointing to the Z gates which the "A Plus" pier ones have been designated as: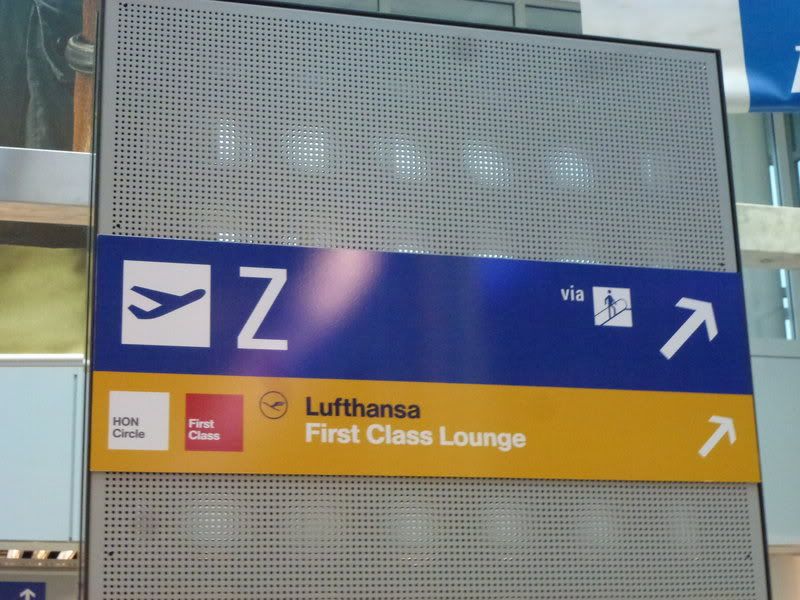 The gate is almost empty already, most of the passengers are already onboard.
FRA - MLA
LH1276
A321 D-AISV "Bingen"
Seat 28A
9.19 - 11.39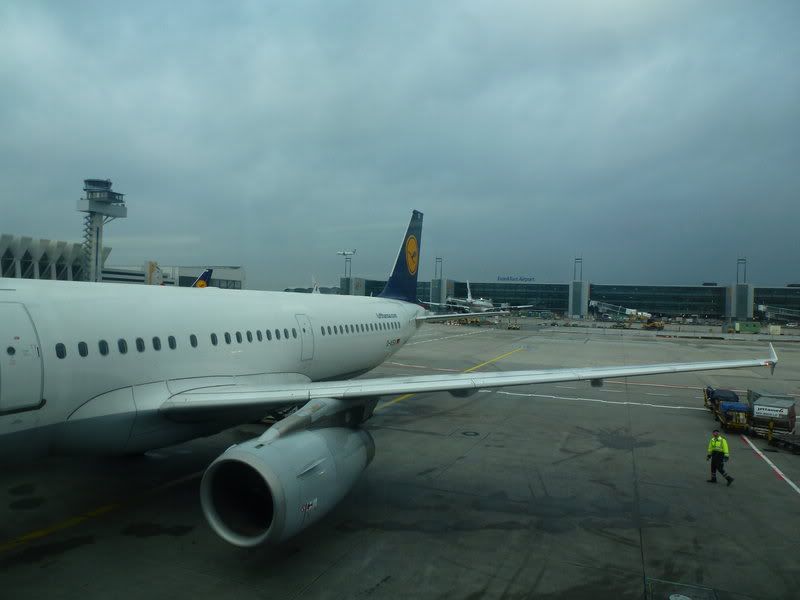 Upon entering the plane I check the loadsheet on the wall - 123 passengers onboard this flight with 9 in Business clas. Should be plenty of room to spread out then!
During a temporal lapse in my lateral thinking process I picked up a seat at the rear exit row - well I should've remembered this seat has the best legroom out there but, shock horror -
no window
: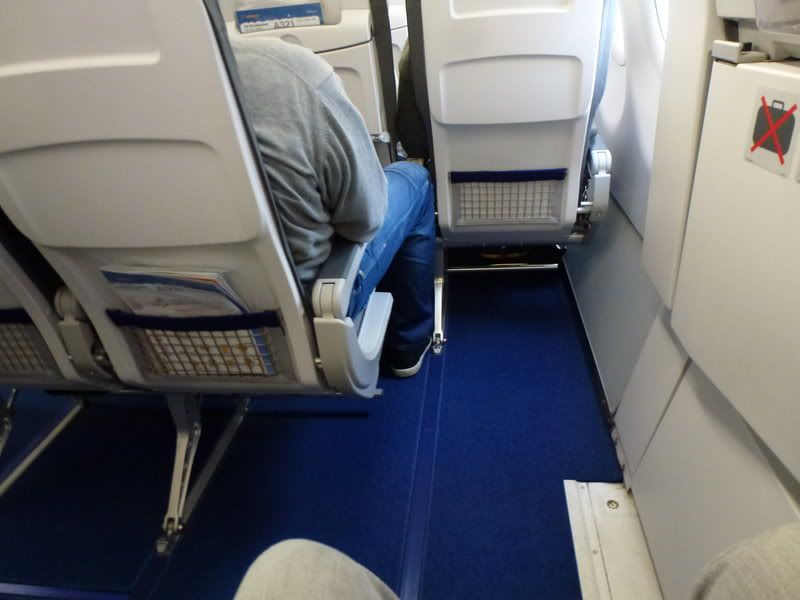 Well, with that light load I'll just move somewhere else. The friendly older steward with white hair positioned at that exit confirms that there should be some 60-70 empty seats up for grabs. After boarding is completed I notice the whole row 28 being empty, so I grab the A seat there - after take off some other people move to the DEF block but three for me is just fine.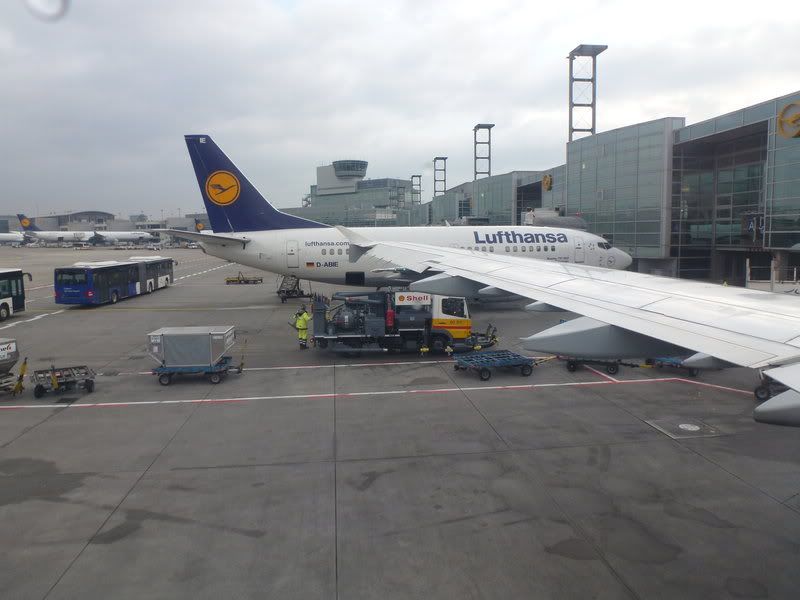 Flight time is announced as 2h5mins and push back is a couple of minutes late.
No doubt who's the boss here: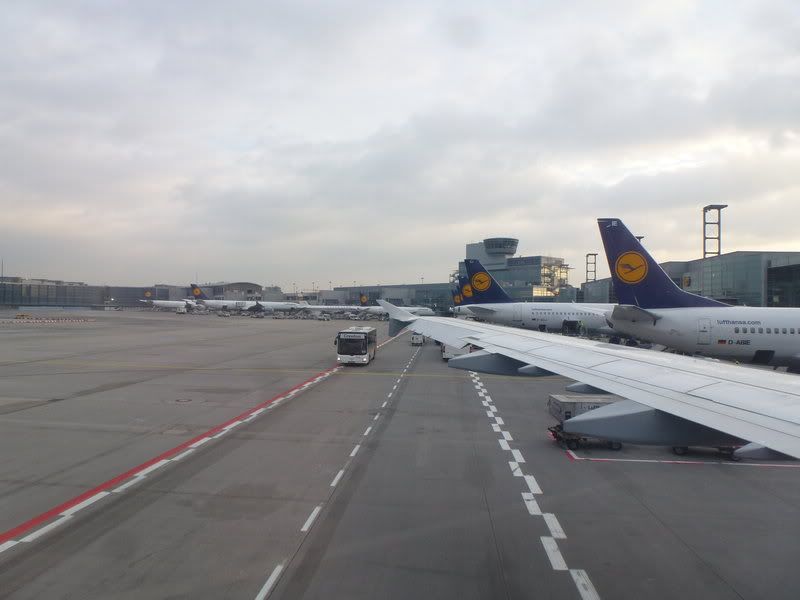 FRA and reflections - like two peas in a pod: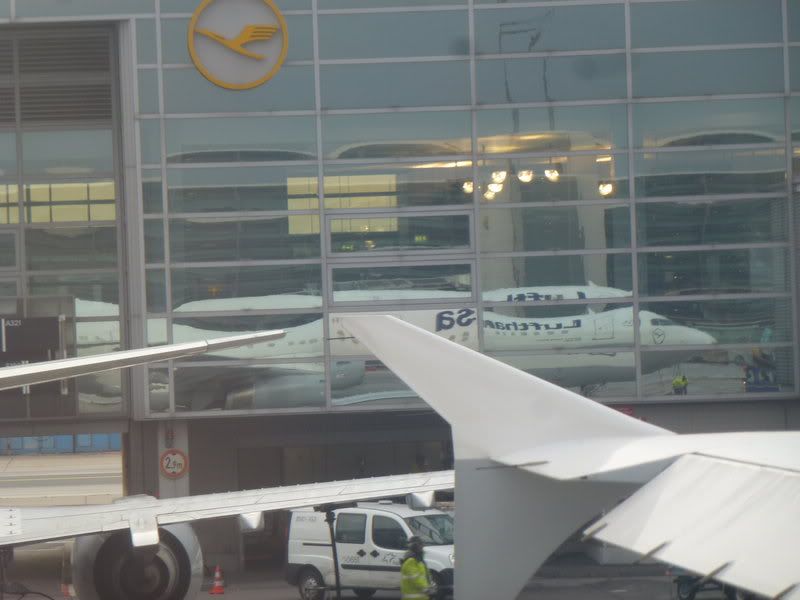 Jumbolino:
Hey, I took this flight two weeks ago - luckily from a jetway back then: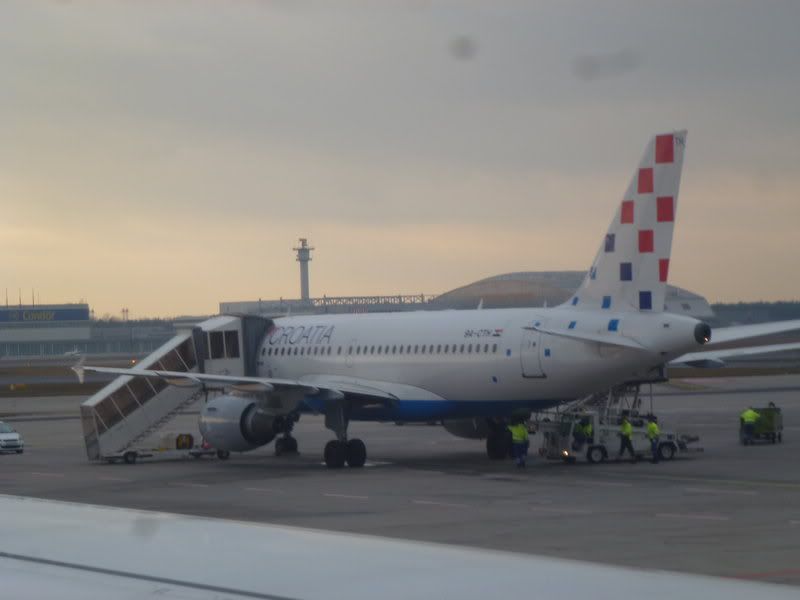 Taxi to runway 18 is nice - it takes us past pretty much every plane type in the extensive LH fleet: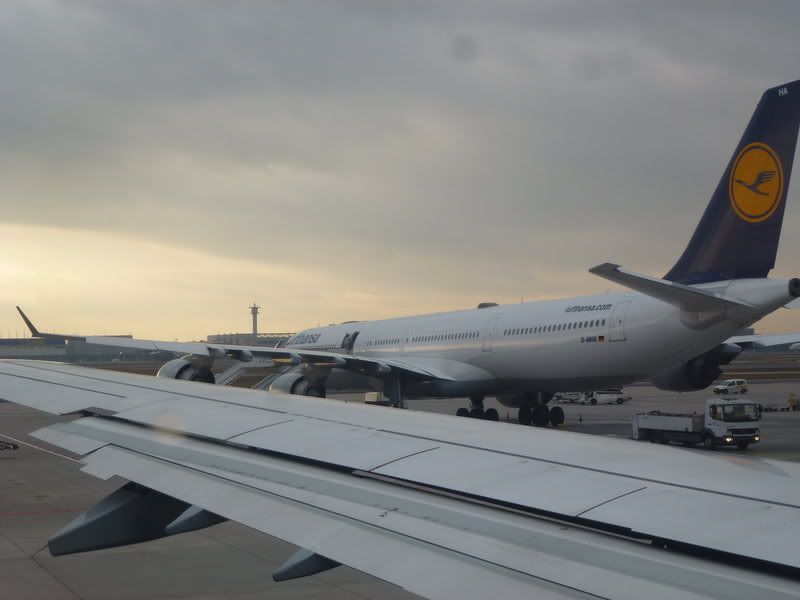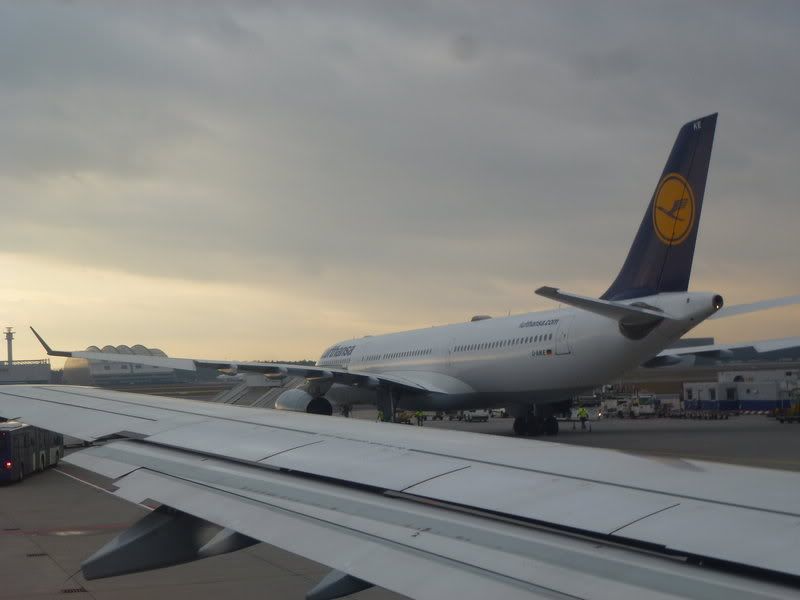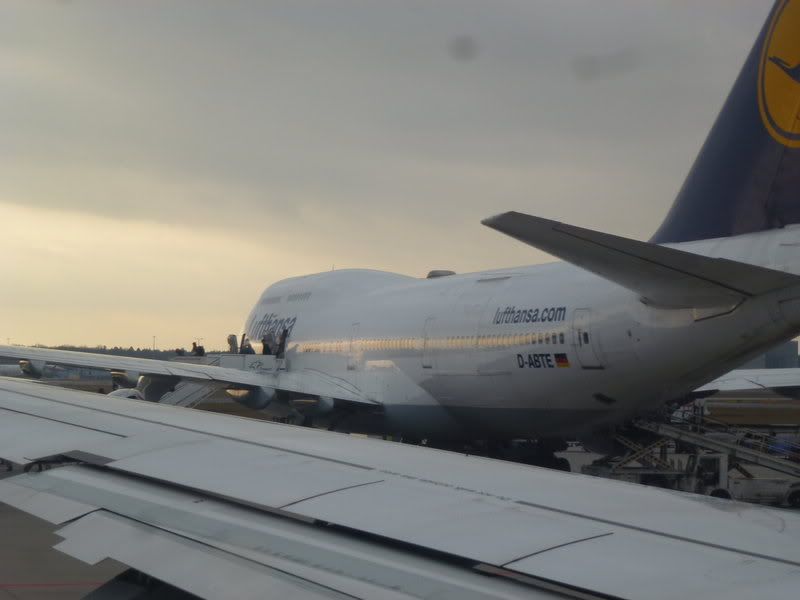 Sorry for the blurry shot, but must have an A388 in a FRA report: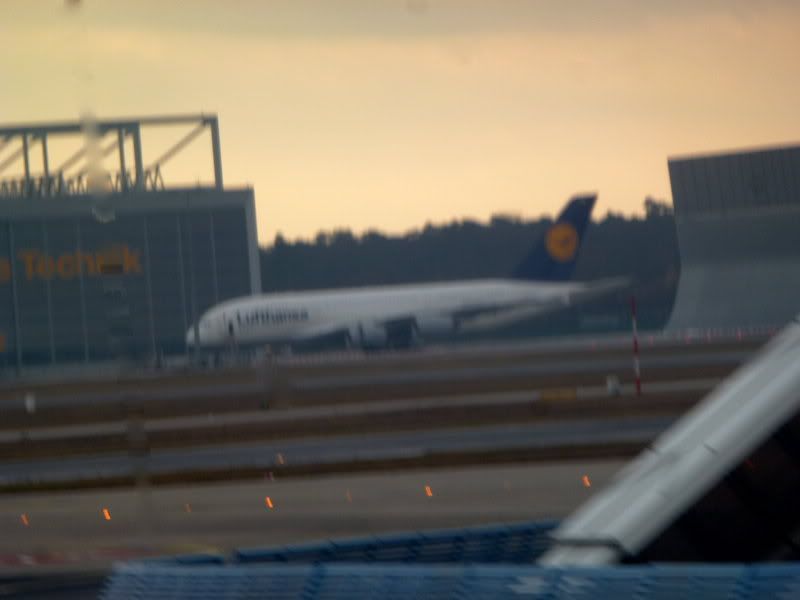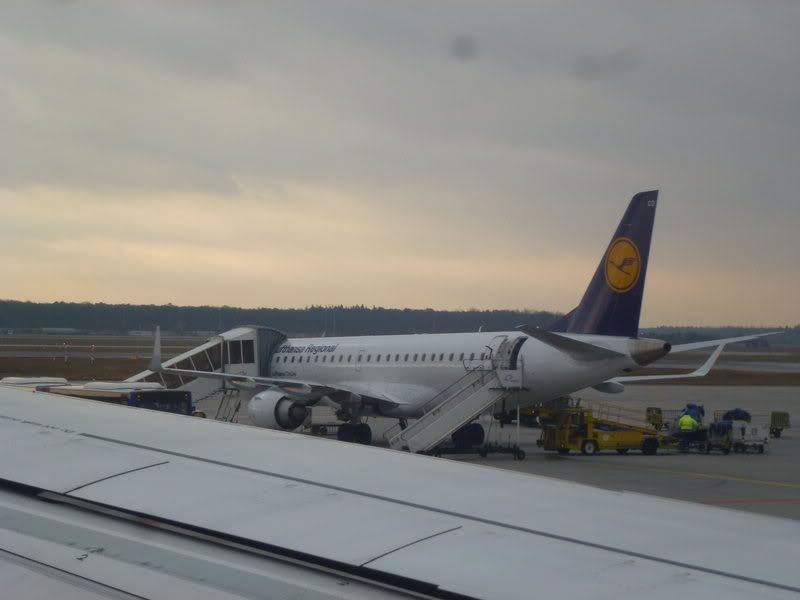 This CRJ was following us: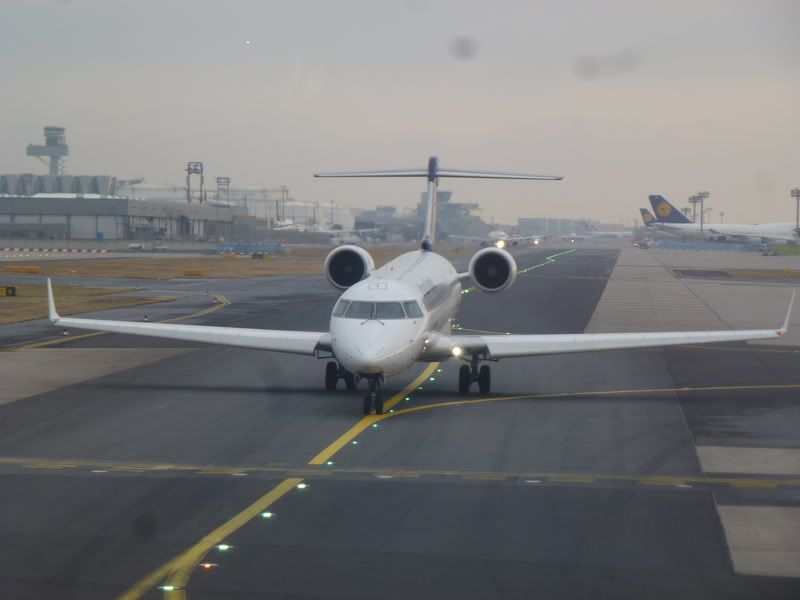 Taking off: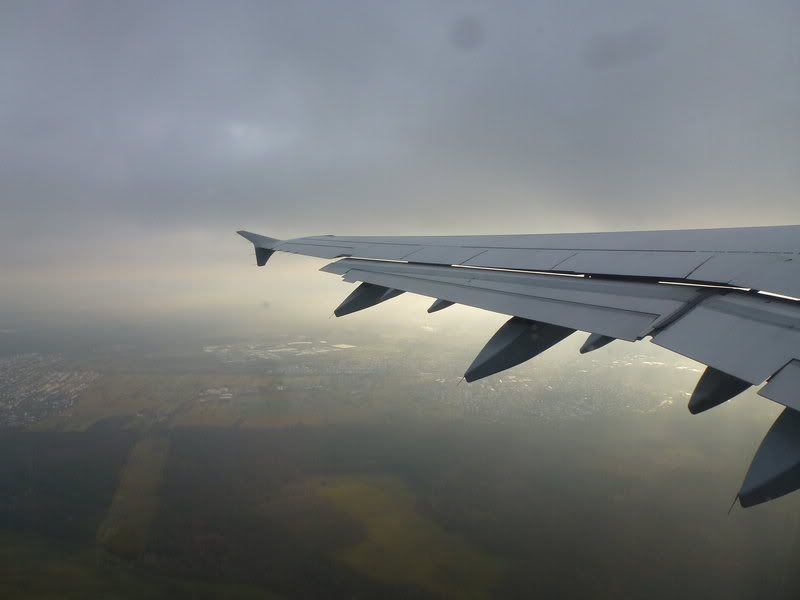 Skies north of the great divider also known as the Alps are overcast today: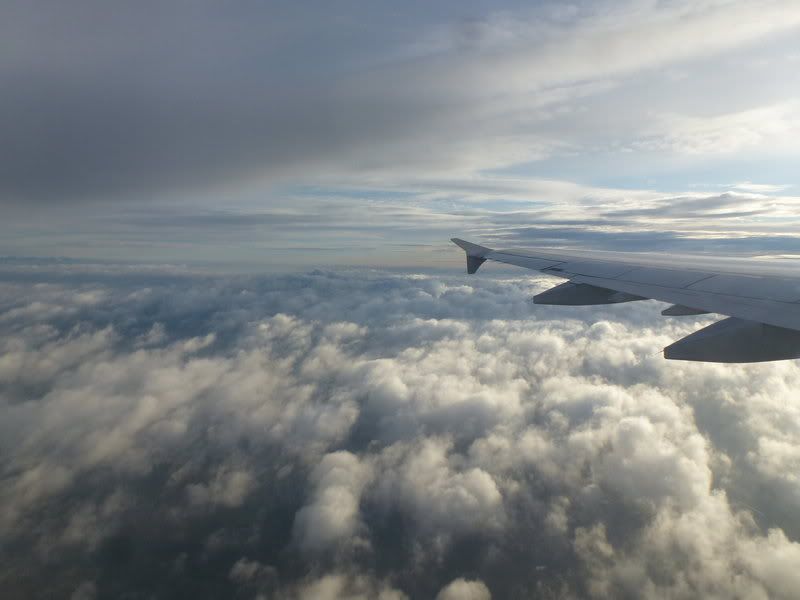 Again the new LH service concept manages to surprise me - although not in a positive way this time (yes, I'm invited):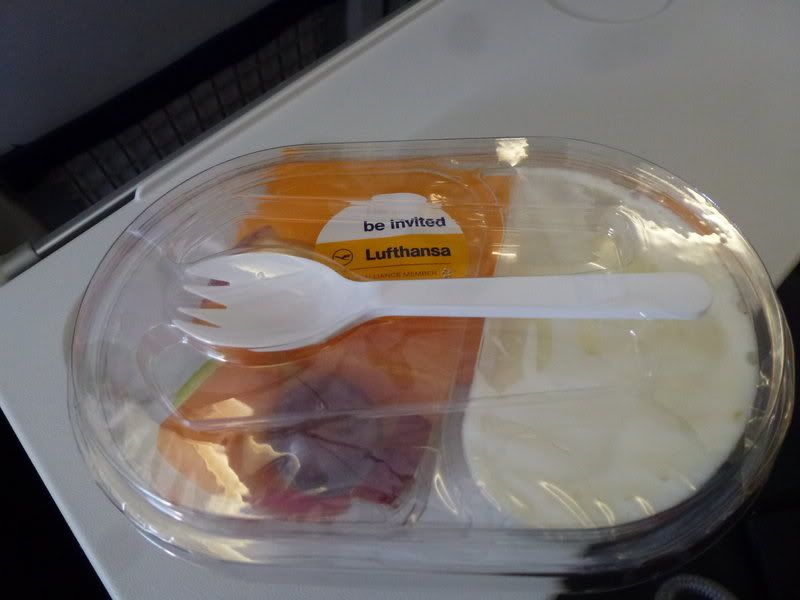 Yes, this is all - some yogurt and fruits to mix in: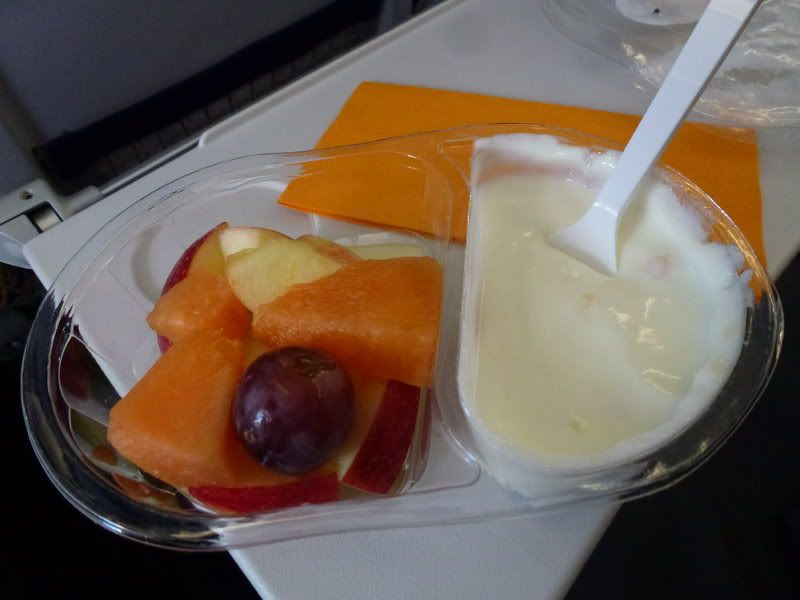 I guess the reasoning is that this flight still falls into the breakfast category, even though the SDT is 9.15. Still some kind of a sandwich would've been more appropriate I think.
I'm on the wrong side for the Alps as these are the only views I get: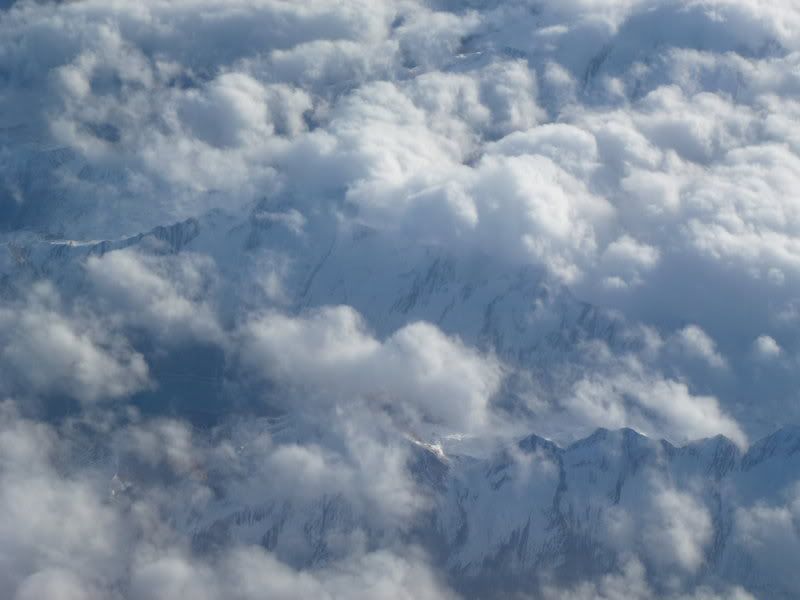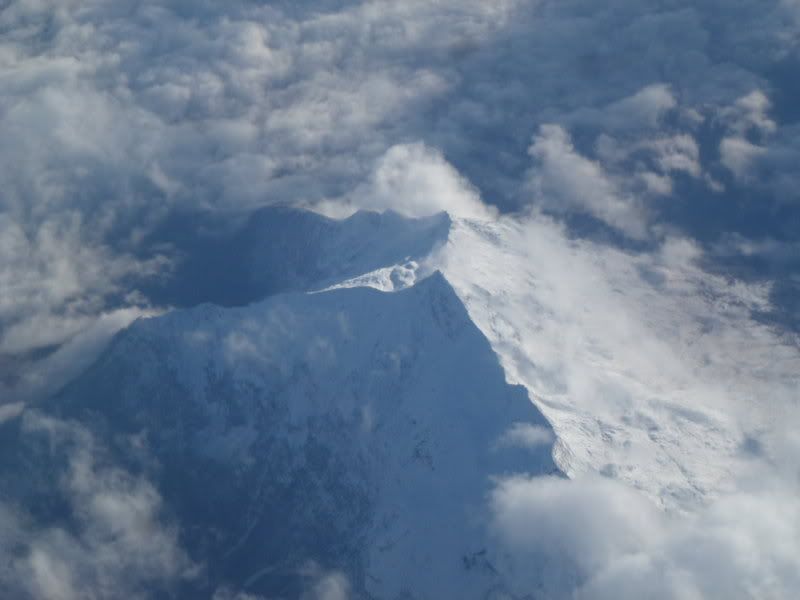 According to the captain and from what I see from the windows over the other side the big Alpine peaks are there but I just can't be bothered to go there to check out the view. The captain is very German in his attention to details, he mentions our take off weight (73 tons), V2 speed (300 km/h) and some other details, including the most important one: it is 17 degrees currently at Malta, yay!
Breakfast time or not it is never too early for a Warsteiner plus some quality reading material: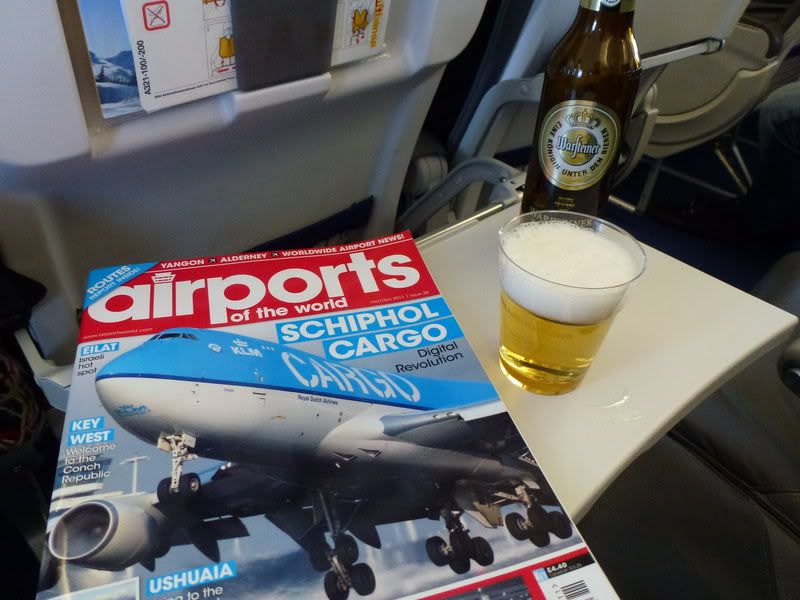 Not sure who this was: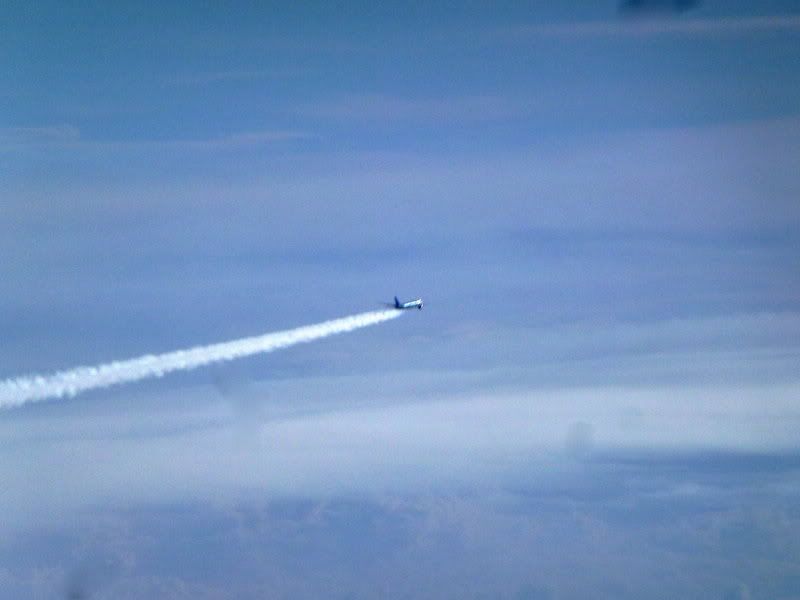 This orange one is much easier to identify: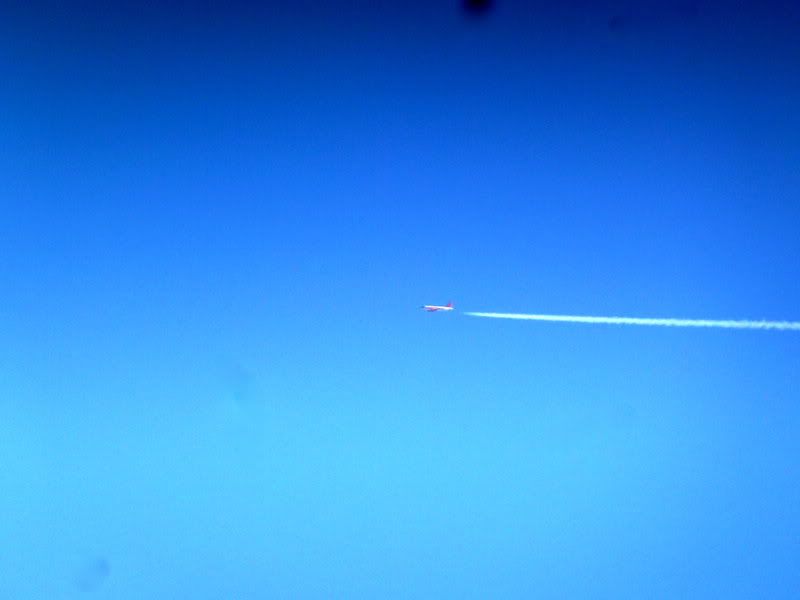 Over the Tyrrhenian Sea the weather clears.
Isola del Giglio: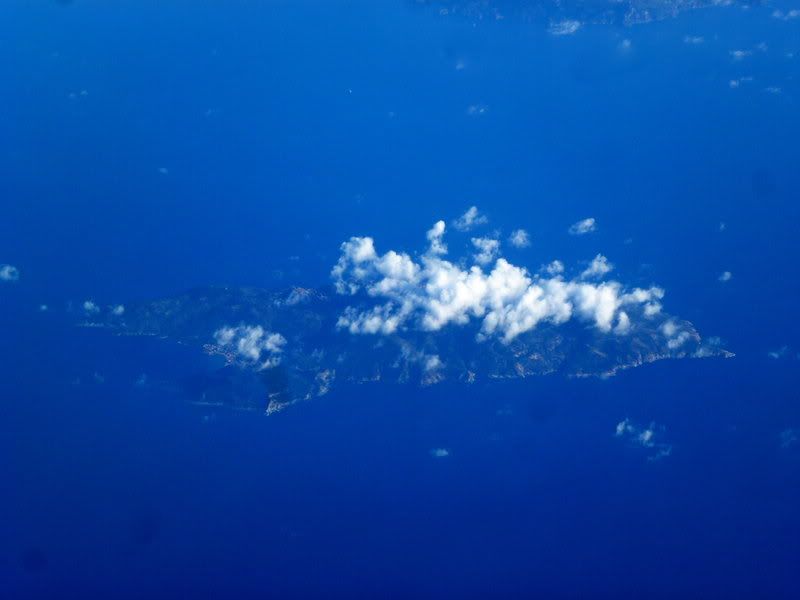 During a toilet/beer run I chat a bit with the crew who are enjoying their third or fourth serving of the yogurt breakfast in the back galley - apparently they don't exactly like the NEK on the A321s as LH decided to get rid of the mid-plane toilets in favor of installing additional seats (in economy there are now only the two toilets on the back of the plane) so on longer flights the toilets see some heavy usage and queues. I guess a 4-hour flight like FRA-CAI or TLV on these would be pushing it a bit.
Cabin view: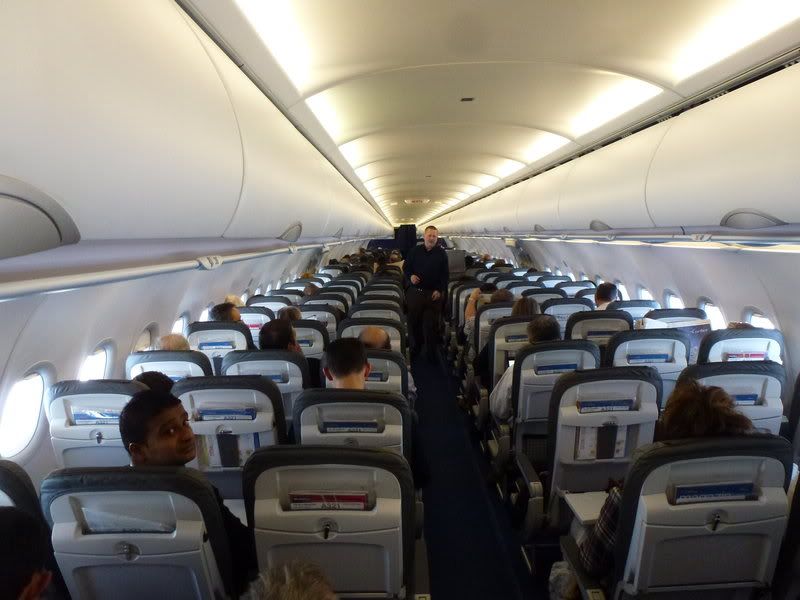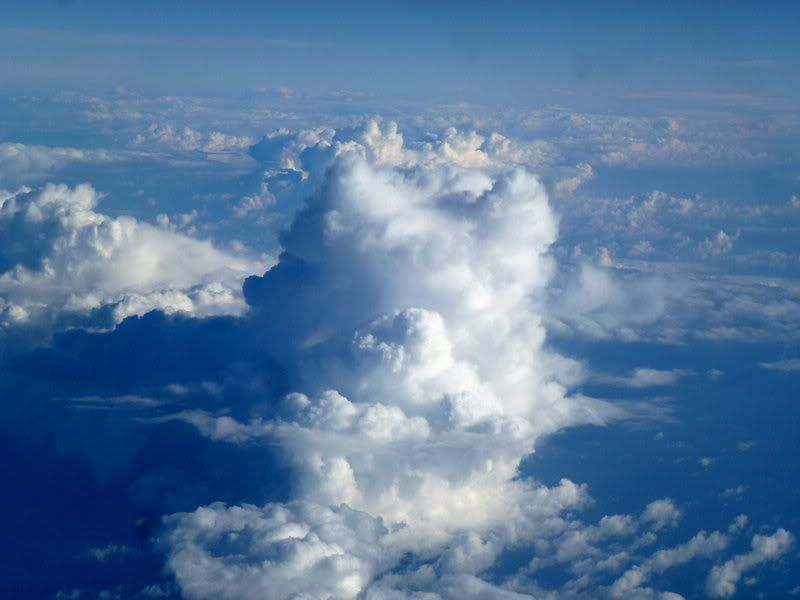 Hello, Sicily: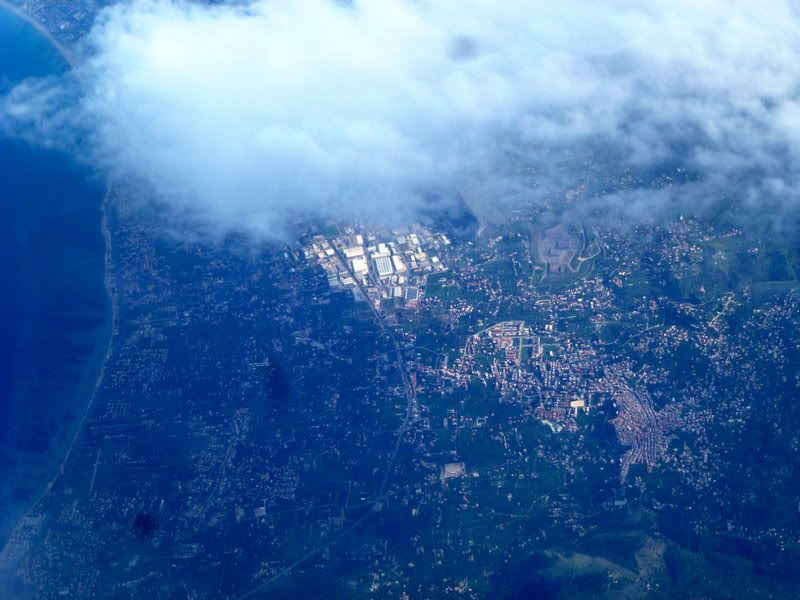 I kept hoping to catch a nice view of Etna but it never came - just some other mountains in the rugged interior of Sicily: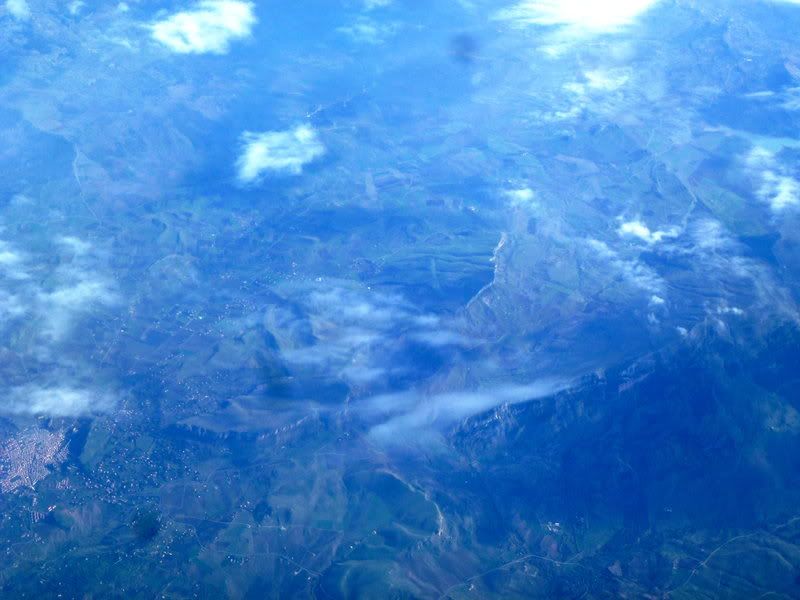 Leaving Sicily - this is the city of Licata: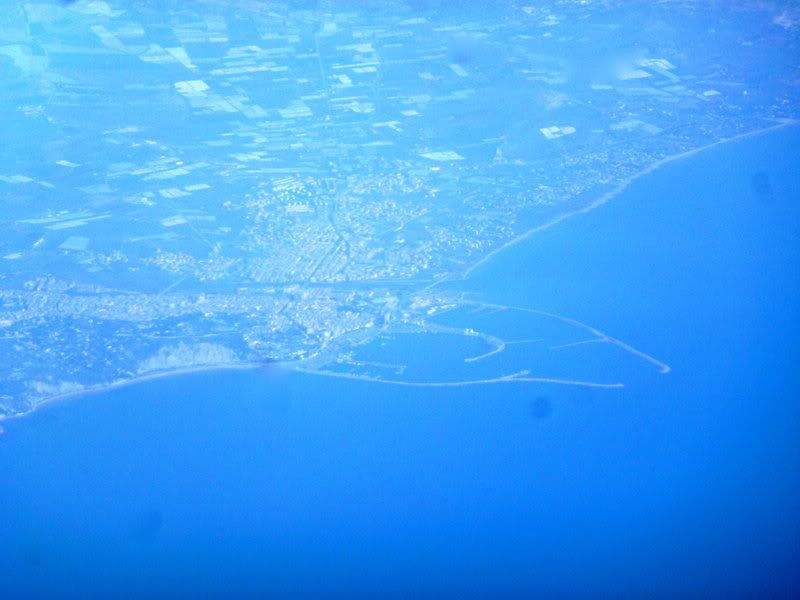 Right after this we commence our descent towards Malta.
First glimpse of the Maltese archipelago - this is the northeastern coast of Gozo: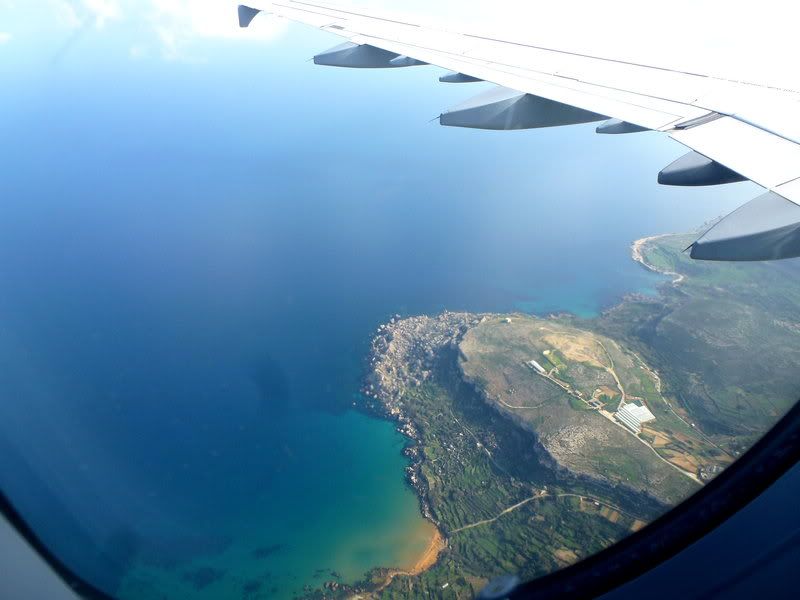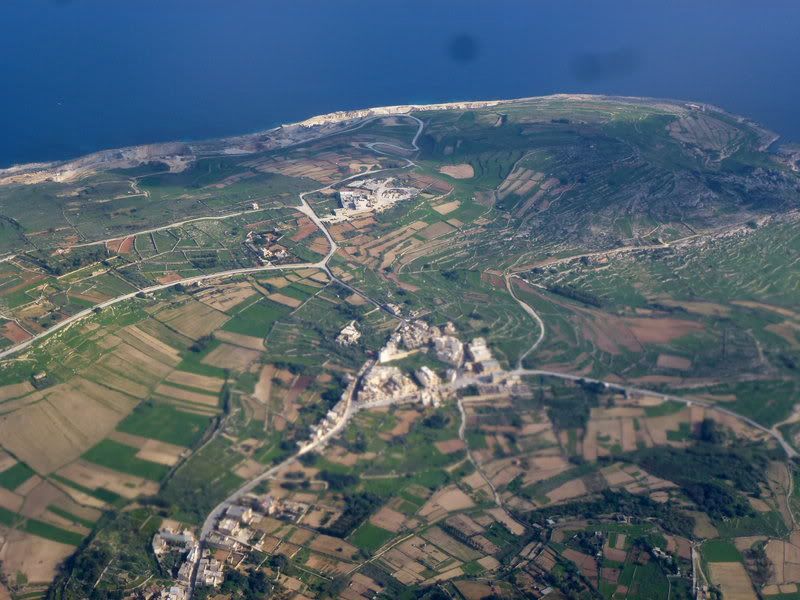 Gozo is a very small island so it is quickly overflown: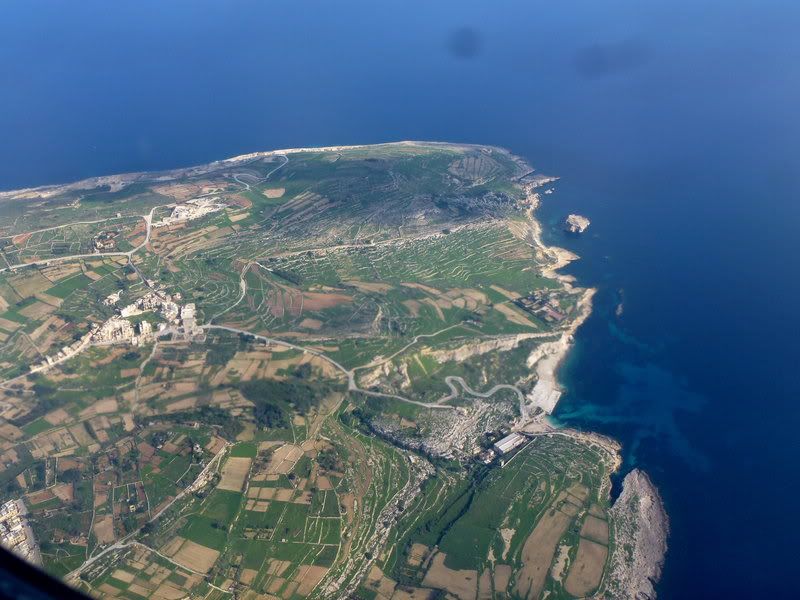 Tiny island of Comino, lying between Gozo and Malta: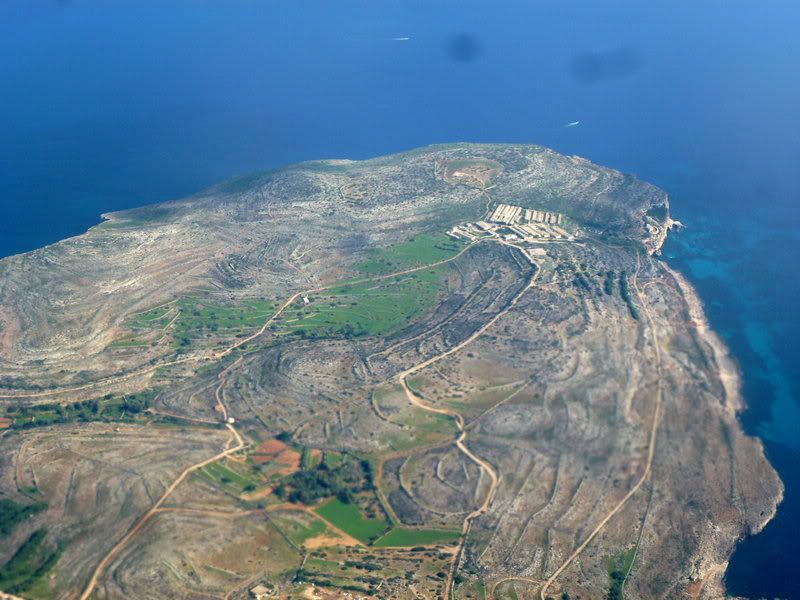 And finally the main island, Malta: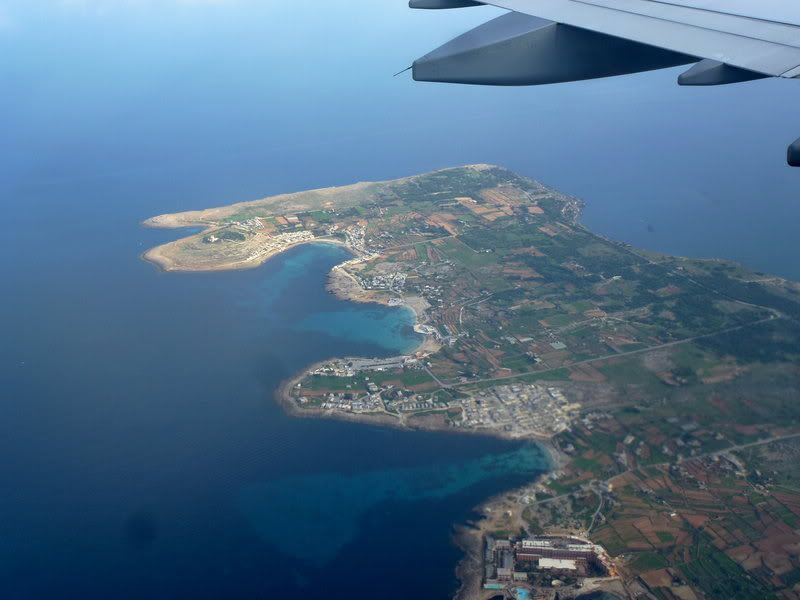 A resort - I think this is the Ramla Bay Resort: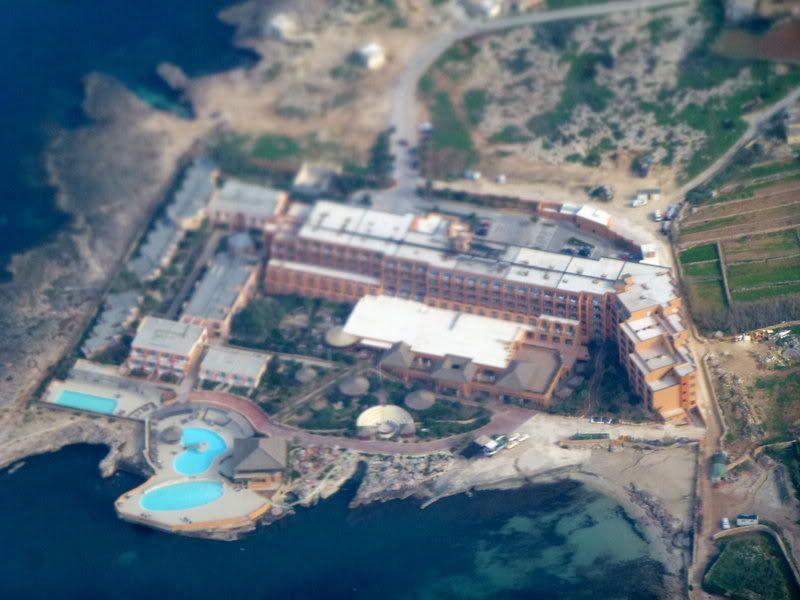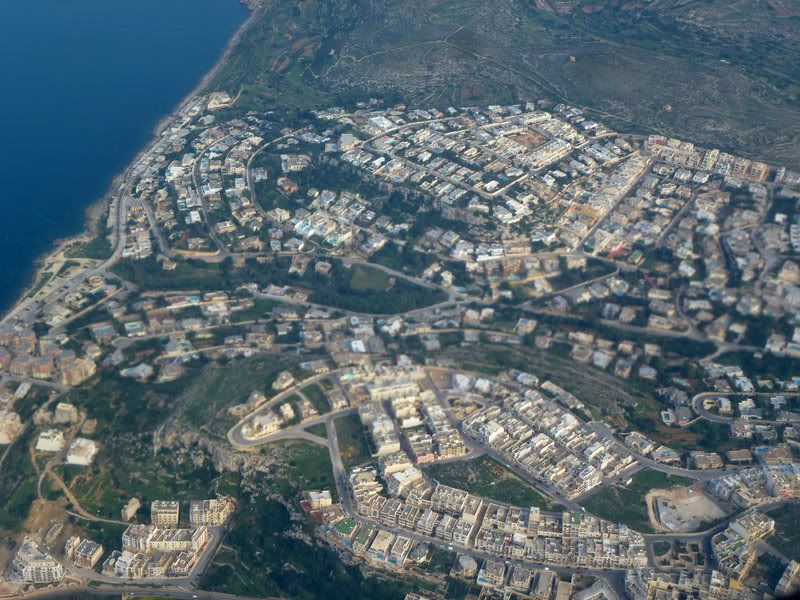 An oil rig under construction at St. Paul's Bay: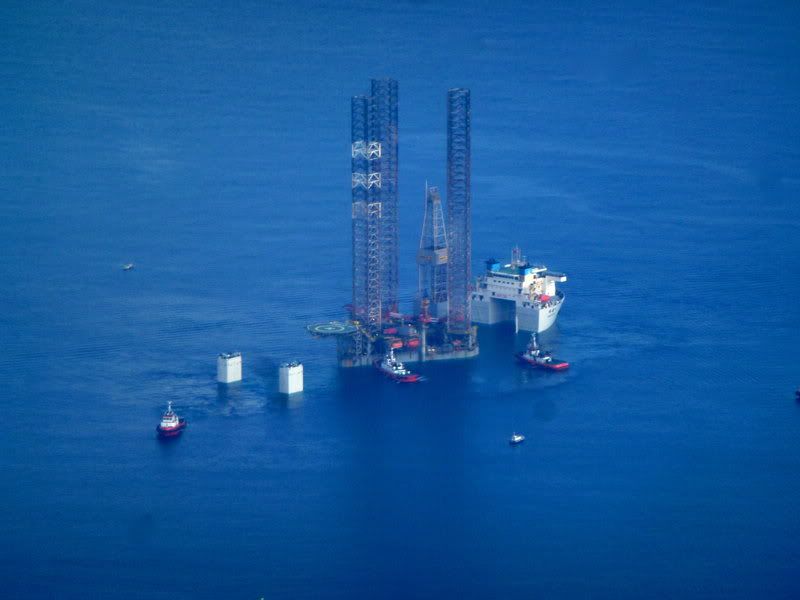 Bugibba: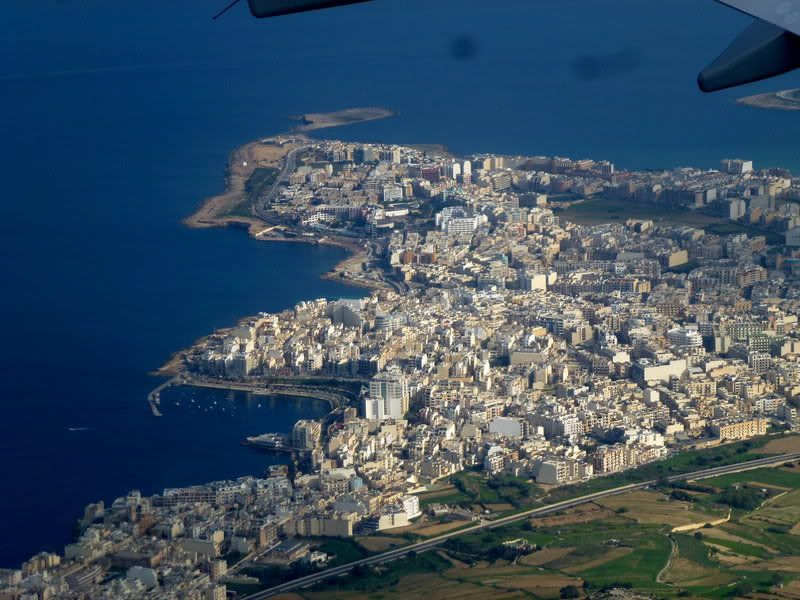 The views during our approach are amazing - so good to see these lush, green landscapes and sunshine, such a contrast to the dire Northern European weather.
Malta is really built up: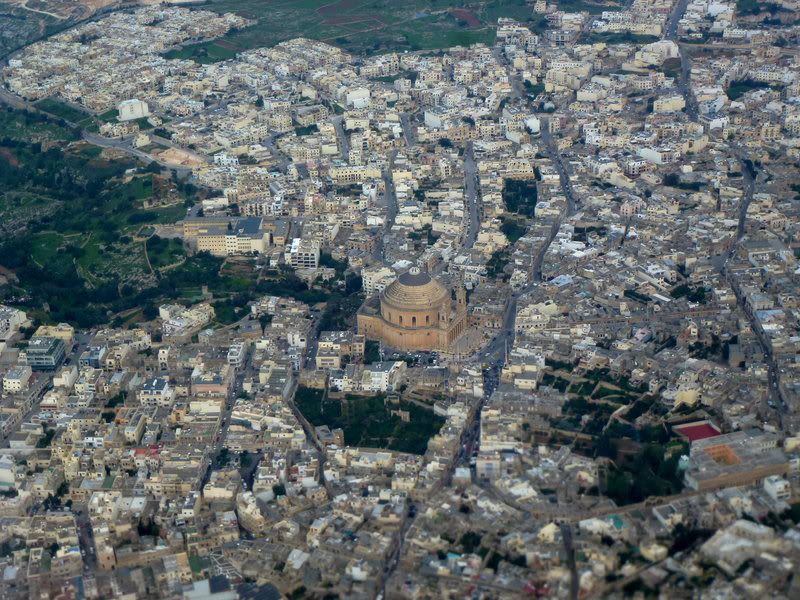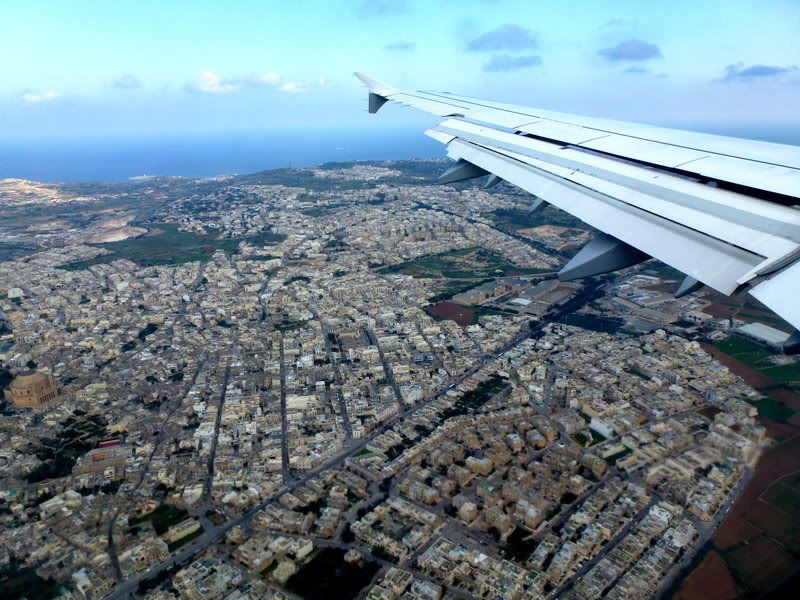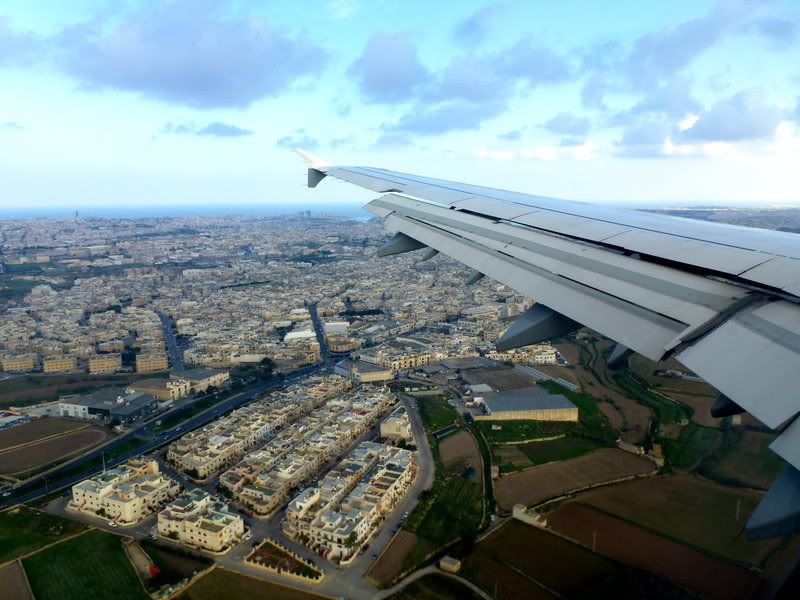 That's Sliema near St. Julian's where I'm staying: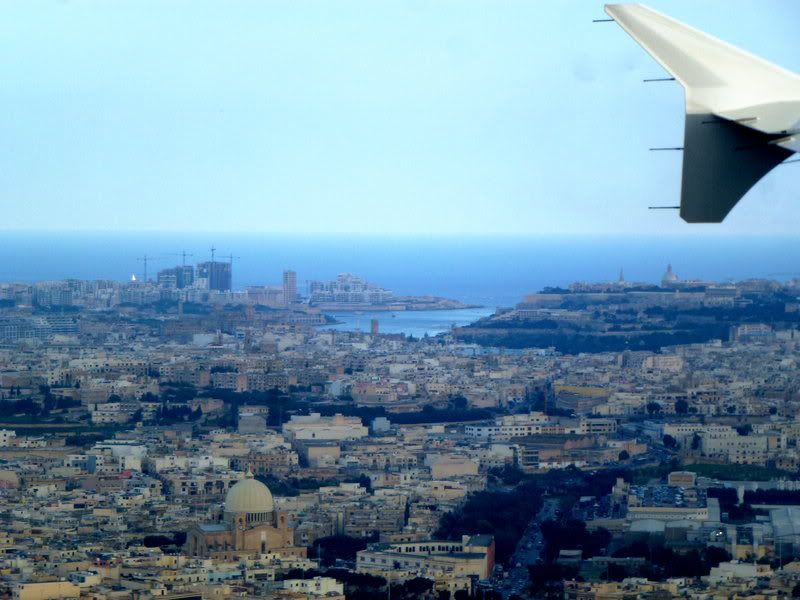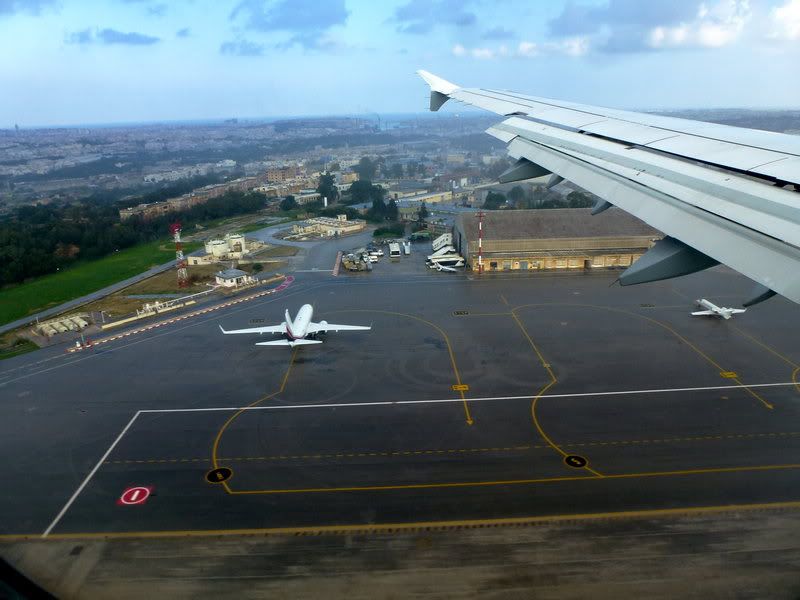 Landing is on runway 13 after a bit more than two hours in the air.
The weather forecast had some rain showers - but the only rain is this small one over half the airport - apart from this it was T-shirt weather all through my two days in the Island: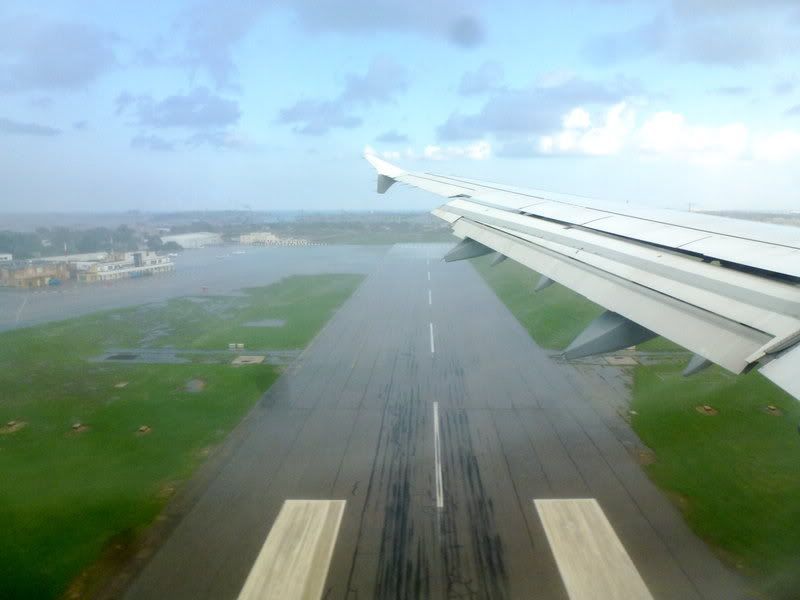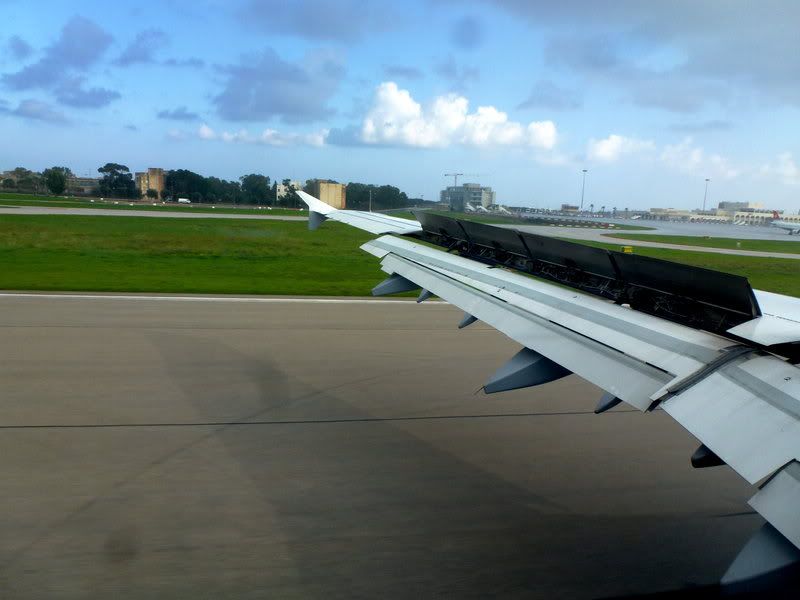 The terminal building: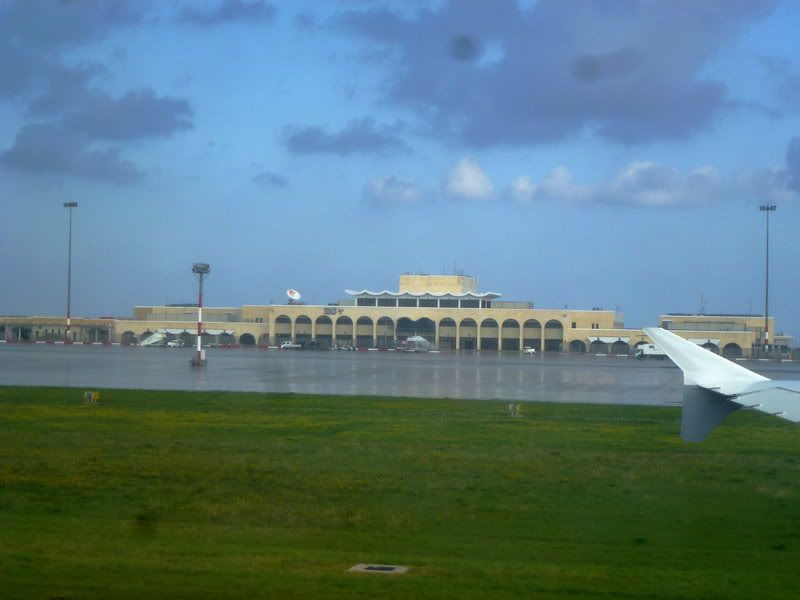 Unfortunately they only use the front stairs, so getting off takes a bit of a time. I chat about the weather with the white haired steward, he isn't exactly very eager to get back to Frankfurt...
This is the Christmas decoration in business class - the previous flight had a similar one as well - most Finns hang these on their front doors during the Christmas period: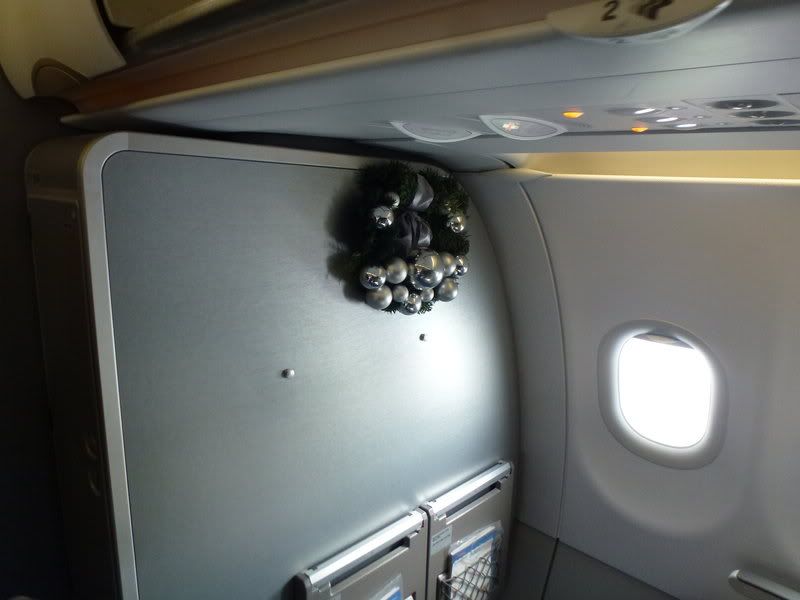 Soon enough I step out of the plane and on the asphalt covered soil of the last EU country which I haven't yet visited, Malta.
The tarmac is still wet from the shower, but the skies are clear: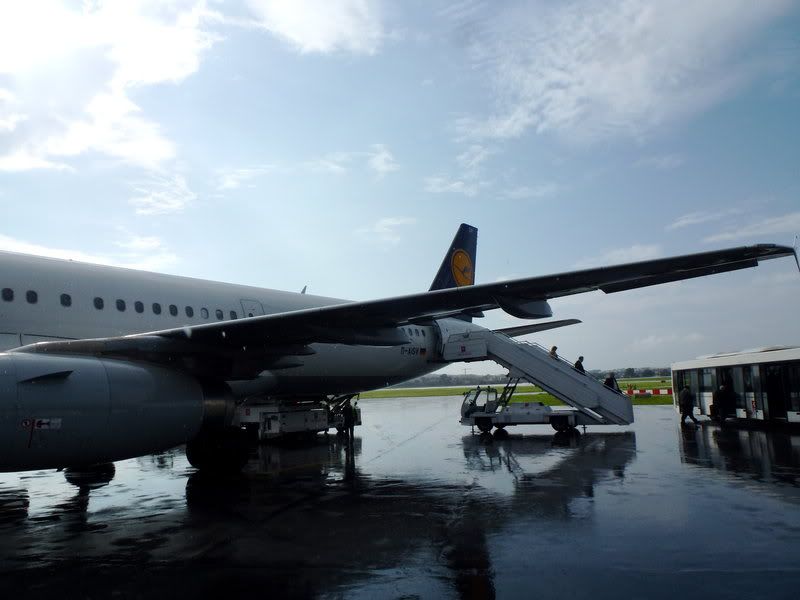 Malta International Airport to St. Julian's
I just missed the bus from the airport to St. Julian's where my hotel is, so I have an extra 20 minutes to wait. I decide to check out their arrivals lounge at the luggage hall. A very friendly (as all the Maltese I met during this trip were!) girl welcomes me in and we have a bit of a chit chat (turns out her neighbour is a Finn - I guess it is true that we really are everywhere like the Brits!) and I have my first contact with the symbolic Maltese softdrink, Kinnie: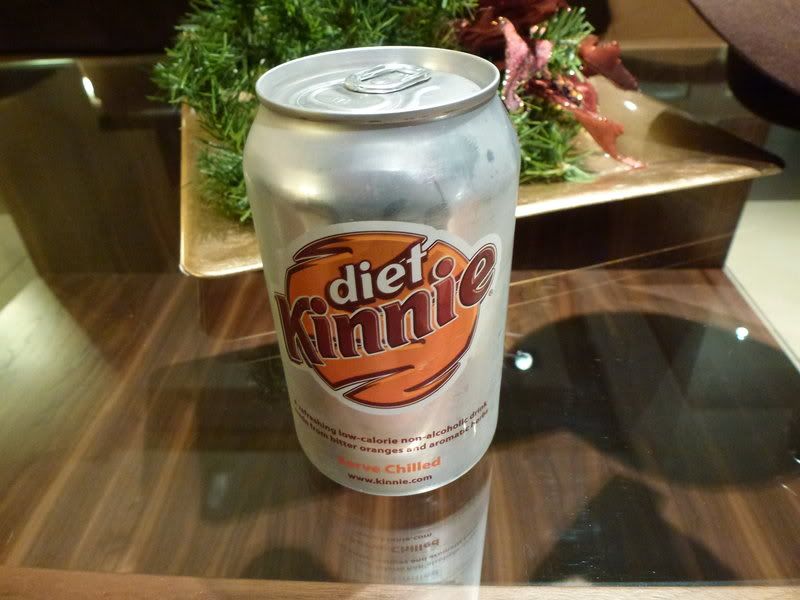 Can't say I really like it, must be an acquired taste. It tastes like Jägermeister without the alcohol. The lounge: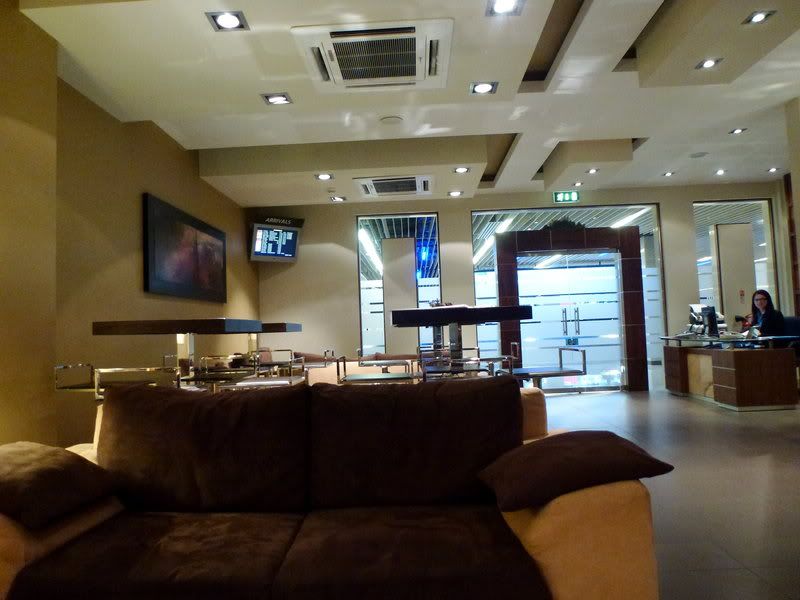 A quarter later I head to the arrivals, buy a day ticket (tremendous value - for 2.60 EUR one gets unlimited travel in buses all throughout the island for one day!) from a self service machine and head out in search of the bus stop. The buses are definitely running in island time as the one I was supposed to catch never shows up but eventually the next one comes.
Still, I don't mind as the weather is excellent: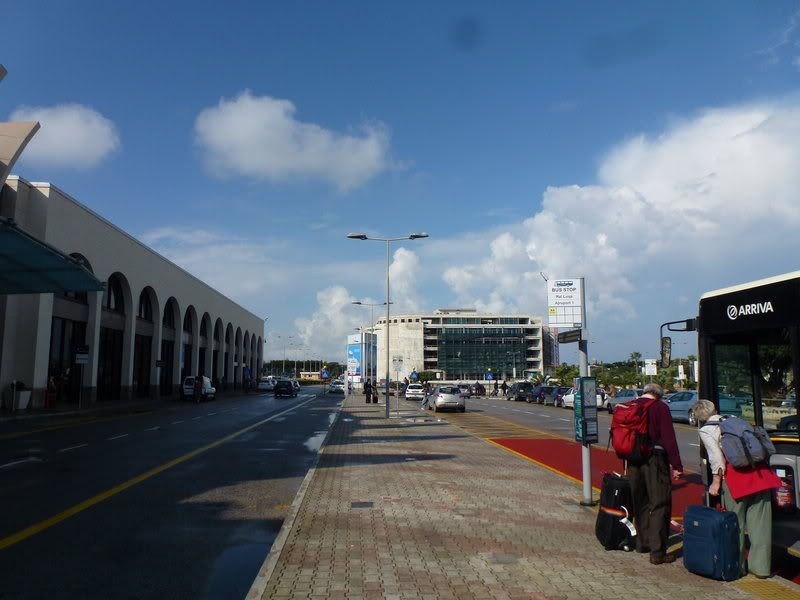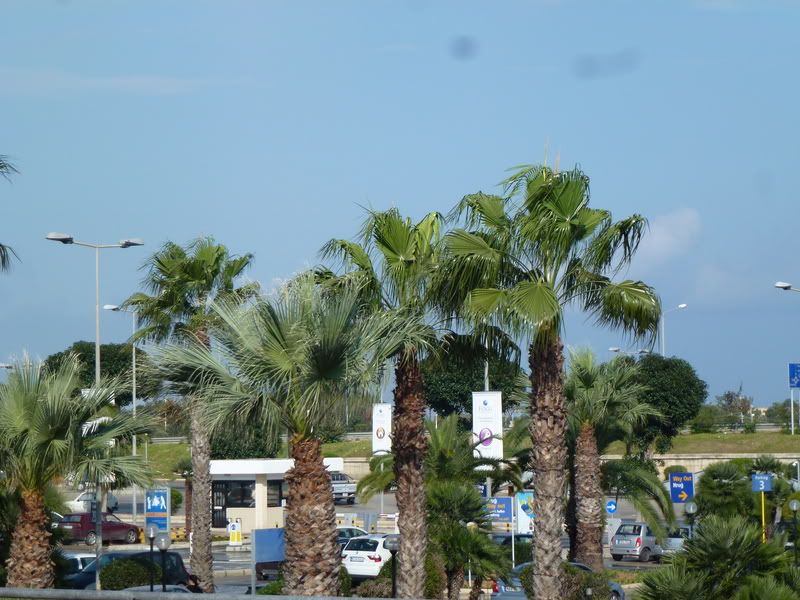 And there's a nice bus dispatcher who I chat some with - a very funny fellow.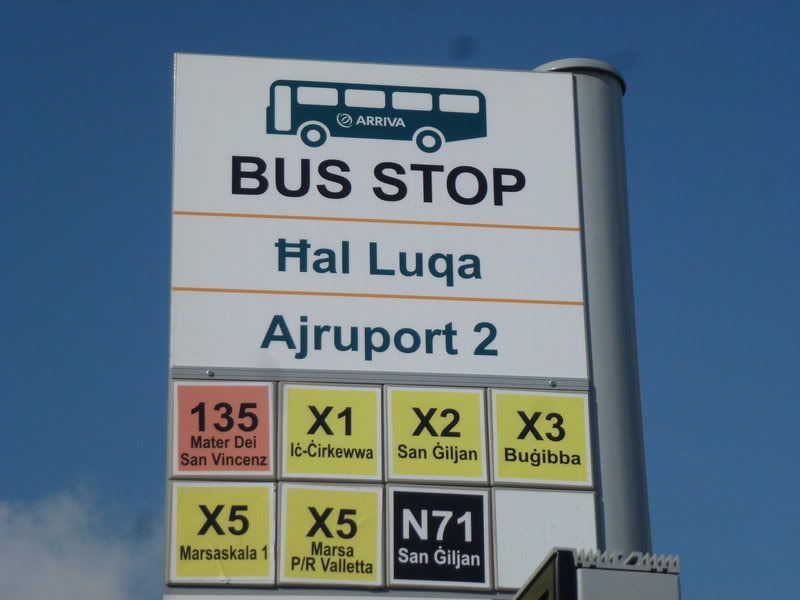 Soon enough the X2 shows up and I hop in. The "X" in its route designator appears to signal that it is a some sort of an express bus, but my definition of express doesn't really include the numerous stops it makes throughout the journey, including a detour via Mater Dei, the main hospital on the island.
Eventually we reach St. Julian's and I set off to search for my hotel which is a bit hard but after asking a very nice (see, it definitely is a trend here!) older man for directions I eventually find it - the St. Julian's Bay Hotel, apparently offering "4 for the price of 3":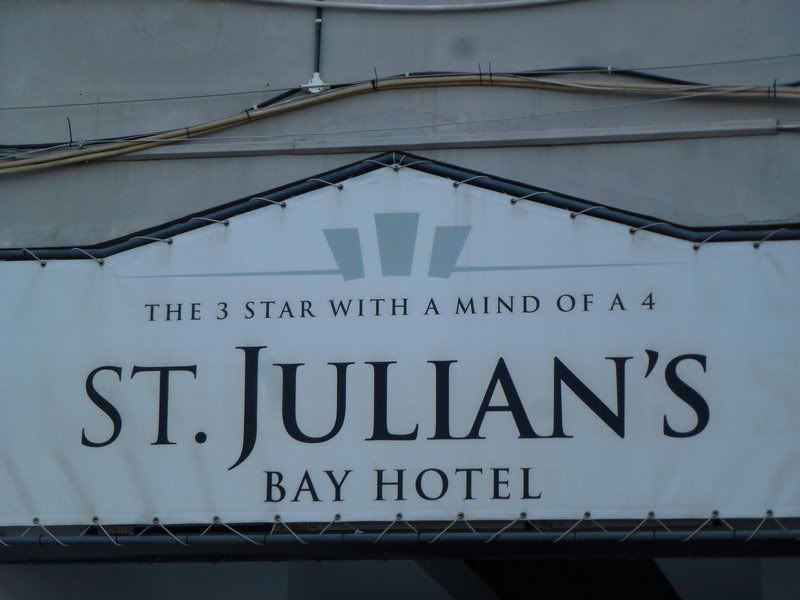 Well, I wouldn't call this four star, but just fine for me, I'm not planning doing more than sleeping here anyway: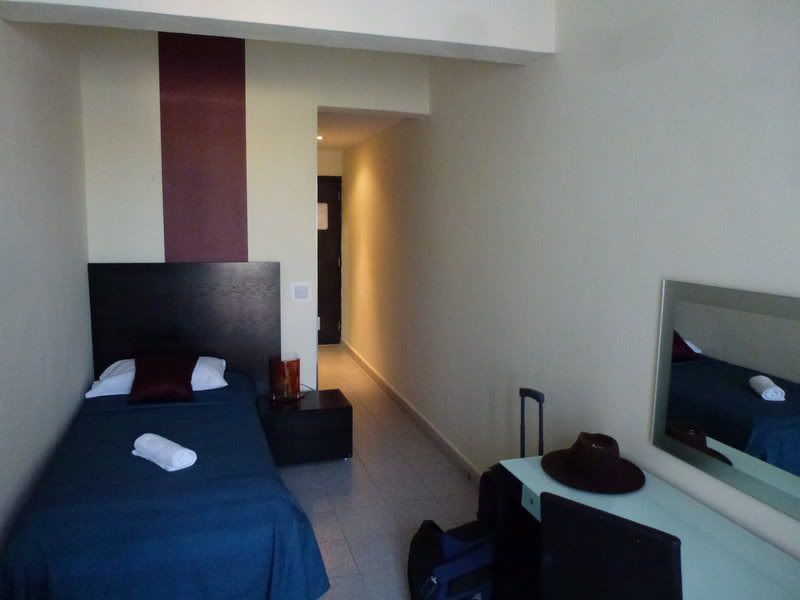 The price is good, 75 EUR through booking.com (more on this later) for two nights - although I saw at the desk that the rack rate during off season (i.e. now) for a single room like this is only 20 EUR, but I think they charge extra for these seaview rooms (with a balcony, yay!):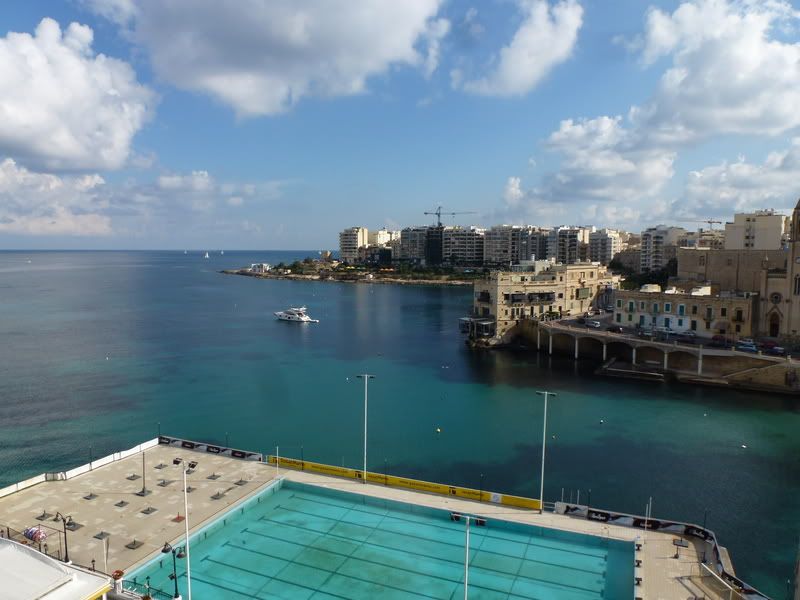 The next 36 hours are spent exploring the lovely island of Malta - I really liked this place a lot, to such a degree that I'm planning another trip here next summer, of course with some interesting aviation-related twists!
Republic Street, the main street of the capital, Valletta: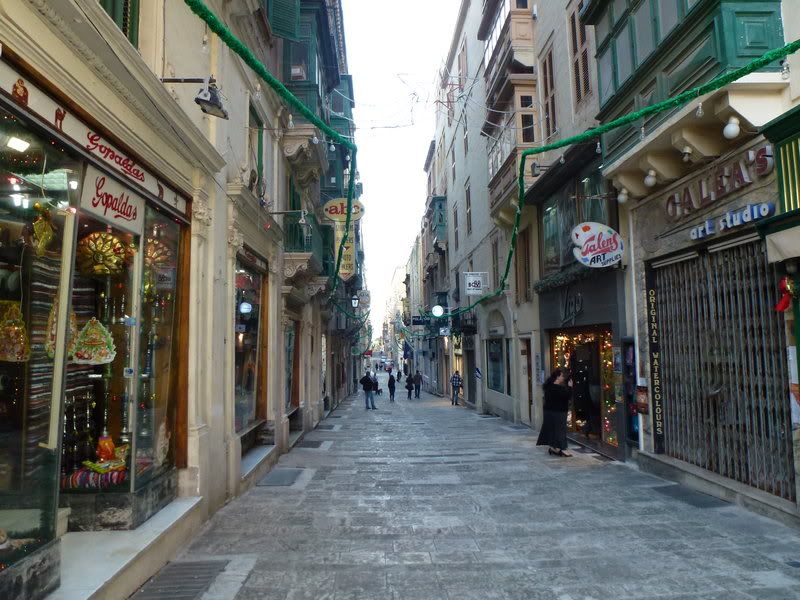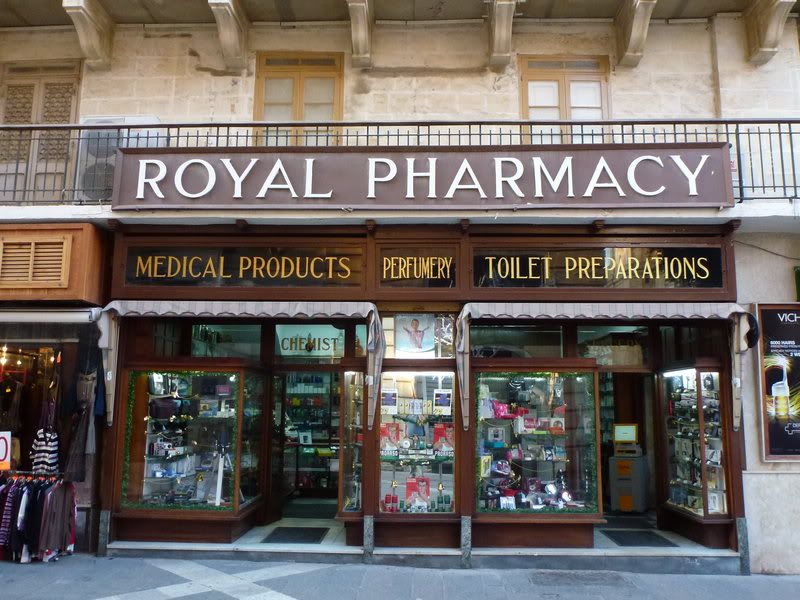 St John's Co-cathedral - a weird name for an impressive church: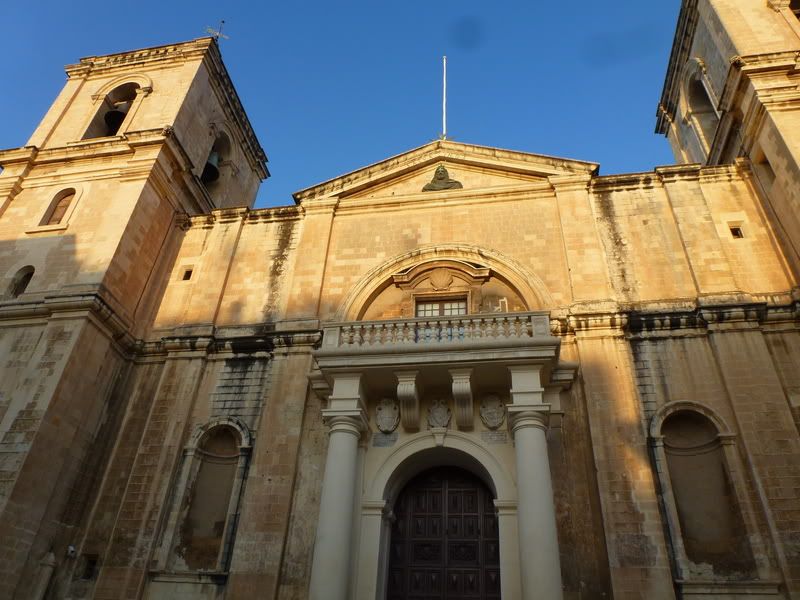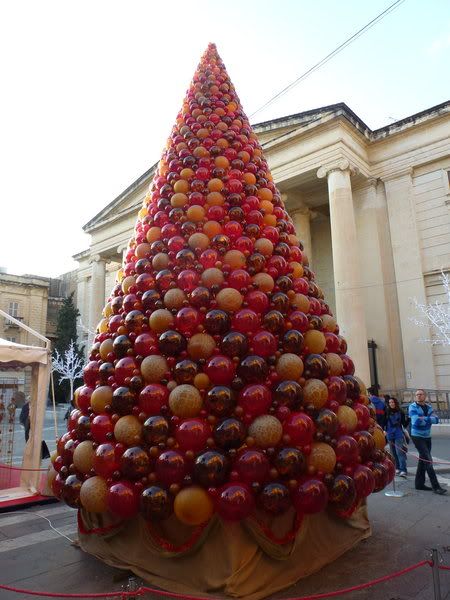 Yes, it is a little Britain out there: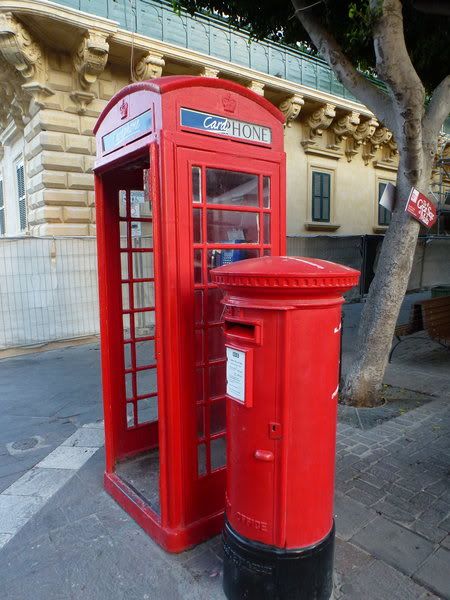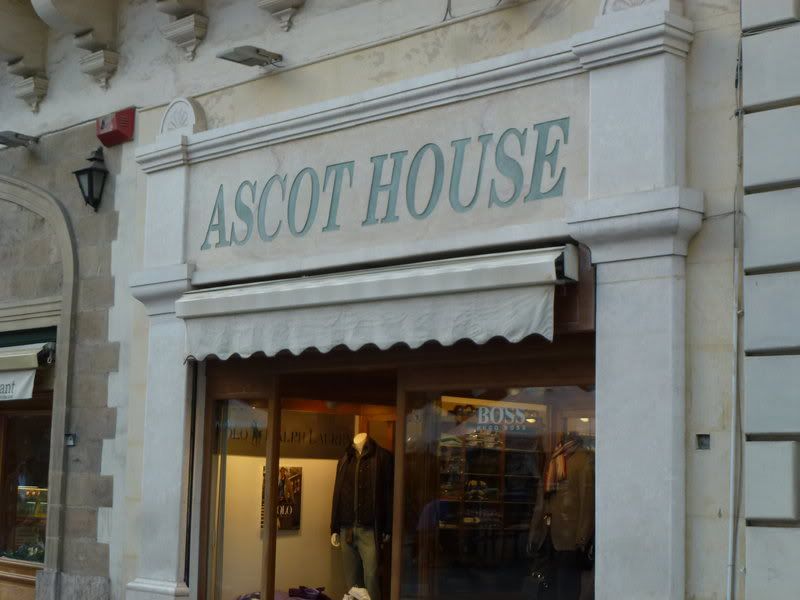 But the Malti language is not very Britishlike: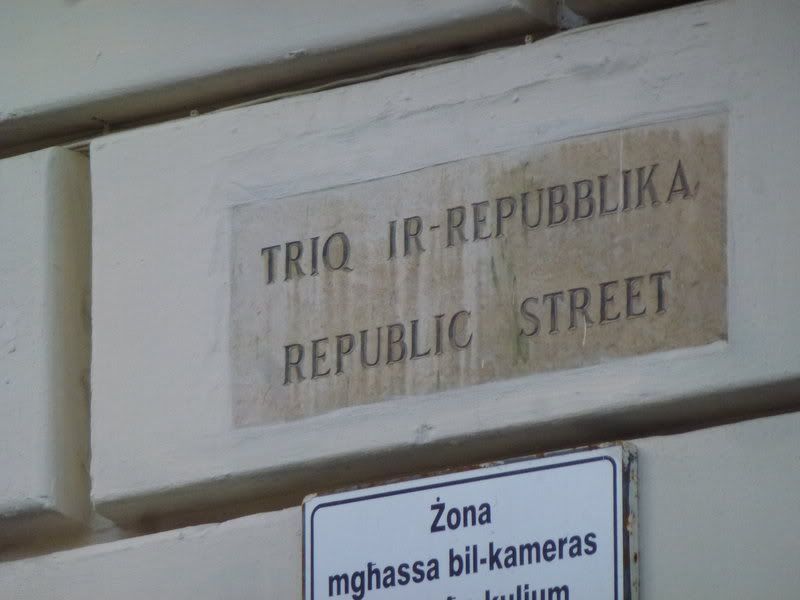 Typical hilly street scene: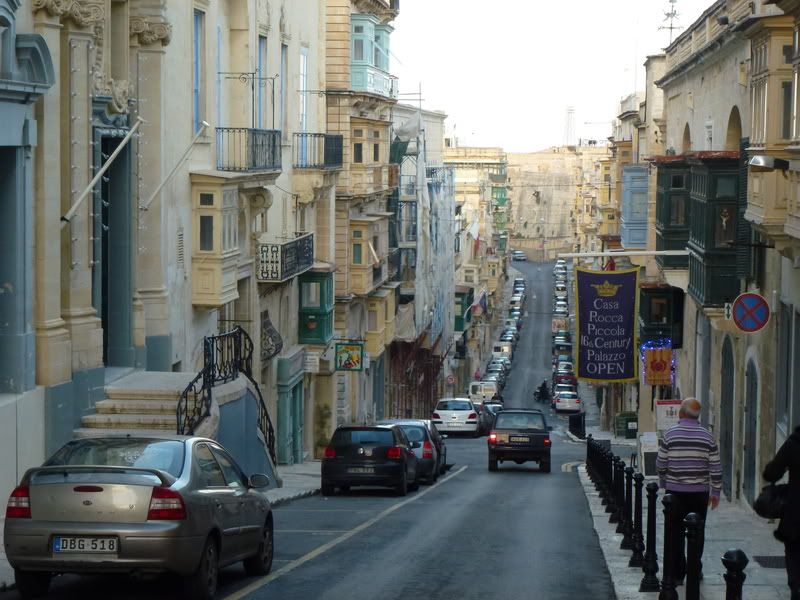 Fort St. Elmo - I guess they hadn't heard of "Tickle me Elmo" when they came up with that name: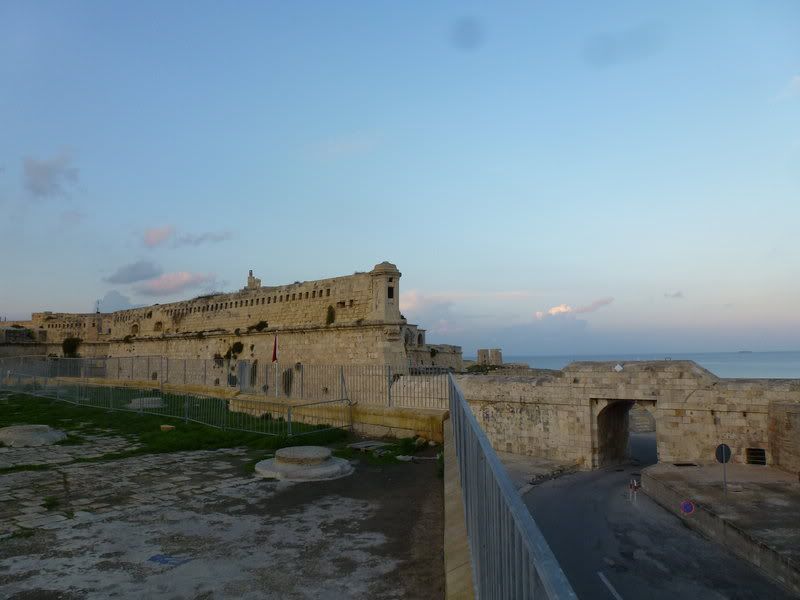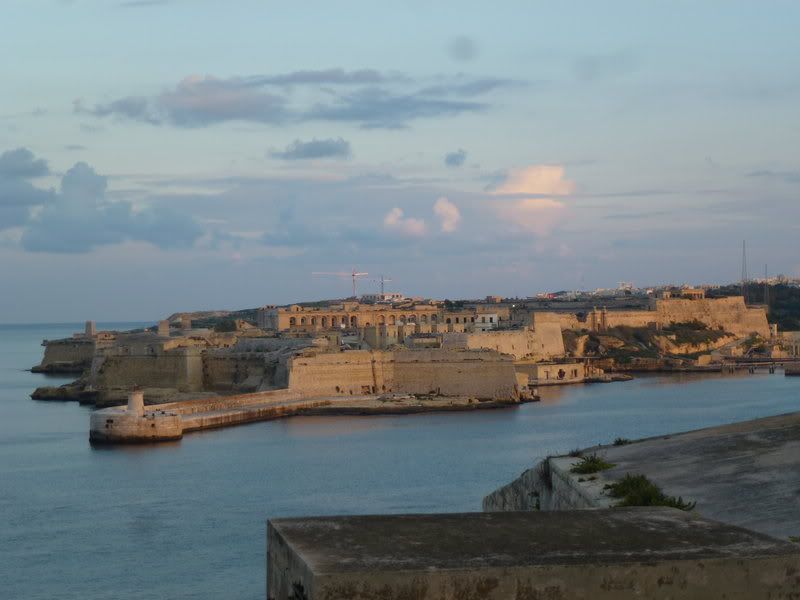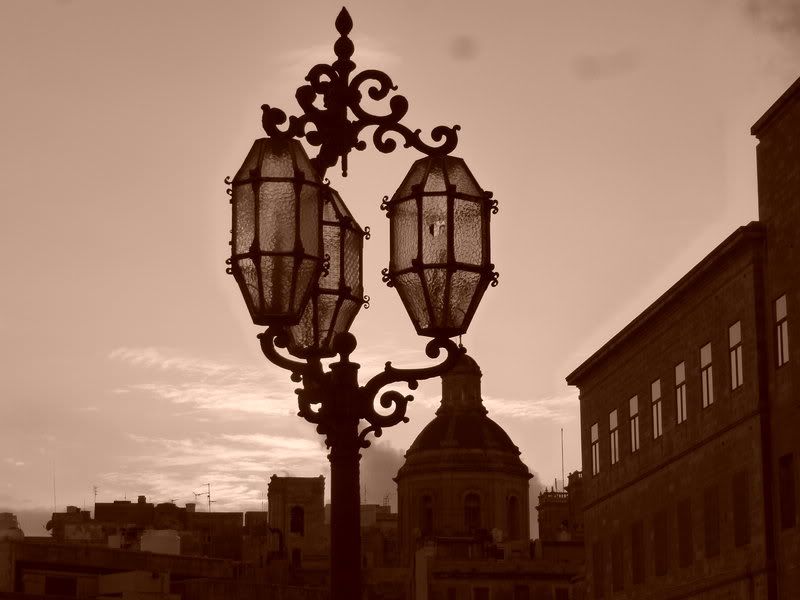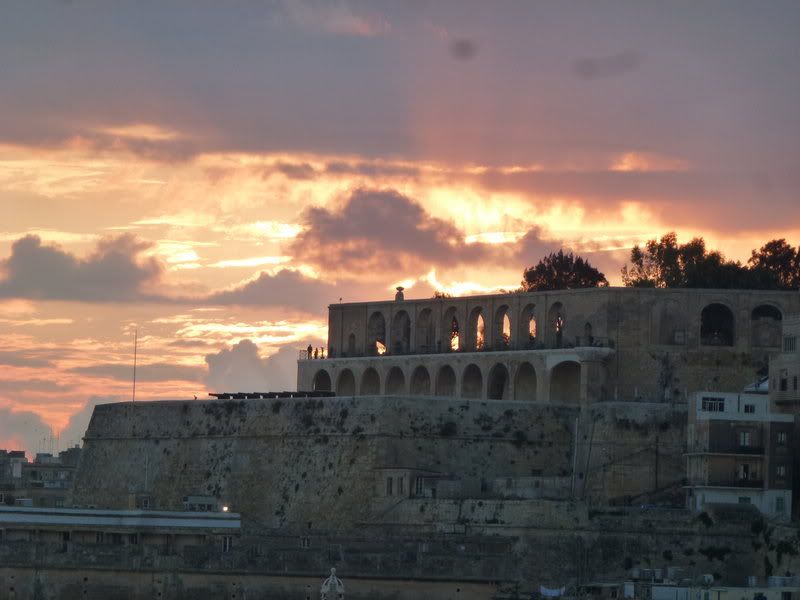 View across the Grand Harbor: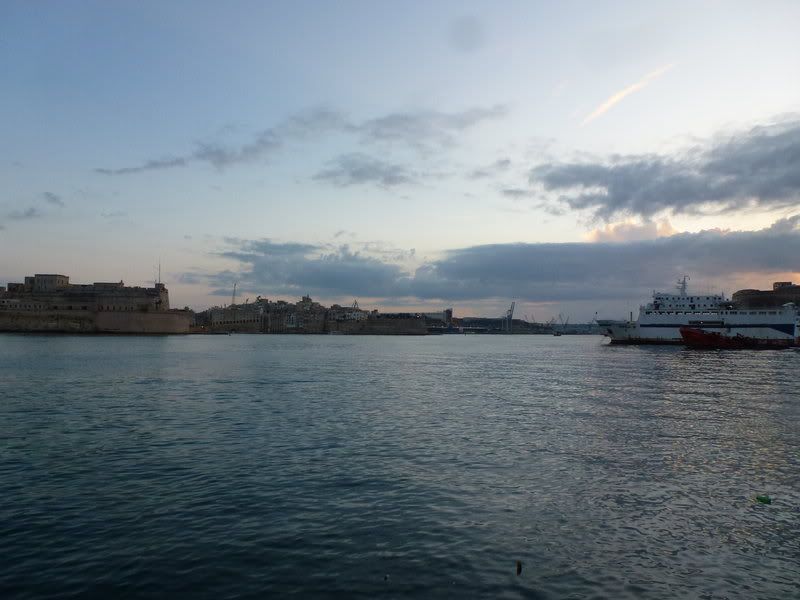 Top