Hey guys,
This TR will cover my very recent trip to Costa Rica. I used to live there for 6 years, so I have lots lots of friends over there. I try to fly to SJO regularly, so I don´t forget my friends. Plus, Costa Rica is a great country with the most beautiful beaches!!
Right now I am living in Lima, Peru where I am very happy. Ticket prices in South America are super expensive due to a little number of airlines flying here and the total absence of low-costs. Tickets for the 4hr flight between LIM and SJO can easily reach as high as USD 1000 in coach. Sometime in July I was checking the prices and they we this high. I certainly could not afford such expensive holiday. That is why for the first time in my life I redemeed miles for flights.
I have a OnePass account with CO for Star flights, a FlyingBlue for SkyTeam flights and Finnair membership card for OneWorld flight. I had about 23,000 miles in my OnePass account which exactly fitted the 20,000 Promo number of miles requiered for the flight between South America and Central America. I quickly booked the flight and payed only 68 bucks for the taxes. My flight mile redemption ever!!! I was thrilled!
The routing was with Copa Airlines flying via their PTY hub.
24.11.2011
Copa Airlines
Lima Jorge Chavez Intl - Panama Tocumen Intl
Flight CM 436
Scheduled Departure: 6:45am
Scheduled Arrival: 10:21am
Actual Departure: 7:05am
Scheduled Arrival: 10:10am
Equipment: 737-800
Load Factor: about 80%
Seat: 22A
My dad drove me to the airport pretty early, I arrived there at about 4am. Peruvian press was full with horror stories of flights being late due to the renovation of the only runway and LIM which meant the runway is closed from 1am to 7am. I even received an email from Copa to arrive early, since crowds and chaos was expected at the airport, since many flights will want to depart at 7am as soon as the runway opens. Since I had only a 50min layover in PTY for my departure to SJO, I was positive I will miss my flight.
Check-in was very quick, no crowds at the airport. I was web-checked, so I only dropped my bag. My yellow fever vaccine was checked by the staff. I was happy about the quick process, unlike the press was reporting. Only LAN´s check-in zone was rather crowded, as usual in LIM.
I had lots of time to kill, so I wandered around the airport. I really like LIM, very modern, spacious airport. That is why it was voted as South America´s best airport, repeatedly. The bad thing it is not a very spotter friendly airport, since it was a double window, ruining every chance of getting a nice picture of a plane sitting in the tarmac
I was dark anyway at the time I was there, so no pics of planes.
Boarding began super early, almost an hour before scheduled departure. Usual boarding process was used, first C-class pax and Elite people, then children and people requiring assistance and then Y pax boarding from back to front. I was among the first Y-pax to board, since my seat was in the first zone called.
Legroom was very good:
Cabin with people boarding: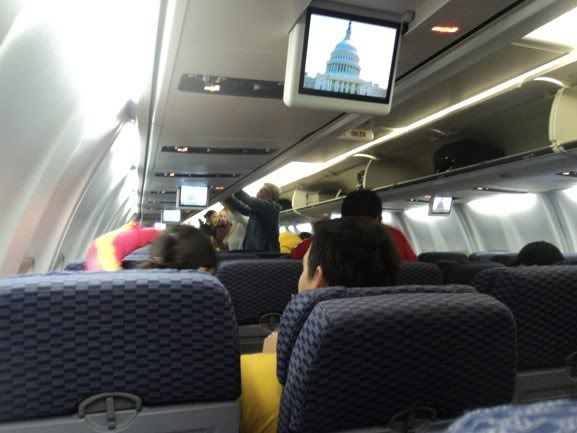 Boarding was slow, since we started early, no need to rush. Cabin crew was warm, smiling and helping pax with their bags.
What I noticed and heard is that two rows before was a 8-headed groups of Argentinians headed to HAV. They were talking amongts themselves loudly (as usual with Argentinians) that they have a very long layover in PTY of about 6 or so hours until their conneting flight. A few minutes later, one of the cabin crew came to them and told them they will be given by Copa a food voucher to eat at the airport for having such a long layover. WOW! I was surprised! Nice work Copa! In this time of stupid cutbacks, this really cheered my day that an airline might today offer a food voucher for pax having a long layover. Of course, the Argentinians were very happy and even applauded the cabin crew.
AA 757 bound for MIA was boarding as well: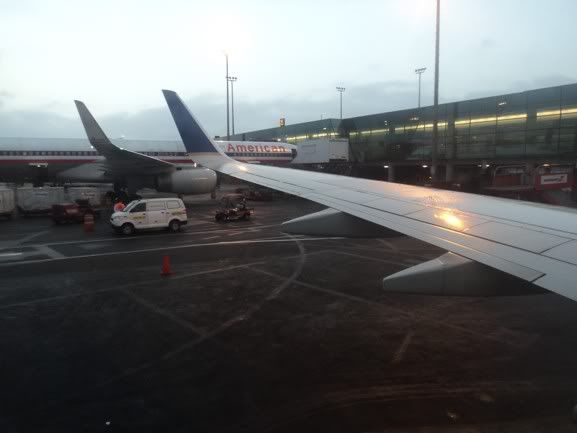 Copa´s 738 feature very confy seats: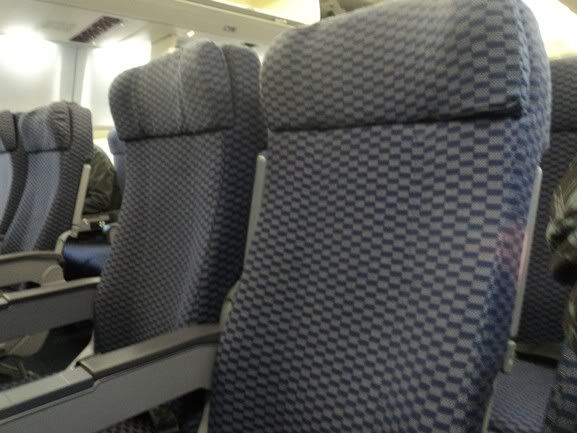 AA, its friend LA and its competition AV all in one picture: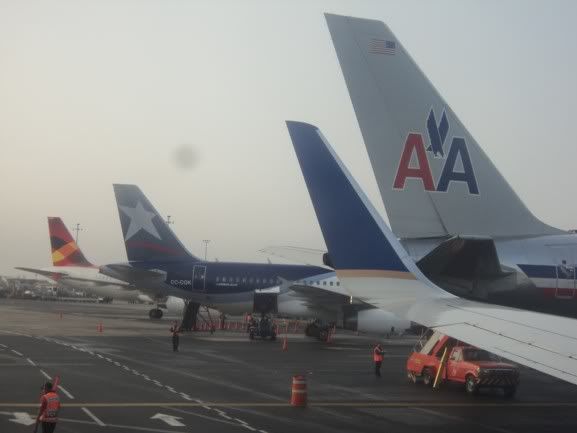 I must now appologize for the black dot that will be present in my pictures. I am very sorry, but I was sandboarding in Huacachina (must go there if you visit Peru) and a grain of sand somehow entered my camera lens. I was very pissed, need to take the camera for cleaning. Once again, I am very sorry.
AV boarding the morning flight to BOG: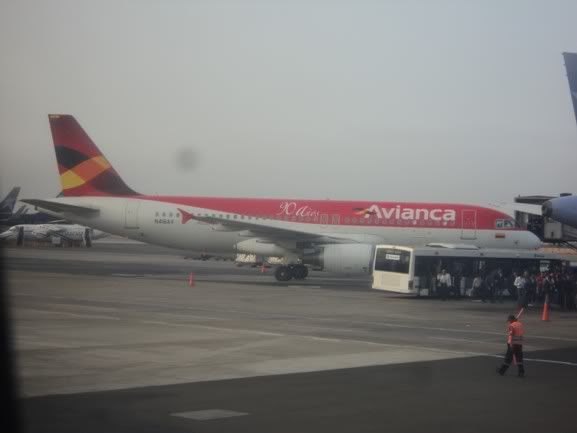 LA boarding by bus, probably a national flight to CUZ:
Taxi towards the runway:
TA in old colors behind us: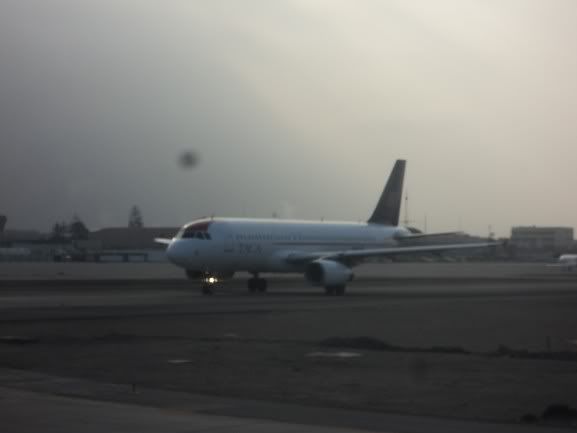 Safety video was played in the overheard monitors and the capitain then welcomed us and informed us that today´s flight to PTY will be about 3hrs and 15min long and that we are plane number one for take-off today at LIM.
Lining up:
Take-off: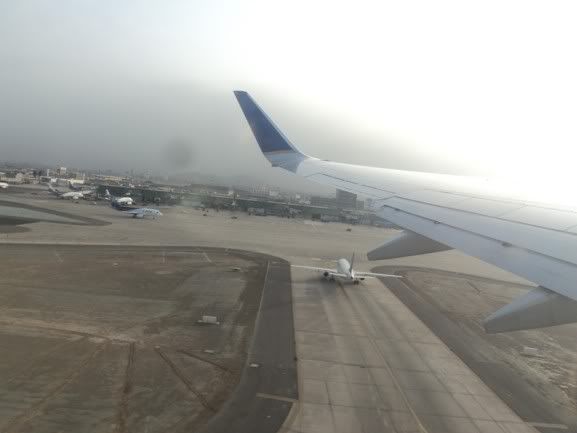 LA 763´s at a remote stand: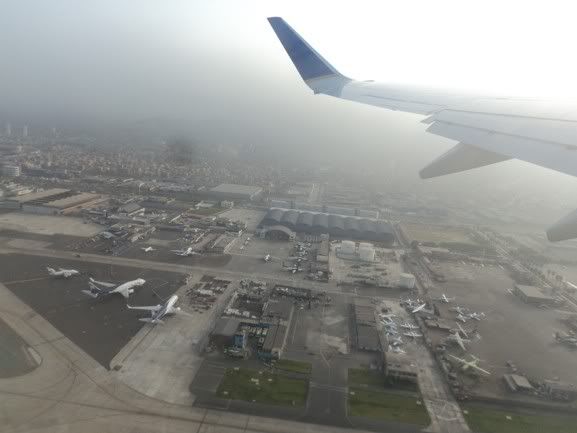 Leaving the second largest desertic city in the world behind us: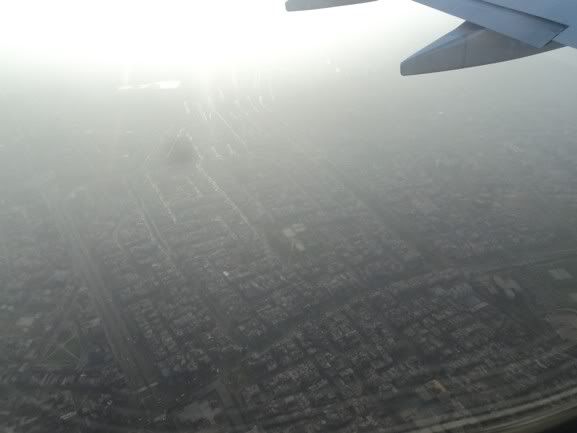 The take-off was powerfull and very quick. Then, the capitan talked to us again, but unfortunately, the volume of the PA was very low and I heard nothing. He was probably talking about the route and weather, as always.
Crew started the service and Harry Potter 7 Part II was played as today IFE, featuring a Spanish and English version in two audio channels. There were 7 different radios availaible to listen to. I preffered to listen to my own music via my Ipod.
Breakfast choices were either egg omelette or pancakes. Since I totally hate omelettes, the choice for me was obvious.
Breakfast: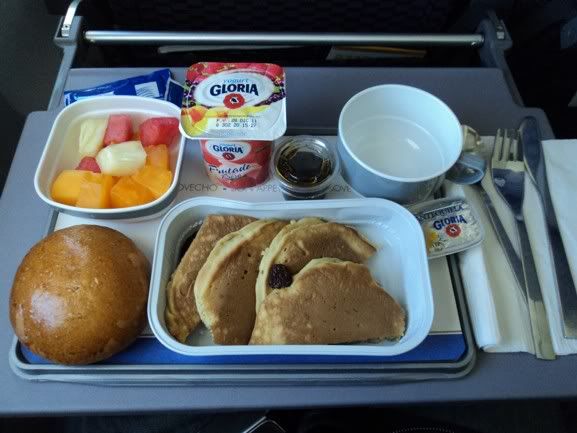 The pancakes were a little dry. Insted of maple sirup, we were given "Chancaca syrup" which is a peruvian variety of maple sirup, coming from sugar cane. I really liked the pancakes with chancaca syrup more than with maple syrup.
The fruit salad was nice and fresh and the yoghurt was nice. Bread was fresh. I loved the metal cutlery. I gives a much better eating experience than plastic cutlery, at least for us Europeans, which are used to a more fashionable dining culture.
Nice desertic views out the window: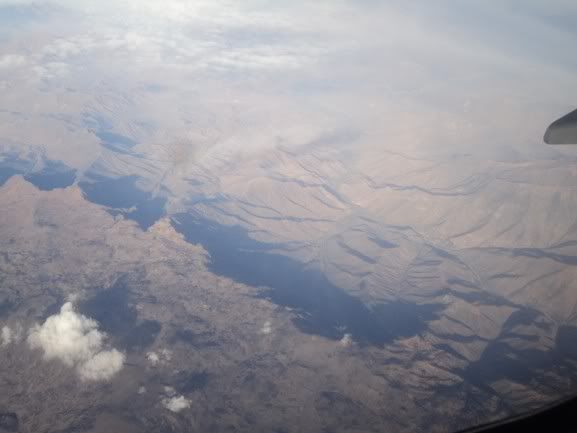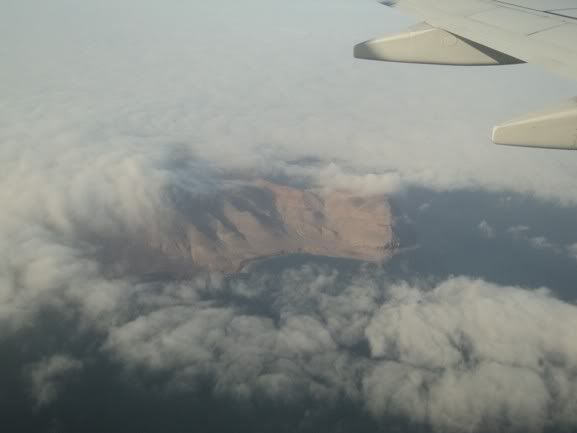 Two rounds of drinks were done, after that, the crew distributed the Panamanian immigration forms for those going to Panama. Not my case, so no need of filling them for me.
After that, I slept for the duration of the flight, since I was very tired.
Descent: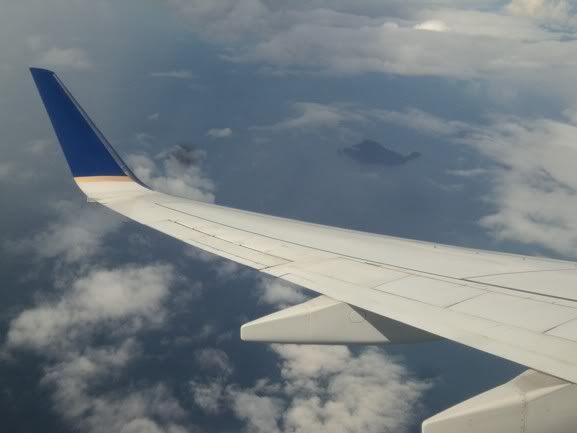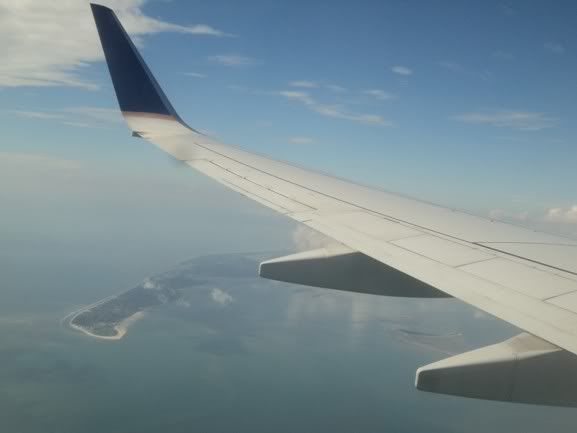 Coastline: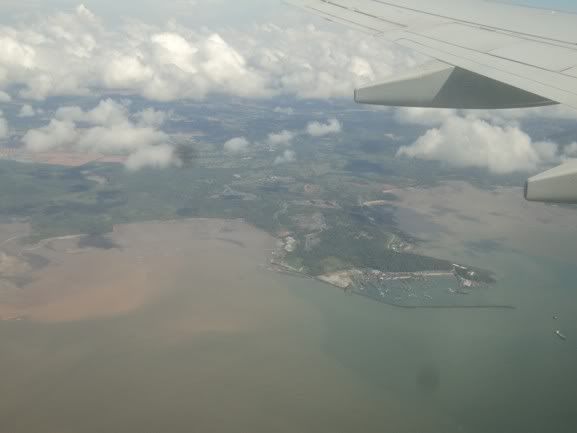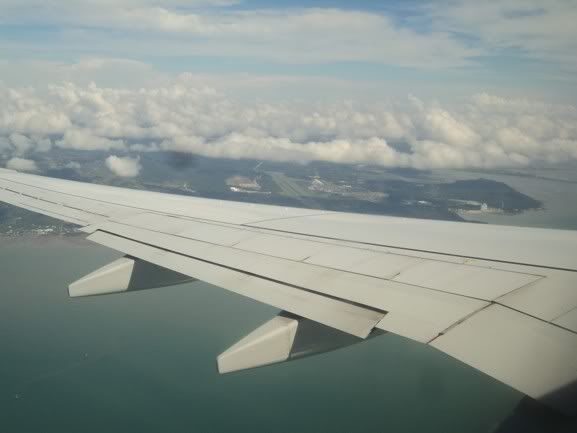 Looks like a fancy hotel on the beach: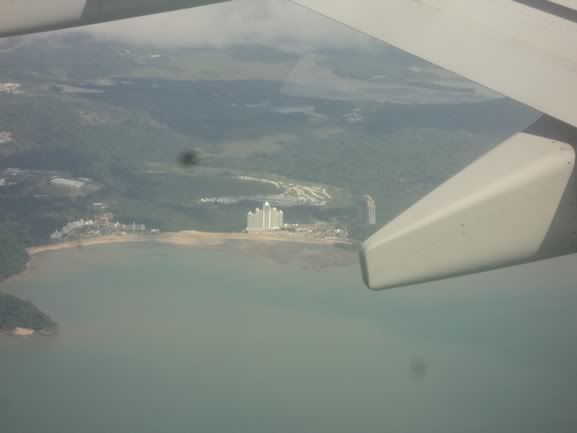 Beautiful downtown Panama City: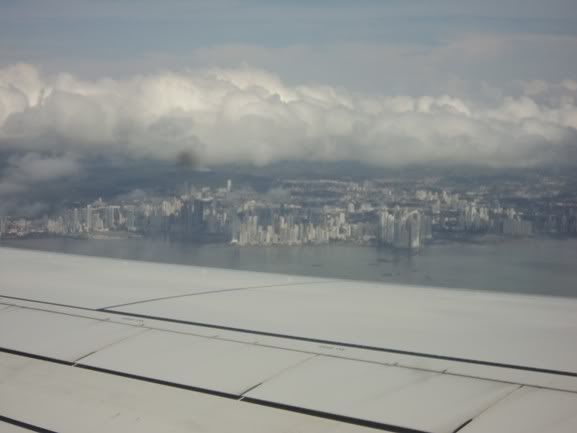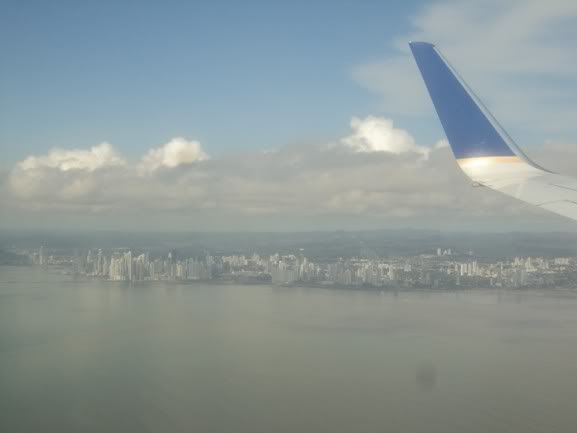 The beach near the airport does not look very nice
: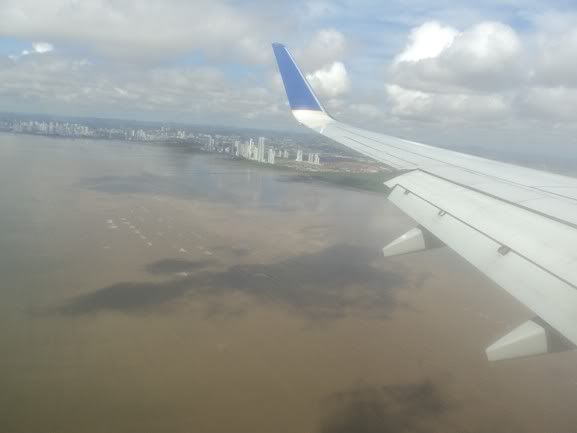 So nice to see green surroundings when living in Lima: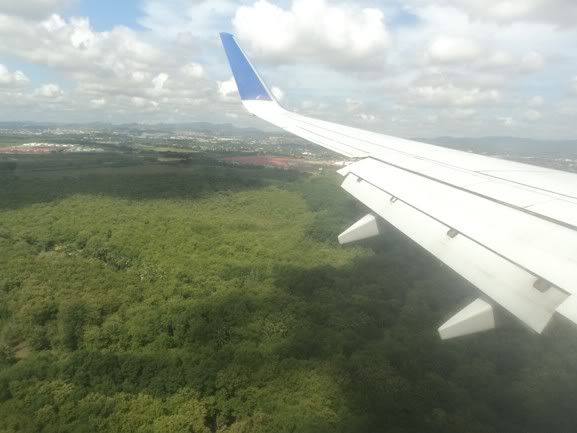 Our shadow:
Seconds from touchdown: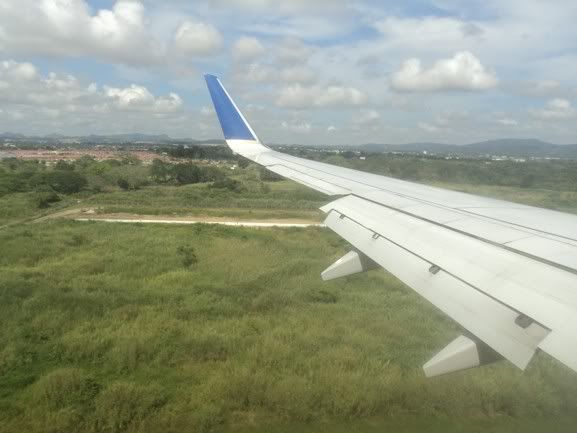 Welcome to Panama City:
Our little sister: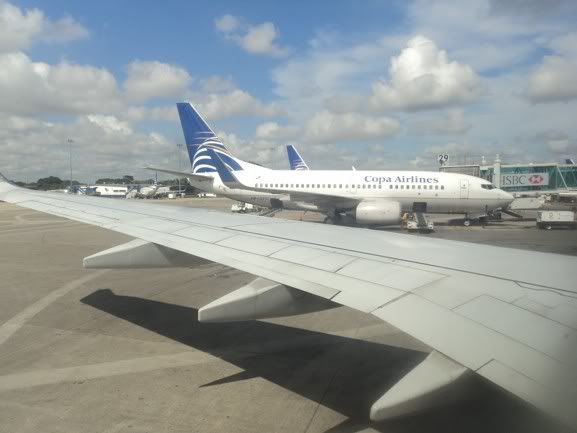 We taxied only a few minutes before docking at the gate. Deboarding was quick, crew said goodbye with a smile. Very nice Copa flight!!!!
Transfer at Panama Tocumen International Airport
As said before, I only had 50min to transfer to my SJO flight. Since we thankfuly had no delay in LIM and due to the relative size of PTY airport, I made it to my gate just in time. But literally I arrived and the extreme left side of the aiport and my SJO flight was parked at the extreme right side. At least I walked a little and saw the airport.
I already visited PTY before, about 10 years ago. Back then, I remember a filthy and dark airport. Today? A modern airport filled with shops and restaurants. However, it is very small and gets super crowded. I was hard to walk past the walkways which were filled with people. PTY definitely needs to get bigger, otherwise, pax will have to levitate in order to pass. That also implied loooong queues at the bathrooms, especially the ladies room queue was super long.
24.11.2011
Copa Airlines
Panama Tocumen Intl - Juan Santamaria Intl
Flight CM 795
Scheduled Departure: 11:14am
Scheduled Arrival: 11:31am
Actual Departure: 11:10am
Scheduled Arrival: 11:20am
Equipment: 737-700
Load Factor: about 70%
Seat: 20A
This time, my plane was a 737-700, a smaller version. Upon boarding, I was greeted by another nice crew. As I sat, I noticed the legroom and the seat pich on the 737-700 is smaller than on the 737-800. But the flight was only 1hr 10min long, so totally no problem.
Cabin: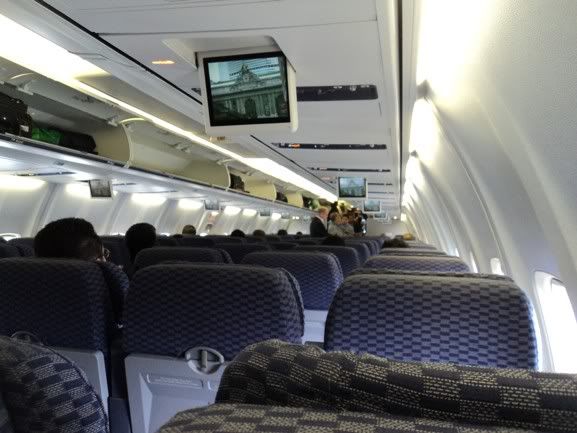 Legroom:
Seats: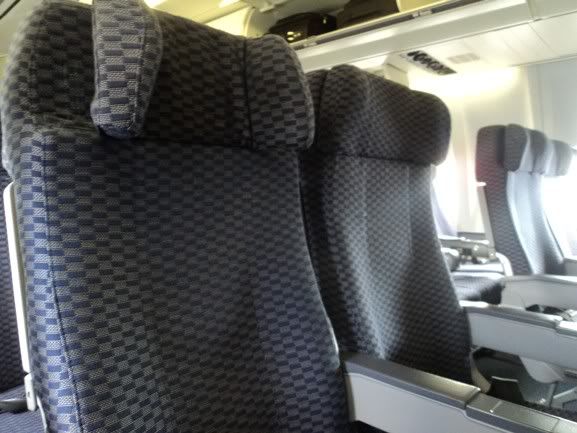 A fellow plane, bound for Santiago de los Caballeros, Dominican Republic: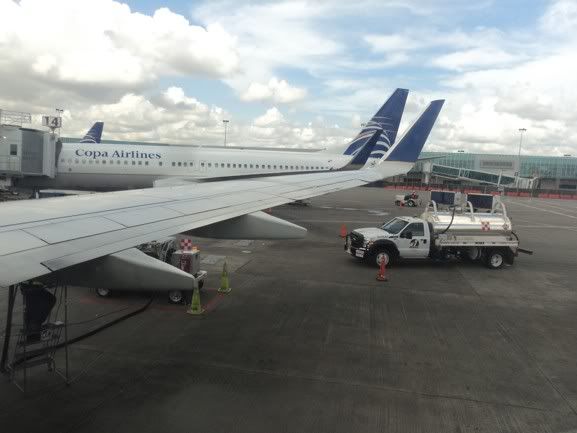 I was happy to see my bag making the connection
Good work Copa! My bad is shiny yellow, so very easy to recognize
: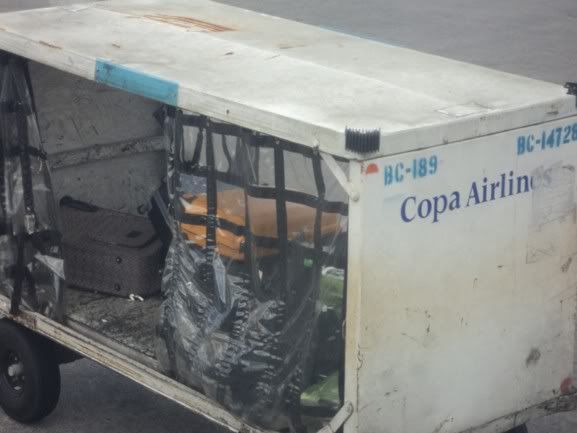 Boarding was completed, the safety demo was played on the screens and with the Capitain welcoming us, we taxied to the runway and quickly left PTY for SJO. This flight then continued to San Pedro Sula, Honduras.
Fire department at PTY: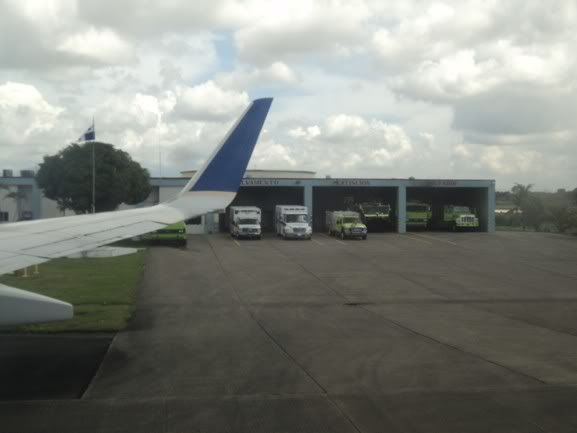 Runway: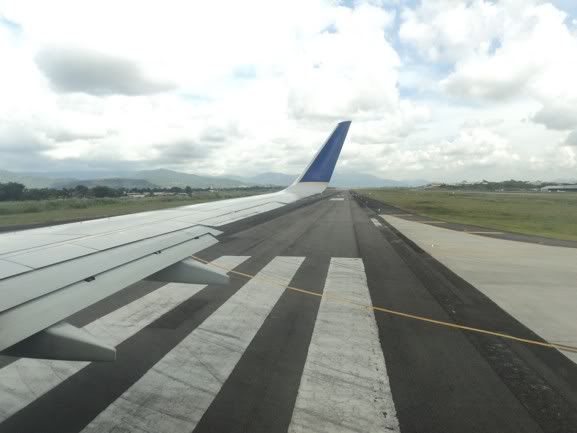 Bye Panama, see you in 16 days!!! :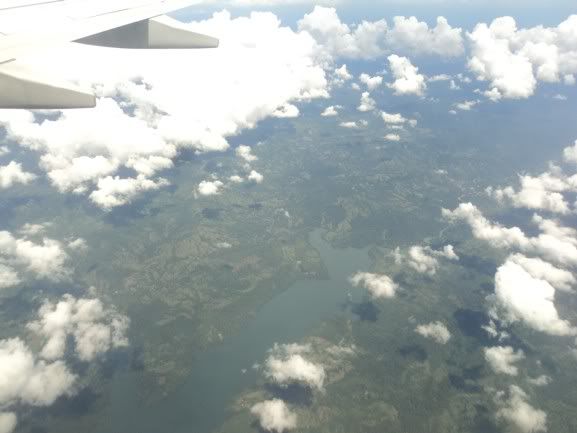 Service started quickly after takeoff, since the flight was only about 1hr long. Everyone got a warm cheese and ham sandwich and a drink. It was a nice touch!!!
Meal: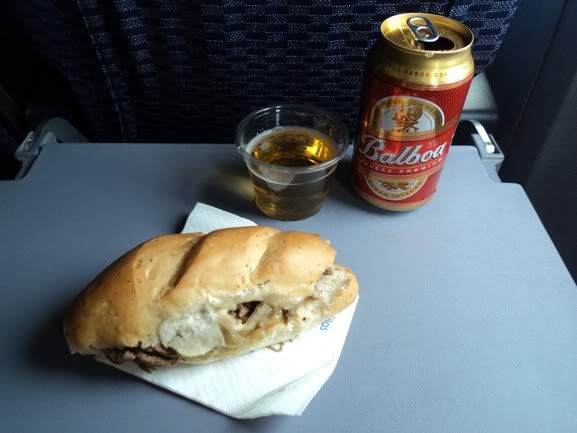 Balboa beer was very nice: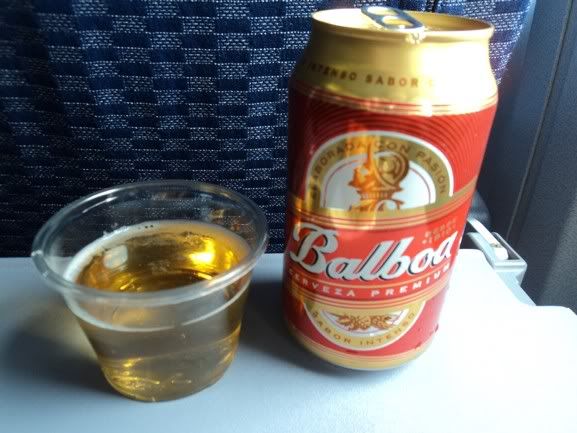 Slowing down and nearing SJO: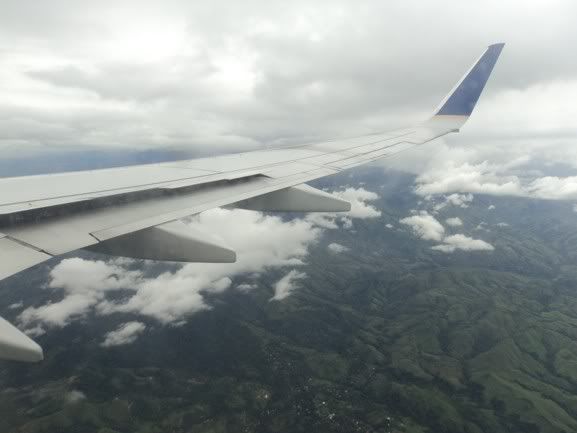 I was so happy to see my beloved Costa Rica again. I lived there for 6 years and build very strong ties with the country and its people. My eyes got watery from all the emotions going on inside me and knowing I will see all my friends and the places I loved, again.
Beautiful views of rural Costa Rica: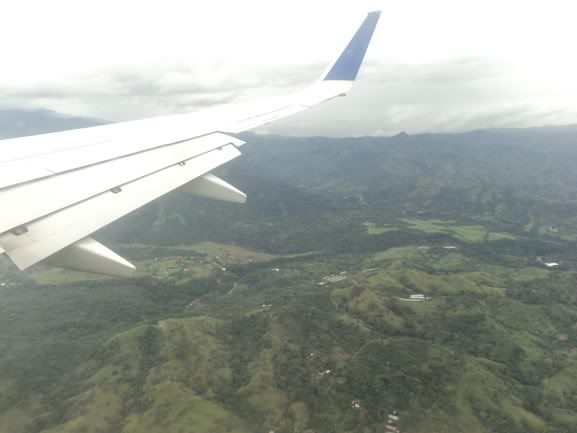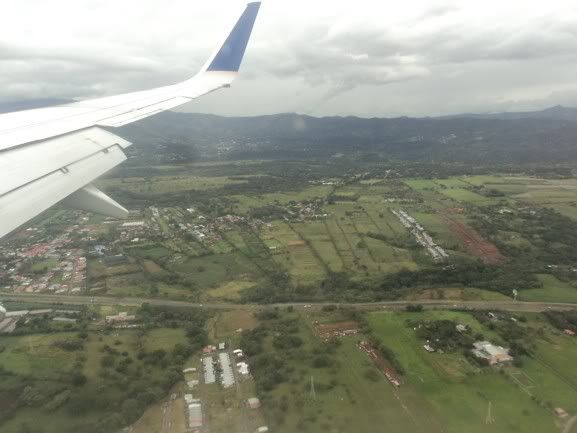 Touchdown: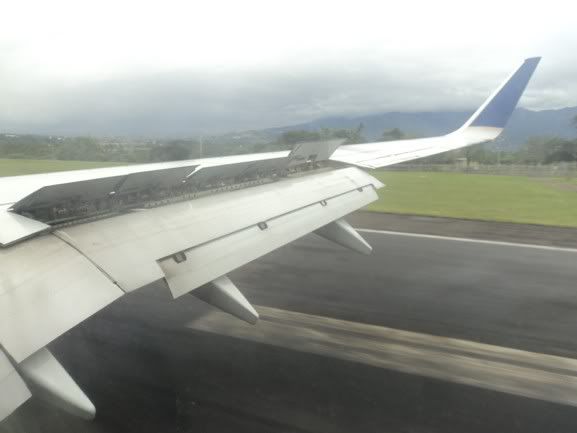 Exiting the runway: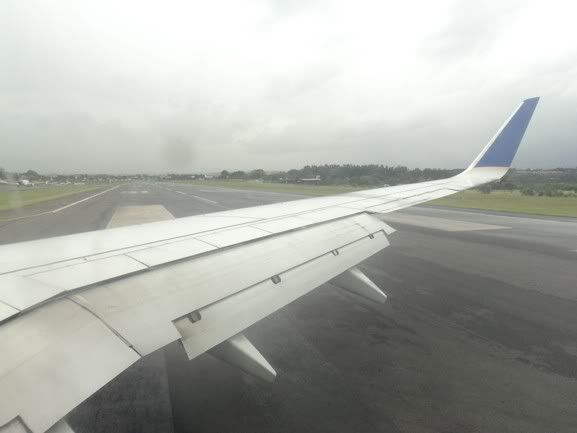 TA A321 on the gate:
I deboarded quickly, since a lot of the pax on the flight were continuing to San Pedro Sula. About half the pax left the plane for SJO.
Immigration was quick and nice, I have a very nice chat with the officer. Typical Costa Rican hospitality! So nice to be back!!!
While waiting for my bag, I learned it was finally possible to buy a SIM card for tourist, since Costa Rica just this yeas (yes, in 2011) opened it´s telecommunication market and let Movistar and Claro enter the country. Before that, only state-owned ICE was providing the service, being very cheap but very outdated, not offering roaming for foreigners and not offering pre-paid SIM cards to buy for tourists. Thankfully this changed now so I bought my Movistar SIM right at the kiosk in the airport.
My bag came in quickly and I left the airport, where I had to survive the horrible and annoying taxi drivers offering a ride to the city. My friend was already waiting for me. It was so nice to see him! He left for his place and my Costa Rican nostalgical vacation had begun!!!
Conclusion:
I will concluded better when I post my return trip to LIM. But this flight was flawless, nice, satisfying and super nice! Crew was excelent, planes clean, seats confy, meals filling, etc etc. Very nice work COPA!!!!
Be attentive to my return trip TR which I will hopefully post tomorrow!
Please feel free to comment, ask and criticize!!!
From Lima with love,
Adam