Hi guys,
this is the return trip from my Costa Rica vacation back home to Lima. Please feel free to read the onward journey Trip Report first, if you haven´t done so already
To Costa Rica With Copa Airlines!
(by
Checo77
Dec 11 2011 in Trip Reports)
Background:
As I explained in the first Trip Report, I booked this flight with my OnePass miles. When reserving the flight, the clasical option of flying SJO-PTY-LIM appeared, I was almost booking it, when I noticed that deep down was an option SJO-TGU-PTY-LIM for the SAME AMOUNT of miles!!! Oh my God, I screamed like a child!! Experiencing the world´s second most dangerous landing in the world basically for free made me super excited! I quickly booked the flight. I will be landing in Tegucigalpa!!! Wooow! As usual, my family and friend did not share my excitement at all, hitting their forehead like I was a crazy person. Maybe I am, because now my journey was 12hrs long instead of 6, from SJO I had to fly north, then back south to PTY and from there home to LIM. But hey, a good aneter would never reject such a chance!!!
Costa Rica destination pics:
Typical landscape: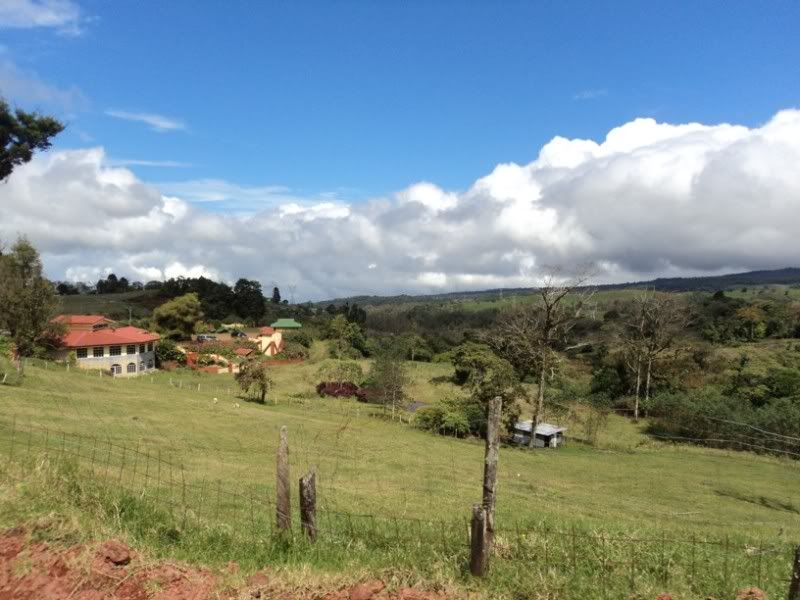 Cute "lapas":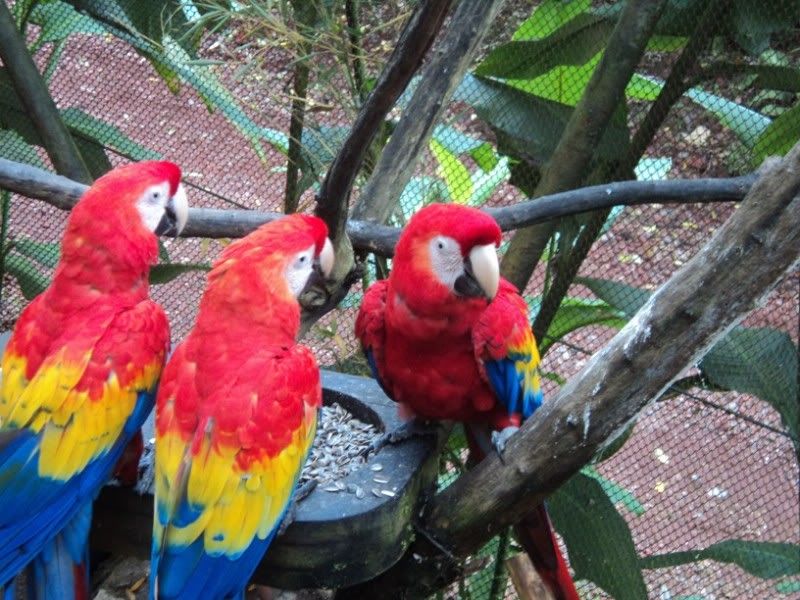 Venomous fellas: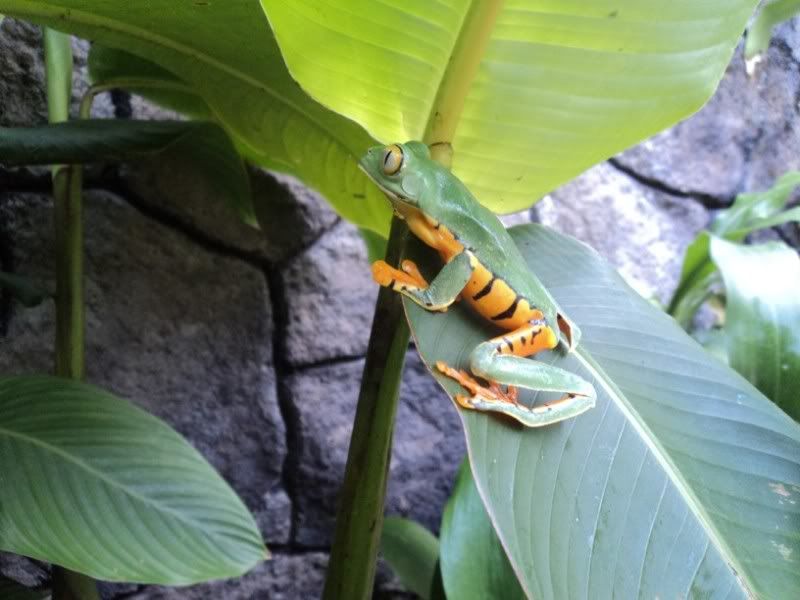 What a life!!!!: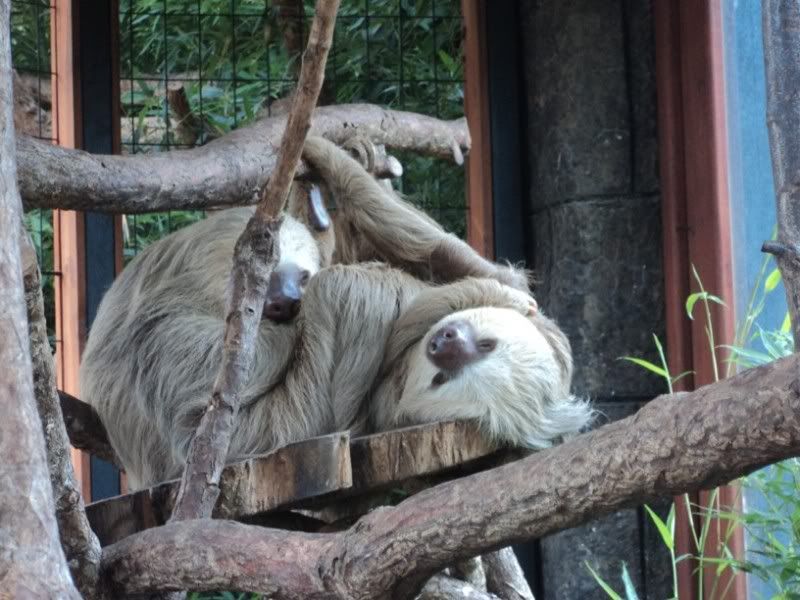 Cute, but dangerous!:
Sarchi church: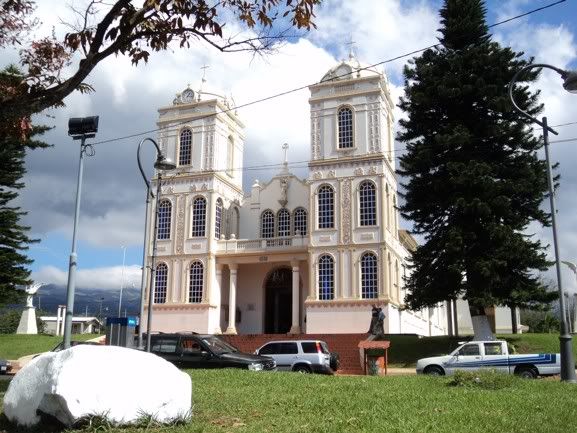 Arenal volcano: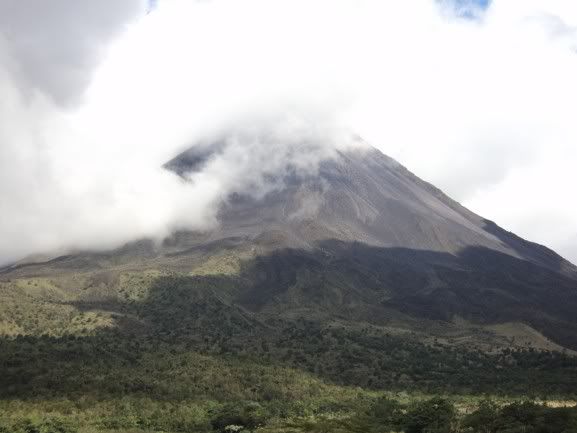 Baldi Hot Springs, which use the hot water coming from the volcano: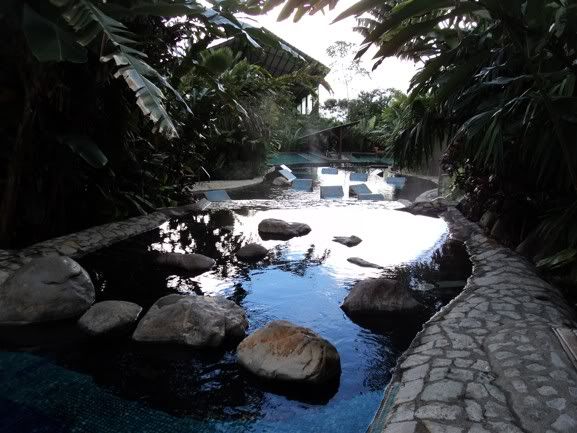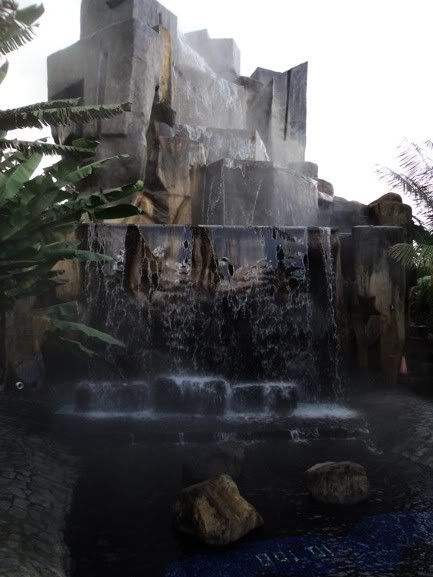 Playa Blanca (White Beach):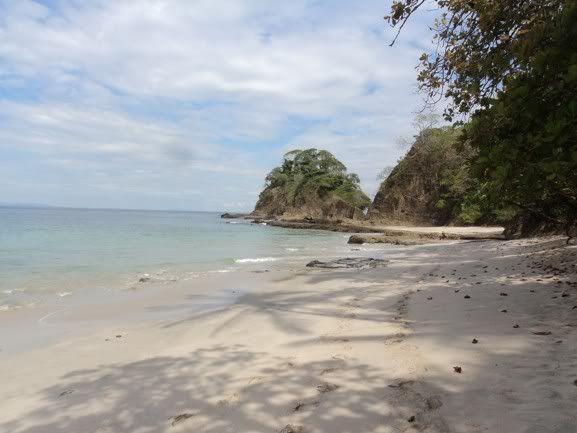 Tried to steal my chips!: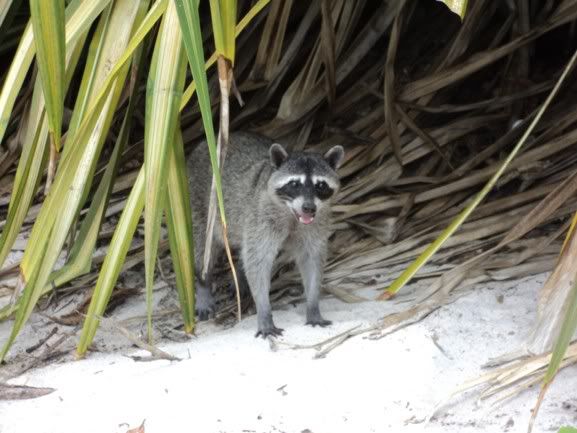 Amazing beach: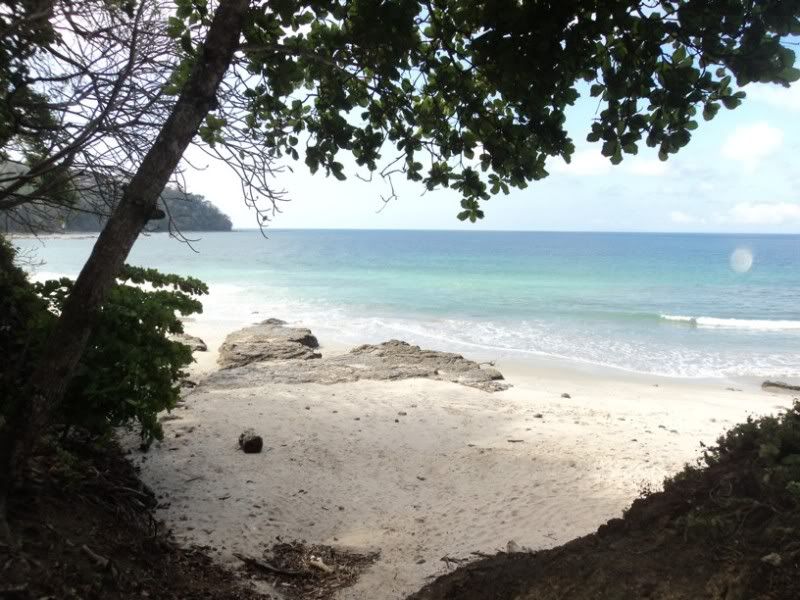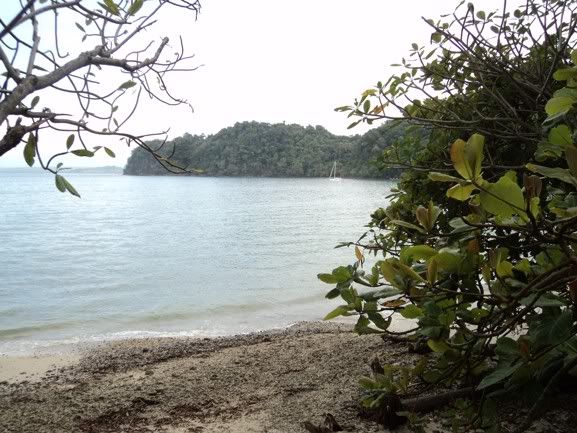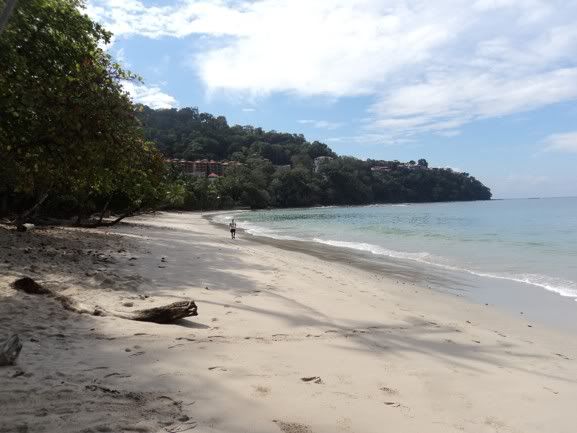 It was time to head back home. I had a blast in Costa Rica. I lived there for 6 years, so I saw all my friends, we partied almost every night, I took a few trips outside San Jose, etc.
The day of the flight I took a nice breakfast at Soda Tapia with my friends, they drove me to the airport, we all cried when saying goodbye, but reasured ourselves, we will see each other soon
10.12.2011
Copa Airlines
Juan Santamaria Intl - Toncontin Intl
Flight CM 144
Scheduled Departure: 09:51am
Scheduled Arrival: 11:05am
Actual Departure: 10:05am
Actual Arrival: 11:05am
Equipment: 737-700
Load Factor: about 45%
Seat: 23A, later switched to 20A
I arrived pretty late to the airport, because of the last breakfast with my friends. I checked-in the night before and already had my boarding passes in hand, which speeded the process, since I only dropped my bag. The agent checked my Peruvian visa, everything was okay. I procceded to security, which was very quicky and efficient. When I arrived to the gate, our 737 was just pulling in from PTY, had a little stop in SJO and continued to TGU.
Our plane just arrived from PTY:
AA bound to JFK: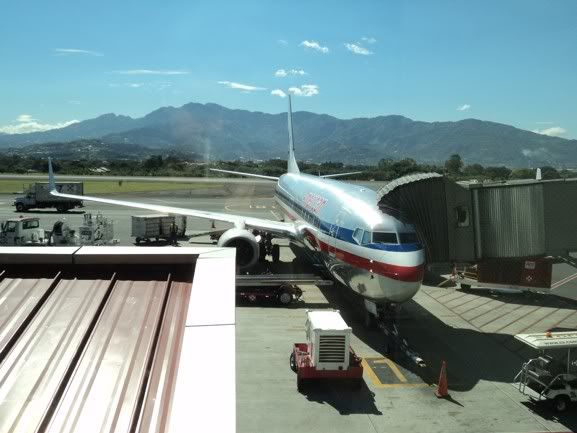 SJO airport is very modern: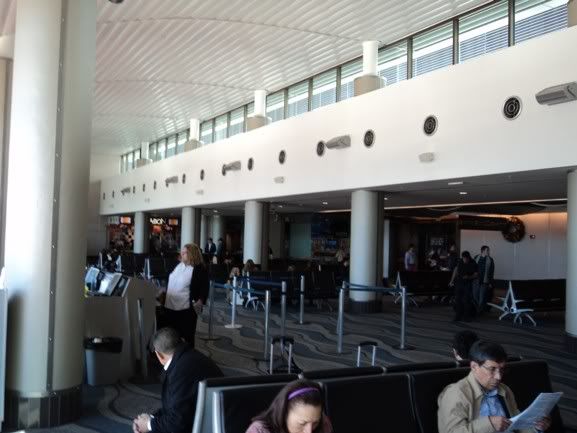 TA EMB plane in new colors: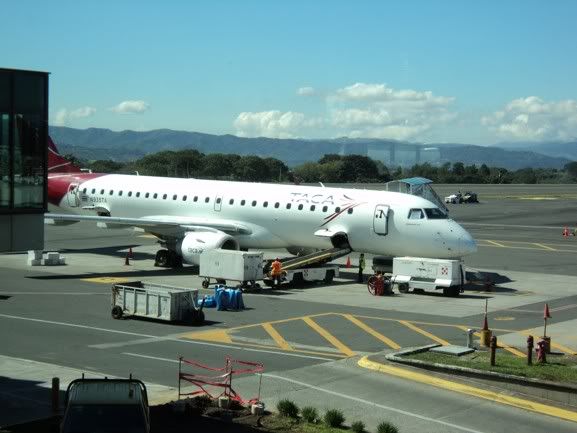 I did some last minute shopping and boardin soon started. Before entering the plane, a manual search of bags and the person was done. Weird, this is usually done to flight to the US, but to Honduras? Maybe a popular smuggler route? I know Tegucigalpa is a dangerous city, but a hand search before entering the plane? All pax had to take everything out their pocket, the belts, etc. Very very strict and weird.
I was greeted by a superb crew. They were 3 males and one female. Very warm, helped the pax their way to their seats. The flight load was very low, I would estimate about 40, 45%. I switched my seat to 20A when the door closed, since my window in 23A was very filthy.
TA bound to GUA: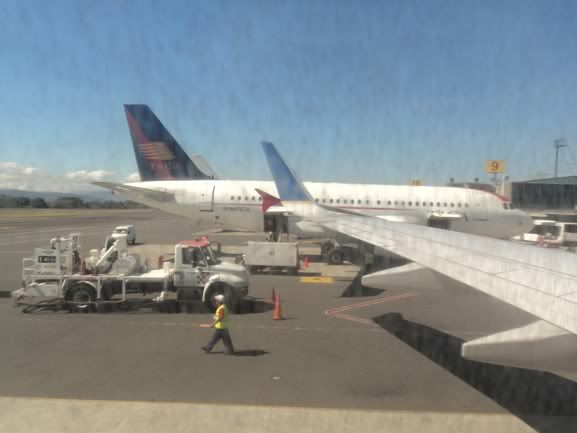 The safety video was played and before takeoff, the crew passed around the cabin and asked EACH row individually, if everything was OK, if you need something, want something, etc. Incredible, I was amazed! Excelent service Copa!!!
On the runway: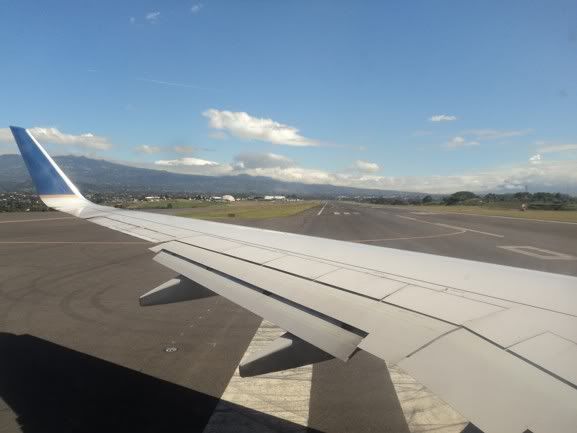 Bye San Jose, I am going to miss you!!!: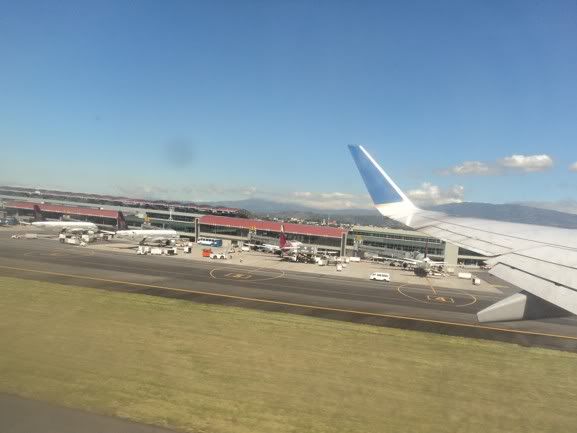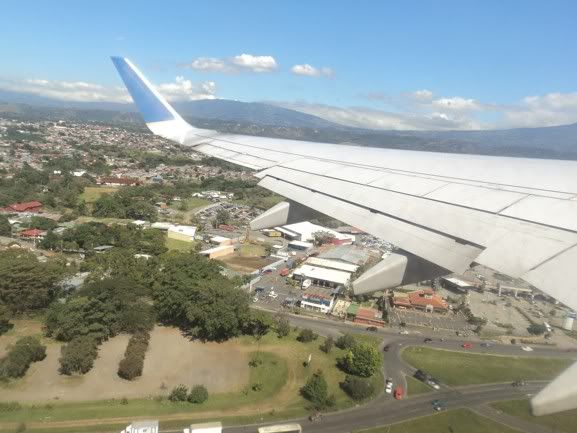 Downtown San Jose, you can clearly see the relatively new National Stadium: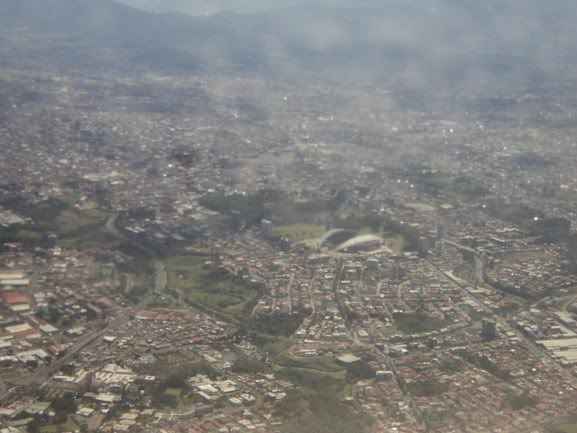 Costa Rica is so beautiful: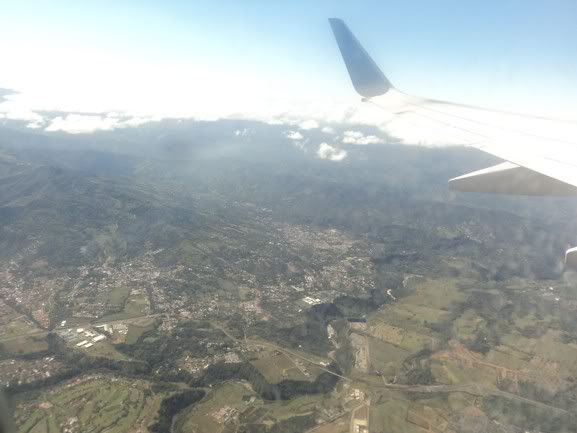 Soon after takeoff, the service started. We were given a warm sandwich followed by two rounds of drinks.
Breakfast with guava juice:
After that, I started to read through Copa´s magazine, Panarama of the Americas, which is pretty good. But I found something that almost knocked me unconscious: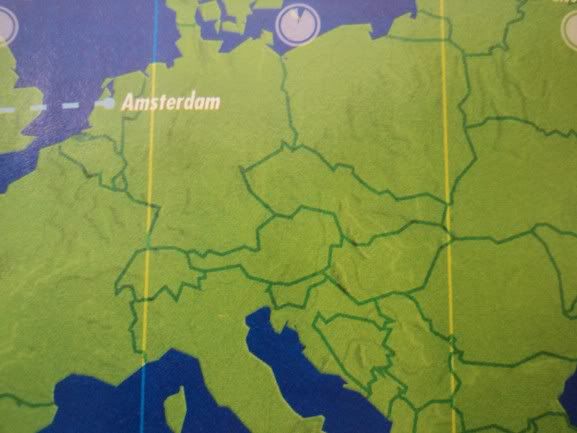 I mean, come on Copa, wake up!!! It has been 19years since Czechoslovakia separated into two countries, Czech Republic and Slovakia!!! 19 years!!!!! I was shocked to see this in 2011, in a magazine which is viewed (according to Copa) by 8,9 million people a month. Because I am Czech myself, this was super shocking for me. But I laughed. However, I already wrote an email to Copa about the matter, let´s see if they will respond and fix it someday.
On our way, I enjoyed some incredible scenery, especially of Nicaragua. Oh my God, I lived for 6yrs in Costa Rica and never visited Nicaragua? I must do it now, because the pictures from the plane look amazing. Once again, I am sorry for the black spot, have to clean up my camera.
Beautiful Apoyo lagoon, near Granada: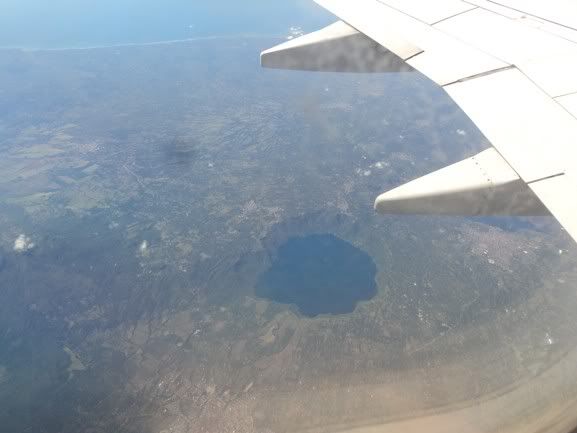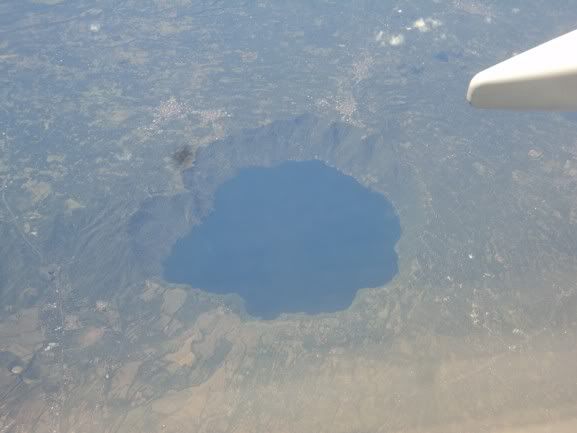 Laguna de Masaya: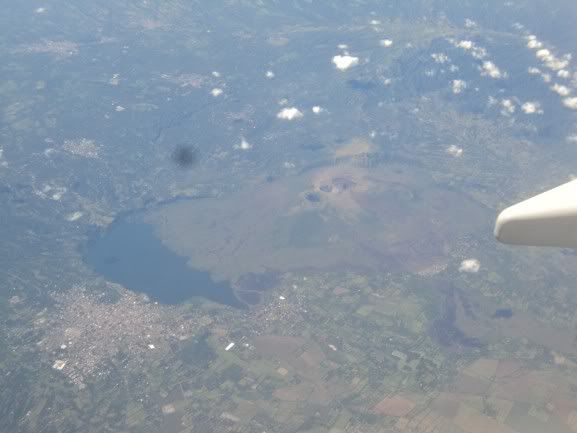 Managua Intl Airport: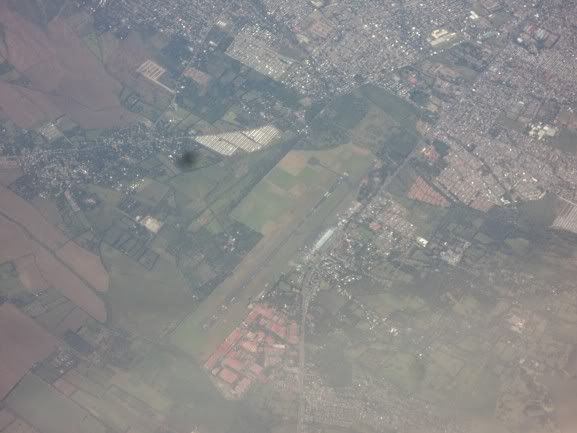 Managua city:
Lagunas de Xiloá and Apoyeque: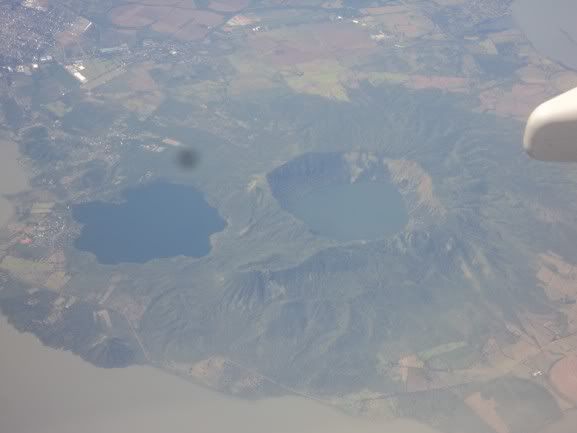 Momotombo volcano:
San Cristobal volcano: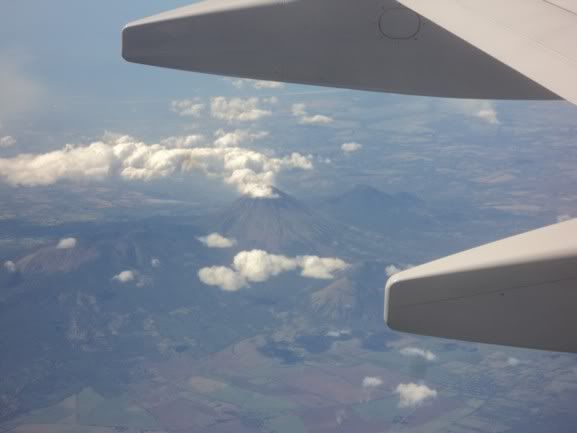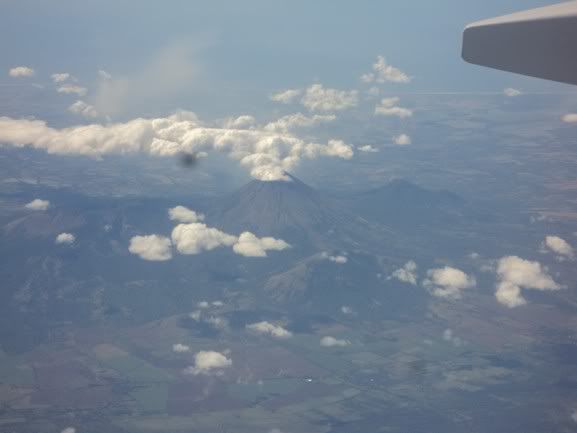 Slowing down and descending: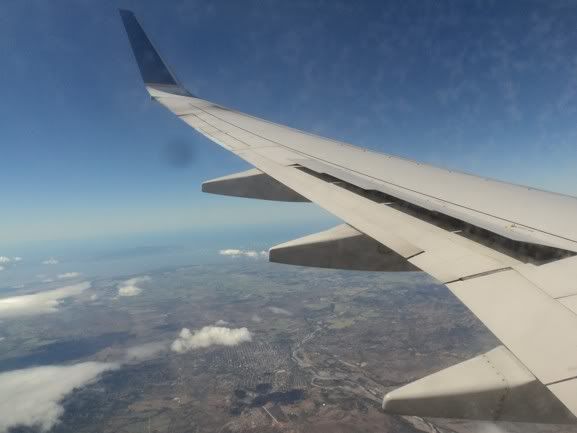 Before landing, the Honduran pax started to pray. Really and I am not kidding! They probably know about the super dangerous approach into TGU. My adrenaline started to build up in my body. Before landing, the crew amazingly passed around the cabin with a tray, offering each pax either a shot of Baileys or Panamanian rum Abuelo. I took Bailey. It was obvious they offer alcohol before landing in TGU so they help the pax calm down a bit
My Baileys: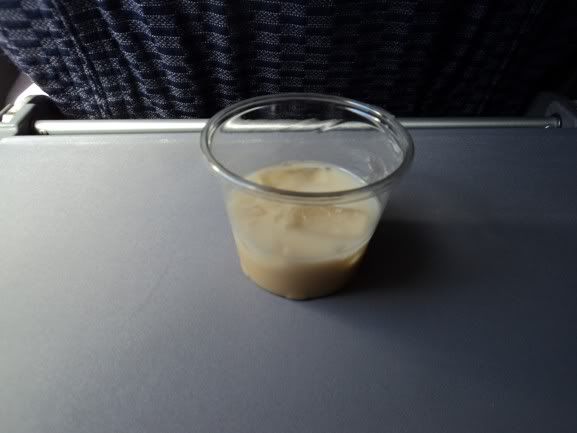 Honduran territory: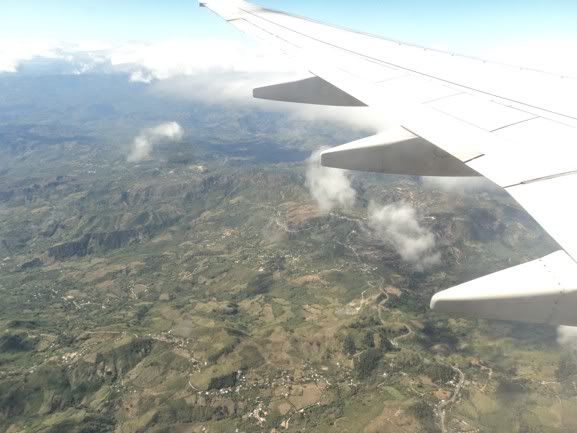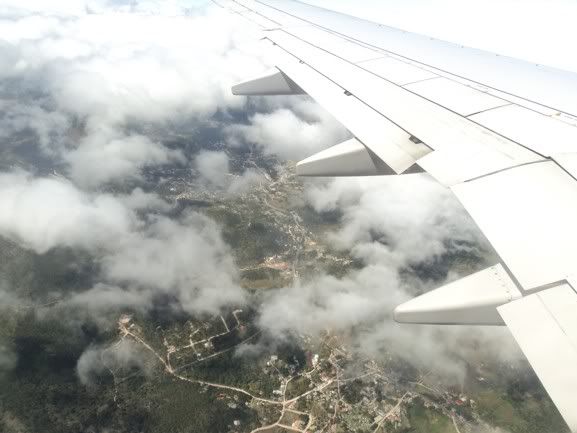 Tegucigalpa´s suburbs: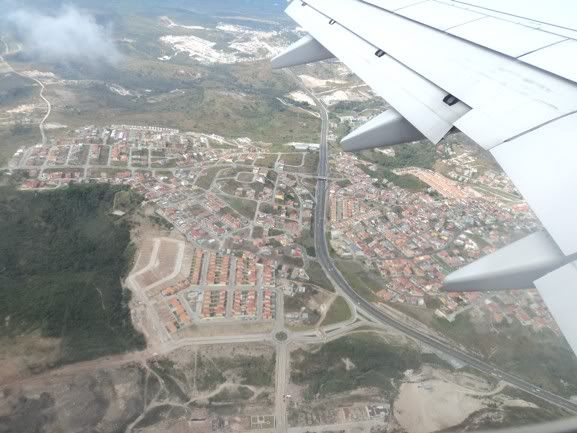 I knew from youtube videos that the dangerous approach is a left-wise loooooong turn, that is why, if you ever fly to TGU, choose the A window seat, if you choose F you will not see anything, since the turn is so steep.
Otherwise, I had to info on the landing. That is why I was amazed to see the airport below us!!!!
TGU below us: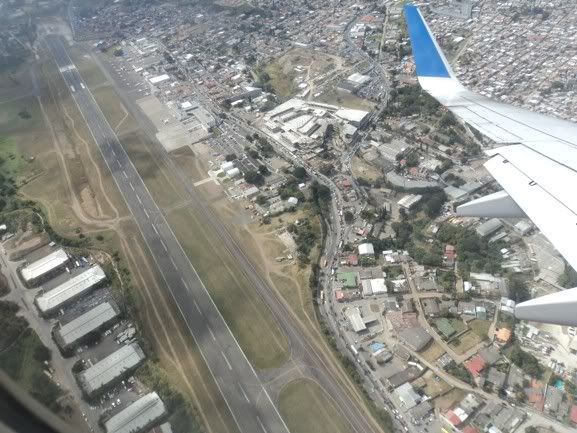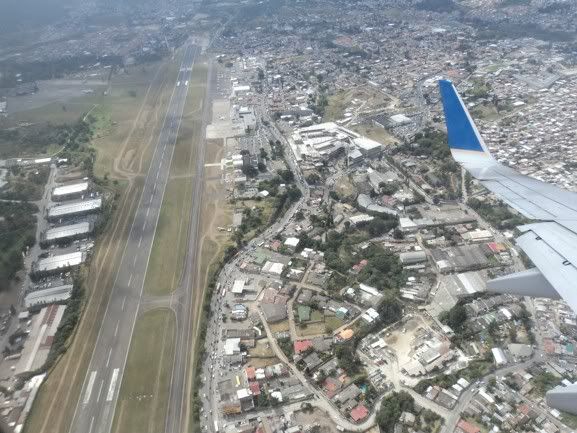 Then the super turn began. The plane was performing the steep turn, at the same time descending, the manuever is very limited by the surrouding hills, not possibility of error here. To top it all, there were strong winds, so the plane was shaking rather violently. I must say my heart was racing like crazy, I had problems catching my breath. Some G-forces were felt during the turn and descent which was toped with the turbulence. The pilot was slowing down and incresing power at all times. The sound of the engines was amazing. I imagine the team work in the cockpit where one pilot was turning and desceding while the other was adjusting the power. Due to the turbulence and the nature of the landing, some people (especially ladies) were shouting "ayyy".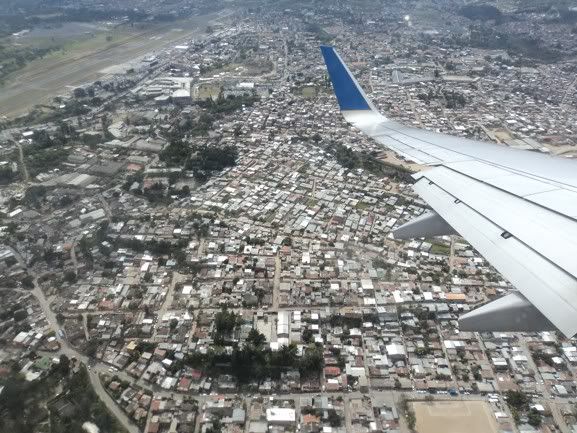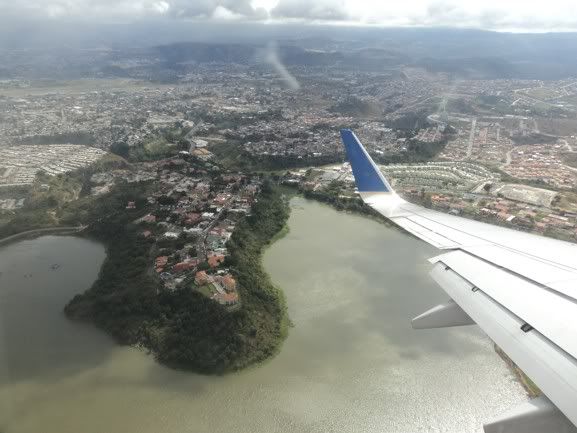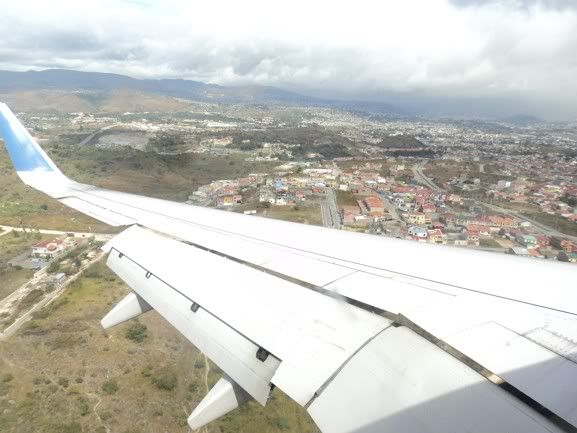 You can see TGU up in the right corner, we are so close and high, yet NOT alligned at all!!!!: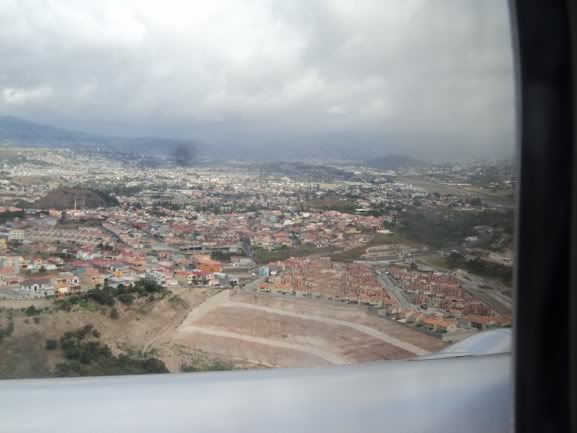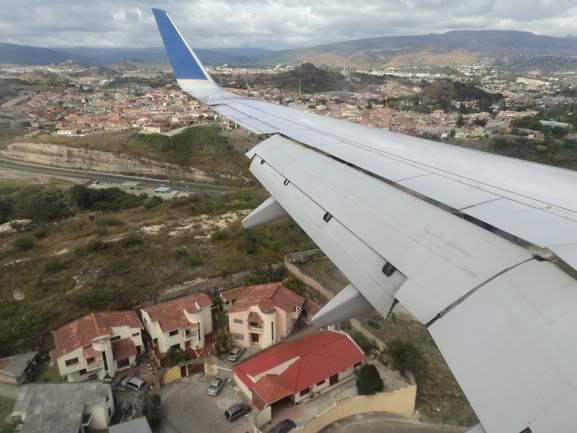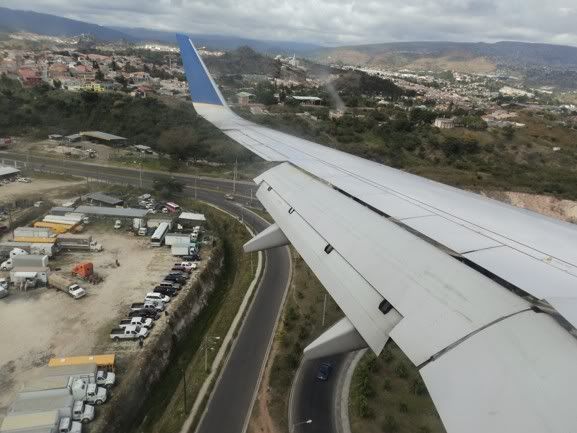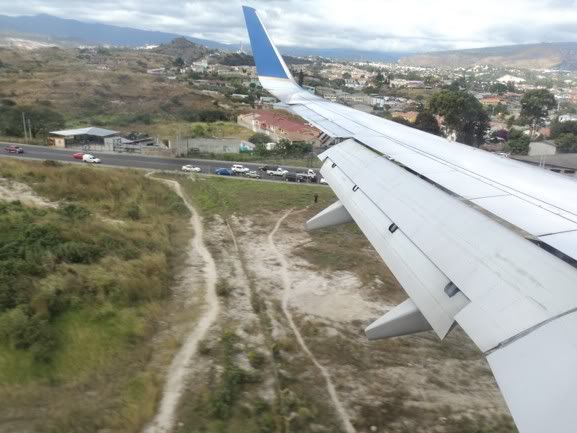 We are down!: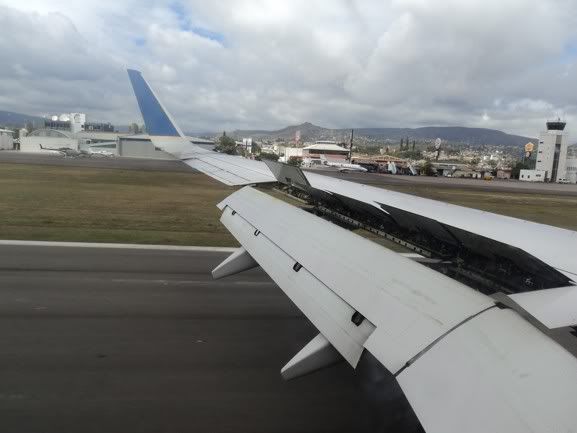 The pax started to clap and applaud, almost cheering. Imagine this hard approach accompained by turbulence. My adrenaline level was super high. Probably the strongest braking ever experienced followed, I almost hit the seat infront of me with my head.
Definitely the most extreme landing I ever experienced. Not even CUZ is similar. The title of the second most dangerous airport in the world is definitely well "earned!". Must congratulate the pilots, they are super skilled!!!
Hear you can see the hill just before the runway:
Closer:
Another view:
Taxi to the gate was quick. There are only two gates in TGU with airbridges, we were using one.
I said bye to the nice crew and left. I had the feeling this same plane was the one flying to PTY with the same crew. I prooved right in about an hour which was my tranfer time in TGU.
I was the only transit passanger today.
Our baby, nice landing!!!: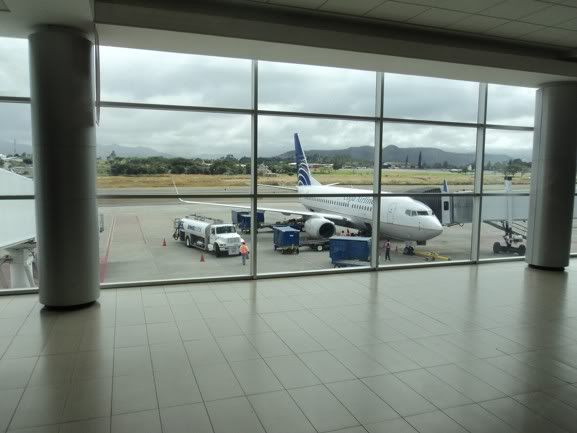 TGU airport: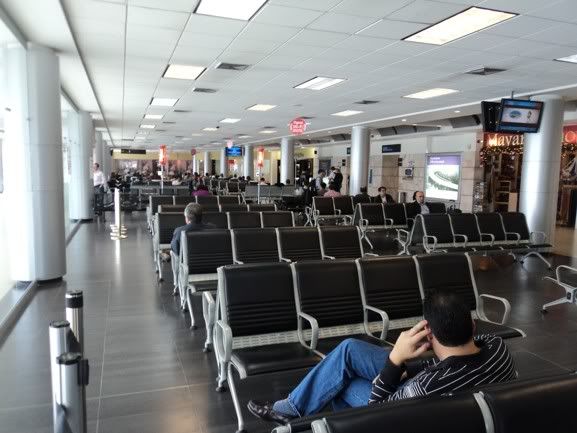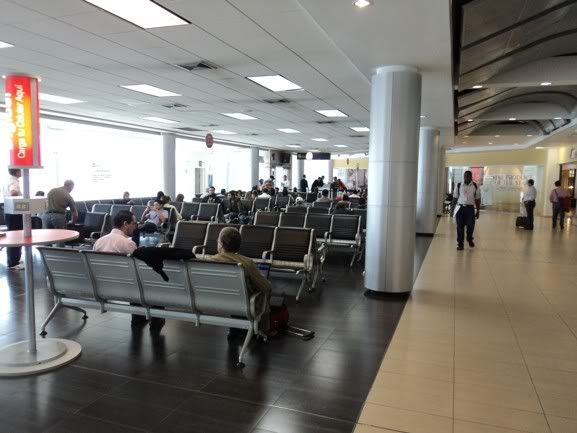 TGU is a very small airport, but very modern, probably very new. Only two shops available, two food stands and one bathroom. But probably sufficient.
Copa Airlines
Toncontin Intl - Tocumen Intl
Flight CM 425
Scheduled Departure: 11:50am
Scheduled Arrival: 02:40pm
Actual Departure: 11:55am
Actual Arrival: 02:30pm
Equipment: 737-700
Load Factor: about 75%
Seat: 24A
Boarding was quick, I was greeted by the same crew which asked me why I flew this route, I told them about the landing I must experience and they laughted. They were very nice.
I sat almost to the same seat as before. All pax were soon on board and the taxied to the gate. I had the row to myself again, which was very nice.
TA ATR was the only plane in TGU apart from us:
Taxi was quick, TGU is a small airport: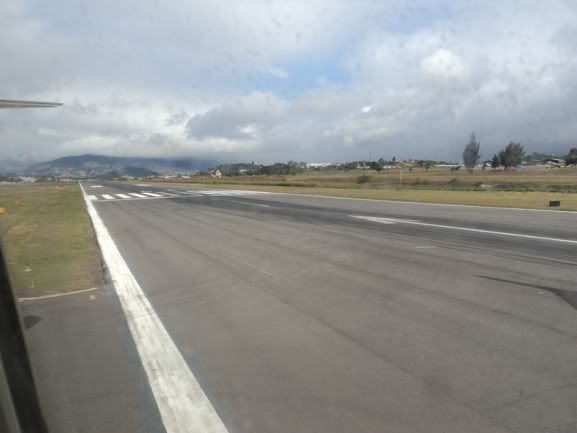 Turning at the end of the runway, note the hill again: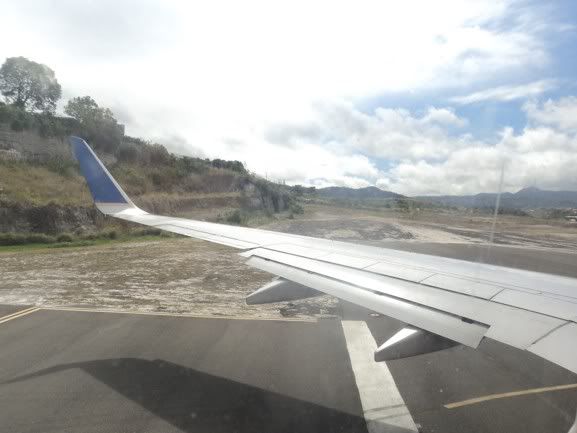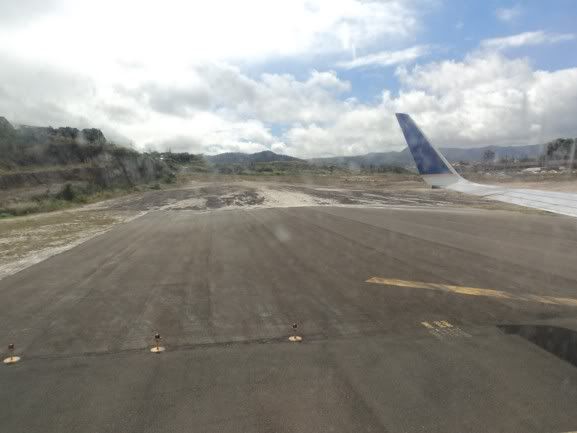 Super powerfull takeoff due to the short runway, probably max power applied: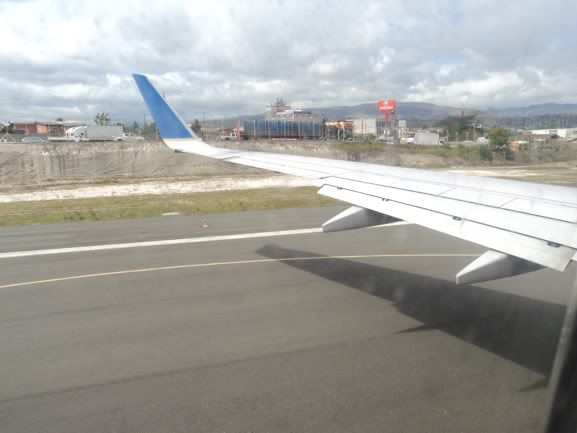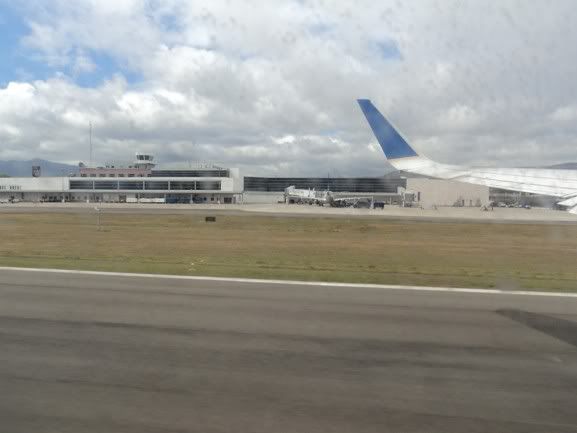 Bye Tegus, it was nice experiencing your famous landing!!!: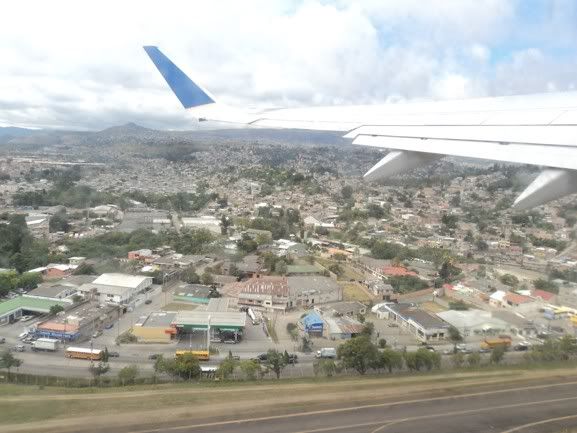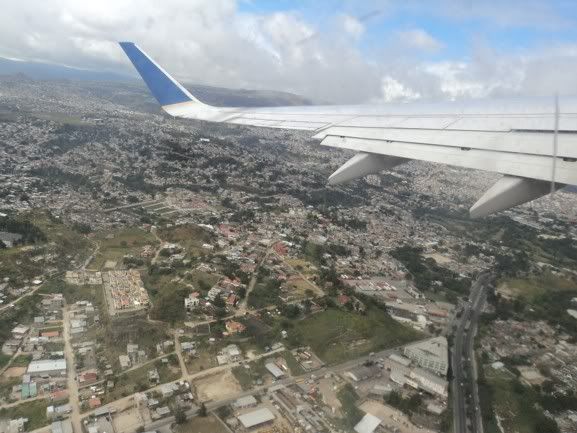 The flight was uneventful, it was very cloudy, so not much landscape to see. It got very bumpy at times, the crew had to stop serving drinks for a while.
Snack, another warm sandwich: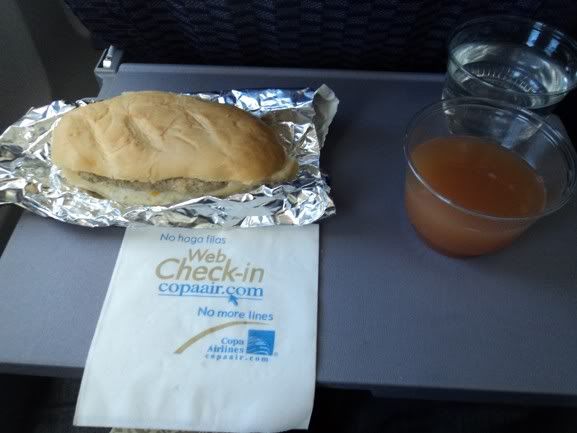 We started descending, you can see the famous Bridge of the Americas:
Panama City downtown is similar to Miami: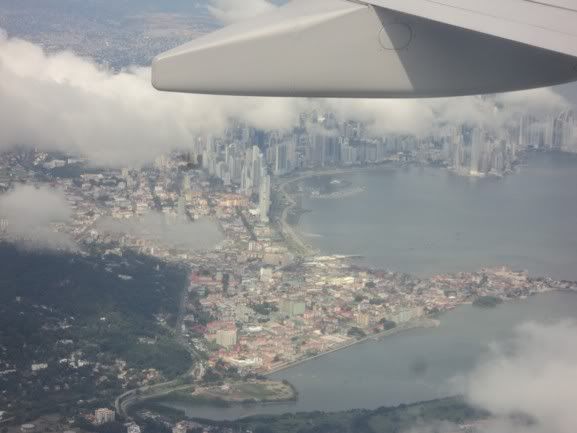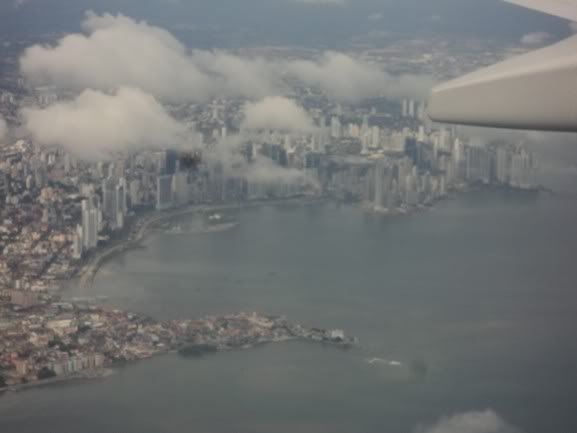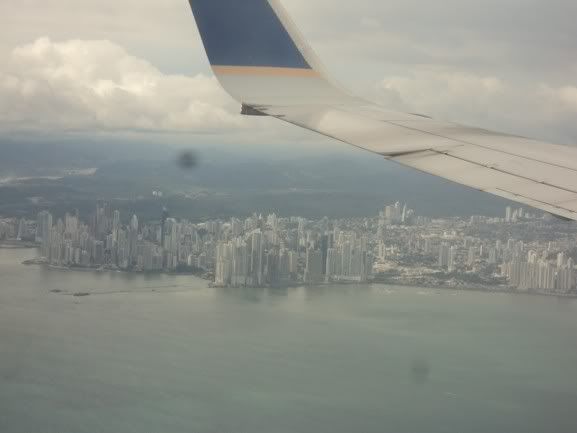 Would love to swim in that water: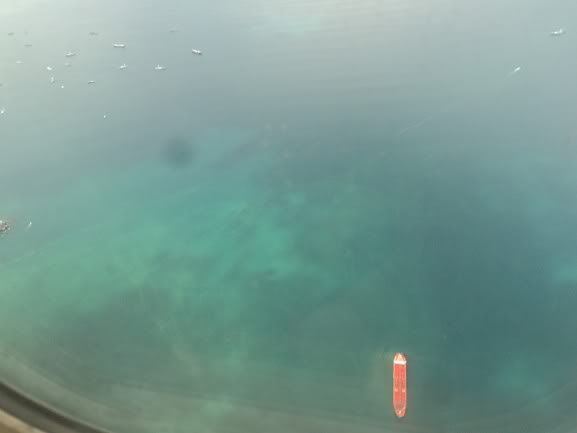 We entered a rainy part just before reaching PTY: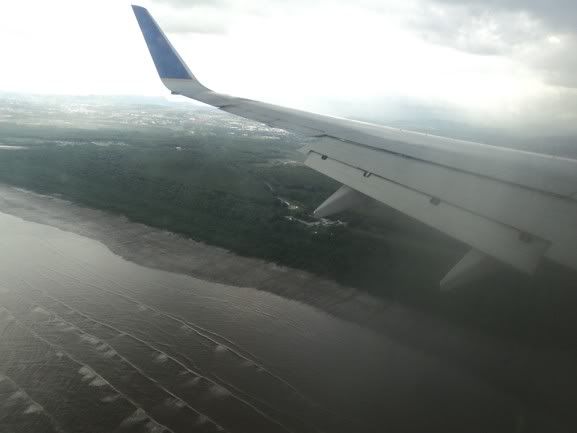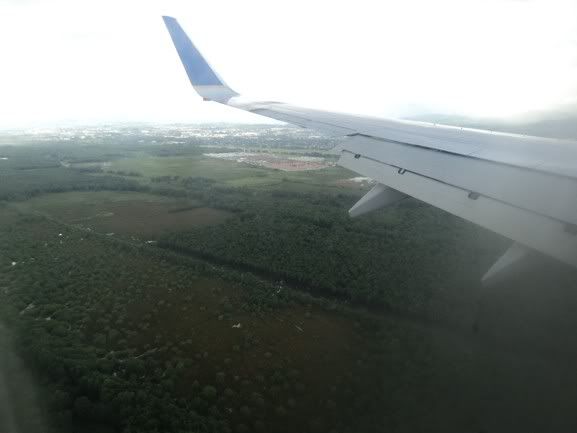 We touched down and exited the runway. The taxi was so short, the crew did not even finish their welcoming speach the the fasten your seatbelts sign was turned off.
Tranfer in Tocumen International:
I had 3 hours to kill. I looked around shops, since Panama is famous for cheap electronics. But I did not find it cheap at all. I would say Peru is much cheaper, that was a letdown.
The airport is new and modern, but definitely needs more space. It was sooooo crowded!!! And the huge lines to the bathroom!
I did some spotting, the most interesting was a Santa Barbara 757 bound to CCS: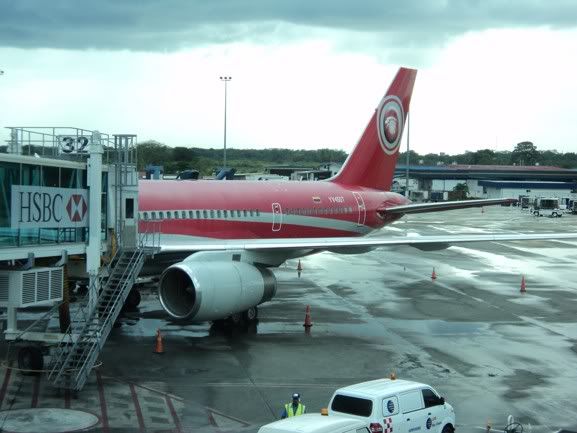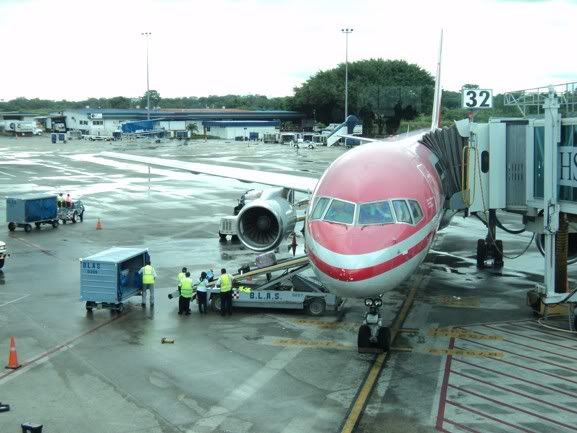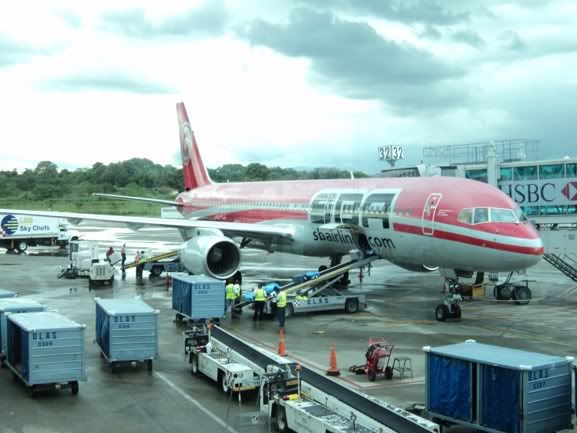 Copa power!!! With a United plane headed to IAH: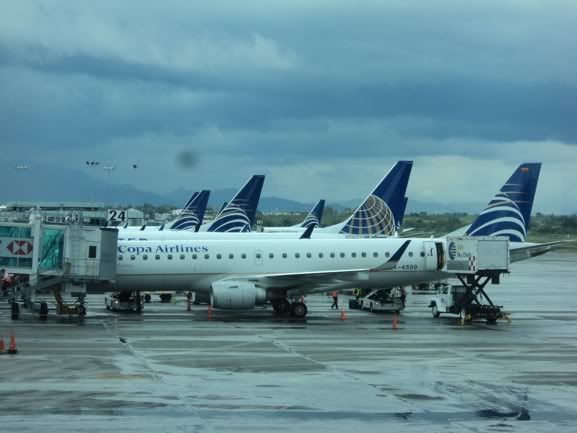 It was very nice to find a Czech plane in PTY!!! This 738 belongs to Travel Service, a Czech airline. In European winter, they decrease capacity and lease their planes for a few months. This plane is leased to Canadian Sunwing, the Travel Service painting was not totally removed, that is why I easily identified it.
Bound for
For the rest of the time I was watching a movie in my laptop. After that, I started to look for the KLM MD-11 that was arriving to PTY from AMS.
There is the beauty!!!!: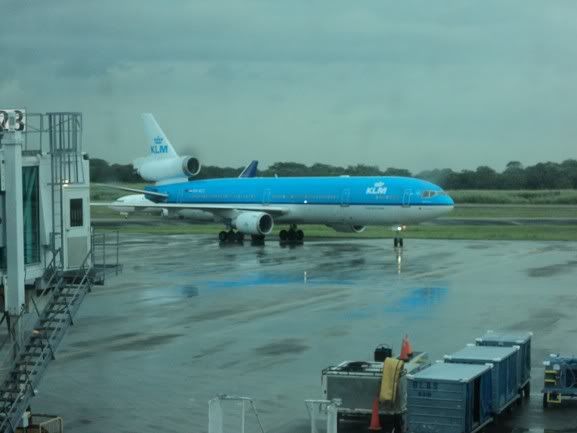 For me, the most beautiful plane ever!!! In the best livery ever: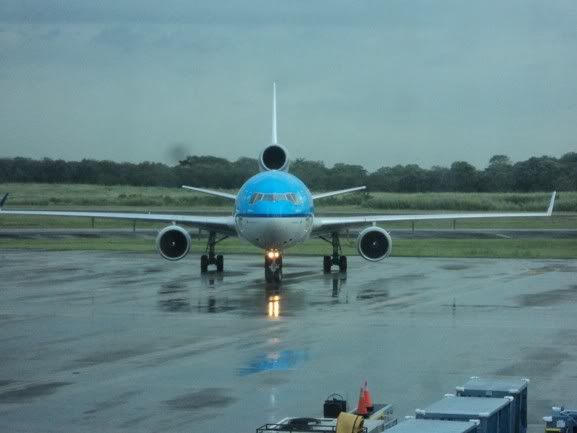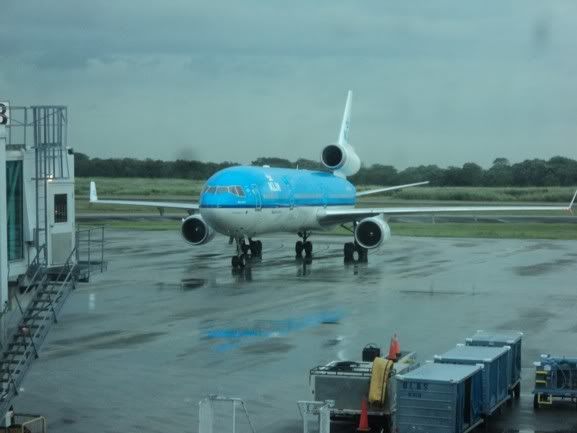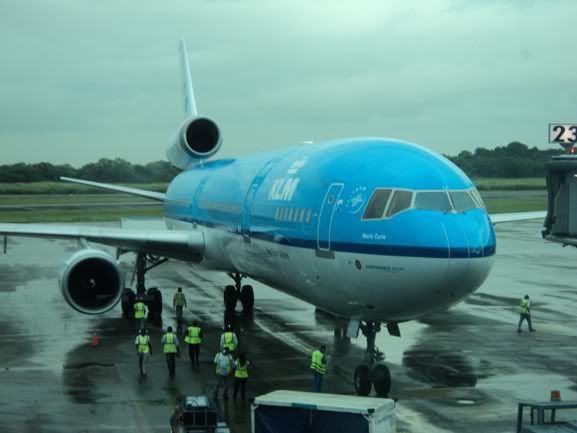 Marie Curie: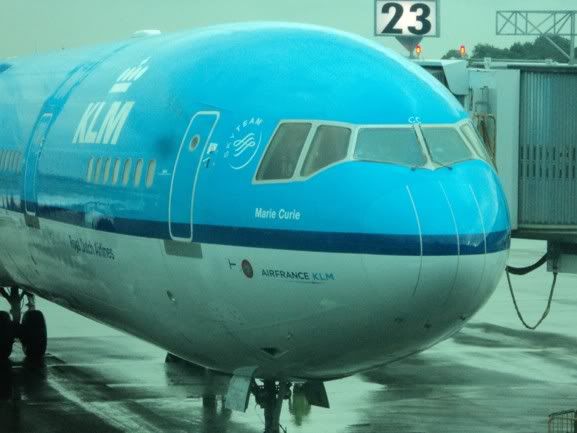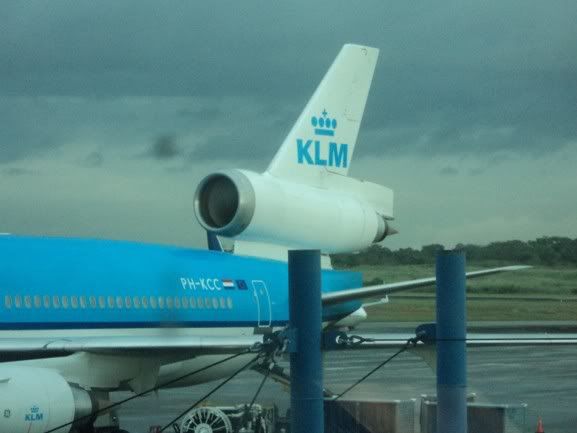 As I learned later from my seatmate which was on this flight, the flight was packed, meaning KLM is probably doing well on the route!!! Nice to hear that!!
10.12.2011
Copa Airlines
Tocument Intl - Jorge Chavez Intl
Flight CM 489
Scheduled Departure: 06:28pm
Scheduled Arrival: 09:58pm
Actual Departure: 06:55pm
Actual Arrival: 10:20pm
Equipment: Embraer 190
Load Factor: 100%
Seat: 26A
The boarding process was very slow since the flight was full. Lots of people were arriving from AMS and connecting to LIM. I asked myself "Why are they flying via PTY if KLM has direct flights to LIM?" My seatmate answered that to me, since she was flying from AMS. She said they told her at KLM that flights to LIM are totally sold out!!! That was very nice to hear, that KLM is doing well on the route to Peru. Can we see maybe an upgrade of equipment anytime soon?
The EMB 190 is a nice little plane, but with limited space in the bins. People with huge cabin bags were blocking the aisle because they did not know where to put their huge bags. Thanks to that, we departed late.
The seats on the EMB 190, new and confy: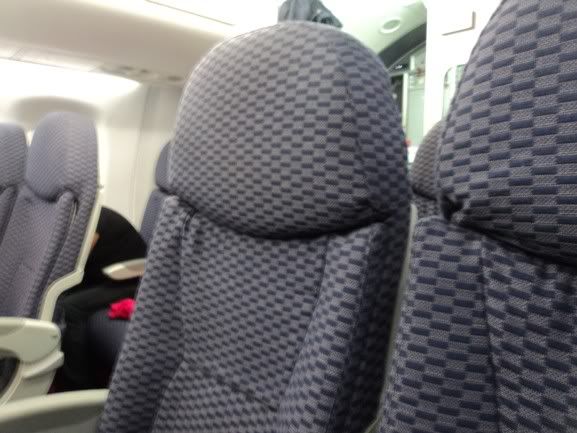 Cabin:
Legroom was decent: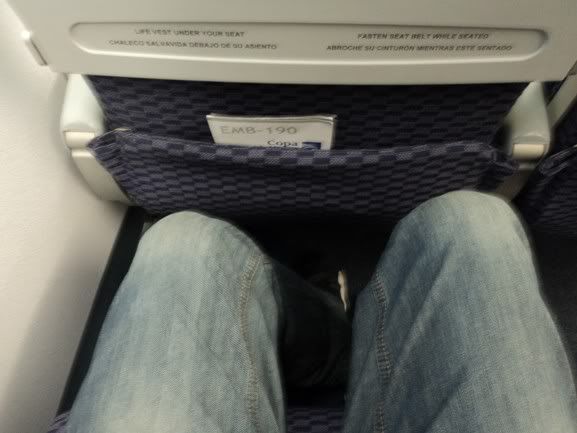 Our bigger sister flying to LAX tonight: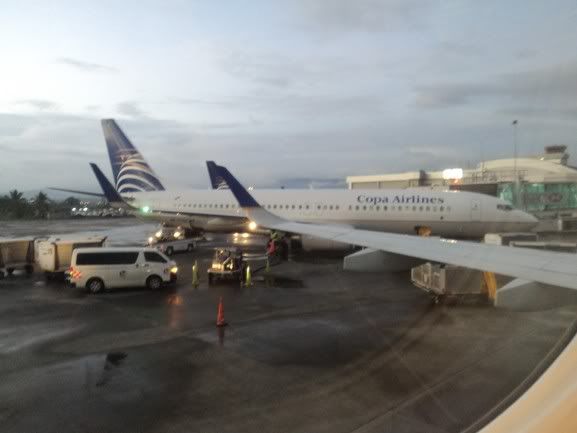 Sorry, I did not take any more pics on this flight, since I was dark and I slept most of the flight. We were given a dinner, choice was between pasta in white sauce or a meat cake. I choose the pasta and it was OK, but nothing great.
Three drinks rounds were done, I had guava juice a beer and Cuba libre at the end. The flight was pleasant, but I would not recommend sitting in the back of the EMB 190 (there are 27 rows), because of the whole Y cabin only one toilet is available and there were constant queues in the back of the plane, which was rather bothersome.
Also, no IFE on the EMB 190 at all, only the in-flight magazine.
We landed a little late, but not problem for me. Immigration was quick, I picked my bag and met with my parents who were waiting me at the airport.
Conclusion:
Copa is a wonderful airline!!! Especially their crews were excelent!!! Every single one of the them was smiling, was attentive and warm. And I am talking about the whole 5 flight I took with them.
That is their advantage over TA and LA, whose crew´s tend to be grumpy sometimes.
Meal were very good, drink choices as well. Seat very confortable.
The only thing they are not superior over TA and LA is the IFE. Taca is fitting their planes with PTV´s, LAN also offers this on some flights. Hopefully Copa will change this soon. Otherwise, I would choose them over Taca and LAN anytime, since these flights were all excelent!!!!
Please fell free to comment, I will be very happy to hear from you. If you have any questions or criticisms, don´t hesitate as well!!!
From Lima with love,
Adam
[Edited 2011-12-12 11:01:07]