It is already some time ago but I think it's still worth a short report - but this time a report without even leaving the ground. Due to the distance in time I dont remember all the details so please don't expect too much from this story. My father has subscribed to a well known daily newspaper in souther Germany for a loooong time. Sometimes they offer some special events for these long time subscribers where you can apply for and then they have a kind of lottery where they select a small number of people out of these applicants to be invited for these events. Well ... my father applied for a special "behind-the-scenes" tour at Munich Airport (MUC) ... and we got a slot for two people so he invited me to join him on that tour. Of course I could not resist to take that chance ...
We met with our guide and the other participants at MUC's central building Z (German: Zentralbereich). We boarded our tour bus (quite large for our small group of about 20 people so everyone got a windowseat). We were carried to the General Aviation Terminal where we crossed the security check normally used for the employees of the airport. Here one remark about this report: I dont have too many photos as photography was often prohibited due to security reasons.
Our bus driver brought us directly infront of the new terminal 2 (the one for all the *A airlines). Infront of course means airside in this case - directly below the gates and airbridges
Here some impressions of parked aircraft seen from a slightly different angle:
Augsburg Airways Embraer E190
Lufthansa Airbus A340-600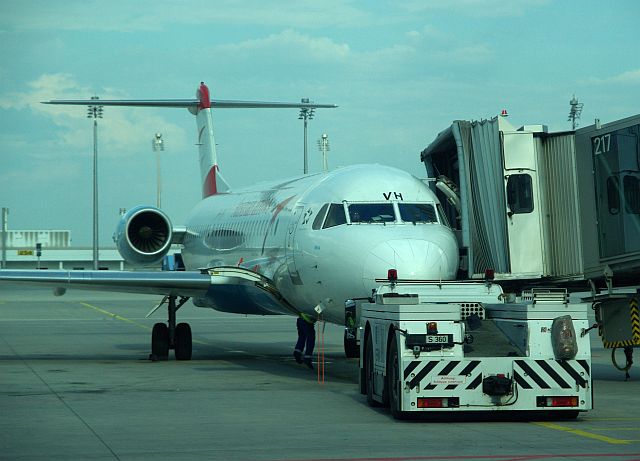 Austrian Arrows Fokker F100 ready for push-back
Lufthansa Airbus A340-600 during cargo loading operations
Lufthansa Airbus A340-300 beeing towed to the gate
Here we got some rxplanations about ground handling activities. Further we walked into the baggage handling are on the ground level of the terminal. We were shown the different sorting divices and how the luggage is checked by different x-ray stations. Sorry - no pictures allowed here - but I have some from the sorting area: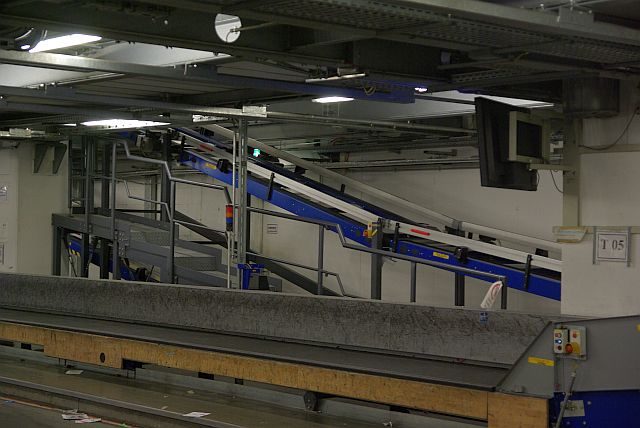 Baggage transportation system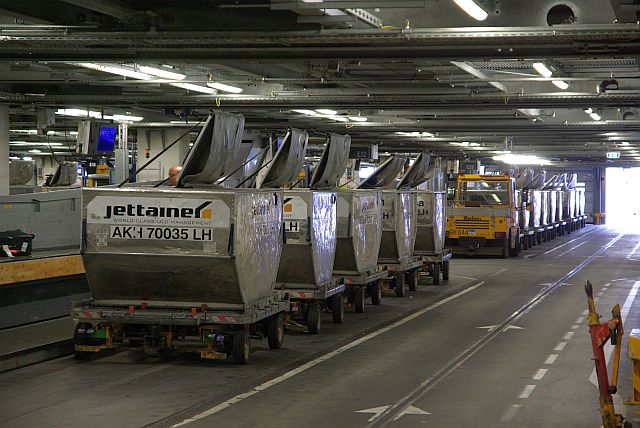 loading of cargo containers (for narrowbodys, I think)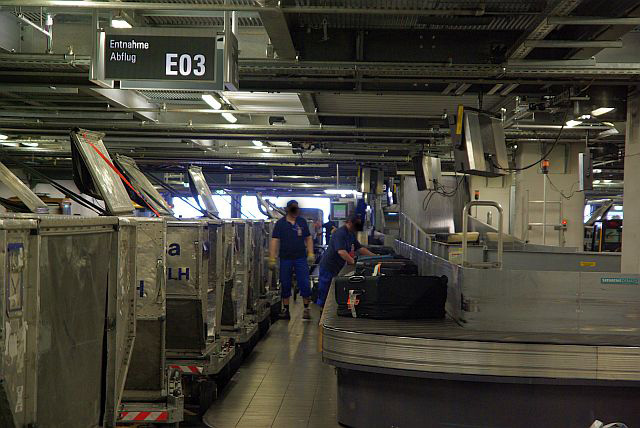 loading of cargo containers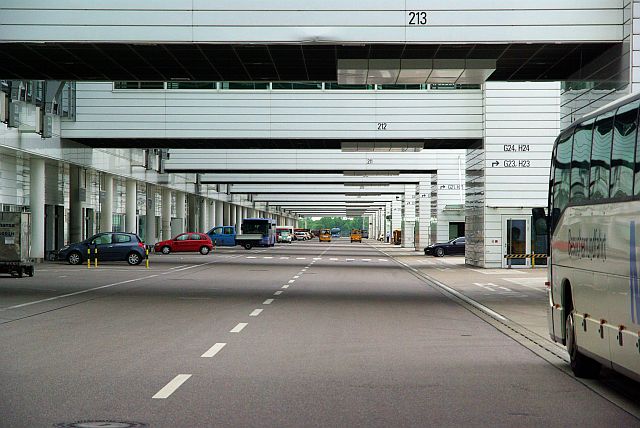 Service road below the gates (it's quite a loooong terminal)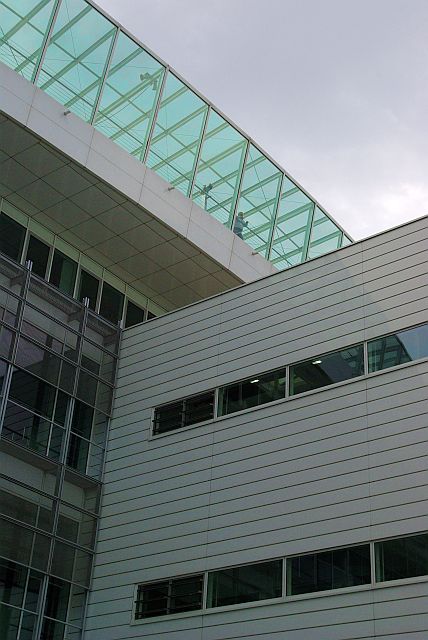 Waaaay up there is the viewing terrace of T2
After that we were all shuffled back into our bus and got a small tour to the cargo apron where we found some more rare planes at MUC - it is not really a cargo airport: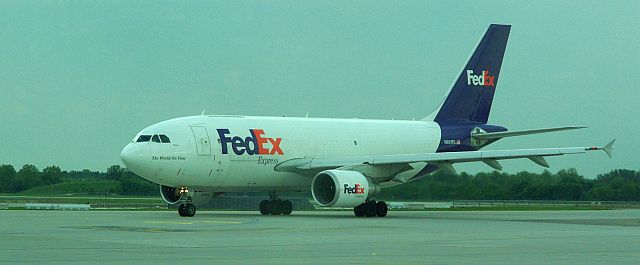 FedEx Airbus A310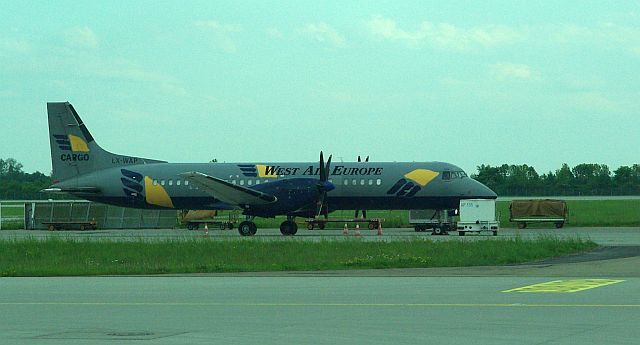 West Air Europe BAe ATP frighter
TNT Jumbolino freighter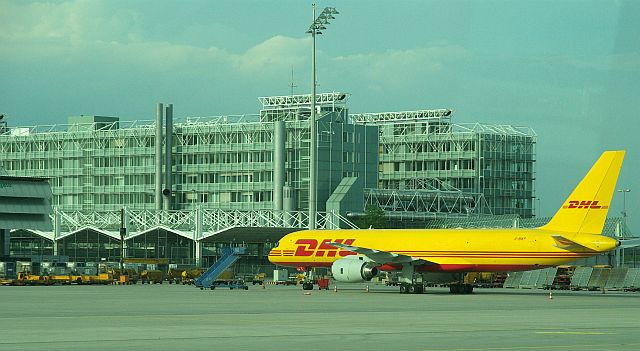 DHL Boeing B757 in front of the cargo building
On our way to the next station of tour we crossed the apron of the older T1 where we passed some other intersting planes: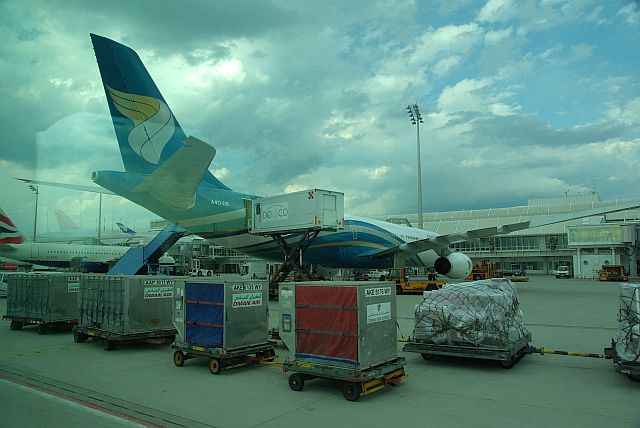 Oman Air A330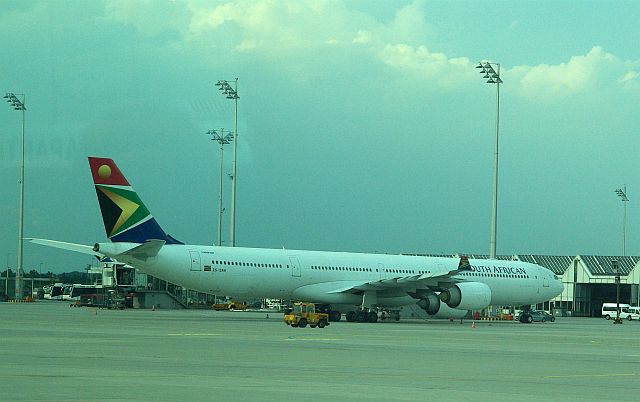 South African Airbus A340-600
The next place to go was the supply center of LSG SkyChefs, the catering company from Lufthansa. We were not allowed to visit the kitchen areas themself (most likely hygenie precautions) but we were shown around in the commissioning departments and the - hmmm, how to call it - cold preparation where they do all the salads and stuff. Everything has to be prepared exactly according to specifications given by the airline they are supplying (which is not only Lufthansa). The "cooks" get photos and exact weight list what has to be in each and every dish ... I think they are close to count each pea ... at least they count olives on the salads .. If i remember right (sorry - it's long ago) the guide from LSG said one airlined saved 100.000 USD a year just by cutting down the salad serving by one olive (don't know if the numbers are right ... maybe he was exaggerating).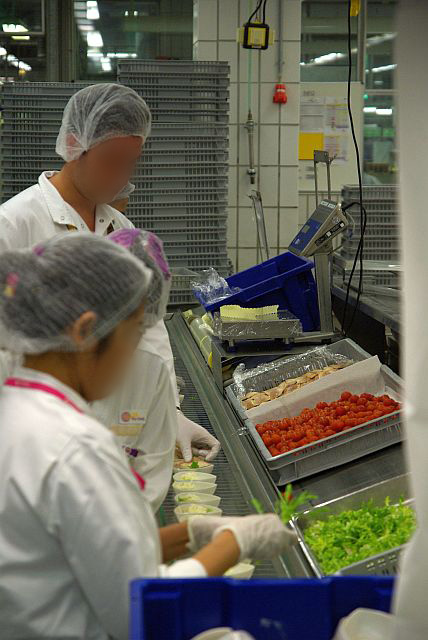 cold preparation (salads)
They have huge storage areas there where you can get everything from choclate bars to pens for children on board or ....... whatever a plane needs ...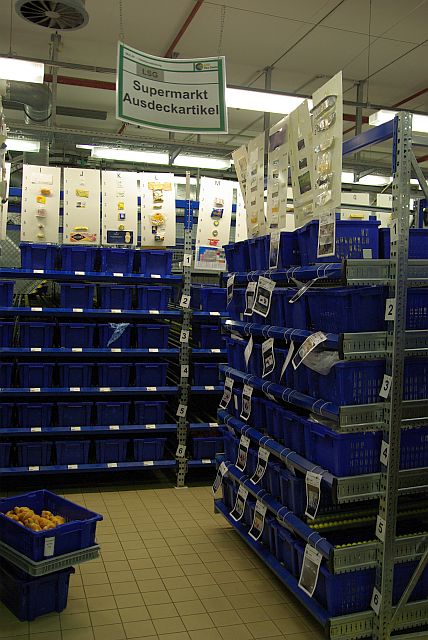 storage area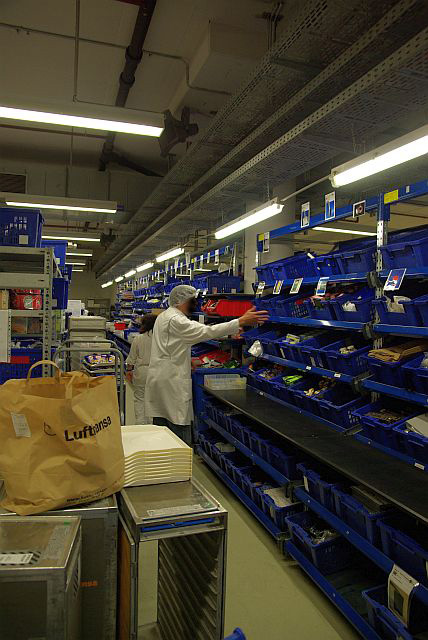 storage area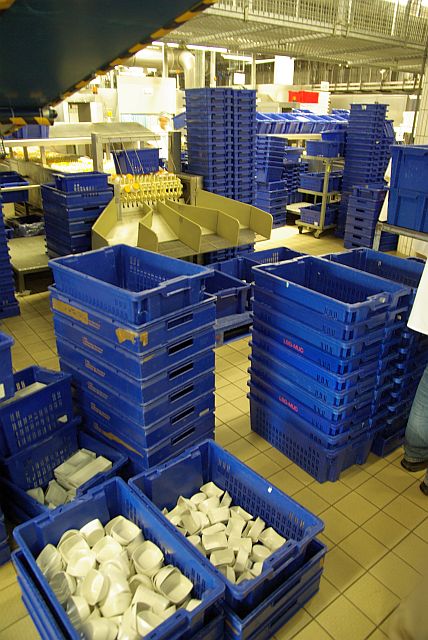 some huge dishwashers for incoming used cups, plates and so on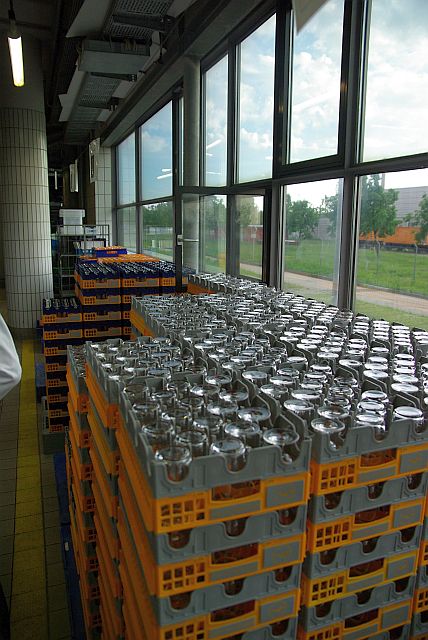 mountains of glasses
and lots of Lufty trolleys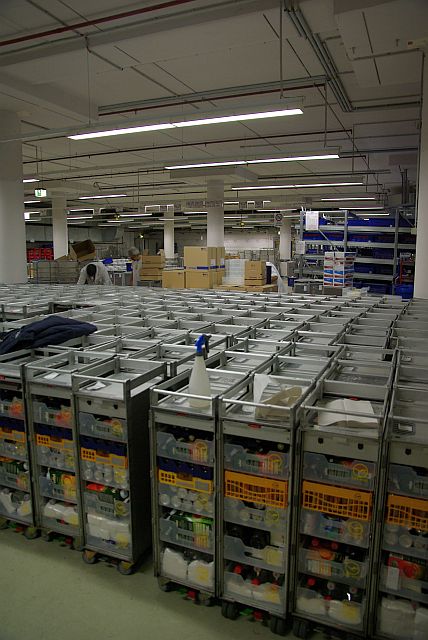 and even more Lufty trolleys
did I said there were a lot of trolleys
Well, they need that many. I have read this kitchen at MUC serves about 320 flights each day with a maximum daily capacity of 45.000 meals (fourtyfive thousand). The biggest LSG center close to FRA produces up to 100.000 each day.
After leaving LSG (of course not without some snacks from the storage) we headed back landside and were invited for some dinner at "Airbräu", a restaurant in the Airport Center (the big building connecting the two terminals) which also has its own brewery ... yes, they are actually producing their own beer at the airport ... we are in bavaria guys ...
So ... for the end some more impressions of the airport and T2 at night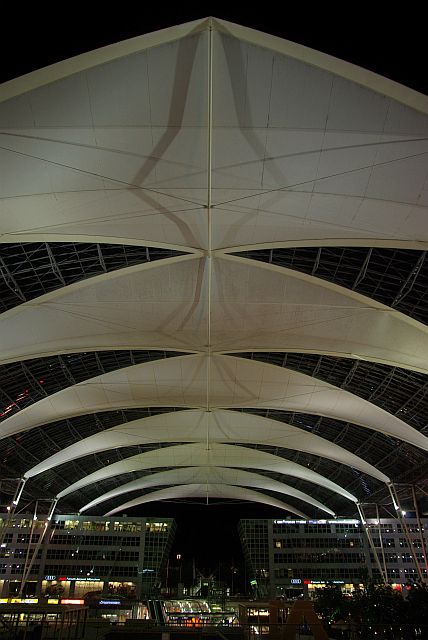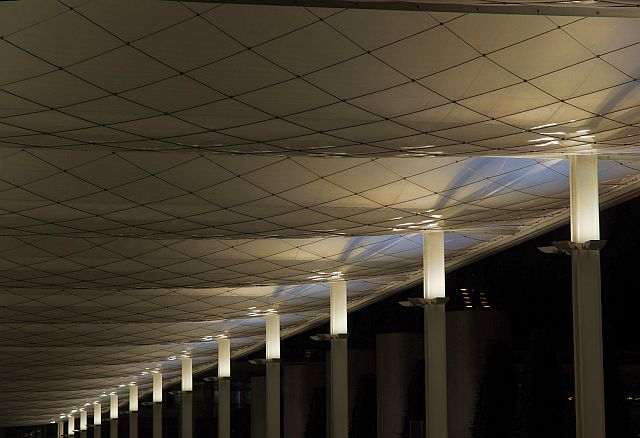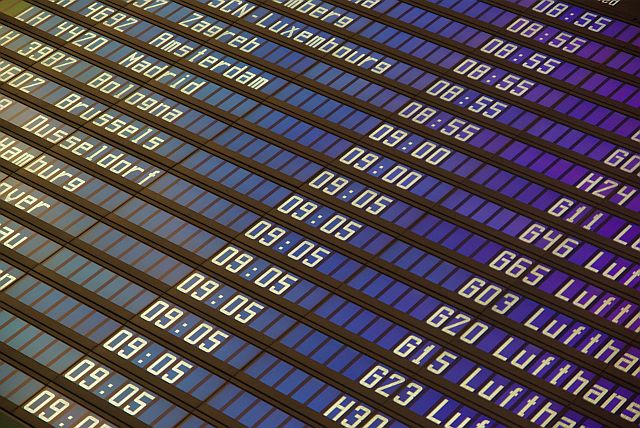 Thanks for reading
PHILIP