Welcome to one of my first trip reports in a while. I welcome all comments, questions, etc.
Planning
This trip takes me from Washington to San Juan, Puerto Rico. My family heads to the Carribbean every thanksgiving. We started in Aruba and have been going to San Juan for the last six or so years.
My family all lives in the New York area and I live in the DC area, so it was easiest to fly down and meet them in Puerto Rico. For the last few years both United/TED and American flew direct IAD-SJU, but American dropped their flight. The flight going was an easy choice as it was a direct and got me there only 30 minutes after my family's JFK flight.
However, going back the United direct flight left too early in the afternoon so I had booked US Airways SJU-CLT-DCA. I check my flights religiously and noticed they had cancelled and rerouted me through Philly. Since I hear Philly is bad on a good day, I was not connecting there on Thanksgiving Sunday. They gave me a full refund and I rebooked on Delta. SJU-ATL in First and ATL-DCA in Y.
So here we go...
Flight #1: UA IAD-SJU
Since I would be flying back to DCA, I had to cab it out to Dulles from Arlington, which was about $50 and at about 5am. Not fun, but knew I could catch up on sleep once I get to the lounge chair. Also knowing this was Thanksgiving Thursday, I prepurchased one of their travel packages giving me priority check-in and security, checked bag, and economy plus seating.
Security was surprisingly fast, even for the normal lines. The TSA had all their lanes open and the new checkpoint definitely relieves the bottleneck.
Right after security I made my way down to the still new-ish AirTrain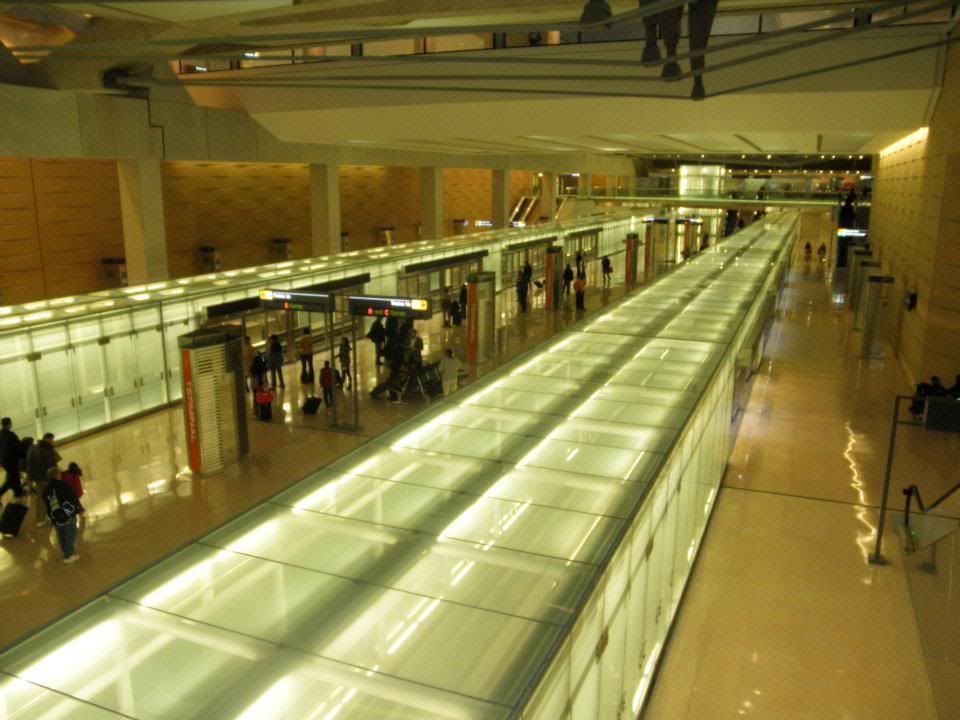 Since I despise the C/D United concourse at Dulles and love the A/B concourse, I always wait for my United flights there and did so on this trip.
The A/B concourse is stunning. Full of light, stores and everything else you need at an airport, especially at 7am. The early hour also explains why this concourse is so empty.
My flight -UA699- on the board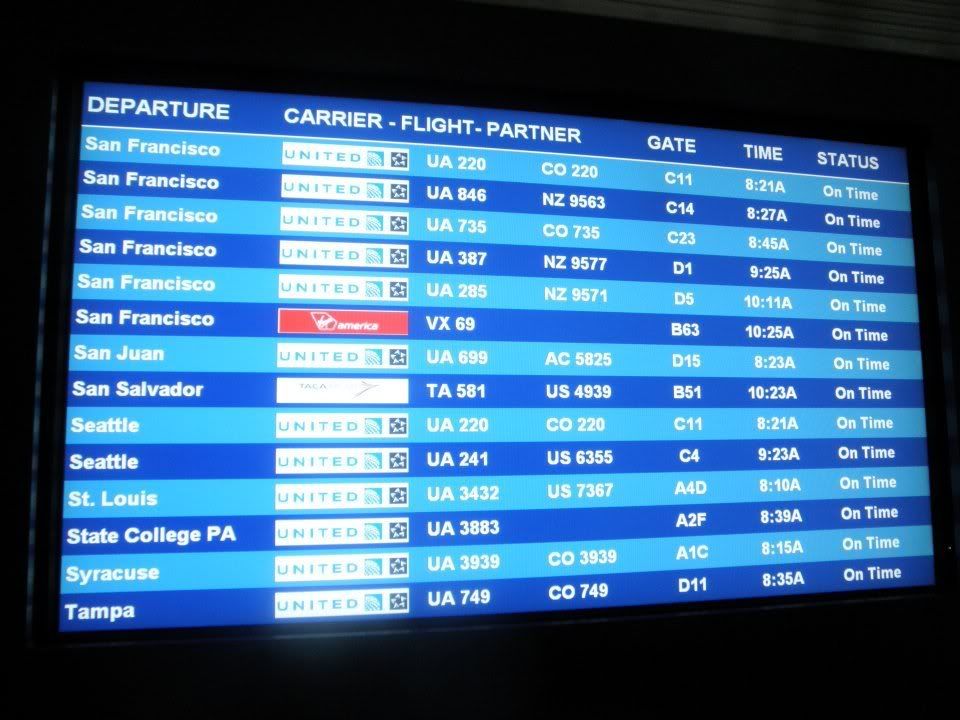 Morning flight board at Dulles and time is 7:02am. Yawn.
A/B concourse has shared gate spaces
Then with about 30mins I made my way to United;s 30-year 'temporary' terminal. What a dingy, dirty, crowded place. Reminds me of JFK T2/3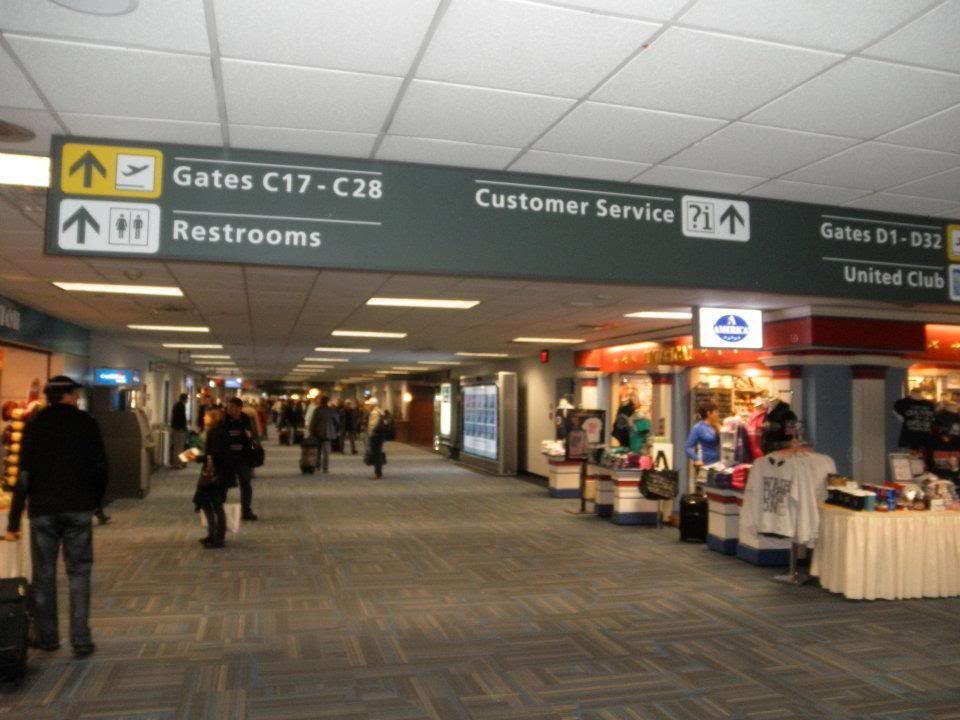 Anybody know what that fleet of unmarked jets in the background is?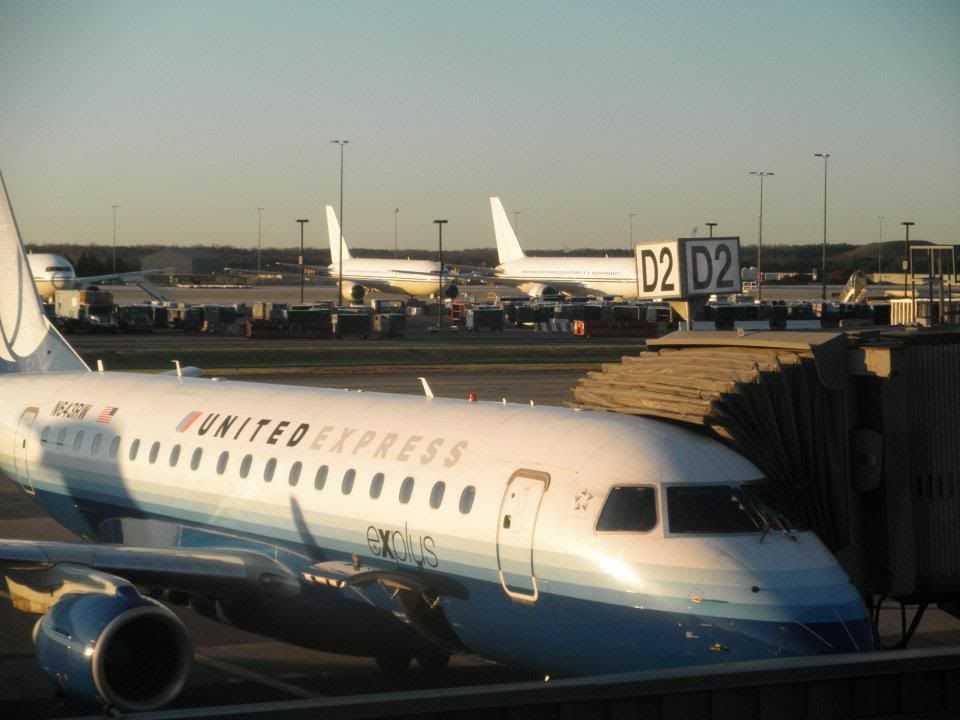 My A320
And arrival in San Juan a few minutes early
San Juan, Puerto Rico
We stay at The Ritz Carlton San Juan, which is all of a 10-min cab ride from SJU. I caught a cab and met my family who was already at the hotel. Here's a brief sample of our time there, I can add more pictures by request.
Quite literally it is Heaven on earth
My friends wonder don't I get bored laying at the pool for four days. Not at all, I reply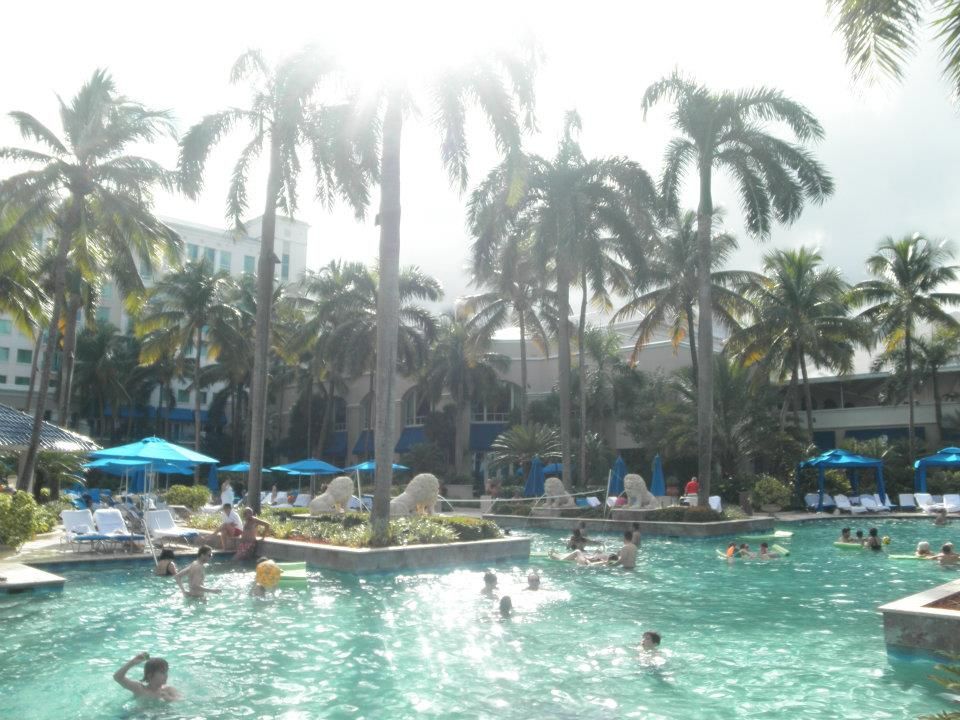 The hotel is right near the airport too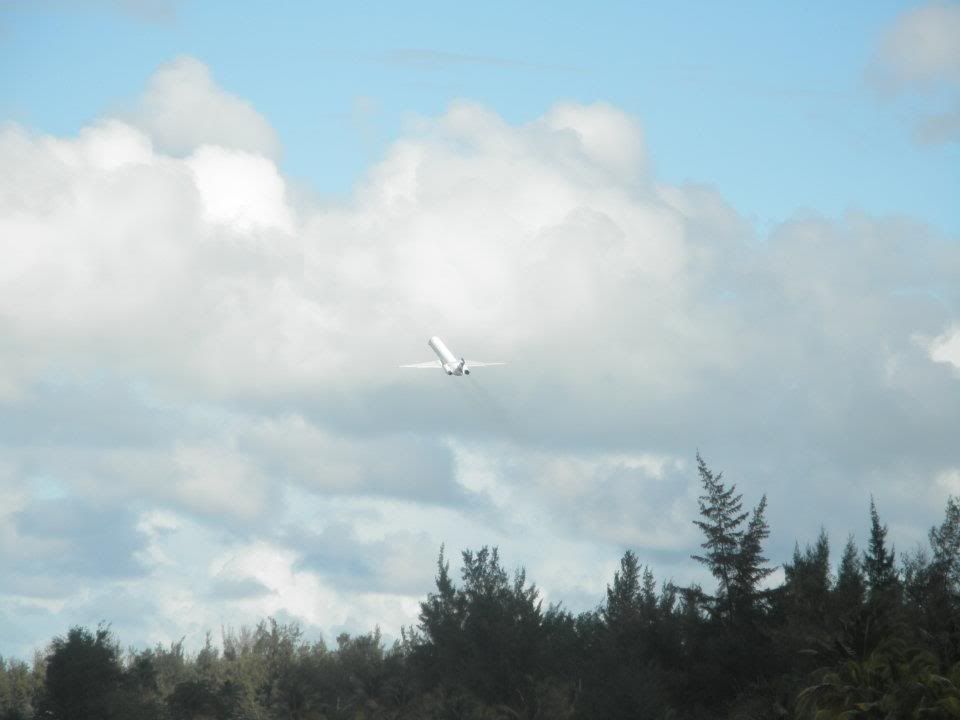 We eat at the Ritz two nights. One is at BLT Steak, the other at Il Mulino. And Il Mulino is one of my favorite meals in their world. You get so much before you even start your meal. Here;s the gigantic chicken parm with bone still in
Part III: Delta SJU-ATL-DCA
After a few problems at the hotel they gave us late check-out so we went to the beach, they made our way to airport around 2pm. This time I went to the airport with my parents.
This was our ride: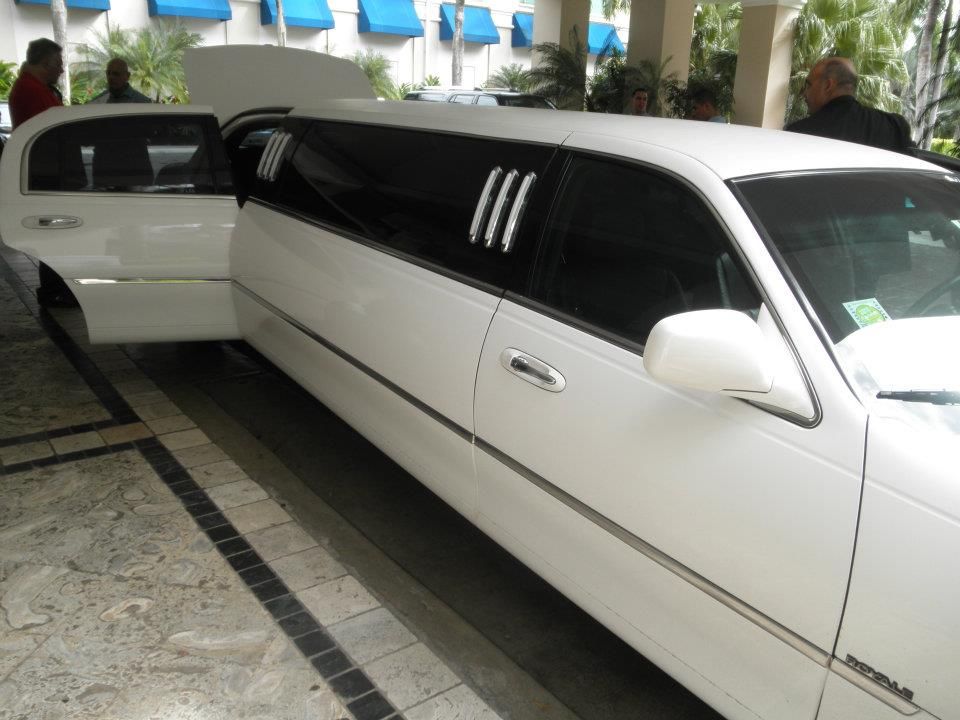 Sweet ride: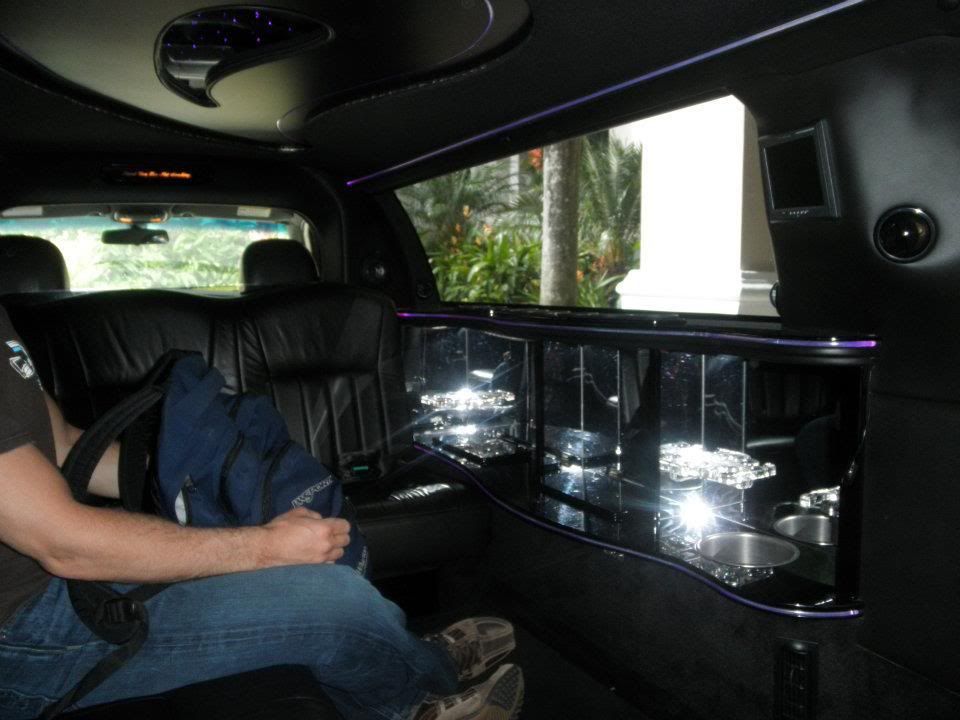 We arrive at the airport in no time. The driver first dropped me at the Delta area, then the rest of my family at the American area. At SJU, you first have to have your bags scanned by US Agriculture Department. I tend made my way to Delta F check-in and was greeted by a friendly agent who tagged my bag through to DCA and gave me boarding passes.
Security lines were very long but I got fast-track as flying in F. Then decided to walk the entire terminal to see my family once more
JetBlue is building up here as AA pulls out
Will never fly them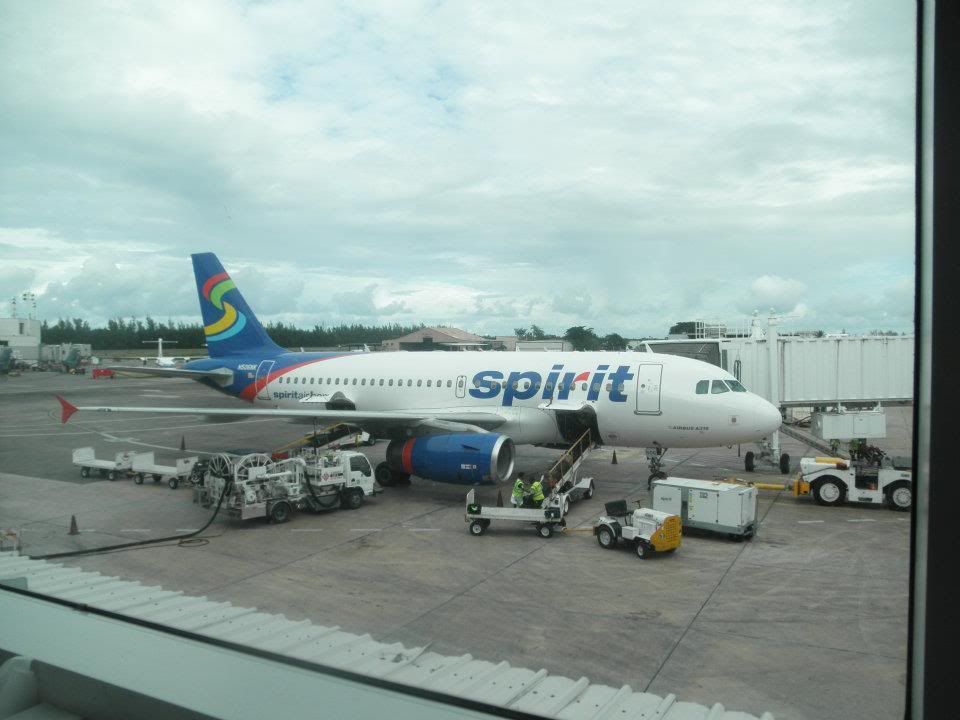 American used to have a focus city or hub here but it's dying a slow and painful death. They still have their own terminal though. Anyone know when the new SJU will open ... been working on it forever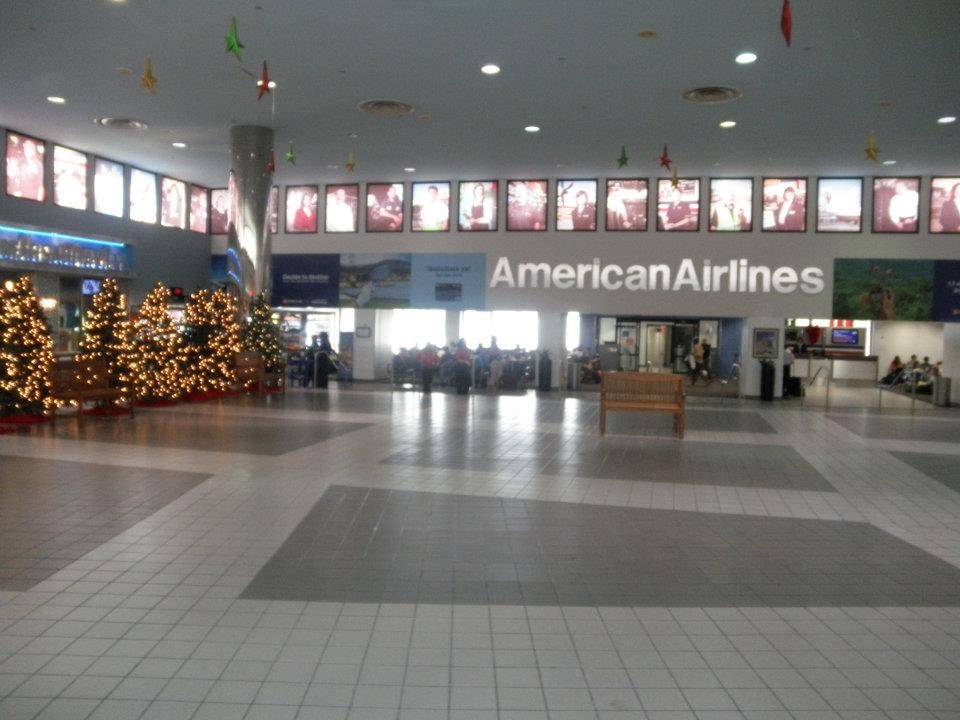 A dirty AA bird flying to MIA
The SJU concourses were kind of packed this afternoon. The airport is cramped, old and sometimes dirty.
The 757 ex-NWA bird to take me to ATL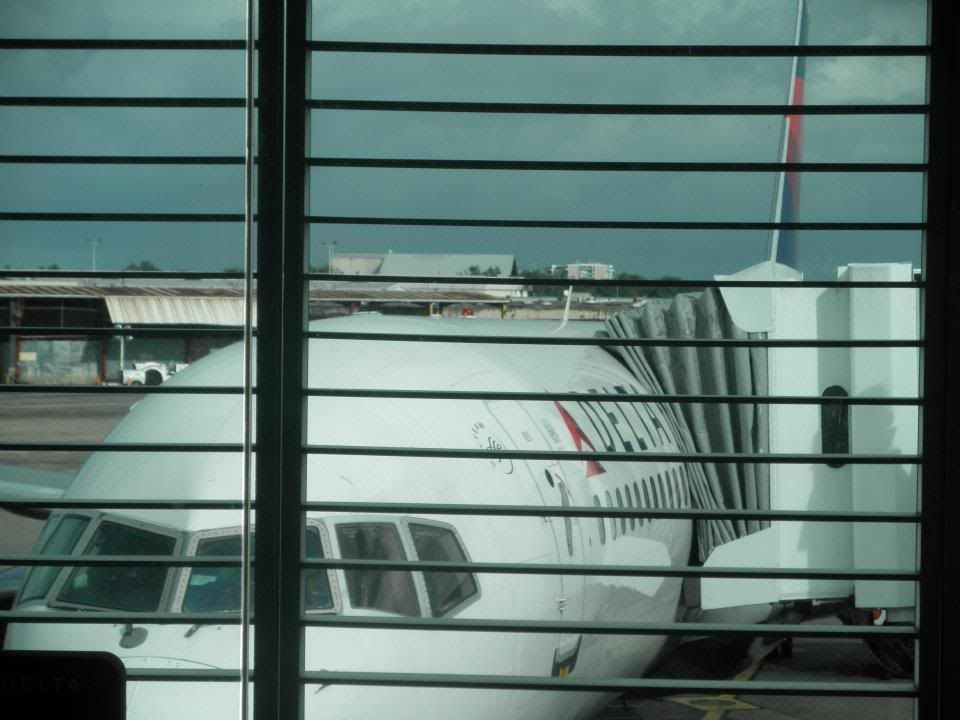 The plane was not what I was expecting and was in awful condition. The flight is advertised with seat-IFE and had none. Just overhead screens and it was hanging down from the ceiling (falling out of the ceiling .,.. I wish I had a pic). The seats were old and cramped and the lead FA was openly saying how this was an ex-NWA bird and she hated it too. The lead FA was friendly but kind of stand offish. She just had an odd sense of humor when dealing with passengers.
My seat before takeoff had a bottle of water, pillow and blanket. They also came by with pre-flight drinks and I had a cranapple with vodka
This was my assigned seat in row 01. I wound up sitting in row 02 so a couple could sit together. Surprisingly, the bulkhead legroom was awful and row 02 was better.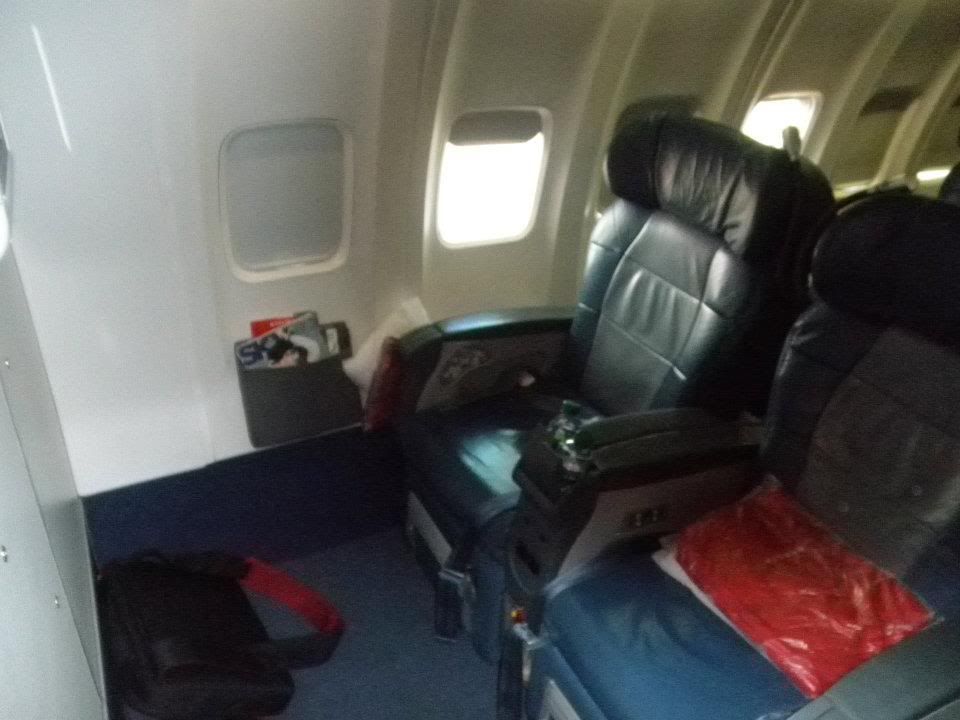 My actual seat: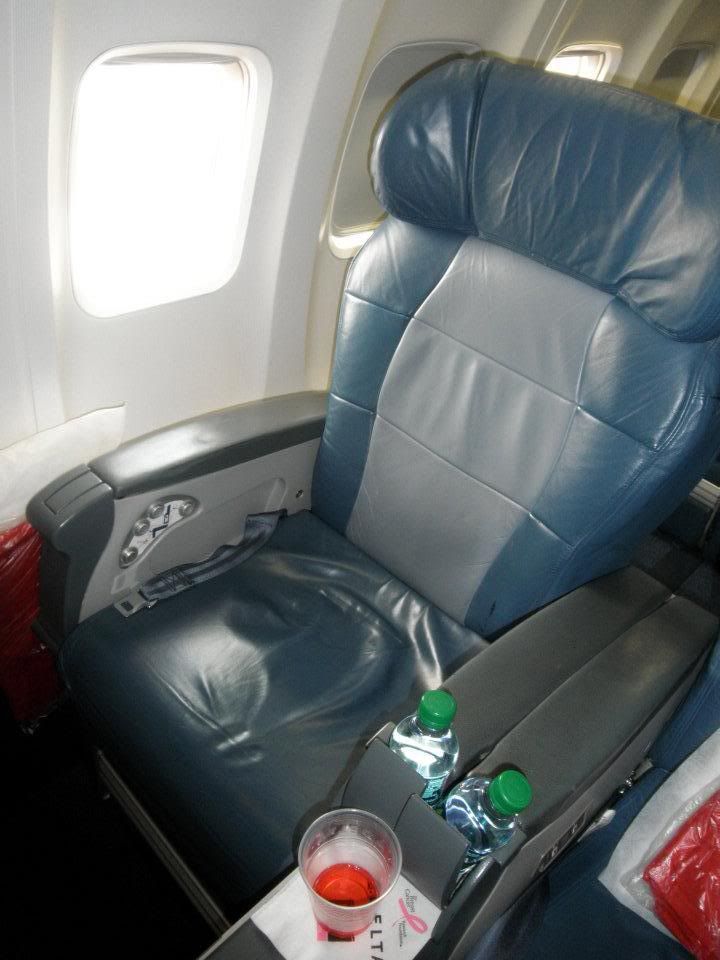 Lunch was then served. I had ordered one drink with vodka, one without, but only got the vodka one. The thai chili chicken was actually pretty good and the dessert while not totally fresh, was doable. According to the FA, the meal was catered in SJU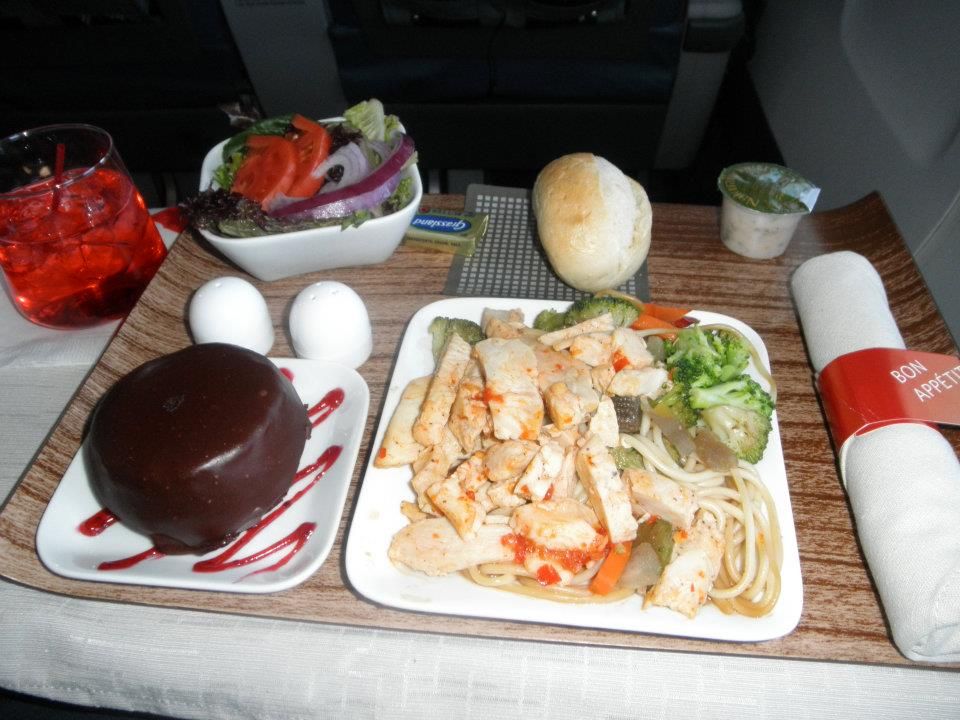 Cruising along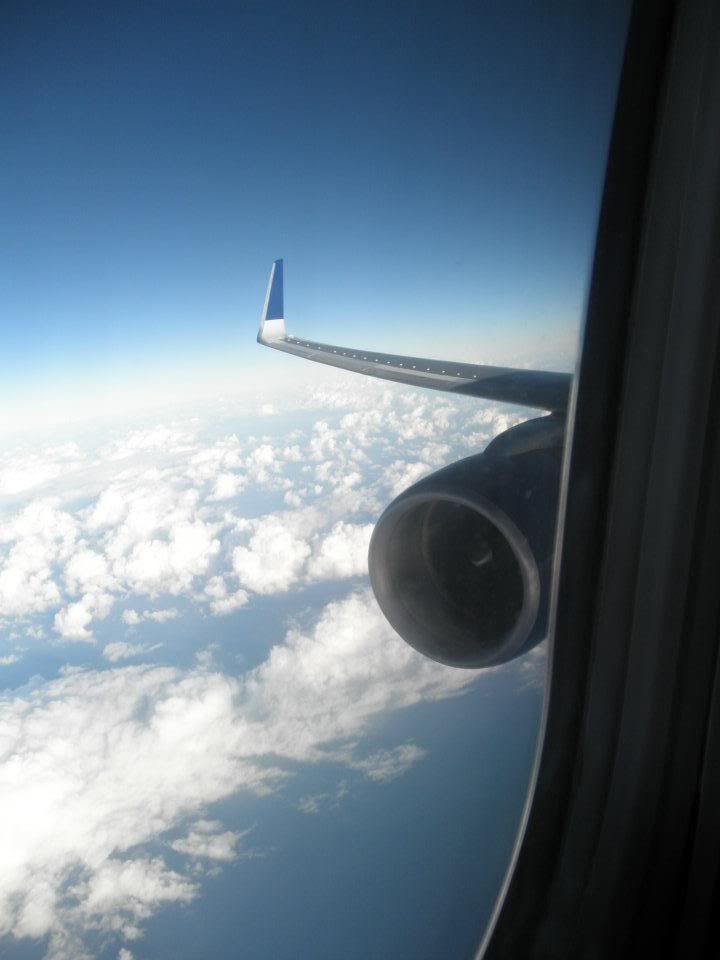 We arrived early at ATL and took one of the longest taxi's I've ever been on. I like how Delta has personalized connecting information for each flight. Most of the passengers were connecting
Transferring from B to C to get Atlanta Bread Company and then back to A for my next flight. I had about 90 minutes.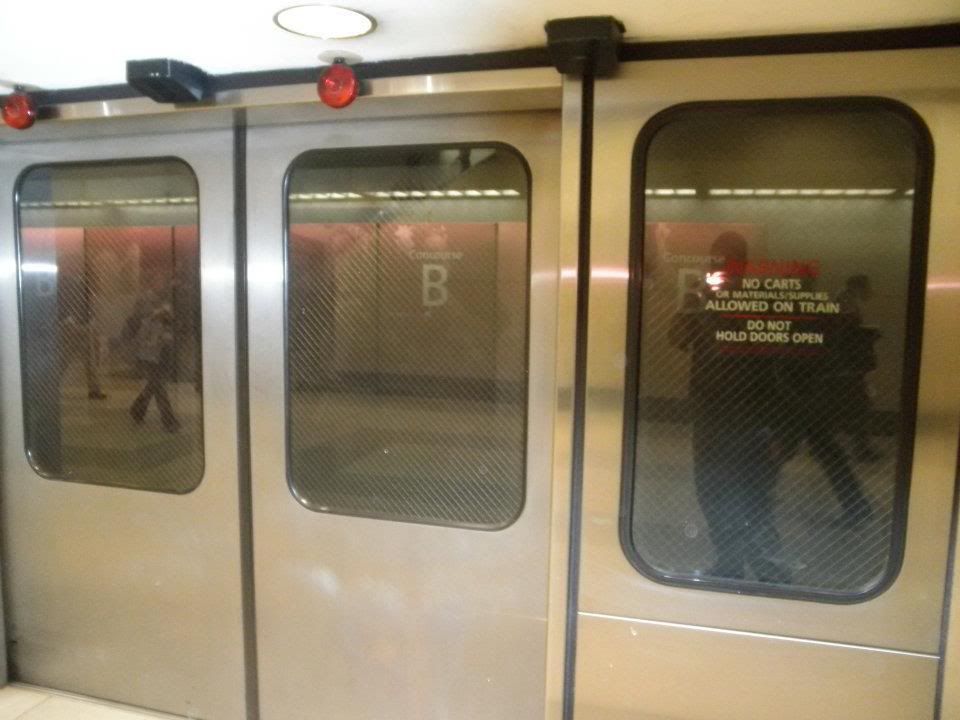 Parts of the airport were empty, but must totally packed with a true cross section of America and many people wandering around lost.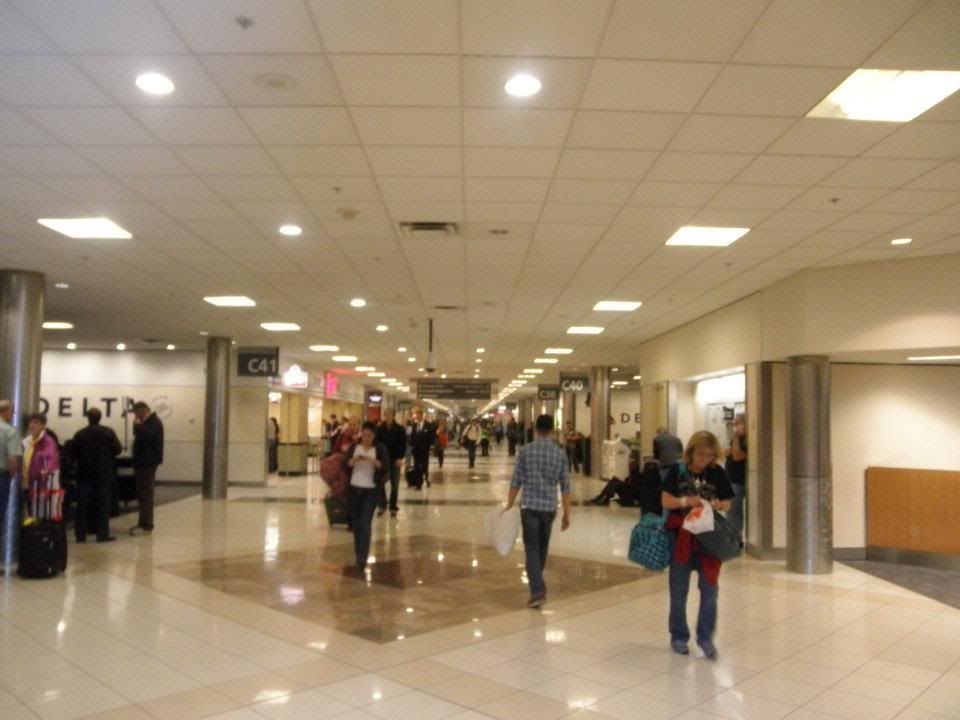 DL definitely has a lot of flights at ATL
And mine on the board: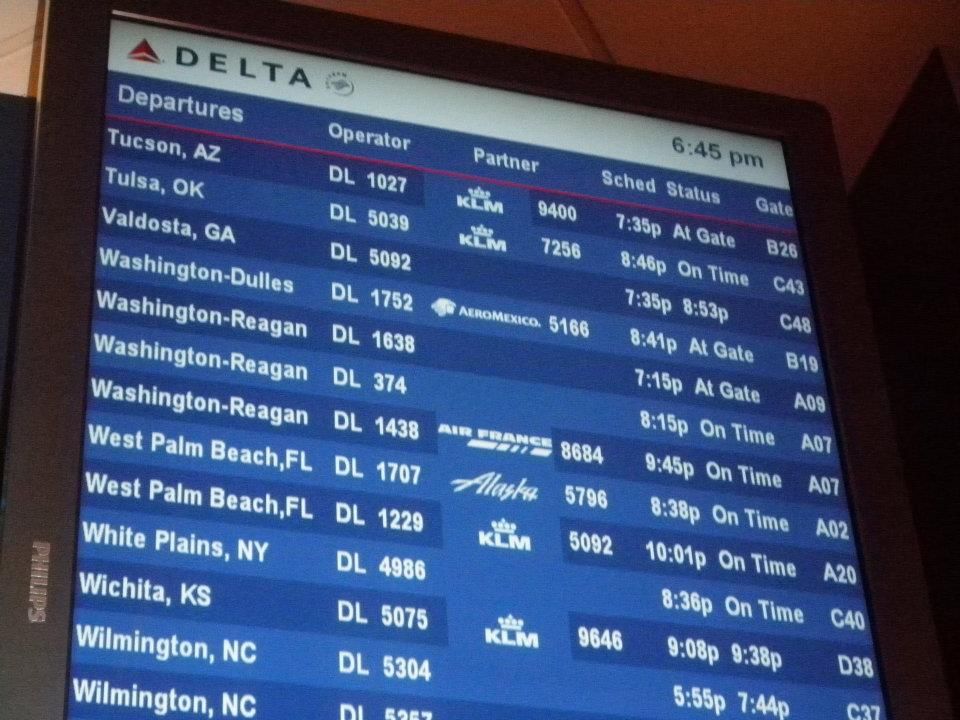 I stopped taking pics here as I was exhausting at it was getting to late. The flight to DCA was on another ex-NWA bird. This time an A320, which was also in terrible condition. The plane inside was filthy and the seats mighty uncomfortable.
Does anyone know why Delta is flying these birds around in such poor condition? Any plans to bring up to standard?
Landed at DCA and my bag, still priority tagged from SJU, was one of the first one. Typical DL had no idea which carousel our bags were on, each staff member said something different. Third choice was right.
And as is becoming typical of DCA at night, the cab line was massive, but I have a trick so I was in a cab in 5minutes and back home 10 minutes after that
Conclusion
Typical domestic flights here. But for as much as DL advertises modern fleets, they really let me down with those ex-NWA birds and poor condition.
Thanks for reading. I welcome all questions and comments
-Brian
[Edited 2011-12-15 10:05:15]
[Edited 2011-12-15 10:10:26]