Introduction
While passing through TLL the other day (see here:
Landing At ARN Thrice A Day (+ BMA, TLL And GOT)
(by
FlyingFinn76
Nov 29 2011 in Trip Reports) ) I noticed a Carpatair Fokker 70 parked there, at a gate which was showing an Estonian Air flight to ARN. That managed to arouse my curiosity and I had to investigate. Thanks to some friendly OV gate agents I learned that it is indeed providing some additional capacity for them until the end of the year. I have flown Carpatair quite a few times, both on their own flights to and from their home base of Timisoara, Romania and when they operated quite extensively for airBaltic during the "Crazy Baltic Summer of 2010". But I had never flown with their ex-MA Fokker 70s, so that was a good excuse to fix up an itinerary.
Of course things started by booking the main course, the plane appeared most frequently on the evening flight to ARN so I booked that for 40 EUR. Then to get to Tallinn I was thinking about taking the FlyBE Nordic TMP-TLL flight as I potentially had to be in Tampere for business reasons during that day, but getting confirmation whether I really had to be there or not was a bit slow (turned out I had to, meaning a hurried drive back to Helsinki!) and I didn't really want to leave my car there either so I decided to look for other options.
Luckily there was another interesting option taking just 18 minutes - flying to Tallinn with a helicopter. This service between Helsinki Hernesaari Heliport (will be designated as HEN by IATA at some point) and Tallinn Linnahall Heliport (CHE, again not official) was operated between 2002 and 2006 by the Finnish company Copterline, but their business started going downhill after one of their Sikorsky S-76 helicopters crashed into the sea in front of Tallinn in August 2005, unfortunately with the loss of everyone onboard. Afterwards they focused on doing charter work, but eventually filed for bankruptcy in 2010. I did have a chance to fly this service once back in 2002 and it was certainly a very nice experience (the pilot even apologized for the flight taking 19 minutes instead of the advertised 18 as they had to go around some storm clouds!).
The helicopter service was quite popular with business travelers as it was much faster than even the fast catamarans crossing the gulf and of course more convenient than flying with a fixed wing aircraft as the formalities at the terminals are extremely fast and minimal, plus at Helsinki the terminal is much closer to the city centre than HEL airport (a little less so in Tallinn as TLL is only six kilometers from the centre). As there was a clear demand for this service it was not a surprise this autumn it got resurrected, this time branded as "Fast Class by Copterline" and operated by an AgustaWestland 139 helicopter with 13 seats. Tickets for this service were originally quite expensive, but soon to lure additional passengers they introduced a "Joker" ticket which costs just 89 EUR one way (less than half the price of the cheapest one way fares before) and comes with the usual "no changes, no refunds" rules. That was too sweet a deal for me so I booked a ticket for the 17.00 departure (the OV flight was leaving at 19.00 so I had plenty of time to make my way to TLL).
Finally to get back it was a choice between DY for around 50 EUR and a nicer schedule or the Sleepy SAS Midnight Boeing for a bit over 60 EUR and of course a bad schedule with a 4 hour wait at ARN. Well, let's just say FFPs do work so I of course ended up on the latter!
Not quite the correct route as HEN/EFHE is unknown by the otherwise fab Great Circle Mapper: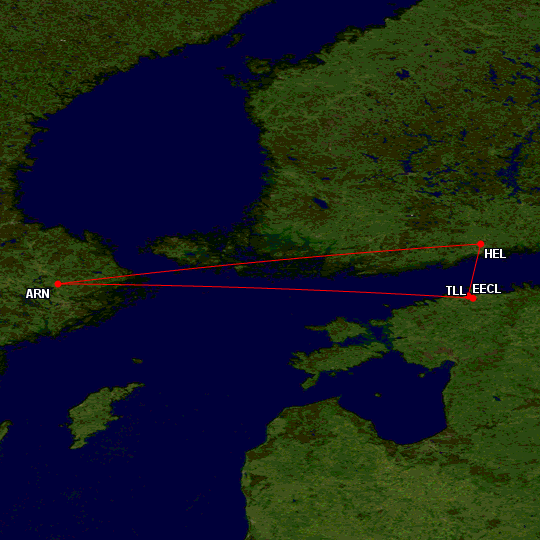 .
Thursday 15.12.2011
So this report starts at Tampere (where the ground is white!), where I sneak out from my meeting a bit early, fire up the trusty Ford and hit the motorway to our capital, cursing the lowly 100 km/h speed limit they have during the so-called winter season. Oh well, I've never cared much for speed limits anyway, just trusted my stellar luck and boyish charms to get me out of potential trouble and once again it works fine, so I make good time and finally pull off to a local train station somewhere in the midskirts (as opposed to real outskirts) of Helsinki (where the ground most definitely is not white!). This station just happens to lie on the line I use for commuting to and from work, so will be handy for retrieving my car the next day.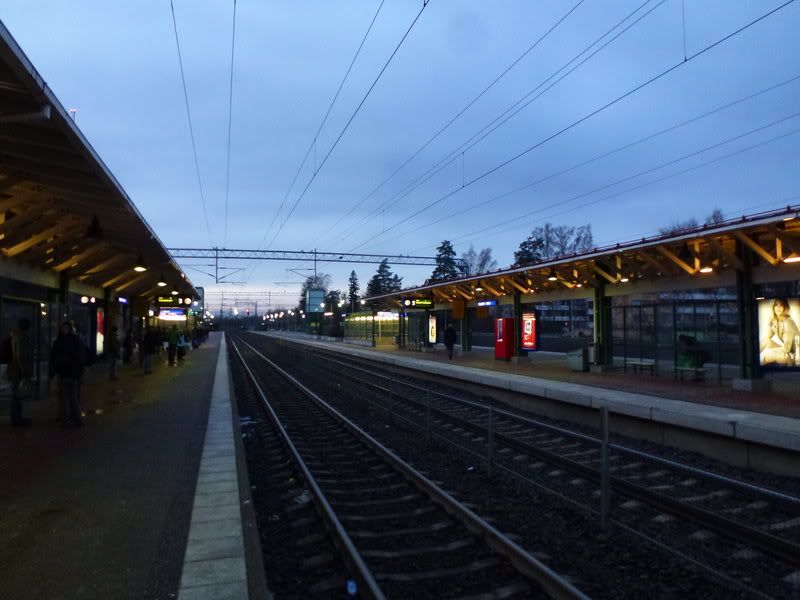 I catch a local train to the main station at Helsinki and admire the beautiful Christmas lights around (working and living in the suburbs means that I frequent Arlanda and various other airports much more than the center of Helsinki!):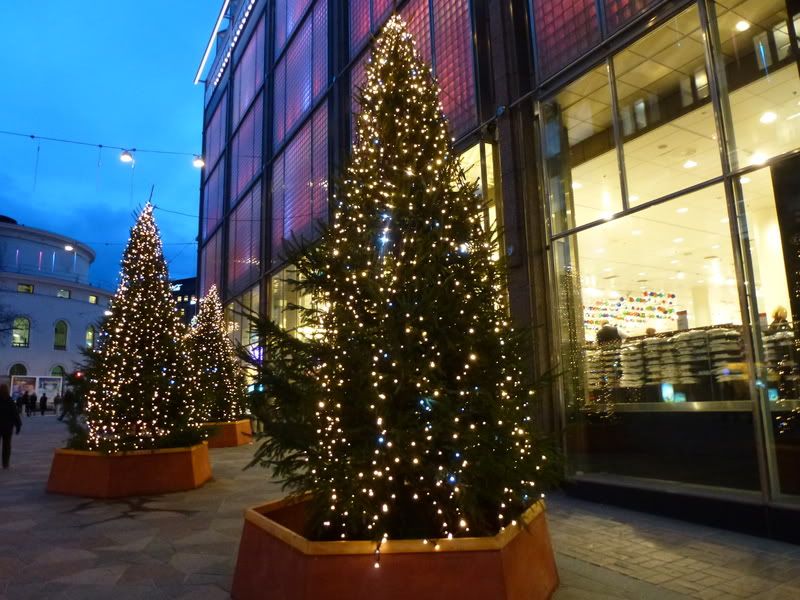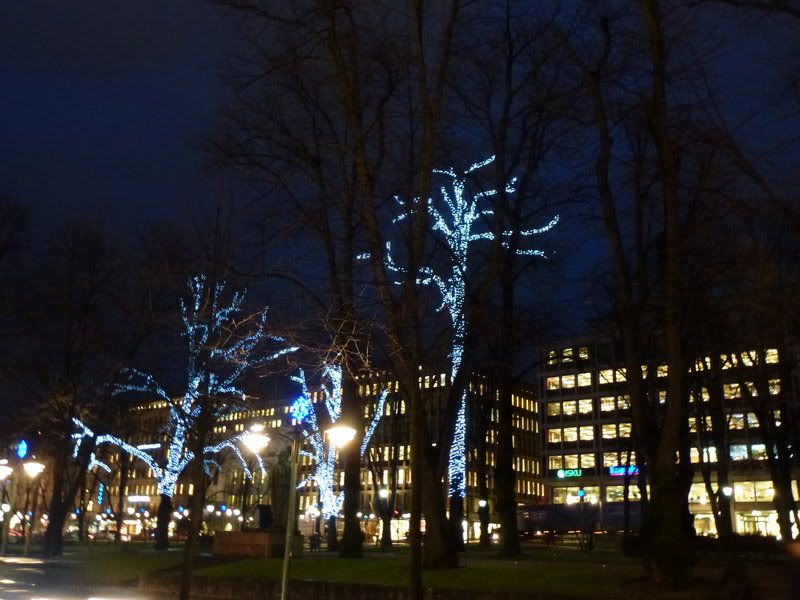 It is rush hour, so the timetables for the buses are very optimistic, but eventually my ride pulls up some ten minutes late: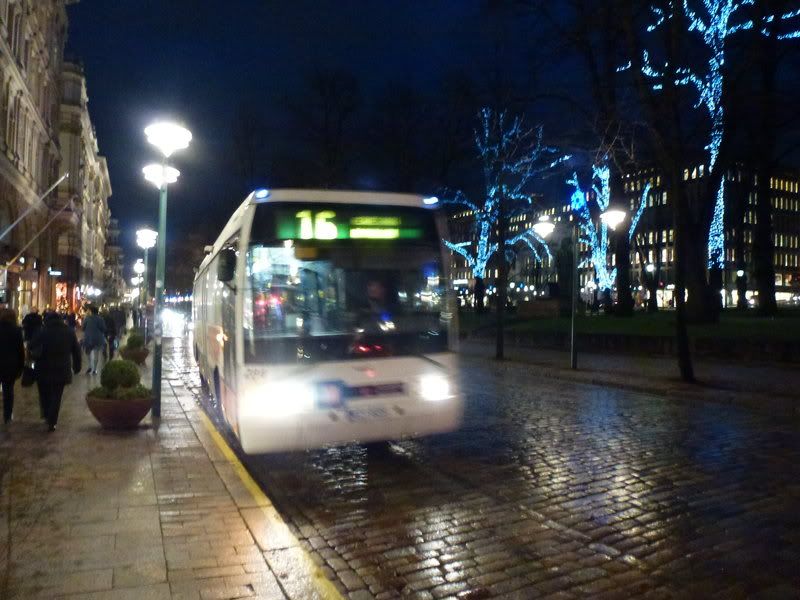 The bus is full of hipsters - well this line takes one through the trendy parts of Helsinki so nothing less is expected. The timetable is far too optimistic here as well, the ride to the terminus at Hernesaari is listed as taking a mere ten minutes but takes actually more than twice that. The last stop on the line just happens to lie conveniently right next door to the helicopter terminal, so that is nice: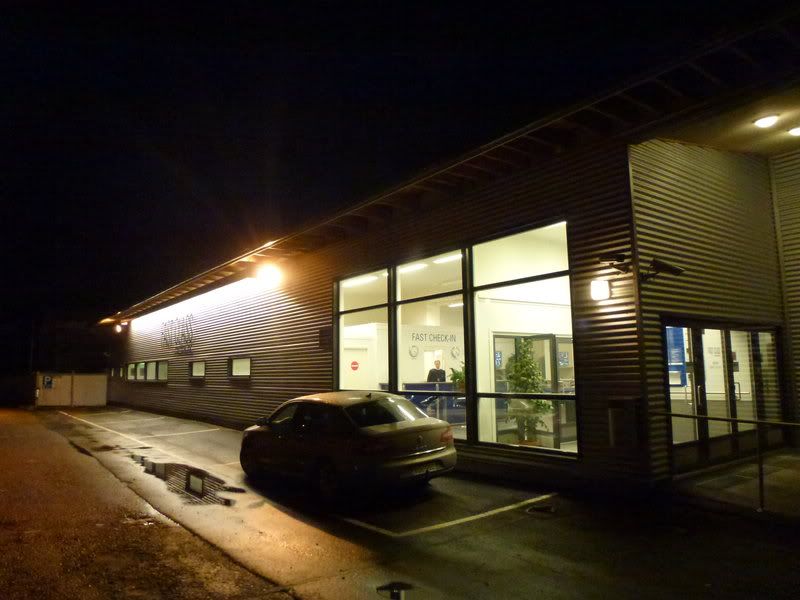 They use these vans to drive passengers to Tallinn in the case of a flight cancellation: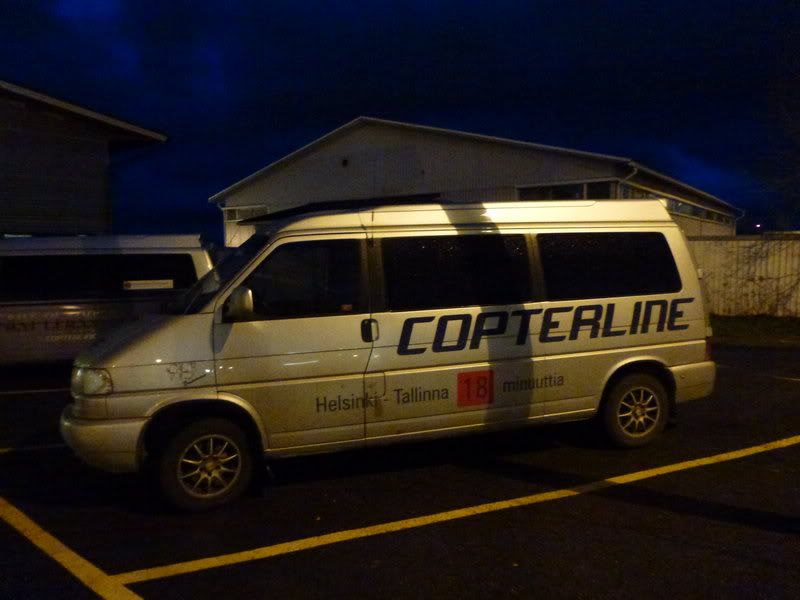 Inside there's nobody but the reception girl and a young guy who turns out to be the combined security officer/ramp agent/general purpose customer service agent. Check in takes around ten seconds, I ask "To Stockholm, right?", the answer is "Well maybe in the future." so I just have to say "But I think St. Petersburg will come first.".
My hand luggage is weighted as well and I'm asked to proceed through security to "the lounge".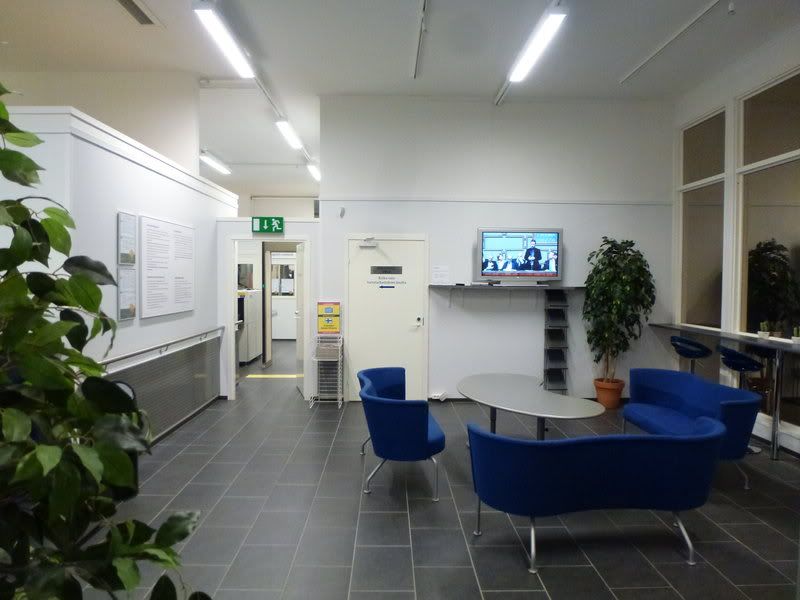 Security is far easier than at airports, no need to take off my belt or any silliness like that. The guy asks if I want to use my computer while waiting - I say yes so he advices me that then I need to surrender my bag just before boarding the helicopter as "we just don't have that kind of overhead bins as aeroplanes do.". Fair enough.
Hmm, did someone mention a lounge earlier? Oh yes, since there's no inflight service on the flights Copterline has a fully featured lounge for waiting passengers including some small snacks, juices, soft drinks and of course coffee/tea: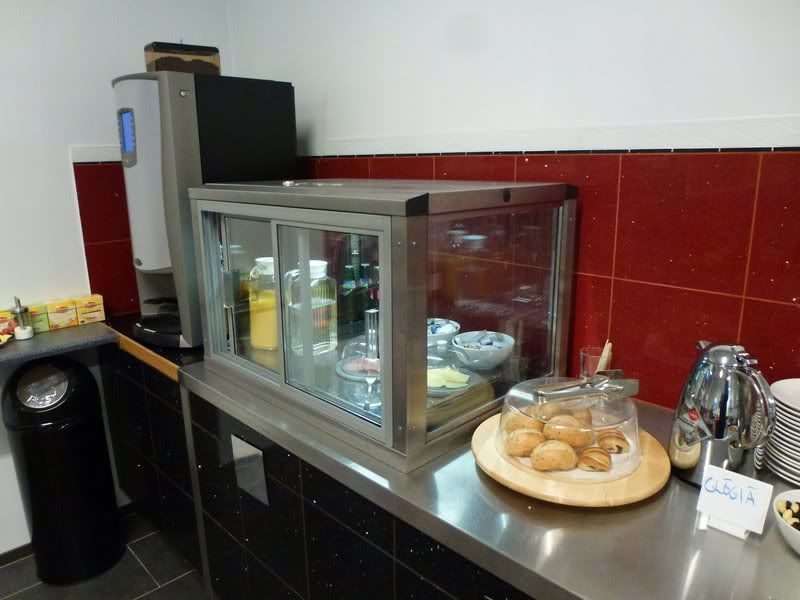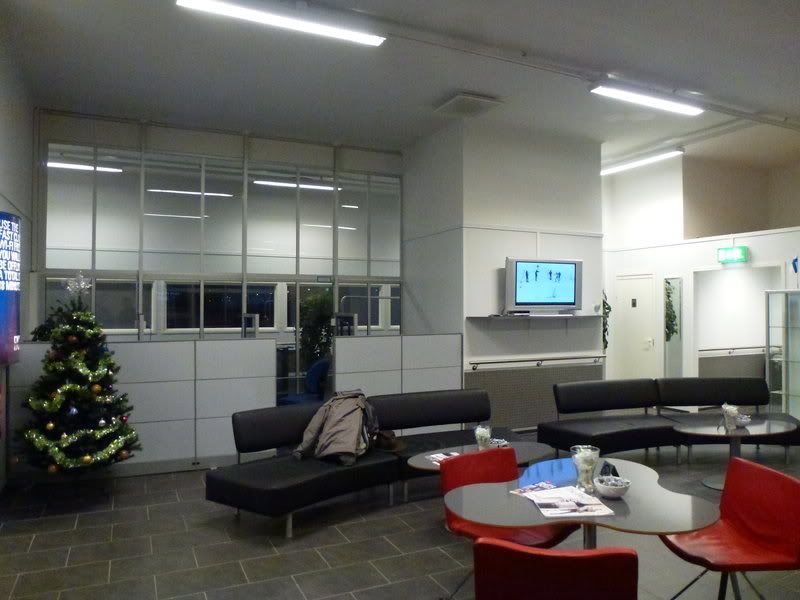 Due to the season there's some Glögg, or the Nordic version of Glühwein available, although this one is juice based and thus non alcoholic: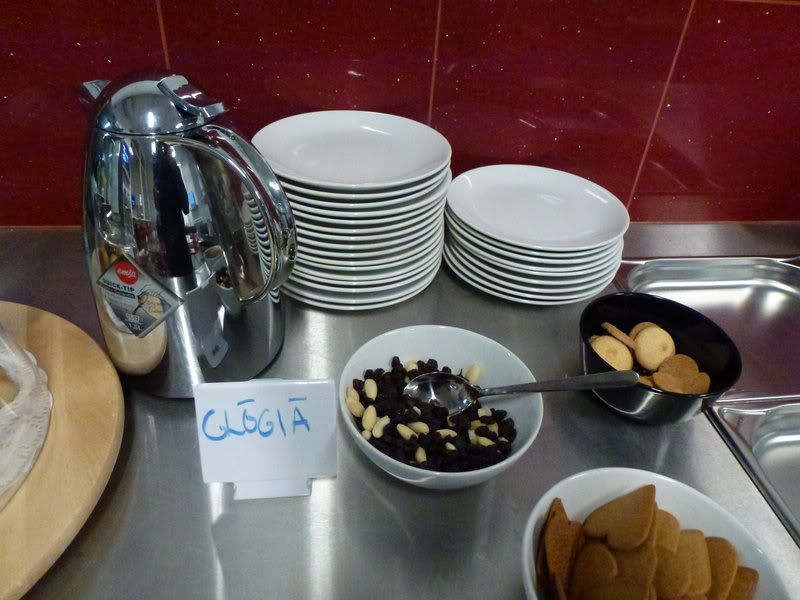 Oh, and obviously there's a free wifi here, which I take full advantage off. A funny sign advertising it (and a nice tree with some shiny thingamajics as well):
Some Christmasy drinks and cookies: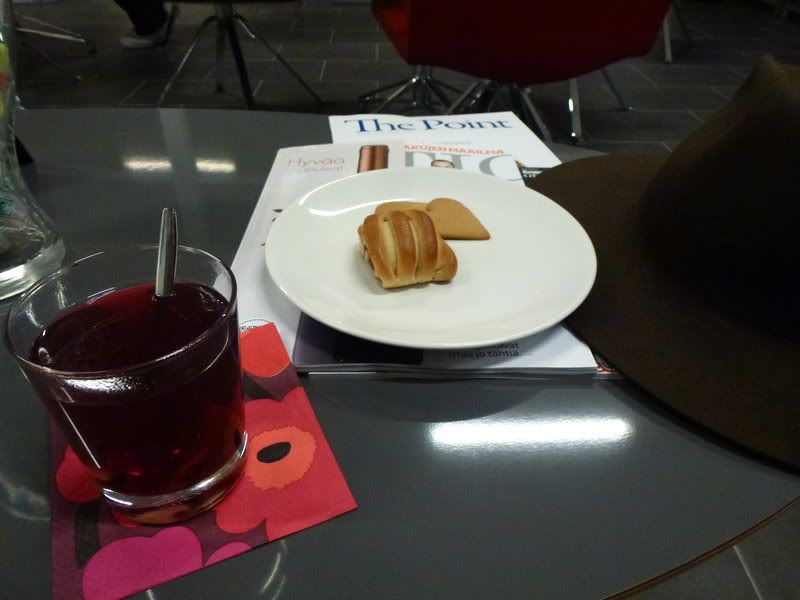 On the table there's not only a jar of candy but a jar of earplugs as well: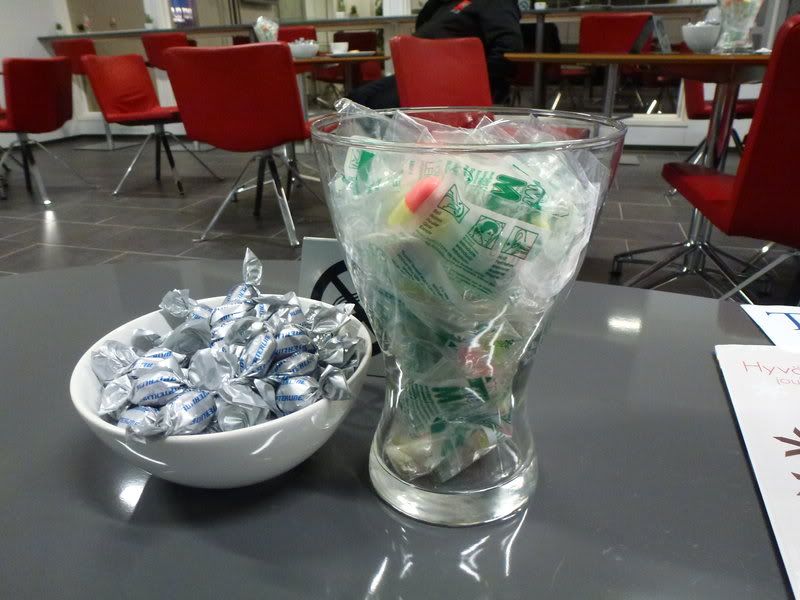 There's an Estonian guy already here, he looks and acts like a young gangster (well, "entrepreneur" would probably be the proper term here - after all those two things are vaguely separated by a thin red line in these countries...). He keeps giving me the bad eye for taking photographs.
Working areas: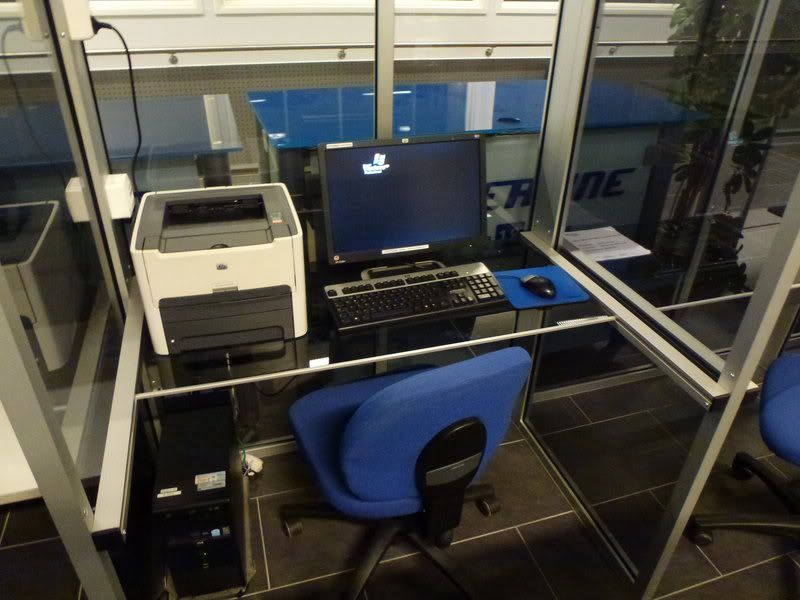 Reading material - the spread here confirms that this is a service aimed for the business travelers (and that they have struck a nice exclusive deal with the leading Finnish business daily):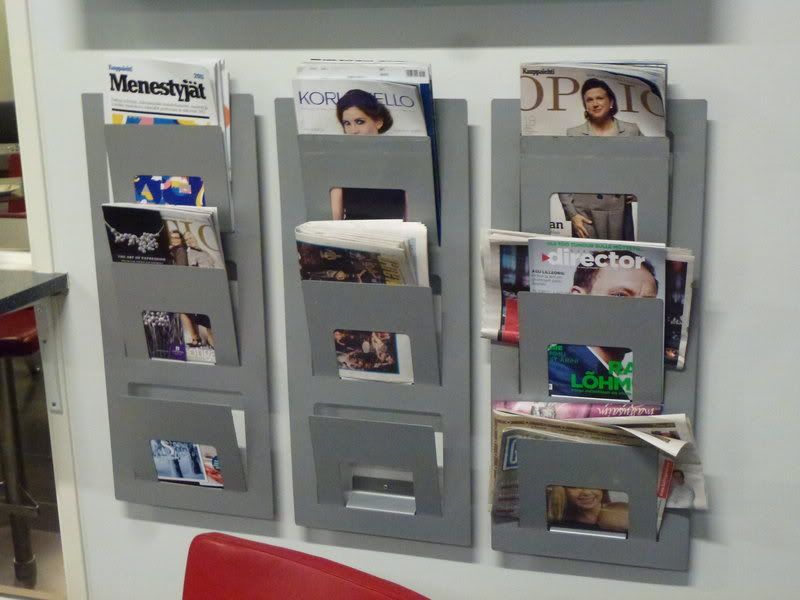 Safety cards are available on the desk: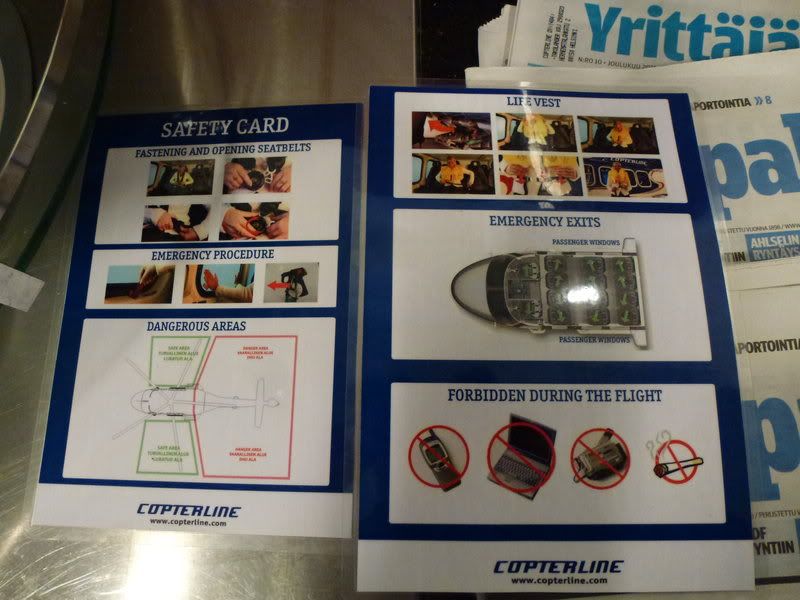 It's only me and the guy for quite some time - I read my emails and do some other stuff with the laptop, among them a final shot at OLCI for the next flight (for some reason my numerous attempts today and last night never worked) - and voila - this time it works fine and I check myself in, although am obviously not able to print a boarding pass (and don't bother trying the provided computer & printer, I can always sort it out at TLL).
The boarding pass for this flight is a laminated, reusable one with a seat map: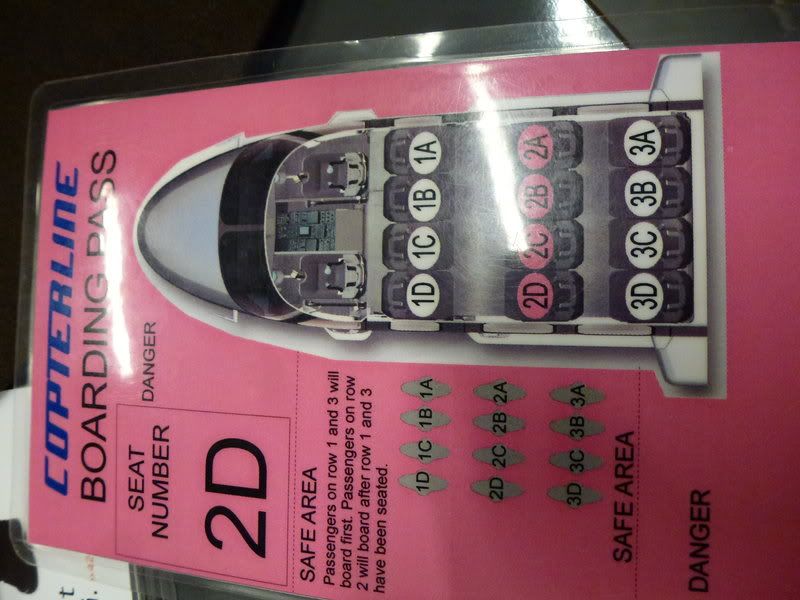 That seat map only shows 12 seats but the check in agent clearly said 13 was the maximum capacity so I'm a bit confused by that, as I don't think there's a jumpseat in the cockpit either.
I hear the inbound landing at 16.50, just ten minutes before the SDT of our flight. At the same time a bunch of other passengers emerge through the security check (and stupid me was worrying about the check in times listed at their website which stated that one should be there half an hour before departure...).
There are two business traveler types, I think one of them is Estonian and the other one a Finn, although I don't ever hear either of them saying anything. Then there are two guys who definitely are Finns, both drunk but the other one much more so, he is unable to even walk straight. I'm really surprised that he was allowed to check in. A bit later the check in girl comes and hands the more drunk guy his passport and boarding pass, apparently he forgot them at the check in desk...
Boarding is called three minutes before SDT. They announce that the boarding passes are actually color coded (didn't realize that) and having a seat on the middle row I will actually board as part of the last group.
Outside it is rather noisy, but I didn't bother with the earplugs as I want the full experience here too. A ramp agent signals to me that he wants my back bag so I surrender it to him.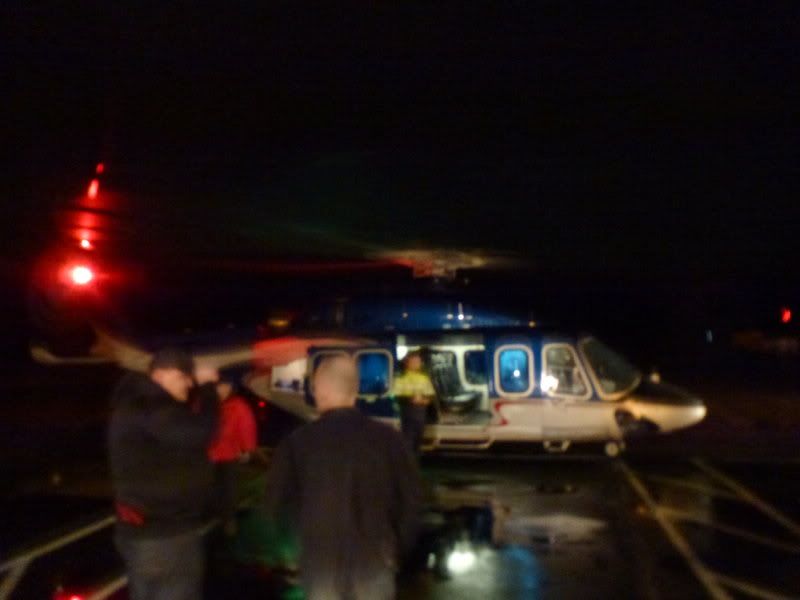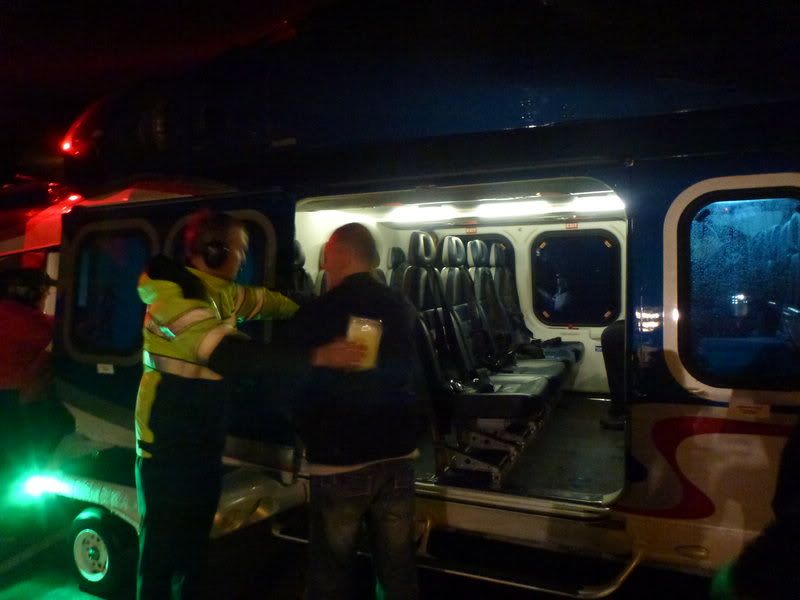 Sorry for the bad pictures throughout this flight - it was too dark to get any good pictures.
HEN - CHE
CPE7160
AW139 OH-HCR
Seat 4D
17.04 - 17.25
The first two rows are facing each other, with the last row being a separate one. The safety belt is not your usual hip belt found in commercial airliners but a four way harness instead with this interesting latch: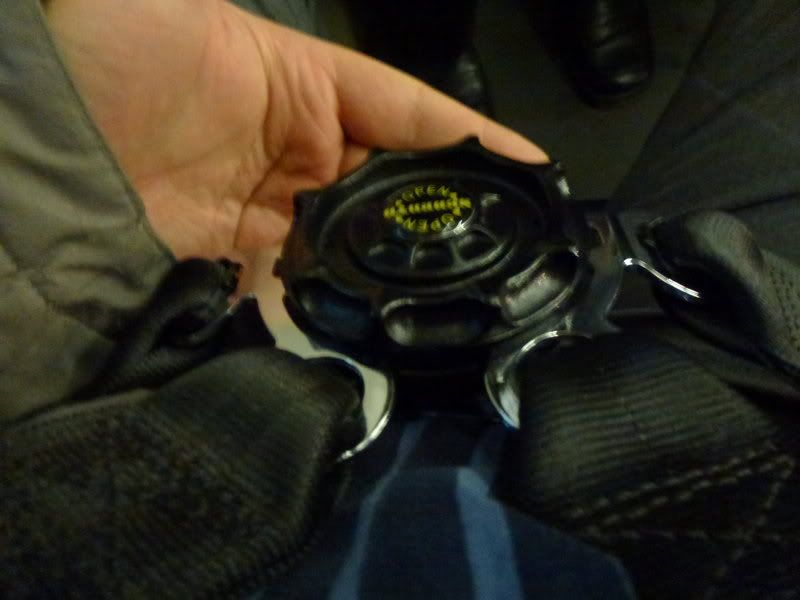 Controls on the ceiling resemble their counterparts in modern planes.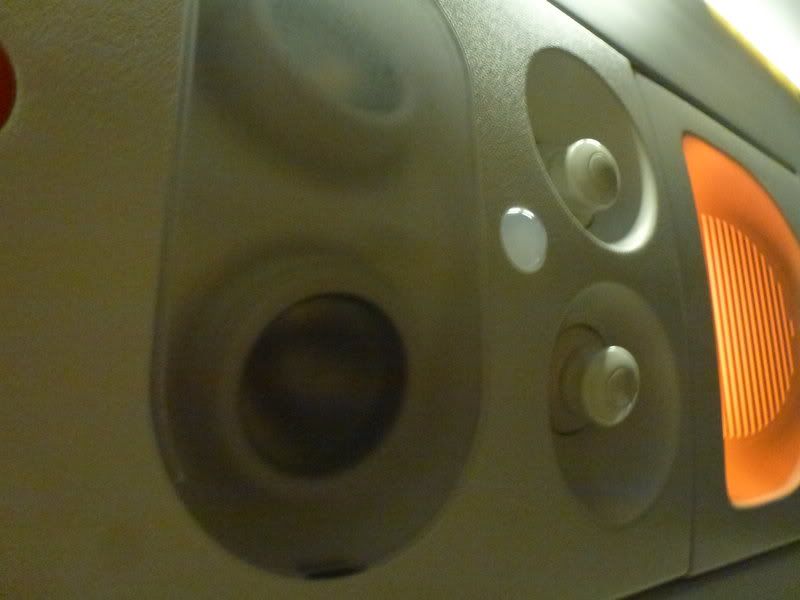 The drunk guys are on the back row (and too drunk to even fasten their harnesses properly, the ground staff does that for them, again I'm wondering why were they allowed onboard) and the four of us here on the facing rows. It is not the roomiest of cabins, but okay for this load of six passengers. With a full cabin it could get quite cramped, however.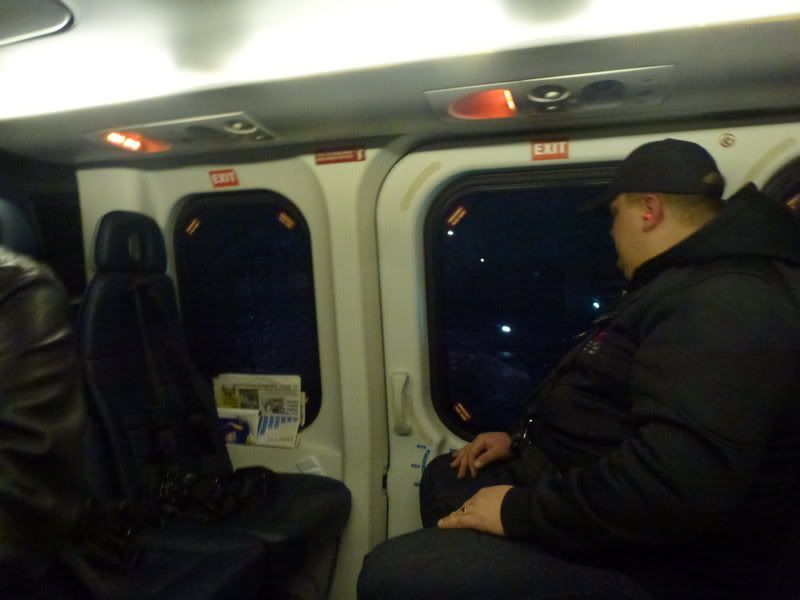 The captain is Finnish and the FO Estonian, so they take turns to make announcements in both languages. Our flight time to Tallinn today will be 19 minutes (wow, a major delay, stop the press!) and we will be flying at a height of just 40 meters (now that sounds far too low for me!) and the weather is cloudy and rainy along the way.
The doors are closed and we taxi out four minutes late. Yes, indeed we taxi a short way to the actual pad before lifting off. It definitely feels a bit weird going straight up like in a glass windowed elevator for a bit before the nose is pointed downwards and we head out over the sea towards Tallinn - Hernesaari is at the extreme southern end of Helsinki, on a peninsula that once upon a time was an island, hence the name (saari = island) so there's no overflying of any built up areas or even land from here.
Lifting off in the rain: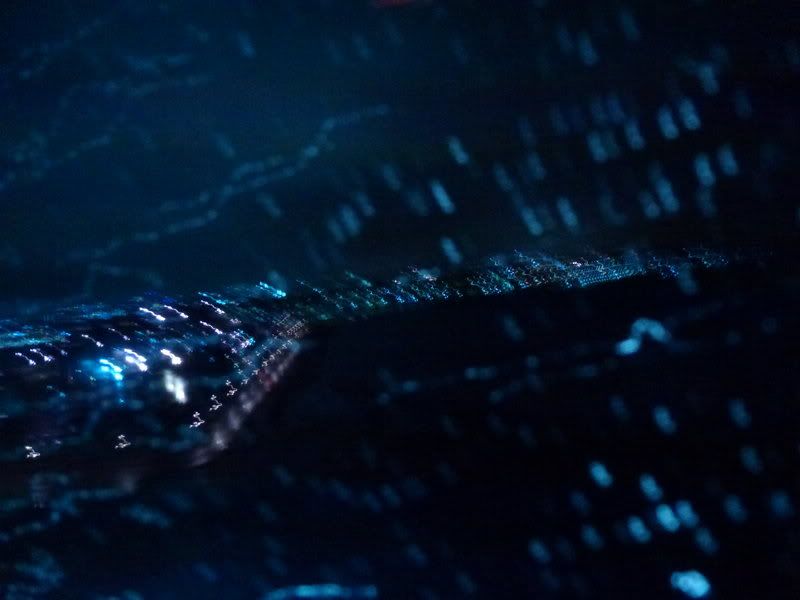 It is quite noisy in the cabin - it doesn't hurt my ears (unlike outside) but it is not really possible to have a chat either.
Now I don't consider myself to be a nervous flier - having flown over 1200 commercial flights during my life (if you count the ones before I started systematically logging them) but I have to admit that this flight did give me a very uneasy feeling. I think it is a combination of the memory of what happened to that unfortunate Copterline flight back in 2005, the fact that it is so dark that after leaving the lights of Helsinki and the outlying islands behind there's not really anything but darkness out there, our low cruising altitude and the fact that there are lots of clouds around so from time to time there's nothing to be seen even from the cockpit window (which we have a clear view out of the cabin). Oh and the drunk guy blabbing something about "crashing" doesn't exactly help either - I'm almost ready to tell him to shut up but he handily passes out.
The lights of Helsinki fading fast behind us: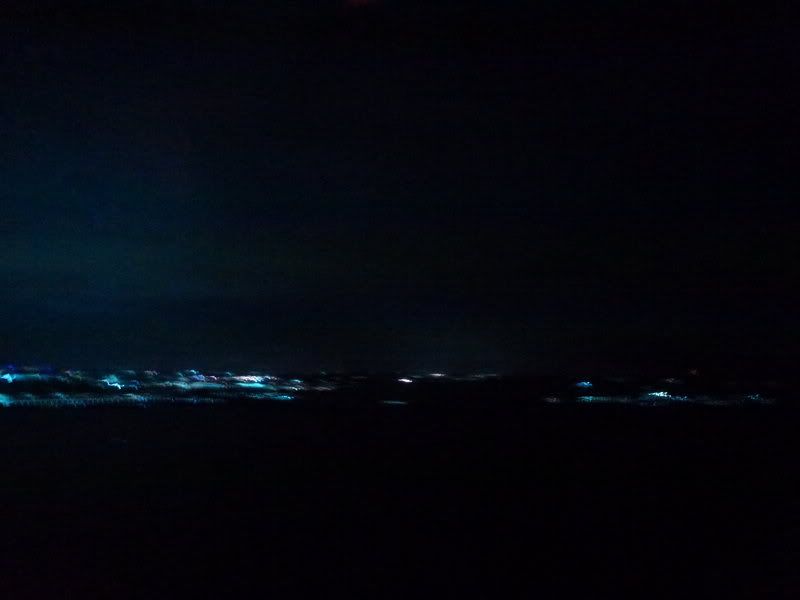 Well, after all it is a quick flight and soon the lights of Tallinn are visible over the horizon.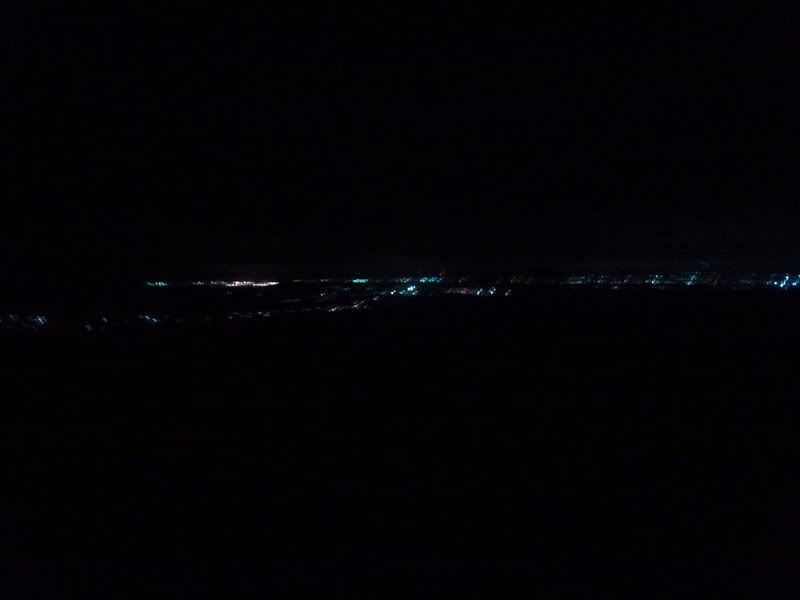 These two shots are from the cockpit window - you can see the lights of the flight instruments there: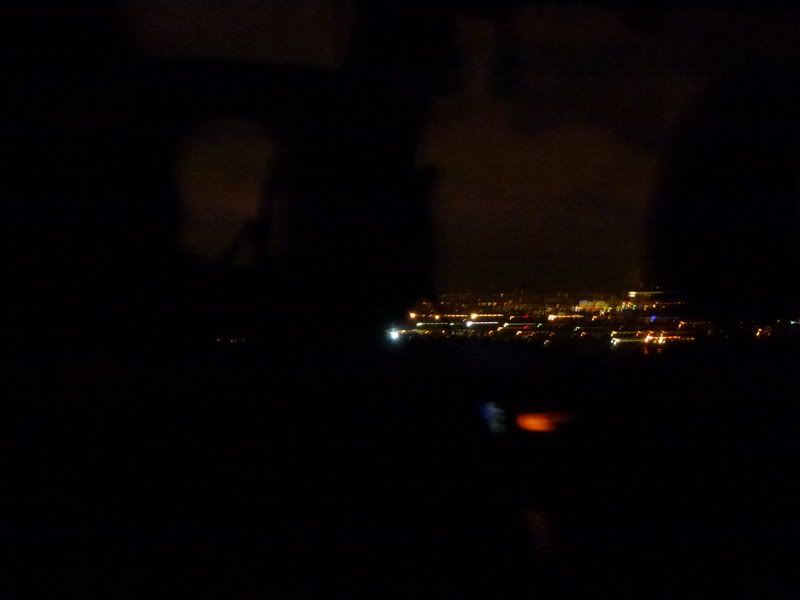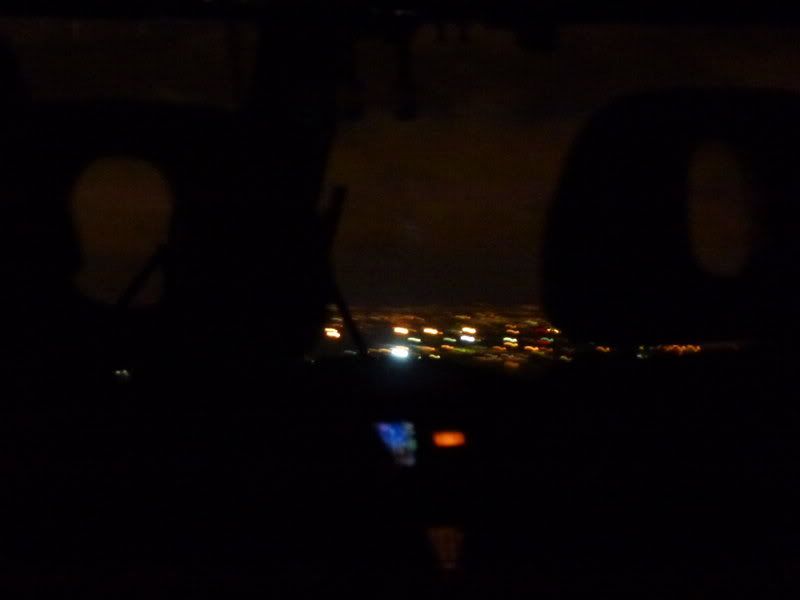 Entering Tallinn harbour - that thing in the foreground is an old crane that seems to have been decorated just for the season: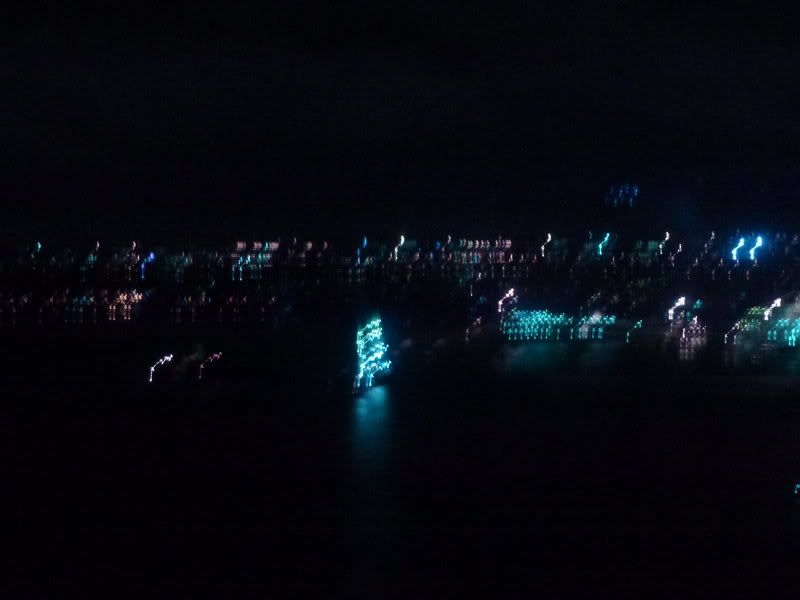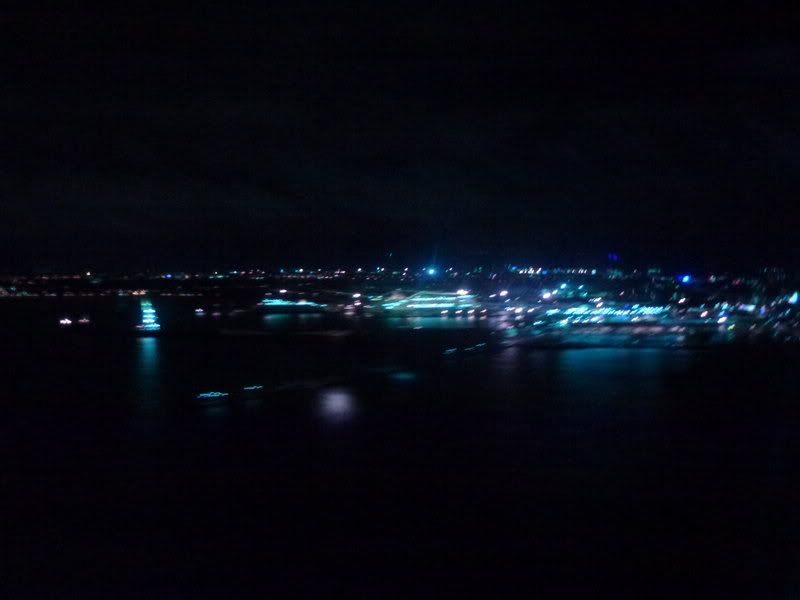 The pilots announce landing in four minutes and thank us for flying with Copterline.
At this point the drunk guys wake up and the first line is a classic one - "Where are we???" followed by another classic "I need to pee!".
The skyscrapers of the CBD: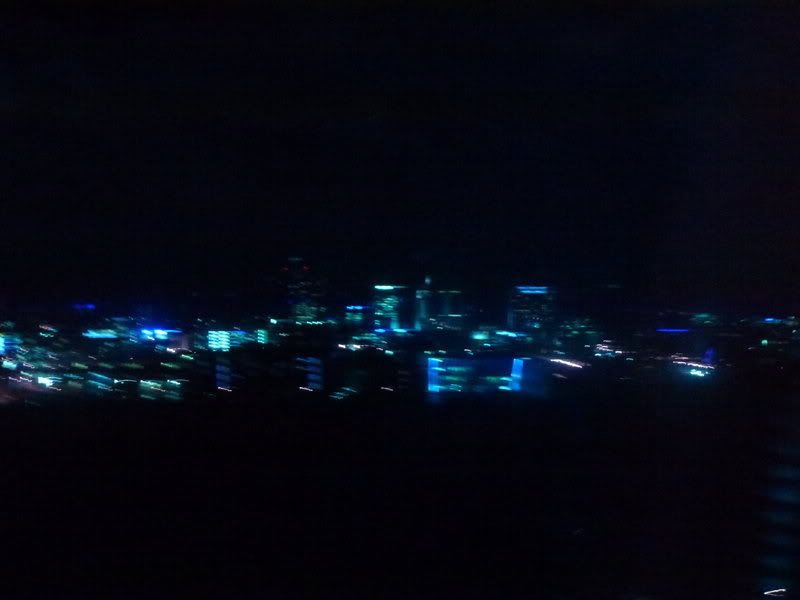 Approach is definitely very fast and interesting - just out of the blue the land suddenly appears, a few seconds later I see the landing lights and five seconds later we touch down, just like that. According to my watch the flight took a total of 21 minutes, maybe I should ask for a refund as they broke their promise? Just kidding, just kidding.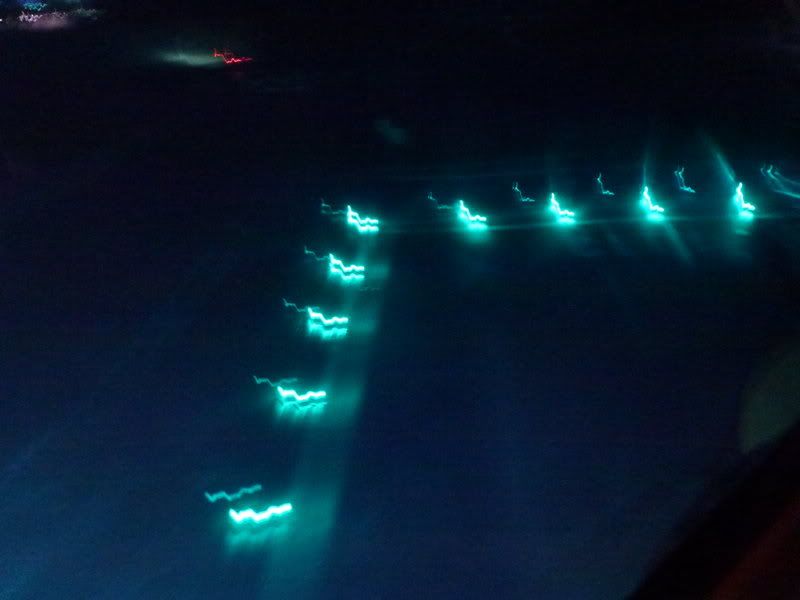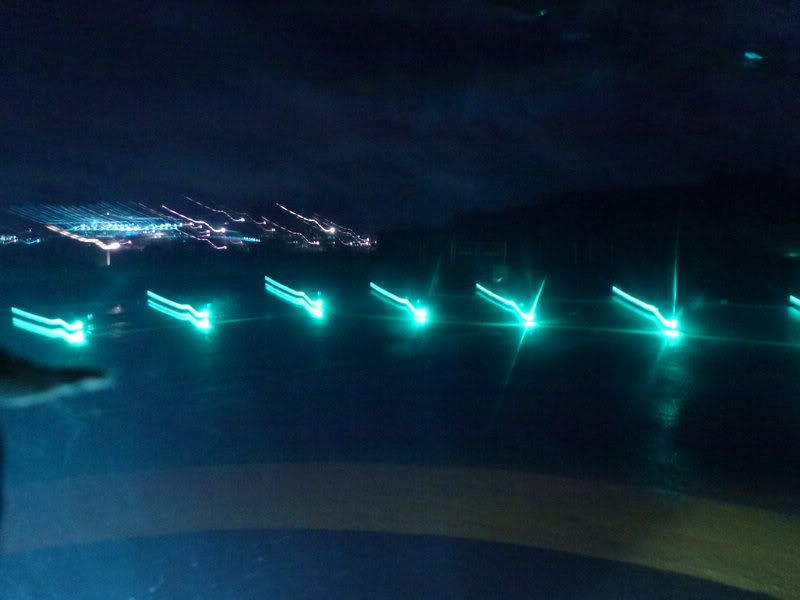 A Brief Journey Through Tallinn
View of the seatbelts: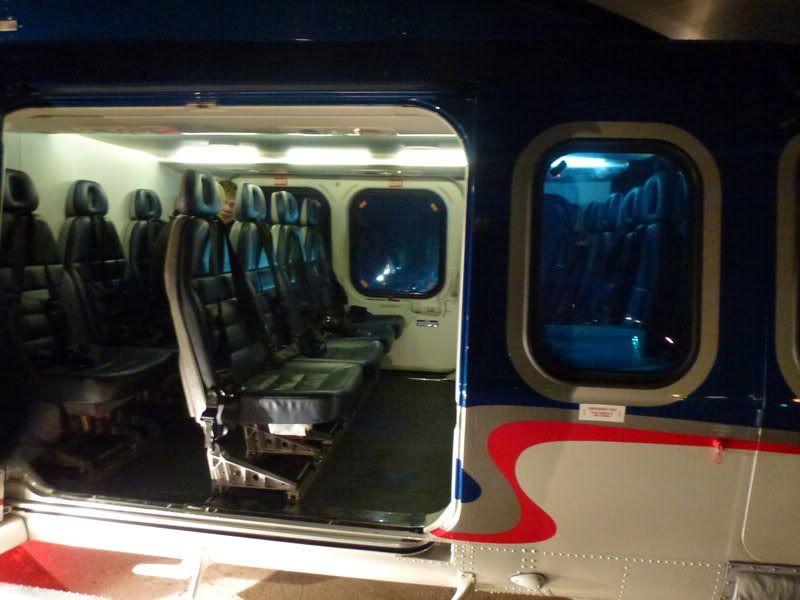 Well, I am actually quite happy to walk out of the helicopter this time and pick up my bag from a cart outside.
Now I manage to spot the registration as well, OH-HCR:
The drunken mates: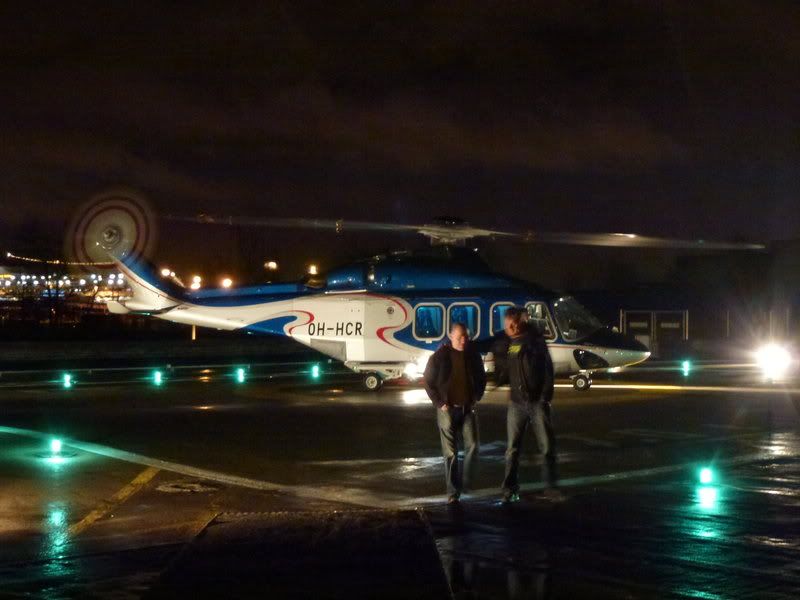 Linnahall also doubles as the terminal for the fast boats of Linda Line, as they can't operate in the winter weather both of their boats are now anchored here waiting for the spring: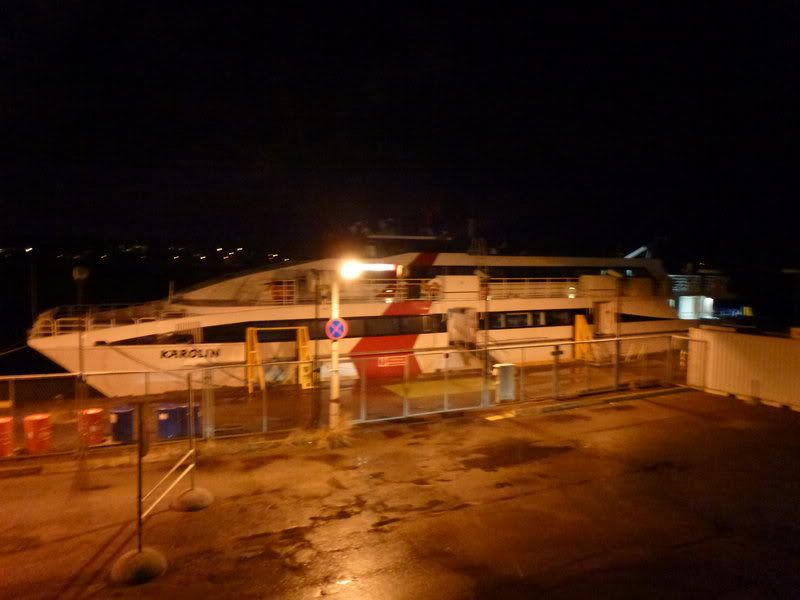 At check in they asked whether I wanted a taxi waiting for me at Tallinn. That was my original plan but I decided to be cheap and take the bus instead. Luckily the Linnahall heliport is just a few hundred meters away from the harbour, where the bus number 2 takes one through the city to the airport. Not so luckily the road there is in complete darkness and full of potholes filled with water, so my walk is rather interesting and a bit hazardous.
Two last shots of OH-HCR: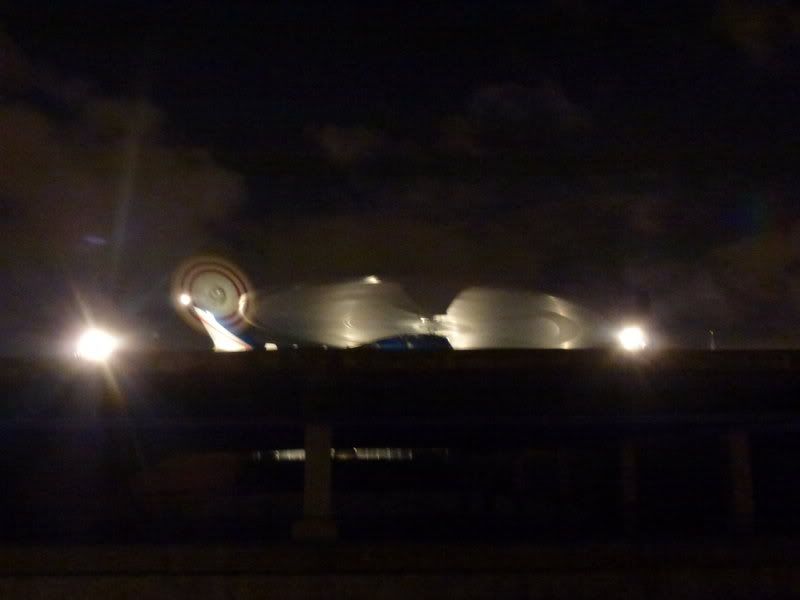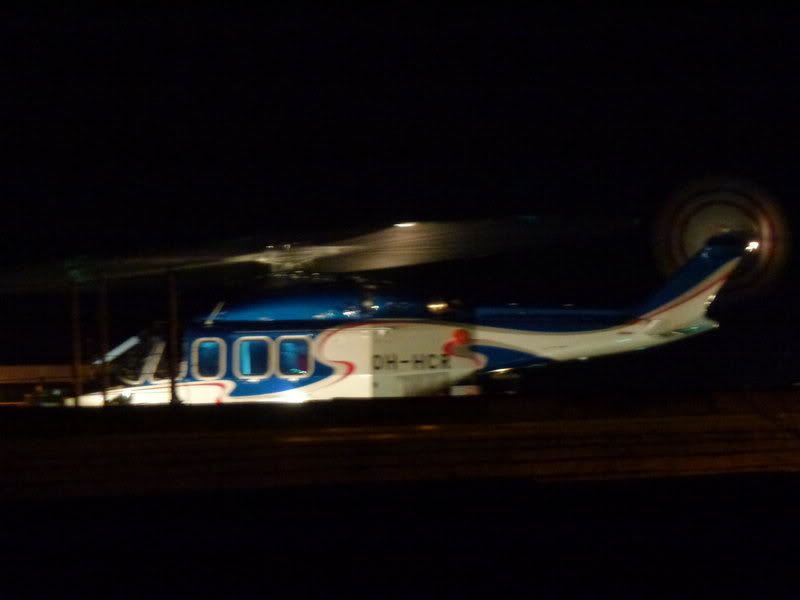 Eventually I get to he port: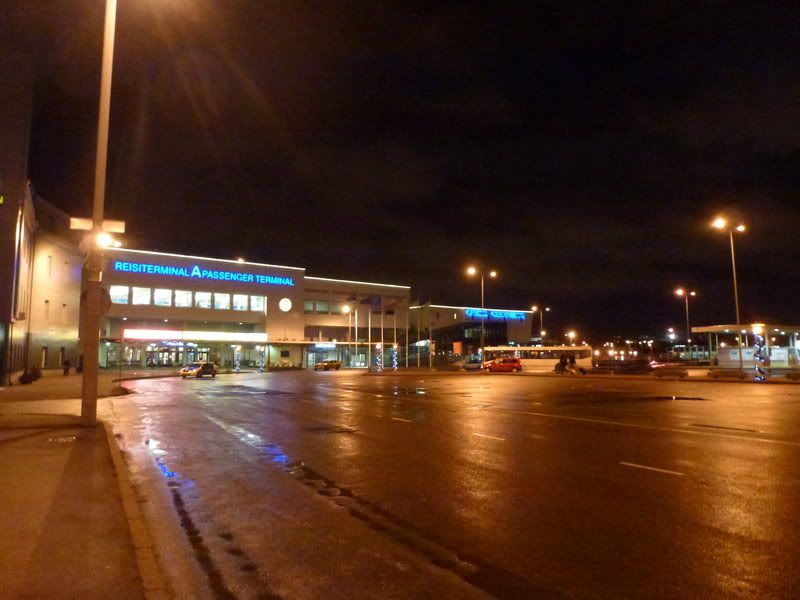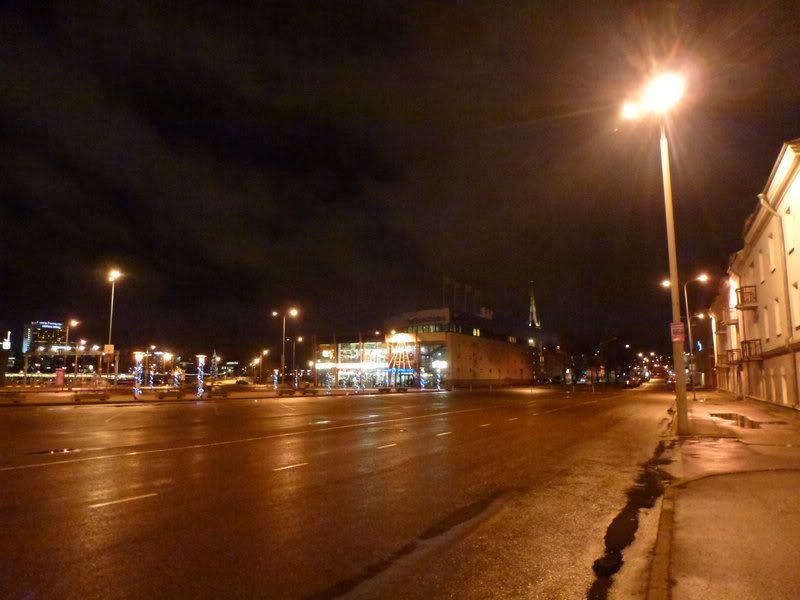 While waiting for the bus I hear the helicopter taking off again for its return flight to Finland.
The next bus leaves in just five minutes, lucky me, the ticket costing a very reasonable 1 EUR. Too bad traffic in Tallinn can be rather bad and it definitely is rush hour, so the 7 kilometer ride takes around half an hour, but eventually I get off at the airport in front of the terminal.
Tallinn Lennart Meri Airport
Inside the whole airport is pretty much deserted. I pick up my boarding pass from the OV business class desk, proceed through the equally deserted security which is probably the only time at TLL when this process has been smooth for me - normally there's all kinds of hassle there making it one frustrating endeavour.
Airside I conduct a quick shopping spree at the Travel Value before shooting a few photos of my ride, YR-KMB: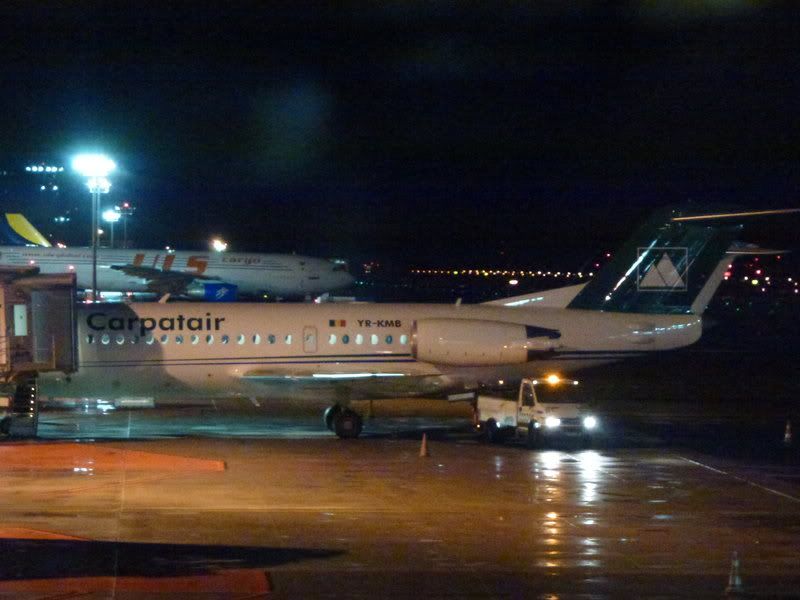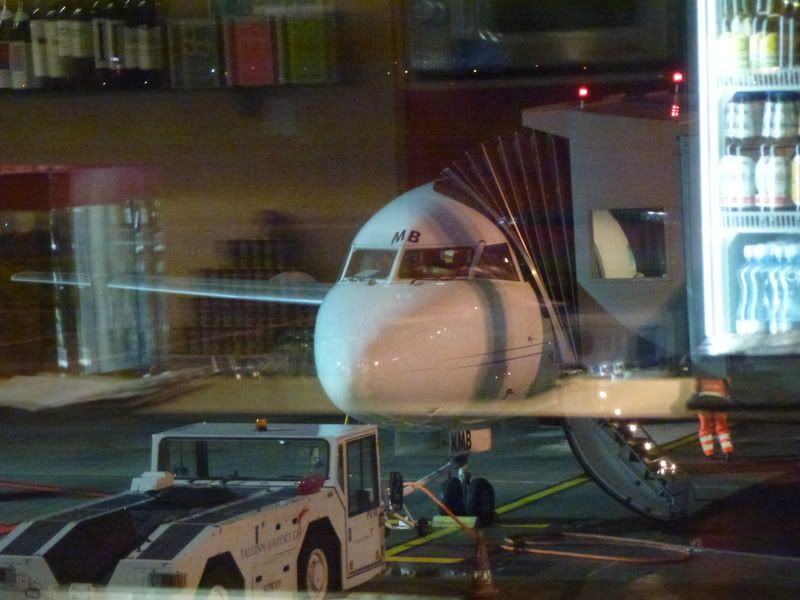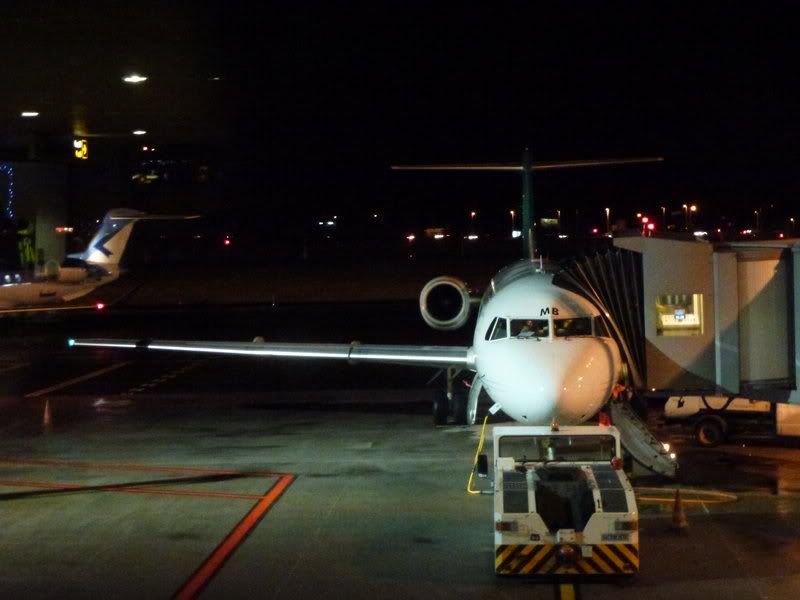 Obviously a new entry for my log and one of the very few Fokker 70 examples I've flown - I only have 4 Tyrolean Airways examples plus one KLM Cityhopper bird in my log. This is an ex-Malev bird which spent 14 years with Malev before being transferred to Carpatair back in 2010.
I head to the lounge for a quick beer - my nerves are still a bit shaky from that uneasy chopper ride. All the other customers are Swedes. I really these vegetable dip things (I think the "little finger up" term is "crudités" but I'm too much of a meat and potatoes type of guy to use that) they have here: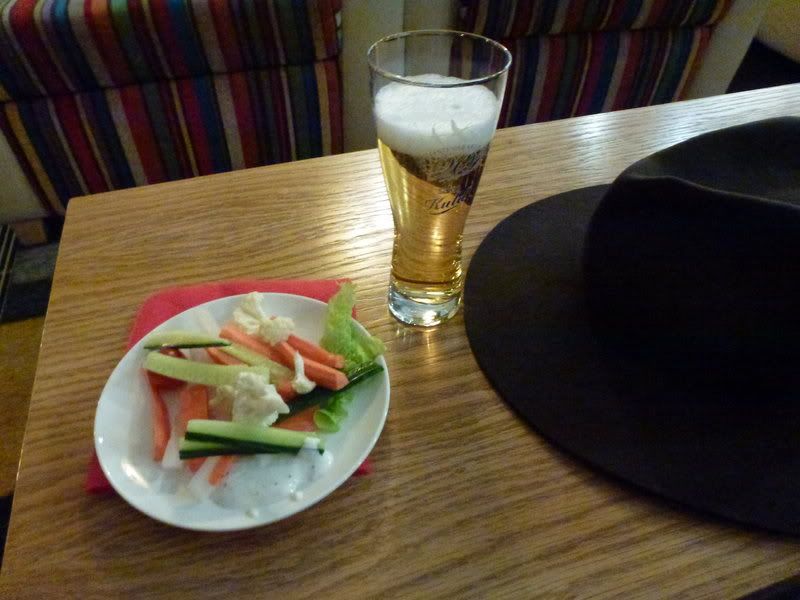 I promised Hannah a picture of the nice blue Estonian livery - here's one of their 737s departing for OSL (notice the Christmas lights at the old terminal building on the background):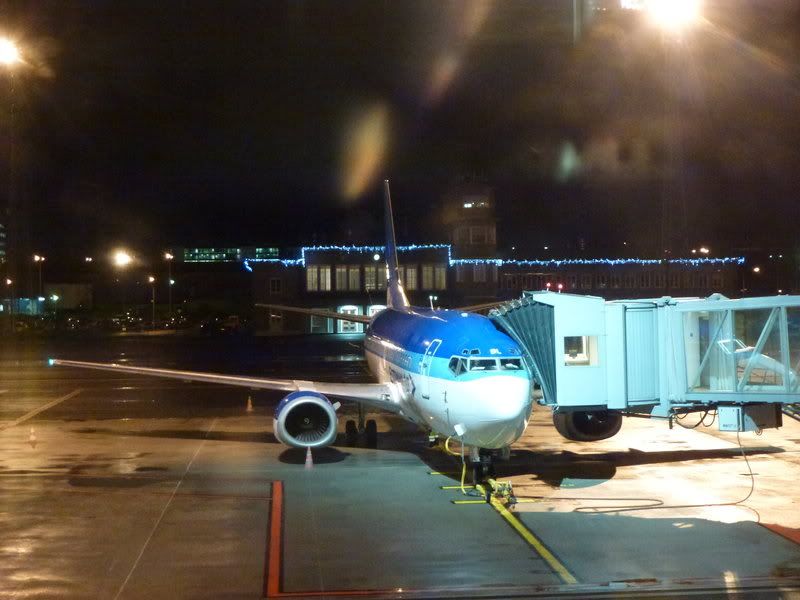 Not many passengers here: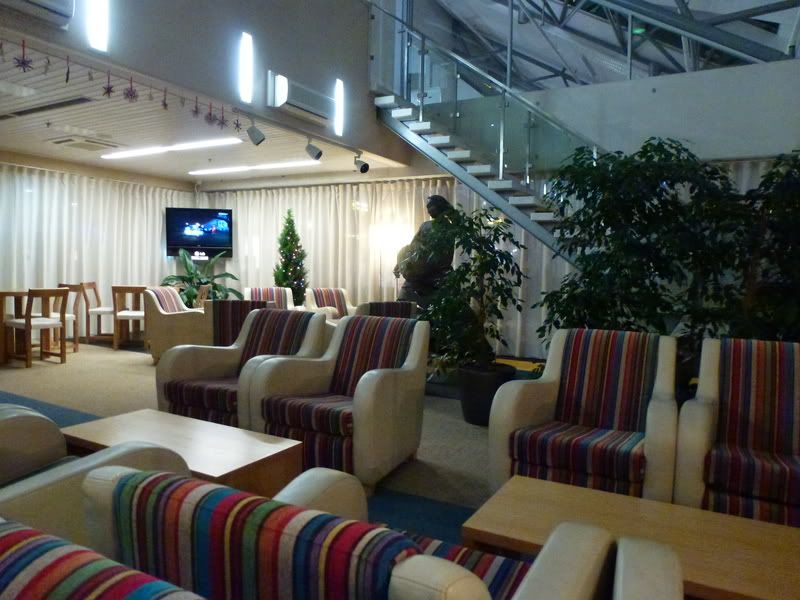 That's Linda, a character from the Estonian mythology, who this lounge ("Linda Lounge" is the official name) is named after: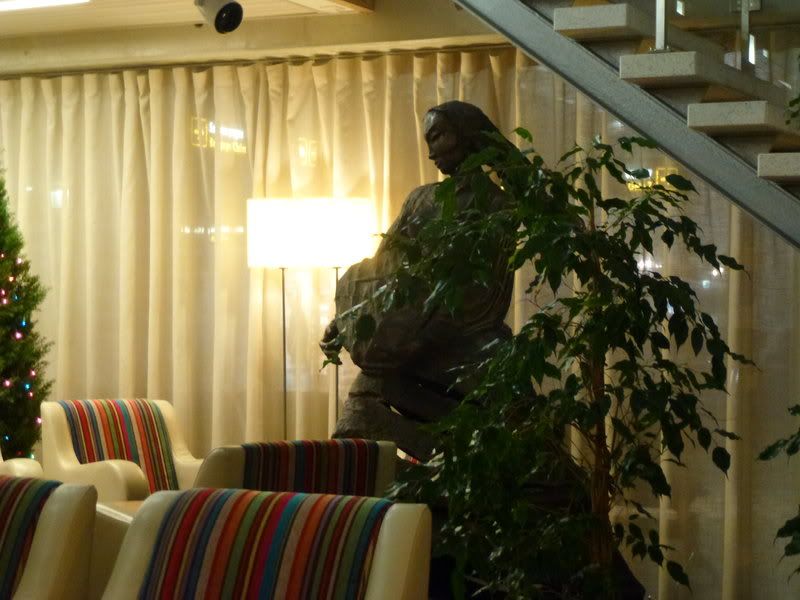 Christmas decorations here as well: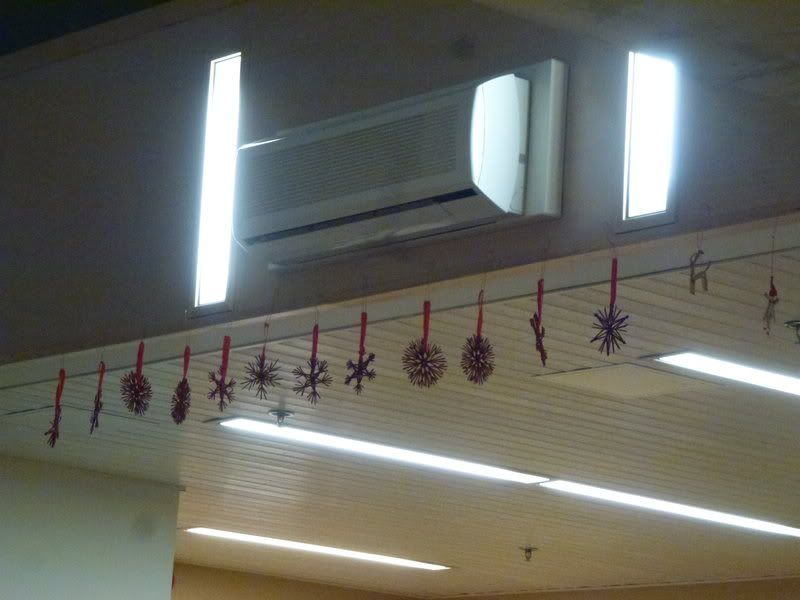 Boarding is called some 25 minutes before SDT, so I wish the lounge staff a merry Christmas and head to the gate, directly opposite the lounge.
TLL - ARN
OV124 Operated by Carpatair
Fokker 70 YR-KMB
Seat 11F
18.52 - 18.52
This woman ahead of me was in the lounge drinking red wine (turns out she is traveling in Premium class) and has serious problems keeping her rollaboard straight - I say "Is your bag a bit drunk?" - she laughs and answers "Maybe too much wine!":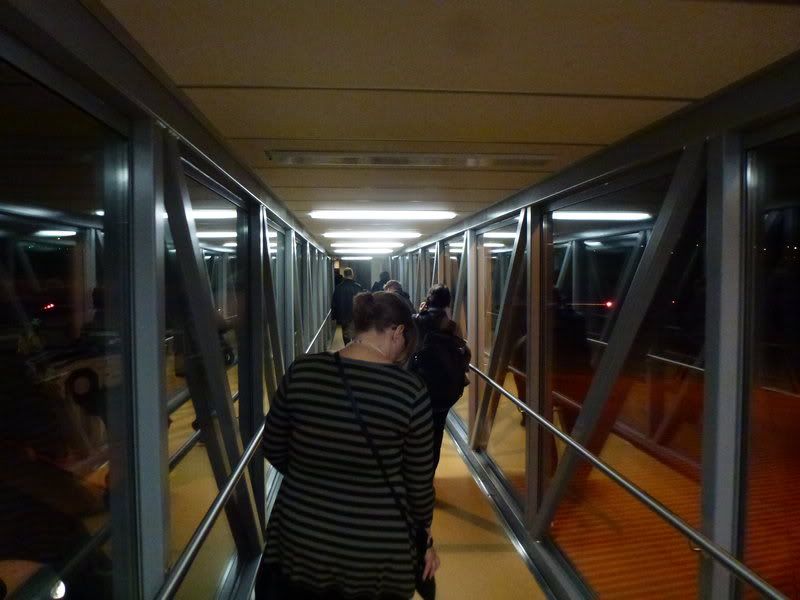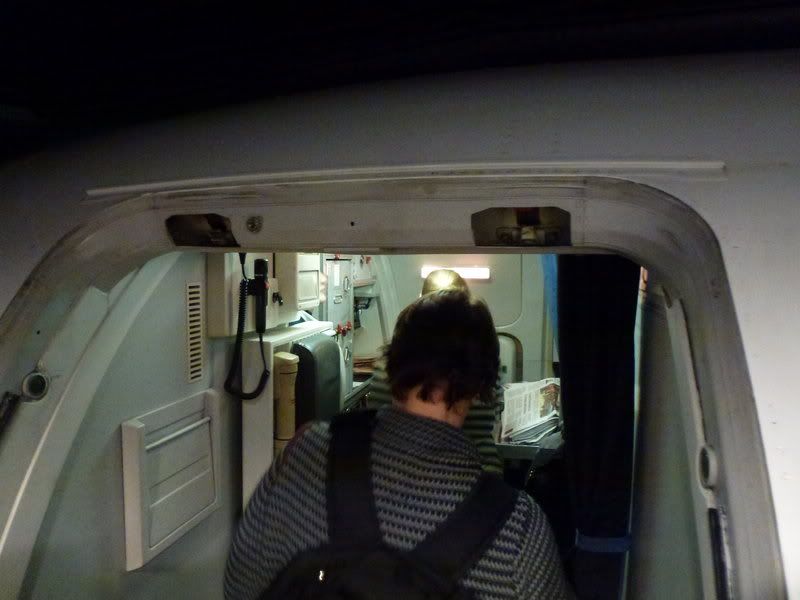 Two nice young Romanian girls are the cabin crew for this flight - or so I thought, more on this later.
Well the headrest covers say "Business Class" but it is actually OV's Premium class: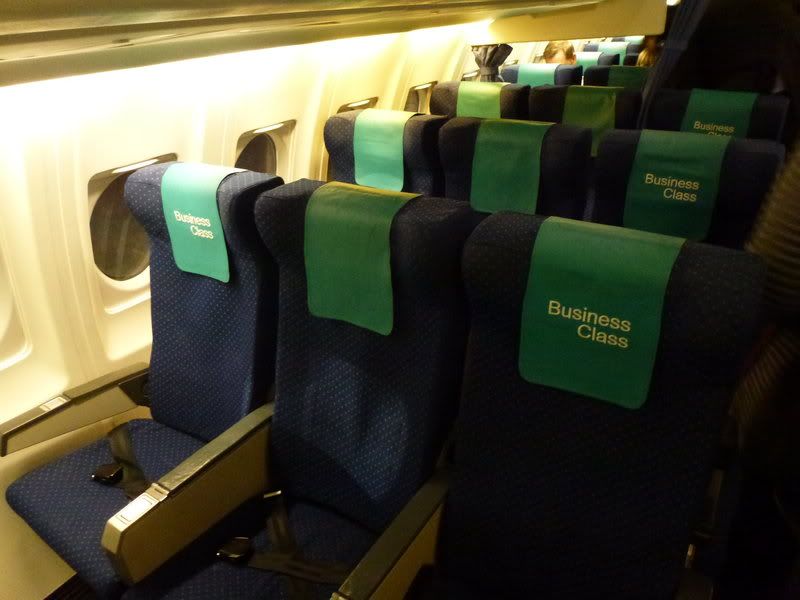 Anyway I think these seats are the original Malev ones as the V3 Fokker 100s have blue leather seats instead of these cloth ones.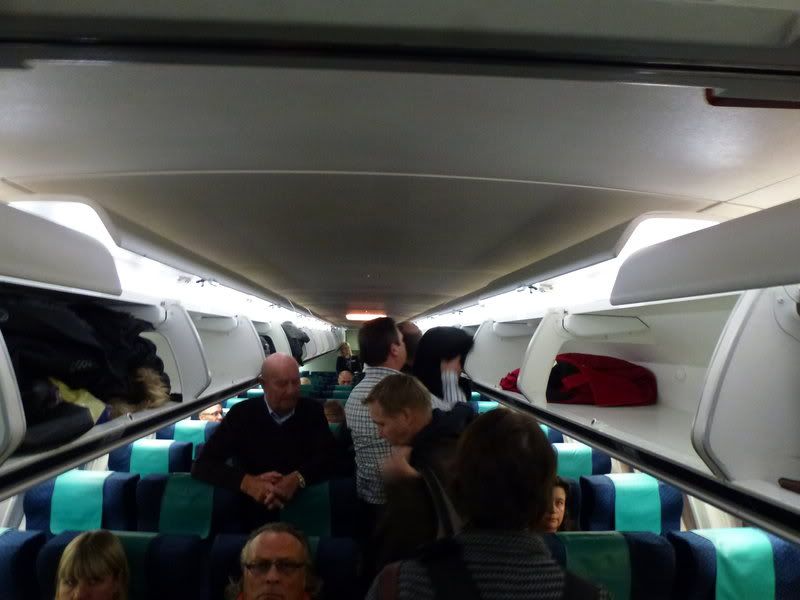 I picked a seat on the exit row - plenty of legroom here (unlike on the F100, at least the Blue Line one I remember had pretty much the same legroom on exit and normal rows):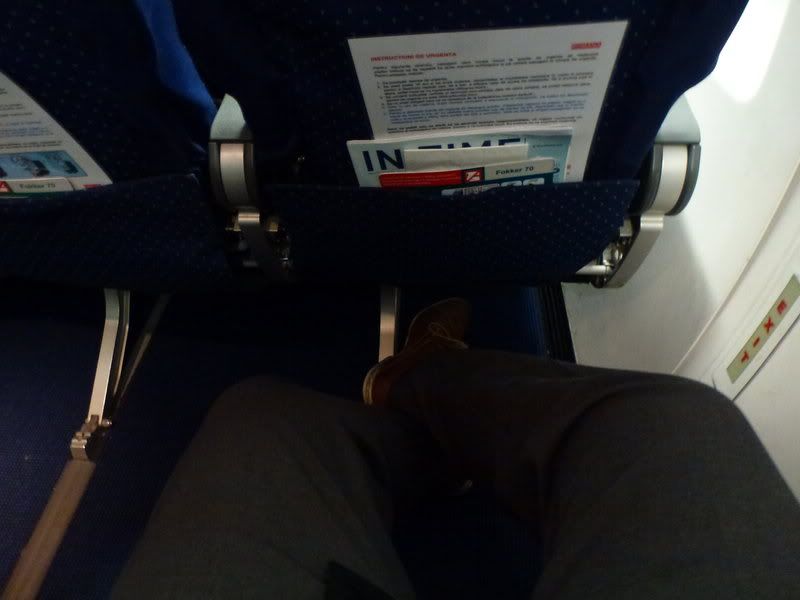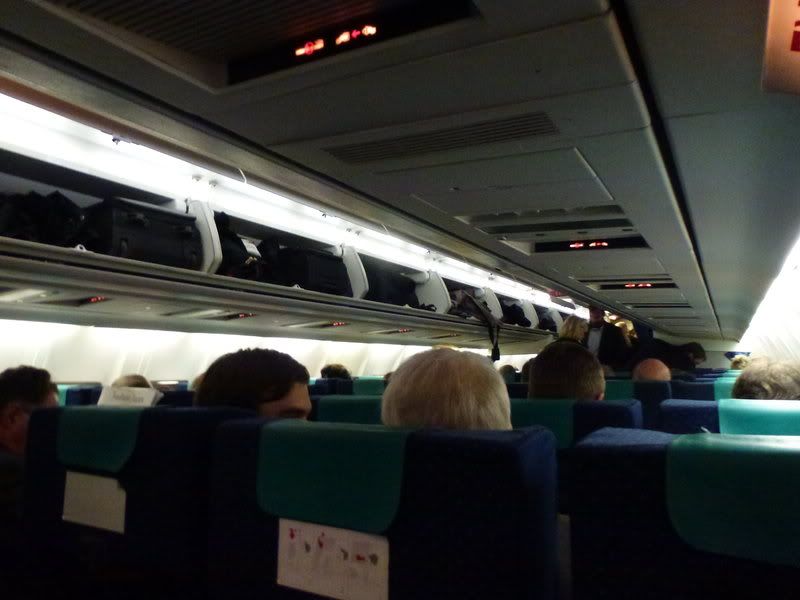 Overhead panels: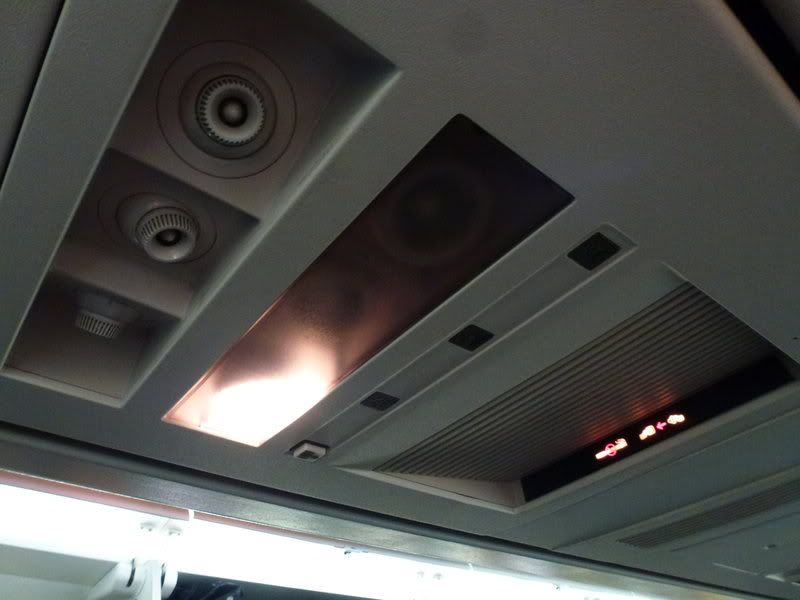 Exit door sealed "for your benefit":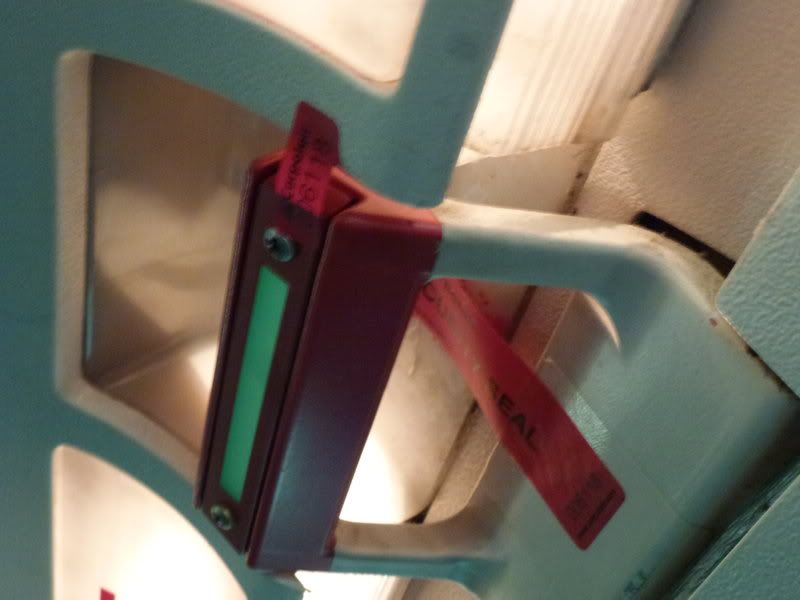 The load in economy is around 80% (with an empty middle seat next to me), three rows of Premium have two or three passengers.
The classic Fokker wing, easy to recognize: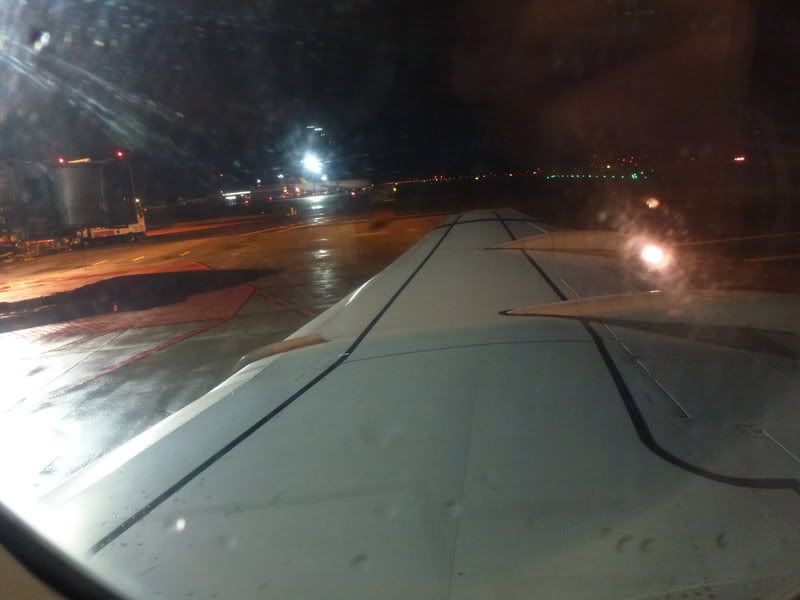 A special instruction card for exit row (which the FA asks us to read):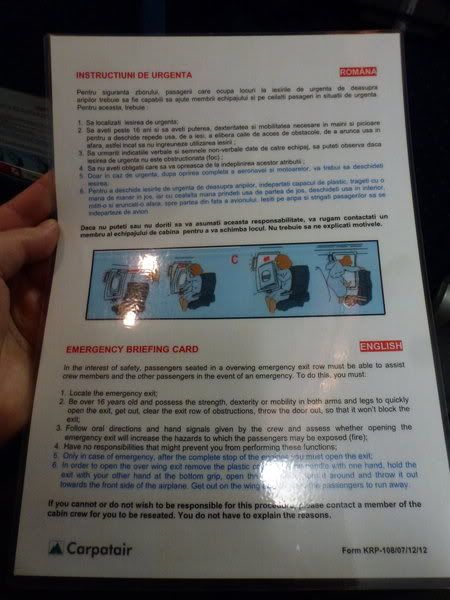 And the actual safety card itself: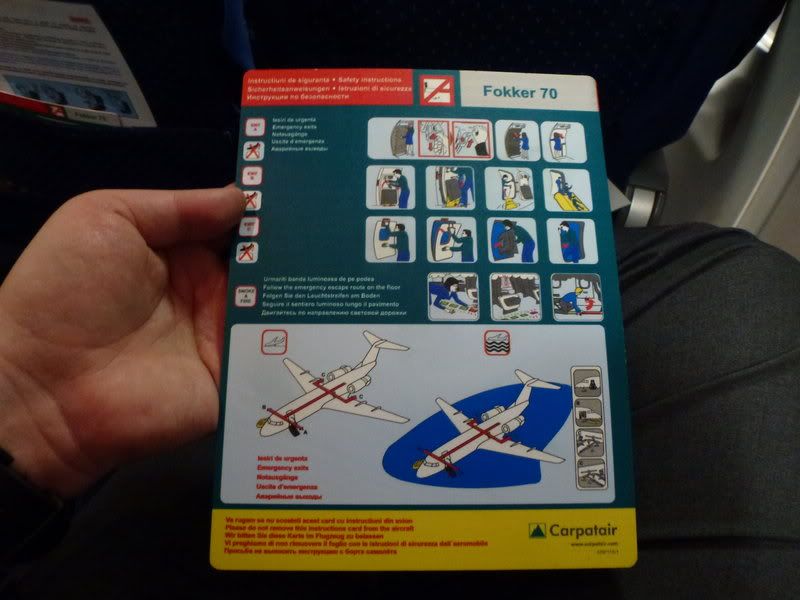 There's no word from the cockpit all throughout the flight. But I'm quite surprised to hear an Estonian announcement, it doesn't sound like it's coming from a tape and I'm pretty positive the two girls can't speak the language. An English announcement follows, the flight is introduced as "Estonian Air flight operated by Carpatair", with a flight time of 50 minutes. Oh and they also mention the plane type, something like "Welcome onboard this Fokker 70 ".
Push back is a nice eight minutes early, but since take offs are from 26 today it takes exactly eight minutes to taxi there and we thunder down the runway right at our SDT: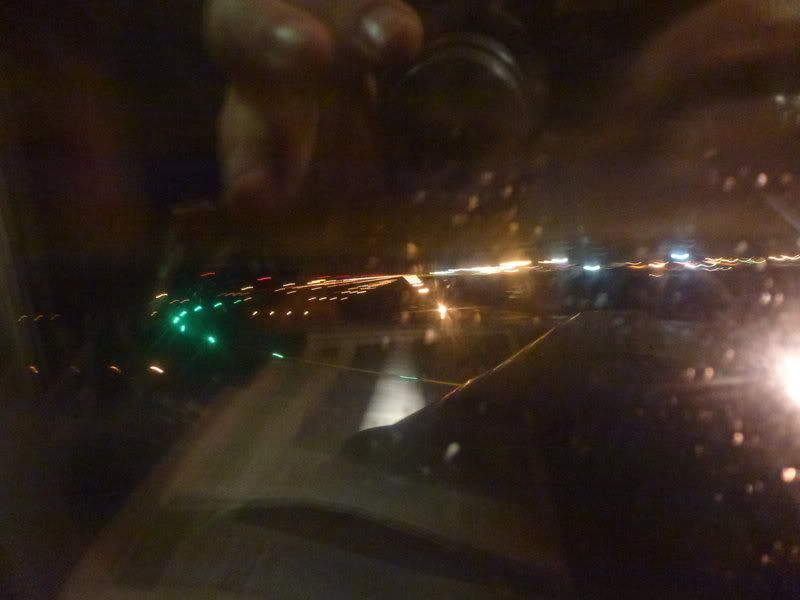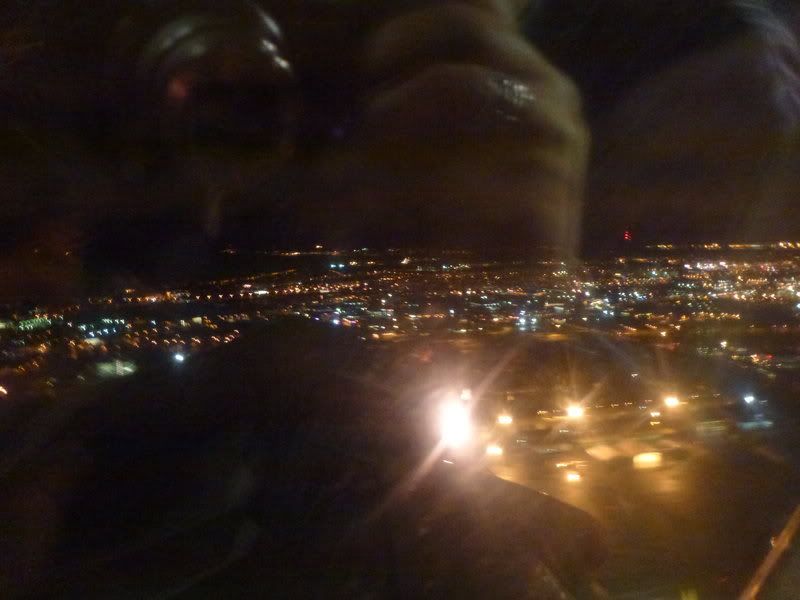 Bye, Tallinn, see you in January with a bunch of a.netters: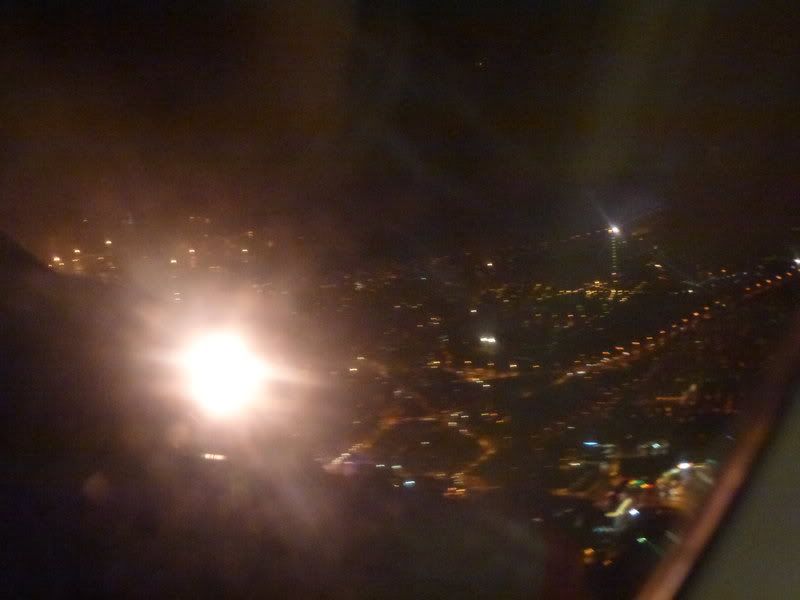 After the seat belt sign is switched off I decide to sacrifice myself in the interests of this board (and a friend of mine who requested lots of pictures for a certain reason) and head to check out the toilet: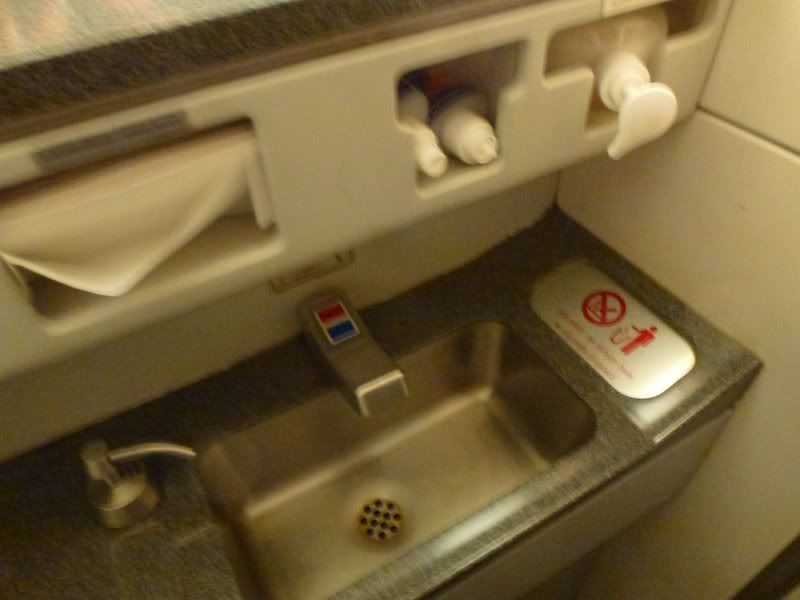 Lots of Hungarian remaining: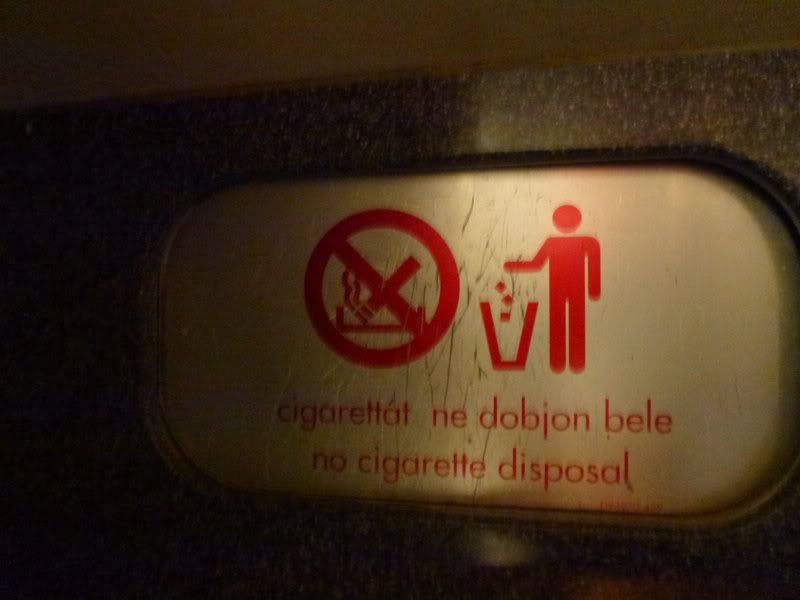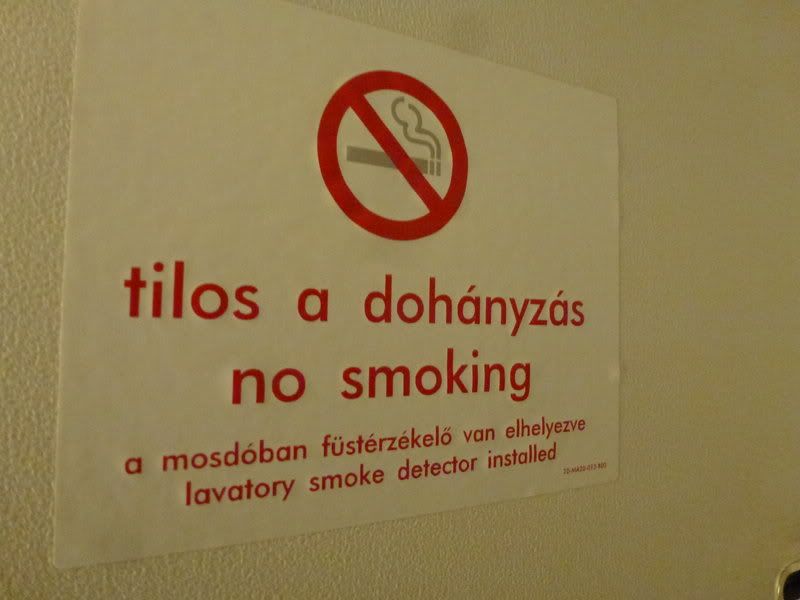 If you get stuck to the toilet seat: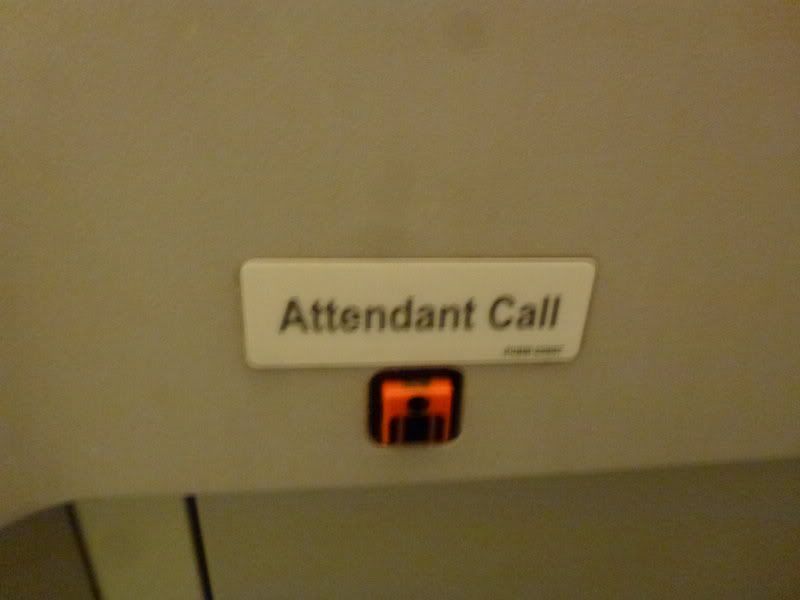 On the way to the toilet I was surprised to notice a third FA in Estonian Air uniform in the back galley, basically doing nothing (well, she opened the lavatory door for me!). After I get out of the loo I ask her that is she here just for doing the announcements (the two V3 FAs are just starting the cabin service) and she confirms that yes, that is indeed the case. I say "Well, sometimes it is nice to have an easy job for a change, enjoy it!" which she definitely grees with.
Cabin shot: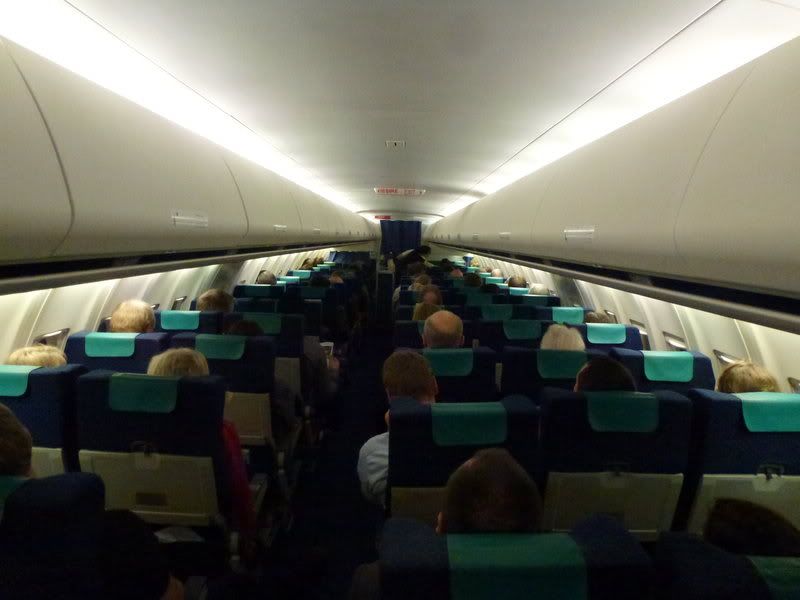 I get back to my seat just in time for the service - it is the standard Estonian Air one with free coffee/tea or water plus a chocolate praline (although on OV they hand you the chocolate when boarding the aircraft):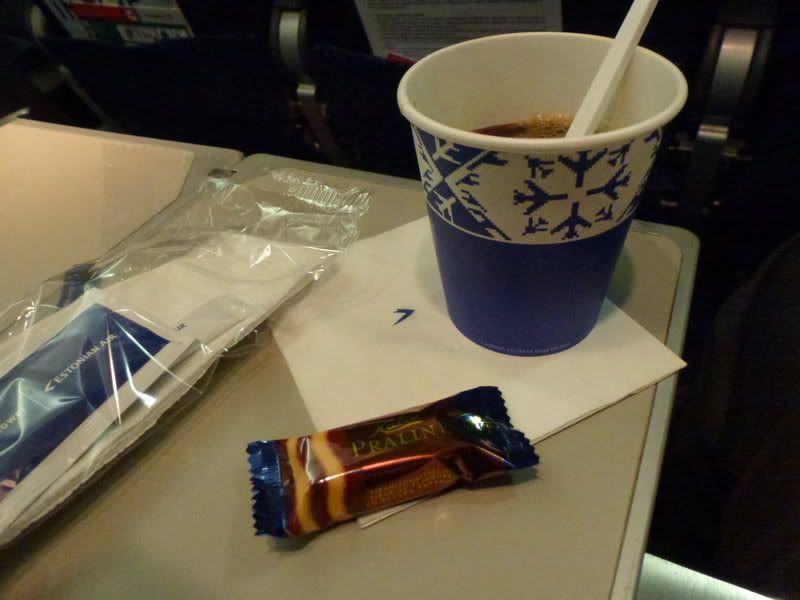 These seats are showing some wear & tear: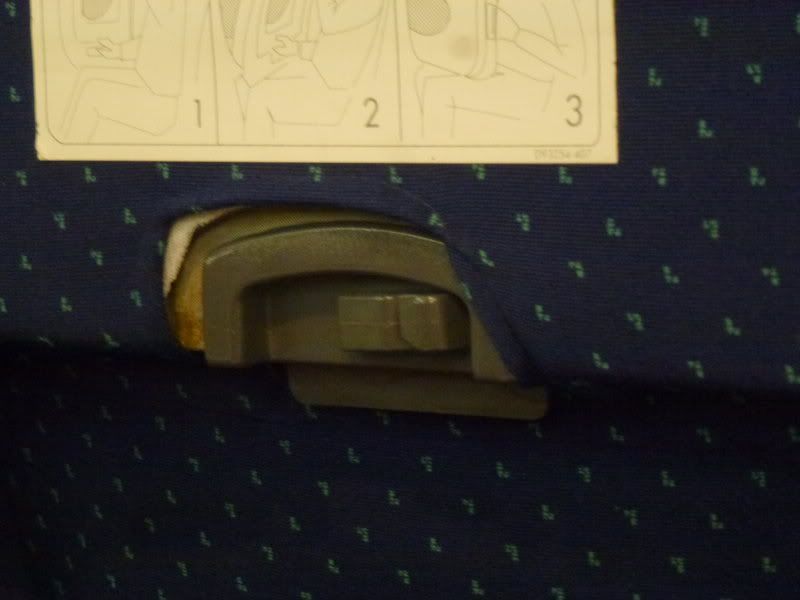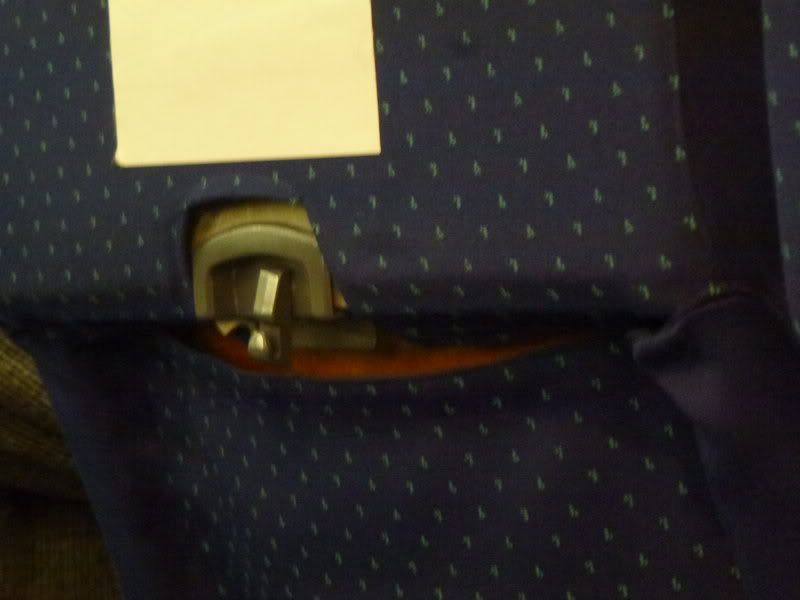 Carpatair motif: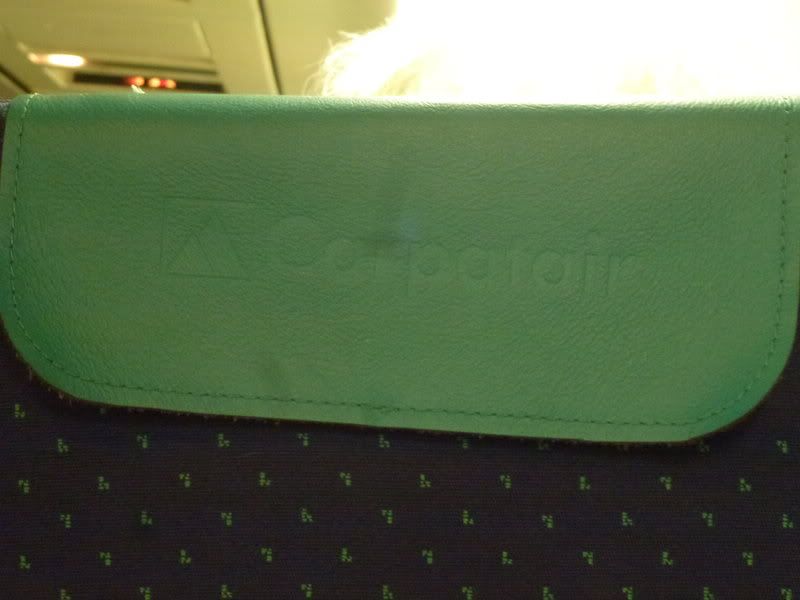 Estonian Air inflight magazine's winter issue is out and features a very interesting article about the history of the airline after Estonia's independence - both of them are celebrating 20 years this year: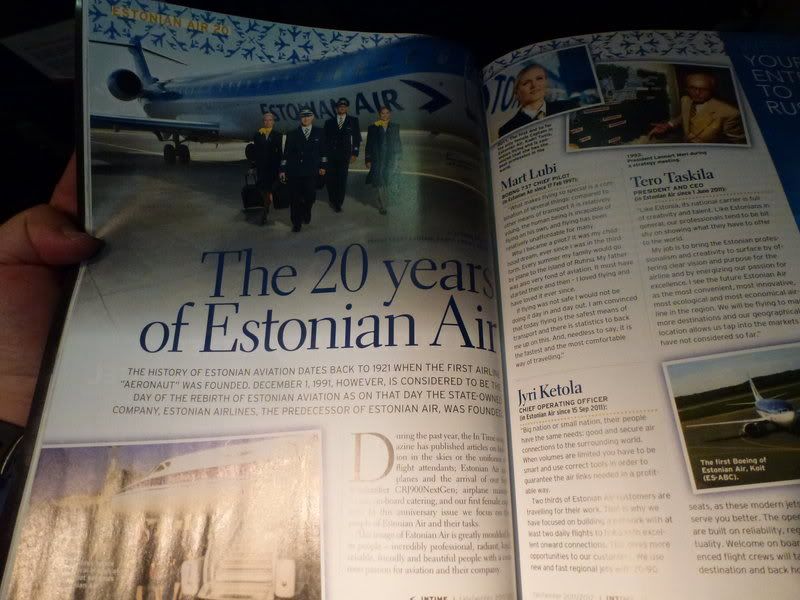 After leaving Tallinn there are no views to be had. During our final approach it becomes apparent that it is also raining heavily at Arlanda. Our landing lights: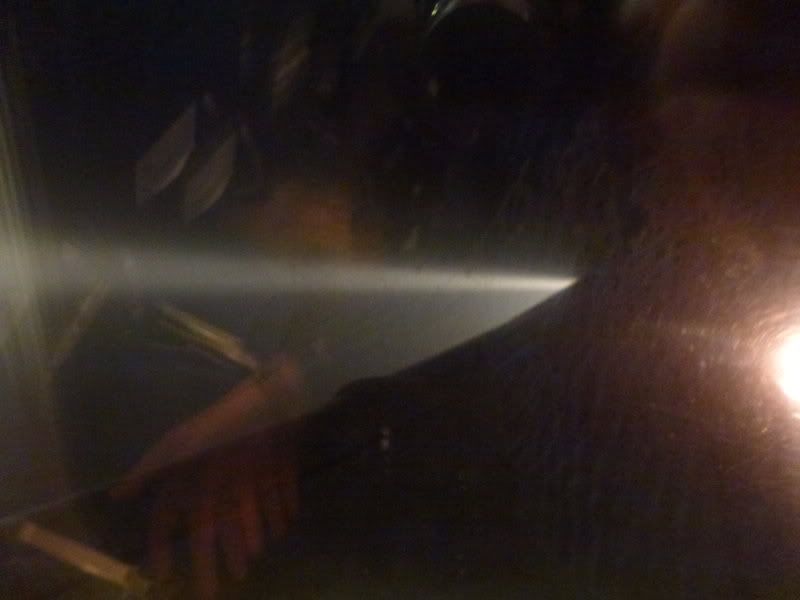 Landing is on 26, after a bit over 50 minutes of flight time (interestingly we both left and landed on runway 26 and pushed back and landed at the very same minute, thanks to the 1 hour time difference, a bit of a deja vu situation here!).
Must have a 717 in a report, parked at the next gate: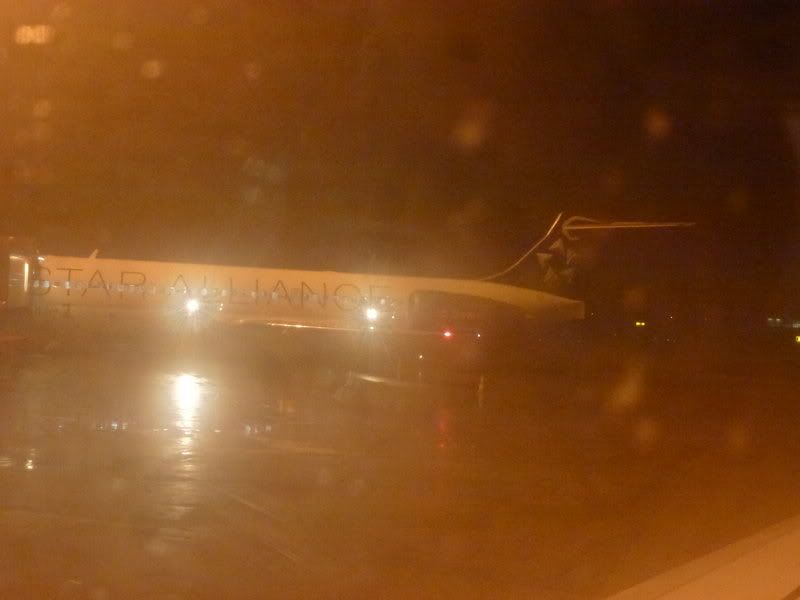 I wait until most of the pax have deboarded and shoot a couple of photos. This is the exit row legroom: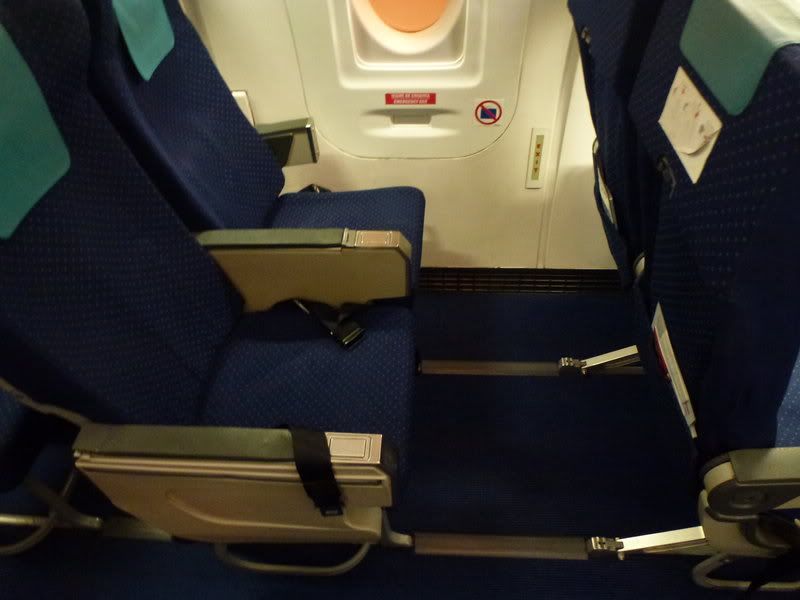 ...and a normal row: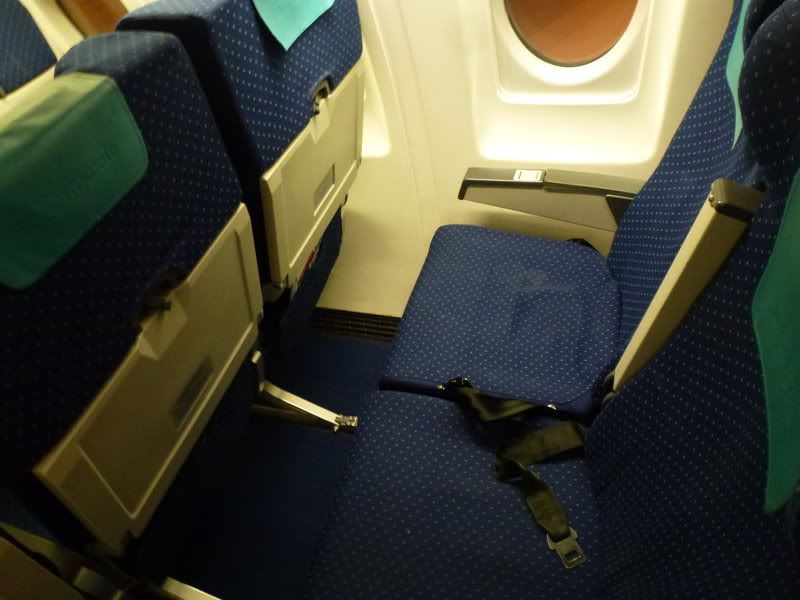 Another cabin view:
Top