Feedback always appreciated.
I > Background:
So my quest to fly Biman's DC-10 had led me to the Bangladeshi port town of Chittagong (CGP). Thankfully, the flight (http://www.airliners.net/aviation-forums/trip_reports/read.main/203078/) had gone smoothly and was on time. I had not bought a ticket for the return as I had no idea if BG would have been on time. My plan was that if I reached CGP as scheduled, I would run to the United Bangladesh counter and get a seat on the return flight. It was to depart 45 minutes after arrival, and I kept calling them periodically to check if the flight was still open. To be honest, I did not have a plan B. No hotel in CGP, nothing. In any case, my "faith" (luck?) in BG paid off, and I arrived in CGP on time.
Immediately, I went to the United Bangla counter and bought a plane ticket. If I was getting stares in Dhaka, Chittagong was a riot! They are not used to random white man period. They are definitely not used to random white man getting off a DAC flight and wanting to head back to DAC. Anyways, ticket purchase was rather easy affair, and the man printed the ticket on site.
II > Pre-Flight:
a) Before Airport:
United Airways is an airline with its head office in Dhaka. Commencing flights in 2007, with a single DH1, 4H has grown to include MD80's and 310's in its flight and serves several destinations in Bangladesh, South Asia, and the Middle East. It supposedly has a flight to LGW, but I have not found a place to book it thus far ...
Surprisingly, United Bangla has a pretty well equipped Navitaire reservation system, and an overall good website at
http://www.uabdl.com/.
I did not need to use it, but the system looks pretty impressive for an airline of 5H's size.
b) At Airport:
Chittagong's airport is a rather modest affair. At this point in the evening, it was also a very quiet affair. The Biman flight to Abu-dhabi that I had disembarked from was the last major flight for the day, and only the 5H (United Bangla) flight left to take off. There are interesting murals painted by local artists all across the airport - it sort of reminded me of Guwahati (GAU) airport in north-eastern part of India.
United Bangla was the only airline that had check-in counters open, and I was convinced that I was the last one to check-in given when I purchased the ticket, and given how empty the queue was. In fact, it turned out to be quite the opposite. What the ticket agent "forgot" to mention (and none of the FIDS displayed) was that the 5H flight to DAC was delayed by a good 2 hours. You'd think the man selling you the ticket would advice you of this. C'est la vie.
Anyways, the very excited check-in agent, "so happy to have you in Bangladesh" and "Chittagong is the best" was very nice and quickly issued me a boarding pass and told me that he would personally escort me to the plane as I was a "special guest" of Bangladesh and in Bengali culture the guest is apparently like God. It was all very flattering and again attested to the general warmth of the Bangladeshi people - and again, something very similar across the border in Calcutta.
With two hours to kill, I walked back outside the terminal where there are small shops that sell local junk food. I decided to taste some delicious chicken filled balls (no idea what they are called) and have some spicy tea. Around an hour prior to departure, I went back to the terminal and through a quick security check.
There was nothing to really do at the airport and I kind of listened to my iPod and people watched - there was a smile on my face as I realized what a fortunate person I was to be able to travel around the world, and meet wonderful people.
Boarding was called as soon as the plane arrived from DAC, and we walked to the DH1. As soon as I boarded, I was reminded how small the aircraft was, and how cramped it felt. Thank God for the stage length of the flight. There was one flight attendant on board and he was nice and warm and welcomed me. Y load was 90%.
Airport - External:
(Chittagong Airport)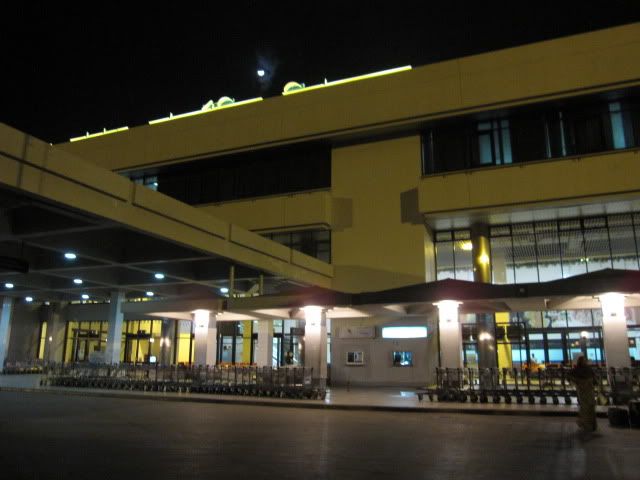 Check-in:
*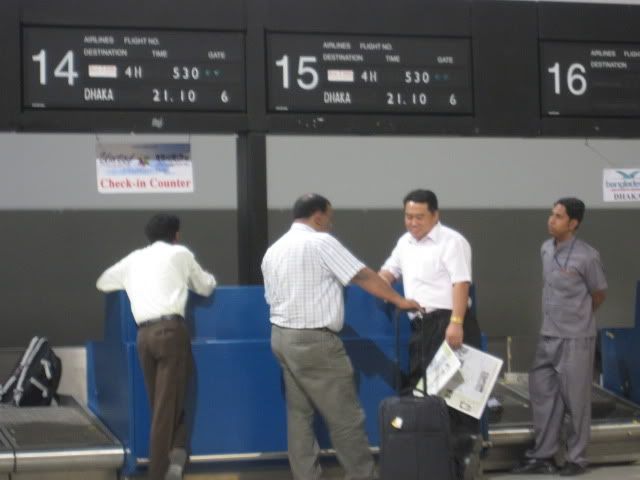 Airport - Internal:
(Beautiful Bangladeshi murals - reminds me a bit of GAU)
*
*
*
(FIDS: First I have ever seen showing "Tomorrow" and "DO")
*
*
(UAW AD)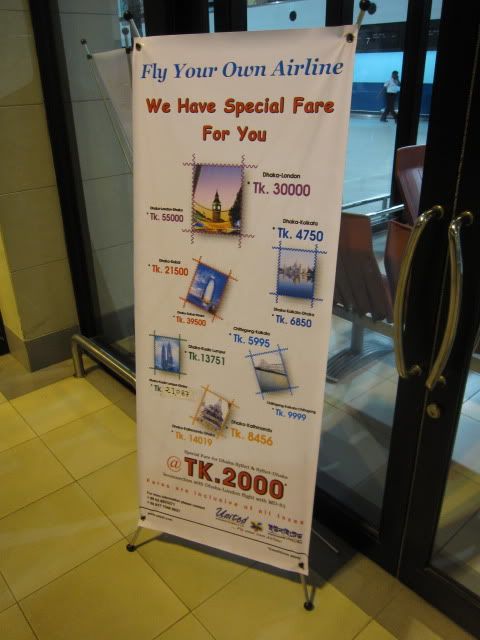 (Post Security @ CGP)
NONE
*
Scenes of the tarmac:
NONE
Lounge
NONE
Boarding:
(Gate Area)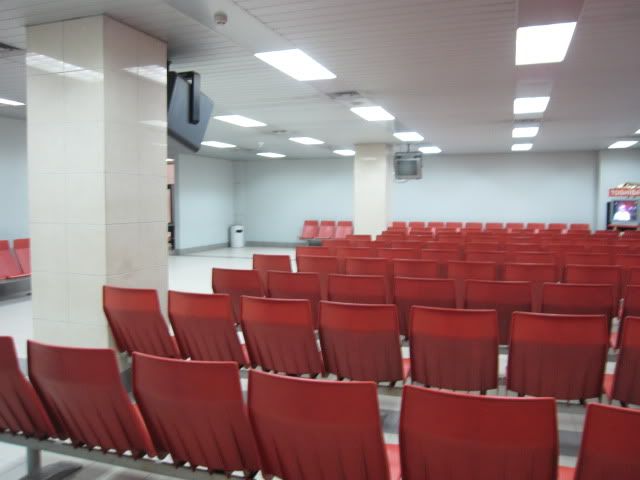 (Boarding: Walking to the plane)
III> In-Flight:
a) Service Schedule + Impressions:
Completely opposite to Biman's sevice delivery with nothing offered while on the ground, and a small snack/beverage service while in air.
b) Aircraft + Seats:
The first thing you notice about the DH1 is how cramped it feels. It is a small airframe and cramping the 2x2 seating makes it particularly uncomfortable. This cramped feeling is manifested throughout the cabin with no seat recline and minimal leg room space. I am not a particularly tall person, and you can also feel the cabin height when you stand up. Also, I don't think this particular DH1 had any bathroom. Is this normal? The one saving grace was that the leather seats, while narrow, were comfortable. Guess it was fine for a flight of this length ... anything more, and I would be complaining.
Aircraft:
(@ DAC the following day )
Views from Aircraft:
NONE
General Seat Views + Seat Legroom
(Seat)
NONE
*
(Front of seat)
NONE
*
(Seat controls)
NONE
*
(Legroom: cramped)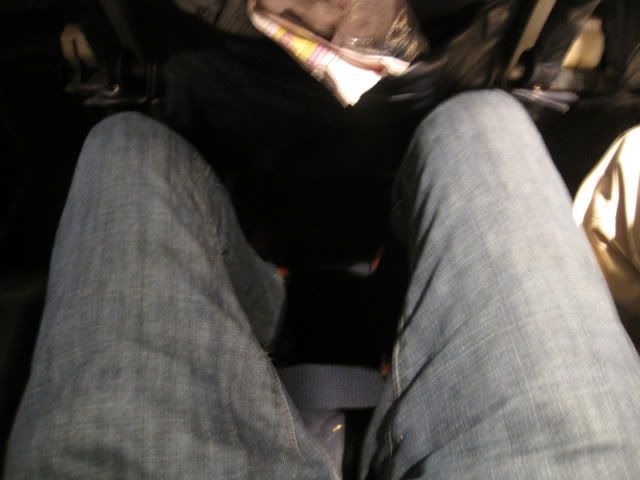 Seat Recline + Angle View:
(Recline)
NONE
*
Cabin:
(Blanket ++)
NONE
(Bathroom)
NONE
c) Meal + Beverage:
On the outbound flight on Biman, service was limited to the water/juice/candy combination while sitting on the tarmac at DAC. For United Bangla, it was quite the opposite as nothing was offered while on the ground.
After take-off, we were given a small biscuit snack, and a choice of beverages. We were also given some kind of local candy thing which was not really sweet as a candy. Can someone from South Asia please confirm what it is? The locals absolutely loved it!
For a flight of 142 miles, I found it more than adequate. Sitting and typing this in an economy class cabin of an Air Canada flight going from Edmonton to Toronto (near 4 hours) and getting NO snack, I felt that the Bangladeshi carrier was more than generous.
(Take off drinks and candy)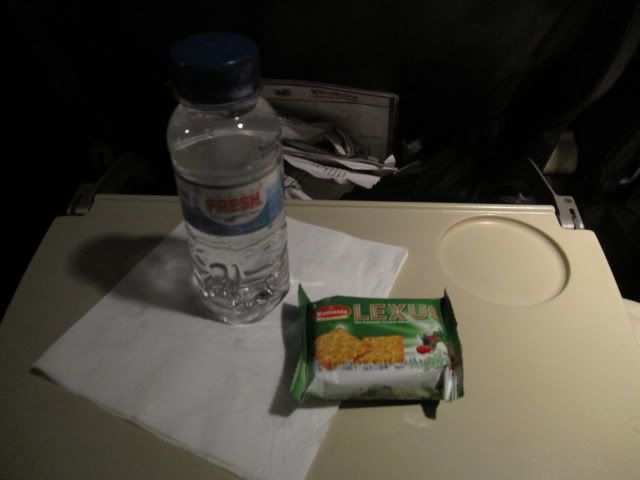 *
(What is this?)
d) Inflight Entertainment:
United Bangla has no IFE. It does not even have an in-flight magazine. I am pretty sure the lack of magazines were not limited to just this flight.
(IFE Screen)
NONE
("In-flight magazines", Boarding Passes, etc.: @ CGP, the boarding passes were in handwritten stock - I "stole" a few ... and will now make my own boarding passes)
e) Crew:
The lone male crew member had a very warm vibe about him. He greeted me with a smile and was generous and nice with all the passengers on board. At the end of the flight, he wished all of us for flying UB. What more can one ask for during these short flights?
IV> Post-Flight:
Landing in DAC was smooth and I was out to the taxi ranks in no time - well, let me rephrase - arrived in DAC 2 hours behind, but the airport facilitated a quick exit.
V> Impressions + Scores:
United Bangla is one of the several domestic carriers that have come up in Bangladesh after the liberalization of her skies. It was ample enough for a domestic segment of less than an hour. While the flight being delayed by more time than the actual length of the flight never bodes well, the personnel (ground and air) were nice. The small snack service was also much appreciated.
While the lack of IFE was a significant drawback, as long as it is provided on longer flights, I guess one cannot complain. It does make me wonder what kind of service is there on them anyways.
As mentioned during the BG review, a CGP-DAC segment does not give enough time to judge. Overall, an OK option for short hauls. No thumps up or down for 5H - they didn't go out of the way and I would not do the same for them. However, if the price and schedule is appropriate, then, why not?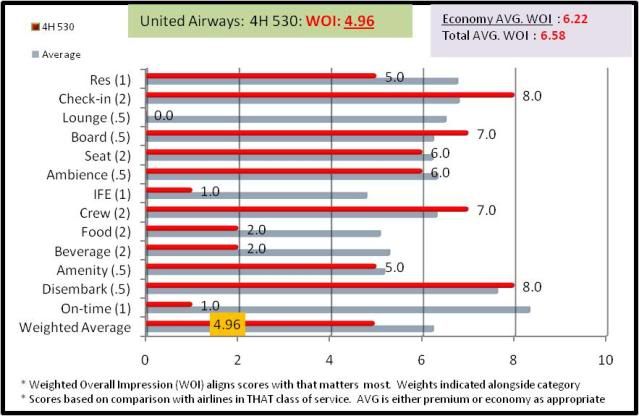 VI> Other Trip Reports:
PREMIUM:
9.27: JET AIRWAYS **FIRST** (110): LHR-BOM: 10/2010
9.27: THAI AIRWAYS **FIRST** (108): BKK-LHR: 07/2010
8.66:
Brussels Airlines (93): FIH-BRU: 01/2010
8.64:
Turkish Airlines (59): JFK-IST: 11/2008
8.63:
Jet Airways (88): JFK-BRU: 10/2009
8.61:
Air Canada (49): YYZ-SCL: 06/2008
8.54:
Turkish Airlines (77): GRU-DKR-IST: 04/2009
8.36:
Kingfisher (98): BOM-HKG: 01/2010
8.30:
Jet Airways (74): KWI-BOM: 04/2009
8.23:
United Airlines (72): SFO-SYD: 03/2009
8.11:
Aeroflot (33): MOW-DEL: 09/2007
8.05:
Air India (80): CCU-JFK: 06/2009
8.04:
Korean Air (40): NRT-ICN: 10/2007
8.02:
Delta Airlines (24): JFK-CDG: 08/2007
7.82: UNITED AIRLINES **FIRST** (110): SFO-ICN: 10/2010
7.82:
Singapore Airlines (06): EWR-SIN: 09/2006
7.66:
Sri Lankan (104): DEL-CMB: 07/2010
7.64:
Royal Jordanian (91): AMM-YUL: 12/2009
7.61:
China Southern (103): LOS-DXB: 04/2010
7.57:
Pakistan Airlines (102): ORD-BCN: 06/2010
7.46:
LAN (55): YYZ-JFK: 09/2008
7.38: AMERICAN AIRLINES **FIRST** (112): LHR-JFK: 10/2010
7.38: CATHAY PACIFIC **FIRST** (109): HKG-LHR: 10/2010
7.25:
Iran Air (88): BOM-IKA: 12/2009
7.23:
Air Pacific (120): NAN-APW-HNL: 01/2011
7.23:
Virgin Atlantic (81): BOS-LHR: 07/2009
7.14:
Swiss (52): SCL-GRU: 06/2008
7.11:
Aer Lingus (105): MAD-IAD: 05/2010
7.11:
Austrian (79): VIE-JFK: 06/2009
7.07:
Privatair (84): BOM-FRA: 08/2009
7.02:
Qatar (68): DOH-JFK: 01/2009
6.96:
Etihad (61): JFK-AUH: 12/2008
6.93:
Delta Airlines (18): SEA-JFK: 11/2006
6.84:
ConViasa (65): CCS-DAM: 01/2009
6.82:
Air Burkina (106): BKO-OUA: 06/2010
6.81:
Air Canada (17): ICN-YYZ: 10/2006
6.75:
Afriqiyah + Libyan (113): CAI-TIP: 11/2010
6.70:
KLM (32): EBB-AMS: 08/2007
6.52:
Emirates (99): LHR-DXB: 02/2010
6.39:
South African (97): EZE-JNB: 01/2010
6.36:
Privatair (60): MUC-BOS: 12/2008
6.29:
TAM Brasil (96): POA-EZE: 02/2010
6.25:
Korean Air (45): NAN-ICN: 10/2007
6.21:
Iberia (87): BOS-MAD: 10/2009
6.11:
A SKY (107): OUA-COO: 06/2010
6.11:
TAP Portugal (53): GRU-OPO: 06/2008
6.00:
Gulf Air (75): BOM-BAH: 04/2009
5.88:
African Express (89): DXB-NBO: 11/2009
5.75:
Singapore Airlines (16): CCU-SIN: 10/2006
5.64:
SATA Azores (101): BOS-PDL: 04/2010
5.64:
NorthWest (46): ICN-NRT-SEA: 10/2007
5.54:
Ethiopian Airlines (95): ADD-BOM: 01/2010
5.46:
Icelandair (83): KEF-BOS: 08/2009
5.39:
LOT (54): WAW-JFK: 06/2008
5.21:
Egypt Air (73): CAI-IST: 02/2009
5.11:
Tunisair (115): TUN-ORY: 12/2010
5.07:
TACA (66): JFK-SAP: 01/2009
4.89:
TAAG Angola (117): TMS-LAD: 12/2010
4.42:
Air France: CDG-JNB (25): 08/2007
ECONOMY: Long + Medium:
9.26:
Air India (48): JFK-DEL: 02/2008
7.38:
Avianca (01): BOG-LIM: 07/2006
7.07:
Sri Lankan (62): KWI-CMB: 12/2008
7.00:
LAN (94): IPC-SCL: 01/2010
6.81:
STP Airways/Euro Atlantic (116): LIS-TMS: 12/2010
6.41:
Avianca (78): JFK-BOG: 05/2009
6.41:
American Airlines (58): LHR-BOS: 11/2008
6.39:
Condor (85): SEZ-FRA: 09/2009
6.26:
Jet Blue (21): CUN-JFK: 02/2007
6.11:
Caribbean Airlines (119): POS-FLL: 01/2011
6.06:
Air Canada (04): YYZ-YVR: 09/2006
5.89:
USA 3000 (19): PUJ-BDL: 01/2007
5.85:
Spanair (69): MAD-LPA: 02/2009
5.79:
Air New Zealand (42): RAR-NAN: 10/2007
5.52:
Aerolineas (86): USH-AEP: 10/2009
5.46:
TAP Air Portugal (23): OSL-LIS: 05/2007
5.19:
Air Europa (70): LPA-MAD: 02/2009
5.16:
Iberia (71): MAD-BOS: 02/2009
5.11:
Air China (82): FRA-PEK: 08/2009
ECONOMY: Short
8.56:
Paramount Airways (38): BLR-MAA: 09/2007
8.56:
Kingfisher (64): HYD-CCU: 12/2008
8.24:
Kingfisher (14): IXA-GAU: 10/2006
7.87:
Indian (34): BOM-MAA: 09/2007
7.72:
Alliance Air (13): CCU-IXA: 10/2006
7.57:
Indian Airlines (10): DEL-CCU: 09/2006
7.23:
West Jet (03): YYC-YVR: 09/2006
7.15:
JetLite (37): BOM-GOI: 09/2007
6.98:
Air Koryo (100): PEK-FNJ: 04/2010
6.70:
Spice Jet (09): CCU-DEL: 09/2006
6.63:
Air Fiji (44): NAN-SUV: 10/2007
6.63:
Jazeera (67): DAM-KWI: 01/2009
6.58:
Air Tran (02): EWR-MDW: 08/2006
6.48:
Air India Express (63): CMB-MAA: 12/2008
6.44:
CO Micronesia (39): ROR-YAP: 10/2007
6.41:
Pacific Sun (43): NAN-SUV: 10/2007
6.37:
Skybus (47): SWF-CMH: 02/2008
6.33:
Kenya Airways (29): NBO-BJM: 08/2007
6.33:
Sky Europe (56): LTN-BTS: 10/2008
6.31:
Indigo (15): GAU-CCU: 10/2006
6.31:
easyJet (57): BUD-LTN: 11/2008
6.22:
Air Link Swazi (28): MTS-JNB: 08/2007
6.22:
Air India (36): HYD-BOM: 09/2007
6.13:
Adam Air (07): SIN-CGK: 09/2006
6.13:
Air Rarotonga (41): RAR-AIT: 10/2007
6.04:
Suriname Airways (118): PBM-POS: 01/2011
6.00:
Transairways (27): INH-MPM: 08/2007
5.95:
Air Canada (05): ALB-YYZ: 09/2006
5.85:
SAS Norge (22): OSL-AES: 05/2007
5.81:
LAM Mozambique (26): JNB-MPM: 08/2007
5.69:
Air Deccan (12): IXZ-CCU: 10/2006
5.67:
Rwanda Air Exp (30): KGL-NBO: 08/2007
5.52:
Sevenair (114): TOE-TUN: 11/2010
5.37:
Felix Airways (92): SCT-SAH: 12/2009
5.11:
Aero Republica (76): BOG-CCS: 04/2009
5.07:
Go Air (35): MAA-HYD: 09/2007
5.04:
Biman (121): DAC-CGP: 01/2011
5.00:
Sky Airline (51): IQQ-SCL: 06/2008
4.96: United Bangladesh (122): 01/2011
4.96:
Valuair (08): CGK-SIN: 09/2006
4.78:
Air Comet Chile (50): SCL-IQQ: 06/2008
4.74:
Fly 540 (31): MYD-LAU: 08/2007
4.33:
Viva Aerobus (20): ELP-MTY: 02/2007
4.11:
Air Sahara (11): CCU-BOM: 09/2006
(Note on Codes: Y – Economy, J – Business, F – First :: I/D – International/Domestic :: SR/MR/LR – Short/Medium/Long Haul)
(Note on Date: Dates are modified to be +/- 3 days from actual flight date to not reveal actual flight pattern)
VII> Other Pictures:
(Thought this 9W ad I found at the airport telling ...)