Dear a.netters!
Welcome to a shared tripreport of Martijn (CrimsonNL) and myself, on our mission to get on (another) Airbus A300 ride in Europe. For me, it would be the second time, for Martijn a real first and he was very excited about it.
Side note: fellow a.netter DunaA320 (Matt) also made a trip on the A300 shortly after we did, but he managed to get his story online much earlier. Feel free to read his outstanding experience as well:
Catching The A300 To The Sun, With MON & EZY
(by
DunaA320
Oct 19 2011 in Trip Reports)
Quoting FlyingFinn76 (Reply 34):
(*cough*Eric, stop lounging in the sun and start writing your reports!*cough*)
Monarch: 2 a.netters onboard their A300 & 757-200
Planning was a bit difficult, where Martijn was looking to catch up the KU A300 between FCO and CDG. Times were not always good or too pricey. My idea to get on the 'other' A300 in Europe, operated by British charter/lowcost operator Monarch was gladly accepted by Martijn and together we worked out an itinerary.
We finally came up with the A300 out of LTN, a real treat with the runway over there, and back to the UK on one of the 3 remaining Boeing 757-200's in their fleet, also real oldies. Martijn was even more especially hoping to fly the 2 oldest examples they operate: G-MONR, build in 1990 and over 22 years old, as well Boeing 757-200 G-DAJB, close to 25 years age. Let's see if we would be lucky on this trip!
Booking is very easy on Monarchs website, we reduce the reservation costs slightly to pay with Paypal here, prebook a meal on the A300 flight and took seat selection against an additional small fee. The weeks after I made our booking, Monarch was sending emails to my account regularly and trying to sell 'everything else' they had on offer.
We flew in the weekend of 24/25 September, with easyJet as our airline to reach LTN that day. We met at the meeting point at AMS, and continued our way to the H-gates in AMS. I'll post some pictures from AMS departure lounge 3 after some renewals done.
New design for departure lounge 3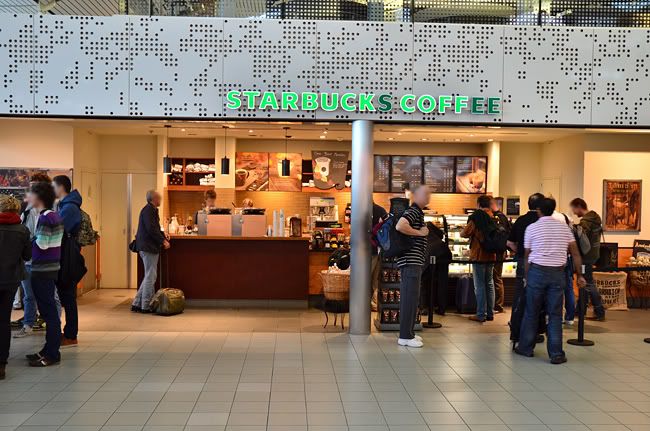 A newly opened Starbucks in departure lounge 3
The flight to LTN was delayed by an hour due to weather at the origin airport. LTN was having low visibility caused by morning fog and calm winds, definitely not the best situation to start a day but not uncommon in the beginning of autumn in Europe.
AMS-LTN
Flight No.:
EZY2156
Date:
24SEP11
STD:
0850
ATD:
0947
STA:
0900
ATA:
0947
A/C:
Airbus A319
Reg No.:
G-EZBE
Seat:
25F
View Large
View Medium


Photo © Mark McEwan
We boarded the expected A319 via the rear stairs and took 24F and 25F, and where the aircraft filled up quickly (nearly no empty seats), Martijn got lucky and the middle seat in his row remained empty. For all info, both last rows were fully occupied
We estimated the load on this flight being about 95%, not bad at all!
Boarding easyJet's G-EZBE
We decide to use the rear entrance
Doors closed, the captain made a welcome speech and informed about our cabin manager Katie and her exciting team on board. He requested attention for their safety demonstration, which was given during taxiing.
Interesting to note, that the runway use in AMS was a bit rare. Takeoff was performed from runway 18C, a first for me personally.
After airborne we turned right and almost followed out the 'Runway 24 departure'. The clear skies above the Netherlands coast area gave good possibilities to see the ground surface.
Take Off video by Martijn:
http://youtu.be/t58eXcbL9bM
Let's fly away…
The city of Hoofddorp on our right
The flight was just a plain standard easyJet one, and I bought a coffee and chocolate muffin. Nothing wrong with this offer, and the Starbucks coffee onboard is definitely a nice brand to serve.
My coffee for breakfast and a delicious muffin
Approach to LTN was smooth, and the fog was mostly disappeared already. We touched on runway 26, our first contact with British soil on this trip.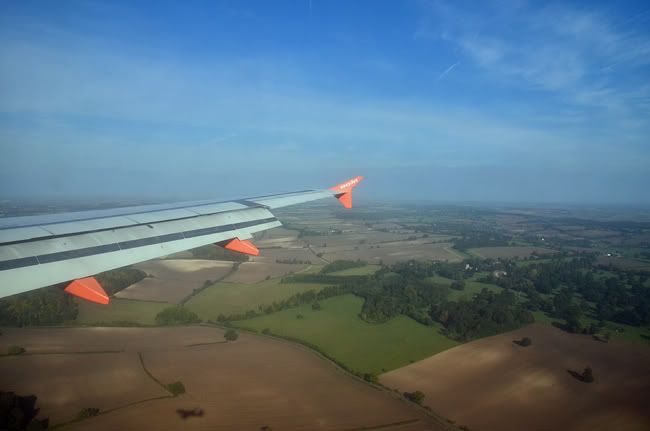 Approaching to Luton Airport
Martijn recorded our landing also in LTN:
http://youtu.be/33GE6E36Ua0
Deplane by stairs in LTN, and a nice walk into the terminal building. Immigration took about 5 minutes, a lot of desks are open to handle all passengers.
An under the wing picture, for Markus
We bought ourselves some sandwiches at some shop (M&S I believe it was), and walked outside to watch the traffic at the airport. The majority being easyJet, but also Wizzair, Ryanair, ThomsonFly and Monarch were seen. More interesting was a plain white Romanian registered (Medallion Air?) MD-83 taking off and a wide variety of bizz jets from all over the world.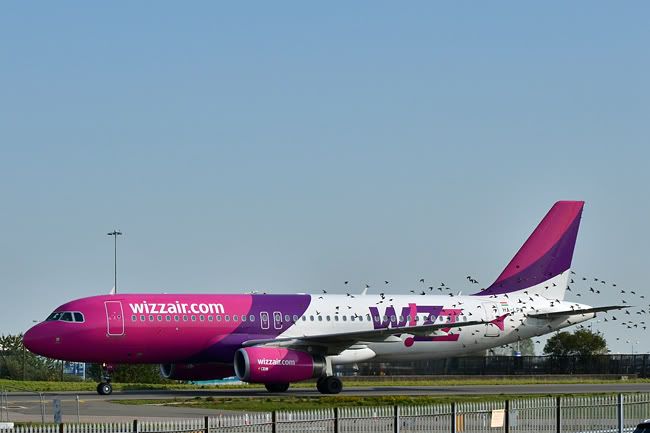 A lot of orange and pink at this airport. Wizzair is also around. As well some birds
Smoky MD-83 taking off to ? (Romanian registered)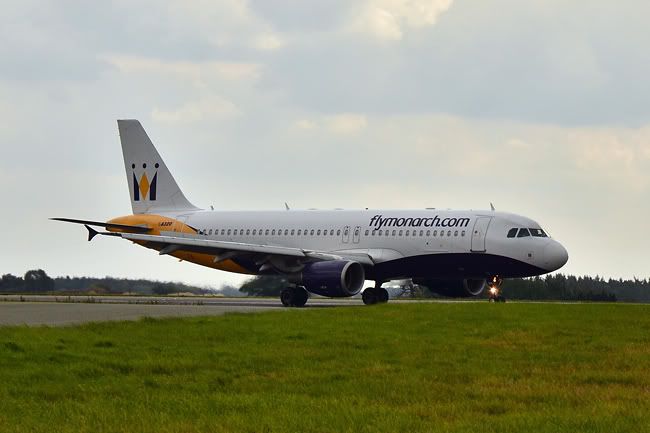 It's Monarch indeed, but too small for our taste
Later on, as expected with 20 minutes delay inbound from AGP, the very much welcomed Airbus A300. It landed right in front of us on runway 26. Martijn got really excited when he noticed registration G-MONR was operating, and also on our flight not much later.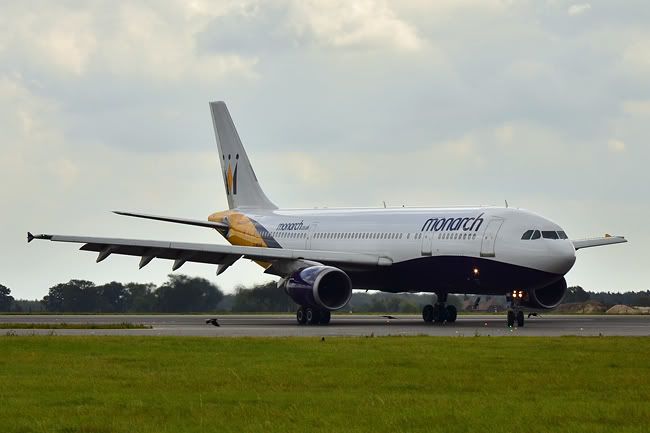 Another Monarch, and this is what we like! Our A300 arriving from AGP
A few pictures where made and we hurried into the terminal building, upstairs to the security checkpoint which was without any hassle. We were greeted in the modern shopping area, also featuring a Starbucks branch, and LTN does really good by offering this kind of terminal to it's mostly 'lowcost' passengers.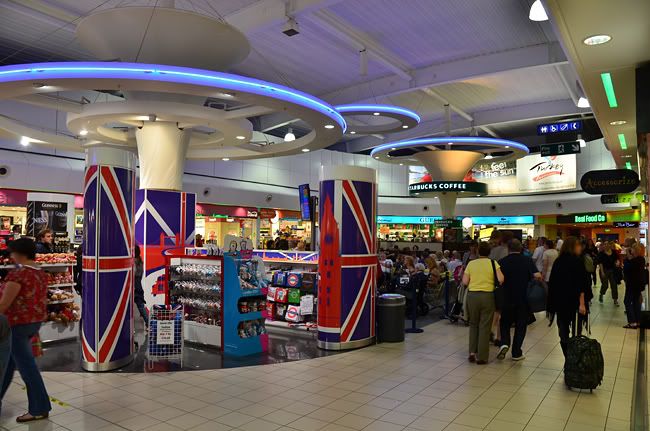 Luton shopping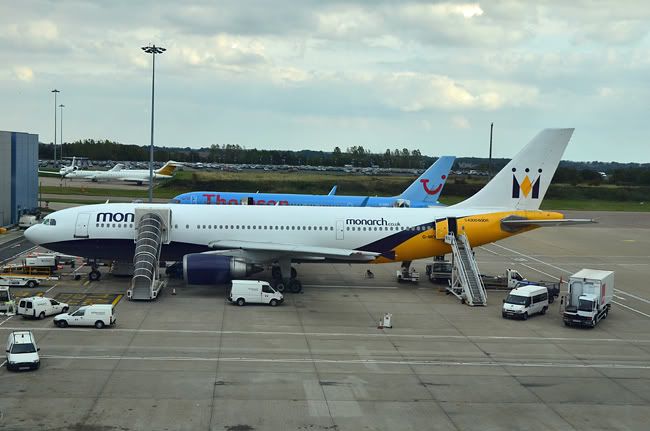 'Our' A300 parked in the distance
Boarding was on the screens from gate 22, a walk not too far. Quite a few passengers queuing up already, mostly elderly travellers, or parents with infants. It's low season after all, children at older age had to attend school again. The whole process was very organized and calm, in an orderly British way.
We had to walk outside and were allowed to board at either the forward or rear steps. No question which way we went, and we had some good photo opportunities, real great!
Beautiful A300 nose section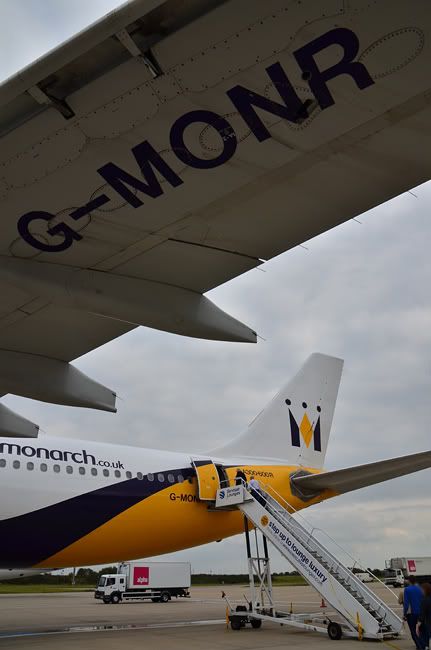 G-MONR indeed, their oldest example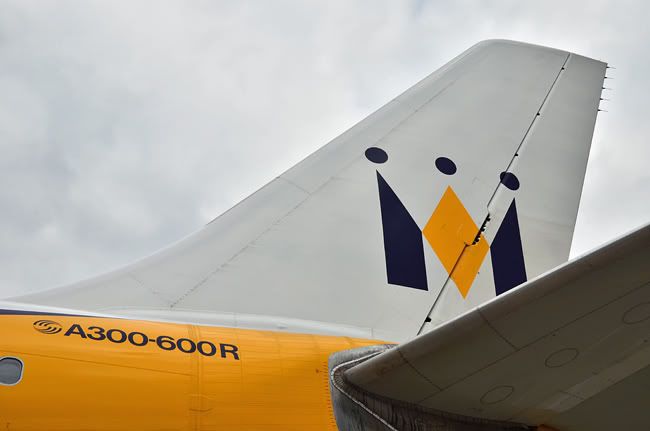 Double checked: indeed A300 is what we need!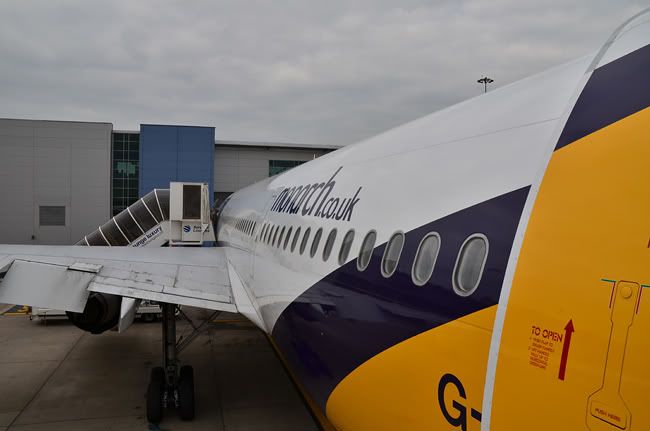 And one more look forward before boarding
Boarding of the regular passengers finished ontime, but a cabin door (R2) remained open with cabin crew waiting for 6 wheelchair passengers, loaded by a passenger highlifter truck or whatever you call such machines. Not the best performance here by that company taking care for the disabled or elderly amongst us. Also the captain announced that the Luton Handling company cannot cope with these large aircrafts. Shame on you LTN and 25 minutes delay in the end. Let's go and fly!
LTN-PMI
Flight No.:
ZB870
Date:
24SEP11
STD:
1440
ATD:
1506
STA:
1755
ATA:
1816
A/C:
Airbus A300B4-600R
Reg No.:
G-MONR
Seat:
42A
View Large
View Medium


Photo © Tony Holt
We got our pushback followed by a slow taxi to the very beginning of runway 26. Meanwhile a safety demo was done, the estimated flight time of 1h55m was announced as well and the cabin checked carefully.
We did some backtracking on runway 26 to get the max out of it, before starting our powerful takeoff roll, which was followed by a steep takeoff climb. Martijn tried to tape it on video for you but his batteries failed. Bad luck.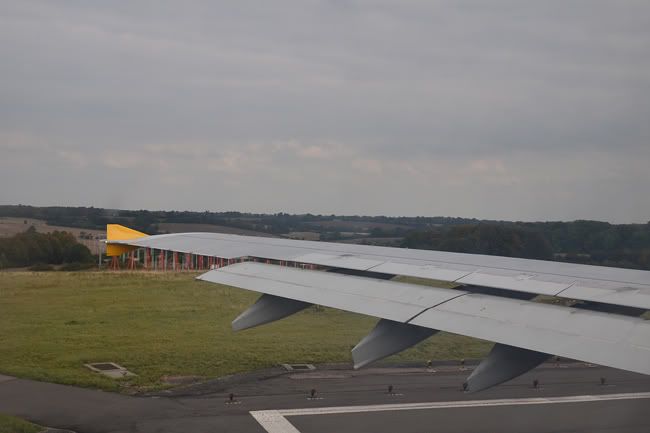 180° turn on the runway after backtracking before takeoff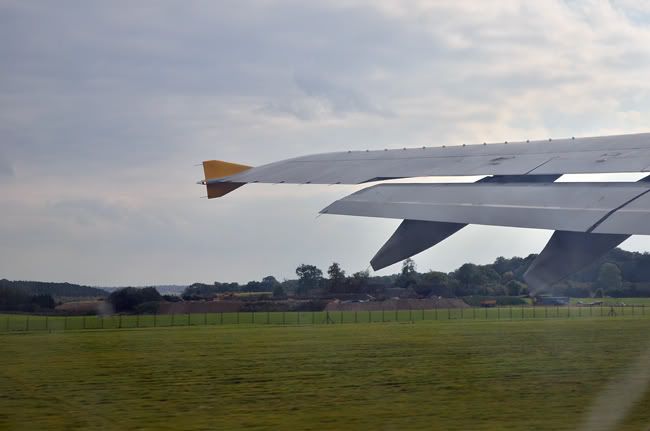 Airborne!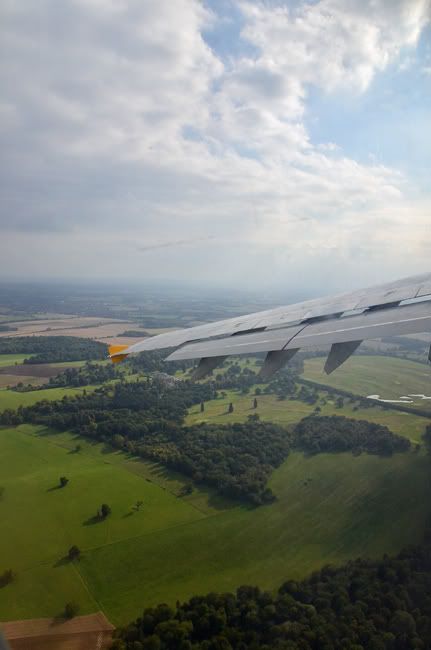 Climbing out to higher levels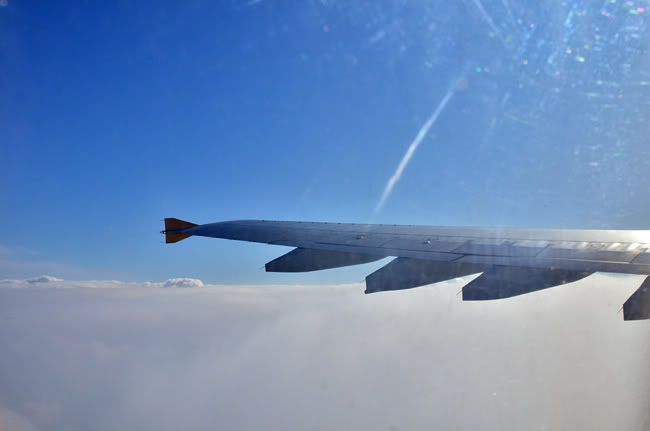 …and above the clouds again
We levelled off at 33000 feet at some moment. From that moment I got some questions from my seatmate –an older female from Ireland and on her way to a walking holiday on Mallorca-, wondering about my picturing etc. Well, this resulted in a nice conversation which took the complete duration of the flight. We shared experiences of travelling and about Mallorca, where I've been numerous times before.
Meanwhile, I did some more photos for you, including the pre-ordered vegetarian meal option (GBP 7.99), offering me a tasty cheddar-tomato toastini, fresh green feta salad, a nice Chocolate Caramel Mousse and a complimentary Kenco hot drink. Not bad at all for this price, and it was a very nice meal deal!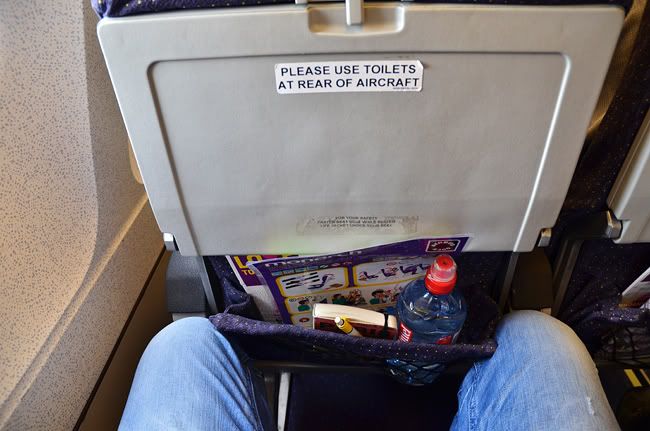 Legroom on Monarch's A300 aircraft. Not so bad at all, to be honest.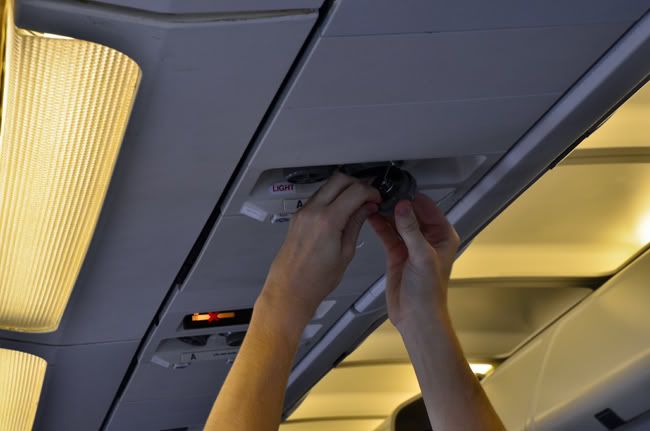 Trying to fix something? Or did you break it?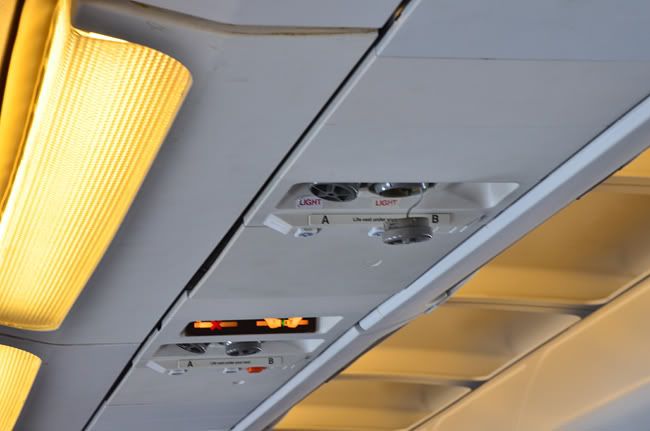 OK, just leave it this way…
Cabin View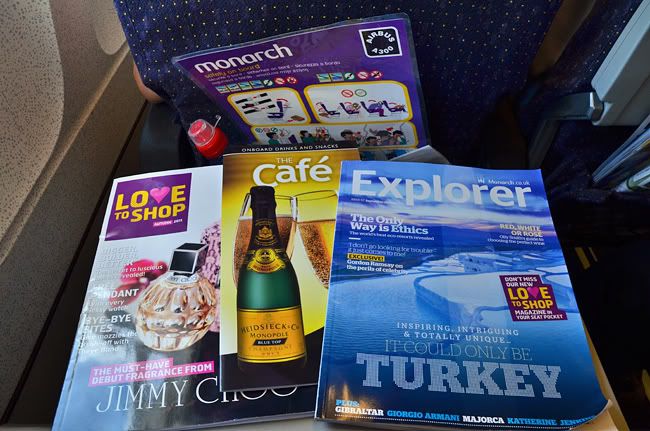 Contents of my seat pocket
My pre-ordered meal! Really good and value for money.
Cruising in French airspace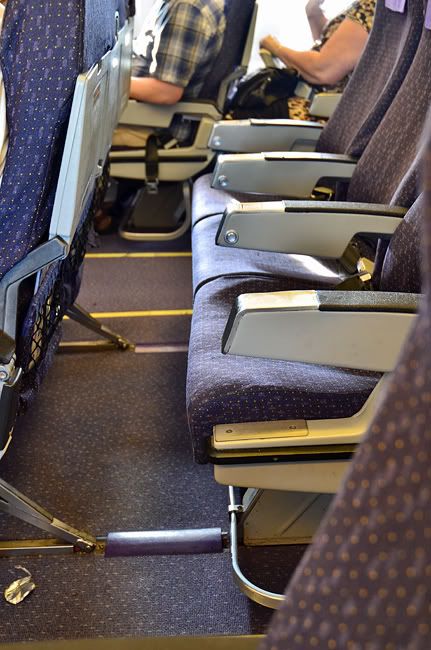 To give a better idea about legroom, he a better view
The meal kept me busy for some time, aside from some moderate bumps over France, which is always entertaining with a meal and a drink on your traytable.
Then a fellow passenger from the middle rows got up and took a Topgear magazine from one of the overhead bins above row 44, which accidentally dropped on the traytable of seat 44B, where a cup of red wine was standing. As a result, the whole trouser of the man in 44B was coloured red, definitely not nice when you're travelling and it's basically not possible to clean again during a flight.
It was nice to see the attentive crewmember pro-actively approaching the man and offering assistance to clean up.
The island of Mallorca insight
It's beautiful down there!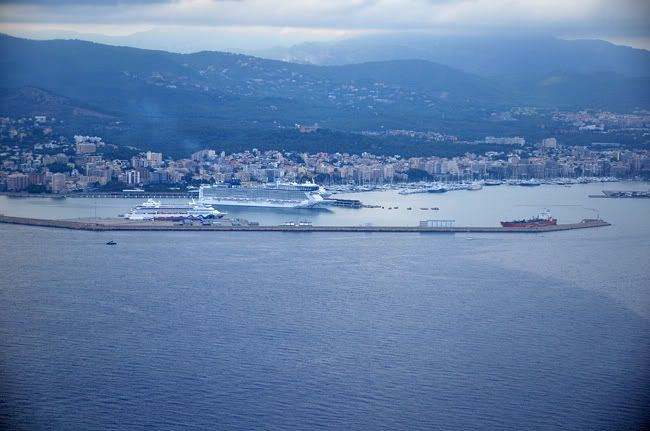 Dedicated to Philip: NCL's Norwegian Epic and German cruising company Aida
Not much later the island of Mallorca came insight and it was clear that we would land from the South, hence our descend along the beautiful westcoast of the island. Beautiful bays, small cities along the coast and a mountain scenery. No wonder why so many people love this place! The weather was not too great, with clouds here and there, and the occasional rainshowers around. After some good views on Palma harbour, with some cruiseships in, we landed on the left runway in PMI and vacated the runway quickly. Quite some other traffic around here, mainly from the UK on this side of the terminal (non-Schengen).
Martijn fixed the battery issue on his camera, so we've something on tape:
http://youtu.be/Ifa1RWEPwzA
Vacating the runway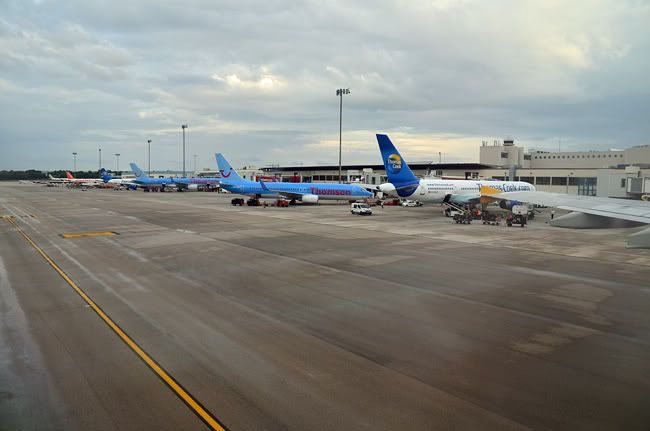 Some other traffic from the UK did arrive before us
When we had to disembark (Martijn was already gone), I just tried my luck to see the flightdeck and it was granted immediately. I had to seat on the captains seat, got myself pictured and a few minutes chatting with the FO, a young guy on this old frame.
I like the seat covers actually, nice colour setting on this aircraft
The A300 flightdeck
One final view on the A300 in PMI.
All together, a fantastic experience on this A300 and Monarch… do we get similar, worse or even better treatment on the next flight? Let's see!
---
PMI transit
At PMI we had a few beers and watched the crowded terminal full of returning holiday makers. Mainly back to the UK that night, with numerous flights by all the British airlines we know. Our flight was checked in at 2 desks, with immense queues of people waiting to be served. Did you know what a pleasure it can be to have checked in online? We grabbed another beer and watched them for a while. And, when the line was gone, we got our boarding passes replaced by some real ones at the desks.
For this flight we would split up again, me in the front cabin with a pre-ordered 'extra legroom seat' and Martijn was in the back somewhere between the crowd
We went upstairs and through the security checkpoint. A 0,75 bottle of Vittel water was no big deal here and just went through (shame on you guys…), it was my kind of test of the Spanish security guys. I told Martijn in advance, that they wouldn't notice. And indeed, I was right. What a joke! Well, that's Spain for you.
---
Our gate was announced on the screens, A22, somewhere in a dark corner. No views on the apron in this area, and a with a good load of fellow passengers around, not much seats to sit down for a while.
Gate 22 – a boring place
Well, never mind. Boarding was announced on time and we would hope for the Boeing 757-200 on this leg, which was confirmed when we glimpsed through a tiny window in the aviobridge. And Martijn got even happier when he noticed the letters 'JB' on the nosewheel door. That means we indeed got on the oldest Monarch 757 still around, a great catch indeed!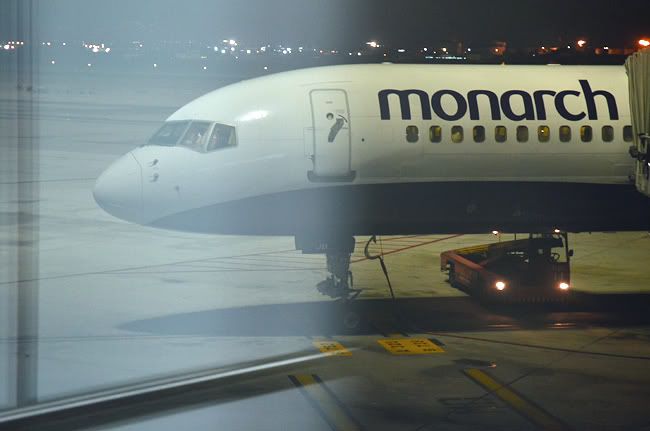 A quick glimpse on the nosewheel door showed us the registration
PMI-LGW
Flight No.:
ZB229
Date:
24SEP11
STD:
2135
ATD:
2138
STA:
2250
ATA:
2255
A/C:
Boeing 757-200
Reg No.:
G-DAJB
Seat:
04D
View Large
View Medium


Photo © QiJian Pan
We were boarding and really friendly welcomed by a jolly young male crewmember. I joked a bit about our different seats and he replied that Martijn could maybe switch to the front later on. Well, that was not his initial plan but a friendly offer anyway.
I was assigned for row 04F, and the other 2 seats remained empty. Really nice.
Meanwhile I texted Martijn that he could join, and also the crew did active upgrade sales onboard, so several passengers went forward already. Finally also Martijn decided to come to my row, but only in exchange for my window seat which I was willing to please him with. The payment was something to sort out later on, and the crew said that they would do that during their inflight sale service.
'Extra Legroom' seats on Monarch
We left on schedule from PMI and taxied to runway 24R for takeoff this time. The RollsRoyce engines spooled up and we enjoyed a powerful takeoff in rain here, bound for the UK again.
Takeoff Video by Martijn:
http://youtu.be/orEZgd0KTJc
Before the crew commenced service an announcement was made that no items containing nuts were sold onboard, and the crew requested all of us not to open food containing nuts, all due to one passenger onboard with a severe nut allergy. I think this is a very nice touch from the crew to make this clear to everyone, just for the safety of 1 passenger.
Senior cabin crew Carol, as well her collegue Jessica served our row, and we decided to take the usual Baileys and some crisps. They sell it for a 'combo price' so all good. Also the seat was paid for, I think Martijn paid GBP 5 extra for his seat, definitely cheaper then at the desk. They crew was super friendly, and talkative, real nice!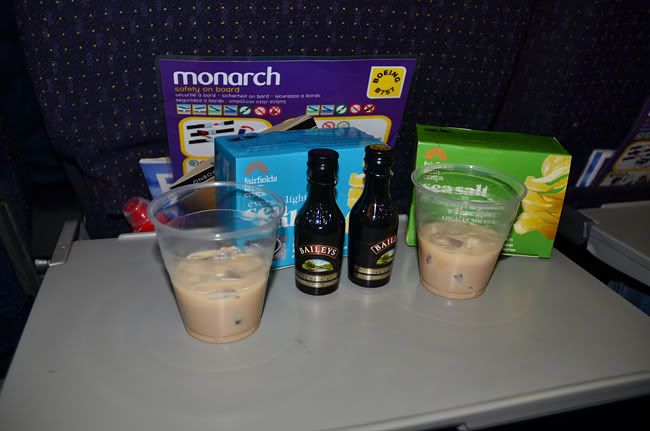 Enjoying our time on board
The cruise was very calm and according the flightcrew at 38000 feet. They estimated an ontime arrival in LGW as well. With our good legroom the flight was surely an enjoyable one!
Also a quick stop at the lavatory was becoming a positive experience once again, when the crew started a conversation with me. Carol bought a watch for her partners birthday, and she asked my opinion etc. This all continued in some talking about the airline, our A300 trip that afternoon. They were really open-minded and fair to me, and they told me that the cabin crew dislike the A300 since there are not enough galleys but they would leave the fleet soon (at some moment, not decided yet).
Well, with such talking and a flight not taking forever, our descend was noticeable and I went back to my seat. The cabin was quickly prepared for landing, which was done in drizzle conditions with slightly reduced visibility in LGW. Runway 26L was ours and for the second time that day we arrived in the UK.
Landing video by Martijn:
http://youtu.be/2bmOm3sEv00
We taxied for a few minutes and finally arrived at gate 17, our parking position. Since our seat was in the forward section we got off really quick, and the crew wished us farewell.
A bit of longer walk to immigration in LGW, but it was deserted at this time of the day. Both of us were let in within minutes and we headed onwards to the hotel shuttle bus.
We decided to stay in the Travellodge Gatwick Airport Hotel, on the Southside of the airport. A (paid) hotel shuttlebus drives during the day and we would be taking the final service, and when missed, we would have to take a cab.
At some point we found the shuttlebus already standing at some busstop and we quickly entered it. We thought that it was a close call, but were al set. After about 15 minutes we arrived in front of the hotel.
We were assited during check-in by a younger guy, Pakistan origin probably, not showing much interest. We enquired if the bar was open but with no result. It was closed. Also no shops or bars in the area, so definitely no way to have a final drink before sleeping. So we went to our rooms and would meet again the next morning.
Well, the Travellodge Gatwick is among the most mediocre hotels I've been to, a lot of overdue maintenance in the rooms and just 'dirty'. The dusty carpet, stains (blood and other stuff) on the walls, unpleasant lighting. No amenities at all, also not in the bathroom (which was clean though). But what else can you ask for at an airport hotel for just 25 pounds?! I guess it was 'value for money' for UK standards. But these hotels are definitely not my standards, usually. It was ok though for the night, no further complaints. Just be prepared.
My room in the Travellodge property
I slept rather good, and that's most important, waking up again at some unhuman hour on Sunday, I think the alarm went off at 0530am, since we had to catch a shuttlebus and flight around 8am back to AMS.
No breakfast at this place, so I met Martijn in the lobby and we jumped on the shuttlebus to the terminal. Martijn checked in for his BA flight to AMS, and I was checked in for another leg on easyJet, me hoping for an easyJet A320 (I only flew their 319's and 737's so far).
We buy a sandwich and coffee from Costa Coffee company, and have a seat overlooking the apron.
At some point Martijn had to leave to gate 53 from where his flight was leaving, slightly before mine. He was flying back on G-DOCU, a Boeing 737-400.
I had a few minutes time left and got some Earl Grey teabags at the taxfree store, and then I also made my way to the gate, 112, for my easyJet flight to AMS.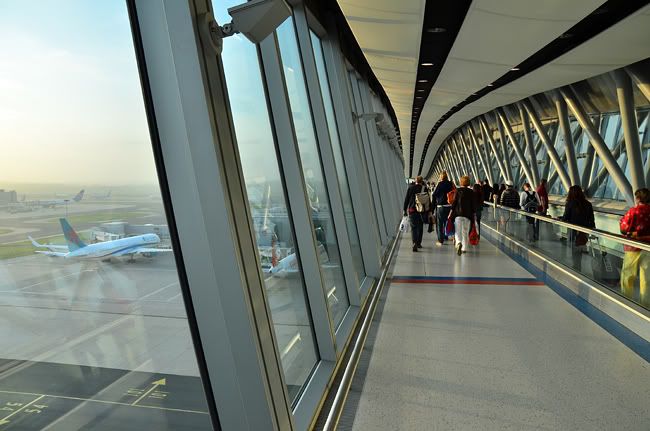 The bridge in LGW is always fascinating to use!
While walking through the bridge I saw Martijn's BA flight having pushback.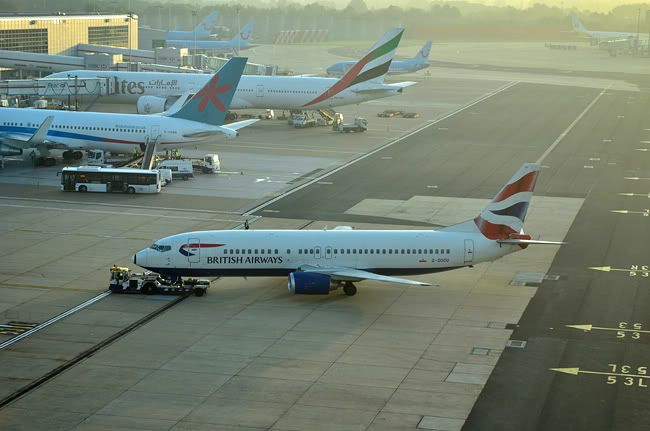 G-DOCU with Martijn onboard leaving for AMS
A few minutes later, I also noticed the G-DAJB, the 757 that we flew just the night before, being towed. Of course I sneaked a quick picture before boarding my own flight. Such a shame, another Airbus A319. But, at least a new registration for me. Definitely not the newest one in the easyJet fleet. Anway, I don't care. It will be 40 minutes only.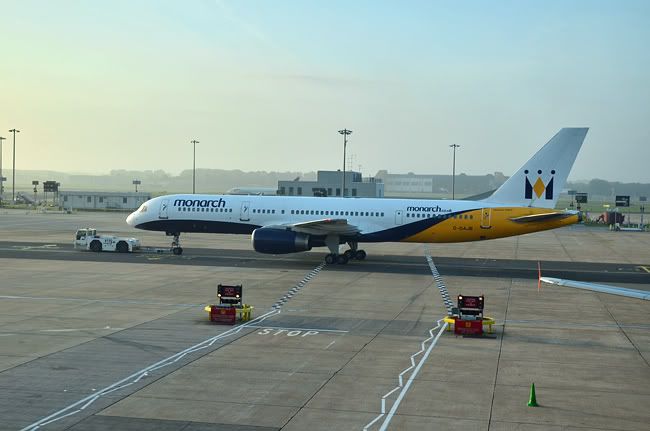 The 757-200 we took last night: G-DAJP on tow
…and for me another standard A319 at the gate
LGW-AMS
Flight No.:
EZY8873
Date:
25SEP11
STD:
0810
ATD:
0806
STA:
1025
ATA:
1023
A/C:
Airbus A319
Reg No.:
G-EZIJ
Seat:
25A
View Large
View Medium


Photo © Pieter-Jan Van De Vijver
26 rows in total on these A319s, last row no window. So row 25 is where I go. Finally 3 for me, I thought, but it's close to full house. In the end a cabin crew Andrew member gets 2 passengers in my row because they want to sit together. Bad luck for me, cramped seating in the end and definitely worse then on the Monarch A300
The purser on my flight, Dave, makes a welcome where Joyce and Andrew do the safety demo. Still manually on easyJet.
We block out several minutes ahead of schedule, but a long waiting time at departure runway 26L takes quite a bit of the remaining schedule.
Once we took off in the calm and clear morning skies, we made some righthand turns towards to Northsea coast. It was surely a very calm flight. Then the only thing I hoped for was a bigger seat, so what else to do then try to sleep a bit more? And that's what I did, sometimes a quick look outside to follow our progress.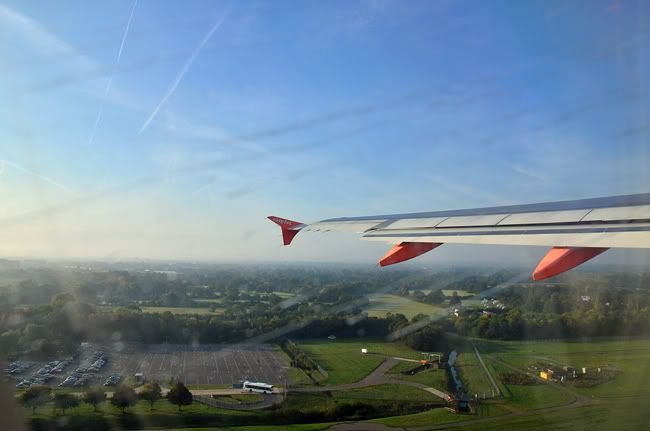 Airborne from LGW. Great weather for flying!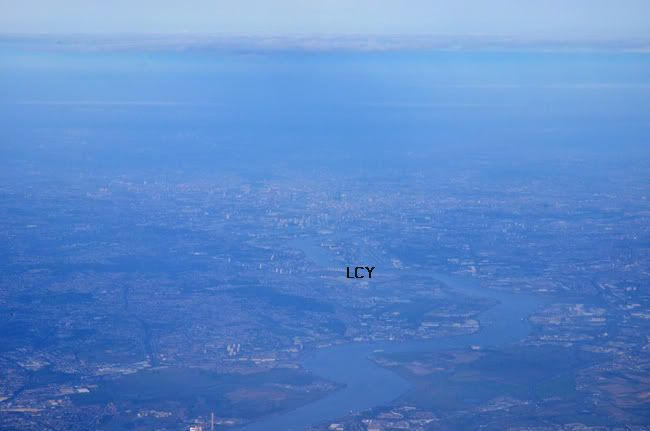 London in a distance. Do you see LCY – City Airport ?
Interesting to notice is that the crew takes a lot of time for their food/beverage sales service, and one passenger just bought a coffee. Just a minute later or so the seatbelt sign was switched on and the announcement about 'put your traytables up' etc was mentioned to us. The passenger called the crew and handed back the coffee and wanted his money back. Which was done so.
I never noticed that before to be honest, but I can understand the passengers viewpoint in this case. The crew handled the situation well, I think.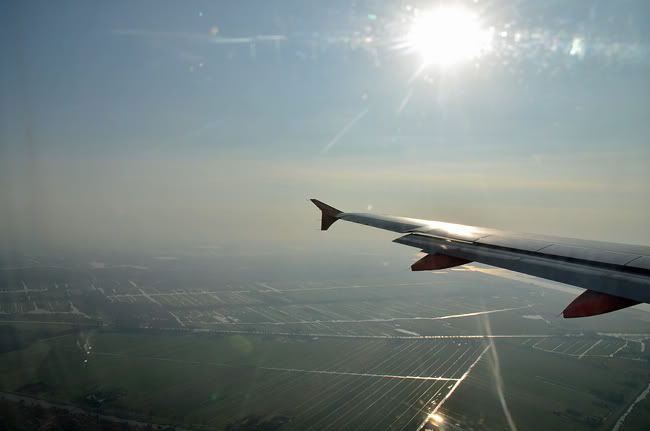 Approaching AMS. A typical scene with sun reflecting on our waters. I like it.
Our landing was on runway 18R, what else?!, followed by 10 minutes taxiing to parking spot H1, at the lowcost terminal in AMS. We arrived exactly on schedule, so good performance on this flight as well.
Disembarking via the rear steps was possible in AMS, and I was off in a minute, on my way home. 4 flights completed, the Monarch mission was successfully done and very interesting.
To conclude this trip on Monarch, the main airline on this trip; we enjoyed every minute with them. The seats are comfortable enough, also in standard Y on the A300. Not the greatest seatpitch, but not too bad either. Interior looked well kept in general, and the crews on Monarch are outstanding. I said to Martijn that it has been a while since I got onboard with such attentive friendly crews. So kudos to them!
Our mission for the A300 succeeded, for me the second time on this type but it remains a special breed in the European skies. The B757-200 flight was definitely a nice catch too, especially with only 3 remaining with this airline and maybe on their way out too.
I hope you've enjoyed this tripreport and I hope to bring you soon some more stories from my 2011 travels.
Happy holidays, take care!
Eric