Introduction
During peak seasons around the Christmas time and especially during the late winter - early spring season Lapland can get quite popular among Finns (and increasingly among foreign tourists as well). For years Finnair has used some large equipment on the peak time flights during weekends, ranging from a DC-10 to an MD-11 and more recently A330/340s. With this in mind I was browsing the AY schedules to RVN/KTT/IVL one day and then noticed that during this Christmas season a number of rotations to these airports would be operated by their charter 757s - unfortunately no widebodies (but let's see in March-April, maybe I will get lucky). These birds with 227 seats in a single class configuration aren't exactly the most comfortable birds in the skies (yet they are used in some amazingly long flights, including ones to Brazil, Thailand and the Caribbean, with enroute fuel stops) - so a short domestic hop sounded a much better option for experiencing one. That also sounded like a very nice end to a very successful (aviationwise that is, let's not talk about anything else) year for this Finn.
Putting together an itinerary was quite an effort as it was hard finding any decent fares - after all the Christmas period is quite popular for traveling up north, and thus fares there were astronomical (DY wanted around 250 EUR for a simple one way HEL-KTT without any frills...). Anyway I soon found one working itinerary and booked it without second thoughts.
The itinerary started with an el cheapo 25 EUR Norwegian ticket up to OUL on the 7 AM flight, followed by a train ride to Rovaniemi and finally the grand prize, AY 757-200 down to HEL. AY one way prices being what they are I burned 13000 AY Plus points plus 50 EUR for the fees, consisting mostly of the rip off fuel surcharge for this flight - IMHO worth it but your opinion might be different.
The route for this day trip: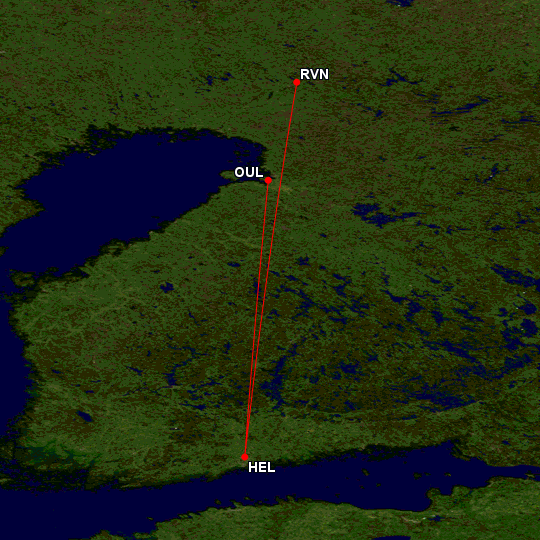 .
Thursday 22.12.2011
A departure at seven in the morning had me waking up far too early again before catching the bus to the airport, arriving to T2 around six. There are tons of people around - this and tomorrow are some of the heaviest travel days of the whole year in Finland:
I'm quite happy I did what I usually do and came to the airport last night to check myself with the kiosks, scoring my favorite seat 1F as well.
The horde of passengers are luckily queuing for check in and bag drop, so security is relatively straightforward although the lack of trays to put ones stuff in is a major annoyance this morning - kudos to Finavia once again! Oh and it is winter time so my winter boots and their metal of course cause the machine to go off, luckily the friendly chap agrees to do the wanding without having me to put my shoes through the machine.
This cracked me up a bit - the sign says "Removed alcohol", must be the bar for the security staff's Christmas party: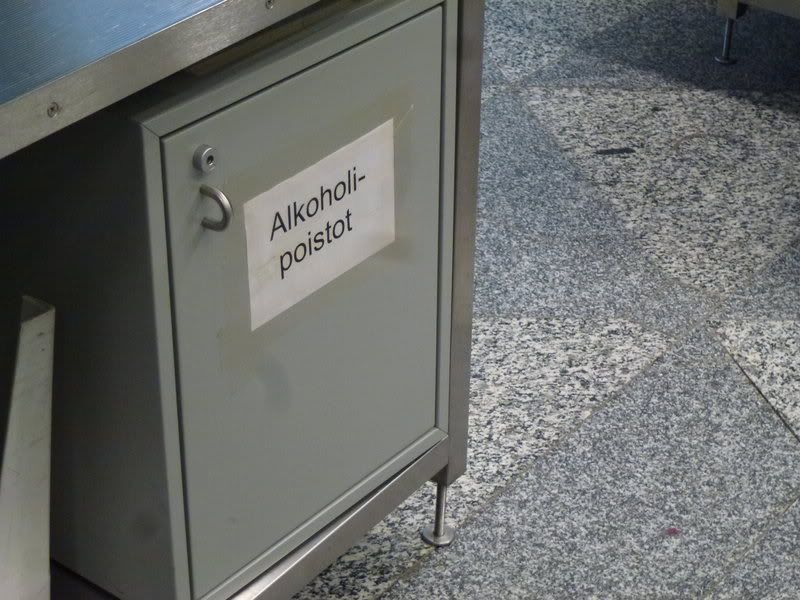 Next stop - a huge cup of coffee:
After this I pick up the morning paper from one of the promo stands in the terminal - once again I left home too early for the paperboy to show up with my copy!
The gate this morning is 30, one of the newer gates in the Schengen part as the opening of the (non-Schengen) long haul terminal extension has freed some space for additional gates here.
LN-DYB is parked outside, my second flight with this particular bird, the first one was actually the inaugural flight from OSL to HEL when Norwegian started flying to HEL back in April 2010. That was also my first flight with a DY 737-800, but of course I've logged quite a few of them ever since.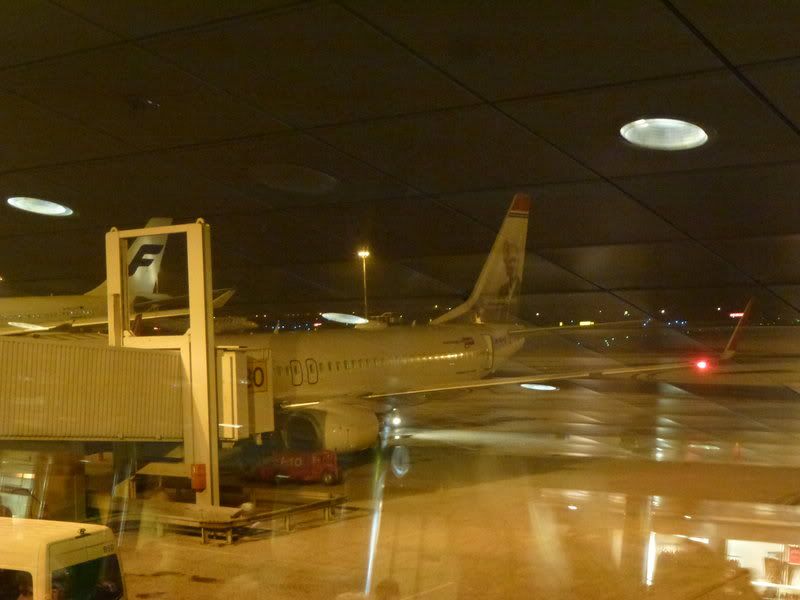 Anyway that bump on her back has been added after that date since there was no onboard wifi back then!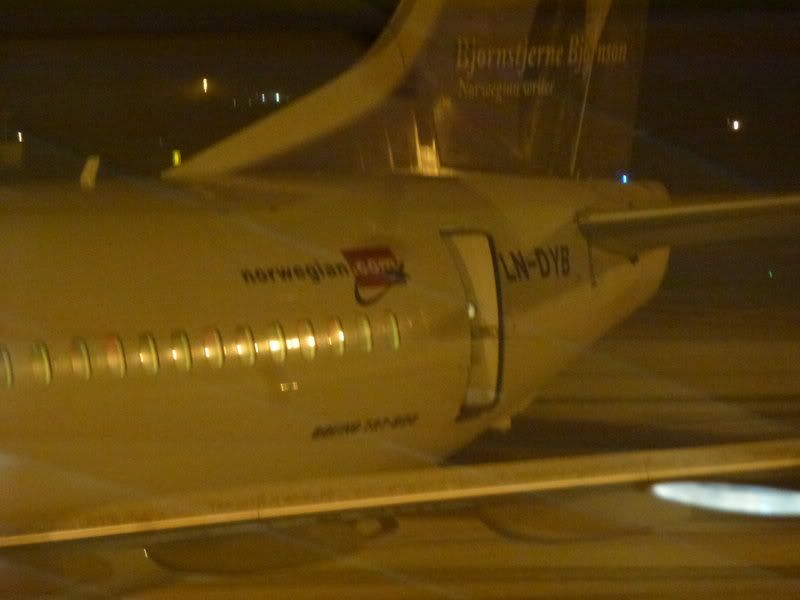 Boarding is called just as I arrive at the gate - they try to do it by row numbers but that seldom works in Finland so I just join the queue despite having a seat in the first row.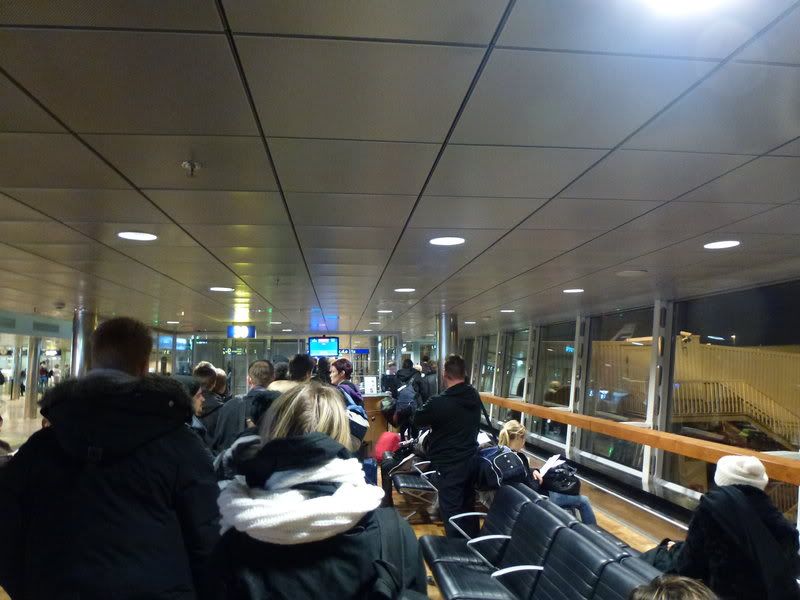 A woman ahead of me is told by the gate agent that she has to gate check a few of her four (!) pieces of carry on luggage. It doesn't look like she is asked for any payment for the luggage, so by the time it is my turn I ask the gate agent shouldn't she charge for those pieces of hold luggage pointing at them, but she just says that they don't have any means for charging the fees at the gate anymore. Hmm, this doesn't sound quite right to me - one can get free checked luggage as long as they manage to get them to the gate - and with the self service kiosks that shouldn't be too hard!
HEL - OUL
DY5602
B737-800 LN-DYB
Seat 1F
7.10 - 8.08
Your usual Estonian cabin crew on this flight, the purser isn't exactly very friendly in her greetings, but later I realize her Finnish is quite bad and she is quite a bit nicer when speaking English.
Row 1, I certainly like it: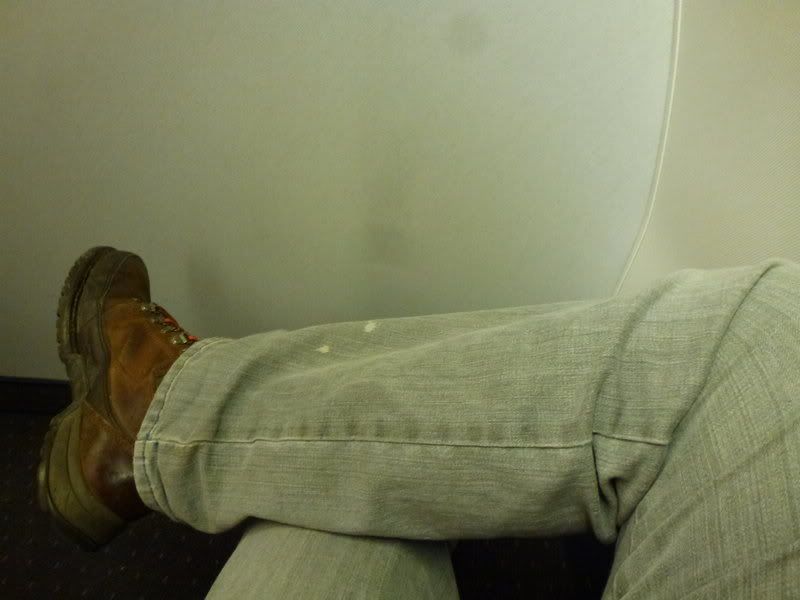 I overheard the gate agent mentioning that this will be a full flight but I'm the only passenger in row 1 - the self service trick doesn't seem to be too well known (or appreciated) here: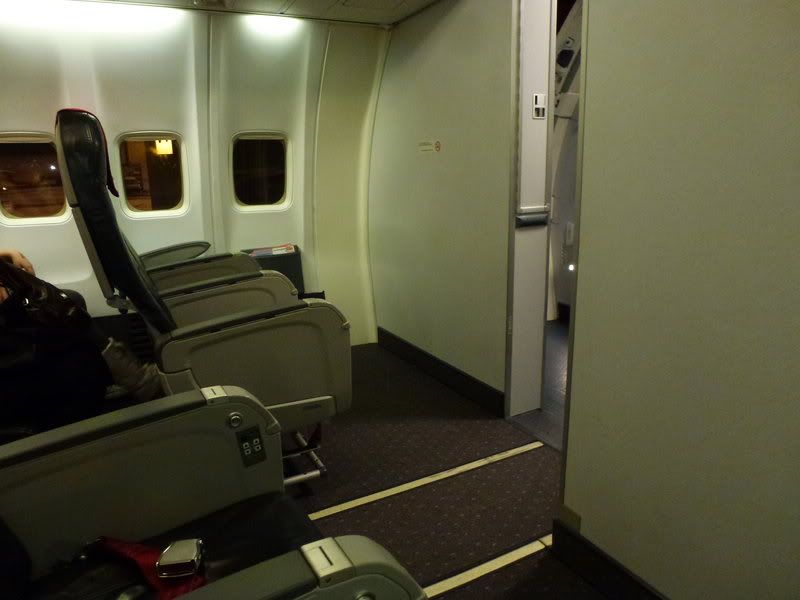 Most of the other seats are full, I'd say the load factor is around 95%.
Yes, there's some snow on the ground: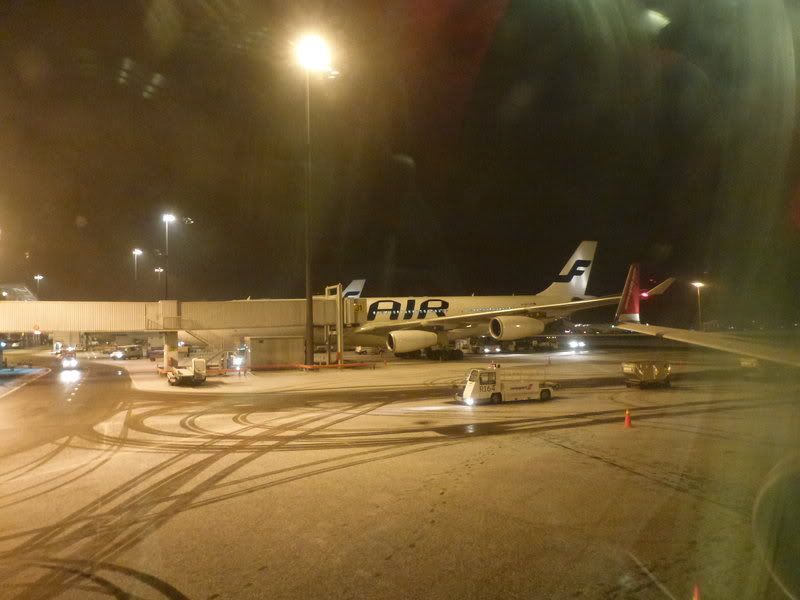 Like Palmjet, I think I'm starting to get used to this new AY livery. I still don't like it though, but can live with it: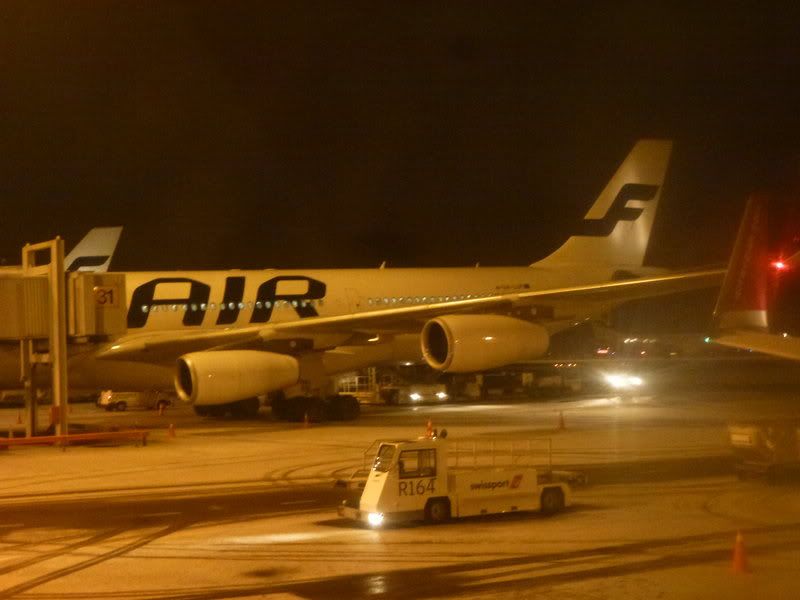 Boarding takes a long time due to the good load factor and some people who have no idea how to behave in a plane - well more time to doze for me! Eventually the Swedish female FO comes on, introduces herself and the Norwegian (male) captain, announces a flight time of 55 minutes to OUL and that we are ready to go as soon as the deicing is finished.
In a surprising display of effectiveness for HEL they do the process at the gate, when the last of the passengers are still boarding: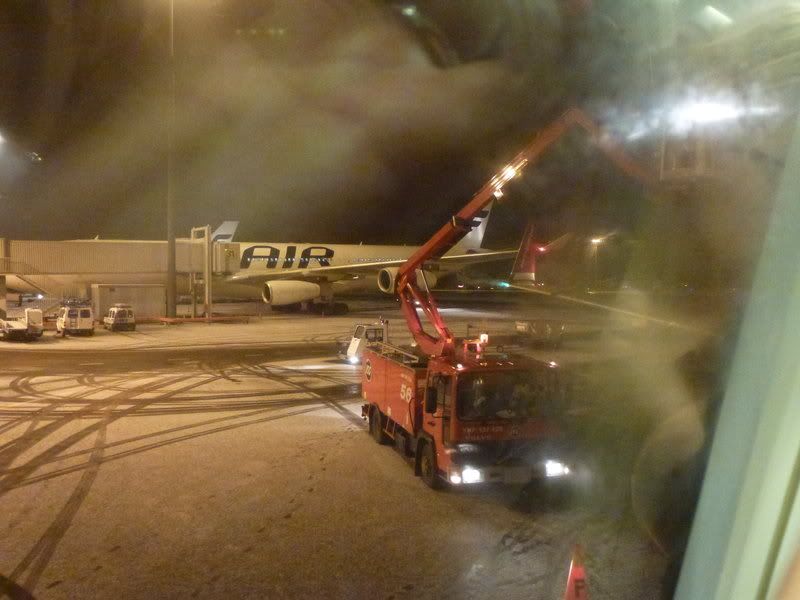 Push back is finally ten minutes late, followed by a lengthy taxi to 22R for take off. Along the way we pass the dedicated deicing area, busy on this freezing morning: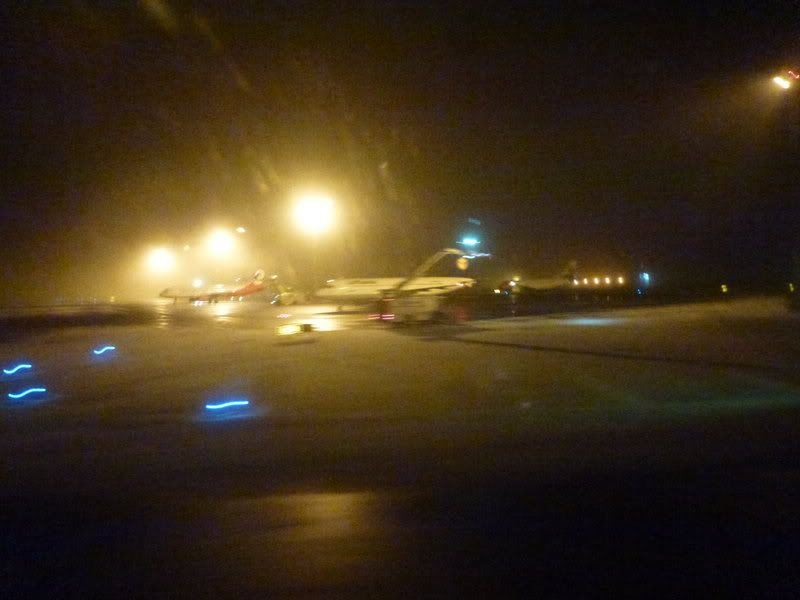 It is rather foggy and hazy, so right after rotating we disappear into the murk and I disappear into my sweet dreams: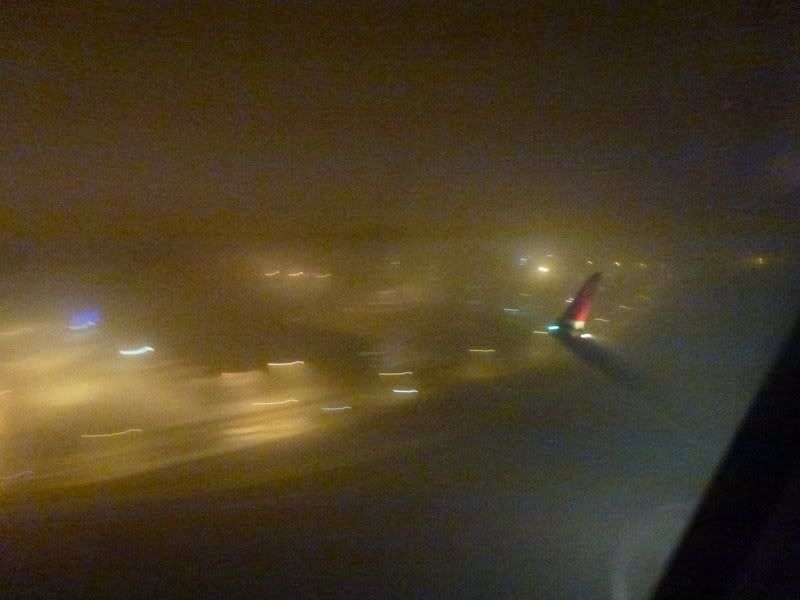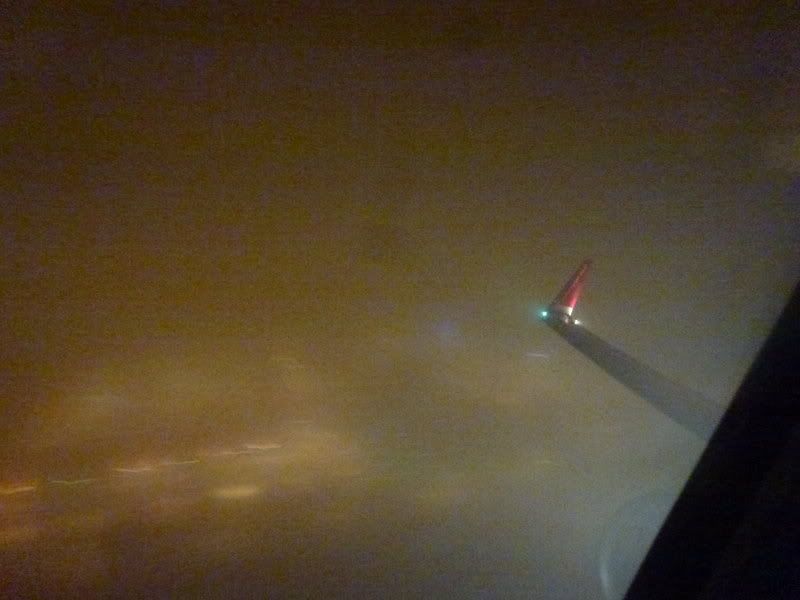 At some point I wake up momentarily by the FO announcing our descent, I snap a quick photo of the sunrise over the eastern horizon: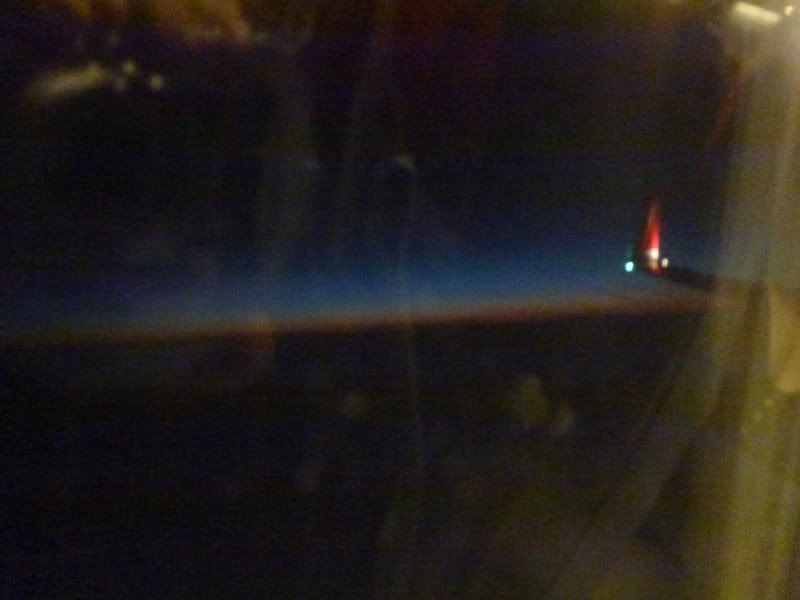 ...and promptly fall back asleep again, waking up mere seconds before our touchdown. Outside it is pitch black:
We land rather fast and hard on 12, skid along the icy surface for a while until slowing down and taxiing to the terminal to a jetway.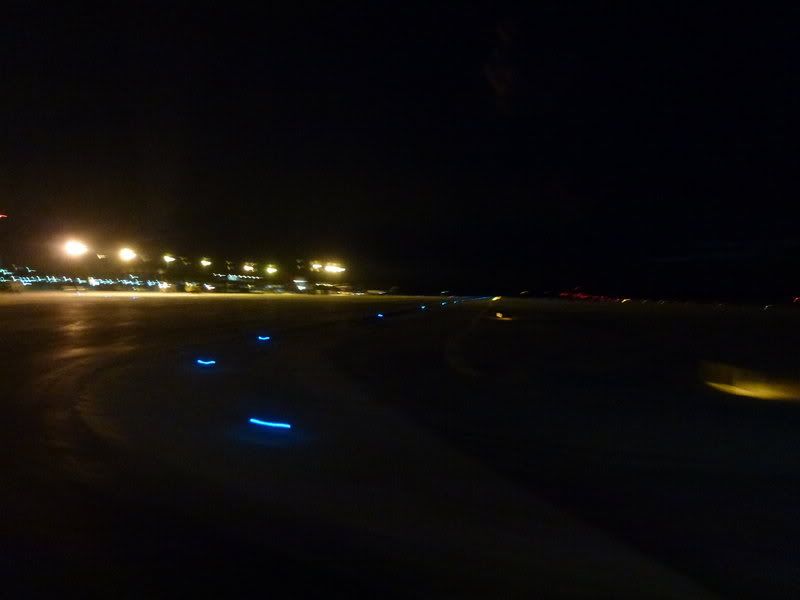 Must have a 717 in a report: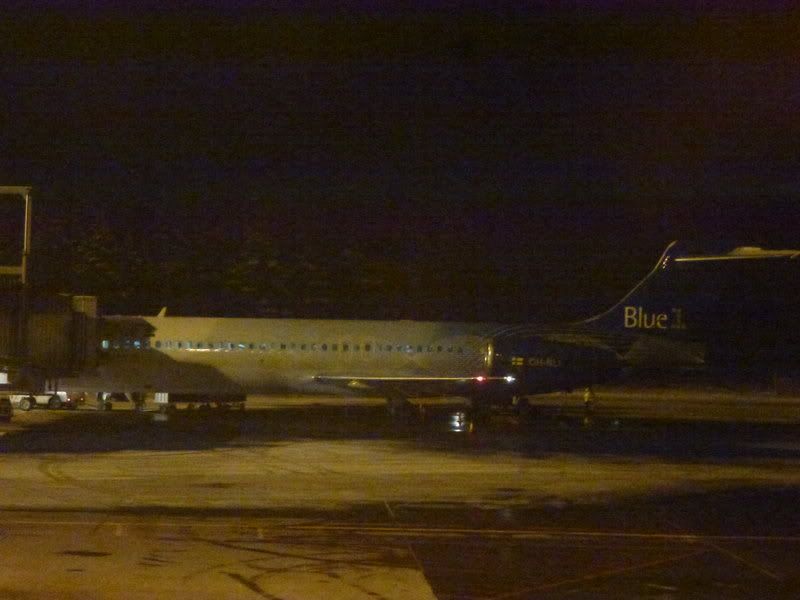 The ground staff seems to have some problems getting the jetway right - the first attempt is canceled and they withdraw it and try again. I joke with the FAs about the ground crew not being used to them (the jetways are new here, introduced with the new terminal opening just back in September!) with the cabin crew. I also try to shoot a photo of the long, flowing blonde hair of our FO visible through the open cockpit door just for Markus, but it doesn't really work out.
Eventually they manage to get the jetway in the correct position and open the door - after an UM is escorted out I am the third person to leave the plane after the captain who is on his way to do the walkaround (what a gentleman, he left the FO stay in the warm cockpit while sacrificing himself in the sub-zero darkness outside!).
Bye: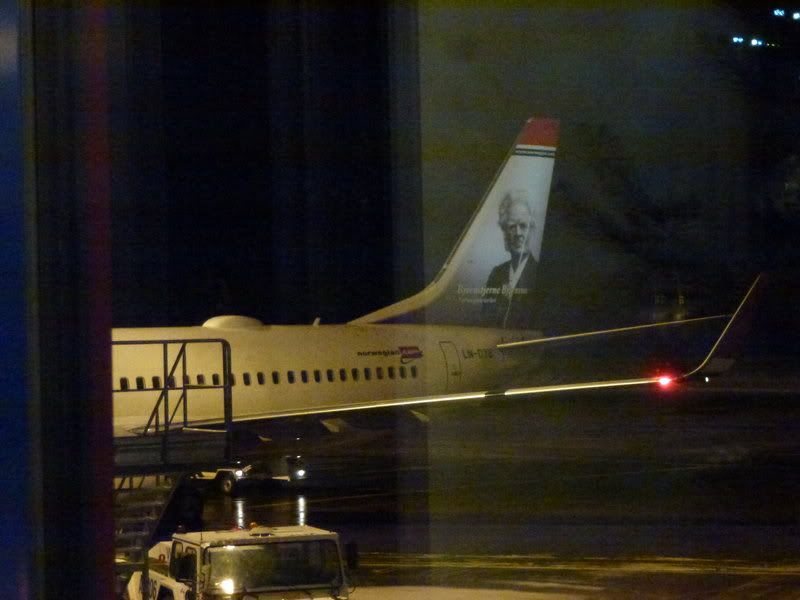 Oulu
I have lots of work to do and a few hours before my train and the airport offers a free wifi so I grab some more coffee from the cafe, find a table with some power sockets nearby (well I have to disconnect half of the lights from their christmas tree to make room for mine but nobody seems to mind!) and sit down to do what a man's gotta do:
In an hour or so the whole terminal becomes awfully quiet as the second AY and KF flights of the morning plus my DY return to HEL all leave and the next flights aren't due for another few hours. Somebody actually comes to me and asks which flight I'm on - she's a bit confused after I say I arrived some time ago and am here to do some work before leaving for the city but I guess I'm harmless enough and she lets me be.
Looks like they have opened another new gate here:
A few hours later I leave just as some sort of foreign delegation comes together with a representative from Finavia/Oulu Airport - apparently they are on some sort of tour of the new terminal facility as they are taking a lot of photos and the Finnish rep is explaining things to them in English.
One tree not enough for you:
So after a couple of hours I head outside, catch the bus to the city centre and head to one of my favorite restaurants for a nice Turkish-influenced lunch: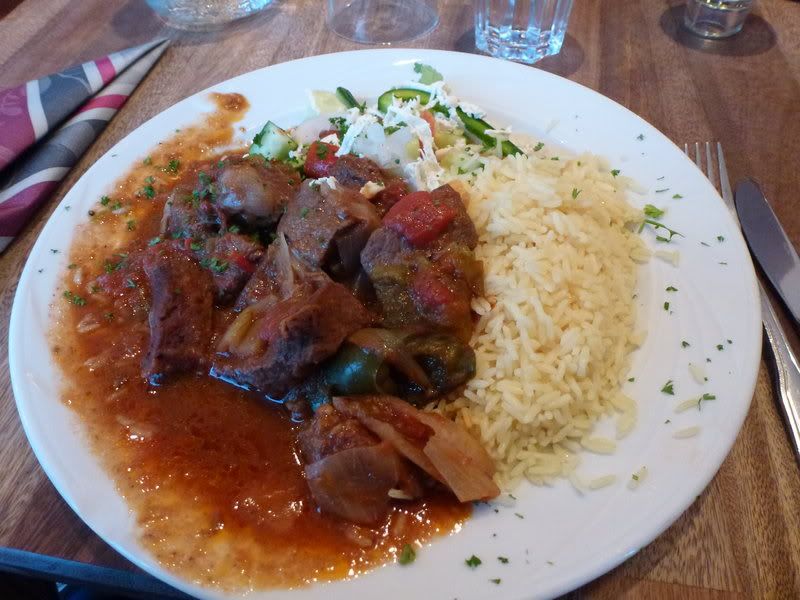 Despite there being snow on the ground the weather is definitely far warmer than usual - this stream here is supposed to be frozen solid this time of the year, not flooding like now: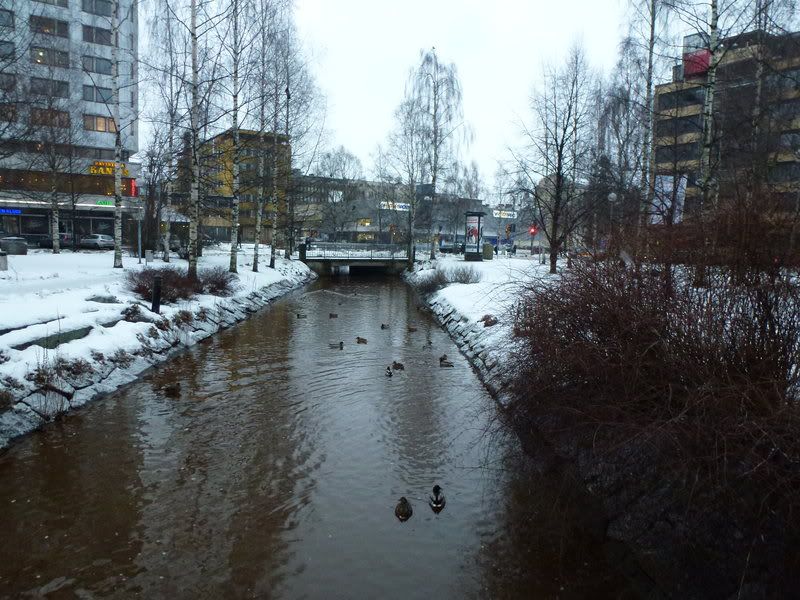 The train station: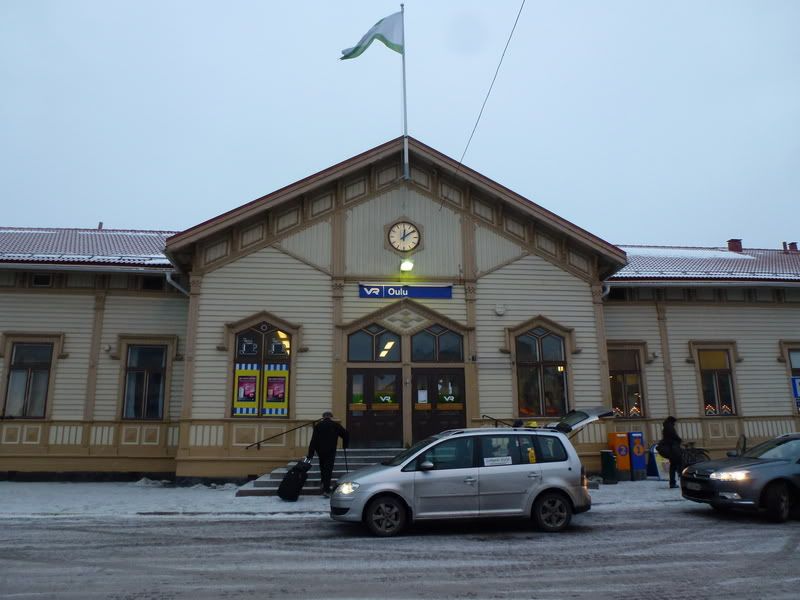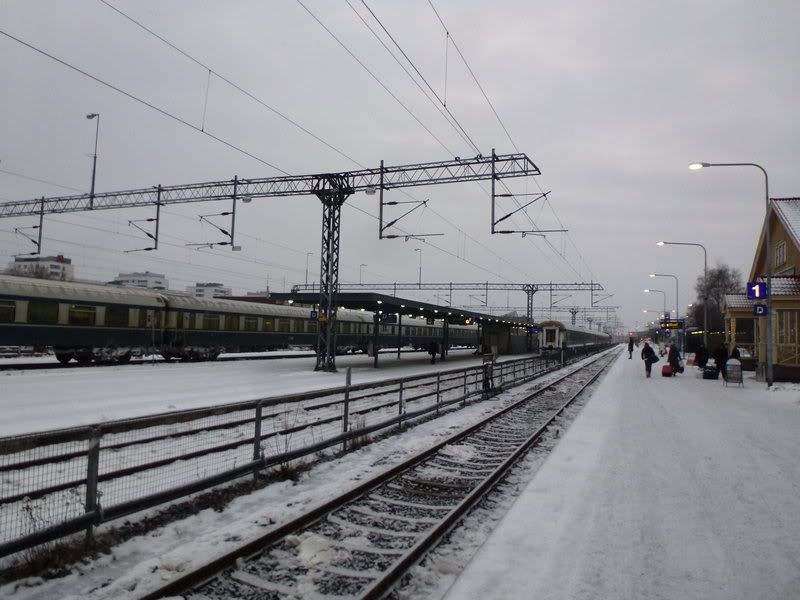 A Northern Train Ride
TIDS: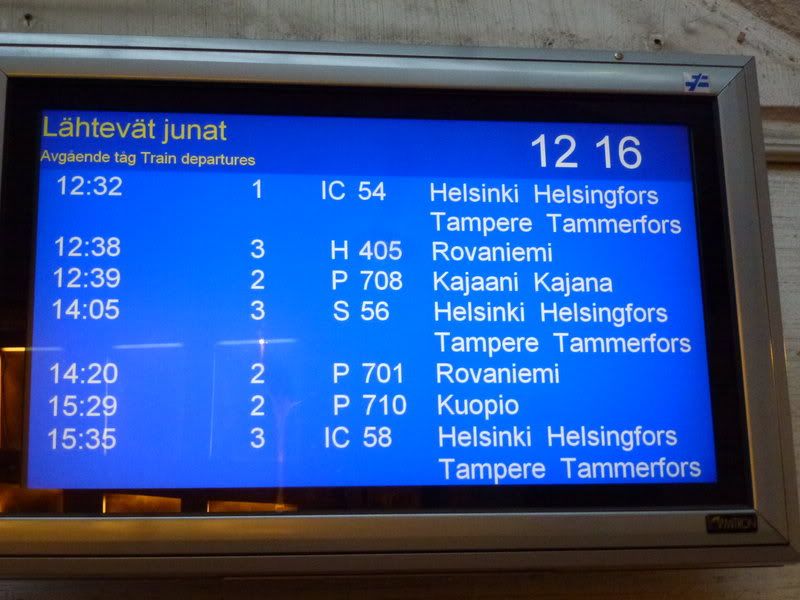 This is a regional service which originates from here in Oulu, thus the short (but frozen) train is already parked at an adjacent track, where they back it to our track some fifteen minutes before departure: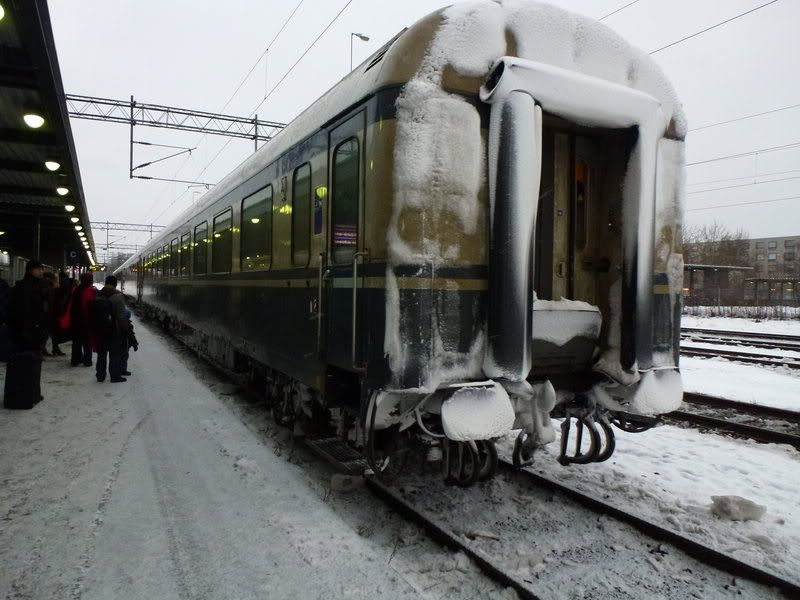 These old carriages are rather comfortable, if you can ignore the bright colors: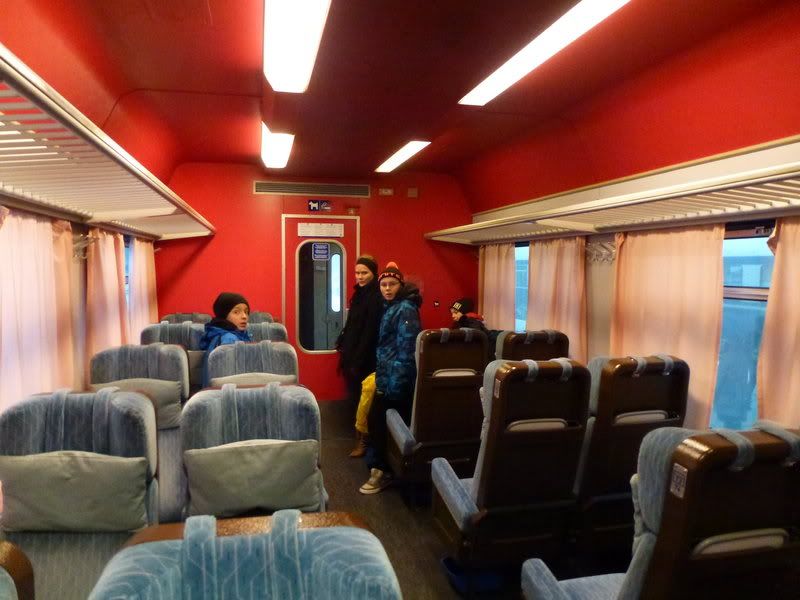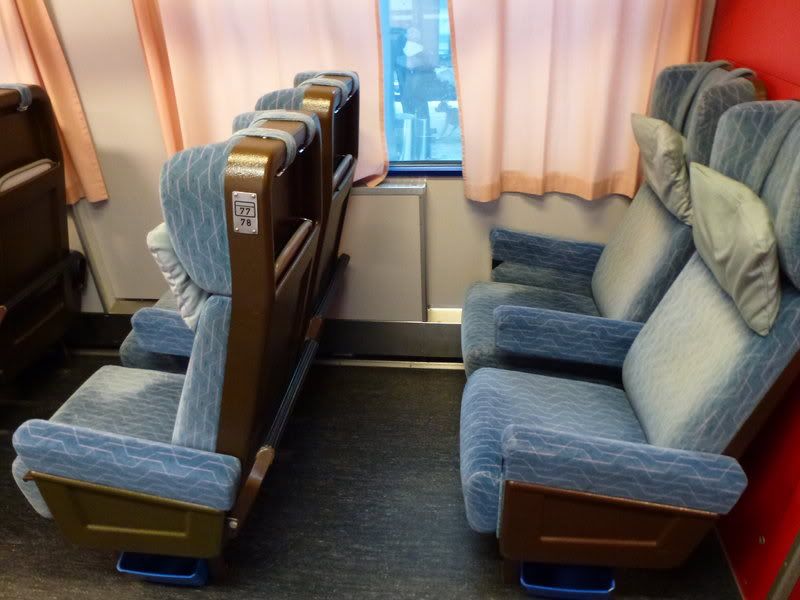 Great legroom on these bulkhead seats: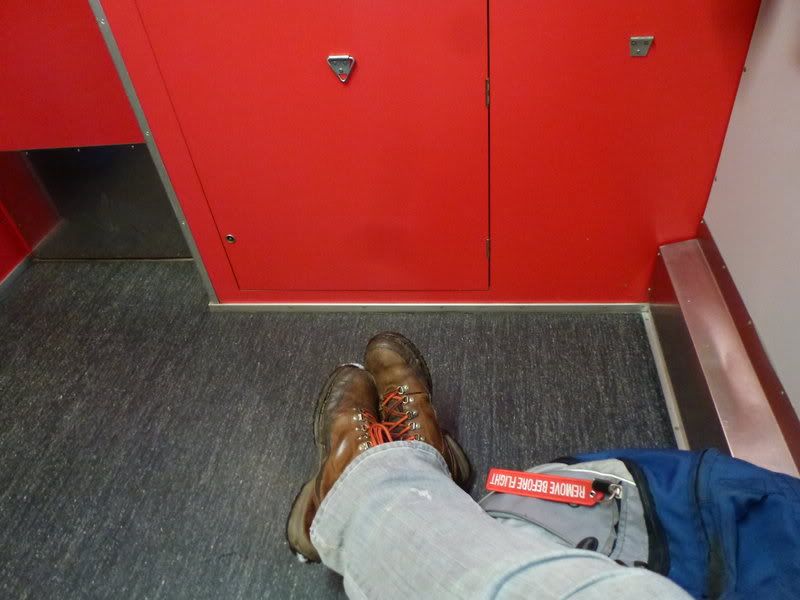 This actually turned out to be the compartment for those traveling with pets and I had to move to let a particularly huge dog to have some more space for itself. Well, that's fine with me, it looked like it was ready to eat me if I hadn't moved!
This frozen ride of two and half hours goes by rather quick - I sleep for the first hour, then finish some reading material and spend the last hour on the phone trying to sort out another crisis situation in the office (and something that will set the tone for my next hours in Rovaniemi!).
Calling at Markus' favorite town in Finland: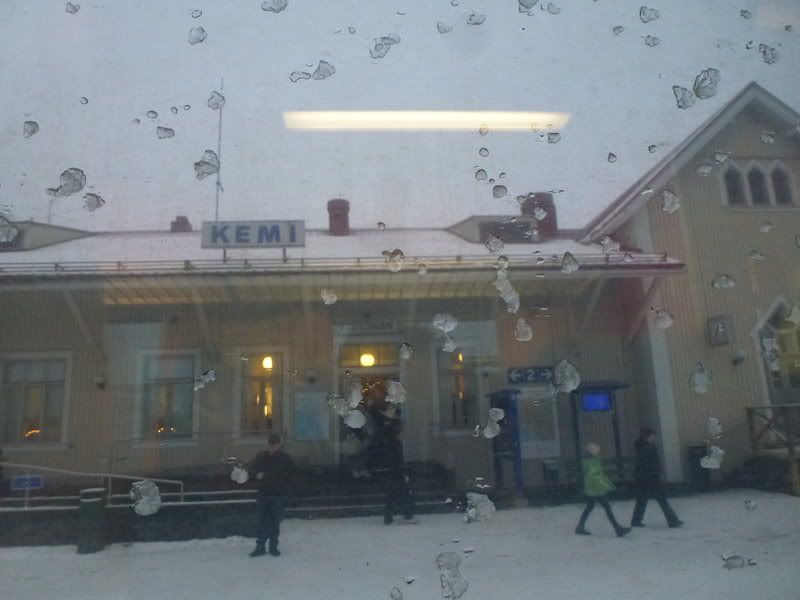 Crossing over the mighty Kemijoki, the longest river in Finland and one that is providing over a third of the hydroelectric power in this country: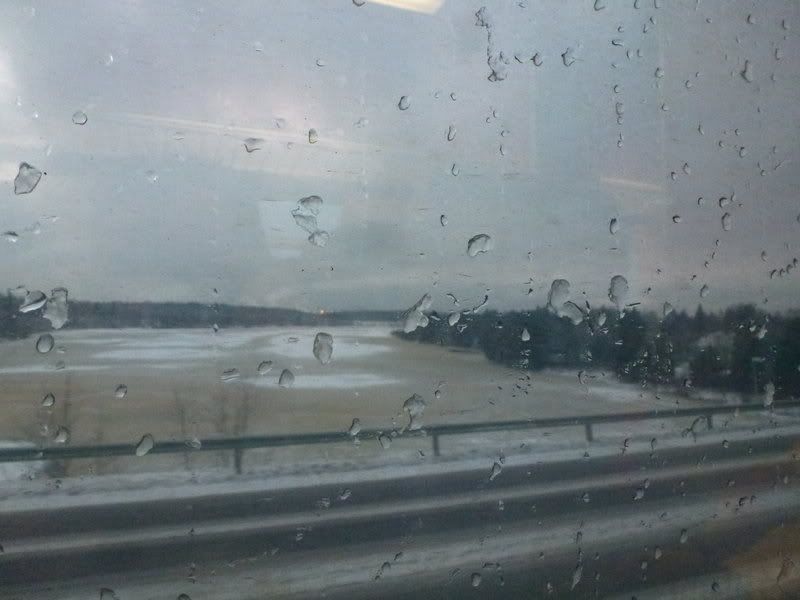 We reach Rovaniemi bang on time.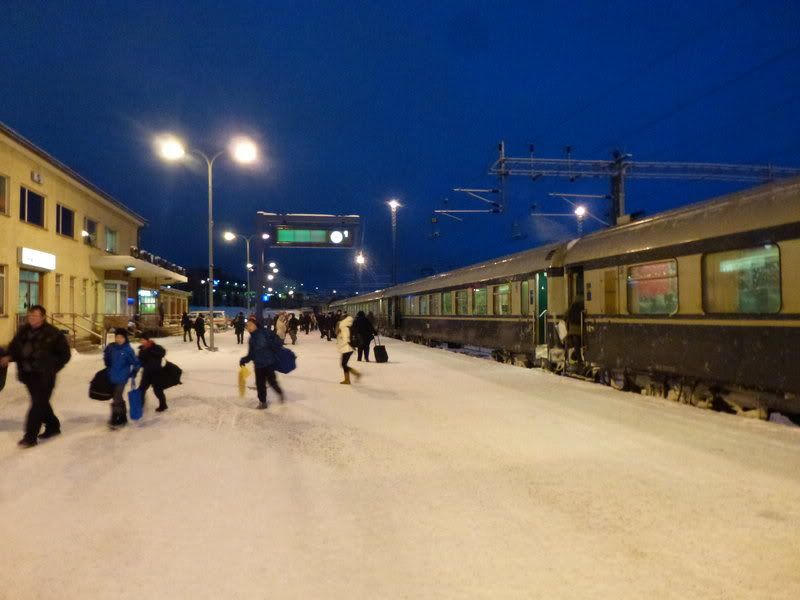 Rovaniemi
So this is Lapland, 3 PM in December: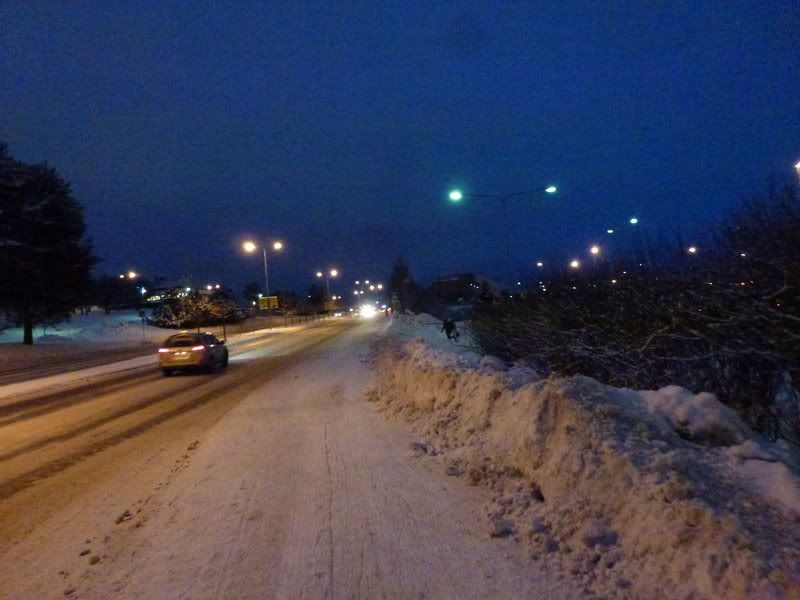 But luckily electricity has reached even these remote territories:
The town is full of tourists, majority of them seem to be either Asians or Brits, but a good number of Germans, French etc. are to be seen. Too bad I can't really appreciate it as the aforementioned situation at work requires me to devote all my time to it, so I hurry to the town centre, locate a couple places where I can get online, first striking a deal at the Scandic Hotel's deserted bar - give me an hour's worth of wifi access and I'll buy a beer from you and further followed by a dinner and more work at the world's largest ISP - McDonald's!
At some point I receive an SMS from Finnair advising me that my flight is delayed by 45 minutes. Checking the HEL airport website confirms this and that many other flights are also showing delays of half an hour or so, maybe some bad weather down there...
An hour before the original SDT it is time to catch the minibus to the airport for 7 EUR, this particular example has a very interesting seating area in the back (sorry for the dark photos):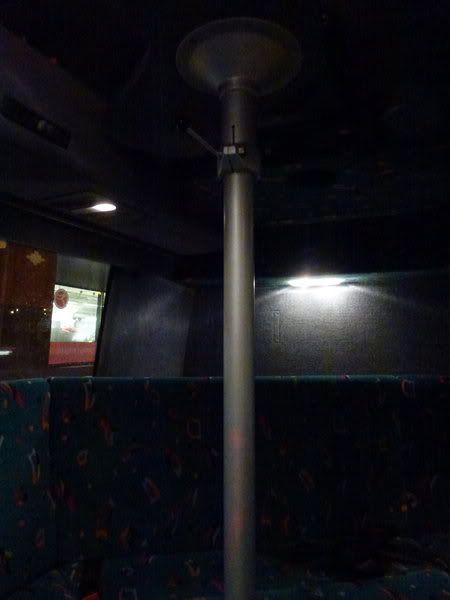 Yes, these are nightclub style comfy sofas with something that appears to be a pole (as in "pole dancing") in the middle of them. Too bad there's no open bar here, and my attemps to ask if any of the other pax joining us have a BYO bottle for me to share are in vain...
Rovaniemi Airport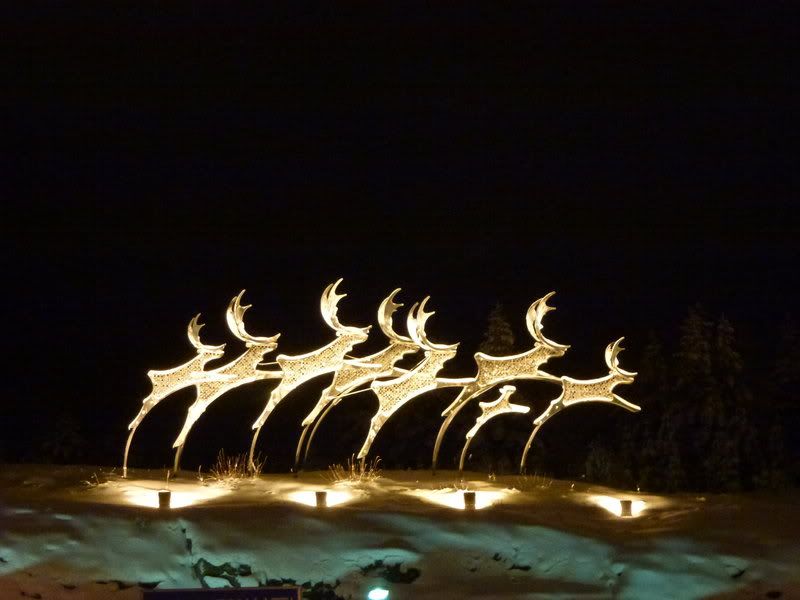 A view through a wire mesh fence to a parked Thomsonfly 737, it turns out that there's also a company 757 on the other side of the apron as well: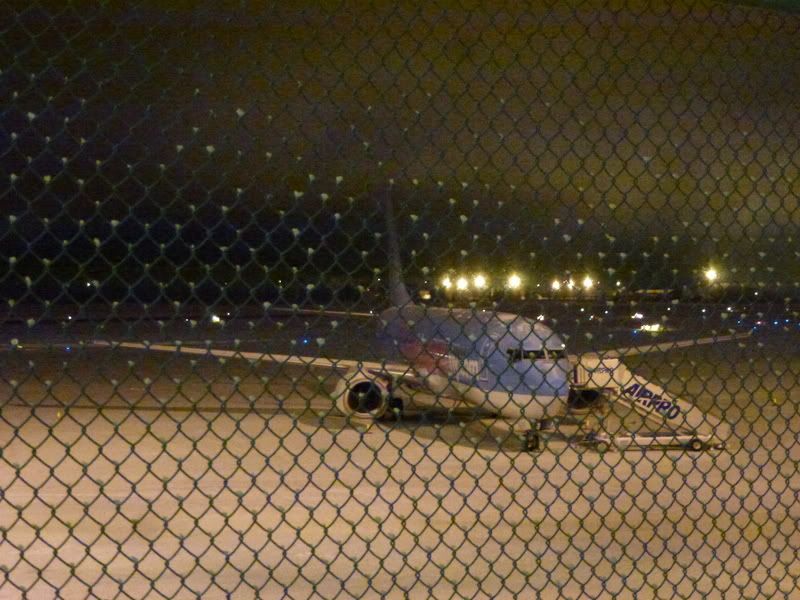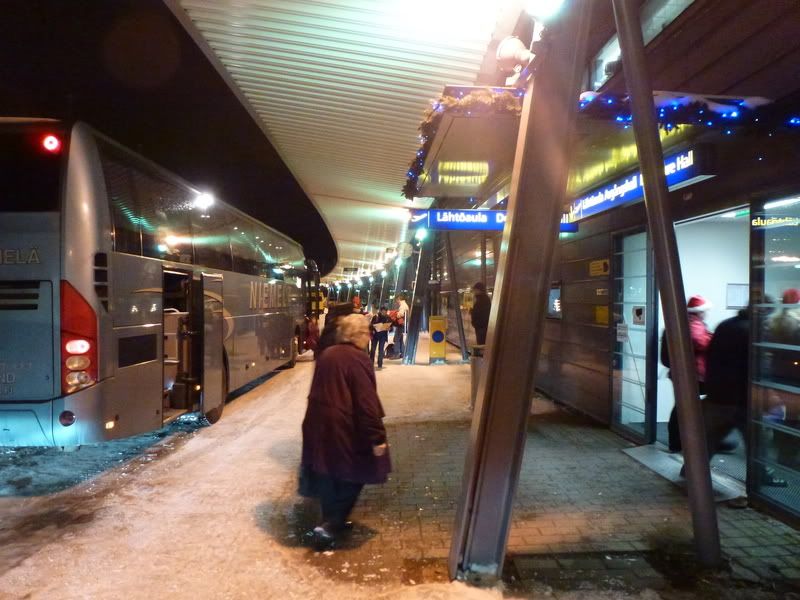 Having done OLCI there aren't many formalities for me to do here, but I head to the check in desk to ask about the delay - according to the agent the real reason was waiting for connecting pax, but apparently HEL also has only one runway open at the moment. I thank her and leave, but then remember something and come back to confirm that it still is a 757, no? Well, it indeed is so I thank her again and say "Luckily I didn't do this trip in vain then!", she looks me a bit funnily.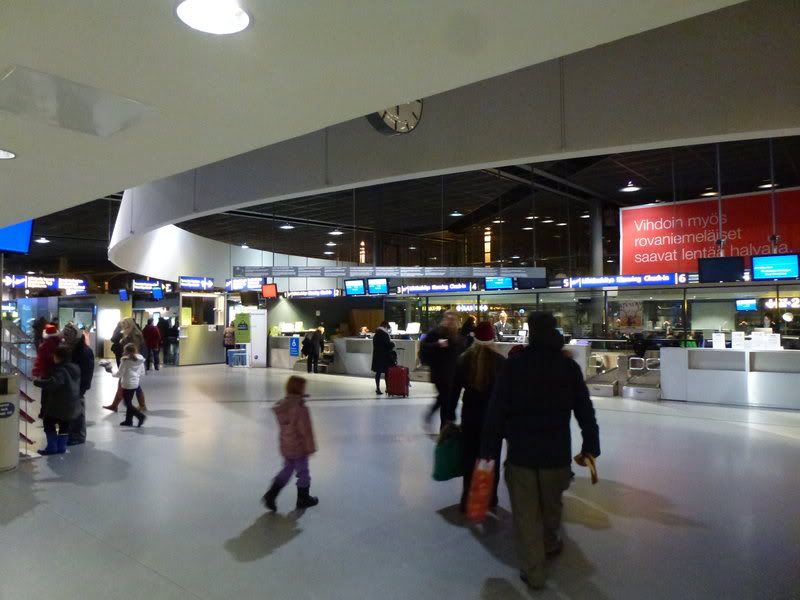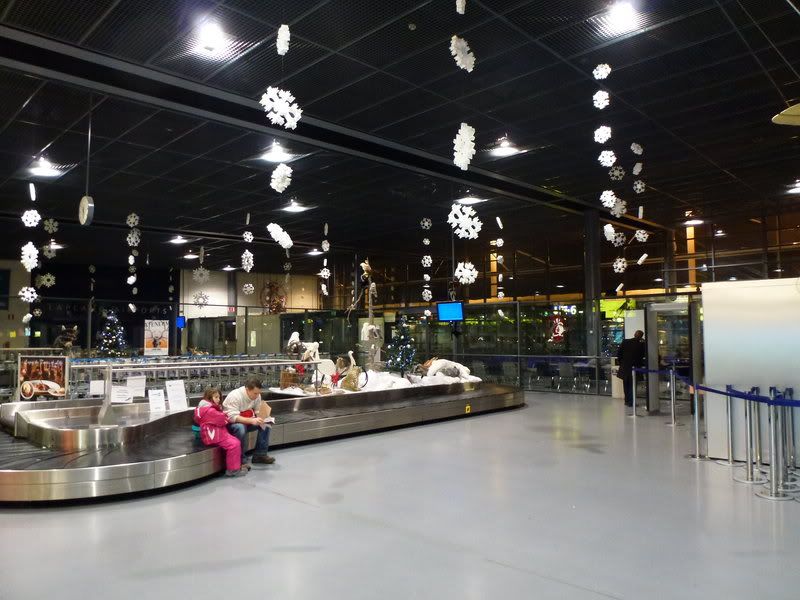 In the meantime a few busloads of British day charter tourists from BHX and MAN have arrived and completely overloaded the security checkpoint, so I decide to head upstairs to the cafe for a pint and to let the queues to cool down a bit.
Well, by the time I get back they are just making an announcement that all Thomsonfly pax should queue for security checkpoint 2 and the Finnair passengers to HEL for 1, which causes another minor chaos and suddenly our queue shrinks to less than half. Apparently they had tried mixing domestic and British passengers from both queues and doing passport control only on the non-Schengen bound ones but it never worked and just caused a huge chaos - I'm a bit relieved as seeing a border guard processing our queue had me thinking for a while that Lapland might have finally declared itself as independent and promptly left the EU and Schengen area, making me an illegal without an passport here! But then again they gain far too much from our membership in the Union so probably not...
More tourists queuing for the Thomson check in: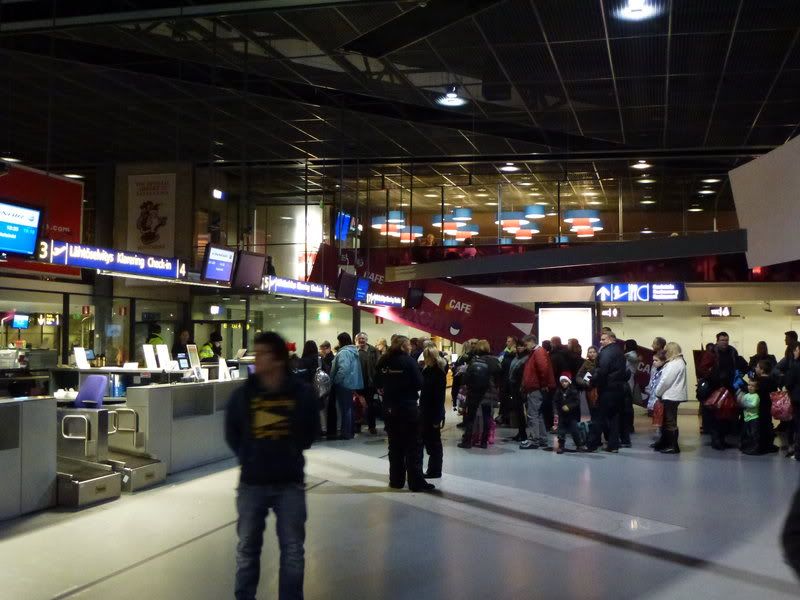 Brits or no Brits the queue is still agonizingly slow - there are LOTS of old folks and "twice a year" type of passengers so the average time to process a passenger through the WTMD seems to be around ten minutes or so... To add insult to injury the female officer refuses to give me a wanding, forcing me to take off my boots and put them through the machine, bugger.
The inbound plane is already there:
Above the cockpit I spot the letters "BS", not meaning that this plane talks a load of crap but that its registration is OH-LBS, not that it really matters as I've never flown with an AY 757 anyway so a new registration is guaranteed!
The waiting area: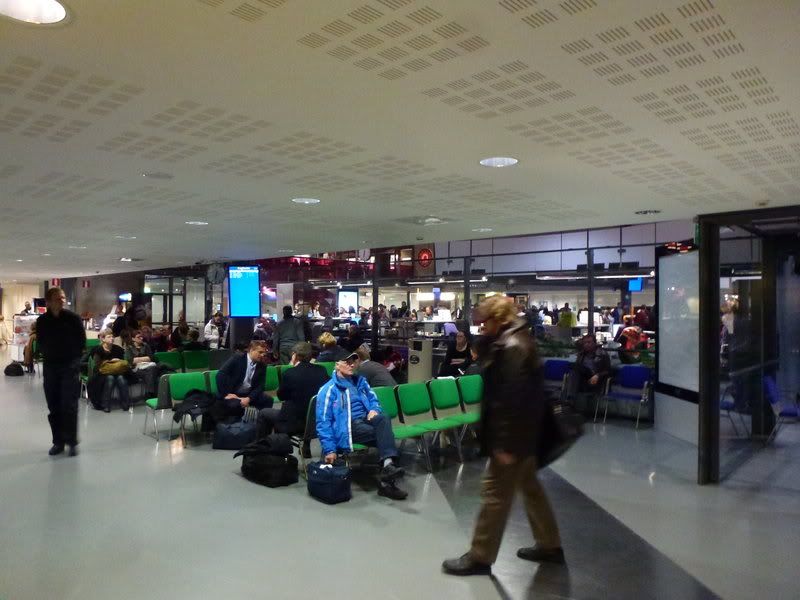 The load doesn't appear to justify a 757, but I'm sure more people wanted to get up here for Christmas than away, so the inbound must've had plenty of pax.
While waiting for boarding there's one incredibly rude and obnoxious middle-aged woman with her two teenage children - boarding starts with an elder passenger in a wheelchair being escorted onboard while the rest of us have to wait. Well, apparently this woman doesn't like that and starts talking loudly "Why the hell are they bringing that cripple onboard and we have to wait here?!", "No wonder we are delayed when things are so badly organized here. Let ME work here and I'd so so much better and more efficient work...". I'm trying to figure out something suitably witty to say to her, but luckily a couple of soldiers heading for their Christmas vacation (these flights are very popular with conscripts stationed at garrisons here in the north as Lari/Lufthansa747 can testify
) overhear her and offer her some choice words, unfortunately they only seem to add fuel to the fire... some people.
I walk down the jetway after the two young conscripts, I hear the other one saying to the other - "I certainly hope that a**hole sits nowhere near me!" - touche!
RVN - HEL
AY430
B757-200 OH-LBS
Seat 39F
19.18 - 20.25
A very senior all-female cabin crew on this flight as can only be expected from Finnair. Also dressed in their brand new "Star Trek" uniforms which I have to admit look rather nice - see more here:
http://www.terminalu.com/blog/finnai...yle-pointers-from-star-trek/21017/
No, that lady is NOT an FA, they aren't THAT old: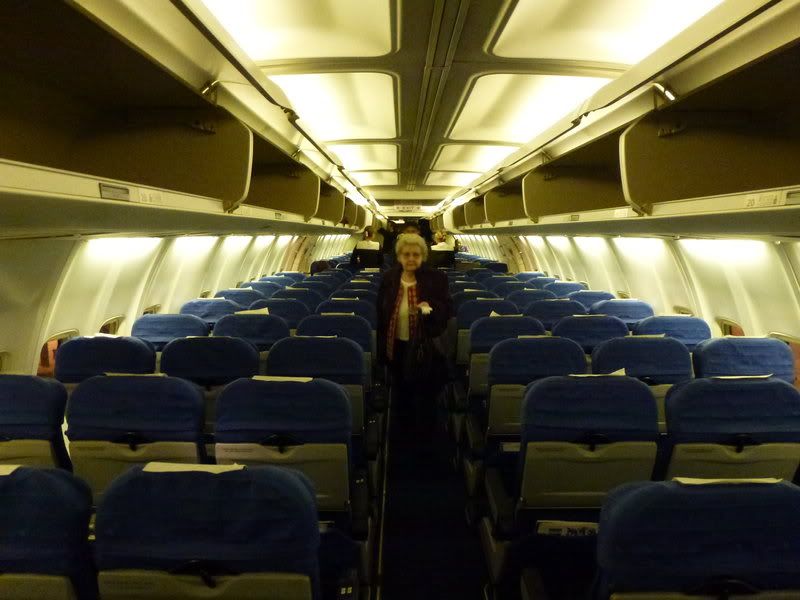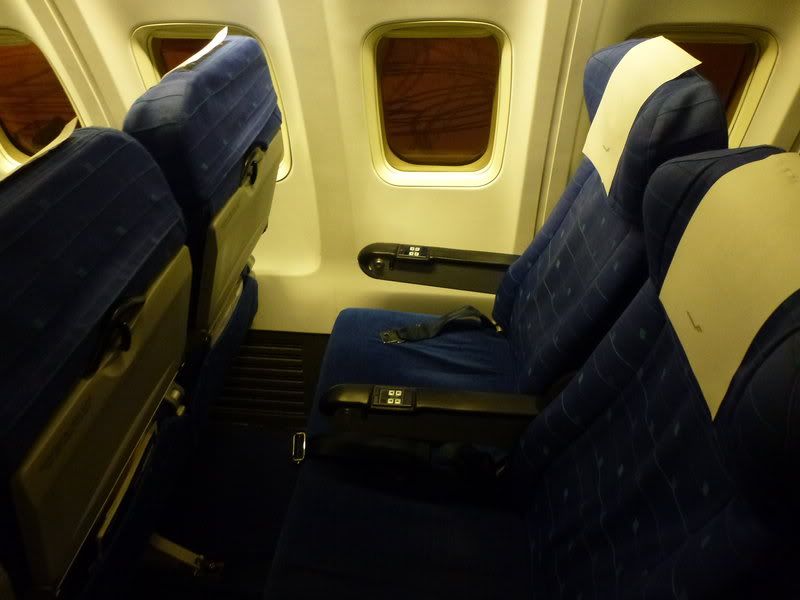 For the ultimate charter experience I picked a seat on the last row, 39 so I get to do the whole walk of shame down the long plane.
The mini cabin at the back of the plane: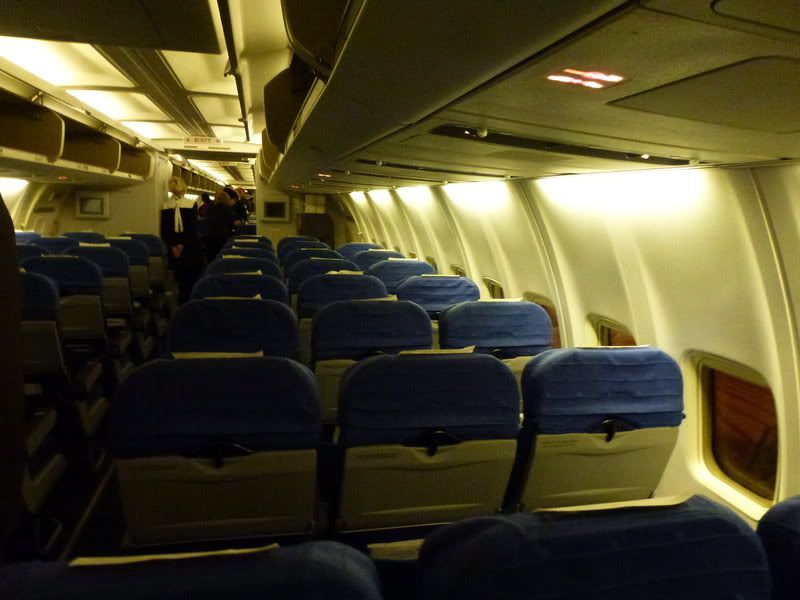 When I sit down I am first surprised by the legroom - I expected it to be far tighter: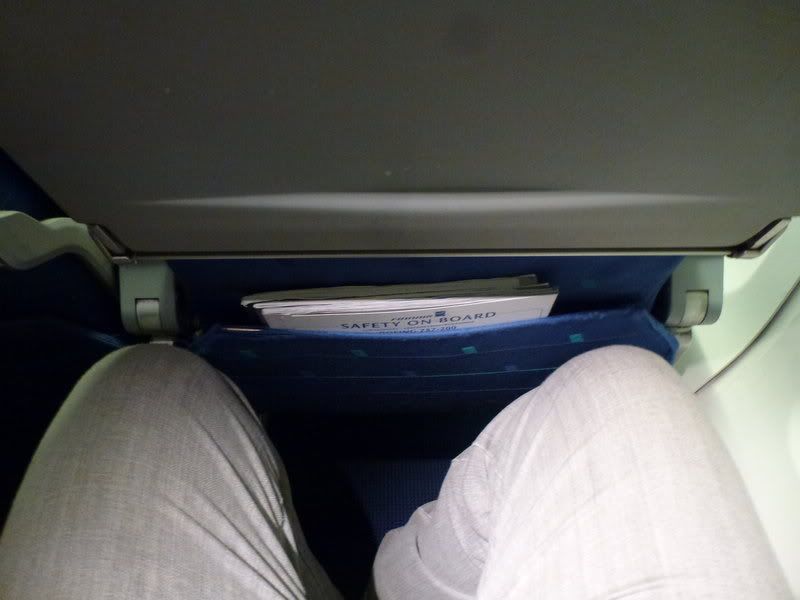 Not a bad seat actually, a bit narrow but otherwise okay, but not sure if I'd like to sit here for longer than an hour or so...
Some old fashioned cabin controls:
"Environmentally friendly winglet", like AY put it in their press release some years ago: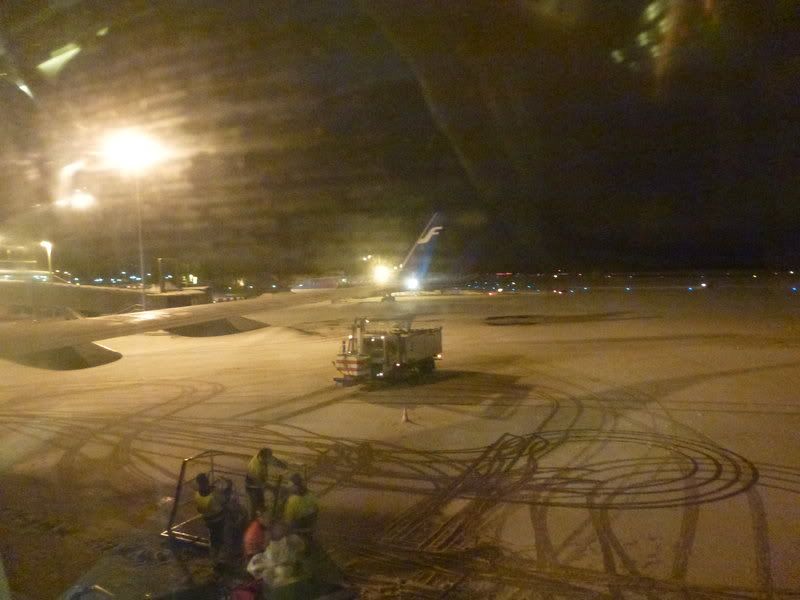 The other Thomson bird, looking a bit chilly: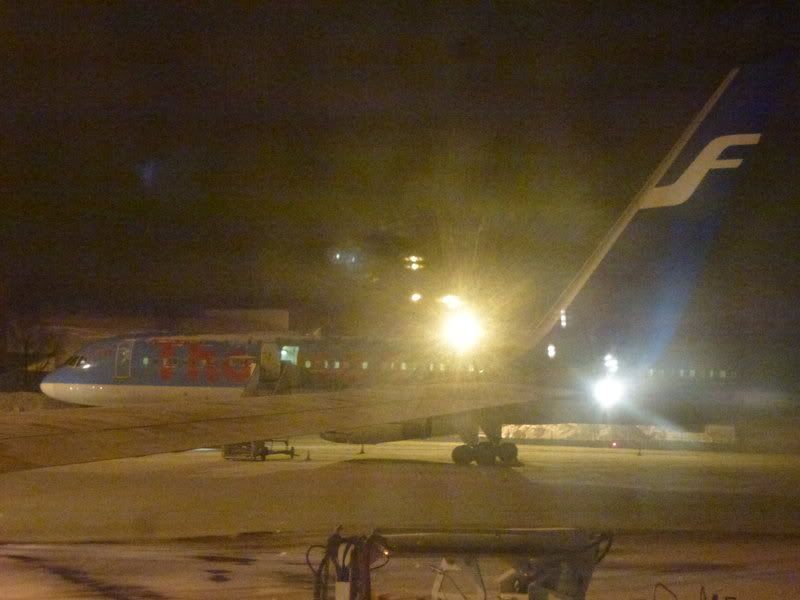 Later I actually realize that if I try to stretch my legs and put them under the seat in front of me then my legs will hit the seat and it is not exactly very comfortable: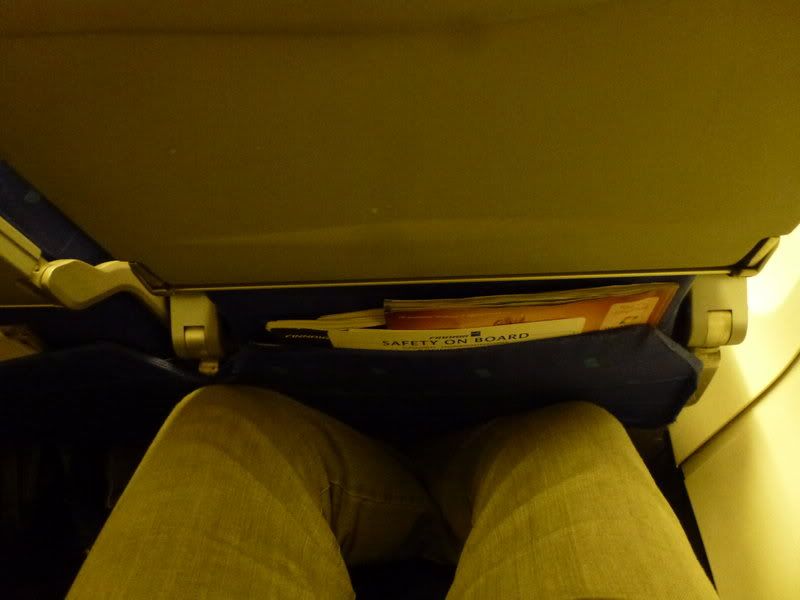 Luckily the load indeed isn't that great for a 757 so I get an empty middle seat, with a friendly girl on the aisle seat.
Overhead screens come (and stay, yay!) down before departure - the safety demo is played on them, followed by the airshow: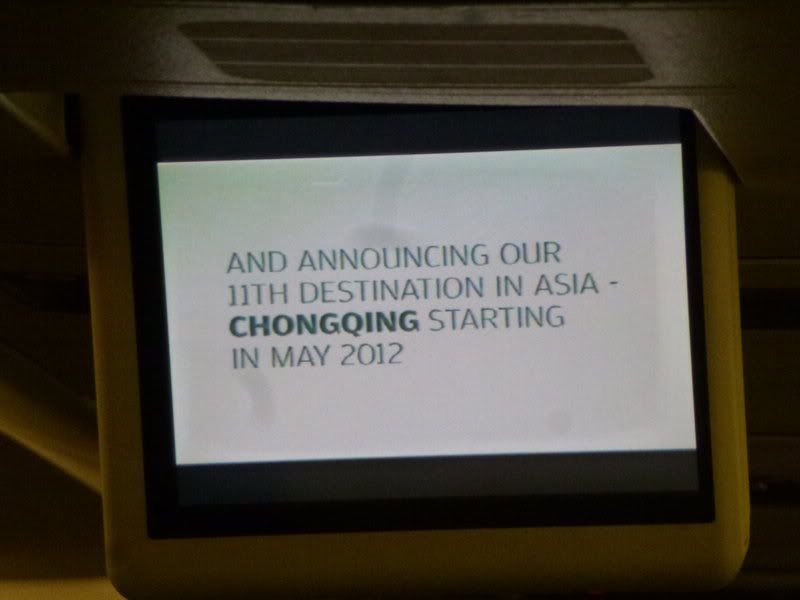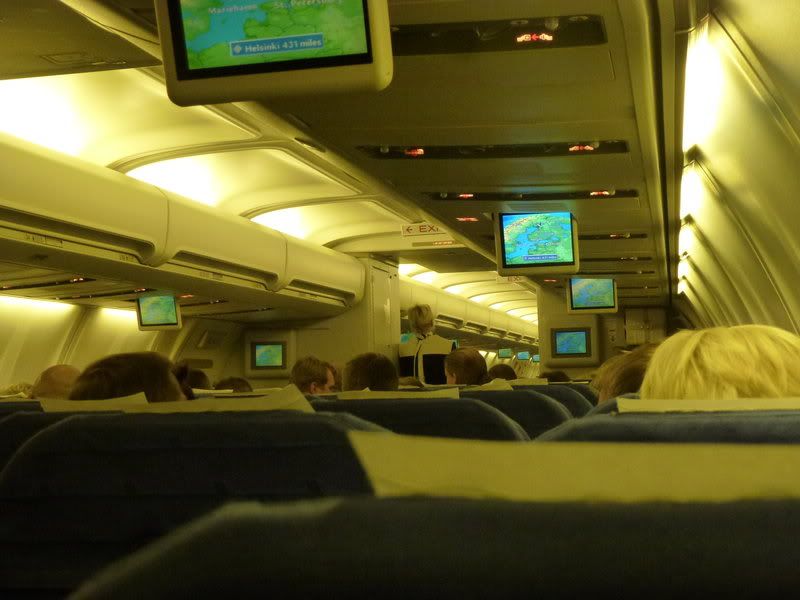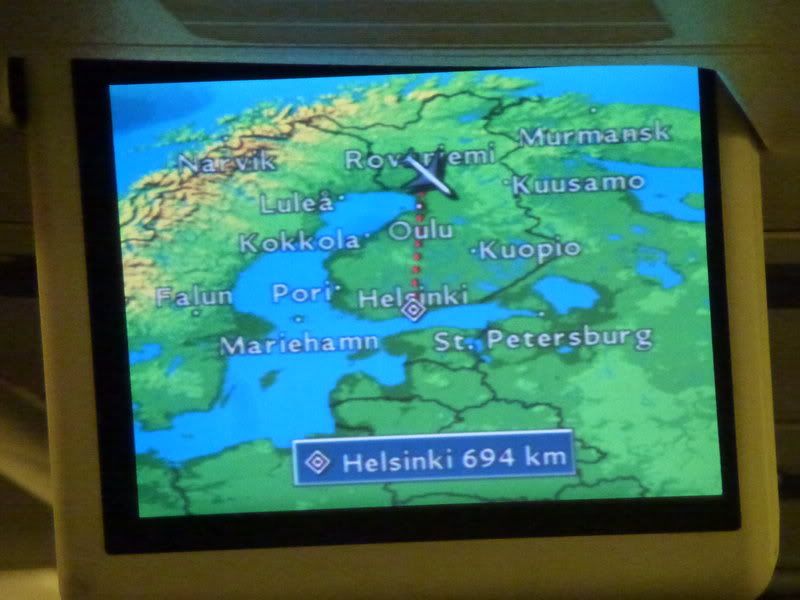 The captain announces our flight time as an hour and explains the delay by the plane having to wait for a number of connecting passengers from some delayed AY Asian flights.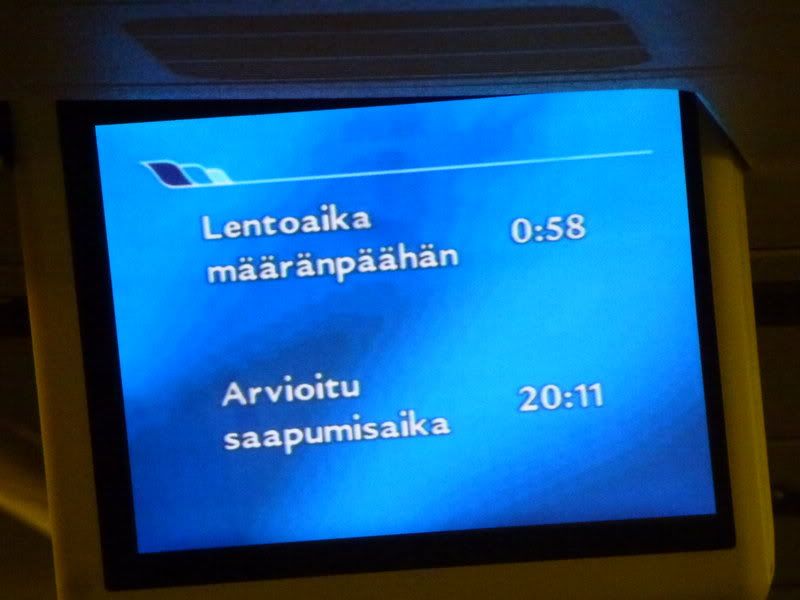 Our pushback is finally 53 minutes late.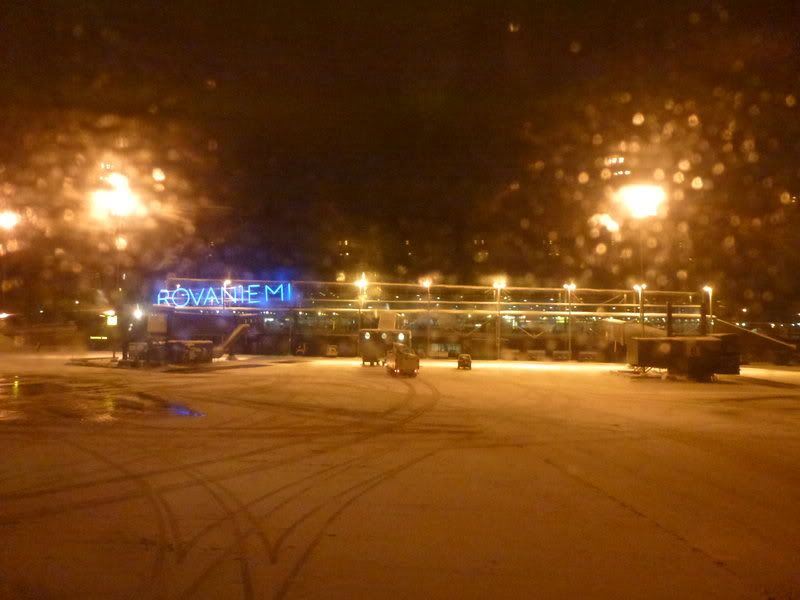 The Thomson 737 again: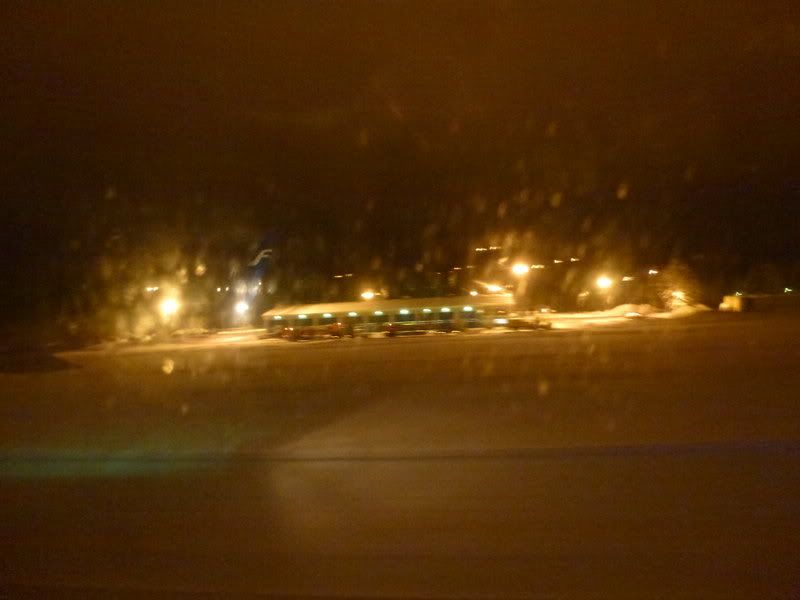 Take off is from 21 towards the city, not that it really matters as it is completely overcast. The take off is your classic rocketlike 757 one, it feels like we use only a few hundred meters of runway before rotating and shooting upwards - VERY impressive: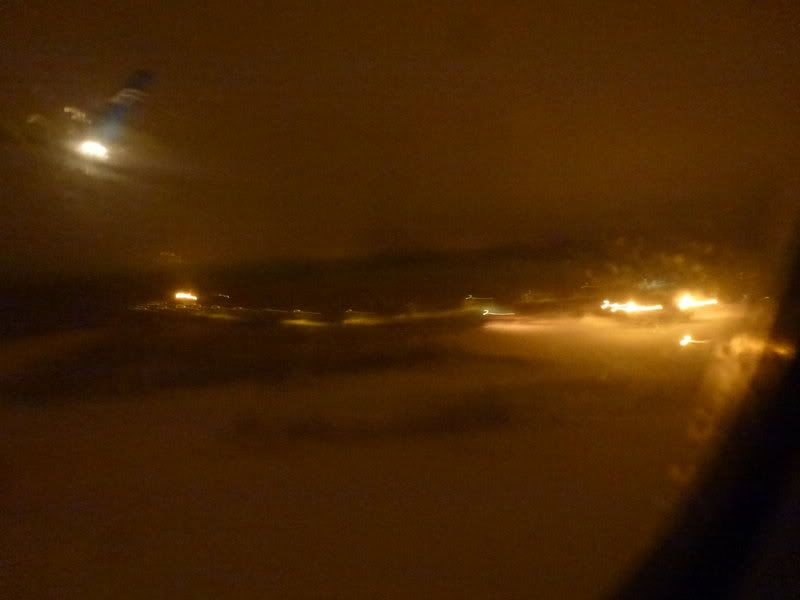 Interestingly the tray table cannot even be turned fully down - must be quite bad if somebody would be sitting there: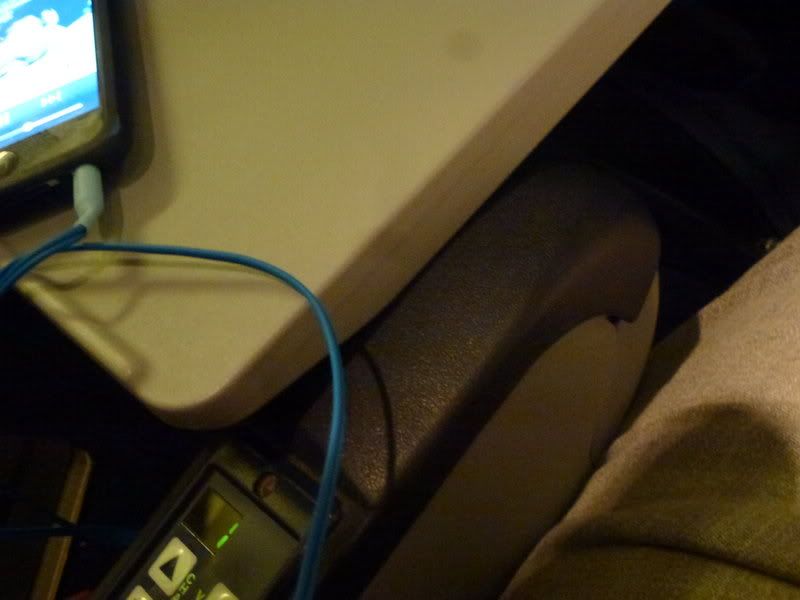 Service is free coffee, tea or soft drinks plus additional items available via BOB. I decide to go for FFBOBBT(TM):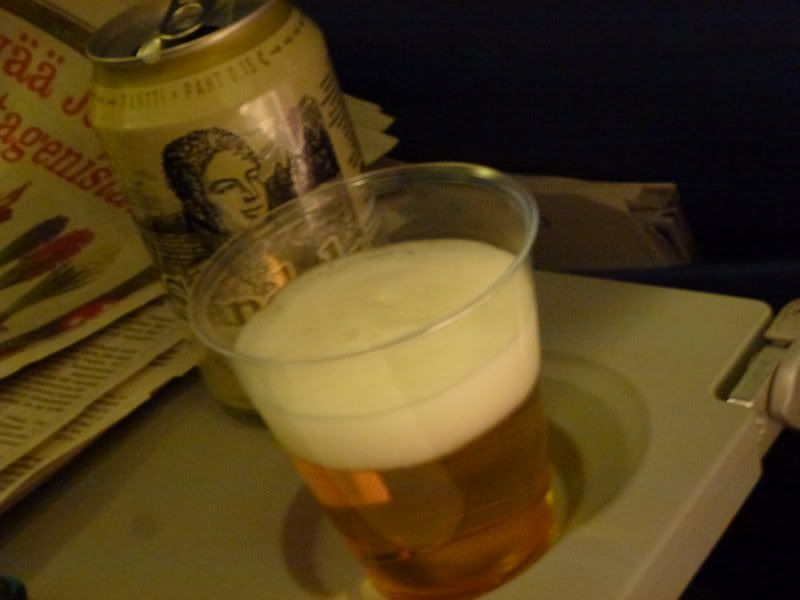 Quality: 5/5 - pretty much my favorite Finnish beer.
Value for money: 3/5 - 4 EUR for a 0.33 liter can.
The rest of the flight is spent reading and having the occasional chat with my friendly seatmate plus of course watching the airshow.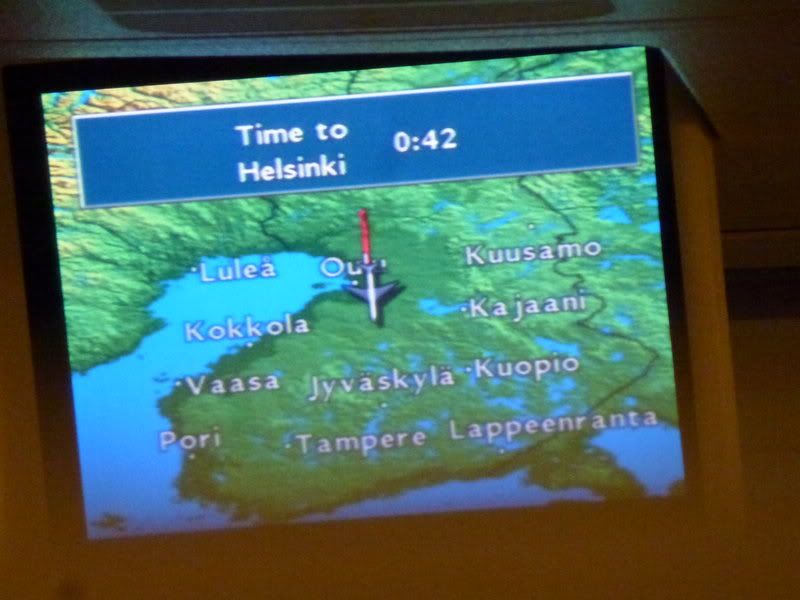 Since Lapland apparently didn't declare their independence after all we still share the same time zone: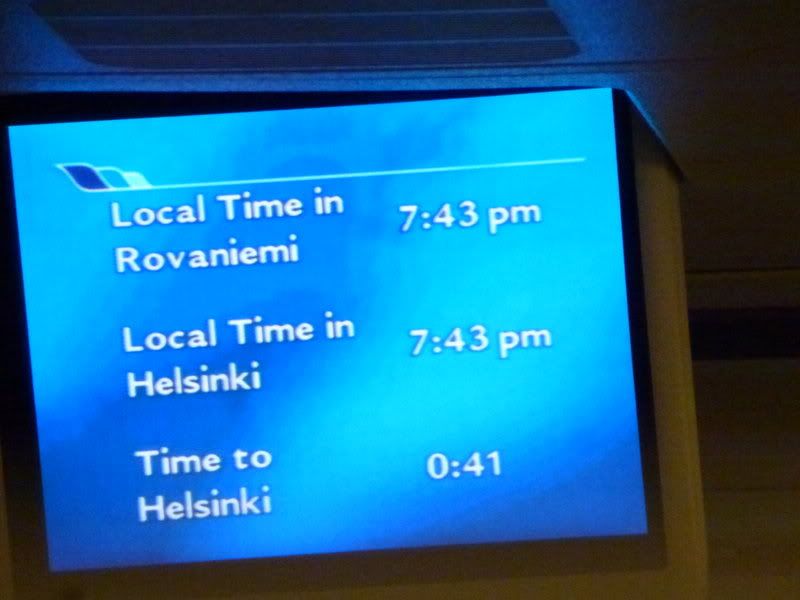 On short finals to runway 15 at HEL: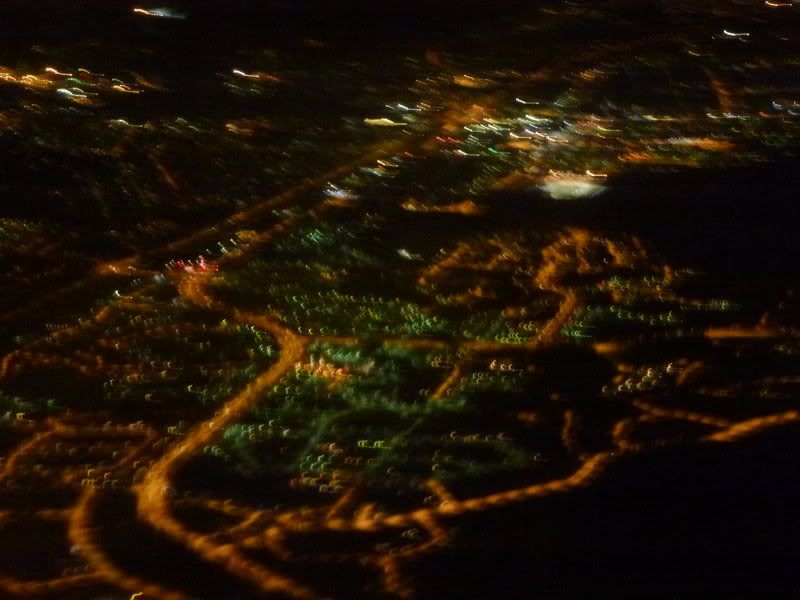 Runway 22R/04L here my journey started a bit over 13 hours earlier:
After stopping in front of the terminal I kept expecting a tug to tow us forwards, only after the seat belt sign went off I realized that the 757 is such a long plane that I'm unused to seeing the terminal this far away when the plane is parked at a jetway: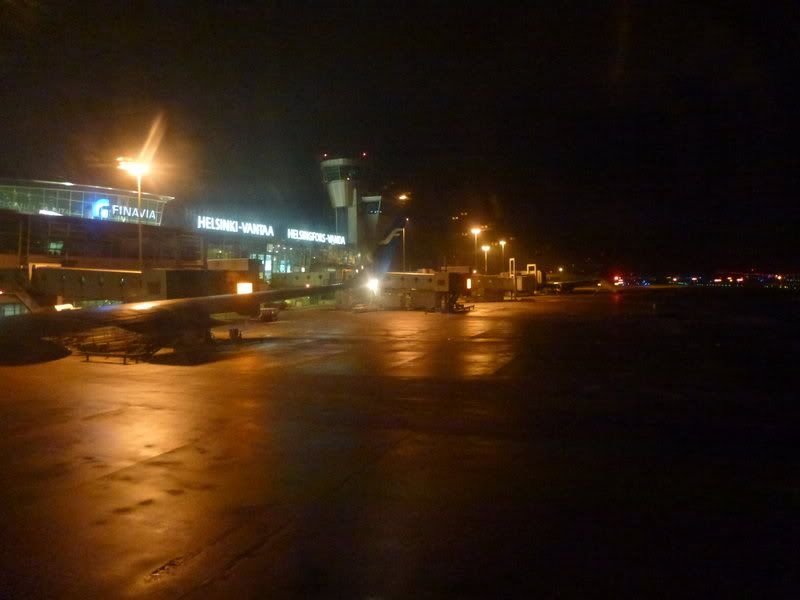 I chat some with the friendly FA while waiting to get out of the plane, I tell that this is my last flight of the year and I'm grounded for three weeks - she welcomes me back but I have to say that it won't be Finnair, as a matter of fact I only had two flights with her company during this whole year... She doesn't seem to mind though.
Bye OH-LBS: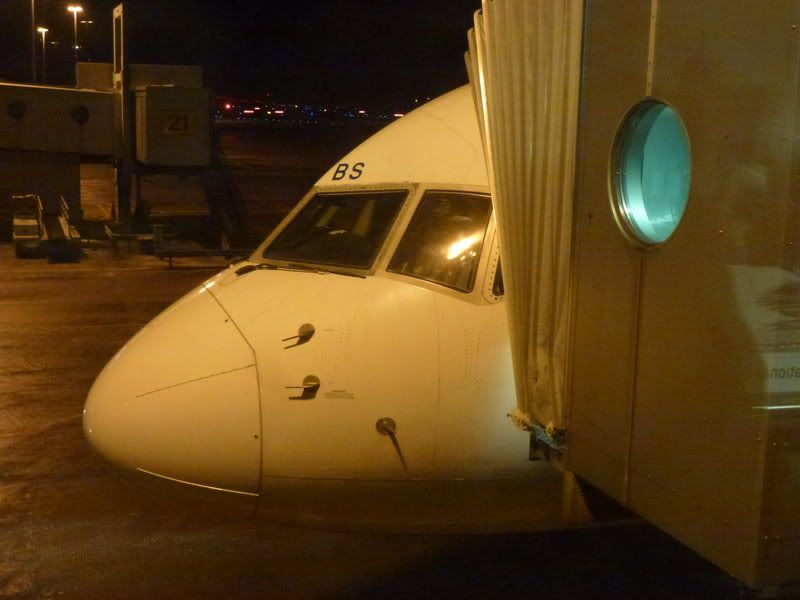 Hard to get a decent photo due to these reflections and the darkness outside: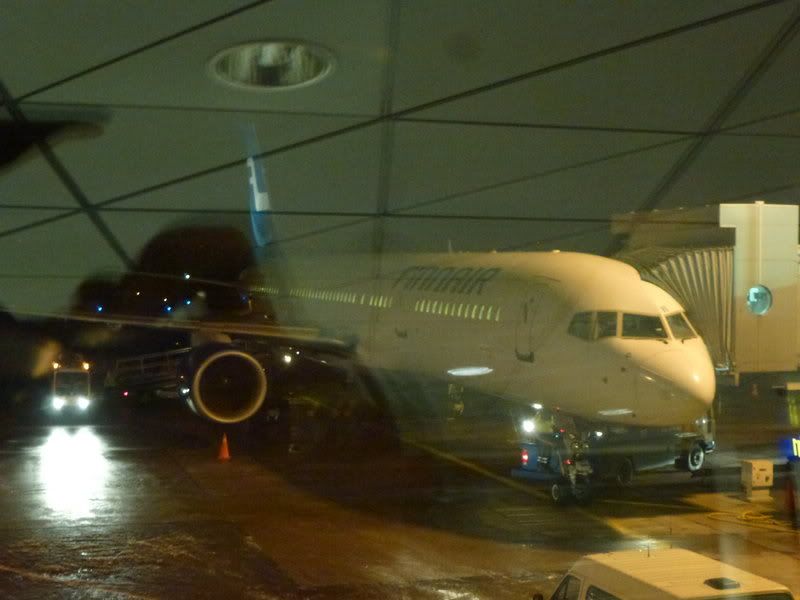 Since we arrived at a gate borderline between T1 and T2 there's actually an agent inside directing passengers to the correct baggage claim - I tell her "I know the way even with my eyes closed!" which causes her to laugh out loud and say "Very good!".
Out to the public and to catch the next bus where I stumble upon a former colleague and chat with him all the way until home.
Conclusions
So that is it for this year. Not a bad way to end it - a nice enough domestic hop with an interesting if not exactly the most comfortable of birds. A standard hop up to OUL with Norwegian, nothing special but a good price, mostly on time performance and very comfortable on the bulkhead row.
Service on domestic flights has been nothing to write about for a long time (but kudos to KF for recently introducing cold meals on domestic Premium class, hope it lasts), so when comparing AY to DY the winner isn't exactly that obvious. Sure, those grandmothers on AY are friendlier than the Estonian cabin crews on DY - nothing racist about this, it is just a language and a cultural issue plus the fact that those AY FAs have seen it all and flown for dozens of years, whereas the DY crews have been hired just this year. Free drinks are always a plus, but IMHO don't really justify the huge premiums AY used to charge. Luckily during the last month of so they've introduced some quite sensible domestic (and Scandinavian) fares, but still no good one way tickets (why, oh why??).
As these were the last flights of the year see below for some statistics regarding 2011 for the Finn.
Time to have a few weeks off flying before returning to the friendly skies in mid-January to meet a bunch of people from this board on both sides of the Baltic. The itinerary for that fun weekend will be HEL-ARN-TLL-RIX-ARN-HEL.