Welcome to my newest trip report. I've been putting this off for a month or so now so I decided it was finally time to make one. My friend and I decided to do a two week trip to Hong Kong, Tokyo and finish in Osaka Japan. This trip report will cover the lounges in San Francisco, Hong Kong, the flight there and a few pics around the city. Thanks in advance for reading and comments.
United Airlines Flight 869
San Francisco-Hong Kong
Boeing 747-400 N118UA
Seat 1A & 1K
According to seatguru, row 2 is said to be the best seats to get but my friend and I really enjoyed row 1. We were able to see out of each others windows and could talk while sitting. I think facing in towards the nose cone was a very interesting experience also. When landing in Hong Kong we both thought it appeared that we were going off the side of the runway!
Everyone back at the house was getting excited for the trip including Boomer, the English Bulldog who obviously only flies British Airways.
We headed to SFO early to ensure we had plenty of time to enjoy the lounge and were the only people at the premier check-in so before we knew it we received our passes and headed through security.
I've heard great things about the SFO International First Lounge and I must say, for a US lounge it was very impressive. High ceilings, wide selection of food and beverages and a view of the tarmac made it enjoyable. Here are a few more pictures from the lounge.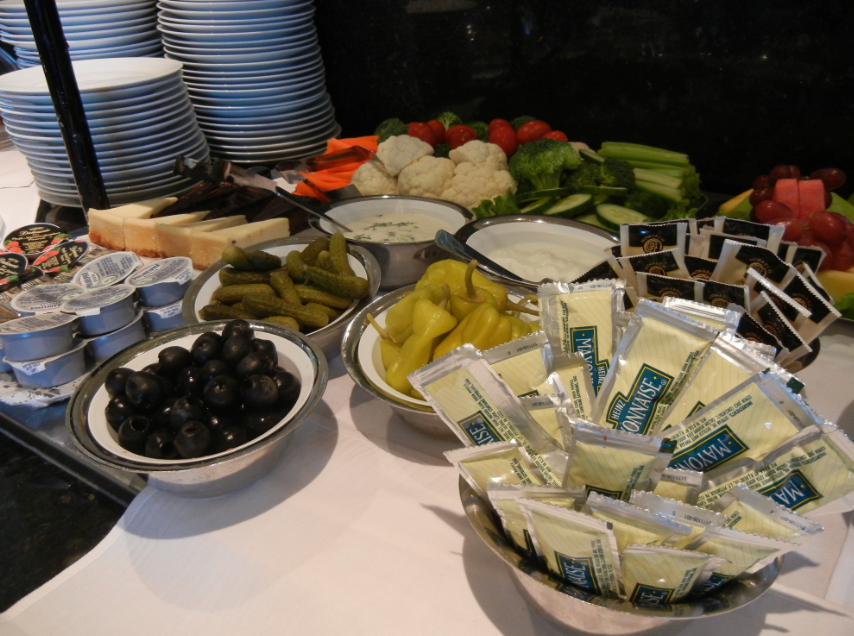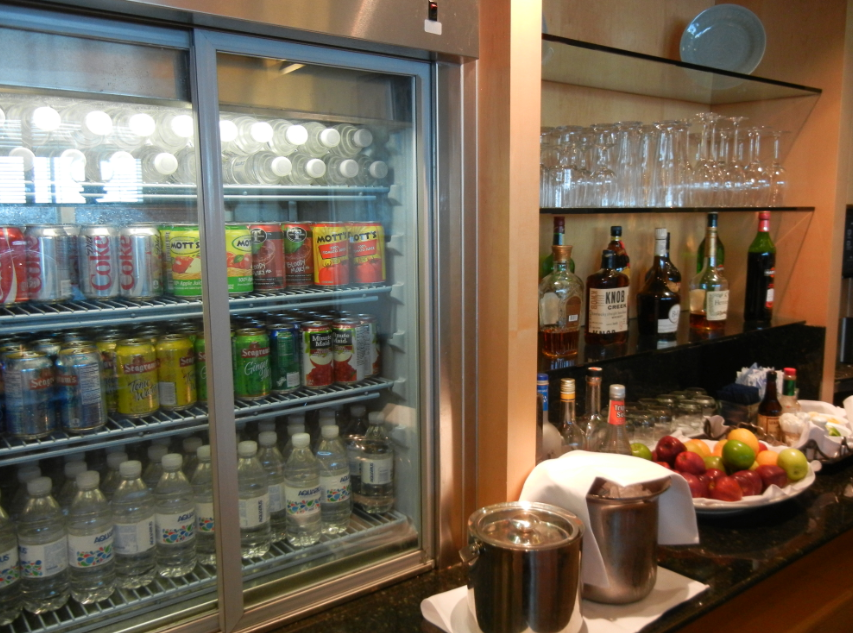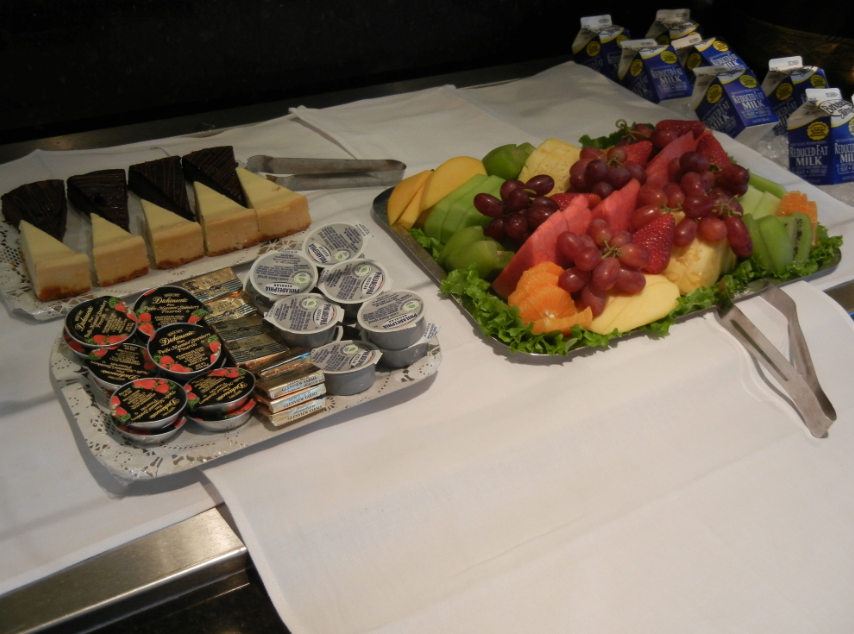 I knew I would eat onboard the flight so I had a small breakfast with a few snack items later.
747 in the new colors from the lounge.
757 in desperate need of new colors from the lounge.
A few spots in the IFL could have been worked on but overall, everything was in good shape.
While walking to the gate I saw this vending machine. I think this is a fantastic thing to have and I wish more airports had them.
I think these have been sitting out in the rain for a while now.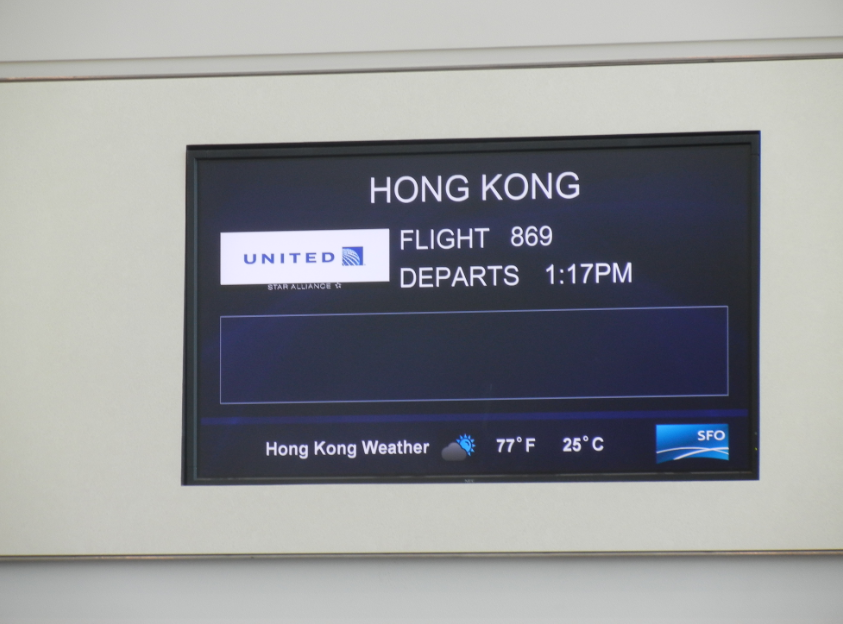 Flight was leaving on time. I really like the International terminal at SFO but I think the boarding area became a bit crowded and unorganized. I noticed this when I was flying out of SFO to Sydney also.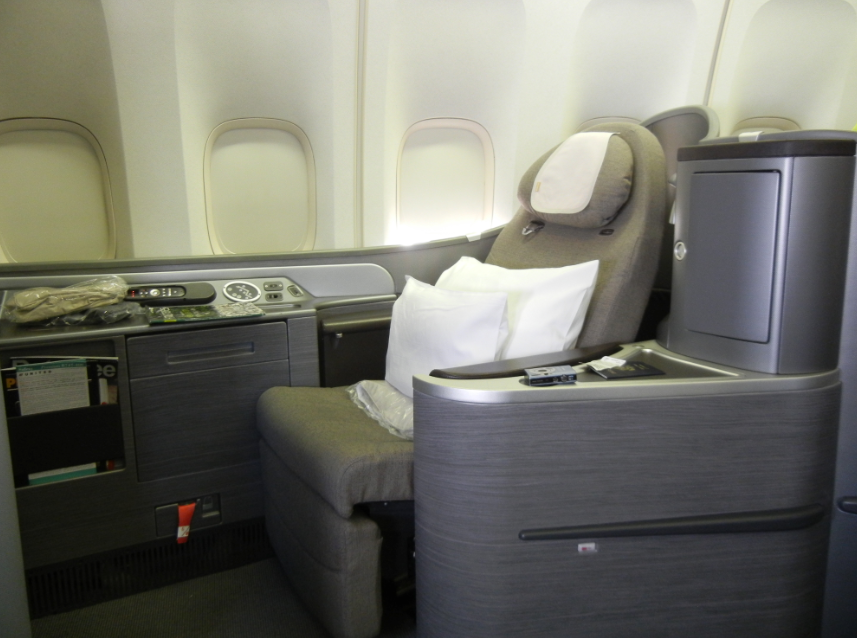 Looking at the seat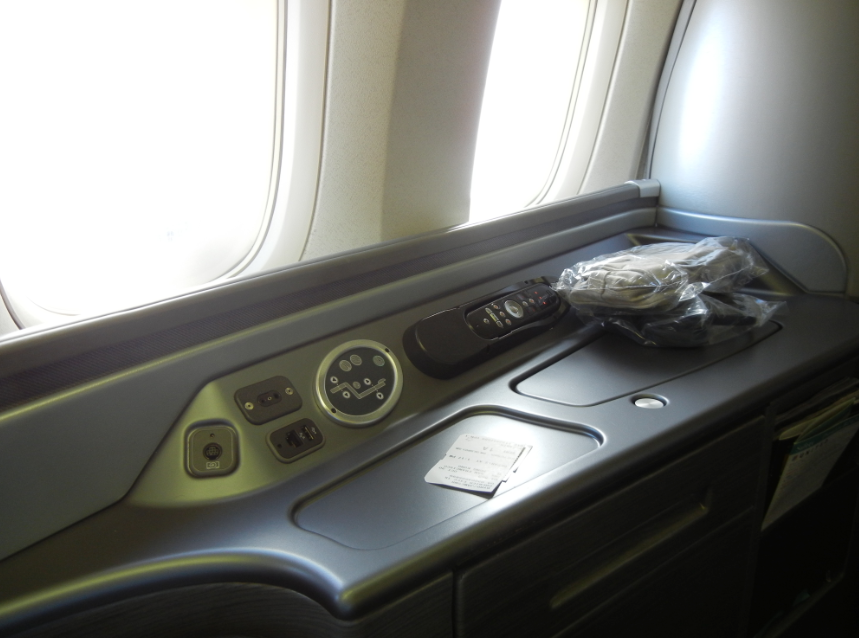 Side seat controls and storage.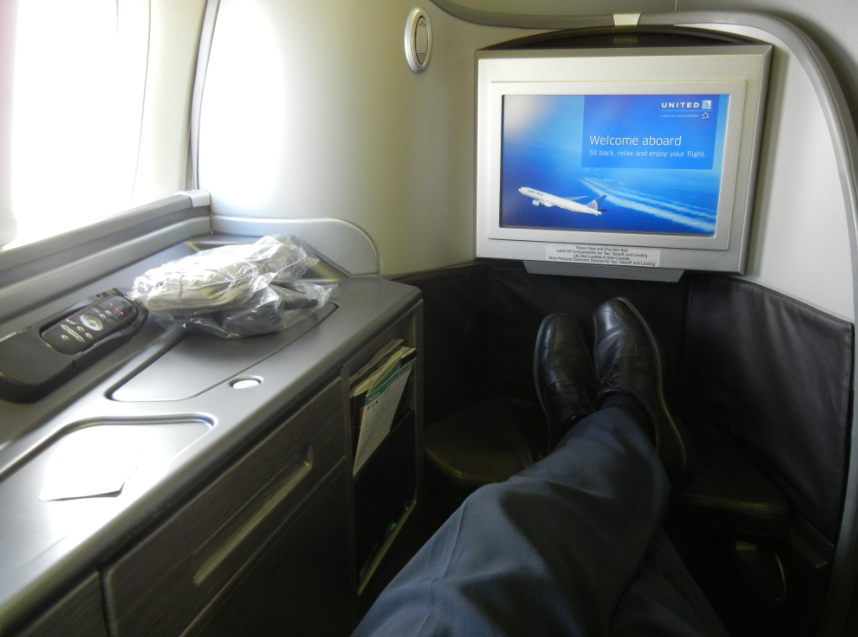 Leg room. The closet was next to my feet between seats.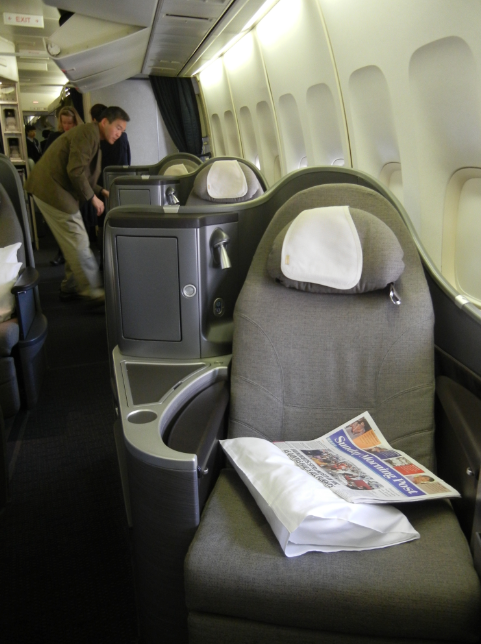 Looking back in the cabin. The first cabin has four rows along the side and two rows in the middle.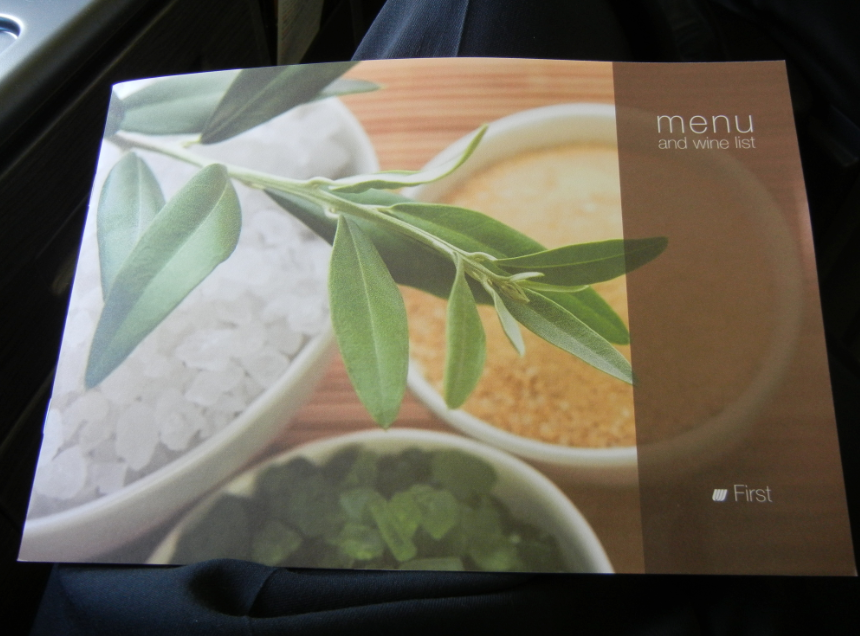 Menus were handed out.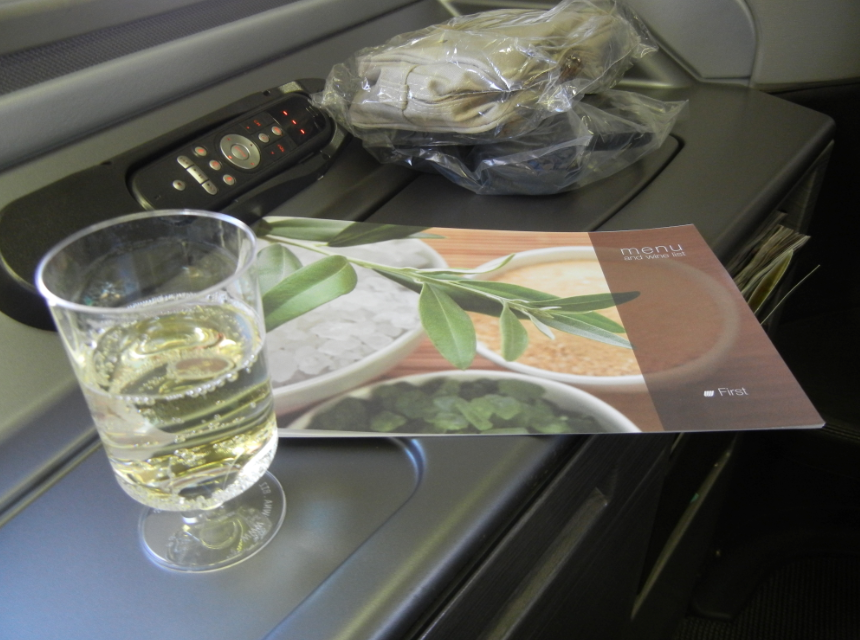 Pre-departure champagne was provided.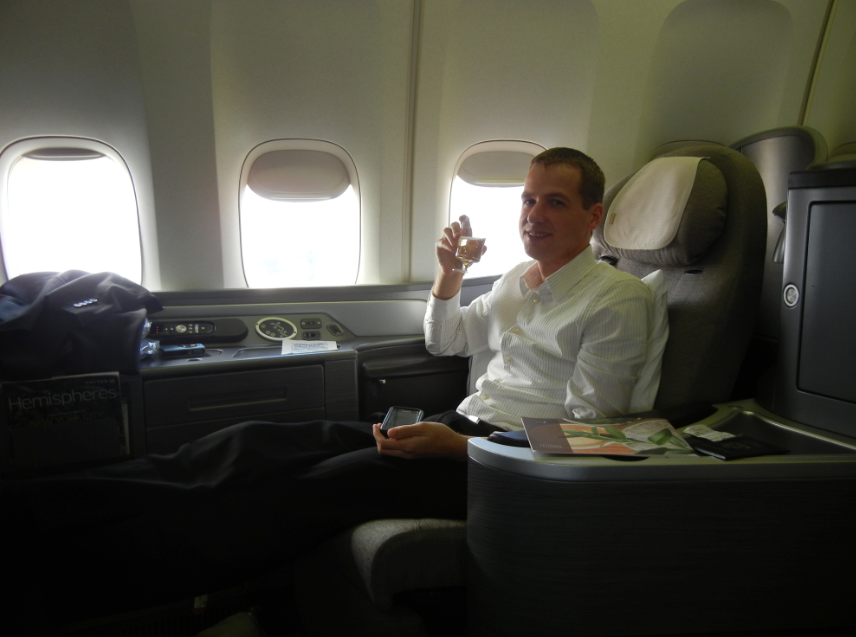 My friend David enjoying his.
I enjoyed it also. This was our first time in United First class.
Inside the menu
Menu part 2
Blanket and two pillows were passed out.
United amenity kit. While nice, I think Continental's BusinessFirst kits were better.
Nicely presented socks and eye covers.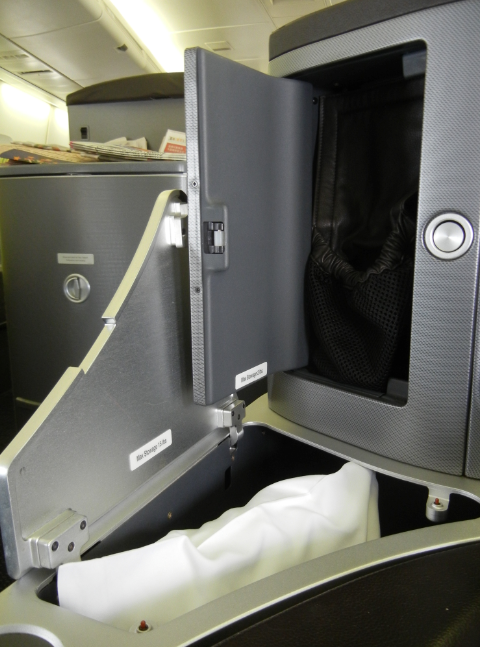 More storage on the side of the seat.
Narrow closet at the front of the cabin.
Another shot looking forward.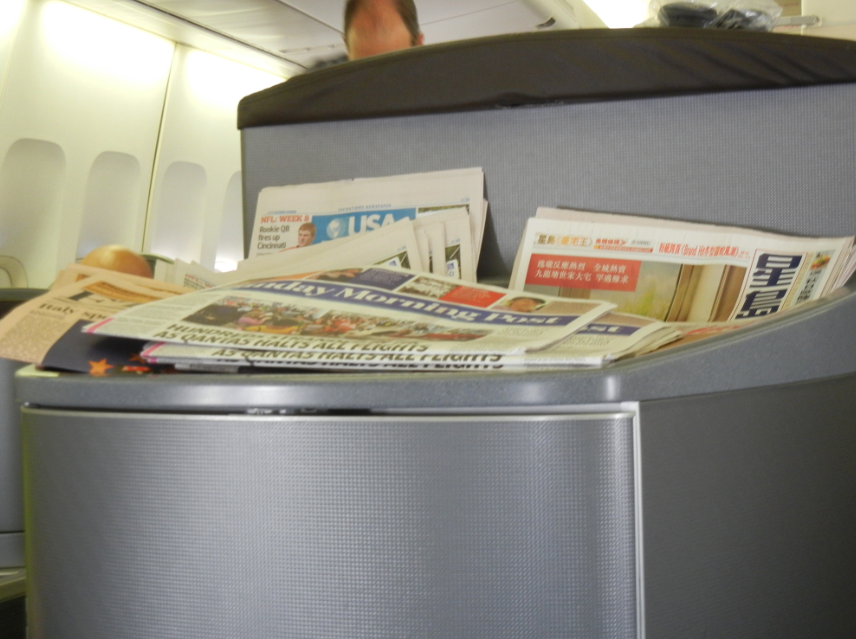 The flight crew set up an arrangement of English and Chinese newspapers to have before take off.
Looking back in the cabin.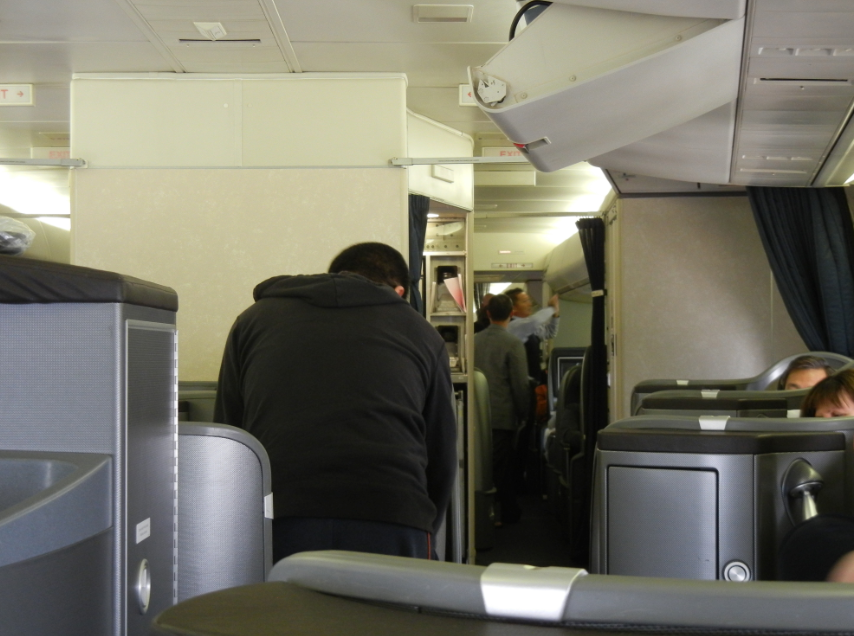 Business class could be seen past door 1L.
Enjoying the view.
The planned flight path for todays flight.
Recently removed 747 and 757 from the fleet.
I used David to show off a few ways the seat can be changed.
Almost flat.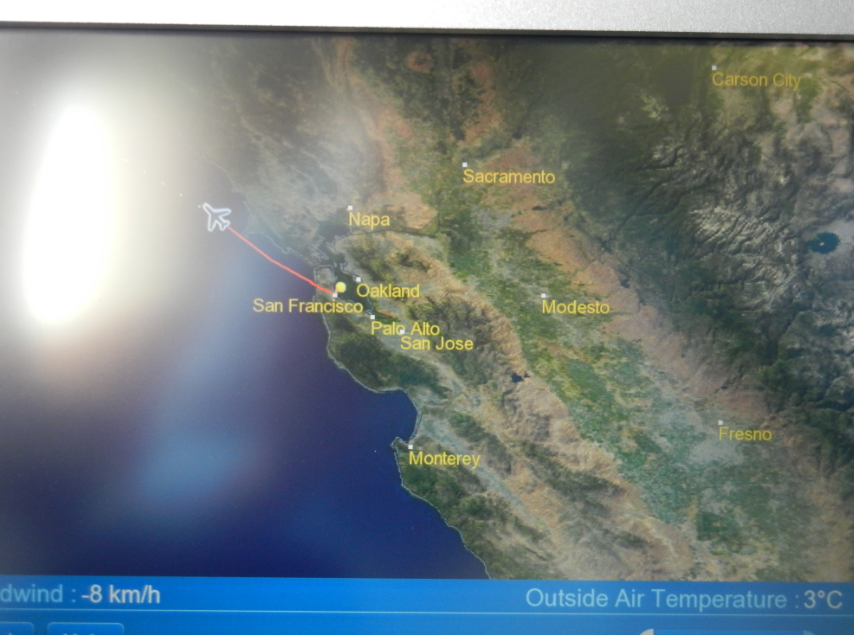 Take off!
As you can see, if you know the person next to you row 1 is great.
The area where newspapers were set up before departure was turned into a bar while dinner service was being executed.
Hot nuts and wine. We had two very friendly Flight Attendants helping us who made had a fun argument with each other trying to convince us to try their preferred wine. They were pleasant the entire time.
Table
Appetizer. While the food service is close to United Business, the presentation is very different and is more spaced out.
Close up. Everything was very tasty.
Next came the soup. It was also good but I didn't really like the paper cocktail napkin under the bowl but it doesn't matter.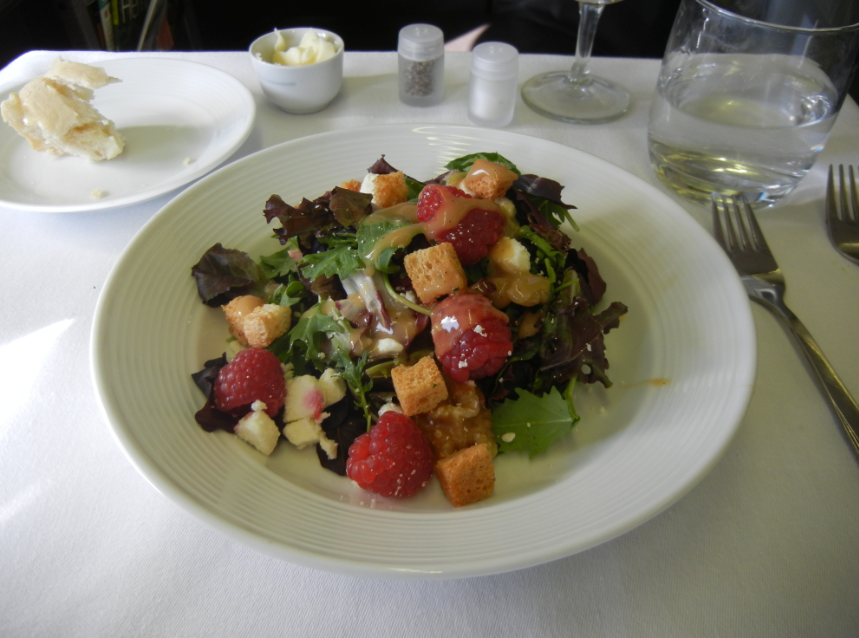 Beautiful looking salad. Tasted great also.
I decided to go with the beef tenderloin. I enjoyed the sides and ate around the edge of the meat. In the next picture you can see it was a little rare for my liking.
Too rare
I enjoyed the ice cream sundae and liked that it had two flavors of ice cream. While the presentation wasn't as nice, I liked that they used real whipped cream.
After dinner I decided to stretch out and enjoy a few films before sleeping for several hours.
Location after dinner and a movie.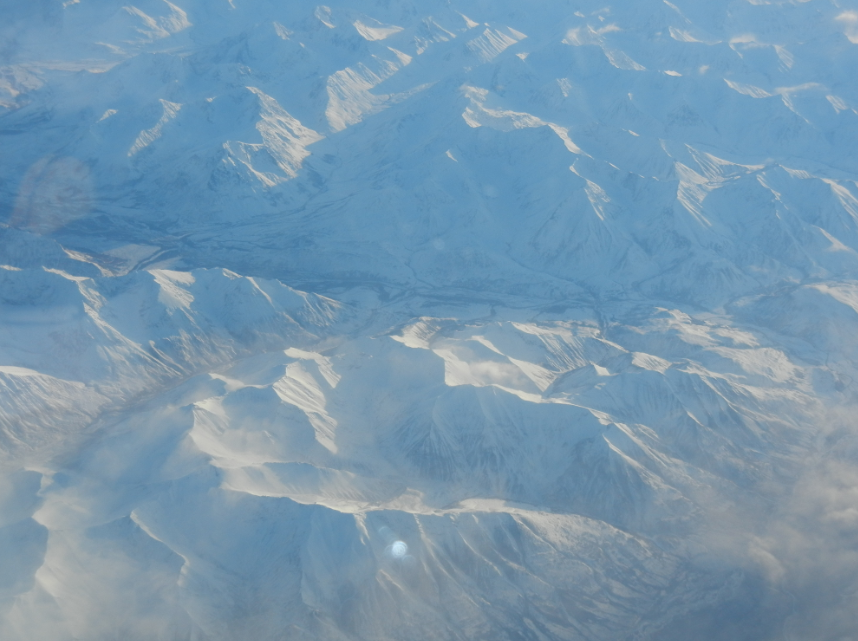 Beautiful views of Alaska.
Beautiful views of Alaska.
Getting closer. Time for a mid-flight snack. This is where the service really had a coach feeling. This was the International First Class mid-flight snack. It was warmed in the galley and was handed to us. The following picture compares the mid-flight snack with the one I had on Continental in BusinessFirst to Hong Kong. What a horrible presentation!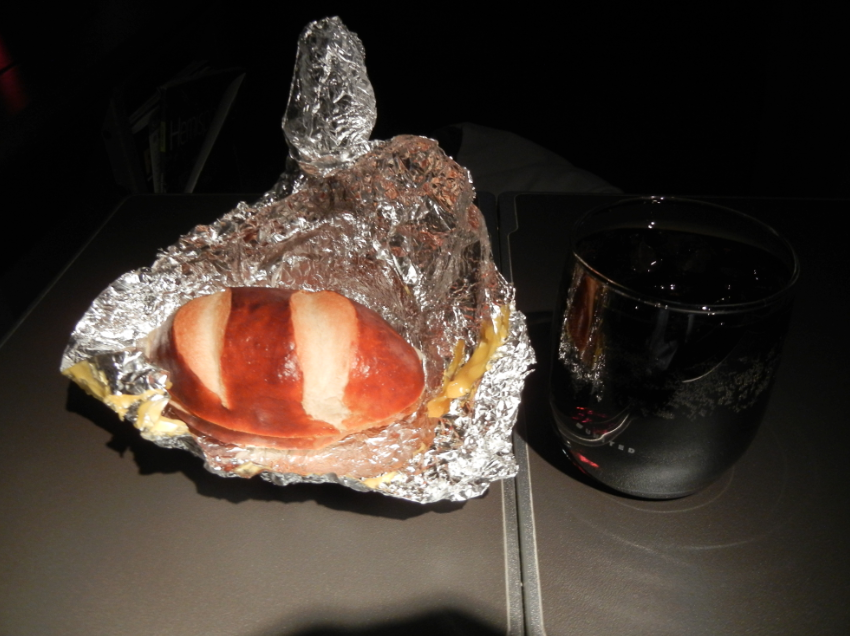 Continental's BusinessFirst snack.
Our progress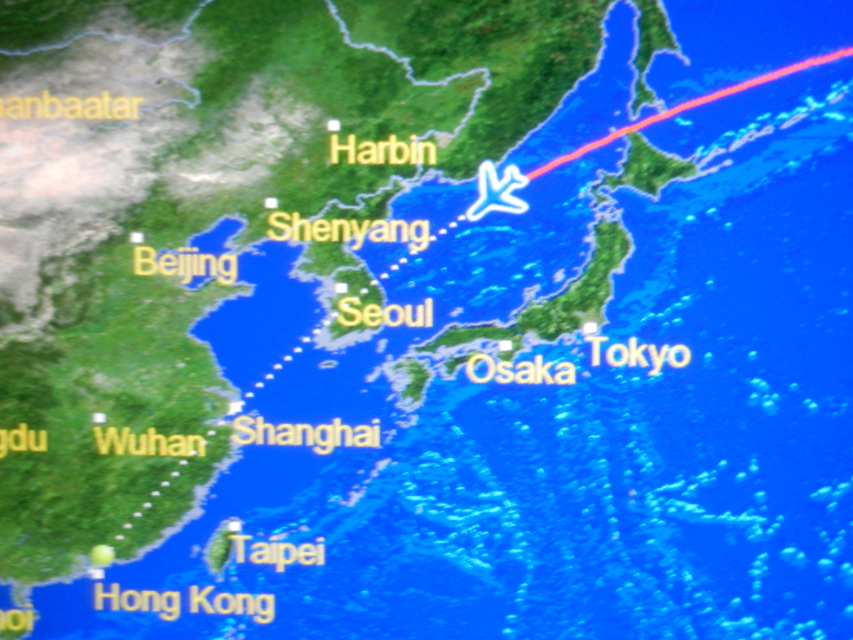 Heading south.
Sun is starting to set.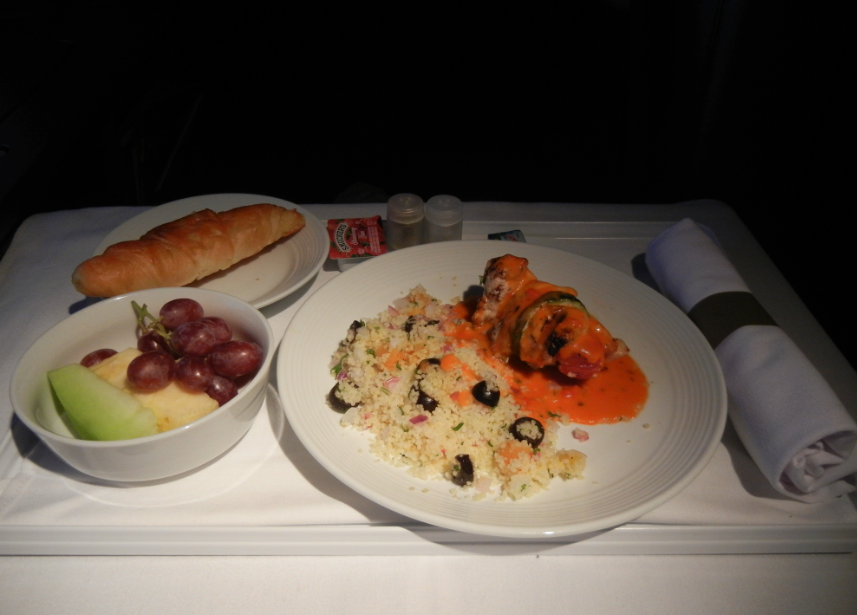 About an hour before landing it was time for the arrival refreshment. I liked that they offered non-breakfast choices also. I always thought it was funny to be served breakfast at 8pm when landing.
Another view of the seat.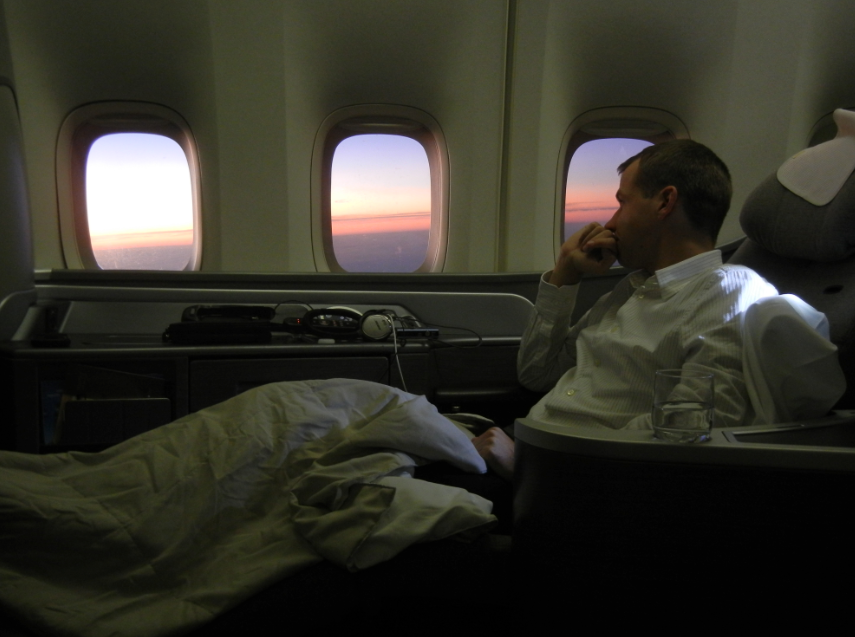 David looking over the Asian sunset.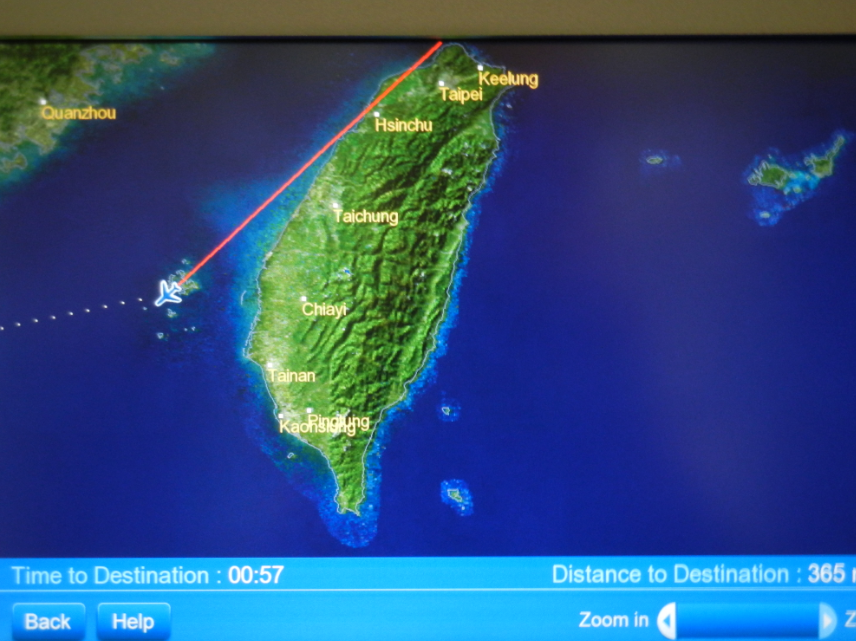 Starting to turn towards Hong Kong.
I loved having several windows.
Our flight path.
Almost there.
After landing I was able to take a few more pictures.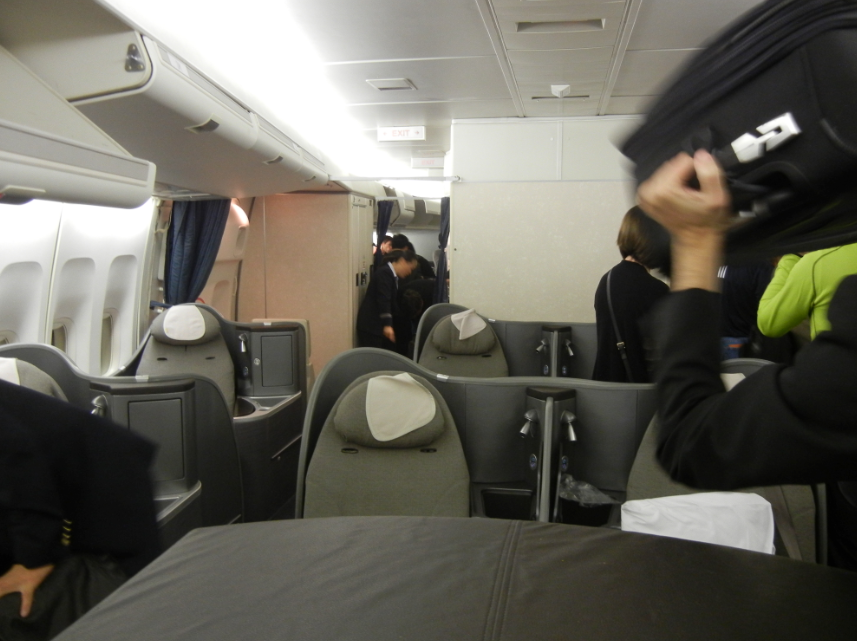 Cabin again.
My lovely seat for the past 15 hours.
My friend and I used hotel points for our stay so spent the first few nights at the W Hong Kong and then finished at the JW Marriott.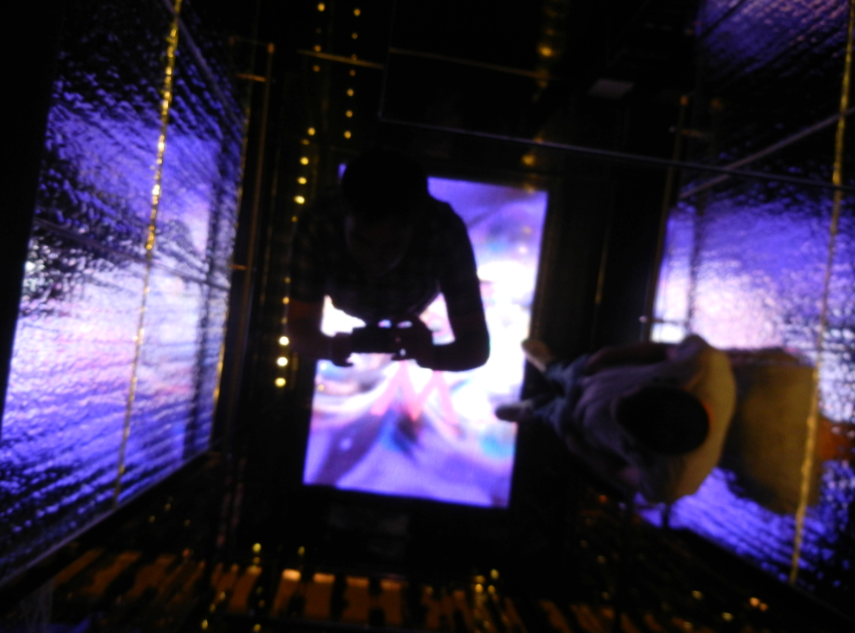 Elevator in the W.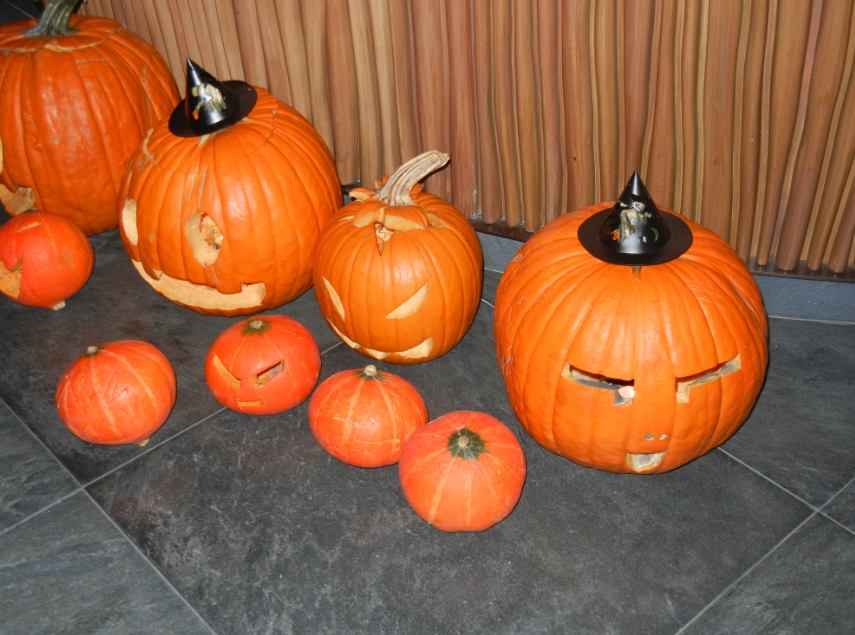 Since it was Halloween they had all the decorations.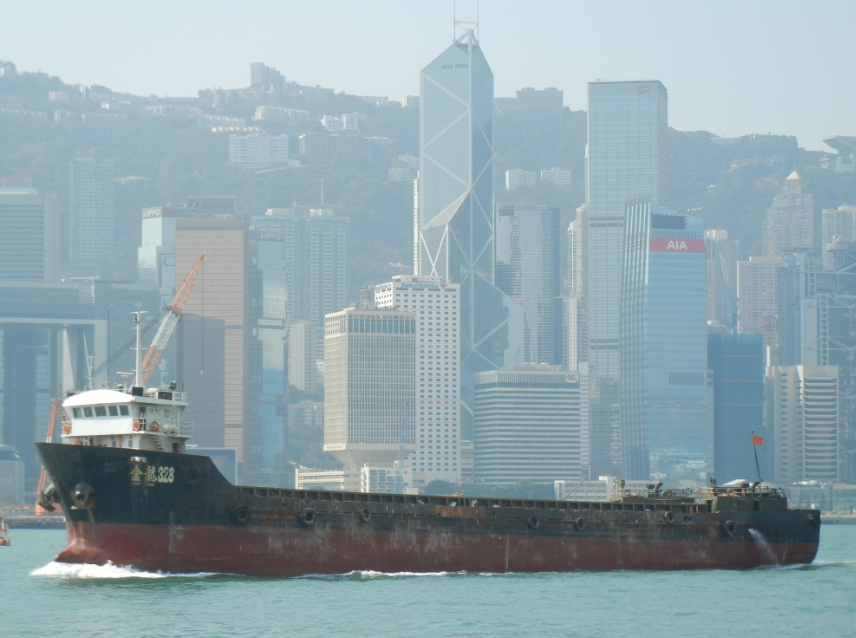 We found very large aviation in the city.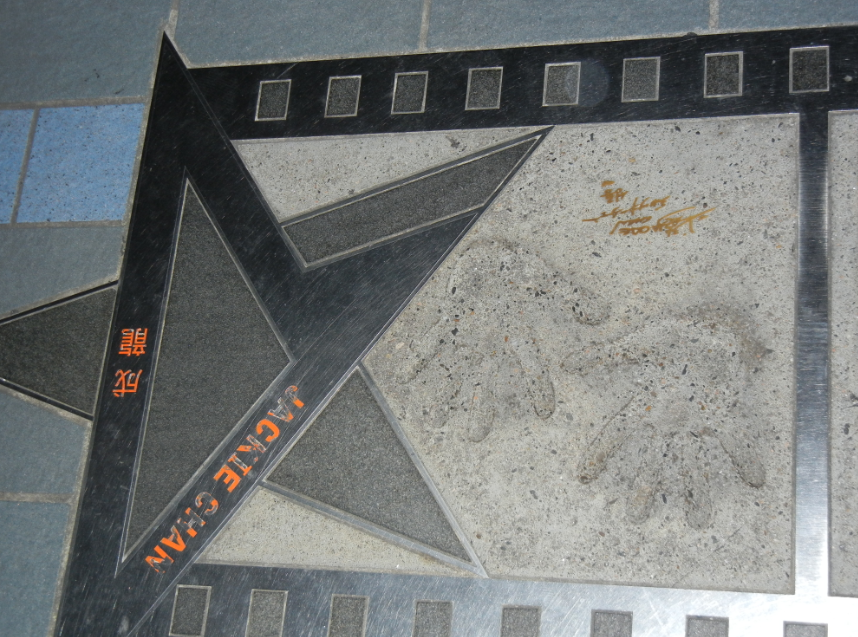 Jackie Chan
The Hong Kong lights at night. I thought the light show wasn't that impressive, but still nice just don't raise your expectations.
Legit cargo loading skills!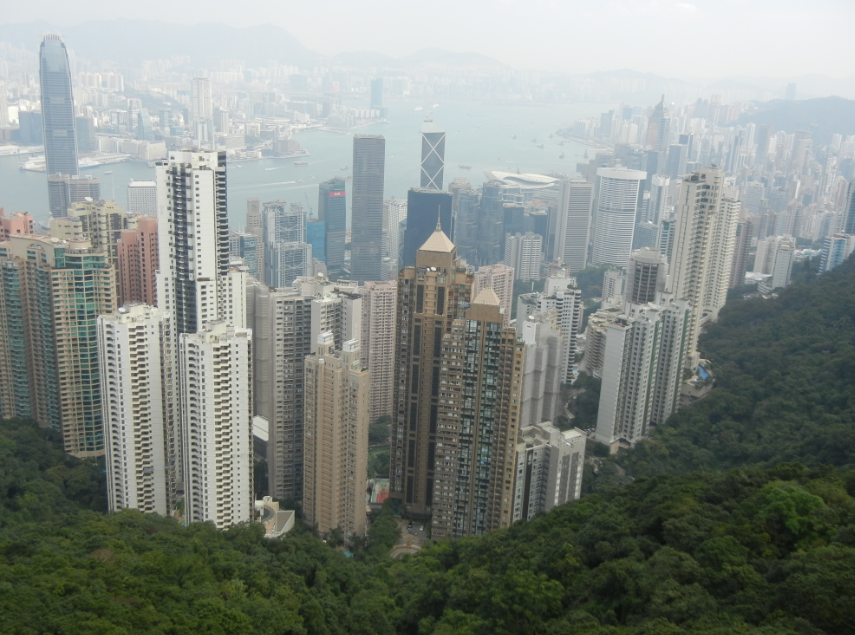 Famous lookout.
Occupy Hong Kong.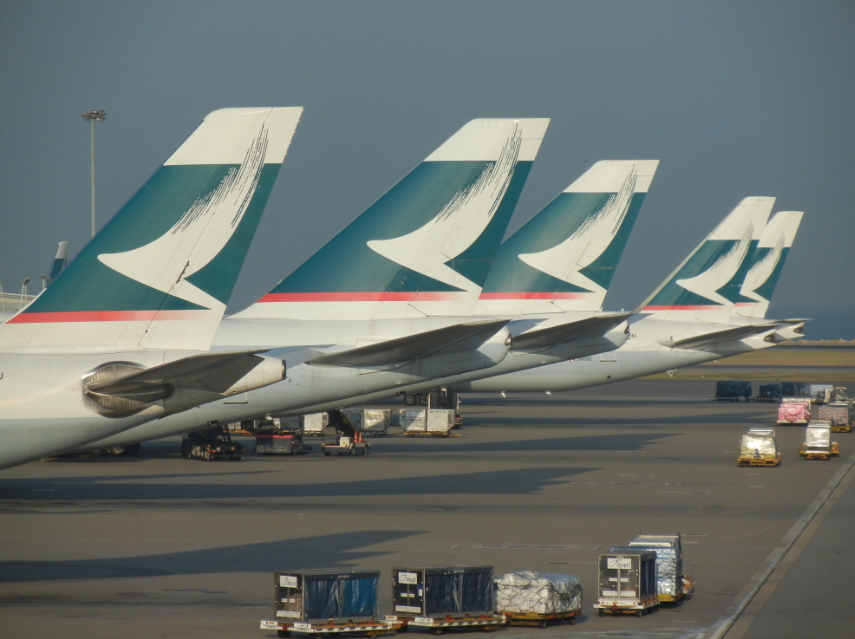 No doubt who dominates HKG airport.
Asia World City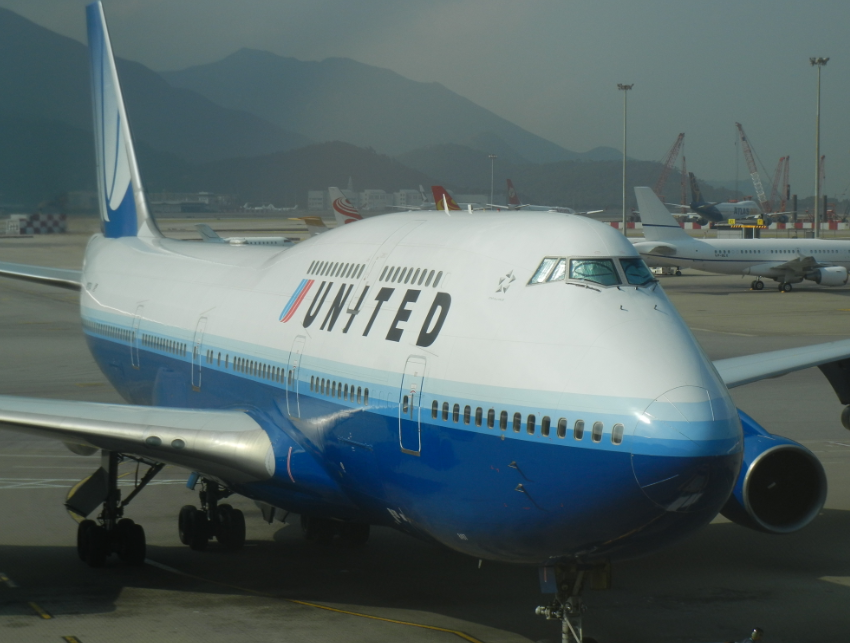 United 747
Feel free to ask any questions. Thanks for taking the time to read it. Overall the flight was very enjoyable. The 747 is always fun to be on in my books!
James