Welcome to my 6th Trip Report
Hi all,
My last trip report came online in September (see here:
Weekend Of Surprises! HEL-AMS-CPH-HEL
(by
717Flyer
Sep 3 2011 in Trip Reports) ). One of my meanings with this trip reports is to prove that I'm alive, I'm still flying and I'm just as thrilled about it as before. Between now and my last trip report I've basically only been flying some HEL-OUL and v.v. runs on the Boeing 717. Those flights have been nice (what else would you expect when the equipment is a 717?) but nothing to report about - standard KF flights, pretty much on time, really nice cabin crew and some good coffee served from cups with witty remarks on them. (I think you all know the Blue1 economy service concept by your heart after reading the reports available here on Airliners.net).
Welcome to my newest trip report, my 6th TR, featuring my Christmas trip visiting friends and family living close to Rovaniemi in Finnish Lapland.
Disclaimer:
By reading these words you are accepting the following terms and conditions: All kind of personal and secret stuff about you may be gathered and forwarded to various European (and non-European) governments. Excessive amounts of pictures of the ATR 72 (read on and you'll see) are possible - you are reading at your own risk!
I hope you all had a wonderful Christmas and didn't get too frightened by my attempt to sound like a politician. Now enjoy the report!
Introduction
(Yes, a rather long one - I ain't forcing you to read it!)
Christmas is once a year. Or at least it used to be, and according to various reliable sources it still is. And in all of its glory this holiday was also the reason for this trip to pop up.
Picture the perfect Christmas. Leave all worries, exams and school projects behind. It's the time to relax - and escape from the commercialized capital - far away from supermarkets, internet connections and the stressed atmosphere. It is early afternoon, yet it is almost black outside, but the large piles of snow reflect light and gives a nice surrounding to the large christmas tree in the garden, already covered in snow. Your thinking is interrupted by a familiar sound - food is ready!
That's how I decided to spend my Christmas this year, surrounded by wonderful friends and relatives, yet far away from the everyday chores. This journey would of course not take place without some nice flights around it.
With my school ending early in the morning on Thursday December 22nd I decided I wanted to fly away the very same day. The goal was of course to catch something new, and in the end this time was no exception!
Located some 60 kilometers from the city of Rovaniemi, the most comfortable option is to fly to RVN, but nonstop flights to Rovaniemi were ruled out because they were too expensive - Norwegian wanted some 140 EUR for a one way ticket (plus their flights aren't anything special to talk about). Another idea was to use some expiring Finnair Plus points to buy an award ticket on one of the HEL-RVN flights operated by the Boeing 757 (something sure out of the ordinary and which was also covered here on A.net some time ago). There wasn't any award tickets available anymore as I wanted to book so what I looked up next was good old Blue1. Indeed they were willing to sell me a youth ticket for 50 EUR on an 11.30 flight to OUL. As an added bonus the flight was operated by one of the ATR 72s that Golden Air operate for Blue1. Before this trip I had never flown with Golden Air before, so that was nice!
Things got a bit harder as a friend of mine (too old to travel on a youth ticket!) decided to join me on this trip. First of all he was very reluctant to the flights I had chosen - ("Why not pay a bit more if we can fly straight to Rovaniemi?") but anyway I convinced him this was the best option. Now, as Blue1 has, because of some very weird reason, withdrawn all reasonably priced one way fares on domestic flights in Finland (and my friend wasn't in the mood of paying 177 EUR for a one way ticket) we combined the outbound flight to OUL with a return flight timed for the Easter next year. This way, his return ticket cost around 100 EUR, which of course is much more acceptable.
The return journey was also clear - I wanted to try out Flybe Nordic. They happily sold me a KEM-HEL ticket for 49 EUR on a late night flight one week later on December 29.
Then came the bad side of the story. As I wasn't flying to or from RVN on either of the occasions, I had to buy TWO train tickets. With the student discount I get they are a bit more reasonably priced - while my friend didn't have access to such cheap fares. So yes, I definitely avoid getting into business with VR (that's the name of our superb train company) - but what can you do when you're forced into something.
This is how my travel ended up looking like (including train rides) featuring two new airlines (well, almost) and two rides on the modern ATR 72: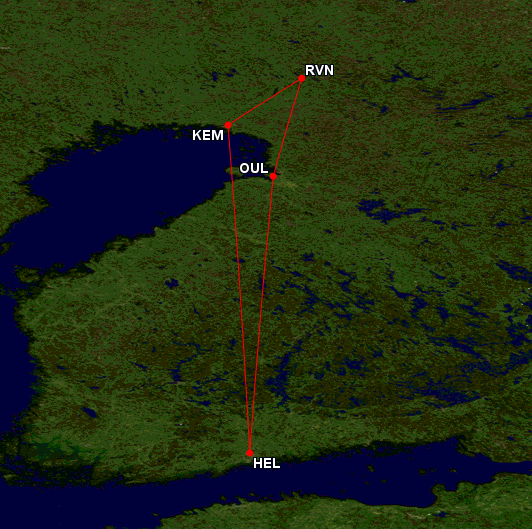 (Thanks to Great Circle Mapper!)
One day, I saw the following mail having landed in my mailbox:
Now, Blue1 sure knows which buttons to push on me. To be called
Dear passenger
and being told
It is our privilege to serve you
- well - it made me melt. There was only one thing to do! I submitted an upgrade request to Blue1 Premium via Optiontown - and whoa - some weeks before departure the upgrade cleared. My first flight ever in business class (well, sort of) was about to begin! (And after all, what could have been a better way to celebrate the beginning of my holiday than to do it in a more luxurious way).
Wednesday 21.12.2011
Exactly as advertised - I get an email some 22 hours before departure about my flight being open for checkin. I log onto my computer right after getting home and select seat 18A on the Blue1 flight. (I know that someone else from this forum has also been sitting in that seat!).
That is the second last row on the ATR. Now you might wonder why on earth I'm sitting in the back part of the cabin when travelling in a Premium class that often is referred to as travelling "upfront". Well, on these Blue1 ATR:s Premium class is on the last rows because they're close to the exit in the rear plus being behind the props is considered to be more comfortable.
I also print out my boarding pass,which looks like this:
It makes me wonder of a couple of things.
1. I am relieved to see "Golden Air" written under my flight number as that was one of the main goals of going with this flight instead of the later afternoon flight (see, I skipped a ride on the 717 in order to catch Golden Air!)
2. Why is my travel class listed as Y? Perhaps because I was originally planning to travel in economy but got upgraded?
3. Why is the travel class named"Economy Extra". They should have thought of changing it to "Blue1 Premium" also on the boarding passes.
4. I wonder how I am "only" passenger nr 12 to check in as I logged onto blue1.fi exactly as checkin was due to open. Perhaps some connecting passengers, as KF flights from ARN, OSL, CPH are offering some smooth connections onto Oulu on my flight.
Thursday 22.12.2011
Waking up at 5.00 a.m. in order to make myself ready for our Christmas party at school (and yes, I know, it is crazily timed) and also being excited about my upcoming flight, I pack my belongings and head for the bus stop. Do I need to tell you it feels weird leaving to school knowing you will head for the airport immediately afterwards?
After some Christmas carols, some diverse performances by both teachers and students I finally say goodbye to all my friends and begin my journey to the airport.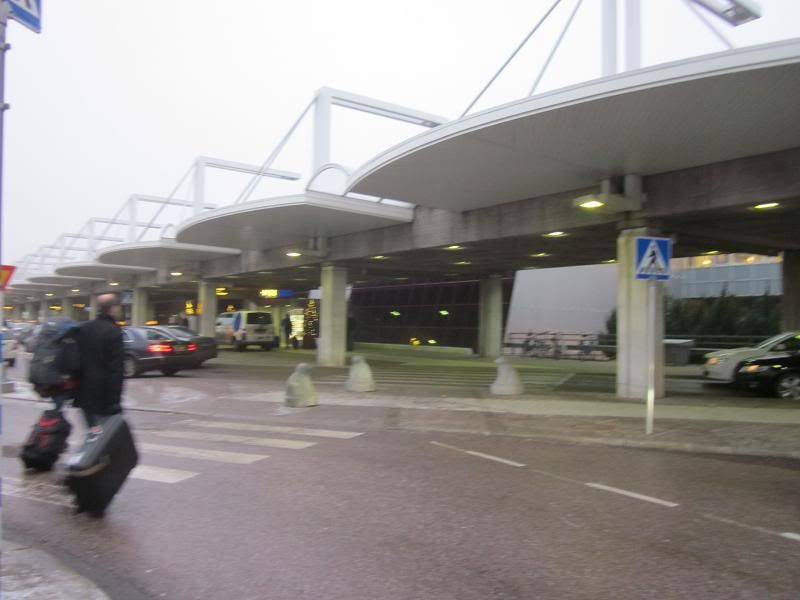 As I arrive there I notice I'm not alone. Terminal 1 is actually pretty much packed with people and check-in queues are ridiculously long. Having a bag to check in I am not amused...
...until I remember the bright side of life! I'm actually travelling in Blue1 Premium today - so I head for the dedicated business class check in desk with only one passenger in front of me. (Blue1 Premium Surprise I).
In such situations I guess one should act cool and seem to be a very routined business traveller, but well, that doesn't suit me at all. I tell the agent this is the first time I'm flying "this way". She tells me to enjoy the experience and points out my flight is on time leaving at 11.30 with bus boarding (what else on the ATR?) from gate 14A.
A view of the lower check in floor: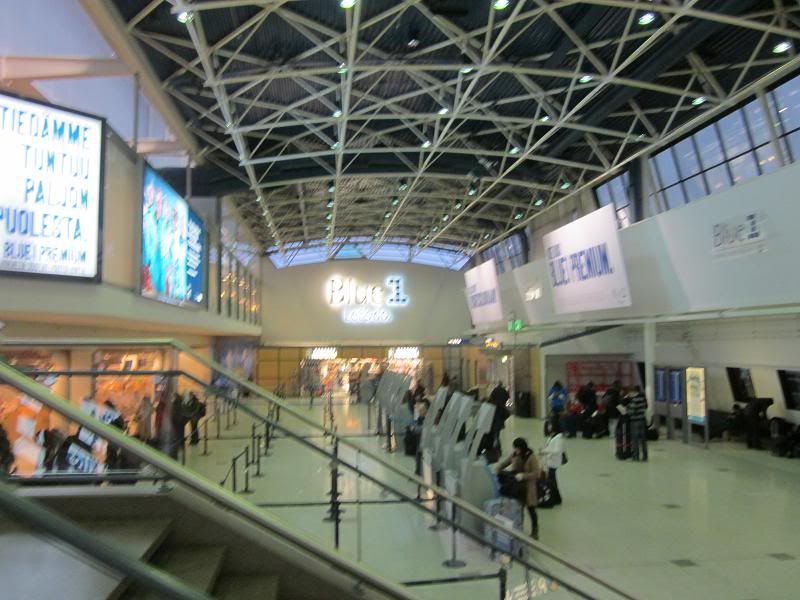 Despite being in the middle of the day there is a bit of a queue for security control and I sigh. Until I remember I am travelling in Premium and that I am entitled to use the Fast Track Security Line! (Blue1 Premium Surprise II).
As I approach the guy admitting people there I can exactly read his thoughts: "That guy is definitely not travelling in business. Why is he coming here only to make me tell him he's not allowed here. People can be hard sometimes" but before he has the time to say anything I tell him "Hiya, I'm travelling in Premium today". He's taken by surprise and before needing to ask he already has my boarding pass in his hand. To impress him even further I quickly go through security without a beep. I feel like waving happily at him, but, oh well, you need to be discrete at some times.
What catches my attention immediately after clearing security is the new layout of the gate monitors. One of the major changes is that the destination of a flight is now written much larger than before (well, before you had to be one step away from the monitor in order to see anything) so it is an improvement.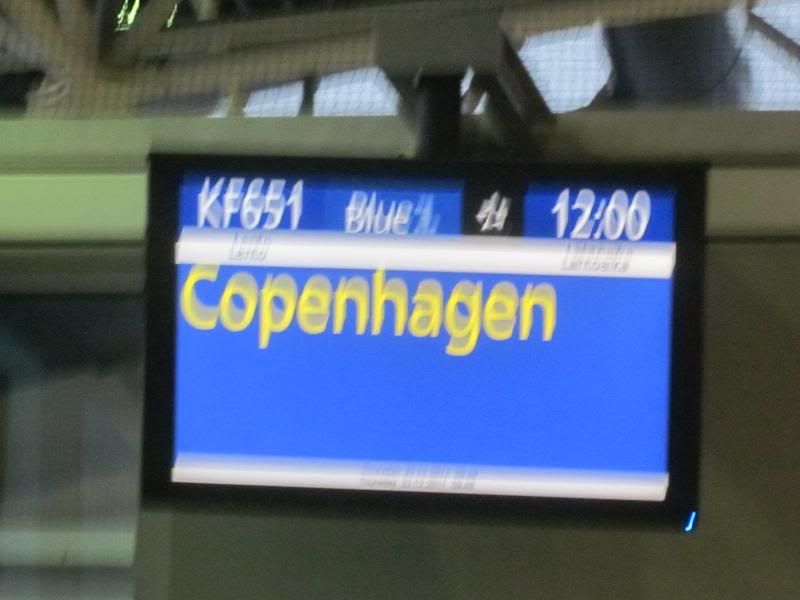 Not many seconds after arriving airside and dreamingly looking at the Scandinavian Lounge (nope, you're only entitled there when travelling in Premium on European flights) I spot one of the lounge attendants (can you call them so?), a familiar face to me and we have a really nice chat right outside the lounge. She tells me she'd love to let me in but that rules are rules. However she does bring some newspapers from the lounge, which is greatly appreciated! (Blue1 Premium Surprise III, okay I'll stop listing them now - we can just add that flying Premium is an experience full of surprises).
Not many seconds after this nice chat I see another familiar face just going through security control - it is one of my class mates! We decide to have a cup of coffee together and on the way there, as we pass by a KF 717 she comments "That plane is different! And it looks good!". Now that's a clever girl! I tell her she's actually flying on one of those planes (she was flying to ARN on KF) which makes her a bit confused. As I tell her I'm leaving for OUL I decide to skip the part about Golden Air and Blue1 Premium in order not to confuse her even further.
A 2 EUR croissant and an all too small plate: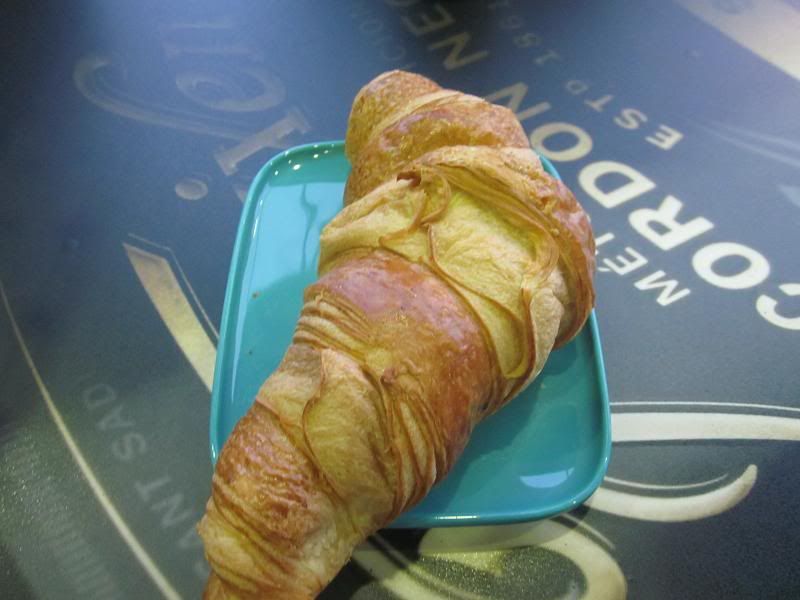 Nice motif on the coffee cup (I still prefer the KF ones with witty remarks though).
The cafe is located right next to the assigned departure gate of 14A, so we sit there until my flight is boarding. Another silver lining is that I have a perfect view of a 717 (well, not any, but OH-BLG), preparing for departure to ZRH: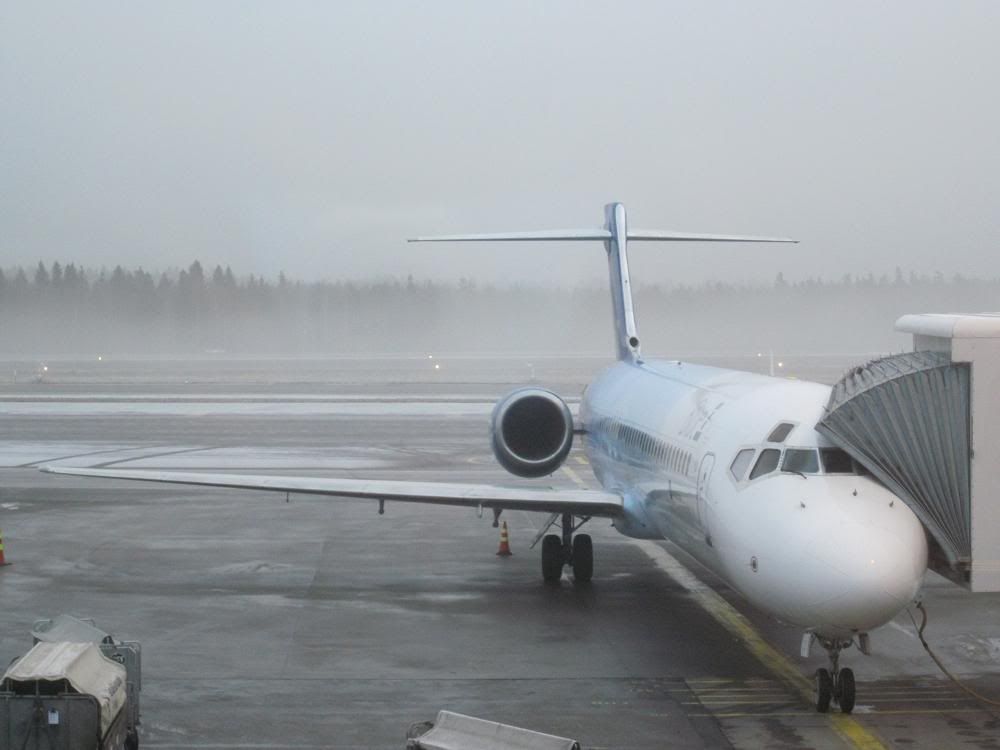 Another thing I notice is a truck of Turkish ground handling company Havas. These are indeed getting more and more usual at HEL as airBaltic sold their North Hub Services company to this Turkish company. Actually it wasn't very surprising thinking Havas owned half of the shares from the beginning. So to sum it up BT now has one thing less to worry about.
A T-tail - and you can even see bits of another T-tail in the background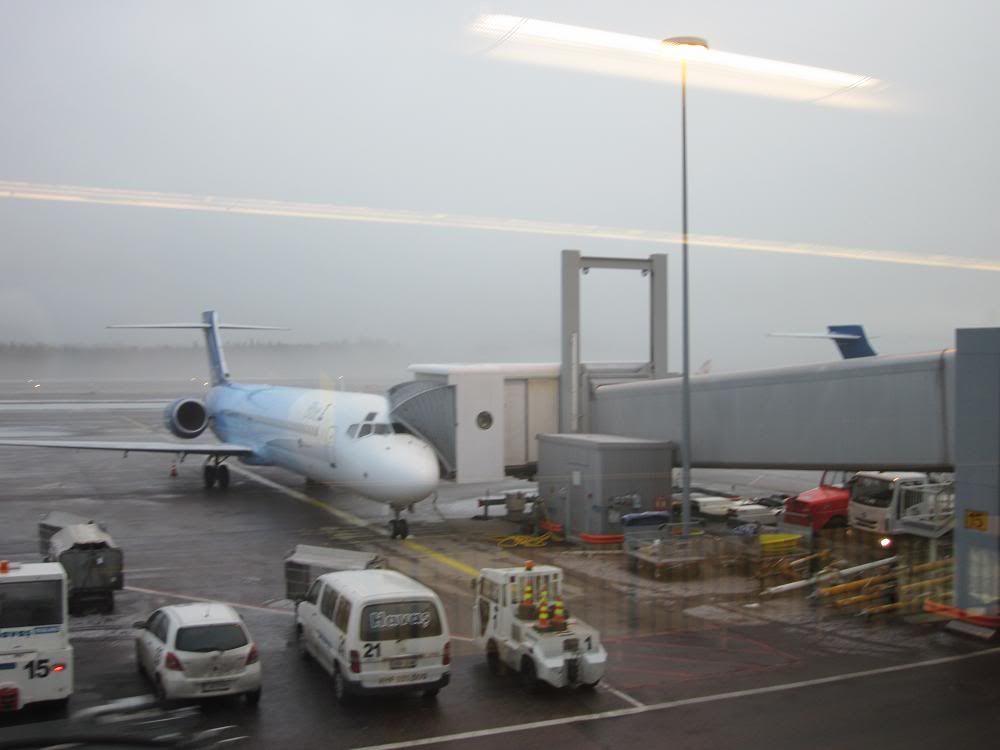 Choose what you look at - either the 717 (that's my pick), that colorful cargo Saab or some other Havas equipment
My boarding pass states boarding time as 11.05 for my flight, yet my boarding pass is scanned already at 10:53 (yes, I looked at my watch). As the boarding call is made, they mention nothing at all about the flight being operated by Golden Air however they do tell us that "the flight is completely fully booked so please remember the limit of only one piece of hand luggage per passenger". This is getting Ryanair-ish! (Yes, that's an adjective!)
SE-MDI
, ATR 72-212A, CN 930, was delivered to Golden Air on October 22, 2010 and has been flying with Blue1 ever since. This gives the plane an age of 1.2 years.
The bus ends up completely full and I also spot some deadheading Blue1 FAs in full uniform in the bus. More about them later.
As the bus slows down when getting closer to this plane I hear a lot of interesting comments from my fellow passengers. "That plane is awfully small!" "That plane doesn't look at all like a Blue1 plane should do, does it"? (Yeah, I agree, a 717 looks more beautiful). However I think they go to far as they ask one of the deadheading FAs "This isn't the right plane at all, right?". She just smiles and assures them that "yes, this is the right plane, look, there is Blue1 stickers on it!". This comment seems to calm down these anxious passengers.
We are waiting for a FA to show thumbs up to the bus driver but it takes some time. As she finally arrives at the back door she points at our ATR with both thumbs up. That's the way to go! I am one of the last ones to exit the bus and I enjoy the great photo opportunities
This is what it looks like when 69 passengers try to board an ATR 72 at the same time (well, two deadheading FAs in the background are chatting and one crazy A.netter is taking pictures all around the place)
If the airline is named Blue1, then it kinda makes sense that the *engines* are also blue
SE-MDI, a new one for my log!
(What if it would be SE-MOI, pronounced as
C'est moi
in French - talk about a selfish airplane!)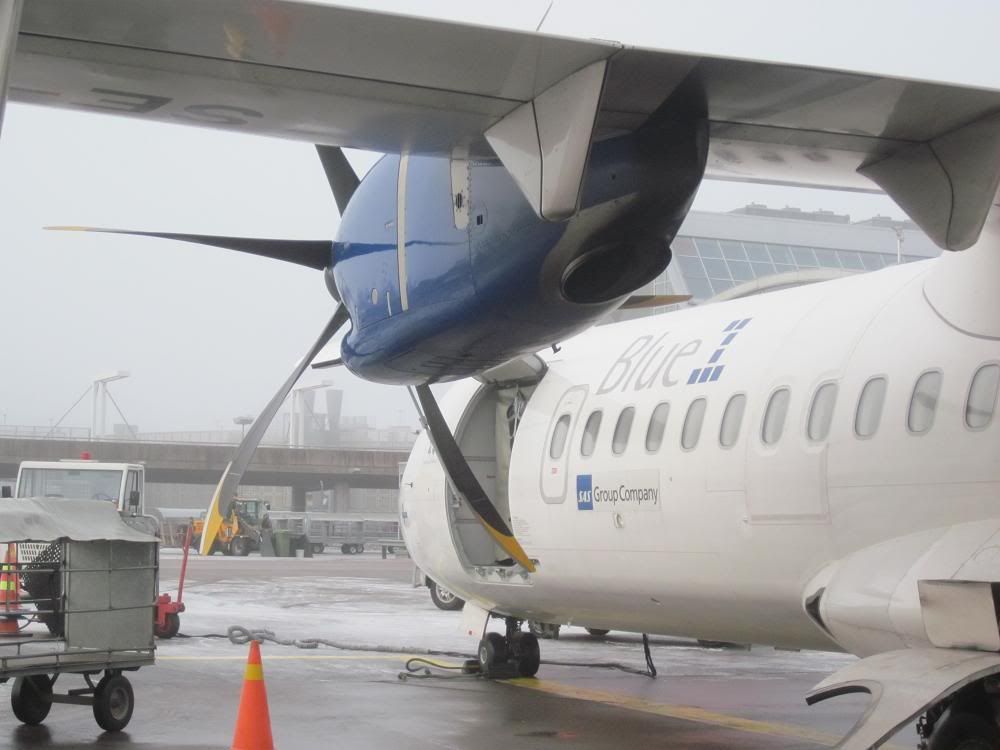 Hmm, perhaps they should wash this plane a bit more often: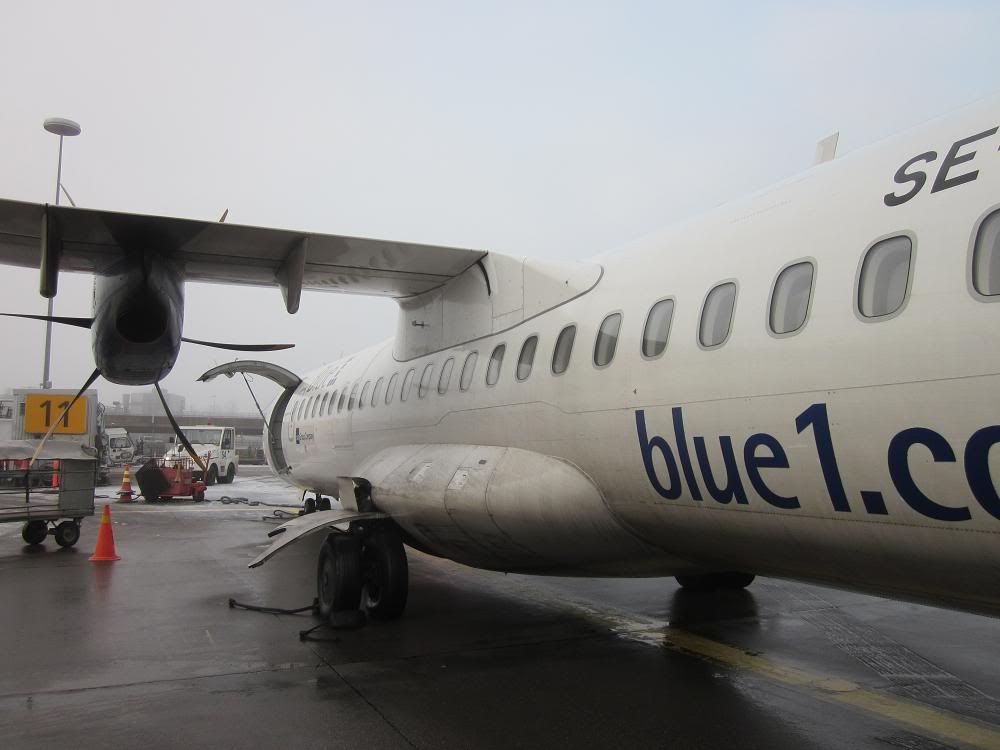 As I take this photo I hear the FA laughing in the background: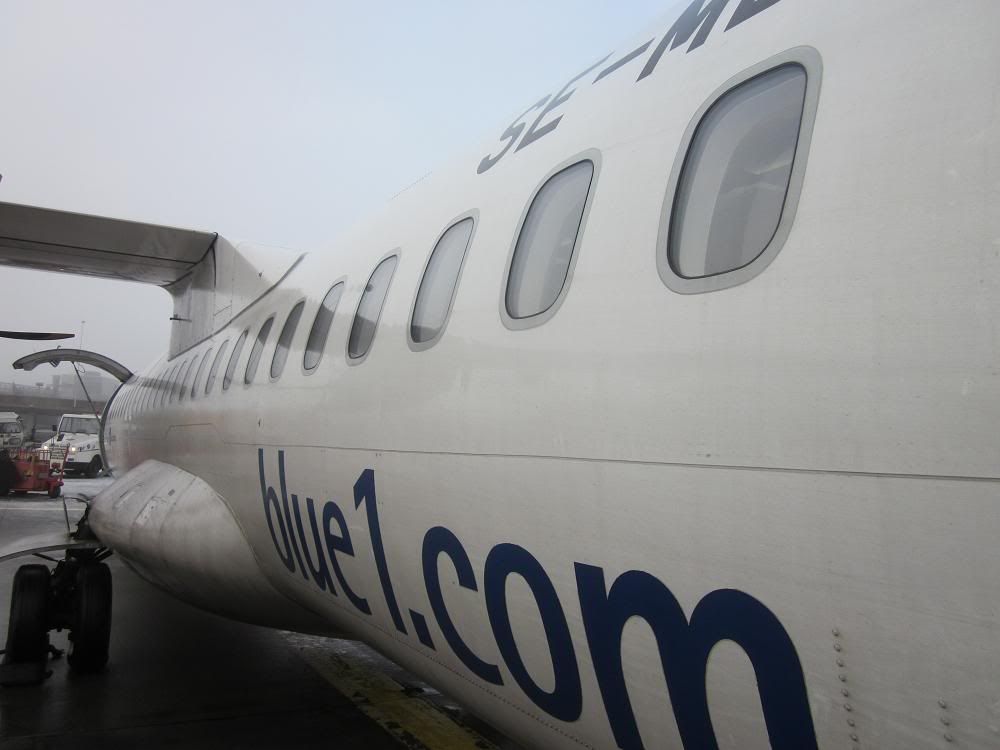 As I step onboard the first thing I hear from the female FA isn't "Hi" or "Welcome onboard" but "Don't you dare to take a photo of me! Yeah, and welcome onboard too!" followed by some laughter.
Cabin view: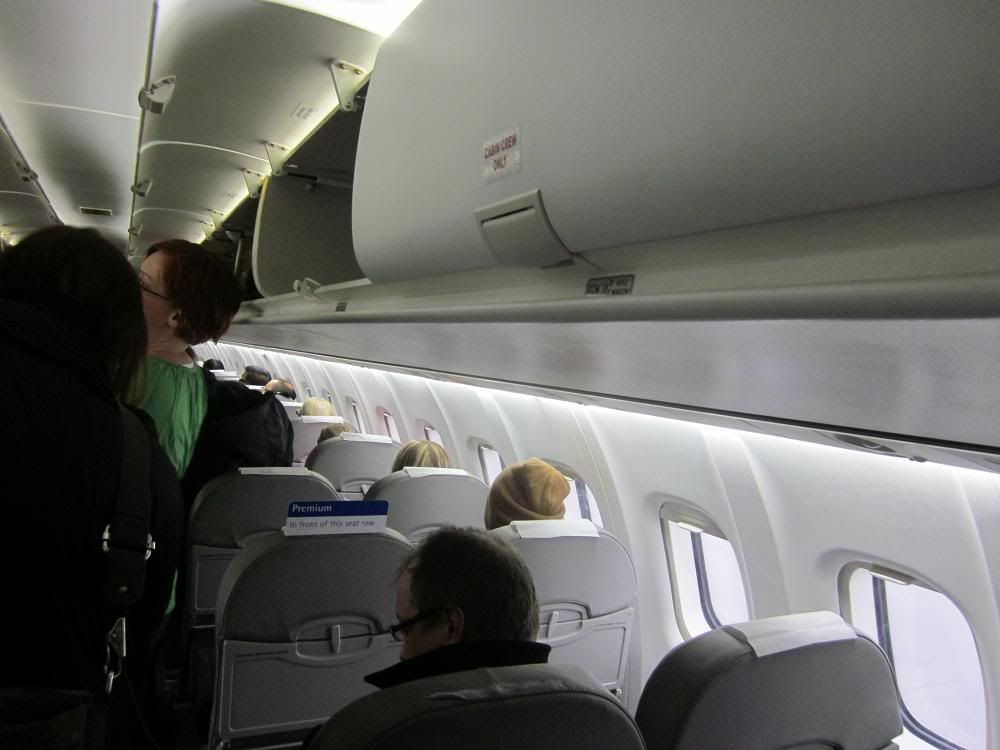 A look at my seat:
A Finncomm (yeah, I have a hard time saying it's a Flybe one since it is still in full FC colors) ATR spiced with a scratchy window:
Then comes this guy with some bad news: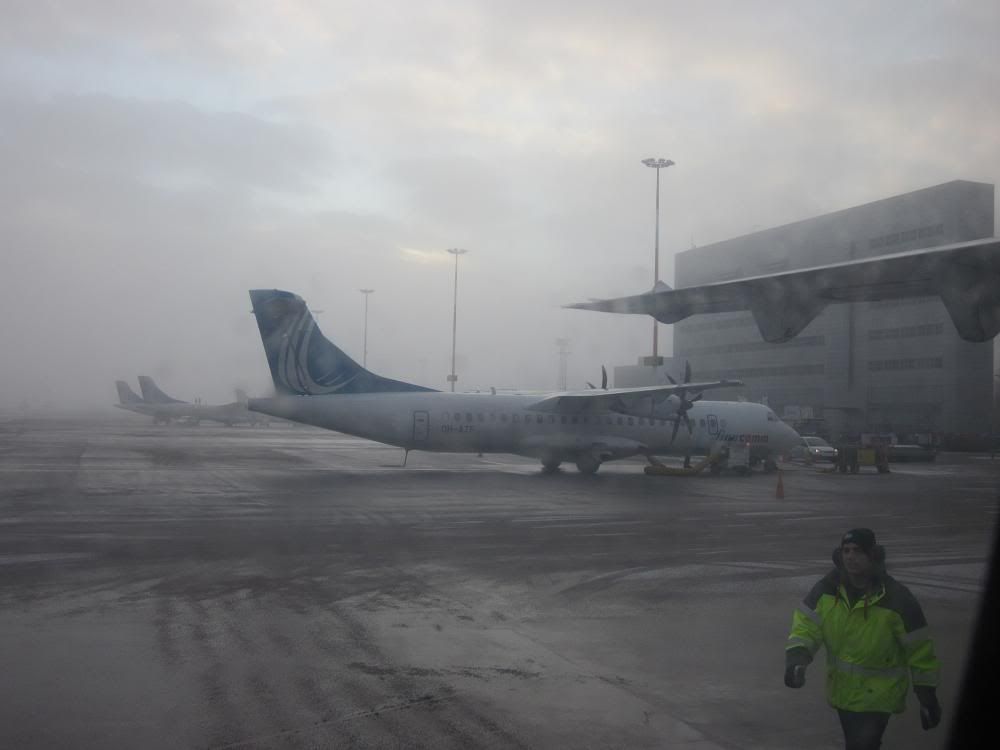 Boarding is completed around 11.20 for our 11.30 departure and our Finnish captain gives us a nice welcome speech, mentioning our flight time as 1 hour 20 minutes. Then he brings the bad news - we are still waiting for a mechanic to bring some documents. He promises to get back to us in ten minutes.
Cabin crew is one male and one female (well, you already know her sense of humor by now!). The deadheading FAs are seated in the row in front of me so it is quite interesting to listen to their chat.
The mandatory leg room shot: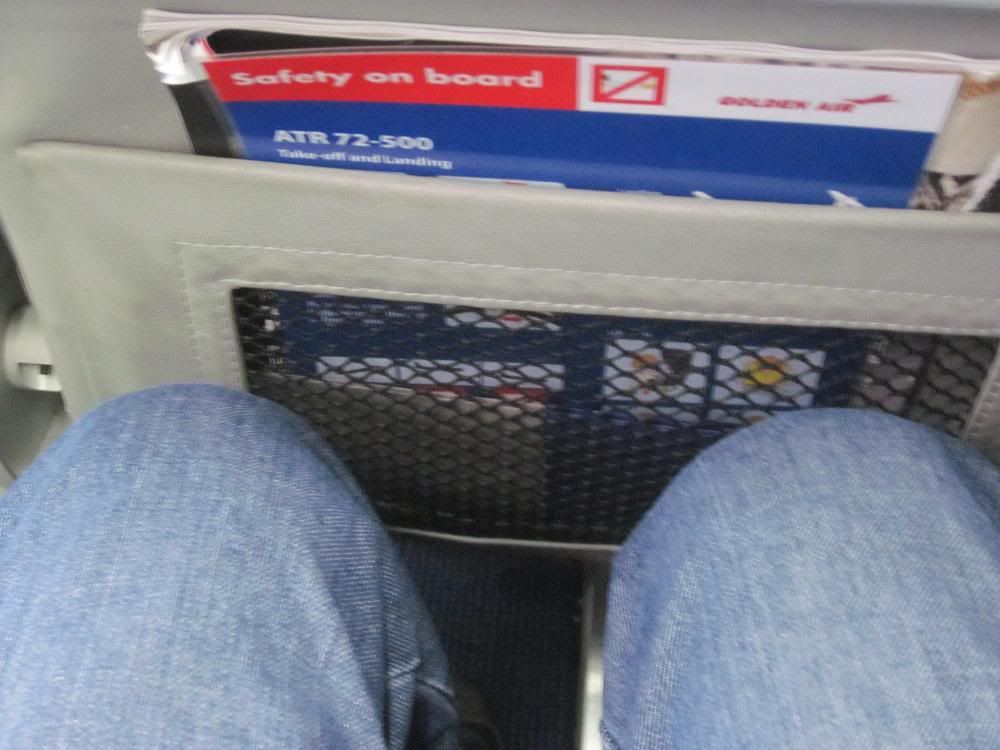 Oh dear, can they never get the class divider right:
The three last rows are Blue1 Premium, not the 16 first rows!
The load is 100 % in all classes:
Meanwhile, the crew is filling out some paperwork and they wonder about our scheduled arrival time, so I tell them that it's 12.50. And so I'm being interrogated:
-"So, you think you know these things?"
How many passengers do we have today?
-"72".
-"What's the flight number?"
-"KF217".
-"What is the aircraft type?"
-"You could wake me up in the middle of the night and I'd know this is an ATR 72! And I didn't look at the safety card!"
-"What is the maximum number of infants allowed on the ATR 72 according to our company regulations?"
-"What could it be? Five?"
-"Damn, you got it right"!
The interrogation comes to a quick stop as they notice there is 72 passengers and six infants onboard today, while only five infants are allowed.
In the end one mother and her infant leave the aircraft. The crew is deeply sorry and are trying to stuff all kinds of sandwhiches and drinks with them, but the mother wants none.
Sorry guys: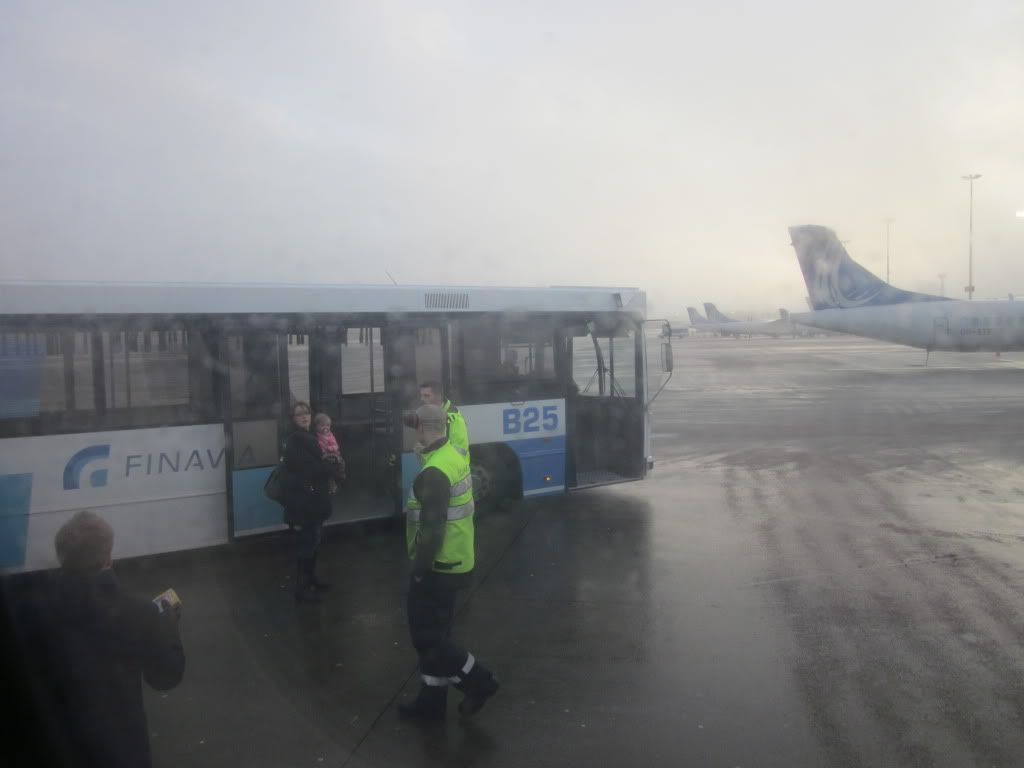 Pre-departure drinks are offered, I choose orange juice: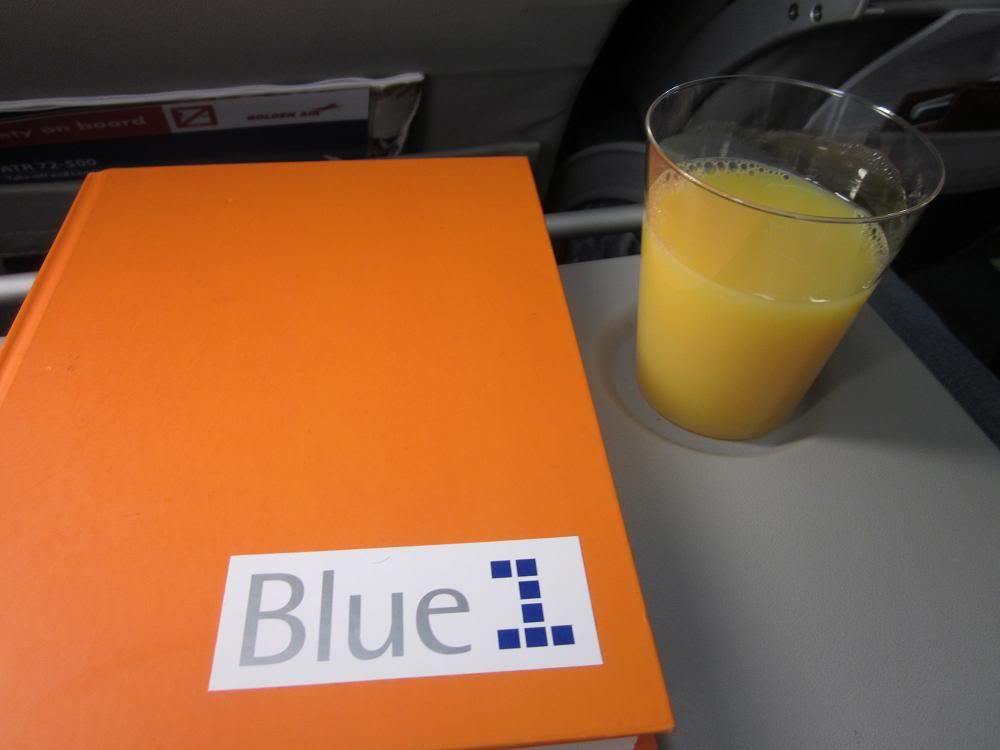 Some people can easily be recognized by their hat, but if you ever see someone with an orange notebook (by any chance with a Blue1 sticker on it) then that's me!
At this point one passenger, seated on the other side of the aisle is getting worried about the delay. He apparently has some kind of an important meeting in OUL and stops the male FA toask about the delay. "Unfortunately I have nothing to tell you", he tells him. Not very impressive customer service - the guy is clearly irritated by this - but the female FA also notices this and comes back to the gentleman. "Let's do it like this: You ask your question once again and I try to answer it as good as I can. Then you pick the answer you liked the most and the winner will serve the Premium cabin on this flight". The passenger doesn't know what to say - but in the end he repeates his question. "Well, our scheduled arrival time to Oulu is 12.50, and we are going to be a bit delayed. I will make a call to find out and then I will get back to you".
A moment later she comes back and tells him that "Our new estimated time of departure is at 12.00, I don't believe we can make that, but a 12.10 departure is realistic so I'd estimate we'll be there at around 13.20. Do you need to make any phone calls? Would you like a pillow or a blanket? Would like any more drinks?". No one says anything but it is quite sure who won this round, and knowing this I get a feeling this is going to be a great flight.
The male FA is definitely taken by surprise and so am I. I thank her for the information explaining that I am catching a train from Oulu onwards. She asks if I want the phone number to VR (our train company), but I tell her I'm fine.
Happenings of the ATR between 11.58 and 12.07
11.58 Passengers complain about it being cold inside the aircraft
11.59 The back door is closed (whee!)
12.00 A water run is done
12.00 The captain is on the speakers, pushback expected within five minutes and an apology for the delay
12.01 Knocking on the back door
12.03 A mechanic delivers the aircraft documentation
12.04 The FA gives the mechanic a hug and wishes him a Merry Christmas
12.04 Door is closed
12.04 Safety demo (these guys are fast!)
12.07 Pushback the way it can only be done in an ATR
Yet another announcement is done by the FA explaining that "we at Blue1 (hmm, what about Golden Air?) hope we did not ruin your Christmas spirit. I am really sorry for the delay and do enjoy the flight. The flight time to Oulu is now only 1 hour 15 minutes - this ATR is almost a time machine":
Our taxi is very fast (see, they are trying really hard to catch up!) and I have a hard time getting a good shot of this Lufty A321: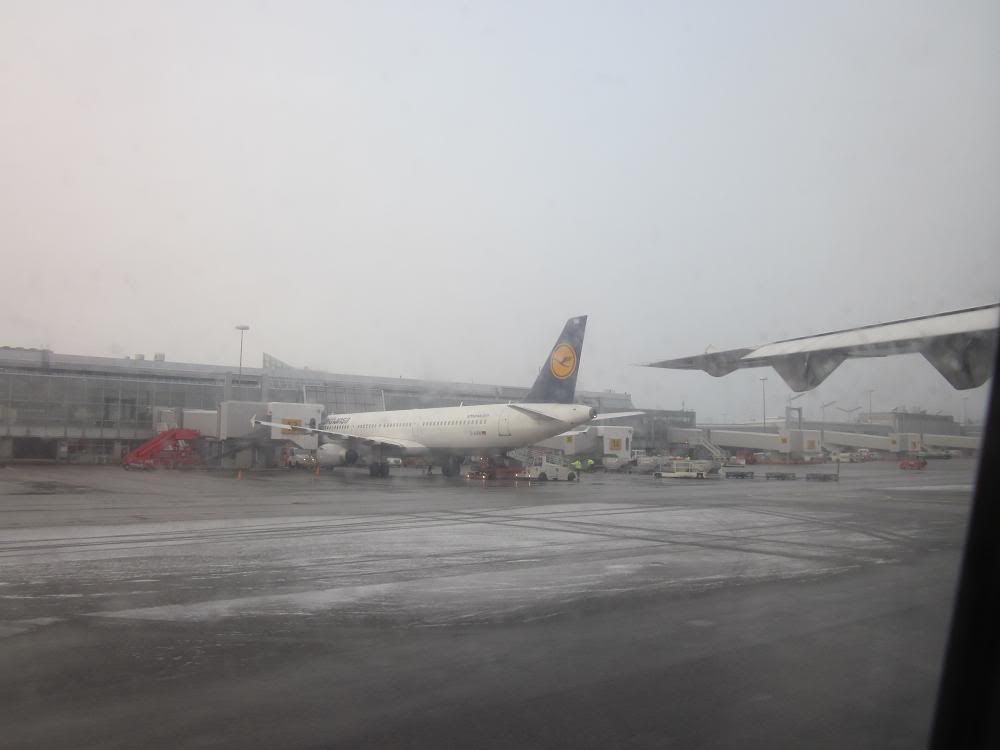 Pick the most beautiful plane (note; there is only one right answer!)
Our five-minute taxi soon comes to an end...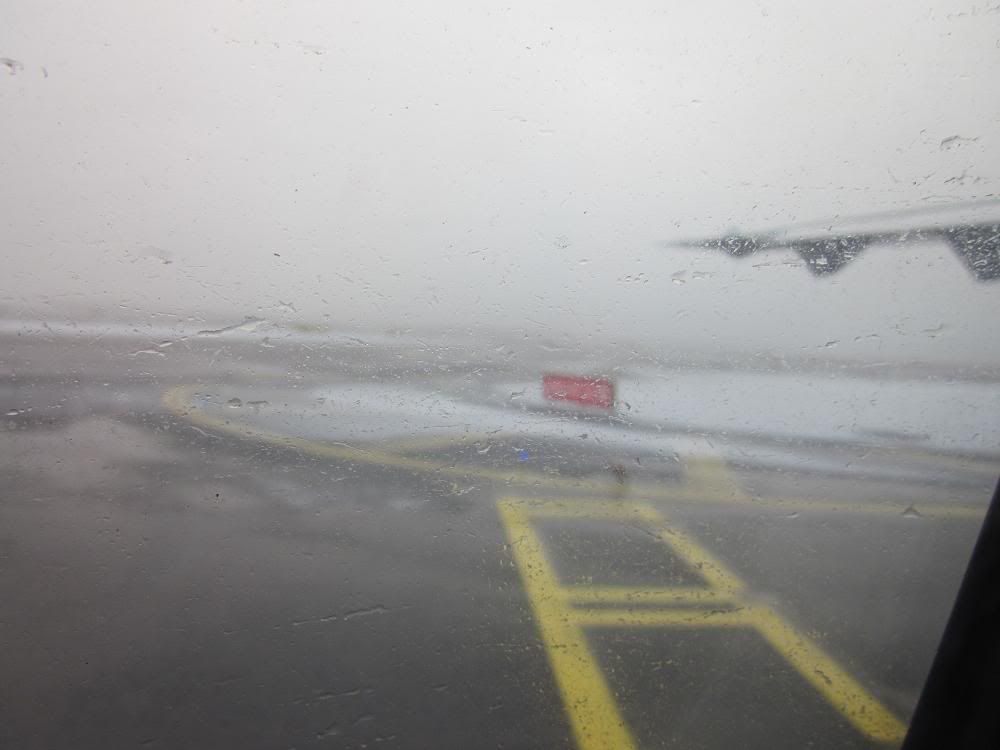 ...and we dig into the gray skies from runway 22R: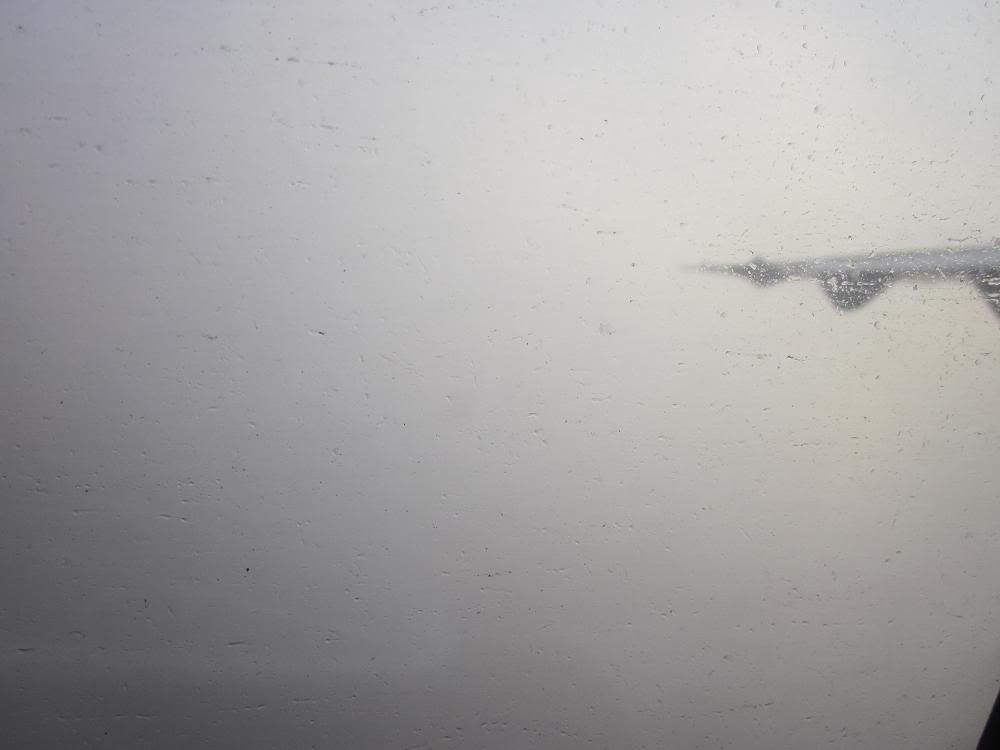 Cruising in the ATR, sitting in Premium class, yes, this is life: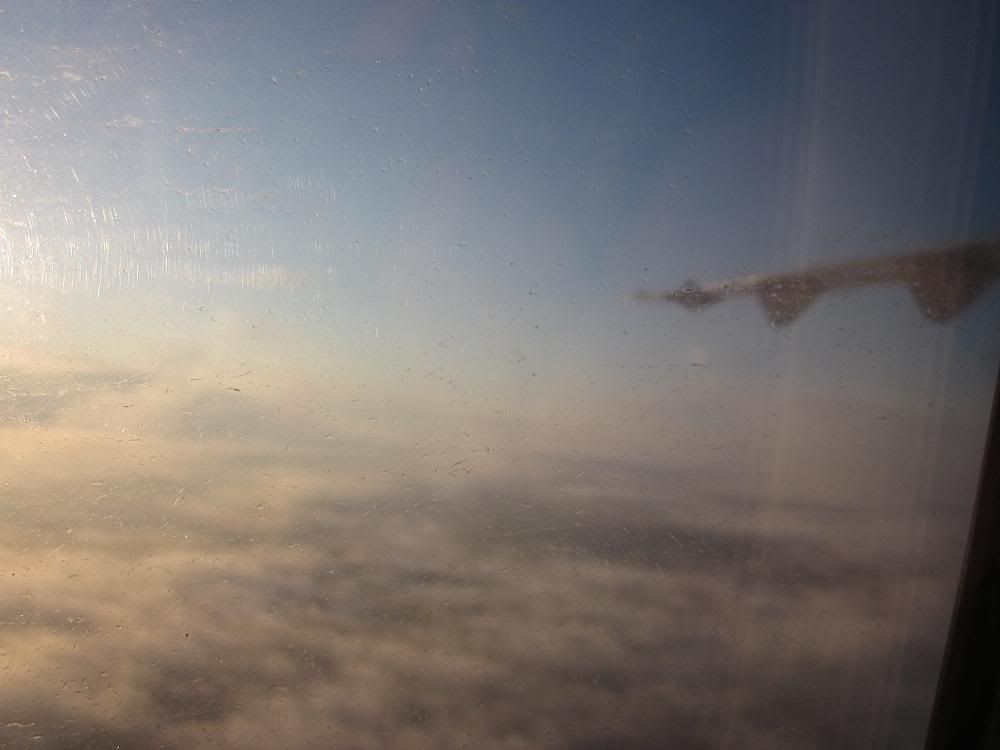 Shall we explore the offerings of the seat pocket?
Safety card (that I found back home inside the inflight magazine that had slipped inside my backpack because of some weird reason - what a bad safety card!)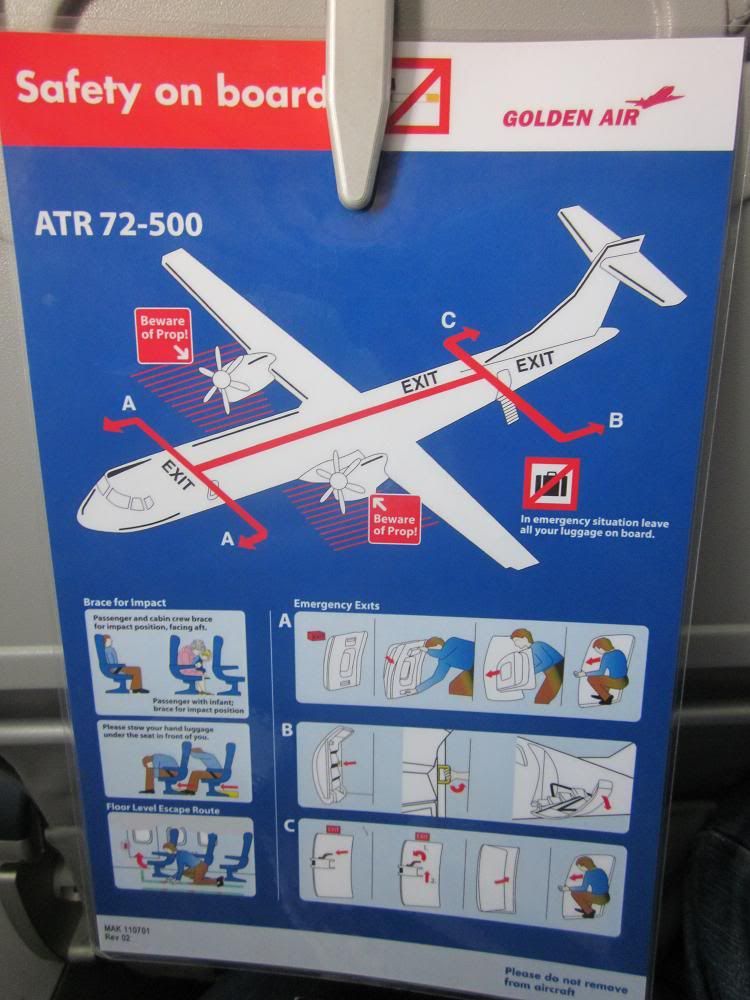 Inflight magazine:
The magazine contained an interesting feature about Blue1 aiming to reach a 100 % punctuality.
Sorry mate, I don't think it will happen, as I am just sitting on a company flight that is delayed:
But this Premium ad is good, one of many things it did is that it remained me I will get 200 % EuroBonus points for my flight (or actually more thanks to the PointBooster campaign!)
This one is for Hannah! It says "Switzerland is the chocolate heart of Europe"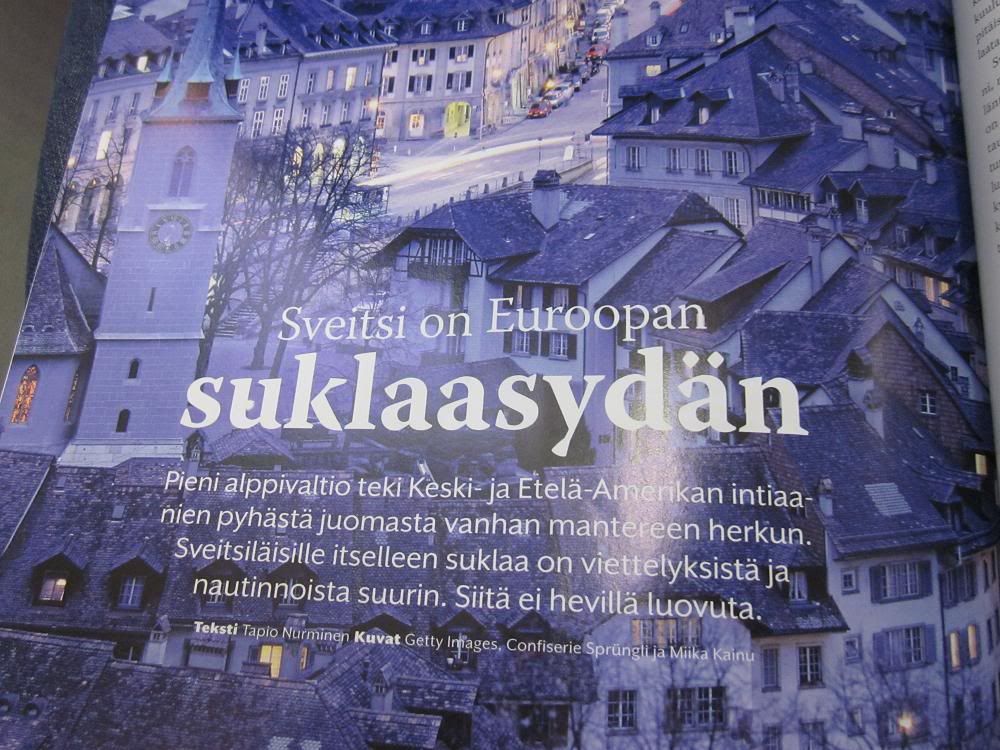 To calm down all possible future Blue1 fliers on this forum - there was quite a lot of English features in the magazine too, so nothing to worry about.
Not expecting anything else apart from a sandwhich I am really surprised as our wonderful FA soon approaches us with this meal tray - Blue1 has apparently upgraded their Premium catering lately!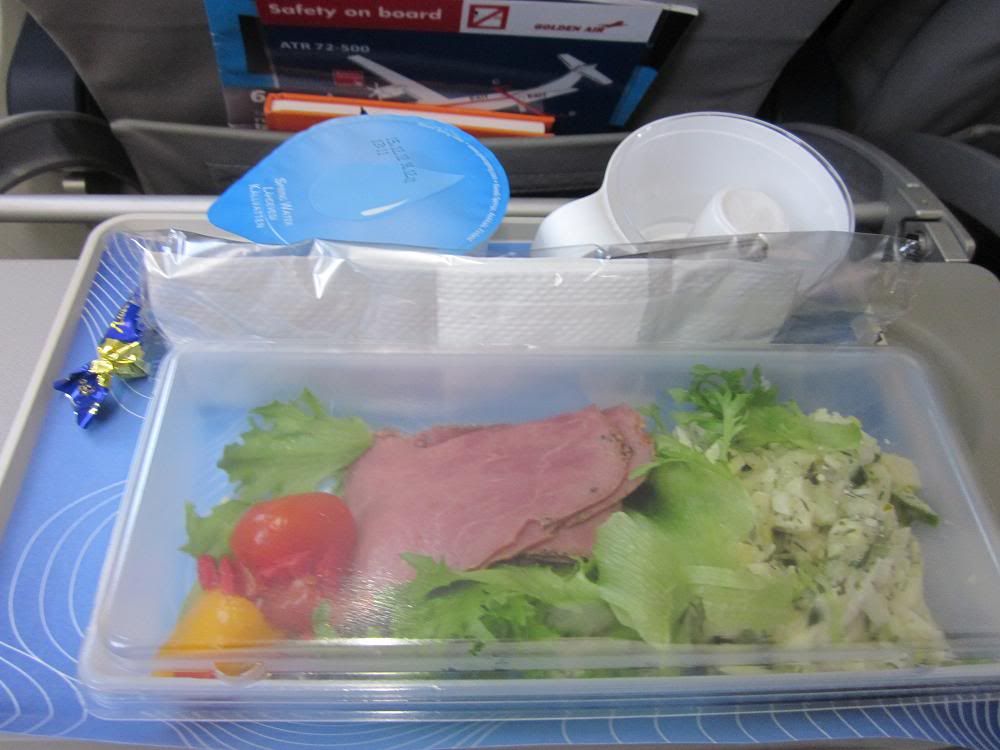 Roast beef with salad leaves and vegetables...
...served together with cucumber salad:
The roast beef was juicy and delicious and the spicy cucumber salad made the meal a perfect combination. Together with the fresh vegetables the meal was really light and enjoyable -absolutely one of the best airplane meals I've had (still nothing beats Turkish Airlines' economy class offerings - it's just fantastic!). But let's save that story for another occasion, shall we?
The meal tray also came with a small bottle of Italian red wine.
There's a tub with water on the meal tray and other drinks are also offered, I go with another glass of orange juice:
What would a Blue1 trip report be without a witty remark, this time featured on the meal tray:
The meal is nicely topped with some Fazer chocolates (yes, Hannah!):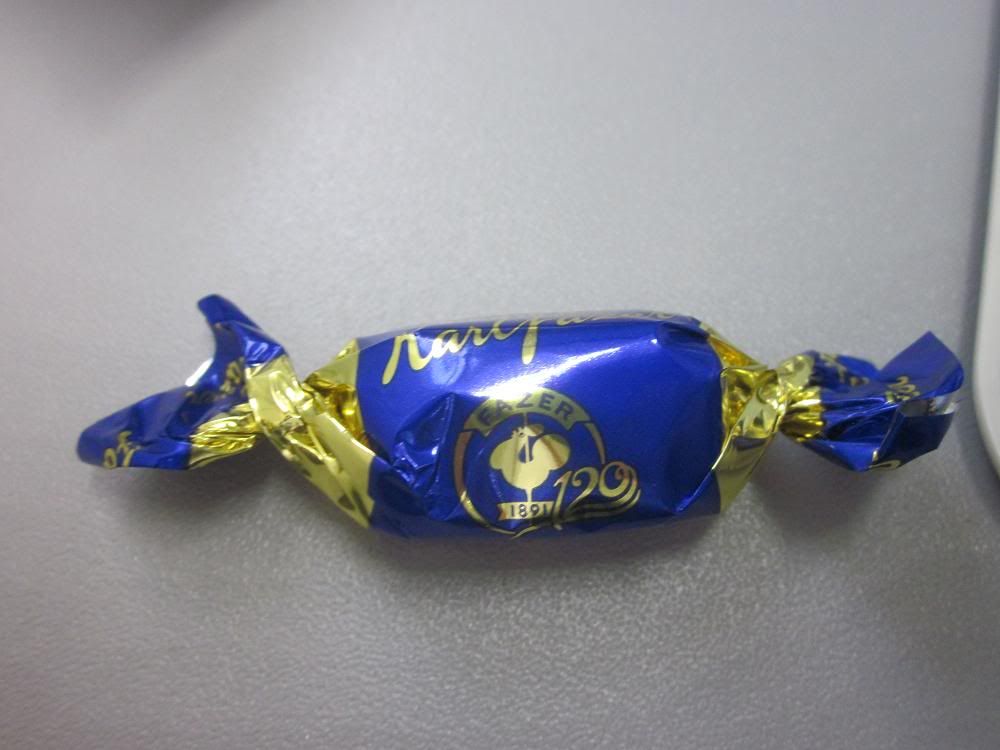 This is finished with some coffee that was so good I forgot to take a photo of it.
Here's proof that the meal was great: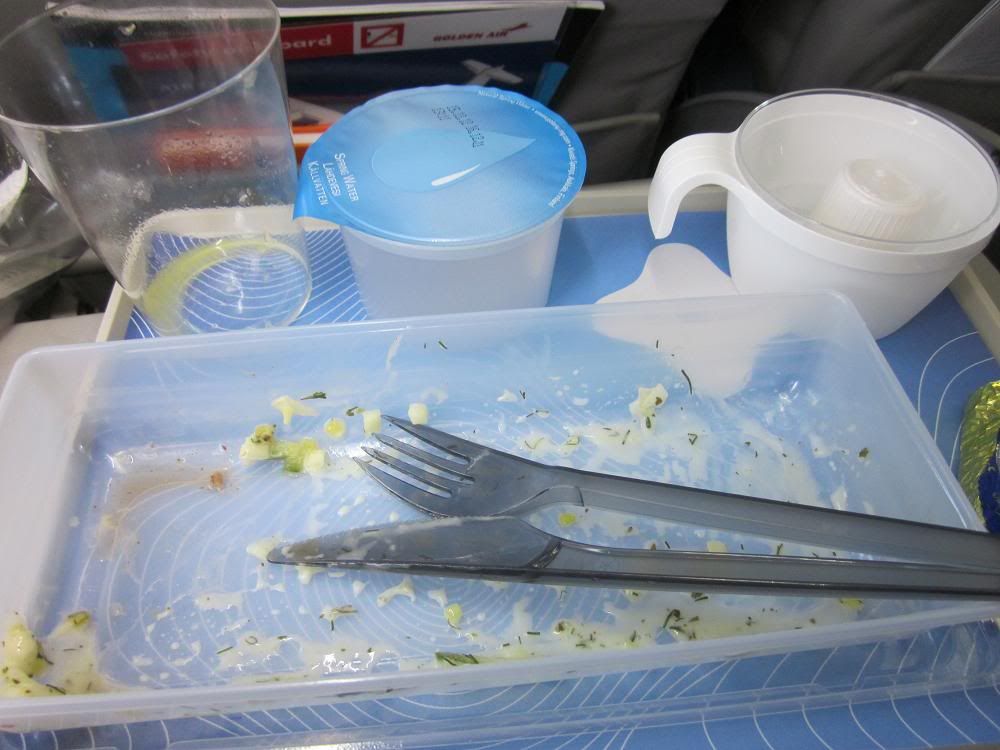 I am just about to enjoy the rest of the flight reading a novel of Paul Auster, but I am interrupted by the FA. She asks some questions about why I am taking pictures and I point out that I could have gone with an evening flight on the B717 but chose this flight (with a slightly more uncomfortable schedule) just to fly the Golden Air ATR 72. "You're the first one I hear that is happy about ending up in this plane". Before leaving she tells me that "I'll go and hand out some games and toys for the children onboard. I'll also look if I can find something suitable for you". I assure her a ride in Premium class is the perfect Christmas gift already, but a moment later she returns with a yatzy game and some SAS playing cards.
"One is never to old to play yatzy plus these playing cards are the only thing onboard that have a plane on them, so I guess they fit you well. Even though it isn't a Golden Air ATR pictured there..."
"...yeah, its a SAS B737, but thanks a lot! You've been great!".
Soon our captain is on the mike again, telling us we will soon start our descent towards OUL, landing expected in 15 minutes. The weather in Oulu is expected to be around zero degrees, but with some cold winds. He once again apologizes for the delay.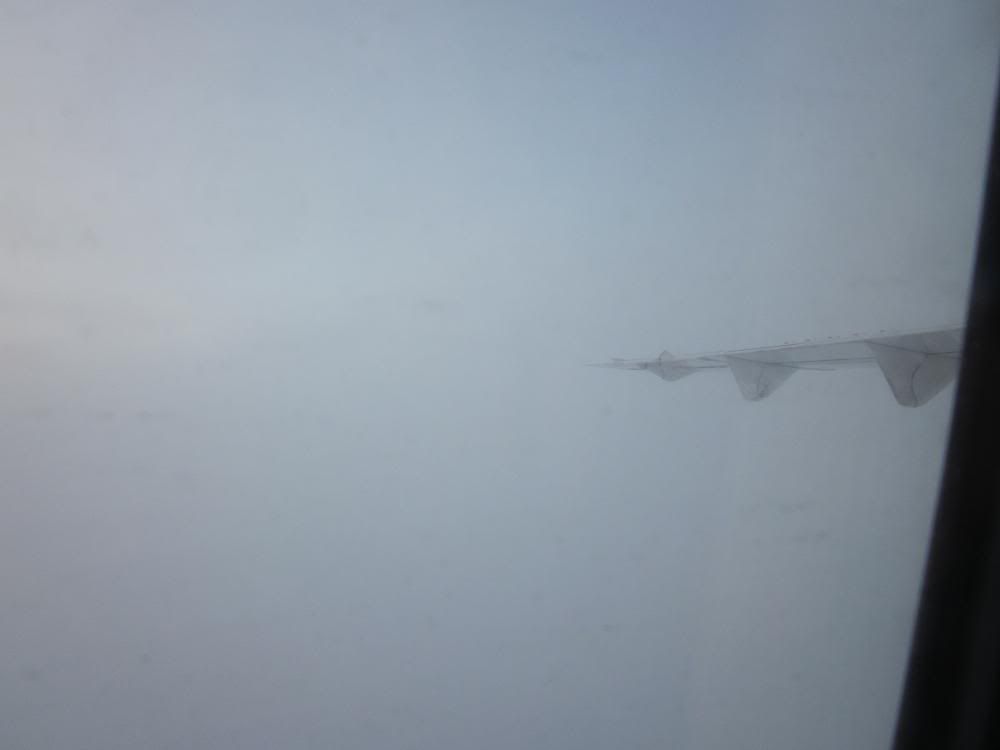 Look, there's snow!: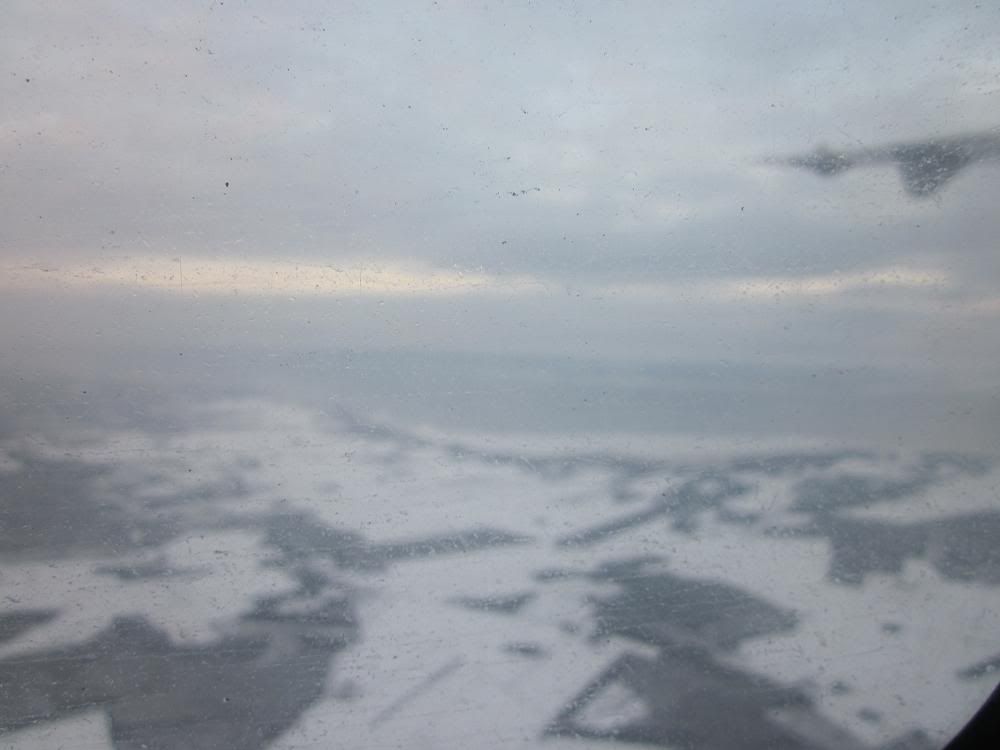 The island of Hailuoto is somewhere in the distance: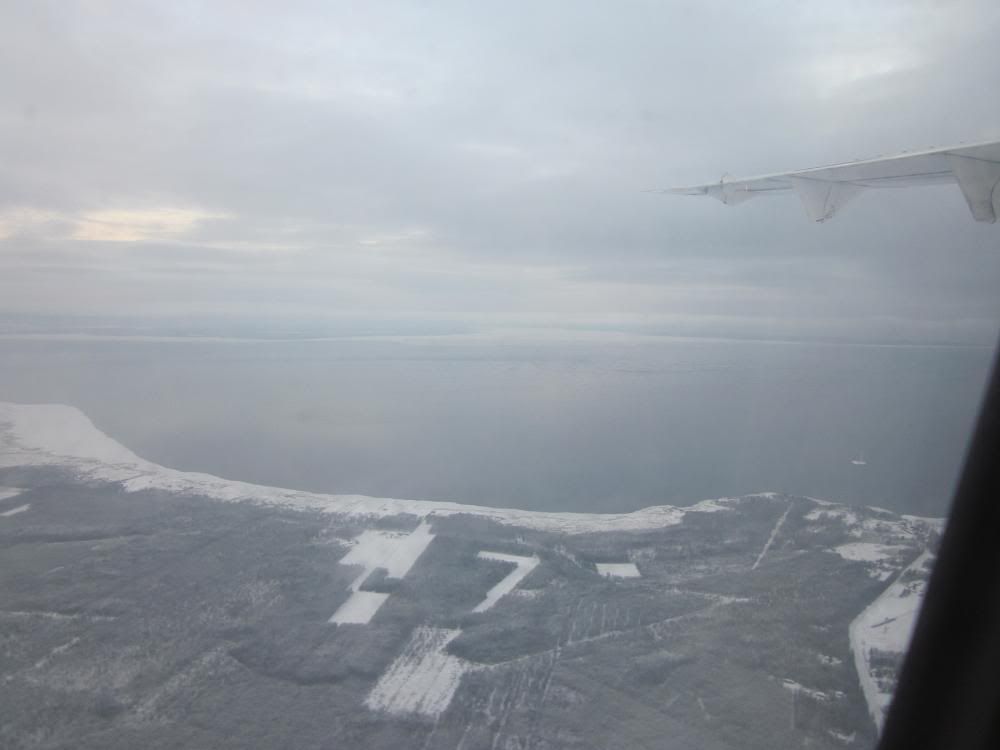 A ruther bumpy landing on runway 12 at 13.17, 27 minutes late, is not followed by any applause.
Now I will borrow one element from Nils' latest trip report - "Titles on the building, I'm at the right airport!"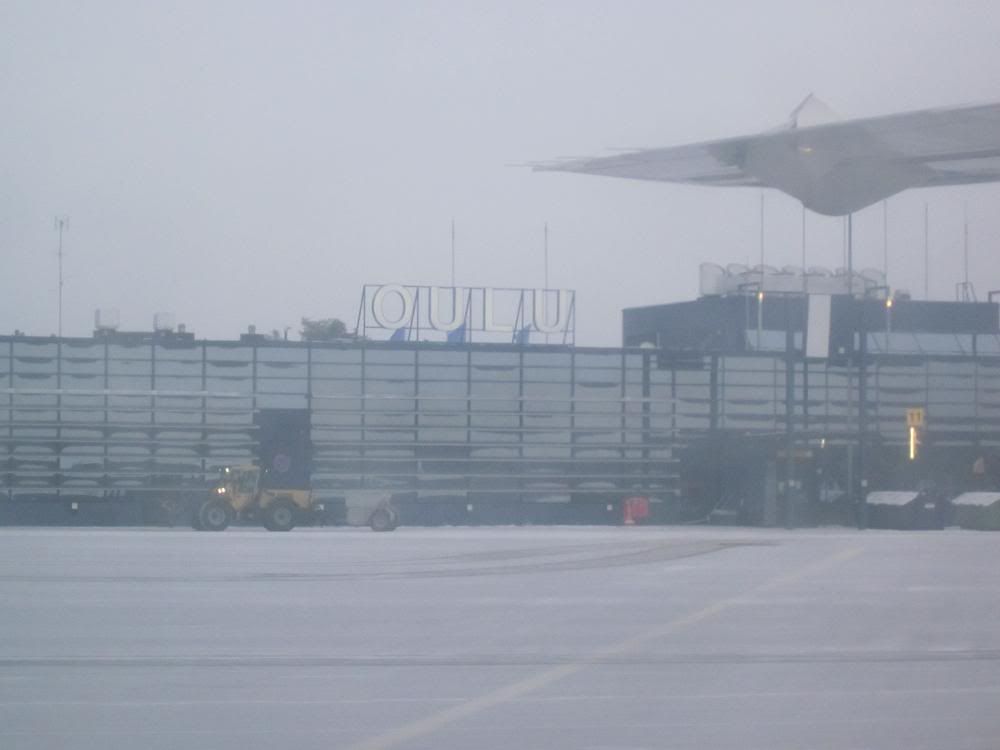 As usual there is a huge rush to get out of the aircraft and the deadheading FAs seated in front of me are the first ones to get up as the seat belt sign is turned off. One of them gives the nice FA on duty a bag with some gingerbread she made at home with her daughter (yeah, you hear all kinds of things when listening to deadheading FA's discussing with each other). They start hugging each other - blocking the exit - and the expression on many of the passengers' faces are priceless: "First we have to fly in a small weird plane like this, then they're delayed, they make all kind of weird announcements and now we can't disembark because the FAs are hugging each other. What an airline!".
Finally, they say goodbye to each other and everyone else can disembark.
Soon, the guy worried about his meeting and I are pretty much the only passengers left onboard. The nice FA asks the man "Are you still mad at me for bringing you to Oulu half an hour delayed?"
He mumbles something you really can't make clear of, so she says "Well, soon you are no more! Have a gingerbread". In the end he even cracks a smile and wishes her a Merry Christmas. "See I'm good at bribing people", she points out to me.
I tell her she doesn't need to bribe me at all - that this was a great flight. "Oh no, I can bribe planespotters too! Come on - have a gingerbread!". Instead of accepting her bribe (see, this TR is my own opinion in every way) I say she should enjoy them herself instead. "Well, I'll bribe my next load of passengers instead - Merry Christmas!".
All this time the male FA has just been standing there, staring at us when his colleague wakes him up. "Oh come on you, we have a plane to clean!".
The ground agent outside the aircraft asks me "What took you so long?" and I reply "Nothing, but if you're nice to the FA in the back she may give you some gingerbread!". She seems happy with my explanation.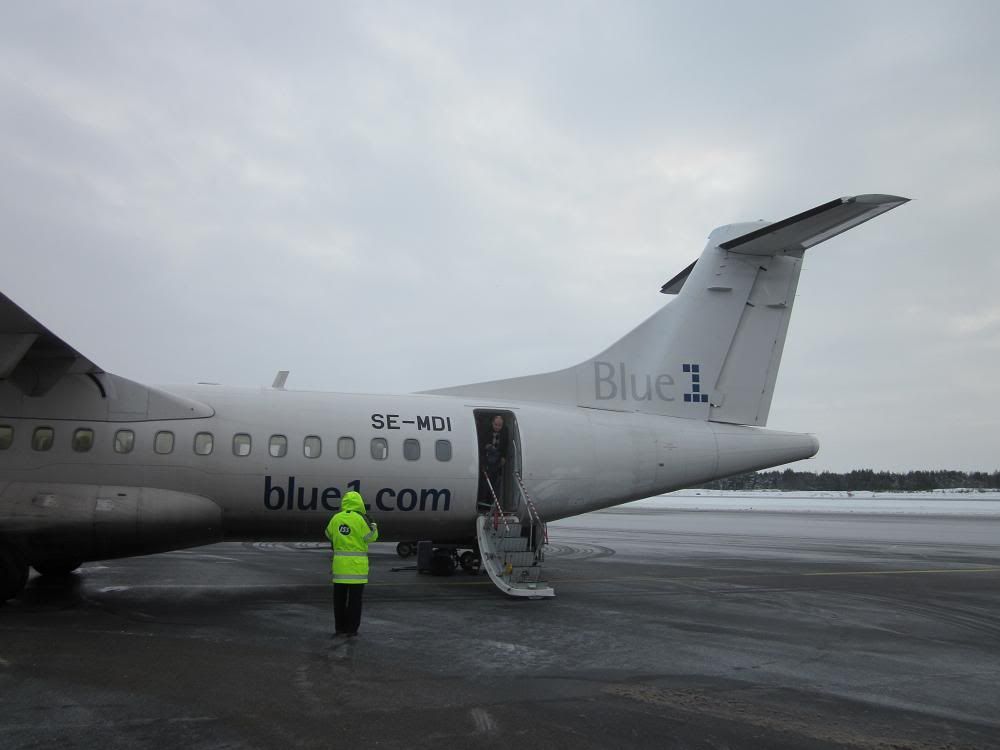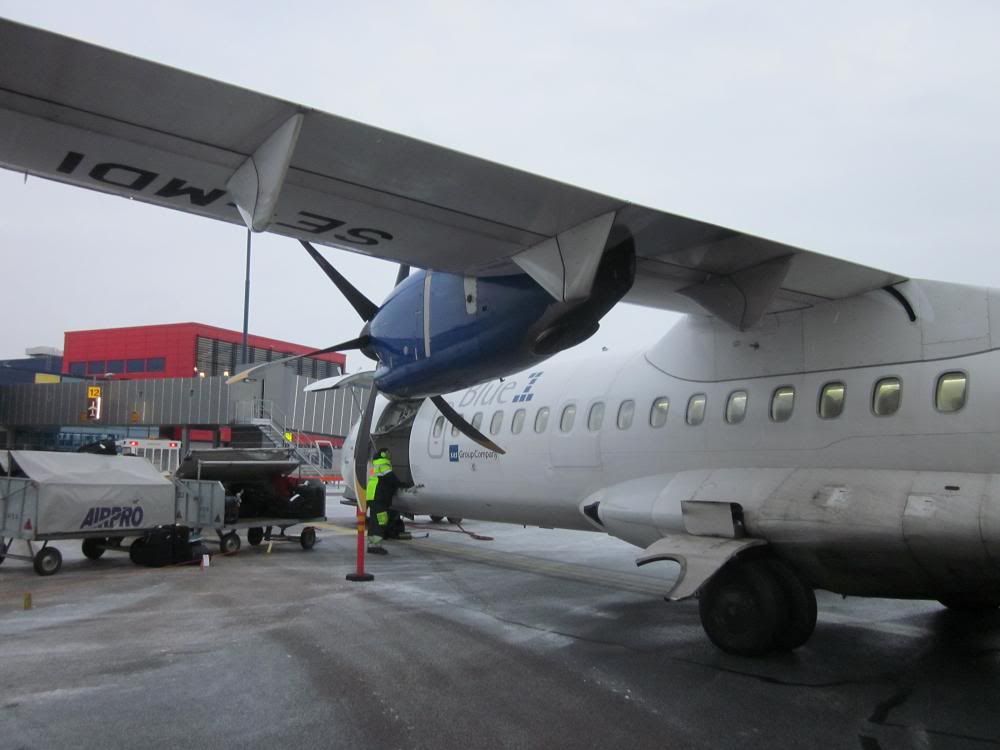 This one is for Markus: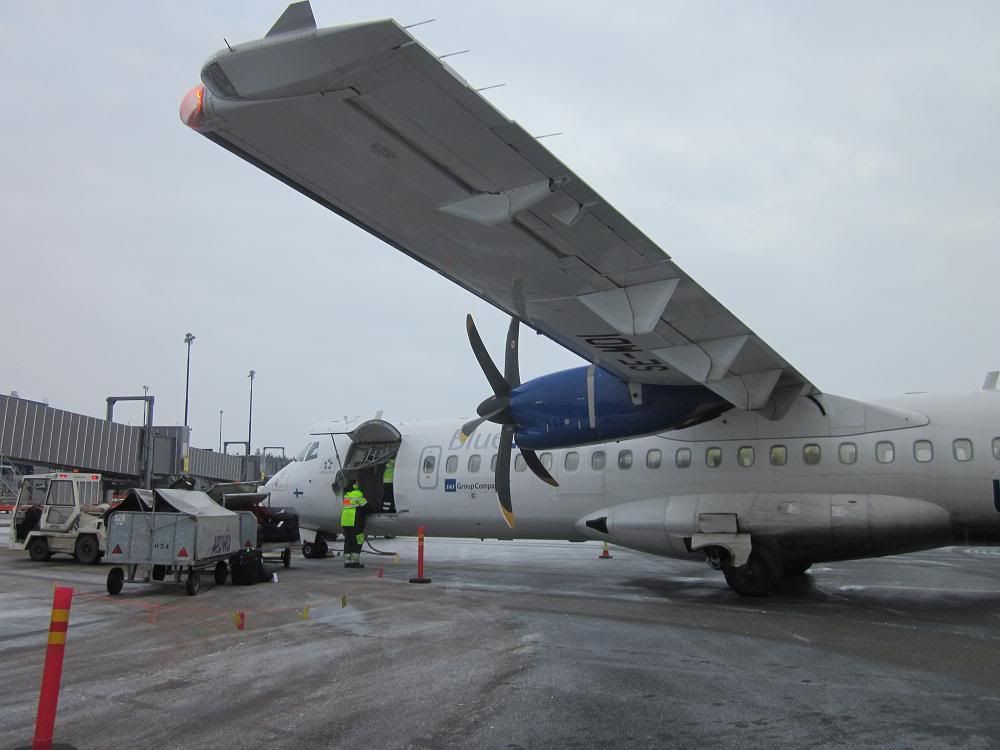 The FA waves happily at me but disappears behind the door when I try to capture a photo...
Bye, and thanks for a great flight: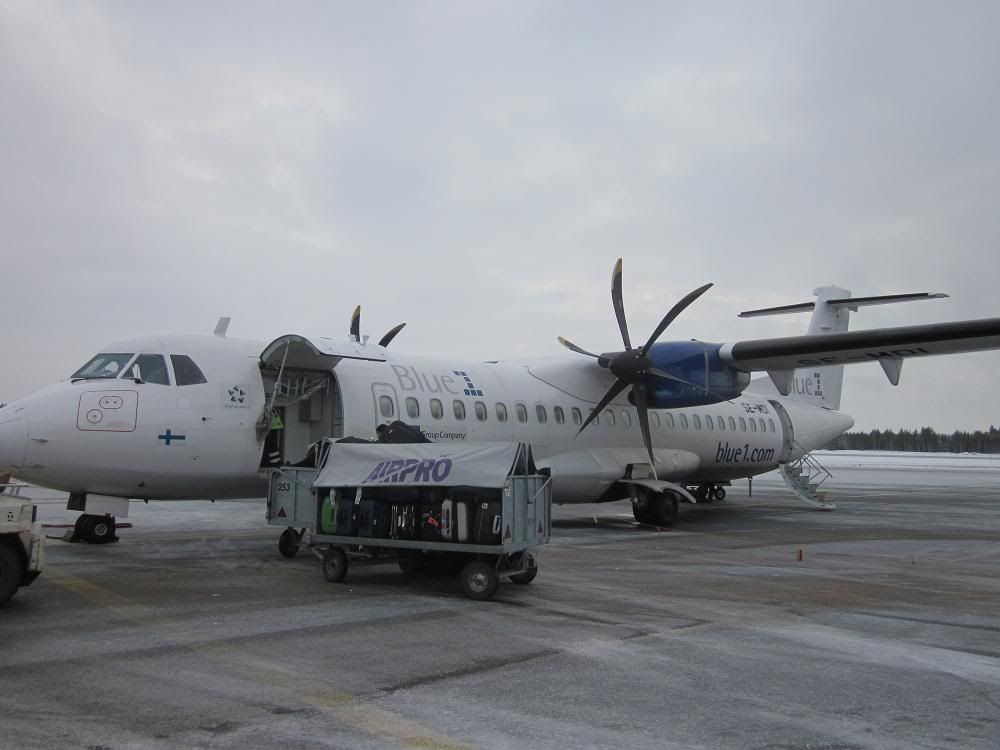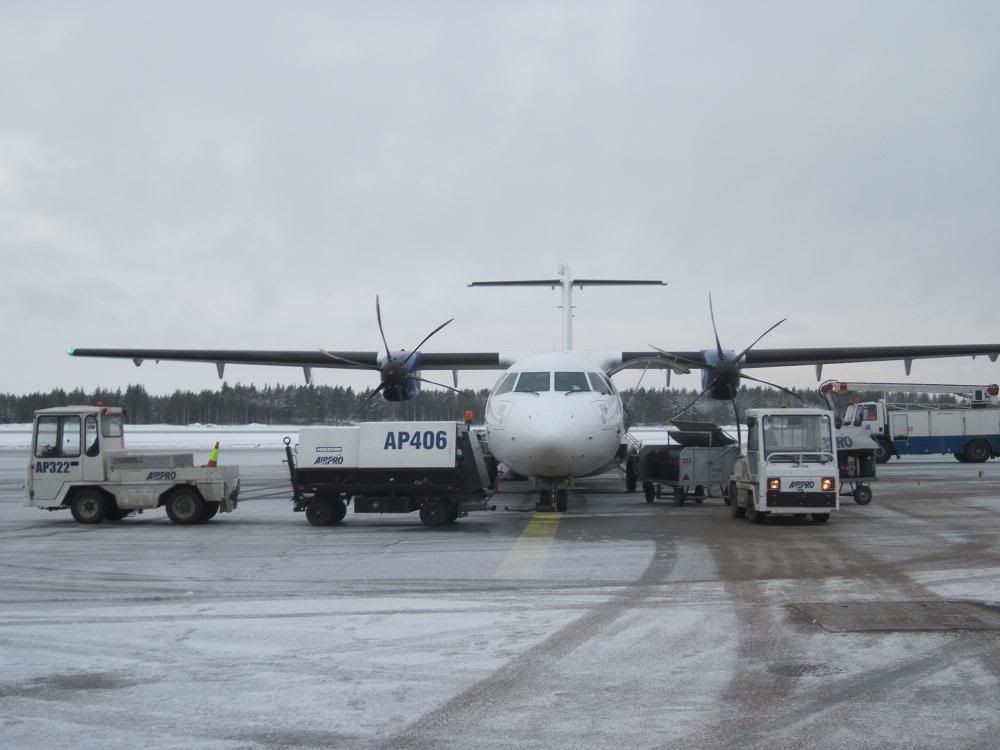 The moment I enter the arrivals hall the boarding call for the return flight is made, quite impressive.
Arrivals board: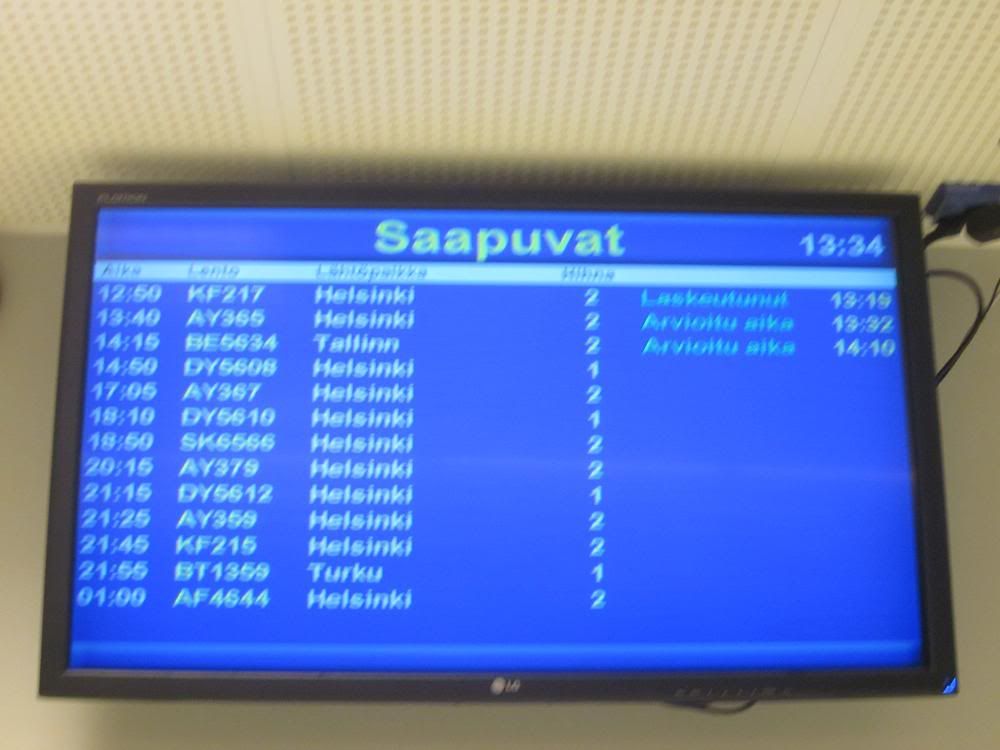 Merry Christmas: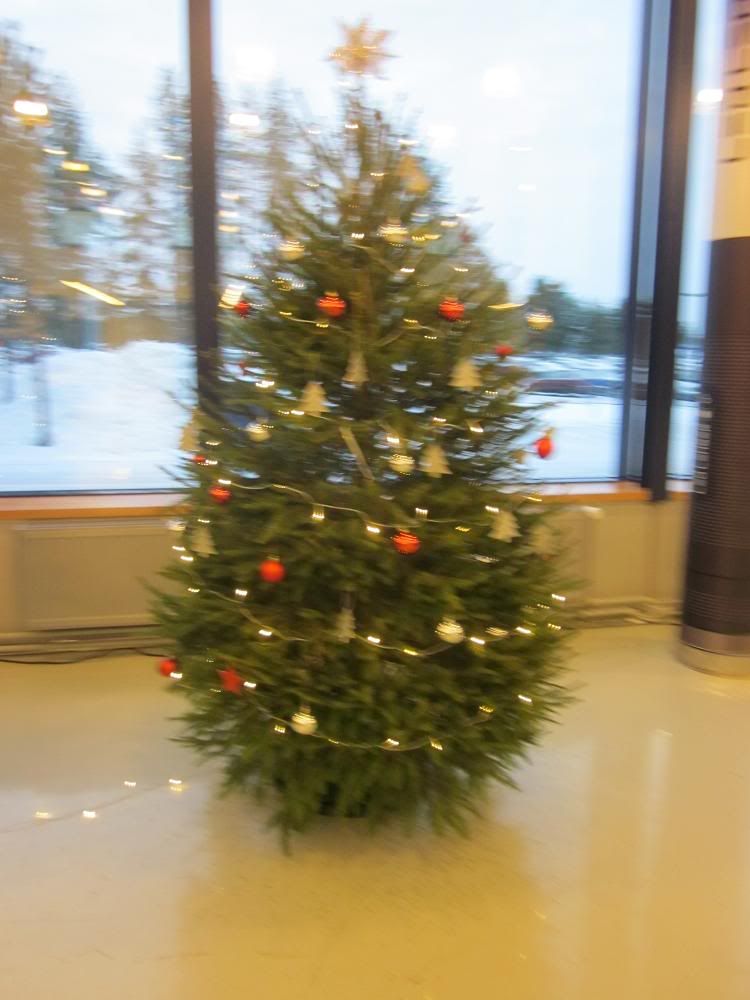 Look at how large and bright the new arrivals hall is:
The bus line 19 to the city centre leaves three times per hour (at 13.05, 13.25, 13.45, 14.05 etc.) My bag is one of the first ones out on the belt and by running I make it to the 13.45 bus! (Actually, the bus driver had already left the bus stop but he let me in anyway). The driver was a really nice chap, explaining my problem about being late for my train he promised to drive as fast as he can as well as shout to me at the stop I'm supposed to get off. I know I could have taken a taxi but that is something avoid as far as I can.
In the end the route that took some 35 minutes in October now takes only about 15 minutes, thanks!
Bye bye, dirty bus (but with a nice driver):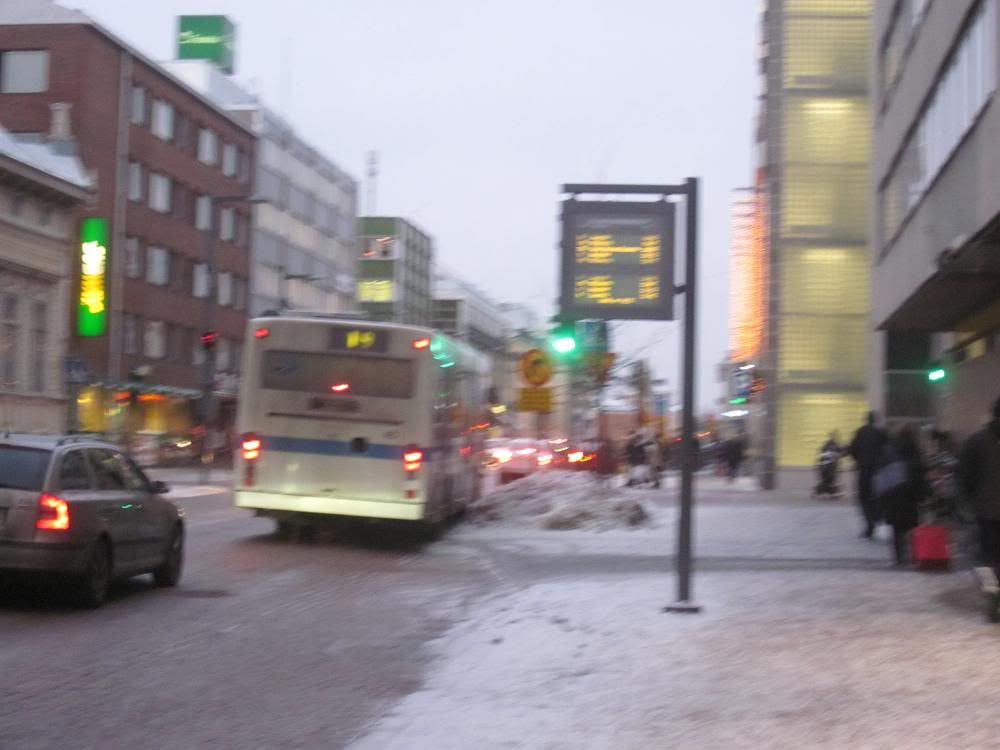 A part of Rotuaari, the main street in Oulu:
I get to the railway station after some running from the bus stop, only to see my train just leaving the platform. Oh well.
The lady in the ticket office is really helpful. I tell her my story (After taking a bus, a train and another bus in order to take a flight that was delayed and to continue with a local bus and then missing my train...) and she promises to take a look at what she can do. I know the next train is leaving some three hours later and taking into consideration the change fee of 5 EUR plus the supplement of the later train being a quicker InterCity train I should be paying around 10 EUR. Therefore I am surprised when she only asks for 3,30 EUR.
"What happened to the 5 EUR change fee", I ask her.
"Nah, just have a Merry Christmas!" is her answer. Nice customer service!
In a matter of minutes I am booked on the later 17.32 InterCity service to Rovaniemi and she even grants my wish of a window seat on the upper floor.
Finally I ask her if she could recommend any places where to eat so she tells me about her favourite place - a bar-restaurant named Oskarin Kellari right on the other side of the street. She adds that "And you can come back here for dessert, we have gingerbread and glögi (that's our Glühwein in Finland) here in the ticket office... I thank her and once again wish her a Merry Christmas (hmm, how many times did I do that during the day?)
The new train tickets: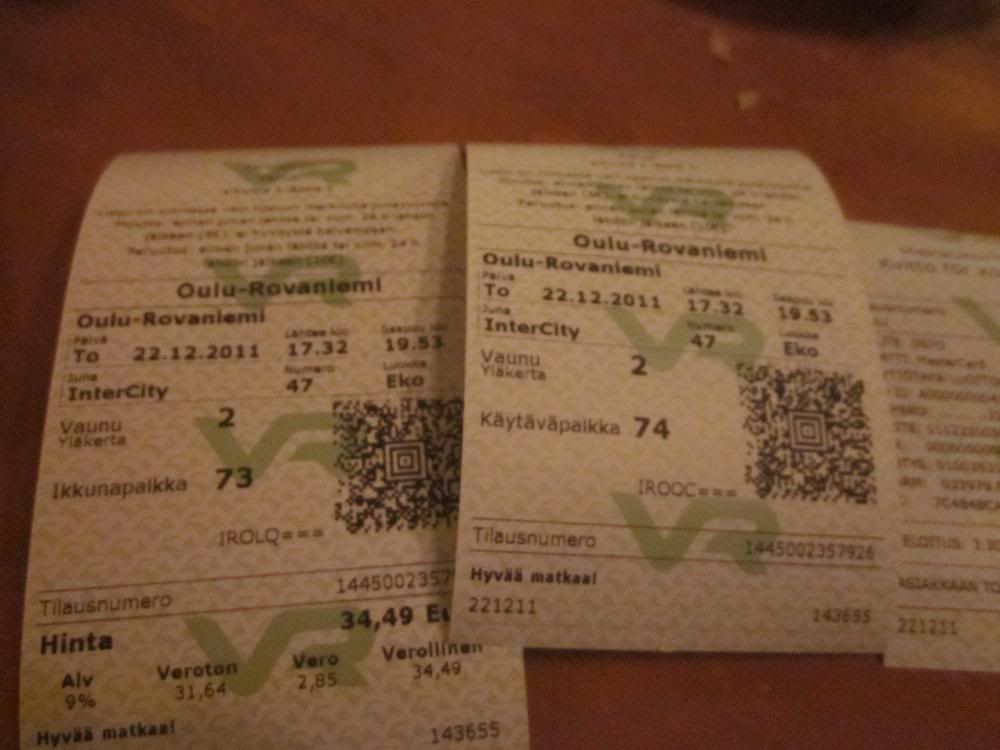 Oskarin kellari could be translated as "Oskari's cellar" in English which is quite an appropriate name for the restaurant as it actually is like a small and cozy cellar under the street level. They are offering a buffet with traditional Christmas food, which fits my plans perfectly.
The food is absolutely delicious (well, that is what Finnish Christmas food usually tastes like) so I take a second portion of everything. And the waitress is really cute too (Sorry Markus - no photo).
Sinfully delicious food - Part I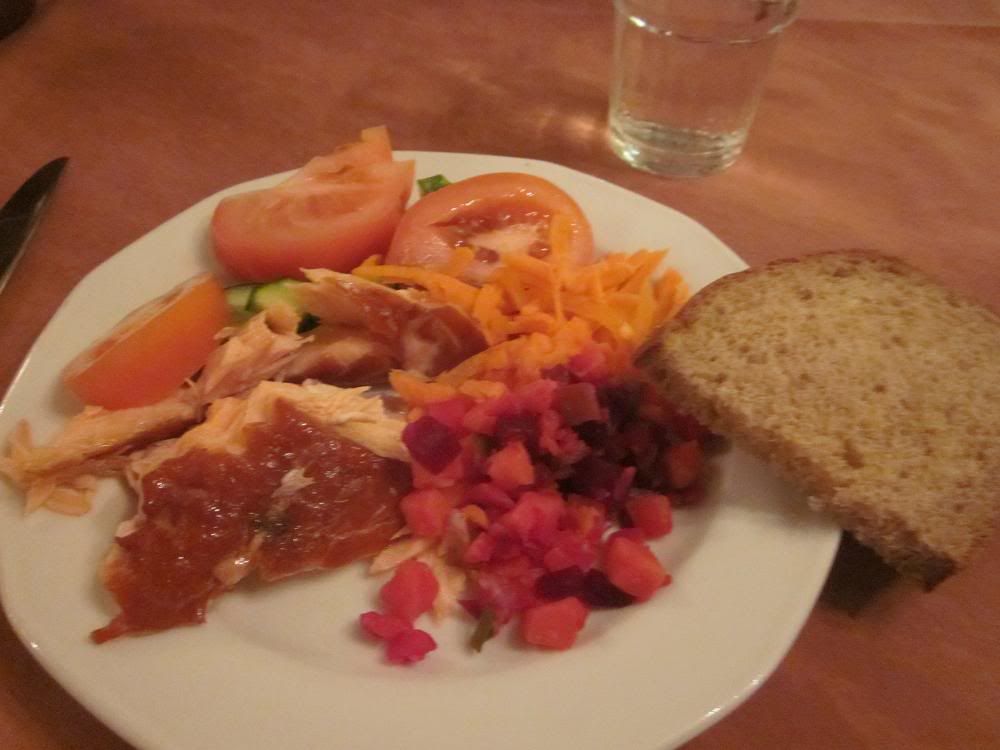 Sinfully delicious food - Part II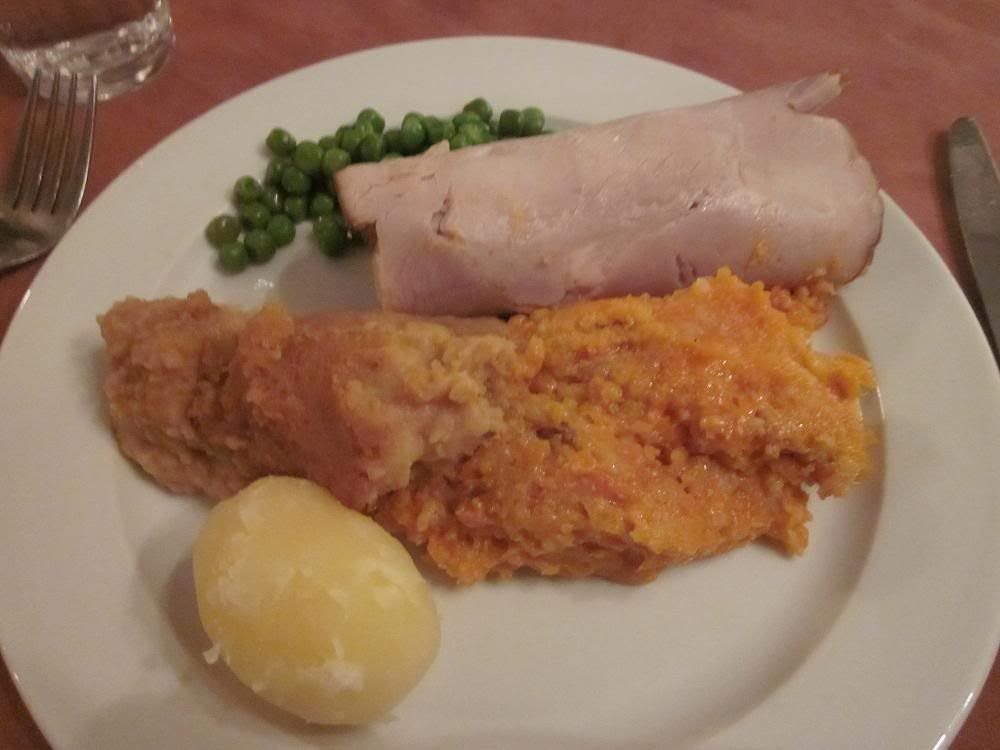 And the proper way to end any meal is with a cup of coffee and with some nice pastries that can be called
joulutorttu
in Finnish,
jultårta
in Swedish or
Julkuchen
in German. I guess the best way to describre these lovely thingies in English would be to call them a pastry made out of butter filled with some plum jam with some confectioners' sugar on top.
Top