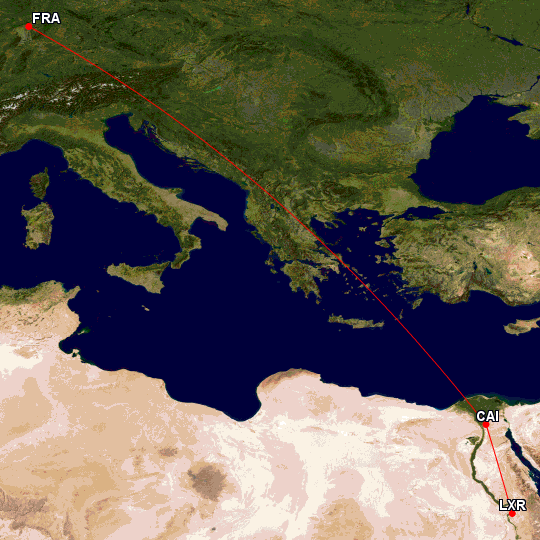 Map generated by the Great Circle Mapper - copyright © Karl L. Swartz
Background
July and August are always busy months for me at work, so I decided to book a special weekend trip as a compensation. Even though I had to restrict the trip to Saturday and Sunday, I didn't want to stay in Europe. And I wanted to get at least one widebody and/or one new airline. I focused on the Gulf region, but interesting options were limited. Etihad Airways caught my attention after a while which was offering cheap flights to a number of destinations (e.g. Doha and Bahrain). I already flew on Etihad's A330-200 some years ago, but in mid-August the magnificent A340-600 showed up on the Abu Dhabi-Munich route which was very tempting.

I was about to book a trip to Bahrain (A320, A332 twice, A346), but then I suddenly discovered something else. After rather casually entering "CAI" into the booking search engine, I found a Lufthansa combo on Expedia which not only included a PrivatAir 737-800 (Munich-Cairo), but also an EgyptAir A330-200 (Cairo-Frankfurt). Two new airlines - including a very special one - and a widebody - good flying times and a long layover at FRA = simply perfect! The combo was a bit more expensive than the Etihad option, but I didn't mind at all and quickly booked it. After receiving the booking confirmation, I immediately reserved my desired seats on Lufthansa's website.

But what would a PlaneHunter trip be without domestic flights? Due to the relatively early arrival at Cairo (13:00), I could easily make a domestic round trip before spending the night at a hotel near Cairo Airport. Of course I wanted to include a flight on EgyptAir Express so that I would get another new airline. After searching for a while, it was clear that Luxor would be the most appropriate destination for that mission. I decided to fly CAI-LXR on an EgyptAir A320 and LXR-CAI on EgyptAir Express (Embraer 170). Fares were reasonable - and since Business Class was only slightly more expensive, I secured a seat up front on the A320. By doing so, I would also be able to visit a lounge at Cairo's new Terminal 3.

Unfortunately, EgyptAir didn't accept my MasterCard for any reason when I tried to book the domestic flights on its website. The payment process finally worked fine with my VISA card. Then another problem occurred: Even though there was an option to pre-reserve seats online, it didn't work. It was simply not possible to save my choice of seats. So I wrote a short e-mail to EgyptAir with desired seat numbers. Surprisingly, I quickly received a nice reply with a confirmation of my seat requests.


Finally, I reserved a room at the Novotel Cairo Airport. Due to my long layover at FRA on the return journey (more than five hours), fellow A.net member LH4532 (Daniel) and I took the chance to arrange a meeting at Terminal 2. No doubt, this weekend looked very promising...however, when I checked the reservation about three weeks prior to the trip, the system suddenly showed a 737-800 on the CAI-FRA sector instead of the A330-200 which was very disappointing.
At least I was able to reserve seat 35A on Lufthansa's website. Anyway, I kept hoping for another change until departure.
Part I can be found here: Long-Haul Cabin On A 737: MUC-CAI On PrivatAir (by PlaneHunter Nov 29 2011 in Trip Reports)
Saturday, August 2011
Cairo (CAI) - Luxor (LXR)
EgyptAir MS162
Scheduled times: 17:00-18:00
Actual times: 16:57-18:00
Flight duration: 00:48 (hrs)
Distance: 317 miles
Business Class, seat 10A
Airbus A320-232
SU-GCA (MSN 2073)
Delivered in 10/2003
1st flight on SU-GCA
39th A320-200 flight
40th A320 flight
72nd A32X flight
122nd airline
Former appearance:
After arriving on Lufthansa/PrivatAir from Munich, I passed an EgyptAir transfer desk and decided to ask for the status of my two domestic flights - I really didn't want to get stranded at Luxor in the evening. I was the one and only passenger there, so a friendly female agent immediately took care of my request. She looked a bit surprised when she saw my Cairo-Luxor-Cairo itinerary.
"You are going back on the same day?"
, she asked. I confirmed, but didn't elaborate. Then she told me that everything was fine with both flights, replaced my self-printed OLCI boarding pass for the CAI-LXR flight by a real one and also handed out a lounge invitation card. Unfortunately, she wasn't able yet to check me in for the LXR-CAI flight. Then she directed me towards the domestic gate area, but I told her that I wanted to pass immigration first. She replied that this would also be possible in Luxor, but I preferred to do it in Cairo - just in case of a possible flight delay.
Once again, there were no lines when I changed money, bought a visa ($15) and went to the immigration counters. A female officer with a mobile phone at her ear waved at me and quickly stamped my passport. She continued speaking on the phone and therefore didn't ask me any questions. Some moments later, I stepped into the Terminal 3 main hall: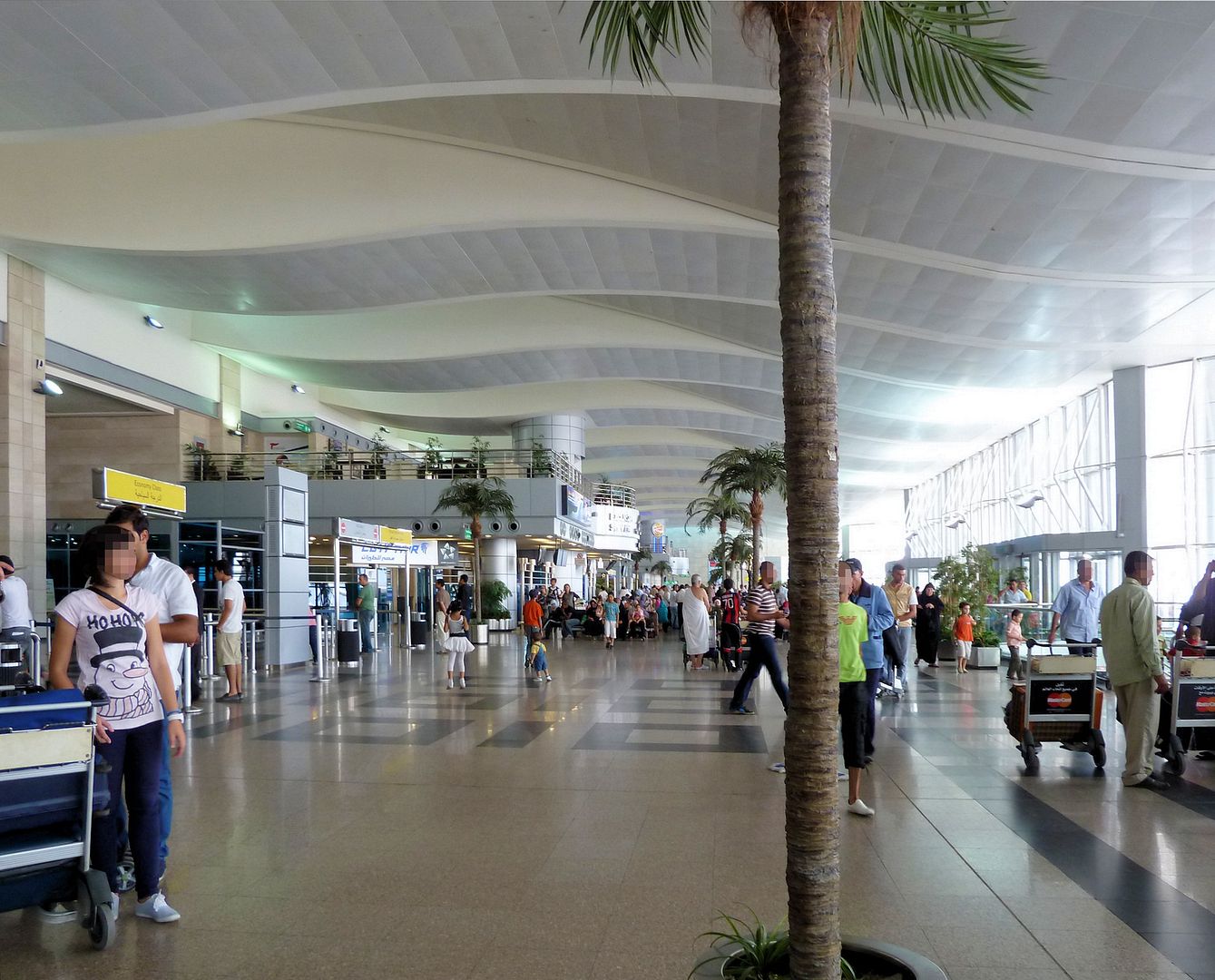 Then I passed security and went to the concourse where my flight to Luxor was scheduled to depart from. It was totally deserted: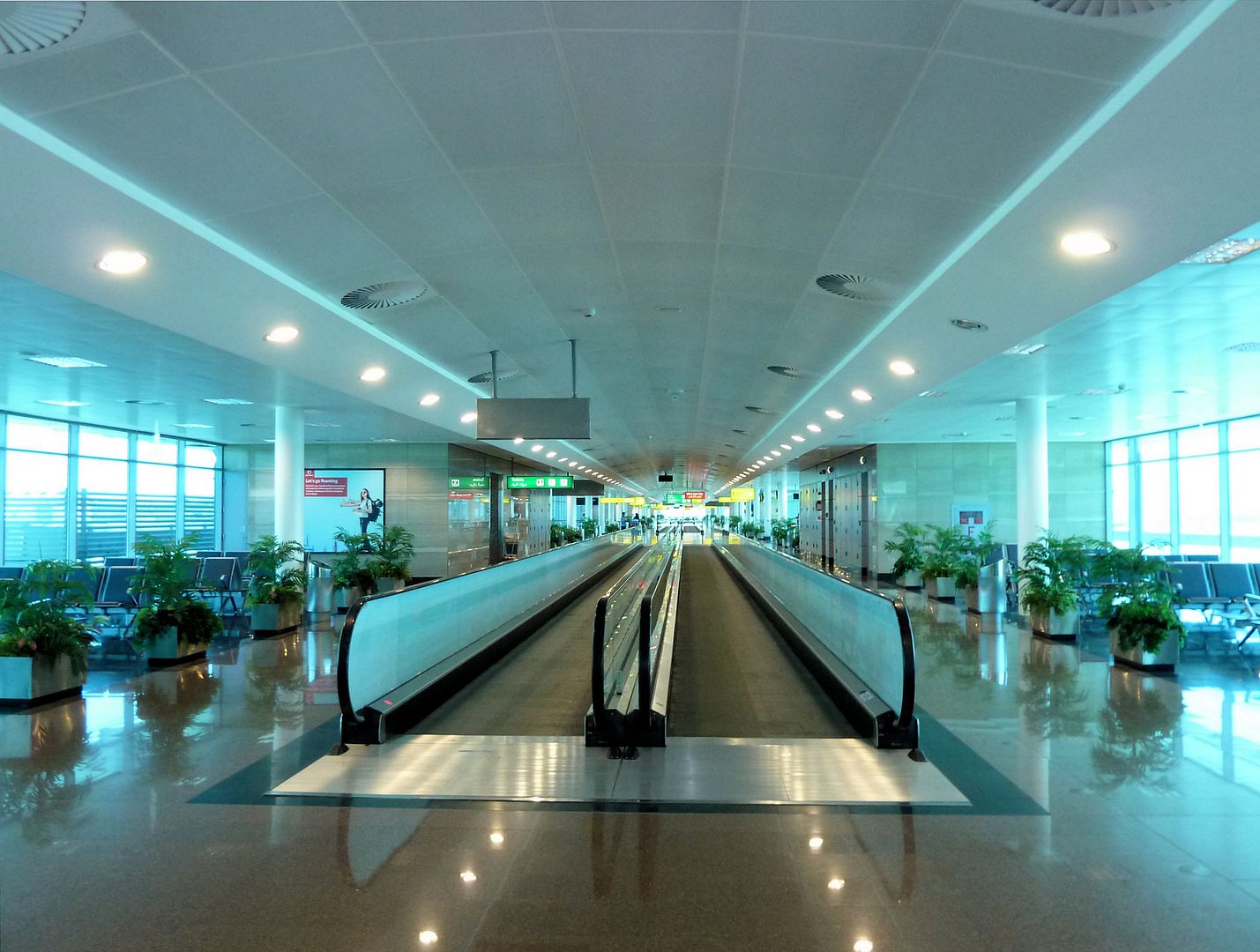 Only few planes were active on this Saturday afternoon, so I went straight to the
Elteir Lounge
(domestic lounge):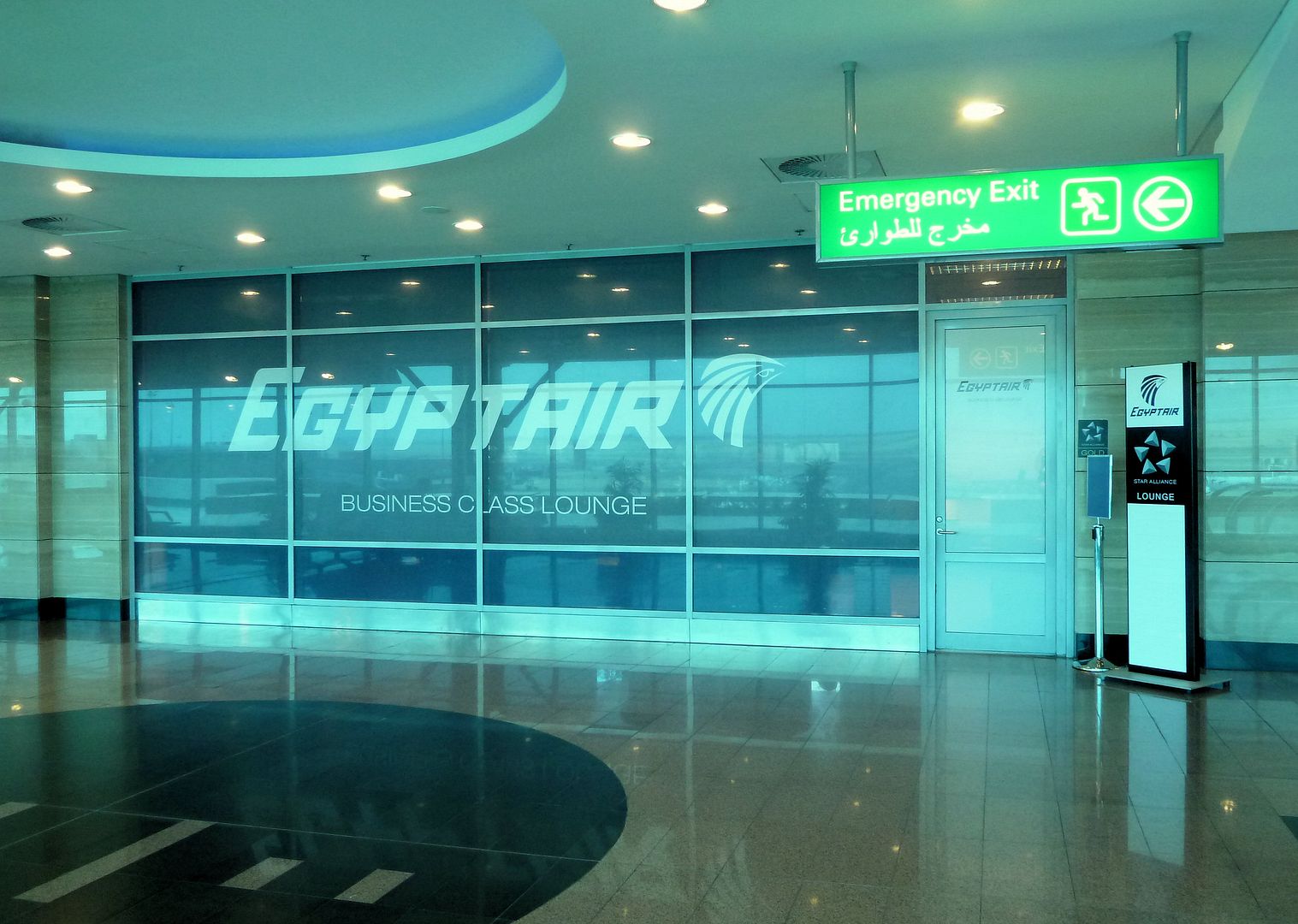 The one-room lounge is quite small, but there was only a handful of other passengers around. Unfortunately, you cannot see any planes from that room: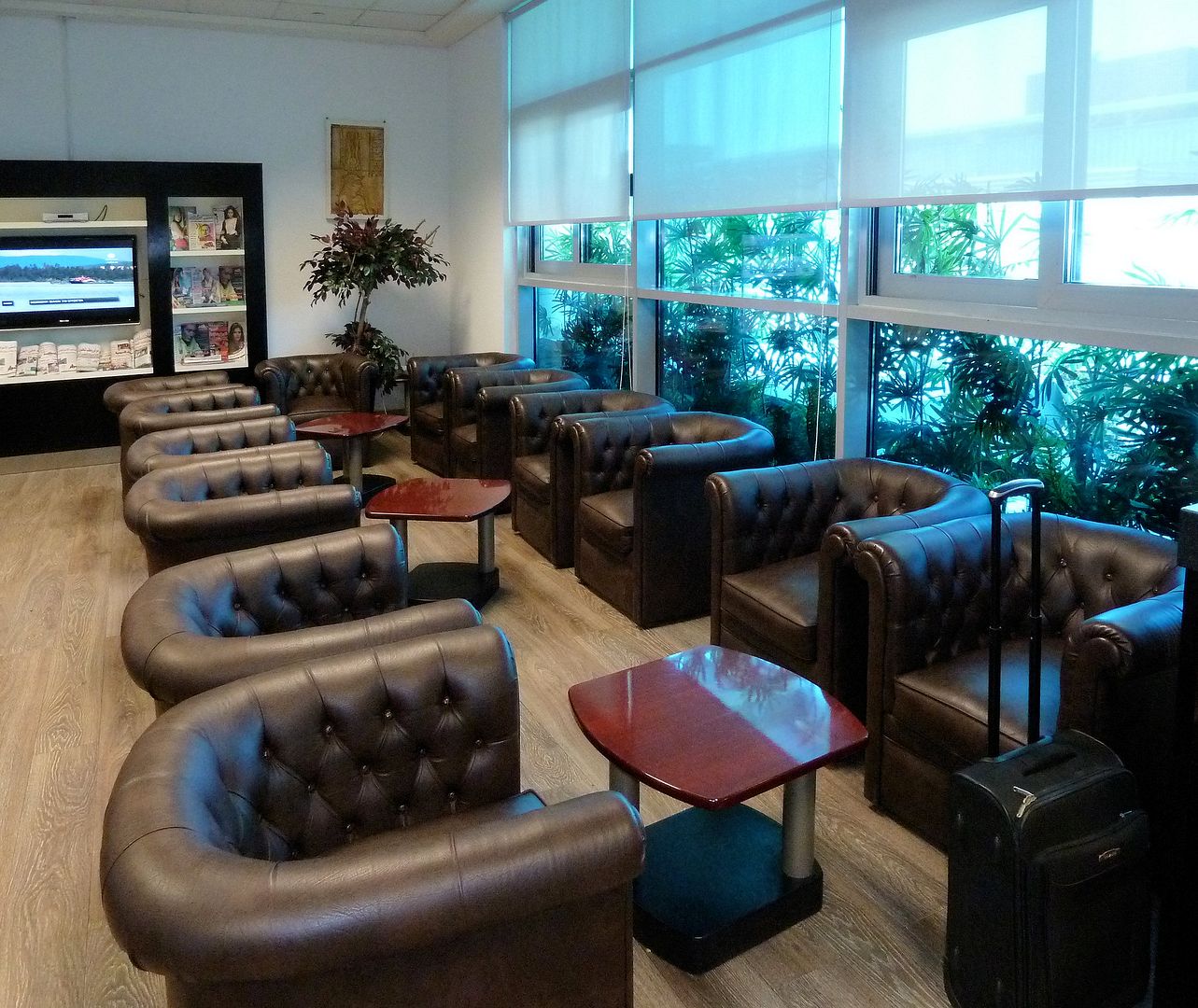 Sandwiches, pastries and apples were available...
...as well as hot and cold (non-alcoholic) drinks: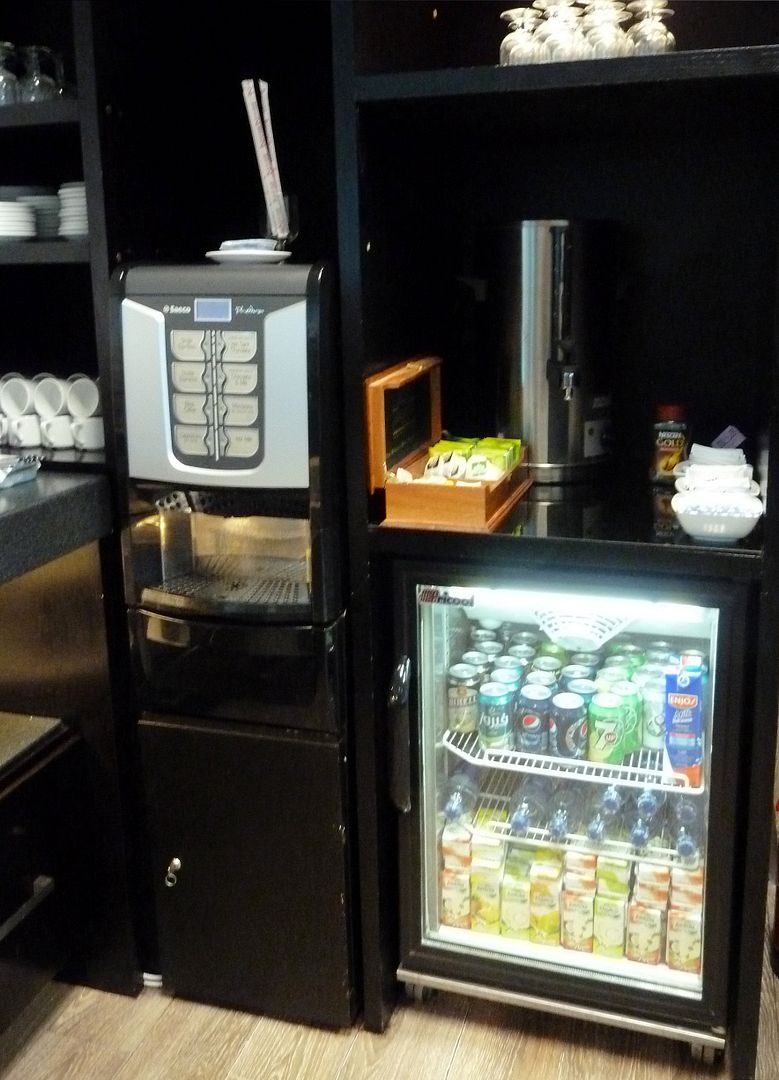 The sandwiches with cheese and cold cuts didn't look fresh, so I just ate a few biscuits. It was nice to find
Mountain Dew
in the fridge, but I was shocked when I discovered lots of dirt on my can's rim. Other cans didn't look different - and the glasses in the cupboard hadn't been polished after dishwashing. That's not what you'd expect to find in a Star Alliance member's Business Class lounge!
Anyway, I was thirsty and cleaned the can myself. Here's what I got: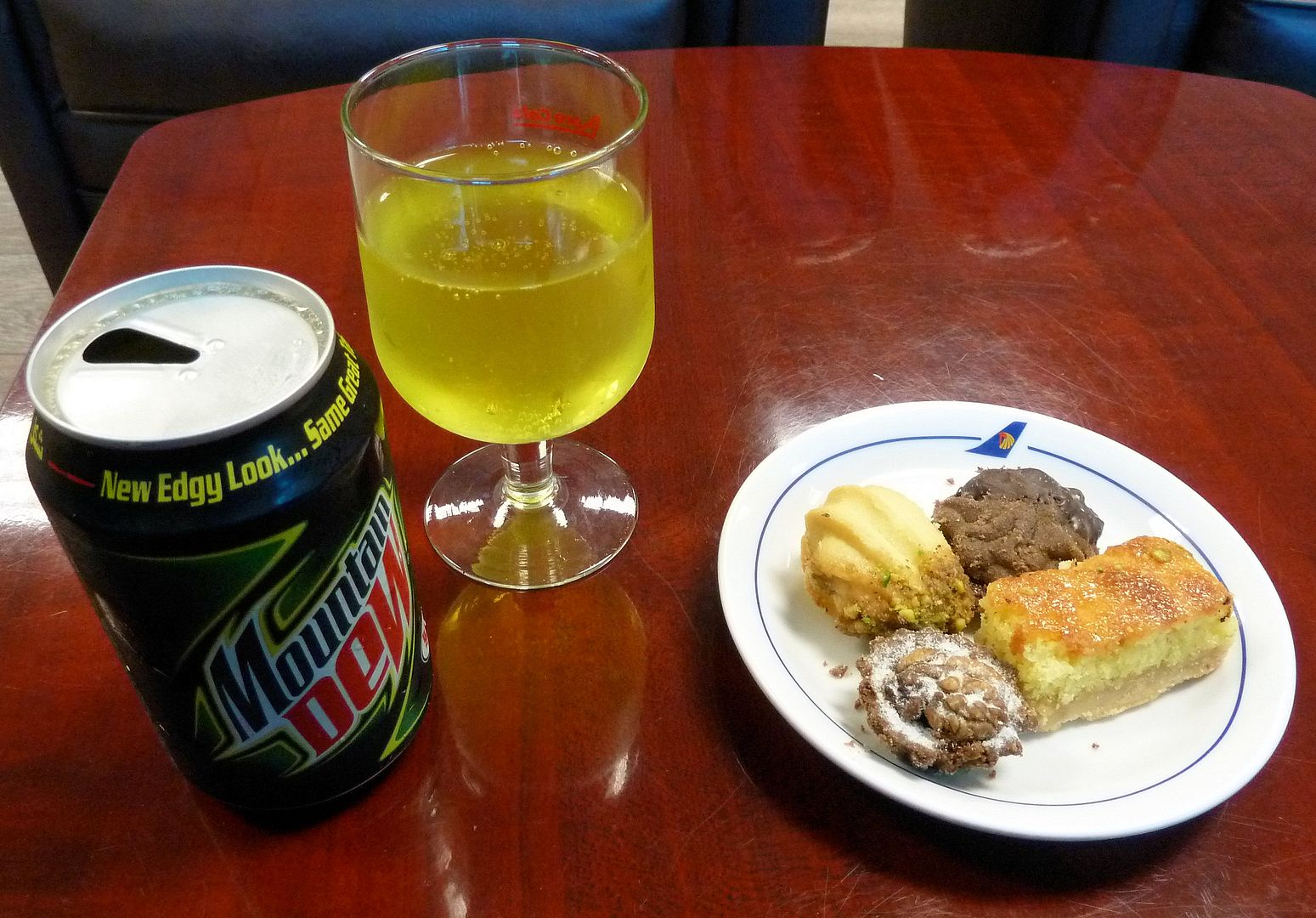 Once again, I asked for the status of my domestic flights and the friendly female agent in the lounge confirmed that both would operate as scheduled. Then I grabbed a bottle of water and left the lounge so that I could continue spotting from the gate area.
I was glad to find large clean windows in the gate area, but those are intensely colored blue, as you can see in the next few pictures. My PrivatAir 737-800 on the way back to Munich: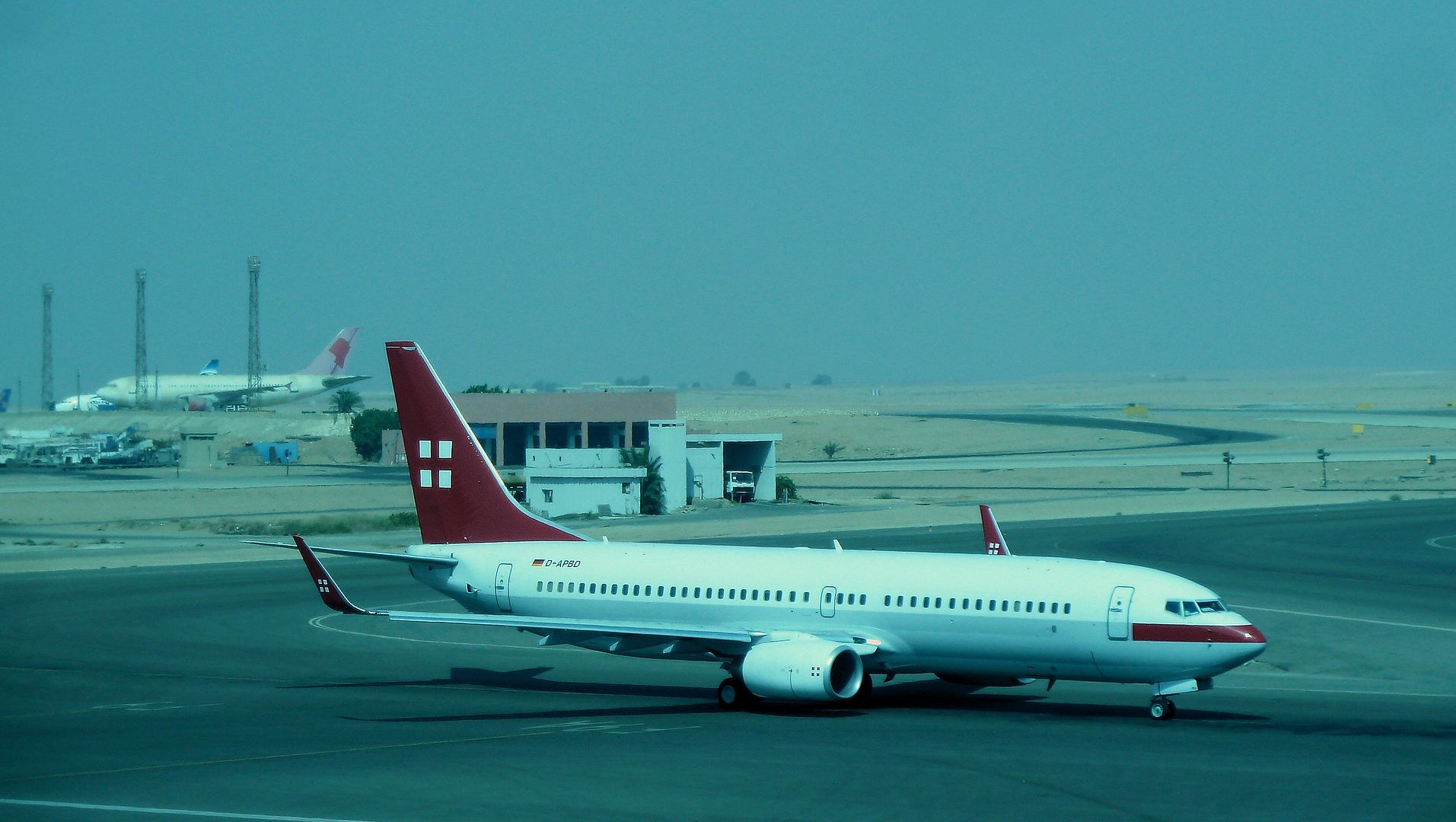 Lufthansa A340-300 D-AIFD getting prepared for its return flight to Frankfurt: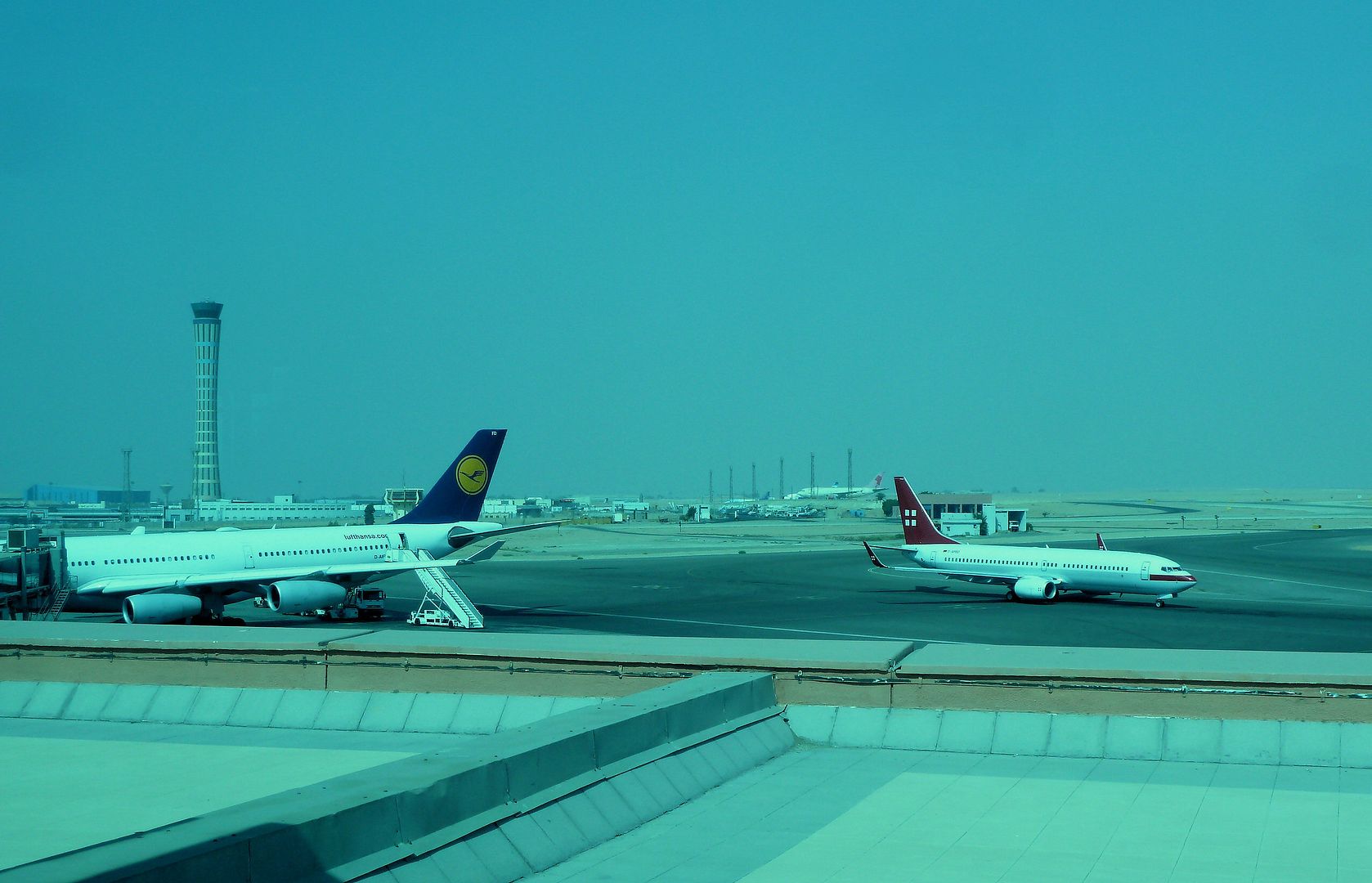 Saudi Arabian 747-400 HZ-AIW and EgyptAir A320-200 SU-GCC: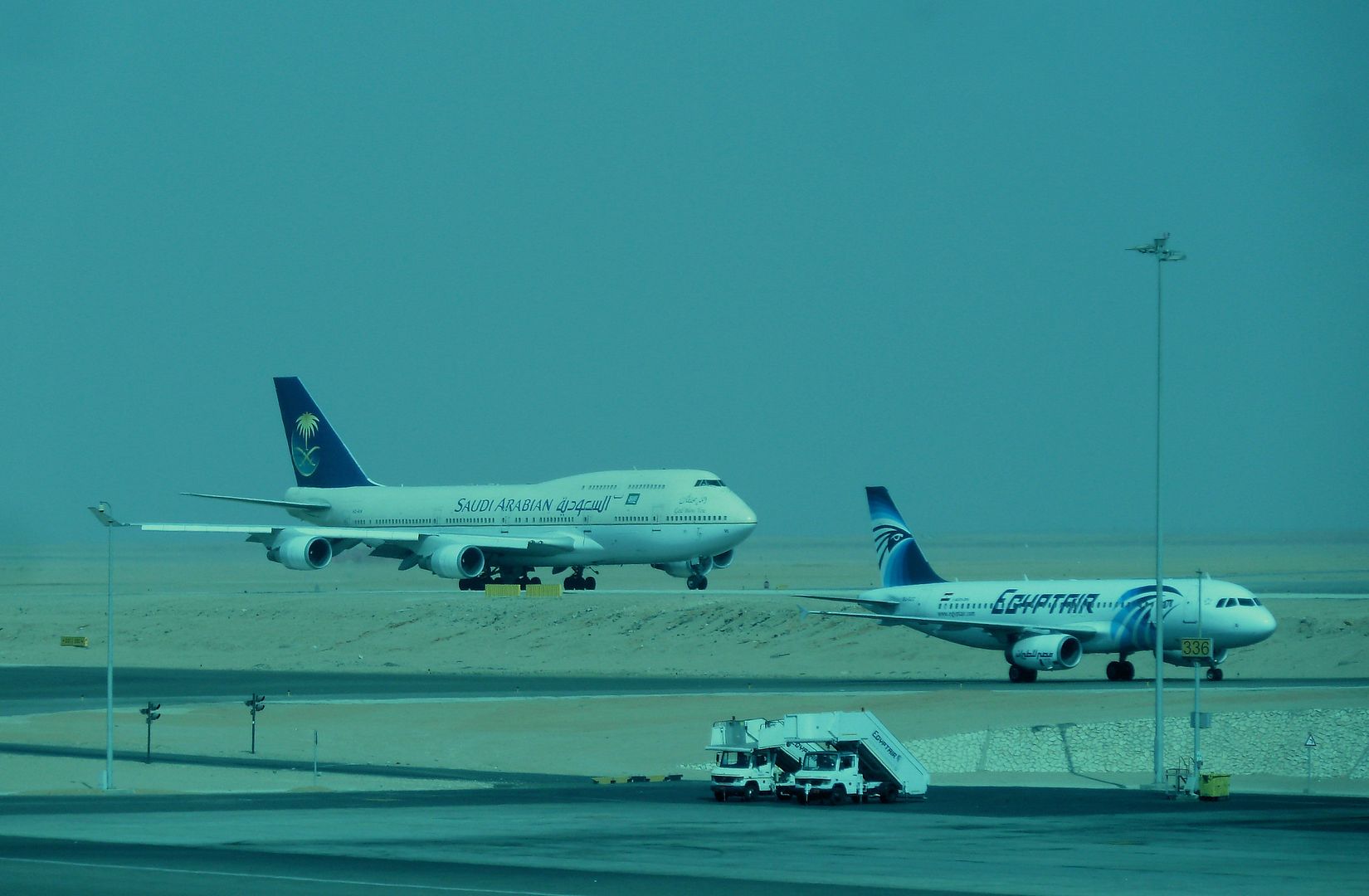 bmi A321-200 G-MEDJ and EgyptAir A320-200 SU-GCA which turned out to be my plane to Luxor: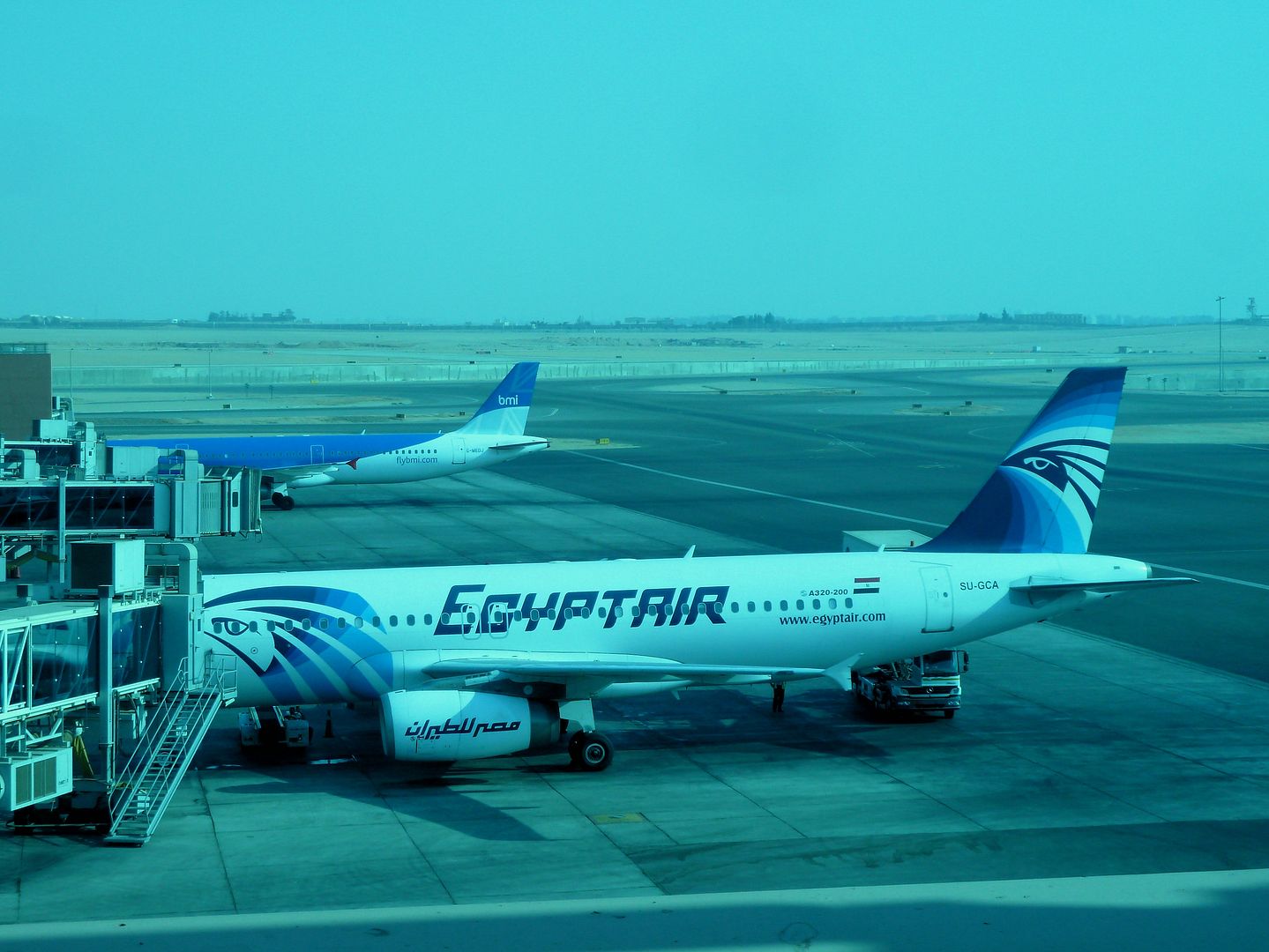 EgyptAir's A330-200 SU-GCJ, 737-800 SU-GCS in Star Alliance colors and 777-200ER SU-GBY: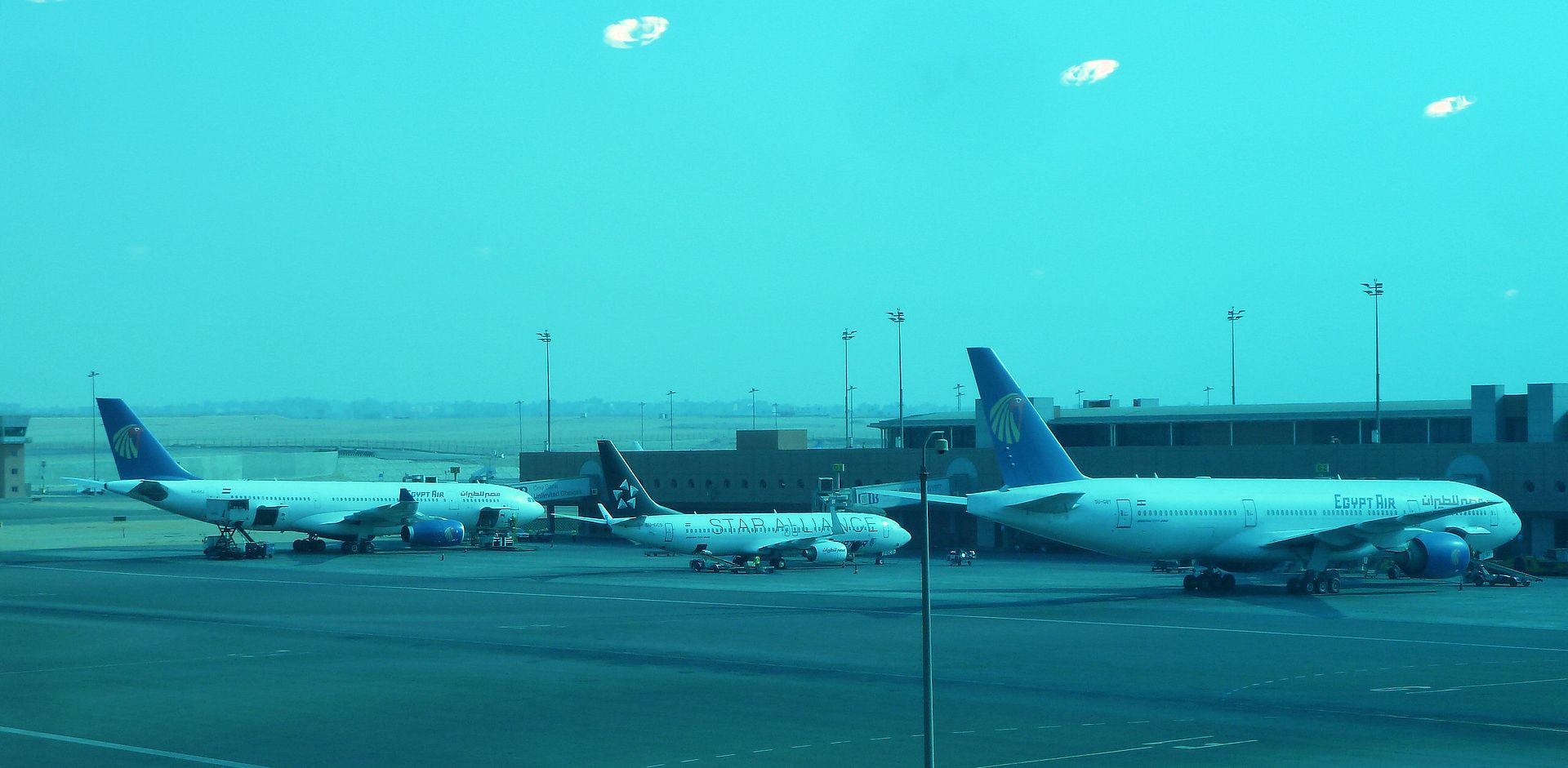 About 45 minutes before departure I went to my gate, but I had to wait outside for some more time together with many other passengers because security officers hadn't started working yet. I wish these gate security checkpoints would disappear everywhere. After passing the checkpoint and a after a boarding pass check I could finally enter the gate.
SU-GCA
, one of 12 active A320s in the fleet, first flew in July 2003 and was delivered three months later: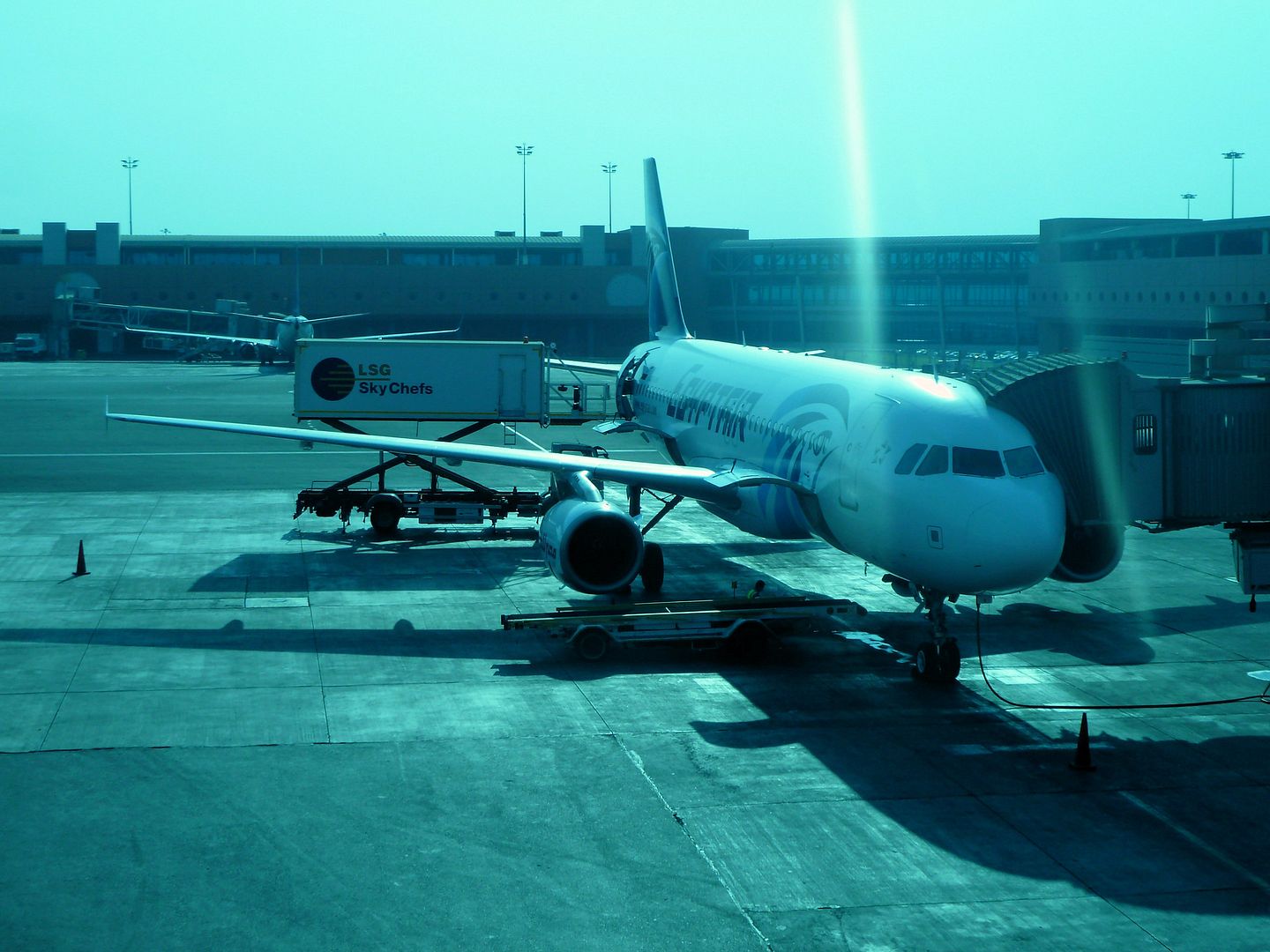 SU-GBY, can't you take over the flight to Luxor?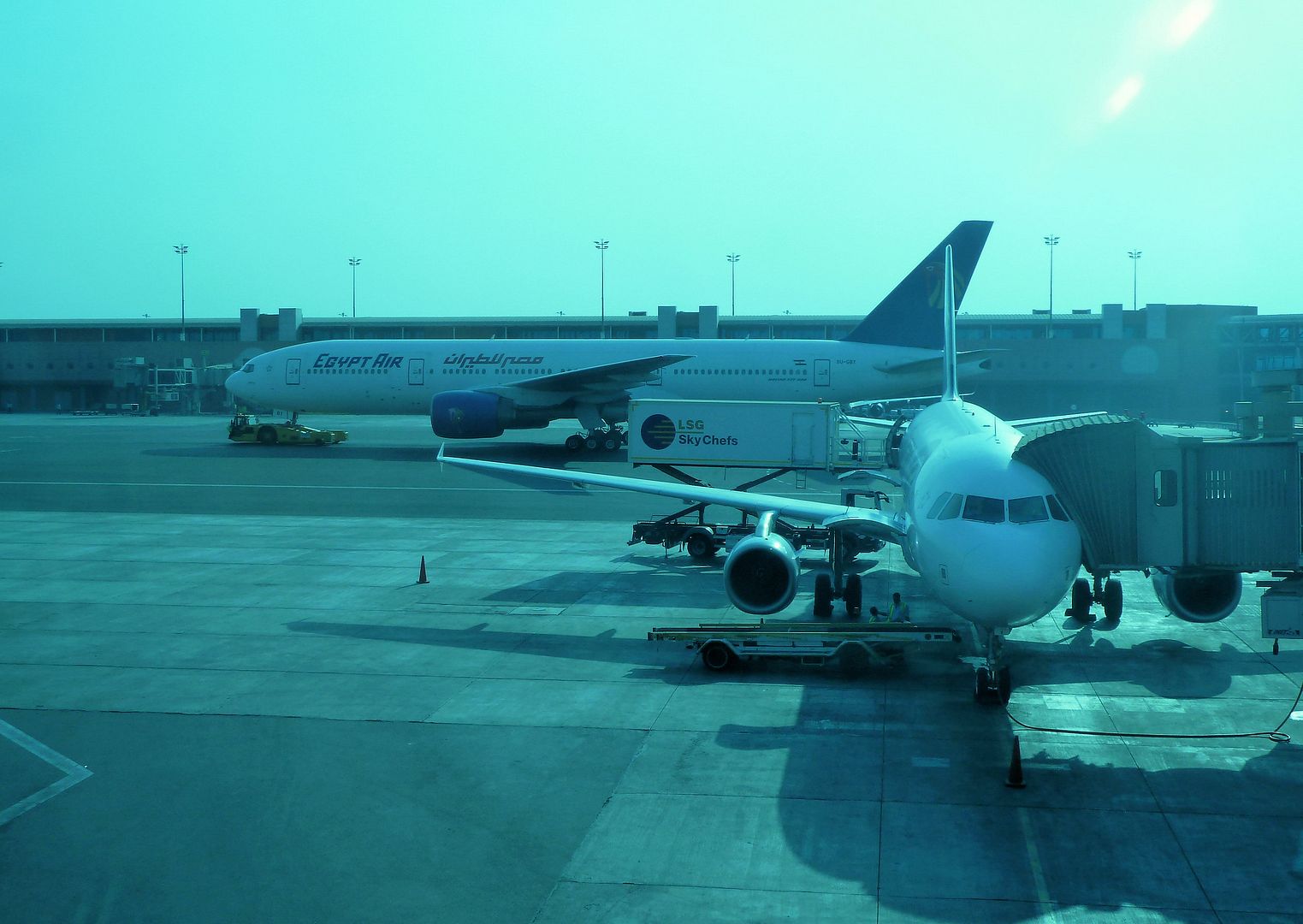 Boarding commenced early without any announcements - there was just an agent shouting something in Arabic while heading to the gate exit in order to open the door. Since I had taken a seat nearby, I was among the first passengers to board.
The flights attendants smiled and said hello, but didn't check boarding passes. Oriental boarding music was played which I found quite appropriate. EgyptAir's narrowbodies are equipped with "real" Business Class seats - here's my seat 10A which turned out to be quite comfortable:
Plenty of legroom for this short flight: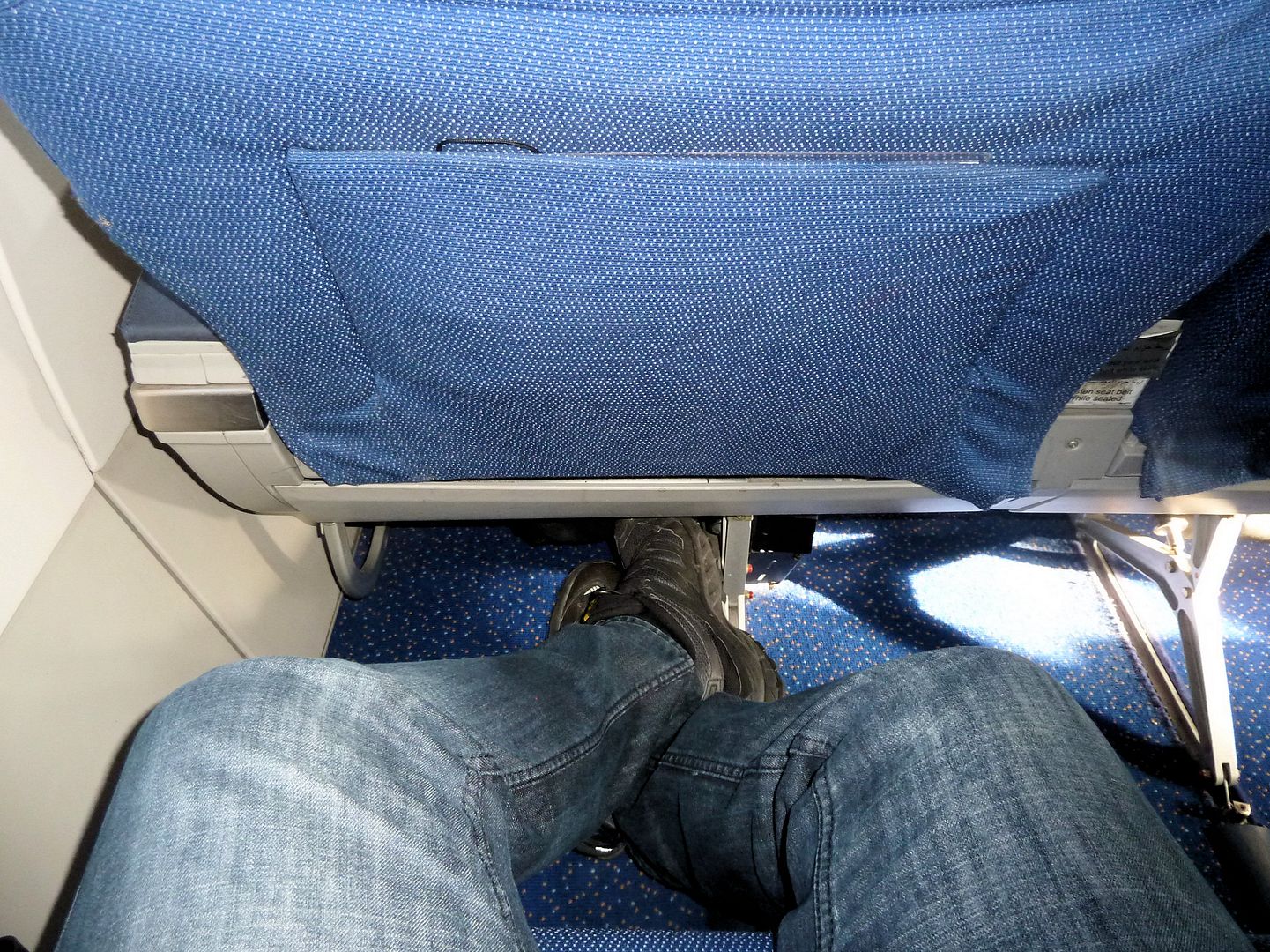 Even though seat comfort was fine, the seats and the whole cabin looked worn on this 2003-built plane. What I found most disappointing were the totally scratched windows which made it impossible to take clear pictures through.
A nice female flight attendant offered a pre-departure drink and I asked for orange juice. She replied that only apple, guava and mango juices were available and I opted for guava. Some moments later, another female flight attendant gave me a glass and a bottle of water: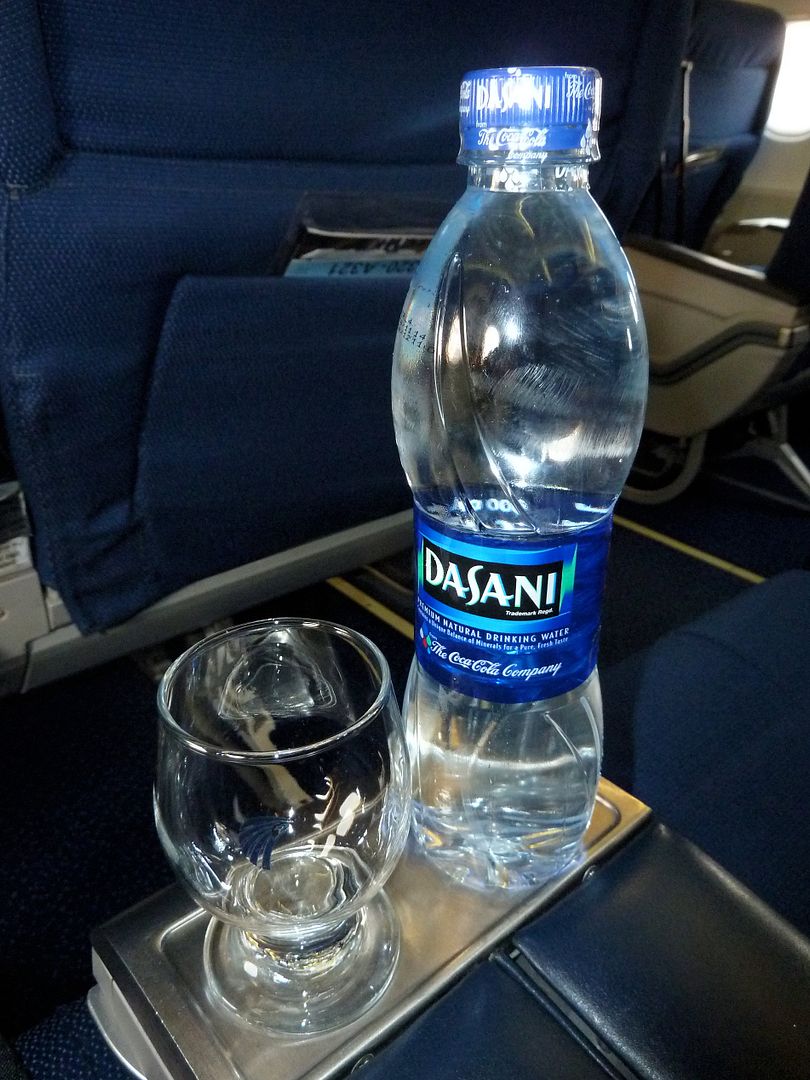 I was wondering about that, but the other flight attendant soon returned with my guava juice - so it became clear that the water had been served additionally. Unfortunately, the juice was not chilled: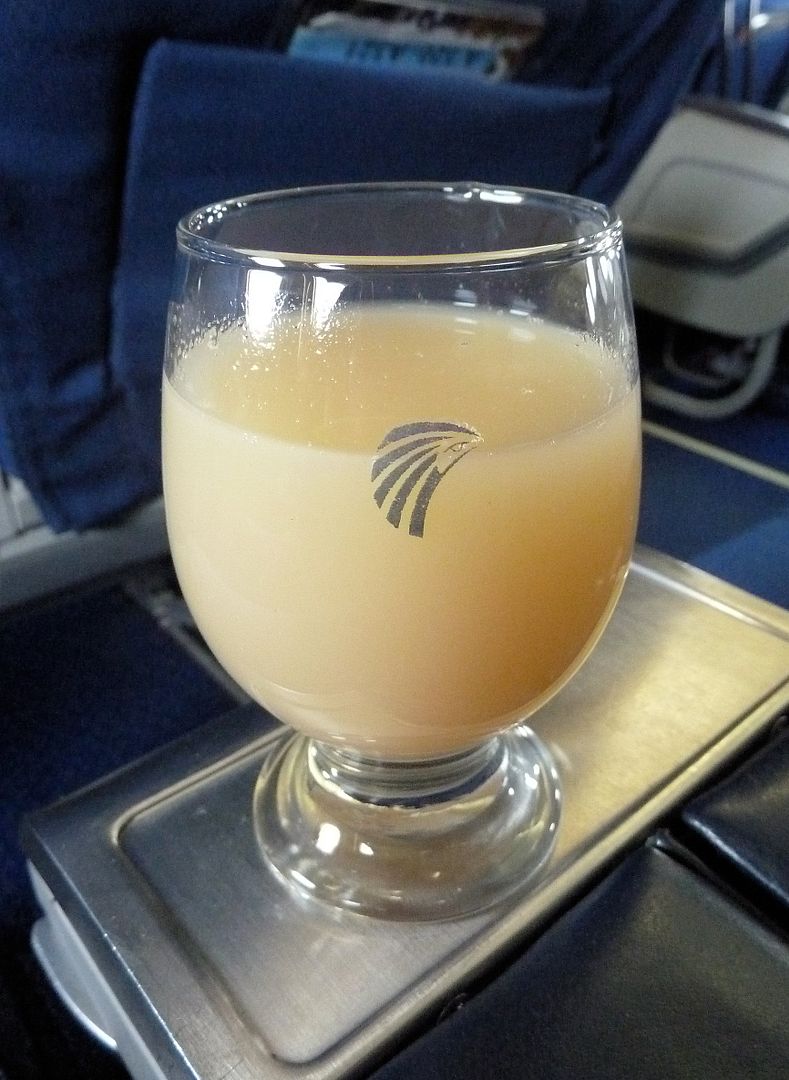 Inflight magazine and combined A320/A321 safety card:
Most interesting pages for enthusiasts: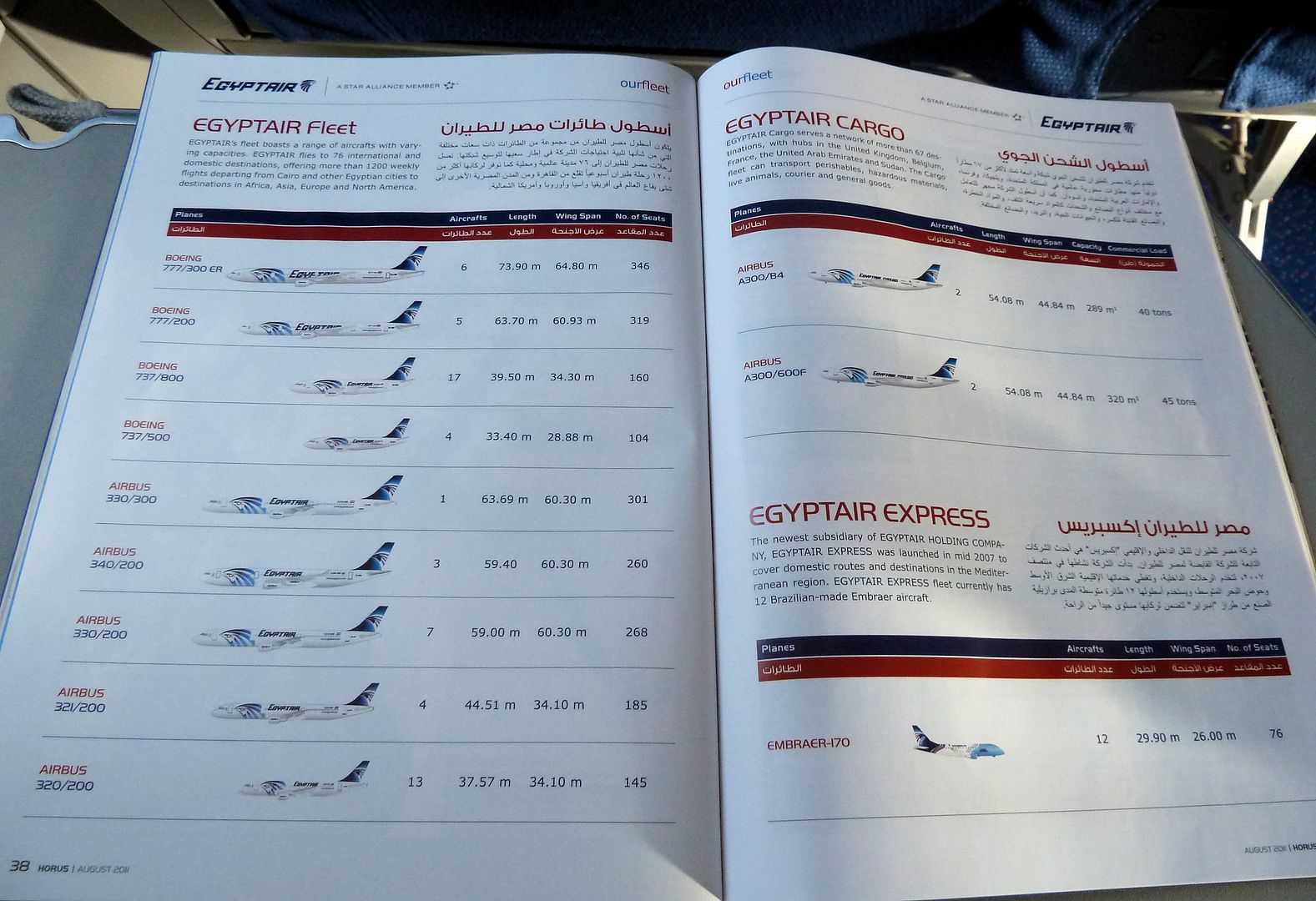 Judging from the immense passenger flow, Economy Class was packed. However, only two people - including myself - were seated in Business Class. My impression was that the other passenger was an EgyptAir employee, but I could be wrong.
"Welcome on this Boeing 73...er...Airbus 320..."
, a flight attendant (purser?) said in her welcome speech - well, we all have bad days.
According to her, the flying time would be 1 hour and 10 minutes. Shortly afterwards, the (relatively young) captain and a technical staff member showed up and checked something on the ceiling near the Business and Economy Class divider. They soon disappeared again and I don't know what exactly they had looked at - probably a malfunctioning light or sign.
Shortly after I had boarded, a flight attendant had placed a trolley on the floor between rows 8 and 9 on the opposite side - and when the plane was about to leave the gate, I noticed that it was still there. And yes, it would remain there during takeoff - at least it would be removed before landing:
Before pushback, screens were folded out and verses from the Koran sounded through the cabin: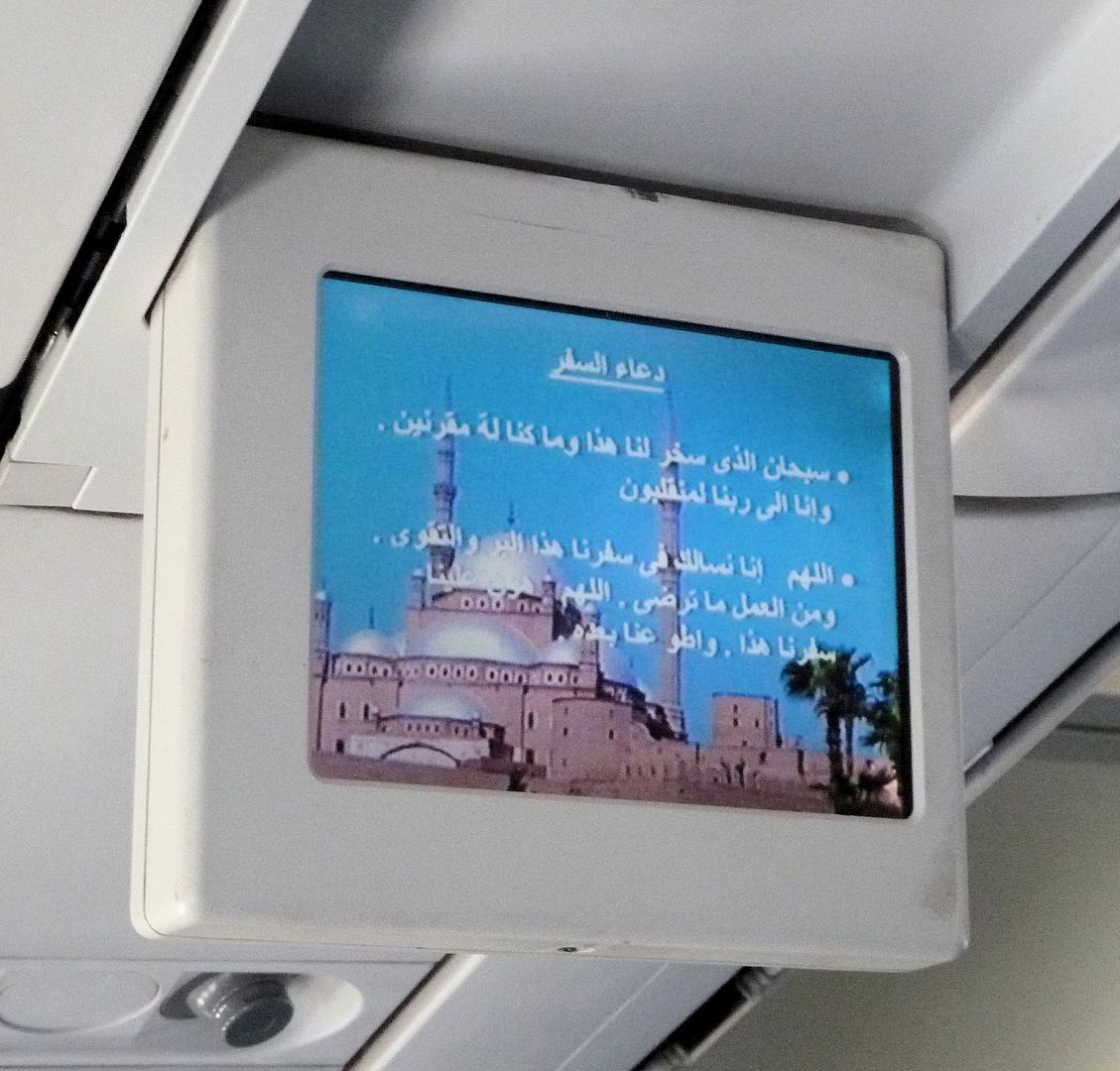 We left the gate three minutes ahead of schedule - engine and wingtip view through scratched window:
I was still hoping to find an EgyptAir A330-200 at my gate on the next day - most preferably SU-GCK in Star Alliance colors: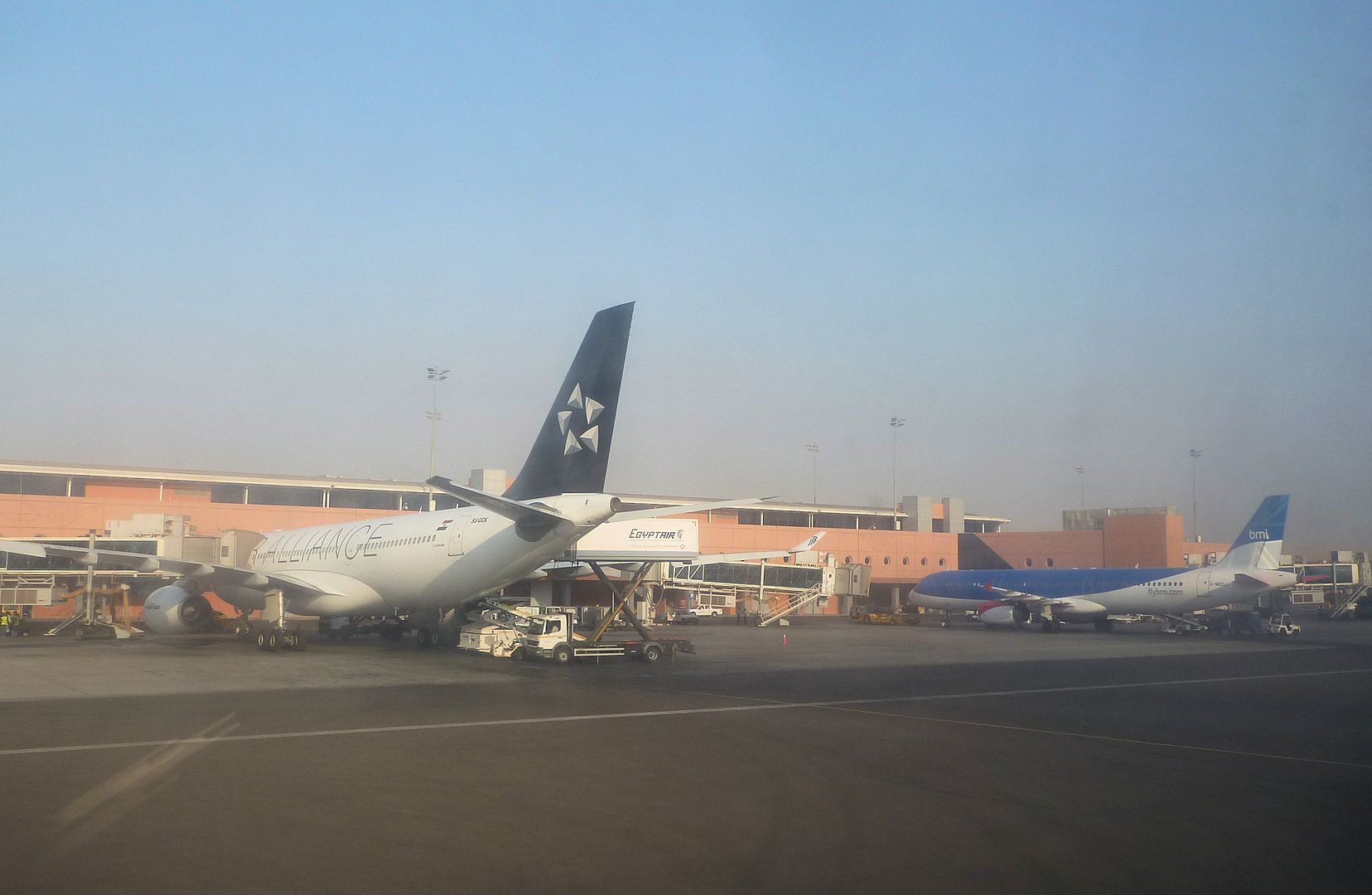 Safety video showing an A300:
What caught my attention was the remark that electronic devices including cameras
"have direct effect on systems..."
.
The plane taxied to runway 05C without stopping and already started its powerful takeoff run before reaching the centerline - taking decent pictures was impossible because I was facing the sun: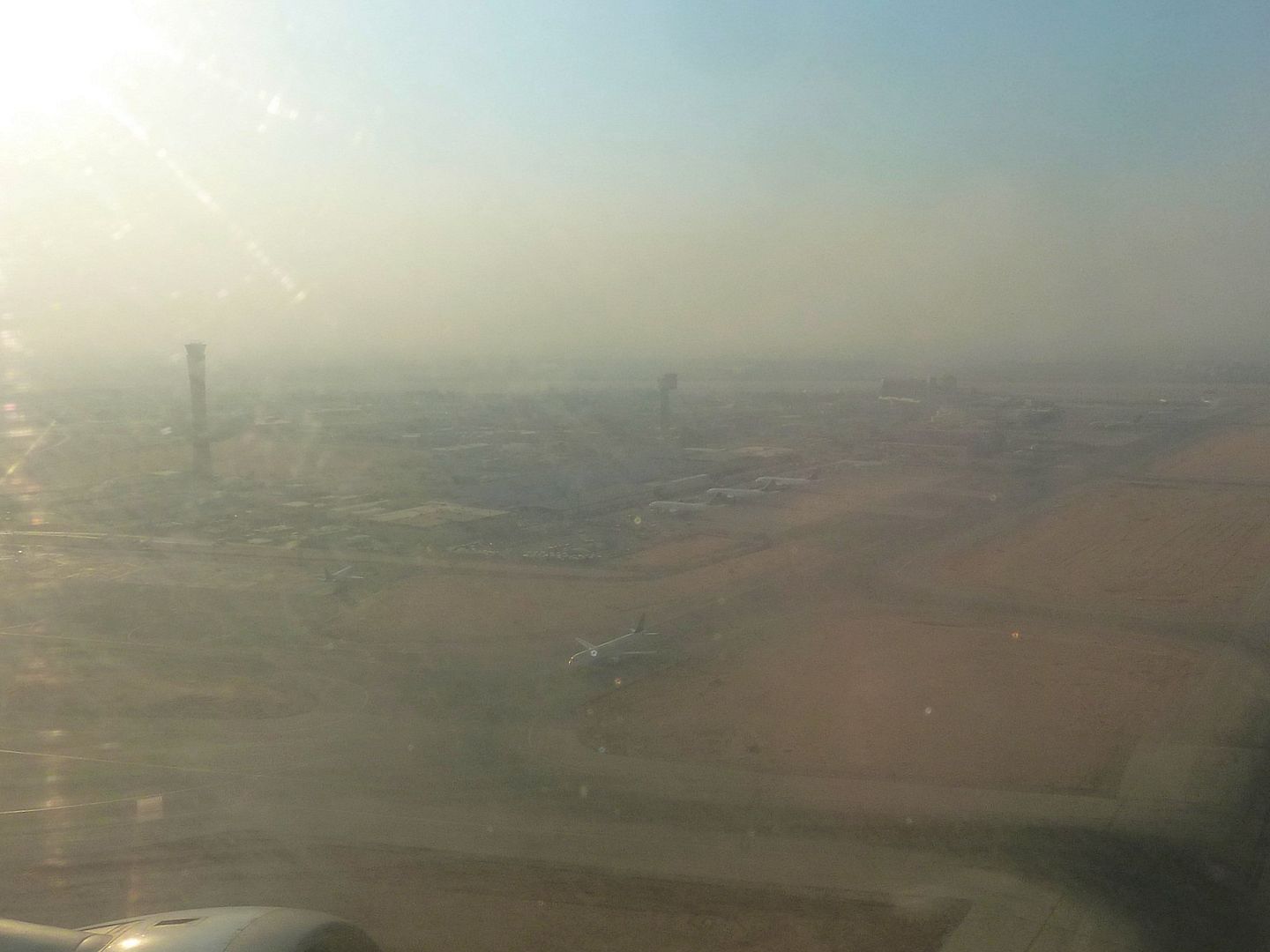 As soon as the seatbelt signs had been switched off, I took some more cabin pictures: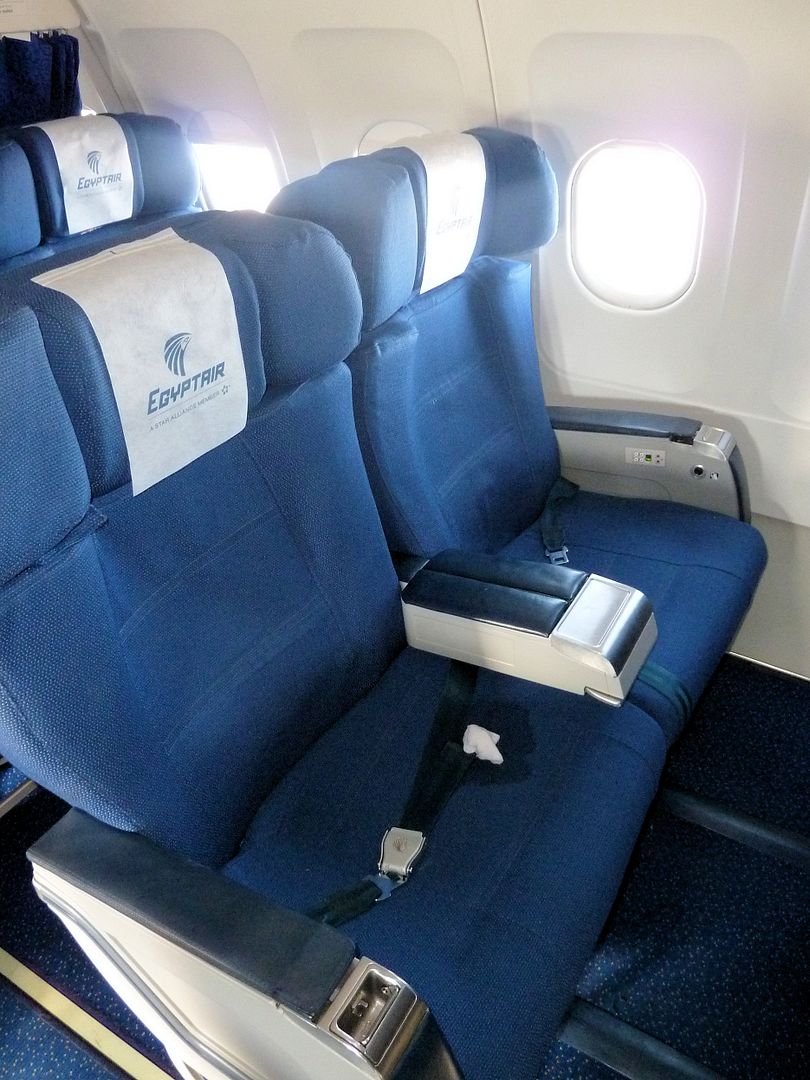 There were 16 Business Class seats on this A320:
Exactly nine minutes after takeoff, a flight attendant offered another drink. This time I ordered mango juice - and some moments later I got this (non-chilled) carton: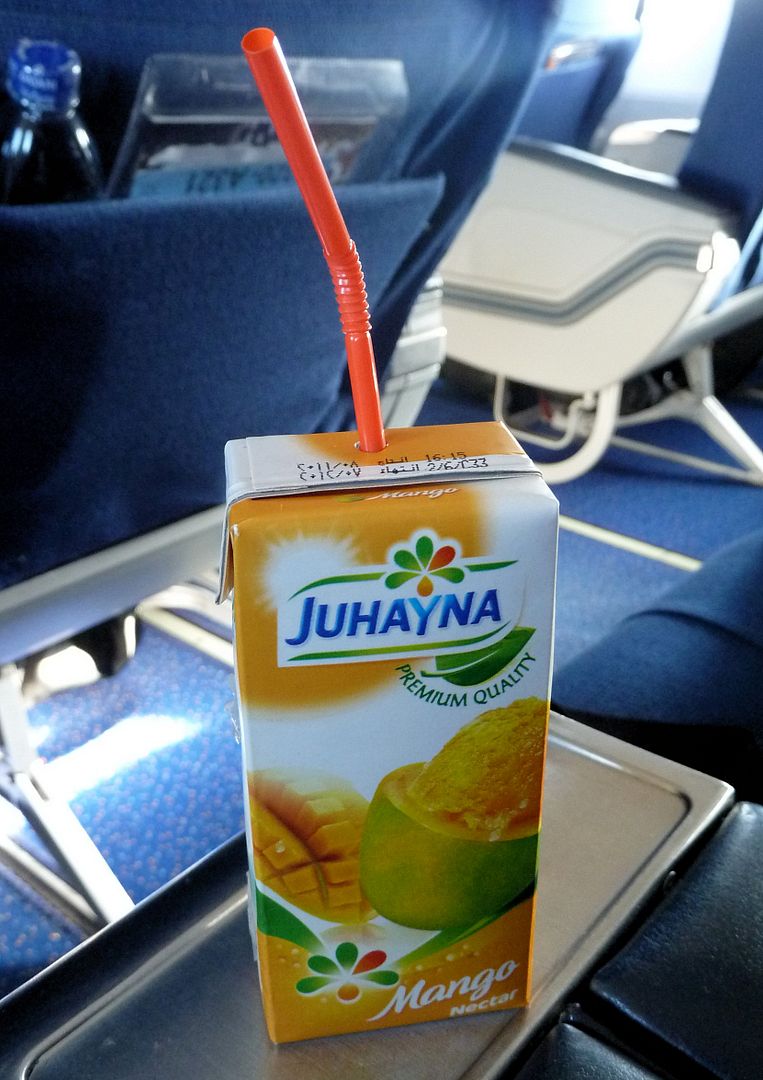 The mango juice was too sweet for my taste and I was hoping to get a decent small snack. According to an announcement by the captain, descent would already commence in 15 minutes - but that was still enough time for a small snack in my opinion. Actually I even smelled food being heated up - but I didn't get anything which was a bit disappointing. Probably the crew members had warmed up their own meals...well, they must have been busy - either with eating or chatting - because they didn't show up any more for the rest of the flight. There was only one exception when a flight attendant brought a wet towel.
The scenery would have looked great through an unscratched window:
A comic TV feature was shown on the screens which didn't bother me per se, but the volume was too loud: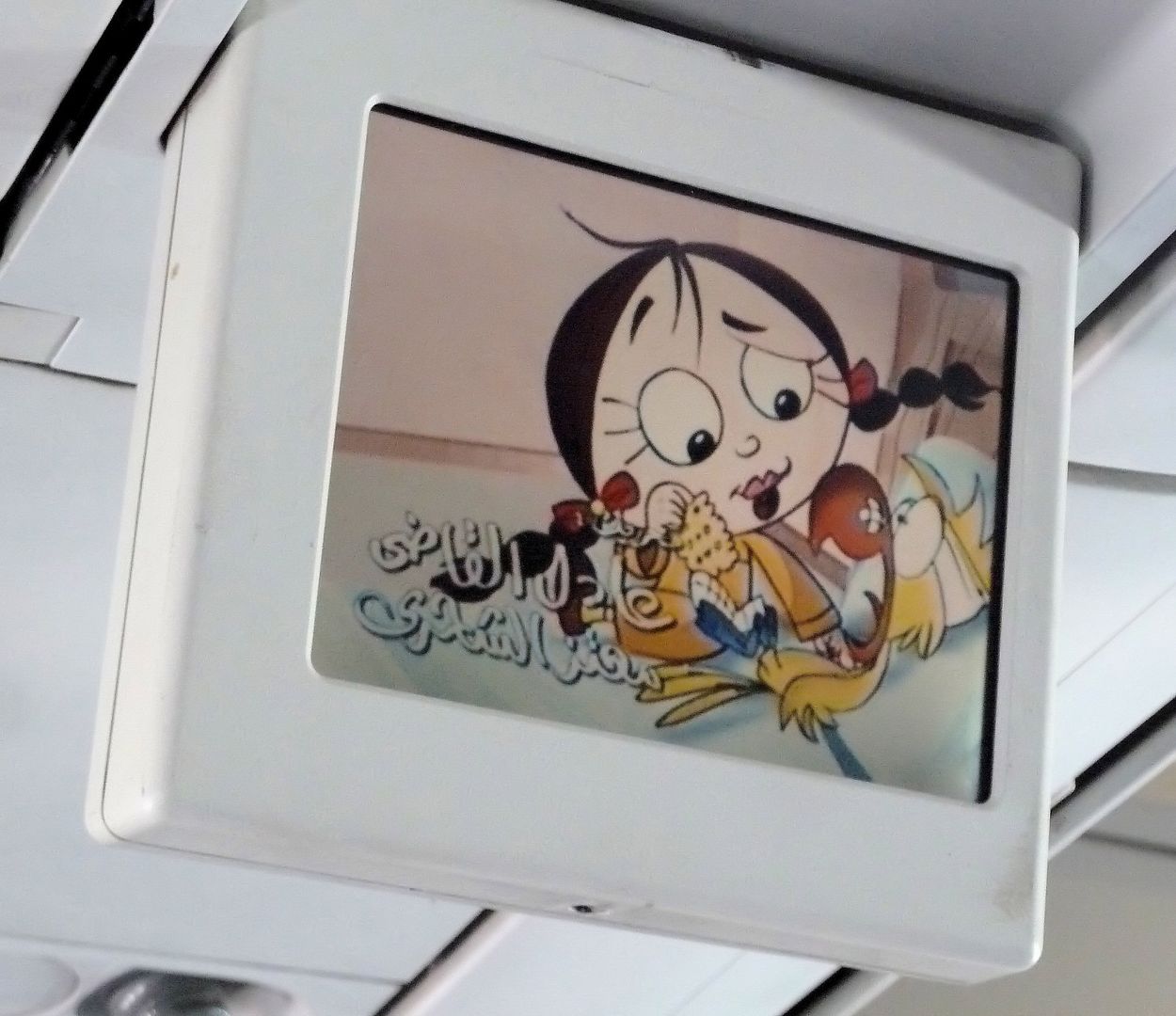 Nobody picked up the empty juice carton and the wet towel...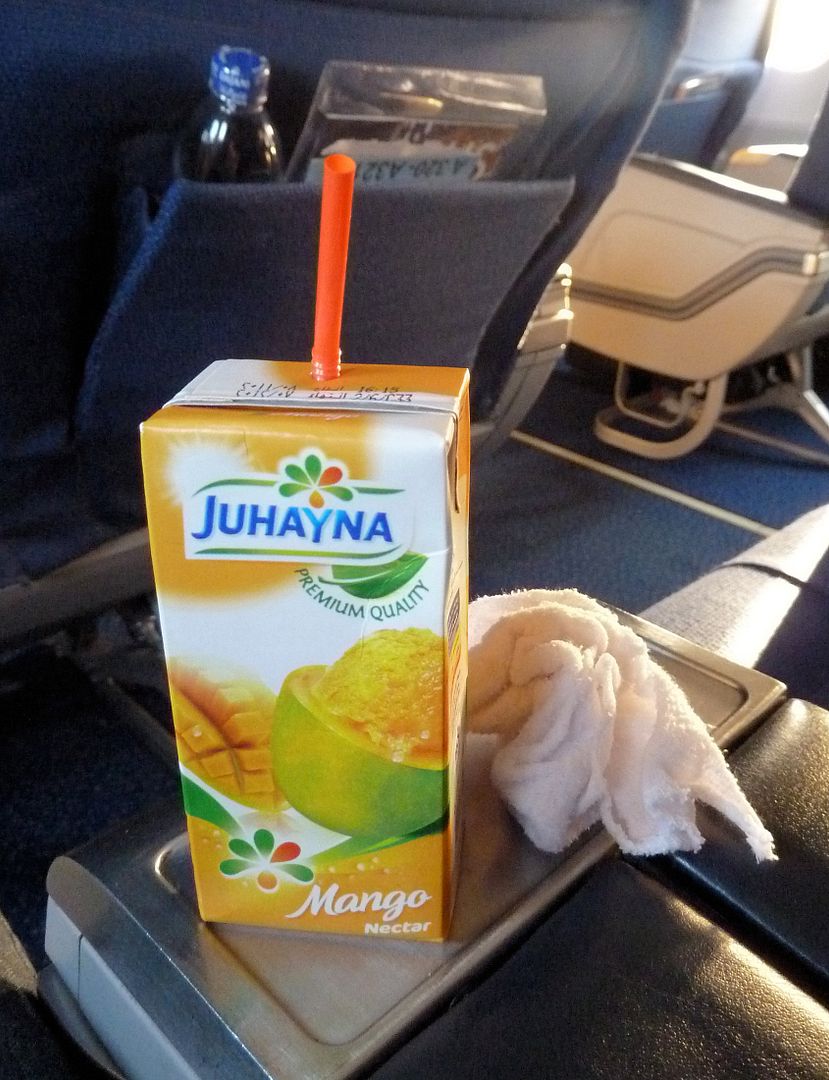 ...and nobody showed up for a seat belt check. After landing I would find out that I really had forgotten to fasten my seat belt again after my short cabin picture excursion.
Final approach: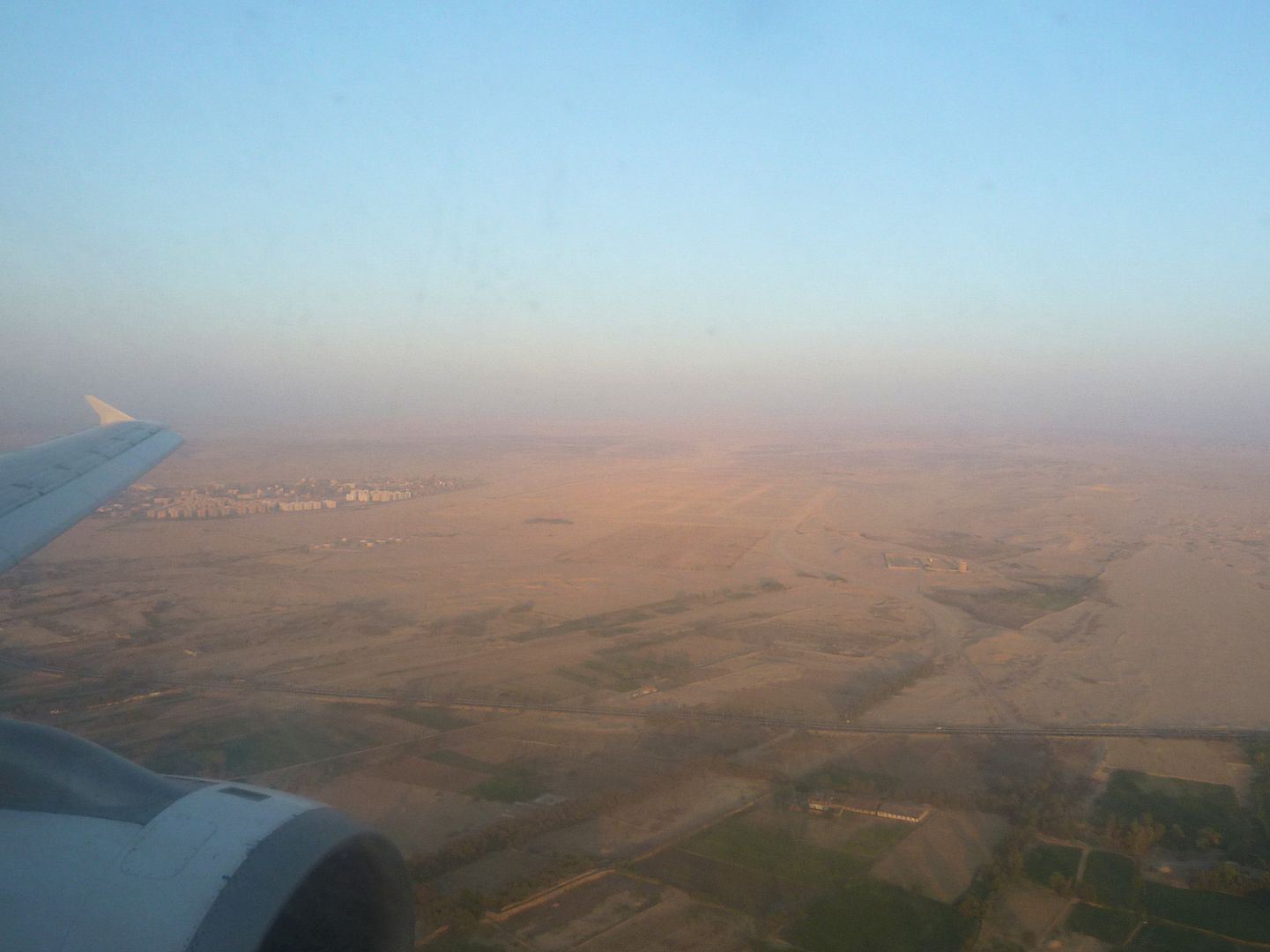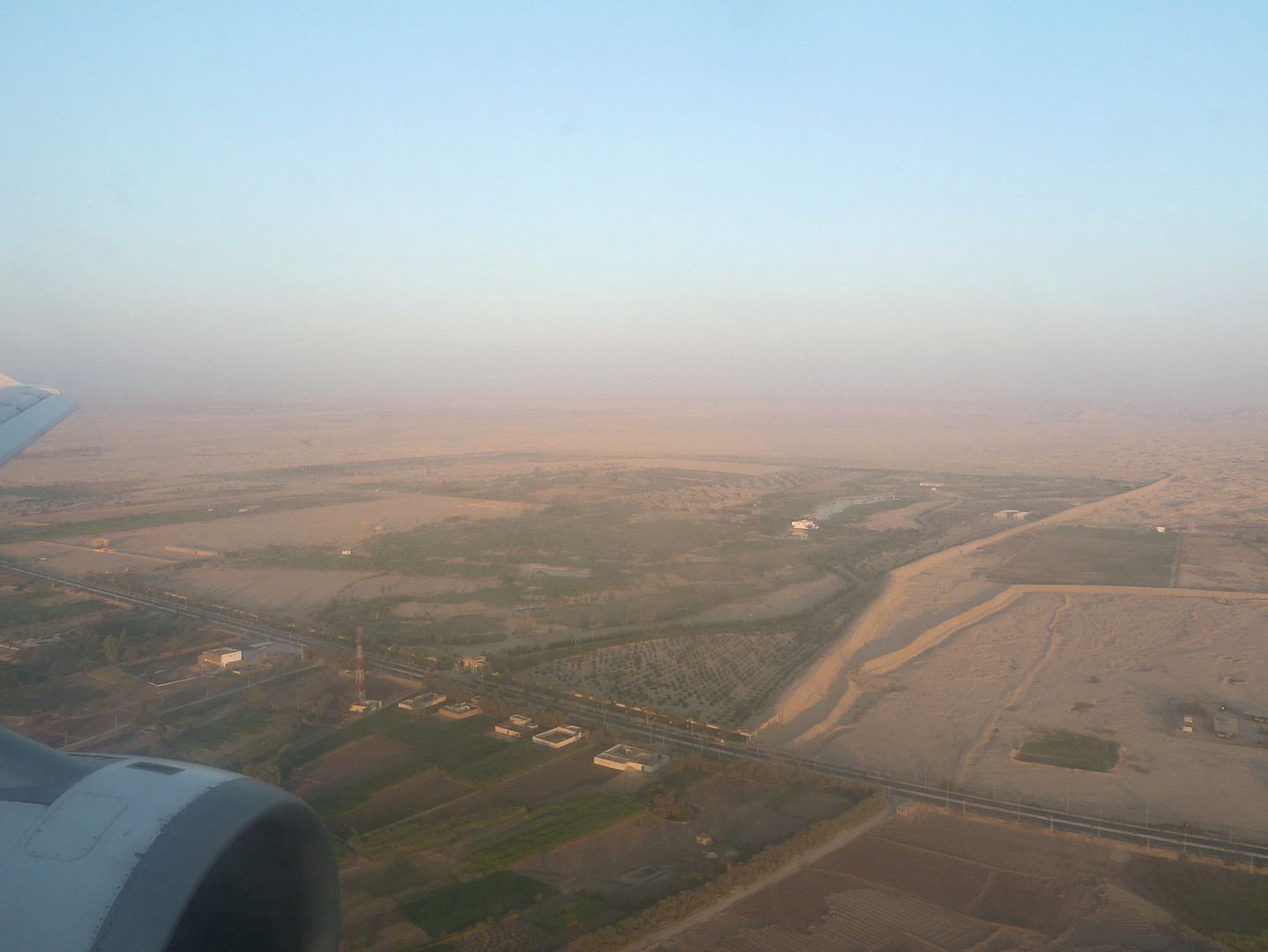 We touched down after a flying time of 48 minutes and taxied to a remote parking position quite far from the terminal building. I didn't see another aircraft anywhere.
Of course I took some more pictures of the plane in the beautiful evening light:
The
Horus
on the fuselage looks really pretty, doesn't it?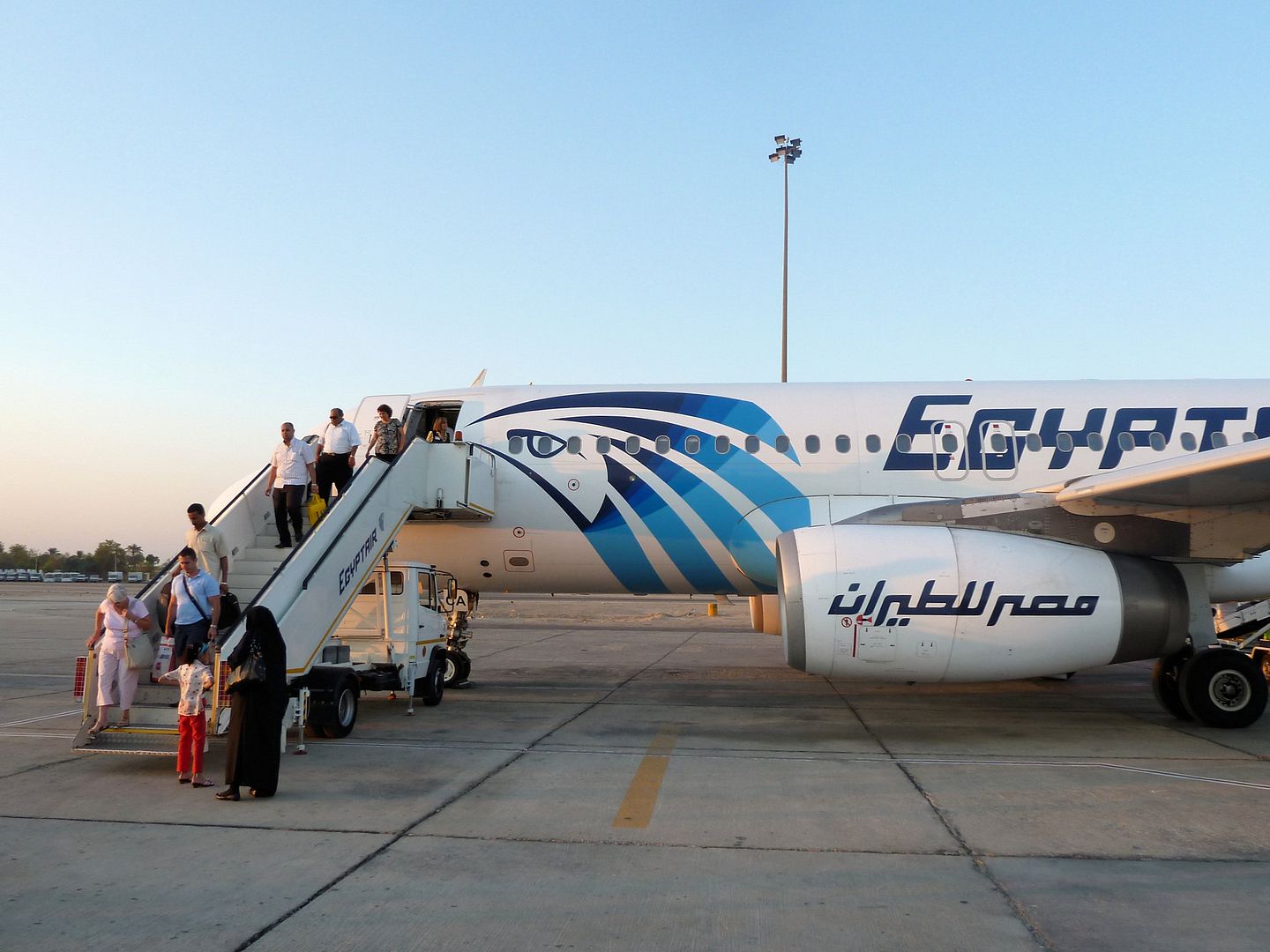 Luxor Airport
After leaving the bus, I went straight to the exit and watched out for a sign which would show me the way to the departure hall. Unfortunately, I didn't see anything like that, so I asked an officer (police, military or whatever) who was sitting on a chair and watching the arriving passengers. However, he just started rubbing his fingers without saying anything.
"Money? Keep on dreaming!"
, I thought, left the building and tried to find the right direction myself.
I had to walk around two corners of the building until I finally found an entrance to the departure hall. The whole area outside was deserted which I found a bit strange. When I arrived at the security checkpoints, an officer asked for my ticket. I showed him my printout, but when he read "Cairo", he shook his head, said something like "international" and directed me towards the exit. So I went outside again, walked some more steps and entered the domestic side of the hall. There were identical checkpoints on the domestic side and I soon realized that both international and domestic passengers would end up in the same check-in hall after passing security...
Anyway, a group of three officers was hanging around in front of the domestic checkpoints and all of them looked quite bored.
"Passport"
, one of them loudly said, followed by
"ticket"
. Some moments later, one of the officers shouted something in Arabic to a guy sitting behind the check-in desks. The guy shouted back and the officer turned towards me and said:
"Two hours!"
I quickly understood - it wasn't possible to check in more than two hours before departure. Therefore, I wasn't allowed to enter the check-in hall.
One of the officers pointed towards the international side and said
"cafeteria"
, but I decided to sit down on a chair near the checkpoints. As soon as the officers went outside to smoke, I took a picture of that area: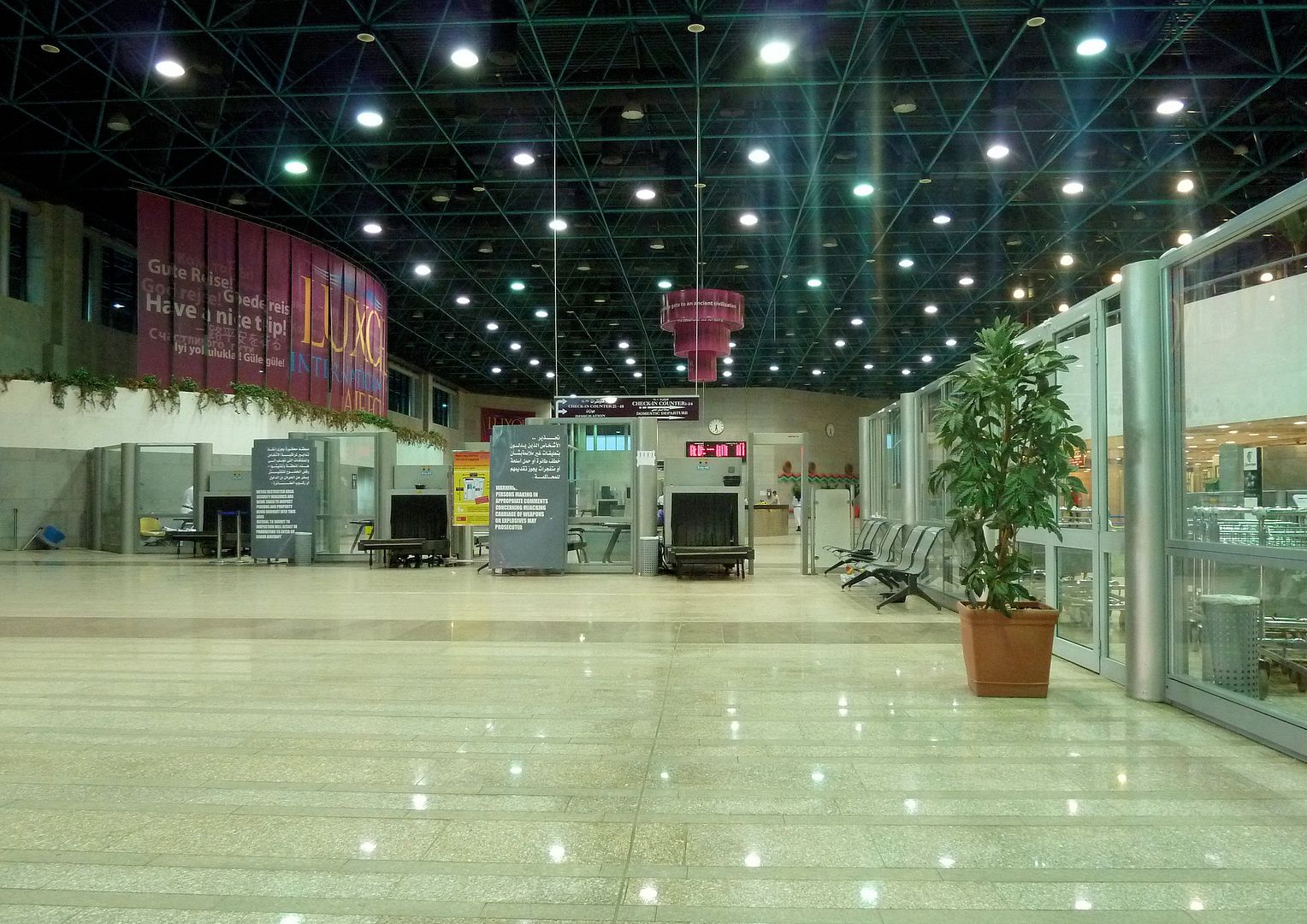 Saturday, August 2011
Luxor (LXR) - Cairo (CAI)
EgyptAir Express MS368
Scheduled times: 20:55-22:05
Actual times: 20:53-22:07
Flight duration: 00:57 (hrs)
Distance: 317 miles
Economy Class, seat 36A
Embraer 170
SU-GCY (MSN 17000185)
Delivered in 09/2007
1st flight on SU-GCY
4th Embraer 170 flight
8th E-Jet flight
123rd airline
Finally, exactly two hours before departure, I passed security and a friendly EgyptAir agent handed out my boarding pass. I asked whether the flight would depart on time and he confirmed. The whole check-in area was deserted - and so was the gate area:
These chairs weren't comfortable at all:
Most shops were closed which wasn't surprising. However, within the next 90 minutes, some dozens of people showed up, so the flight wouldn't operate empty.
My Embraer 170 arrived on time, but I couldn't see much in the darkness through the windows. After the bus ride, I was finally able to identify the aircraft: it was
SU-GCY
- delivered in September 2007 and still wearing the old tail colors: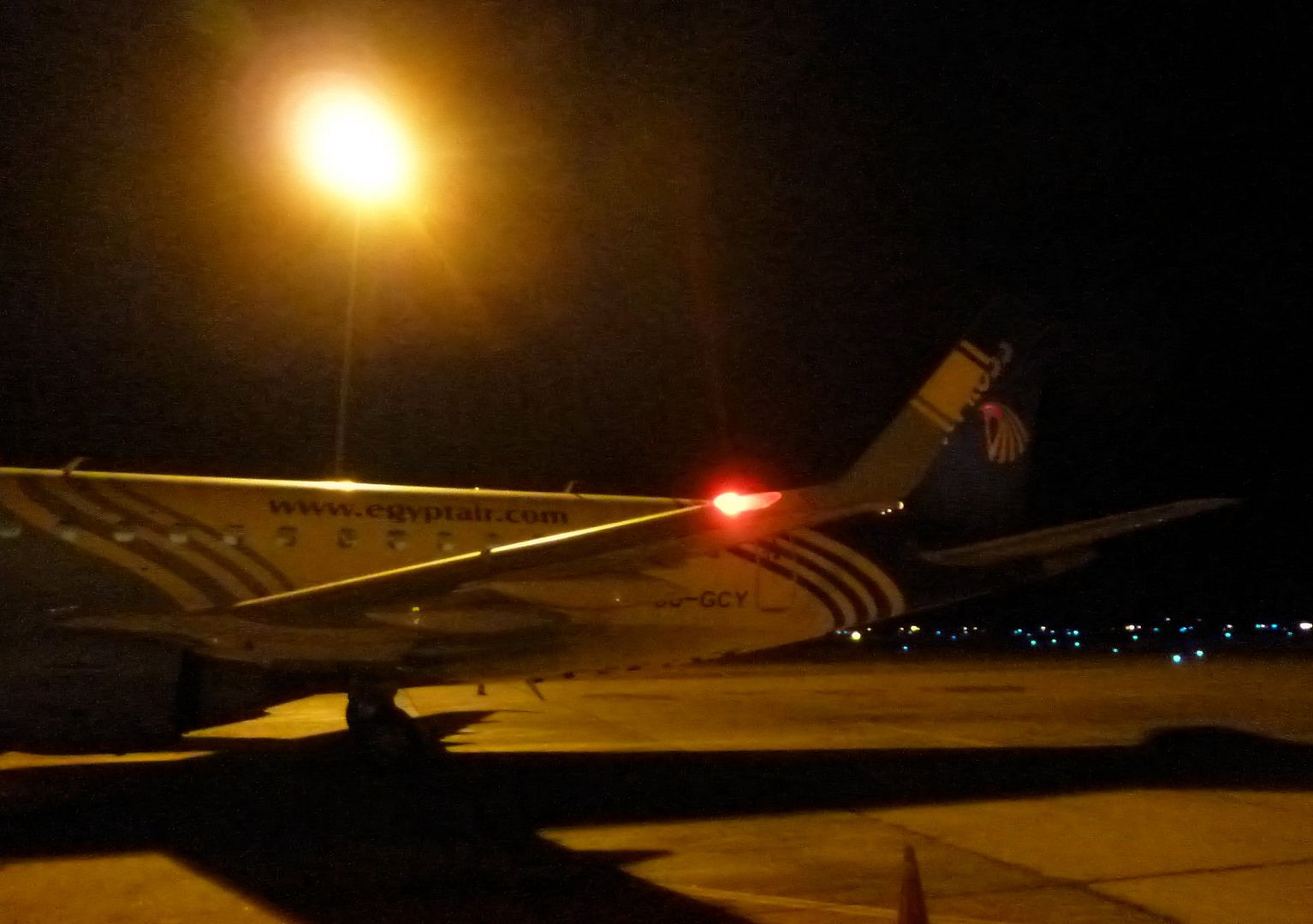 The young female flight attendants, wearing different uniforms than their mainline colleagues, appeared rather indifferent. The leather seats were comfortable and I really like the combination of colors...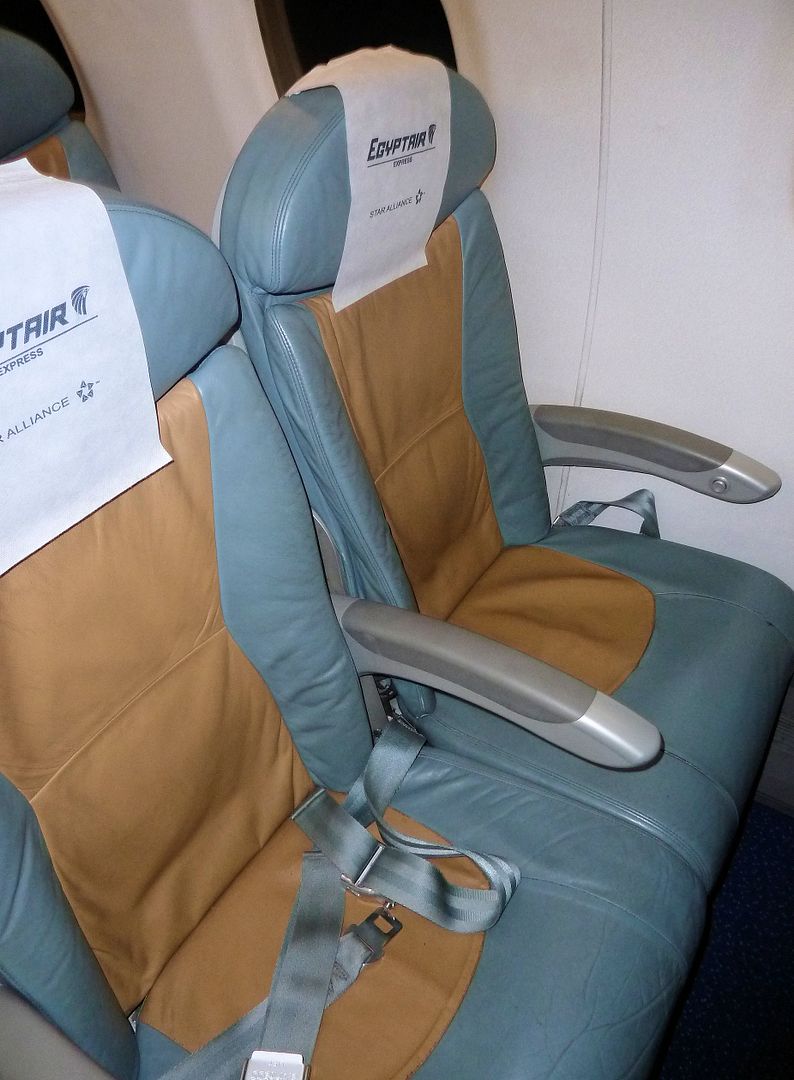 ...but the seats were worn and partly dirty. Legroom was sufficient for this short leg: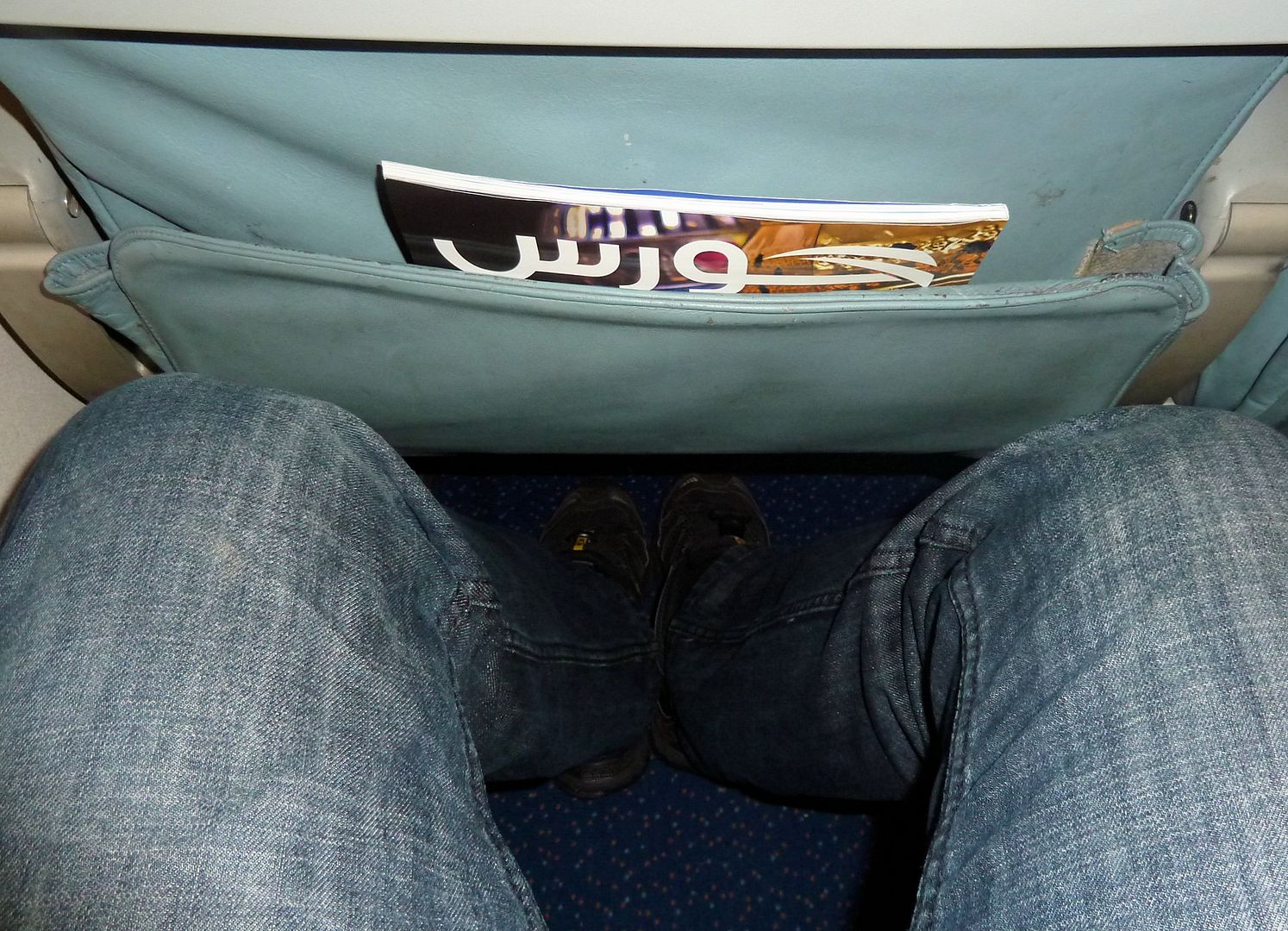 Safety instructions:
The load factor (60-70 percent) turned out to be better than expected after the arrival of a second bus. Most importantly, the seat next to me remained empty. Apart from a standard welcome message by a flight attendant, I didn't hear any other announcements. The guys on the flight deck would keep silent all the time.
We left the parking position two minutes ahead of schedule...
...taxied to the runway without stopping and climbed into the night sky after a powerful takeoff run.
Only cold drinks were served on this hop to Cairo and I ordered a lemon soda: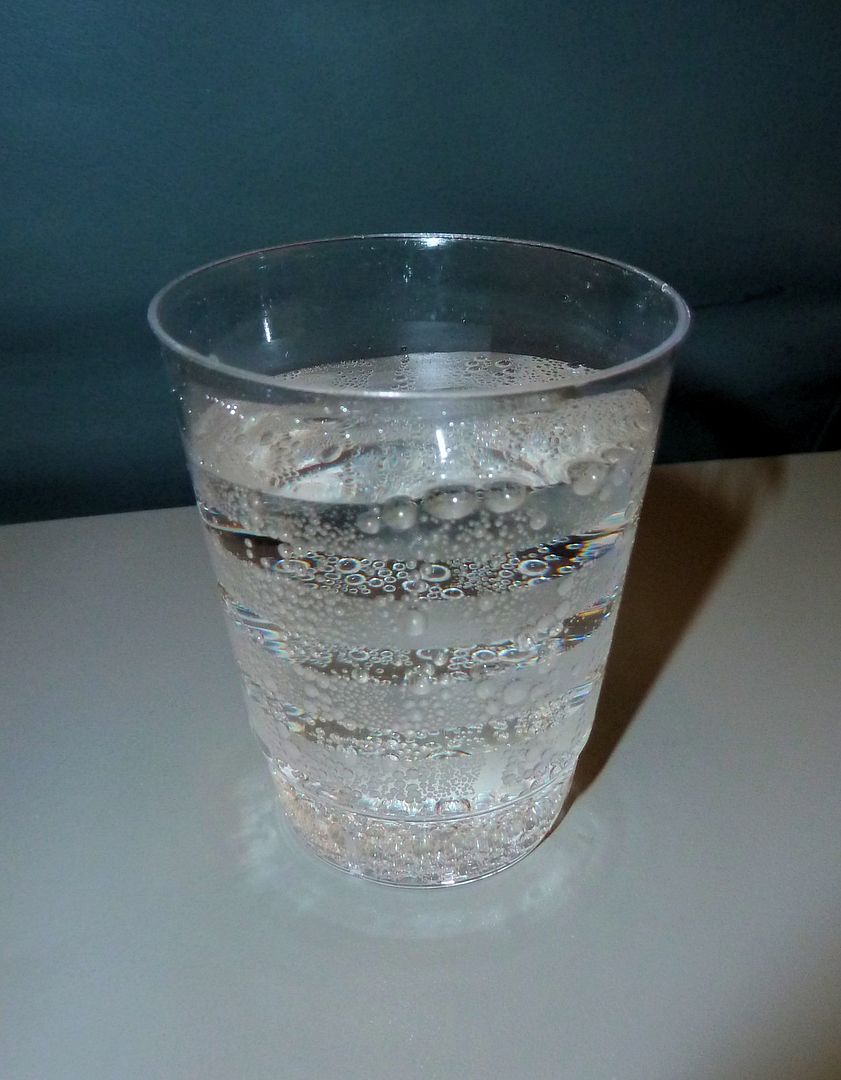 Cabin shot: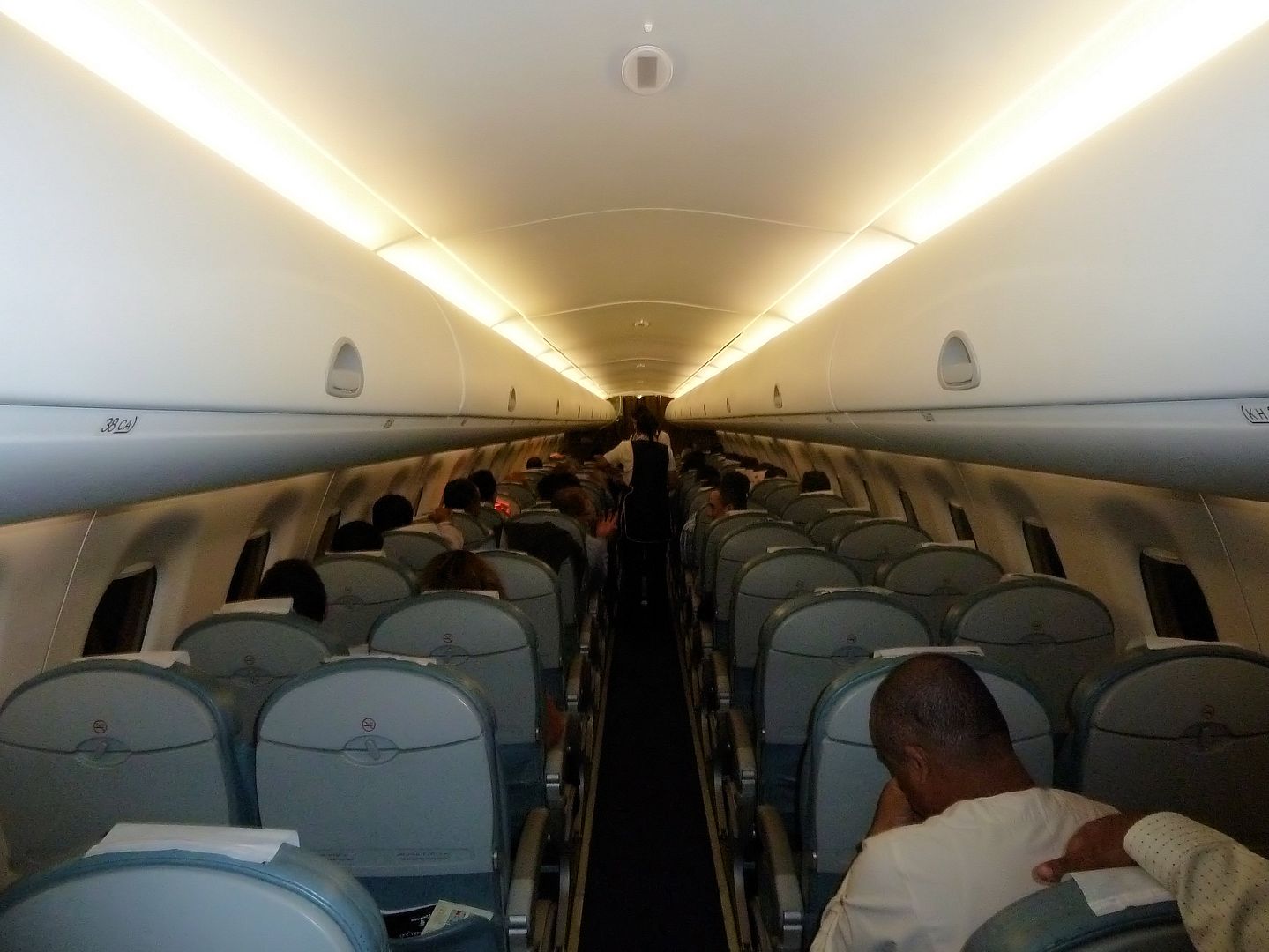 The cabin was worn in general, but the rear lavatory's condition was even worse. The tapware in particular was totally battered - and I was shocked when I opened the toilet lid. I don't know if another passenger had intensively used the toilet since departure or if it hadn't been cleaned before the flight. It looked and smelled disgusting...
Last but not least, there were only a few pieces of soap instead of a liquid soap container.
We touched down after a flying time of 57 minutes and taxied to a remote parking position. There were some 20 other EgyptAir and EgyptAir Express planes around, so I could log a few more registrations during the following bus ride. Last shot of
SU-GCY
: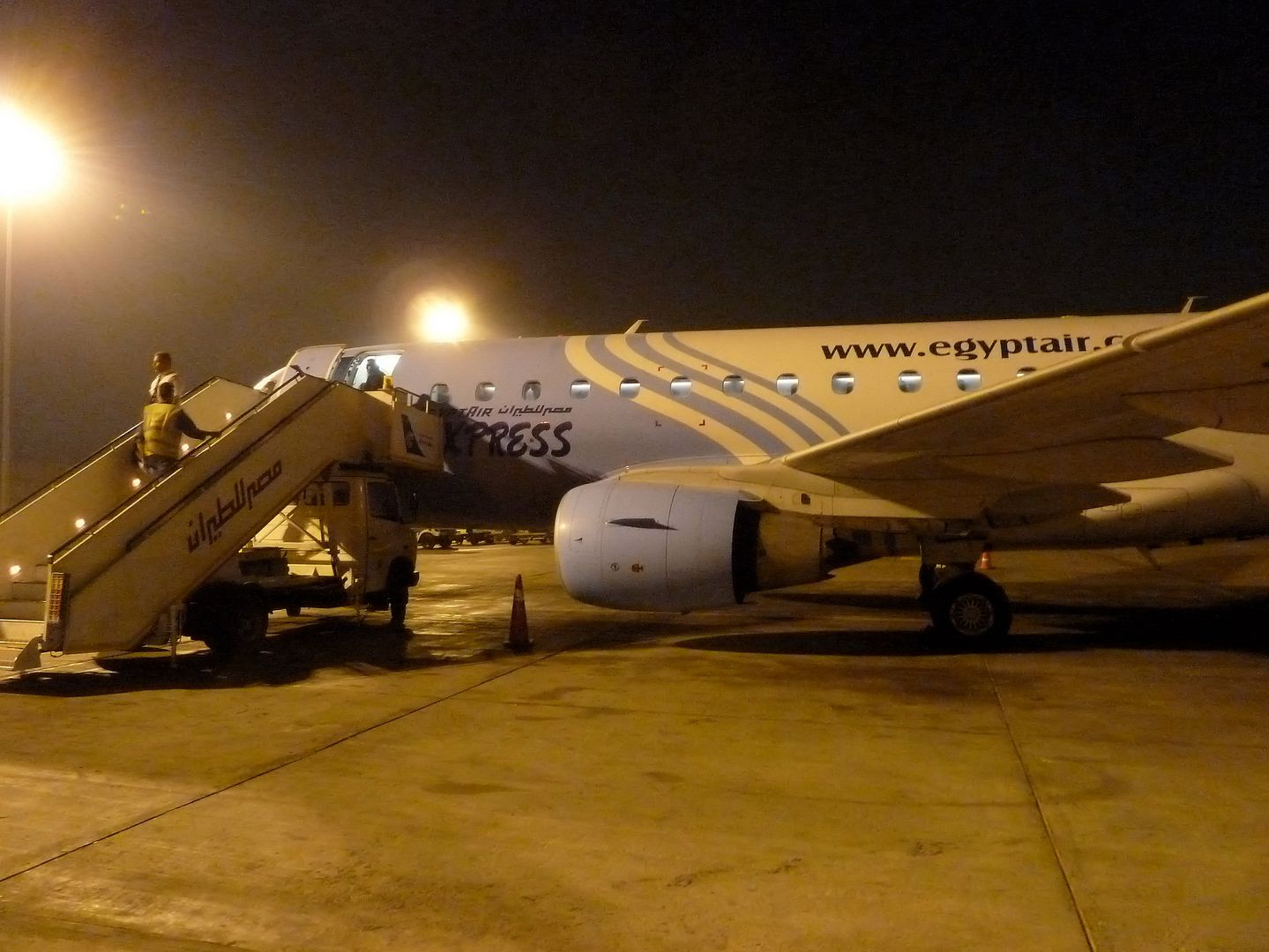 After booking my room at the
Novotel Cairo Airport
, I had transmitted my flight data for the free pick-up service. The hotel then offered to send a representative to the arrivals area and I agreed. When I entered the terminal building after the bus ride, I was positively surprised to find a Novotel representative with my name on a sign already waiting here in the gate area - that was a very good service! The young man was very friendly and even spoke German - so we had an interesting conversation while walking to the shuttle pick-up zone. After a 3 minute ride, I arrived at the hotel door.
Novotel Cairo Airport
While the hotel lobby looks nice, many other parts of the building show their age. The receptionists were very friendly and helpful and quickly checked me in. The room was a bit worn down as well, but okay on the whole:
The breakfast buffet on the next morning was alright, but nothing to write home about. I wasn't overly impressed by the hotel in general, but I guess I would choose it again because it's the closest to the airport. That's a lovely front view, isn't it?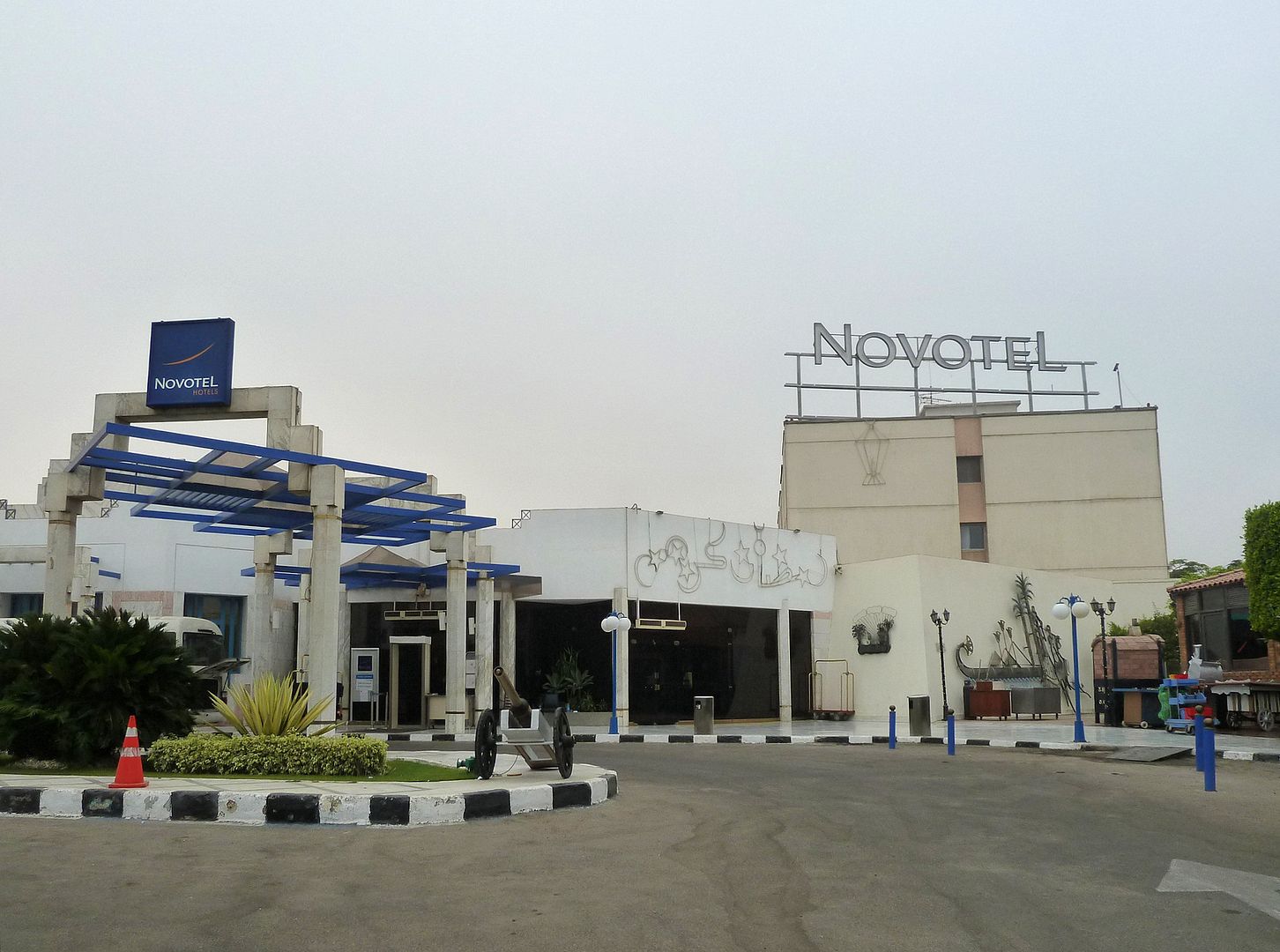 [Edited 2011-12-31 06:38:04]