More MD´s for Genoa, please!
Ciao, dear readers,
I want to catch some more examples of these classic rear engined plane type.
There are still a few around southern side of the alps.
No meeting planned this time. Therefore Mr.S., the usually relaxed guy from the scheduling department should work a bit more in the foreground this time.
"S. is there a place to go with at least the chance for some sunny pictures and also together with a couple of legs on the MD´s?.
And sure, a new departure airport is important again".
This is the exact description to the order.
Well, not as exact as it could be.
But anyway, S. accepted it and told me about some days to search the timetables up and down.
Not that long thereafter he is back on the biz line and showed me five legs with two MD´s, not from STR this time, but hey, that´s the price to pay, isn´t it?.
Here is today´s routemap:
Thanx to:
http://www.gcmap.com/
The updated departure airports log:
Departure Airports II
auf einer größeren Karte anzeigen
And the latest done routes:
Tripreporters Flüge II
auf einer größeren Karte anzeigen
Some three weeks after the return from the Cote de Azur:
Toulon, A Couple Of CR-K´s And A Nice Meeting
(by
FLIEGER67
Dec 29 2011 in Trip Reports)
I´am on the road once more.
Sunday, 30.10.2011
.
.
.
.
Service AZ 403 operated by Alitalia
Scheduled: 12.00 // 13.55
All five upcoming legs are booked together via Exp.de, the fare real good this way 45.00 Euro´s per flight.
OLCI, do not talk about OLCI with the Skyteam Airlines.
It doesn´t work again here, seat selection is possible, but not the final check-in, strange again.
My car should shuttle me to FRA, on the road at 08.00 am. Tourcare in Neu-Isenburg is the place to go now to park the car for the two days. The fare acceptable, 30.00 Euro´s and the guys there know me well, so it seems.
A quick shuttle drive to the terminal and I´am ready to try the self service machines, no success, nothing else expected.
Well, the girl at the premium counter was nice, only one more pax in front. Two boarding passes printed for the two legs today and on the way down to the security check station.
Also no time to wait here and soon thereafter in the gate area.
Let´s go and explore the AF lounge at FRA T2 now.
AF is on strike today, french strike culture, I know.
Is the lounge open?.
It is, mainly for me
There is simply no other customer beside me here
Well stocked offers
And really enough open seaters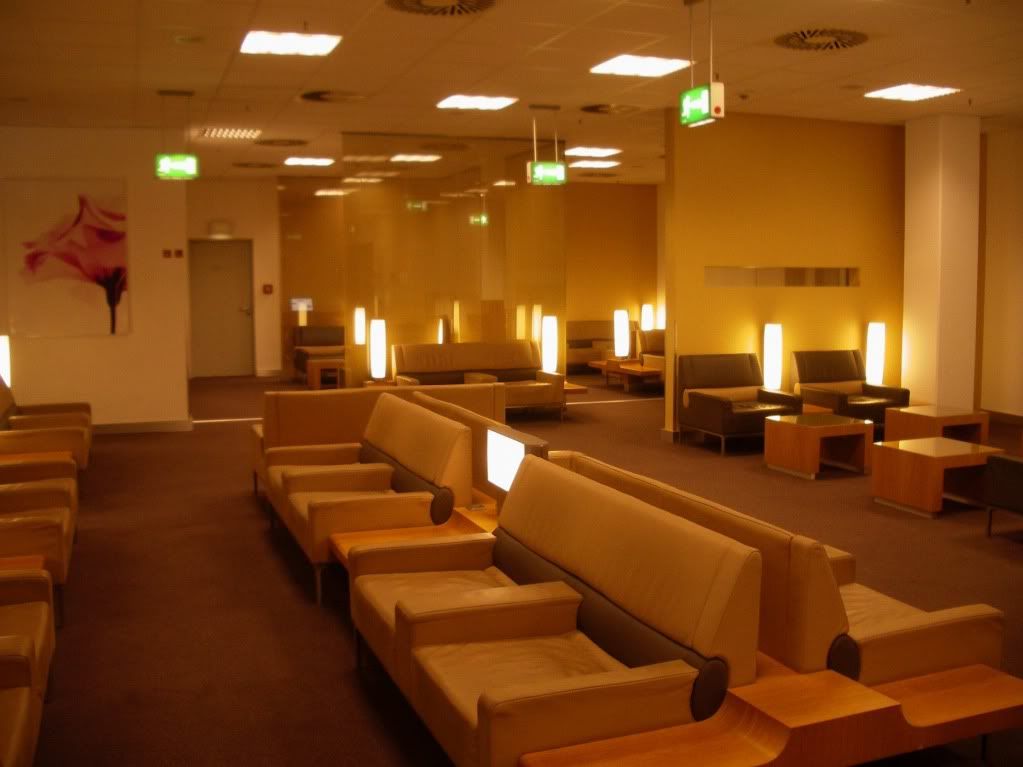 Wait, let me check the screen for my flight.
Inbound from FCO close to 30 minutes early
And outbound looks like also ok from gate D21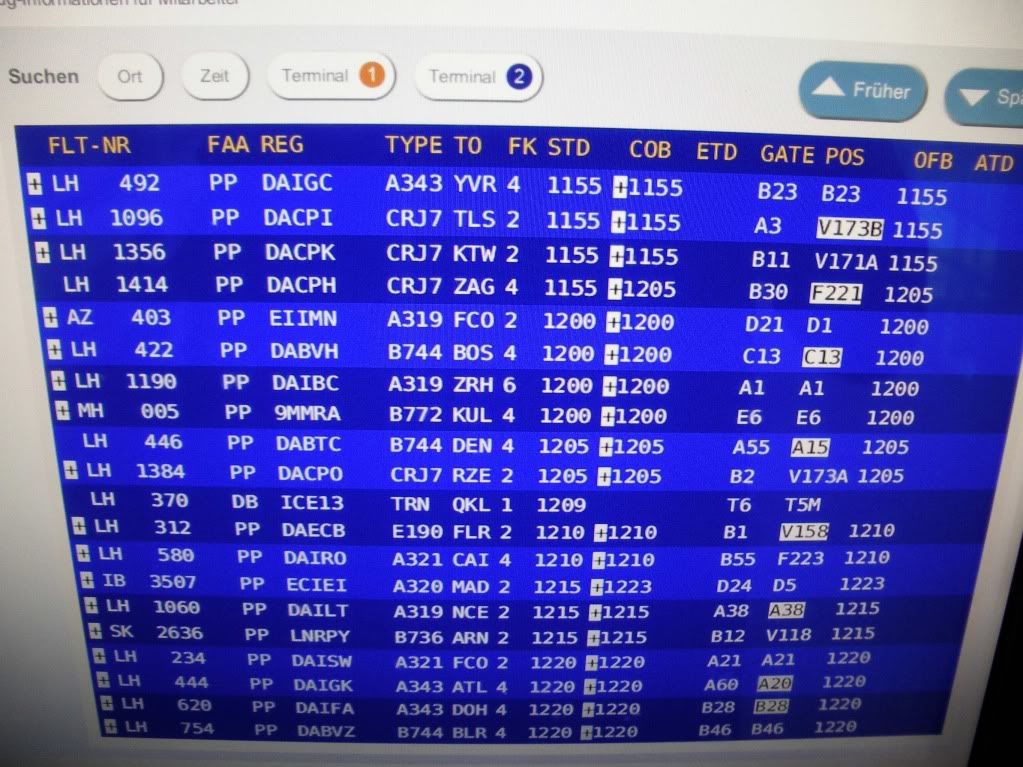 It´s close to impossible to do a decent pic of the plane at the gate
Much better this way
The registration is visible with the scheduled A319.
This is EI-IMN "Carlo Collodi", new to me, leg no. 71 on type.
Spotless clean, in service with AZ since 05.08.2011 only. One of 17 in the actual fleet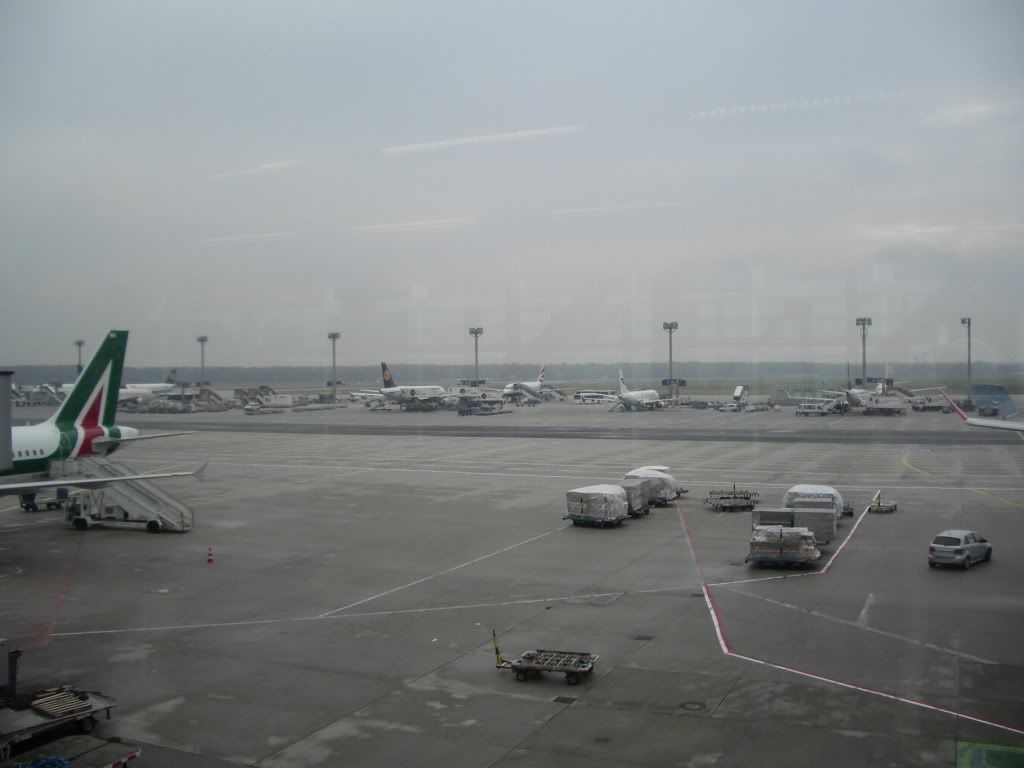 A good number of pax in the waiting area for my flight.
Thanx god, 09F, the exit row window for me on this service.
Well, there are two exit rows on the seatmap, but these plane show me exactly one emergency exit on the fuselage during boarding. There is something wrong here. I should better wait till the other pax are all on the plane for more seat options, but there are to much people around.
Let´s go for 150 years in Italy now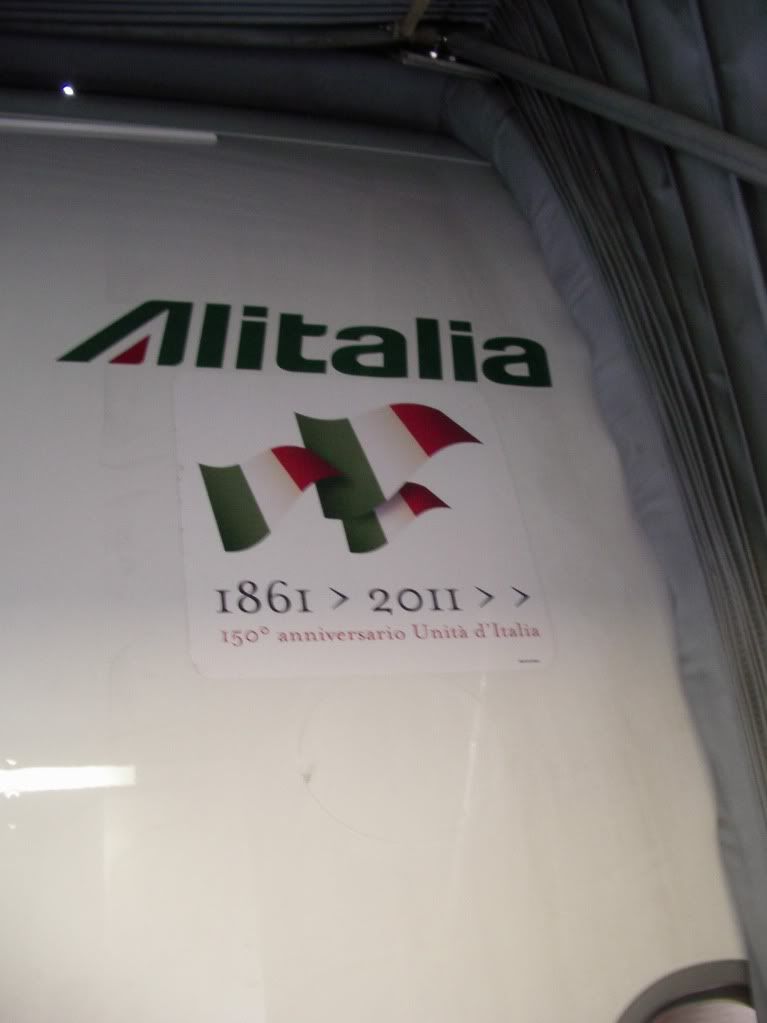 Hah, that´s Italy at it´s best. There are different seating layouts, according to the nice young male FA and so they show always two rows on the seatmap. But there is only one in the plane here and really bad choice, this is row 10 on this particular machine.
There is one more middle aged and nice male FA beside an elderly biz friendly, to say it in a positive way, female on this service.
Acceptable but not the best legroom from seat 09F, the aisle is taken by an grandmother style italian female and thanx god again, the middle seat remains open with a load around 80%
Cockpit crew is from Italy. The male captain with a nice welcome during taxi and a female FO today.
12.00 am, ontime, 1 hour, 20 minutes to go now for "Alitalia" homebound from the 4000 meters runway 18.
14 cloudy degrees here in FRA.
Something learned from the big french mother
The safety card
And the actual magazine, looks nice
I always like these title´s on the wing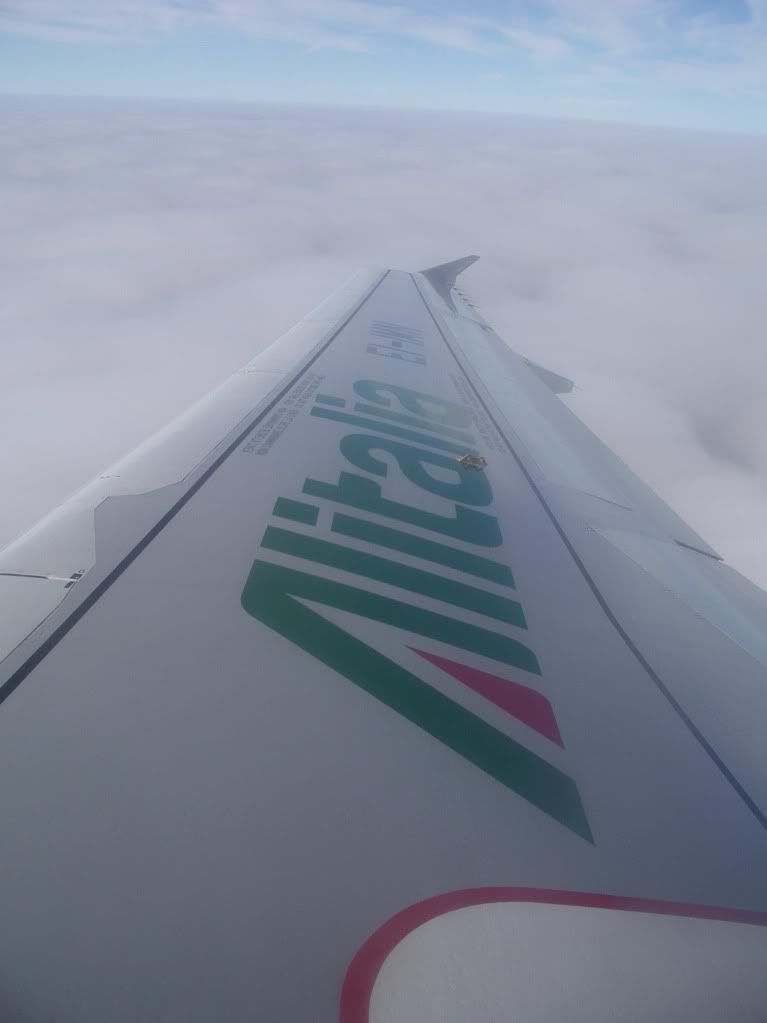 Forward cabin view with the bright grey leather seats, the cabin is clean so far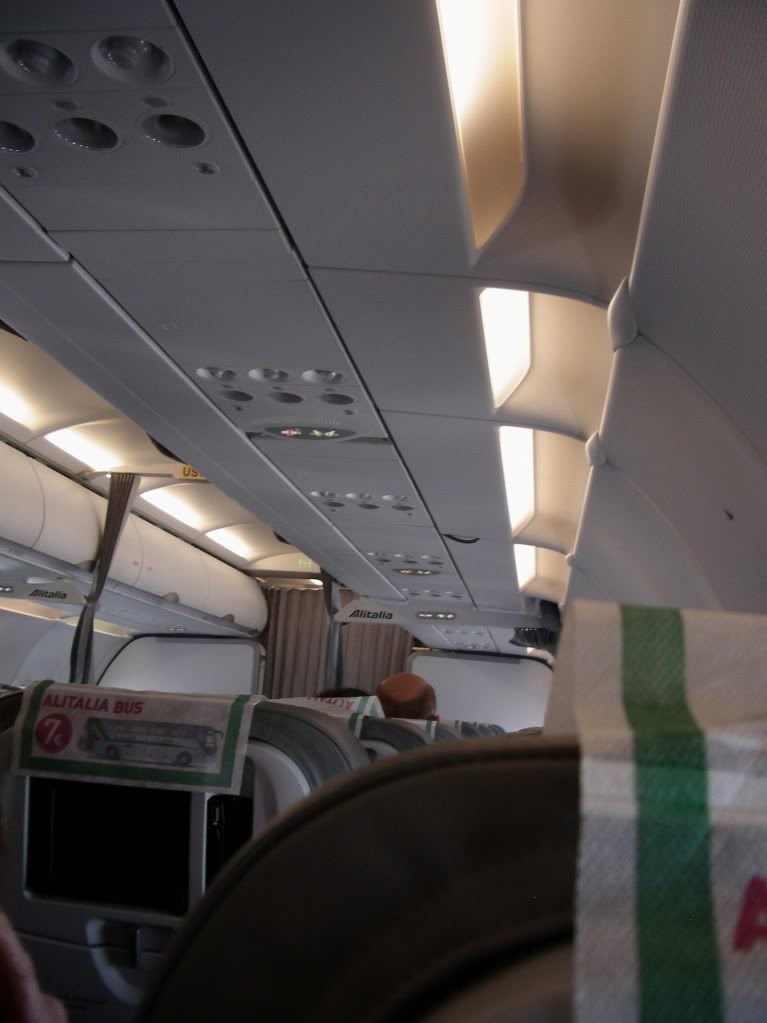 Some mountains down there. No route or flightlevel informations. Calm along the way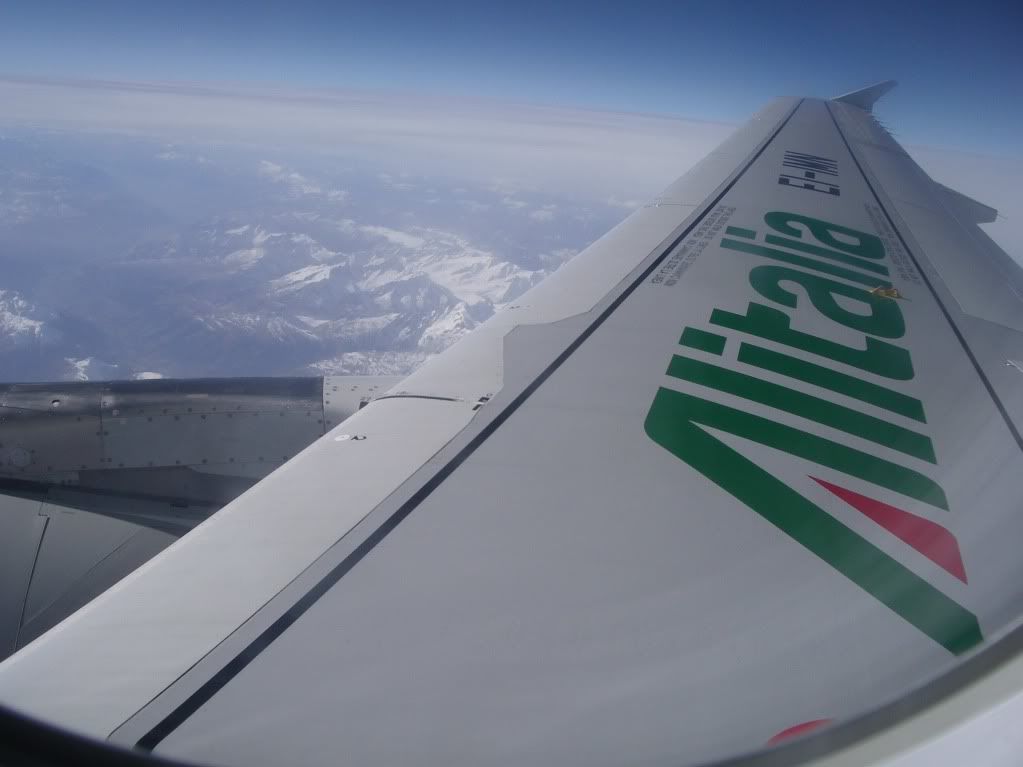 Service Classica here, free drinks and Biscotti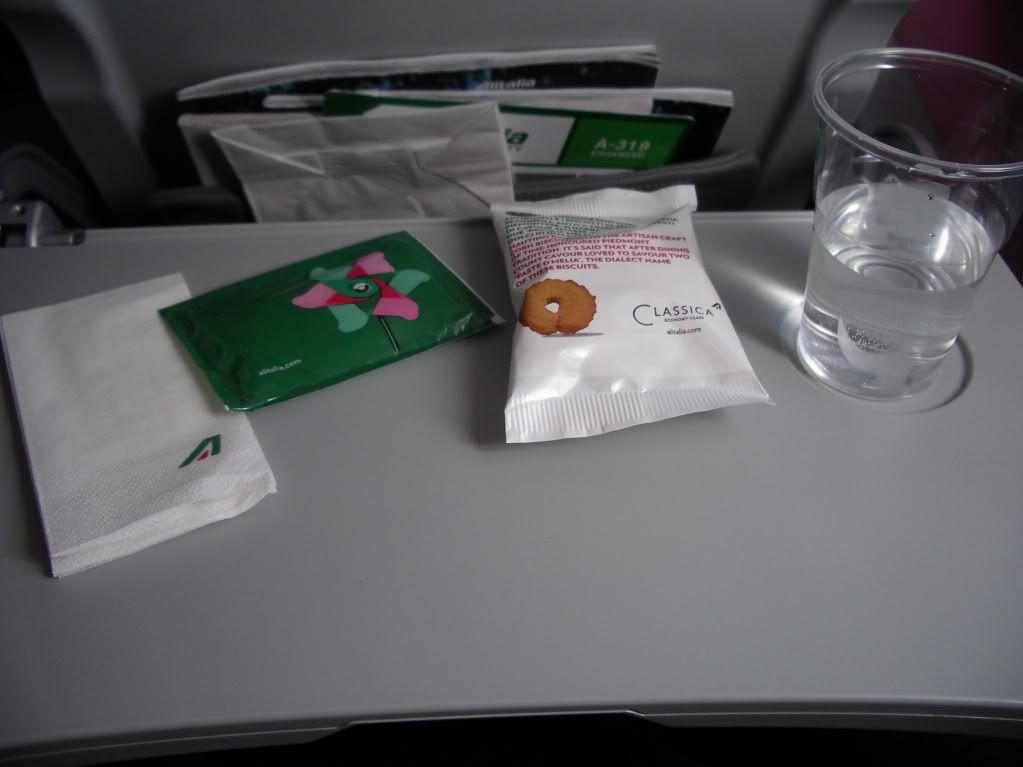 Touchdown at the 3880 meters 16L. 1.45 pm, ten minutes ahead to schedule, partly cloudy, but warmer than in FRA with 22 degrees.
Approaching our stand now at FCO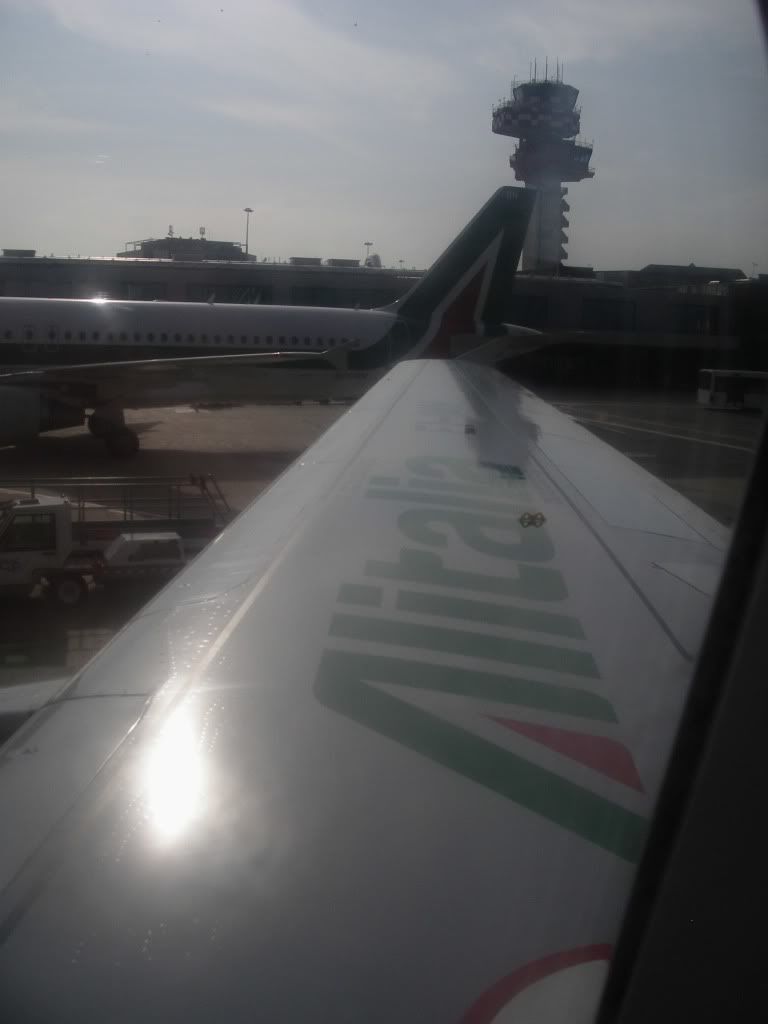 My machine parked at the gate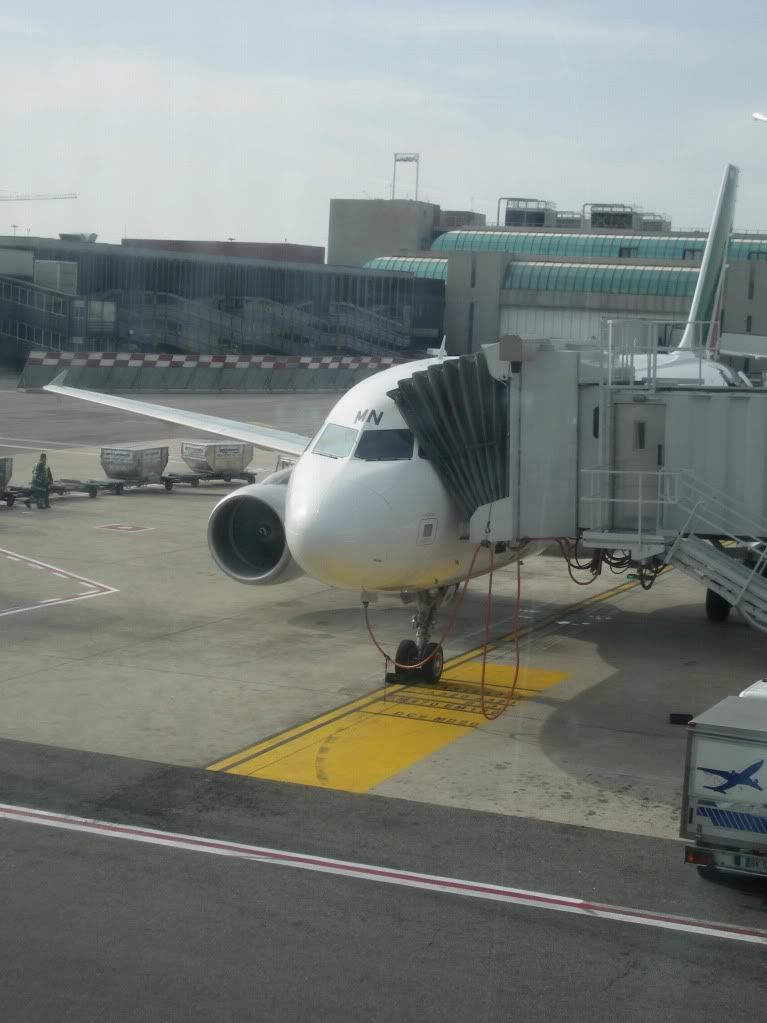 Looks like cute this way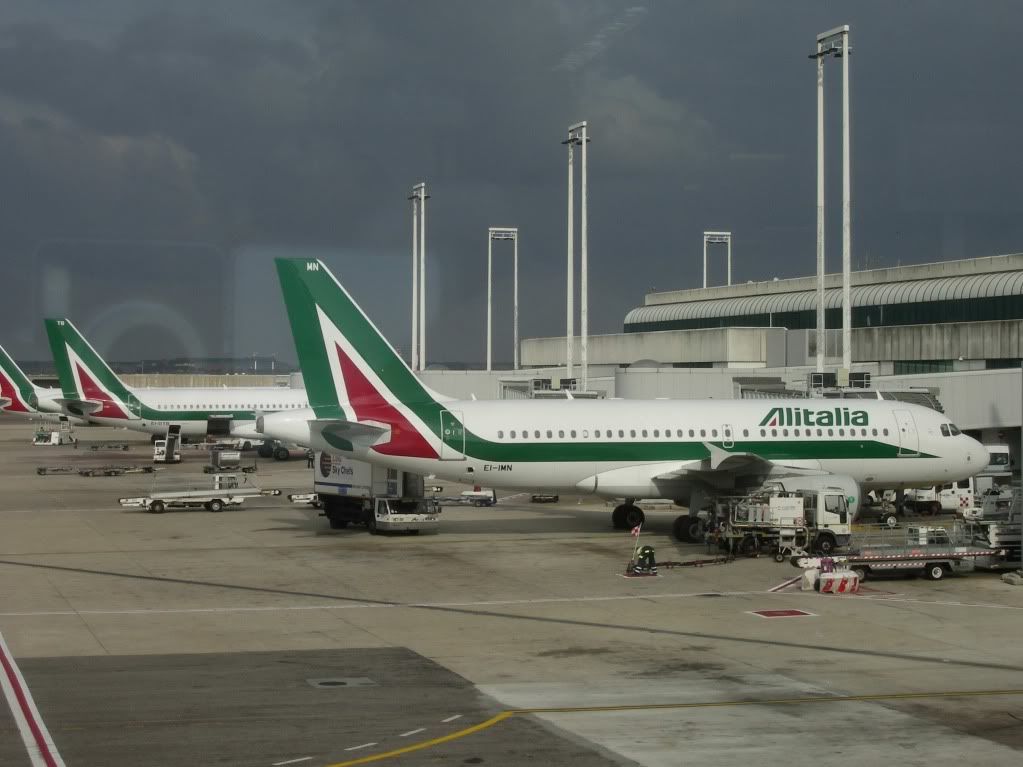 Time for the next lounge now, isn´t it?.
But wait, I should check the mobile first, if there is a message from S.!.
"Everything ok with the Classica guys and girls from Italy?"
"Well, ontime, a close to new plane, so it feels like, but seating differencies and nothing special with the staff, mixed emotions here. Any preparations from you´re hand?".
"Definitely, there is a Gotto filled up with ligurian white wine here and I will go for it with some Pasta and Pesto Genovese".
"Now that sounds really good, enjoy".
...............................................................