Feedback always appreciated.

I > Background:
In March of 2011, an opportunity presented itself to spend some time with a friend in Alexandria. While it was in the middle of the Egyptian uprising, I felt that I could see sights around ALY that I had missed before without being bothered by numerous touts that seem to be all over important places in Egypt.
Since I was in London for a few meetings, it made sense to route myself on LHR-CAI. Besides several one-stop options, including a tempting one via OTP, I decided to fly on Egypt Air's new flagship 77W aircraft. Other options included a 321 on BD and on BA.
I have not been largely impressed by MS, as my last review indicated:
EgyptAir MS 787: 12/FEB/09: CAI-IST: J Cabin
(by
Abrelosojos
Jun 3 2009 in Trip Reports)
But, OA260's excellent report on BEY-CAI-LHR (found here:
EgyptAir New A330-300 Onboard Wifi/Lounges BEY-DUB
(by
oa260
Dec 9 2010 in Trip Reports)) encouraged me to give them another chance.
I believe this would be the first report covering MS' 77W in JCL?
II > Pre-Flight:
a) Before Airport:
Egypt Air, is the national airline of Egypt. Based in Cairo, it offers flights to over 75 destinations in the Middle East, Europe, Africa, Asia, and the Americas. It is Africa's 2nd largest airline and a member of the Star Alliance network.
Egypt Air's website at
www.egyptair.com
has come a long way and was actually pretty easy to use to purchase the ticket. I was able to quickly book and pay for the ticket which arrived electronically in an hour. It is not a perfect system and has some weird quirks. For example, one can only select FFP information if they belong to BD, MS, or LH!? Now, I don't know which is weird – the fact you can chose only three airlines; or the randomness of the three airlines. Having said that, I was impressed that one could chose their seat, view reservations later, and even modify seat requests. This won many brownie points from me as regular readers of my trip reports understand how important the seat selection thing is for me .
b) At Airport:
Egypt Air uses Zone B @ terminal 3 at LHR. There was two dedicated JCL queues, but the agents were surrounded by friends and family of standby travelers - not the best first impression. Anyways, seeing I was not another standby, the agent beckoned me to come up. The agent was super nice but handed me a boarding pass with a seat at the back of the J-cabin. When I asked why, he said the airport manager had blocked it off. Given I had checked in online and had a seat assignment, I was not happy. There were no operational gauge change so this should really not have happened. After insisting on my 8A seat in the front row, numerous calls with the airport manager and a good 30 minutes later, I had my preferred seat. It is pretty incredible that the station manger would do this! C'est la vie.
Anyways, boarding pass in hand, I headed pass through an efficient premium security and the maze of duty free that BAA forces everyone to go through. Once past the mayhem, I headed to the "London Lounge" operated by SK and AC (remind me, this used to be only SK right?), and used by all the Star carriers in T3. The lounge is not spectacular and provides a range of basic snacks and drinks - the free WiFi and Mac terminals do help pass time however. Feeling a little tired and wanting to get on board and doze off, I began my trek to the gate around 45 minutes prior to departure. Imagine my surprise when the queue to gate 23 was alarmingly long. I thought there was going to be a separate entry for Premium passengers, but I was wrong. 20 minutes of queuing later, I made it to the boarding gate which was an absolute zoo. This chaotic scene continued through to boarding when premium guests were called, but there was absolutely no way of getting to the front of the line. Resigned, I just followed the mass of humanity onto the aircraft. Overall, a very poor showing by MS LHR staff - and, one cannot have LHR as the excuse as I have seen many airlines do the exact same thing in the physical confined with much greater ease.
Upon boarding, I was warmly greeted by the purser ... though no one showed me to my seat and no offer of assistance was offered with my luggage. J load was around 70%.
Airport - External:
(London Airport: Terminal 3)
Check-in: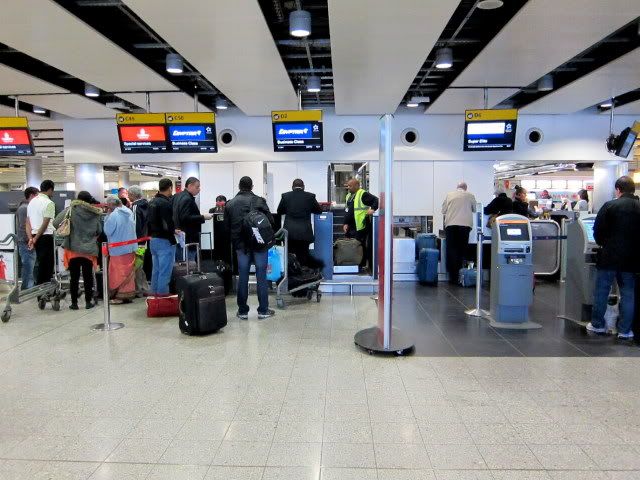 Airport - Internal:
(T3)
(FIDS)
*
(Post Security @ LHR T3)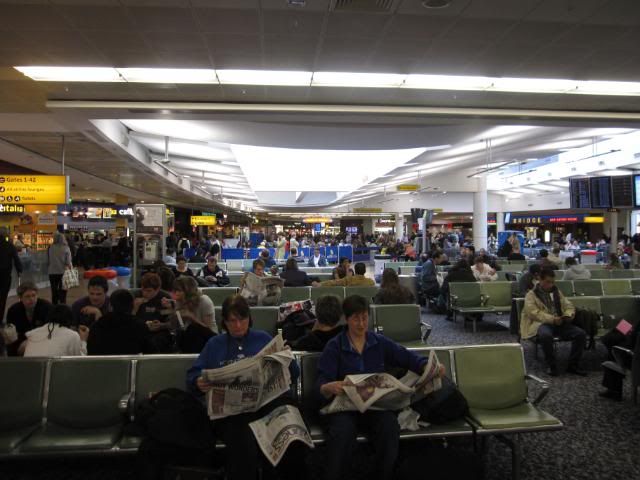 *
Scenes of the tarmac:
NONE
Lounge
(The London Lounge)
*
Boarding:
(Gate Area - insane lines, no priority, very haphazard)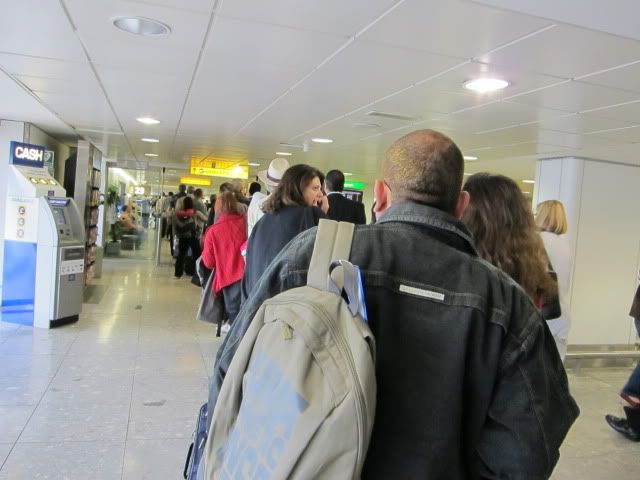 *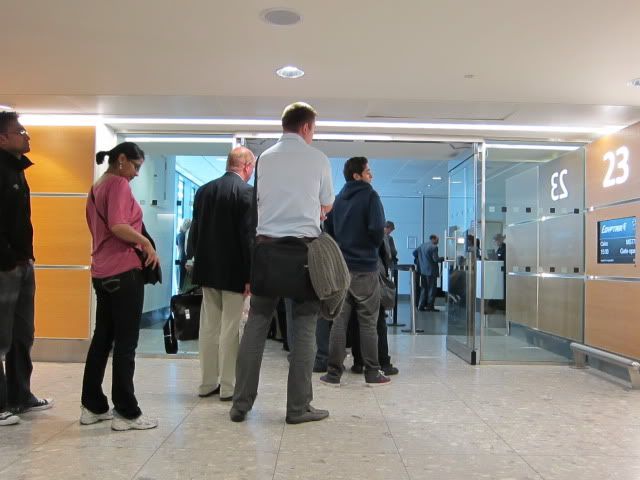 *
(Heathrow T3's dingy and crowded waiting rooms)
*
*
III> In-Flight:
a) Service Schedule + Impressions:
While on the ground, the service delivery was as follows:
+ Hot towel - though calling it a "towel" would be an exaggeration ...
+ Headphones distributed
+ Water or Juices (NO alcohol on MS / served in plastic glasses)
+ Newspapers & Magazines
Oh, and we sat on the ground for over an hour without ANY explanation or apology ... one of my pet peeves.
After take-off:
+ Amenity kits distributed
+ Drinks service
+ Lunch service - entire affair from trolley
Interestingly, Egypt Air has done away with duty-free sales onboard.
b) Aircraft + Seats:
Egypt Air uses its brand new flagship Boeing 777-300ER aircraft on this key route. The aircraft smells new, and MS (like RJ) has done the right thing by getting rid of the poor First and Business Class products with a consolidated full-flat Business Class seat. I am not a huge fan of MS' new corporate identity, but the 77W is probably the aircraft it looks best on.
Perhaps our own A.Net resident expert "STIPICA" can clarify what other airlines have these seats - but, they were extremely comfortable. Not only was it nice in regular position, it also has several other pre-set relax positions which were nice. But, the best was in the full-flat position where "bumps" and "folds" were minimized and one could truly have a nice night of sleep. The only drawback was the 2-3-2 layout as the person in the middle would feel a little cramped between two others. Around the seat were a USB port and power adopter, and ample storage space.
The bathroom was spotless ... and given the generous amenity kit, the odd combination of mouthwash/hand sanitizer/cream was sufficient in my mind.
Aircraft:
(@ LHR )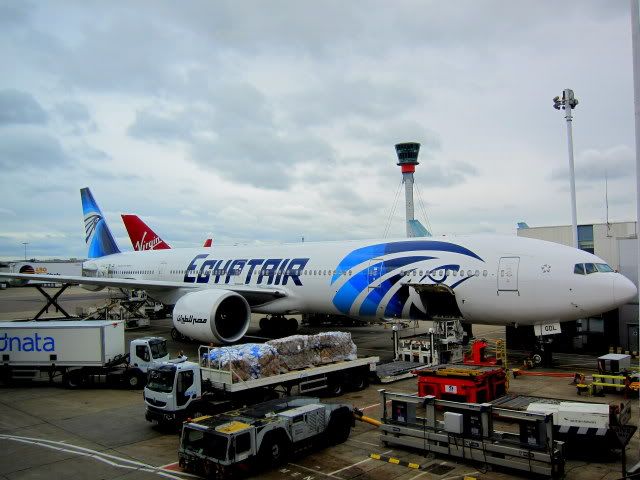 Views from Aircraft: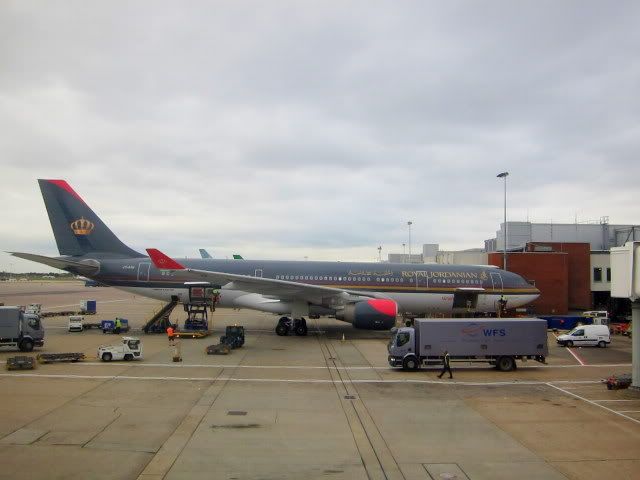 *
General Seat Views + Seat Legroom
(Seat)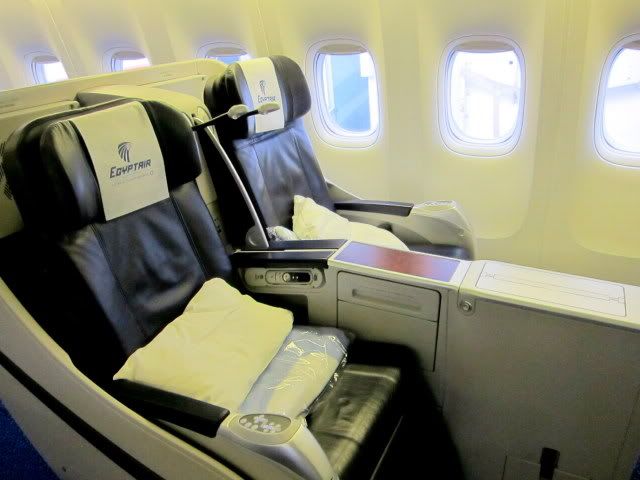 *
(Front of seat)
NONE
*
(Seat controls)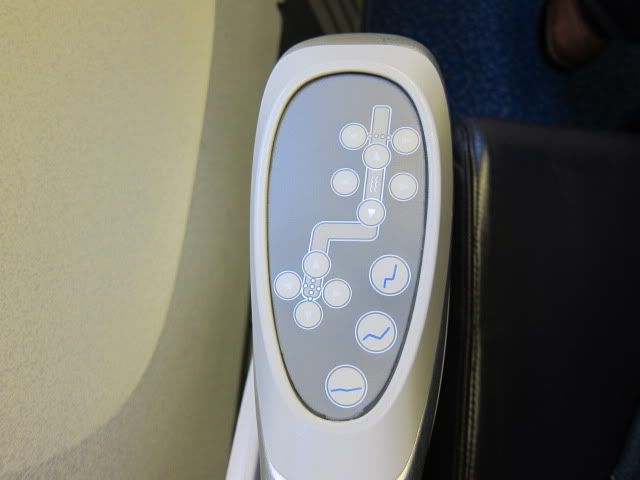 *
(Around Seat)
*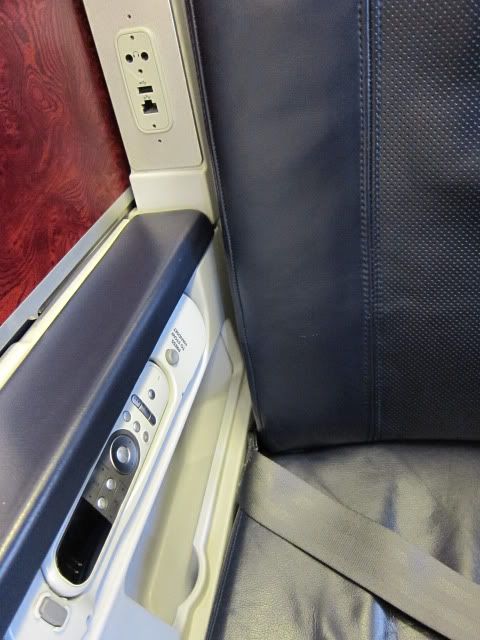 *
(Legroom)
*
(Comfortable position)
Seat Recline + Angle View:
(Recline)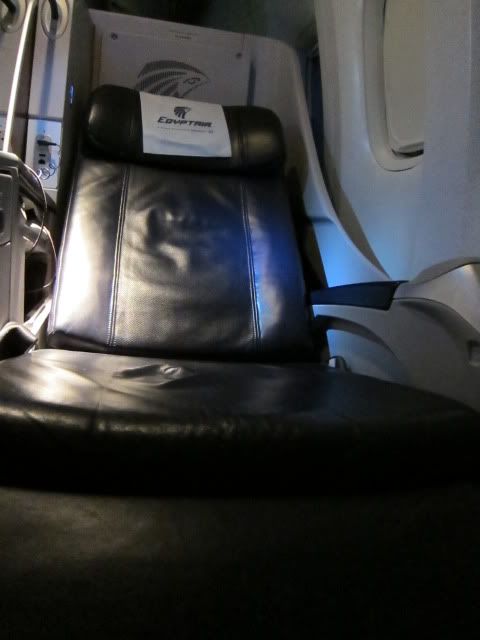 *
(Very Comfortable)
*
Cabin: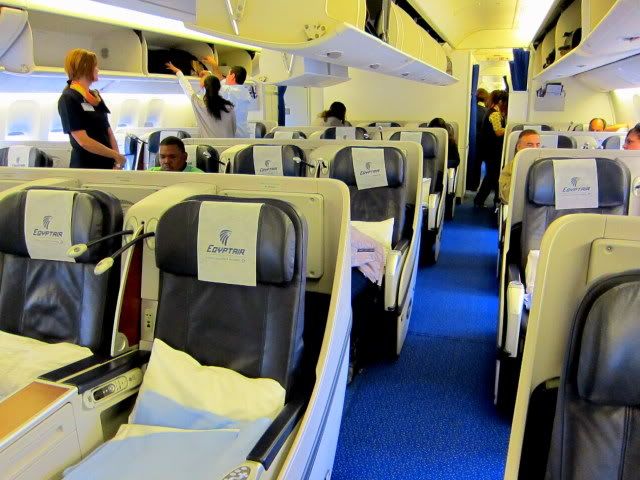 *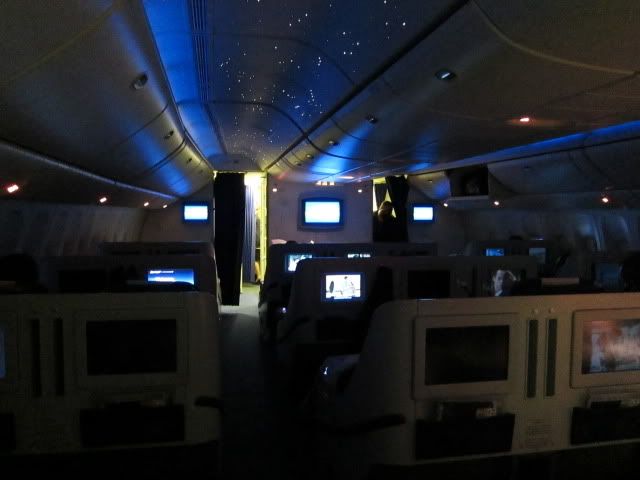 (Blanket ++)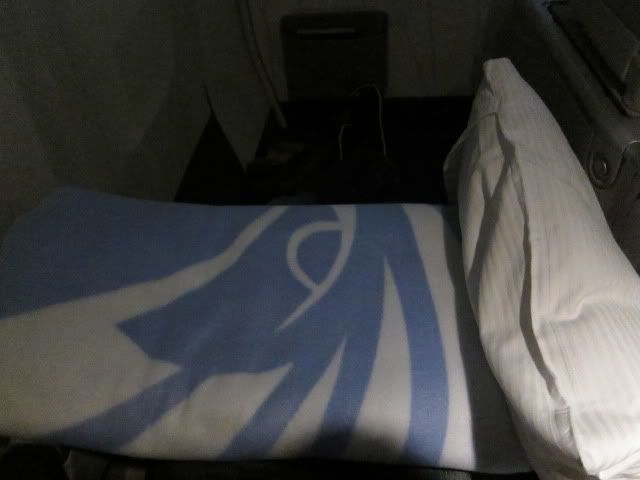 (Bathroom)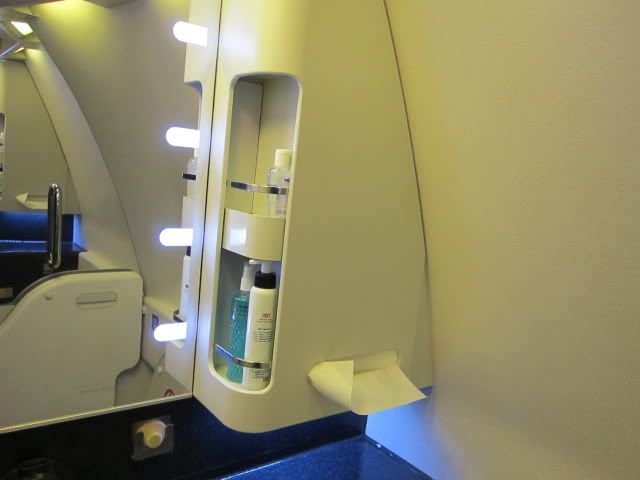 c) Meal + Beverage:
On board, lunch was served soon after take-off from Heathrow. The entire service was conducted from the trolley which always adds to a sense of élan. To start off, the sea food salad with shrimps and salmon was fresh with the quantity and quality being very good. Furthermore, I liked the presentation of it as well. Accompanying the salad was a small side plate of cheese and fruits and some crackers. Both felt a little of an after-thought, and I would have appreciated a little wine. Oh well.
Anyways, after the excellent salad, the main course involved picking from the trolley. There were no menus handed out, but items included a chicken, a pasta, a fish, and a beef dish. I picked the chicken which was presented with yellow rice and some eggplant. While not bad, it wasn't good either. The chicken gravy had flavor ... but, the pieces of chicken themselves were too rubbery for my liking.
Finally, there was the dessert tray. I liked the presentation of it, with the coffee/tea cups forming a center piece in the middle of the trolley. However, the actual content was surprisingly underwhelming. I was expecting some Egyptian sweet delicacies. Instead, I was presented with a rather generic cheesecake (the other option was a muffin) which tasted equally BLAH. I have had better ones pre-packaged from super market aisles. Well, the café was good at least.
The lunch service concluded all the meals offered on board - though, there was a water run prior to landing.
(Take off drinks)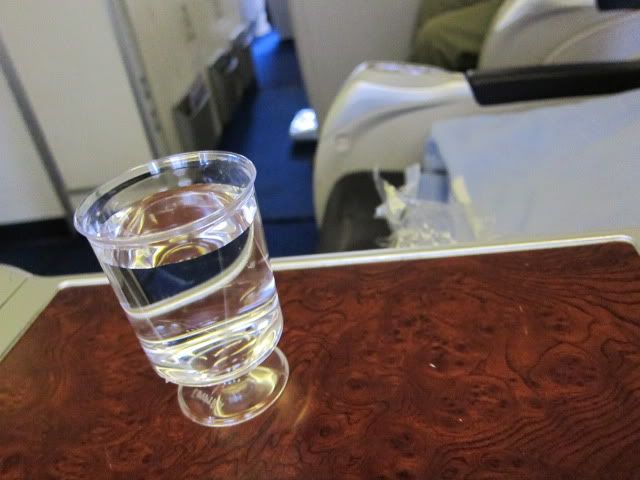 *
(Many parts of the service, like newspapers and food were from tray)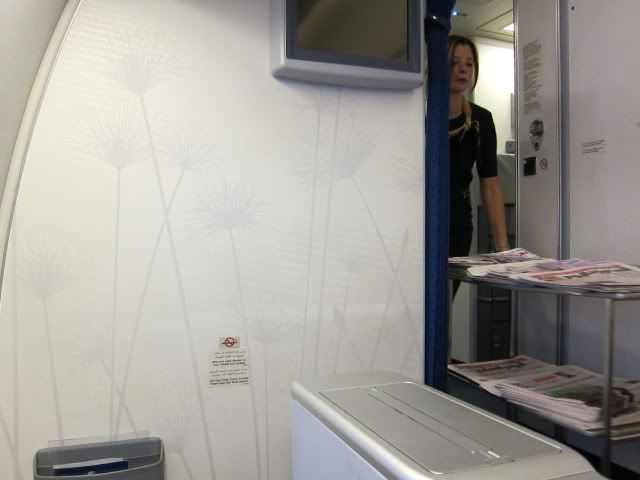 *
(Meal service commences)
*
*
*
*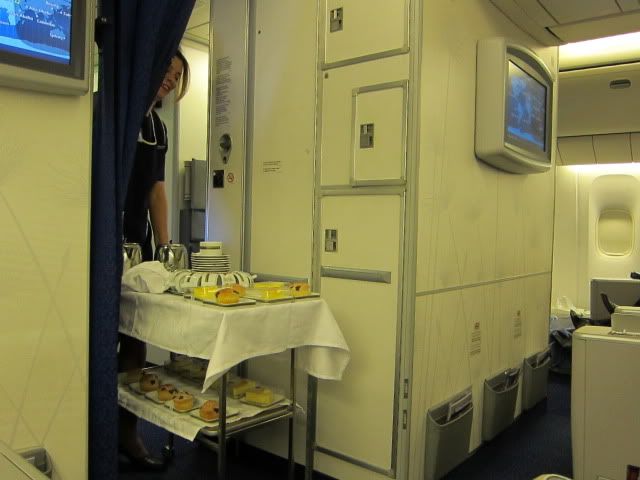 *
*
*
(All you got prior to landing)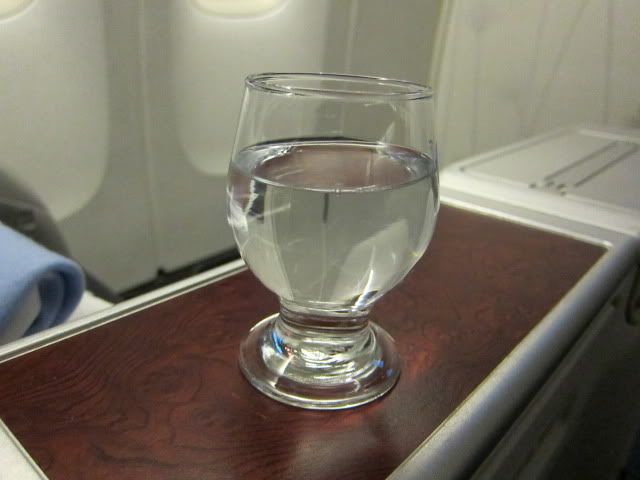 d) Inflight Entertainment:
Besides the change in the seat to a full-flat, probably the biggest change that has happened at Egypt Air is in the IFE category. From being non-existent (ok, to be fair, there was overhead programming), it has evolved to a rather nice AVOD IFE. However, while the screen size and resolution were stellar, the headsets handed out were extremely mediocre.
Thankfully, the content were OK albeit not huge as I was surprised by how few movies were offered. Outside the regular audio and video programming, there were "innovative" features like seat chat, and at some point, internet can apparently be expected on board MS.
Finally, the "Horus" in-flight magazine has always been a joy to read, and this time was no different.
(IFE Screen)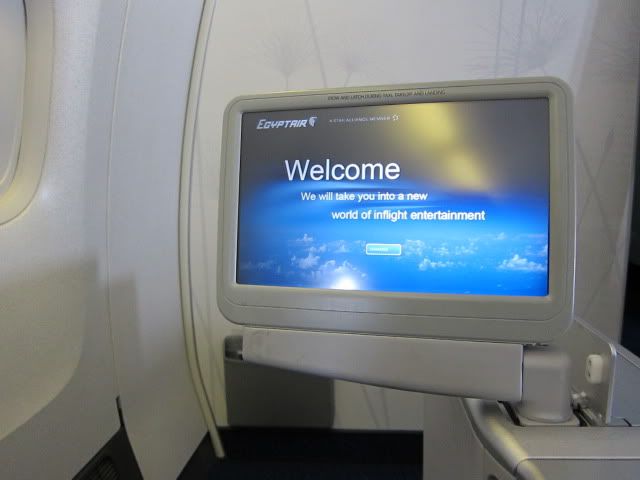 *
(Notice the tacky headset in JCL)
*
(IFE Options)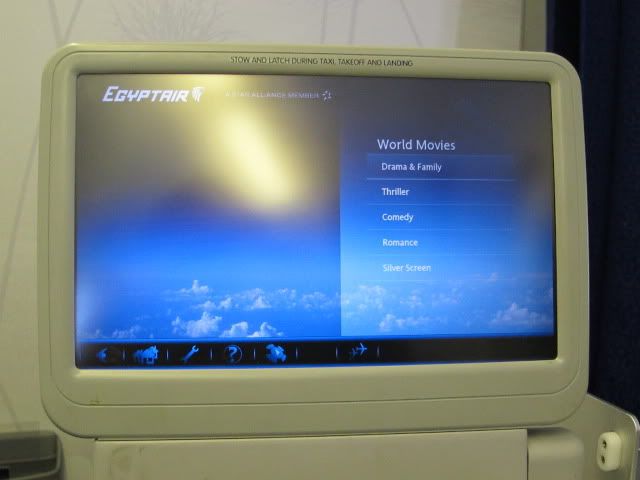 *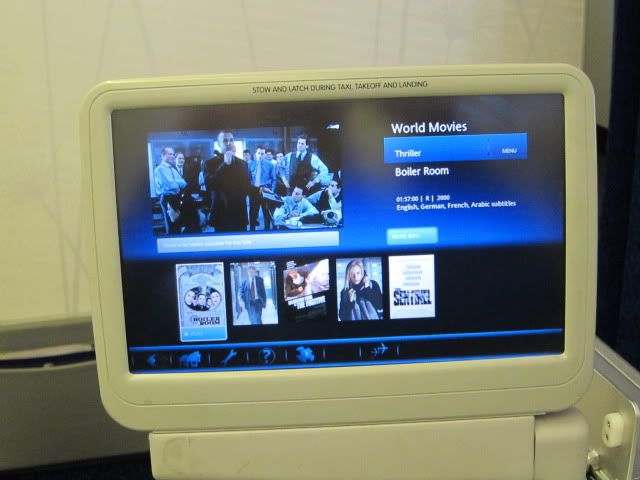 *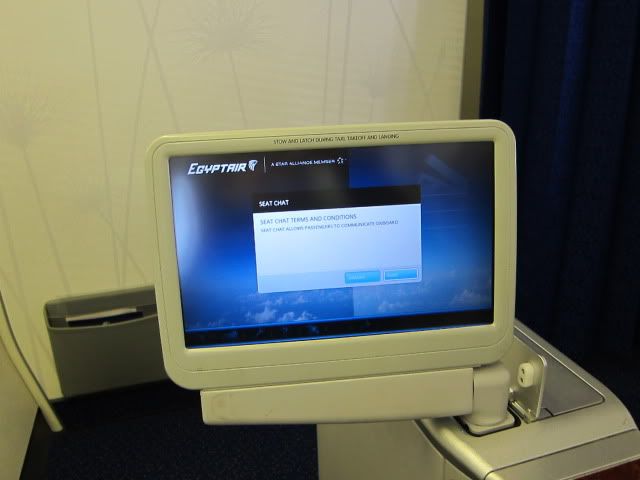 *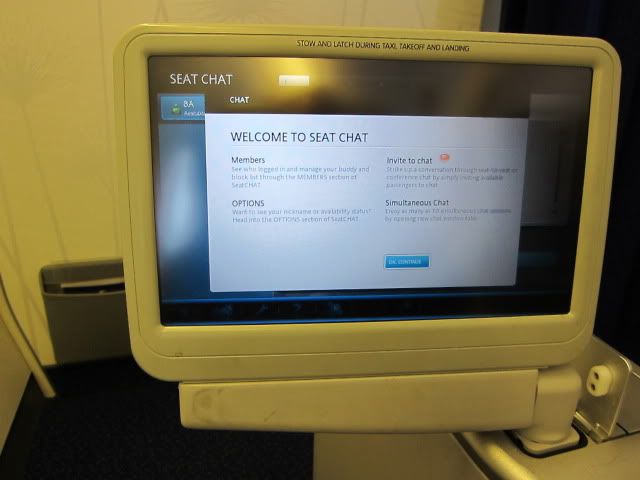 *
*
*
*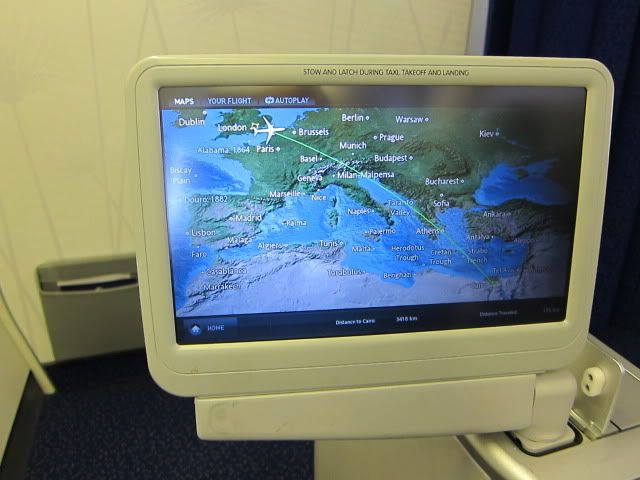 *
("In-flight magazines", Boarding Passes, etc.)
e) Crew:
When an airline undergoes a transformation, one of the hardest things to do is always re-train and motivate the crew. It is always easy to buy some nice seats and IFE and call it a new
here. Over the last few years, I have found significant improvements in the crew of airlines such as Turkish, China Southern, and even Gulf Air. While there has been cosmetic changes, I have been underwhelmed by the transition at places such as Avianca and Air Canada. In between these two are airlines such as Royal Jordanian which has improved significantly, but have a long way to go ... and Air India which I have always found to have good service.

Prior to my flight, I was curious on where Egypt Air would fall in this scale. On my last reported Egypt Air flight (http://www.airliners.net/aviation-forums/trip_reports/read.main/149612), the crew left me disappointed as I felt they lacked the natural warmth of the Egyptian people. Unfortunately, this time would not be significantly better. To be honest, they were not a bad set of crew, and the chief purser was very nice. Unfortunately, I wish I had better words to say for the rest of them. Especially, the one working my side of the cabin needed to go back and get re-trained in customer service, and how to smile. I felt that every request was a chore for her, and my one call button was met with a "what do you want?" After each service, there was no exchange of smiles, no desire to return my polite "thank you's" and definitely no "please" etc.

I should have expected the same as the crew did not really help during the boarding process, and pretty much disappeared in between service runs.

Perhaps, instead of spending a million dollars on focusing how MS is now part of Star Alliance, that money could have been better spent on crew re-training.

IV> Post-Flight:
Landing in CAI was smooth and the new terminal is a considerable improvement of the past. In no time, I was done with immigration and welcomed by my friend for a drive to ALY.



V> Impressions + Scores:
Egypt Air has certainly come a long way over the last few years. The improvements on its hard-ware is apparent on the 77W with new seats, new IFE, etc. ensuring it is taken seriously as a major network carrier. Its membership into the Star Alliance ensures global visibility and a platform for its aspirations to play out. However, to truly evolve as an airline, it must take care of its soft skills. This is where MS fails - from extremely poor ground handling at LHR to an apathetic crew onboard, MS needs to recognizes that putting lipstick does not ensure that the true characteristics of the airline changes. It must invest in her people. Is it really that hard for the crew to try helping during boarding, or during the flight?

As I have said here on the forum, I am a huge fan of the country, and of Cairo and I really do wish I could say nicer things about MS. However, this is a objective trip report and unfortunately I won't seek out to fly MS anytime soon. If the price was cheap AND the schedule met my needs, then perhpaps ... else, I'd look someplace else. Overall, thumps down.




VI> Other Trip Reports:

PREMIUM:
9.27: JET AIRWAYS **FIRST** (110): LHR-BOM: 10/2010
9.27: THAI AIRWAYS **FIRST** (108): BKK-LHR: 07/2010
8.66: Brussels Airlines (93): FIH-BRU: 01/2010
8.64: Turkish Airlines (59): JFK-IST: 11/2008
8.63: Jet Airways (88): JFK-BRU: 10/2009
8.61: Air Canada (49): YYZ-SCL: 06/2008
8.54: Turkish Airlines (77): GRU-DKR-IST: 04/2009
8.36: Kingfisher (98): BOM-HKG: 01/2010
8.30: Jet Airways (74): KWI-BOM: 04/2009
8.23: United Airlines (72): SFO-SYD: 03/2009
8.11: Aeroflot (33): MOW-DEL: 09/2007
8.05: Air India (80): CCU-JFK: 06/2009
8.04: Korean Air (40): NRT-ICN: 10/2007
8.02: Delta Airlines (24): JFK-CDG: 08/2007
7.82: UNITED AIRLINES **FIRST** (110): SFO-ICN: 10/2010
7.82: Singapore Airlines (06): EWR-SIN: 09/2006
7.66: Sri Lankan (104): DEL-CMB: 07/2010
7.64: Royal Jordanian (91): AMM-YUL: 12/2009
7.61: China Southern (103): LOS-DXB: 04/2010
7.57: Pakistan Airlines (102): ORD-BCN: 06/2010
7.46: LAN (55): YYZ-JFK: 09/2008
7.38: AMERICAN AIRLINES **FIRST** (112): LHR-JFK: 10/2010
7.38: CATHAY PACIFIC **FIRST** (109): HKG-LHR: 10/2010
7.25: Iran Air (88): BOM-IKA: 12/2009
7.23: Air Pacific (120): NAN-APW-HNL: 01/2011
7.23: Virgin Atlantic (81): BOS-LHR: 07/2009
7.14: Swiss (52): SCL-GRU: 06/2008
7.11: Aer Lingus (105): MAD-IAD: 05/2010
7.11: Austrian (79): VIE-JFK: 06/2009
7.07: Privatair (84): BOM-FRA: 08/2009
7.02: Qatar (68): DOH-JFK: 01/2009
6.96: Etihad (61): JFK-AUH: 12/2008
6.93: Delta Airlines (18): SEA-JFK: 11/2006
6.88: Egypt Air (123): 03/2011
6.84: ConViasa (65): CCS-DAM: 01/2009
6.82: Air Burkina (106): BKO-OUA: 06/2010
6.81: Air Canada (17): ICN-YYZ: 10/2006
6.75: Afriqiyah + Libyan (113): CAI-TIP: 11/2010
6.70: KLM (32): EBB-AMS: 08/2007
6.52: Emirates (99): LHR-DXB: 02/2010
6.39: South African (97): EZE-JNB: 01/2010
6.36: Privatair (60): MUC-BOS: 12/2008
6.29: TAM Brasil (96): POA-EZE: 02/2010
6.25: Korean Air (45): NAN-ICN: 10/2007
6.21: Iberia (87): BOS-MAD: 10/2009
6.11: A SKY (107): OUA-COO: 06/2010
6.11: TAP Portugal (53): GRU-OPO: 06/2008
6.00: Gulf Air (75): BOM-BAH: 04/2009
5.88: African Express (89): DXB-NBO: 11/2009
5.75: Singapore Airlines (16): CCU-SIN: 10/2006
5.64: SATA Azores (101): BOS-PDL: 04/2010
5.64: NorthWest (46): ICN-NRT-SEA: 10/2007
5.54: Ethiopian Airlines (95): ADD-BOM: 01/2010
5.46: Icelandair (83): KEF-BOS: 08/2009
5.39: LOT (54): WAW-JFK: 06/2008
5.21: Egypt Air (73): CAI-IST: 02/2009
5.11: Tunisair (115): TUN-ORY: 12/2010
5.07: TACA (66): JFK-SAP: 01/2009
4.89: TAAG Angola (117): TMS-LAD: 12/2010
4.42: Air France: CDG-JNB (25): 08/2007

ECONOMY: Long + Medium:
9.26: Air India (48): JFK-DEL: 02/2008
7.38: Avianca (01): BOG-LIM: 07/2006
7.07: Sri Lankan (62): KWI-CMB: 12/2008
7.00: LAN (94): IPC-SCL: 01/2010
6.81: STP Airways/Euro Atlantic (116): LIS-TMS: 12/2010
6.41: Avianca (78): JFK-BOG: 05/2009
6.41: American Airlines (58): LHR-BOS: 11/2008
6.39: Condor (85): SEZ-FRA: 09/2009
6.26: Jet Blue (21): CUN-JFK: 02/2007
6.11: Caribbean Airlines (119): POS-FLL: 01/2011
6.06: Air Canada (04): YYZ-YVR: 09/2006
5.89: USA 3000 (19): PUJ-BDL: 01/2007
5.85: Spanair (69): MAD-LPA: 02/2009
5.79: Air New Zealand (42): RAR-NAN: 10/2007
5.52: Aerolineas (86): USH-AEP: 10/2009
5.46: TAP Air Portugal (23): OSL-LIS: 05/2007
5.19: Air Europa (70): LPA-MAD: 02/2009
5.16: Iberia (71): MAD-BOS: 02/2009
5.11: Air China (82): FRA-PEK: 08/2009

ECONOMY: Short
8.56: Paramount Airways (38): BLR-MAA: 09/2007
8.56: Kingfisher (64): HYD-CCU: 12/2008
8.24: Kingfisher (14): IXA-GAU: 10/2006
7.87: Indian (34): BOM-MAA: 09/2007
7.72: Alliance Air (13): CCU-IXA: 10/2006
7.57: Indian Airlines (10): DEL-CCU: 09/2006
7.23: West Jet (03): YYC-YVR: 09/2006
7.15: JetLite (37): BOM-GOI: 09/2007
6.98: Air Koryo (100): PEK-FNJ: 04/2010
6.70: Spice Jet (09): CCU-DEL: 09/2006
6.63: Air Fiji (44): NAN-SUV: 10/2007
6.63: Jazeera (67): DAM-KWI: 01/2009
6.58: Air Tran (02): EWR-MDW: 08/2006
6.48: Air India Express (63): CMB-MAA: 12/2008
6.44: CO Micronesia (39): ROR-YAP: 10/2007
6.41: Pacific Sun (43): NAN-SUV: 10/2007
6.37: Skybus (47): SWF-CMH: 02/2008
6.33: Kenya Airways (29): NBO-BJM: 08/2007
6.33: Sky Europe (56): LTN-BTS: 10/2008
6.31: Indigo (15): GAU-CCU: 10/2006
6.31: easyJet (57): BUD-LTN: 11/2008
6.22: Air Link Swazi (28): MTS-JNB: 08/2007
6.22: Air India (36): HYD-BOM: 09/2007
6.13: Adam Air (07): SIN-CGK: 09/2006
6.13: Air Rarotonga (41): RAR-AIT: 10/2007
6.04: Suriname Airways (118): PBM-POS: 01/2011
6.00: Transairways (27): INH-MPM: 08/2007
5.95: Air Canada (05): ALB-YYZ: 09/2006
5.85: SAS Norge (22): OSL-AES: 05/2007
5.81: LAM Mozambique (26): JNB-MPM: 08/2007
5.69: Air Deccan (12): IXZ-CCU: 10/2006
5.67: Rwanda Air Exp (30): KGL-NBO: 08/2007
5.52: Sevenair (114): TOE-TUN: 11/2010
5.37: Felix Airways (92): SCT-SAH: 12/2009
5.11: Aero Republica (76): BOG-CCS: 04/2009
5.07: Go Air (35): MAA-HYD: 09/2007
5.04: Biman (121): DAC-CGP: 01/2011
5.00: Sky Airline (51): IQQ-SCL: 06/2008
4.96: United Bangla (122): CGP-DAC: 01/2011
4.96: Valuair (08): CGK-SIN: 09/2006
4.78: Air Comet Chile (50): SCL-IQQ: 06/2008
4.74: Fly 540 (31): MYD-LAU: 08/2007
4.33: Viva Aerobus (20): ELP-MTY: 02/2007
4.11: Air Sahara (11): CCU-BOM: 09/2006

(Note on Codes: Y – Economy, J – Business, F – First :: I/D – International/Domestic :: SR/MR/LR – Short/Medium/Long Haul)
(Note on Date: Dates are modified to be +/- 3 days from actual flight date to not reveal actual flight pattern)

VII> Other Pictures:

(Amenity kit - pretty good)