Dear a.netters and visitors!
Welcome to a short but another tripreport of mine, which comes earlier then some of you might have been expecting. It's covering my flights to the a.net meeting in Stockholm Arlanda (and Tallinn - for some of us).
5 flights & ARN A.net meet (SF3/737s/F50)

A few months ago the idea was mentioned to organize the meet, and I decided to join. Fellow reporter P. aka FlyingFinn, was chatting with me and we came on the idea to jump over to TLL for the night; which brought us cheap(er) drinks and accomodation, and an always interesting Saab 340 ride, Boeing 737-500 (you should've joined on this one Martijn!) and Fokker 50 (getting more rare these days).
The routing was going to be: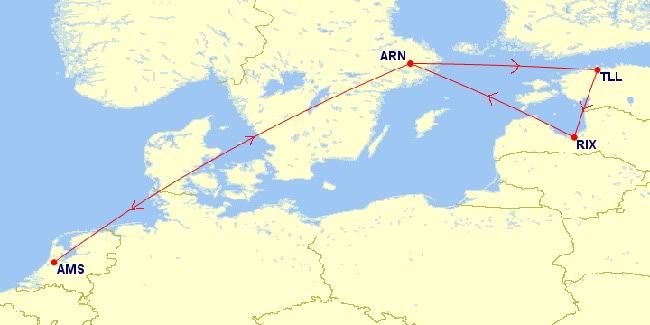 .
The flights on a mep (thanks to Great Circle Mapper)
We settled the flights for real cheap prices, and offered our idea to others. Well, finally quite a few were joining; Tom, Matt, Jonas, P., Jani, Markku, , Gabriel (directly from London), Robert, Servaas, Martin - thanks for joining me and the good time!
The others stayed in or around Stockholm, except for Kas and Martijn who came up with the fantastic idea to book themselves on a Saab 2000 return on Sunday afternoon! Well done and looking forward to your report! Thanks for the nice time to the others who joined us on Saturday or Sunday at ARN! It was a good time and nice to see the real faces behind these usernames.
Well, it all started on Saturday 14th of January, when the alarm went off at 4am, too early usually but I just came out of an early shift range at work, so it was possible to achieve getting up at this hour. My bus was running at 04:58am, and went ok. I noticed that the ticketprice went up again... No surprise actually. Everything does!
I selected my seat online, but decided to print out my boarding pass at the airport. My Elite status gives access to the calm area for those customers, and I was ready within a minute or so.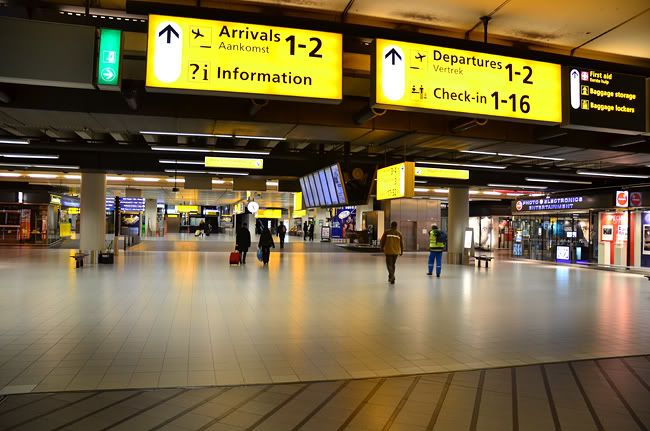 .
It was very quiet at the AMS in the early morning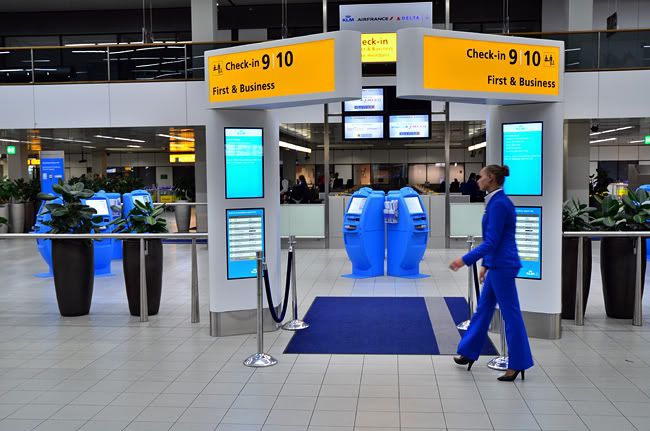 .
Elite/Business Class Check-In for KLM-AF in AMS
Security went fine too, and I used the 'fast track' here. Although checked manually as I beeped random (as usual it seems), staff seemed to be in a good mood.
No lounging in AMS for me this time, instead I checked out some prices in taxfree stores, since the See Buy Fly might have occassional interesting offers.
My gate was C10, not so far away, and I found a rather calm gate area. This was seemingly to become a good flight.
Boarding was called for, I was invited to board first, so that's what I did. At doorside I received a friendly 'good morning' from the crew. Not 'business friendly' like we sometimes hear from certain German carriers, but more 'real'. It's typical,... It's KLM.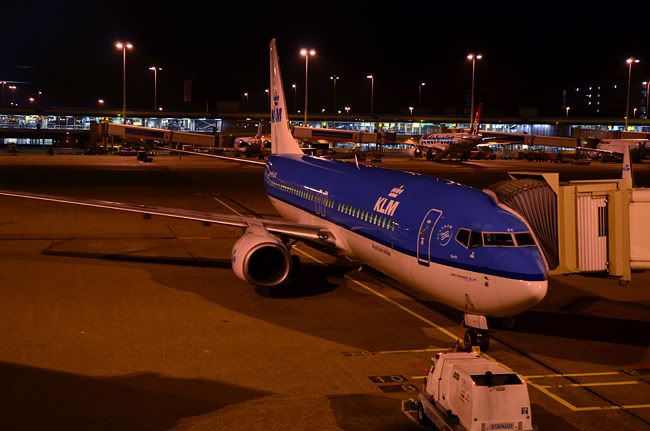 .
The Boeing 737-800 parked at gate C10 prior my flight
KL1107/14JAN AMS-ARN
STD
06:45
ATD
06:53
STA
08:50
ATA
09:10
A/C:
PH-BXK
(Boeing 737-8K2/WL)
S/N
05F
(Economy class/Y)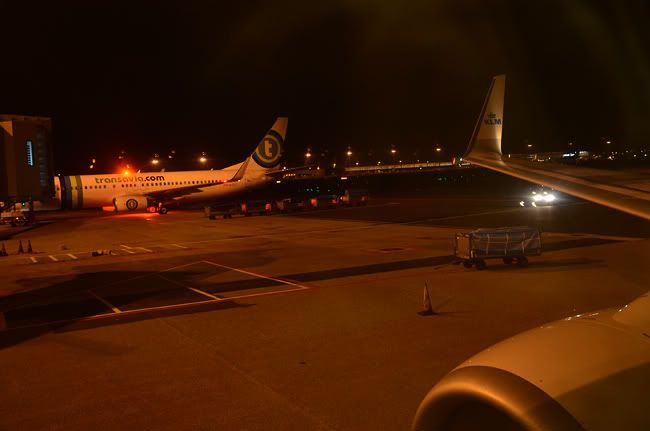 .
Prior pushback. A Transavia Boeing 737-800 is also ready to fly out
We departed a few minutes late, caused by some baggage loading according the captain. Not too much though, but he also mentioned also about headwind, bringing us a longer flighttime then usual and in ARN with a forecasted delay of 15 minutes.
The safety demo was done manually on this older 737-800 (no screens), during taxiing to runway 36L aka the Polderbaan. We needed another 15 minutes to get there before we took off to Arlanda.
Once airborne, still in darkness, I got on my Monster Beats headphones and started to enjoy the calm journey. Breakfast was served on this flight too; for economy class consisting of a sandwich pack with veal and a eggsalad sandwich. Coffee and juice for me, and later on another coffee and the famous caramel cookie (yes the ones I distributed at the FRA meet in June 2011).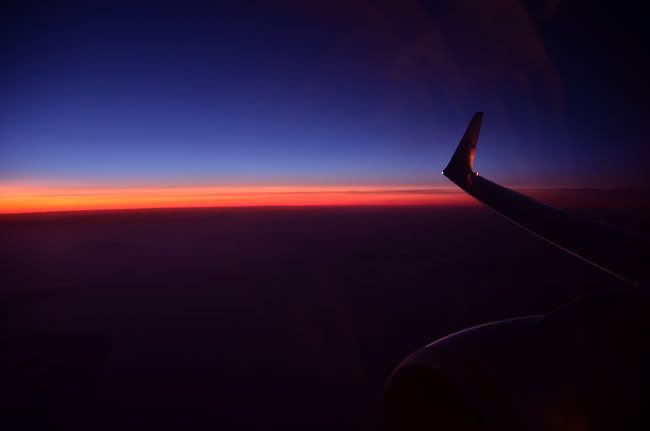 .
Beautiful colours in the sky after takeoff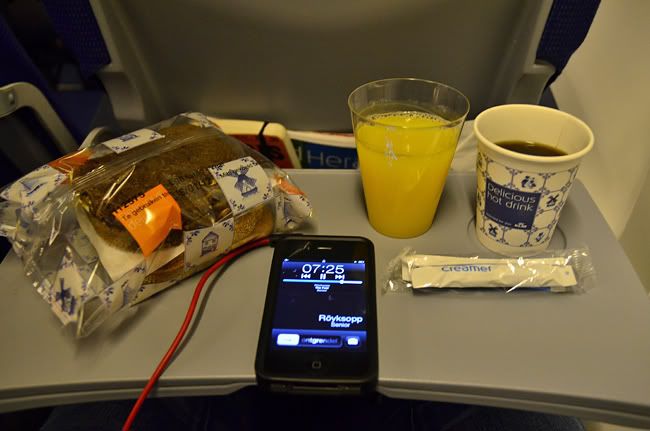 .
Sandwich service and 2 drinks - KLM's European service concept
I got to see a beautiful sunrise over Denmark, and the sum appeared at the horizon when we were just overflying Copenhagen and the Øresund bridge. A bit too dark to recognize CPH airport, but nevertheless a beautiful sight again.

.
Sunrise over Denmark. The Øresund bridge is visible below us
We got enroute information from the flightdeck at this stage. The captain mentioned about a headwind of 150km per hour, although this didn't bring a rough ride. Ok, temperature was stable as well the wind direction, so it only brings down the speed.
For ARN he expected light cloudy conditions with a westerly breeze, good visibility and a temperature of -2°C. That sounds good to me.

.
Descending for ARN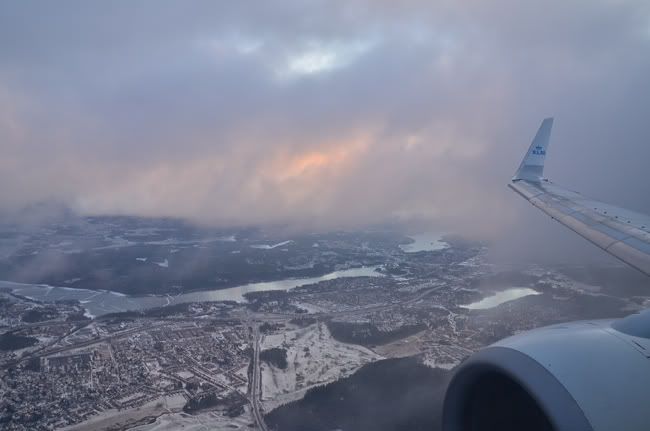 .
Ground surface is visible again.... final approach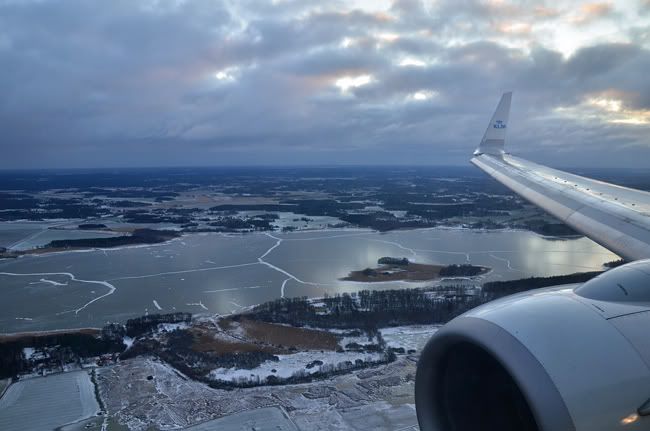 .
Almost landing at ARN
Our descent was smooth too except on finals where we got slight crosswinds. Landing was on runway 01L, and the used the thrust reversers for some serious braking. After vacating the runway, parking was 20 minutes late at gate 12, standard gate for KLM here and next to the Ethiopian B757-200 from ADD and FCO.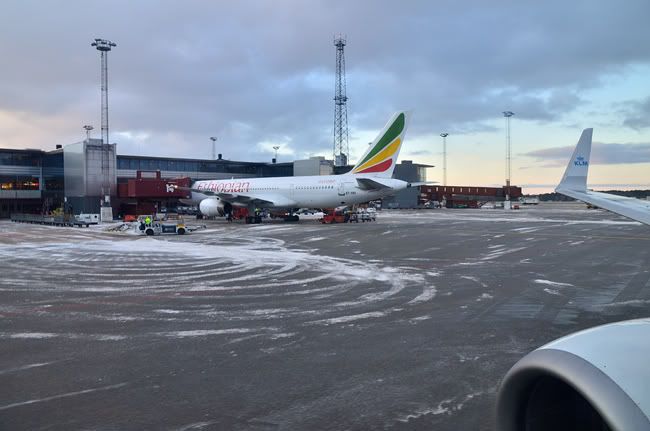 .
Parking is next to Ethiopian Airlines
I was off among the first batch of passengers, got a friendly goodbye from the crewmembers, as well a warm welcome from "the Man with the hat" and Jani. They were awaiting my arrival at the gate, prior joining the rest of the group.
We met with a lot of a.nutters in SkyCity, opposite the Radisson SAS hotel entrance, offering us a good view on the apron and a nice location to chat a bit with eachother. Later on, a part of the group split up and went to see the stored Caravelle at ARN, while me and some others rather stayed inside to have a light meal and some drinks at Sbarro. Also users BA319-131 and Brewox joined us here on a short daytrip from LHR, to say hello to us and to spot some new registrations for the books. How many new ones did you get guys?
Next thing to do, was flying to Estonia, where the accomodation and beer (and Baileys) is cheaper then in ARN, and we wanted to have Jonas with us, to this was definitely the best choice in vicinity. The excistance of a Saab 340 operating on this route was a nice bonus, and finally quite a large group joined me to TLL. Jonas flew on another airline, but got at least to fly a new aircraft type, always a good bonus and always good that he got on something 'Dutch'.
The Saab 340 flyers went to busgate 6B, where boarding was on time and we were served by a very friendly male groundstaff. He handed luggage tags for our backpacks, since they were -according to him- to big for the cabin. But everybody was able to bring it onboard in the end.
A short bustour on the apron brought along the gates at T5, and we also gave way to a taxiing TuiFly Nordic Boeing 767-300. After crossing the taxiway we arrived at the cute little blue Saab, waiting for us on the windy apron.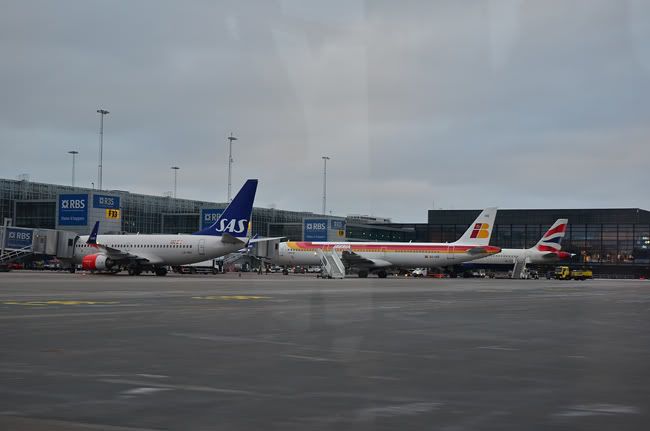 .
A busride to our awaiting Estonian Airlines flight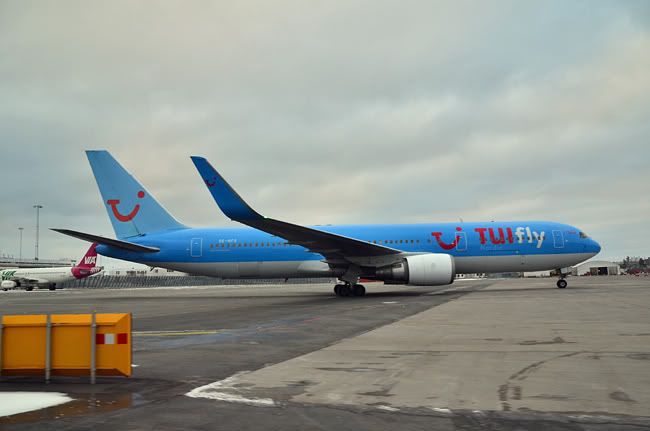 .
Also blue, but not Estonian. It's TUIFly Nordic with a Boeing 767

.
'Our' Saab 340 is ready for boarding!
All us were making pictures, probably to much surprise by the groundstaff but this is never a problem in Sweden. A bigger sistership operated by Golden Air was parked next door, not knowing that Martijn and Kas were going to book themselves a ride on such type for the Sunday.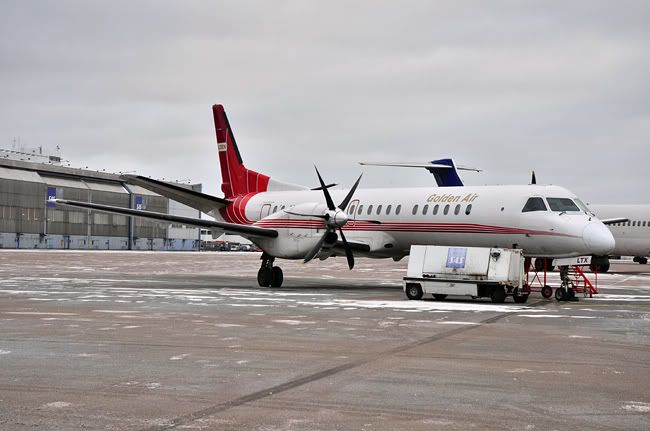 .
Golden Air's Saab 2000 is parked next to us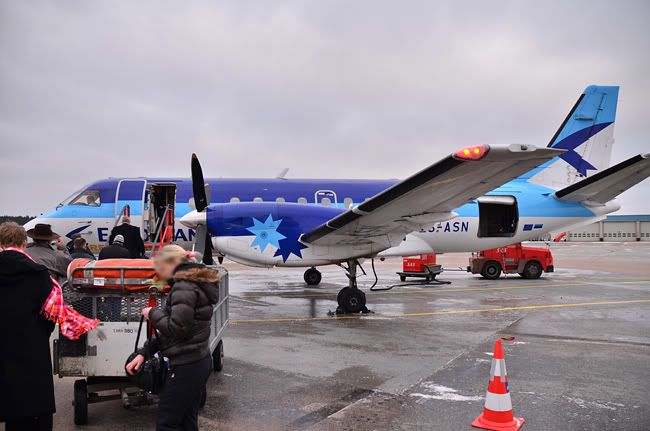 .
Boarding the little Saab now...
When it was my turn to board, the sole and friendly blonde Estonian flight attendant welcomed me and was definitely in a good mood. I asked how she was doing, and she welcomed me etc. Good first impressions!
OV124/14JAN ARN-TLL
STD
14:30
ATD
14:26
STA
16:40
ATA
16:34
A/C:
ES-ASN
(Saab 340A)
S/N
06A
(Single class/Y)
As far as I noticed it correctly at the gate, the load was 24 passengers in total, with 33 seats onboard. Not a bad score, largely made possible due to our group on this flight. Don't take this load too serious,... usually it seems not to be a good money maker.
Doors closed on time, and we all seated. My seat was at the emergency exit, but legroom seemed the same as in other rows. I worried about my backpack underneath the seat in front, but the FA didn't care or just didn't notice. Well, I'm happy and all set, with my camera and ready to go.
A few minutes ahead of schedule when we taxied out to active runway 01R for departure. We immediately departed and were airborne quickly. Always fun in these tiny planes!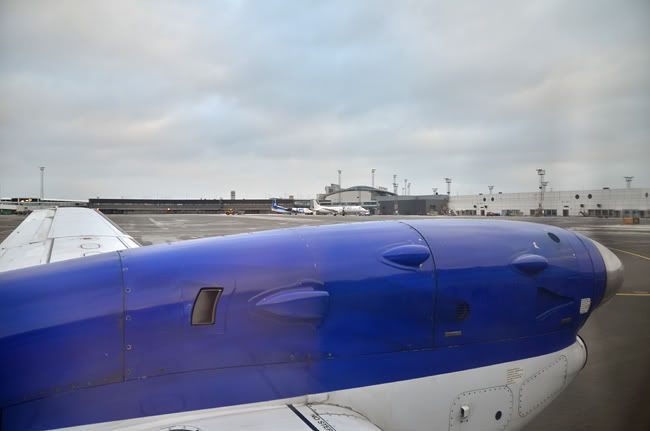 .
Taxiing out to the active. A NextJet ATP and Amapola Fokker 50-Freighter (ex ANA) in a distance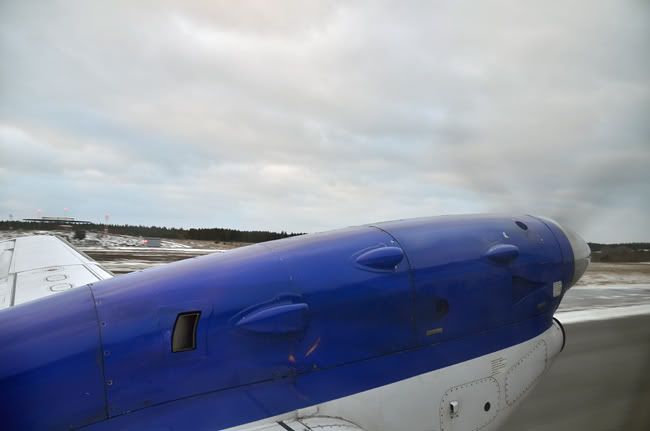 .
Off we go!
Once we arrived in clear skies and got our cruising altitude of 5800 meters (19000 feet), also service was done; a cup of coffee or tea and a warm muffin, which tasted really good. Later on, a refill for my coffee was offered. That was welcomed too, since me and Servaas (MEA-707) were still a bit hungry and had both a raisin bun which I brought with me from Amsterdam.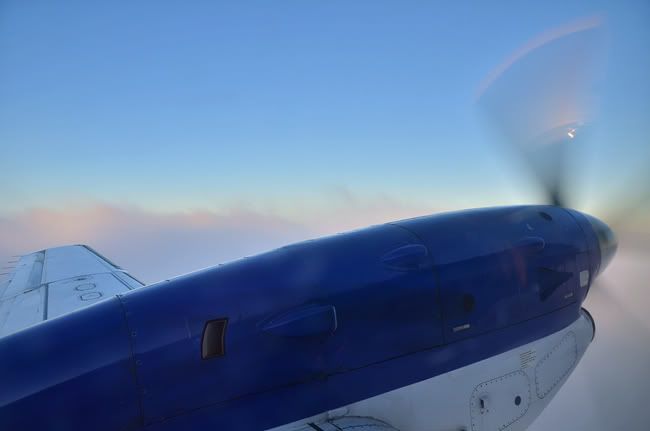 .
And we arrive above the clouds again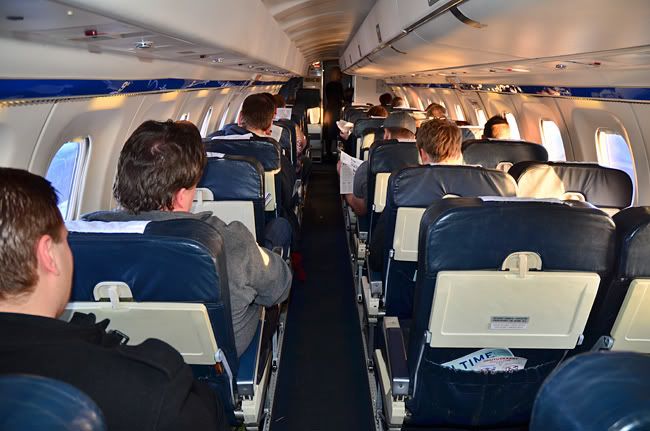 .
Cabin View during the flight, with several a.netters visible

.
Legroom is just ok for the shorter hops this aircraft operates on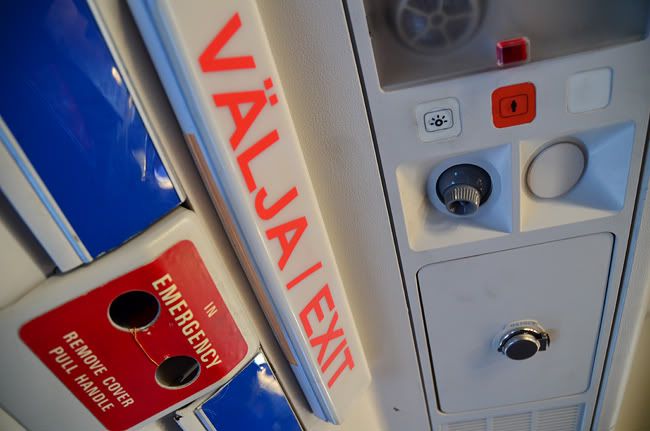 .
I was seated in the overwing exit-row. This was visible to me...

.
Muffin and coffee. Really sufficient and good service here!

.
Sunset brings back the beautiful colours
The sun was meanwhile setting, creating a beautiful colour in the sky when we crossed the Baltic Sea.
Before our descend the flightdeck came on with some more information about our arrival in Tallinn; weather was to be be cloudy with snow conditions, a temperature of minus 4ºC and a wind of 15 m/sec (7 Bft / 29 knots). Definitely a good cold breeze!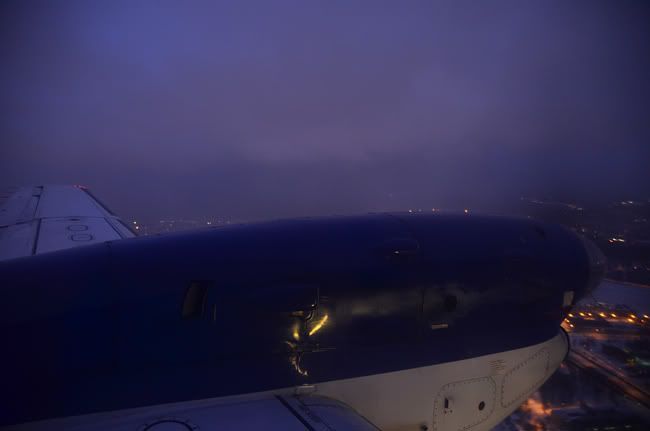 .
Final approach for TLL, dark and with a layer of clouds, strong wind and some snow
We landed in darkness, on runway 08, indeed snowy conditions but the Saab 340 was kept stable and did very well under these circumstances. Also the Estonians know how to deal with winter operations.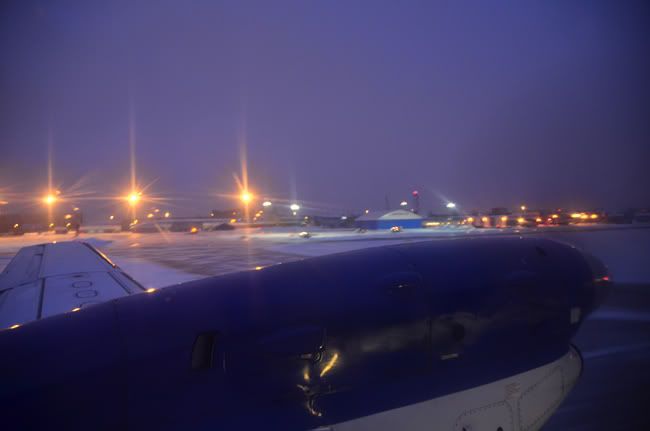 .
Landing in Tallinn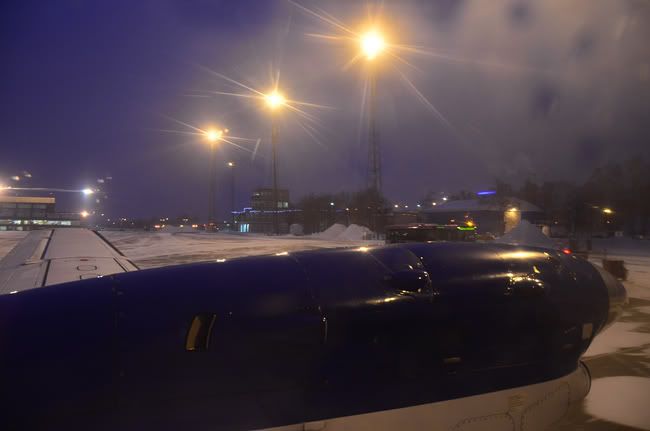 .
Snow covers our parking spot. Winter in TLL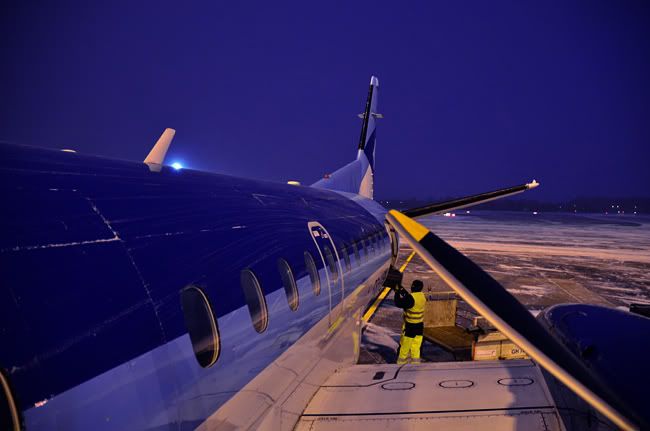 .
The strong winds shows herself on this picture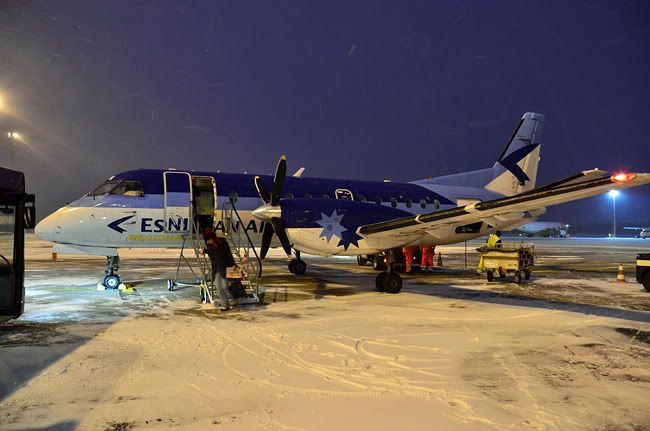 .
After disembarking. Goodbye to the Saab 340. A great aircraft it is!
We arrived on stand just ahead of schedule, and a bus was already awaiting our arrival. Everything under control and good bye to the little propliner that brought me in TLL for the first time. We said goodbye to our Belgium friend Nils who was flying back home via AMS. Read his report here:
To And From The ARN.meet: BRU-ARN-TLL-AMS-BRU
(by
sultanils
Jan 16 2012 in Trip Reports)
TLL is a small airport. A bookstore in the arrival hall also sells bustickets for a little as 1 euro per person, plus the friendly cashier was kind enough to exchange me a complete series of Euro coins so I have all Estonian coins complete now.
The bus was a bit old, but did the job well on the slippery roads. We arrived at our hotel in near the port of Tallinn a while later and freshed up a bit for the night ahead of us.
We had a nice walk into the old town and stopped for a drink from time to time. Also the restaurant was good, where we had dinner all together that night. We finished the night around 2am in a Russian styled bar (I guess it's named Tallinn Bar?), which served cheap drinks. Our walk back to the hotel was really refreshing, with temperatures around minus 7ºC and the fresh snow on the ground was perfect to play with haha.
Next morning, 7am sharp, I met with FlyingFinn and Parton87, and took the bus to the airport. Also Jonas joined us halfway. At the airport we met some more people, all flying back on the first Air Baltic service to RIX, operated by a Boeing 737-500. Servaas was taking a later Air Baltic flight on Q400 and would join us again on the second leg to ARN, where again some others took a direct Estonian CRJ-900 flight which was much better scheduled after such a nice evening.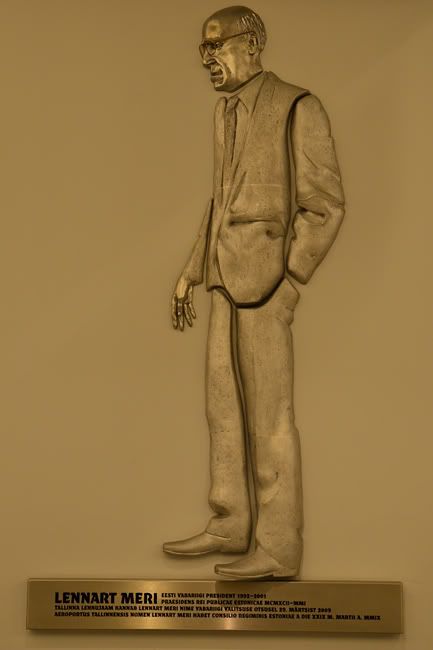 .
This man is where the airports name comes from: Lennart Meri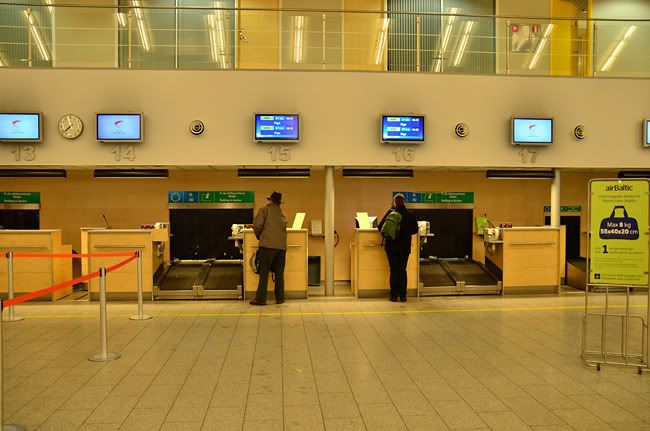 .
2 tripreporters checking-in at the desk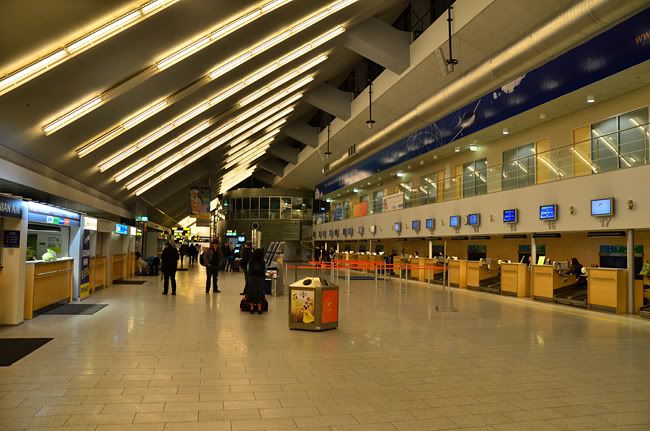 .
Departure Hall

.
Some traffic which stayed overnight. The BT Q400 just arrives from RIX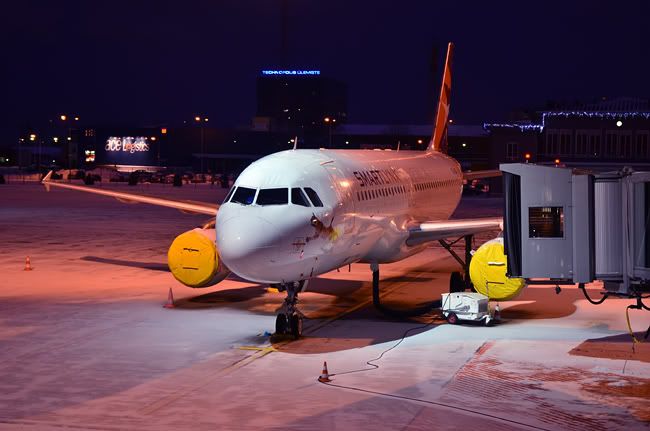 .
A smart SmartLynx Airbus 320 is here, and will fly to Sharm El Sheikh soon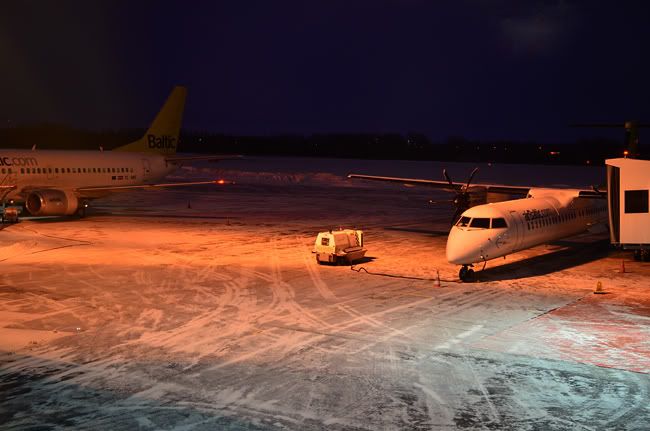 .
Air Baltic is in with 2 aircraft. 'My' 737-500 and the smaller Q400
For breakfast I took a small sandwich with salmon, which tasted really good. Airport prices here, but that's to be expected. I bought some Kalev chocolate to bring home, before boarding was called at 08.20am. I think that I managed to be the first person that was let on!
BT366/15JAN TLL-RIX
STD
08:45
ATD
08:45
STA
09:40
ATA
09:37
A/C:
YL-BBE
(Boeing 737-500)
S/N
21F
(Economy class/Y)
Welcomed by the crew at doorside, not remarkable friendly but just standard. The cabin looked in a good condition, with the slimline leather seats. I took a seat in row 21, where row 22 is the last one on board but without a window.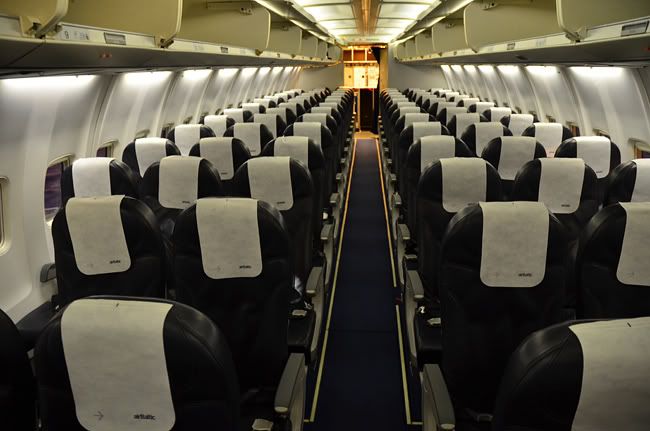 .
Cabin View during boarding of YL-BBE, Air Baltic B737-500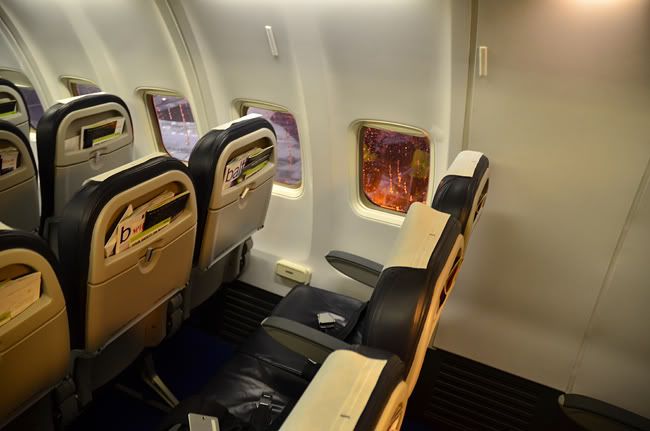 .
My seat 21F. Note: row 22 has no window.
I have a seatmate on the aisle, and the middle seats remains free. De-icing is done during boarding, a first time for me this season. Also the runway was in the need for snow removal and I noticed that the airport team was working on it. Were we the first departing flight that day?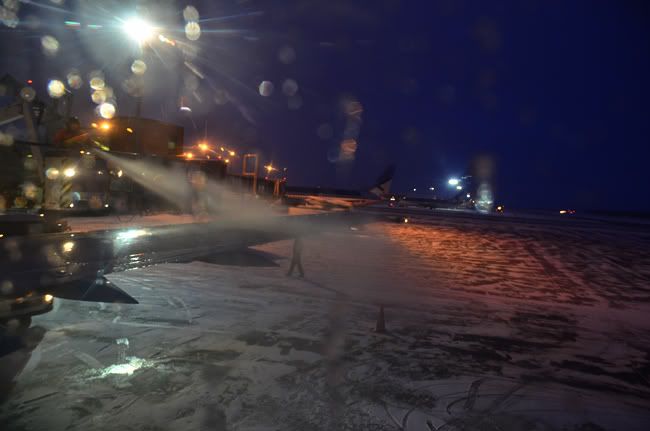 .
De-icing work in progress
We pushed back on schedule and once the manual safety demo was finished, our takeoff was imminent. A real short taxiing and we fired up the engine on runway 08 for the flight to Riga.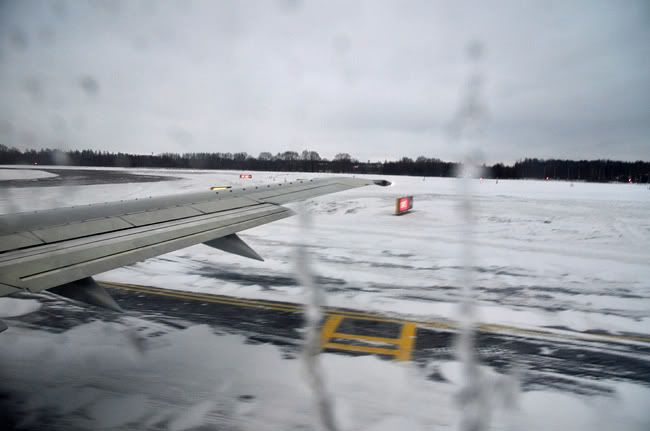 br>.
Taxiing out to the runway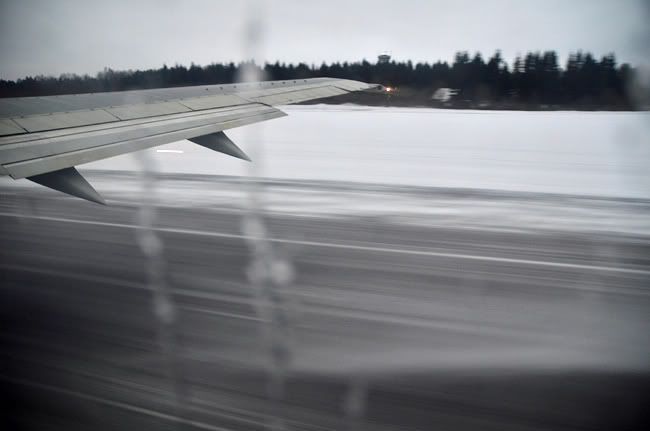 .
Blowing away some snow during take-off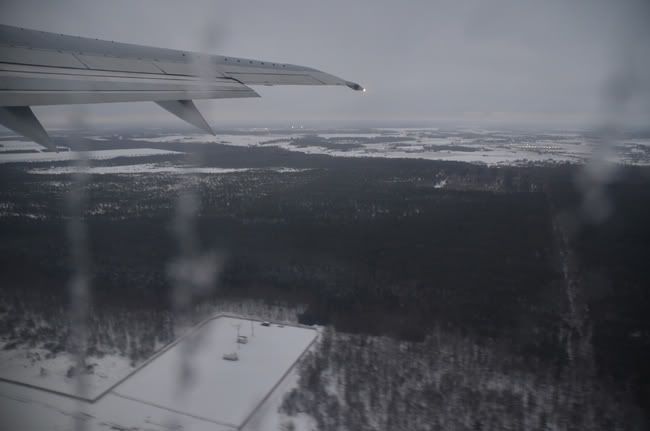 .
Airborne, off to RIX
Once airborne and above the covering clouds, a calm flight was the thing to enjoy. My eyes closed and with the Beats Solo on my ears, the mix of flying and music was how I experienced this ride.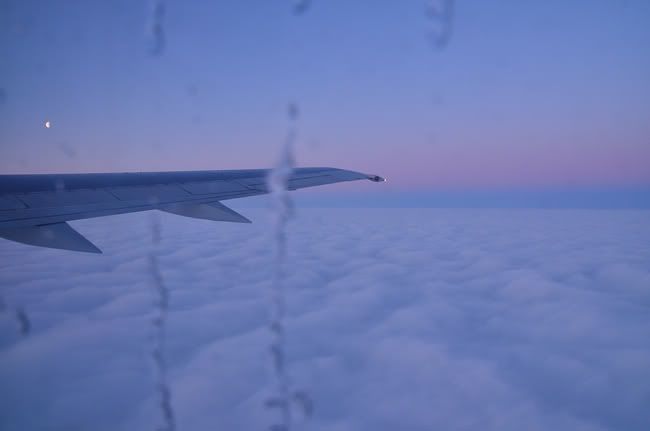 .
Cruising just after sunrise
Service on Air Baltic is 'buy on board', but I didn't spend my money on it.
According schedule we landed in RIX, on the concrete of runway 36. Some light braking here, probably due to the runway condition (braking action). Also snow in Latvia!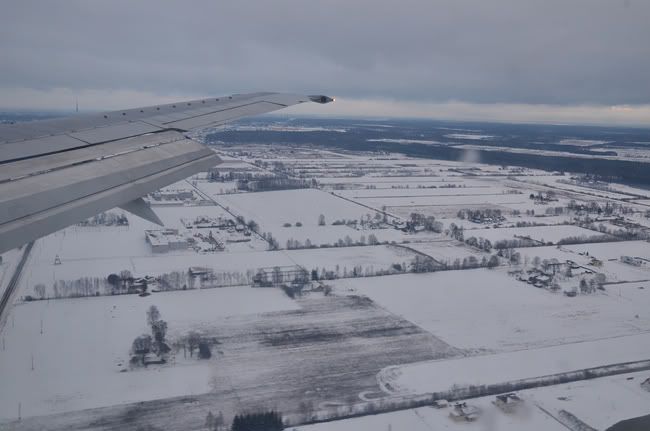 .
Approaching RIX - also snowy conditions here in Latvia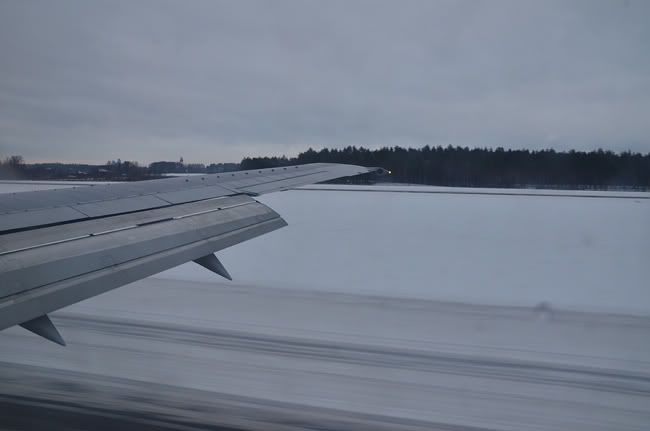 .
Landing with some snow on the runway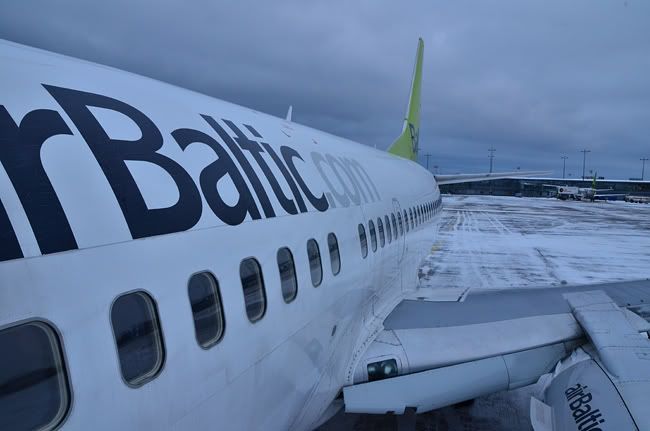 .
My first flight on Air Baltic is completed!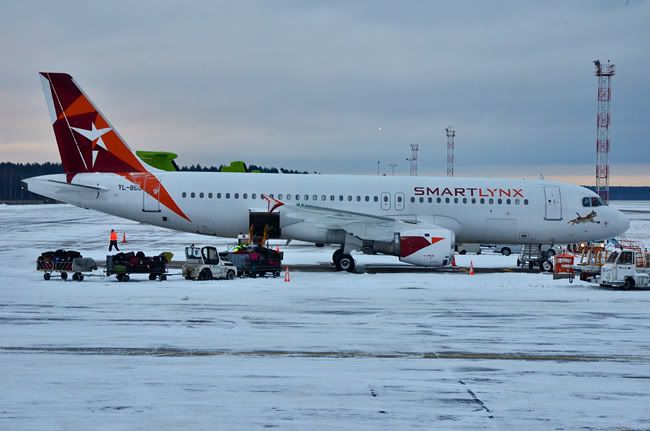 .
SmartLynx is also around in Riga. I kinda like their livery
Deplane on the apron, and a bus ready to bring us to the terminal. And like FlyingFinn already expected, all passengers went to 'transfers' and seemingly nobody entered Latvia. Very interesting!
The transfer was a few hours in RIX. FlyingFinn made use of his lounge access, but was so kind to text us the password to leech of the WiFi network. We took seats in a coffee bar nearby, did some talking and saw also the Q400 from TLL with MEA-707 onboard arriving. He joined us for a few more minutes before boarding commenced for the next flight back to ARN.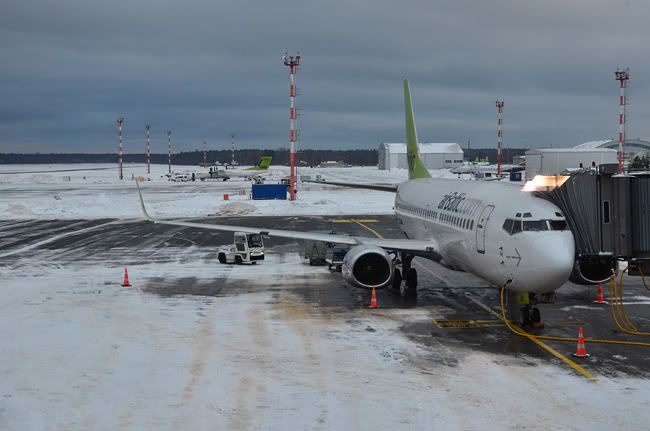 .
A view on the apron. Note the Aeroflot Tu-134 parked a bit further away.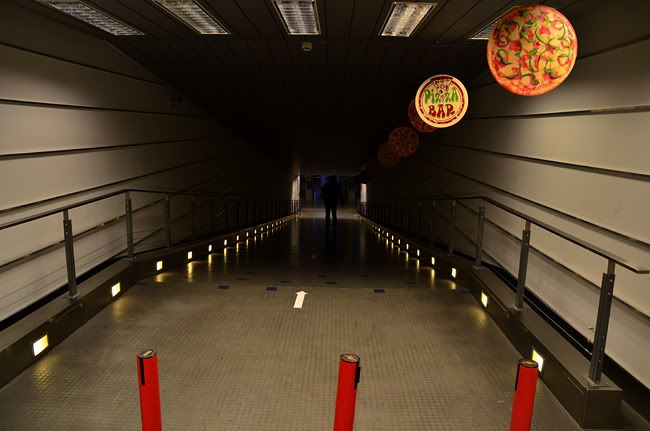 .
Where do we go with this tunnel? A pizza place or the gate?
Gate A1 was our place to go, a busgate on the ground floor. Quite a queue of people there when we arrived, this was definitely going to be a full flight. The expected Fokker 50 was awaiting for us on the apron. Good to see it, since it's always nice to fly one of these interesting machines. Though, Air Baltic is rumoured to retire them in due time, but we all know that nothing is for sure in this world. Especially not when we talk about Air Baltic.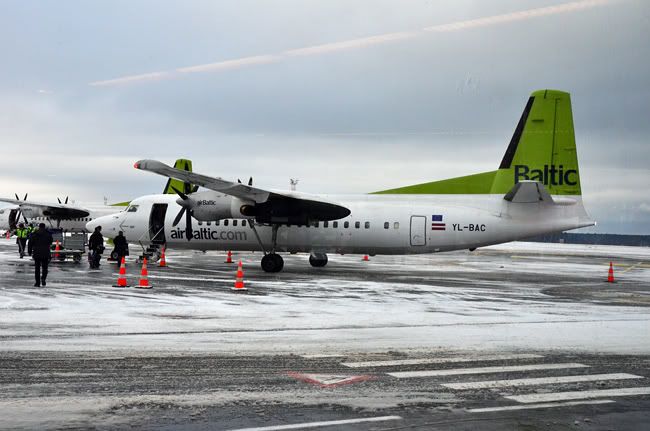 .
The expected Fokker 50 was waiting for us...
Boarding was in progress now, and I was able to make a few more pictures on the apron. Also next door, the DY 737-800 with stickers promoting the onboard WiFi was a nice bonus to see. Onboard a friendly welcome by a female flight attendant.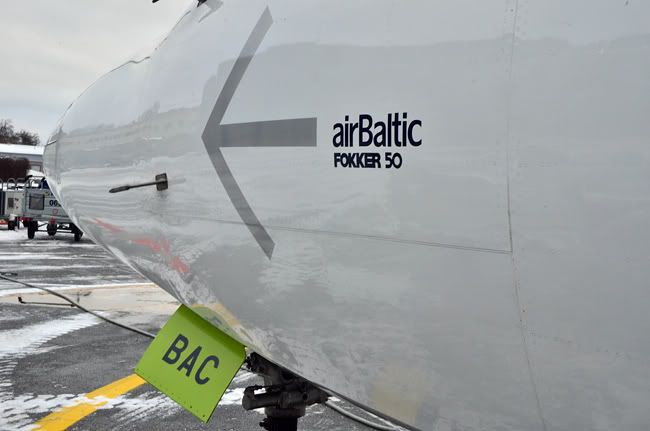 .
Close-Up, Confirmation of airline and aircraft type when needed
BT105/15JAN RIX-ARN
STD
11:35
ATD
11:35
STA
12:00
ATA
12:06
A/C:
YL-BAC
(Fokker 50)
S/N
03D
(Economy class/Y)
My seat was bulkhead, so I had to stow my luggage in the tiny overhead bins. I was glad that it just fit, and got the camera hided near my seat. Legroom was very good in this row, but the seats are a bit narrow, especially since I got a seatmate on the aisle. Overall the loadfactor was nearly full-house on this service, with only a few open seats. Business Class also got a 50% load.

An ontime departure followed, but taxiing took quite a while with a lot of other traffic taking off in front of us. Rushhour in Riga! We used runway 36 for departure, and had a smooth climb out. The city was visible on our right until we reached the clouds and above.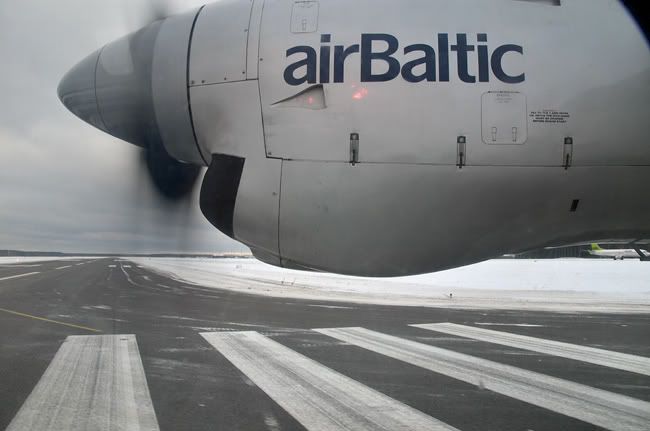 .
Taxiing out and lining up the runway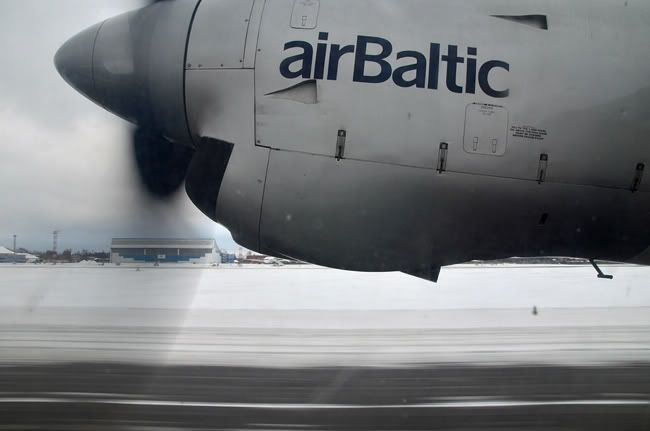 .
Slowly we climb away towards Sweden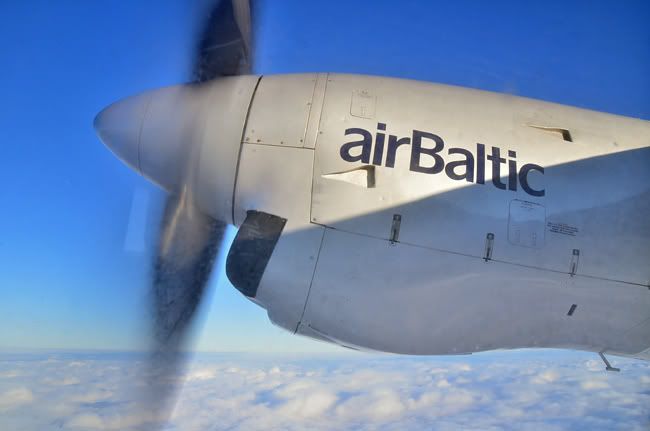 .
The weather above the clouds is always better!
The flight was - to use somebodies words - boring, for the majority at least, and a bit more music and a quick nap helped me through. It was close to when our descend started when the cloud layer broke apart and offered some views on the Swedish coastline. Info from the captain revealed that it would be a chilly -5ºC in Arlanda.
We overflew parts of the city of Stockholm before landing on runway 01L at ARN. Just before landing I noticed a group of spotters on a hill photographing our aircraft. Well, that turned out to be a group of fellow a.netters from this meet, awaiting our arrival. Thanks for shooting at us guys!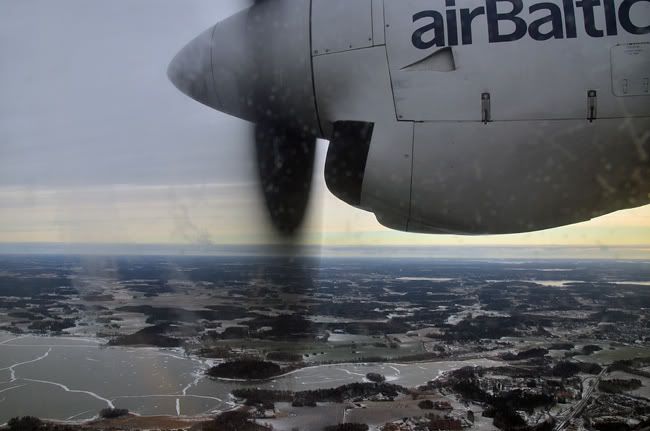 .
Approach to ARN
We came together as one group again in SkyCity for lunch, at the Bistro restaurant. A bit more talking and a good meal until the first members had to leave for their flights home.
Some were in the need for some sleep, and used the lounge. Finally also me and Marc (MSS658) went through the security gate, about 1 hour for our departures. I was informed by Jonas about a American Express Goldcard offer for lounge access at the Menzies lounges for SEK 50 (about 5 Euro), well that is quite a good price of course, and me and Marc tried to find the lounge in the newer part of the terminal. When we did, it turned out that only me as cardholder was able to enter, and since Marc's flight was close to boarding, we said goodbye and I stayed to explore the lounge for a short while.
This is the Menzies Executive Lounge in ARN; payment by Amex took 5 minutes since the machine didn't accept my card and the friendly agent had to make a call to get the payment done. Valuable time lost, and not a good impression. My card never fails... this was a first for me.
According to Jonas the food in this lounge was real good, but according my impression it was not the case. A small buffet with some vegetables (tomato, peppers) and a bland pasta salad without much taste. Of course they had some bread. For the rest a standard selection of crisps and salty nuts, draft-wine and beer, a television with Eurosport on, free WiFi with voucher-codes, to be picked up from the desk. No views on airside, but on landside, overall I think a nice design but it failed to impress me. But, for a bit longer stay next time, definitely worth the money of this offer.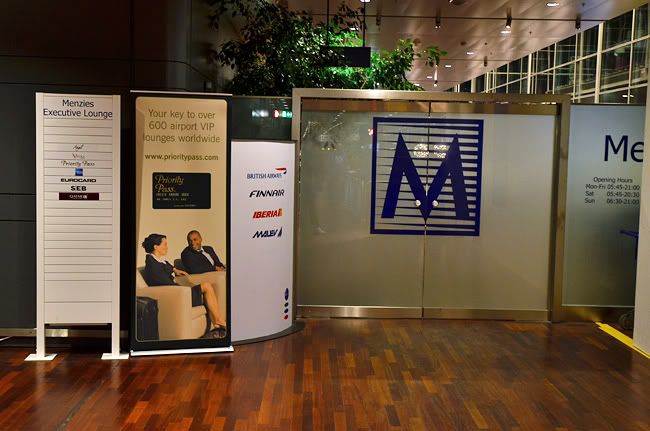 .
Lounge Entrance

.
Lounge interior

.
The small selection at the buffet

.
I managed to get this selection from the buffet
I spend about 25 minutes in the lounge, and had a small meal fromt the buffet and 3 glasses of white wine.
My iPhone showed the arrival of the incoming flight from AMS, and I was happy to see a new registration to add to the logbook. It was time to do a long walk to gate 12. Hoping to get a comfortable flight, but it turned out to be very busy around the gate. I enquired at the desk if I would have somebody in the middle seat at my row, and unfortunately there was. Well, that's life. Boarding started soon and I was the first to go inside, making use of the Elite priority boarding.

.
As expected again, the KLM Boeing 737-800 is almost ready to go
The crew was not ready yet and the captain himself stopped me to enter the cabin for about 1 minute. To say honestly, the purser didn't even notice that we were all waiting. They seemed to be in a hurry, and indeed, the flight arrived late that from AMS. Nevertheless once she noticed her new load of passengers, she immediately made herself ready to welcome everybody on board. She welcomed me in a very nice way, as well a male steward welcomed me onboard.
KL1116/15JAN ARN-AMS
STD
17:15
ATD
17:08
STA
19:25
ATA
19:02
A/C:
PH-BCA
(Boeing 737-8K2/WL)
S/N
02A
(Economy class/Y)
My seat, immediately behind the curtain on row 3, was my place tonight. Great legroom on these rows. As expected, other passengers came to my row, 2 men, definitely of larger size and not making it really comfortable. Well, Business Class remained completely empty on this flight, so I was keen enough to talk to the purser once more and enquired about changing seats to give me (and the 2 men) a bit more space. She walked back to the galley and returned a second later to address my by name and tells me that is was not really 'the way to do it', but she really liked my 'out of the box thinking' and relocated me to row 2A, bulkhead in 'Business Class'. I immediately praised her for he flexibility and we had a nice chat. Well, the seat didn't give me benefits of business class apart from a newspaper (not offered in economy), but the free seats around me were definitely a great extra.
I'm sure the status shown on her manifest was a helping factor in her decision. But anyway, I like KLM these days. Flexible and friendly open-minded staff, that's what you need to make it a success.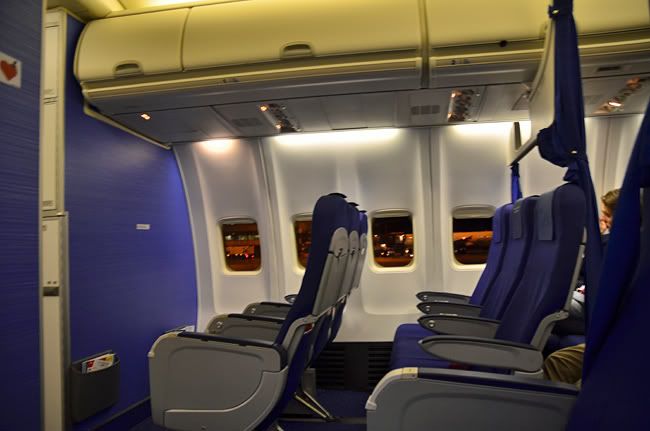 .
Enough space after relocating for me!
Since this was one of the newer 737-800's in the KLM fleet, delivered in late 2010, it features the dropdown screens, used for inflight information (map/route info) as well the safety demo. This aircraft does not have the Boeing 'Sky' interior, for those interested.
Pushback was even ahead of schedule from ARN, which is supurb realizing that they arrived late on the inbound leg. The cabin was quickly checked and I heard that taxitime was very short. And it was, just 2 minutes later we lined up at runway 19R for takeoff.
A calm takeoff into the cold dark skies, leaving the airport behind and we climb into the night. This was to be another comfortable flight on KLM.
About 20 minutes in the flight, the crew distributed a sandwich pack, containing a cheese sandwich and a chicken-filet sandwich. Aside from that I got a white wine and a coffee, later another refill of the coffee and a caramel cookie. It's standard European service these days, real good and sufficient.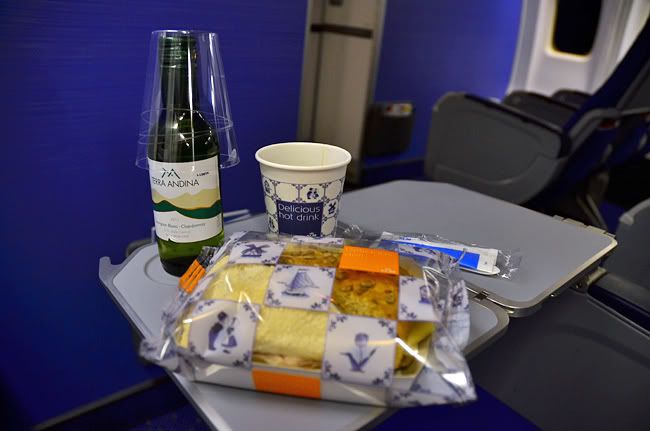 .
Sandwich package, coffee and white wine. Definitely a good offer
I started writing on this tripreport on my iPad, listened to some music from my iPhone, and had definitely a good and more a quick flight. We cruised at 38000 feet, outside temperature -70ºC, definitely cold and something to keep an eye on for the flightcrew considering the freezing point of jetfuel. The tailwind to AMS and the early departure leads to a very early arrival. Also announced by the flightcrew.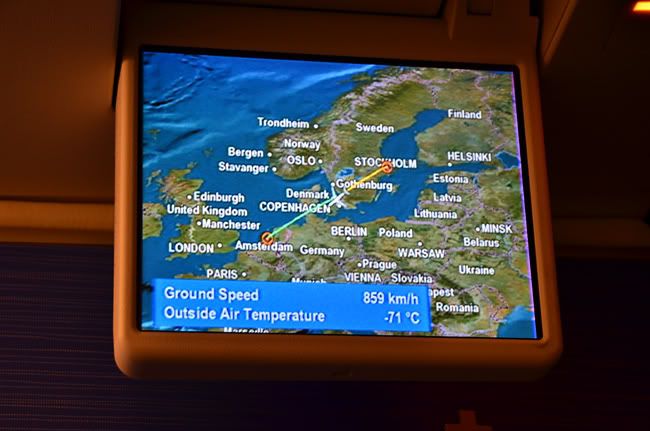 .
Inflight Map and Route Information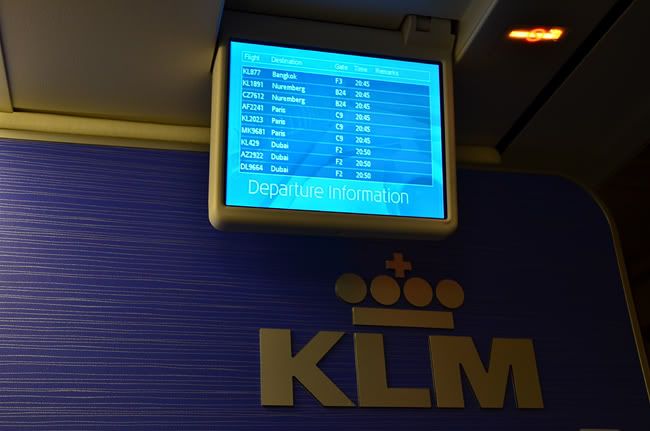 .
Before arrival, also transfer information for transferring passengers onboard
Weather in AMS was clear sky, with a + 3ºC temperature on arrival, later that night also dropping to freezing temperatures.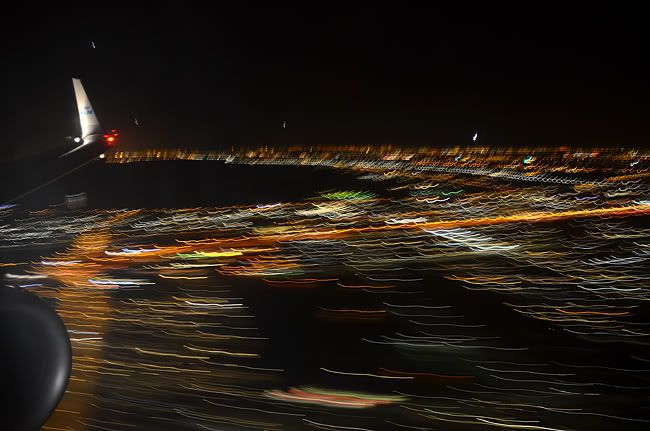 .
A final picture, shortly before landing at AMS
Landing was on runway 36R, the 'Aalsmeerbaan' with also runway 06 in use for arrivals, rushhour in Amsterdam with a lot of incoming traffic. For us, landing was smooth, and taxiing short as well, since our gate was at the C-gates again, even better, gate C04 is the closest one to the terminal building. That means, for me, a quick disembarking, another thank you to the crew, and a quick pickup by my partner to drive me home.
To conclude this busy weekend of flights, talking and having fun, 2 new airlines for me, a 2 new airports as well, so many new faces and so many faces I saw again... it is great to be part of the a.net community on these days and definitely something to do again in the future. As said to some of you, BER is on my mind but not confirmed yet. I'll hope my best to attend.
Thanks for reading and your comments are always welcome and I'm glad to answer to you.
Regards
Eric