I guess it's pretty safe to say that this flying hobby is quite uncommon amongst most of the worlds population. Who in their right minds would put themselves through the rigours of airport security, the discomfort of sitting in a tight economy seat, possibly for many hours, the un predictable nature of airline scheduling and weather delays, only to get off one plane and onto another, all with the aim of ticking off new airlines, airports or routes? Well, there are a few of these crazy people going around and they were planing to meet up at Stockholm's Arlanda Airport for a weekend in January. I had to join them.
Time to get the ball rolling with the planing. As you would expect with a hobby that has such an International flavour, these "flying addicts" are scattered far and wide. Luckily, a popular Social Networking site goes a long way to keeping us all in regular contact and informed of each others comings and goings.
I had been in recent contact with fellow British based trip reporter Palmjet and we discussed the possibility of taking the flight up to Stockholm together. It was quickly decided that this was the way to go and that our journey would start off in the English capital. Good news for me, living in the North of England I could throw in another short flight from Manchester to meet in London, this after all is the name of the game.
I decided to send some cash the way of out national flag carrier and opted to use BA on the outward portion of the trip. At this time of year it is not unheard of for a certain South UK airport to be in turmoil at the slightest hint of snow. With bad memories of being stuck at LHR for far too long last winter I picked Gatwick as my London arrival airport. I would then take the train over to City airport to meet Palmjet where we would take a BA/CityFlyer E-170 up to Sweden's Capital.
I booked a return for the Sunday evening with Scandinavian Airlines direct to Manchester and used 9,000 miles to pay for Business Class.
Here is the routing courtesy of GreatCircleMapper.
As for hotels, there were plenty of good options with the usual massive price variations. A bunch of us settled for the Radisson Arlandia. A free airport shuttle, free Wi-Fi and comfortable rooms at a good price, perfect.
So, that's the planning out of the way, time to make the journey. Read on to find out that things don't quite work out as intended.
Friday 13th January:
It was a lovely cold and crisp morning so I decided to catch a lift to the train station with my girlfriend on her way into work. Might as well make the most of the clear weather and make my way across to Manchester at my leisure. I left just after the morning rush for the 9-5 office workers and the ride to the airport was quiet and relaxed.
Sure looks like a nice day for flying.
As I was quite early and had to switch trains in Manchester I called in at a chain store for a cooked breakfast.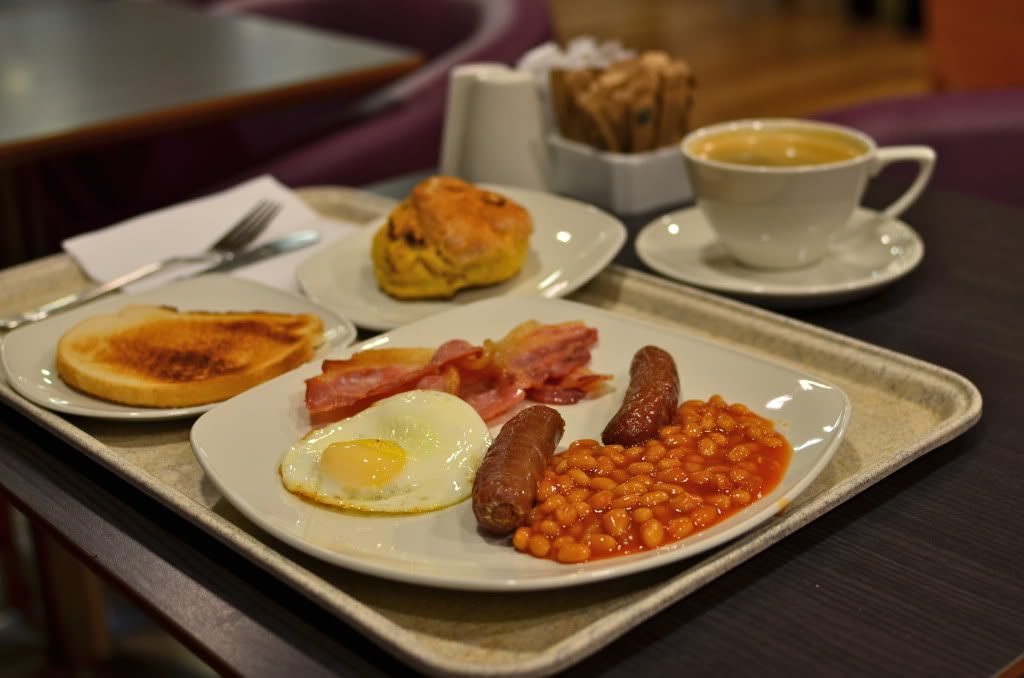 I arrived at the airport with around 2 hours to spare. Being that it was now late morning the place was practically deserted so the formalities were completed in good time and with ease.
Time for a look around to see if anything interesting is here. Not seen this retro KLM at MAN before. It flew me from Madrid to Amsterdam in 2011.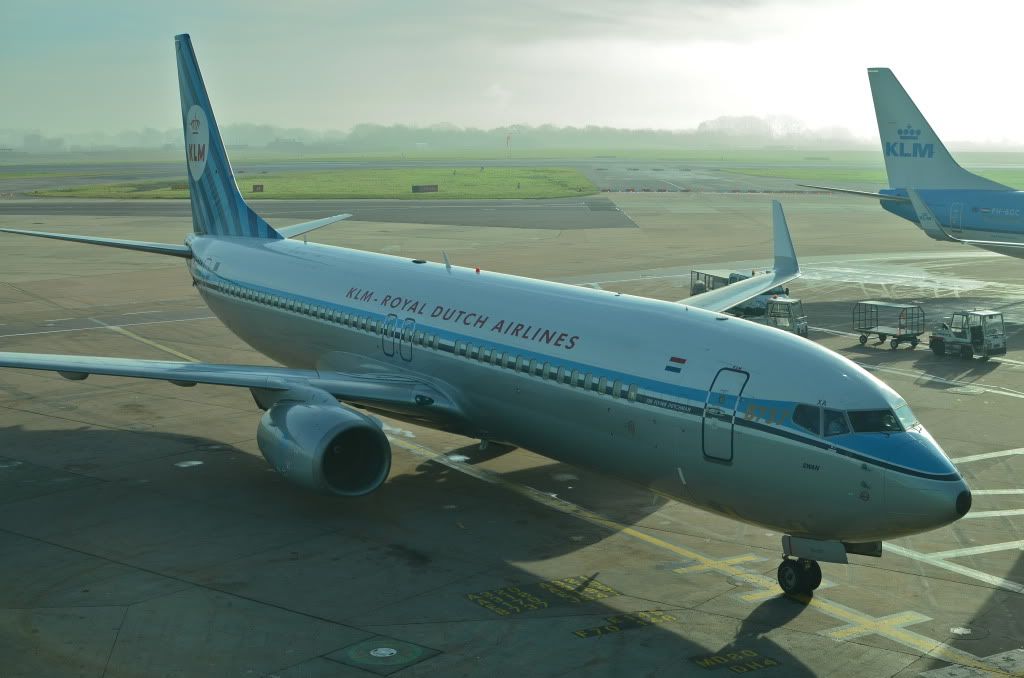 With not much else going on I just sat at a bar and nursed a beer for a half hour to pass the time before boarding.
After a small 10 minute delay, my flight to LGW was eventually called for boarding and it was time to get moving.
Flight Number: BA 2905
Route: MAN – LGW
( 1st time flying this route)
Airline: British Airways
( 8th time flying with this airline)
Aircraft: Boeing 737
( 22nd time flying on this type)
Registration: G-DOCW
(1st time flying on this aircraft)
Economy Class
Seat: 20F
Flight Duration: 0hr : 41min
Once sat in 20F it was quite clear this was a fairly quiet flight with a load of around 40%. The Captain also announced over the PA system that the delay was due to problems with one of the main landing gear... Any nervous flyers onboard??? The aircraft was fully serviceable though.
After a total delay of some 45 minutes we make the short taxi out to 23R.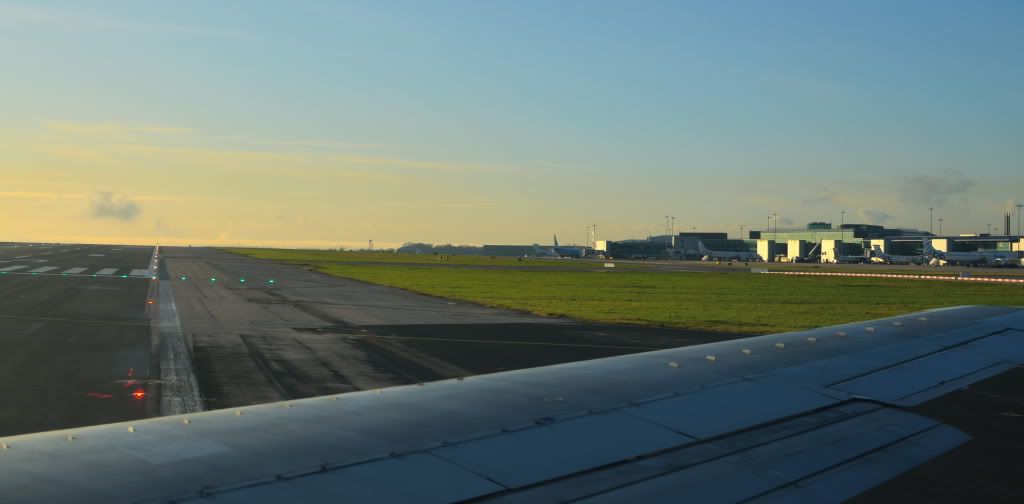 Before really gunning the throttles and making one of the most powerful take off's I have felt in a long time. Check the angle of attack.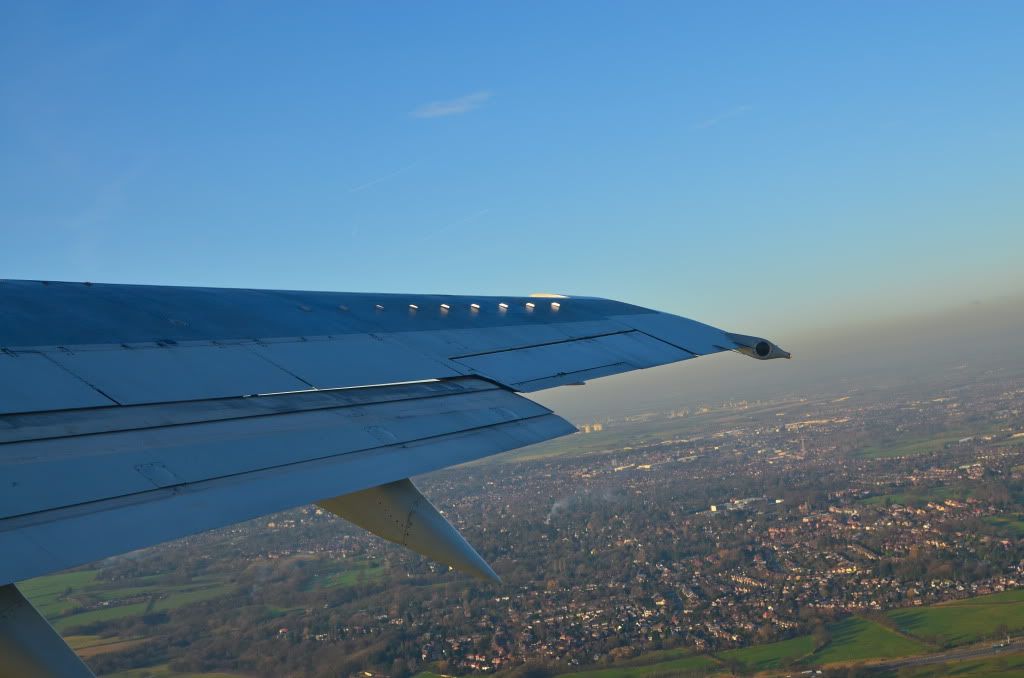 Power station in the distance.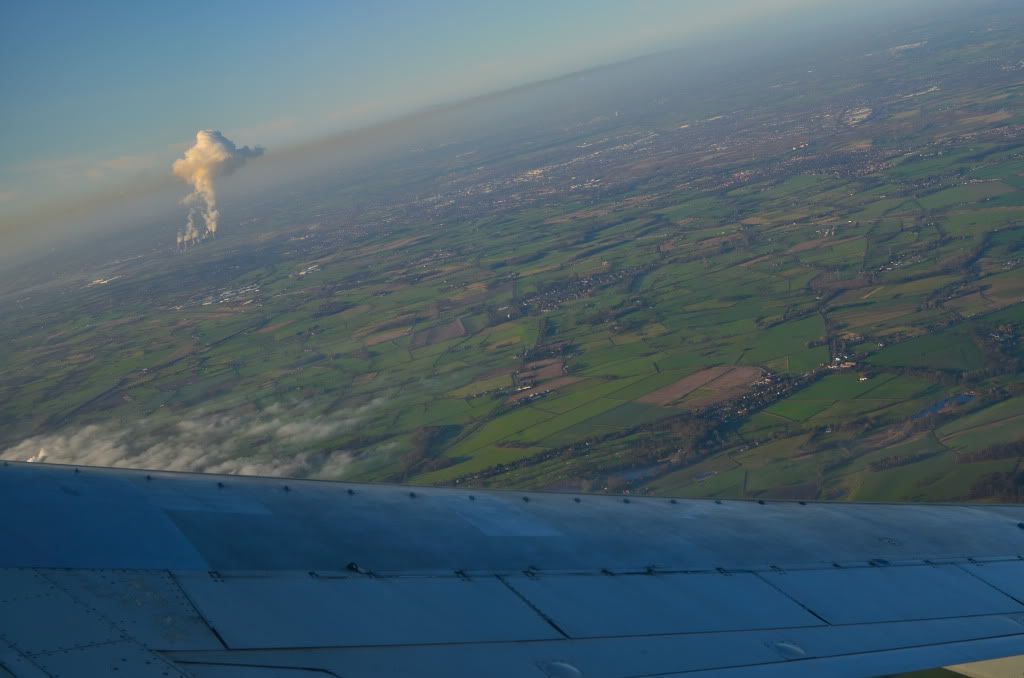 Leg room shot before service starts? It's a must for a trip report.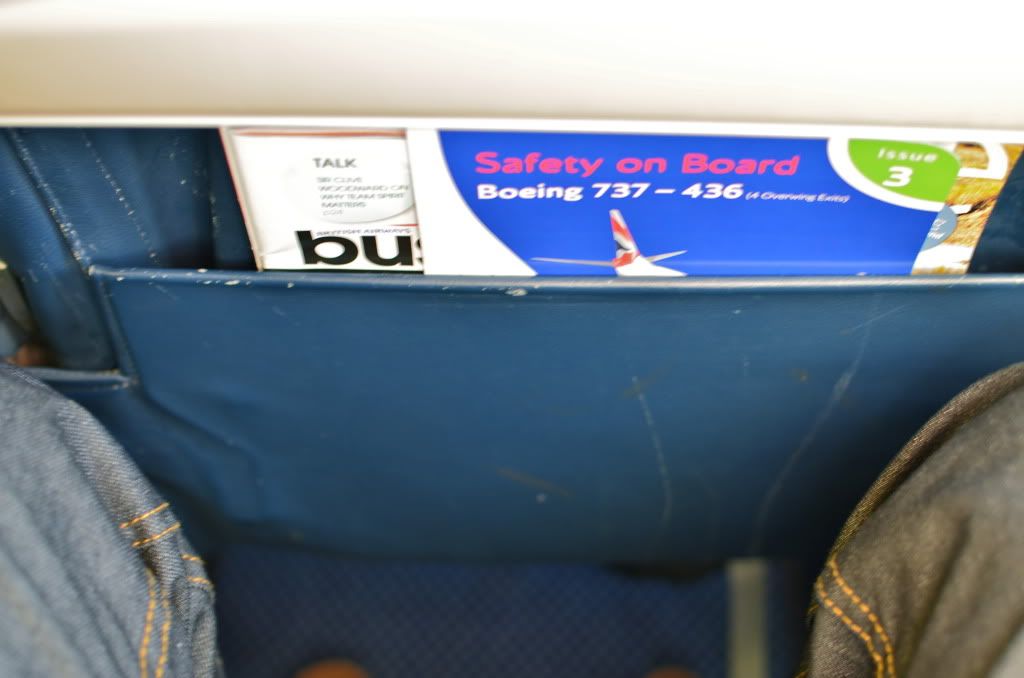 Classic 737 service panel.
In the cruise with good clear views. (rhyming)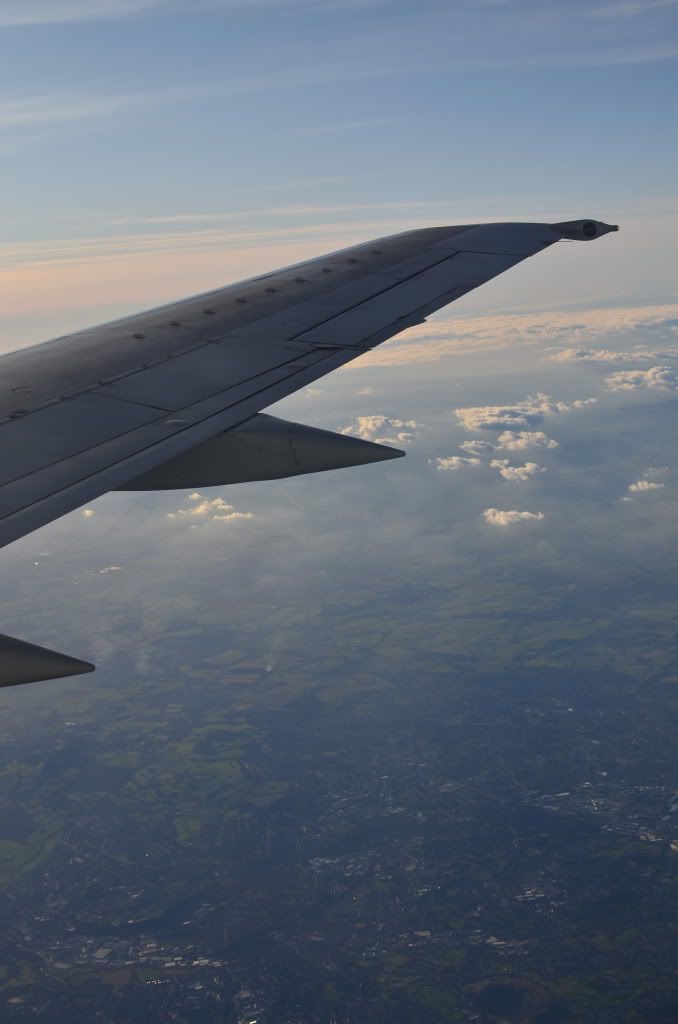 Time for service. Those pictures Gabe posts of his G+Ts make me follow his ways. No double for me though. Perhaps I'm not as charming?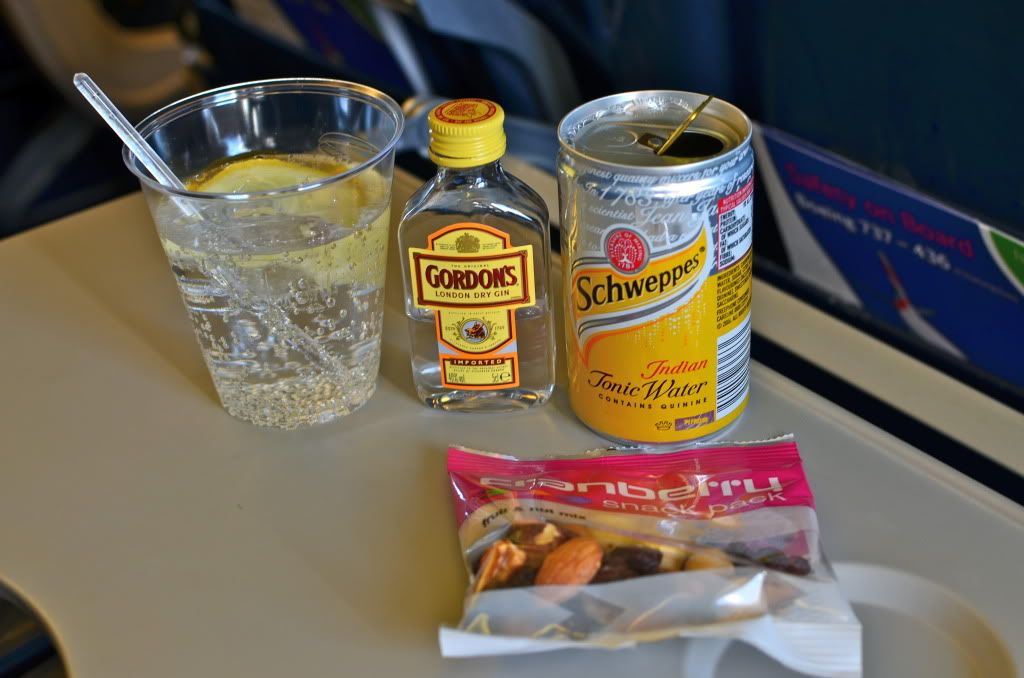 Cabin shot. Not looking bad for 19 years in service, almost to the day actually.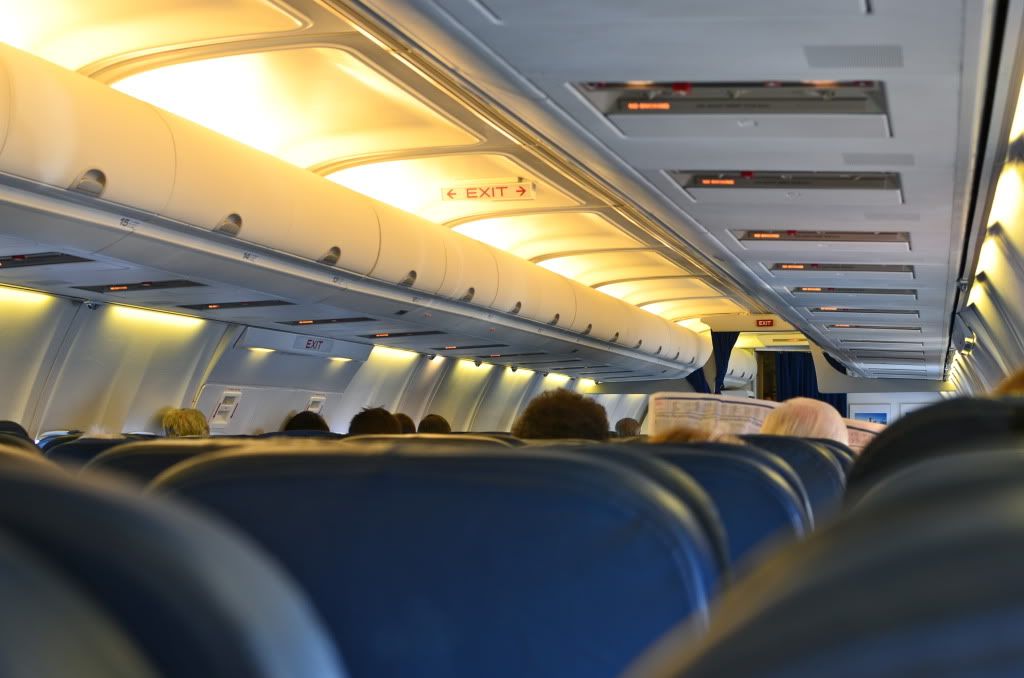 South coast of England with some sun reflecting in the water.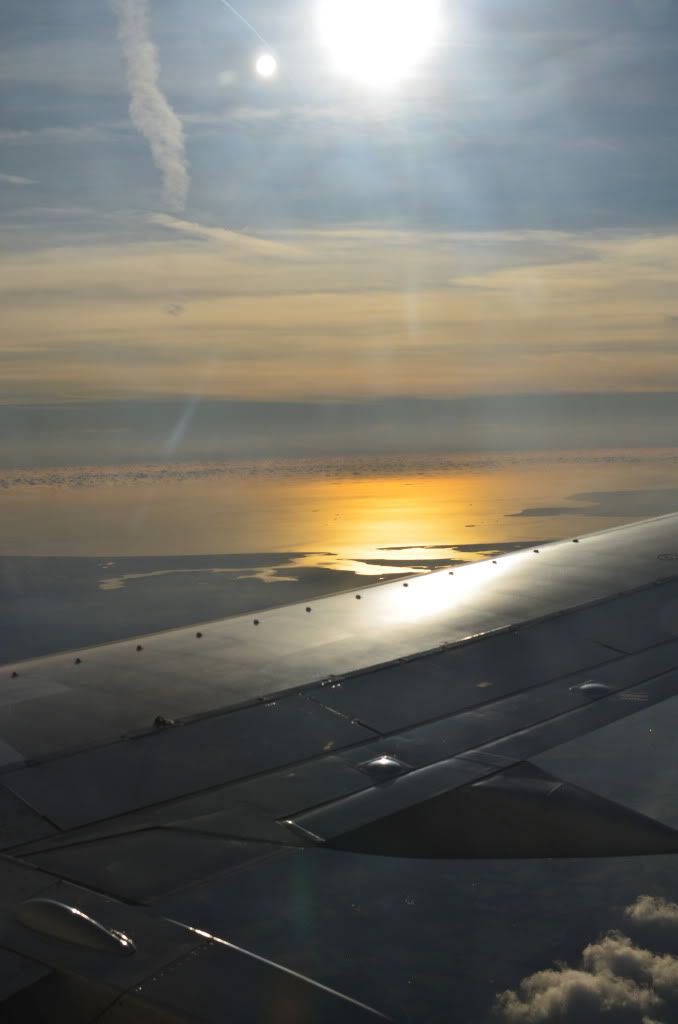 Going down and slowing down.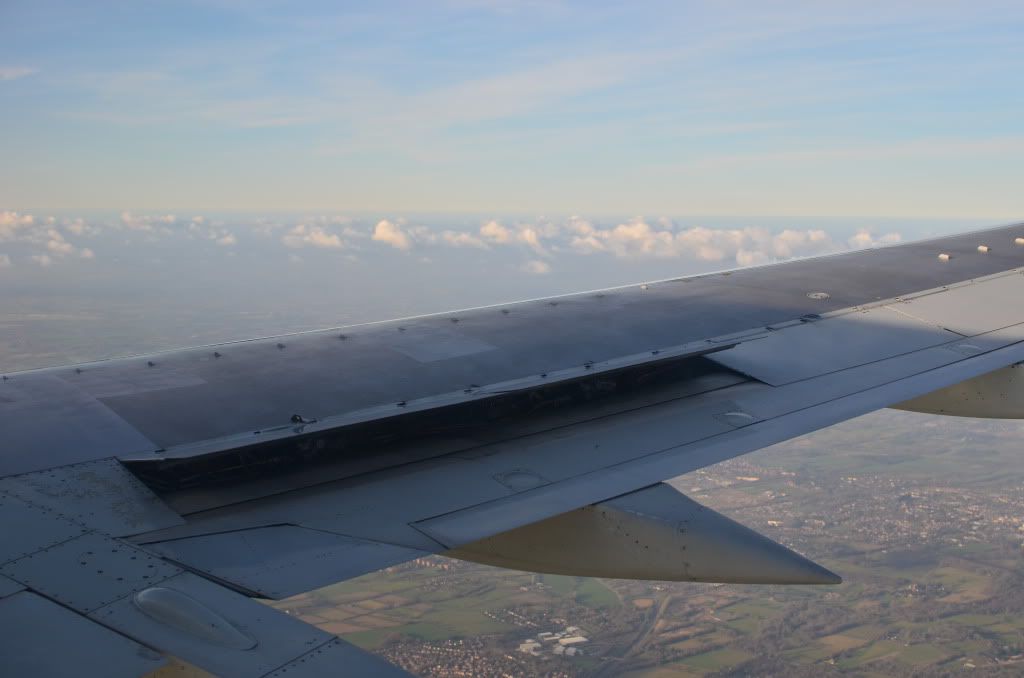 Making some turns to get us on course for the final approach.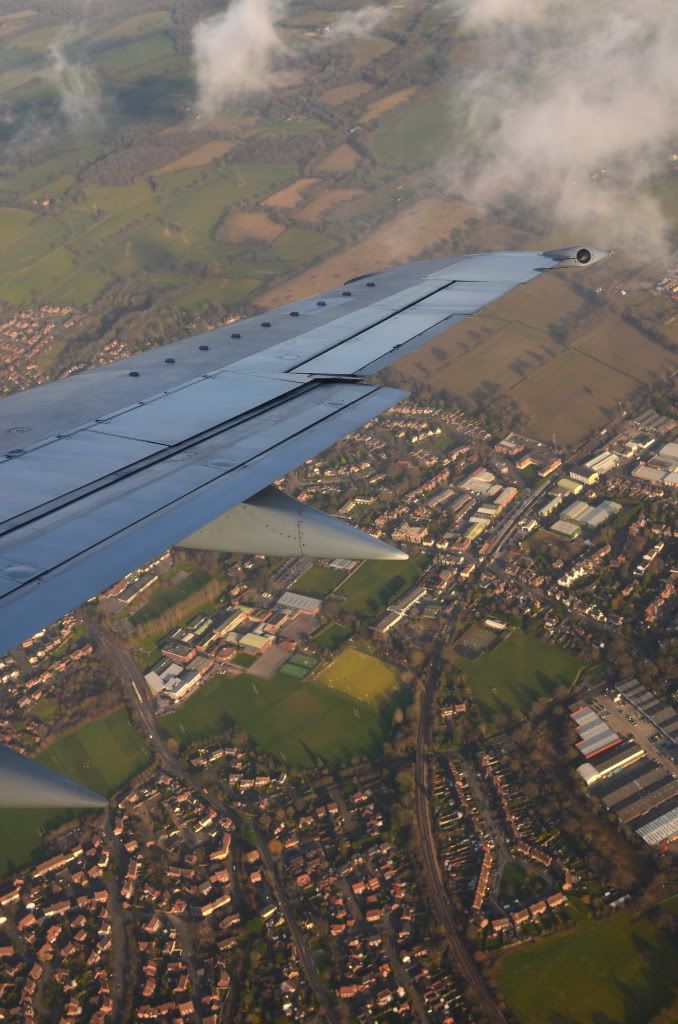 About to kiss the tarmac on 08R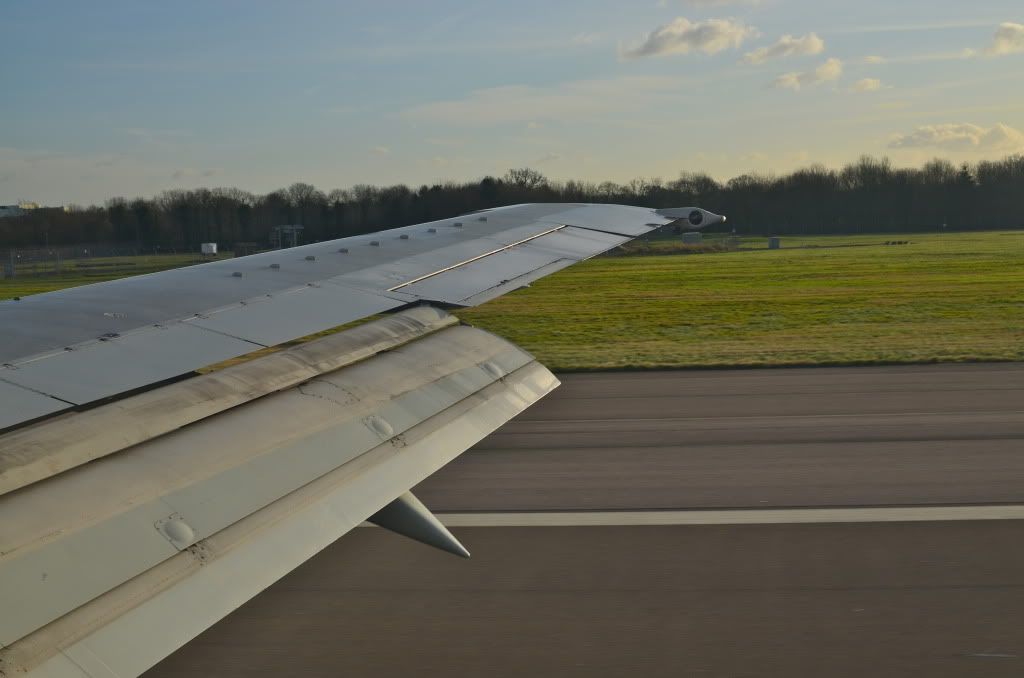 Dumping lift. Looks quite complex in there.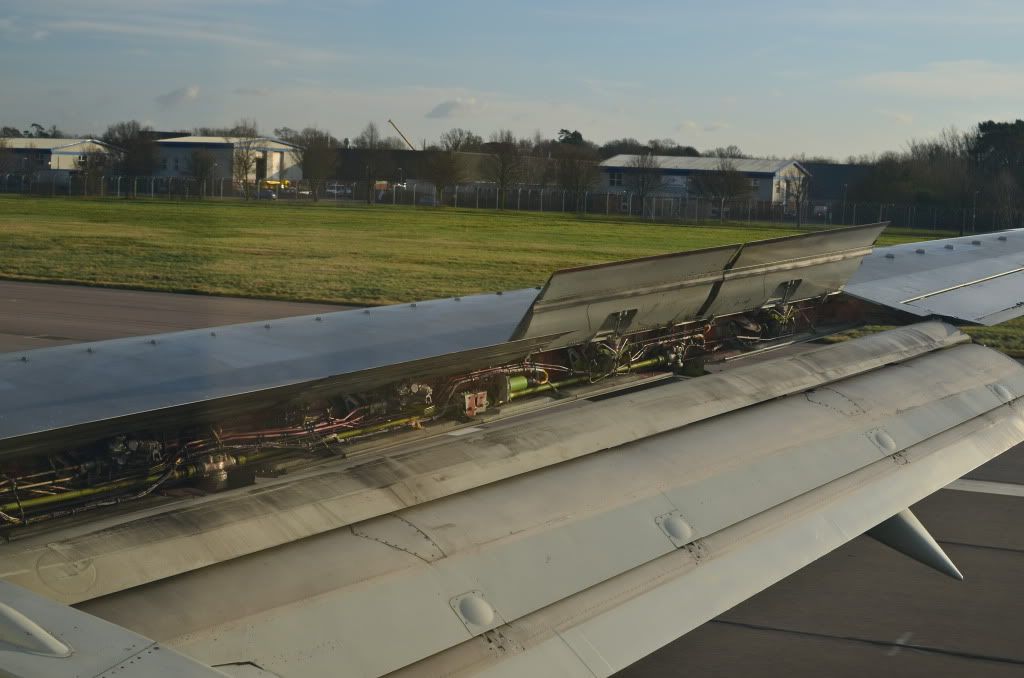 After docking at the gate I made my way through the various corridors and passageways to get to the automated train running between the 2 terminals. Quite a cool experience, and I was on the lookout for all these modernisation projects I had seen on the Gatwick Airport programme here in the UK.
As I said at the top of the report I was taking the train to City airport. I'm not particularly au fait with the train system in the capital so I made some enquiries at an info point. I was given a map and advised on the best way to make the journey. Very helpful staff. I was also surprised at the relatively low cost of a ticket, £12.50.
I arrived at City airport around 4pm and contacted Palmjet to let him know my whereabouts. He was just leaving home so I headed to Pret for a duck wrap and a drink while I waited.
He soon showed up and we exchanged greetings before heading airside to sit and chat for a while over a beer and some apron views. (READ ON)
Well, as can be expected when 2 aviation geeks meet for the first time, the conversation is only about one thing. When you are trying to explain this stuff to "outsiders" you can see a blank look wash over their faces after about 30 seconds, but in this company it was full on Commercial Aviation. "How did you get started", "What are your first memories", "Where are you heading this year" amongst many other things. Well, what happens next will play out in my mind for years to come.
WE MISSED OUR FLIGHT!!!!
Now wait just a moment...
2 guys meet up in an airport, 2 regular flyers who have made hundreds of connections in airports all over the world without any trouble what so ever. 2 guys who are only here because they love flying and the buzz of an airport, and they
MISS THE FLIGHT!!!
Rewind the clock 2 minutes:
In full conversation I see Palmjet glance down at his watch as he says "I'm just checking the time", he then glances up at the departure board and says "gate closed". I look round and sure enough he is right. Panic sets in right away and I just grab my bags and run to gate 21 with the faint hope that we might still make it, but no dice. I see the dispatcher walking towards us and she confirms our fear that yes, that BA jet sitting on the tarmac with the doors closed was the Stockholm flight. We're screwed!! Deep in conversation, 2 hours passed by in what felt like 5 minutes.
We are taken back land side and head to the ticket desk to look into getting re-booked. We were both totally embarrassed, frustrated and generally pi**ed off. To add insult to injury, the new ticket price was astronomical. We told the woman on the desk we would be back in 5 minutes. It was decided that as this was a special event and something we had looked forward to for ages we would just have to suck it up, hand over the credit card and get a new ticket. After a few expensive moments we were re-booked to fly from LHR early next morning getting us to the meeting around 11am.
Palmjet said I could crash at his apartment for the night and that we should head out for a couple of beers and some Thai food at his local pub. Thanks for the hospitality mate, really appreciated and dinner is on me next time we miss a flight.
Friday 14th January:
Our alarms were set to go off at 4am and after getting our stuff together we were in a cab and heading out to LHR with very quiet roads for London.
Check in was something of a surprise. No window seats left. The woman at City airport said the flight was pretty empty last night, strange. We head to a desk to ask a human being if something is up? Yes, the flight is quite busy in fact. She offers us aisle seats next to each other in the emergency exit row 10. We accept this option.
Once through security, Palmjet takes us up to the BA First Class lounge for breakfast.
After eating, we make sure we are at the gate in good time!!
A bit of a shame to miss out on the E-170 yesterday and end up on a oh so common A320.
Flight Number: BA 776
Route: LHR – ARN
( 1st time flying this route)
Airline: British Airways
( 9th time flying this airline)
Aircraft: A320
( 35th time flying on this type)
Registration: G-EUUX
( 1st time flying on this aircraft)
Economy Class
Seat: 10D
Flight Duration: 2hrs : 20 min
With aisle seats it was pretty much impossible to get any bearings on our position. We did confirm a 9R departure but that was about it. Sucks not having a window seat.
Here is the snack. Not really to my taste with egg mayo filling on the bread. Personally, I found the meal service sub-par in comparison to SWISS or Lufthansa.
Cabin view.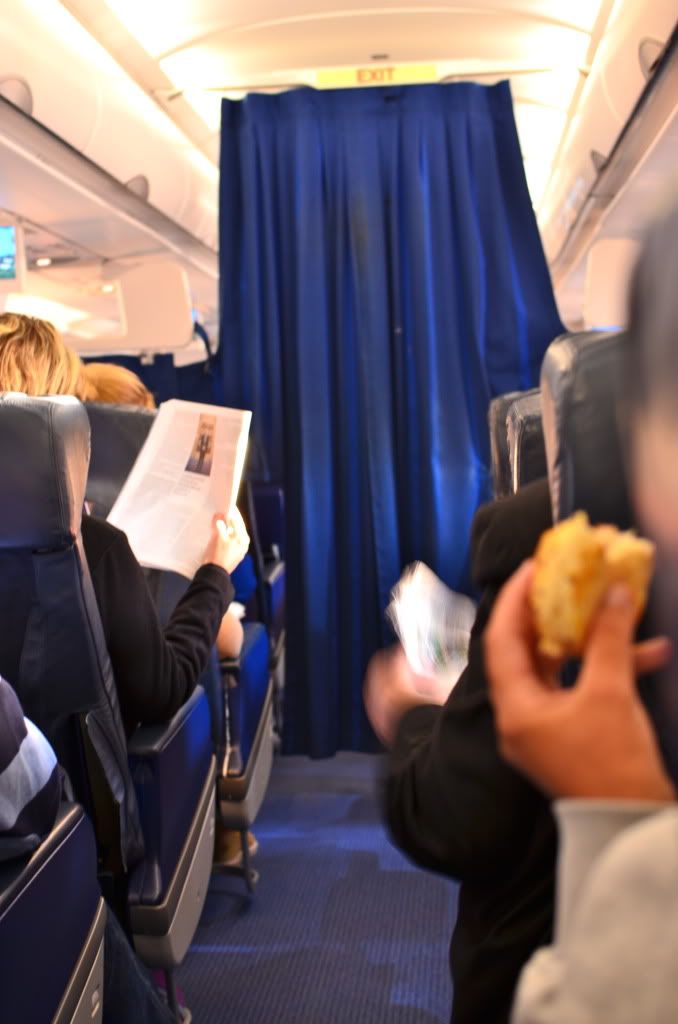 The flight was uneventful. We just chatted some more about planes etc and we were soon on approach to ARN. We could make out some snow, but not as much as expected. We later found out that fellow trip reporter 'ba-319-131' was sitting in 10A but he was sleeping and didn't really catch any of our airlines talk to give away our identity.
We made a smooth touchdown and headed to the terminal. The interior really reminded me of OSL.
Time to meet the guys over at Sky City and face the music about the missed flight. Well, not too much abuse for us thanks. I had a really good time and it was great to see some of the faces behind these amazing stories. I felt really inspired when talking to the guys, you could really feel the passion for flying and the company was great. We talked for a while over a few beers, sharing stories and opinions.
Soon, most of the group were heading off on a flight to Tallinn but I was staying in Stockholm for the night, we bid our farewells until tomorrow. Arrangements were made for this evening to hook up with Palmjet and MSS658 for dinner downtown.
Time to check out the hotel then.
Not a bad looking room.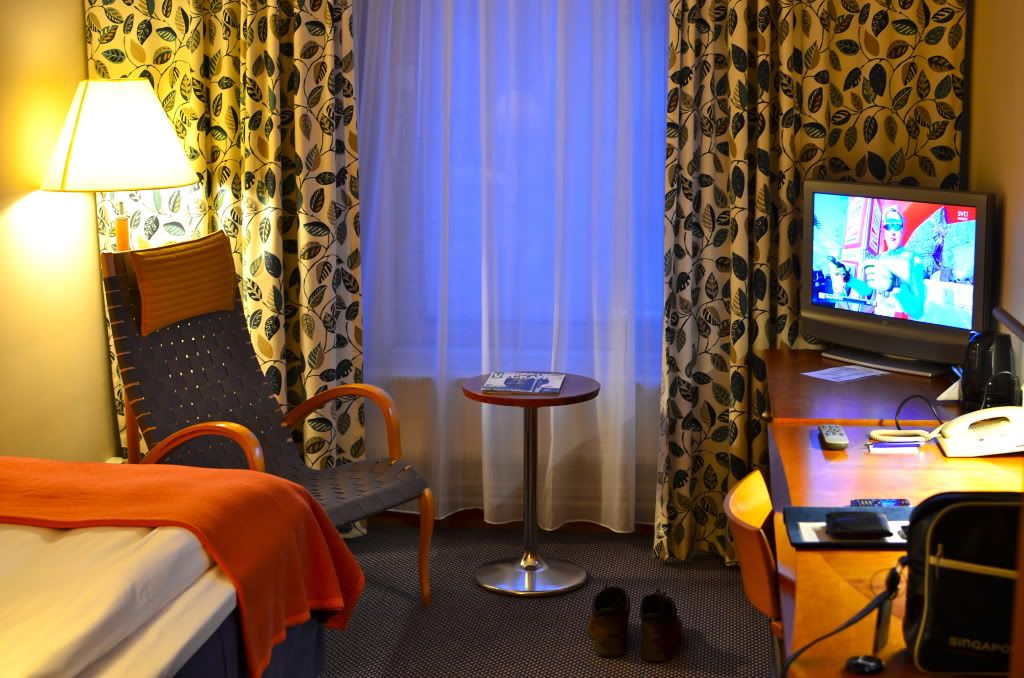 Comfy bed.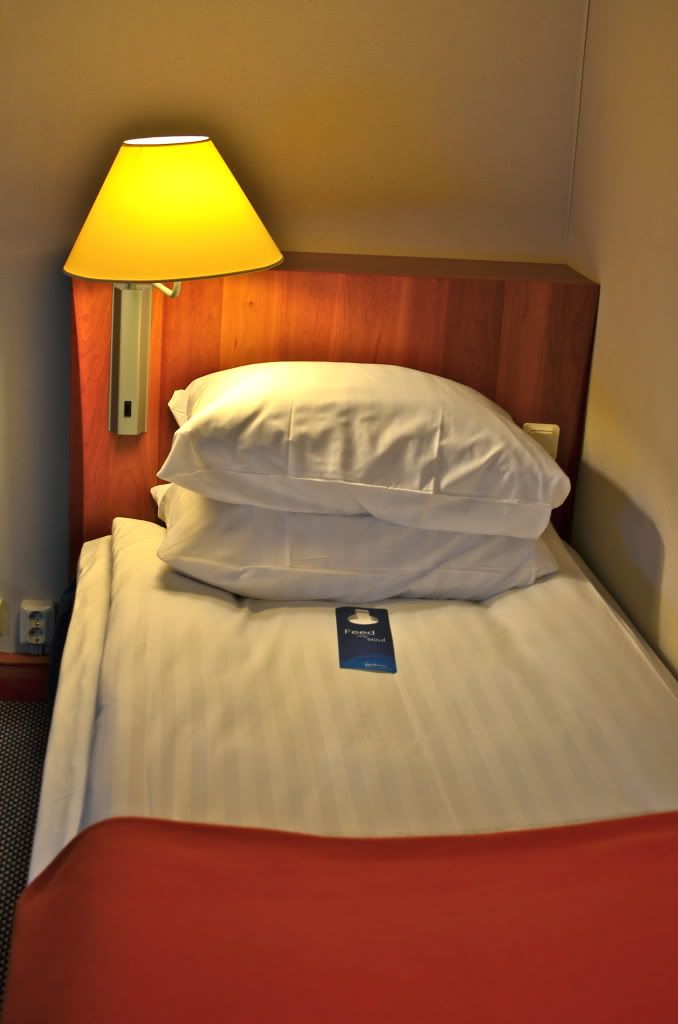 I grabbed a couple of hours sleep followed by a shower before heading down to the hotel bar to meet Pj and taking the Arlanda Express train into Stockholm.
Quite a nice train interior.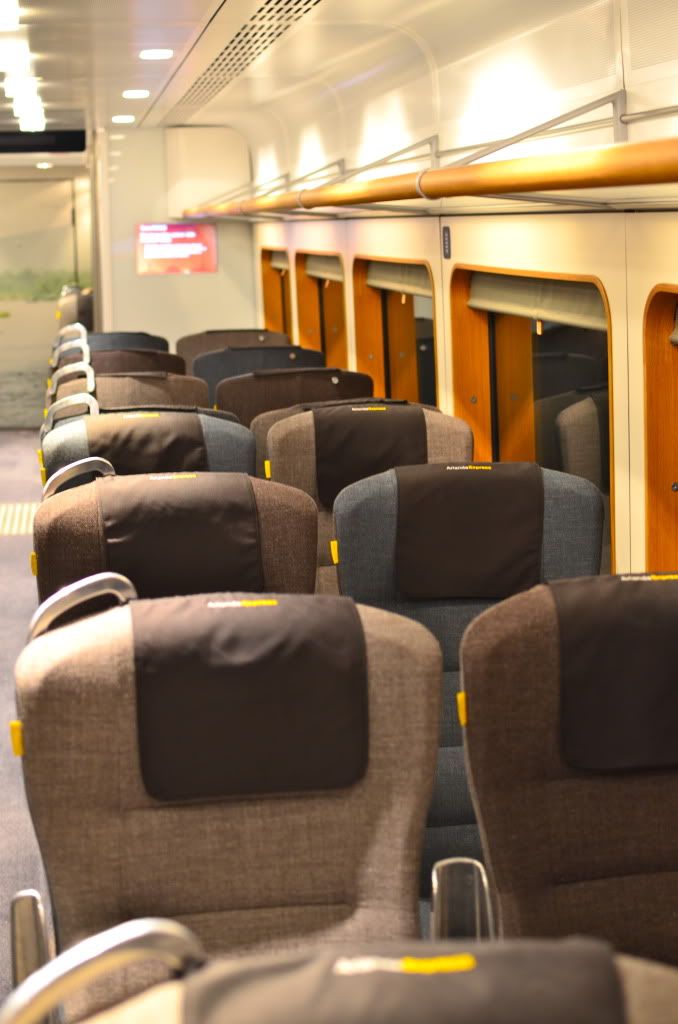 And quite a nice top speed.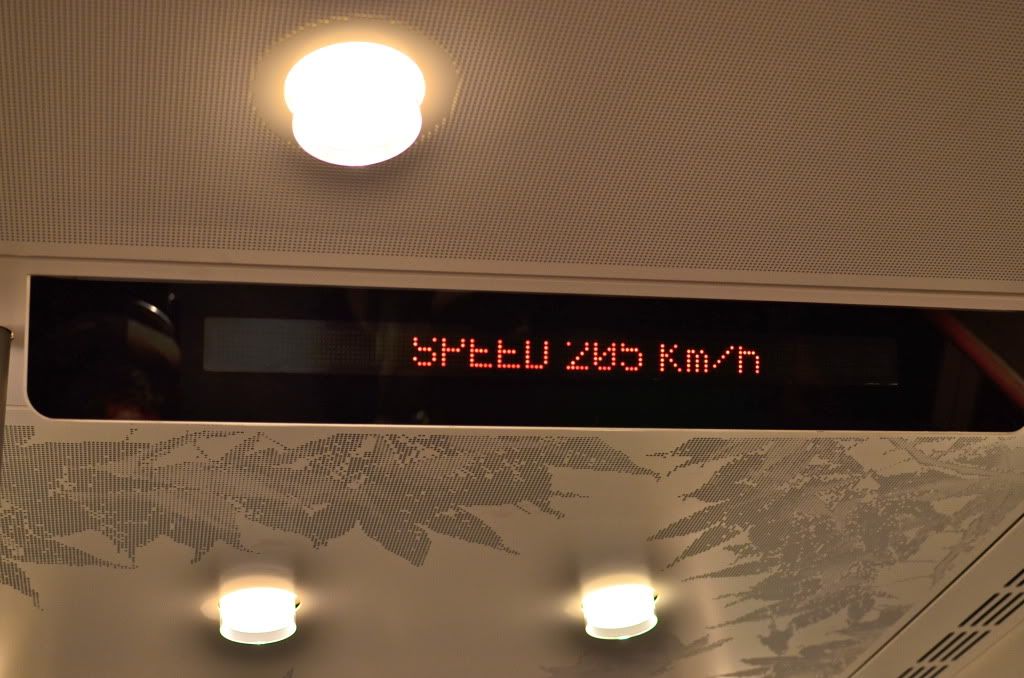 205 kph through a Nikon 35mm lens.
MSS658 met us on the platform and we headed out for some Chinese food and more aviation talk. Thanks for a enjoyable dinner guys, again, great company.
Time for some night shooting around downtown Stockholm? You bet.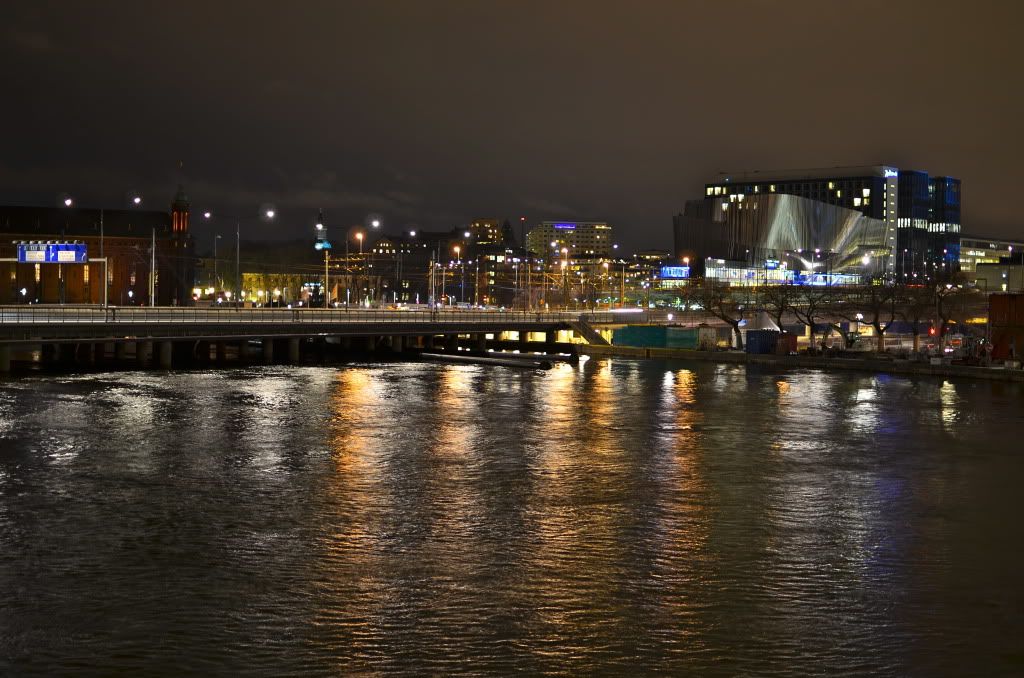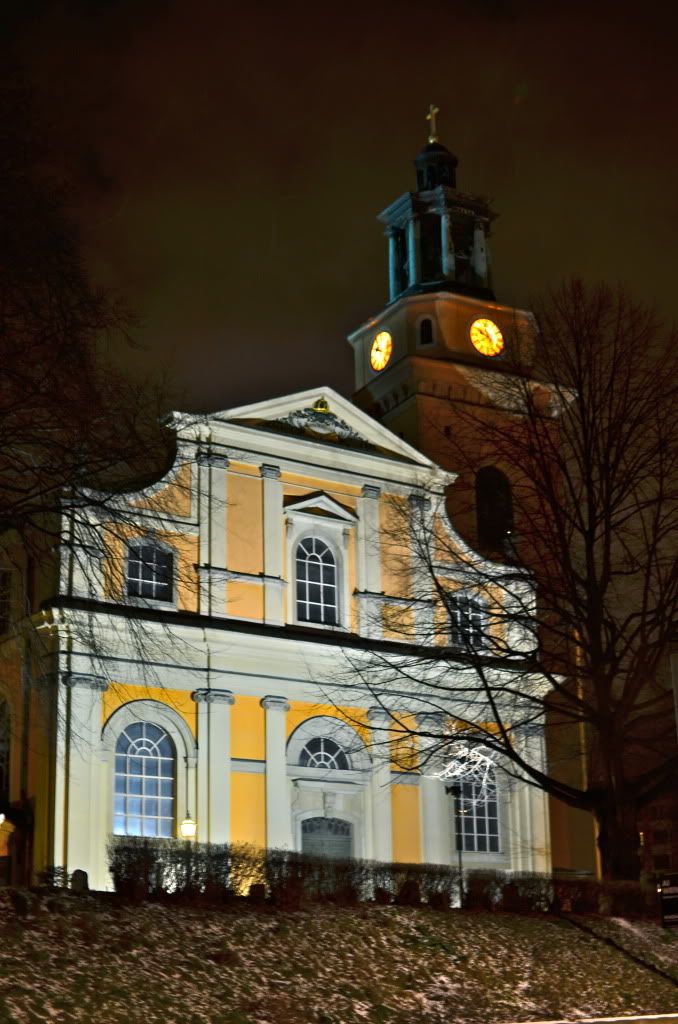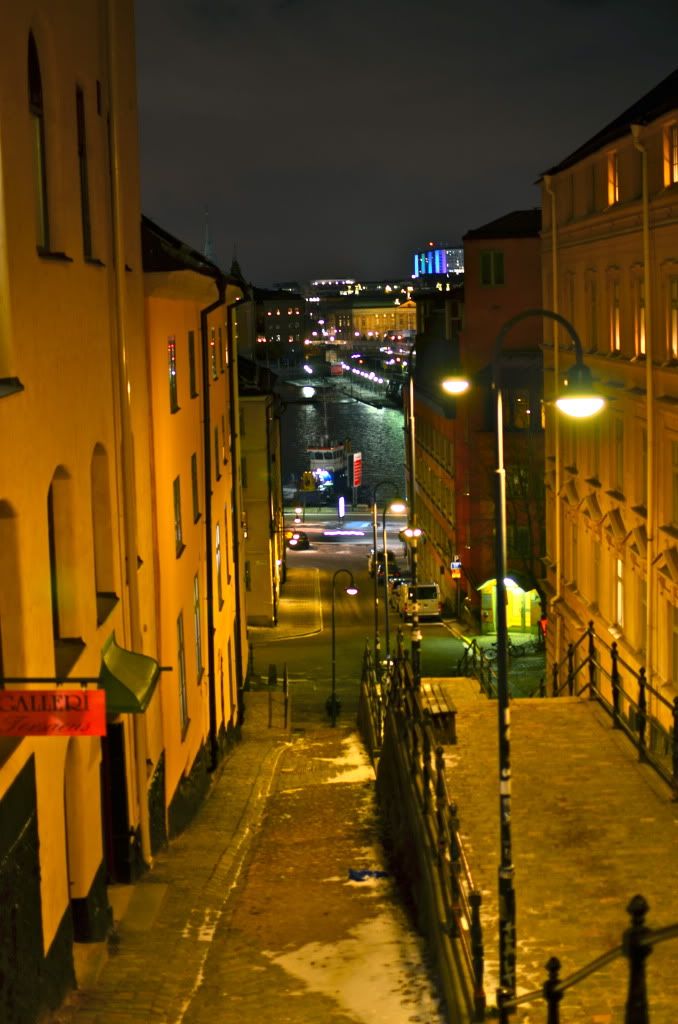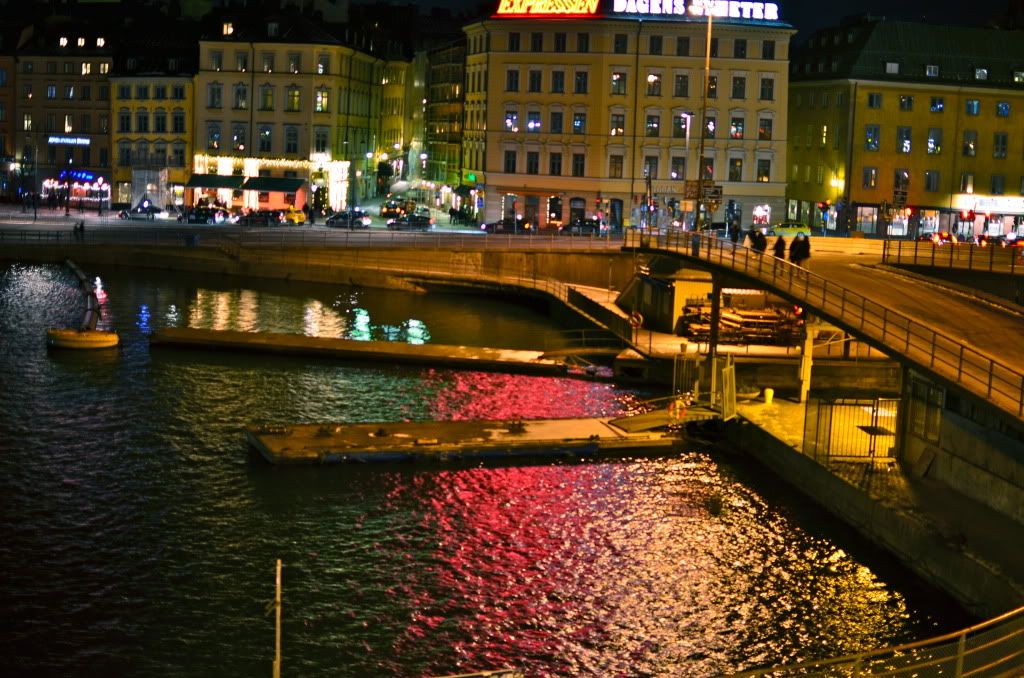 We said goodbye to MSS658 as he was taking a different train back to some random, out of the way hotel. Back at the Radisson, my head hit the pillow and I was out like a light.
Sunday 15th January:
I was awake around 9am and went for a sauna and a few laps of the swimming pool. Might as well use the facilities.
Arrangements had been made with Pjet to meet for breakfast at 10 and I had a bit of time for some photo taking before this.
The AN-124 which eluded most of the group.
Jumbo hostel. Maybe next time?
Hotel exterior.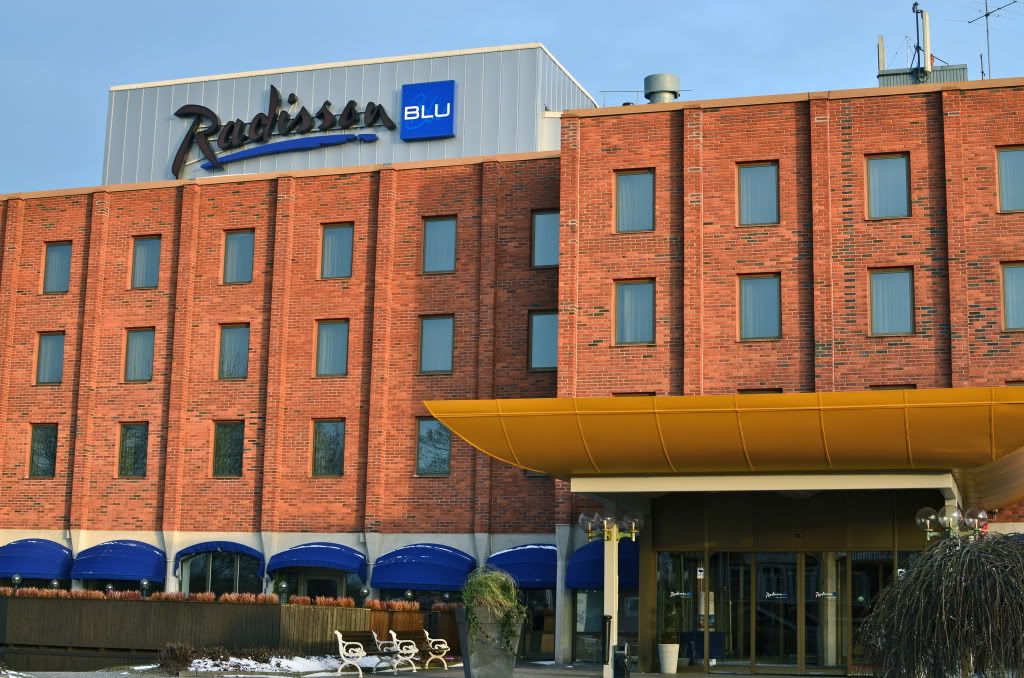 Oh, and that breakfast was amazing.
We checked out and made tracks back to Sky City to re-group.
A well photographed airline here on this ARN meeting.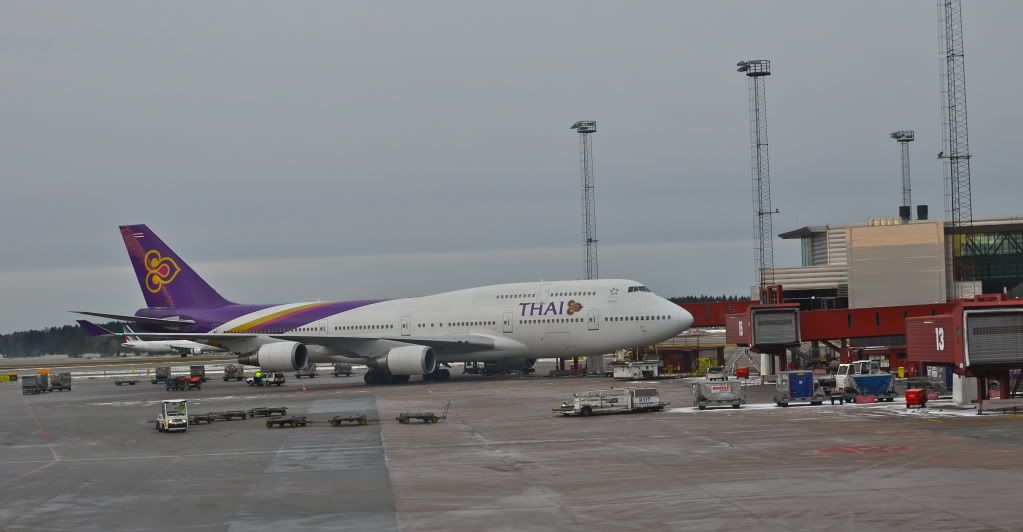 When the guys arrived back from there side trip/beer tasting adventure, we took over a burger bar and grill to fill our faces. Again, more aviation chat.
Overview of this part of the building.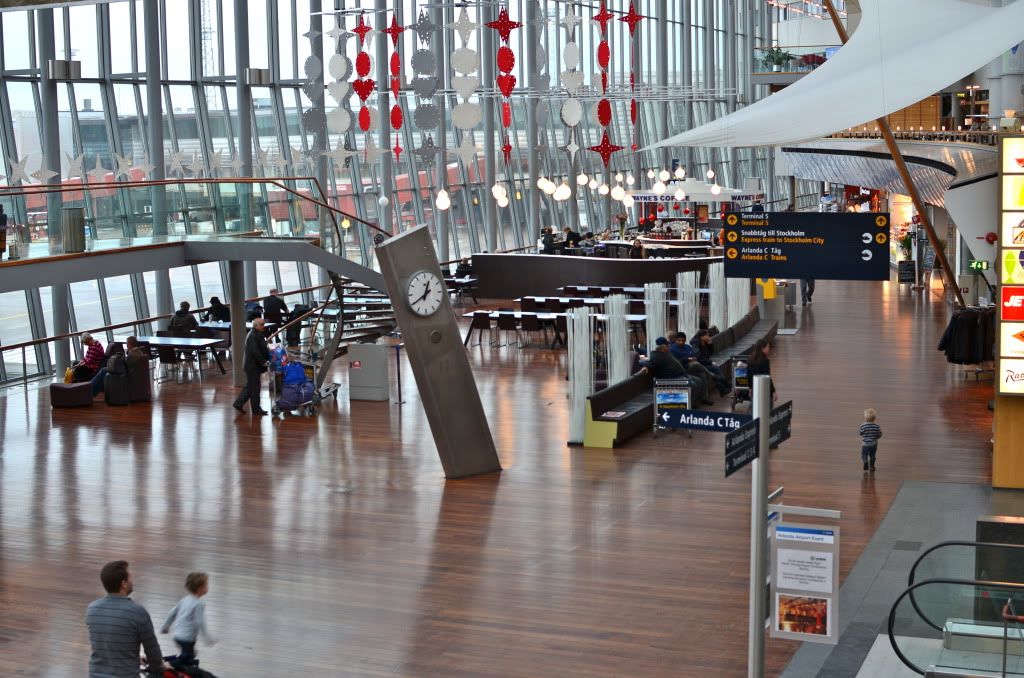 Bit by bit, members started leaving to catch flights home, and not always in the most direct way which I found great. It was time for me to say goodbye also. I wanted to check out the SAS Business Class Lounge.
It was something of a disappointment really. Pretty mundane feel to the place and very limited on the food front.
I dozed for a while before heading into the Non-Schengen zone for my flight direct back to Manchester.
Flight Number: SK 2549
Route: ARN – MAN
(1st time flying this route)
Airline: Scandinavian Airlines
( 13th time flying with this airline)
Aircraft: Boeing 737
( 24th time flying on this type)
Registration: LN-RPA
(1st time flying on this aircraft)
Business Class
Seat: 2F
Flight Duration: 2hrs : 15 min
The gate looked pretty quiet and boarding was called after only a few moments of waiting. I took up residence in 2F and an announcement was quickly made for boarding completed. Cool, only me in Biz Class this evening and 2 other guys in Y+.
Our Eastern neighbour.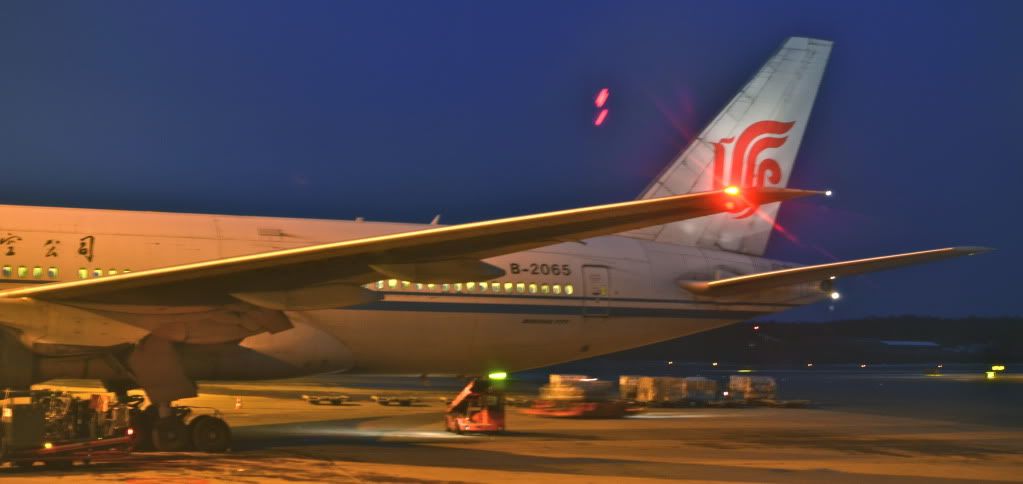 I'm not too sure on the departure runway, 08 I think? Here are a couple of photos.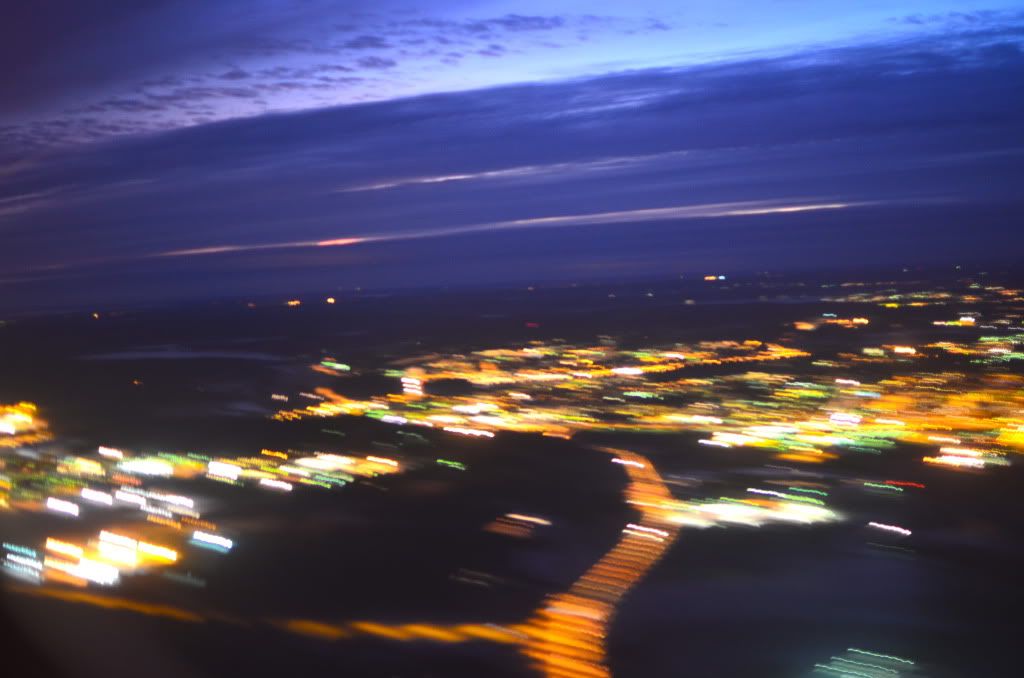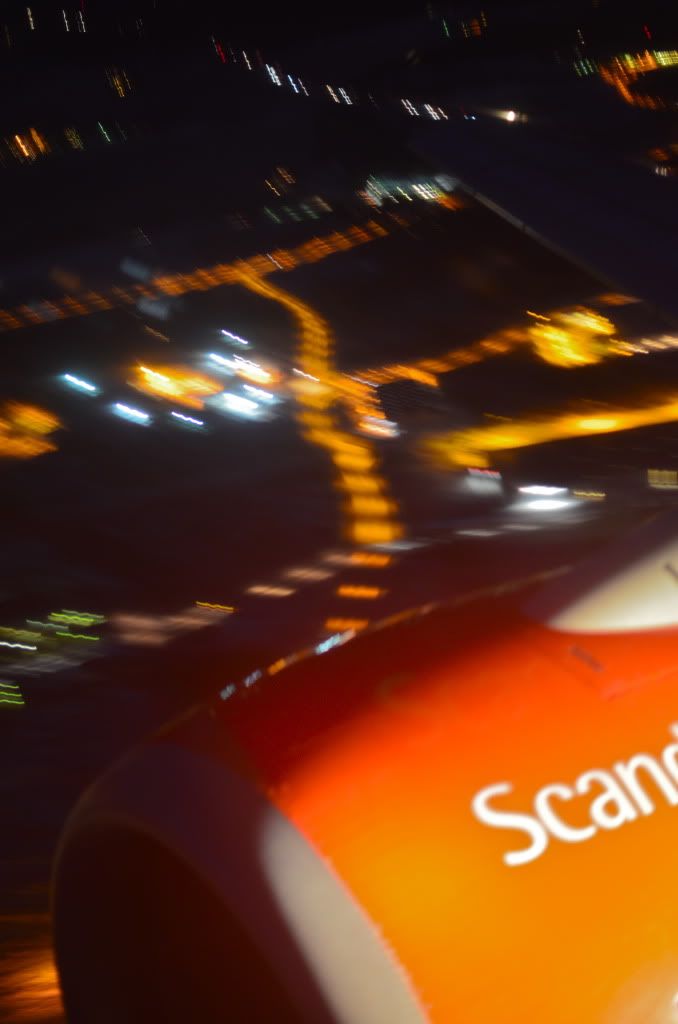 I was originally here in 2A but the legroom was poor due to the bulkhead.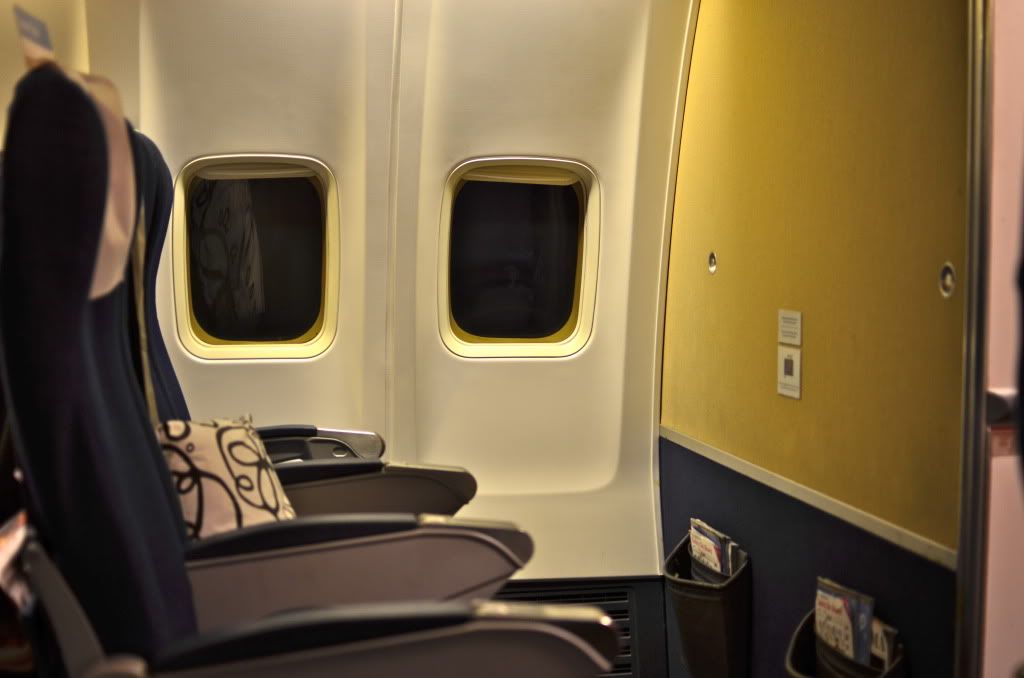 2F legroom a little better and very generous recline.
Champagne sir?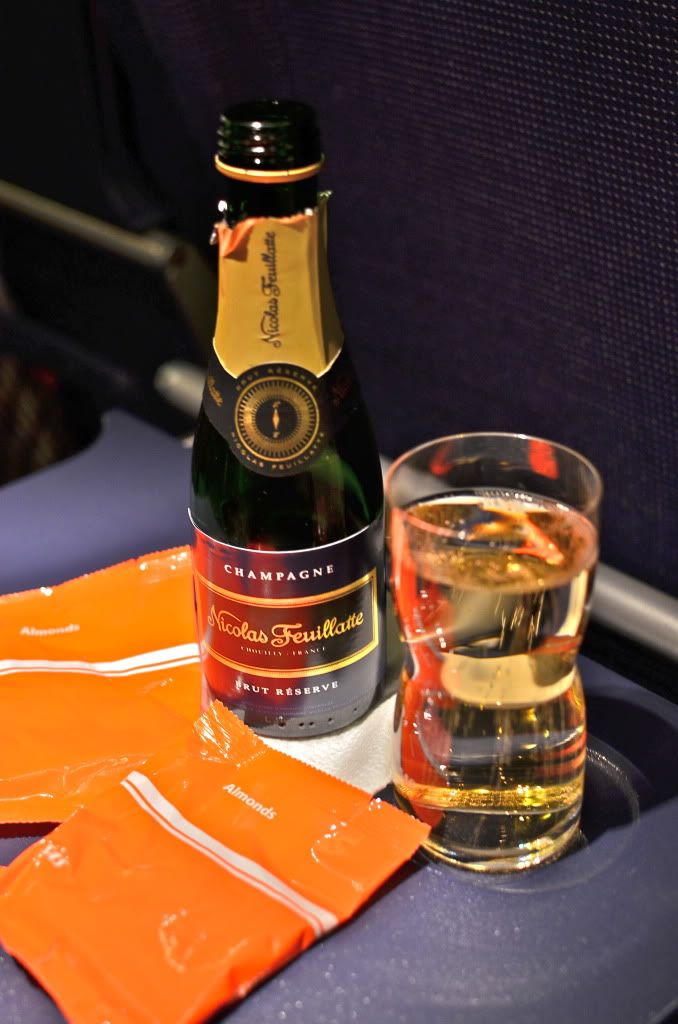 Fish pie for dinner with some really tasty Salmon, a little salty but I don't mind that.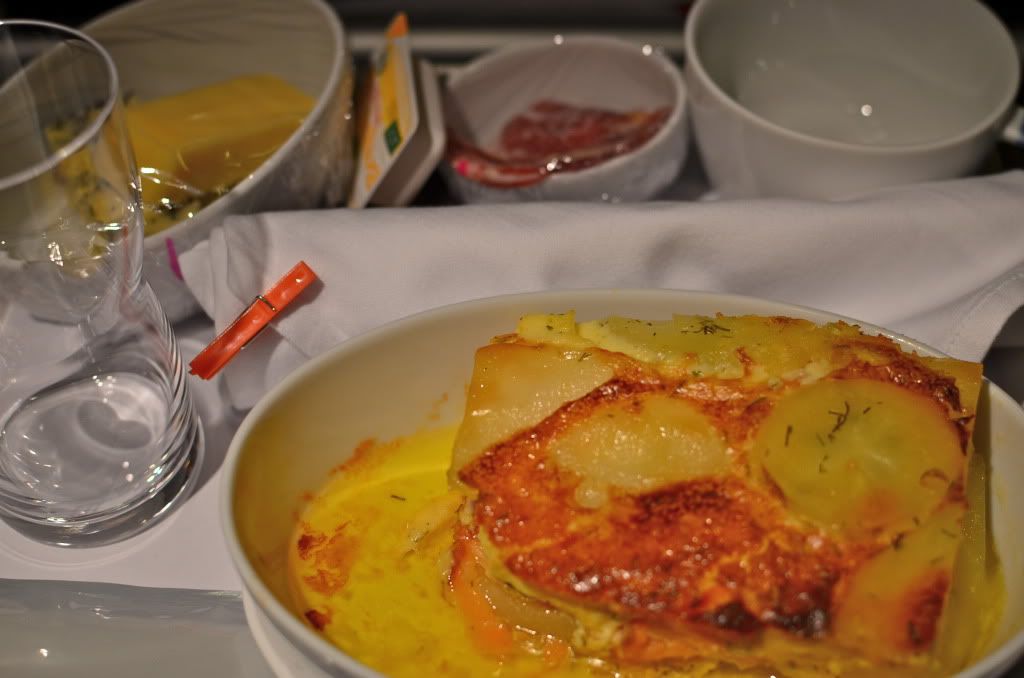 A selection of digestifs were offered, I took a baileys.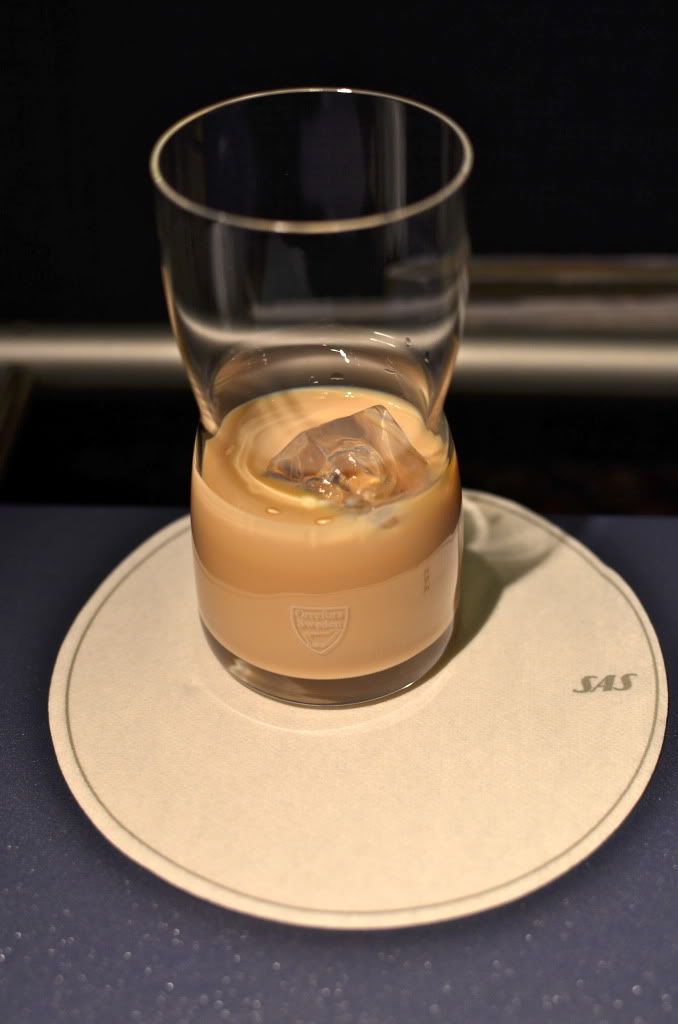 After the very nice meal I just laid back in my seat, put on some easy tunes and watched the sun go down. The crew were great and importantly made sure the champagne was flowing into my glass the whole way home (8 glasses). I really enjoyed this flight.
Random view from my perspective as we chase the setting sun Westward.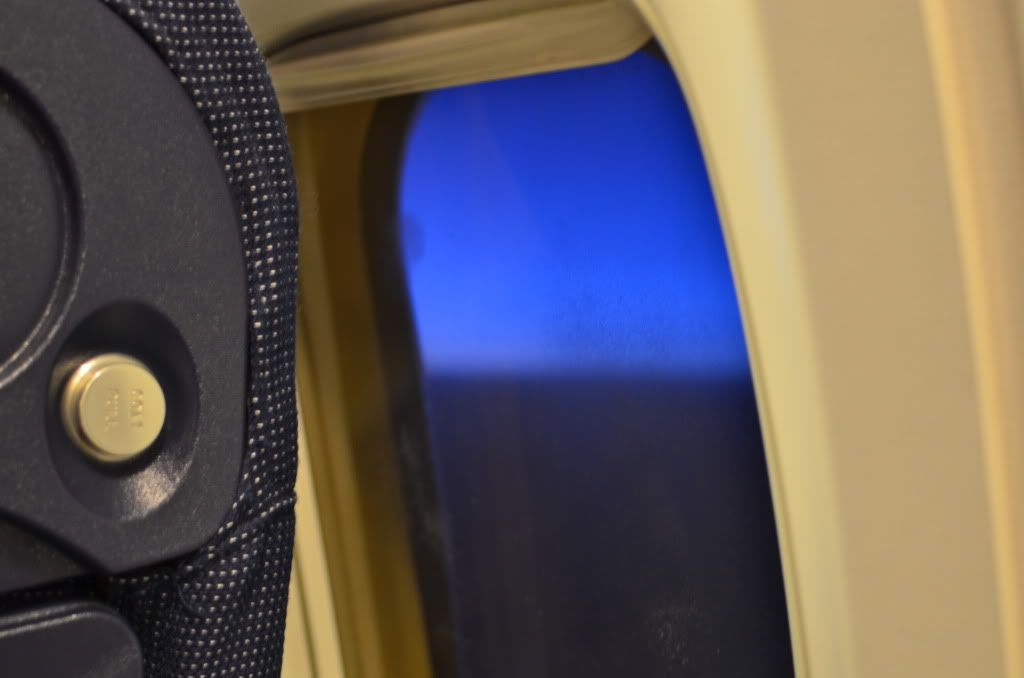 After a spectacular approach on a very clear night we kissed the tarmac 10 minutes early and taxied to stand 24. I walked off that plane a very happy chappy with a slight drunk feeling, memories of a enjoyable weekend and a lesson learned.
Thanks for reading,
Lee.