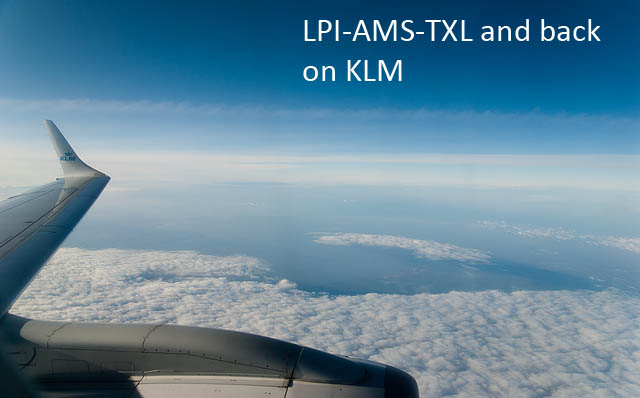 About one month in advance I got the chance to fly to Berlin to visit a project partner fort two days. We (my boss and me) looked into possible dates and settled on the 19th and 20th of January – a Thursday and a Friday. As I was in charge of organizing the tour (Yay!!!) I started looking in possible connections from Sweden to Berlin (TXL or SXF). There are a lot of flights from ARN, but these were either very early in the morning (so we would have no possibility to reach the airport in time) or too late so we would miss our appointment or already very expensive … so nothing out of ARN for us. So I started looking out of our hometown airport LPI. Here you can always fly KL via AMS but that is quite a detour (and maybe not the most interesting route and equipment for an aviation enthusiast like me).
But we also have that flight to CPH operated by NextJet's Saab 340B. So I constructed a connection via CPH and then to TXL using SK. I mailed this connection to our travel agency which we have to use for our business travel orders. But they had not been able to book it … actually there was a short connection time of only 40 minutes at CPH which was not accepted by the booking system. CPH says that a minimum of 40 minutes is needed for a connection from domestic (Sweden counts as domestic) to intra-Schengen. I still don't get it because we had those 40 minutes … but if you take the examples on CPH's webpage you actually need to book minimum 45 minute connections to be ABOVE the 40 minute limit … grmpf
Maybe also a mistake in the booking system blocked out this possibility as NextJet had moved the flight from Terminal 2 to Terminal 3 (where also the TXL would operate) some month before. But the Amadeus booking system still showed Terminal 2. Maybe it would have been allowed to be booked if they would have had the right Terminal. I contacted NextJet afterwards and they promised to correct it … but too late for my booking … maybe next time then.
So back to KLM … it's a detour and needs about two hours more but now it was the best solution … until we saw the prices. The Friday evening flight back home was … well … incredibly expensive. So we decided to add another night in Berlin and go back on Saturday morning. Even when considering the about 100€ for two single rooms during the extra night we still saved 500€ (!!!!) that way. The Saturday return was 300€ less per Person than the Friday evening … it seems everyone wants to leave Berlin on Fridays.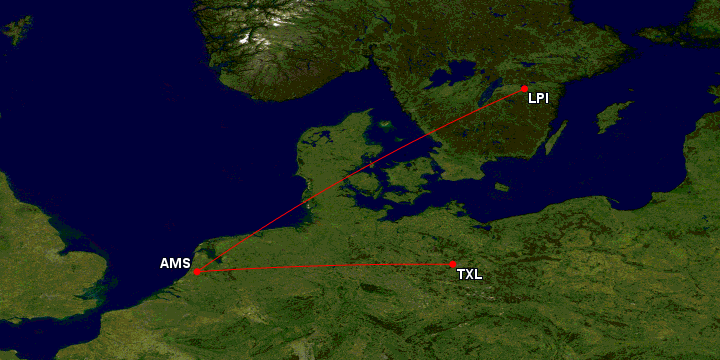 In the end we had our tickets for a nice LPI-AMS-TXL route on Thursday morning and the same back on Saturday around lunchtime. Flights were scheduled to be operated by Embraer E190 for the LPI-AMS segments and by B737-700 for the AMS-TXL segments. Some weeks after the -700 were changed for the larger -800. Not very good for me … I had already logged the -800 whereas the -700 would have been a new subtype for me. At least I would get to use TXL (which is new to me) before it will be closed in June in favor of the new Berlin airport BER.
My boss picked me up early in the morning on his way to the airport where we arrived well in time. I had already done OLCI the day before and had secured a seat in the Europe Select section (even despite flying just plain economy) to have the extra bit of legroom. Security was no problem at all and there on the apron was our Brazilian lady for today.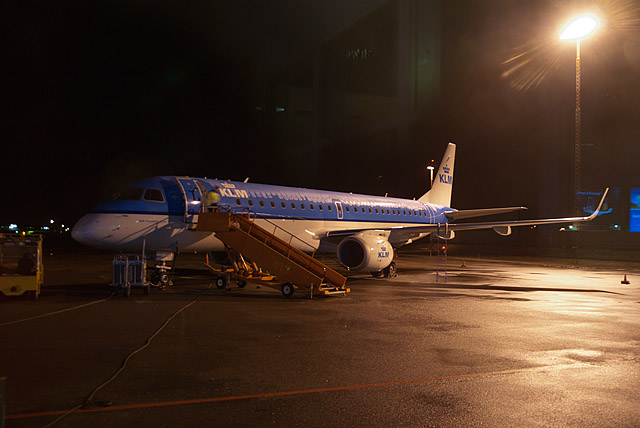 Hmmm … what could that ladder be for leaning on the wing?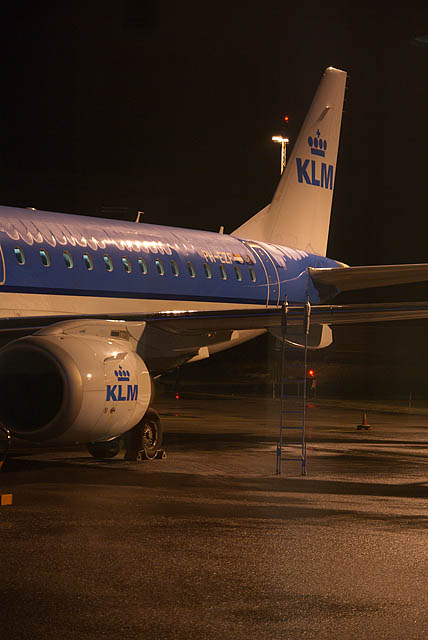 When the crew arrived …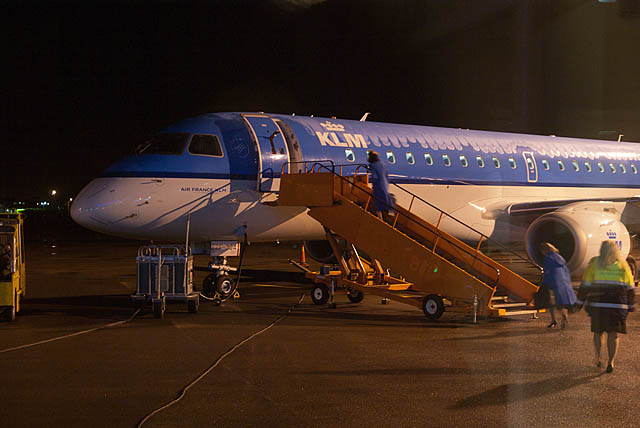 … one of the pilots climbed that ladder to check for ice on the wings.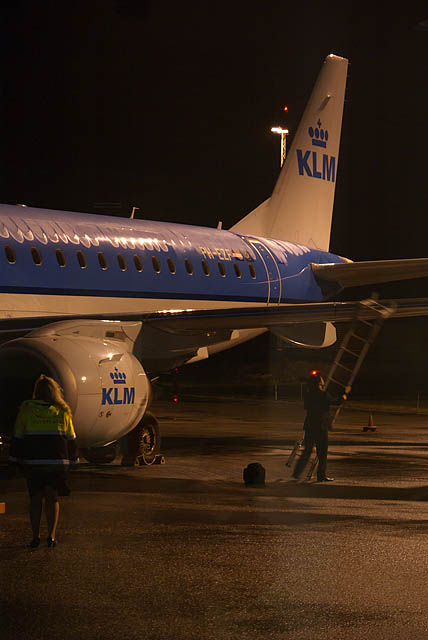 Meanwhile … before boarding started … I found out that LPI actually has a piano in the waiting area beside the gates.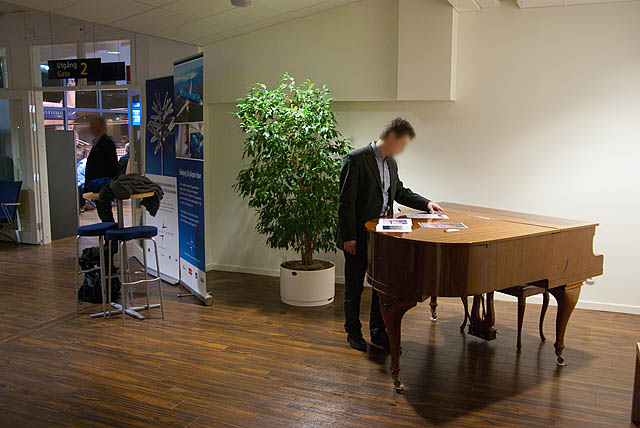 =======================================================
19th Jan 2012
KLM, KL1178
LPI-AMS
0600-0800
Embraer E190
PH-EZF
=======================================================
Soon boarding began and I settled down in my seat 7A with plenty of legroom here in the forward part of the cabin … normally sold as Europe Select (kind of business for short haul on KLM). The flight was … I would guess … about 95% full … quite a good load.
It seems that the pilot had found enough ice on the wings so he announced that the plane would need deicing before we could leave. Shortly thereafter a truck arrived and both wings and the tail were sprayed.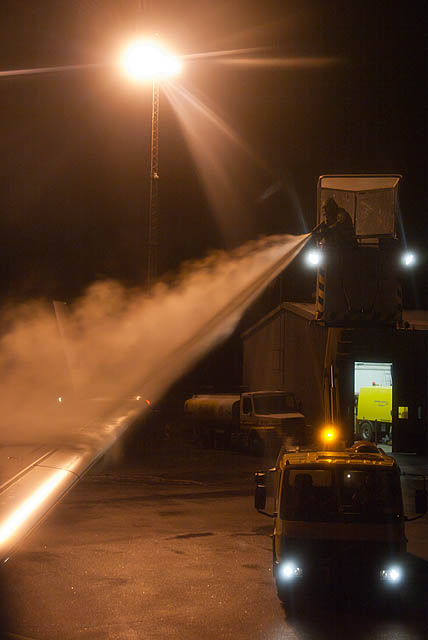 We taxied to the other end of the runway … turned around into the north-westerly direction … and … I experienced something special. It seems that the runway at LPI is somehow quite short for this plane so the pilots increased the power of the engines BEFORE releasing the breaks. It was literally like the "kick in the ass" when they released the breaks and our plane made a jump forwards … very impressive.
I live somewhere there above the engine nacelle.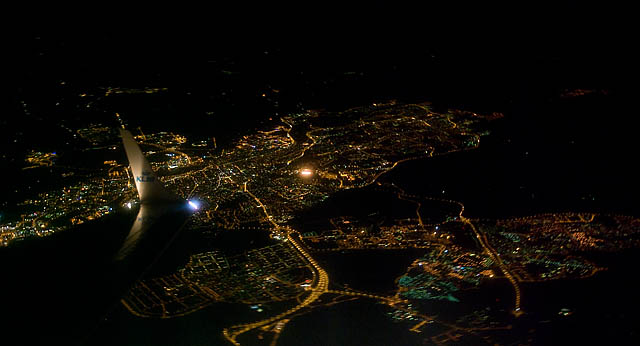 During our turn south in direction to Amsterdam I had beautiful view on Linköping at night (well – early morning)
Not so much to be seen as the whole flight was taking place in the dark. We got two drinks and a sandwich (which I skipped) and a cookie close to arrival.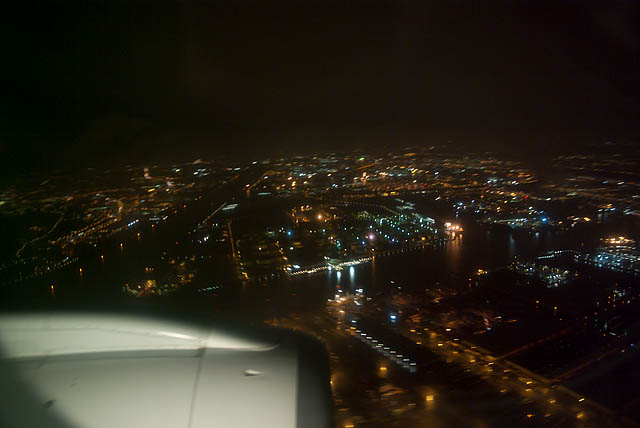 Approaching AMS across some harbor area
… aaaaand touchdown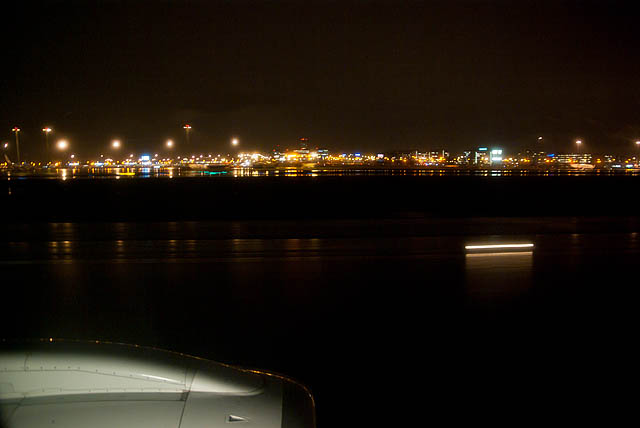 We taxied past this all white Martinair-Cargo B747 to our apron position where we were picked up by a bus.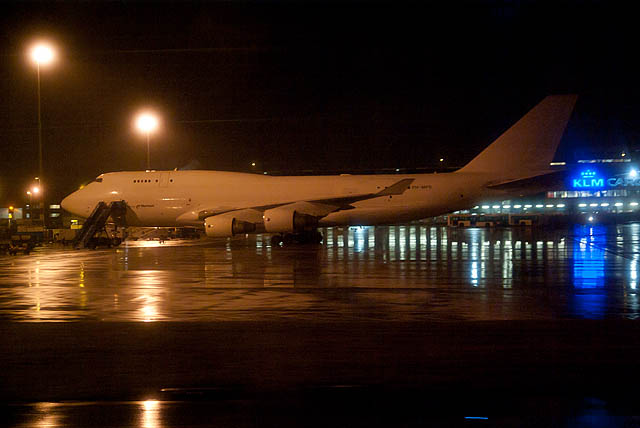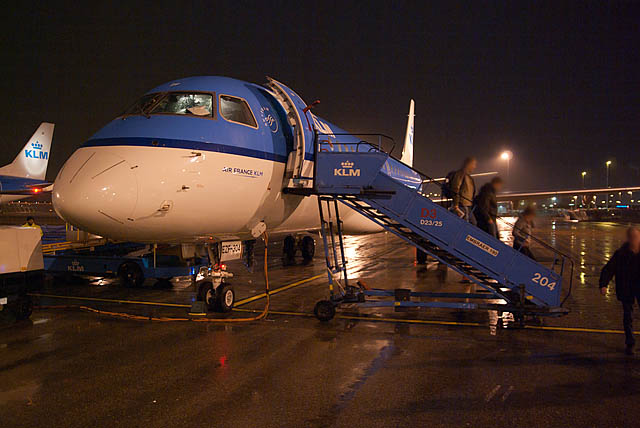 We got our self some extra breakfast and the proceeded to our next gate for the flight to Berlin Tegel which would leave quite from the end of pier D – which is a surprisingly long walk for AMS. There were already quite a lot of people waiting.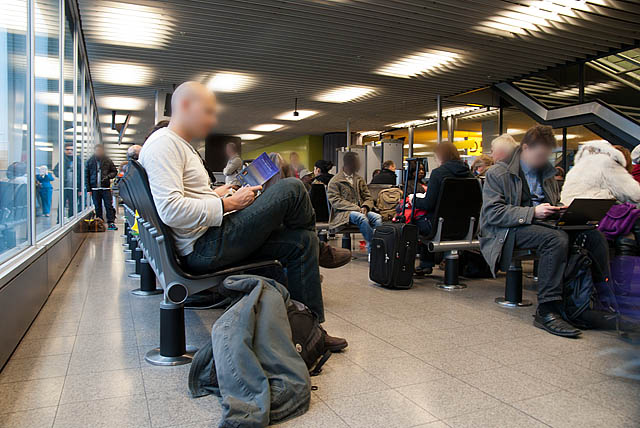 PH-BXV … a B737-800 … will operate our flight to Berlin today
Hello Robin – nice to meet you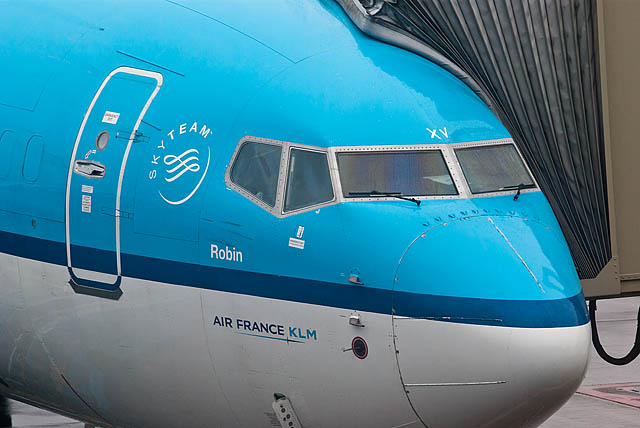 Here the funny part of the boarding began. They had the announcements for that flight on recordings … but it seems the playback had some problems. It is difficult to get it down written but you can maybe image like this:
"D-d-d-ear passengers. We wou-ou-ou-ould like to welcome-me-me-me our business-ss-ss-ss as well as our Flying Bl-bl-bl-blue Elite and Elite Plu-lu-lu-lus members …." Somehow the playback got stuck every second or so. Most people looked up … looked at the others … and started smiling
=======================================================
19th Jan 2012
KLM, KL1823
AMS-TXL
0955-1115
Boeing B737-800 (Winglets)
PH-BXV
=======================================================
Soon we boarded the plane and I took my seat. This time it would be 23A … quite far in back in the standard economy section with a smaller but still sufficient legroom.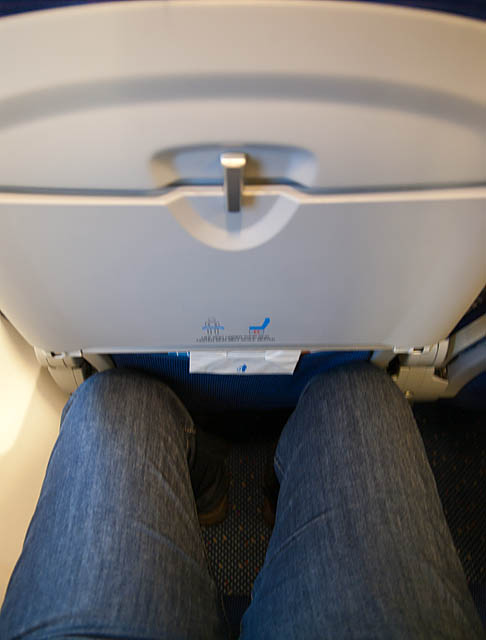 My seat neighbor asked the staff about the load and she said the flight was completely full. That is maybe also a reason why this flight had been upgraded from a -700 to a -800. As a nice surprise an IranAir Airbus taxied into its parking position directly beside us.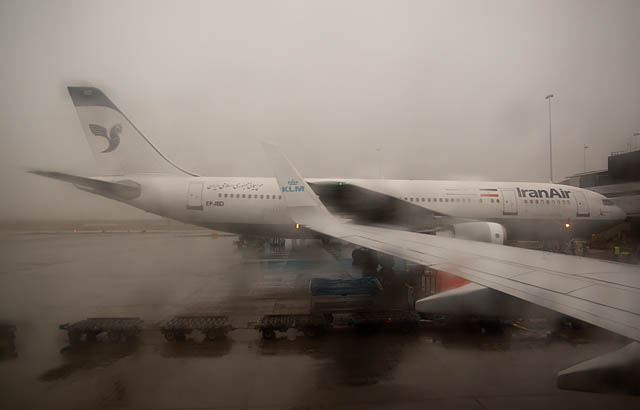 We took off in southerly direction so we had to make a left turn towards Berlin …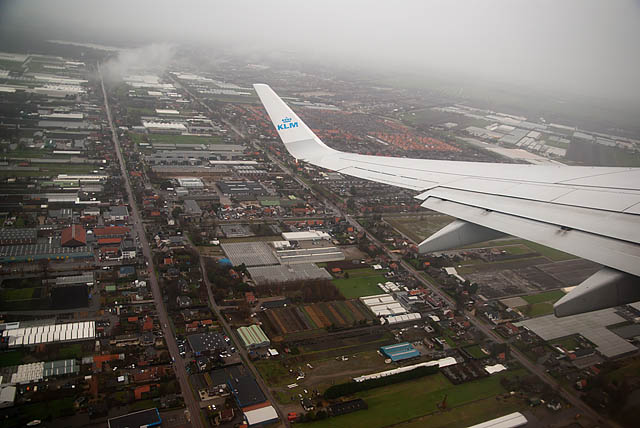 … and I got a decent view back to AMS
At least above the clouds there was some sun as our pilot announced not very good weather for Berlin.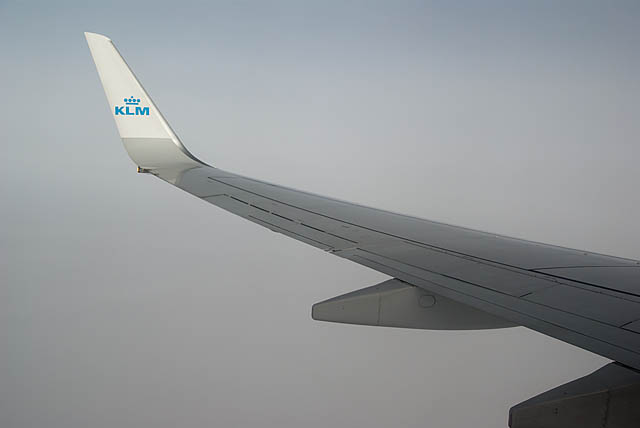 We had the approach from the east … I had a seat on the left side … but due to the clouds and fog the views down on Berlin were quite limited.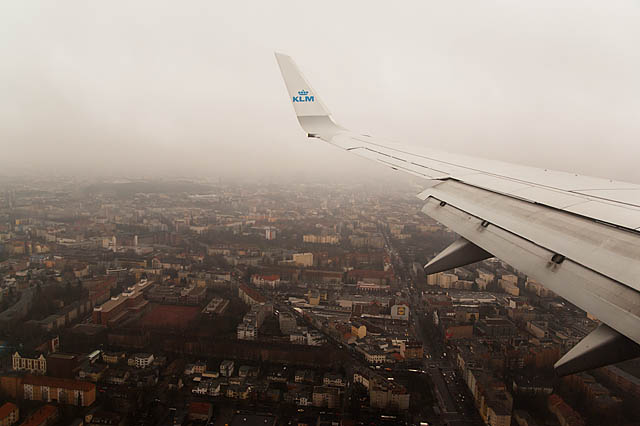 My first … and most likely last … touchdown at Tegel Airport in Berlin.
We taxied down to gate A14 at the hexagonal shaped Terminal A.
A last shot of the cabin during disembarking …
… and a rather dry welcome to Germany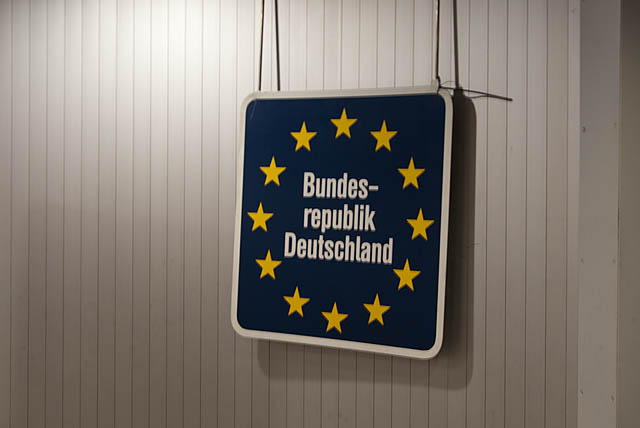 We had to wait quite long at the baggage belt as my suitcase was – of course – one of the last to arrive.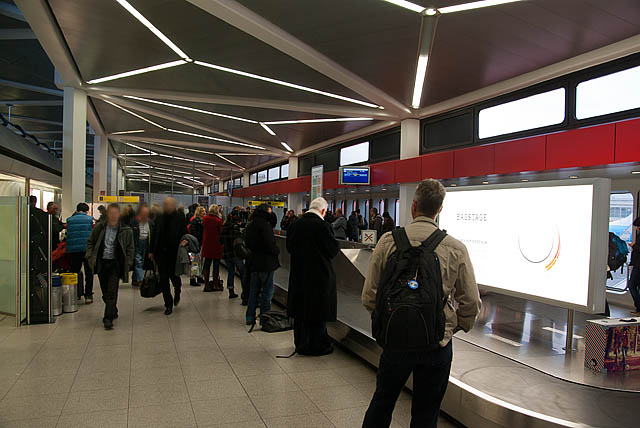 Actually the terminal looks quite nice … but not very roomy due to its thin circle design.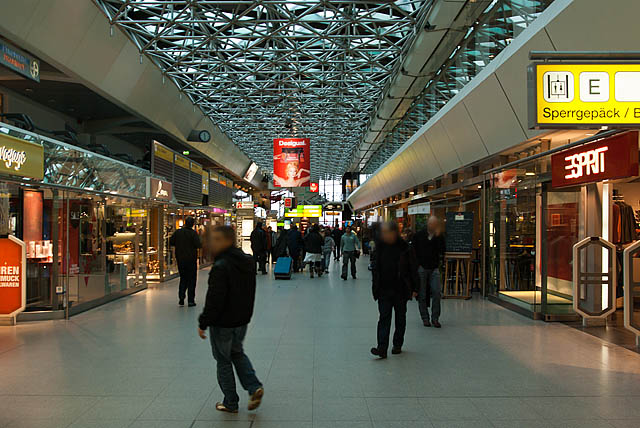 I convinced my Swedish colleague to go to ESS-Bahn for some lunch before we hop on the Bus. This has to be when visiting one of the Berlin Airports … and he really liked his Currywurst
We even had a look onto our plane that was just made ready for its flight back to AMS.
We had some quite busy time with our project partner but on Friday afternoon we had enough spare to go downtown and have a look around the city.
National Gallery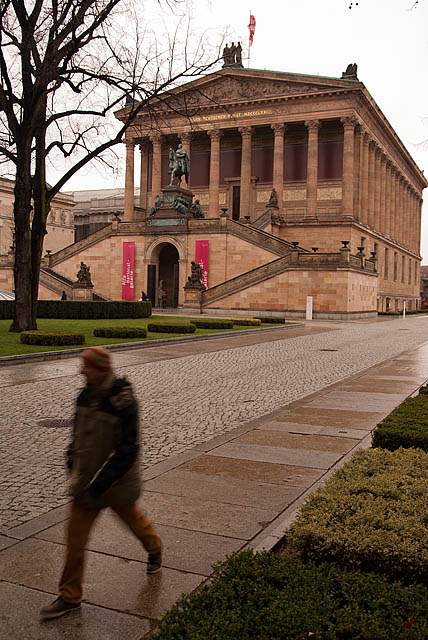 Cathedral and TV-Tower
Brandenburger Tor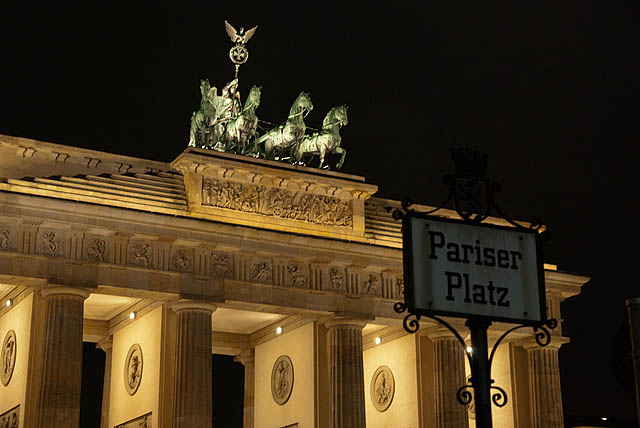 Reichstag (Parlament)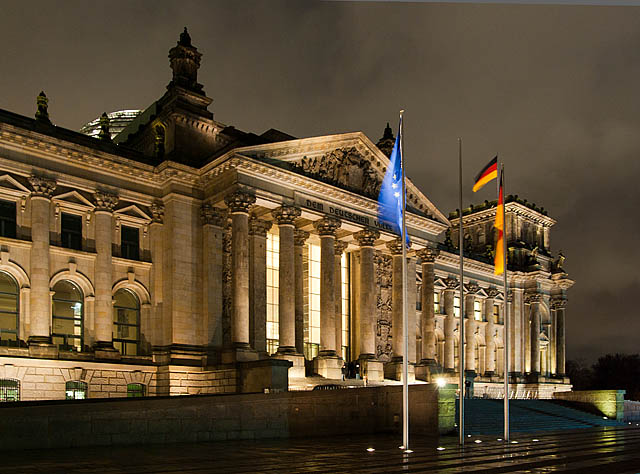 Potsdamer Platz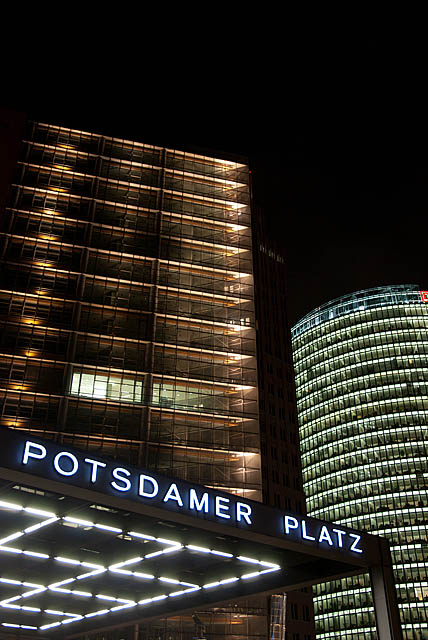 On Saturday morning we went back to Tegel airport to check in for our flights back home. I had already tried to do the online check-in the day before but the system only allowed me to check in for the TXL-AMS flight. The following AMS-LPI segment was somehow not accessible so I needed the guys at the desk. They printed out my boarding pass for the first segment (with the seat I had selected the day before) and the she commented that I was already checked in for the second part (again on the same seat 7A I had two days before). I have no idea where that came from as I was not even able to see anything about that flight online. But I did not complain about it (a window in the Europe Select part of the plane
) and we could proceed.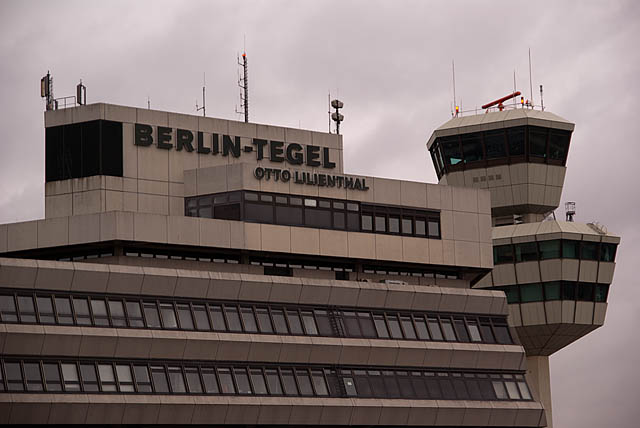 We decided to try out the visitor terrace on the roof. You have to pay 2€ for access and the go through some small security checkpoint as the terrace is very open to the apron area. But the views from up there are great so I tried to catch some Berlin-style traffic.
Berlin – of course – needs Air Berlin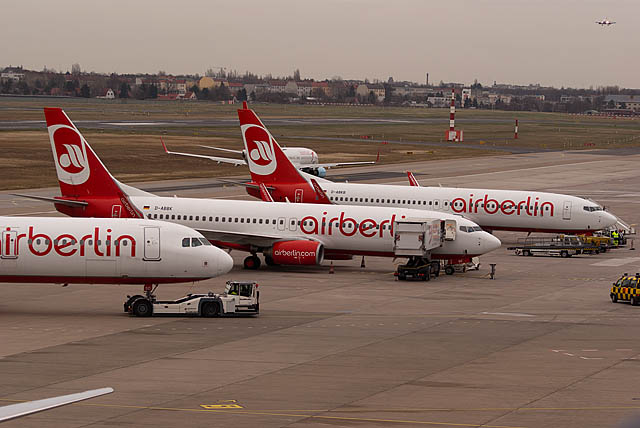 Berlin has a lot of Air Berlin
Did I mention that there were many planes from Air Berlin?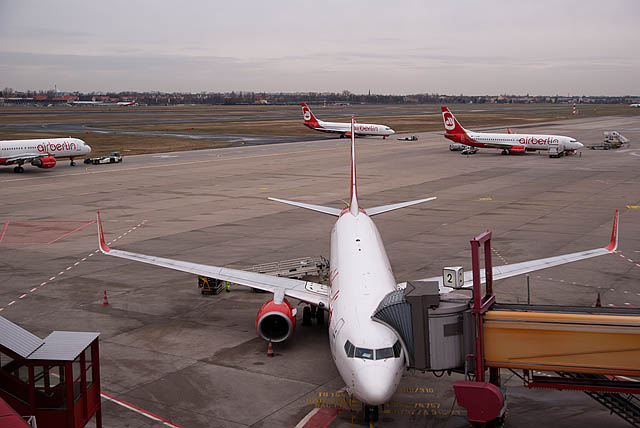 OK … now back to the interesting stuff … of course there was not only Air Berlin but also some other carriers around.
Czech Airlines ATR in special Skyteam livery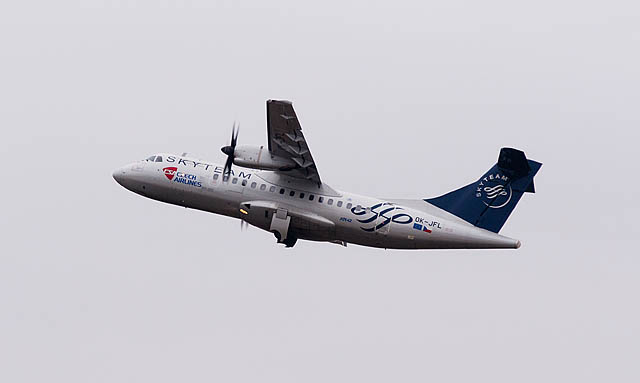 I think it is one of the Netherland's Government Jets (Fokker)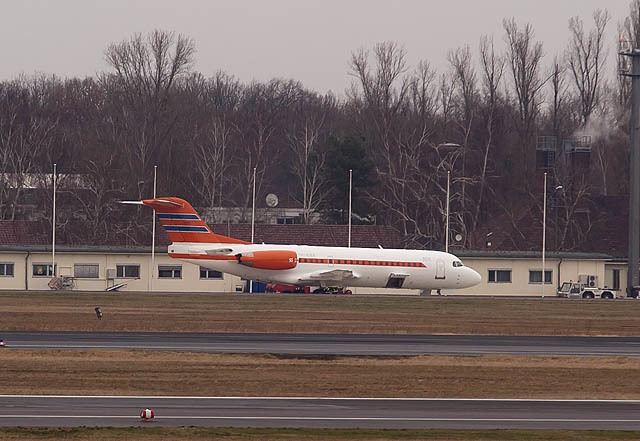 Contact Air Fokker 100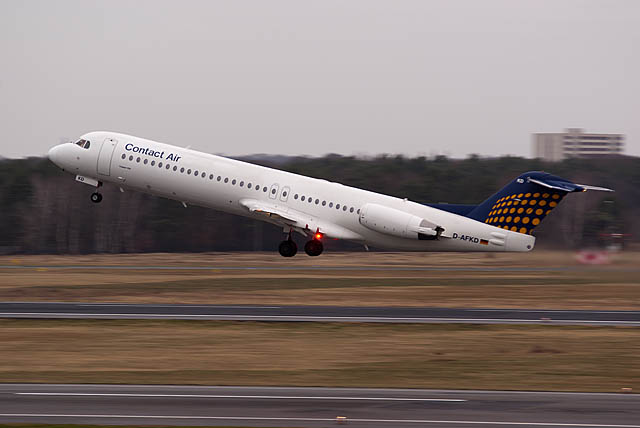 Austrian Airlines B738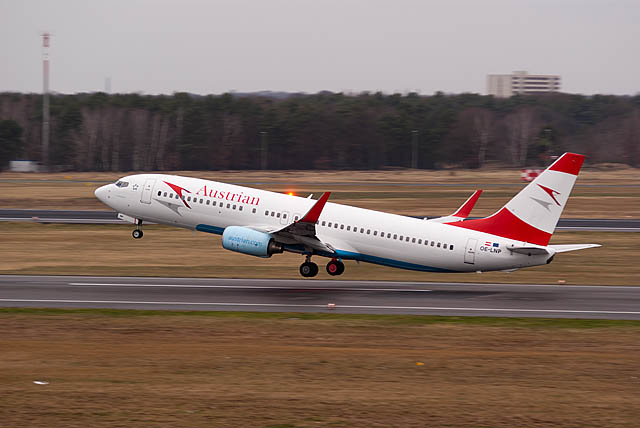 Some SWISS for Jonas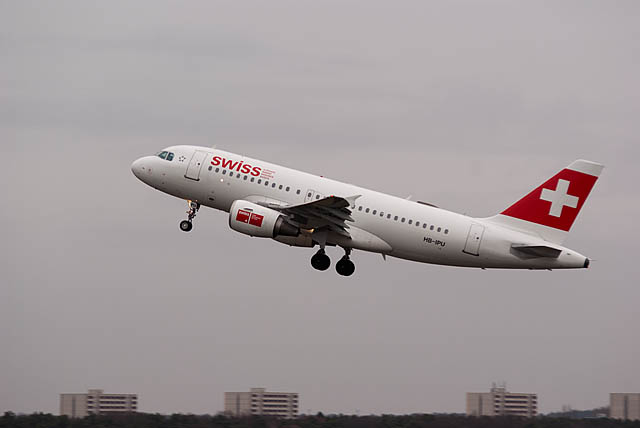 Some Brussels for Marc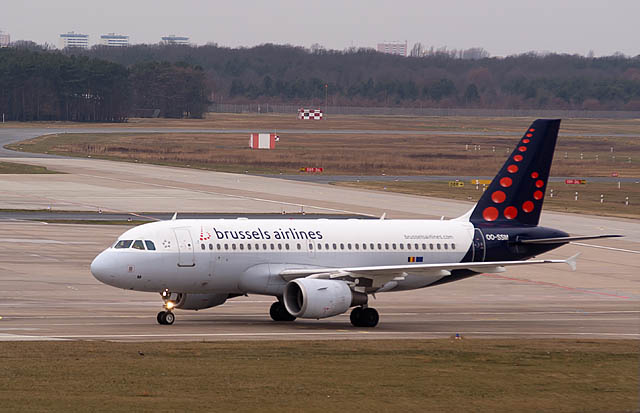 Then our plane arrived on its flight from AMS so it was my time to go back down. My boss had already left earlier … he wanted to go back to the ESS-Bahn to get another Currywurst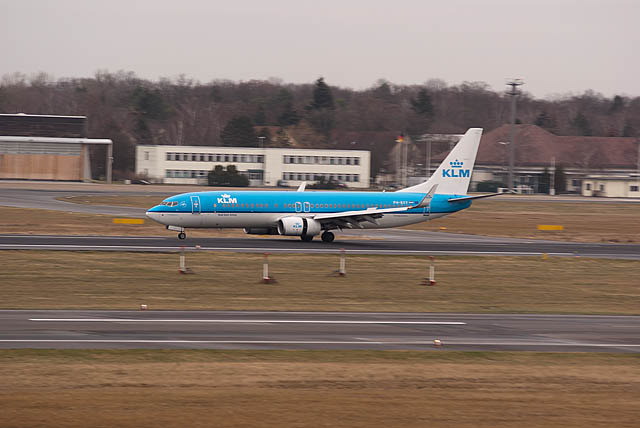 So I went back along the ring to the stairs …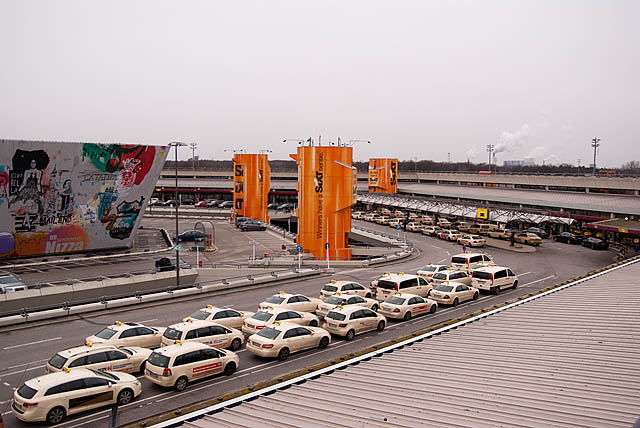 … and took some photo for our FlyingFinn (Finncomm Airlines – should now operate as FlyBe Nordic)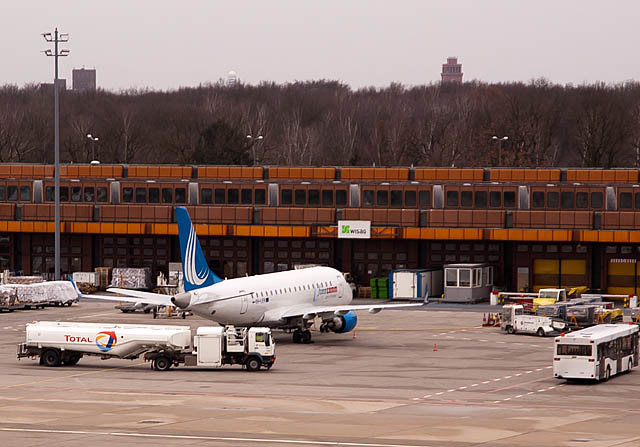 Our plane was not at the gate but it had got an apron parking position beside … what else … an Air Berlin.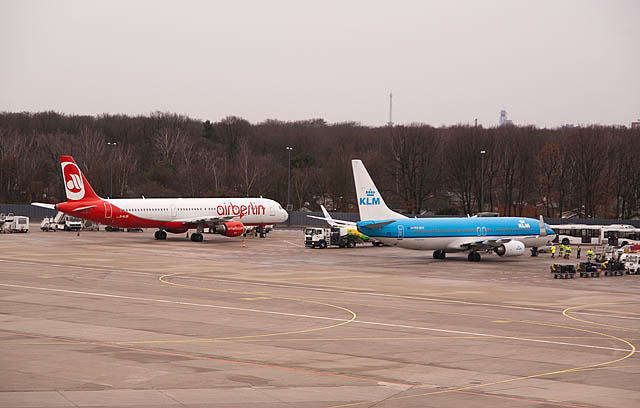 A bit strange as the gate A14 was empty (but would be filled by an AirFrance not much later)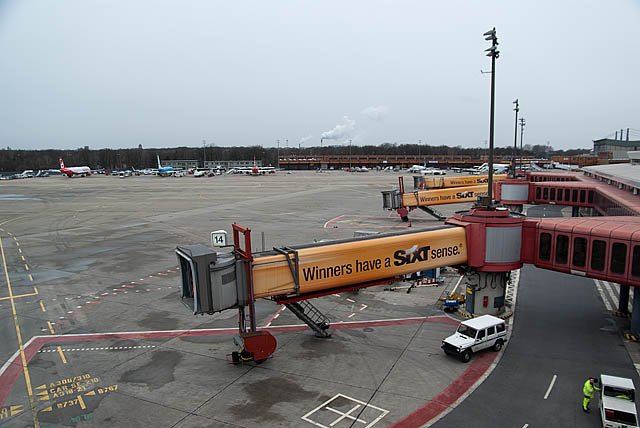 Well … we got on to our bus and were carried out to the plane to board via some covered stairs.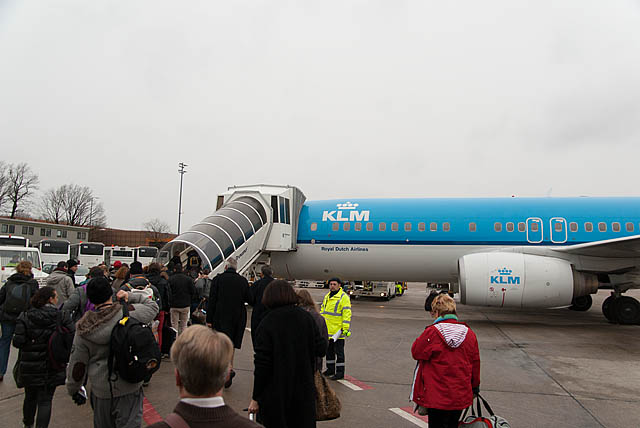 Just some simple engine close up … It was a good chance and I wanted to do it … that's why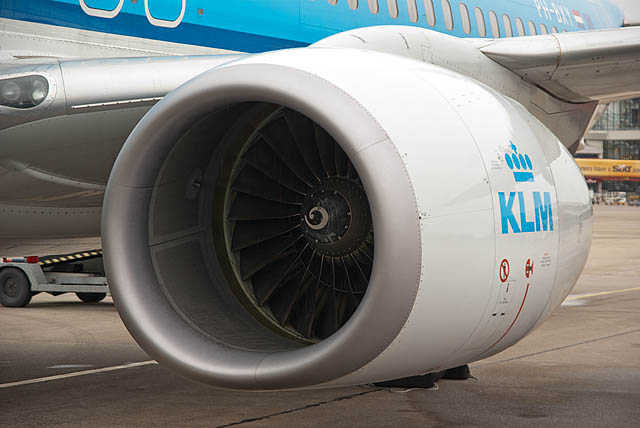 =======================================================
21st Jan 2012
KLM, KL1824
TXL-AMS
1205-1335
Boeing B737-800 (Winglets)
PH-BXY
=======================================================
As I had selected a seat up in the front of the cabin (06A) I was able to enjoy the large legroom of the Europe Select cabin.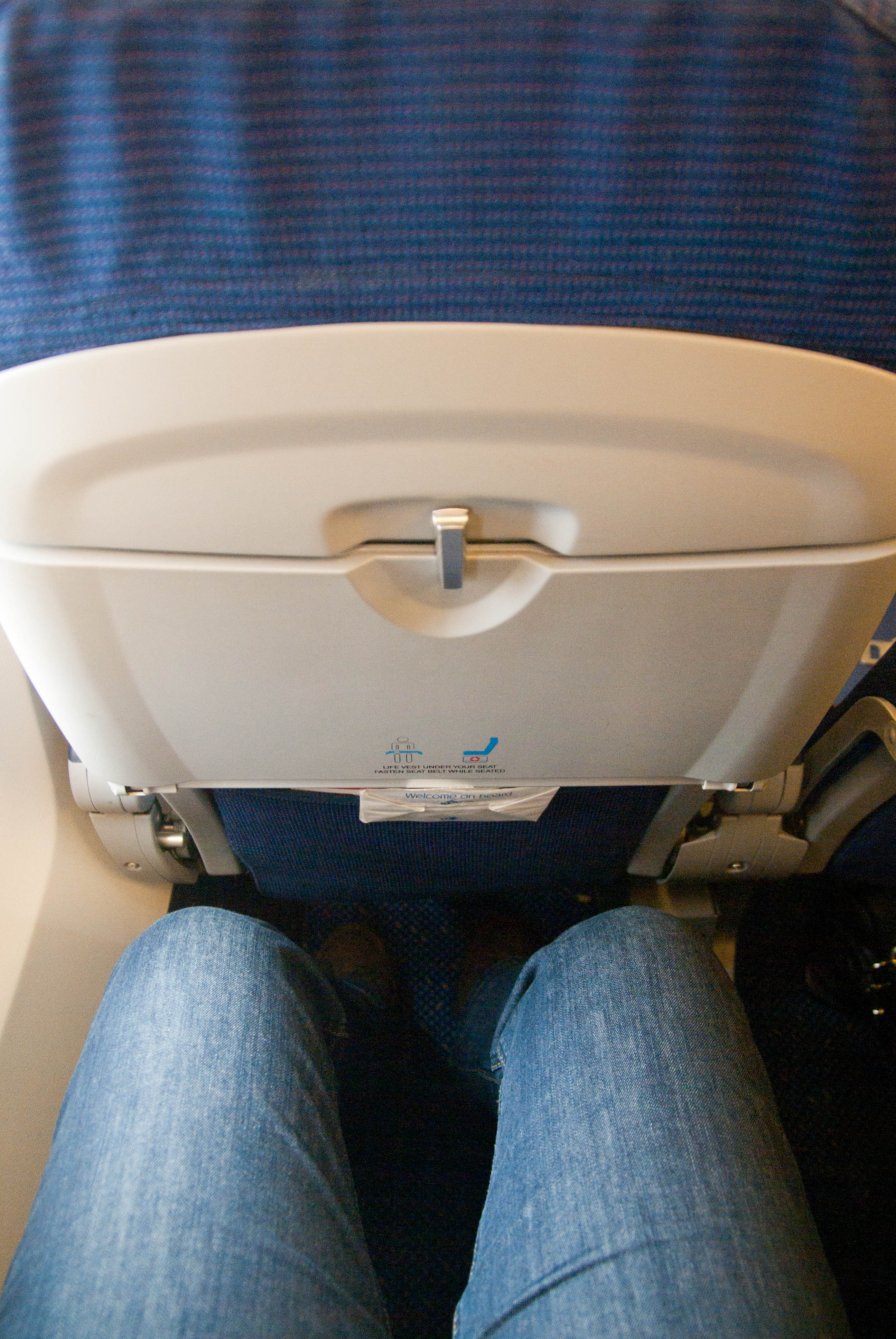 I was even able to fully stretch my legs without any problems … very nice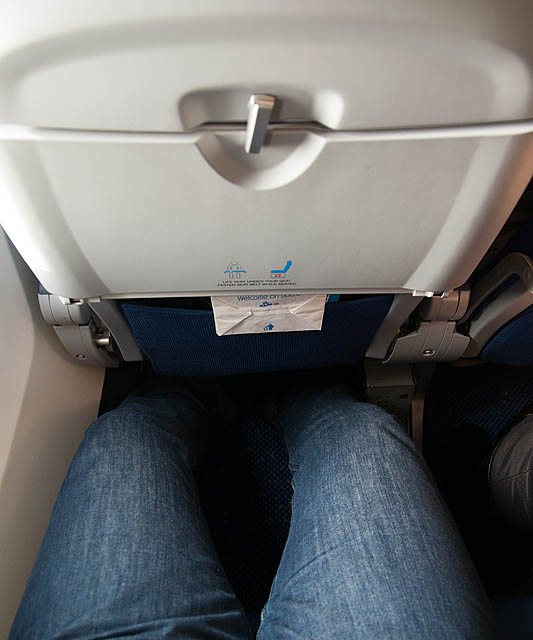 There was an announcement that also this flight is fully booked and we need to somehow arrange ourself with the luggage. Another bus arrived and unloaded the next bunch of passengers.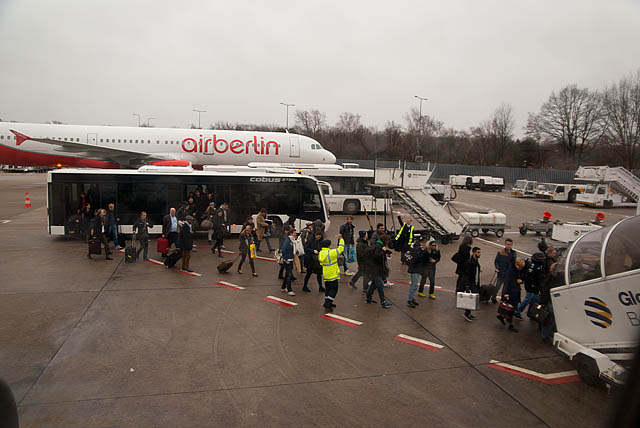 As the curtains were still open we were able to see that the few real Europe Select passengers were offered with newspapers. One guy in row 4 (the first after the divider) asked if he could also have a newspaper but the stewardess declined as this service is only offered to the Europe Select. He really started to argue with the staff about getting a newspaper but they were quite strict about it (but stayed friendly all the time). In the end he begged to one of the passengers to hand him down one of the newspapers. Not really a nice move I would say …
Bye bye Berlin
Again some nice weather … but only above the clouds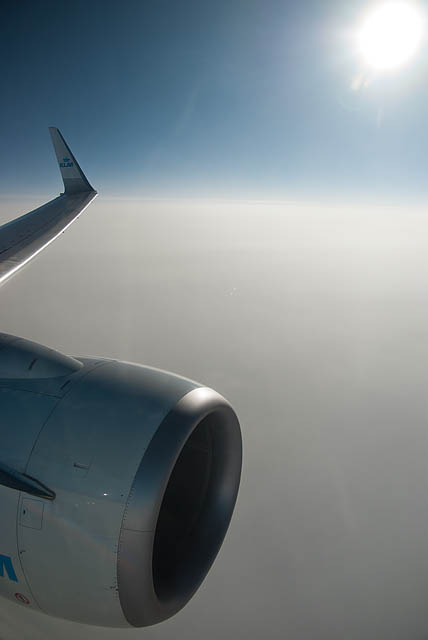 Service was a selection of drinks and some snacks for everyone (I got myself some nacho chips).
Can someone please tell me why a plane without any entertainment system needs an electronics box under the seats ???????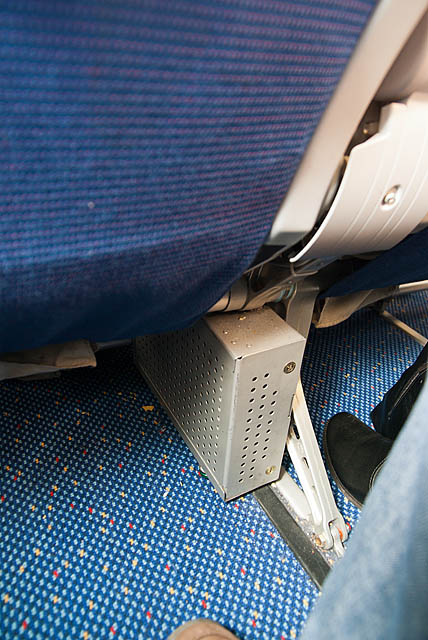 We approached Amsterdam from the north passing over some small harbor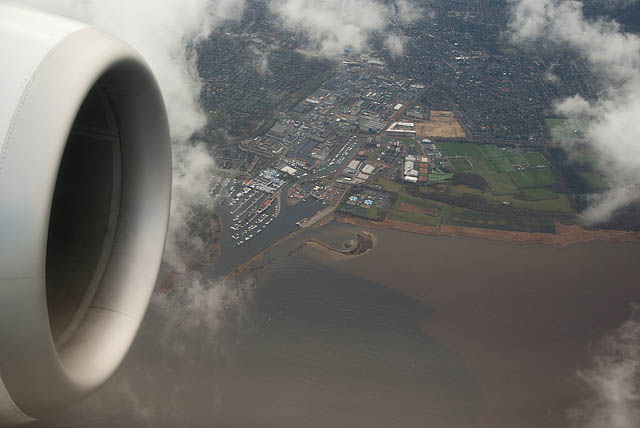 Final approach into AMS … seconds before touchdown and crossing the path of another RWY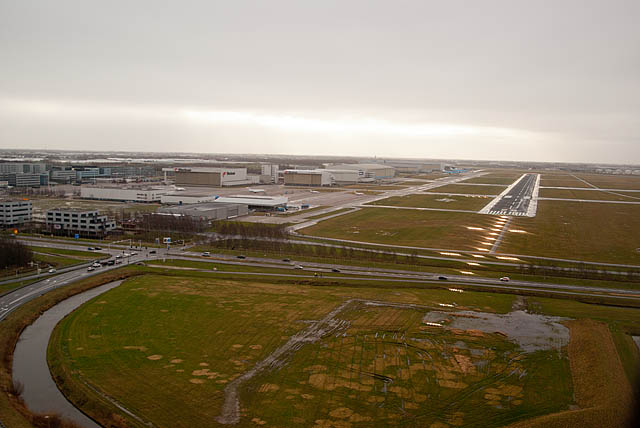 I asked for … and was granted … a visit in the cockpit. There I had some quite short (as I had to get the next flight) but very nice talk with one of the pilots about the differences of Airbus and Boeing (as I had been flying an Airbus Simulator some weeks before – see my last report). Thanks for that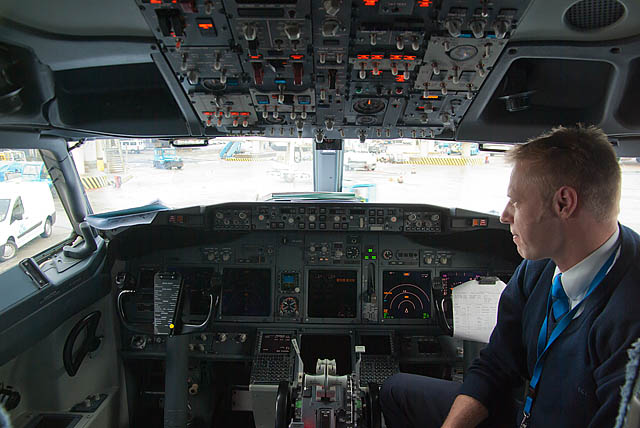 Our bird parked on one of the C-gates.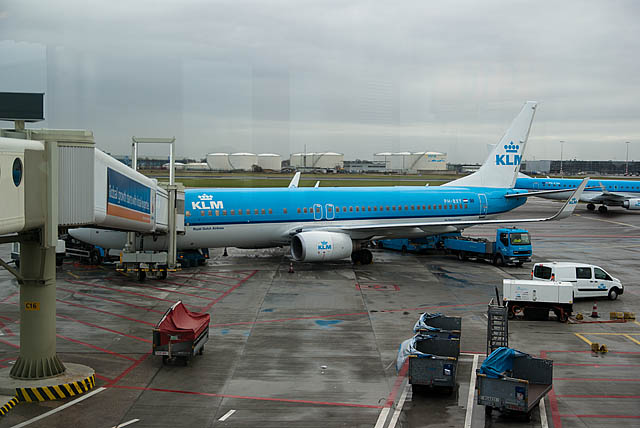 I just had a couple of minutes before our next flight would begin boarding but I was still able to get this little beauty – I am already booked for a flight on that type (Do328-100) for march.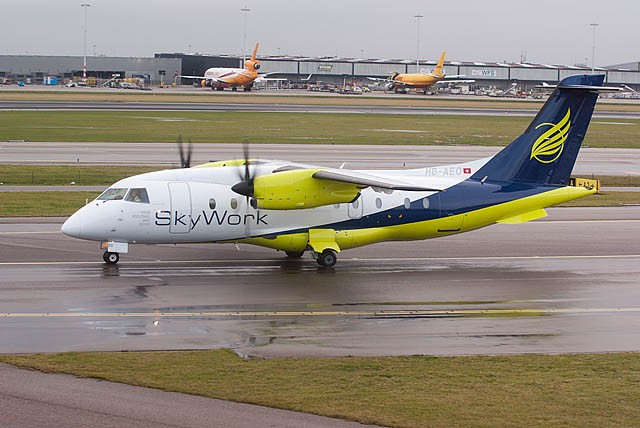 =======================================================
21st Jan 2012
KLM, KL1179
AMS-LPI
1435-1620
Embraer E190
PH-EZA
=======================================================
This time the flight to LPI would leave from one of the positions close to the pier (a first for me on that flight … so far we always got a bus).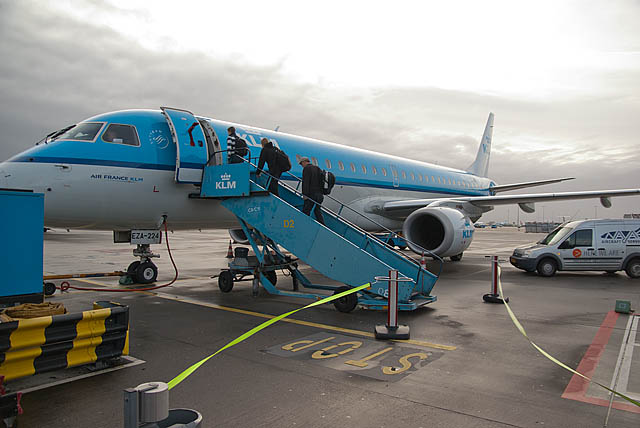 Boarding the next E-Jet
OK … I could maybe skip that photo … I had been on the very same seat (07A) two days before … just on a different registration.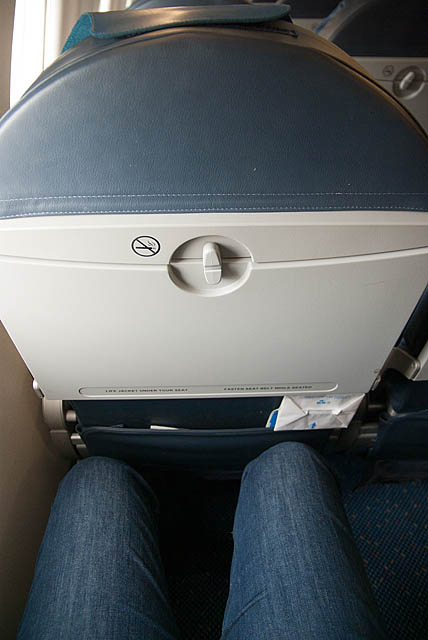 At least Martinair Cargo seems still to be active after they cancelled passenger operations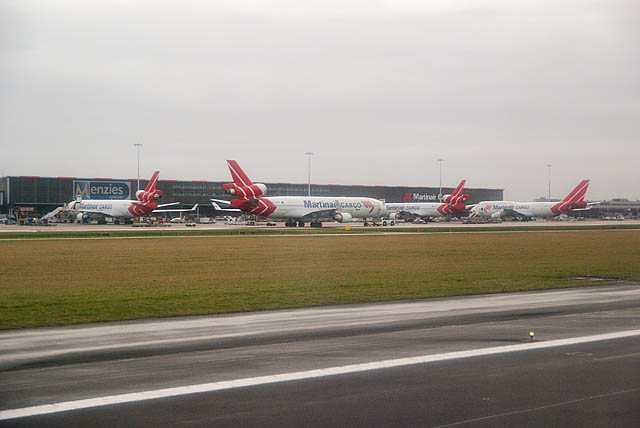 We took off in southerly direction and had to make a sharp turn to the left to change for north-east to Sweden … that gave me a nice overview of AMS airport … just the outermost Polderbaan is missing on that photo.
I again skipped the offered sandwich but got myself two drinks – a coke and some orange juice – which nicely formed the colors of the German flag (black-red-gold) on my table. We were even offered a third drink later during the trip.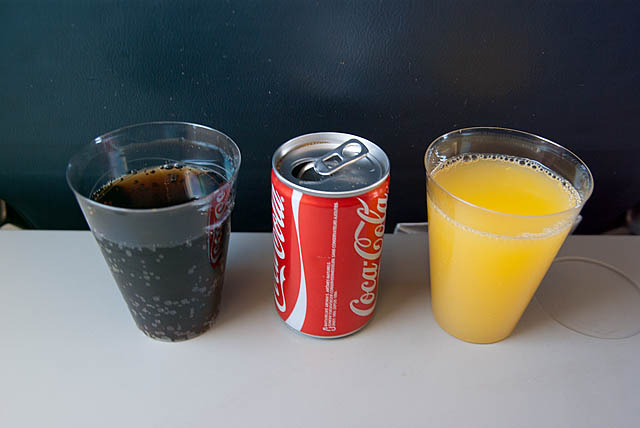 As we had been leaving 10 minutes early (boarding was very fast due to a very light load of only about 50%) and some tailwind during the ride the flight was very short and we soon arrived at LPI.
I somehow think that there is some second hand market for airport equipment somewhere …
… how did I got that idea?????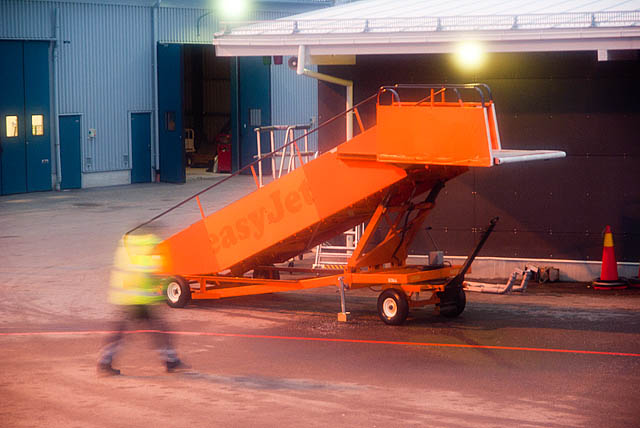 I asked … again … about a visit to the cockpit and … again … I was allowed to enter and had some chat about the comparison of an E-Jet and the B737 from the passengers view as the pilot seemed to be interested in that. Just for you: I opted for the E-Jet … I like the seats better as they are a bit wider than on the Boeing.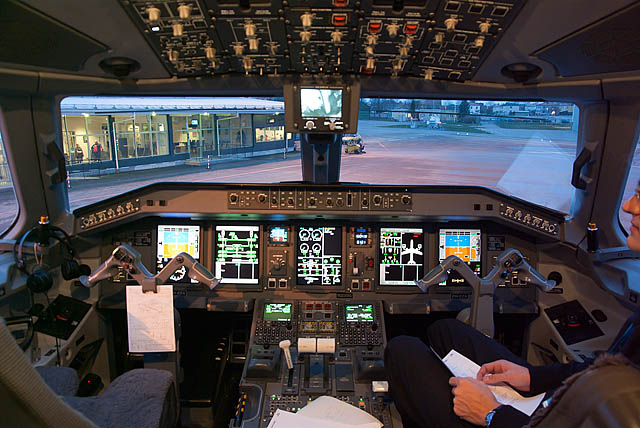 Good bye little Jet
have a safe trip home
Some Saab 340 model hanging above the baggage belt … well … the airport at Linköping is owned by Saab so they do some PR there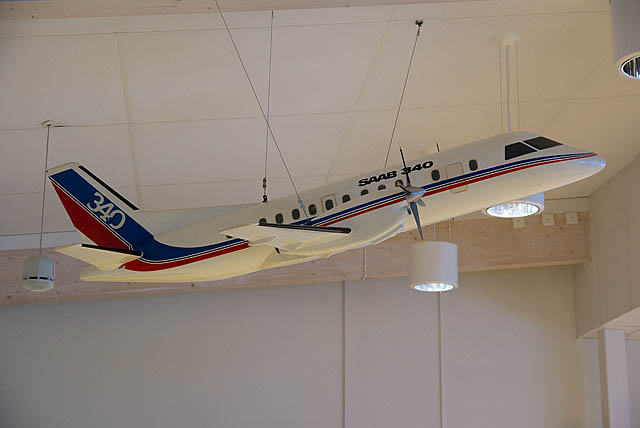 I hope you enjoyed reading of my little trip to Berlin. In the end I can only say it was nice to get at least to one of the old Berlin airports before they will be closed in June. KLM delivered four really nice flights and I really enjoyed them. I had the luck to end up in Europe Select seating part on three of these flights so I can not at all complain about legroom on this trip. The crews were mostly friendly and delivered some really nice service sometimes even a bit about the typical with doing a third drink for everyone and such. The flight crews on the return flight were great and both allowed me to visit the flight deck and take photos … thanks guys
PHILIP
====================================================
My old reports:
MUC-AMS-LPI And Back On KLM
(by
photophil
Jul 11 2011 in Trip Reports)
NUE-ZRH-NCE And Back By Swiss
(by
photophil
Jul 4 2011 in Trip Reports)
LPI-AMS-CDG On KLM And AirFrance (long)
(by
photophil
Jul 4 2011 in Trip Reports)
CDG-AMS-LPI On AirFrance And KLM
(by
photophil
Jul 5 2011 in Trip Reports)
Tatl On KL And DL - Part 1 - LPI-AMS-JFK
(by
photophil
Sep 24 2011 in Trip Reports)
Tatl On KL And DL - Part 2 - JFK-CLE-MSP
(by
photophil
Sep 25 2011 in Trip Reports)
Tatl On KL And DL - Part 3 - MSP-AMS-LPI
(by
photophil
Sep 25 2011 in Trip Reports)
Two T-Tails Across The Baltic Sea - ARN-HEL-ARN
(by
photophil
Sep 24 2011 in Trip Reports)
The Non-Trip-Trip-Report ... MUC Behind The Scenes
(by
photophil
Dec 14 2011 in Trip Reports)
SK MD-82 Between CPH And MUC And A Jump To Kai Tak
(by
photophil
Jan 9 2012 in Trip Reports)