Introduction
Well, another year, another tabula rasa to fill with flights. And what's a better way to start it than to meet some of your fellow a.netters in... the Snowy North!
This whole thing got started by photophil's report:
Two T-Tails Across The Baltic Sea - ARN-HEL-ARN
(by
photophil
Sep 24 2011 in Trip Reports). After realizing that a a few of us (*cough*) had flown through ARN almost at the same time the idea of having another meet there in the style of the last July's FRA meet sprung up. Various dates were proposed and discussed, various people signed up and finally the second weekend of 2012 was agreed as the date and obviously Arlanda airport as the venue.
So I booked KF flights to ARN on that Saturday morning and back at a sensible time on Sunday evening, around 100 EUR alltogether - this was way before they current ridiculously cheap fares thanks to a price war with Finnair of all airlines!
Since we live in the age of globalization and Sweden has a bit of a (deserved) reputation to be a helluva expensive place for the fun things in life (hotels, booze, food, booze, life in general, booze) very soon the idea of outsourcing half of the party to Tallinn, just a short plane ride away sprung up. An additional bonus was that there was a perfectly timed Saturday afternoon flight there with an Estonian Air Regional (or Golden Air actually) Saab 340, a type many here see moderately wet dreams about and it was available for around 60 EUR. Very soon a breakaway group of people attending the meeting decided to do this, so of course I booked myself on it as well. Sorry Swedes, your country might be safe and sound and great, but it is also utterly boring compared to Tallinn!
Luckily these plans were being hatched at the same time as airBaltic was having one of their best sales ever (as part of their weekly Cherry Tuesday offers): a good per segment discount on all itineraries booked that day, so most people including me ended up booking TLL-RIX-ARN for Sunday morning. I paid 34 EUR for my flights, pretty much unbeatable value!
Here's the route for this weekend of crisscrossing the icy Baltic waters: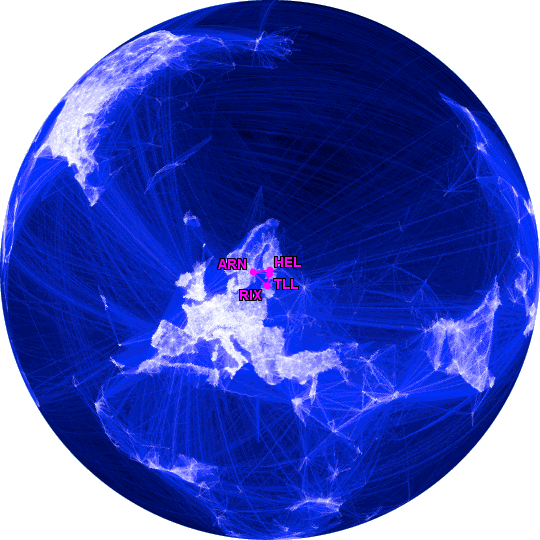 There have already been a good number of reports about the various parts and aspects of the meets, listed here in order of appearance:
To And From The ARN.meet: BRU-ARN-TLL-AMS-BRU
(by
sultanils
Jan 16 2012 in Trip Reports)
A.net Meeting In Snowy Tallinn.U2 & FR STN-TLL-LTN
(by
gabrielchew
Jan 18 2012 in Trip Reports)
5 Flights & ARN A.net Meet (incl SF3/737s/F50)
(by
airbuseric
Jan 18 2012 in Trip Reports)
NextJet ATP, Caravelle, Jumbo Hostel; ARN Meet
(by
MEA-707
Jan 20 2012 in Trip Reports)
ARN Meeting: The Highs And Lows.
(by
AlwaysOnAPlane
Jan 20 2012 in Trip Reports)
Since there are already so many accounts out there plus the fact that none of the airlines, routes, airports, or even planes were new for me I didn't really feel very motivated to put out a report. So I decided to do it in a little bit different way this time.
Saturday 14.1.2012
The real winter had finally arrived - this is my street around 7 on that Saturday morning. Yes, those footprints are mine: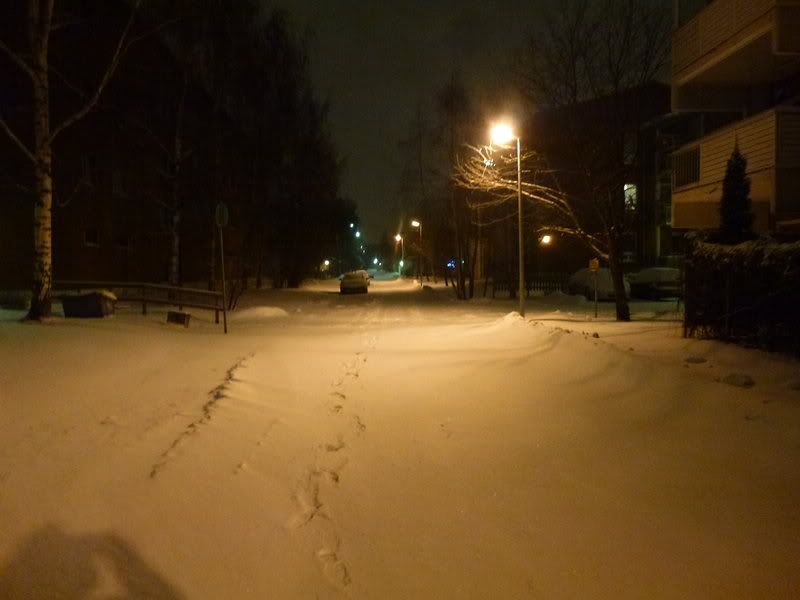 I had arranged a lounge date with AYA333, also attending the meet and flying out on the same flight as me. A sparkling wine breakfast suited the mood just fine (by the way, that is a quadruple espresso there):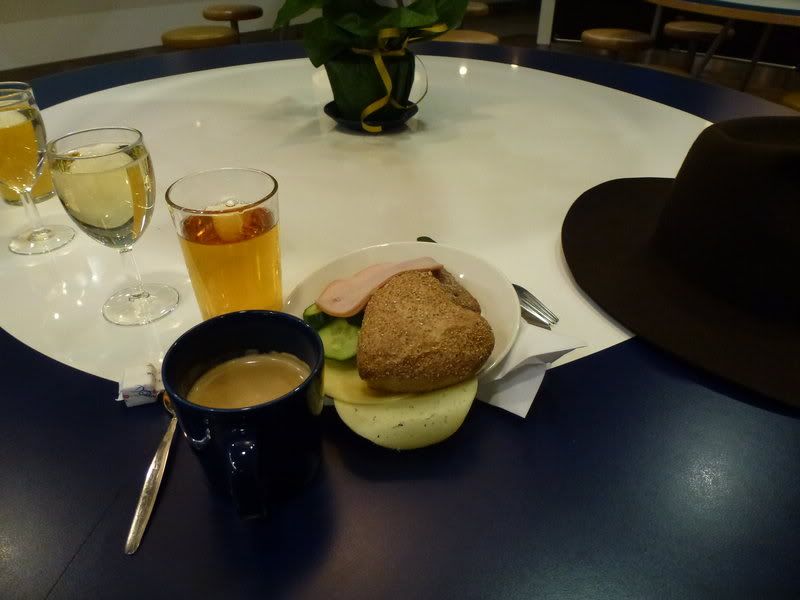 At the gate a little cross feeding was taking place :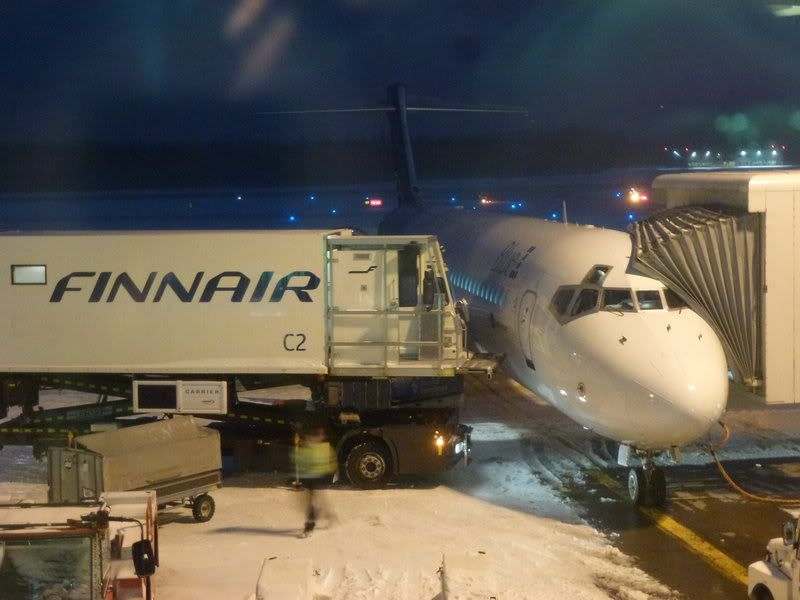 So today's ride is Lima Mike, the first Blue 1 717 I ever flew, and even in Premium class in November 2010, coming back from an eventful, nice but far too short visit to Belfast and Glasgow:
Beautiful Belfast: HEL-RIX-PIK/GLA-BHD/BFS-LHR-HEL
(by
FlyingFinn76
Nov 10 2010 in Trip Reports)
This bird has appeared frequently on my flights, so that would become already my sixth flight with her, by far the most common KF 717 (I have logged them all) in my log.
My first 717 ride, and only one prior to KF deciding on the type and thus making it very accessible for me and other Finnish fliers was back in August 2007 with Spanair/AeBal doing the BCN-MAD hop.
Yes, indeed they have made the font bigger - but at the same time they've made it hideous. Urgh: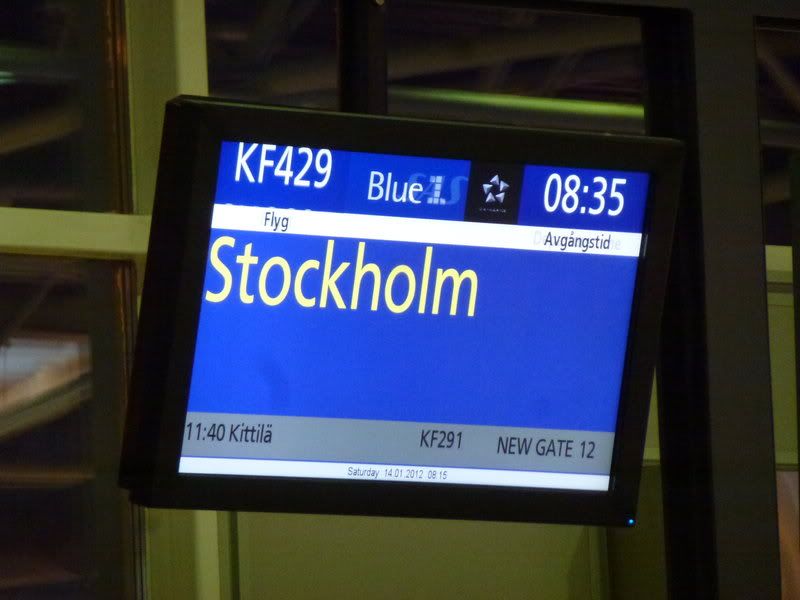 HEL - ARN
KF434
B717 OH-BLM "Kevätsade / Spring Rain"
Seat 6F
8.52 - 09.02
AYA333 told me that he overheard the flight attendants quoting the load as 69 pax. I estimated 70%, so quite close to that.
Greta Garbo, oh yes: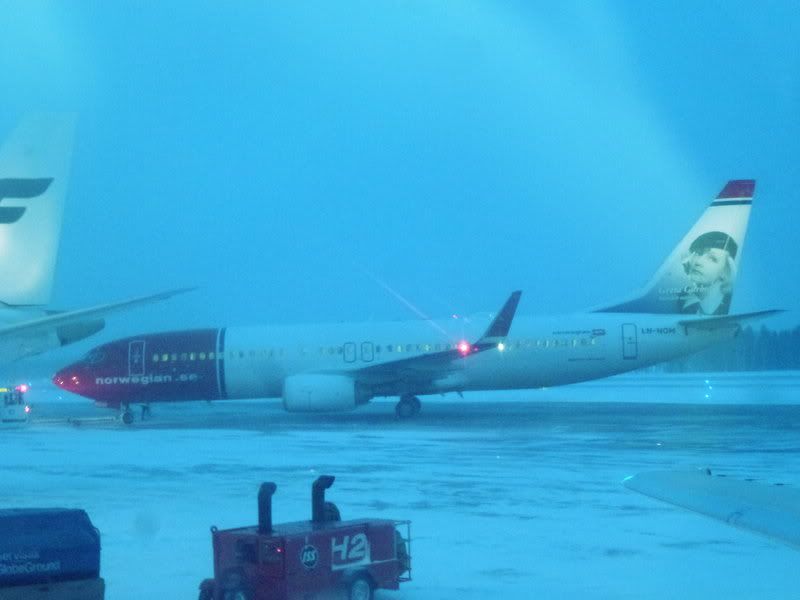 We waited for a long time for a deicing vehicle to appear and do its business: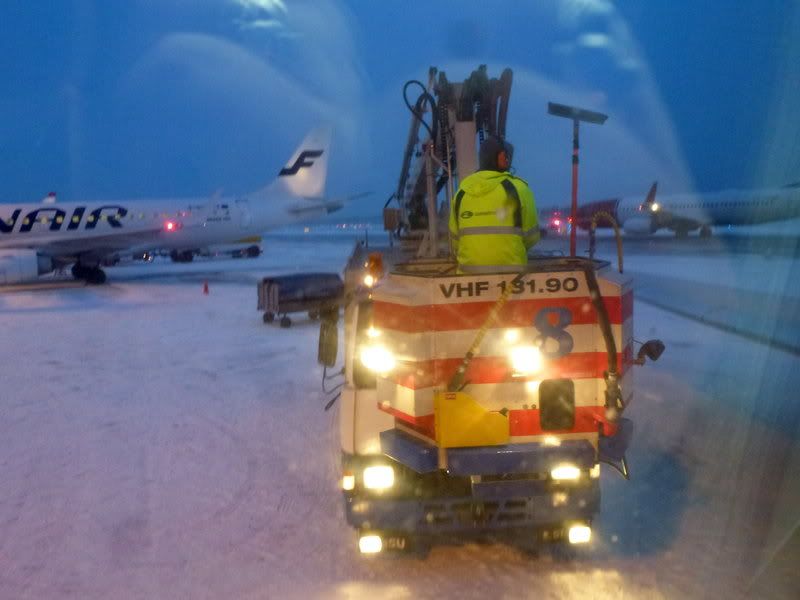 For some strange reason after pushing back late we didn't taxi to the active but instead to an apron position where
another
deicing took place, not sure what happened here.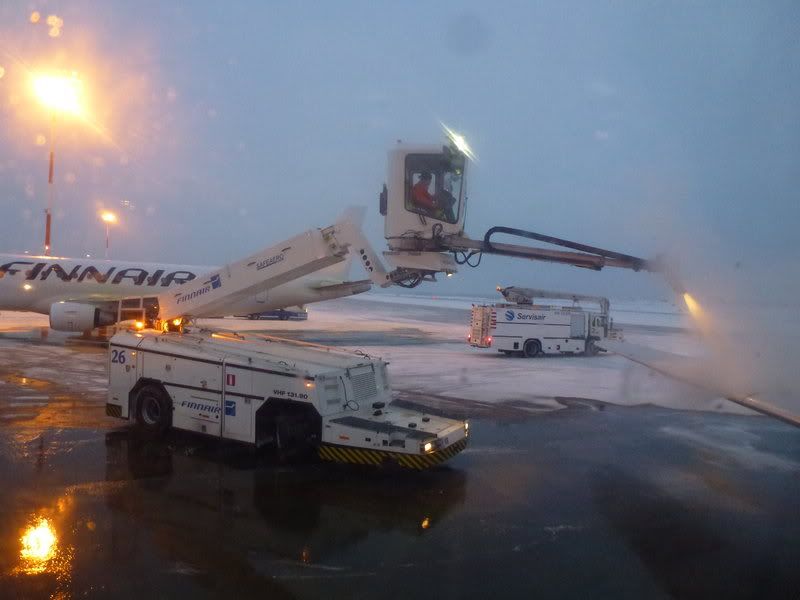 Take off from 04R was finally half an hour or so late. Notably Ms. Garbo who pushed back some ten minutes before us took off just in front of us. Being a world class actor means some serious make up and preparation time, it seems...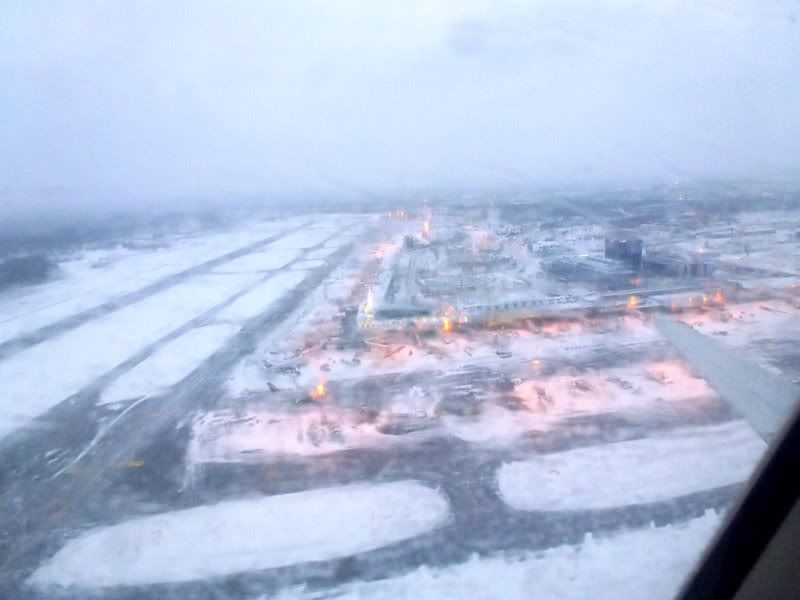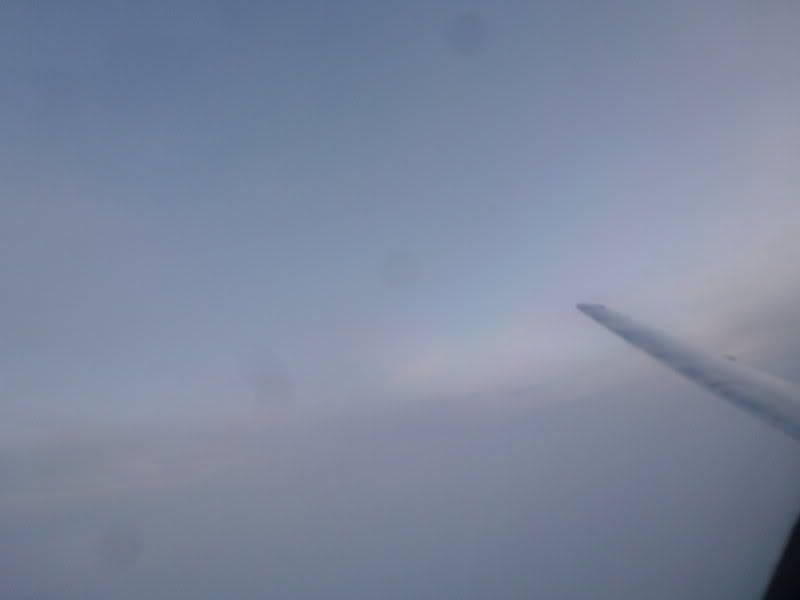 I think they should come up with some new slogans for the coffee cups - these are getting a little long on the tooth. I can come up with lots of them cheaply, wink wink: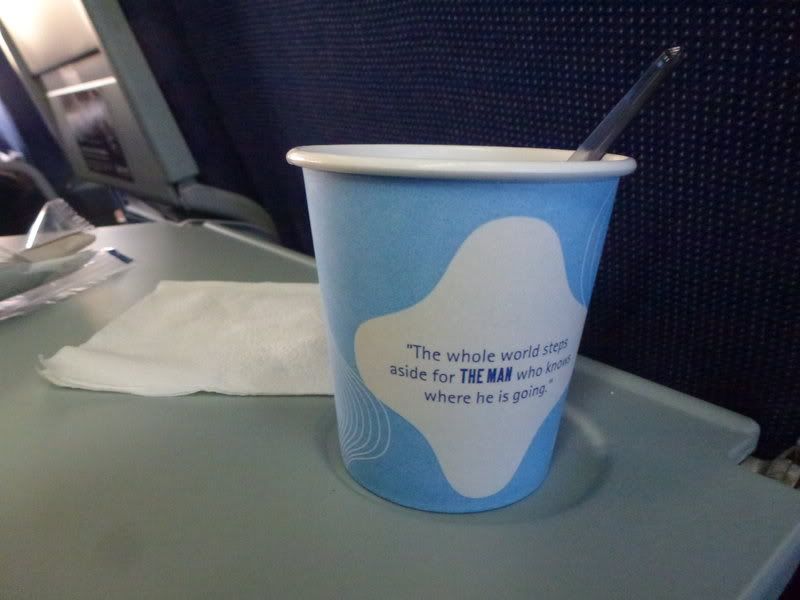 Our approach to 01L took us right over the eerily beautiful frozen city of Stockholm and its northern suburbs: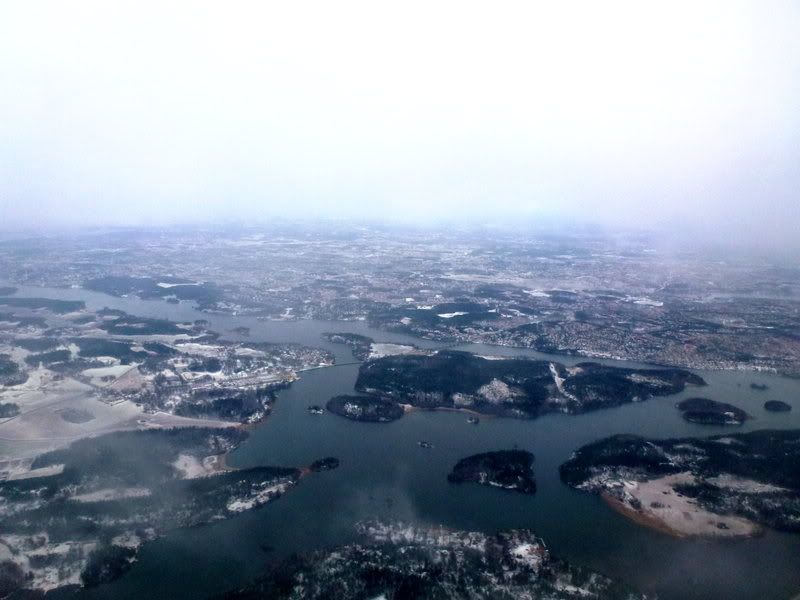 Bromma - according to a popular legend there's no Terminal 1 at Arlanda (the designations go from 2 to 5) because BMA is actually considered to be T1: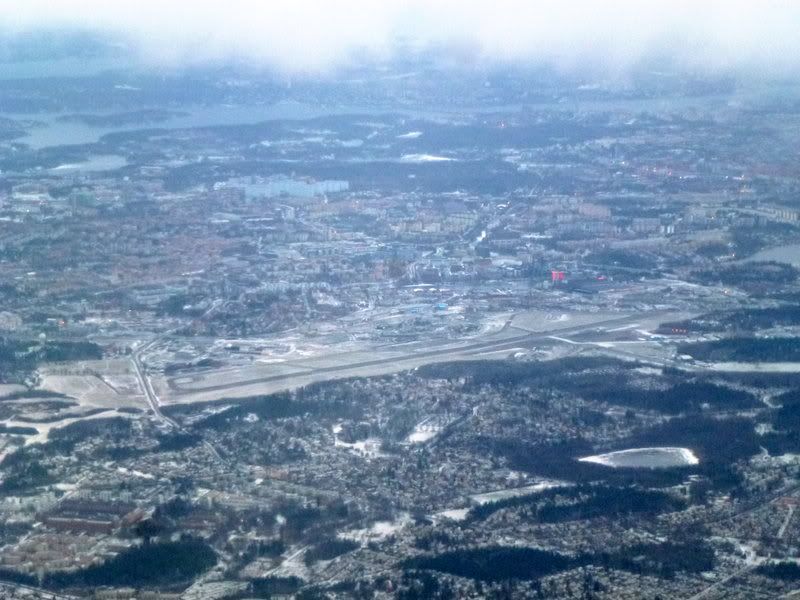 Fast forward one and half months and this fellow will be already much higher at this time - I just love late February and March in the North (just as I absolutely hate October, November and most of December here):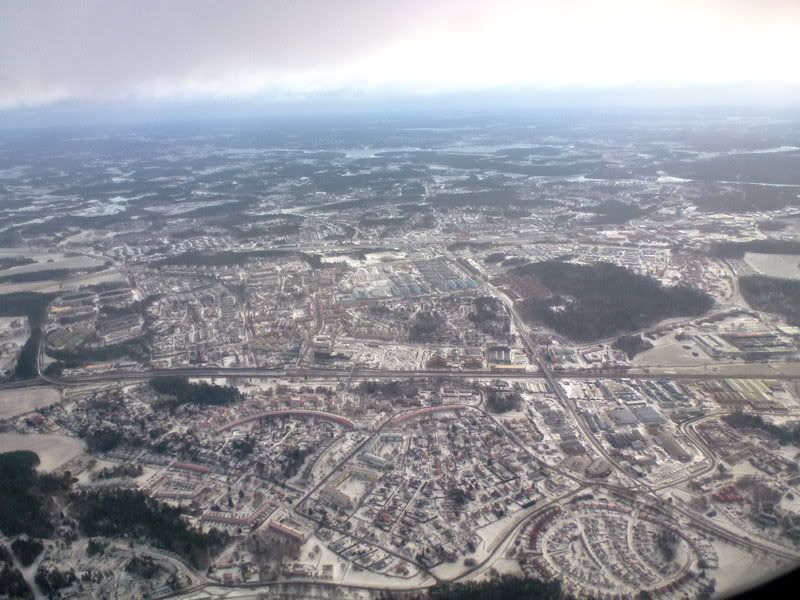 Not too snowy here, but rather frozen looking: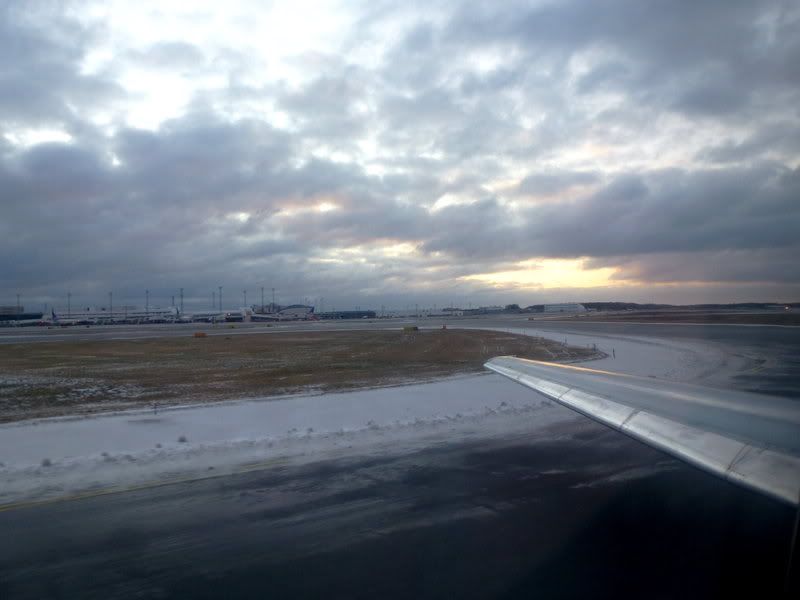 Bye Mike, hope not to meet you tomorrow: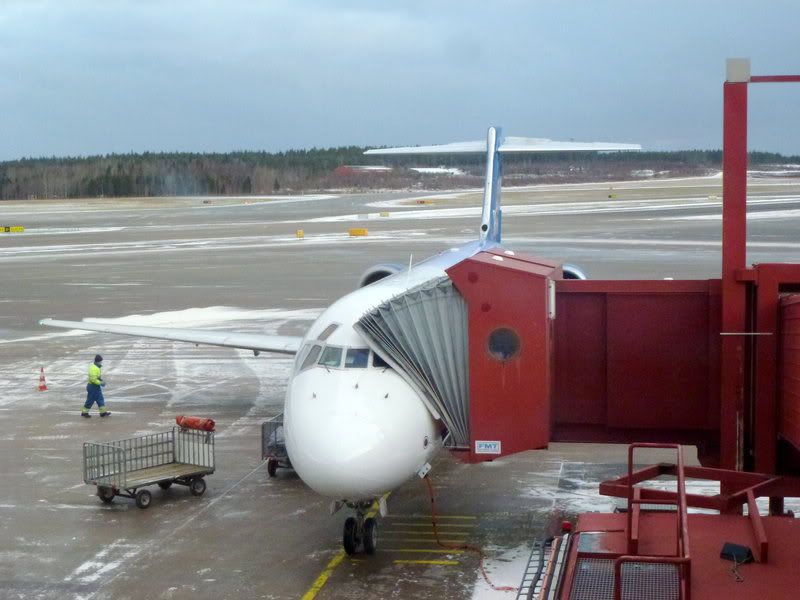 Stockholm Arlanda Airport, take 1
We docked to the usual KF gate 10 around half an hour late. This sounded bad as we had planned to be waiting for Eric at his gate when his KLM flight arrived from AMS, originally scheduled some 20 minutes after our flight. Well, I saw no Flying Dutchmen around and figured he must've had a delay as well, and right after that we spotted him: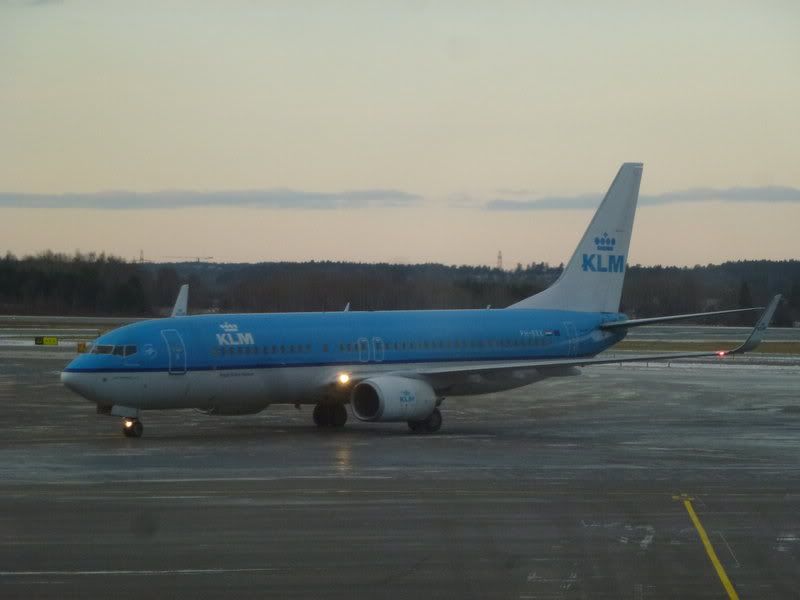 So off to the gate to meet an always happy Eric, to the SAS transfer desk to try to confuse the agent by weird seat requests (didn't really succeed, the gal was good) and finally to arrivals and further to SkyCity we went.
The meet... Well, I think everything that can be said about it without risking a lawsuit has already been said. It was fun, people were nice, there never is enough time to talk to everybody, some people's thriftiness sometimes can go to the extremes (or maybe it's just the Ivan Kamprad way), beer is good, Sbarro food is not etc.
Special mention: The disabled toilet in the T5 landside upstairs restaurant is scary. Very scary.
Eventually it is time to head across the most polluted sea in the world to see if the Rannarootsi people are as hospitable as their proper cousins here.
Me and makeree were (not surprisingly) the last pax to board the bus since we had decided to pig it out in the Scandinavian lounge for a bit.
ES-ASN: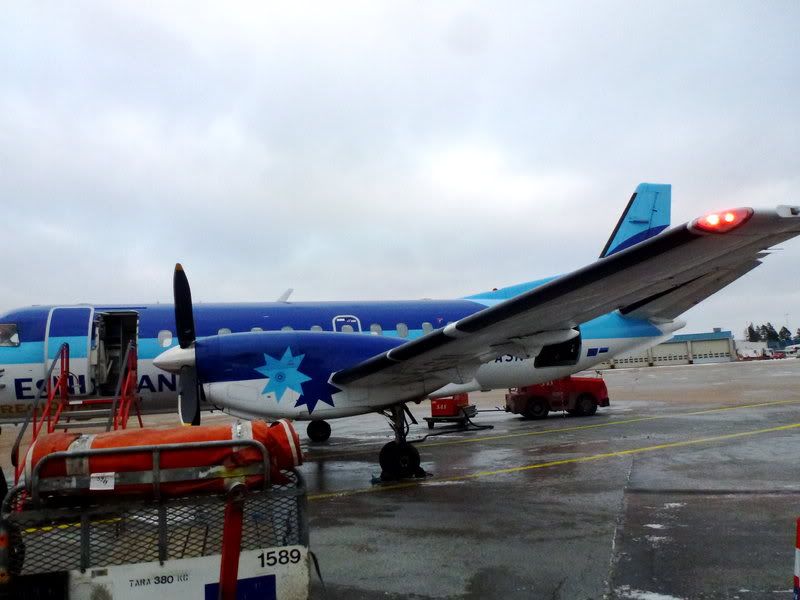 My first contact with ES-ASN was when she was still known with her maiden name, SE-KUU. That was back in September 2007 when she carried me the short hop from Tallinn to Helsinki during the previous time OV tried to compete with Finnair on that route - it will again be resurrected in March when Tero Taskila Airways is starting to ramp up its plans to take on airBaltic at their own game. It remains to be seen what will come out of it, but at least I've got another four or so flights already booked between Finland and Tallinn for the spring - and they've introduced the
midnight Saab
so what's there not to love?
Yeah, fifth time aboard this plane for me, second time on this very same flight - the previous time was actually in November 2010 after another meet with Eric here at ARN (major deja-vu, I flew in on the same KF flight as today, he arrived on the same KL flight...):
Two Planes And A Ferry Across Baltic: HEL-ARN-TLL
(by
FlyingFinn76
Nov 14 2010 in Trip Reports)
ARN - TLL
OV124
Saab 340 ES-ASN
Seat 1F
14.28 - 16.31
As has been said already a few time the cute young FA thingy was certainly Markus material. We being the ugly, geeky, shy or whatever flying folks of course were too embarrased to ask her for a photo, so sorry Markus, but I think this serves you right for focusing on your "business" instead of more important things in life like us.
My original seat 6A had a limited view outside thanks to the engine:
AYA333 behind me kept complaining about the lack of legroom. I asked the FA whether he could move to row one (he is incredibly shy, I've heard him say exactly twelve words all throughout the two years we've known each other) but he immediately declined (wow, word 13: "No!") and in order not to loose my face (or what's left of it) I moved there instead. Well, can't beat the legroom:
Views are better too: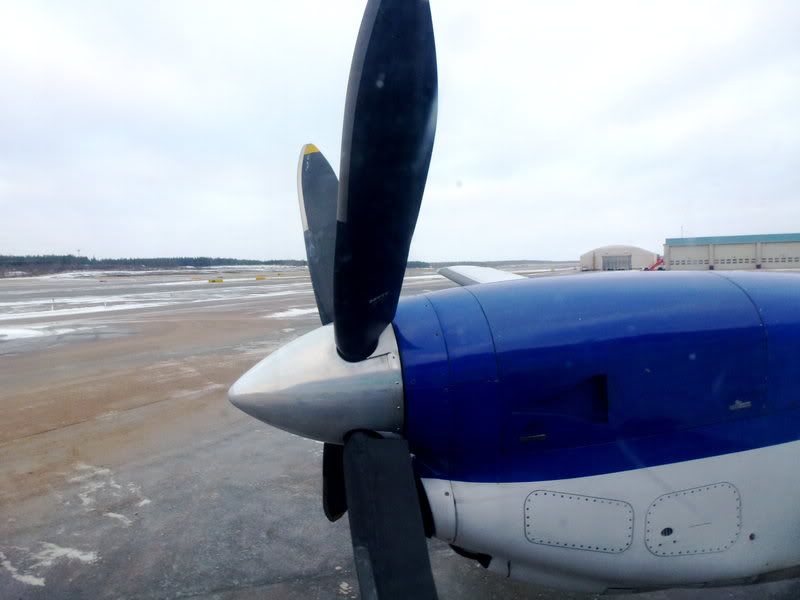 The bad part of course came from the fact that this was my last shot during taxi before the FA told me friendly but sternly to stop taking photos:
A huge shame that, as we took of from 01L, did a right turn right away and flew parallel to runway 08 for a while, affording me the best view of ARN I've ever seen from air but of course no photos then.
Nice reflection of our plane in the propeller hub, taken when it was finally fine to take photos without causing us to crash and die a horrible death just because of one selfish bastard wanting to snap photos: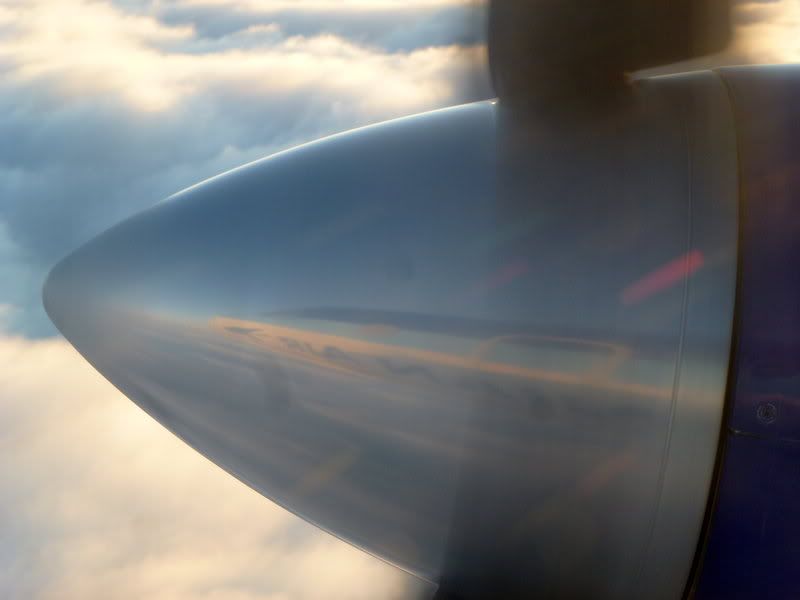 Coffee & a warm muffin, wow I feel like an op-up on the first row now: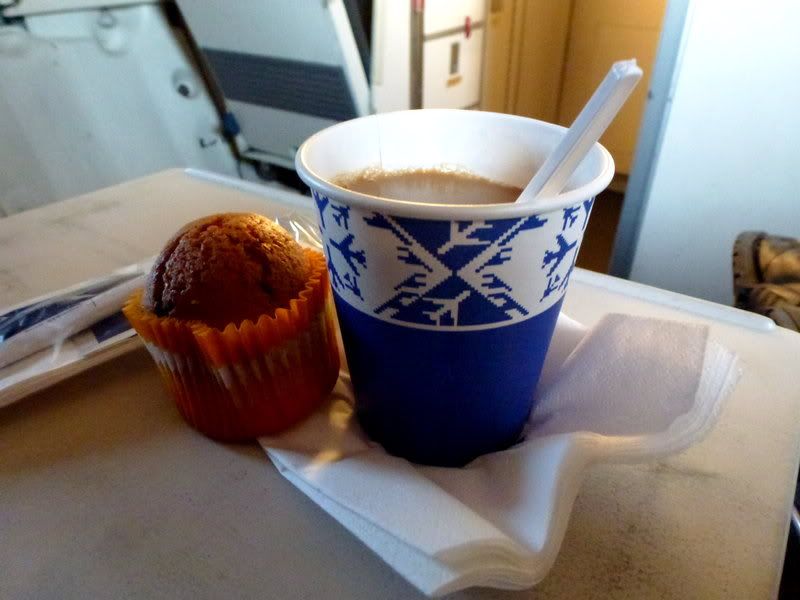 Getting moody: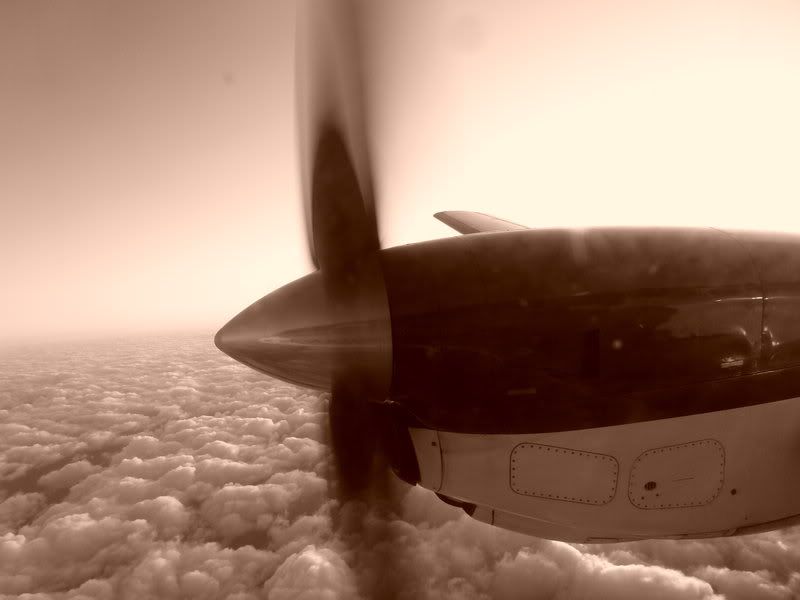 Special mention: taking a leak in a Saab 340 toilet with an inop toilet light AND a pair of Estonian ladies on the last row is not fun. I tried to use the flash of my camera to help my aim - in the progress I shot this one (and several others which will soon be available in the "Too hot for Internet" version of this report):
Find the non-a.netter: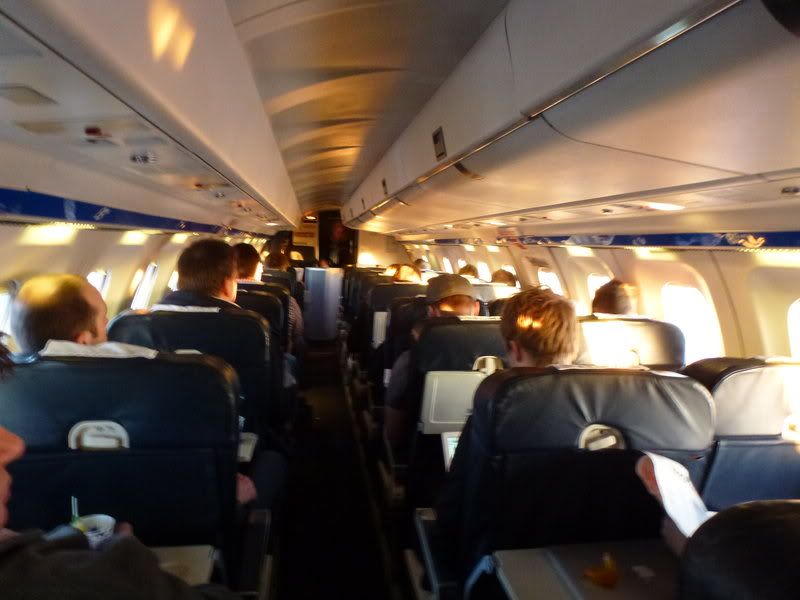 Sunrise to sunset - that's all in a flying day for the Finn: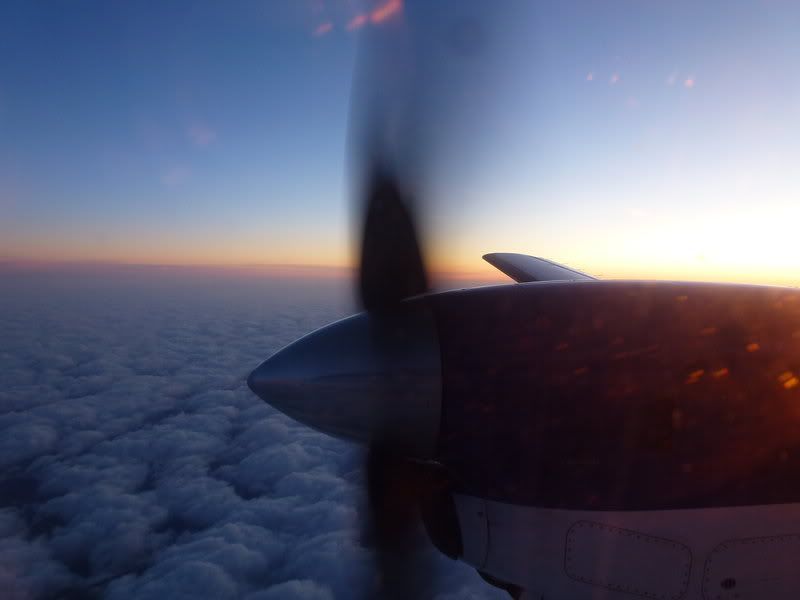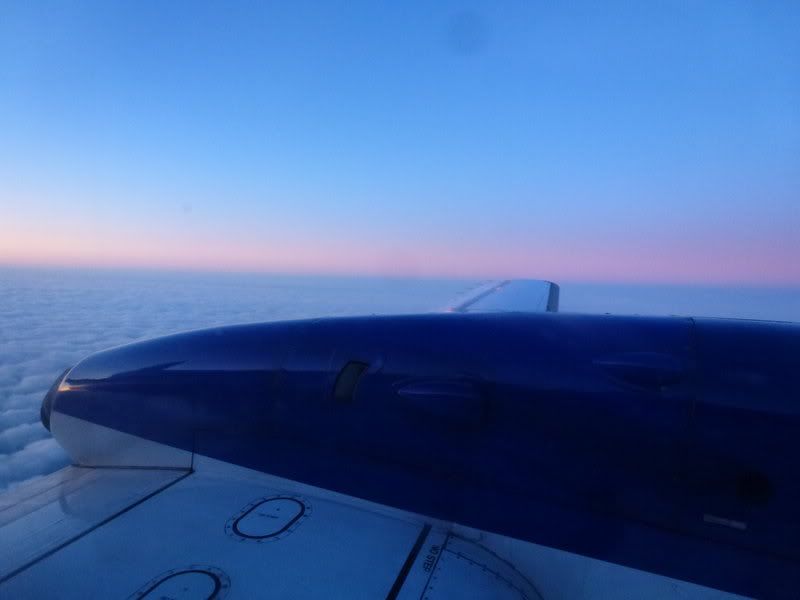 Observant readers have already noticed that I decided to get back to my original seat in order to shoot photos of the landing. Kalev candies were distributed before the call to buckle up: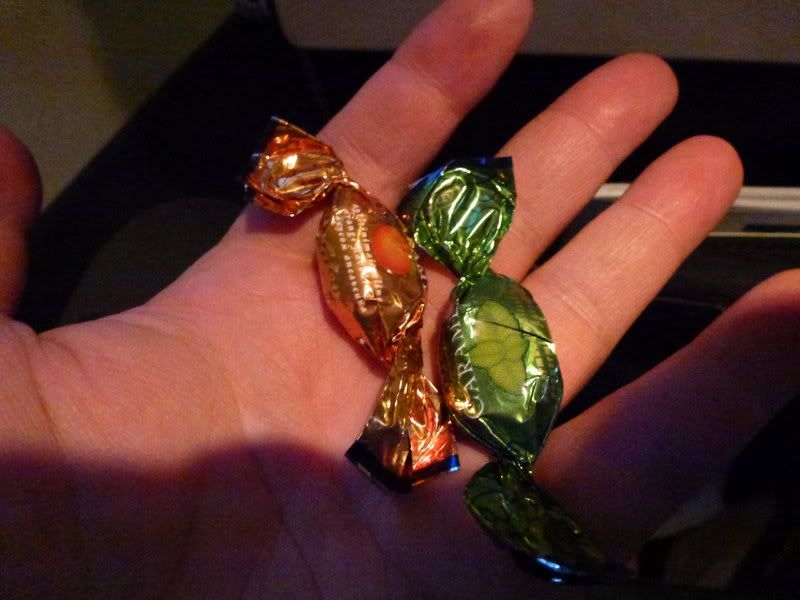 Is this an paid advert: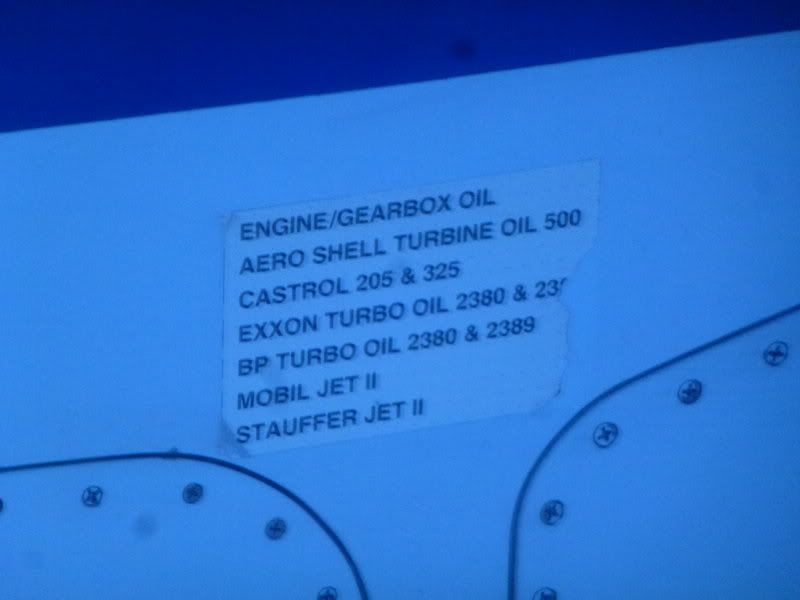 Tallinn looking quite frozen:
Our approach is a bit shaky, thanks to a horrible cold wind that is strong enough to separate the meat from your bones if you stay out of cover too long. Actually this wind is rumoured to be the final revenge of Ivan the Terrible, whose last breath now keeps wandering around the periphery of the once great Russian empire reminding the descendants of his conquers about who once was pulling the strings. It has also been rumoured to have been used by the notorious Cheka as a torture method, kinda like the waterboarding of the Czarist Russia... sorry, the absent mind wanders again...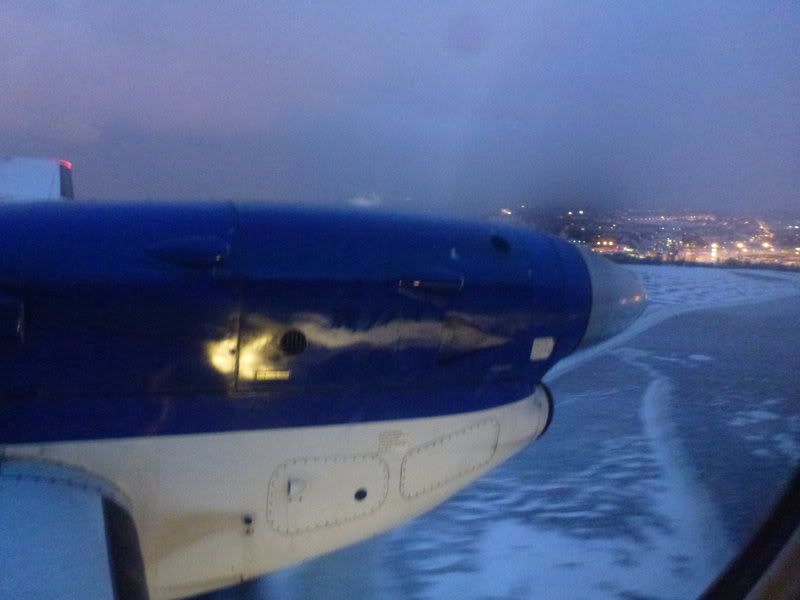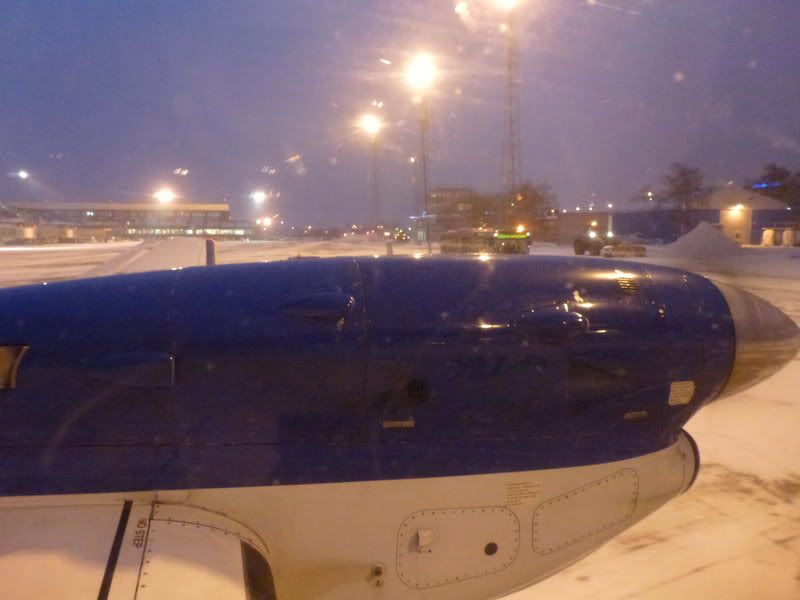 Back in modern times I had arrived in Estonia, for the umpteenth time - seriously, I've lost count as I've flown here at least 30 times with fixed wing aircraft, twice with a helicopter and taken various boats several dozen times. And I still like it. A lot. Well apart from that bone gnawing wind. But there are ways around it.
Tallinn
The official party hotel was the Estonian version of Ibis, the Tallink Express hotel in the port (well for most of us, somebody was too cheap and decided to book a rathole in order to save 15 EUR, some Finns had too much money and for tax reasons had to stay in more upscale hotels etc.). Cheap and cheerful: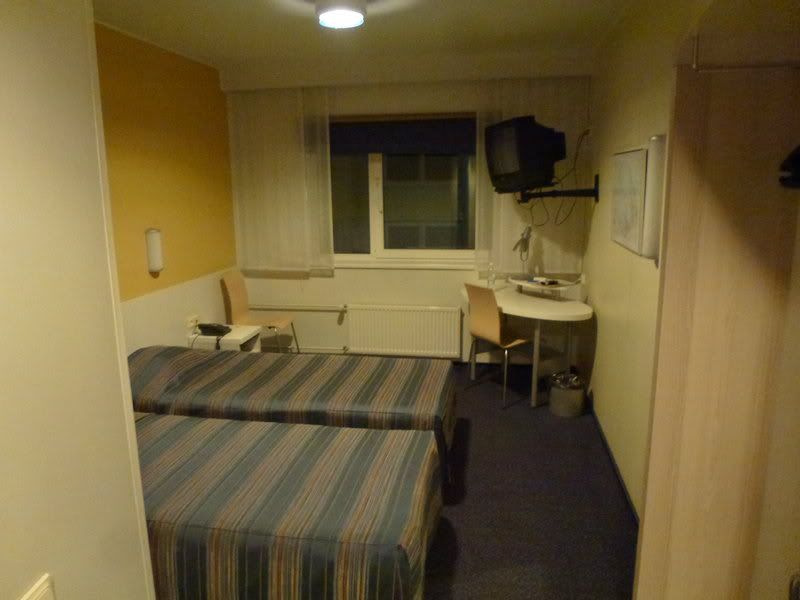 Although the beer in the lobby bar was overpriced:
So a night of good food, a few too many drinks, a horribly cold wind, a lost Jonas and excellent comradeship followed.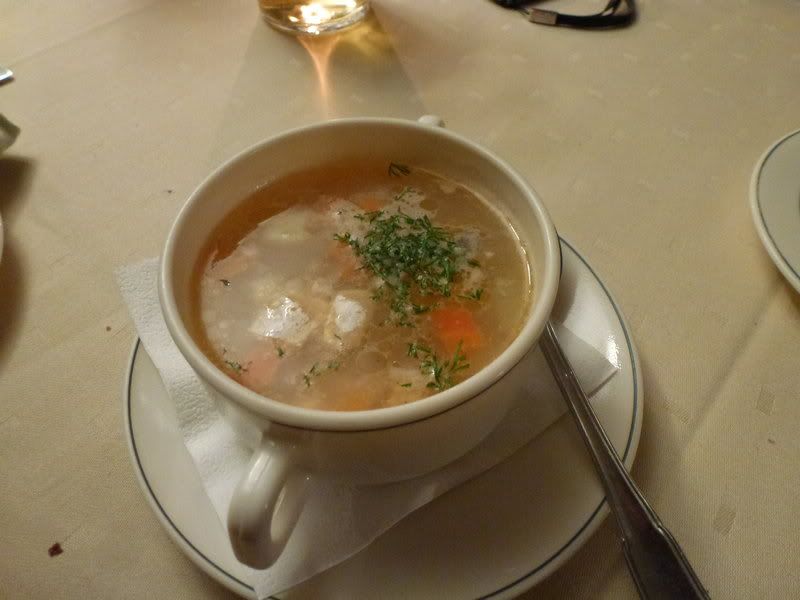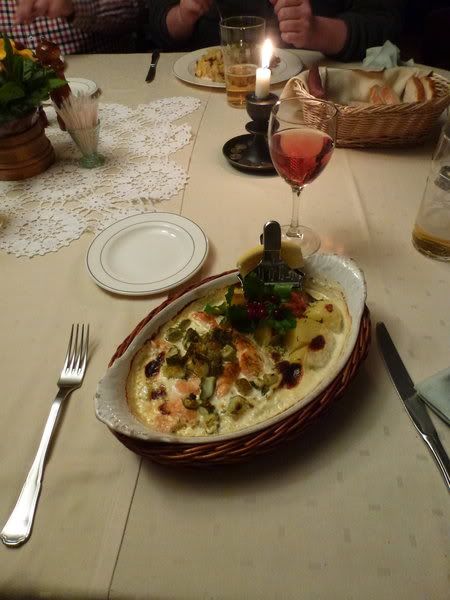 .
Sunday 15.1.2012
After a too long night out on the tiles, a too brief sleep and far too early we still managed to make it to the airport with the first bus (I spend the ride sleeping). Picking up the boarding passes was fast, as was security (even though Eric has his usual arguments with the staff and their modus operandi).
Our overnighting ride, the airBaltic plane lottery had finally settled on a 735: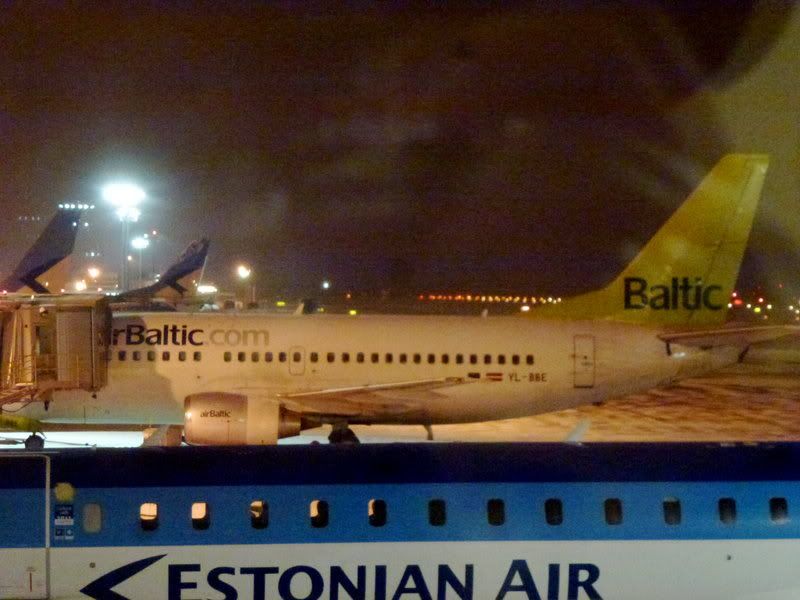 A lynx trying to be awfully smart: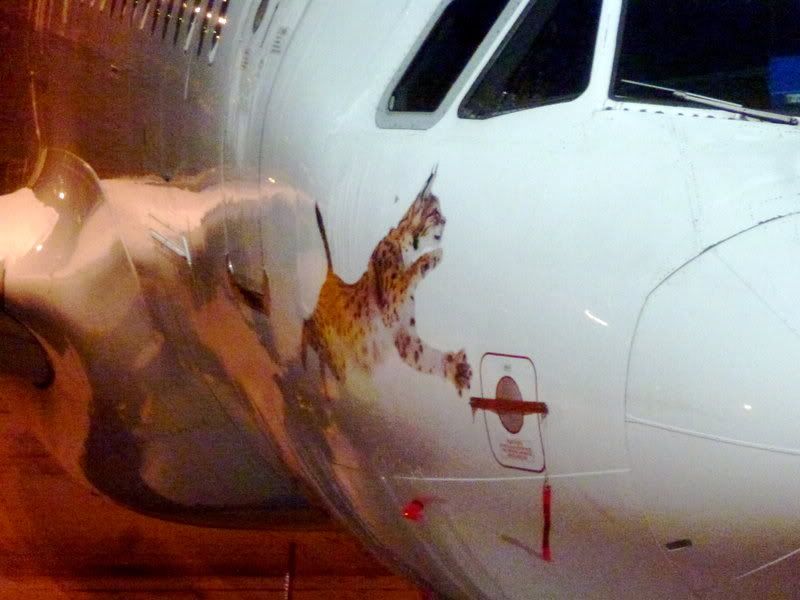 "For me flying is a just an everyday thing" - pretty clever: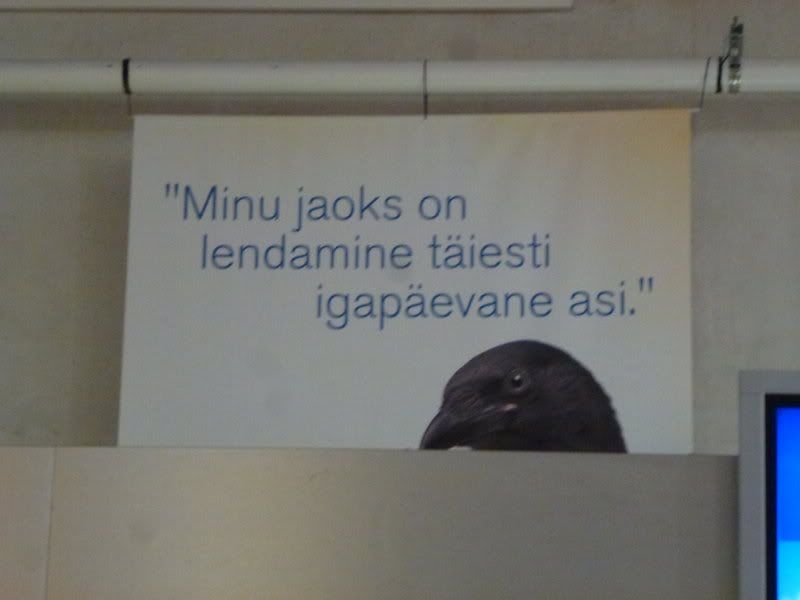 A quick coffee or three in the lounge (where as seems to be the norm nowadays I'm the only guest) and onboard YL-BBE, another old friend of mine. I had the pleasure of flying with her the first time in March 2007 from Vilnius to Copenhagen, when BT still kept the VNO hub (I had just flown in from HEL with one of their Fokkers a few hours earlier) operation going. This route was pretty much the last one to be cut as their codeshare agreement with SAS forced them to operate them long after the second coming of the VNO hub had already failed miserably (again). Nowadays SAS sends their own CRJ-900s from Kastrup and thus RIX and TLL remain the only airBaltic destinations served from Vilnius. I actually bought a 1/500 die cast model of an BT 735 from that flight.
This bird has also served me on such memorable occasions as the second last flight of my record-breaking 7-in-a-day flight marathon:
Seven In A Day: HEL-CPH-OSL-BLL-CPH-ARN-RIX-HEL
(by
FlyingFinn76
Mar 1 2011 in Trip Reports) and the second best (but best non-faux) flight in BT business class I've ever flown:
The White City: BEG-VIE-RIX-HEL
(by
FlyingFinn76
Sep 25 2011 in Trip Reports)
All in all we have a nice history together, and now this is my sixth flight with her.
TLL - RIX
BT366
B737-500 YL-BBE
Seat 5F
8.47 - 9.33
Back in present I was out as soon as our wheels left runway 08, coming back just in time for landing towards the north at RIX runway 36.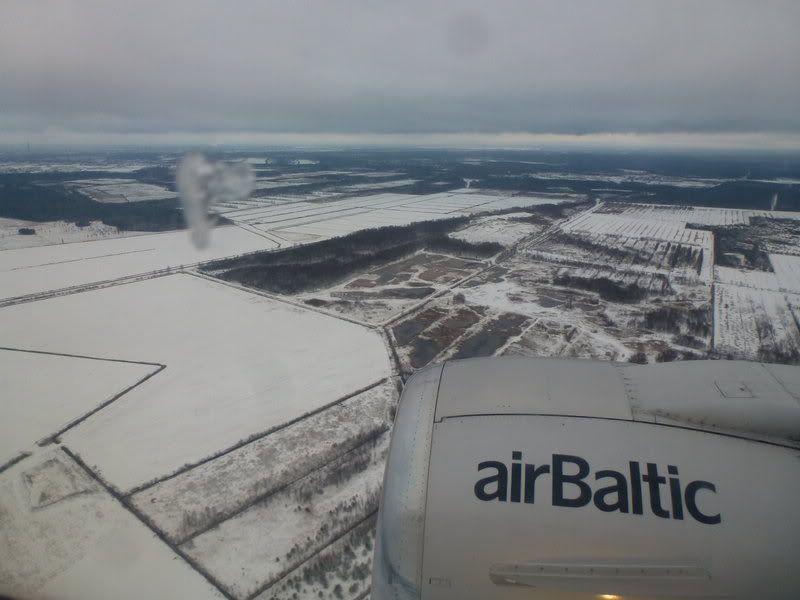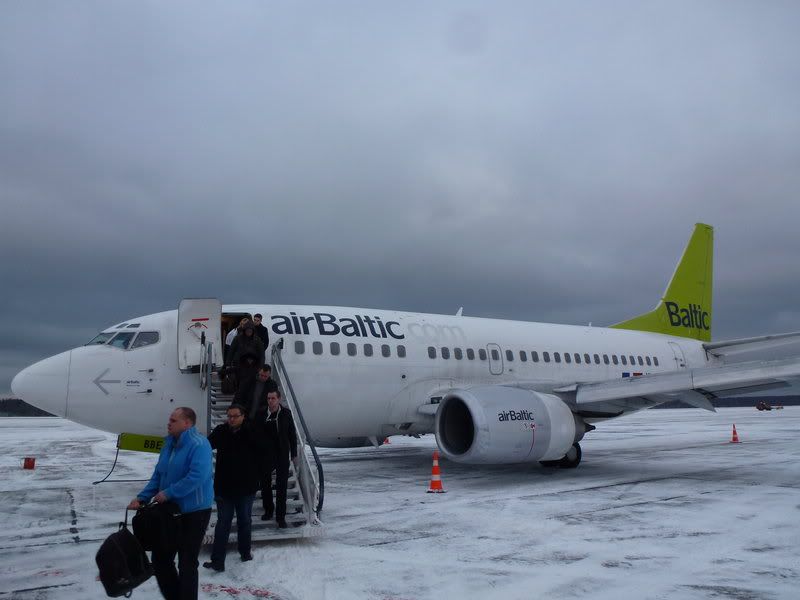 Riga Airport
I betrayed the others and decided to search for some breakfast options in the lounge (Jonas of course tried hard to come with me and refused to believe that I don't have guest priviledges anymore) as the ones in Tallinn were limited to cookies. Inside I was very delighted to find out that they had introduced a hot breakfast since my last morning visit here in November (http://www.airliners.net/aviation-forums/trip_reports/read.main/202510 ) :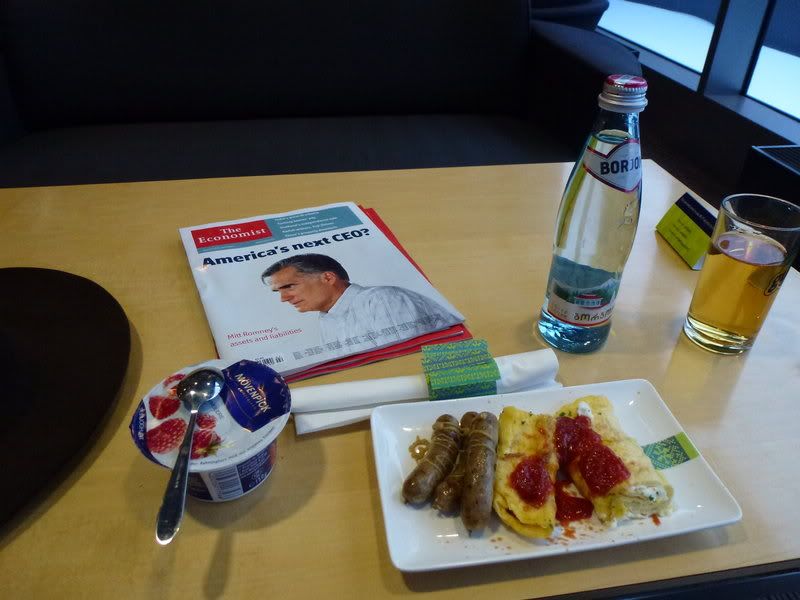 That really hit the spot, so I had another couple of servings. Here's a toast to Fabrizio with some Italian water from the water bar: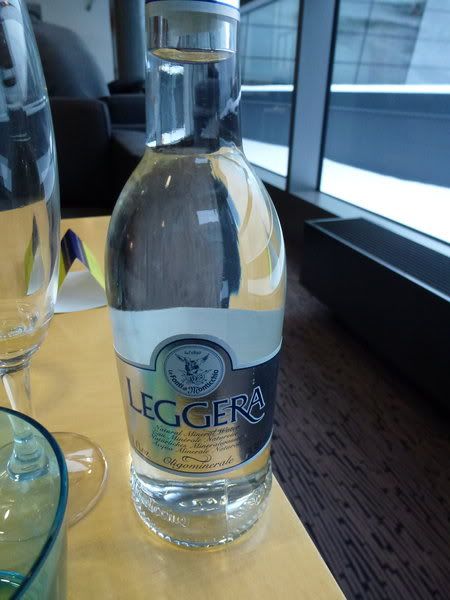 Eventually it was time to continue the journey. Another six rounds of airBaltic plane lottery had resulted in the original 733 becoming none else than the mysterious Baltic Phoenix (of Dutch origins), the plane that refuses to die and keeps coming back after being retired, the good old workhorse of the airBaltic fleet - ladies and gentlemen, the
Foooookkeeeeeeeeer fiftyyyyyyyyy!!
(applause)
.
YL-BAC is this reincarnation's registration (hopefully not related to Johan Bäckman or "The second Finn who sold his country" as the letters BAC already give me the creeps). I only met her back in July 2009 when this ex-SAS and Skyways bird (which has a different seat configuration than most of the BT Fokkers) took me for a brief visit to Kaunas and back, including the world's craziest taxi driver and the world's slowest bus ride:
Turboprop Galore: TKU-RIX-KUN-RIX-TAY, TLL-HEL
(by
FlyingFinn76
Jul 29 2009 in Trip Reports)
RIX - ARN
BT105
F50 YL-BAC
Seat 15D
11.38 - 12.04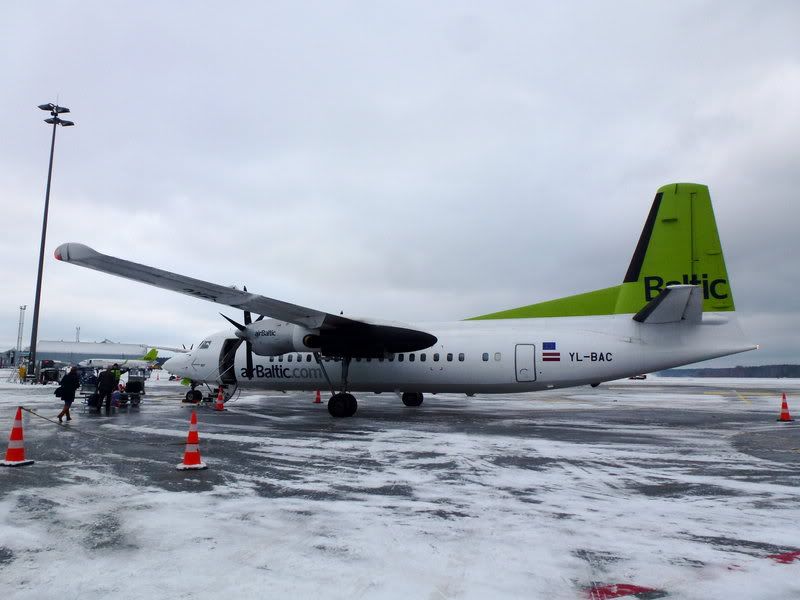 Markus, we still remember you: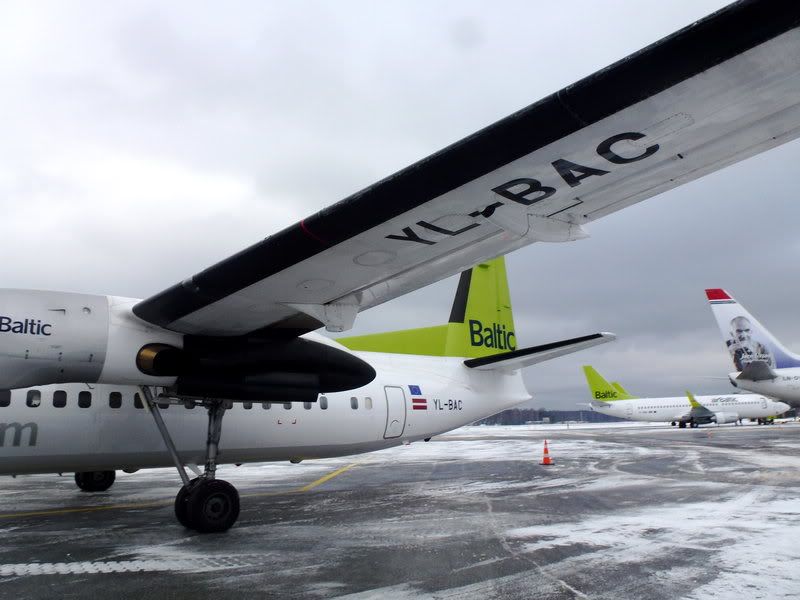 Unfortunately Jonas decided to switch places and sit next to me on the aisle seat of the last row. Well he is okay but there's only that much a man can listen to how somebody has already spent a whopping 40 Euro on this weekend and not gotten anything in return before his brain shuts down as a self defense measurement. For me this happens right after our take off from 36.
Notice FlyBE now running an ATR here instead of the E170: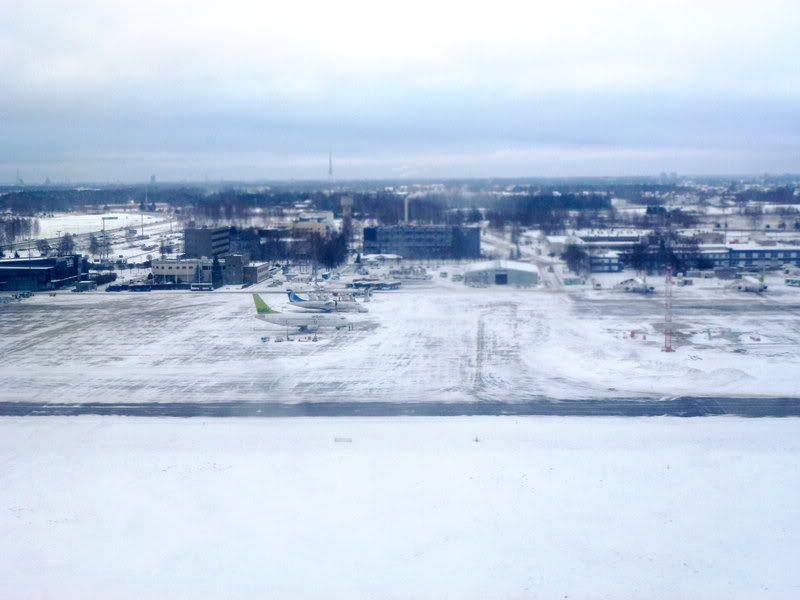 Yes folks, despite what you might think from the photos and your experiences this winter has been record warm here: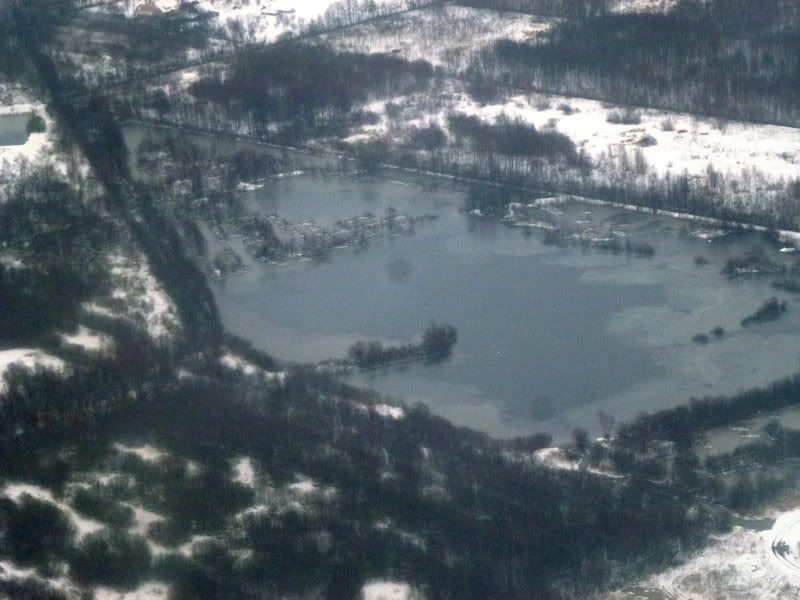 By the time my superego got reunited with the reality we were already on sight of "Du gamla, du fria":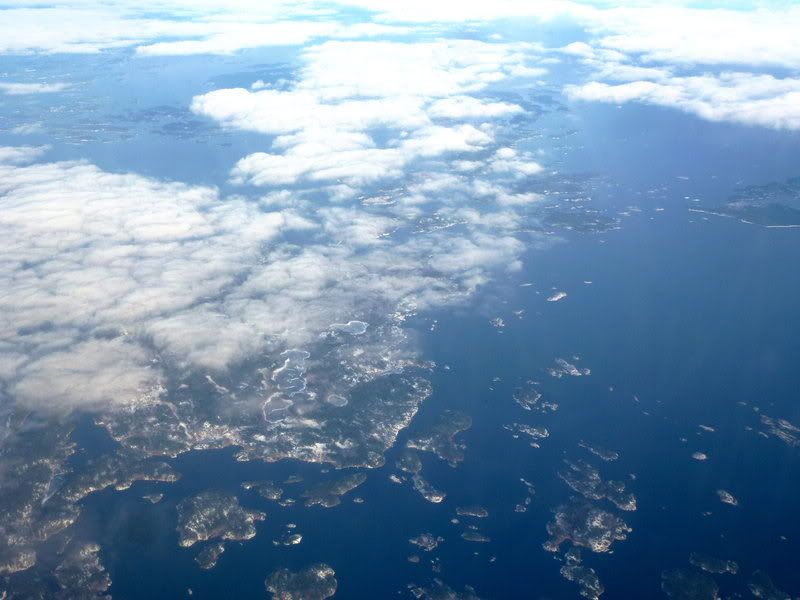 I suggested Jonas should sing this national anthem of theirs to get us into the right mood for the Folkhemmet, but he started asking for tips and I decided against it.
Same nice approach over the neatly arranged Stockholmese suburbs plants us on 01L on time.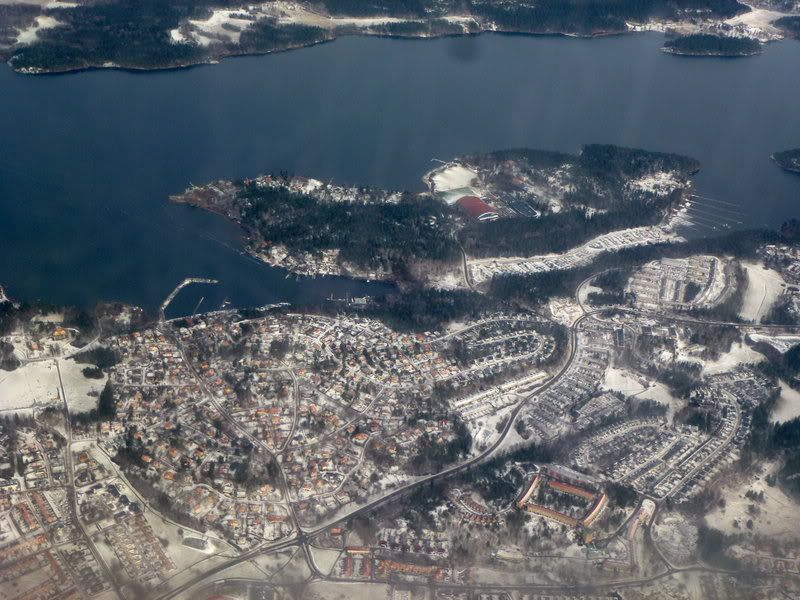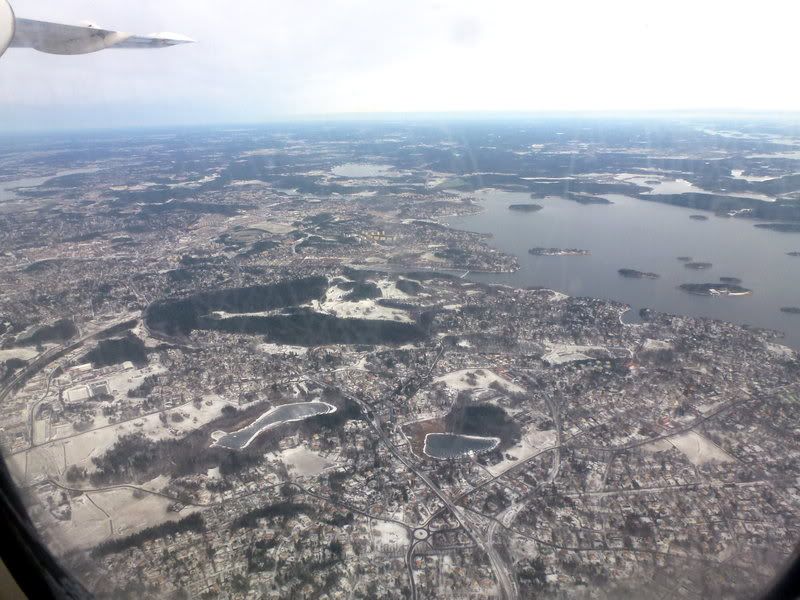 Mmmm, Marabou (Hannah, it's
chocolate
):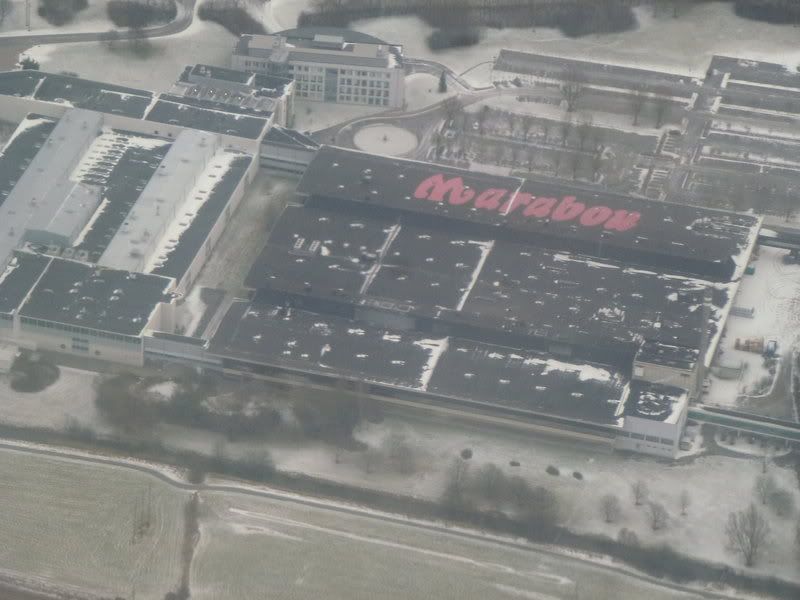 Stockholm Arlanda Airport, take 2
The first time I visited ARN was in the autumn of 2002. That was my first time flying with SAS and I had booked one of their monthly web special fares for a weekend visit to Zürich. I flew in with an Air Botnia Avro, had just enough time to make it from the inbound bus gate through passport control (Switzerland and Schengen was still a long way off back then!) to a non-Schengen bus gate, get into the bus and be driven to a Skyways ERJ-145 (operating for SAS) which was parked right next to my inbound Avro. Back then I wasn't that well traveled yet, so I remember thinking what a weird airport this is with these pointless bus rides... Well, on that trip SAS also offered me my first ever op up and as a consequence of accepting the offer also my first ever flight in business class (well, a middle seat on a Mad Dog, but at least I managed to drink 5 G&Ts between CPH and HEL) and basically won me over. I've been a fan ever since. And I've never called them faux. Never ever. Never will. At least in a proper way.
Back in 2012 I and AYA333 picked up our KF boarding passes from the transfer desk and the others had already disappeared. Well, like all the Autostradas lead to Rome (sorry, it is after all 2012, and Anno Domini at that!) all the wanderings at Arlanda lead to SkyCity. So that's where we found the rest of the gang, had some burger lunch (most of us opted for the proper burgers, but somebody preferred The Golden Arches for its world famous cheapness) and more chat.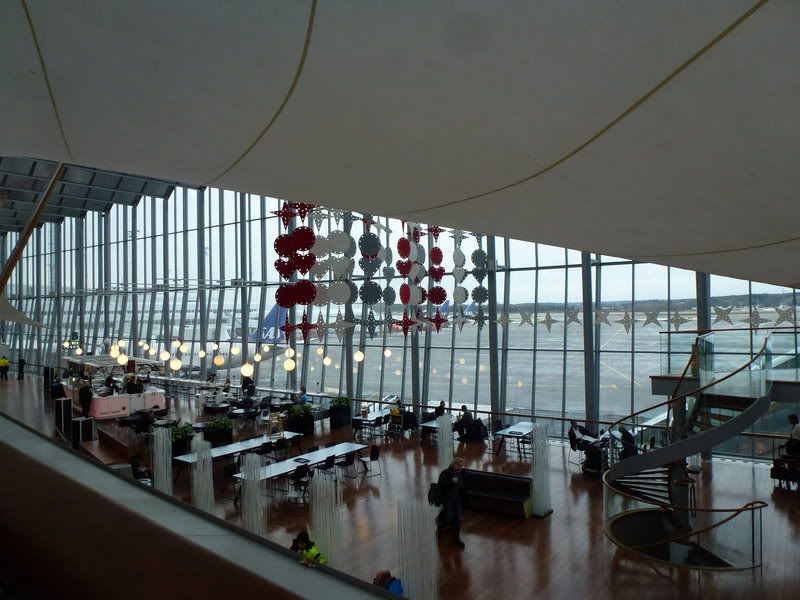 Some of us arrived back from TLL on this one - a wise choice as the timing was much more hangover friendly: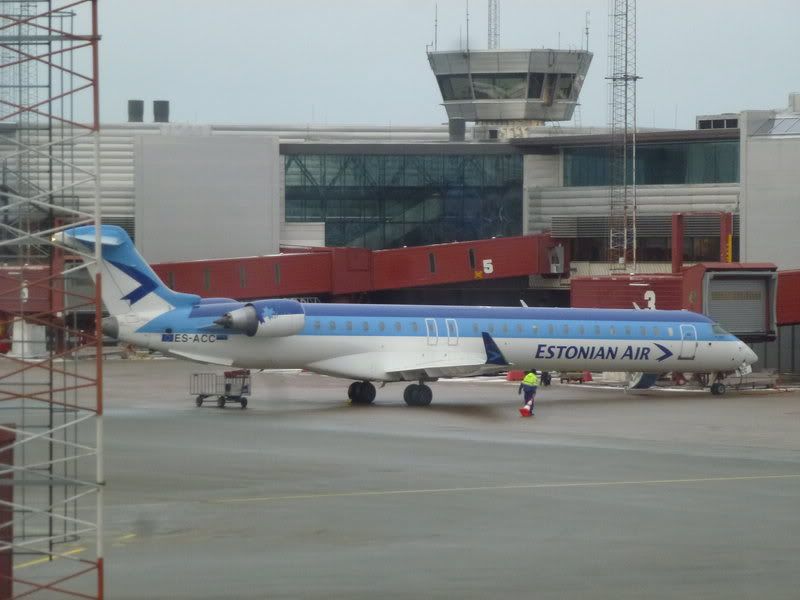 Finally people started trickling out for their homebound flights, some brave ones decided to visit the city-whose-name-shall-not-be-mentioned (seriously, try saying "Örnsköldsvik" - even the Swedes themselves are unable to do it after two pints) and some of us (me!) in dire need of a place to lie down to the comfortable sofas at the Scandinavian lounge. And for the record: I wasn't the only one sleeping there, a bunch of people were doing the same. Well, they were all French though, so maybe they don't count.
Eventually I recovered some of my strength, and eventually me, AYA333 and makeree (who was found again, word on the street is he was briefly abducted) went to the gate only to see Blue1 doing what Blue1 does the best - being delayed: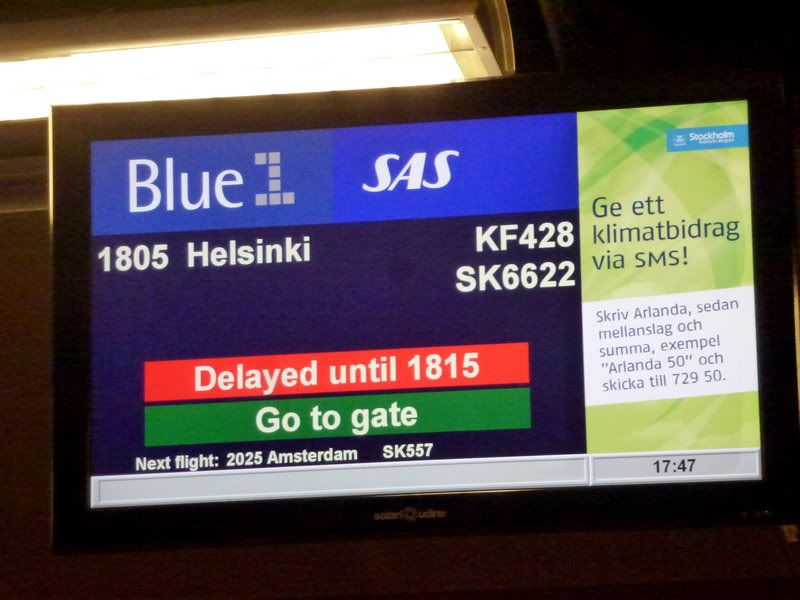 At least the plane is already there, and luckily not Mike but November this time. This is one of the two Star Alliance liveried KF 717s (the other is Papa) and one I've only flown once before, OUL-HEL two months ago. That flight actually completed my "collection" as having flown with all the birds in the current KF fleet.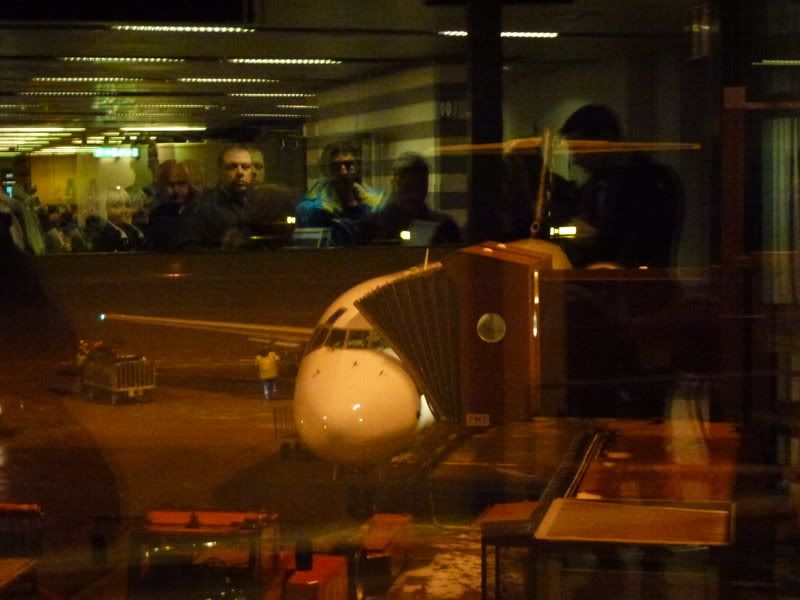 ARN - HEL
KF428
B717 OH-BLN
Seat 8F
18.17 - 20.08
The plane was completely packed. I kept hoping for an op-up but no dice. Well, I was quite a zombie at that stage anyway so basically dozed through the whole flight. Too dark to make any decent photos, although I did try during the take off from 19R and landing on 15: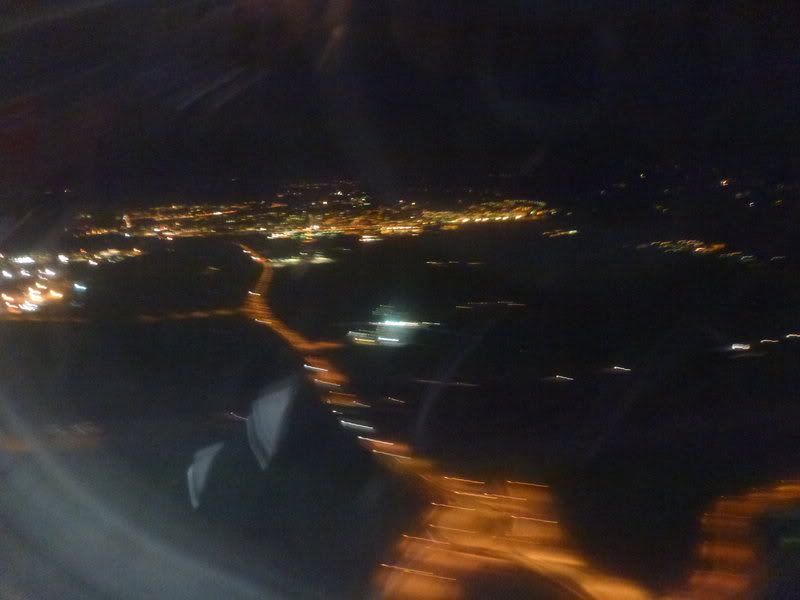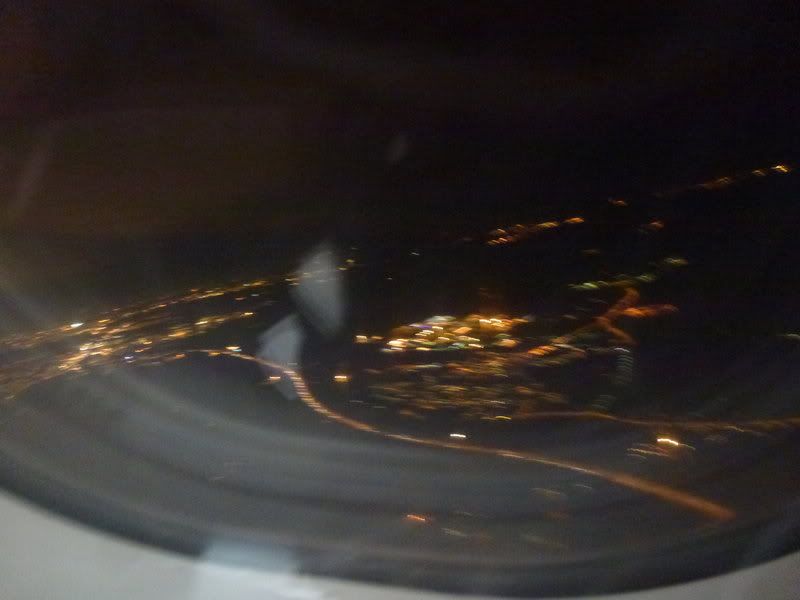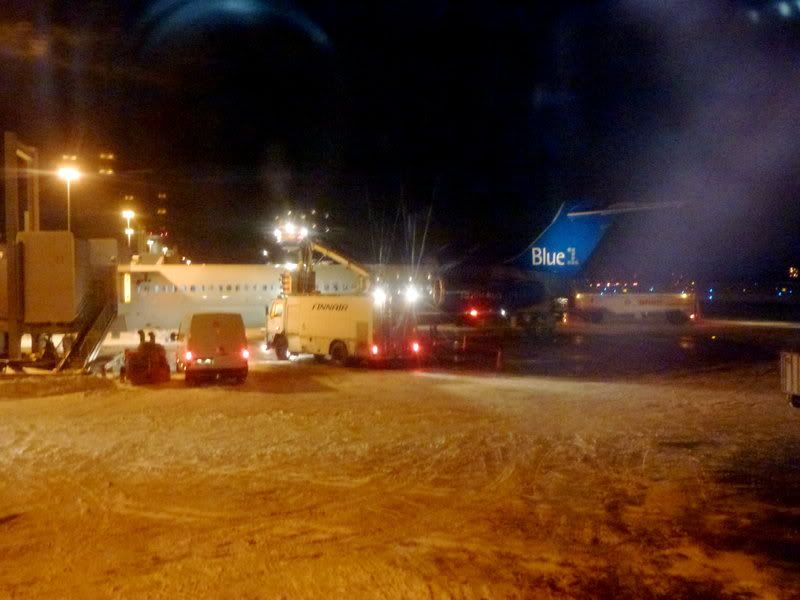 Back in HEL AYA333 went to T2 to check in for his Norwegian (the airline, he was not going to Norway) flight in the morning and as makeree had quite some time before his bus he joined him. I went looking for my brother who graciously promised to pick me up and headed home with them.
Conclusions
As I said - pretty much everything has already been said about the meet. Yes, it was wonderful. Yes, I had a blast. Yes, we should do this again (Berlin in June at the latest!). Thank you all!
Well, now that the traveling year has been kicked off it's time to get jiggy with it. Two weeks and I'm taking advantage of another dirt cheap airBaltic ticket to London, combined with an eagerly expected a.net meet and probably my last flight with BMI. The route is scheduled to be HEL-RIX-LGW/LHR-TXL-CPH-HEL. Happy contrails!