Continuing from:
-
Part 1
:
Oriental Evasion From Winter (1): LUX-BRU (+BRU)
(by
SR4ever
Jul 21 2011 in Trip Reports)
-
Part 2
:
Oriental Evasion From Winter (2): BRU-IST TK (J)
(by
SR4ever
Jul 22 2011 in Trip Reports)
-
Part 3
:
Oriental Evasion From Winter (3): IST-DXB TK (J)
(by
SR4ever
Jul 22 2011 in Trip Reports)
-
Part 4
:
Oriental Evasion From Winter (4): Dubai & Sharjah
(by
SR4ever
Jul 23 2011 in Trip Reports)
-
Part 5
:
Oriental Evasion From Winter (5): New Year Dubai
(by
SR4ever
Aug 14 2011 in Trip Reports)
-
Part 6
:
Oriental Evasion From Winter (6): DXB-IST TK (J)
(by
SR4ever
Aug 15 2011 in Trip Reports)
Final section of this TR, time to go back home...
Contents:


XXIII. Longer Transit at IST (CIP Lounge, older version)
XXIV. Flight IST-BRU
XXV. Final

XXIII. Longer Transit at IST (CIP Lounge, older version) (01/01/2011)
Transit at IST started smoothly, although quite many people were waiting in the line to the escalator connecting the arrivals floor up with the departure floor.
The departure hall (airside) was busy, yet not as much as it usually is. After all, this is a bank holiday..
I headed straight to the TK CIP Lounge, which was not very busy on that New Year's Day.
At that time, the Lounge had yet gone for refurbishment, but the idea was already in the air, so I availed the opportunity of its poor loadings on that day to make some good pics...
This small room could accommodate an old-school diplomatic meeting...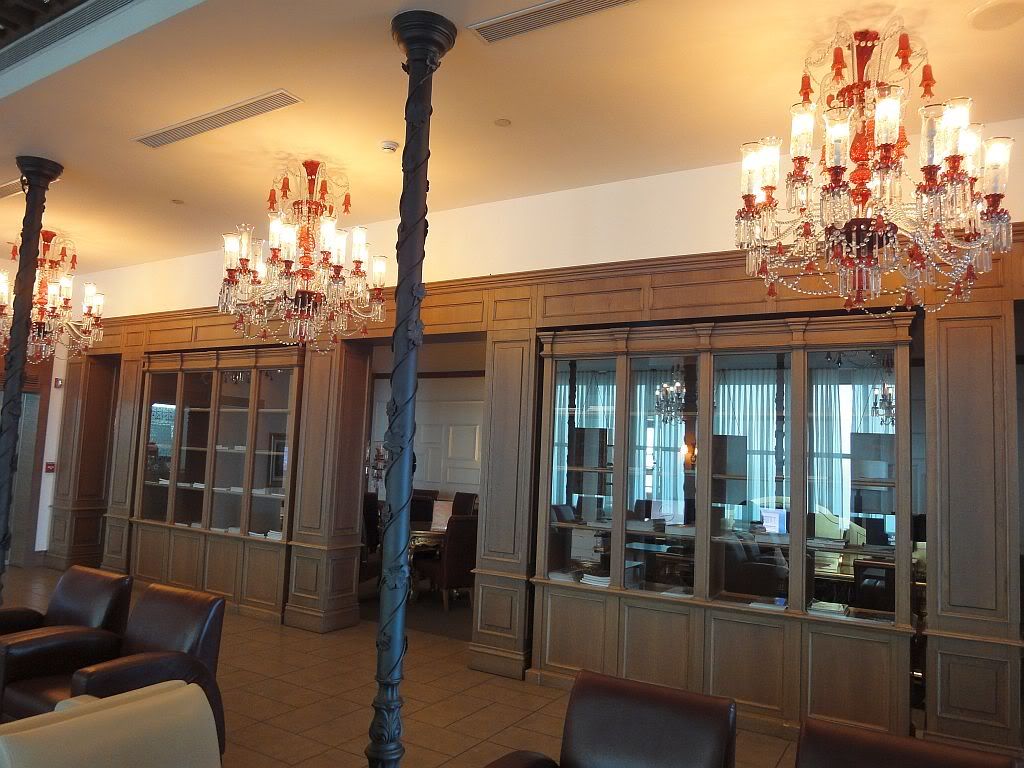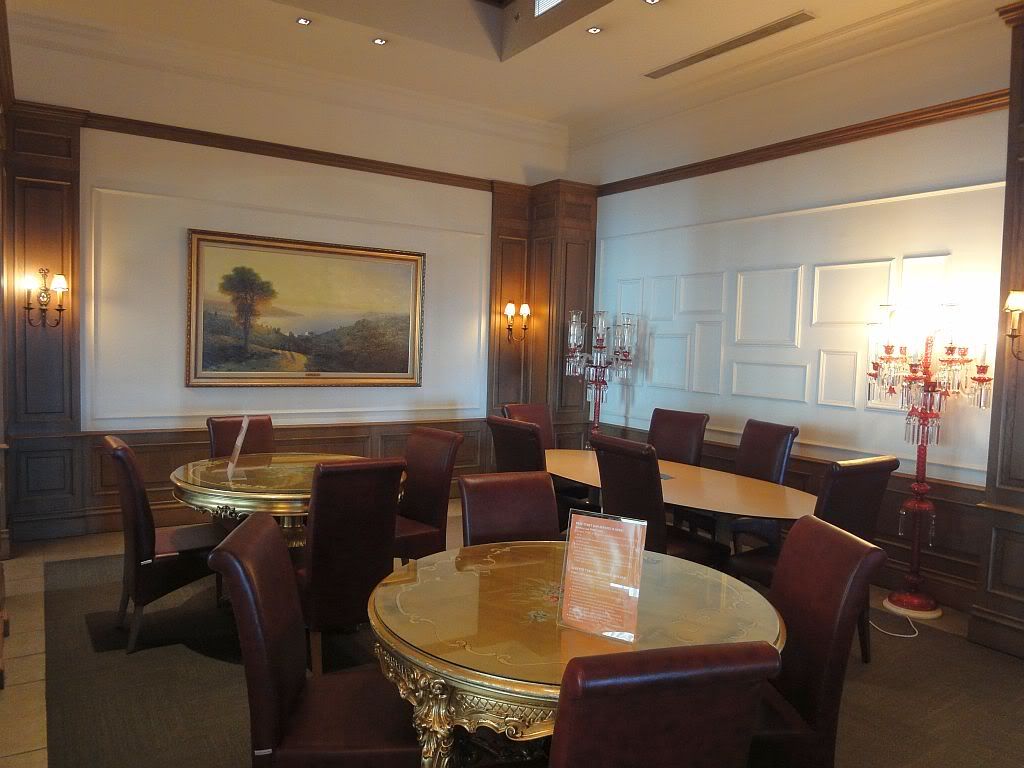 Adjacent lounge, still in that old-fashioned, yet cozy style: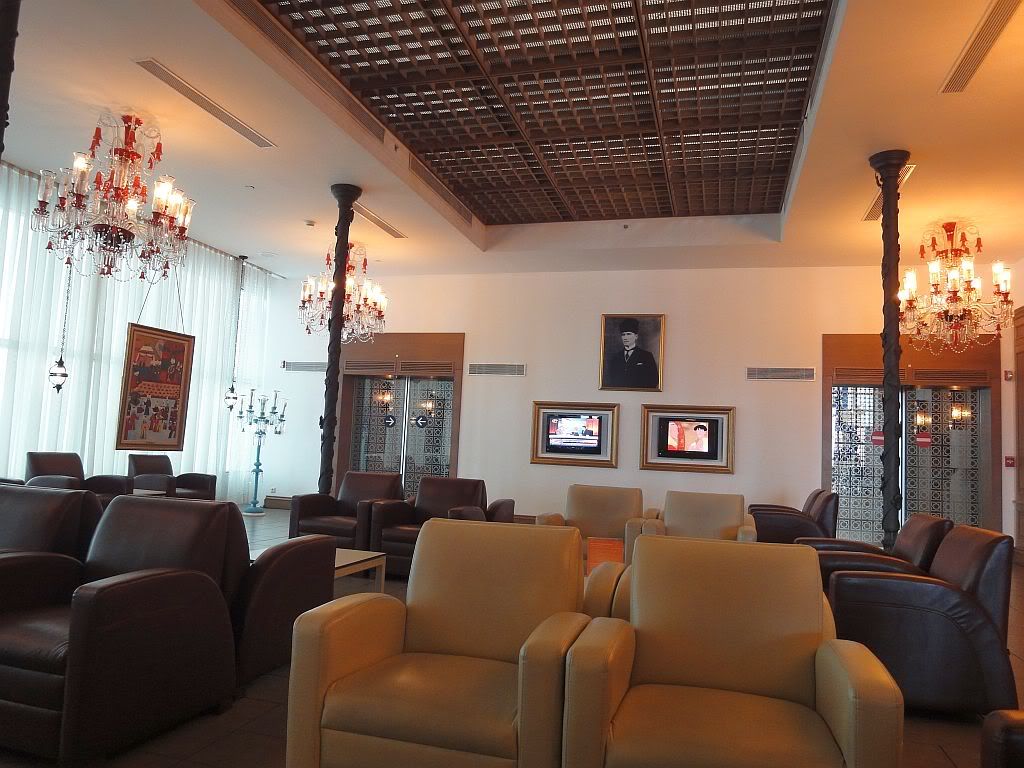 These smaller sections were completely vacant (including the Internet workstations), I was just the only pax there.
Getting closer to the main area, nobody there, either:
Main area, at last some people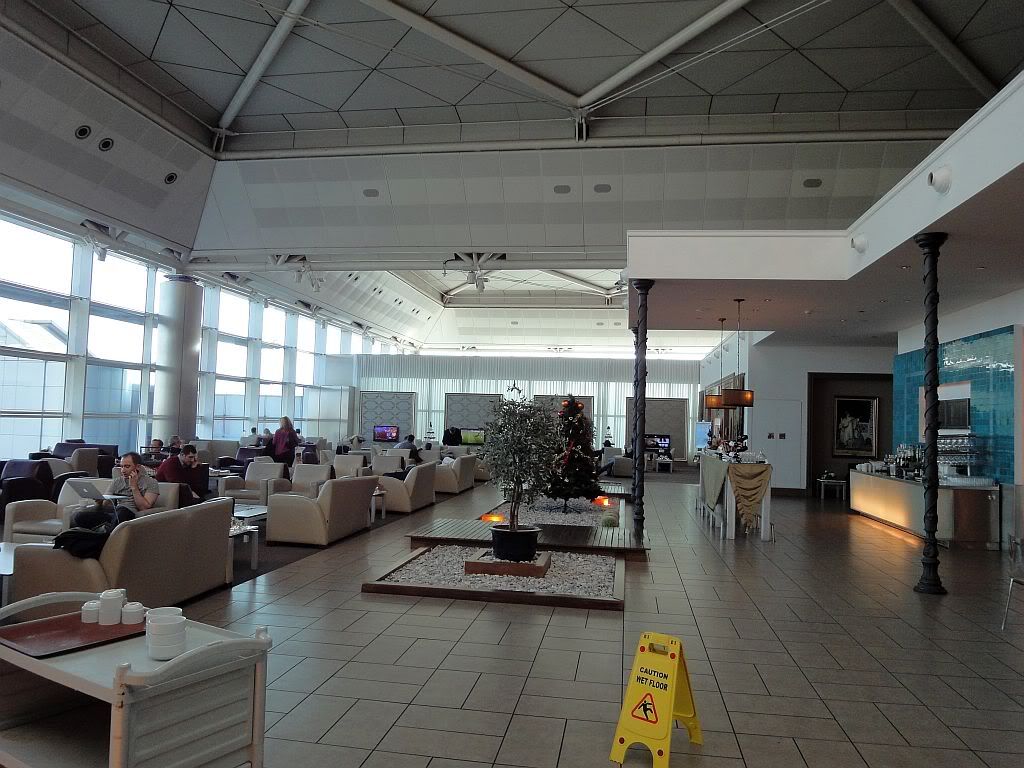 It had something of a canteen, but was quite comfy, and well-stocked.
I also had a pretty good snack, as breakfast on DXB-IST was already a thing of the past, while lunch on IST-BRU was still a long way off.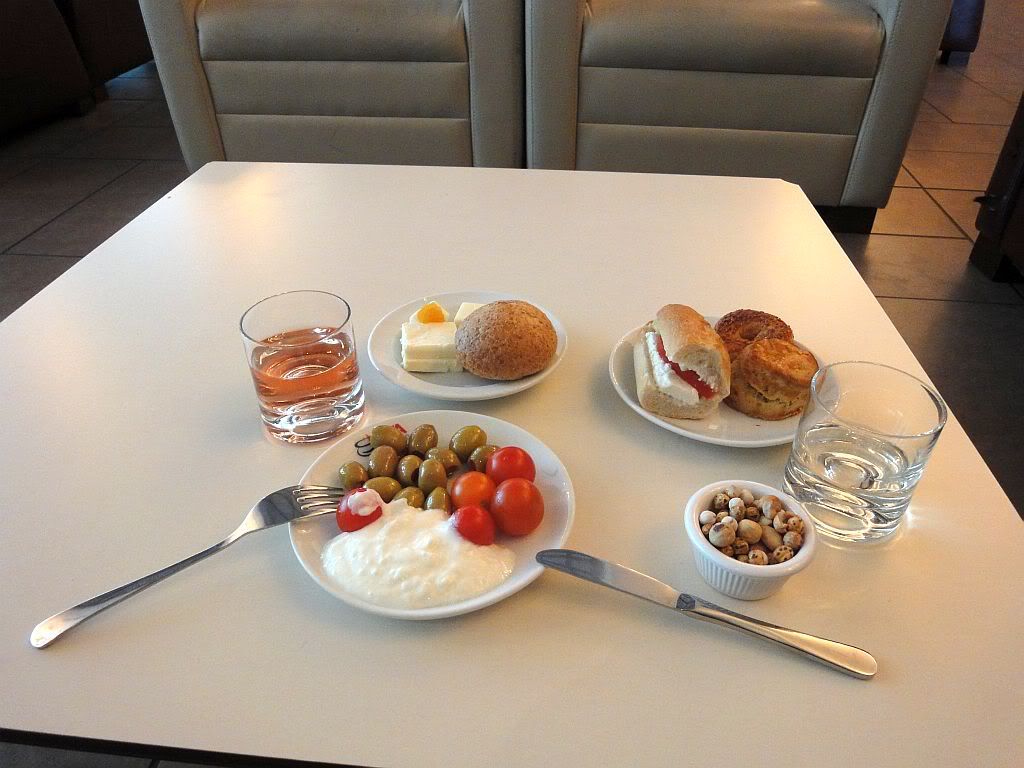 I then dozzed in the relaxation room, comfy, yet very old-fashioned. Showers looked not so appealing, either. The refurbishment made in Summer 2011 was the right thing at the right time.
XXIV. Flight IST-BRU (01/01/2011)
Flight: TK 1939
IST: 14.10 (14.10)
BRU: 16.45 (16.35)
Aircraft: Airbus 321 (replacing Boeing 737-800)
Seat: 1A (moved from 2A; Business)
As usual in IST, boarding was announced well in advance, and was at a very remote bus gate, opposite the CIP lounge in the terminal. The queue to the security checks was lengthy, really.
Perhaps IST should go for more centralisation of security checks, with 1 control-area for transit, and 1 control-area for point-to-point passengers shortly after going through immigration… and priority lanes.
The flight seemed to be quite packed, as there were quite many buses shuttling to the aircraft.
Business class was full, save row 1 (left), meaning that I was able to move from seat 2A to 1A, as there was a no-show.
Again, newspapers, a welcome drink and hot towel were handed pre-take off. Drinks were generously served. This New Year's flight was going to be a good one.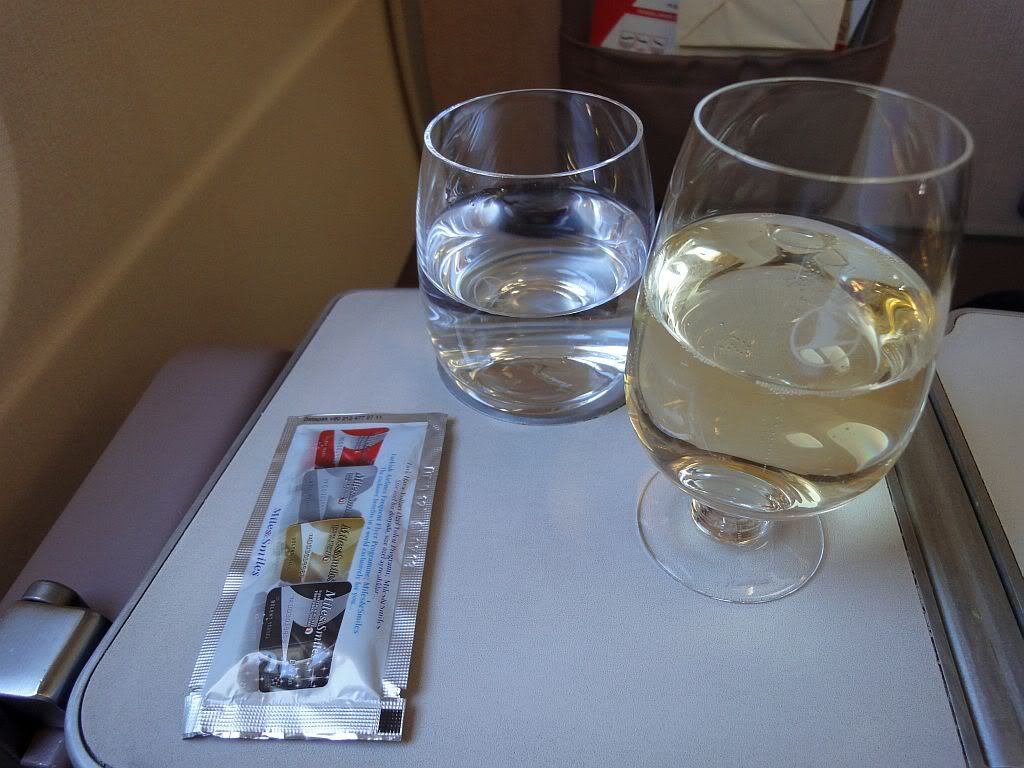 Also some interesting metal: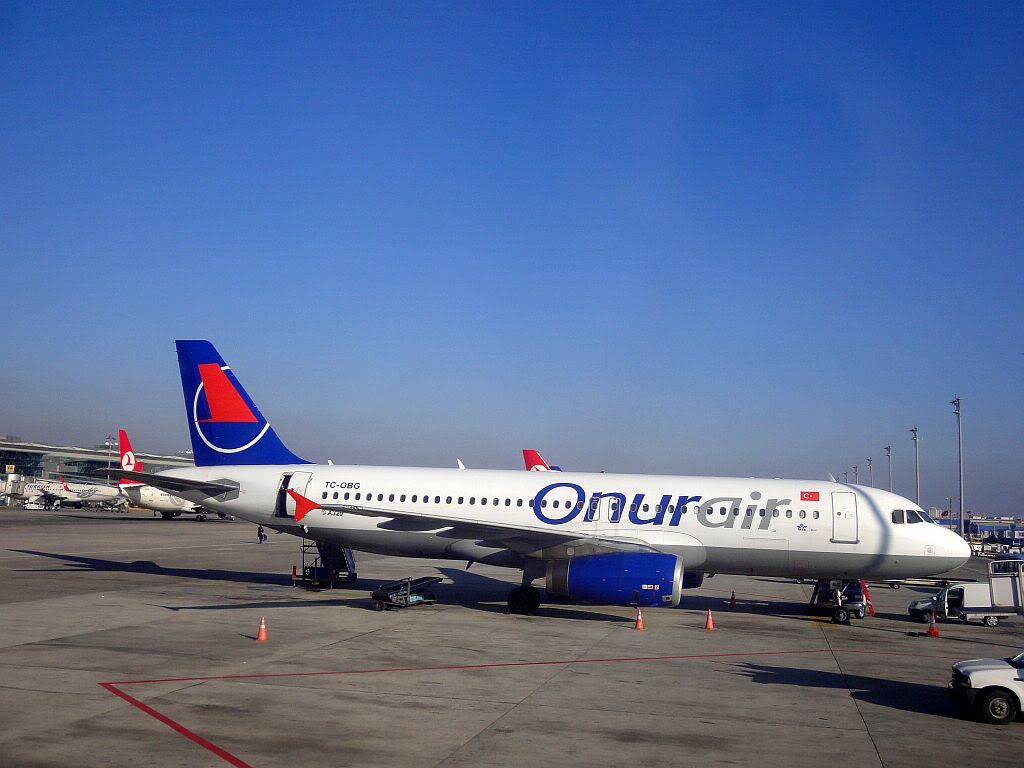 My 332 flown on DXB-IST:
Push-back was bang on time, but taxiing took ages...
As usual when flying from IST to the West, we flew up North to the Black Sea, then all West.
As soon as we started flying above Bulgaria, there was heavy snow on the ground.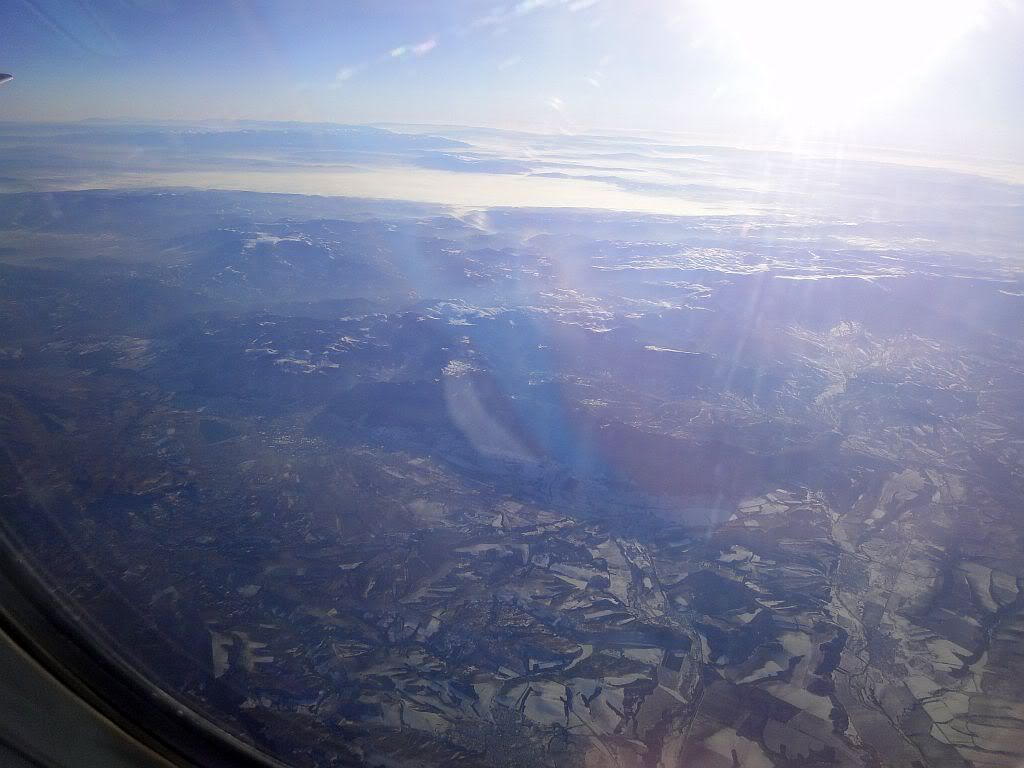 The sky got cloudy shortly before Belgrade.
15min after take-off, menus were handed: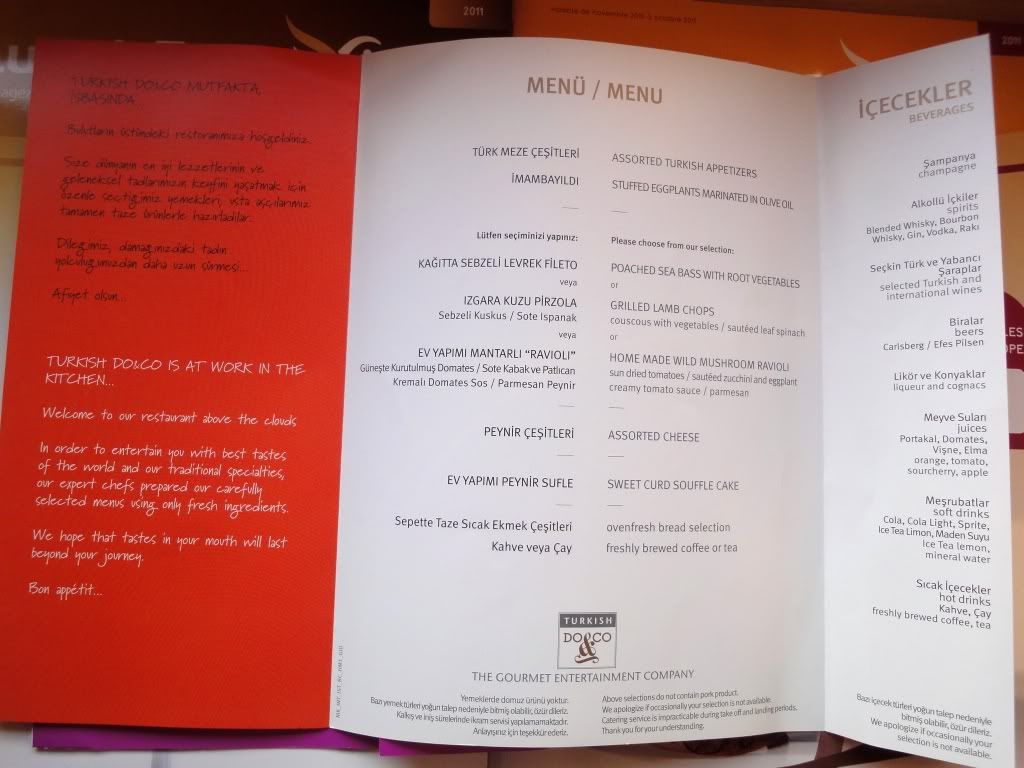 Again, a very yummy, filling mean sight, and commensurate with a New Year's day...
Trays came 10min later: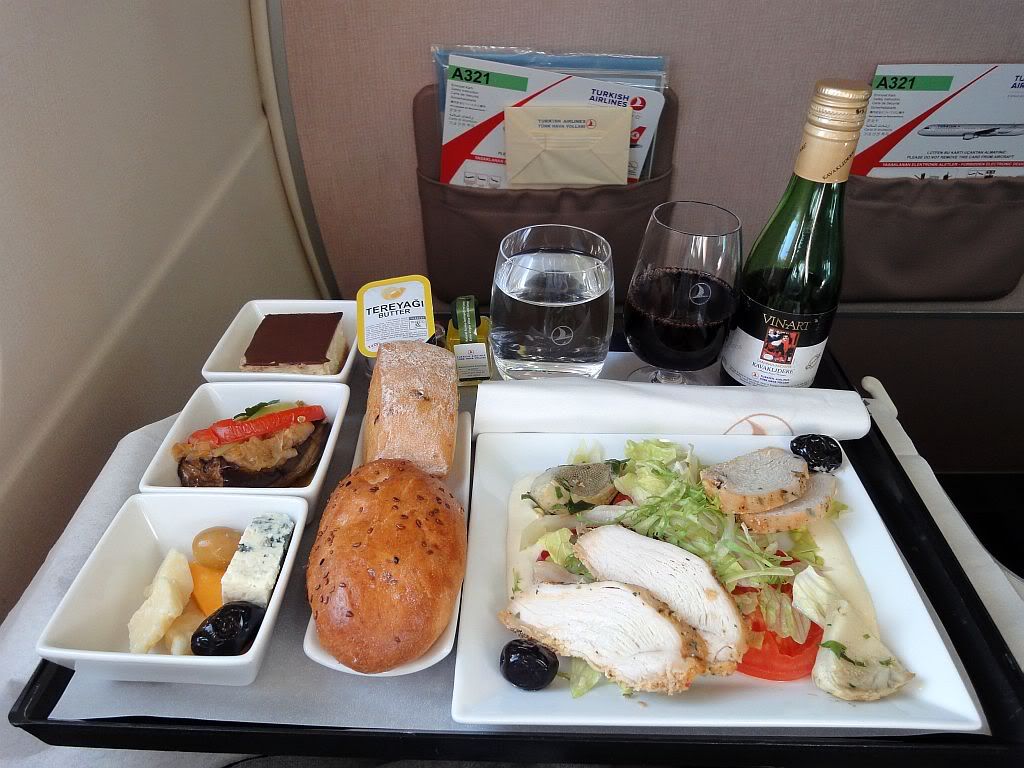 I went the the lamb chops, very tasty: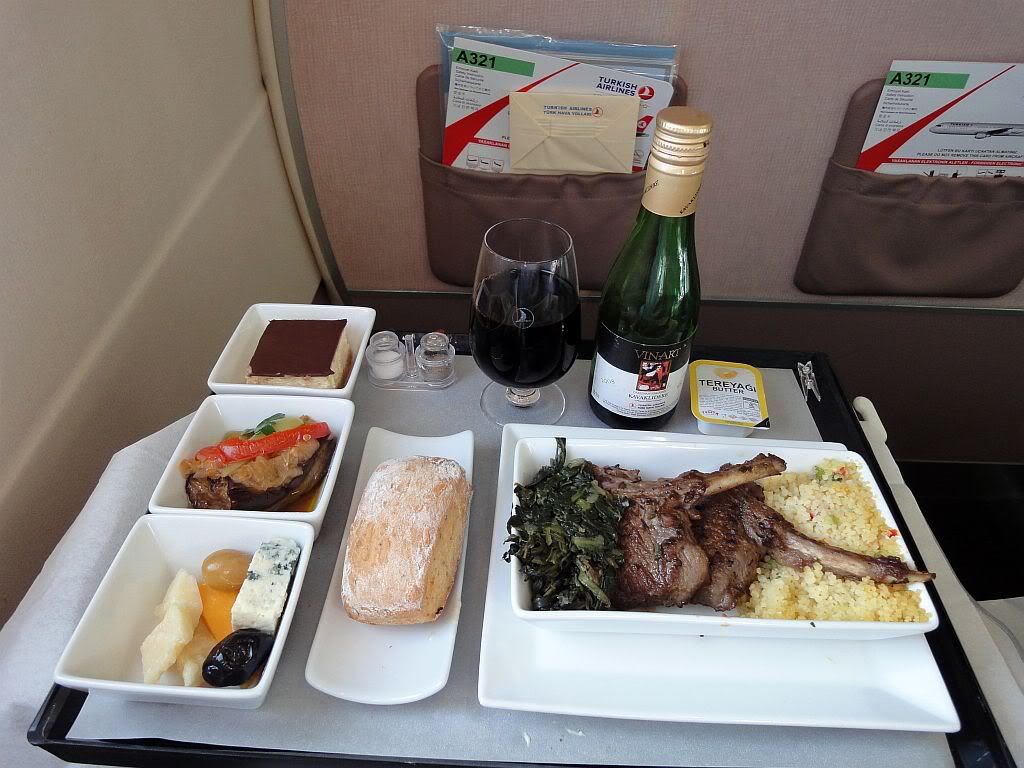 Wine, water and hot bread were generously supplied through the meal.
Coffee: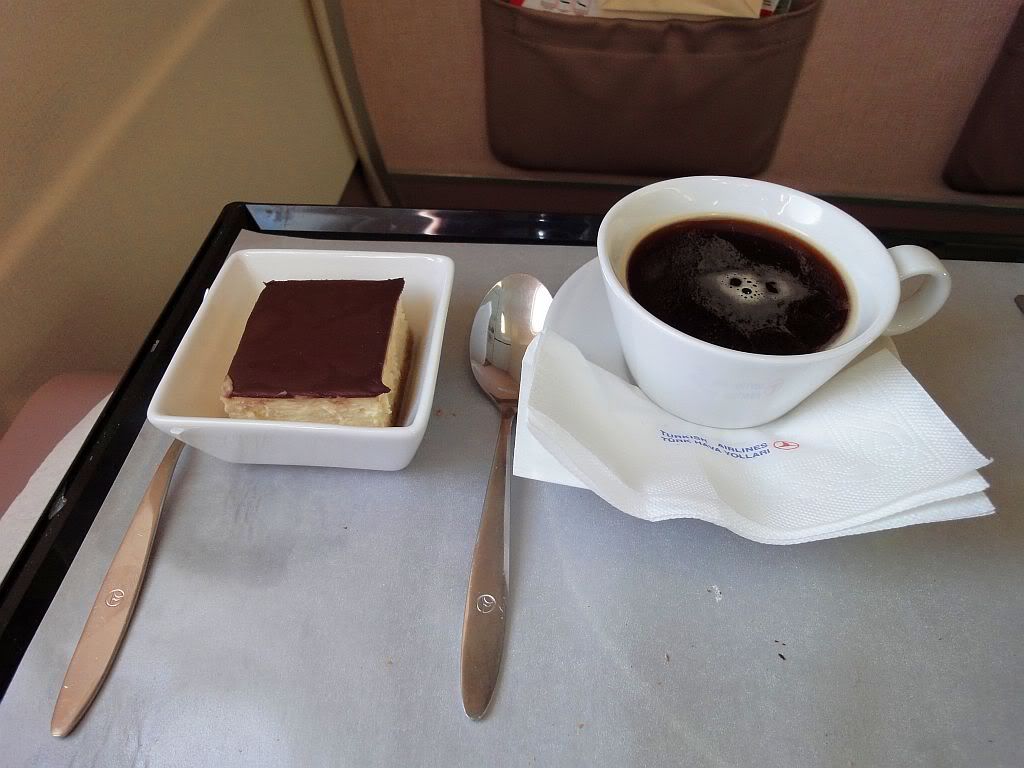 Hot towels were given some time after dessert.
After a while, it was time for another coffee, and digestive (Amaretto):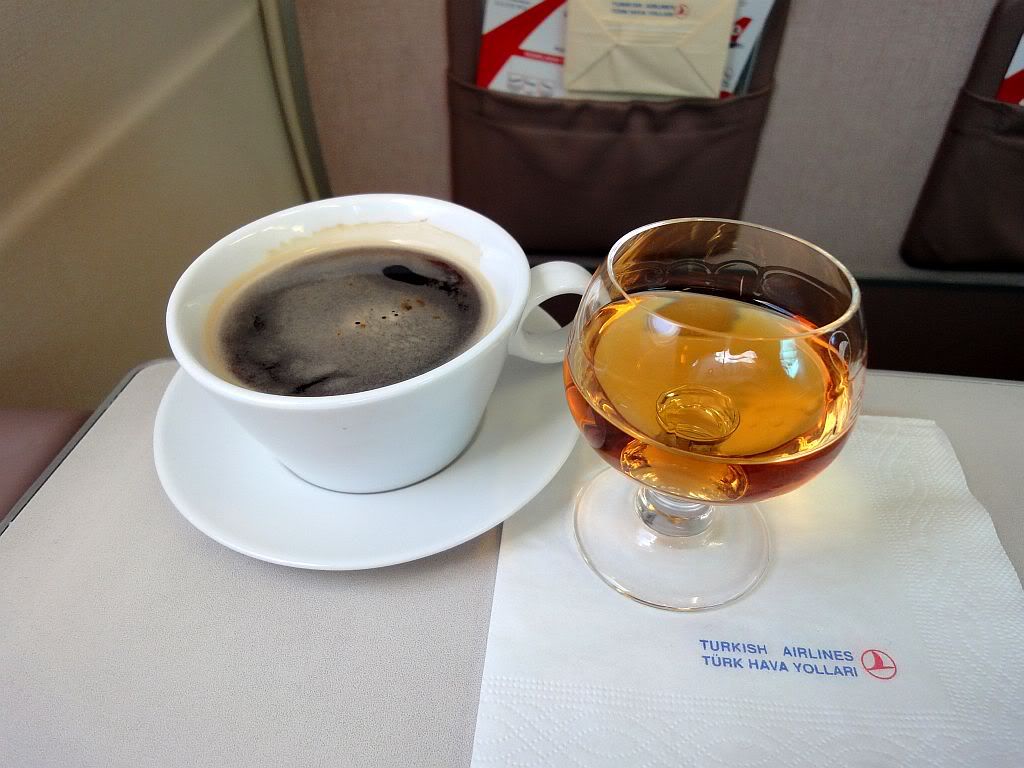 As written earlier, the flight was packed, and yet, the crew managed to secure a very good service.
Somehow a pity that the diagrammed 738 had been replaced with a 321, as I would have otherwise enjoyed genuine business class seating. But being in row 1 made it easier to accept, while TK still offers slightly enhanced seating in the J cabin of its narrowbody airbus fleet.
IFE and on-board magazines were exactly the same as on my BRU-IST flight made on 26/12/2010 evening.
Once nearing Liège, descent was announced and it didn't take long before we touched down at BRU.
The apron was little busy. It was time to get back to the gloom of that cold, snowy Winter 2010/2011. End of New Year Oriental brake...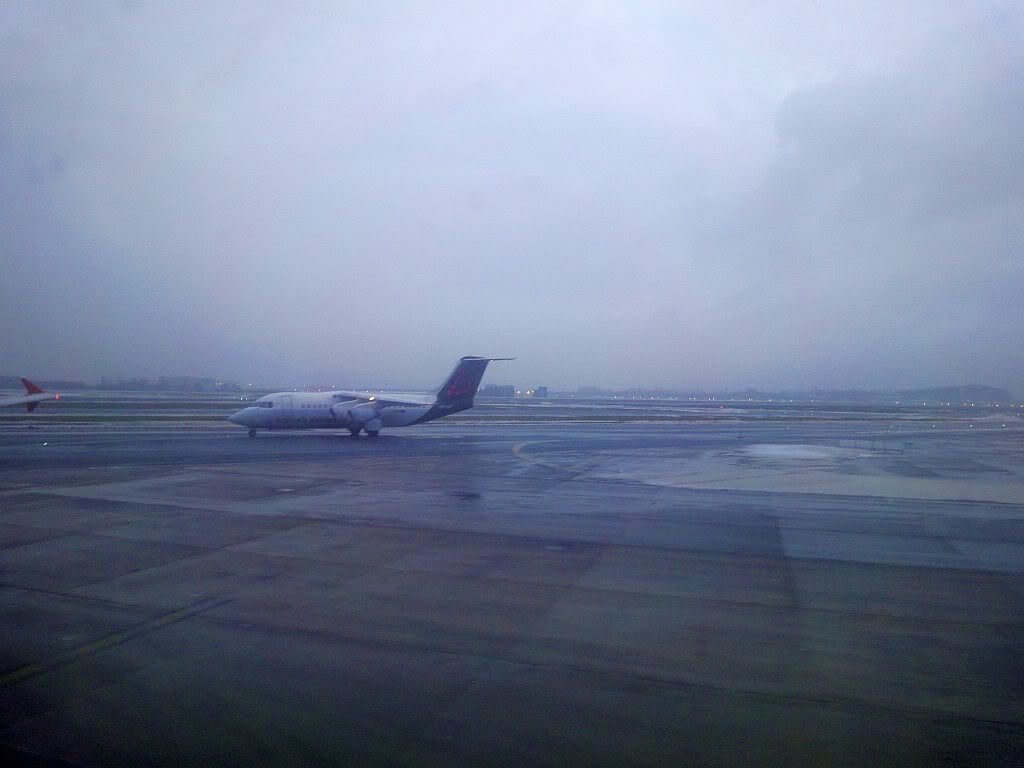 Well, the end came slower than expected. De-boarding and Immigration checks were a breeze, but luggage reclaim was another story. Priority-labeled luggage was actually the very last delivered bit, and in the end, I was the last one to get my suitcase, some 50min or so after leaving the aircraft...
1st January 2011 was just not the day to be there, as the railway service had just been suspended with neither notice nor explanation. The only way for me to get to Brussels by Public transportation was to feel the pain of the weekender slower bus service (express service operating Mo-Fr. only
, meaning a lengthy, stopping route. In the end, 50mins to Schuman. Something is wrong public services in Belgium, especially the service aspect. But Belgium (and Brussels above all) is known for its warm hospitality, and in the end, some friends txted me and invited me for a New Year drink, then dinner and night. Thank god, I wouldn't have to travel in those dreadful double-decker trains which are usually diagrammed on evening services from Brussels to Luxemburg.
I made the final leg Brussels-Luxemburg on the next day, at noon. Snowfalls had ceased 2 days earlier, but there were still no signs of melting down. Great landscape, but as I had already got my share of pics for a while, I didn't make any.
XXV. Final
I hope you have enjoyed this lengthy, fragmented TR, which I was planning to complete earlier, but lacked time and somehow energy for a while.
Turkey can be proud of its flagship carrier, as it provides a service distinctly superior to the average of European legacies, both on European and longhaul flights. Well-cooked, tasty and generous food, carring crews, comfy aircrafts (+ now superb refurbished lounge in IST), not every airline in Europe can pretend the same.
My New Year Break 2011 was to have an Oriental taste, and doubtless TK made a genuine contribution to that target, and I am not sure one of those Gulf carriers could have achieved it to the same extend.
I wish TK served LUX in the near future, it would really add value there and tapper into the market to Asia and the Middle East. It would also be a big relief from that ridiculous rail journey to BRU, which makes 220kms an expedition in itself...
Another TR will come in the next days
[Edited 2012-01-21 18:50:48]
[Edited 2012-01-21 18:52:27]