Africa 1: BD LHR-CMN, TP CMN-LIS, SN LIS-BRU
Welcome to the first in a series of four reports covering my adventure to Eastern Africa!
Introduction (warning, this is *quite* long and detailed. If you don't want to read the blurb, scroll down to the map)
I'll start off trying to explain why I decided to spend 2 weeks in Eastern Africa. As with many countries that I visit, inspiration comes from reading or hearing about a place. The idea for taking this trip came about after watching the very emotive "Hotel Rwanda" back in 2005. An awful story showing the darker/est side of mankind. Thankfully, the situation portrayed in the film has long since improved. Without going into the details of the film too much, it centred on how the Sabena (SN) owned Hôtel des Mille Collines in Kigali (KIG), and the brave staff, saved thousands of people from being murdered in one of history's worst genocides.
With the film in mind, I thought that a trip to the "Land of a Thousand Hills" would be an interesting one. Never having been to Africa before, I thought that it would be nice for my first footstep on African soil to have been at Kigali Airport (KIG). My plan went awry when I went to Morocco both in 2006 and 2011. I could still, however, have my first foot in "proper" African (sorry, but geography aside, Morocco seems a lot more Middle Eastern than stereotypical African to me) in Rwanda if I organised the trip properly.
It wasn't until summer 2010 that I first started to plan a trip with any degree of seriousness. There is a dry season in July and August which was what I was aiming for. Brussels Airlines had seats available in Business Class on their BRU-KIG route. Unfortunately, due to the late planning, I couldn't find any award seats available at all from anywhere in Eastern Africa in any class on Star Alliance or OneWorld. Time to re-plan. After checking the weather charts, I decided to try again in the shorter January/February dry season. Good news, there was plenty of award availability on most routes in business and first class. When checking Brussels Airlines' routes to Kigali, I noticed that they also had seats available to Bujumbura. Where? Bujumbura is the capital of the neighbouring country of Burundi, not somewhere often visited by Western tourists. Hmm, that sounded like an even more interesting and bizarre location for a "first step". After first checking the FCO advice (no travel warnings (for the capital at least)) and the visa situation (visa on arrival available), I was all set. Booked!
Having read the title, you are probably wondering where the LHR-CMN-LIS-BRU bit comes in. As I was using bmi (BD) miles, I wanted to maximise my flying. I started working off an outdated award chart that showed Morocco as being in the same zone as Burundi, meaning a one way C class flight for just 7,500 miles + £52.50 cash + tax. Bargain! I pieced together what I thought be an interesting way to get from Morocco to BRU, and that was from Casablanca (CMN) on a Portugalia E145 and a SN A319 via LIS. It was only when I went to book that I found out that Morocco had (sensibly) been moved from "Africa" to "Europe" for awards. Still, the CMN-LIS-BRU-BJM redemption was only 11,250 + £75 cash + tax. To get to CMN I was planning on getting a cheap easyJet flight down to Marrakech (which is 3 hours by train from CMN), but in the end found a good value cash flight with bmi on their new LHR-CMN service.
So, where to from Bujumbura? Well, of course I wanted to go to Rwanda. There are plenty of buses running from Bujumbura to Kigali, or else for around £100 I could fly on Rwandair, not an airline I often fly. However, at the end of October I noticed on
Airline Route
that SA would be starting flying BJM-KIG-JNB in mid-January (just a few days before my flights), with full traffic routes between BJM and KIG. The flight from BJM to KIG was rather early, but there wasn't a lot of choice and saved me buying an expensive short one way flight.
A bit more serendipitous timing was the entrance of Ethiopian Airlines (ET) into Star Alliance in mid-December 2011. With ET's introduction, I would be able to link from Bujumbura and Kigali to my next destination, Zanzibar (ZNZ) in Tanzania on a single BD award ticket. ET fly twice daily from KIG to Addis Ababa (ADD), Ethiopia's capital. There's a lunchtime B737 operating via Entebbe (EBB) in Uganda, or a direct red eye Dash 8 (yup, a 3 hour overnight flight on a prop). Needless to say, I wanted the daylight 737. From ADD to ZNZ there's also a daily redeye Dash (via DAR arriving in ZNZ at 0345) - again no thanks. There is also a non-daily morning 737 or 767 service (also via DAR). Unfortunately, the day flight wasn't running the day I wanted, so I had to shuffle my dates a bit, gaining a bit more time in Rwanda, but a night less on the beach. By avoid the overnight Dash flights, I ended up with 15 hour overnight layover in ADD – not ideal, but an easy way to add a new country to my list (not that I can really say I've been to/seen Ethiopia).
From ZNZ, I needed to get back across the Zanzibar Channel to Dar es Salaam for my flight back to Europe. Choices were fivefold. The ferry (fast is 90 mins, or slow is 4 hours), flying with Zanair (either a LET or a Cessna), Costal Aviation (Cessna), or Precison Air on an ATR.
My return flight would be my pièce de résistance…..a flight with Swiss in First Class. This was the flight I was most happy about booking. Swiss flies their newer A330-300s (with the new First and Business Class) on the DAR-NBO-ZRH route, so should be in for a comfortable flight. Of course I was once again using my BD airmiles (18,750 miles + £125 cash + tax). The sensible routing would have been to fly straight back from ZRH to London, but where's the fun in that. I had a look at the map to see the furthest I could go and still stay in the Europe zone….how about Cyprus (another new country)? I actually came up with a very cool DAR-NBO-ZRH-CAI-LCA routing (thus having two flights in F), but unfortunately the MS flight from CAI to LCA wasn't running the day I wanted (and I'm not sure it was a valid routing anyway), so I "settled" for a DAR-NBO-ZRH-ATH-LCA routing with Swiss and Aegean. There was an Edelweiss direct flight from ZRH to LCA, but it wasn't available for a BD booking.
The benefit of ending in LCA was that there were plenty of cheap options back to London (despite the rather long 5 hour flight). Easyjet were only charging around GBP 70 one way, and "proper" airlines like BA and A3 not far behind. However, before I had booked anything, I was sent an email from BA about a half price air miles redemption offer (yes, the same one I used for my
SAN/MEX flights last September
). I booked a one way Club Europe flight from LCA to LHR for 10,000 miles + £43 tax. Excellent value for +5 hours in a 767 (even if the 767s are very long in the tooth).
Phew, quite a lot of flights, but a rather fun and varied itinerary I think! Here's my route map. It looks a bit like an arrow pointing back to base.
Obviously, there are quite a few flights here, so I'll be splitting the report in six parts:
Africa 1
bmi, London-Casablanca, Economy A319
TAP Air Portugal, Casablanca-Lisbon, Business ERJ
Brussels Airlines, Lisbon-Brussels, Business A319
Africa 2
Brussels Airlines, Brussels-Bujumbura, Business A332
Africa 3
South African Airlines, Bujumbura-Kigali, Business A319
Ethiopian Airlines, Kigali-Entebbe-Addis Ababa, Business B737
Ethiopian Airlines, Addis Ababa-Dar es Salaam-Zanzibar, Business B767
Undecided, Zanzibar-Dar es Salaam
Africa 4
Swiss, Dar es Salaam-Nairobi-Zurich, First A333
Africa 5
Swiss, Zurich-Athens, Business A320
Aegean, Athens-Larnaca, Business A320
Africa 6
British Airways, Larnaca-London, Business B767
Onto the trip……!
After getting back from Tallinn last weekend, I had hired a car at Luton Airport for the week. As a result, I would have to drop it back at Heathrow nicer and early before my flight.
Leaving home at an ungodly hour – I've never driven around town at 5am before!
The M25 was pretty empty (the M4 more so) so I managed the 30 mile journey in a very respectable 30 minutes (normally it takes 45 mins minimum). I found the Europcar place fairly easily, and was soon in an empty shuttle bus to Terminal 1.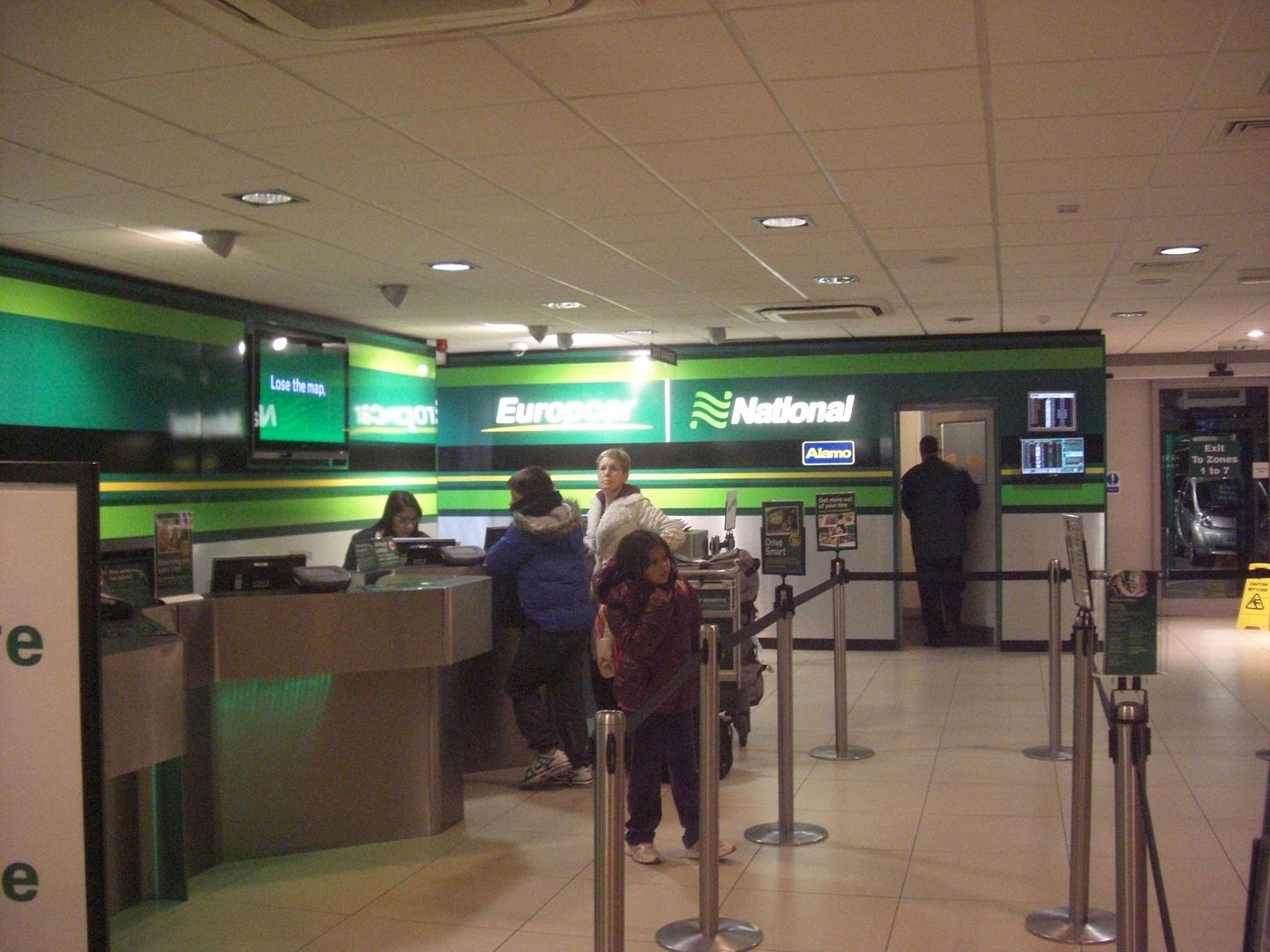 I checked in at the bmi Premium counter (thank to my LH Silver card), and my bag was tagged. It weighed 25kg, which was a bit heavier than I was hoping for – I am so bad at traveling light! Luckily, despite this being my only Y class flight, BD very generously gives Morocco flights a 30kg limit in Y, and 40kg in C fitting in well with my 30kg limit for the rest of my trip. The lady at the desk printed my boarding card, and said I could use the BD lounge. I didn't query this as BD is well known for being haphazard and changeable. Normally I only get BD lounge access when flying on LH/OS/LX/LO, but (ironically) not BD.
I trotted off to security, where the queue for the fast track was longer than the others, but only by a minute or so. Once through, I stopped quickly at WHSmiths for a magazine. Airport locations also have a range of foodstuffs for homesick Brits to take with them!
Once done with that, I headed to the BD lounge where I was told I was not allowed entry (as expected). The dragon on duty said that the check in lady was not up to date, and took my details to follow up with…clearly it happens a lot! Not feeling hard done by, I headed back to the departure lounge. Before long the gate flashed up and I headed over.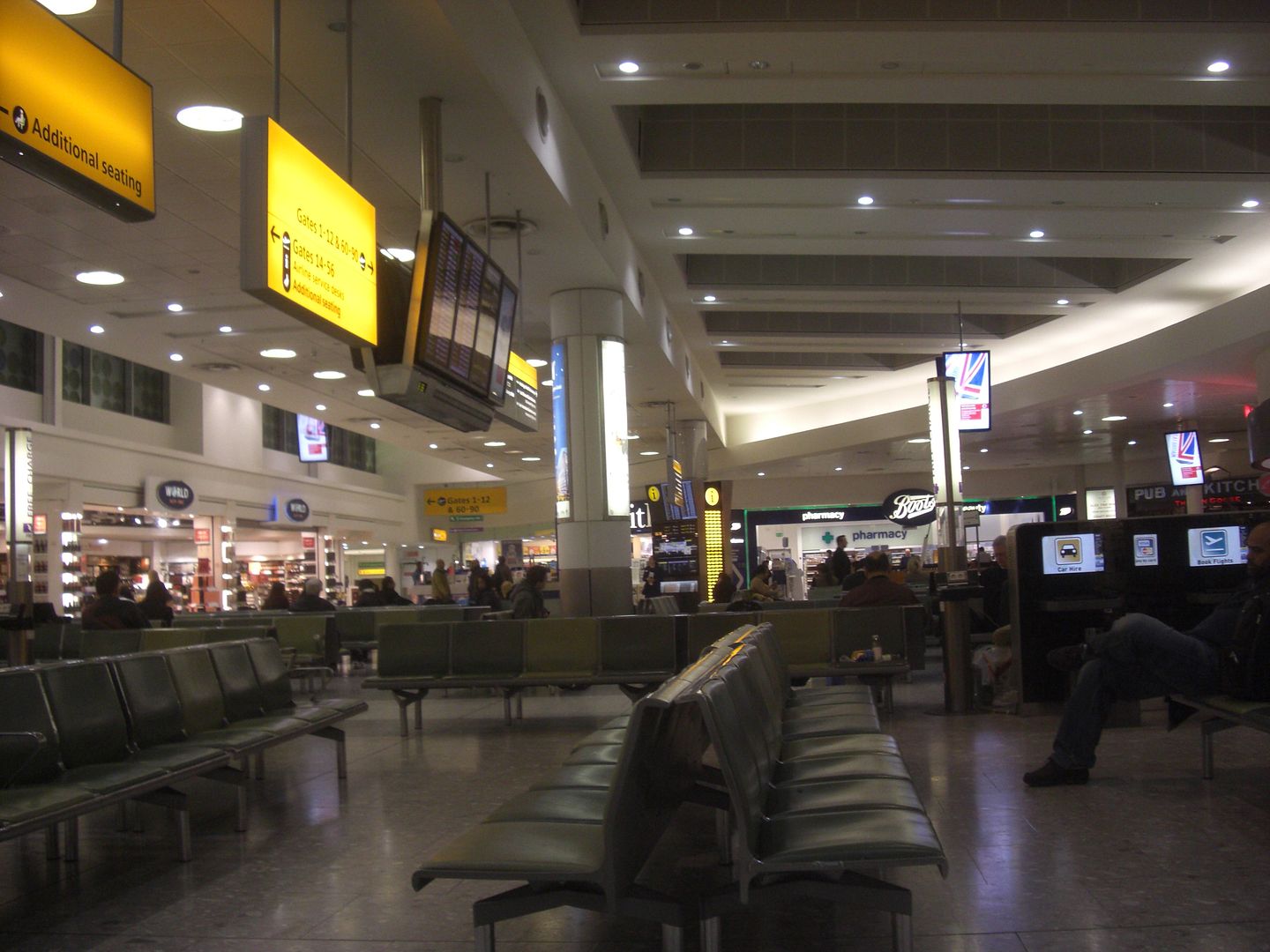 FIDS
This must be the Casablanca flight – I'll take a seat. The lounge was small and incredibly hot – not sure if the agents turned up the thermostat, or it was just acting up. I asked about an emergency exit seat, but was told they were full – turns out I had a row to myself anyway, so no problem.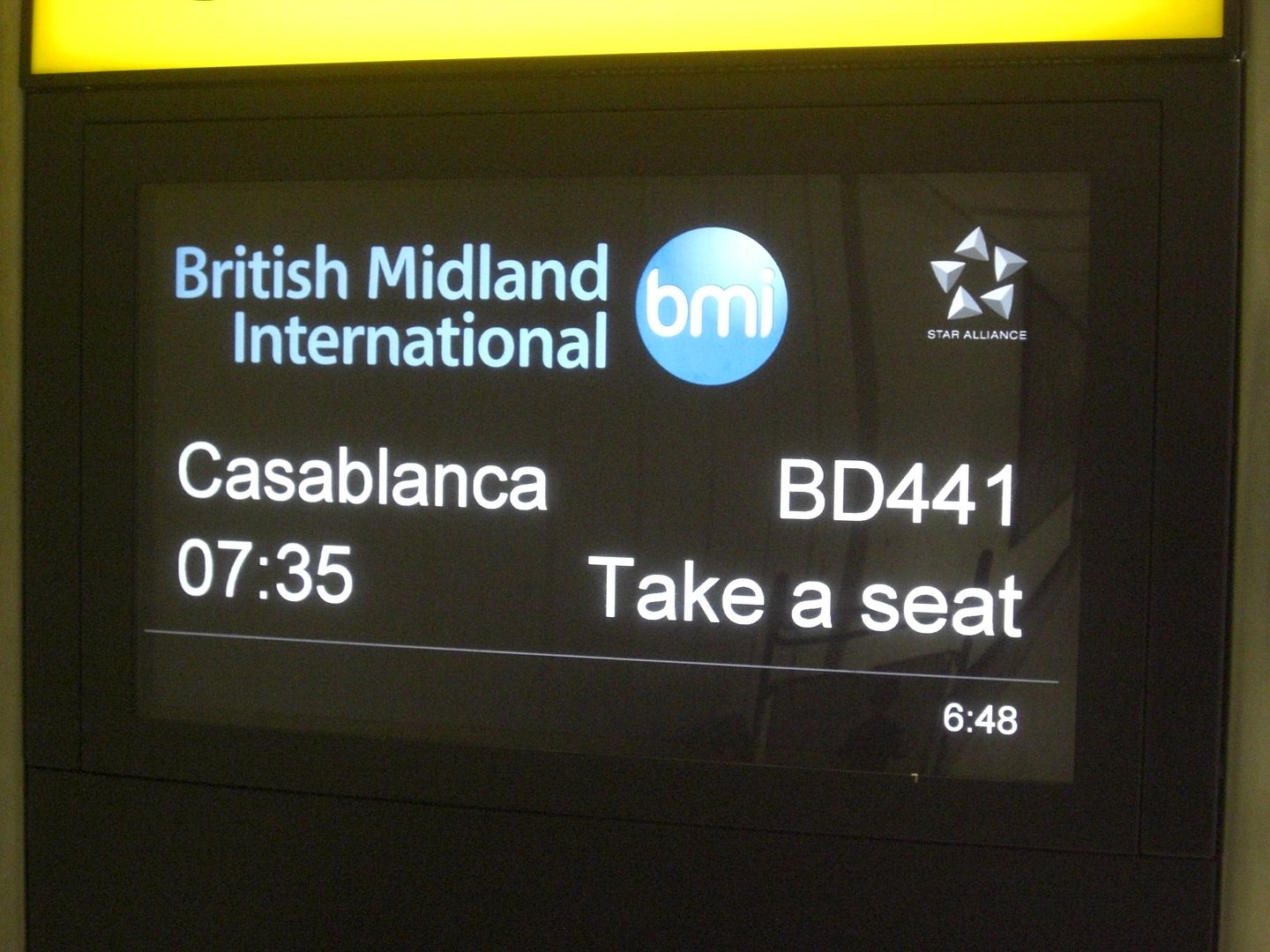 Feel like an Olympian – have a chocolate bar (I'm sure most great Olympians gorge themselves on Cadbury's (and McDonalds))…… Ridiculous sponsorship deals. How about getting a healthy sponsor for a sporting event rather than fast food and chocolate?
After a bit of a wait, the ground staff starting ripping boarding passes without any sort of boarding call at all. I was sat near the desk so was on amongst the first.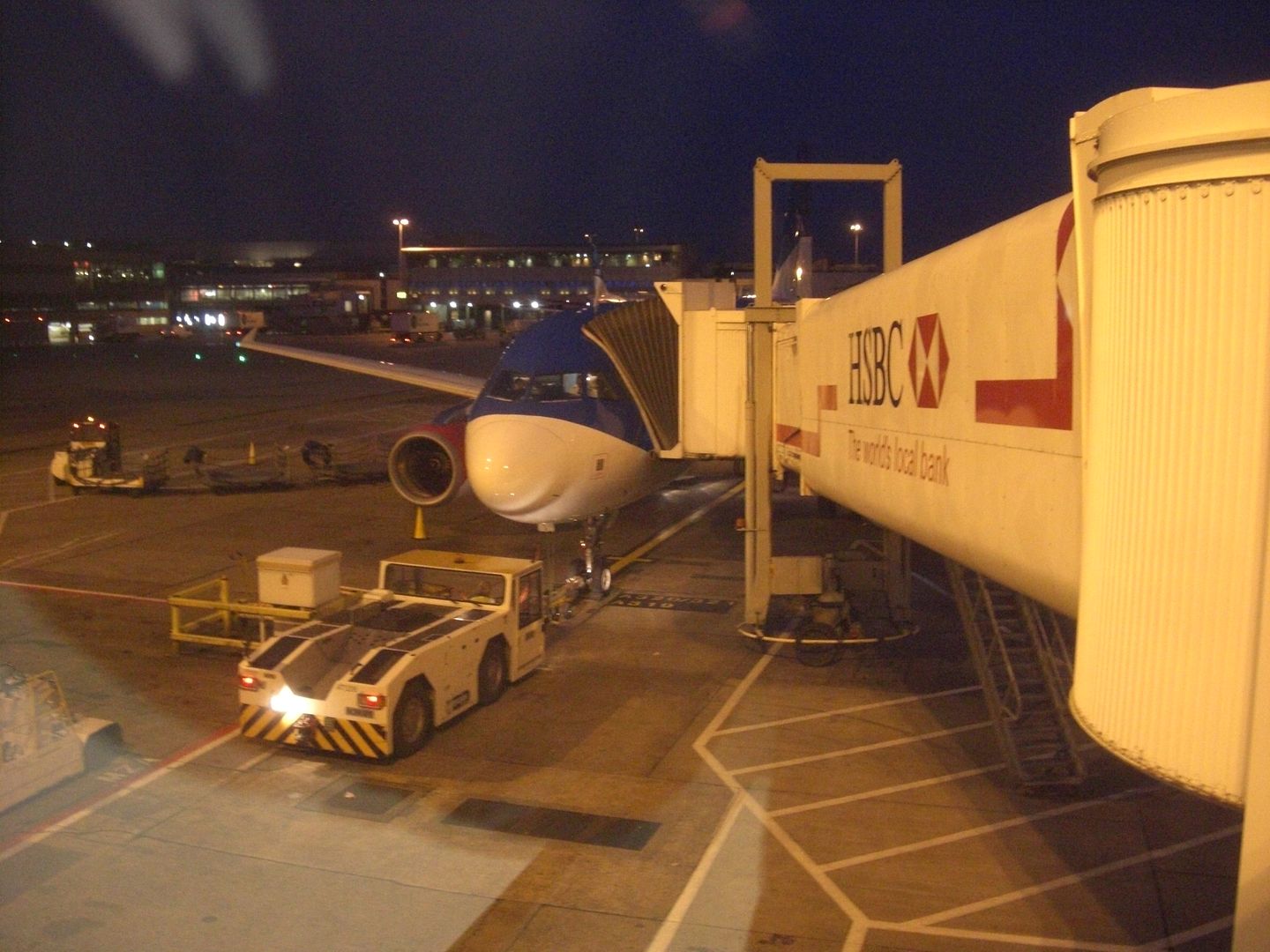 January 2012
London Heathrow (LHR) – Casablanca (CMN)
bmi BD 441
Scheduled: 0735-1045 (3h10m)
Actual: 0812-1052 (2h40m)
Airbus A319 G-DBCI
Economy Class
The cabin was in the new very eye-soothing brown leather. This has the new Lufthansa slim line seats which are quite comfortable.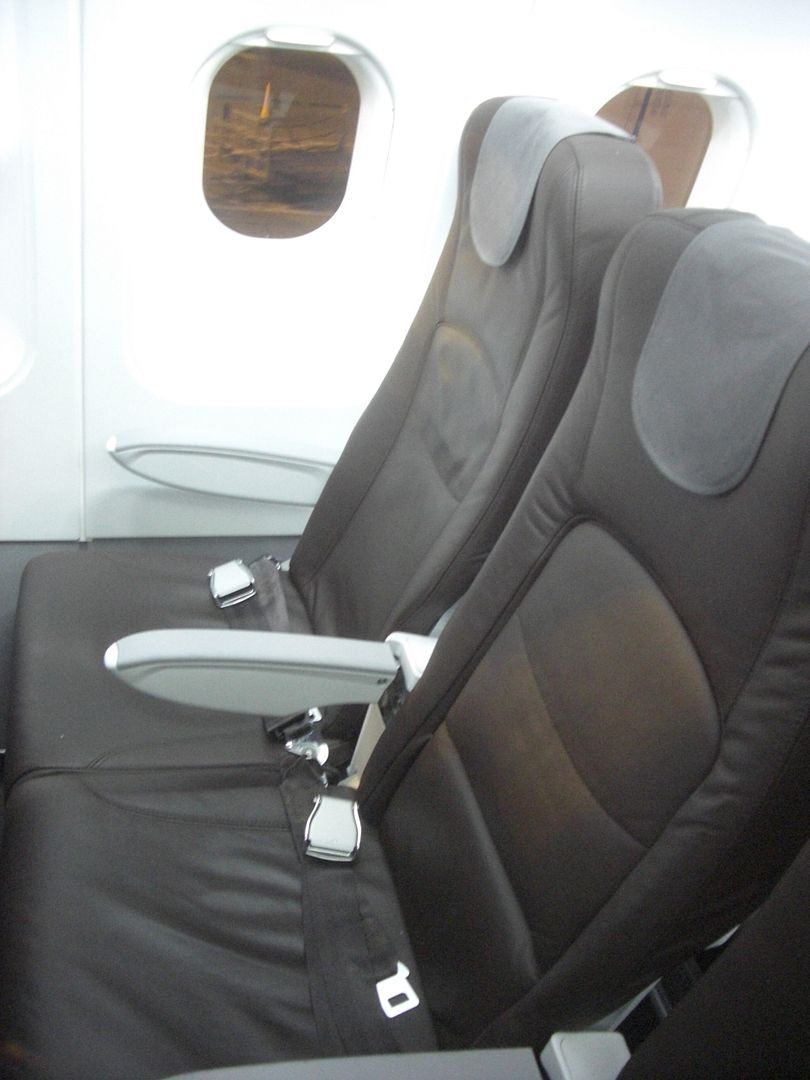 Legroom was acceptable
Our Portuguese neighbour – still not light outside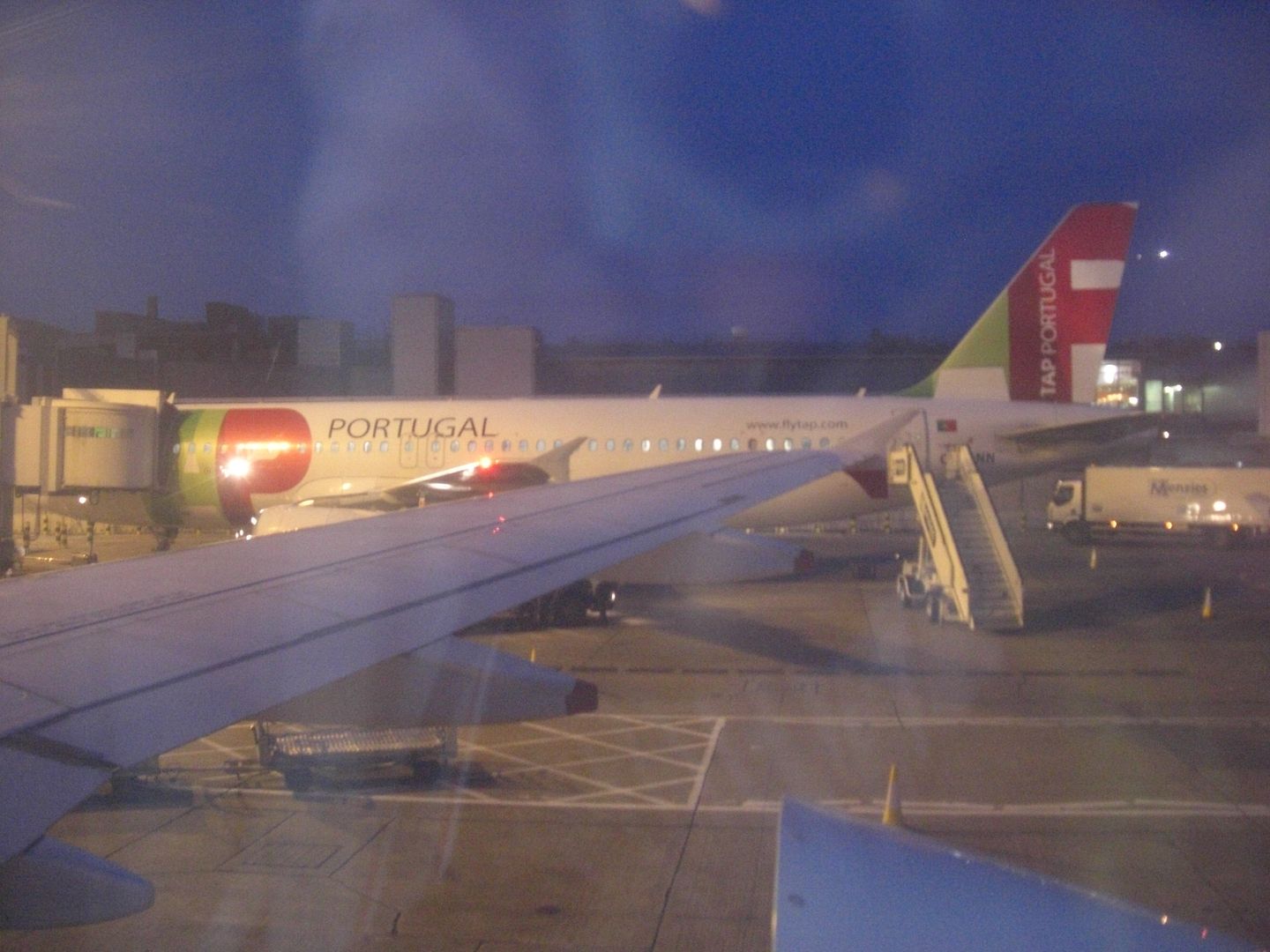 The i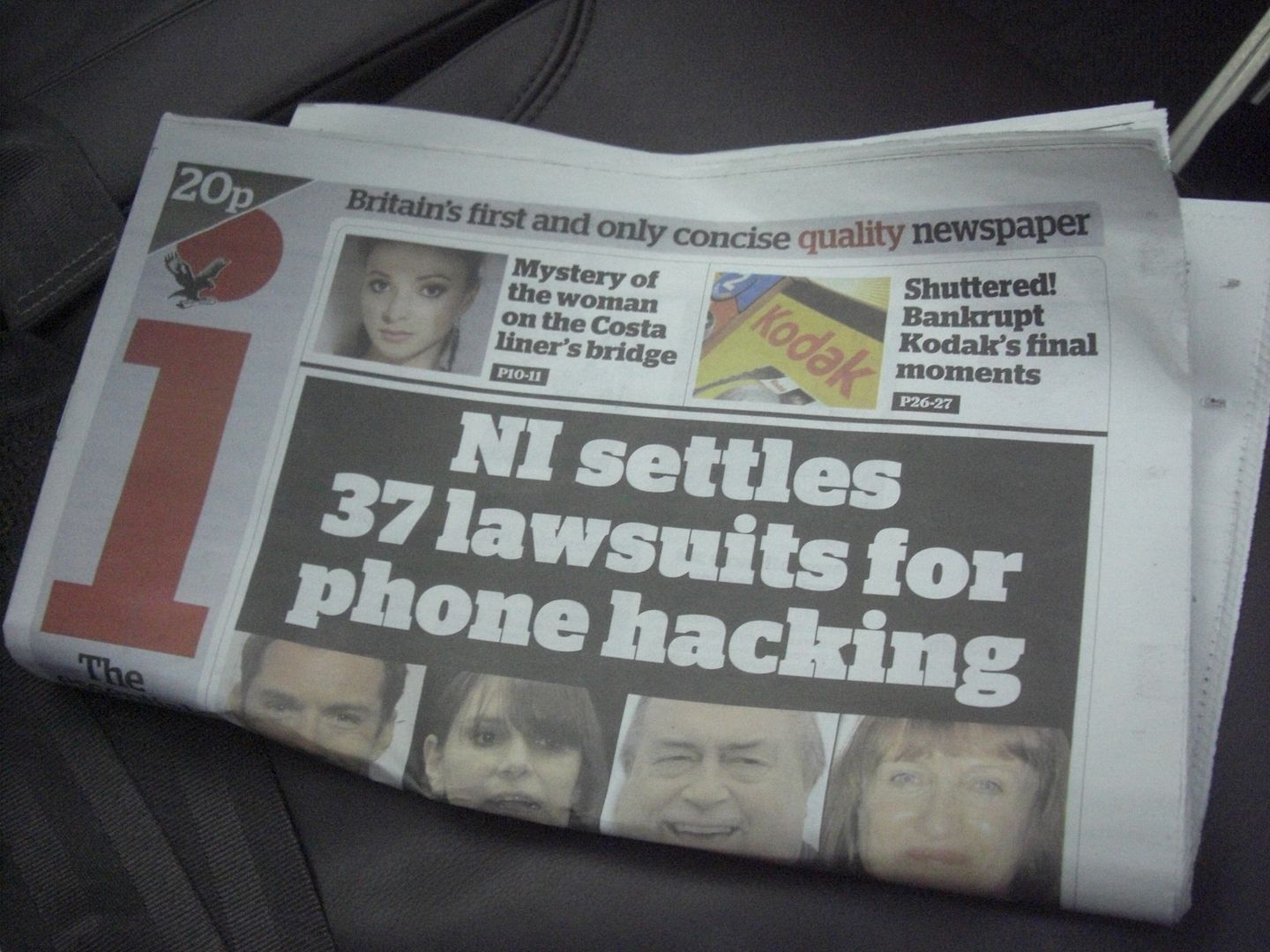 It seemed like there were some issues with baggage. The captain (who spoke very slowly and gave a lot of information) apologised for the delay.
Finally 30 minutes after boarding the doors were closed and we pushed back
Morocco Map. The map maker was clearly unsure whether BD flew to BCN or not. They don't
Safety card
I used this gate en route to Bergen last May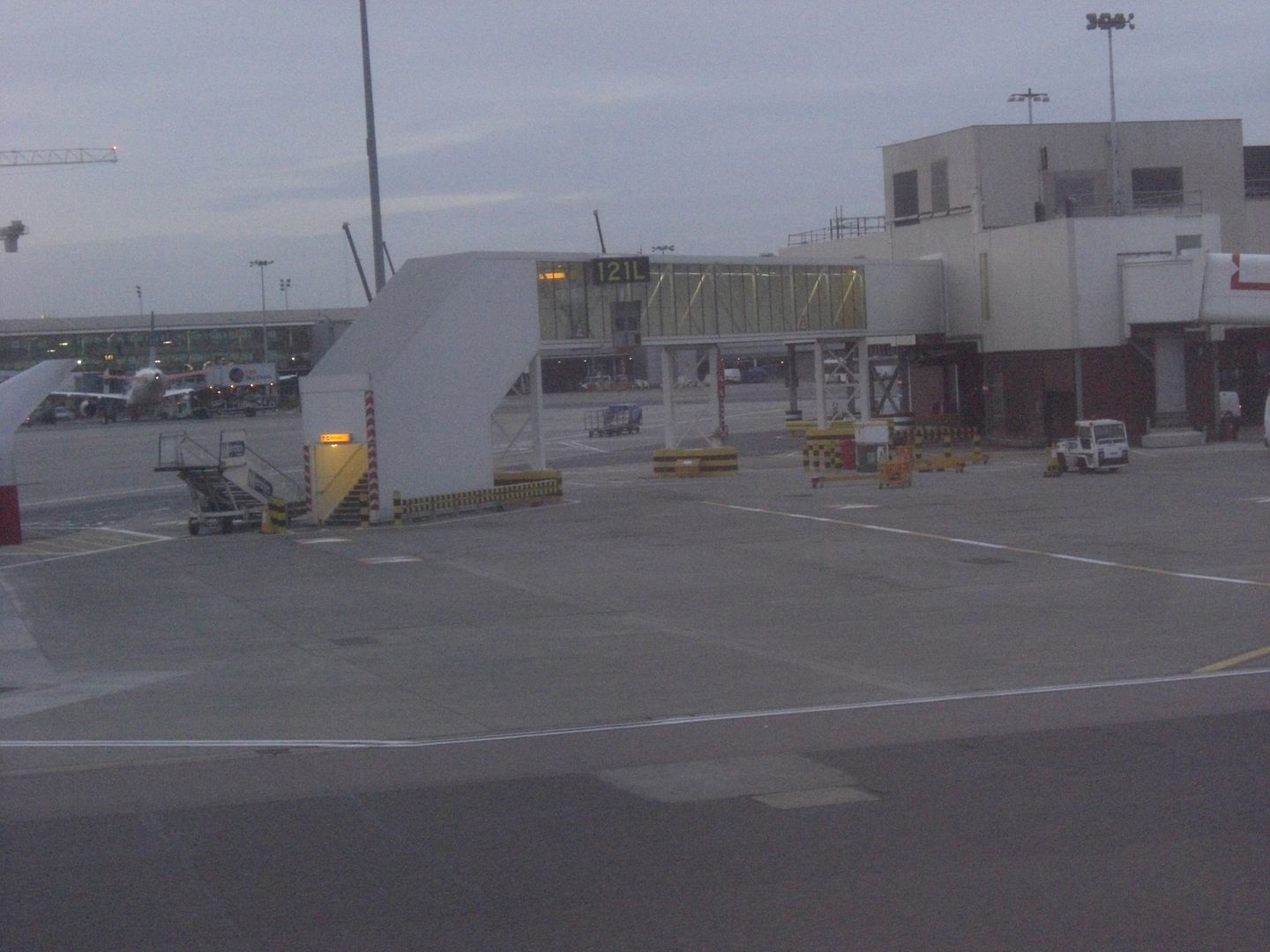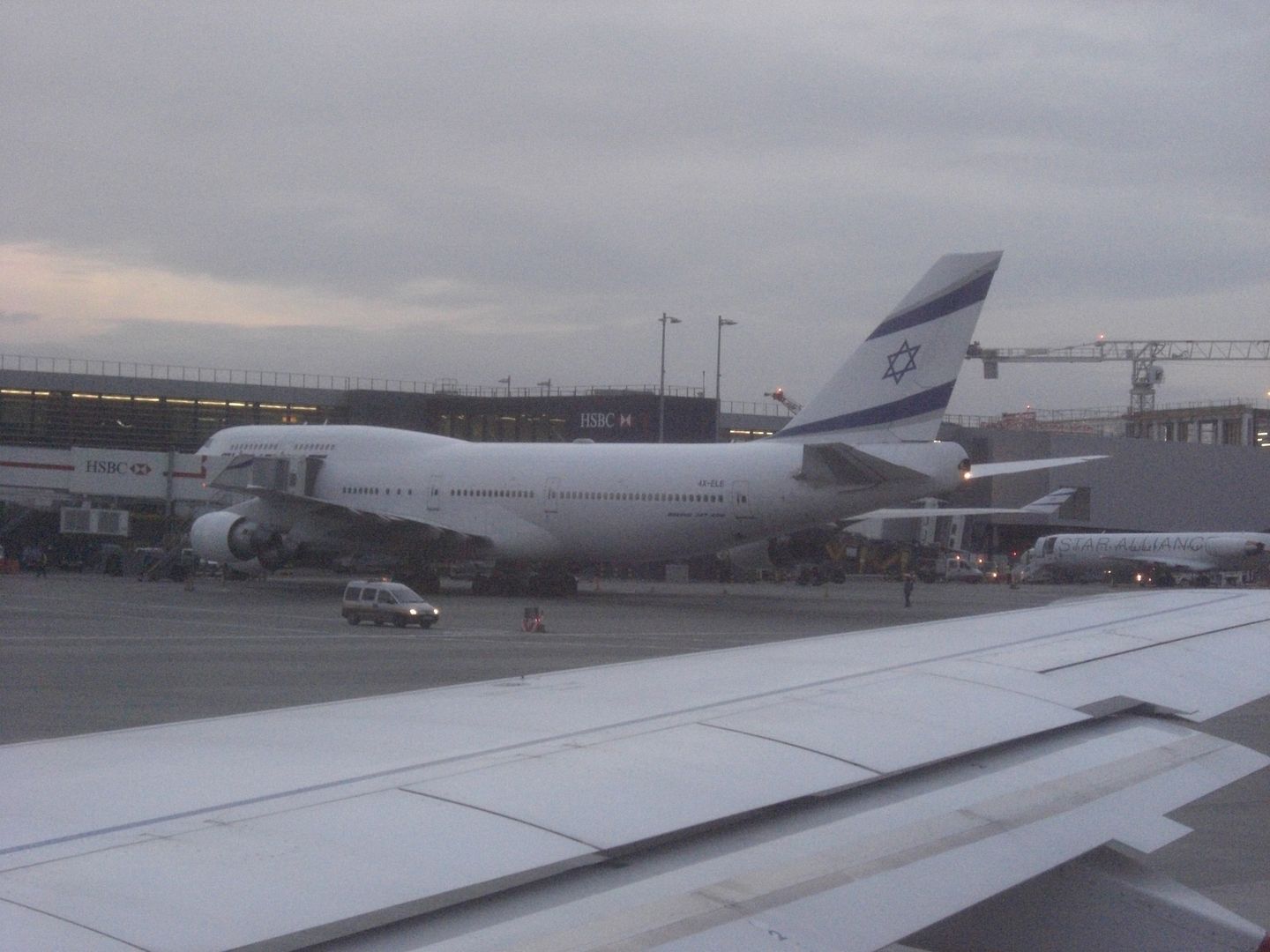 The new LHR East terminal's looking good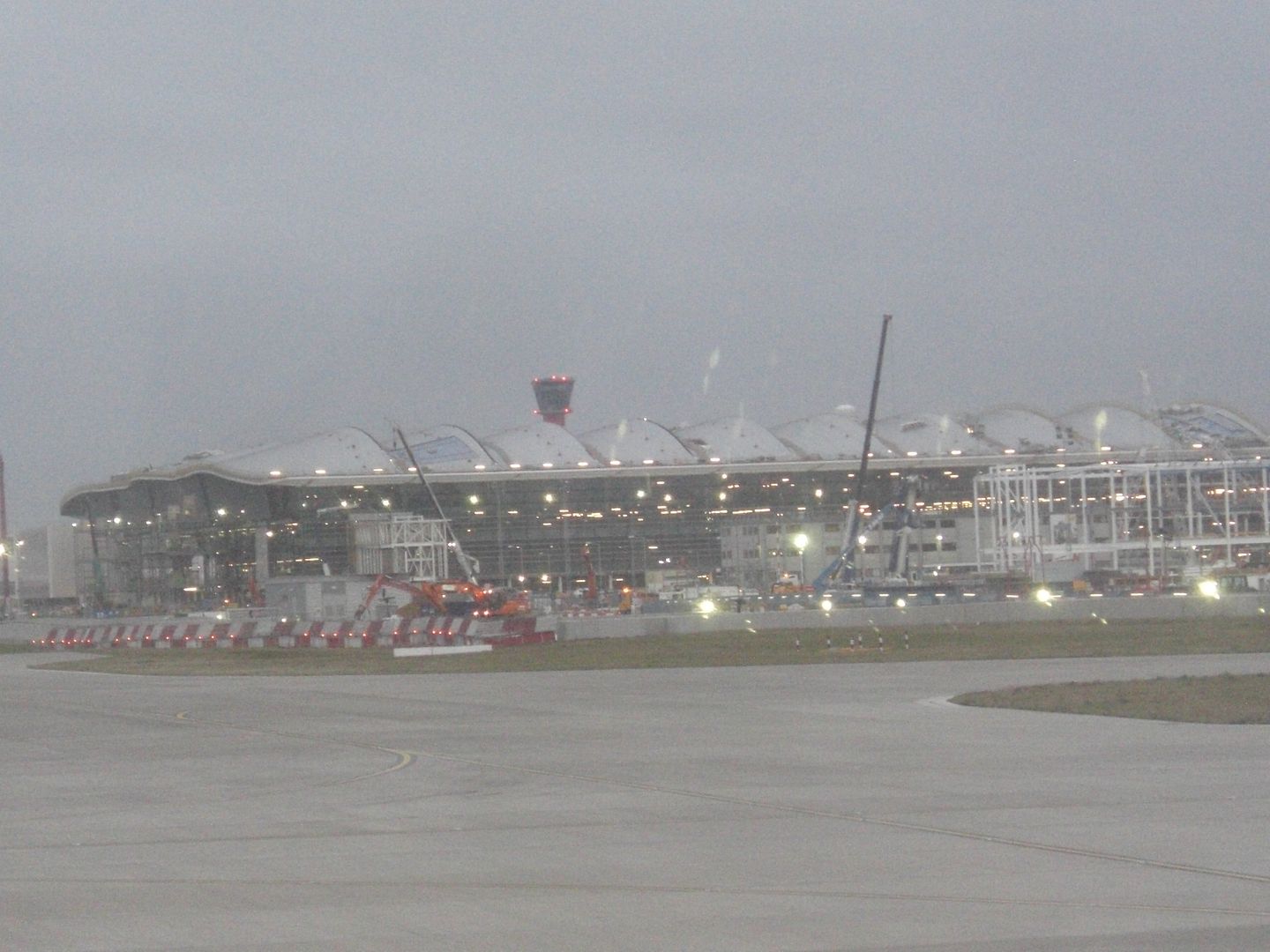 A BA 767 has just landed, and an AF 321 is heading across to T4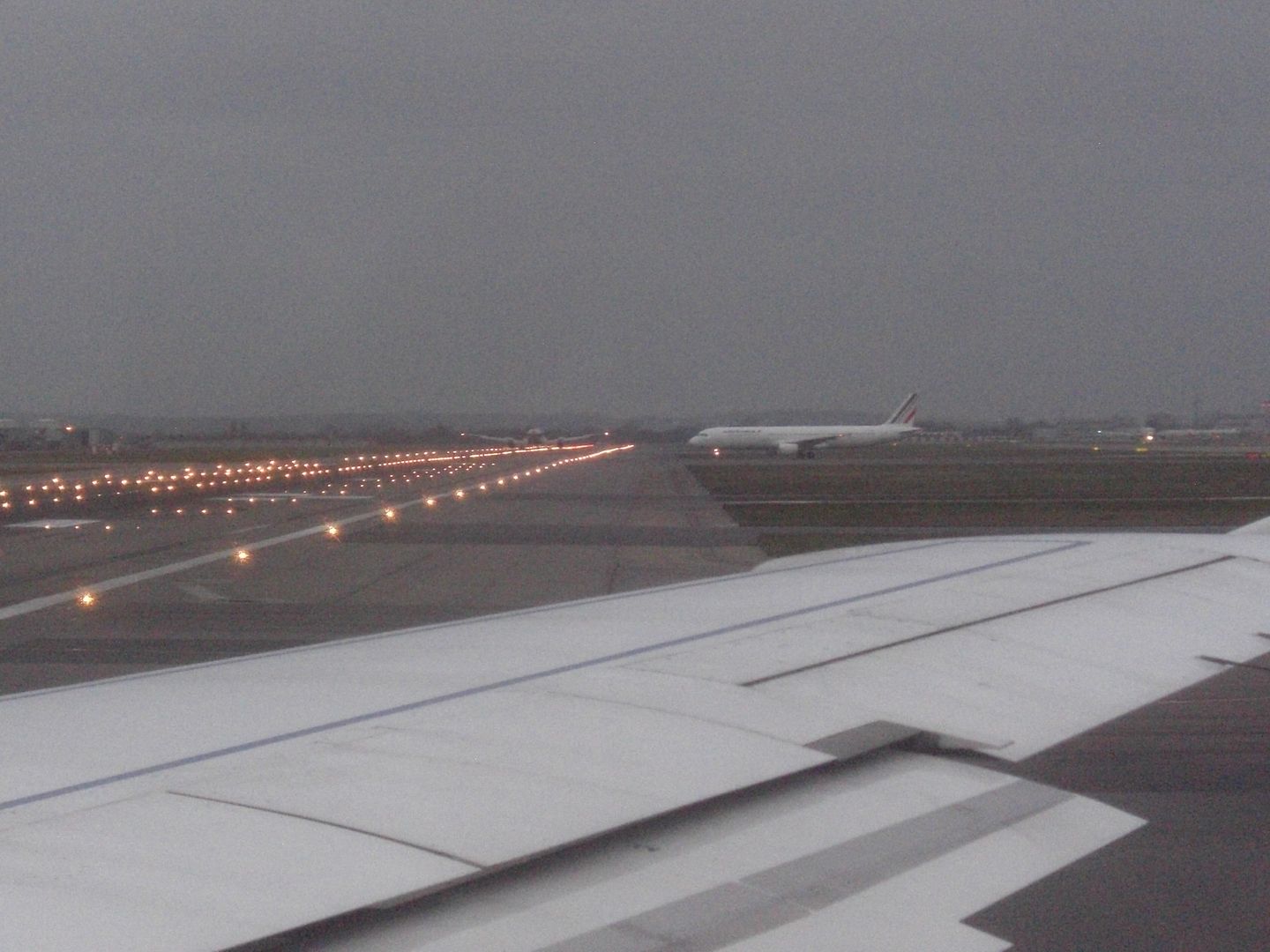 We finally rotated over half an hour late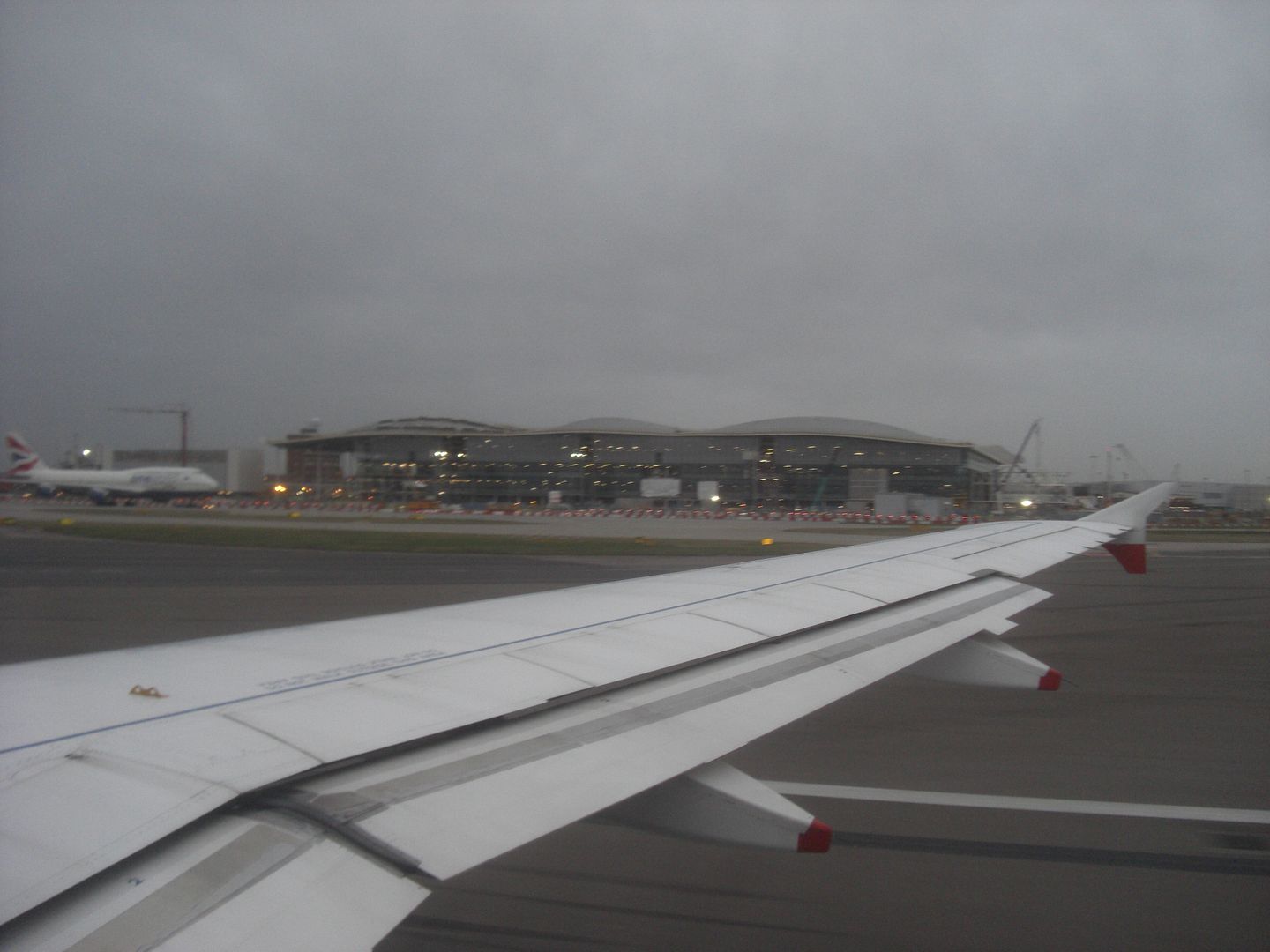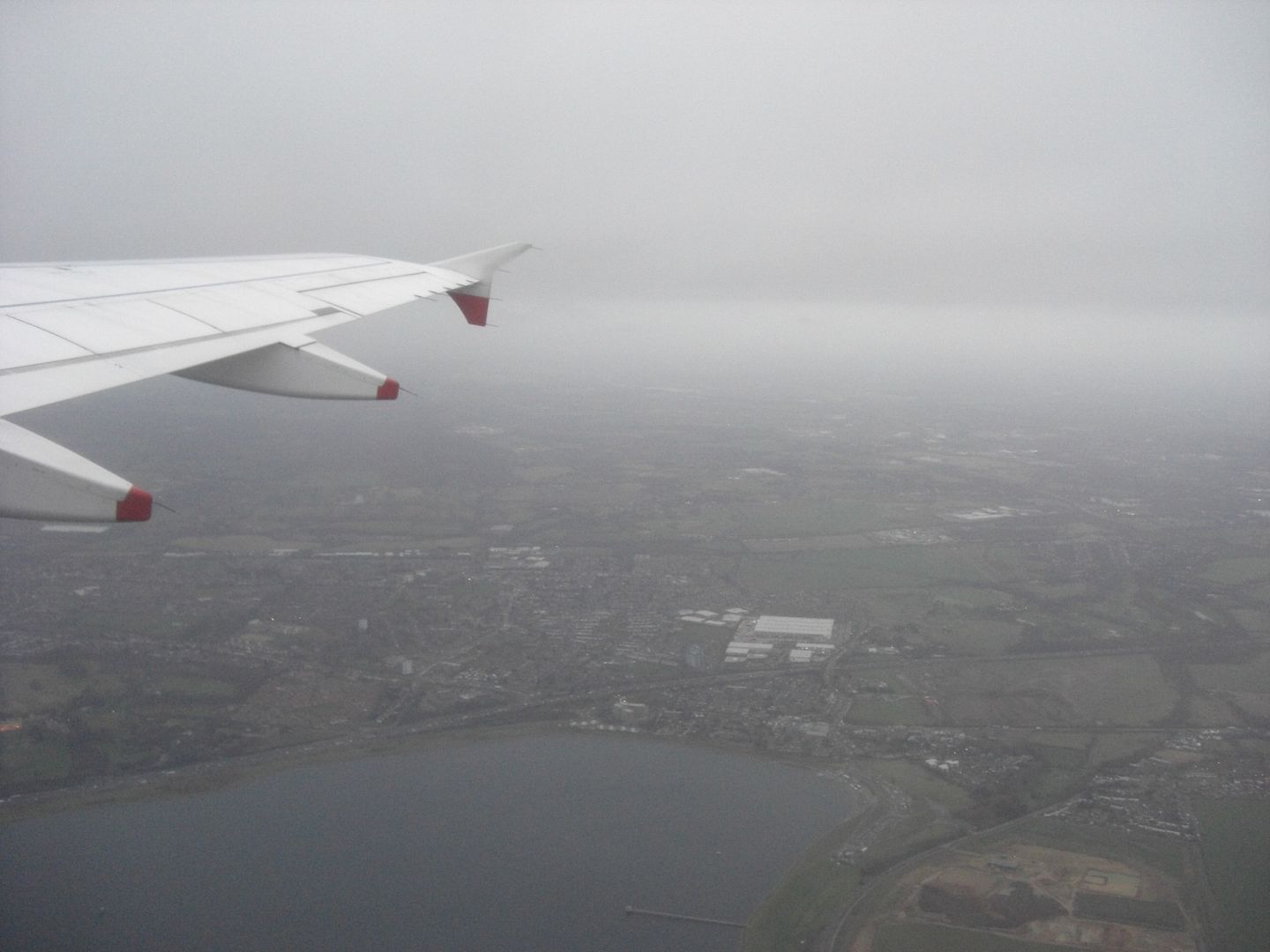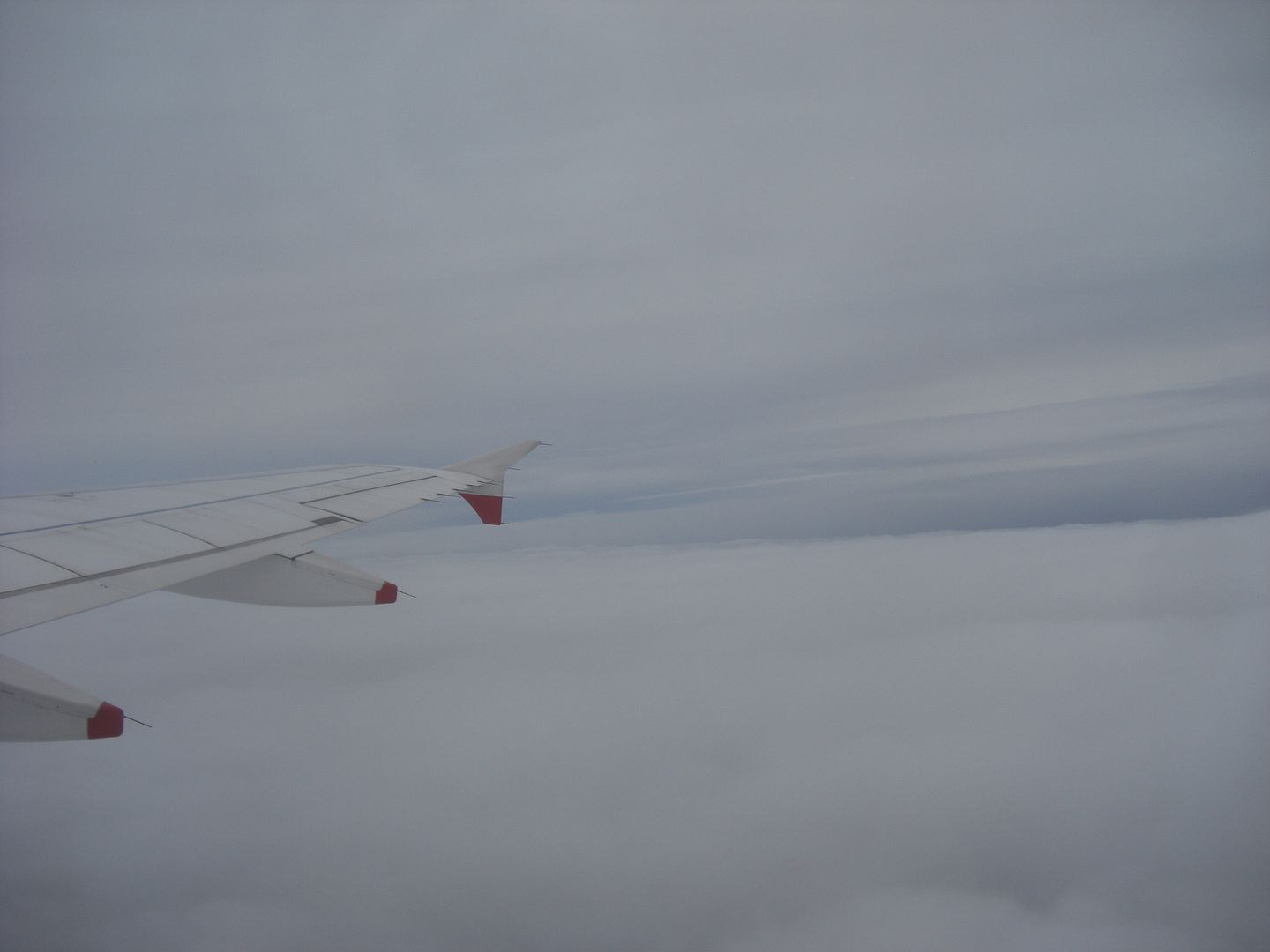 After a few minutes we broke through the clouds – nice and sunny up here
I was hoping for a full English (BA would serve one on a flight of this length), but instead we were given a hot wrap (same as the ones sometimes seen on LH) with tomato and scrambled egg, and a full size twix bar (haven't had one of those in years).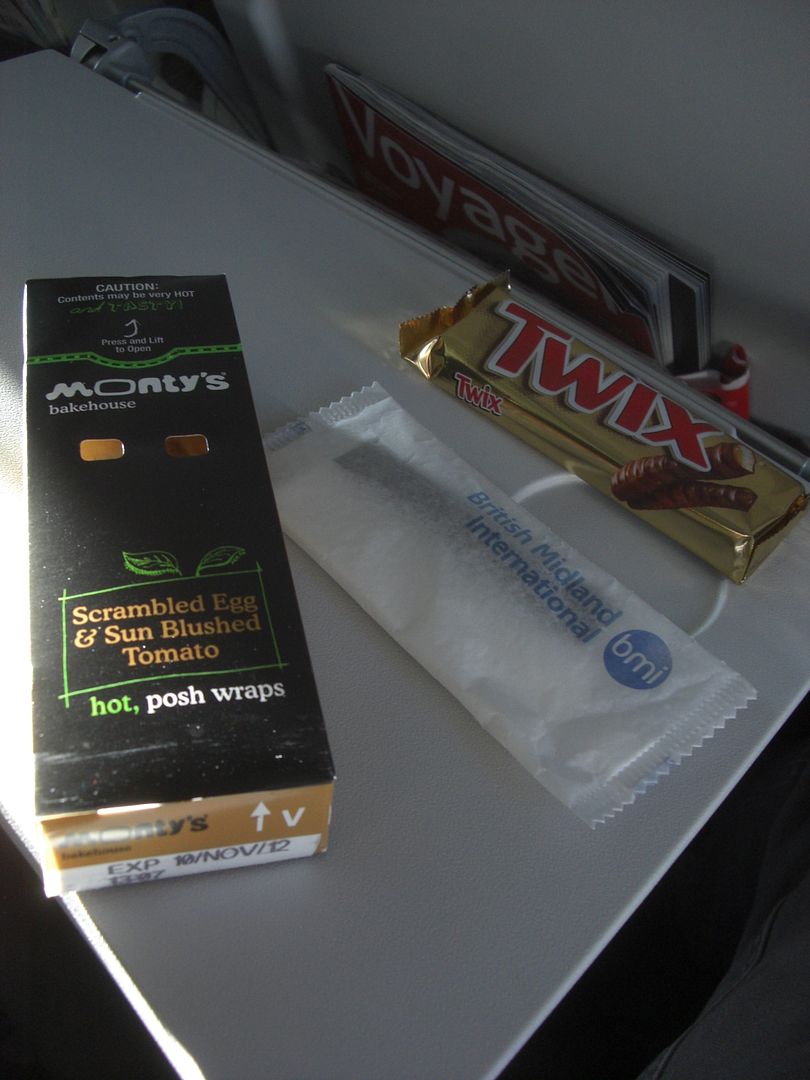 It was too early for a G&T so a screwdriver it was! Interestingly if you asked for just an OJ you got served from a bottle, but if you wanted OJ as a mixer it came in a can?!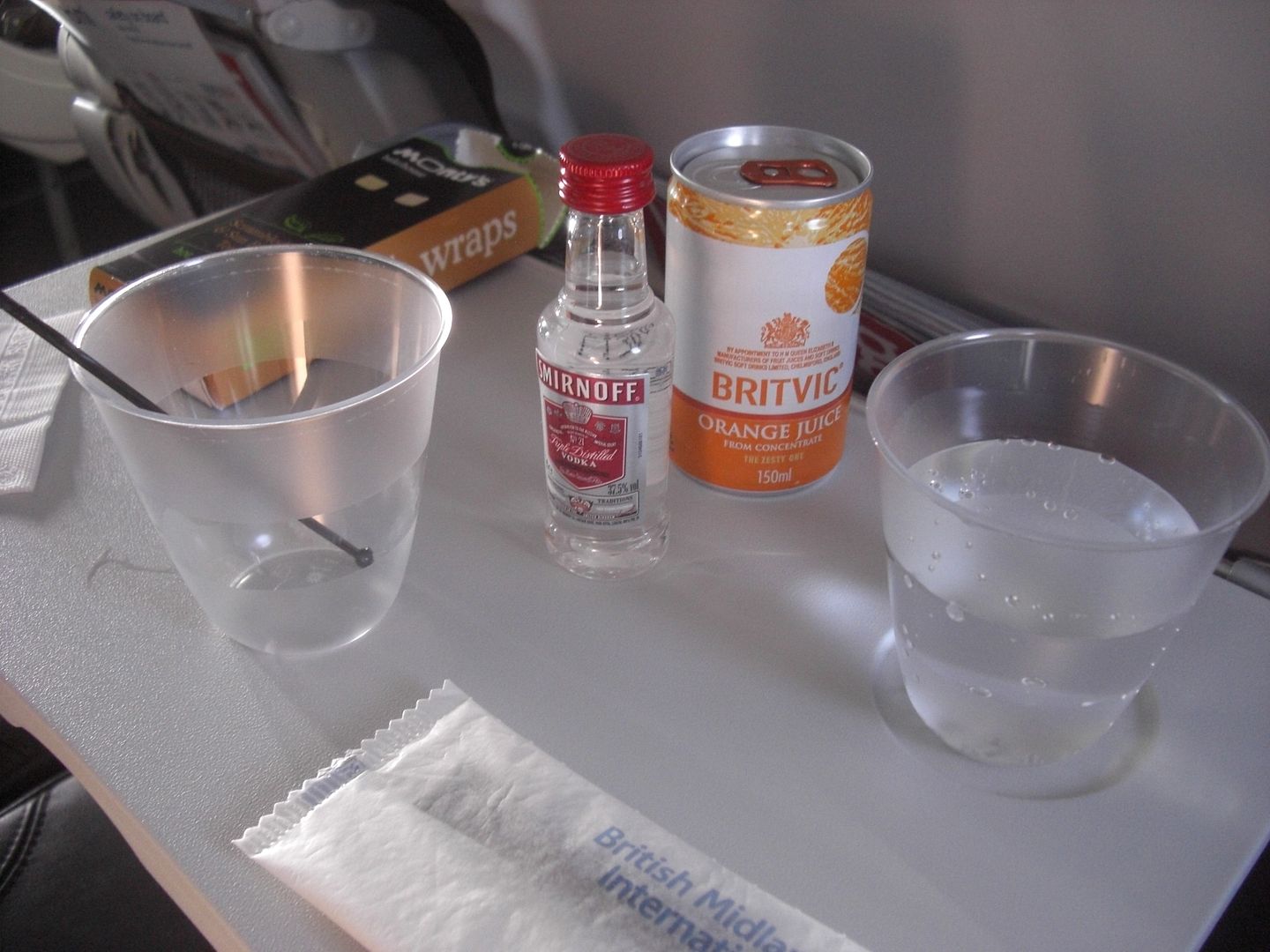 The wrap was tasty, so I asked for another
The family seated opposite moved somewhere else leaving me with a full row to myself. The plane was about 50% full.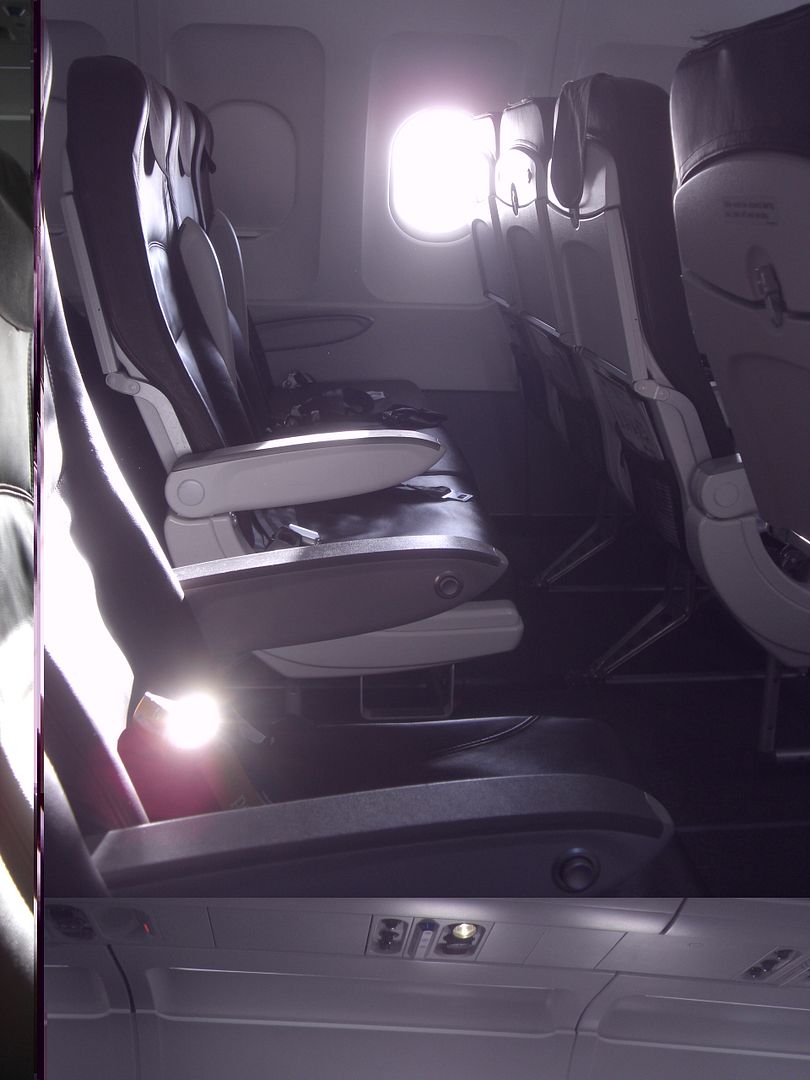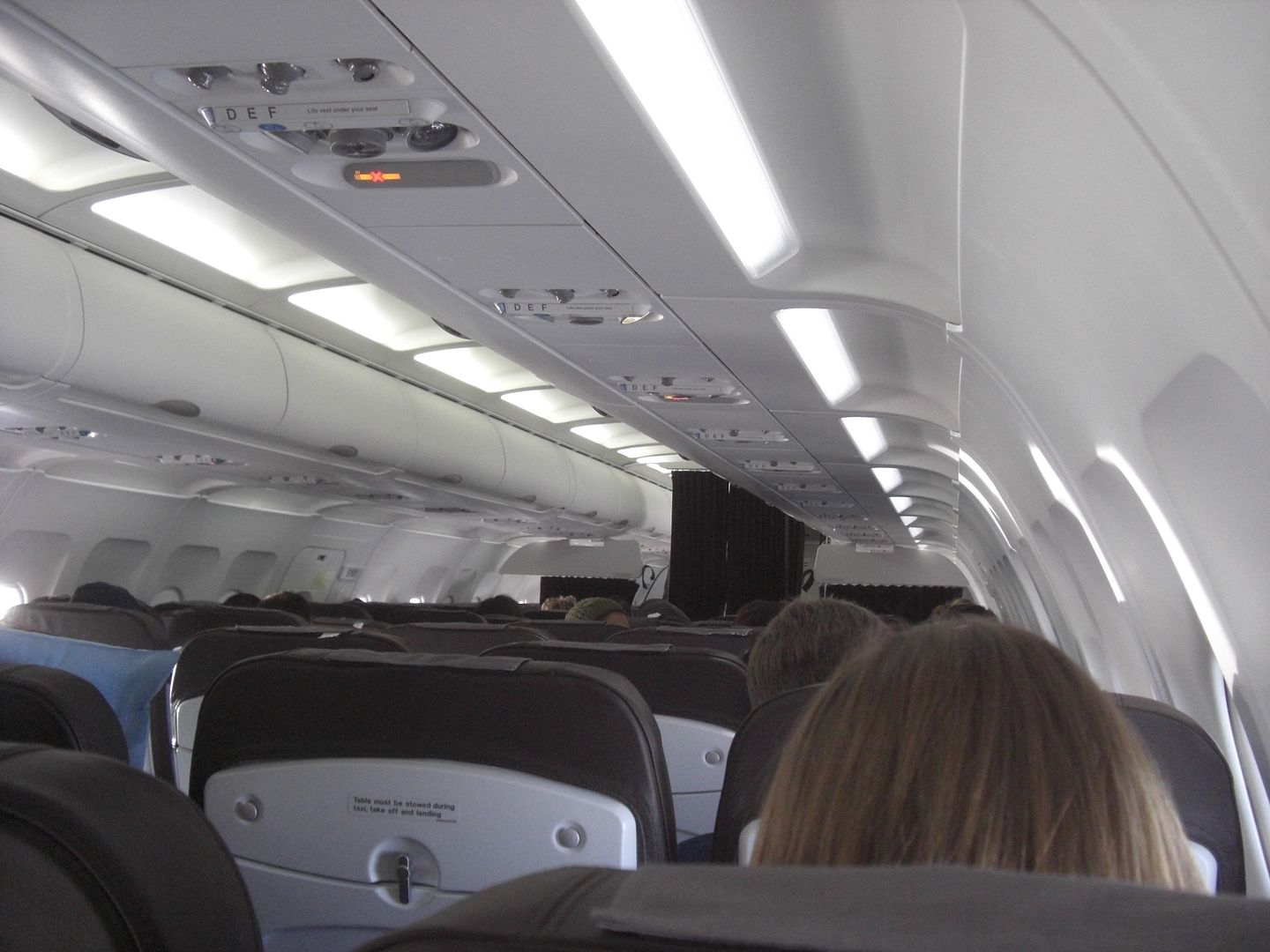 I took the opportunity to try out the bmi economy class flatbed seat – not too comfy, but gives an interesting view – I managed a bit of sleep.
Just as I was waking up, the trolley stopped at my row – another vodka orange please!
Overflying Faro at FAO
Landing cards were handed out
Finally Morocco came into view
Brand new or abandoned?
We did a bit U turn over CMN – not sure why given there was barely any other traffic around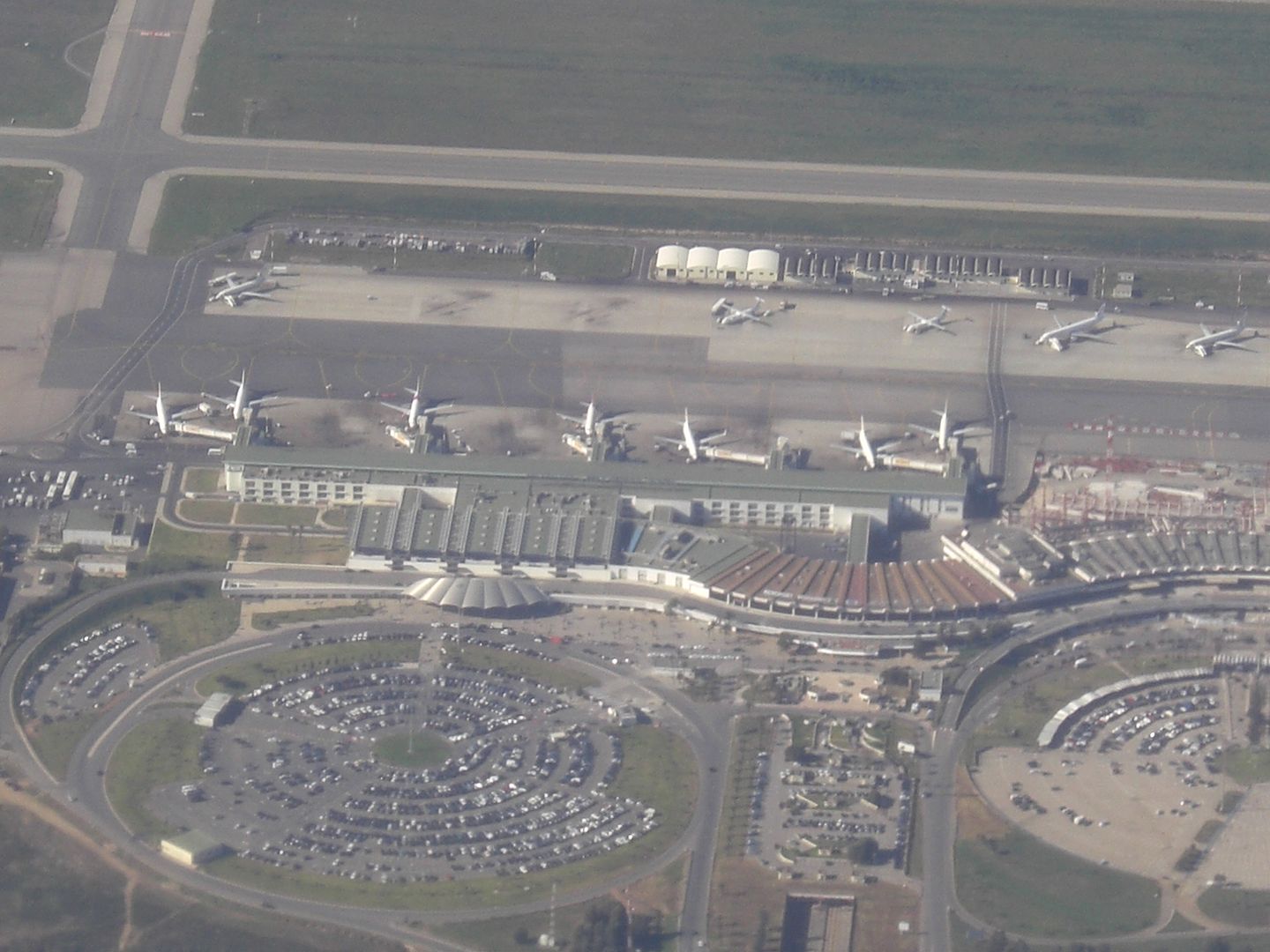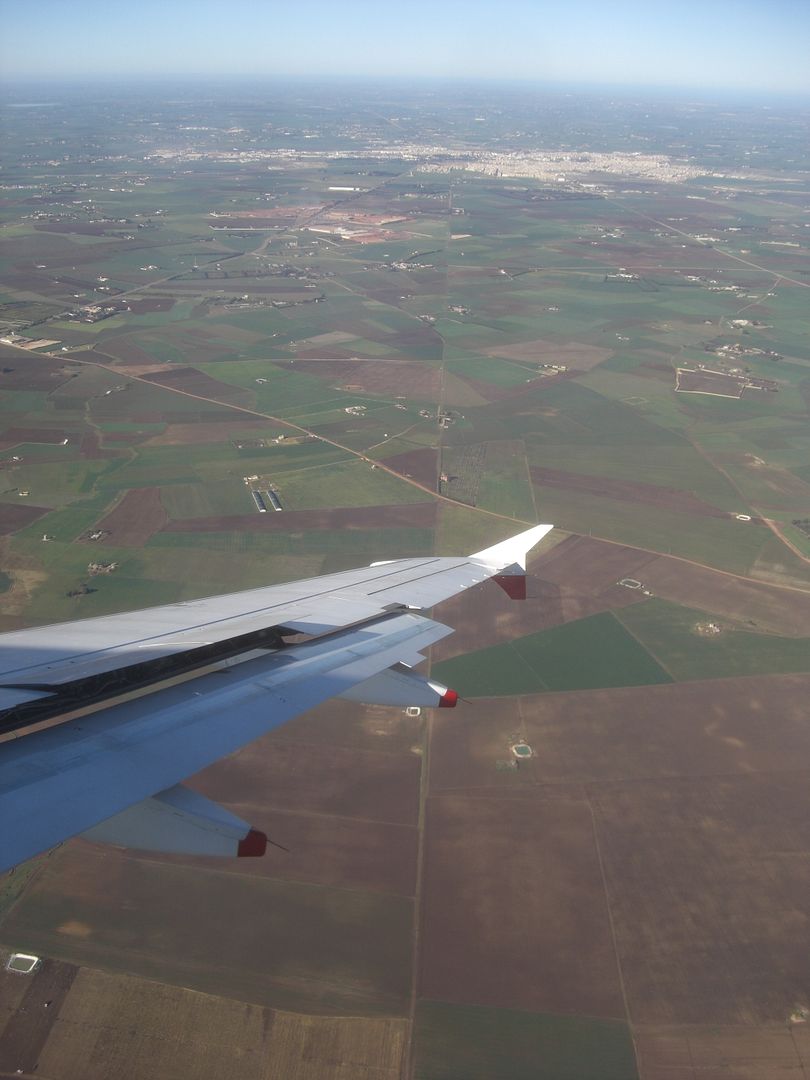 The FA put the arm rests down, but didn't raise the shades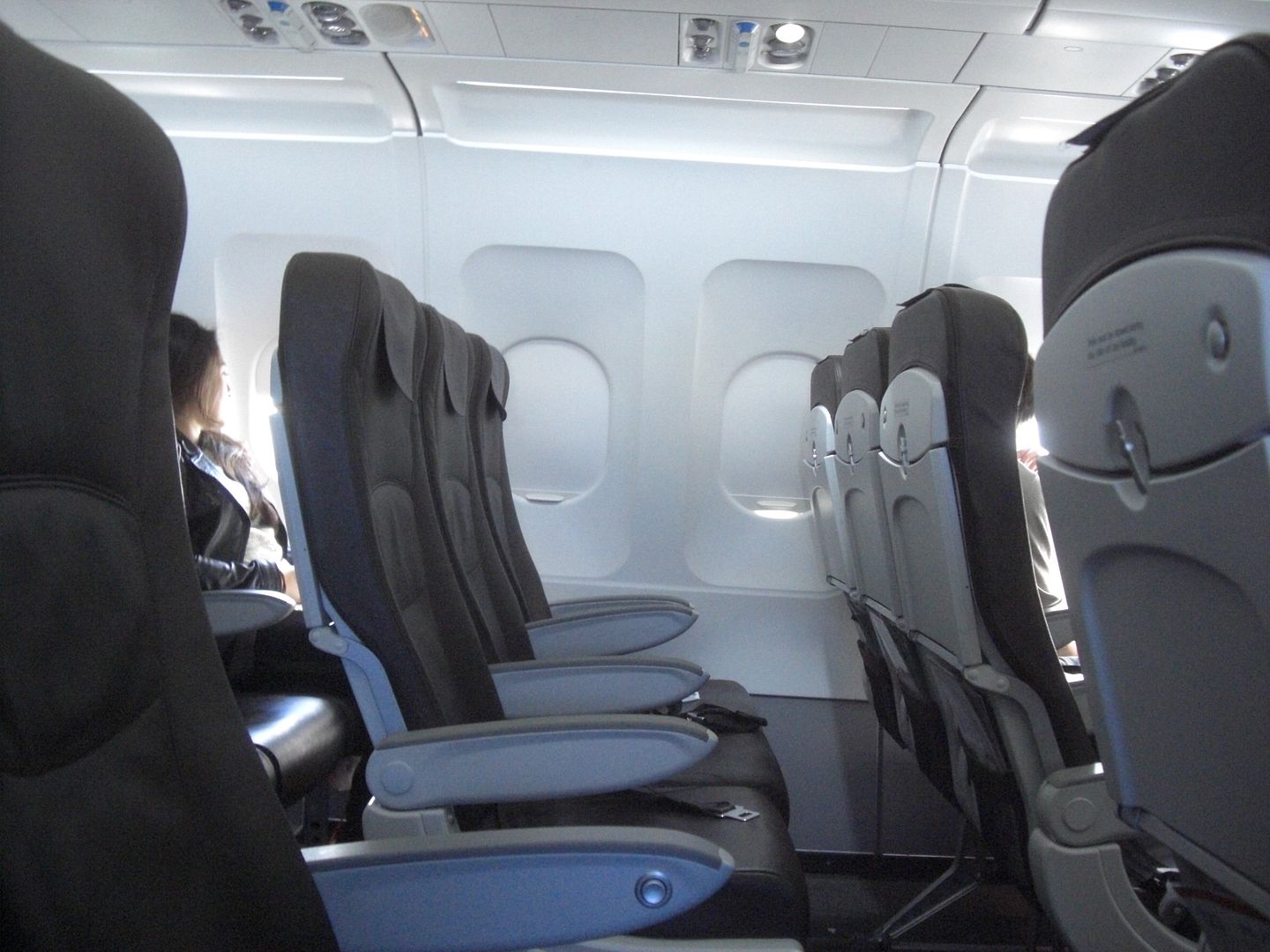 Touchdown not too behind schedule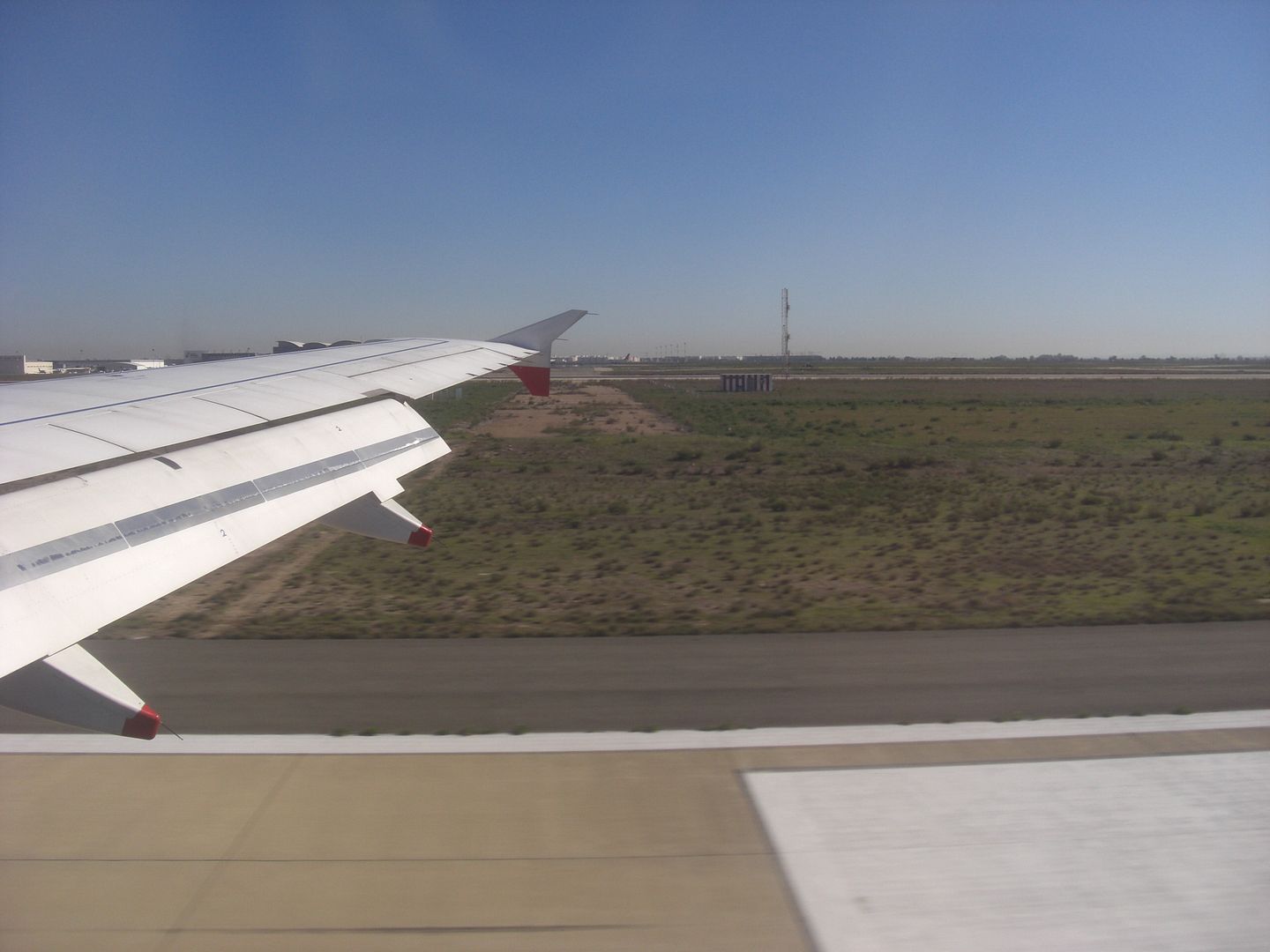 Looks like a lot of the RAM fleet is parked up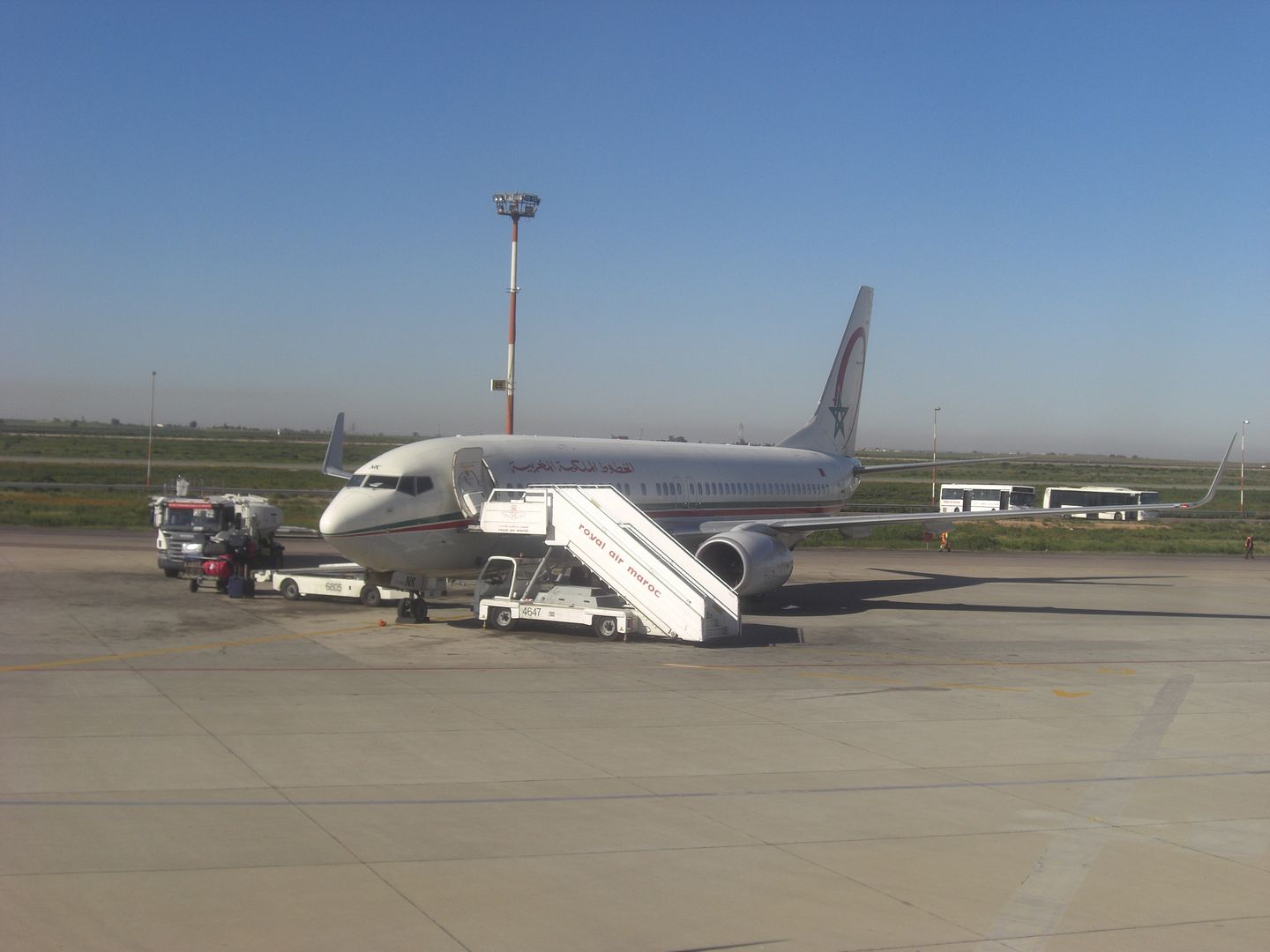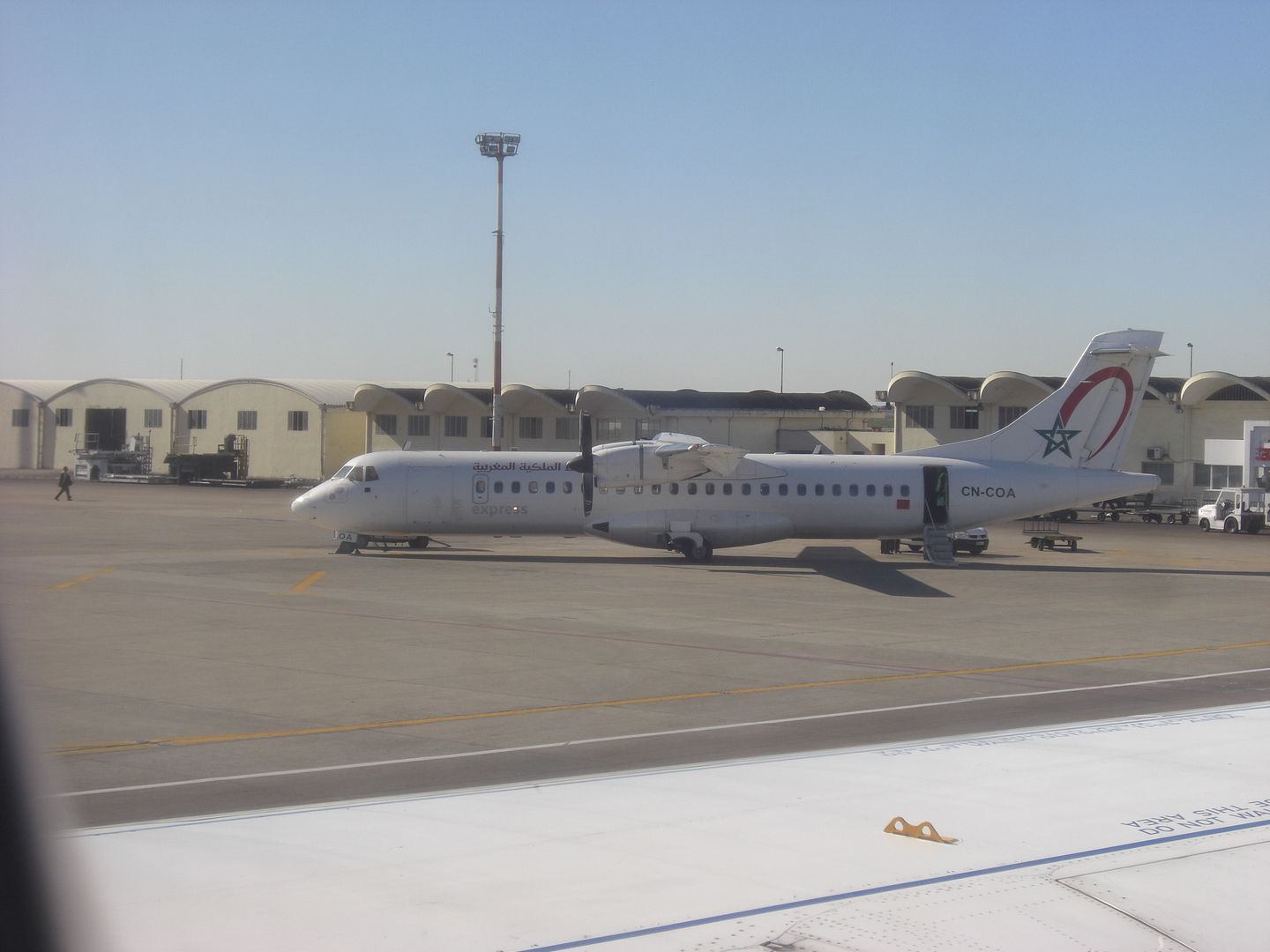 Parking next to Air Algerie
There wasn't much of a queue at immigration. Bizarrely as soon as you have gone through immigration there is a further passport check literally ten meters away. Seems rather pointless. Arrivals
The timing on the screen was completely pointless as the bags came off before the first was bag due, and finished way before the final bag was due
Once I'd picked up my bag I headed out to the station. My Hotel, the Ibis Casa Voyageurs was right next to the airport train station, so was a convenient way to get into the city. Trains seem to run hourly during the day – I ended dup having to wait around 25 minutes.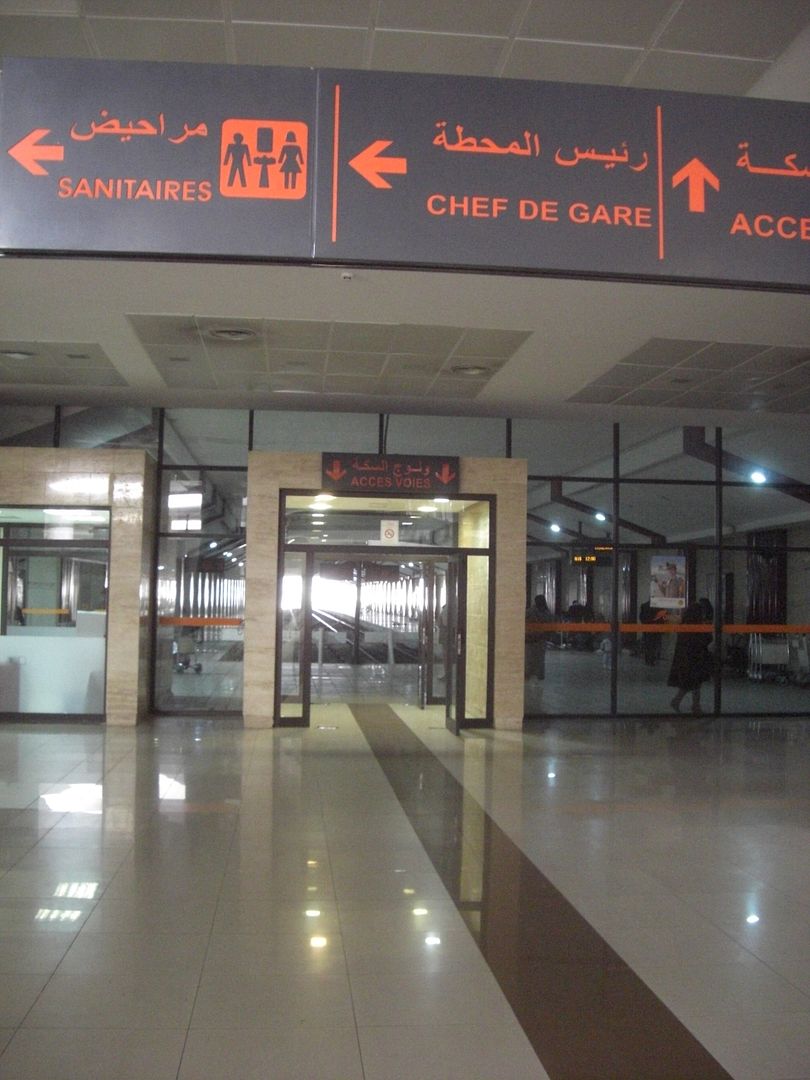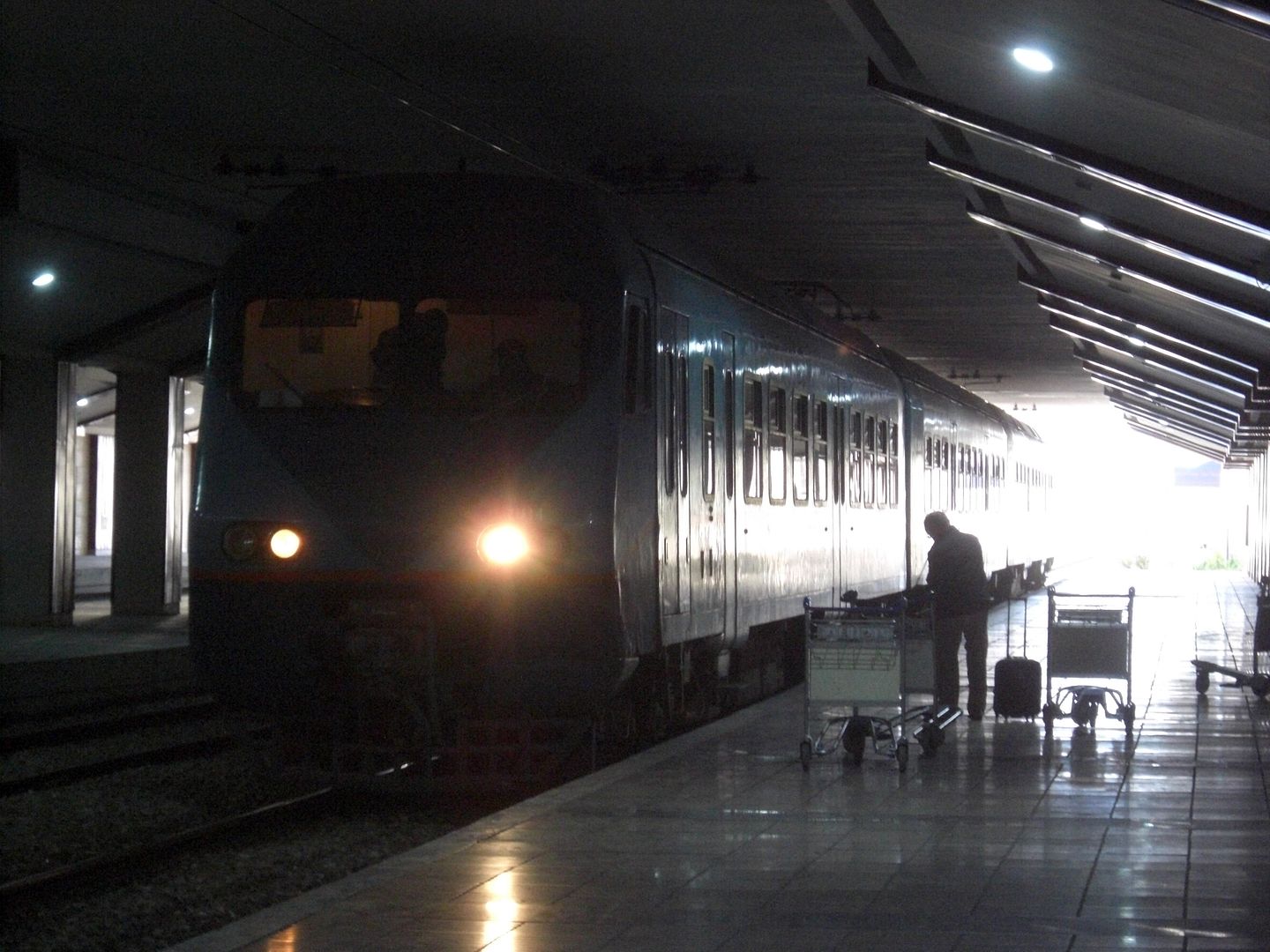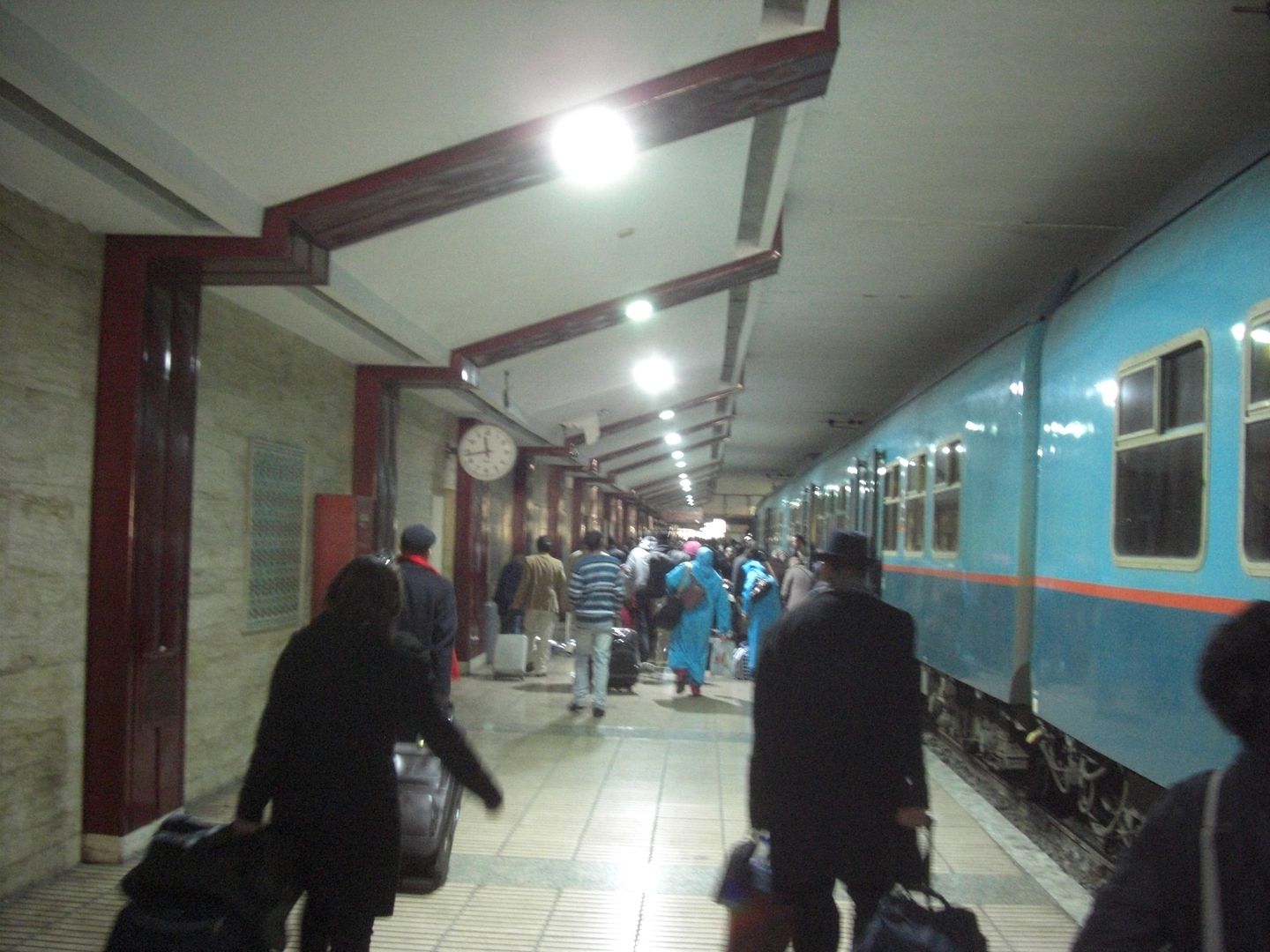 Not user friendly for those with heavy bags
Old but clean
My room at the Ibis
View of the garden and train station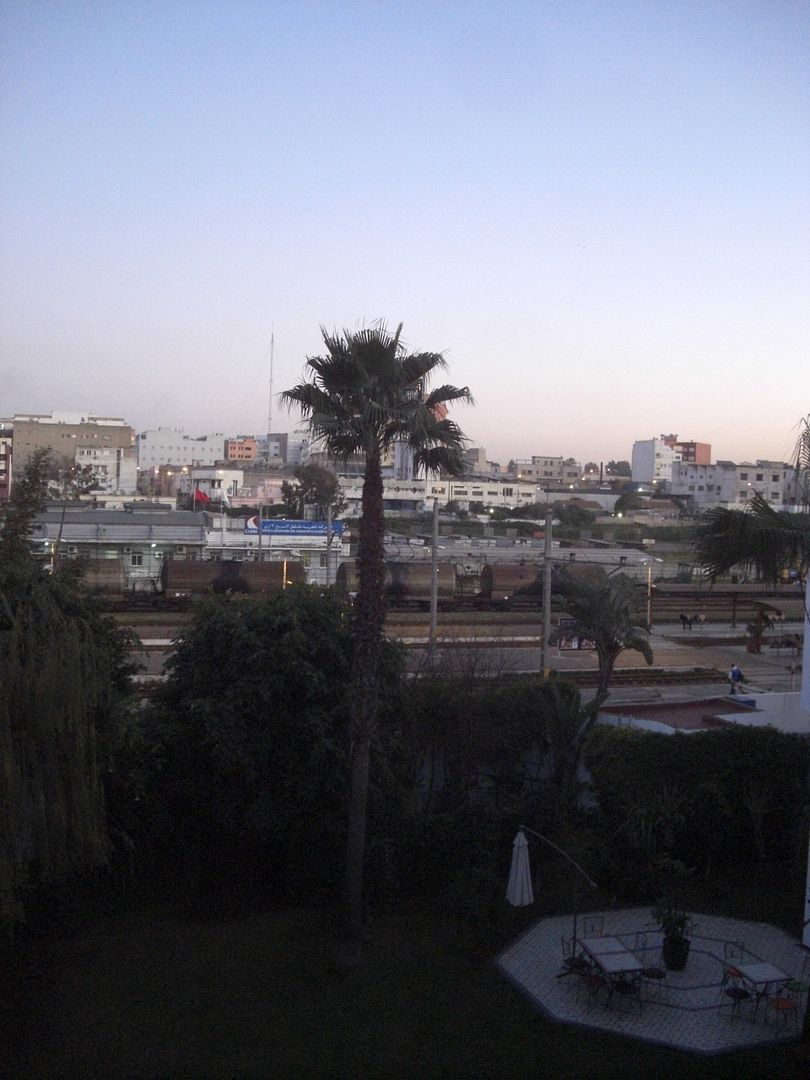 Welcome to Morocco!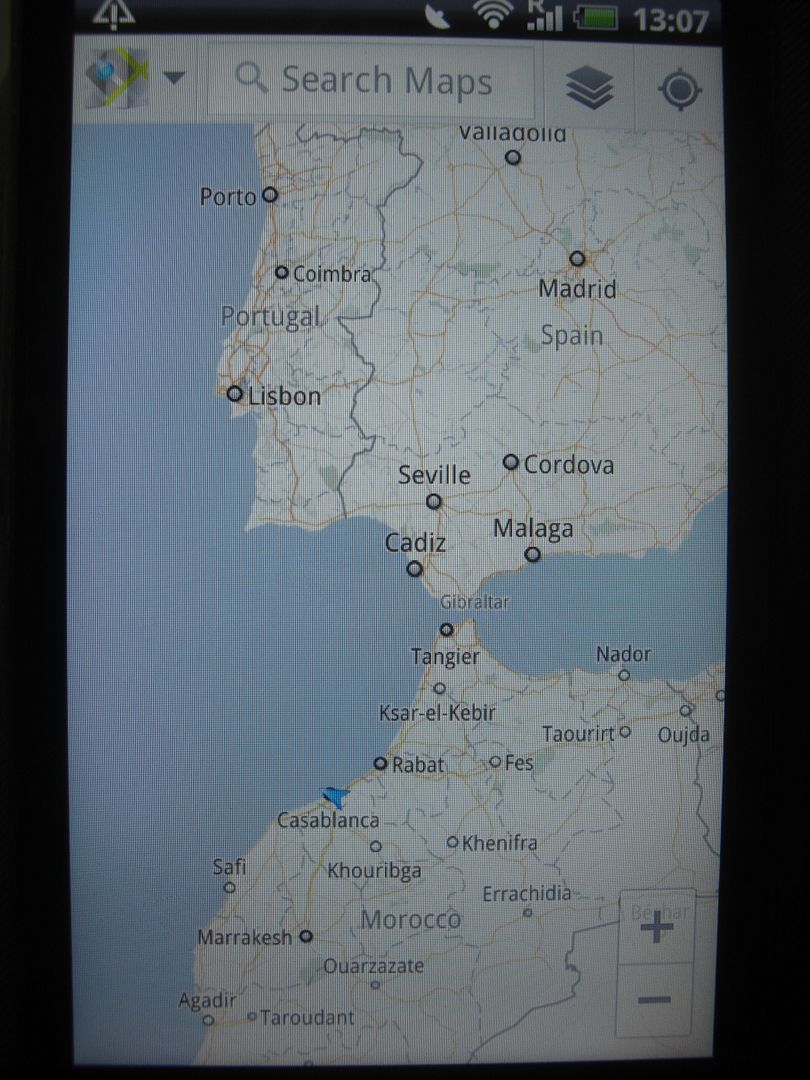 After dropping my stuff in the room I headed out to find some lunch. Due to poor planning on my behalf I got a bit lost. Eventually I made it to the medina/souq area, where I got a glass of OJ – very tasty.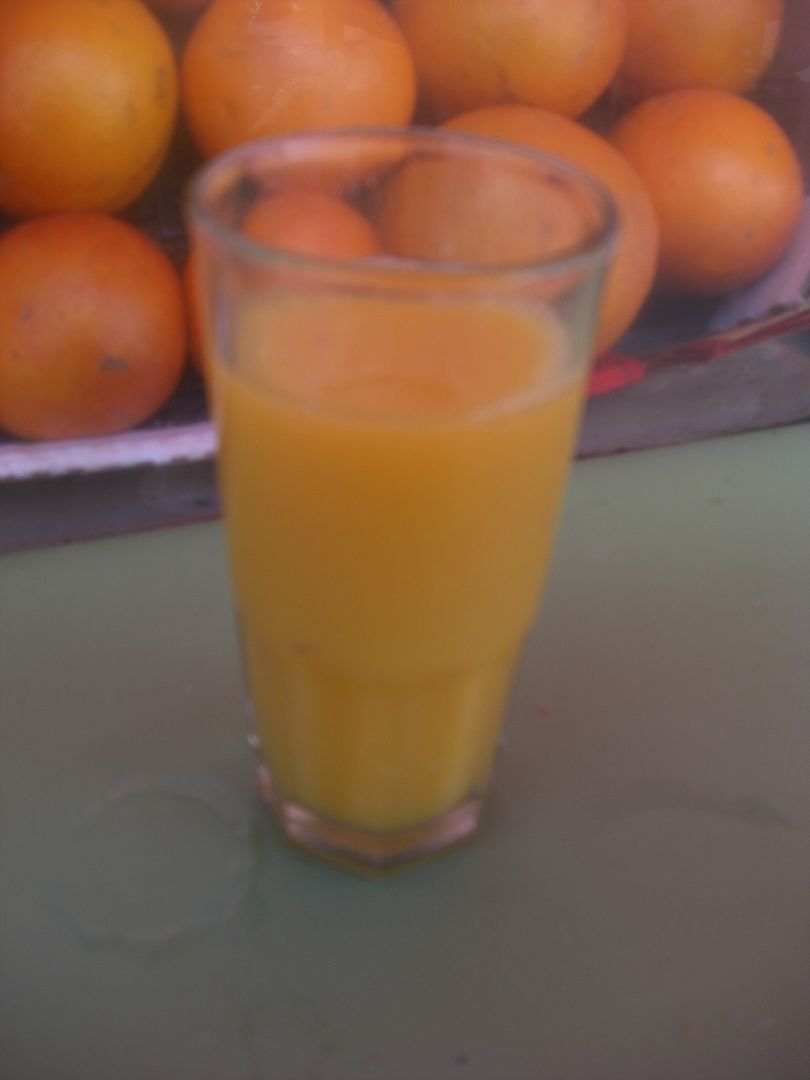 Casablanca is completely different in feel to the more touristy Fez and Marrakech. The souq area here was filthy, smelly, untouristy and terribly authentic!
I failed to find a nice looking Moroccan restaurant, so went into a Senegalese one – food was interesting!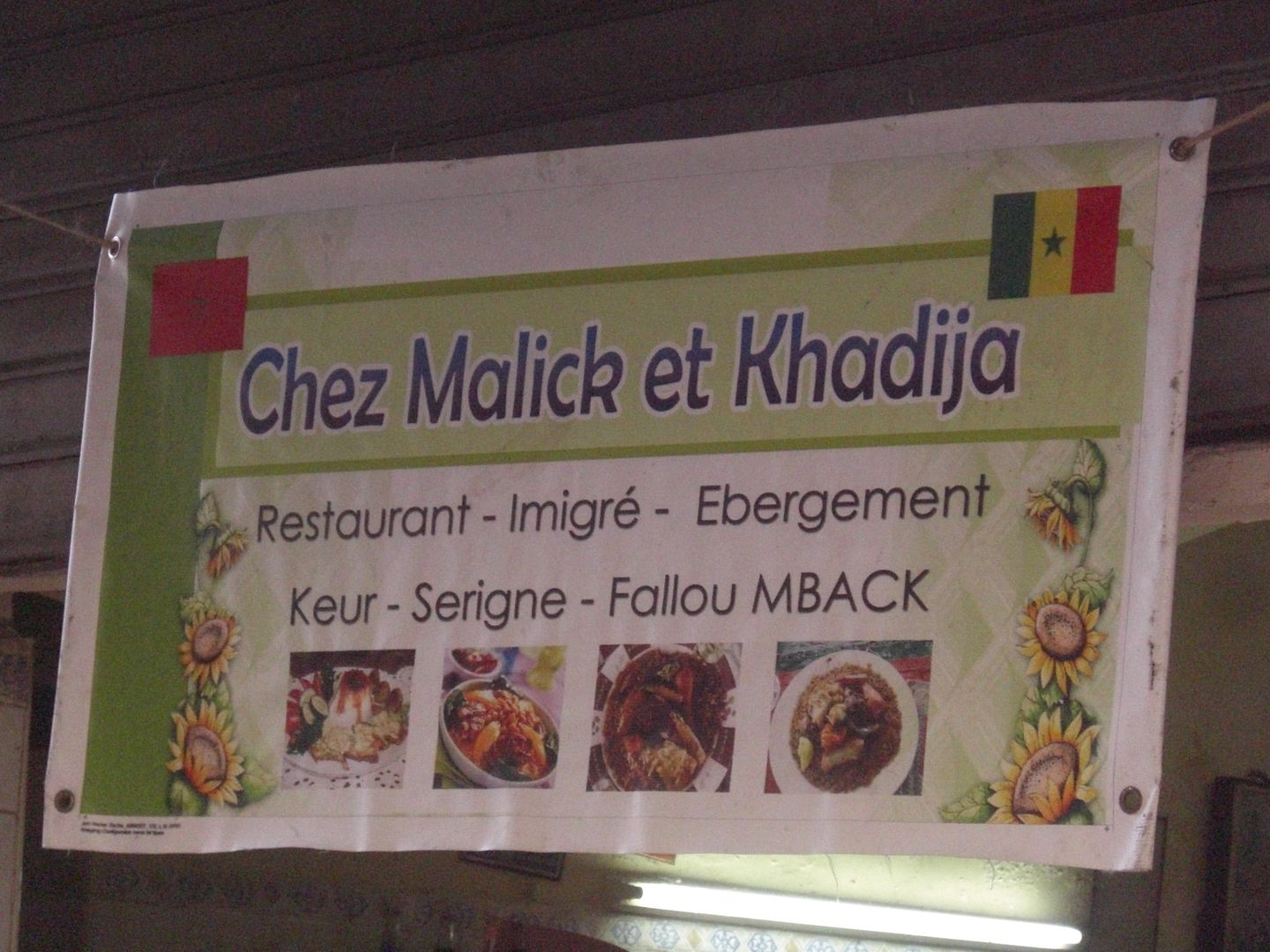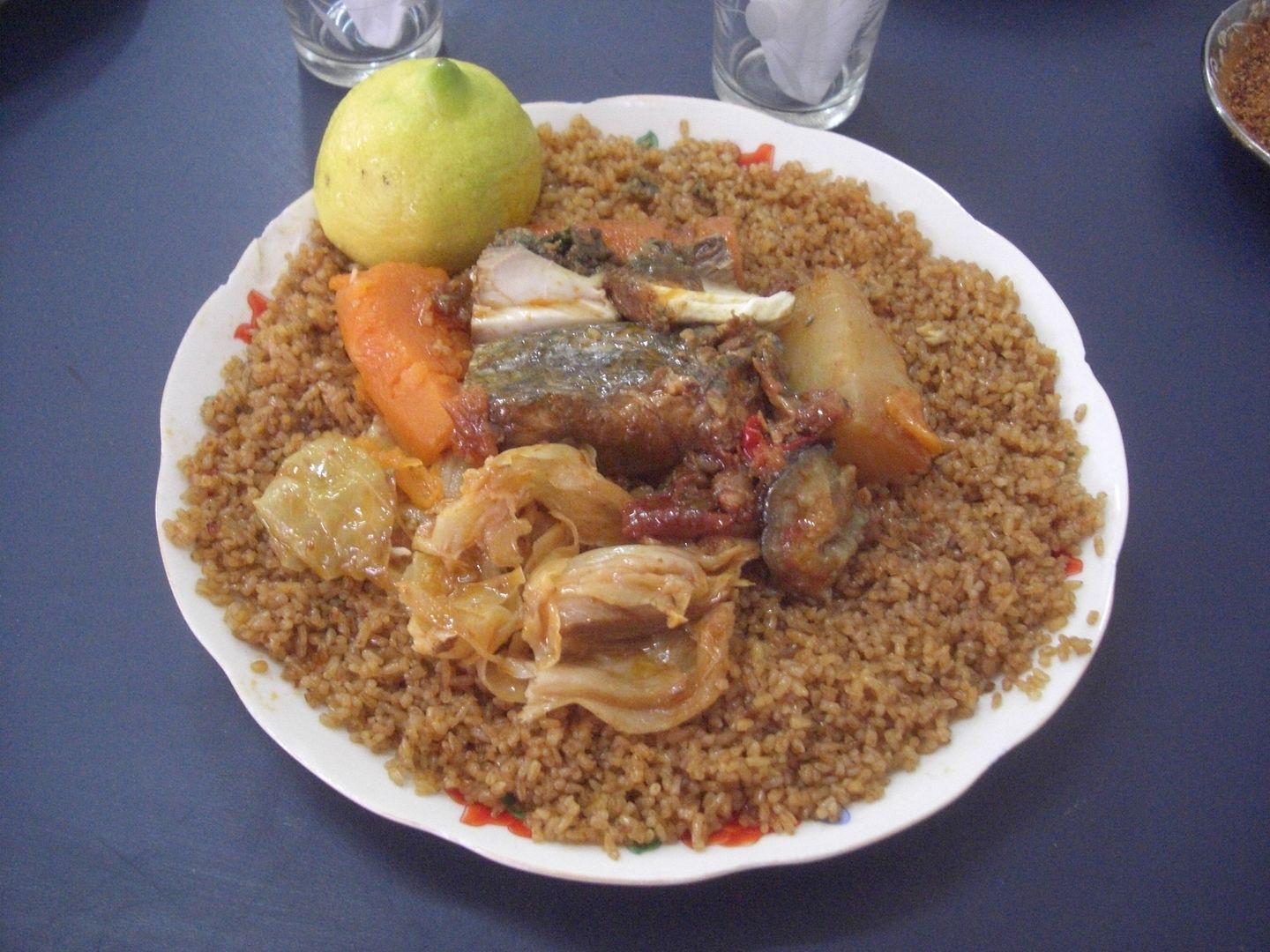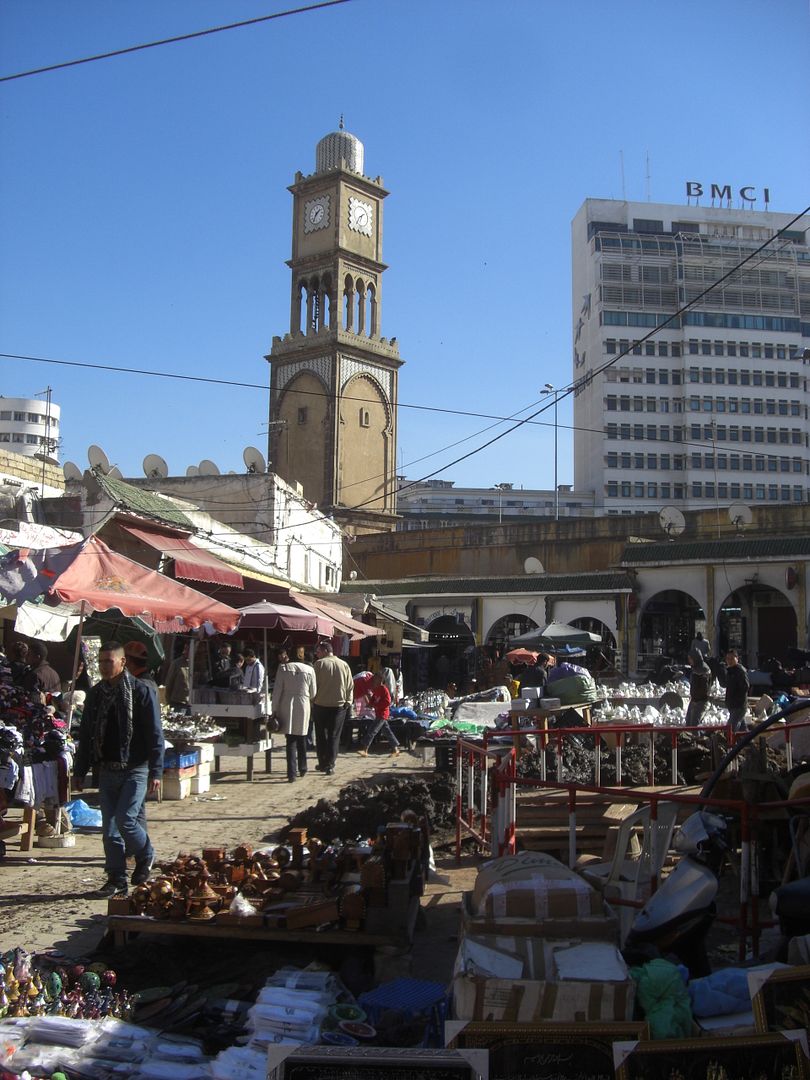 After the excitement of the city, I took a taxi out to the Corniche, and had a walk on the beach. Compared to Corniches in the Middle East, Casablanca's pretty horrible.
The Hassan II Mosque was a nice finish to my walk along the coast. It's the world's 3rd largest, and has the world's tallest minaret.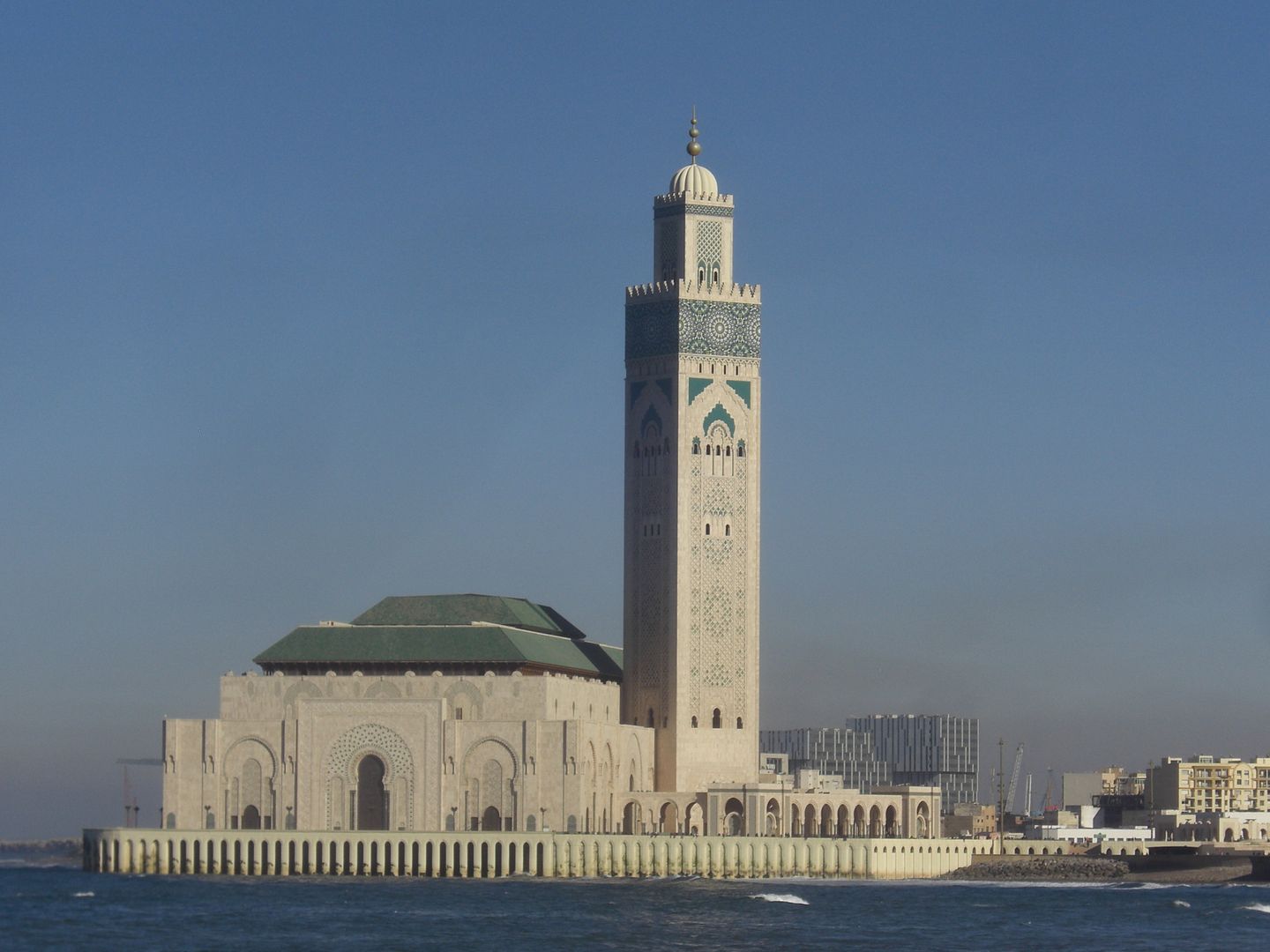 I wasn't sure if I was allowed in, but I had a quick walk around anyway – amazing inside, but not a patch on the gorgeous one in Abu Dhabi.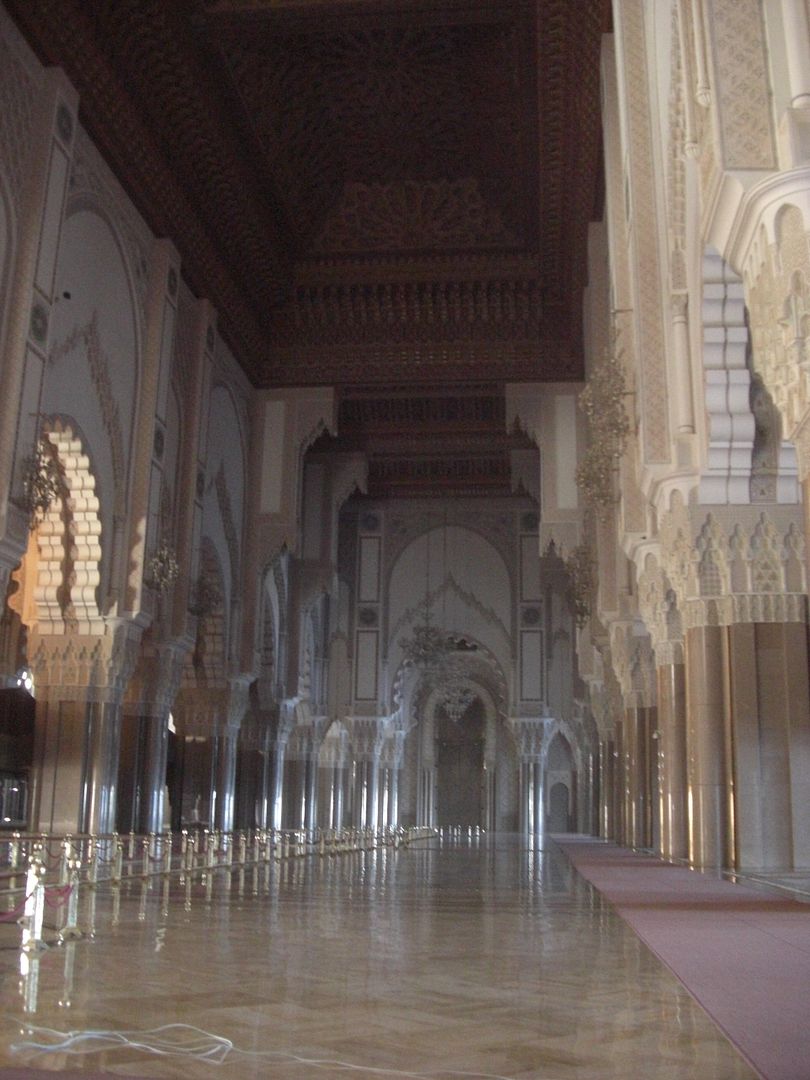 I was planning on taking the train back to the airport the next morning. Found one arriving exactly 90 minutes before STD, so went to buy a ticket. Later in the evening I was trying to check in online, but TP don't have OLCI from Morocco. I had a look at the last check in times and saw that check in closes 90 minutes before departure. Hmmm. Having already bought the train ticket I was in a bit of a conundrum as to whether turning up at T-88 minutes was ok or not. I had no idea if the non-TP staff would be shutting exactly on time, or if it was a very casual affair. Not waiting any repeats of IST I decided not to chance it and booked a taxi.
Early the next morning I checked out, and headed off to CMN. The drive was cold and unenjoyable. The driving in Casablanca was awful. Why did they even bother painting lines on the road when most drivers aim to drive exactly half way between lanes?
After scanning my bags to get into the terminal, I headed over to the check in desks. Very annoyingly, the screens above the desks said check in closes 60 mins before departure – the TP website is wrong! Grrr. There were 2 desks, one without anyone queuing. The lady there however took my passport, then said she couldn't check me in. Another guy (also in C) was also said to go away. After ten minutes the check in supervisor (?) who had been standing there the entire time said to use the other woman. I argued that she was incapable of doing anything. He insisted. The lady insisted she couldn't, until the supervisor insisted she could. With the supervisor standing over her she reluctantly checked me in. WHAT was that about? Bizarre. I asked if I could have one bag tagged through to Bujumbura, and my smaller bag tagged to BRU. I was told "impossible". I insisted. Surprise, surprise, the tags could be printed. I got my 1st boarding pass to LIS, but they "couldn't" print my LIS-BRU pass. What a waste of time, and what a load of crap staff. Took 20 minutes to check in.
I tried to change my last 100 dirhams, but an American guy got to the desk 10 seconds before me. Of course he had a massive wodge of notes. After five minutes I gave up and headed to security. This was one of the few things to work well today. The fast track really was fast, and staff quite nice. My passport was stamped with a smile. The private screening area took seconds. Easy, what a relief!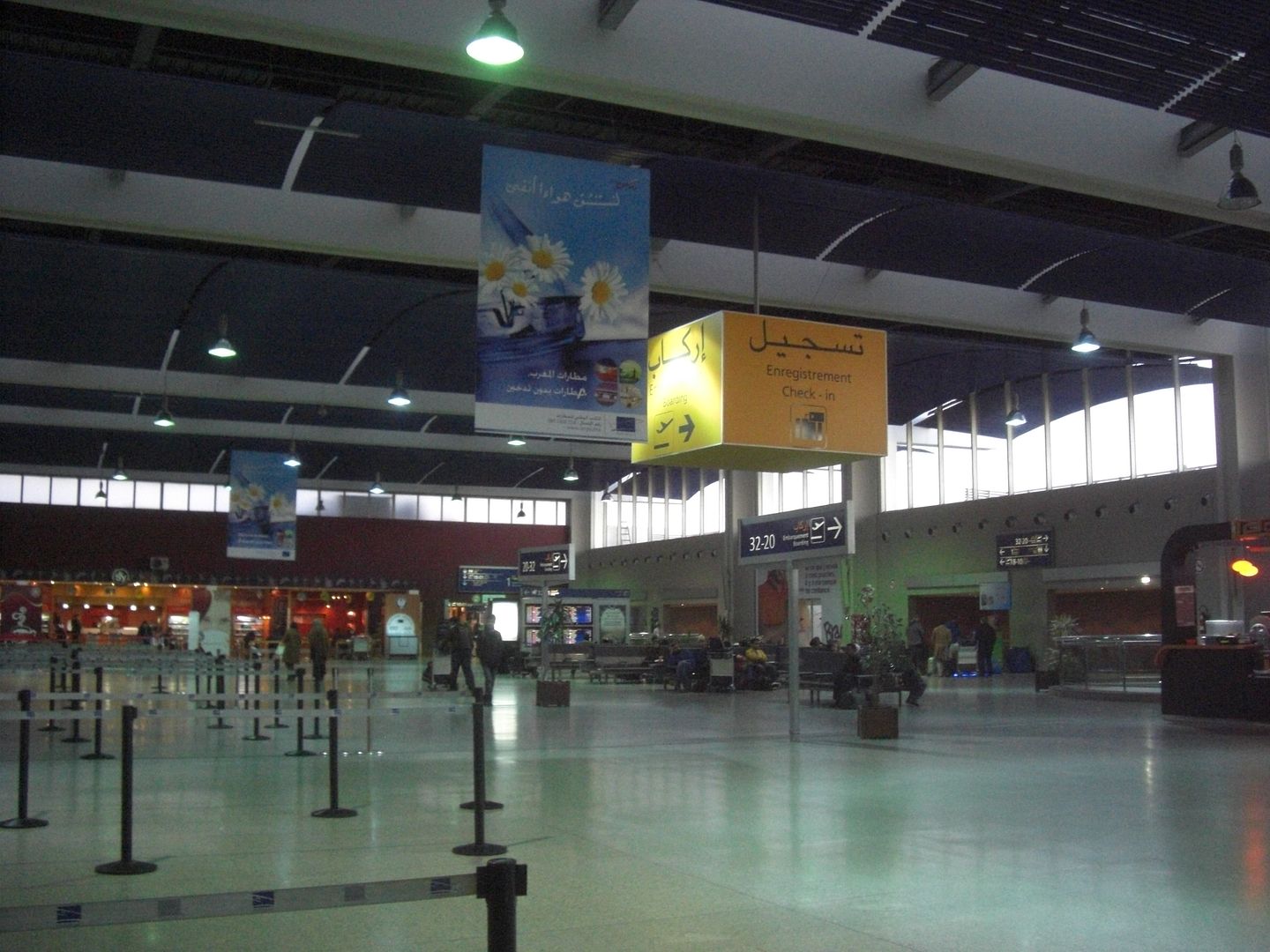 FIDS – boarding over an hour before the flight? Don't think so.
Next stop was the lounge.
The lounge was a reasonably nice, although on offer was tea/water/coffee and Danish pastries only. The lounge lady asked how I wanted my coffee. The OJ was tasty, as were the danishes.
CMN
My Embraer
I got to the gate 40 minutes before departure, where I was found by the useless check in lady. Turns out my bag couldn't be tagged to BJM, so now both my bags were headed for BRU only. Onto the bus: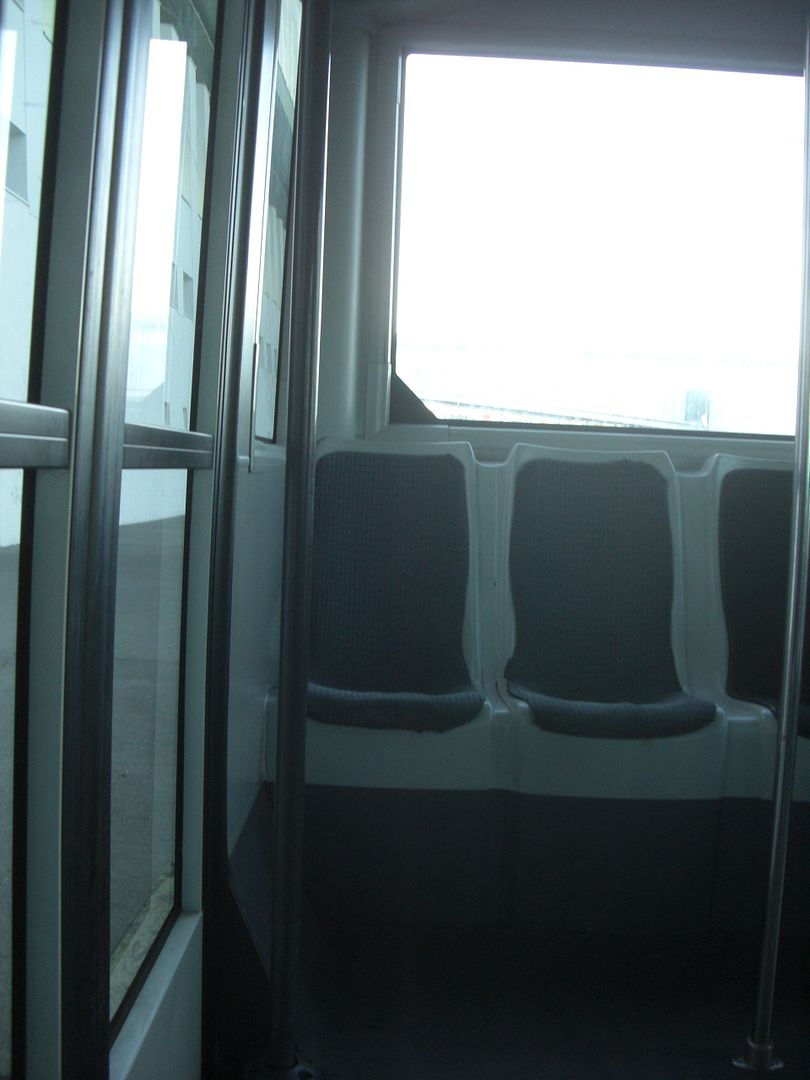 EY from AUH
January 2012
Casablanca (CMN) – Lisbon (LIS)
TAP Air Portugal TP 237, operated by Portugalia
Scheduled: 0910-1040 (1h30m)
Actual: 0946-1047 (1h01m)
Embraer 145 CS-TPI "Cuco"
Business Class
Our lovely little "Cuco".
The Biz cabin has a total of 2 pax, myself included. Strangely enough when I was reserving my seats I could only pick either 4A or F, row 3 and 5 were occupied. 2A didn't even exist. However, once on board only 3A was occupied. Flightstats showed the load as being very full around 2 weeks before (something like C1Y1, everything else 0) – not sure what happened to all those people as the final pax count was 17 out of 50 odd seats.
Ok legroom – it was good having the adjacent seat free
My view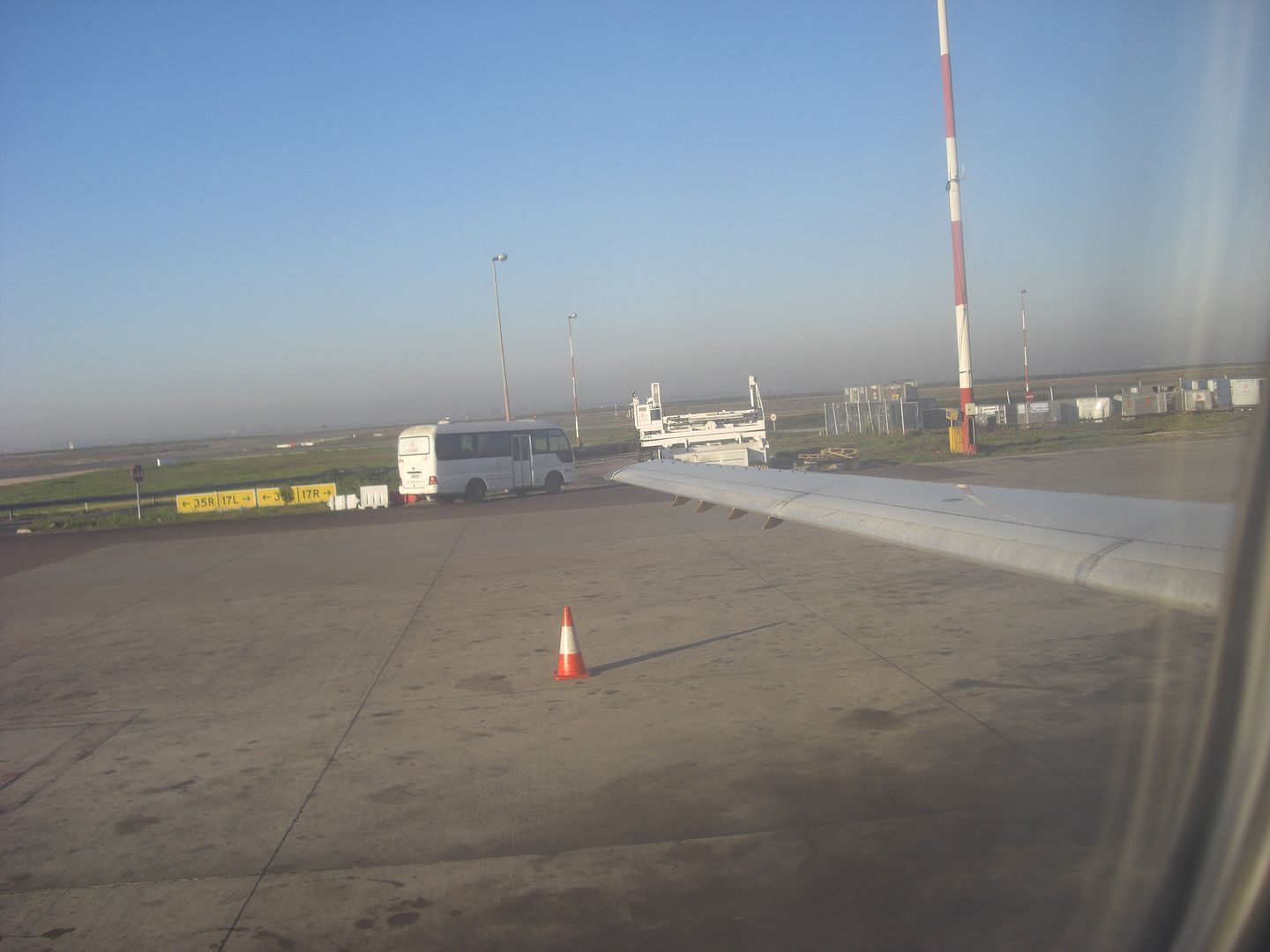 Safety card
The FA asked if I wanted a paper – the only English language one was the IHT – not my favourite paper at all
TAP mag
Interesting idea for upgrades – I like it
http://my.flightmemory.com/shefgab
Upcoming flights: AMS-RIX-BUD-VDA,ETH-TLV-FCO-LHR,STN-TXL-LCY,LTN-CPH-LTN,LGW-SZG,MUC-LHR