Vueling VY7101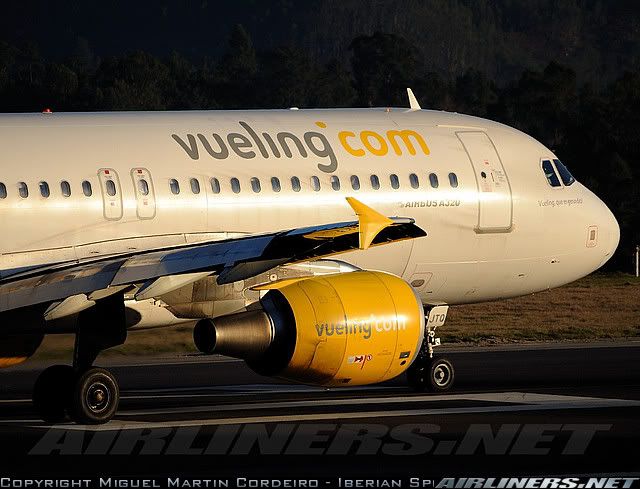 London Heathrow International Airport (Terminal 3), England to A Coruña Airport, Spain
Aircraft: Airbus A320-214
Registration: EC-JTQ
Configuration: 180Y
Seat: 17A
Distance: 675 miles
Departure TIme: 17:15
Arrival Time: 20:15
Flight Load: 100%
Background
I was due to fly to Galicia in Northern Spain to meet up with some friends so browsed through a range of options on how to get there. I was only to take a one way flight as my friends were driving back to England via the ferry at Santander which would eventually take us back to England arriving in Portsmouth on the South Coast.
Previously I had often take Ryanair into Porto or flown via Madrid with Iberia/British Airways; however I wanted to try something different so decided to take up the option on some very reasonable flights into either Vigo or A Coruña. The flights into A Coruña provided a better option for me so I decided to book the one way flight from Heathrow. Another reason for flying Vueling was that I could still collect miles with Iberia.
The flight was in the evening so I decided to take my time and take the National Express into Heathrow's central bus terminal. I had arrived at around Lunchtime which left me some time to wonder around Terminal 3 and have a little chance to do some spotting. On the down side however, I only had my iPhone with me so the photos are quite poor.
Vueling, like Iberia operate from Heathrow's terminal 3, which for me was quite a disappointment as 95% of the flights I have taken from LHR in the past 5 years have been from the same terminal with QR, EK, TG, BA, AI, AA and so on.
Outside T3 on a rather cloudy midweek afternoon.
I won't go into too much detail in this report as it's quite a short one. I'll let the pictures do the talking.
Air Canada A330-300 with also the 777-300ER of Egypt Air and a single A340-600 of Virgin Atlantic.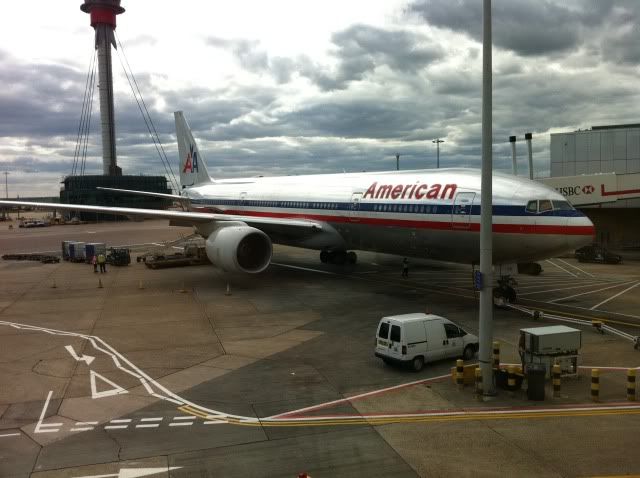 American Airlines 777-200ER due to fly to Dallas/Fort Worth in a few hours.
AA 777 being prepared.
Beautiful MEA A330-200 preparing for her return to Beirut.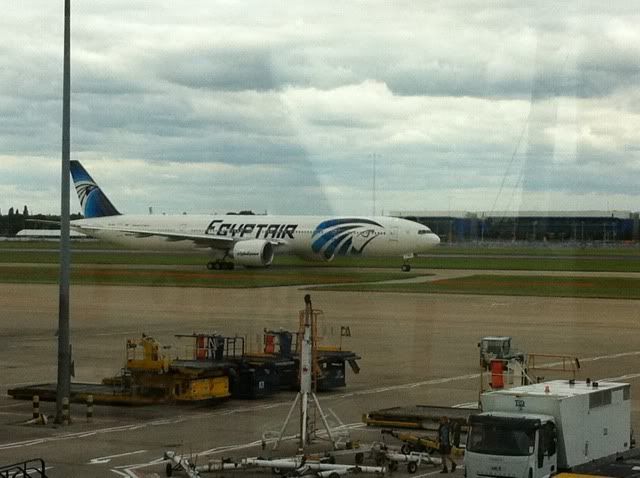 Egyptair 777-300ER taxiing to the runway to begin the journey back to Cairo.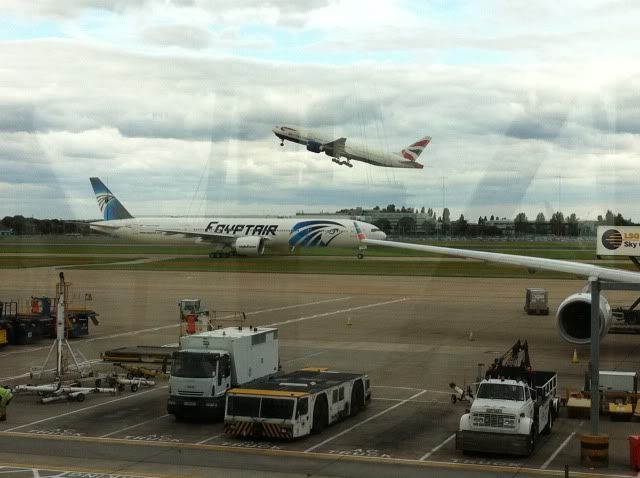 British Airways 777-200ER taking off into the cloudy skies of West London.
Air Canada 767-300ER sitting idle as as CX 747-400 arrives from Hong Kong.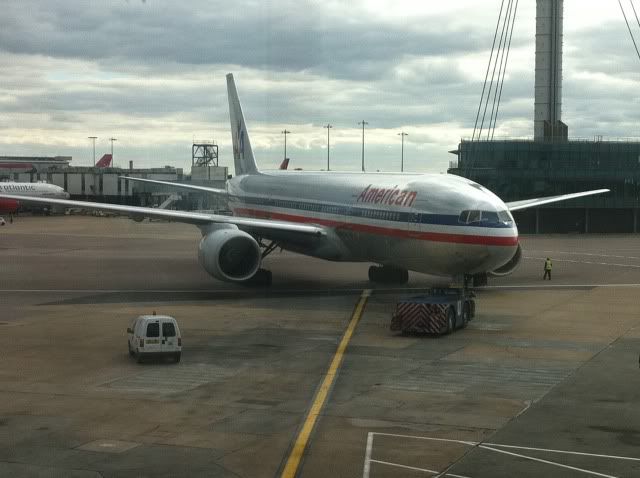 AA 777 on pushback to DFW.
Vueling A320 arriving from Bilbao.
Beautiful Royal Jordanian A330-200 having just arrived from Amman.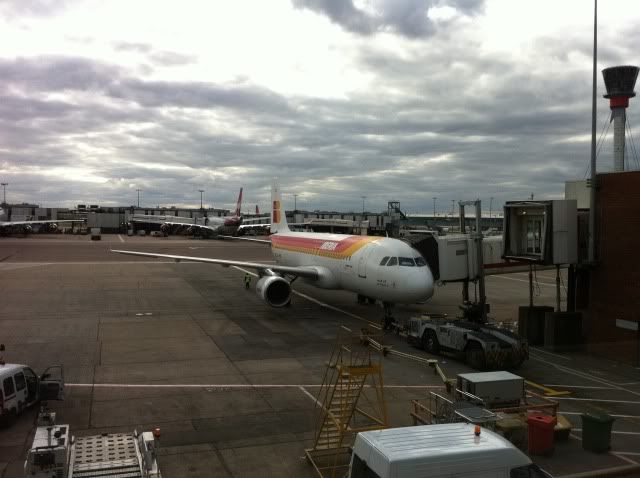 Iberia A320 preparing for pushback to Madrid.
Vueling meets Air Canada.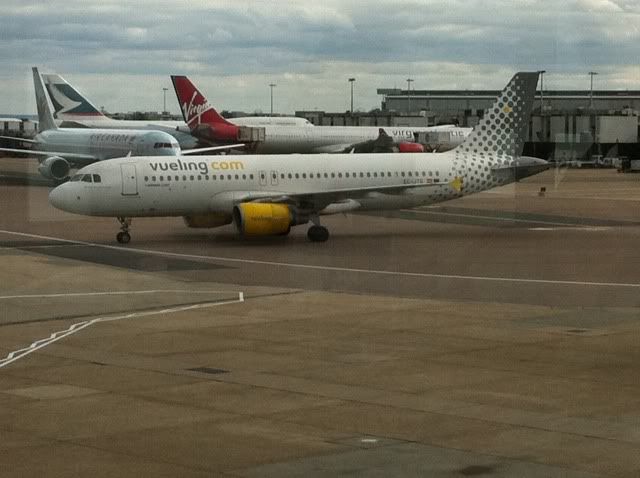 The aircraft that would take me to Galicia, just arriving.
Closeup of EC-JTQ.
Boarding commenced at around 40 minutes before departure, doors were closed quite quickly and we were ready to go before the scheduled departure time, however due to LHR's busy traffic we had to wait. We were due to depart to the West, before making a sharp turn and heading towards Southampton and then onto Jersey.
My window view from seat 17A.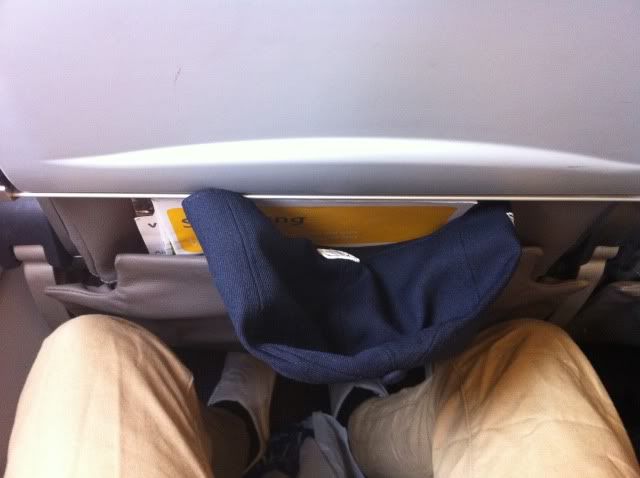 Legroom shot, the pitch was quite reasonable for a LCC.
Two VS A340's.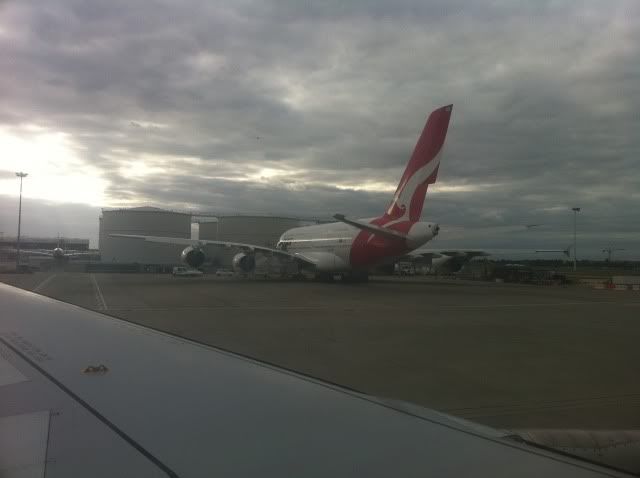 Qantas A380 seen during taxi waiting for her return to Sydney via Singapore later on this evening.
American Airlines 767-300ER and Sri Lankan A340-300.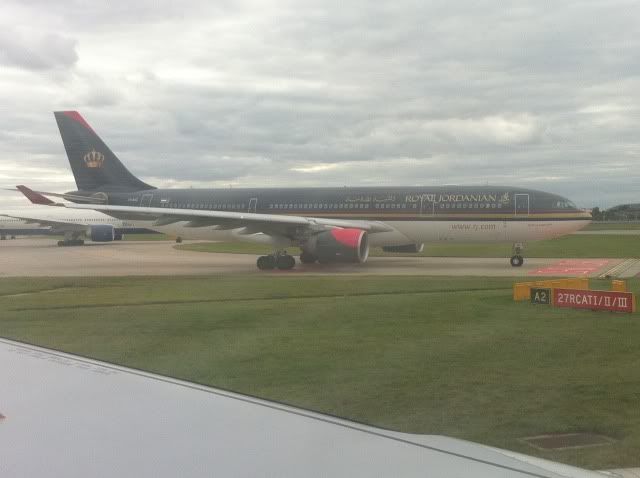 The earlier seen RJ A330-200 now about to return to AMM.
As you can see, quite an overcast day in London.
Vueling operate a buy-on-board service, which you would expect from most LCC carriers. I was pleasantly surprised at the service offered by the flight attendants, and I must say there was an incredibly hot flight attendant on board, she appeared to be from Southern Spain.
The flight was pretty un-eventful and the cruise was quite calm with a cruising altitude of 39,000ft.
Approaching the North Spanish coast.
Landing was quite sharp due to the quite short runway at A Coruña, we tracked back on the runway having landed. There were no other aircraft at the terminal at the time, a Spanair A320 shortly followed us after I had entered the terminal. The terminal was a shambles, it was so small, and due to our delay, passengers who were flying to Seville (I think) we already at the gate waiting. There was not a lot of room in the terminal and the passport line took a while as only one member of staff was working in the beginning.
Docking at the terminal in a lovely summer evening.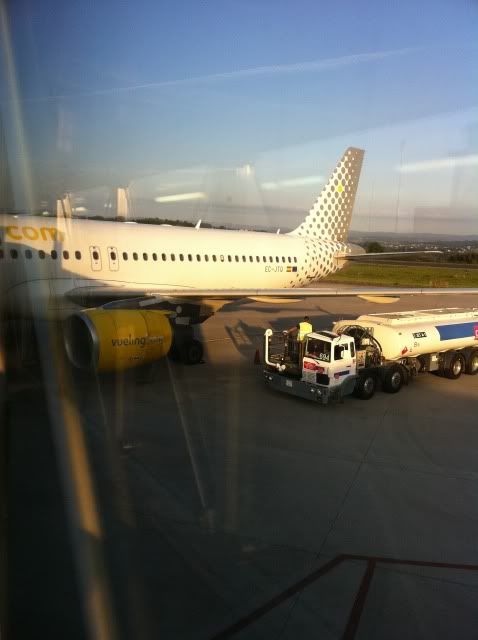 My A320 being prepared for her next flight, I believe it was to Seville.
After just a week in Galicia it was time to return back to England. Our return travel would be via ferry from Santander to Portsmouth. On the boat myself and two friends shared a inner 4-birth cabin which was more than reasonable for the journey home. The cruising time of the ferry would be 23 hours, arriving back in a very stormy England at around 2pm GMT.
The front of the ferry at Santander which was due to carry us home.
Santander as seen from the boat.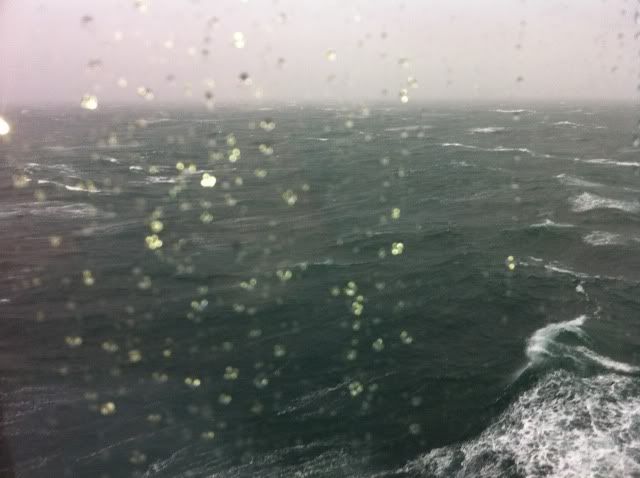 Bumpy crossing en-route to Portsmouth.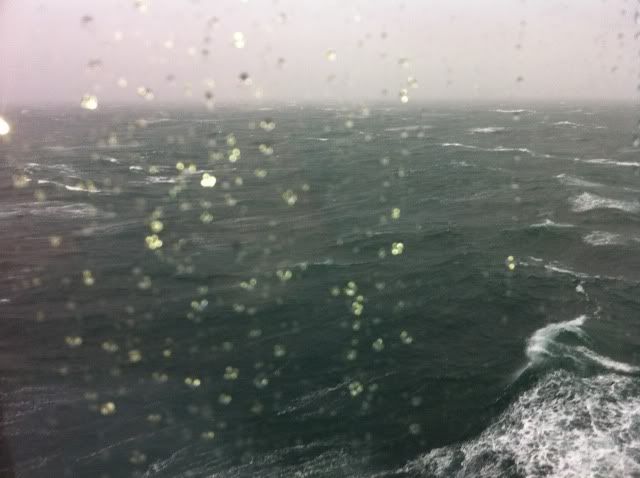 Portsmouth has a massive Navy base for the British Navy.
Another view of the Navy Ships at Portsmouth.
Verdict
Vueling was very good for the price, having flown Iberia before..I did not really notice much difference from the service onboard, if anything Vueling was actually better than Iberia. I would defiantly choose to fly VY again in the future, especially for a trip of this purpose.
Thanks for viewing, albeit quite a short and un-detailed report. Feel free to comment.
Feel free to view my Airliner videos on YouTube:
http://uk.youtube.com/user/robirving17
Rob!