Hello A.netters,
I have been a member for sometime though I had never gotten the opportunity to fly. When it finally came, I said to myself, THIS SA) and Eagle Air/Arnaflug (Iceland)">IS IT. I have read hundreds of reports here and I have been inspired by quite a number of people especially easpotter, ronerone and ukdispatcher. This is my first ever trip report so I hope it is enjoyable to read.
Background.
As a university student, getting an opportunity to do my internship abroad was a dream come true. When I was accepted in Japan, the excitement was more than i had thought. So the opportunity for me to finally fly was here at last. From Uganda to Japan, the best connections were either MS via CAI or EK via DXB. I dropped the option of MS when the uprising in Egypt started and the airline was grounded. EK was way too expensive, $2100. So I was told by a friend that flights to and from India are quite cheap. So i decided to book my tickets into two segments, completely not connected by a travel agent. it was as follows:
EBB - NBO - BOM (Kenya Airways)
BOM - HKG - TPE - KIX (Cathay Pacific) 5*
With this option, I saved $900 as compared to if I had flown EK and I was so happy about it, as a student in AIESEC, traveling cheap is no option, it brings about extra adventures too.
1. EBB - NBO (Kenya Airways)
Departure: 15.00
Arrival 16.00
A/c B737
Class: The usual of course...Y
Loads: Business (I am not sure) but Y ( about 80%, seat next to me was empty )
Date: 28th February 2011
Entertainment: None at all
Having checked in online the day before, I still arrived at least 2.5 hours before departure just in case the traffic jam may be thick. I chose seat 15 F which is a window seat so as not to miss out on any action. I was ready to enjoy my first flight.
So the pictures start here, enjoy....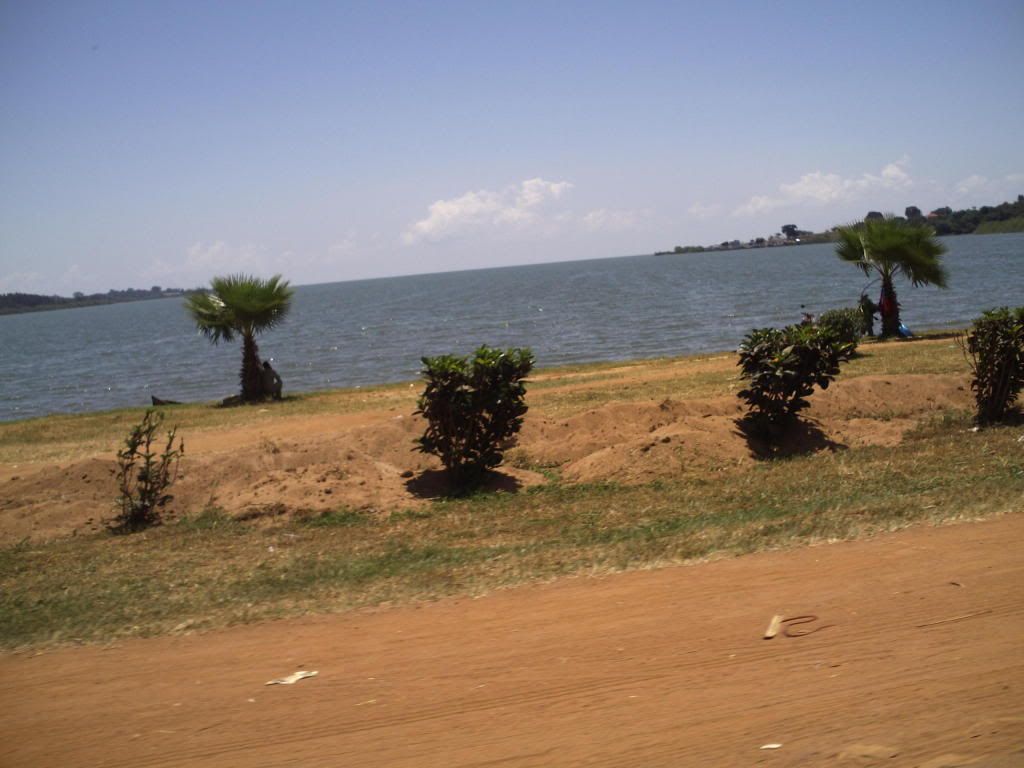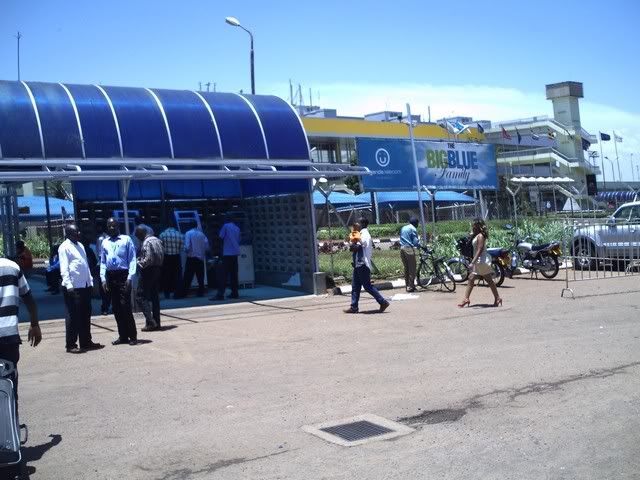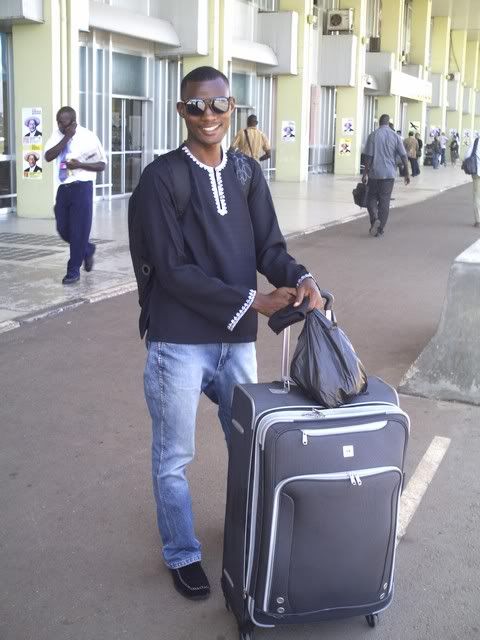 Checking counters weren't crowded at all, so it was hassle free. and after baggage drop and clearing immigration, I went around spotting at the apron and there was quite some activity.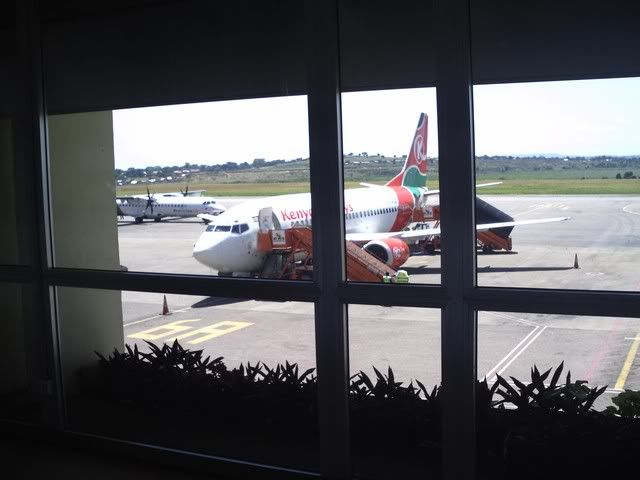 On the tarmac, were ET, KQ and SA Jet Airlines">U7 all preparing. Duty free, to me wasn't actually "duty free" as the goods were over priced in my opinion, so I just did window shopping, called a few friends to say bye and soon time for boarding came
Push back was on time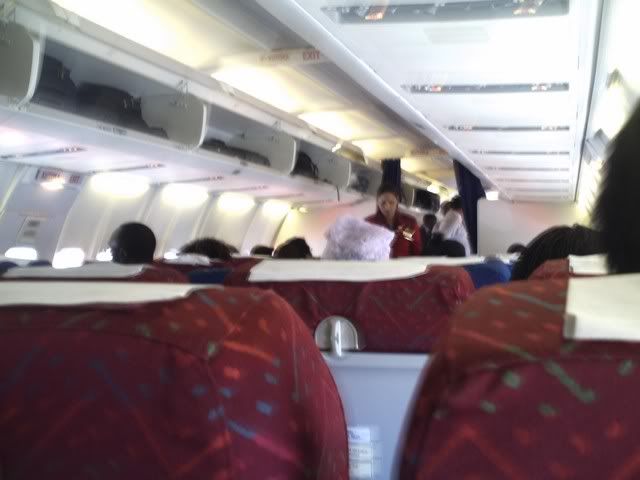 There she arrives from DXB / ADD / HAAB), Ethiopia">ADD.....I love the EK lively, especially the tail and the FAs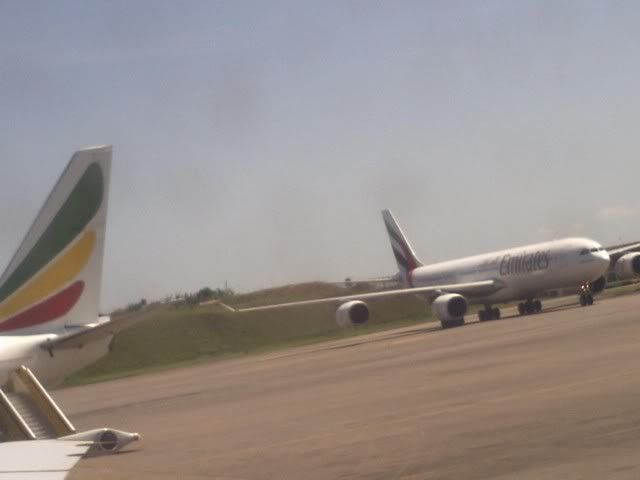 Bye bye Uganda and EBB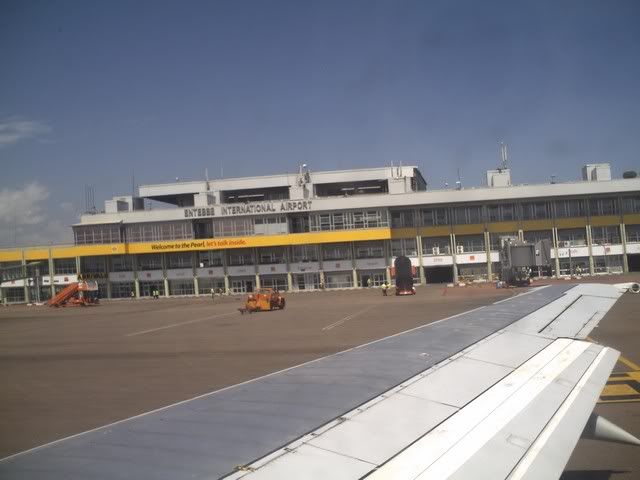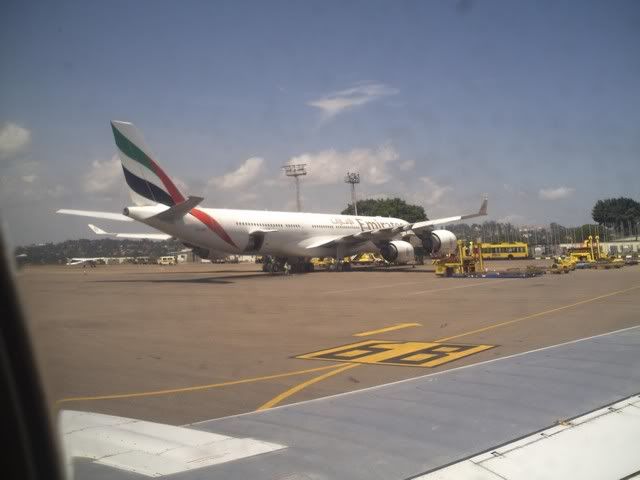 Lake Victoria
Arrival at JKIA 's NBO was on time and disembarking was prompt and fast. De boarding was via the stairs again which was cool to look at all the activity at the tarmac.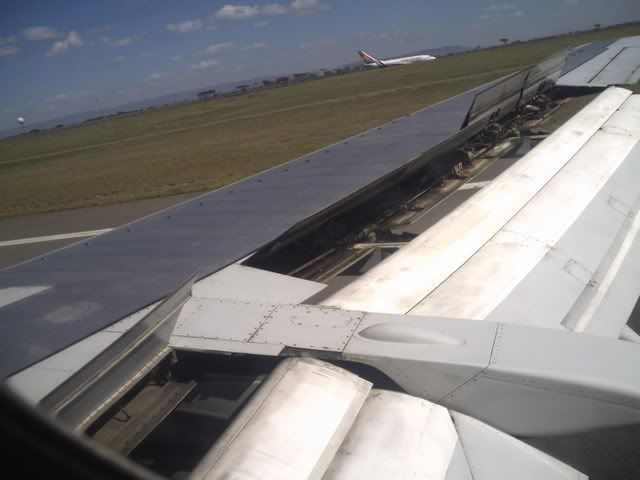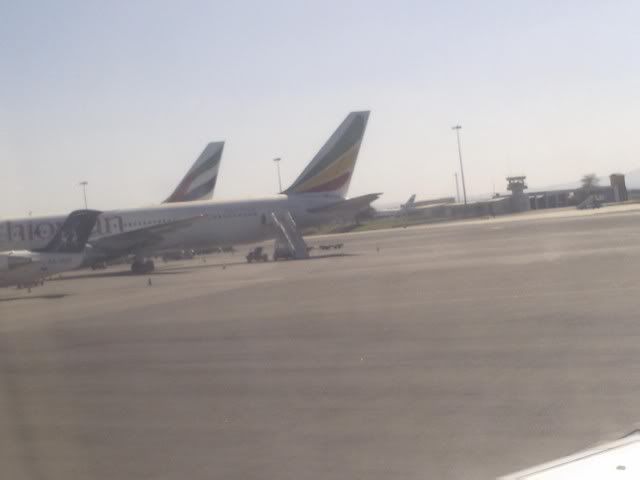 ET B767 and EK A330
Truthfully, NBO was so busy and crowded.....but well, they seemed to have everything under control.
Thank goodness, I had gotten the next BP from EBB, otherwise, the transfer counter was so crowded with a line snaking all over the place.
Looked at the schedule and my flight was on time.
There she was, GORGEOUS....Having come with a B737, the B777 was breath-taking, it was so HUGE as compared to what I had imagined, and of course the shape is ELEGANT.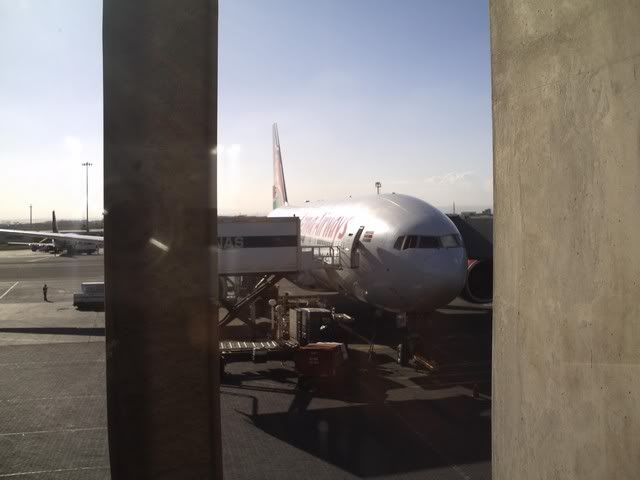 After roaming around, with nothing really to do, I decided to proceed to immigration and go out of the airport building to look around.
Outside, it was nice and soooooo windy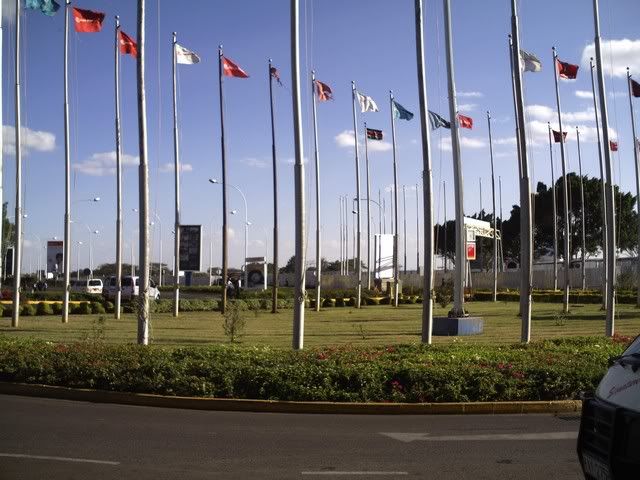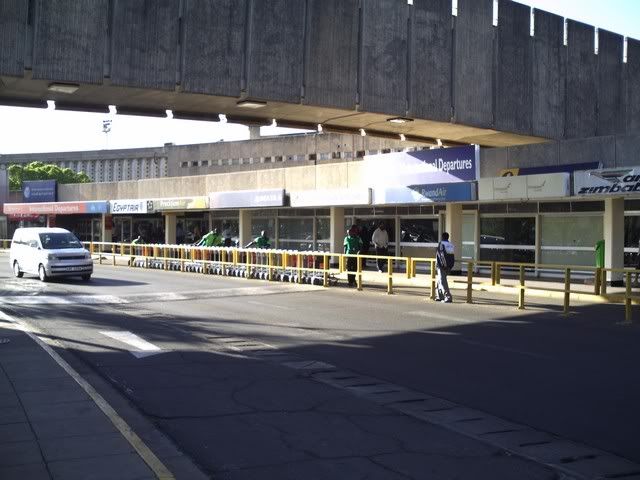 When I came back inside, it was time to proceed to the gate and ET was returning home to ADD / HAAB), Ethiopia">ADD.
http://i1192.photobucket.com/albums/aa335/sjacobmpiima/PICT0114.jpg
Gate was changed at the last minute, but no worries....There wasn't alot of people.
2. NBO - BOM (Kenya Airways KQ 0204)
Departure: 18.40
Arrival: 03.10
A/c B777
Class: Y
Loads: Business (I am not sure) but Y ( about 40%)
Date: 28th February 2011
Entertainment: AVOD
I had also booked a window seat even in this case, and when I go to my seat, there were some two Indian guys already there, I asked the one in my seat to vacate it and he refused, instead insisting he wanted to sit with his friend. A male FA came over and I showed him my BP, he asked the two friends to vacate the seats, however, he told me that the flight was quite empty so I could sit anywhere else, I wanted, and that is when I moved to another window row.
All the seats next to me were empty, so had so much space to myself.
I liked the colors of the interior.
I was disappointed by the fact that they didn't have mood lighting at night. But still no worries.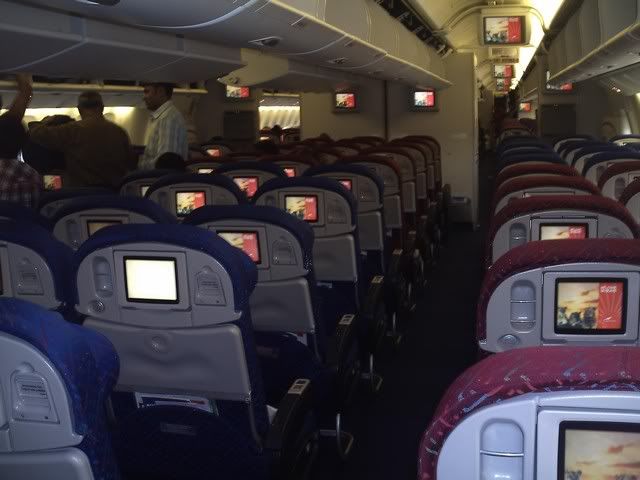 Settled and ready to go.
Push back was on time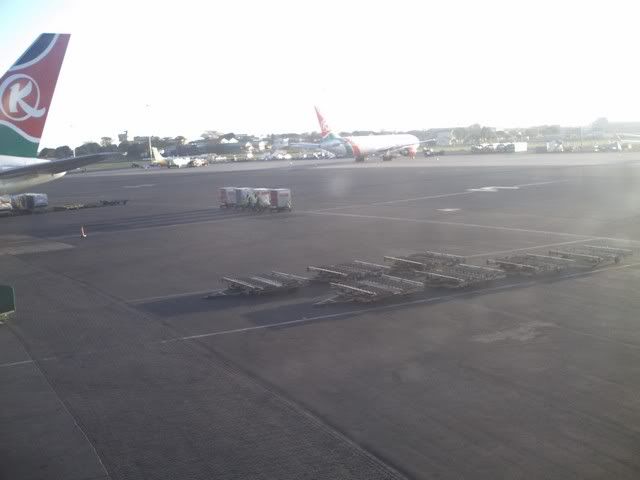 QR was following closely to take off after us, back home
Soon meal service started and I chose chicken Tikka.
The meal was delicious
The male FA (name was Polycarp offered me also a bottle of wine)
This was the best wine ever, and after that, I watched a movie....I don't remember which movie it was.
I slept and woke up with severe stomach ache. I asked one of the FAs and she offered me some tablets plus a huge bottle of water, saying that I was too dehydrated. I felt so sick after that, so I decided to move around cabin and chatted with some gal from Rwanda who was on her way to BLR.
Bathroom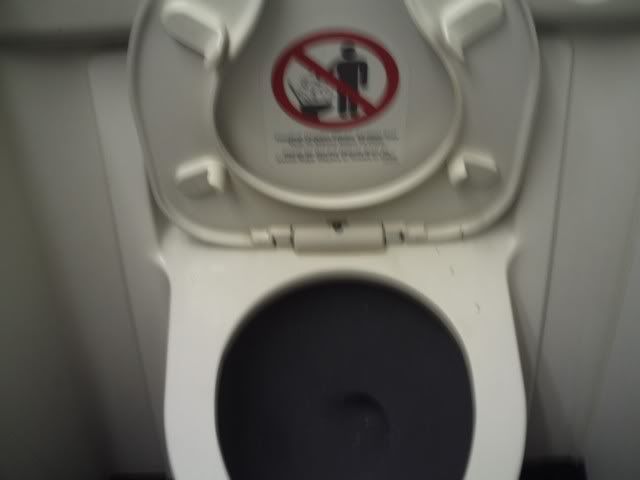 I went to the galley and interacted a bit with the FAs. The lady was asleep, the gentleman (Polycarp) was reading a newspaper, we chatted a bit, and returned to my seat when the pilot announced decent into BOM.
The decent was horrible for me, may be because it was my first time to fly, but I thought my eardrums were going to burst, I tried to drink water and swallow alot but the discomfort was too much. It made the headache that I had initially worse.
Having landed ahead of time, we found a BA B747 delayed at our jet bridge, so that meant staying the in AC longer, however it was removed in about 20 minutes. We parked between a LH B747 preparing to return to AB) (FRA / FRF / EDDF), Germany">FRA. (Now, the B747 was sooooo HUGE, I was amazed ) BOM was really busking with activity at this ungodly hour of the night, but well, it is a very busy airport, I guess DEL is worse.
I said good bye to the crew and de boarded. Immigration was really crowded (as usual for BOM), but the line shifted and soon it was my turn.
The immigration officer (A lady) threw my passport back at me screaming, "Address of where you are going to stay"...
Since I had a transit visa, I didn't think it was necessary for me to have it...So I asked my Rwandan friend to give me hers and I filled that in.
The Immigration officer said I had forged and took me to the "Boss" in the back office and reported my case. I nearly died thinking i was going to be arrested. But when i explained to the "Boss" that I had a transit visa of India and I was on my way to Japan the following day and showed him the Japanese Visa and tickets, he simply said to his junior, "Let him though, he doesn't need an address, this a very simple thing." Ohhh Thanks to God.
This is my savior after collecting our luggage.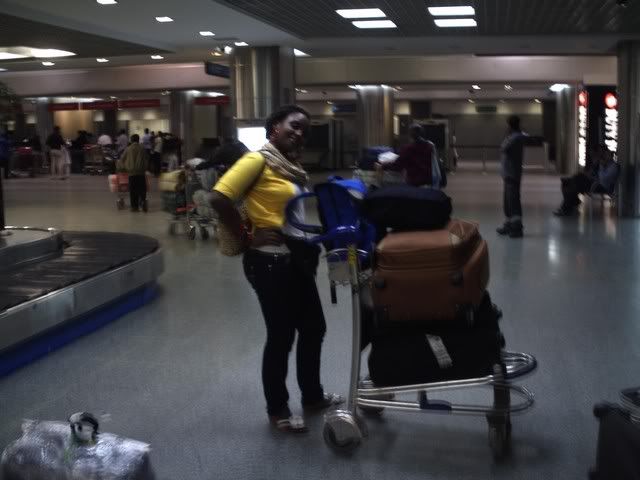 At the arrivals, the crowd was soooo enormous, and my friend who was supposed to pick me up wasn't there because he thought i was coming the following day, at this moment, I was so mad and tired to even take any pictures. However, the friendly hotel agents lent me a fone and I called the sleepy friend to come and pick me up.
The next 24 hours in Mumbai were really action packed, trying to tour Mumbai in the shortest time possible....This city, is really, really BIG. I enjoyed the food and so much more....
Just have a look at the train station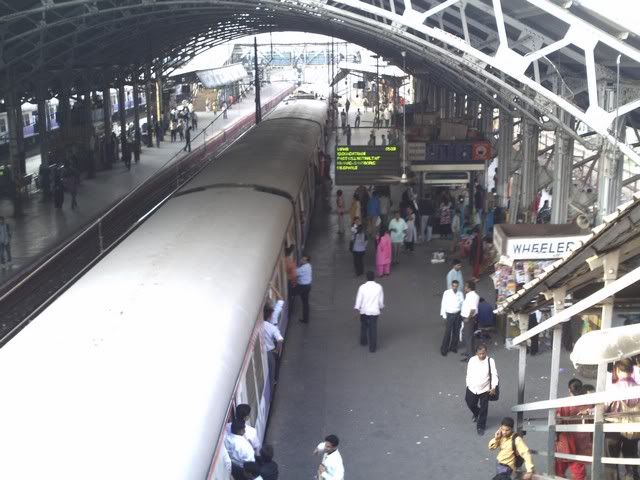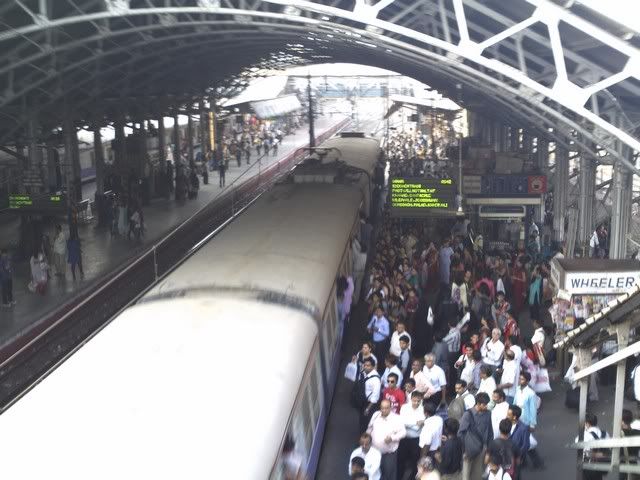 End of the first sector, Watch out for the continuation on to promised Land (Japan)
Thanks for reading.
PS:
1. Thanks to 22886 from the UK for teaching me and guiding me on how to post a trip report.
2. I had never imagined, how not easy a task writing a SA Linhas Aereas">TR is.........I respect all those who post here, men you are great...