Greetings,
This is the continuation of my journey from Mumbai to Osaka.
Part 1 of the report can be found here:
From Uganda To The Far East Pt 1: EBB - NBO - BOM
(by
sjacob
Dec 18 2011 in Trip Reports)
1. BOM - HKG (Cathay Pacific)
CX 684
Departure: 01.30
Arrival 09.20
A/c A330
Class: Y
Loads: All classes 100% full.
Date: 02nd March 2011
Entertainment: AVOD
After enjoying Mumbai with my friend as the guide, 22 hours later, I was on the way again to BOM. My friend stayed in Bandra, approximately 45 minutes from the airport (by AUTO). I left the apartment at about 10.00 Pm, so as to beat the notorious traffic Mumbai is known for.
About Mumbai, I was too shocked by the generally lower prices than in Kampala, so I shopped a bit, meanwhile my suitcase clocked 32 Kgs (remember CX allows only 20Kgs), I tried to re-pack but I reduced until about 27Kgs.
Sat into the auto and headed to the airport. Mumbai is really NOISY, I couldn't believe all that hooting from the other drivers, and the speed was terrific, I was keeping my fingers crossed to arrive at the airport safely, and thank goodness I managed. I now salute anyone who can drive in India, they are good drivers.
Anyway, got to the airport in one piece, went through the checks by the military personnel at the entrance, which includes showing the ticket and passport and then proceeded to check-in. The presence of soldiers holding huge guns and others at different locations covered with green stuff with machine guns made me imagine BOM as a war zone, but I understand their need for security, though to me the sight was terrifying, I thought if i made one wrong move, i would be gunned down.
There was no line at check-in, I was quite early, and since I had checked in online, the process was quick and got both BPs for the two flights and proceeded to immigration. The friendly check-in agent even asked me if I had more luggage...:D
. So it seemed my suitcase being over-weight was no problem. I guess
Here are the pix at BOM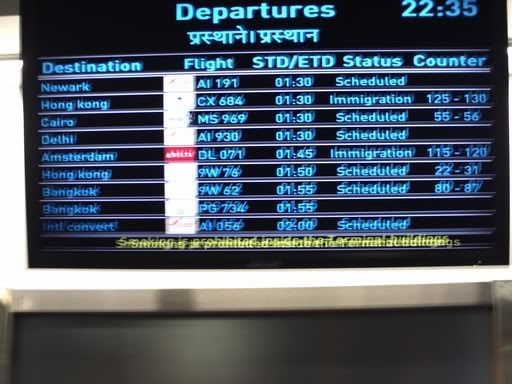 By the time I left the check-in counter, the line had grown so much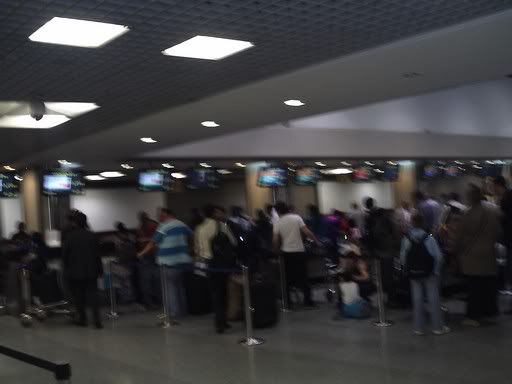 I wanted to try these out, but they weren't working
BOM is quite nice
Ready to go
alot of stamping and checks at BOM
I wondered around the duty free, ate dinner at McD...surfed from one of the free laptops in the terminal and soon boarding was called. I was so tired by this time.
The gate was really crowded and I sensed the flight might be 100% full.
I love the seats on the international flights
Push back was on time. The A330 was parked in between an AF B777 and a SA A340. Took off on time. I watched a movie, the Kings Speech, meanwhile I was waiting for dinner. After the movie, I slept off. There wasn't much to discover on the AVOD. When i woke up, it was announced to be time for breakfast, I was so mad that we hadn't been served dinner. When I checked my ticket I realized there was no other meal except breakfast (my bad).
it was ok, the yogurt kind of burst and spilled onto my t shirt.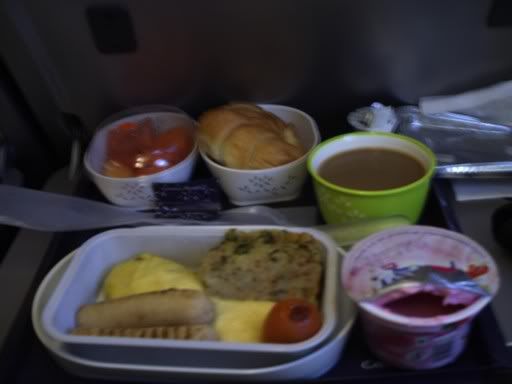 It felt cool and nice to be floating up in the air above the clouds.
One thing that also surprised me was the size of the wing, sooooo BIG, well, I imagined, what if it broke off, but well, it was a nice flight and soon decent into HKG was announced.
I was quite surprised that CX as a 5* airline, doesn't have mood lighting in the night.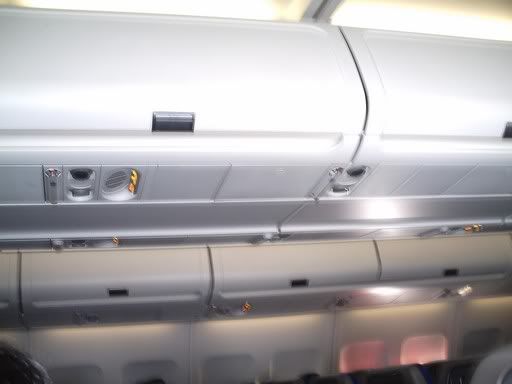 And soon we landed a few minutes ahead of time.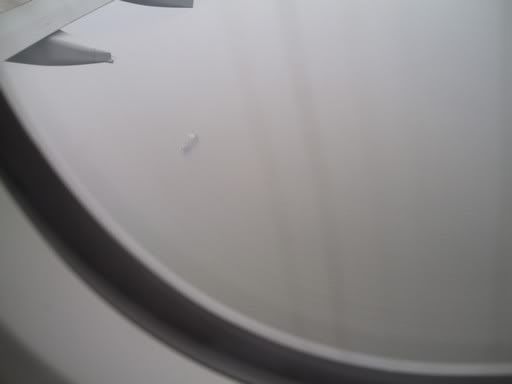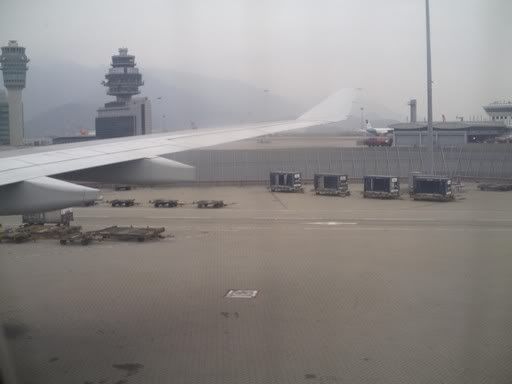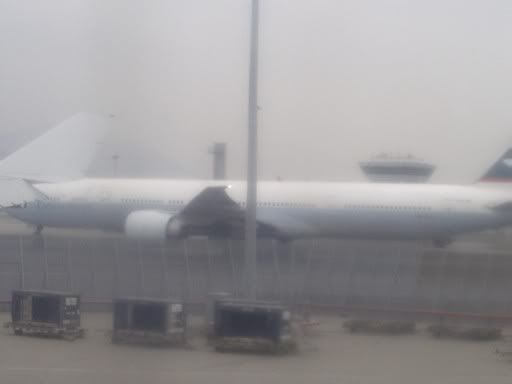 HKG was quite fogy and visibility not the best. As you can imagine, at 9.00 AM, HKG was very busy, with all these airlines I had seen previously in Pix here, now I was seeing them physically.
So I roamed the terminal and spotted until my flight was assigned a gate.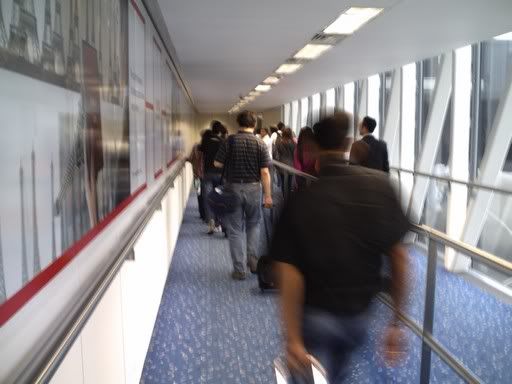 Bye bye - good gal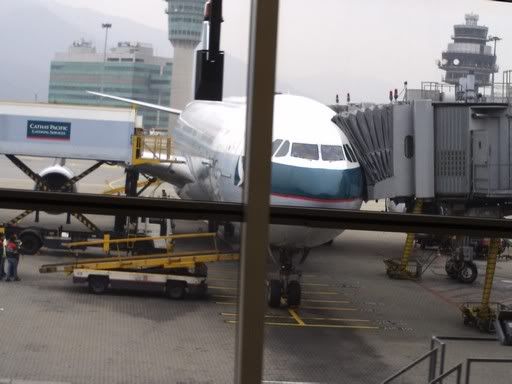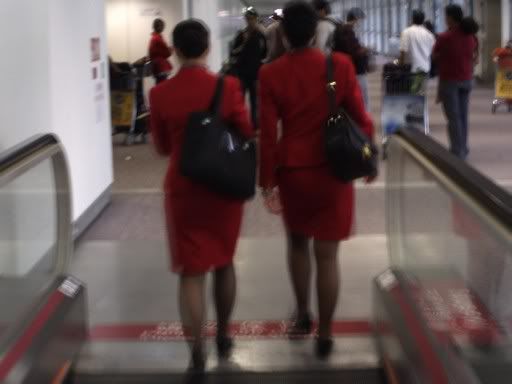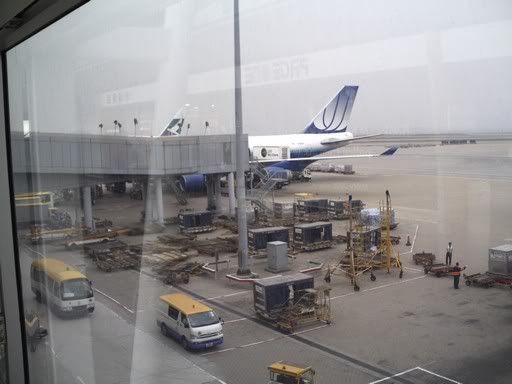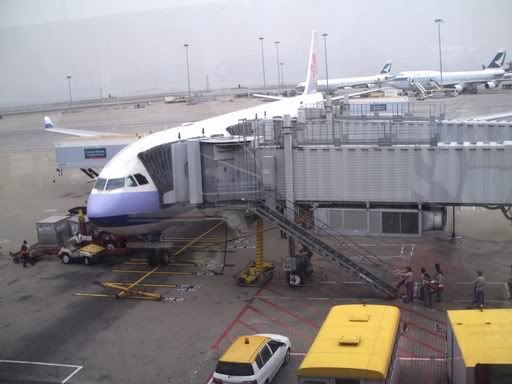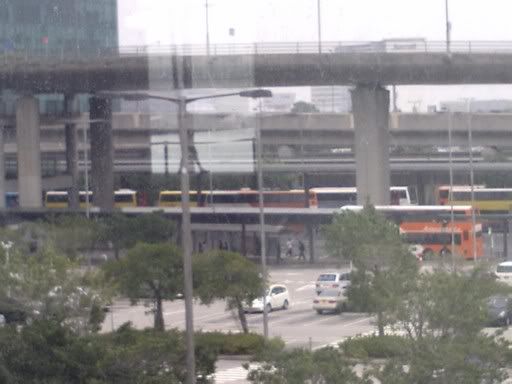 HKG is really a nice and well maintained airport, no wonder they are still ranked as world's no.1 loved airport.
Fatigue caught up with me and I decided to sleep at the gate, and when I woke up, people had begun crowding it ( so the noise woke up as I had anticipated).
2. HKG - TPE - KIX (Cathay Pacific)
CX 564
Departure: 13.15
Arrival: 19.20
A/c B777-300ER
Class: Y
Loads: Business (I don't know)
Economy: about 80%
Date: 02nd March 2011
Entertainment: PTV (Regional configuration).
Boarding was on time, done randomly.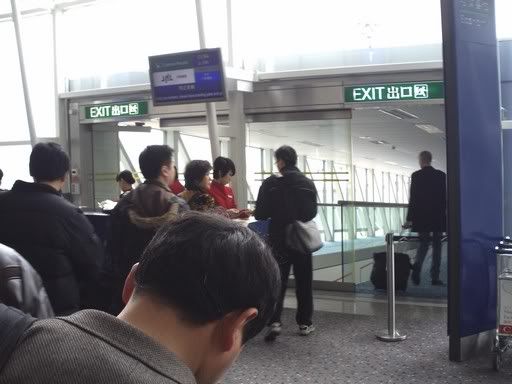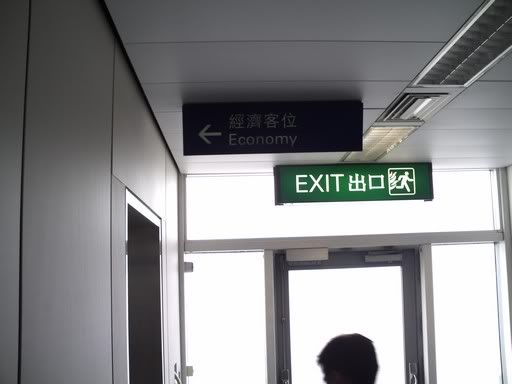 I was disappointed by the interior as compared to my flight from BOM, whose interior looked immaculate. I felt this was quite old, but I was told it is the one used for regional flights.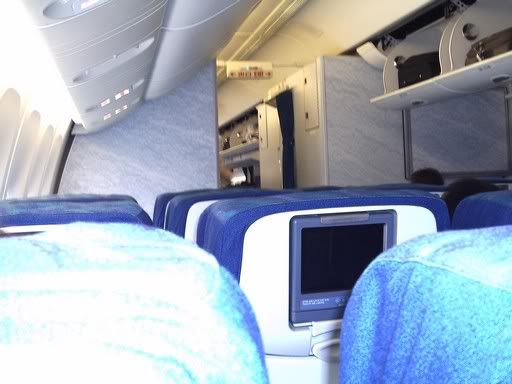 Comfortable legroom: And I had no neighbors, since I was almost at the back.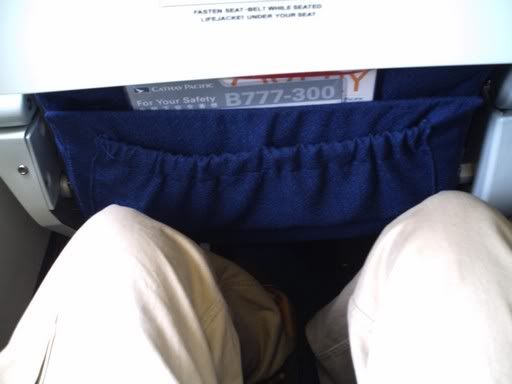 during Push back, I saw this, and she reminded me of home.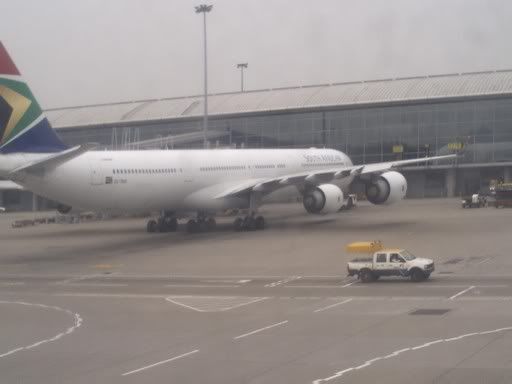 Then the captain announced that it would be 2 hours to reach TPE. I was shocked, as I didn't know my flight had a stop-over. I couldn't believe it. I read my ticket again and realized, ohhh (My bad, again)
Some drinks served;
The entertainment was not AVOD, so you had to make sure you get the program when it starts, so I just watched CNN which was about 2 days old (pre-recorded).
Soon we landed in TPE
TPE was quite not so busy and also very hazy.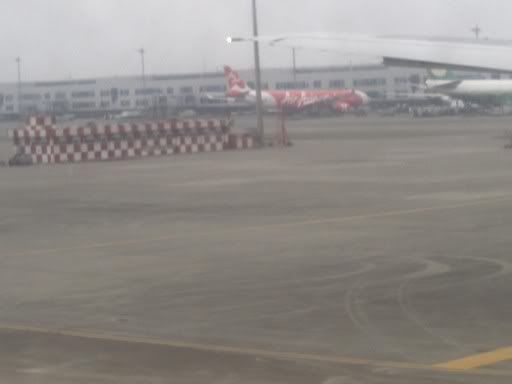 They gave us cards who wanted to go out of the aircraft and move around. So I enjoyed the window shopping in TPE and the people were really nice.
While there, another CX bird landed from KIX. It seems like there is high traffic on the HKG - TPE route and vice-versa.
Up-close to the B747
Then I came across this
I was so AMAZED by TPE. They cater for most of the religions. For that TPE, deserves a big plus. I had never seen this anywhere else.
Since I am CATHOLIC, I entered this for a few minutes and prayed a lil bit
Boarding was called again, with quite a number of people joining the flight and, this time a proper meal served after take off.
The cabin was quite cold for me, that I asked the FAs to increase the heat, and they told me they did so, and they also gave me a second blanket. I still had the seats next to me empty.:D
After a not so eventful flight, we landed at KIX on time. There were quite a number of big birds already in place, such as EK, TG, NH and so many especially Asian. KIX is really big and we had to take a train to immigration.
Due to the arrival of so many Asian carriers at that time, the immigration lines were really long, but what to do (joined it and patiently waited).
The immigration officer again had a problem with me. He asked for my invitation, which I gave to him, and asked me why
the Japanese embassy in Uganda had given me 3 months instead of 6 as stated in the invitation (Certificate of Eligibility). Of course I didn't know the reason. SO he called his superior, my heart was racing and I thought to myself, (What if they deport me). The superior simply said, "Ohhh this must have been an error by the embassy, come and I will give you an extension". After waiting for about 15 minutes, he handed back my passport with a sticker giving me 6 months of stay and wished me a nice stay in Japan.
Customs guys also decided to single me out of all the people ( I guess because of my color being different) and they asked me a number of questions, checked my suitcase upside down (practically removed everything) and then let me go. What amazed me most is during all this time, they spoke to me gently, not like in Mumbai where they were shouting at me.
When the customs guy realized I had come via Mumbai, he took me back to immigration and informed them, the immigration officer simply told him to search me again plus my body...Ohh God...which he did and let me go about 45 minutes later.
The friends who had come to pick me up, by the time I met them, they were planning to check out the airline office to check the passenger manifest if I really had boarded the flight to come.
All in all, KIX is a really cute and nice airport. having watched its story on discovery, it was fulfilled dream to arrive in Japan via KIX.
It was winter, and as an African, I had never imagined how cold this can be....Though the Japanese always told me (11 degrees wasnt so cold). All the same Japan was a great place for the five months I spent there.
Love you Osaka.
Watch out for the departure from Japan, coming up very soon.
Yours truly